The Bisimoto way
I'm just going to go ahead and assume that by now you've all heard of Bisi Ezerioha and his company Bisimoto. In recent years, Bisi has been building some of the fastest and most interesting cars in the USA, and the more you hear about the guy, the more there is to like.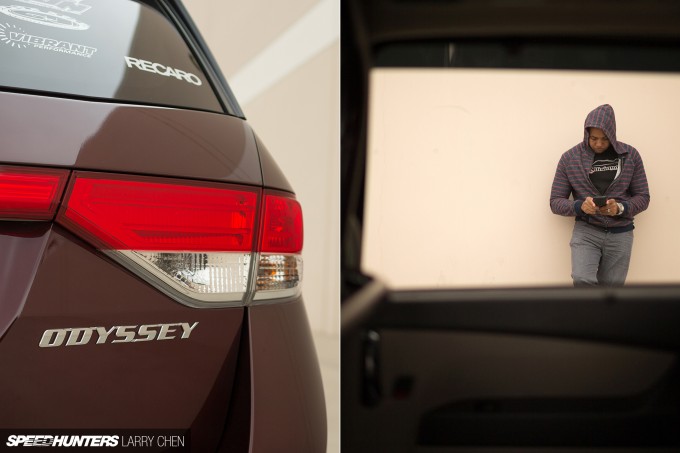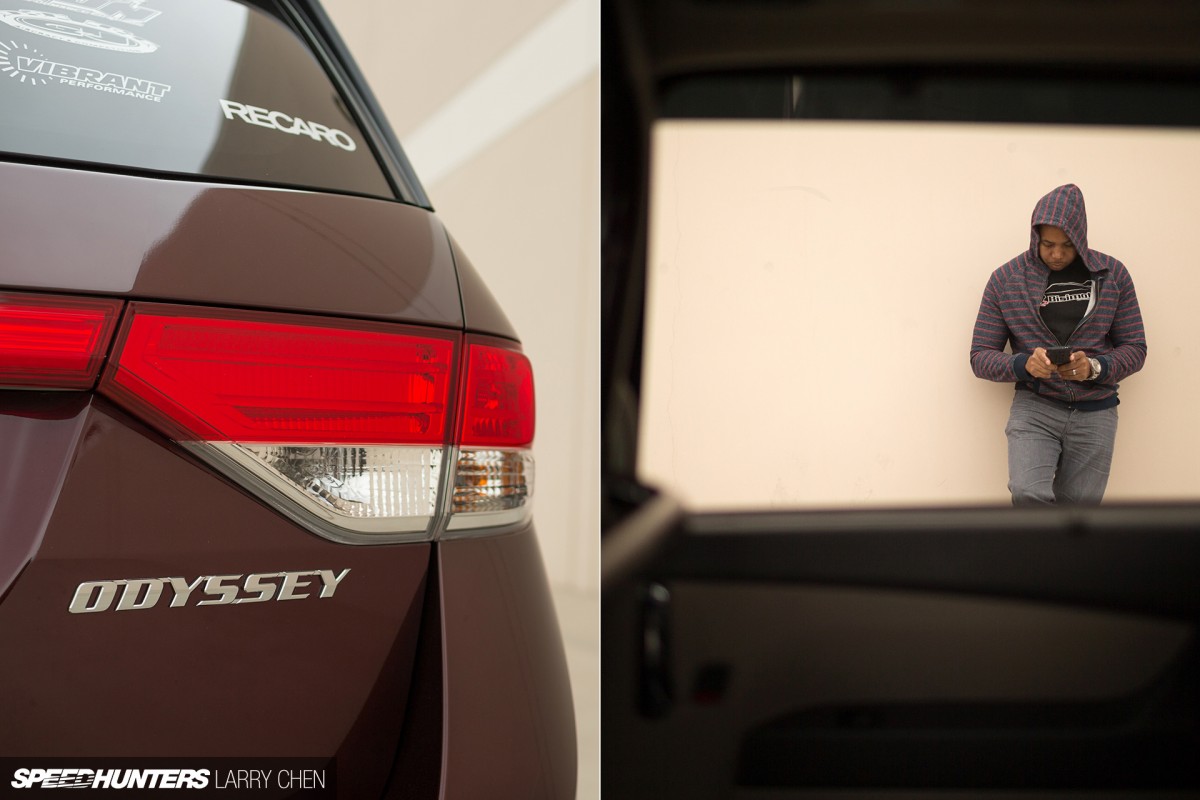 First of all there's the raw ability. Bisi not only knows how to build a fast and completely functional automobile, but he knows how to do it with showcar-like attention to detail and aesthetics. There's also the fact that in a world that's increasingly focused on stance and looking cool, Bisi is all about keeping performance alive in a big way.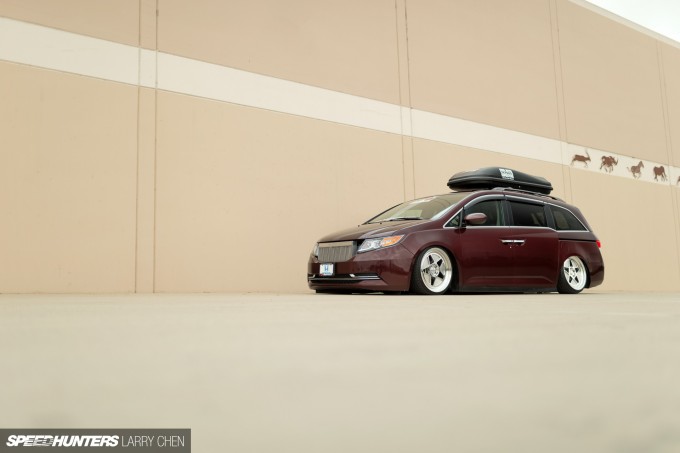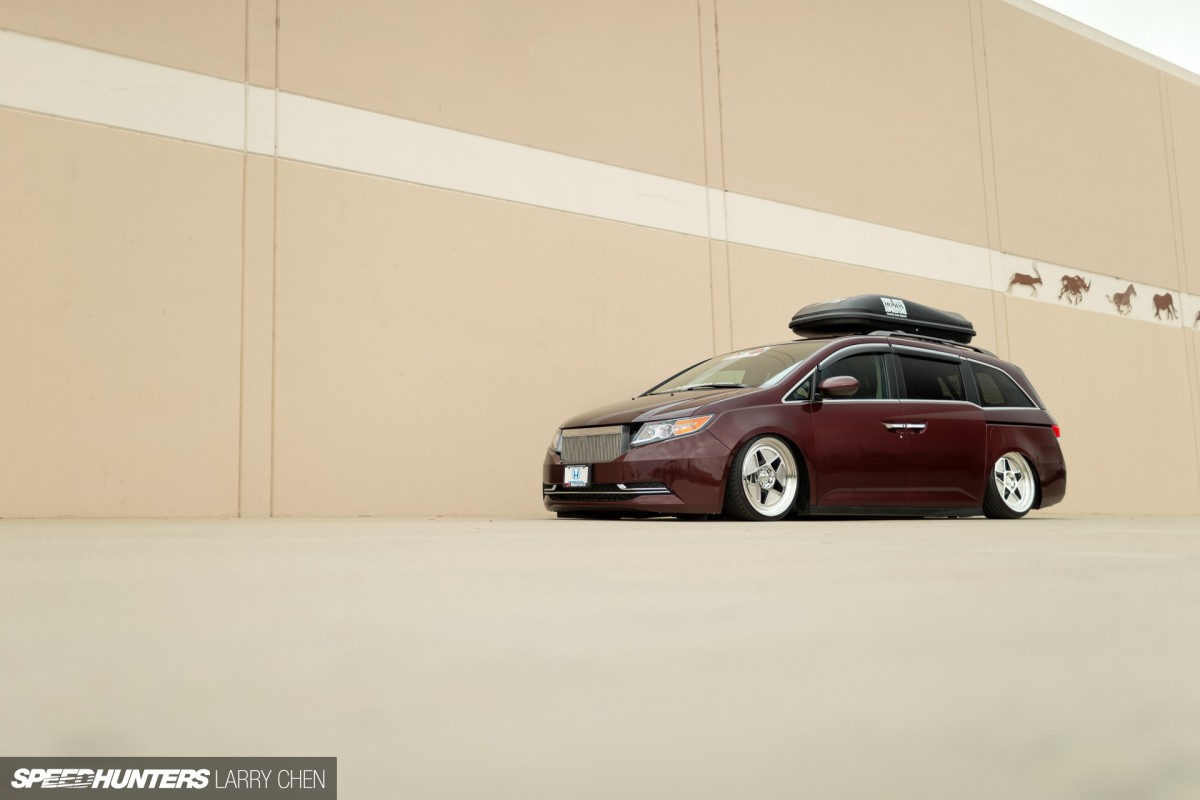 Personally though, the thing I admire most about Bisi is the way that he likes to play with unconventional vehicles. Sure you've seen his incredible Porsche builds, but it's not all sports cars and exotics for him. The man is just as famous for building more unusual cars like his Honda Insight drag car or popular Honda Civic Wagon project.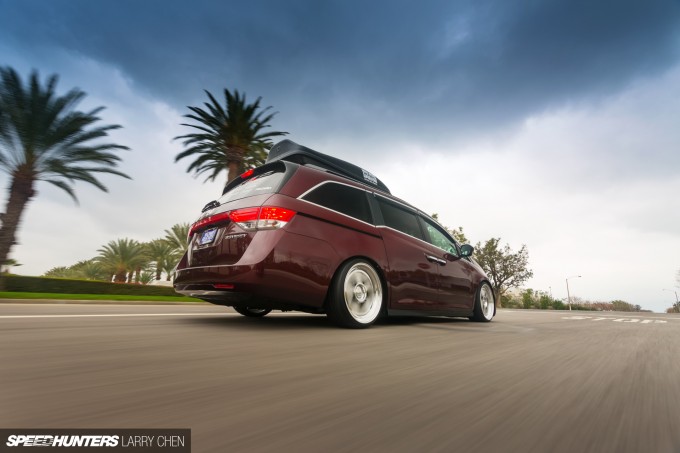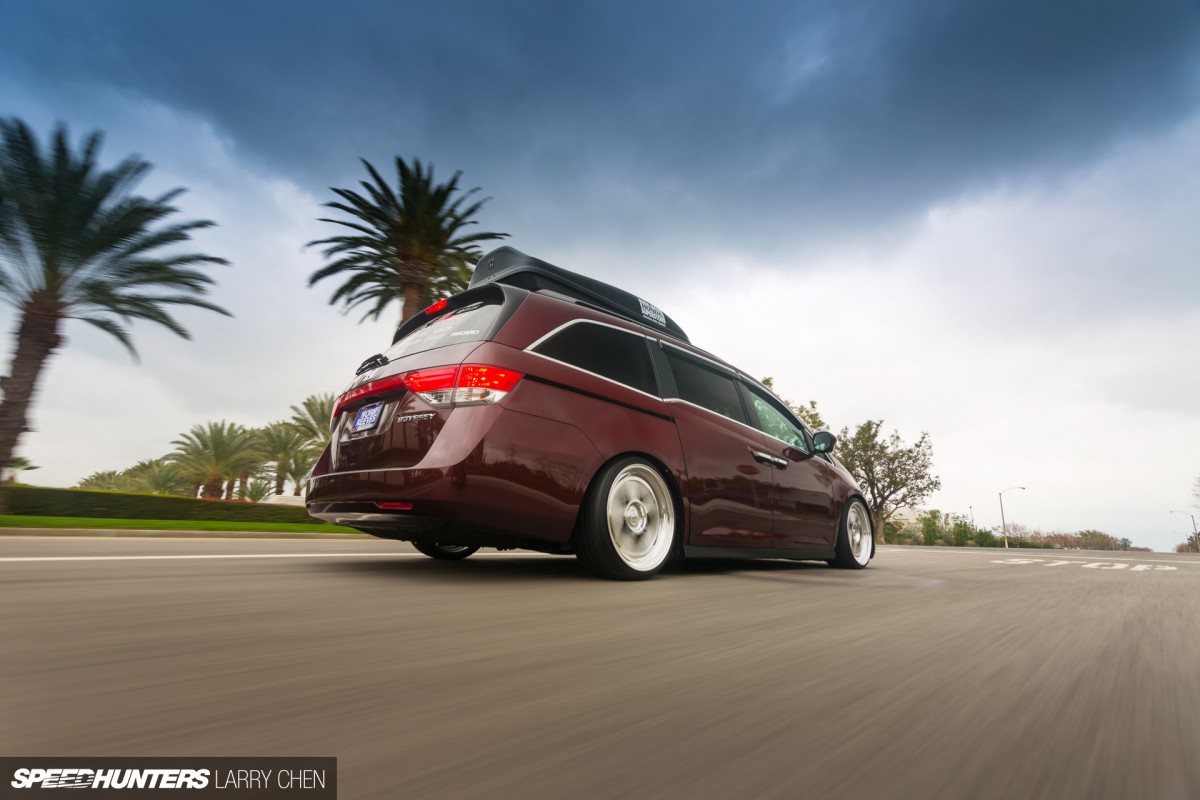 And if you're looking for unconventional, this Bisimoto project is about as good as it gets. It's a 1,000+ horsepower Honda Odyssey minivan, and from the moment we saw it on display at last year's SEMA Show, we knew we needed to get hold of it for a full feature.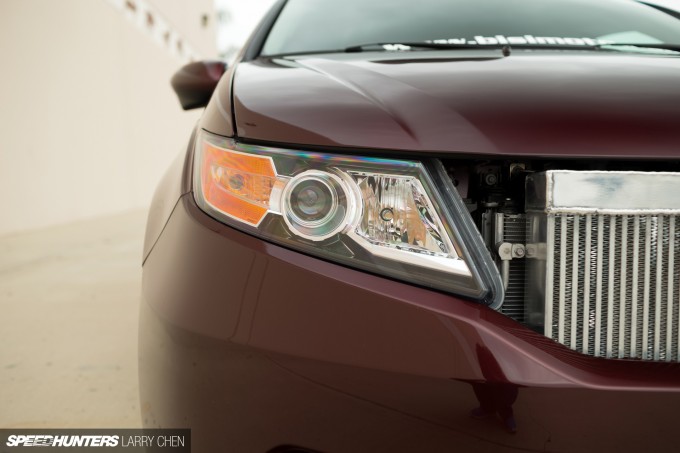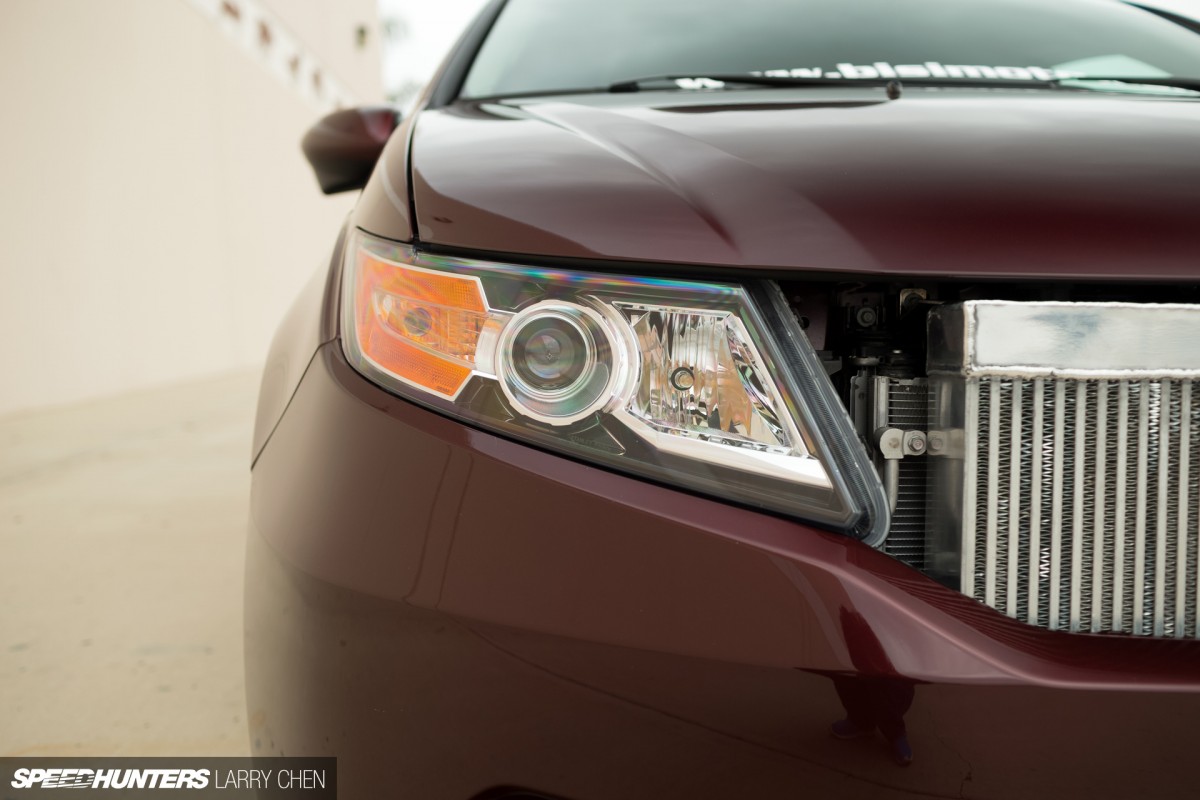 Thankfully, Larry Chen was able to spend some time with the van on the streets of Southern California and now we can share the full story on this one-of-a-kind creation.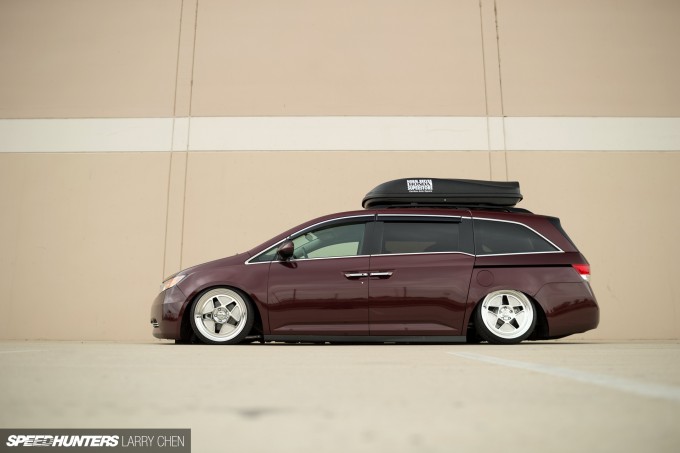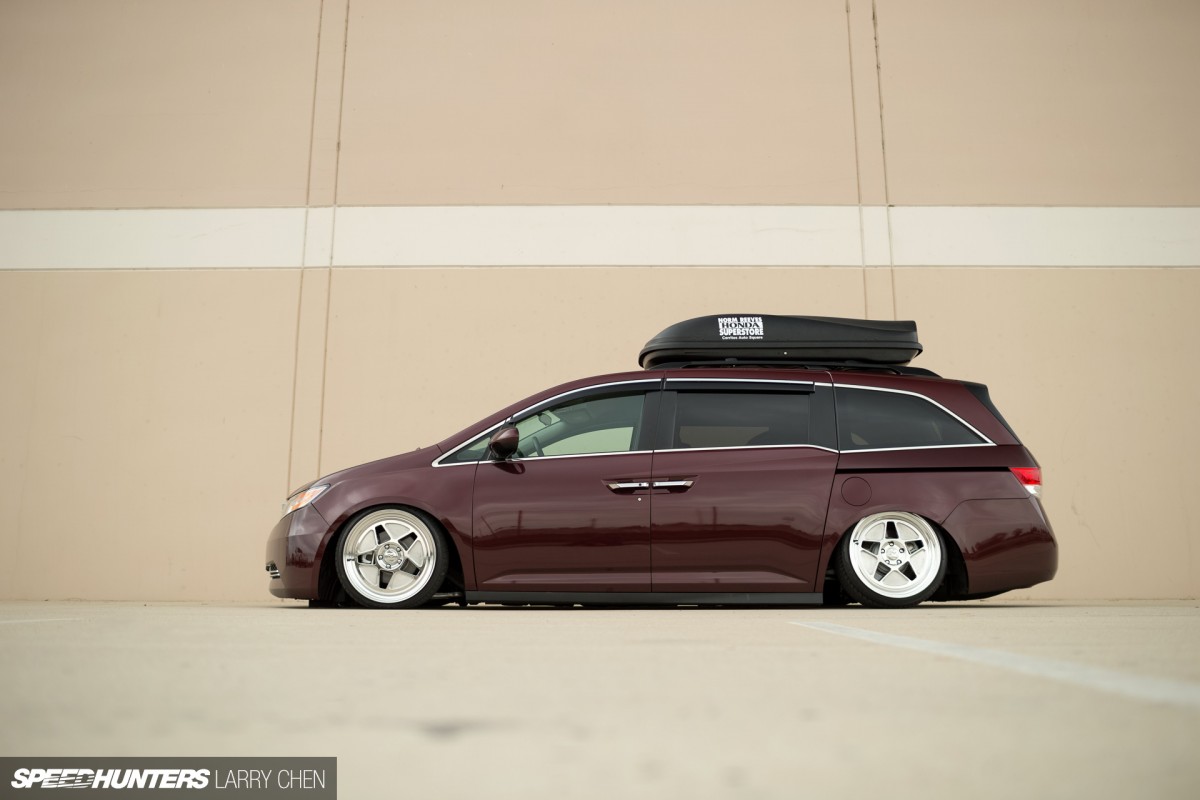 Bisi likes nothing more than blazing new paths, and when the minivan build started, the goal was to prove that any car could be made fun – even if it was originally designed to haul families in comfort.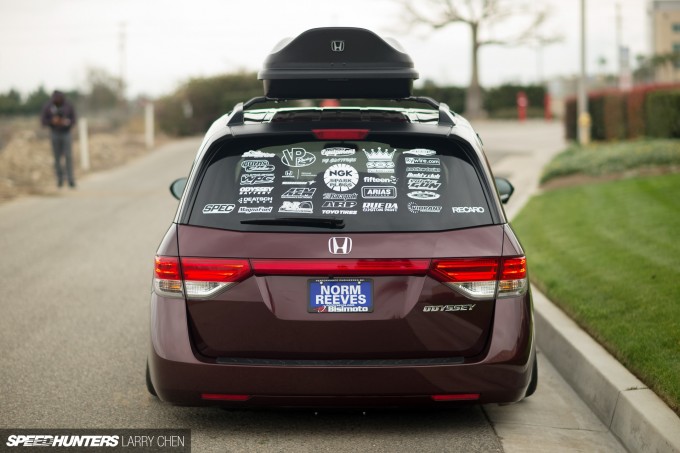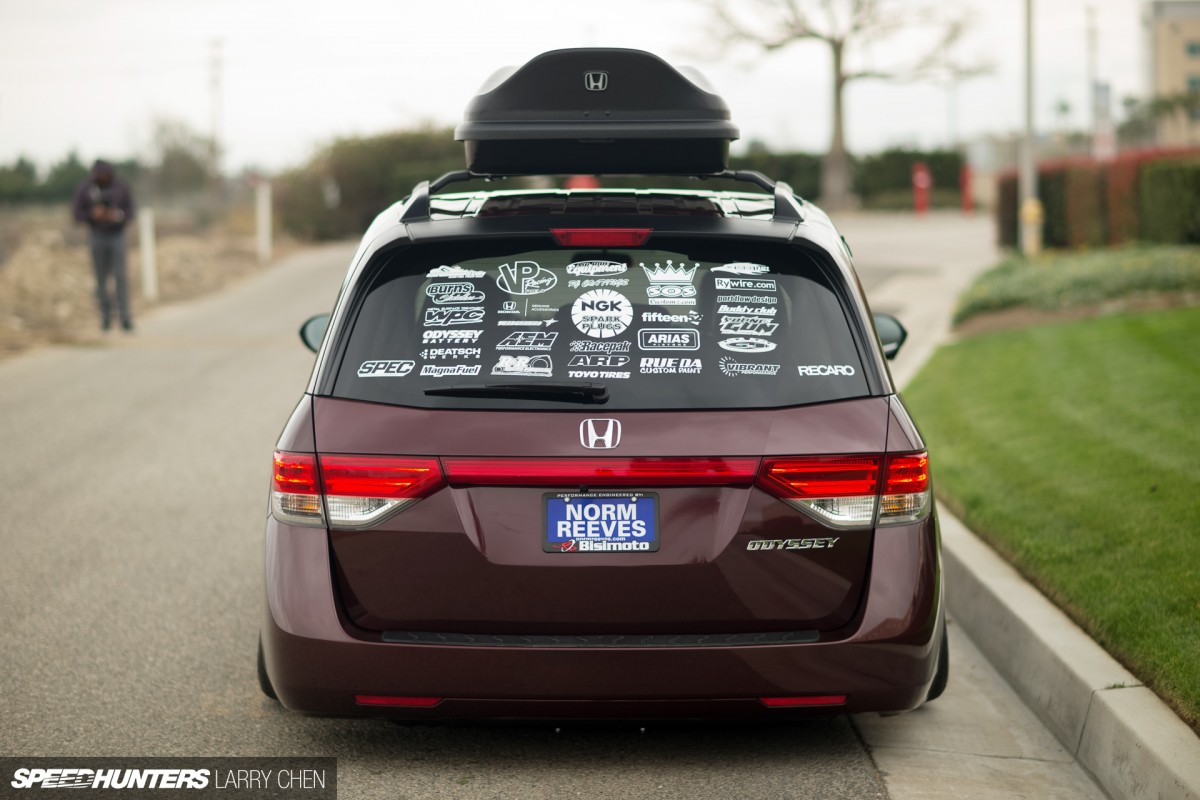 So starting with a showroom fresh 2014 Honda Odyssey, Bisimoto got to work on building something for the horsepower-hungry racer who happens to have a family.
The recipe for big power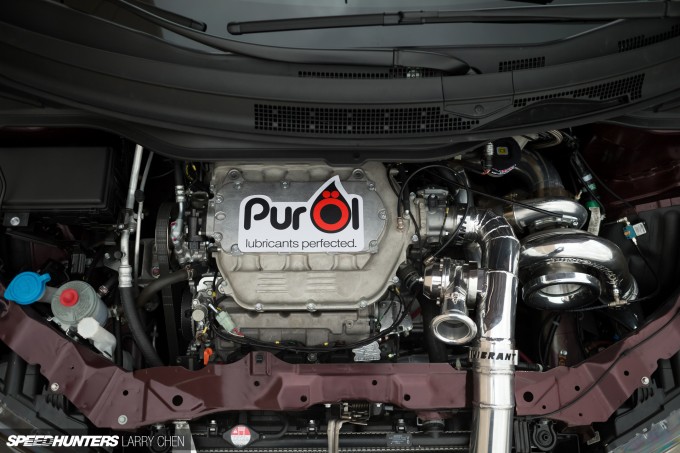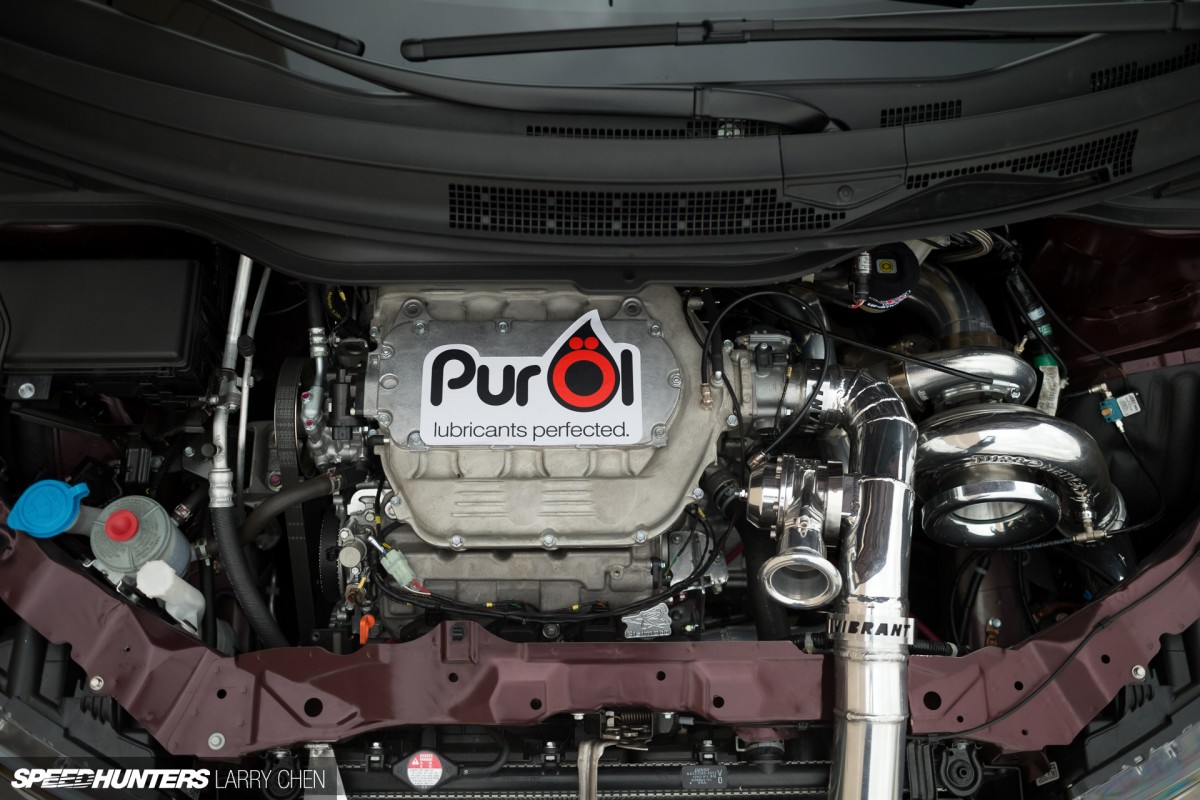 The main idea was to build a radical sleeper out of this minivan, and to be honest an Odyssey with even four or five hundred horsepower would be more than enough for crazy reactions and huge grins on the street.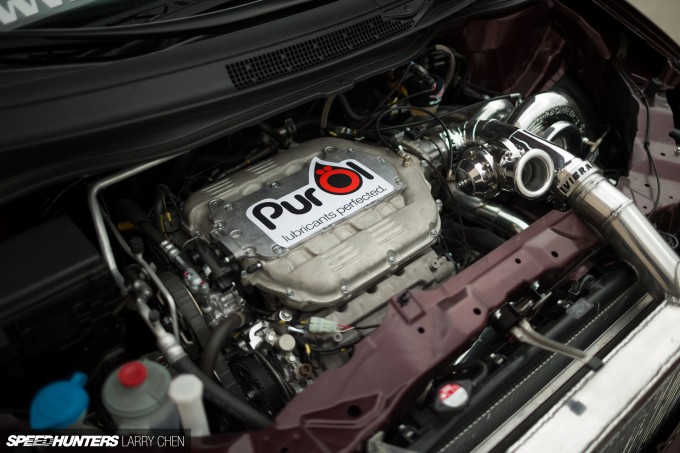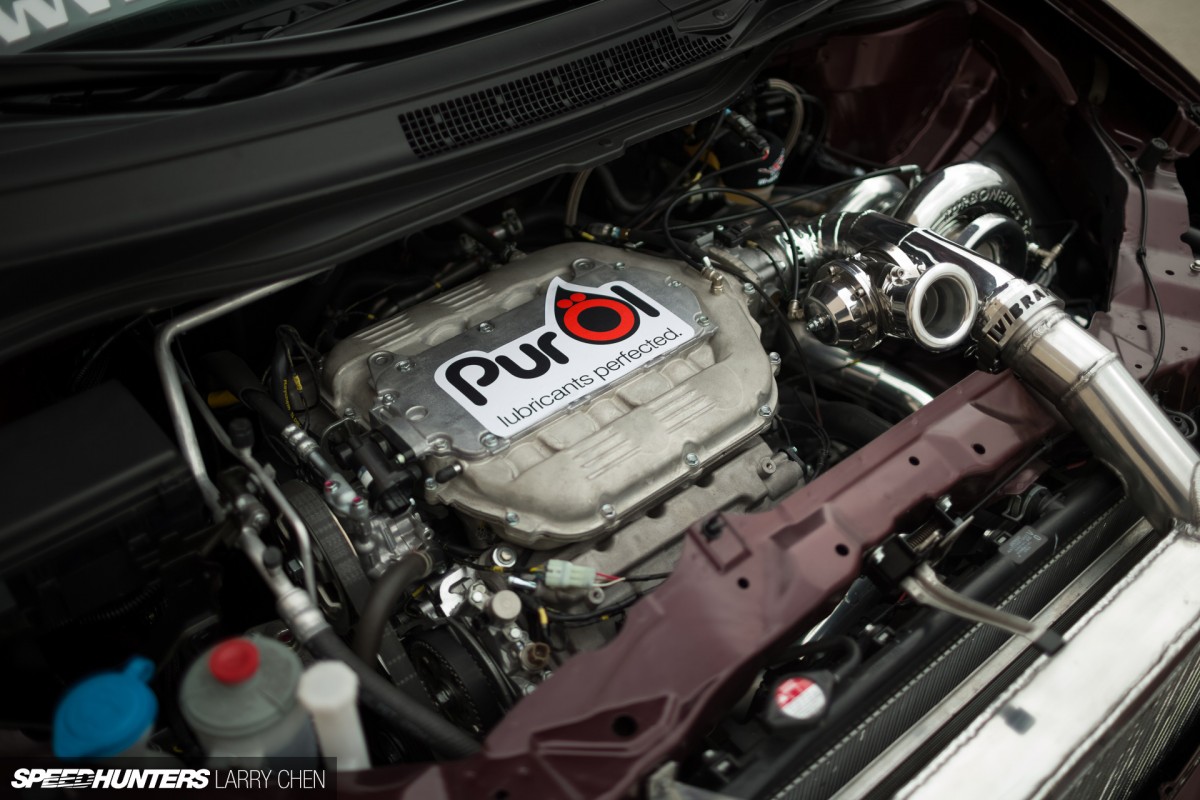 But this is Bisimoto, and the plan wasn't just to build an Odyssey that was deceivingly quick, but build something that was completely off the wall. Look under the hood of this van and you'll the same J35 V6 that powers the stock version, but that's about where the similarities end.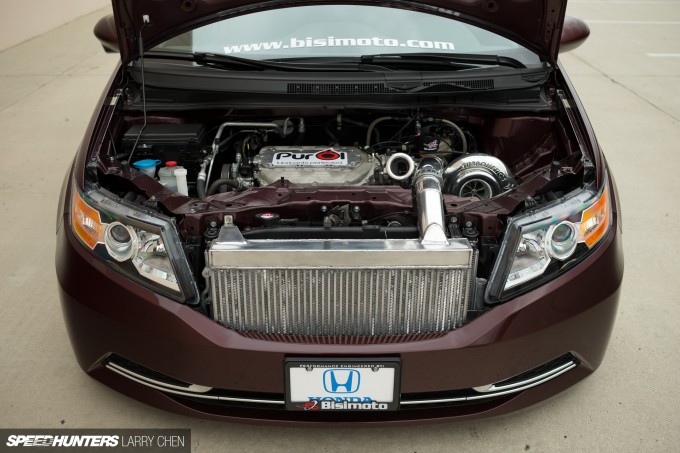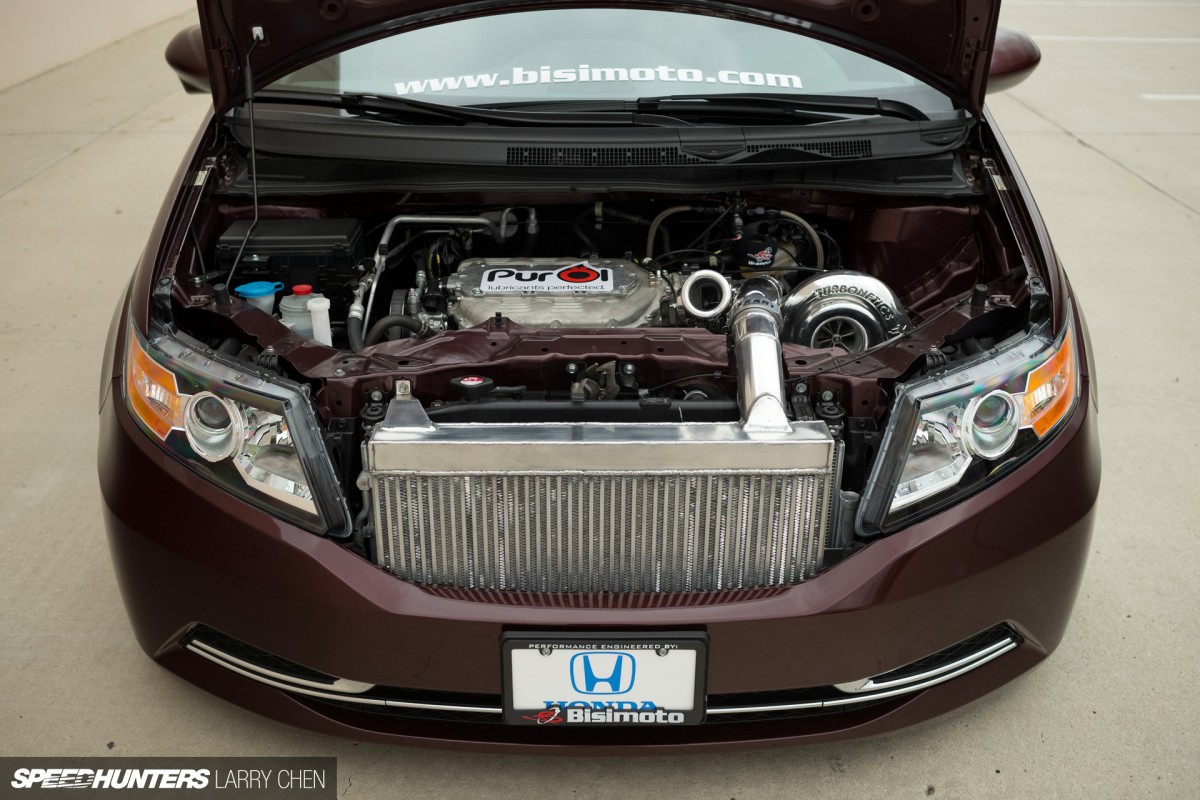 The motor was torn down and completely rebuilt in Bisimoto's climate-controlled clean room with heavy duty parts like Arias 9.0:1 forged pistons, R&R rods, Golden Eagle sleeves and ARP head studs and bolts. Up top, the heads received a full porting job and the engine was also fitted with a set of Bisimoto-Web level 2.4 cams and a valvetrain from Supertech.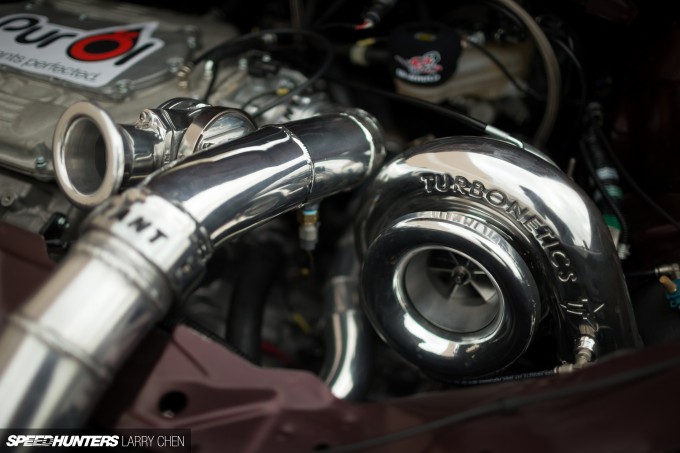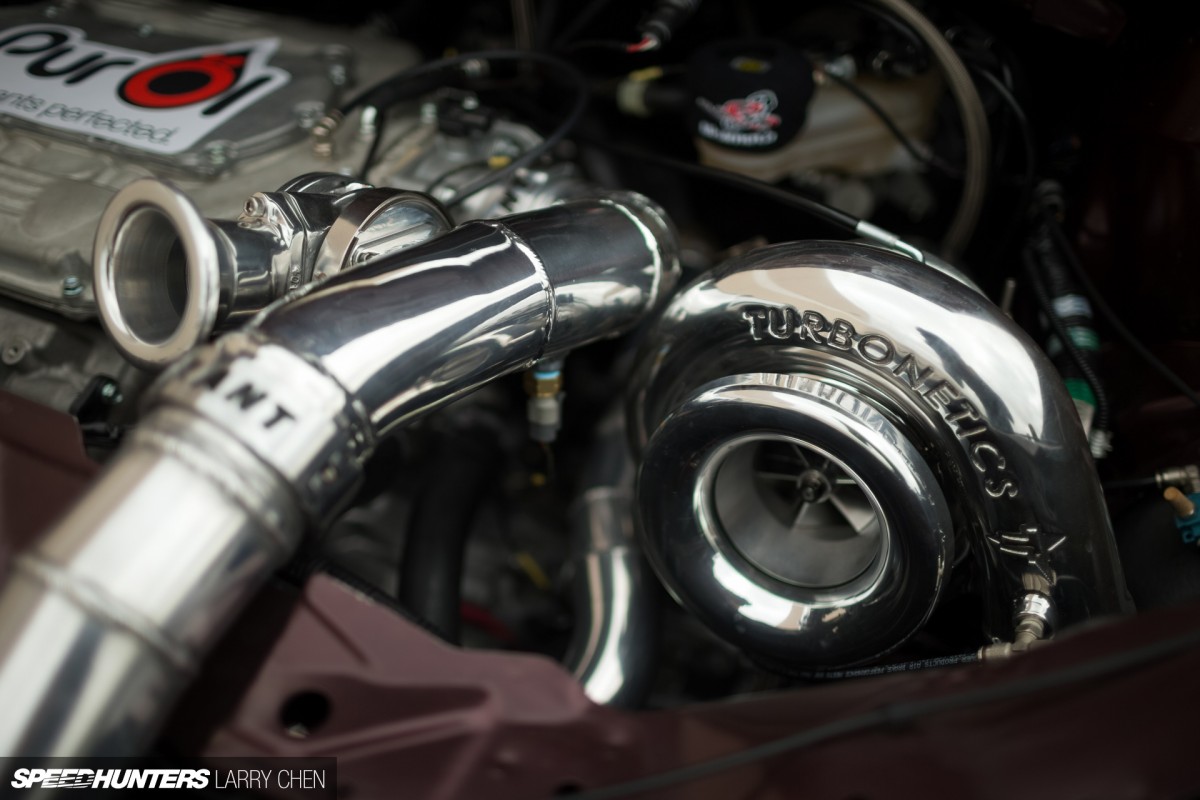 All of the engine work was done to prepare the motor for a healthy dose of forced induction, which would come in the form of a Bisimoto custom turbo kit that uses a huge Turbonetics BTX7265 turbine, RG45 wastegate and Godzilla blow-off-valve.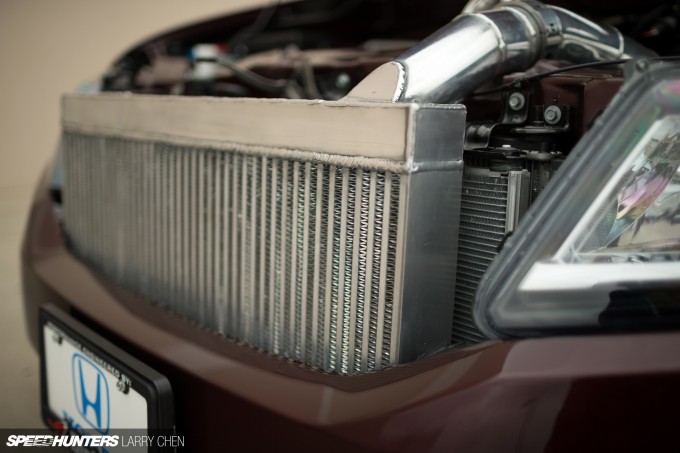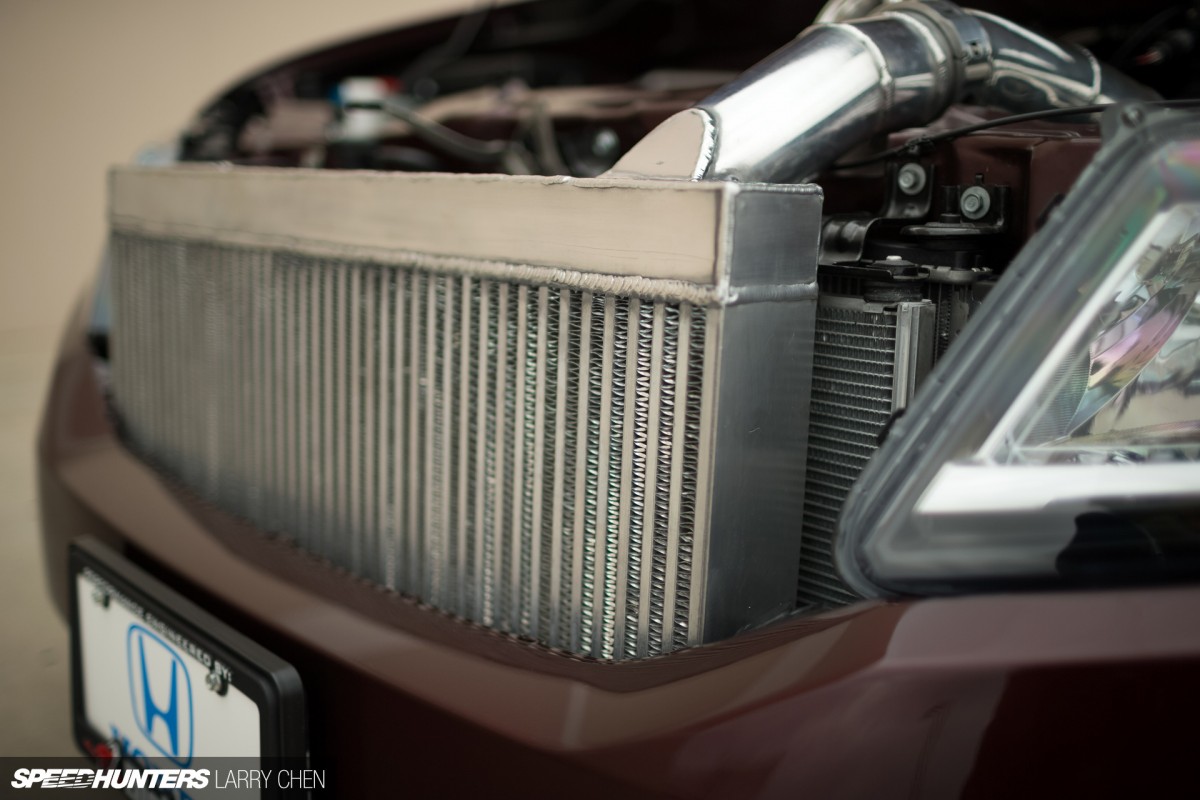 The kit also includes an enormous Spearco front-mount intercooler that dominates the front end of the van, and is one of the few external signs that hint at the Odyssey's performance.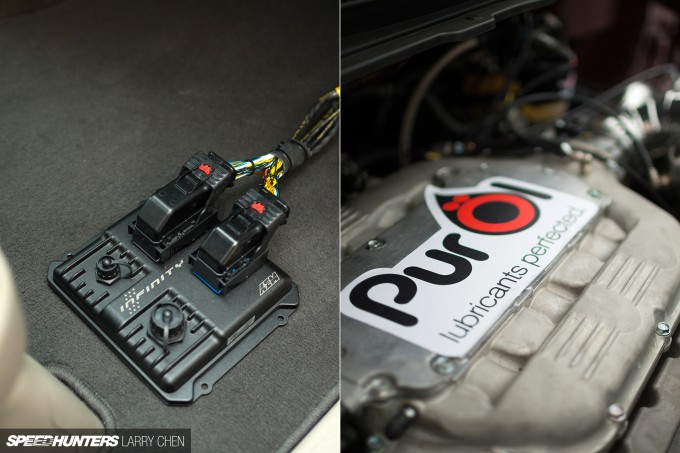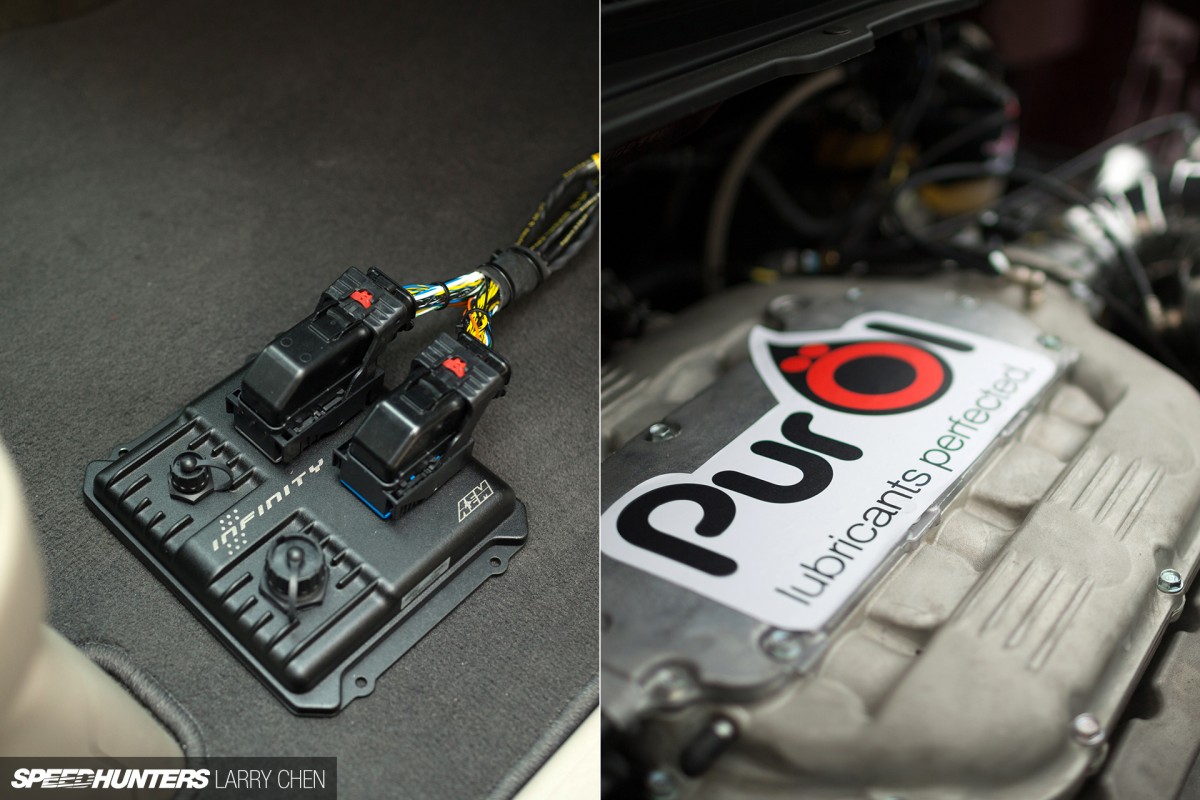 Elsewhere, the engine is controlled by a full AEM Infinity 8 system and is filled with high end PurOl Elite synthetic motor oil. Let's not forget that it's also been built to run an E85 flex fuel system.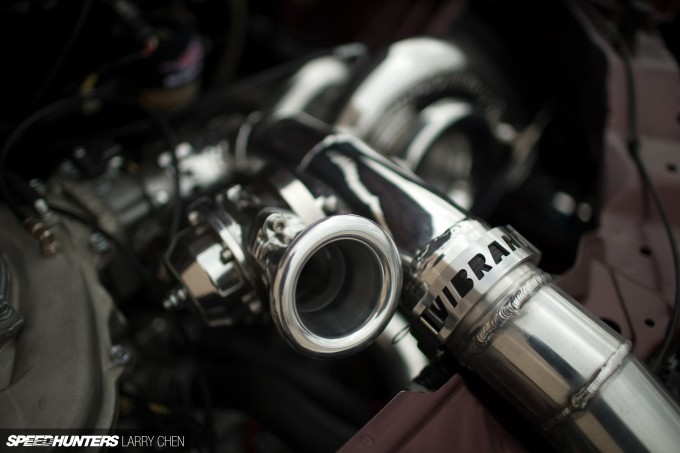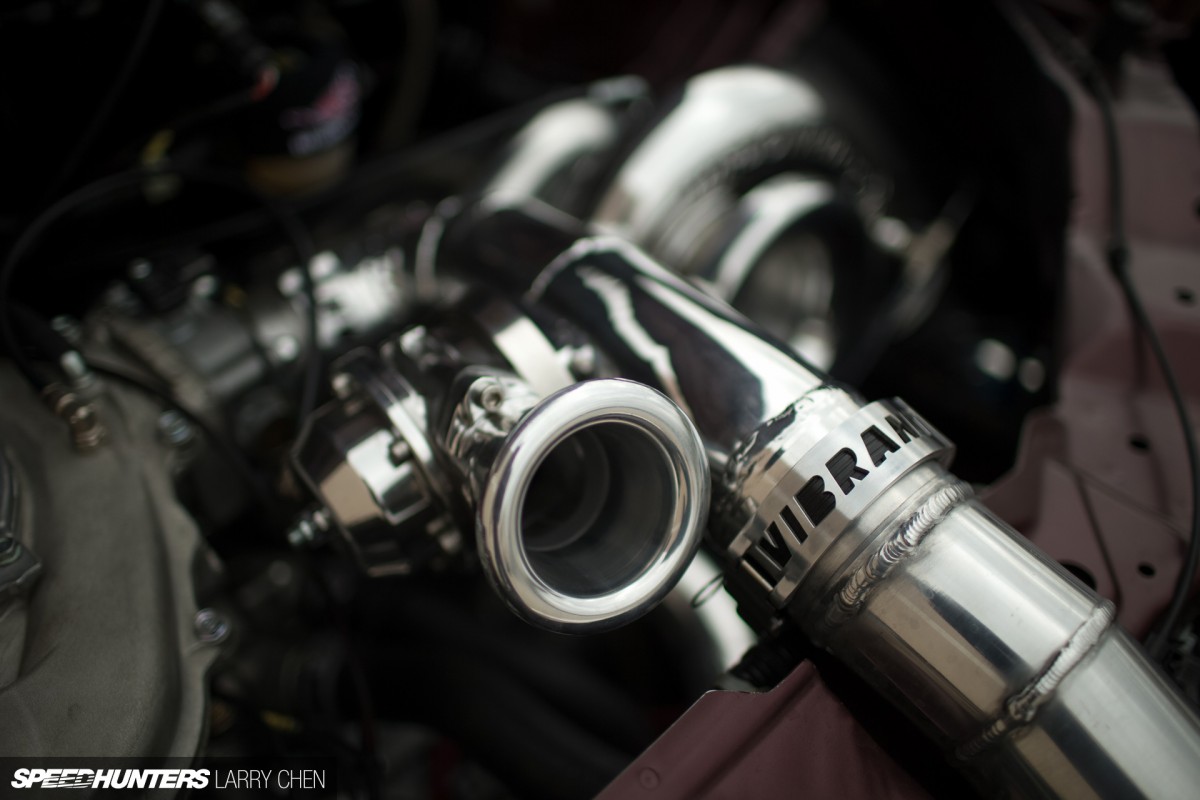 Since this is a street vehicle, the boost and power can be set at various levels, with the high boost setting putting out a mind-bending 1,029 horsepower. That's not just sleeper status, it's pure insanity!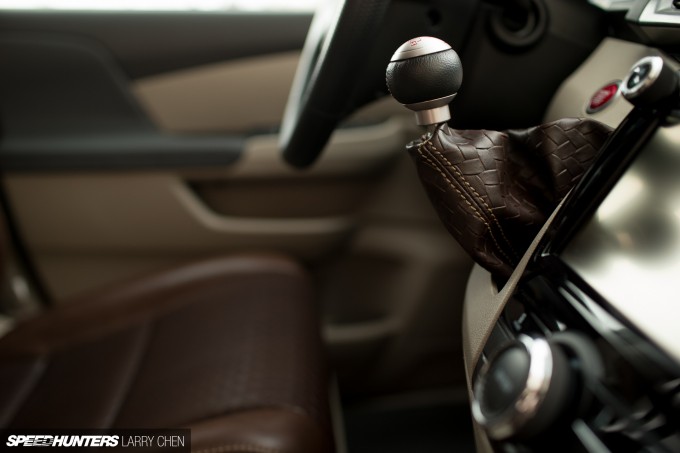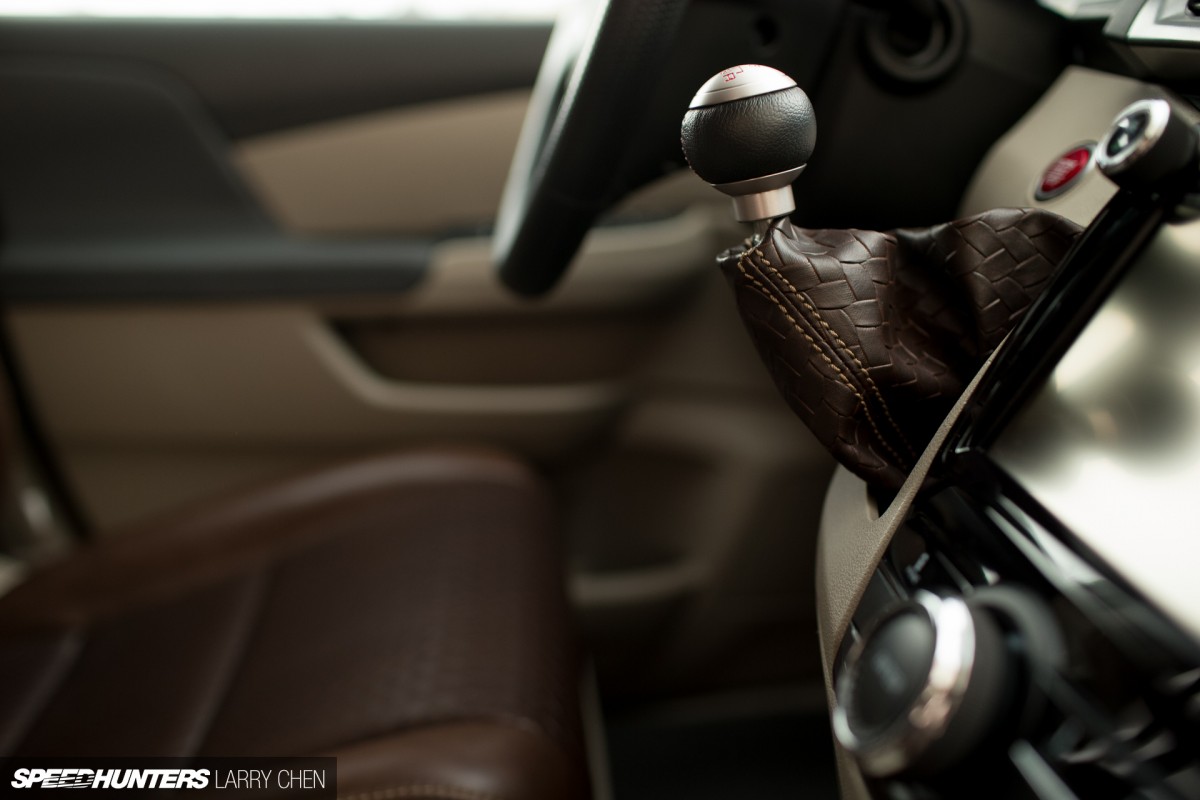 One of the biggest challenges on the project came not from the motor, but from the transmission set-up. Like all minivans, the Odyssey is only sold with an automatic transmission – so Bisi went through the tremendous task of converting the van to a manual using a six-speed gearbox from an Acura TL Type S.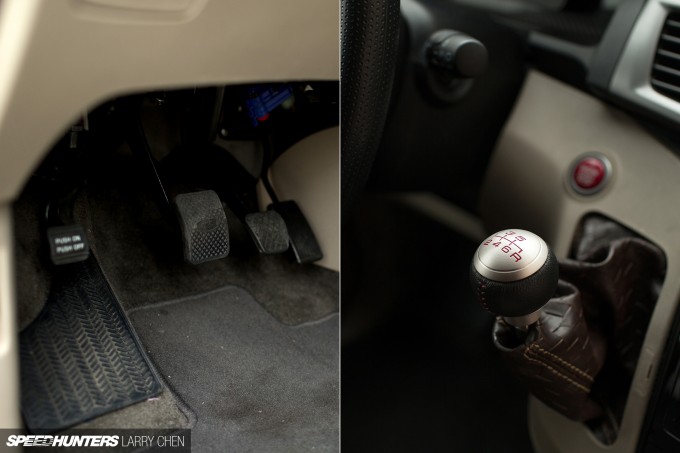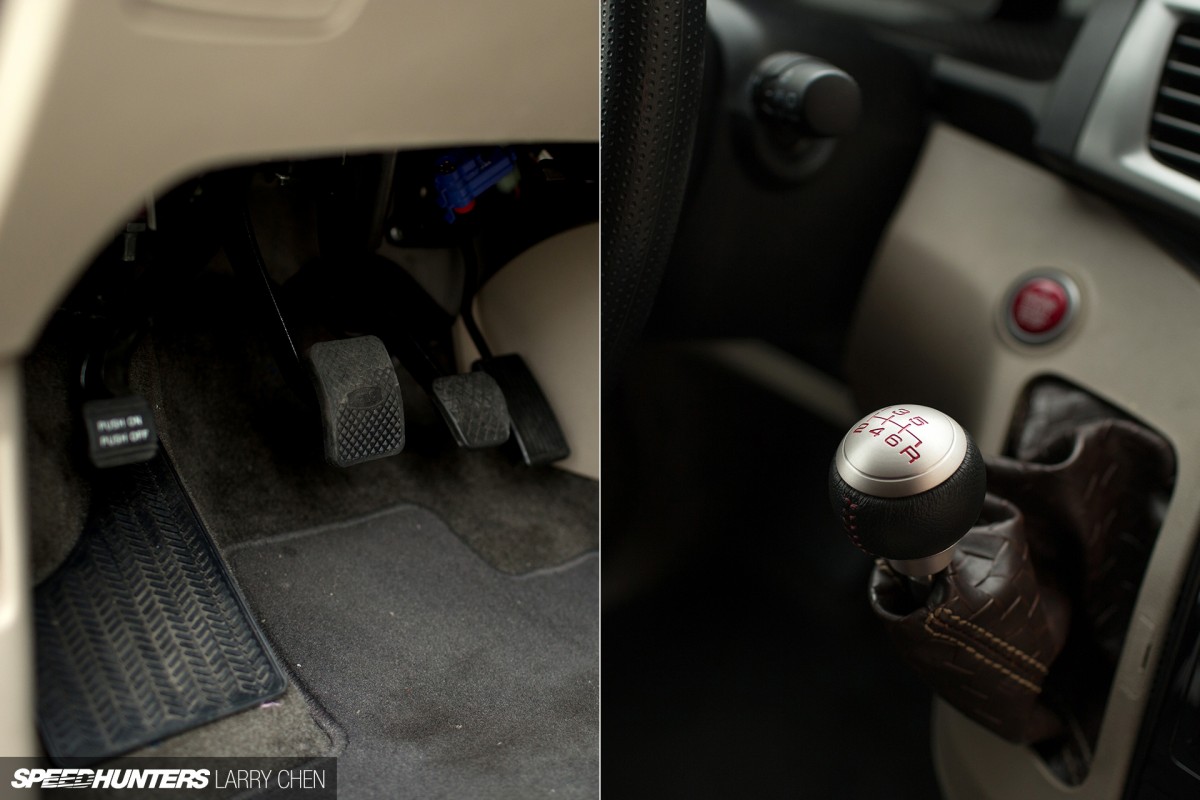 The transmission swap was far from a bolt-in affair, considering the routing of the pedals and the placement of the Odyssey's shifter. Sure it might have been easier to just get the six-speed in there however they could, but the goal was to have everything look as factory as possible – regardless of the work involved.
The right kind of crazy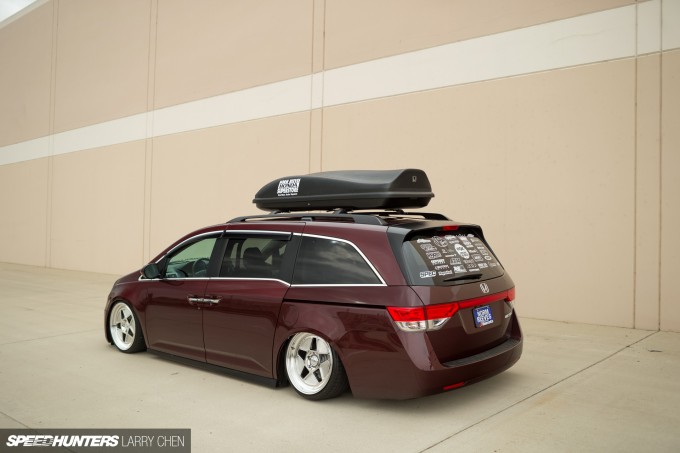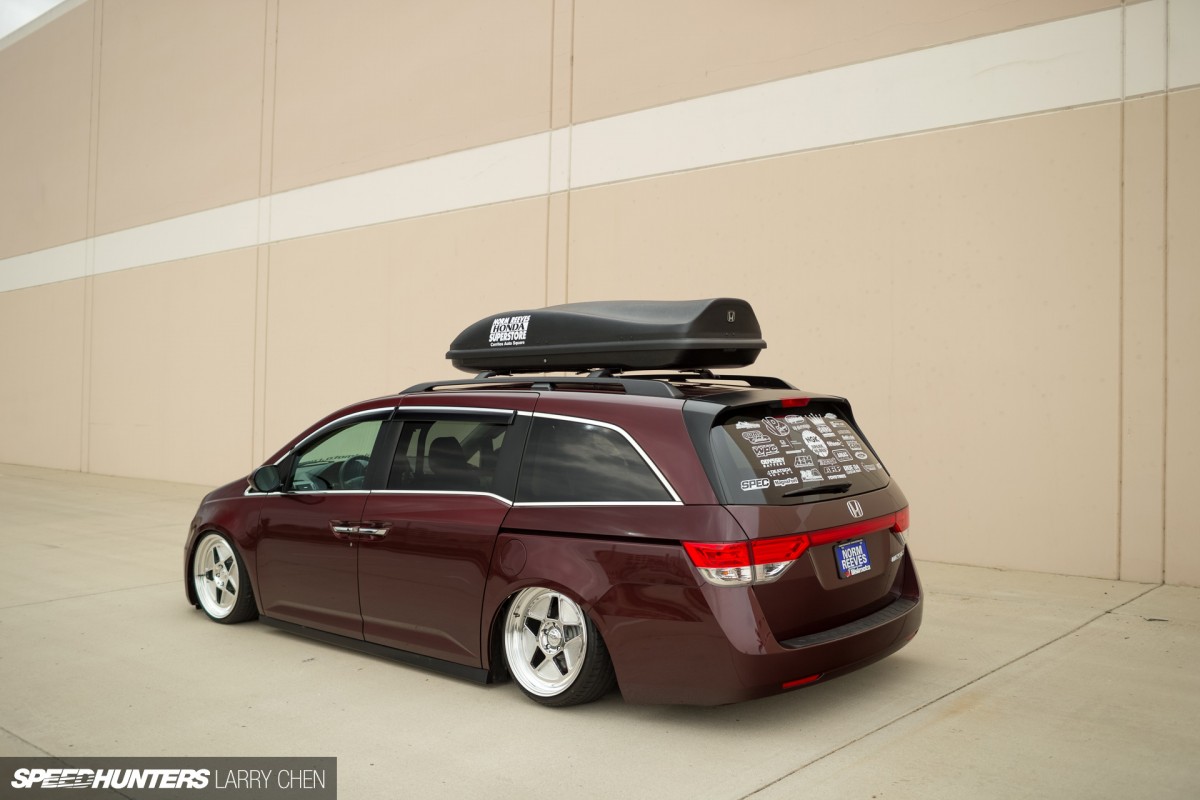 While the van is putting out an incredible amount of horsepower, the Odyssey was designed for the street – so plenty of effort was taken to make it look as cool as possible.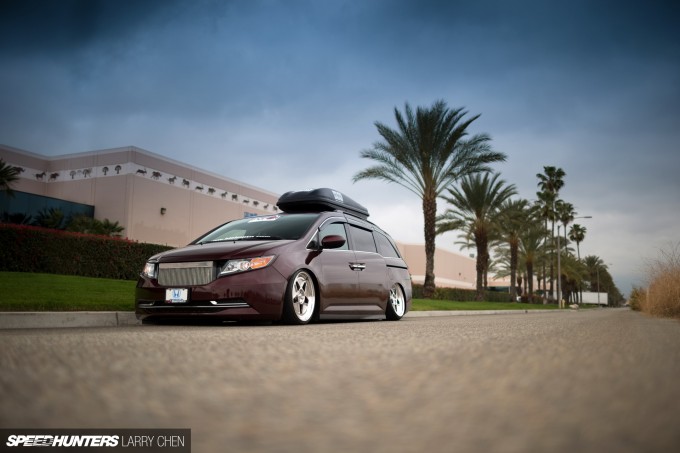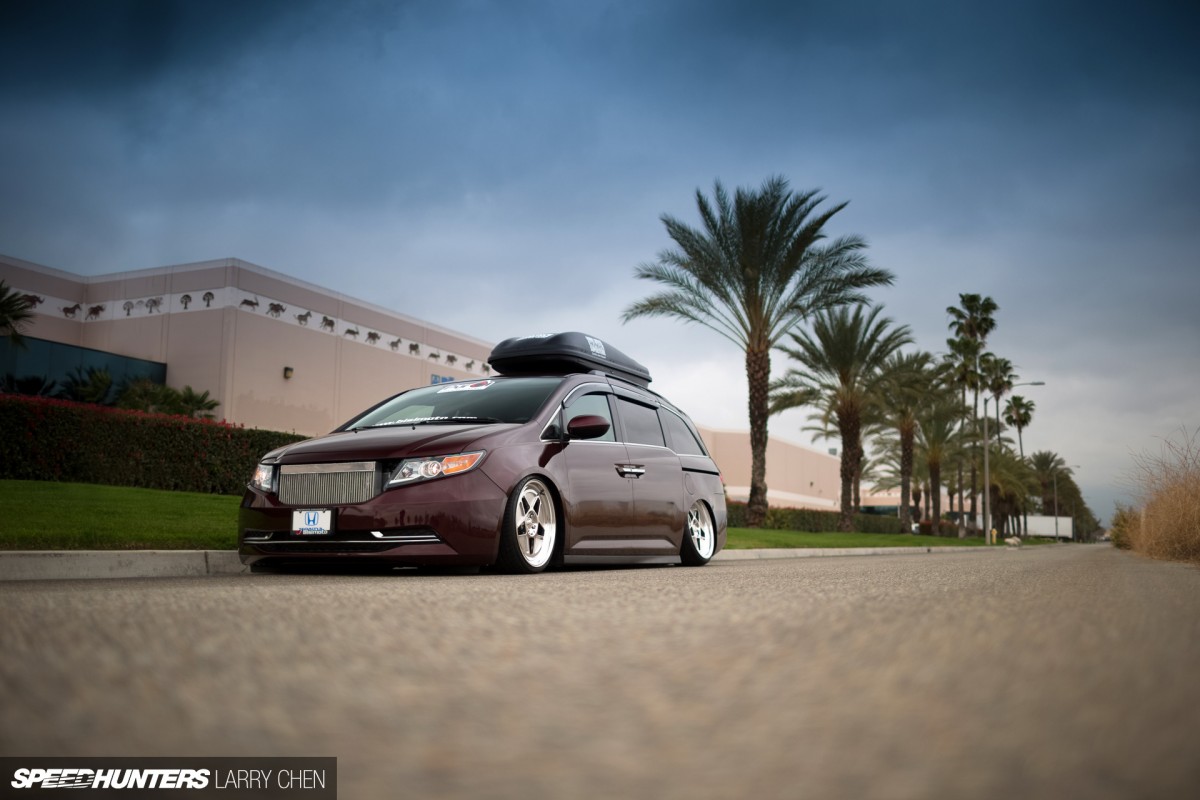 In fact, if it weren't for that huge intercooler popping out of the front bumper, you could easily be fooled into thinking this was just a VIP-inspired street cruiser.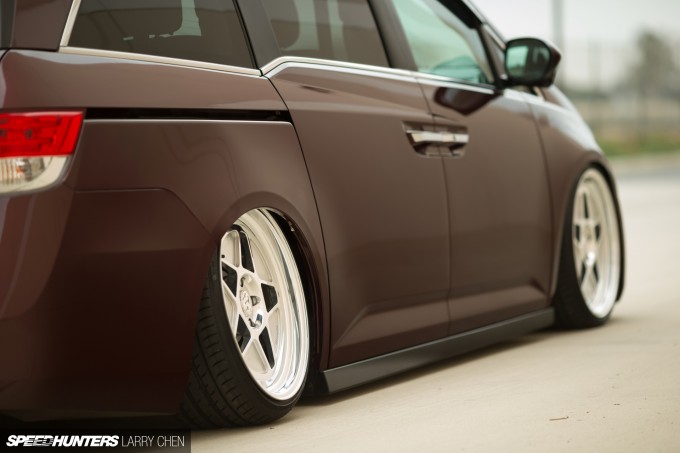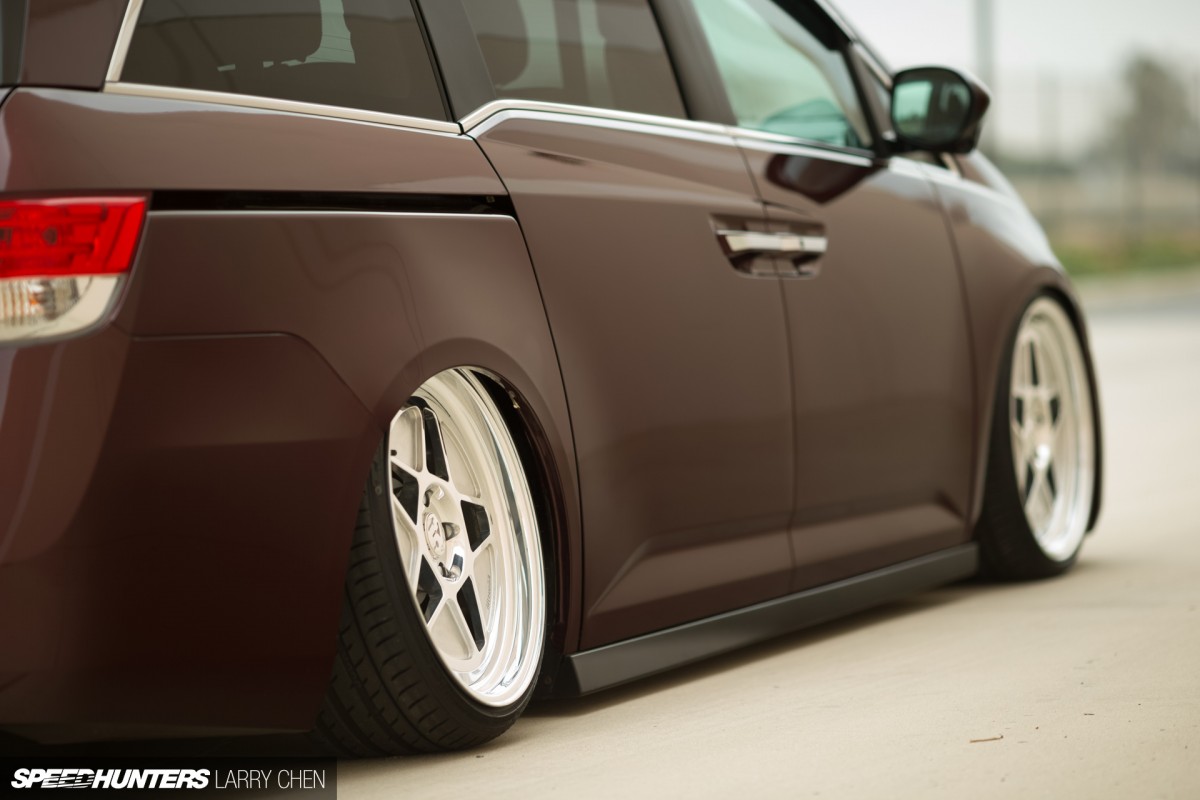 Rather than running a stiff competition suspension, the Odyssey has been fitted with an adjustable set-up from Air Ride Equipment, which can make the big van hit the deck with the flip of a switch.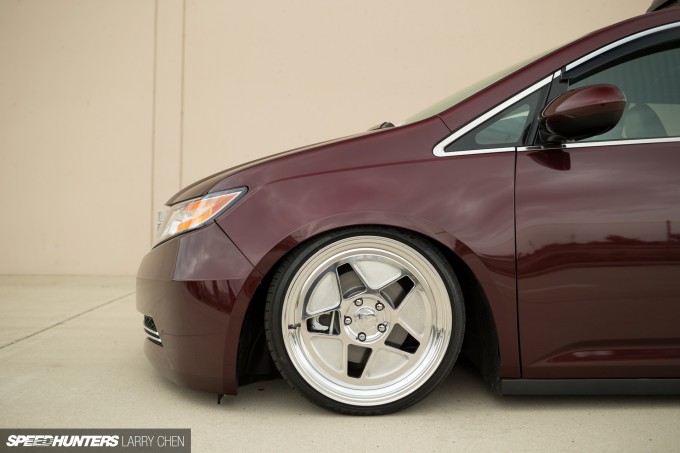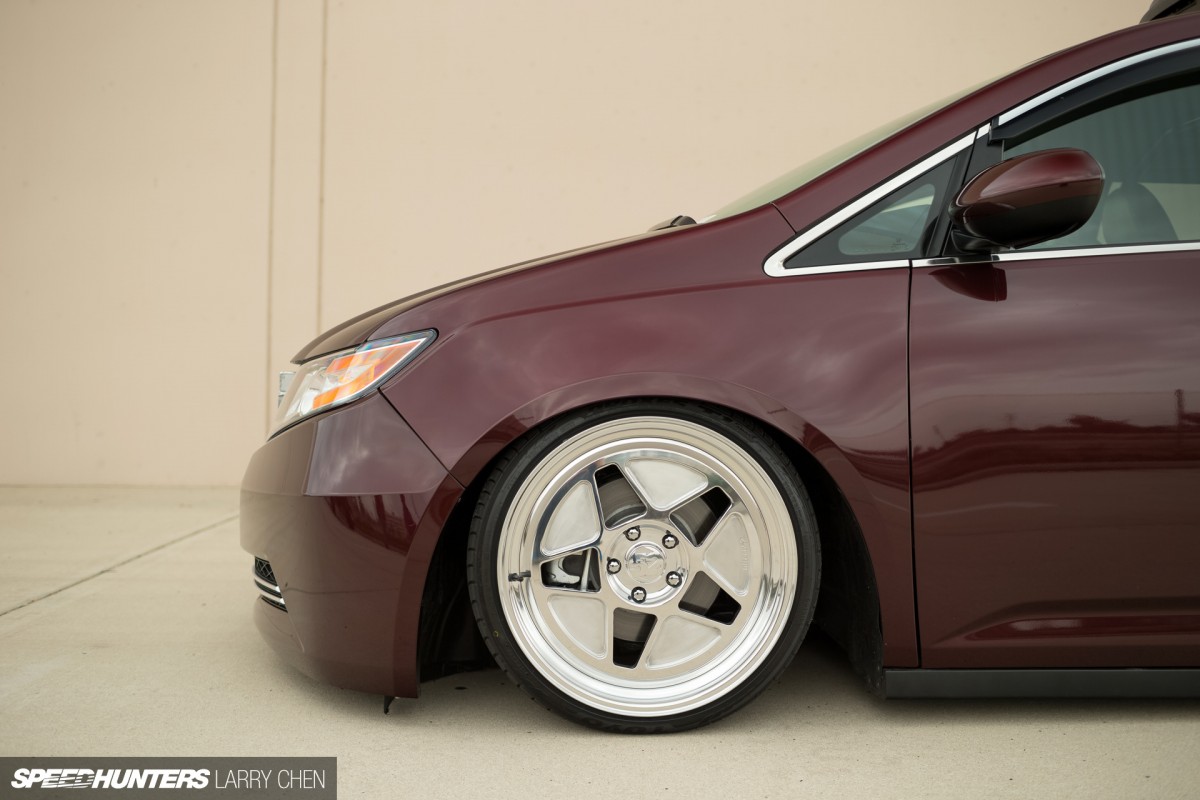 Helping even more in the style department are a set of Tarmac R40 wheels from Fifteen52.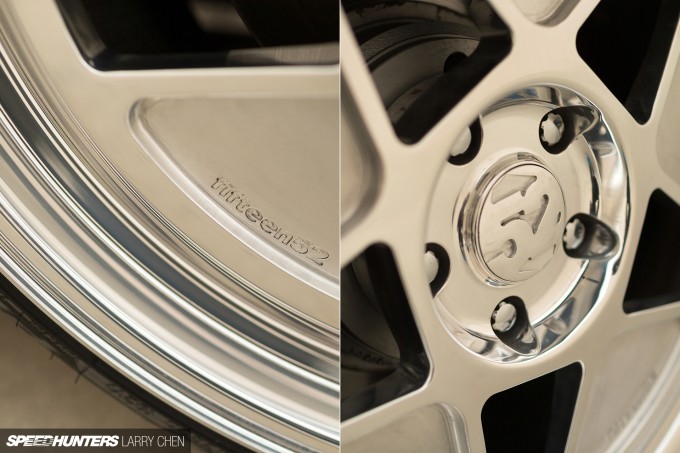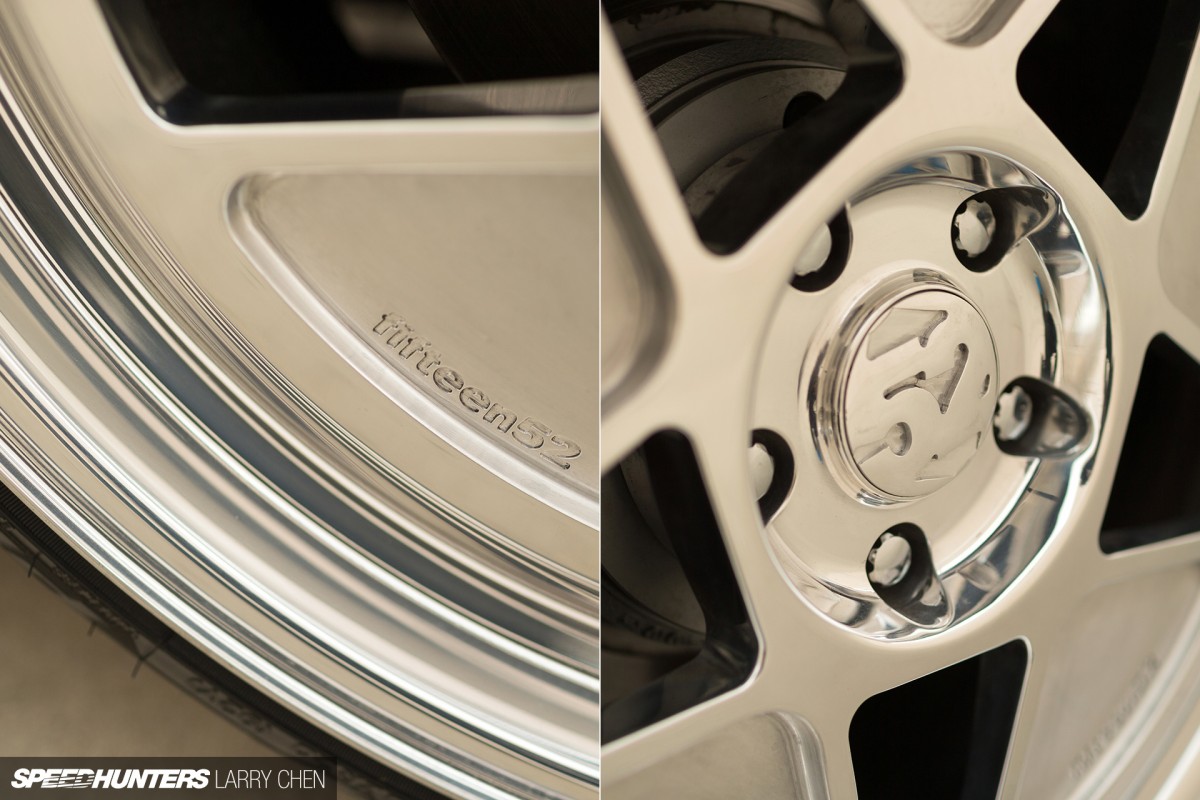 The custom-built wheels measure 20 inches in diameter and are covered in 255/30/20 Toyo T1 Sport tires at each corner.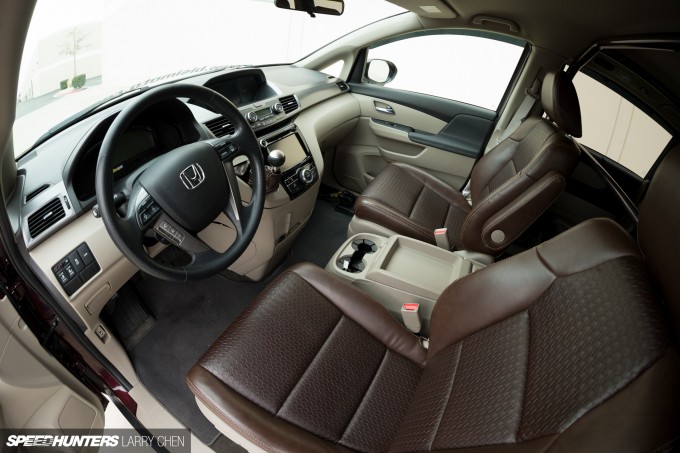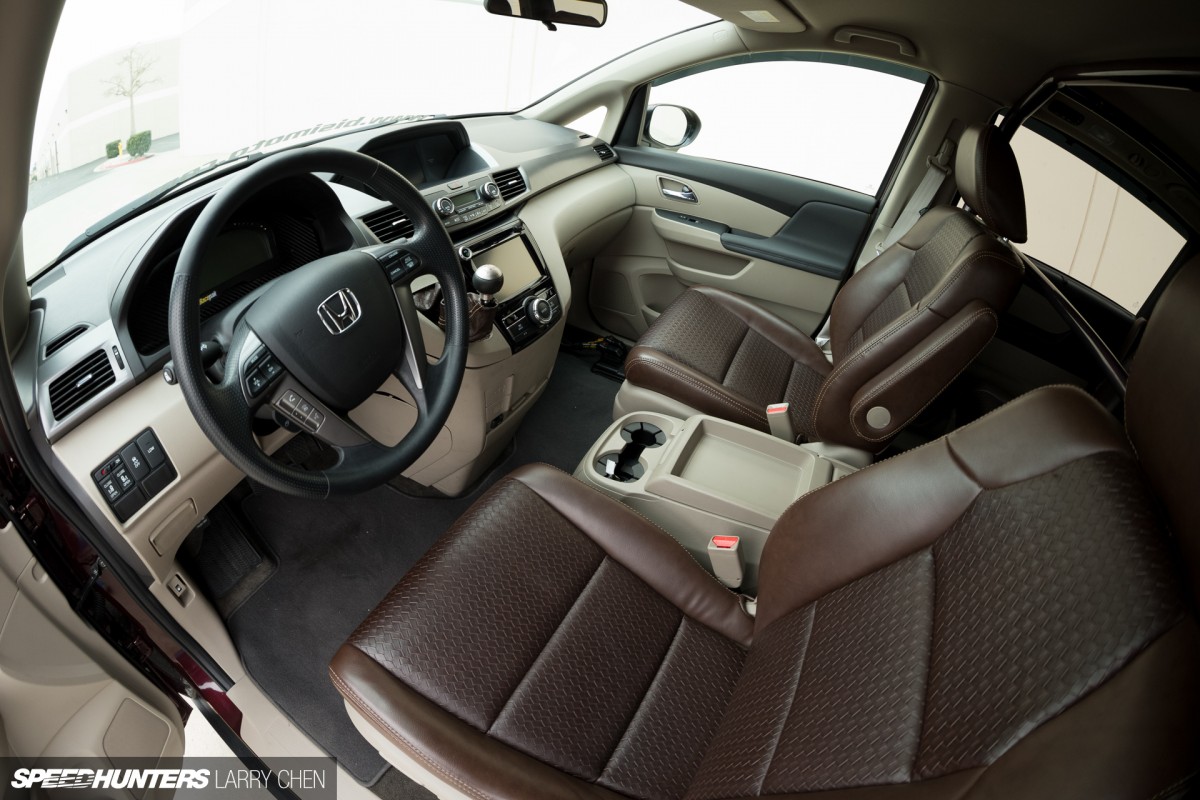 An important part of the vision for the build was to have a van that was not only fast, but could carry a family around in comfort – just as the standard Odyssey does.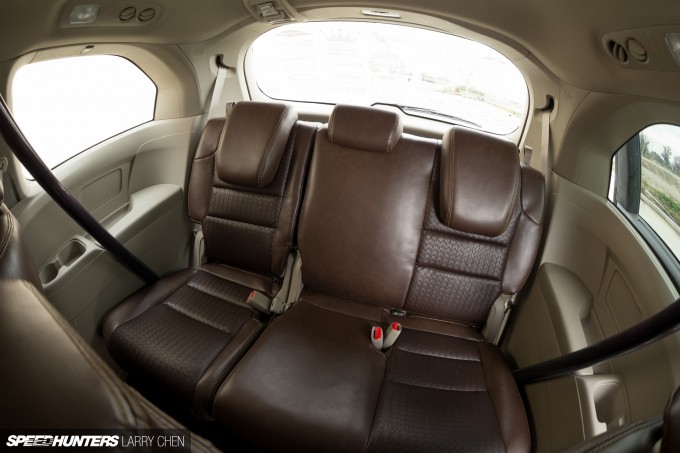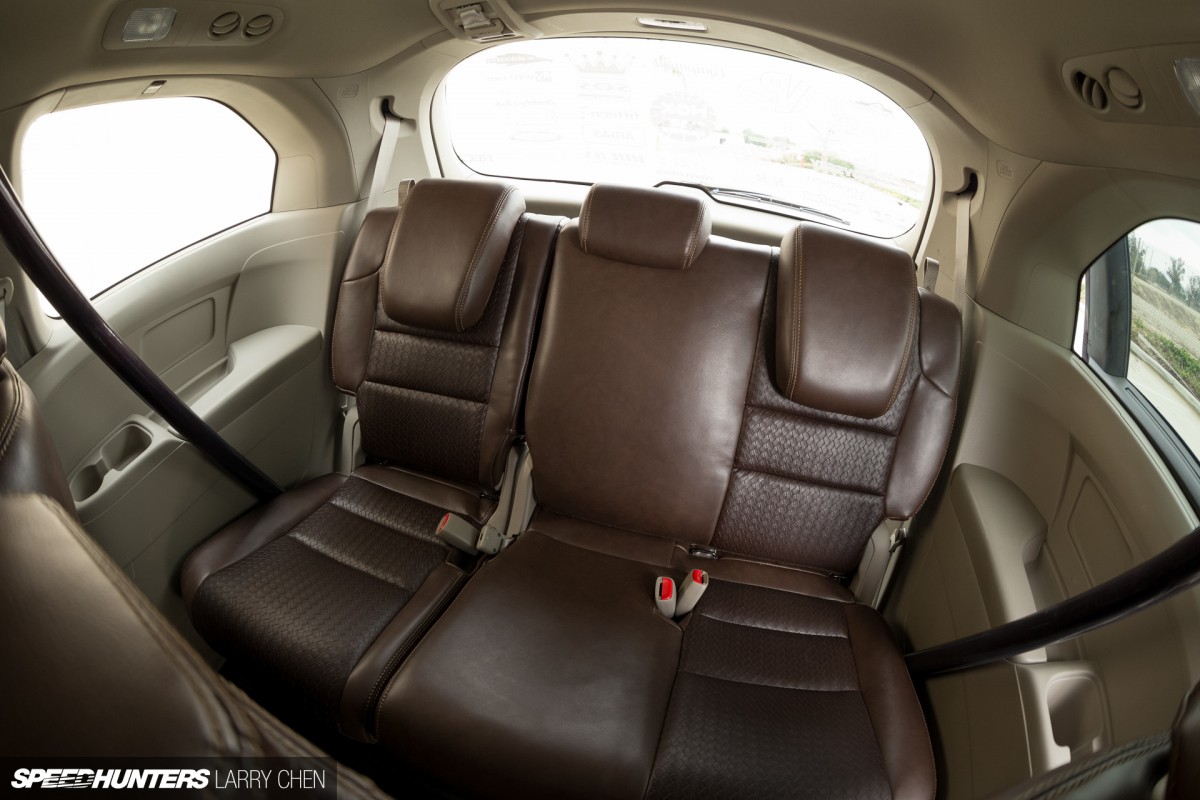 Not only does the minivan have all the creature comforts of the stock model, it's also got some cool luxury touches like full leather upholstery from an outfit called SOS.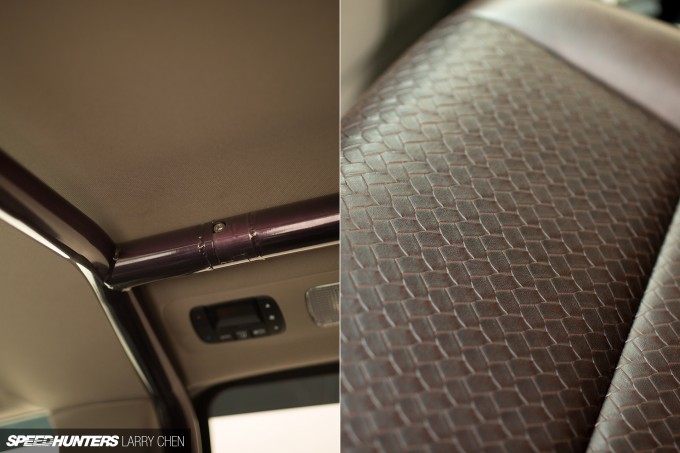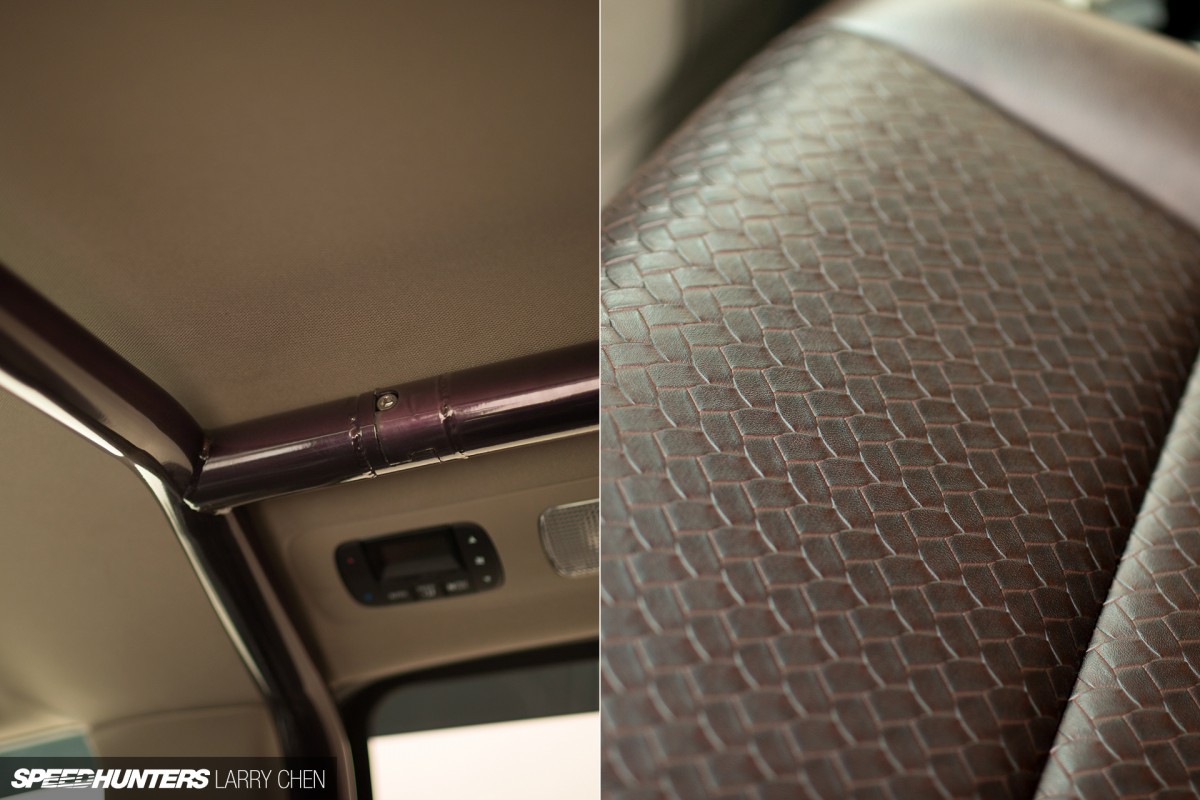 There's also a one-off Bisimoto four-point roll cage with custom powdercoating by RJ coatings.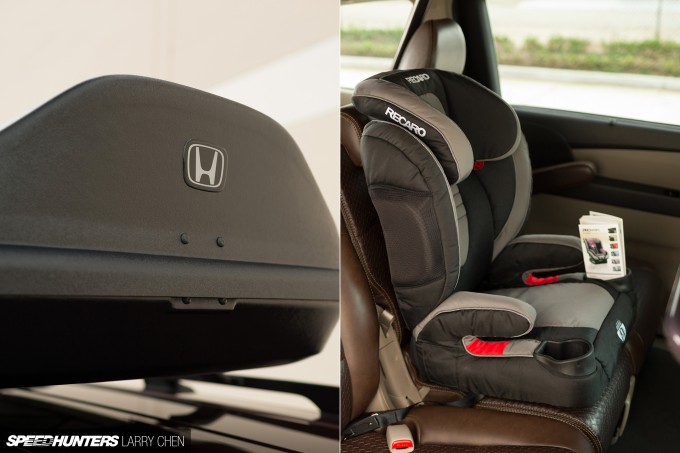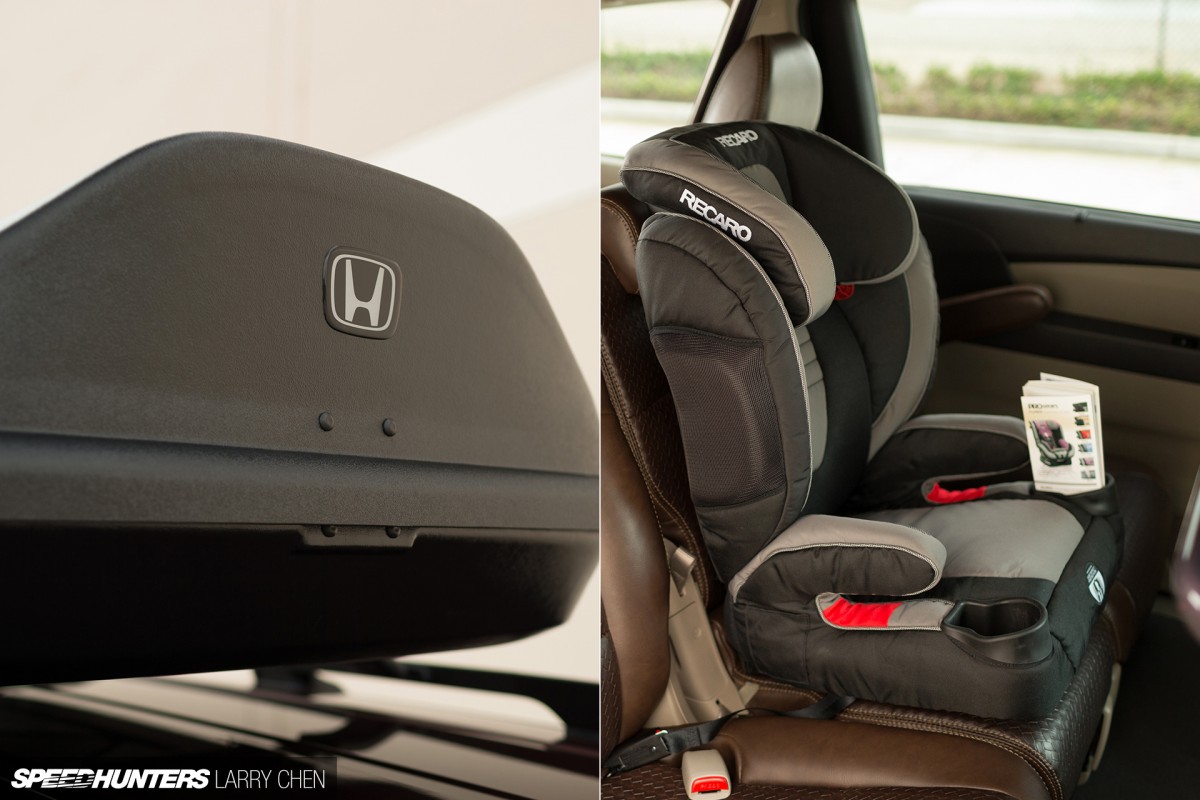 Let's not forget the family goodies either, like a genuine Honda roof-mounted accessory box and a Recaro child seat for the little ones.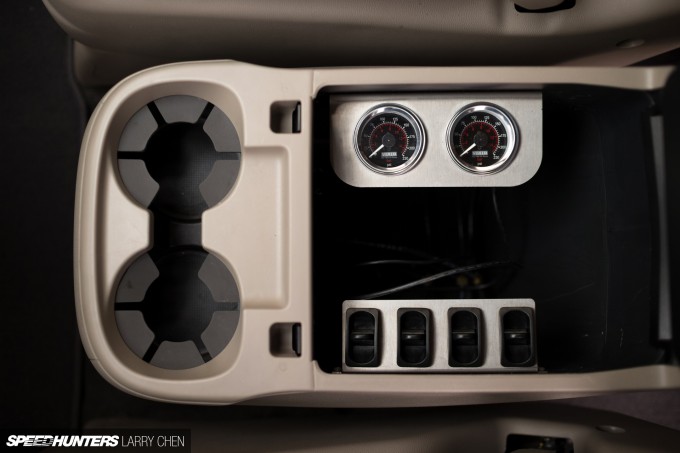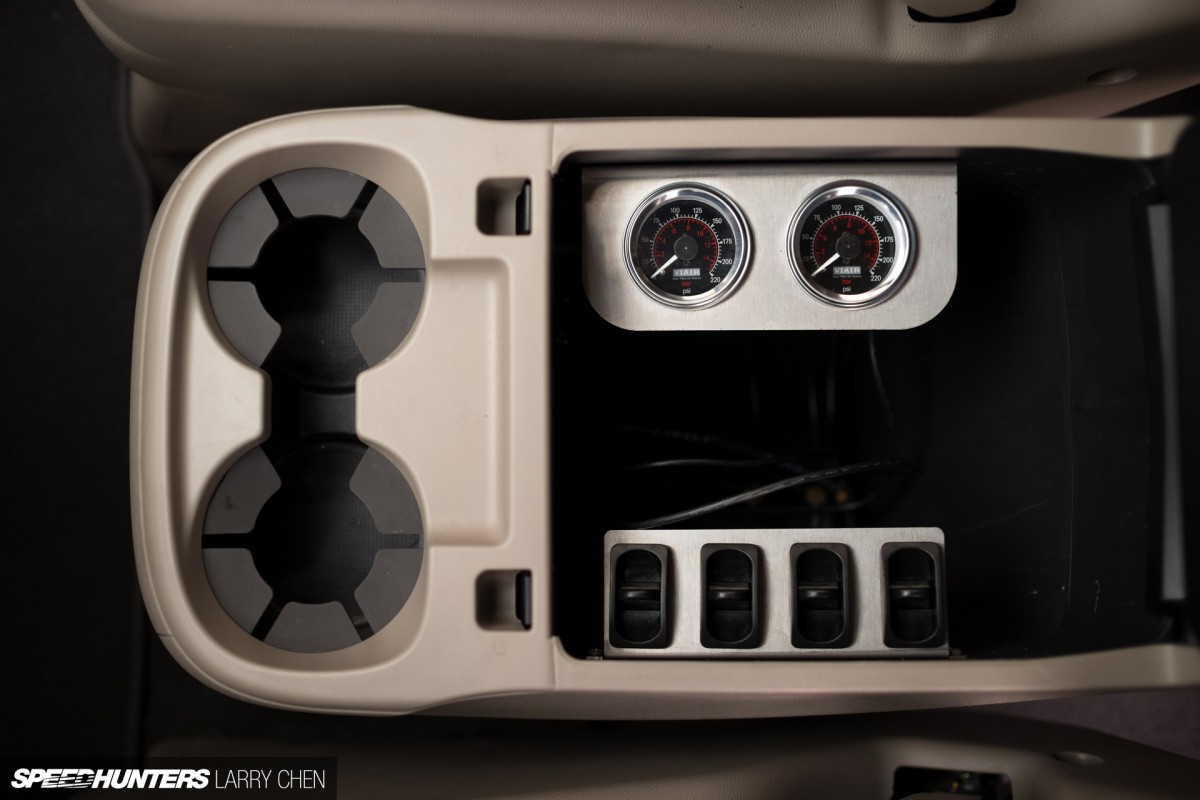 As with every car that Bisimoto builds, the attention to detail is just top notch – whether its the placement of the air suspension controls in the center console.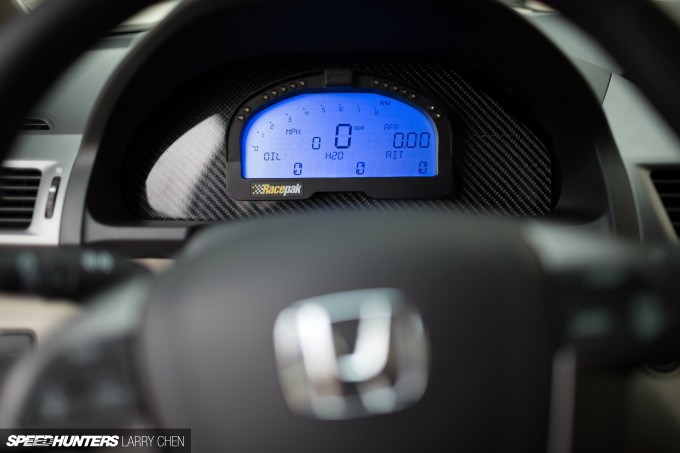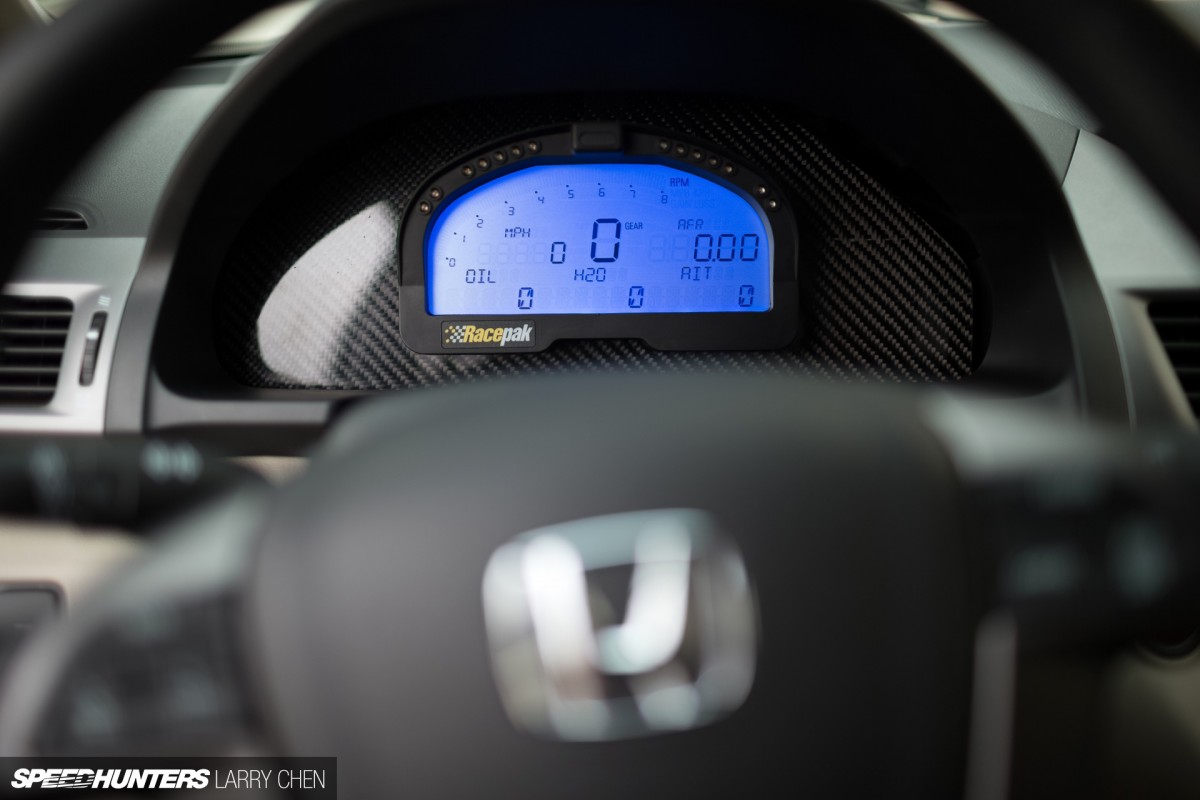 Or the Racepak IQ3 dash system cleanly set into the factory instrument hood.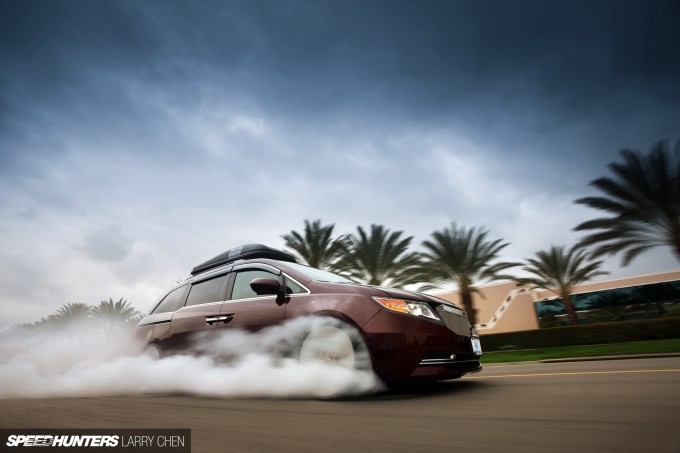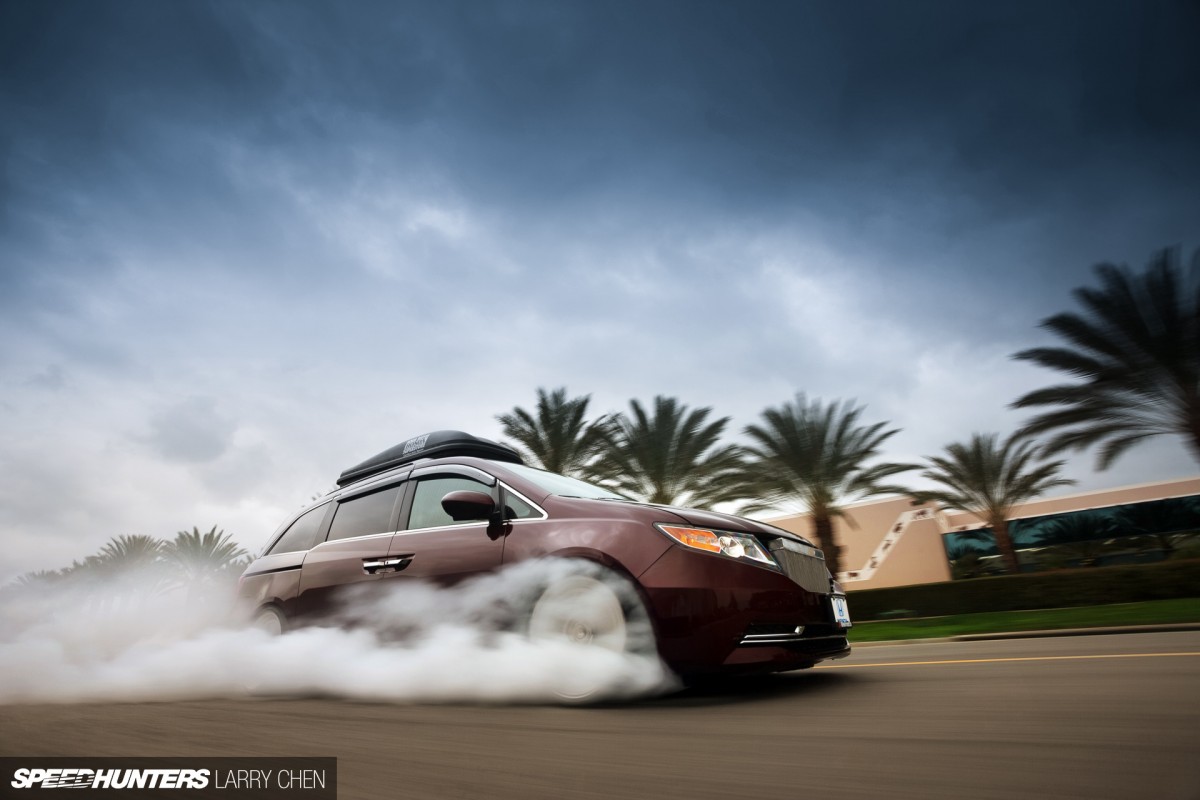 The end result of all of Bisimoto's work is images like this – a minivan absolutely destroying its front tires on the street. Even at daily driver boost settings (600 horsepower), there's no traction in gears 1-3 and at full boost, you won't find traction in any gear. As Bisi says, that just means less stress on the drivetrain!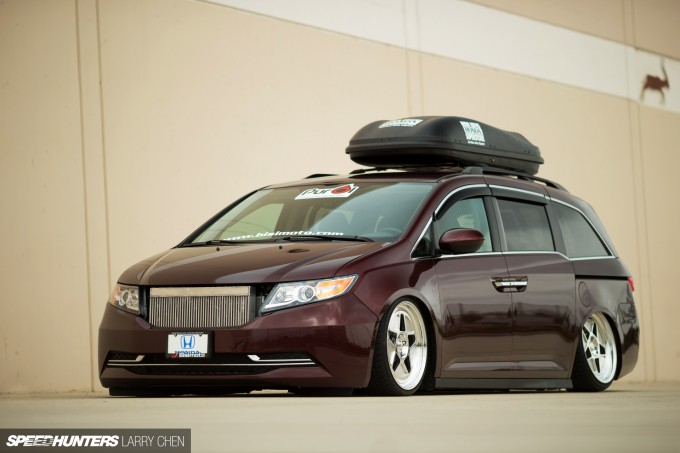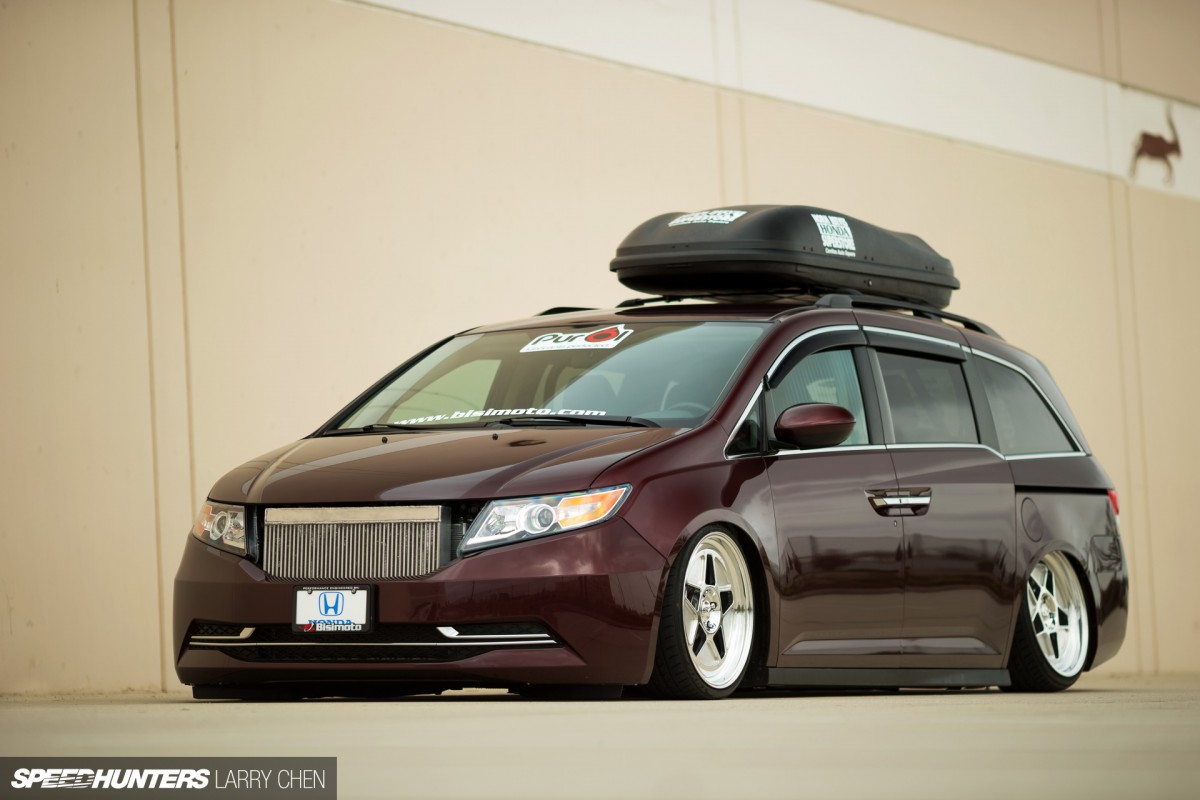 Even with all the crazy cars he's has built, we're told the Odyssey has been the shop's most popular project yet. When you think about how off-the-wall this thing is, it's not so surprising.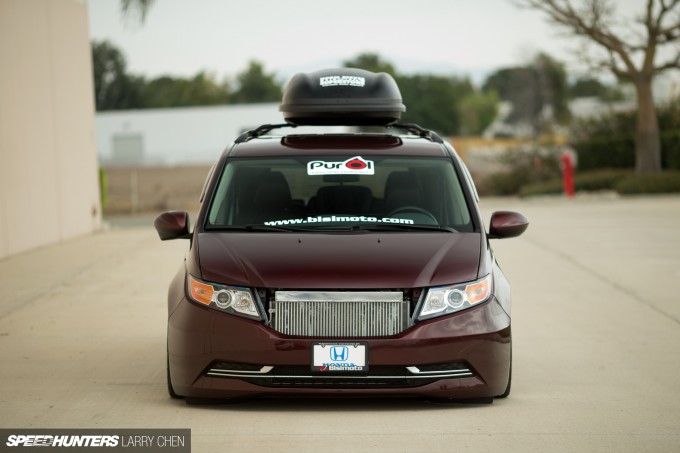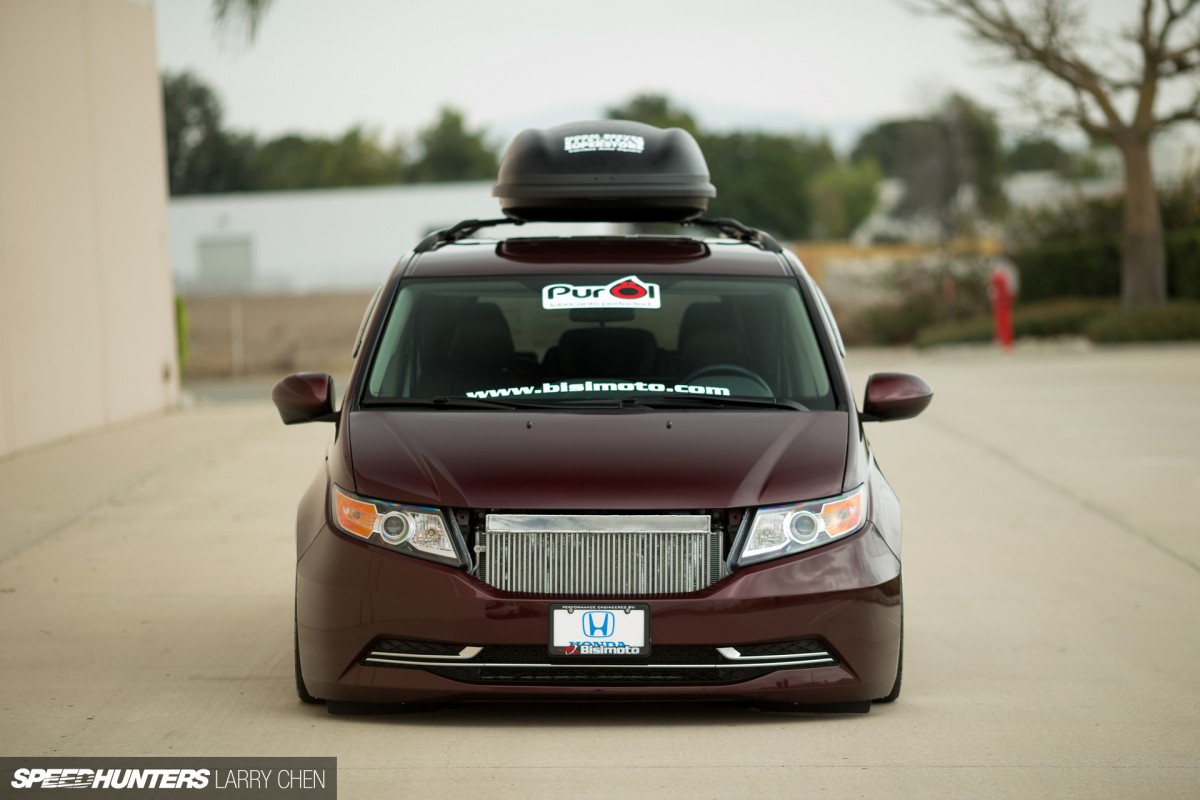 And as wild as this van is, Bisi tells us he has some even crazier projects coming out later this year.
Yes, I think I love this guy even more than I already did.
Mike Garrett
Instagram: speedhunters_mike
mike@speedhunters.com
Photos by Larry Chen
Instagram: larry_chen_foto
larry@speedhunters.com