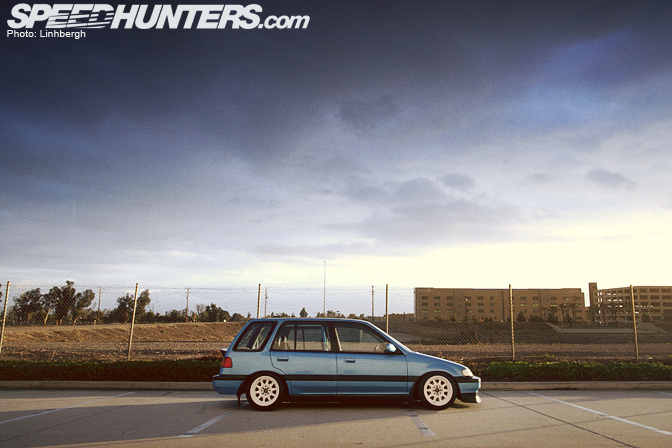 This 1988 Civic Wagon started off as a joke.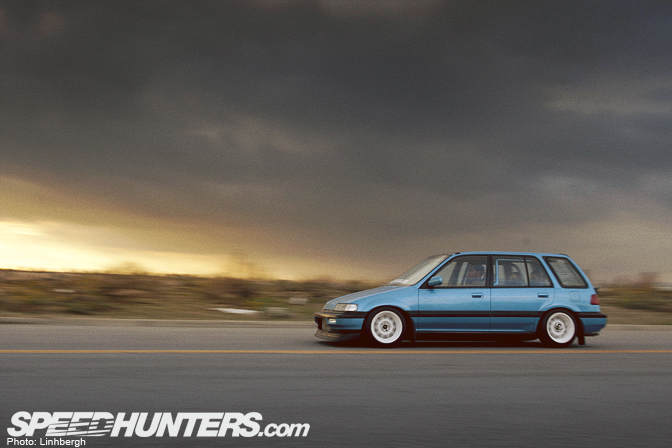 It was a build which infamous tuner, Bisimoto, took quite light heartily. But as all jokes go, its all about the delivery or final punch line. In order to have that great punch line a bit of seriousness had to brought in.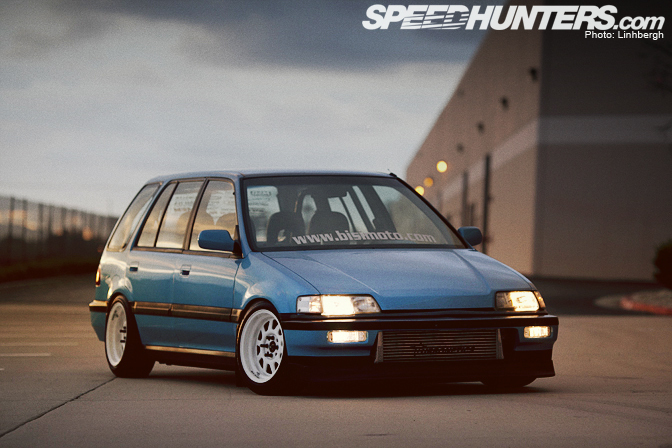 Last year, a print magazine held a high profile engine building challenge and invited all the big tuning houses to compete. The challenge was for those tuning houses to build an engine that can produce the most horse power per liter in an streetable, unleaded fuel engine. Many tuners (we'll be leaving the names out to protect those involved) entered with turbocharged motors with the exception of two tuning houses. One of them was Bisimoto Engineering.
Long story short, the other competitors with boosted setups faired very well in the competition. Bisimoto entered with a 360 horse power F22A engine but did not win the event.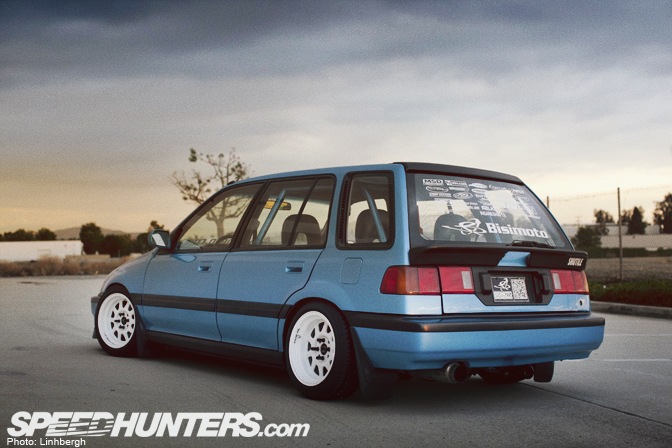 At the award ceremony, Bisi was approached 
one of the tuners in the competition, and asked why they chose to run a naturally aspirated motor. He simply answered that he wanted to build an engine in the true spirit of the competition: a reliable, streetable, chassis friendly engine. Apparently Bisi's answer was not good enough, as the tuner responded, "didn't you build a naturally aspirated motor because that is all you know?"
After such a proclamation, there was only one option for Bisi: to prove that tuner wrong.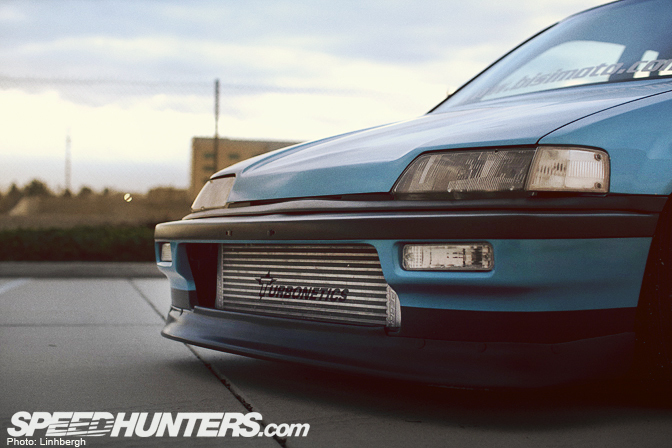 Sitting just above the Weksos CRX front lip is a rather large Turbonetics intercooler is good hint of what lies just beyond….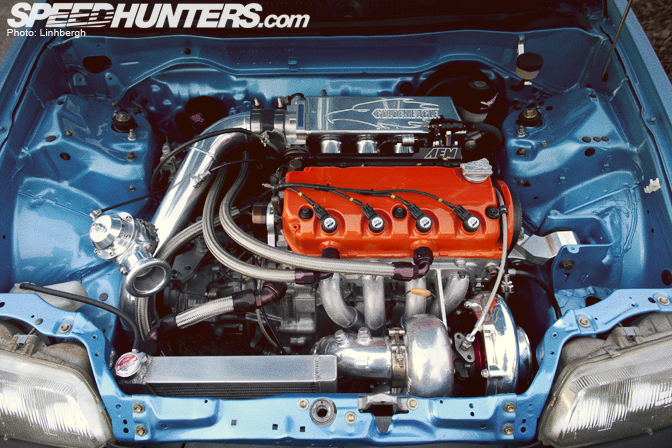 What Bisi built was, in his eyes, the most powerful street, small displacement Honda ever, with this 724whp and 500 ft/tq 1.6L single cam D16Z6! Instead of slapping on a giant turbo and calling it a day, Bisi build the D16 like he would a naturally aspirated engines. Inside the D16 head featured a Bisimoto Cam Gear, Bisimoto Springs and Titanium retainers, Bisimoto Level 3.6 camshaft, Supertech Stainless Steel intake valves, Supertech Inconel Exhaust valves and a Golden Eagle Head gasket.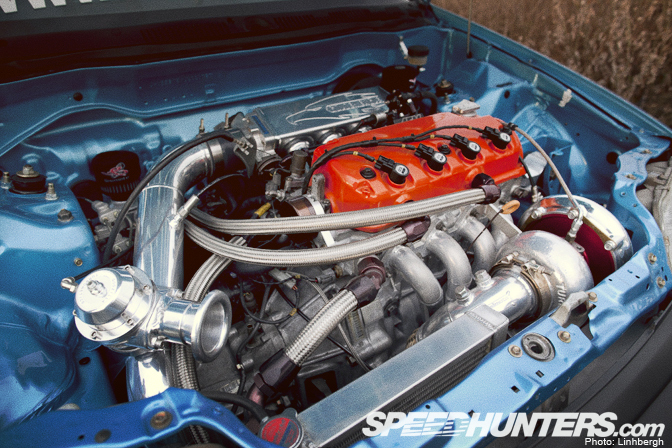 The block was also beefed up with Arias 9:1 75.5mm pistons, Golden Eagle sleeves, Bisimoto Spec H-beam steel Rods, and Honda Bearings.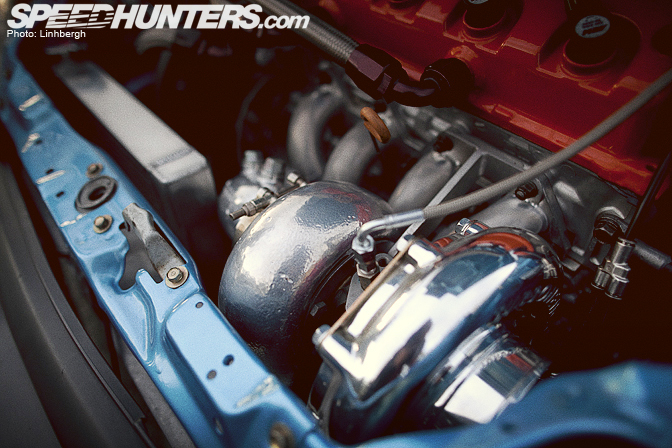 With the engine bulletproofed the next thing was to add a Bisimoto/Turbonetics BTX6565 turbo…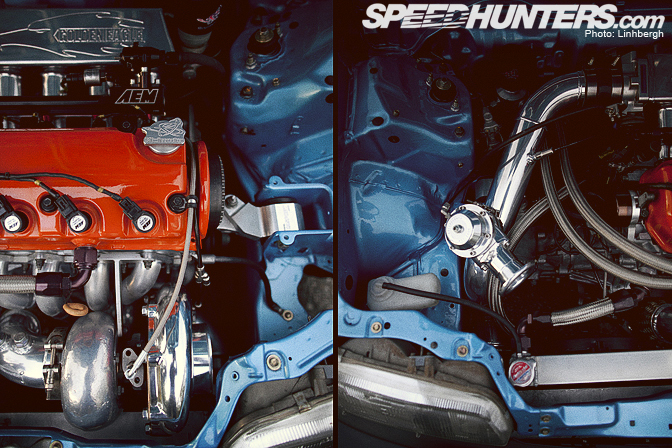 …which features a Turbonetics RG-45 waste gate and a Turbonetics Godzilla blow-off valve. A ceramic coated Bisimoto prototype top mount twin scroll manifold, was used to mate the snail to the head. An AEM Water Meth kit was also installed for those super high boost moments.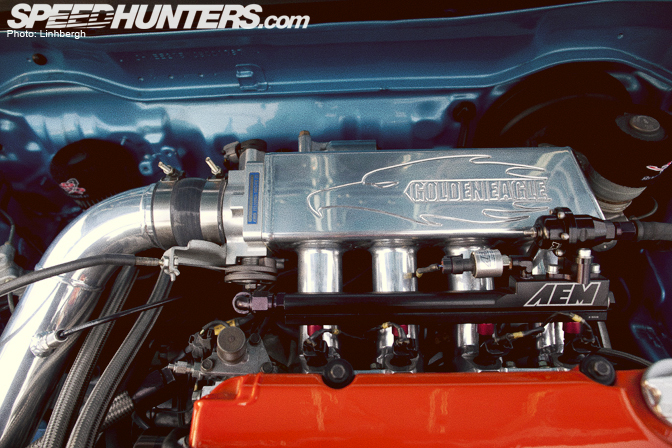 The intake system features a Golden Eagle Intake manifold, Skunk 2 68mm throttle body, T1 1000cc Injector Dynamics squirters, AEM fuel rail, and an AEM fuel pressure regulator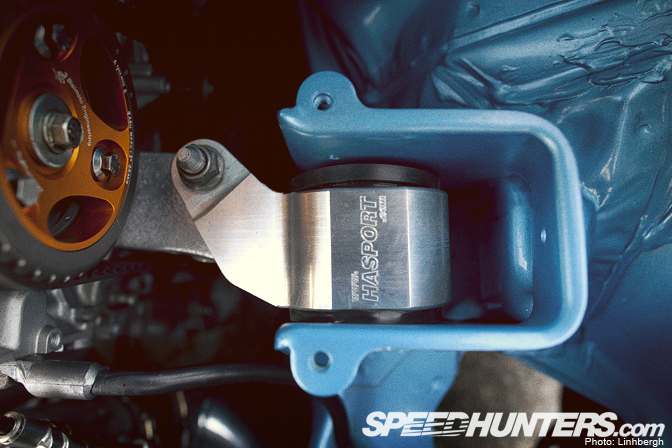 A solid set of Hasport D-series EF engine mounts tames beast within.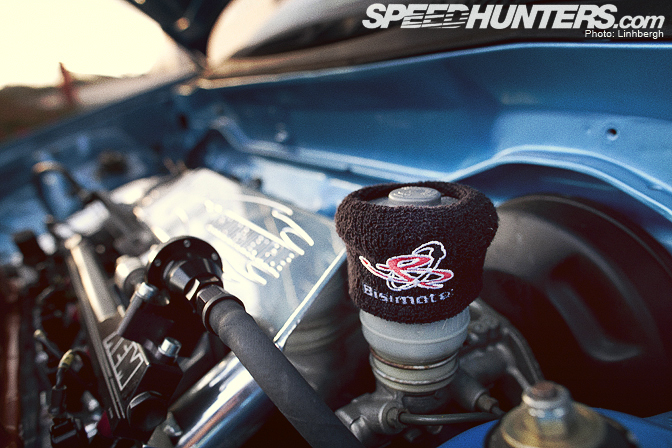 Bisi finalized the motor with a set of his own reservoir socks.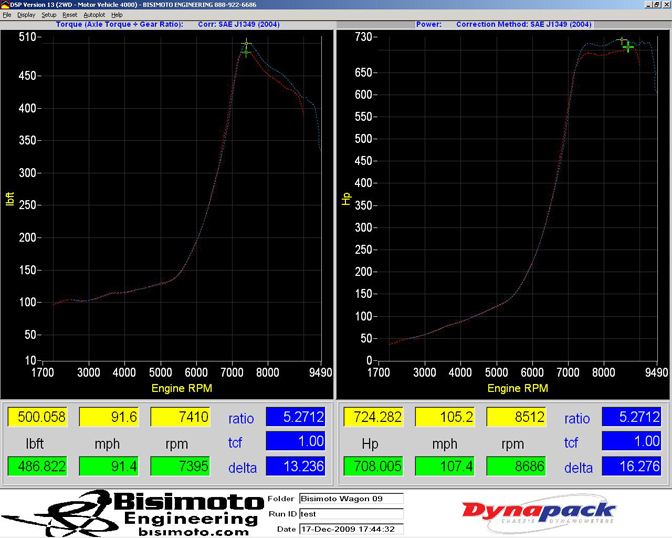 Bisi sent over this dyno chart. The left side was the motor running on 91 octane and water methanol which resulted in 708whp and 487ft/lbs. The right side of the cart is with the motor on VP100 unleaded and water methanol which bumped up the power to 724whp and 500ft/lbs!
The finished engine was the joke's punchline. It became the most powerful motor with the least amount of displacement for the engine building competition and the tuner which started it all gained a might higher respect for Bisi.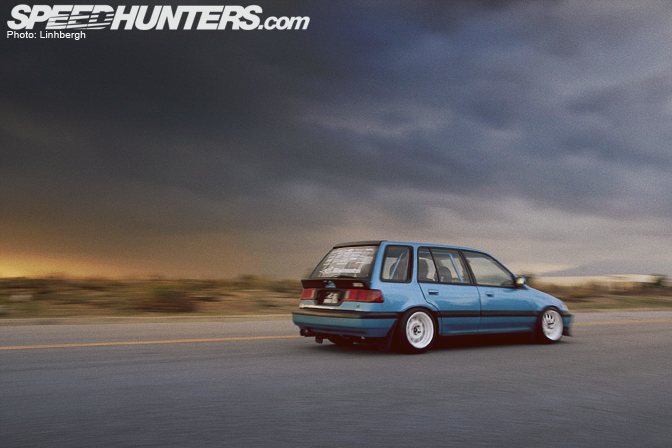 In terms of suspension, Bisi used a set of Progress Series 1 coil overs and combined that with a Progress Honda EF sway bar, Progress Spherical Solid control arm Bearings, and Energy Suspension Hyper-Flex bushings. The result was a car that rides low, goes like stink and takes corners like a champ.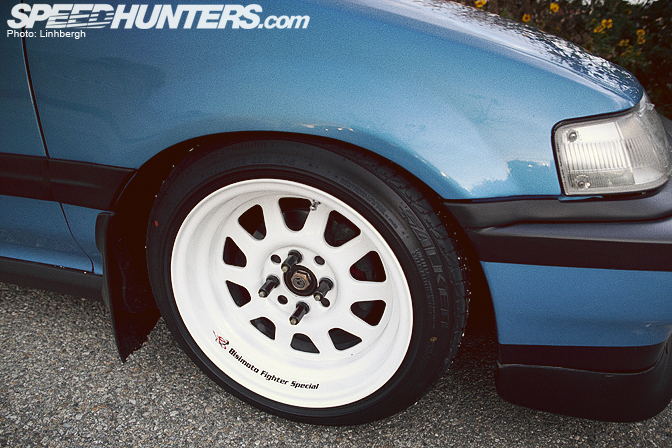 The car originally had a set of really aggressive wheels but Bisi replaced them with his own Bisimoto Fighter Special Wheels which are 15×8 with a 0 offset in the front and -6 offset in the rear. These wheels aren't as aggressive yet still sit flush. But these wheels let him actually use tires rather than waste them with excessive camber. The wheels are wrapped with a set of 195/50/15 Falken Ziex ZE512.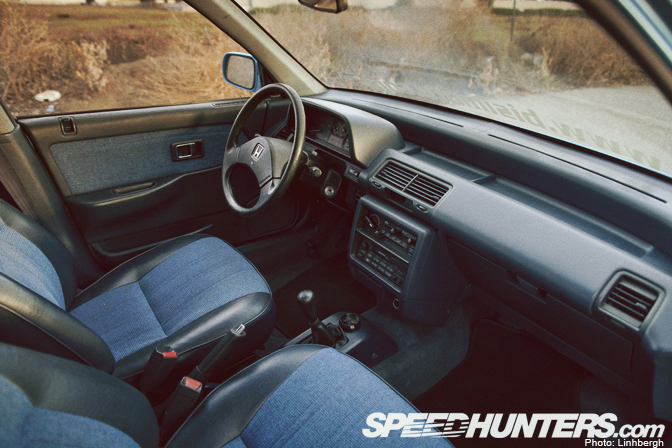 Bisi decided to keep the interior as stock as possible.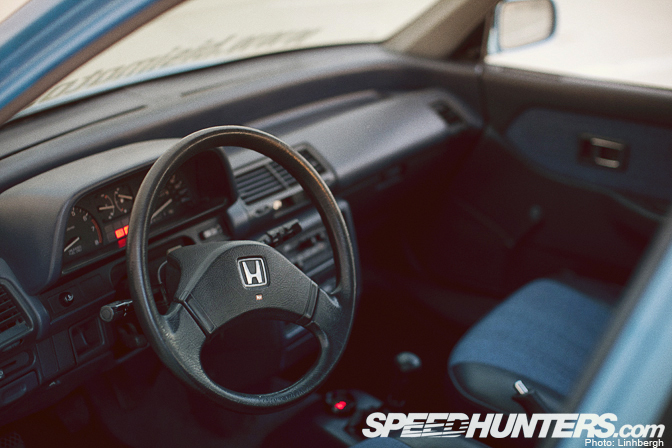 I love the fact that he's kept the original steering wheel on it.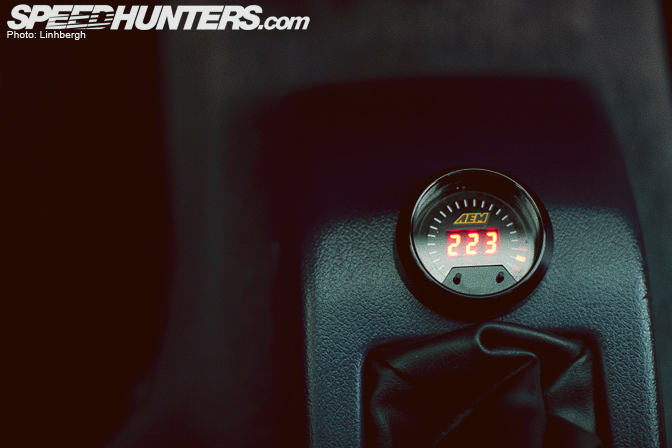 The only thing added to the interior was this AEM serial gauge…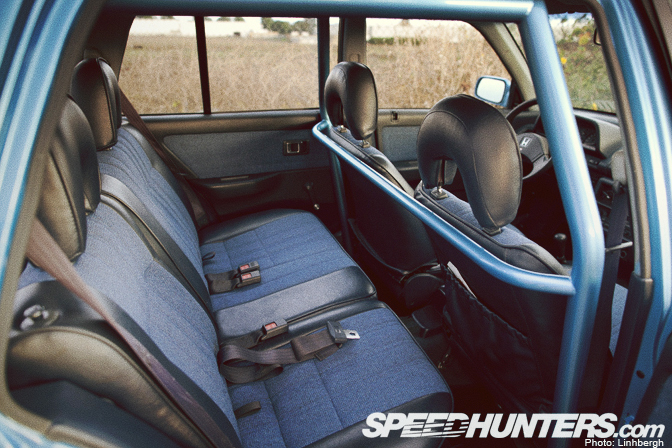 …and this five point roll bar.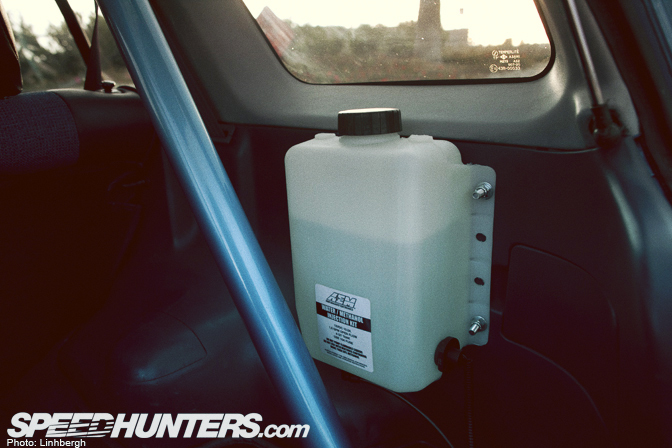 In the trunk sits the water methanol injection tank.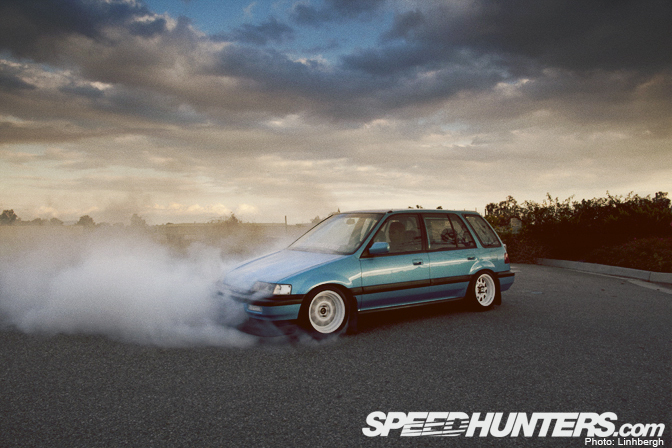 After getting all the important shots in, Bisi suggested that we should have a bit of fun and get some burn out shots for the feature. I couldn't agree more.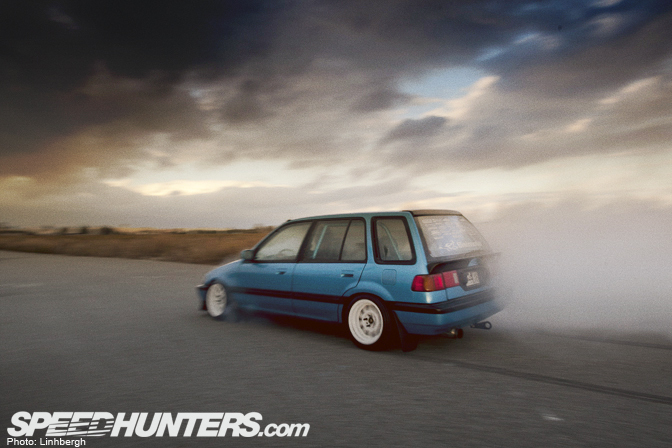 As the tires started to smoke up, the wind started to pick up and swept up all that wonderfully billowing tire smoke away.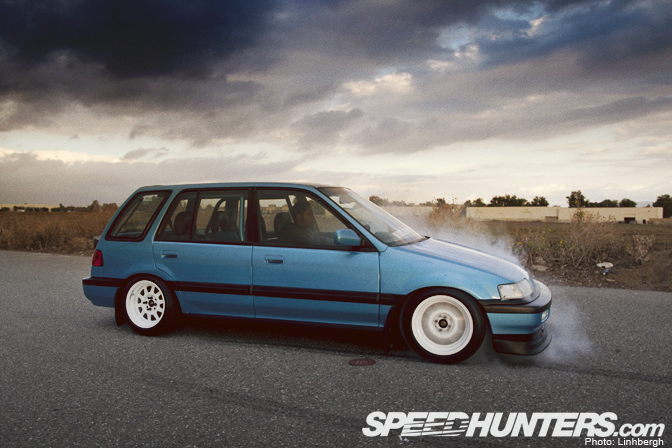 For the sake of photography, Bisi climbed in the car again and tried once more. This time facing the opposite way so the wind blows the tire smoke in the right direction. Since the tires were already heated from the previous burn out session…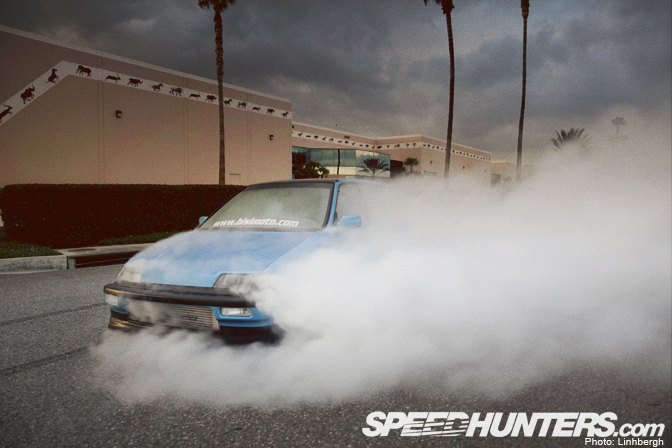 … this was the result.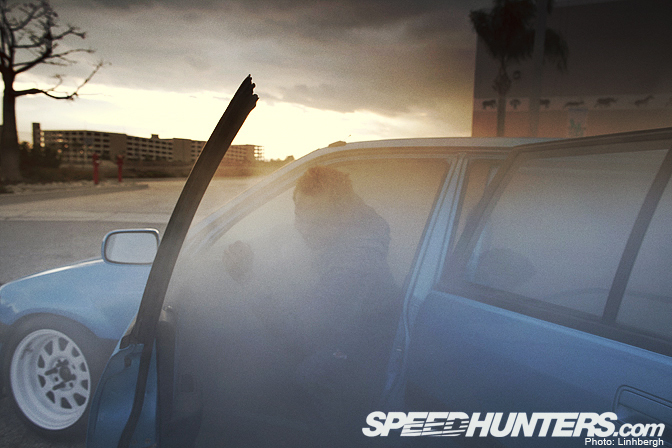 The cabin of the car filled up with an insane amount of tire smoke. Let's play the game of where's Bisi, shall we?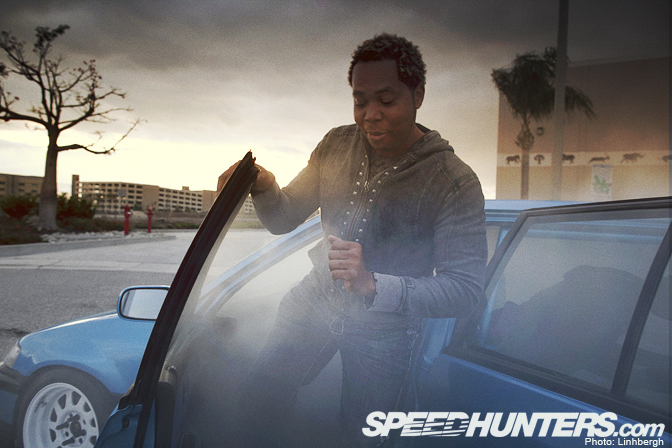 There he is! The crazy tuner himself.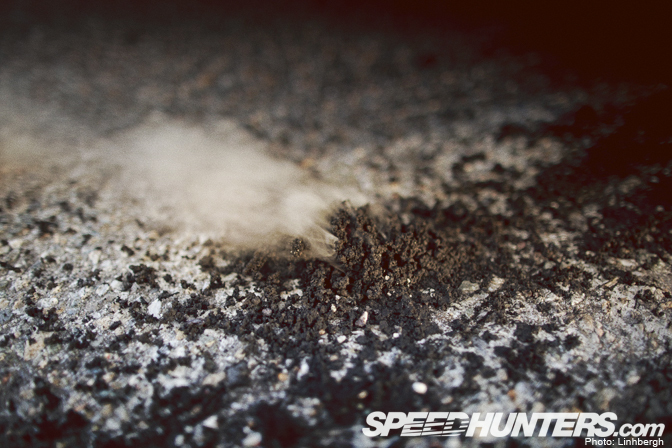 This was the aftermath: smoldering chunks of Falkens from the rear…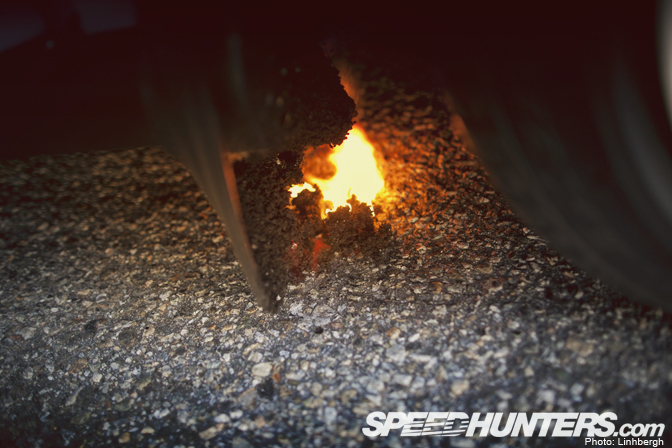 …and on fire from the front! 
After letting the engine cool down, Bisi decided we should do one more tire smoking session. This was the result.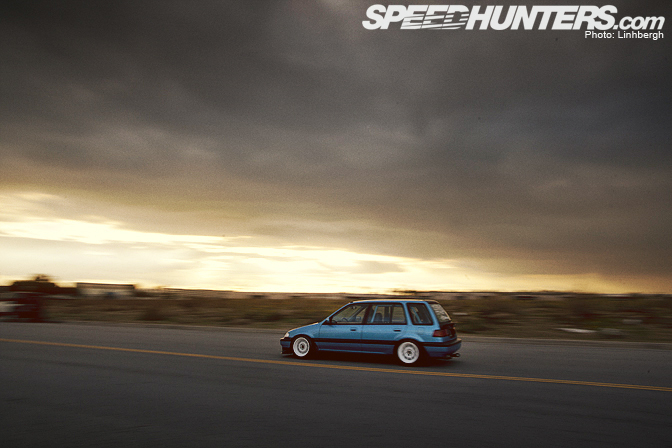 Bisi took the car and I out onto the motorway for a few quick pulls. When I say that this car deserves the name 'shuttle' I mean it. This little wagon can be rocketed into Earth orbit without breaking a sweat!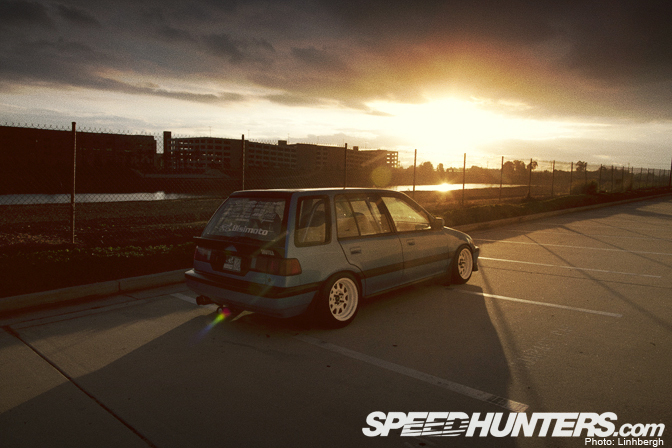 Since the engine building competition, this car has become Bisimoto's most popular build. It proved to be even more popular than his crazy race car builds, like his drag racing Honda Insight. The fact that the car still retains its original body, original interior (all of it as a matter of fact), houses a tiny motor engineered to fly this car into Earth orbit, and its simple and clean exterior help solidify its popularity.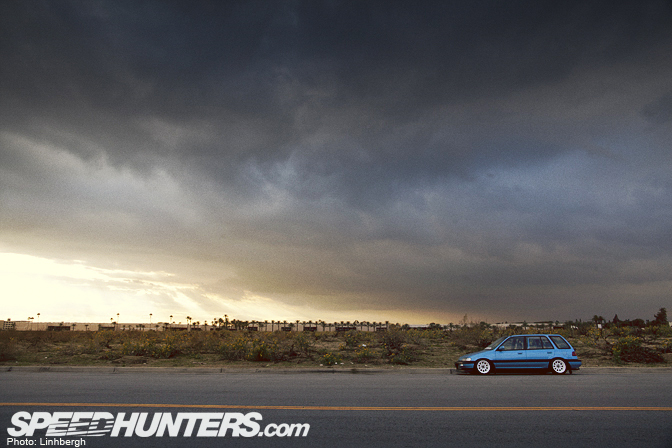 It's funny to think that this car originated as a joke. It was created with a light-hearted mind set. Nothing as serious as Bisi's race cars.
But at the end of the day, it was the little blue Civic wagon that got the last laugh. 
-Linhbergh
Chassis:
- 1988 Civic Wagon, 2WD
- Steen Chassis 5 point cage "tuck" 
Suspension:
- Progress Series 1 coil-over suspension
- Progress Honda EF sway bar
- Progress Spherical Solid control arm Bearings
- Energy Suspension Hyper-Flex bushings
Wheels & Tires:
- Bisimoto Fighter Special Wheels, 15×8, 0 offset front, -6 offset rear
- Falken Ziex ZE512 tyres, 195/50-15
Head:
- D16Z6 head
- Bisimoto Cam Gear
- Bisimoto Springs and Titanium retainers
- Bisimoto Level 3.6 camshaft
- Supertech Stainless Steel intake valves
- Supertech Inconel Exhaust valves
- Golden Eagle Head gasket
Block:
- D16Z6 
- Arias 9:1, 75.5mm pistons
- Golden eagle sleeves
- Bisimoto Spec H-beam steel Rods
- Honda Bearings
- Stock Ported Oil pump
- Bisimoto/Evolution Aluminum Flywheel
- Bisimoto/Evolution Sandwich plate
- K&N Oil Filter
- AEM Oil Pressure gauge
- Hasport D-series EF Mounts
Gearbox:
- Stock D15B Vtec 
- Skunk 2 short shifter
- Spec twin disc clutch assembly
- Insane shafts axles
- Hasport Hydro to cable mechanical conversion kit
- Hush-22 EF cable to hydro conversion kit
Induction/Fuel:
- Bisimoto heat shielding gasket
- Golden Eagle Intake manifold
- Skunk 2 68mm throttle body
- T1 1000cc Injector dynamics squirters
- AEM Fuel rail
- AEM Fuel pressure regulator
- AEM fuel pressure gauge
- 6AN fuel lines
- Stock return lines
- AEM Water Meth kit
- Kinsler Monster Mesh fuel filter
Turbo system:
- Bisimoto-Turbonetics BTX6565
- Bisimoto Prototype top mount twin scroll manifold, ceramic coated
- Turbonetics RG-45 wastegate
- Turbonetics Godzilla BOV
- 3" Intercooler piping
- Turbonetics/Spearco 5-364 (3.5"x10.5"x28" wide..and yes, we made it fit!)
- 3an oil feed line
- 10an oil return
- Burns Stainless 3.5" 2-stage muffler
- 0.5" aluminum exhaust system
Lubricants:
- Torco TBO 40 (break-in oil)
- Torco SR-1 racing 10w-40 (after break-in)
- Torco MPZ Spray assembly lube
- Torco MTF gear box oil
Electronics:
- AEM 6040 Gen 2 EMS
- AEM UEGO
- AEM Twin fire
- AEM COP EPM
- AEM pencil Coils
- AEM Serial Gauge (this is so sick!)
- AEM boost control solenoid
- AEM 5 bar map sensor
- MSD digital Boost-a-pump pn 2351
- Power XS S680 Battery
- Rywire mil-spec wiring
Cooling:
- Custom dual pass Griffen radiator
- Buddy Club Radiator Cap
Aesthetics:
- Bisimoto Adjustable Oil Cap
- Bisimoto Reservoir Socks
- Type 2 graphics
- Golden Eagle Rear Tow hook
- Weksos front CRX lip