Two-Wheeled Love
Change is exciting, but in this case it's more of an addition than a true change. In the decade that Speedhunters has existed, we've cemented ourselves as a place to visit for inspiring automotive related culture. And the way we've approached it all has been with the most open mind possible, concentrating on the coolest stuff that the scene has ever thrown at us.
This pursuit of discovery has in turn helped our team of talented photojournalists embark on their own personal journeys, one where they've be constantly pushed to step out of their comfort zones, bringing back wild crazy stories, innovative perspectives, and, for the lack of a better word, kickass content.
But don't worry, that's not going to change. As of this month we're adding a new component to Speedhunters, something that Paddy has already touched on in his June editorial. Bikes.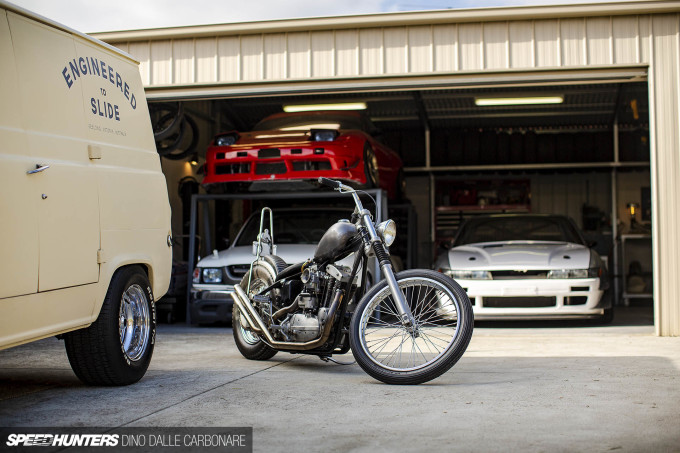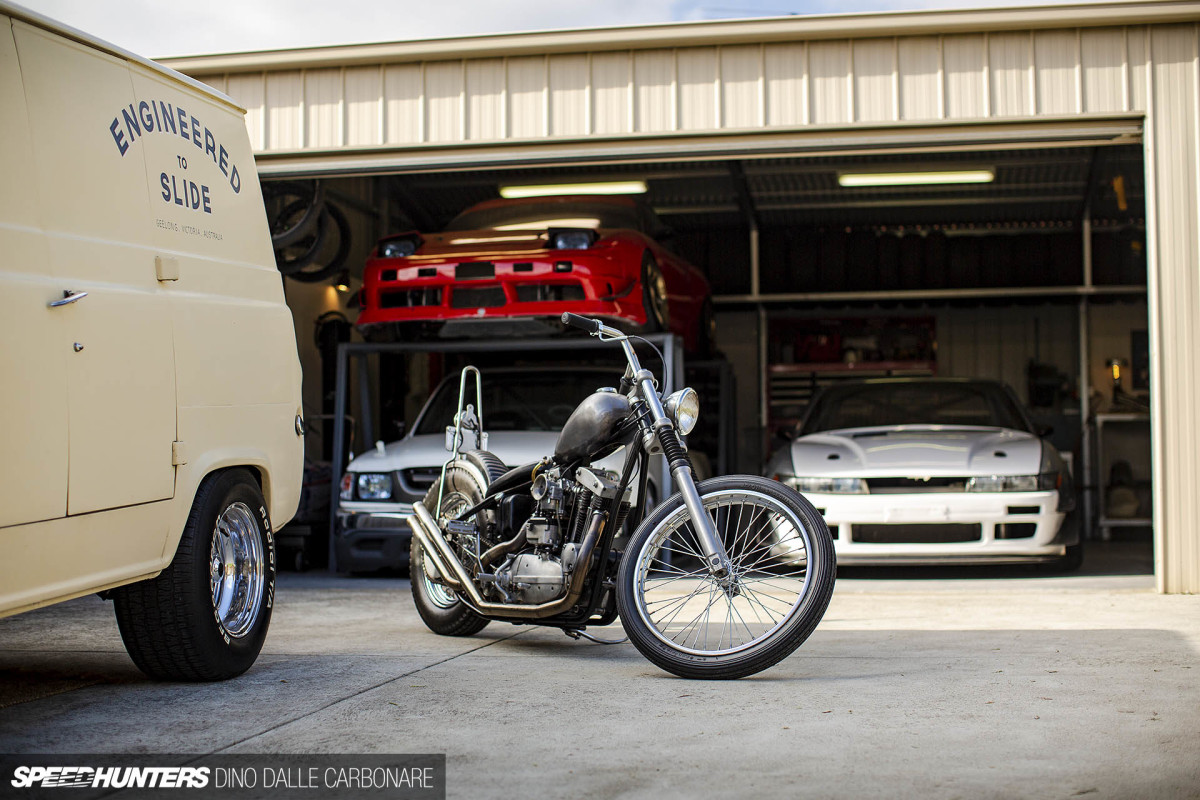 This brings much joy to myself and the rest of the team as bike culture is currently enjoying exponential growth. Never before has there been so much happening on two wheels, and we're beyond excited to start diving into it all in our own respective regions.
To kick it all off we paid a visit to an individual that should be familiar to you by now: Nigel Petrie of Engineered To Slide.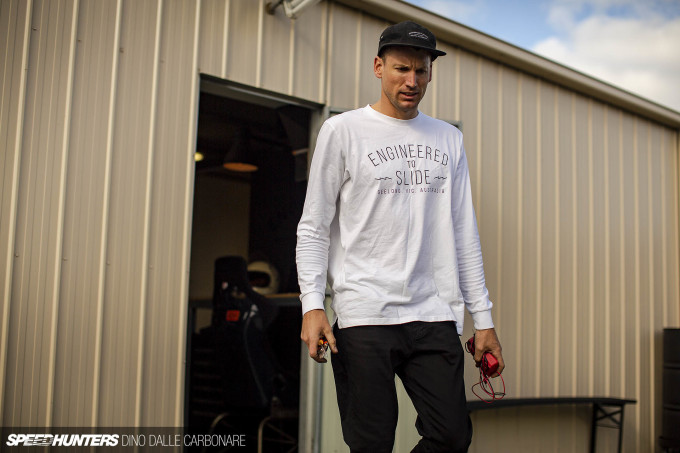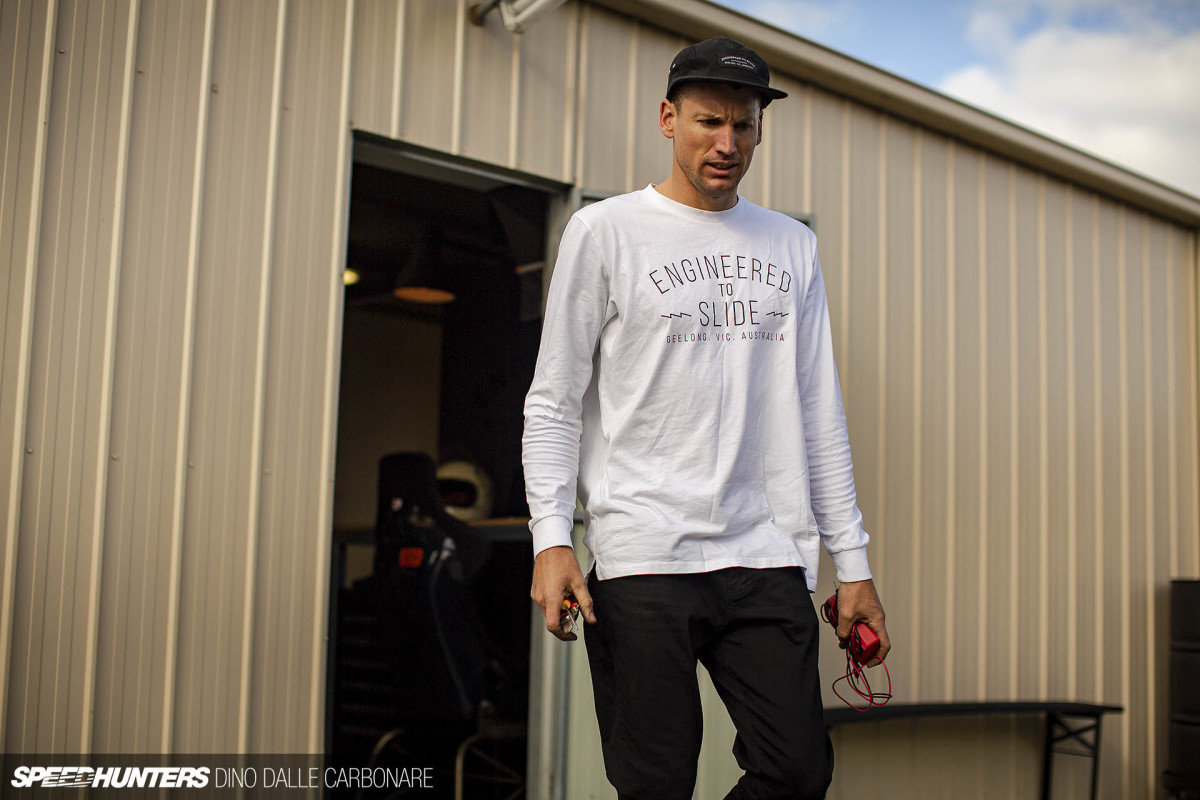 I met Nigel back in 2013 at the World Time Attack Challenge where he unveiled his tube-frame drift Hilux. Nigel is one of those inspiring people in the scene that doesn't follow or emulate; I wouldn't even say he's a trendsetter as that would imply he's in it to create a style. Nigel's simply a visionary fabricator and a self-taught builder of anything and everything cool – and he's in it for the experience.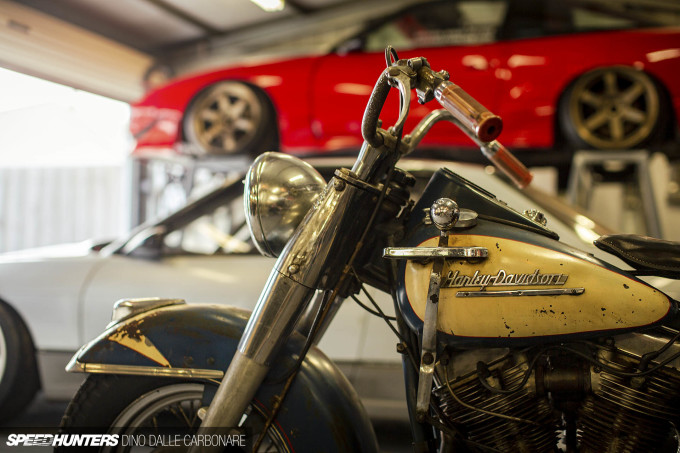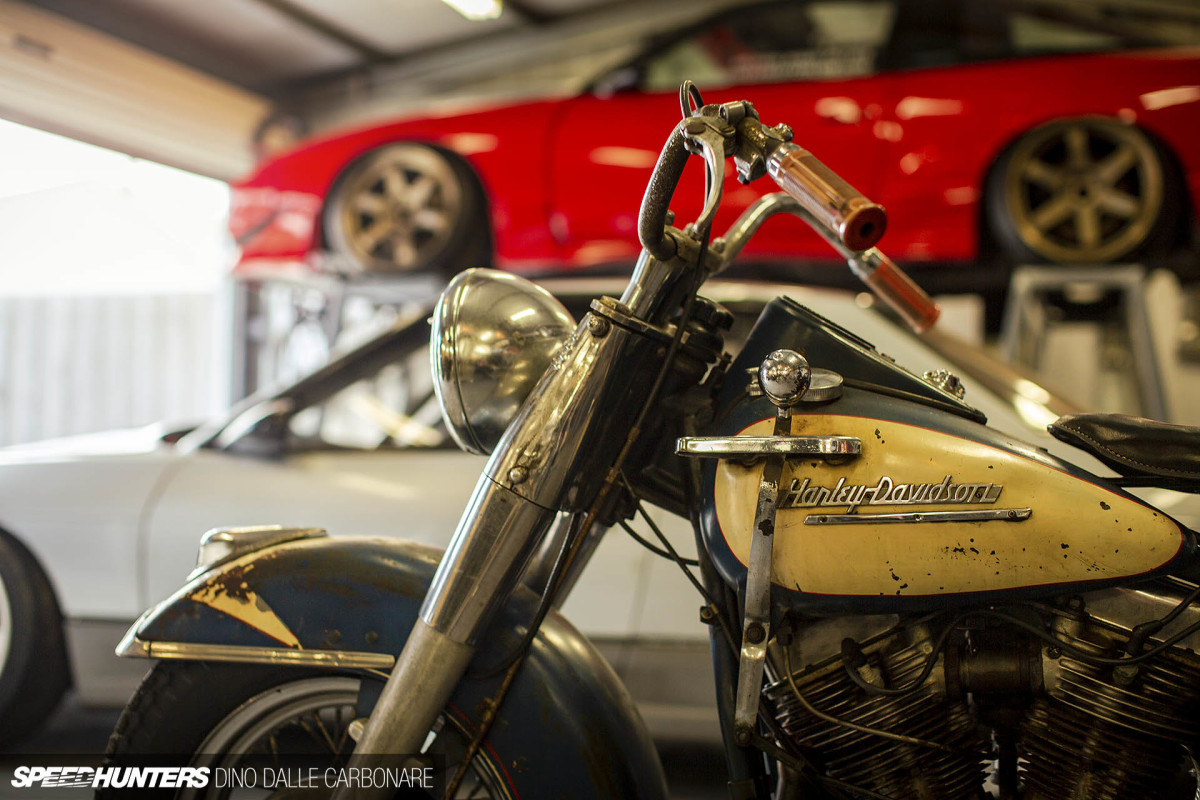 And there's our parallel. Over the last few years Nigel has slowly dedicated himself to building bikes. It's a passion that goes back quite a long time but one that he's giving more space to these days. "It's a fun creative outlet," he told me. Nigel is able to complete a project in a fraction of the time and cost of a car, and can get on and ride the final creation in the space of a few weeks.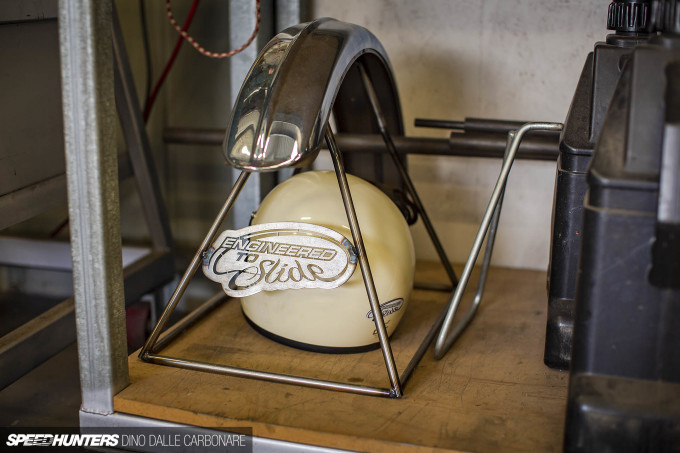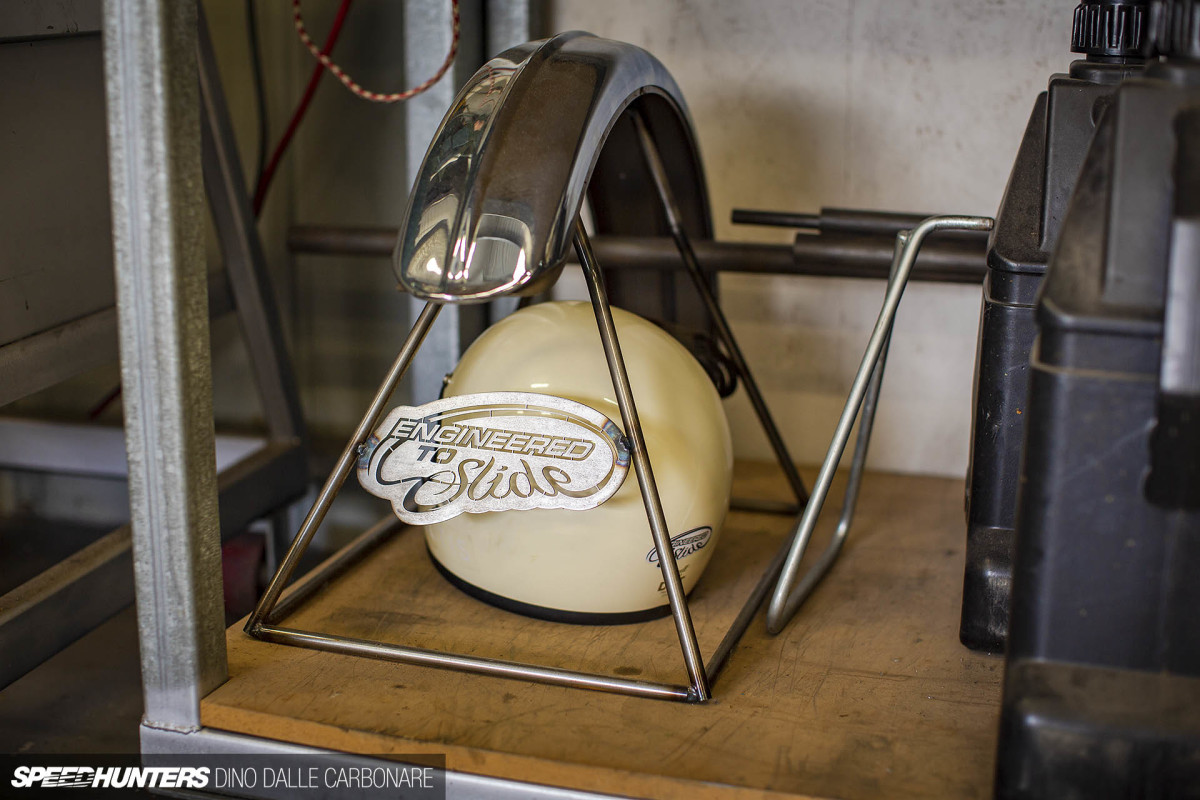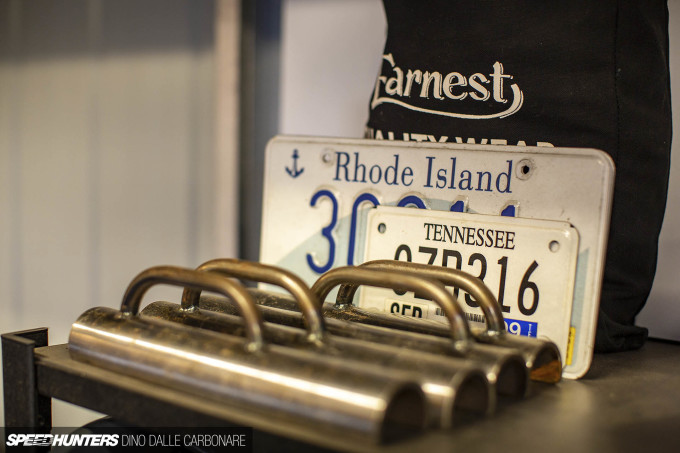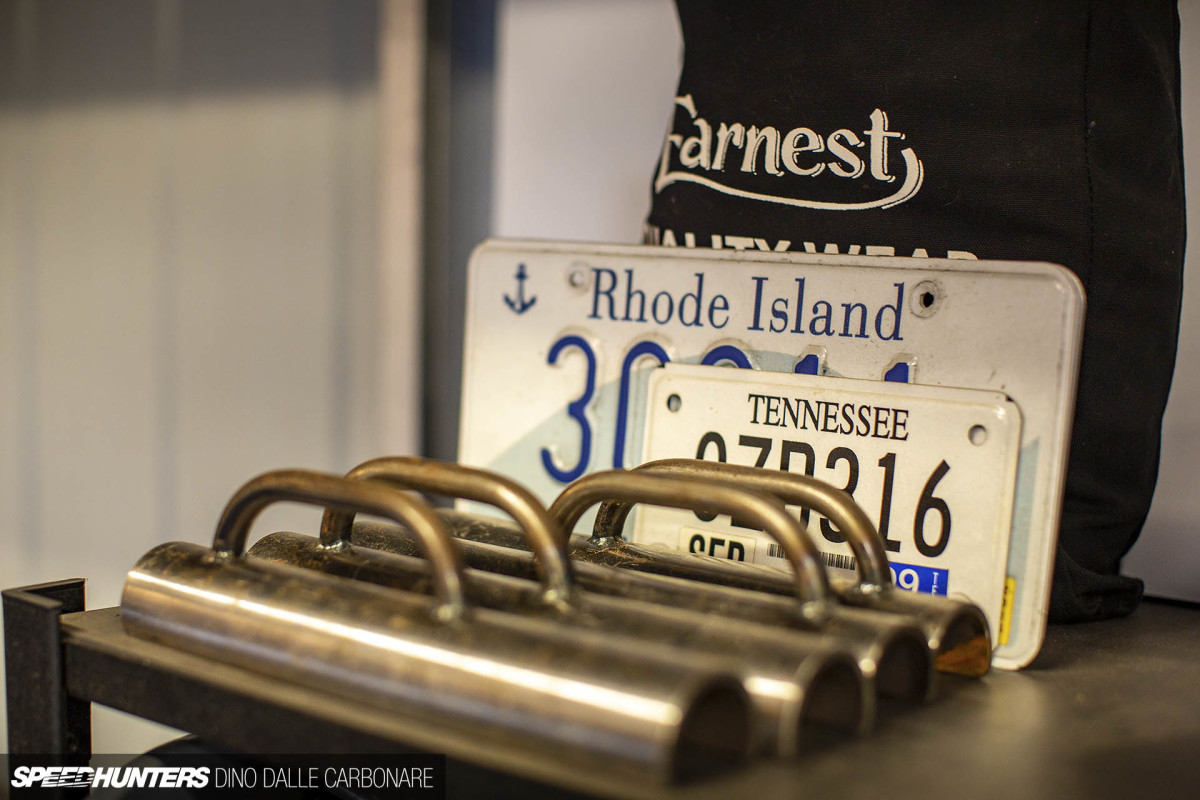 We spent a day with Nigel in his workshop behind his house, a place most car and bike guys would aspire to owning one day. It's neatly organized with plenty of storage and filled to the brim with enough tools and machines to allow one's imagination to run wild.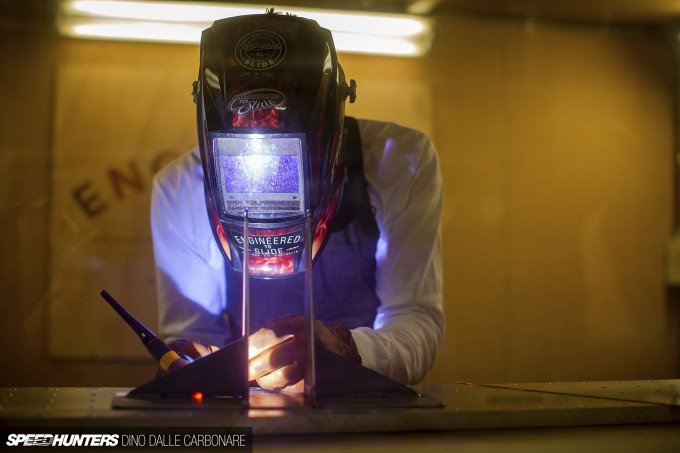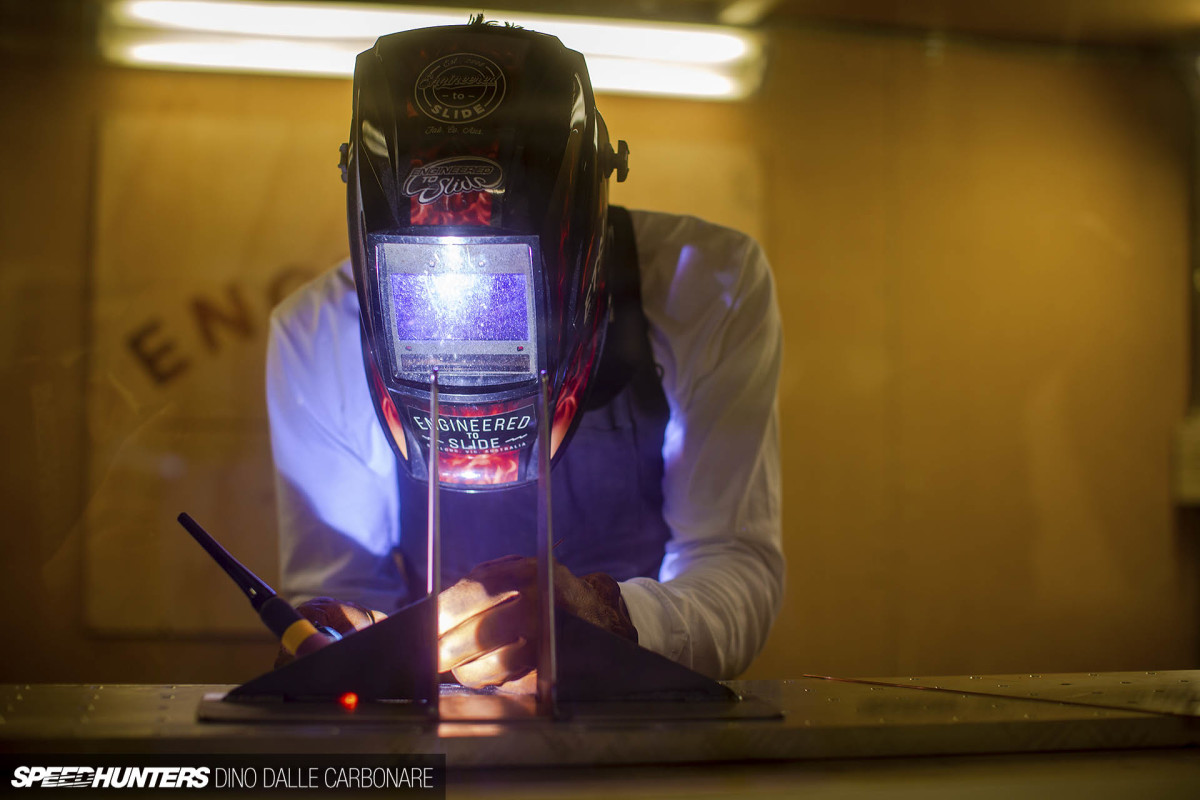 Nigel had just completed a full clean up of every corner of his "shed," doing away with unneeded clutter and parts to allow for a more focused work space.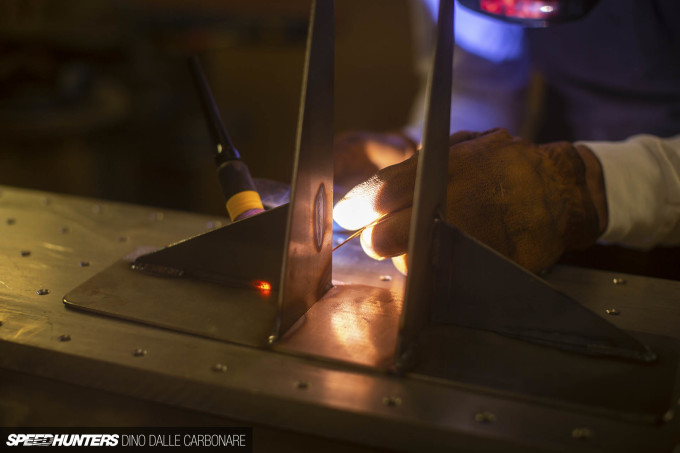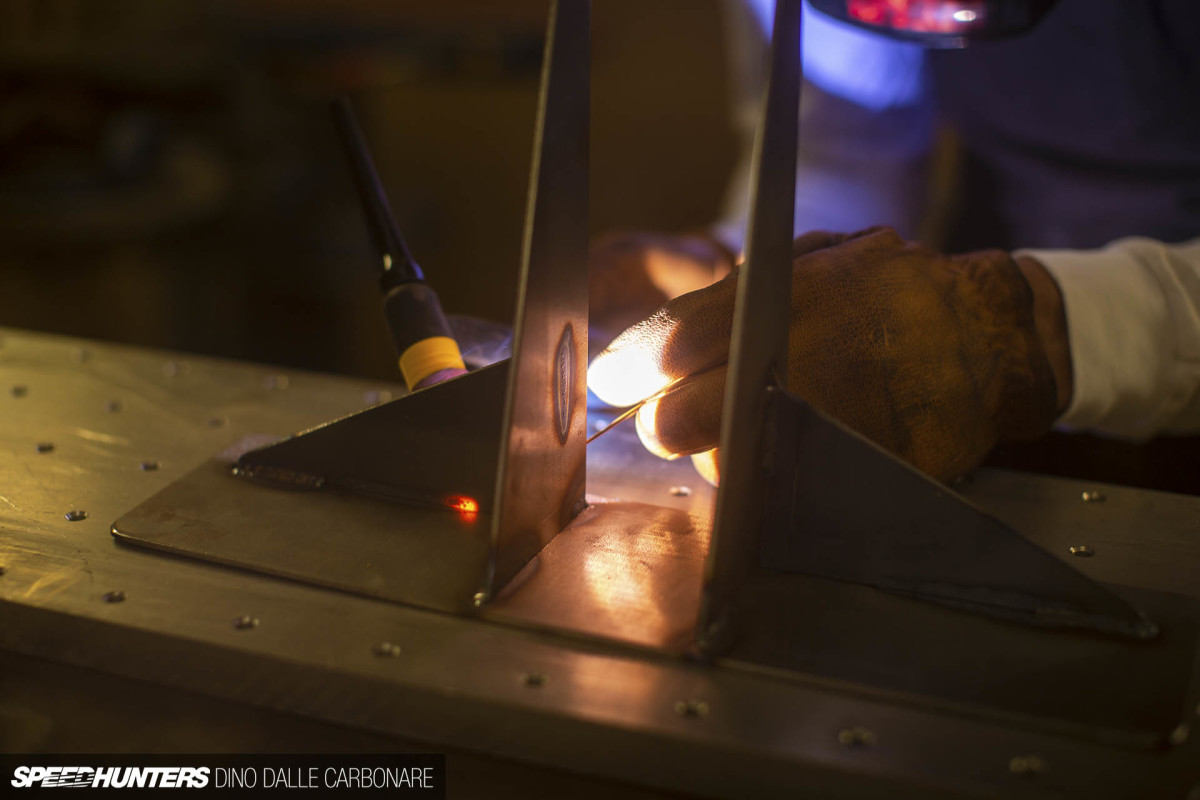 The newfound square meterage will soon be taken up by a lathe and some other metal-working equipment so Nigel can do more complex and challenging jobs in house. Keep in mind that Engineered To Slide is simply what Nigel devotes his spare time to; his main job is with Ford's R&D facility just outside of Melbourne where he's involved with the fabrication and testing of vehicles we'll see on our roads in the coming years.
Drawing Inspiration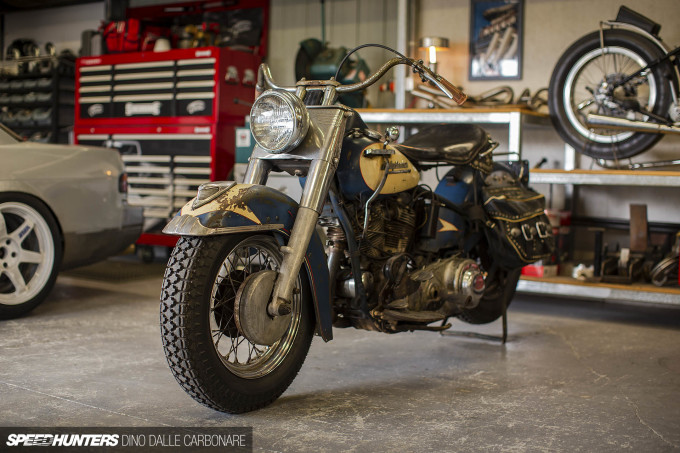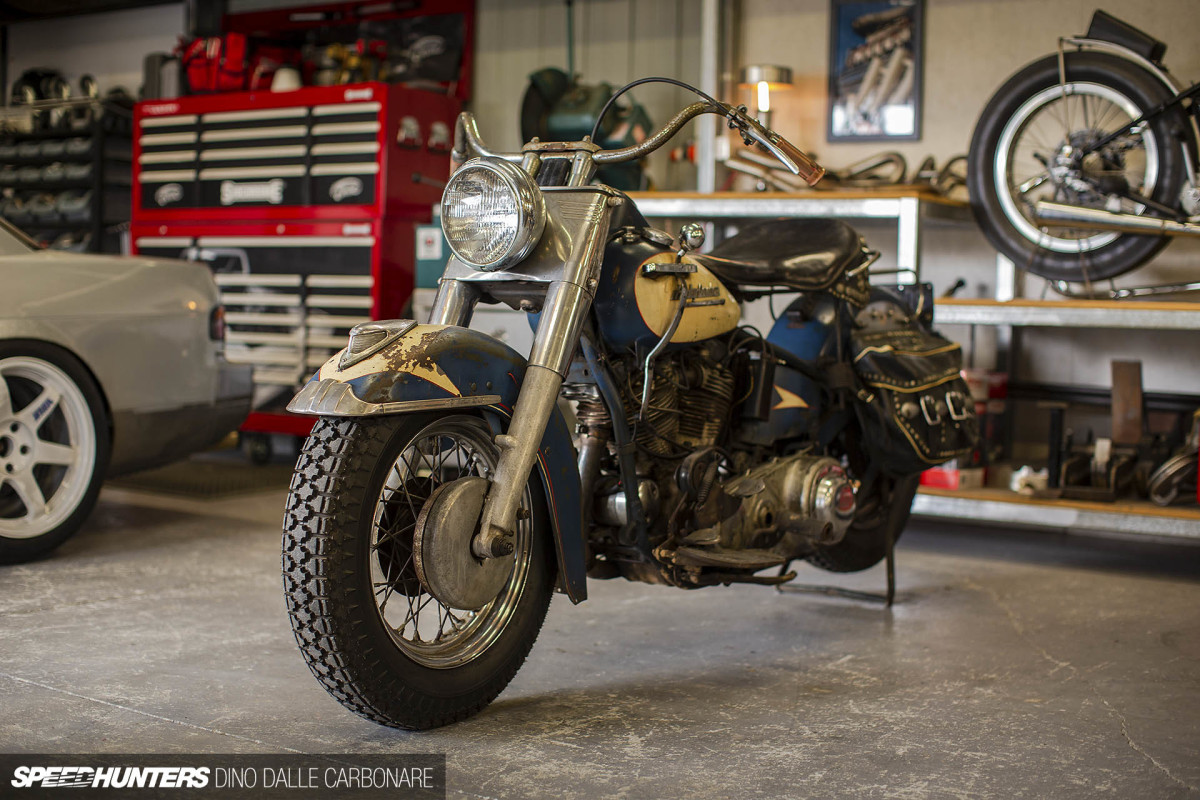 While I admired the 1951 Harley-Davidson Hydra Glide that sits in the middle of his garage, Nigel told me how the bike cost him $100, which was the amount of money he spent buying raffle tickets at a bike show he attended in the US when he was out there during his honeymoon. Luck was on his side; he actually won the thing and subsequently brought it back to Australia with him.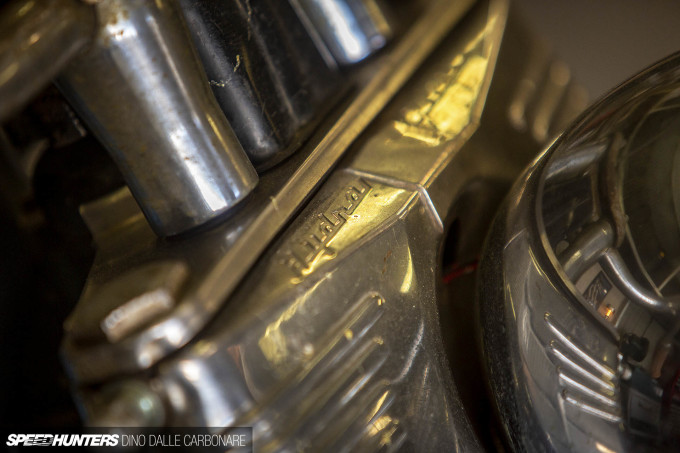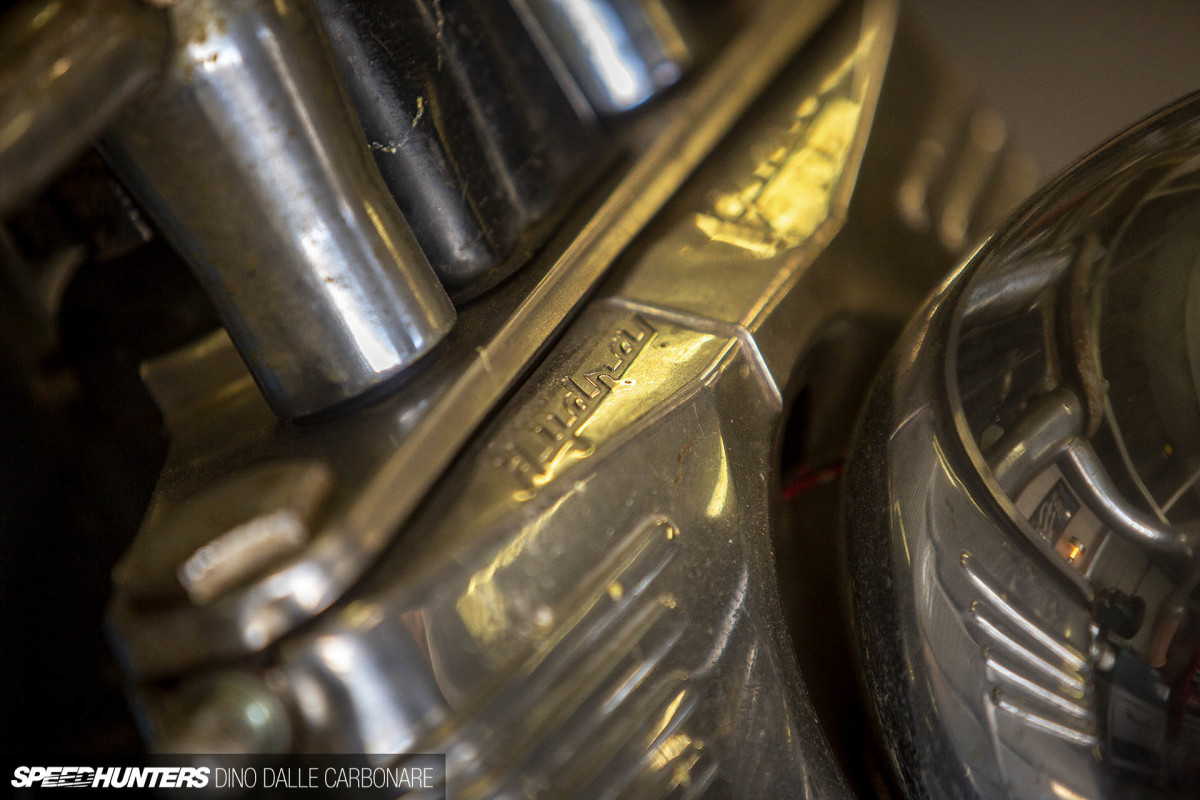 This model is the epitome of a classic Harley; it's beautifully mechanical, impressively simple, and it has that instantly recognizable style of a big '50s touring bike from the famous maker.
The bike is powered by Harley-Davidson's famous Panhead V-Twin, and much like the rest of the bike it's been left in its aged state. Externally anyway, the patina attempting to tell its close to 70-year-old history.
Just like with old cars it's cool to see the variations on controls, like the foot clutch and hand-shifted 4-speed transmission. It must make the whole riding experience quite different from the modern way of changing gears.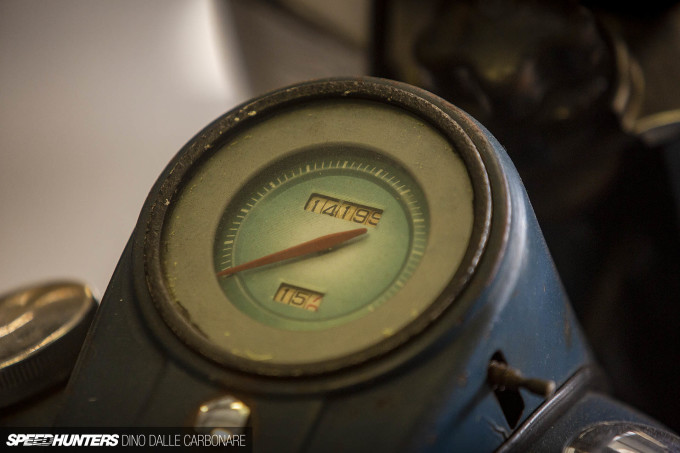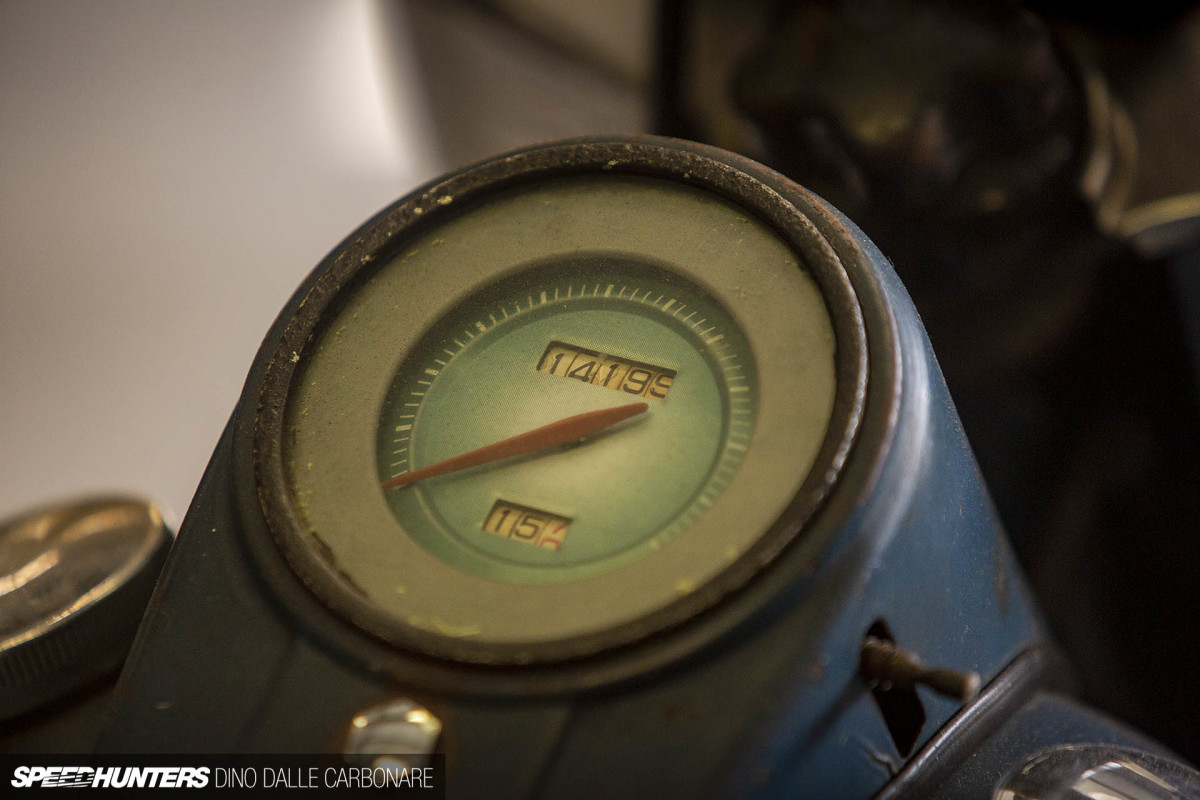 I wonder how many times that five-digit odometer has gone around?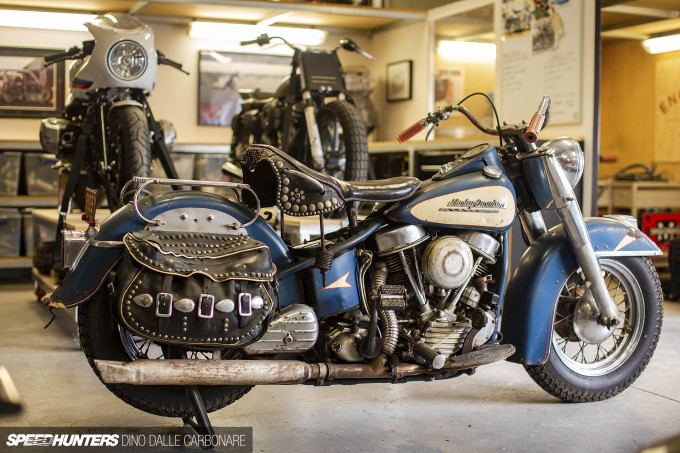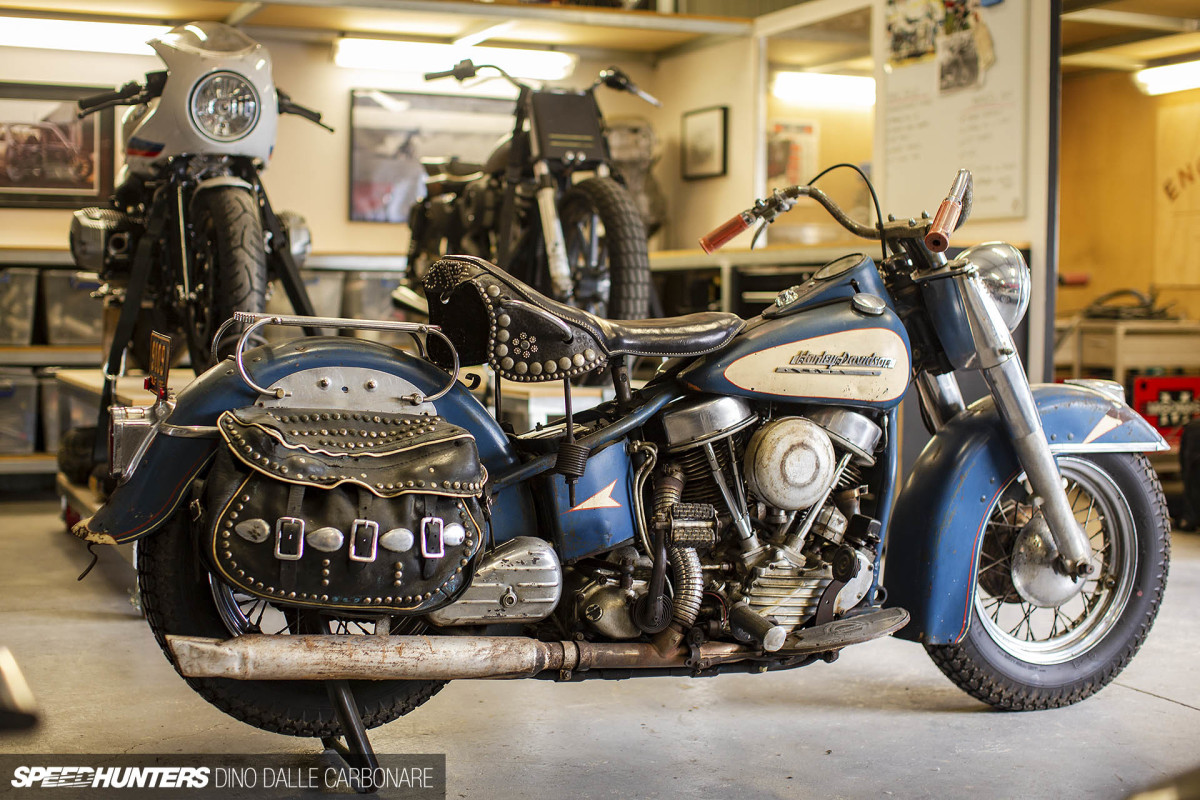 Nigel has no intention of altering any of the details on the bike; he just wants to maintain the way it looks and deal with issues as they occur. So it's there in full view, serving as a source of inspiration for the other bikes in the process of being built.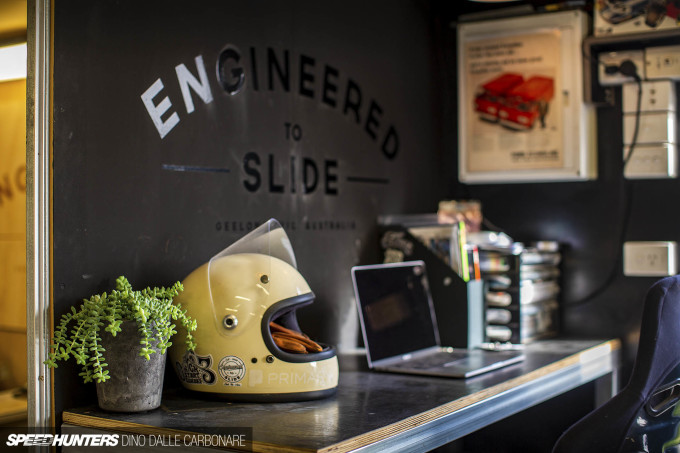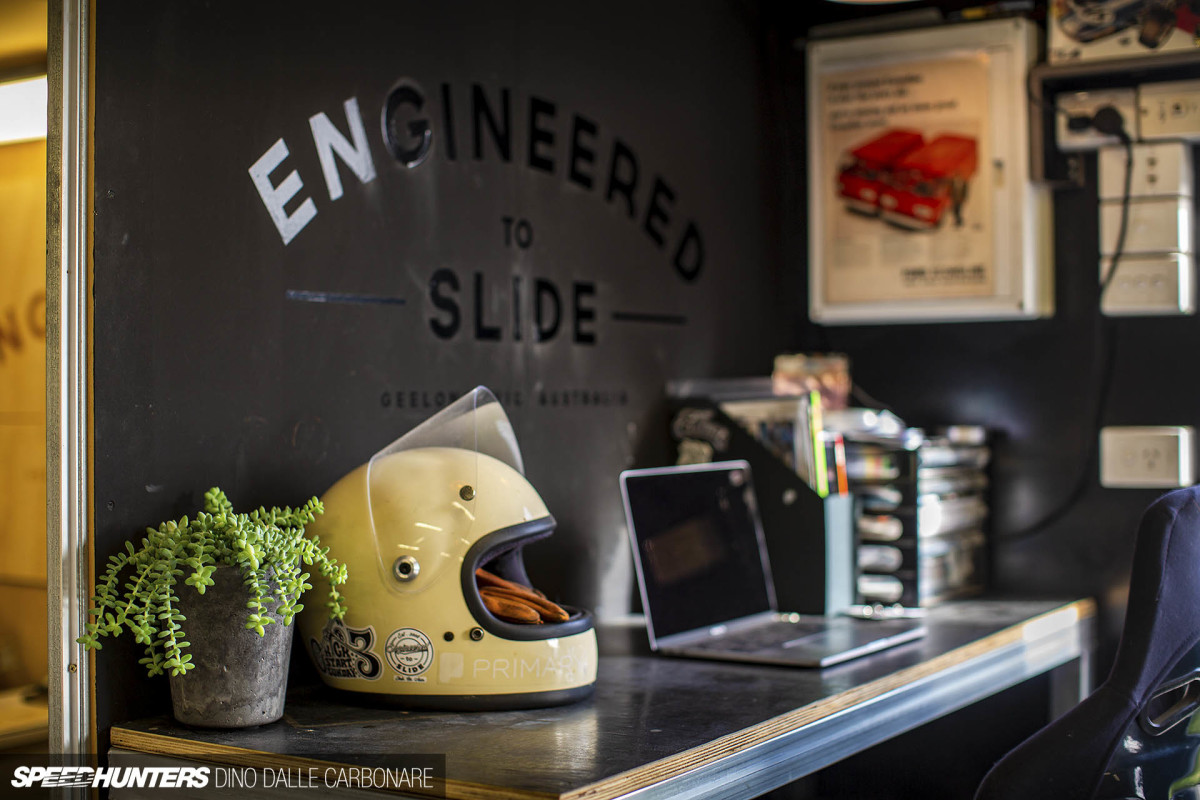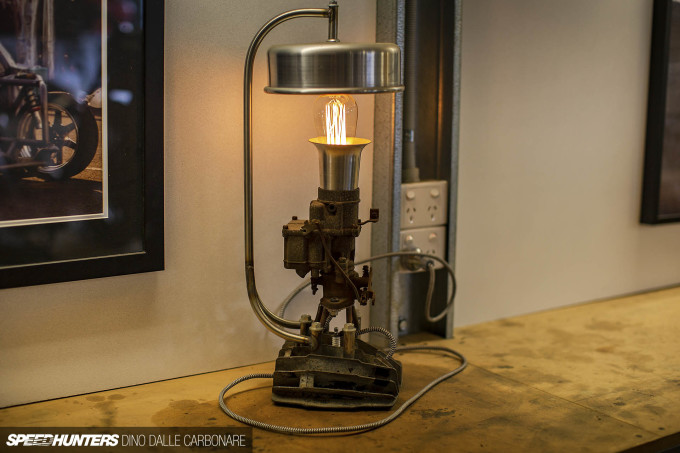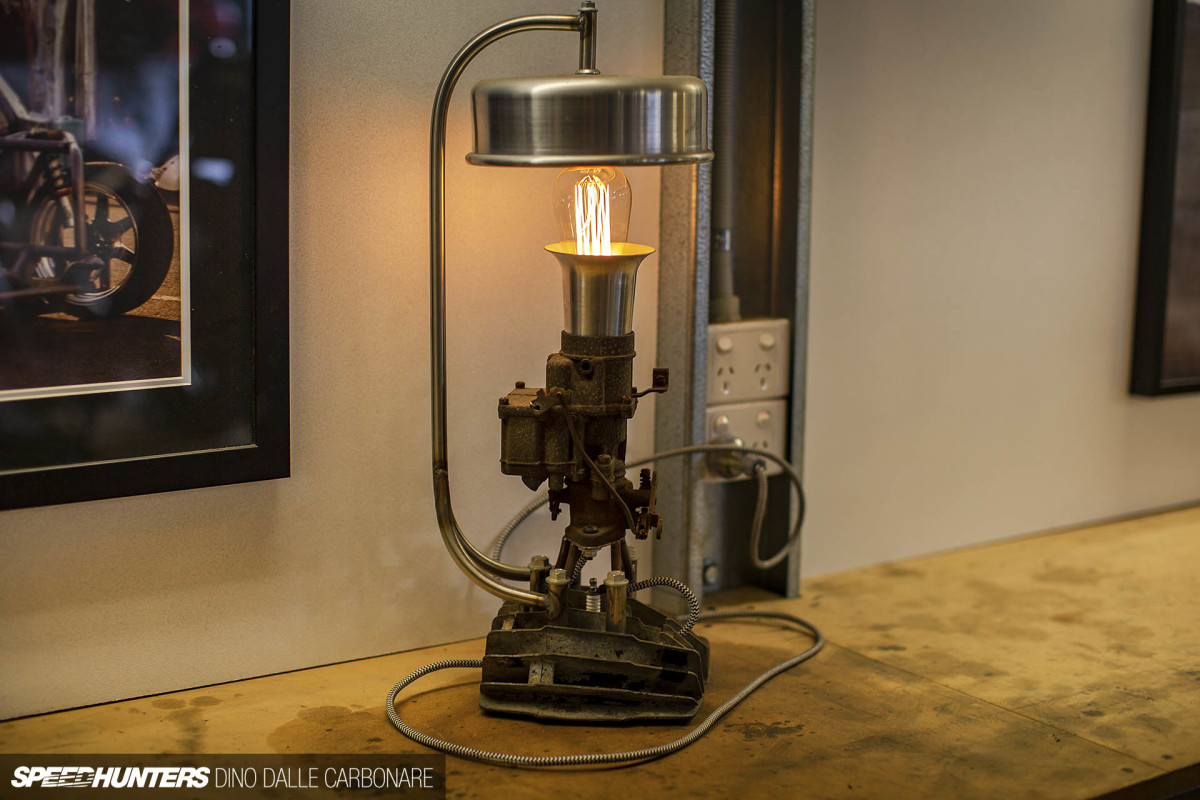 In fact, creating a place where creativity flows is an often overlooked aspect of a lot of shops. It's something I see a lot of in Japan where space is such a premium commodity that often there's no other choice but to surround yourself in chaos. One thing I really liked in Nigel's workshop were the lamps which he made out of the carbs from an old bike his grandfather left him.
As I looked closer at a drag bike that sat under a massive stack of tires lining one side of the garage, Nigel told me it was an older build based on a 1951 T100 Triumph, and inspired by 1960s drag bikes.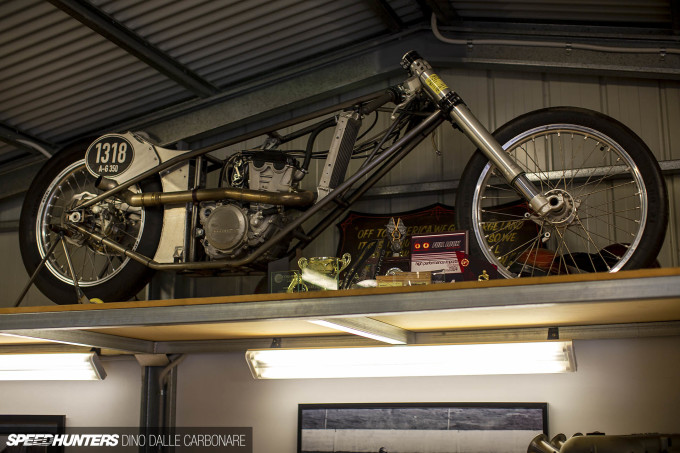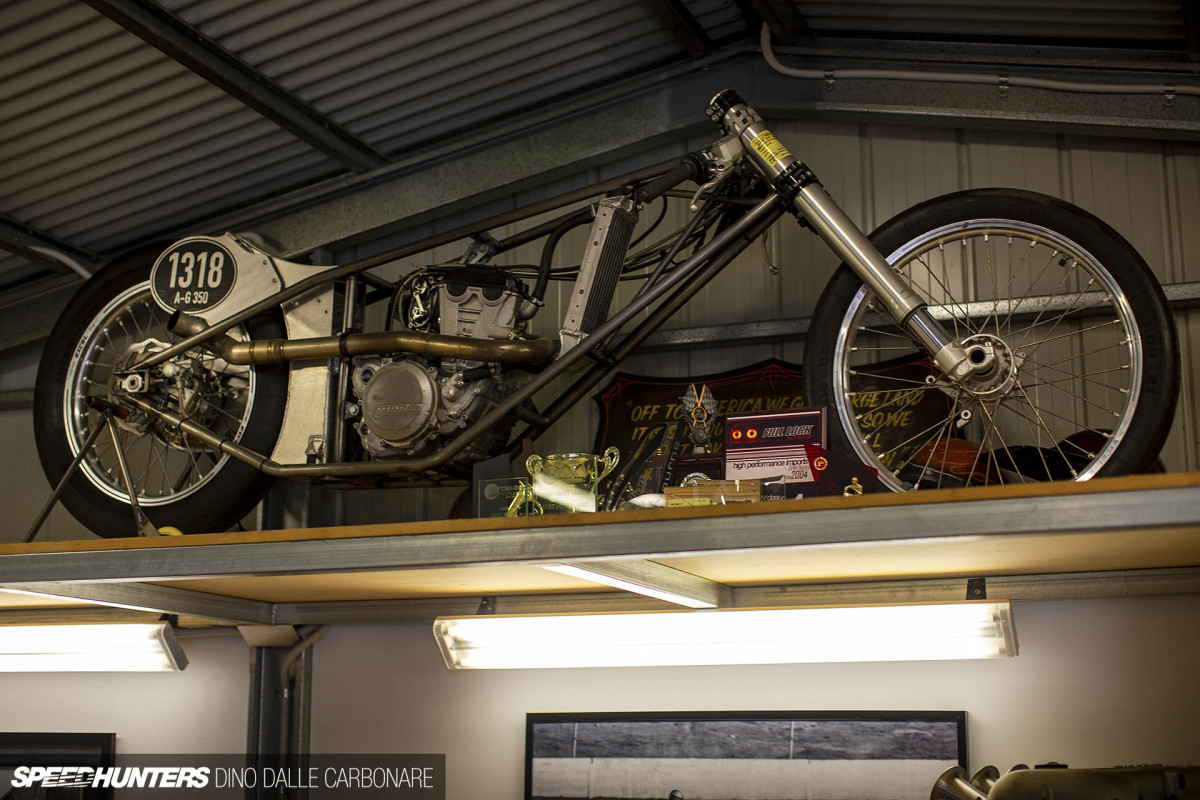 I sensed a lot of pride in this high-speed bike that Nigel built years back and took to the salt flats in Australia. He fabricated the frame and then dropped a stock KTM engine out of his old motocross bike and managed to set the fastest speed in his class.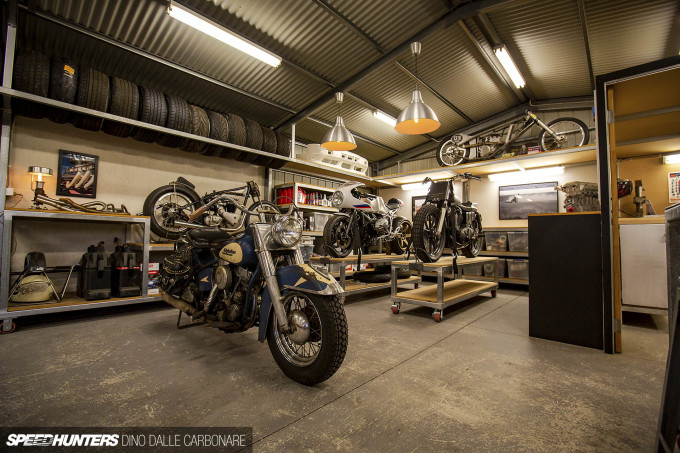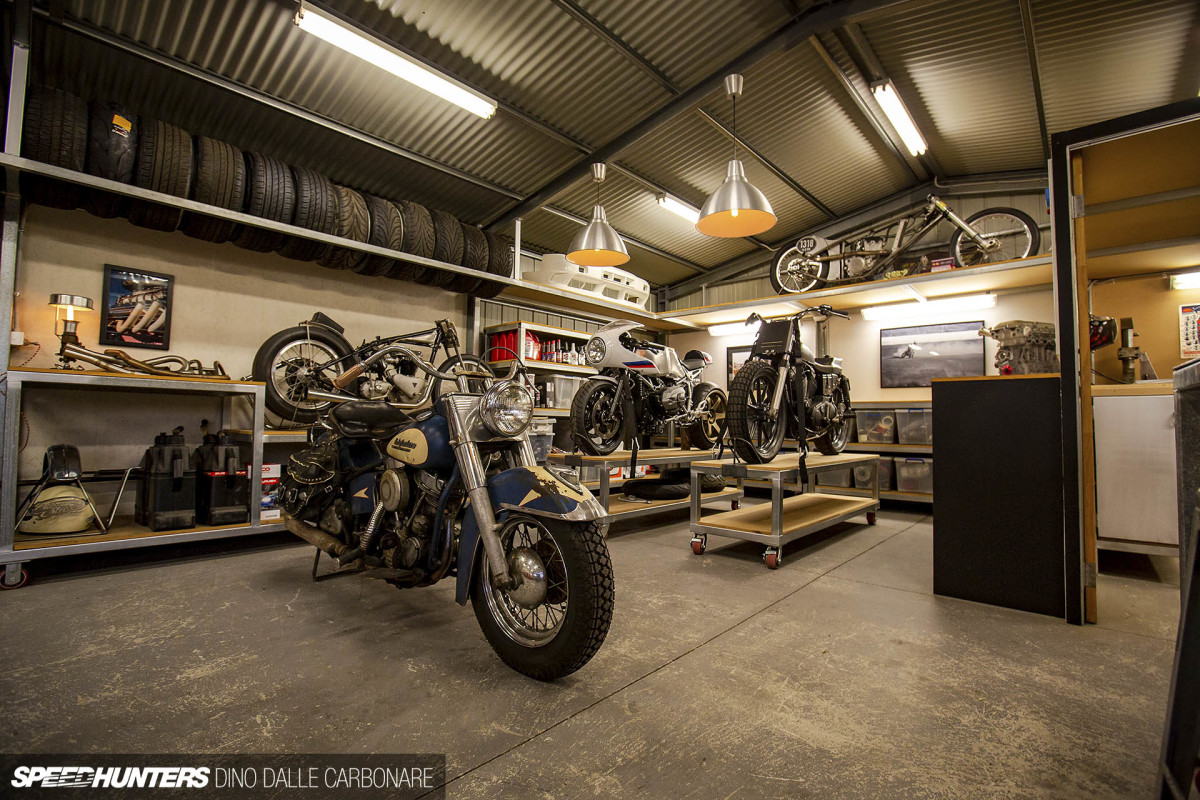 Half of the garage is dedicated to the bike side of things with a couple of trollies for current projects. Nigel's fabricated and built pretty much everything in this place, including the small welding/engine build room.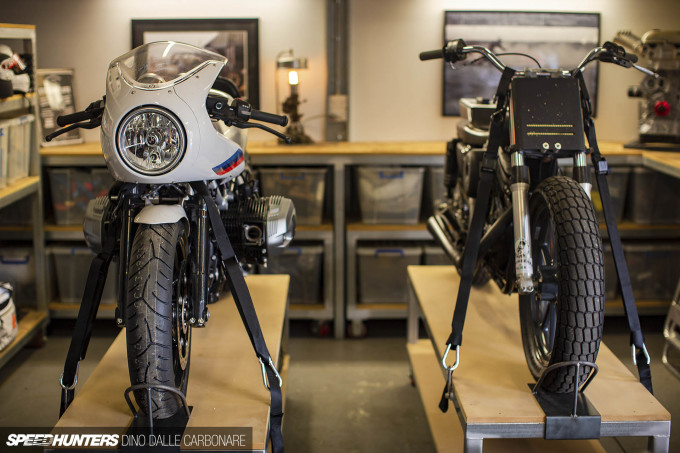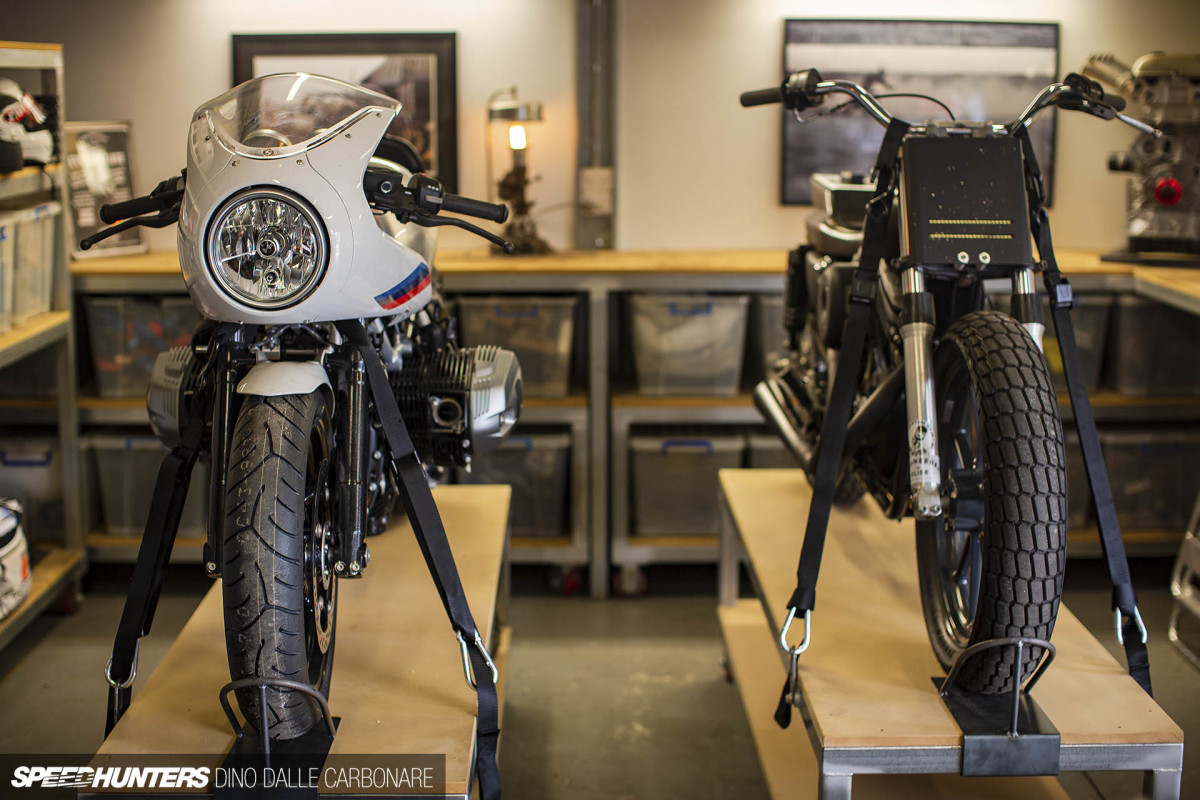 Much like Nigel's drift builds, bikes have really brought him into the limelight.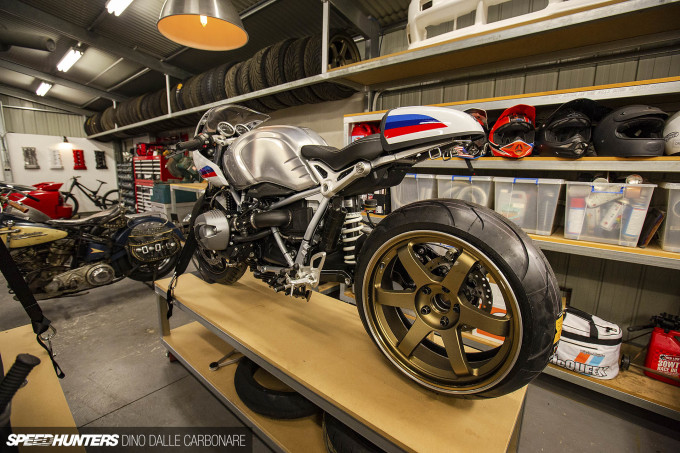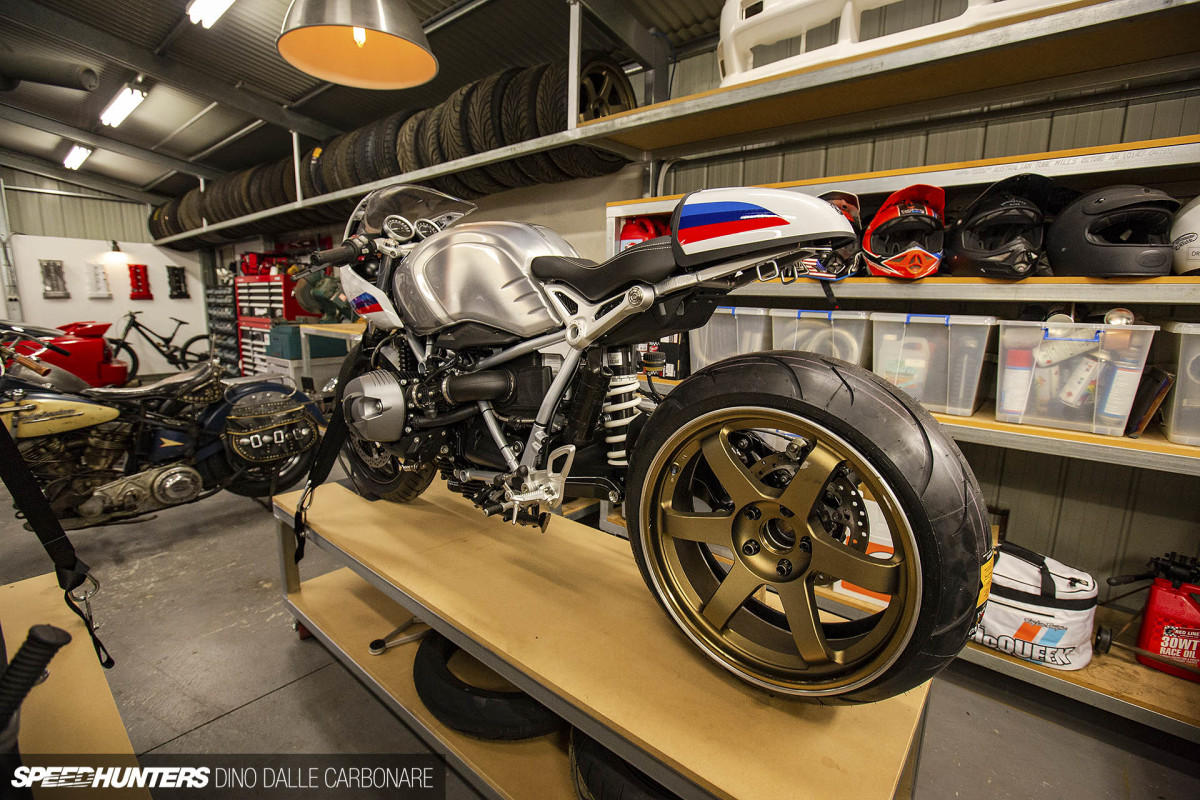 BMW has commissioned him to customize an R nine T, the idea being to transform the retro-themed air-cooled bike into something a little bit more special.
It's a superb base for a bespoke build, a real blank canvas which Nigel will nip and tuck to further enhance the classic lines that are fused with the underlying modern chassis.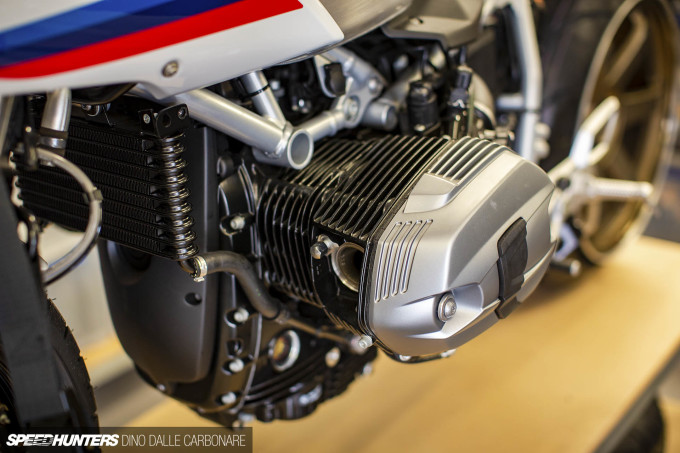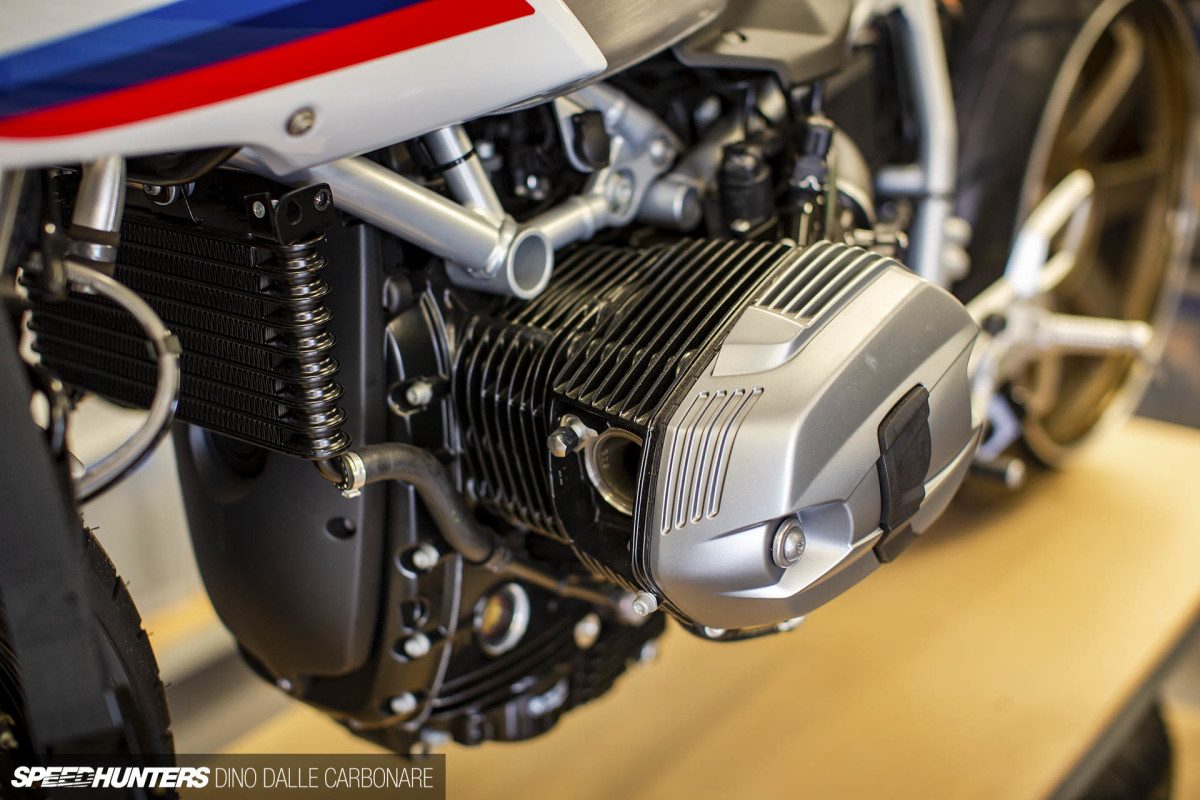 The air-cooled horizontally opposed twin is a big visual link to BMW's heritage, and it will soon be receiving a one-off exhaust system.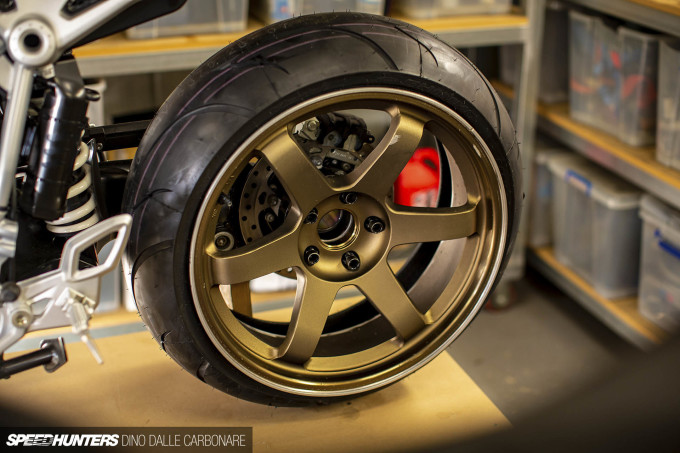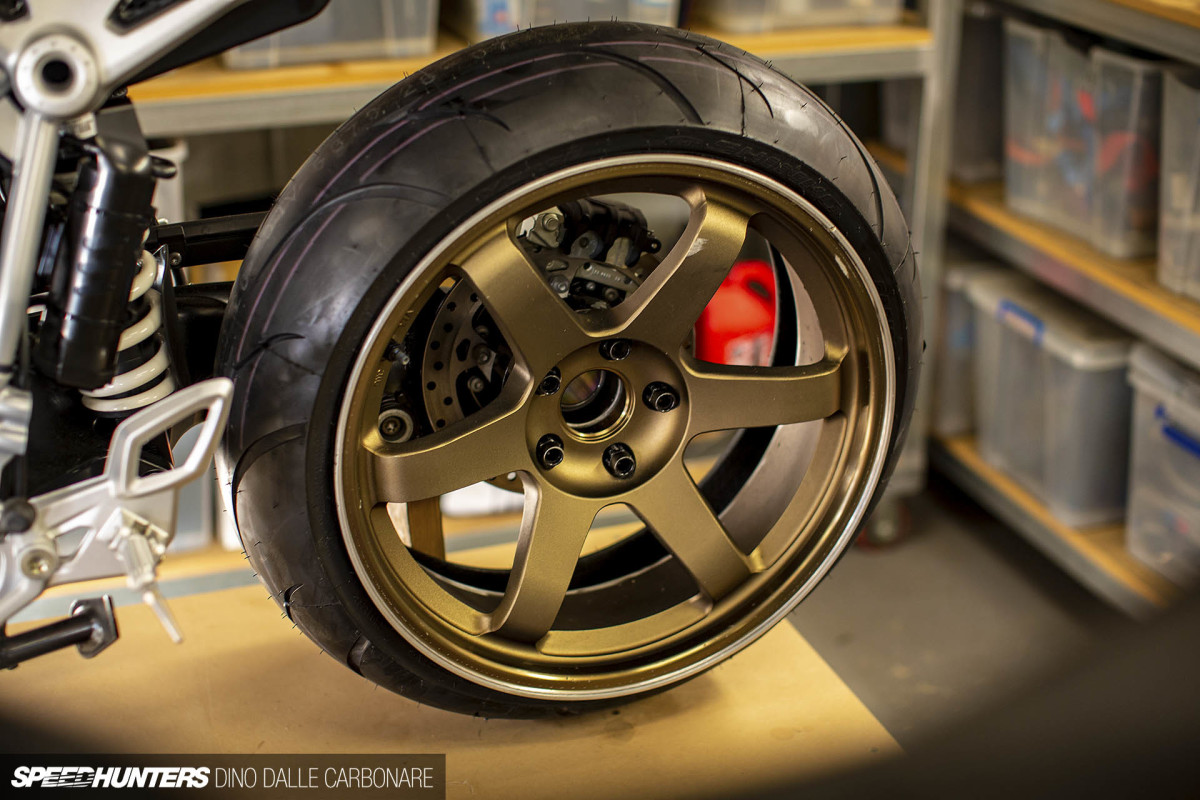 However, the biggest visual detail will be the wheel that was chosen for the rear – an 18-inch RAYS Volk Racing TE37 that Nigel used to run on his 180SX drift car. I mean, how could he have not taken advantage of the BMW swing arm and matching bolt pattern?!
Originally the TE37 was 10.5-inches wide, but once a carbon fiber half is custom built and bonded to the existing rim it will measure 6.5-inch. It will then be mated to a 200/50R18 tire.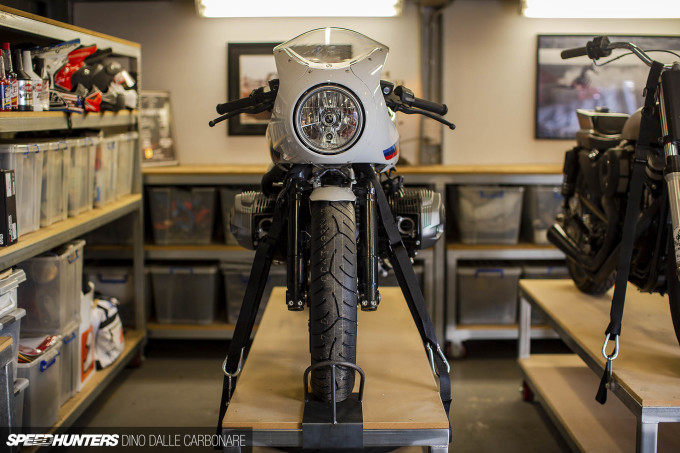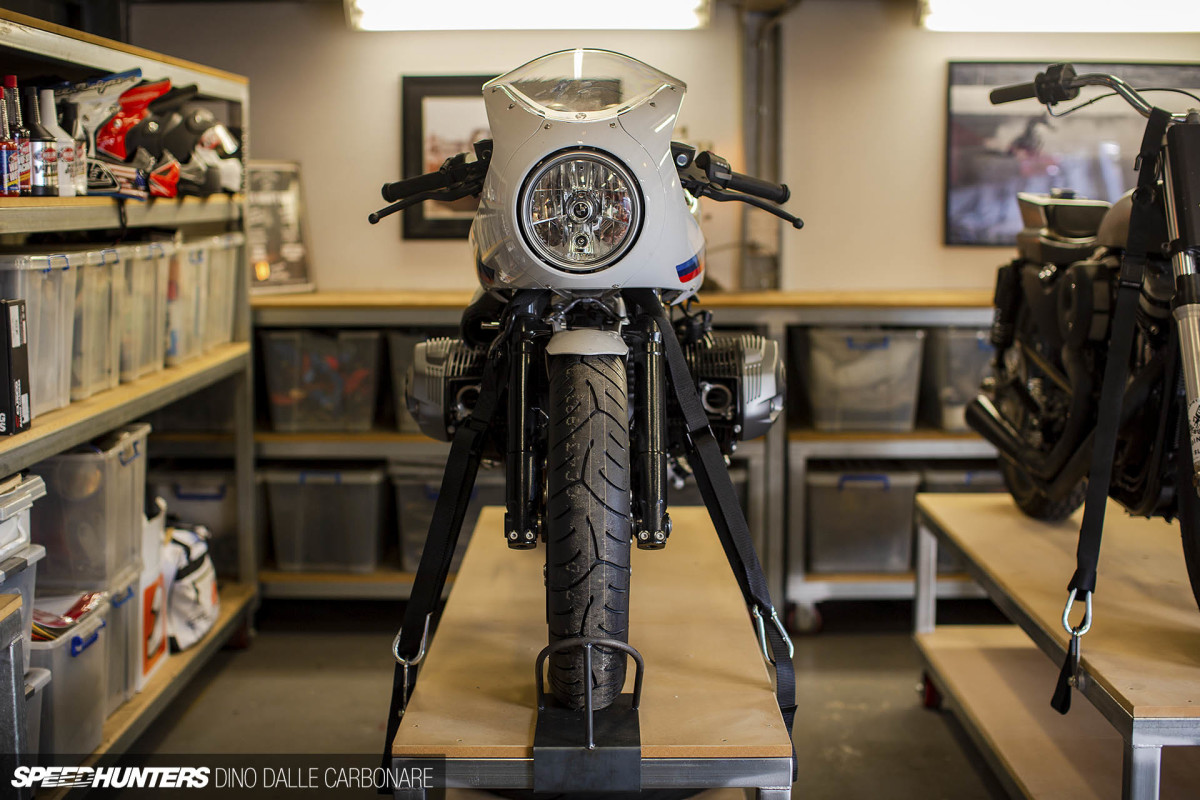 I personally can't wait to see what the final bike looks like.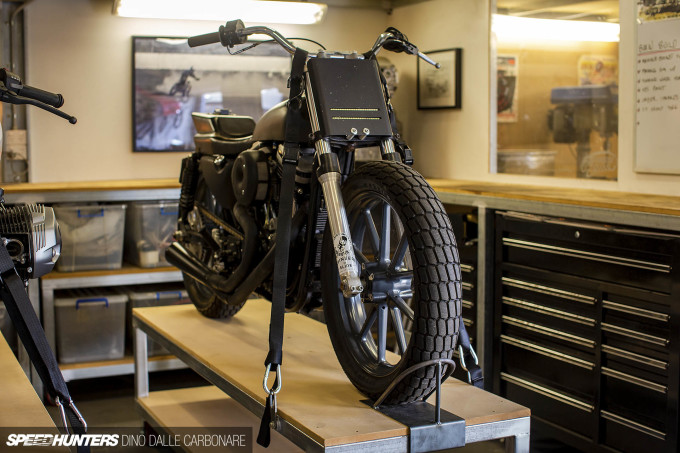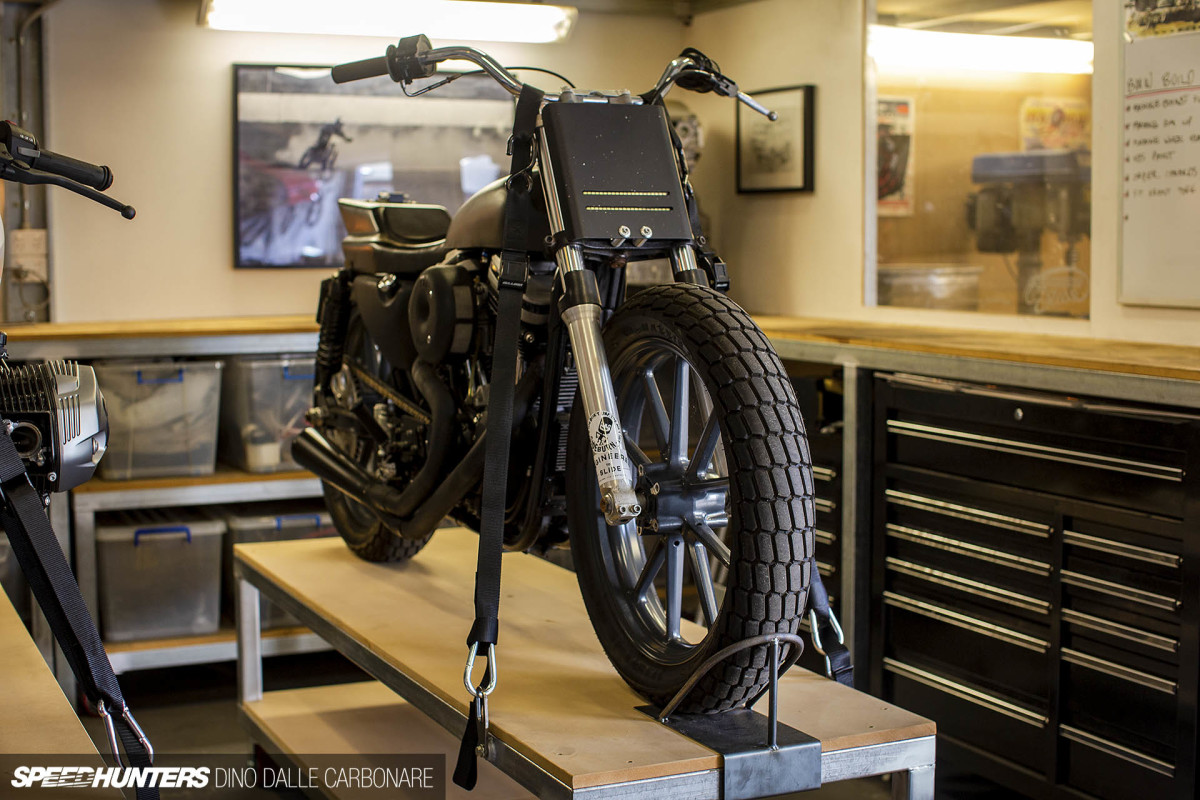 Next to it was another of Nigel's finished builds, this time based on a 1986 Harley-Davidson Sportster.
It runs a Honda CBR1000 front end and 15-inch Triumph Tiger Explorer wheels.
The motor has been stroked from 883cc to 1,200cc, and it runs a racing cam making it much more powerful than what the engine's exterior hints at.
Other custom work includes the gear shifter linkage and the shortened swing arm that Nigel fabricated out of sheet metal.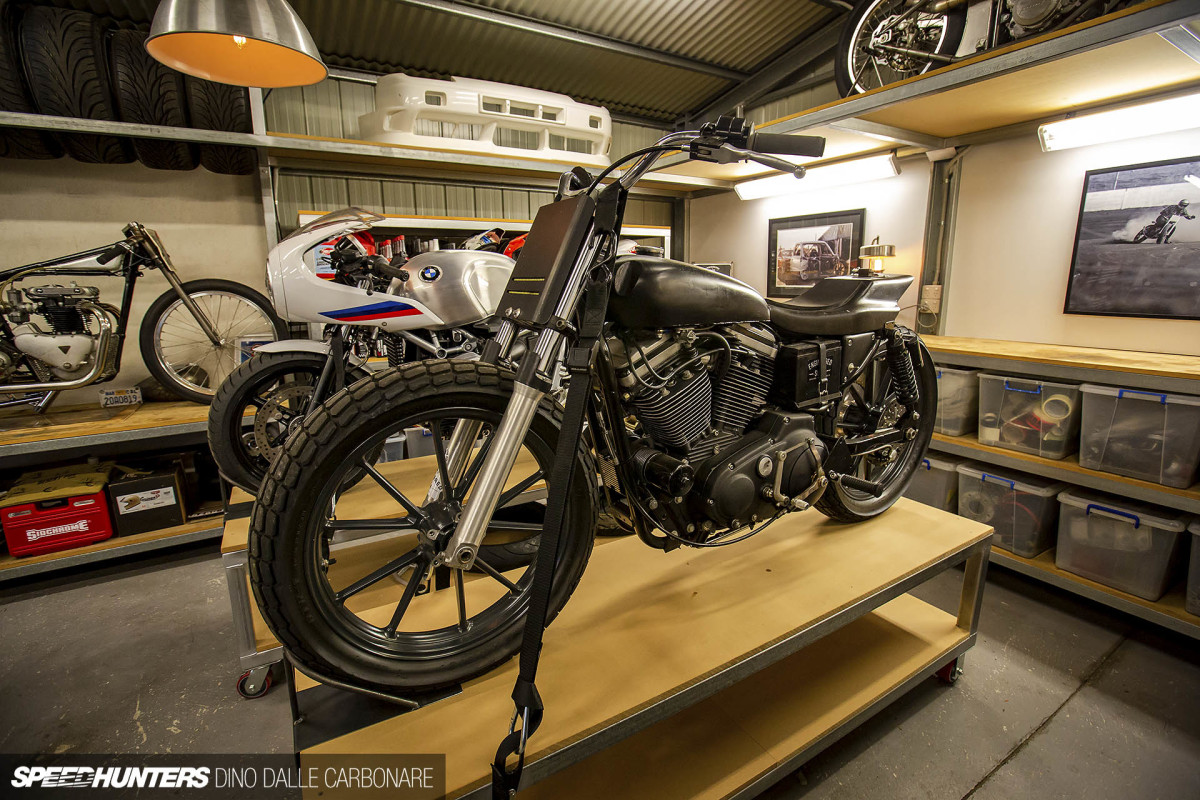 My favorite detail has to be the strips of LEDs that make up the headlight and taillight; they're so simple but very effective as they emit an impressive amount of light.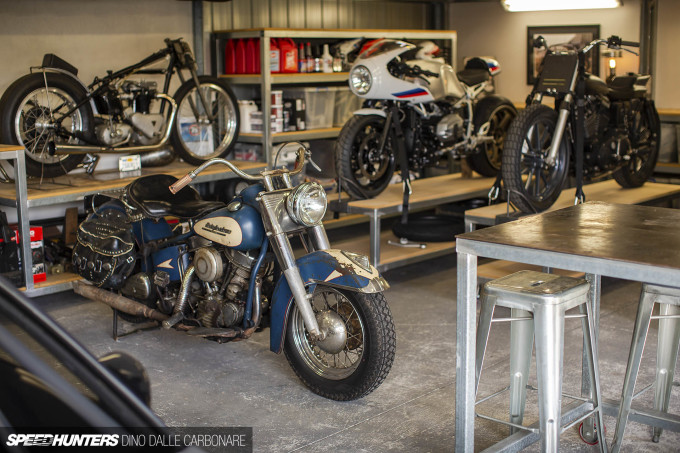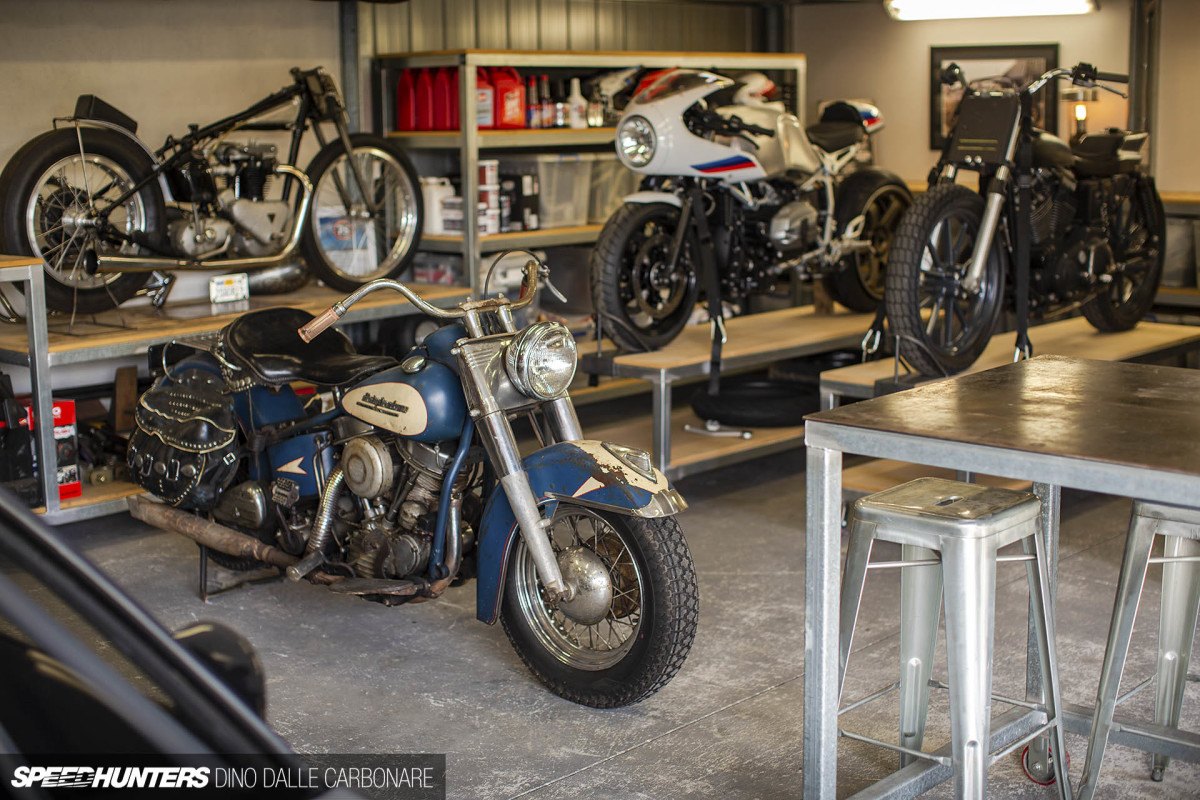 More importantly, they also make the bike totally road legal.
The Collection Continues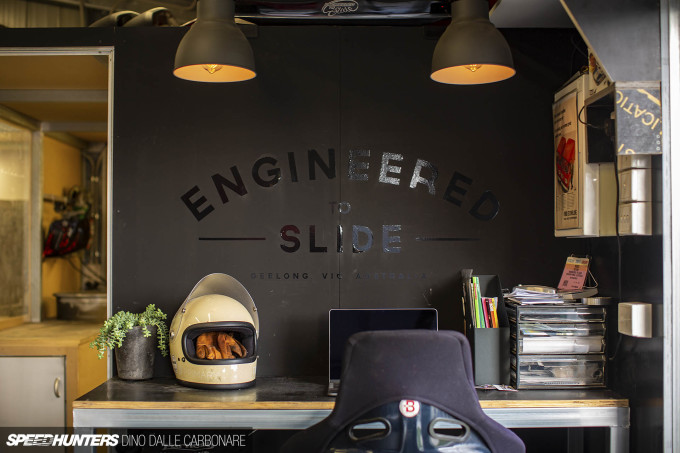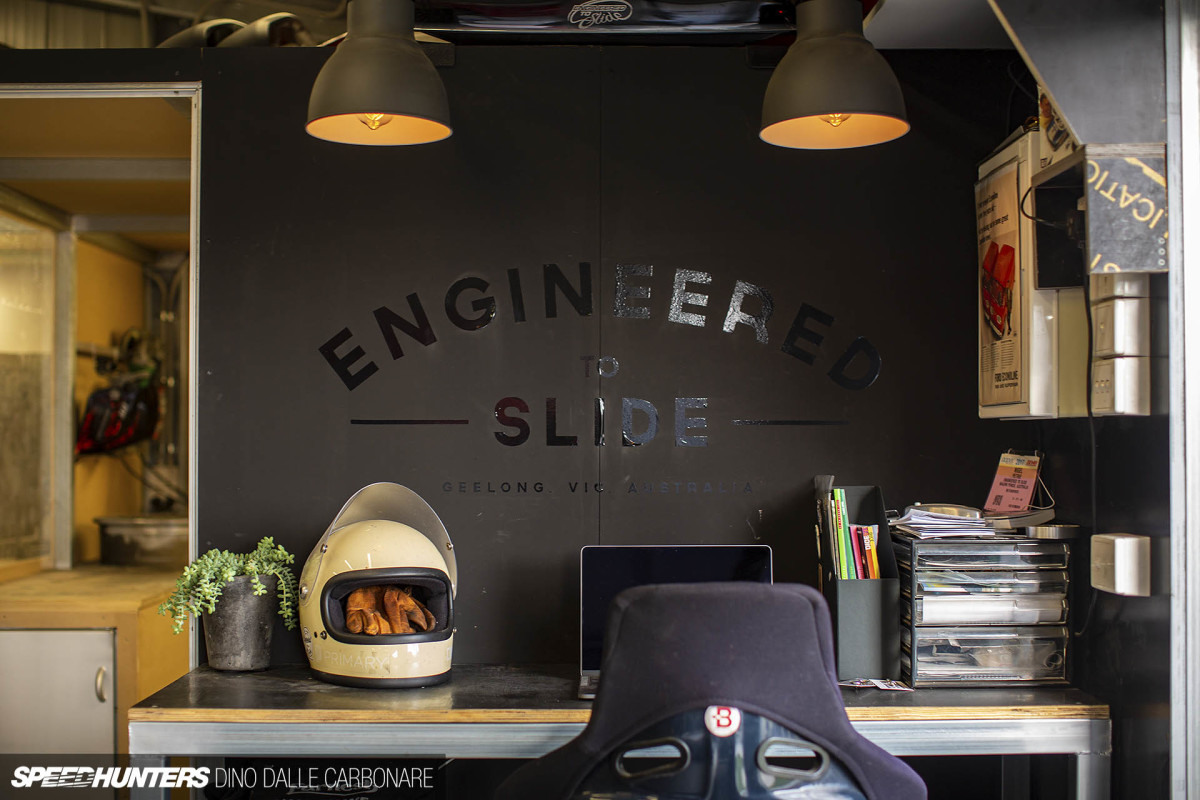 Remember how I said the '51 Harley was brought back after Nigel won the thing at a bike show he checked out in the US during his honeymoon?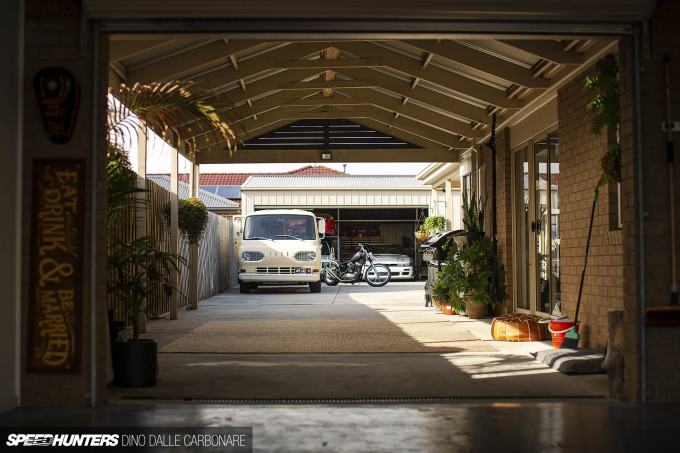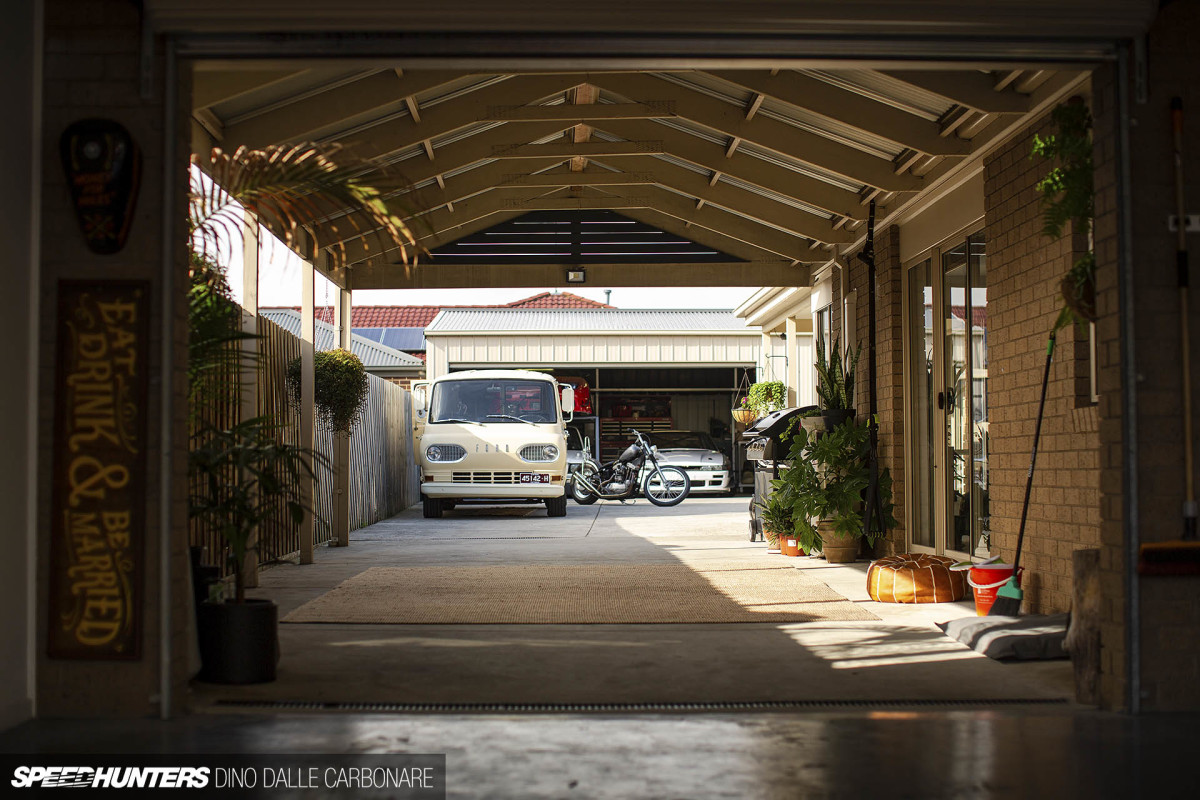 Well, that wasn't the only thing he happened to pick up.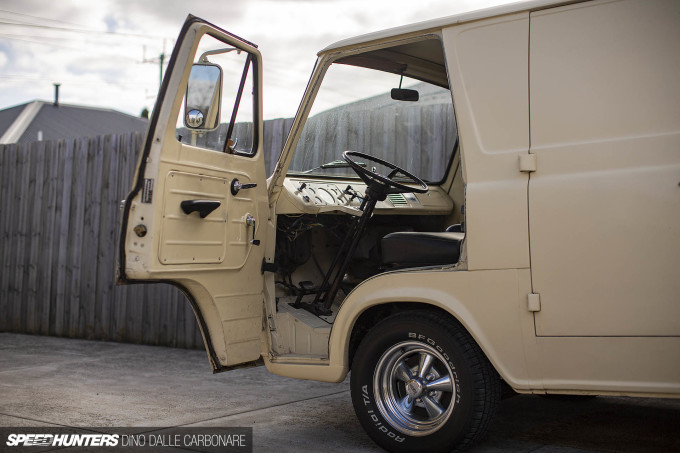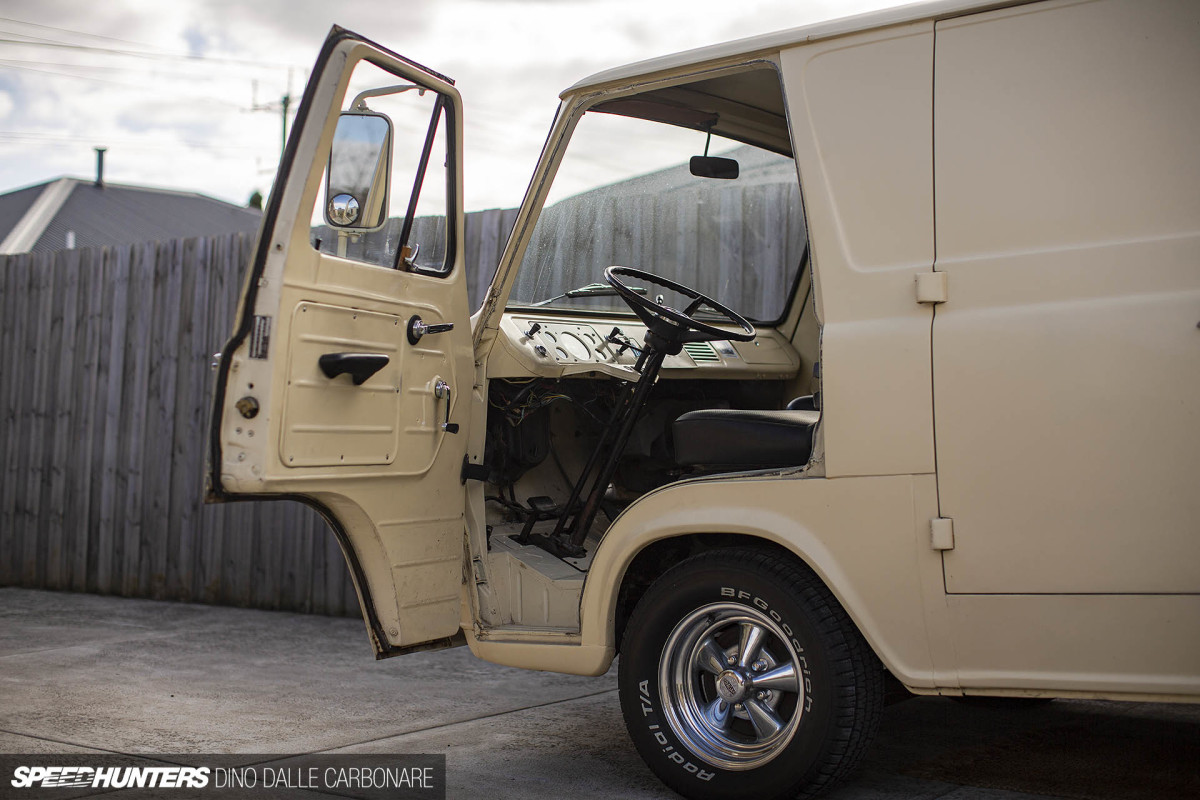 The newlyweds' journey started off with a hike all the way up to a small town in Maine where much internet searching and researching had led Nigel to a 1969 Ford Econoline 8-door van, which ultimately took them across the US.
The van would be serve as the perfect vehicle to transport the odd bike that Nigel found along the way. The first was this 1969 Bultaco, which was picked up at a charity auction in LA.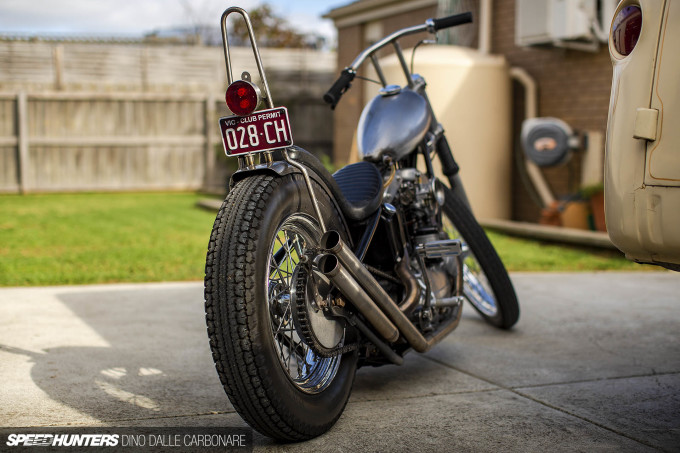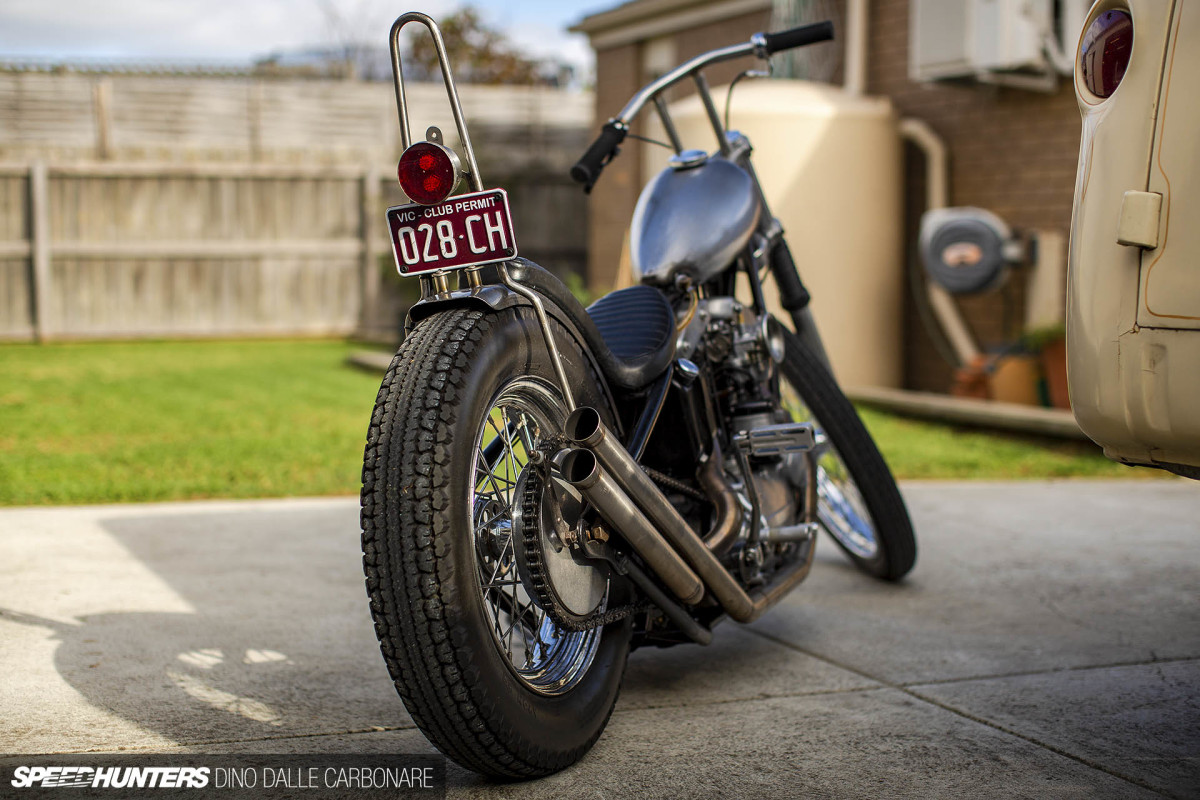 The second was this 1967 Harley-Davidson Sportster chopper, a hard one not to like due to its unspoiled and authentic '60s style.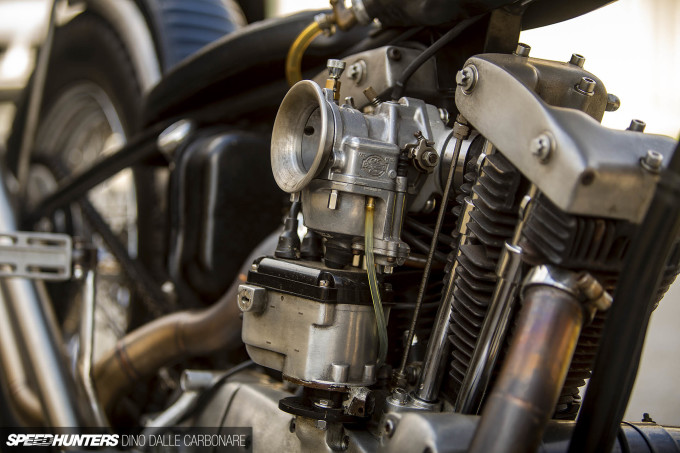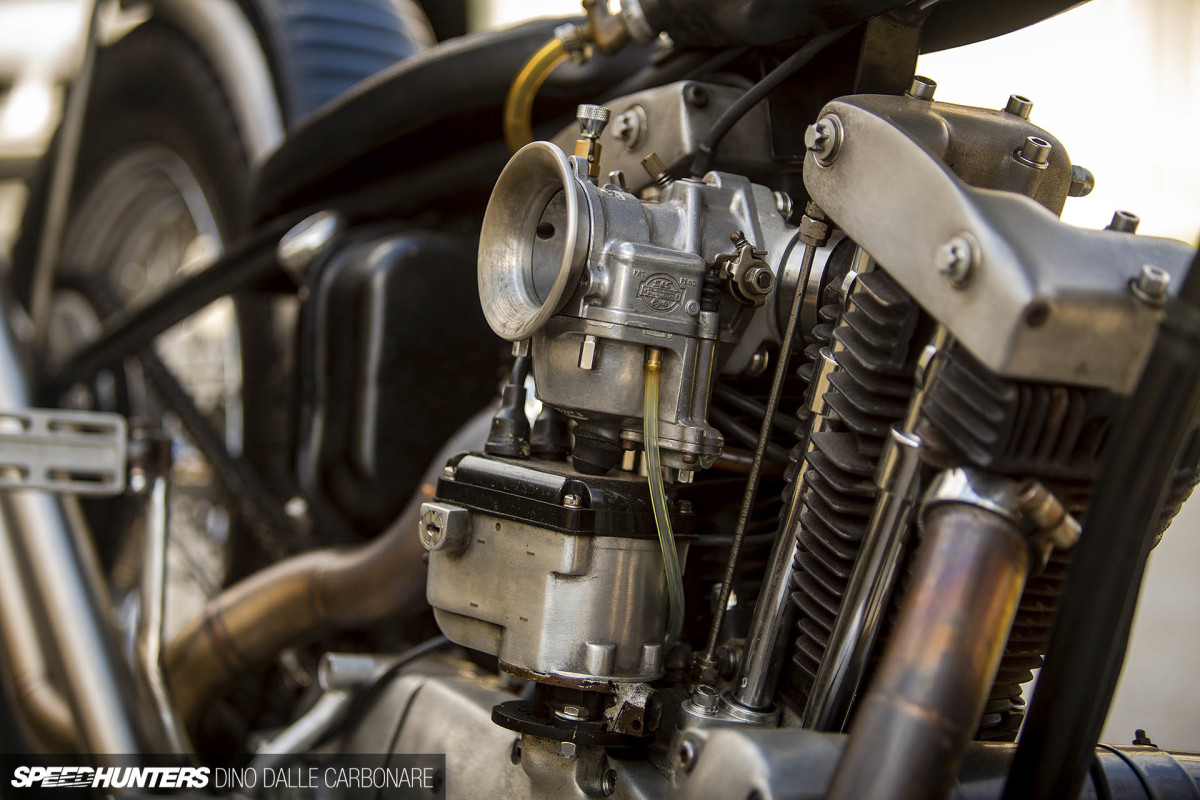 Since getting all his new toys back home to Australia, Nigel's added a more fitting set of wheels to the Ford van and fully overhauled the Harley.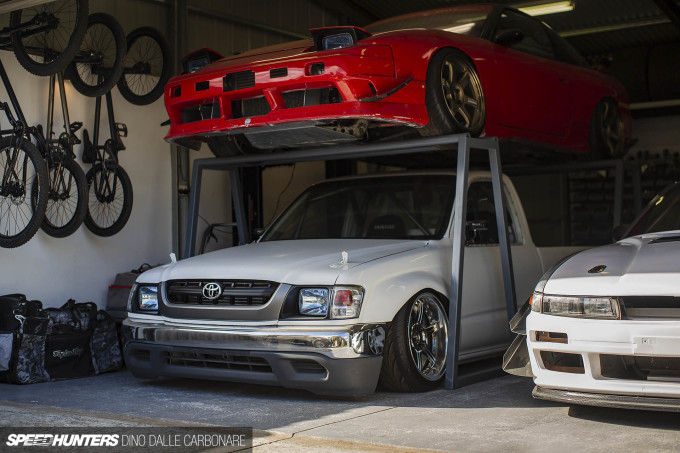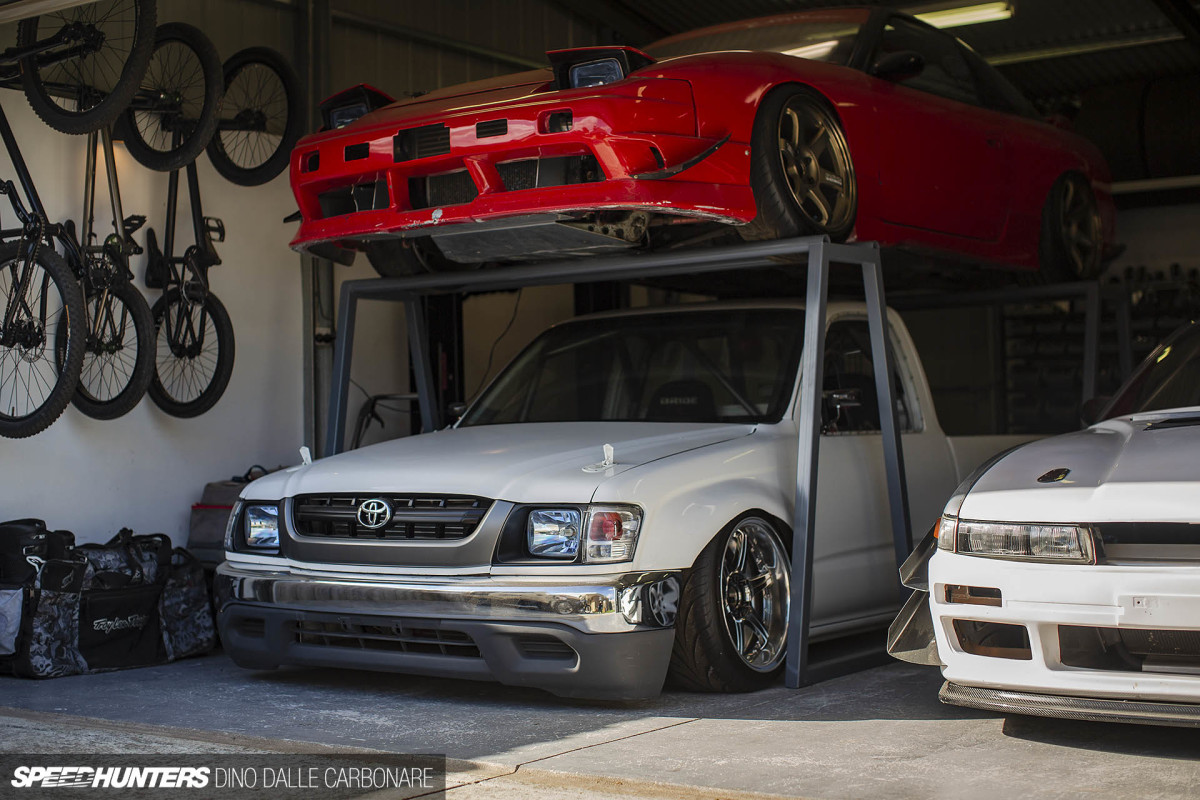 My visit to Nigel's place was probably at a bad time as he was getting ready for Meguiar's MotorEx, which was going down the next day in central Melbourne.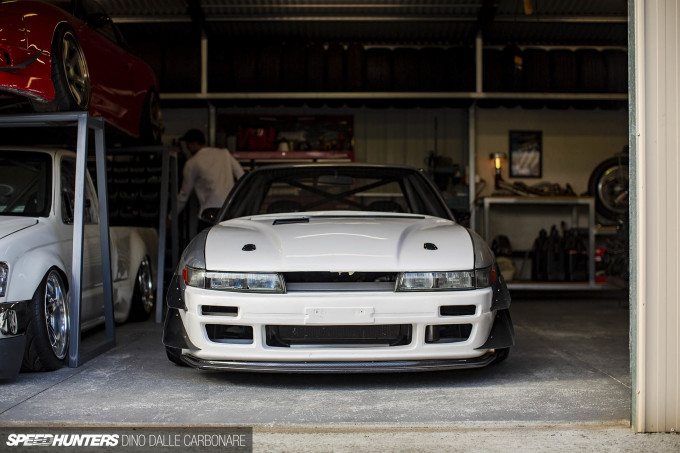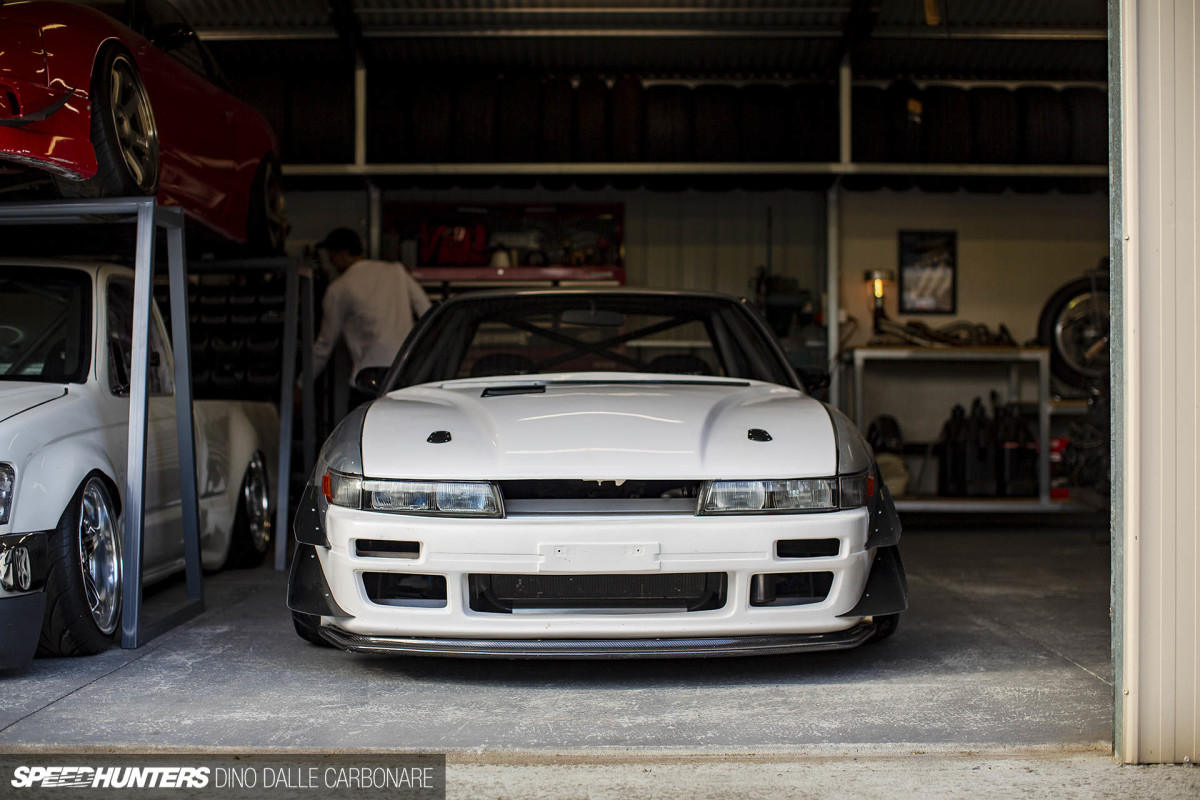 He had to prep his two drift cars for the event: the Hilux and his trusty old 180SX, which would be used for demo runs along with other Aussie drifters including Jake Jones and Beau Yates.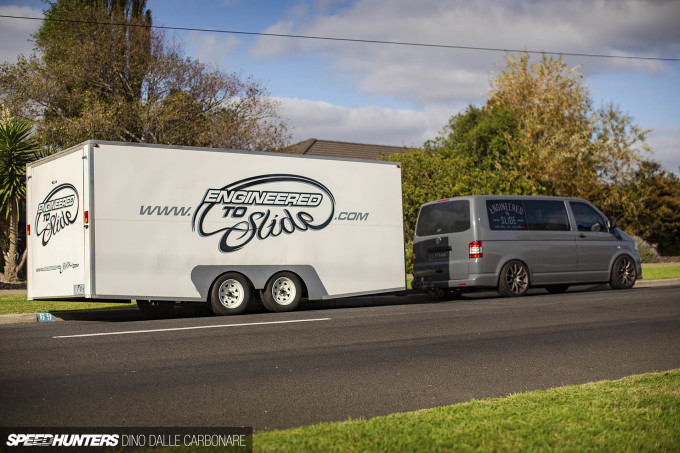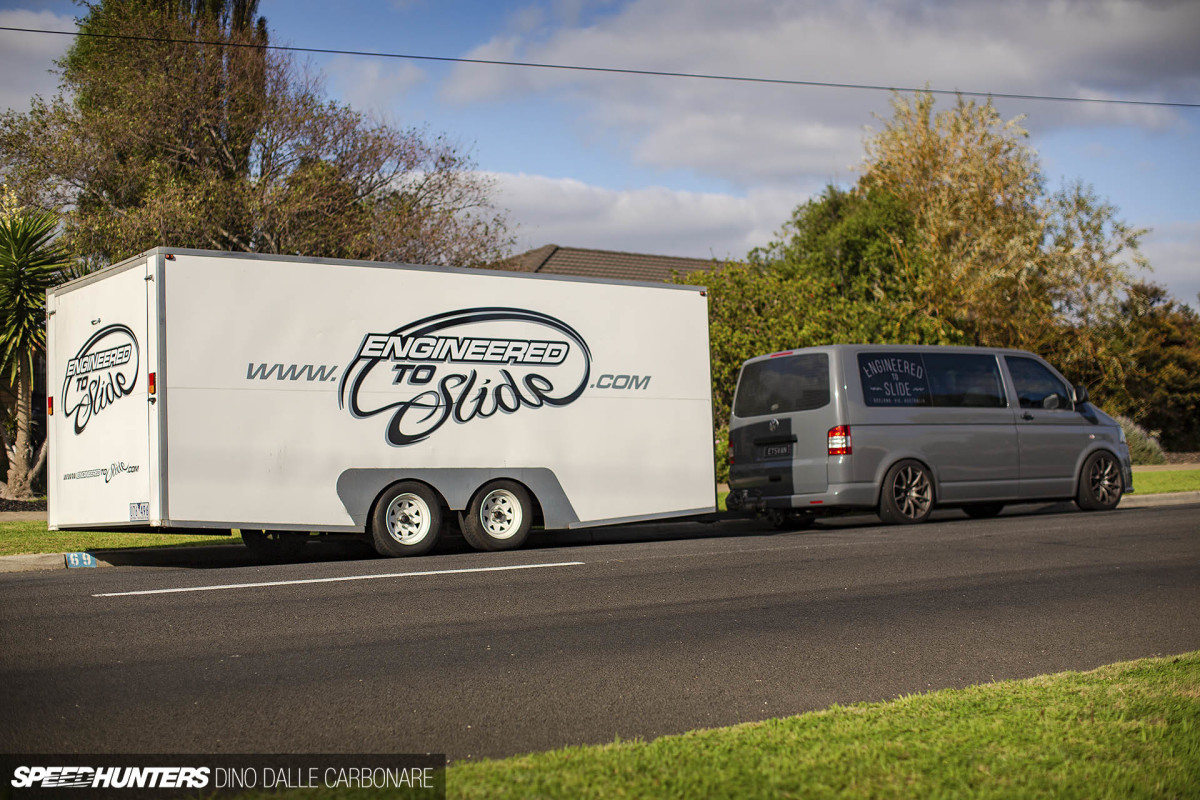 So, while Nigel was busy setting up, I was taking in all the details of his workshop.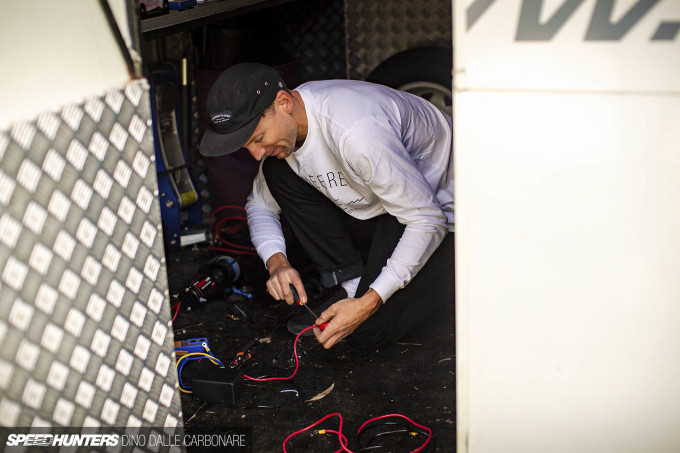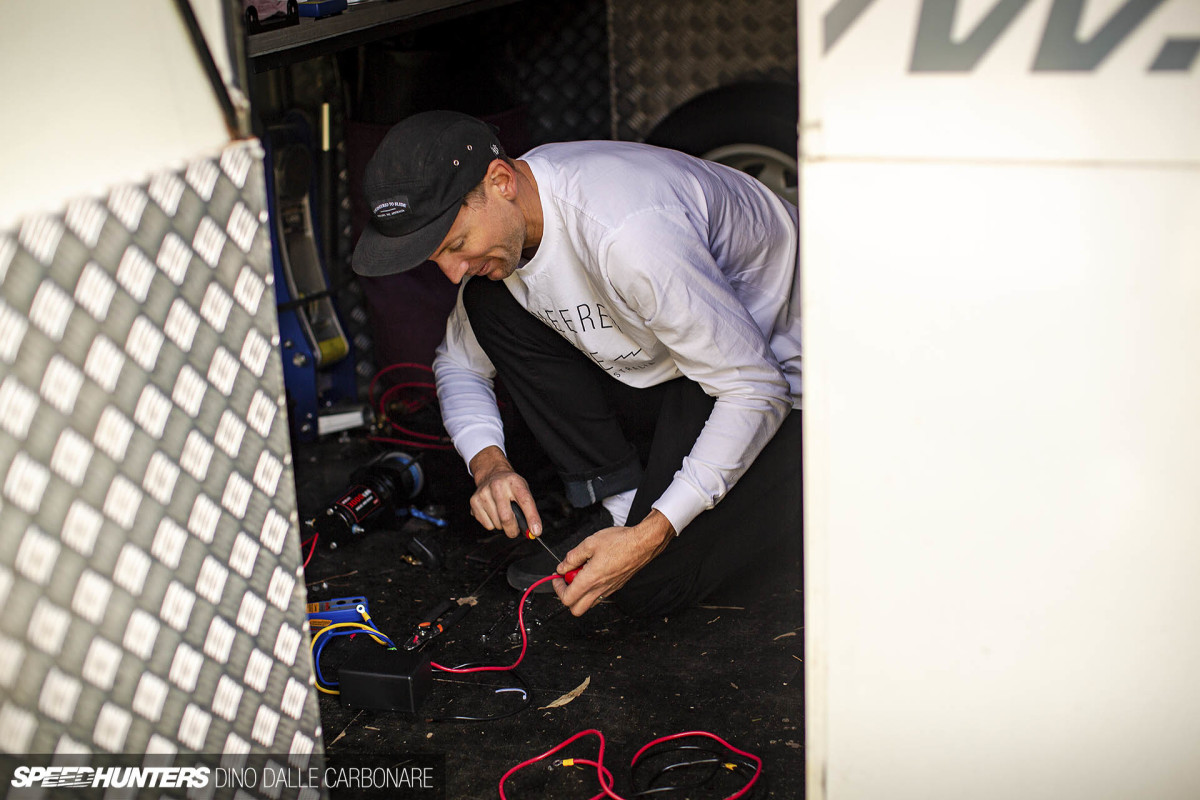 He had to get a lot of stuff done, which first included fitting a remote-control winch on the inside of his trailer to facilitate the loading of his ute.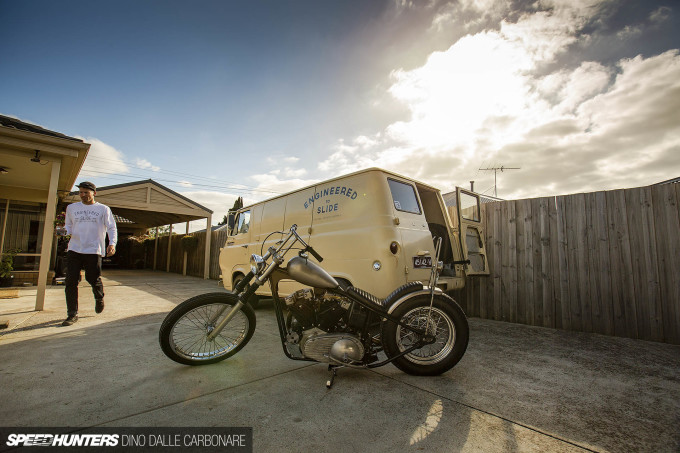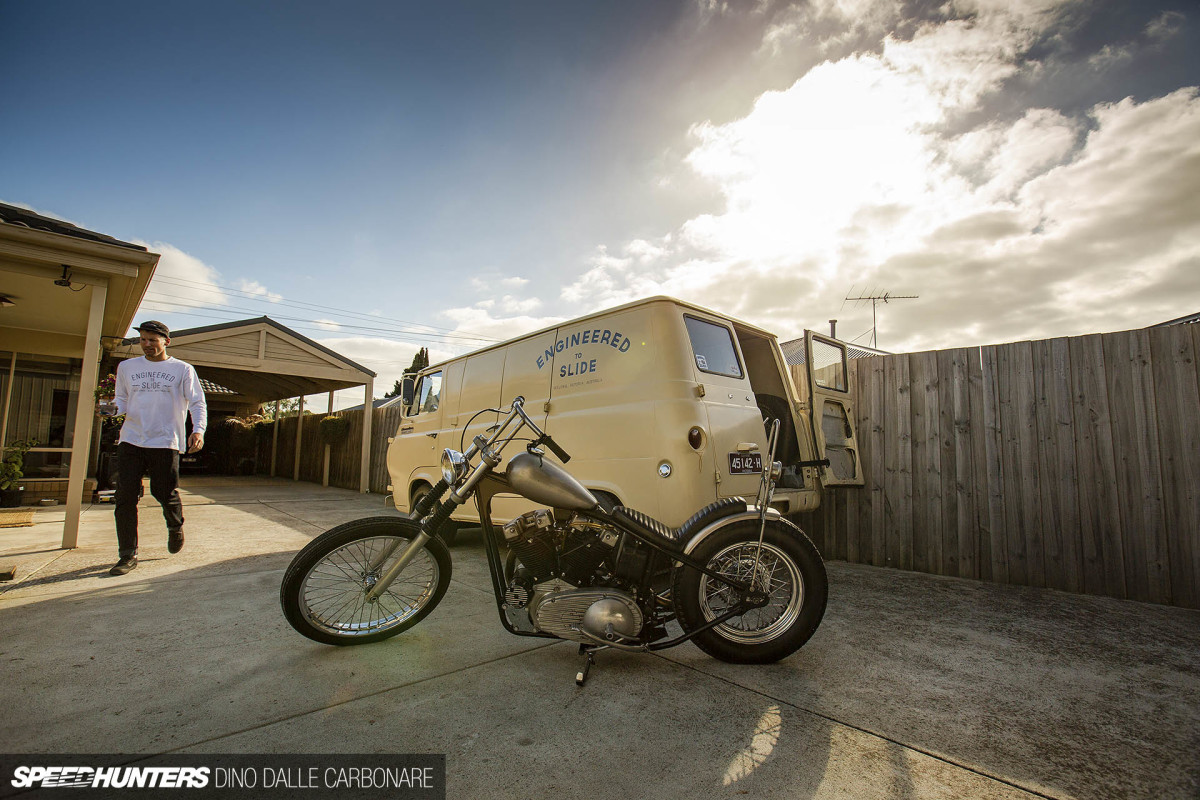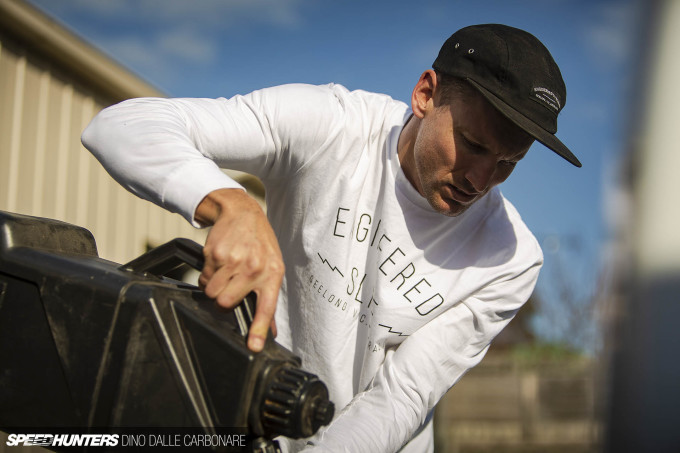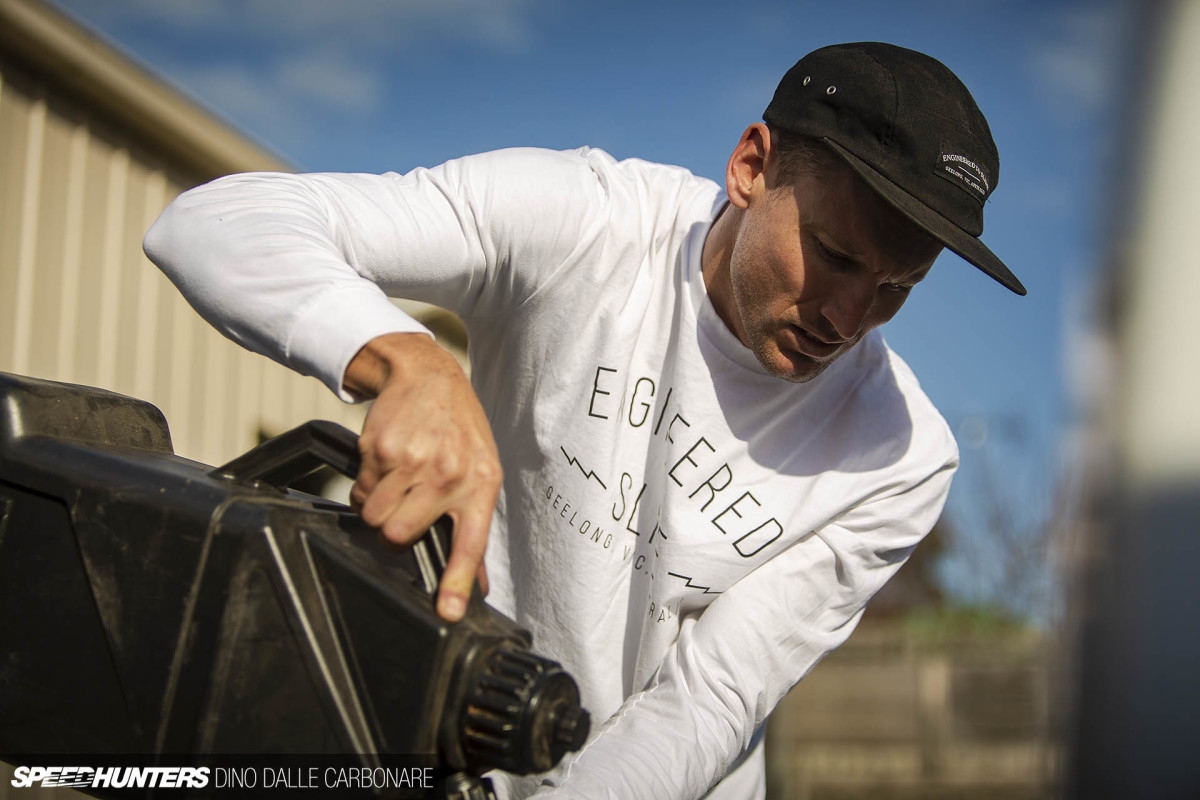 I stayed out of his way but continued with the questions, continuously being fascinated about how his passion seems to be equally distributed between cars and bikes, and the different disciplines associated with them. It was interesting to hear his take on things, and inspiring too as we prepare to start featuring the bike scene here on Speedhunters.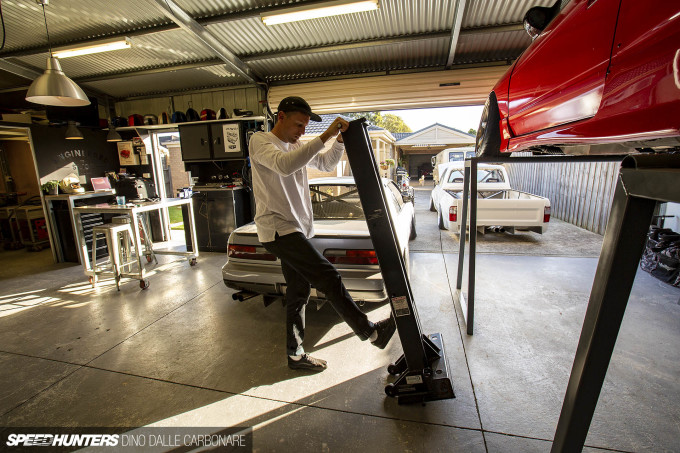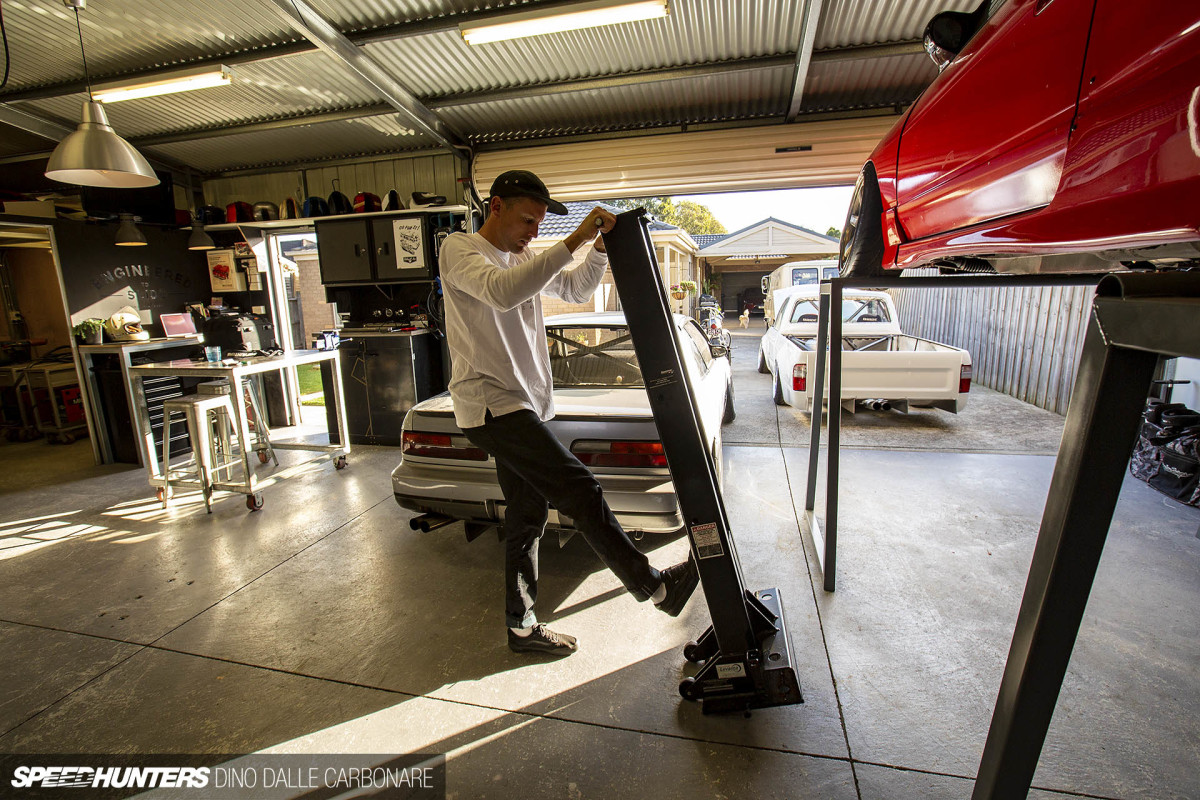 Nigel's approach is a simple one; it's all about extracting the most fun and satisfaction out of everything he's involved with. And I think that's what I'll personally strive to do with bike-related content. There's so much happening around the world, and just like with cars, Japan certainly seems to have one of the most diverse and often whacky cultures out there.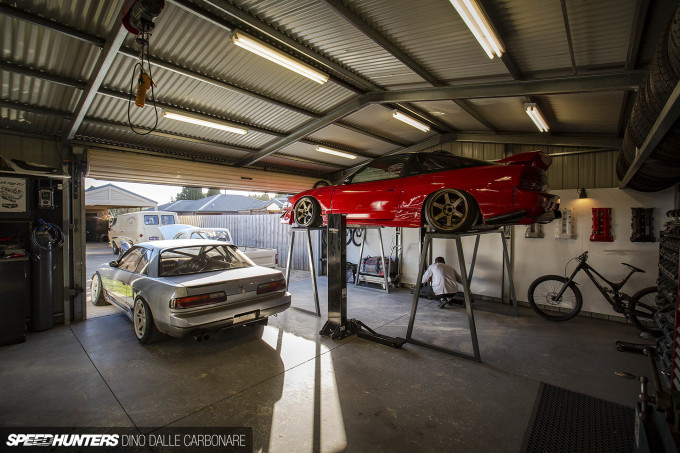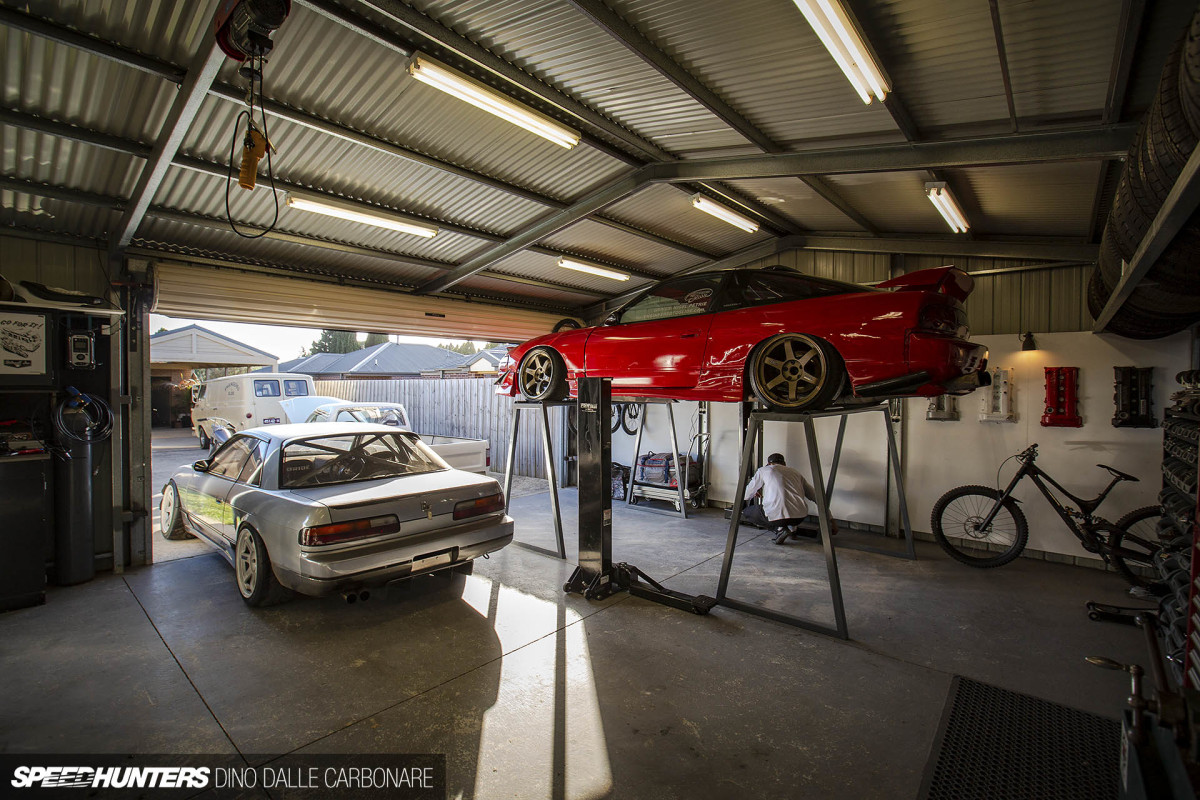 You might be wondering what's going on in these pictures…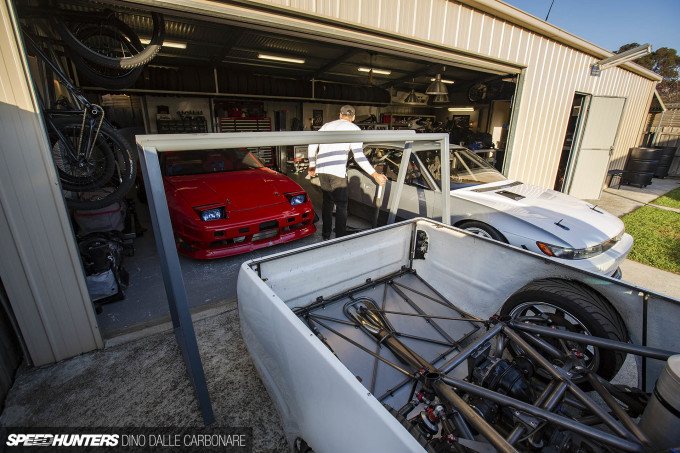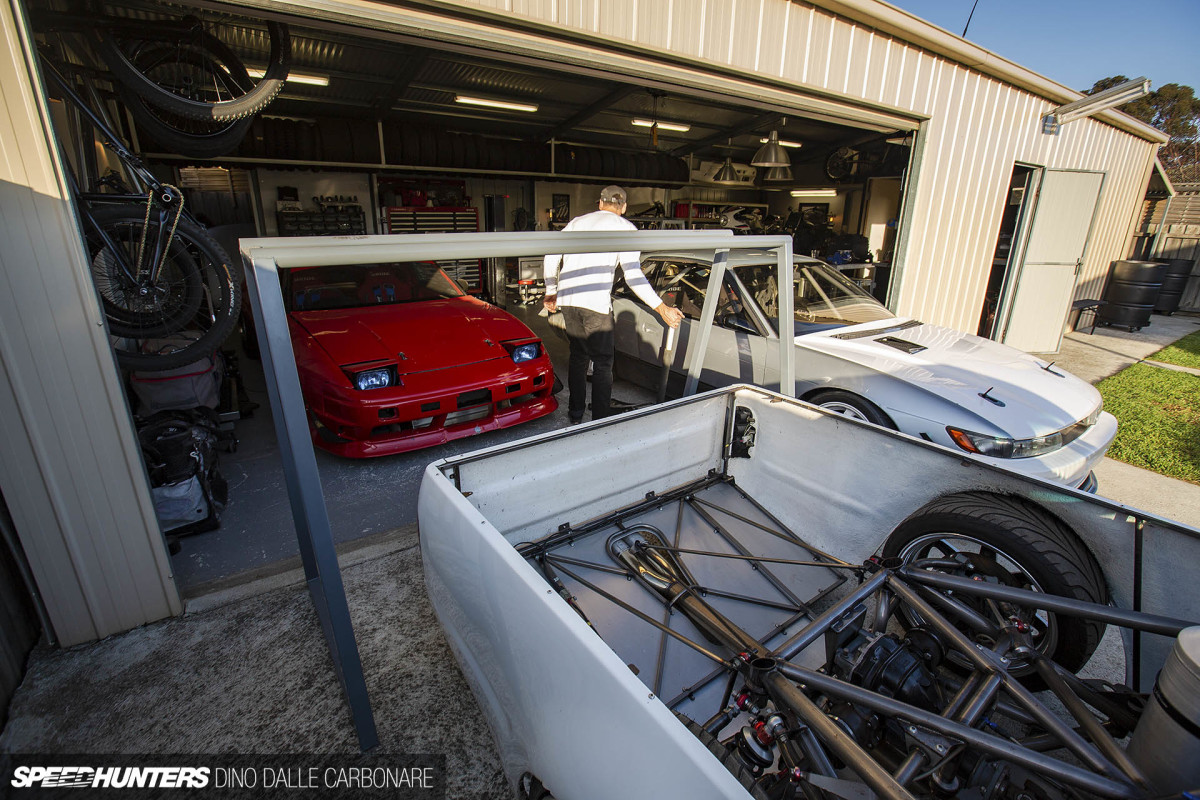 Well, Nigel had to fit his hydraulic lift post in position to lift his 180SX off the stands he fabricated.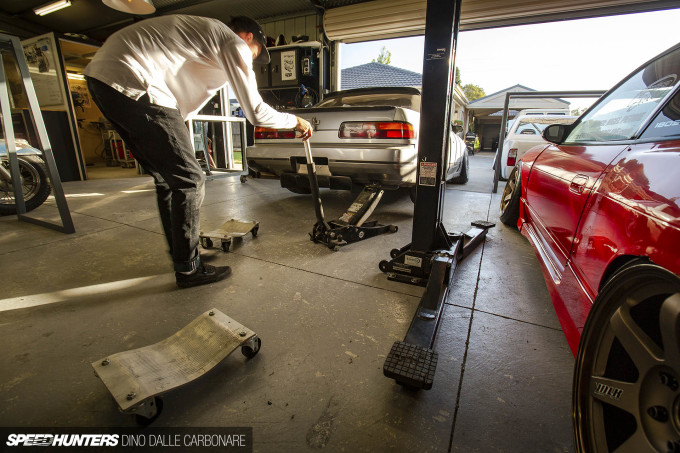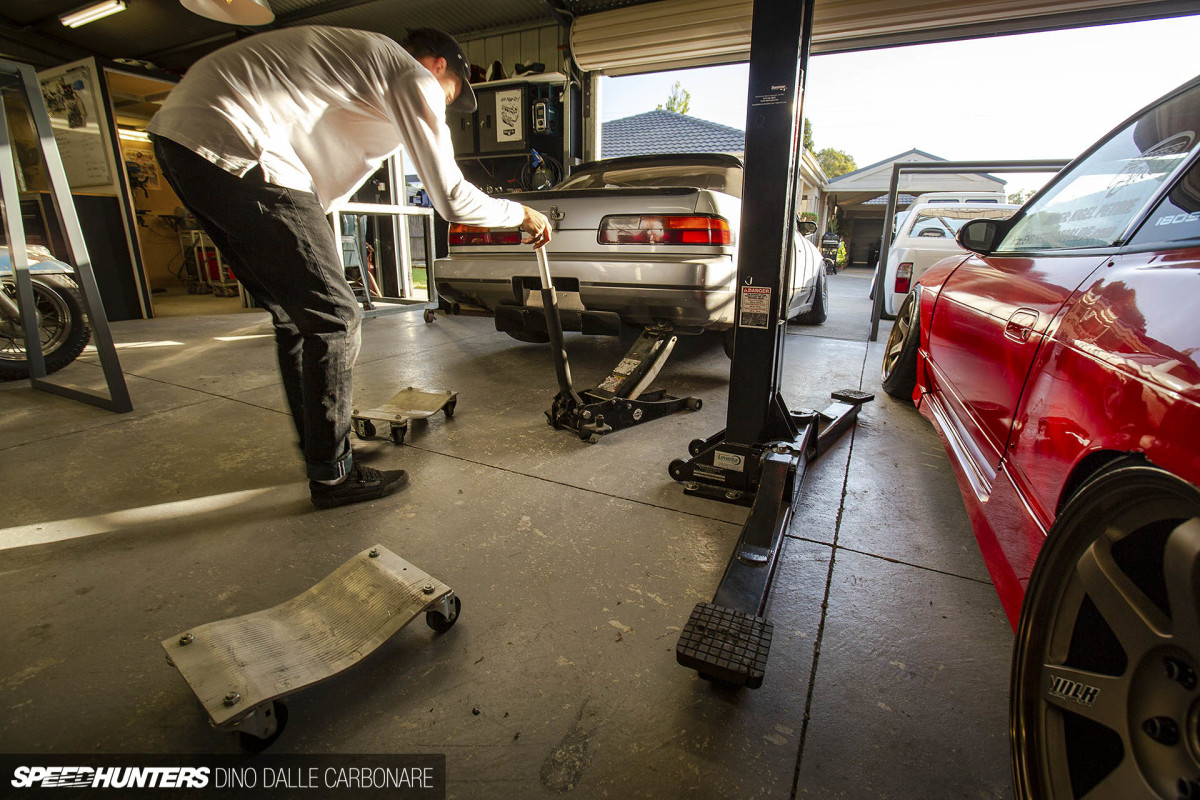 I won't give away what the process is as I'd rather hear from you. So tell me – how you think he gets the car down and then up again?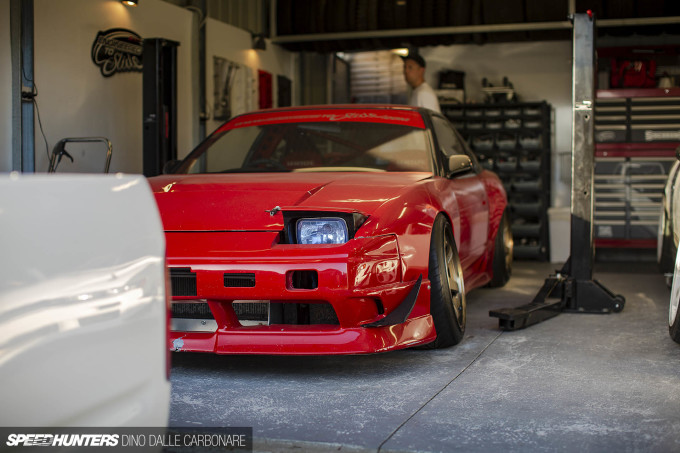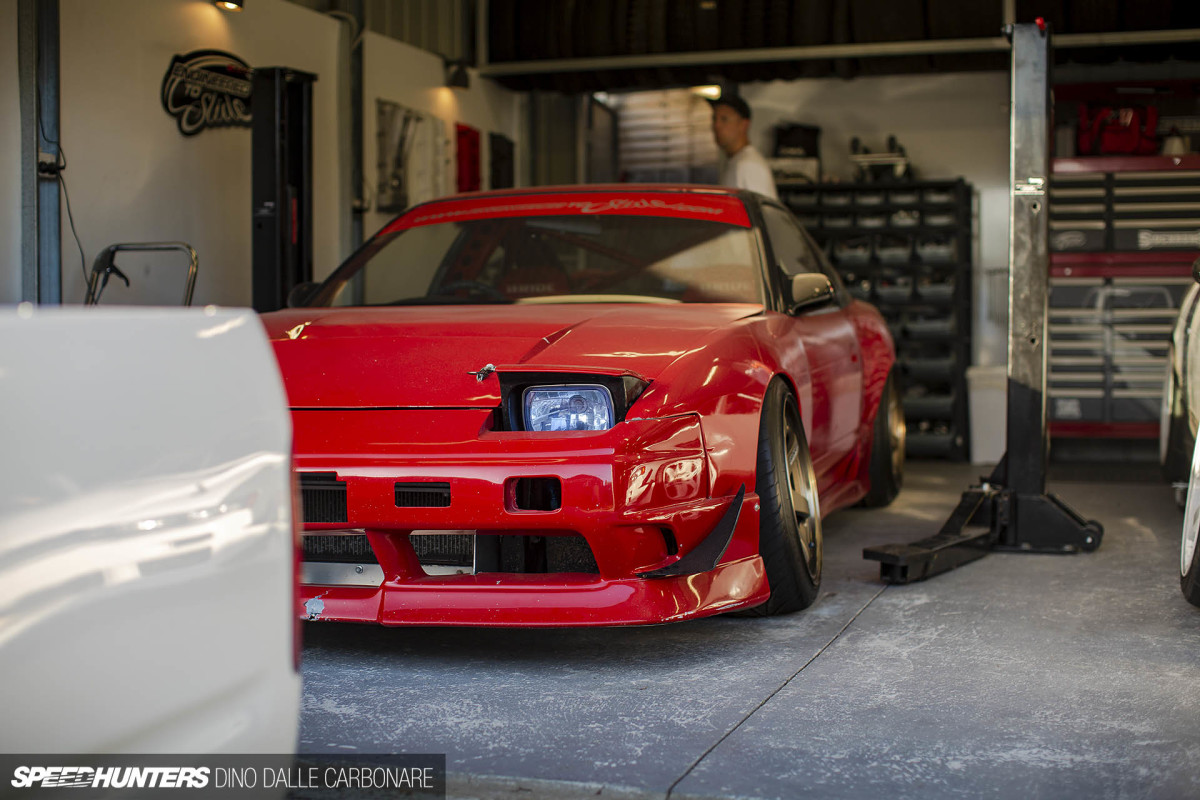 And speaking of the car, Nigel has so much love for his RPS13. He told me how he's been through so much with it, getting started in the scene and perfecting his style both in driving and building.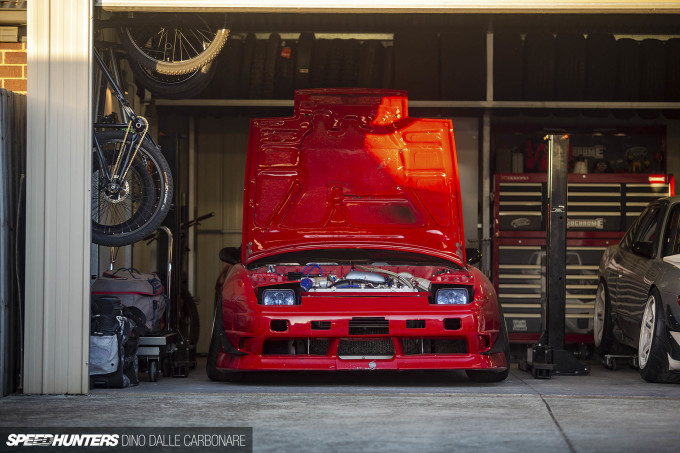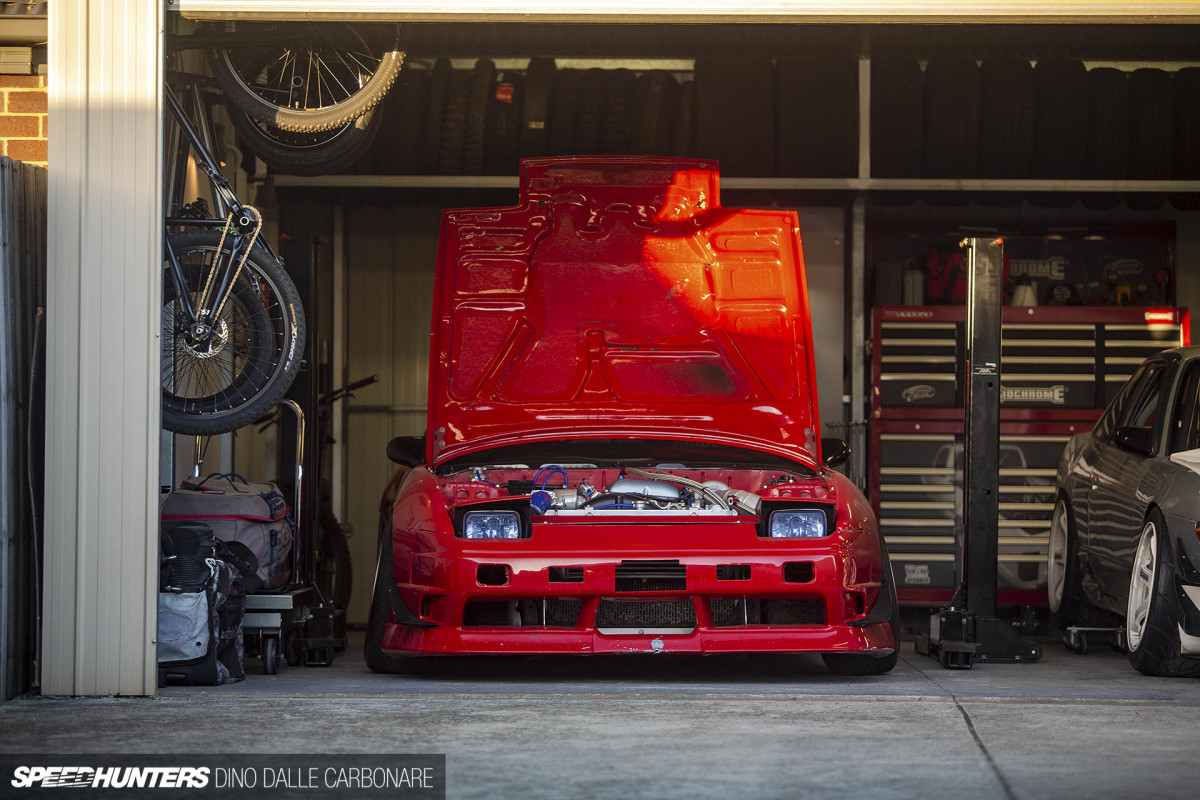 Engine-wise, it's pretty straightforward with a 340whp SR20DET setup featuring a top-mounted Trust TD06LT turbo and Hypertune plenum, sitting in a bay with tubbed wheel arches to contain the extended steering angle. The RPS13 wears battle scars from a good decade of use and looks the part because of it. It's quite the contrast to his naturally aspirated time attack S13 we saw last year at WTAC.
Loading Up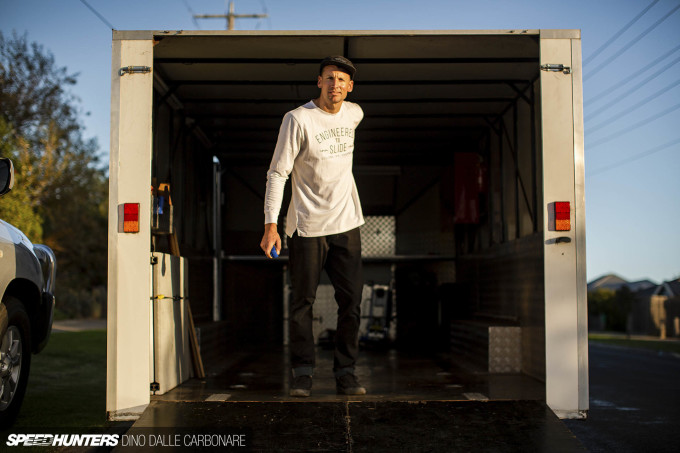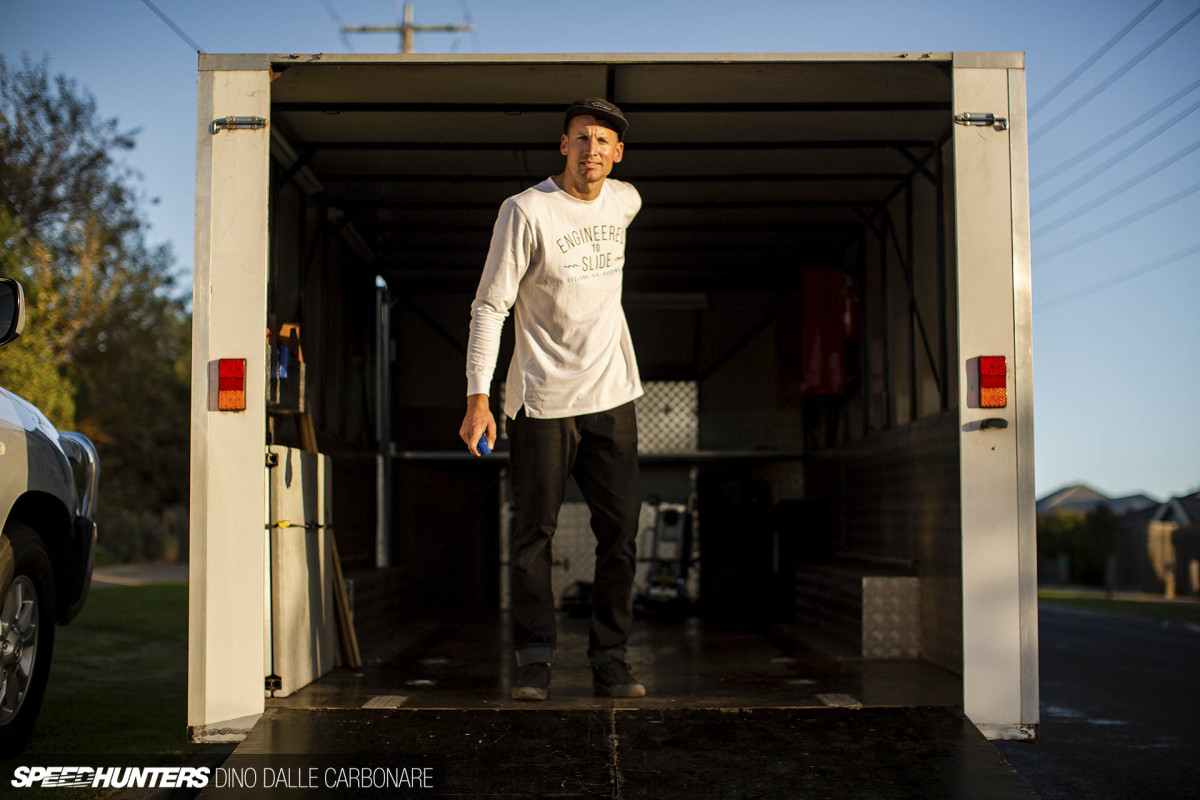 With a fresh oil change executed on the Hilux it was time to move it out onto the street and into the trailer.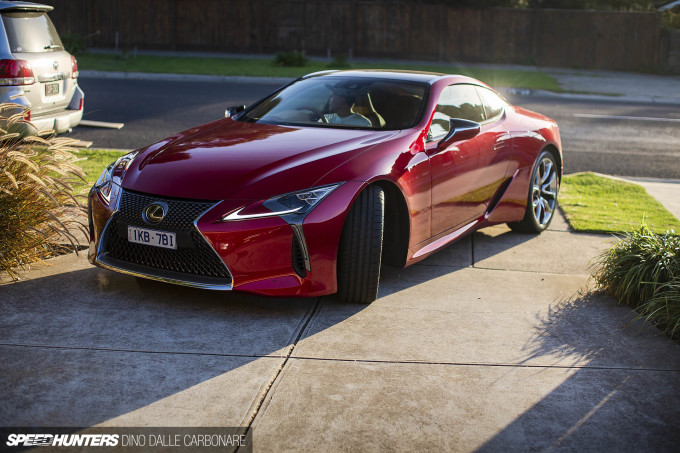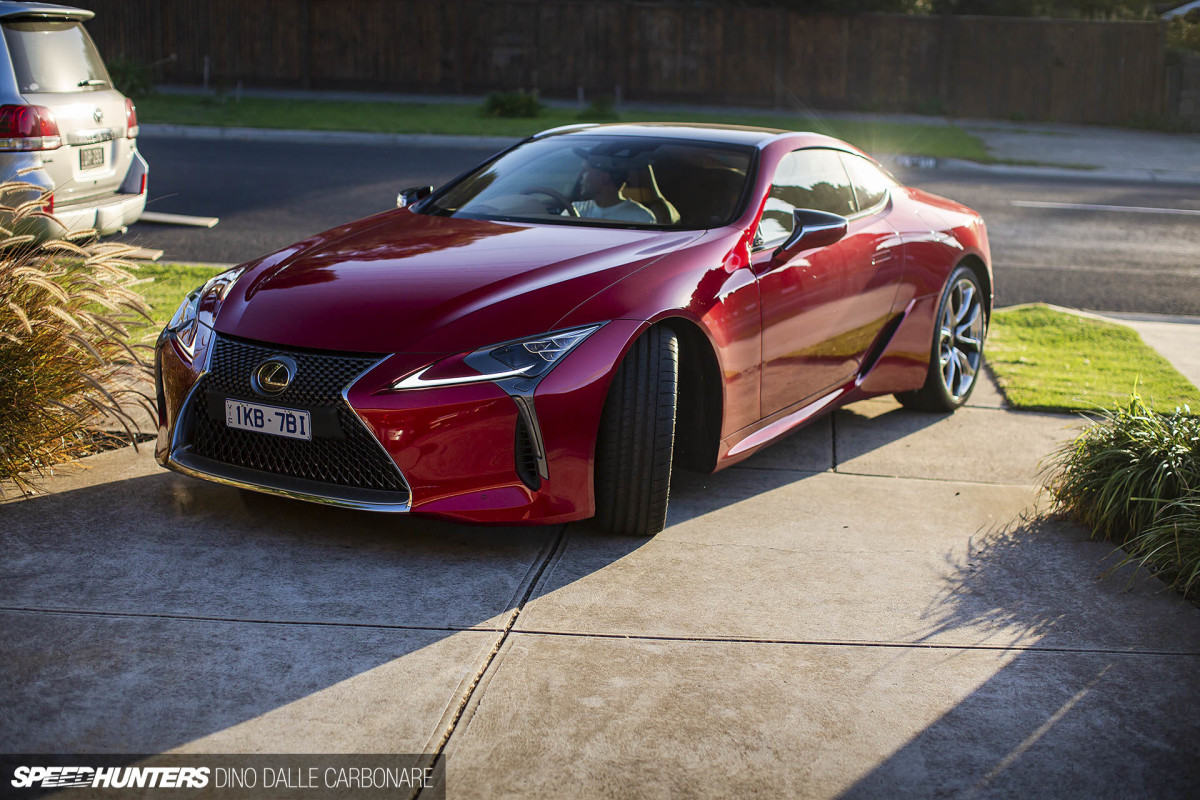 Nigel first had to move the Lexus LC 500 that I had borrowed during my time in Melbourne. He was pretty impressed with the spaceship-like interior and equally futuristic design. Matt and I took this car out on an epic drive to the coast, so you'll be reading all about that very soon. And yes, it's miles better than the hybrid version we had last year!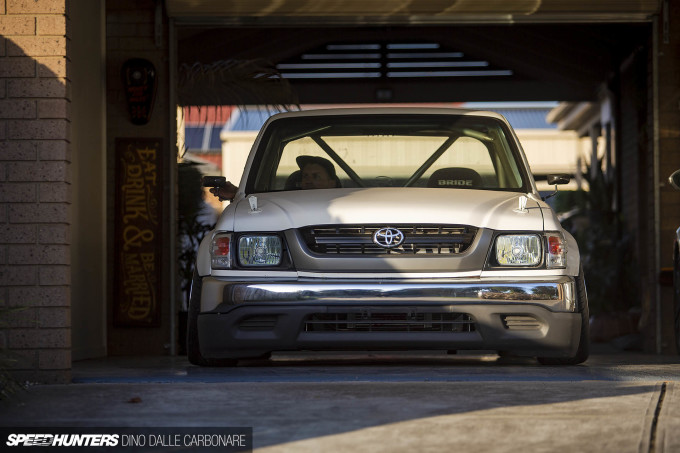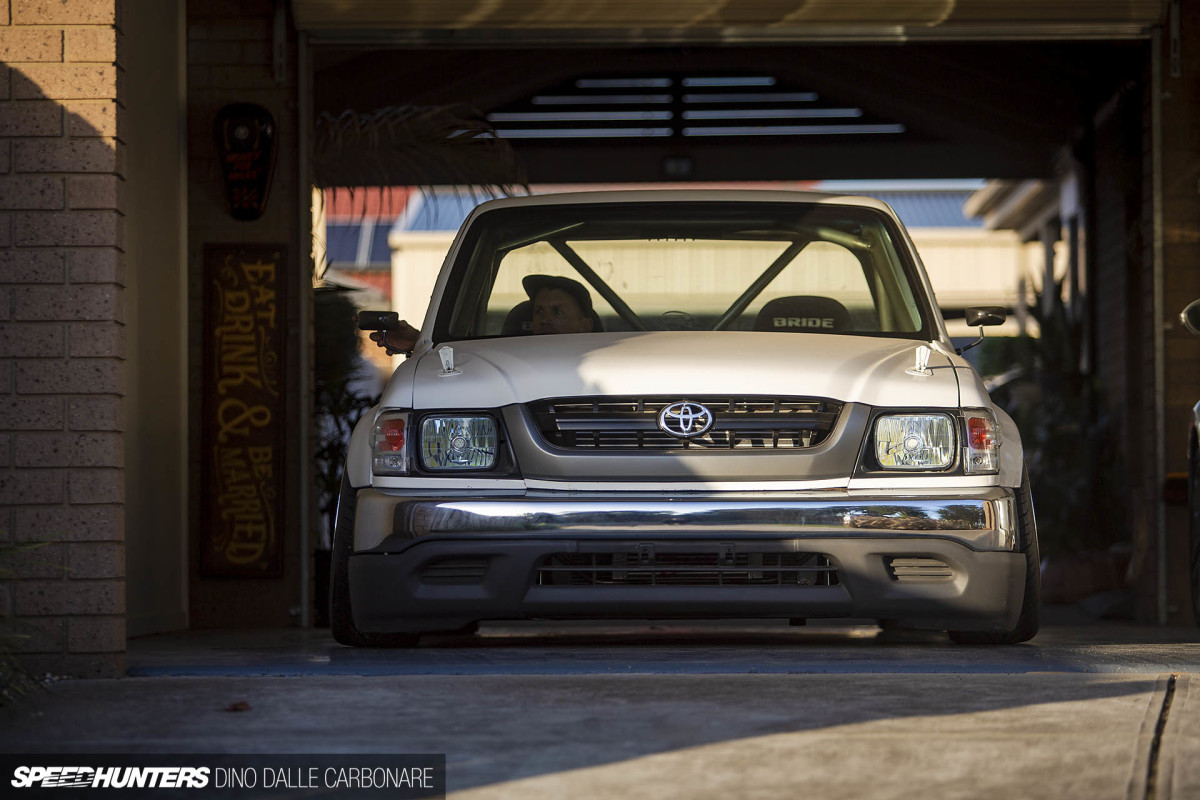 Words really can't express the sheer presence this truck has.
Nigel was in for a long night because after driving his car to the MotorEx venue he had to come back, load up the 180SX and drive back out to Melbourne the following morning to prep for the day of demos.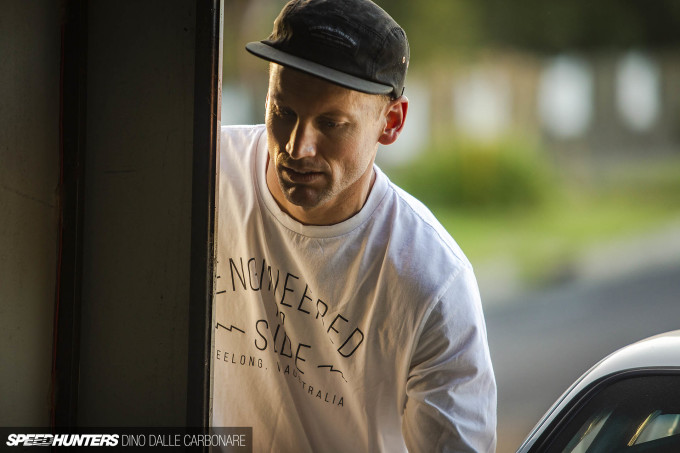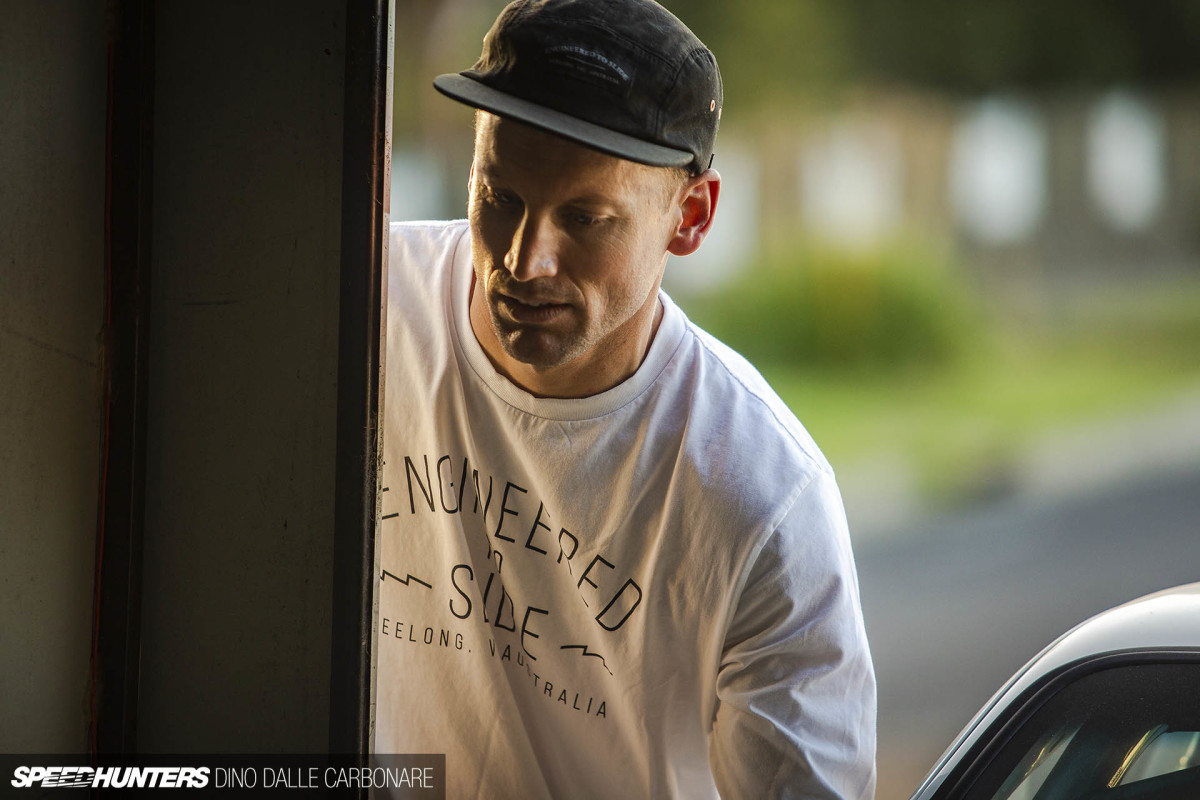 He didn't seem stressed at all though, and more than happy to have me continue with the questioning and constant snapping.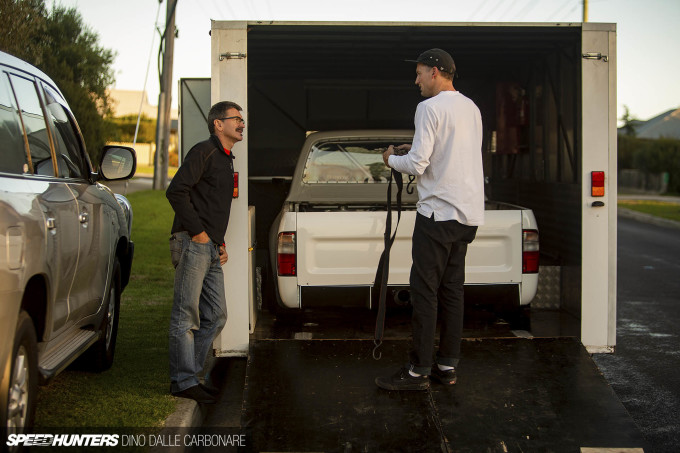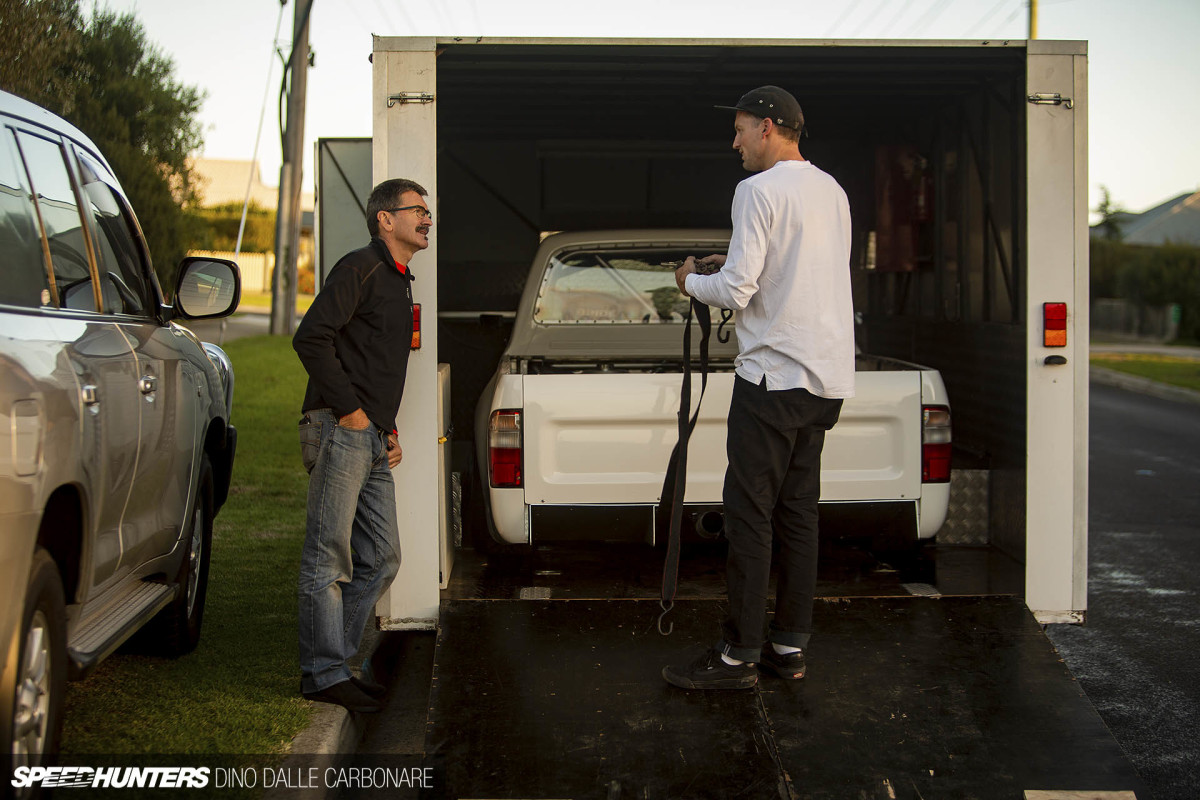 His dad drove up to help out with the preparation and enjoy a weekend watching Nigel do what he's good at.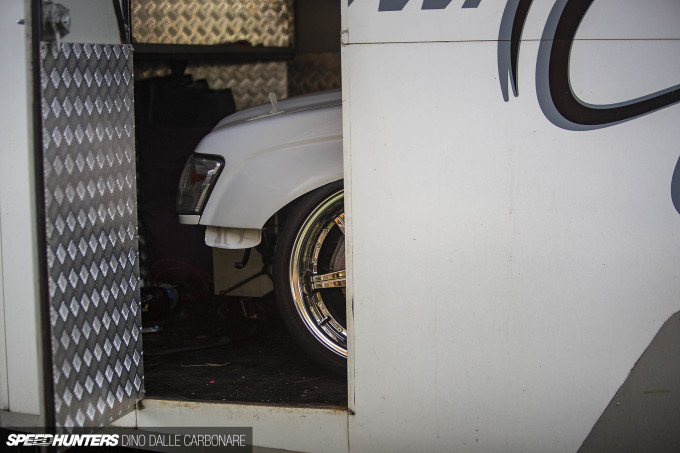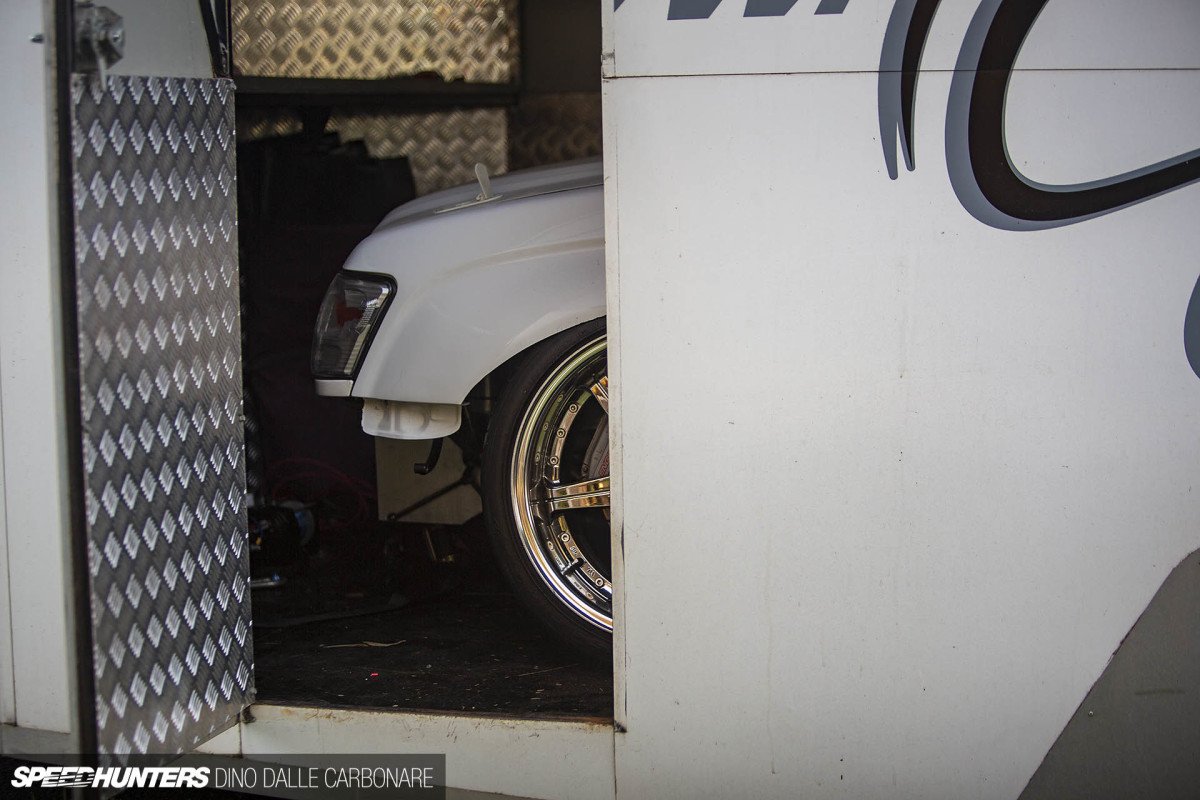 By the time the Hilux was safely tucked away in the trailer, Matt arrived with the other Lexus press car we had for the weekend.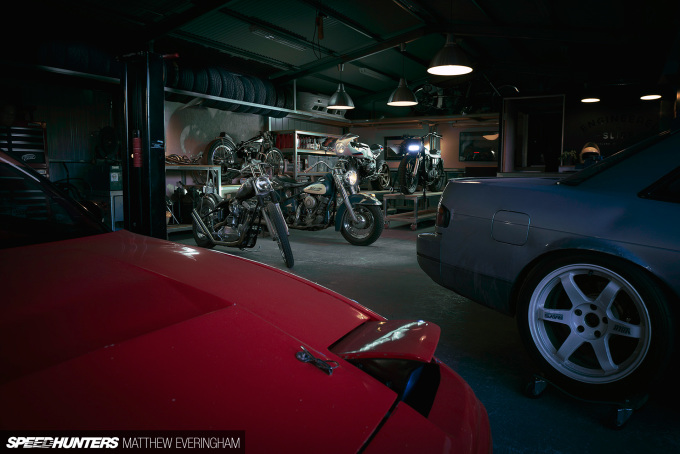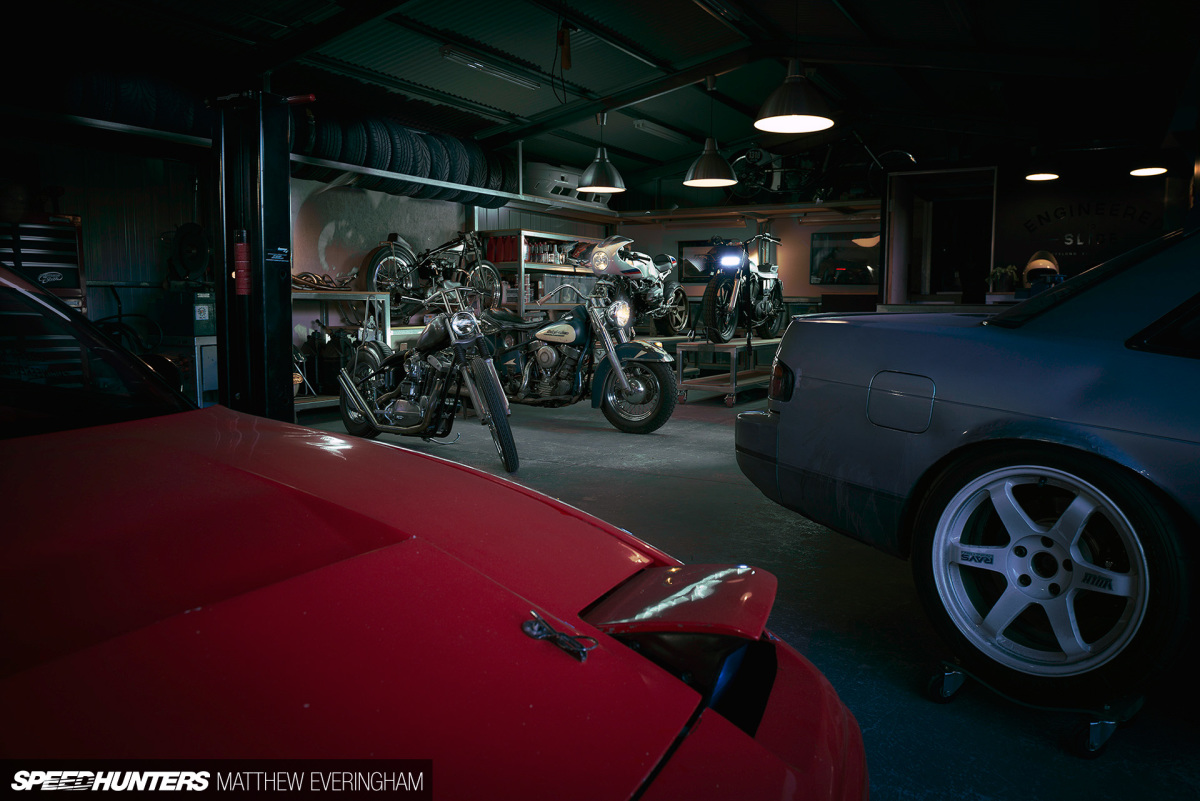 That was a good thing as we needed to get some dramatic shots of Nigel's shop once the sun had set. Luckily, Matt is quite handy with the old light painting technique and we finished the day with two awesome images of Nigel and his shop.
Now the question is, how excited are you to see bikes on Speedhunters, and more to the point, what exactly would you like to see? I really can't wait to get stuck into this new side to Speedhunters!
Dino Dalle Carbonare
Instagram: speedhunters_dino
dino@speedhunters.com
Additional Photos by Matthew Everingham
Instagram: matthew_everingham
matt@mattheweveringham.com