An HKS Themed Party
This is what the HKS Premium Day is all about.
It doesn't matter if you scroll quickly through the 60-plus images I've selected from the event, or if you actually take your time to read through what I've got to say about it all – both methods of digesting this rather large post should get the message across.
In my opinion, even if it's brand specific, the organic way HKS has let this gathering evolve over the years in no way tries to be an outright promotion of its products. It's rather an honest celebration of what's good about the current Japanese tuning world, and HKS sends out invitations to a vast variety of shops to keep things interesting and fresh. So let's dive right in, shall we?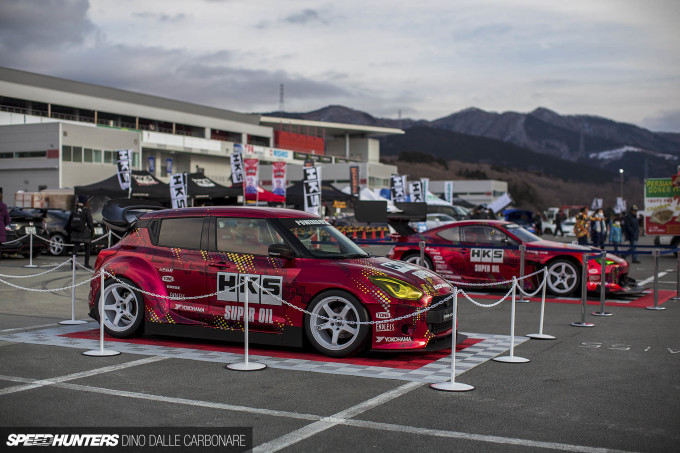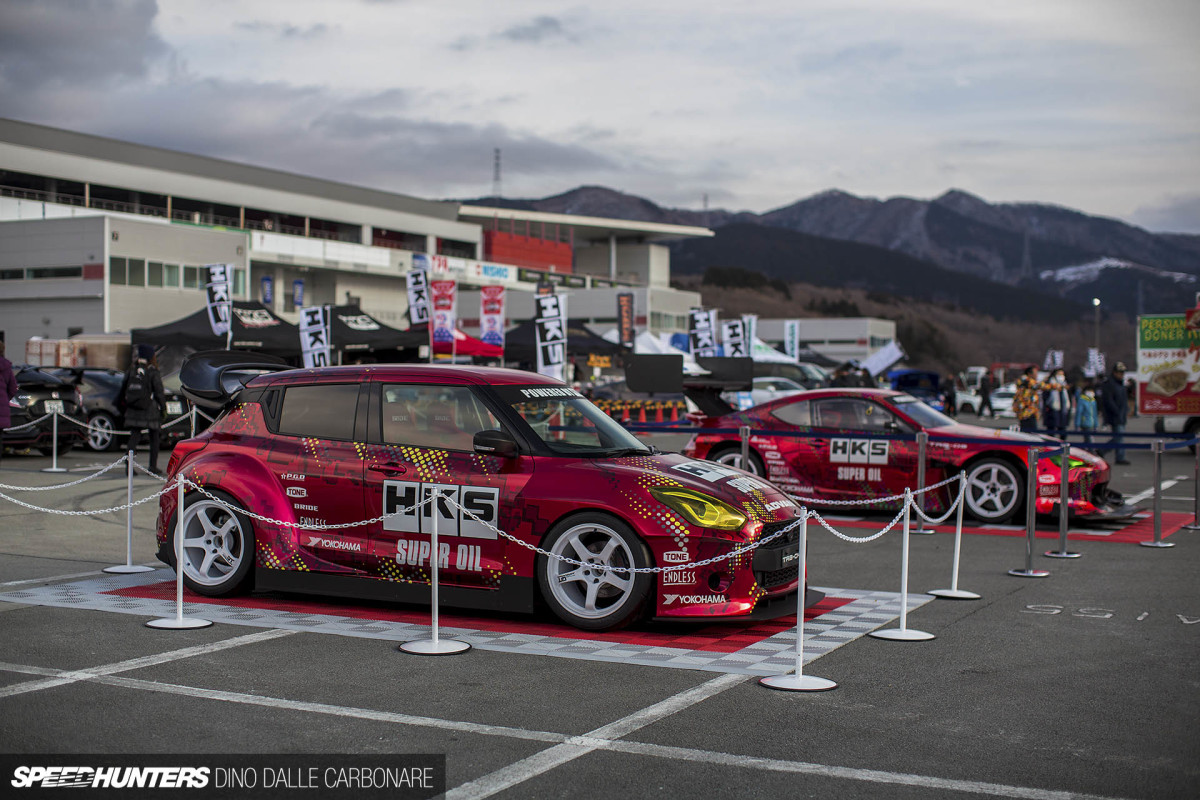 Having stopped in a hotel close by overnight meant that I was at Fuji Speedway bright and early without having to get up at silly o'clock, as is the norm on an event weekend. But even before 8:00am, the paddock was buzzing with movement as people began flocking in, despite the sub-zero temperatures.
It only seems right that I open up this main post with a few images of the latest HKS cars. It was exactly a year ago that we first saw the GTS800 in detail when it was unveiled at the 2017 edition of this event. Now re-baptised as the TRB-003 – TRB being an acronym for 'Tsukuba Record Breaker' – the all-carbon ZN6 has been out on a few private and closed test sessions at Tsukuba Circuit, however, HKS Premium Day was the day that we finally saw it on track in public. I'll dedicate my final post from the event on this outing, as there is some rather controversial stuff going down right now after it showed up to Fuji Speedway with a redesigned front end.
The Suzuki Swift on the other hand is still a work in progress which HKS will be developing over the course of this year, so it pretty much stayed put.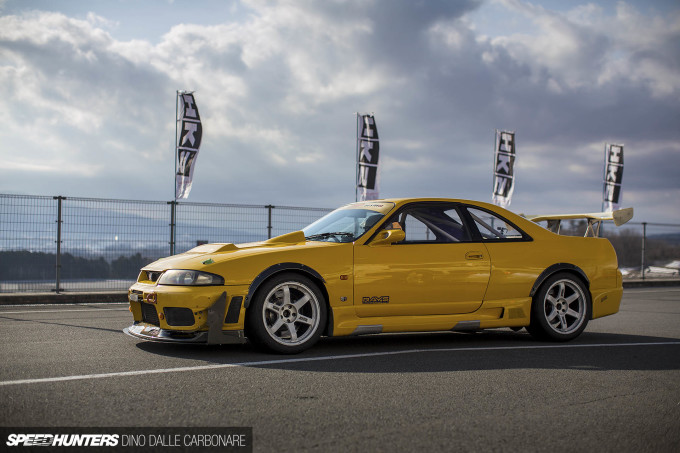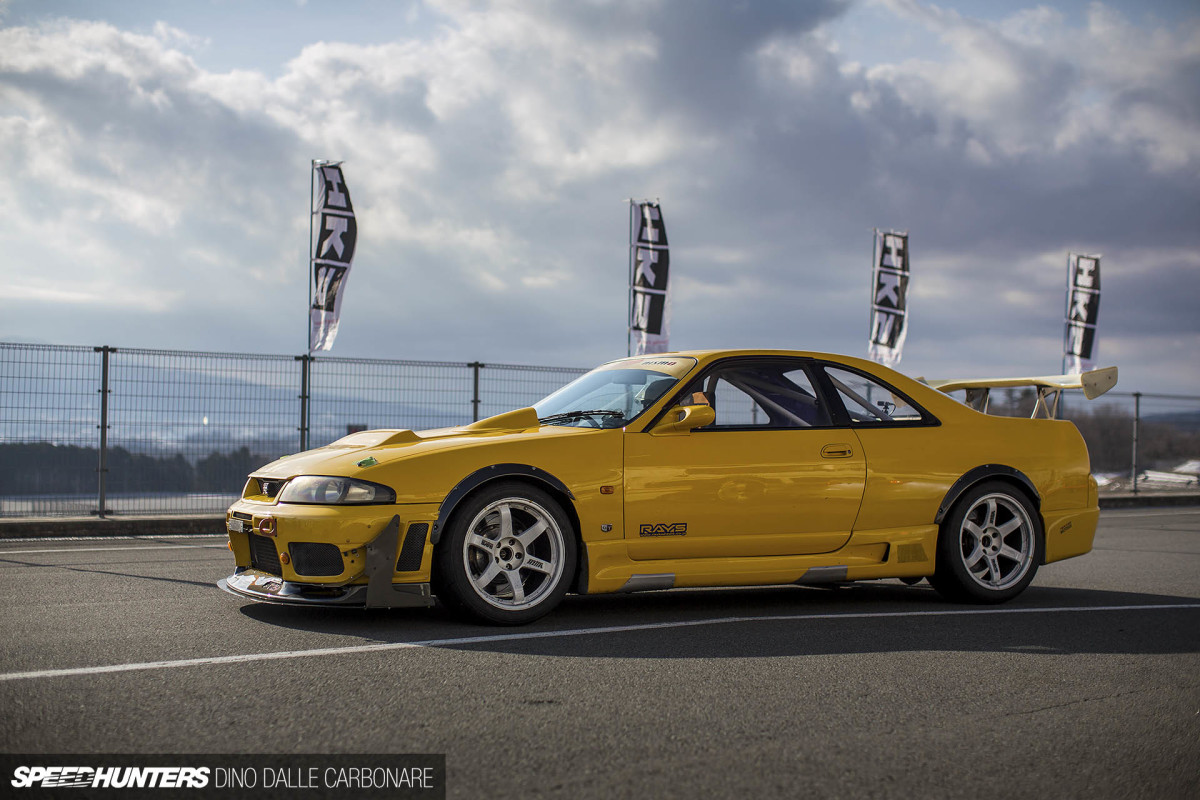 That said, there was a ton of other cool stuff to feast one's eyes on, including hundreds of GT-Rs. I can't believe the old JUN R33 demo car is still doing the rounds; it's now looked after by Autech Tsukada in Nagano, and is still a screamer if you are wondering.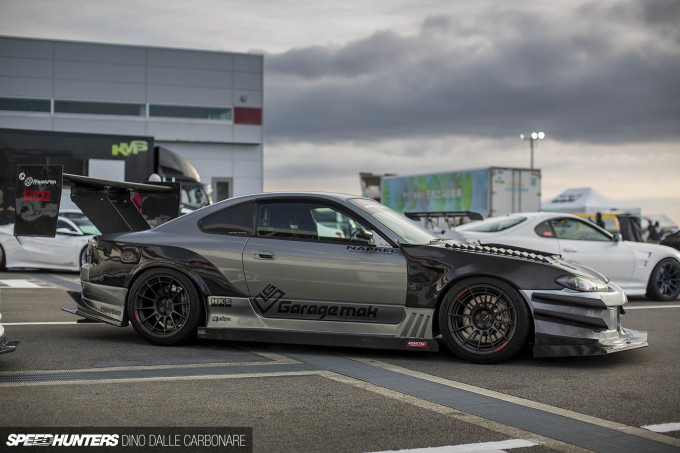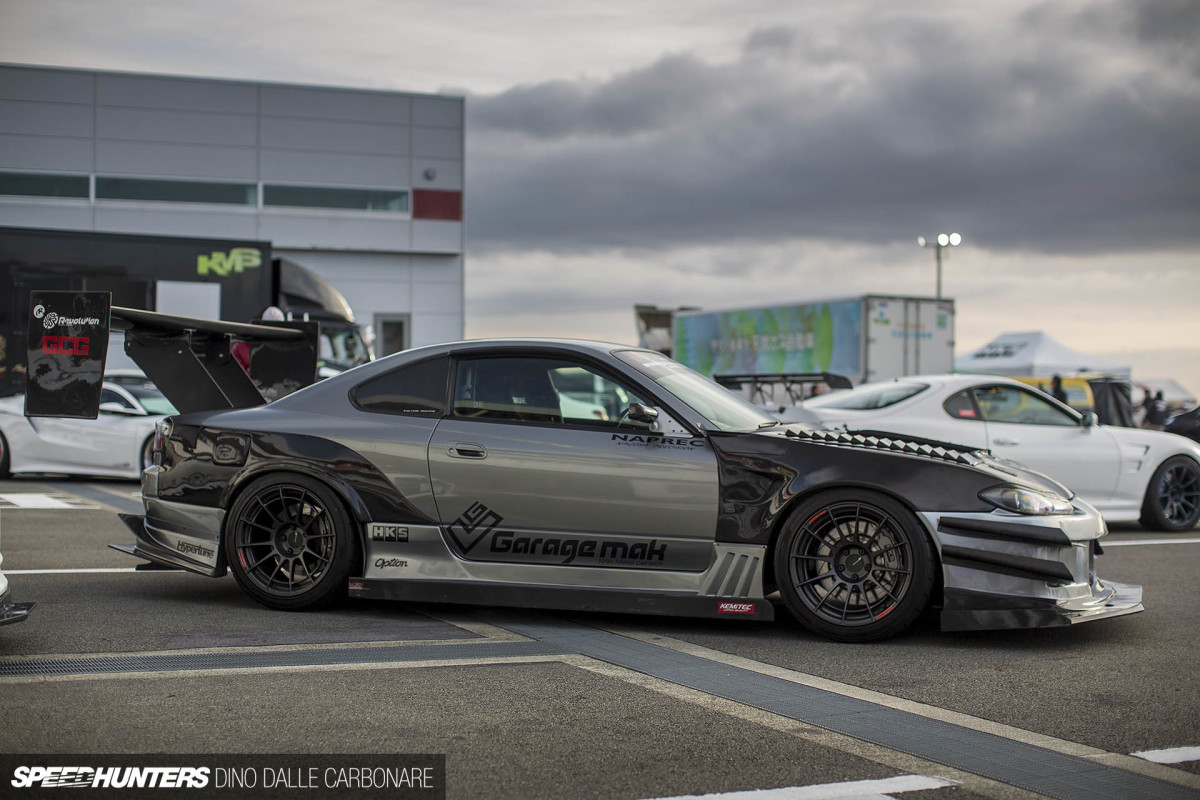 Again from Nagano is Garage Mak, who brought out some of their demo cars as well as Amemiya-san's S15 Silvia which since when I featured it years ago has continued to be evolved.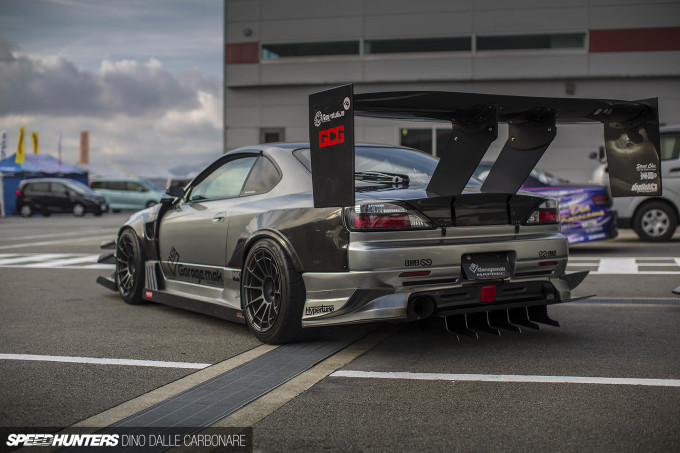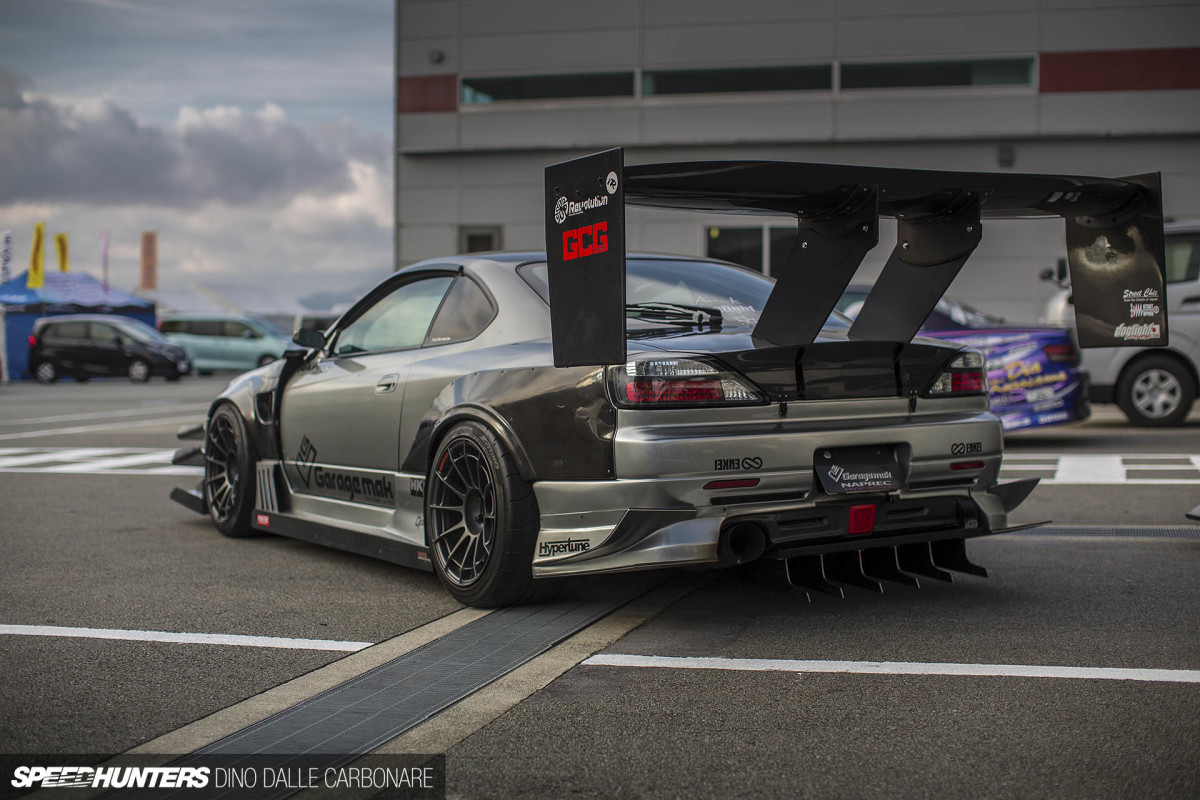 It has well and truly morphed into a time attack machine, something its rather massive rear spoiler kind of hints at. It's so different from when we first looked at it four years back that it's begging to be shot again. What do you guys think, would you like to see this car revisited?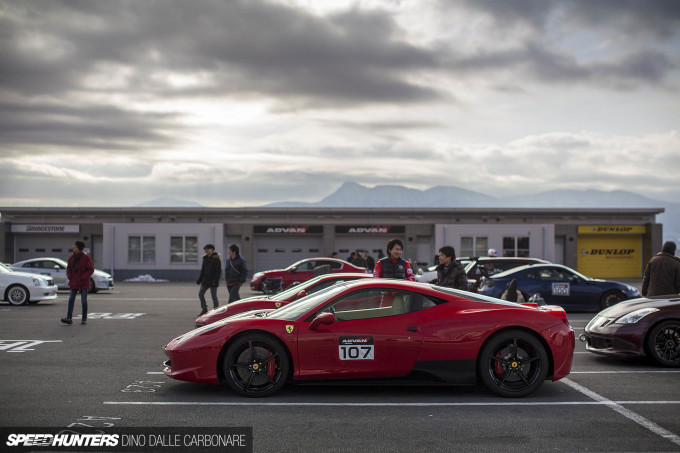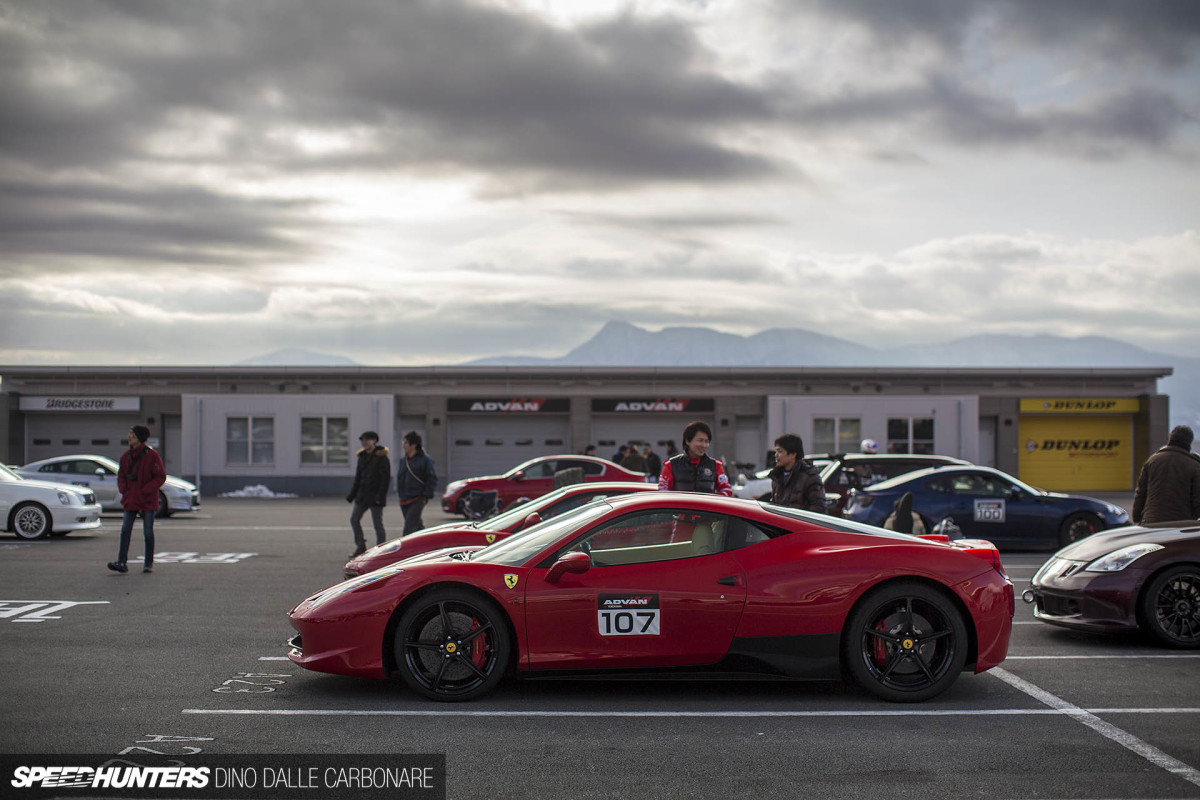 Since the first Premium Day in 2008, HKS has run the Hyper Challenge series as a big component to the day's proceedings. This is when budding circuit racers sign out to take their cars out on a series of timed sessions. The line up this year included a few Ferraris, which is great to see, as this is of course what these cars were engineered to do.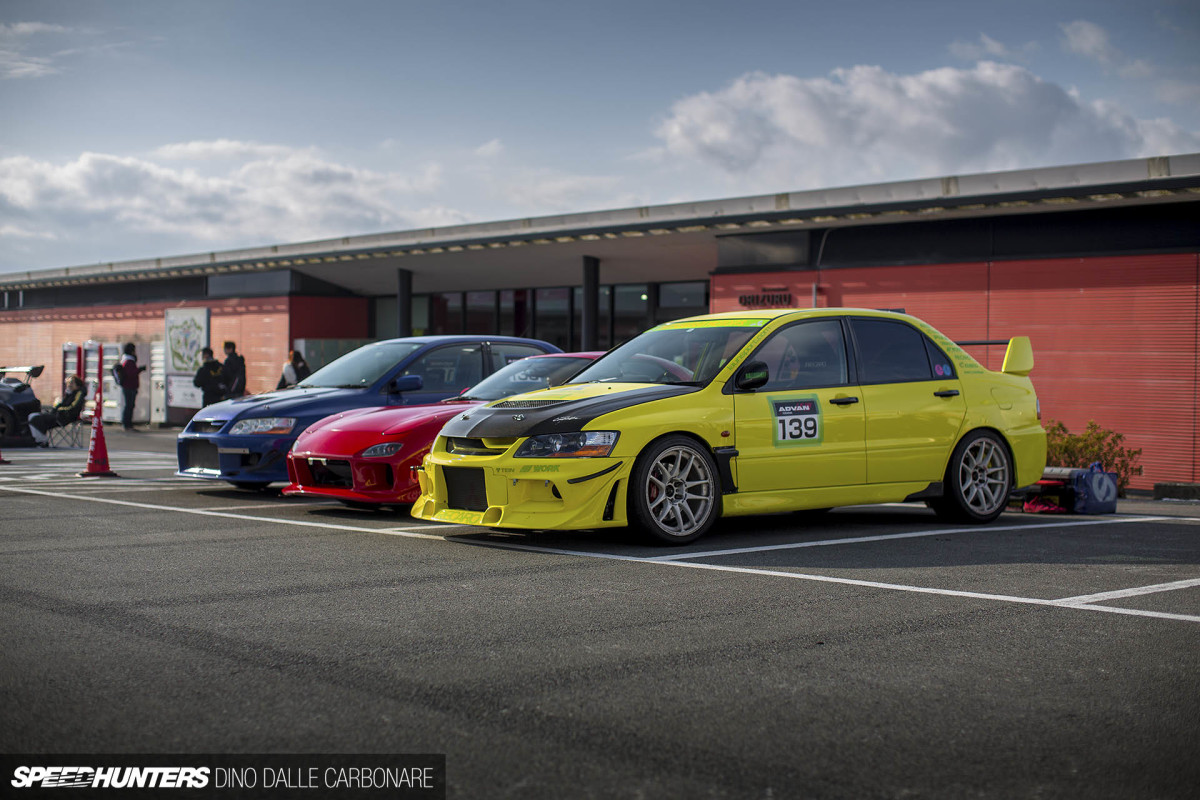 The selection is varied as you can imagine, but you can be sure to find the usual suspects in there somewhere.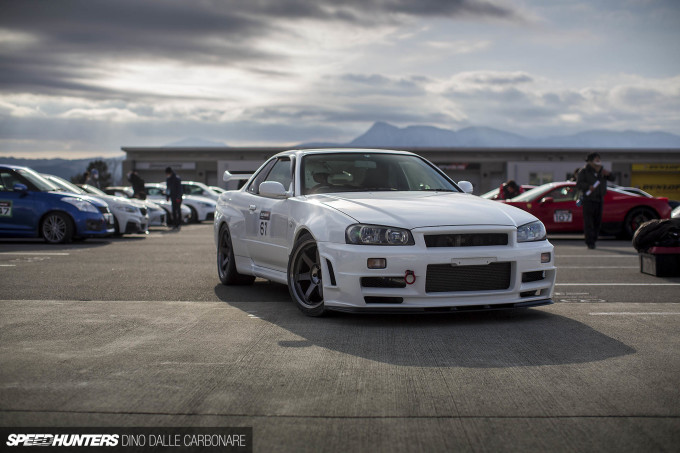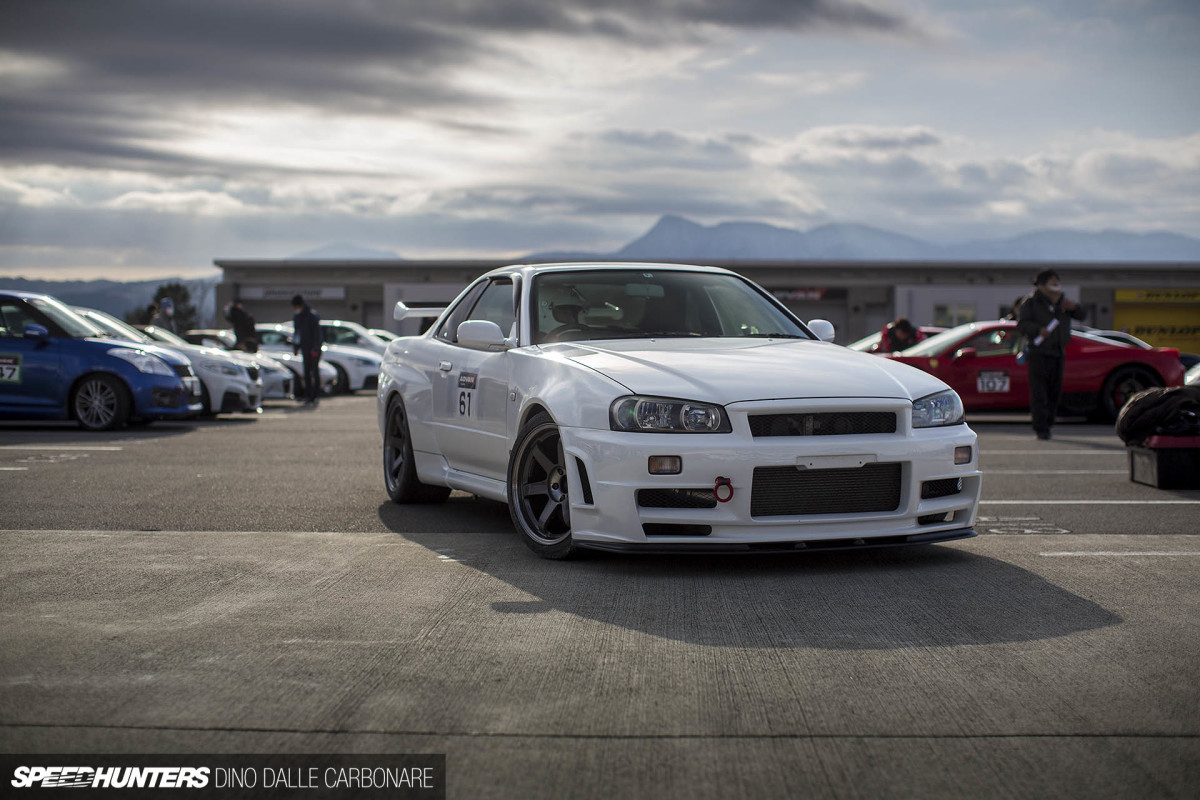 I've gone to great lengths not to force feed you too many BNR34 images, which is a tough thing for me to do. Still, there are a few in here you will like, starting with this simple white example running a Nismo Z-tune bumper, flared front fenders and a set of RAYS Volk Racing TE37SLs.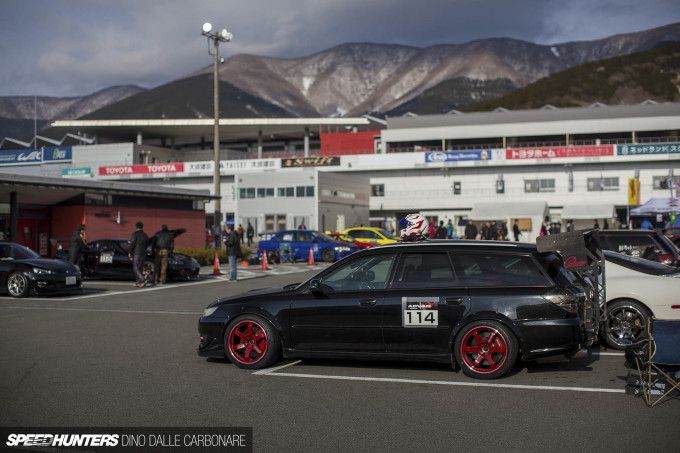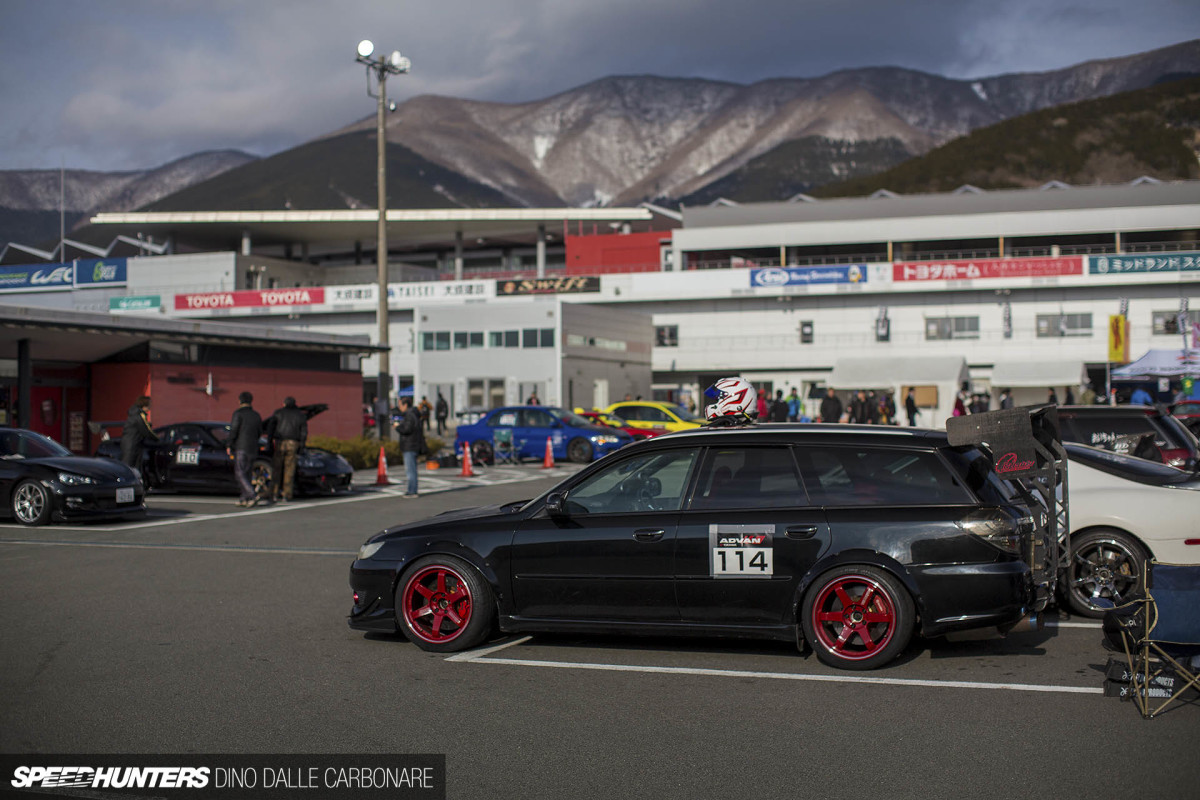 Now that I've parted ways with my trust BP5 Subaru Legacy, I'm finding myself looking at them more. Is this regret settling in? Definitely not as my recently-acquired Audi RS4 Avant is proving to possibly be the best replacement ever; but there is still an attraction there. Also, this is the first time I've seen one on TE37RTs. Which reminds me, I have yet to show you guys the RS4 properly…
If you asked me what the car of the moment in Japan is right now, I wouldn't even need to thing about it. My answer would be instant: the Honda S660. It's redefining all that is cool about affordable, light and tuneable platforms.
Here it is presented in a few flavours, from two wearing Liberty Walk kits – simple for the white, a proper overfender setup for the blue S.A.H car – and a windscreen-less example tuned by Top Fuel which was built for the recent K1 Grand Prix endurance race.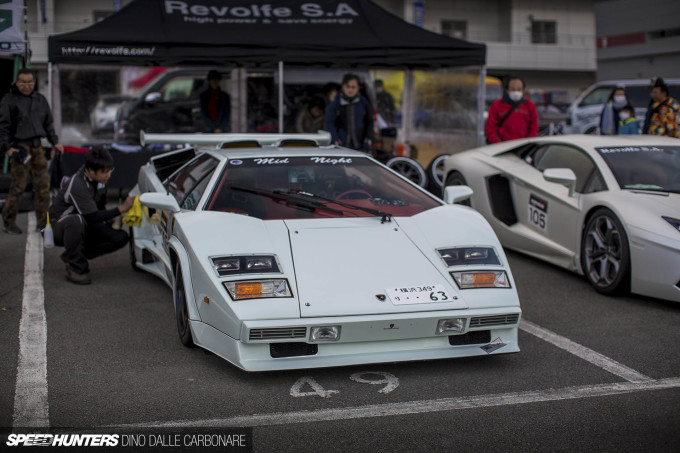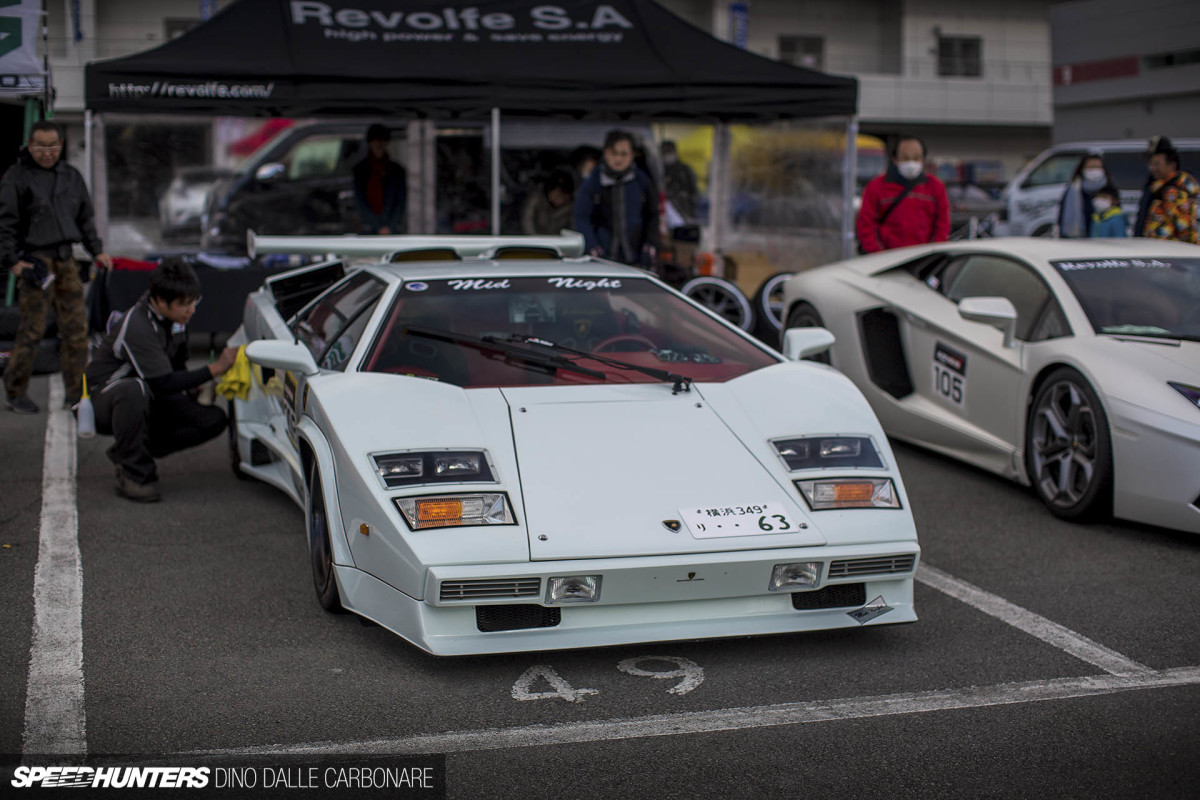 Not too far away I stumbled upon Revolfe S.A's display area, where a curious-looking Lamborghini Countach was on display next to an Aventador.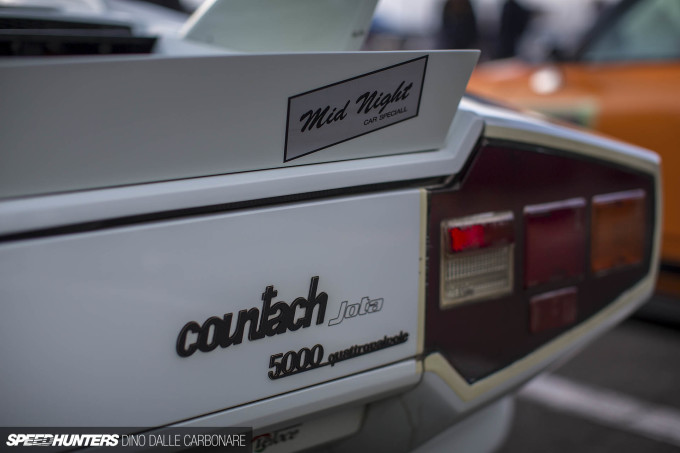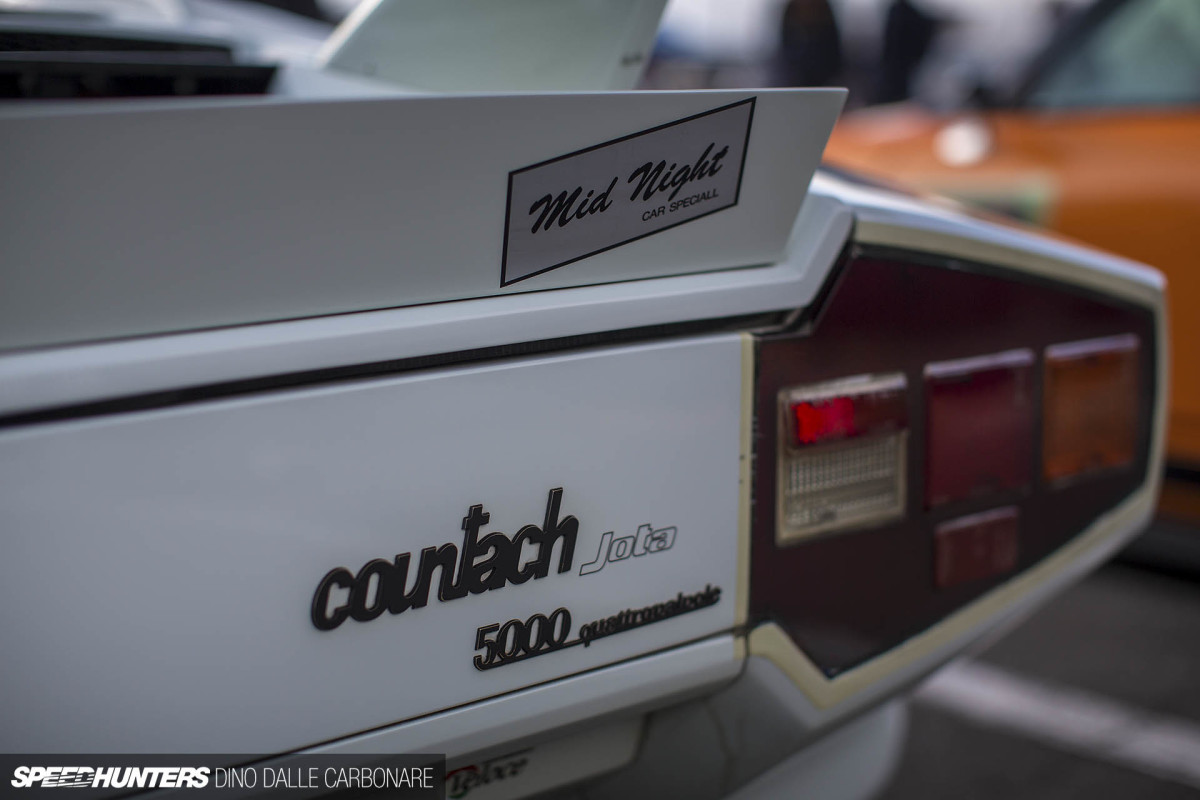 There is a cool story behind this car, one I will be following up on with Mizota-san, one of the original Mid Night club members.
The Gems Of The Paddock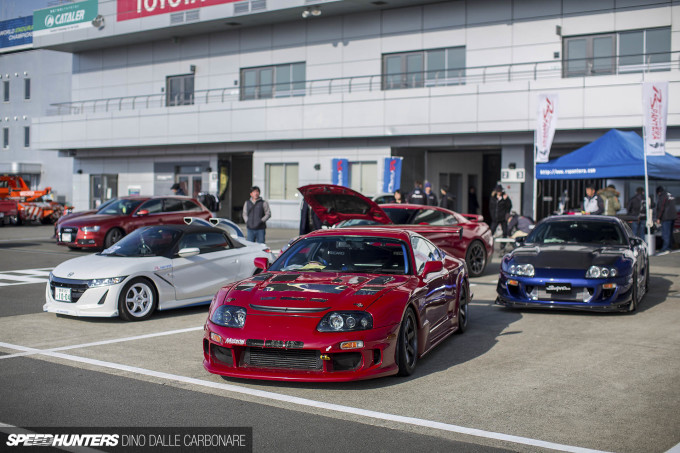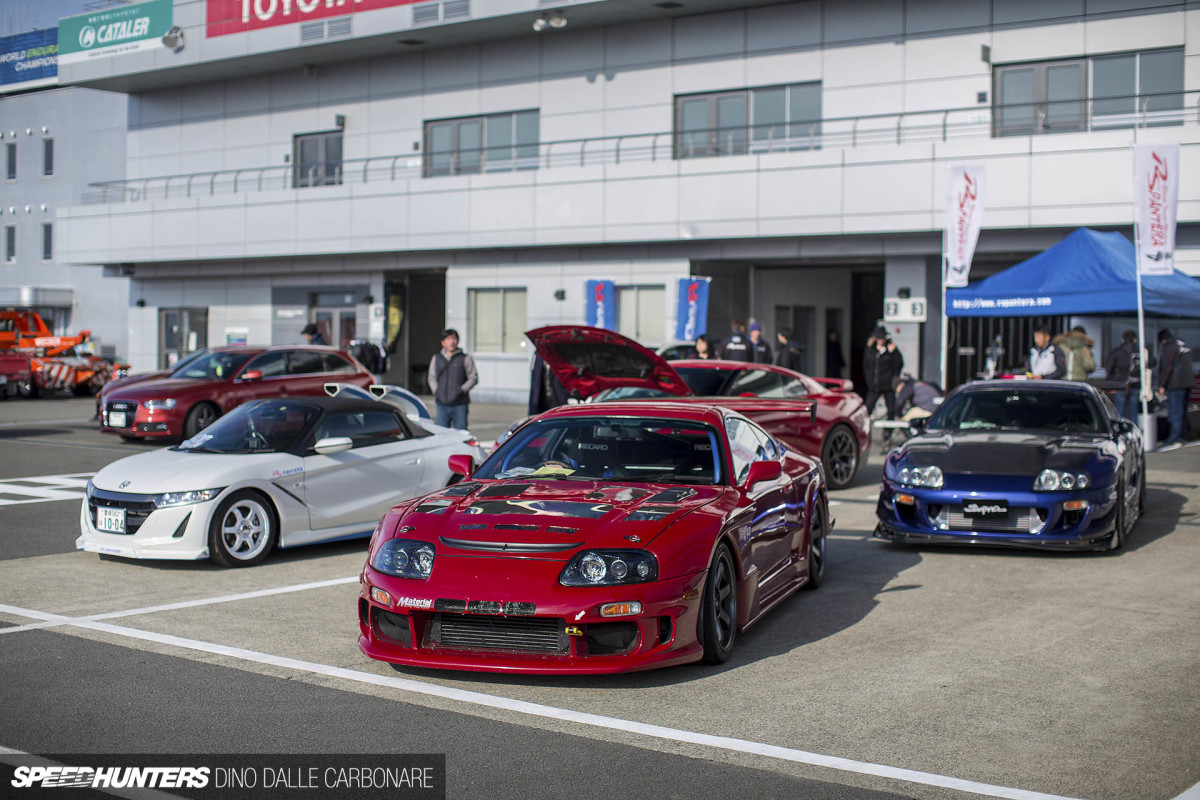 With so much to see, I moved about the paddock continuously. Cars kept going out on track and coming back, with others arriving, so the opportunity to nail some cool shots was all around.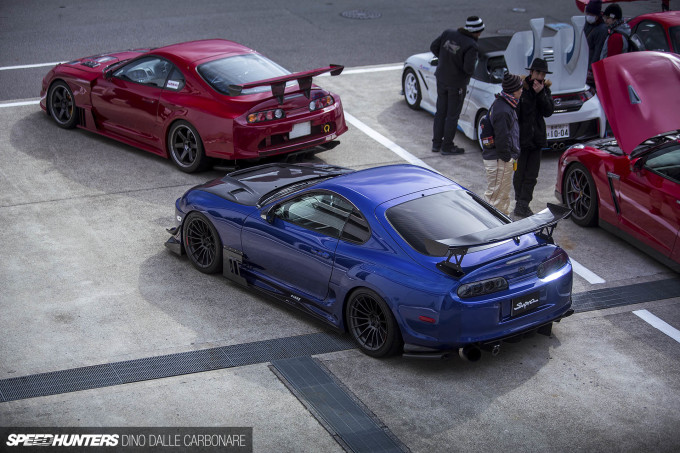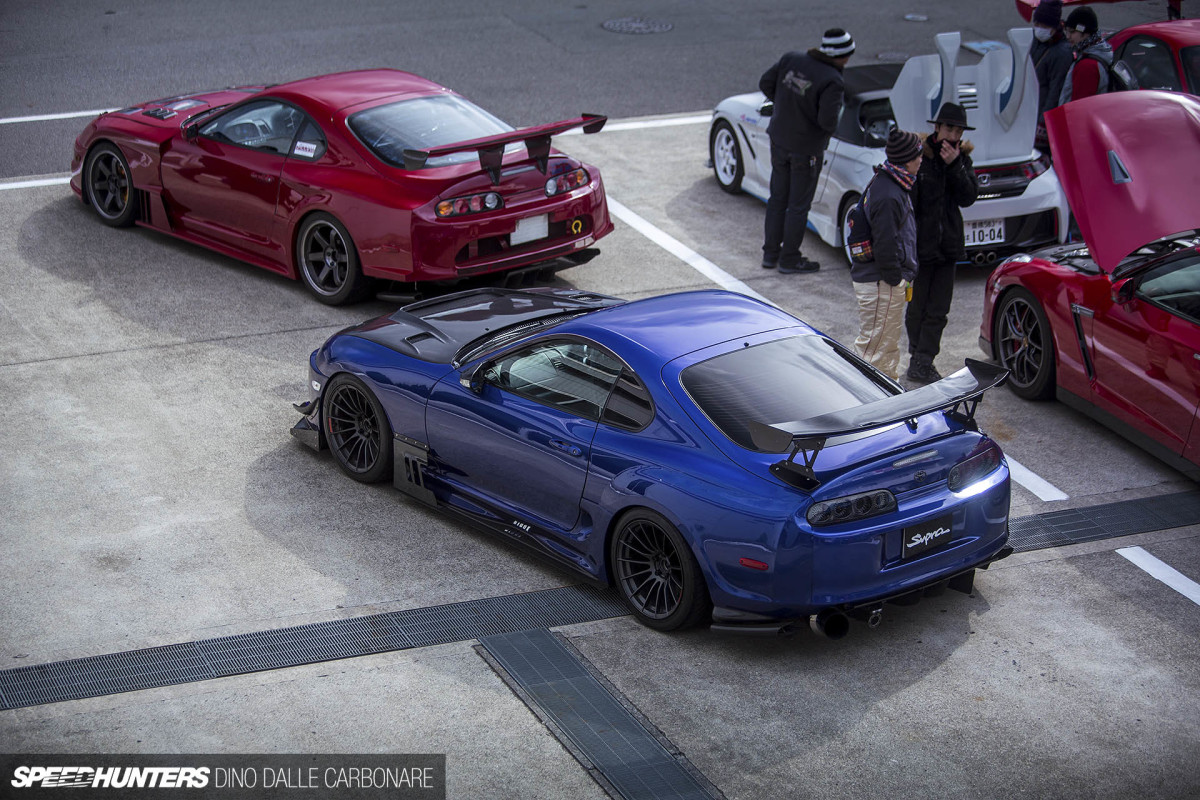 I took a few minutes to look at the two Toyota Supras from Material Auto. These weren't quite as extreme as the one we took a look at during last year's event, but I'm a sucker for execution and the blue one you see above had me drooling. Ridox aero and Enkei RS05RR wheels must be one of the freshest combinations I've seen in a while. Damn, why can't I shake this attraction to the JZA80?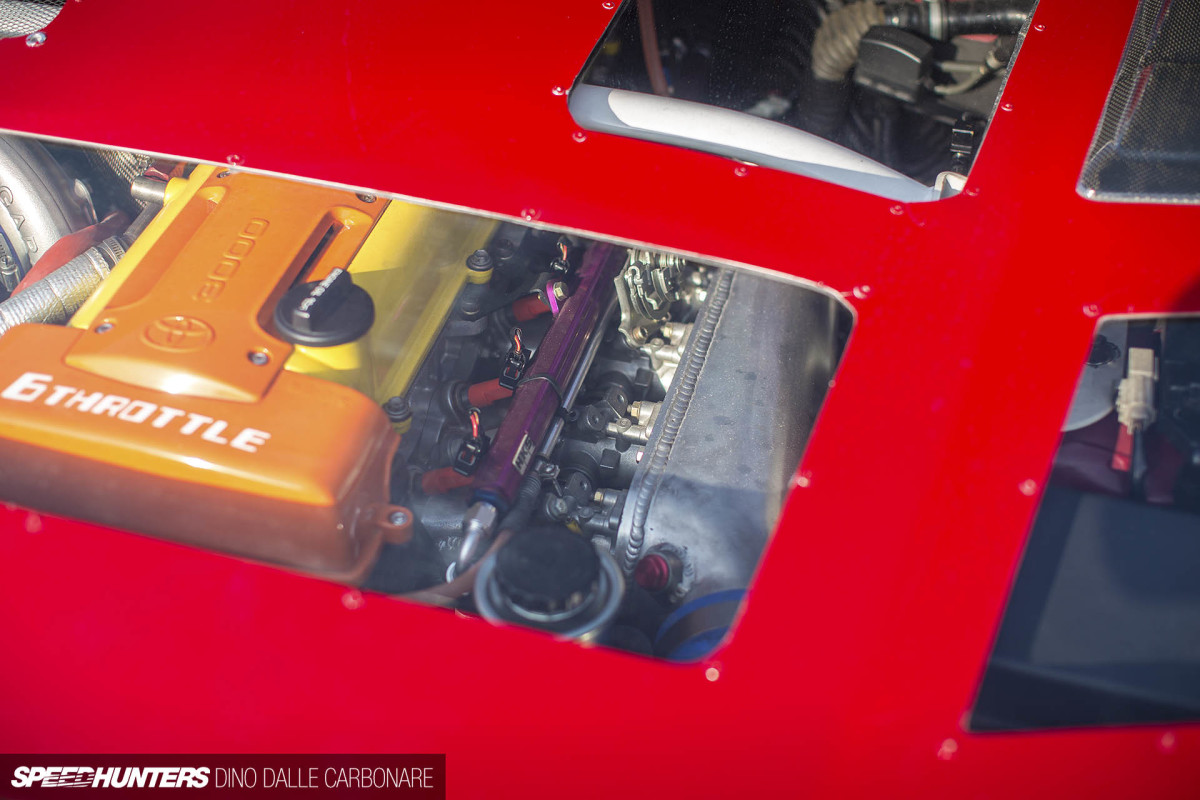 The red example in front sported an individual (six) throttle body conversion, something you don't see done much as it's often looked upon as being too complex for marginal benefit.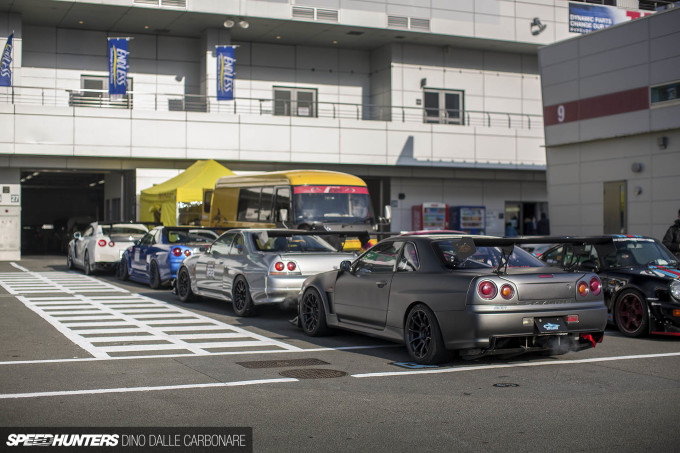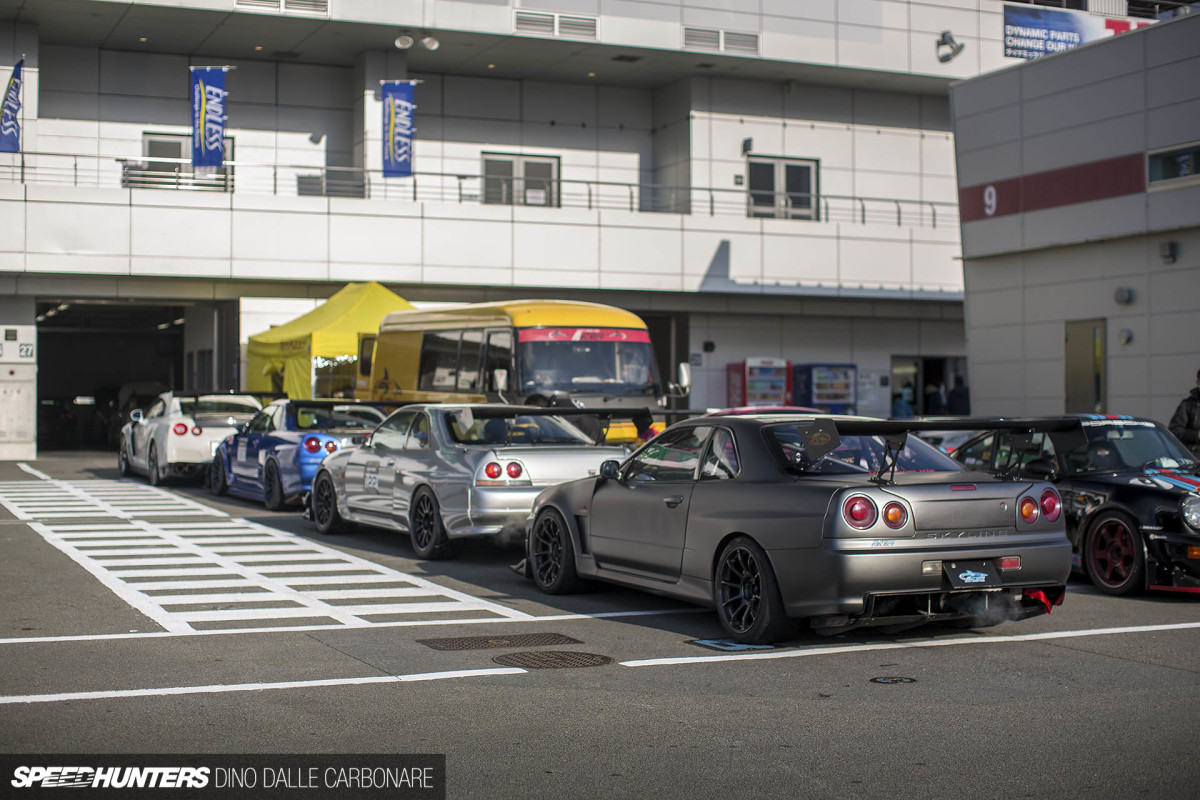 Over at the Auto Select pits, the line up of customer cars waiting to go out was pretty mesmerising. Do you guys remember the matte example at the end with the centre-exit exhaust?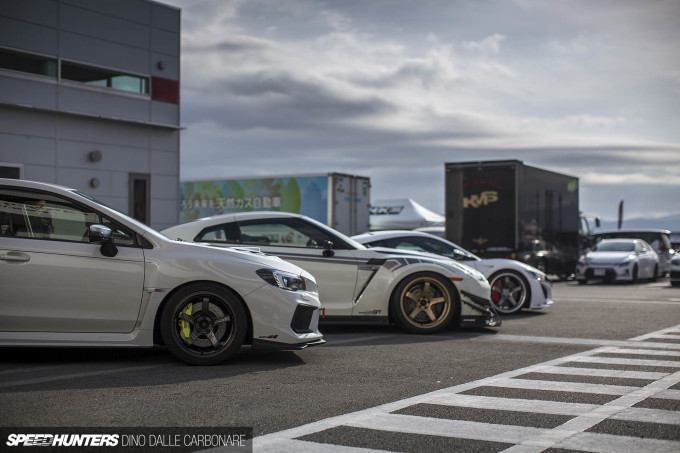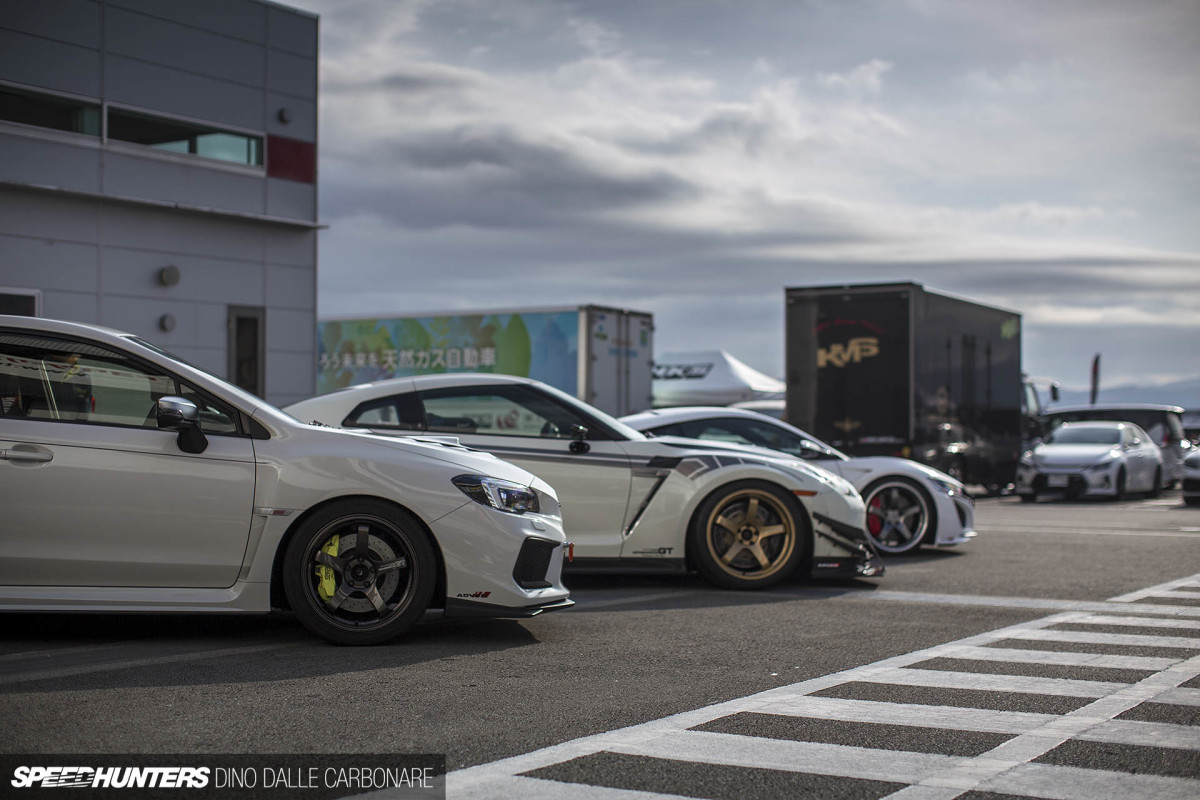 We've taken a look at the Kansai Service NSX already, but here's a better angle to see the other cars that Mukai-san and his team brought to the event.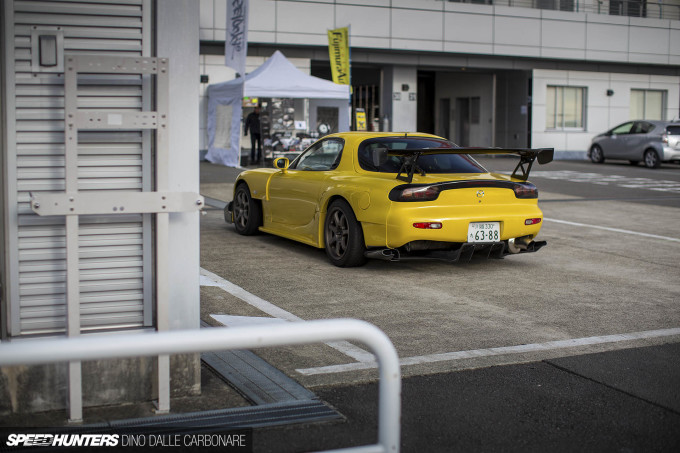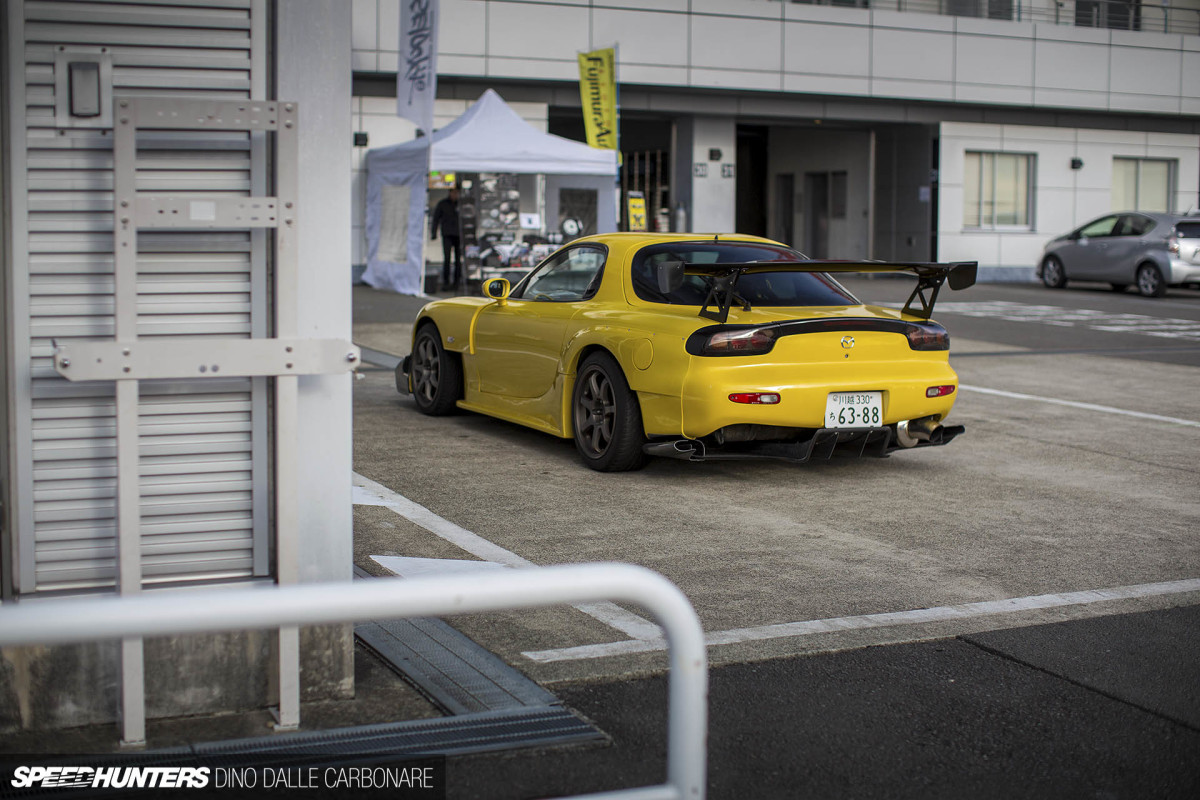 Around pretty much every corner there was awesomeness to be found, and the best thing is that most of the cars were unleashed on track during the day.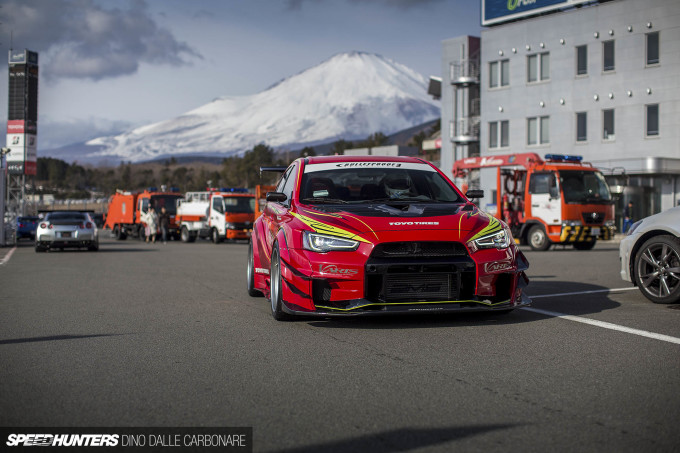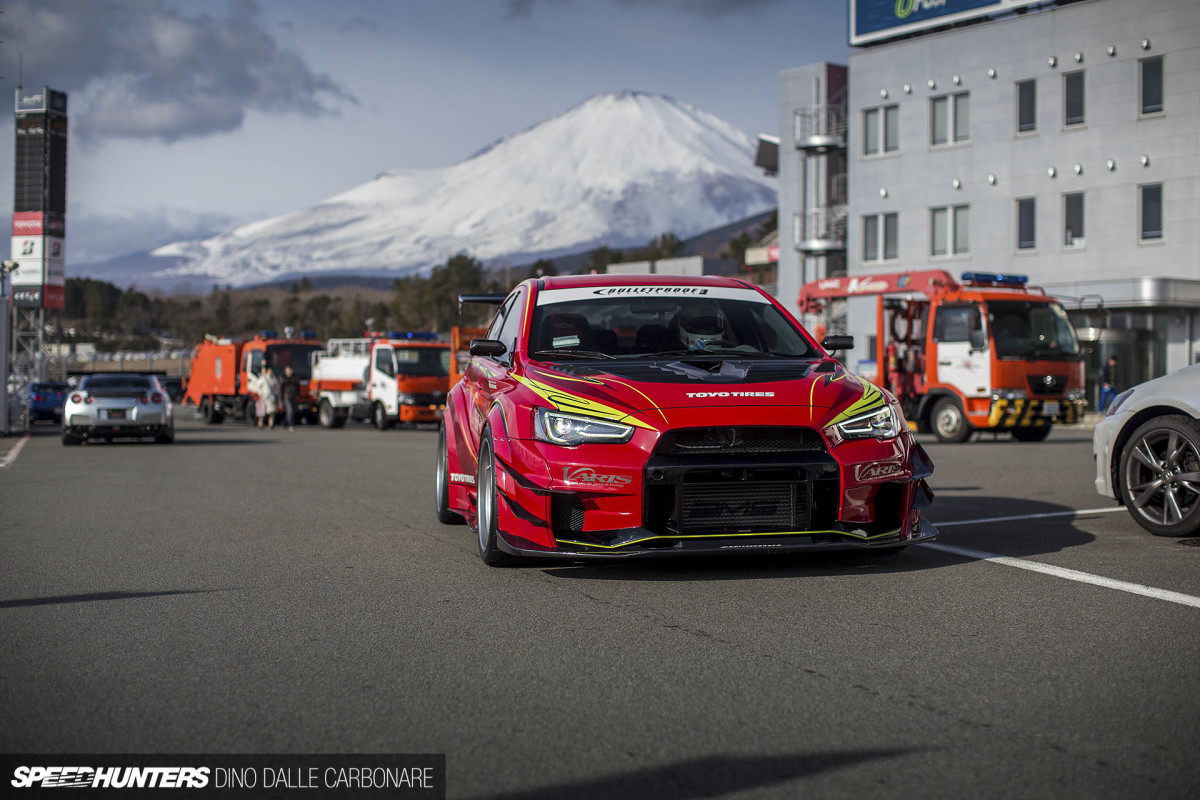 As I was walking towards the top section of the paddock a bunch of cars started flowing off the track as one time attack session had just ended. That's when I spotted Matsui-san of Powerhouse Amuse behind the wheel of the Bulletproof Evo X demo car, perfectly placed for an obligatory Fuji-san picture. It doesn't get better than this.
I've got to give it to the Ben and the Bulletproof guys, not only do they build sick looking cars, but they're totally functional and begging to be driven. This car has been shown at SEMA as well as being on the Varis booth at TAS a few weeks back, and here it was being put through its paces at a track in Japan. That's what I call doing things properly.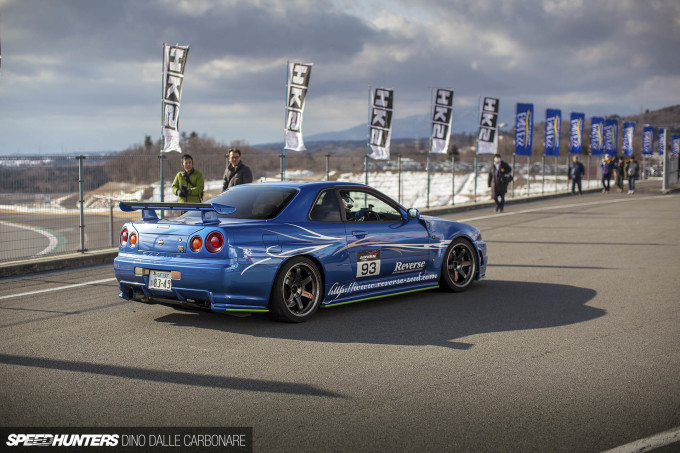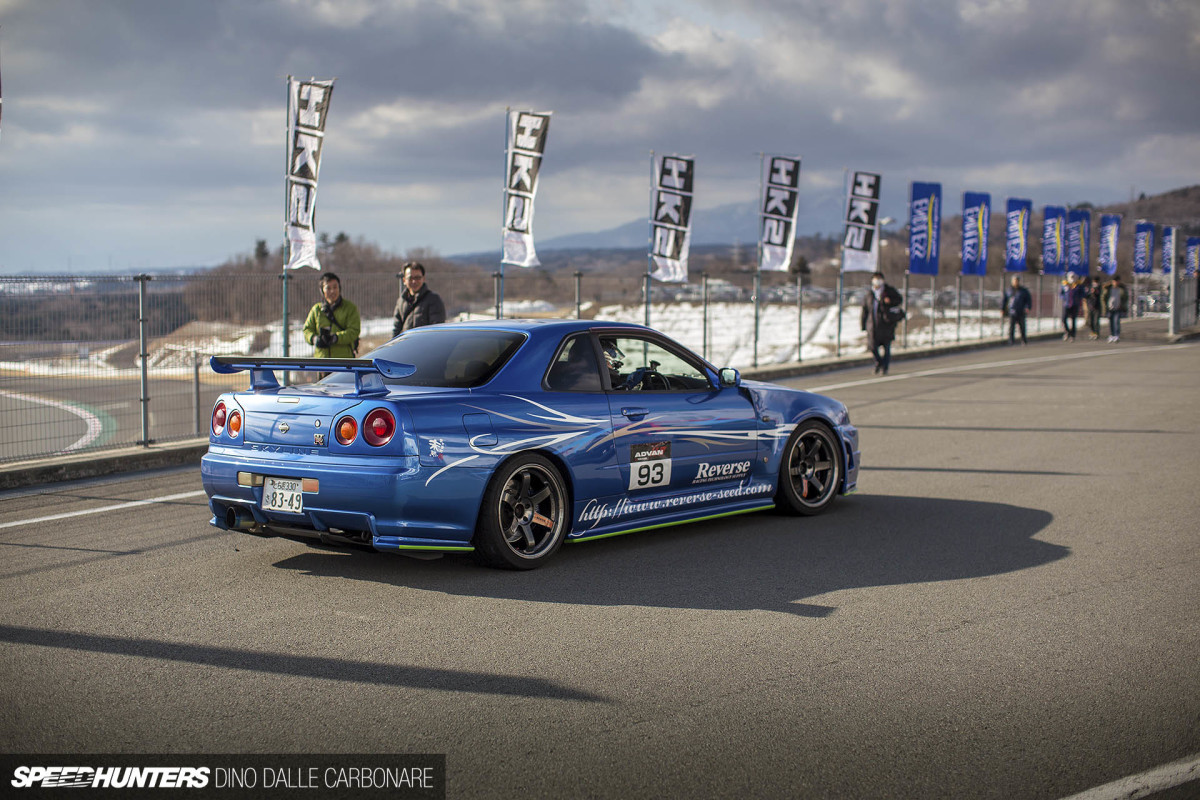 The cars entering the track and coming off from the previous session was creating an entertaining traffic jam.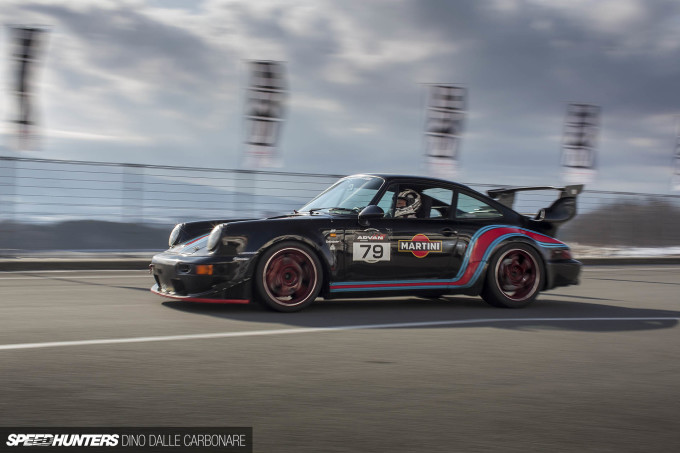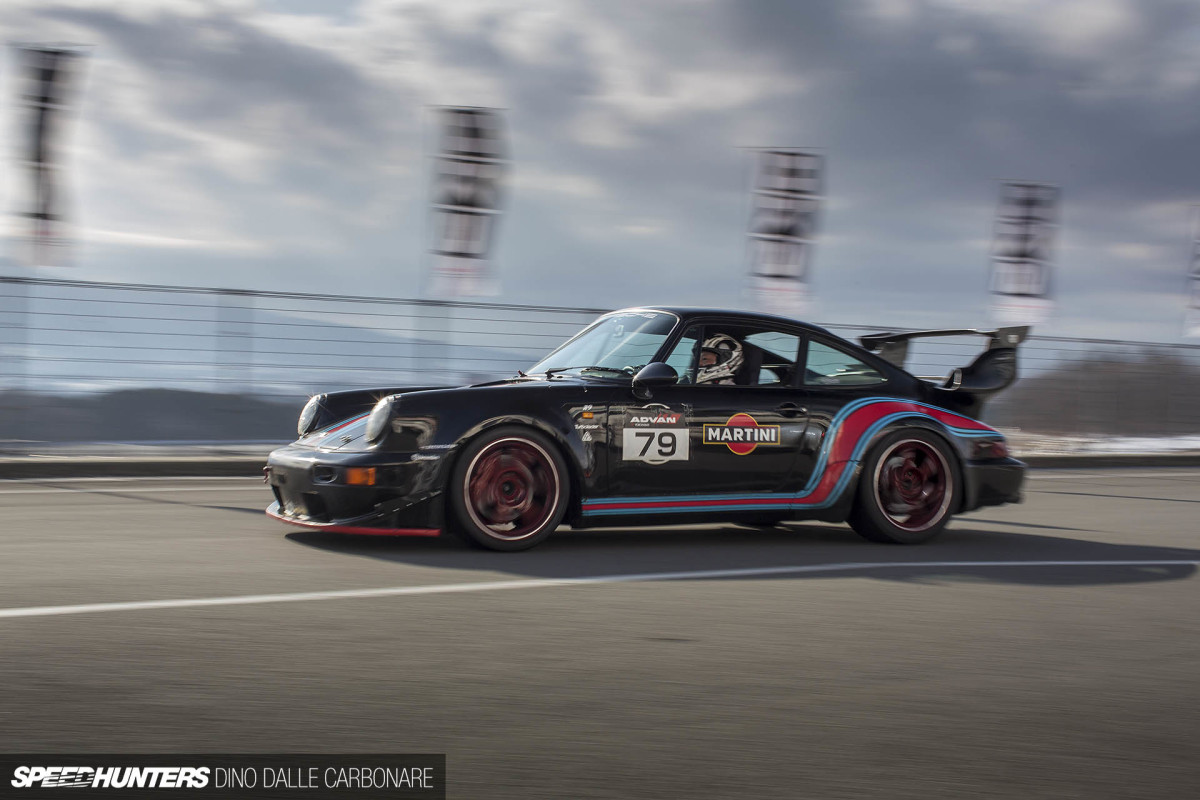 This Porsche 964 is a permanent resident of Tatsumi PA. I say that because 95% of the times I go, it's there. The owner is part of the R9 club, a group of guys that like to lap the Route 9 loop that goes through Ginza and back onto the Wangan to create the most fun Shutoku run you can enjoy. It's cool to finally see it during the day and at a proper track.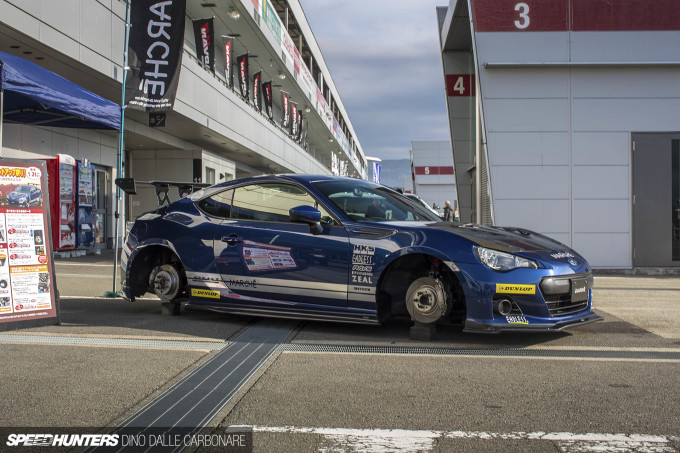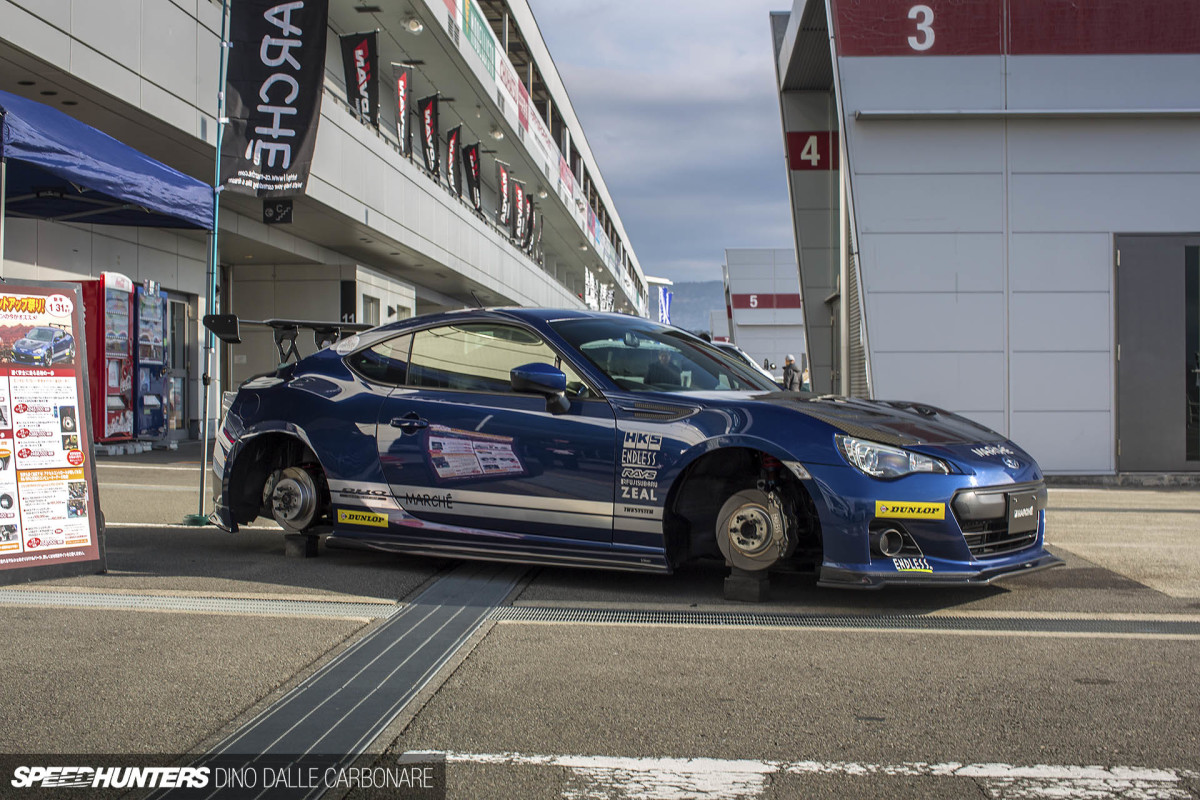 This is what happens in three minutes if you park a nice car in Naples. Jokes aside, the car-on-bricks approach is a new one, but I guess a good way for Marché to show off the Zeal dampers and Endless brakes that their BRZ runs.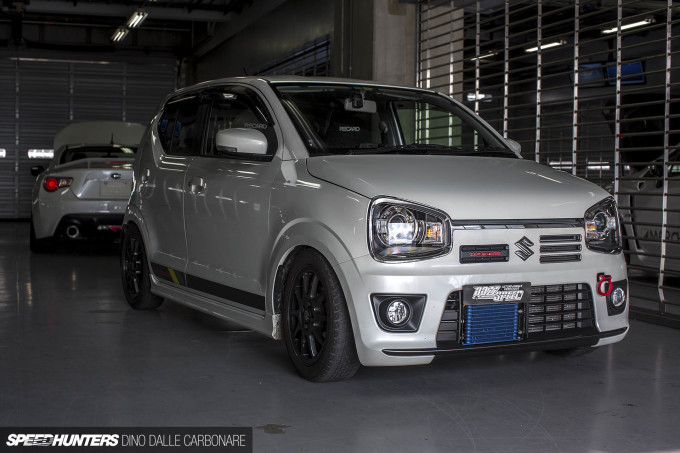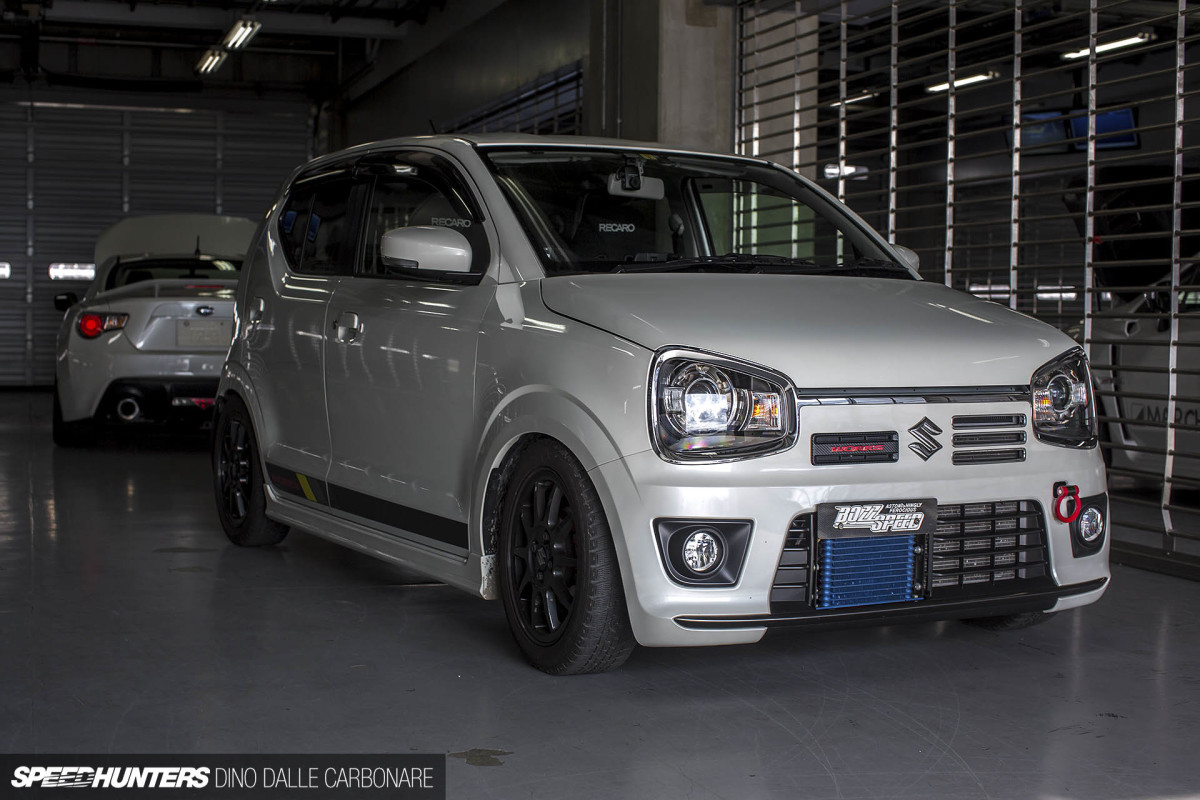 Bozz Speed was one of the very first shops that I featured back in the day when I got started as a photojournalist in Japan, and it's awesome to see that they haven't given up on the pursuit of performance. I absolutely love their Suzuki Alto Works demo machine.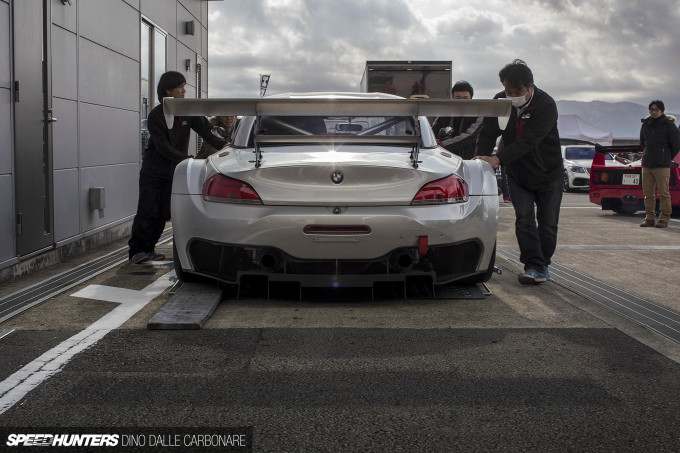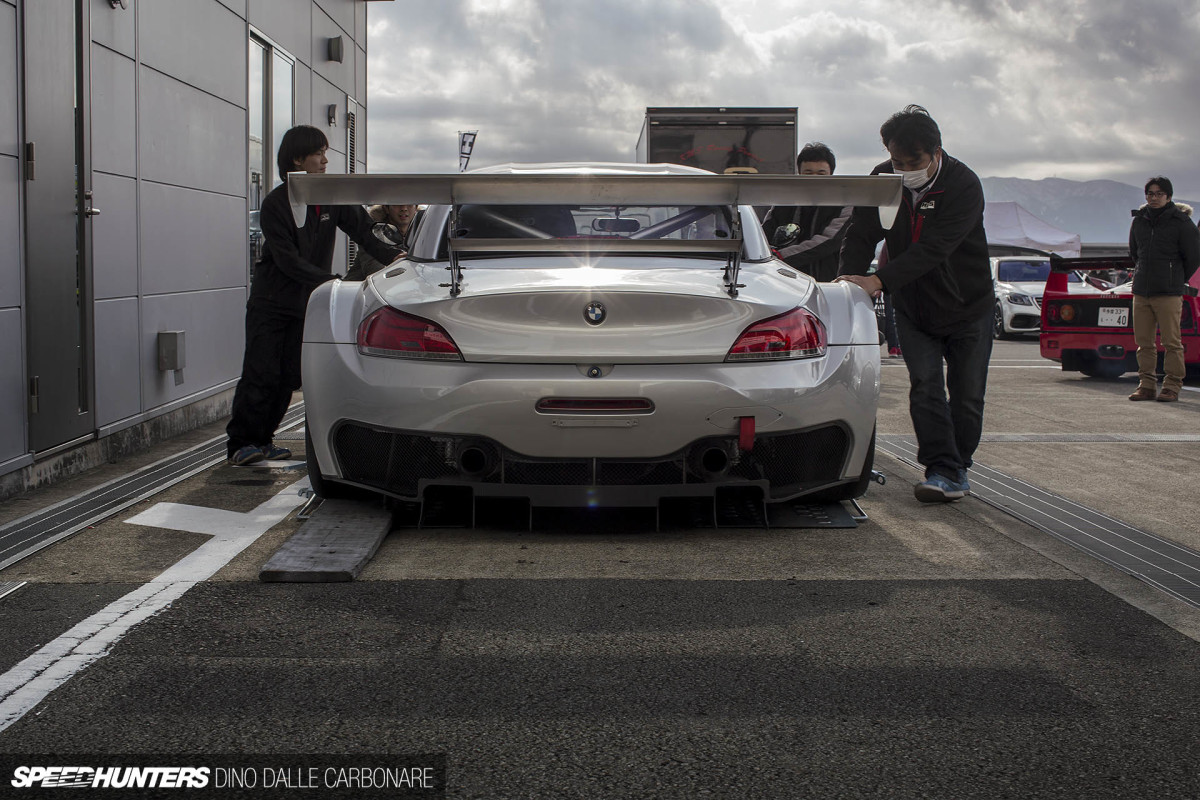 There was much commotion when a transporter started reversing into the HKS Technical Factory area; it was carrying a BMW Z4 GT3 race car with no livery, except for a few stickers here and there.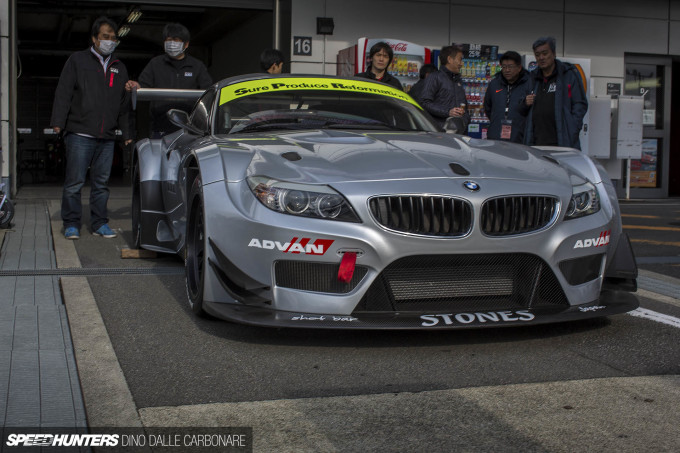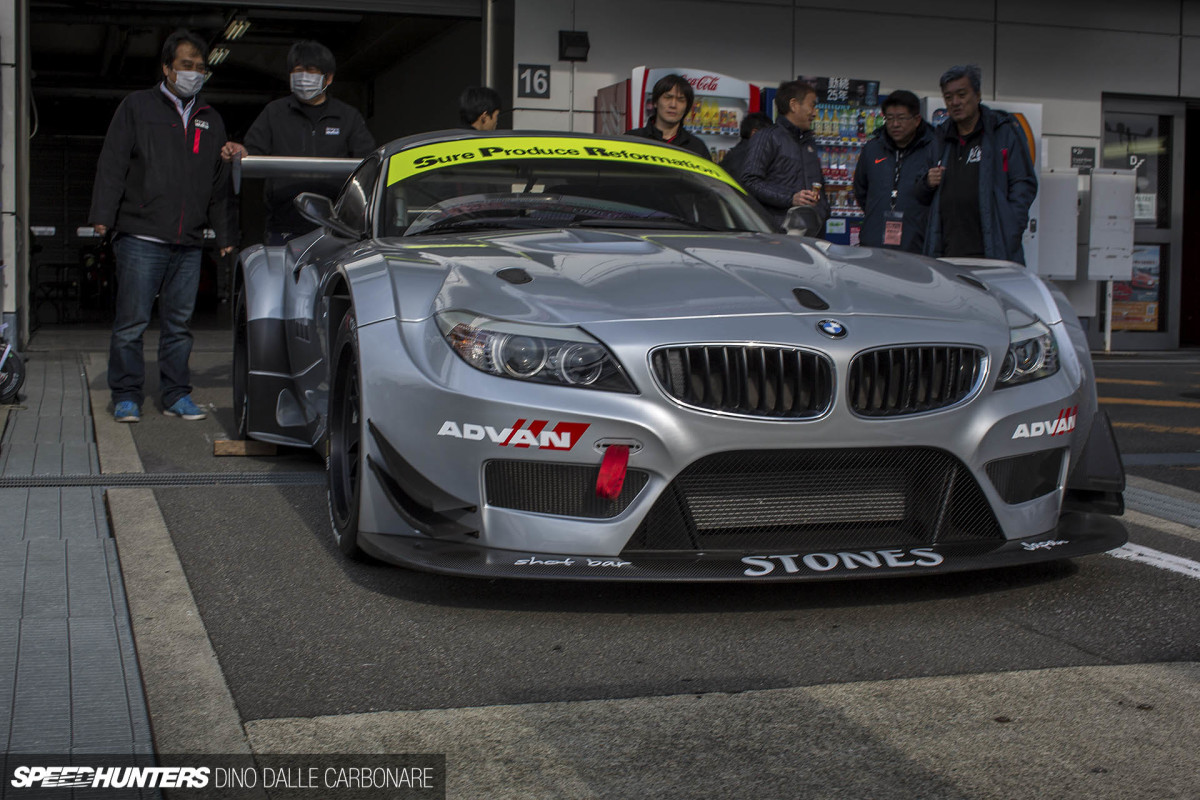 Words can't describe how imposing and simply stunning this interpretation of BMW's little two-seater drop-top is.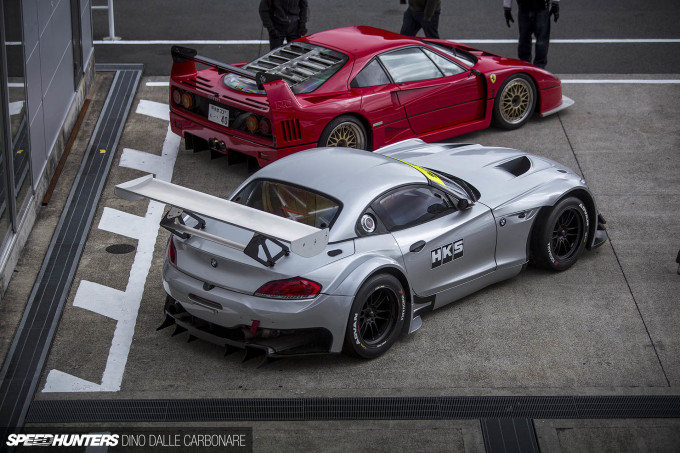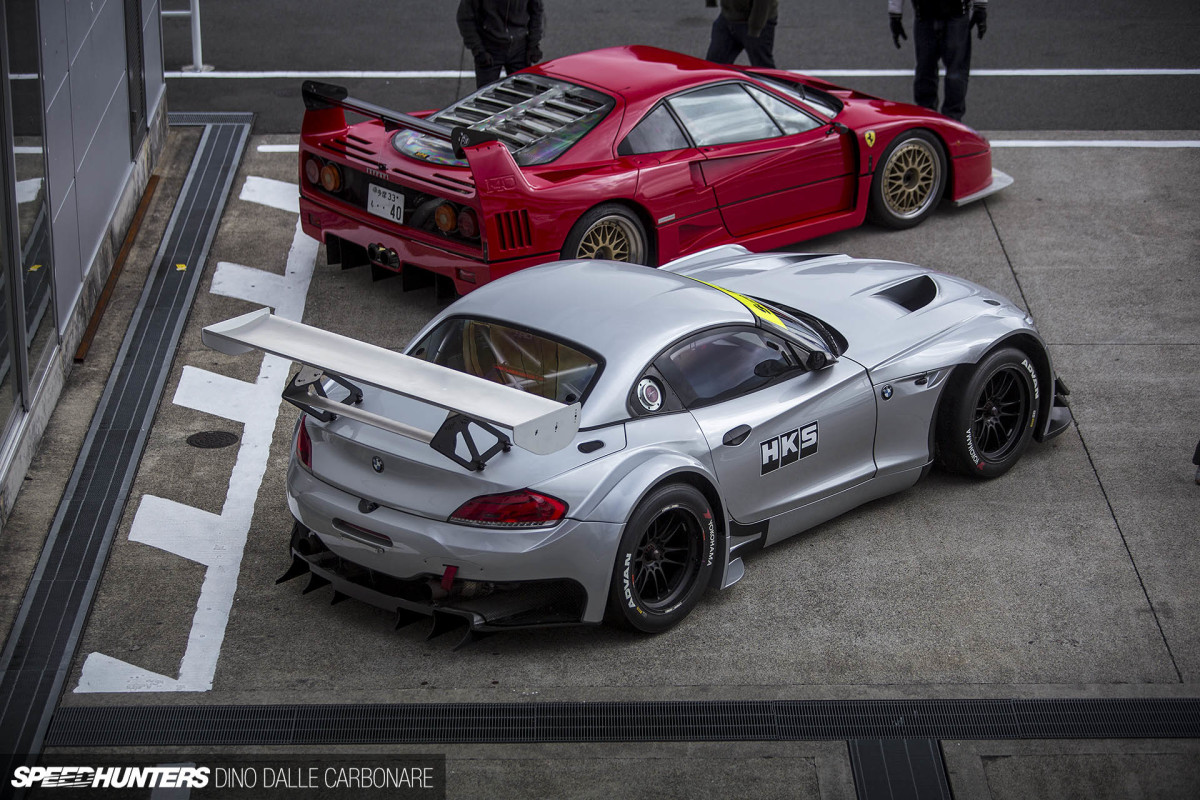 It was parked up in front as part of a display which also included the owner's F40, a car we've been seeing over the last few years at the Premium Day. As part of his arsenal, the same guy runs a 1,200hp R35 GT-R which is only a second off the shop's demo car's pace around Fuji.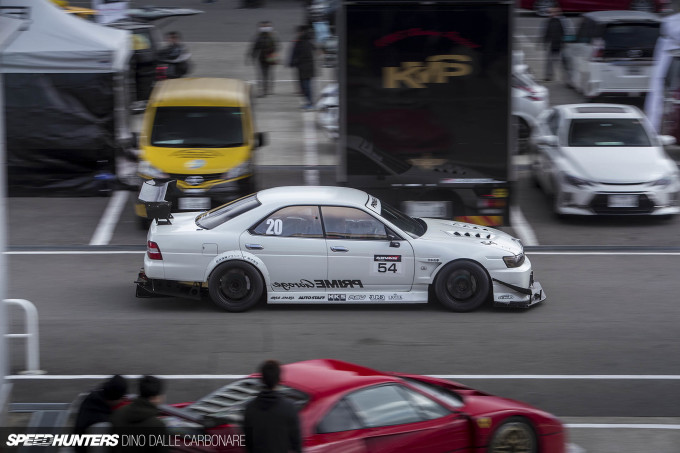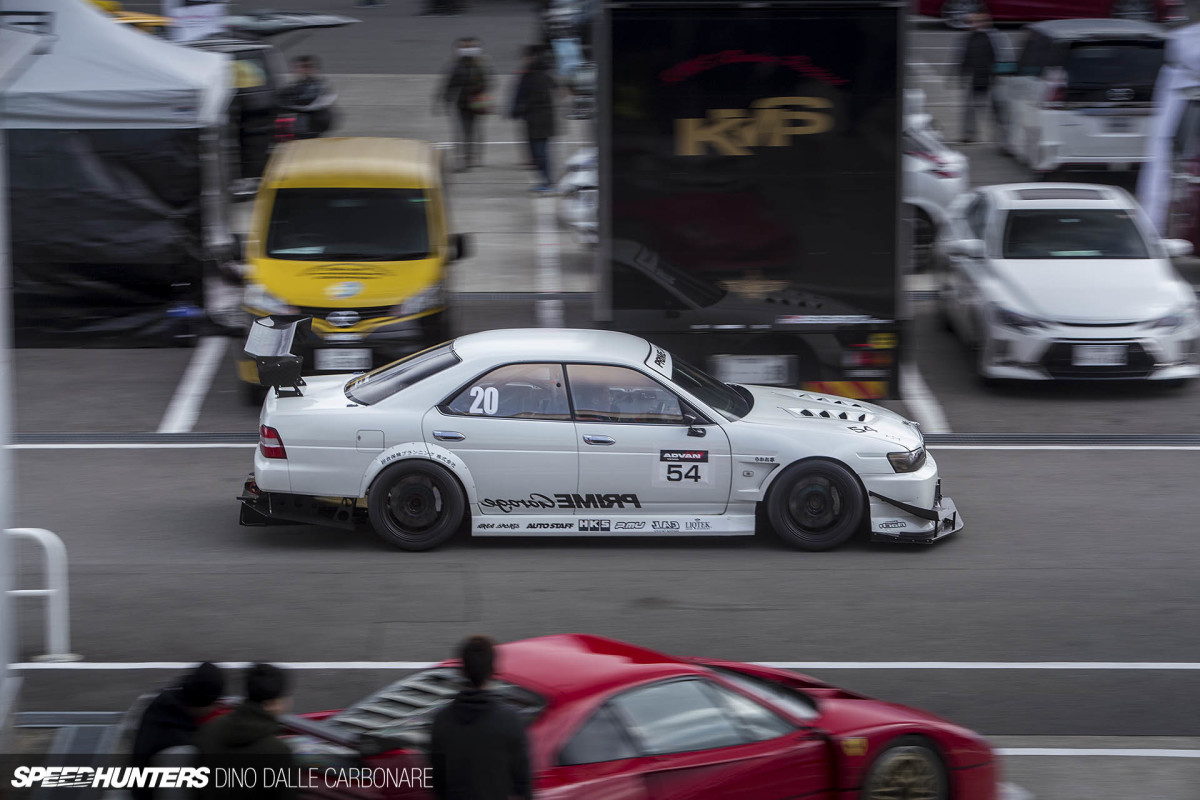 As I was shooting the F40 from the second floor of the pit building, the Prime Garage C35 Laurel – which we looked at three years ago at this same event – rolled past. You can't get a more varied selection of cars than these.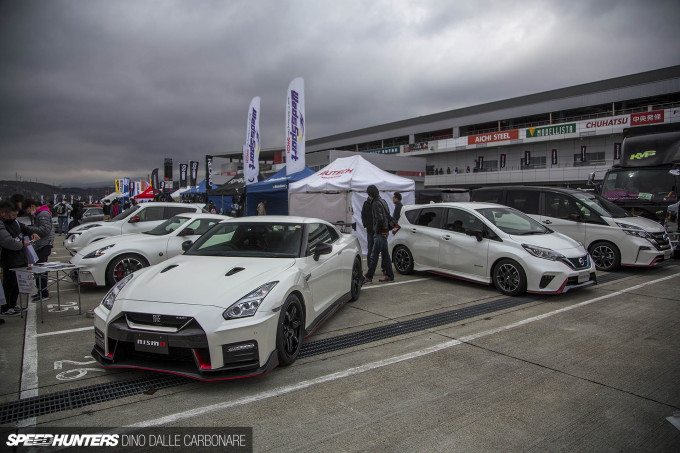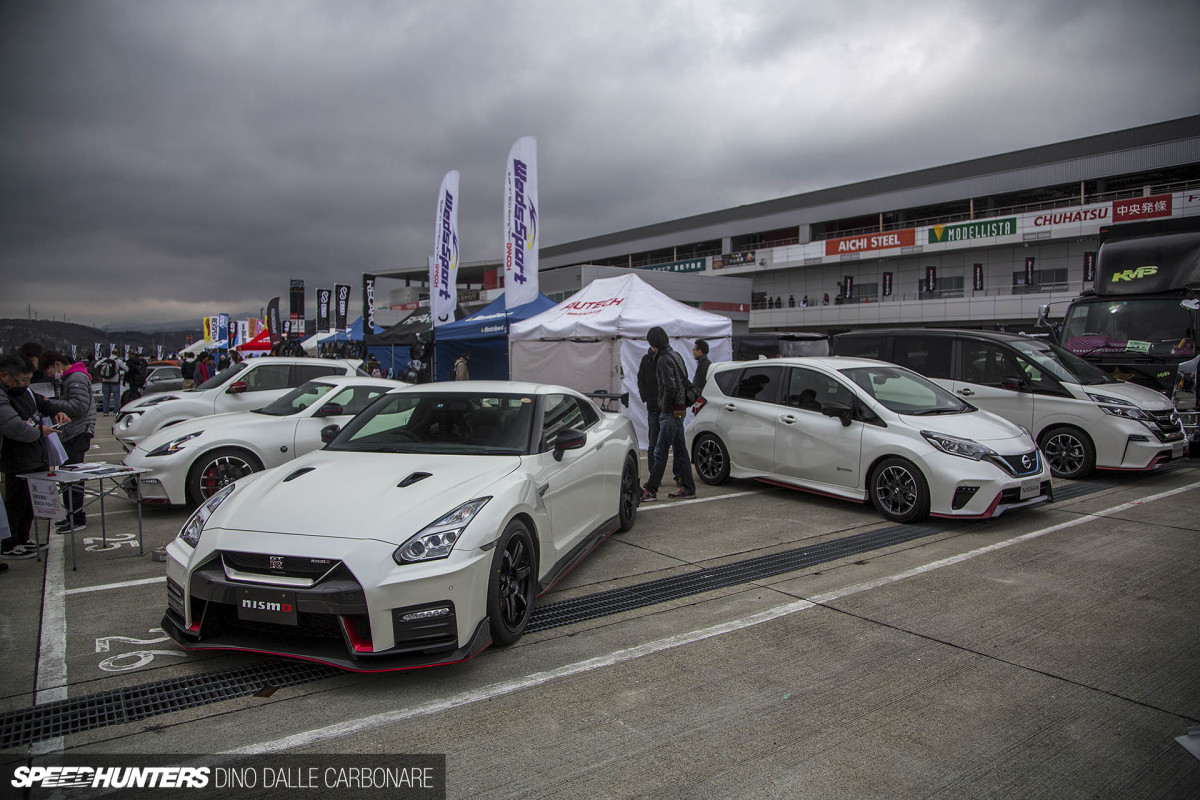 Nismo was even present with a selection of its complete models.
The Toyota Tundra was never sold in Japan, but there's this curious trend at the moment where guys will import these massive trucks and run them on Japanese streets.
I'm all for stuff like this, as it adds an even cooler layer of awesome to Japan's car culture, and even more so when people just can't control the tuning bug. That's a pair of HKS superchargers bolted onto the V8. Wild.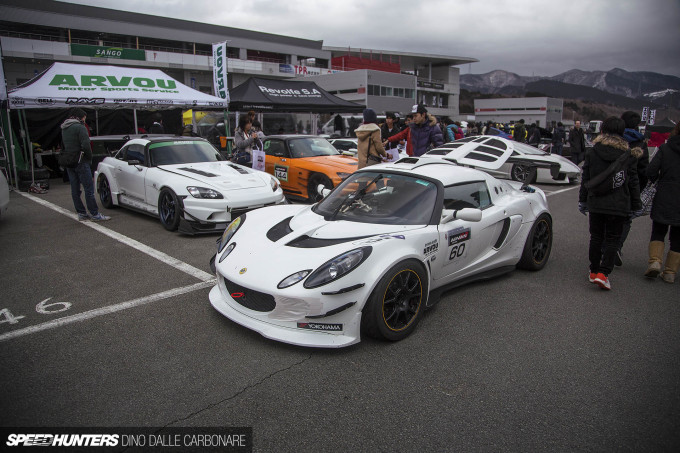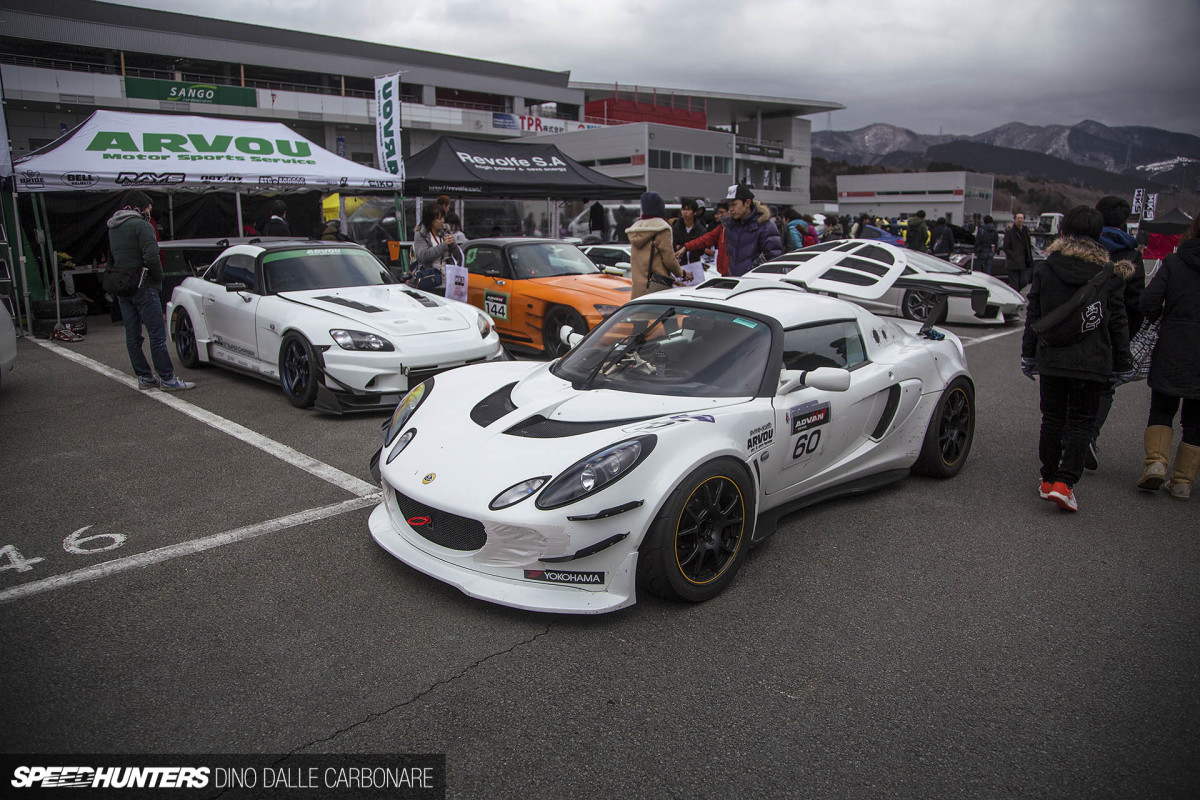 Arvou is a name you'd automatically think of when talking about S2000s, but these guys play around with a lot of other cars, like this Lotus Exige for example.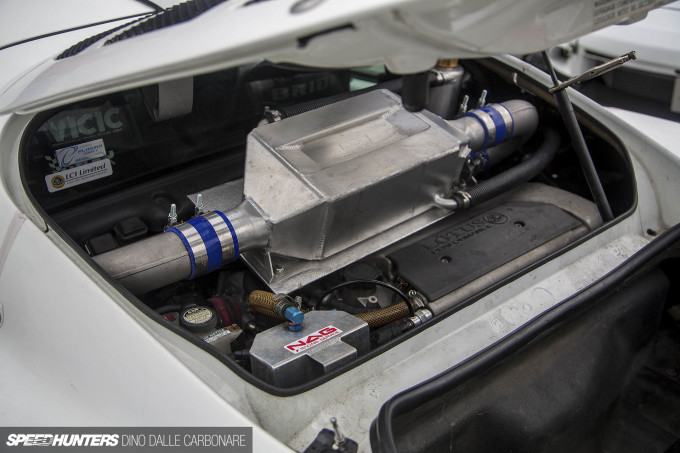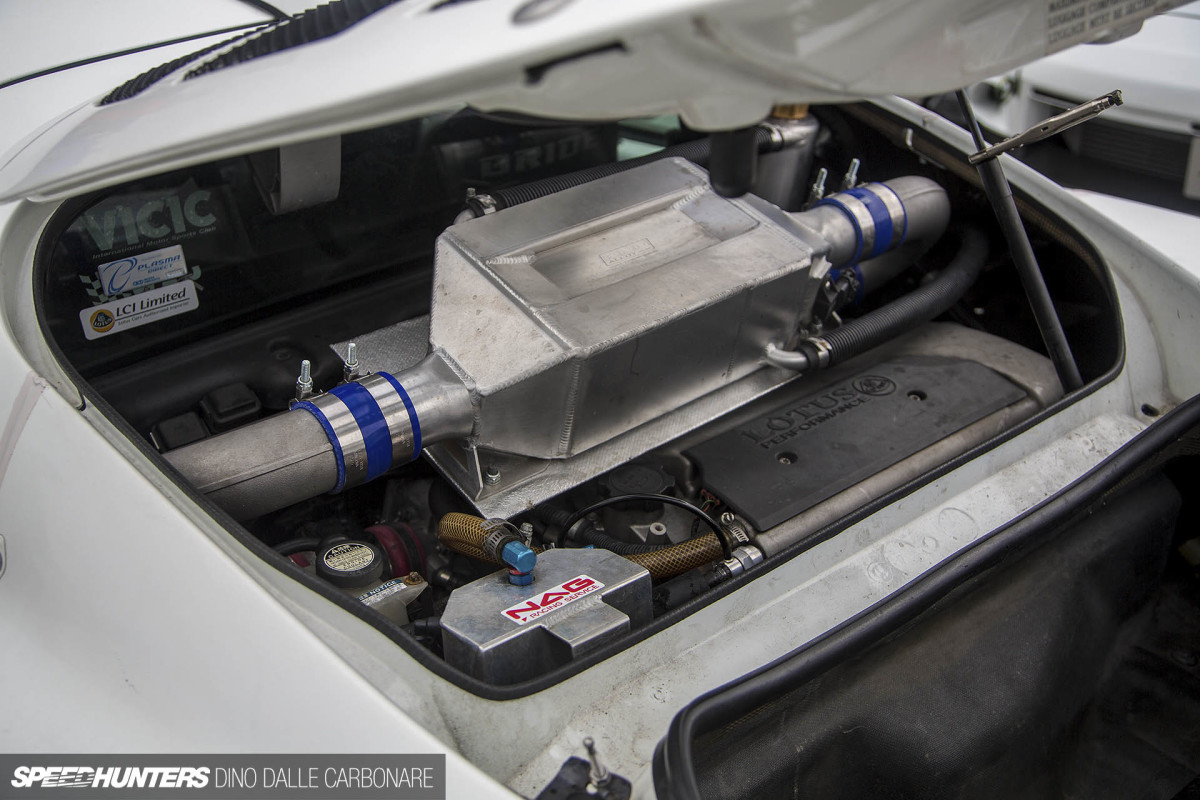 Nice charge cooler.
The Entire HKS Catalogue On Display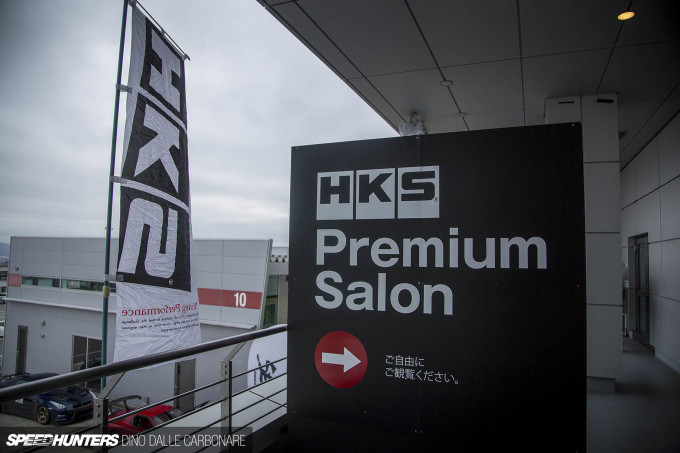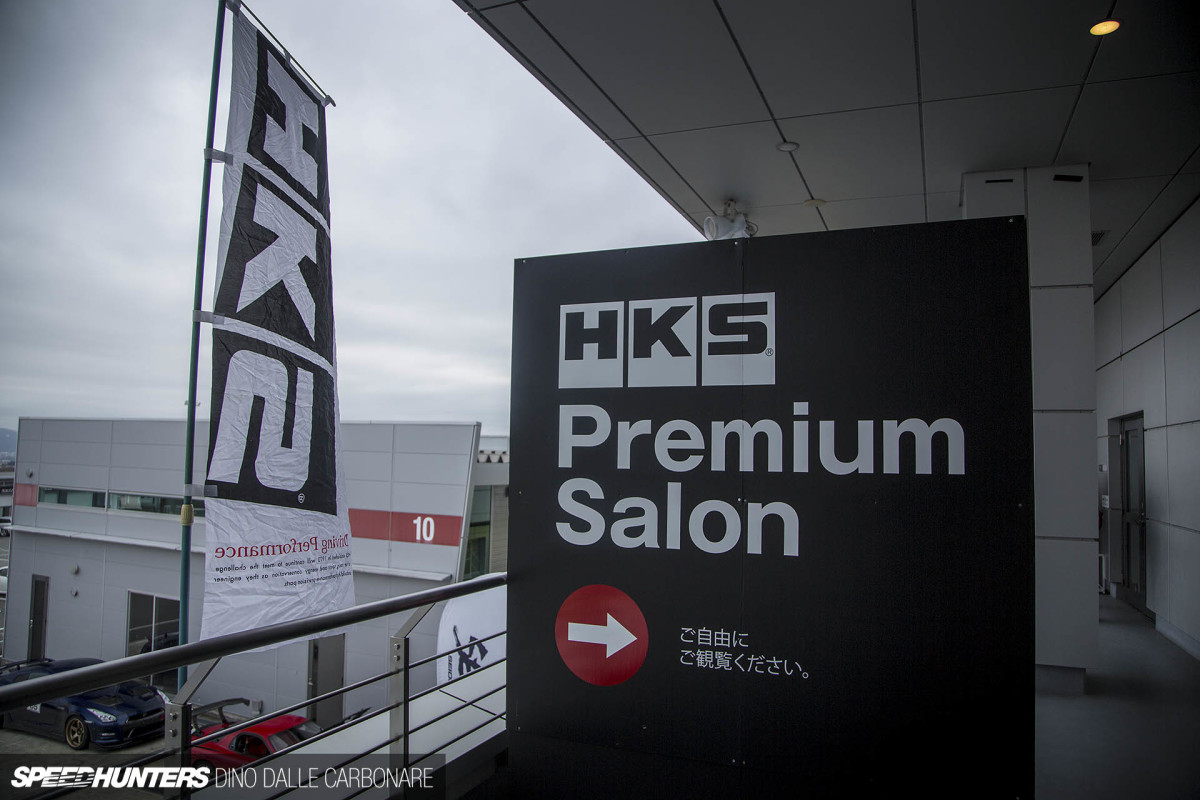 Back upstairs, I went for a quick nose around the HKS Premium Salon, a big display of pretty much every single product that the tuning giant produces.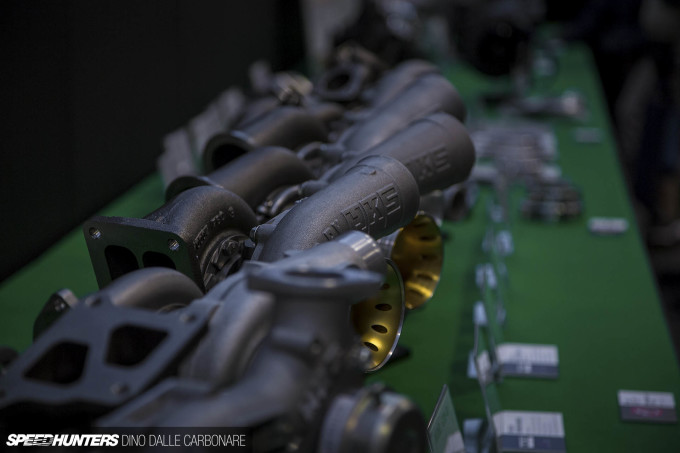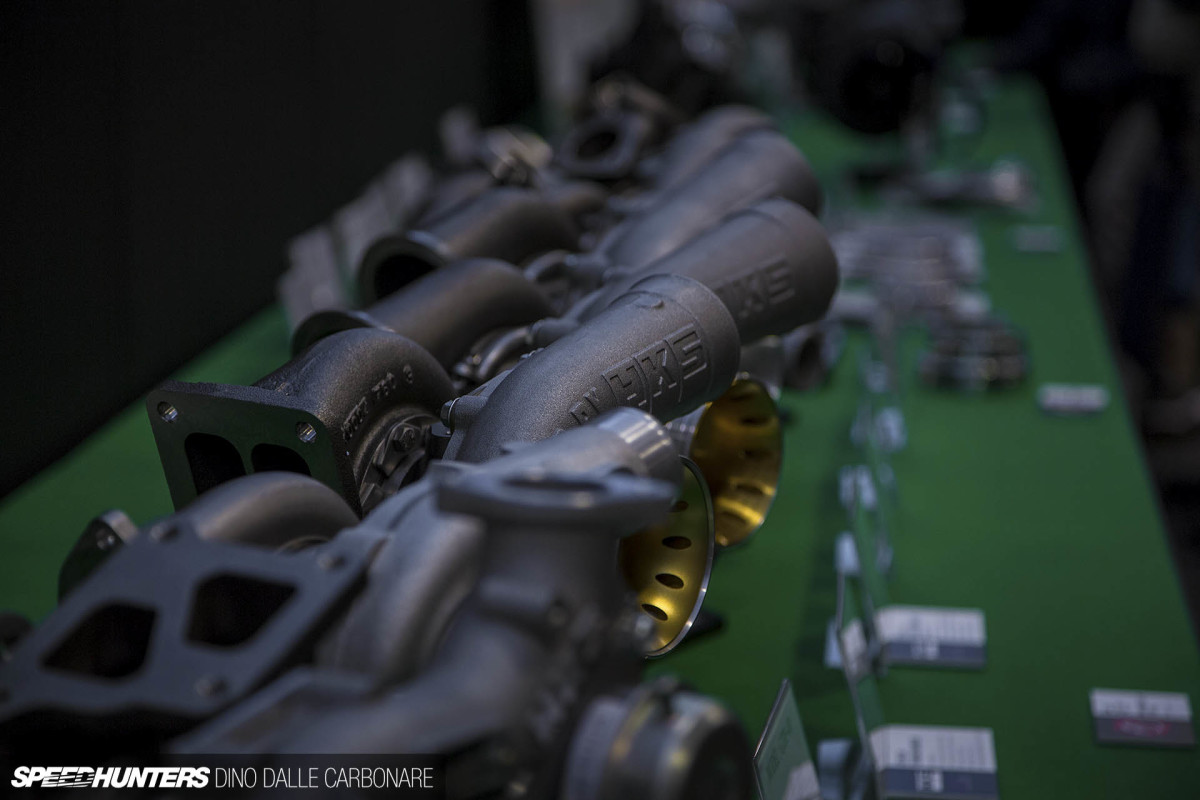 You can get a closer look of everything in here, from HKS's new line up of MHI-made GTIII turbochargers, to all sorts of other gadgets.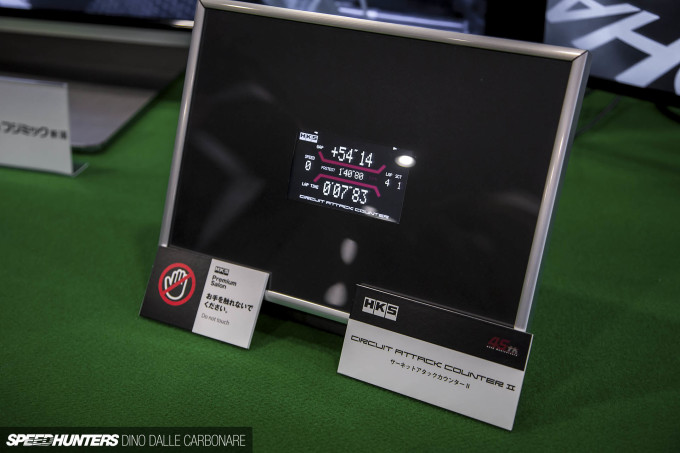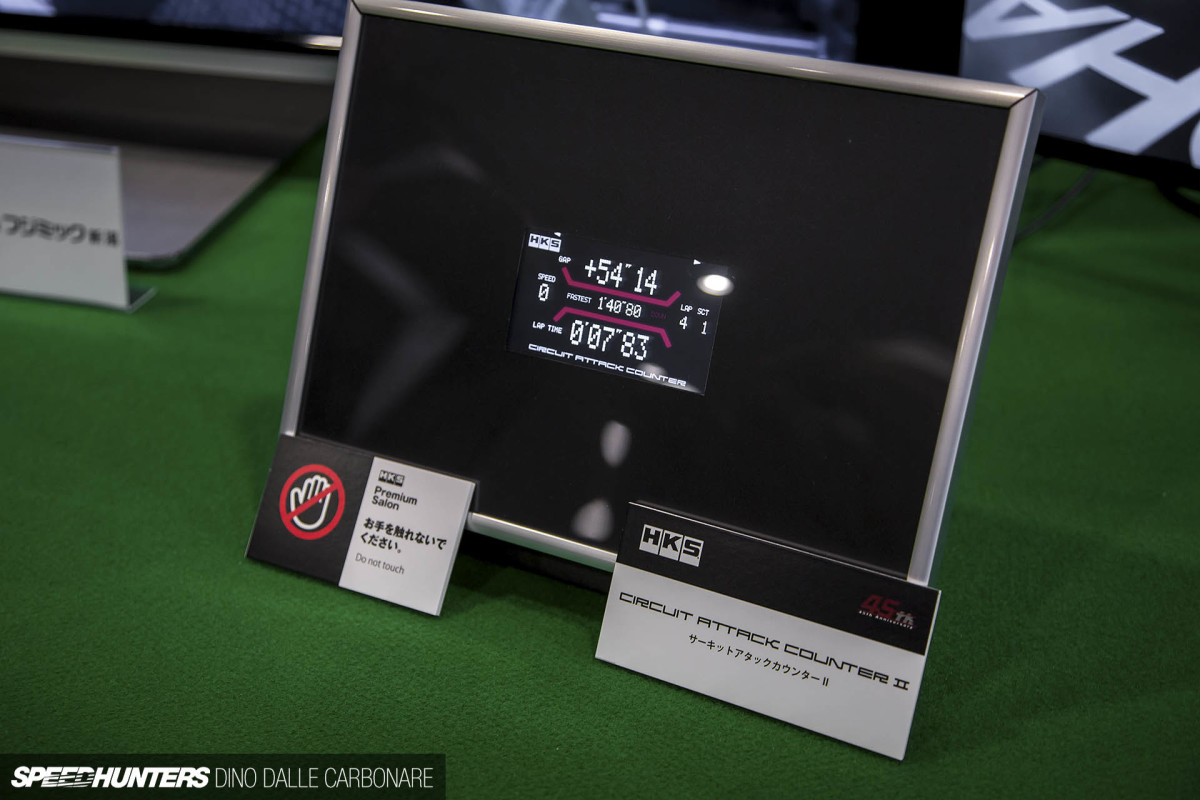 I even spotted the soon-to-be-released new version of the Circuit Attack Counter. This thing does so much more than just timing your laps but also uses GPS tech and data-logging to allow you to go back and accurately trace your lines around the track. I wonder if it works for the Shuto? Oh wait, I shouldn't have said that…
RB28 and 2JZ, the former running the GTIII-4R and the latter the GTIII-5R. Which one would you choose?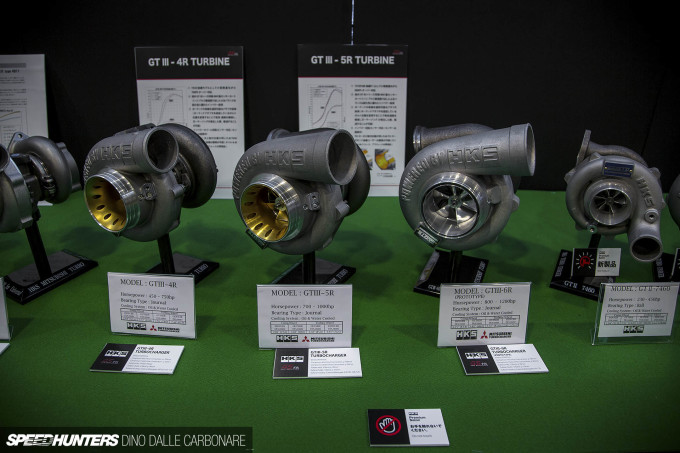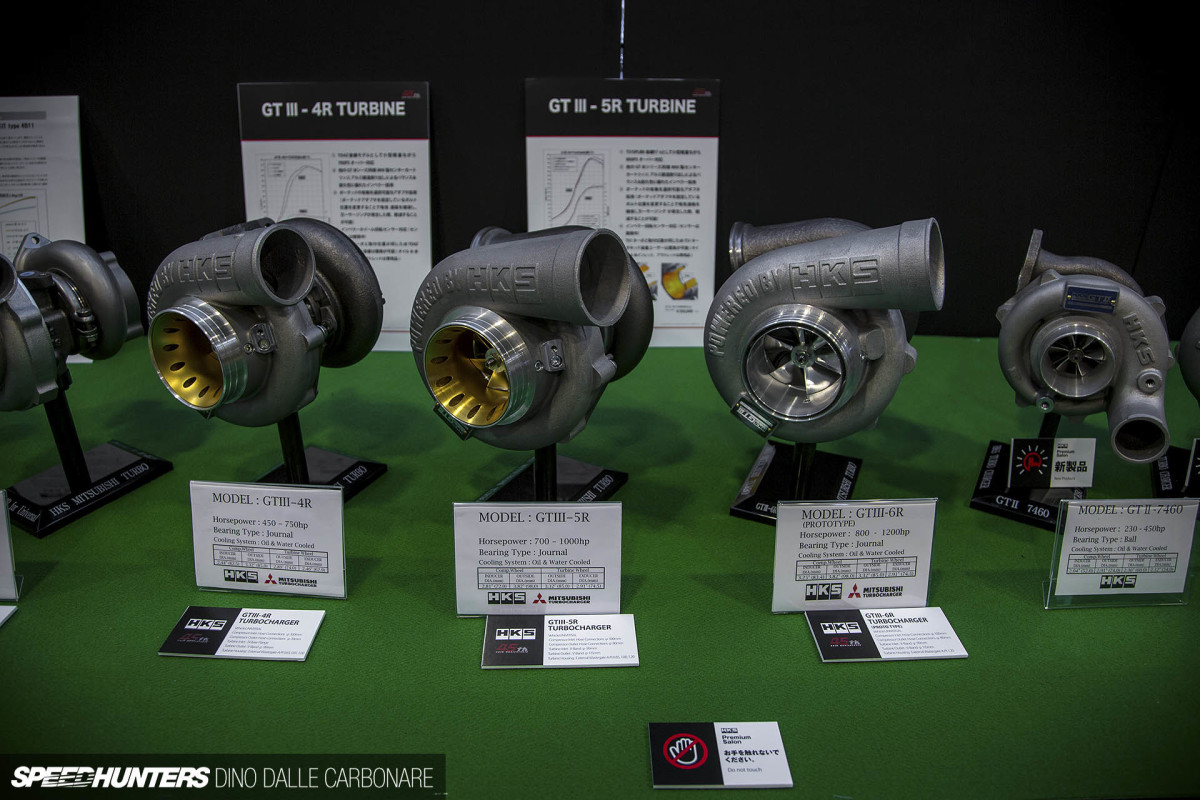 Here is the 4R, 5R and 6R, rated to 750, 1,000 and 1,200 horsepower respectively.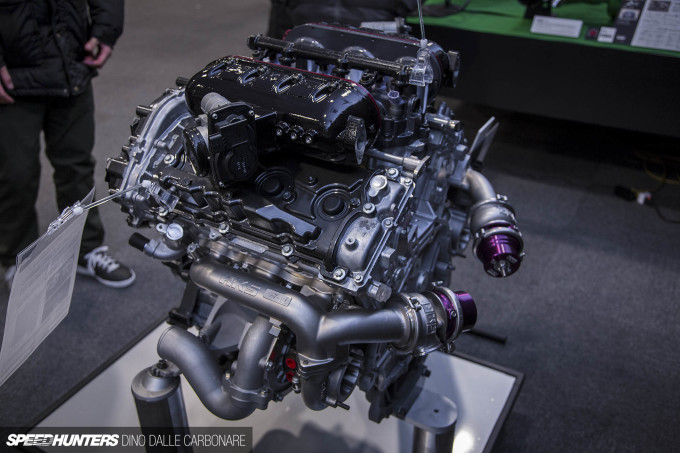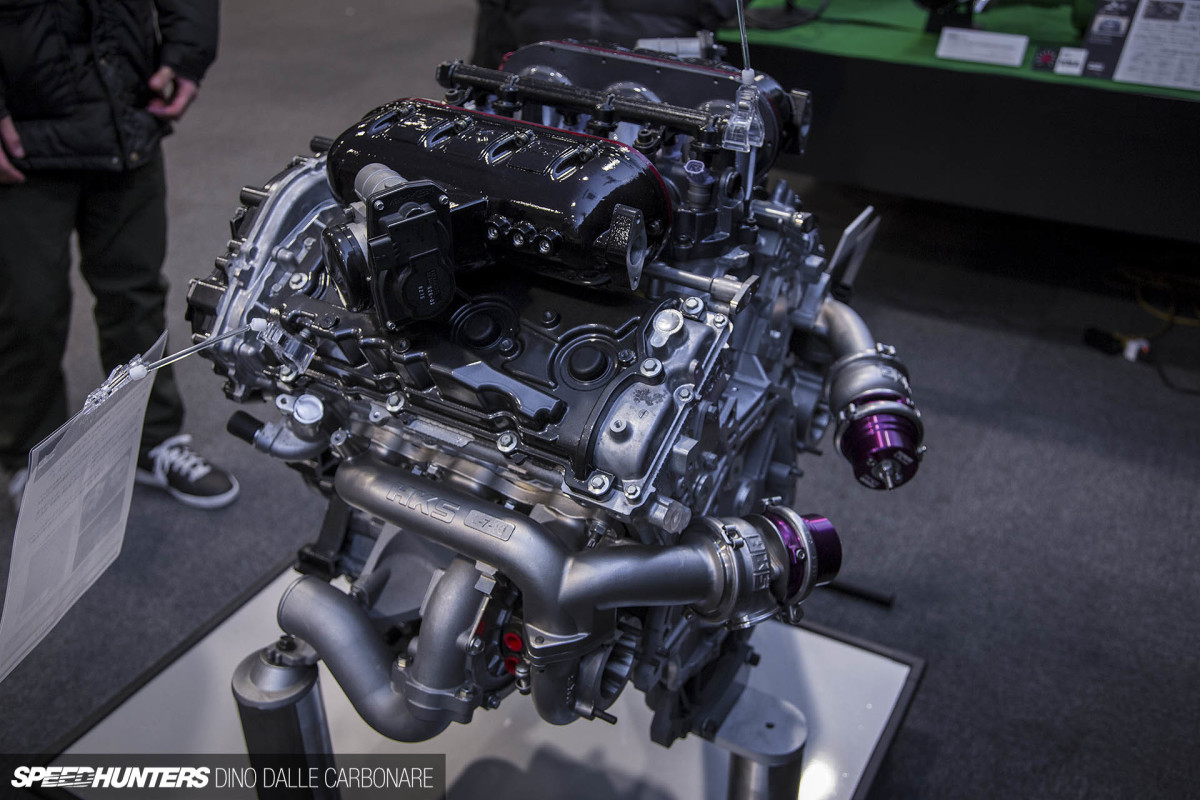 A VR41 with all the bells and whistles; all 1200hp of it.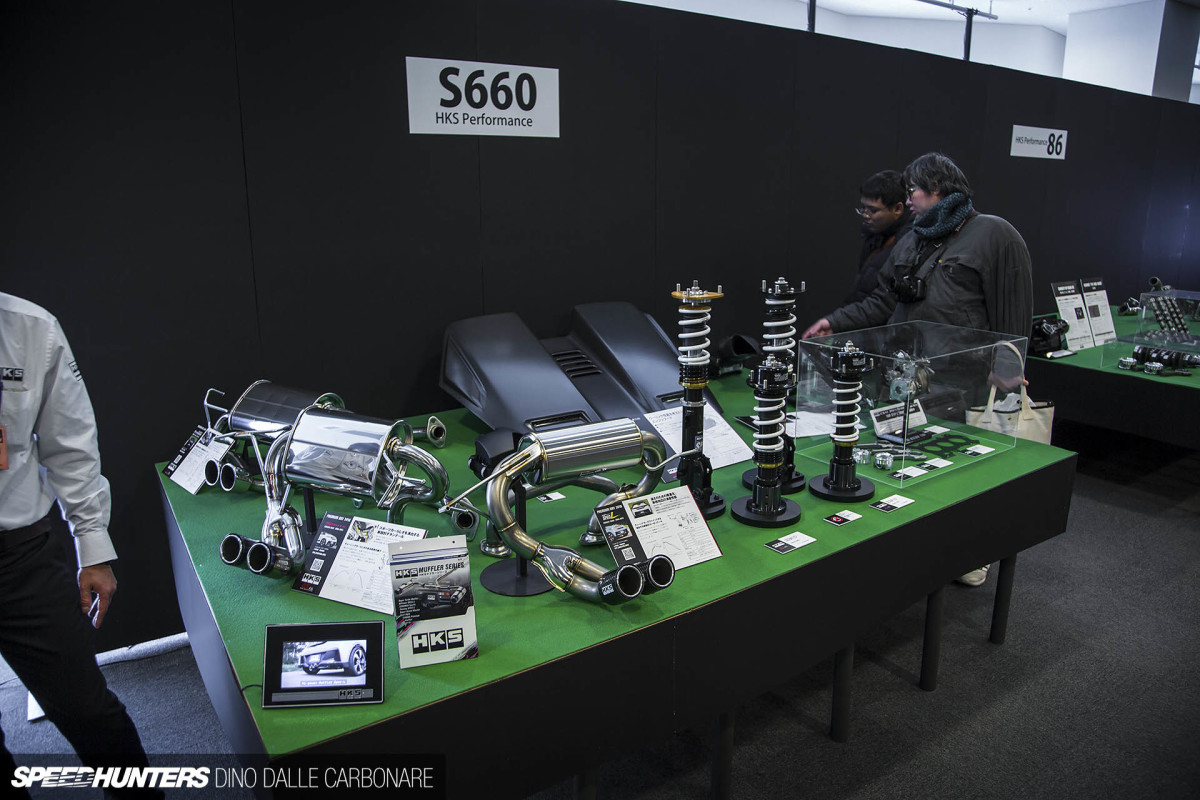 There were a ton of displays sub-divided for specific car application, like this one for the Honda S660. If you haven't gotten it yet, I really, really like this car and all you can do to it.
It's Time Attack Time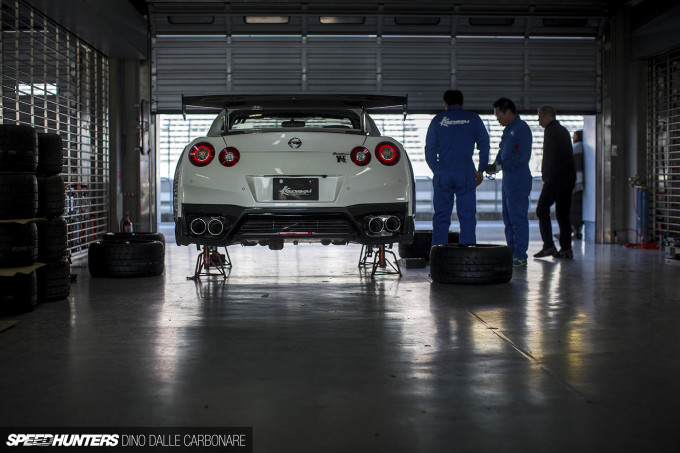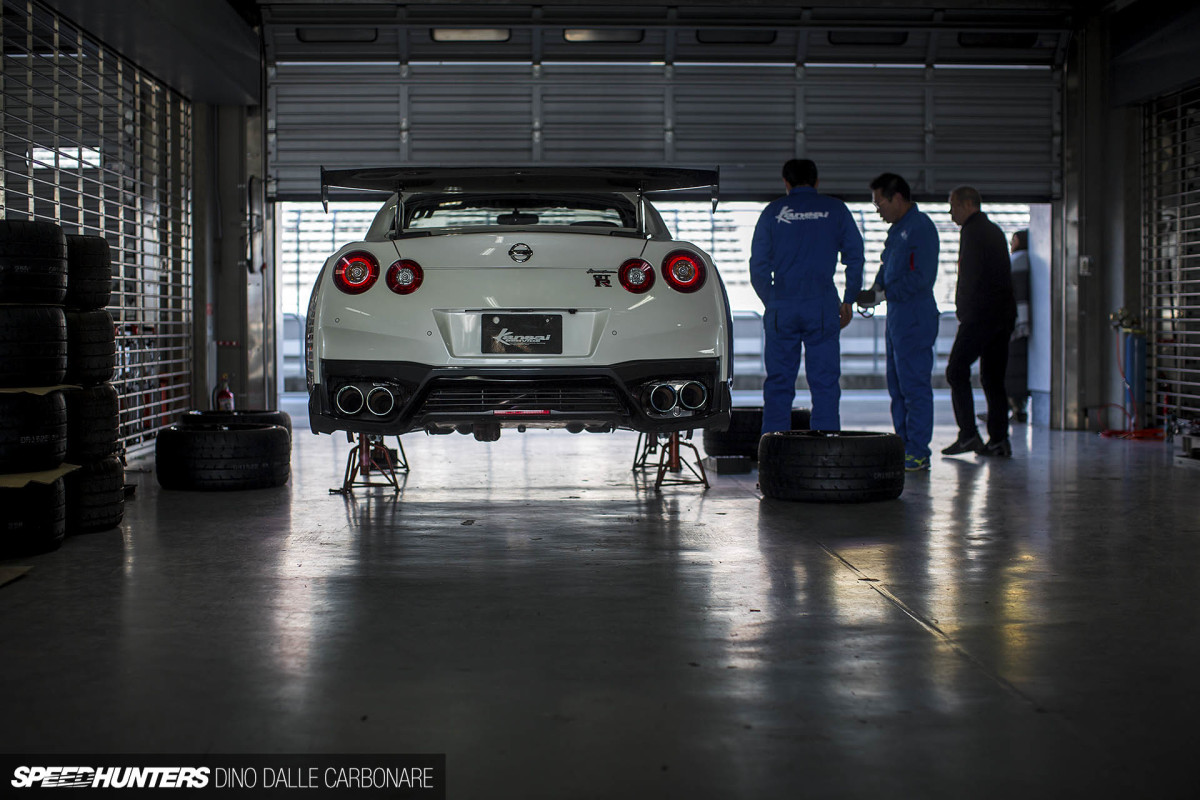 Option magazine organizes a Super Lap event as part of the proceedings, taking full advantage of all the demo cars that shops bring to Fuji. With two sessions at their disposal, and ideal ambient and air temperatures, this is when records are broken.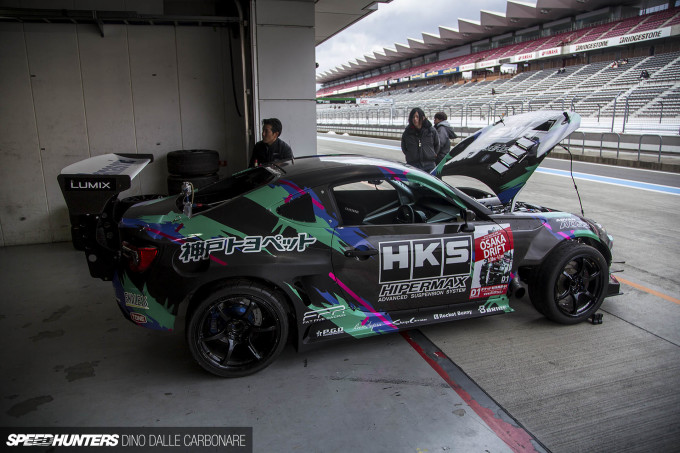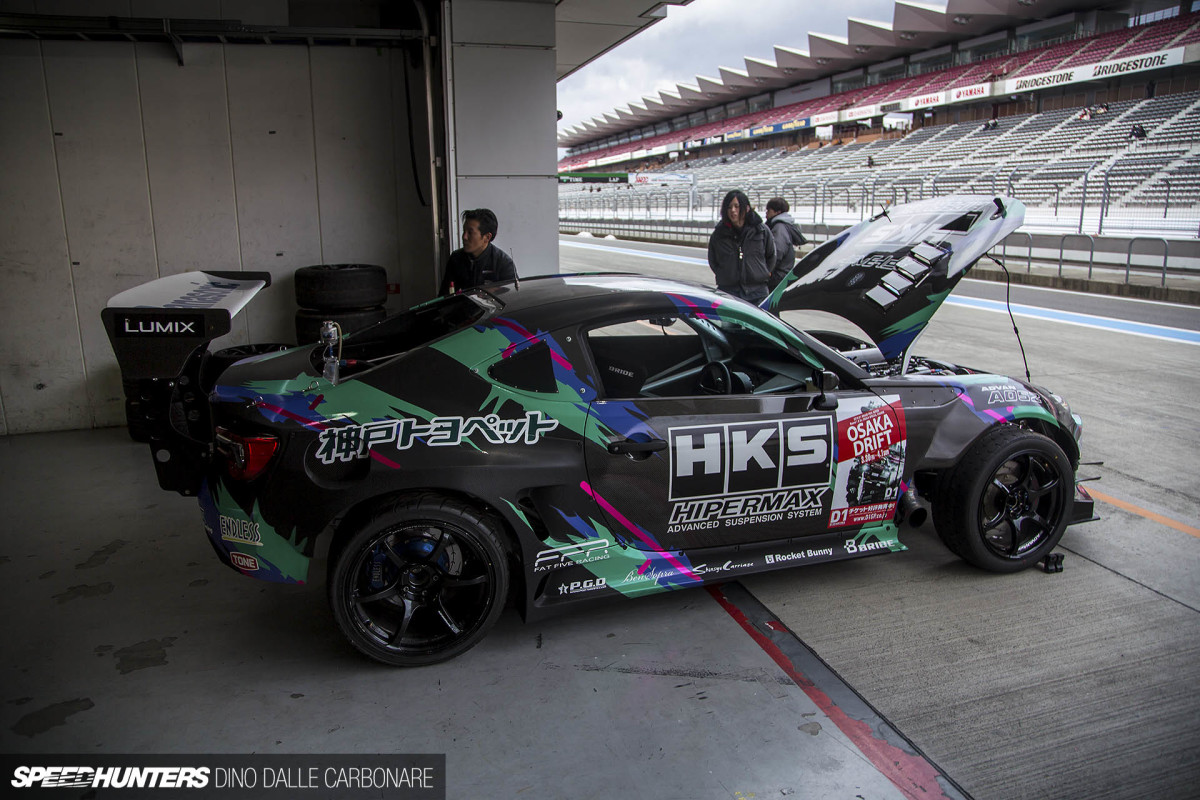 As cars started warming up, I took a walk down the pit lane to see what was present and came across HKS's all-carbon 86 that they built alongside Fat Five Racing last year. This is Nob's play thing, a car used only for demo runs and one which was used later on in the day to burn up a few sets of rubber.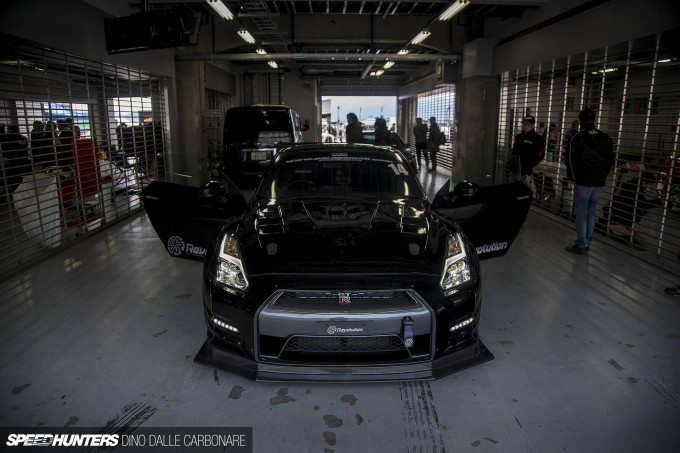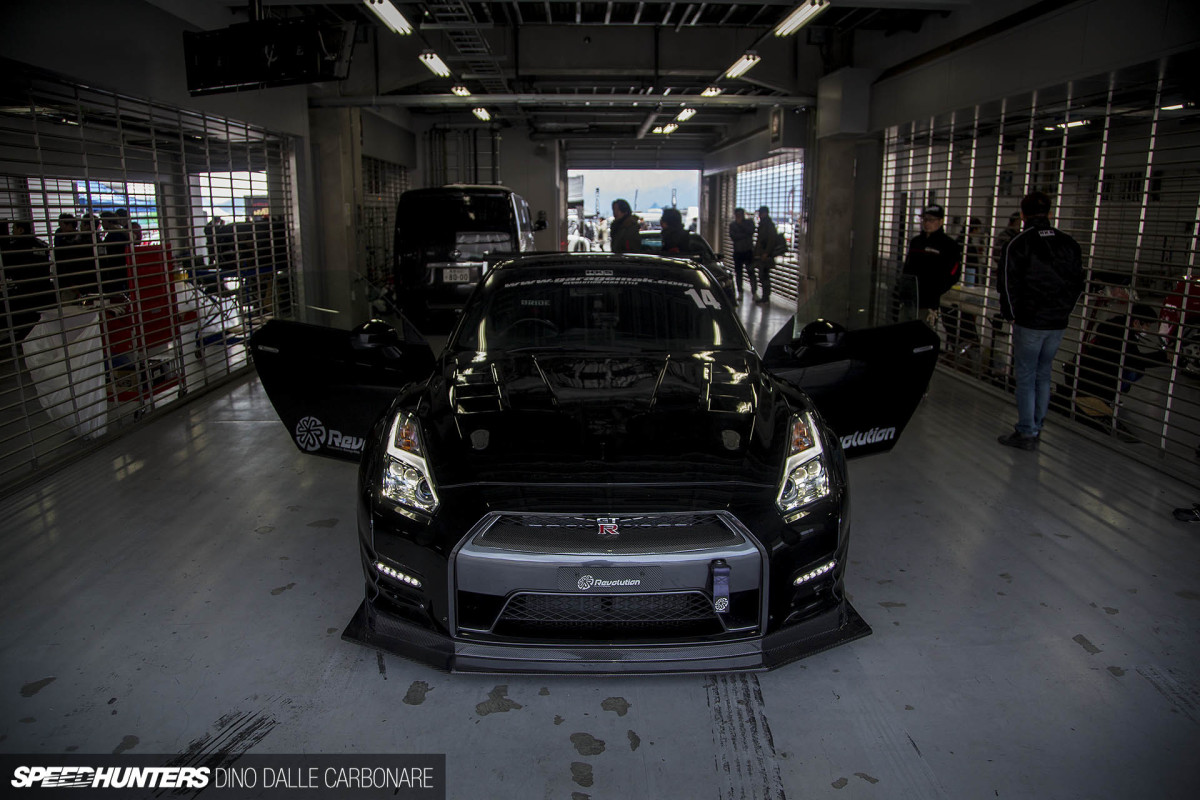 Garage Mak was one of the first shops to head out for a try, putting their development R35 to the test.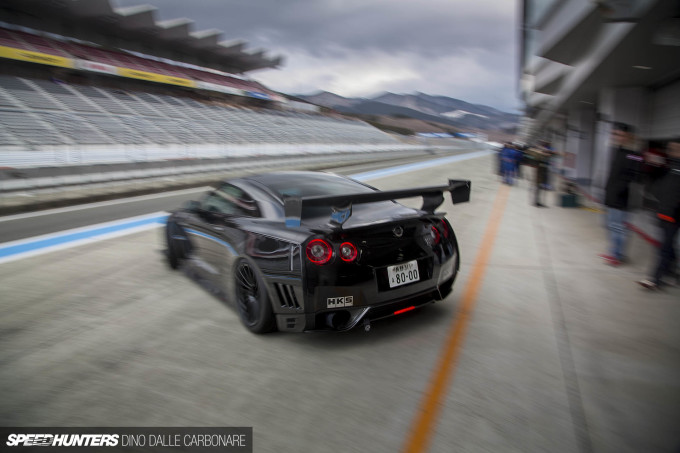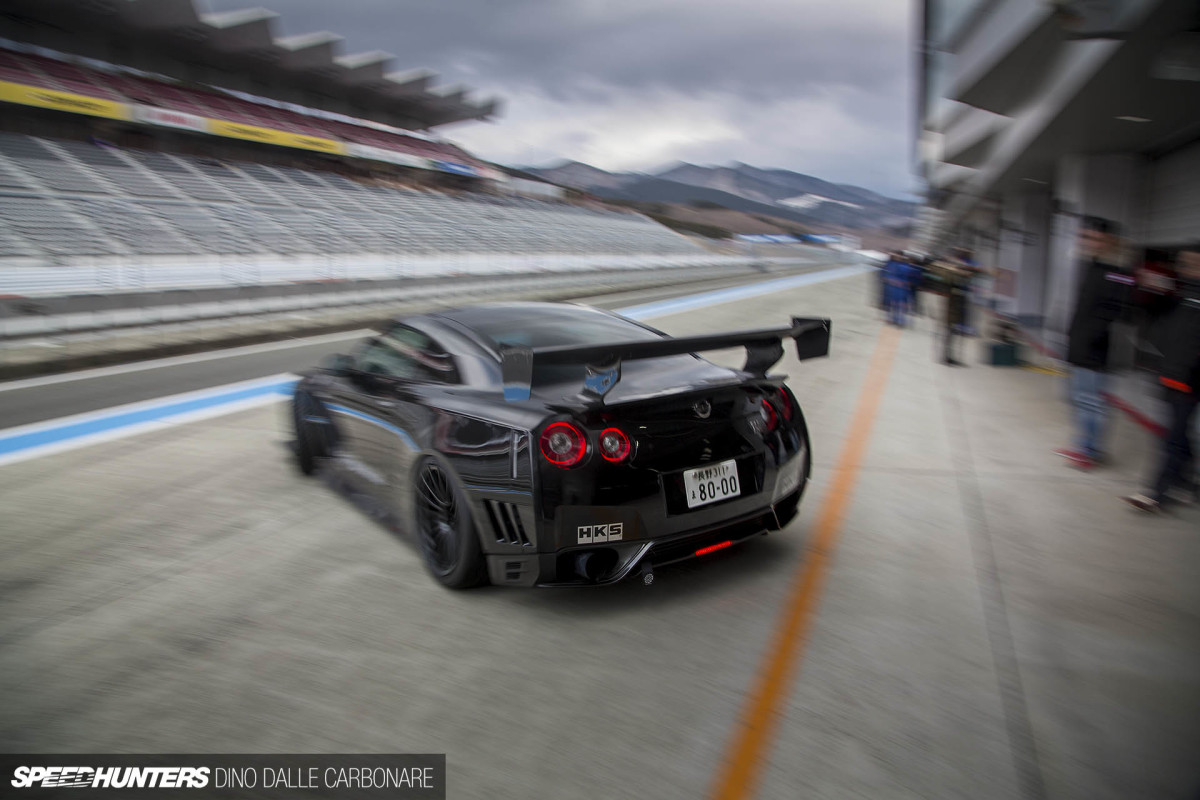 Doing the driving was Manabu Orido, who on his second fast lap managed the car's record time, a 1:45.564 lap, which also happened to be the car's last as the engine had some trouble and had to be retired.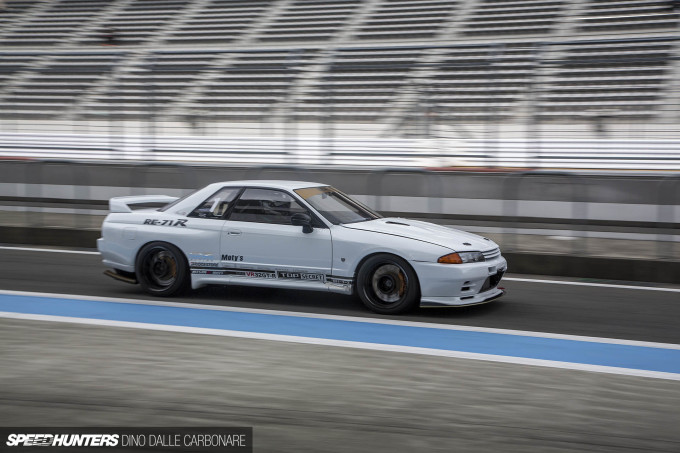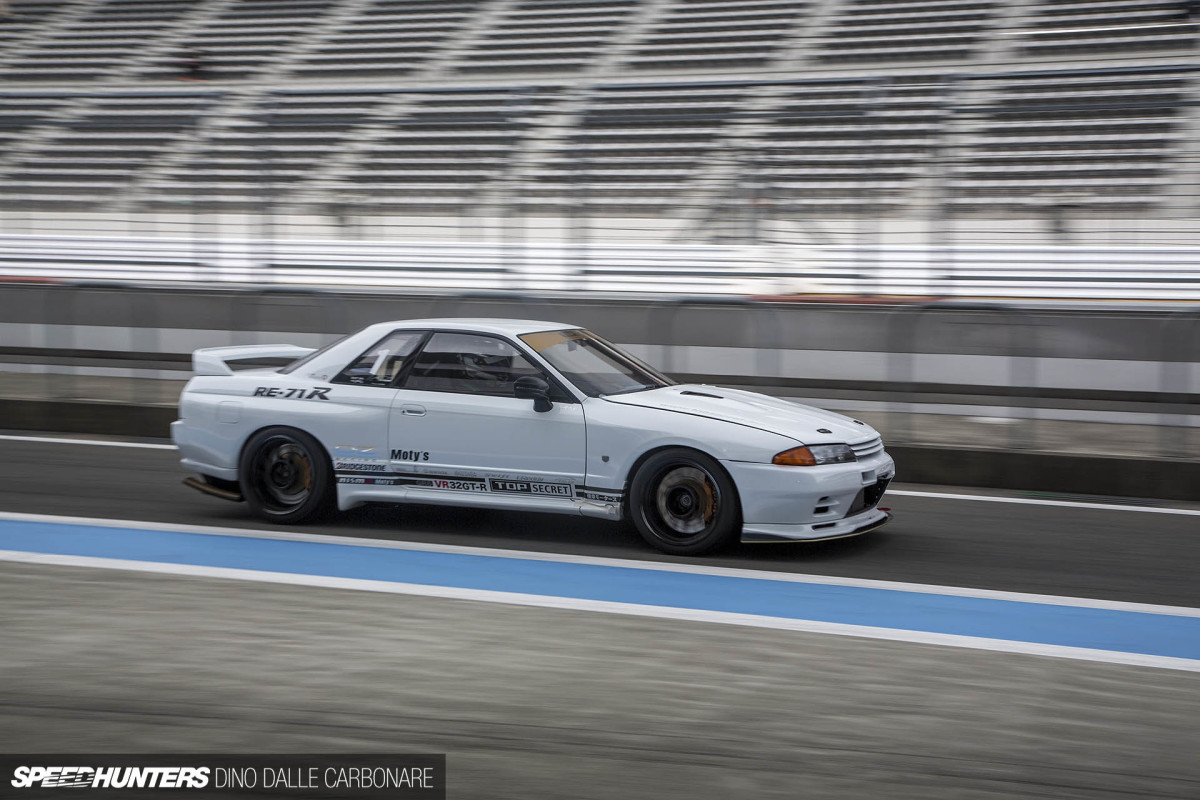 Top Secret was there too, putting their half-million dollar BNR32 with R35 running gear to the test. This car messes with your head; it looks like a R32, but the VR38 sound is unmistakable. The question is, though: is this thing really worth $500,000?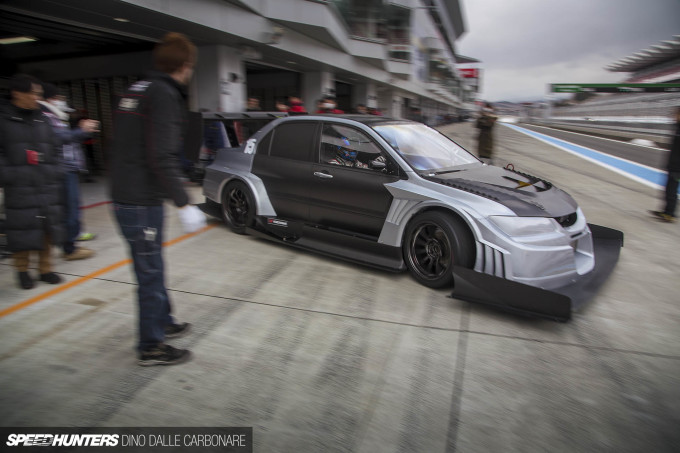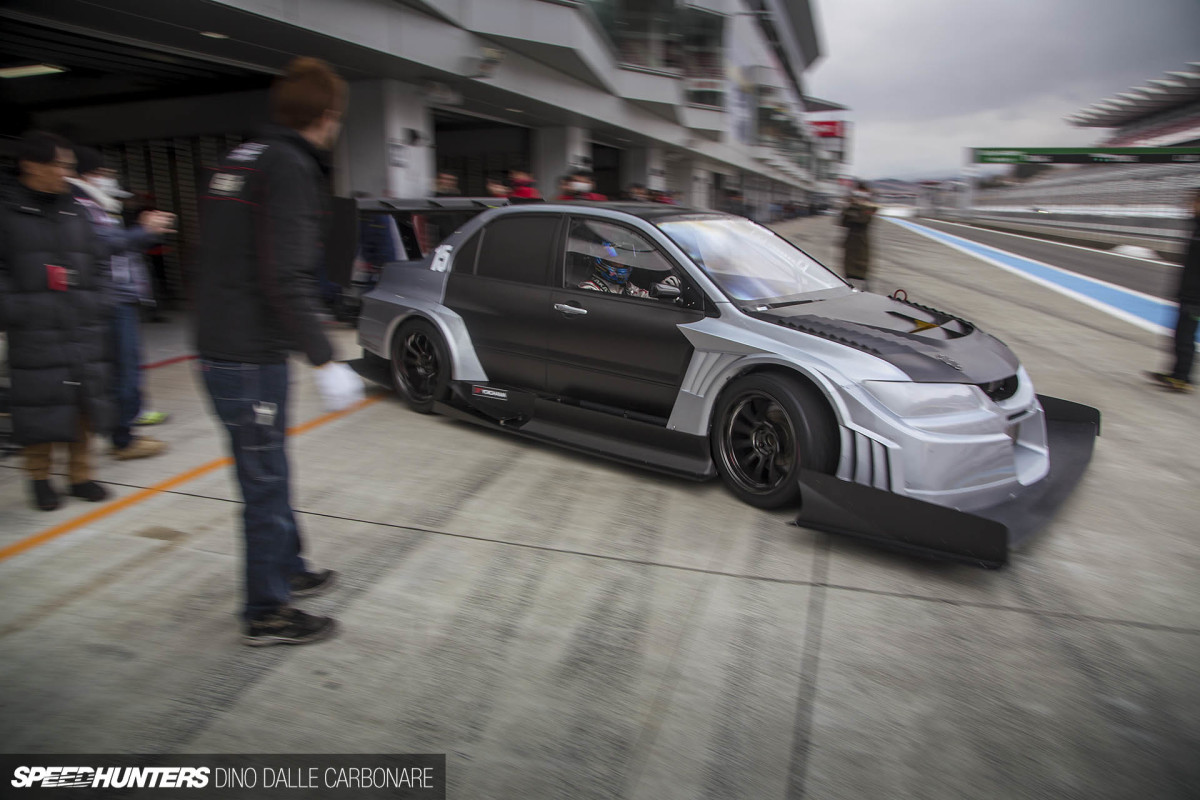 After taking the Esprit R35 GT-R out for some fast laps, Nobuteru Taniguchi jumped into the Garage G Force Evo IX and proceeded to break some records. He managed to set a new fastest time for Fuji of 1:37.381, right before the front passenger side tire exploded as he was passing in front of the pit garage he had exited just minutes prior.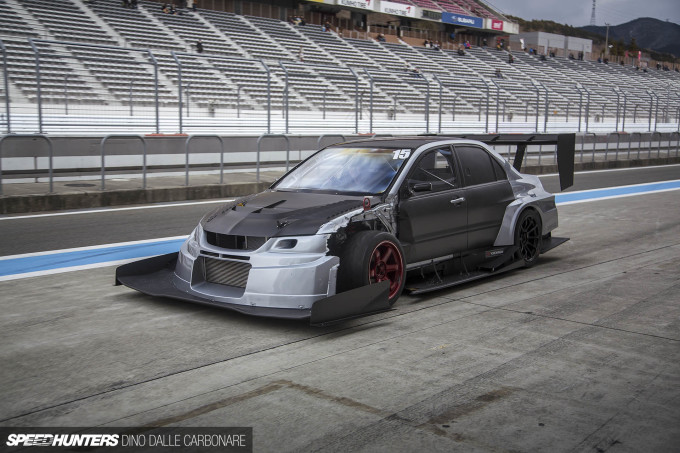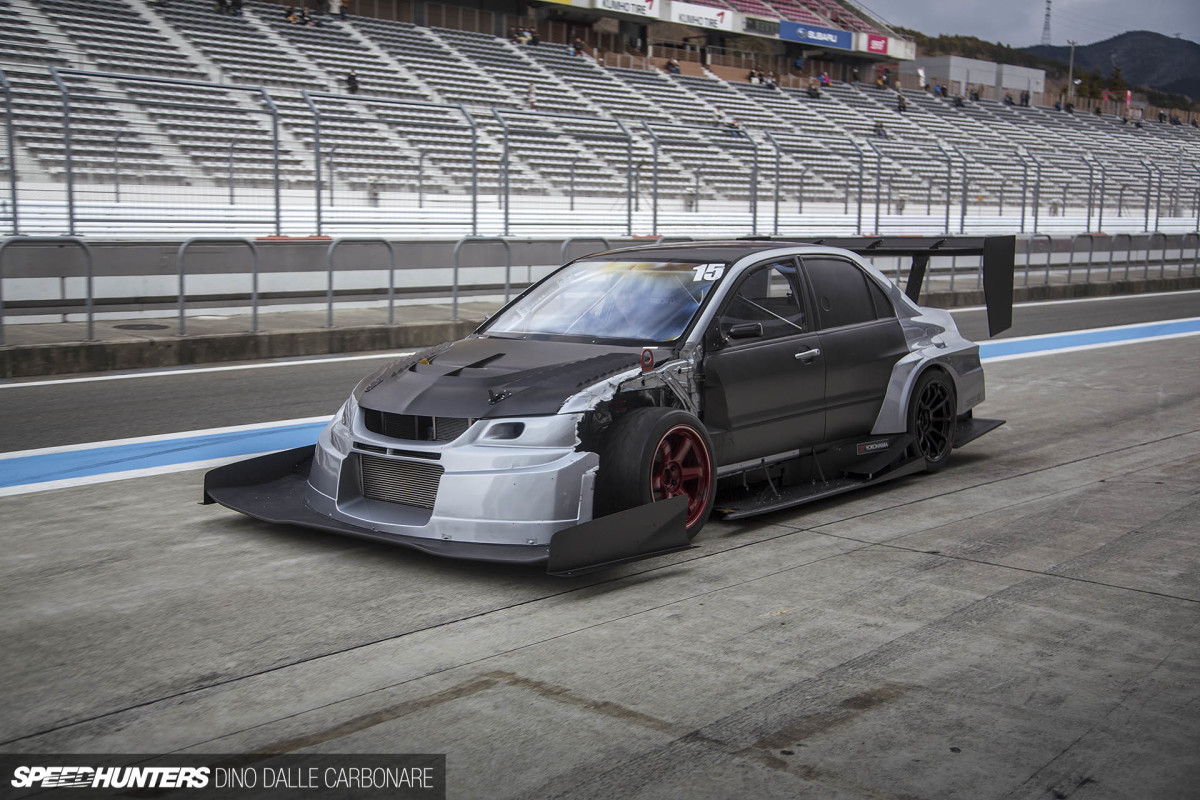 There were rumours as to what had happened floating around the pits; some were saying the springs were too soft and became coil bound, allowing the tyre to rub on the chassis and slice itself in half.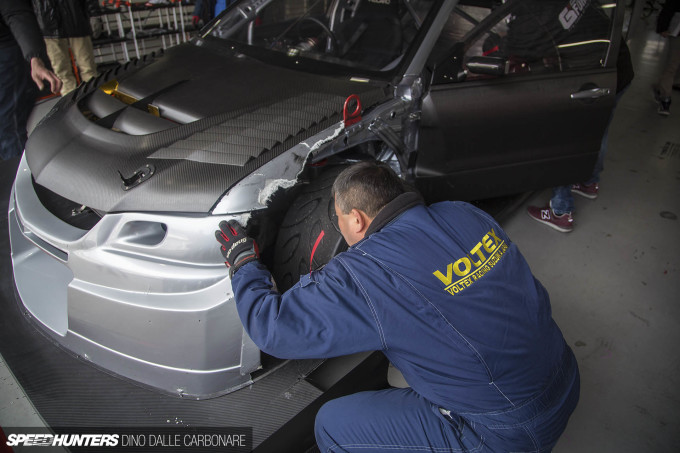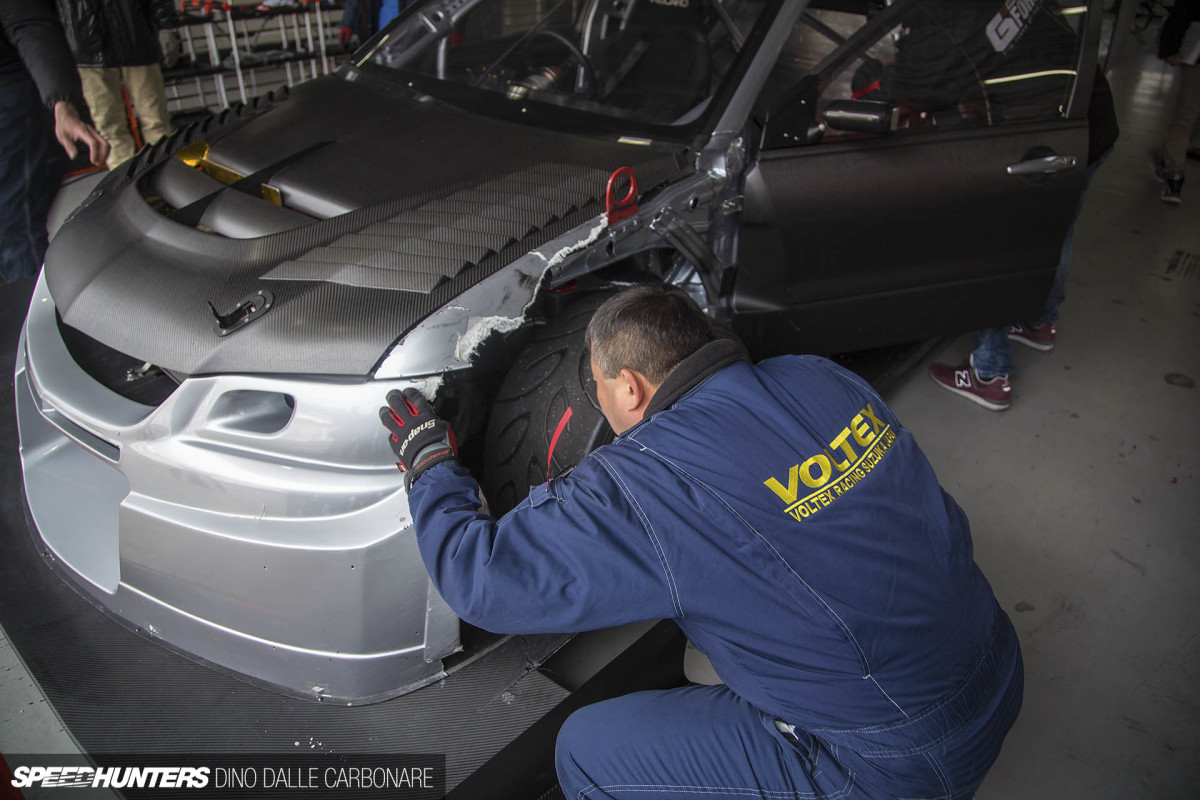 The Voltex guys, who took care of designing the custom aero (sort of based on the Tilton Evo of a few years back) were examining what may have actually happened.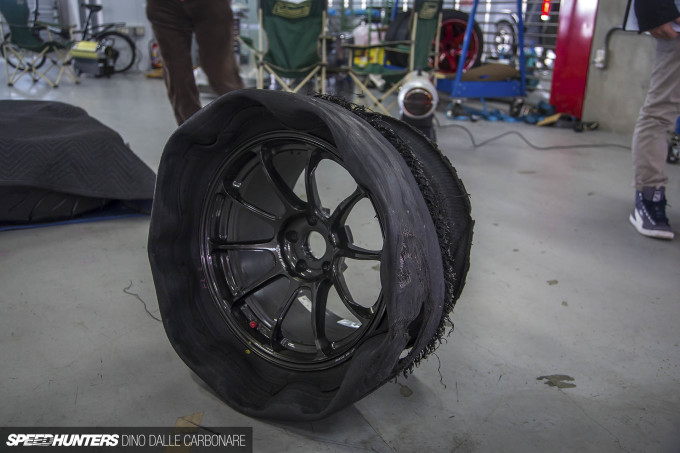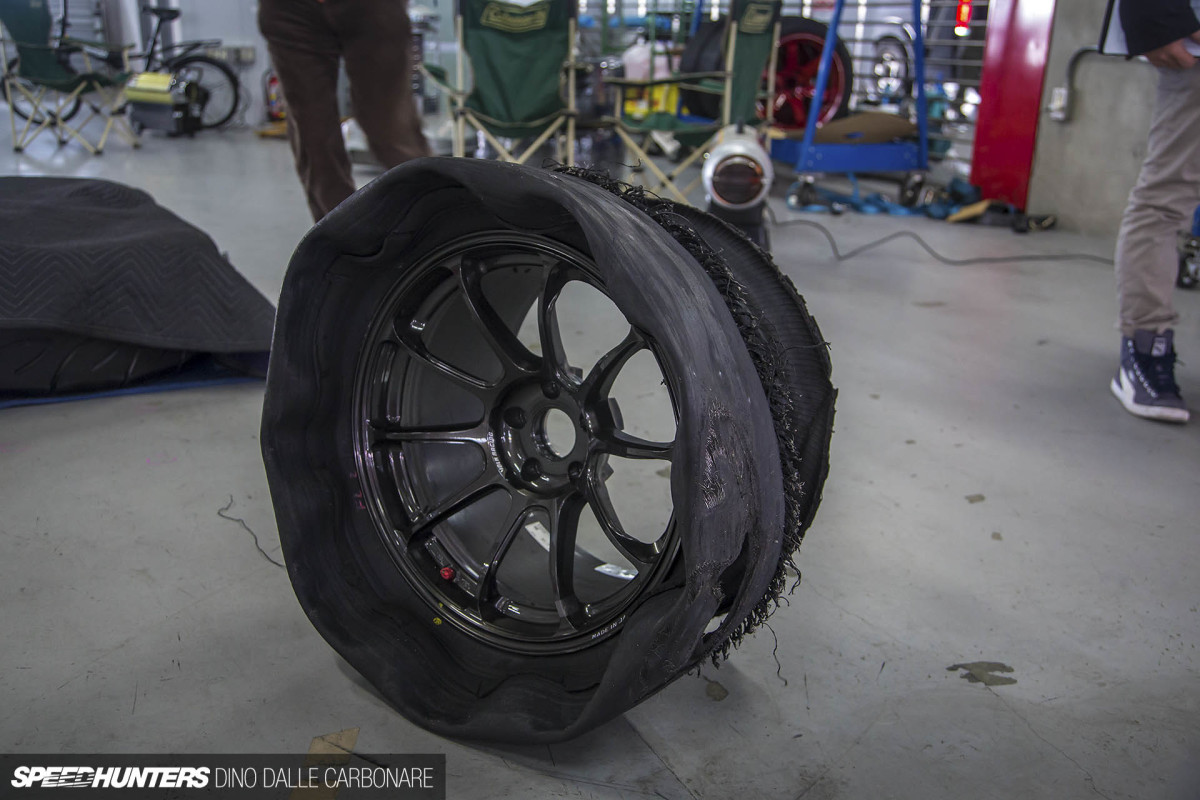 It seems that almost the opposite occurred, with the front springs having been too hard, thus transferring far too much stress to the Yokohama semi-slicks through downforce at max velocity. The result was that the tire just couldn't take it, hinting where the next step of development needs to come from if the sport is to safely progress.
Thankfully Taniguchi didn't get hurt, and he stopped the car safely at the top of the pit lane.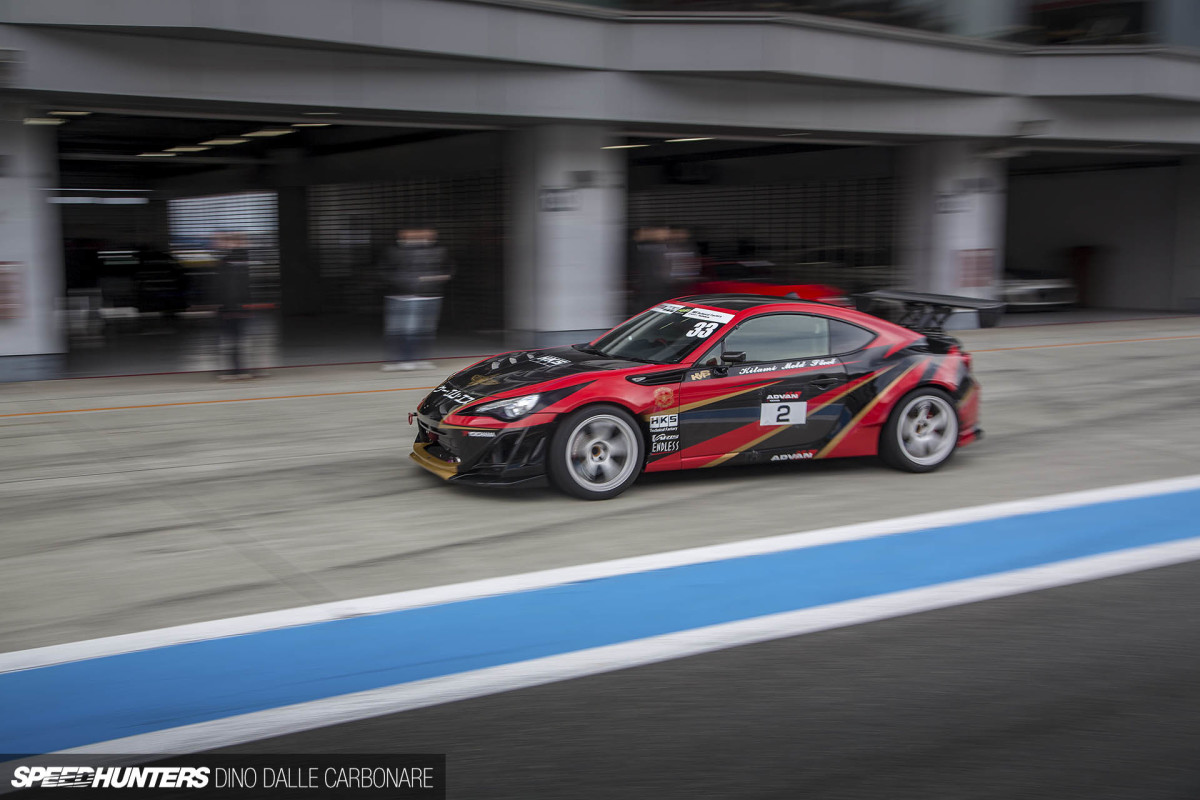 After all the excitement of the Garage HRS CT9A, I stayed in the pits to observe the rest of the session which was delayed while the marshals cleaned up the pieces of Voltex aero that had been scattered around the track.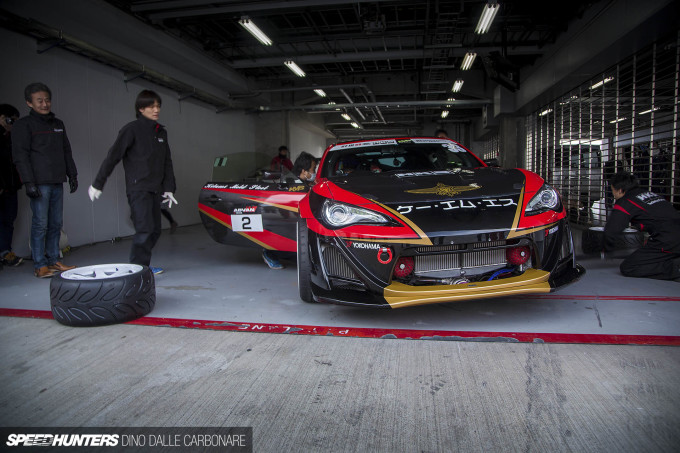 That's where I got the chance to take a closer look at the HKS Technical Factory ZN6 which has to run one of the most unique forced induction layouts I've come across. As you can see by the two HKS pod filters on either side of the intercooler, this thing runs a twin-turbo setup on the FA20 motor. We need to have a proper look at this car I think, as it's far too interesting to pass up.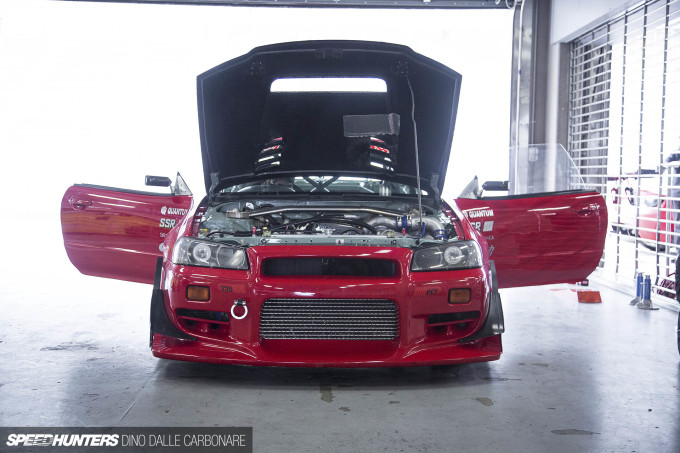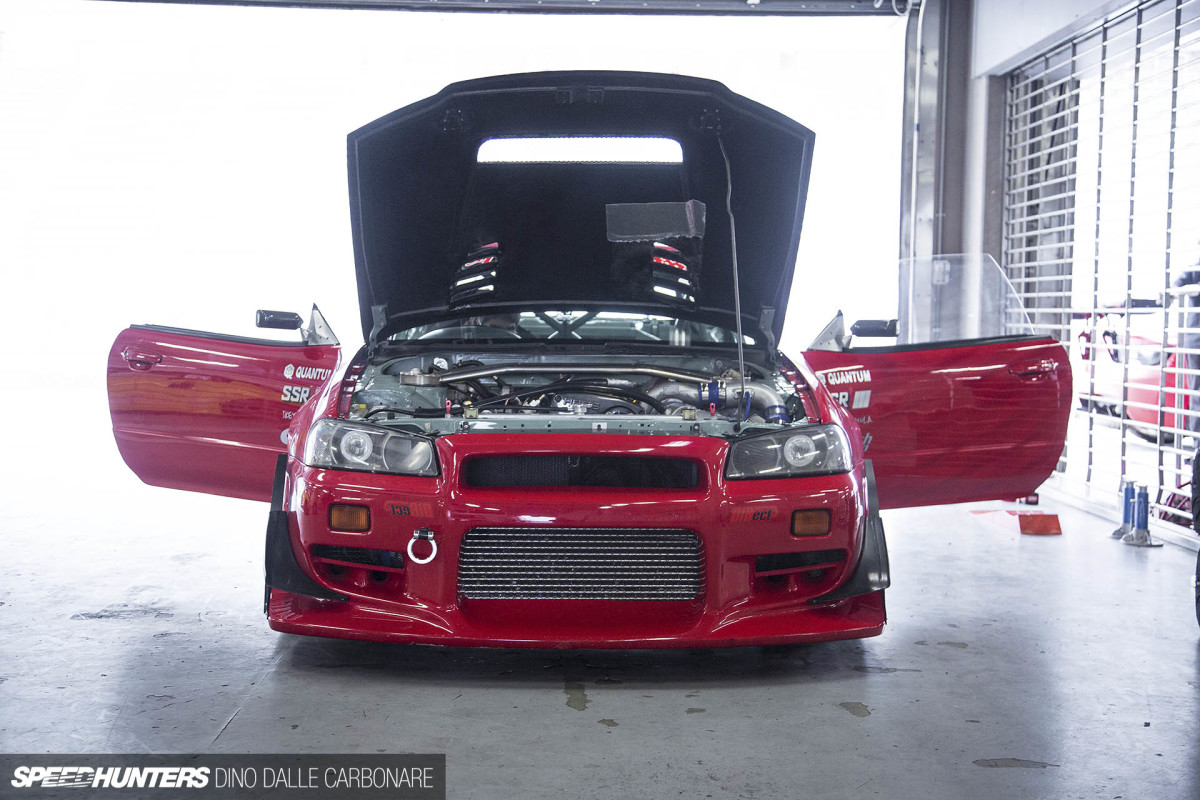 At 1:44.667, the Garage Ito BNR34 was the fastest 'old' generation GT-R on the timing sheet, proving that these old girls still have plenty of potential.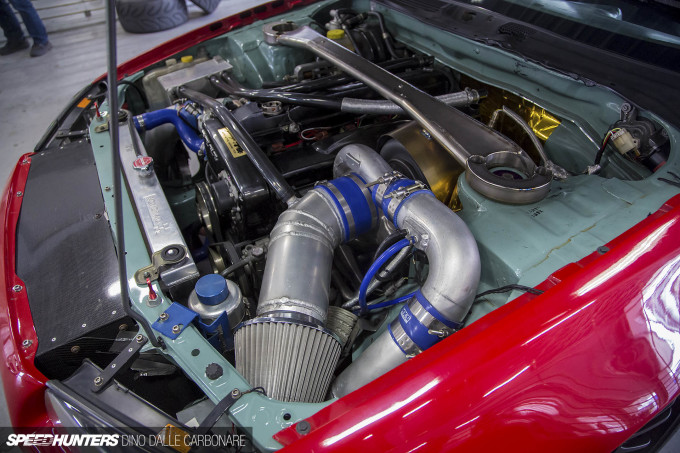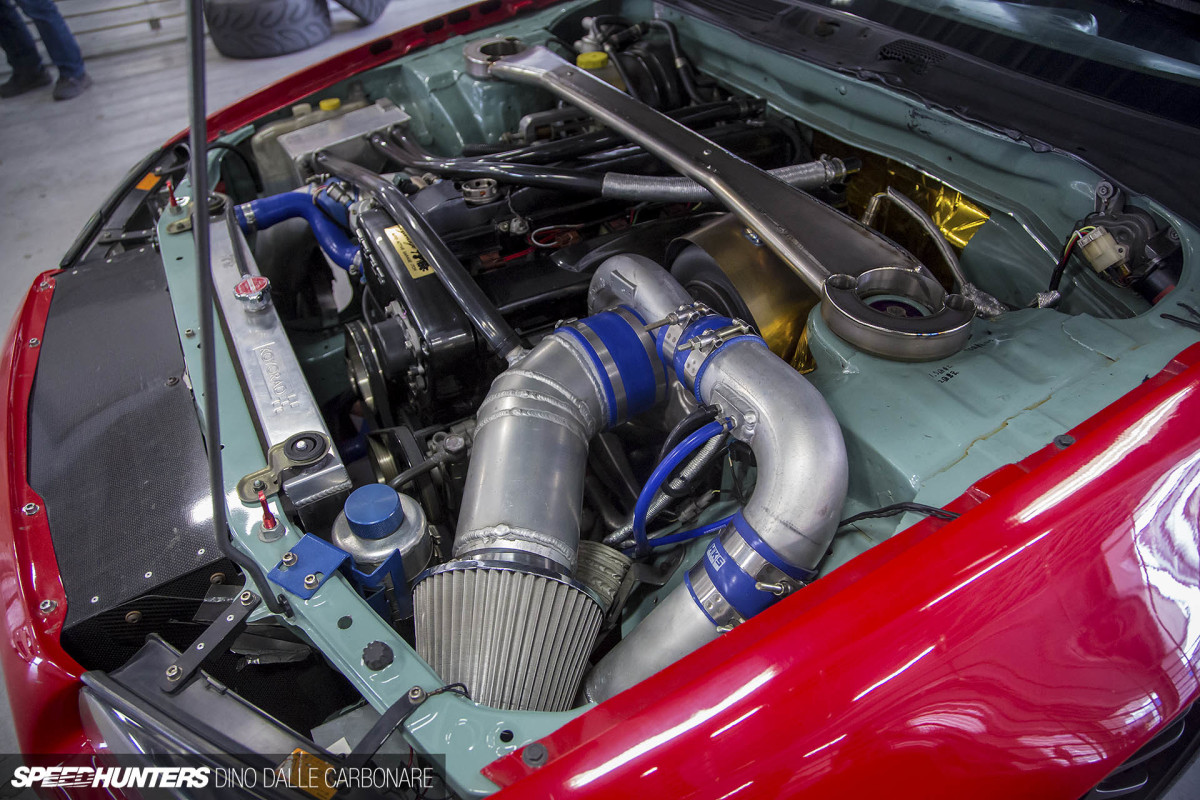 It's all about the execution. The Osaka-based shop has kept it pretty old school with virtually no aero aside from the C-West front bumper and a rear GT-Wing. You could say it's all motor, oh, and suspension, and a fair share of lightening. You get my drift, I'm sure.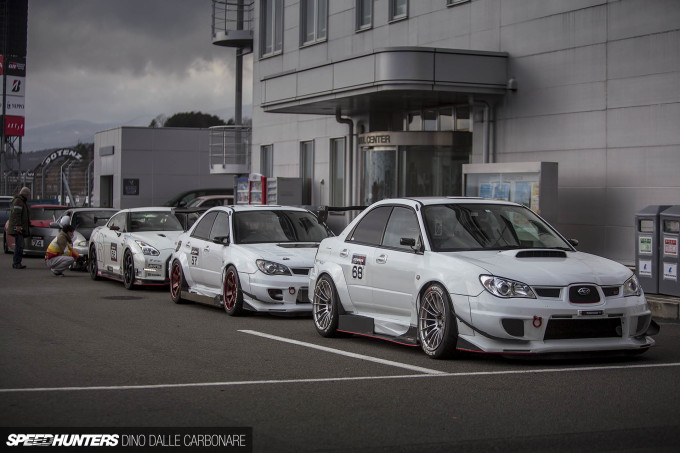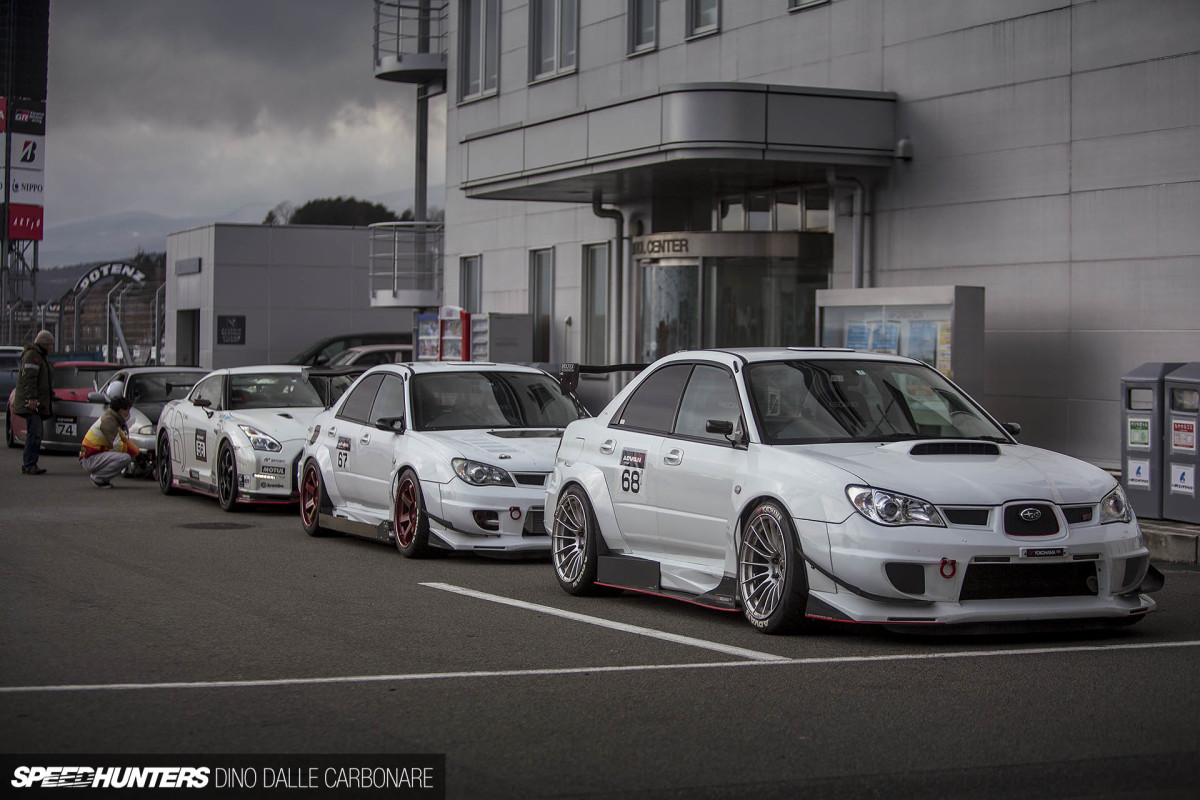 I came away from this year's HKS Premium Day with a grin on my face. There seems to be so much energy in the air for this year; so many new cars, so many new products and so many challenges from shops. It's so great to see, and like all of you I can't wait to see how it all unfolds.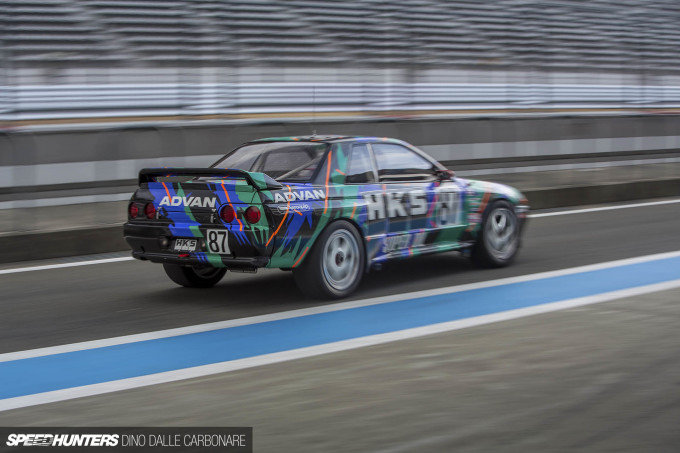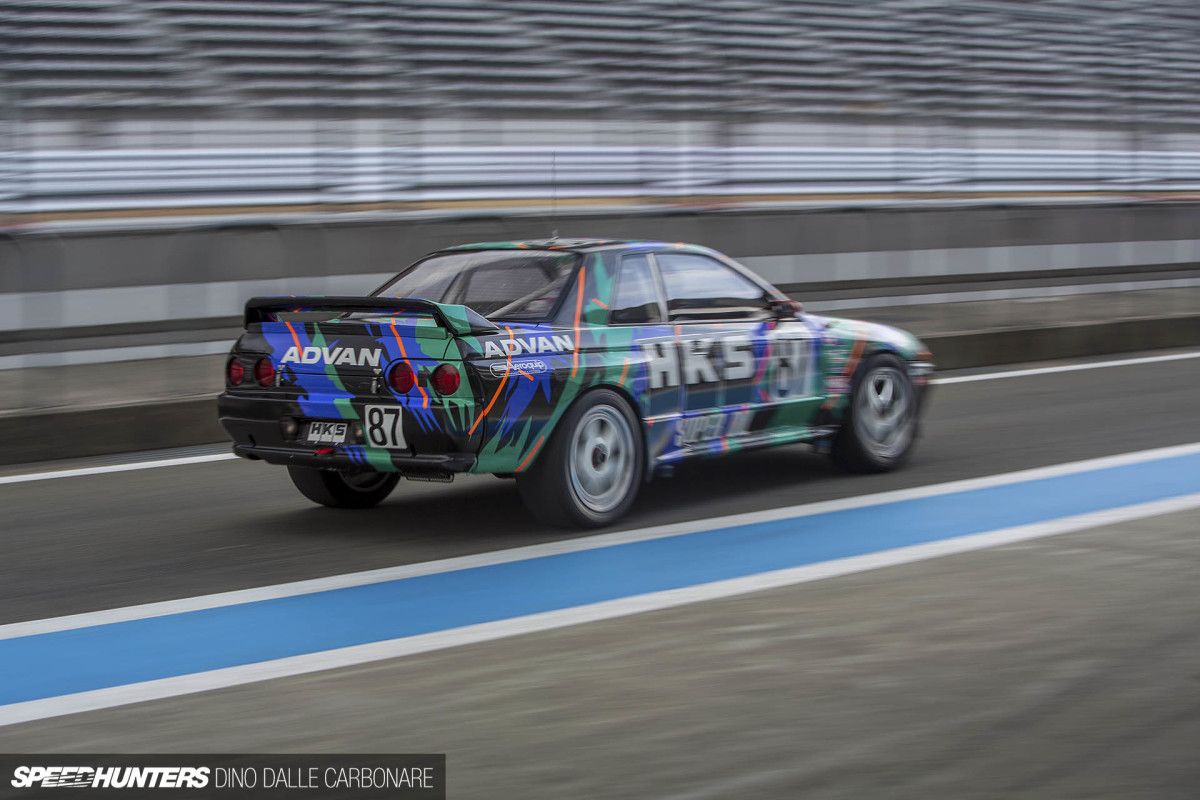 HKS, for example, will be trying to break into the 49-second bracket at Tsukuba in the coming weeks, and you know Under Suzuki will be right there attempting the same thing.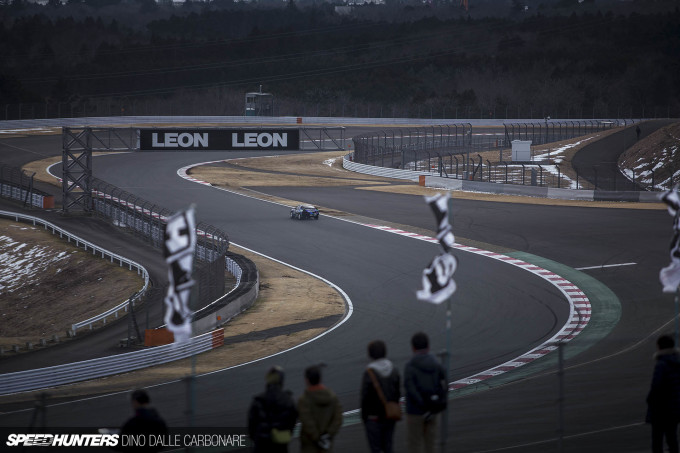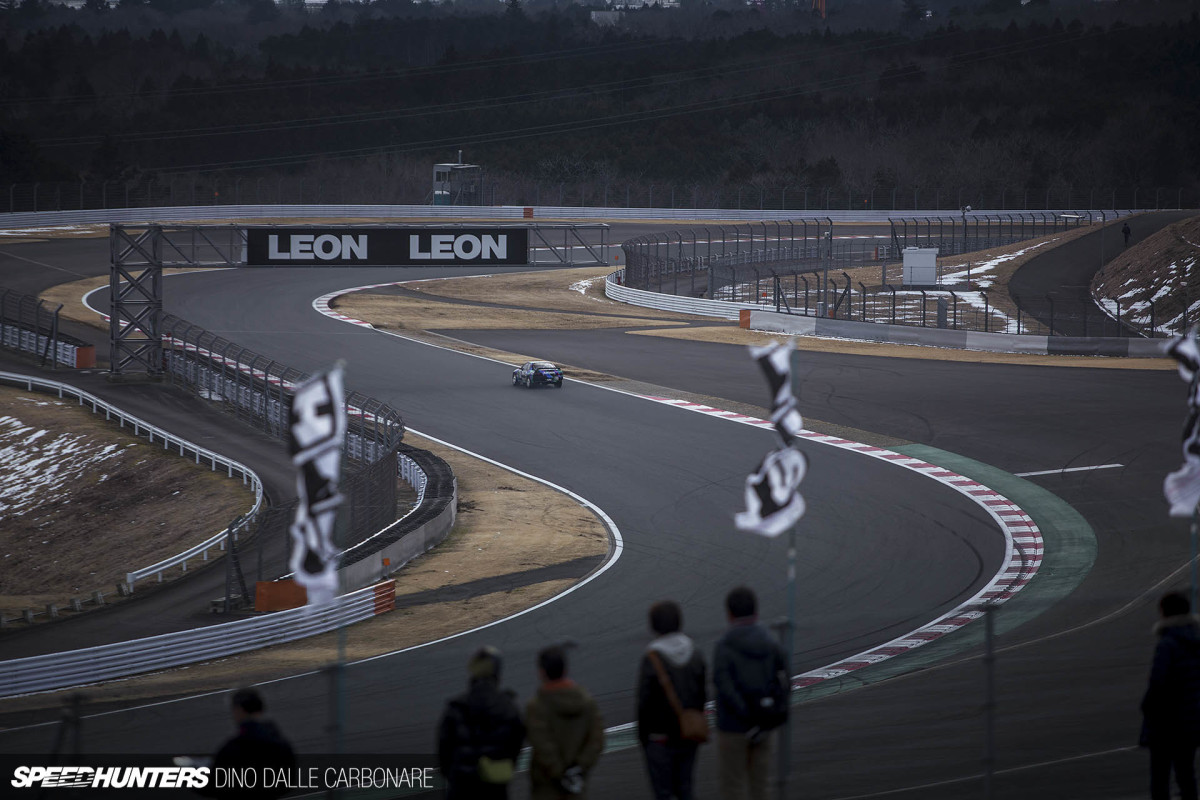 It's been an action-packed January in Japan and while the rest of the Northern Hemisphere thunders on through its off-season, and we still have some exciting time attack sessions waiting to unfold.
February, we are ready for you.
Dino Dalle Carbonare
Instagram: speedhunters_dino
dino@speedhunters.com