According to my smartwatch, I'd already walked five miles by mid-afternoon today, which in the SEMA Show scale of things is probably not even a third of it.
Over the course of the next few days I'm going to be doing a lot of walking around the Las Vegas Convention Center, but to kick things off (and give my feet a break), I thought I'd share some of the cars I found during my first quick pass through the show today.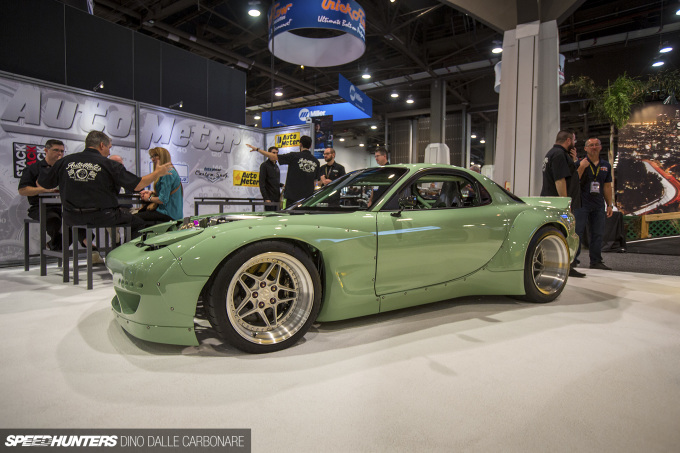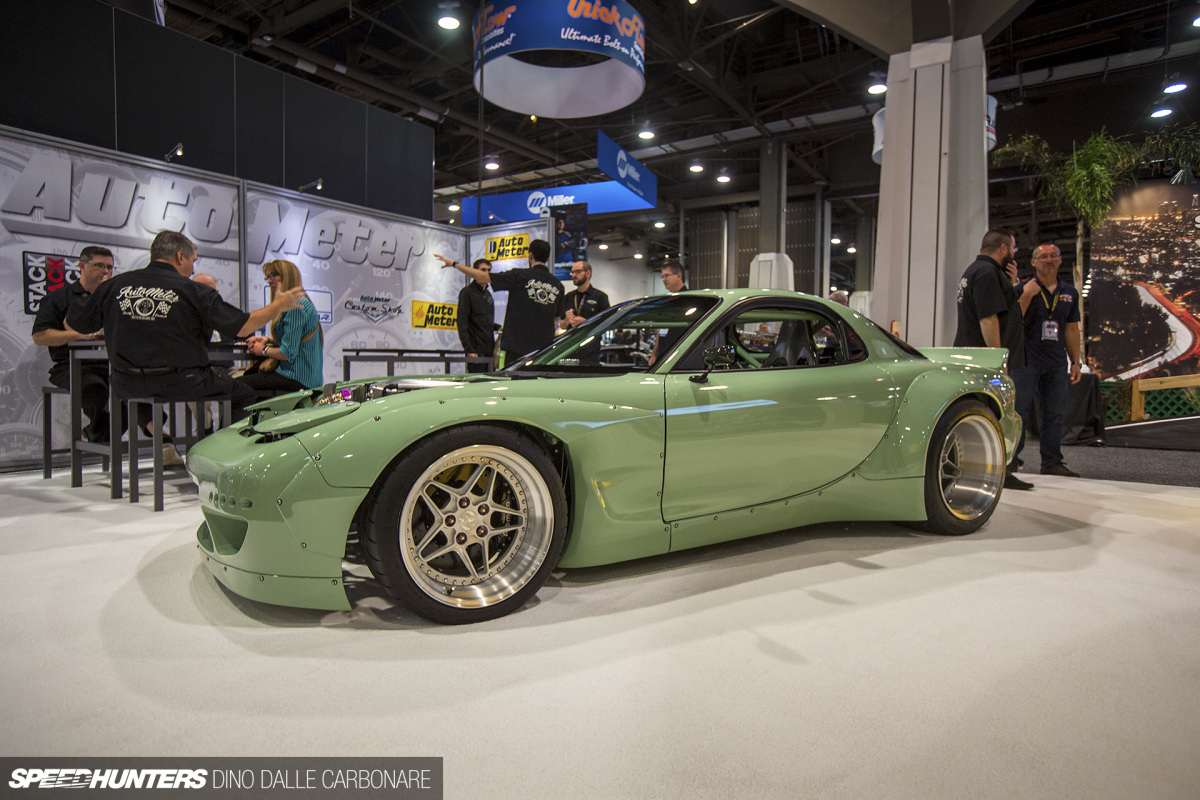 I'm going to start off with the controversial subject of LS-swapped Mazda RX-7s. To be honest, I've never really understood why there's so much hate when it comes to this particular FD3S engine conversion, because it's all about having fun with cars, right? I found this Rocket Bunny-kitted FD at the Auto Meter booth sporting a serious-looking LS V8, complete with a large turbo feeding compressed air straight into a billet intake manifold. The lack of intercooler and ultra-short intake piping will no doubt give lightning-fast throttle response. With a setup like this you'd soon forget the car used to go brap brap brap…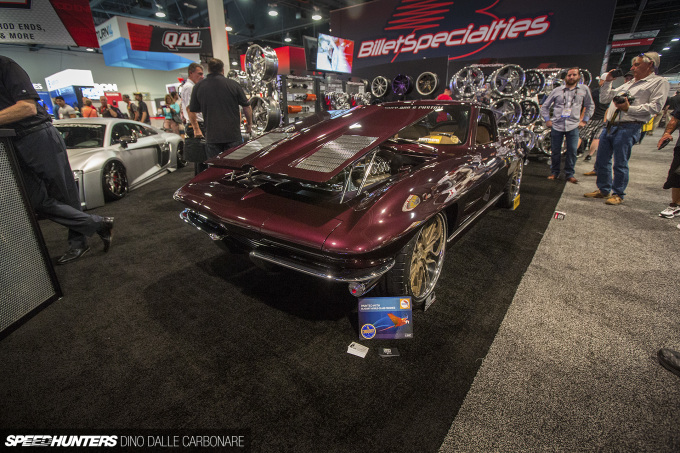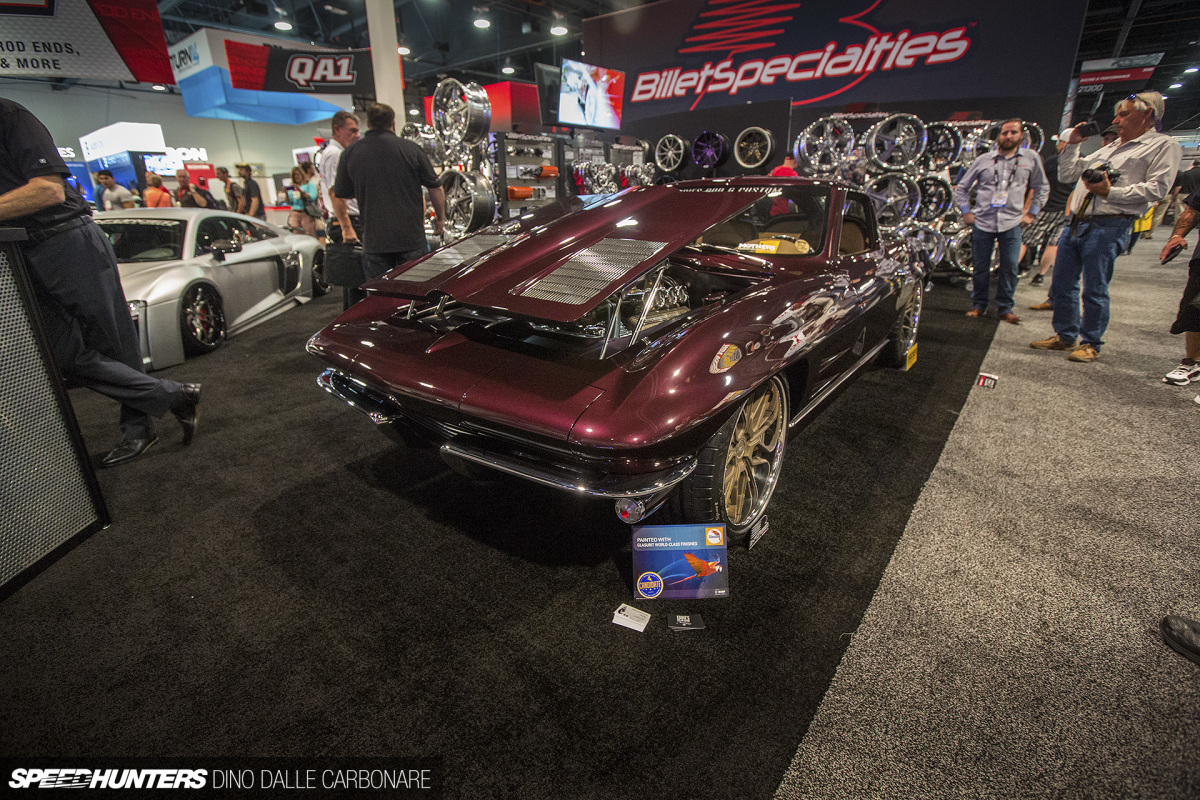 On the subject of cool engine setups, this Corvette Stingray stopped me dead in my tracks.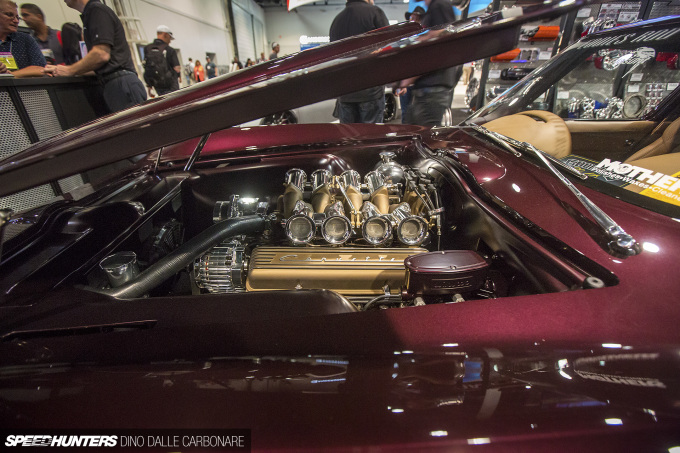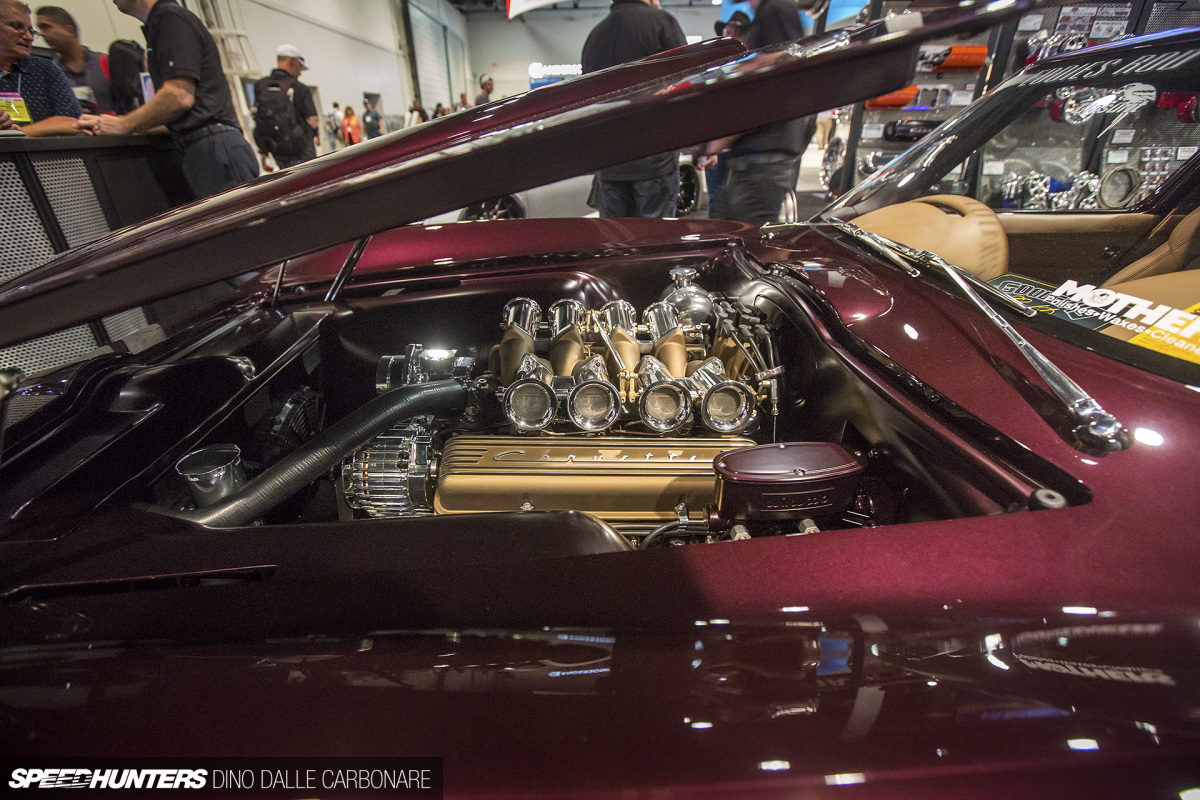 I'm a sucker for nicely executed restomods, which of course SEMA is jam-packed of, but this engine setup seemed to offer up the perfect balance of vintage and modern.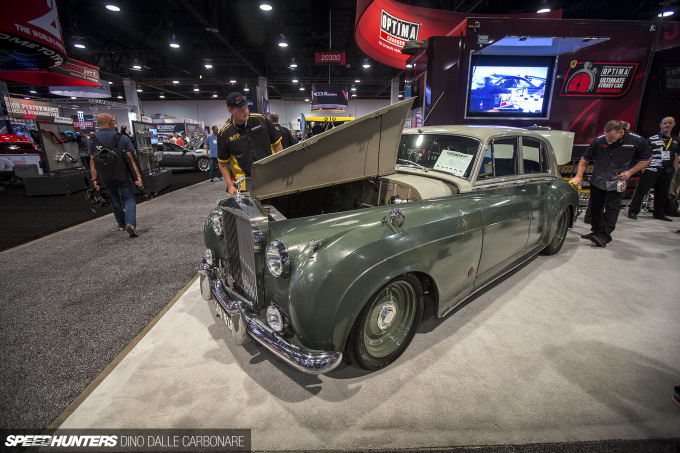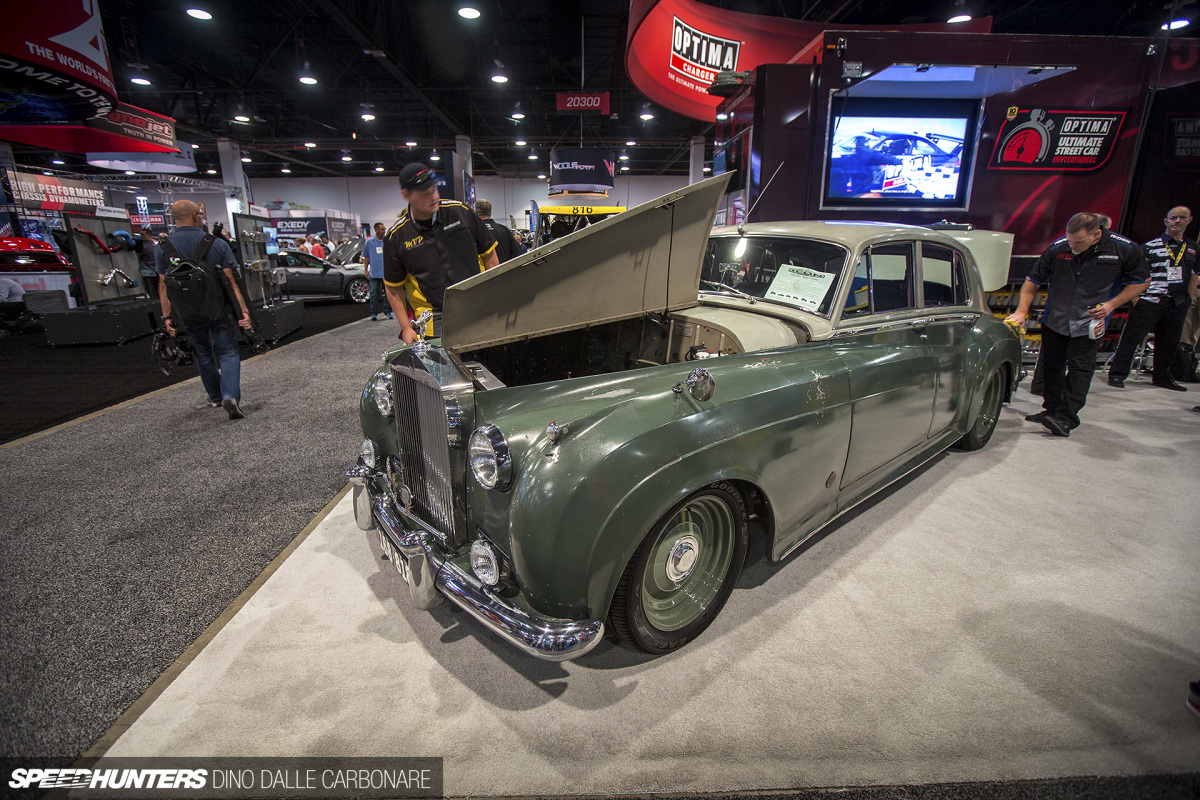 We all know the amazing restorations that ICON 4×4 does, but their latest project, based on an 1958 Rolls-Royce Silver Cloud, is a little different. As part of their Derelict series, the bodywork's natural patina has been left intact while all attention has been given to the underpinnings.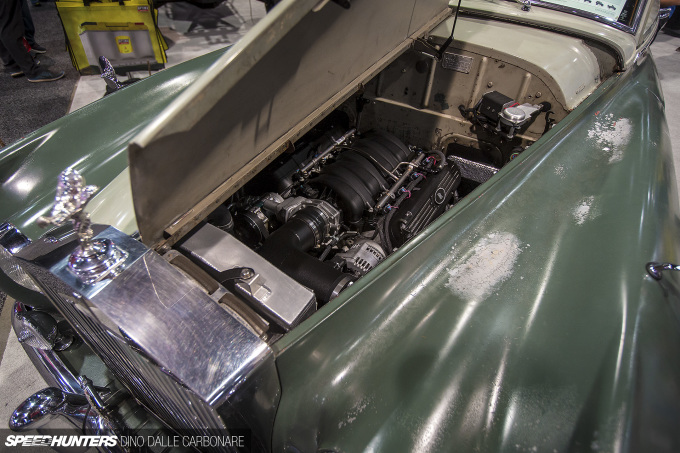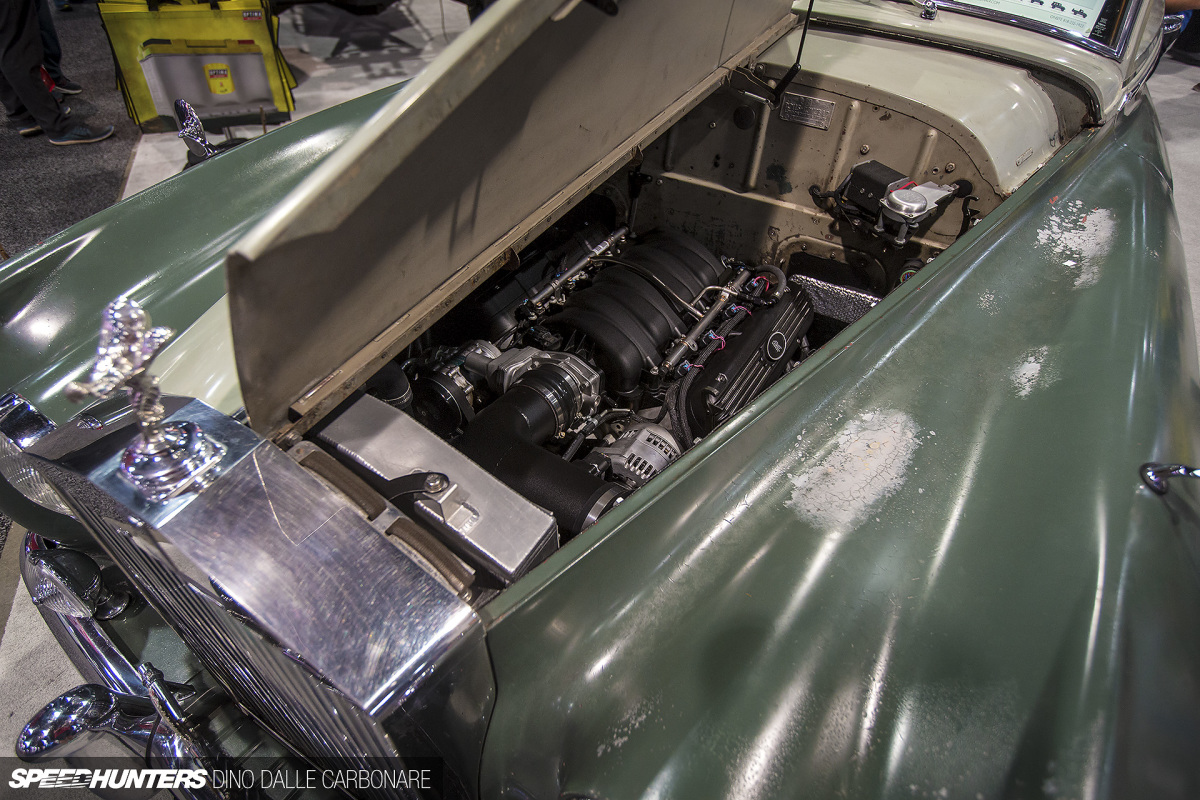 The chassis has been converted to run more modern front and rear suspension setups, while the original straight-six has been dumped in favor of a GM LS7 crate engine. With 550hp on tap, this thing is cool.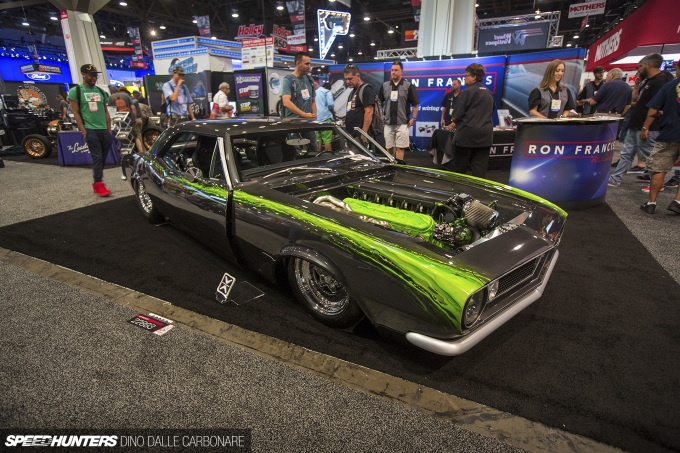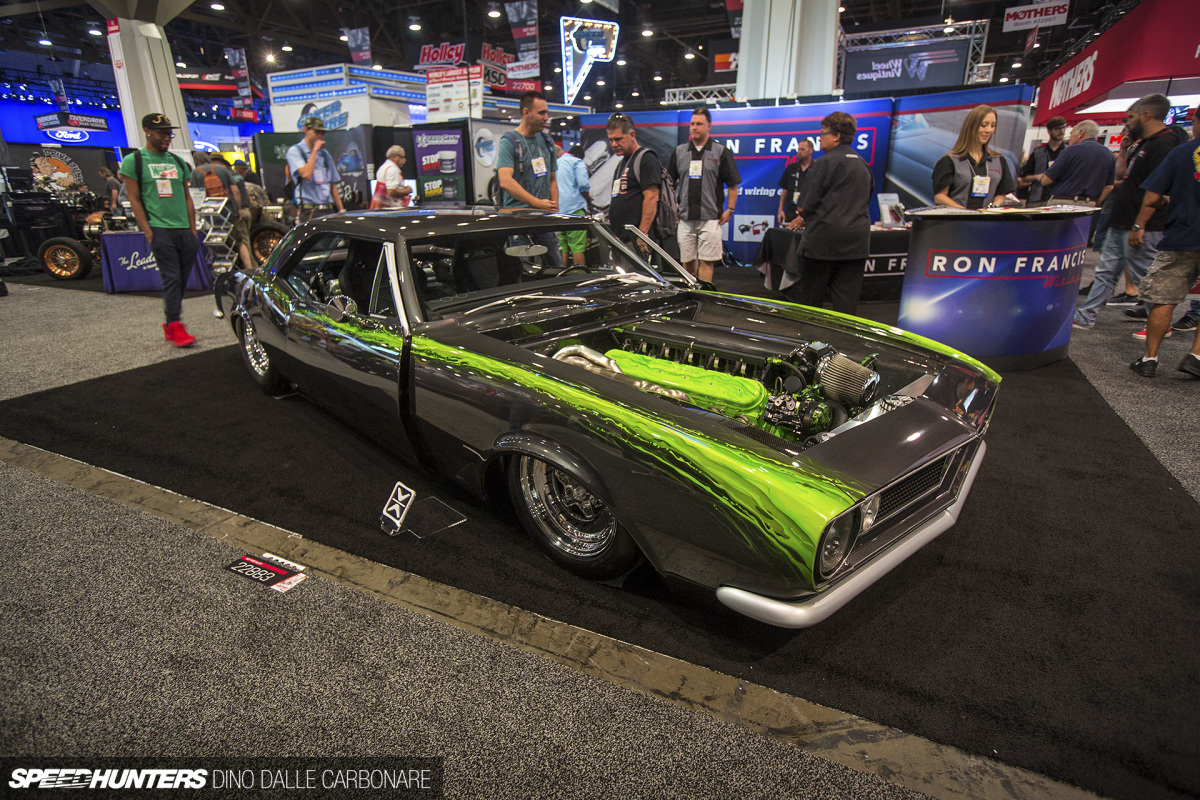 Of all the cars I've come across at SEMA thus far, this Camaro easily ranks as one of the best. Quality Custom Rides teamed up with V12LS.com to bring this beast to fruition, and as you can see, it's pretty much defined by its engine.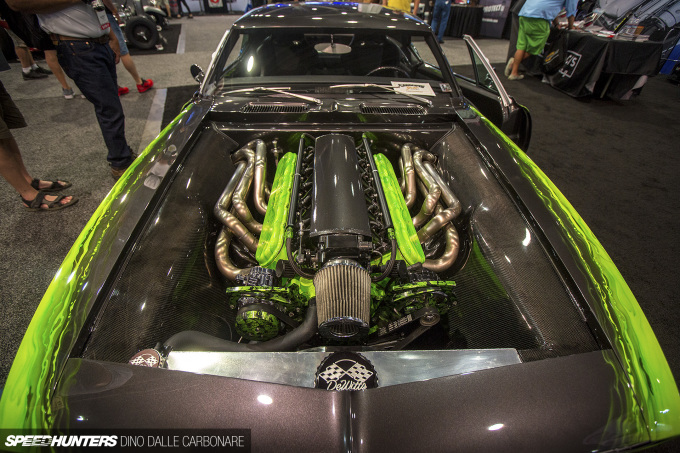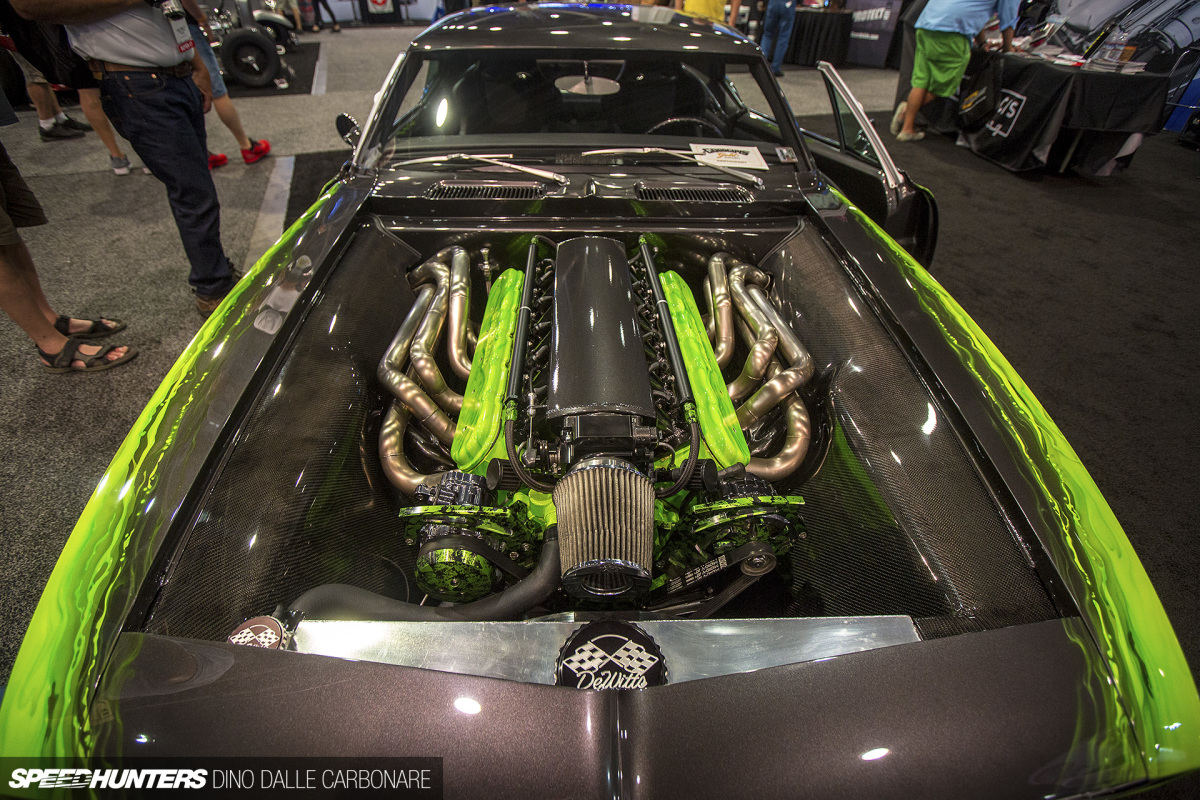 With 9.0-liters of capacity (engines are available up to 9.5L) the V12 churns out 717hp, and must surely sound incredible doing it.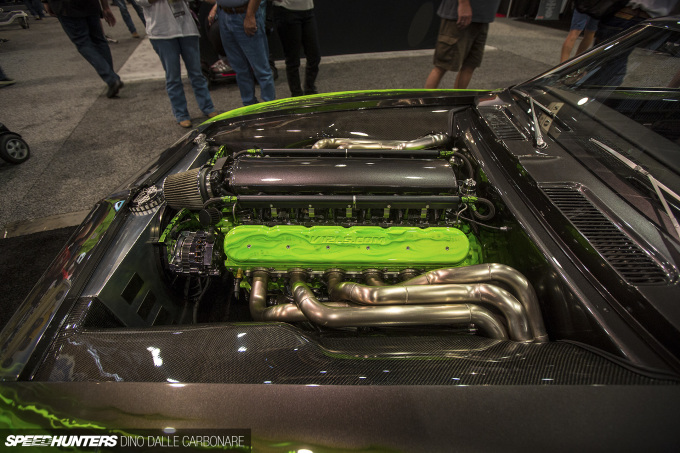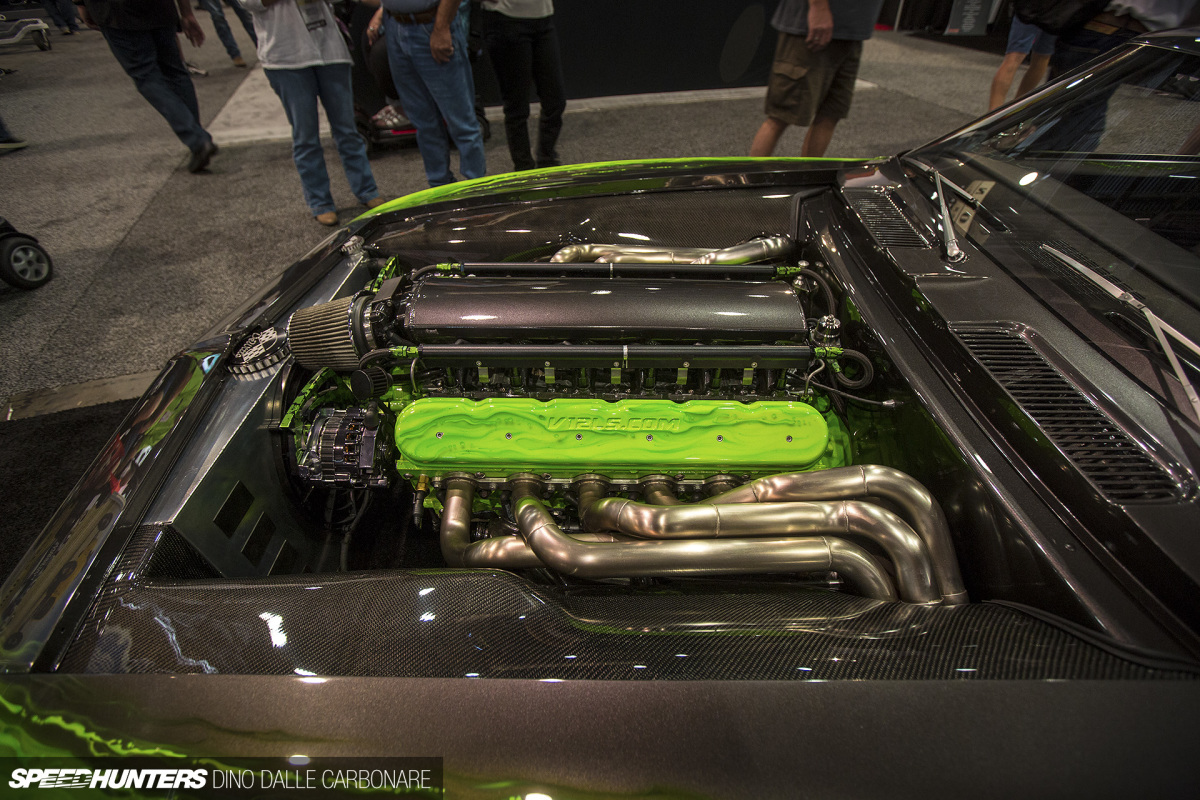 It's literally an extended LS engine, as the layout and head cover designs hints at. Just check out those headers!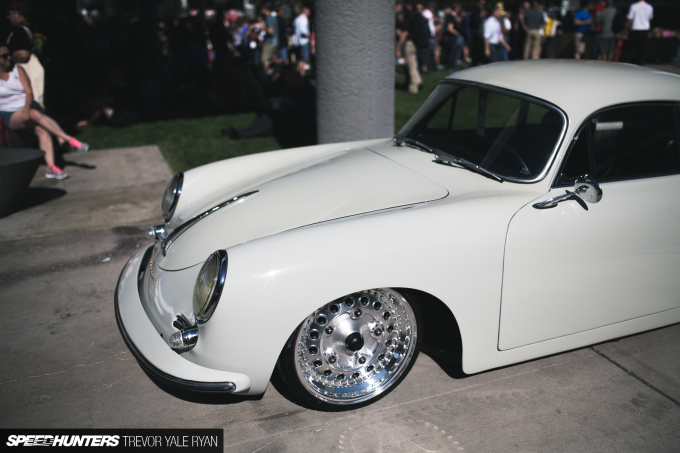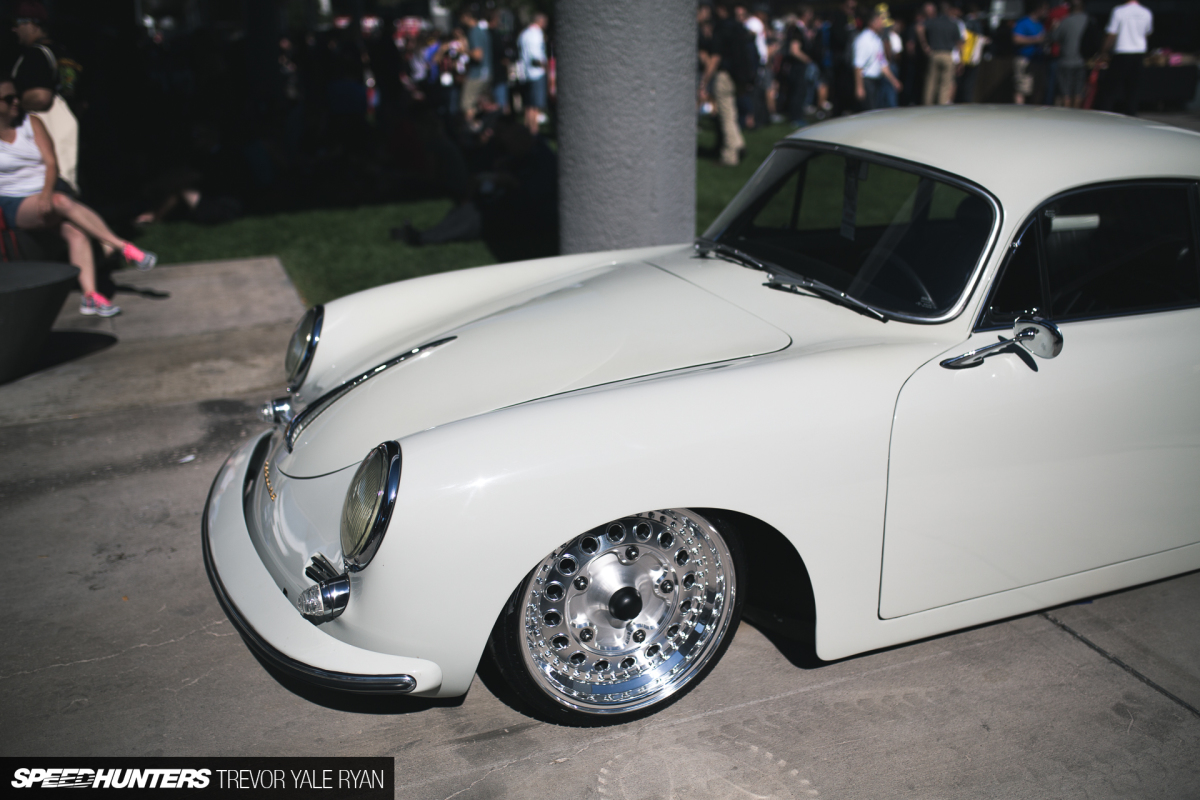 While I spent most of my day inside, our newest Speedhunter, Trevor Yale Ryan, was checking out the line-up cars in front of the convention center. As always, this spot turned up a great mix of domestic, Japanese and European cars of all ages and style.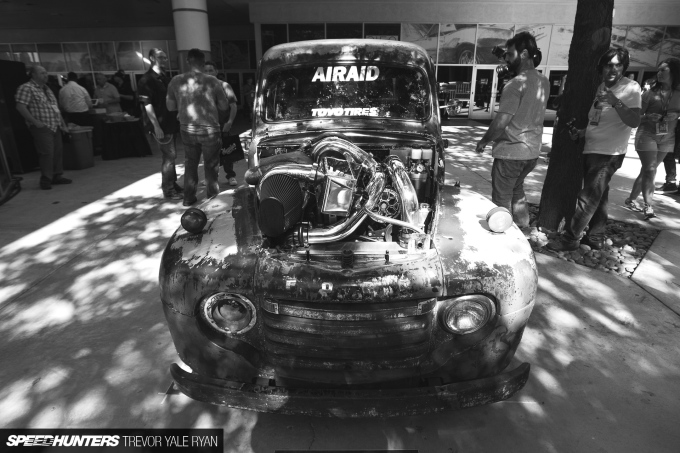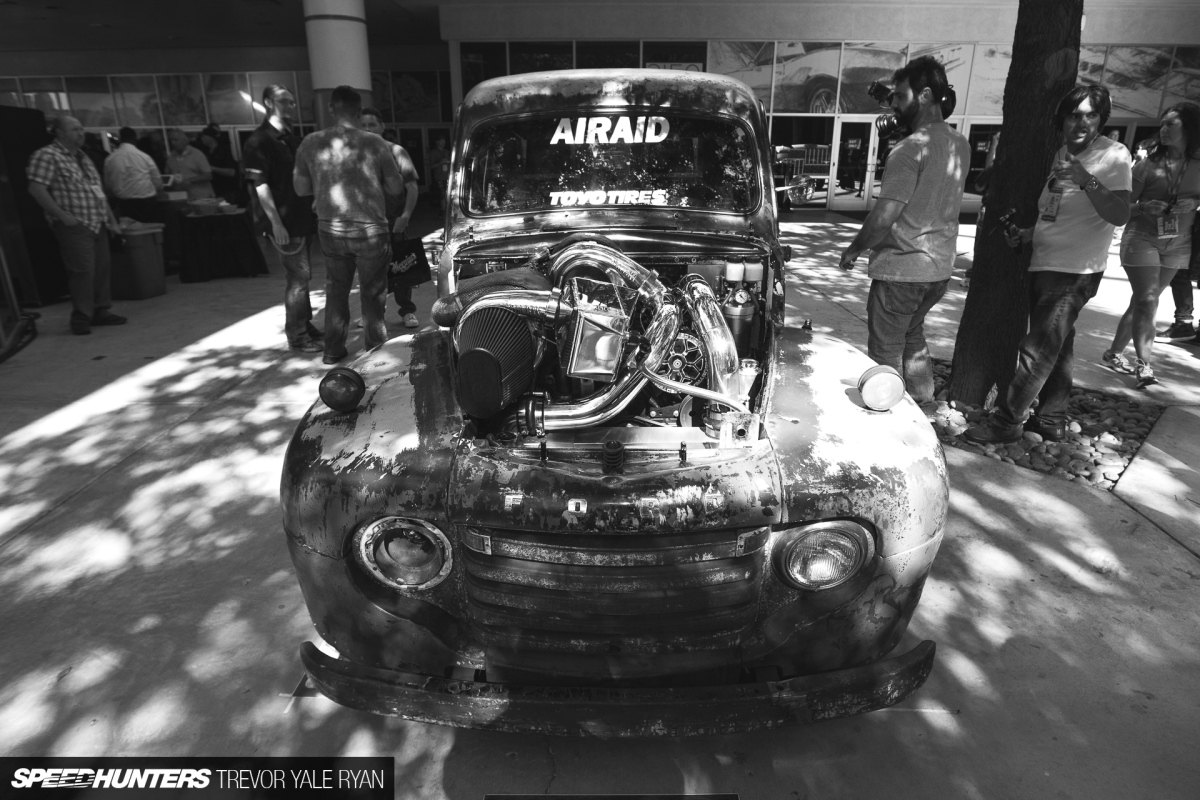 Compound turbo setup on your Cummins diesel-powered Ford pickup? Hell, yes! 'Old Smokey F1' was one of the most photographed cars at the 2016 SEMA Show, and it's receiving plenty of attention again this year.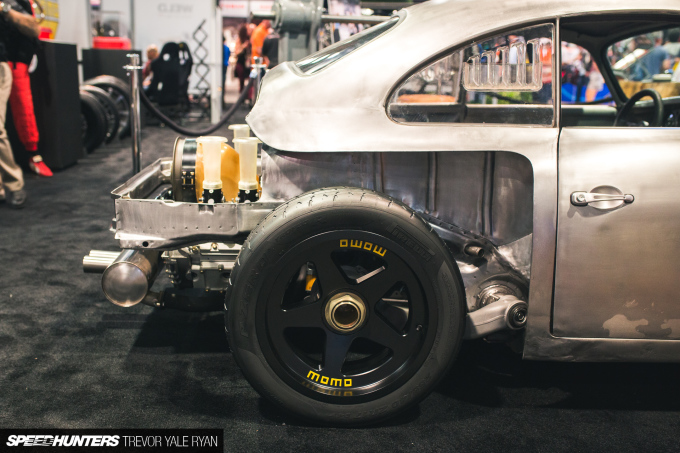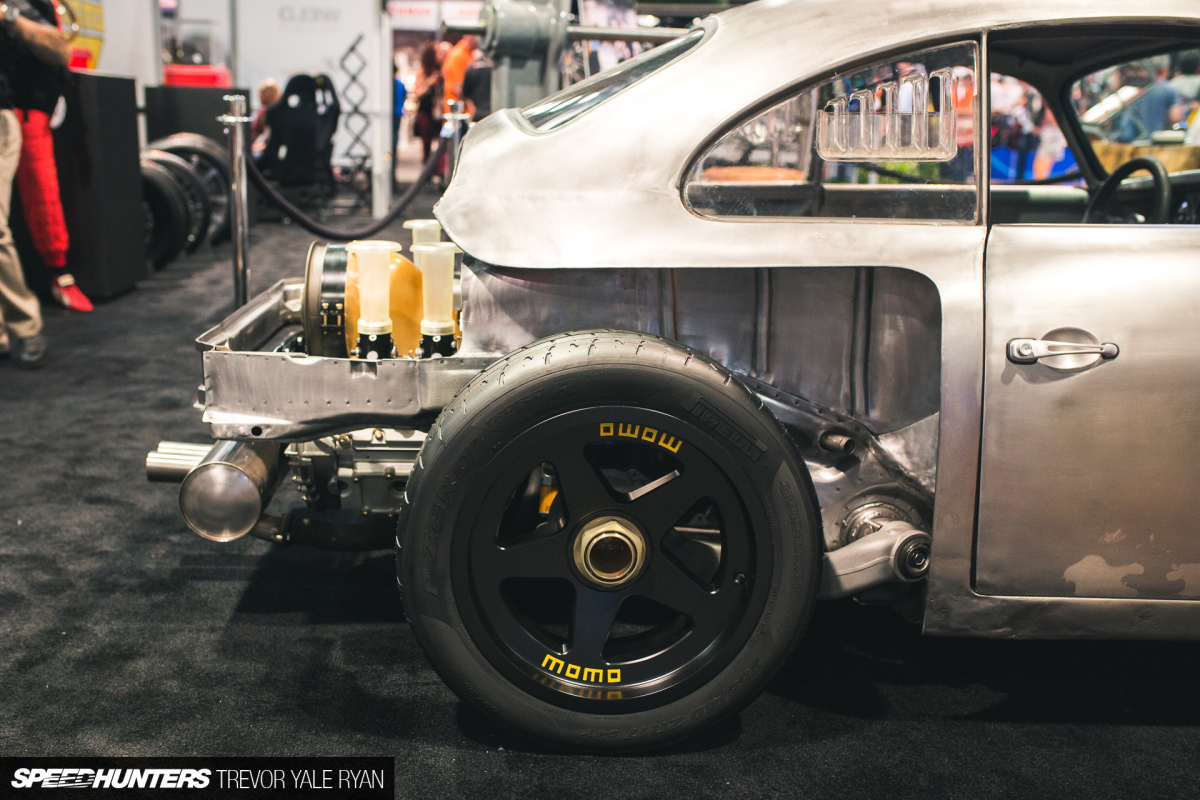 Paddy's spotlight on the Gunther Werks 400R shows how the whole boutique custom 911 scene continues to thunder on. But Rod Emory's latest project, which is parked up at the Momo booth, is something totally different. When it's completed, this 964-based creation will look like a 356, but drive like a far more modern machine. It's an absolute work of art in every respect.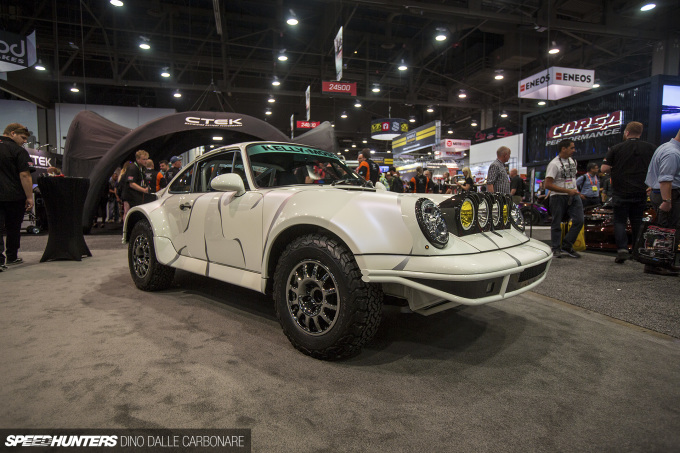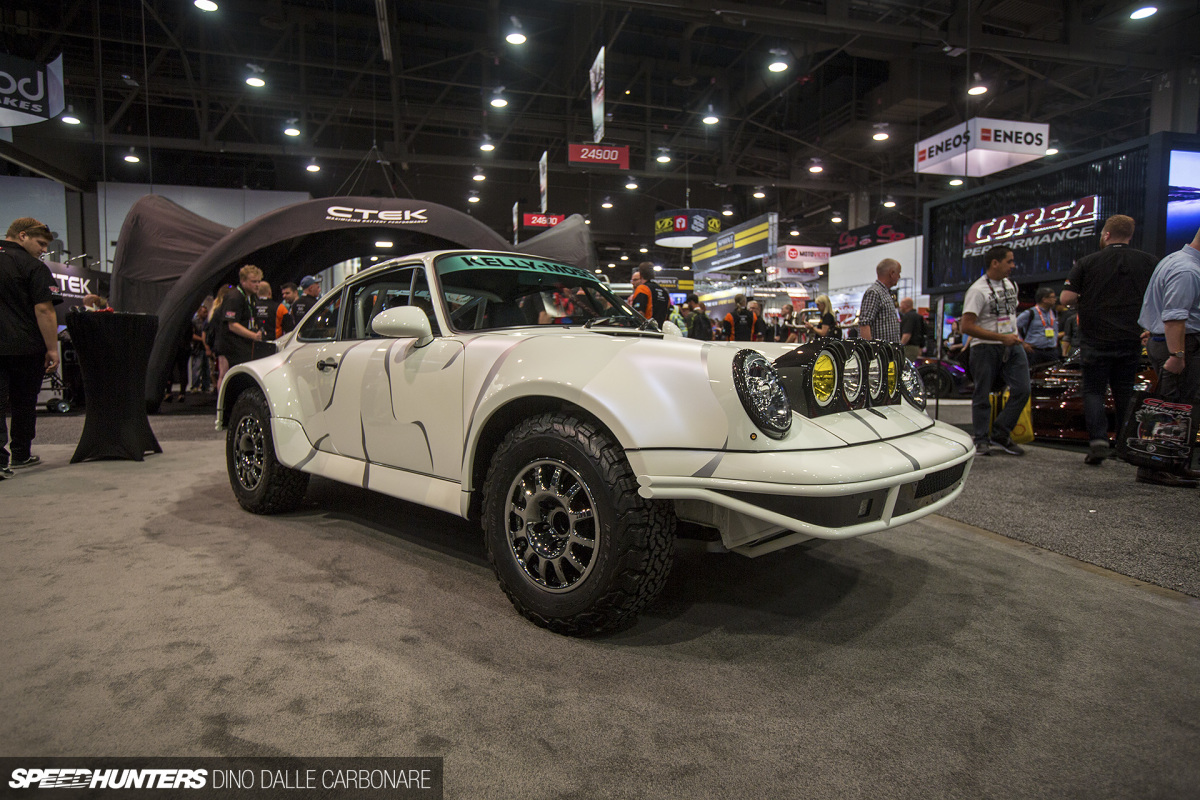 On the subject of unconventional Porsche builds, the Kelly-Moss Safari 4 is one of the freshest things I've seen in a while. As I looked over it, I was conjuring up images of the late-'80s Dakar 959 in my head. Just awesome.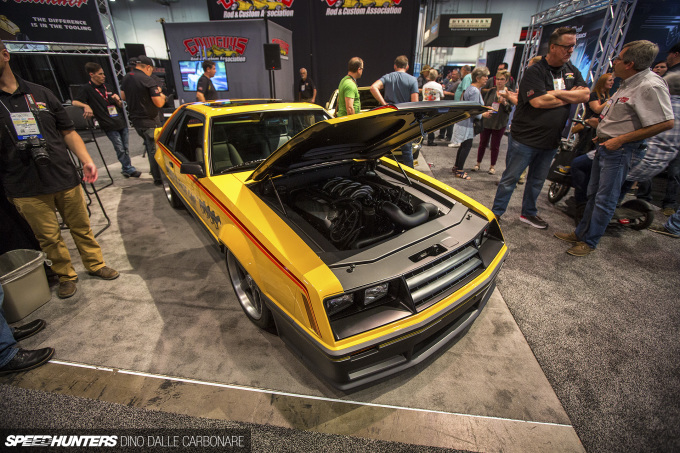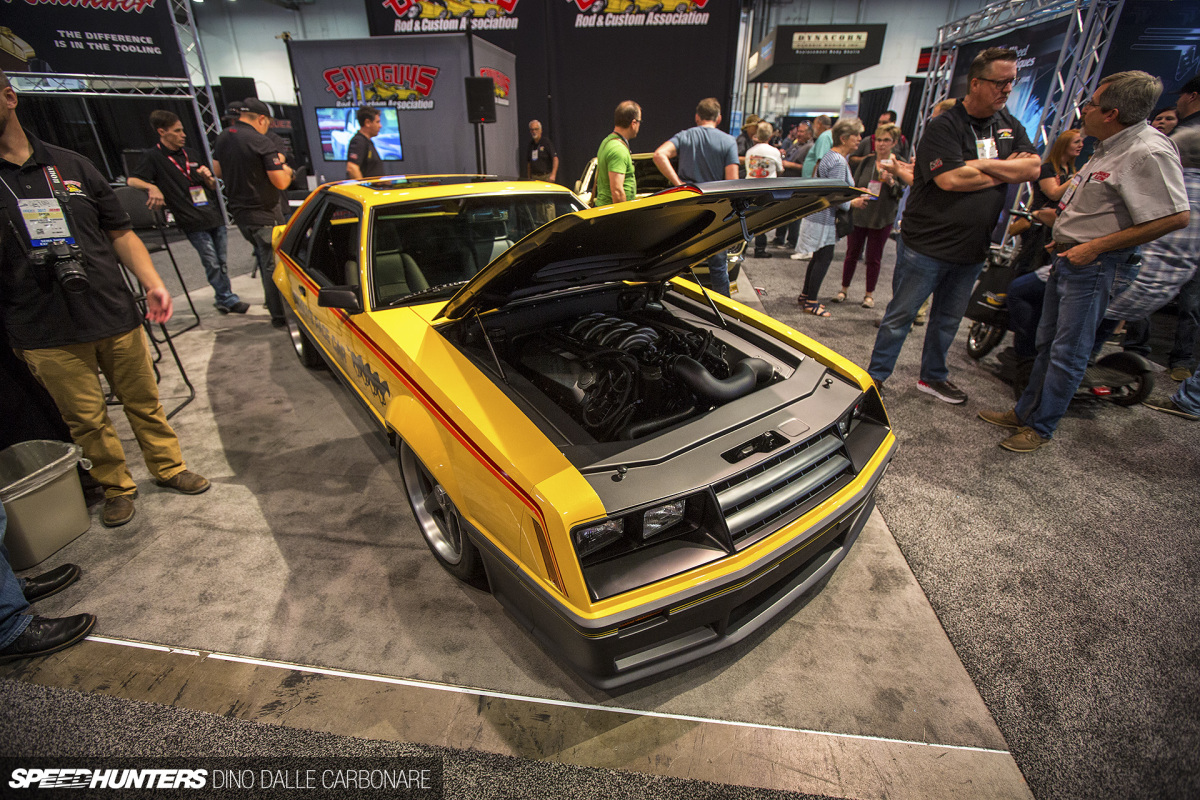 If you like Fox Body Mustangs – and you should – you'll appreciate this 1979 Indy 500 Pace Car build. While it looks like a modified Fox on the outside, there's a lot more to this car than first meets the eye, including an independent Roadster Shop Fast Track chassis (yes, it's no longer a unibody), and a 500+hp Ford Performance Aluminator XS crate engine backed up by a Tremec T56 6-speed gearbox.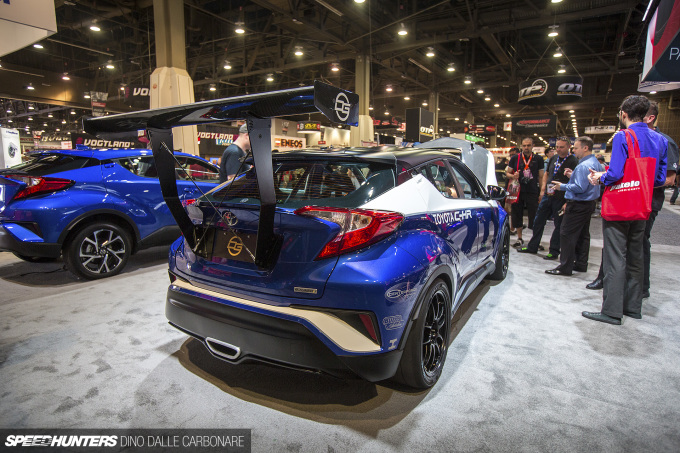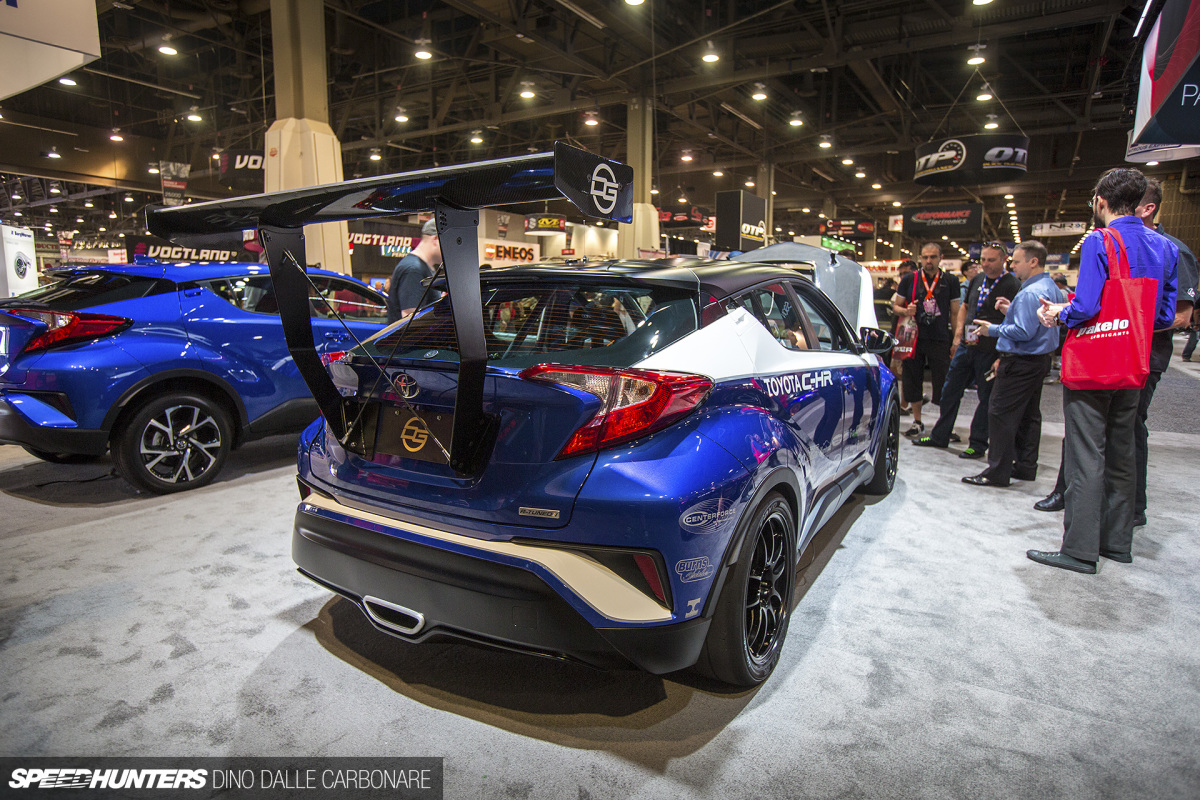 Toyota can always been counted on to create something totally wild and totally unexpected for SEMA (last year it was a crazy, 2,000hp Land Cruiser), and after navigating my way through a bunch of stylized Camrys, I managed to find their 2017 offering. You're looking at the Toyota C-HR R-Tuned.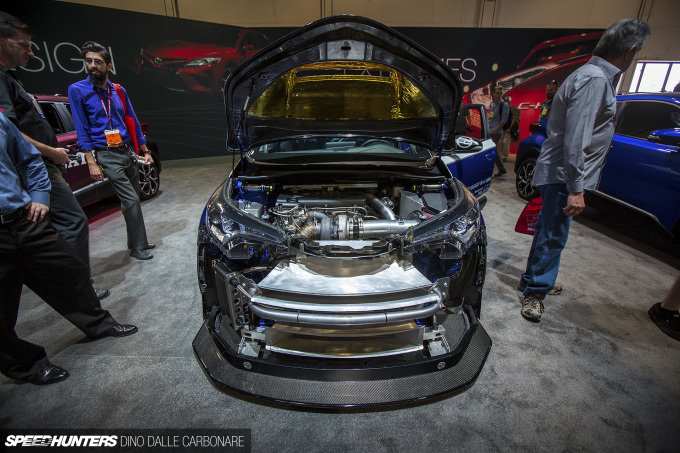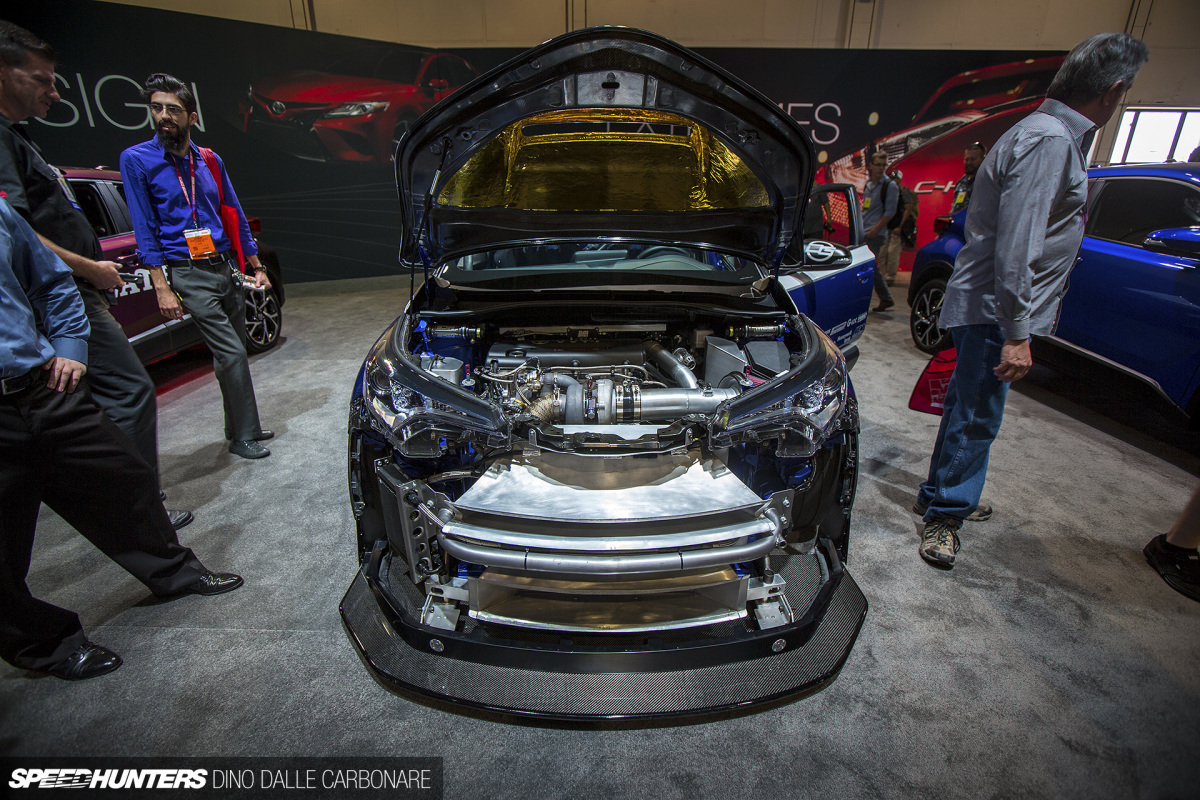 Unlike the Land Cruiser which was built for top speed, this C-HR was modified for circuit use, and it's already set an impressive 1:25.22 lap time around Willow Springs' 2.5-mile-long main track. Under the hood it uses a fully built 2.4-liter 2AZ-FE engine running a custom Garrett turbo setup, and with around 23psi (1.55bar) boost dialed up develops 600hp. Of course, the original CVT transmission is long gone; there's now a 5-speed manual E-series gearbox pushing the power to the front wheels.
There's no way something like this could ever make production, but we're loving the C-HR R-Tuned all the same.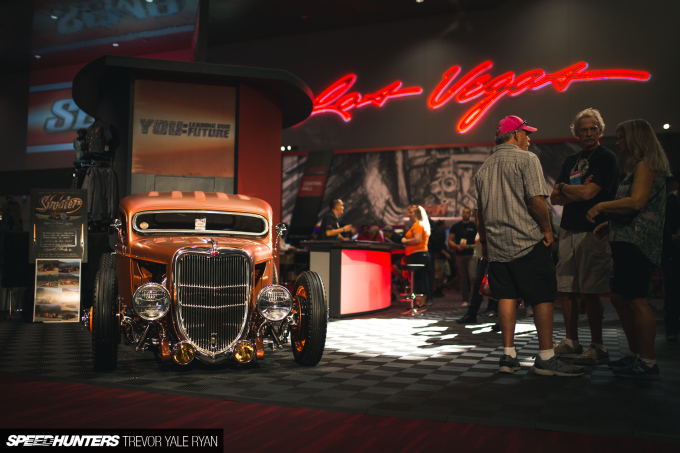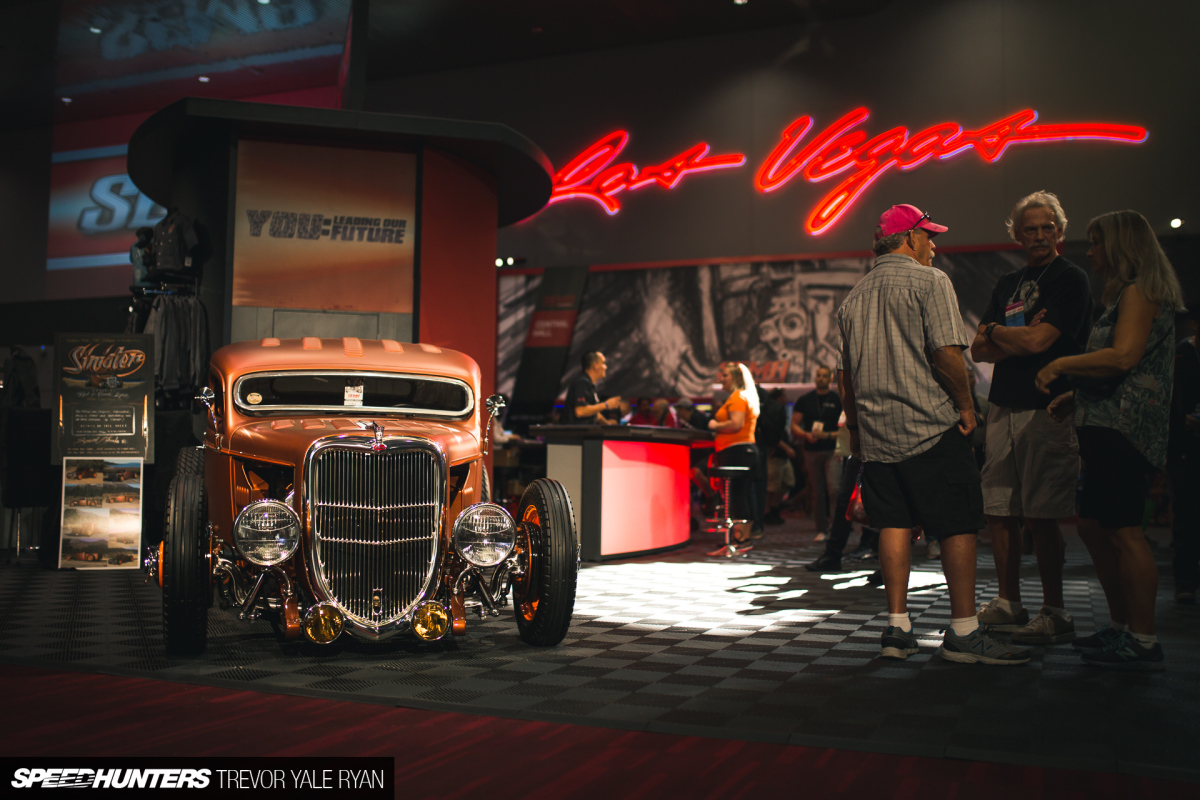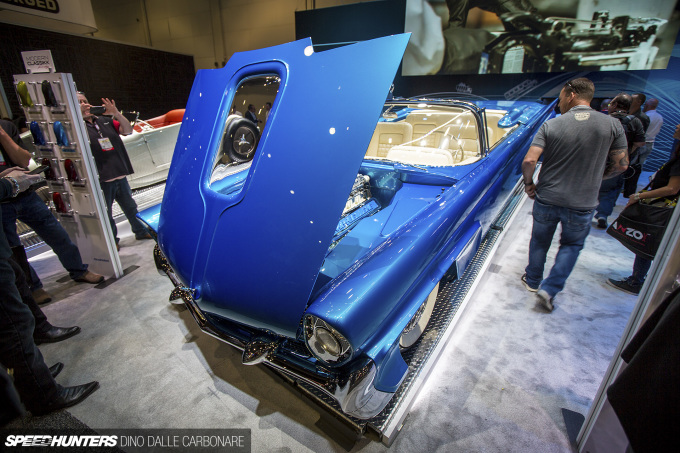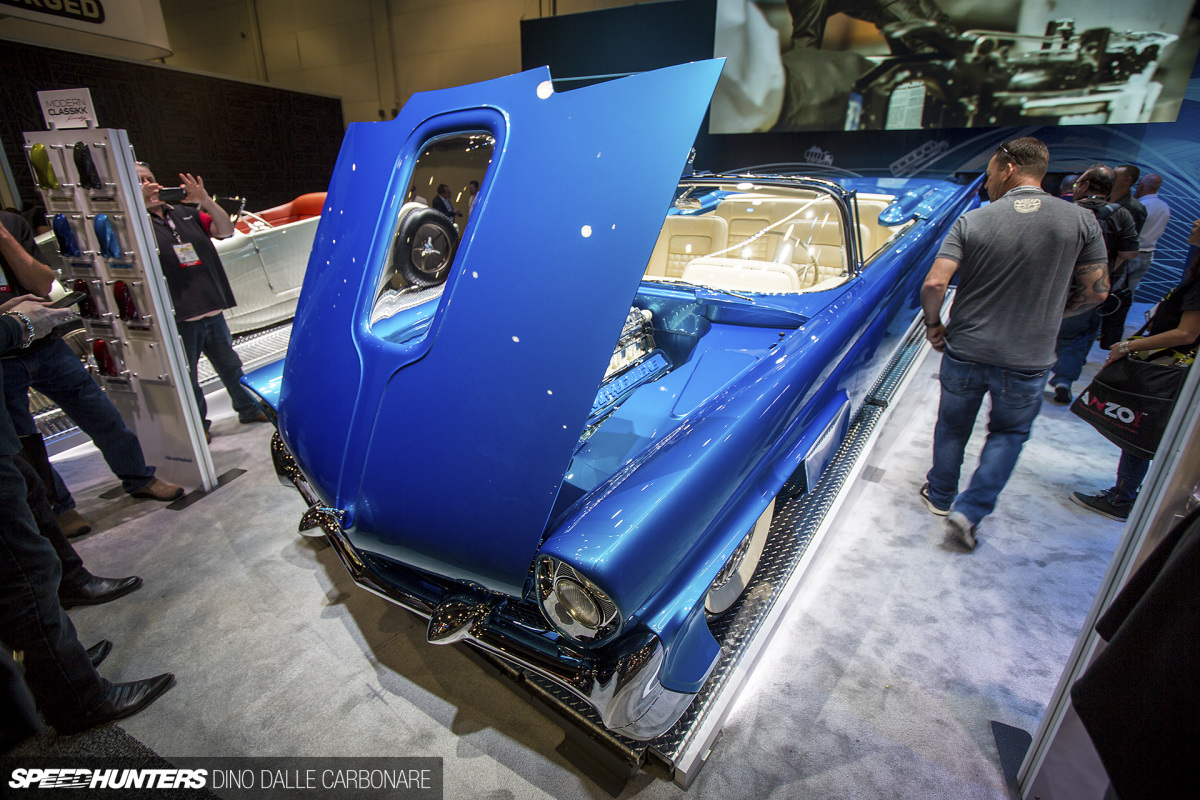 Let's jump back in time for a moment to take a look at this Dave Kindig built custom '58 Lincoln powered by a supercharged Falconer V12. Aside from the monster engine up front, the Continental features paint from the new 'Modern Classikk' Kindig signature line by AkzoNobel.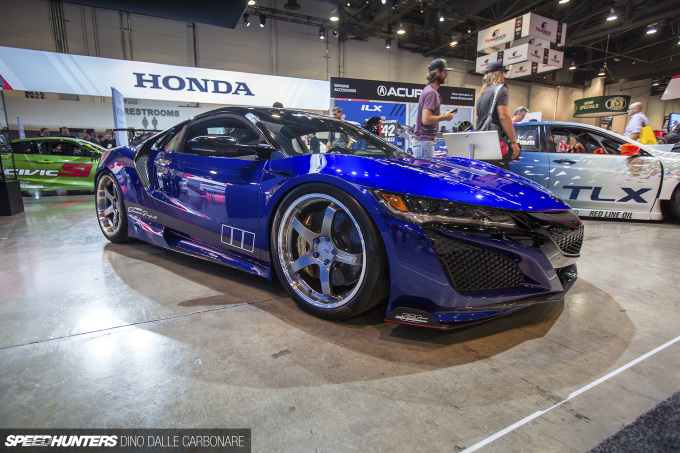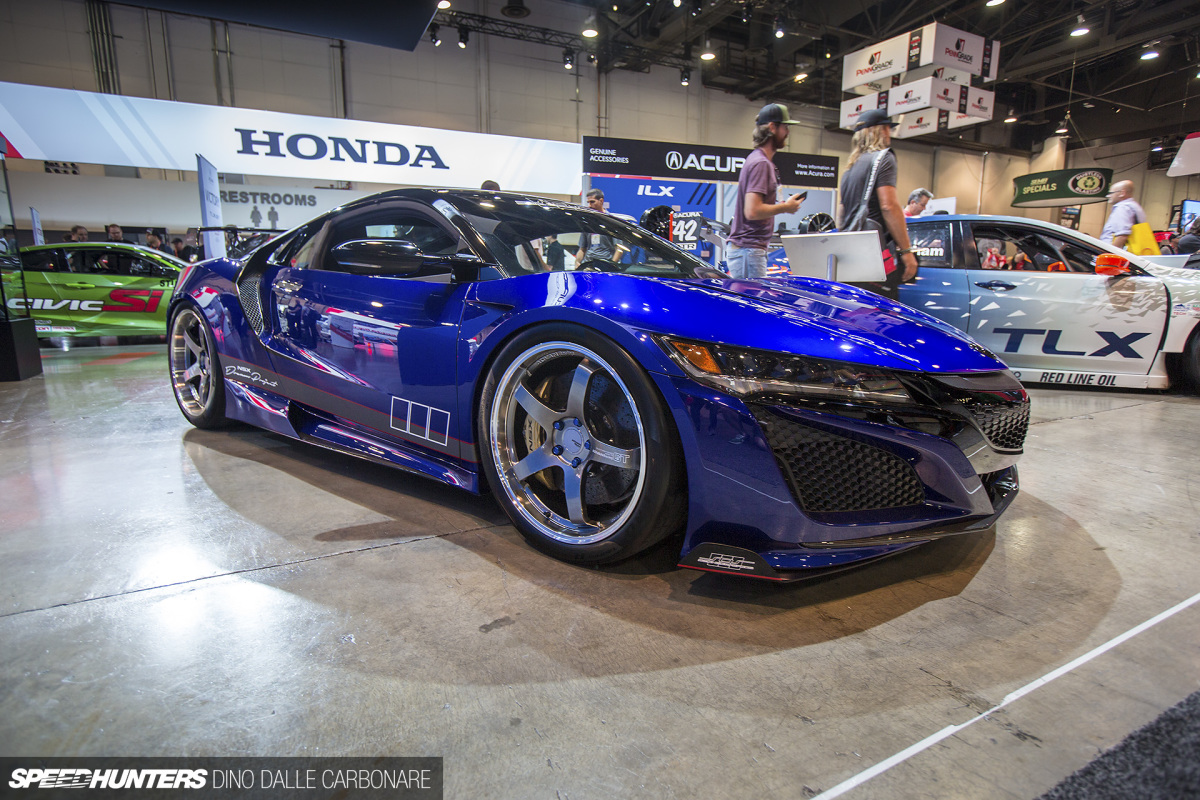 At the Acura booth, 'NSX Dream Project' – a collaboration between Acura and S2000/NSX specialist ScienceofSpeed – had me wondering if this is what a higher-performing production variant of the NSX could look like. Probably not, but it's great to see a manufacturer actually supporting tuning of its halo supercar.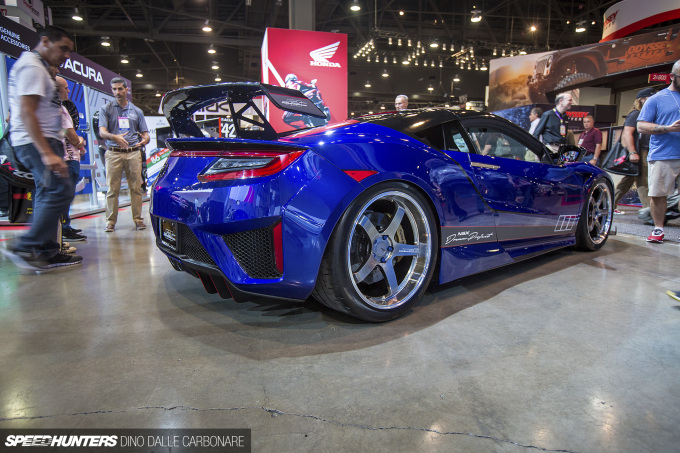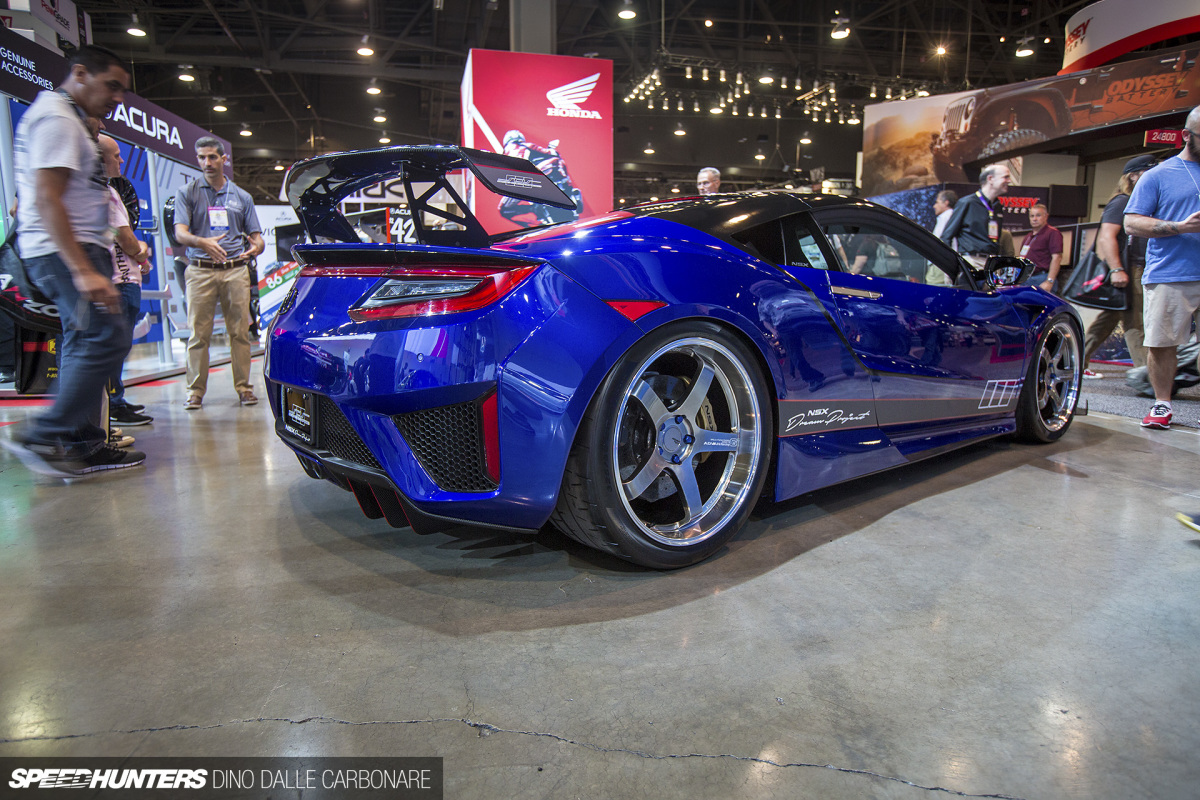 This NSX develops 37hp over standard (for a total of 610hp) through liquid injection inter-cooling and a free-flow exhaust. It also features automatic sensing suspension which raises the car 2-inches when an obstacle is detected, GT3-inspired aero, and Advan Racing GT wheels which suit the new NSX rather well.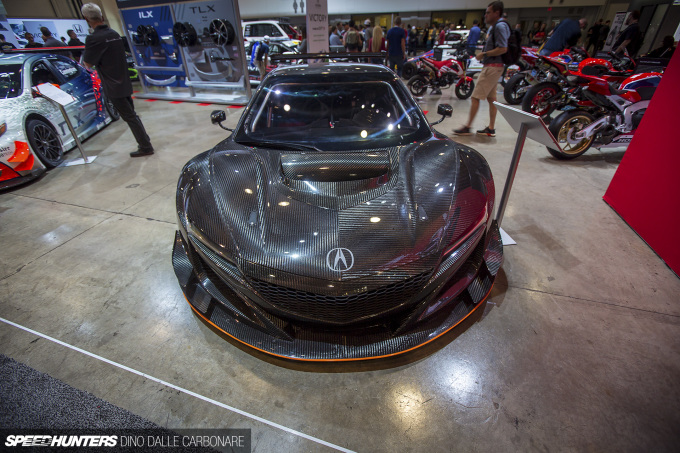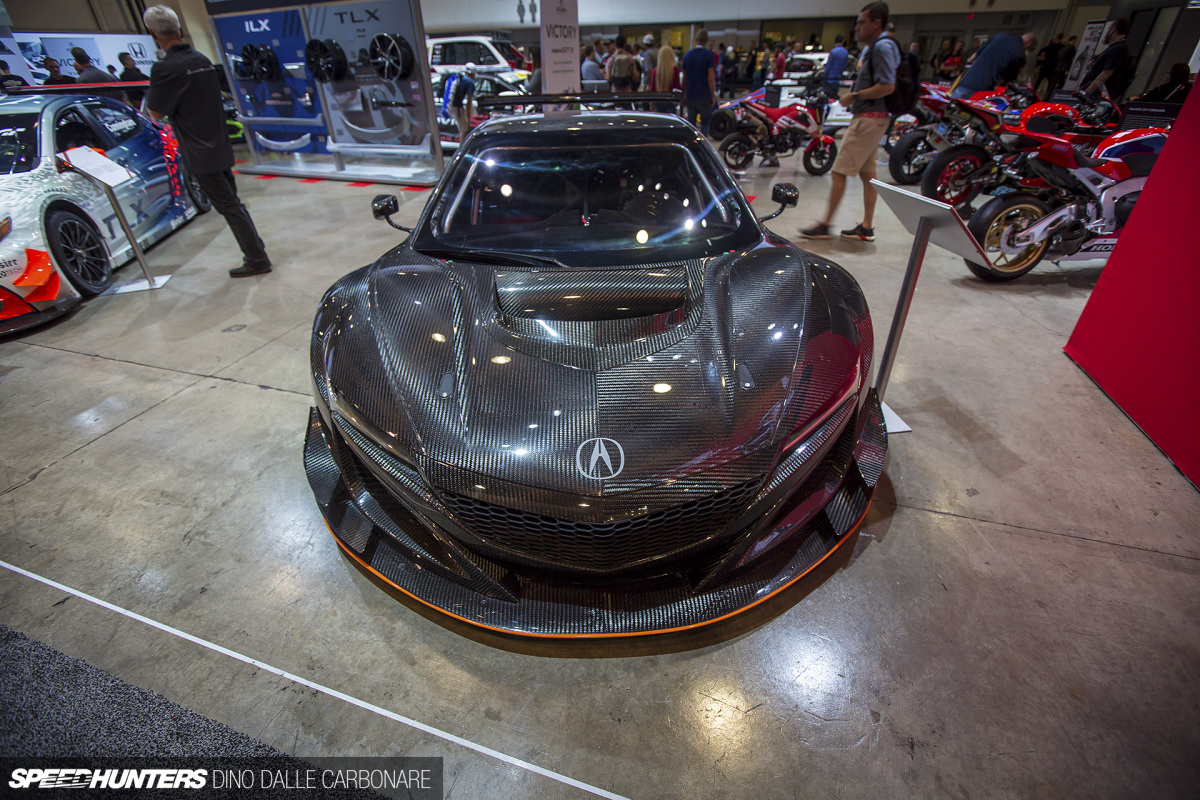 It was Acura's all-carbon GT3 race car that really had me drooling, though!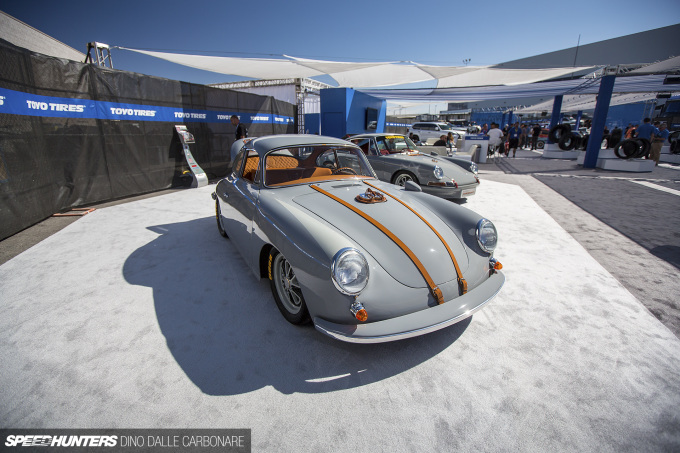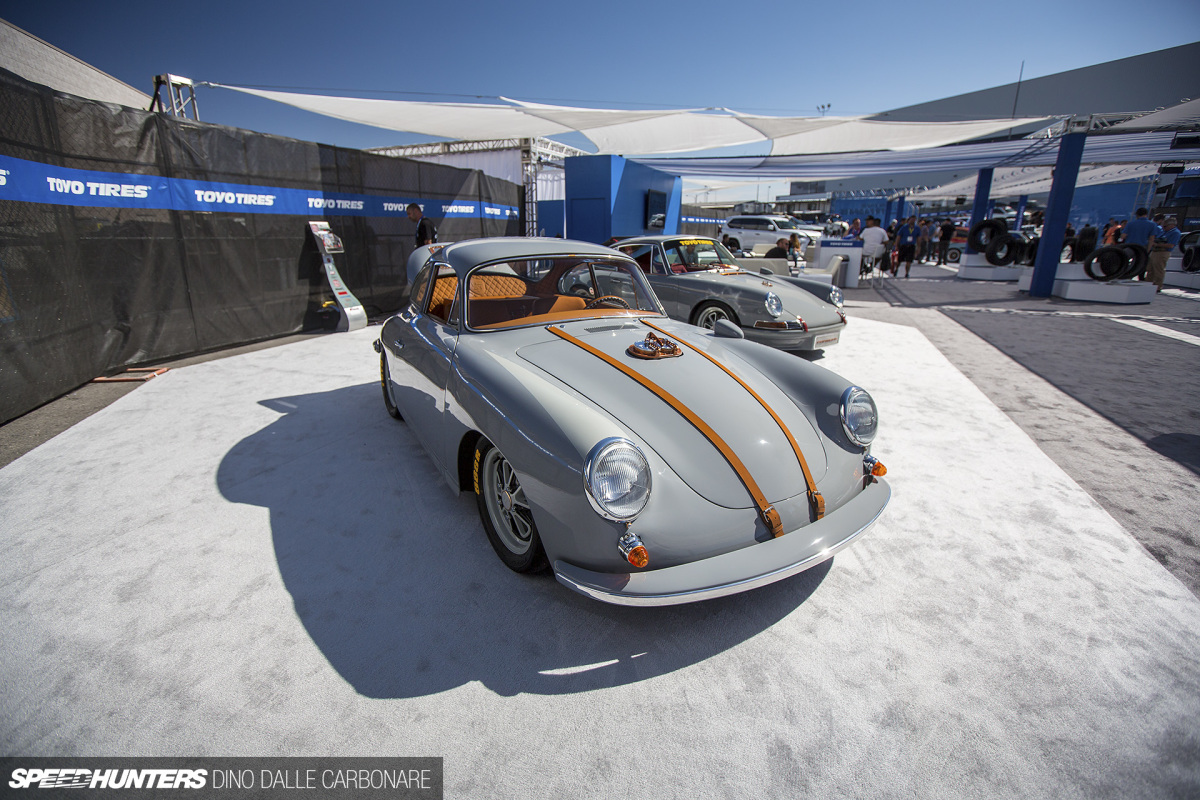 One place you're guaranteed to find cool cars is the passage connecting the Central and South Halls, which at SEMA time becomes the Toyo Tires Treadpass. John and Edison Sarkisyan are no strangers to Speedhunters; we've seen their work on Outlaw-style Porsches a few times in the past, and these builds are the brothers' latest creations.
It's just crazy how many ways we're seeing Porsches retro-modded these days, and there's no faulting any of them. I loved the copper detailing, an influence that's crossed over from the hot rod world.
The 912 had even more of a hot rod influence with intricate artwork etched onto the copper.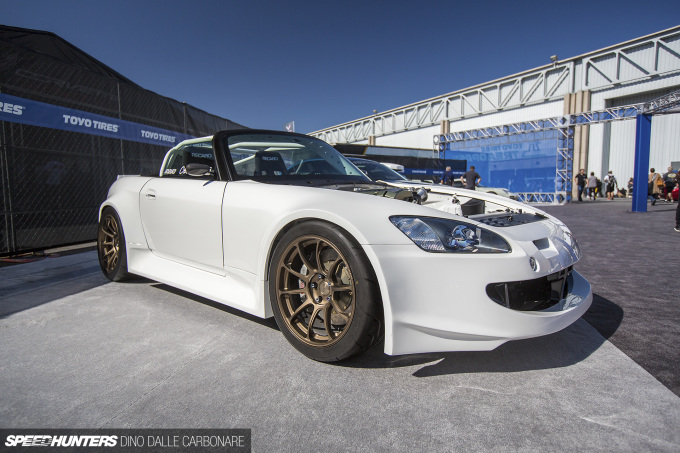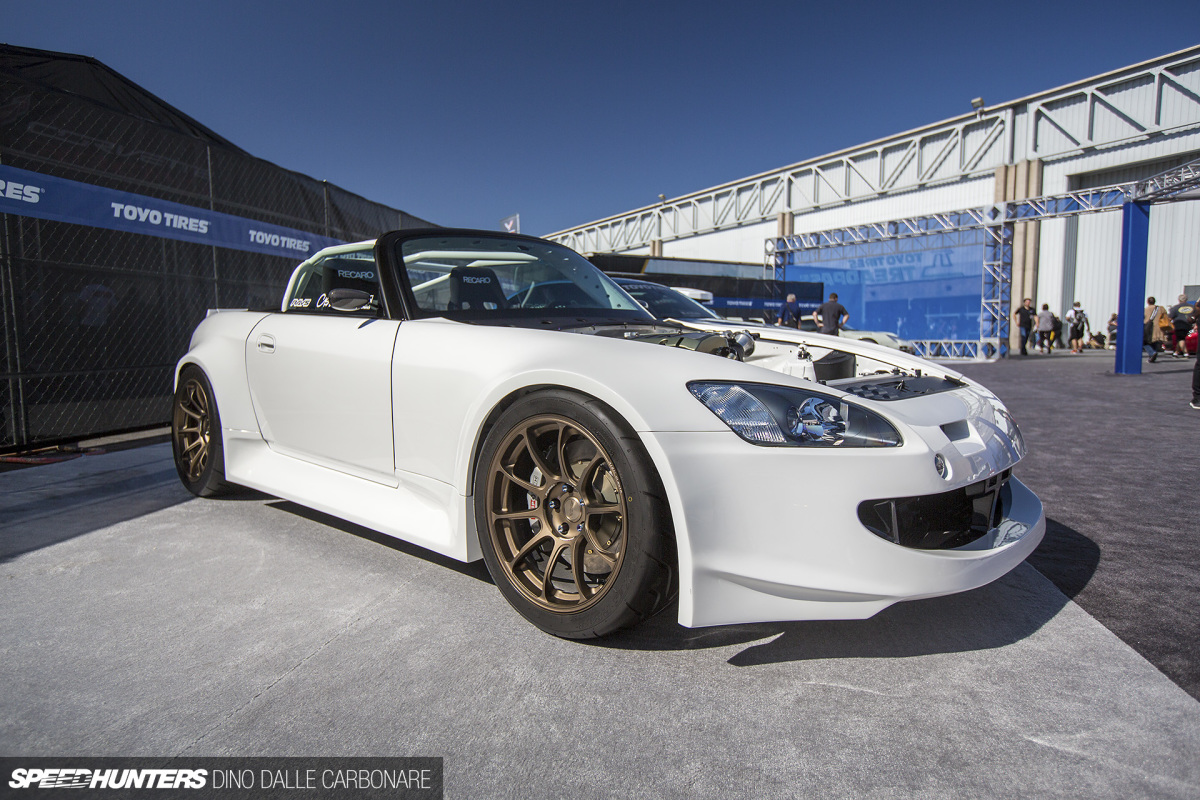 Rywire's custom-kitted Honda S2000 sitting on 18×10 and 18×12-inch RAYS Volk Racing ZE40s was another standout for me.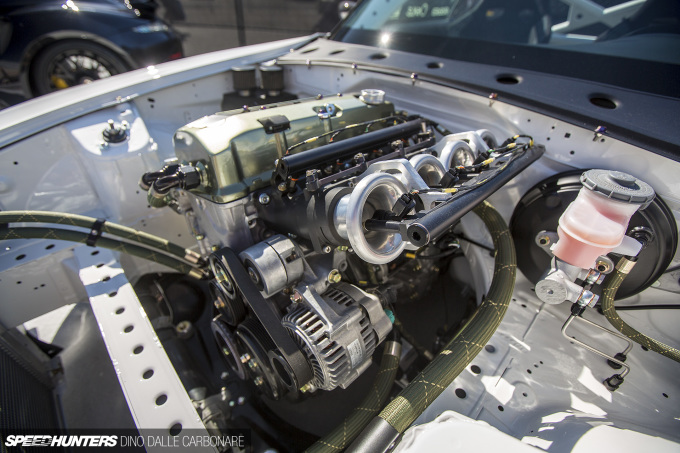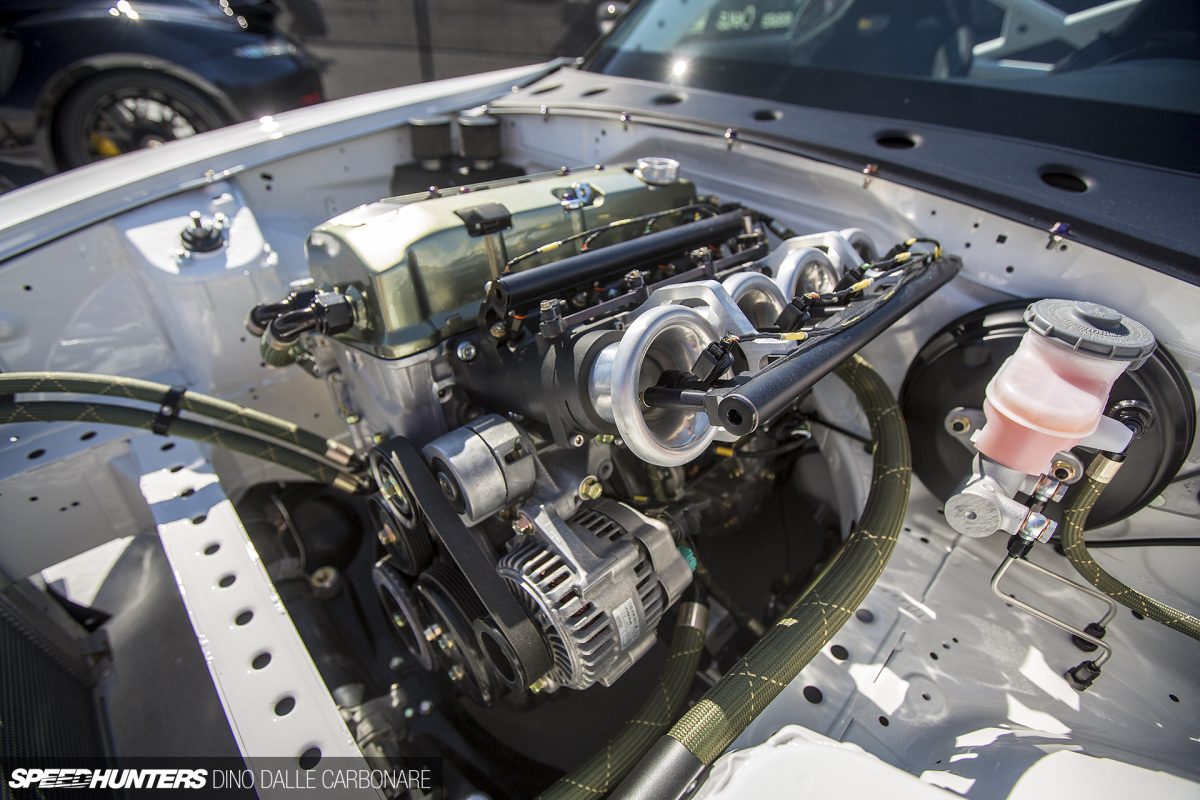 With so many huge turbos around the place, it's nice to see a Honda sticking with natural aspiration. This super-clean build features a number of interesting touches, including a 2.5-liter F-series build and Kinsler ITBs with custom Rywire drive-by-wire throttle control.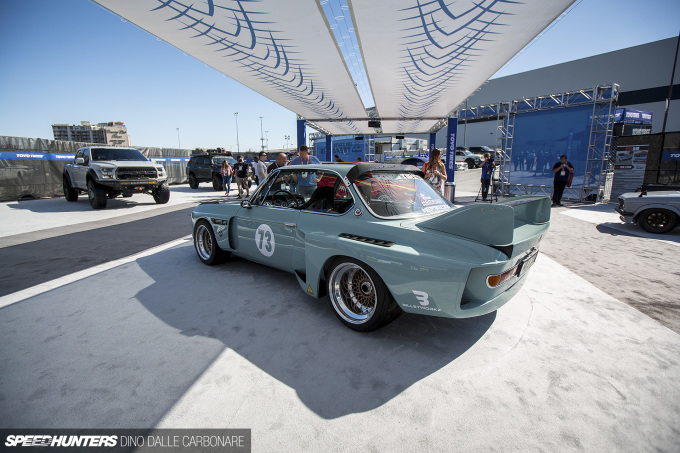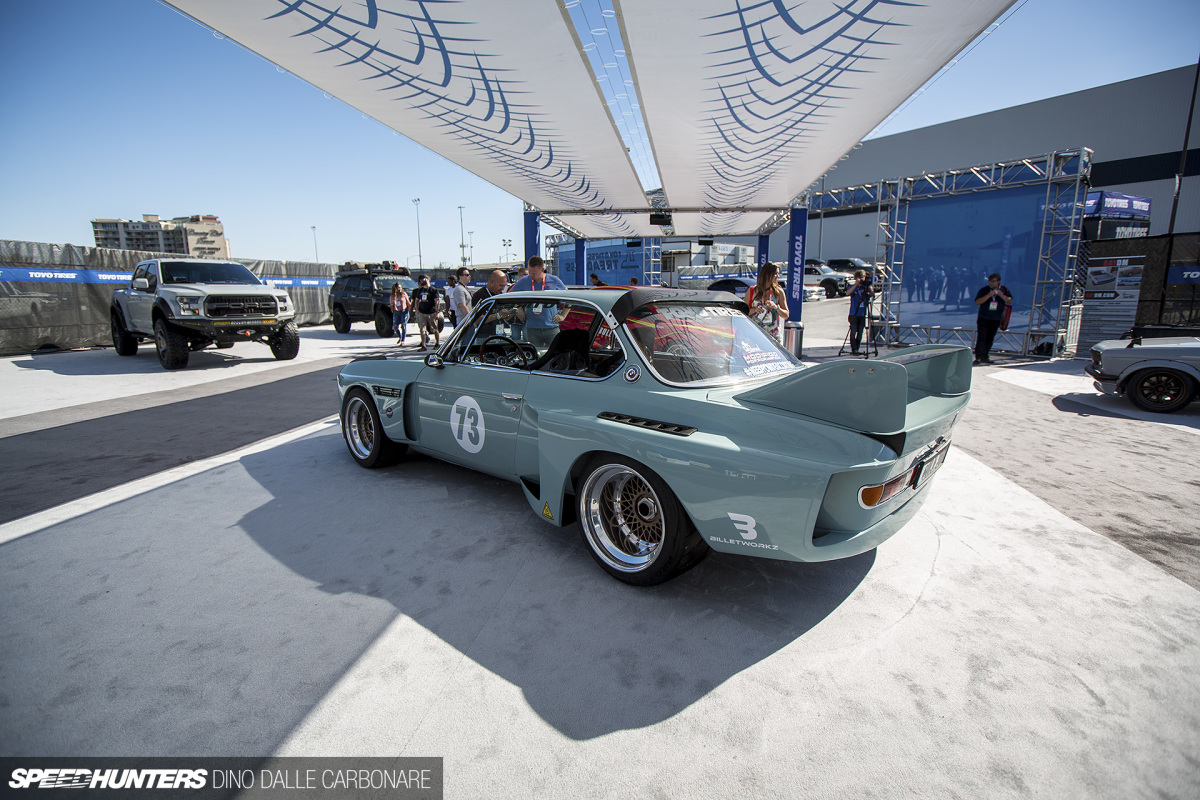 We won't go into too much detail about Willy Izaguirre's newest build as we'll be doing a proper feature after the show, but this 1973 3.0 CSL wide-body replica is hands down one of the top three cars of the show for me.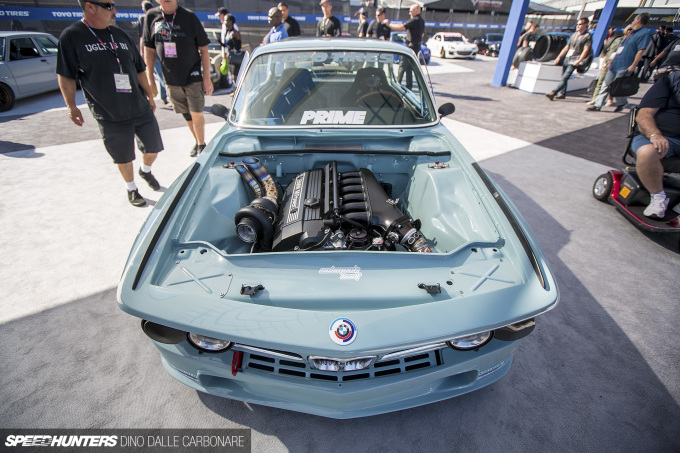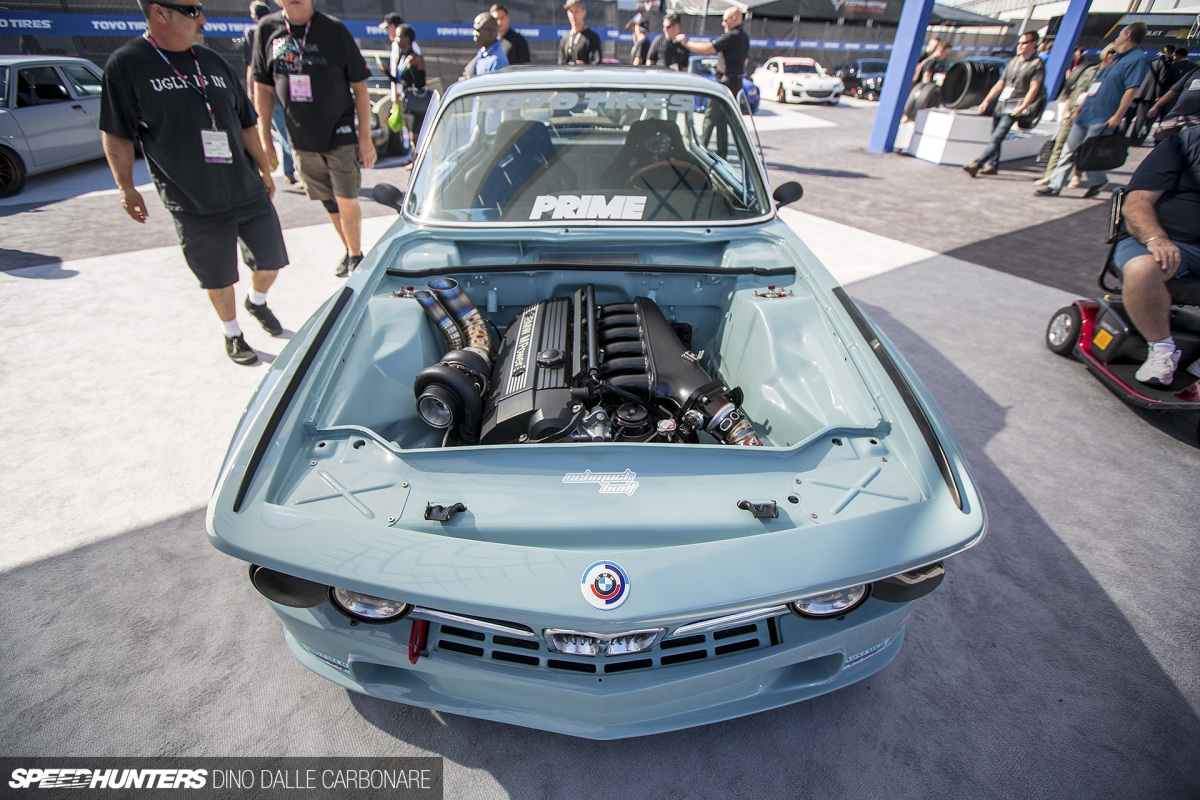 There's a lot of love and passion that has gone into putting it together, and you can tell that through all the details. If the ultra-wide fender treatment, iconic wing and single-lug BBS Motorsport wheel don't do it for you, the turbocharged S52 motor certainly will.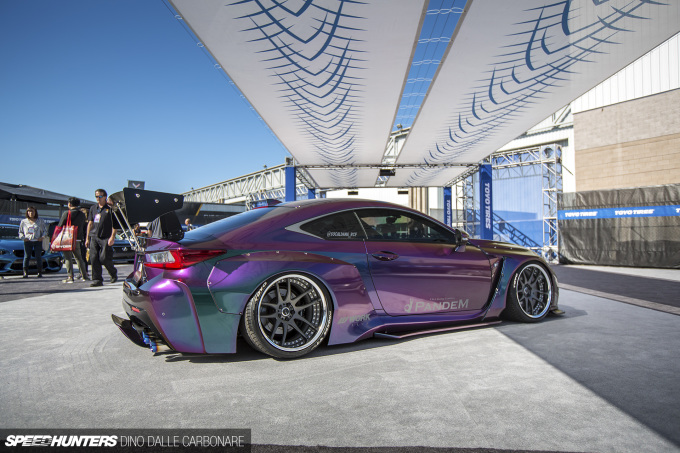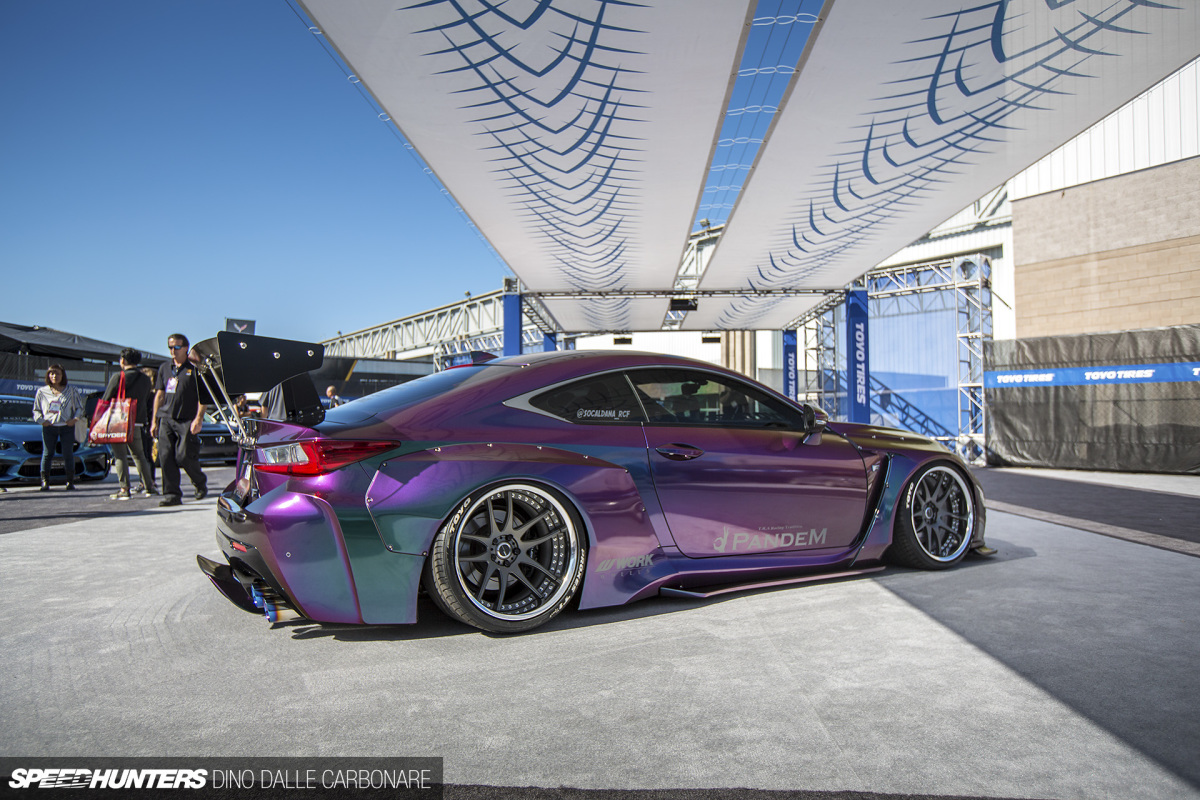 But I'll end transmission from day one at SEMA here, finishing up with this Pandem-kitted Lexus RC F sitting on Work Wheels' newest Emotion model, a 3-piece design that allows you to get massive dish for more stance-oriented applications.
We've got tons of SEMA Show content coming your way over the next few days, so make sure you check back regularly.
Dino Dalle Carbonare
Instagram: speedhunters_dino
dino@speedhunters.com