Odaiba Lockdown
It's time to take a look at my final destination of that Thursday night after the Tokyo Auto Salon set up – the Fresh Tokyo Car Meet. After stopping by the RWB New Year meet over in Roppongi, I jumped into Project Drop Top and headed across the Rainbow Bridge to Odaiba where things instantly began to look a little worrying.
Way before the lights as you come off the bridge there was a massive line of modified cars practically stationary, and in the far distance flashing red lights. I immediately took the under pass on the right which pops out next to Toyota Mega Web and headed towards the Multiplex where D1 Grand Prix holds its 'Tokyo Drift' carpark round.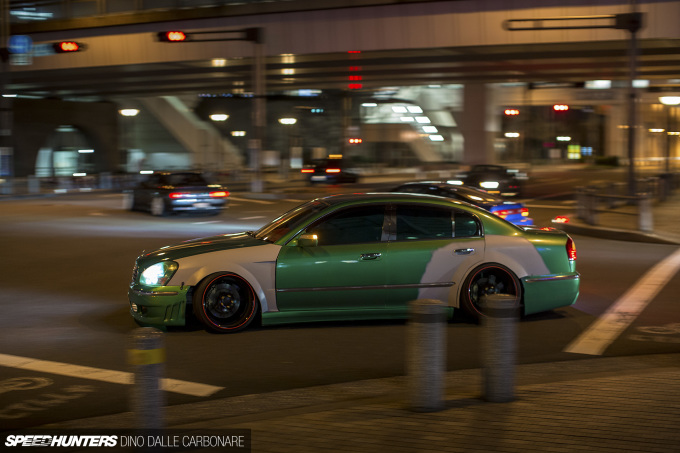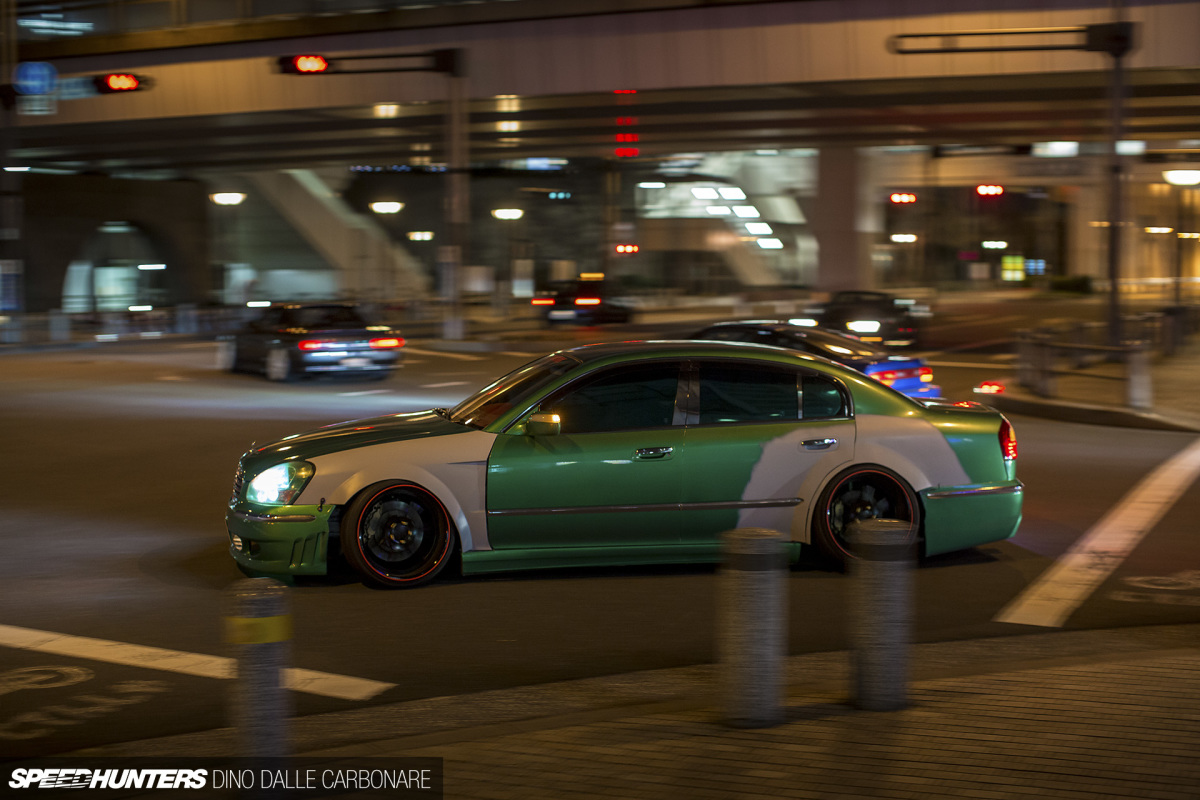 Although I was taking the long way around, my destination was the parking lot at a shopping center named Decks Tokyo Beach, but as I got a little closer it was obvious that the entire central main street of Odaiba had been blocked, with Police at each light attempting to direct traffic. I could hear megaphone announcements saying that the entrance to Decks' parking garage had been closed, which explained why there were tons of cars parked up along the streets and cruising by in every direction. I ended up dropping off my car at a parking garage a few buildings away from Decks, and walking over to the meet location.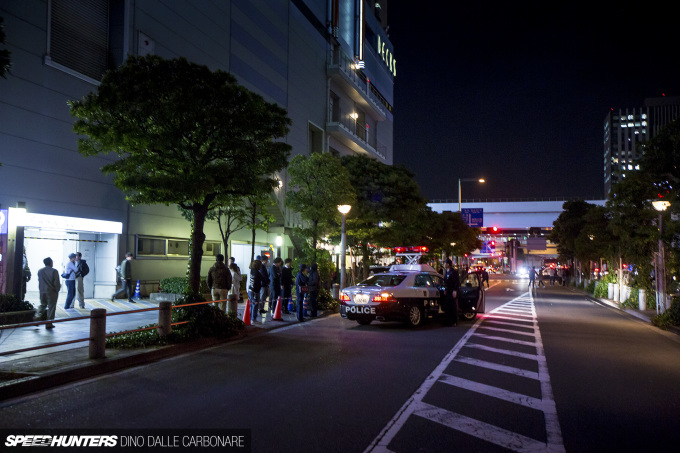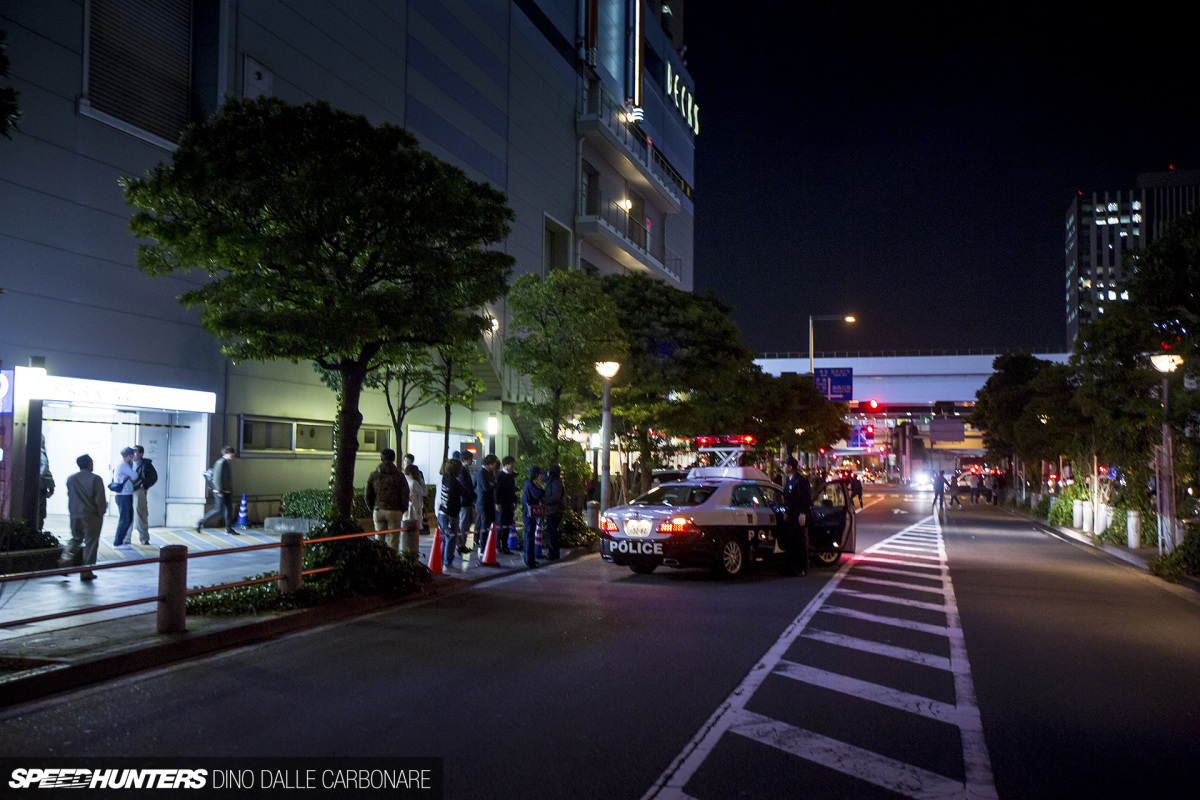 On arrival, it became clear that things had escalated somewhat out of control; it was certainly unlike anything I have personally ever seen during my time in Japan. Super Street has been organizing this meet for a few years now, and it's always been a cool and relaxed get-together, an East meets West kind of thing. But this year it was evident that more people wanted to participate, some even driving in from Prefectures a long way out of Tokyo.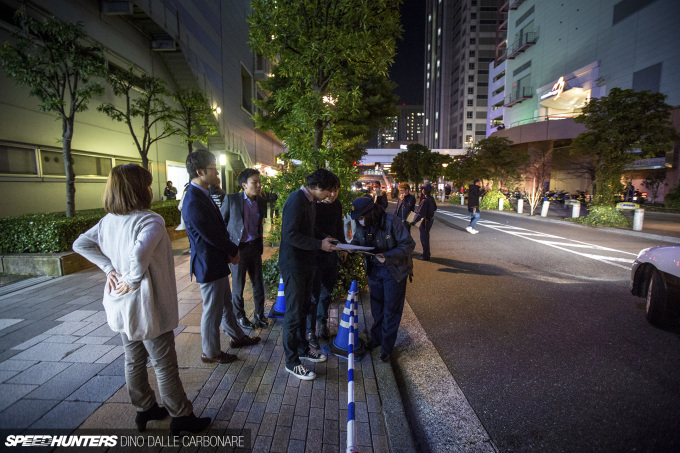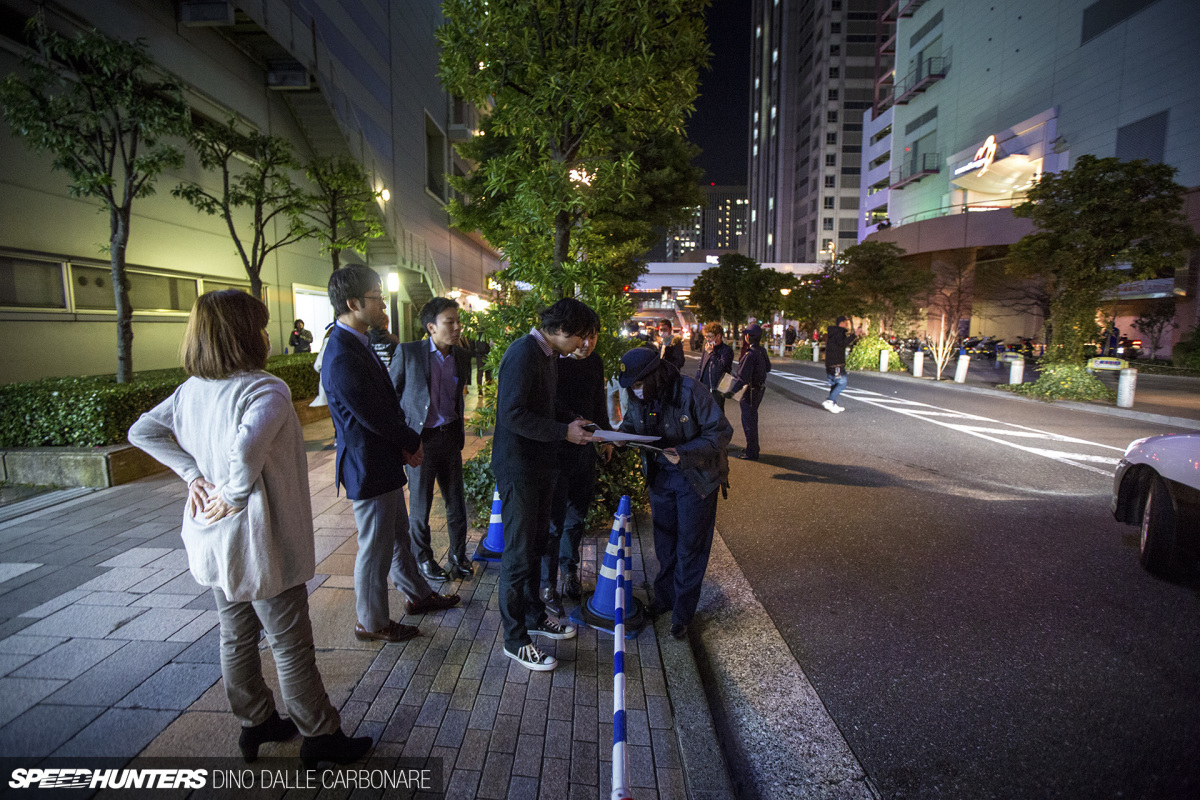 Because Decks is located right in front of the Fuji Television building, the commotion down on the streets caused by loud cars revving their engines and 30-odd police vehicles and some 50 police officers, quickly caught the eye of the news team who immediately sent cameramen down to have a look. A few hours later and throughout the following day's morning news, footage of what went down was shown, instantly bringing a sh*t-storm of negative media towards the local car scene and car enthusiasts in general. Because Decks hadn't been asked for permission to hold the meet, and that people had been caught on camera doing burnouts and acting like morons, you can imagine the fun the media had, and is going to have for months to come.
But let's head in and check out what the actual gathering was all about…
Stepping Into Decks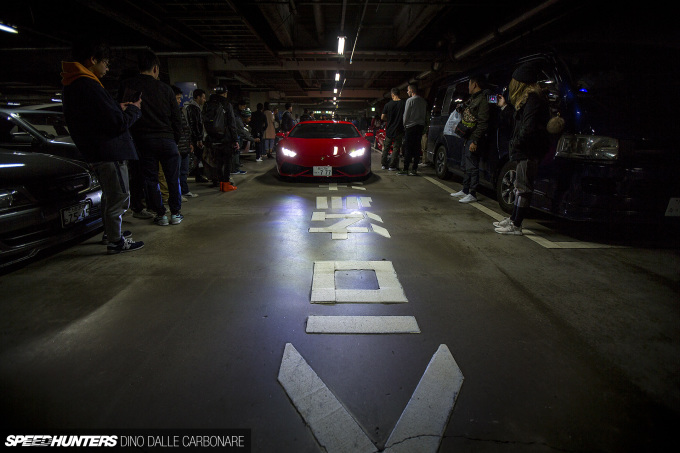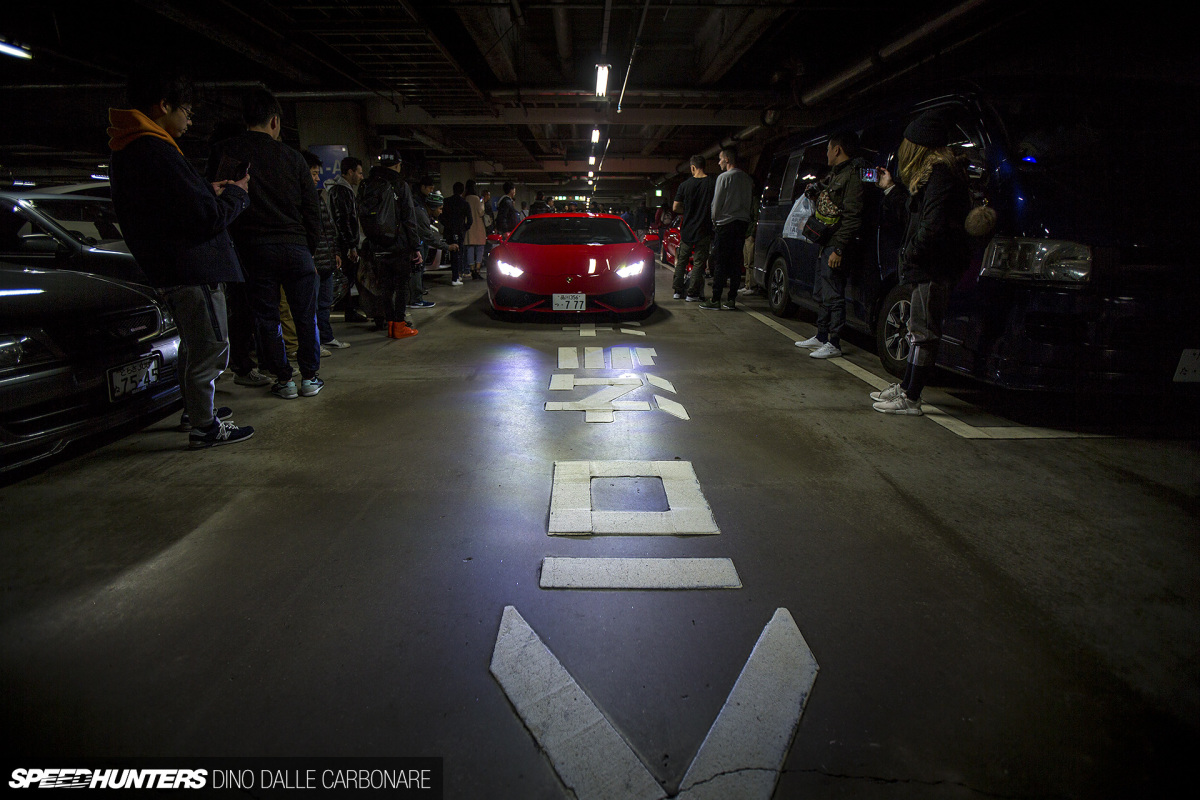 It was an hour into the meet at this point, but with the Police walking around trying to disperse the assembled crowd, many people were already leaving. Most, however, chose to ignore the somewhat passive request from Police, and seemed to be delaying their departure as long as possible in an attempt to enjoy the night out.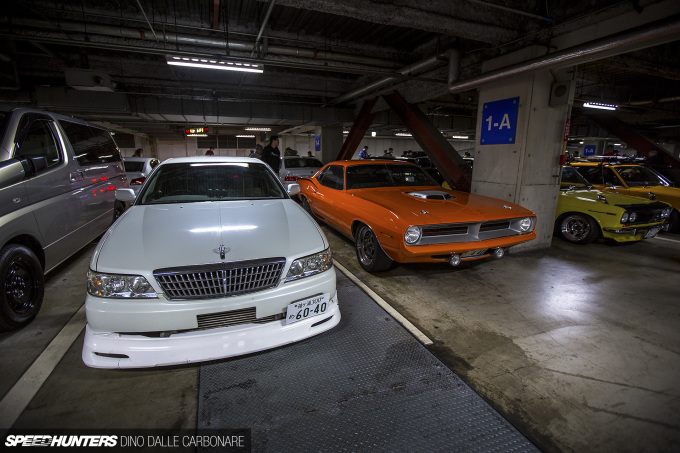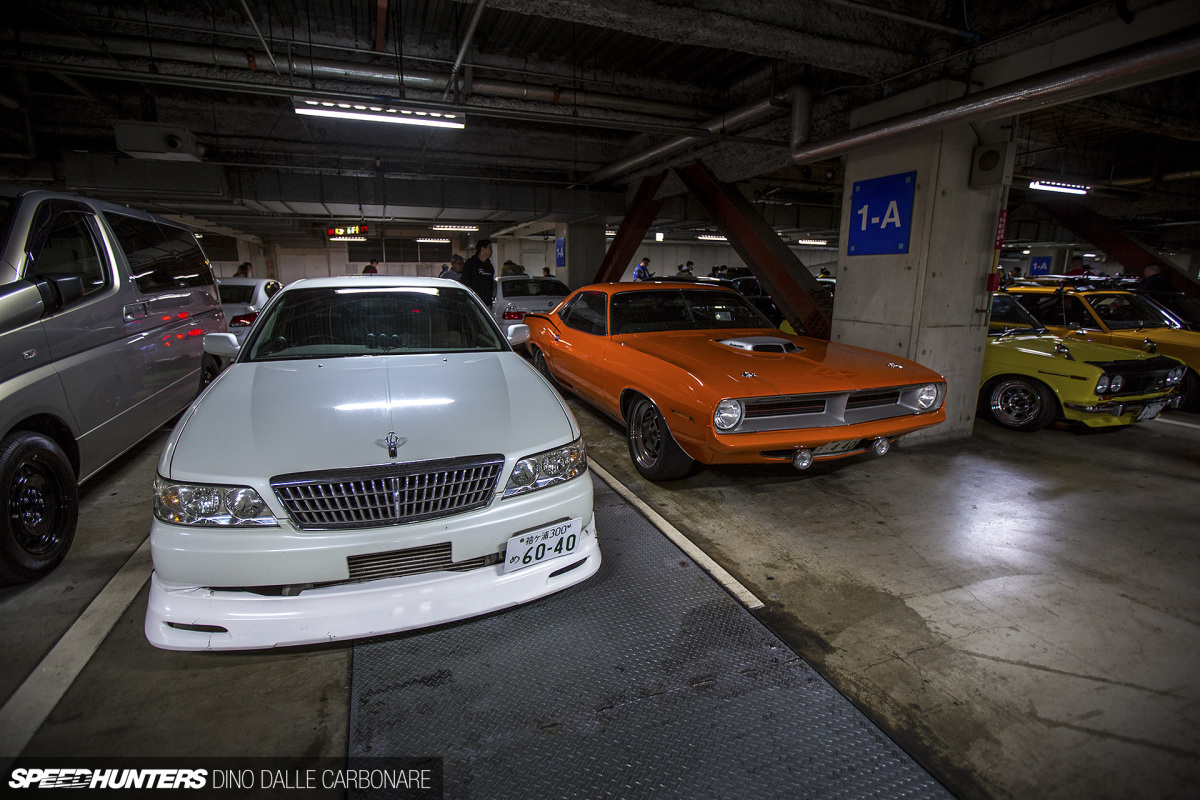 I did a quick loop of the first floor to have a look at some of the cars that had managed to make it in.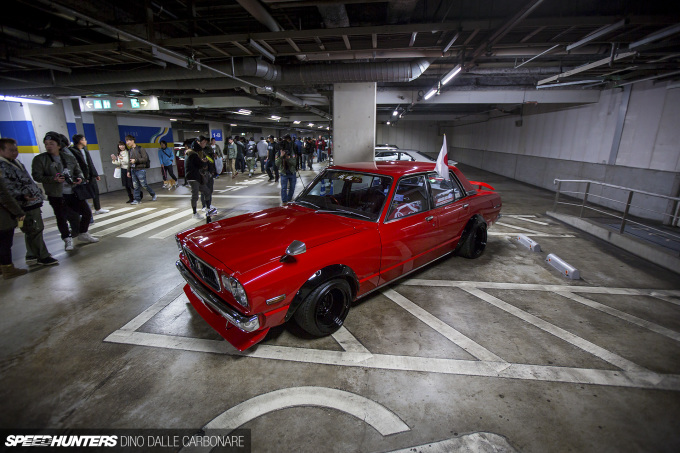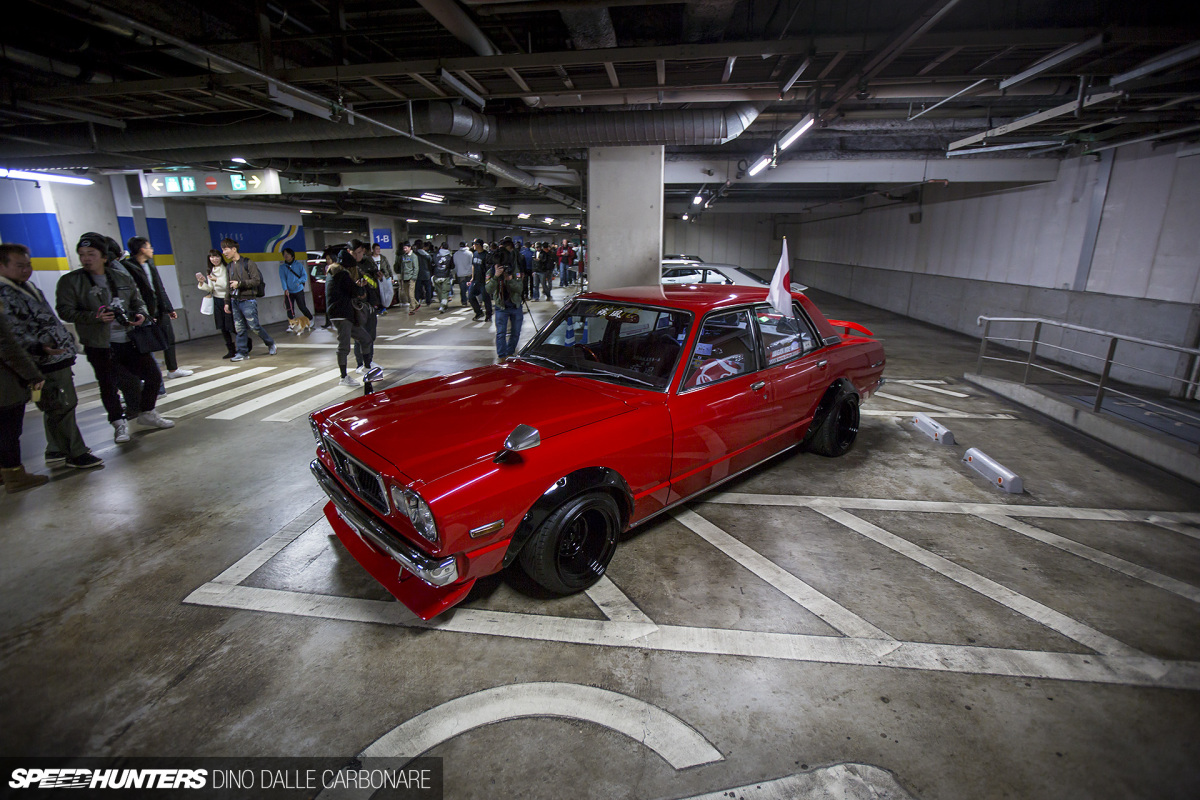 This Mark II looked exquisite with its slammed ride height, fiery red paint and contrasting black fender flares and wheels, but the fact it parked across two disabled spots was probably not the best of moves. I actually didn't know how to react to this as I'd never seen Japanese car enthusiasts behave in such a manner. Politeness and respect is something you can usually count on, even from those pretending to be badasses and parading around with attitude. It was as if for one night there was an opportunity to misbehave.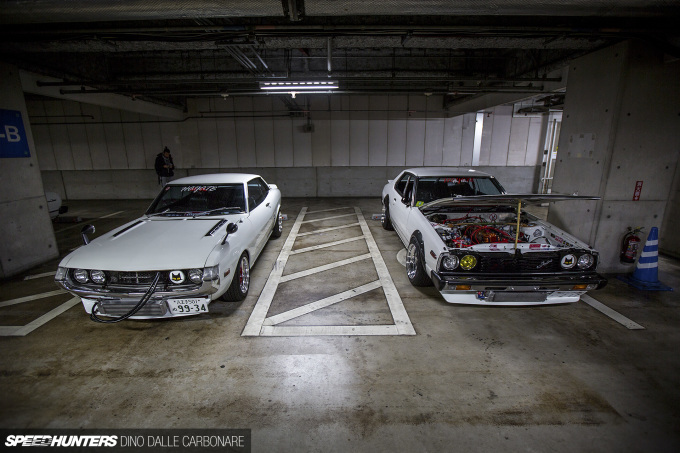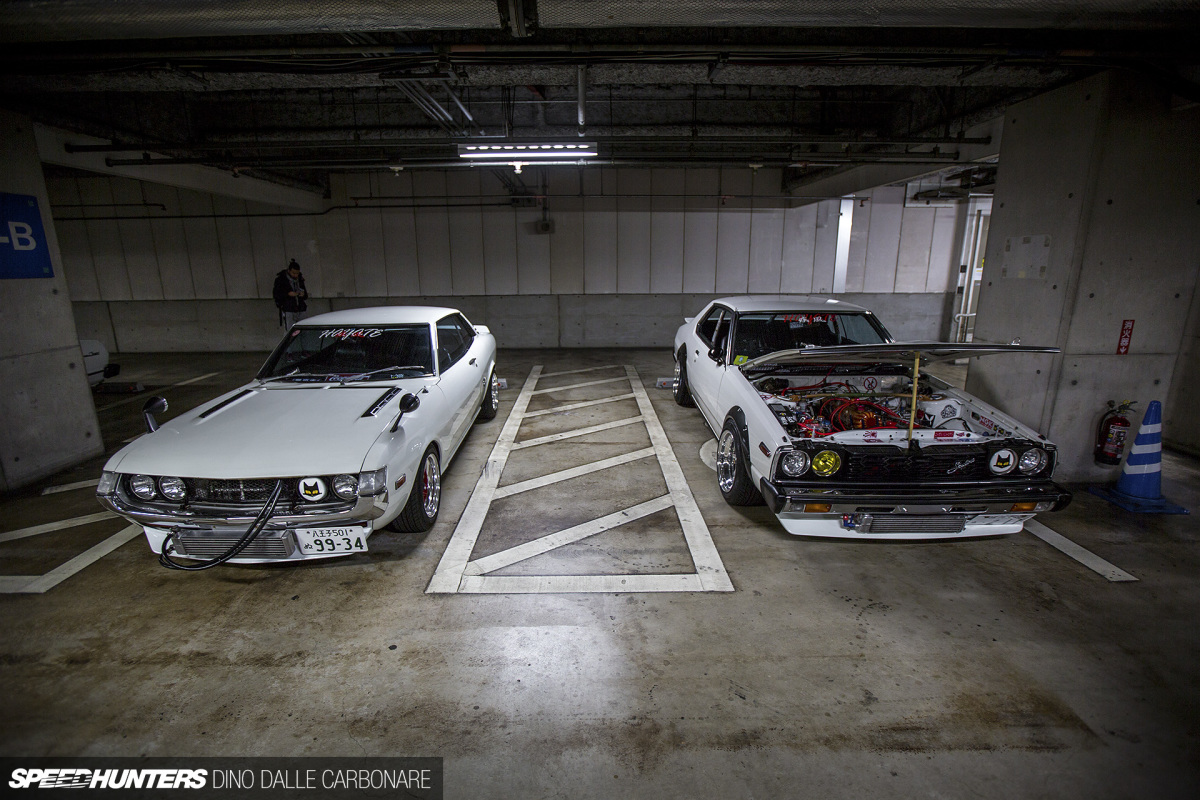 The 'disabled' kyusha team had some other very cool cars to show off, including an old Celica and a Skyline Japan.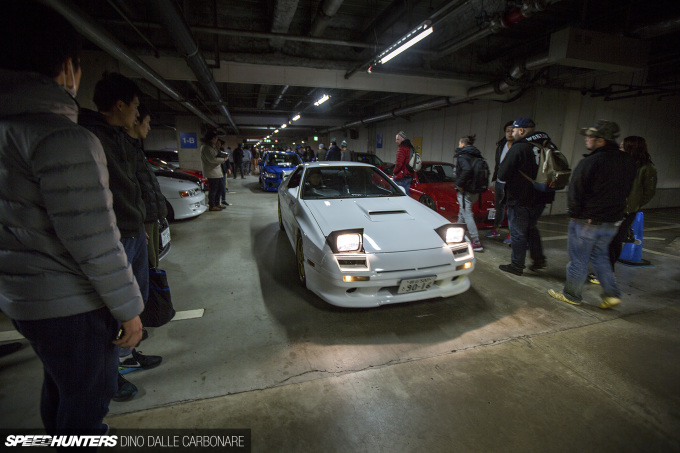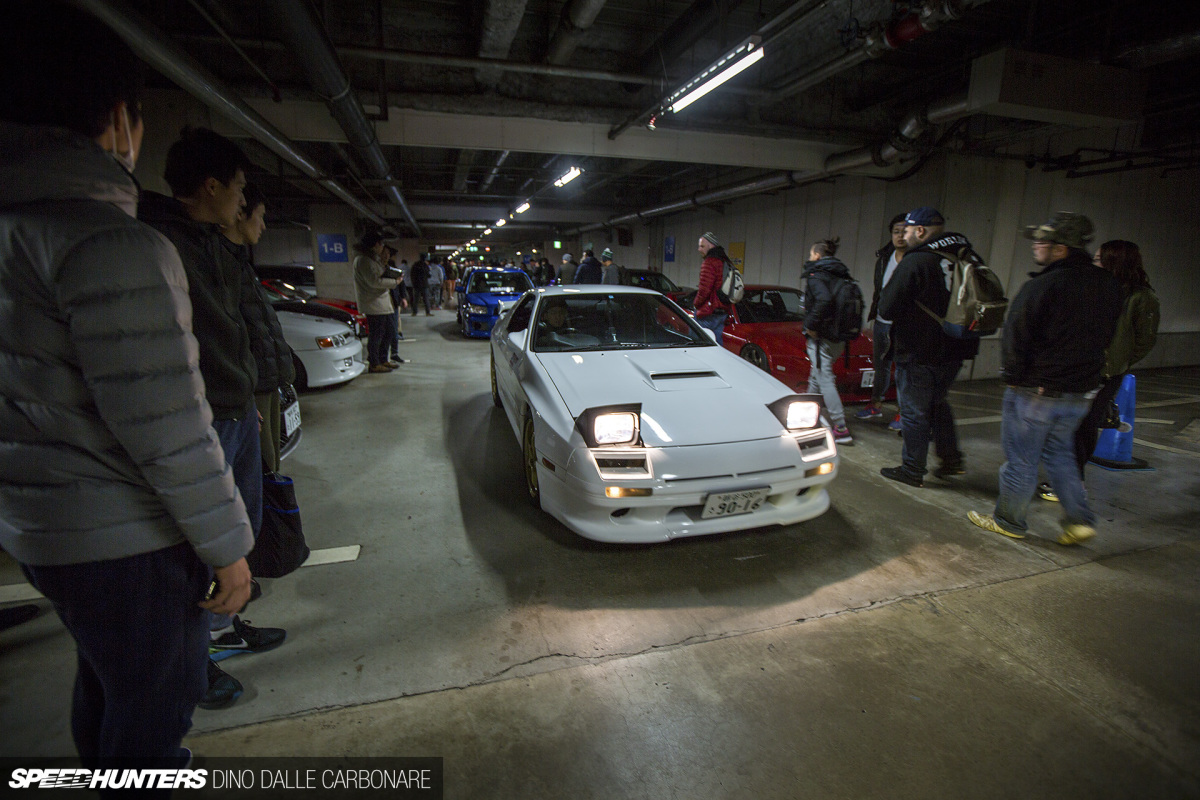 As I made my way around there was a constant stream of cars crawling through the parking lot in an attempt to exit. This caused Decks to further complain, as exhaust gasses were starting to seep into the shopping mall itself.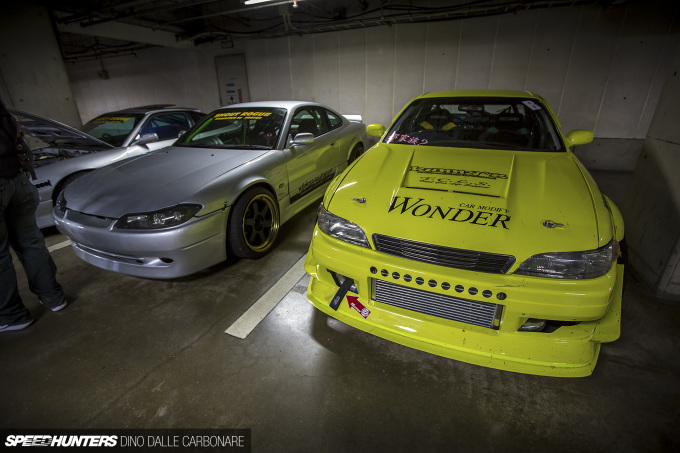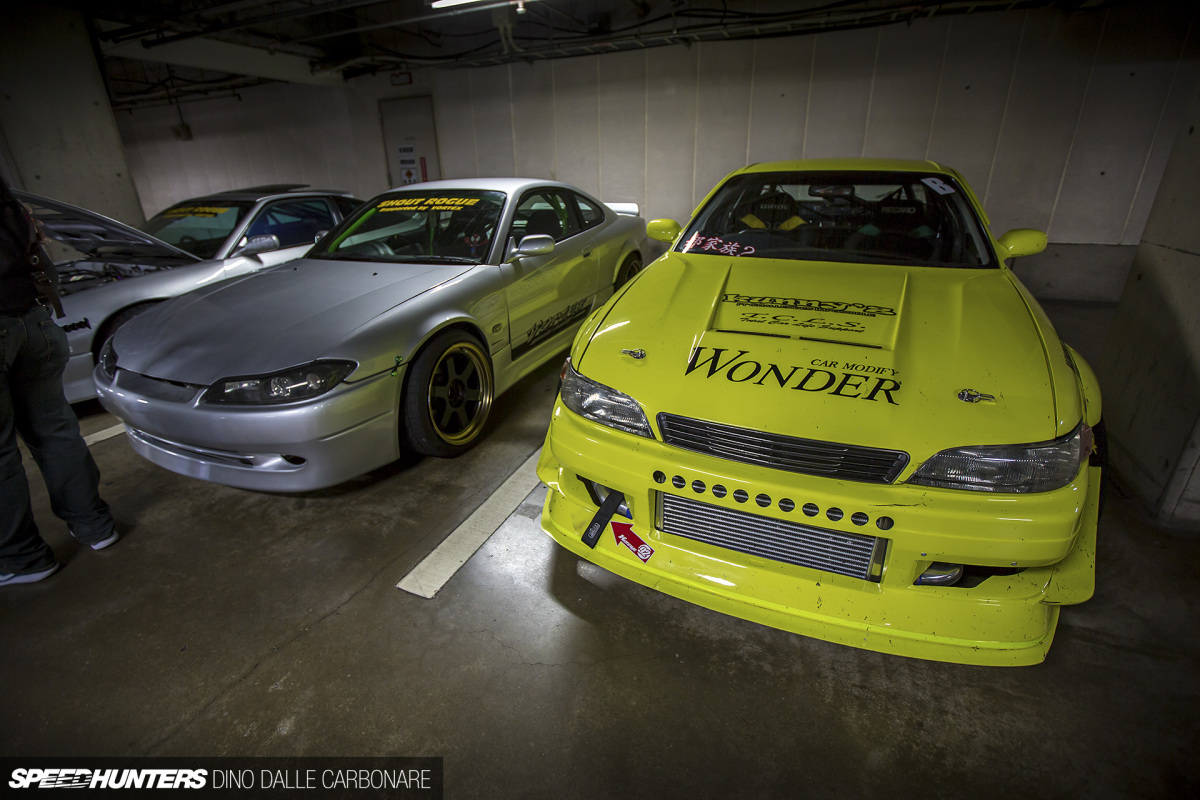 The mix of cars was superb, and as ever with an event like this there was a good turn out from the drift guys.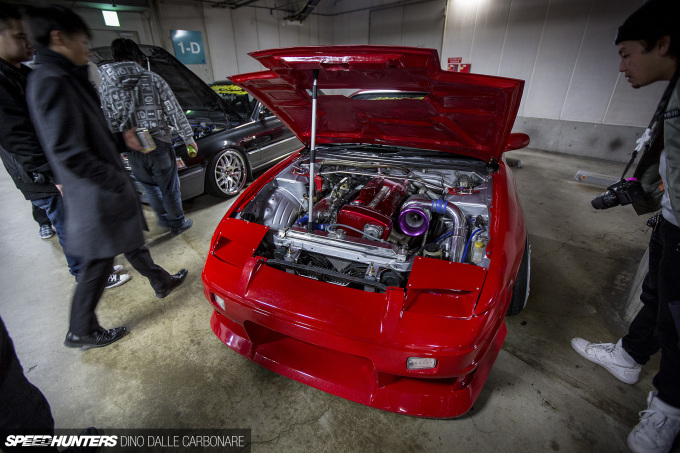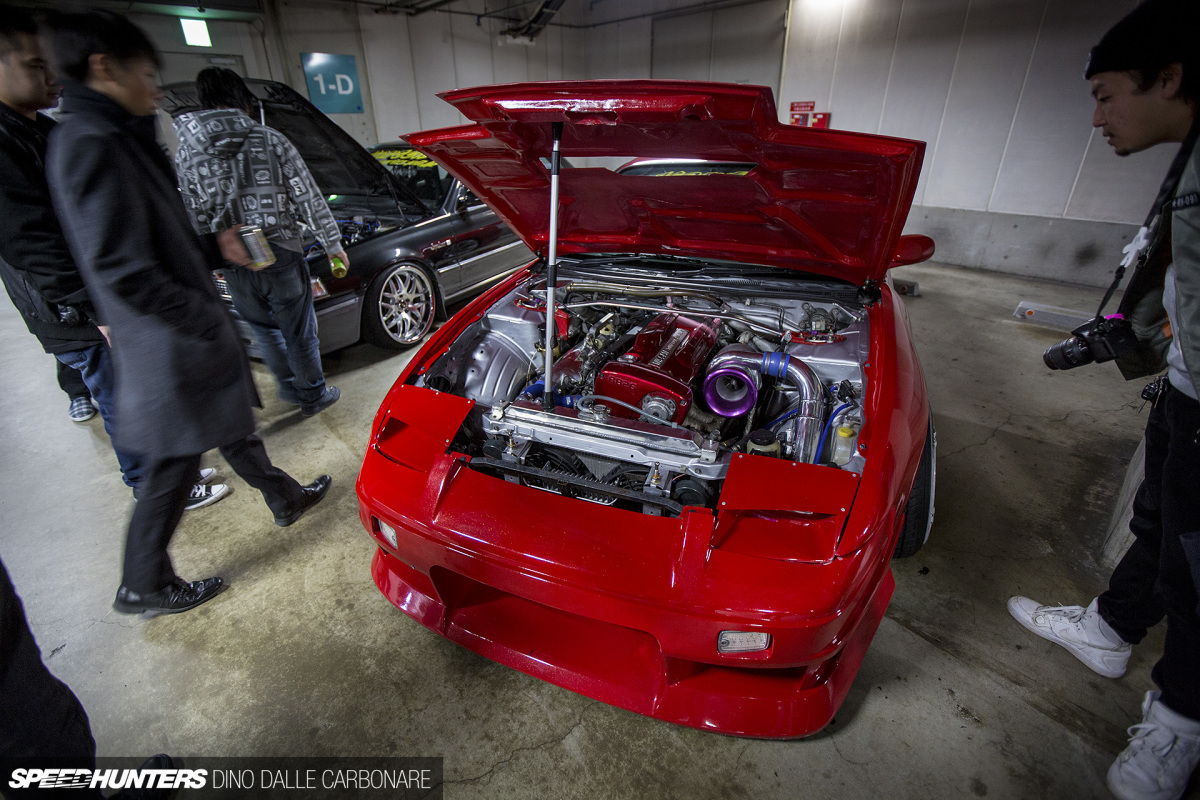 This S15 proudly sporting an RB26 swap was by far my favorite. It's pretty much spot on in every way with the sort of execution and attention to detail you would usually see on a show car.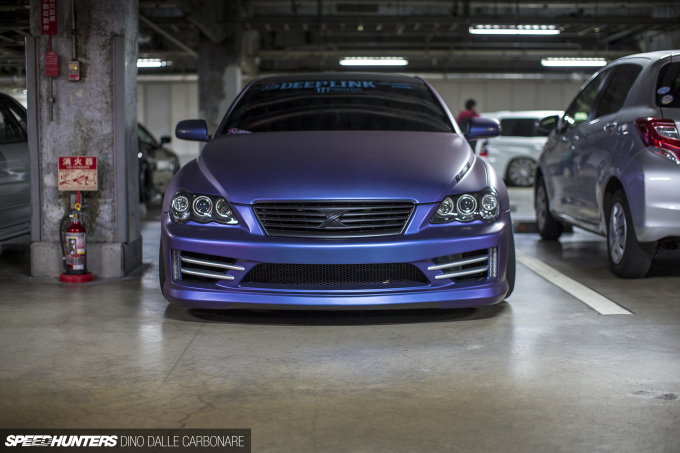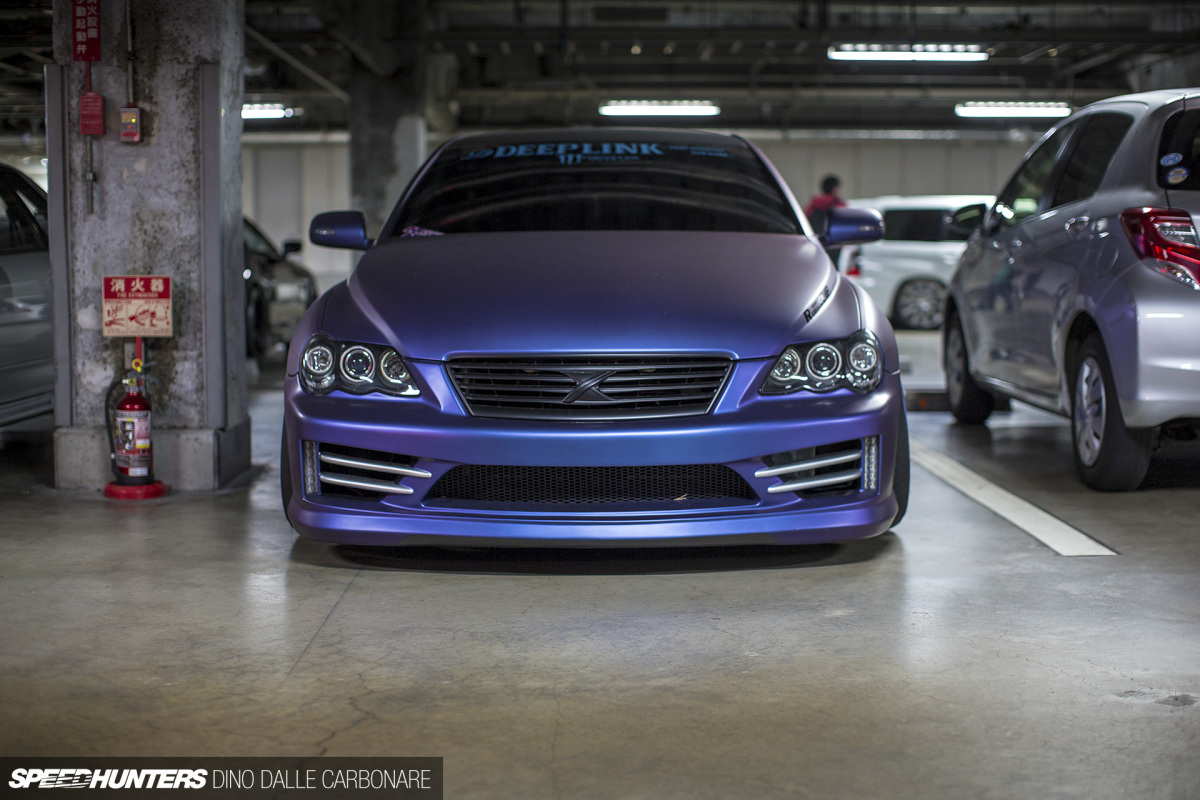 And of course no Japanese gathering would be quite complete without some VIP love.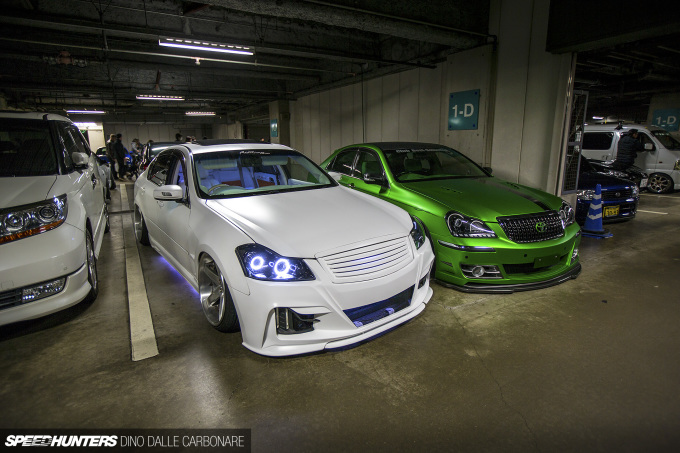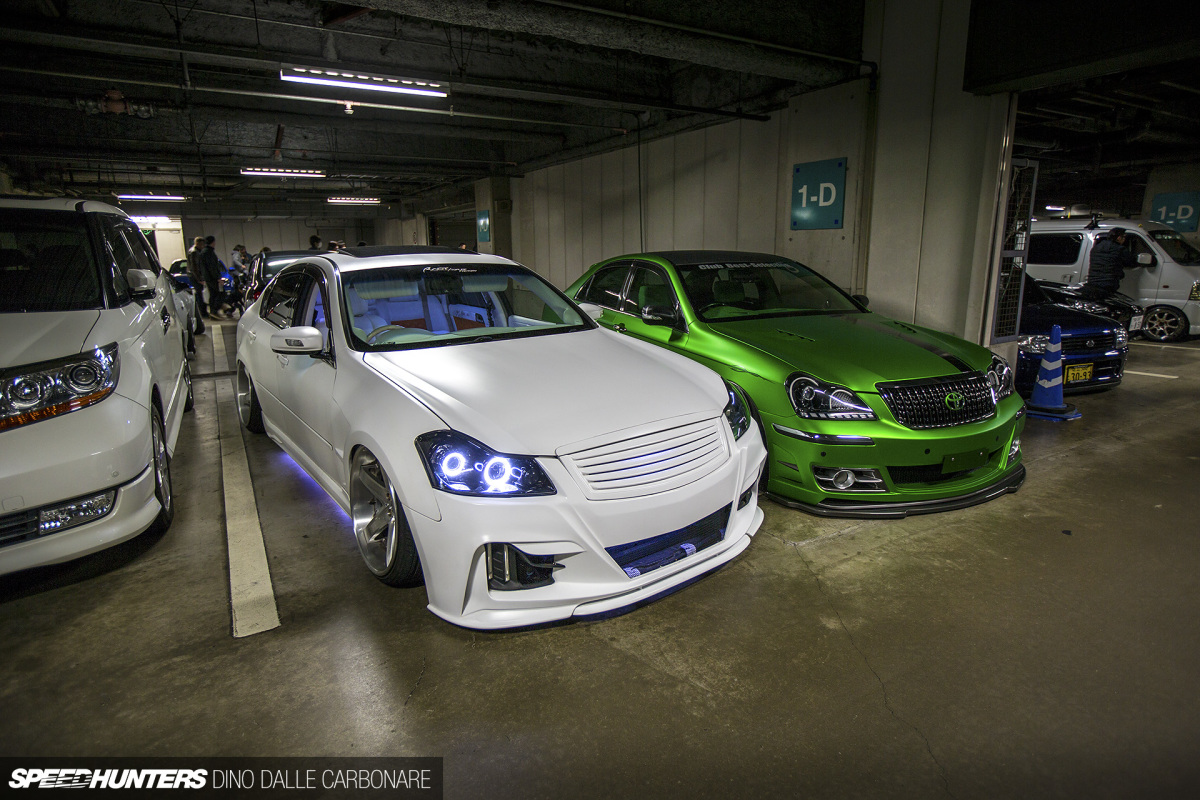 It's cool to see this new take on bippu style continuing to evolve, but I can't help but miss the old school approach. I'm talking about simple black domestic sedans slammed on period-correct wheels.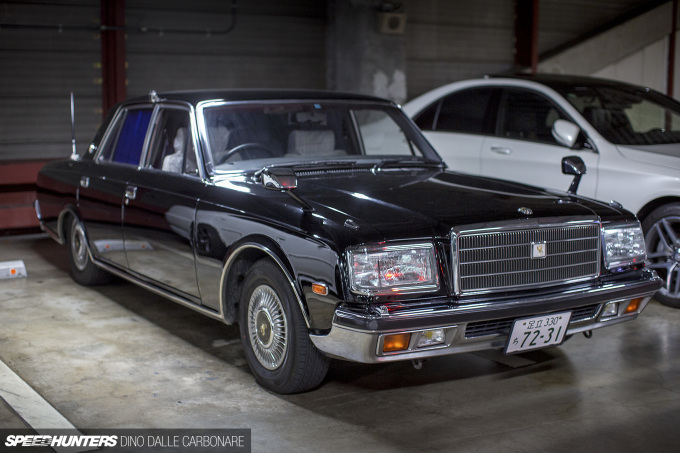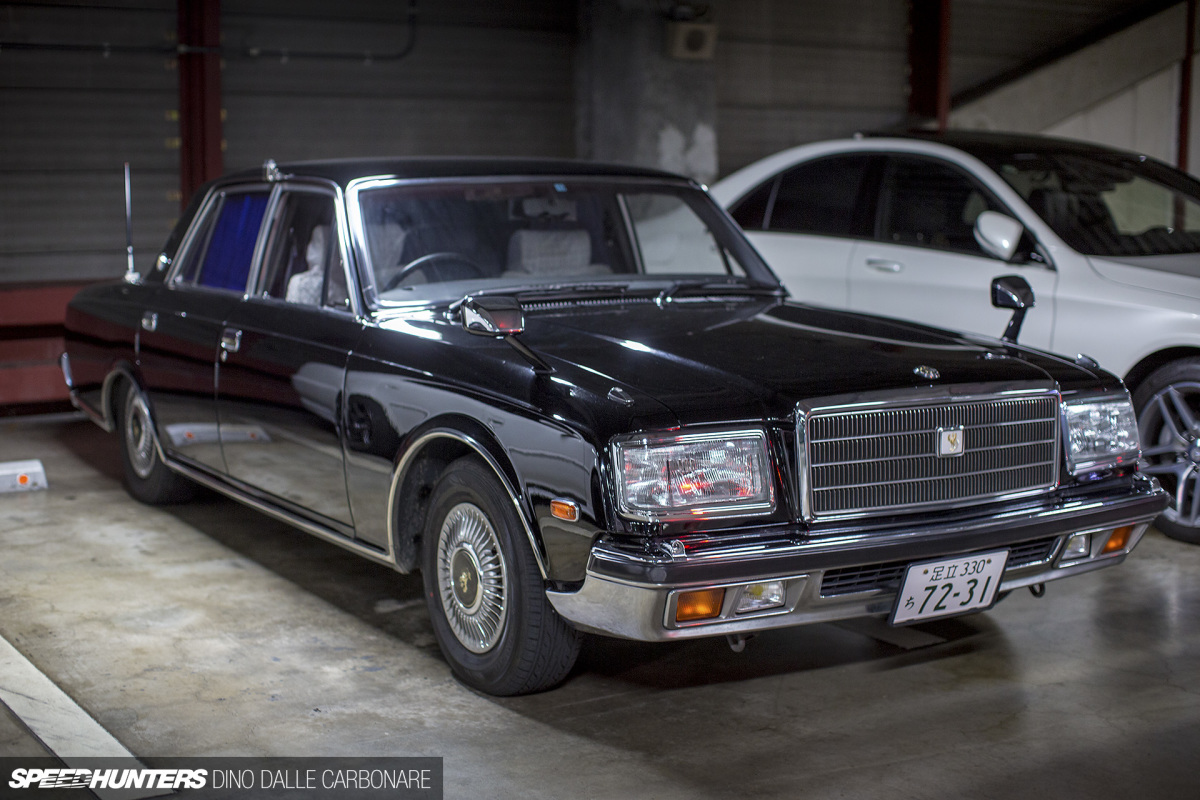 This old Century I came across later on would be an oh-so-perfect base for that kind of build. I do wonder if the owner of this car was there as part of the meet or not though…
JDM Variety At Its Best
The eye candy didn't seem to end. There was so much to see: drift and stanced cars from clubs and teams we've encountered in the past, as well as new builds and projects.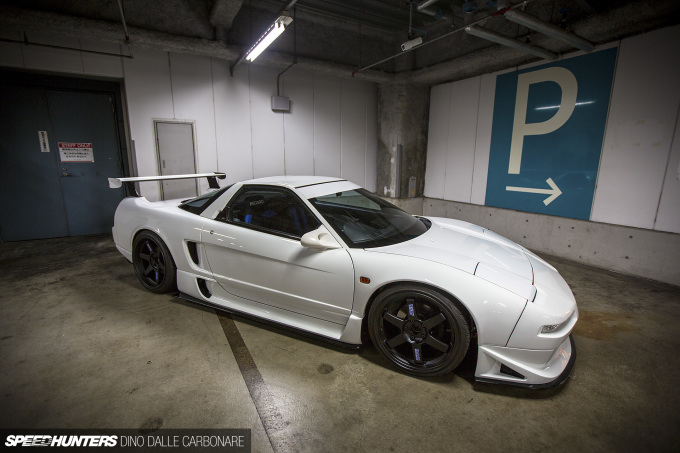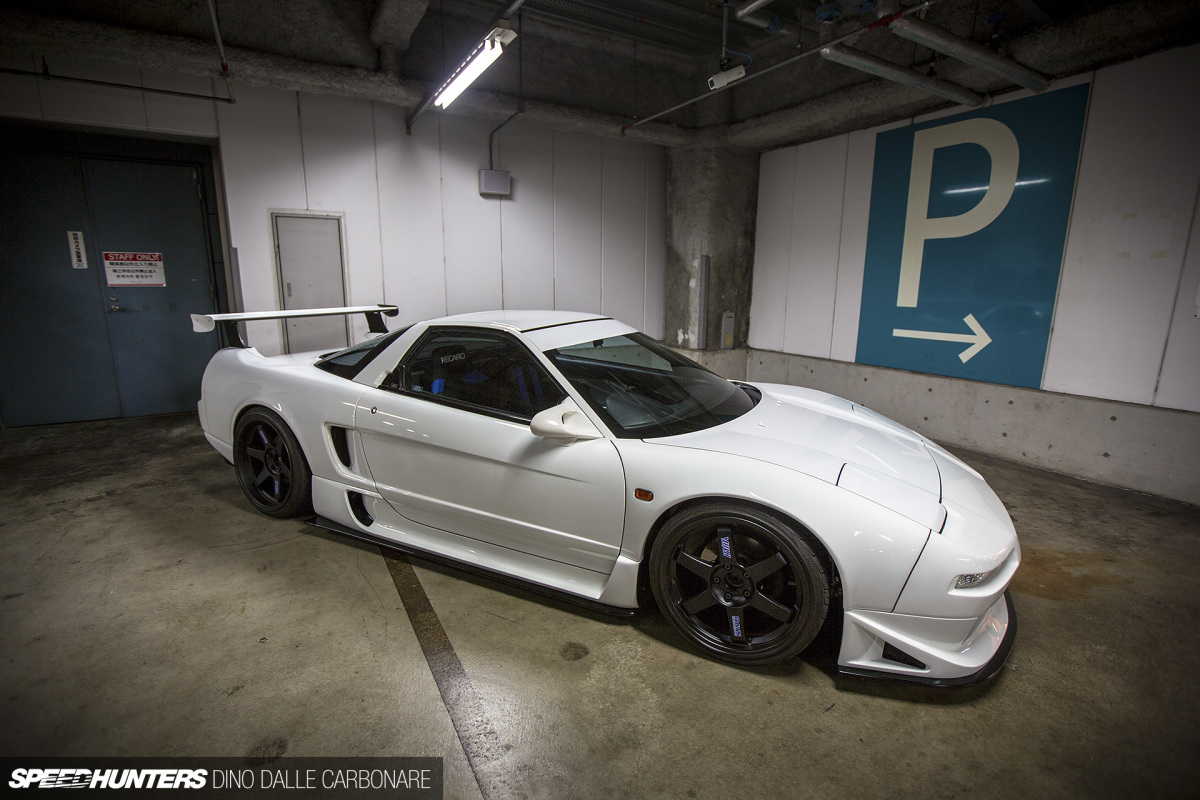 Some of you might remember this NSX that Larry shot back in 2015 when he came over to cover TAS with me.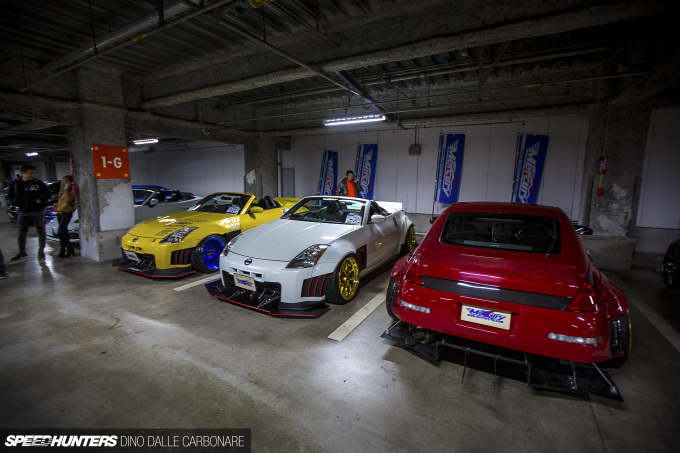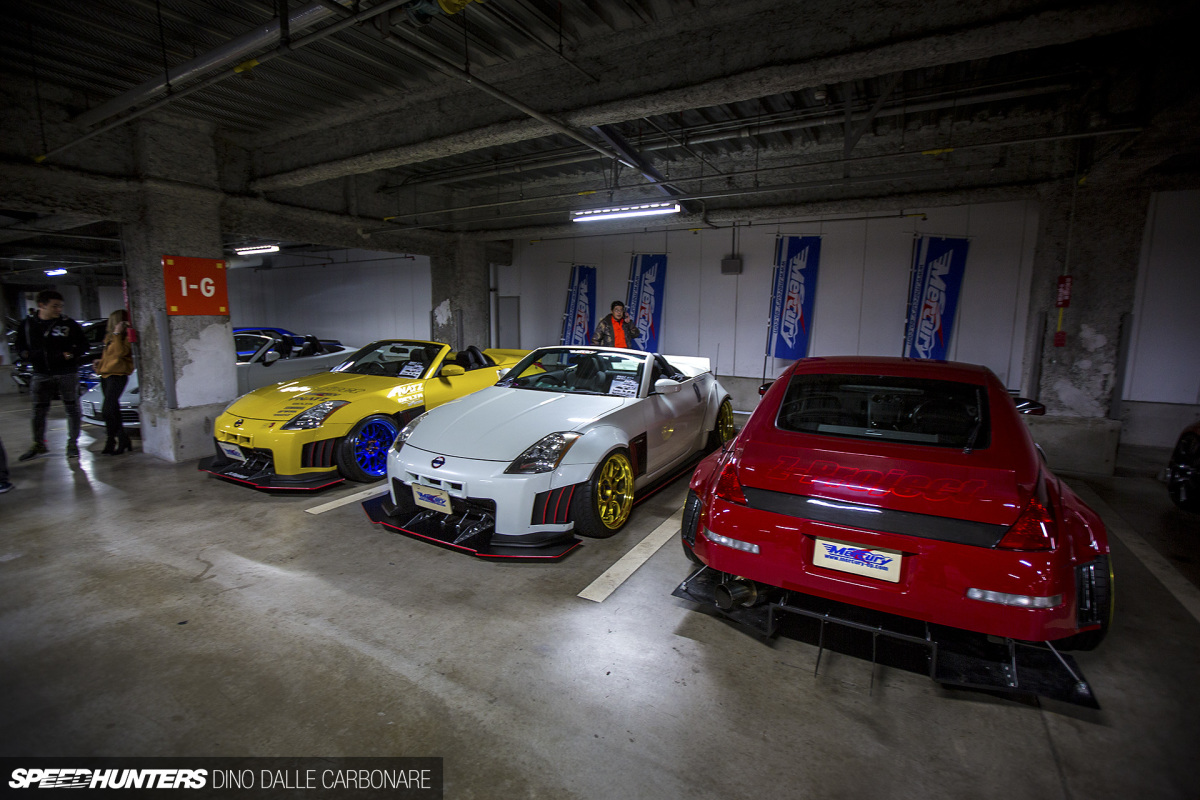 It was pretty cool seeing the Mercury guys present too. Ever since I shot their first 2JZ-powered drift demo car it seems like their Z kit has developed a real following and been fitted to quite a few cars in Japan and abroad. You have to love how they even brought along four flags, properly moving to Decks!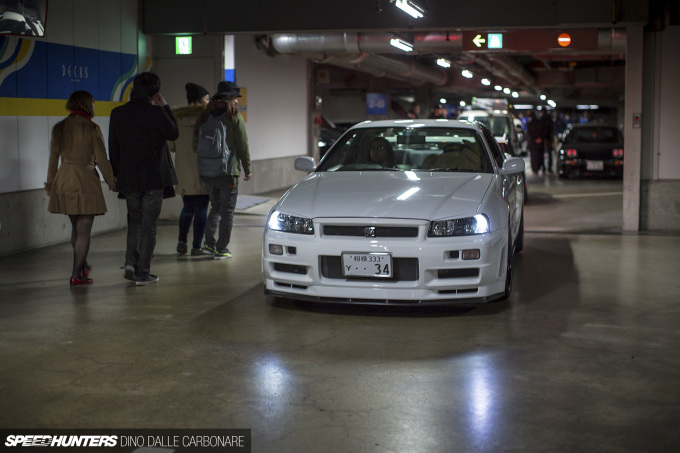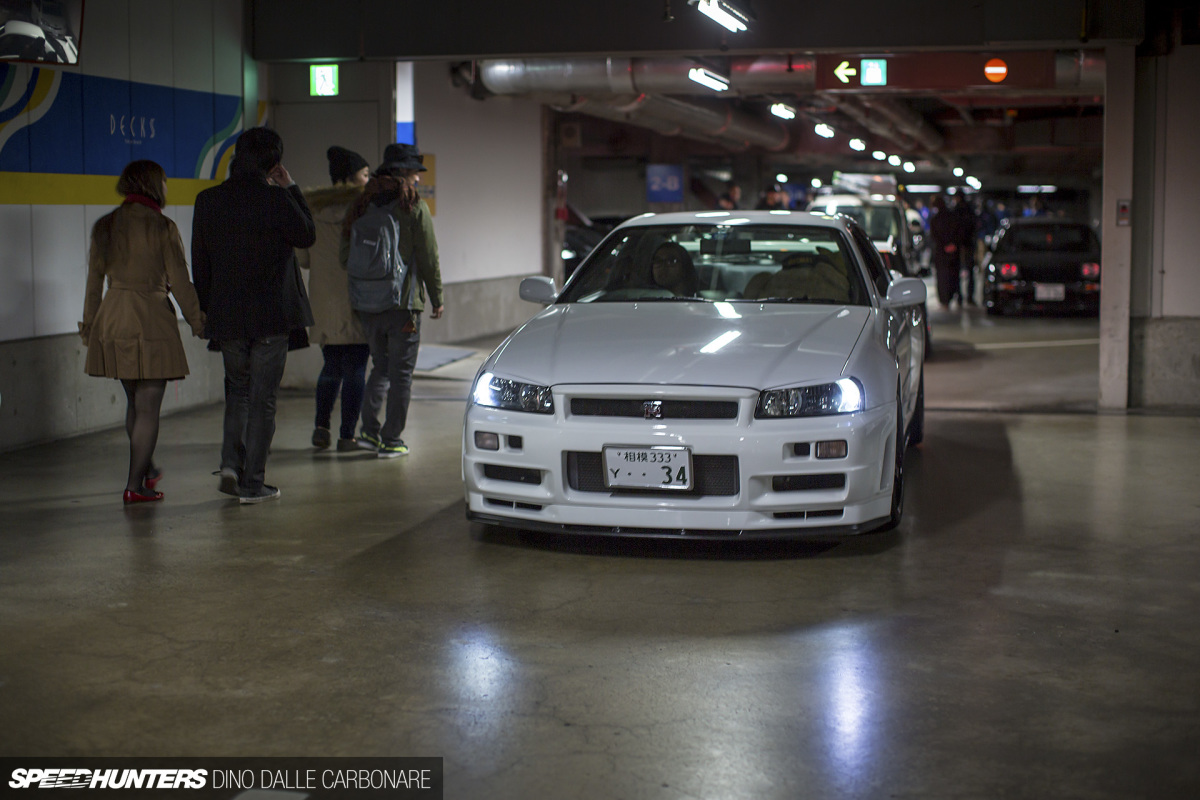 At any event like this, my self-indulgent side is always on the look out for one specific type of car. Yup, you guessed it.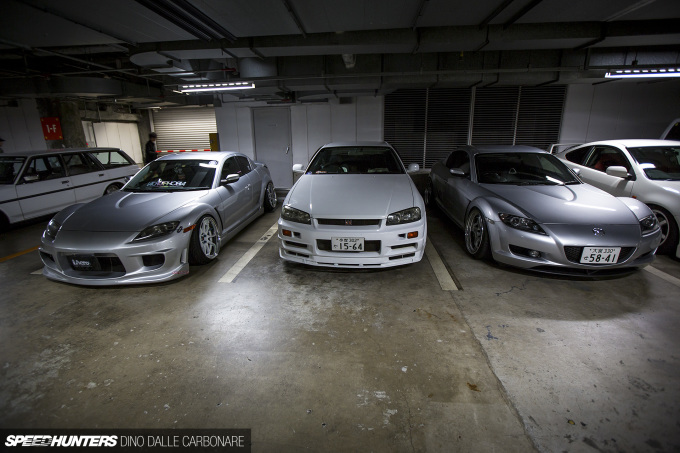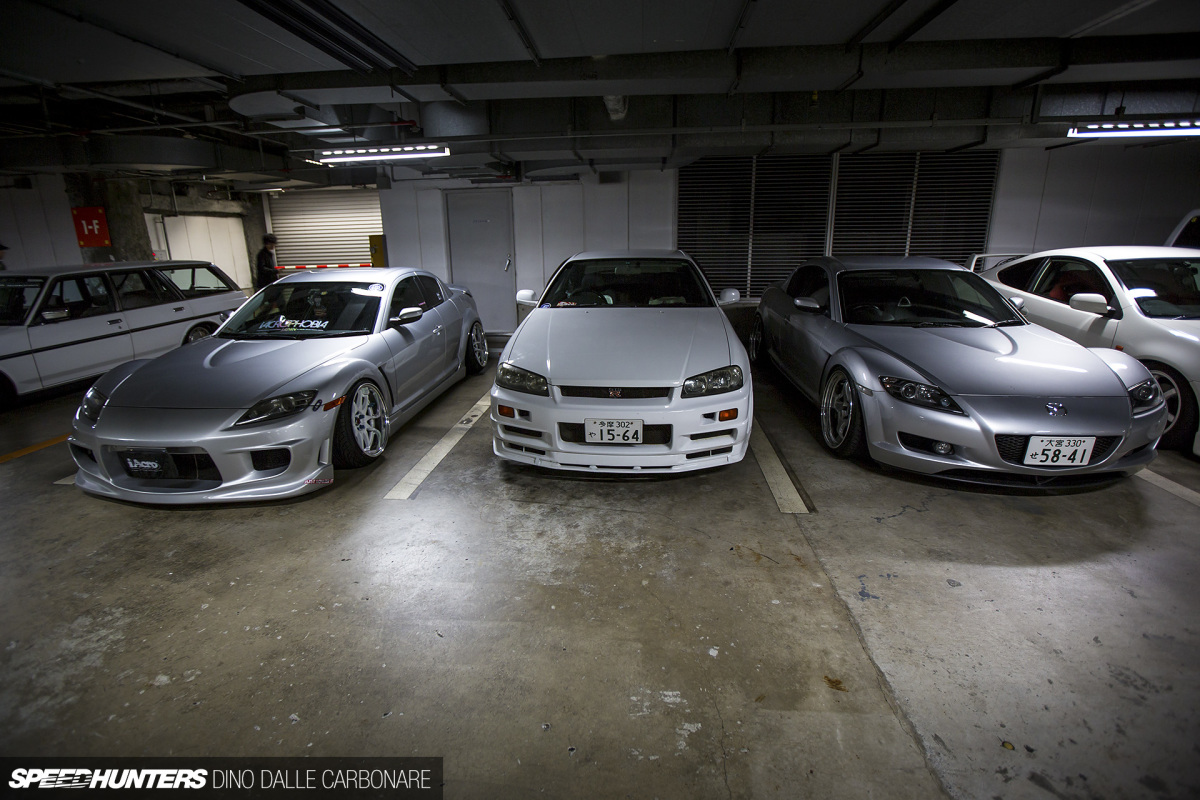 I even spotted a good old Geee-Dee-Ahh (sorry to all our Aussies readers, but I just can't help myself!) sandwiched between a pair of Mazda RX-8s.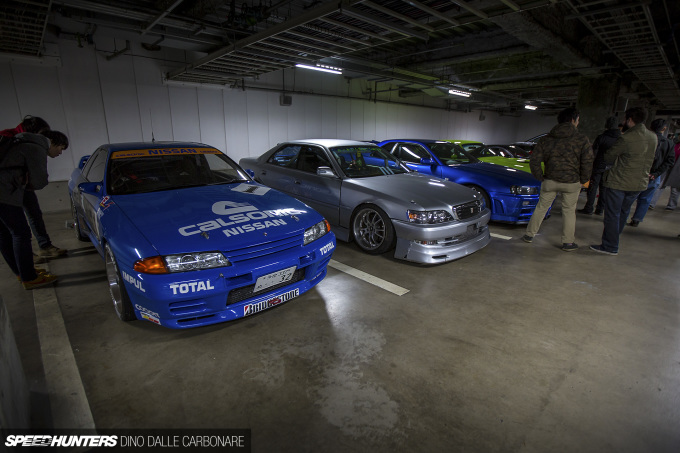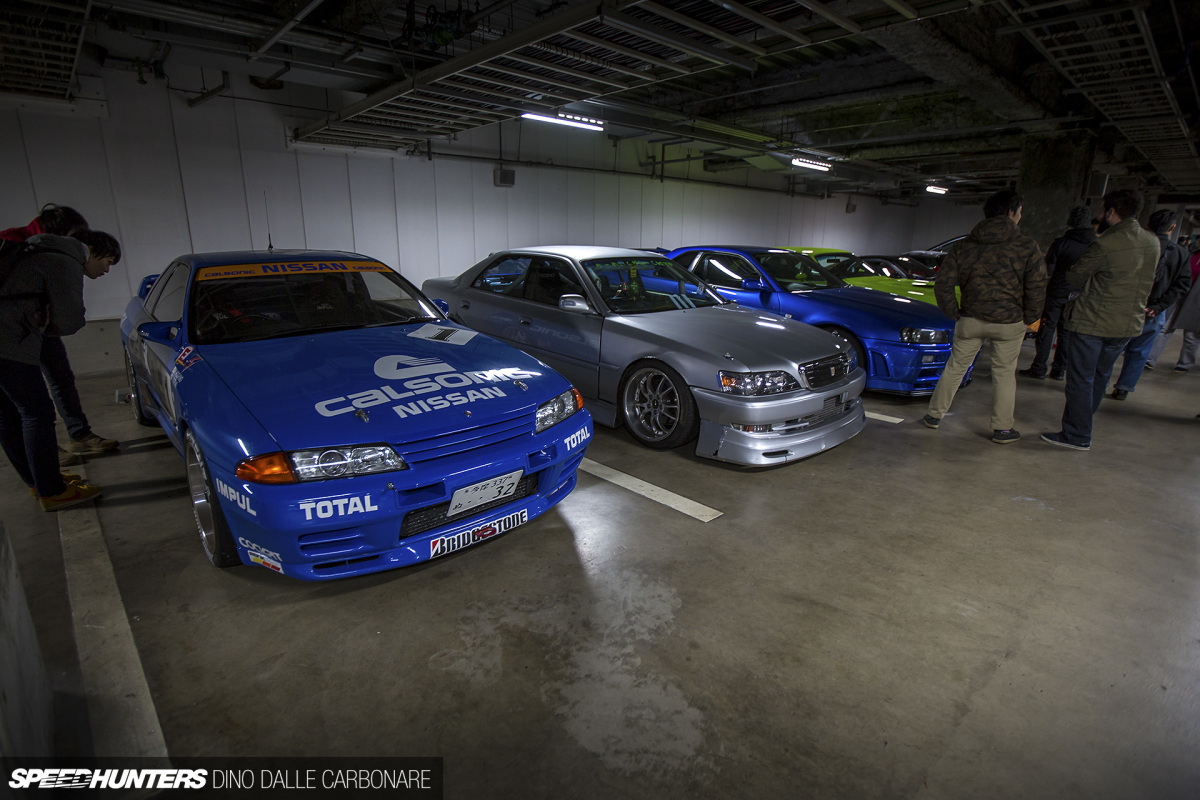 The livery game was strong with this BNR32.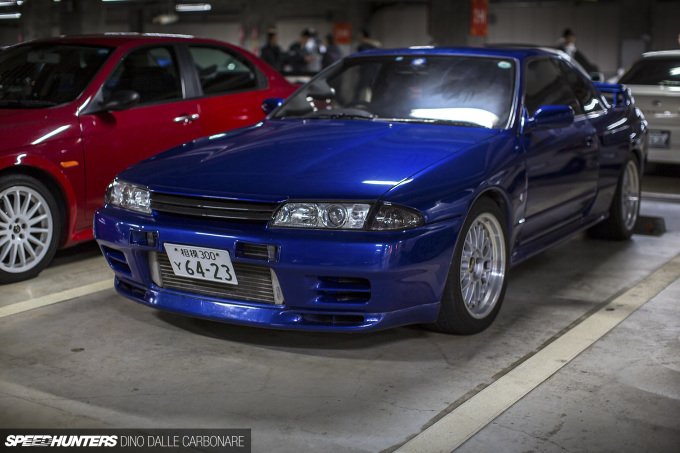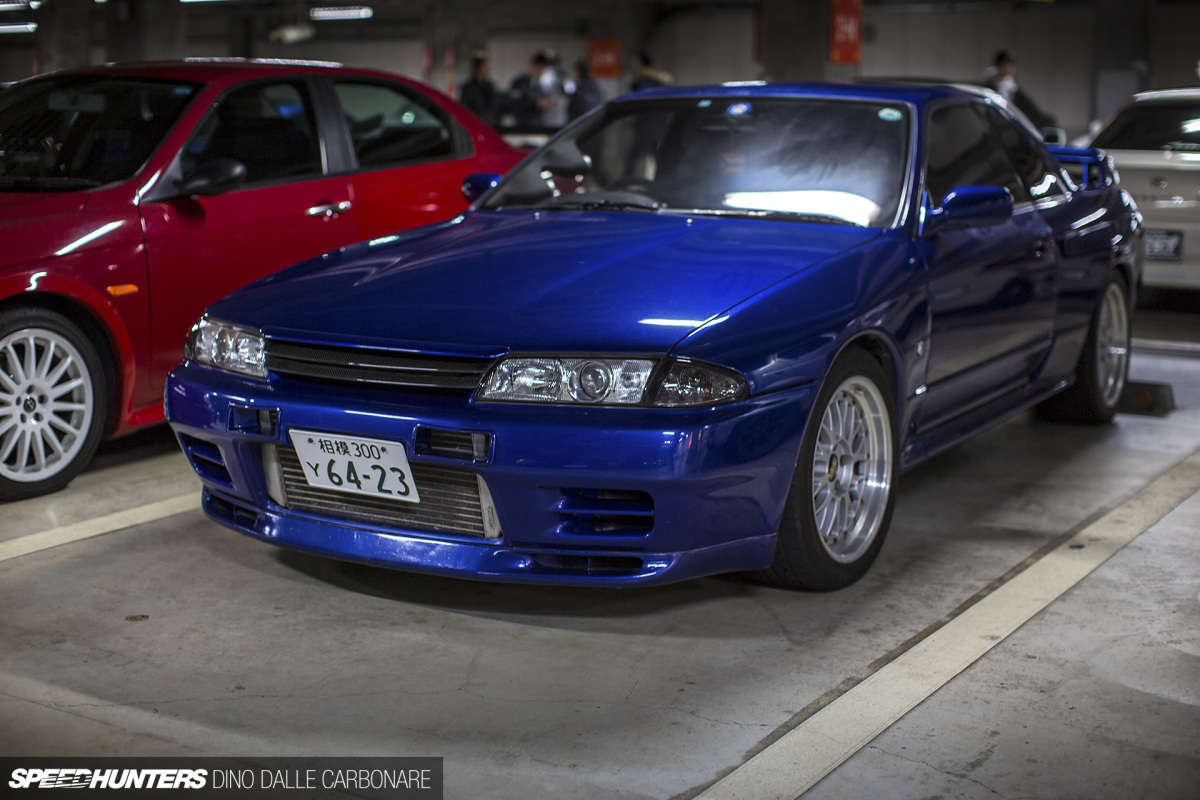 But one can't help but admire the simpler approach.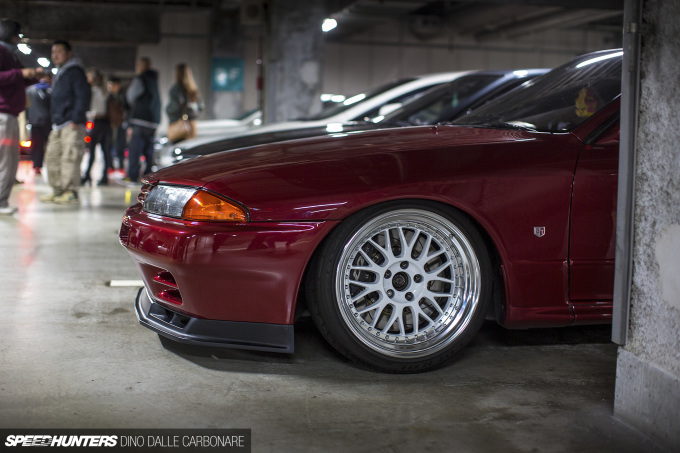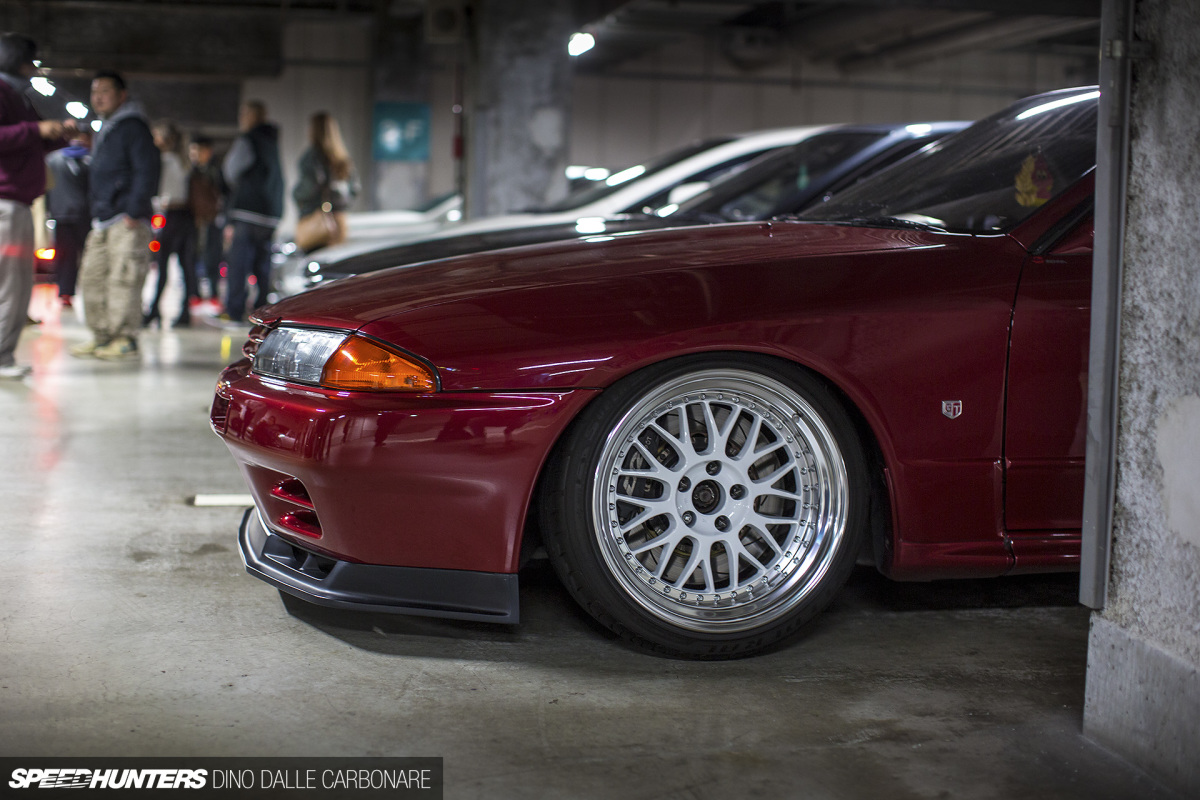 I have to say, the crowd, all the cars, the venue and the Police presence did make for a unique atmosphere; there were so many foreigners walking around that I hardly heard Japanese being spoken either. It's like they brought Fast & Furious to Tokyo, or should I say Wild Speed, the Japanese title of the famed franchise.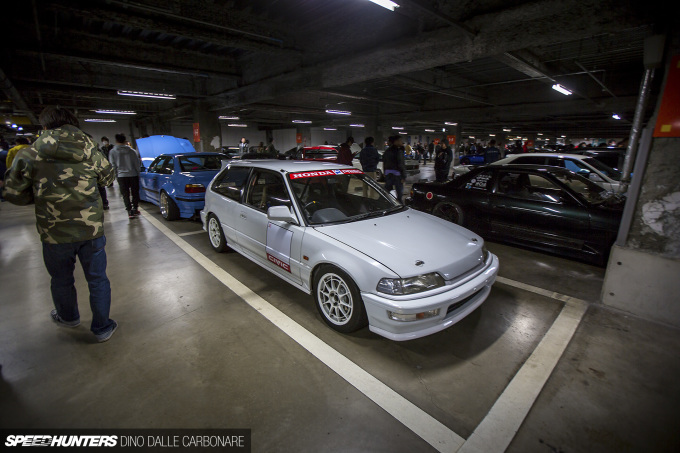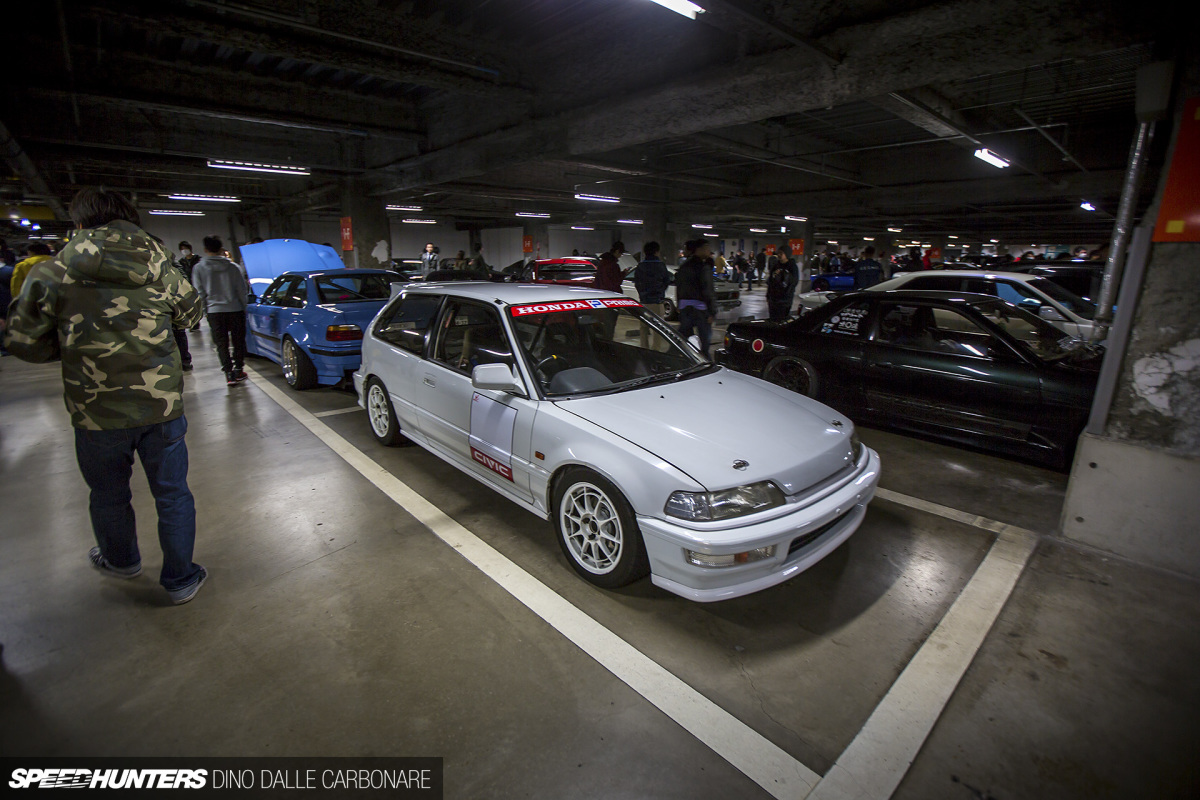 There was some Honda love too of course, this EF Civic standing out for it classic race style.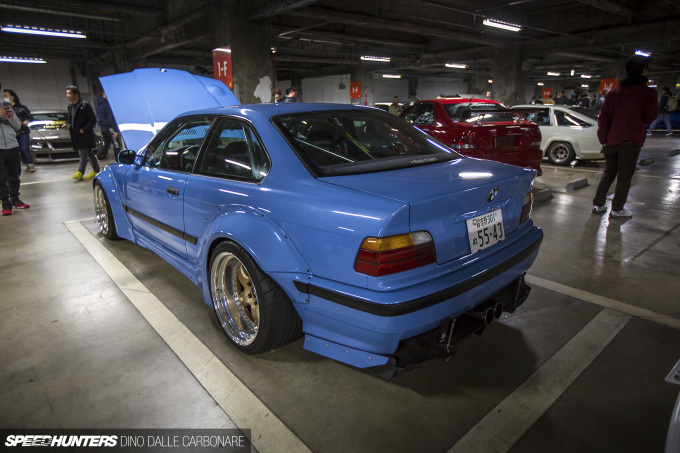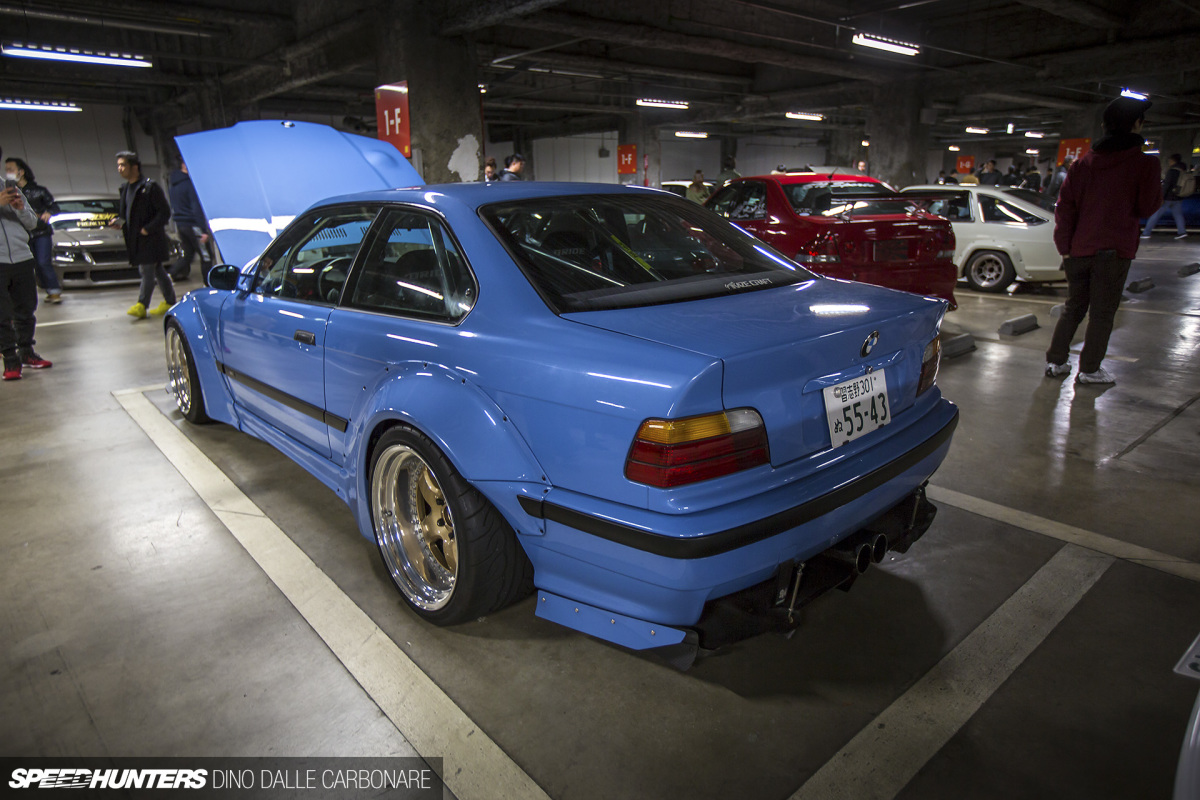 But it was the blue BMW E36 behind it that really piqued my interest, as any wildly-widened, modern day classic will.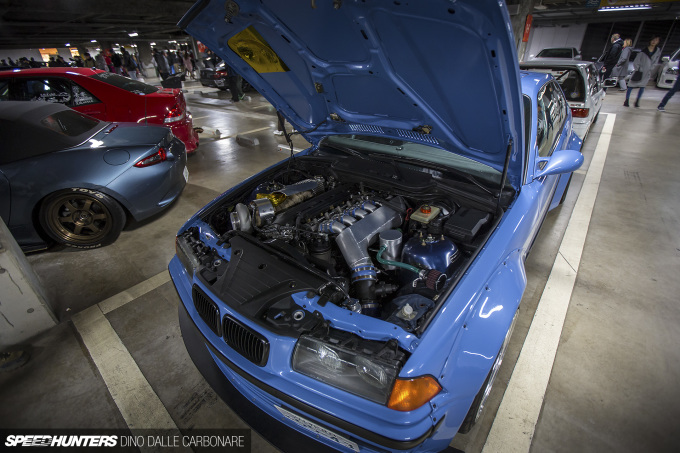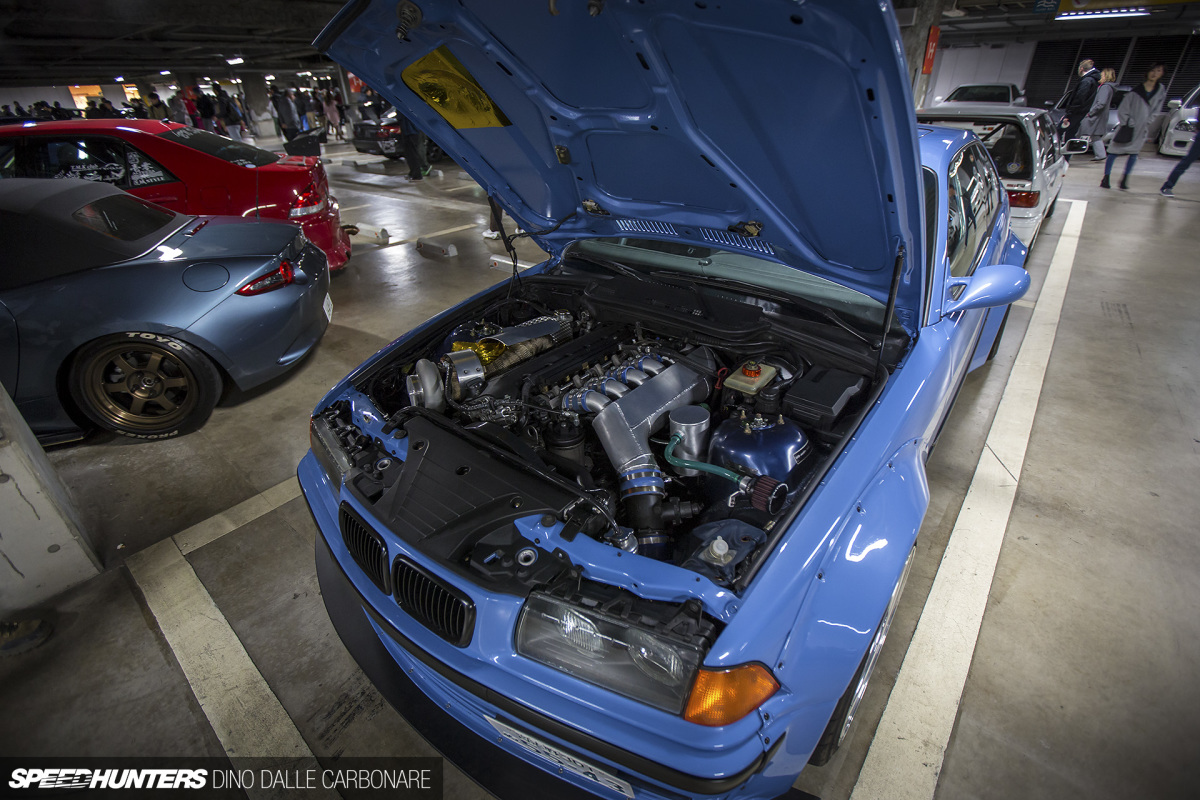 Luckily, the show aspect was backed up by a hefty dose of go thanks to the unexpected addition of forced induction.
The Aim Is To Stand Out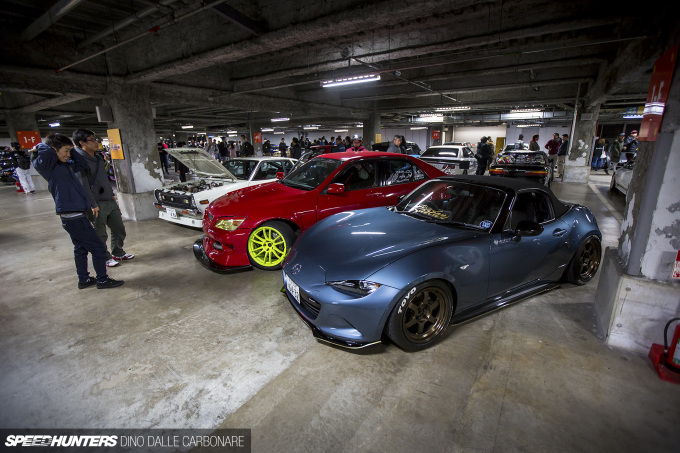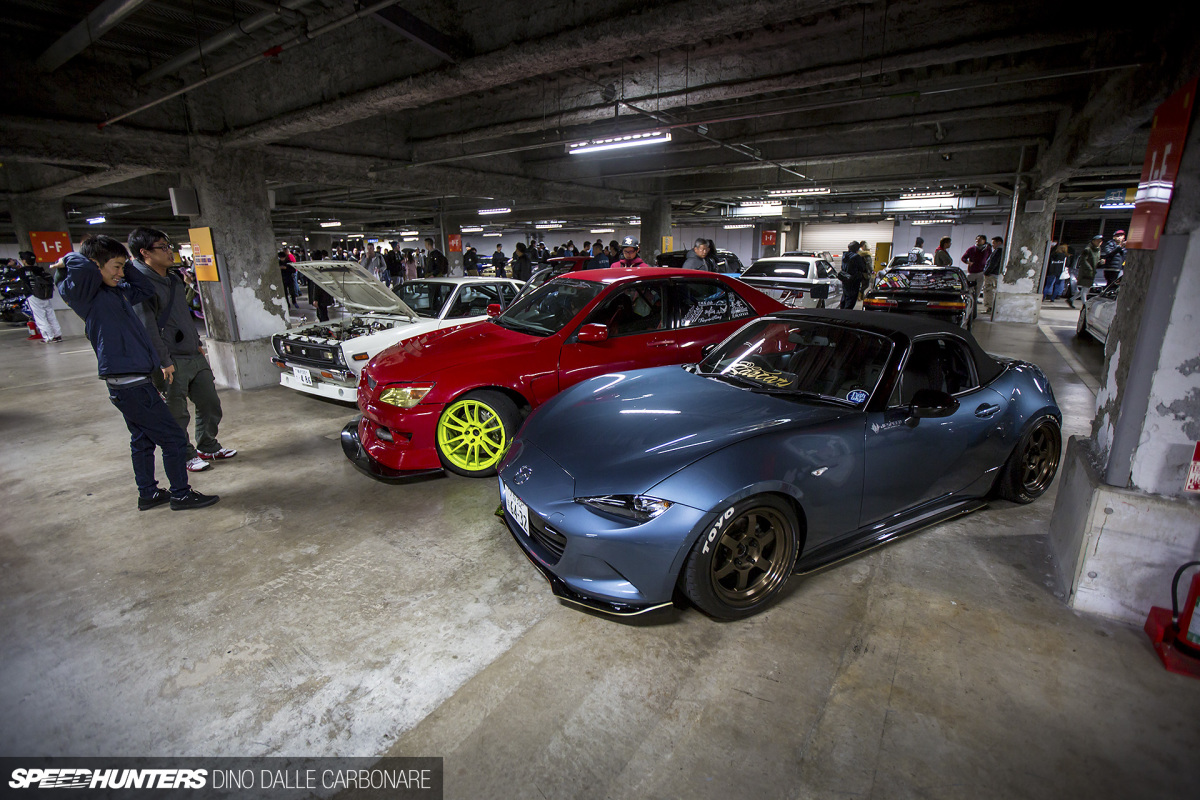 It's really cool to see the new-gen Mazda Roadster being tastefully modified. I love what the owner of this car has done; the RAYS Volk Racing TE37Vs are a top choice, and the ND's slammed yet camber-corrected with the addition of adjustable top arms.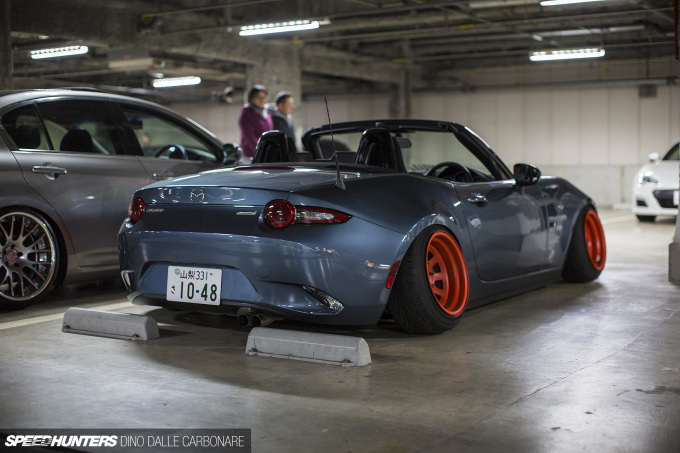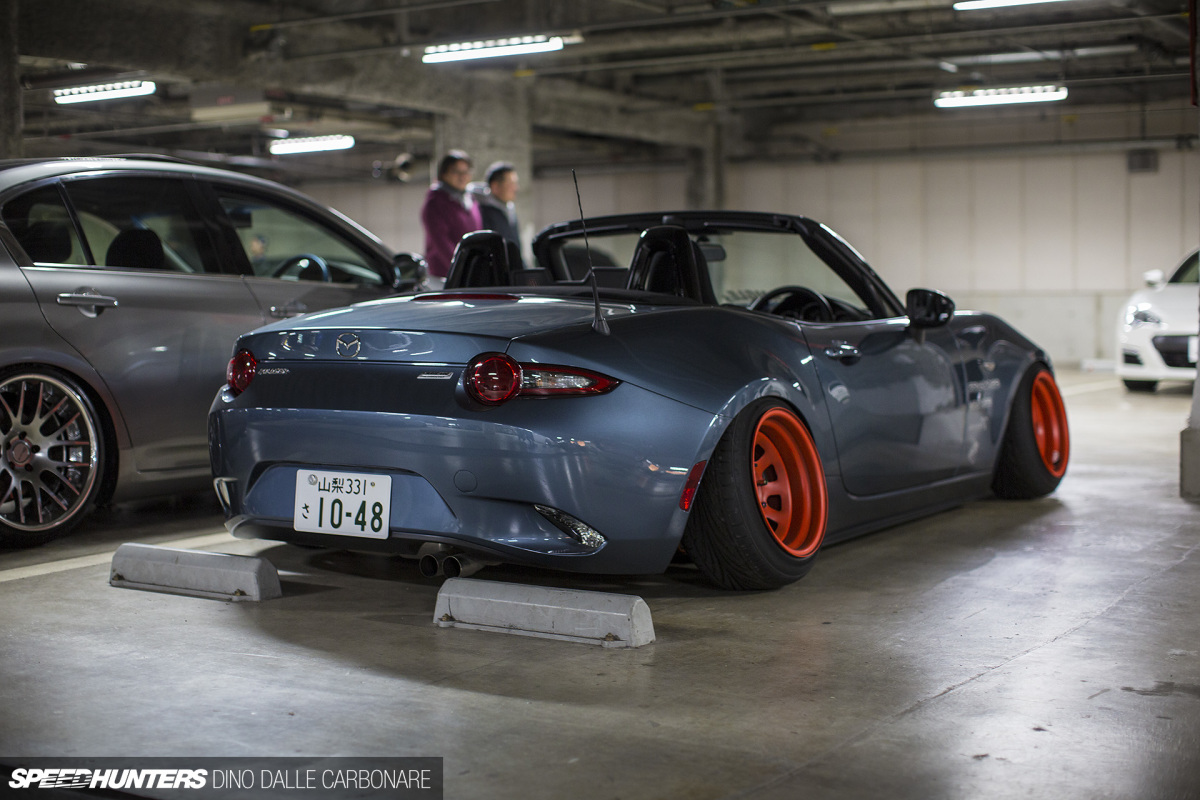 The adjustability of the arms in this ND went completely the opposite way.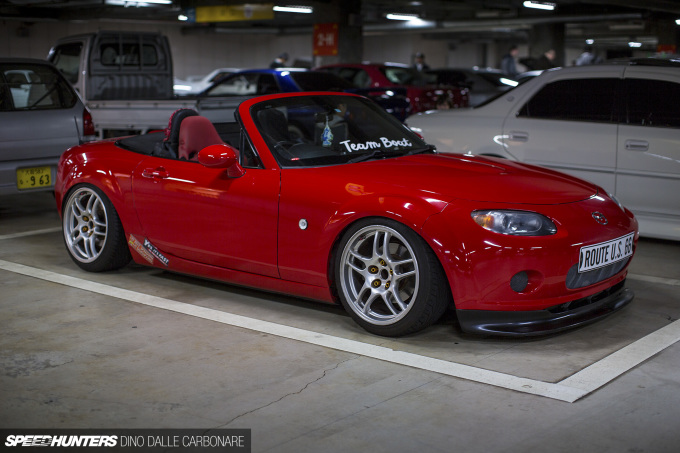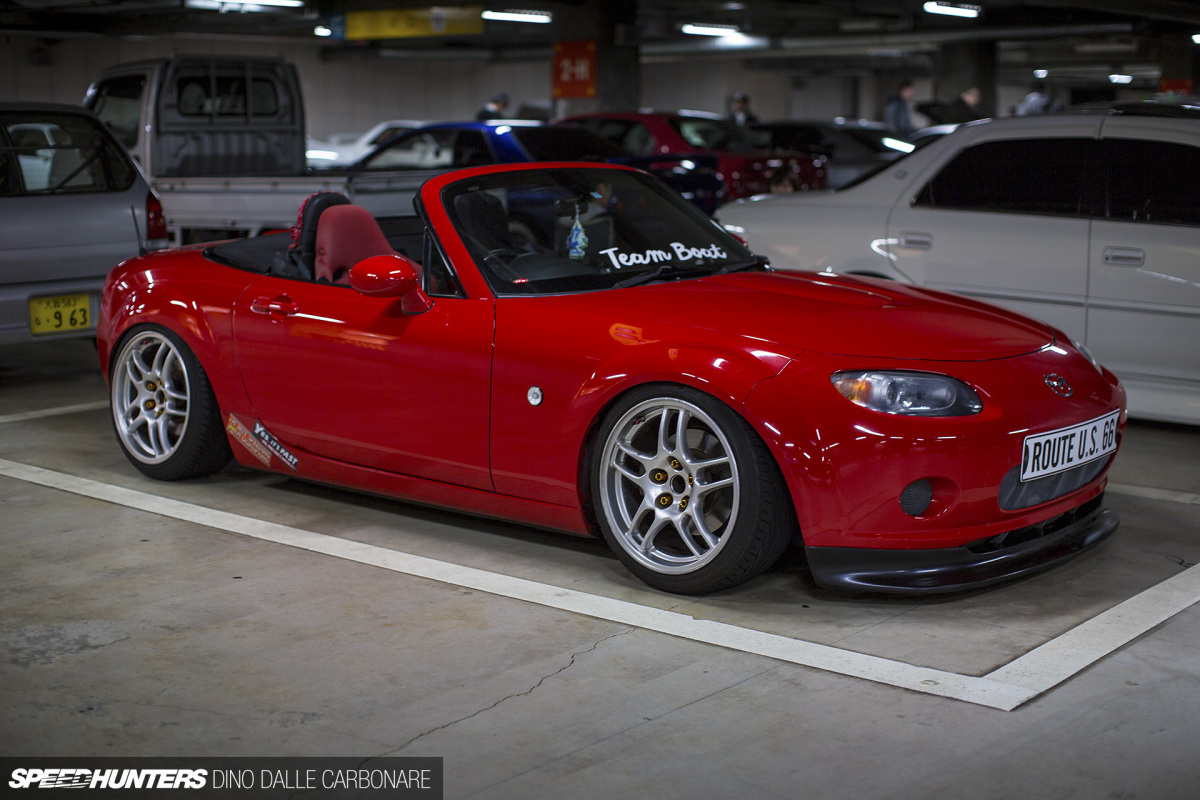 If you needed another example of R33 GT-R wheels looking absolutely ace on any car other than an R33 GT-R, here it is.
The mind-blowing array of cars kept impressing; a few footsteps took me from a little group of highly-tuned AE86s over to stunningly-restored American muscle, and then another nice example of a cleanly-tuned, street-oriented drift S13.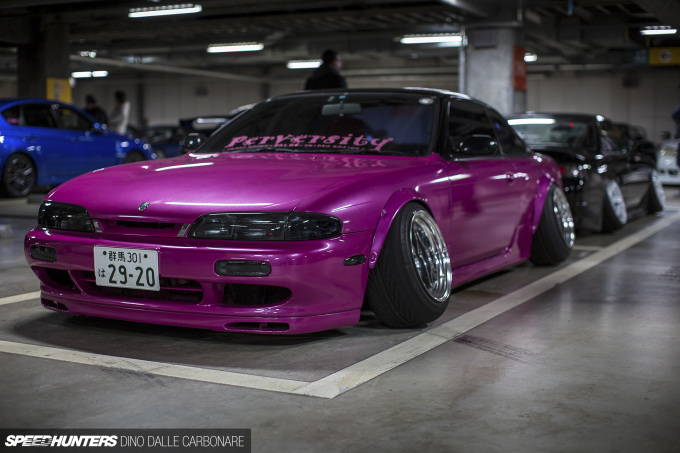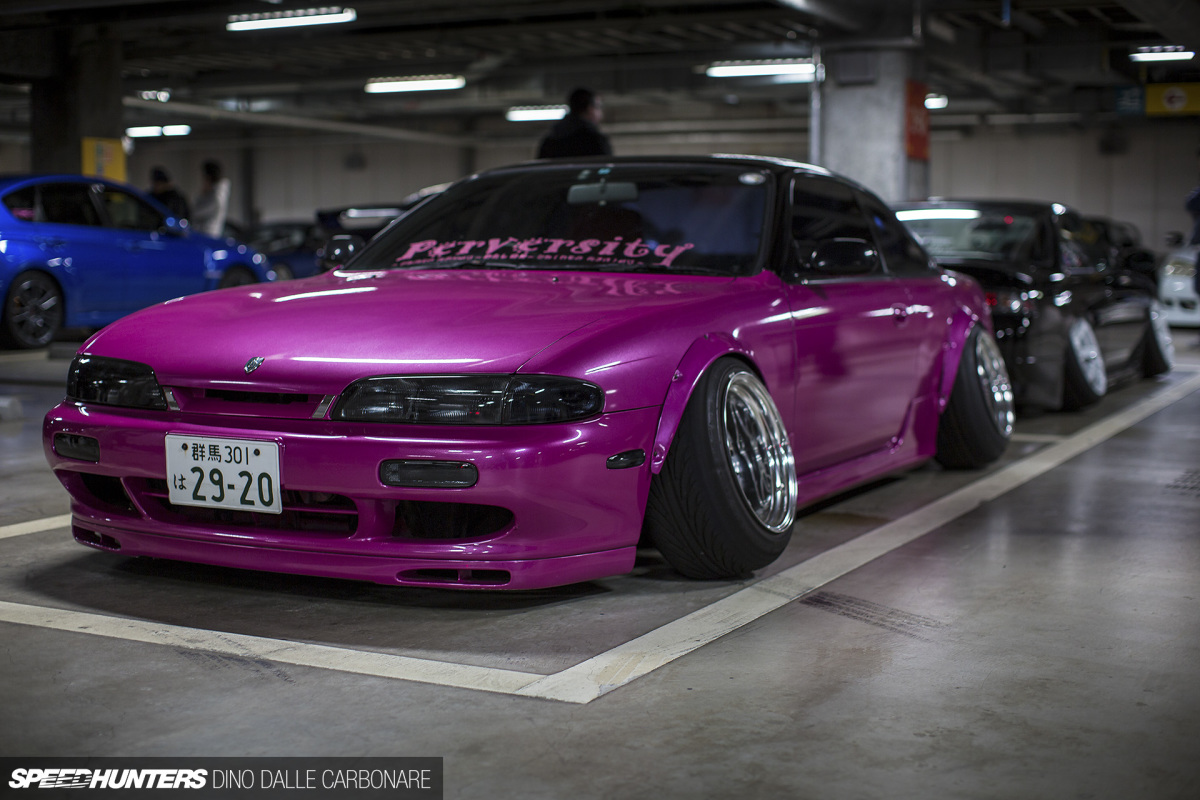 If onikyan is your thing, there was much to indulge in. I personally don't get it, but I do like to shoot cars that sport this sort of style, and I do always love to read your take on it in the comments section. So, if you did drive a pink S14, would you or wouldn't you?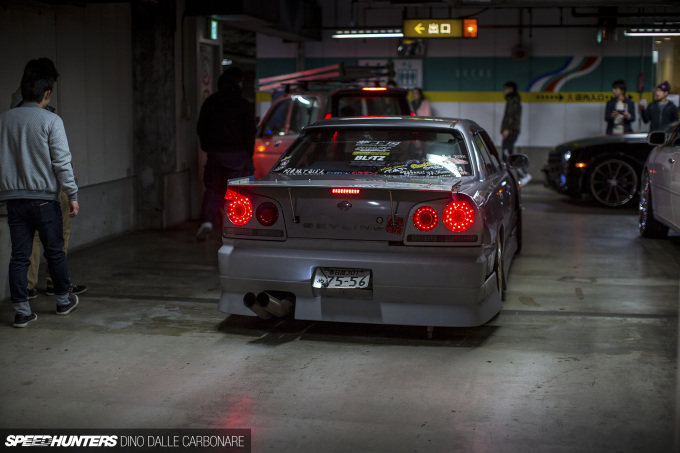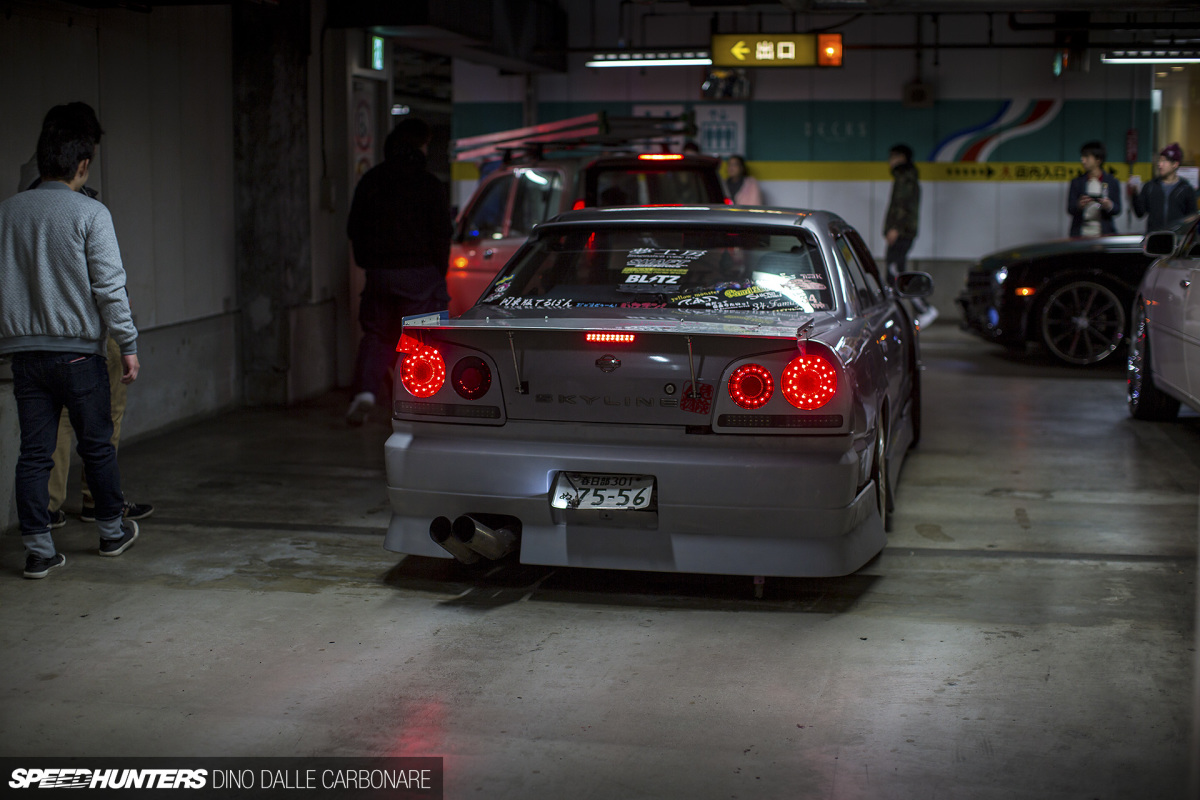 Up on the second floor of the parking lot the line to get out was moving at a snail's pace.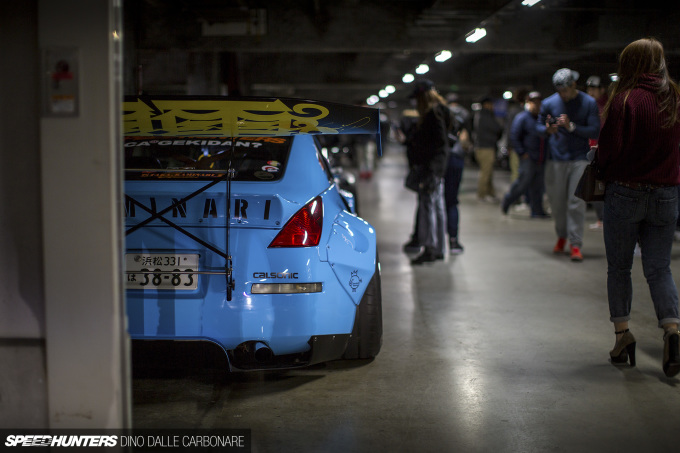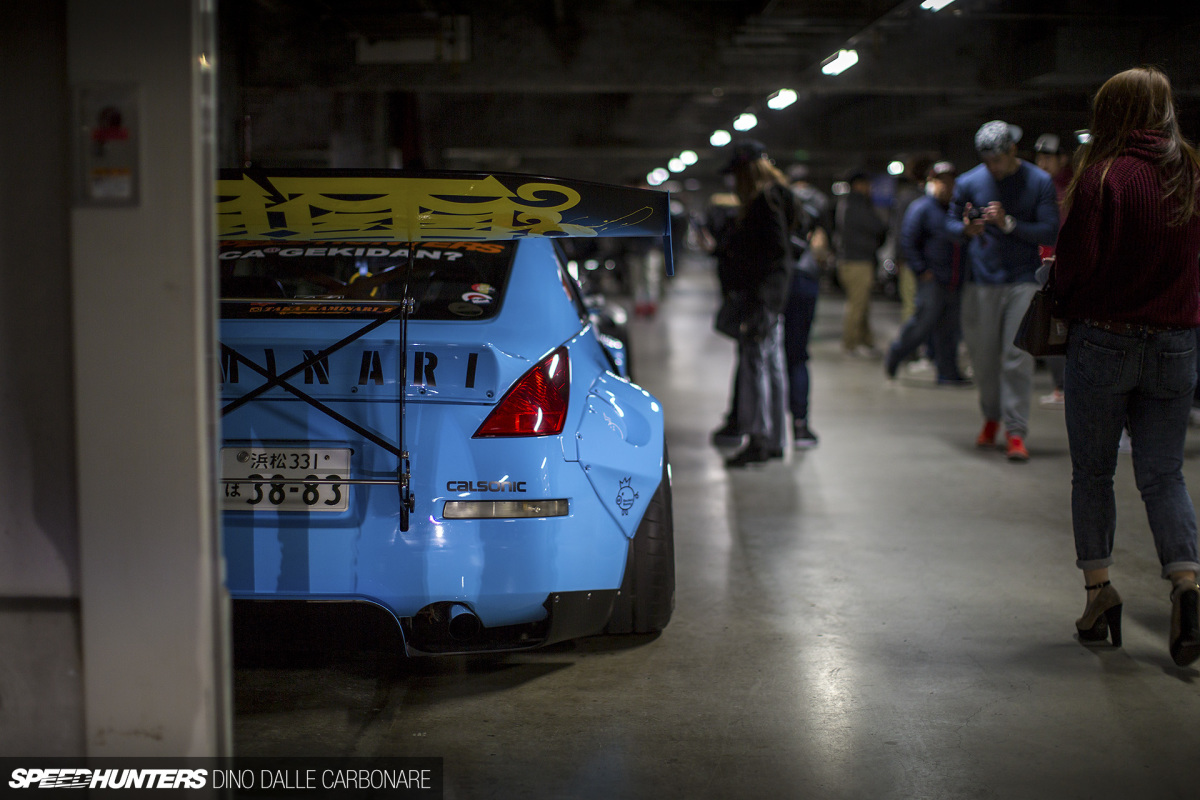 That was fine with me as it meant I still had a little more time to walk around. I must say though, knowing that I had to put together a Tokyo Auto Salon set-up story together once I returned home that night was lingering in the back of my mind; the longer I stayed, the more I'd get delayed and the less I'd sleep prior to TAS's opening day. I ended up grabbing just under three hours of shut-eye, but knowing how you guys look forward to that first look of the show every year made it all worthwhile.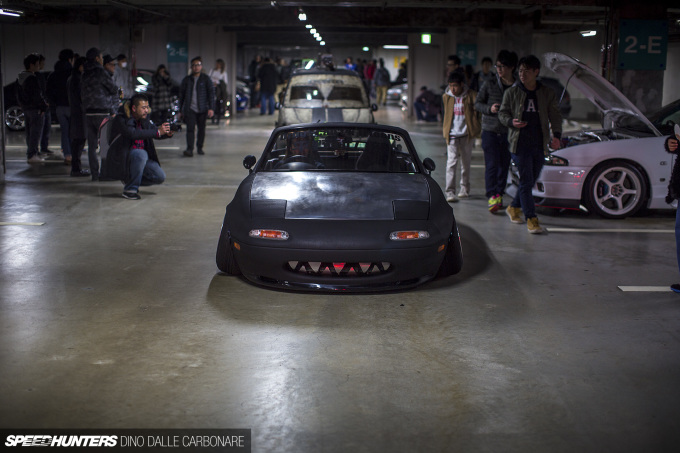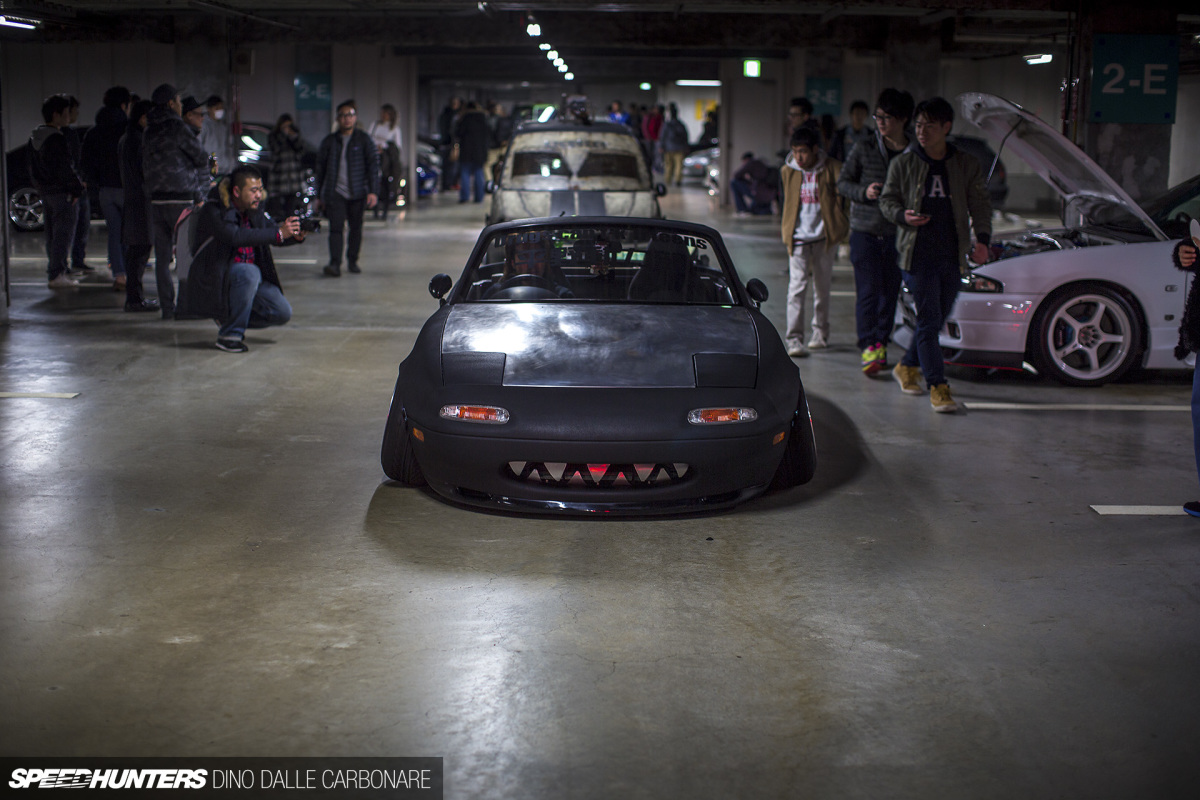 Then I spotted two cars that would be great extras in an episode of The Walking Dead. The NA was interesting enough…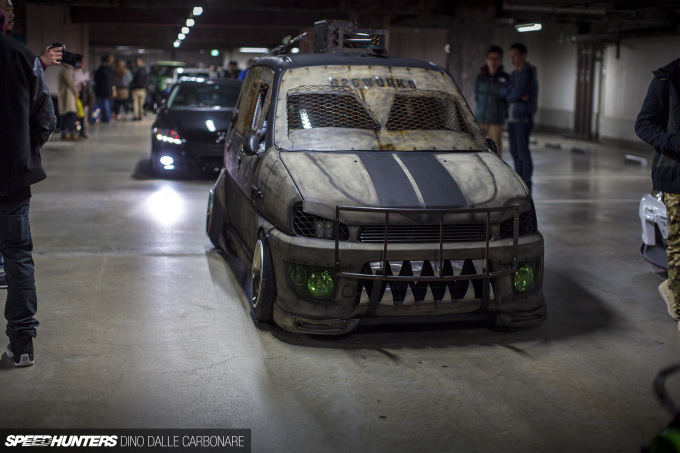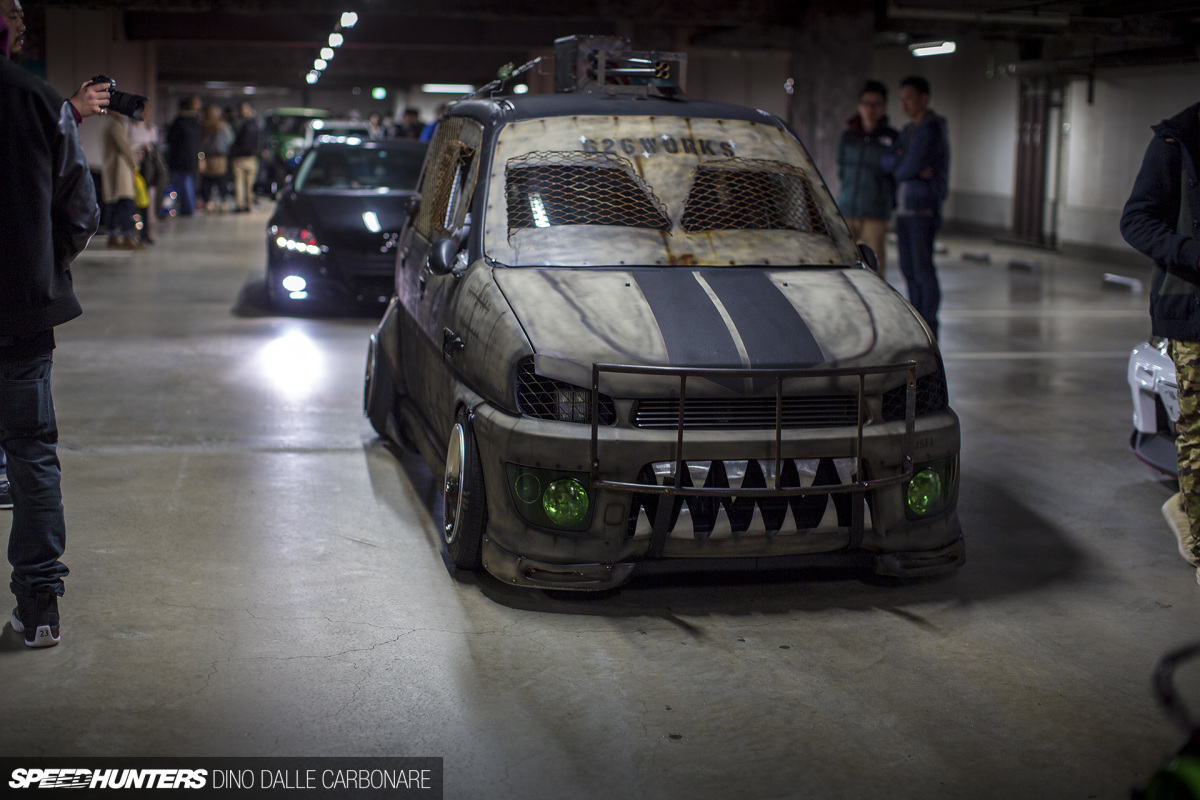 But the little kei van behind it was on a whole other level.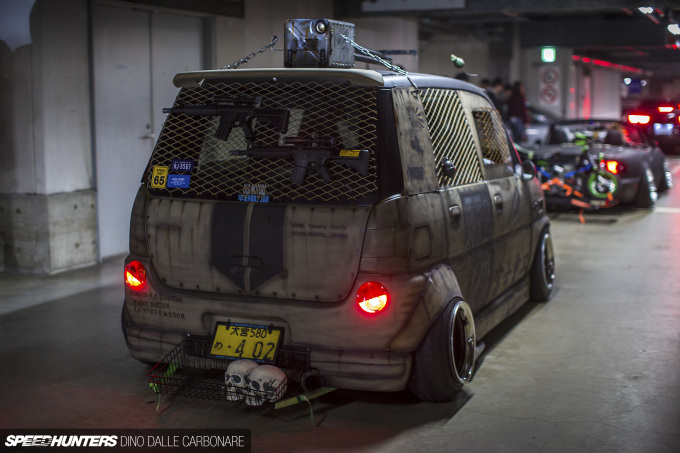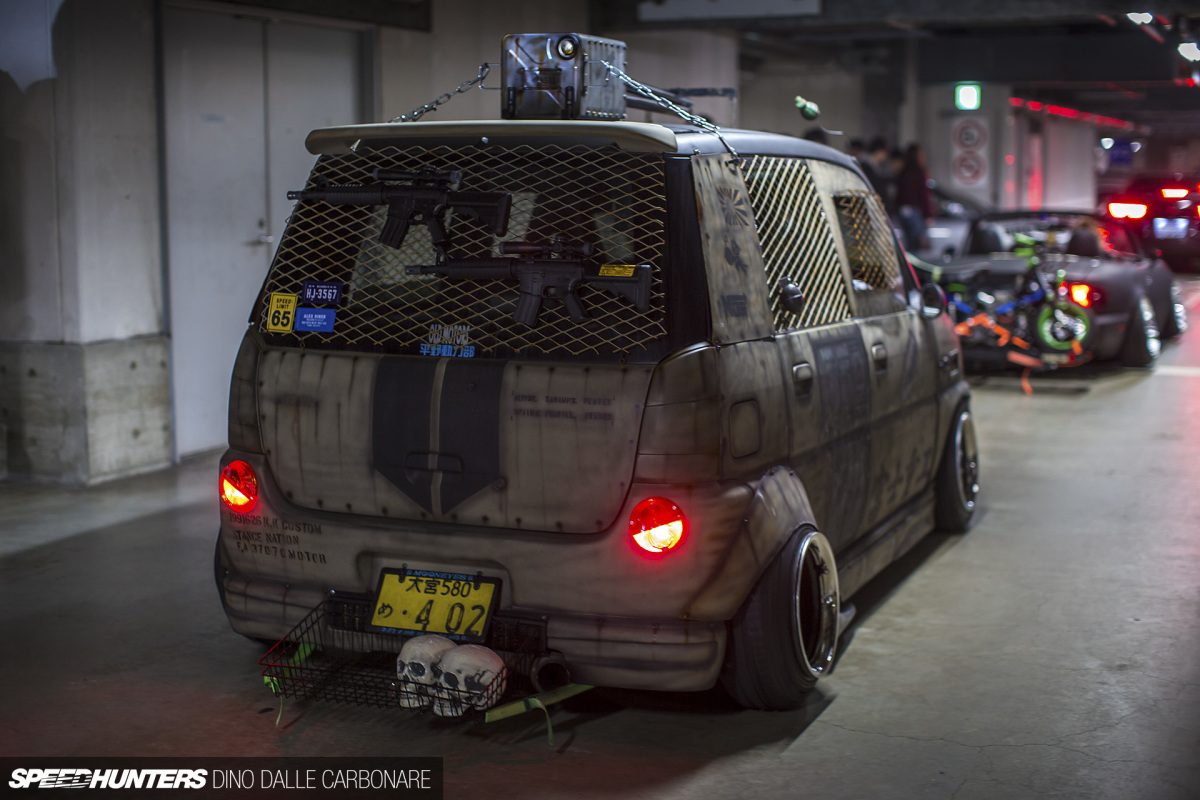 It took me right back to a car I shot four years ago.
While Nissan these days has no new sports machines to give us aside from the 10-year-old R35 and Z34, it's always cool to see nicely kept older-gen cars. The 180SX was absolutely spotless and the Z33 with over-fenders looked ridiculously attractive.
Car Guys Will Suffer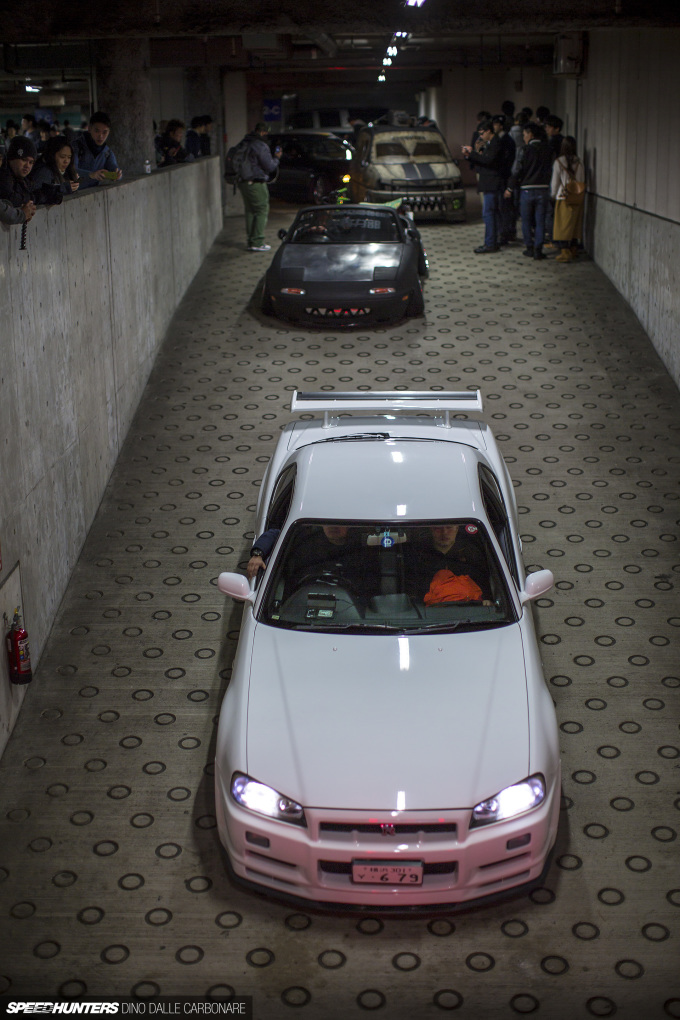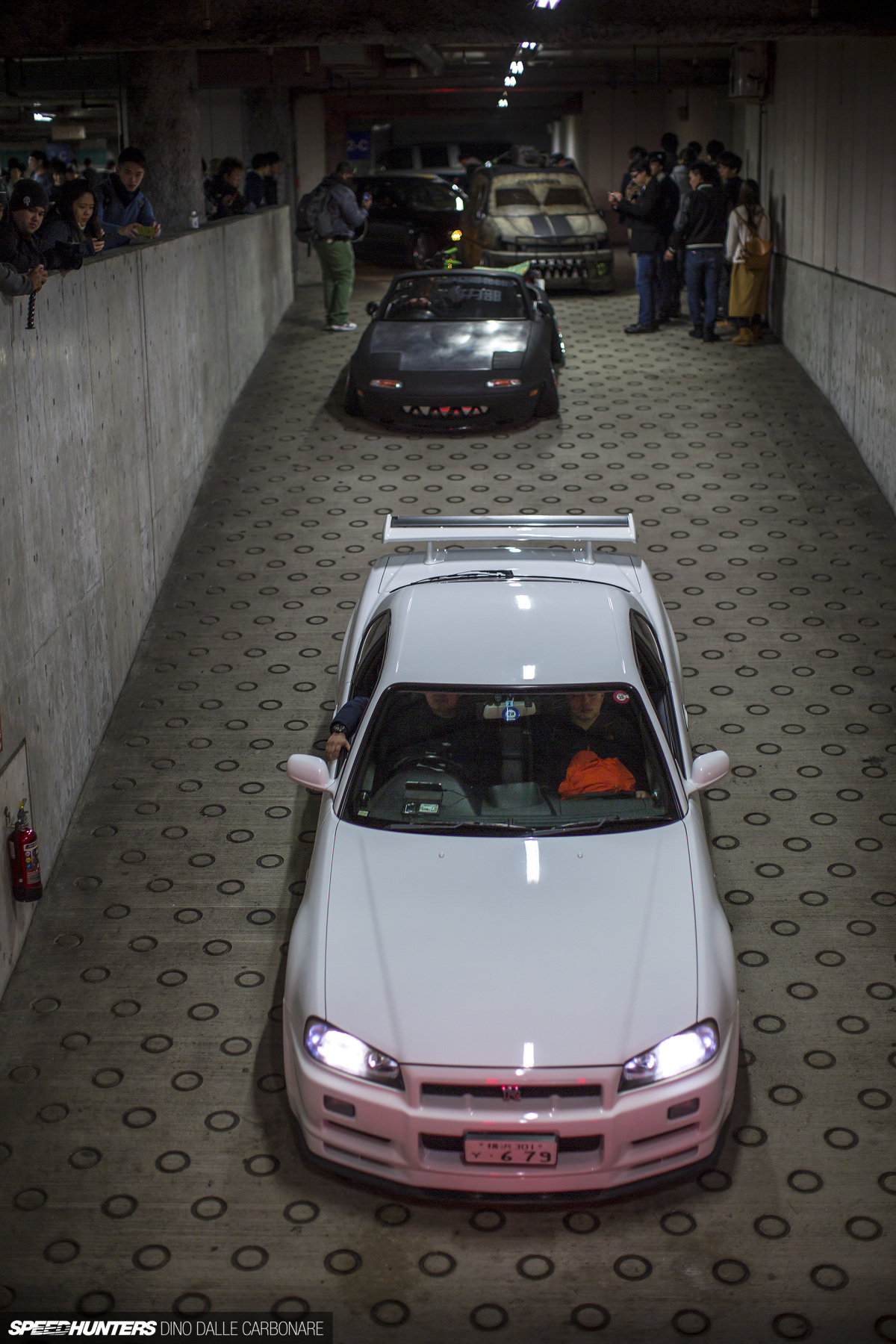 This has to be my favorite angle of a BNR34; it makes it look pissed off as hell, even with a stock body.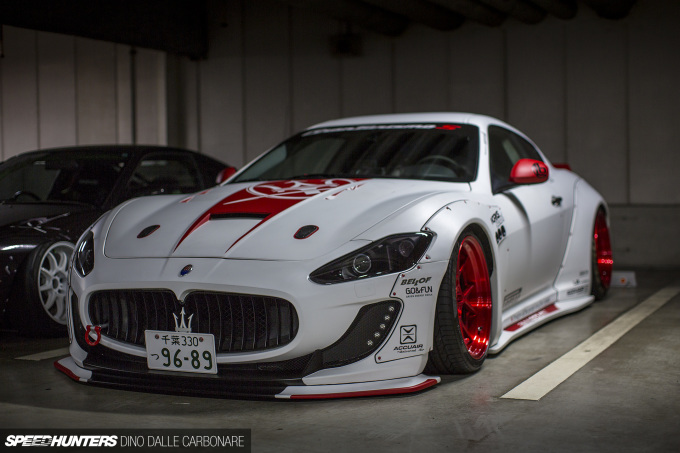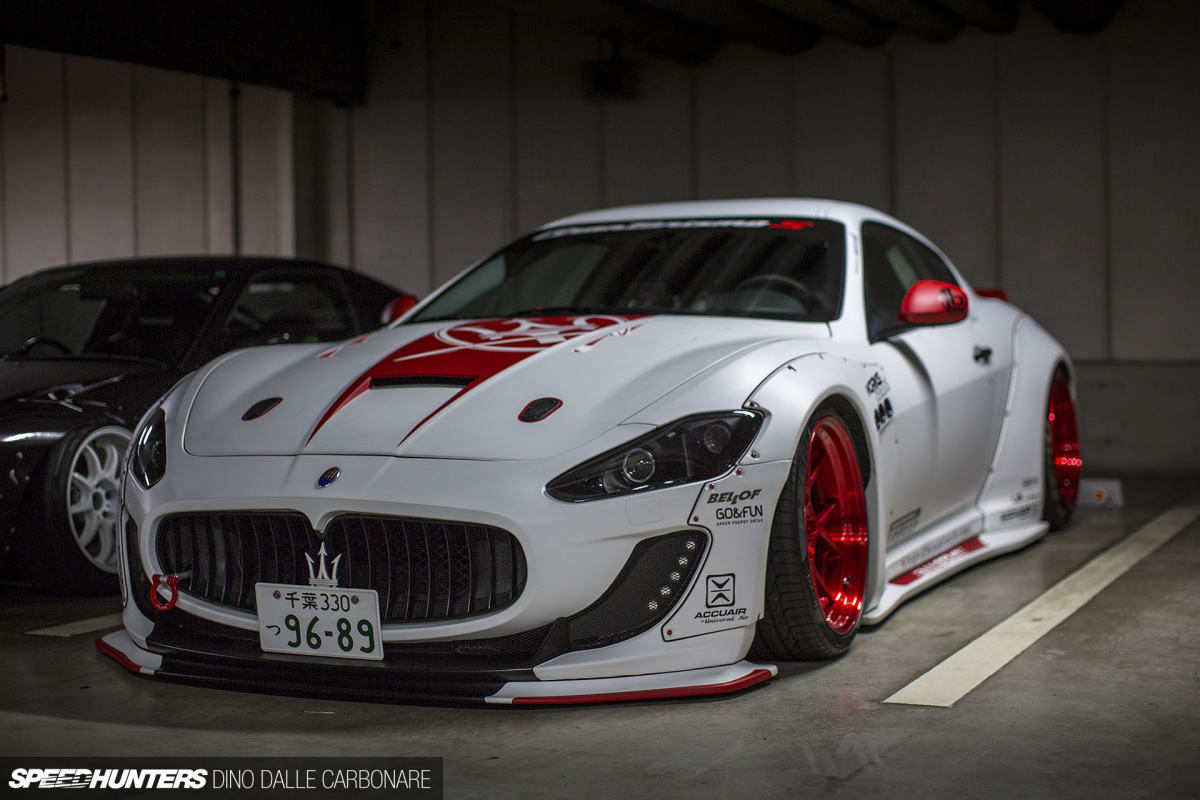 I couldn't believe I even came across a Gran Turismo dressed up in a Liberty Walk kit. It was pretty much all that was needed to round off the selection of cars.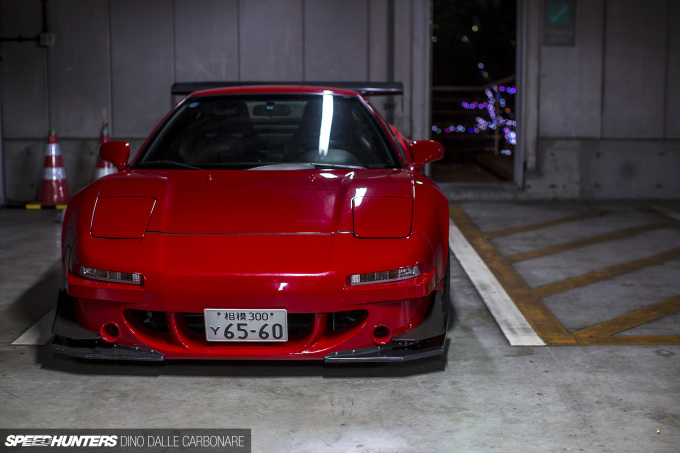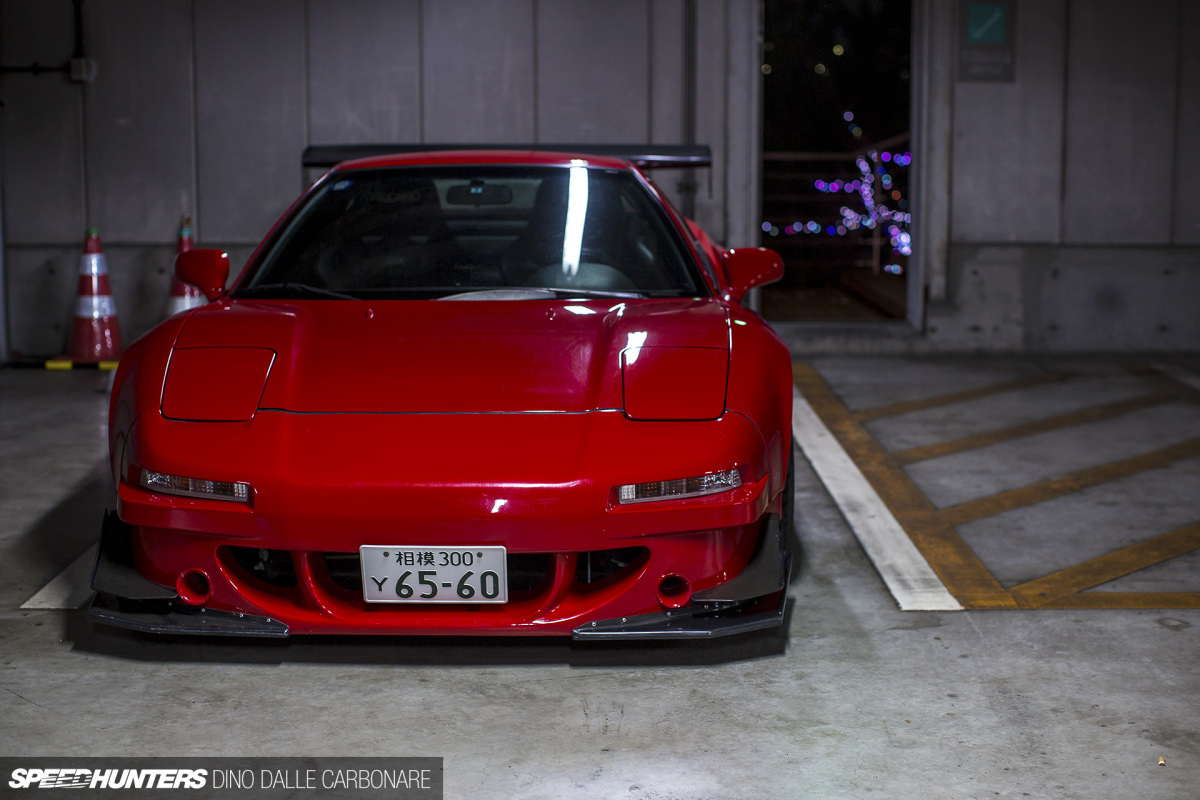 Well, maybe there is always time for one more NSX, this particular example being a left-hand drive Acura from one of the US bases.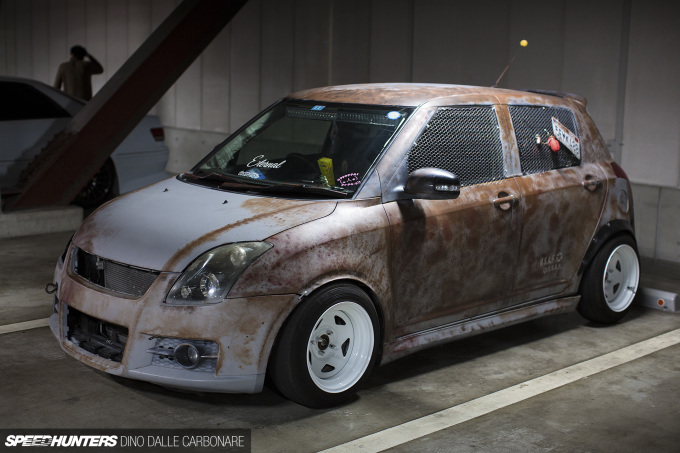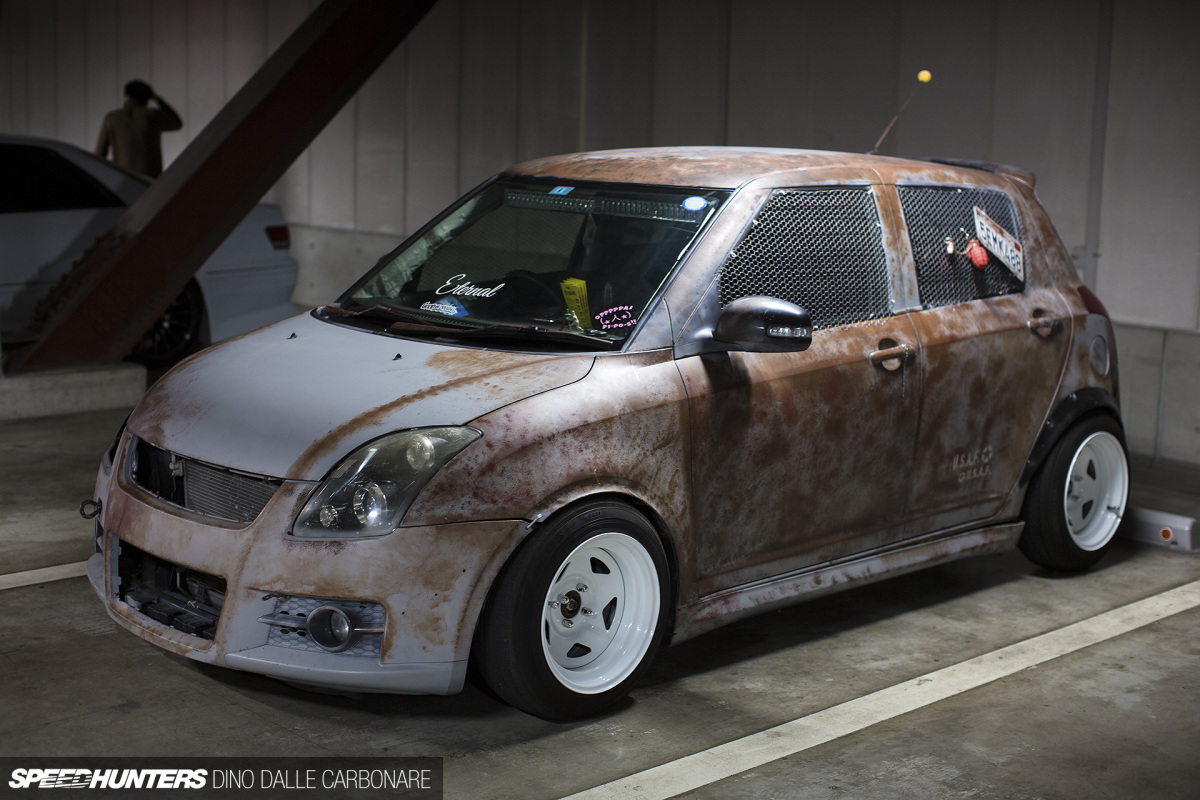 More post apocalyptic world style on this Suzuki Swift.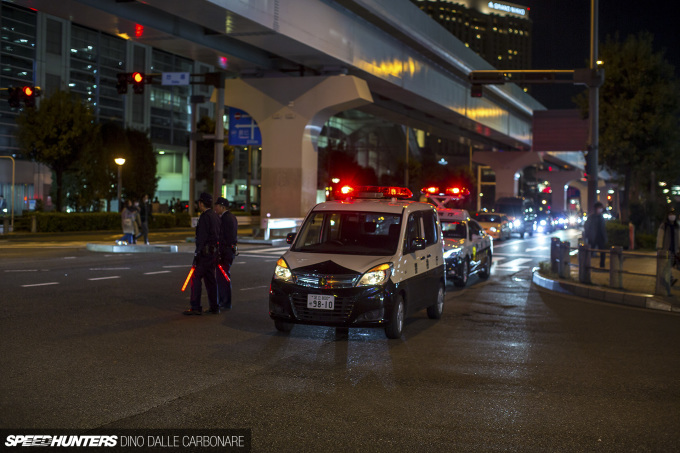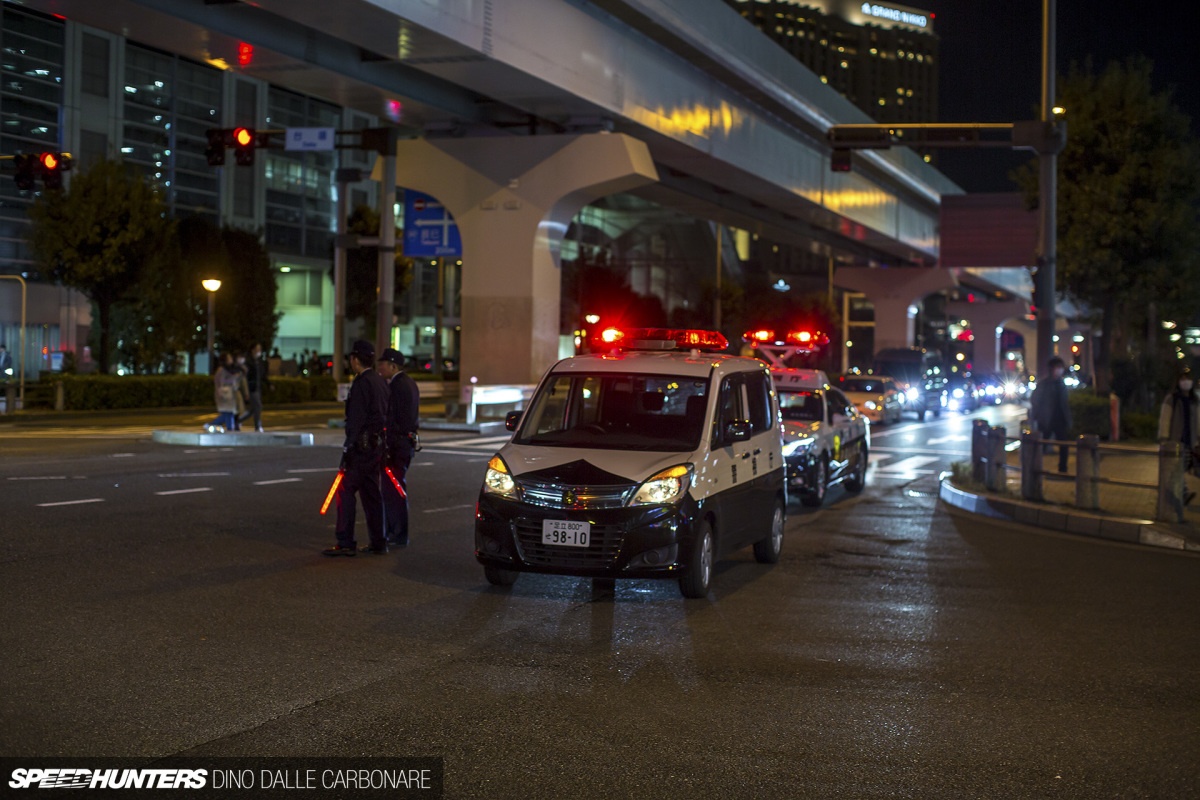 It was about that time to call it a night and put an end to what had been a pretty epic day of Speedhunting. Outside it was still mayhem; the Police were positioned at every intersection nearby to ensure nobody did anything stupid, which of course they did. There was the odd attempt at a burnout, a little tail-slide turning into the main street, and the revving of engines –  the sort of stuff people do to appear as antisocial as possible to the boys in blue.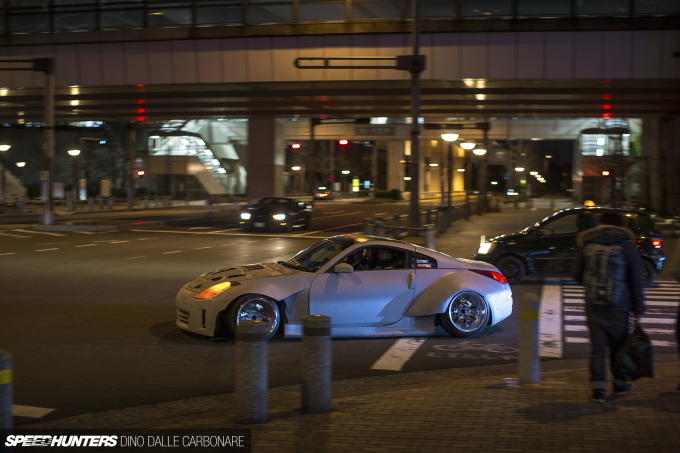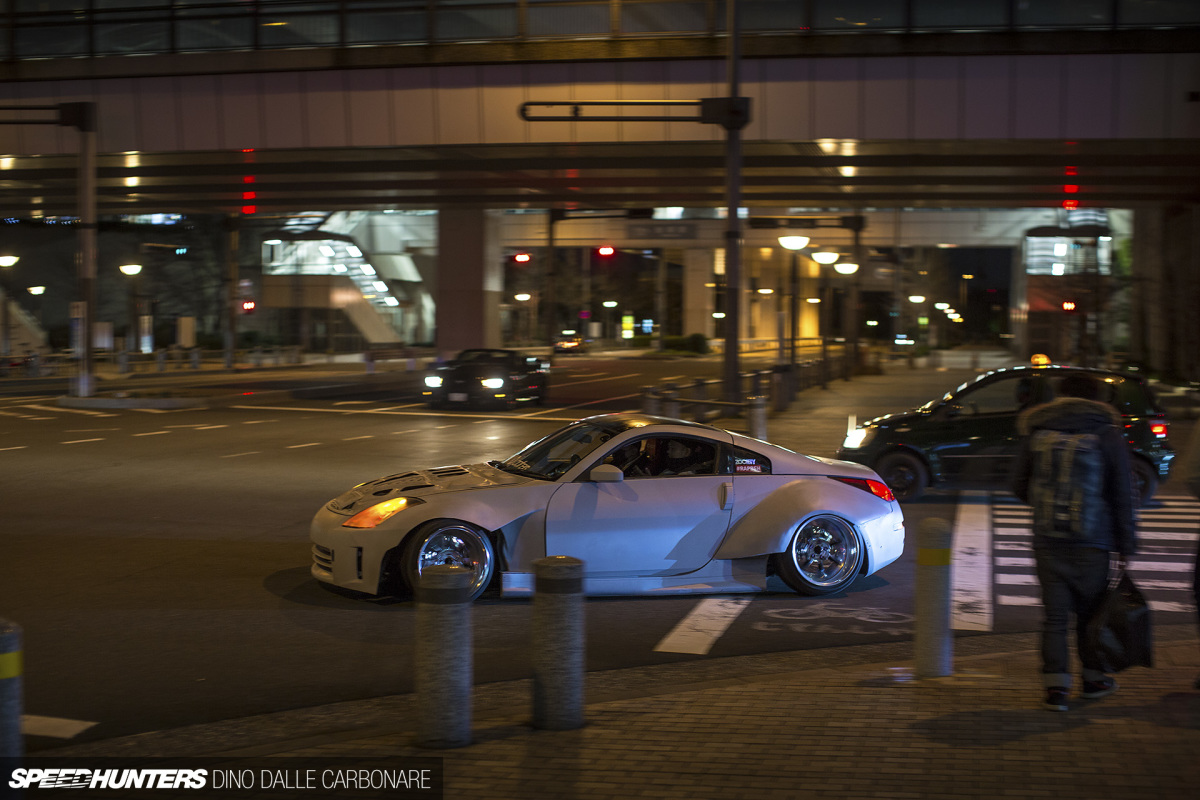 People here in Japan do that because they know that the Police won't stop them; they are just there to clear the streets and keep the disturbance down for all the businesses and actual residents. What many coming from surrounding Prefectures probably didn't bother thinking about, however, is that they would leave behind a very pissed off Police force. Their bravado will undeniably have consequences in the coming months for us enthusiasts that actually live in Tokyo and use these locations to quietly and respectfully meet up with like-minded friends. No doubt we'll now have to endure on-the-spot checks, parking areas being closed early and just general unneeded attention.
So while it was a good night, I left feeling a little bitter about what I had seen. All you have to do in Japan to get along with people and society in general is to have some level of respect, be polite and have a smidgeon of common sense. I didn't see any of that on this night, which is a shame. And obviously this is the last time the gathering will ever happen at Decks.
Dino Dalle Carbonare
Instagram: speedhunters_dino
dino@speedhunters.com