Rescue Mission
After having the Wavetrac installed last month, I found myself almost immediately on the road again.
I always try to make the most of these long trips across to the UK as it's relatively easy – if not a little bit boring – to reach anywhere, courtesy of the huge motorway network. My next stop would see me and Project GTI head north from Southampton right up into the heart of the English countryside, to an airfield called Bruntingthorpe.
Now known as Bruntingthorpe Proving Ground, the former RAF base is home to an eclectic collection of machinery. From decommissioned 747s to former military aircraft, there's nothing that would surprise me if it popped up here. It's also home to some very interesting cars, along with a 2-mile-long runway which has become renowned for its high speed runs and features heavily in British automotive media.
I don't think the car we're looking at today is going to be making any record runs up the runway any time soon, but that's not what it's about. In fact, this car is the complete antithesis to speed. What it does have though is style, character and a great story.
You might not be familiar with the maker, Austin-Healey, but that's okay. I've been exposed to the British car maker for most of my life, but I never considered it interesting in any way. Austin-Healeys have never excited me and you'd rarely see one outside of a classic car show. Typically, they would be grouped together with an identical style applied to them all. The only thing that separated them was their colour. No one would ever dare to step outside the line and do something different.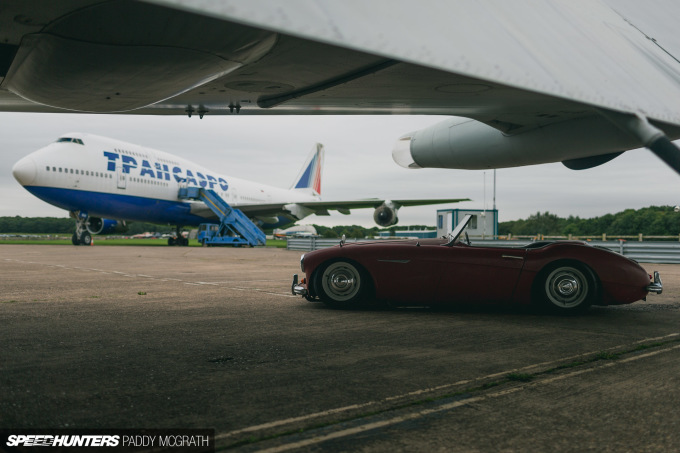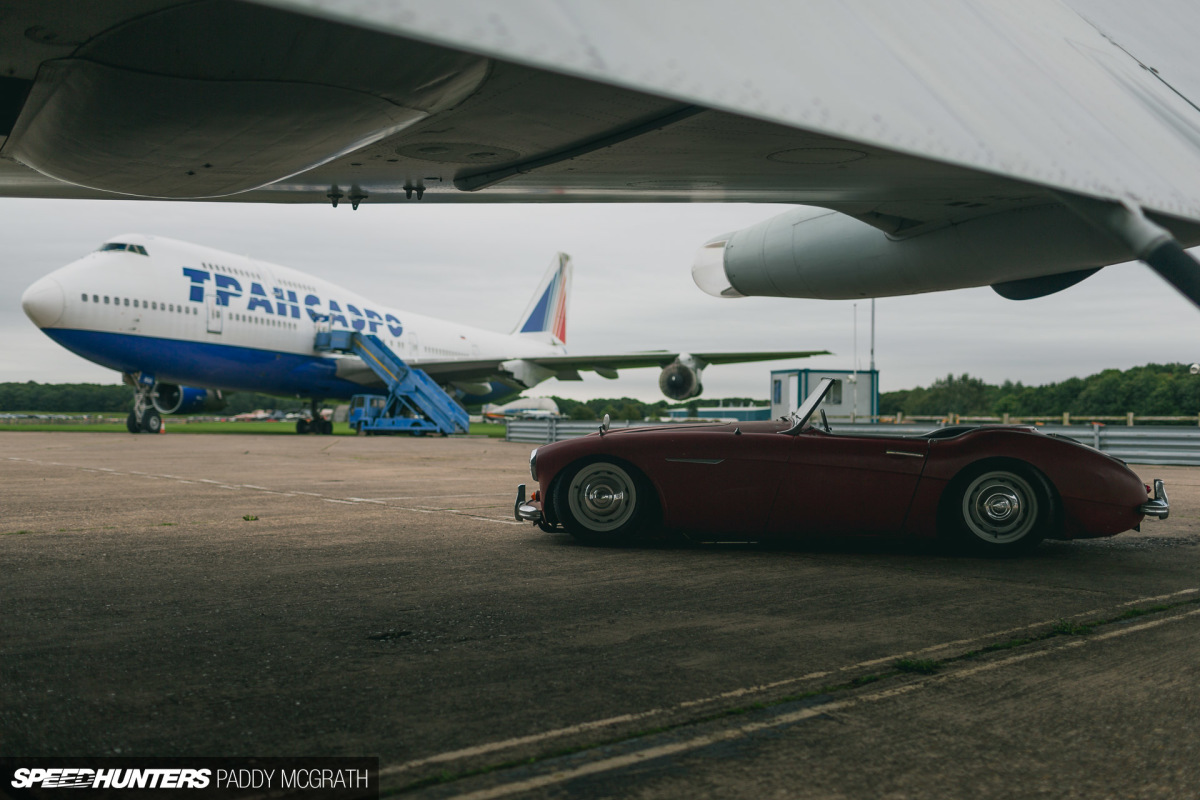 This is where Max Marshall's 1958 Austin-Healey 100-6 is different from the rest. The car was bought sight unseen by Max's father back in 2011. His father had been looking for one for a while and when he was shown photos of this particular car, he knew it was the one for him. There was one issue though: the car had been sat up since the mid-1970s. Also, it was in California.
The latter point is actually a bonus when you're used to sourcing cars within the UK. The typically dry conditions in California means that the car would be far more structurally sound than if it had been exposed to the elements in the UK for nearly 40 years. It would probably have rotted away completely in the UK, truth be told. So the car was bought, pulled out of whatever field it was lying in and shipped across to fish, chips, cup 'o tea, bad food, worse weather, Mary Poppins, England.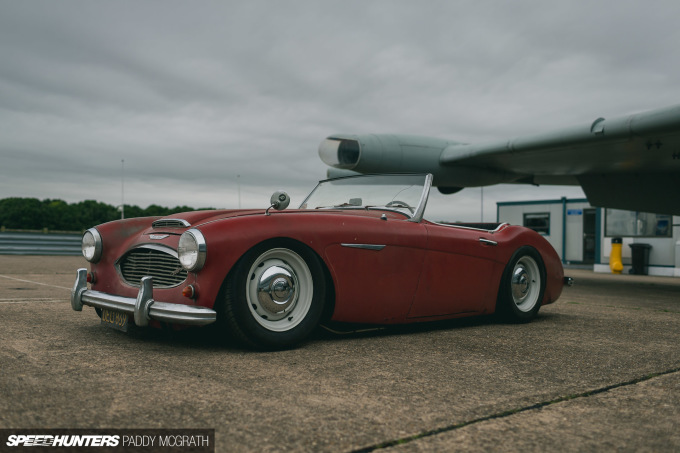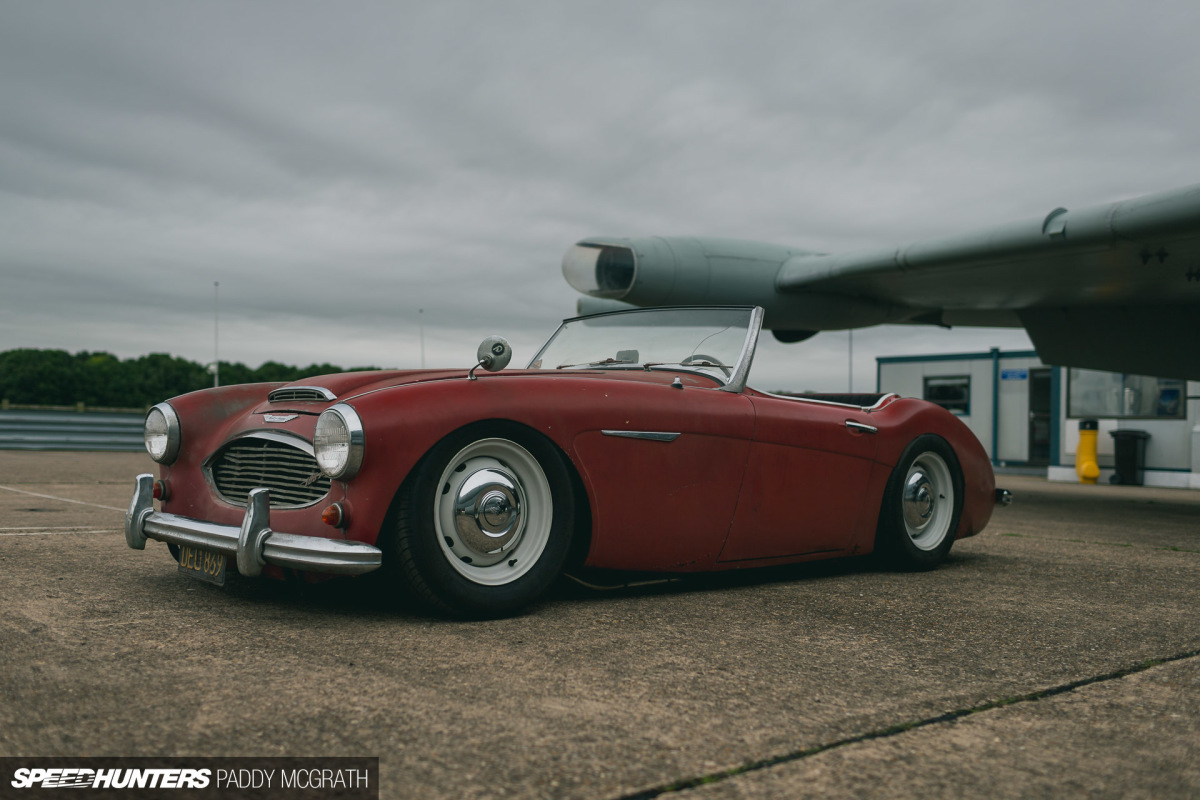 When it arrived, the 100-6 was actually in better shape than the Marshalls could ever have hoped for. Unfortunately for the car, it had another little bit of waiting before it would be resurrected.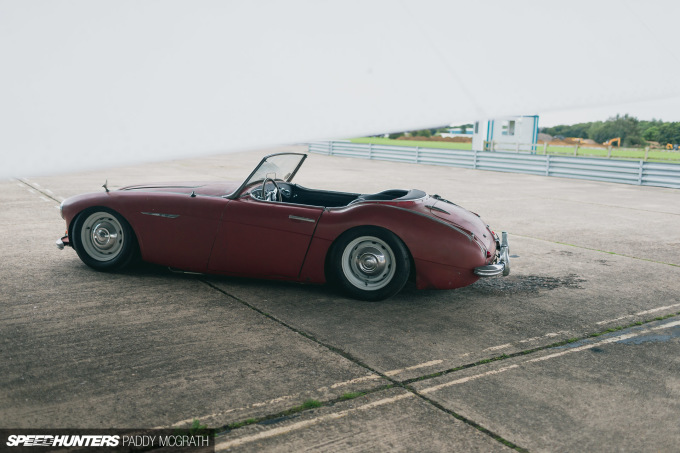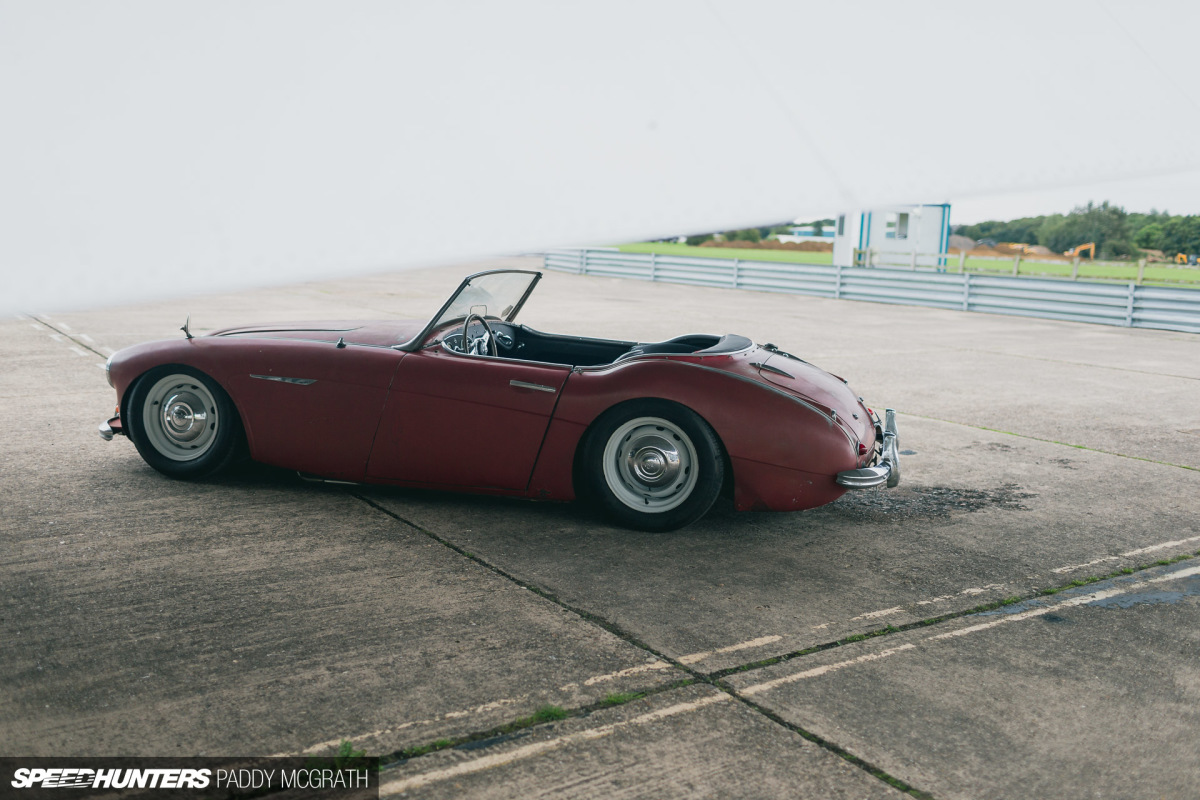 It was only earlier this year that Max took pity on the car and started working on restoring it. It's at this point that I'd like to add that I'm hugely appreciative that Max would make the decisions he would ultimately make. The first task was to see if the engine would still turn. Hooking up a constant flow of power to the starter motor, the engine happily turned over after 42 years of sitting idle.
Next was the unenviable task of getting it running. Fresh plugs, HT leads, distributor cap and condenser, water pump and thermostat, fuel pump and an alternator to replace the original dynamo followed by rebuilding the carburettors brought the car to life. The transmission side required a new master cylinder, slave cylinder and flexible lines, but again, once it was bled, it worked faultlessly.
The only issue during the car's revival was when Max's heavy right foot blew the old seals out of the drum brake cylinders. Needless to say, these were replaced too with new brake lines installed.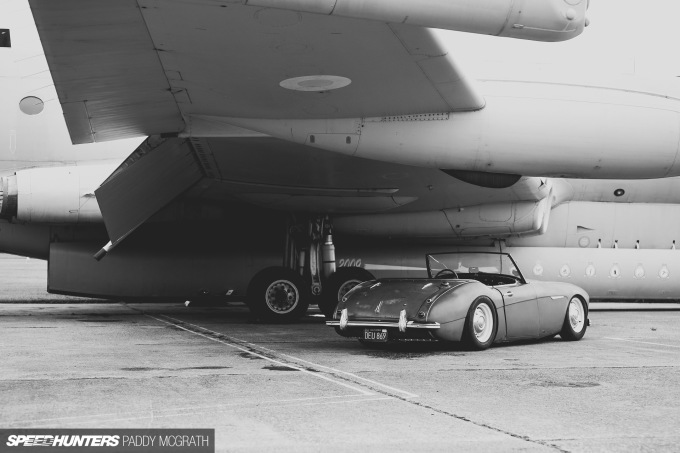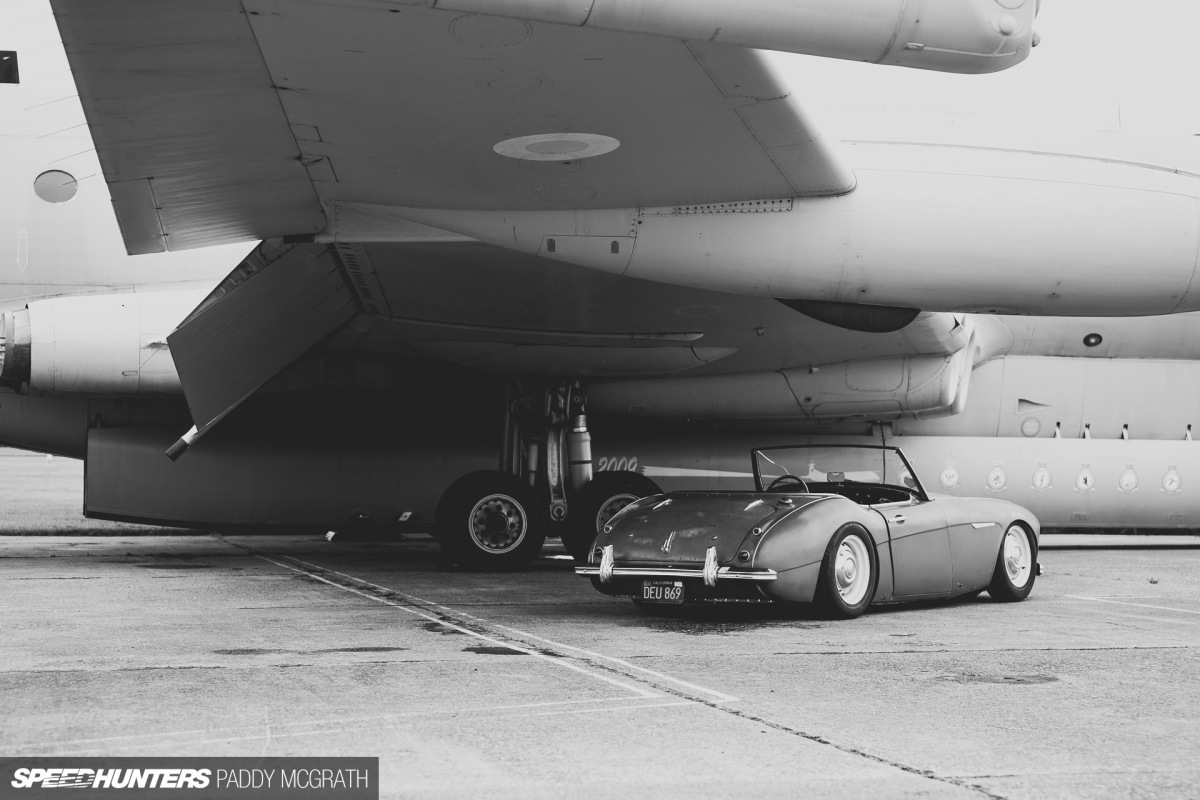 With the car running once more, plans then turned to the next chapter. Here's the thing though, Max wasn't feeling the idea of a nut and bolt restoration. "Most Healeys on the internet are all painted up and looking shiny, but you don't see any of its character like that," he told me. "You can't see what life it has had before it was put in a body shop and covered in filler to make it look straight and then a shiny new coat of paint put on."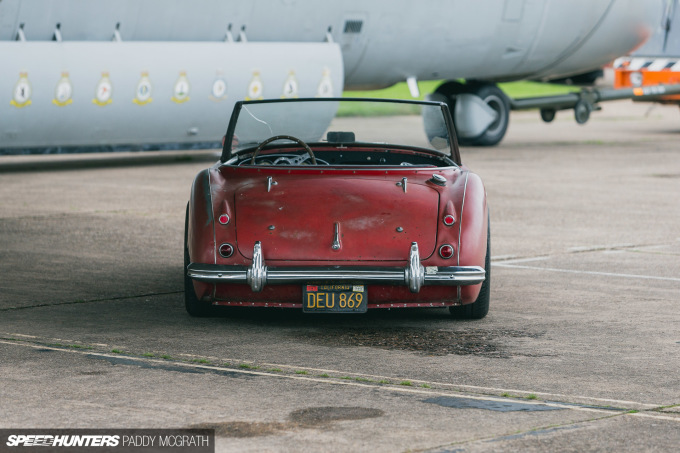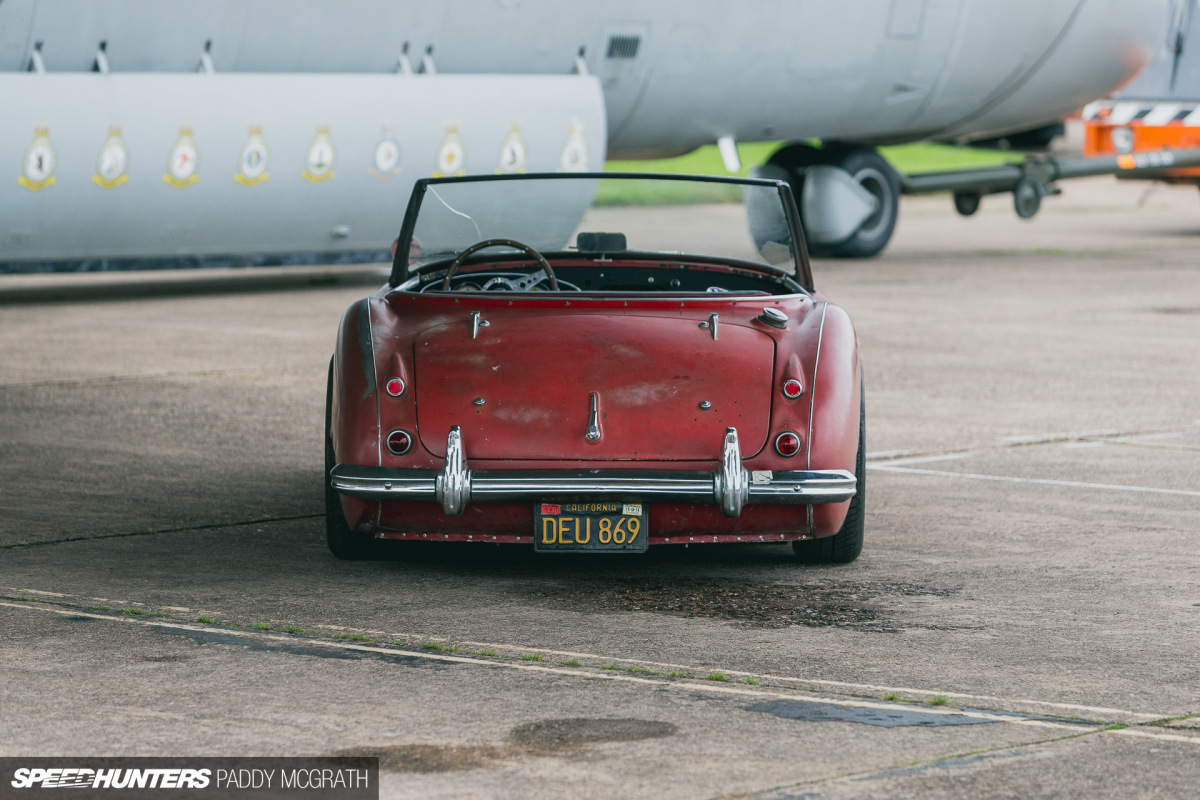 There's so much history which can be read from the car's exterior. The license plate tag is from 1974, as was the old newspaper found under the carpet, likely to provide padding against the exhaust's heat in the hotter climate.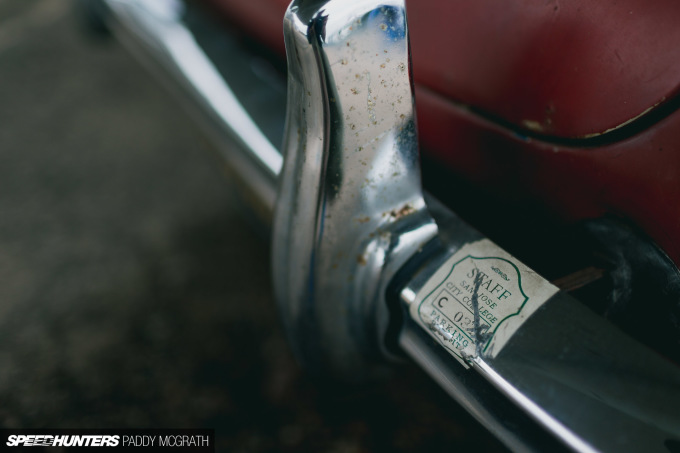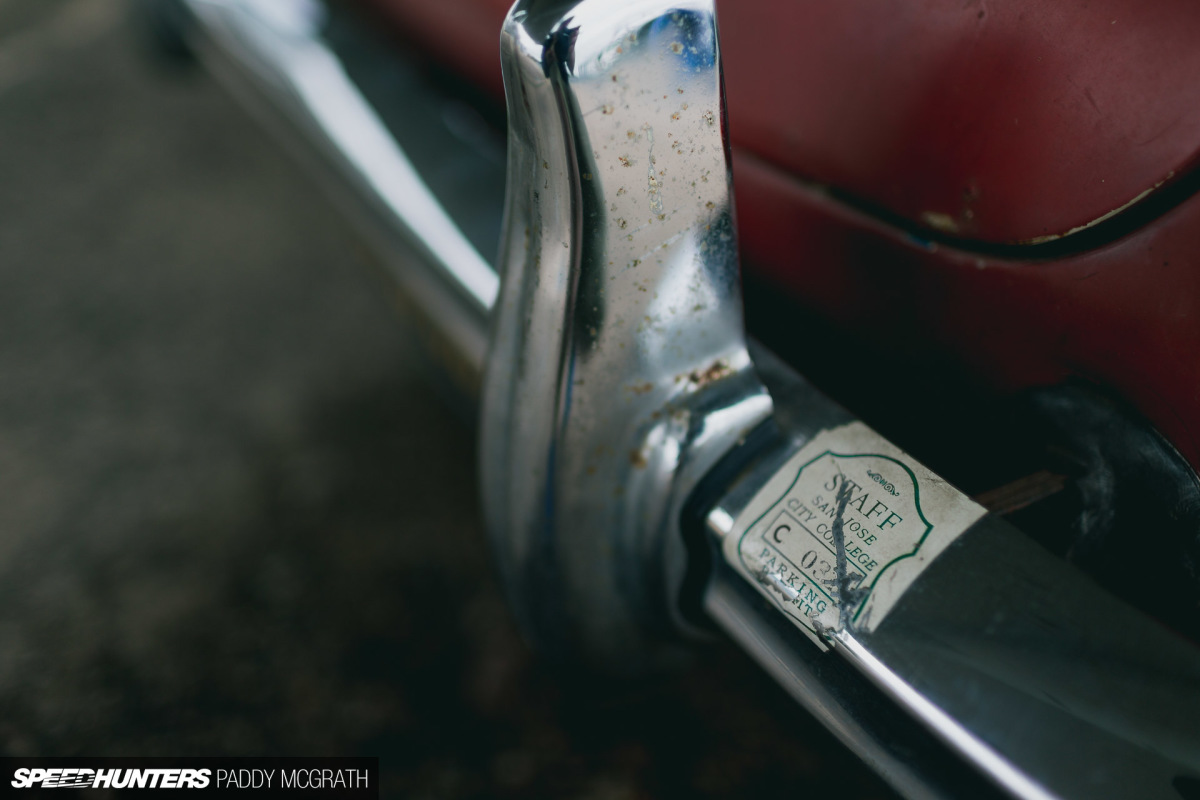 There's still the permit from the San Jose City College attached to the rear bumper too, from which one could assume that the car once belonged to a teacher or lecturer. It's these little details that can never be replaced and are infinitely more interesting than a re-chromed bumper, void of character.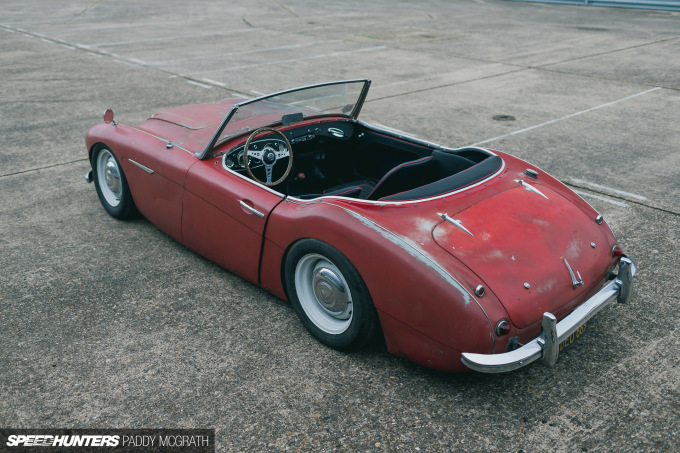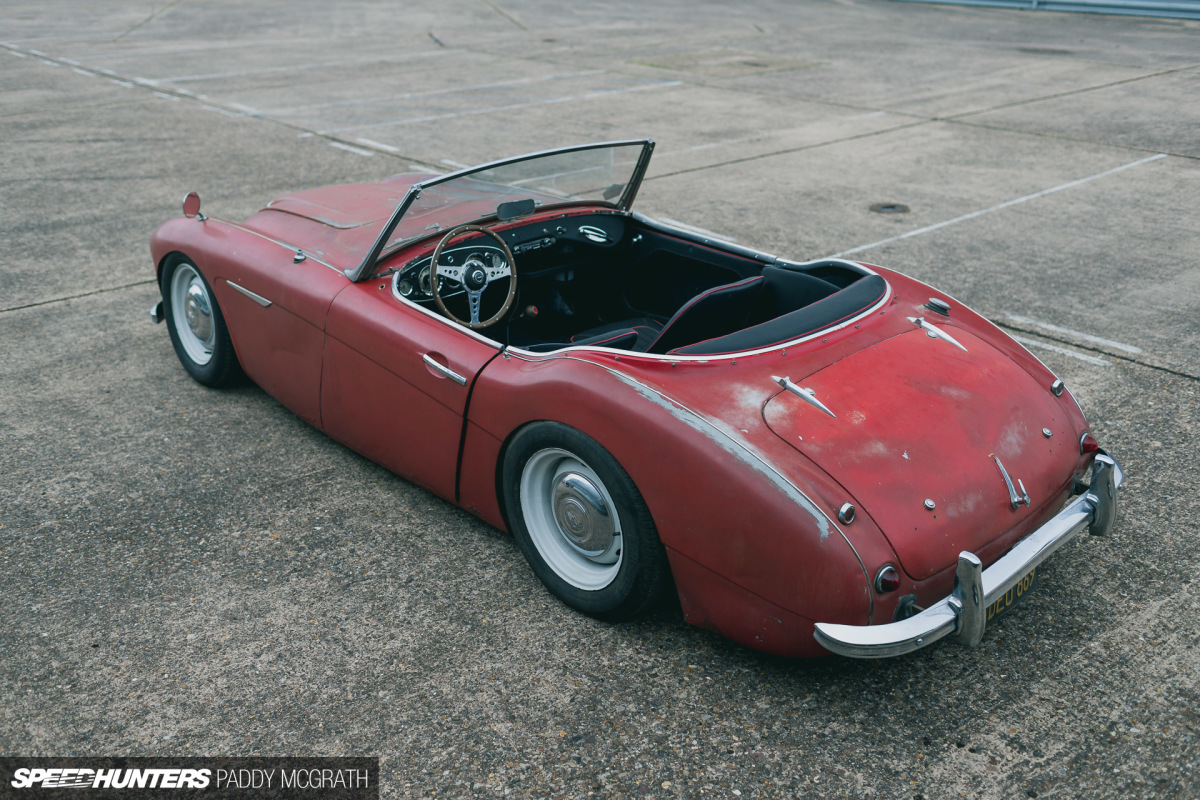 The decision to drop the car on air suspension was actually what set about brining the Healey back to life. When Max and his friend, Henry Gilbert from Riiva Design, started to toy around with the idea of bagging something interesting, it was all the reminder that Max needed about the 100-6 roadster sat in his workshop. From factory, these cars are notorious for being too low and bottoming out, so it made sense to put it on air.
There's no off-the-shelf solution for something as niche as this, so Henry ordered up a universal kit from Air Lift Performance and custom fabricated everything to fit before installing 3P management. The original wheels and tyres were retained, where typically most would convert to wire wheels.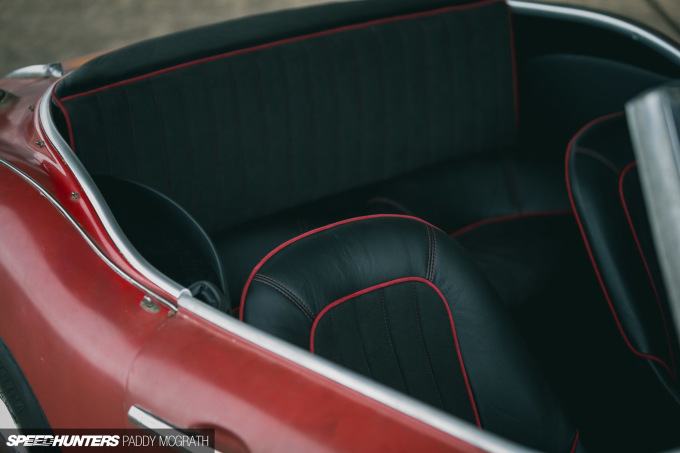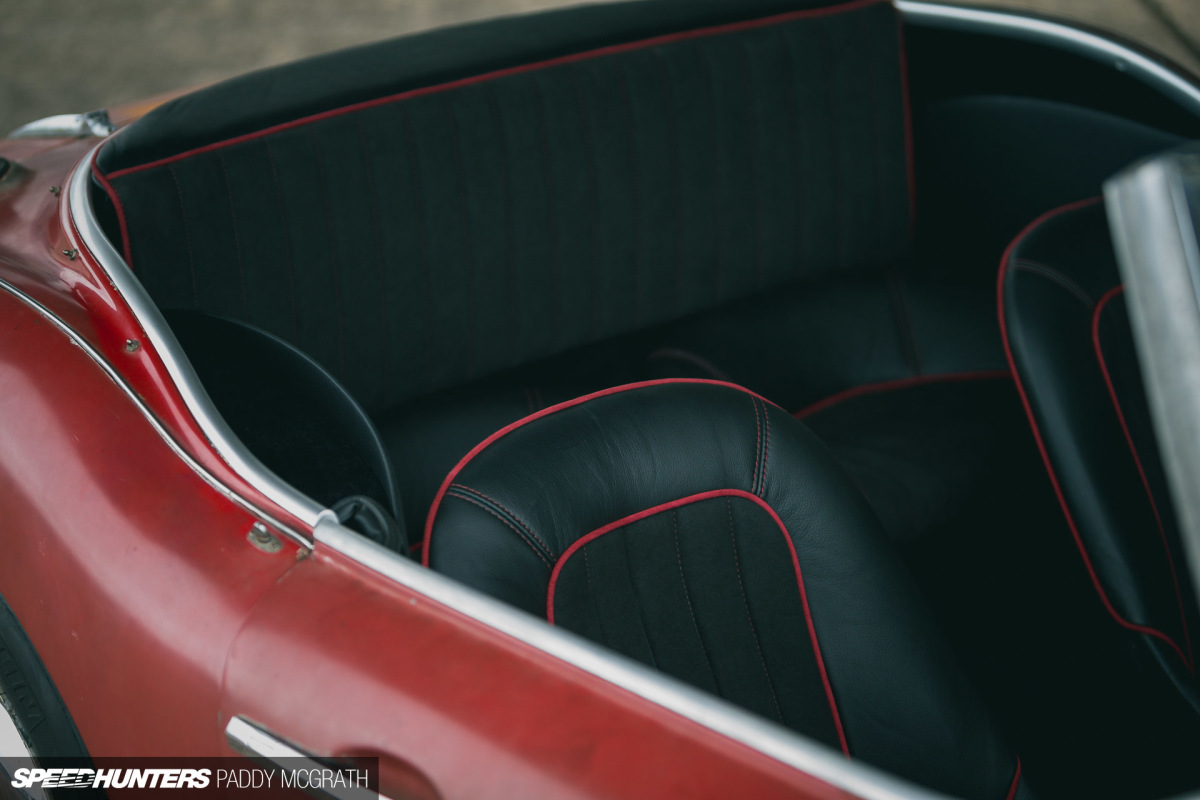 Max didn't want the 100-6 to look like a barn find and wanted people to know that this car was being cared for with quite a lot of work having been put into it. An immaculate interior was required to contrast with the exterior's patina. Luckily, he didn't have to travel far as just 20 metres from his own workshop was good friend, Martyn Beddow, who happens to be quite good at this interiors lark.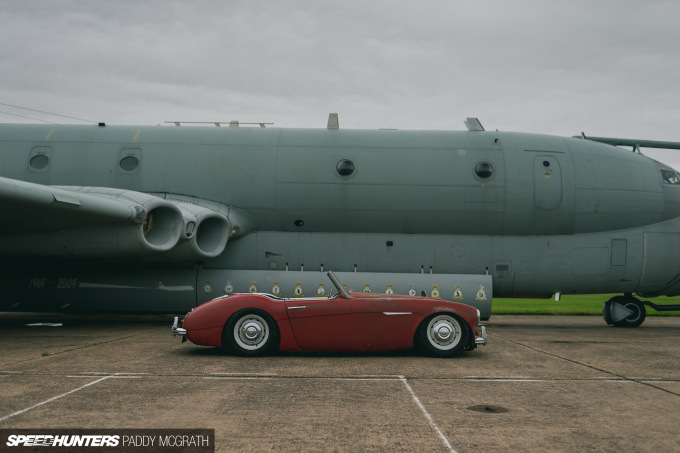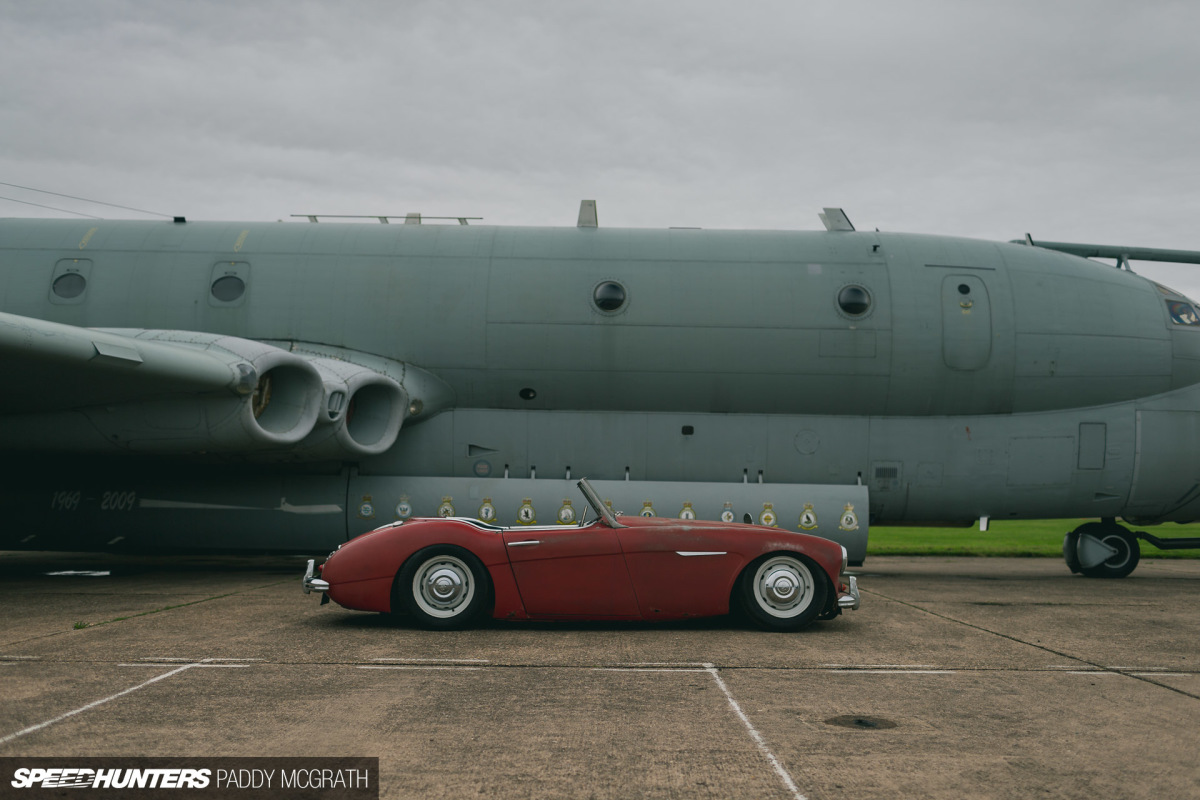 The car was finished for Players Classic earlier this year, and Max feels that it was this self-imposed deadline that got the Austin-Healey finished. There are still a few bits and pieces left to finish the on the car. For instance, the side-exit factory exhaust sits too close to the ground, so a workaround needs to be figured out. After 42 years of waiting to be driven again, I'm sure a few more weeks won't kill it.
Maybe another self-imposed deadline just to be on the safe side?
Paddy McGrath
Instagram: pmcgphotos
Twitter: pmcgphotos
paddy@speedhunters.com
Cutting Room Floor