Last Minute Plans
I'm going to preface this entire article by saying that this isn't a typical two week working period in my life. Also, this is a pretty big post.
When I set out to begin documenting this period of time, my plans were fairly minimal: an easy couple of days in the UK followed by a return to Ireland where I would attempt to make my life look at least some way interesting. As it turned out, life had other plans for me.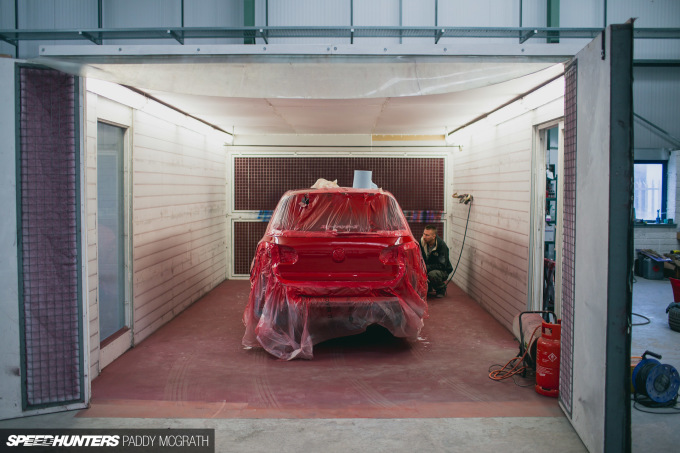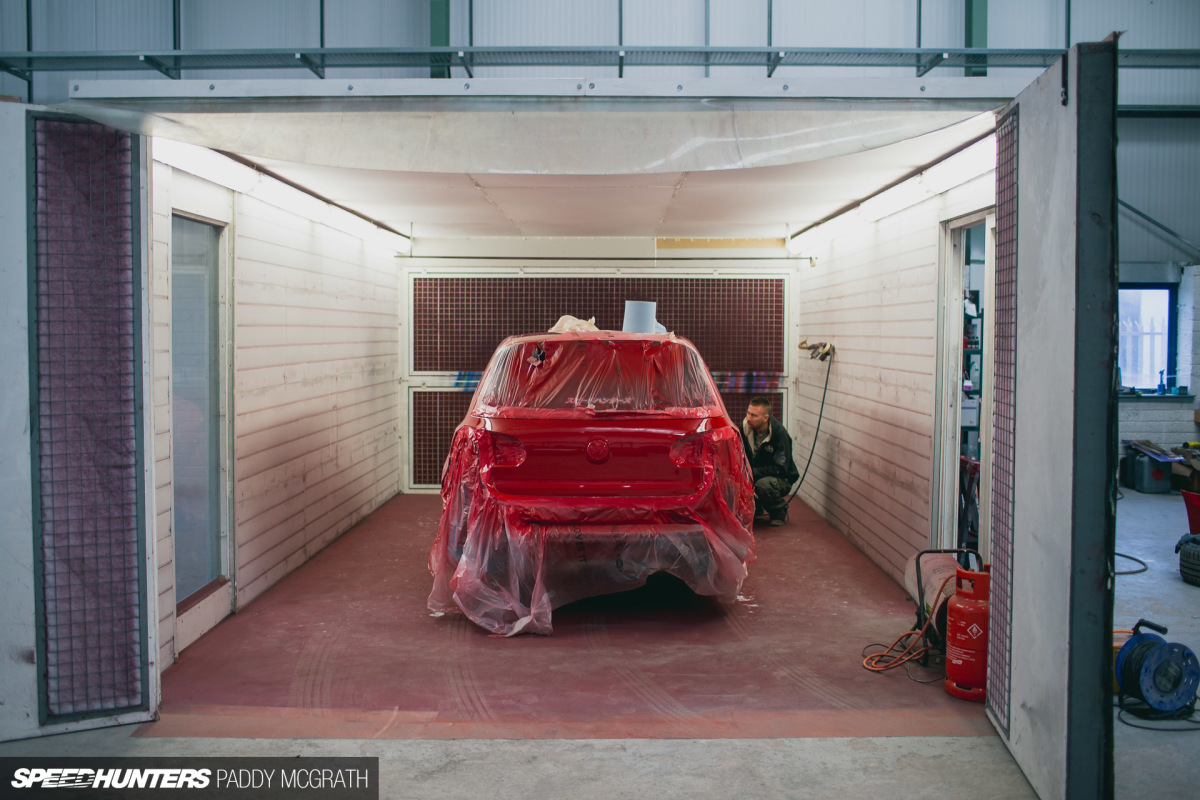 The day before I was due to sail to the UK, this is how Project GTI looked. A couple of weeks beforehand, we made the decision to give the car a little overhaul and a fresh coat of Tornado Red. The bodywork was always straight on the car, but the paint looked tired from day one with lots of swirl marks and micro abrasions. I have the next full update prepared so I'll talk you through the changes in that very shortly.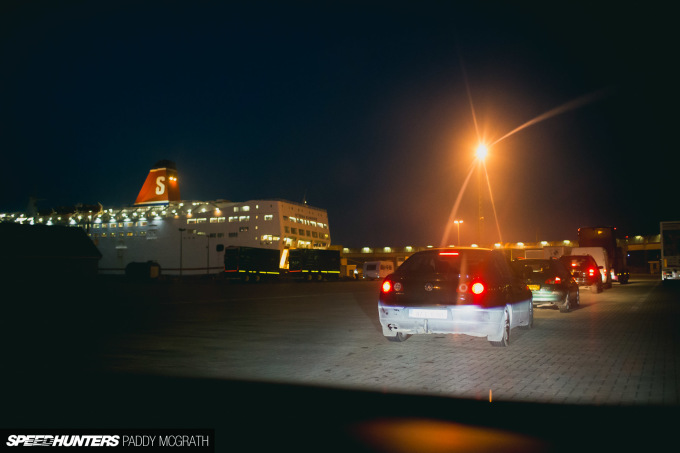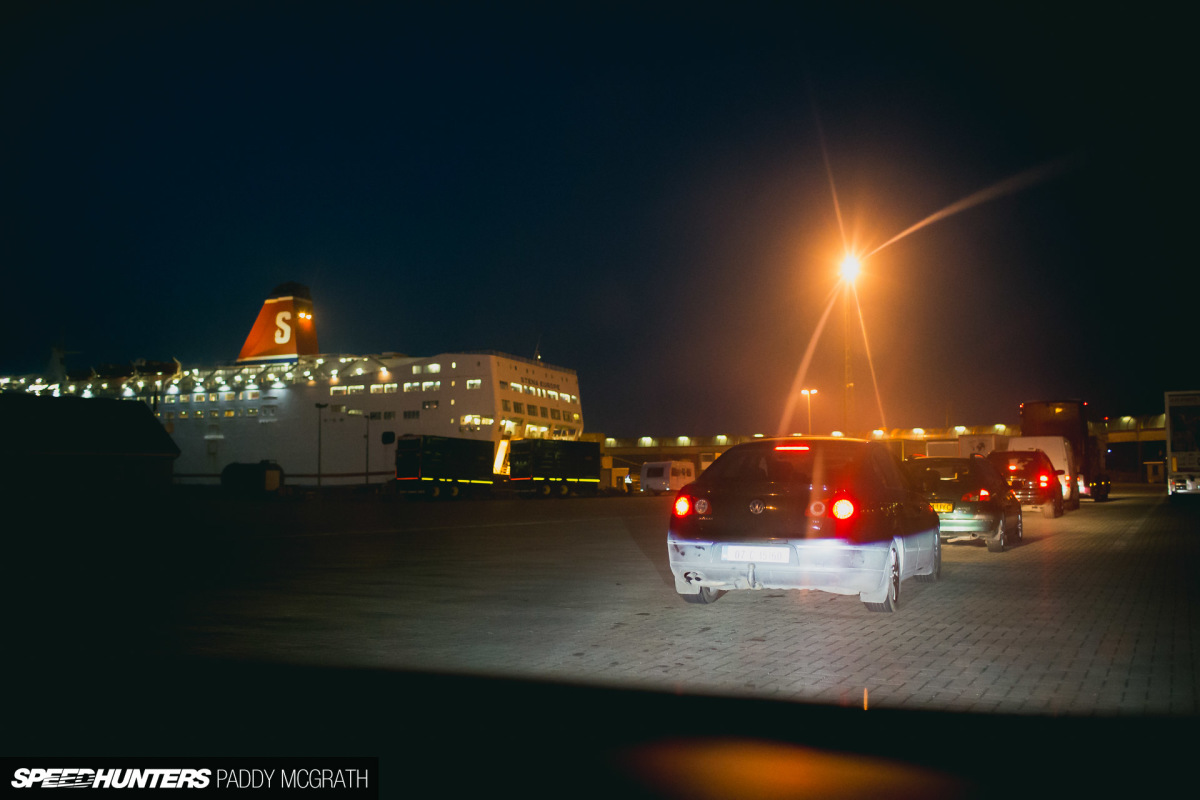 Time was so tight in fact that I had my stuff for the UK trip ready to load into the car the very moment that Flip deemed it was ready to roll out of the workshop. We did cut it just a little bit fine. A spirited drive which typically takes about an hour being reduced just slightly was enough to be the last car loaded onto the Stena Europe for the sailing across the Irish sea and into west Wales.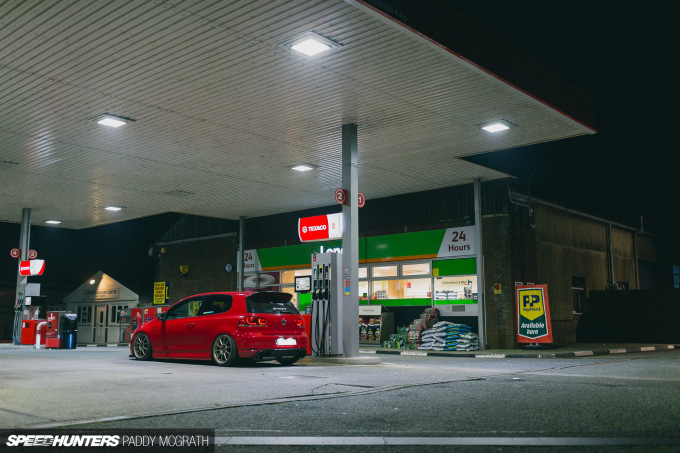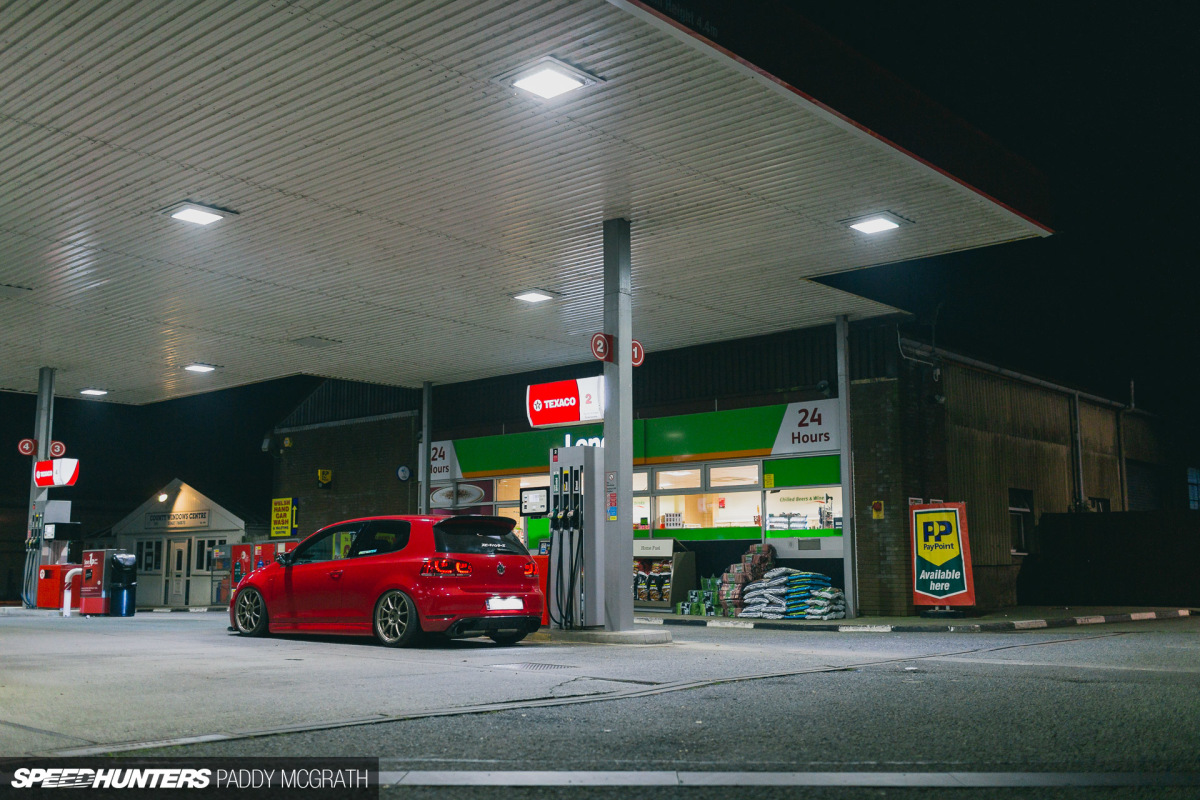 Arriving into Wales just after midnight, I pulled into the first illuminated forecourt I could find to double check tyre pressures, fluid levels and give my windscreen a clean. With everything set just how I like, I headed into the darkness for the 240 mile overnight drive. It had been a while since I had a long-haul drive, so I made the most of it by choosing a good cruising speed and catching up with a few of my favourite podcasts. I particularly enjoyed one of Joe Rogan's latest with Louis Theroux, along with the always great The Smoking Tire.

Some five hours later, including a one hour delay due to an accident on the M4 eastbound (everyone was okay), I made it to Regal Autosport in Southampton, just under an hour ahead of schedule. At this point, I was flagging quite badly having had no sleep overnight and very little the night before. I'm not a coffee drinker either and can only stomach so many energy drinks, so I took to walking up and down the street in the early hours to find my second wind. It might have looked suspicious to the few passers by, but it worked quite well.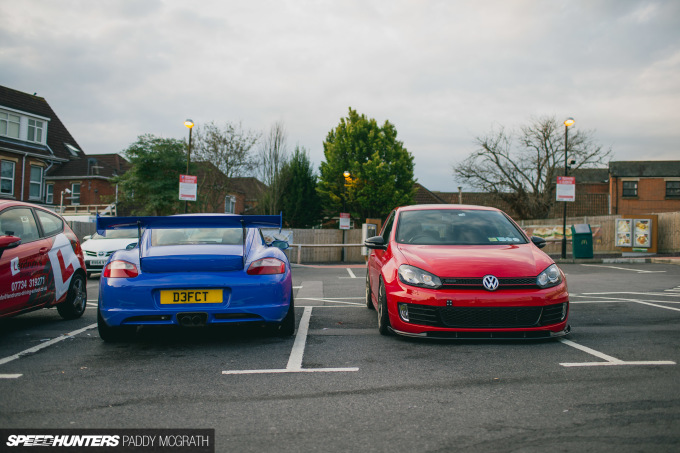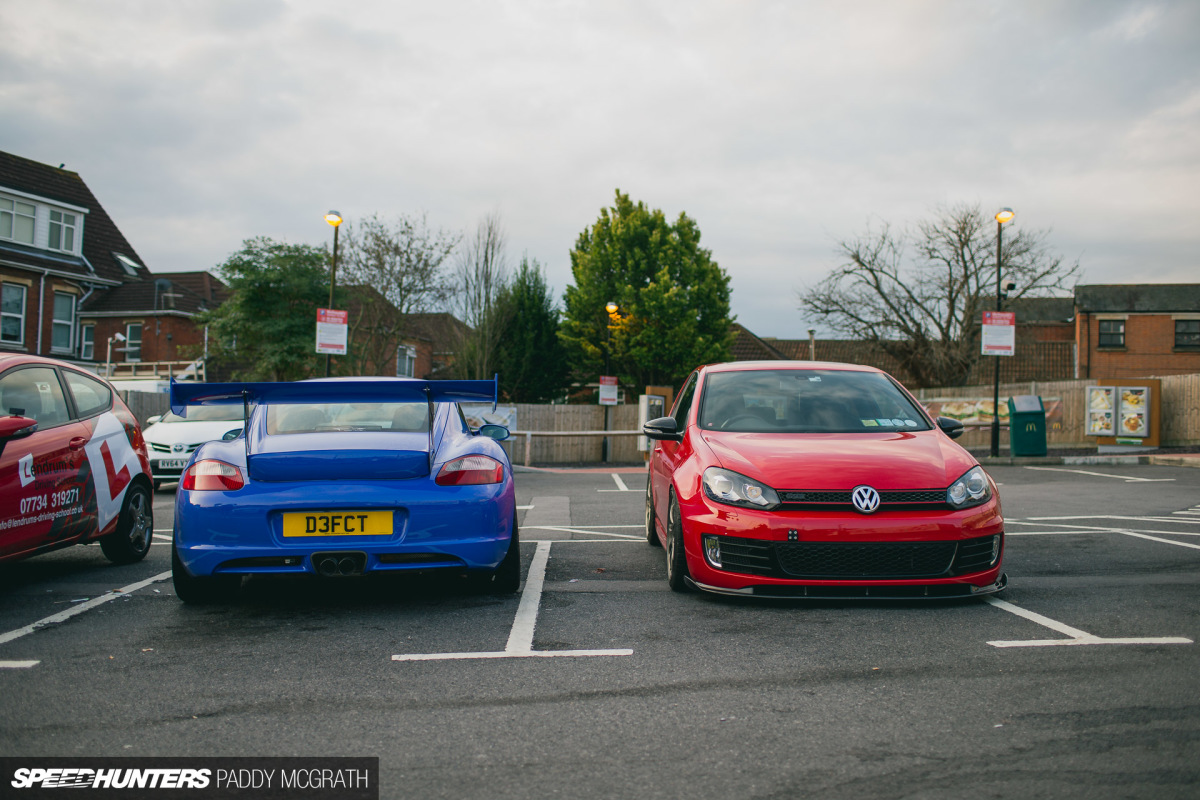 I wasn't alone for long, however. The cool and quiet morning air was soon interrupted by the unmistakeable sound of a flat-six motor heading in my direction, the rev-matched downshifts told me exactly who was coming before I could even see them. The freshly painted Maritime Blue Cayman of Ryan Stewart, a long time friend of both Speedhunters and mine, soon came rolling into view. A quick chat and decision to grab a fast breakfast was made. The decision to park horrendously was solely mine. Jesus wept, that's bad.

With a tight schedule to adhere to, we headed straight back to Regal where work began immediately to significantly improve Project GTI's traction issues. Those of you who read the preview and guessed that we were fitting an LSD were absolutely correct. Further to this, not just any old LSD, but a Wavetrac differential which features the best characteristics of other LSD types with none of the drawbacks. It's quite an involved process, especially when being installed into a DSG transmission. As above, I'll be going full detail very shortly in my next project update.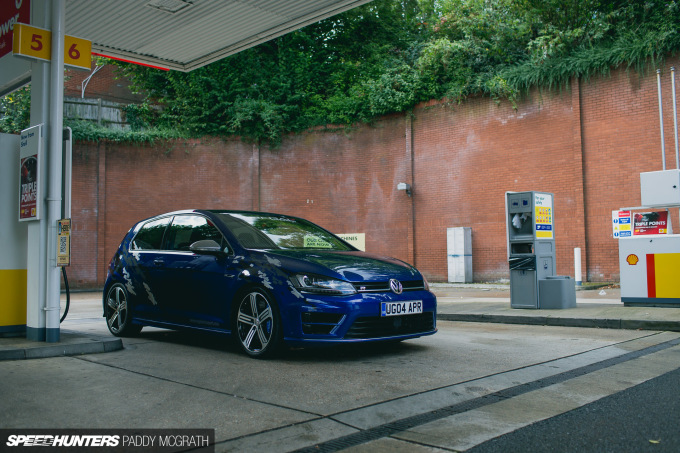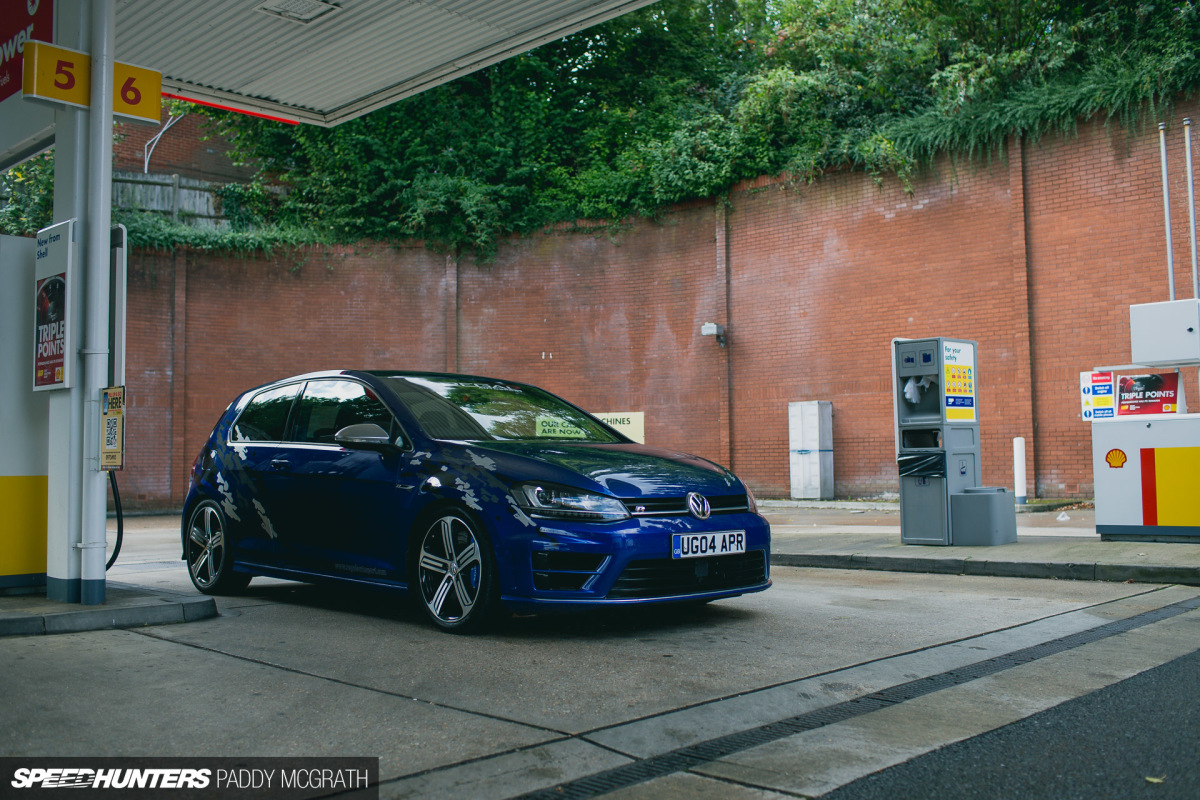 The LSD install took around a day and a half, if not less, but Regal was kind enough to loan me probably the best courtesy car on the planet. The Mk7 Golf R reflects what Regal's business is about: serious performance in the perfect package. This particular R is running 380hp and is ferociously fast. So much so in fact, that I thought the speedometer was in km/h before realising that it, er, wasn't. Allegedly, 120'km/h' arrives very quickly.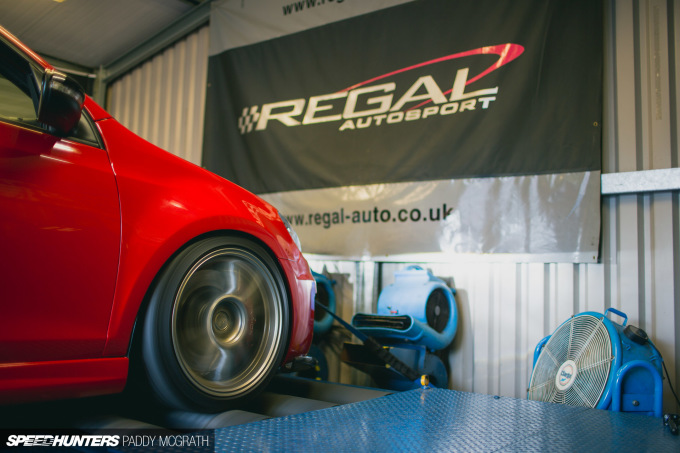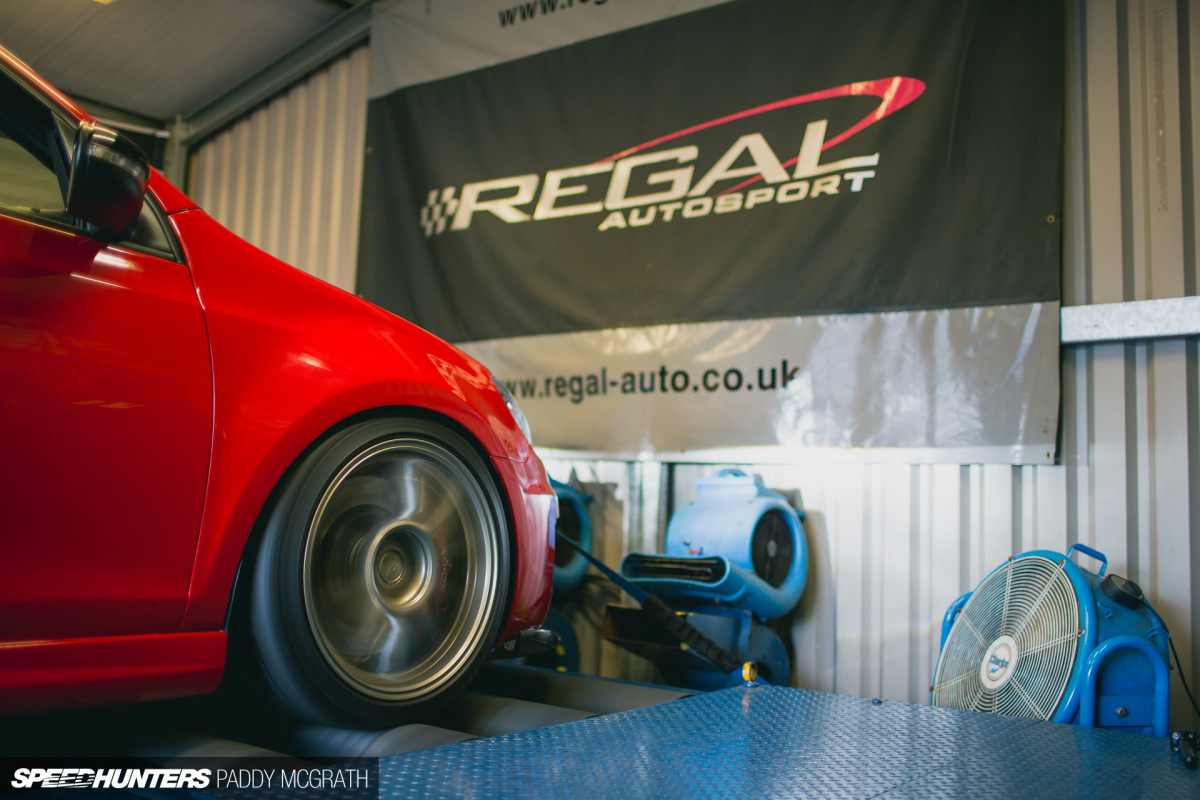 Before I had even arrived the next morning, Project GTI was being tested both on the road and dyno. With no issues after a text book install, I was ready to hit the road again. Destination? Bruntingthorpe Proving Ground.
Brunters & Beyond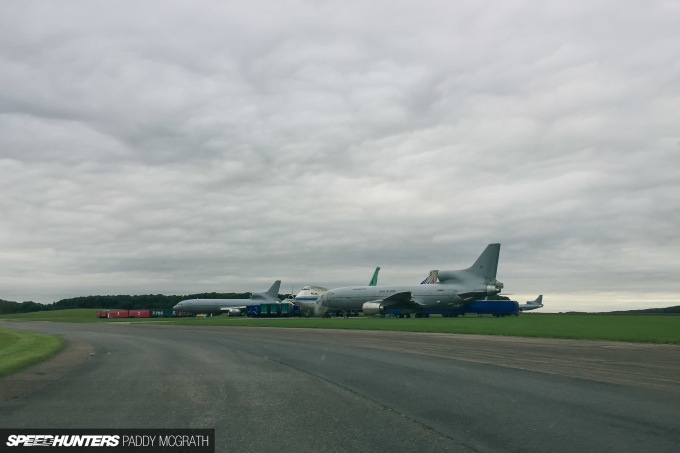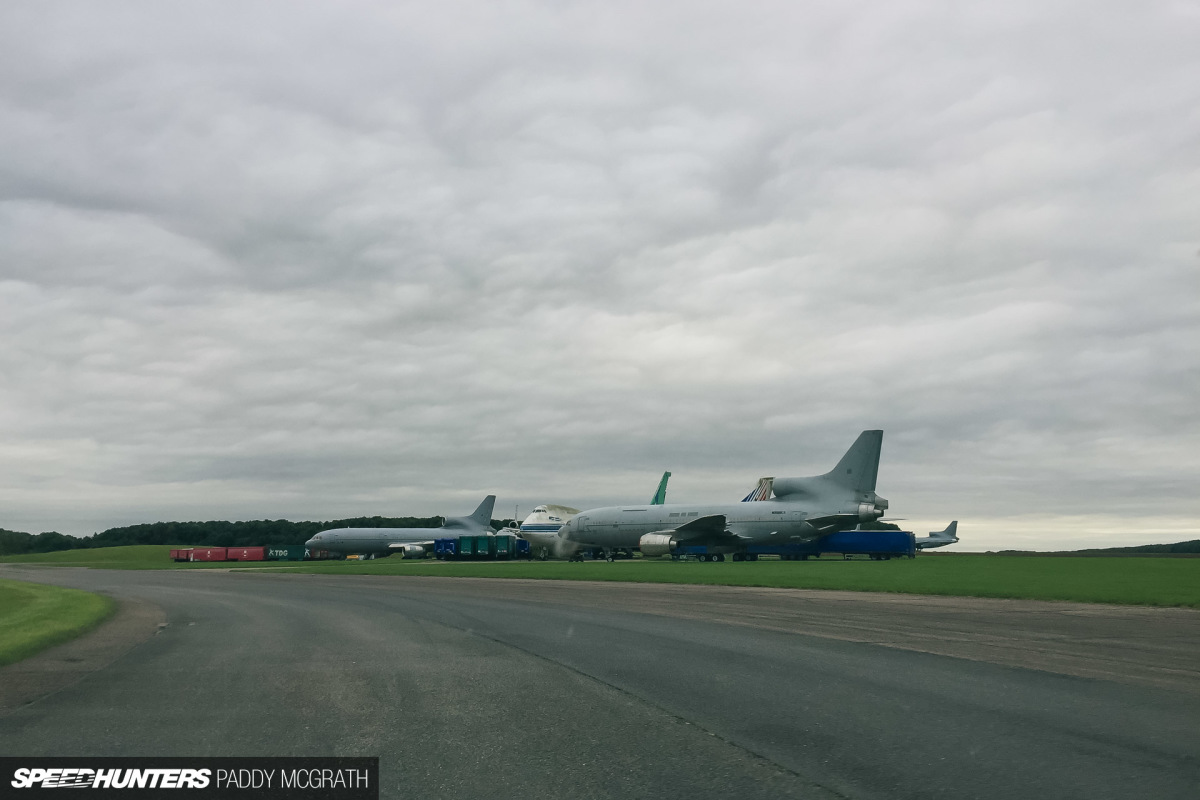 You might not recognise the name Bruntingthorpe, but if you've ever read a UK magazine or watched any UK YouTube automotive videos, you'll likely be familiar with the venue renowned for its runway and VMAX event days. Be warned, this was one of those days that got very surreal, very fast.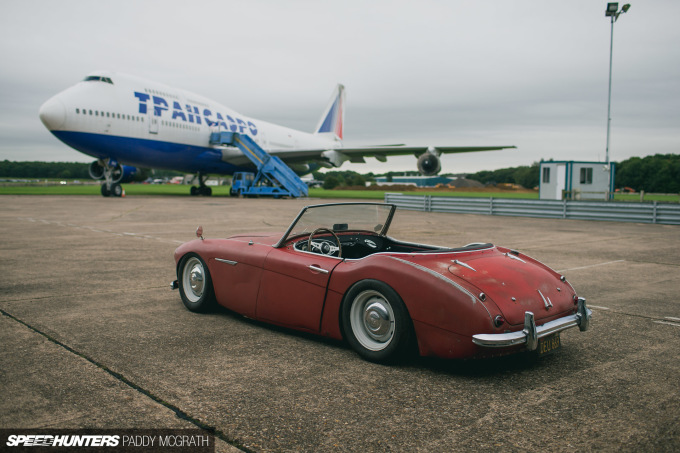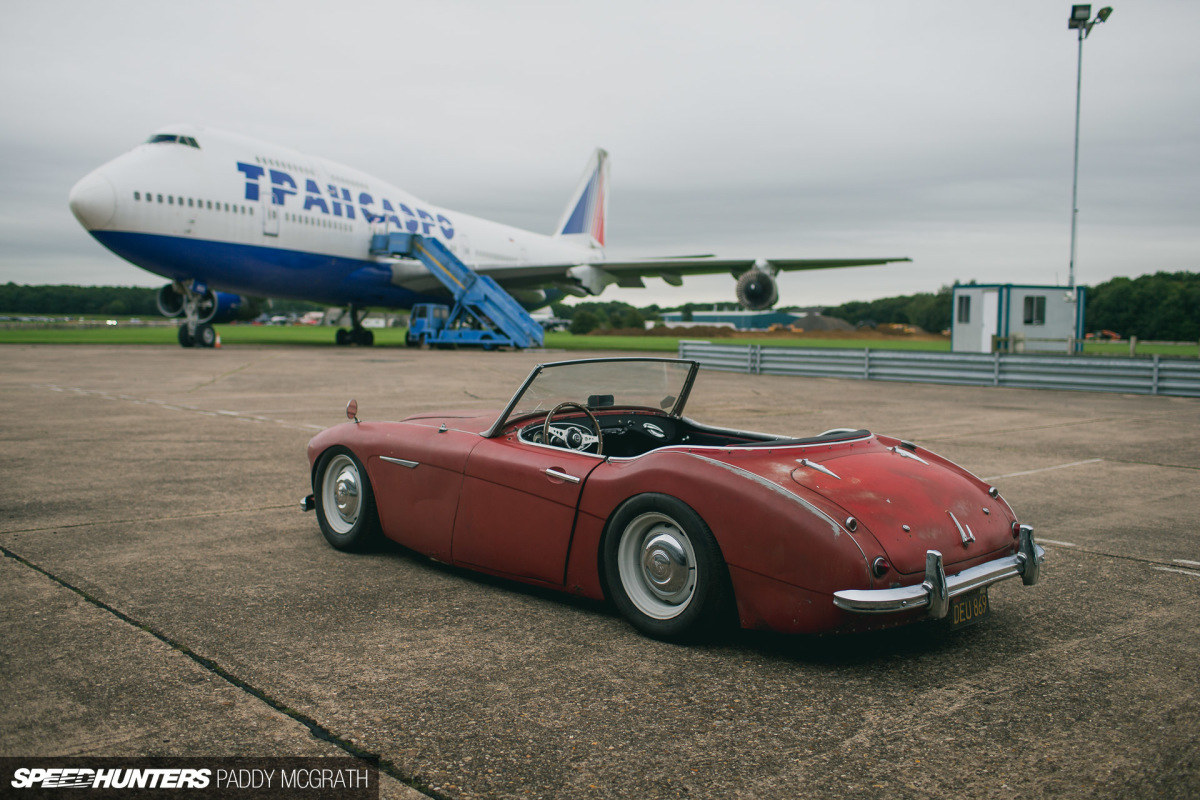 It started fairly innocently, shooting Max Marshall's Air Lift Performance-equipped 1958 Austin-Healey for a feature. But then things started to get a little bit different. Any day that involves the question, "would you like to see inside the jumbo jet?" is always going to be a good one.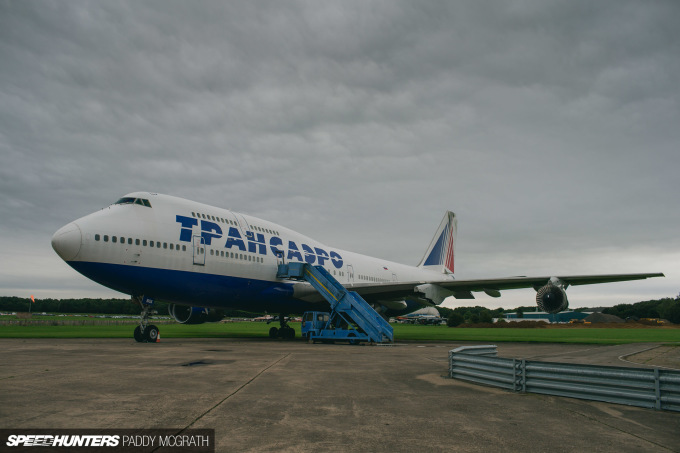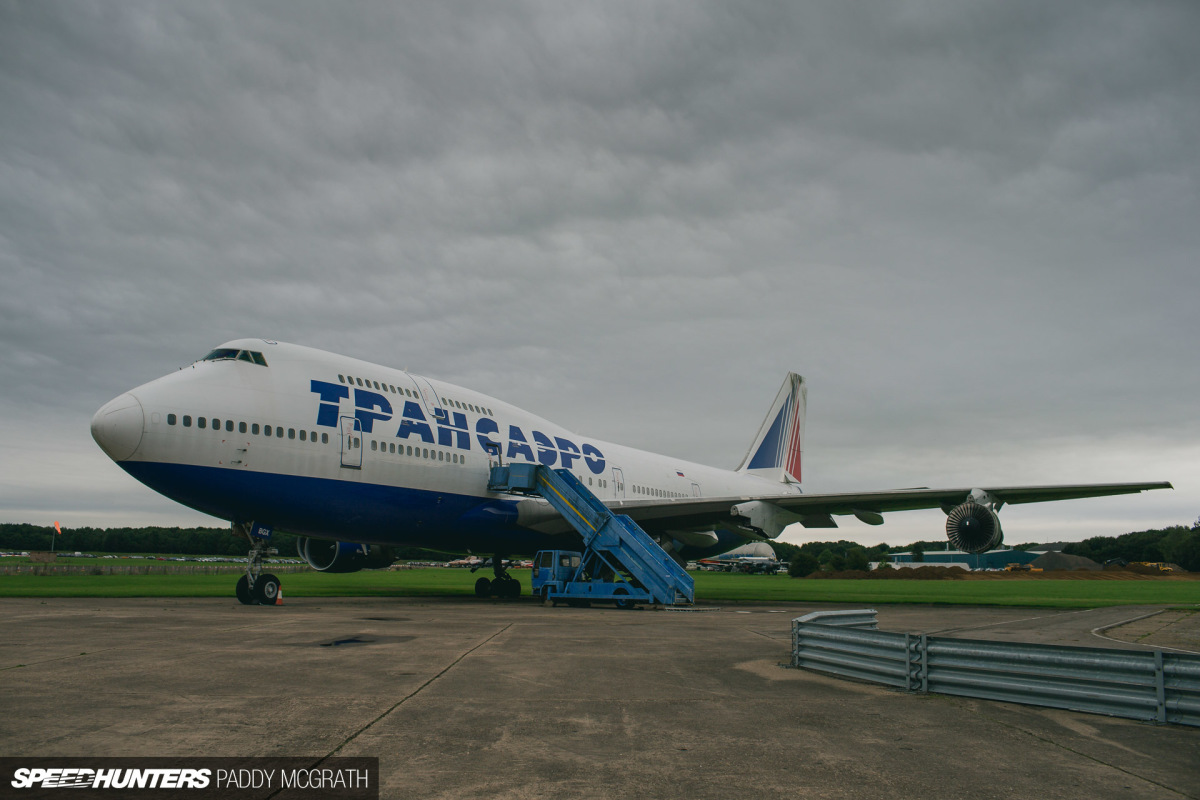 I can't speak to the exact specifics of how a 747 ended up being left behind at Bruntinthorpe, but it was quite eerie exploring the dark cabin and cockpit. It seems to have landed and never taken off again, with magazines strewn about the passenger compartment as if it's still waiting for the cleaners to come on board to prepare for its next flight.
As if that wasn't enough, we headed to the bottom of the runway where a private VMAX event was taking place. Ever seen an F40 racing a Countach before? I have. The Ferrari walked the Lamborghini, for what it's worth.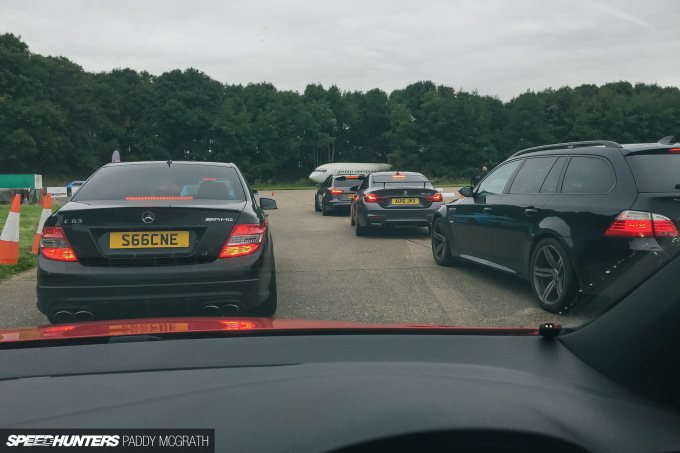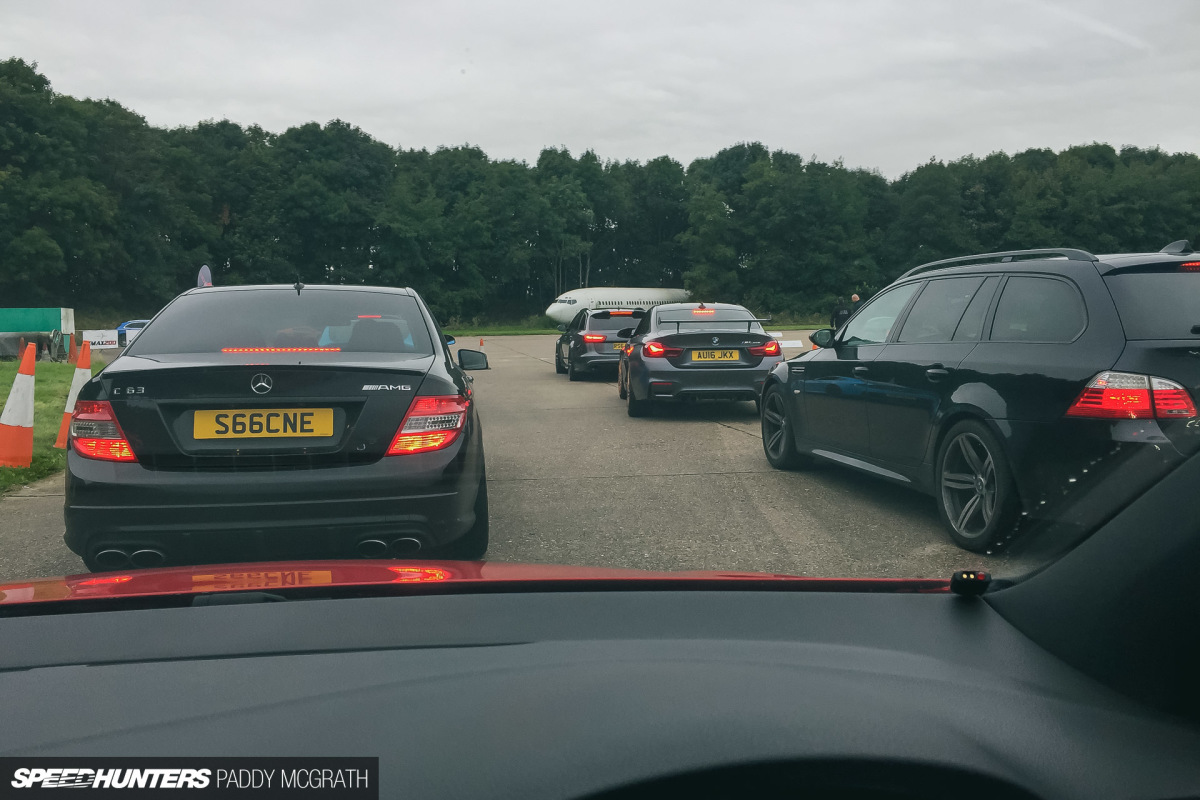 Once you're at the bottom of the runway, you can't return the way you came on a day like this, so one must travel the full length of the runway. Things I learned shortly after this photo was taken? An M5 Touring, C63 AMG, V12 Vantage S and M4 GTS are all considerably faster than a GTI in a straight line. The GTI will also hit 150mph (241km/h) fairly comfortably within two miles.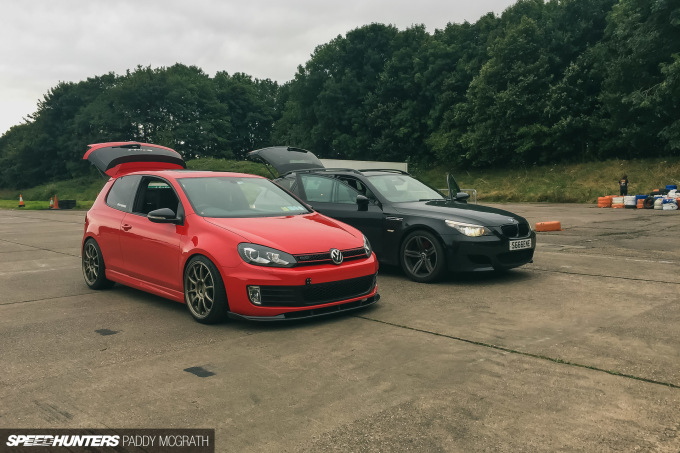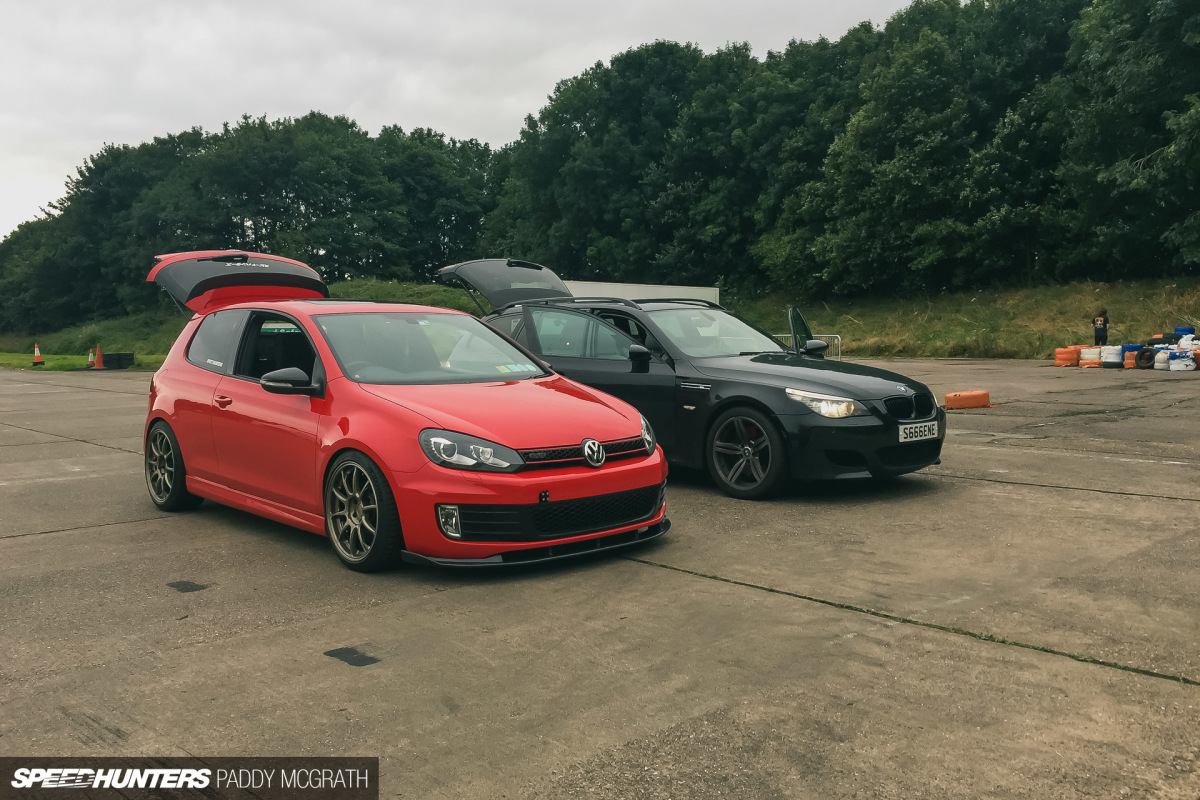 Practical.
XJ220. Abandoned airplanes. I did say things got very surreal, very quickly.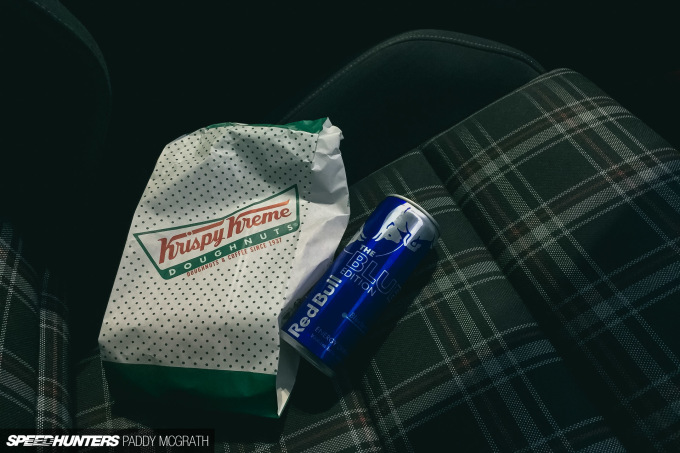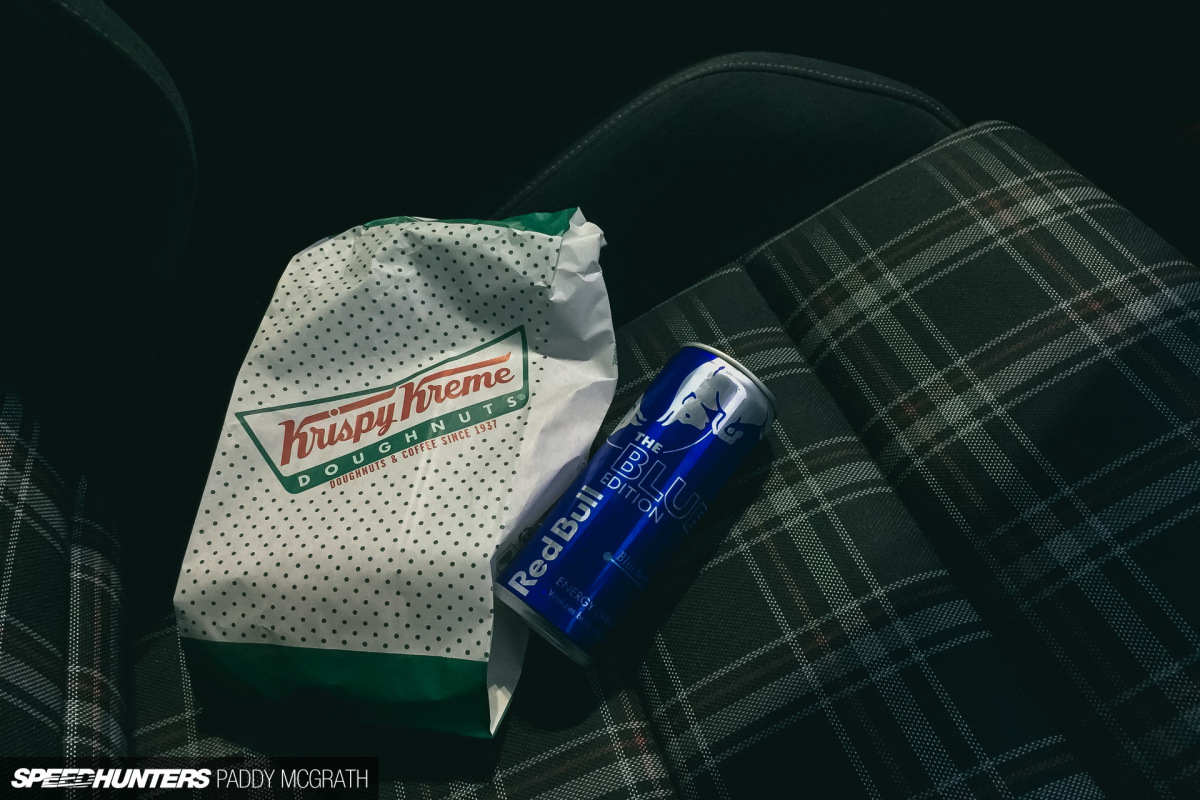 I still haven't really gotten over the randomness of that particular day, although I will attempt to comprehend it and share it with you in more detail in the near future.
Of course, no good Speedhunting day is complete without a balanced and nutritious dinner. In your car. At the side of the road. In the rain.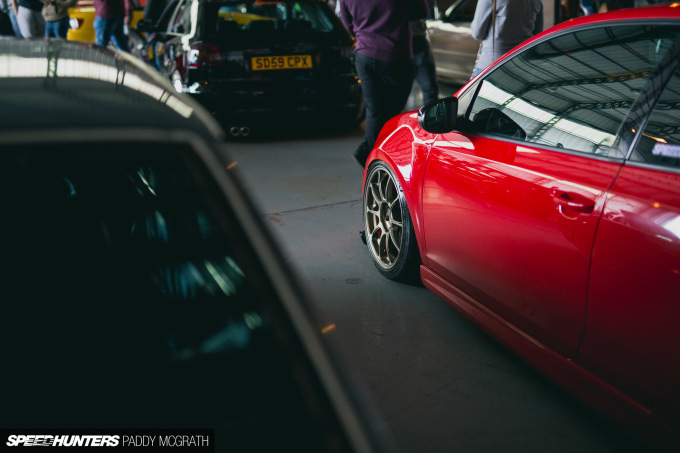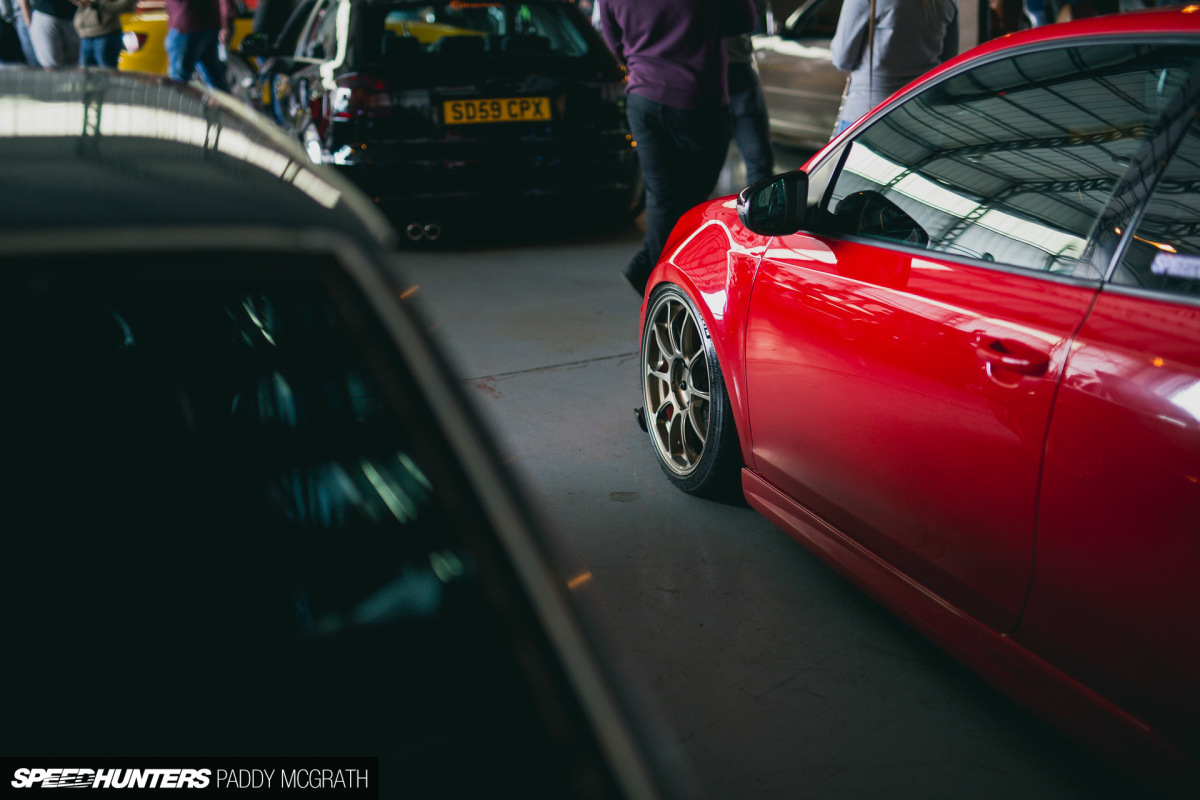 With another 100 miles or so completed the night before, next up was the always excellent Players Show at North Weald airfield in Essex. There might not have been abandoned 747s to explore on this particular day, but it was still an enjoyable one nonetheless. I had no plans to display my car, but when the organisers kindly offered me a space inside, and I had the realisation that I wouldn't have to walk far to retrieve my camera gear, I was sold on the idea.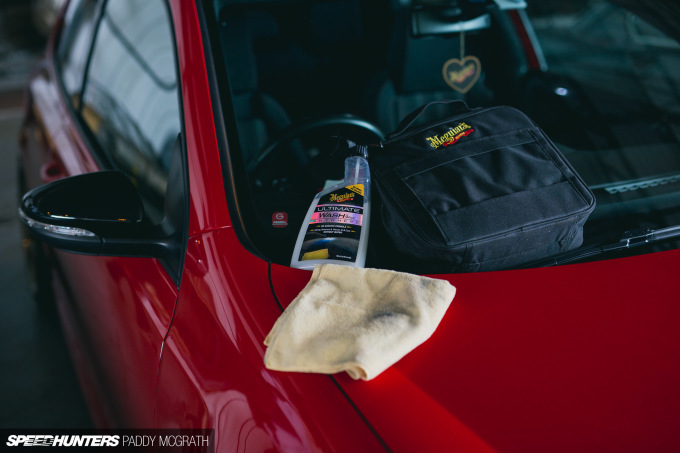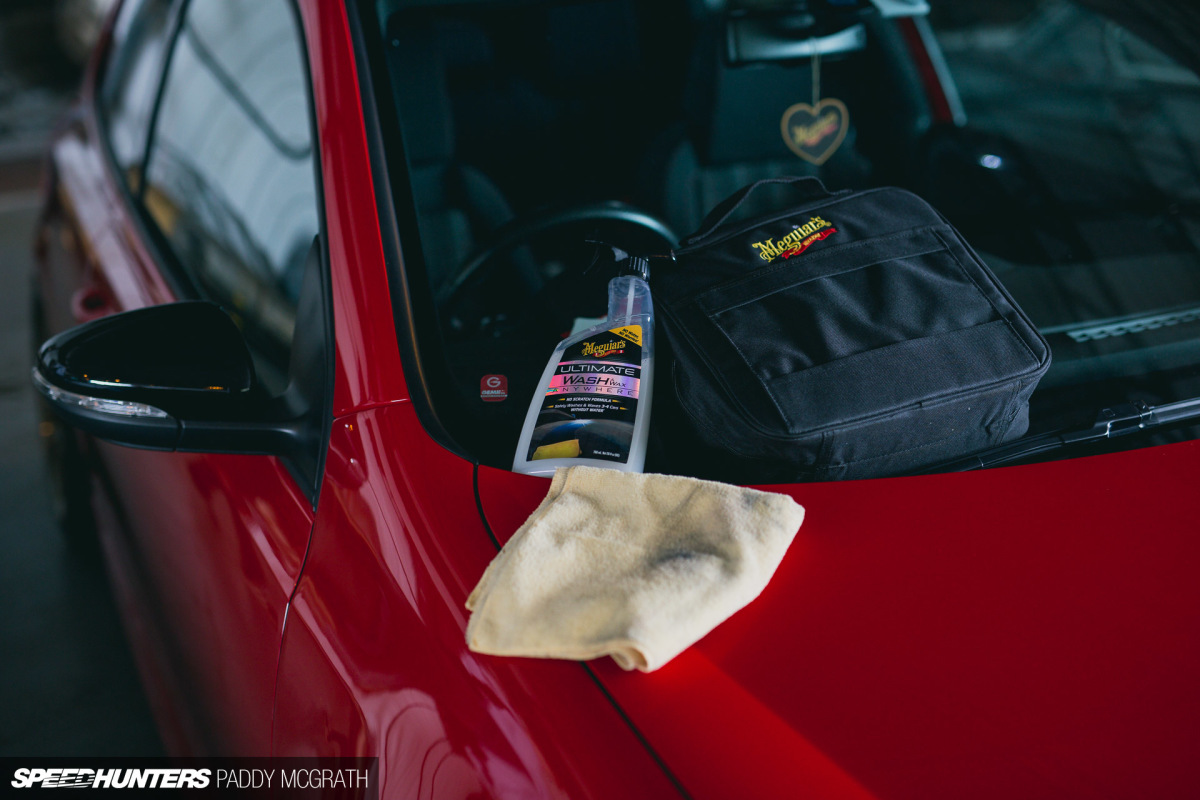 Meguiar's sponsored the event and supplied a complete cleaning kit to remove the road trip dirt from the GTI. I did, again, make the amateur mistake of taking all the plastic covering off the air freshener hanging from the rear view mirror. I can still taste it, over two weeks later.
It's always great to work an event with fellow Speedhunters, but it's even better to have a mobile base of operations within the show itself. You can check out Jordan's brilliant coverage of the event right here. To be honest, it was a relief having someone look after the bulk of the show coverage, knowing my travel schedule was about to go from 'mental' to 'hugely silly' in the coming days.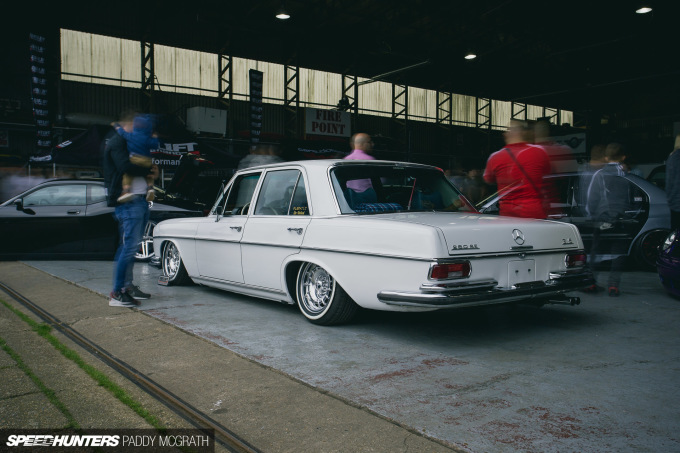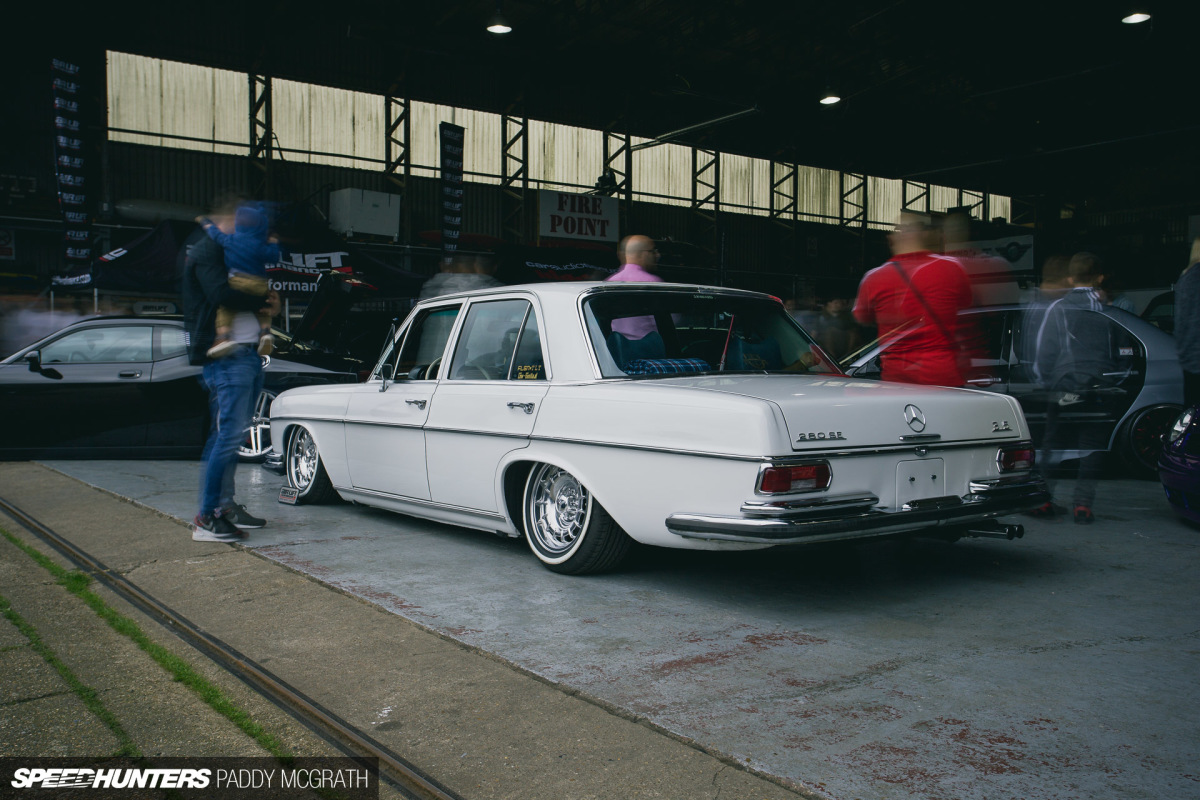 I did get out and shoot some of my favourites though, this vintage Mercedes-Benz taking my top pick of the show. As a quick aside, I'd like to say a special thanks to those of you who came over for a chat throughout the course of the day. Your support for Speedhunters is hugely appreciated.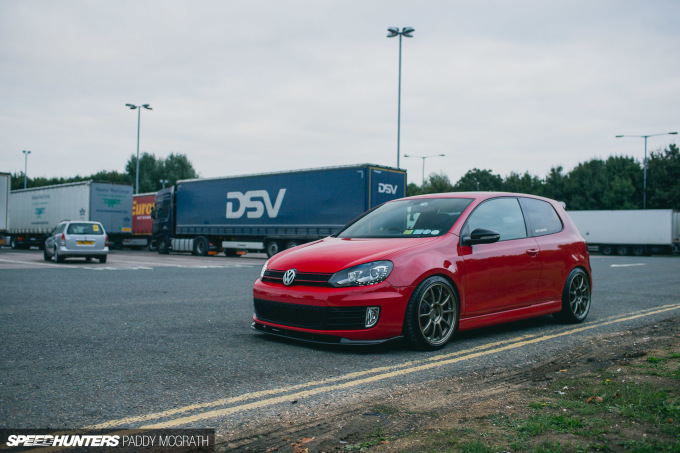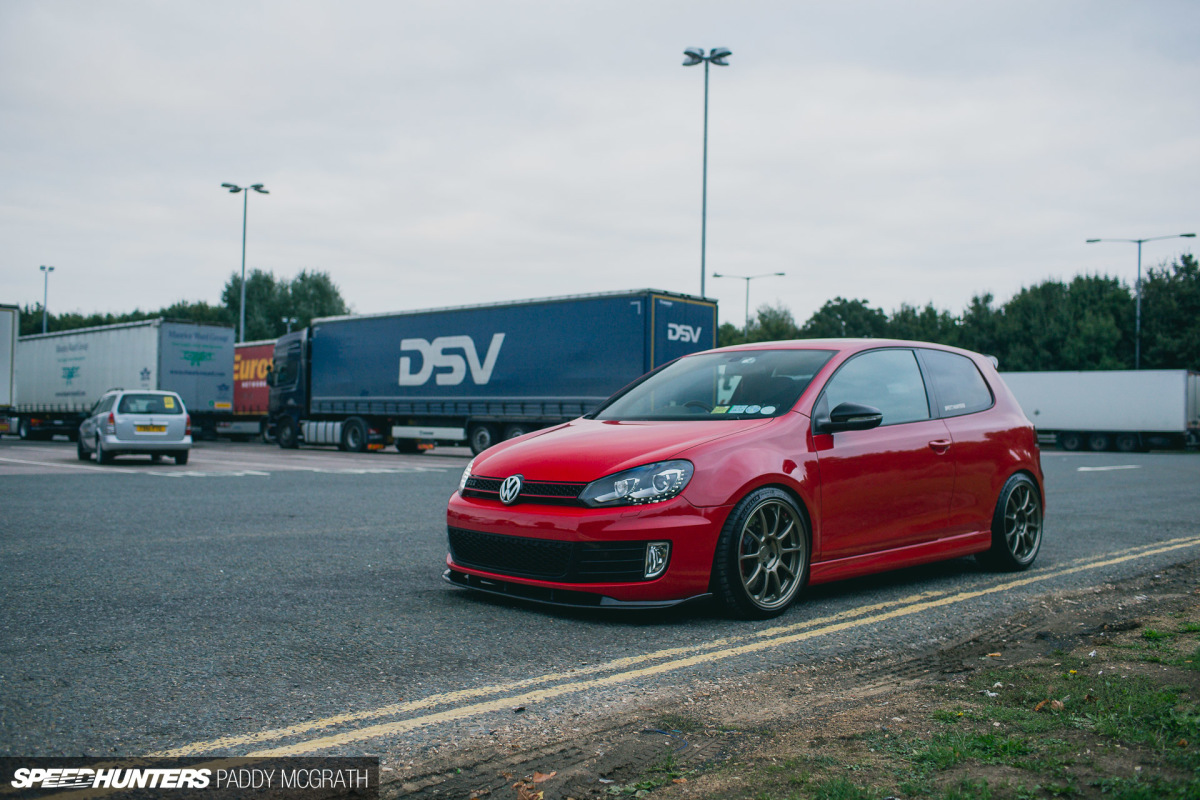 With another firm deadline to make a sailing back to Ireland, I broke free from Players at the earliest opportunity and waded through London traffic before finally getting back onto the comparatively quiet M4 and making perfect progress. A quick stop during dusk was required to reorganise the hastily and poorly packed boot and a quick refuel. Also, for anyone that's interested, this is my GTI's driving height on Air Lift Performance 3H, regardless of how much weight is crammed into the back of it.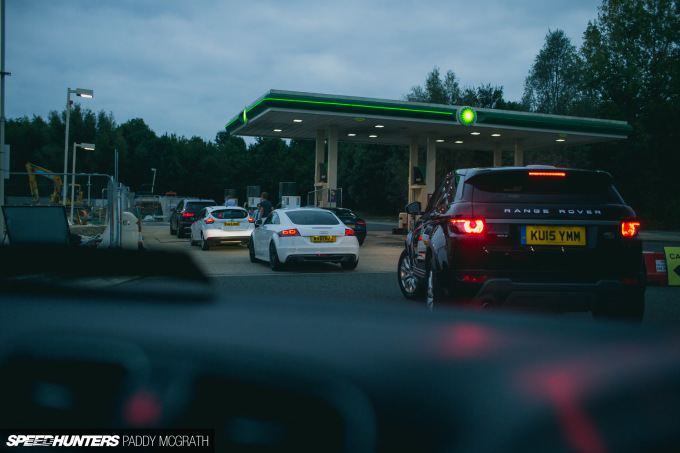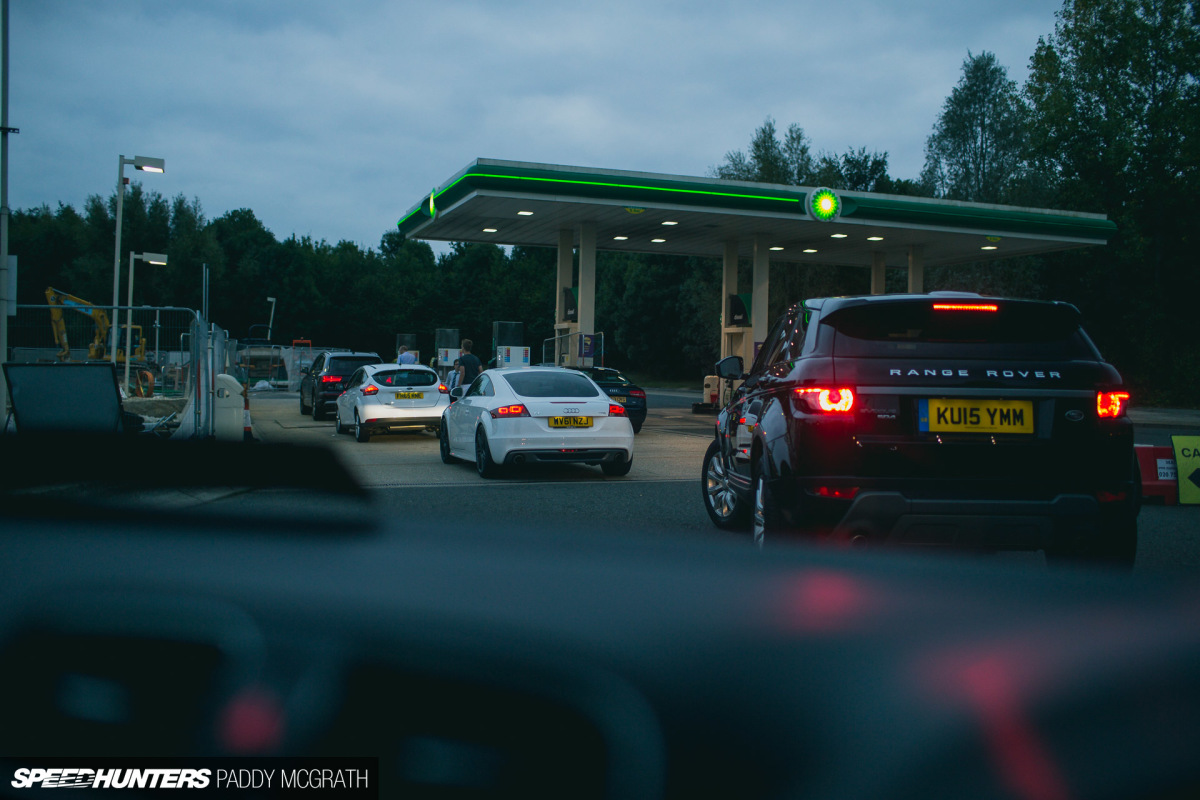 Refuelling at this particular point was an absolute pain, but with a fuel range of 15kms left, I had little choice but to queue for half an hour at the sole operating pump. It didn't help that some of the other users left their brains behind and left their car blocking the pump whilst they went to pay, rather than moving forward to allow another car to fill up.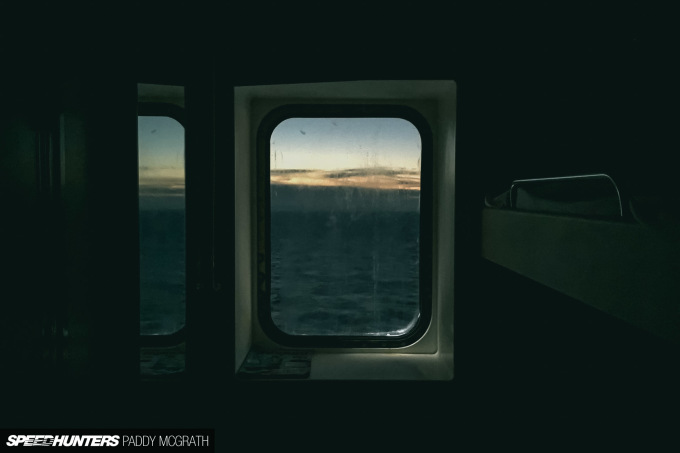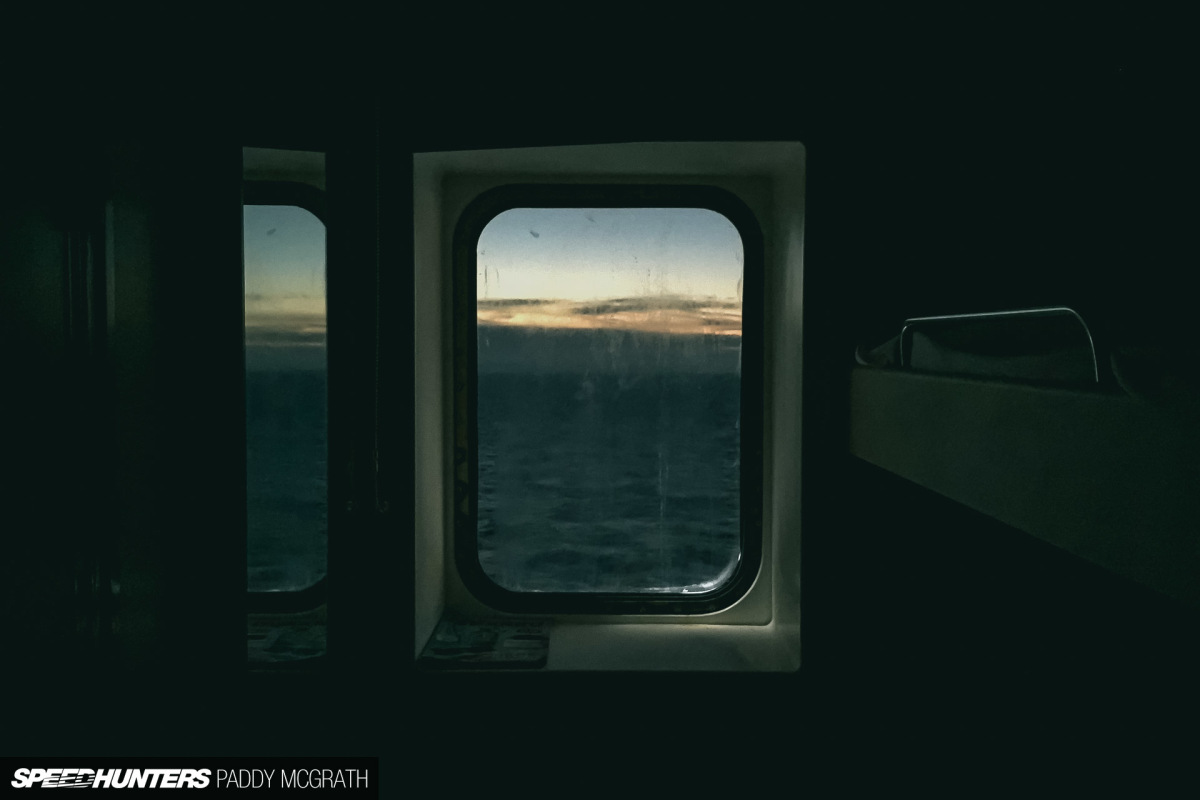 After another overnight haul, I would watch the sun rise from the 'comfort' of a tiny yet extraordinarily priced cabin, just as we arrived back into port in the south east of Ireland. An easy hour-long drive to my parents place on a Monday morning awaited me, before a proper sleep in a proper bed for a few hours.
Not for too long though, a drive back to Dublin was next on the cards where I needed to unpack, clean and charge camera gear and repack before the next adventure began
'Merica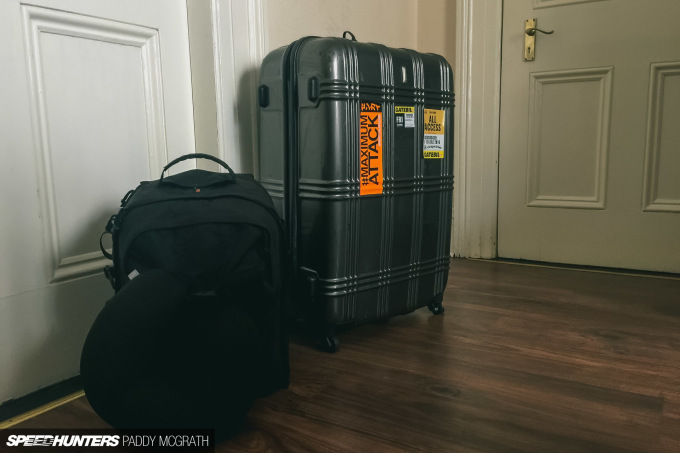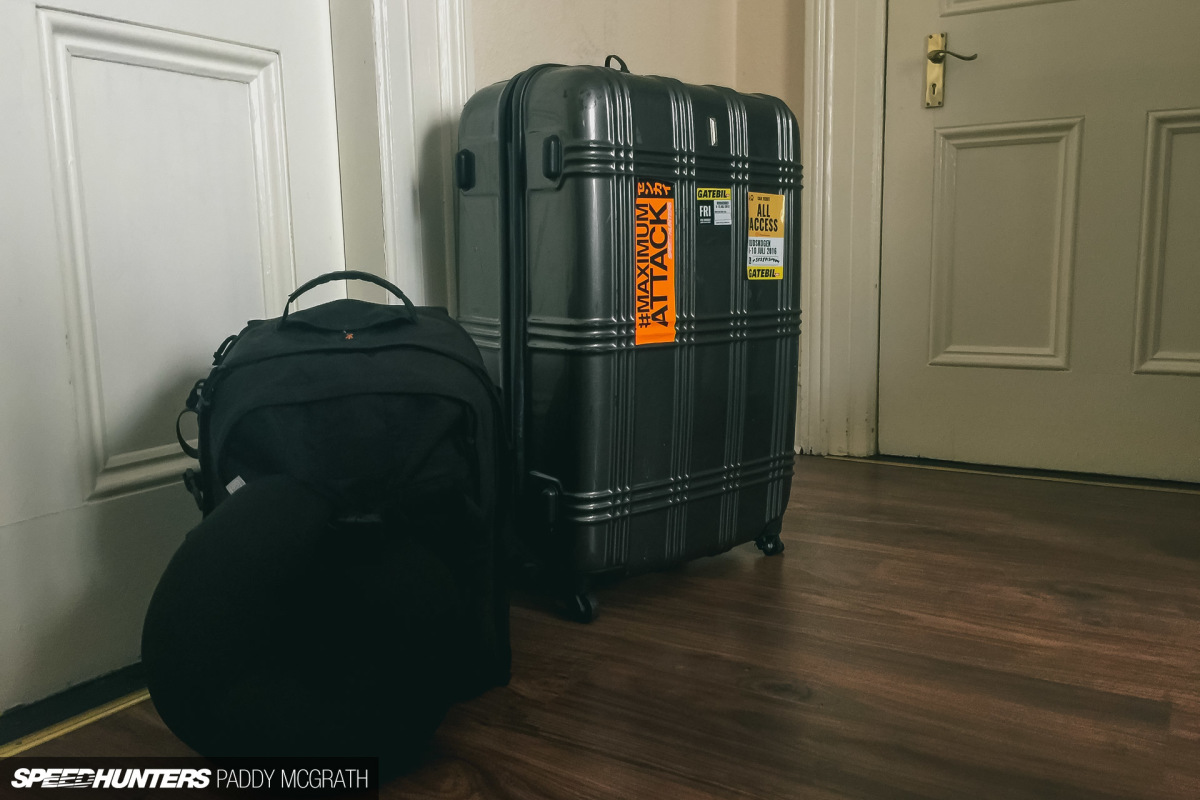 This would be a very different trip to the one I had just undergone.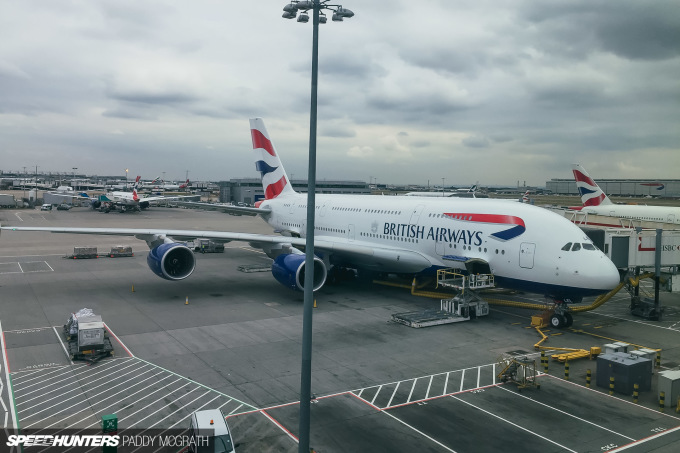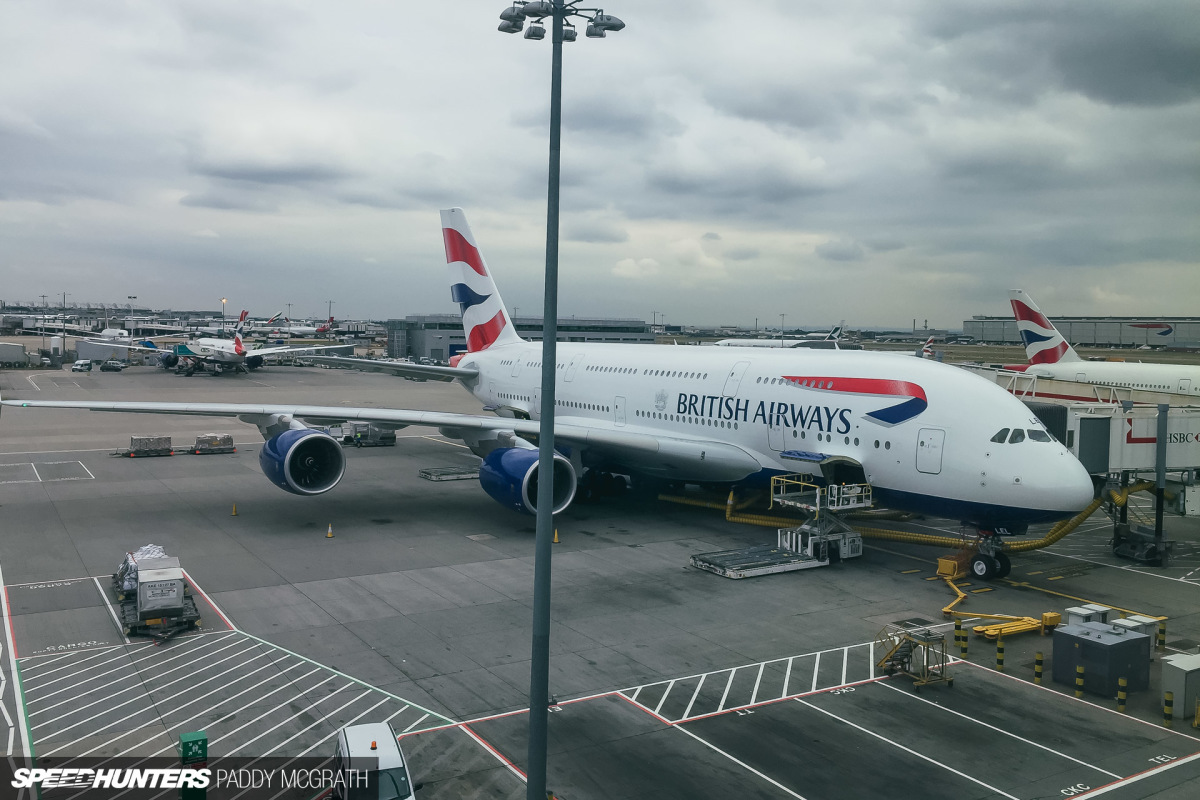 From sea to air, with a considerably smaller luggage allowance, I would fly back to the UK before stepping aboard an Airbus A380 and flying directly to Los Angeles, California.
This would be my first West Coast trip ever, along with my first Speedhunters-related visit to the United States. Upon reflection, it does seem a bit crazy to fly a quarter of the way around the world to look at cars, and then fly back. But then again, we're not the most rational people, us automotive enthusiasts.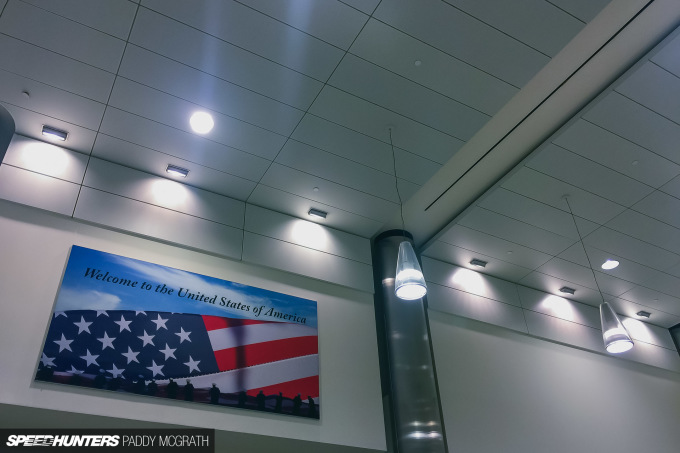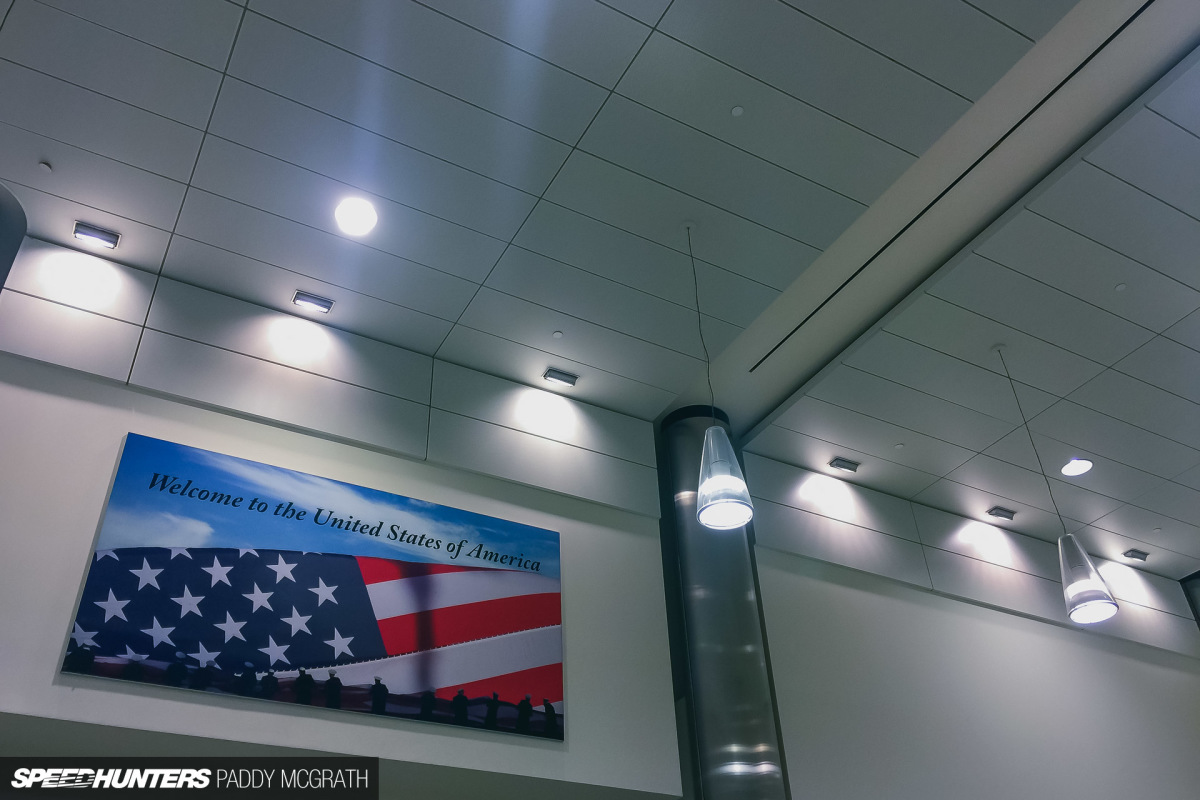 Needless to say, I was excited. It was to the point where I didn't sleep over the course of the 10-hour flight, although the vomiting parent and child beside me probably played a part in that too. Probably.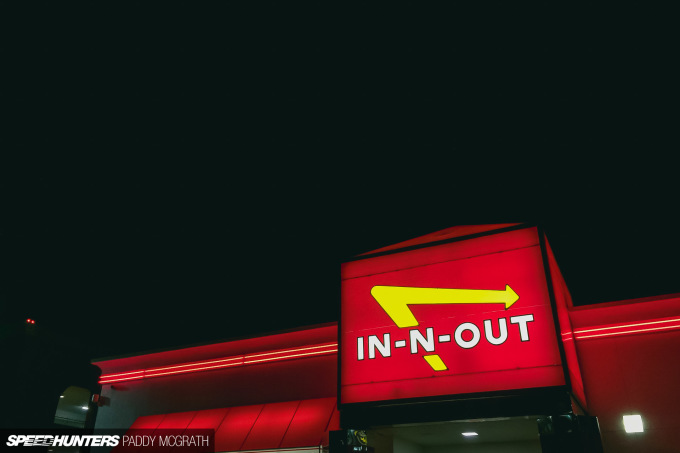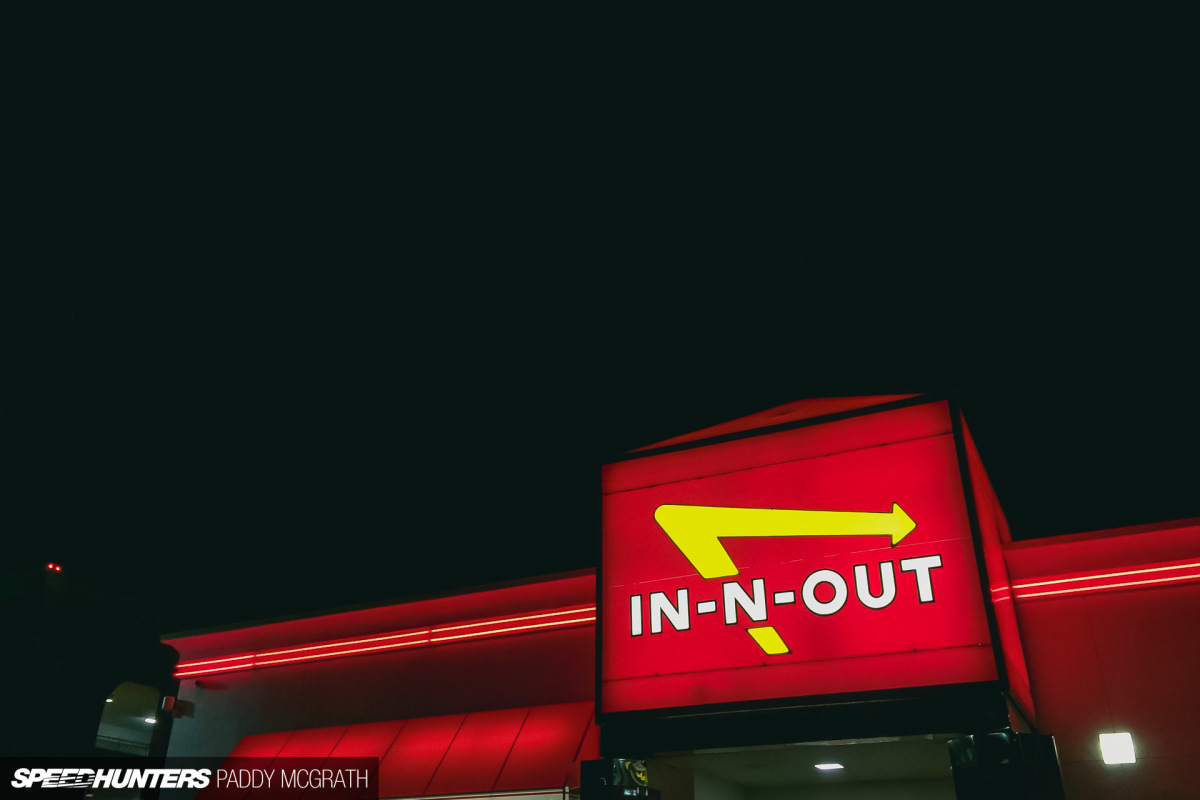 I was greeted at the terminal by a familiar face and one I had just left behind in Essex, our very own Ben Chandler. Ben assured me it's federal law to dine at In-N-Out immediately upon arrival, so we sought out the nearest one and dived in.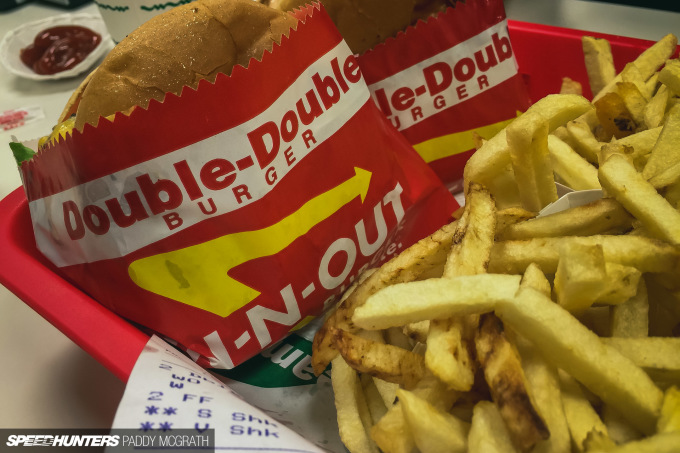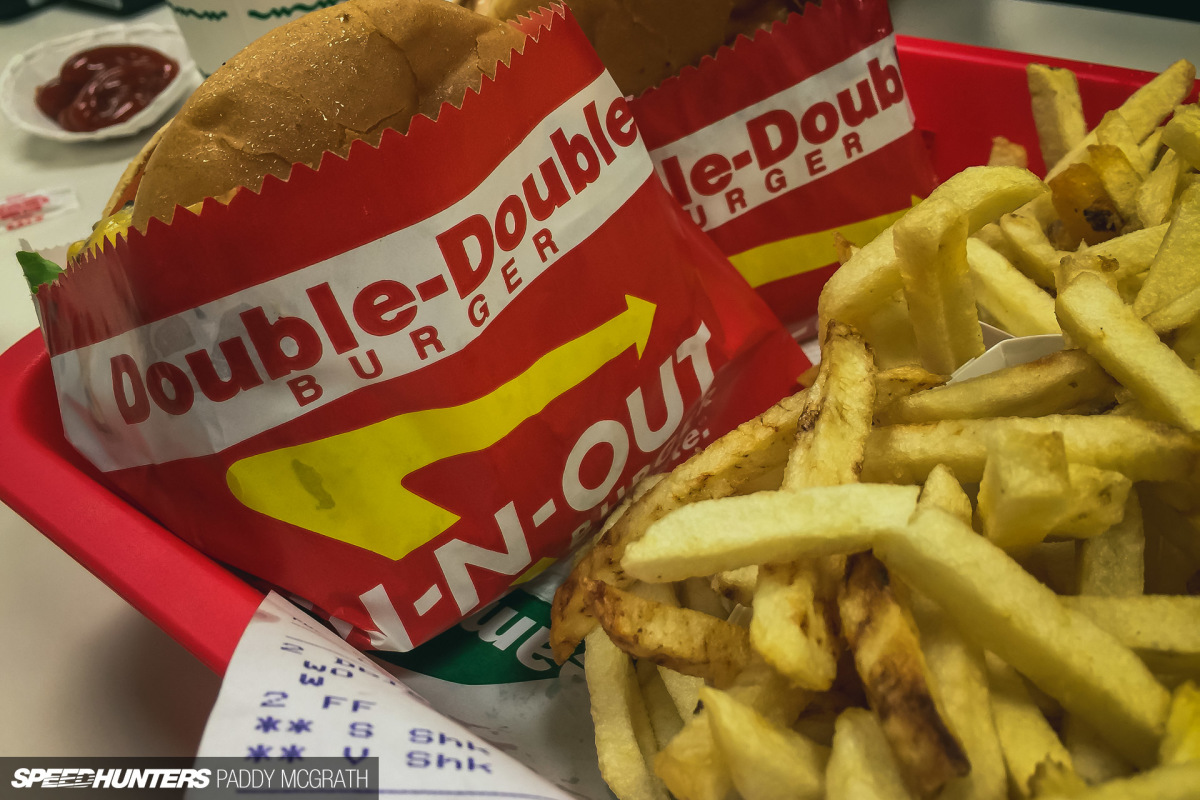 I'm not sure if this is going to put me on some sort of watch list, but after years and years of hearing about the wonders of In-N-Out, I was pretty disappointed. Yes, it's good, but it didn't live up to the hype. Maybe it never could have?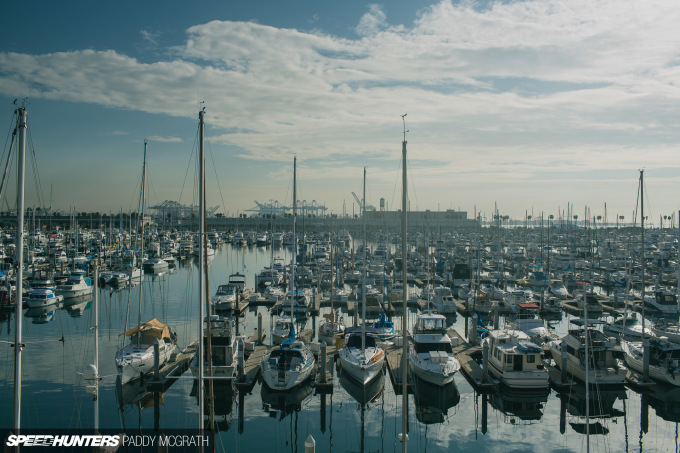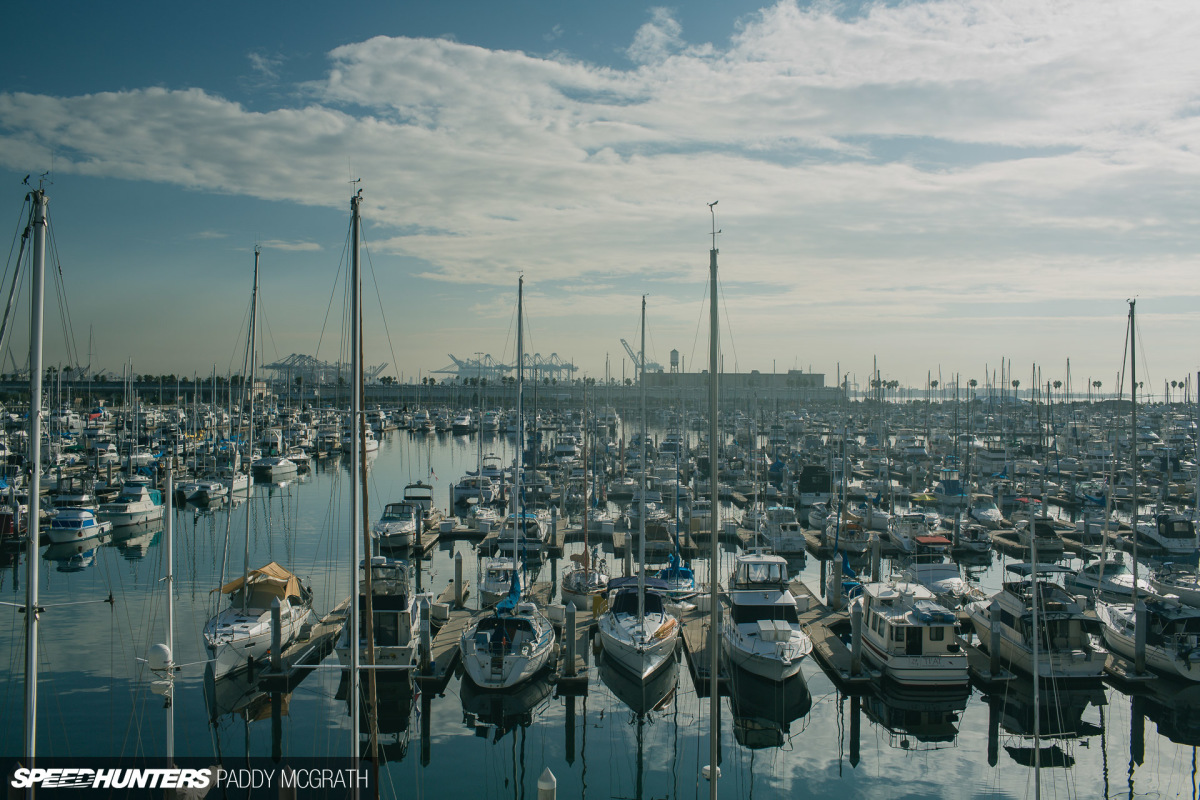 My first proper view came the next morning from our hotel room window, overlooking a marina in San Pedro with the Port of Los Angeles in the background. I think. I'm sure someone will correct me with added abuse if I'm wrong.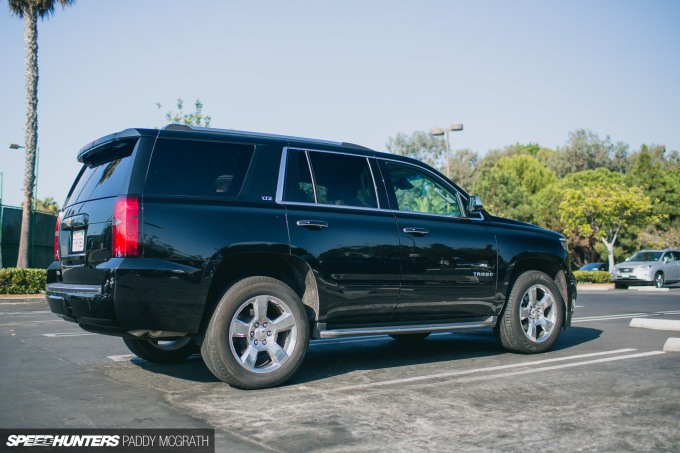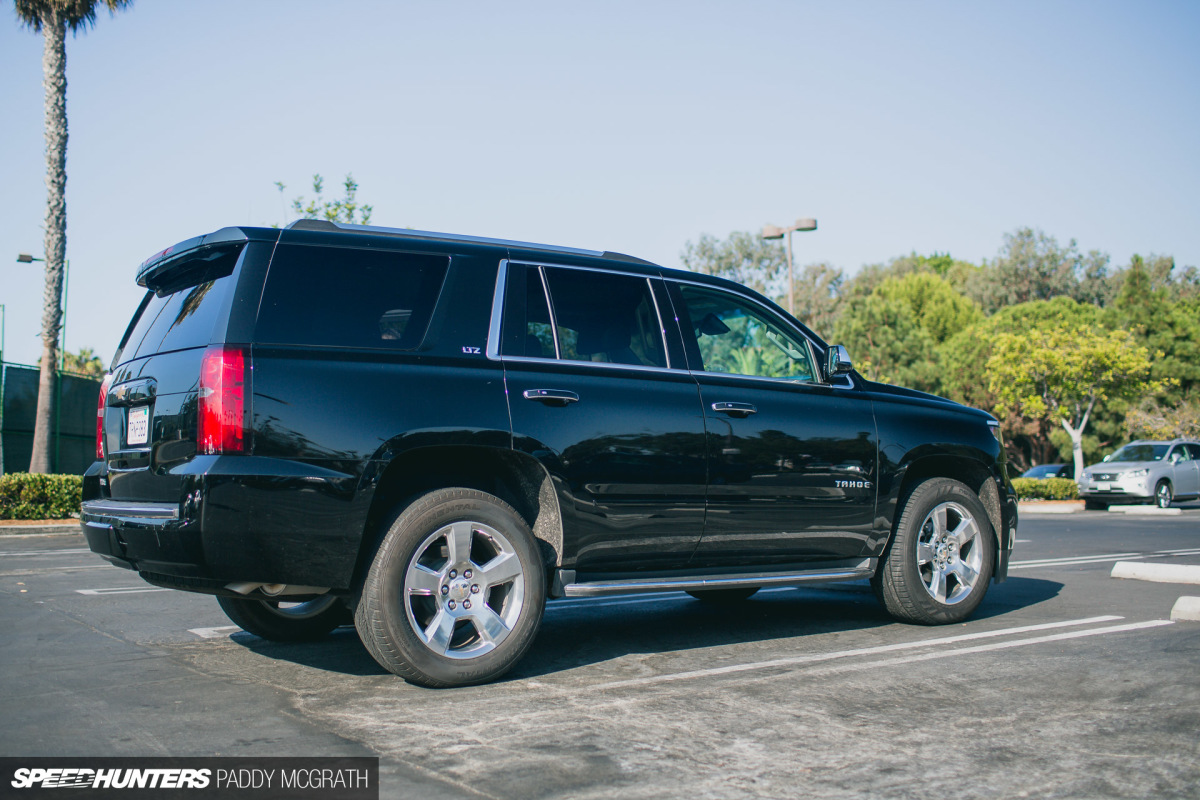 For our stateside escapades, Ben had gone full 'Merica with his choice of rental car. This would be our Chevrolet Tahoe for the next week. I found it hilarious how unnecessarily large it was, especially considering that it wasn't all that big inside.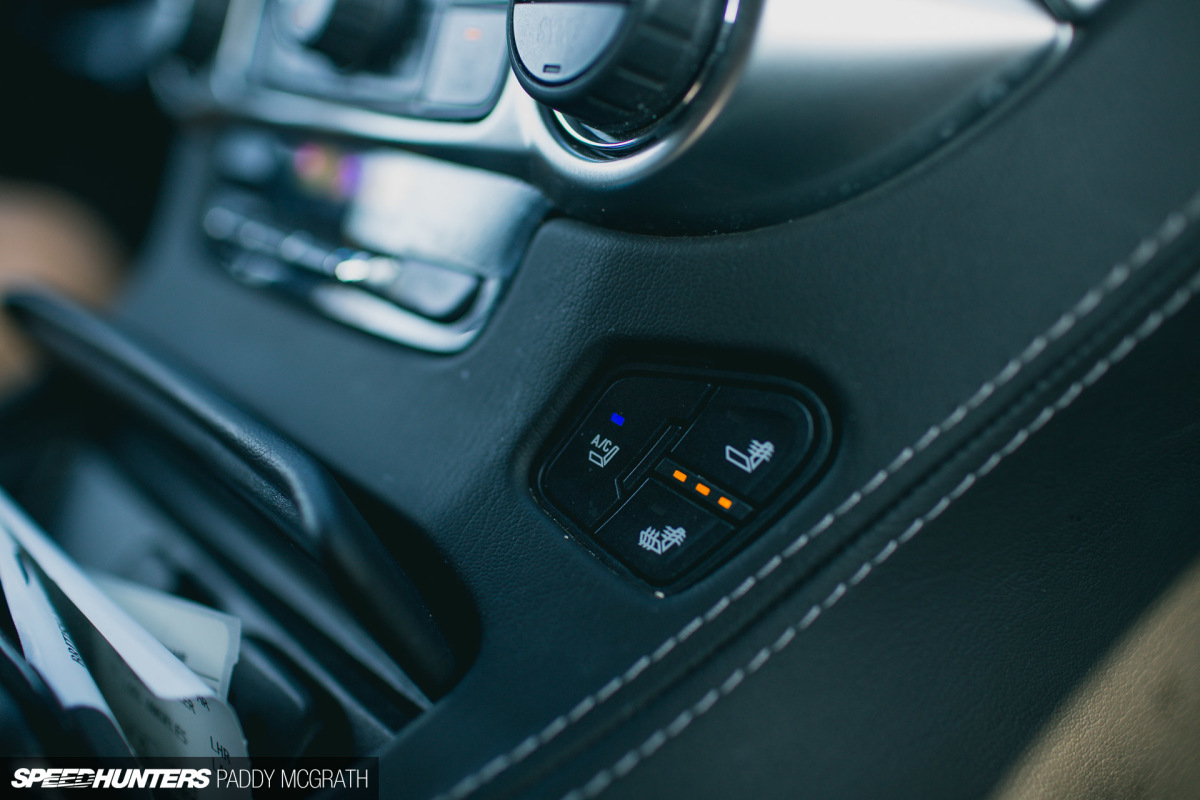 On this particular week, where temperatures would reach 41℃ or 106℉,  the air conditioned seats were very much welcome.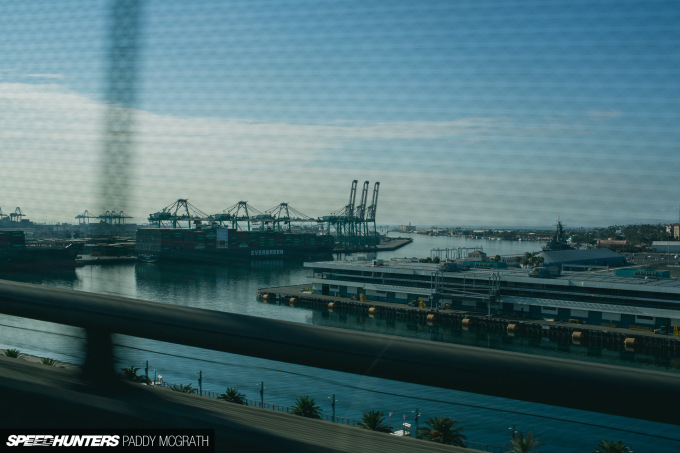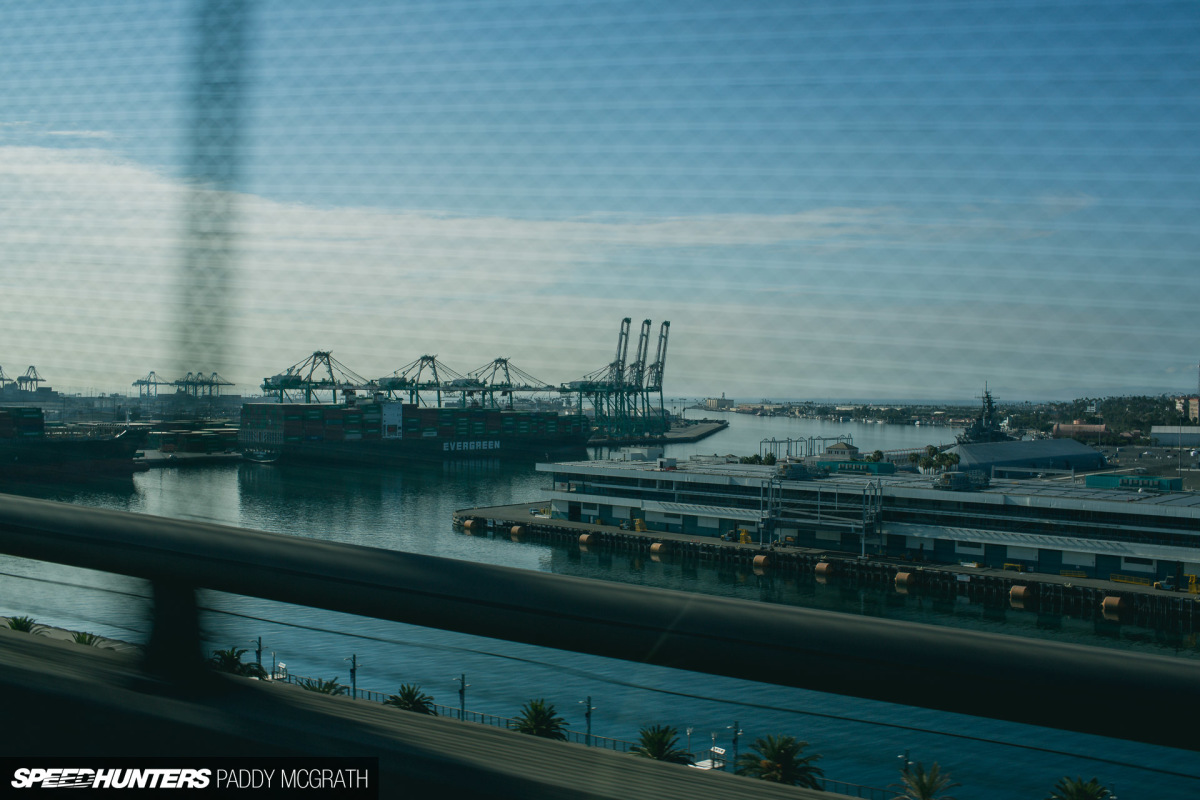 Driving past the famous skyline of cranes in the port, brought out the happiness in my inner Fast and Furious nerd. If I had seen a Rodgers trailer, I think I would have absolutely lost my sh*t.
If you're here, I'm sure you can appreciate how fascinating cars look in other countries. Everything from ordinary appliances to vintage to modified just seems that little bit more interesting when you're in a foreign land.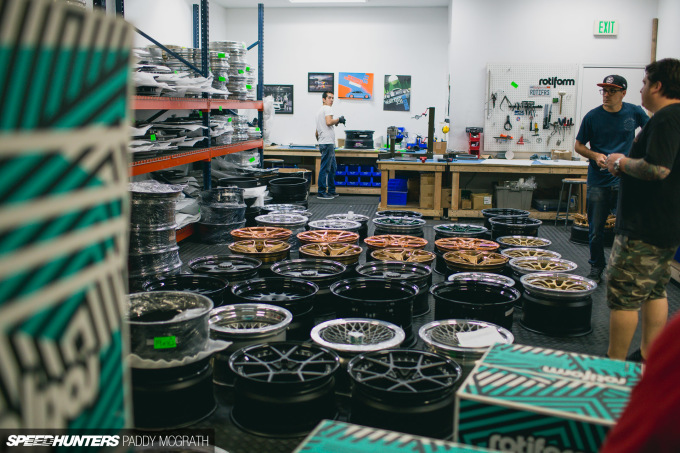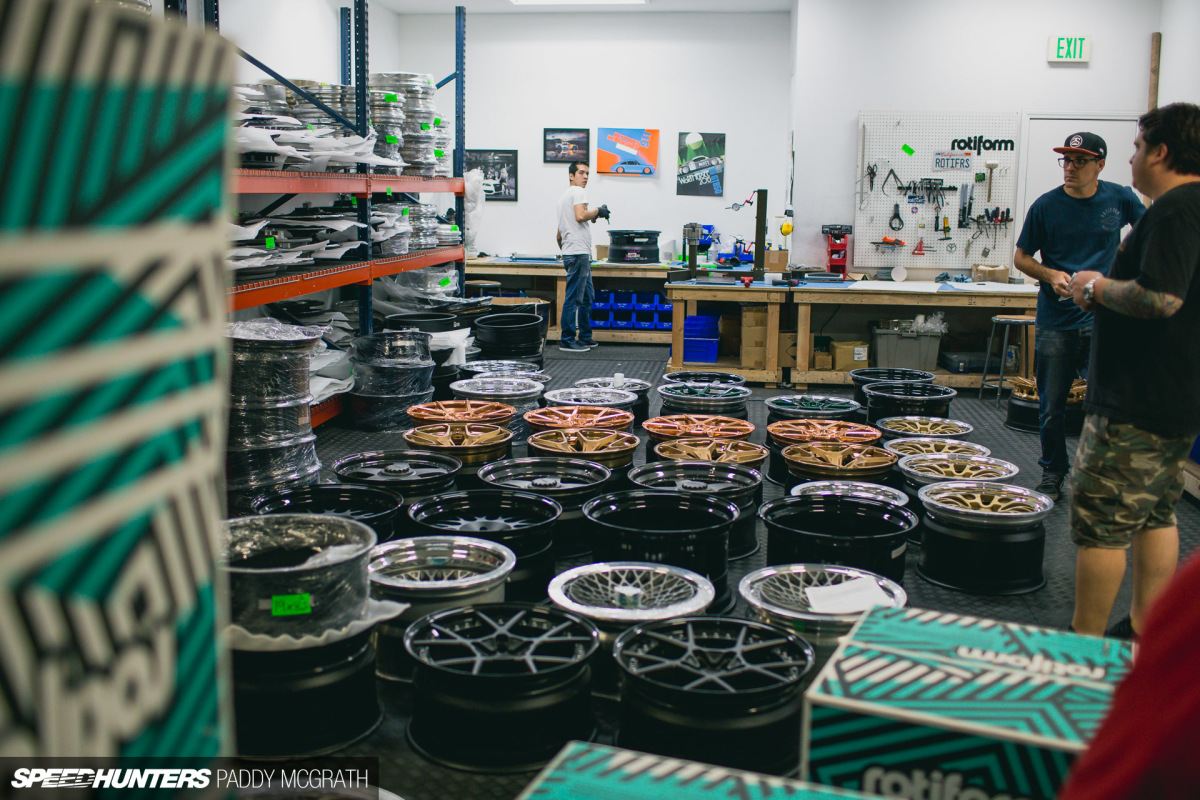 Our first port of call, after breakfast, was to Rotiform. I've known Brian Henderson, one half of Rotiform, for several years ,and it was great to finally meet him on his home soil. I've been fascinated by the Rotiform story and was genuinely thrilled to have the pleasure of documenting the premises and manufacturing process for an upcoming article. Eight years ago, Rotiform didn't even exist. It's incredible the way the company has progressed.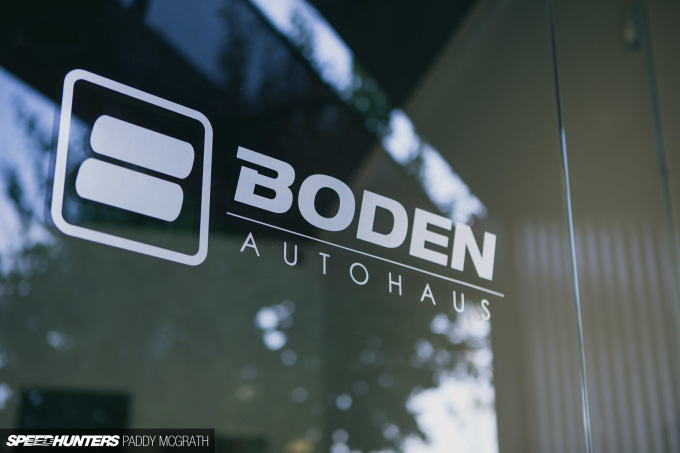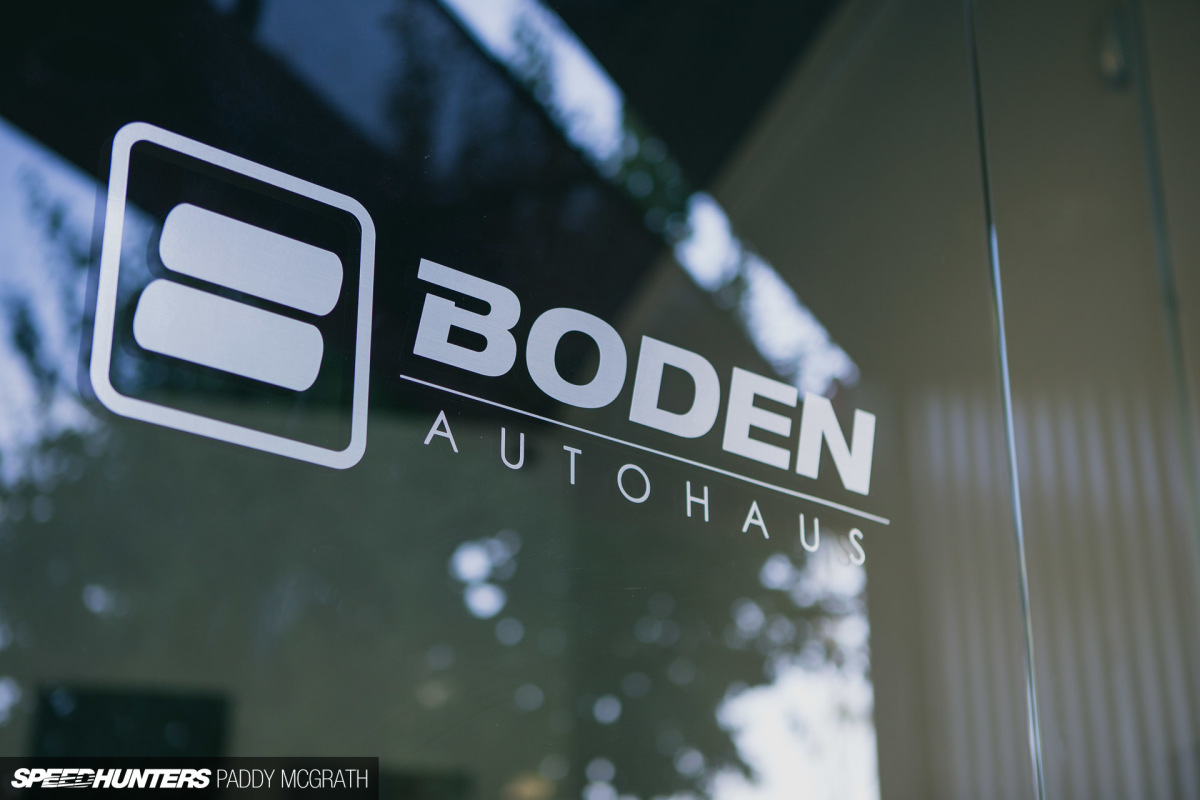 Next stop was Boden AutoHaus, where we checked out some of its past and present builds. I loved that the reception area doubles as an overflow workshop.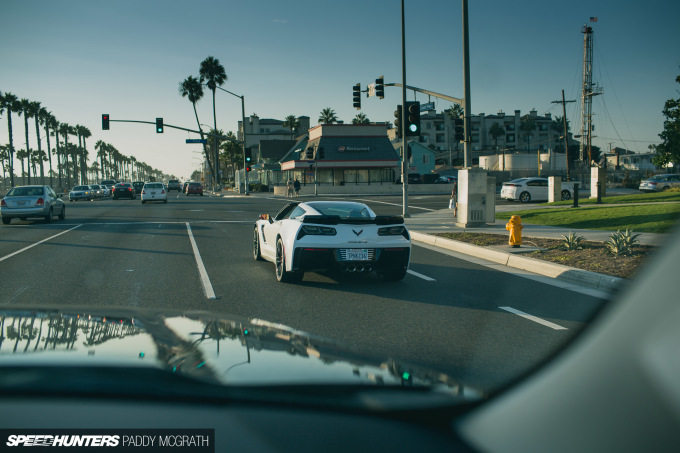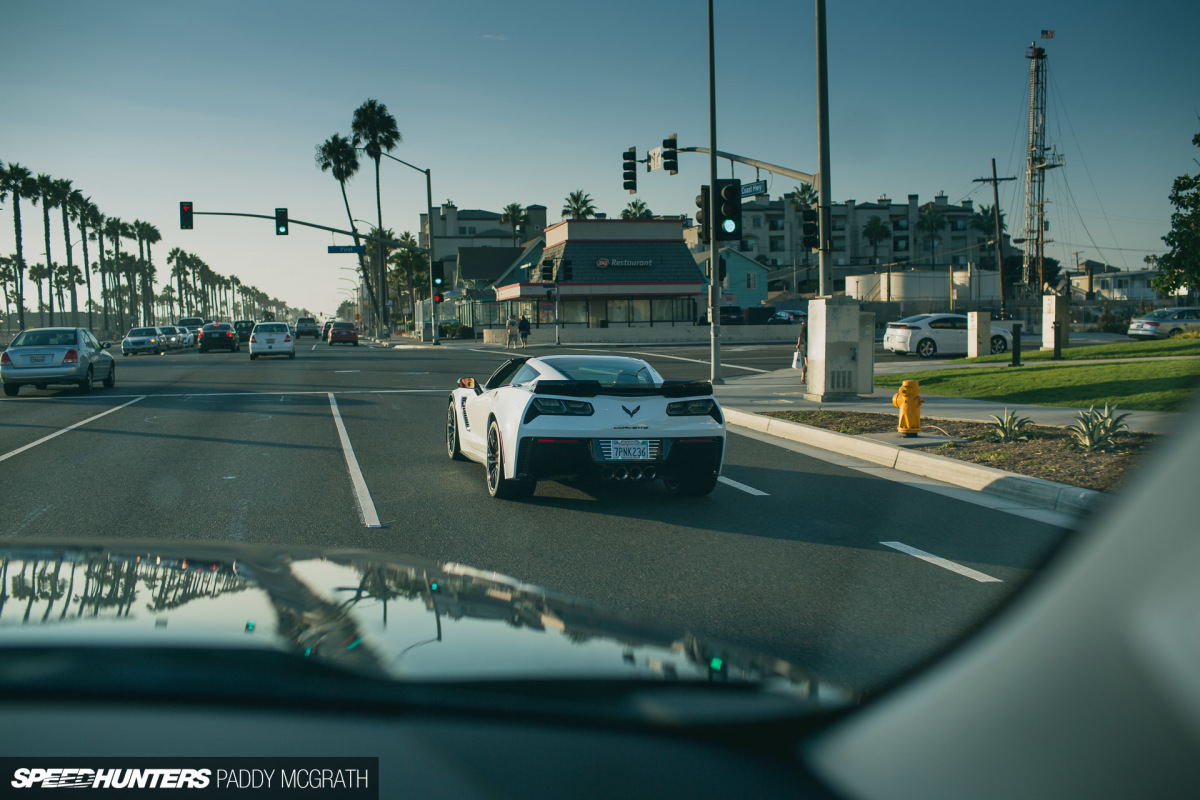 Back on the road again, we headed towards Huntington Beach where we would base ourselves out of for the rest of our stay. I never considered myself much of a Corvette man in the past, but the new C7 Z06 does all sorts of strange things to my trouser area.
At this point, we were really only settling in, but this was already everything I had hoped for and more. Little did I know, things were really only just about to get interesting.
Say Yes To Adventure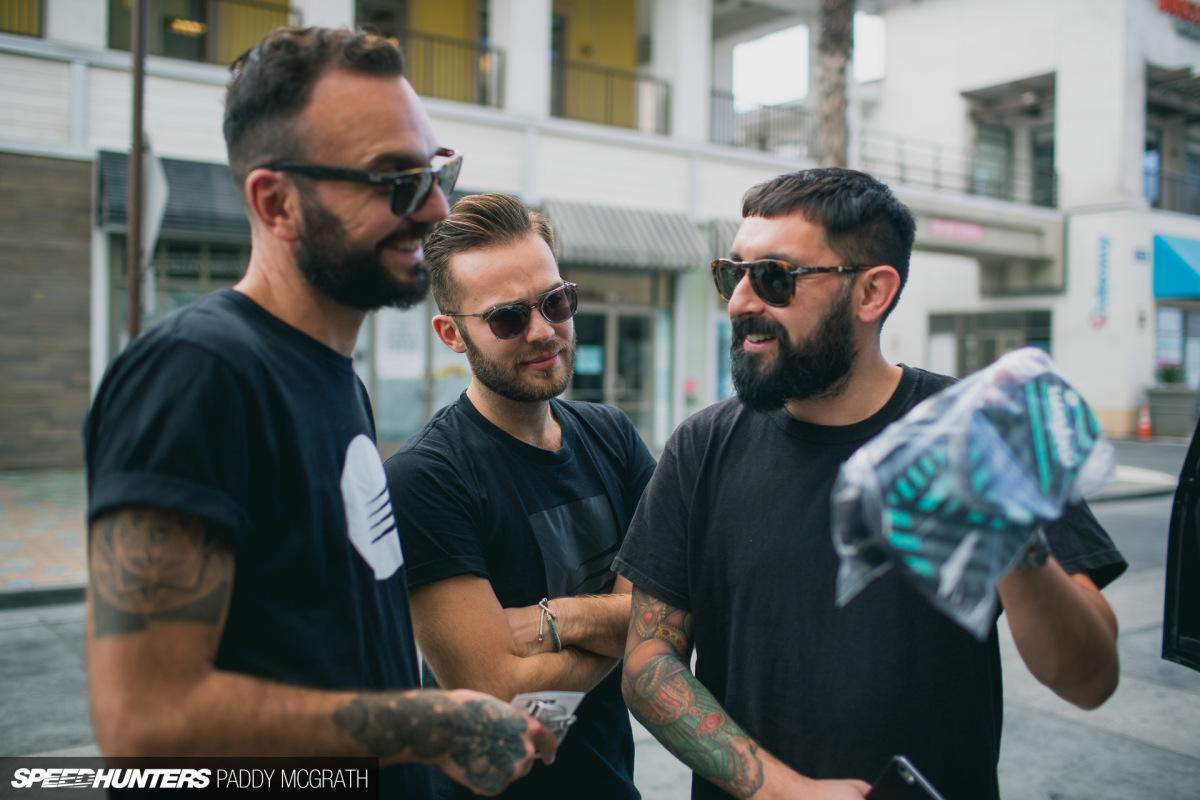 The next morning saw us rendezvous with yet more Speedhunters, this time in the shape of Managing Director, Rob Bullough, and Junior Designer, Arslan Golic, who both showed incredible levels of interest in Ben's new flip-flops.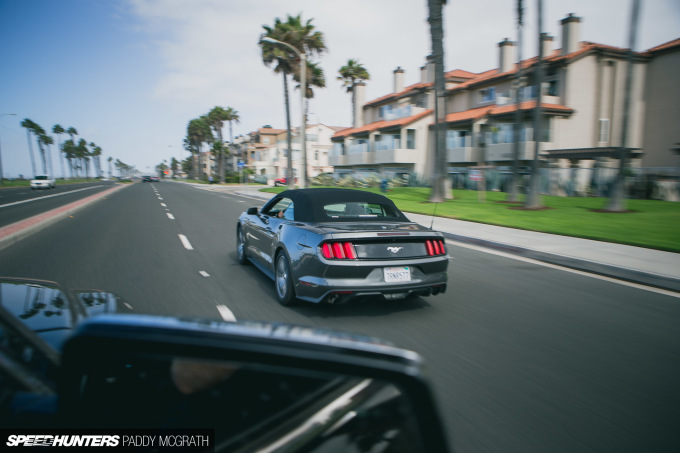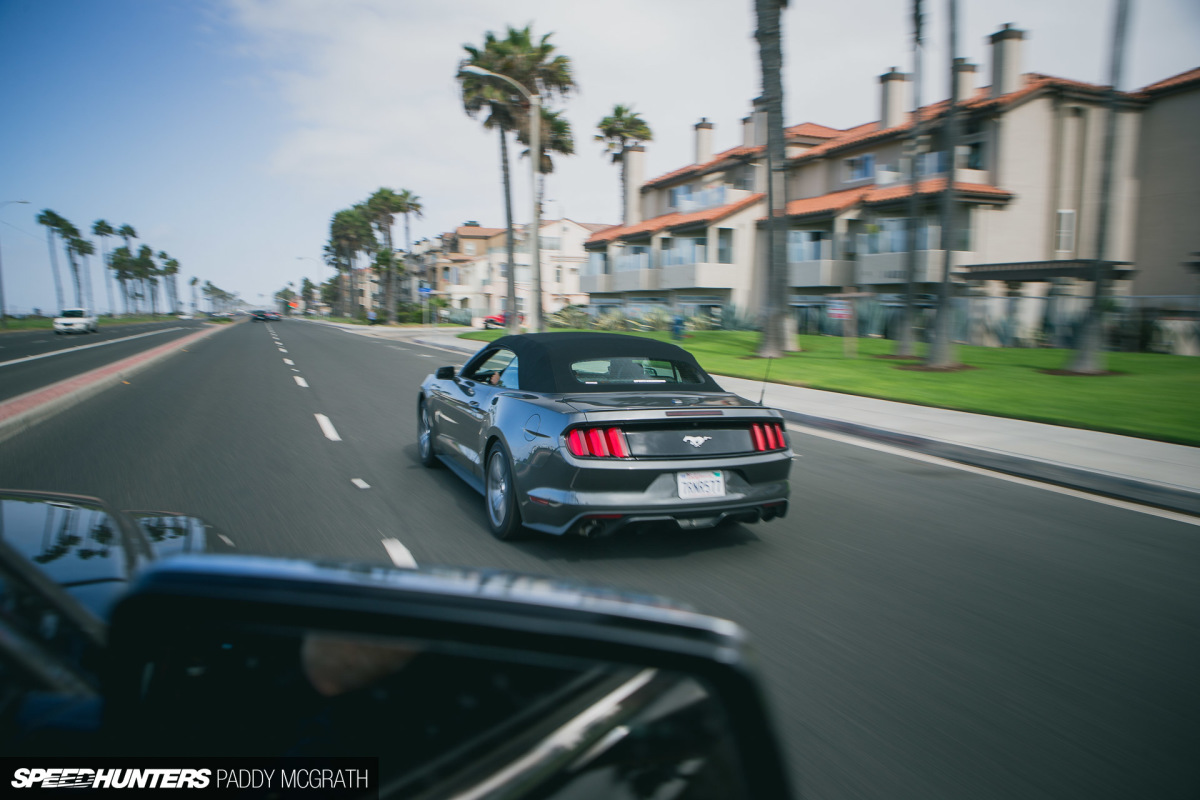 First things first, though. With their rental Mustang considerably down on power in V6 trim, Rob added comfortably another 100hp with front and rear Speedhunters stickers. We debated adding them to the side windows too, but ultimately decided that the stock drivetrain couldn't possibly take that amount of extra power.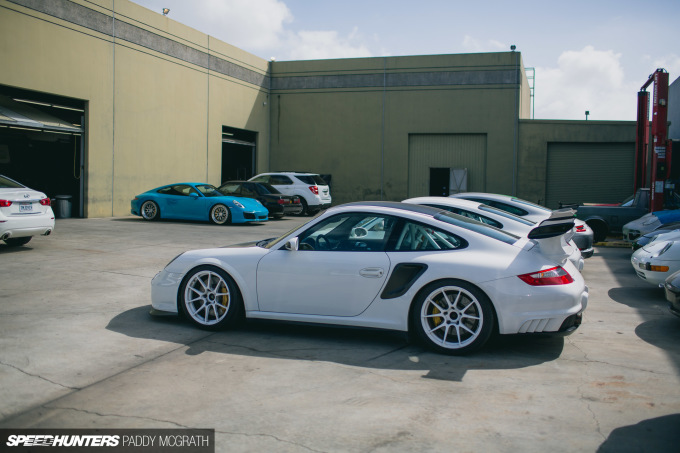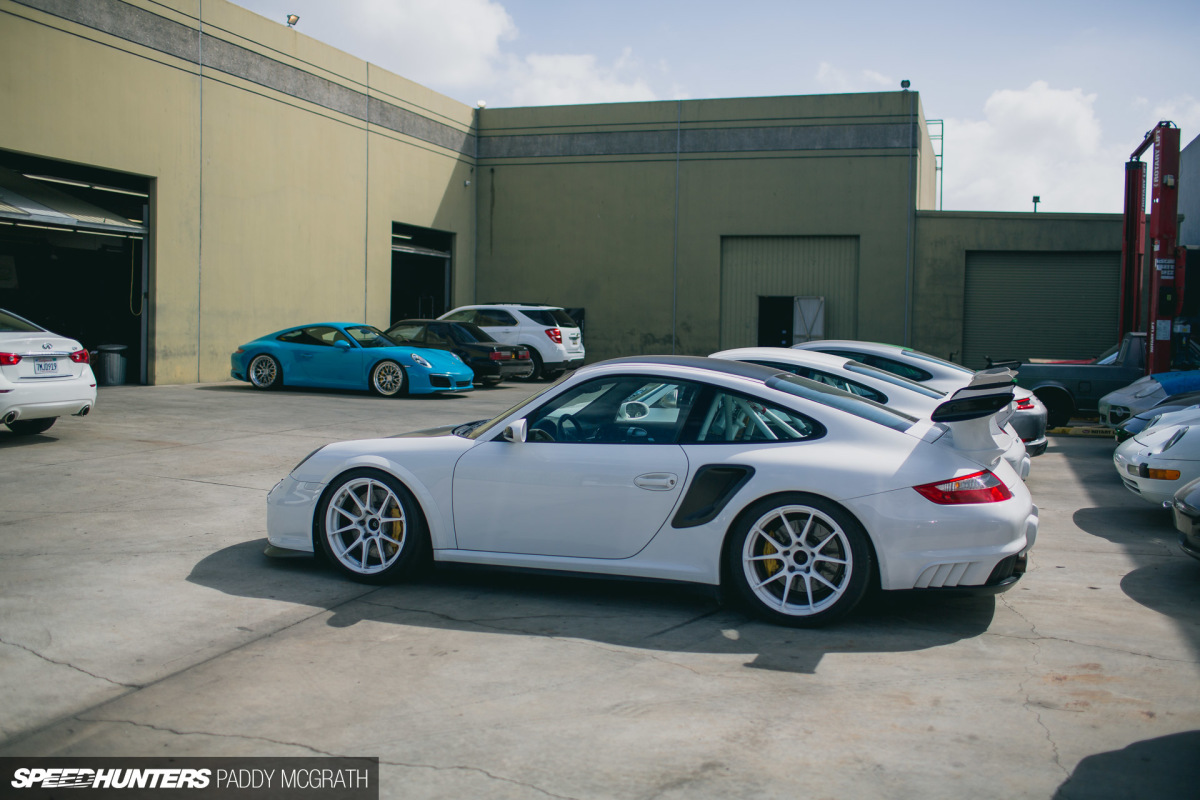 Next up was BBI Autosport, where we would again meet Brian from Rotiform before heading into the hills to shoot his new 991.2 Carrera. Betim from BBI wanted to give the car a quick alignment, which gave us a chance to look around the workshop and other customer cars.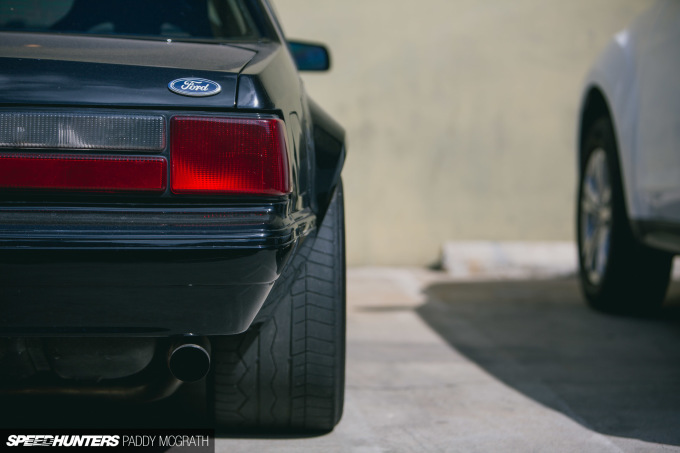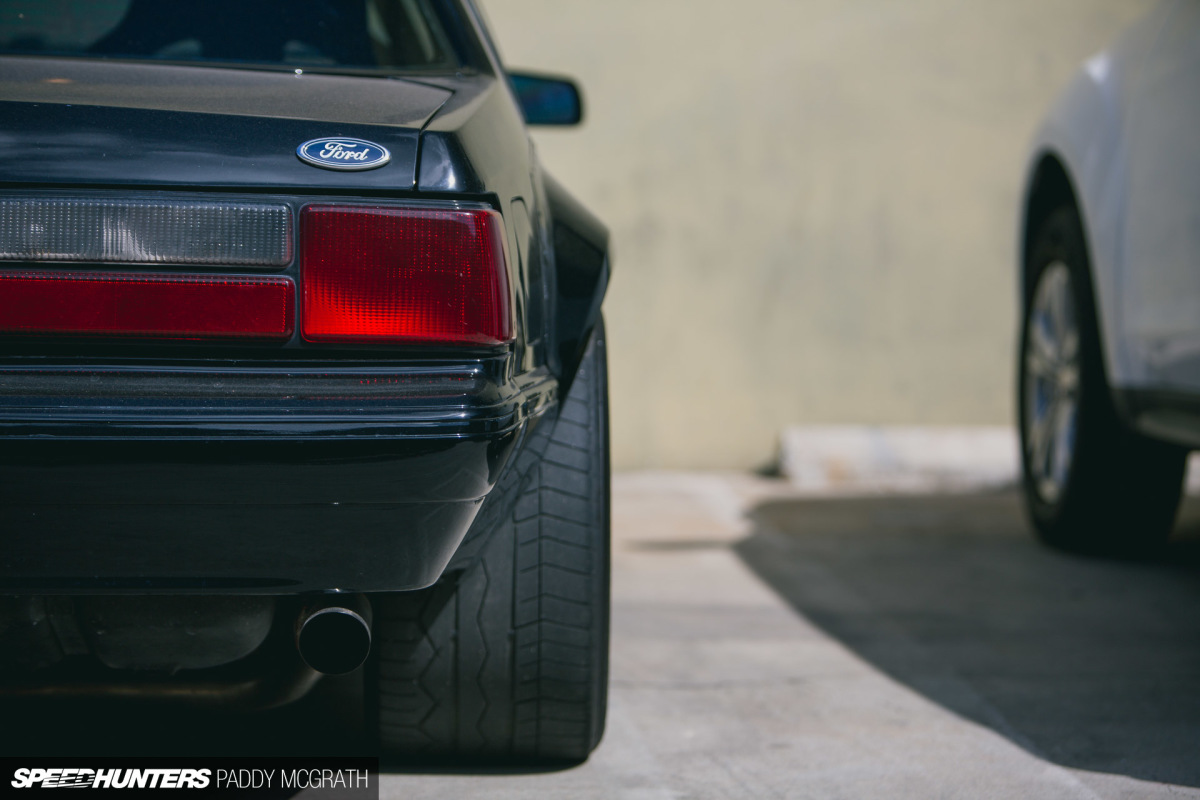 It's a Porsche-heavy affair at BBI, but this Fox body Mustang was quite incredible. Those of you familiar with Matt Farah and aforementioned The Smoking Tire will know that this is his car. I wasn't expecting to see it, so I was doubly excited when we turned up and it was beside Brian's 911. We're hoping to arrange a feature with Matt (if you're reading this, sorry for not getting back to your e-mail) because the world needs more cool Fox bodies.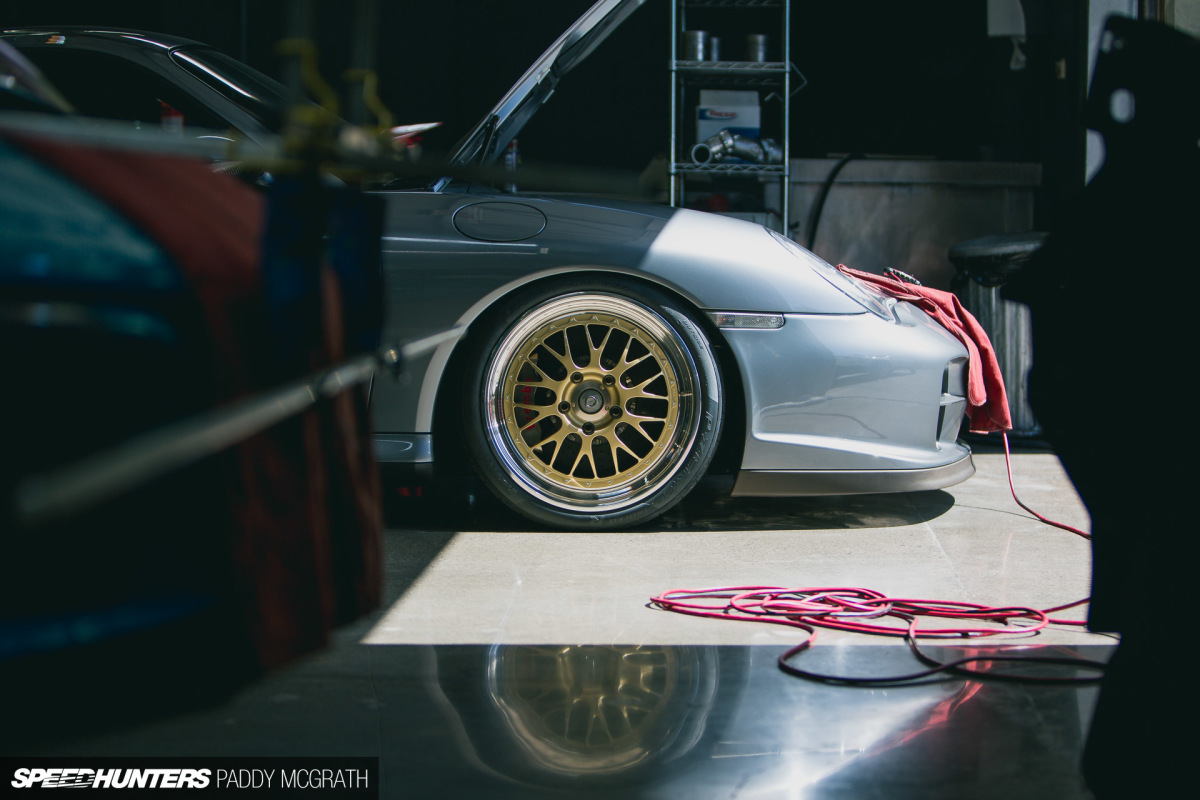 Another car we hope to bring you more of in the future is this 996 GT2. I won't say why, but I can almost pretty much guarantee you will be impressed with it.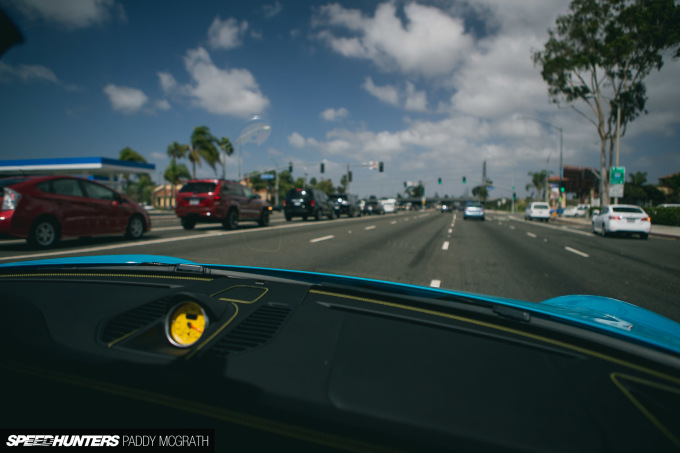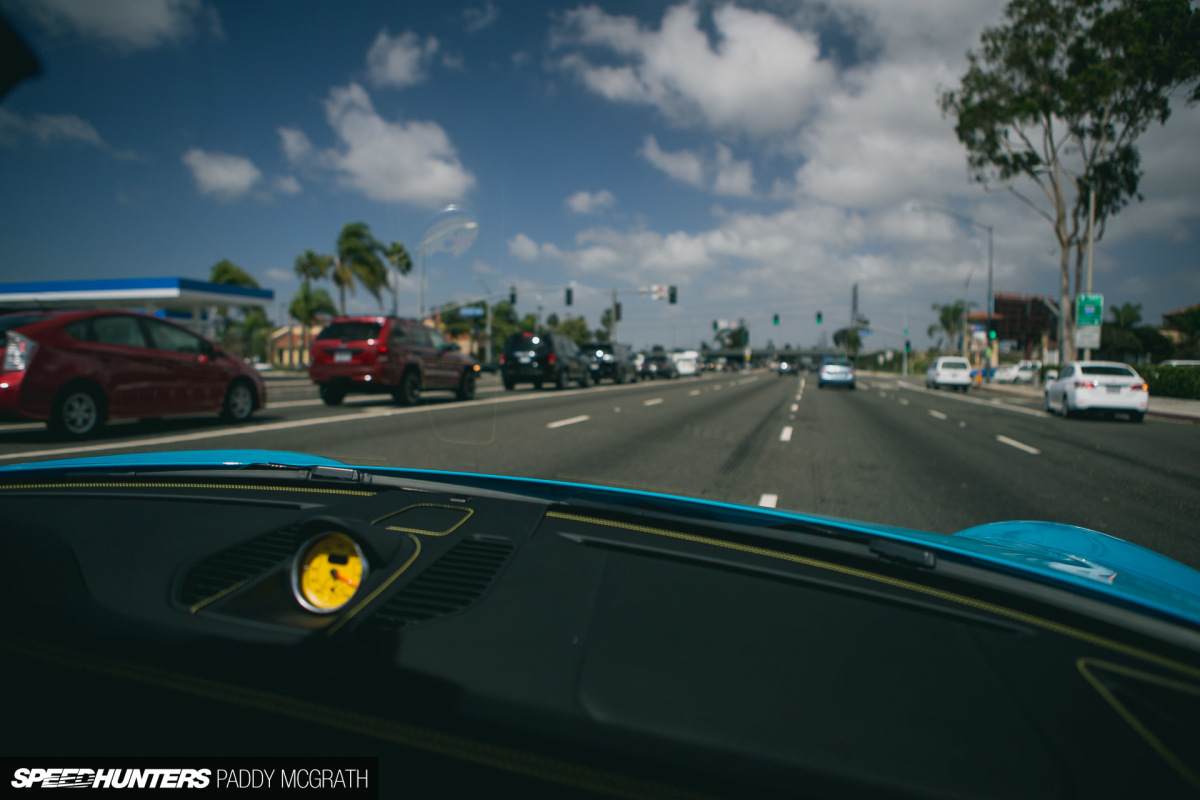 With a fresh alignment dialled in, we hit the streets and headed for the hills.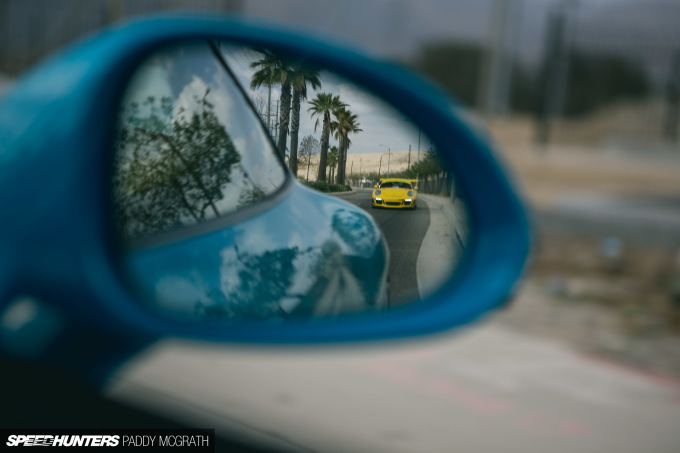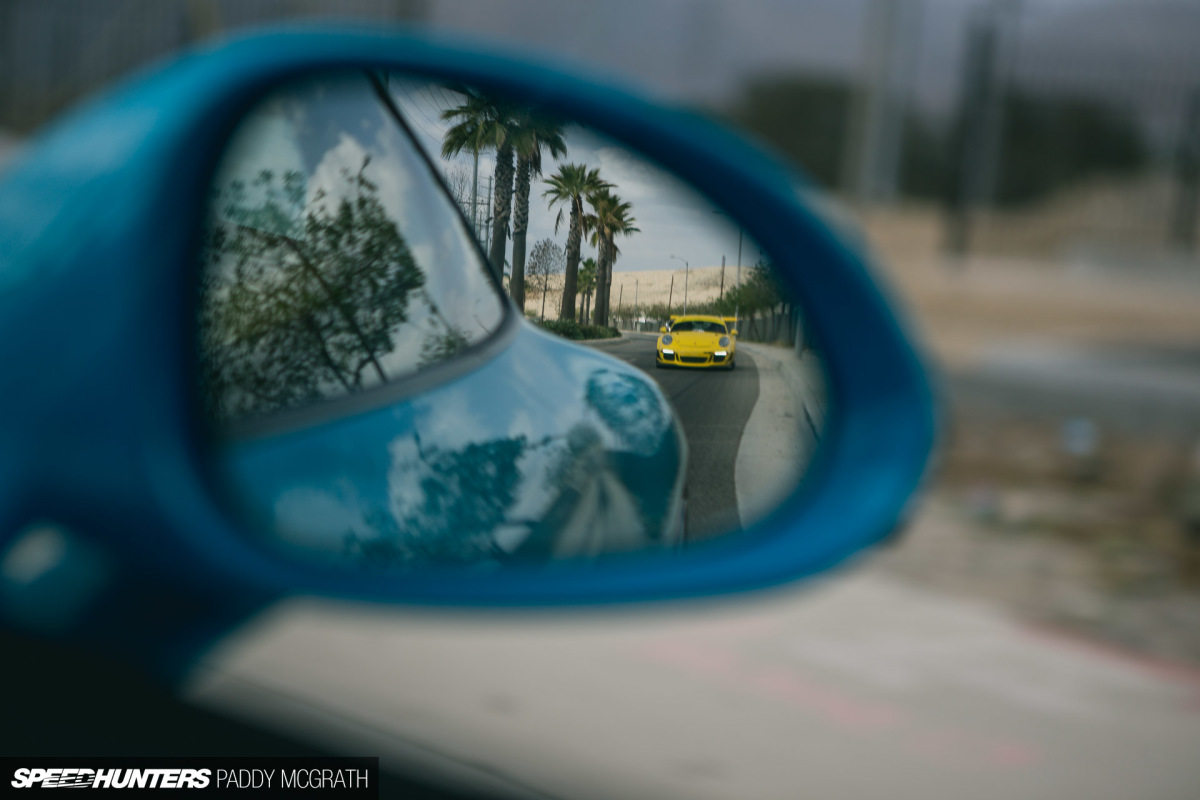 Suddenly, a wild GT3 appeared.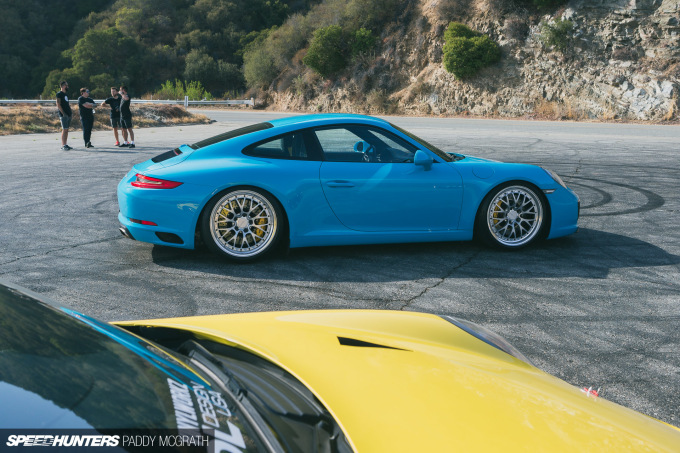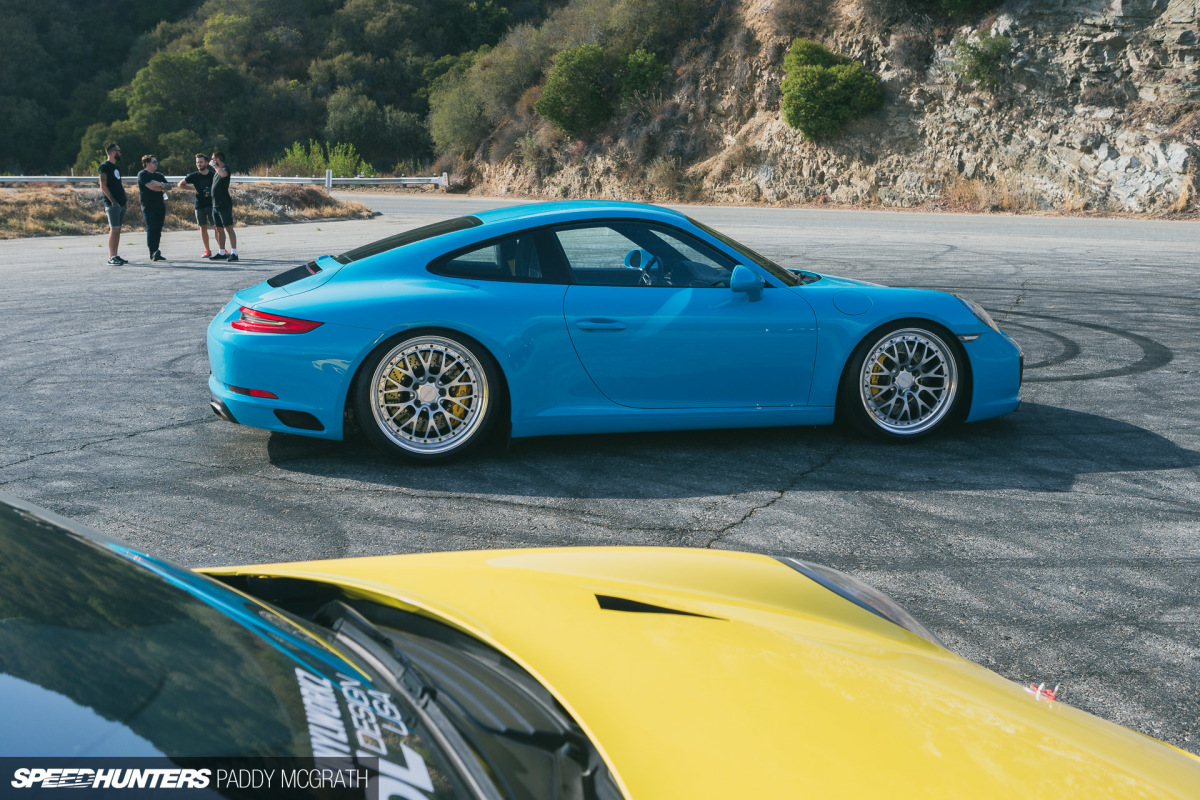 What occurred over the next couple of hours was, without single doubt, the best hours I've ever experienced whilst hunting speed. Let's say, when someone asks if you'd like to drive their 911 or GT3, it can't possibly be a bad day.
Empty roads, turbocharged and naturally aspirated flat-sixes and nothing but time to kill? I don't think anything will top this particular day.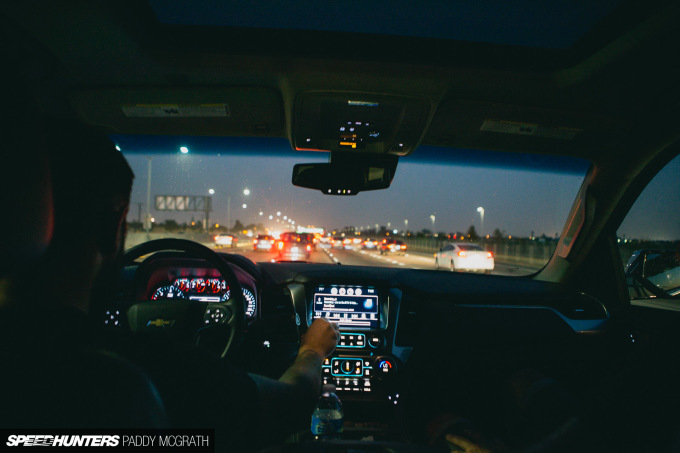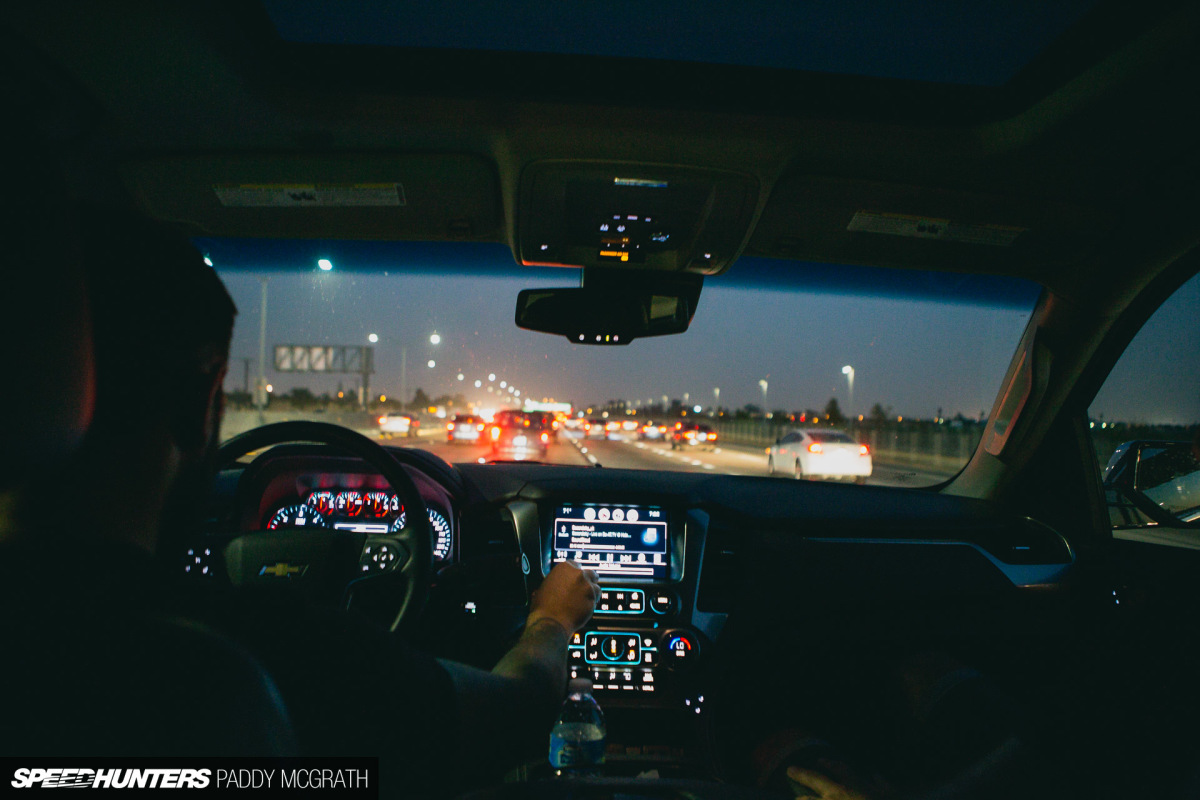 I even found the traffic in LA to be interesting. Which is a good thing, because there's quite a lot of it.
After a long day Speedhunting with no phone signal, let alone food, we made up for it in style with some fine Mexican cuisine. 'Fine' might be stretching it actually, but I do have one question. How in the name of all that is good is one meant to fit two massive plates worth of food into three tiny-ass tortillas? I think I only made it to two tortillas before collapsing into a food coma. Arguably, it's the best kind of coma, but still.
Sun, Surf & V8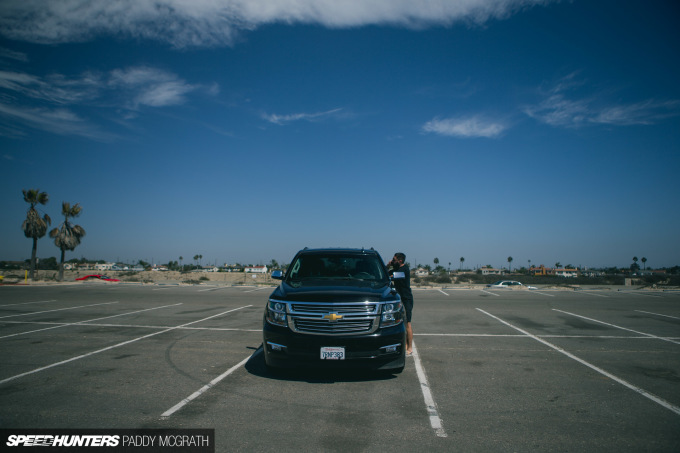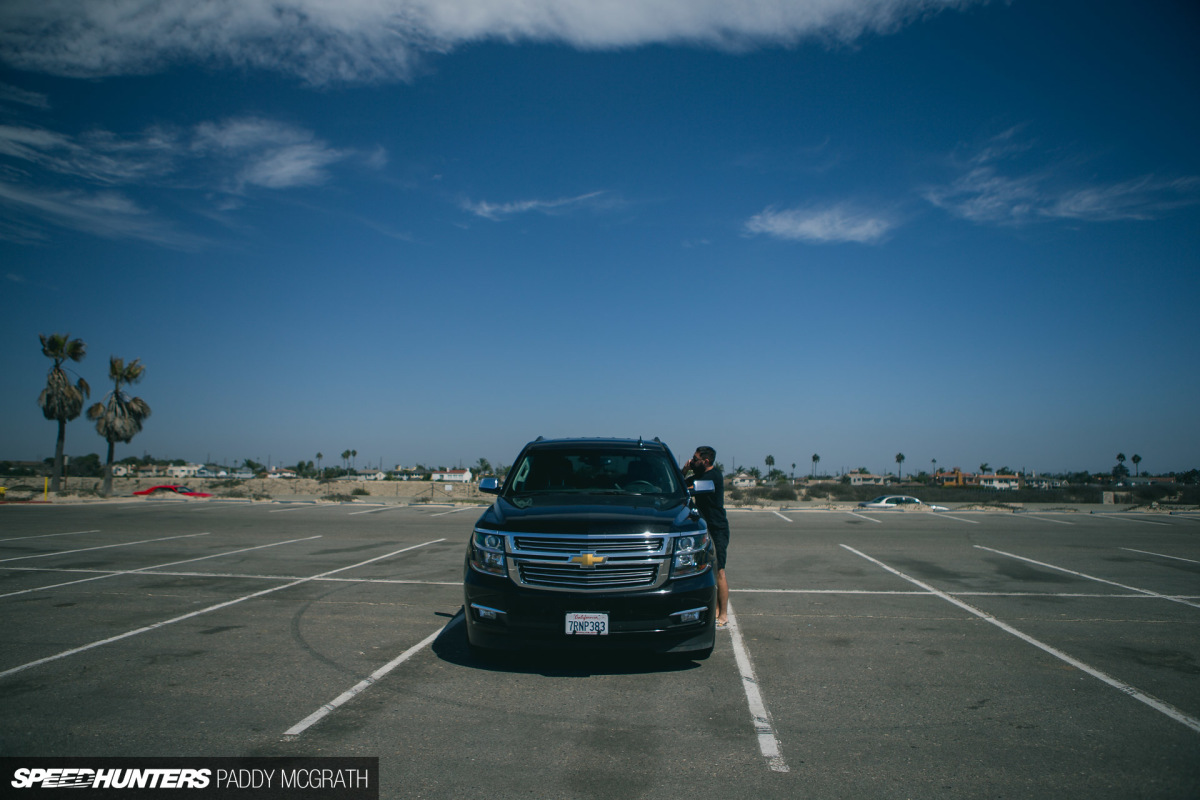 There wasn't much let-up in our schedule. What was originally intended as a writing day, developed into another shoot when we heard that Carl Taylor, of Players Show fame, was about to sell his LS-powered E46 M3. We quickly arranged a meet-up location nearby and got to work.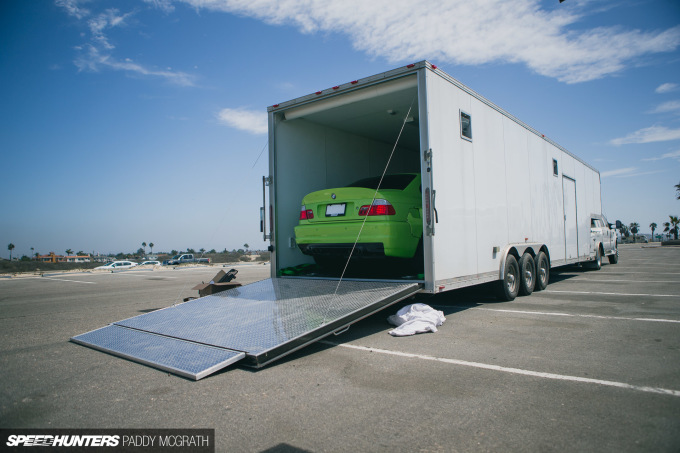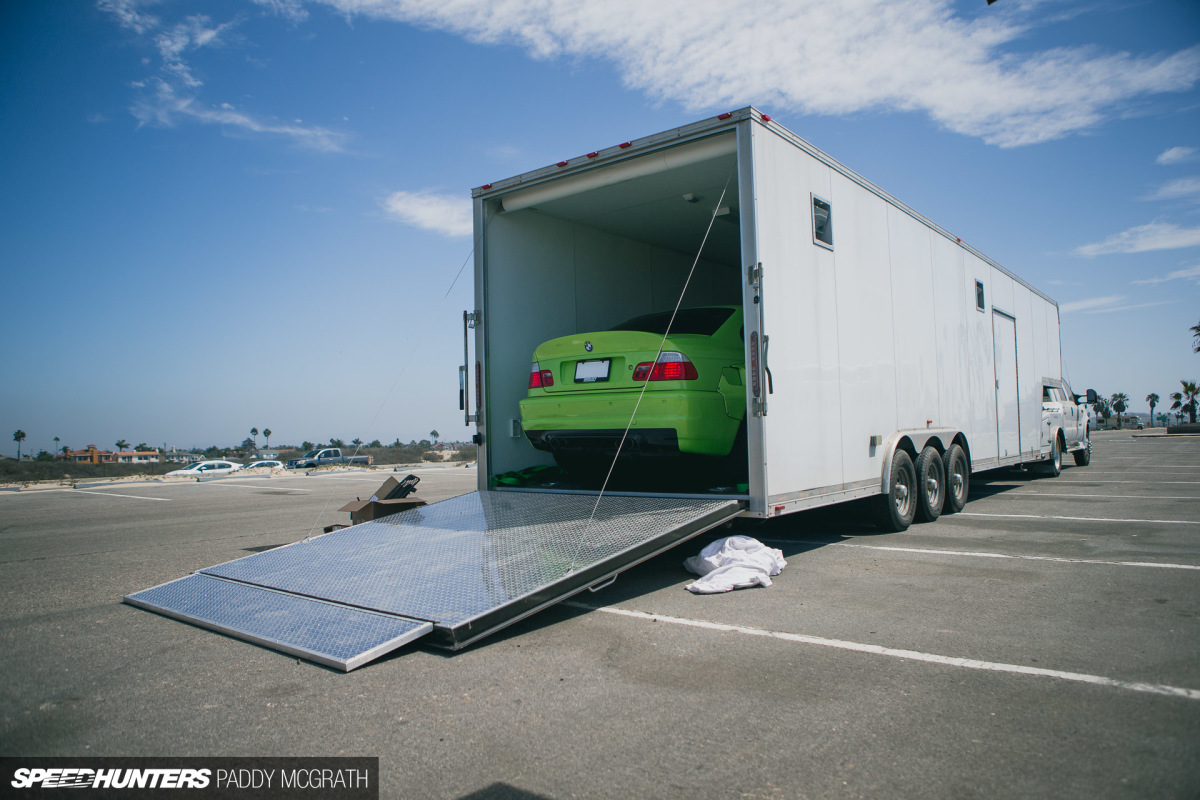 With the car due to be collected the next day, Carl took no chances with bringing it to us. That trailer is seriously bad ass. Not quite as cool as the car is mind you, but still.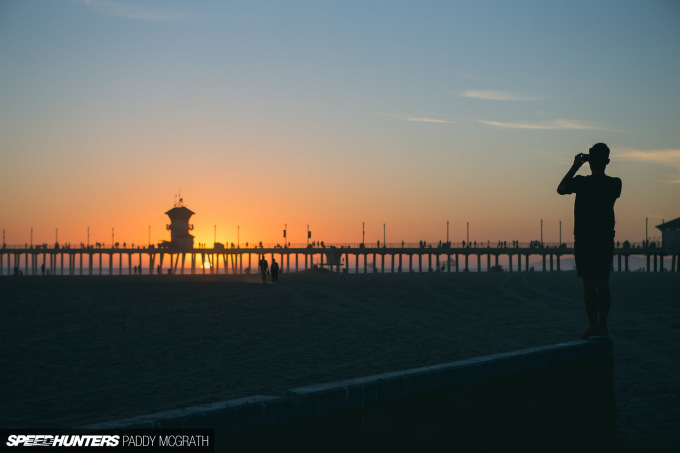 Already ahead of our shoot schedule, we took a rare evening to kick back and explore Huntington Beach. I think it might just be one of my all-time favourite places on earth; the pretty much guaranteed sunsets are just stunning.
Still, there was a lot more to come.
JCCS & Co.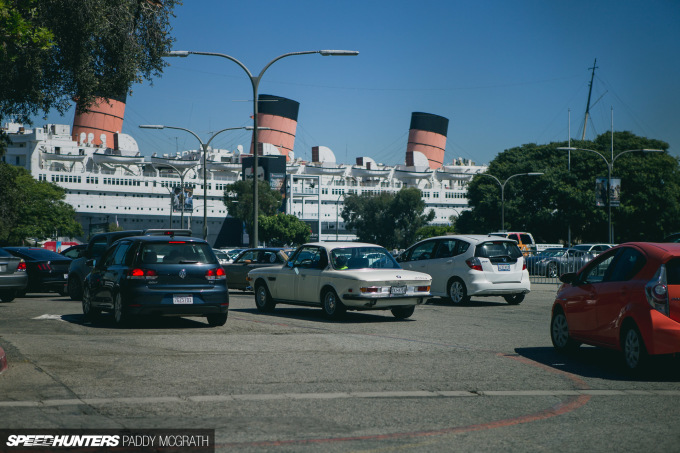 Another morning, another early rise and another journey to be made in the Tahoe, aka Tally Ho. The trip was short though this time, just a short cruise north to Long Beach for the annual Japanese Classic Car Show. By the time we arrived, Mike had already nailed his coverage and was enjoying a cool beverage in the shade. Or at least that's how I imagined it.
I'm not going to give away all the details on this particular one just yet, but I will give you some suggestions as to what was behind closed doors.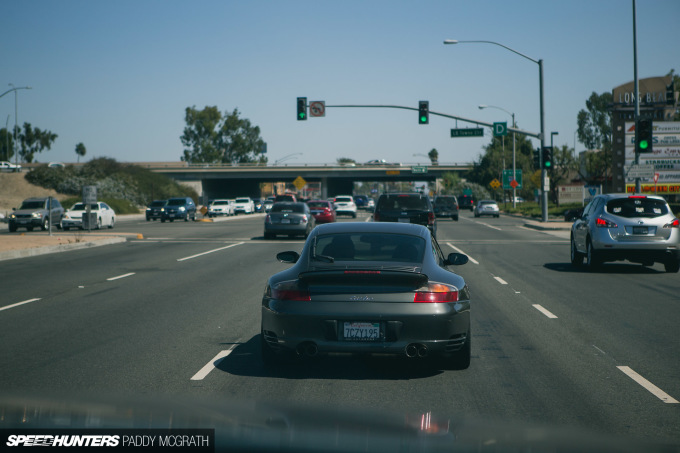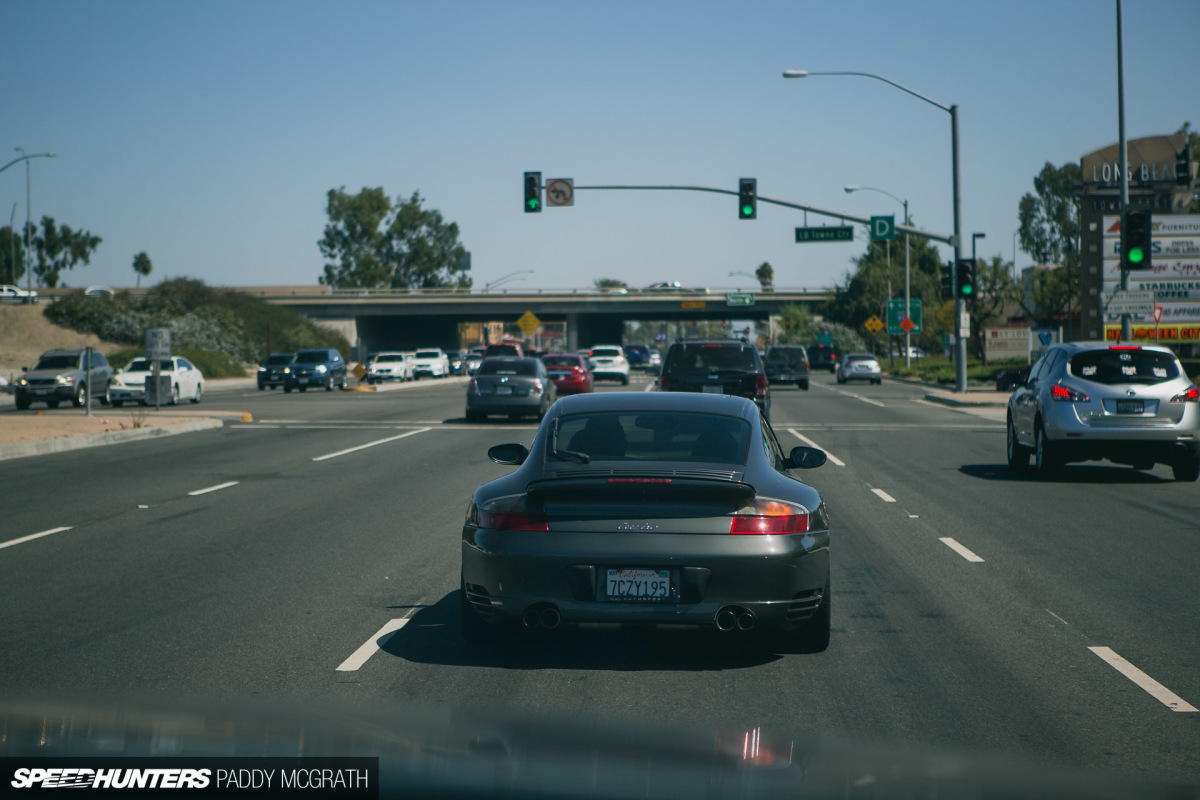 Another day, another In-N-Out. Christ, they should be paying us for advertising at this rate. We do accept payment in burgers*, if anyone is reading.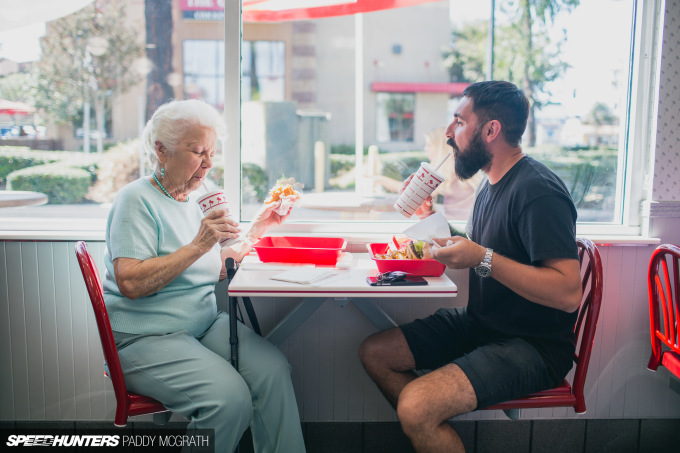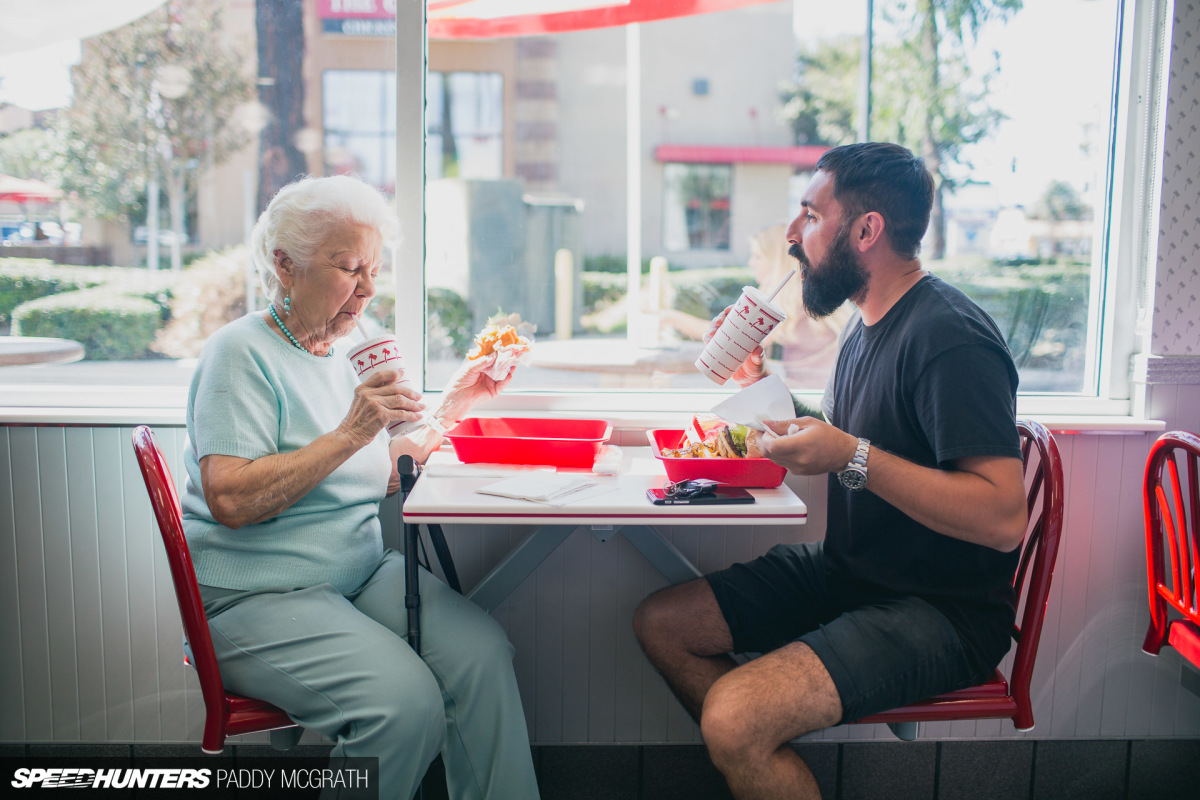 We gave up our seat for this kind lady eating alone and Ben decided to keep her company. She had received an In-N-Out voucher for her 87th birthday. After travelling to SoCal in the 1940s, she began working assembling aircrafts and spent the next 35 years in the same job, even refusing to be moved into an office role as she preferred the assembly work.
Burgers finished, our next stop was an unplanned one to Downtown LA. Abandoning the Tahoe, I rode shotgun with Larry in his 996 Turbo. It's fast. Sorry if I left any unwanted stains on your passenger seat, buddy.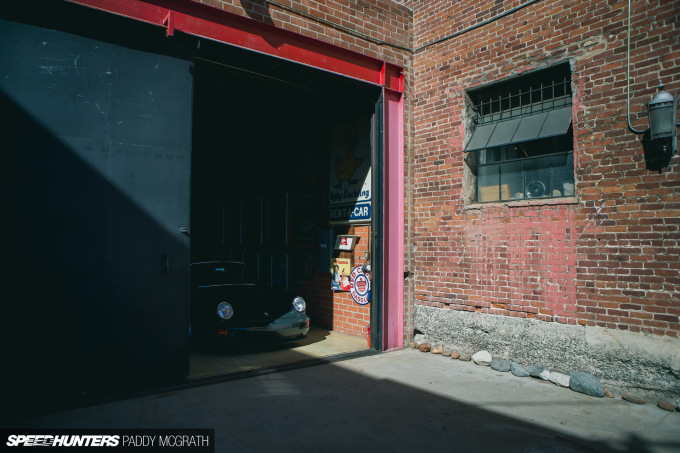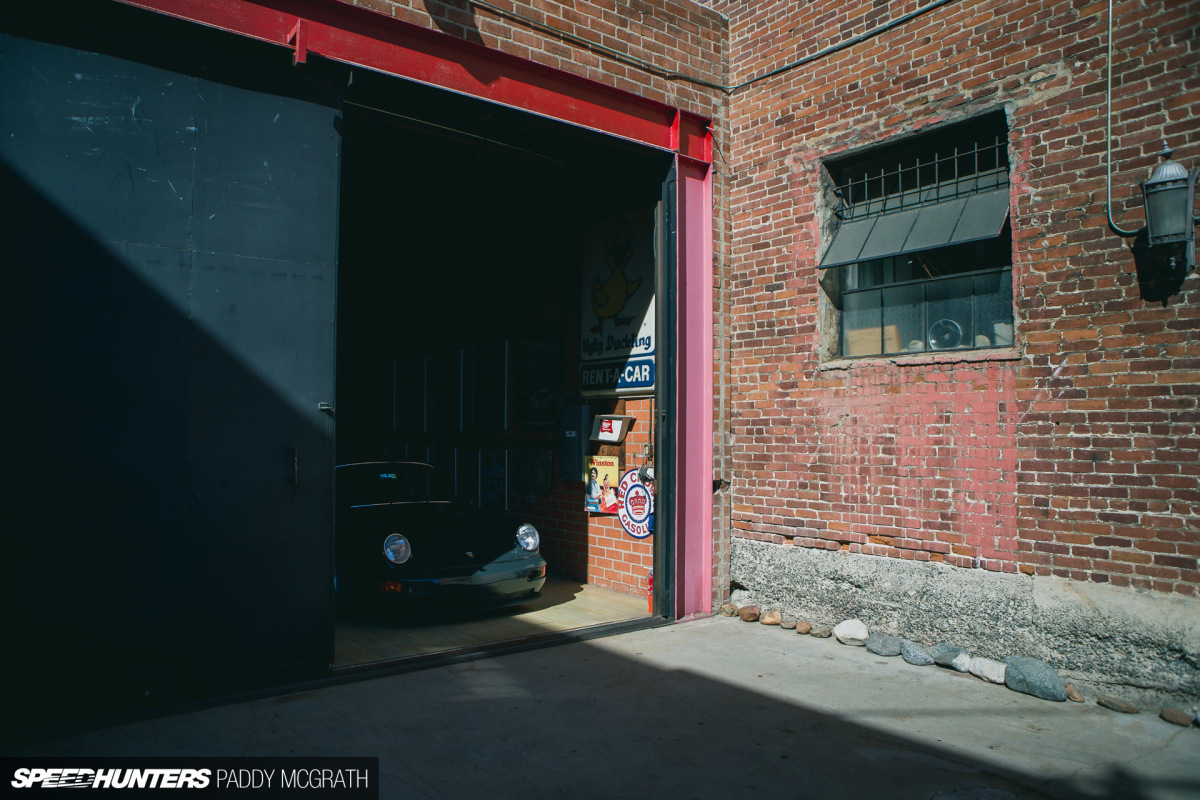 This would be a particular highlight of the trip for me, as it combined two things on my automotive bucket list.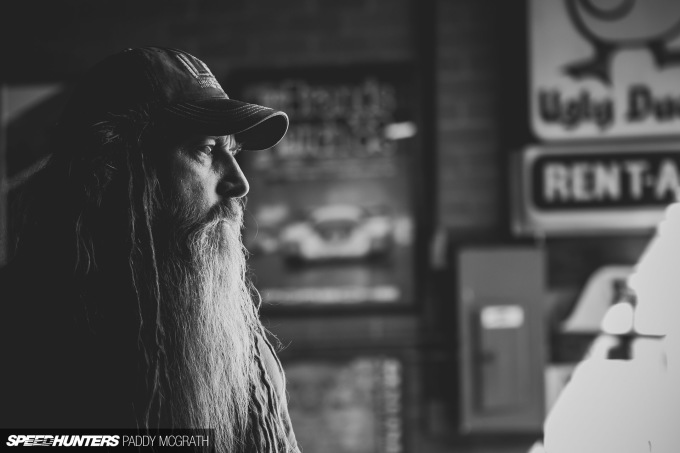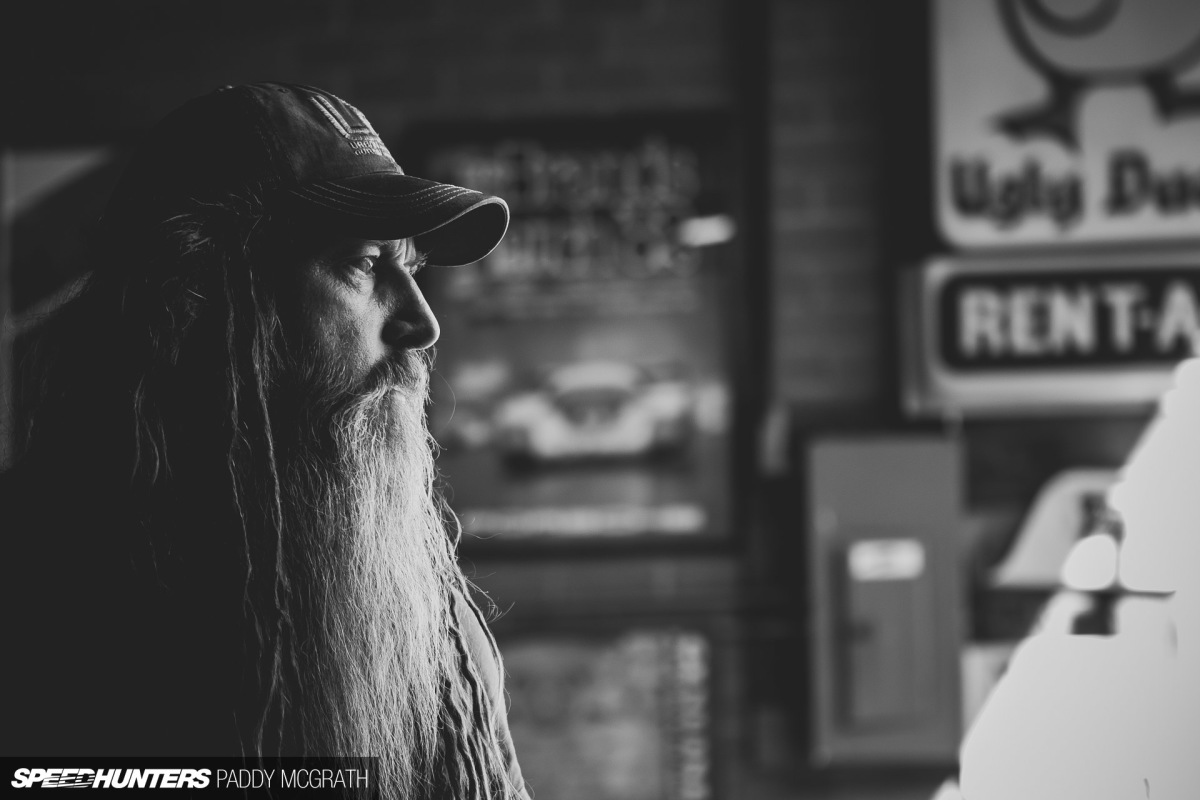 The first was to meet this man, Magnus Walker. I've seen the films and read so many opinions about him online, most of which are uninformed nonsense. Take it from me, Magnus is possibly one of the nicest guys you could ever meet. His passion and enthusiasm for cars is unlike that of anyone I've ever met before. He was so excited to show us around and to talk us through his cars to the point we were running around after him as he brought us from one talking point to another.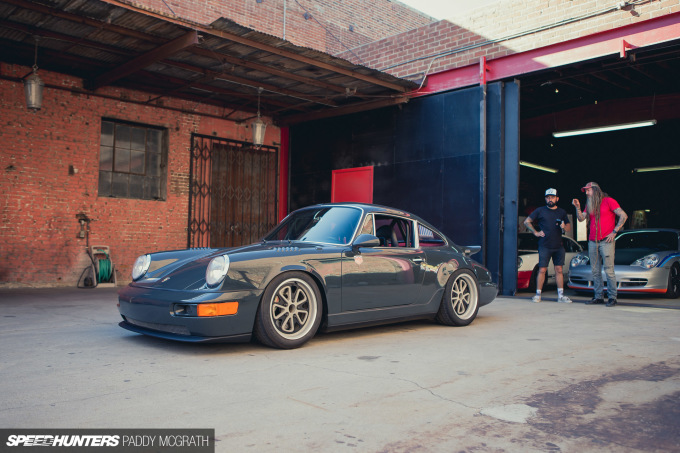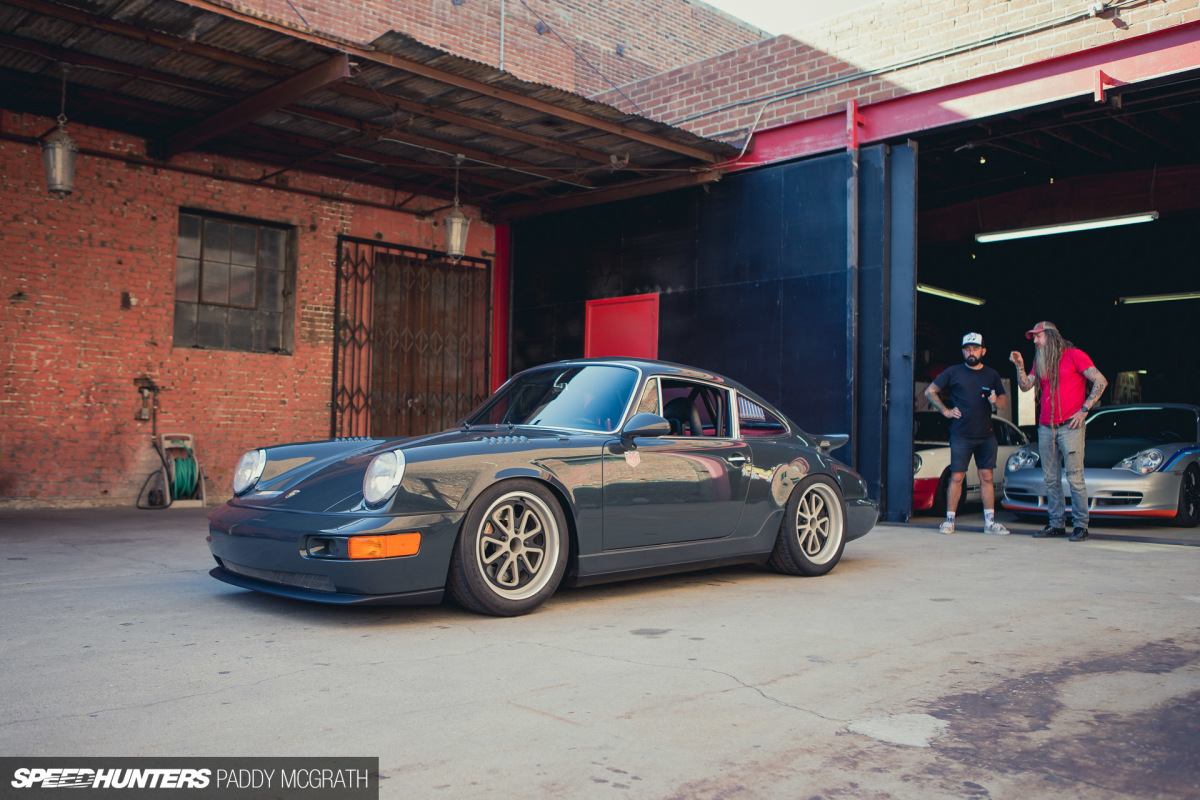 The second was to check out his collection. What I didn't expect to see was his brand new 964 build, a car full of just incredible details and what I believe that Magnus considers the most complete car he has built yet. I don't think I'll ever tick two off the list quite as easy and happily as this.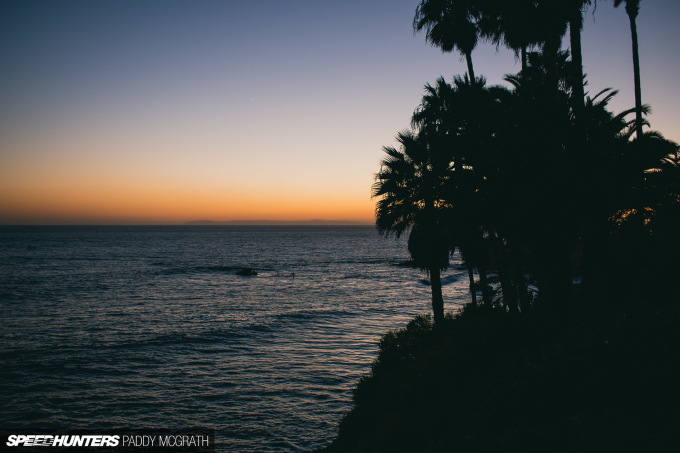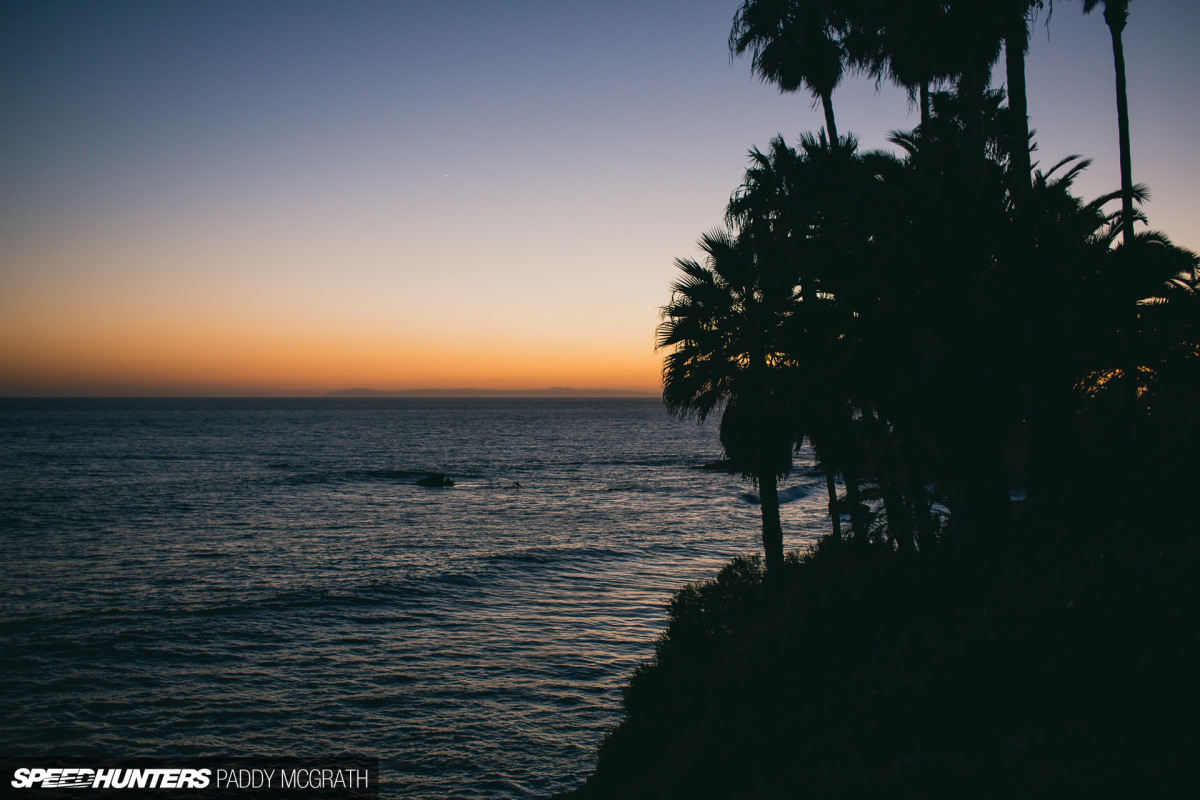 Night time took us to Laguna Beach, for an exploration more than anything. When you've flown this far, you absolutely have to try and make the most of every minute.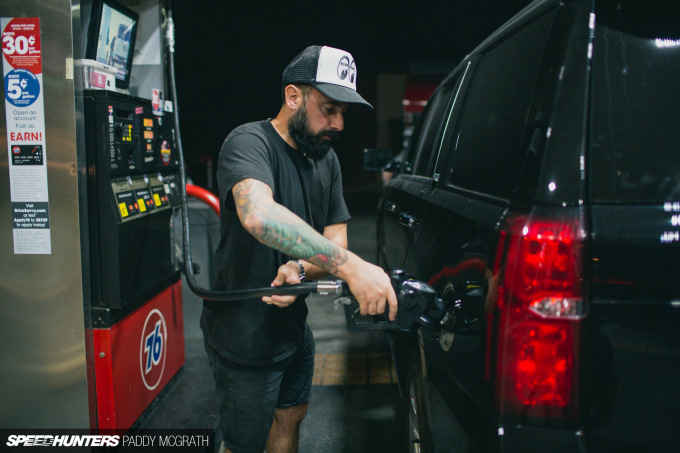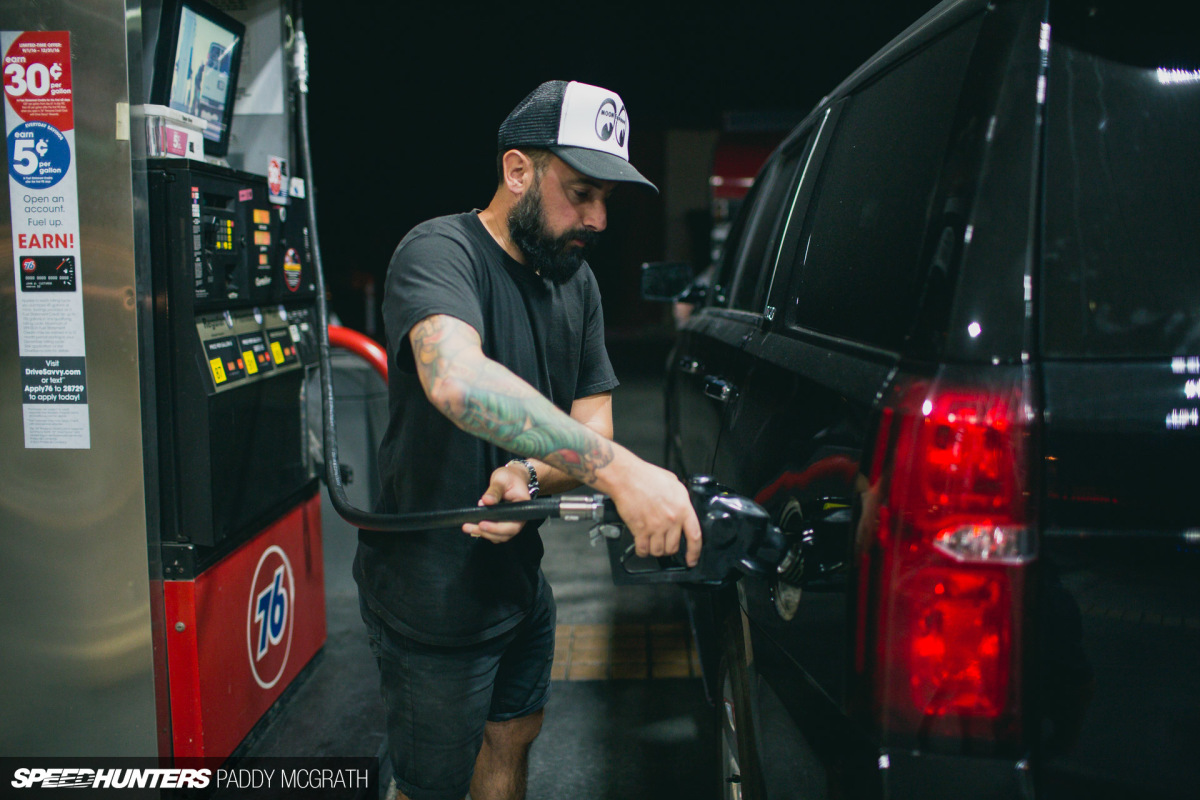 The incredibly low cost of fuel in the US is always a little bit sickening for most non-US dwellers. An equivalent fill up in the UK or Ireland would have cost over US$130, around double the going rate in the US. At least the random DeLorean sighting lessened our woes.
Going Home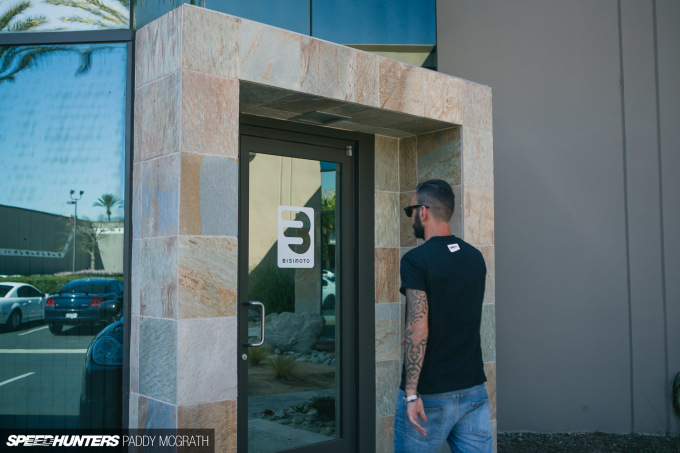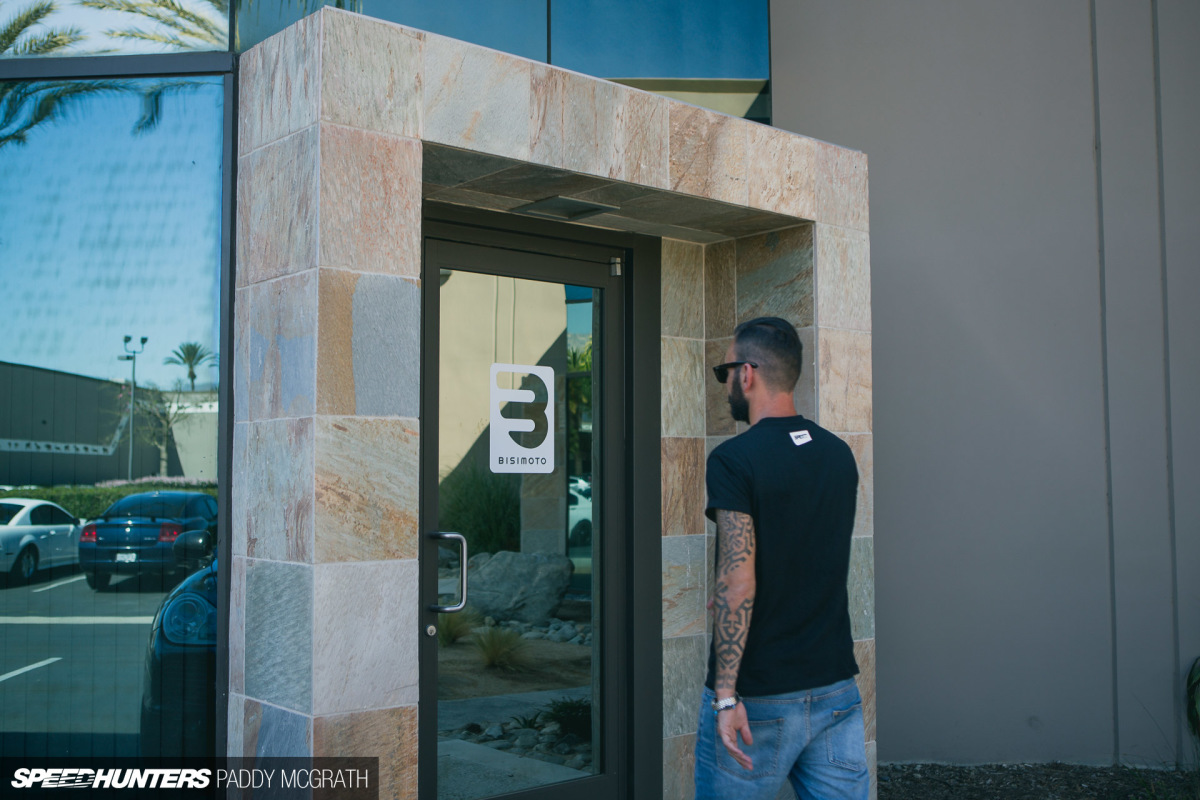 After a late night followed by an ungodly early alarm call to pack, we left our Huntington Beach hotel for the last time and headed to probably the hottest place on earth – Ontario, CA, and the home of Bisimoto.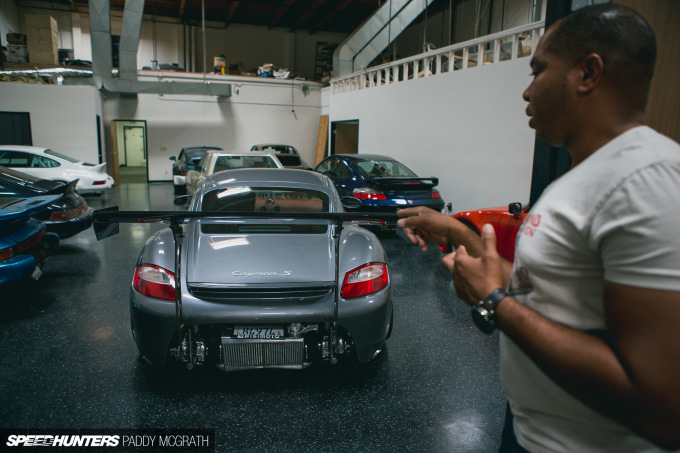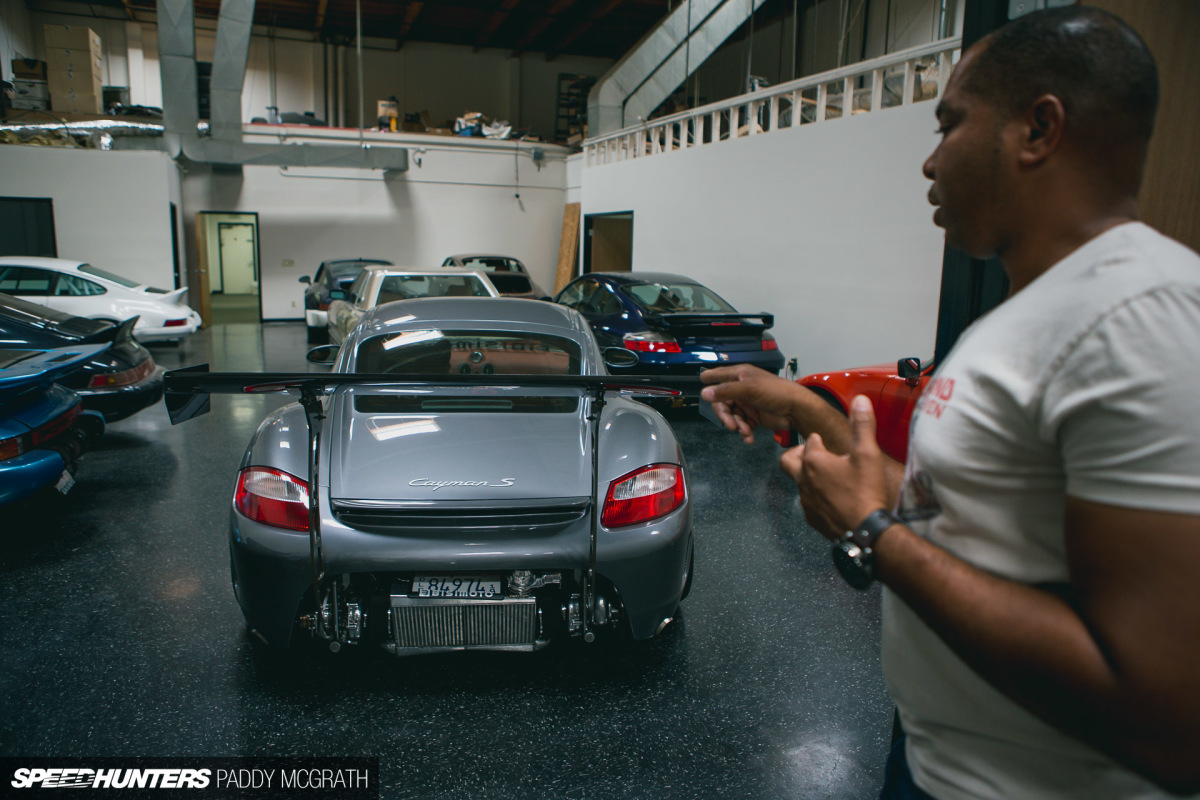 Bisi is another one of those guys that I've read so much about, and having pored over his past builds to see them in person was pretty intense. I've a strange longing for something with turbochargers hanging off the back now. Like most people we met, Bisi was such an incredibly hospitable host, taking his time to talk us through every car in his new workshop.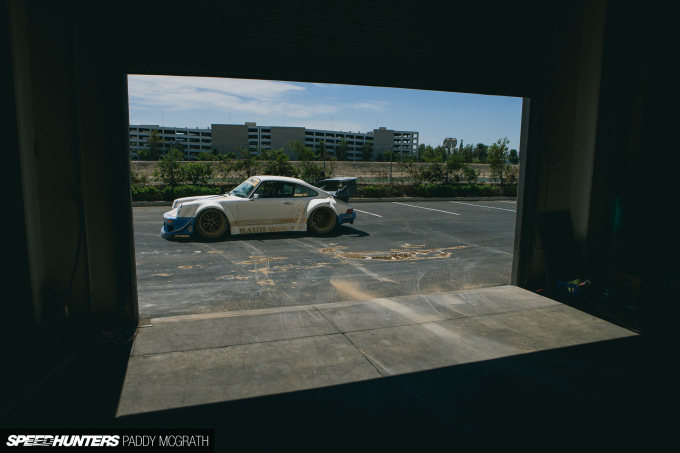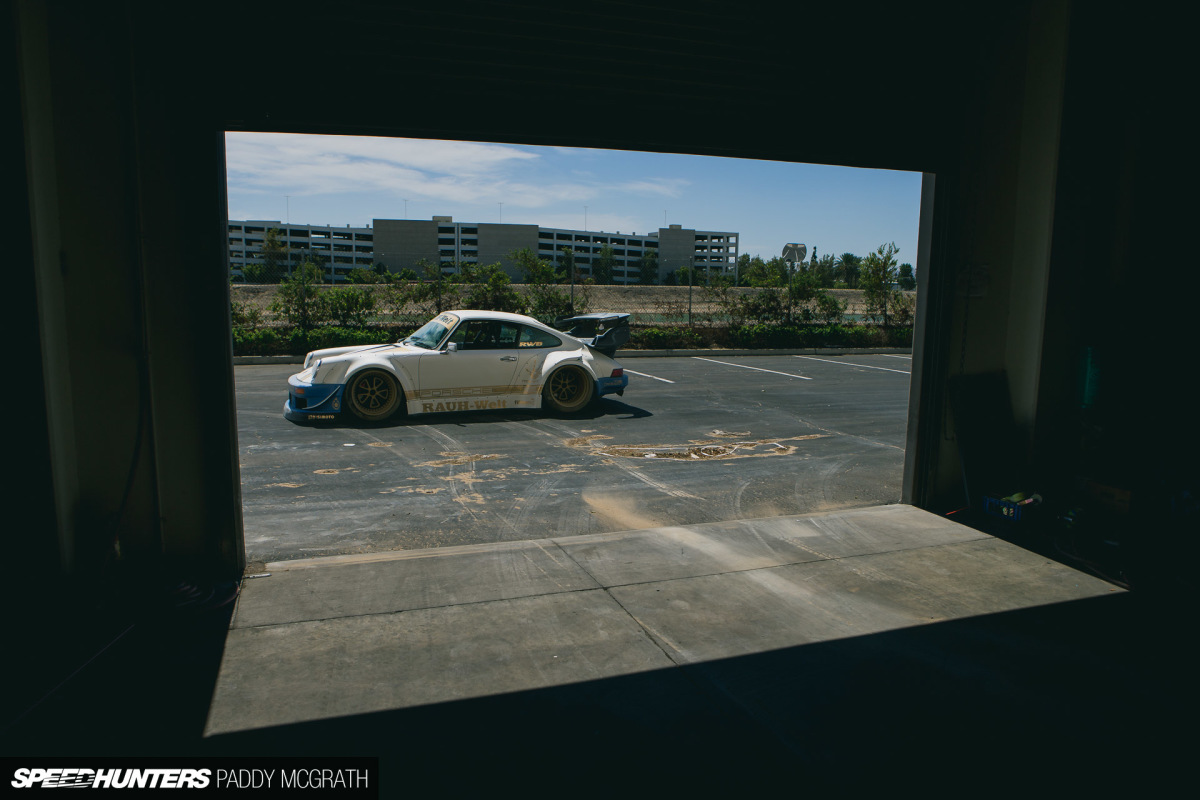 Remember this? Good. It won't look like this for much longer.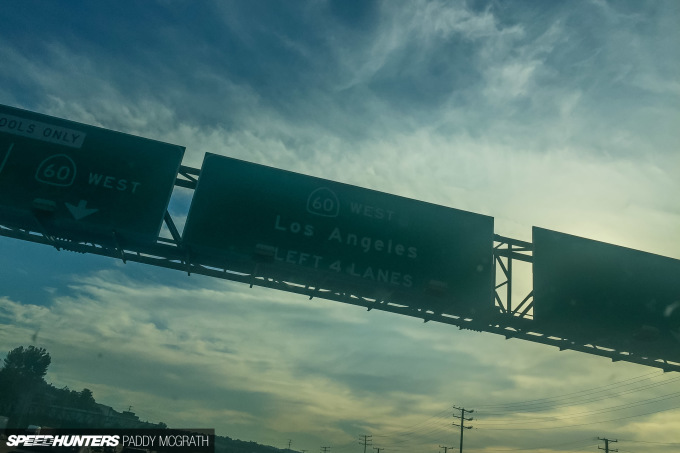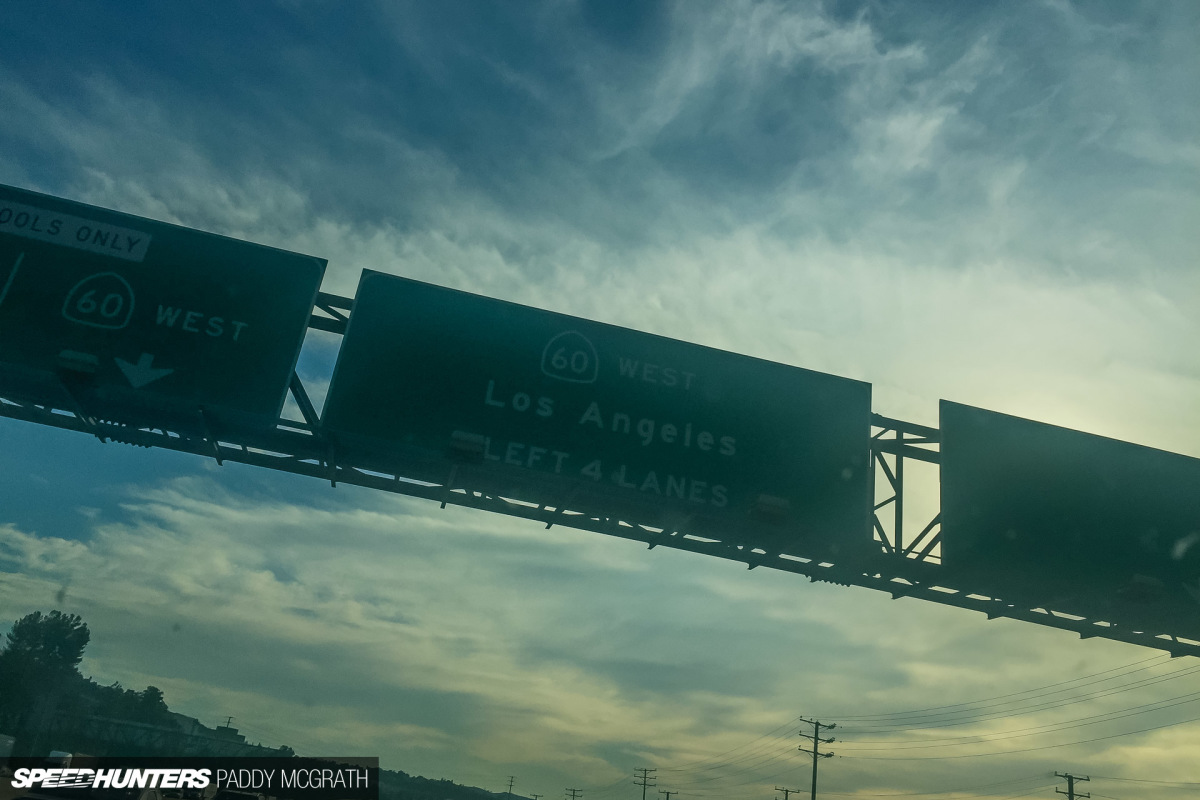 After another lunch – although not Mexican this time – Ben and I hit the highway for LAX. Thanks to the benefit of car-pooling, we managed to knock 15 minutes off our arrival time, allowing us to chill out before our respective flights home. In typical Ben-Paddy fashion, although we were both flying to the same airport, we were on different flights, just minutes apart.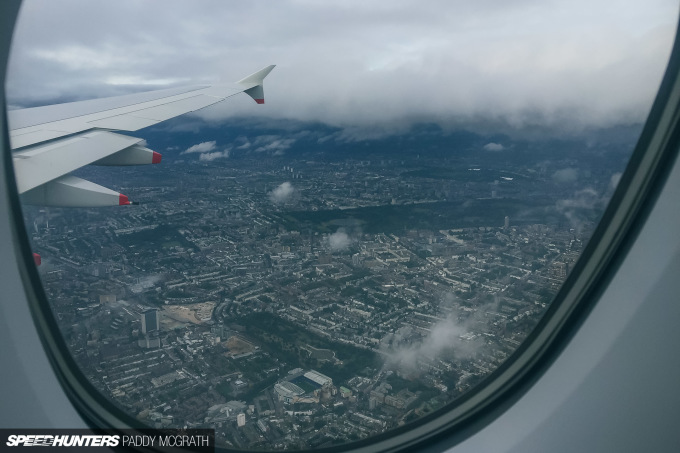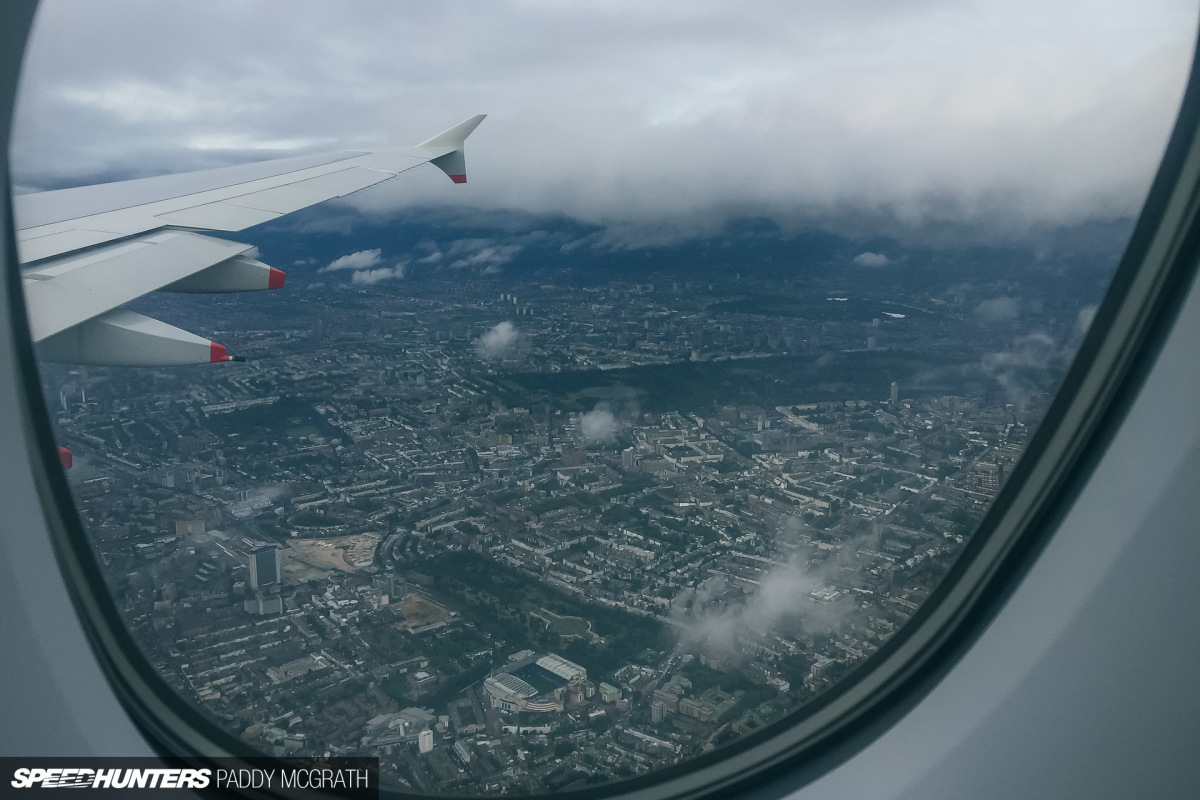 The first time I opened the window blind on my return flight was upon the descent into London. Although not this time, when you fly in over the Thames, it's probably the most scenic urban landing you can get anywhere in the world.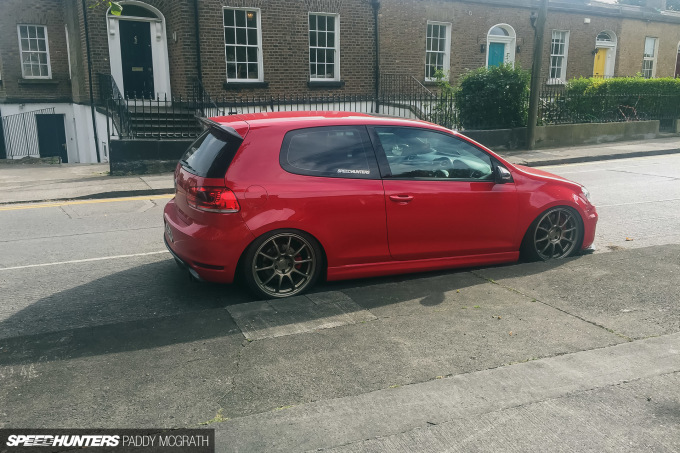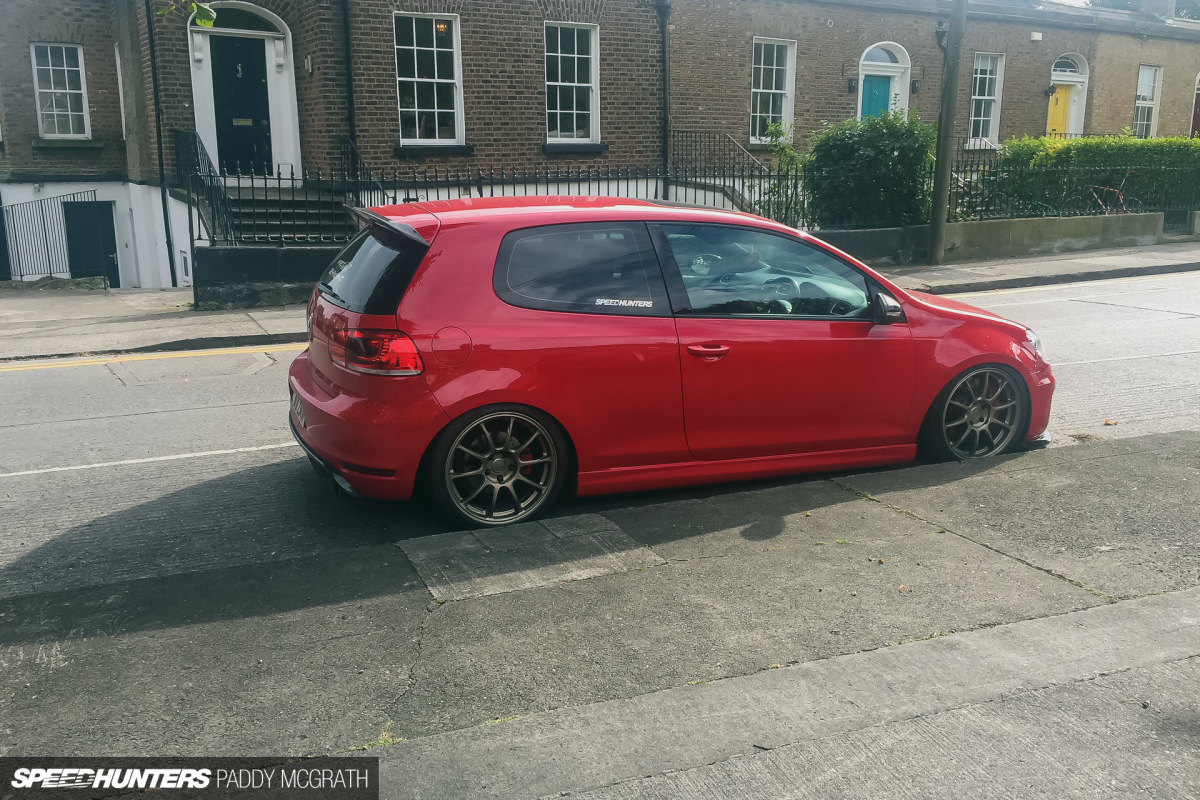 After missing my connecting flight by a matter of minutes, I caught the next one for a short flight back to Dublin and into my car before heading home.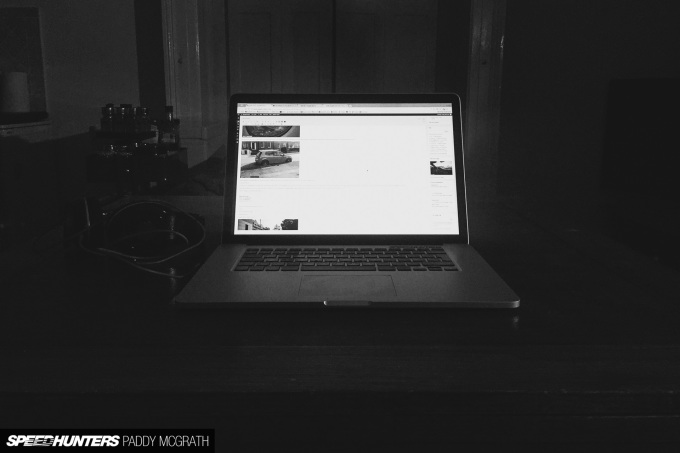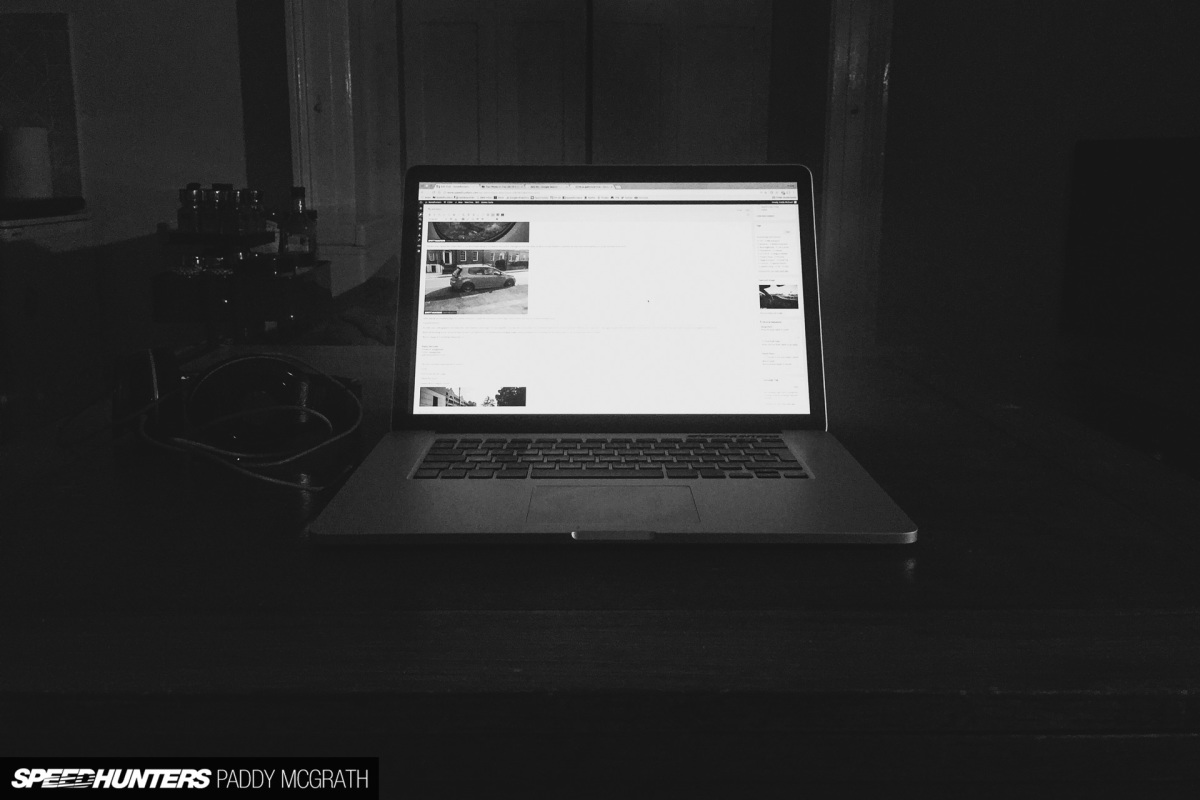 So, here I am, looking back on two weeks that I will, hopefully, never forget. I'm not lying when I say that ours is not an easy job. It absolutely takes its toll on you at times, but whilst the lows might be low, the highs are absolutely unforgettable. I wrote this story to remind myself of this and to give you just a tiny insight into what we do.
While the travelling is over, for now at least, the hard work starts here. Downloading and cataloging images, post processing, story scheduling and the hardest part of it all: putting everything into words.
Would I change it for anything? Absolutely not.
Paddy McGrath
Instagram: pmcgphotos
Twitter: pmcgphotos
paddy@speedhunters.com
Cutting Room Floor