The Next Evolution
Hello, there. It's been a while.
After many months of neglect and bit part updates, I'm finally getting the opportunity to sit down and talk you through some of the most significant updates that we've made to Project GTI (aka Still Needs A Better Name or SNABN for short) to date.
I had originally envisioned the car as being finished once we had the Air Lift Performance 3H installed, as that would have completed the holy trinity of modification: power, brakes and handling. But after a couple of months driving, it was quite obvious that the GTI had so much more to give me, while still maintaining balance. It didn't seem even the slightest bit phased and obviously that had to change.
I do wholly blame Flip for enabling my ideas, although this wasn't my worst one. After a sit down and long chat over a few weeks, we set about a plan to make the GTI faster than ever. But first and before any more power was added to the equation, we started working out ways to really improve traction. Taking some inspiration from the fast front-wheel drive cars from Japan and Tsukuba, we decided to significantly increase the front track. This would require front wings (fenders) that were much wider than stock. We did consider going the BTCC route with regards to wide-bodying the whole car, but decided against it. I wanted it subtle, and the solution we chose was exactly what was required.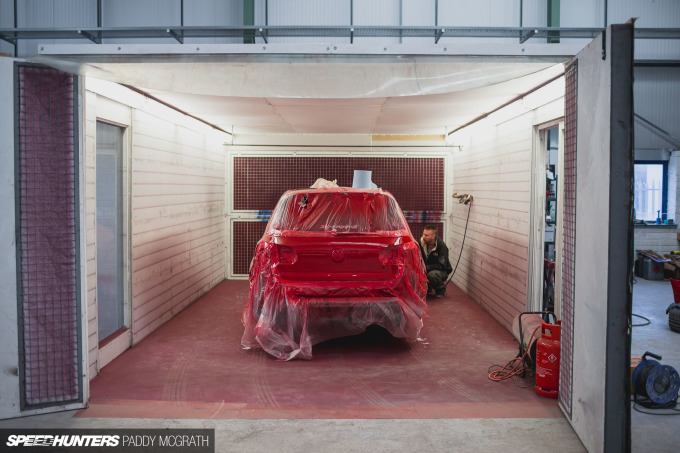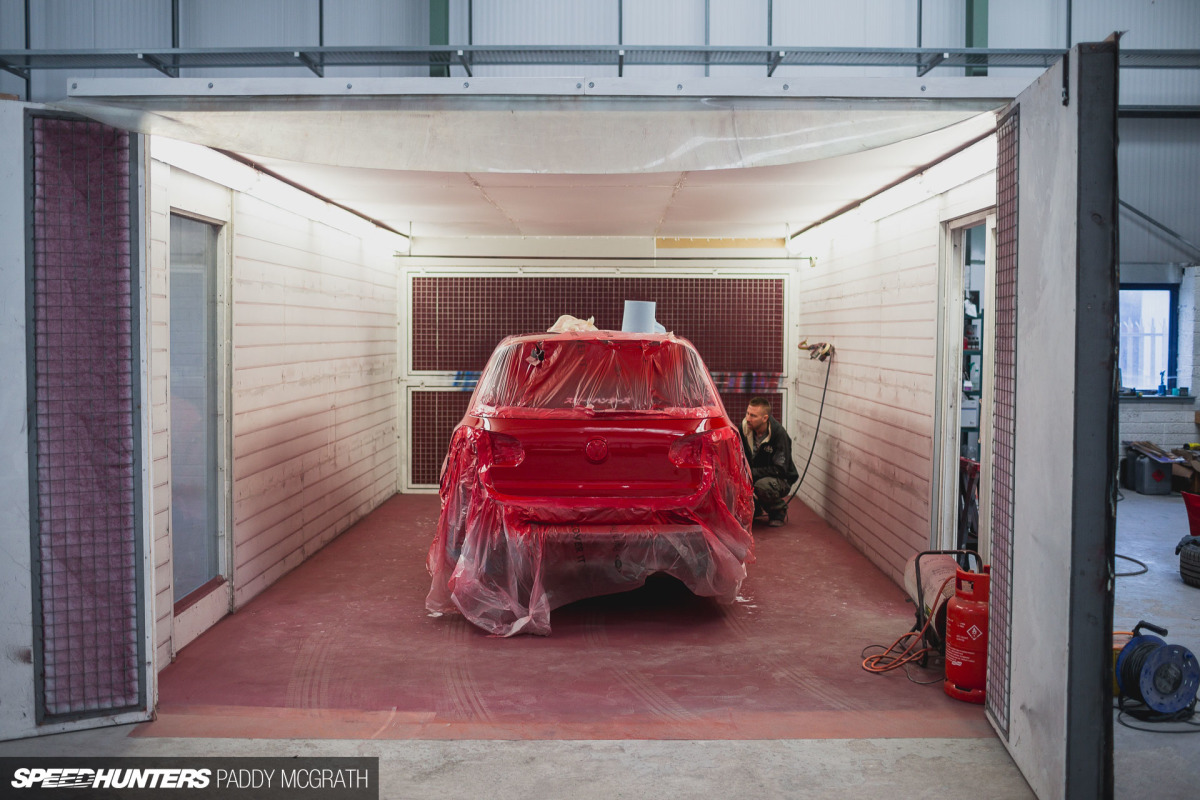 Seeing as we would have to paint the front of the car with the new wings, we ended up giving the whole car a fresh coat of Tornado Red. The bodywork was always honest on my GTI, but with many small scratches and dings, it was looking tired. Not so much anymore.
Along with this, we repainted my RAYS Volk Racing ZE40s a new custom colour which Flip created himself. He even went to the effort of masking the original RAYS stickers inside the barrels to preserve them with the new colour. It's all about those details.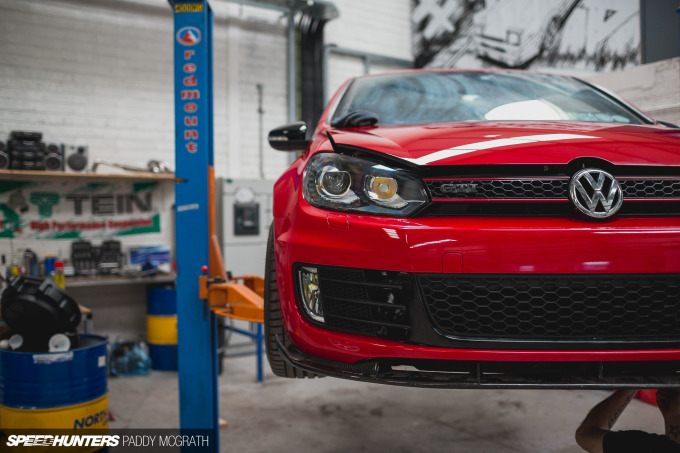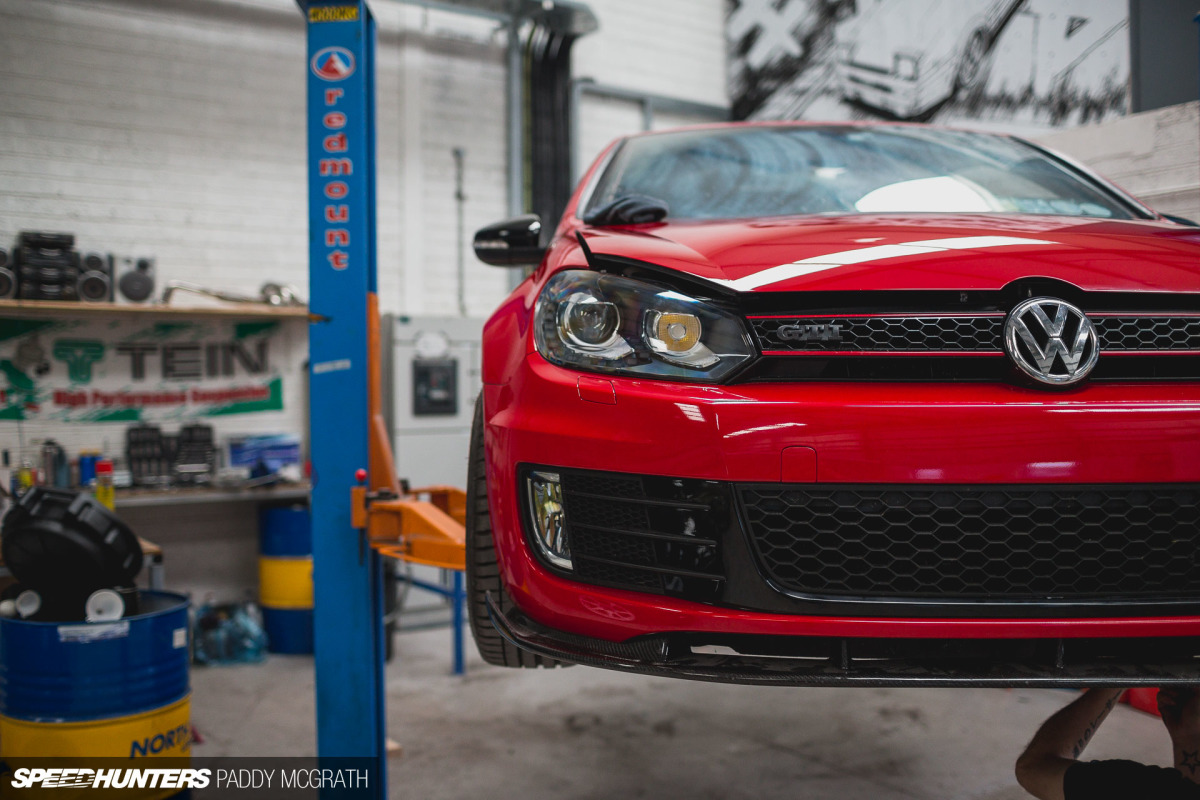 The added width up front is as subtle as one could hope for, despite the fact that we've added a couple of inches in total. This is thanks to SRS TEC's wide front fenders for the Mk6 GTI, which maintain the original body lines but add 25mm each side.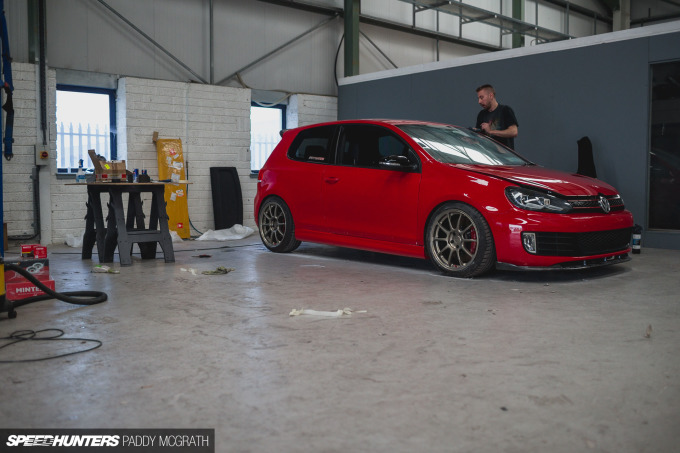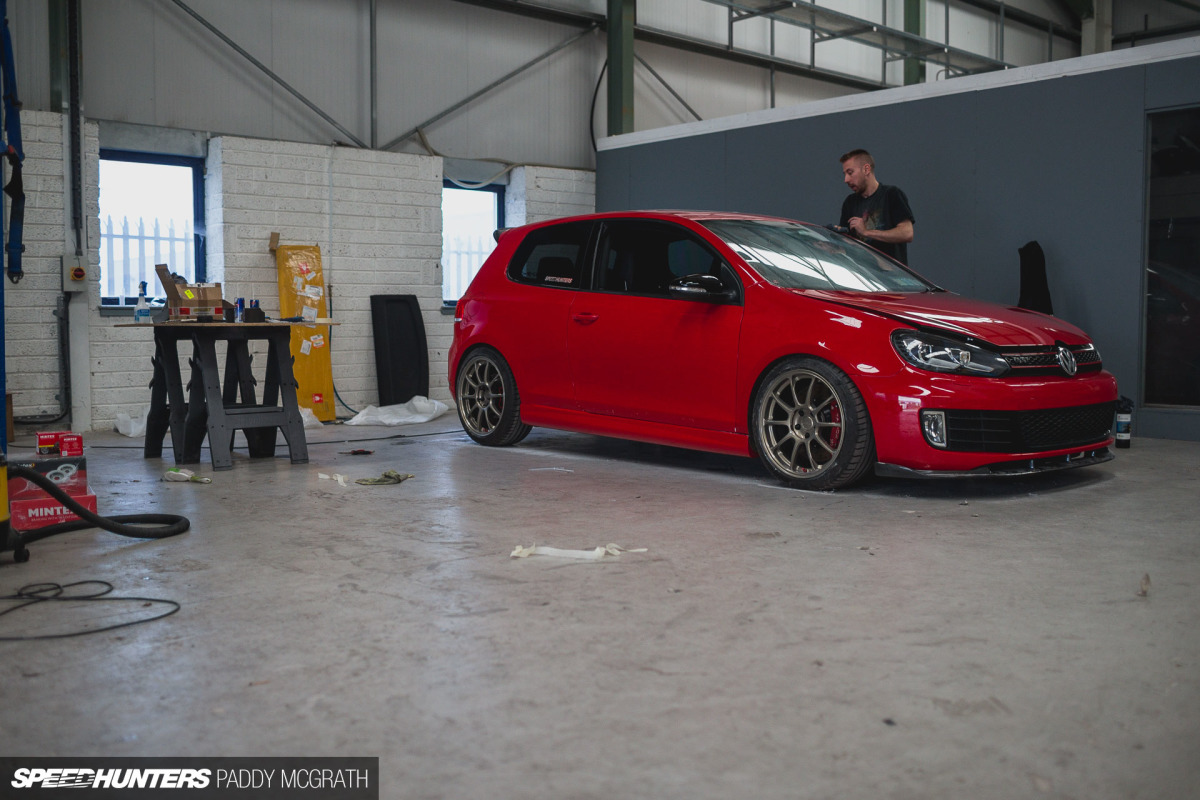 We also added SRS TEC's Golf R-style side skirts and painted the mirrors and front bumper trim gloss black as a homage of sort to the limited edition ED35 Golf Mk6. The aim here from an aesthetic point of view was to give the car a refresh and to herald the beginning of its next evolution.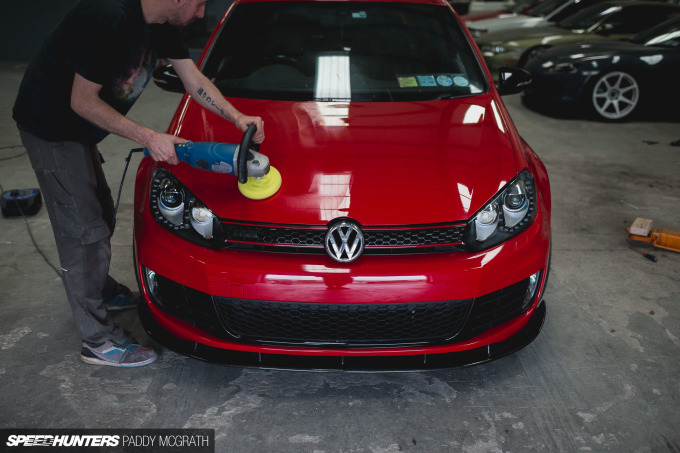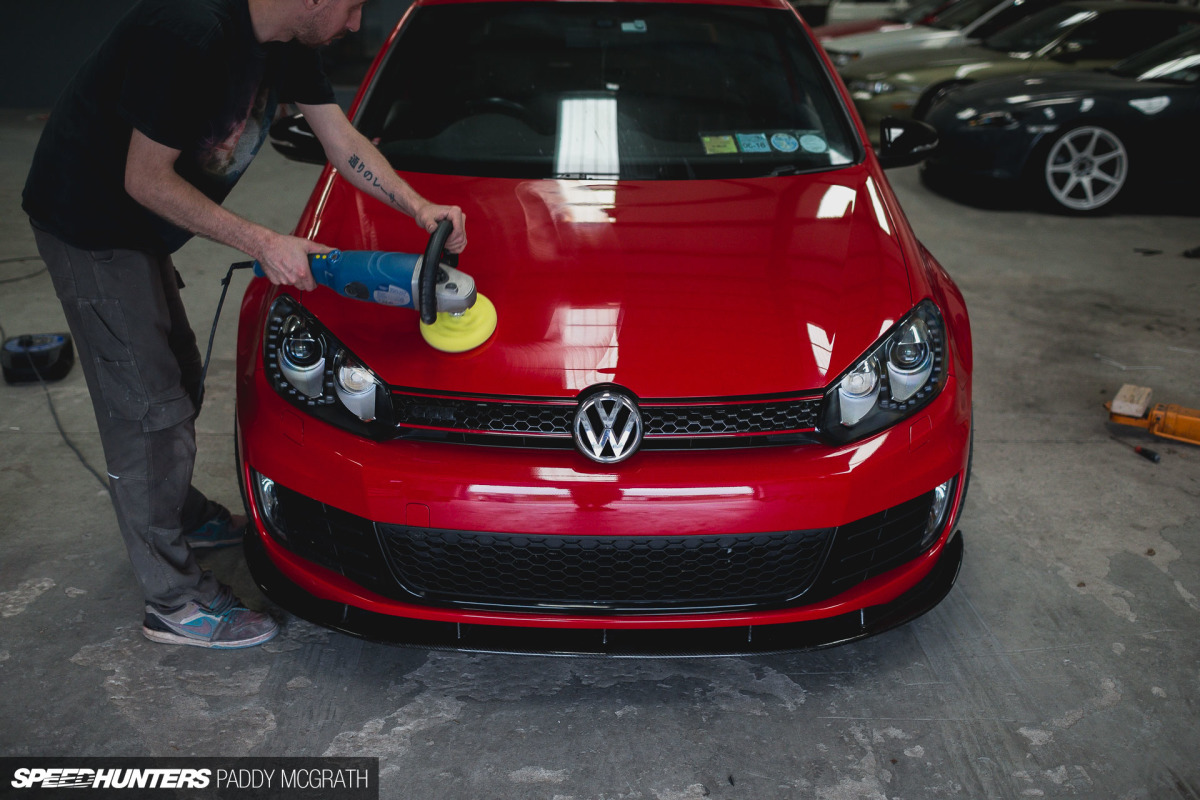 I think this angle shows the increased width best. For the mean time, I'm still running my 18×8.5-inch +44 offset ZE40s up front with 225/40R18 Michelin PS4s, albeit with 20mm track-increasing hub-centric spacers at either side. The 225/40s barely squeezed in under the standard arches, but now I'm aiming to run up to a 255/35 in the future on a wider wheel which is the whole point of this particular part of the story. Watch this space for further developments.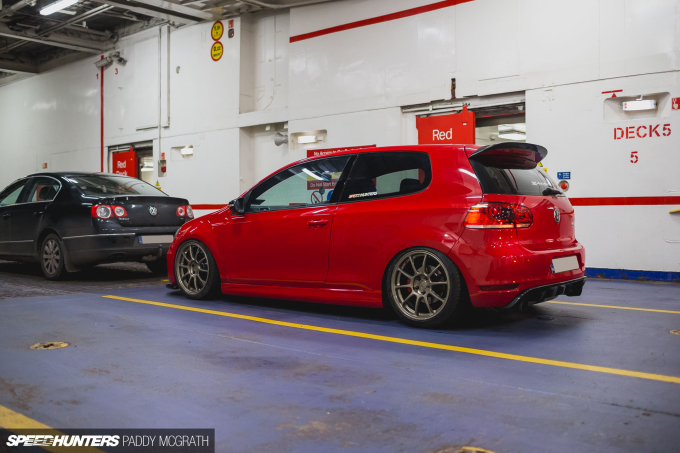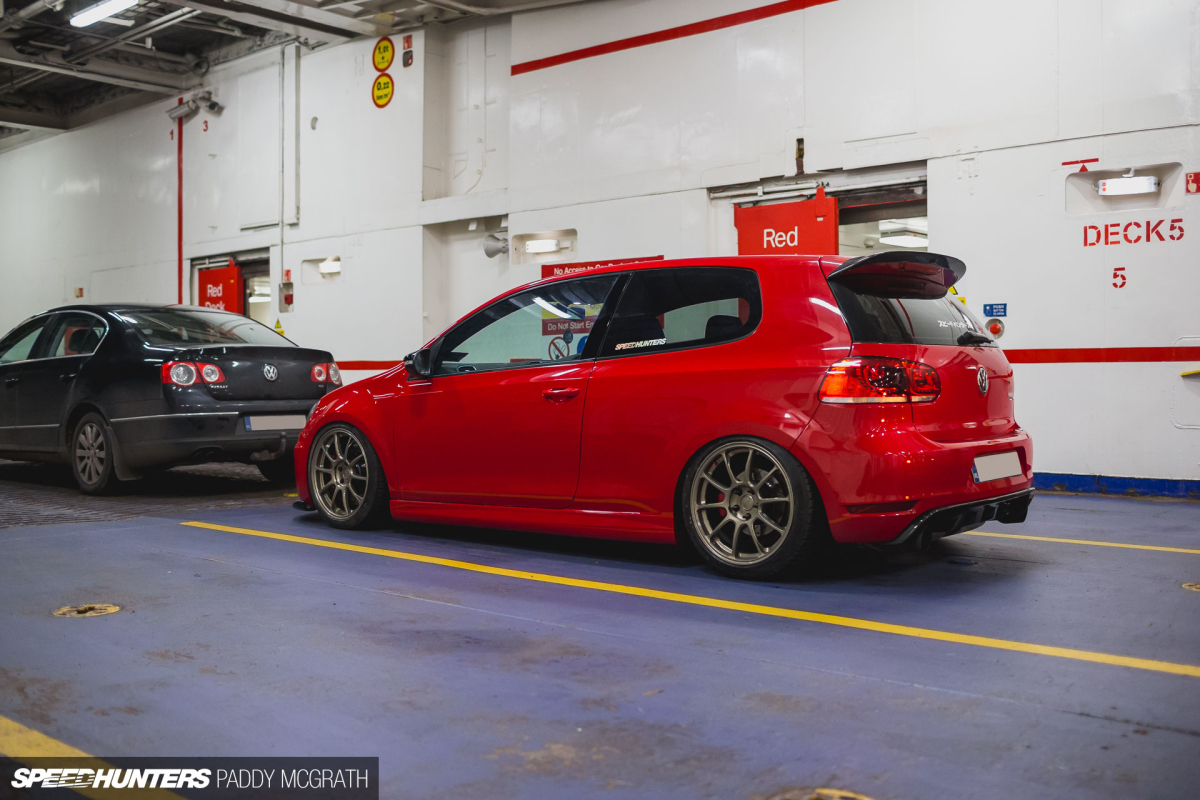 If you've read my recent Two Weeks In The Life Of A Speedhunter story, then I'll save you the bother of rereading the overnight journey to the UK, but I will re-emphasise just how tight we cut making the sailing across the Irish sea. It was to the point that once I was loaded onto the boat, I only then installed the rear boot interior trunk trim. It was a pretty unreasonable deadline to impose on Flip, but all credit to him, he got it done.
Once off the boat in Wales, it was time to drive straight to Regal Autosport in Southampton to begin the process of what might be the best modification made to Project GTI yet.
Best Of Both Worlds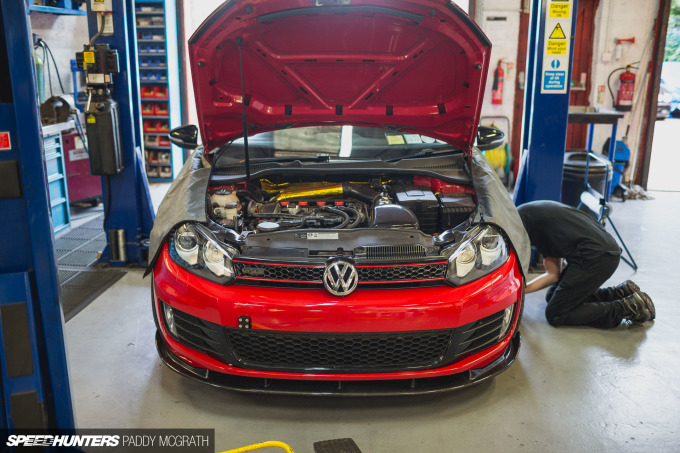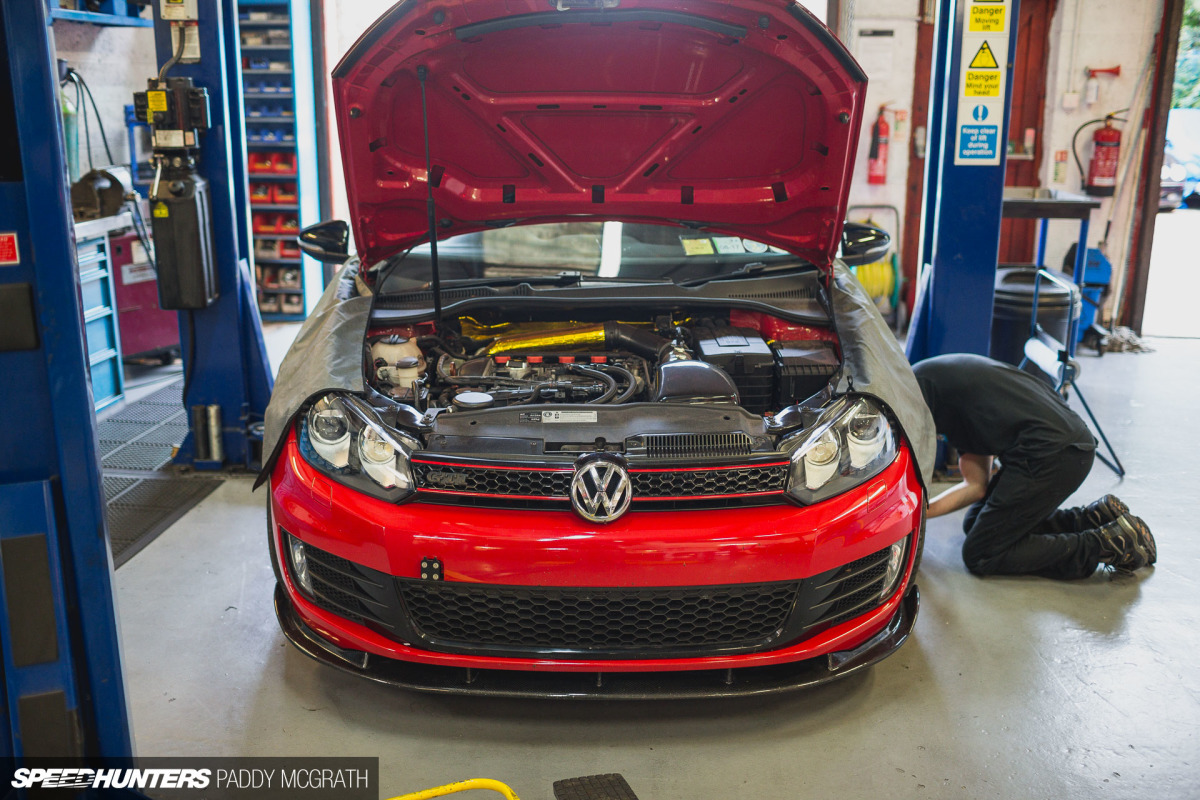 There was zero time wasted on arrival at Regal and the car was brought inside the instant the workshop opened. What we had planned was probably one of the most labour intensive and involved upgrades possible on a DSG-equipped Mk6 GTI, second only to rebuilding an engine. It's definitely not a job for a novice or even intermediate technician. There's a good reason why I drove across three countries overnight to Regal – the guys have huge knowledge of the DSG and are extremely proficient. Something which was about to be demonstrated in front of my own eyes.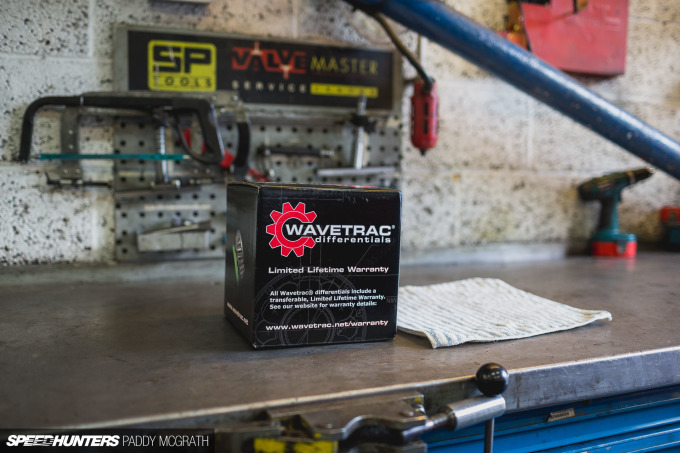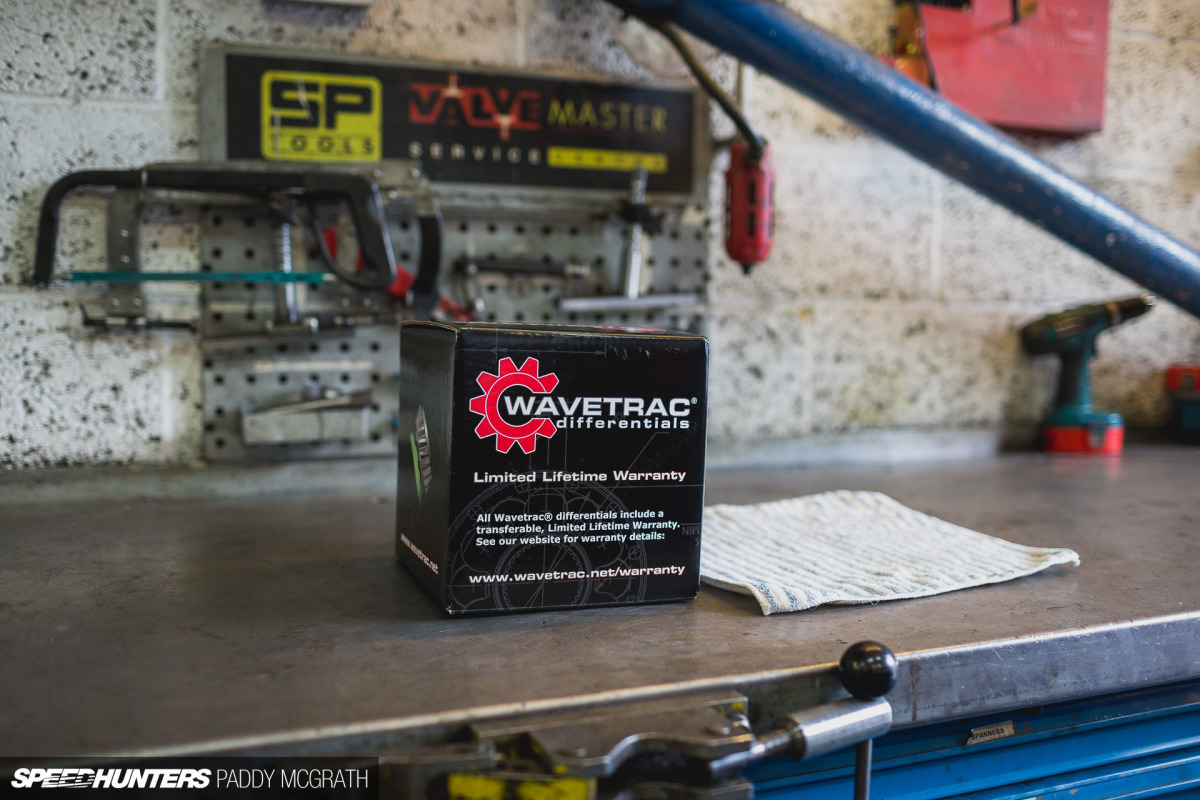 What was it all for? Inside this small black box was a very clever piece of mechanical technology – a Wavetrac differential. This isn't a typical gear-driven limited slip differential, where in near or zero axle loads the loaded wheel receives zero drive.
A Wavetrac differs from other LSDs by featuring a wave profiled cam that lives at the centre of the differential which prevents a zero load situation. From my basic understanding of it, the 'waves' can't pass over each other, so when one wheel experiences zero load, the waves lock and deliver drive to the loaded wheel. So where a typical LSD can't deliver power in this situation, the Wavetrac can. Under normal driving conditions, it behaves like a normal LSD and doesn't intrude in any negative way on the driving experience.
I first happened upon Wavetrac several years ago in the car which has probably been the biggest inspiration on Project GTI: Ryan Stewart's Garage Midnight 450hp MkV GTI. Prior to experiencing his MkV, I was always under the impression that FWD cars were inherently handicapped. After Ryan brought me for a spin – in the snow, on R888s no less – I was left under no doubt that front-wheel drive can absolutely put big power numbers down in an effective and efficient manner. I was sold.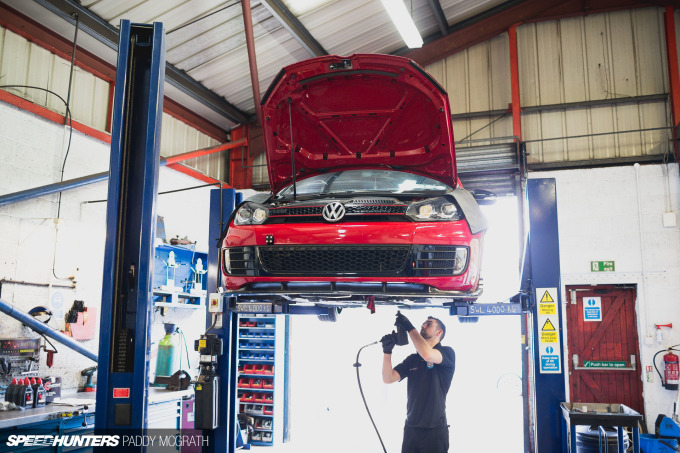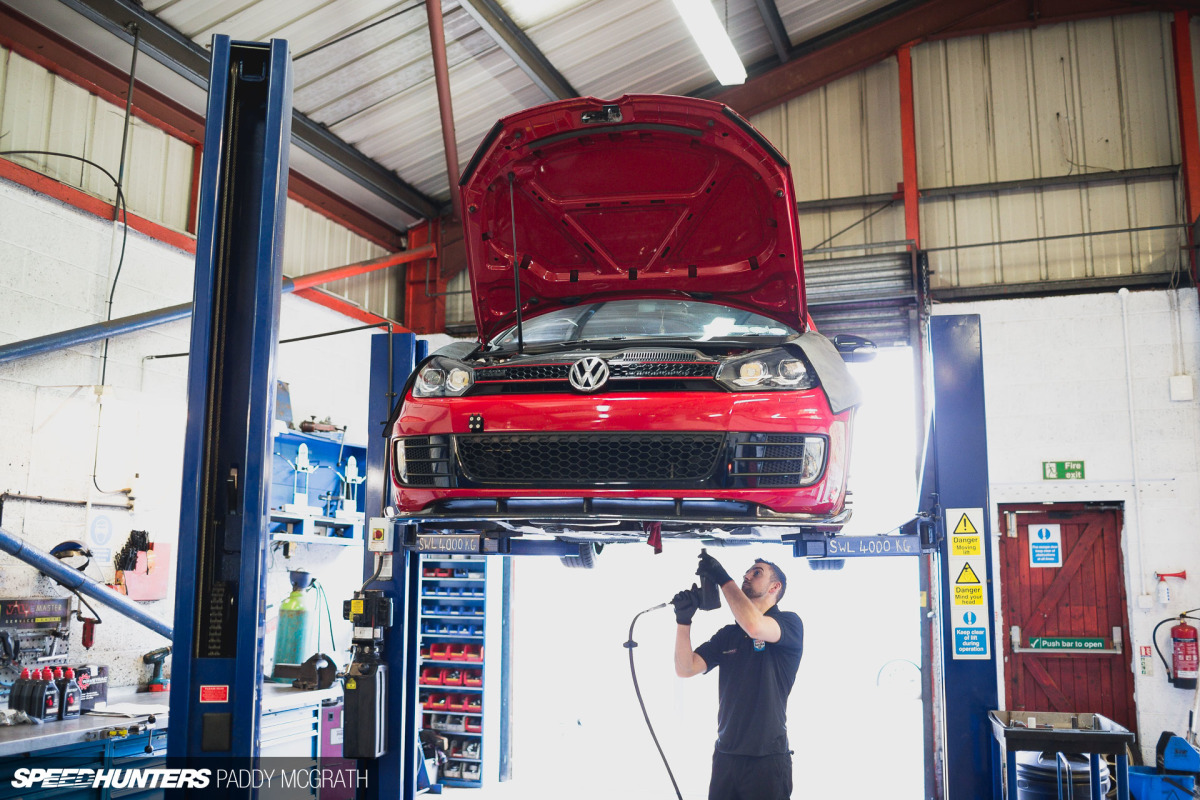 Typically, installing an LSD in a rear-wheel drive car isn't a huge job, nor is installing one in a manual front-wheel drive car. But a DSG is a whole other story. Regal has a lot of experience installing LSDs into DSG-equipped cars, so this was just another day at the office for the guys.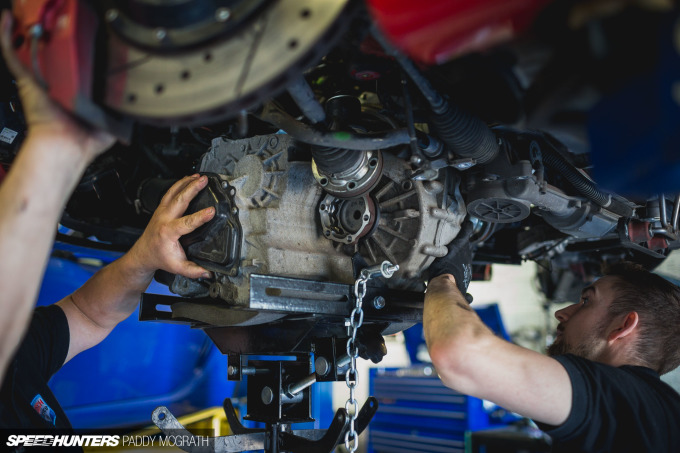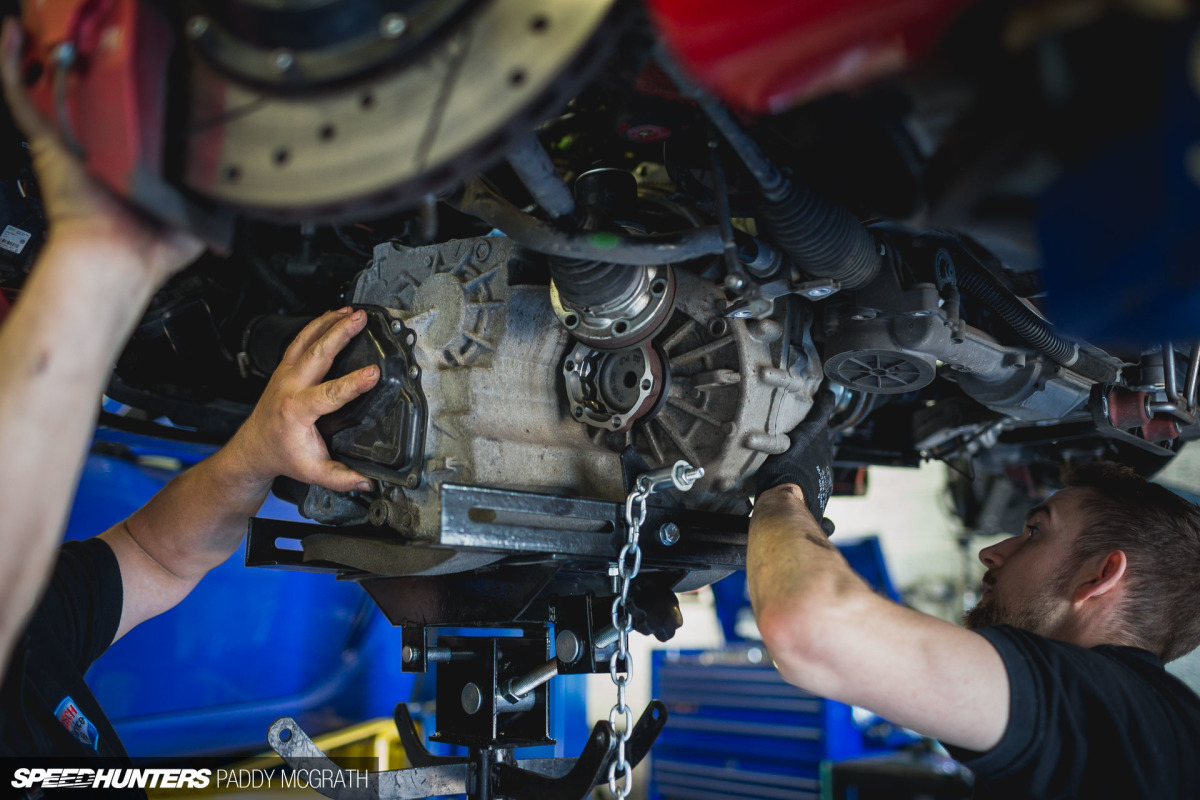 Before I could even have my mid-morning poop, Ben from Regal had the gearbox out of my car. I was genuinely impressed about how he went about the job; when something proved difficult, he chose the path of using brain over brawn to overcome it. Essentially, he is the complete opposite of me, which is why he was working on my car and I was taking photos.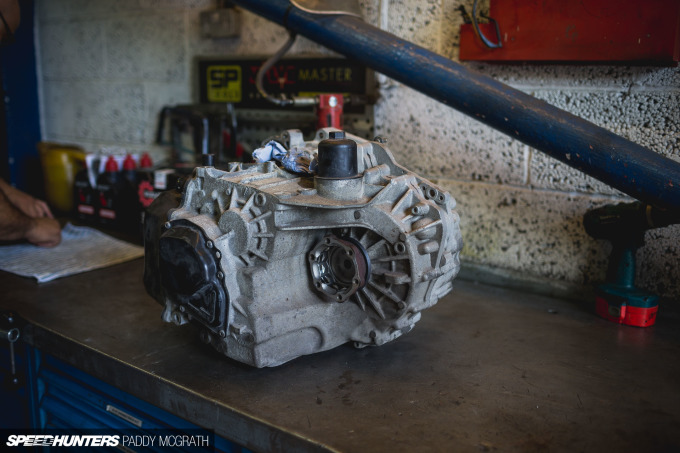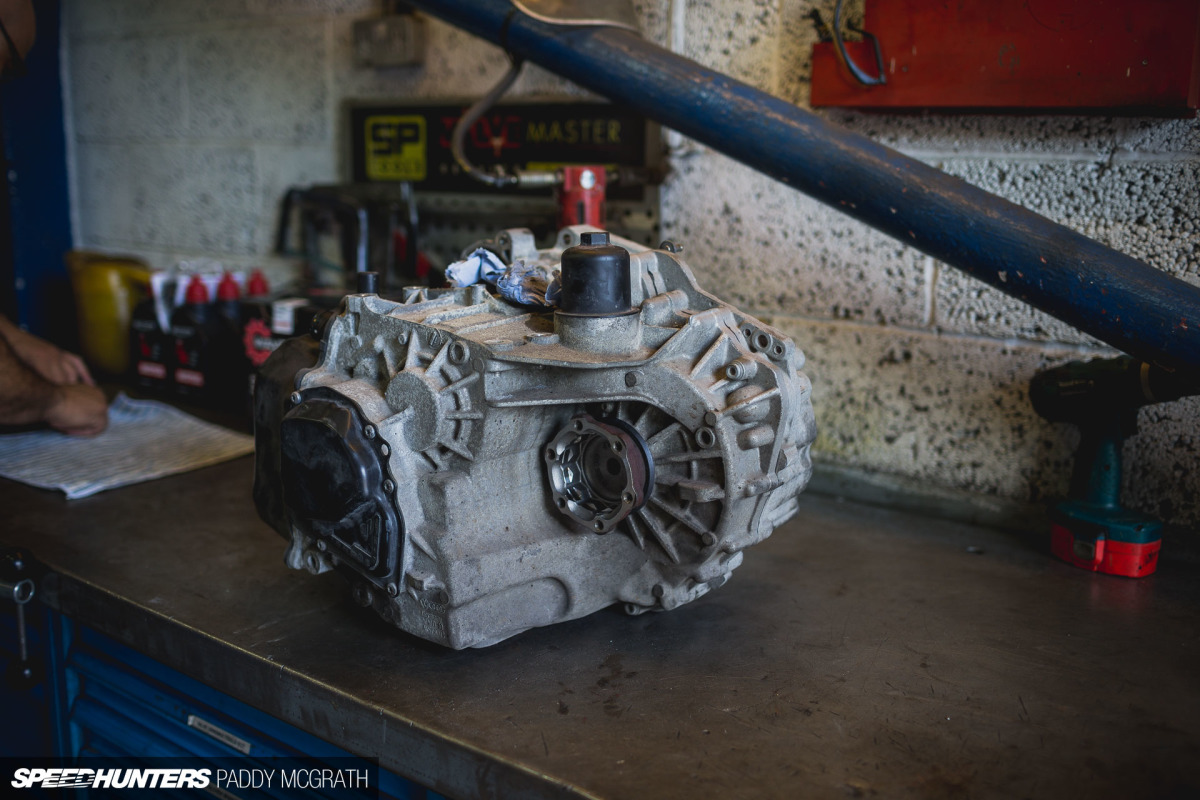 Et voilá, one DSG 'box removed and drained of its oil.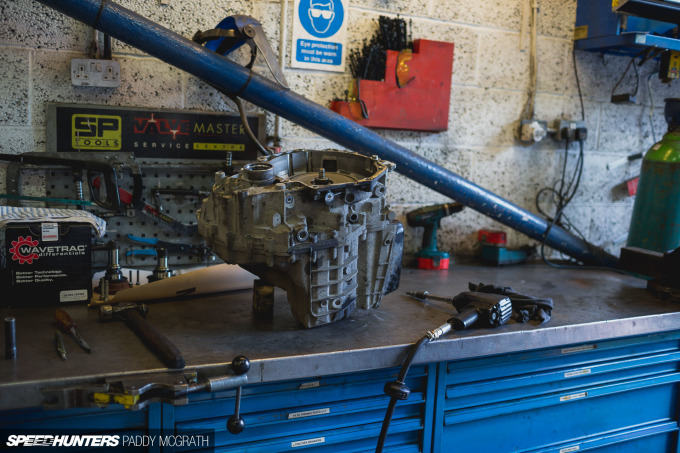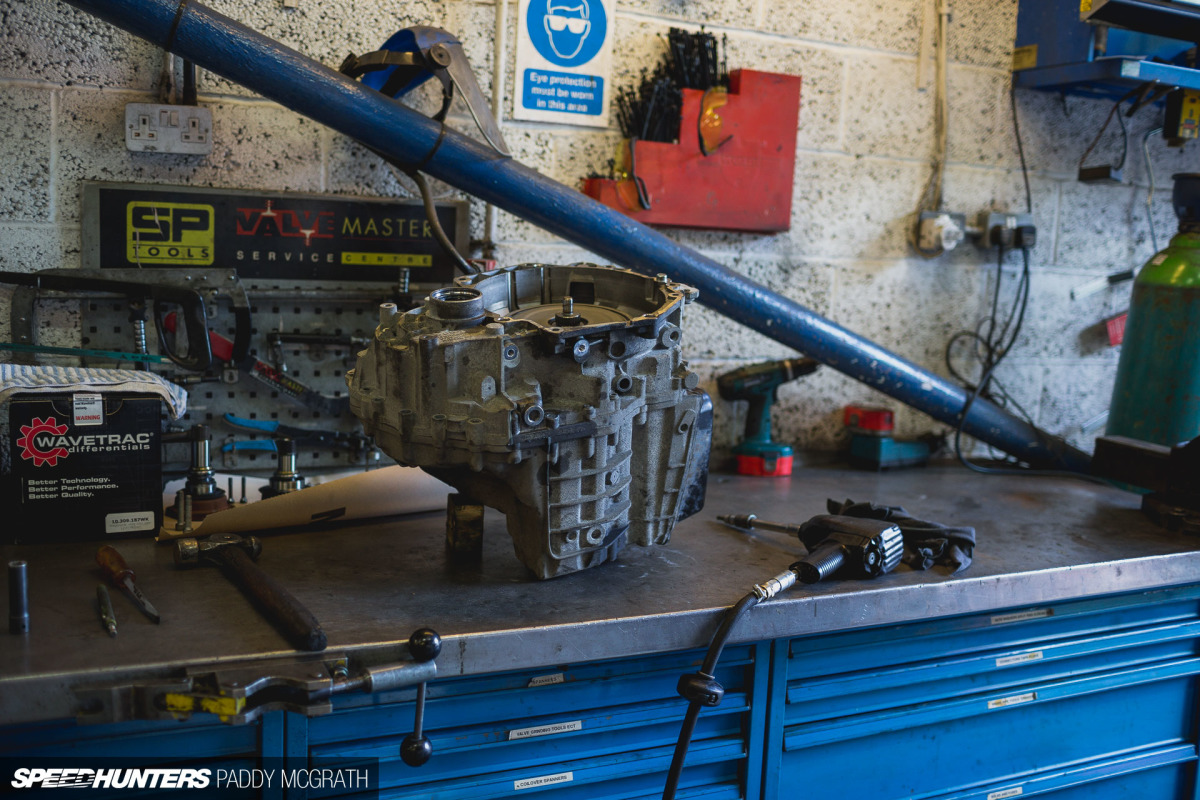 Getting the gearbox out of the car was perhaps the easiest bit of the job, as now the real work would begin. Next, Ben would set about removing the bell housing in order to access the gearbox's internals and remove the factory differential.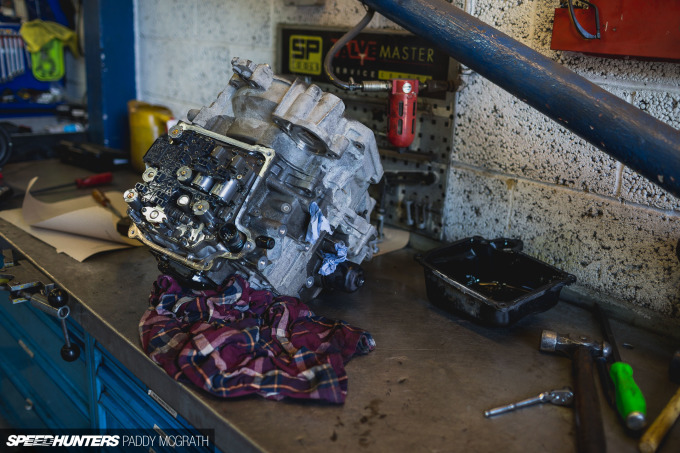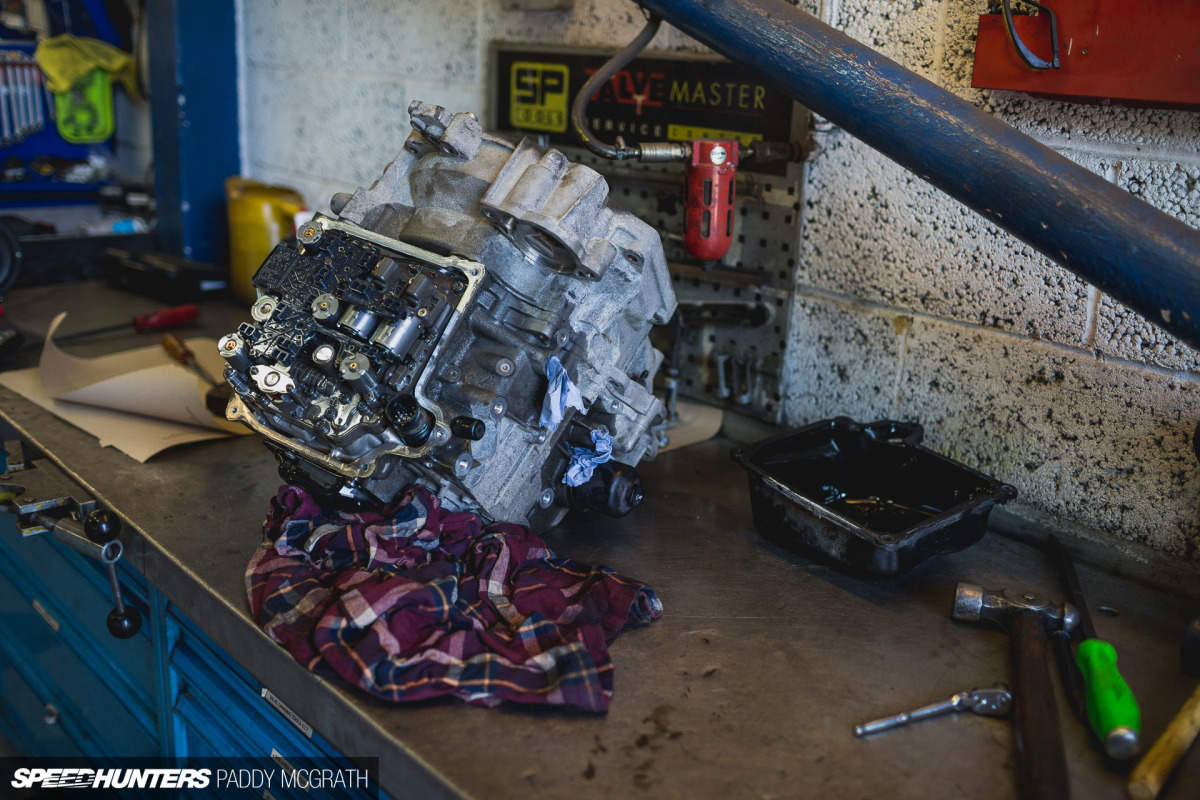 Residing behind an innocent looking black cover is the DSG mechatronics unit, which controls the operation of the gearbox. This is a very sophisticated piece of technology that also happens to be incredibly expensive to replace if it breaks. Of course, one of the bolts holding the bell housing in place was located behind this unit, so it had to come out.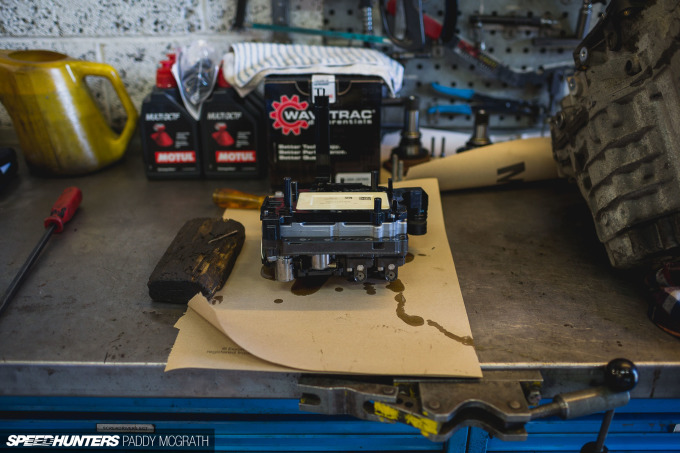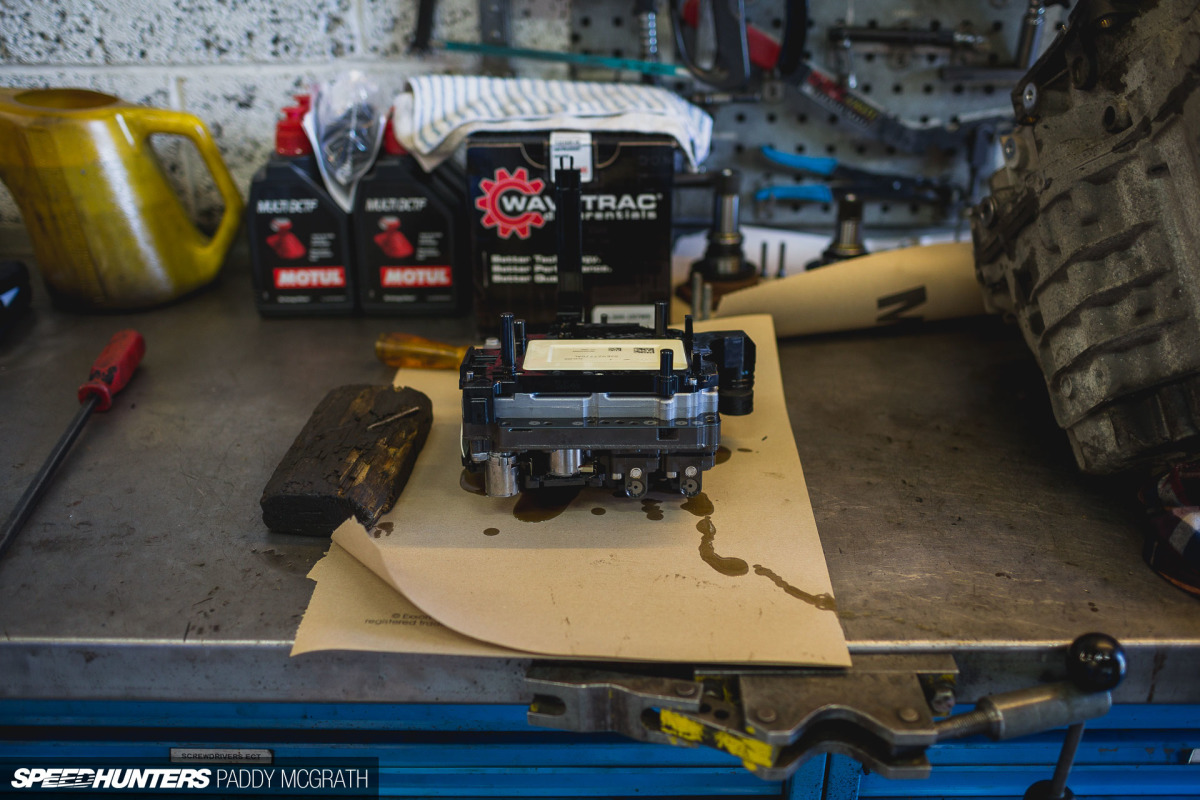 This was definitely the part where I would have thrown in the towel and run away crying in absolute fear. Ben didn't seem to mind it though and gently placed the mechatronics unit on the bench beside the gearbox and continued disassembly.
Next, the clutch packs needed to be removed before the bell housing could be lifted off the gearbox.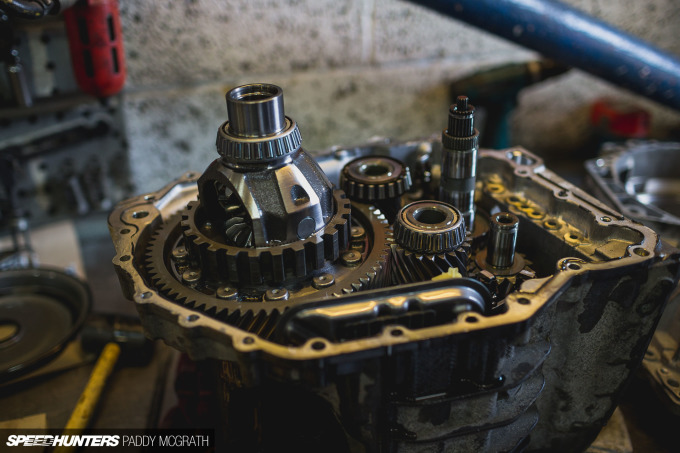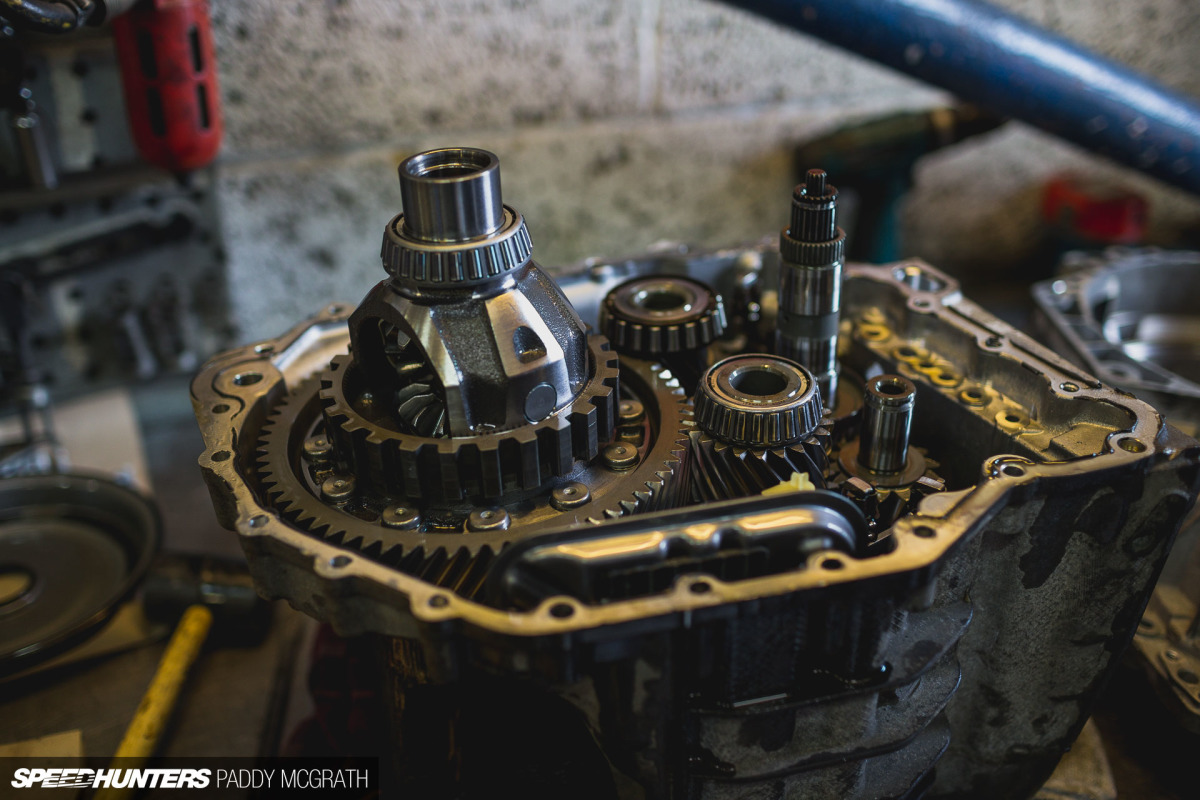 We were only about half way through the day at this point, which was a remarkable amount of time considering the amount of work involved.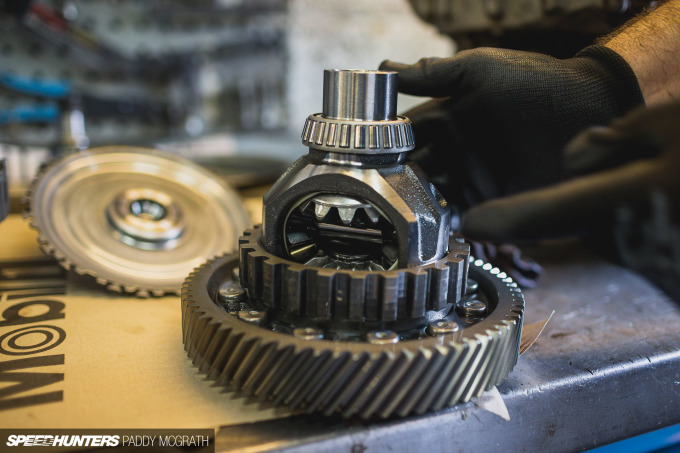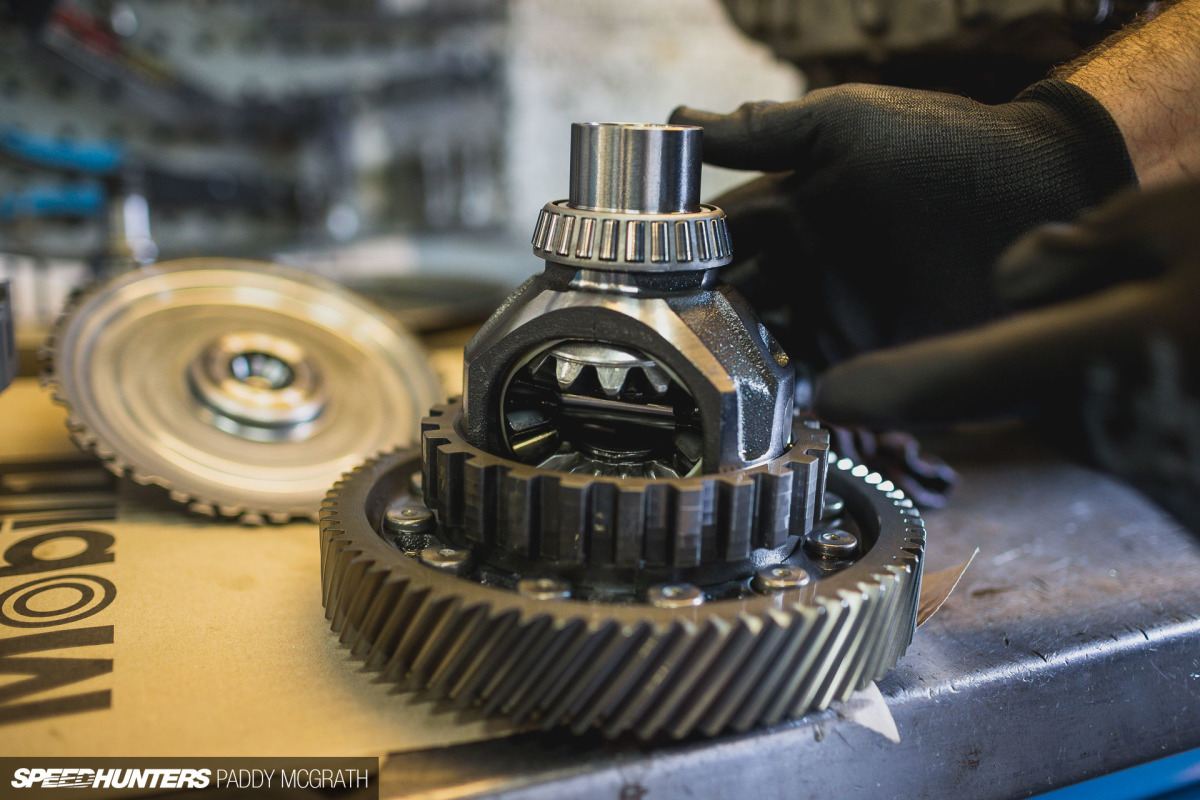 This is the factory open differential removed from the gearbox. To add further complexity to the job, the large ring gear is actually riveted to the OE diff, which in turn means that these rivets have to be drilled out and their former holes threaded. As Regal has done so many of these, it had a nearby machine shop waiting for this particular job. While the diff was taken off site to be quickly sorted, I took the opportunity to grab an hour's sleep before the reinstallation began.
Installation Is Reverse Of Removal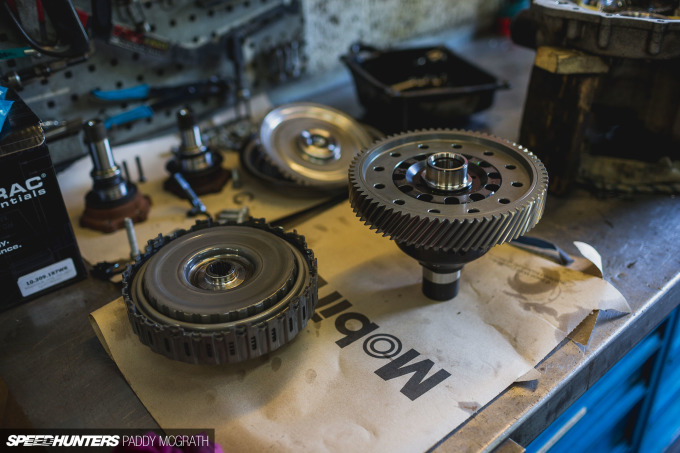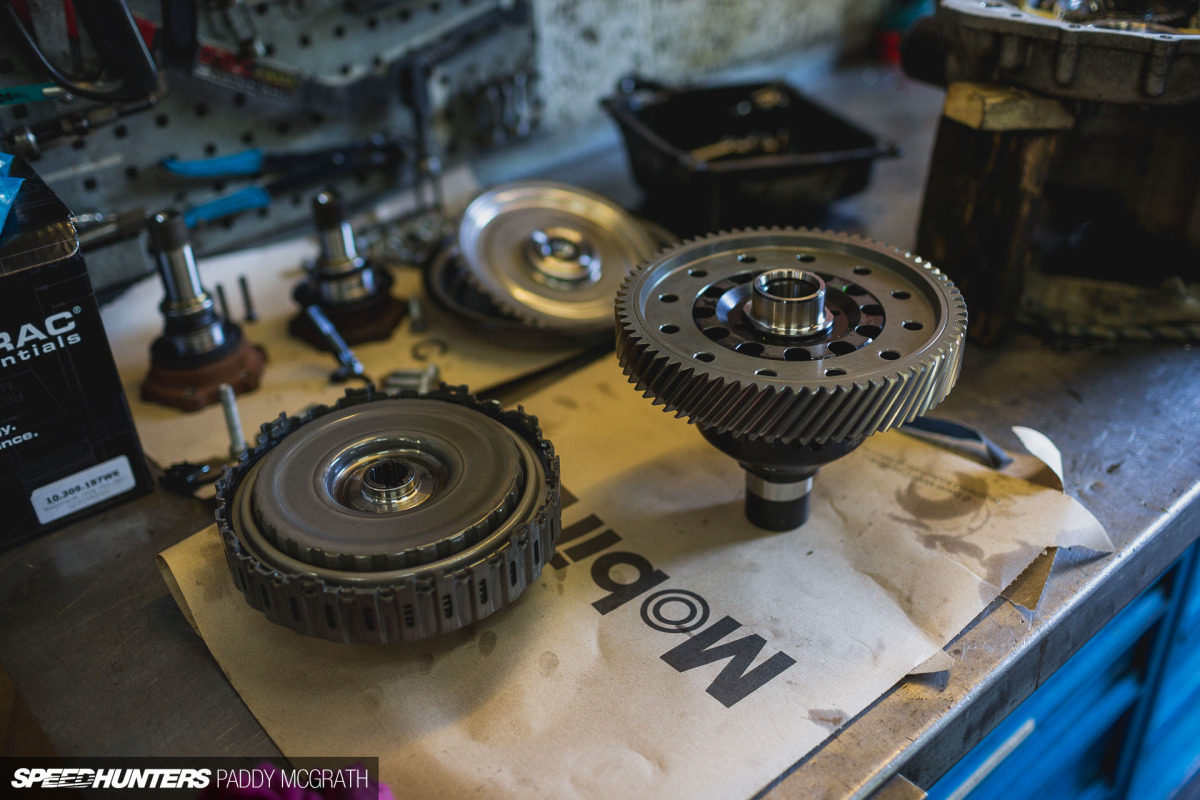 After lunch, the original differential with its ring gear now removed was returned and reassembly began immediately.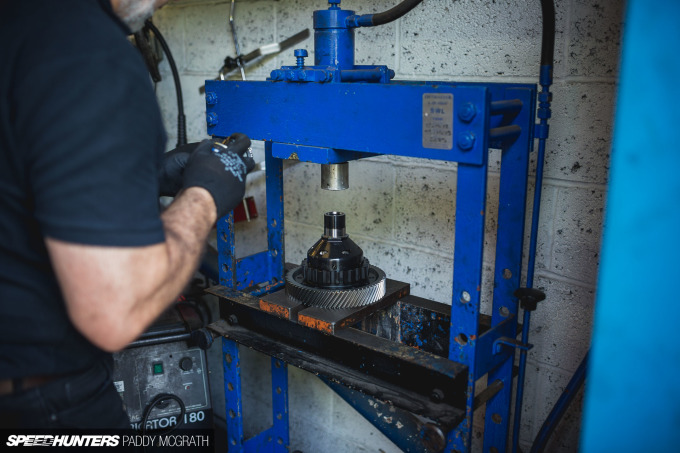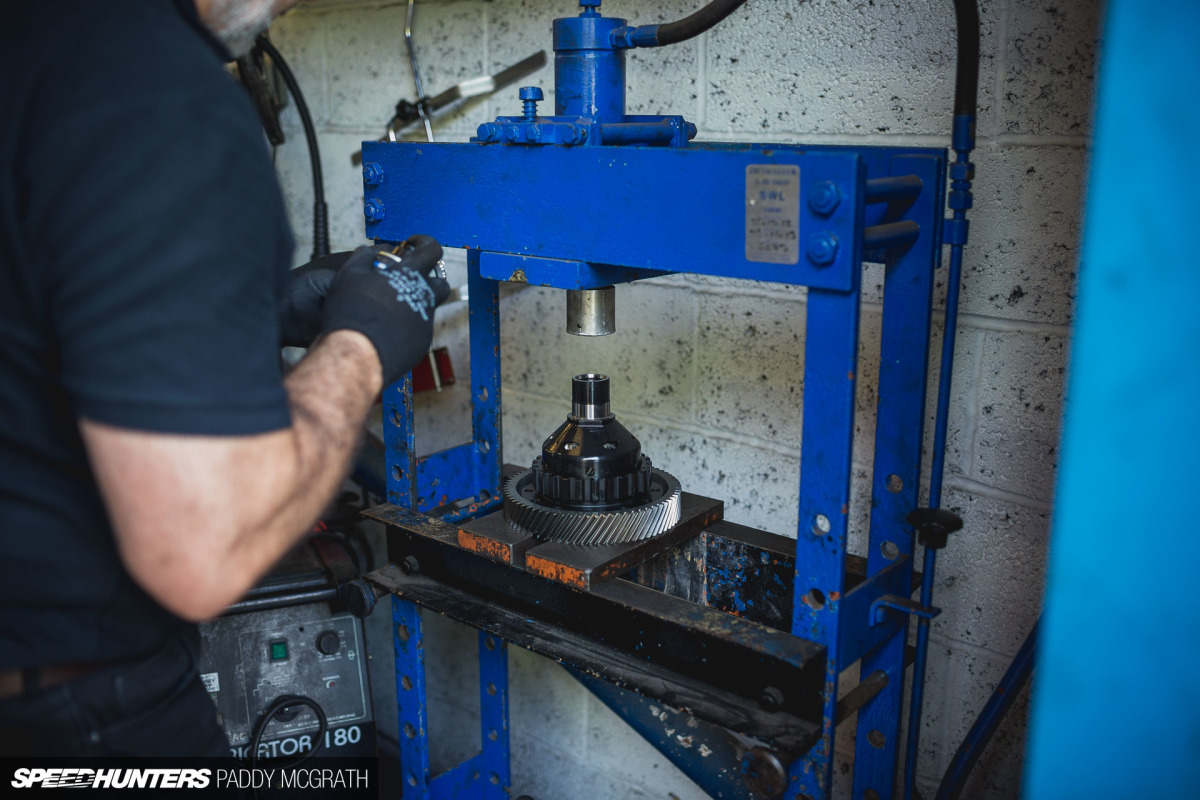 The bearings were properly pressed onto the new differential.
ARP bolts supplied with the Wavetrac are used to fasten the ring gear and new differential together. This is the last time that I'll hopefully ever see this differential as it requires no service and is expected to last the life of the car.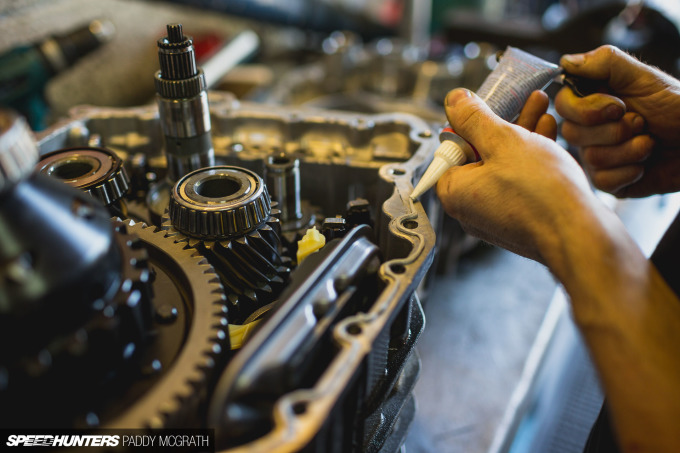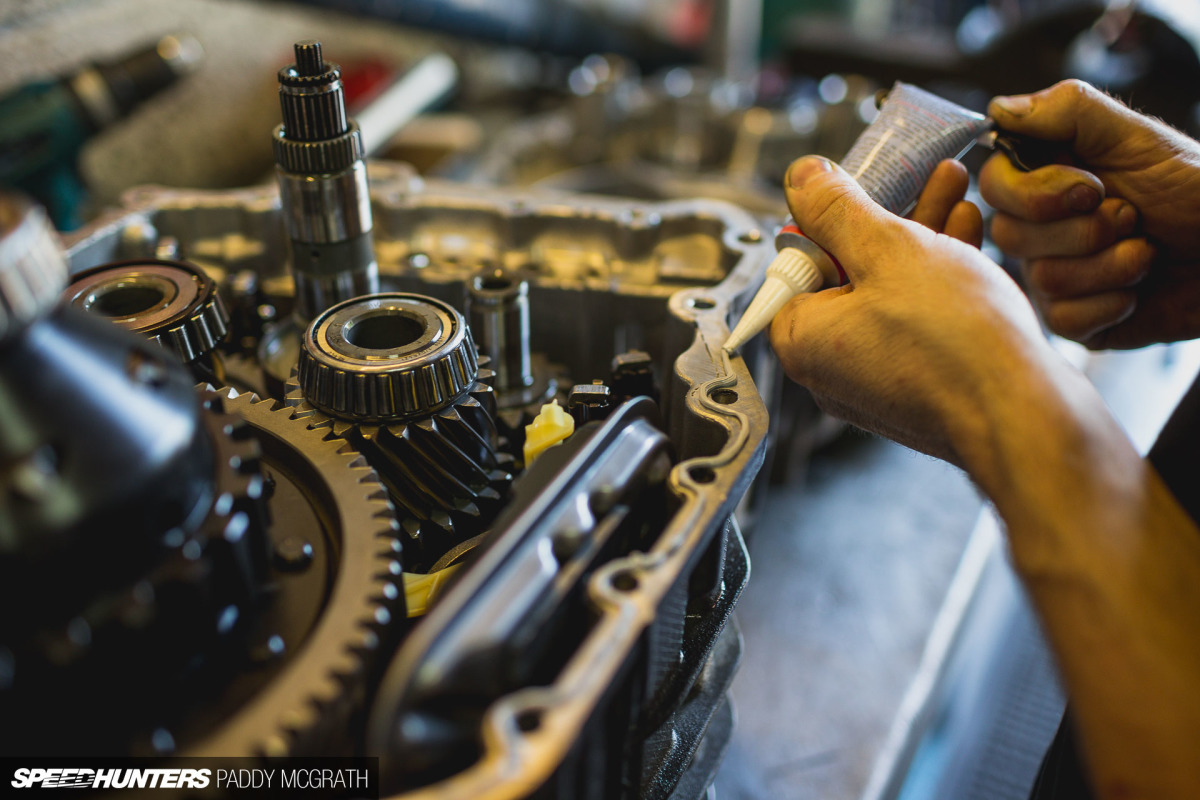 A new gasket seal is put in place before the bell-housing is reinstalled, followed by the clutch packs.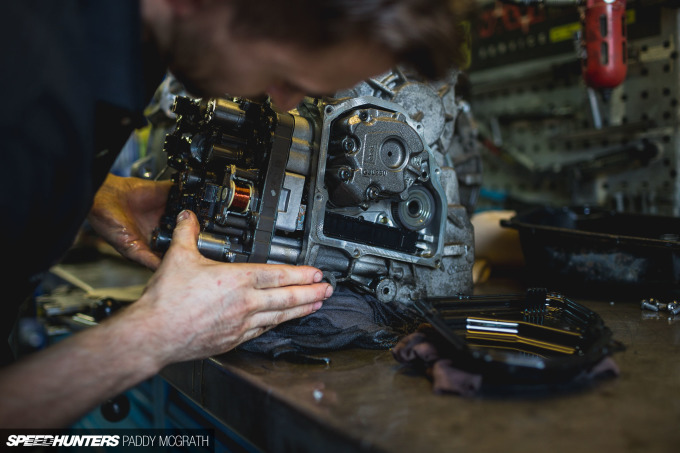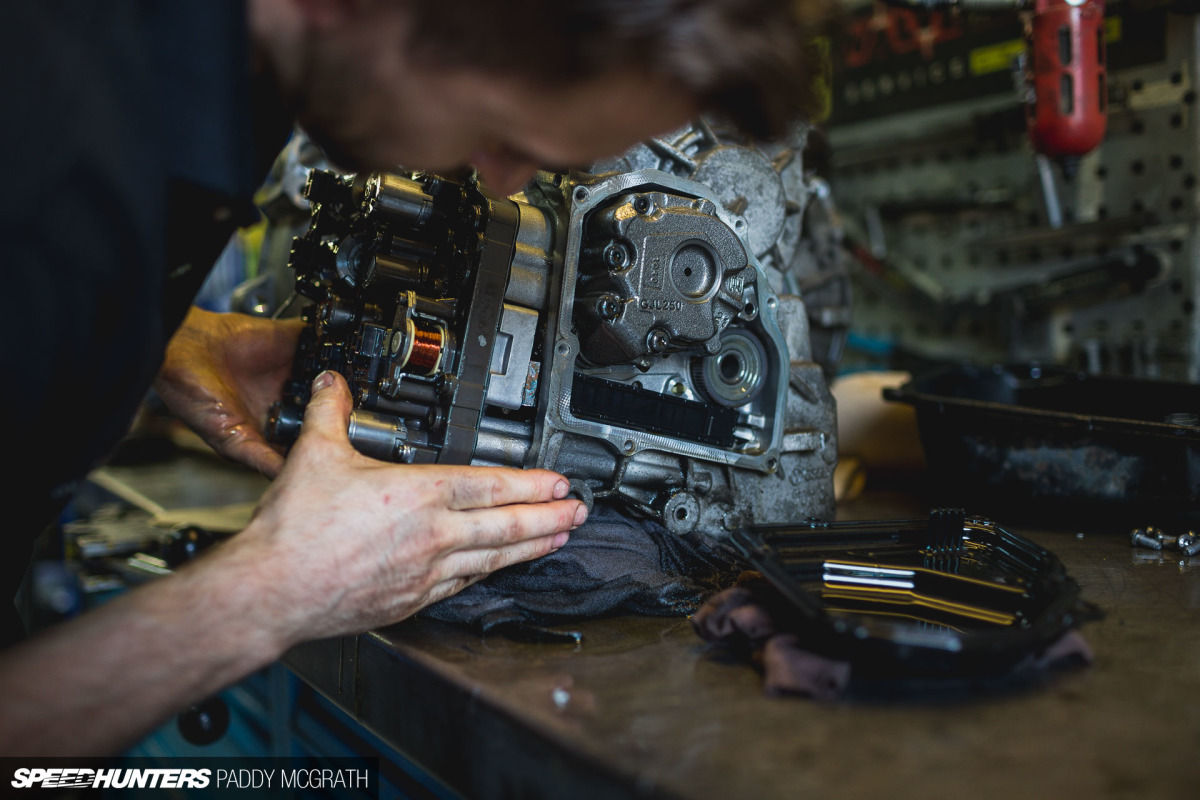 The mechatronics unit is the last complicated piece of the puzzle before everything is bolted back together.
The final step is to refill the gearbox with fresh oil and a new oil filter. It was now approaching clocking-off time on the same day that we had started, so with the gearbox fully assembled, installation back into the car would be taken care of the next morning.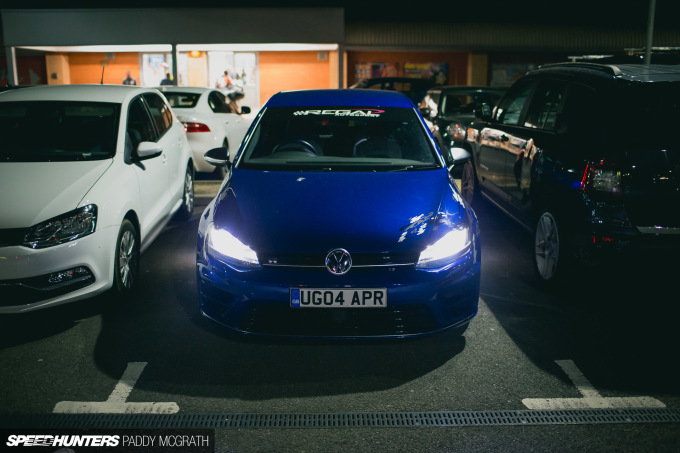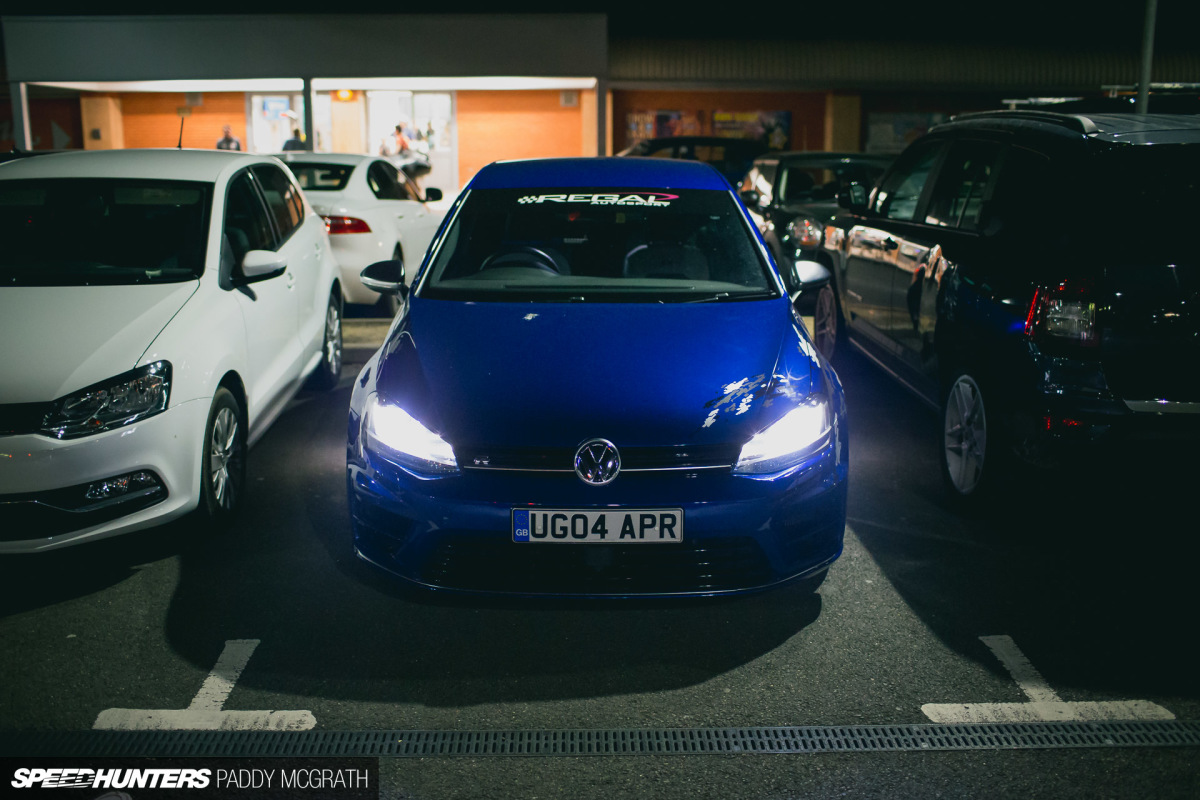 With the best courtesy car ever, I headed to my hotel and enjoyed what was probably the best night's sleep of my life in a bed that was curiously about a foot shorter than it should have been. Win some, lose some.
Test & Align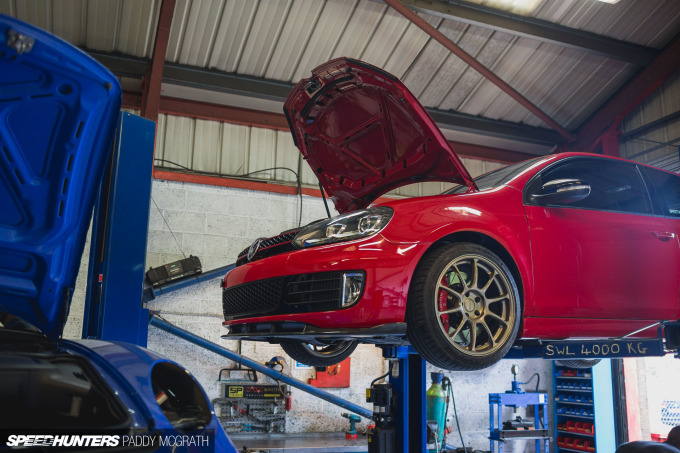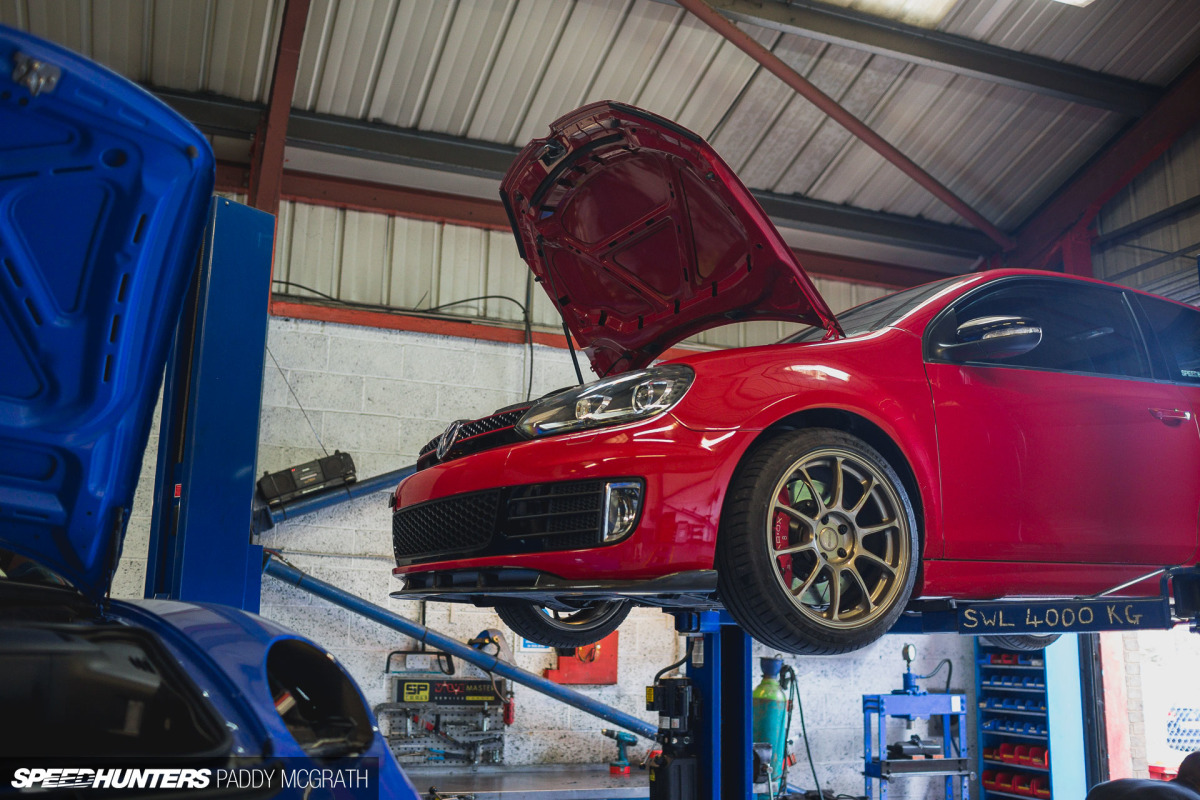 By the time I arrived at Regal the next morning, the car was already reassembled and running. So much so, that I actually met Ben on the road whilst he was putting the first miles on the new differential.
It's quite strange seeing your own car on the road being driven by another person. My first reaction was, 'that's a tidy GTI' before realising it was my car. I guess that's a positive?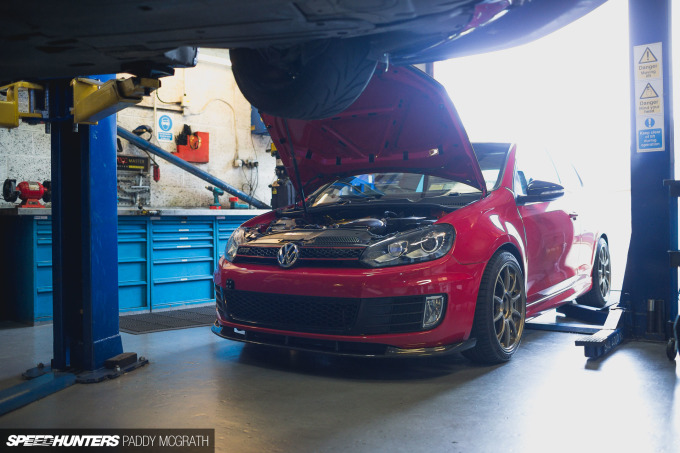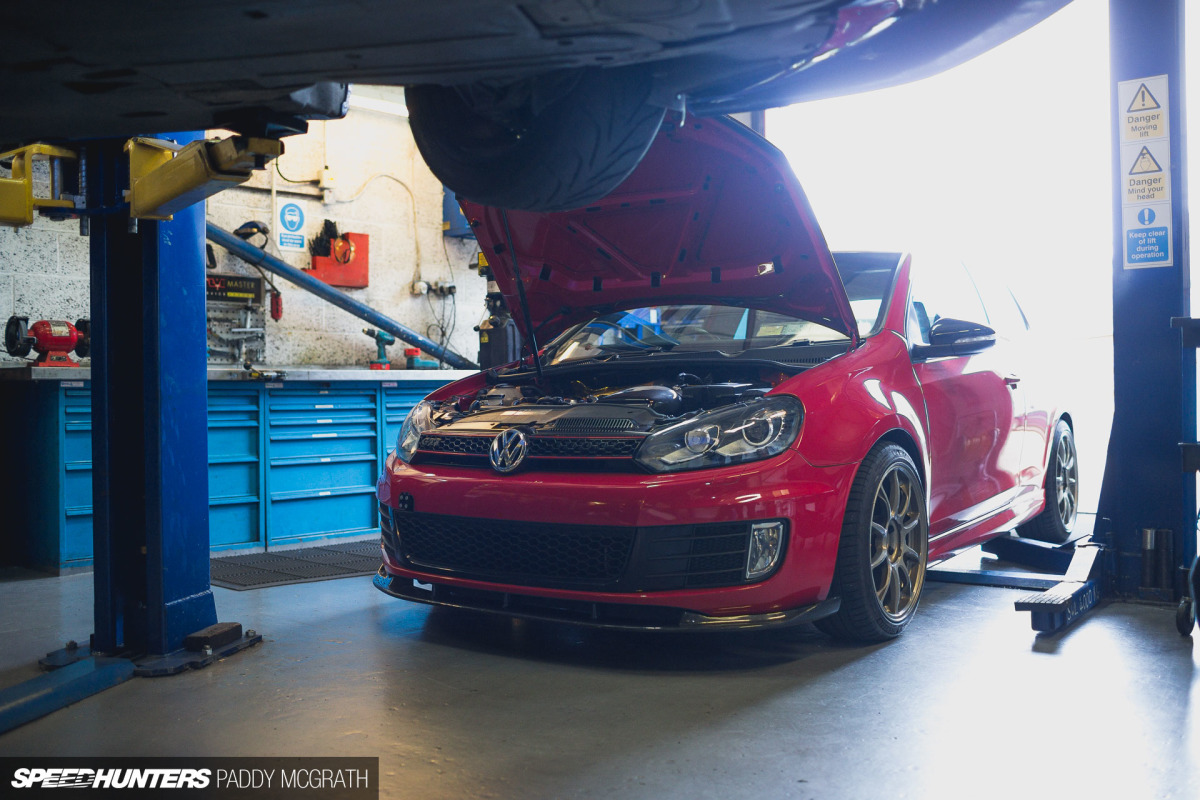 After his drive, Ben performed another final set of checks to ensure everything was perfect and up to Regal's exacting expectations.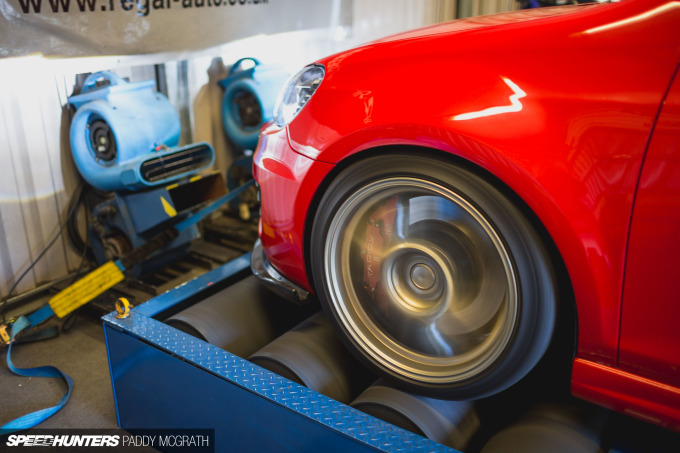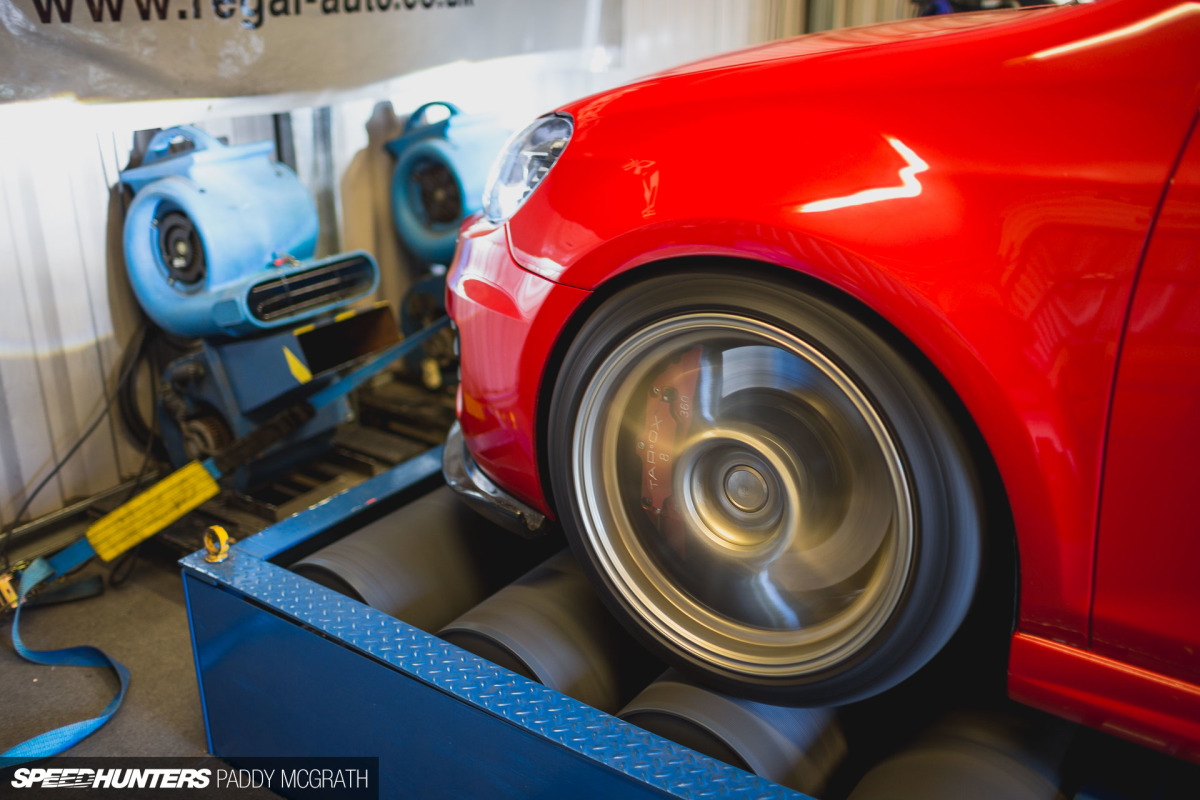 The final checks were performed on the dyno where faster pulls could be performed in a safe environment. Regal also carried out a power run which showed the car to be slightly down on power, something I had felt on the trip over. I put it down to poor quality fuel being put in before I boarded the ferry, as we only have access to 95RON in Ireland and the quality varies strongly between different brands. Two tanks of BP Ultimate 97RON later and the car feels great again. Still, I'm going to give it a full service in the coming weeks, including new plugs following Ryan's recommendation that GTIs are particularly sensitive to spark.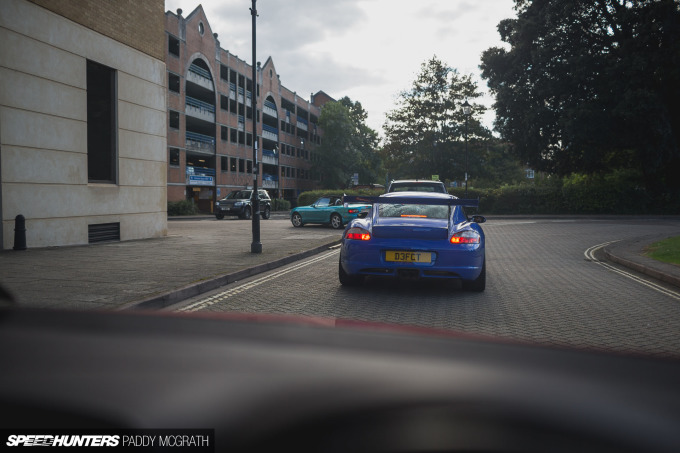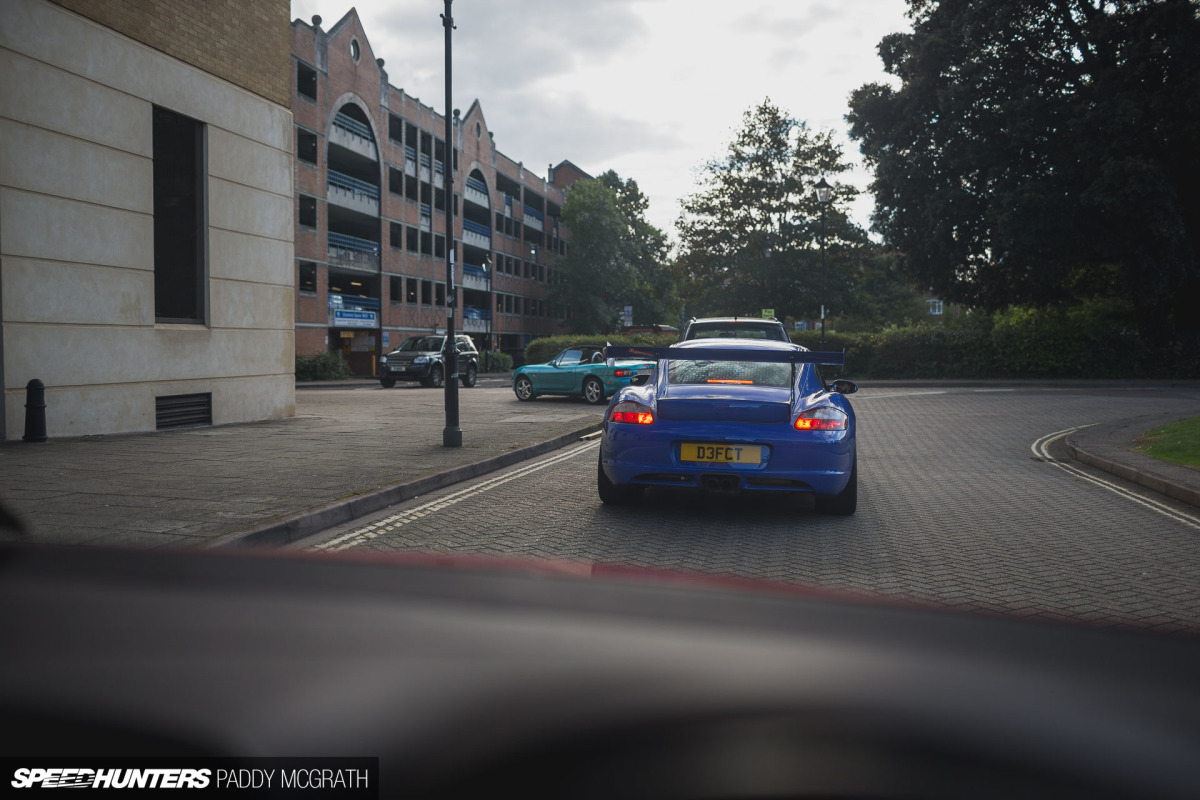 Due to the tight schedule, I quickly repacked the car and headed across Southampton in rush hour traffic to try and make a last appointment at a Regal-recommended alignment centre. Regal is awaiting a new state-of-the-art alignment rig, but due to my travelling commitments, the guys made sure I would get sorted by someone they trust before hitting the road again. Thankfully, Ryan led me the whole way across the lesser known routes of his hometown and we made it with around 20 minutes to spare before closing time.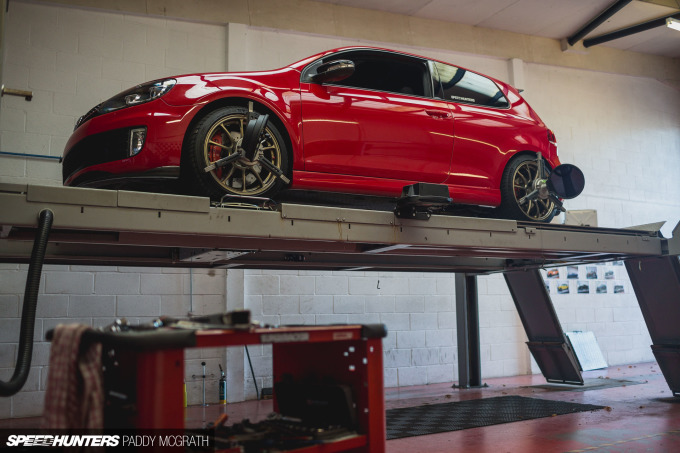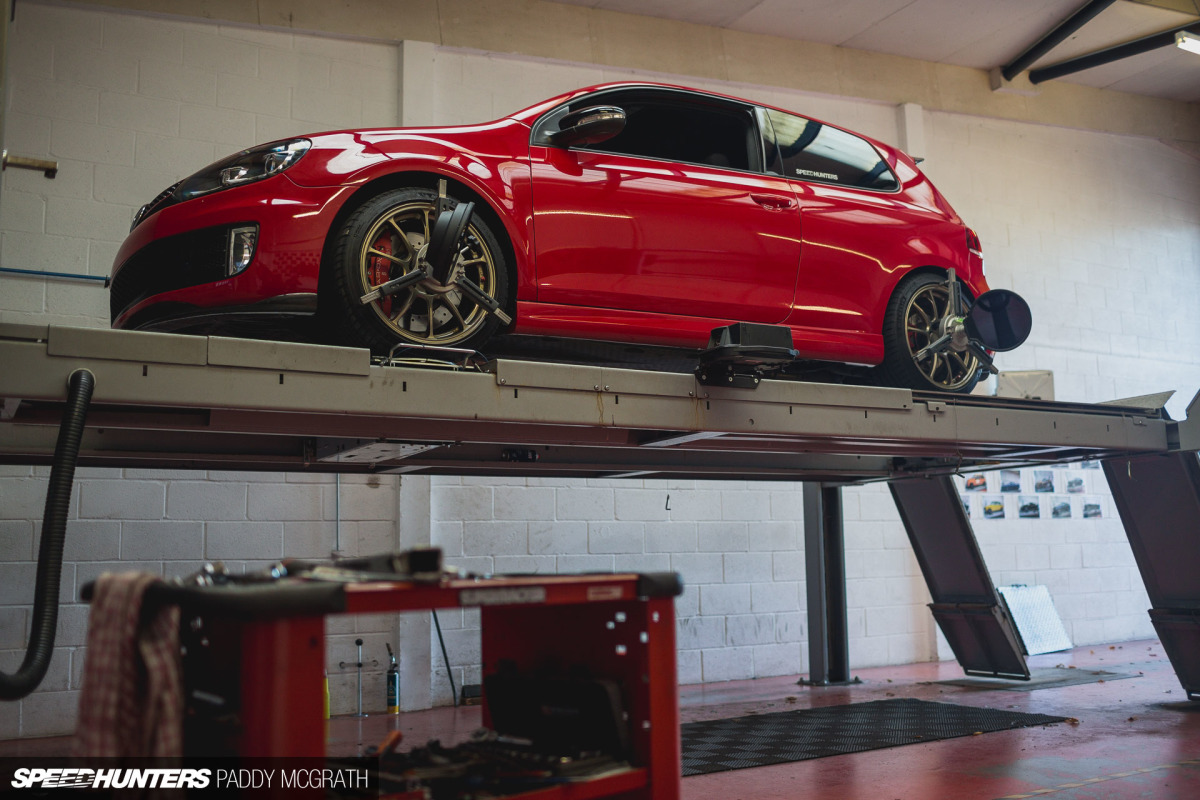 Seeing as the car was still aligned to stock GTI settings, it was time to put a slightly more aggressive alignment on the car. With the car on the rack at The Wheel Alignment Centre near Southampton port, Nick with Ryan's supervision removed the significant amount of toe-in at the front and added just a little bit of toe-out to assist turn-in. Camber was kept at around -1.5 degrees in the front while the rear was a similar setting.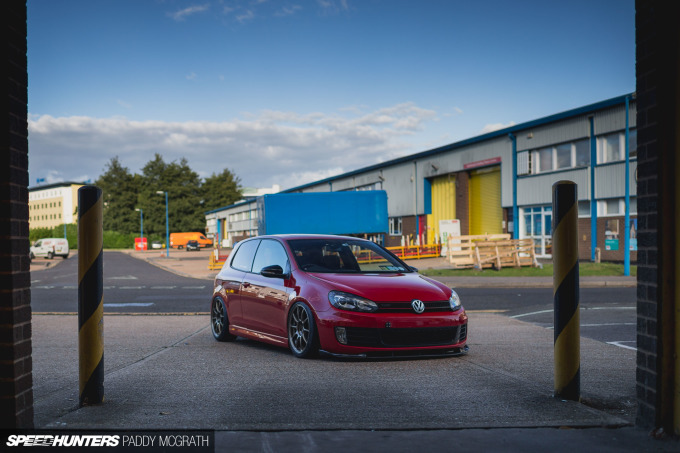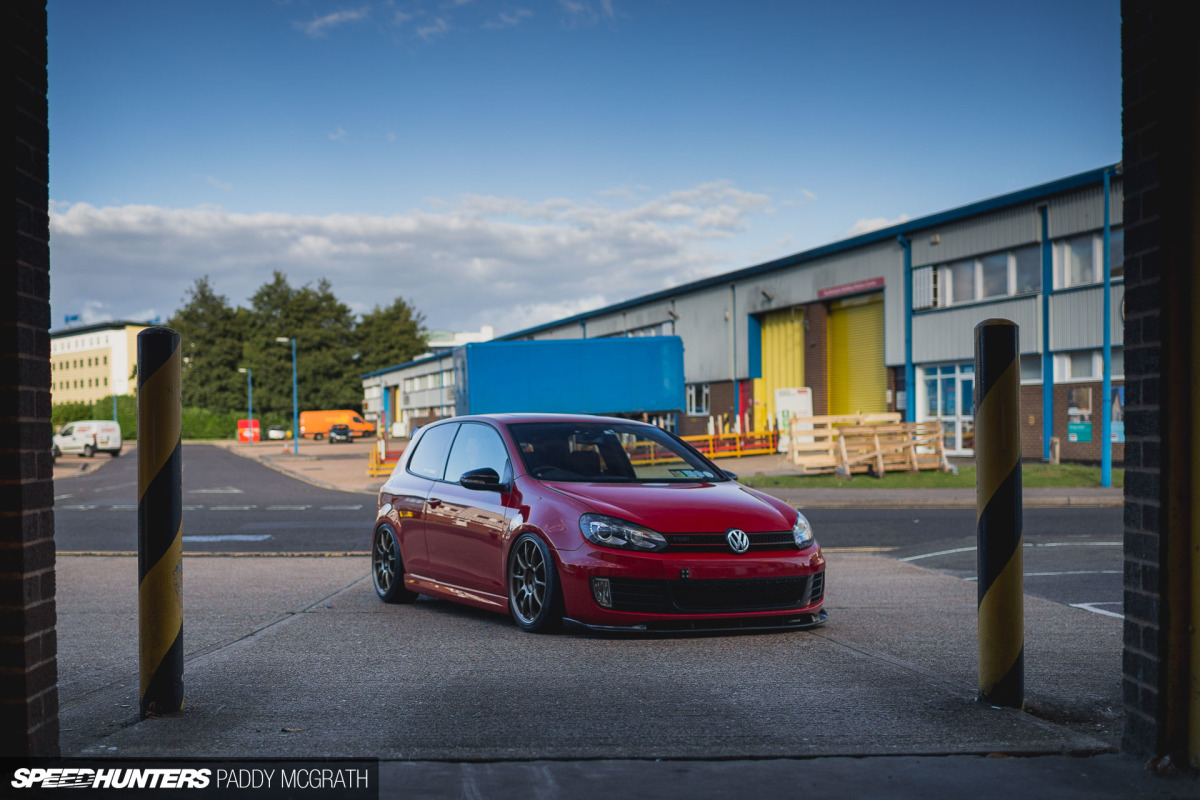 What does all this mean?
Quite simply, Project GTI is now driving the best it has ever driven. It's razor sharp where previously there was a little bit of dead-zone over centre. You can play with the car mid-corner, making adjustments with ease. In the dry, the car hooks up like you couldn't even believe, and getting away from a stand still is so efficient. There's no scrambling for grip, it just immediately hooks up and goes with zero fuss.
I've only had limited fast driving experience with the Wavetrac so far, due to travelling for Speedhunters, but I want to share the bit that has impressed me the most: roundabouts. Generally, these are a front-wheel drive car's worst nightmare as they show up all the weaknesses of a FWD system. Not anymore. It's a surreal feeling as the car is pulled around the roundabout. Applying more throttle would usually mean that the car would wash out and understeer, but now when I apply throttle the car tightens its line. It's a strange sensation to get your head around as generally accelerating mid-corner in a FWD means more understeer, but it just doesn't happen. It should, but it doesn't. Under normal driving conditions, you wouldn't even know the car is equipped with an LSD. There's no clunking or strange characteristics which impact on the driving experience. It's absolutely mega. And in the wet? It's a whole new level of amazing.
This is a big turning point for Project GTI as the car now has comfortably more chassis and mechanical grip than it has power. When we add more tyre into the mix, it's going to be fully prepared to take a whole heap of extra power in its stride. I've been trying to figure out why a modification like this isn't available from factory (which it might be as a similar option on the new GTI Clubsport as it turns out) and my only guess is that it is purely down to cost. In this case, the GTI came equipped with an electronically-controlled pseudo LSD which is a much cheaper option for VW than a proper LSD. It's not something I have to worry about anymore.
I'll be back next month to give you my full impressions of driving on Air Lift Performance's 3H system after taking a few months to properly experience it and live with it from day-to-day. Hopefully, I'll be finally getting back out on track too…
Thanks for reading.
Paddy McGrath
Instagram: pmcgphotos
Twitter: pmcgphotos
paddy@speedhunters.com
Cutting Room Floor