It's All About Goliath
I enjoy drifting immensely – there are few automotive pursuits to photograph that contain so many exciting and spectacular moments in such a short time frame.
When you shoot almost any other type of motorsport (can I say that, Paddy?) you rely on a mixture of extreme patience, trackside experience and a healthy dose of luck to catch the odd moment of drama, such as a car oversteering slightly, a cloud of dirt as someone overshoots a corner or even the occasional splintering of bodywork as cars come together.
With drifting, you get all that, and more, on almost every pass.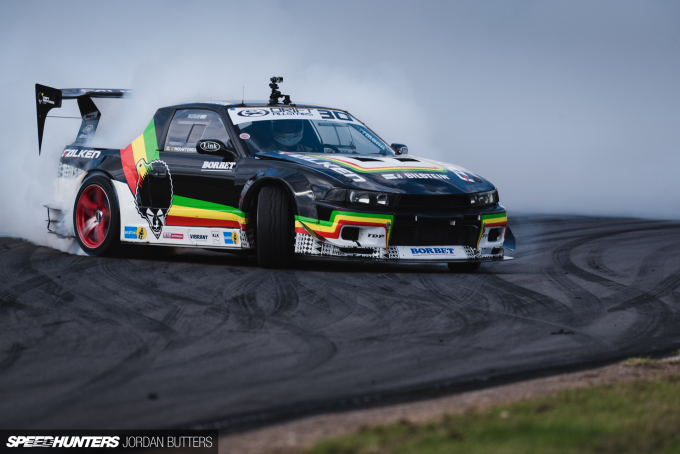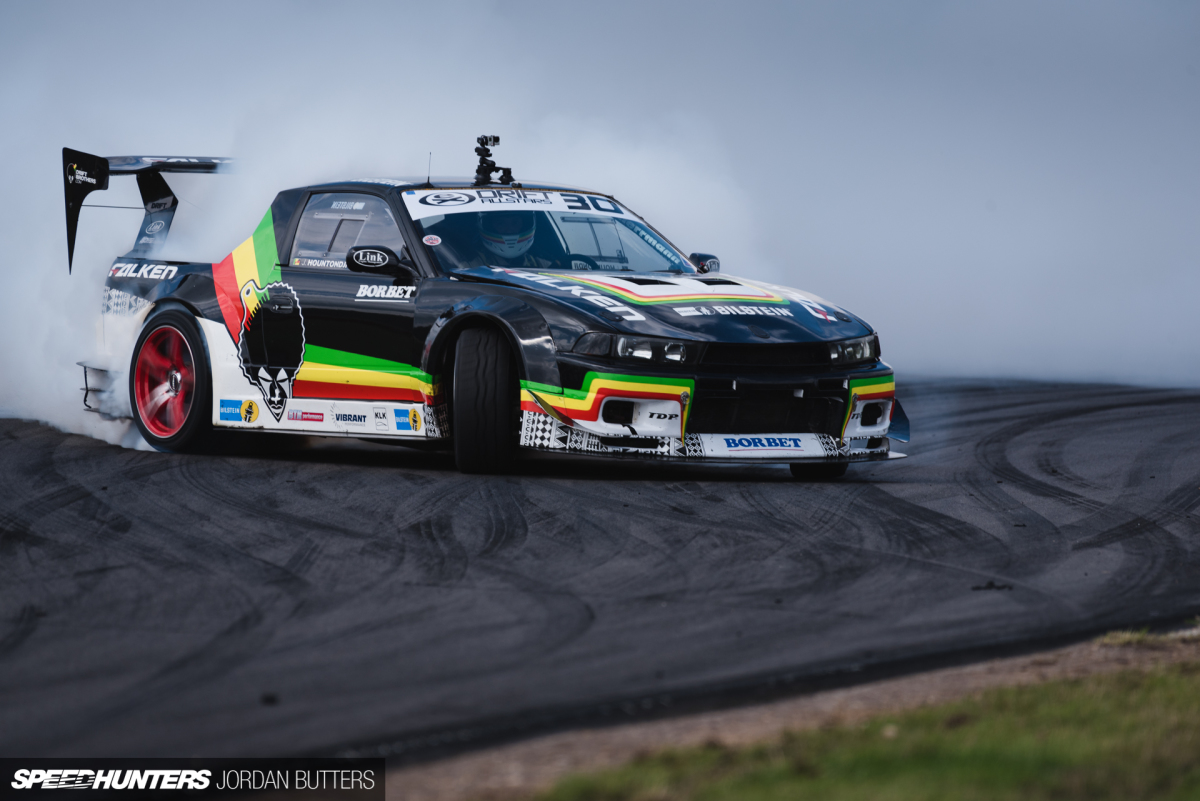 Visually, it's a great thing. But, there's a caveat: bringing it to you in the age old formula of words combined with images is a challenge sometimes. I'm sure several of my fellow Speedhunters can sympathise with this too. When you cover several competition drift events throughout the season it becomes more and more difficult to find an interesting narrative to go along with all of the images that we want to show you guys.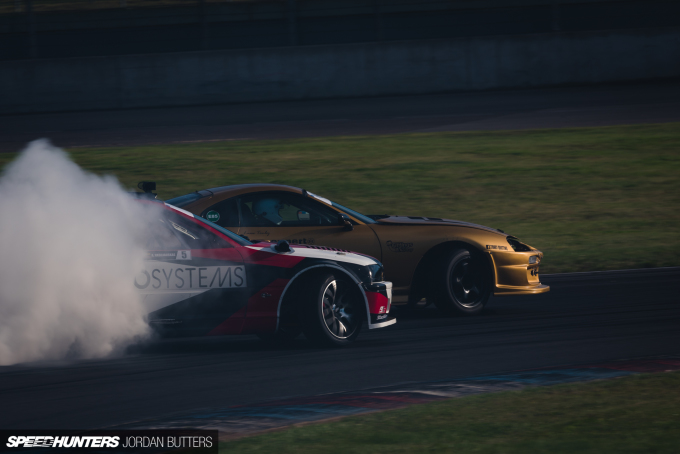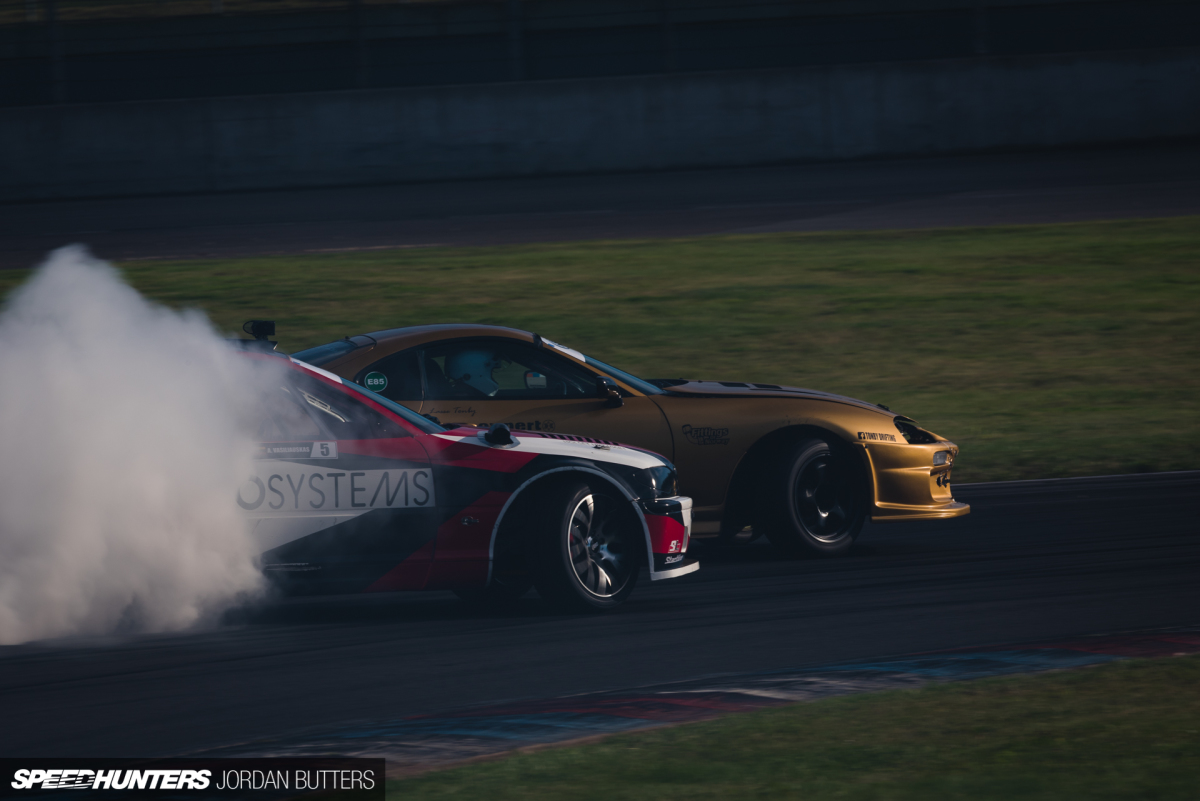 I could display a gallery of images, and I'm sure that's nice to look at, but without some context they lose some of their impact, I feel. I could give you a battle-by-battle rundown of what went on, but the instant gratification of live-streaming has removed the need to do so, and who really wants to read that anyway? What's more, shooting the Drift Allstars series here in Europe, I have a further problem to deal with…
It's this guy – James Deane. He's won the series outright for the past two years. He's been on the podium at every European event this year. You may recall that three weeks ago I was in Estonia, watching the Falken driver win the Estonian Drift GP. He did so without drama; it never looked like he was going to lose.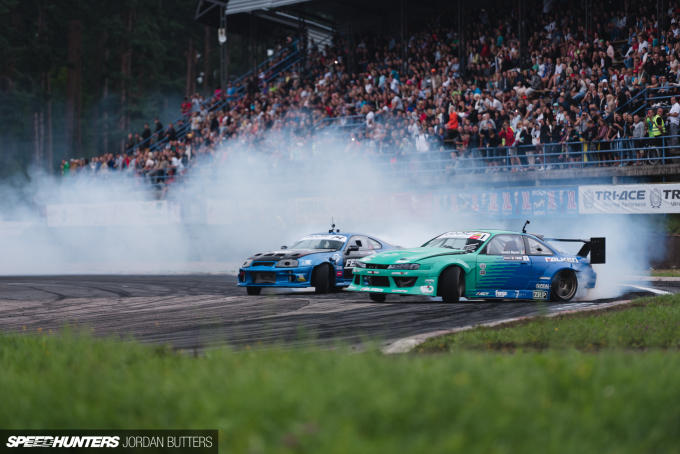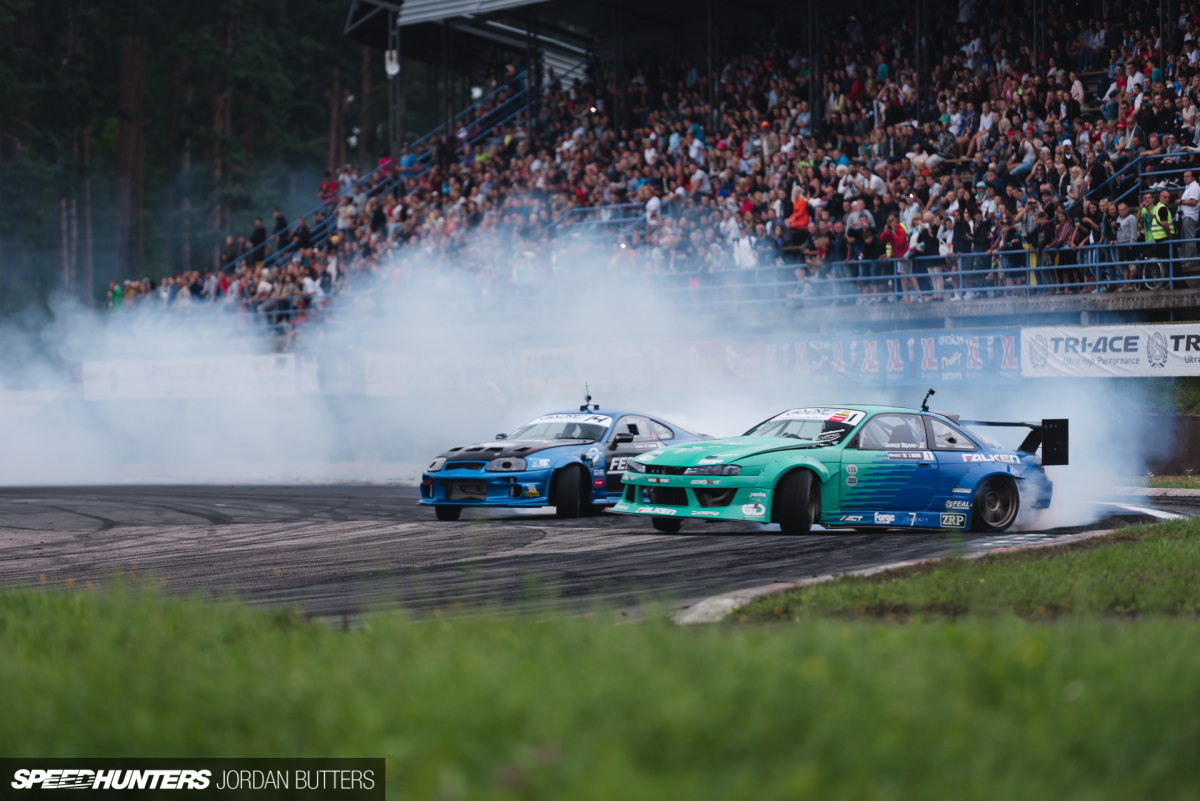 The following week we segued down to Riga, Latvia, where, you guessed it – Deane won again. It wasn't as straightforward, and he was pushed a number of times, but regardless, he came out on top.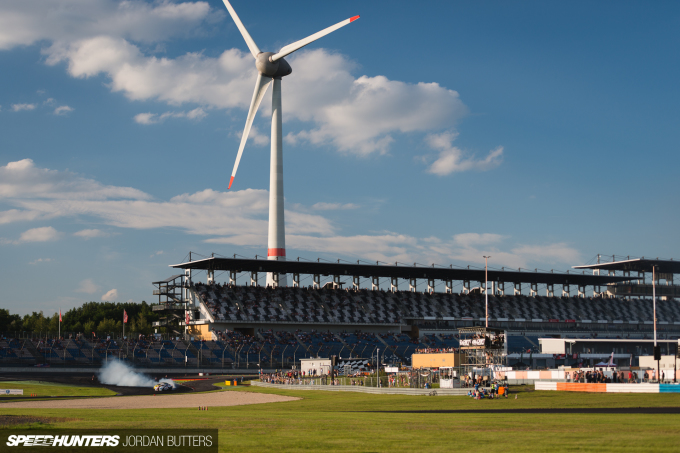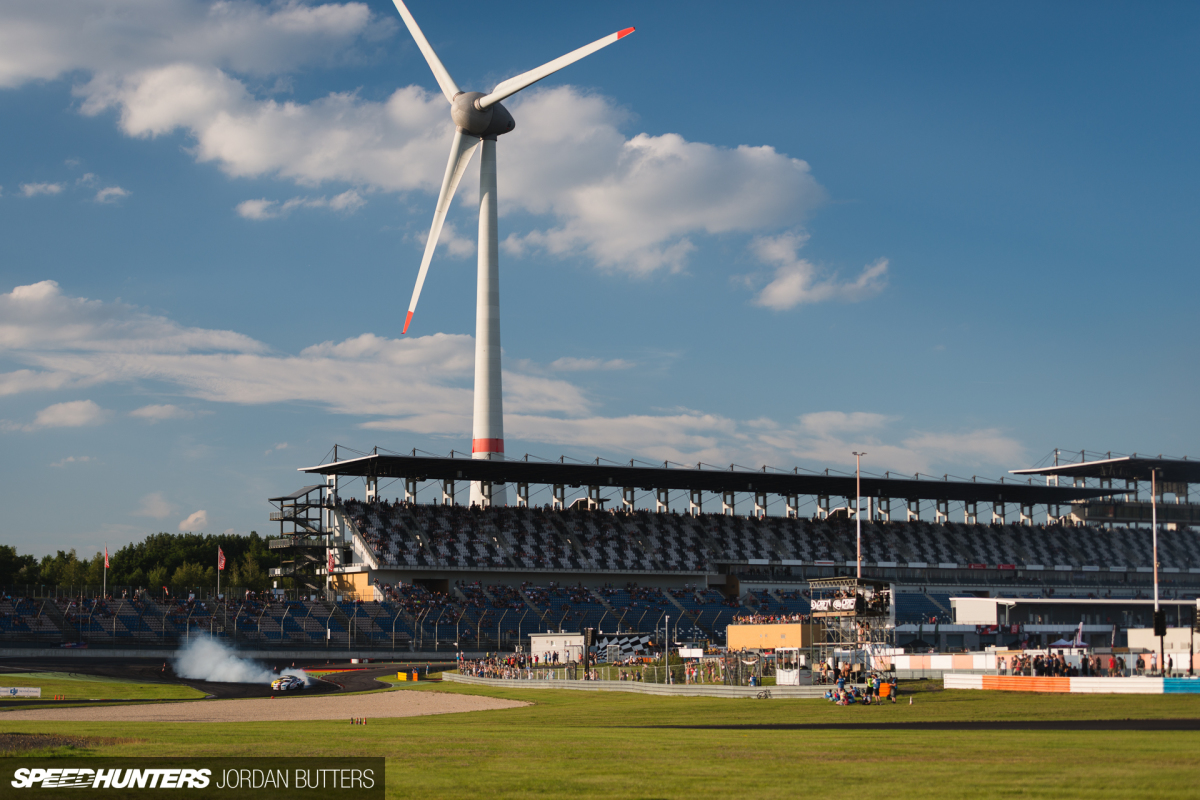 Just four days after leaving Latvia, and after the briefest touch down at home to catch up on things, I found myself at the Lausitzring in Brandenburg, Germany, around an hour south of Berlin. We were here for the German Drift GP, as part of Reisbrennen 2016, one of Europe's biggest Japanese-marque tuning shows. More to come on the main event itself soon.
Back to the plot and spoiler alert; James Deane dominated the competition once again at the Lausitzring.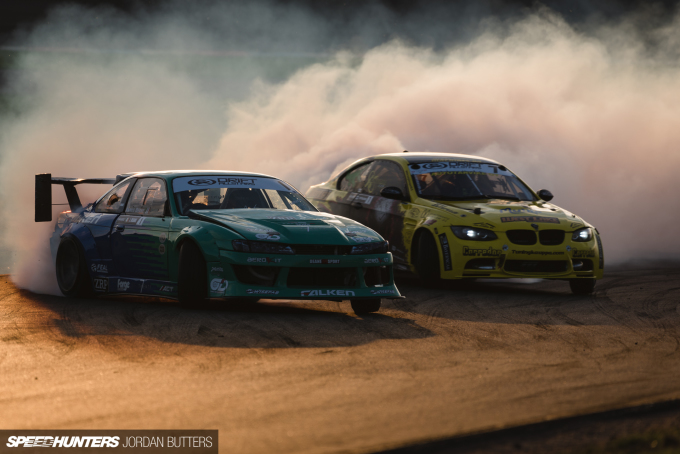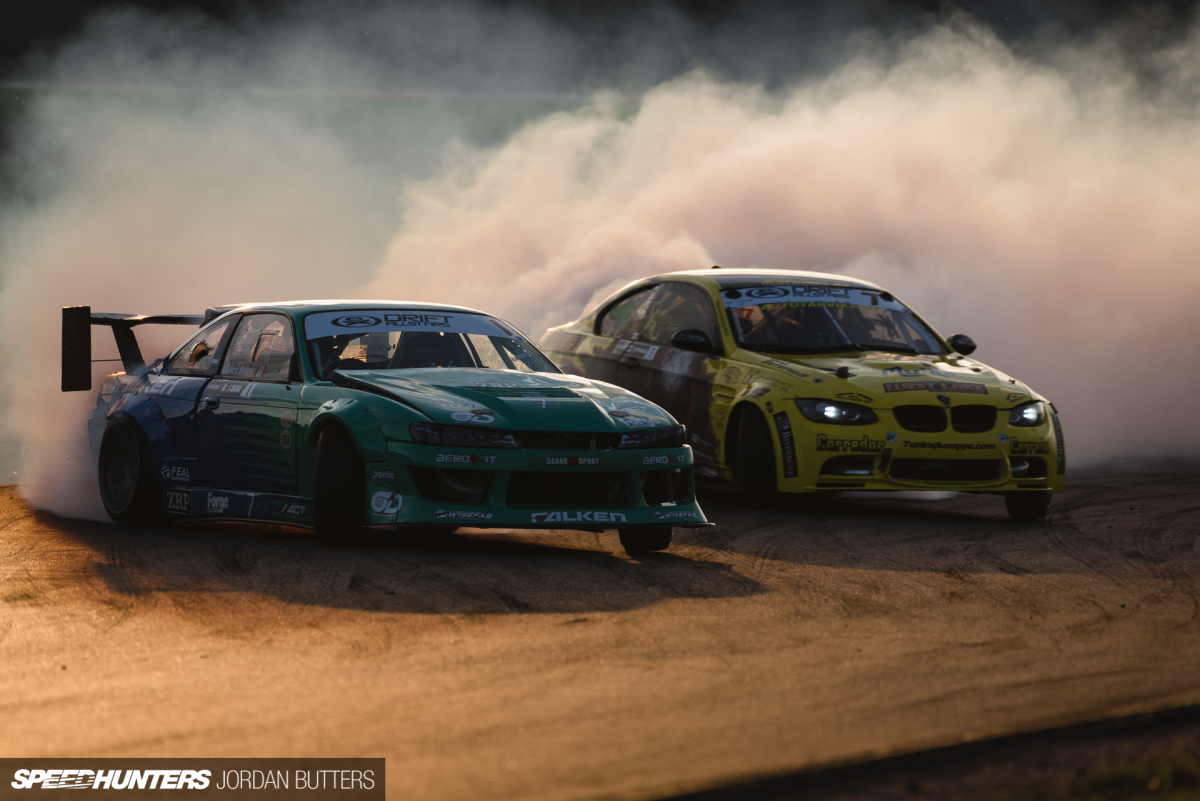 Don't get me wrong, I really like James. He's an incredibly talented driver and a super nice guy too. I love watching him drive and he works so hard to maintain the level he's at that I have nothing but respect for him. It's just that I'm begging to tell a different story.
Actually, the one time James lost this year was during the IDC vs DA event in July, but the surprise was overshadowed by the news that the Irish remained unbeaten against a field of professional international drivers. It was like lots of James Deanes, all winning at once.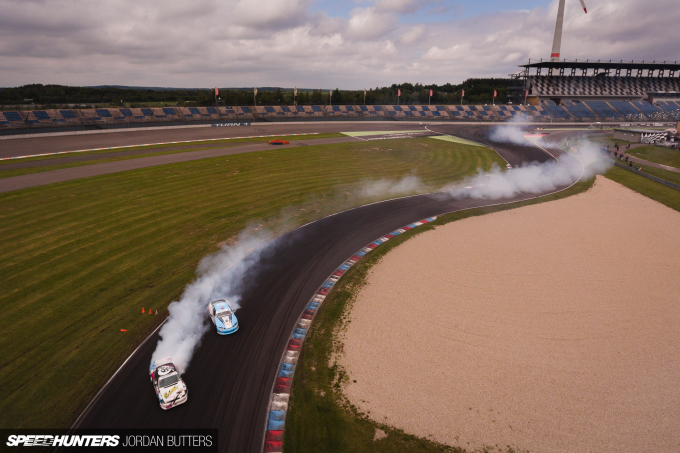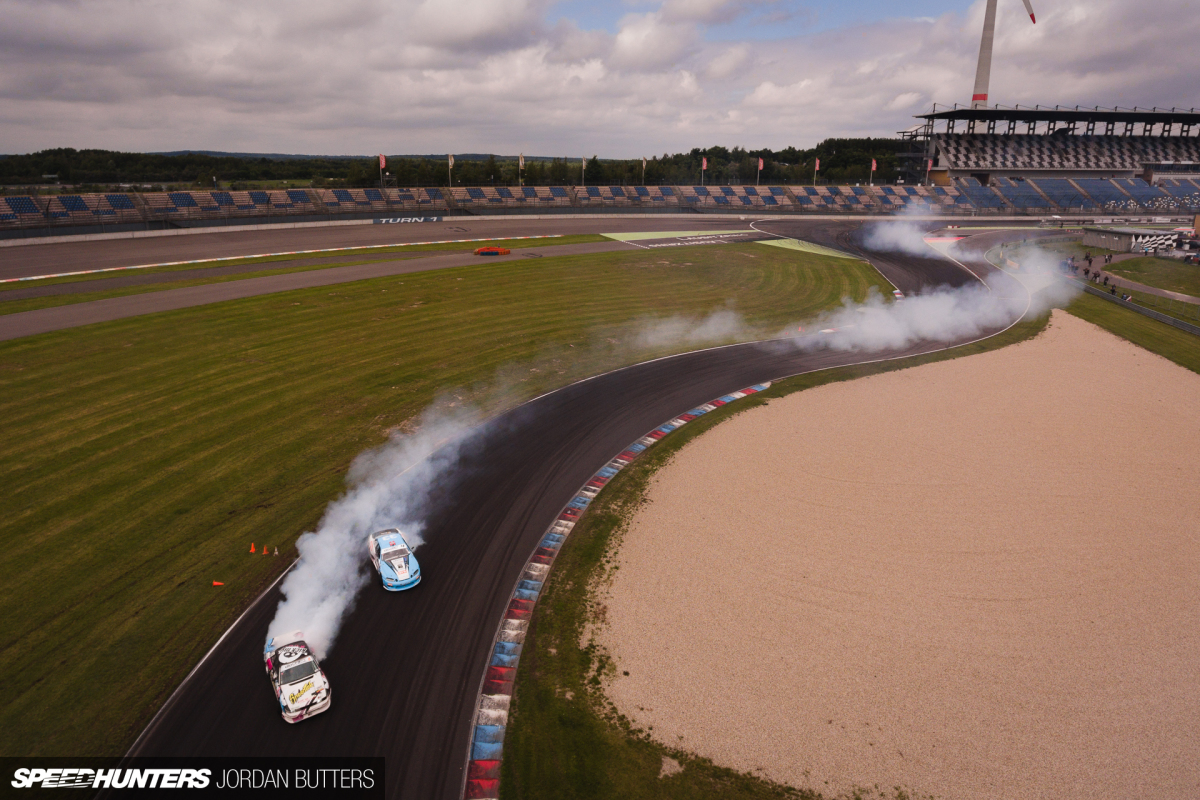 So, lacking the David vs Goliath story I was secretly hoping for at the Lausitzring, I thought I'd share a few favourite images, several special moments and a run down of how I personally approach shooting a big drift competition. From a Speedhunter's point of view, if you will.
Covering Ground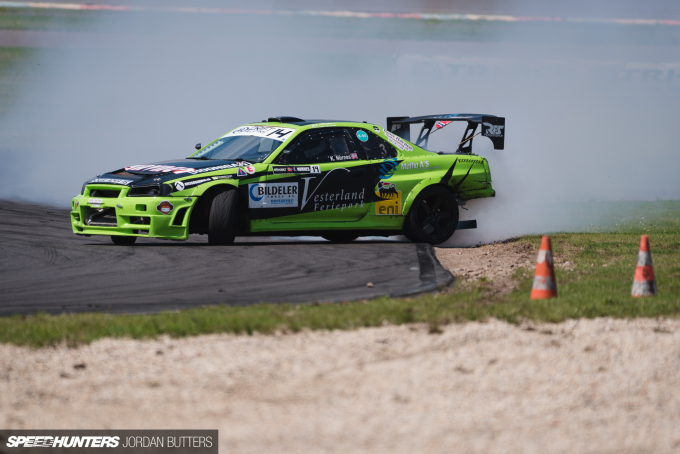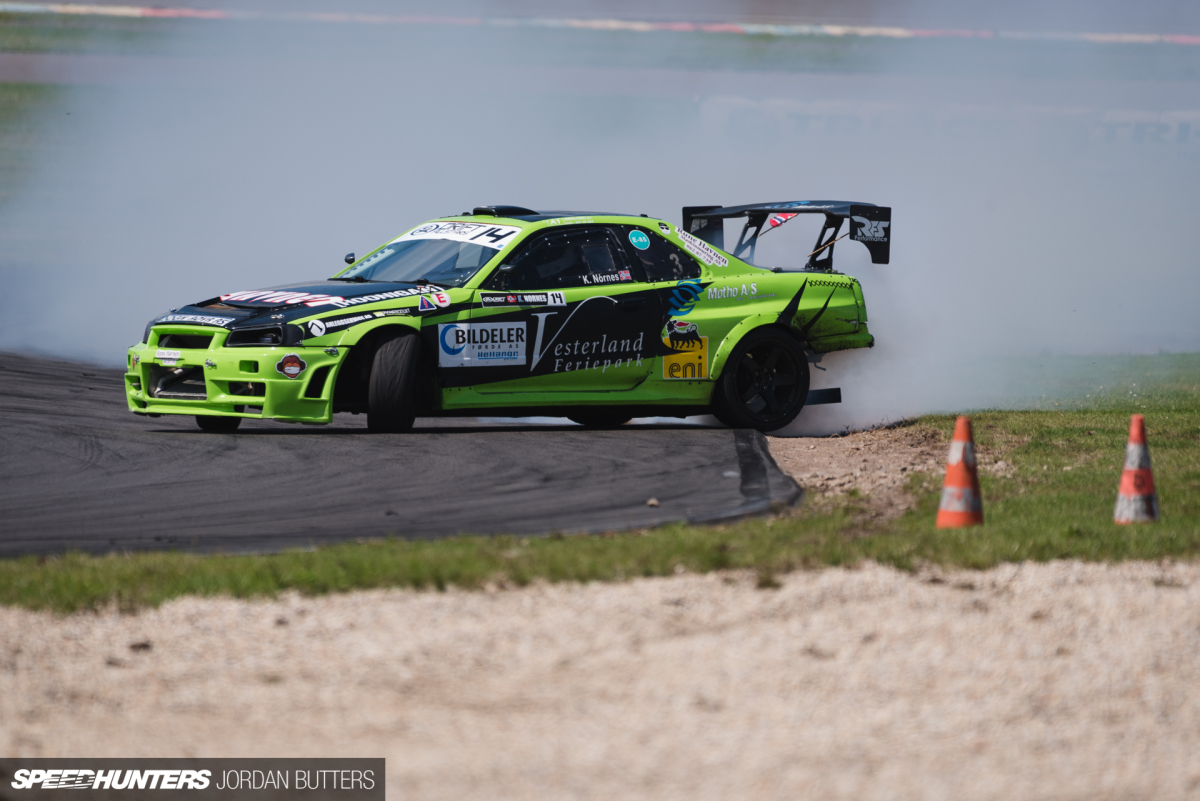 Usually events are split into two to three days; you have a day of practice, followed by a day qualifying and then a Top 32. Sometimes qualifying is mixed in with practice, and then the Top 32 occupies the next day alone. It all depends on the venue and timing. As I can only be in one place at once, I tend to plan the types of shots that I want to capture on each day. Usually practice is the time that I head straight to the track to bag some straightforward, clean images of the main players at the event.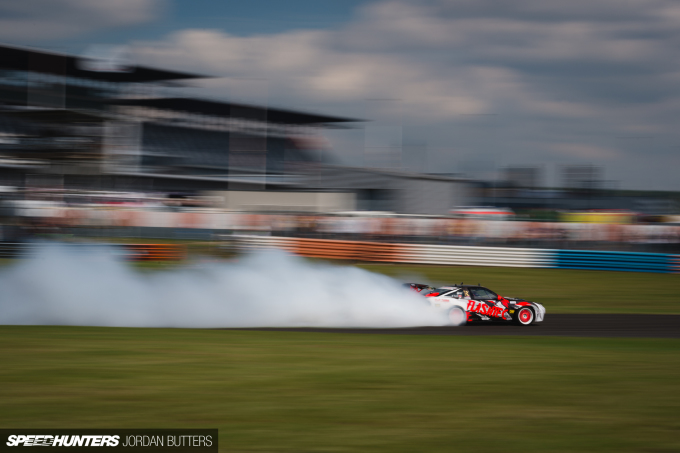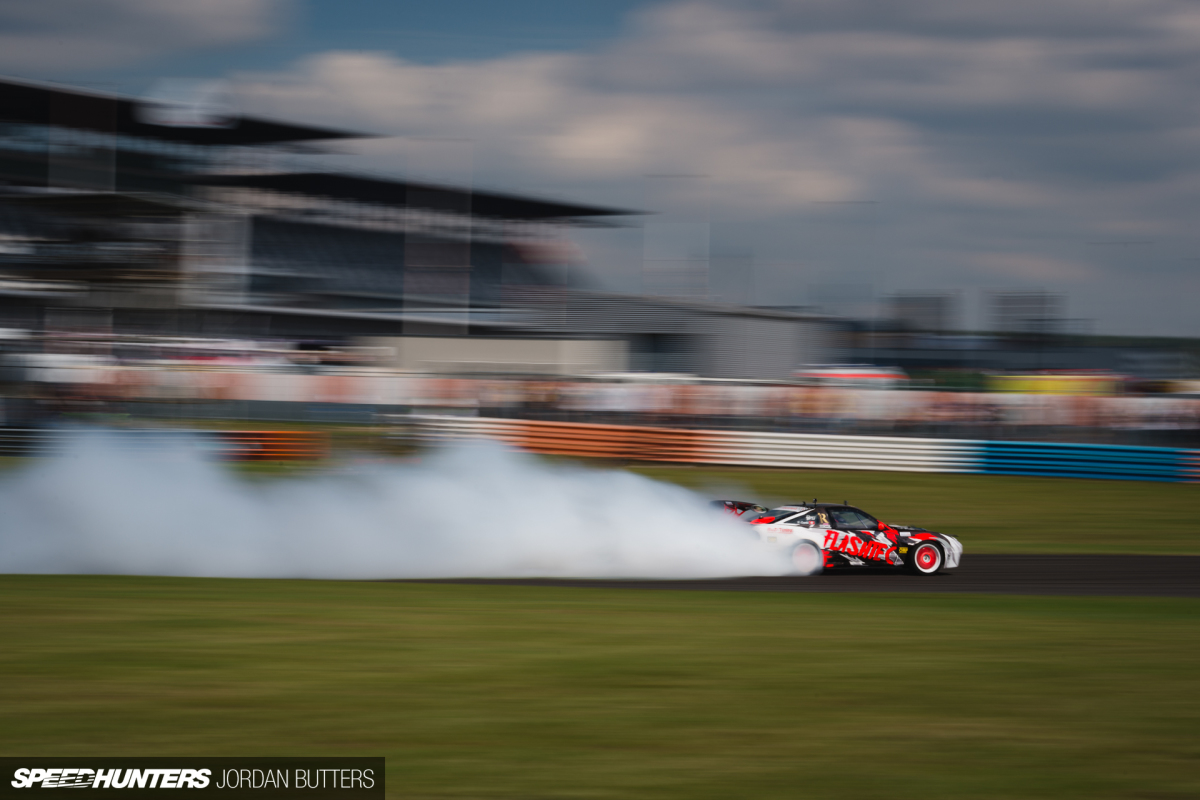 These initial images are some of the first shared on social media, and so I try and give what I capture a sense of location. An image of a car smoking its rear tyres could be taken anywhere in the world throughout the season, so I look for angles that make the location unique and recognisable.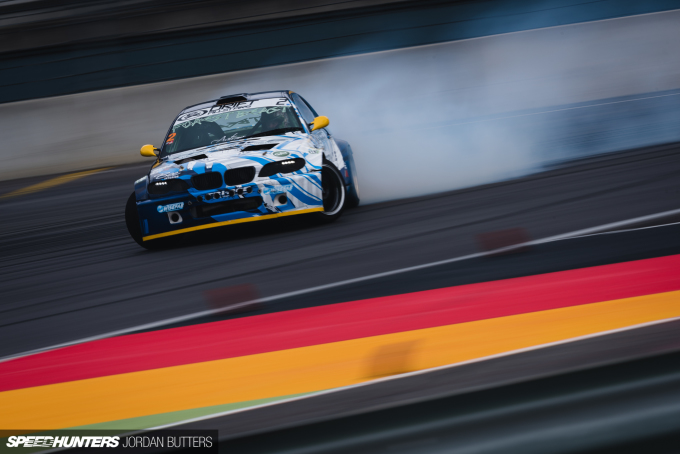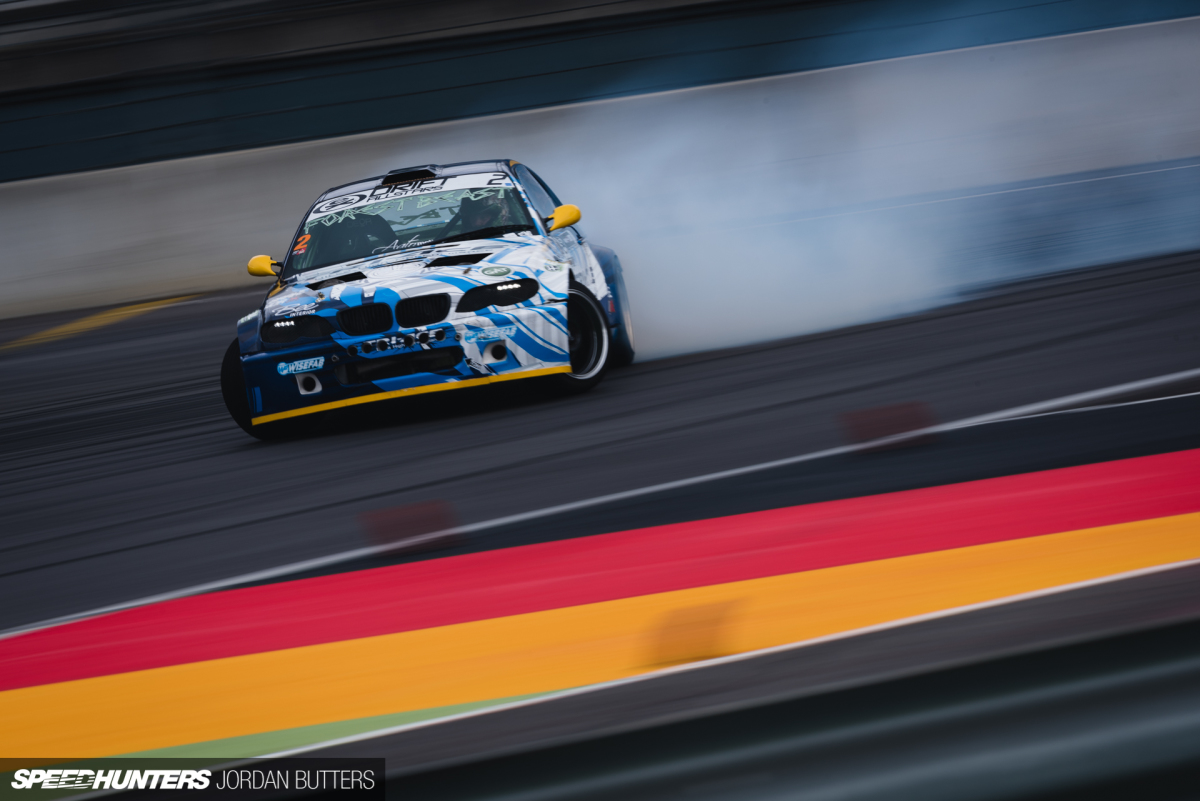 Lausitzring hands this to you on a plate – the German flag is painted on the floor at turn one. Perfect! Here Janis Eglite gets to grips with the new layout during one of the first runs of the day.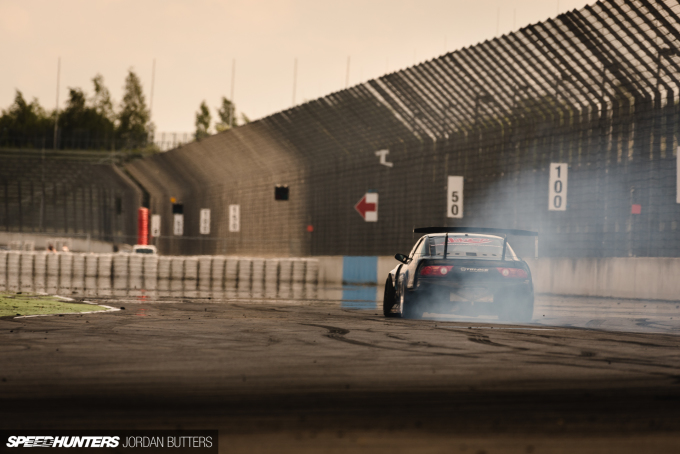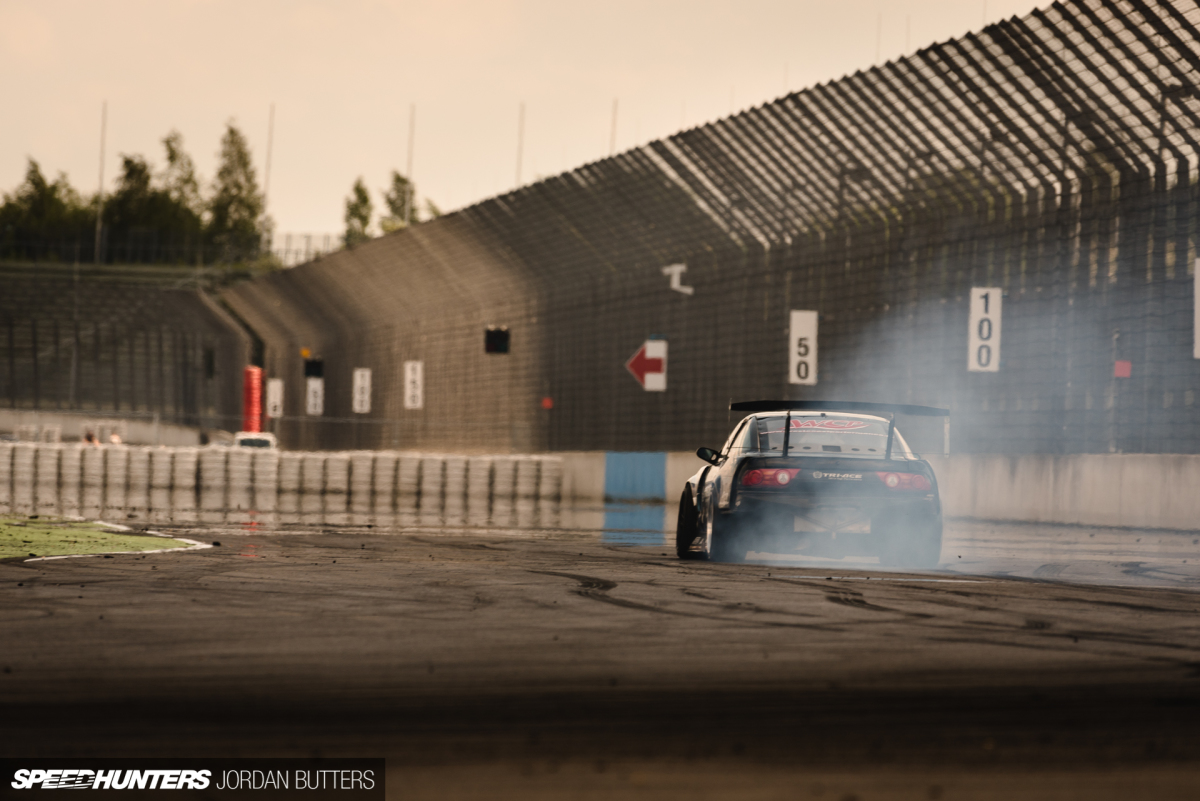 The Lausitzring is pretty unique in Europe as it features a high-speed oval circuit, similar to those used in NASCAR in the US. Capturing images of the cars against the imposing catch fencing definitely tells you that the images were taken at the German Drift GP.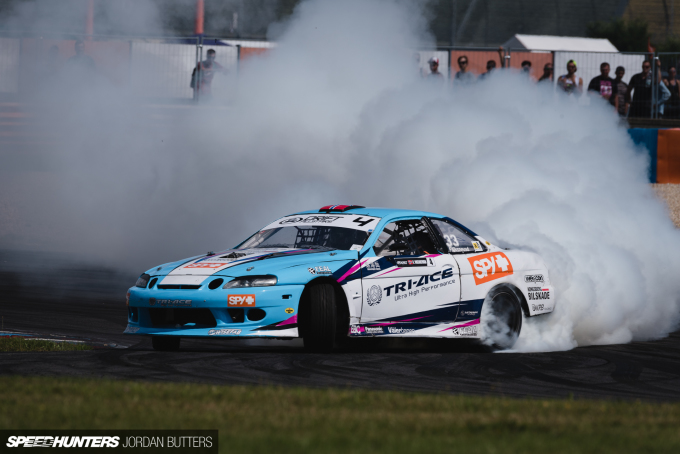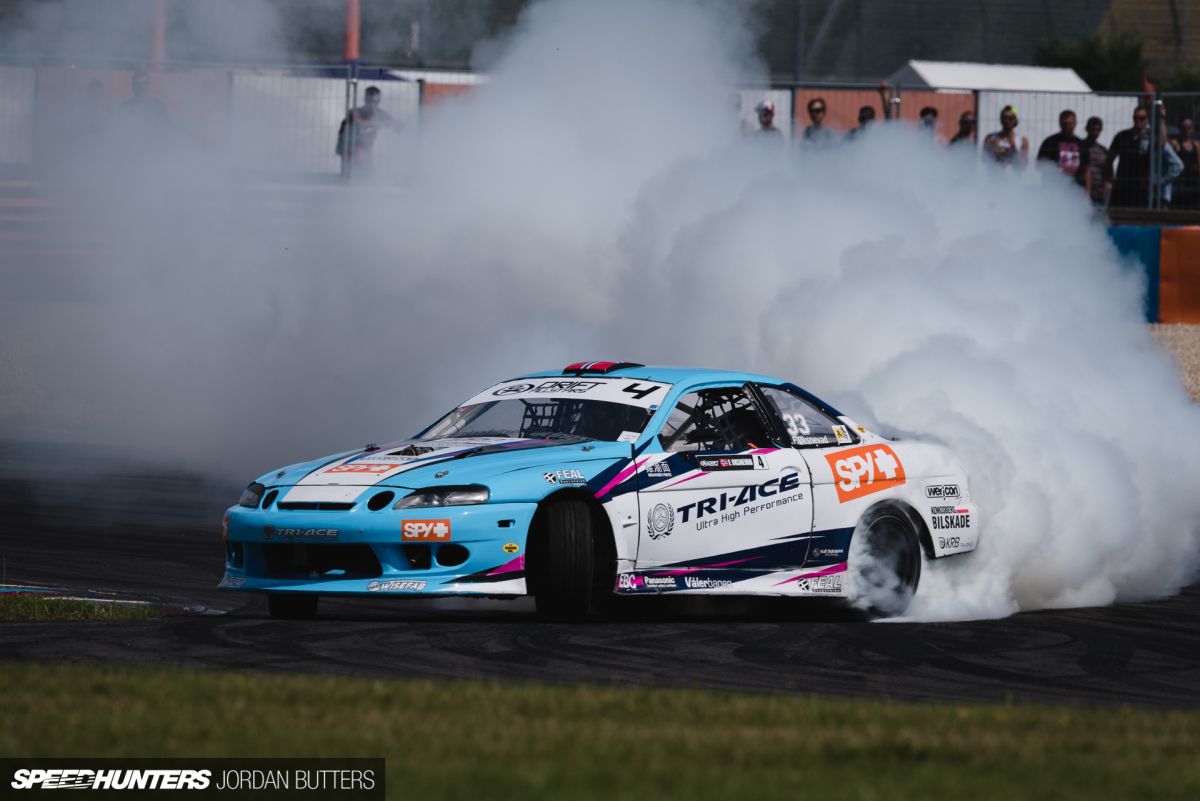 I usually take the next hour or so to walk the circuit and identify good shooting locations and plan images. I'll shoot along the way too, as practice is still going on, but my focus is on working out where I want to be at different times throughout the weekend.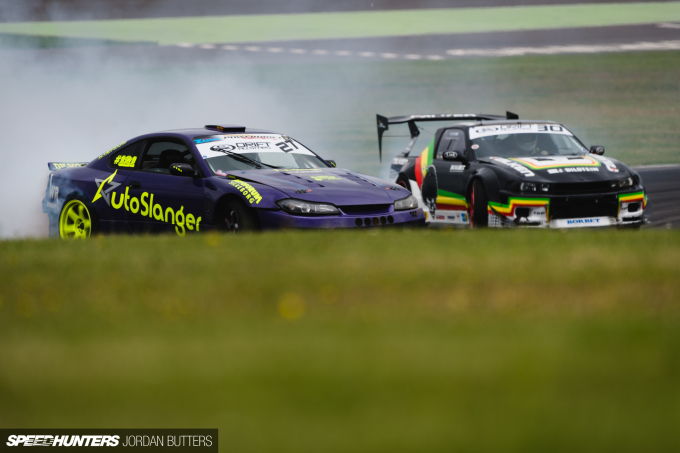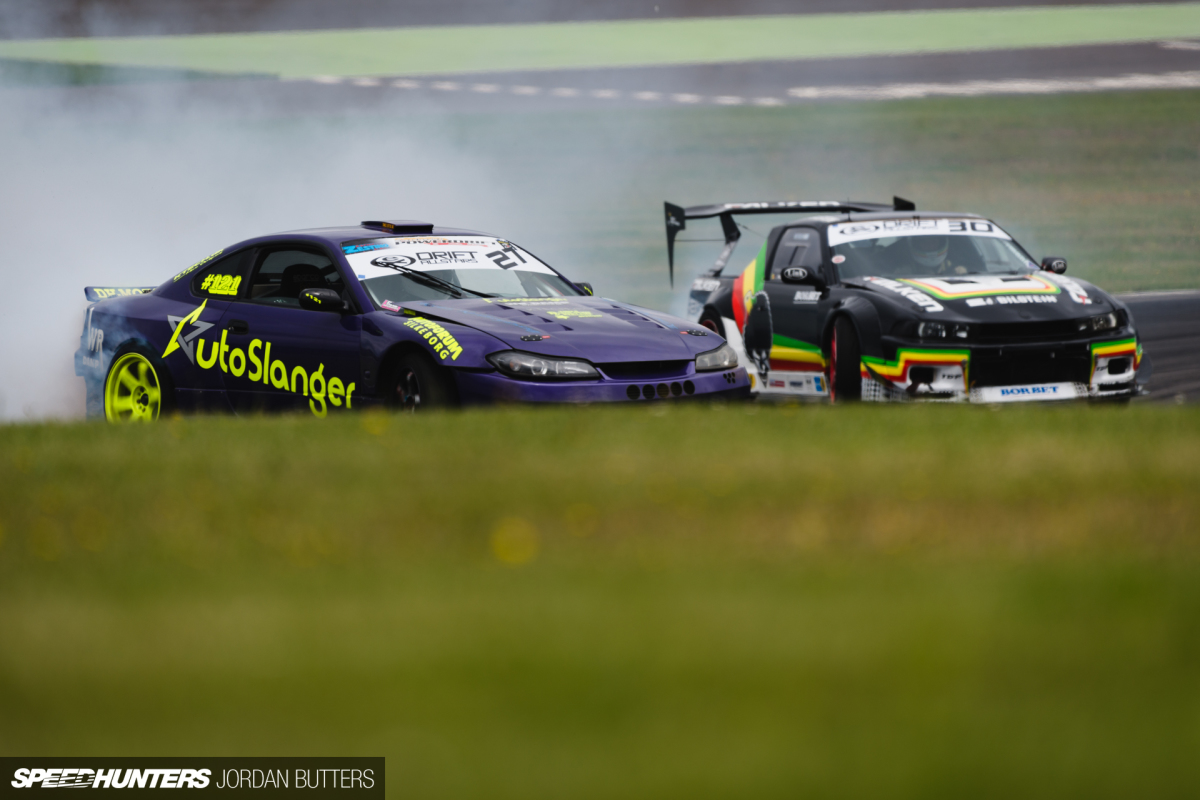 In the back of my mind I know I need to find a good spot to shoot the tandem battles from, which is trickier at some circuits than others. Sometimes there's only one good vantage point where the cars stack up neatly in the frame, and as soon as one photographer finds it, everyone is there!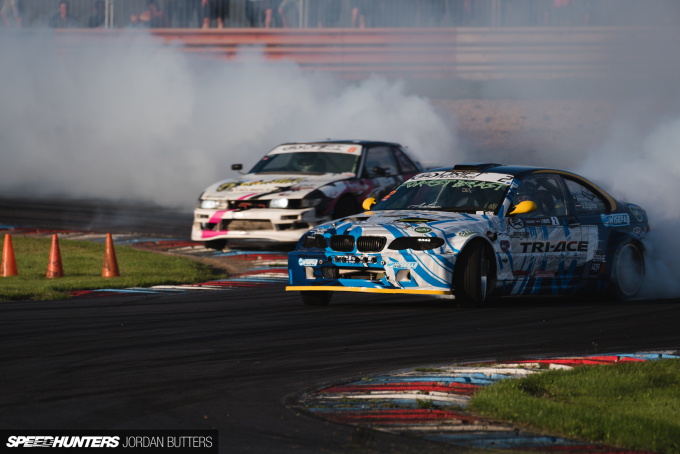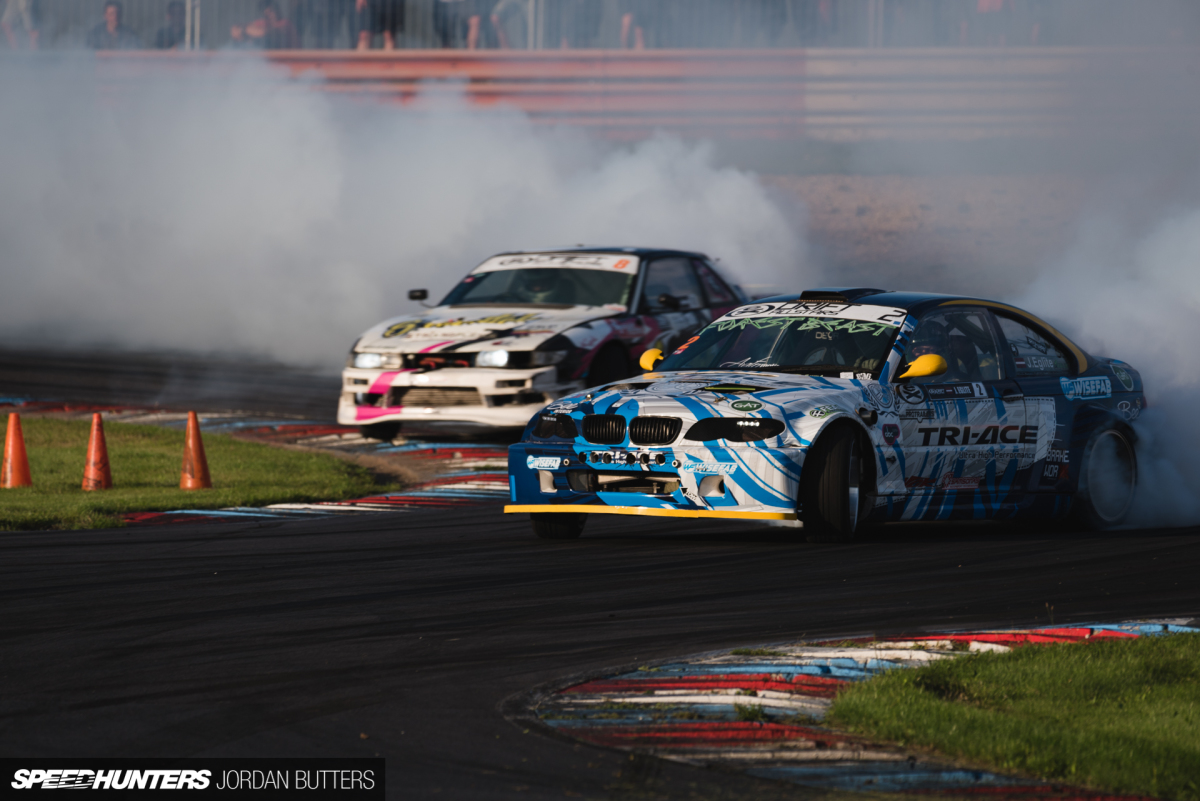 Thankfully, Lausitzring offered plenty of angles for this, and the marshalls were accommodating in where you stood, provided you used your head and stayed alert.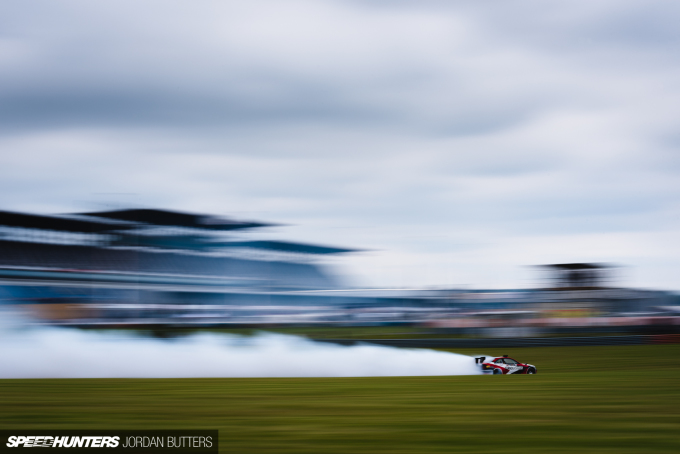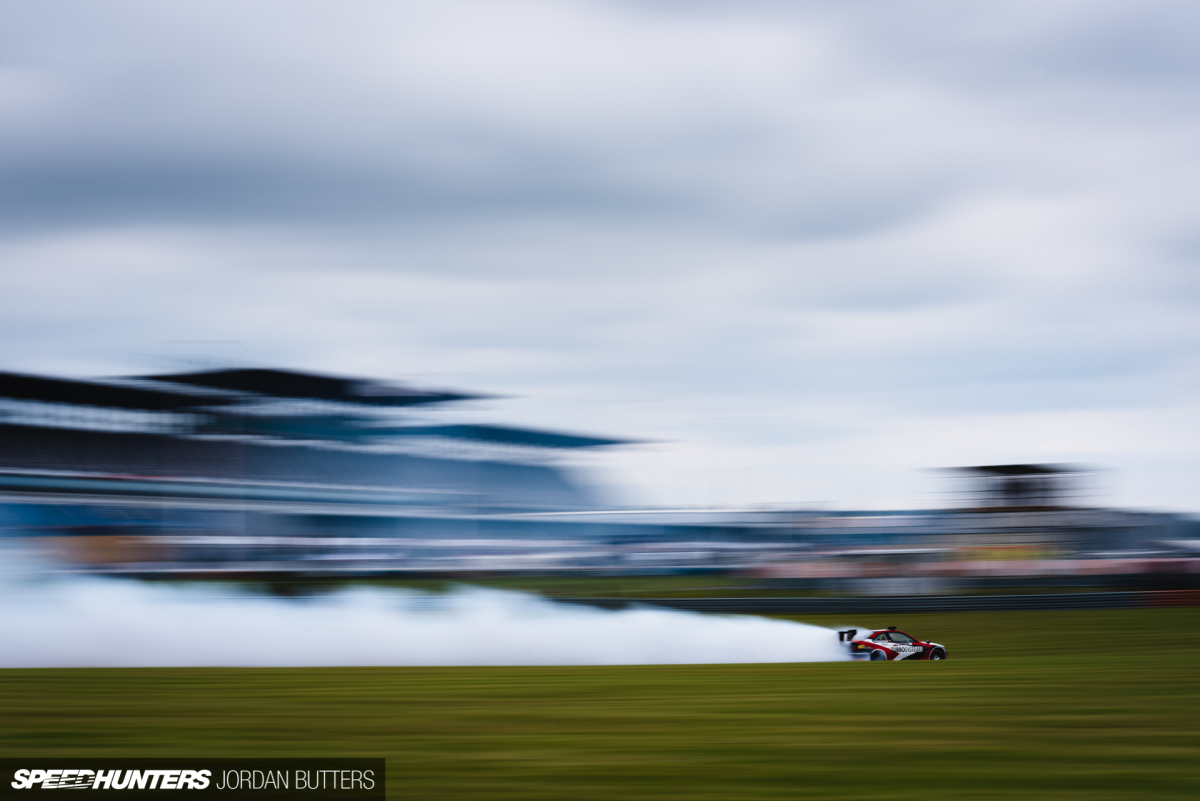 As the drivers pass by time and time again and you don't need to worry about missing any important moments, this is also the best time to experiment with shots that might take a while to get right, or slow shutter speeds. You also have the luxury of staying in one place for longer than you would on competition day. This is Lithuanian Andrius Vasiliauskas laying down a long smokescreen at 1/10sec.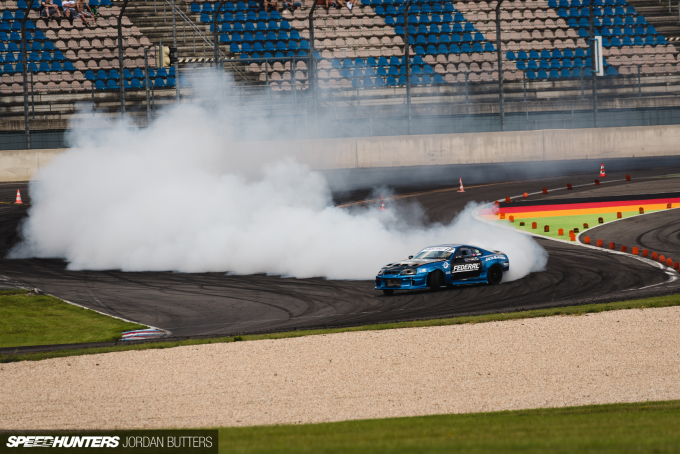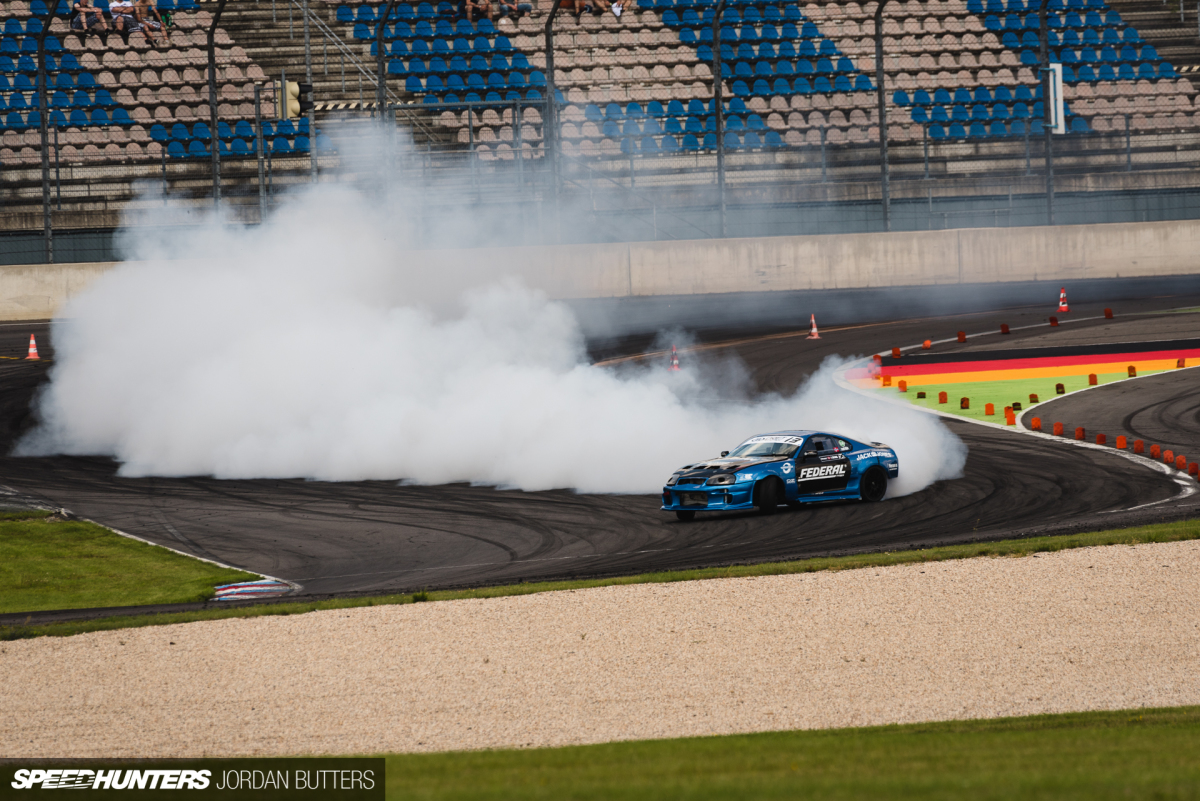 I really wanted to find an angle where I could potentially fill the background with spectators on the Saturday and the obvious choice was the huge main grandstand. The only problem was that, despite Reisbrennen pulling in around 30,000 visitors over the weekend, the 120,000+ seating capacity of the venue meant that, unless I could usher people to all sit together in one part of the grandstand, this wasn't going to be possible.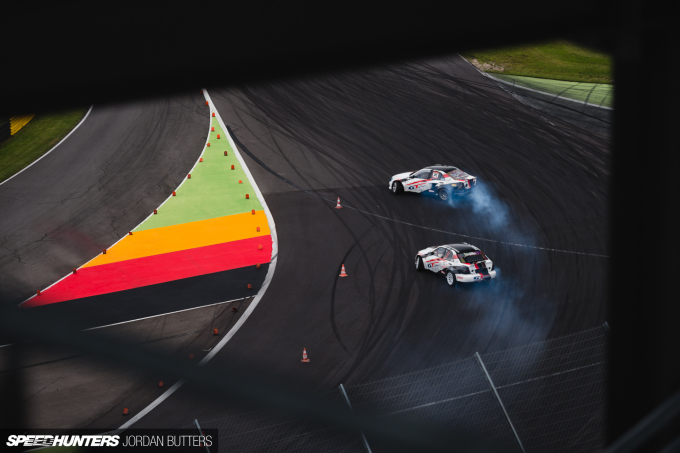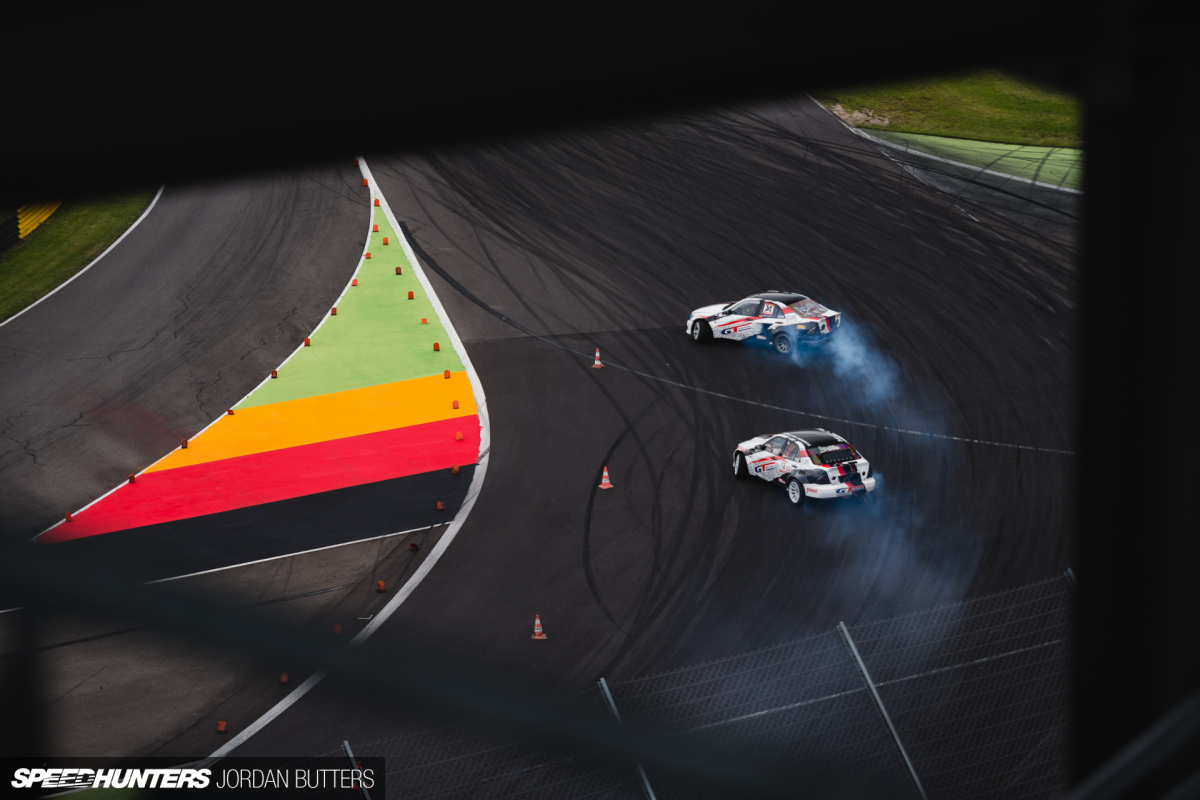 I figured Friday's practice was also the best time to take a walk over to the main grandstand and see what angles were available from up there. It's around a 15-20 minute walk from one side to the other, and I didn't want to be doing that during the main competition and risk missing something.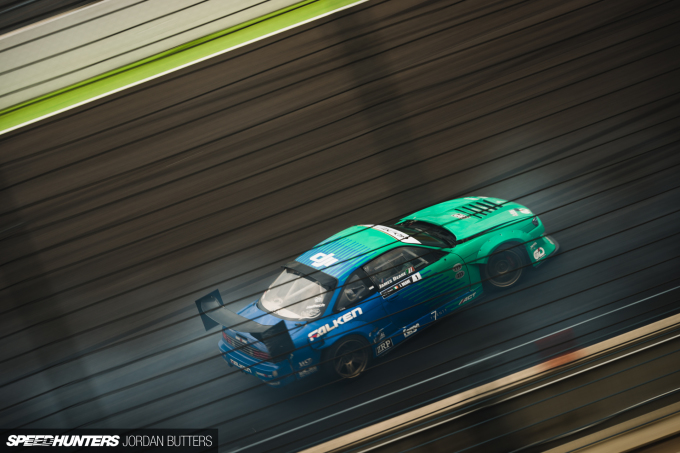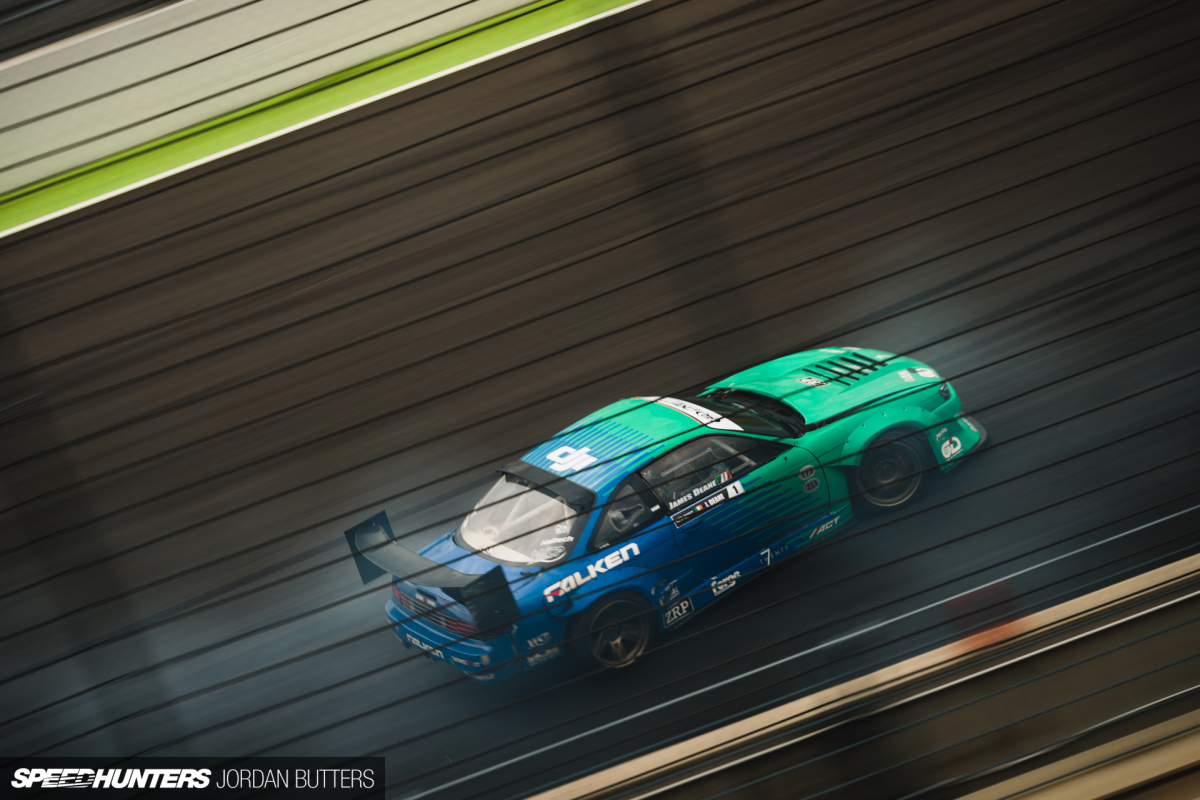 I'm glad I made the journey too. Although it was a lot more steps than I anticipated, there were some cool shooting angles to be had from the elevated position.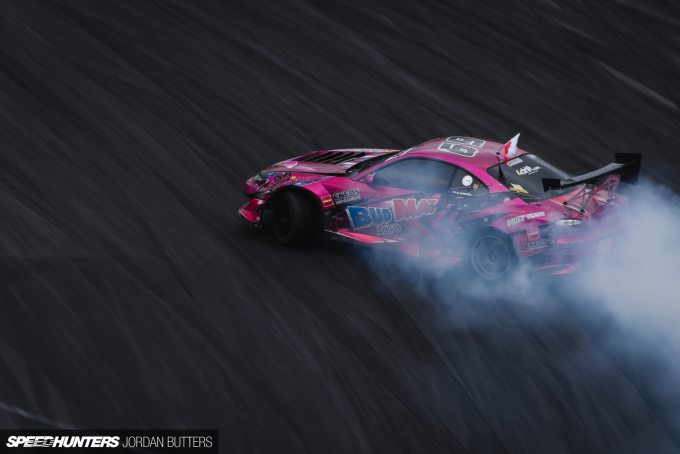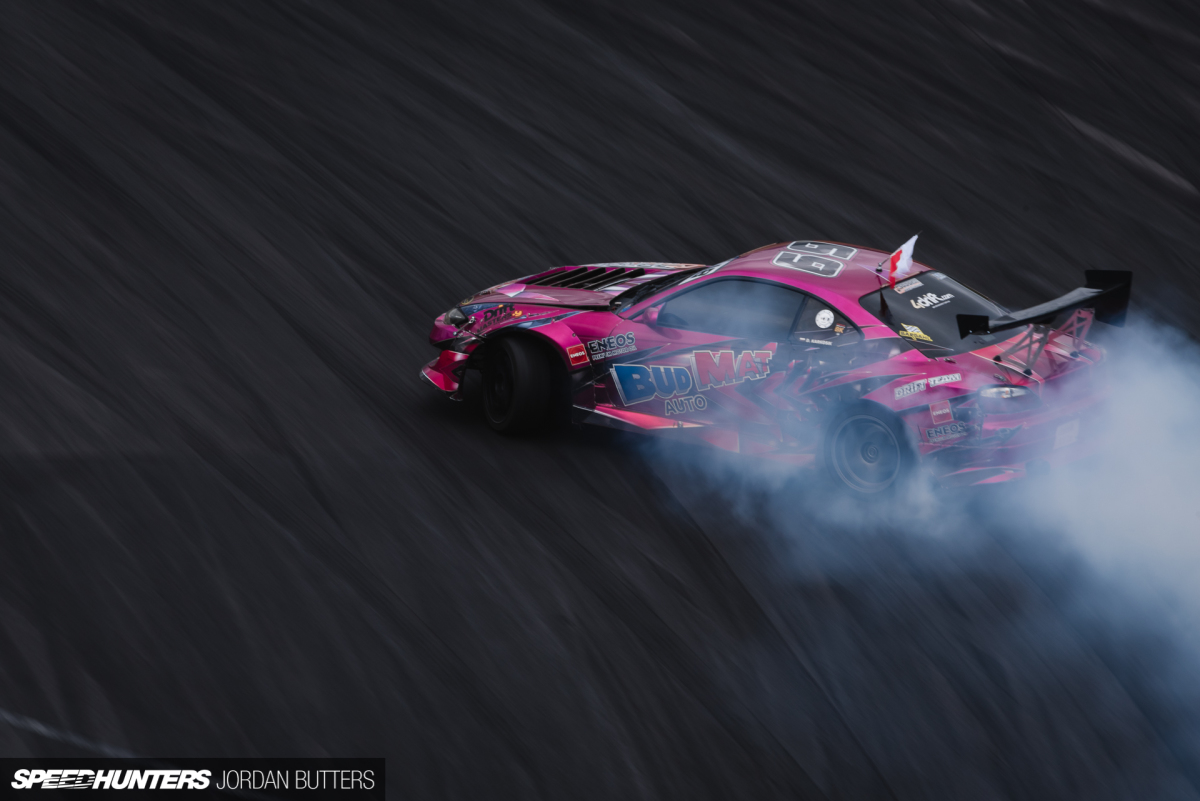 I got some pretty funny looks from the spectators up in the nosebleeds too. 'Why is this guy, with full media access, choosing to shoot from our crappy viewpoint?'
There was controversy last year when I broke the news that Drift Allstars was considering excluding all pre-96 chassis from the competition. The rule didn't get put into place in the end, and I totally understand the resistance to removing drifting from its roots, but when I see machines like the GT Radial Lexus IS sitting in the paddock of venues like this it drives home just how far drifting has come in Europe.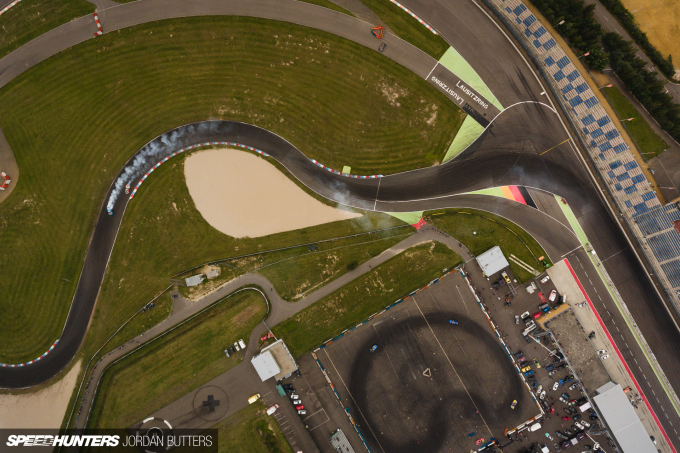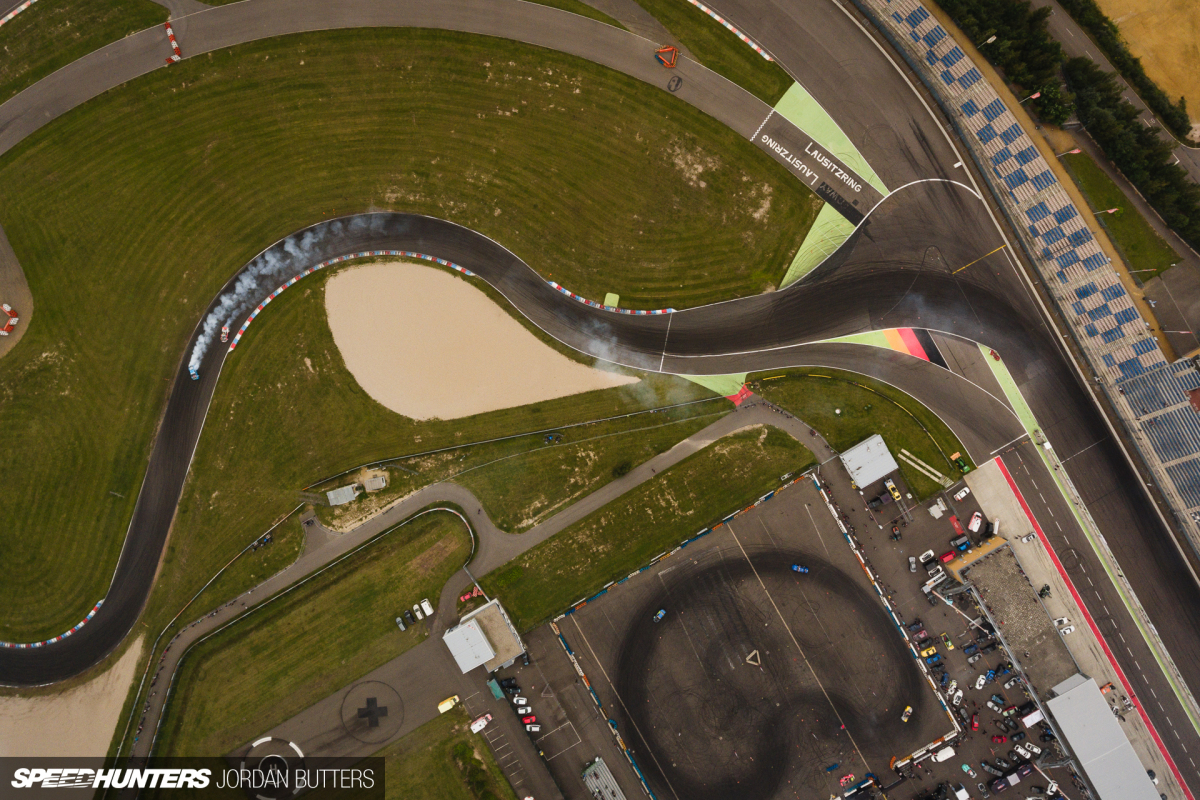 With practice wrapping up I headed back down to the media centre to commandeer a DJI Phantom 4 drone and shoot some quick aerials.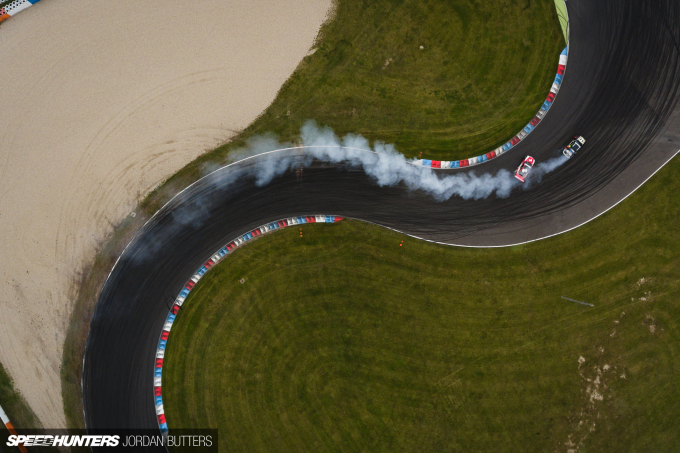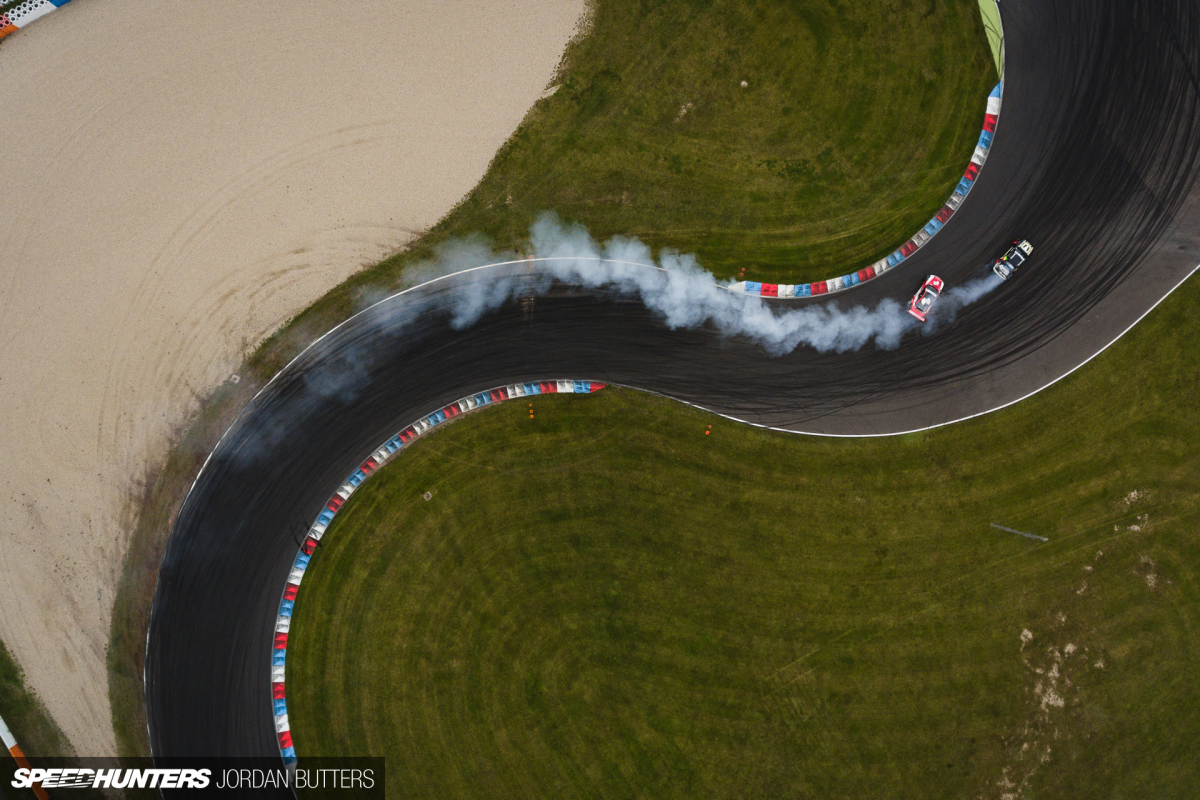 I love this top-down viewpoint of a drift event. It makes it look like a video game and you can trace the smoke trails back around the course. Anything that helps add to the variety of images is a good thing.
Back down to earth and in the paddock, a quick walk around provides me with lots of opportunities to capture people and faces. Drivers and teams are often engrossed working on their cars, fine-tuning and dialling everything in ready for the next day, so I can move about almost unnoticed.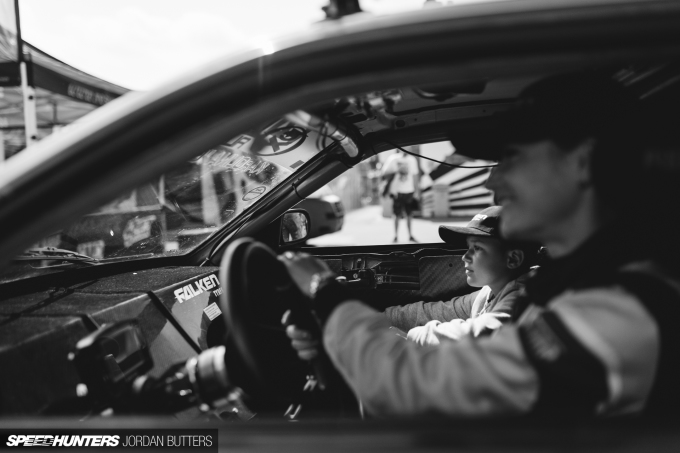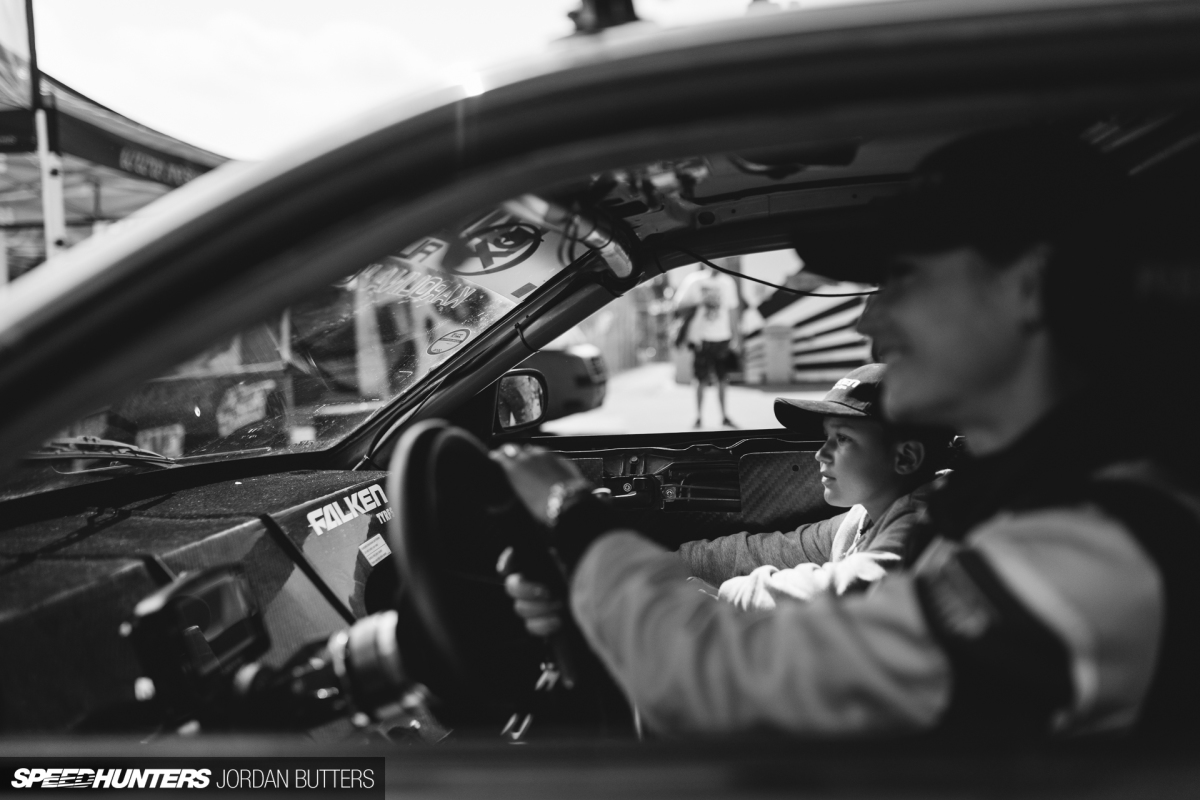 This image was a total fluke – I was shooting blind as the car passed, hoping that the autofocus would grab onto the driver. Of all the frames I took, this was the only one where it focused inside the car, and I didn't even see the little passenger until I reviewed the images. I love happy accidents like this!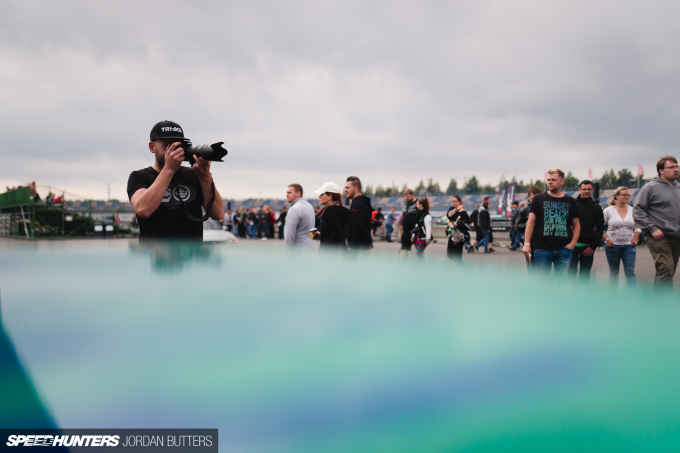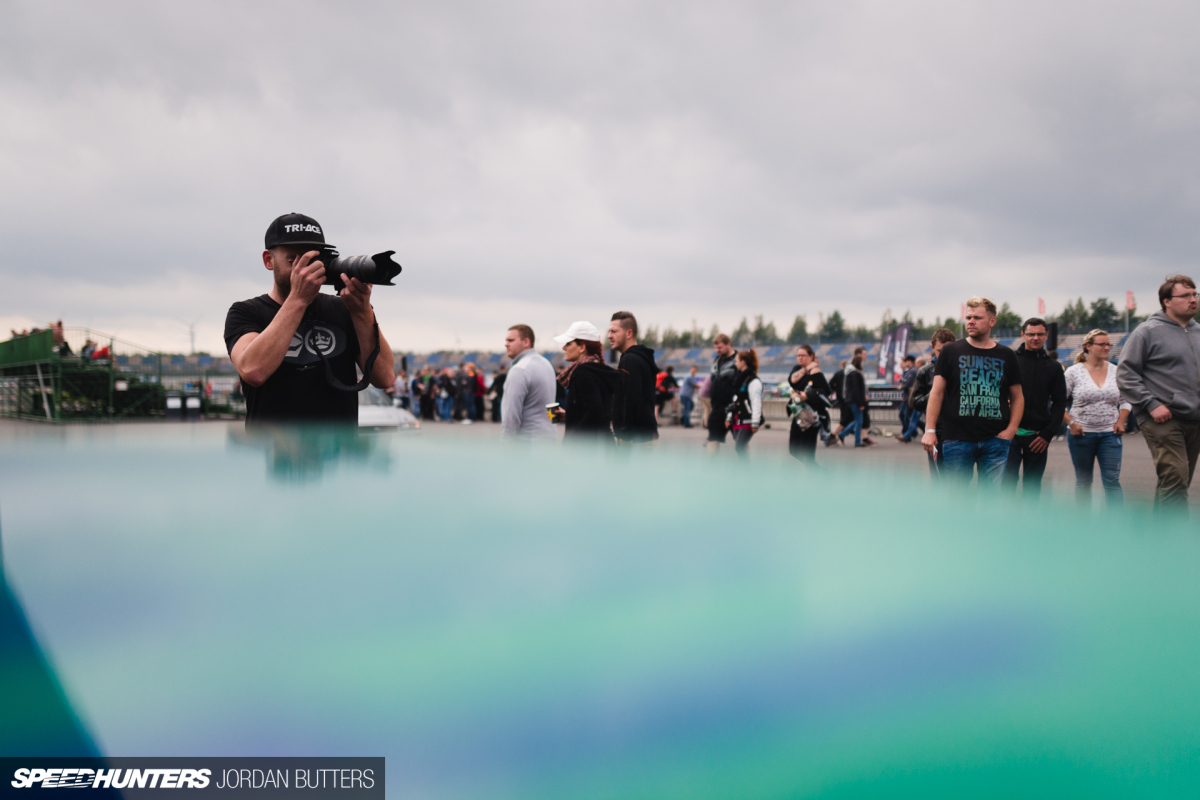 Some of the drivers even fancy themselves as photographers. This is the second event in a row that Nigel Colfer has made off with one of my cameras and started taking pictures – he even got some in focus this time. He claims it's much easier and less stressful than driving.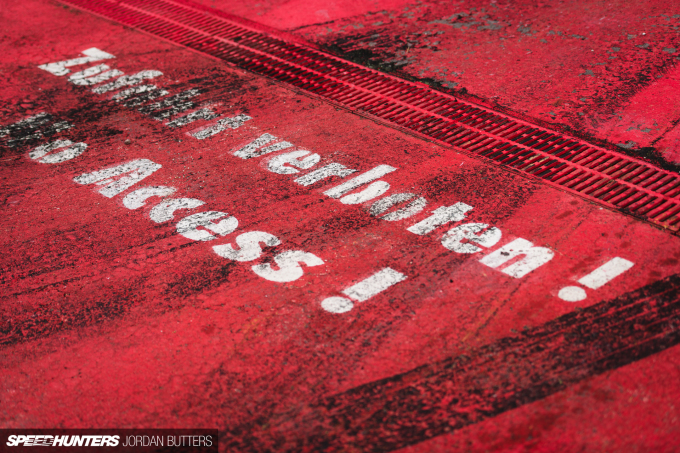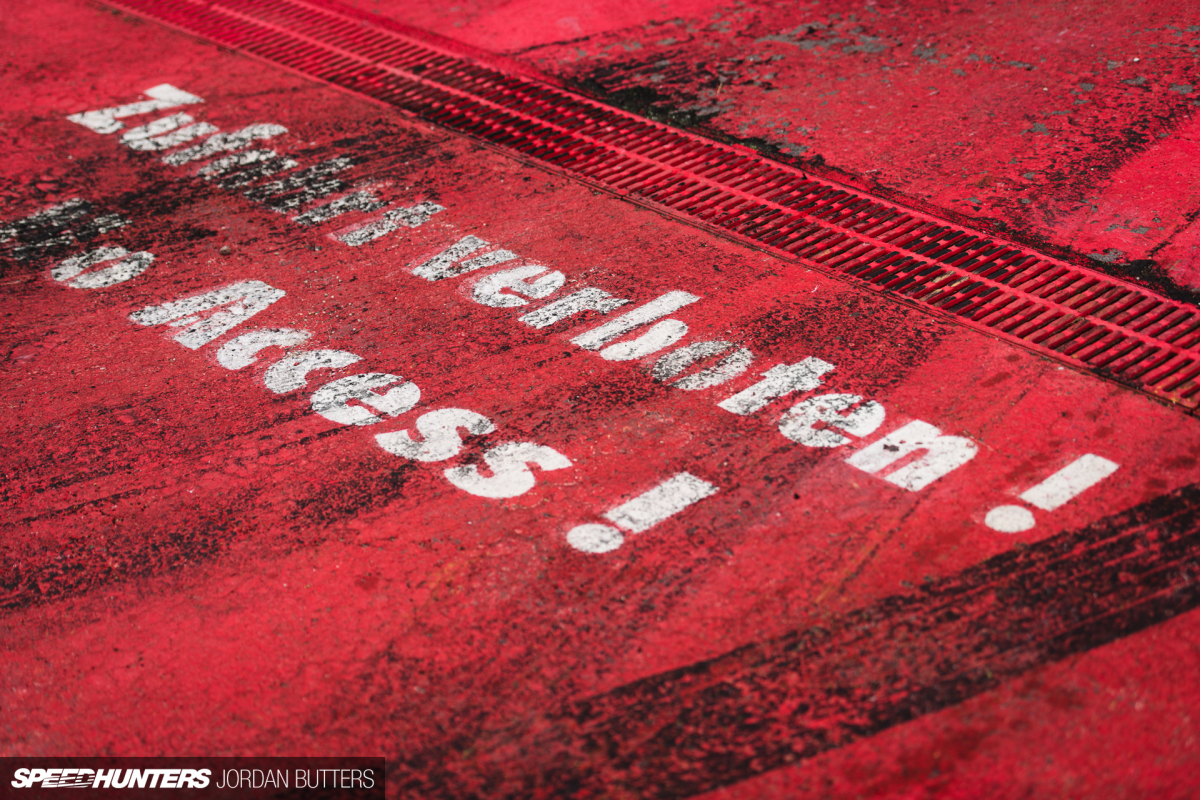 Memory cards brimming it's back to the media centre to import all of the images, perform some edits and upload them to Dropbox for the series and drivers to use on their social media channels. Of the roughly 1,500 frames I've taken at this point, around 30 favourites will be shared publicly by the series and the rest will be sorted in terms of preference, as well as any duff shots deleted. I've just enough time to wander around the non-drift part of the show and earmark any potential spotlights that I should shoot the following day. Friday done – it's time to head back to the hotel for some shut eye.
Game Day
The second day of the German Drift GP rolled around far too early. We were back in the media centre before much of the campsite were alive. This is the ideal time to edit some more images from the day before and prepare for the main event. Final practice is the perfect time to stick my lens in the drivers' faces as they prepare for the start line. There's just the right amount of tension in the air as they hone in on the competition, yet you're not going to ruin a vital run by distracting them as they prepare.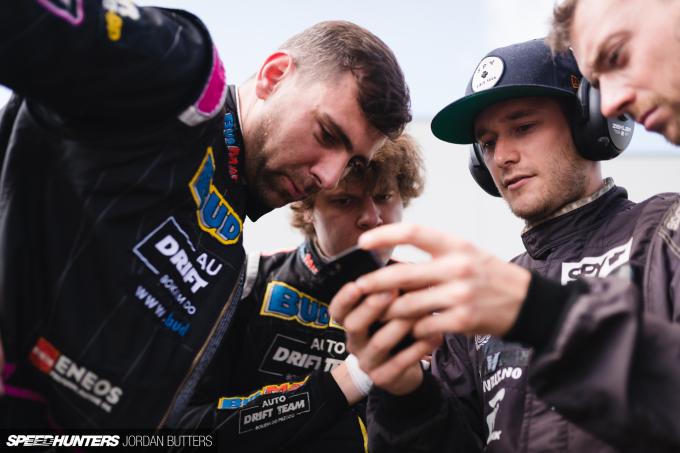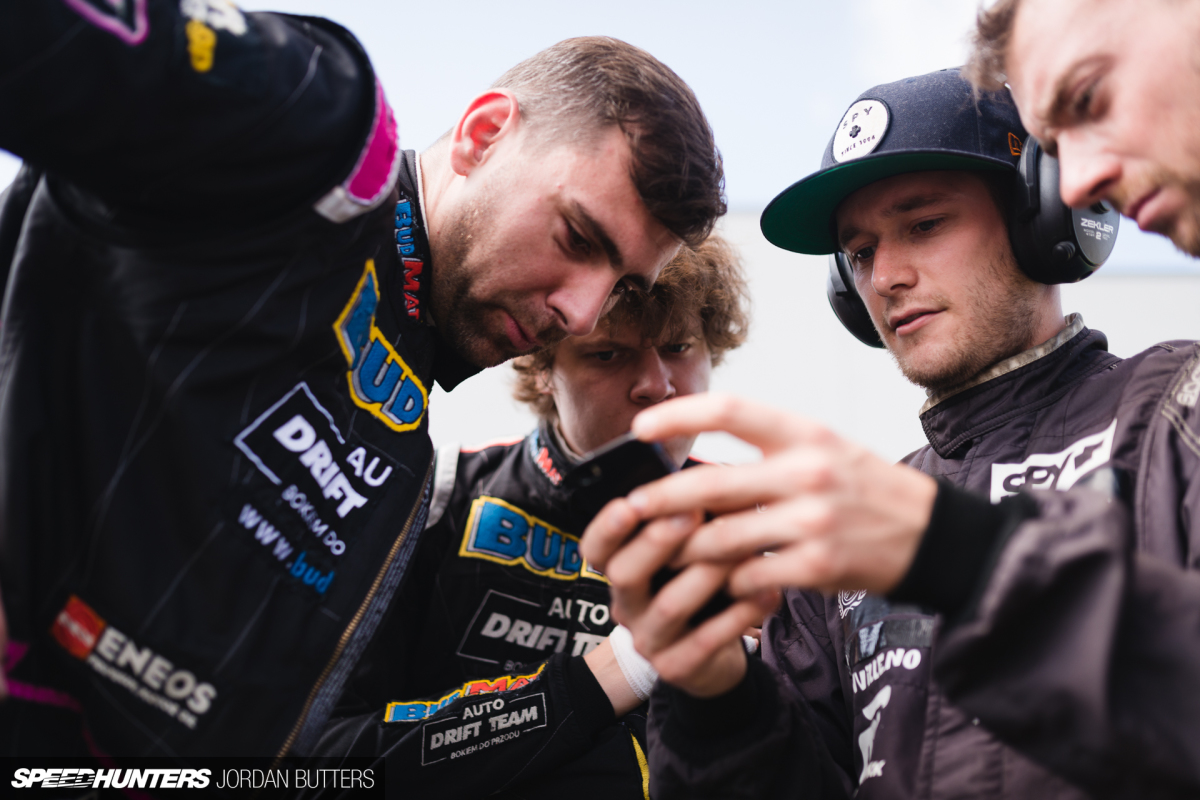 The human element is one of the most interesting parts of any automotive gathering I think. Apparently Budmat Auto's Dawid Karkosik had found a Charmander the previous day near the start line, so he was kind enough to help Fredrik Øksnevad catch it too.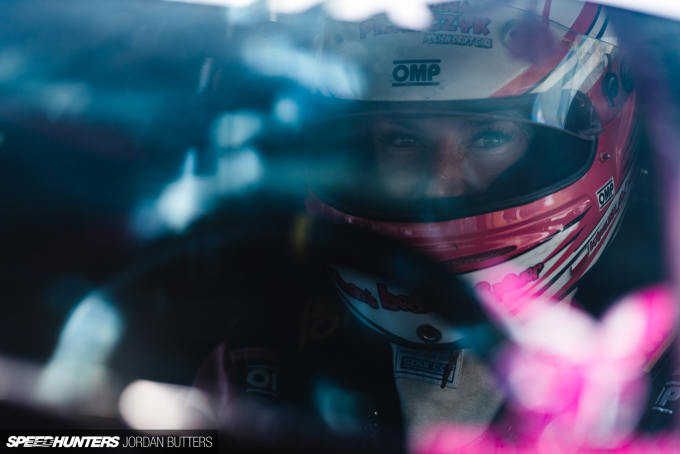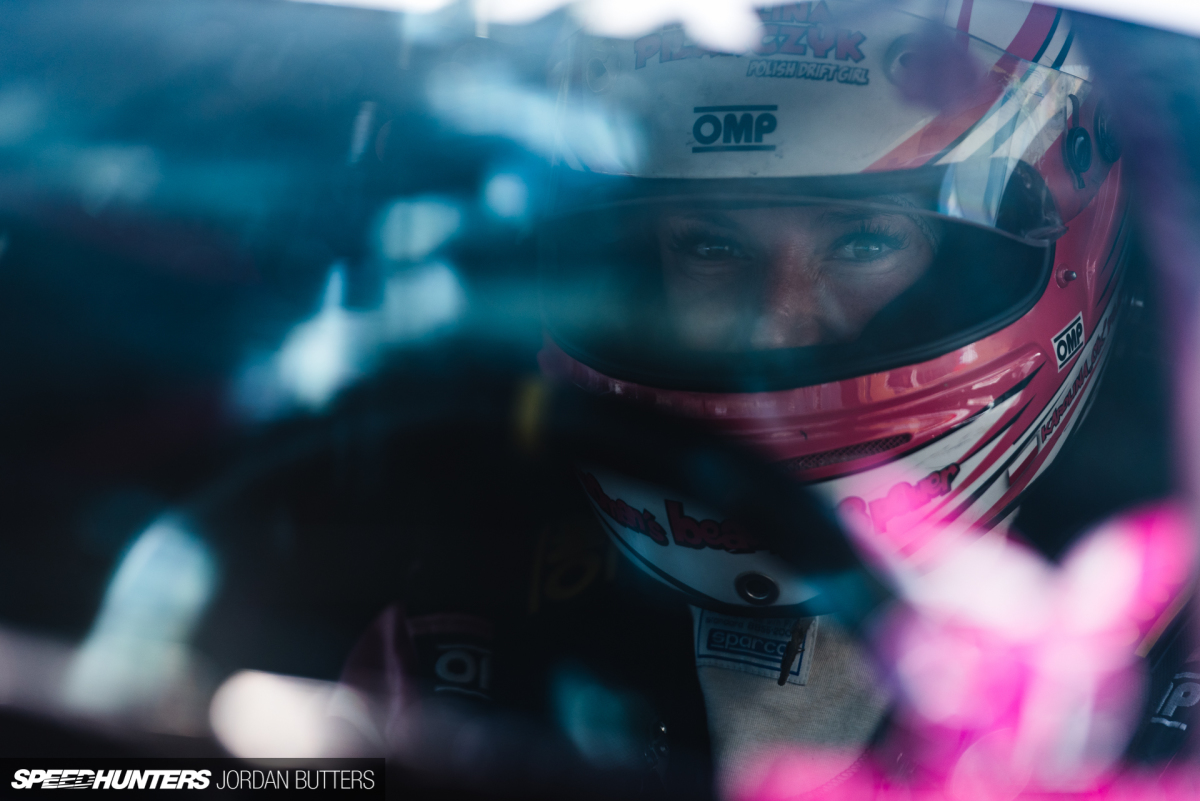 Karolina Pilarczyk is one of the few women competing at a professional level in Europe, and it's an incredibly positive thing in my opinion. She made it as far as the Top 32, but showed lots of promise and potential.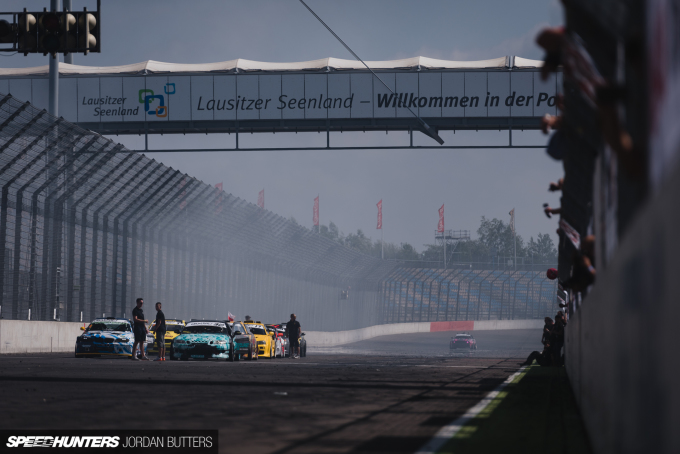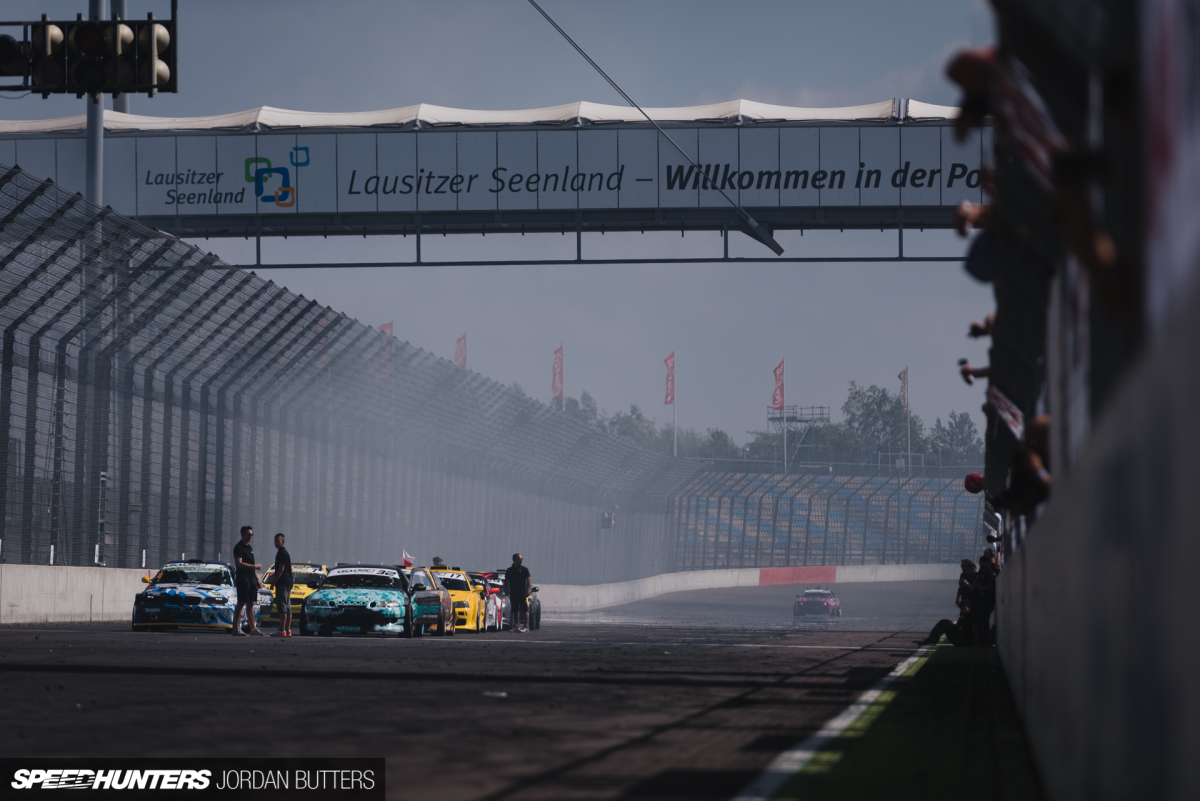 The drivers queue up a distance back from the actual start line, which gives those next in line room to warm up their tyres before heading to the staging area.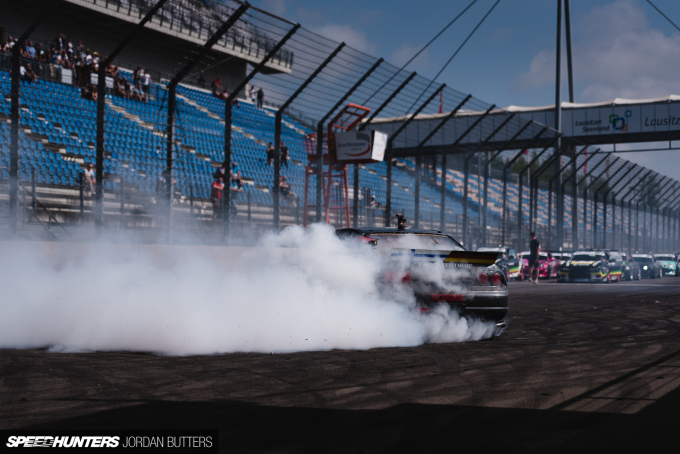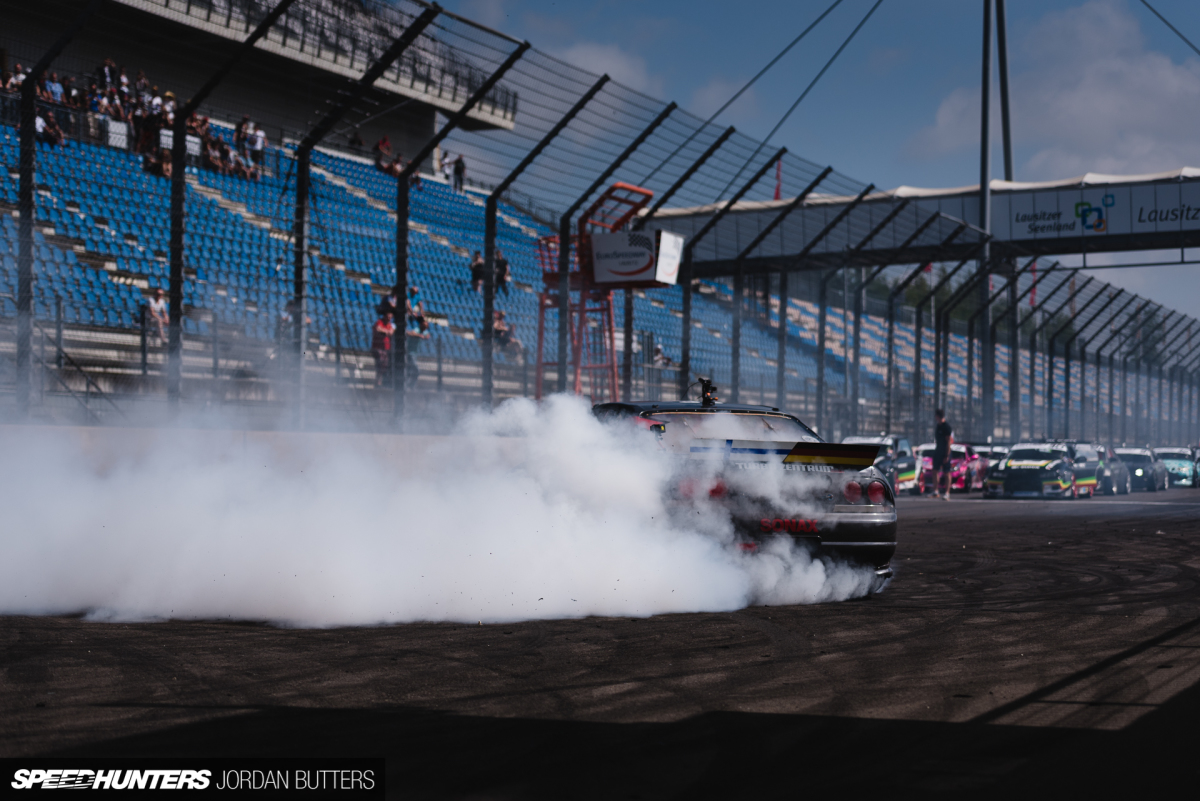 It's an interesting ritual to watch: front tyres are scrubbed in first by doing slow circles on hard lock in both directions, almost like an understeer donut. Some drivers just do one or two rotations, while others are there for minutes. Then of course the rear tyres are instantly lit up as they peel out towards the start line.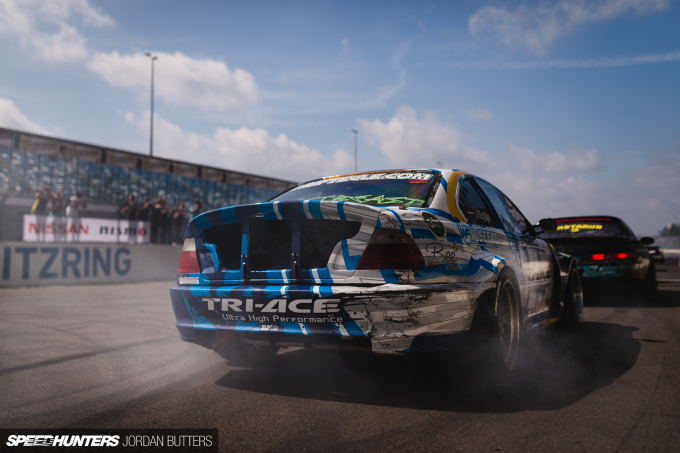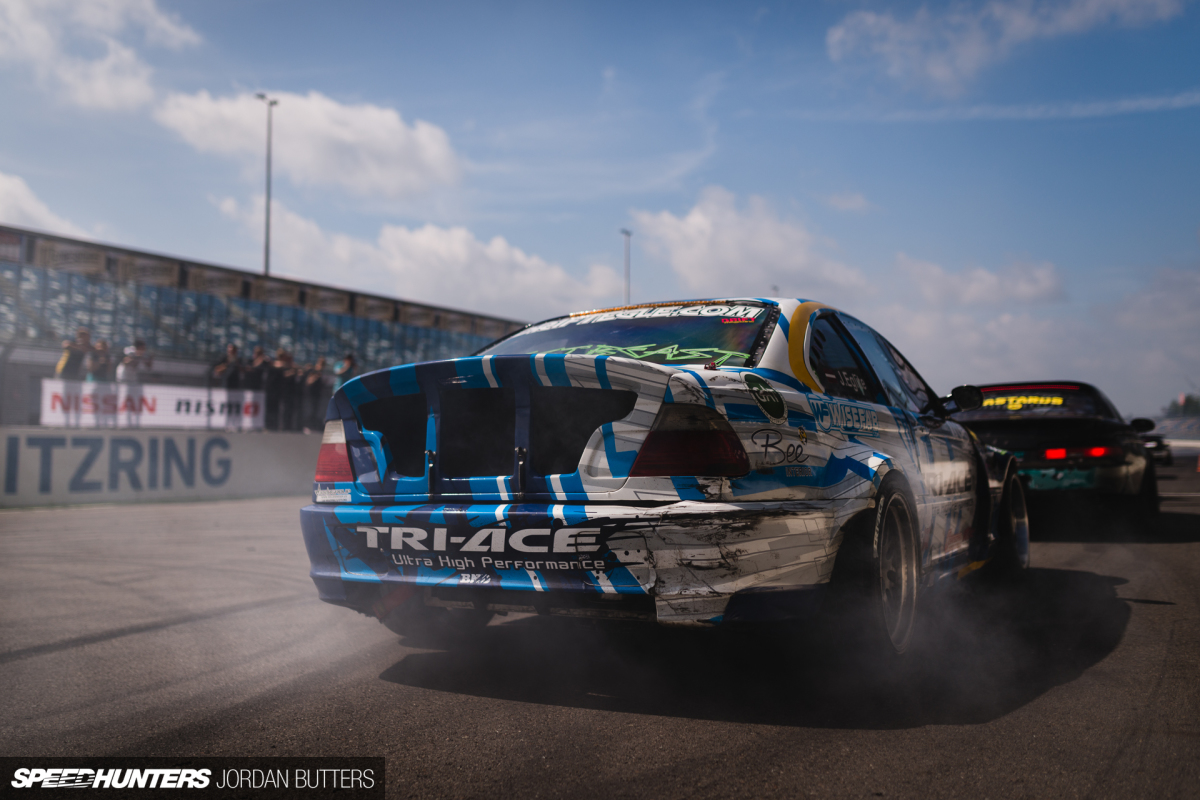 This is the ideal time to grab my 35mm lens and shoot up close. I love capturing the smoke swirling round the cars and in the cockpit.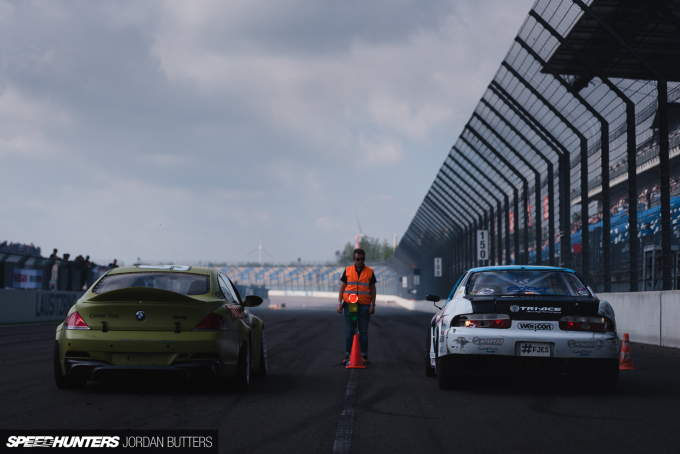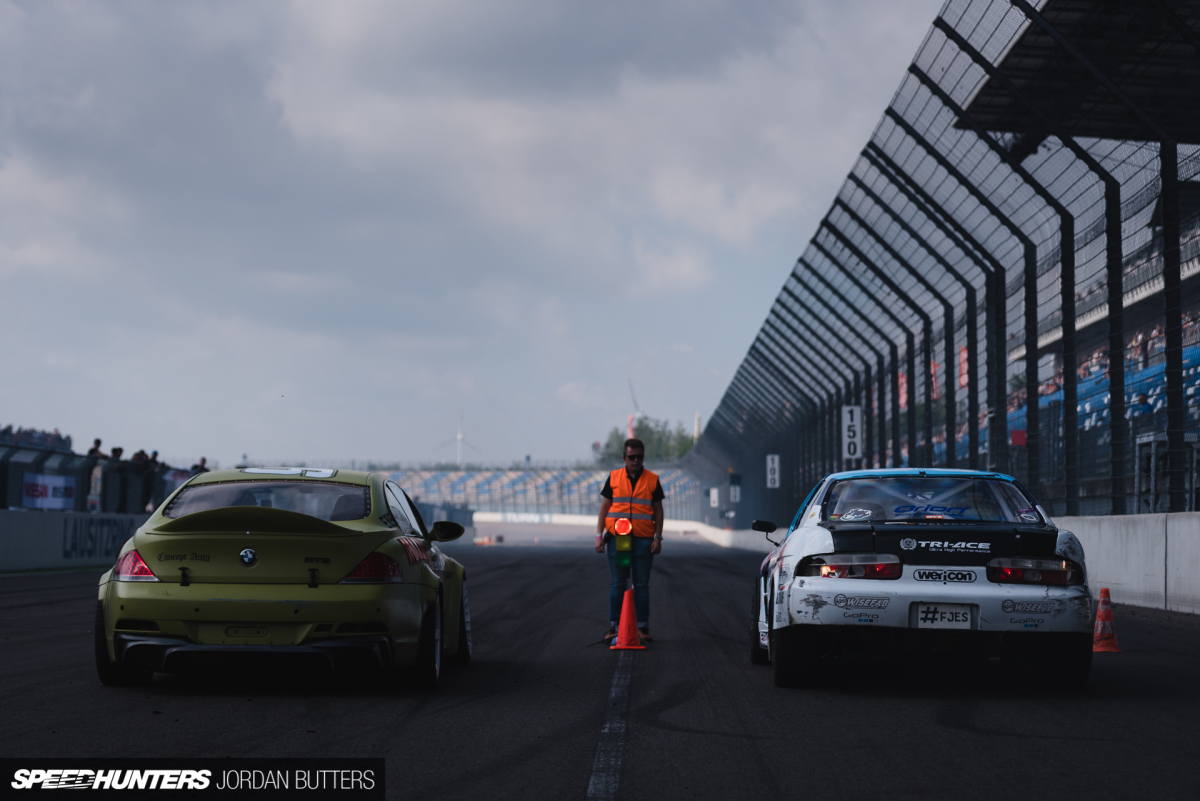 The cars wait for the green light and fire thunderously towards the first corner. This is still practice, but you wouldn't know it by the drivers' commitment.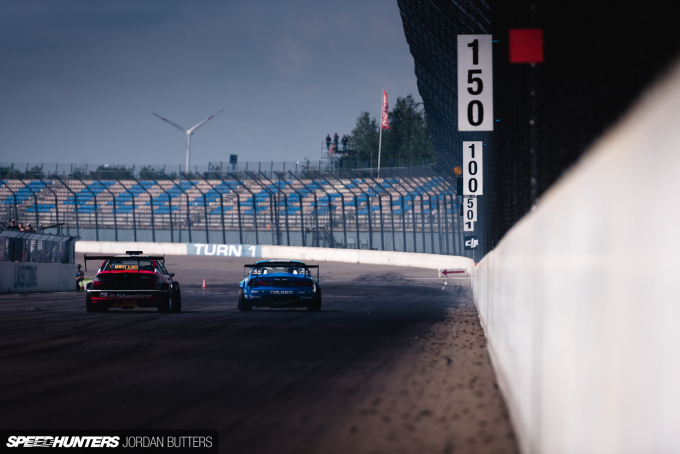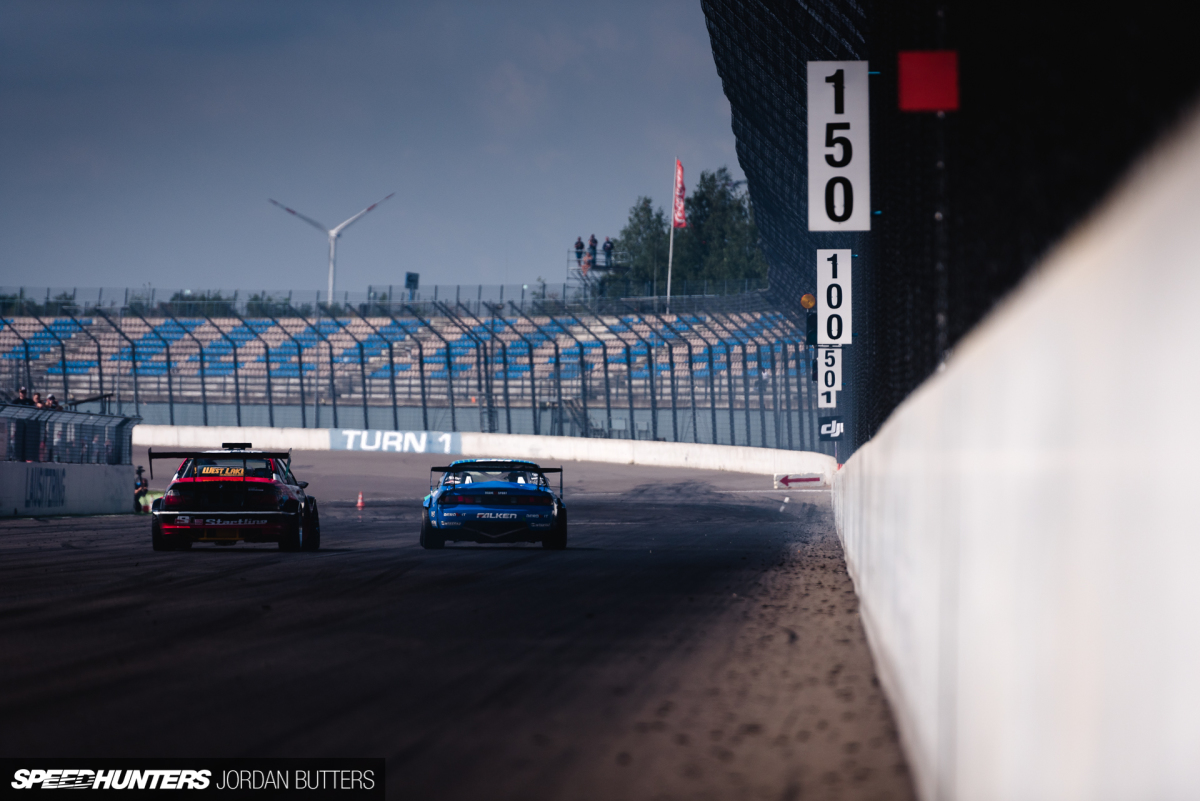 The first clip is on the outside wall. It's a tricky one by all accounts as the long straight demands speed, but the corner immediately after the clipping zone is deceptively tight. Several drivers seemed to be struggling to scrub off speed when chasing the top guys.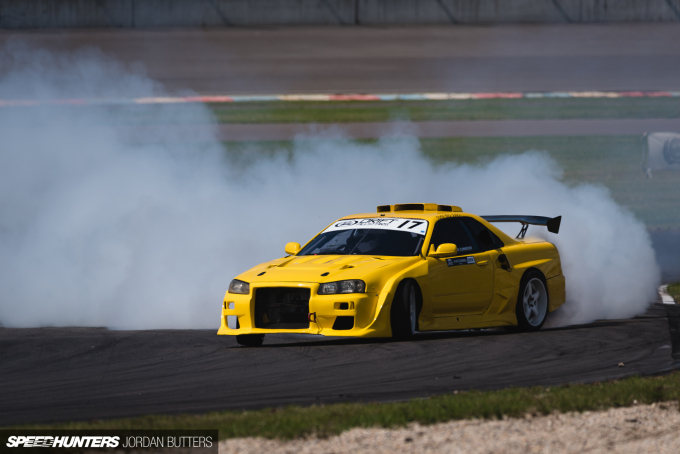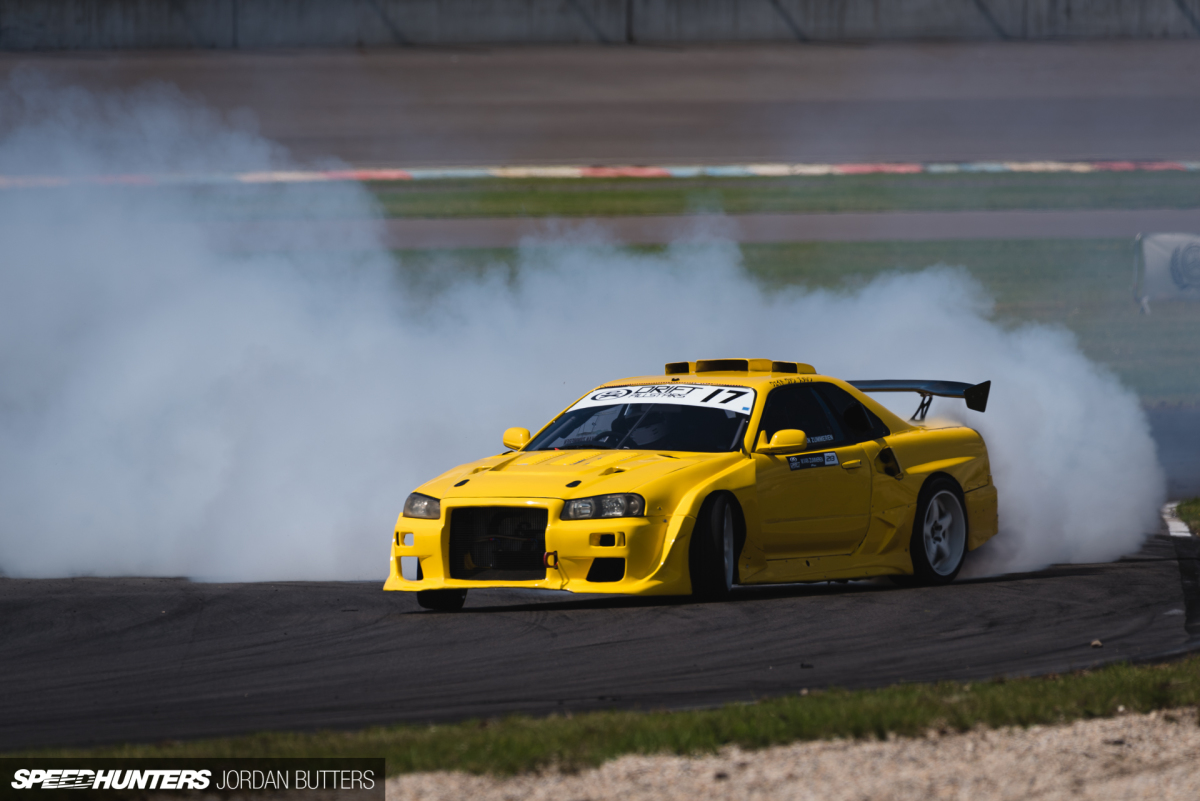 For qualifying I like to pick a spot or two that are in close proximity to one another from which I can shoot some nice, clean shots of each driver. I try and shoot every single driver at this point, as anything can happen in drifting and I'd hate for someone to qualify well and me having not captured them on at least one of their runs. Wade Van Zimmerman made the long journey from South Africa to compete in the German Drift GP!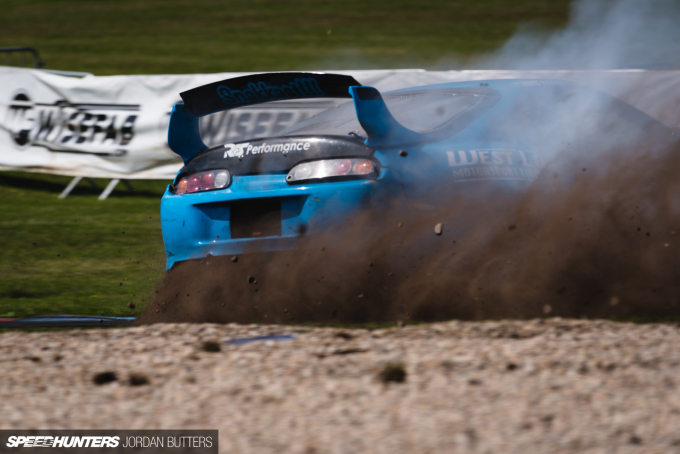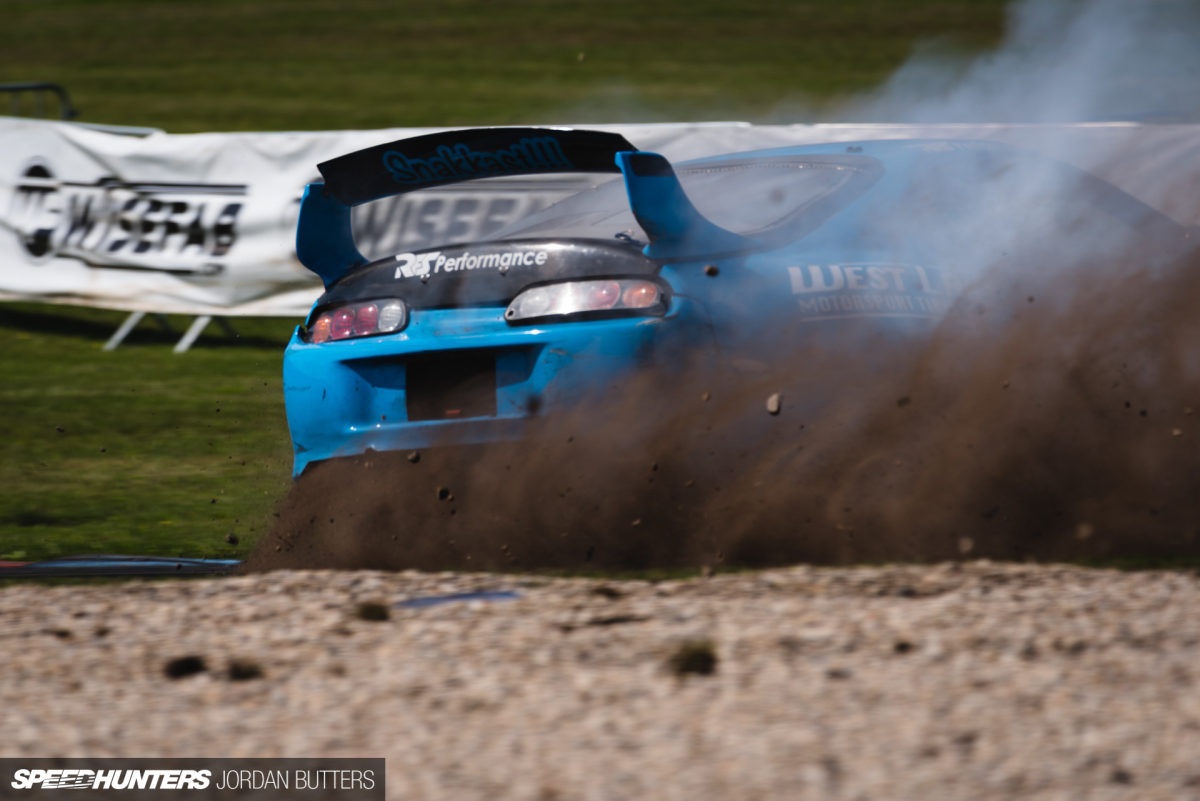 Not my sharpest shot, but see that rock in the middle? The big sharp one? That whizzed straight over my head. After your first time being blasted by gravel you quickly learn to take cover behind the armco whenever someone takes a trip onto the beach.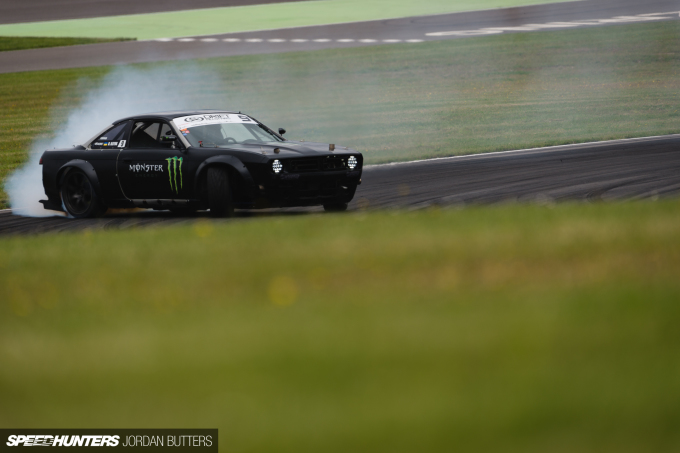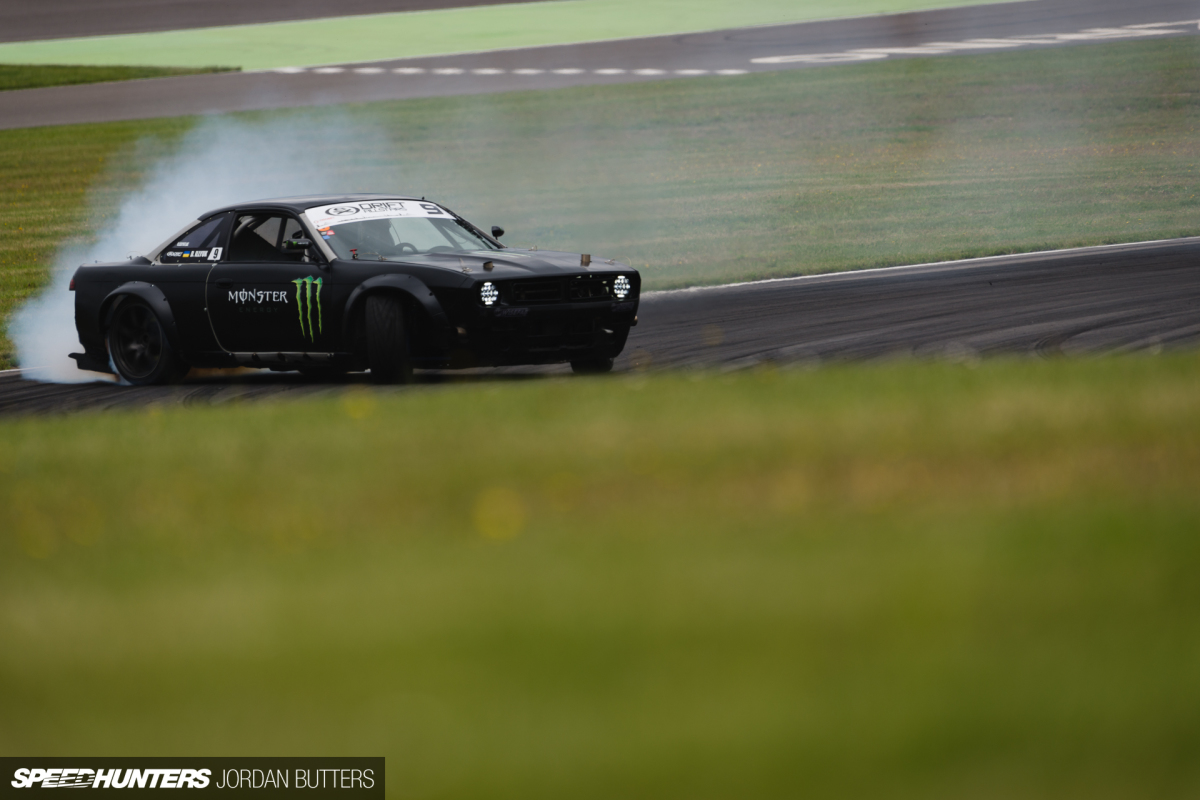 Dmitriy Illyuk's Rocket Bunny Boss S14, nicknamed The Drako, has an awesome presence on track. I'm generally not a fan of the matt black Monster livery, but this car's sinister appearance suits it well. I hope he gets to grips with the new chassis as Dmitriy was a force to be reckoned with in his old S13.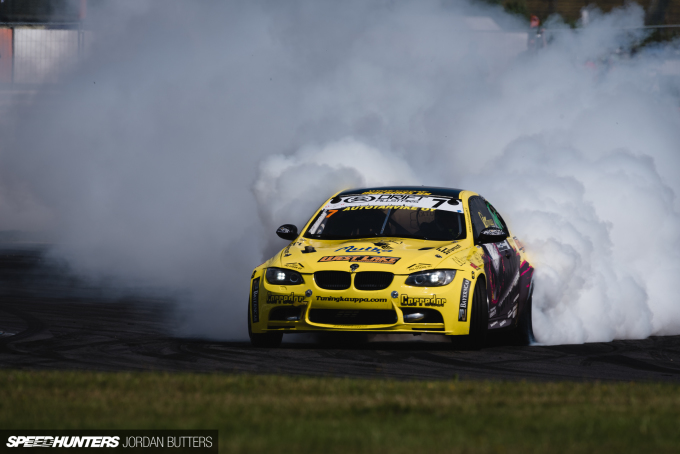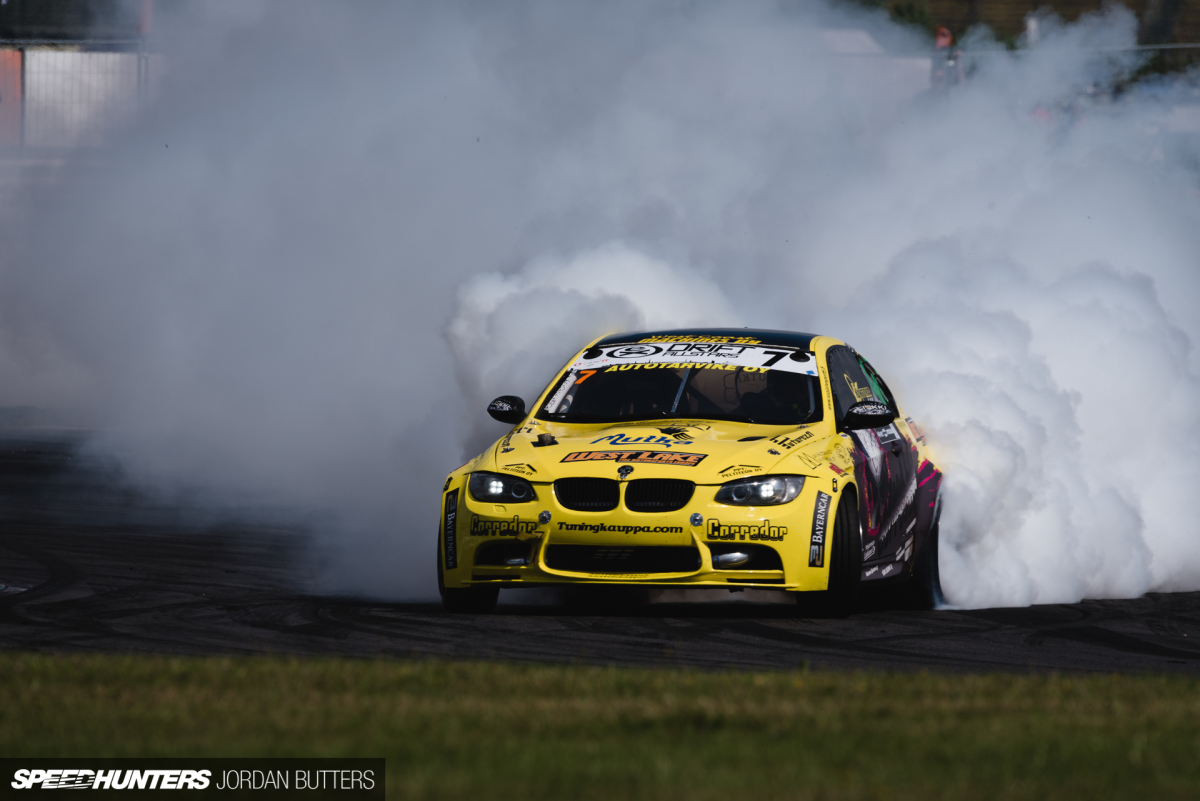 If I see someone approaching that looks like they're dropping a huge smoke trail behind them I often like to switch up to a higher shutter speed; this captures the detail and texture in the smoke more clearly than blurring it into one big cloud. Juha Pöytälaakso is a driver that's really come on leaps and bounds in the past 12 months. The Finnish champion has had some solid results this year, placing second in Riga and fourth in Germany. He sits second in the overall standings too. There's only that first place podium evading him.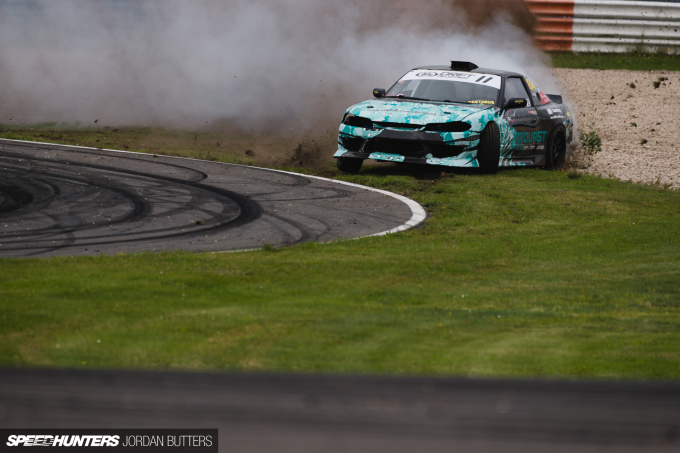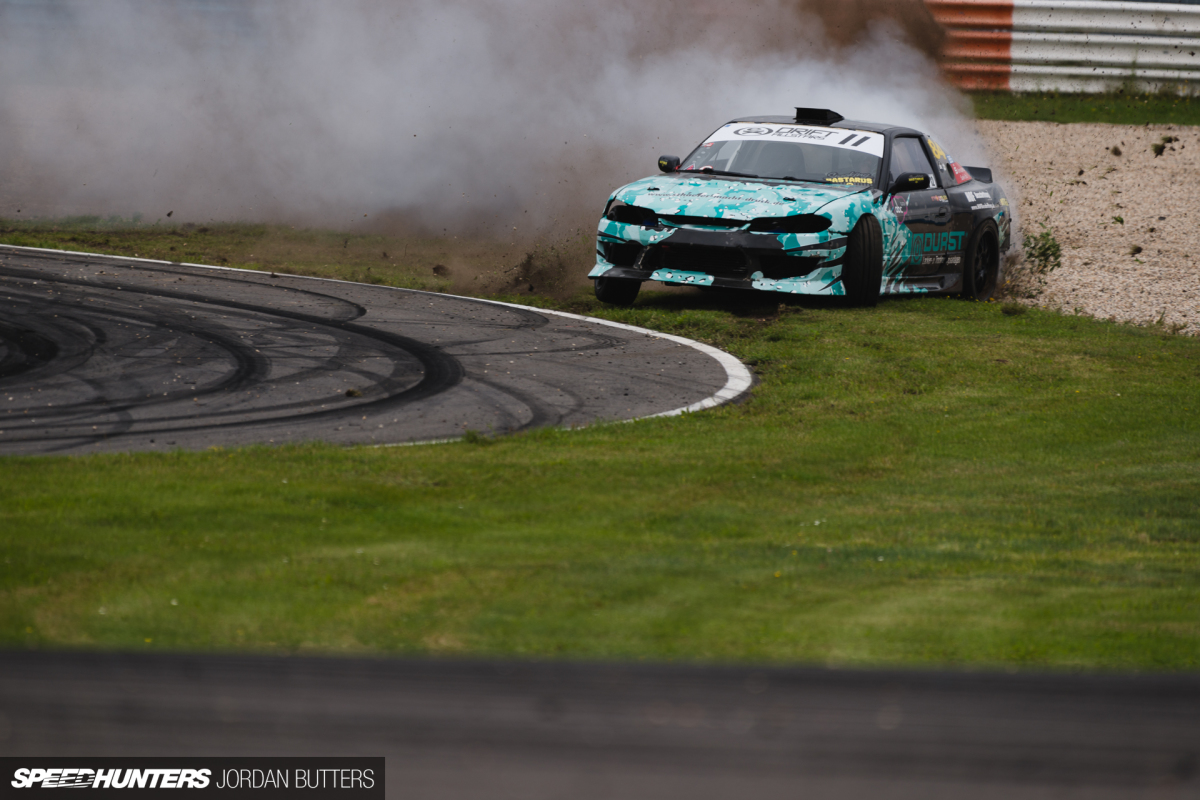 Despite an earlier excursion onto the grass, German driver Max Heidrich qualified well, taking P4 and going on to finish fifth overall in the battles. Piotr Wieçek nabbed the top qualifying spot in the end, narrowly beating Deane to P1.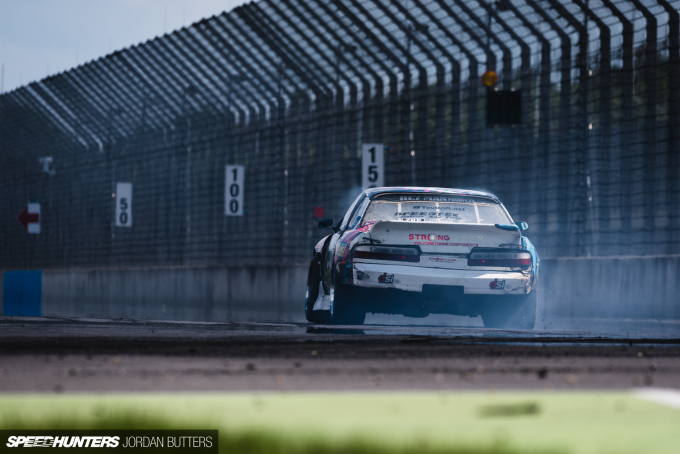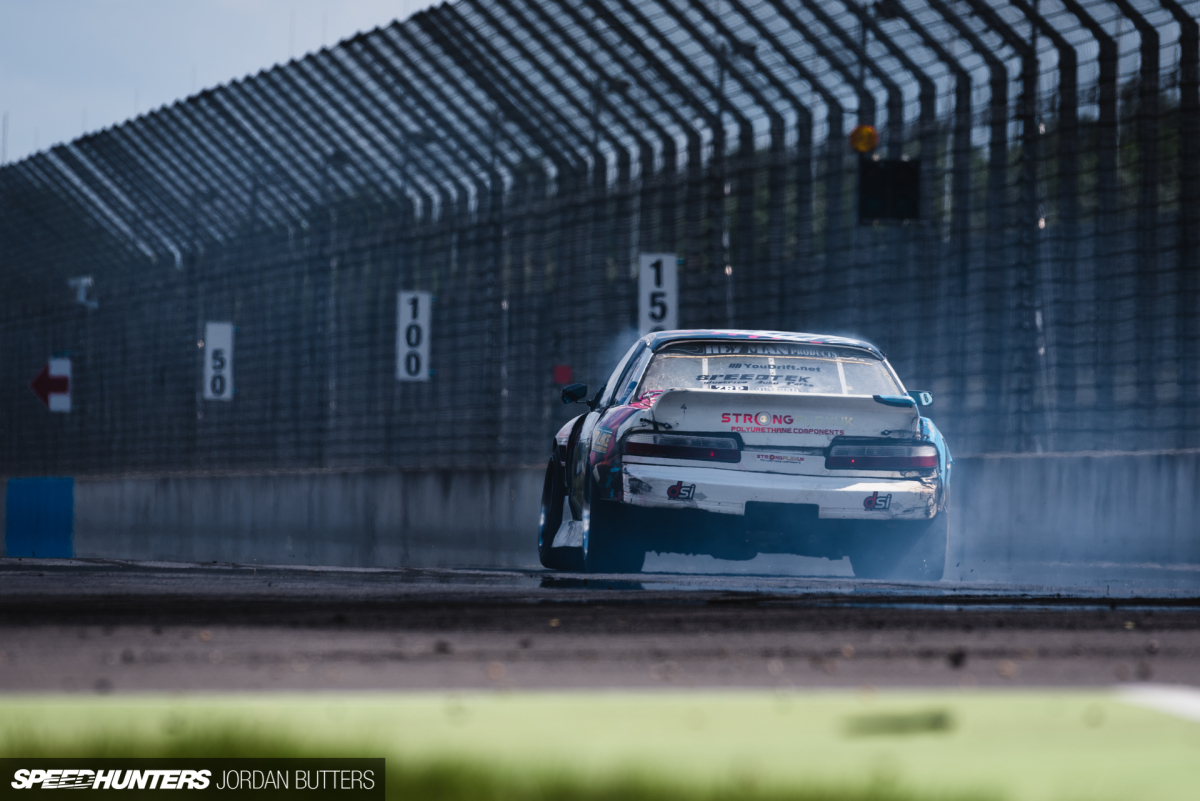 Alexsander Kantarovski's PS13 is one of the lightest on the grid, weighing just 1035kg (2281lb), fuelled and ready to go. It's also surely one of the hardest worked drift cars in the world; I'm pretty sure Alex takes part in more pro competitions than any other driver.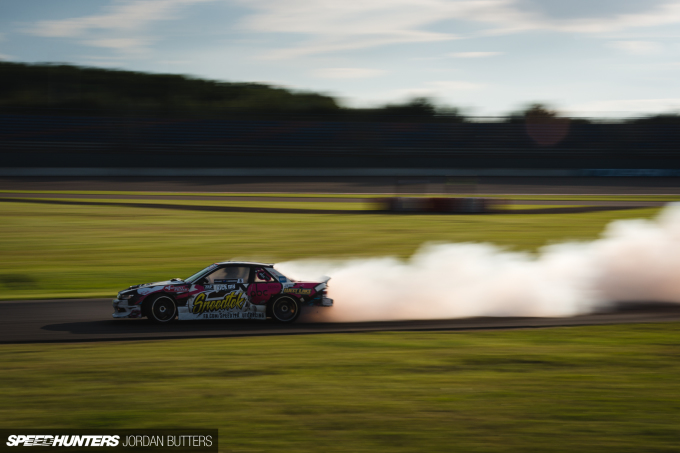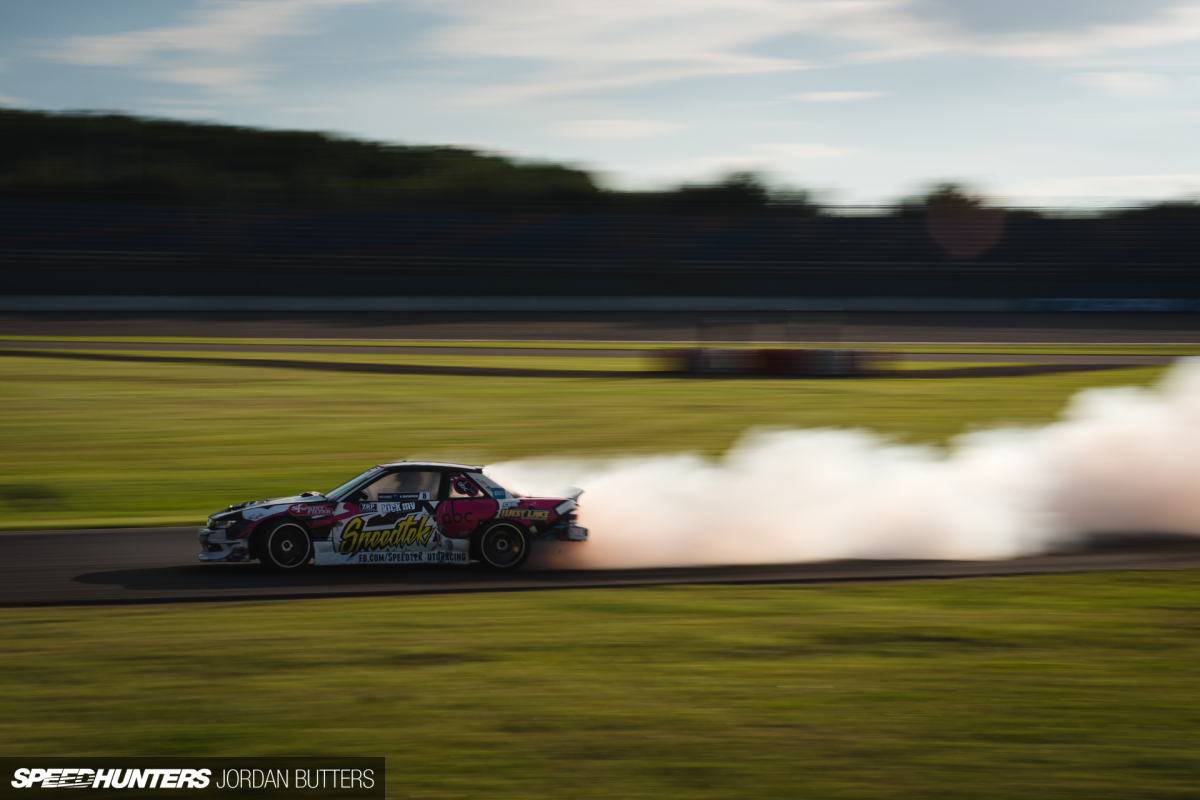 What's more impressive is that Alex's team consists of just two – himself and one of his sponsors, Jamie. Come the end of August they'll have covered five solid weeks of travelling and drifting – Estonia, Latvia, Germany, the UK and then back to Hungary. And they managed to fit in a full engine rebuild in Riga too.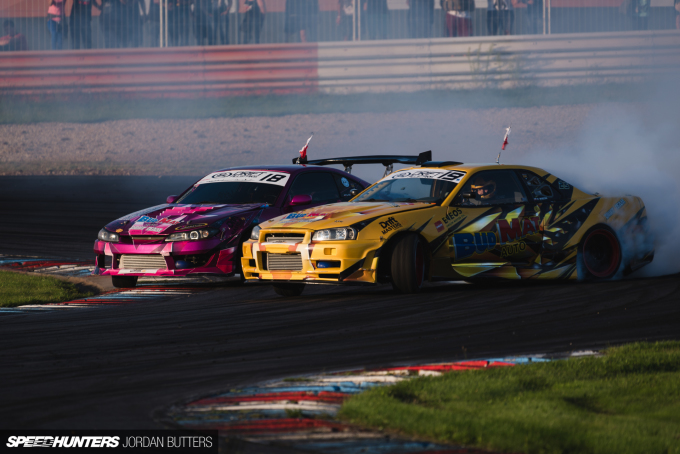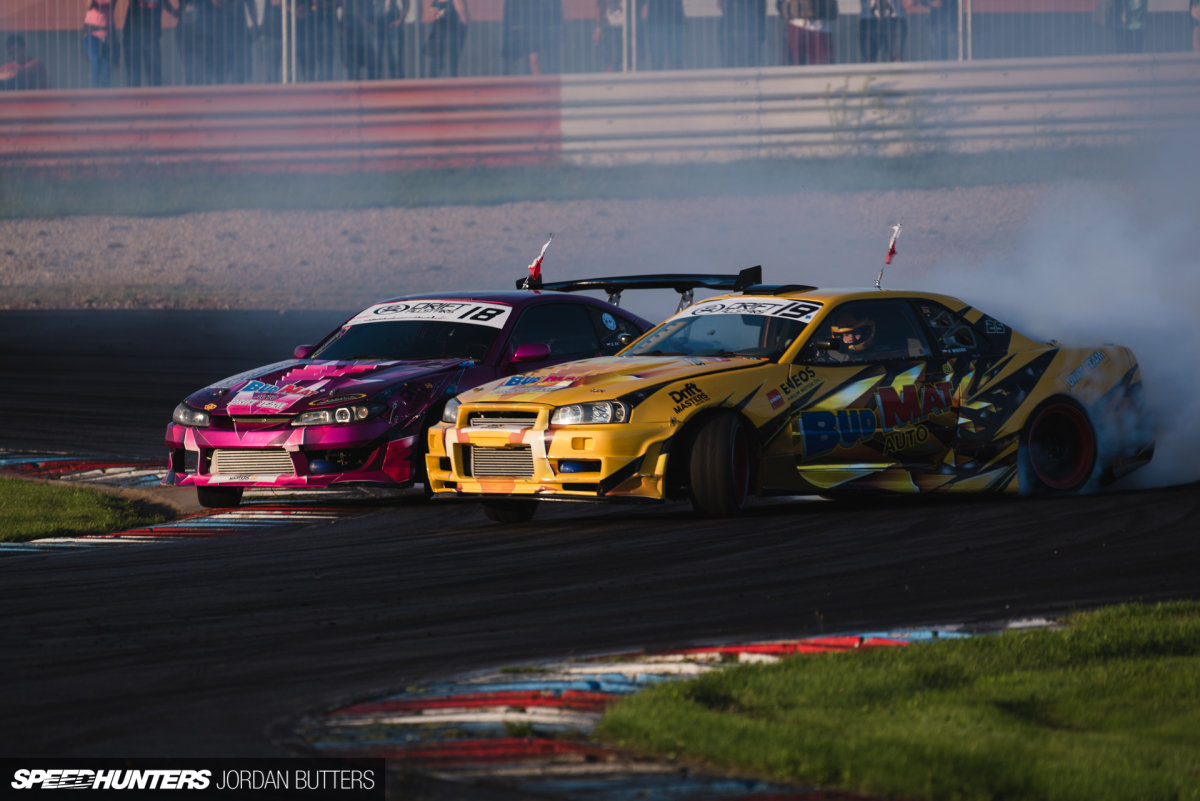 Going into the Top 32 stages I knew the light was going to get progressively better towards the finals. Perfect!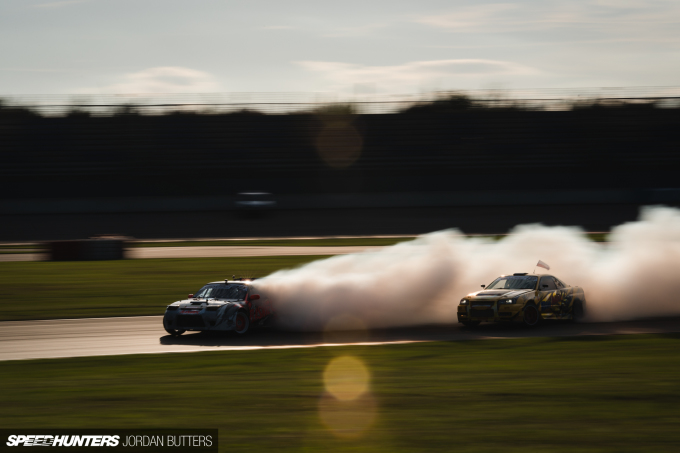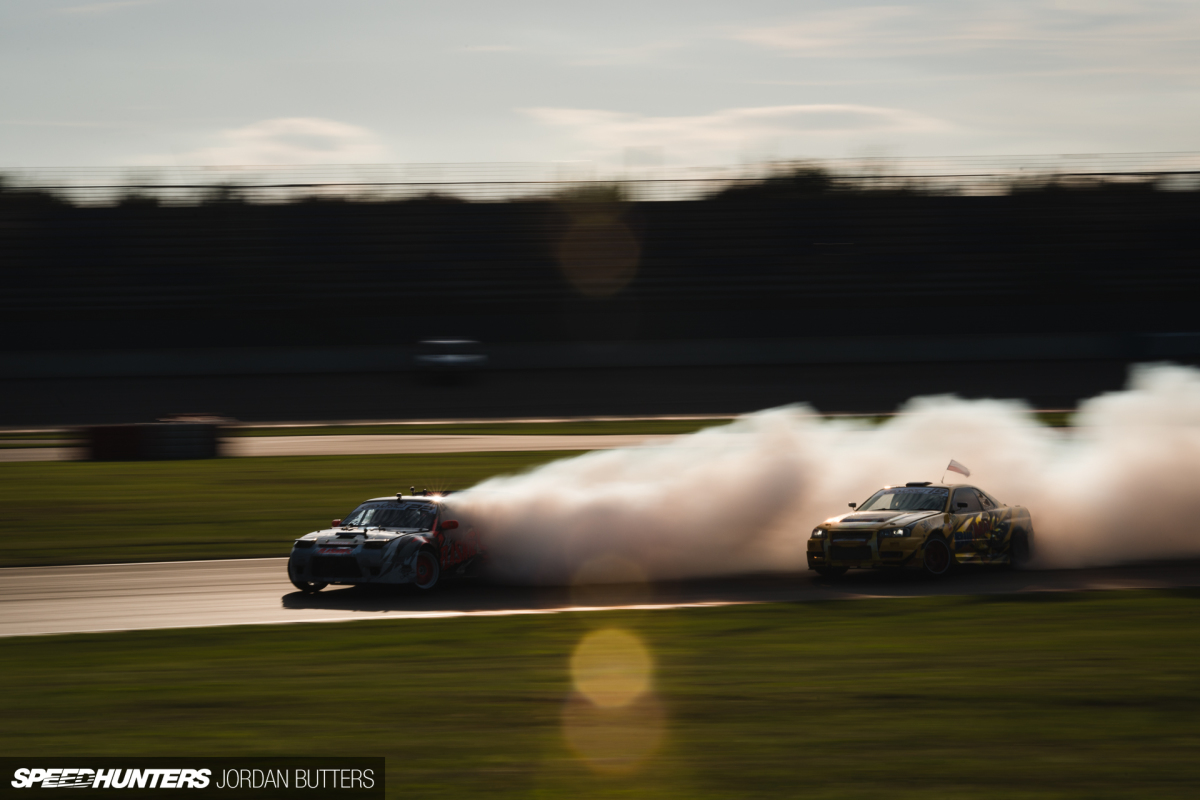 In the UK we often fall under strict time restraints, whereby events need to be finished by a certain time in the evening, usually long before golden hour. However in mainland Europe, things are often a bit more lenient.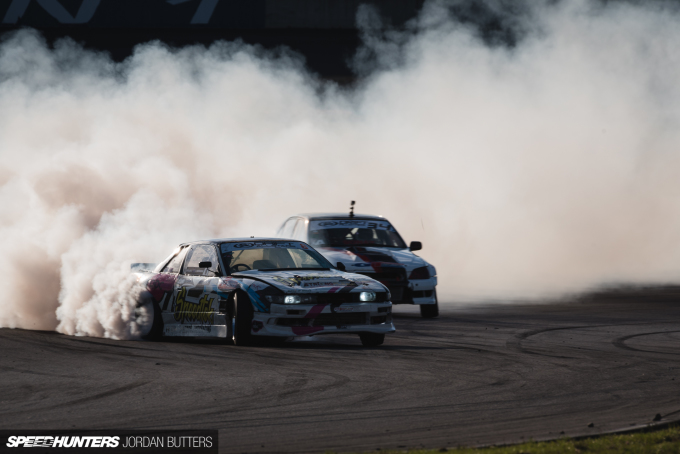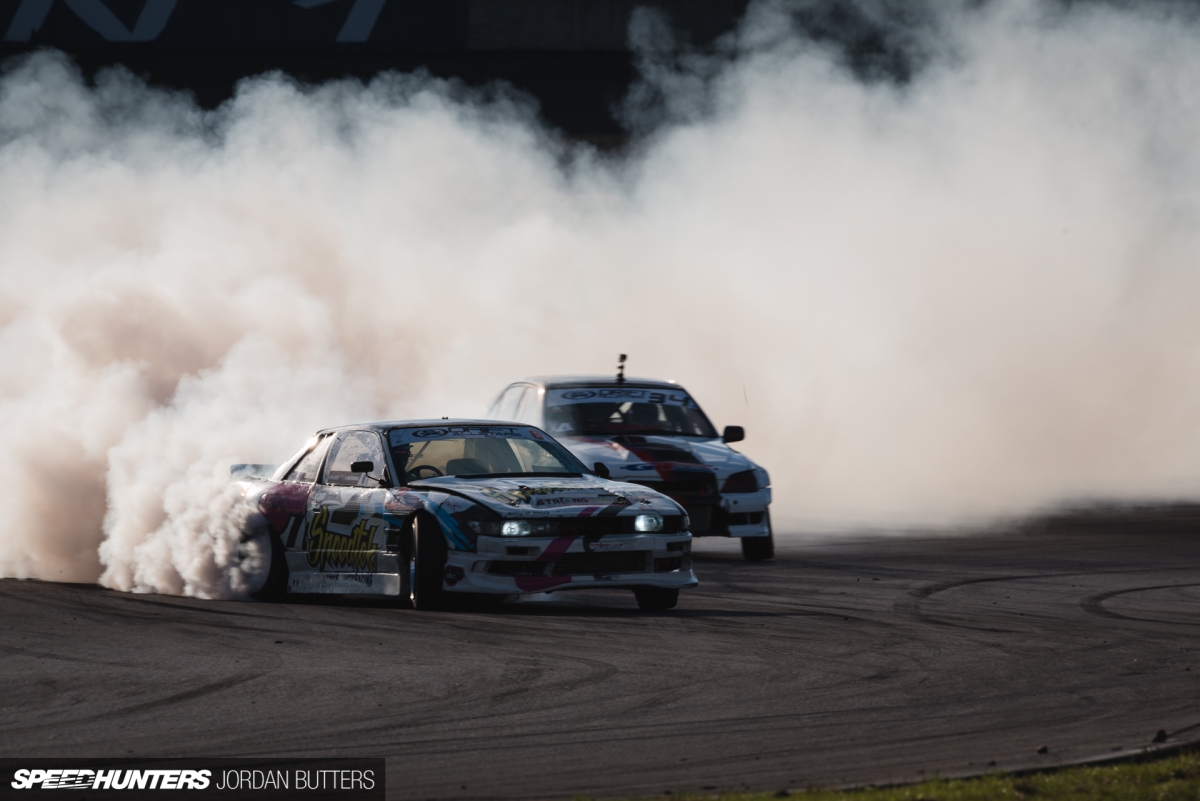 I love photographing drifting under a low sun. Shooting back towards the light backlights the clouds of smoke and adds tons of depth and atmosphere.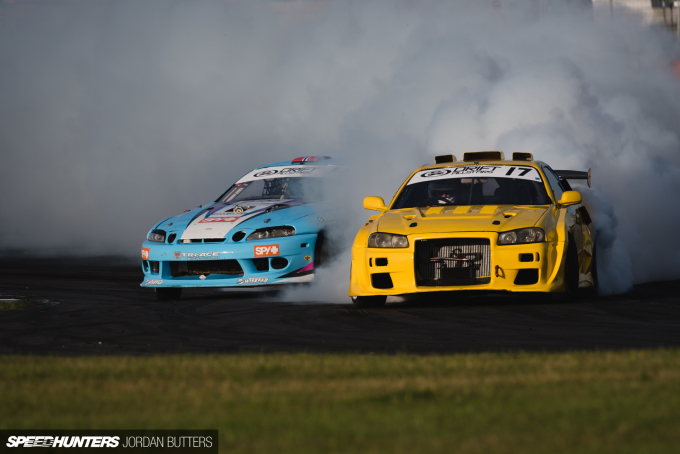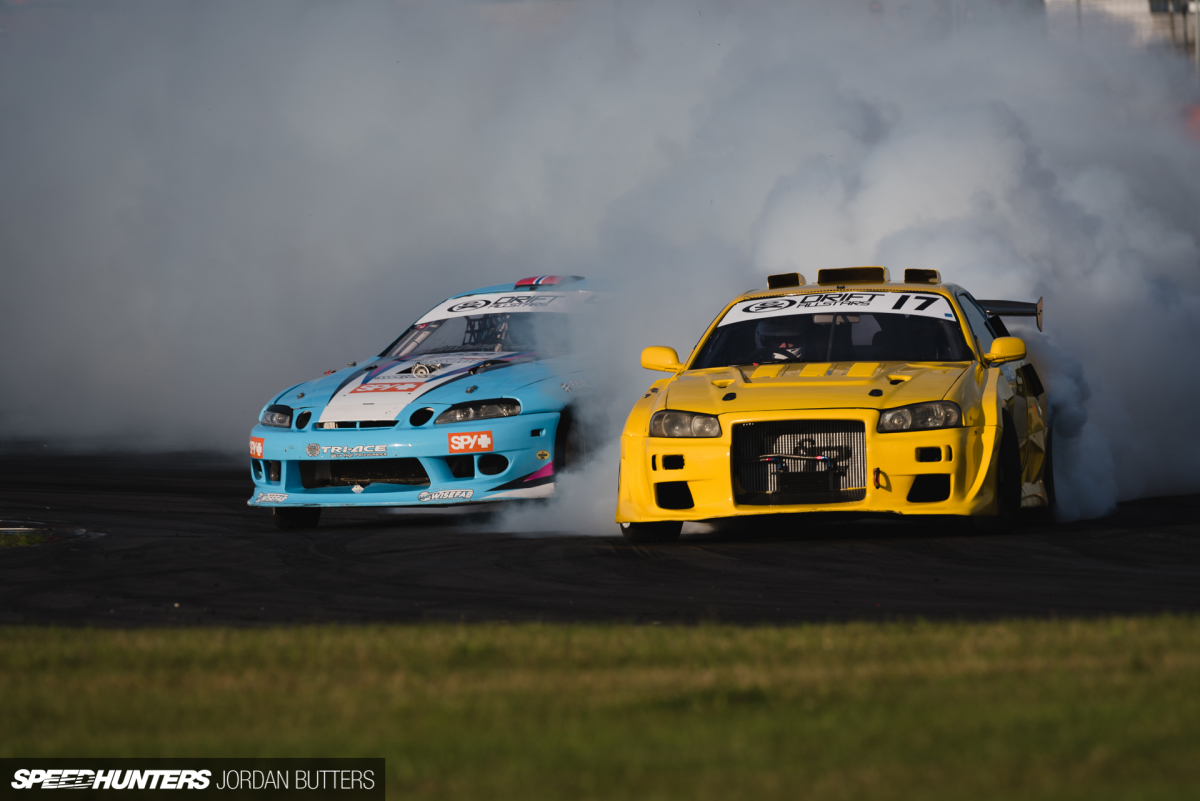 Whereas switching position occasionally to the other side of the track side-lights the cars, creating nice clean images in which the driver is often visible. Moving position after every couple of runs gives the images plenty of variety. According to my phone I walked around eight miles per day during the event – that should offset all the pizza I ate, maybe.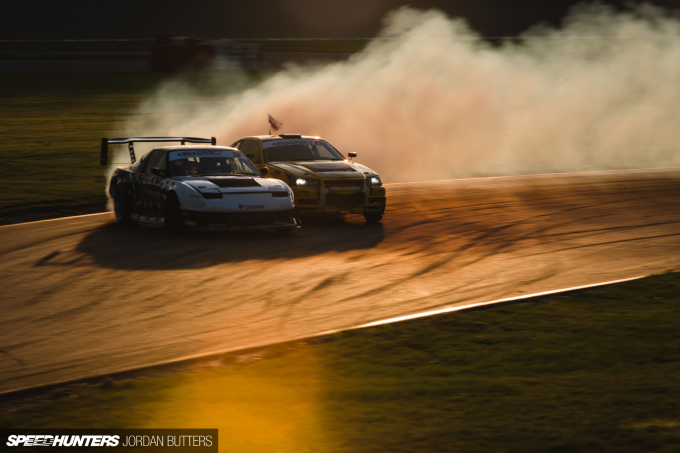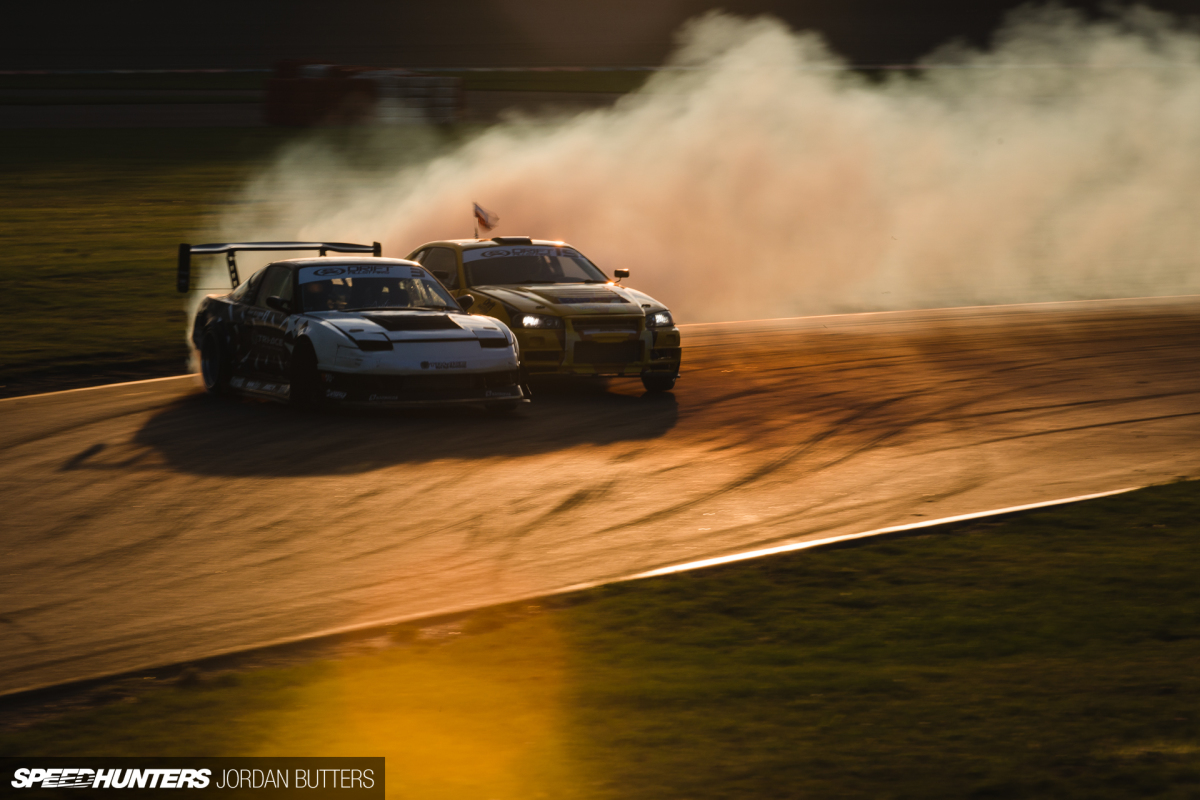 As the finals approach I moved to my favourite spot, shooting back towards the light. Nigel Colfer and Piotr Wieçek enjoyed some epic battles as the light became better and warmer.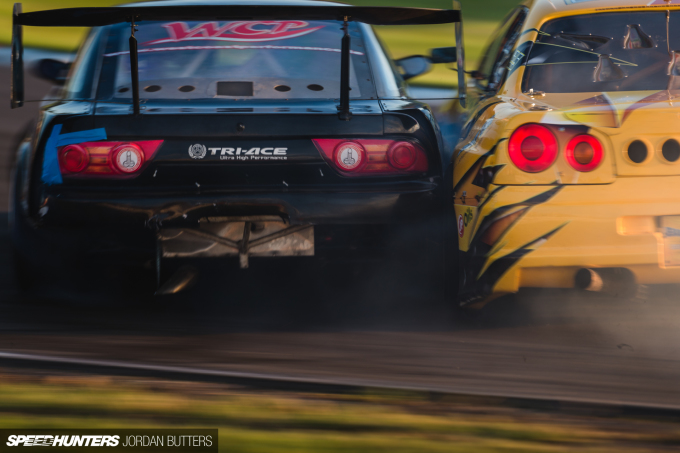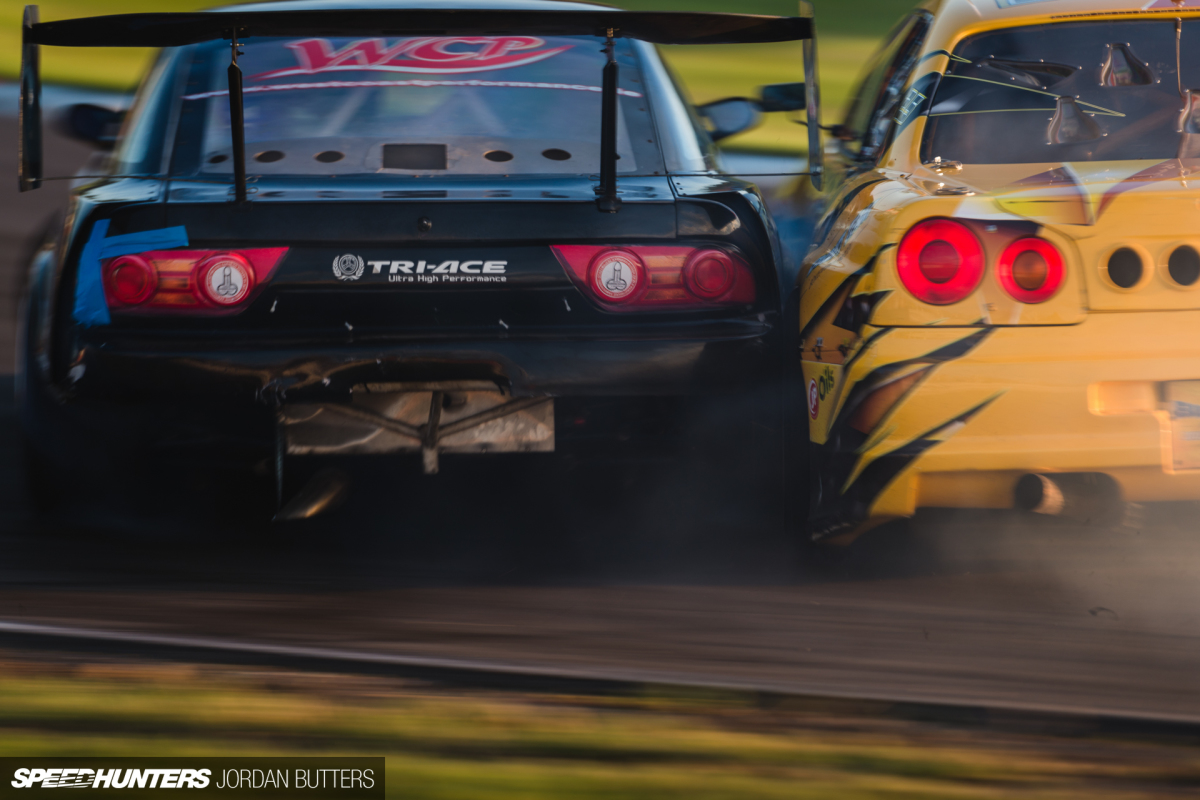 Wieçek's chase run was insane. He flew past on full lock rubbing rear wheels with Colfer, yet keeping the fronts just far enough apart to avoid climbing over the top of the 180SX.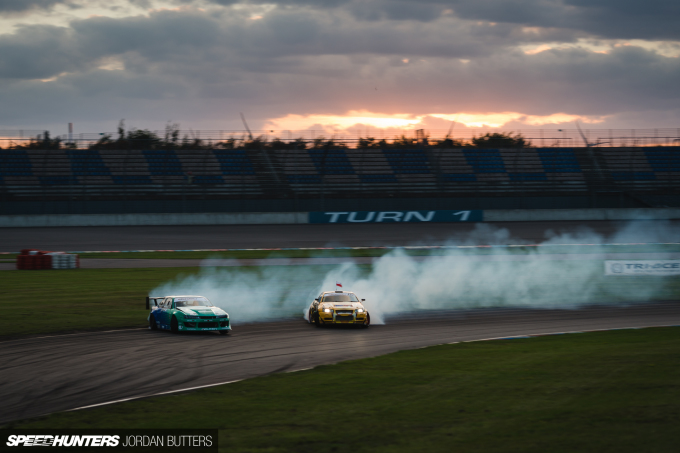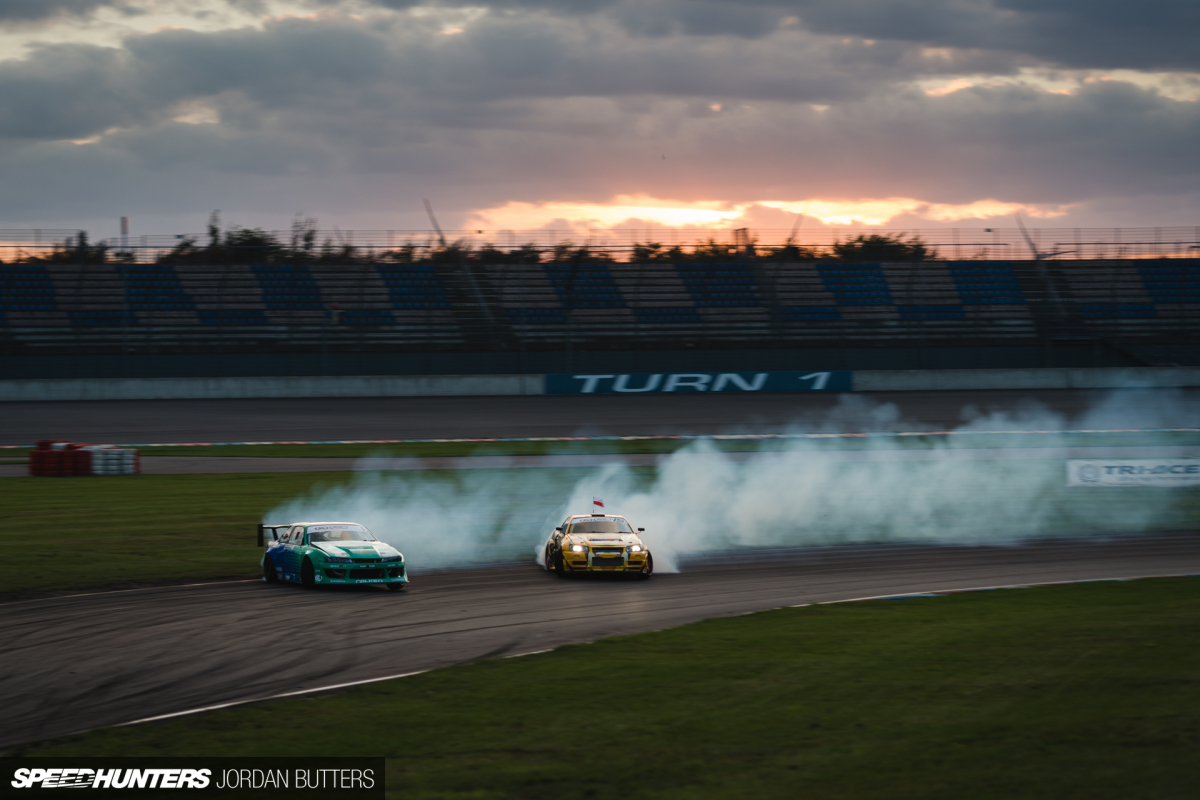 The finals between Wieçek and Deane were close too. The two friends have just returned from a trip to visit Formula Drift in the US and have battled endless times across Europe. I wonder how they would fare against the different driving styles in the States.
As you already know by now, Deane's reign continues with an array of threes – three wins from three events in three weeks in three different countries. There's just one more round of the 2016 season to go and it looks like his third consecutive Drift Allstars title is secure too.
But, in drifting anything can happen, and heaven knows there's a long queue of drivers wanting to be the one to topple Goliath.
Jordan Butters
Instagram: driftagram / jordanbutters
Jordan Butters Photography
Cutting Room Floor