The Battle Of The Baltics
Following the Drift Allstars series around Europe takes you to some pretty cool locations.
I enjoy the travelling as much as the tyre-shredding action on track, and without a shadow of a doubt my favourite legs of the tour are the Baltic stops. This collection of picturesque nations at the far end of Europe usually comprises of three key destinations: Estonia, Latvia and Lithuania.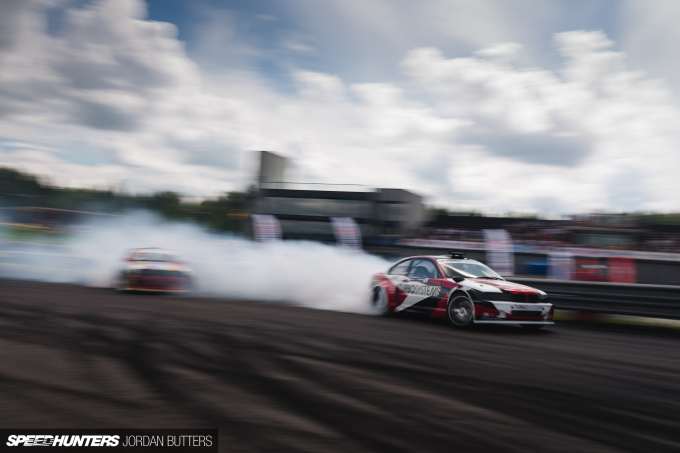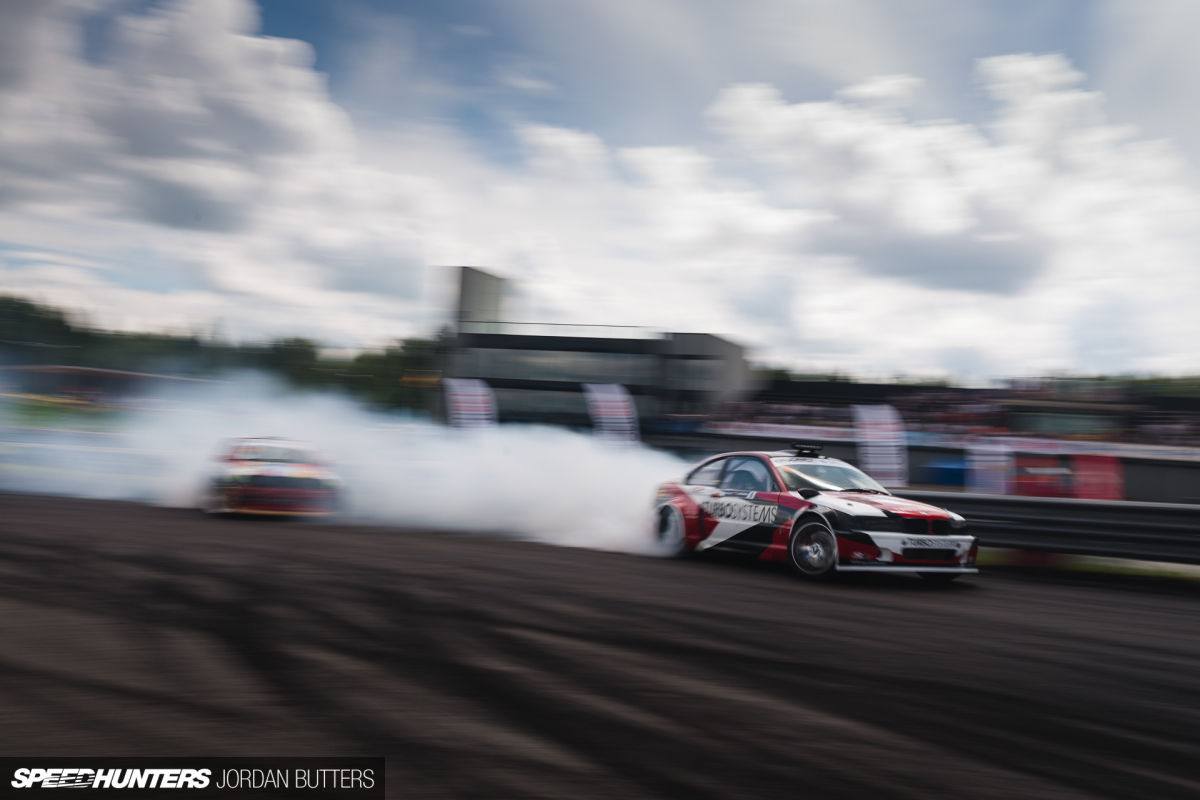 They're not the first places you might think of when it comes to top-level drifting, but as Paddy explained last year when he joined me in Riga, the talent in Eastern European drifting is up there with the very best.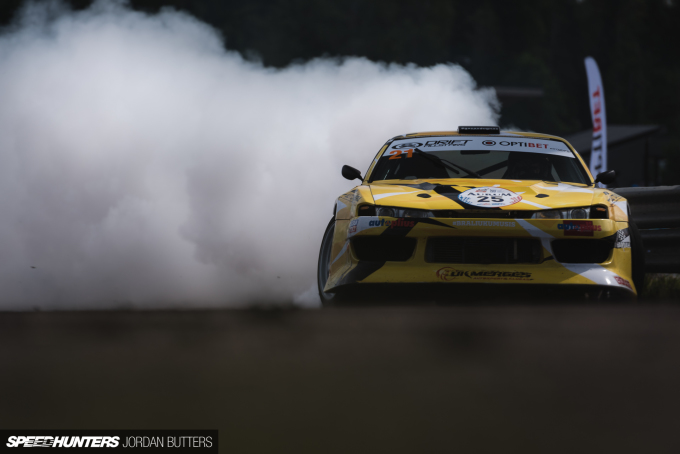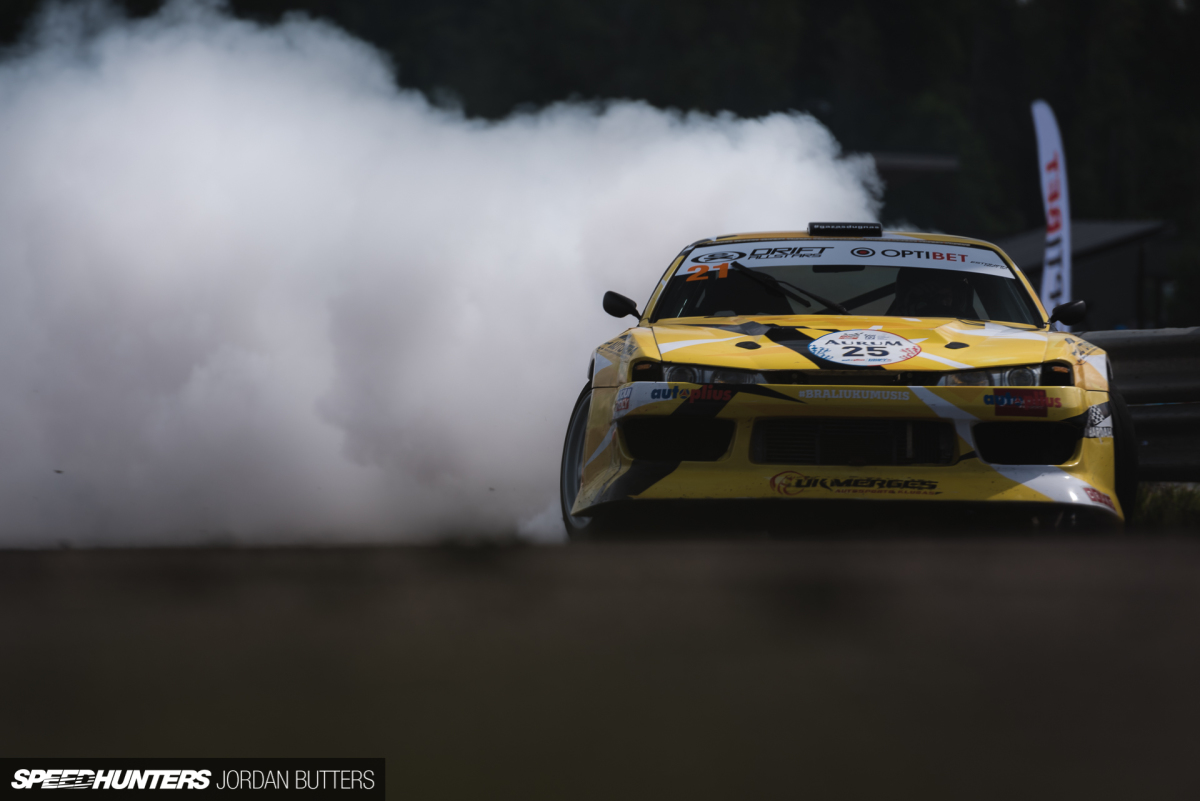 The Baltic events comprise of three very different circuits in three different countries within reasonable distance of one another. Sadly, Lithuania's gritty street circuit was off the menu for this season, so my visit to the region began at Laitse Rally Park, near Tallinn, Estonia, this past weekend and will end in Riga, Latvia, this coming weekend.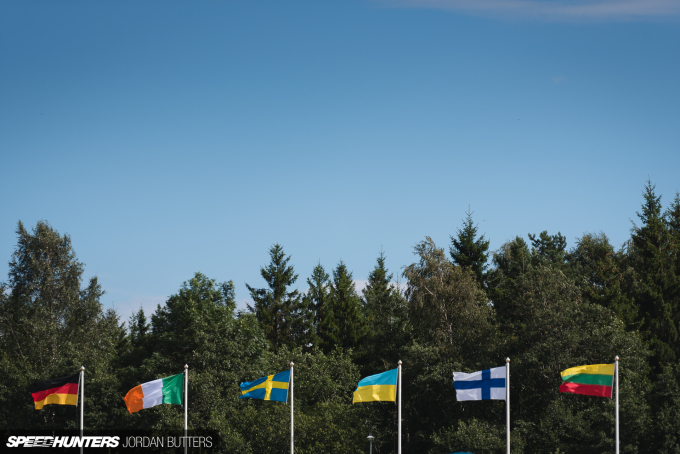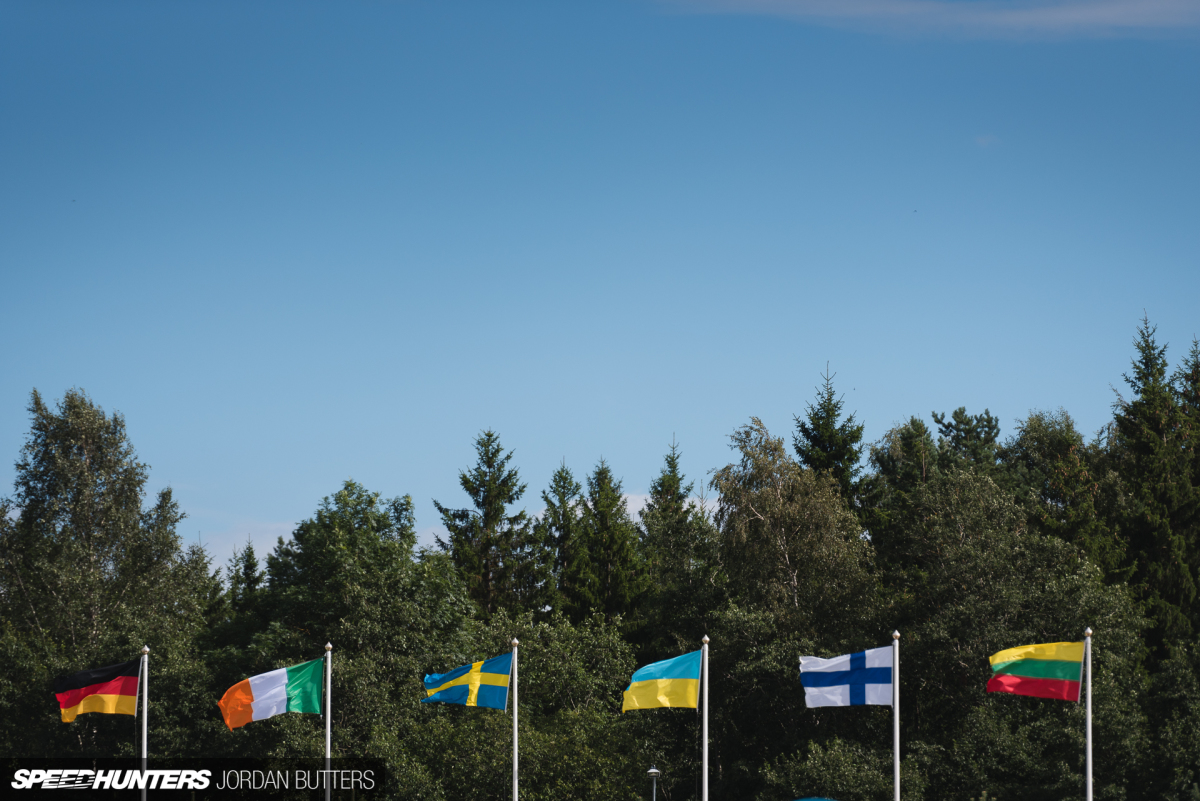 Drift Allstars is a true international affair, with no one country really represented more than any other; but it always seems that the Eastern Europeans bring with them a no-compromise driving style that makes for exciting viewing. They might not have the household name status of some drivers, but they're not to be underestimated.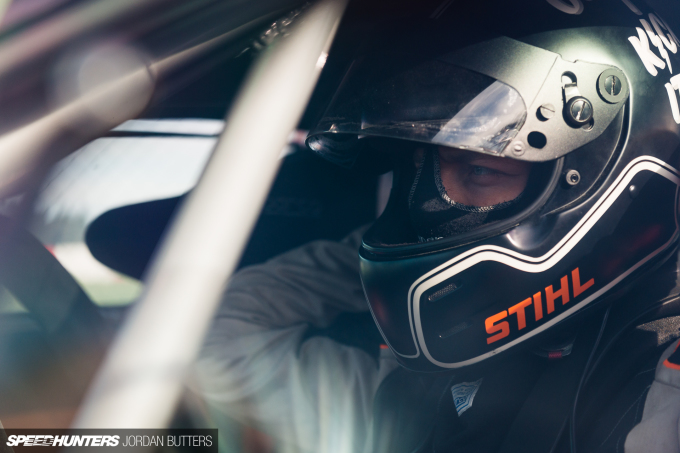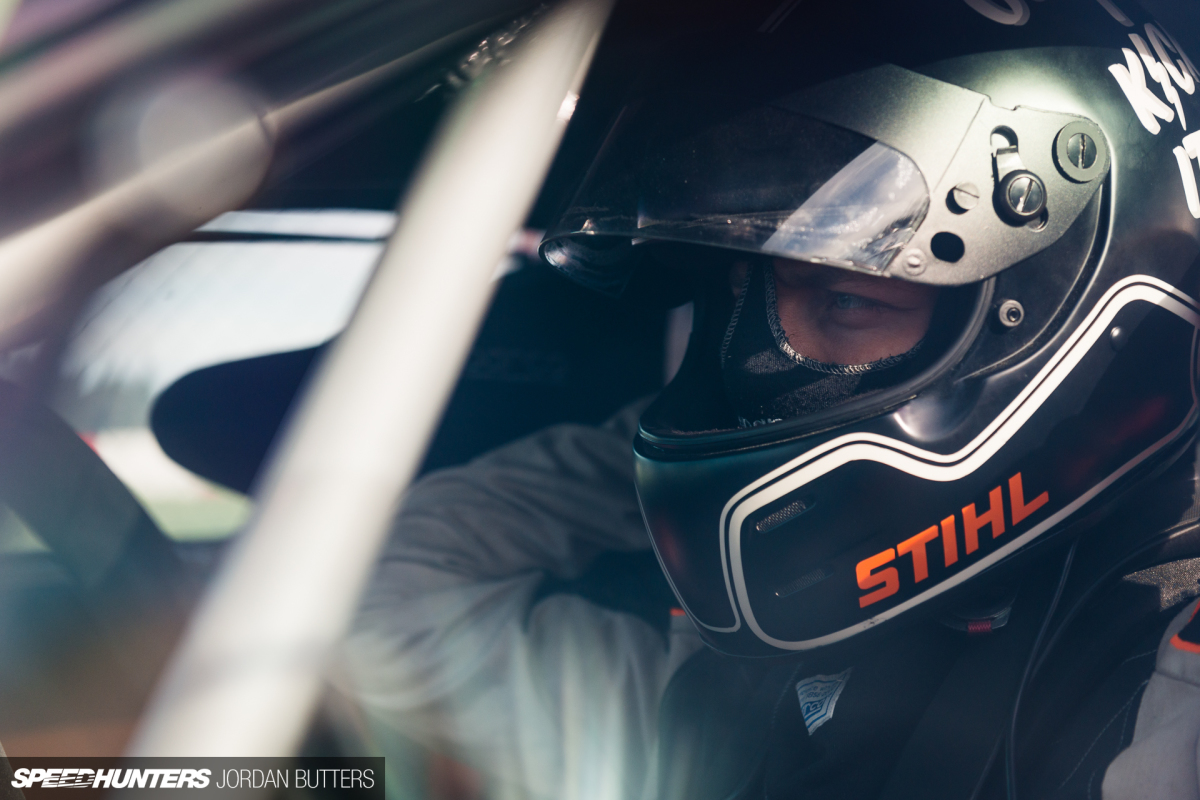 Round 4 of the 2016 Drift Allstars campaign at the Estonian Drift GP drove this home, and it looked for a while that it would be the event of the underdog. Although the regular Allstars drivers qualified high in the majority, one by one they would fall during the Top 32, as the local talent grasped the home circuit advantage.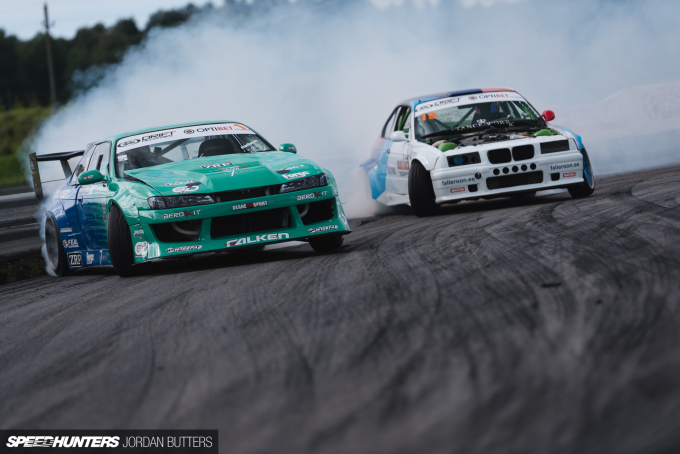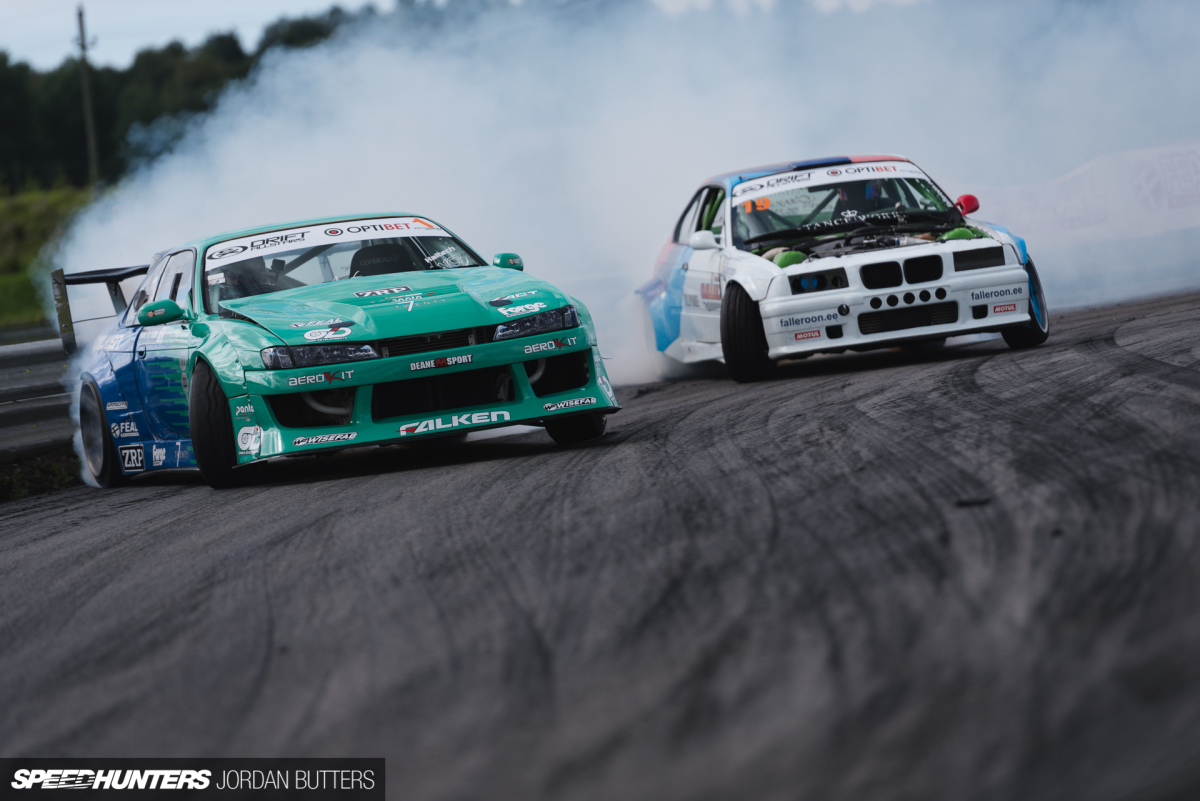 However, in a familiar twist, there was one man that they couldn't overcome. If you tuned in to the livestream then you'll already know that two-time champion James Deane secured yet another win, extending his points lead and making it look like a triple championship is increasingly within his reach. As we prepare for the journey to Riga this week, and undoubtably another epic showdown, here are my favourite moments in time, in no particular order, from the 2016 Estonian Drift GP.
Moments In Time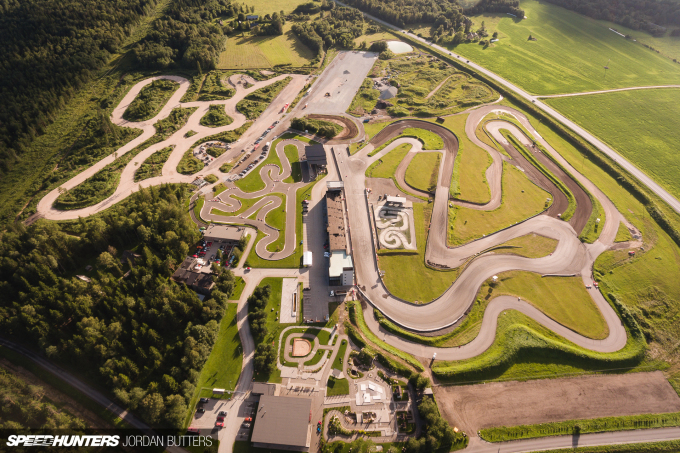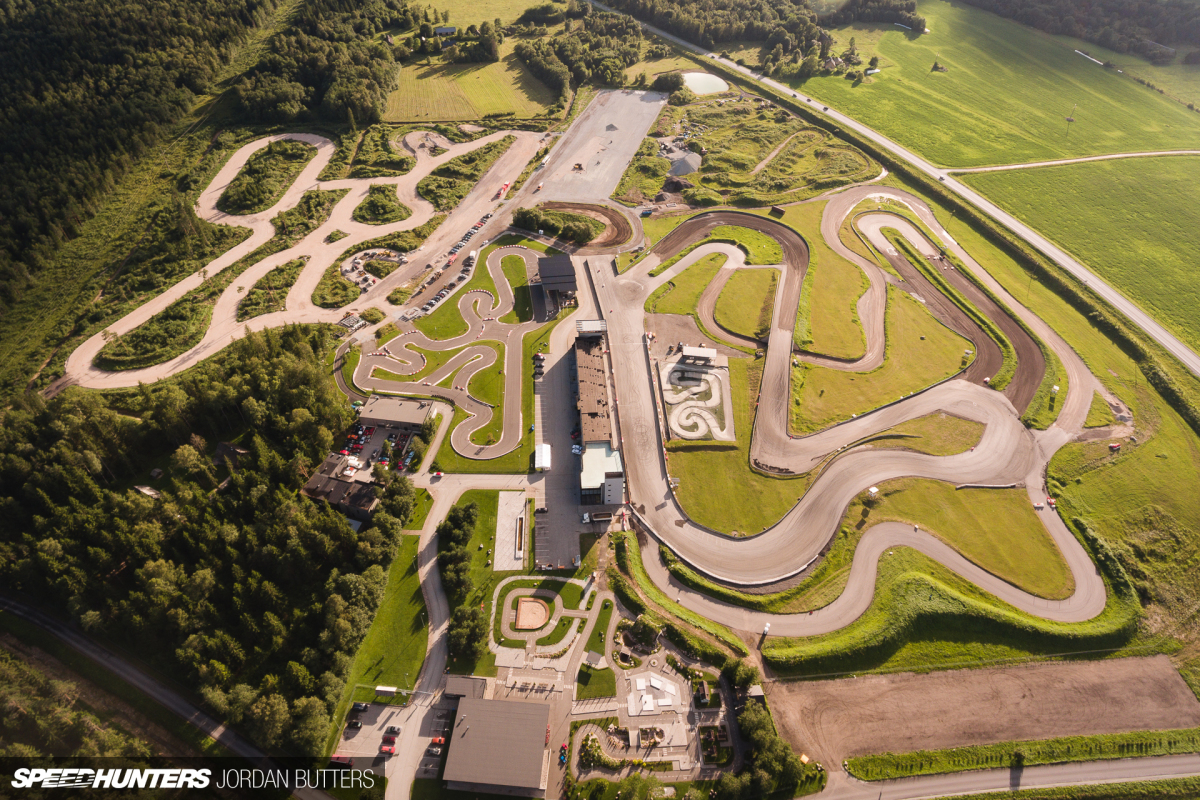 Laitse Rally Park is the kind of motorsport complex that every petrolhead wishes they had within reasonable distance of their home. As well as hosting the occasional drift competition, the complex also has its own go-karting circuit, a rallycross track, motorsport workshops, private motoring museum, a mini circuit for the kiddies and a newer large circuit that's in the early stages of construction in the top left of the image above.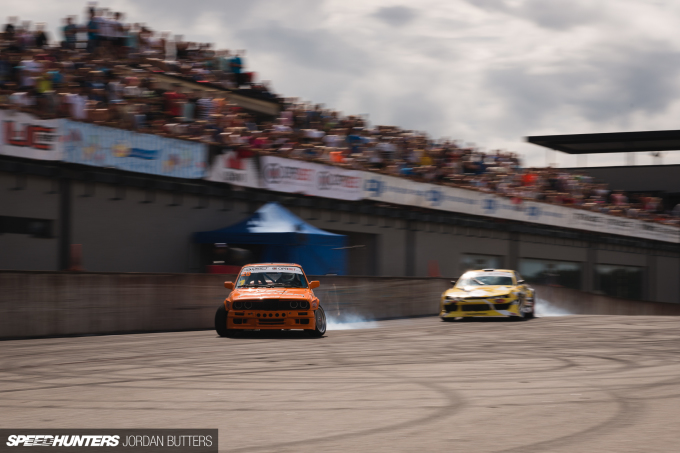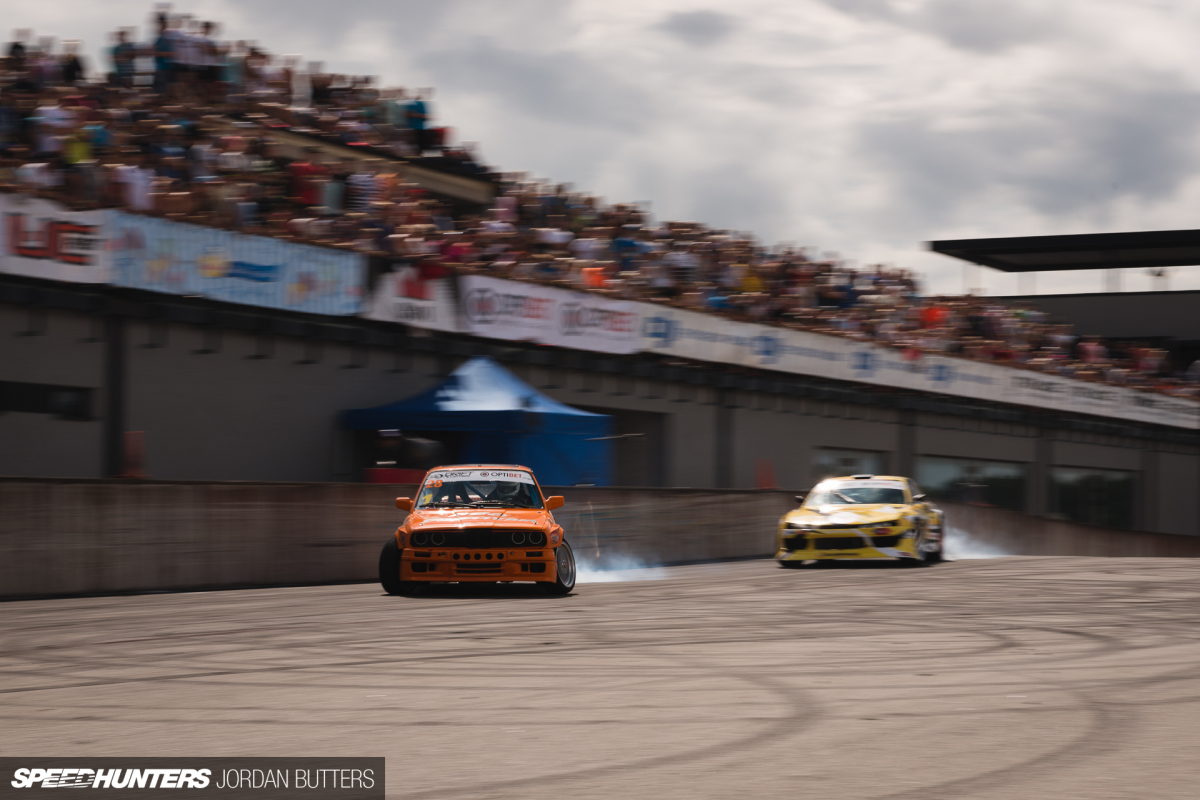 Fun fact: the complex was designed by world-famous F1 circuit designer Hermann Tilke. Although I'm sure he never envisioned it as a competition drift layout, the section of the circuit used by Drift Allstars lends itself well to challenging Europe's best sideways pilots.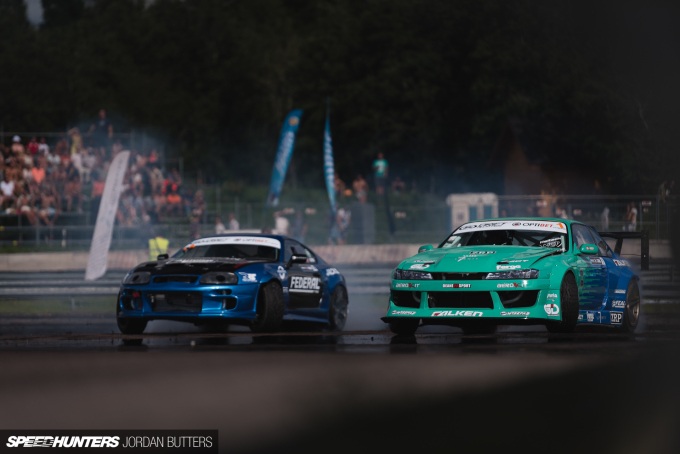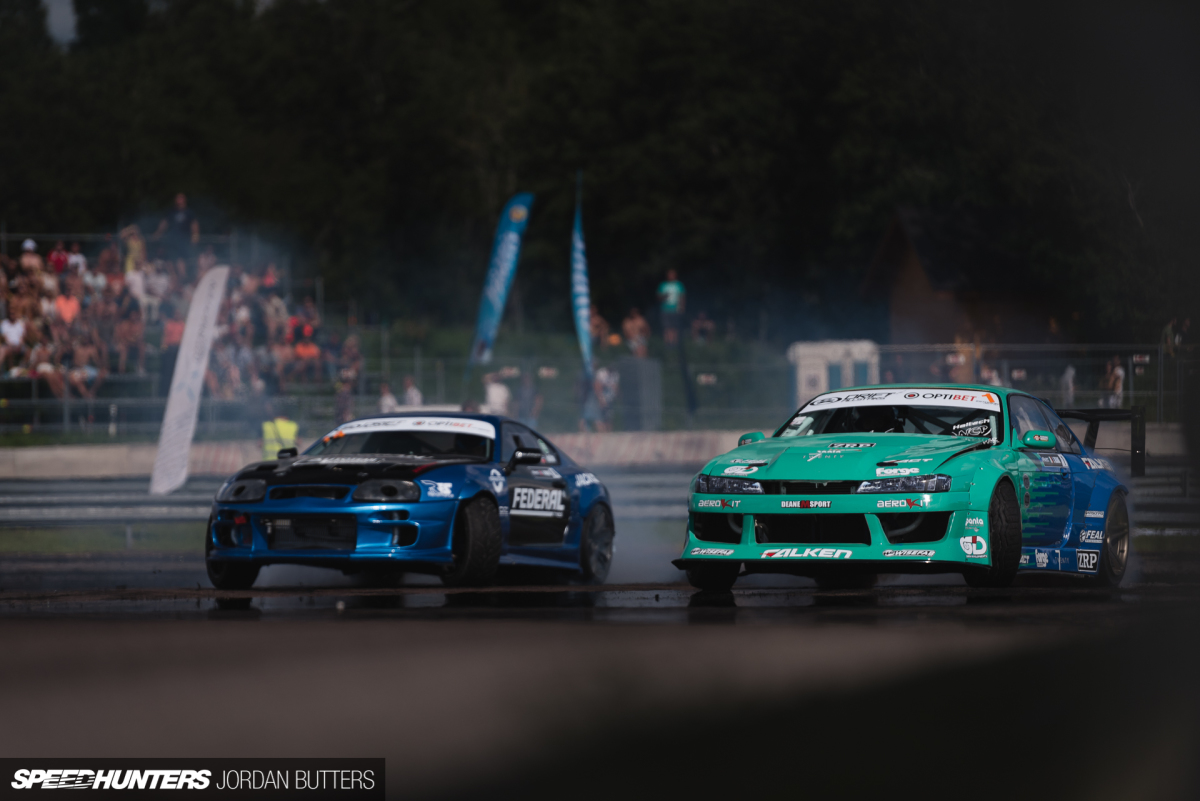 Laitse Rally Park is also home to a small suspension specialist called Wisefab. You may have heard of them? I remember a few years ago when the first Wisefab-equipped drift cars started to appear – now there's barely a car on the grid not running Wisefab products, and the list of applications is increasing at a rapid pace.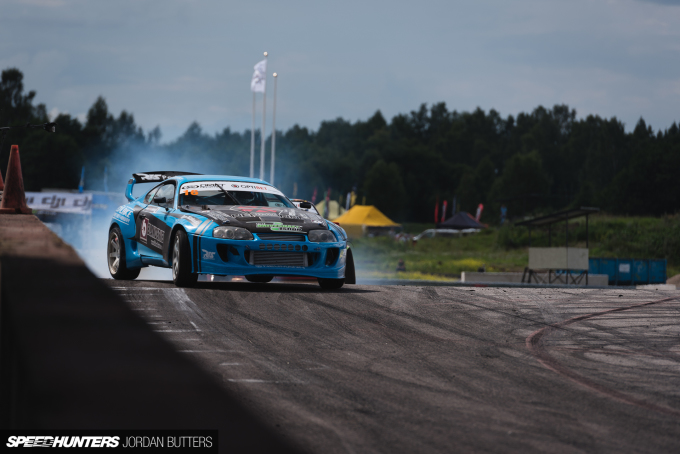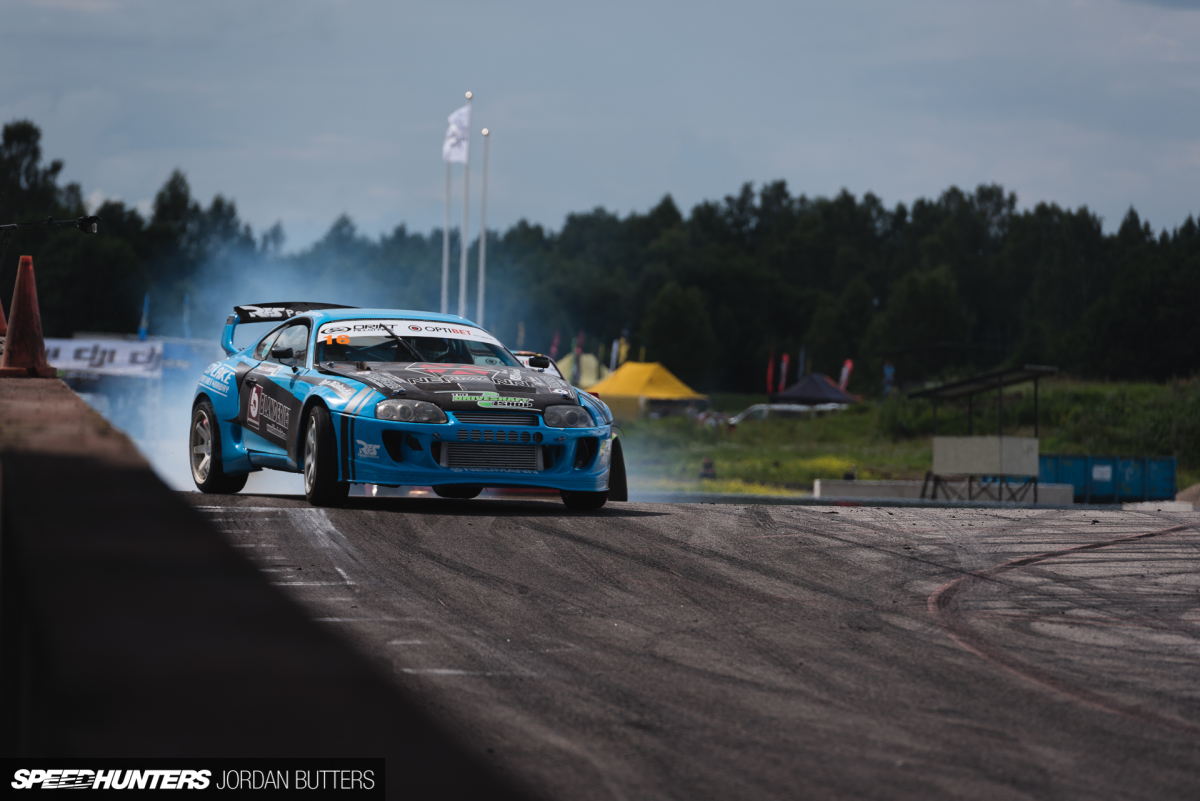 Although certainly not the fastest collection of curves in the calendar, it's the initiation and first clipping point at Laitse – along with the looming walls and armco – that forces competitors to risk it all if they're to meet the judges' criteria and find the ideal line for a successful sideways navigation of the remainder of the course.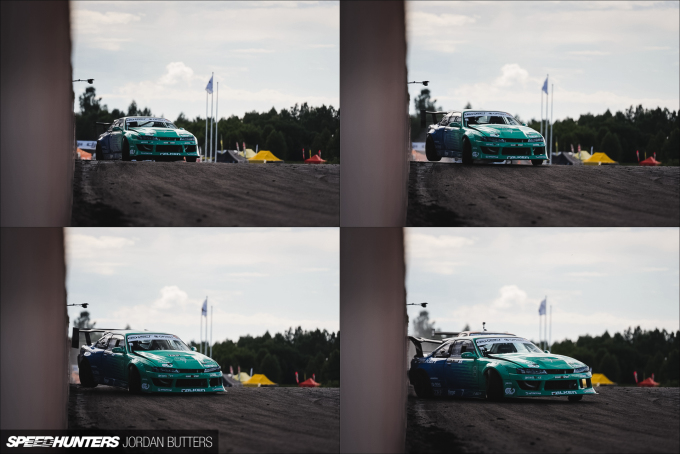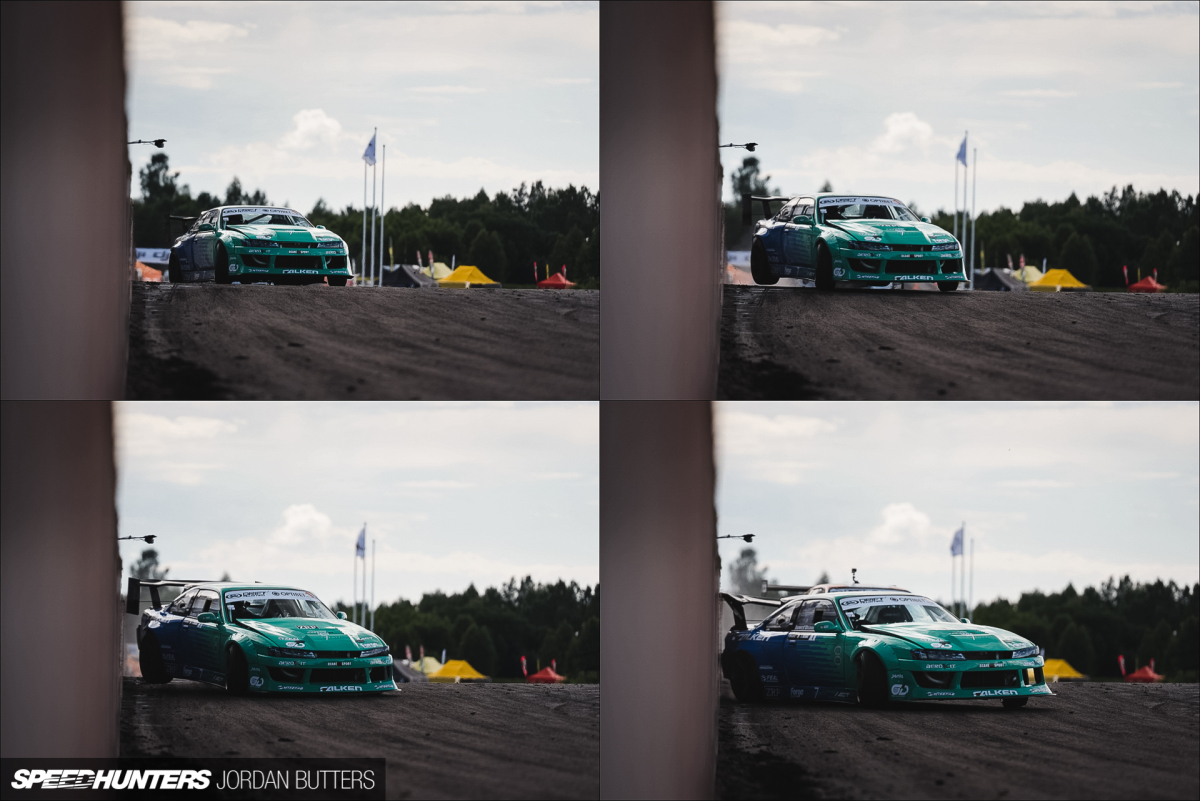 A sharp crest flings the cars into the air – tricky enough to tackle in a straight line with 700bhp powering through the rear tyres, but increasingly so when you're trying to align your rear bumper (or wing) to skim the clipping point just after the jump. It's a feat that James Deane seems to be able to pull of repeatedly with sickening accuracy, although he did have to retrieve his wing end plate more than once over the weekend.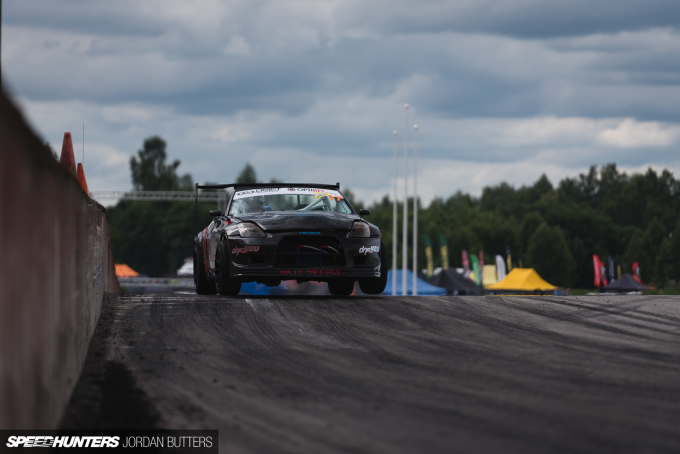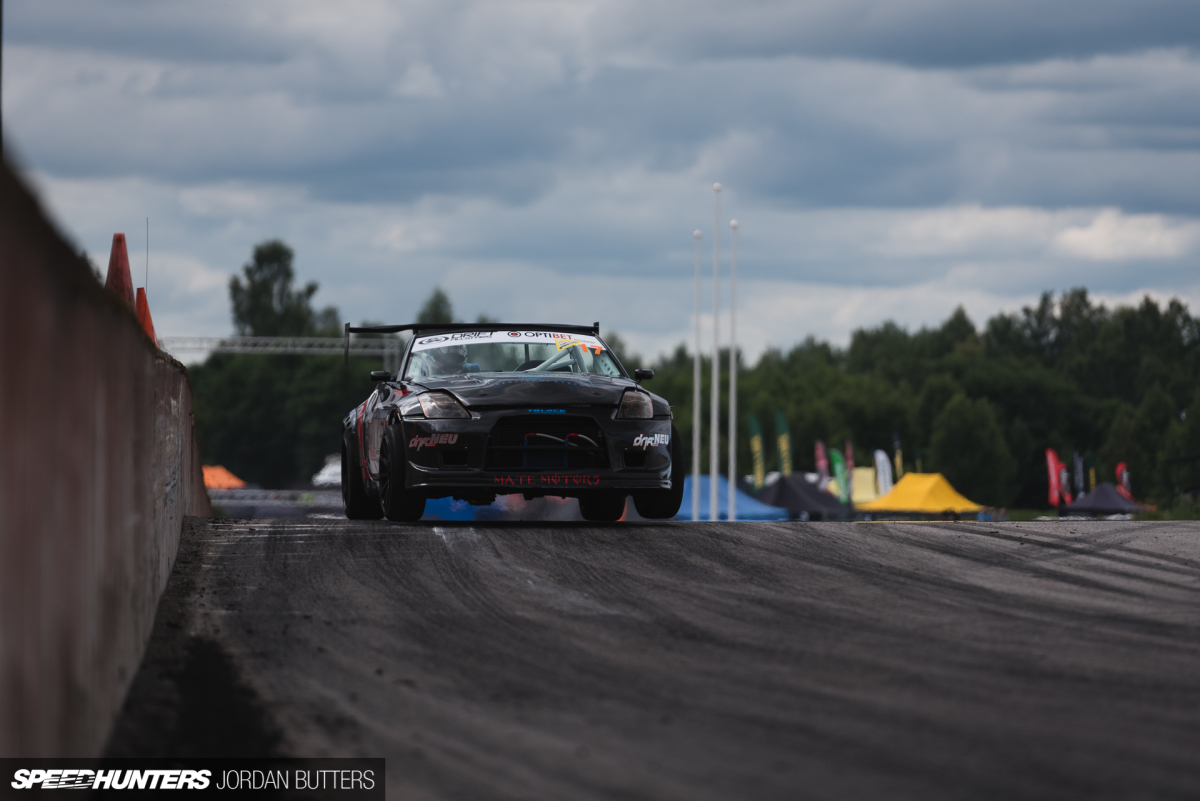 Enver Haskasap made the long journey to Eastern Europe from Cyprus for his first Drift Allstars event of the season, and his convertible 2JZ-powered 350Z was one of the most entertaining to watch over the jump. It seemed that the front end was lifting more than any other competitor, while the rear appeared anchored down, leading to some fun air wheelies. The front would then compress heavily on landing on lock, scrubbing the front tyres into the fenders and sending a brief puff of tyre smoke in the air.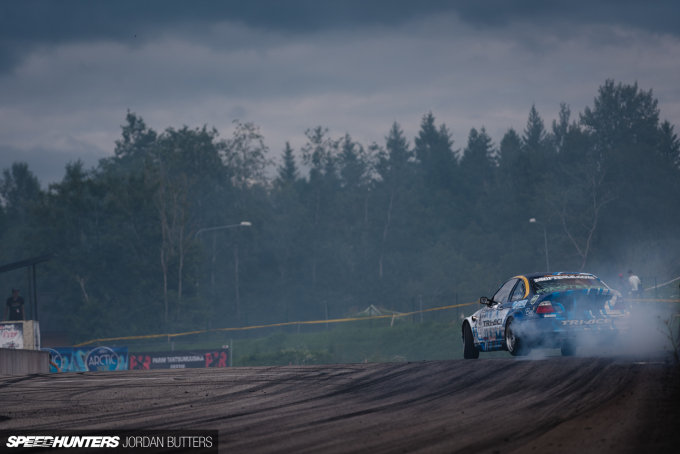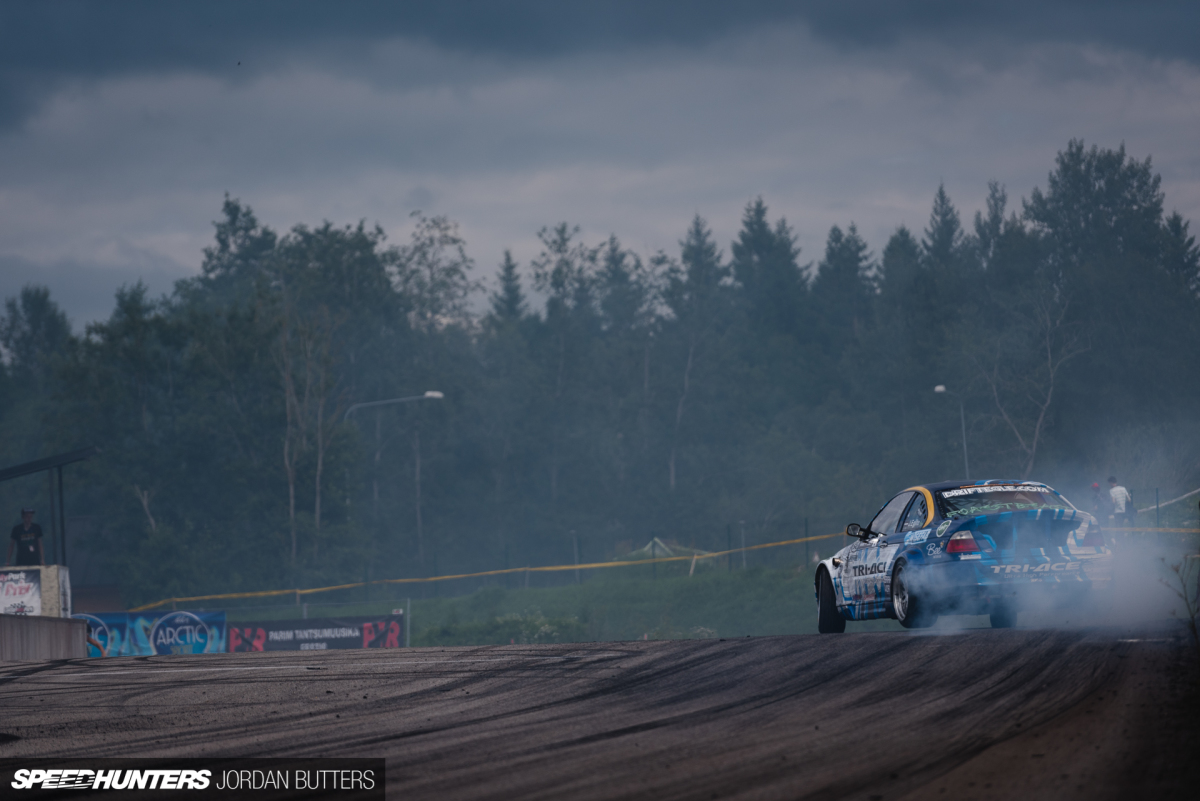 It's interesting to see how the different cars reacted over the jump – some barely leave the ground as the suspension decompresses, while on other cars, such as Janis Eglite's Forest Beast, the rear wheels barely move, seemingly tucking up as his LS-powered E46 enjoys a brief moment of air time.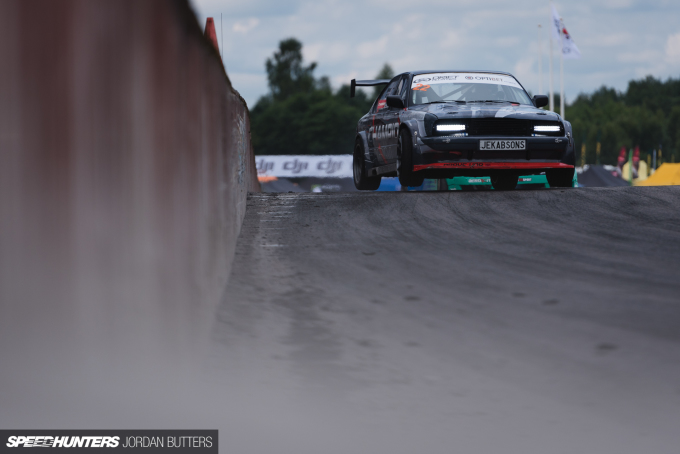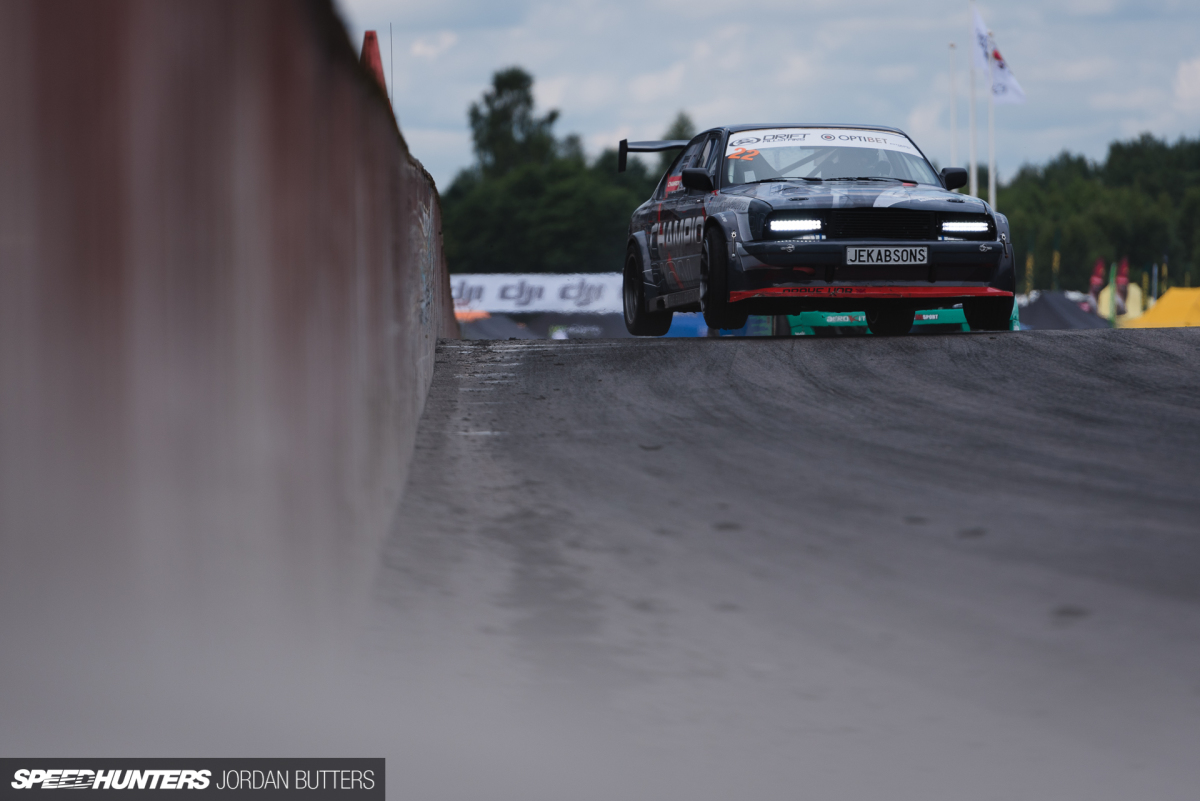 I'm in no way an expert on the reasons why the cars reacted to the jump so differently to one another, but if there are any suspension/physics experts reading I'd like to hear some of the theory behind why some cars jumped and others barely did.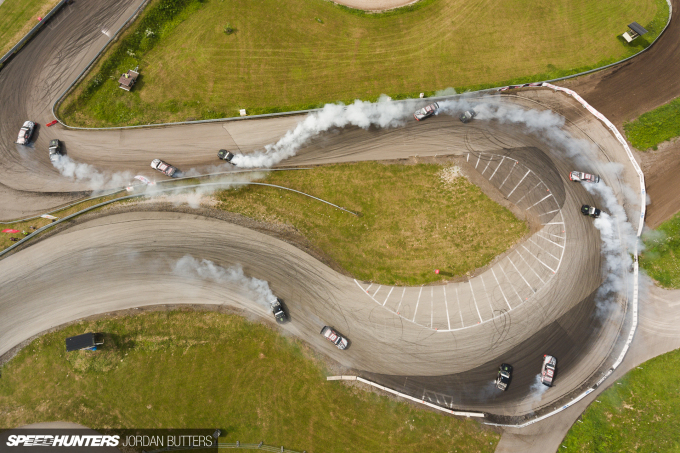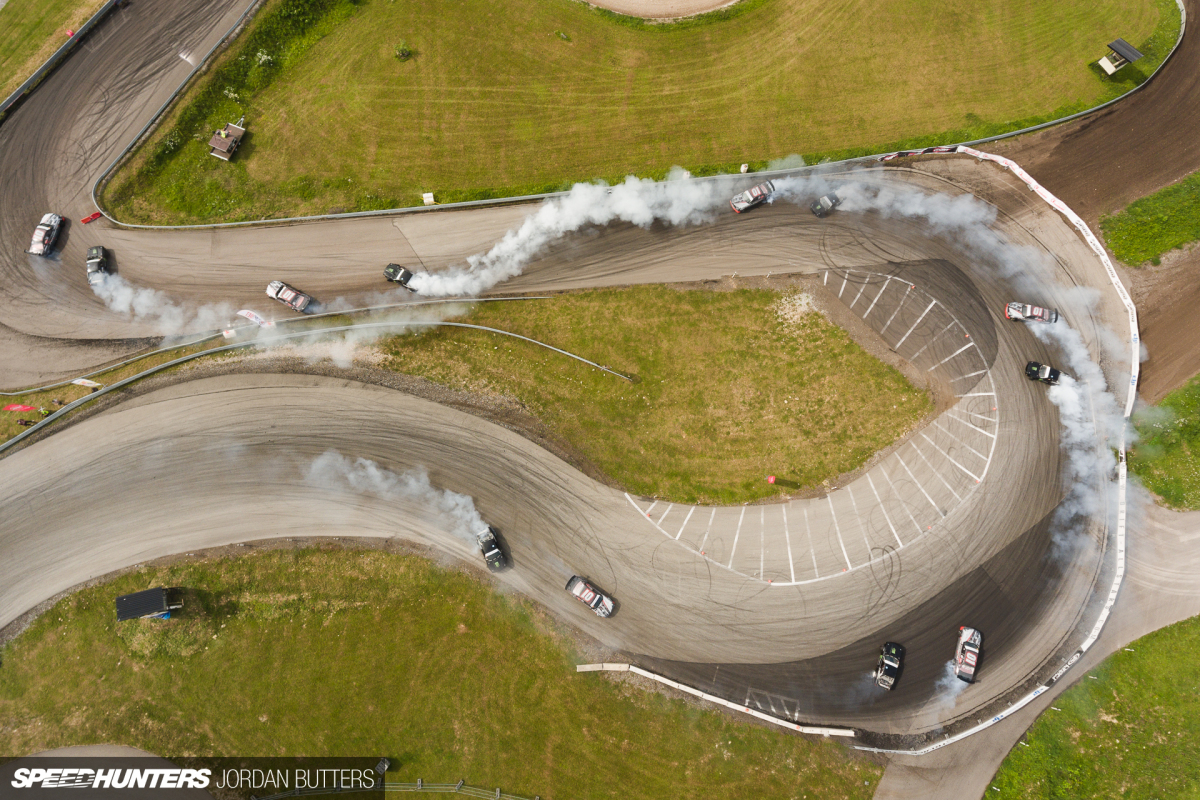 The judging panel in Estonia was internationally represented also, with three experts flown in from England, Norway and The Netherlands, respectably. Seven rear clipping points were marked out, all right up against either metal guardrail or concrete wall.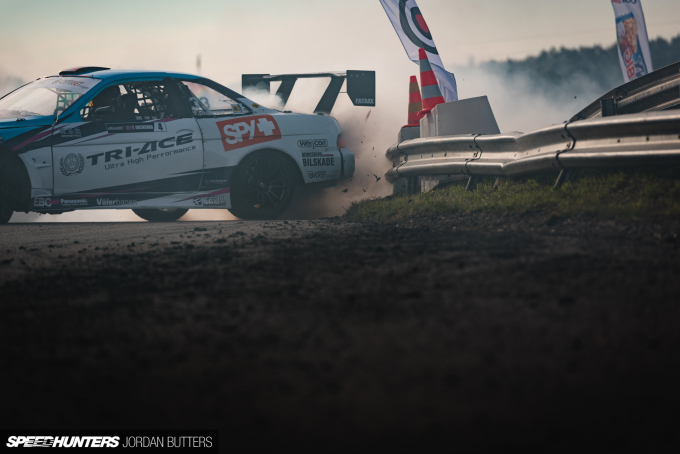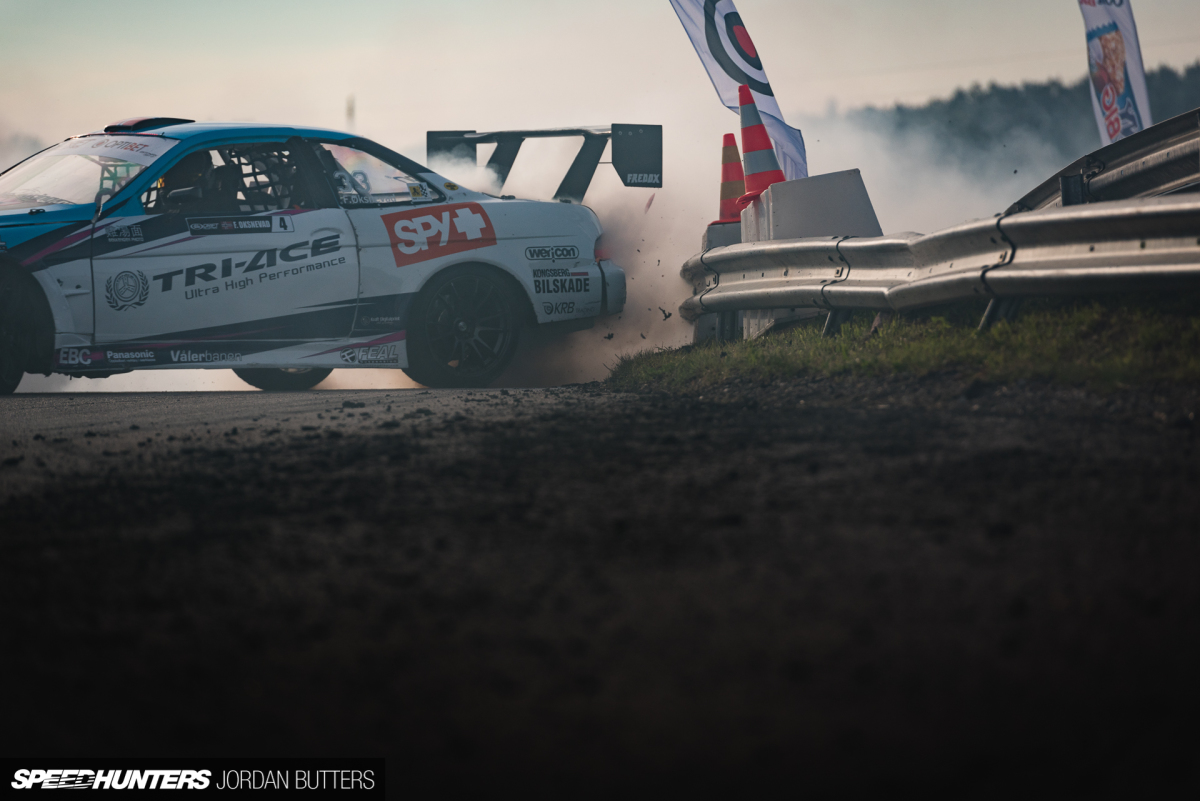 Meeting all seven clips precisely required the drivers to take the perfect line, and transition at just the right moments, whilst allowing for Laitse's sudden and frequent undulations and changes in camber.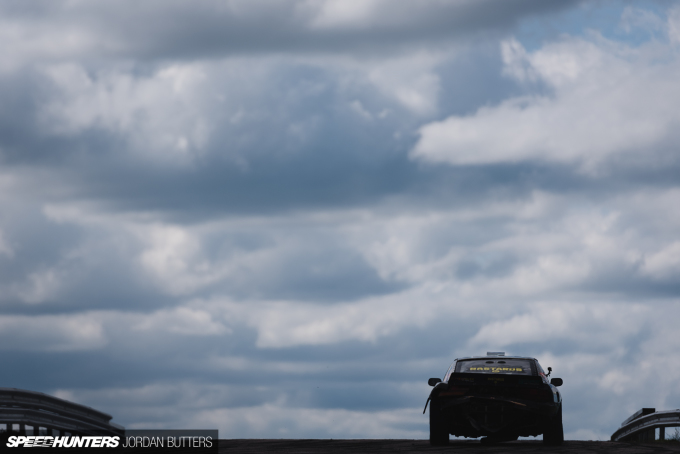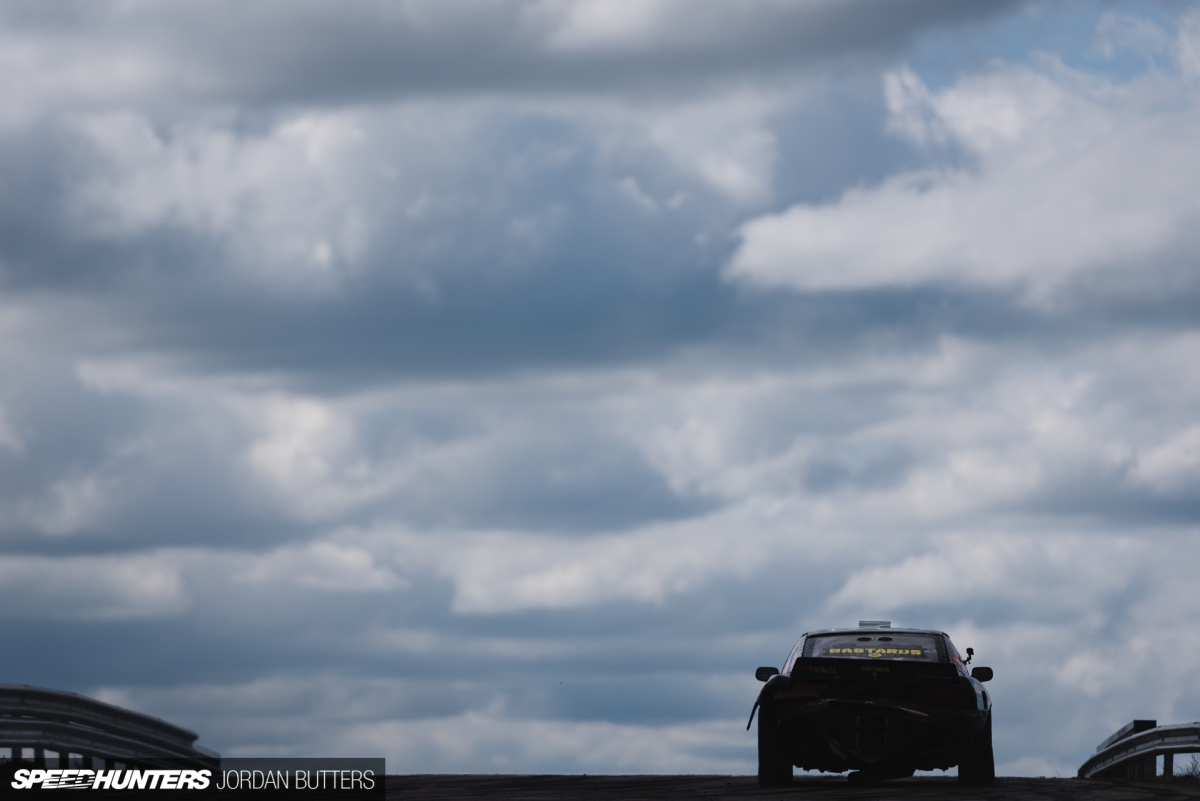 The steel and concrete track barriers are about as far from forgiving as you can get. I lost count of the number of cars that limped off track over the weekend. Having said that, the Estonian Drift GP has, in previous years, been known as 'death race', with several cars being totalled in the first wall after the jump. This year was no different, with almost every machine baring fresh battle scars. One local driver's weekend ended before qualifying following a heavy impact which destroyed his E30.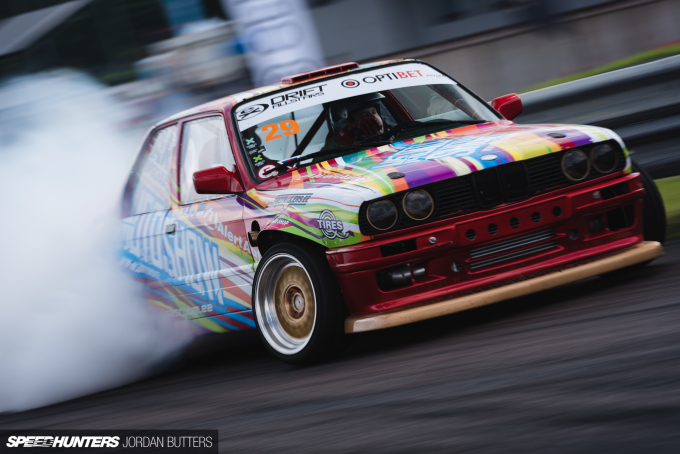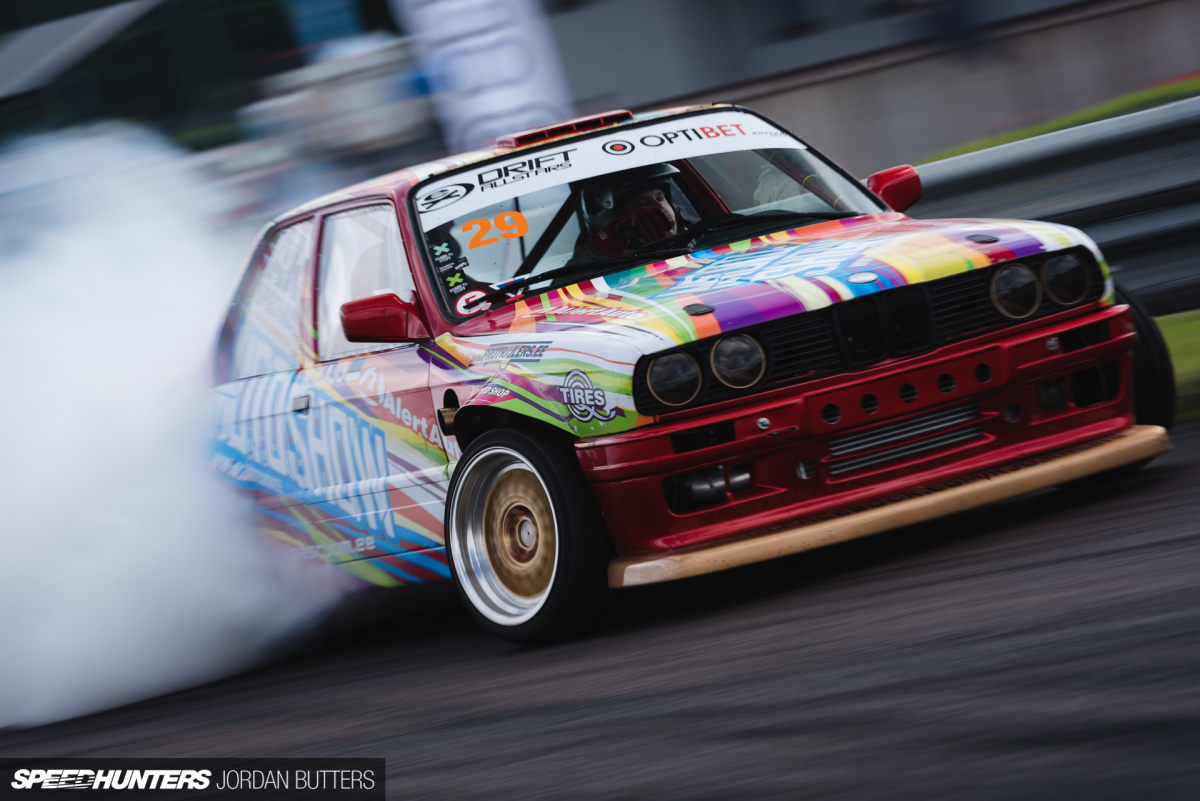 Another E30 which made it out alive belongs to Tallinn local Randar Kajo. I must say, it looks unbelievably tidy for a competition drift car. I remember it being all red last year, but it seems to have crashed into a rainbow since I last saw him drive.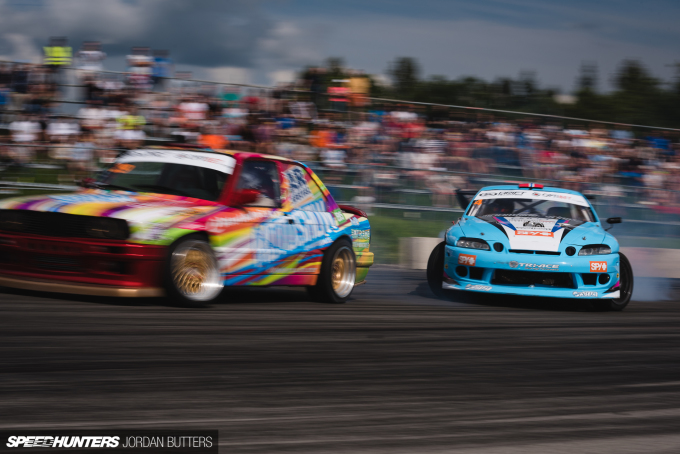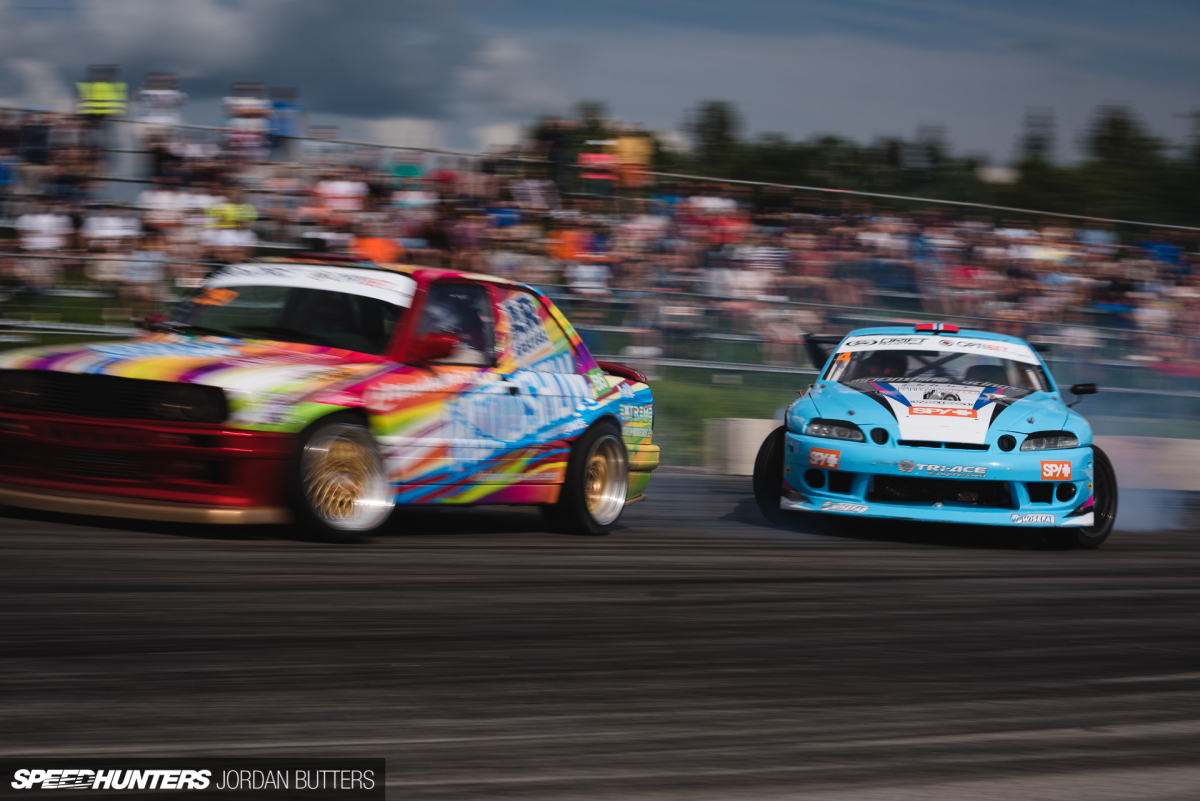 Not that I'm complaining – I think the new vibrant livery looks awesome. Randar met his match in Øksnevad in the Top 16.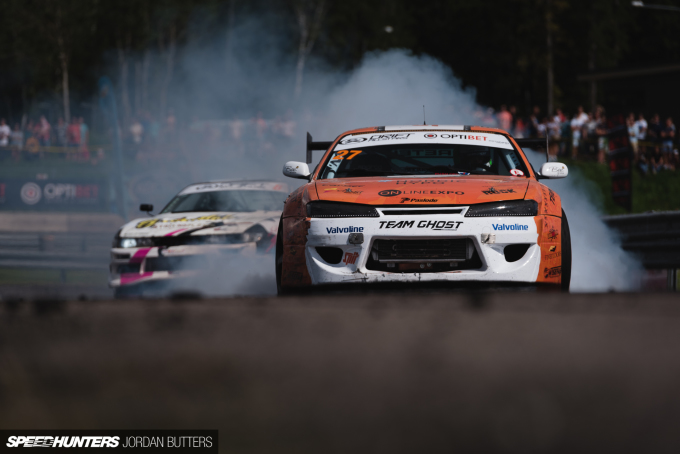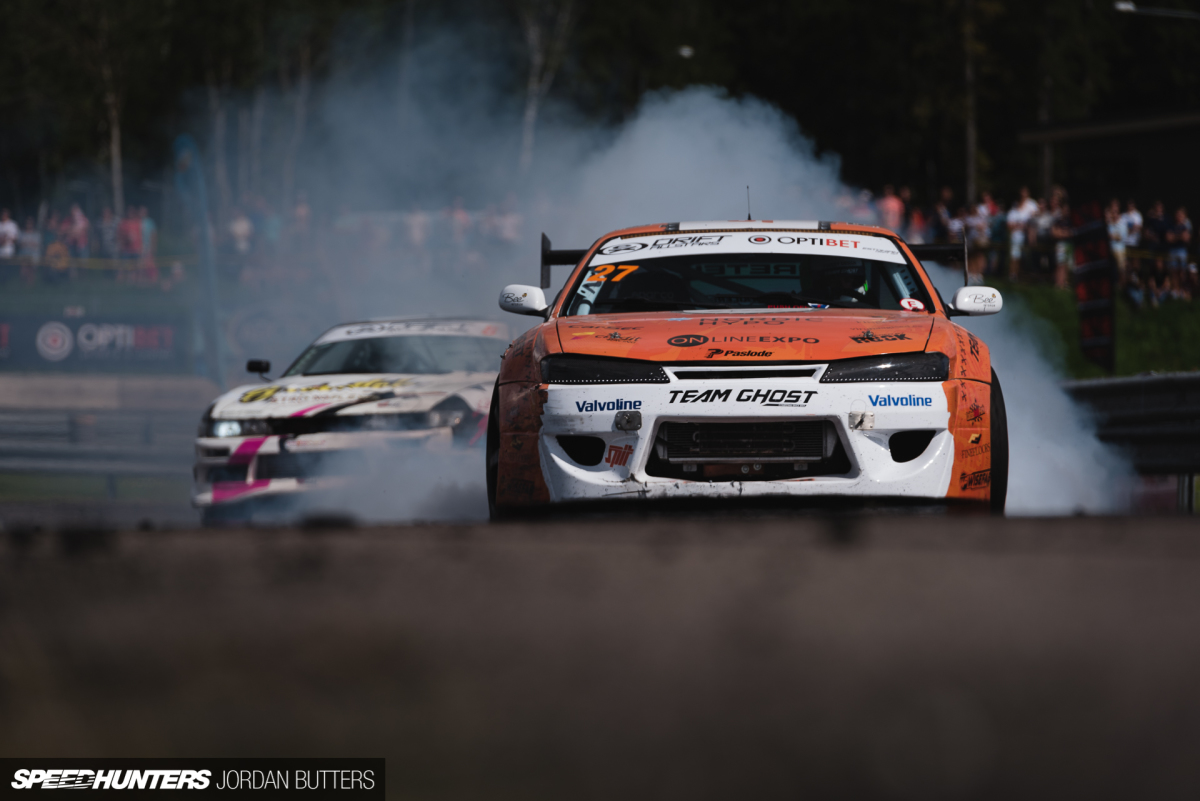 Team Ghost are one of the more prominent Estonian teams. Here, Jarmo Luht leaves top qualifier Aleksander Kantarovski standing in the Top 16. Kantarovski was reportedly suffering from engine issues, and is now scrambling to repair or replace his SR20 before next weekend's Latvian Drift GP at Bikernieki Circuit in Riga.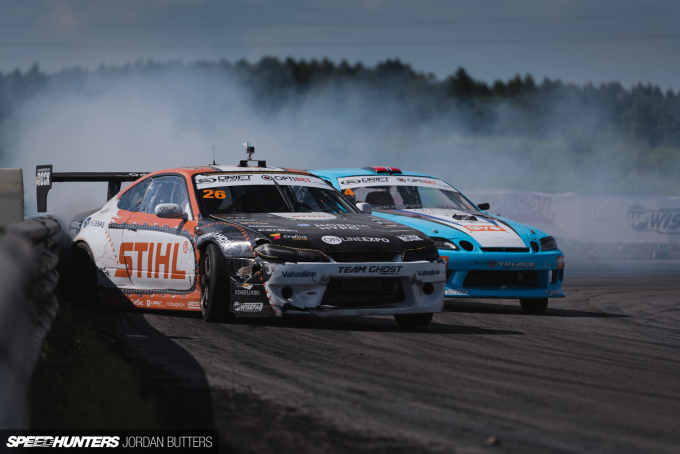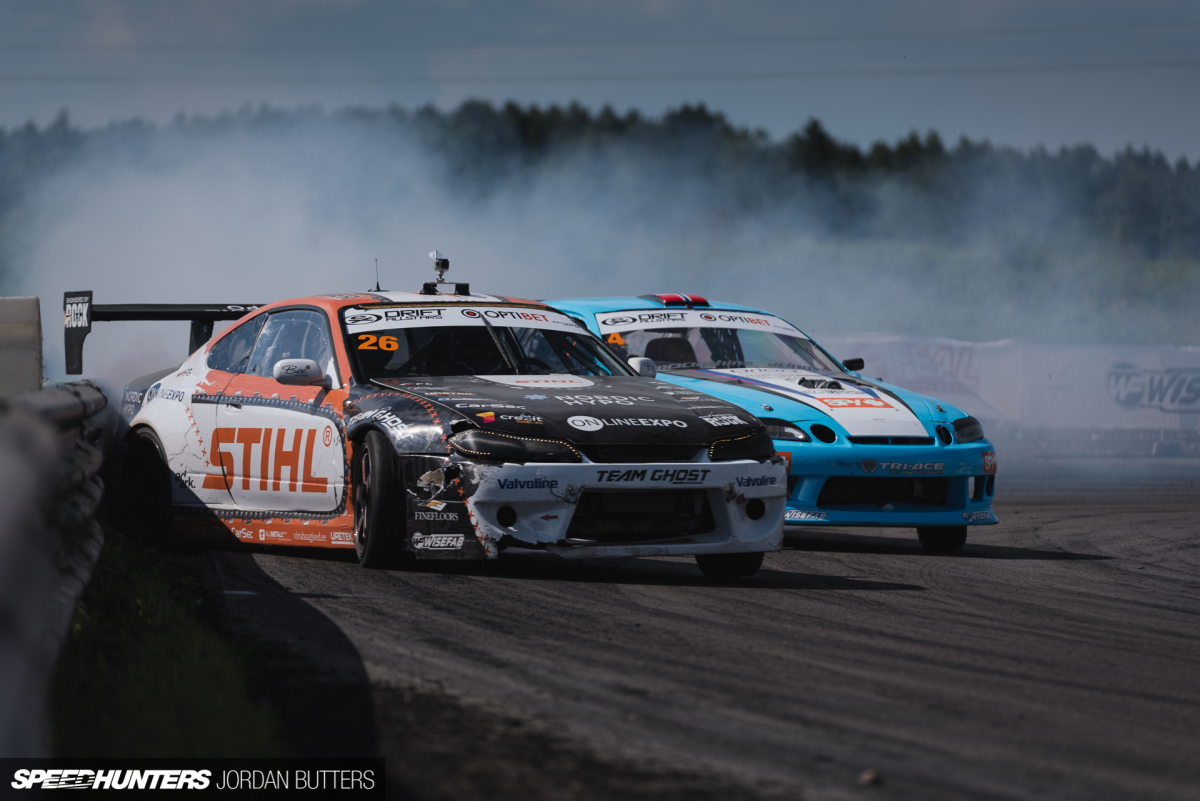 Ghost team mate Kristjan Klemets qualified down in 21st place, and met Norwegian Fredrik Øksnevad in battle. An uncharacteristic mistake by Fredrik on transition ended his event early against the Estonian in the Great 8. A Drift Allstars win continues to elude Fredrik, although it seems like he's getting closer and closer with every event.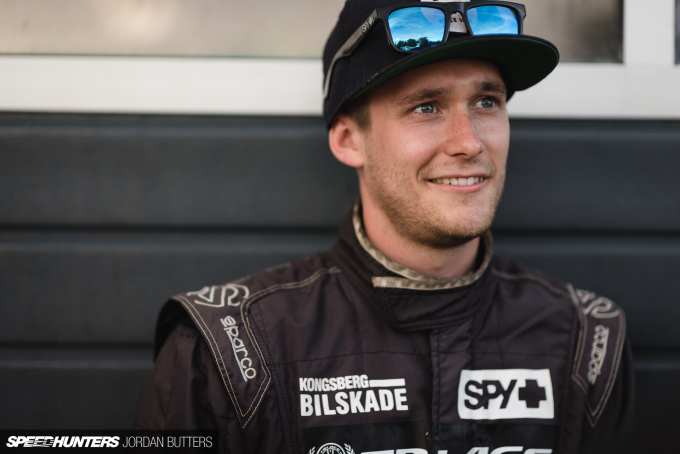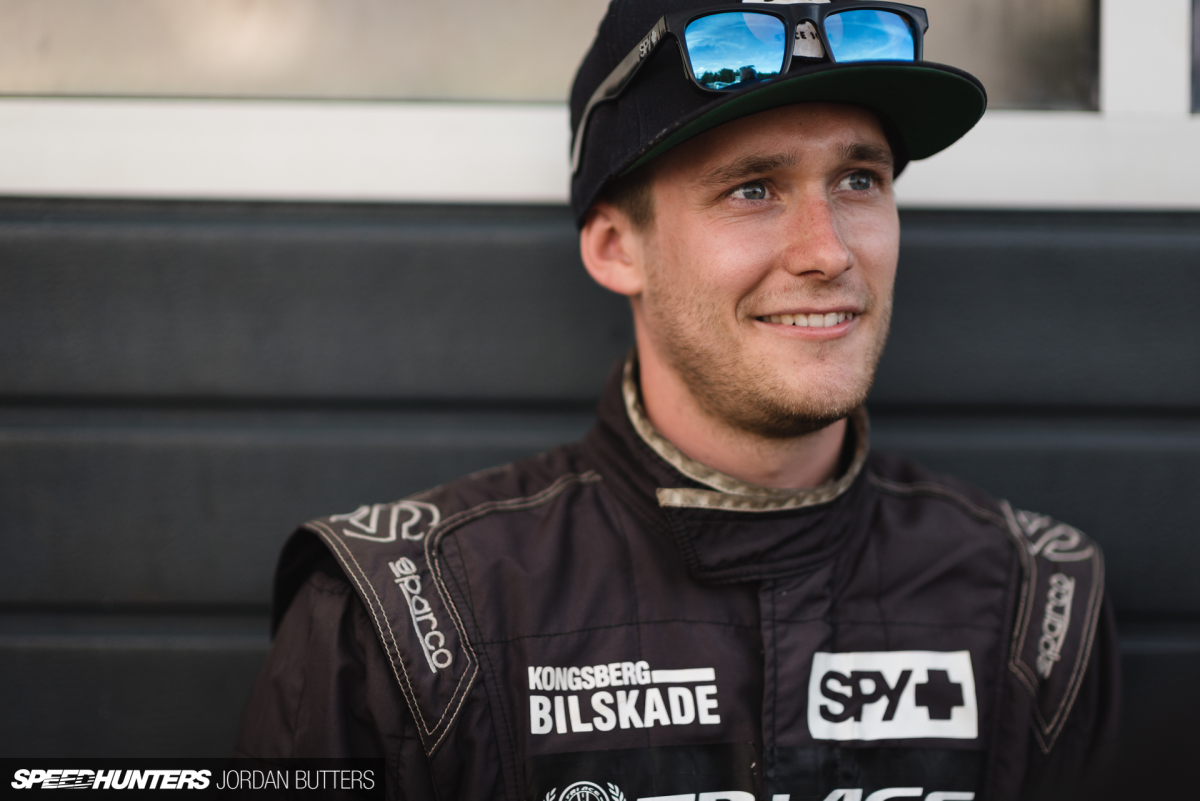 I chatted to Fredrik after the event in Estonia and he said that he got too close to Klemets on transition, had to quickly adjust and ended up overthinking his actions. That was enough to break his concentration momentarily, causing him to drop a wheel off track. At this level it's crazy how fine the tolerances are between getting it right and ending your event early.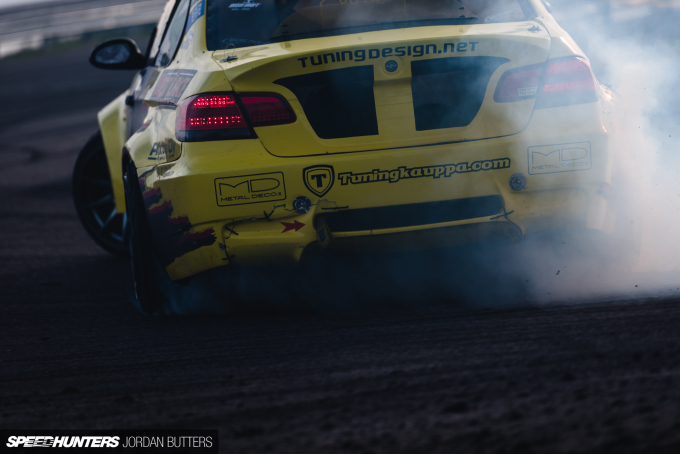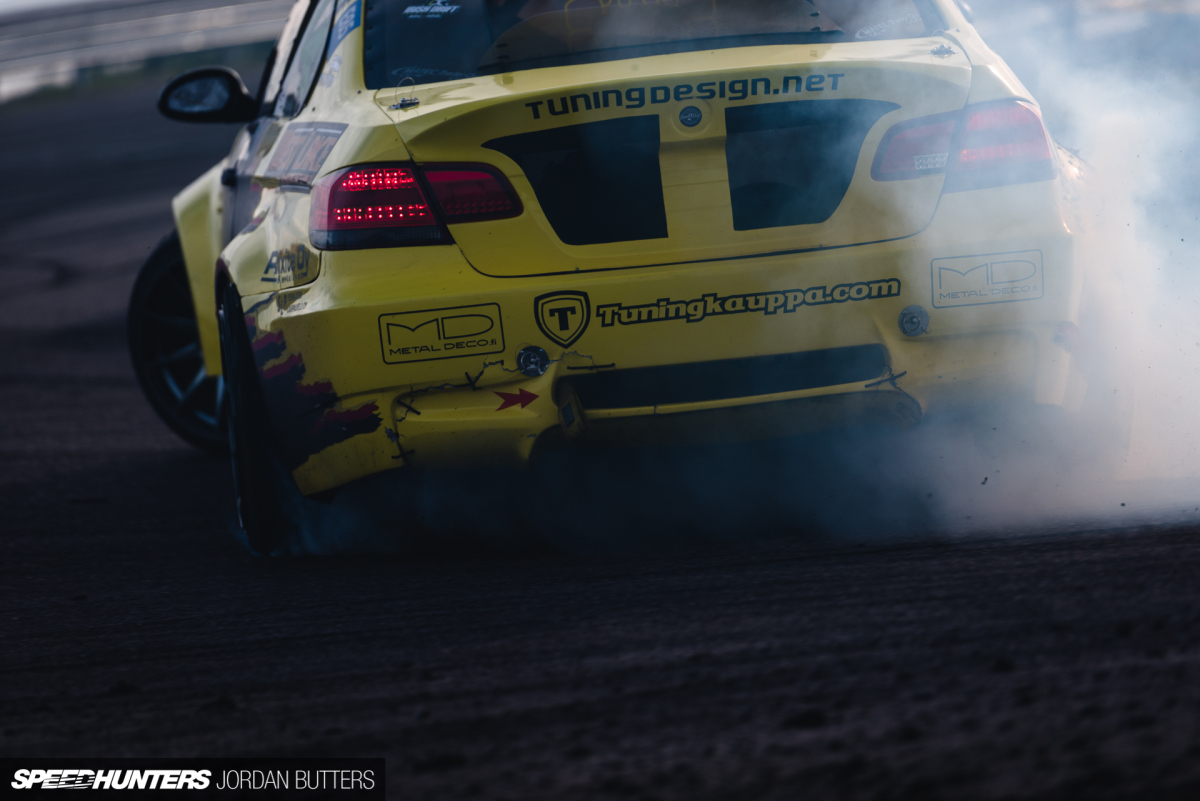 Juha Pöytälaakso has become a serious contender over the past year too. The Finnish champion came fresh off the back of a strong performance in Ireland, but sadly Estonia wasn't going to be his event. He became one of Klemets' early victims after the yellow E92 suffered engine problems in the Top 32.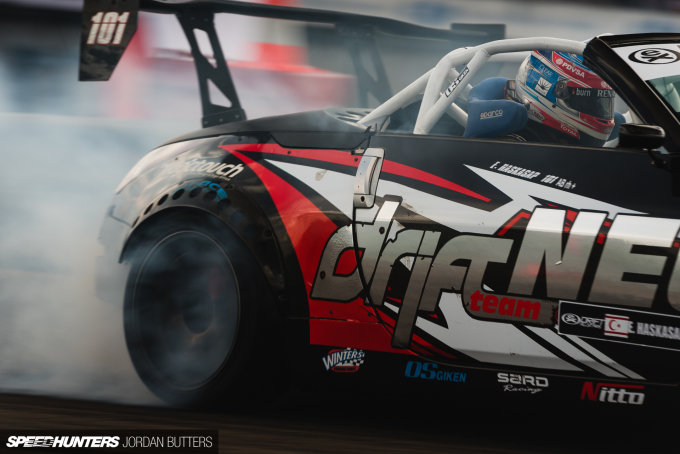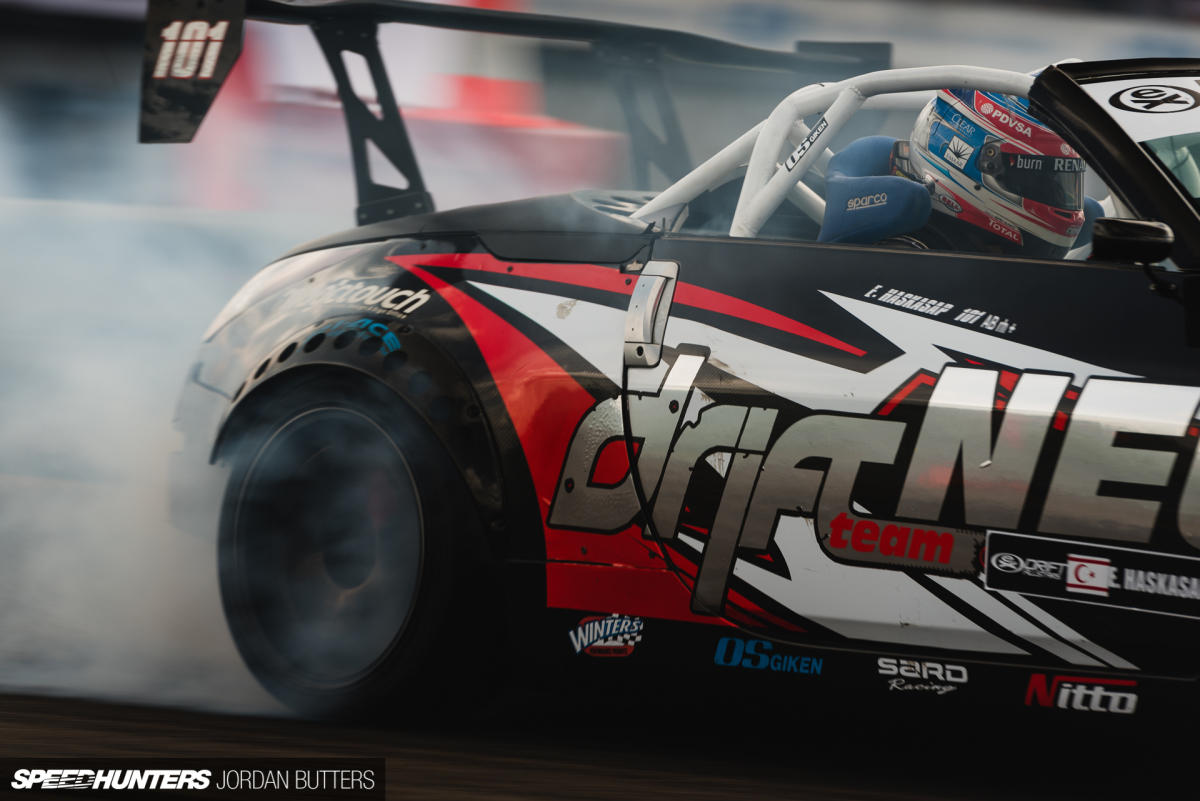 I really enjoyed shooting Enver's 350Z. From a photography standpoint, I say we need more convertibles in drifting. Being able to see the driver in action shots is so much better in my opinion, however for safety reasons side glass is mandatory in Europe unless you have arm restraints or window nets.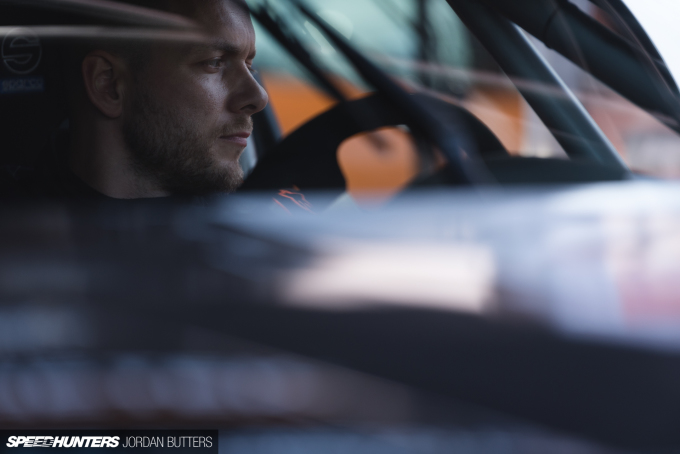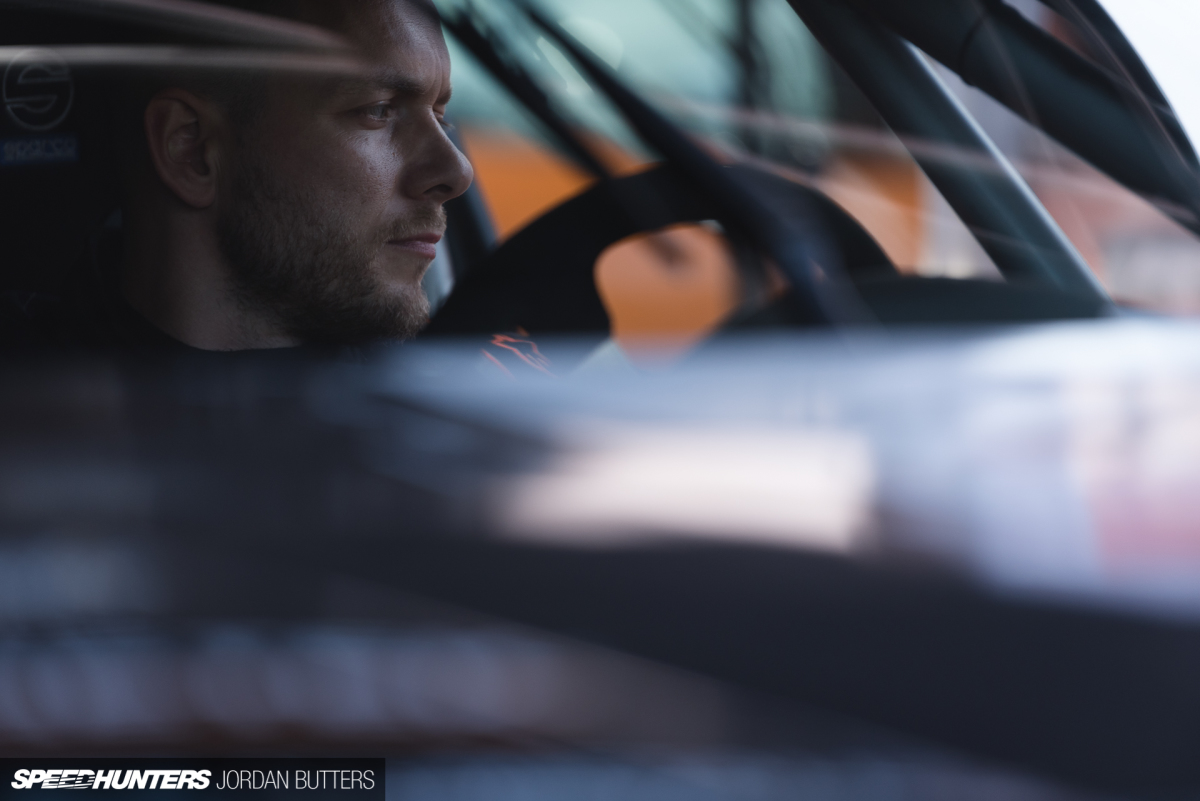 Klemets' route to the final was arguably the toughest in the competition, but the local driver held his nerve without falter. Juha Pöytälaakso, Fredrik Øksnevad and Enver Haskasap all fell to the Estonian before he met Deane in the final battle.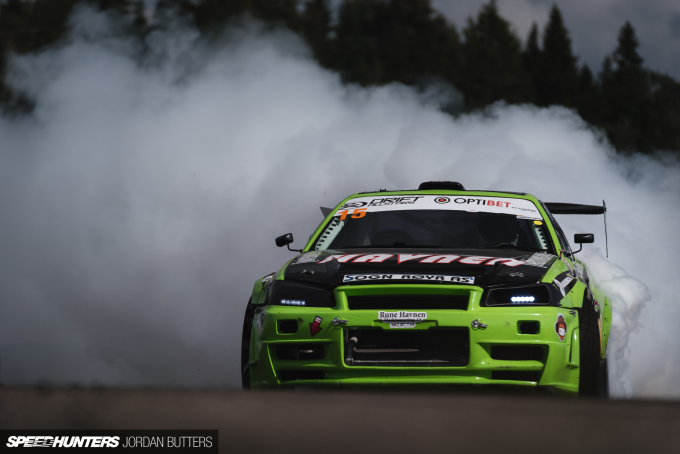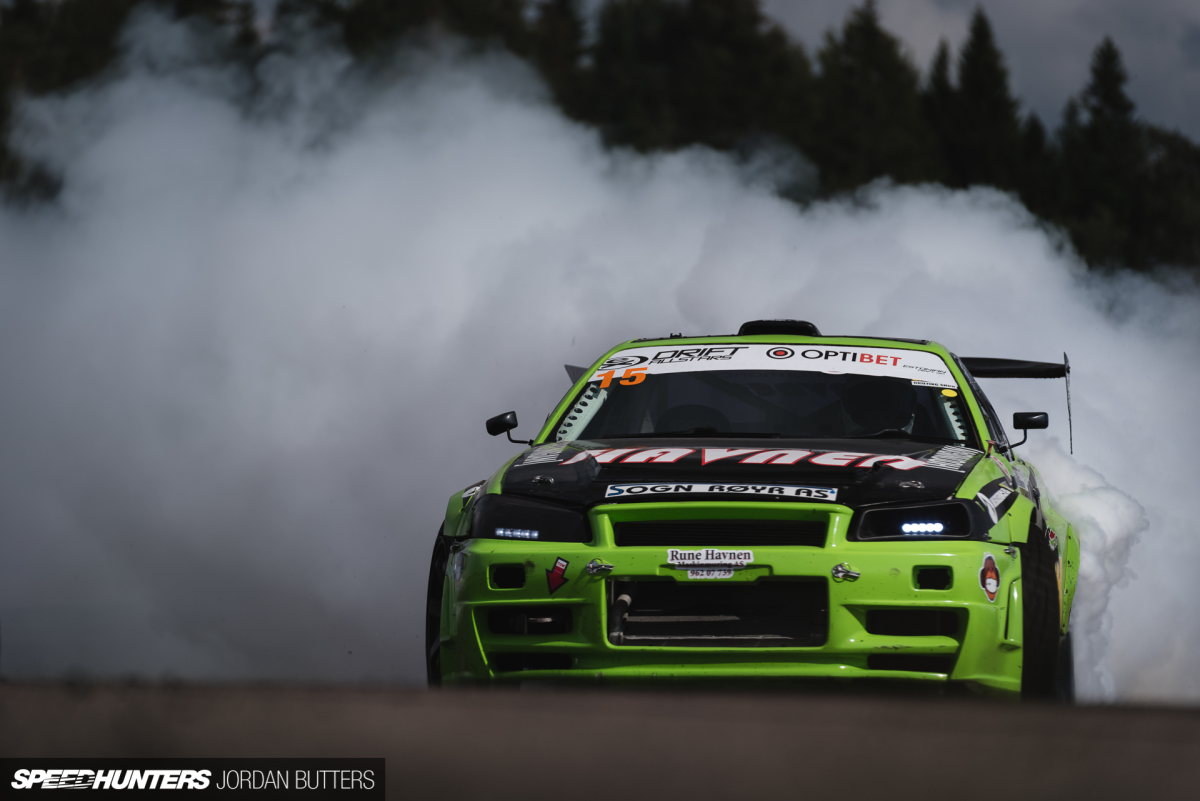 Thanks to Estonia's geographical proximity to Scandinavia, the annual event always attracts a fair amount of competitors from across the Baltic Sea. Kenneth Nornes was one of a handful of Norwegian drivers who made the journey over in his R34 Skyline. The car packs an 800bhp 2JZ motor and was built by Formula D star and fellow countryman Kenny Moen.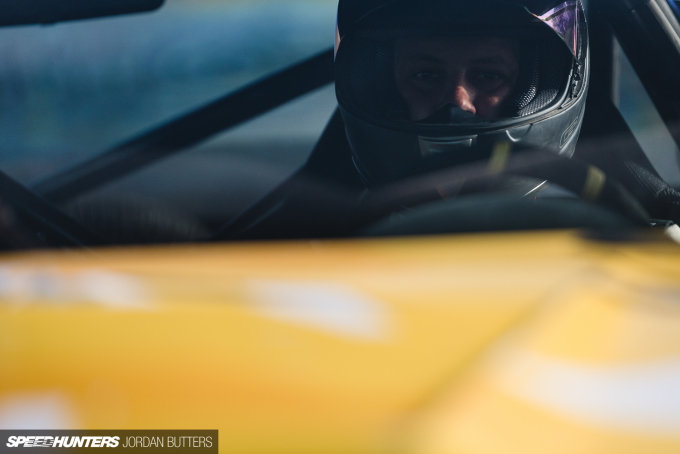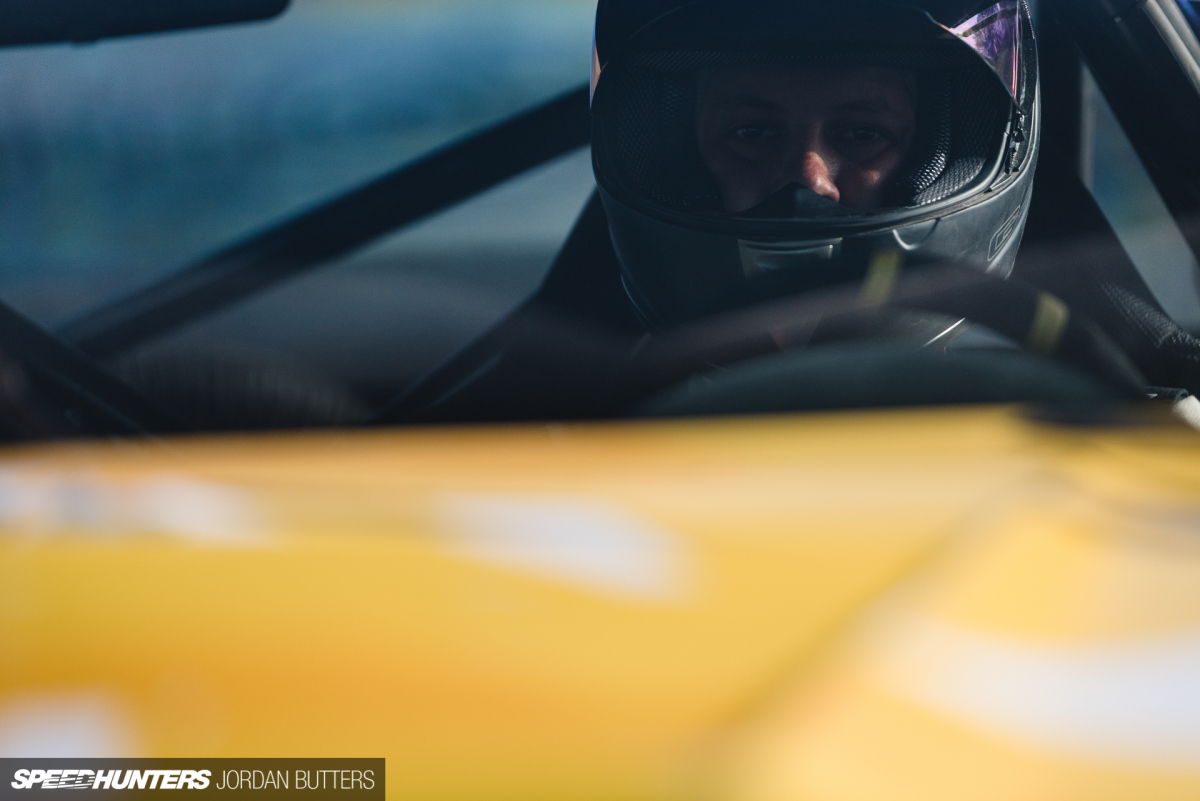 While shooting crazy smoke screens is fun, I find that one of the most interesting places for images is on the start line. I only really get to shoot here during practice and sometimes in qualifying as I really need to be out on track to shoot the runs.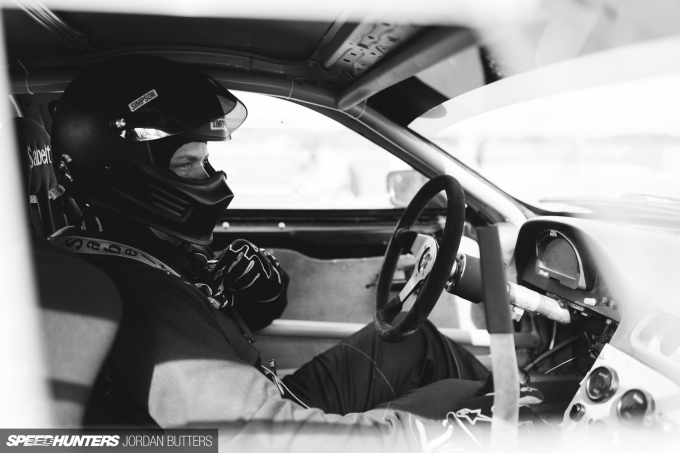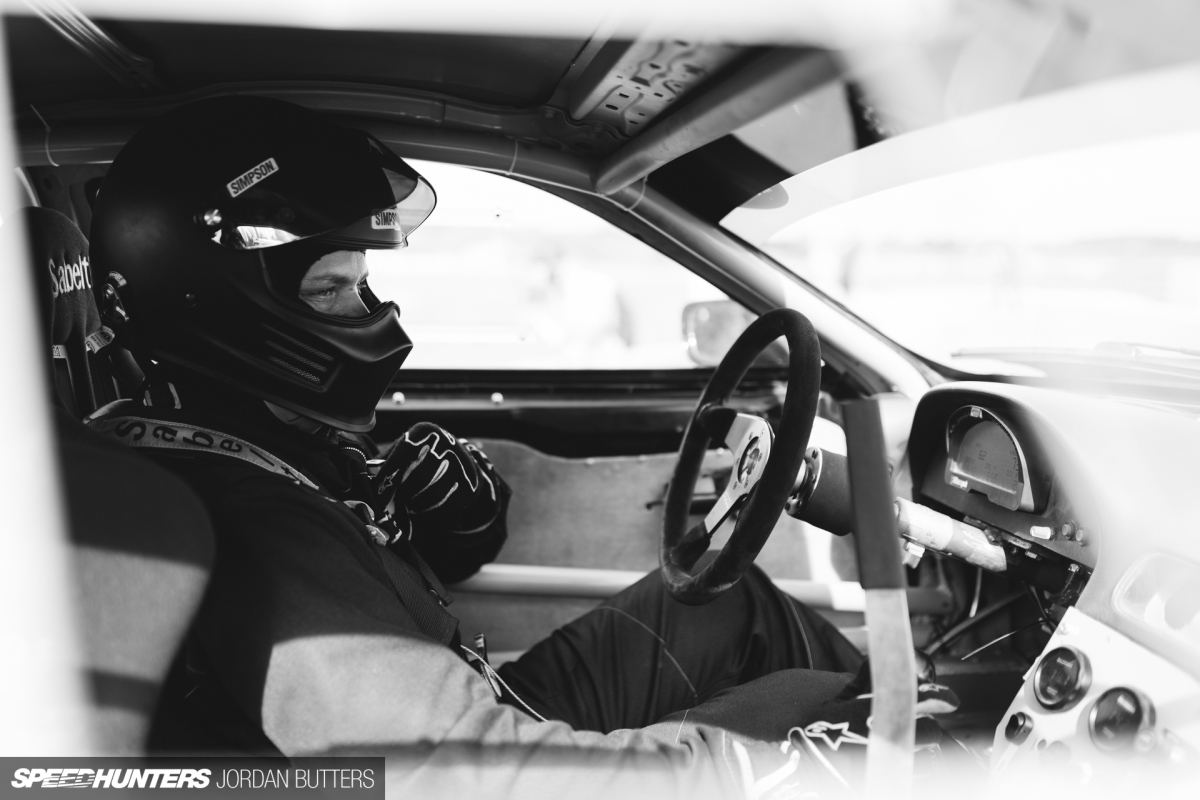 I wish I could be in two places at once, as once the competition intensifies you can immediately see it in the drivers' eyes as they approach staging. Can we clone humans yet? Or maybe an assistant would be a more realistic option…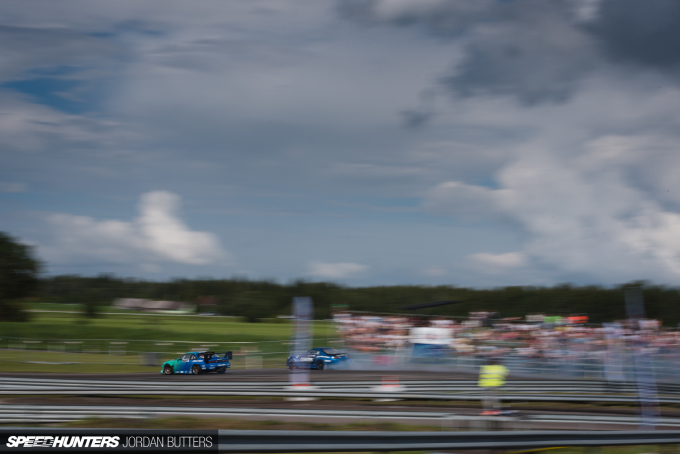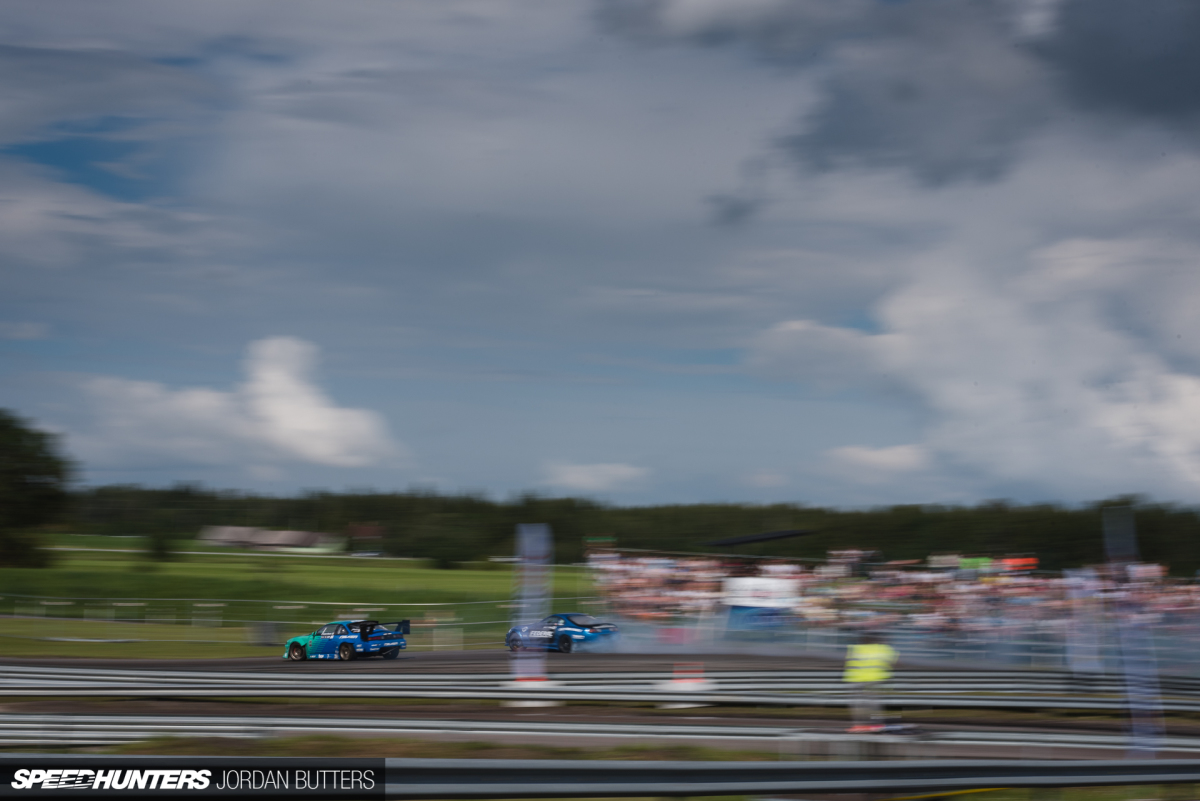 This year's event was trickier to shoot than 2015's for a number of reasons. Safety concerns for media are ever increasing, having been somewhat relaxed in previous years. It's understandable – at Laitse you're right on top of the action and certain areas which provided great angles previously were restricted for this very reason. At times this meant finding new angles and improvising when I couldn't get as close as I'd like.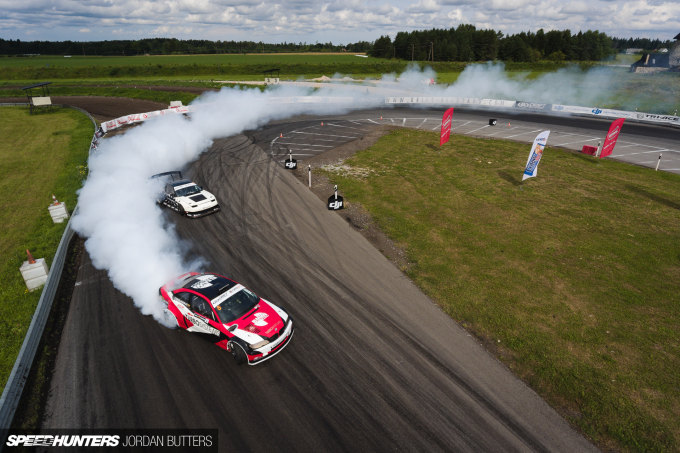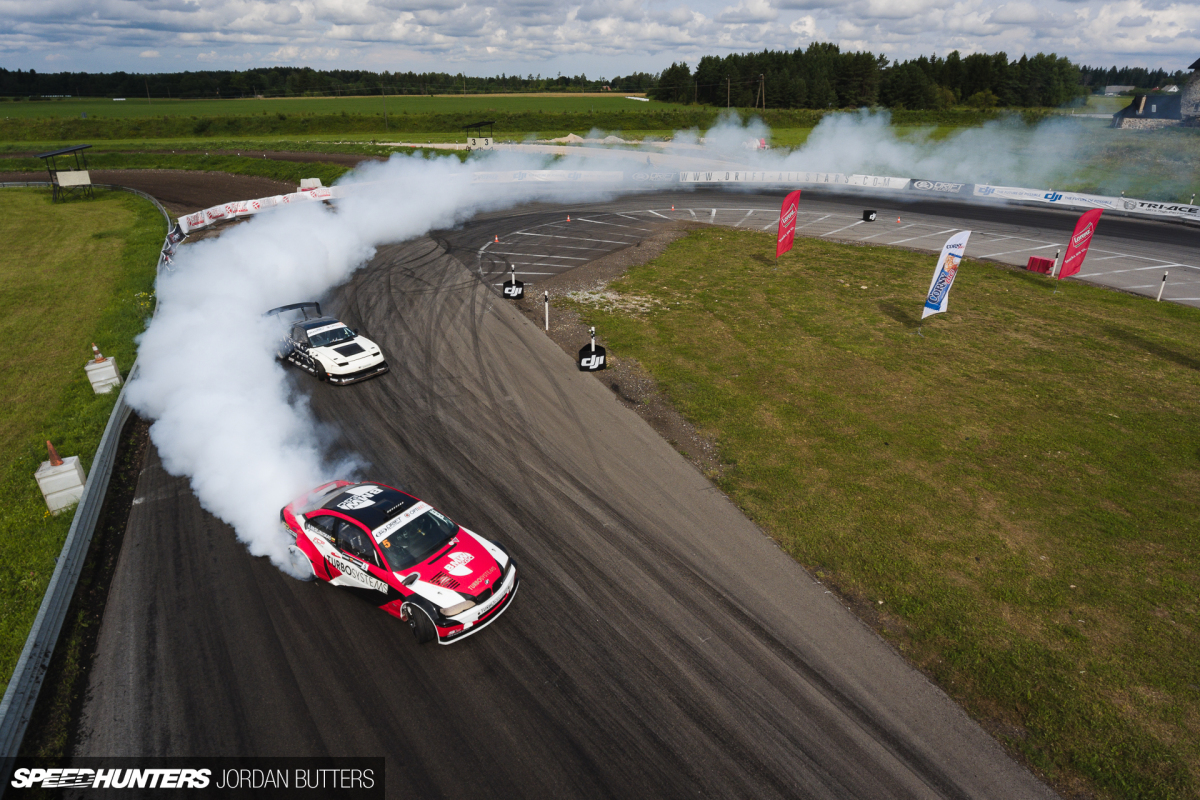 I did manage to have my first quick play with a DJI Phantom 4 drone during practice. I can instantly see why they've boomed in popularity so much with videographers and photographers alike – it's so much fun, and only slightly daunting at the same time. As a photographer I can definitely see the advantage of adding one to my toolkit. I really enjoy the fresh perspective that they can bring to an event, and with technology improving all the time at such a fast pace they're getting easier to fly and more versatile. I envision some really cool stuff will be possible in the near future when it comes to aerial photography – slow shutter drone tracking shots anyone?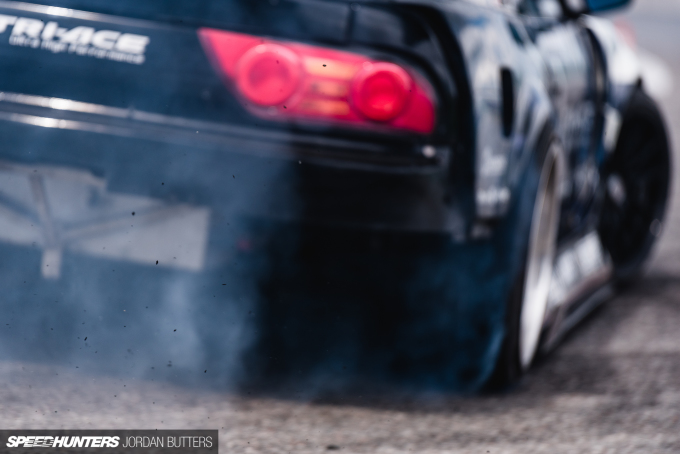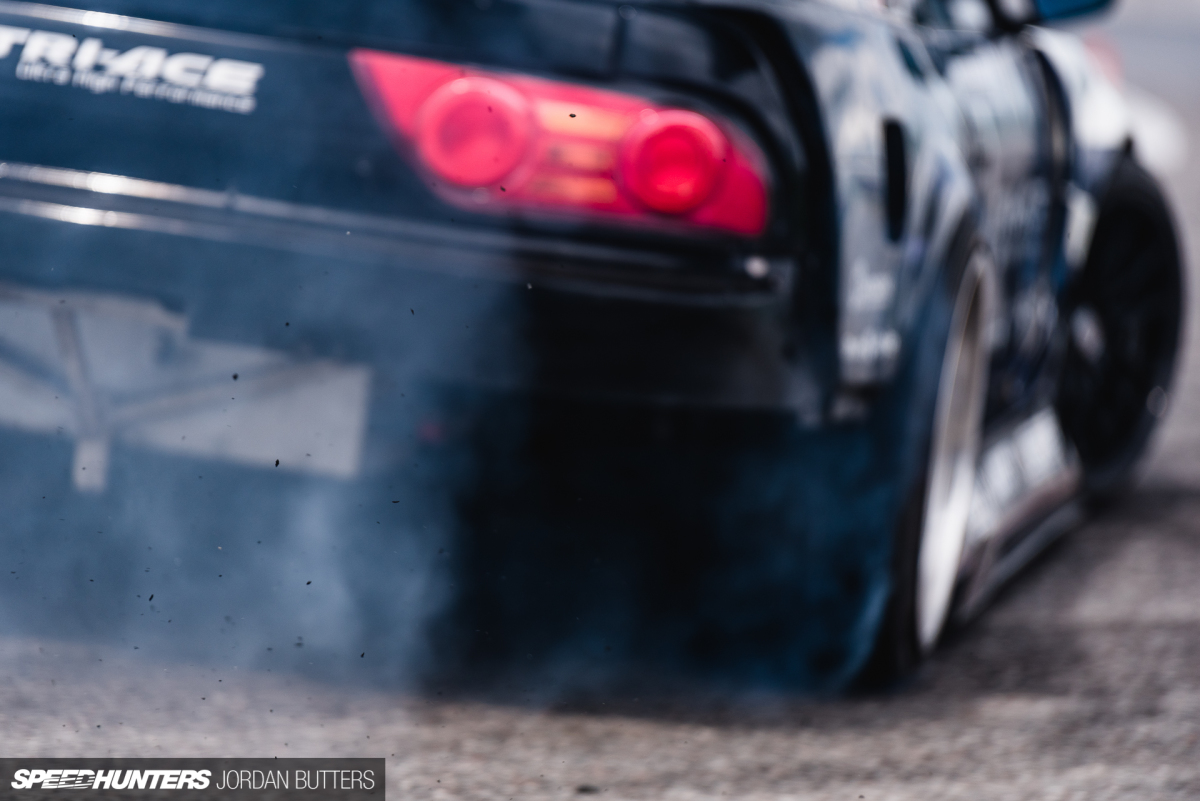 Back on terra firma, some shots are happy accidents. Nigel Colfer's 180sx was too quick for my autofocus on this occasion, but it randomly locked on to the shards of Tri-Ace rubber he left behind. I kind of like it.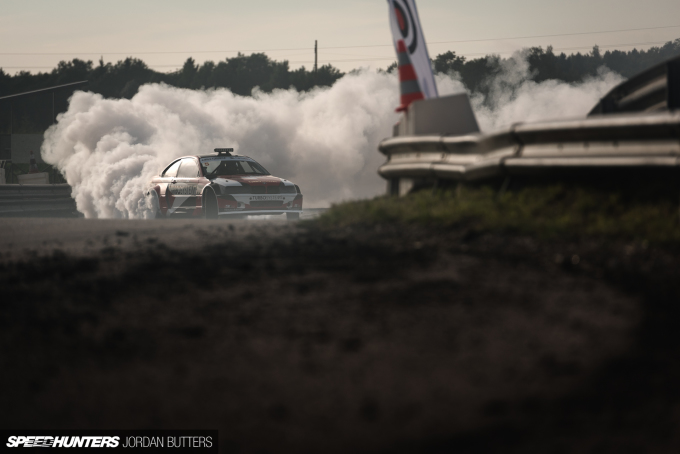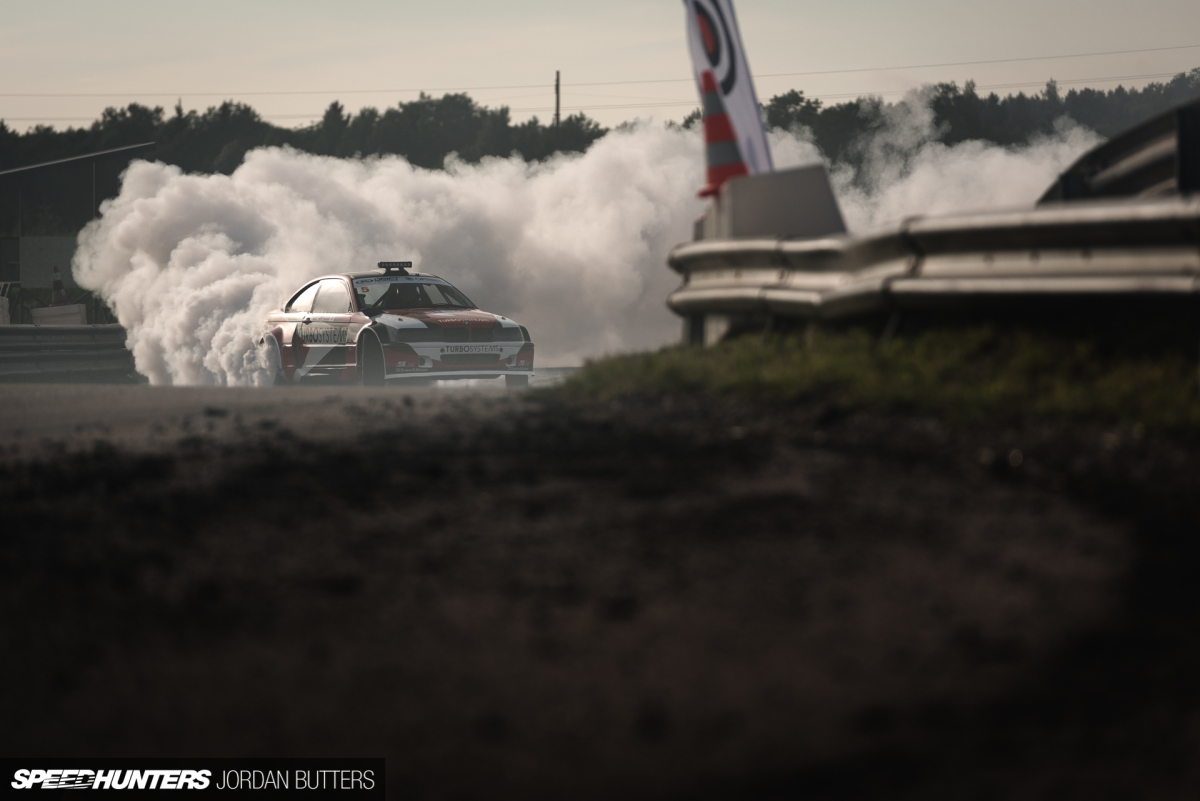 When it comes to absolute smoke machines, Lithuanian Andrius Vasiliauskas' E46 is right up there. With around 1,000bhp on tap it instantly decimates the rear tyres, leaving thick plumes of smoke in its wake.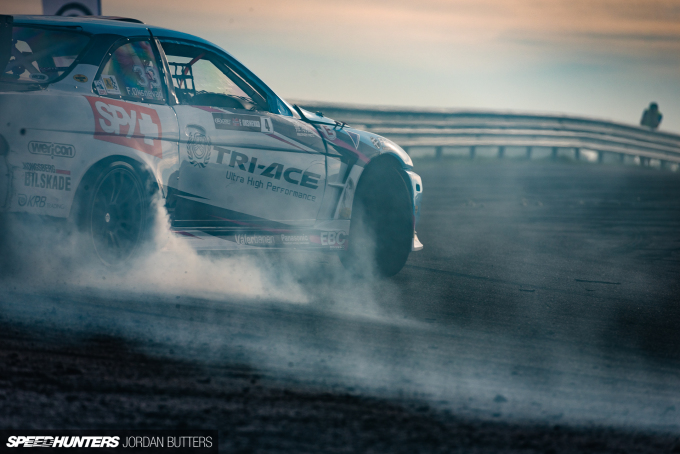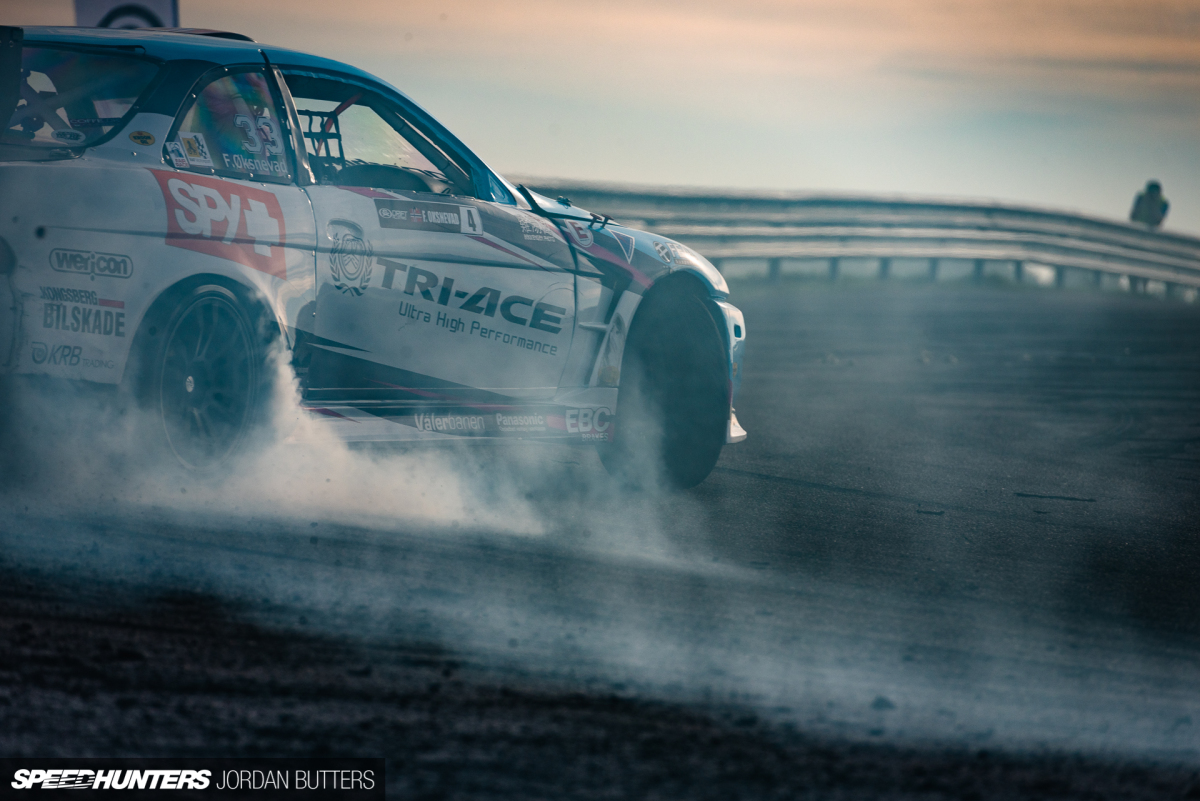 The final elevation change at Laitse involves an uphill climb after a sharp right turn. Delicate control of the throttle is required as drivers find balance between keeping the rear wheels spinning enough to hold their drift, whilst maintaining enough forward momentum to make it to the final outside clip.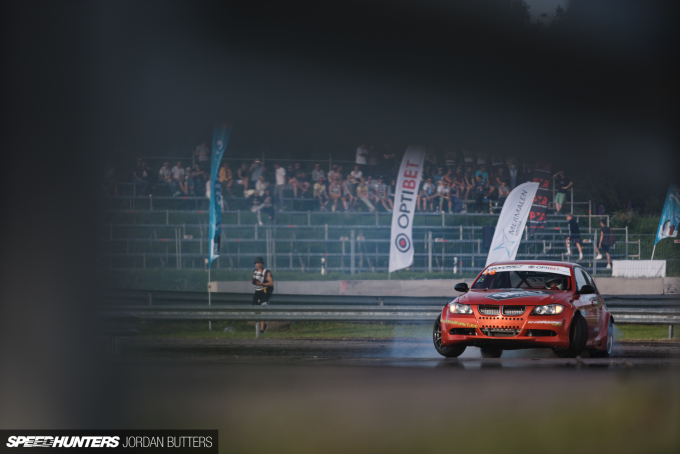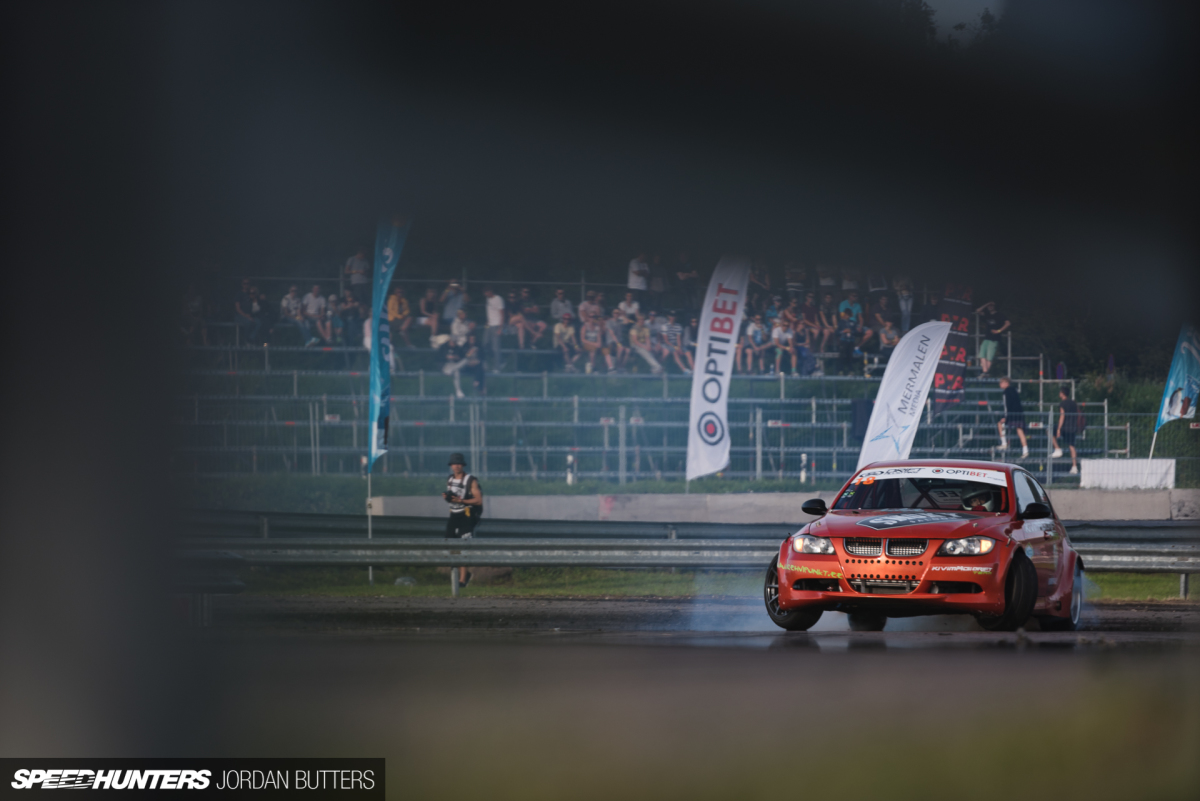 It's really good to see newer chassis being used in all levels drifting, and Henri Kivimägi's 2JZ E90 is the perfect example. There's an increasing amount of aftermarket support for these cars and they're incredibly popular in mainland Europe. The cars themselves are reaching a reasonable level of affordability too.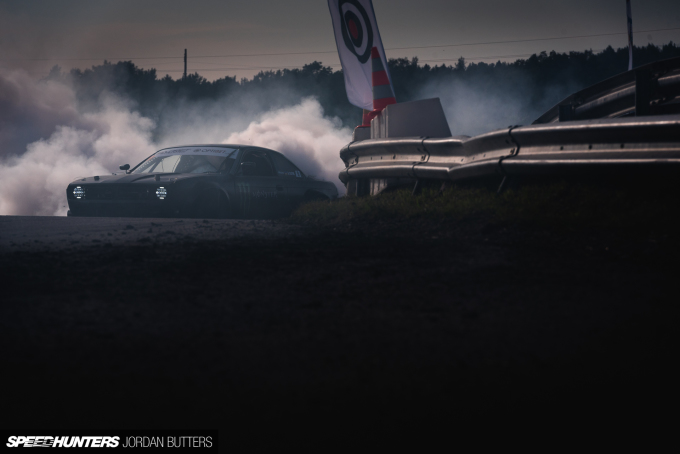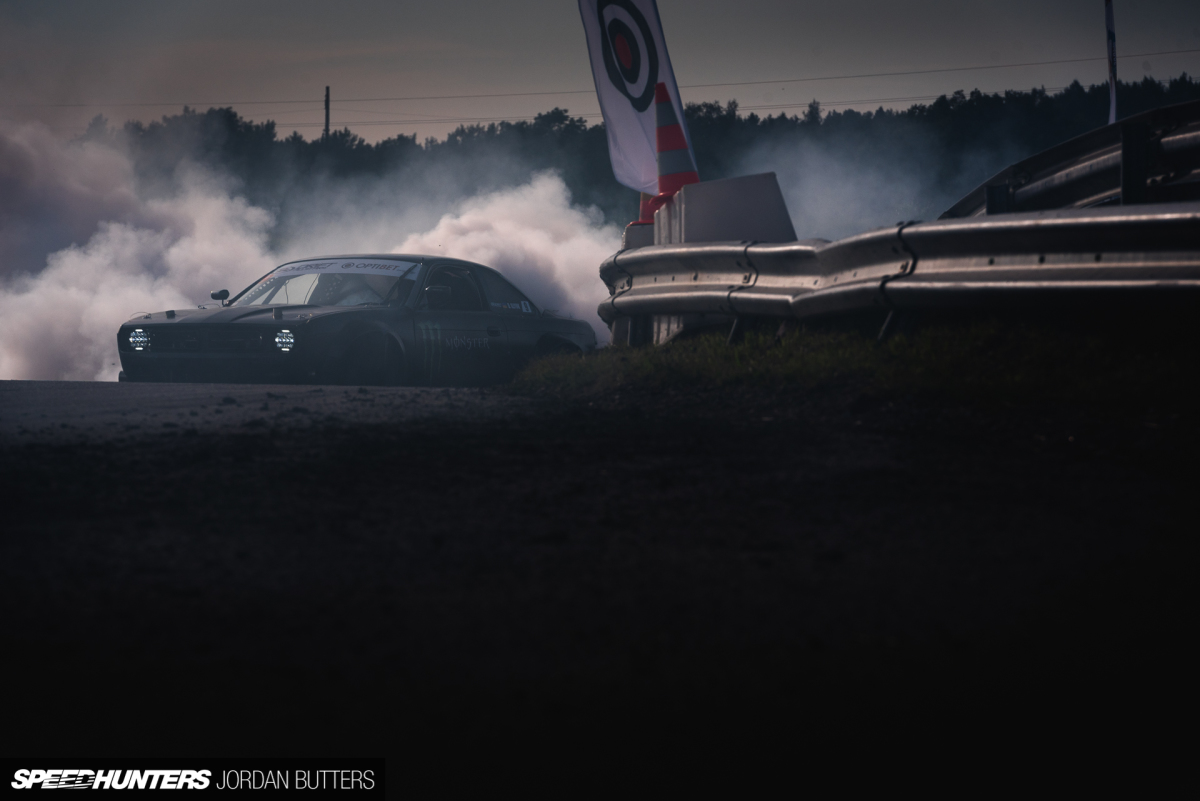 What's that coming over the hill? It is actually a Monster. Monster Energy athlete Dmitriy Illyuk chose the Estonian Drift GP as the perfect chance to give his new build its maiden competition voyage. The Ukrainian driver has dubbed the S14 The Drako, and it looks super mean wearing a Rocket Bunny V2 Boss kit and matte black paint.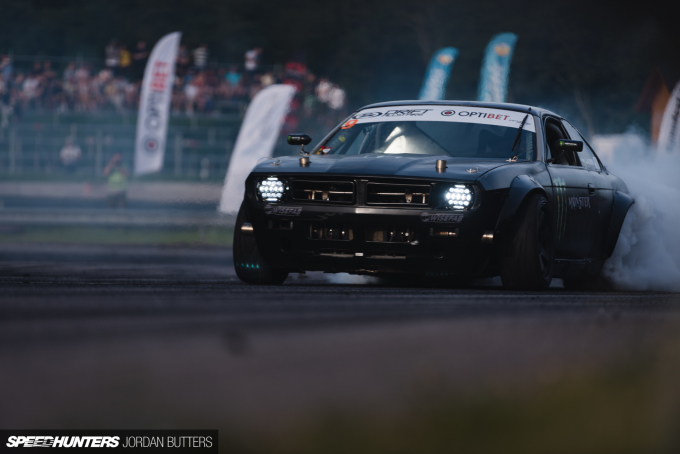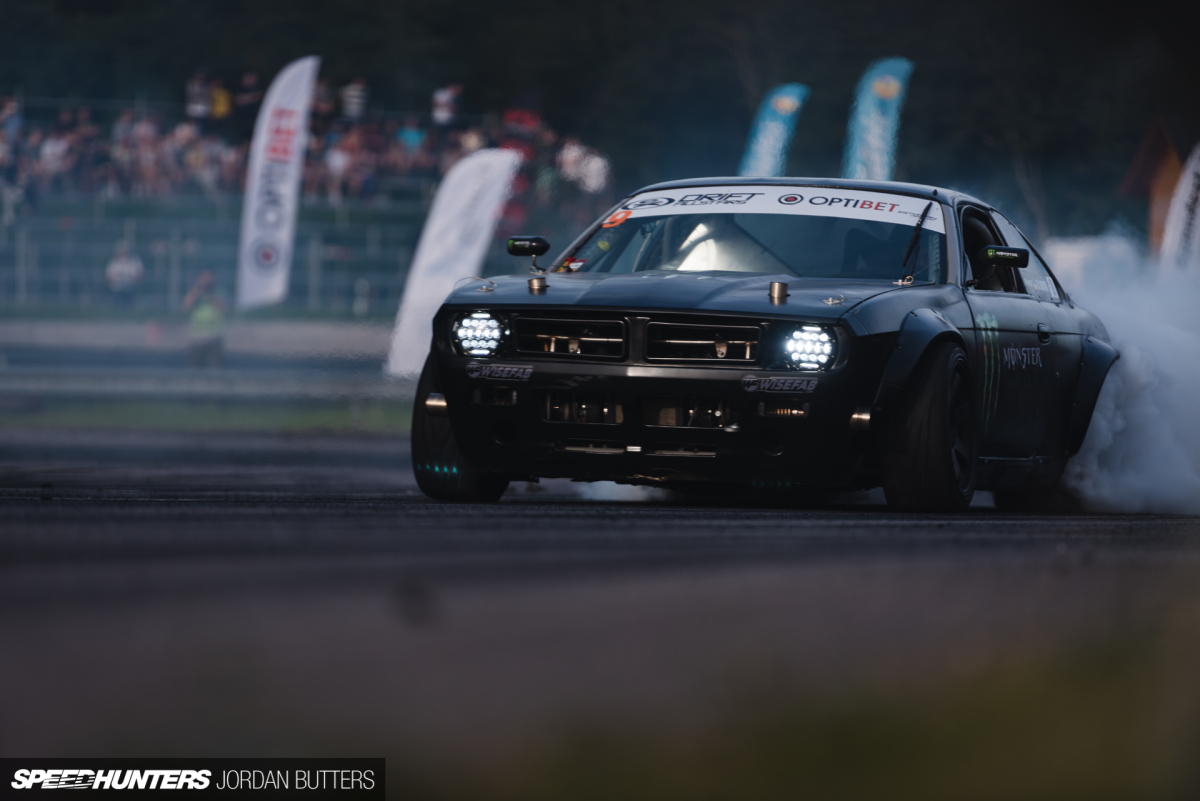 Powered by a twin-turbo Titan VK56 V8 with bonnet-mounted twin screamer pipes and short exhausts protruding from the sides of the front bumper, it's a feat of engineering. As you can imagine, it sounds pretty angry too. Before the stance police arrive to arrest Dmitriy, he had to switch to a narrower rear track after practice for additional traction.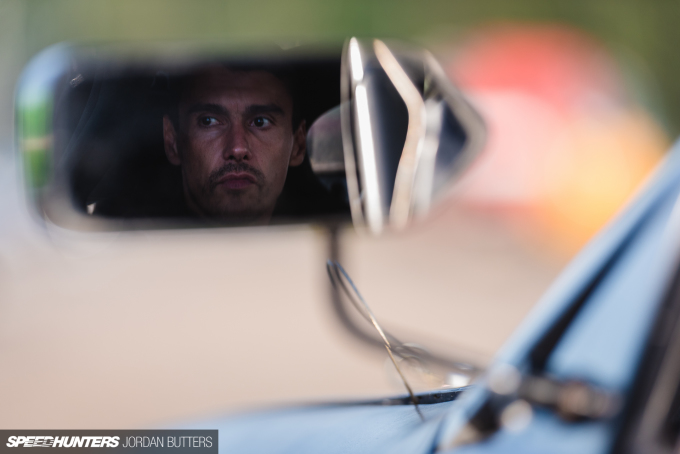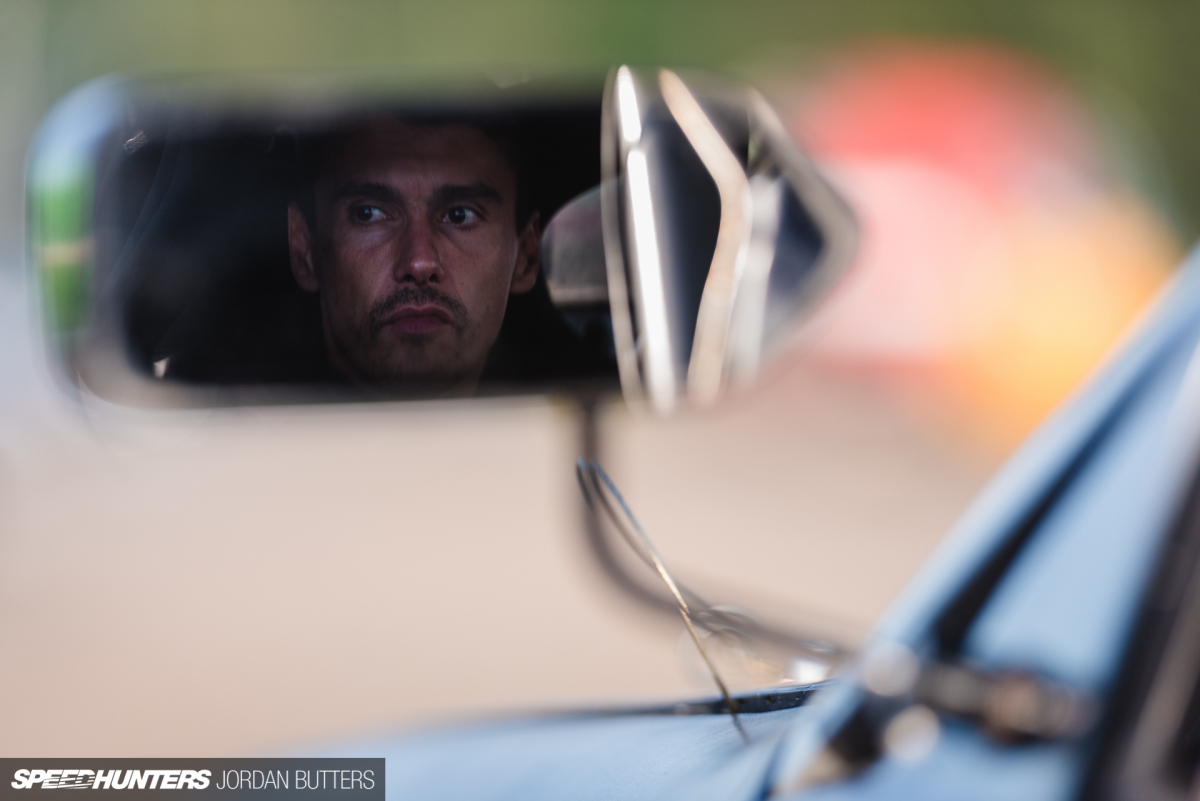 Dmitriy's first outing in the car wasn't without its teething issues, and he was forced to watch the Top 16 onwards from the sidelines. I believe he's gearing up for Latvia next weekend too however, and it'd be awesome to see him get to grips with The Drako in the same manner that he did with his old S13.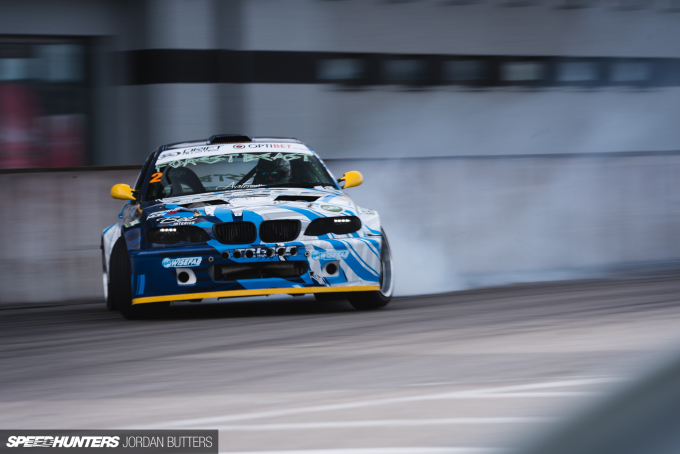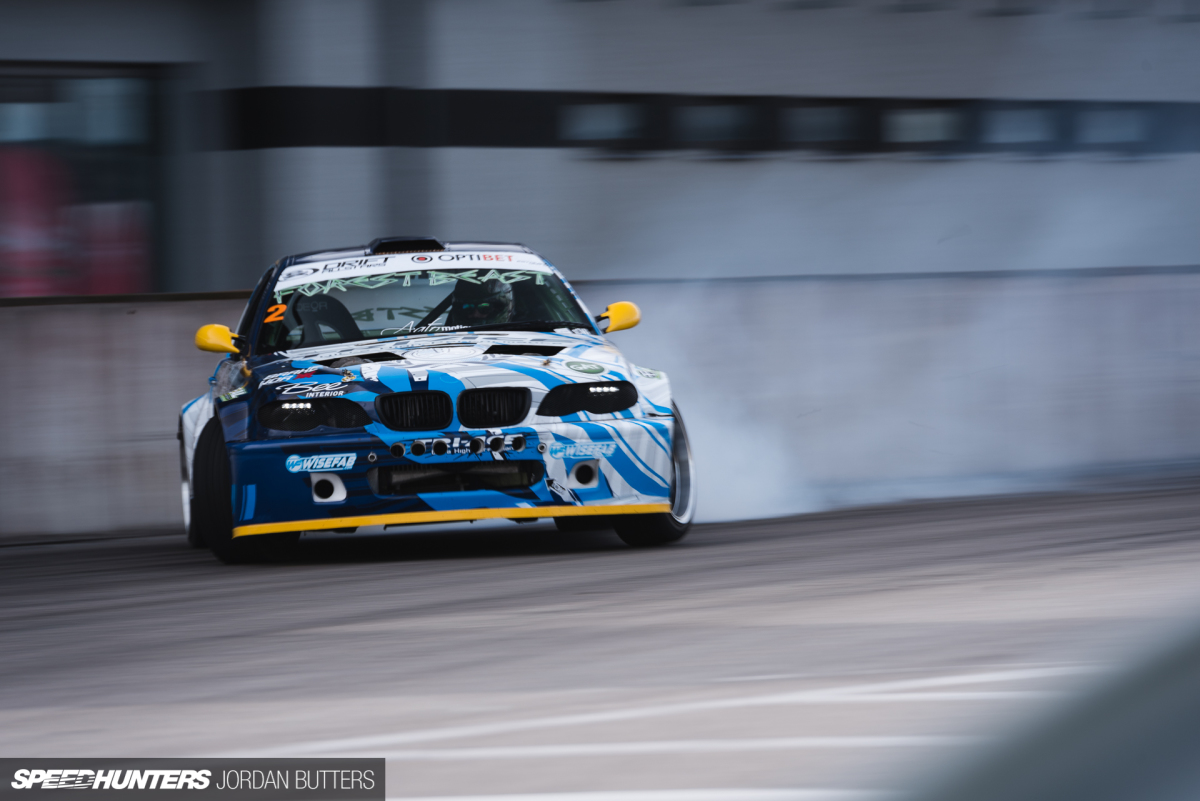 Here Latvian Janis Eglite approaches the second clipping point after the jump. Janis performed well in Ireland last month, but the top podium position continues to elude him. I've lost count of the number of times he's come second now!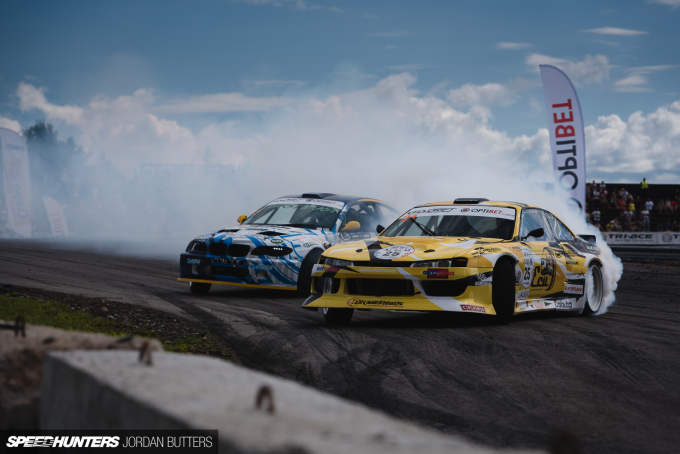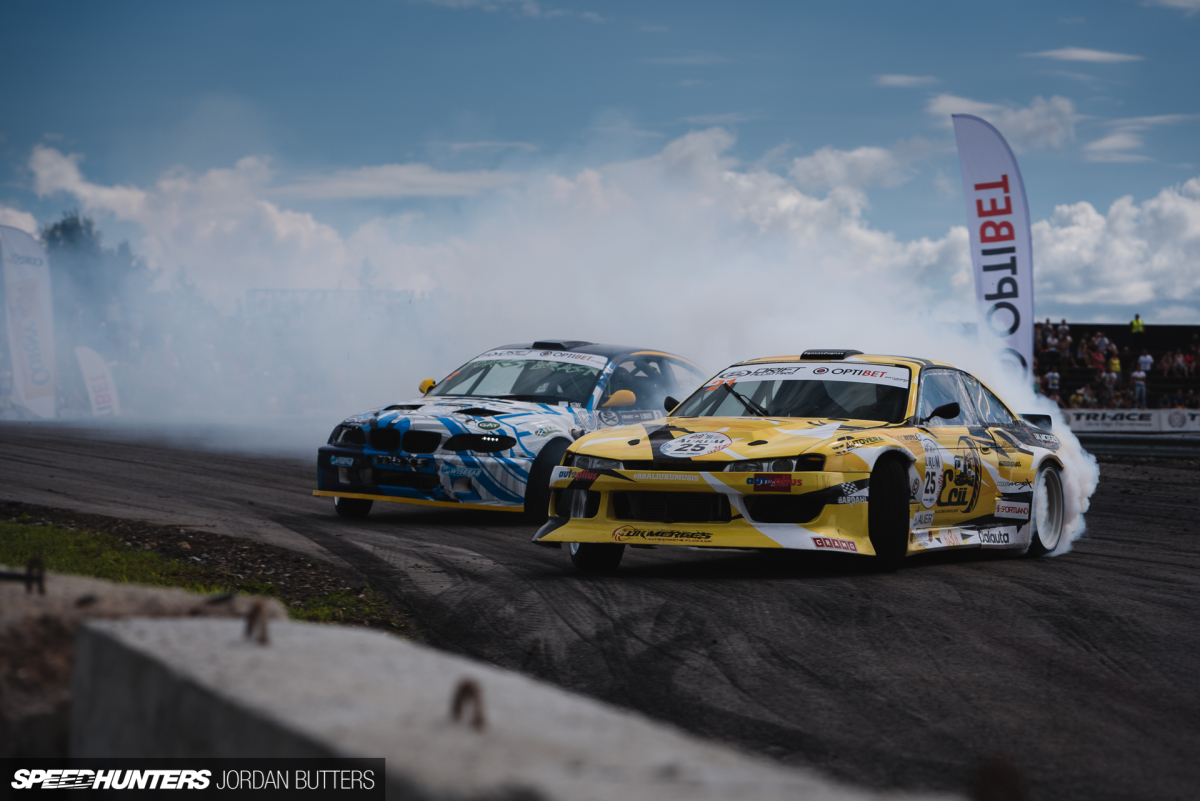 Sadly Eglite struggled to make it past the Top 16 in Estonia, losing out to Lithuanian Benediktas Čirba. Will next week's competition in Riga see him hold home court advantage? I honestly hope so – he's long overdue a win.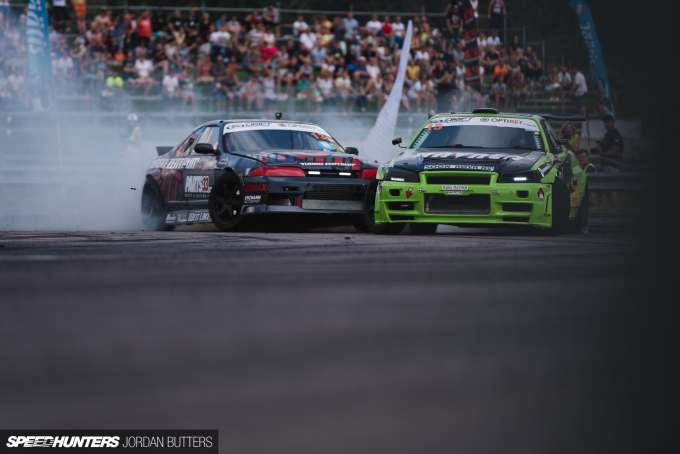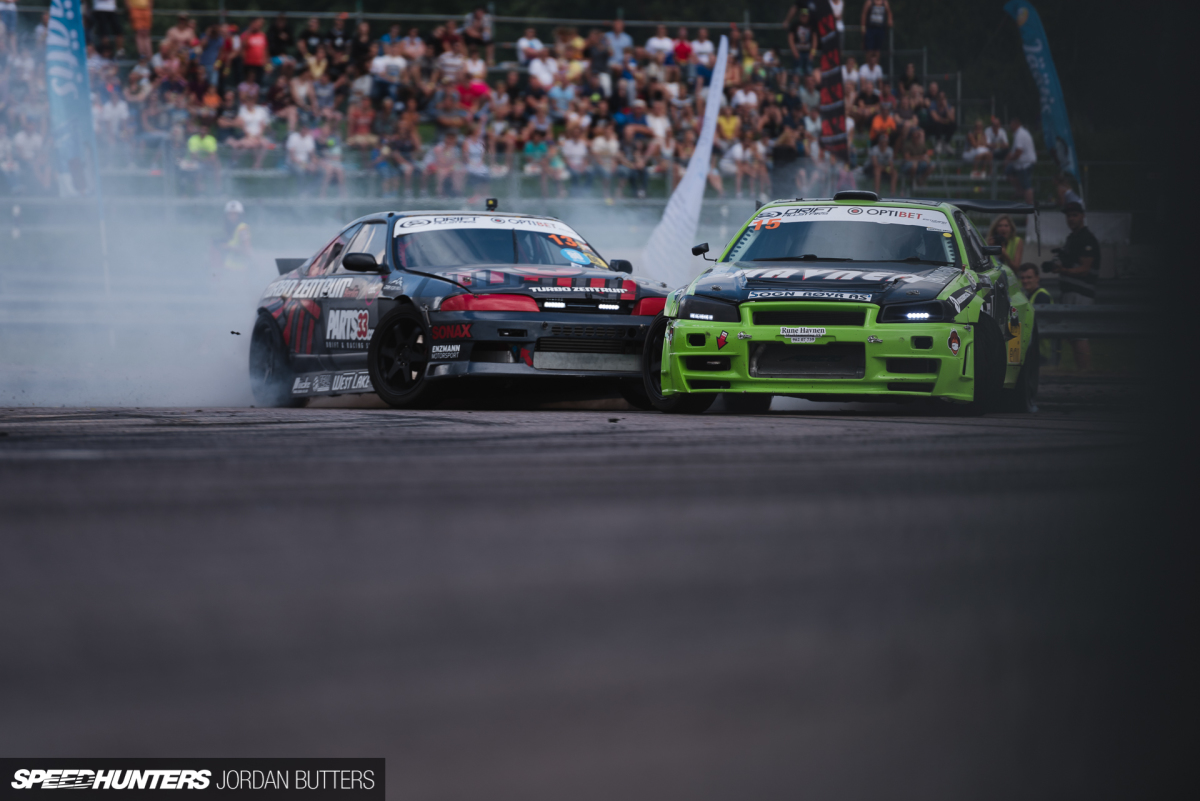 Germany's Marcel Uhlig is fast becoming a regular feature in the Allstars roster. His driving seems to be rapidly improving too, although here he got a bit too close to Kenneth Nornes in the Top 32, making contact in the last corner and ending his competition.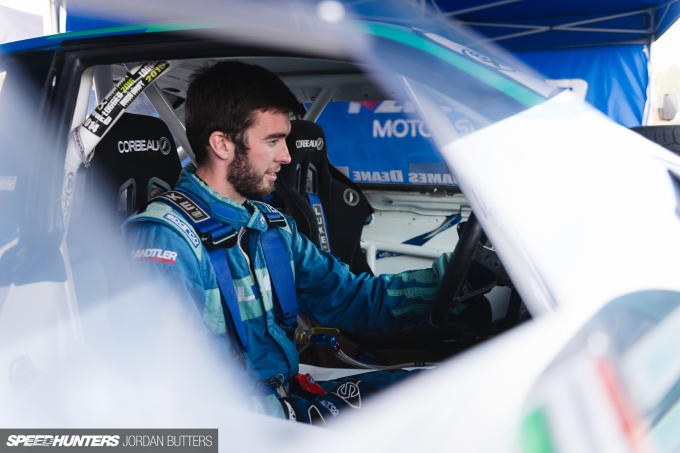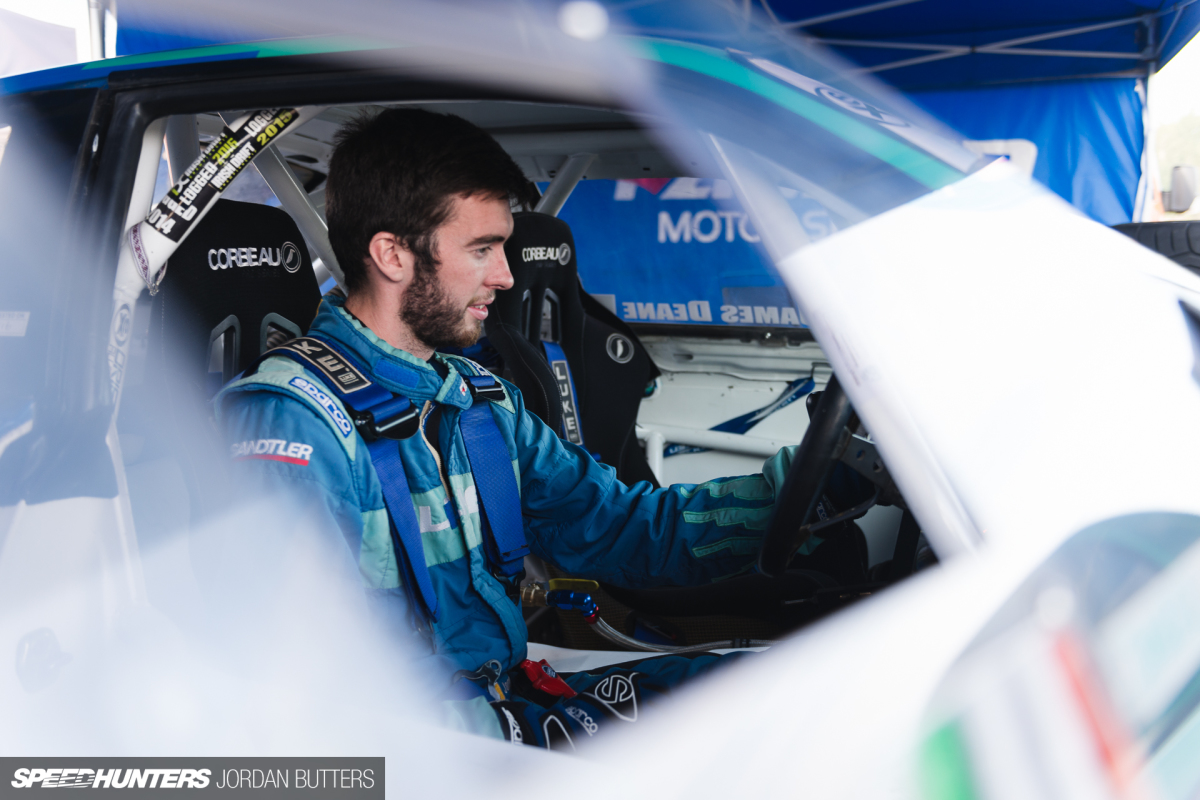 While everyone noticed that the big names were falling fast during the Top 32, James Deane was quietly and confidently working his way through the ranks.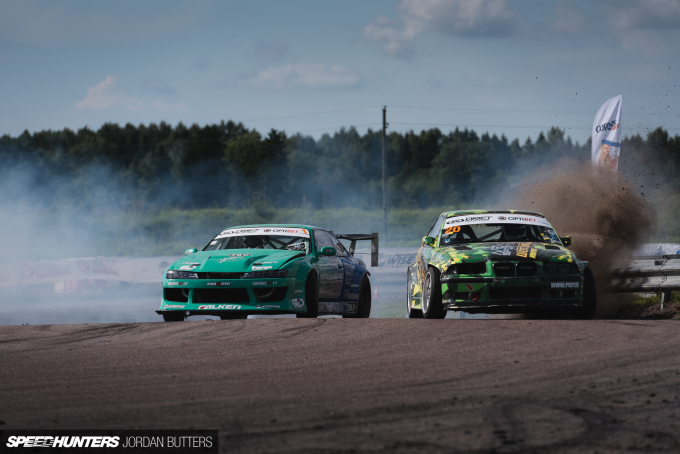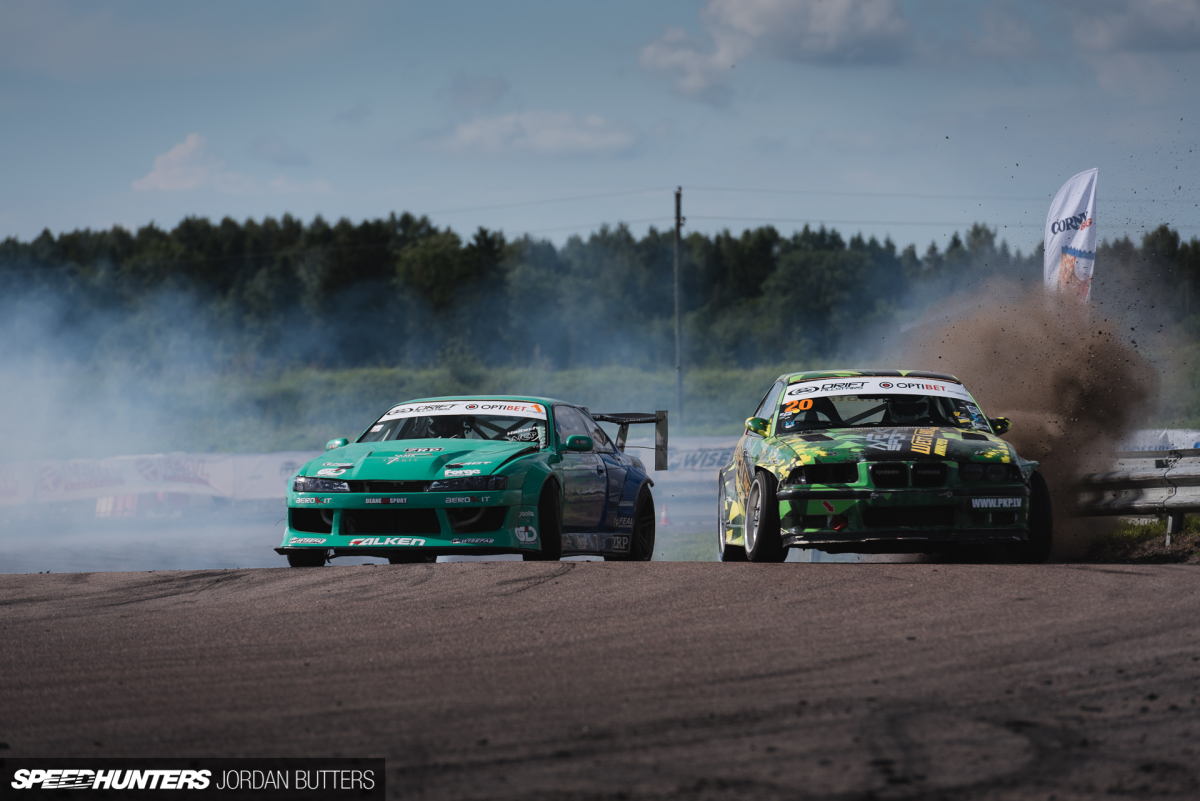 Another Latvian, Davids Jaunakais, used the Estonian event to get his eye in for Riga this weekend. After qualifying in second from last position, I think many underestimated his resolve. That was until he battled his way through to meet Deane in the Semi Final. An impact with the barrier left him punching the steering wheel in frustration, but I'm sure he wasn't disappointed with his fourth place finish overall.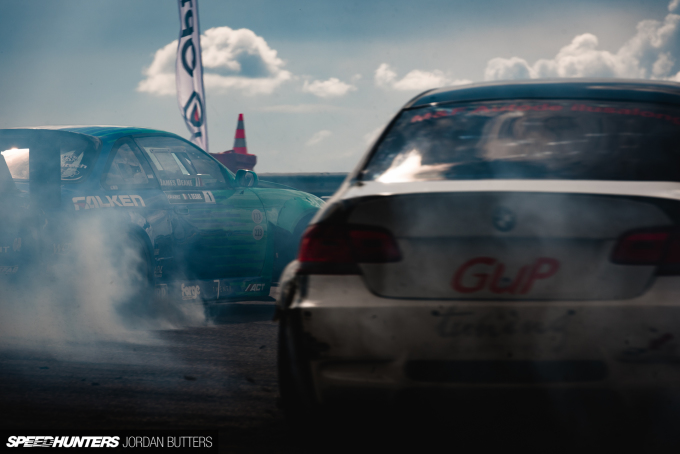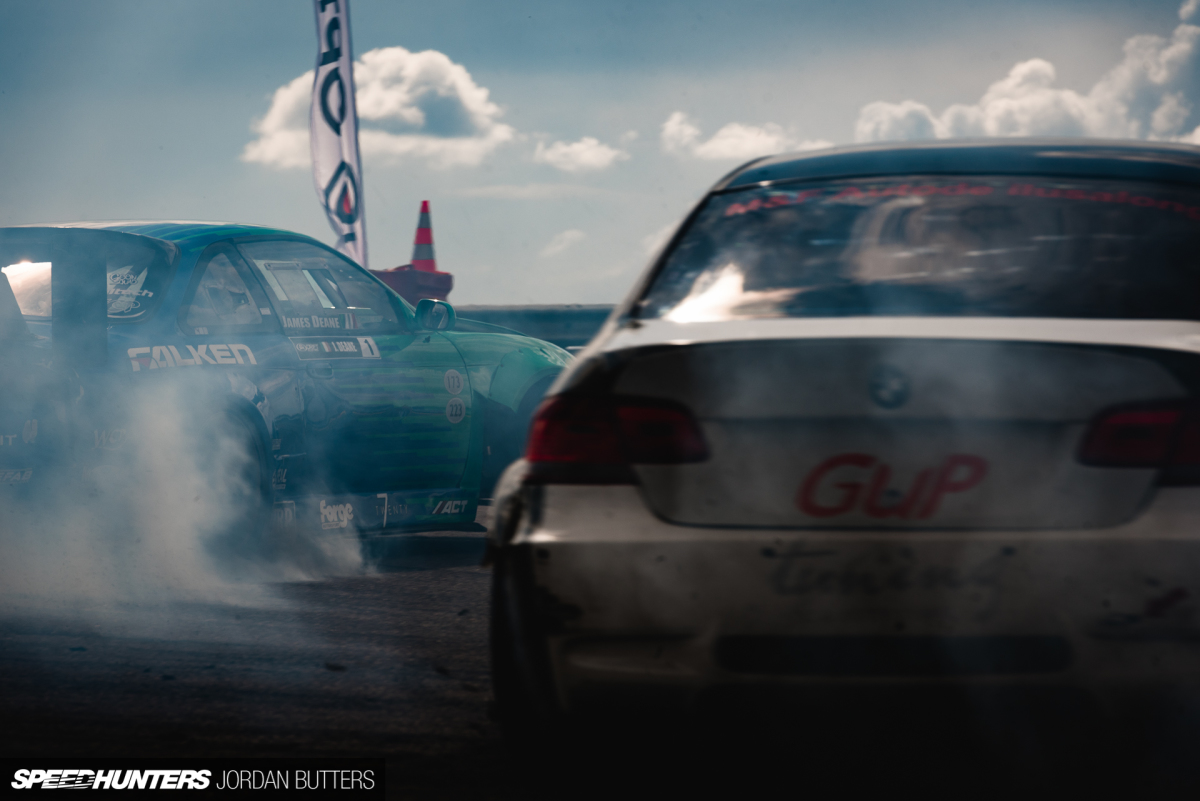 Imagine how daunting it must be to find out you're drawn against Deane in battle. In Estonia it honestly looked like the only way he was going to be beat was if he made a mistake. His lead runs were inch-perfect to the qualifying line, while he seems able to perfectly adjust and mirror the other driver's line when chasing without falter. There's a reason they call him The Machine.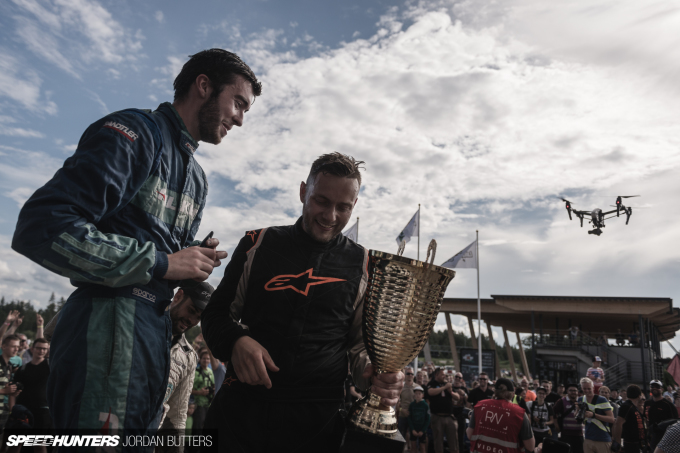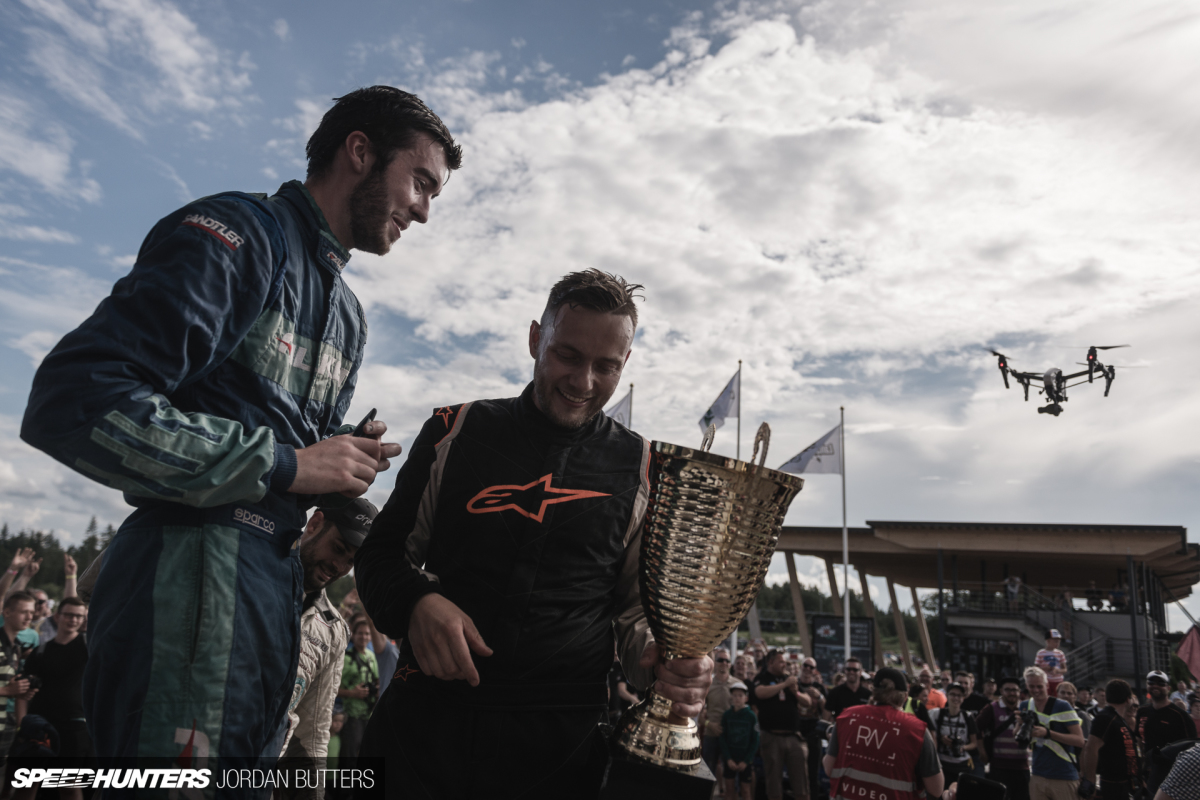 The Estonian Drift GP certainly threw up plenty of surprises and upsets, but the end result looked quite familiar. I almost didn't notice Deane's journey to the final – I was either distracted by the giant-killing happening elsewhere, or him winning has become such a common occurrence that I don't register it happening any more!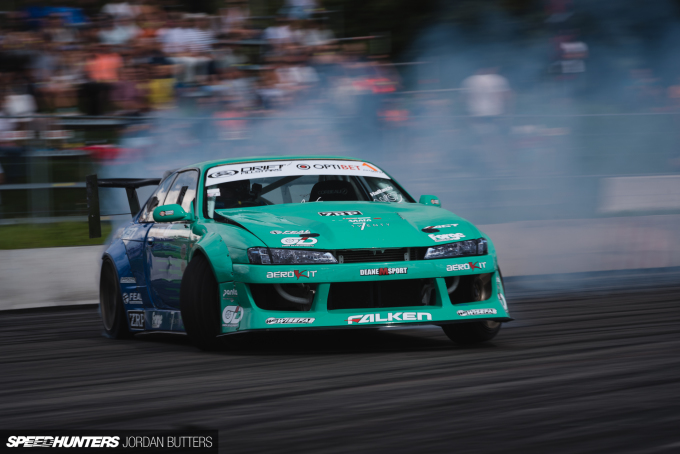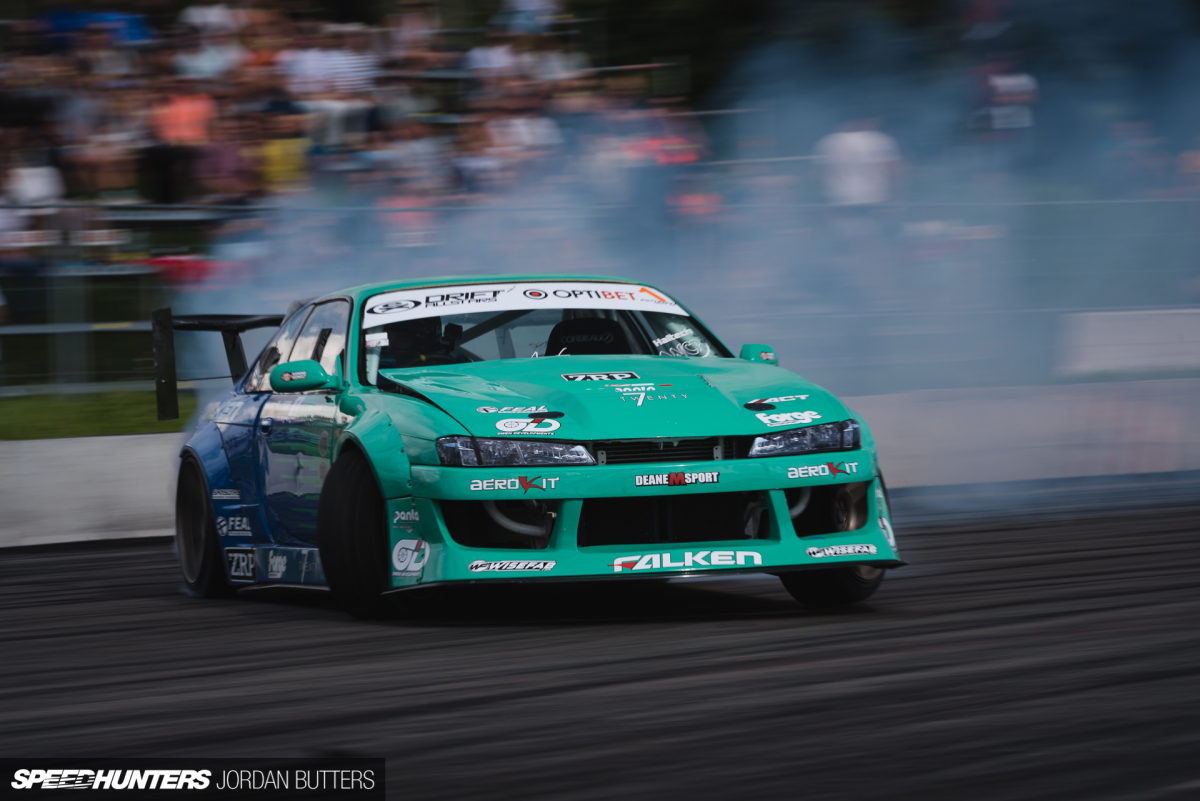 James Deane's absolute dominance over European drifting continues. Sure, he's been beaten before, but in the years I've been watching and shooting James I've never seen him have a bad event, just rare and brief moments of bad luck.
From here the pressure is on, as the drivers and Drift Allstars team move south into Latvia to prepare for one of the biggest events of the year at Bikernieki Circuit in Riga. With multiple major engine repairs, as well as more than enough cosmetic blemishes to remedy and routine check overs, it'll be interesting to see who makes it to the start line next weekend, and if anyone can challenge for the title in the penultimate event of the year.
Jordan Butters
Instagram: driftagram / jordanbutters
Jordan Butters Photography
Cutting Room Floor