Welcome To Eastern Europe
When I cover a drift event these days (which is rare), I generally tend to feel a bit old and nonplussed about the whole thing. I love the sport, if you can call it that, but it always tends to be a slight variation on something that I've already seen before. Across the globe, drifting has a standardised format: practice, qualifying, battles and podium. And when you take different classes into account, often this format is repeated more than once over the course of a weekend.
I don't mean any disrespect to the drivers in amateur and semi-pro, but I'm not really interested in watching people develop and hone their skills at an event anymore. I'm happy that they're competing and I'm happy that they're trying to better themselves, but I'm honestly only interested in the top-level guys who are going absolutely balls-out all weekend. When I attend an event, I went to see people leaving it all on the track.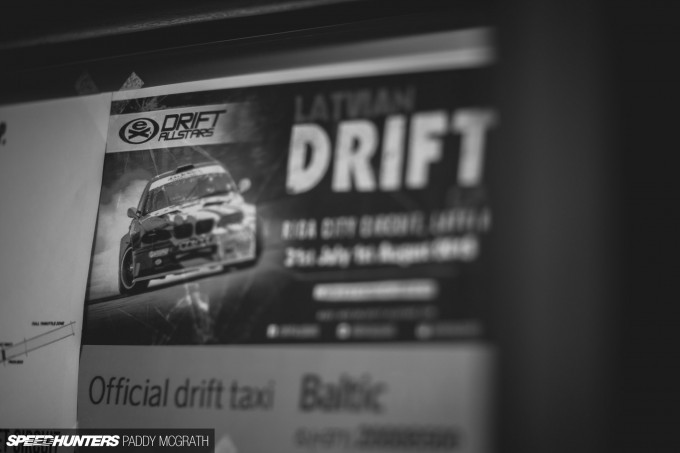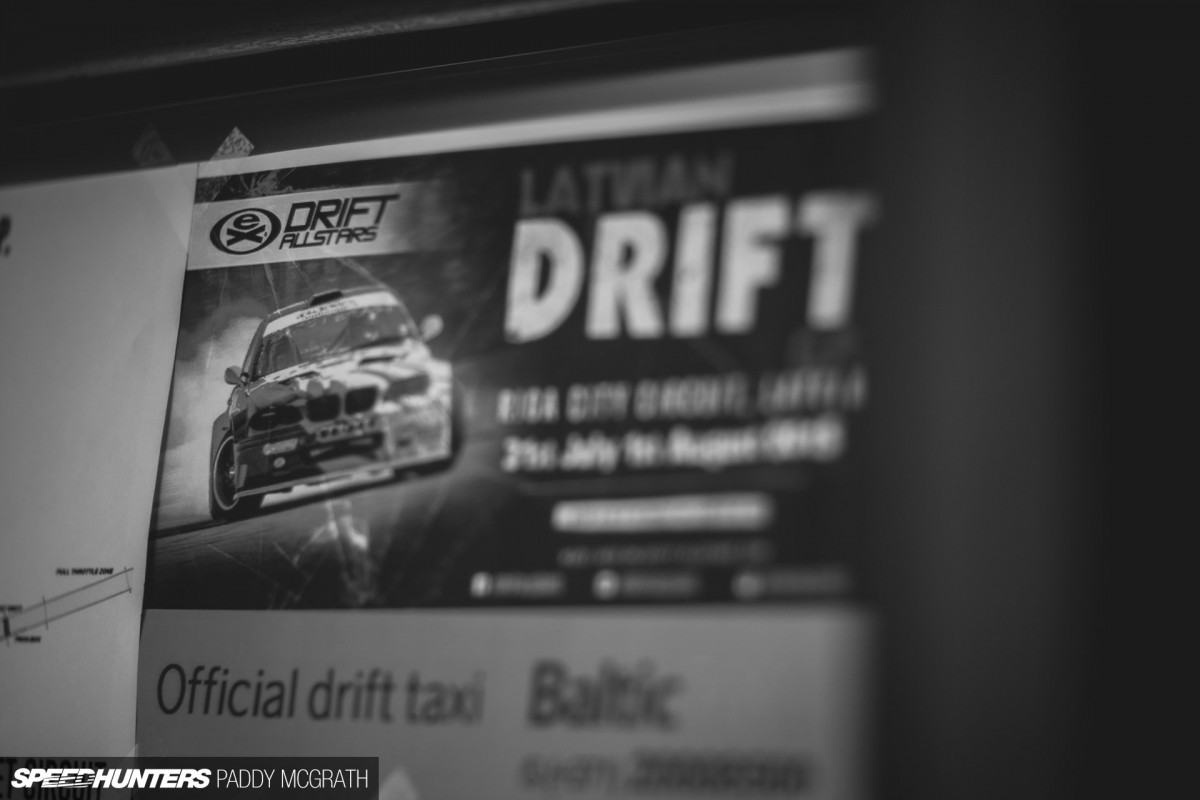 When I visited Qatar earlier this year, I met up with Drift Allstars organiser Niall Gunn, and reigning Drift Allstars champion, James Deane. I have to admit that I'm a huge fan of James – his driving style and talent behind the wheel make him one of my favourite drivers, across all motorsport disciplines. Given the choice between watching James practice in his S14 or Lewis Hamilton testing his Mercedes F1 car, I would happily choose to get a face full of shredded Falken rubber, with no hesitation.
During my Middle East adventure, Niall invited me to come and see a round of Drift Allstars for myself. As I said, he's the organiser, so I do tend to take what he says with a pinch of salt, but he's also a long-time friend so I guess I have to appease him from time to time…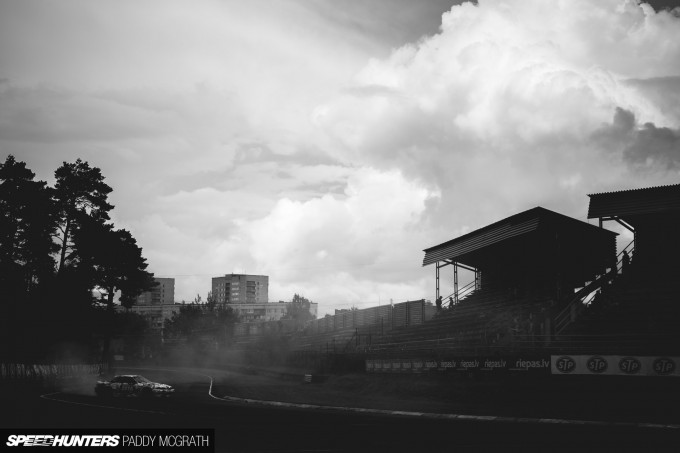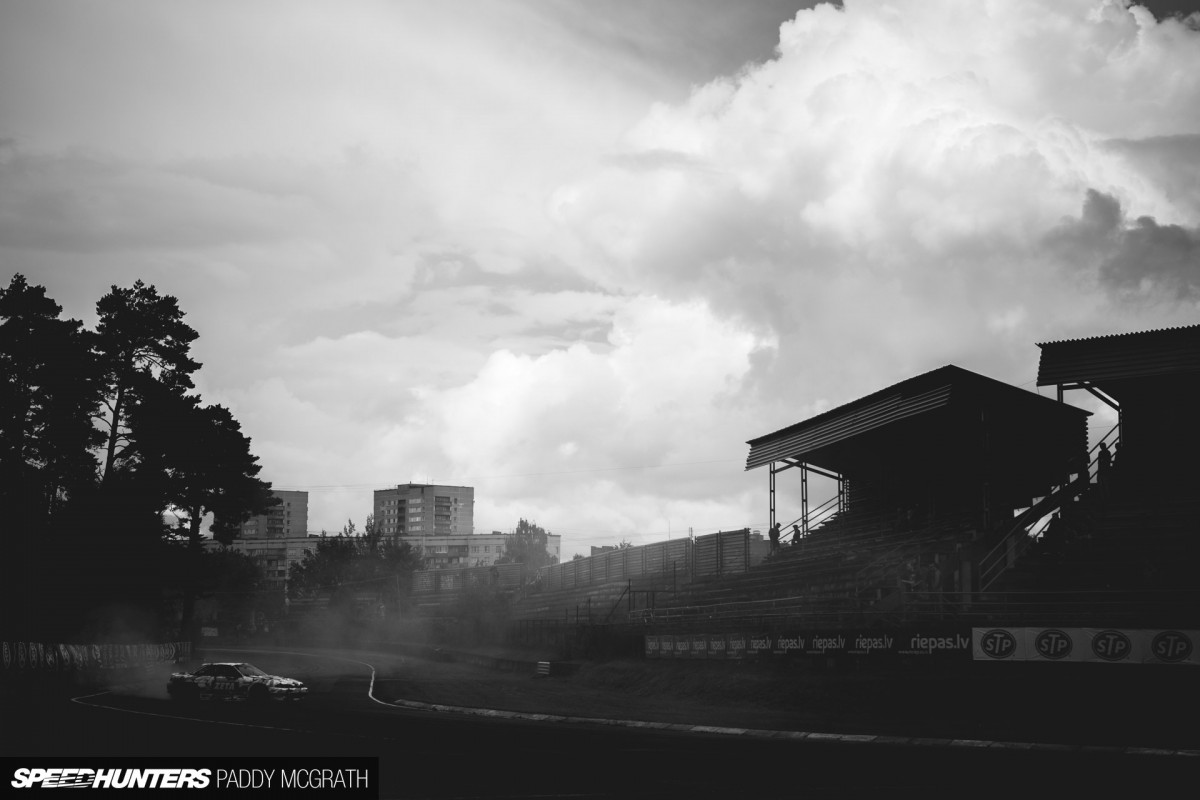 It wasn't just any old round of the 2015 championship, it would be what many consider the highlight of the season – the Latvian Drift GP at the Bikernieki Circuit near downtown Riga. Before I go much further, I have to say this: Bikernieki is one of the greatest venues that I've ever photographed an event at. Think, hints of Nordschleife combined with Soviet-era grandstands and towering apartment blocks looming over the circuit.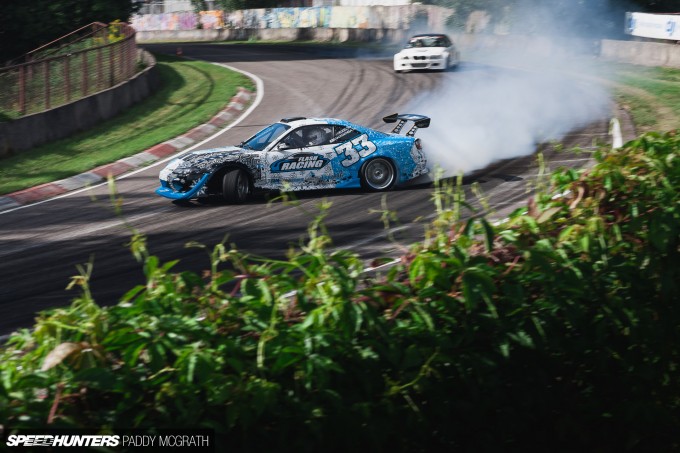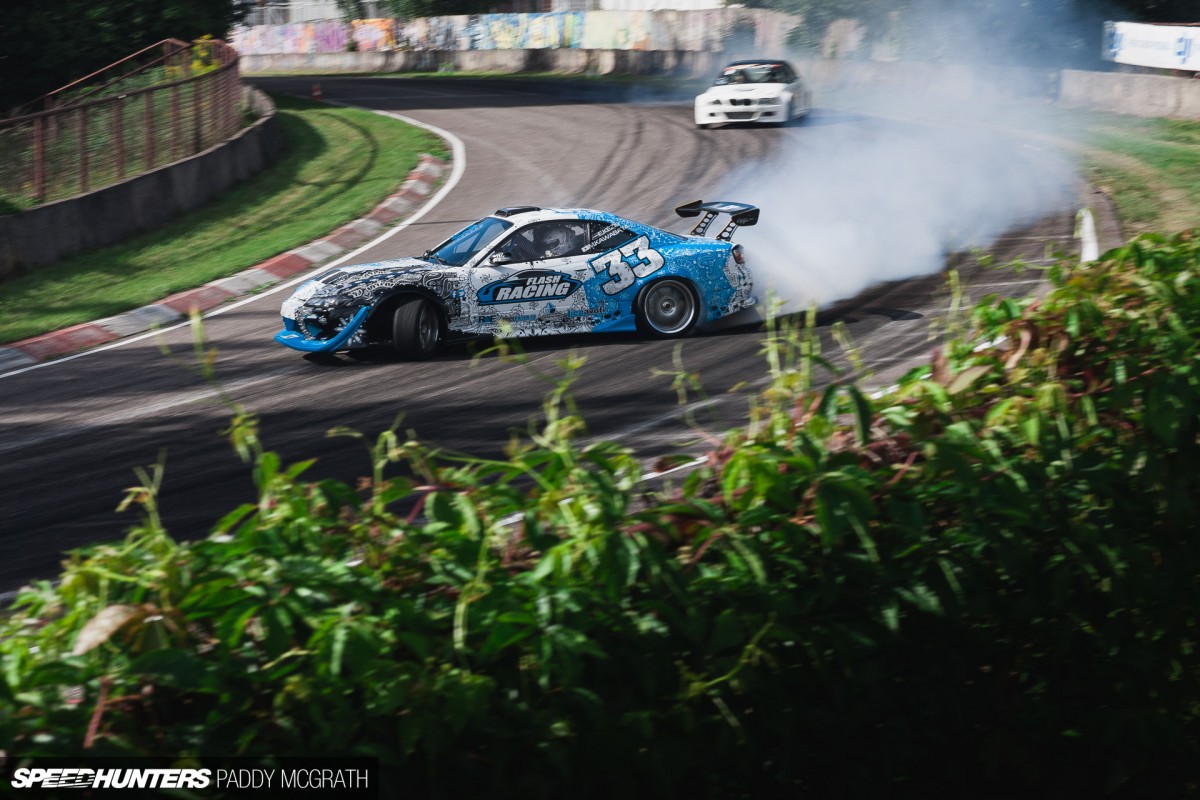 It's a photographer's dream.
However, there's no point in having a track that just looks pretty – it needs to challenge drivers and play its part in putting on an incredible show for the crowd too. It provided this – in spades.
One Lap Of Bikernieki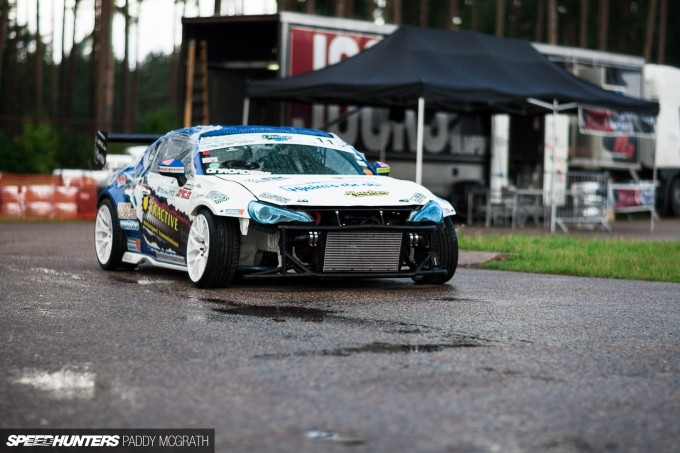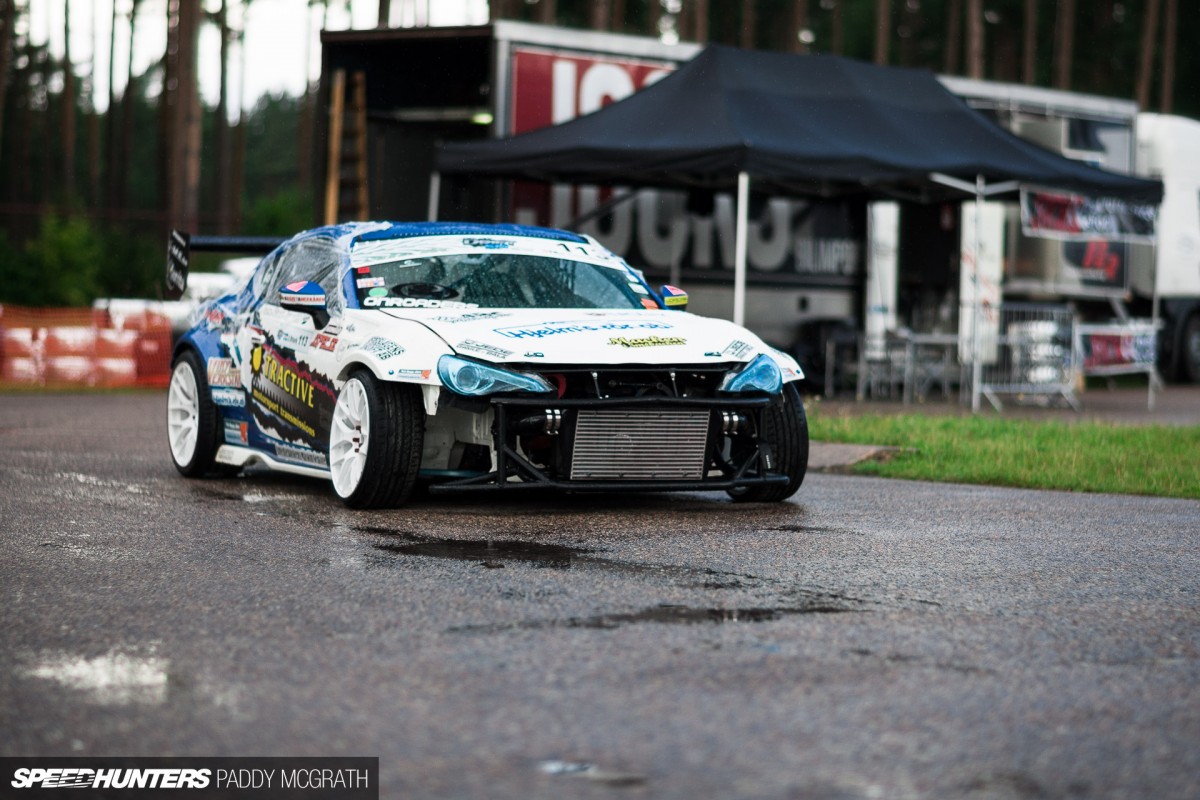 Of course, an event is nothing without drivers and cars. Looking through the entry list, which was complete with things like horsepower numbers, showed an eclectic mix of cars, drivers and nationalities. This resulted in a grid featuring 60 drivers, 17 different nationalities, and somewhere around 40,000hp – which equates to an average of around 666hp per car.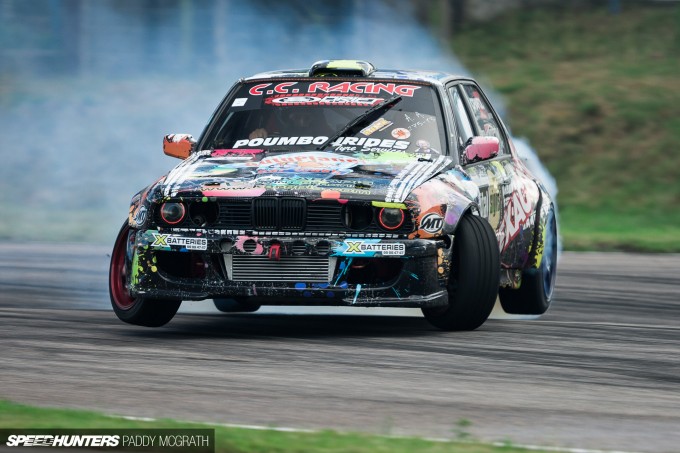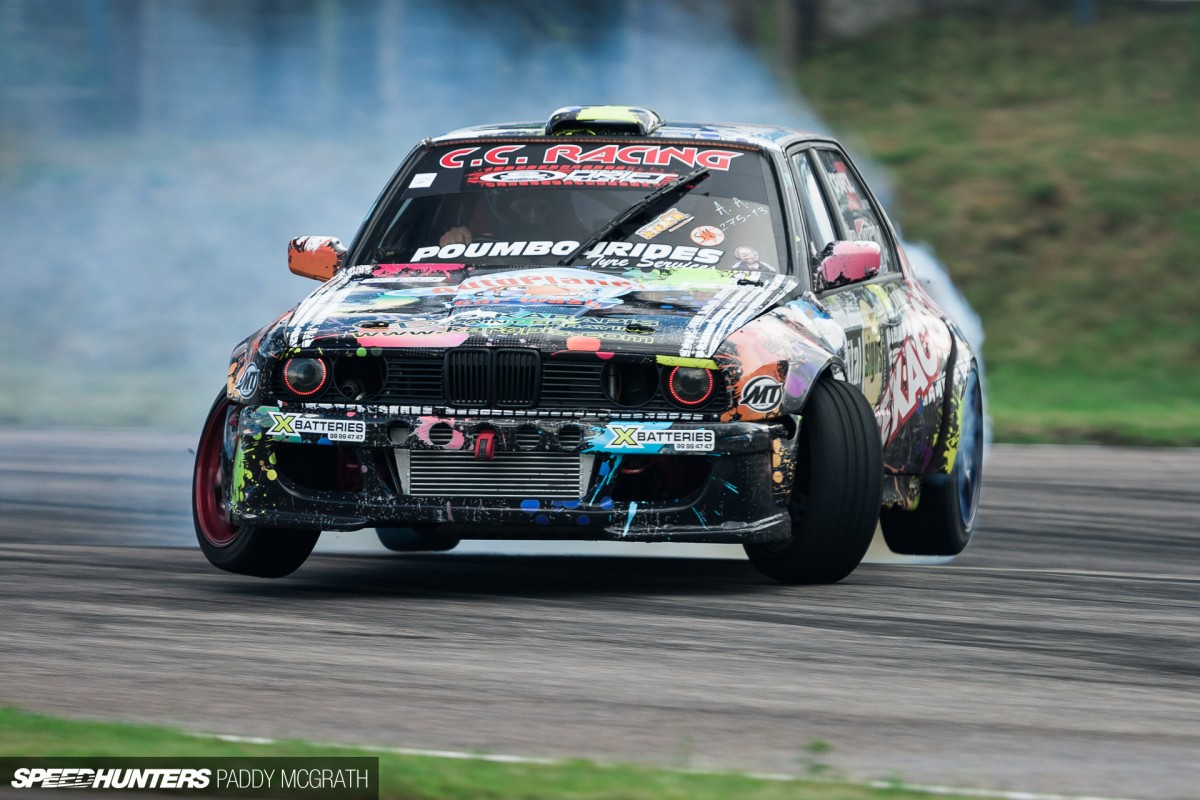 With huge power levels and very capable drivers tackling the very fast Bikernieki circuit – which features a slight mid-corner rise – it was the recipe for an amazing event. And so it proved to be.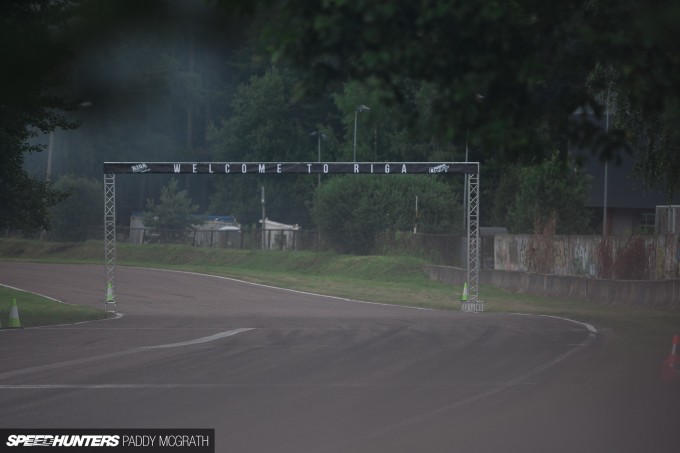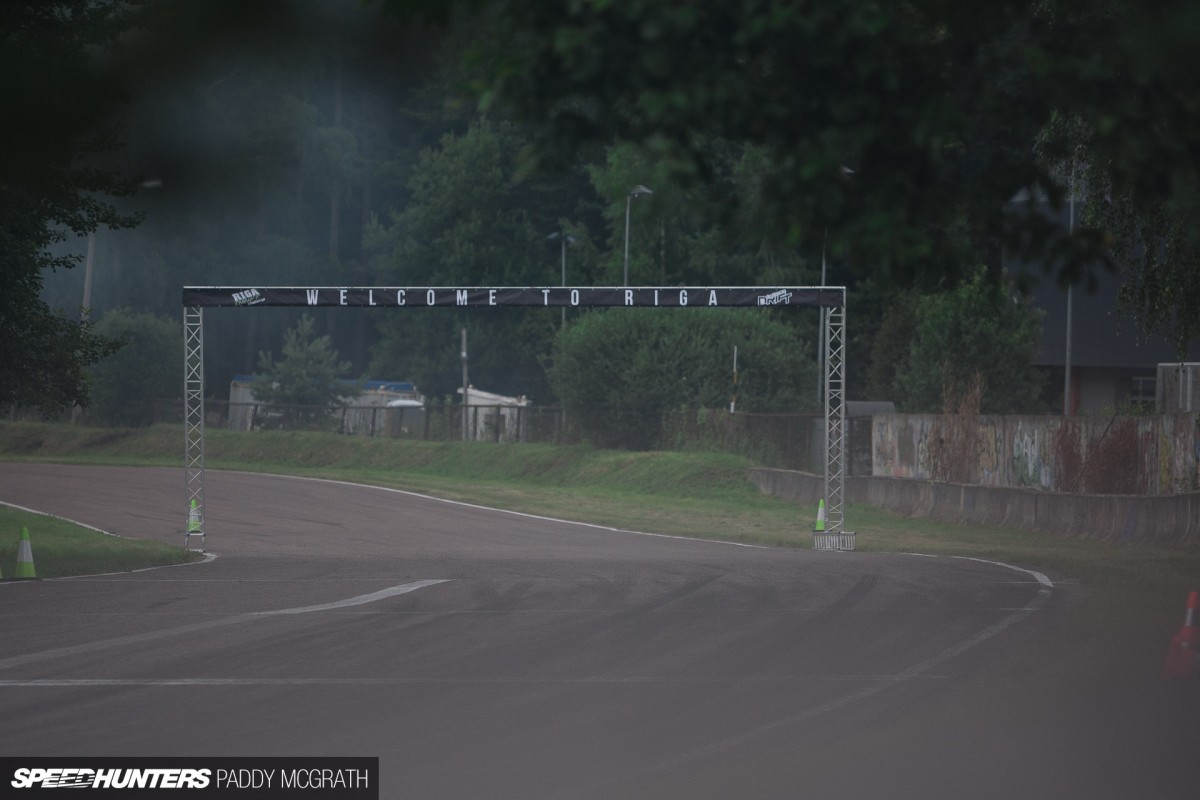 After a rolling start out spectator sight, the cars would accelerate at maximum speed towards the initiation point before beginning the judged course with an outside line on a downhill right-hand corner.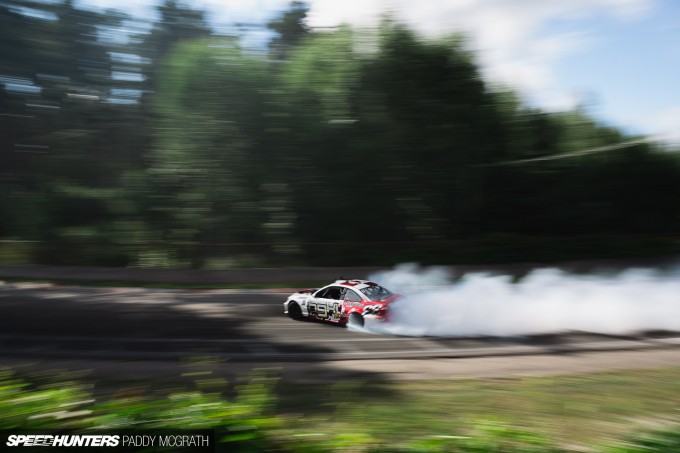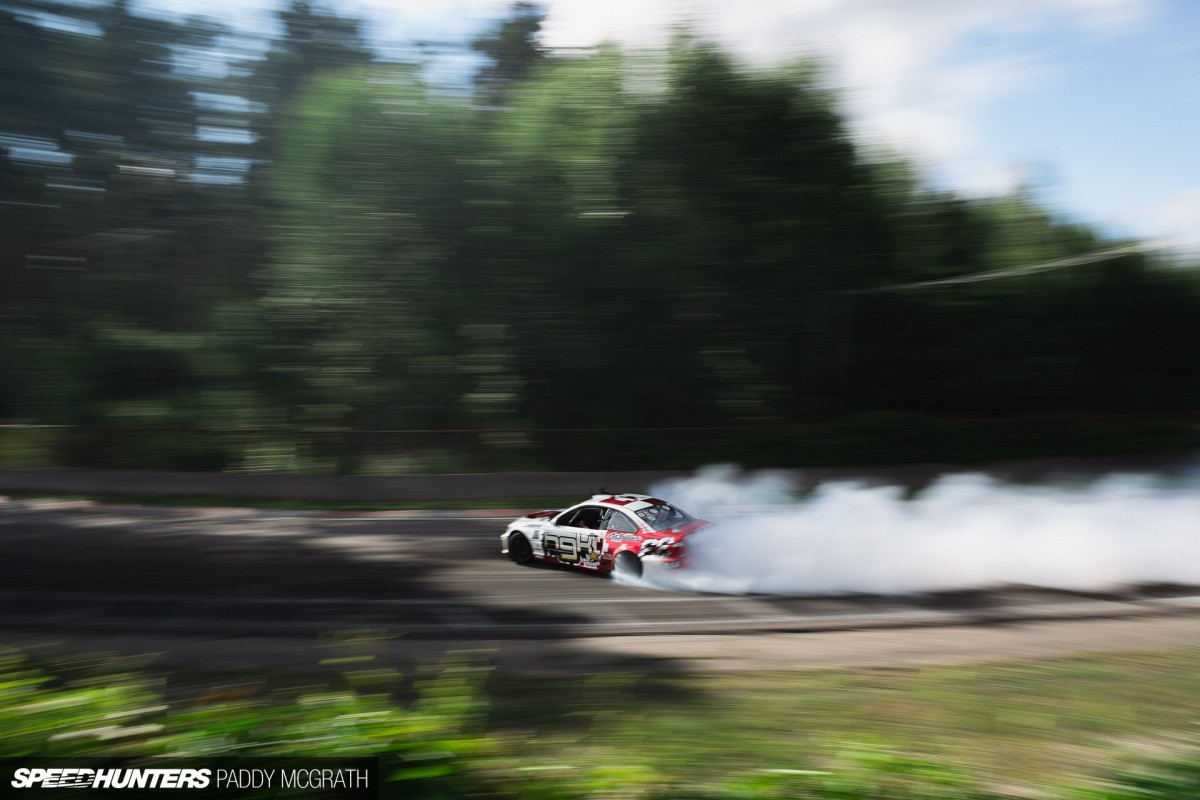 They were expected to carry as much speed as possible through here. If you messed up this corner whilst chasing, you'd most likely be playing catch-up for the rest of the run.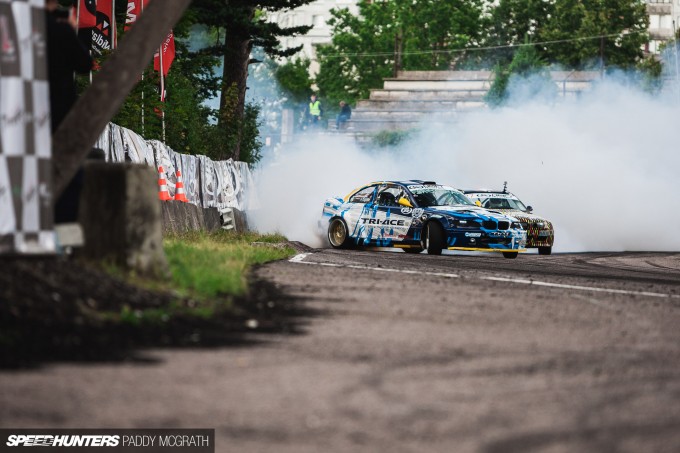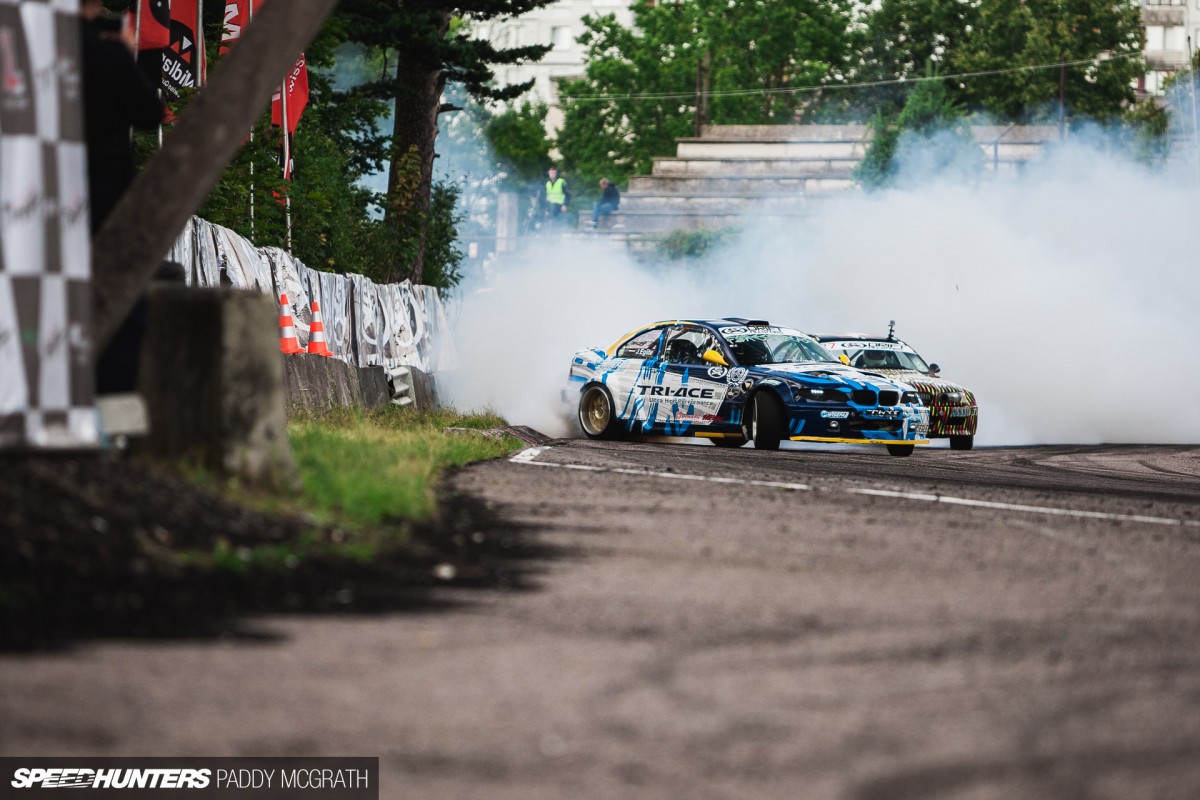 As they reached the bottom of the hill, the drivers needed to line up for a series of clipping points in close succession. The first involved transitioning to the outside of the track for a small clip zone located along the wall…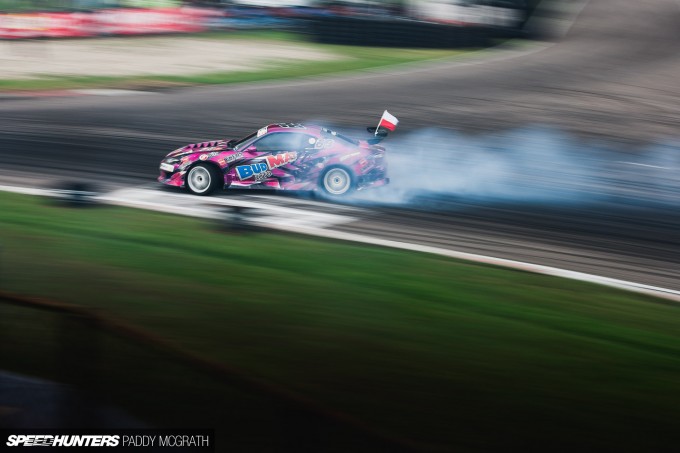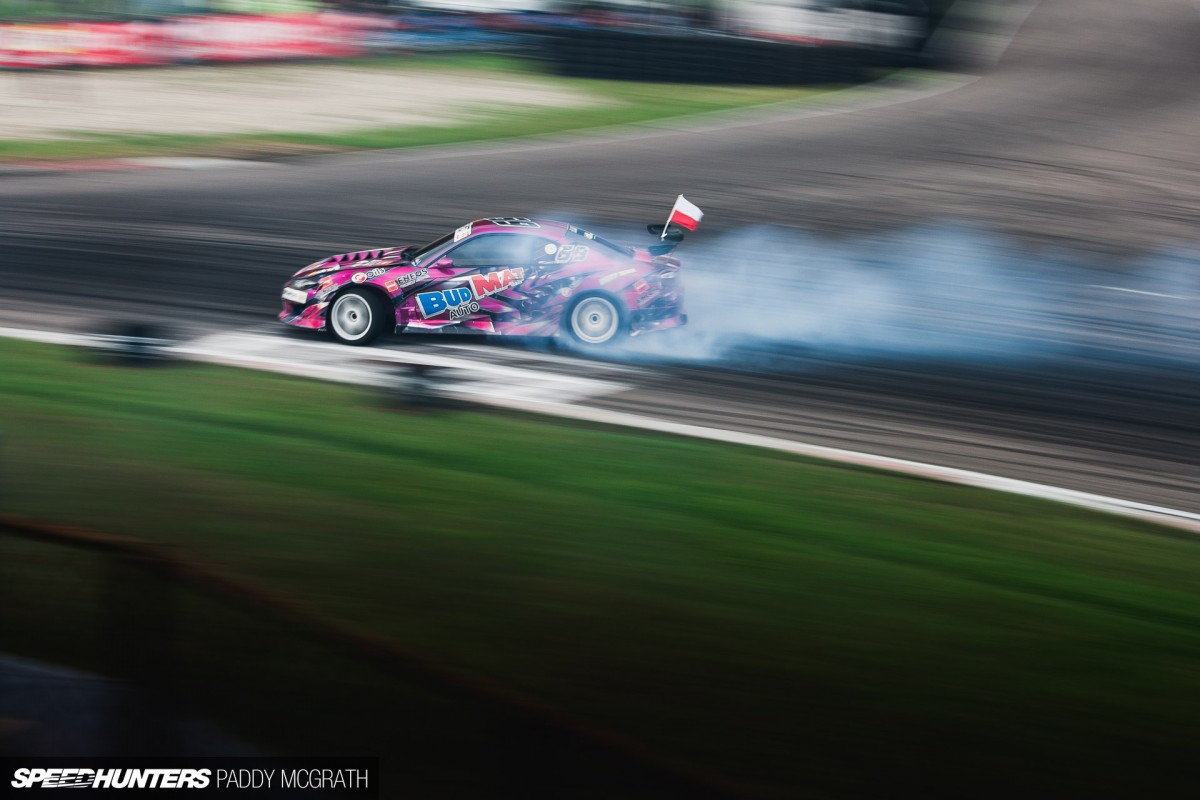 Before cutting back across the apex of the corner for the next clipping zone.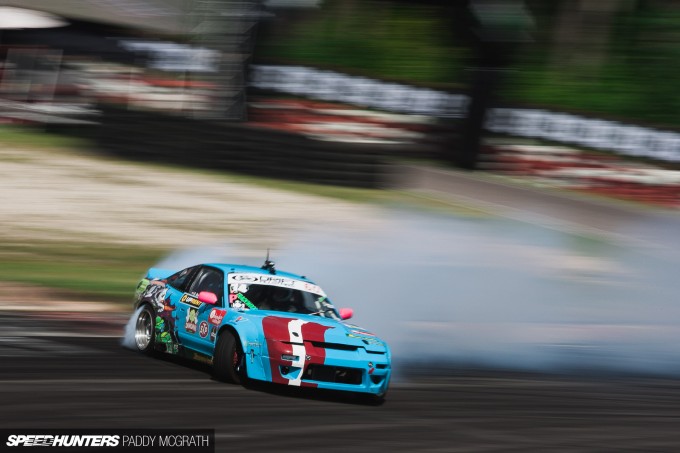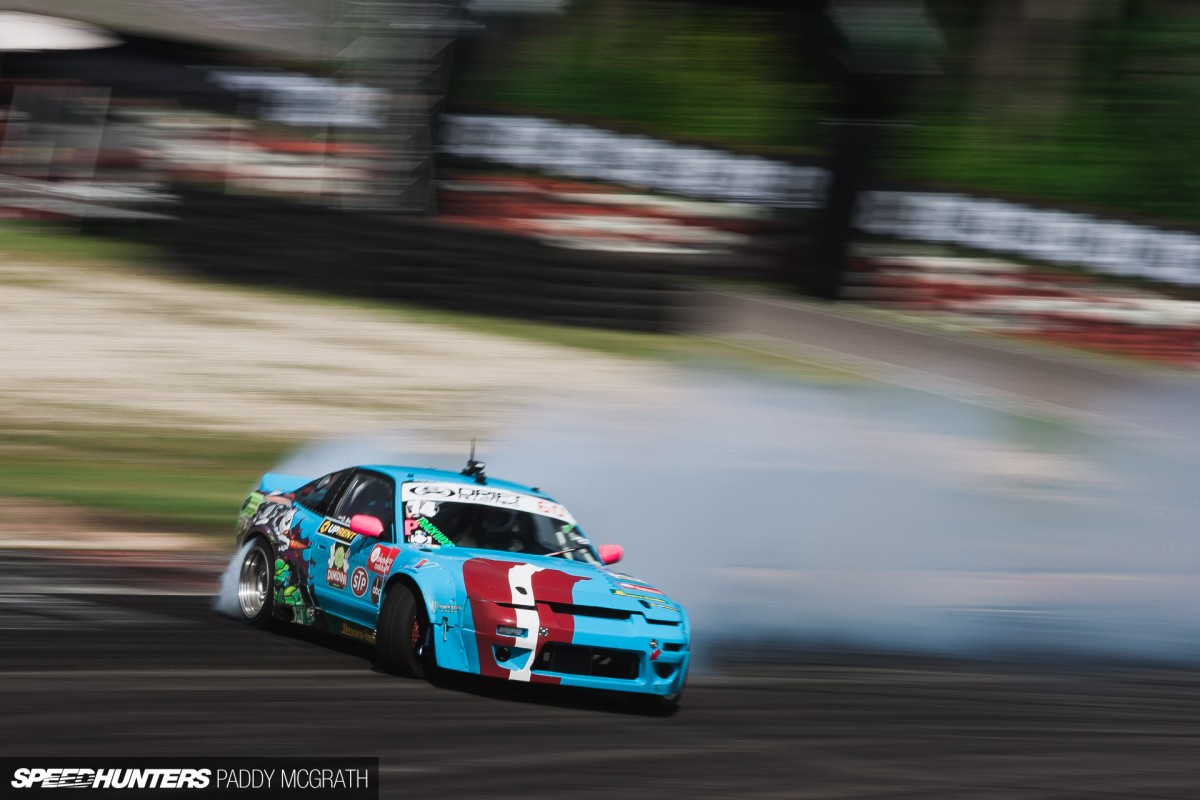 Now in full view of the capacity grandstand, the drivers had to again push wide for the next outside clip. This was the most impressive clip for me as it often demonstrated the ability of the cars to travel almost perfectly perpendicular to the clip, whilst maintaining full speed and travelling completely sideways. It was this clip that the Wisefab-equipped cars were able to show their worth.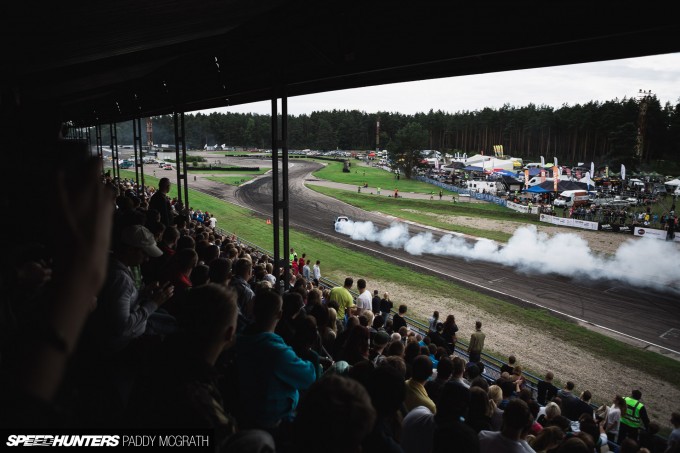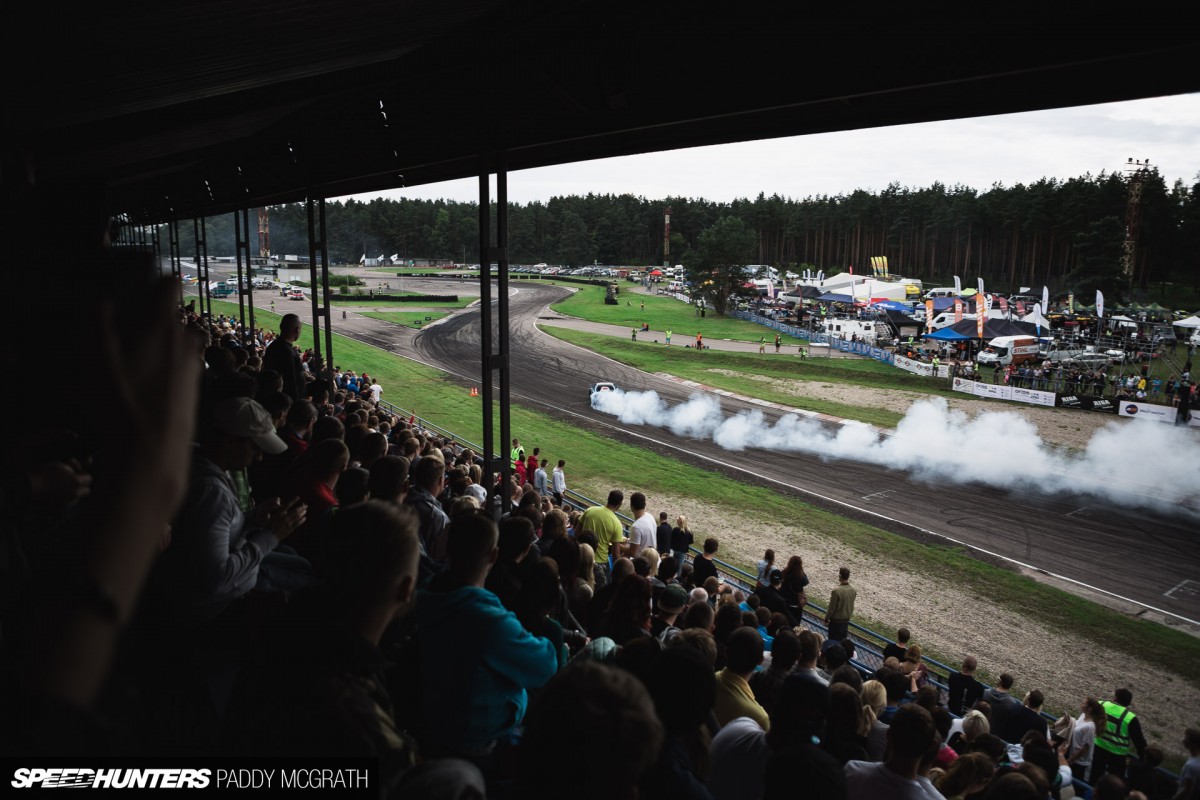 To reach the next clip involved both aggression and finesse. Deploying every horsepower on tap was required to make it without straightening. It wasn't just a case of right foot and hope you had enough power to get you there.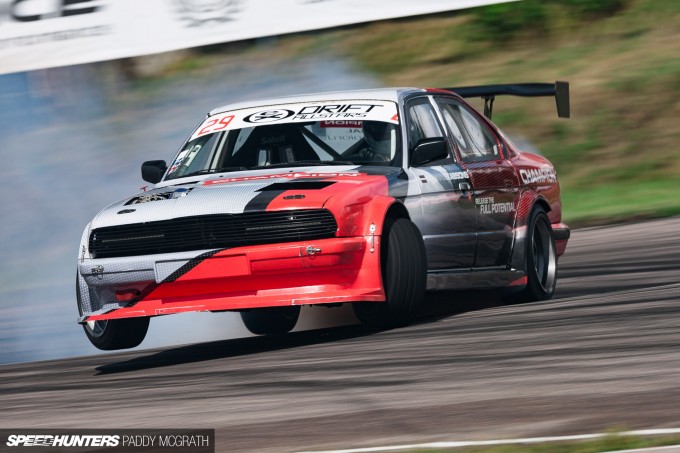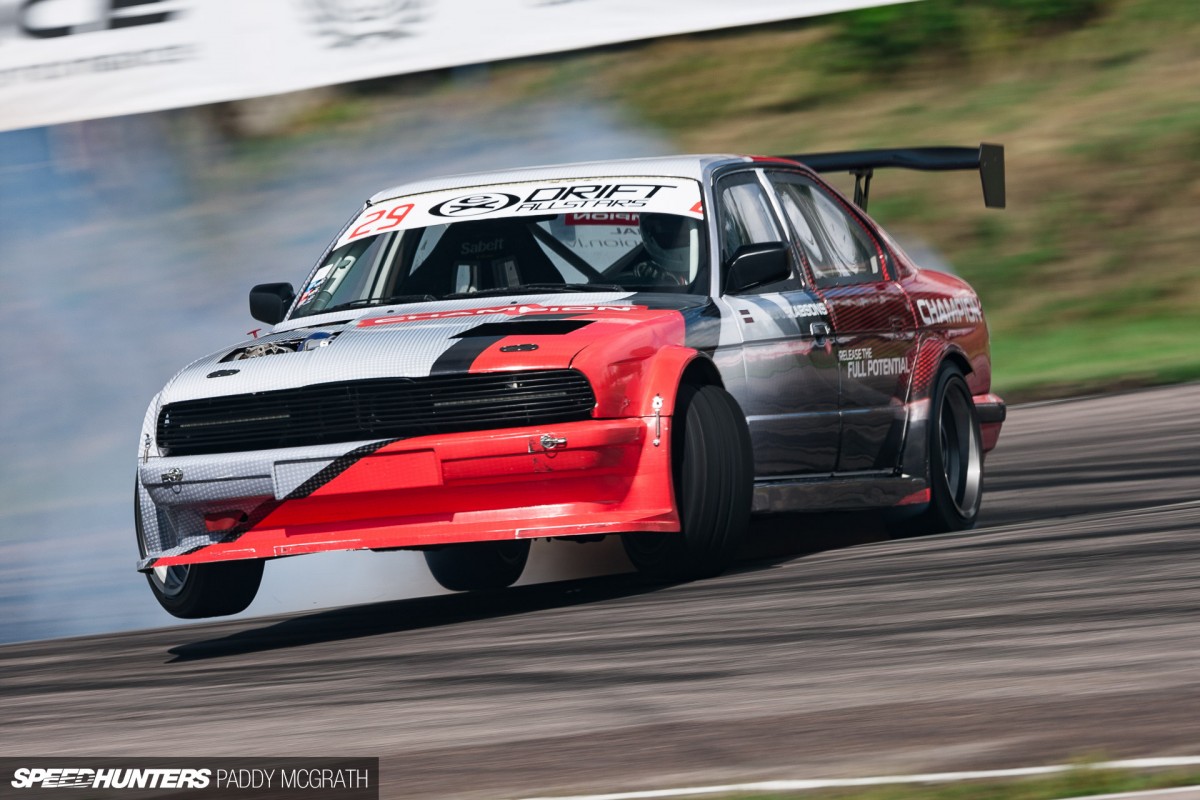 It was between these two clips that there was a sudden elevation change – almost like a smooth rut of sorts. Get your line right and the car would lift a wheel or two (or three) before collecting the next clipping point.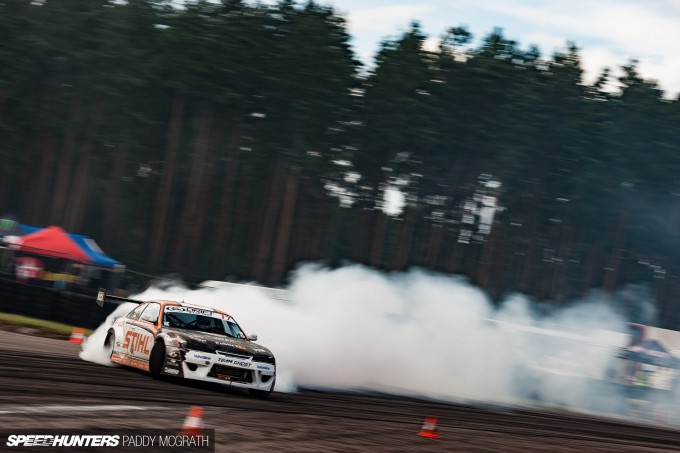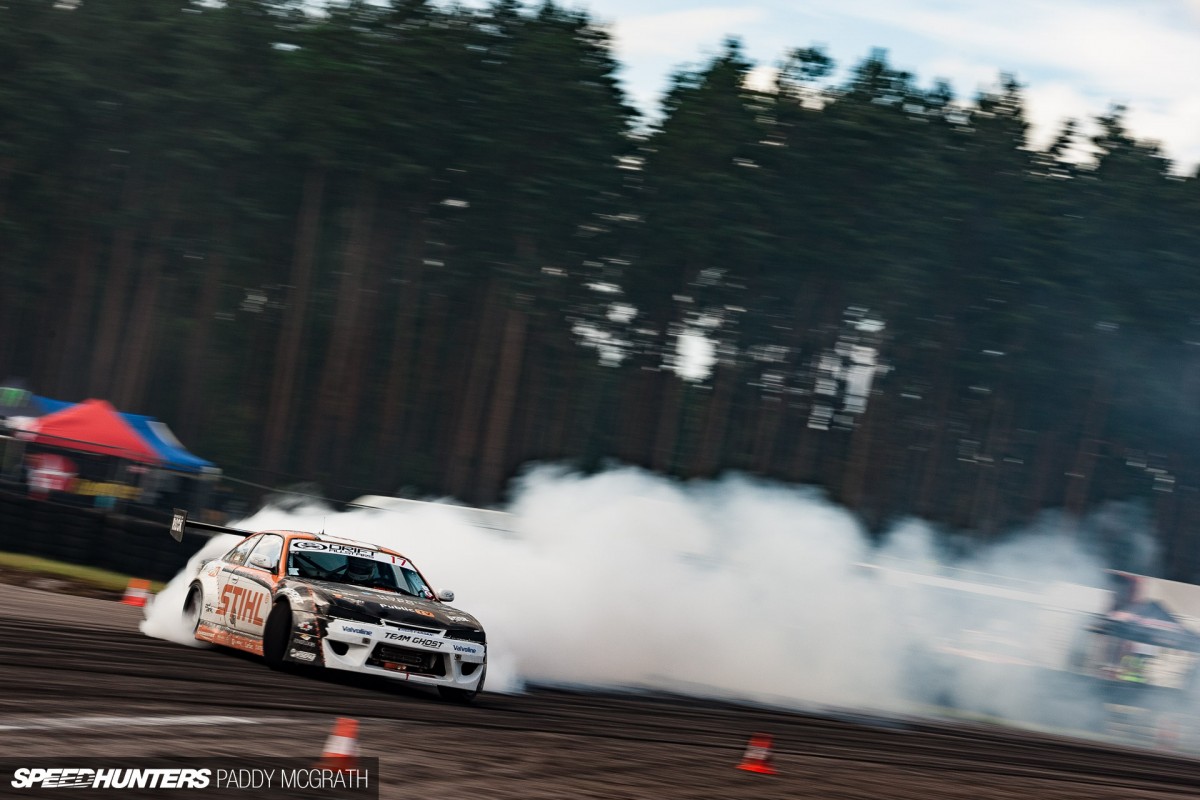 Once past, the track tightened up considerably with a wide horseshoe and another outside clip…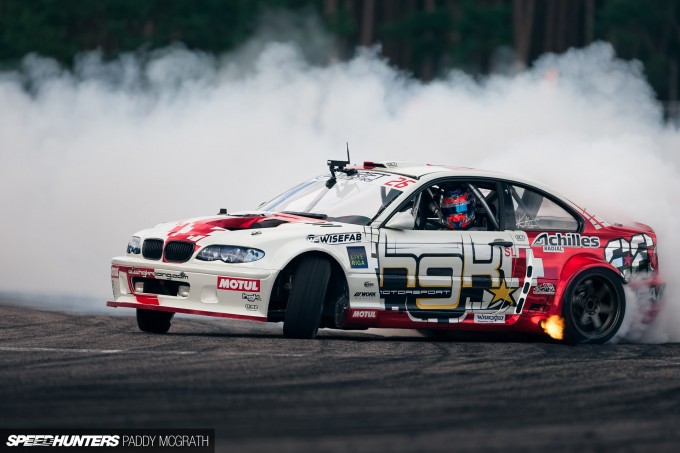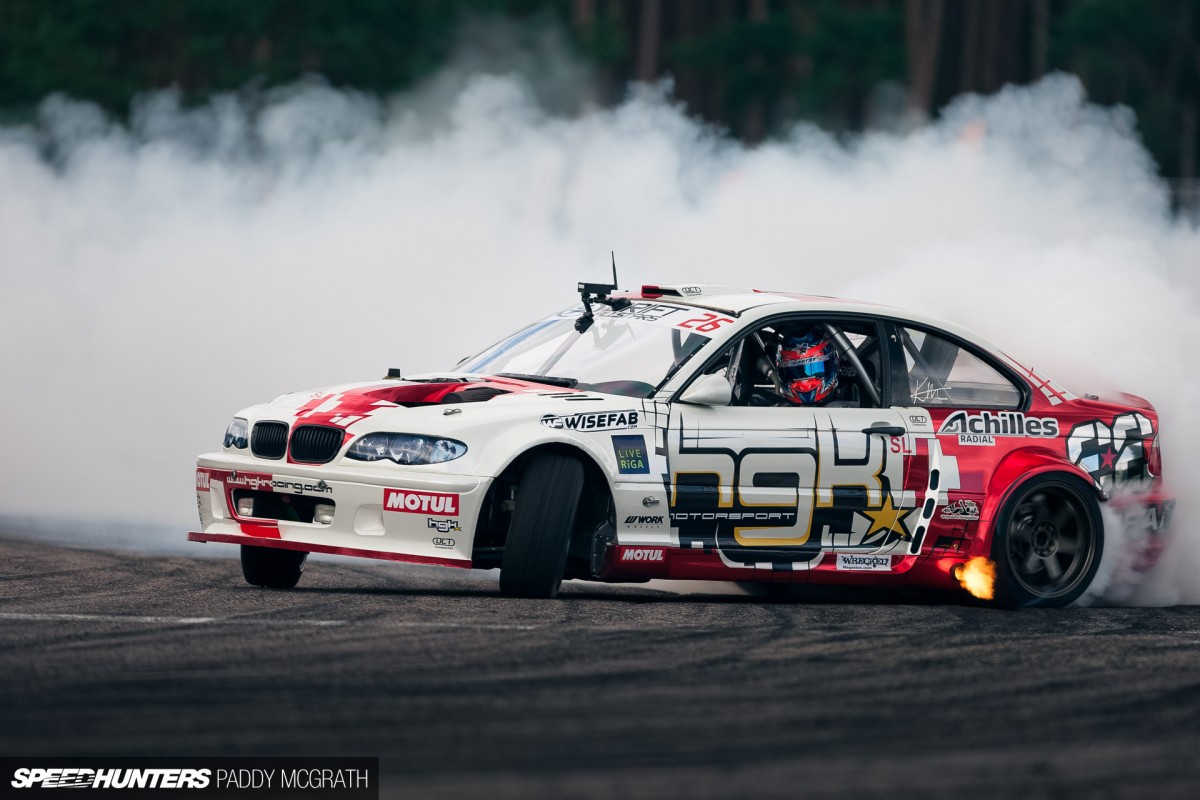 Before coming across the finish line and final outside clip on full throttle. Each run lasted around 25 to 30 seconds and the lead cars were getting approximately two runs to a pair of rear tyres. No matter where you watched it from, the layout was breathtaking. The focus was all on speed and full throttle transitions and initiations. It was relentless.
If it sounds straightforward, here's a view from Piotr Wiecek's POV camera whilst he follows his Budmats teammate Dawid Karkosik's 800hp S15 through the smoke.
From Circuit To Street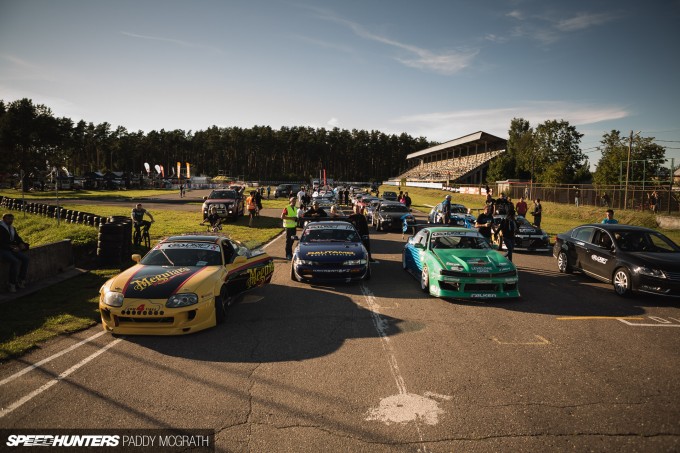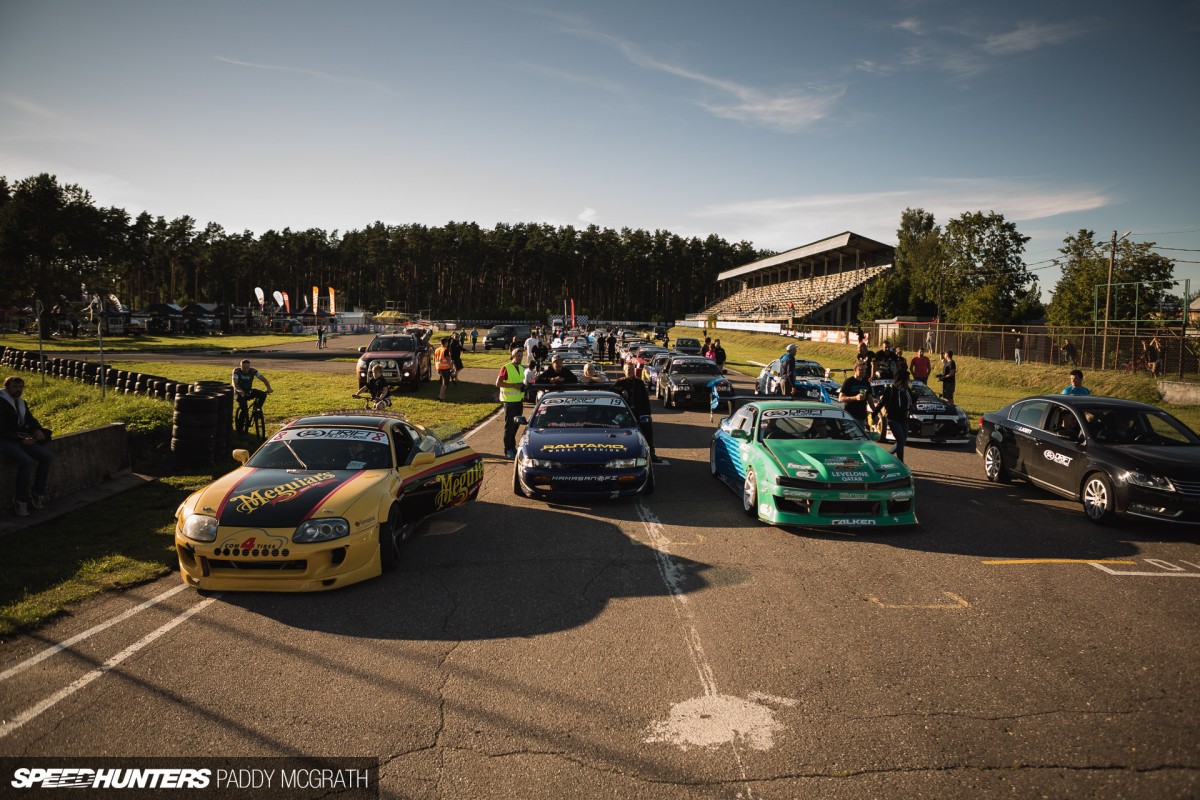 One of the highlights of the weekend wasn't anything that occurred on track, although it did start there. With practice finishing late on Friday, the cars quickly assembled together near the entrance to the circuit.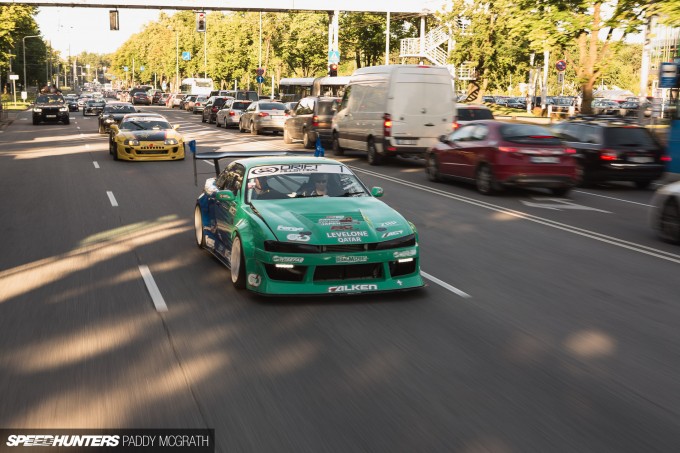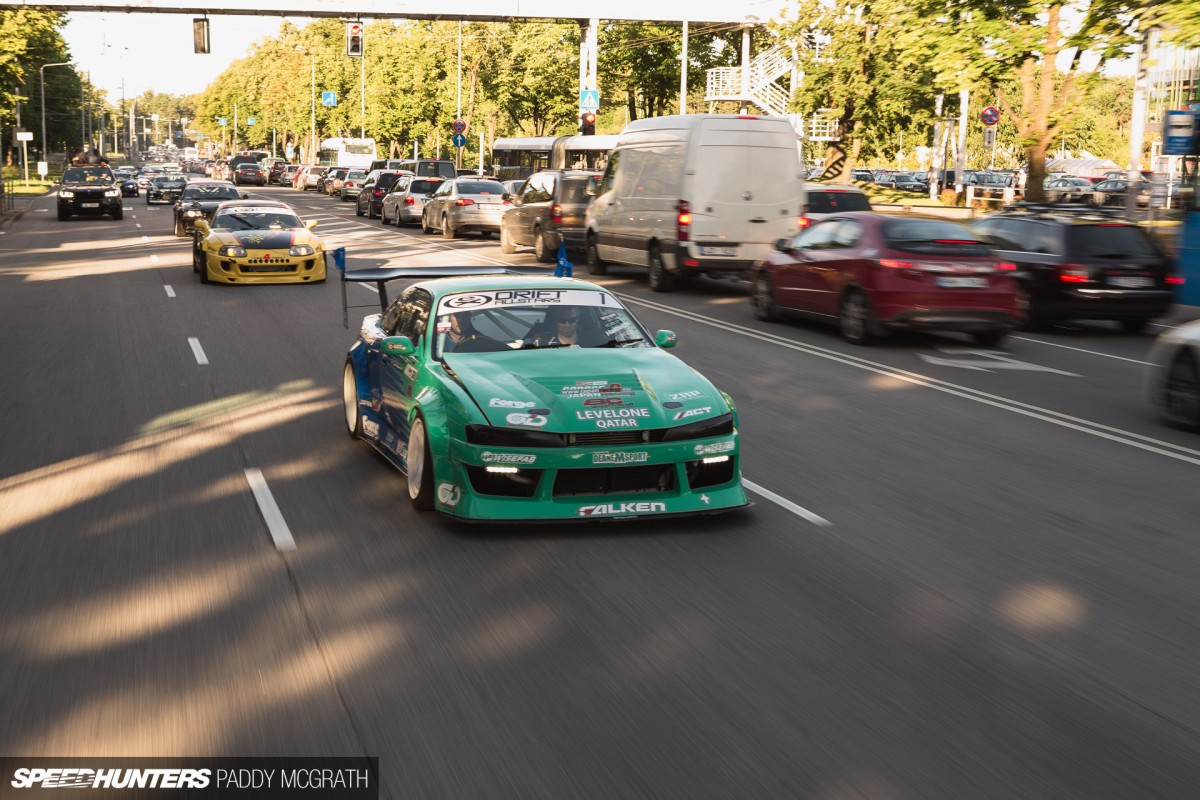 Led by their reigning champion and current points leader, the cars took to the streets for a tour of Latvia's capital – with the assistance of local police who provided an escort and allowed free passage for the convoy. It was a surreal sight to see the 60-strong grid of cars mingle with local traffic.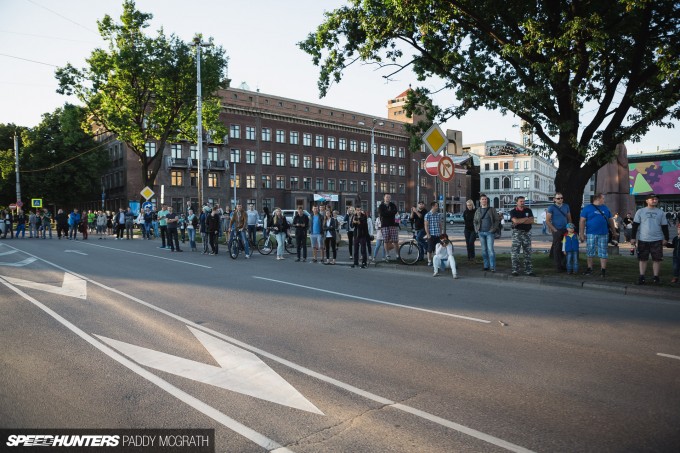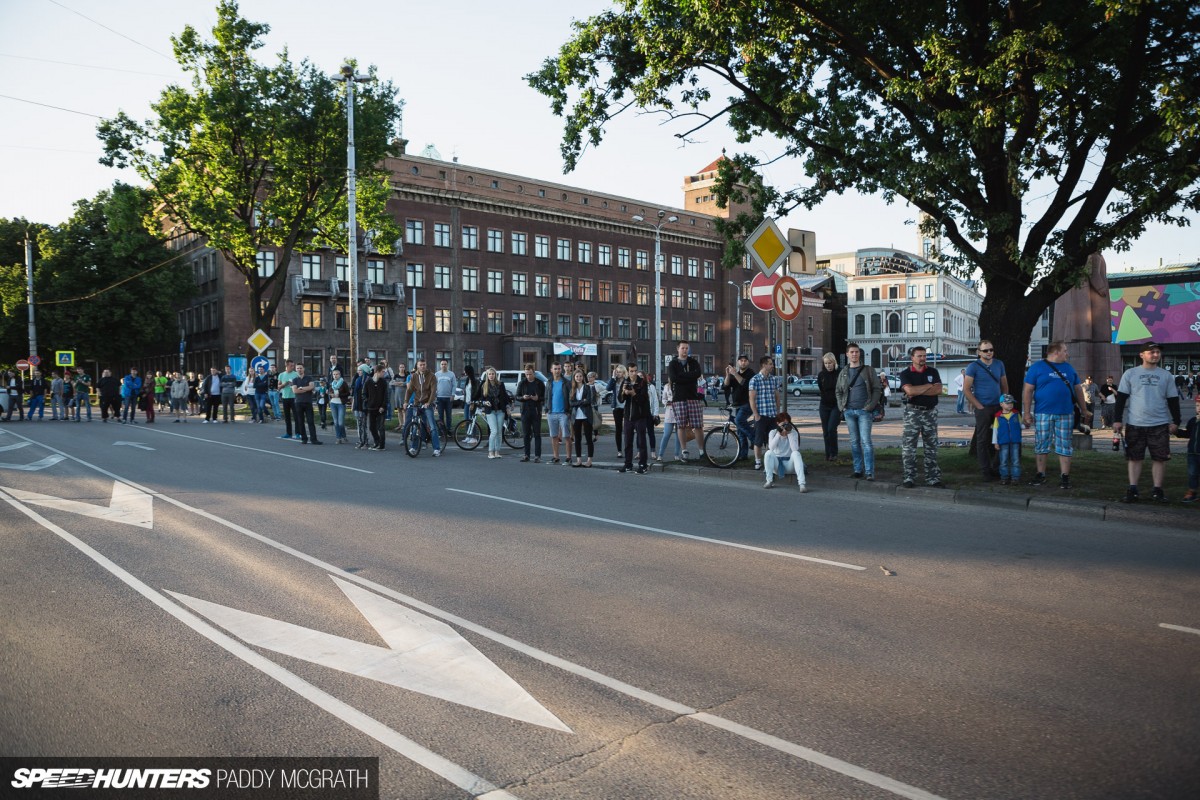 In many countries, this would be considered a nuisance by the locals. In Riga, it was cause for celebration as thousands lined the streets to watch the parade pass through the city centre. Men, women, children all together waving, cheering and taking photographs of the cars. Honestly, I couldn't believe what I was seeing.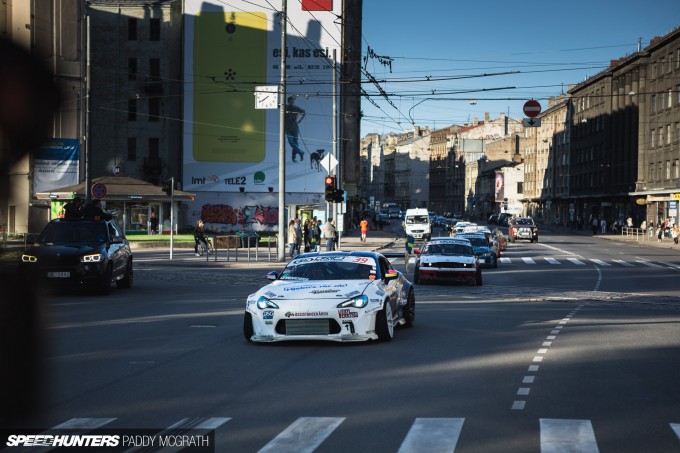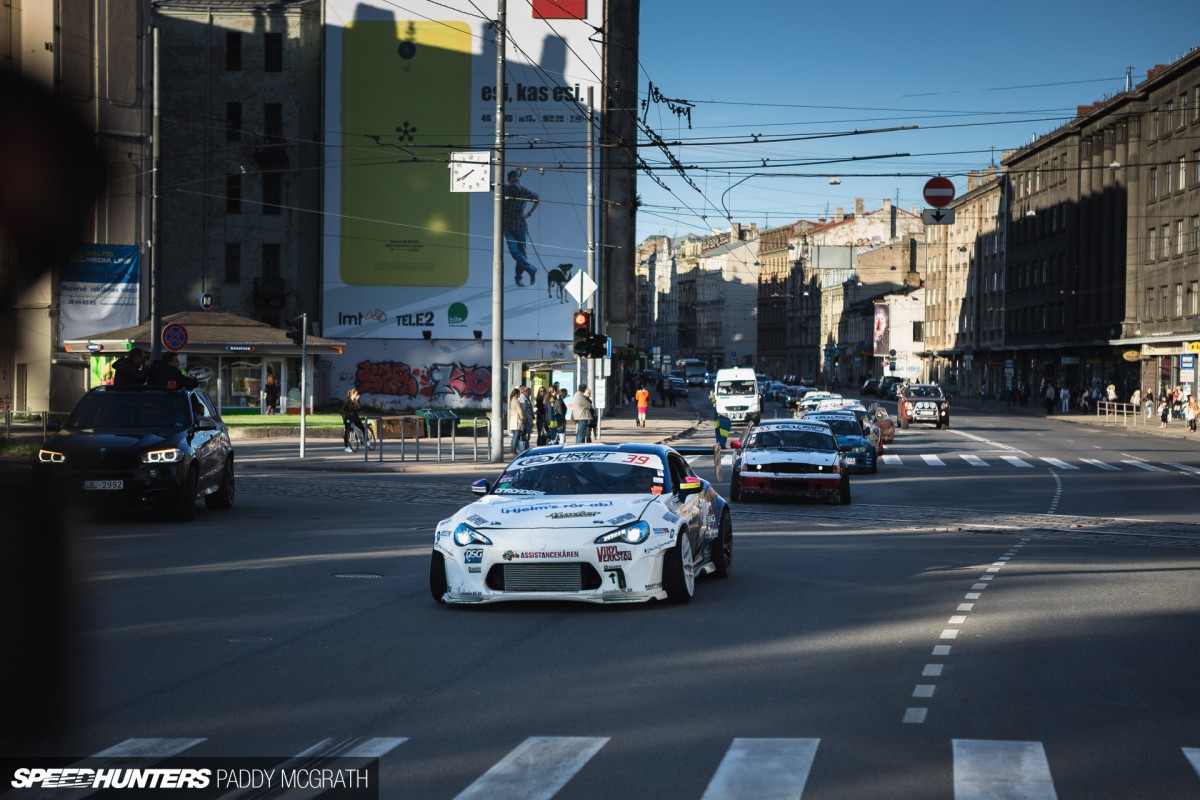 The parade continued into heart of the old city centre, with the cars revving and drivers waving to their fans.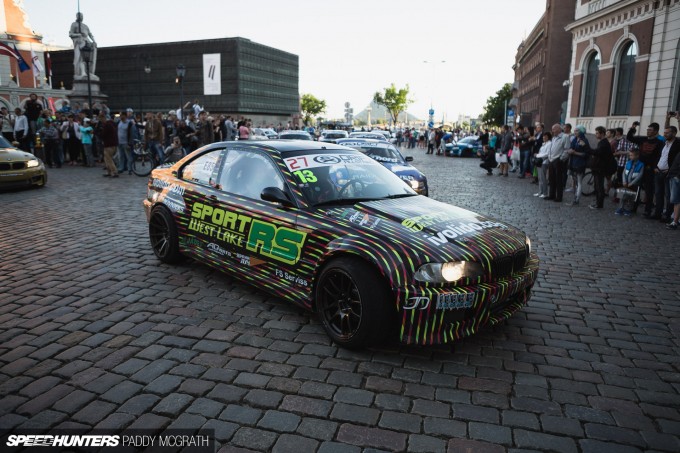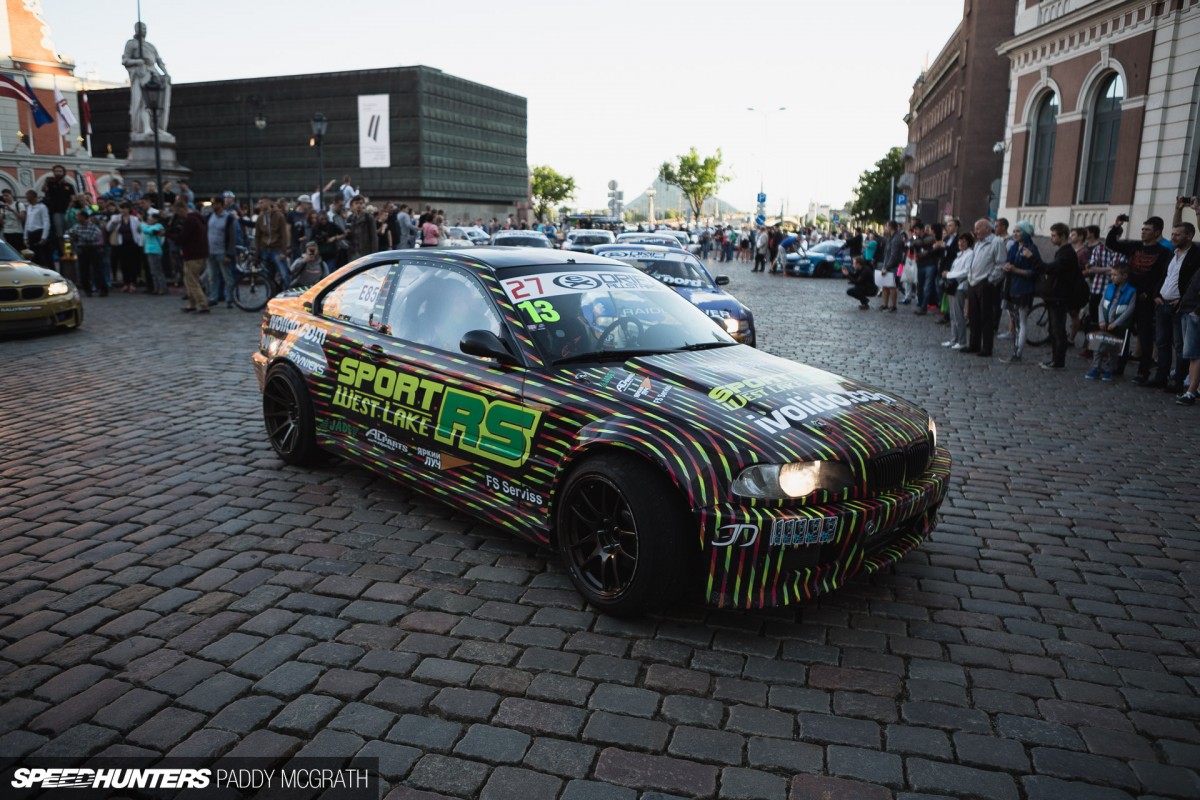 The cars then assembled in the old town square where thousands of spectators congregated to meet their favourite drivers, get autographs and even sit in the cars. It was a celebration of drifting – something I don't think I ever imagined was possible. Watching the smiles on everyone's faces, from the drivers to the public, it was just… I don't have the words to describe it.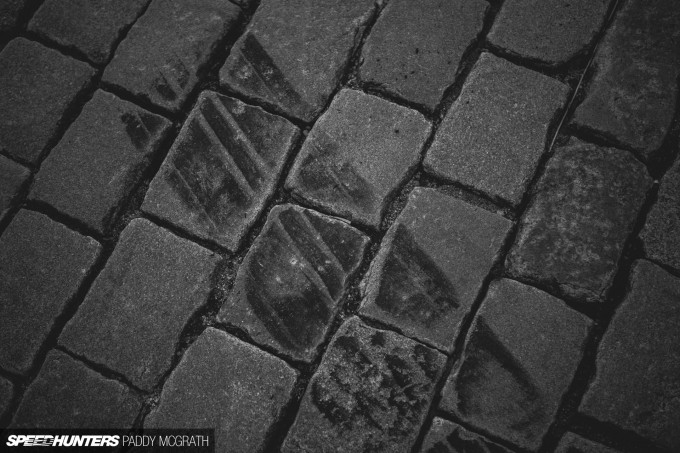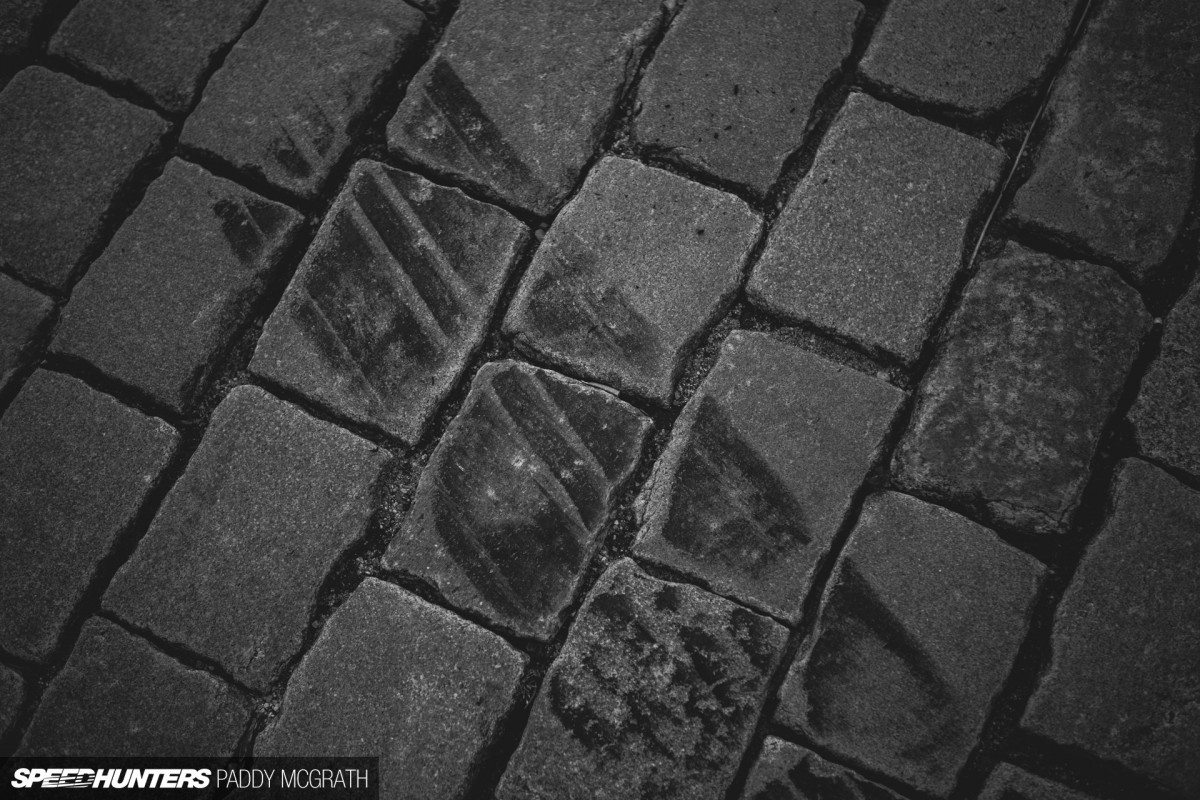 All the years I have been disillusioned with the sport were wiped away on this evening.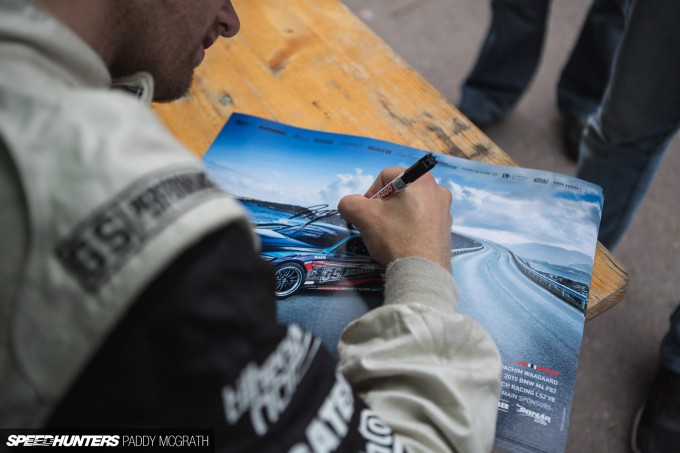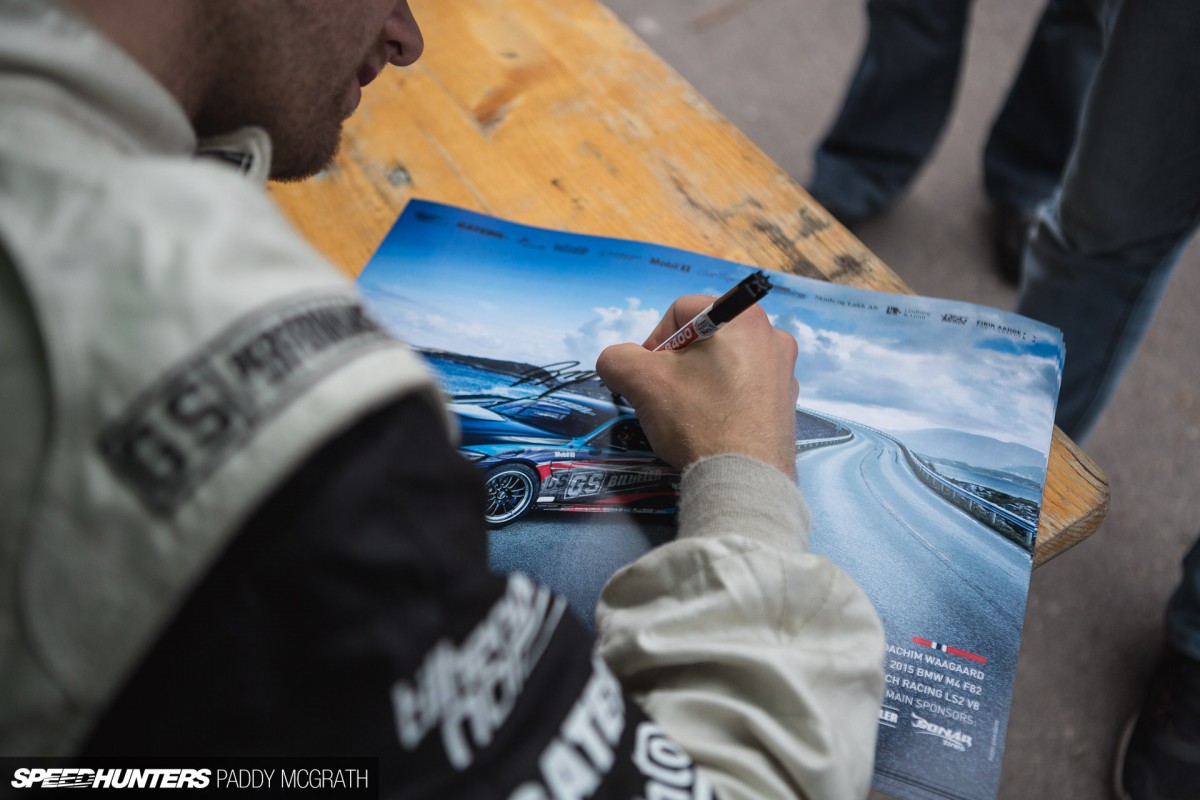 I couldn't quite put my finger on it at the time, but there was something very special about this event. Having had the opportunity to mull it over for a few days, I believe it was quite likely down to the interaction between the drivers and the fans, and the passion that exists on both sides.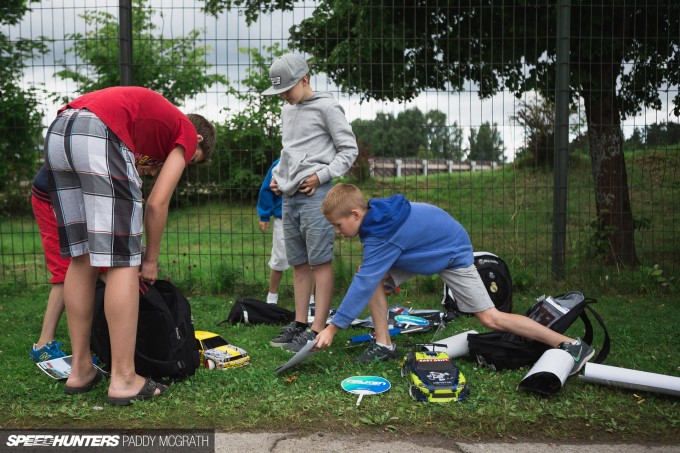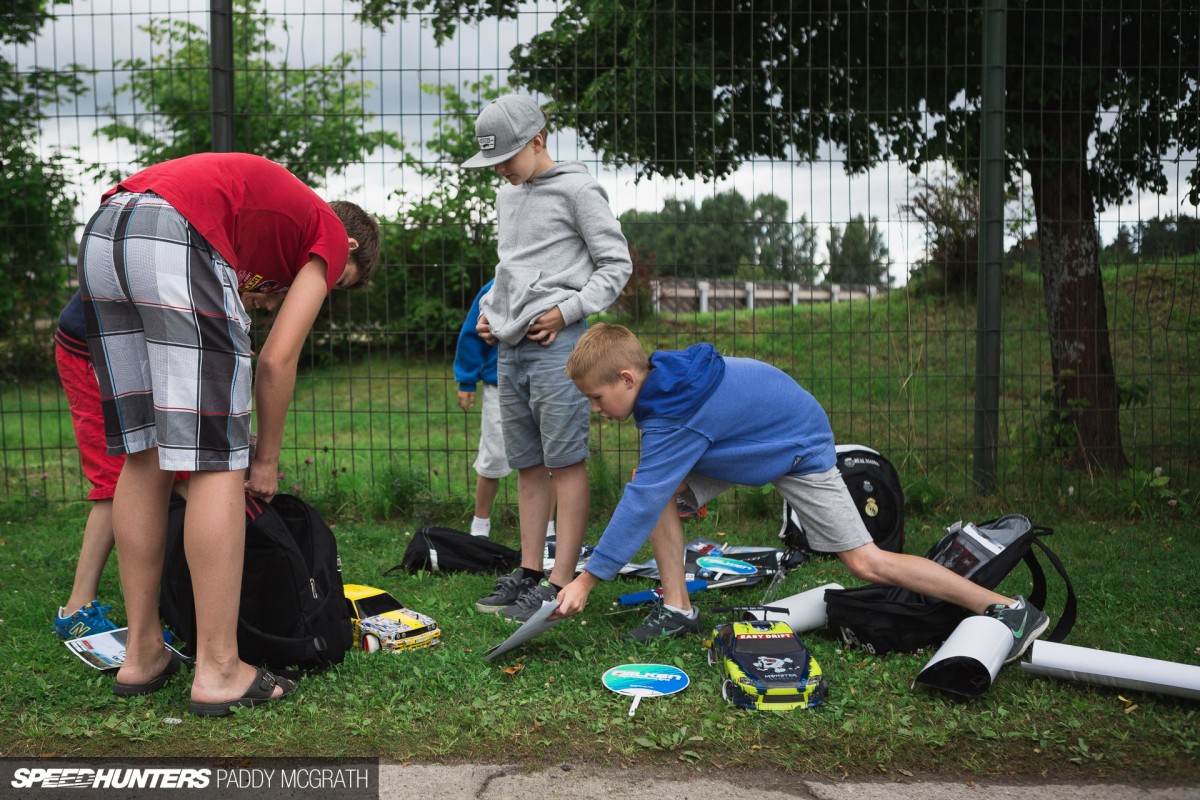 I saw kids shaking with excitement before meeting their favourite drivers. This group was organising their collected autographs and freshly-acquired posters and sponsor paraphernalia. How can you not be inspired by that?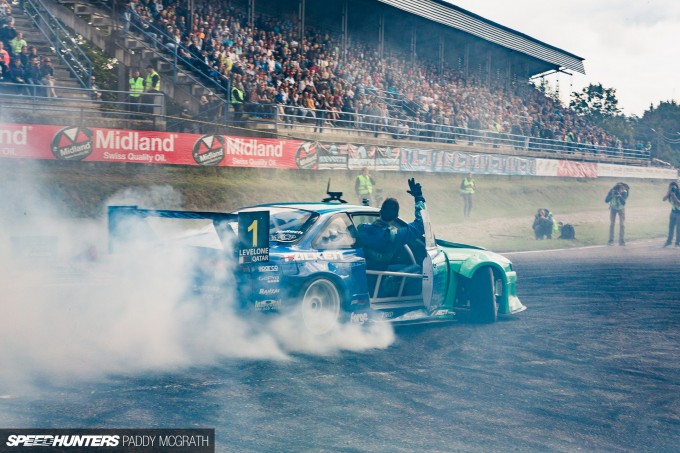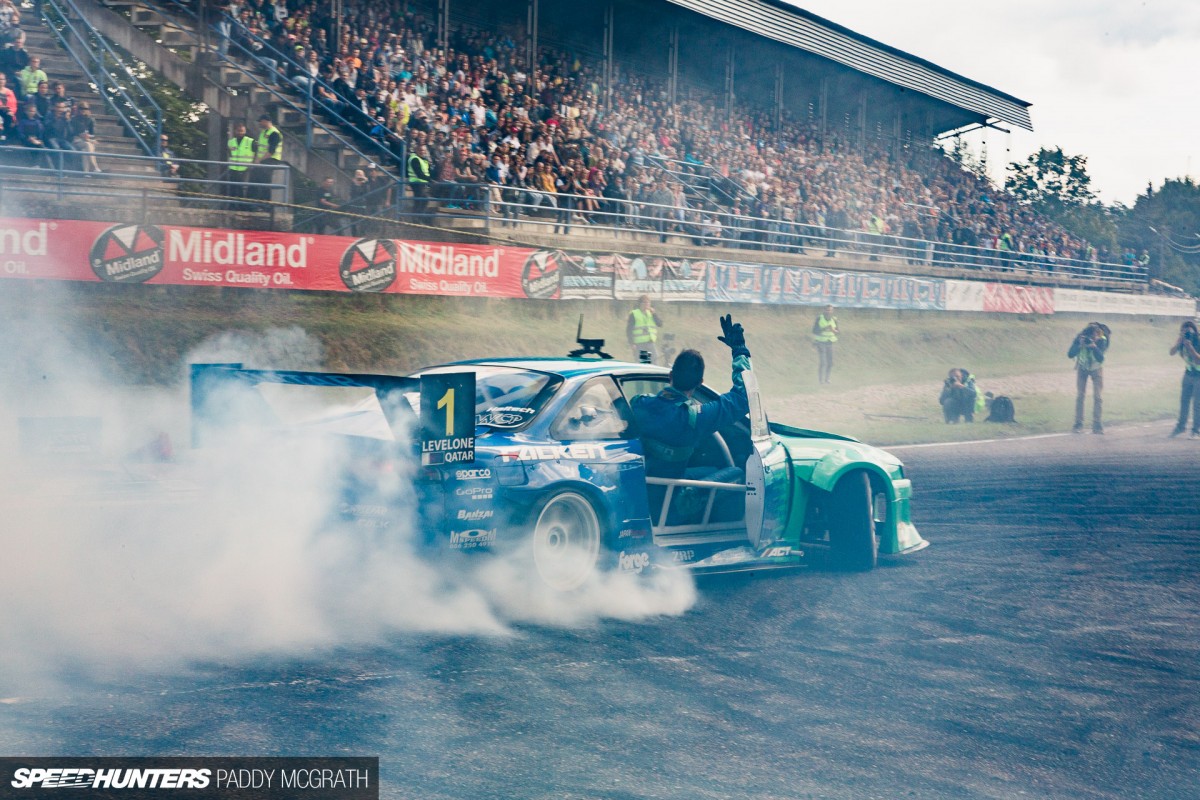 At the end of the day though, events aren't won in the paddock.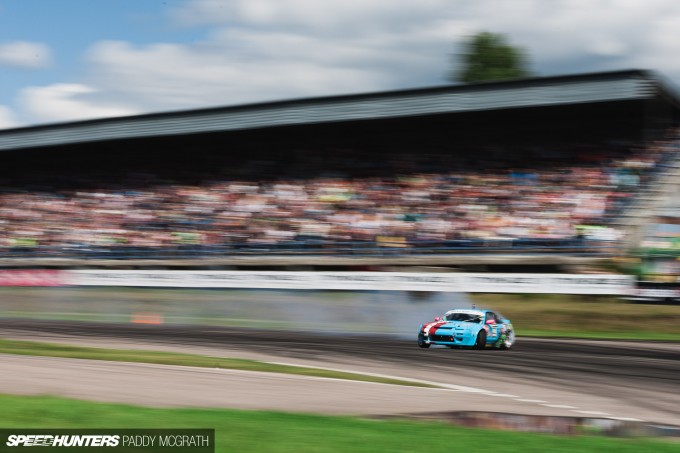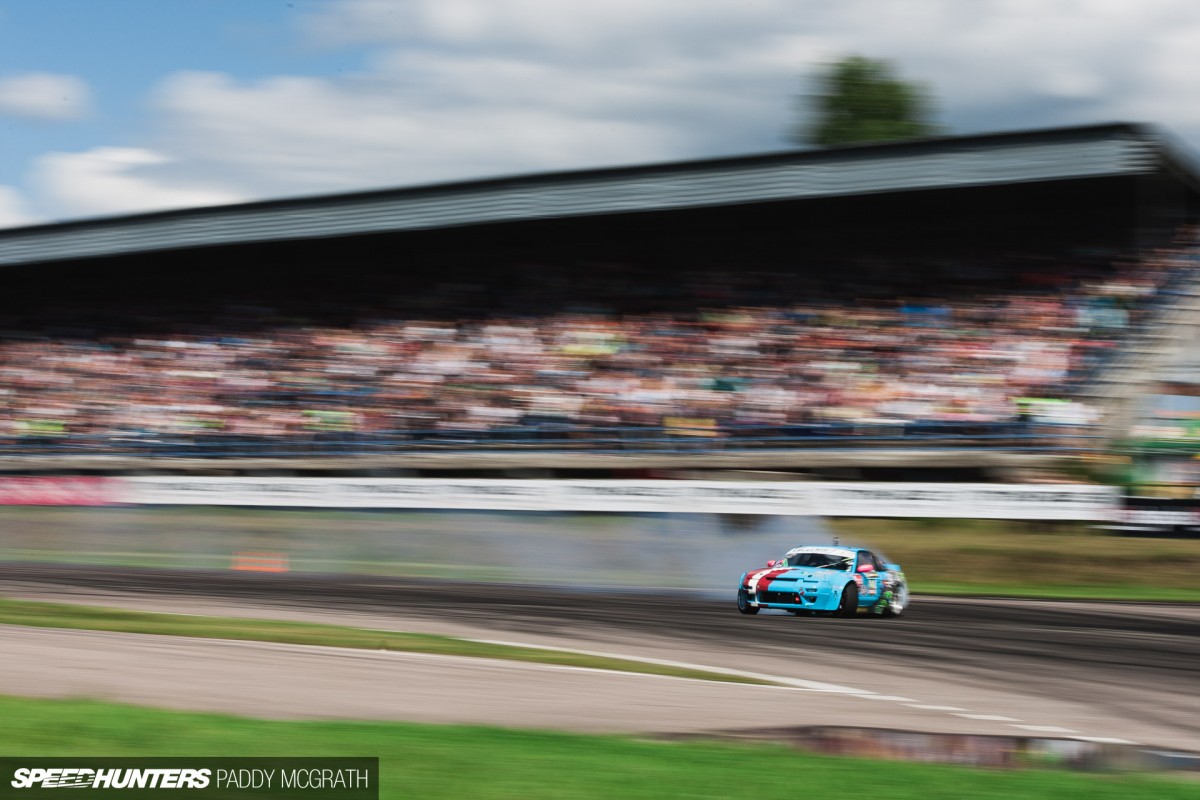 With the niceties out of the way, it was time for the 60 drivers to be reduced to 32 for the battles. It's at this point where Drift Allstars shines, as with so many on-form drivers you're guaranteed a spectacle.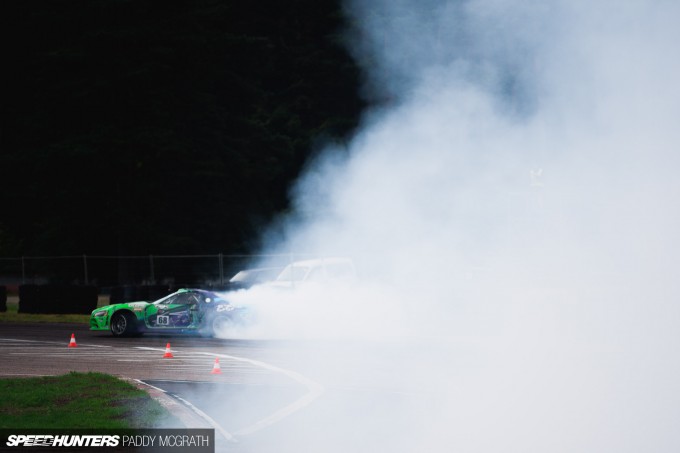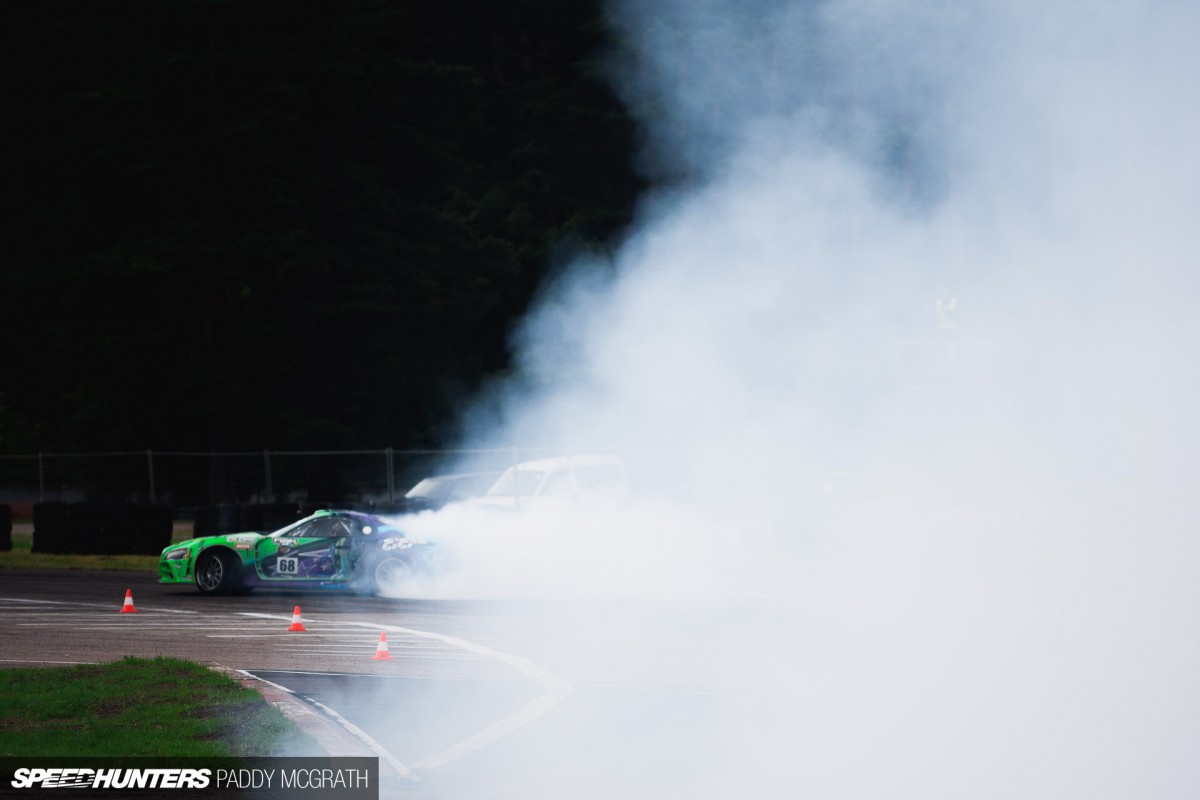 By the time we had reached the top eight (I won't bore you with the brackets but I will include a video of the event highlights below) there were eight national champions still in the mix and competing for the top prize. On any other day, most of these guys would be enjoying an easy stroll to the final. But the competition here was fierce.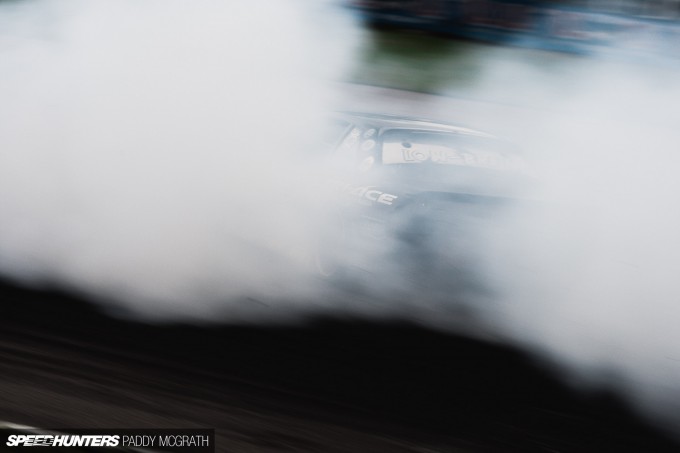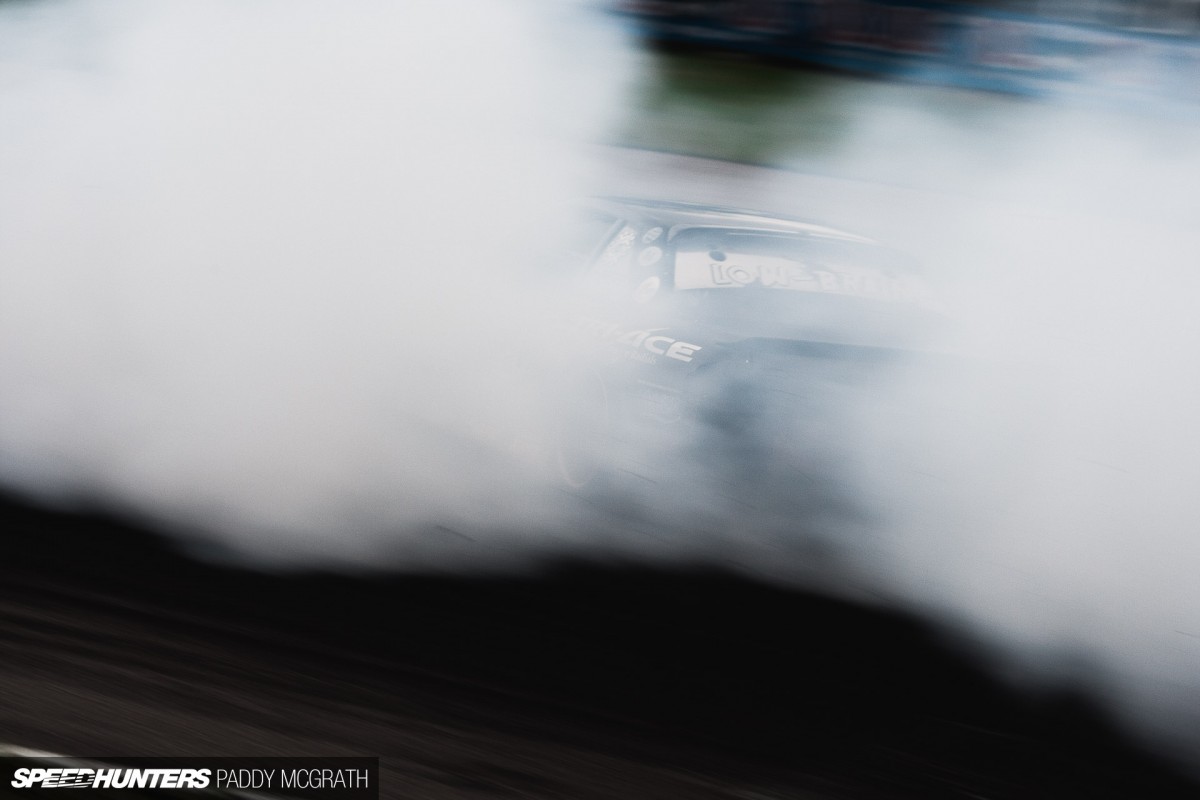 Despite being below the horsepower average, round one's winner Luke Fink – yes, he's in there somewhere – was more than happy to leave some tyre marks on doors of leading cars. In a stroke of bad luck, a tyre popping off the rim eliminated him in the top eight.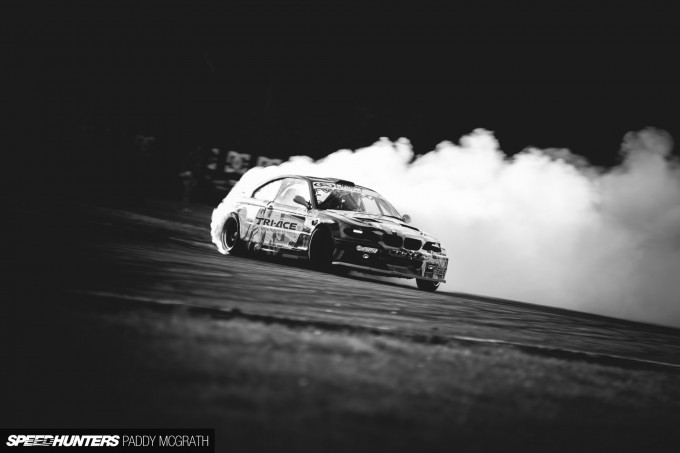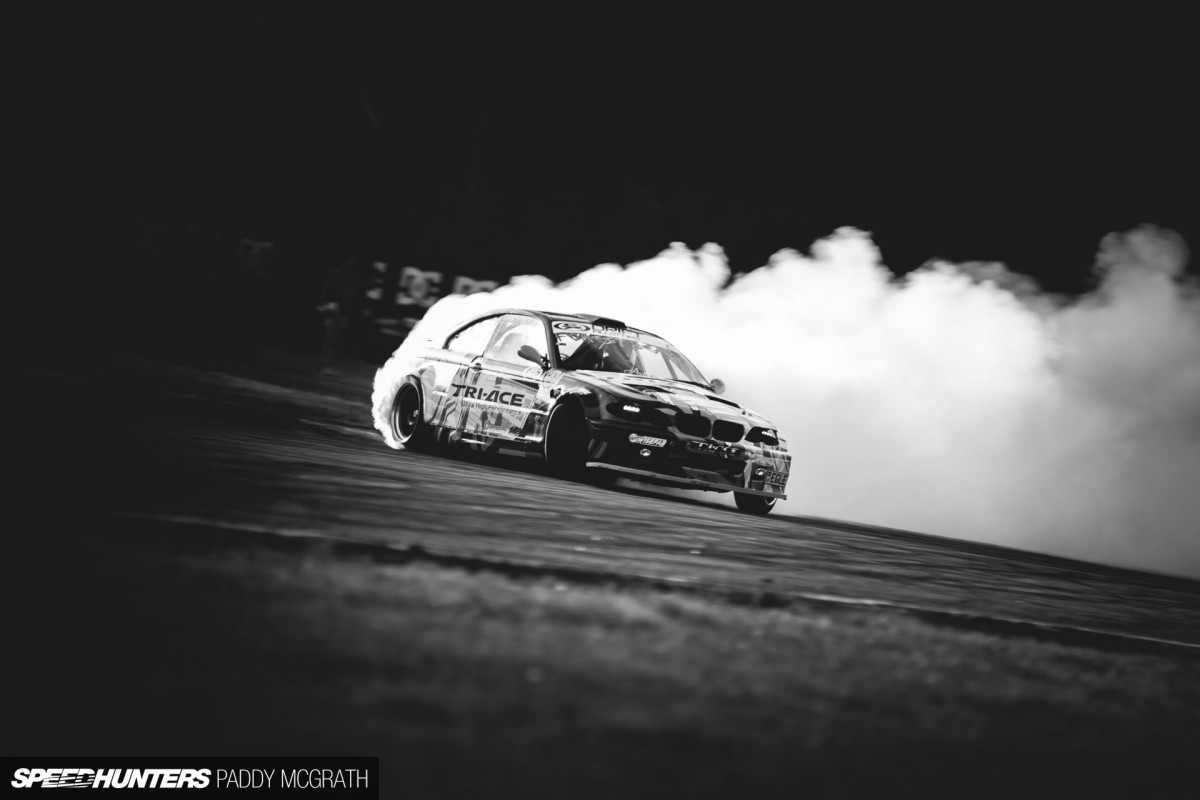 In the end, it came down to hometown hero Janis Eglite to stop James Deane extending his lead at the top of the table.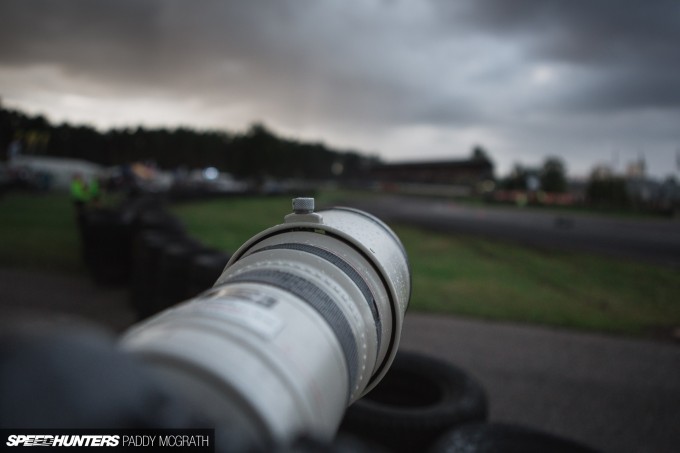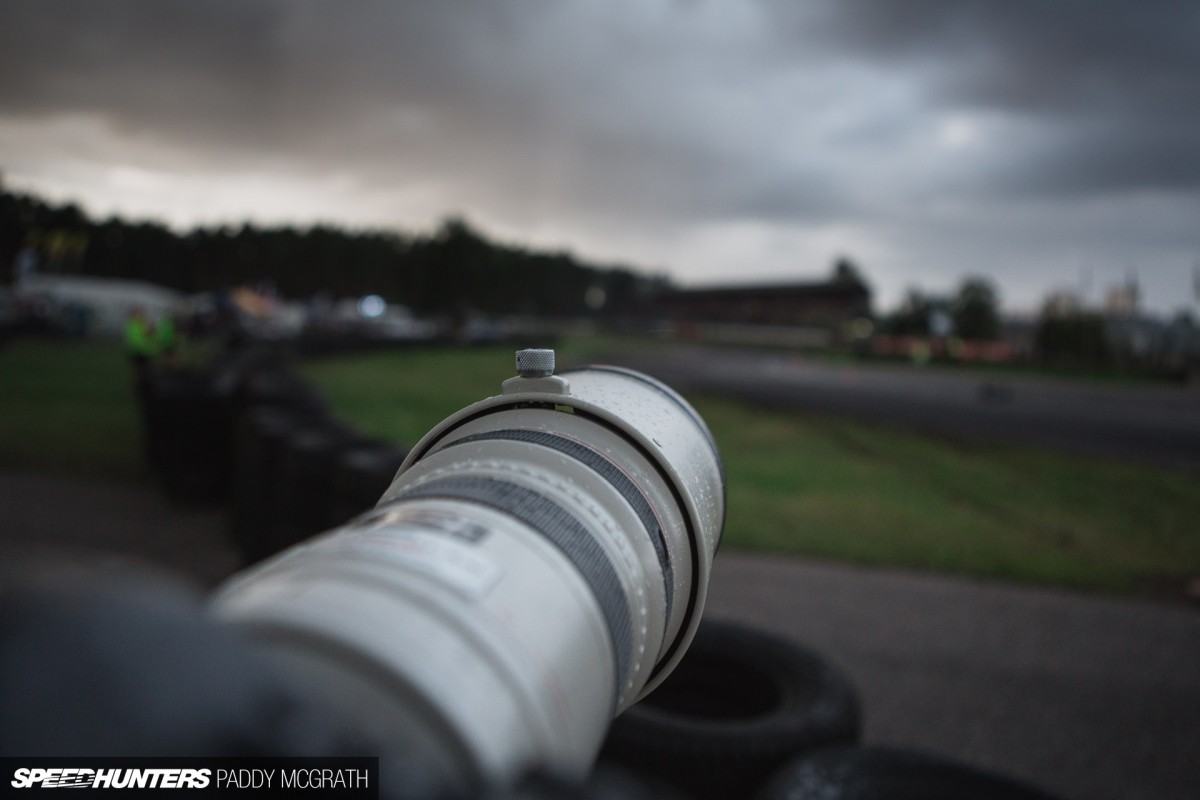 As if the event required any further drama, the weather gods decided to throw a downpour onto the circuit just in time for the final battles.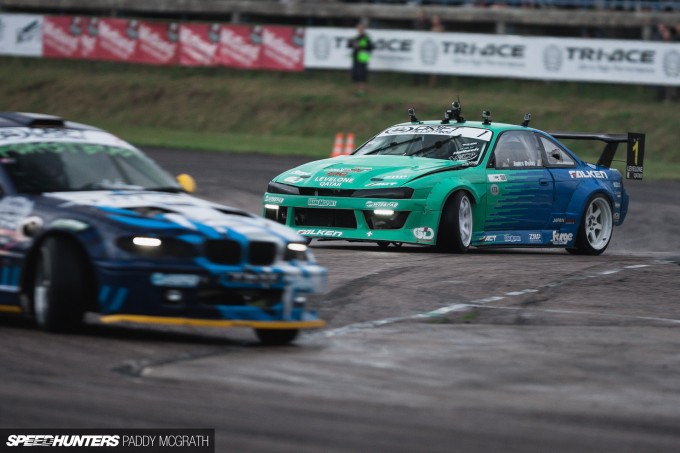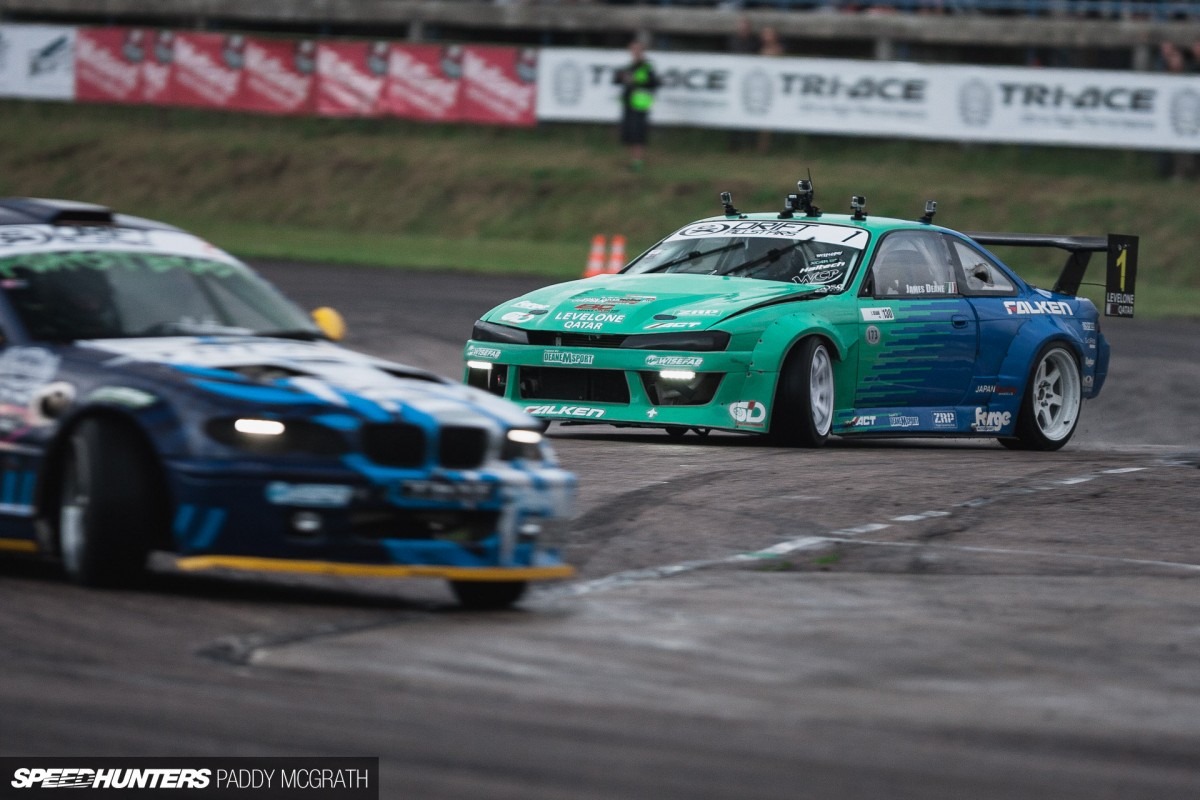 The combination of a well-rubbered race circuit and rain made the final anyone's to win. Or lose.
It was two small errors on Eglite's behalf that handed Deane the win – his second in a row and making it two out of three for him in the 2015 championship. Those who are familiar with watching James Deane, will be familiar with how easy he makes it look. His wild style is a complete paradox to how smooth and composed he is behind the wheel. But this was the first time I've ever seen James really have to fight for a win and it was anything but routine for him. He had to leave everything on track to take the top step of the podium.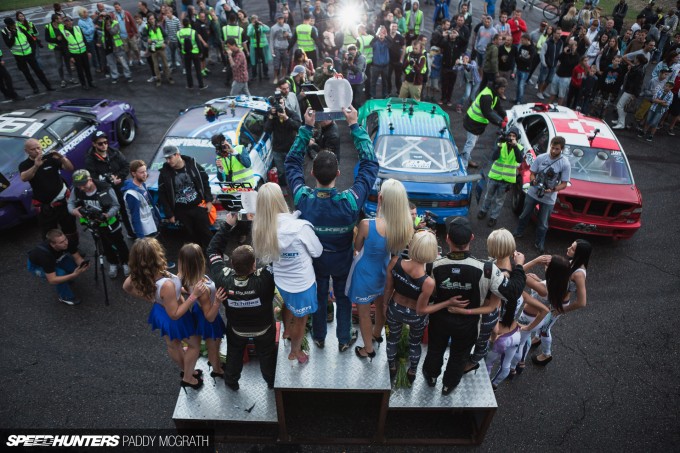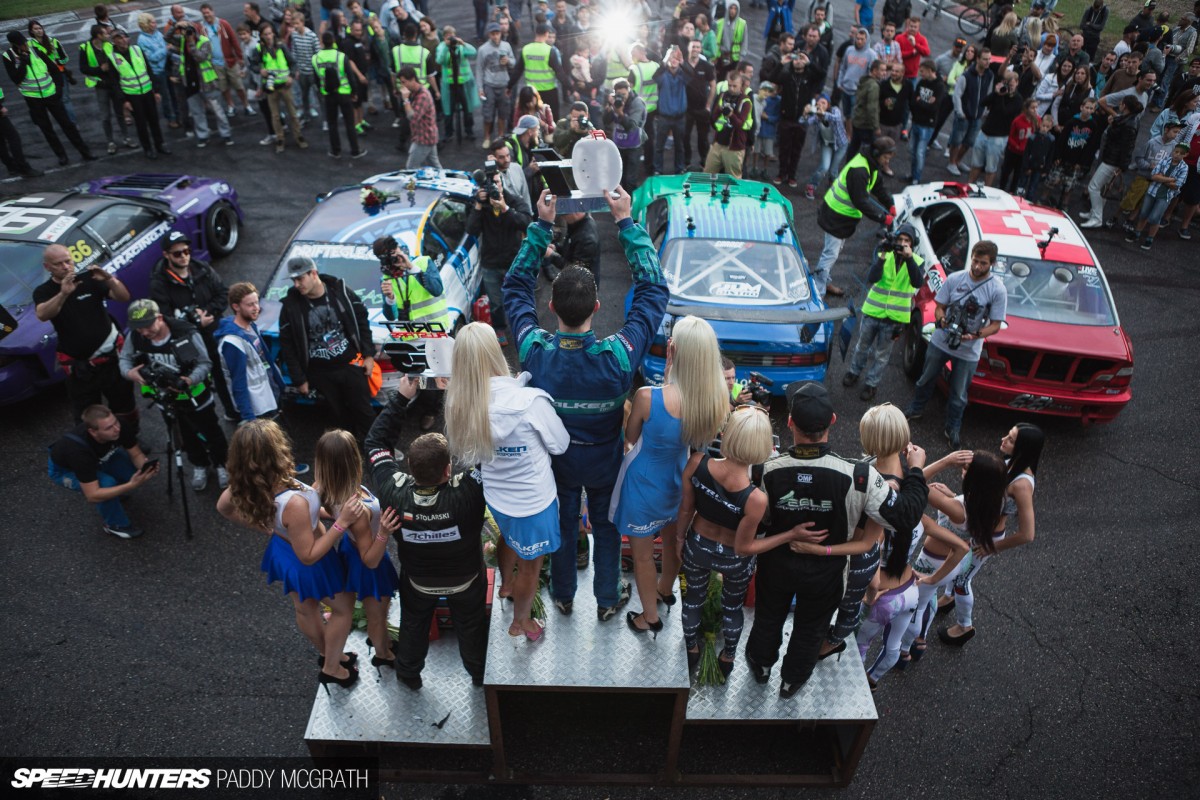 For me, the result is inconsequential in the grand scale of things. Whilst I was personally delighted that James did win, it was the whole experience that still sees a smile on my face a week later. From the incredible backdrop, to the passionate fans and the barely believable response, to the street parade and the fierce competition on track – this is how drifting is meant to be. It gave everything and left nothing in reserve.
Before I'm hanged from the rafters, I do not intend this as an attack on any other series. This isn't about what other series are doing wrong, rather what I feel Drift Allstars are doing right. By delivering an event to a passionate fanbase, which also embraces these fans and encourages drivers to go all-out, it epitomises all that is good about drifting. It was a feel-good event with everything you could ask for.
Now, if you don't mind, I still have some rubber to dislodge from my teeth.
Paddy McGrath
Instagram: pmcgphotos
Twitter: pmcgphotos
paddy@speedhunters.com
Bonus Video & Images