A Rocky Relationship
Strong words. I'm sure some of you will be nodding in agreement at my chosen title for this story, whilst others are already rushing to the comments section to defend drifting. As much as I love to stir things up a bit, these aren't my words. Rather, what might surprise you is that these are the words of the Irish Drift Championship's organiser, Dave Egan. Why did he say this? Does he mean it? More importantly, is he right?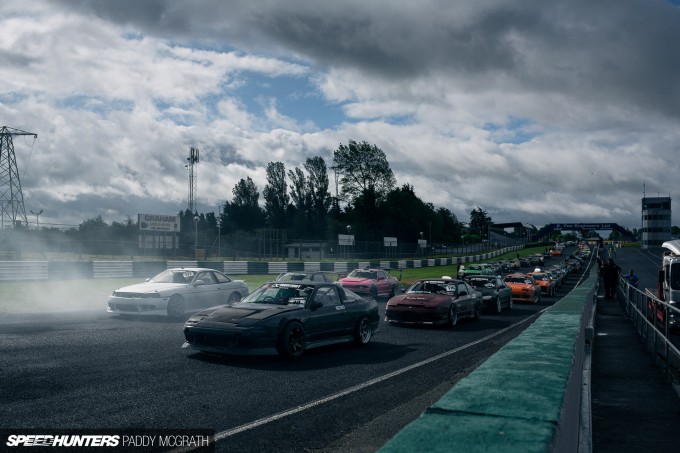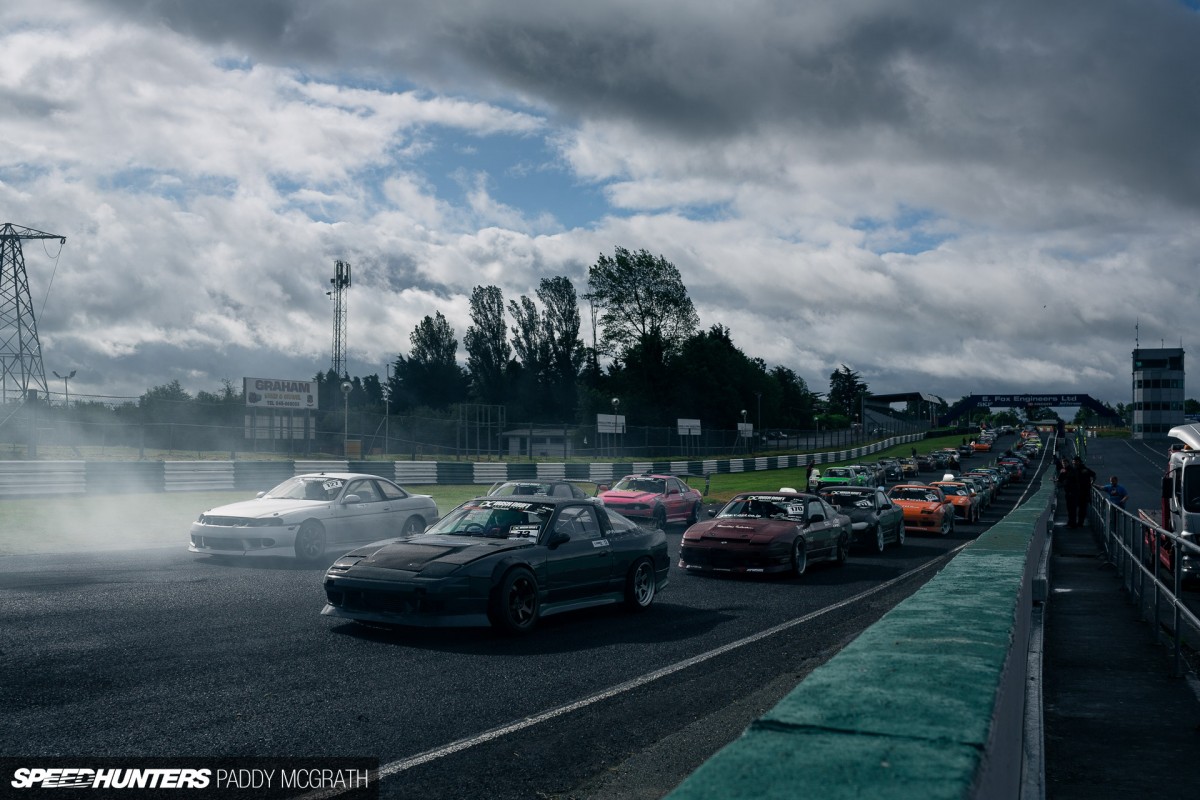 Before we get into the thick of it though, I want to give you a little bit of my own background with drifting and where I currently stand with it.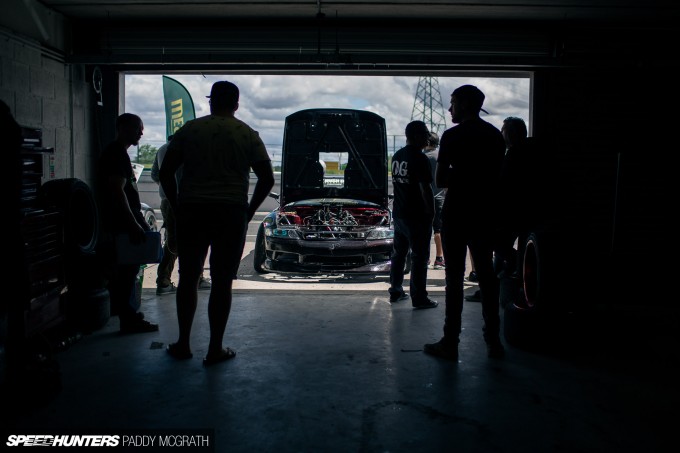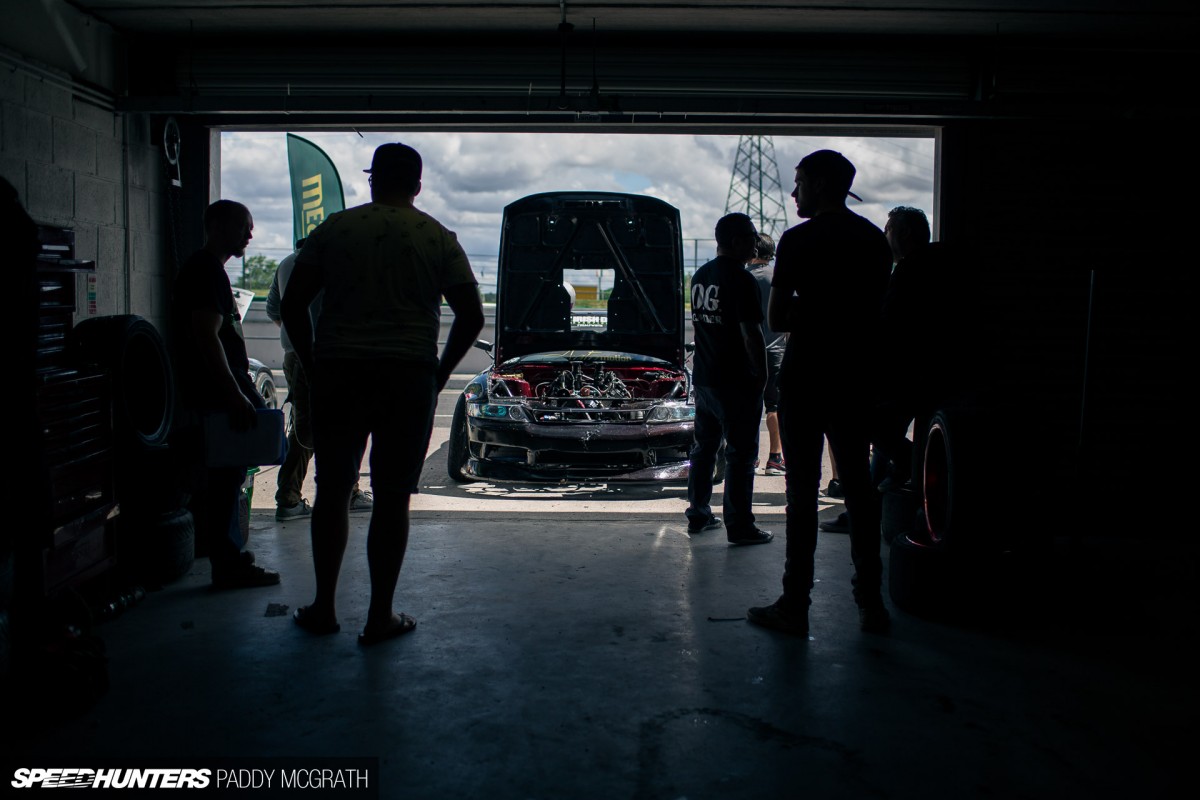 I can safely say if it wasn't for drifting, and the Irish drift community in particular, I wouldn't be here writing this story today. Drifting has played a huge part in my career and allowed me to learn the ropes before turning a passion into a living.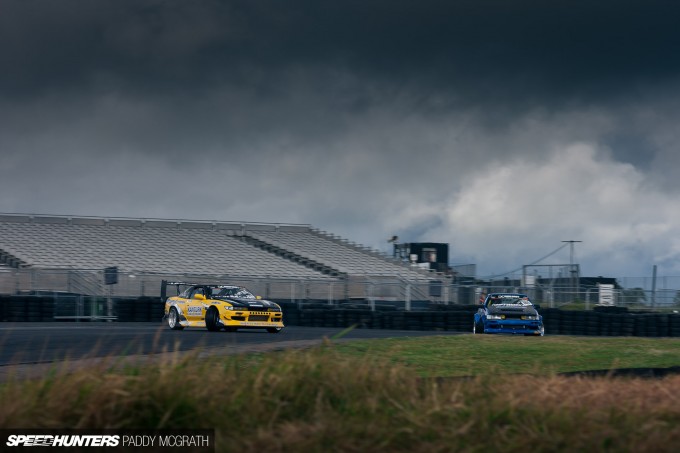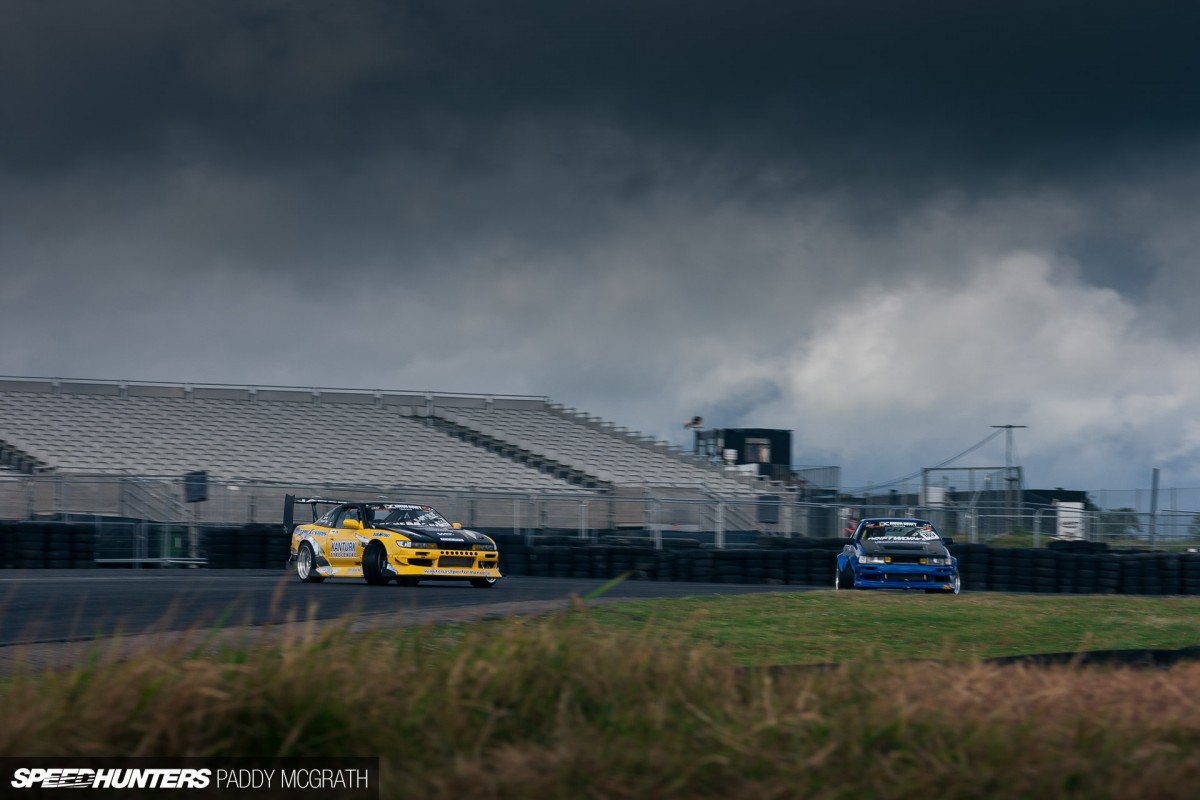 Some of you may have read my article last year for Drifted where I talked about my frustrations with drifting and why I had to walk away from it to really see the bigger picture.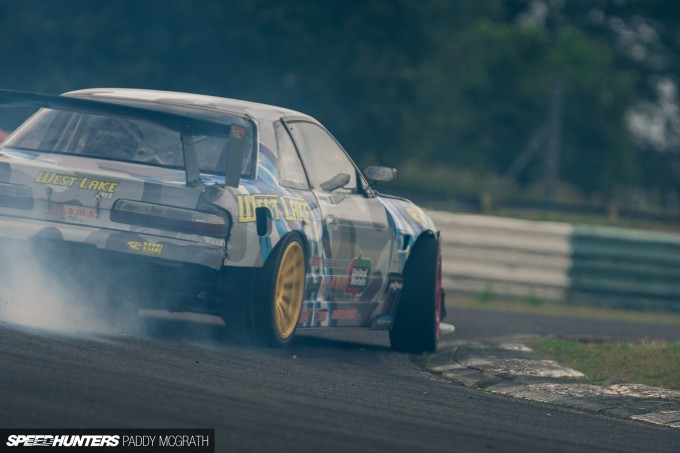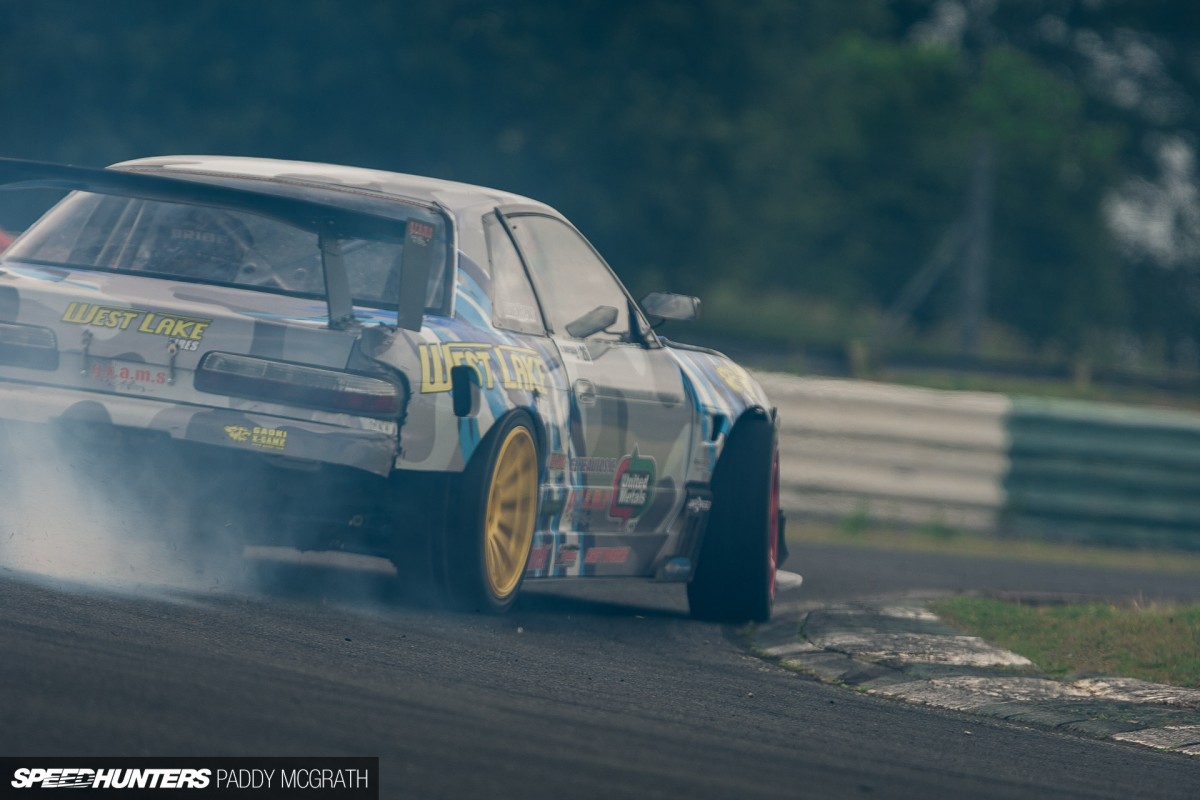 To condense it down, I essentially believed (well, at least at the time I did) that pro-level drifting was being held back by a sort of guilty conscience which was tied to the grassroots scene. There are a lot of people putting their everything into drifting and not getting anything even close to the return they deserve on their investment, both on a personal and financial level.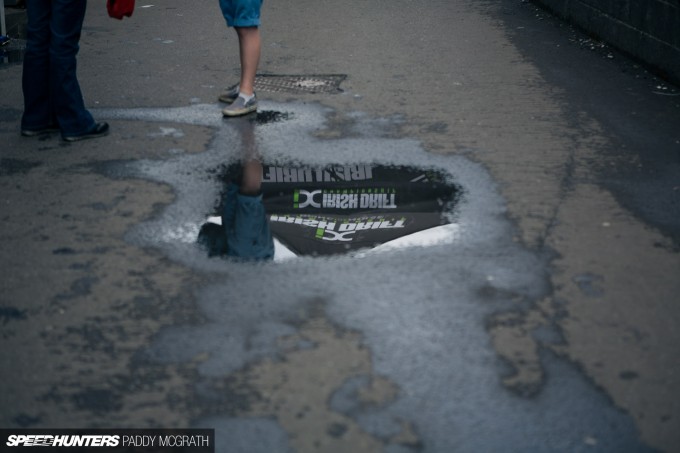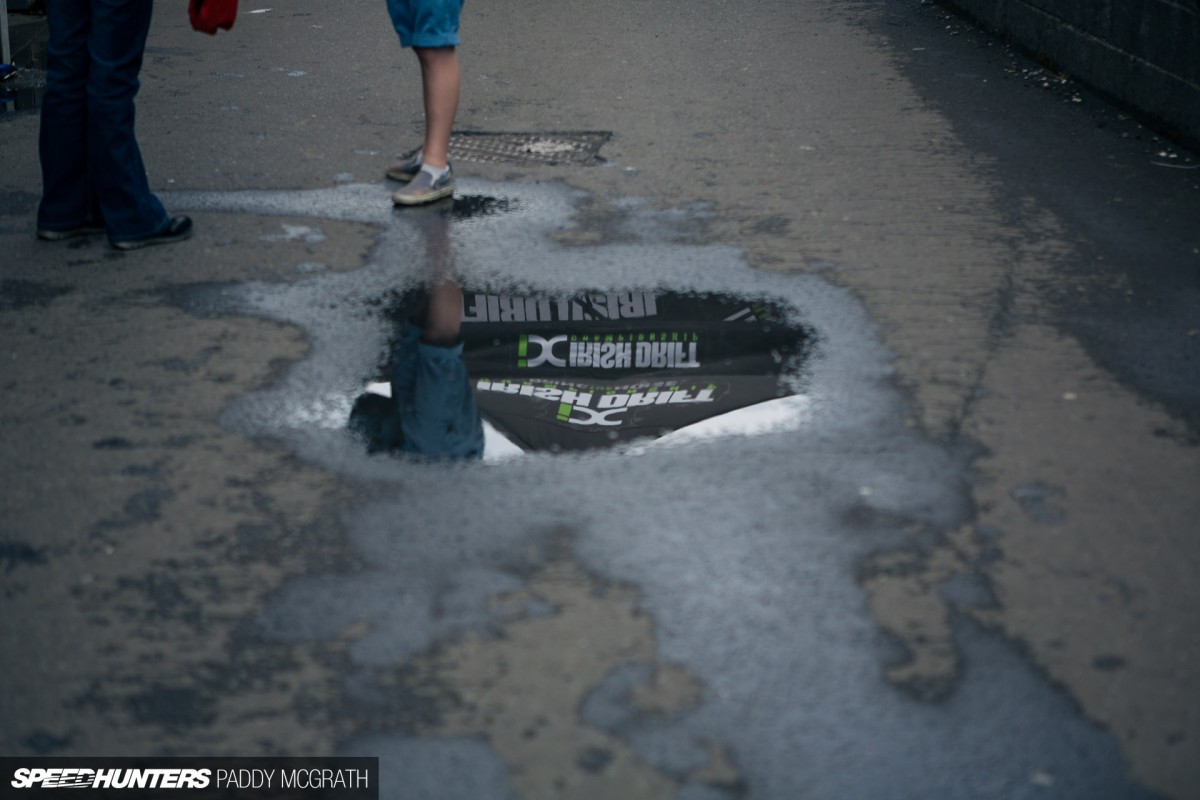 I think drifting in many regards is its own worst enemy. People within the drifting community spend more time arguing about the varying approaches to the sport than they do celebrating the good and encouraging others to come and join them. After nearly every major drift event, there's almost guaranteed to be an online argument over a judging decision or a driver doing something that goes against the spirit of the sport. Removing subjective decision-making would go a long way to preventing this, or at least providing the judges with extra data to base their decisions on. Exact proximity to a clipping point, average angle, average speed and exact distance to the leading car would be massive assist to the sport.
There's that word again. Sport. But is drifting one?
Brothers In Arms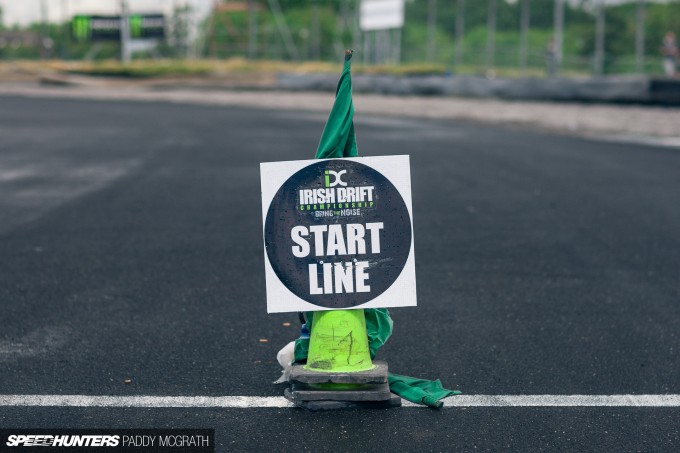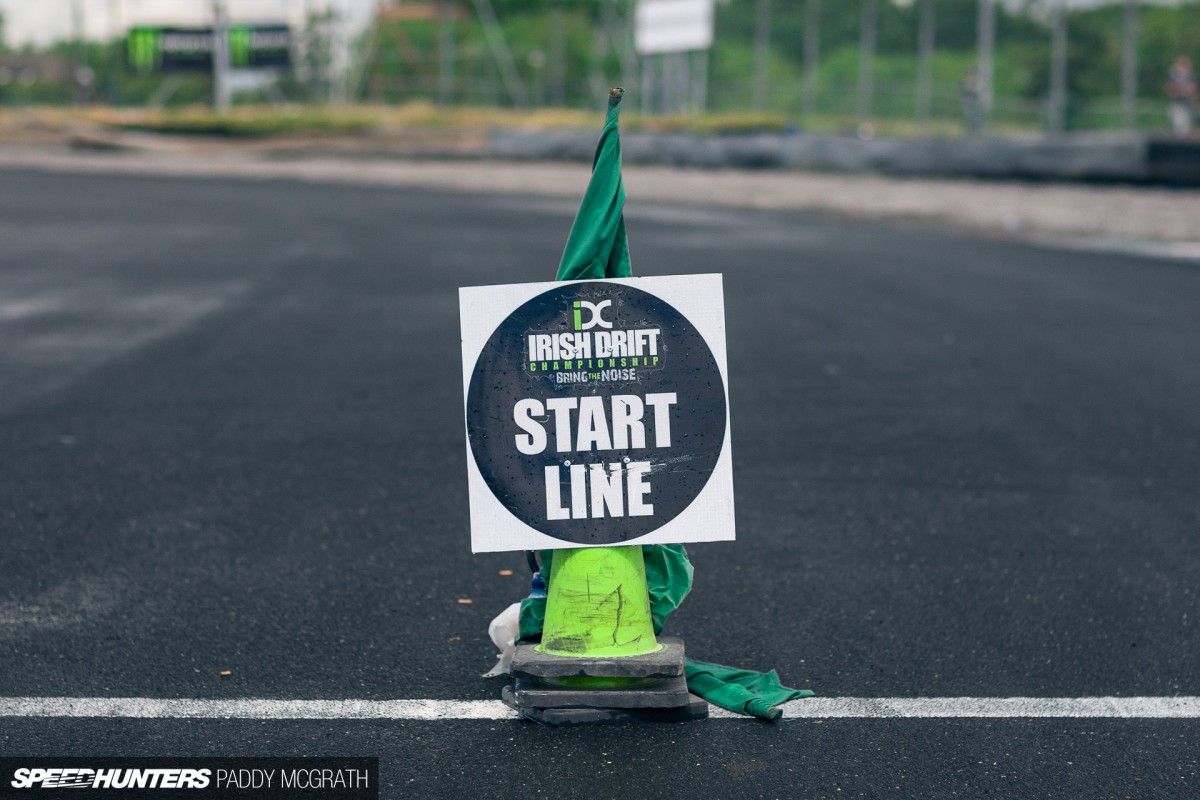 From a purely technical analysis, I would say that yes, it is. You have motor vehicles competing against each other to win an overall prize or be declared the best at a particular discipline. I don't think Dave Egan meant it literally when he said 'drifting isn't a motorsport' but rather he was referring to how drifting should be presented to paying public and fans.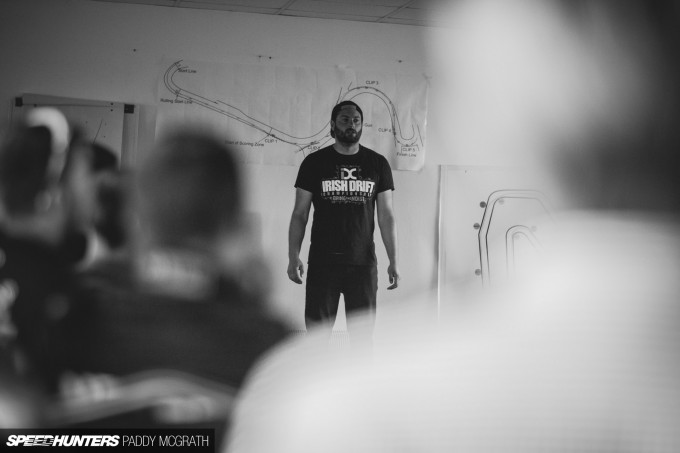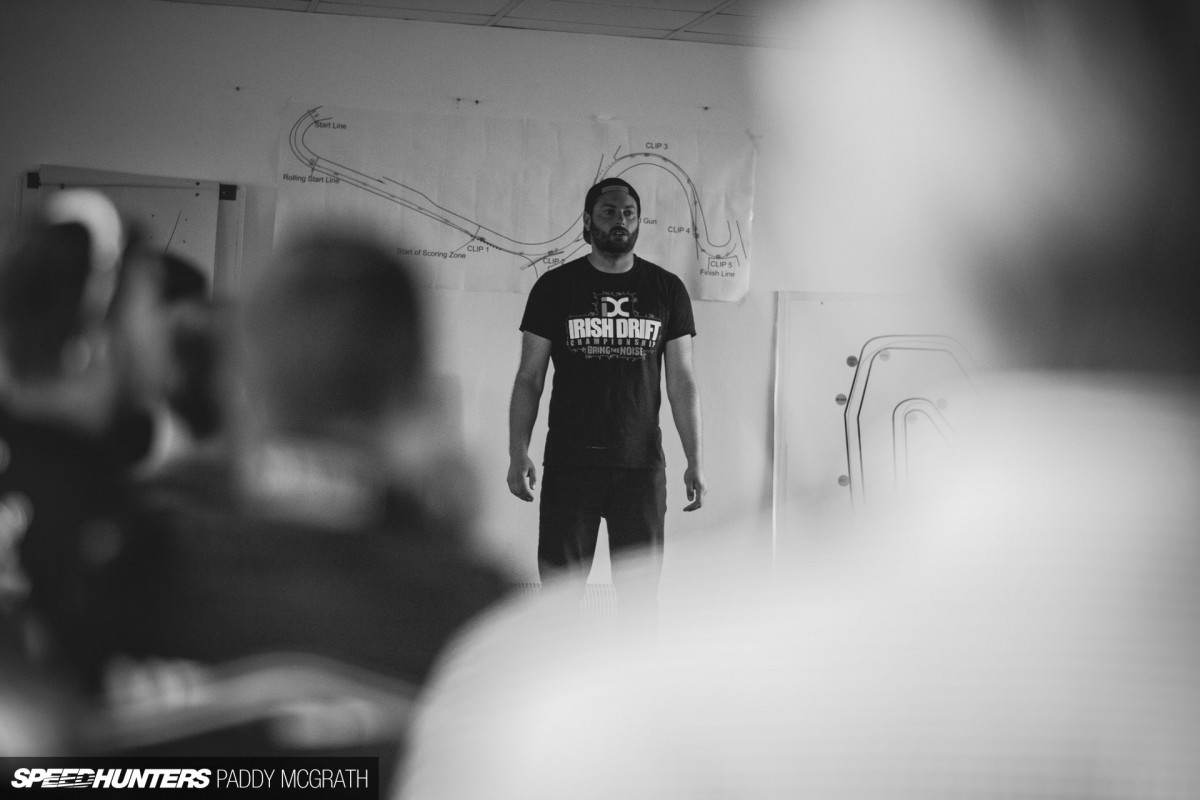 I should add that Dave is not only the head honcho of IDC, he's still a regular competitor in the British Drift Championship amongst others. When Dave took over the former Prodrift series three years ago he did inherit a solid base, but he has continued to expand the series in quite a successful manner.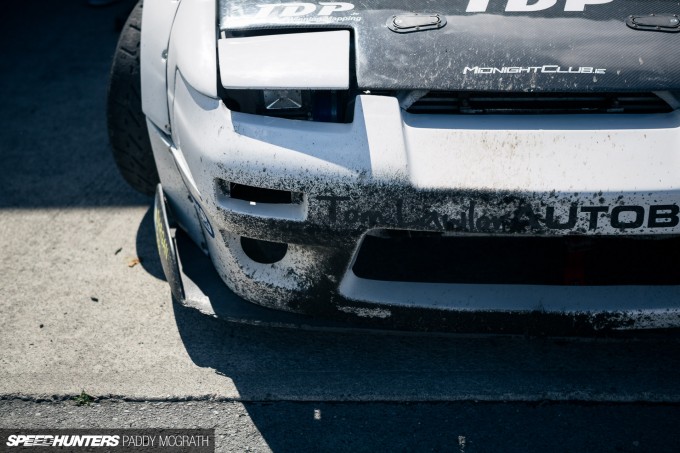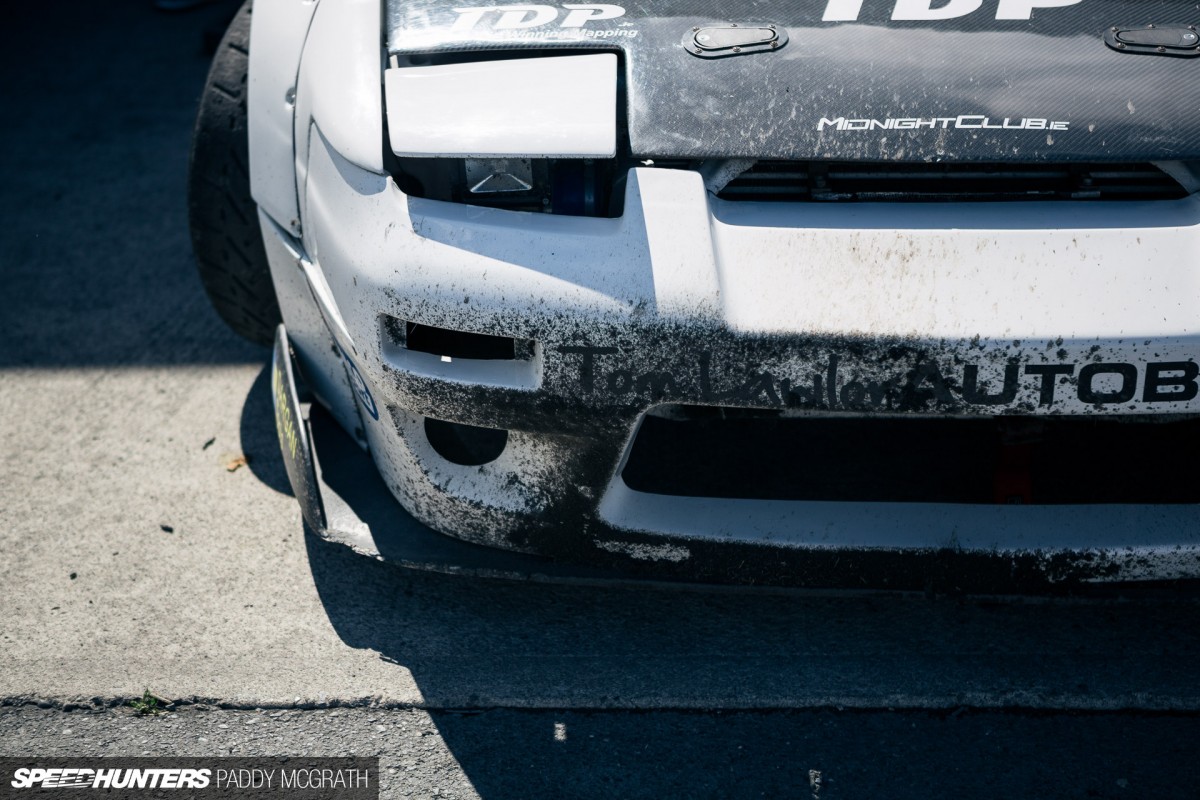 Instead of focusing on just the driving, Dave has taken the interesting approach of focusing on the drivers and people involved in the sport. The rivalries, the personalities and the great sportsmanship and camaraderie that sets drifting apart. He's aware that drifting is the outsider in the motorsport world, but he's perfectly fine with that. In his own words, Dave told me how traditional motorsport bores the life out of him. It's far too clean-cut and there's only so many times you can watch a car drive around in circles with other cars following processionally.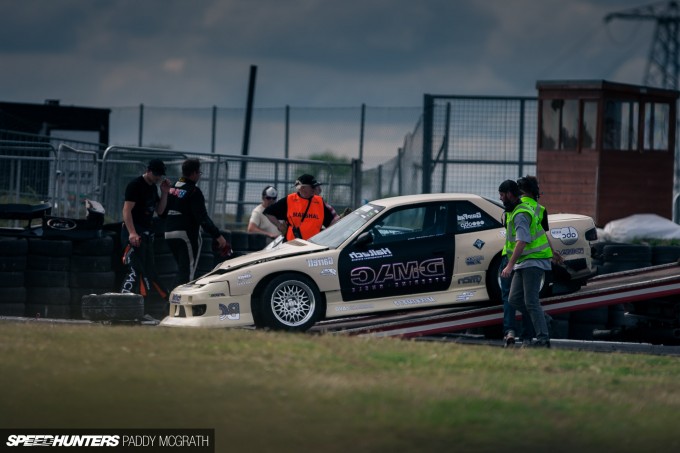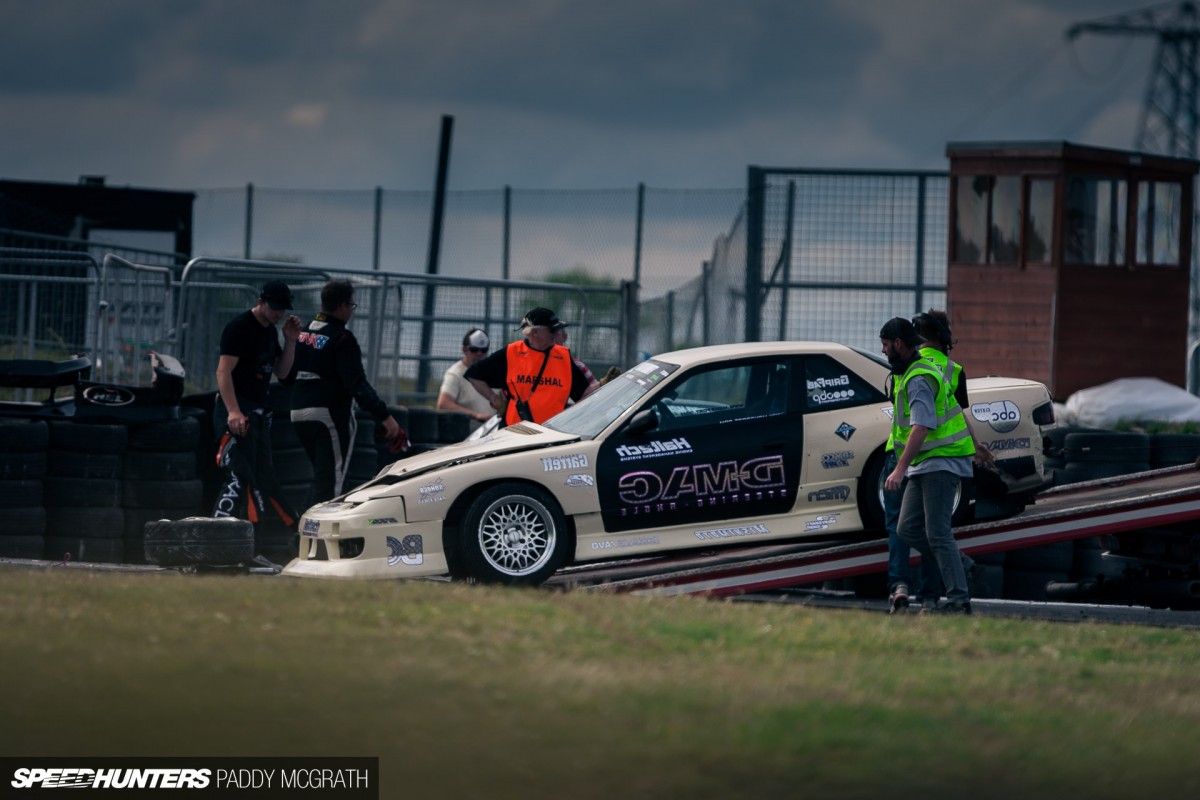 I think he has a great point too. Possibly the most interesting story of the Global Warfare weekend was about what happened after Robbie Nishida's massive accident with the wall during Friday practice. Driving Darren McNamara's left-hand drive 1JZ 240SX, Robbie entered far too late and far too fast for the second outside clip, completely totalling the freshly-rebuilt Nissan and taking chase driver Luke Fink's Mosler V8 powered PS13 out in the process.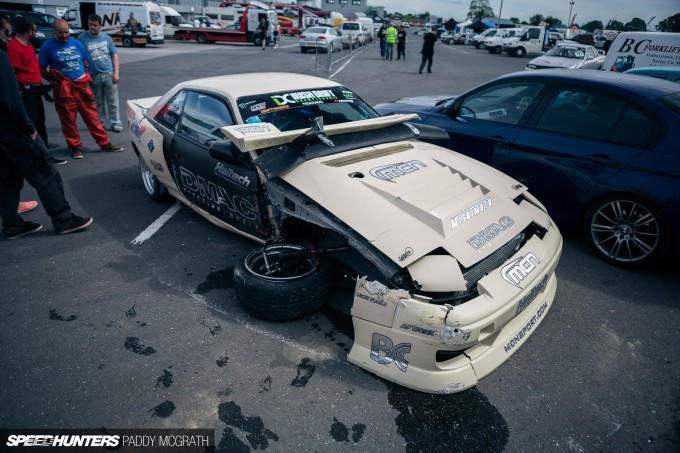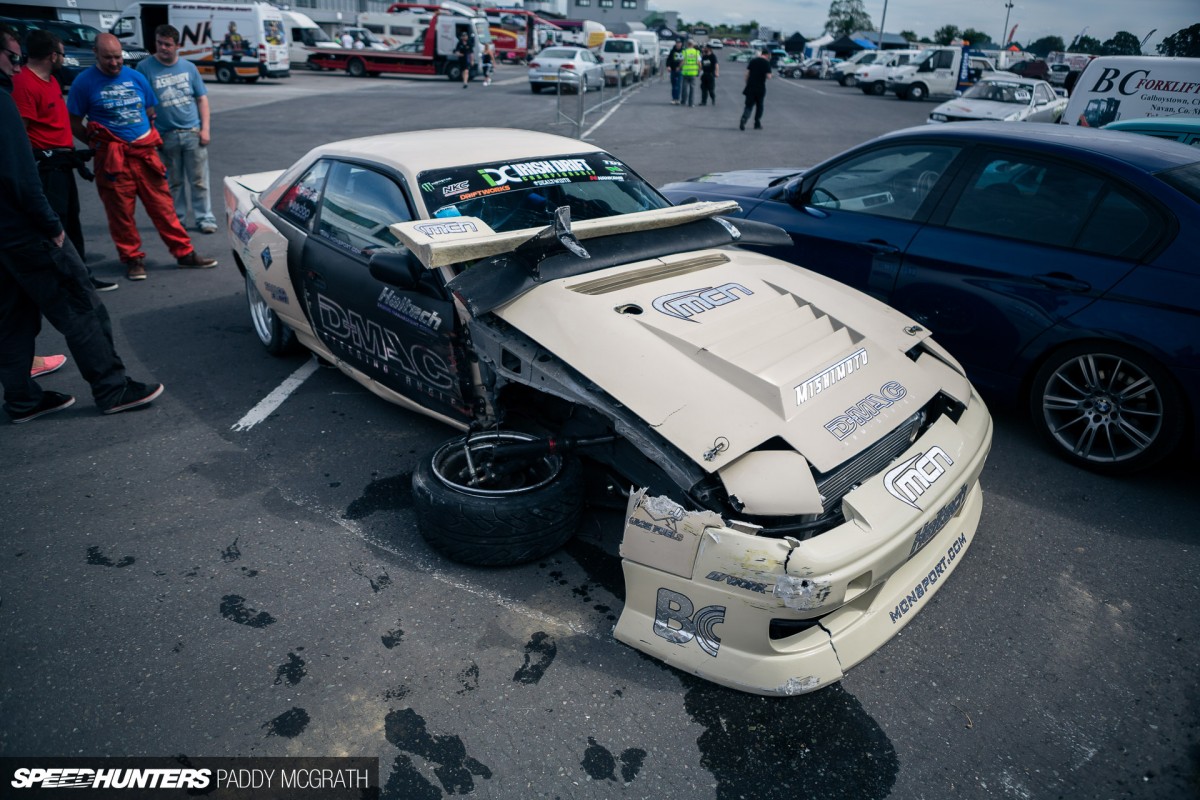 It happened in the blink of an eye, but the result was utterly devastating. It was said by many that Robbie was incredibly lucky to be behind the wheel of the only left-hand drive car in the paddock. Had it been right-hand drive, he may not have walked away.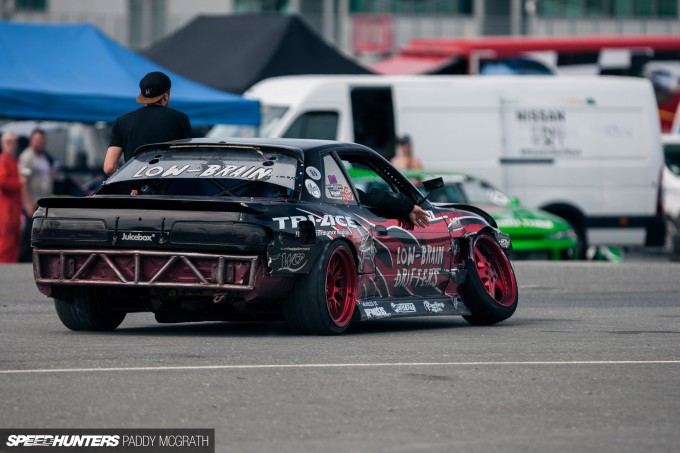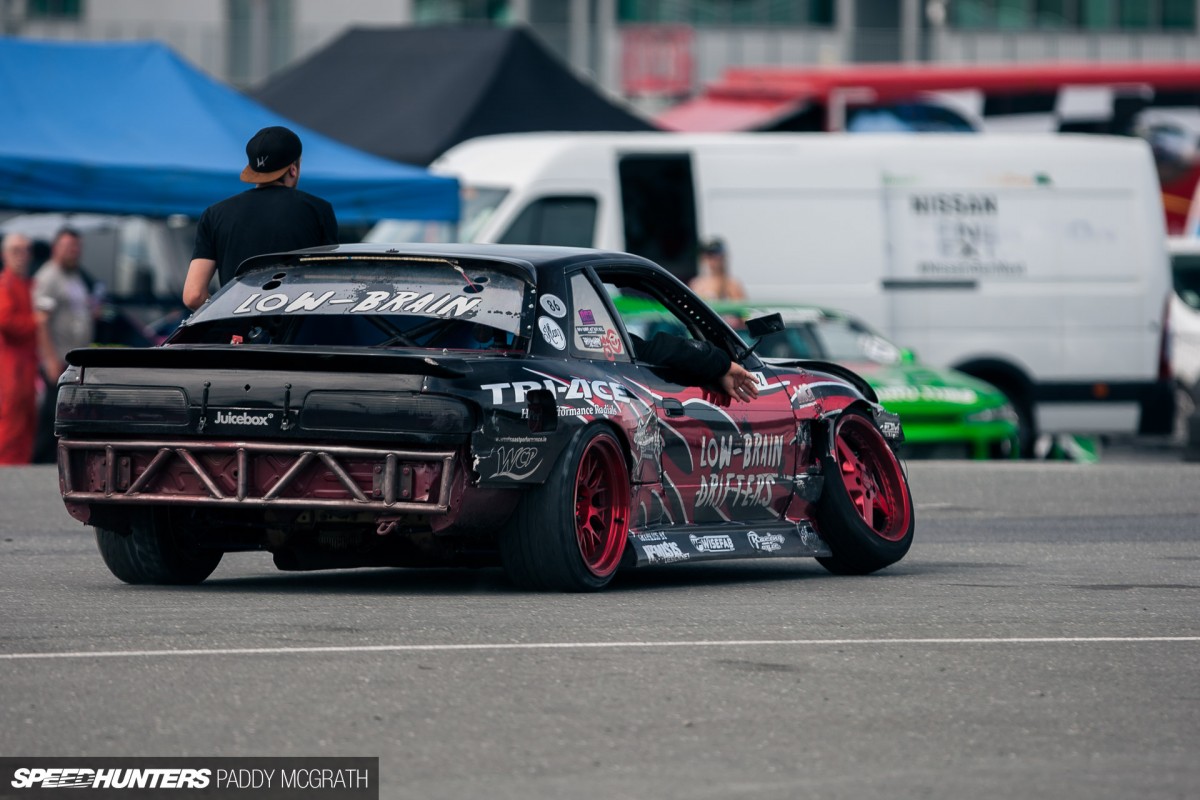 Whilst the D-Mac 240SX was a complete write off, Fink was able to limp the Low Brain car back through the paddock. As you can probably tell, that's not a healthy amount of camber at the front…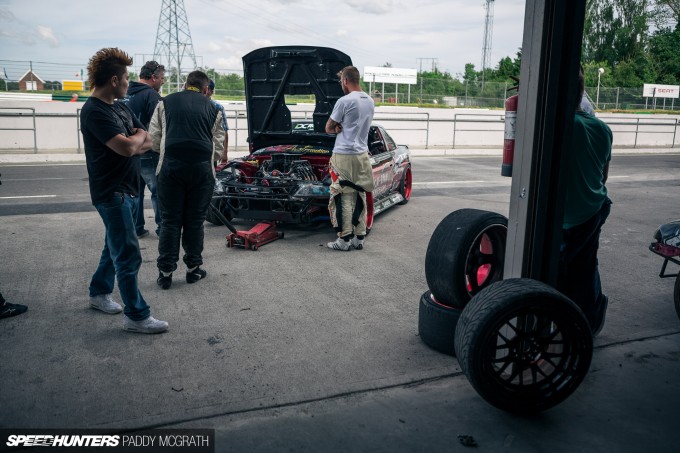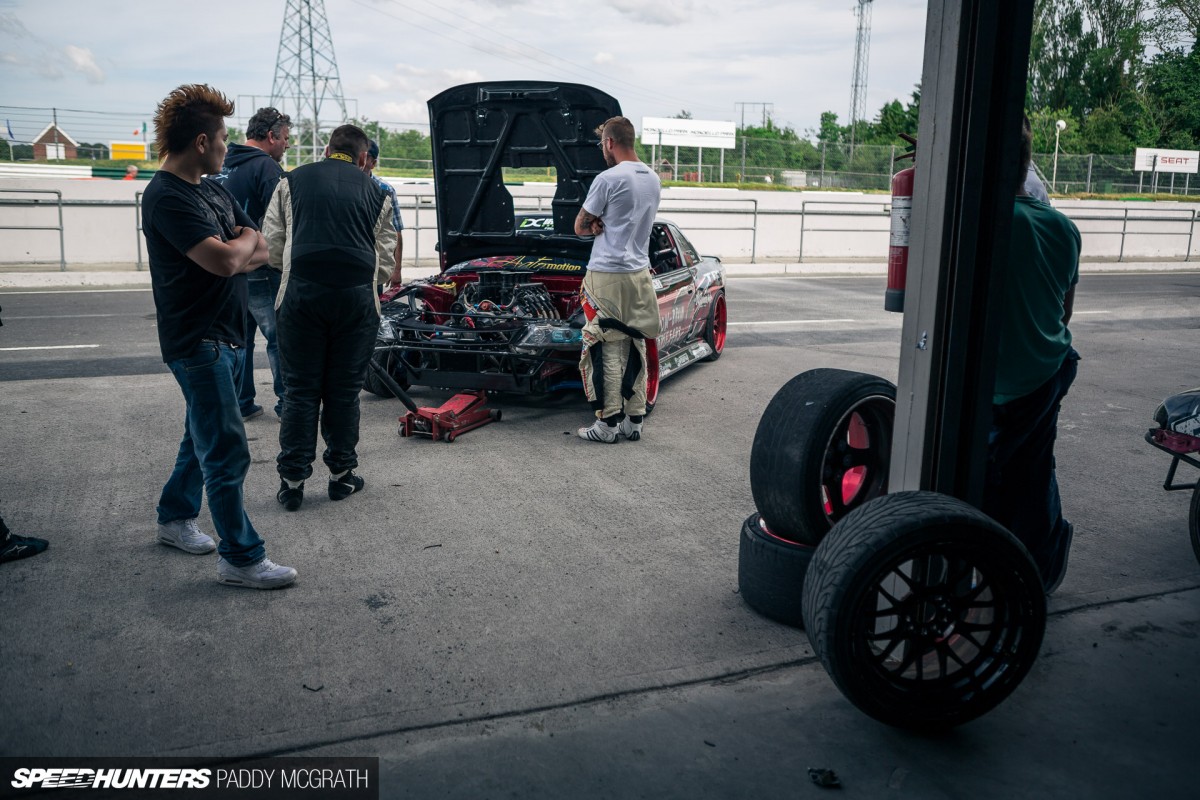 It was only when Fink arrived back into the pits, that this story really gets interesting.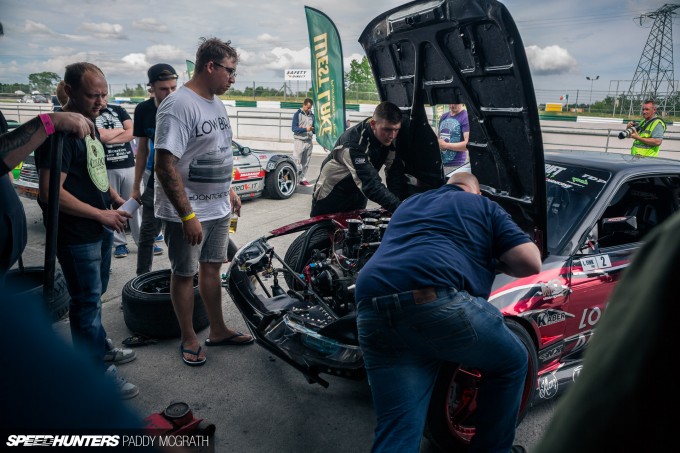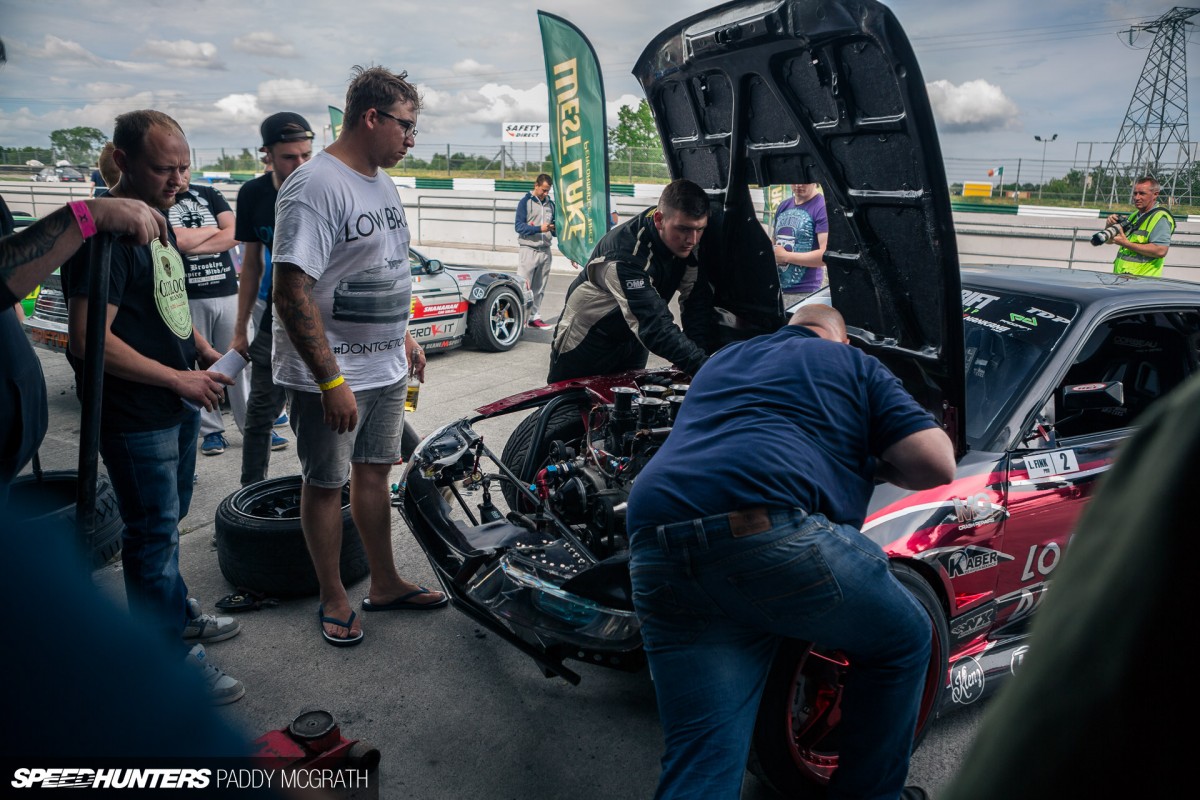 With a bent front coil-over and a shock tower which had been relocated about two inches to one side, it should have been the end of Fink's weekend. But before the car had even cooled down, fellow competitor and direct rival Jack Shanahan and his father, John, were over to investigate.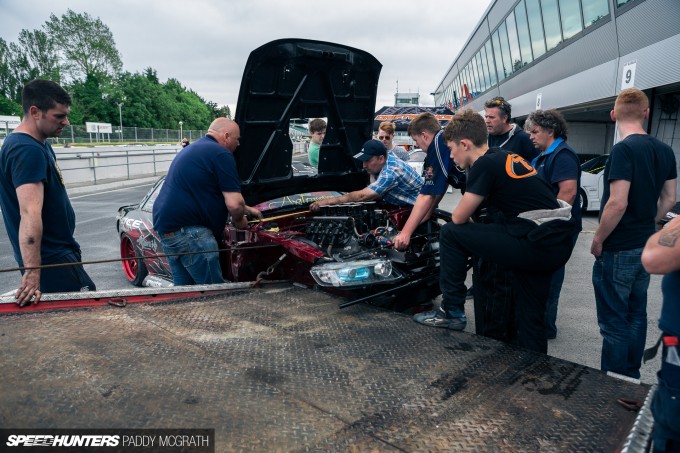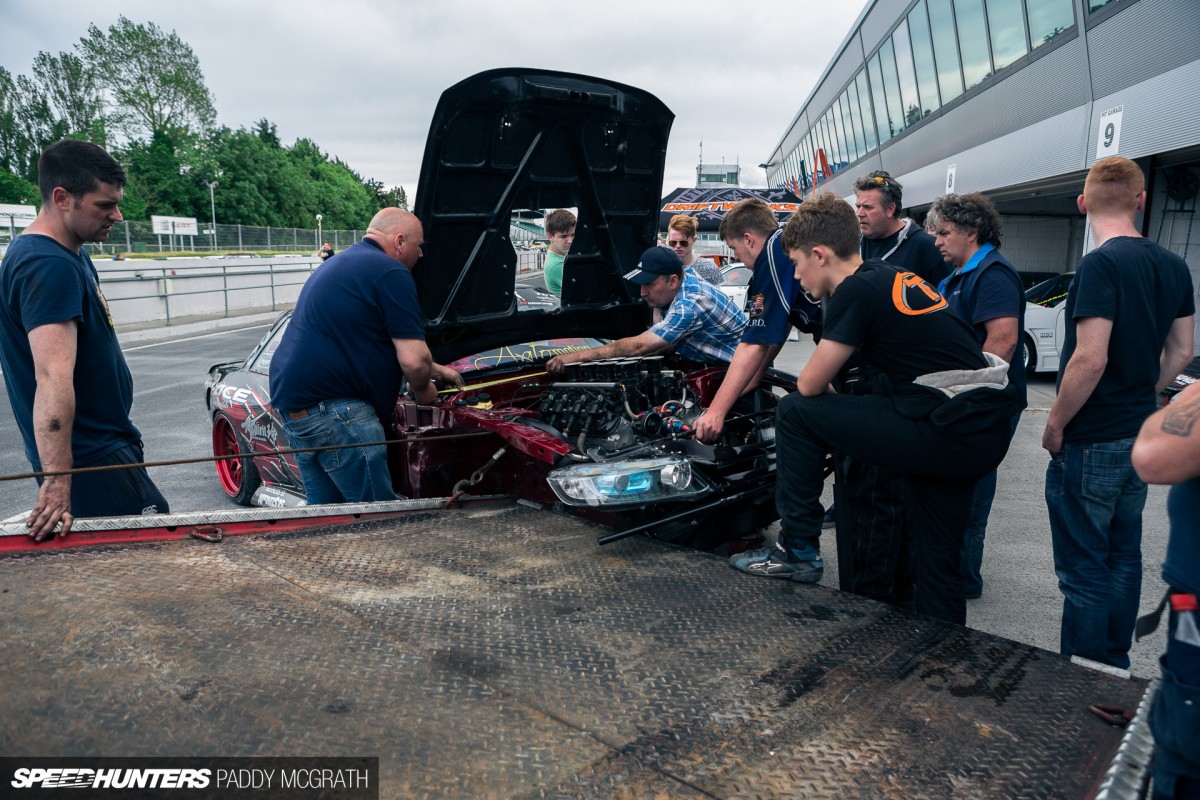 Before the Low Brain crew could even think about what had happened, other competitors, along with their friends and families, were pitching in to straighten the stricken S-body with the help of a winch and the tilt bed of a recovery truck.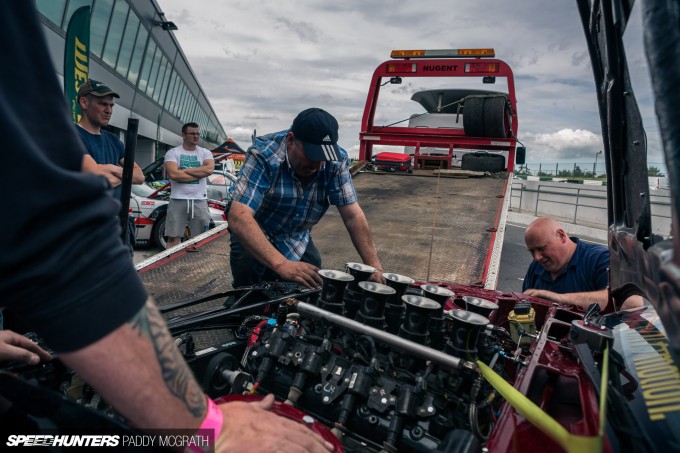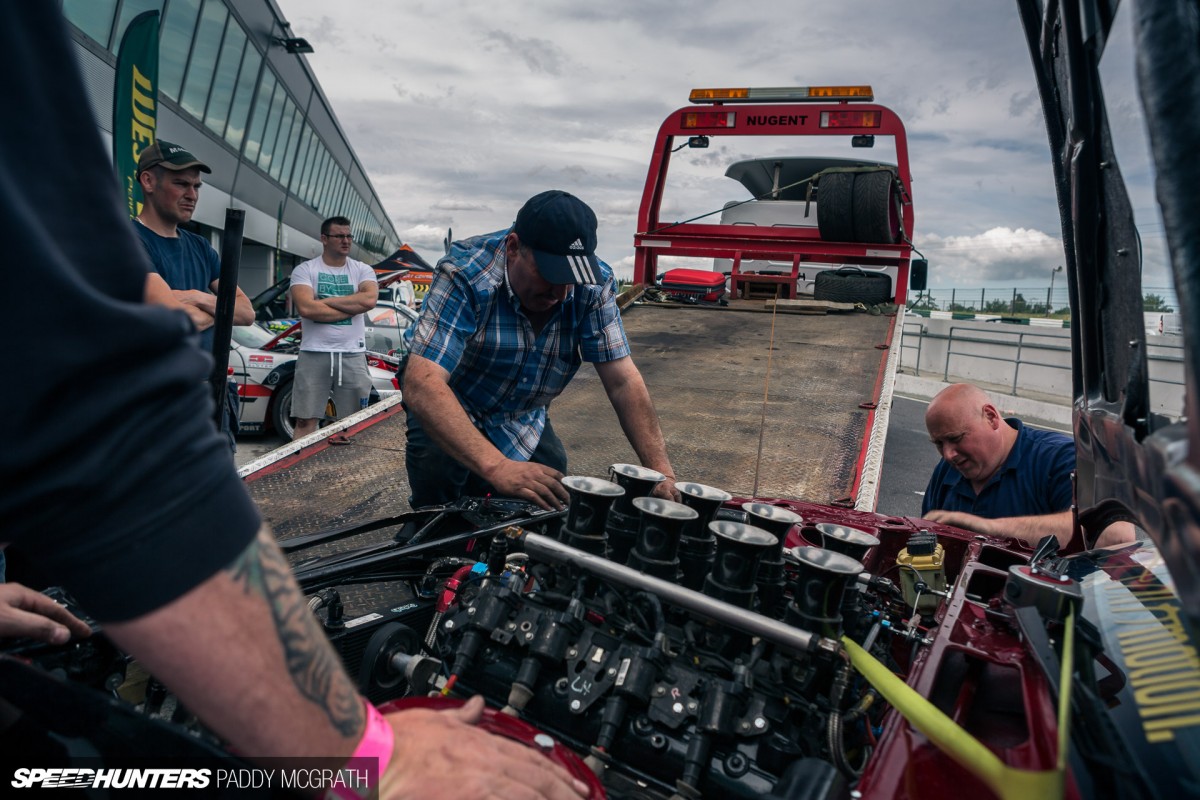 For all the winding up and smack talk before the event, Fink was probably the biggest threat to Ireland's 11-year undefeated record on home soil. Yet when it came down to it, the Irish wanted to make sure they gave their fiercest rival every chance of a fair fight.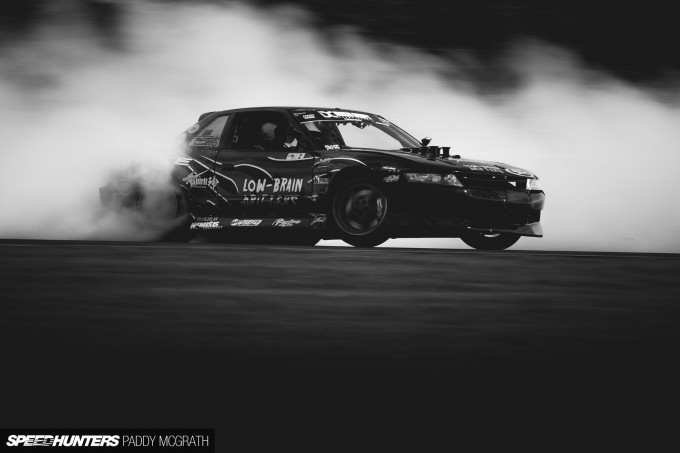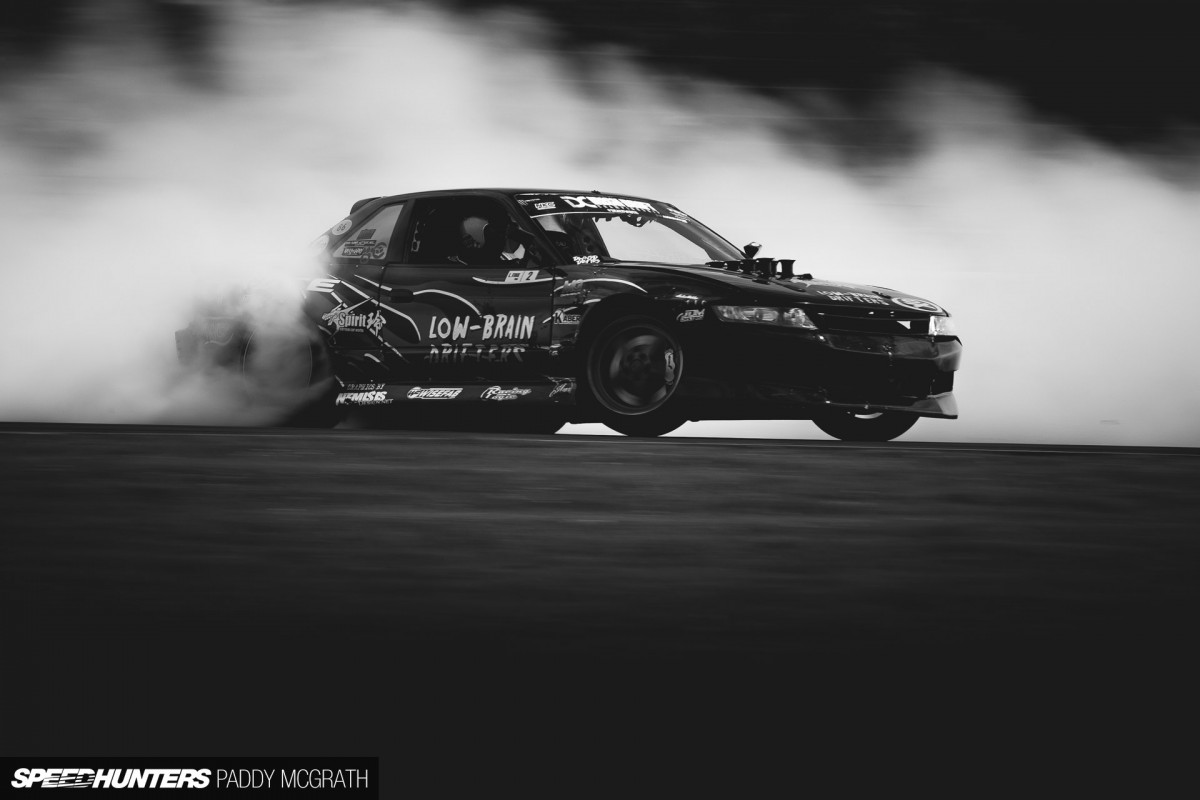 Before long, Fink was back out smoking tyres, rubbing walls and sh*t talking (it's all an act, he's a big cuddly teddy bear), as if the accident never happened.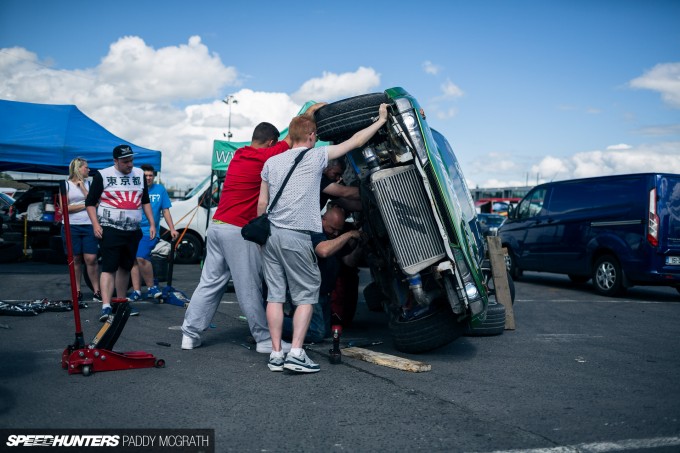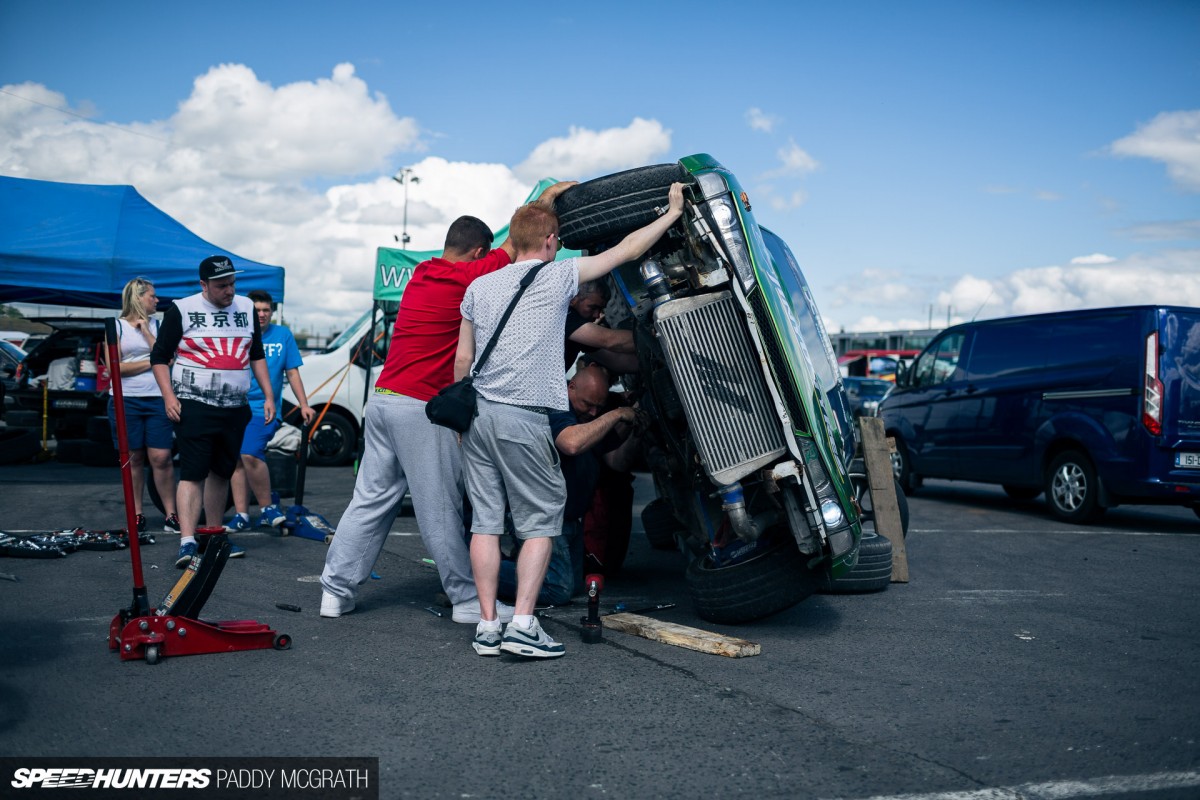 This wasn't something exclusive to the Australian's pit either, wherever a competitor needed help, you can be sure they got it.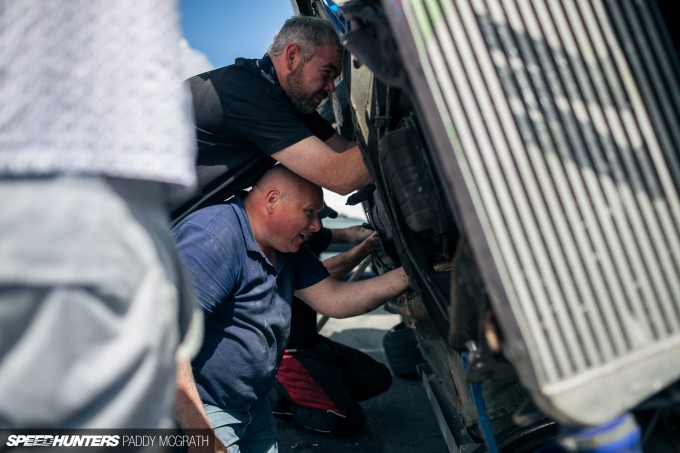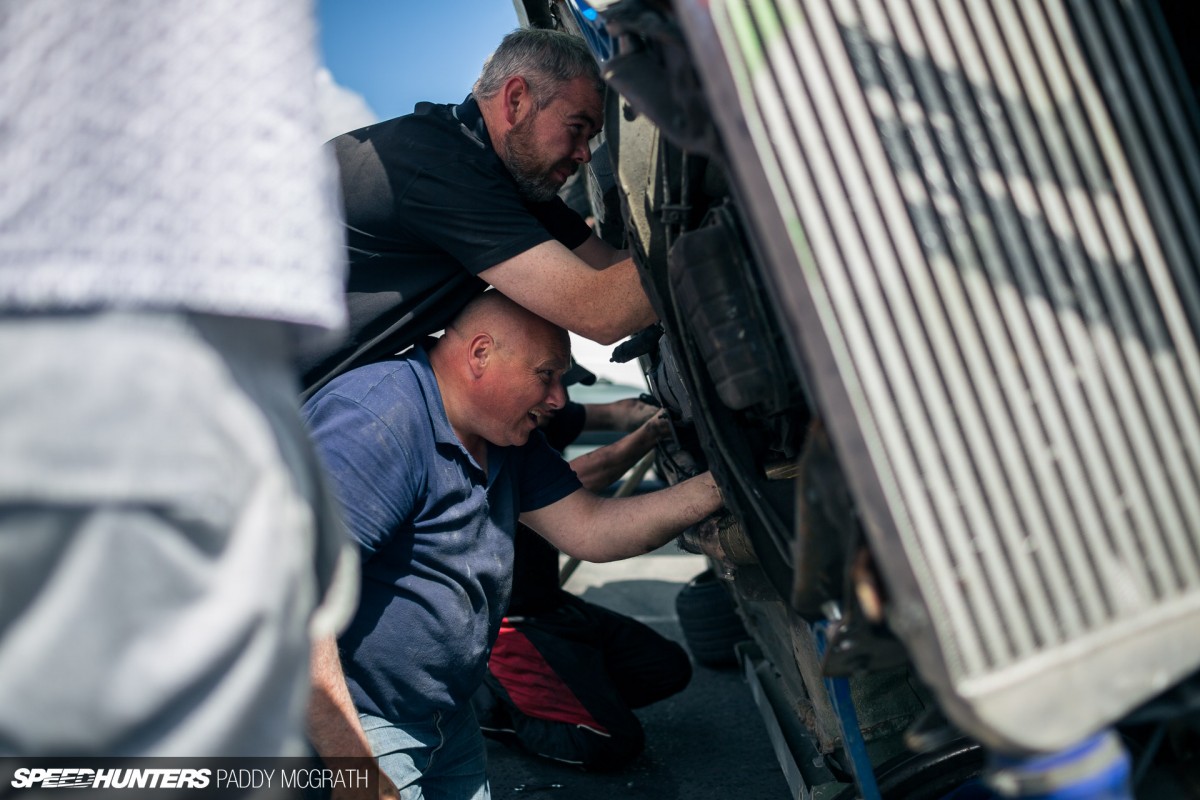 More often than not, that man John Shanahan was at the heart of it.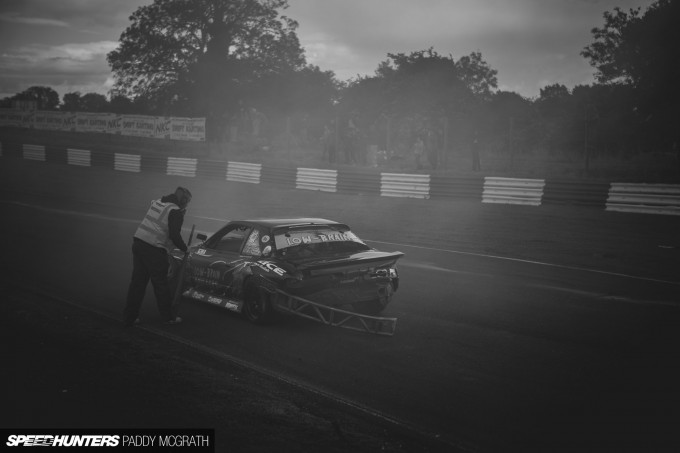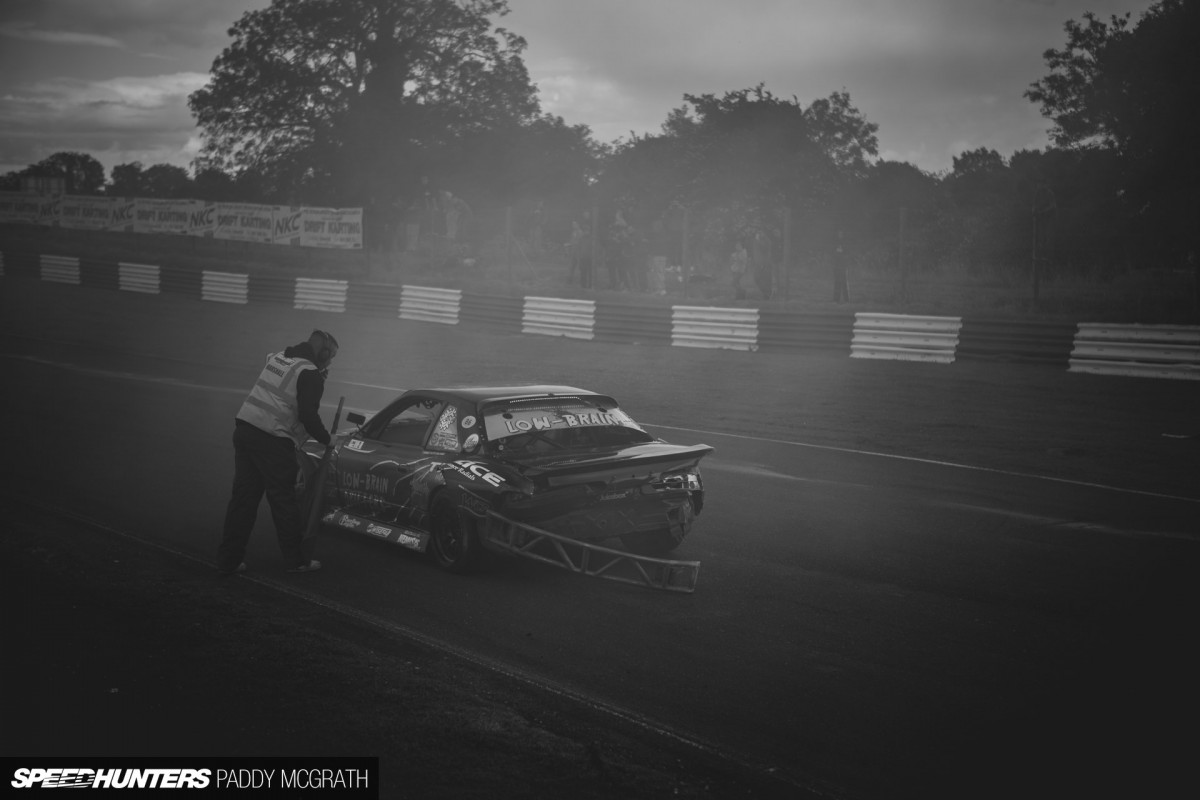 Even when Fink and John's son Jack fought against each other in the Top 8, John was first on the scene when Luke needed to call a five minute time-out after being sucked into the wall. Whilst he did make it back to the start line for the second run, the impact had damaged the battery and left Fink with no power steering along with a crippled car.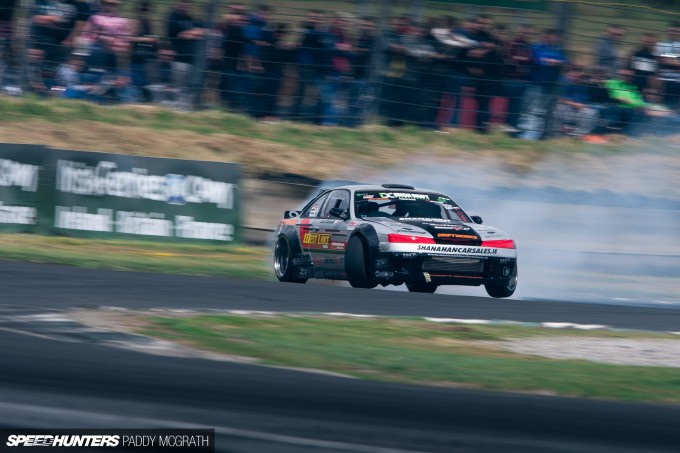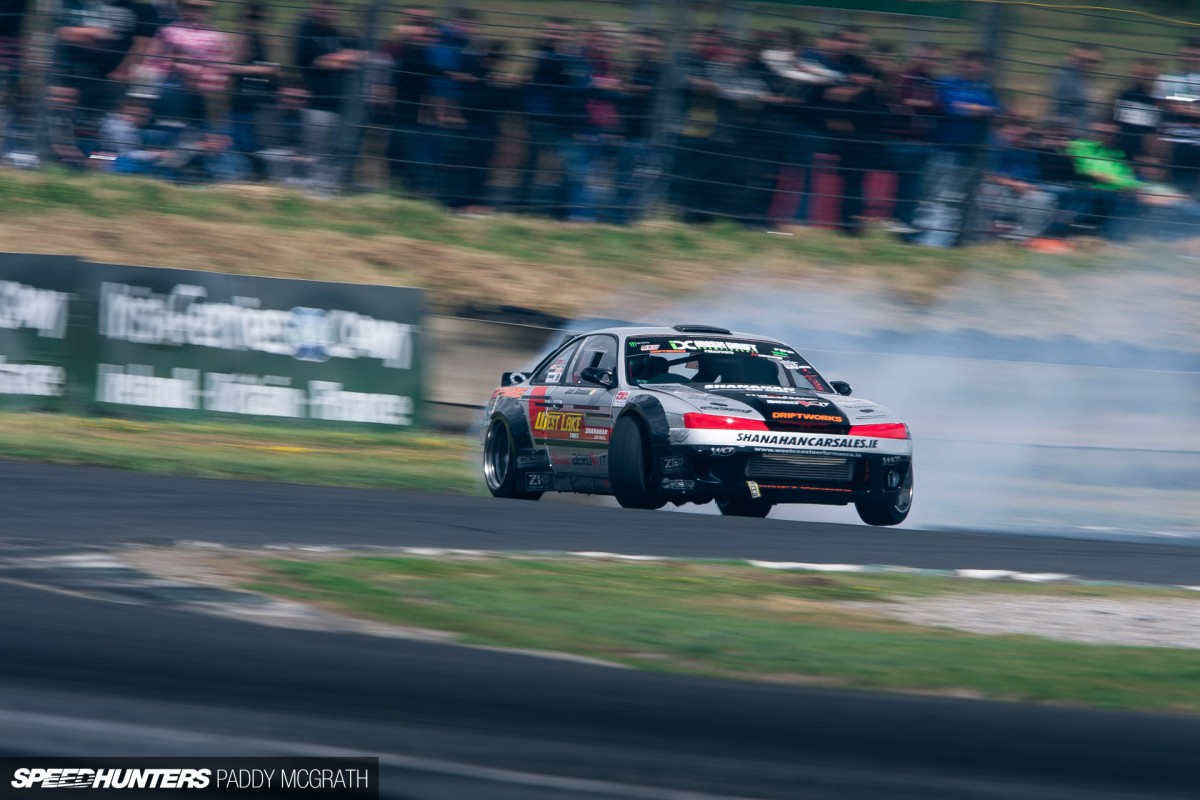 Jack would push through to the Top 4 in his BMW-powered S14, where he would meet Formula D competitor Dean Kearney in a borrowed S15. Talk about a tough day at the office…
The Invasion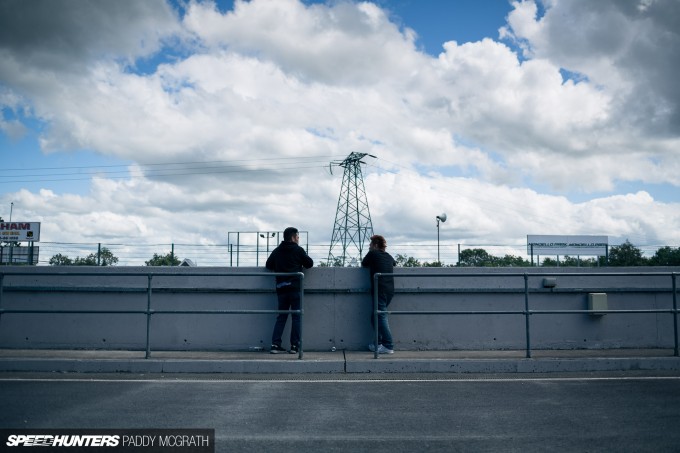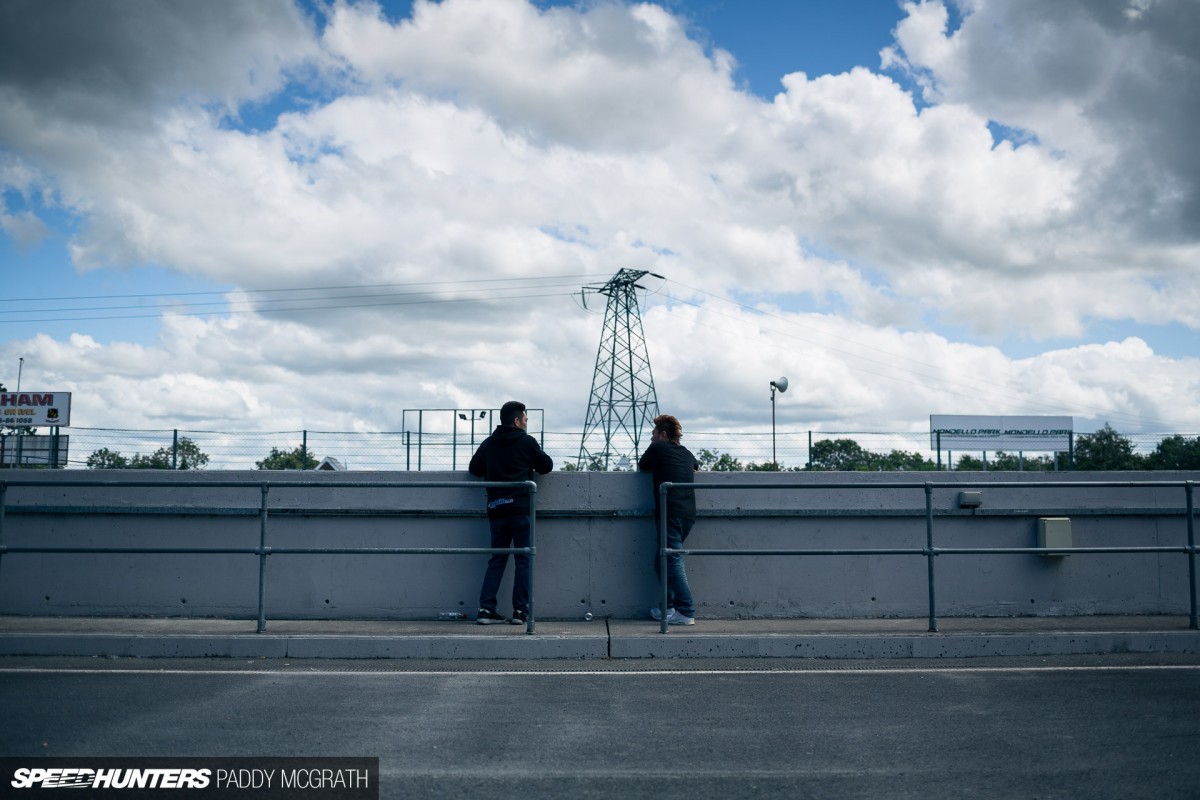 Kearney was also joined by the previously-mentioned Robbie Nishida and his other Achilles Radial team mate, Daigo Saito.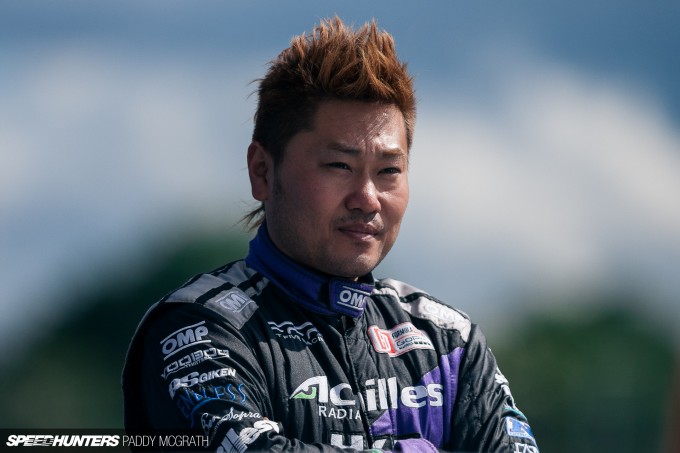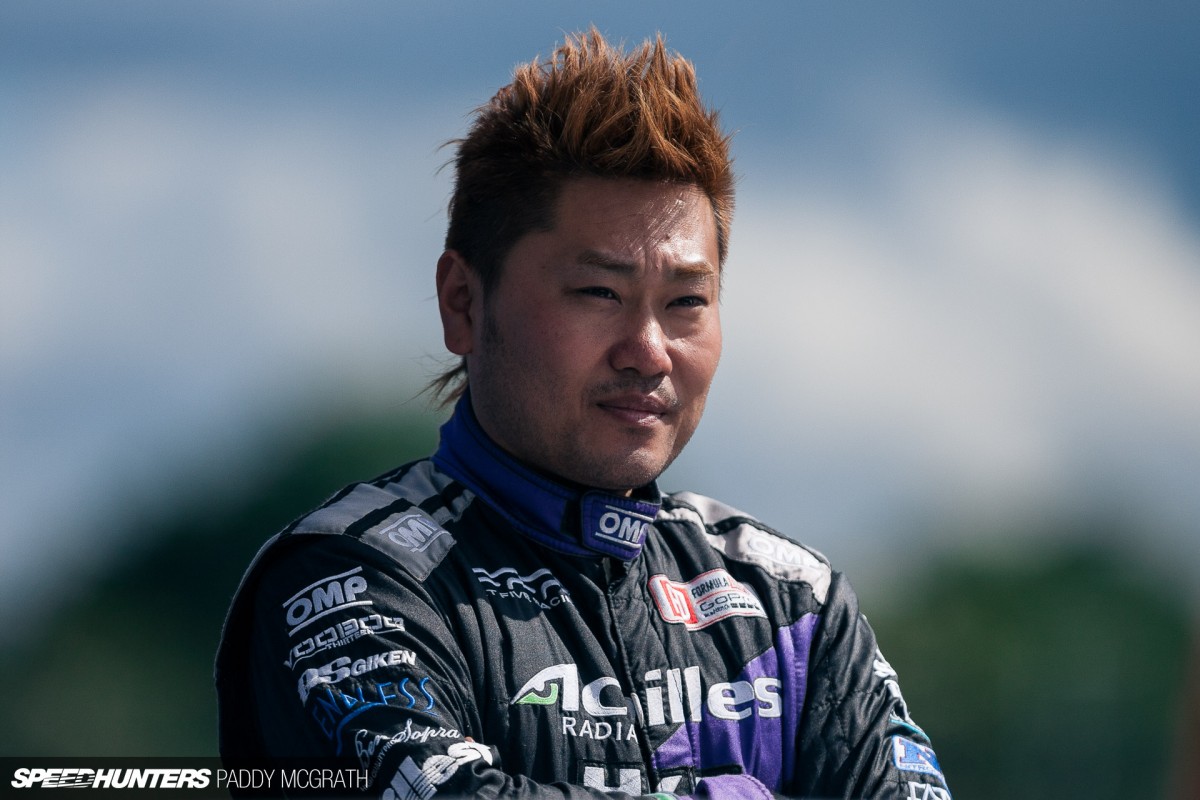 The original plan was to have Kearney, Nishida and Saito pilot their own cars, but a delay in shipping meant the cars didn't turn up until just after the event. However, I have reliably been informed that the three cars will remain in Ireland until Team Achilles can make a genuine assault at the Irish's undefeated record later this season. That will definitely be one to watch.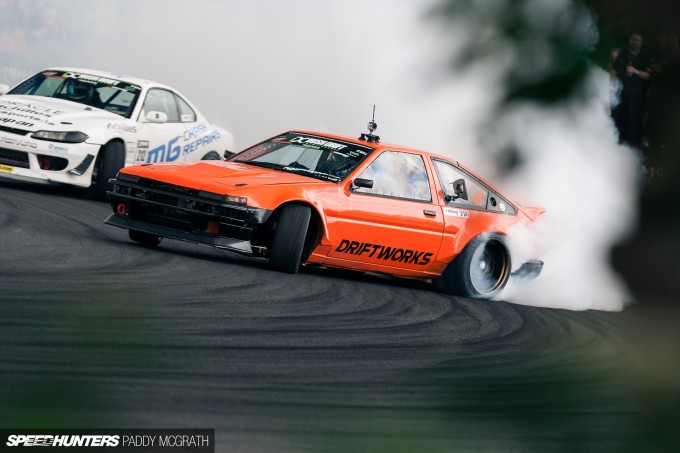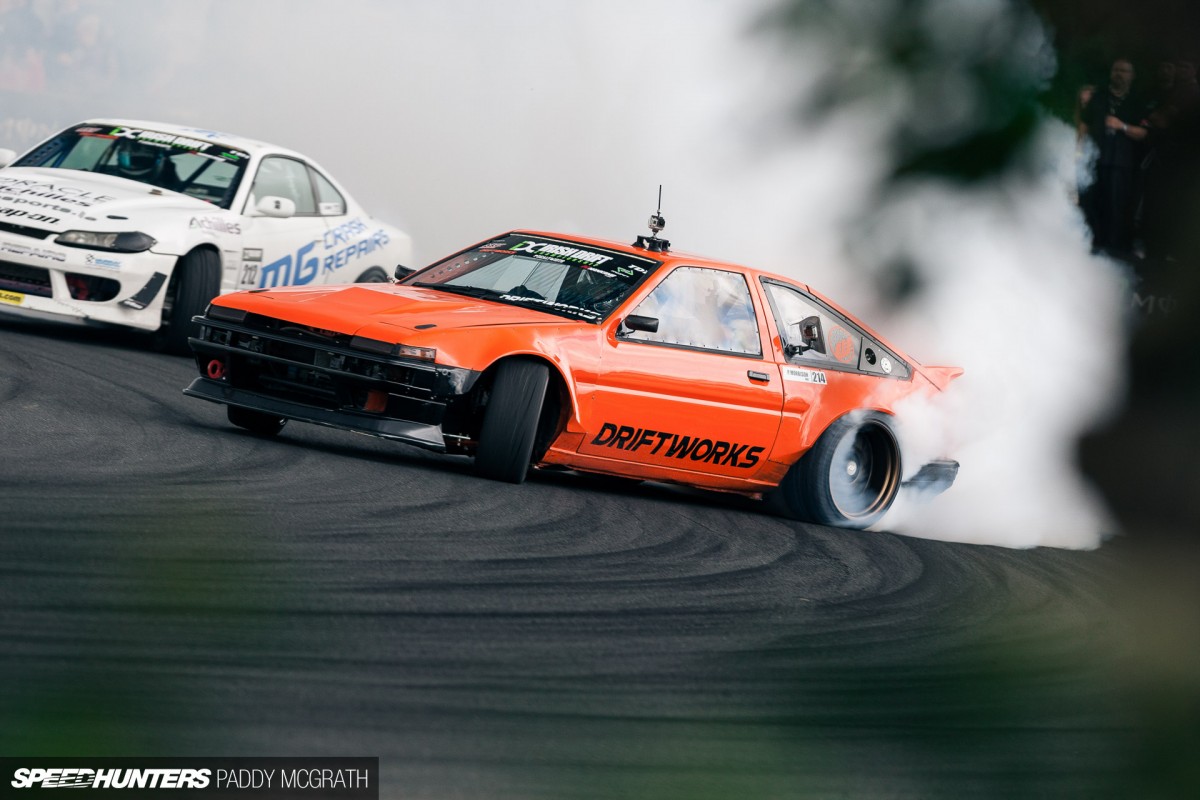 It wasn't just the Japanese and Australians who brought the fight either, Phil Morrison of Driftworks was one of several UK drivers.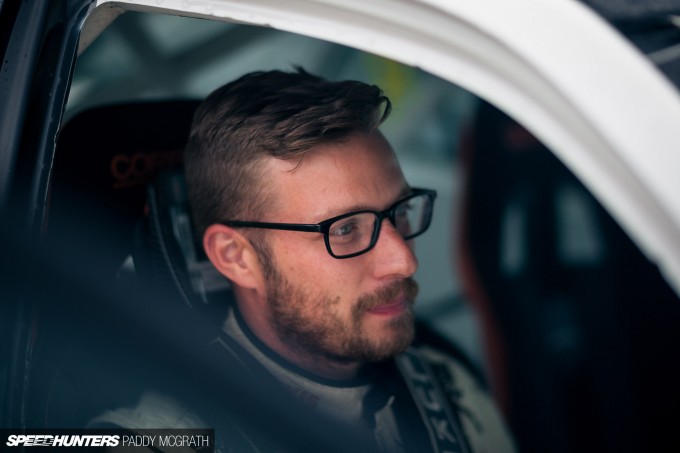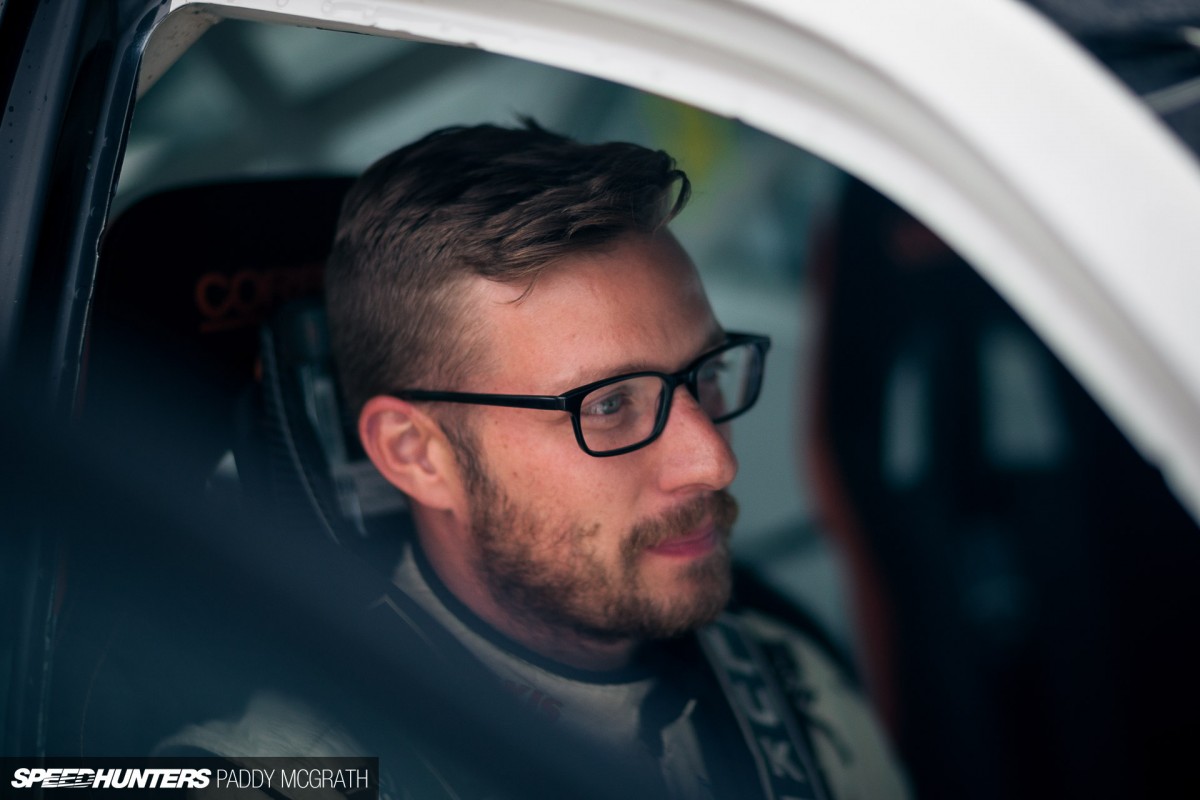 And current Formula Drift points leader Ryan Tuerck also made an appearance in a borrowed machine, but struggled to get to grips with the combination of a new car and the always changing track conditions.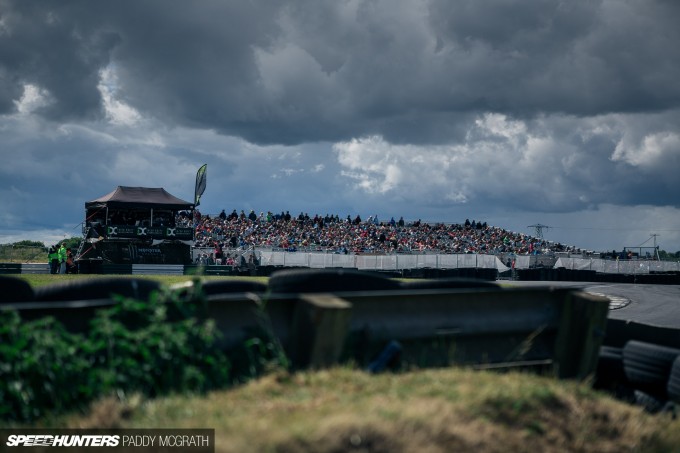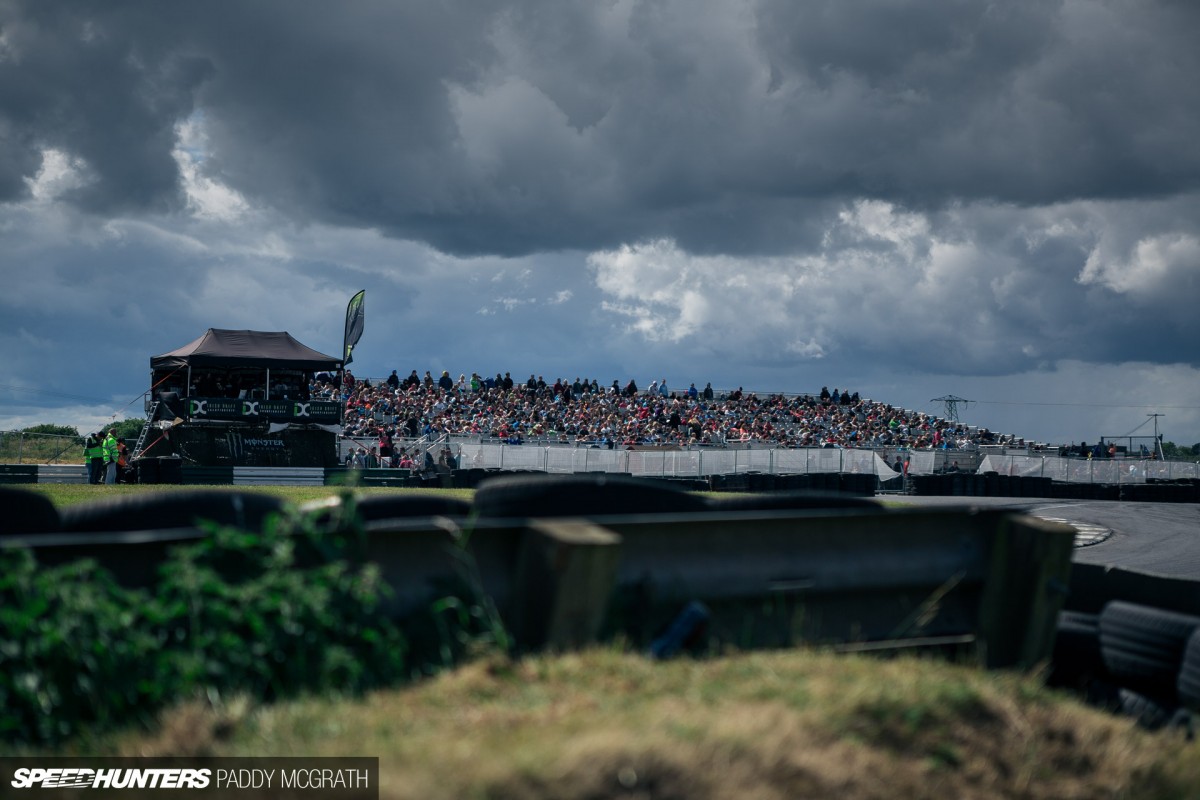 The weather certainly didn't make things easy.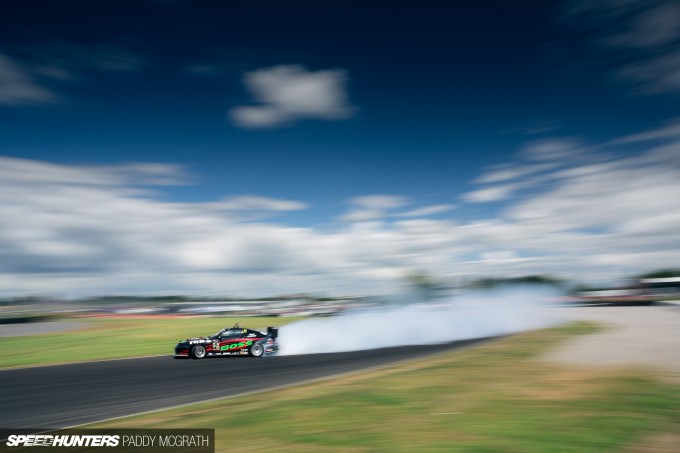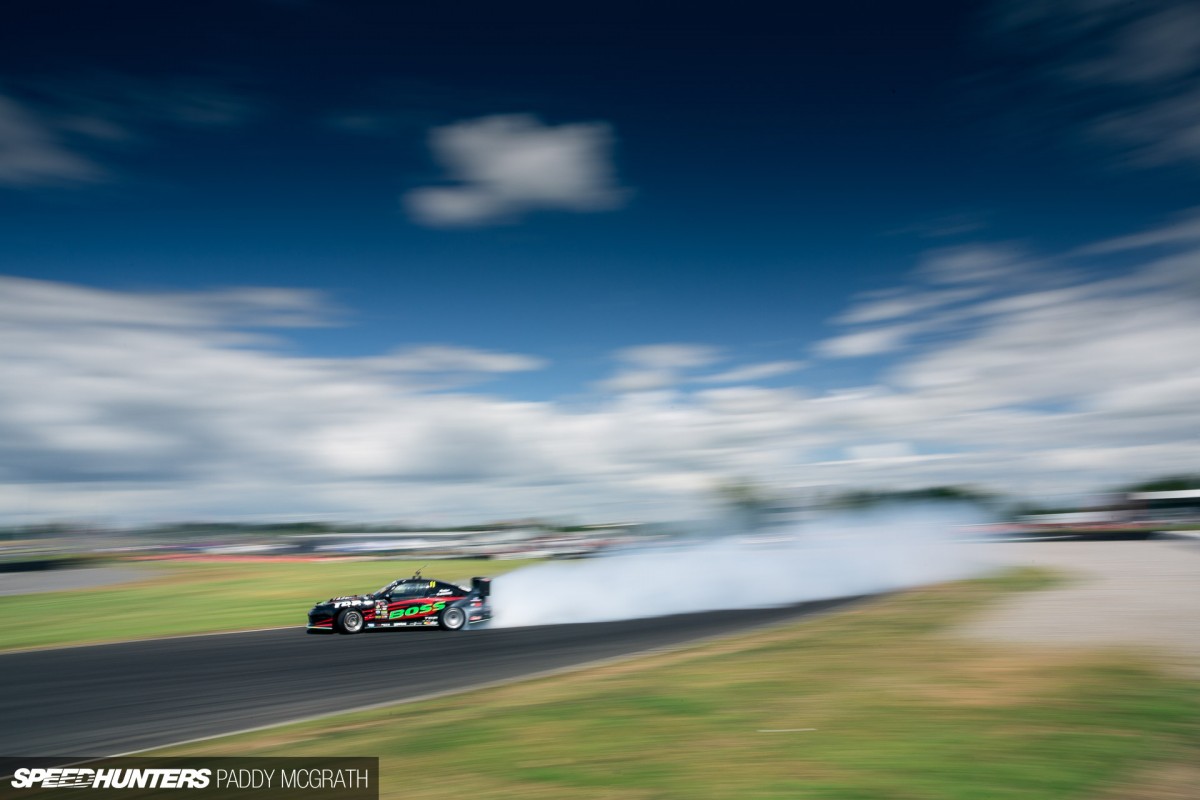 From sunshine one minute…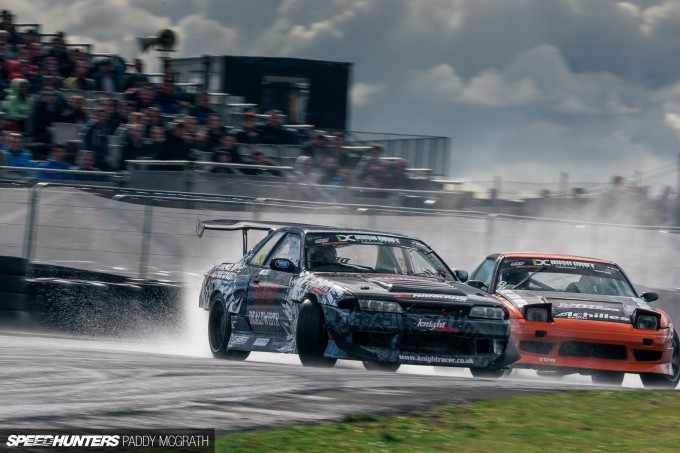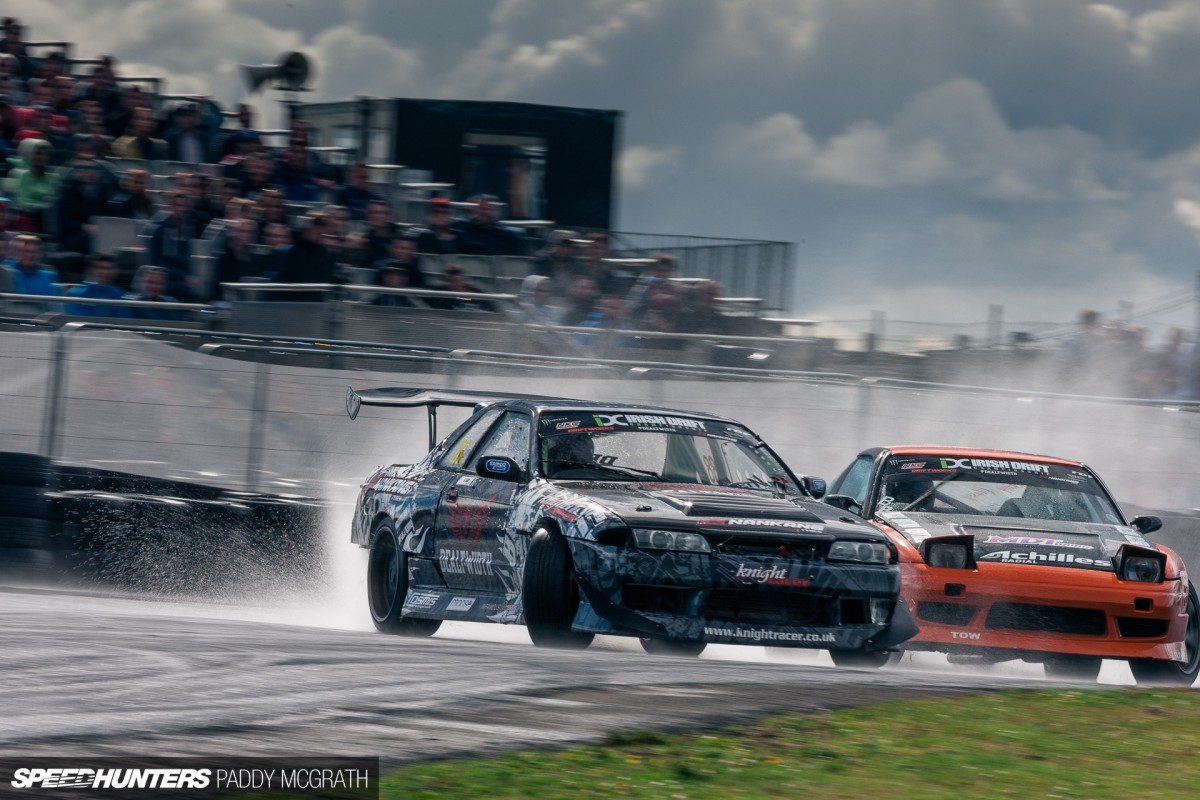 To sudden and severe downpours…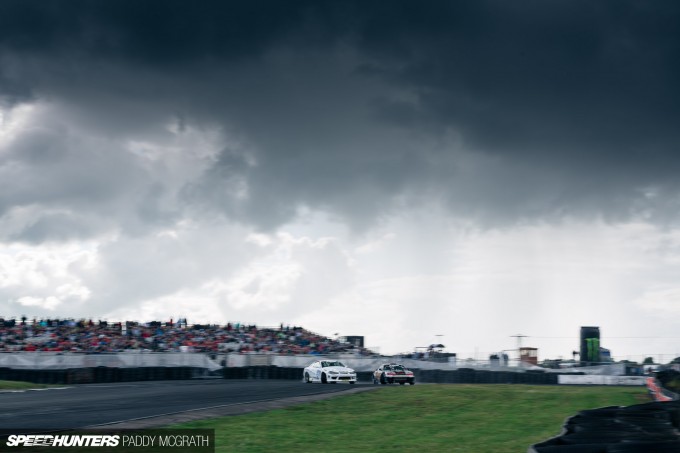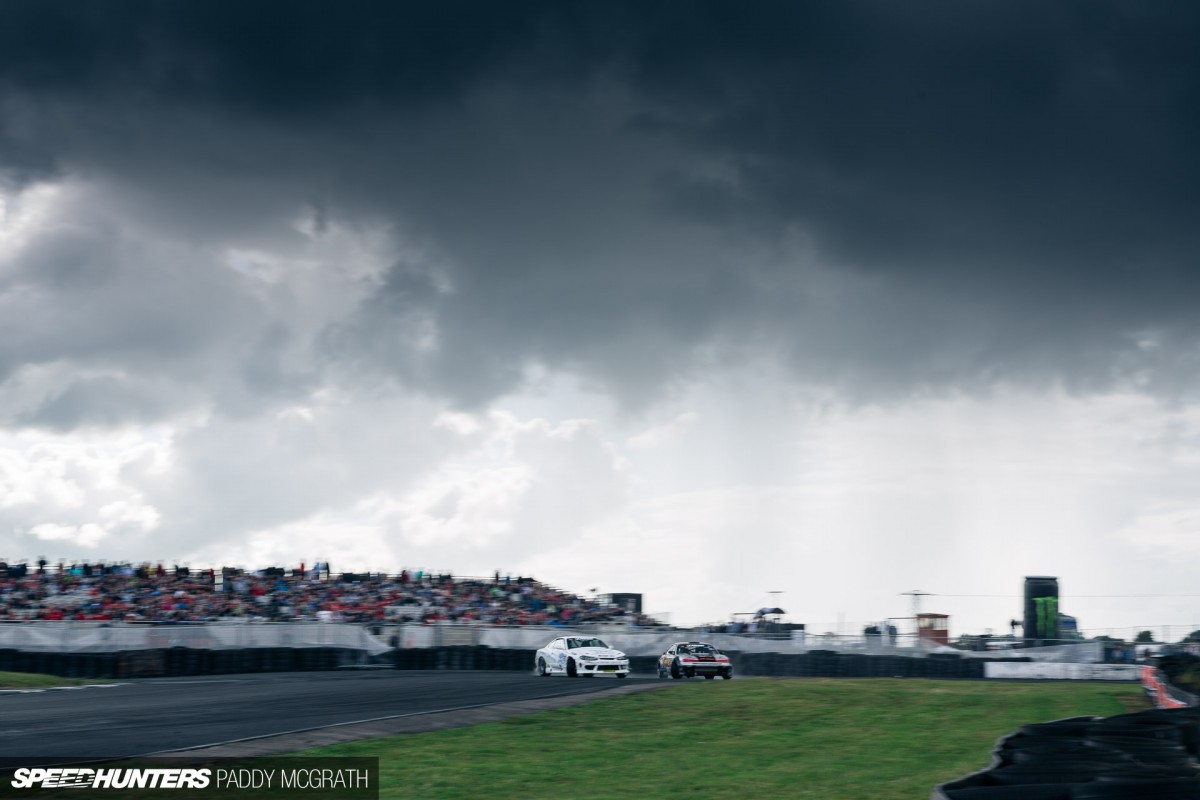 To the absolute worst of both at the same time. I'm still not sure if this suited anyone, or was just a leveller for all involved.
The Quiet One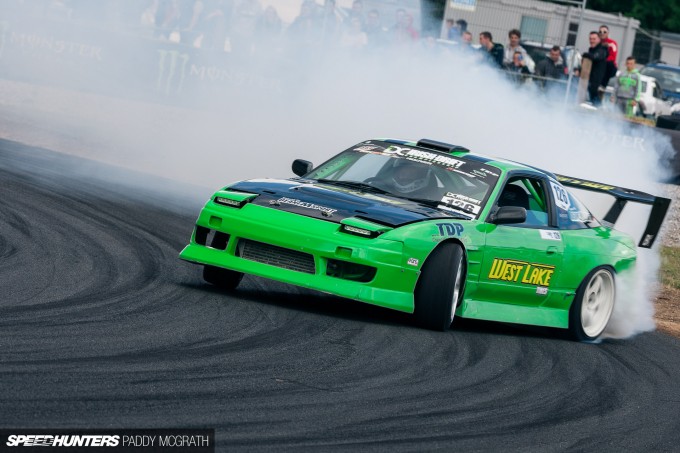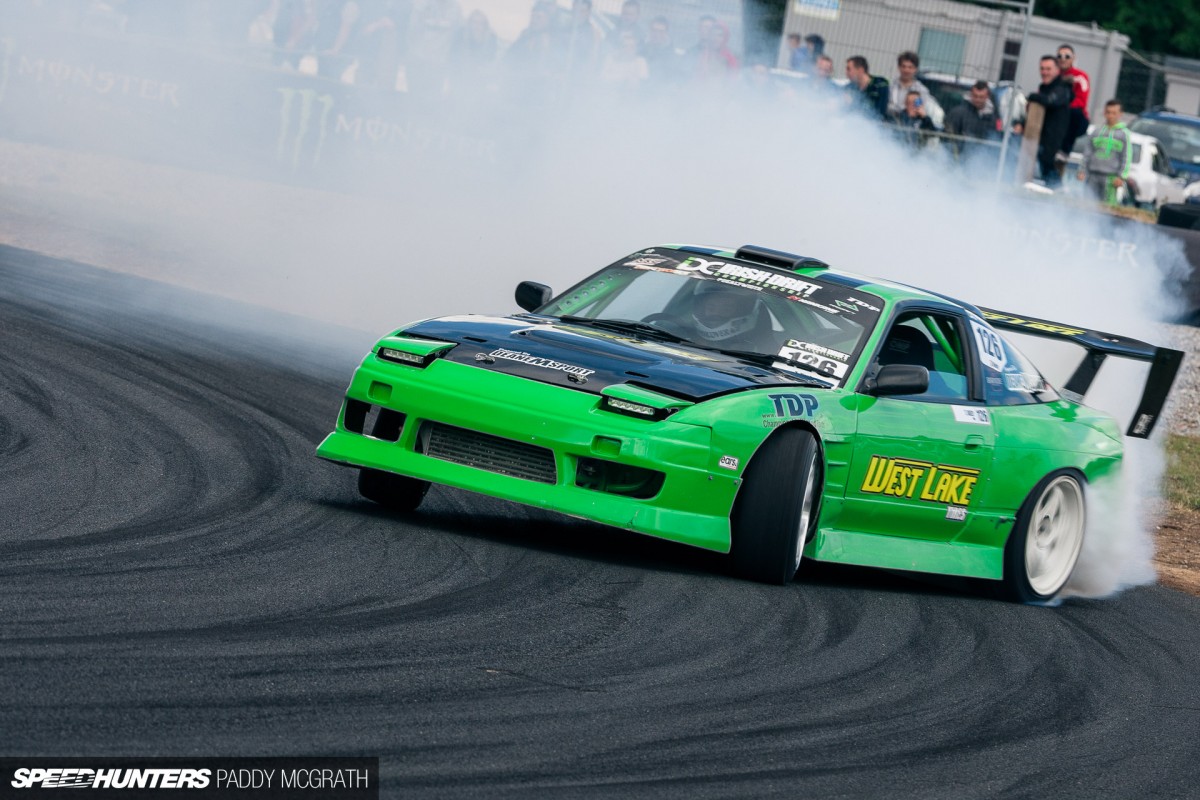 With all eyes on the brash competitors and the fierce battles, one driver was quietly and clinically dispatching his competition with zero fuss.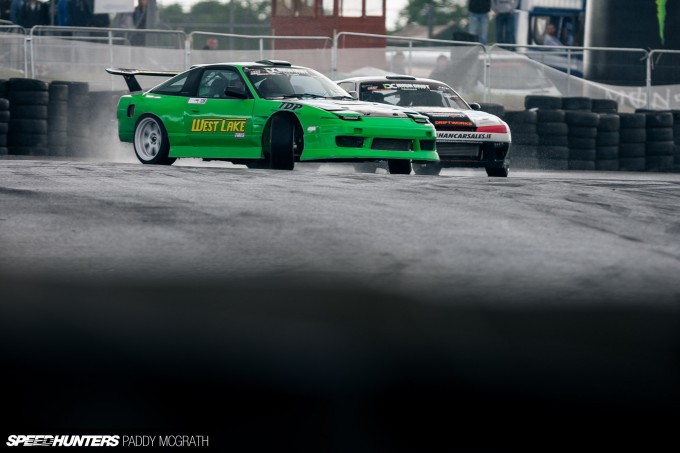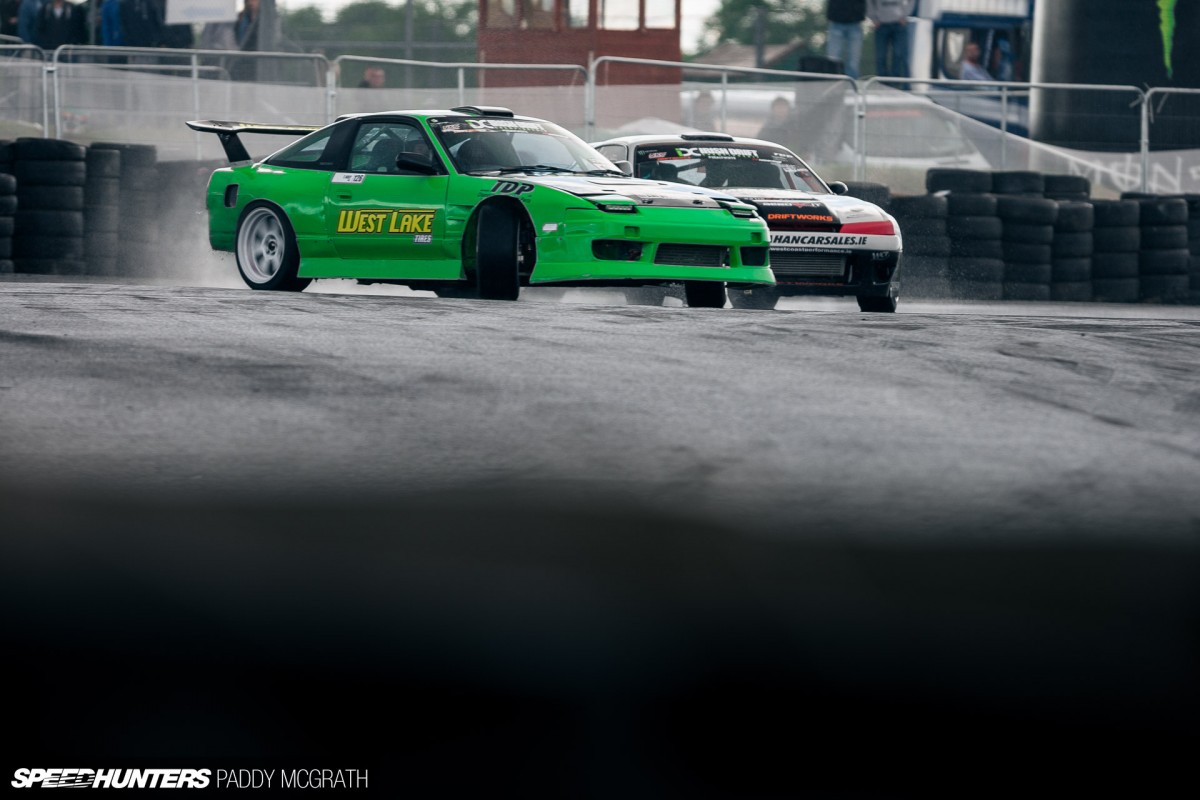 With a star-studded line-up of drivers, I don't think anyone could have predicted a final battle between two 15 year olds before the weekend. I honestly think their age is the least important thing about either driver, but it's hard not to be blown away by their talent, and more so, their incredible driving intelligence.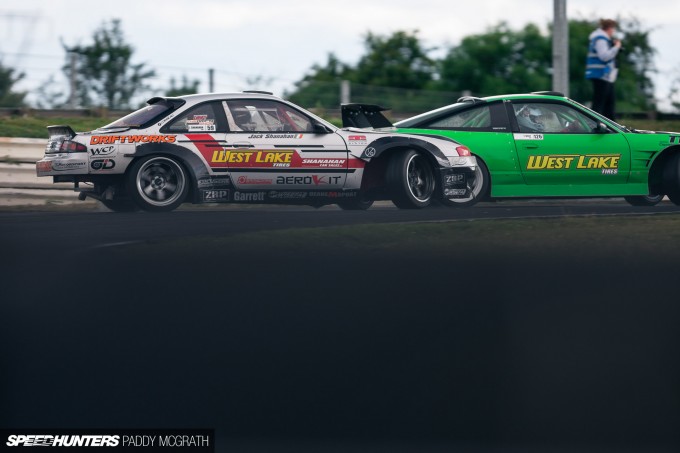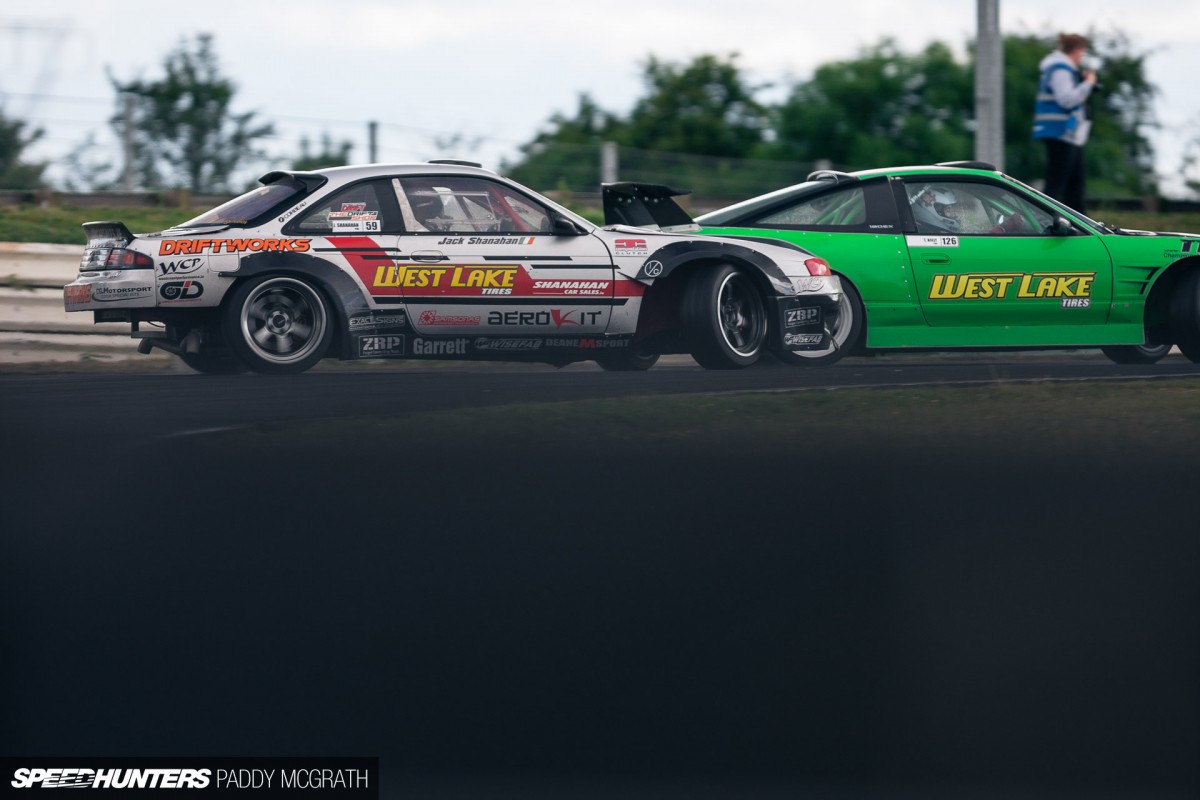 Tomás Kiely in the Westlake Tires 180SX and his school mate, Jack Shanahan in the other Westlake car. Neither driver is legally allowed to drive a car on Irish roads, but without any doubt both deserved their place in the final.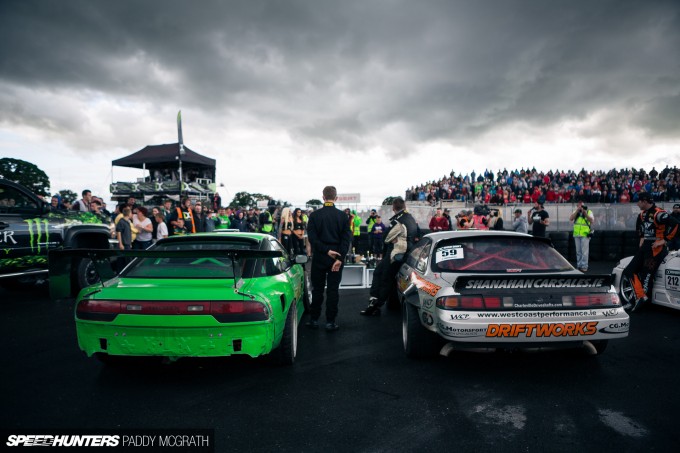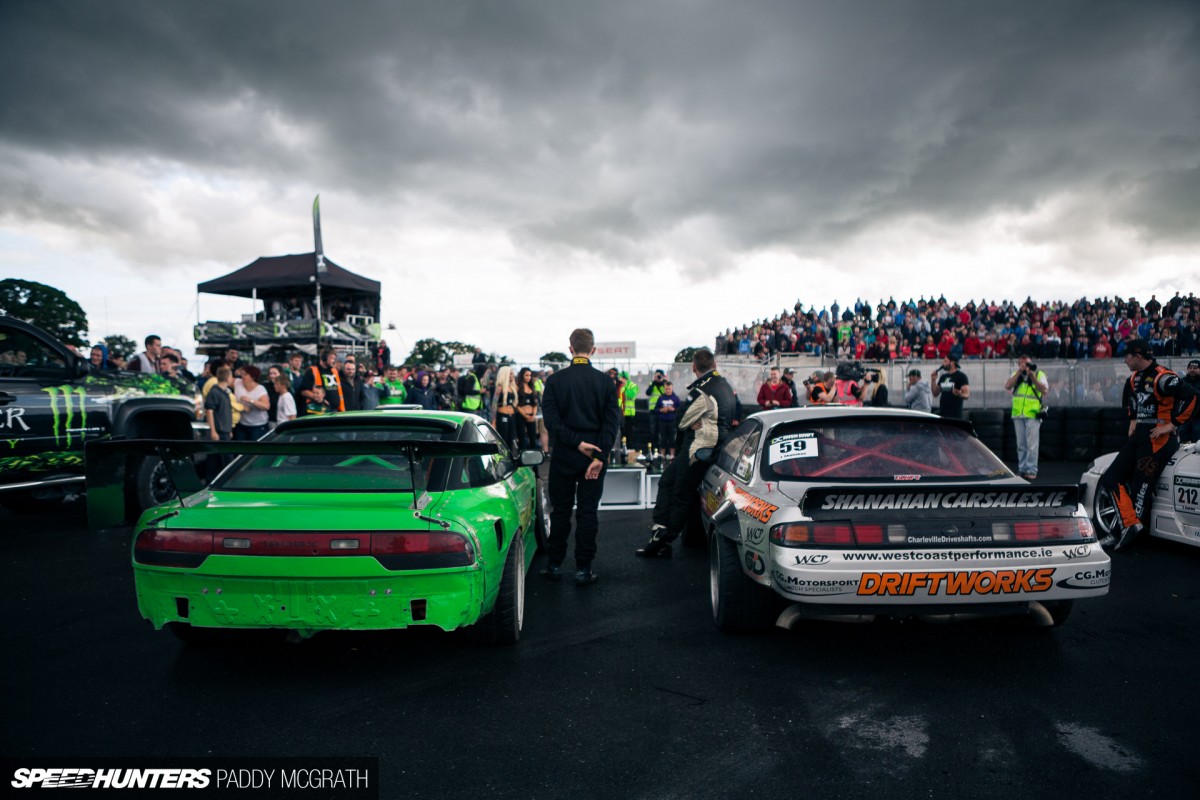 In a clean battle that only needed one running, a winner was decided upon immediately.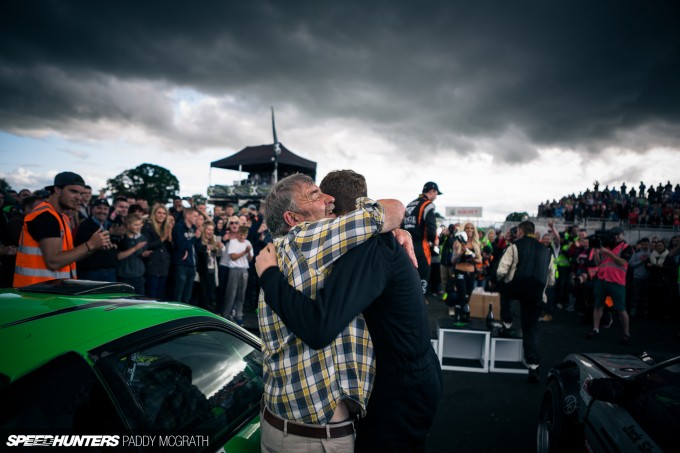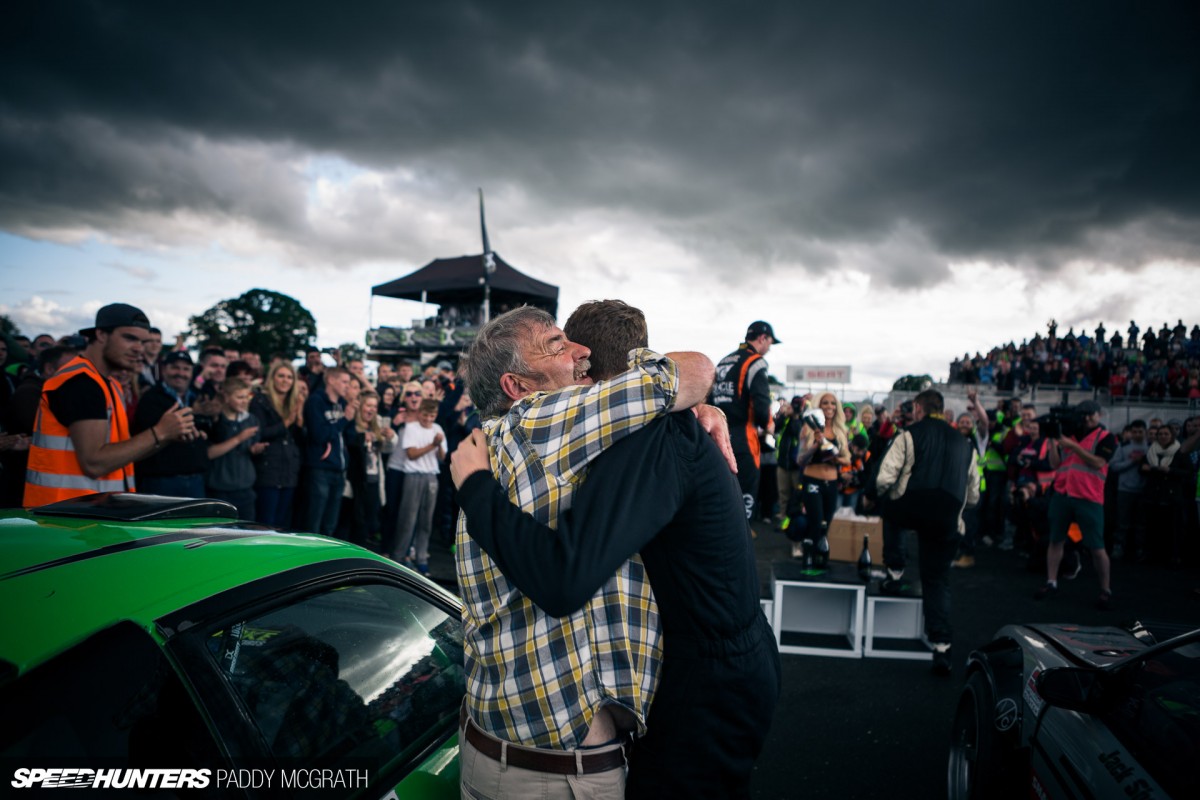 With Jack announced as having taken second place, the roar from the Kiely family was all you needed to know about how they felt for Tomás' first pro victory.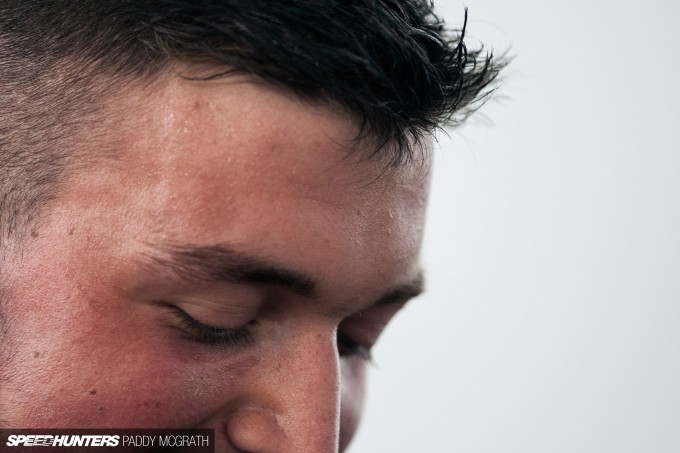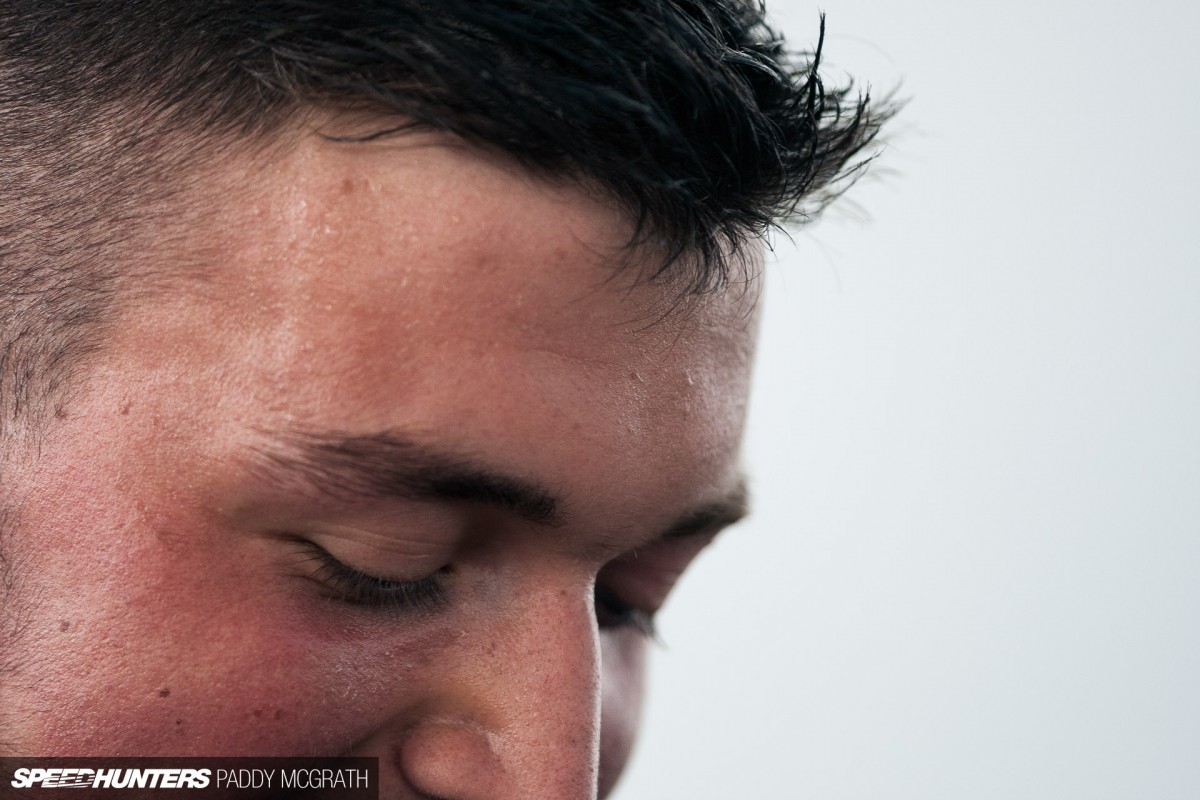 I always look closely at the drivers after the results have been announced, as often the smallest micro-expression in a split second tells you everything you need to know. I know Jack was disappointed, but his effort all weekend was absolutely immense. His reaction afterwards was that of a professional driver 20 years older. He took his defeat with grace and in proper sportsmanship, celebrated Tomás' win with him. I've no doubt Jack will be on top of the podium in IDC sooner rather than later.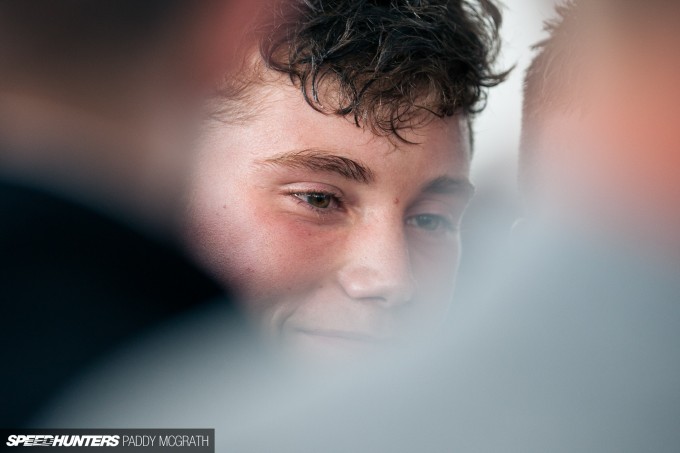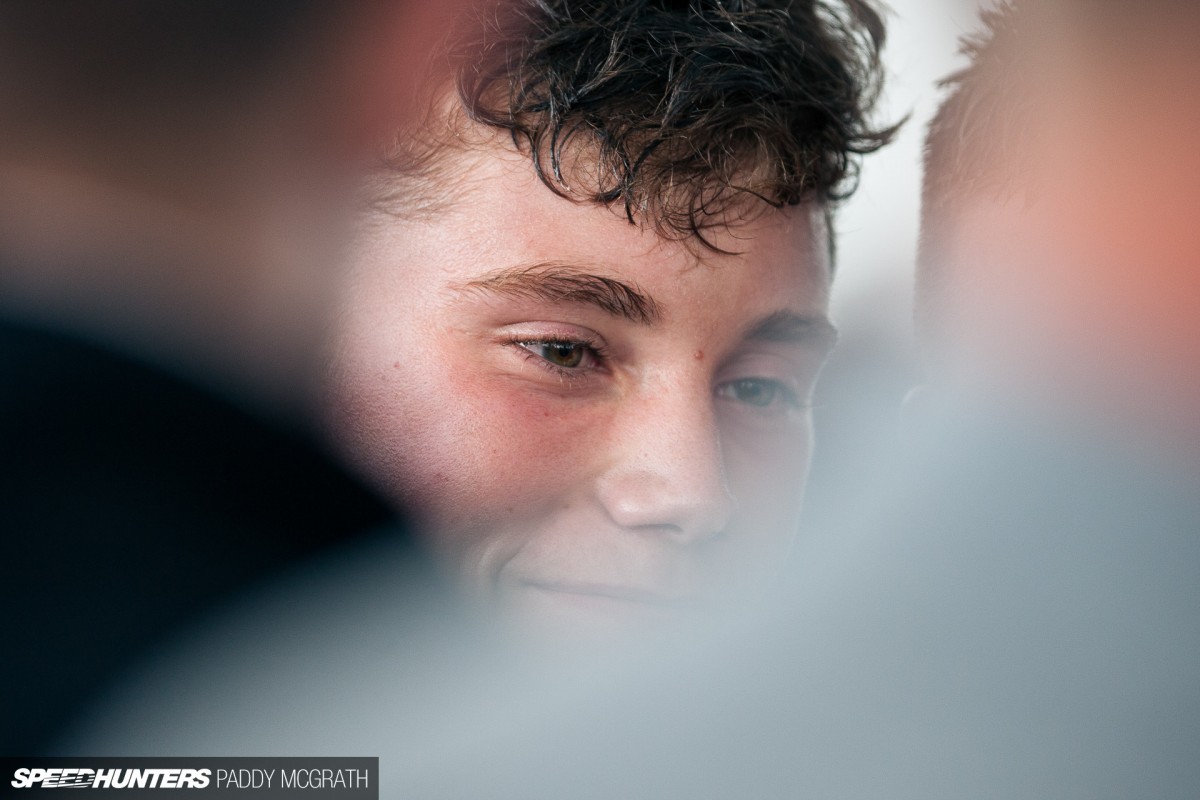 Tomás took the victory in his stride and with a great amount of genuine respect for his friend and fellow competitor. It was an amazing moment as both families celebrated their sons' domination of one of the toughest drift series in the world.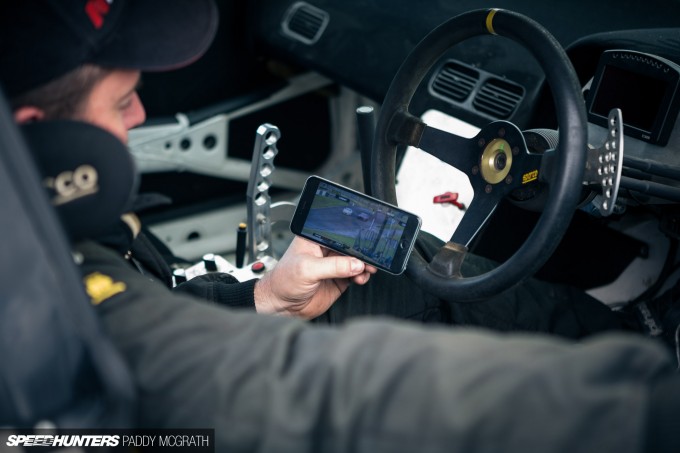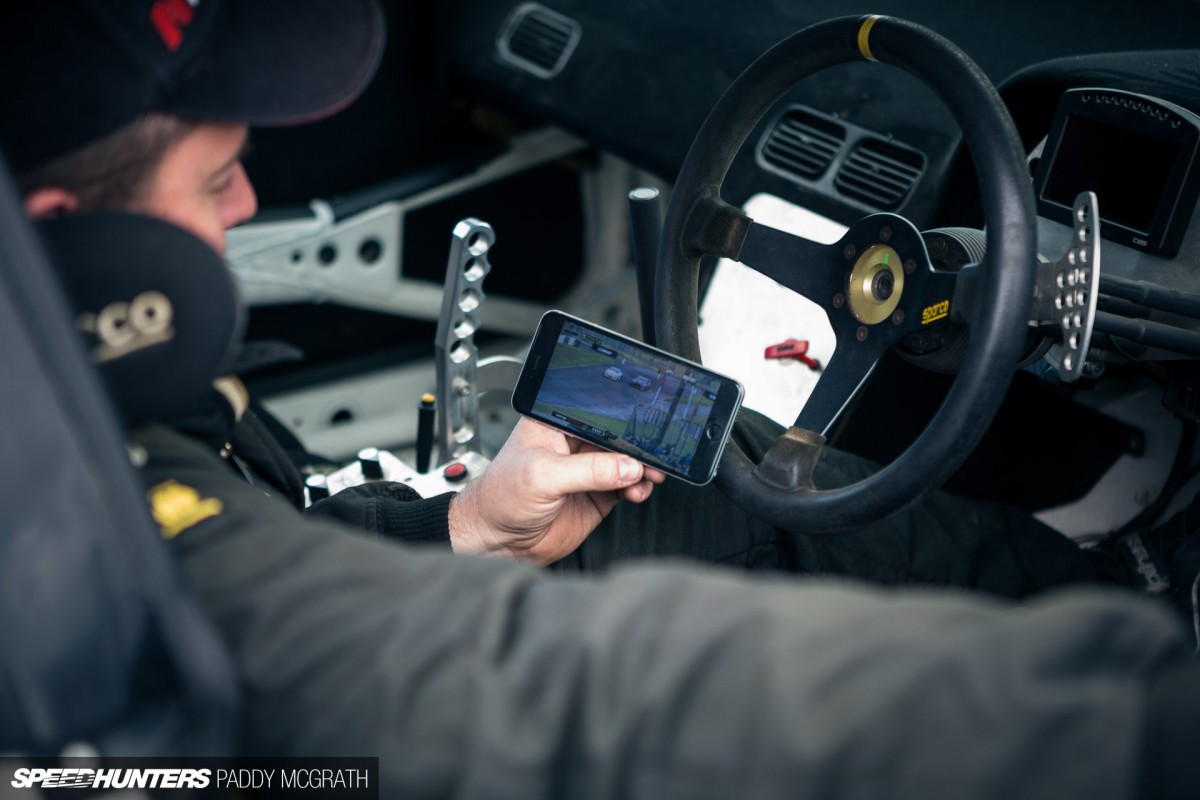 It's been a long time since I started following drifting and there's no denying the sport has progressed to a point that nobody could have anticipated 10 years or more ago. Having had the time to step back and take it all in as an outsider, I feel positive about drifting for the first time in years. Sure, it's not perfect, but what series is? At least drifting is constantly evolving and striving to improve.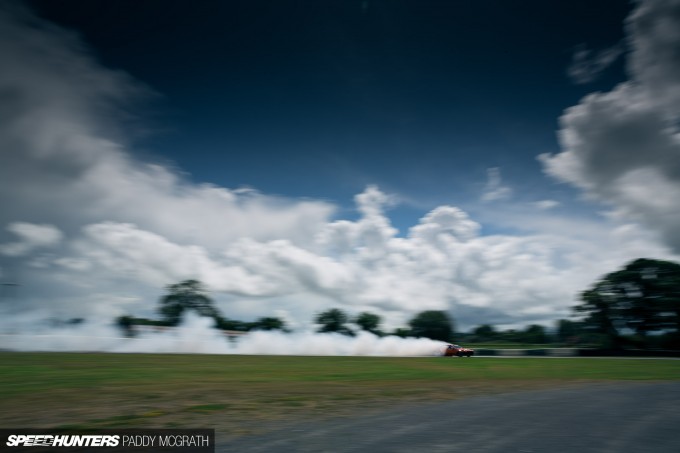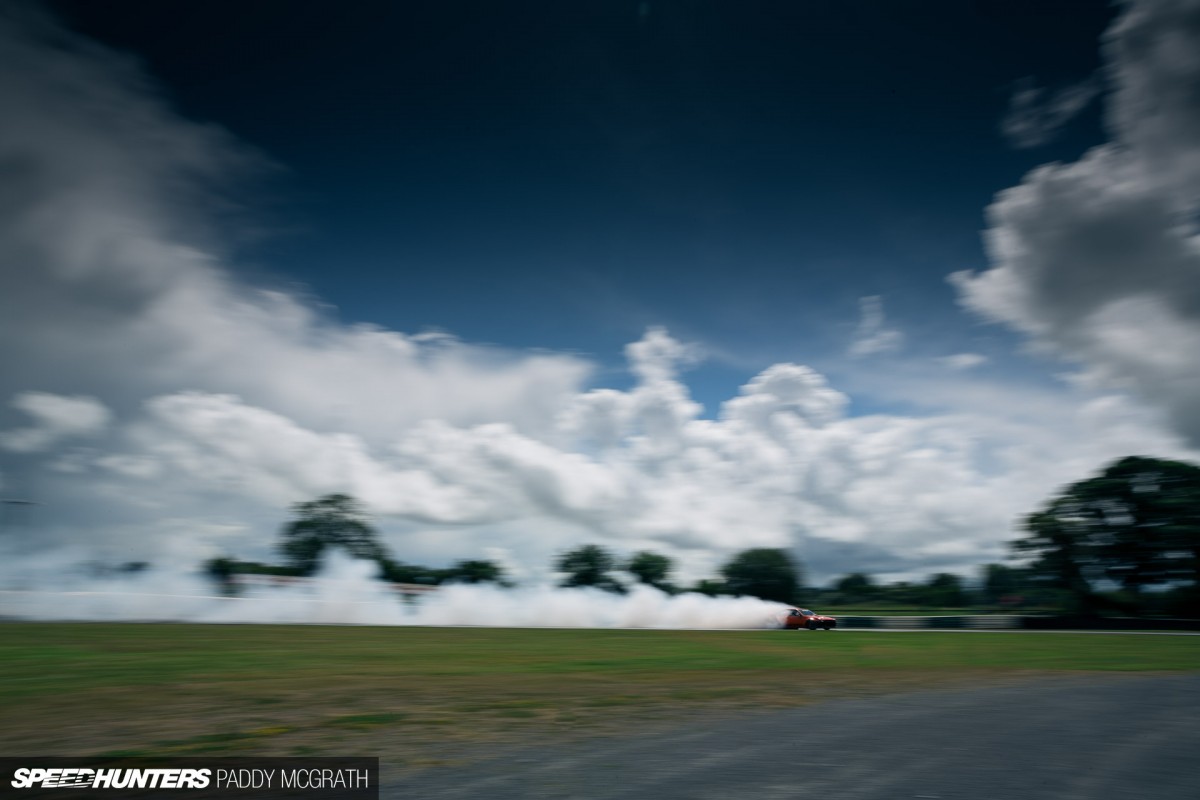 Drifting may not be a motorsport, at least in the traditional sense. But I think that's a good thing.
Paddy McGrath
Instagram: pmcgphotos
Twitter: pmcgphotos
paddy@speedhunters.com
Cutting Room Floor