It's Datsun Season
If you check Speedhunters on anything close to a regular basis, I'm sure you've noticed the unusually large number of Datsun and other classic Nissan feature car stories that we've been running over the last month or so.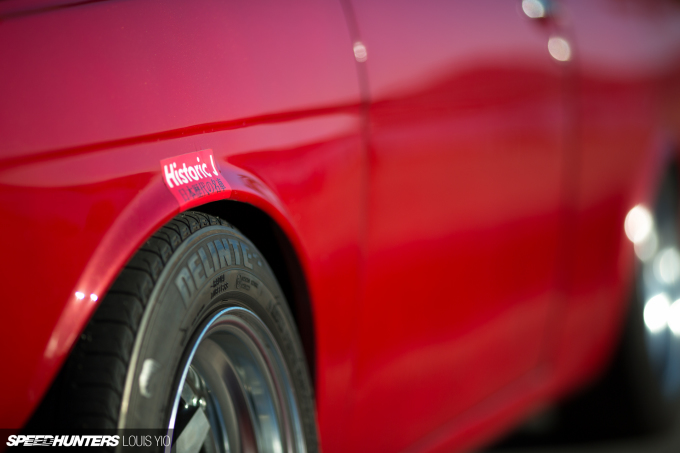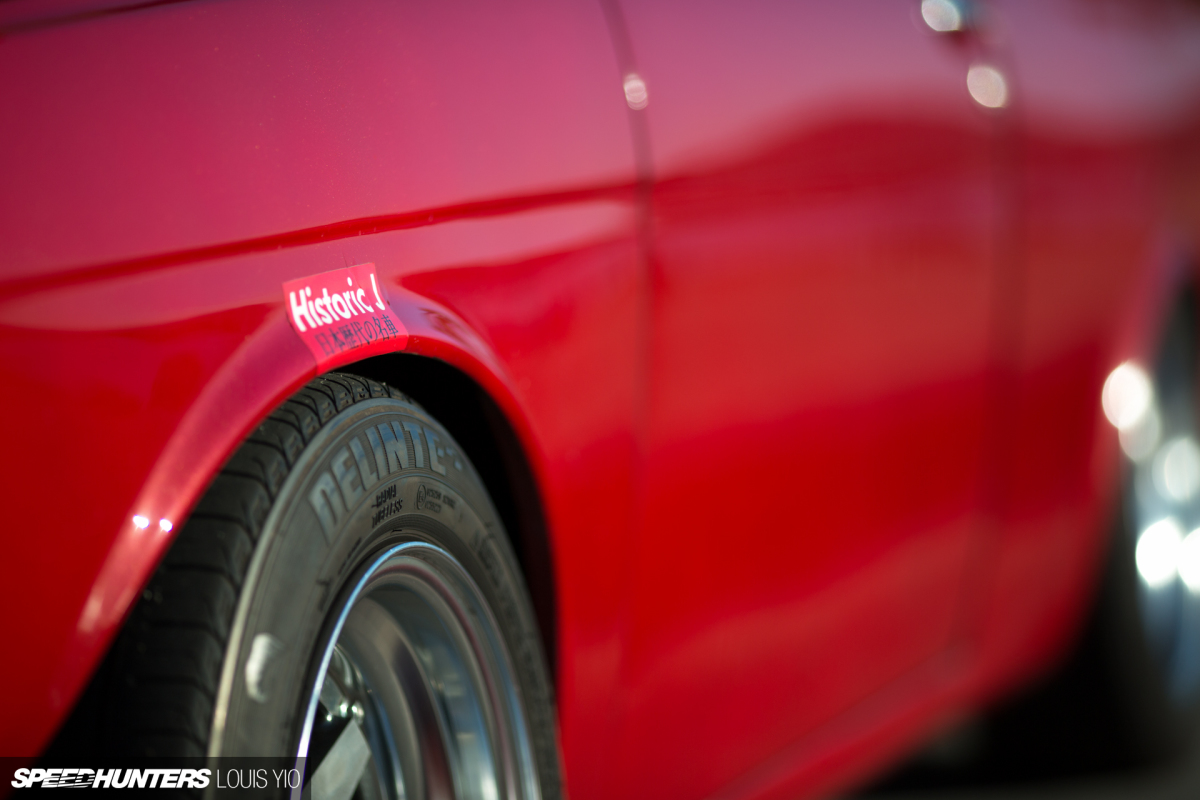 Whether it's been a tidy Bluebird owned by one of Japan's most well known 510 enthusiasts, a California-based 240Z equipped with OS Giken's incredible twin cam cylinder head, or a couple of lovely Fairlady Zs from New Zealand, the Datsun content has been hot and heavy of late.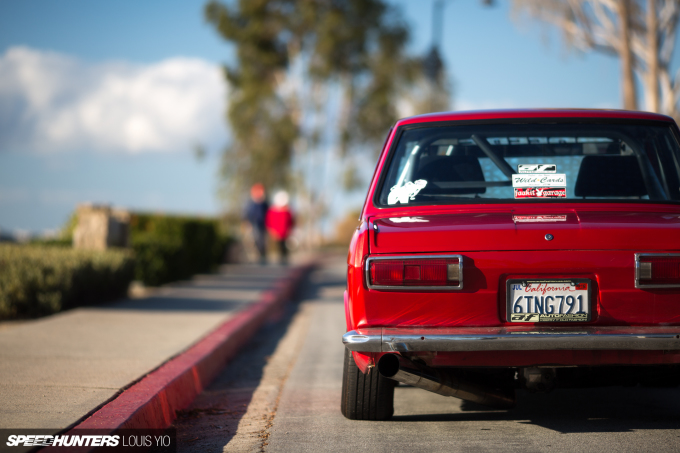 I can also tell you that there's no master plan at work here; there was no strategy to go crazy on the Datsuns to kick off the year. We simply like sharing cool cars, and it just happens that we've been pointing our cameras at a lot of sweet old school Nissans lately. It seems like you guys are okay with that too.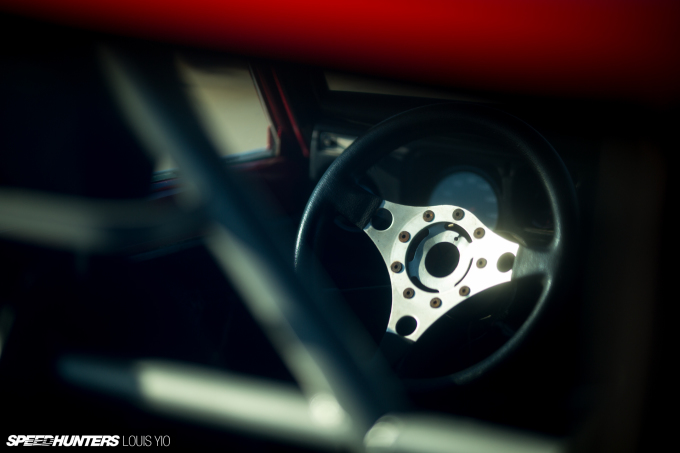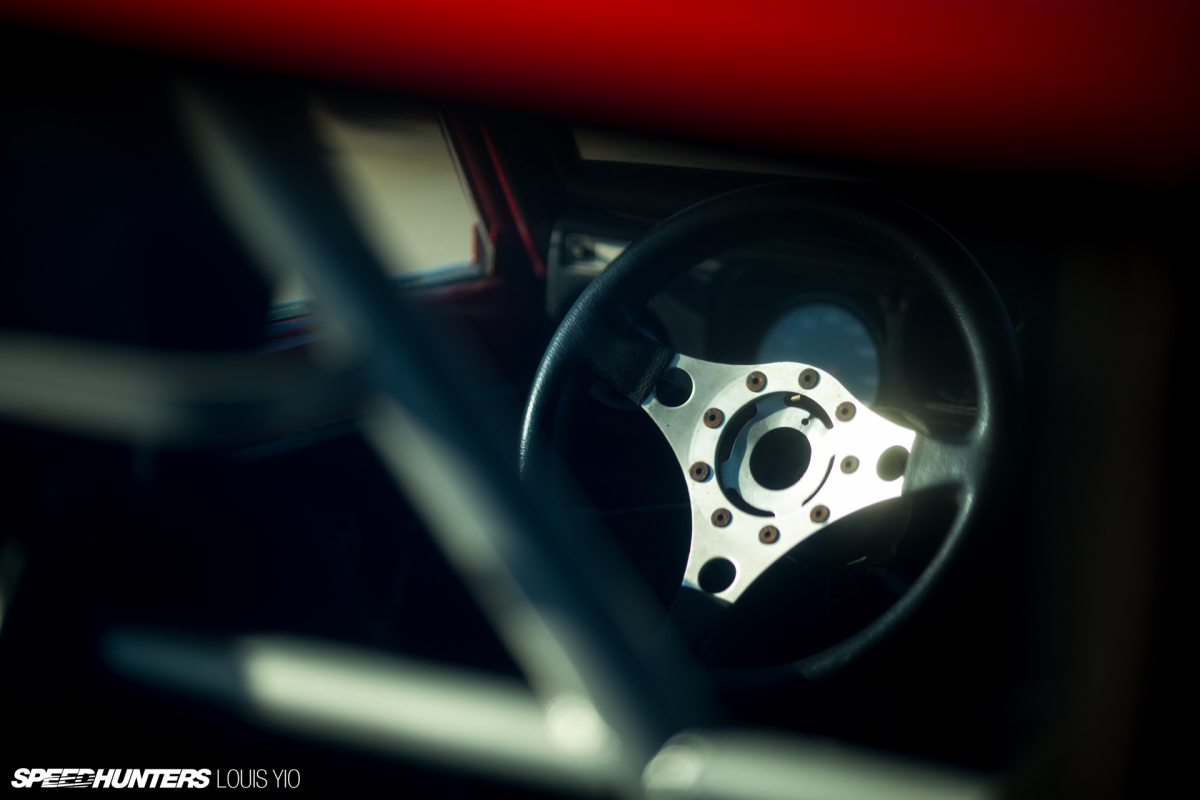 After all, there's just something universally cool about a fixed up Datsun, especially when it's built to the level of the cars seen here on Speedhunters over the last several weeks.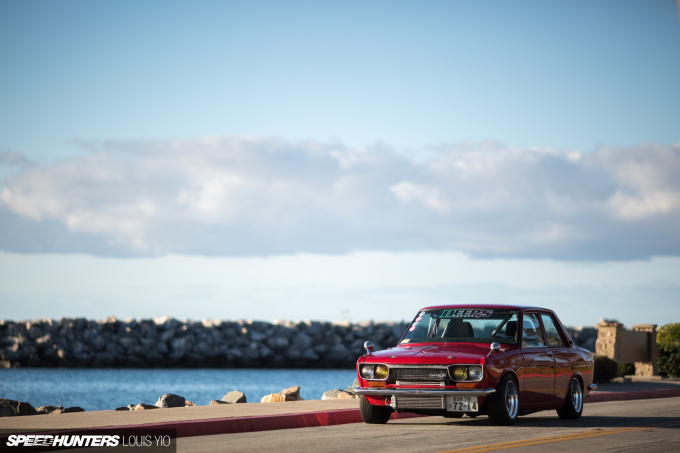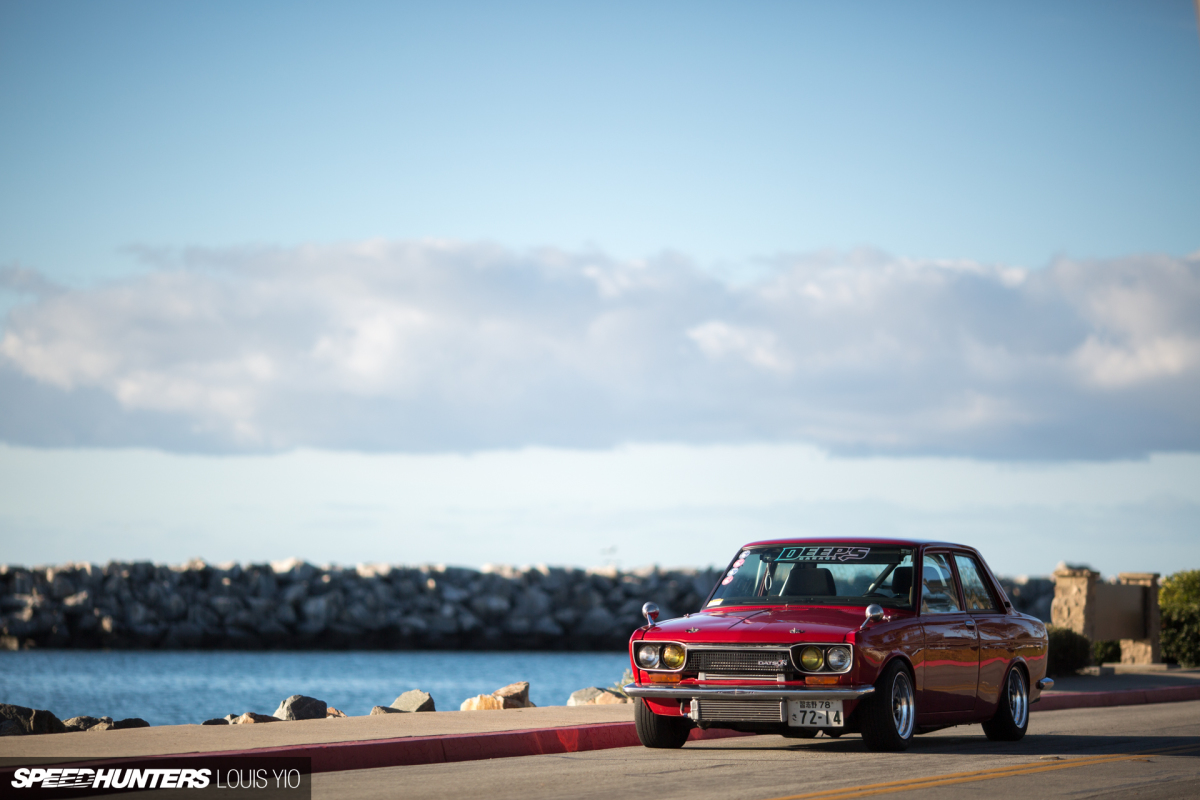 And now it's time to add one more to the mix – a beautiful little '72 510 built by Raul Toledo of San Diego. This is the car that claimed our FeatureThis award at last fall's Offset Kings show at Irwindale Speedway.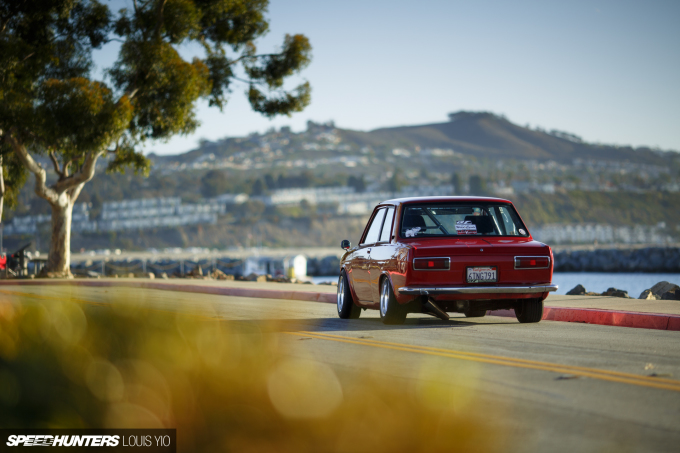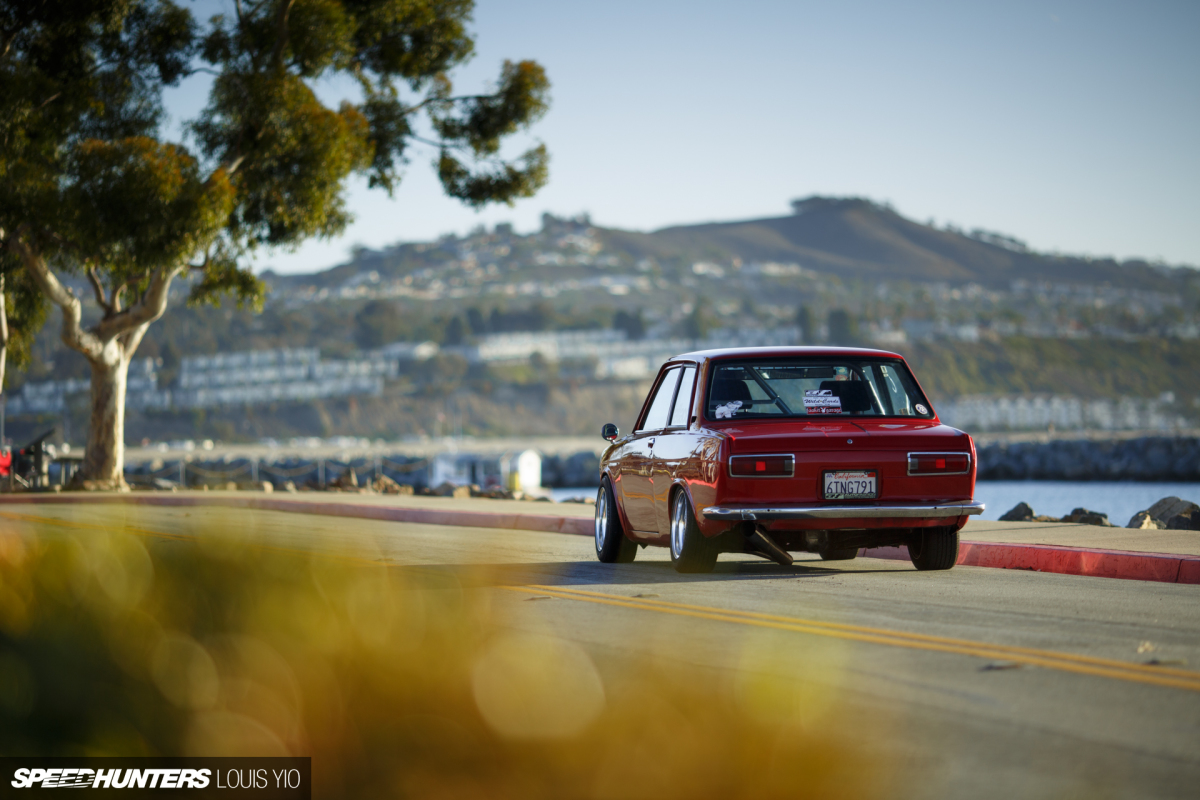 It was about six years ago when Raul decided he wanted to build a 510, and after searching high and low for a decent example, he found the '72 for sale in the San Francisco Bay Area. It had a carbureted VG30 V6 swap done by a previous owner, which would power the car down the state of California on the long trip back home to San Diego.
The Turbo Route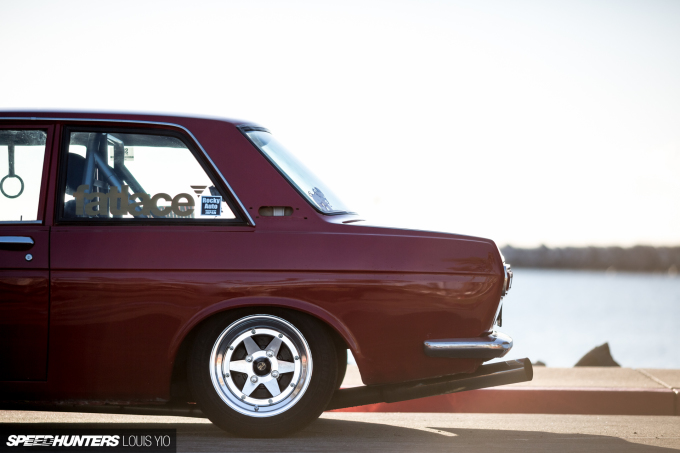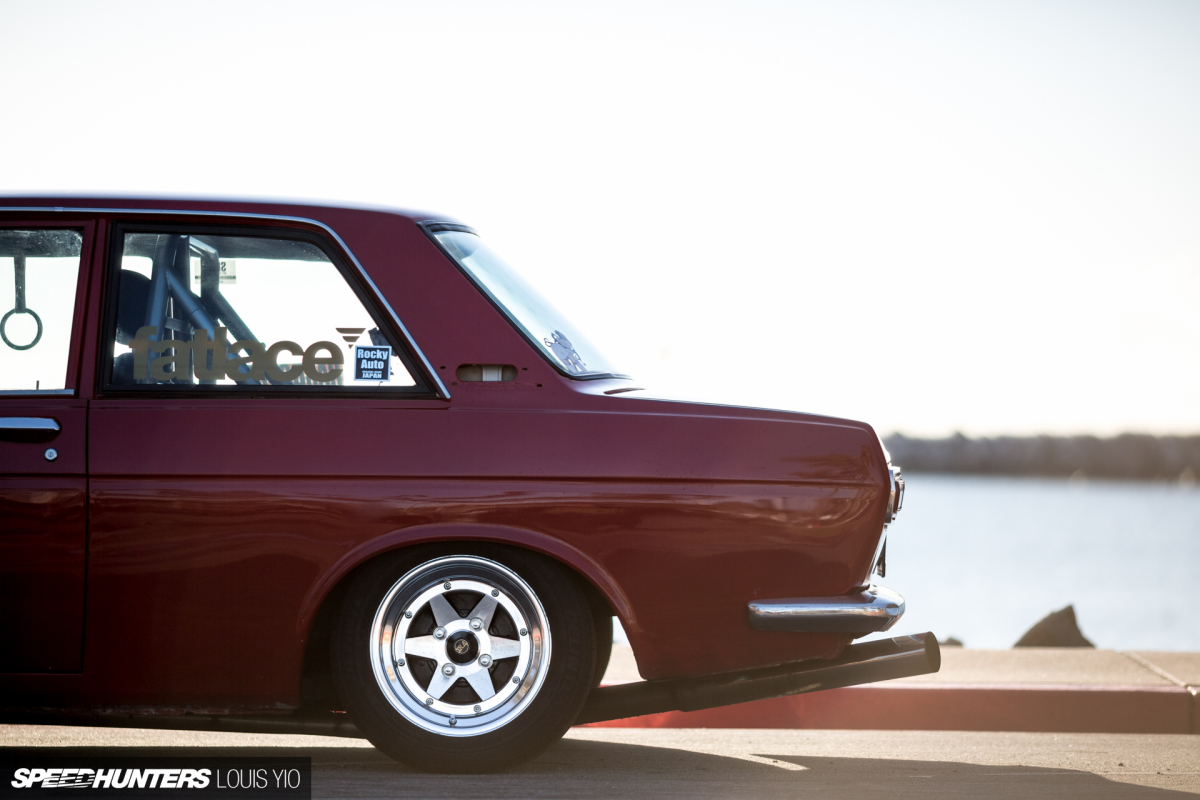 While it made for decent upgrade from stock, the V6 wasn't to last though. The Datsun suffered an unfortunate engine fire, and while the overall damage to the car wasn't extensive, it was enough to say goodbye to the old VG motor and start planning a new engine setup.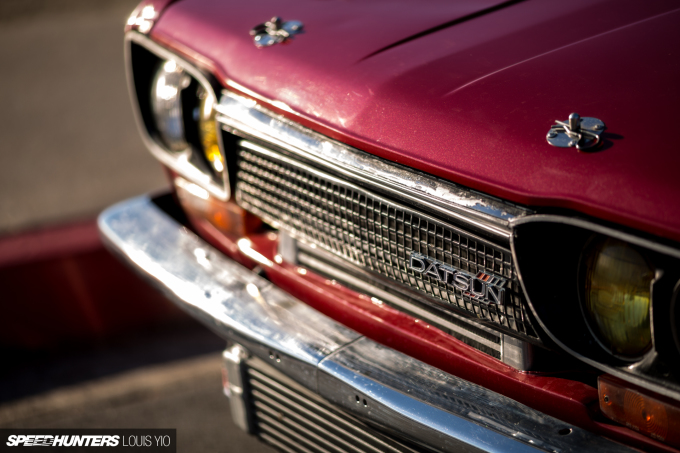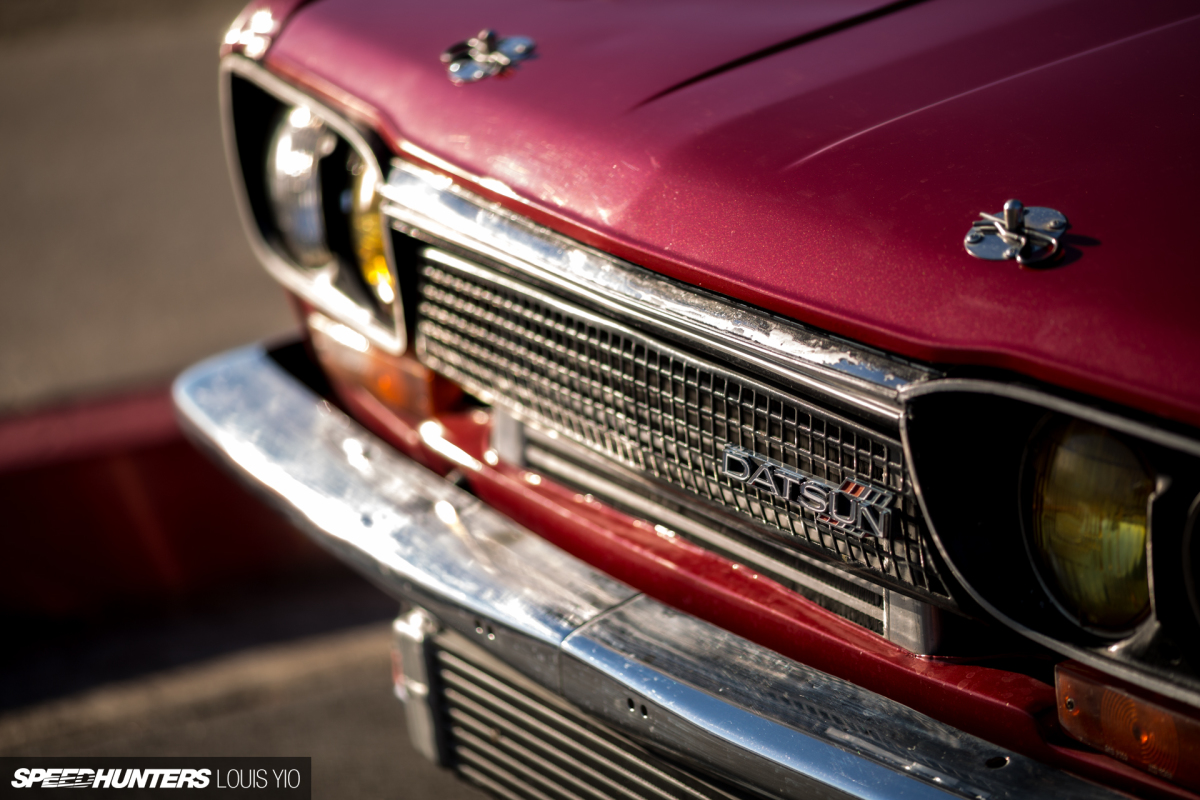 Like most people who have project cars, Raul spent a lot of time researching online. He browsed sites like The510Realm and Ratsun.net, asking questions and taking inspiration from other 510 builds that were out there.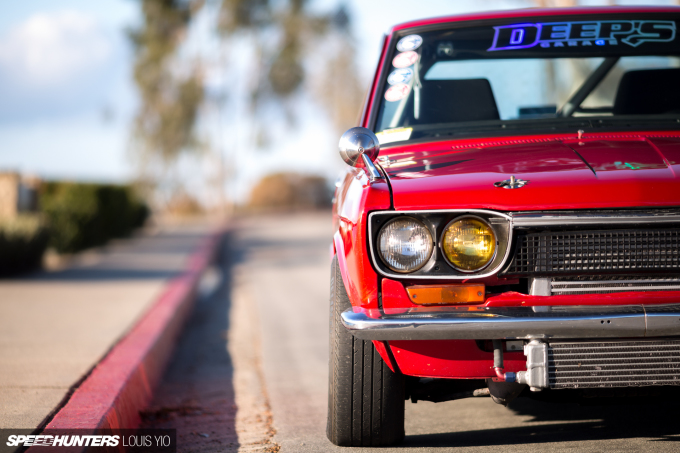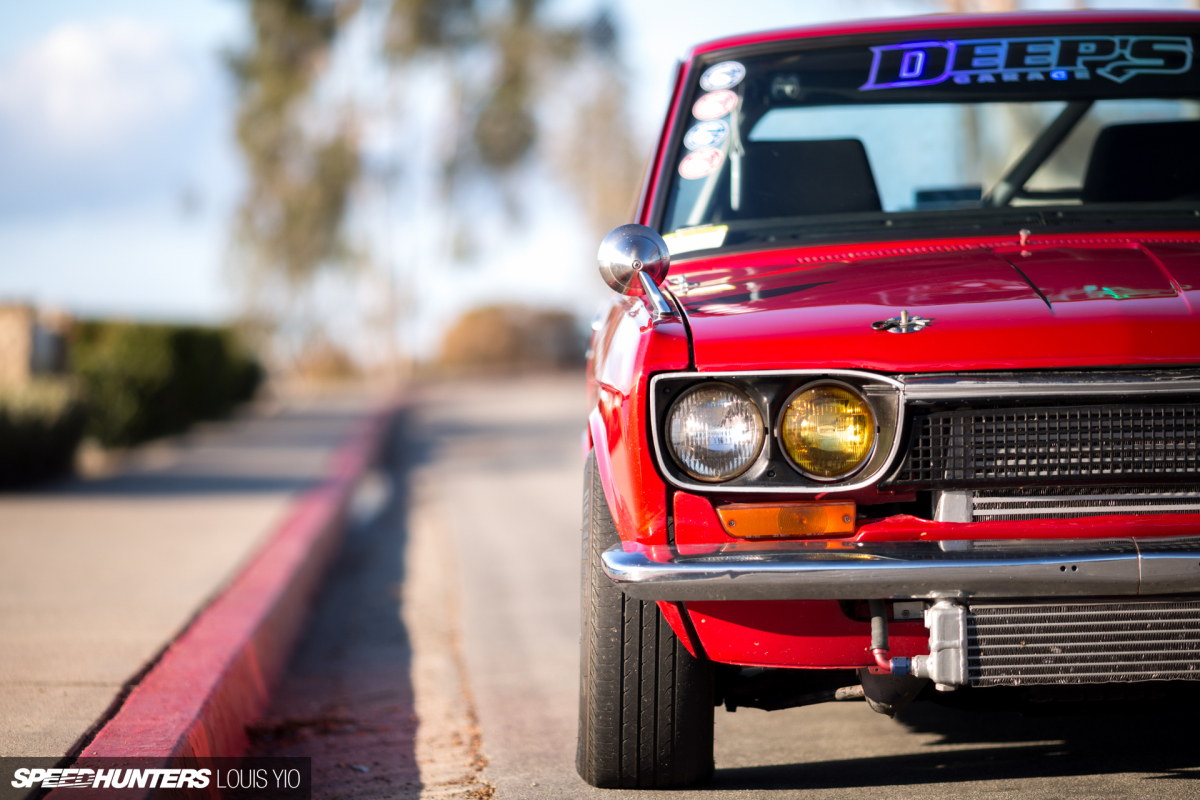 He knew he wanted more power and also wanted to stay true to the 510's family heritage, so naturally he arrived at the idea of an SR20DET. Not only is the turbo four-cylinder a popular swap choice, it's also an engine that feels like it was tailor-made for use in an old 510, with enough potential to suit just about any horsepower goal.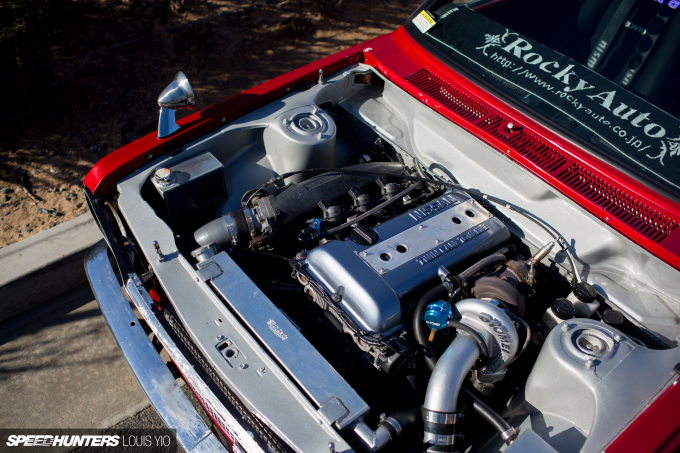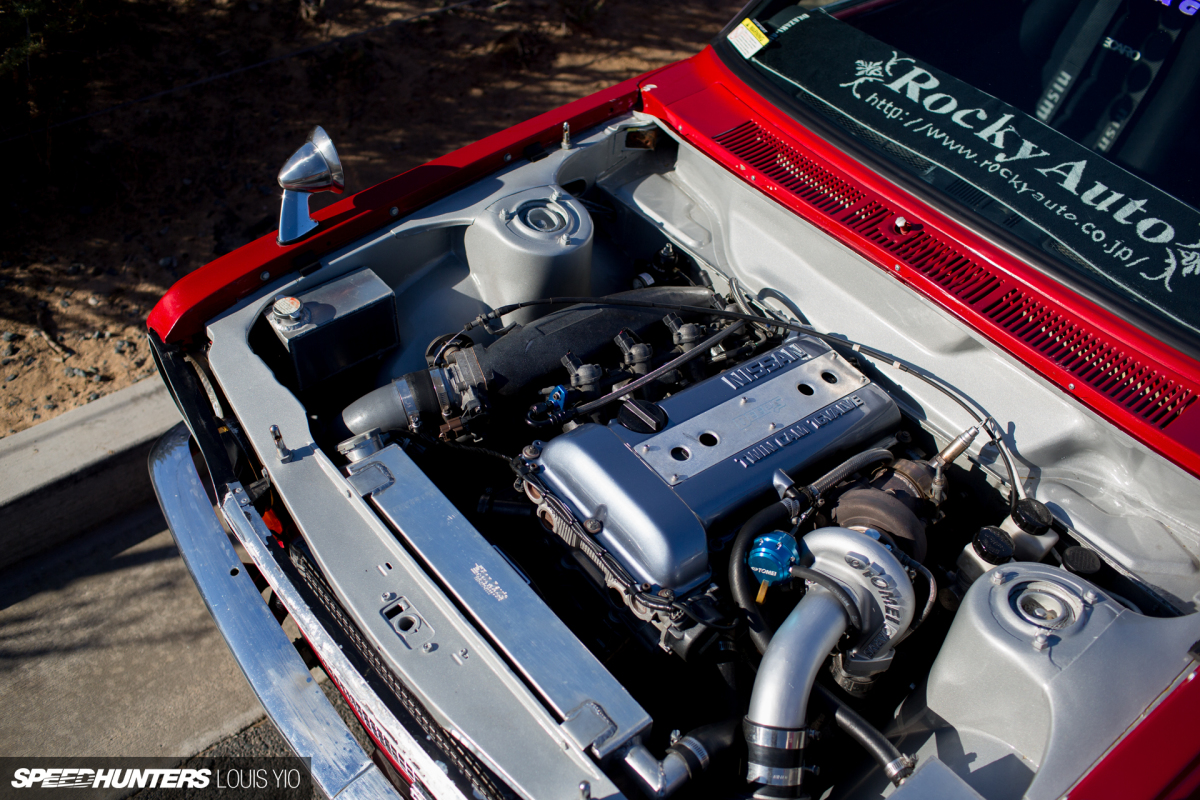 With help from the crew at Deep's Garage of San Diego, Raul was able to source an SR setup that would not only deliver improved power and reliability, but also leave room for future upgrades. And speaking of upgrades, the SR is already packing some pretty solid go-fast parts. There are CP forged pistons, an ISR intake manifold and an upgraded fuel system to cover the basics.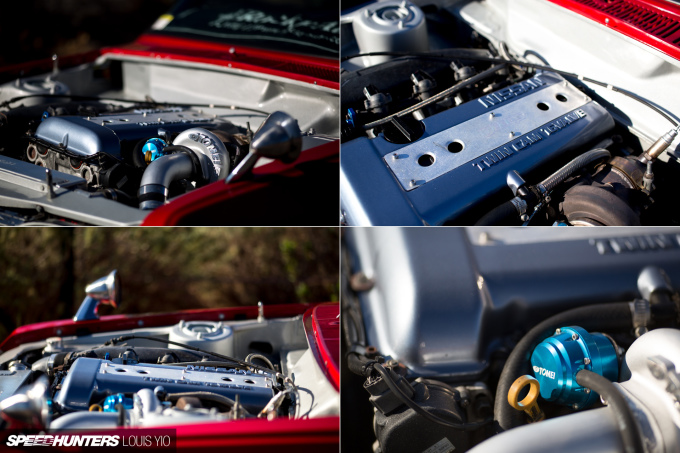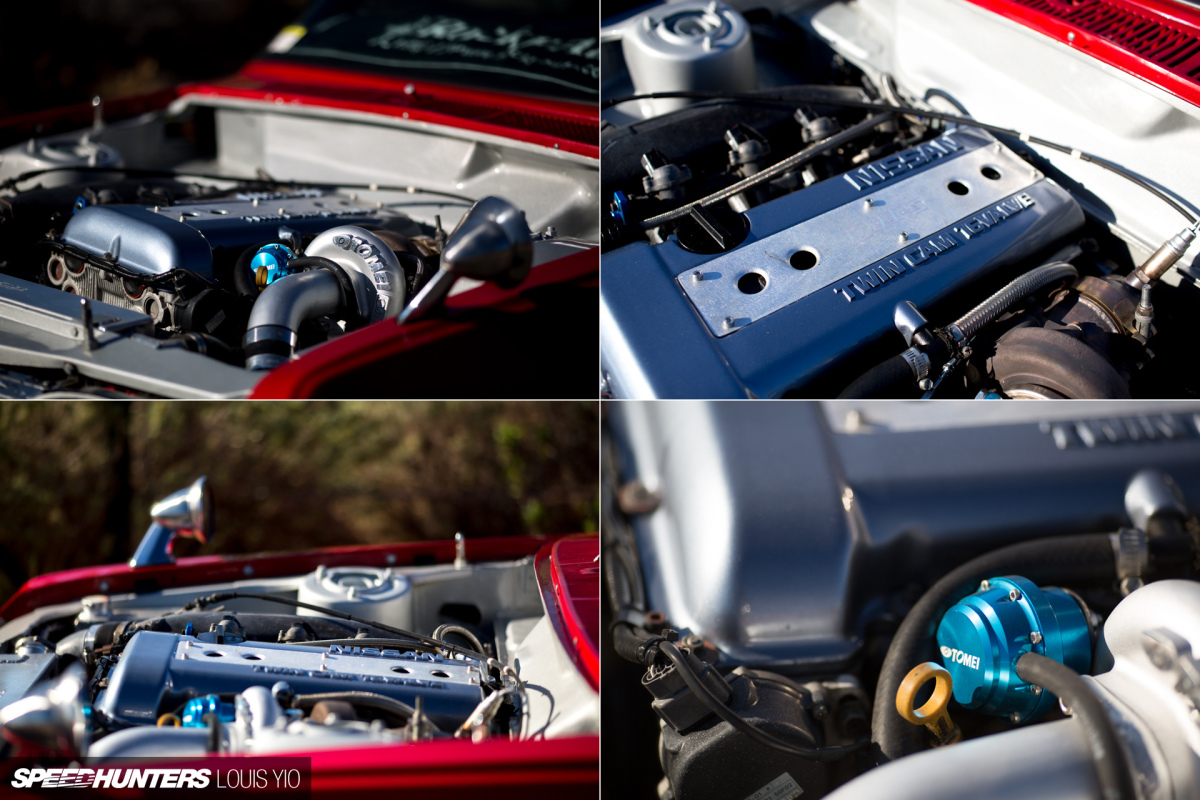 Boost comes via a Tomei M7960 turbo upgrade kit, which significantly improves power output but also retains driveability for road trips or just when Raul is out cruising the streets of San Diego.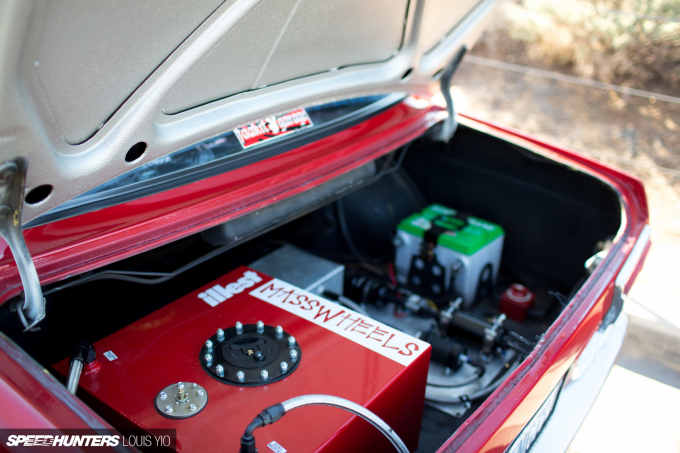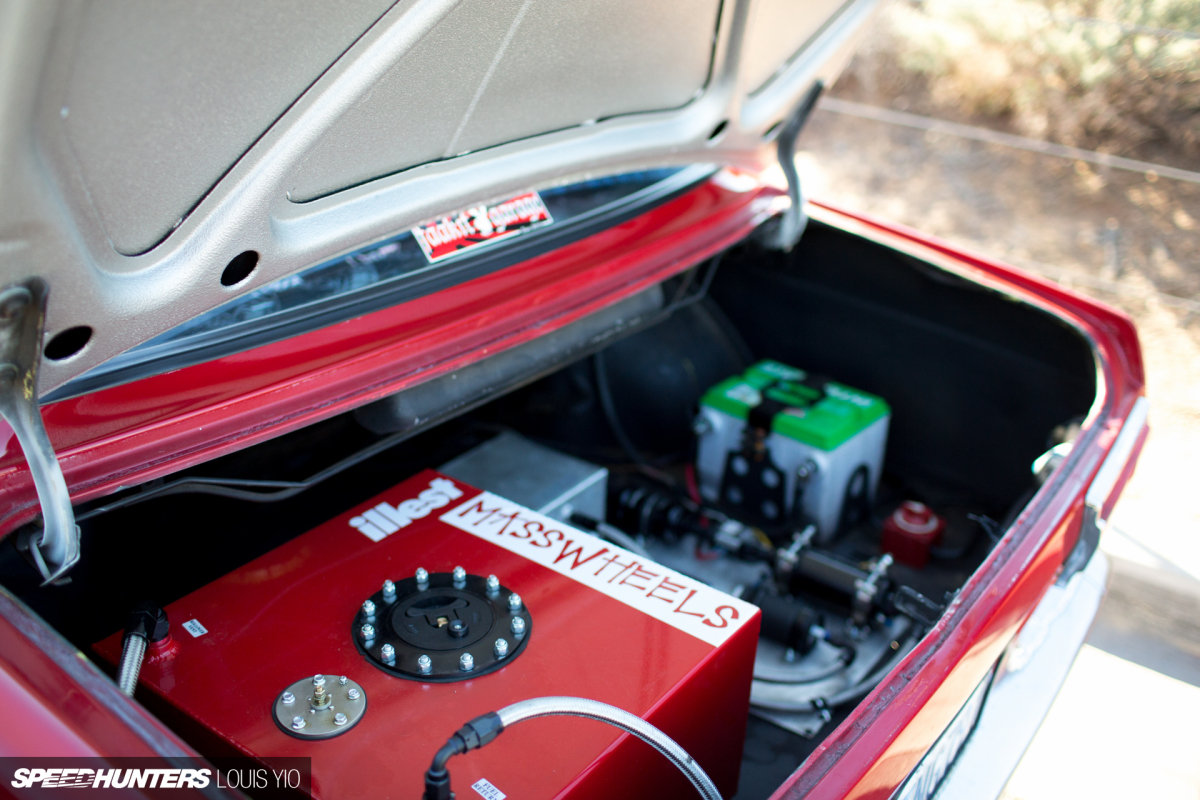 There's a 10-gallon RCI fuel cell mounted in the trunk to replace the factory Datsun gas tank, and the battery has also been relocated to the rear to improve weight distribution.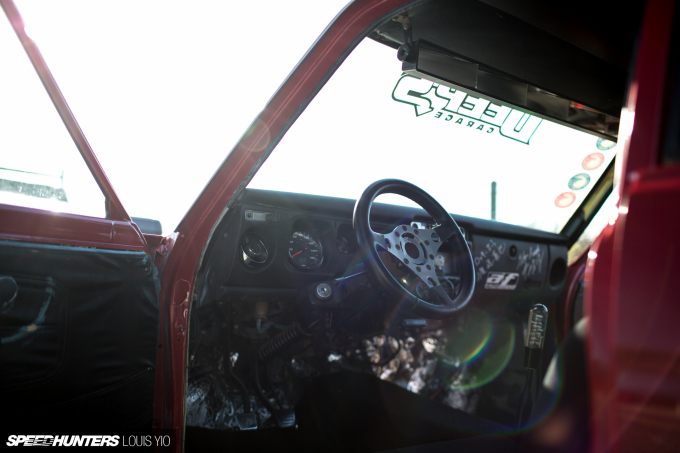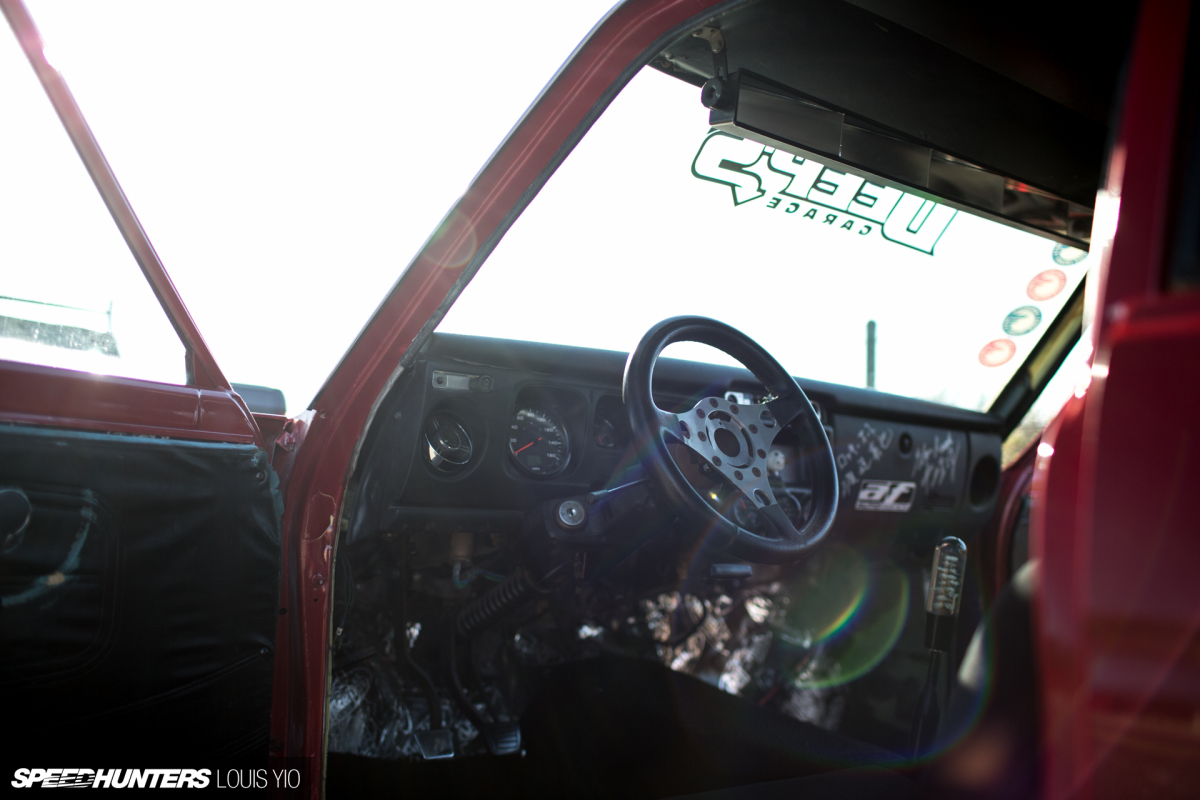 The gearbox is 5-speed manual of course, and an R160 differential with a viscous limited slip unit helps deliver the turbocharged SR power to the ground.
The JDM Influence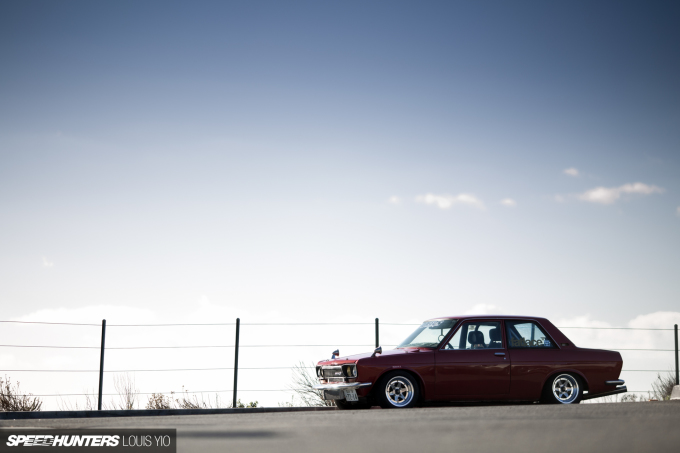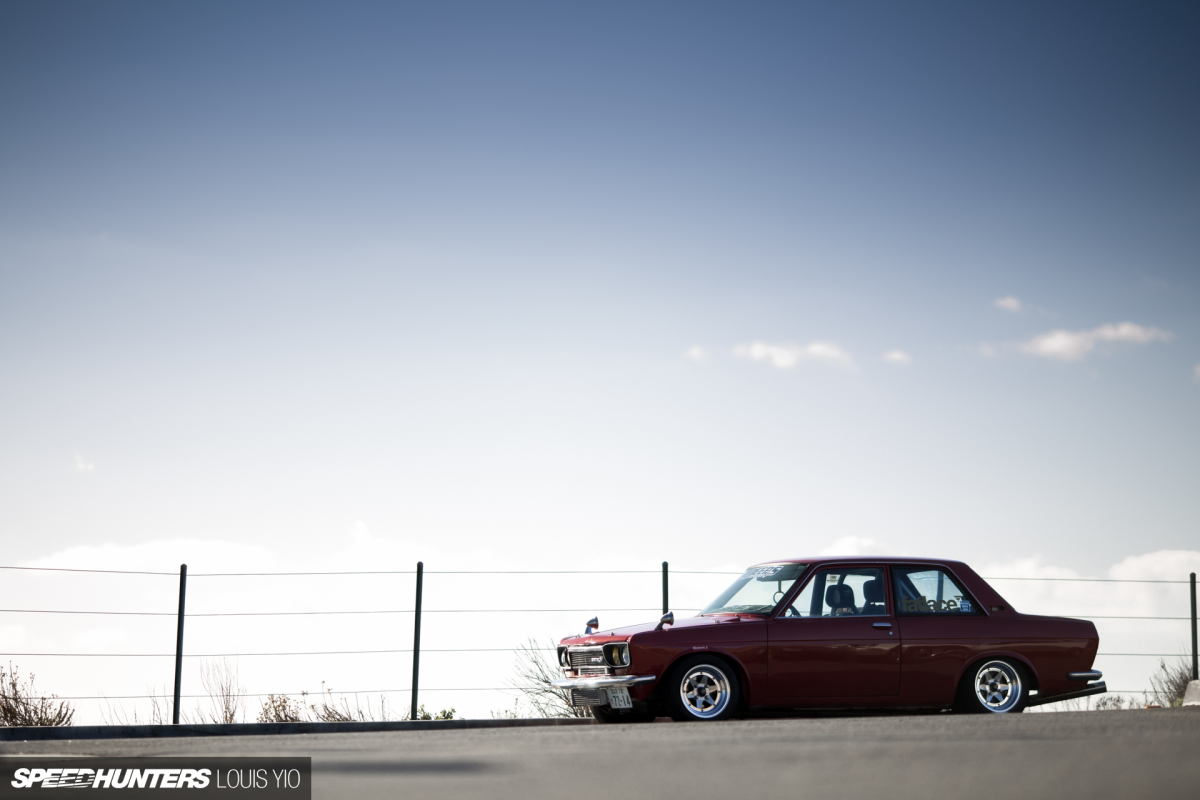 Other improvements to the 44-year-old Datsun include a complete handling kit from Datsport in Australia, plus a set of custom-built adjustable coilovers all around.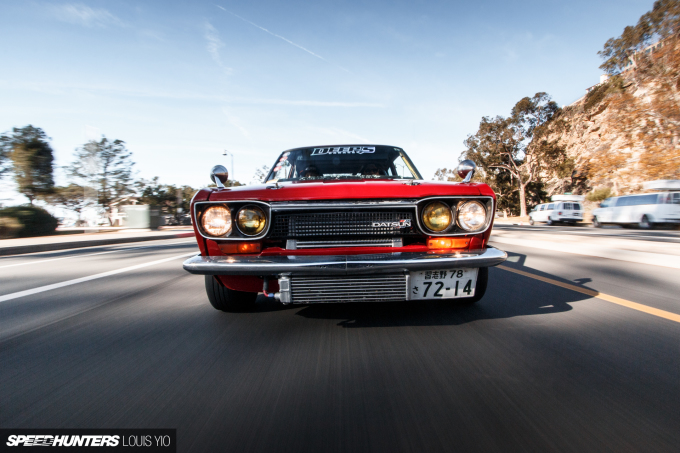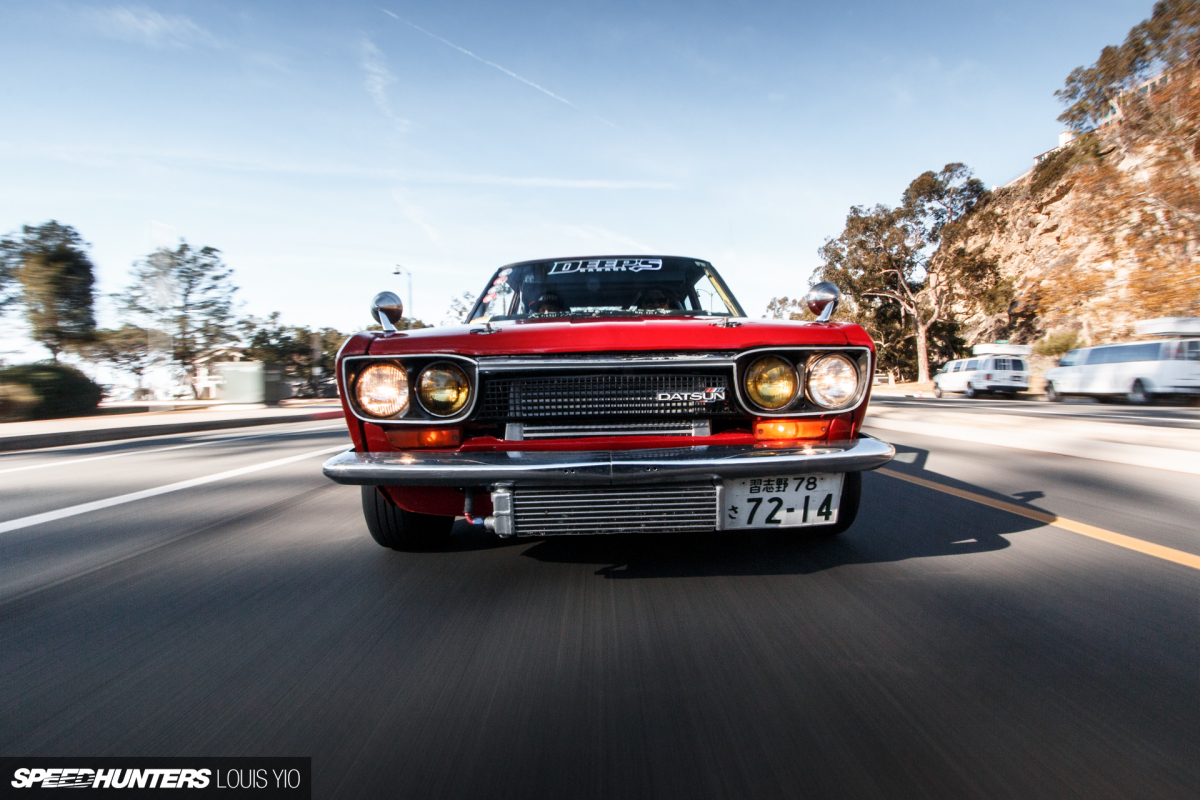 Not wanting to detract from the simple, classic look that drew him to the 510 in the first place, Raul has kept exterior changes to a minimum. The key difference is up front where the stock US-market grille has been replaced with one from a JDM Nissan Bluebird.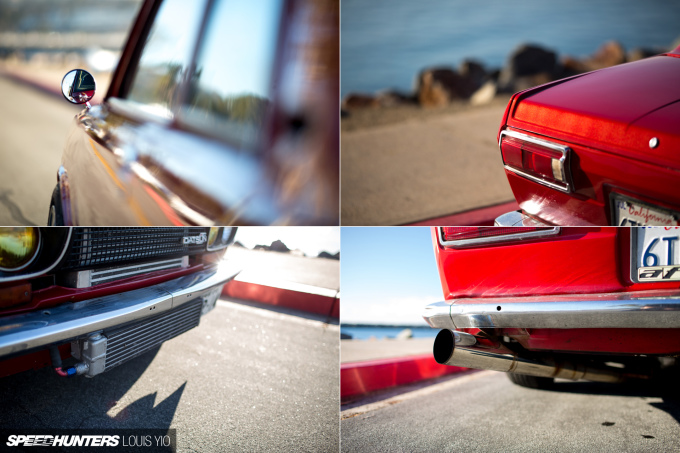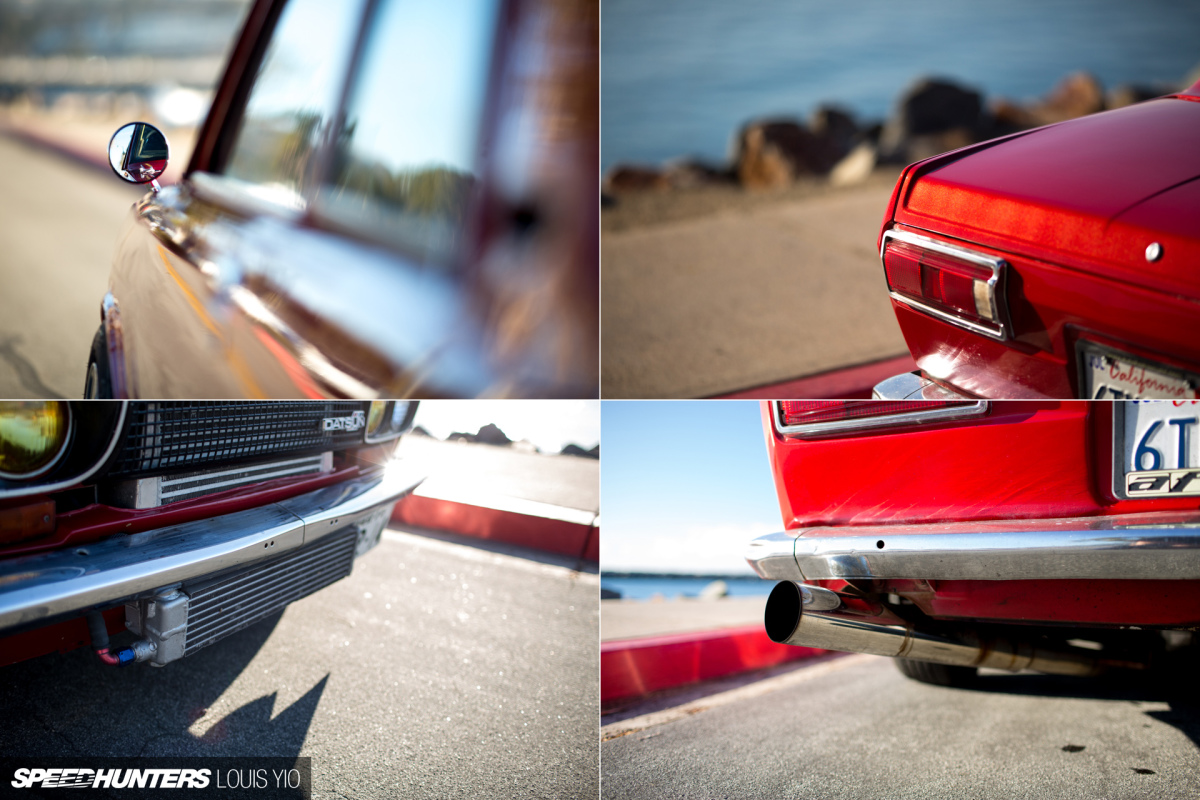 Other cosmetic touches include deleted side-markers, a pair of Nissan fender mirrors, an externally-mounted Mazda RX-7 oil cooler and a coat of Mazda Velocity Red paint.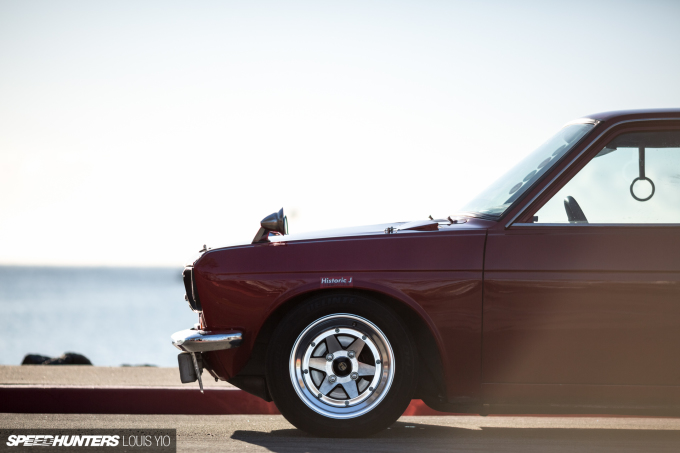 As for the wheels, they're classic SSR Longchamp XR4s measuring 14×7-inch with 0-offset at each corner. In a stroke of luck, Raul found the old school wheels brand new in their original boxes.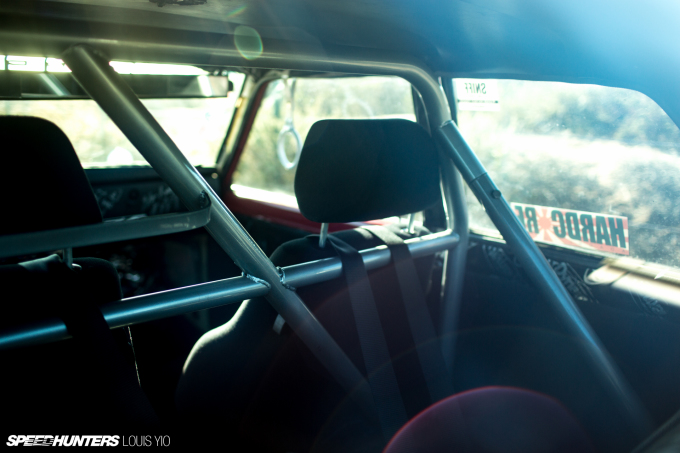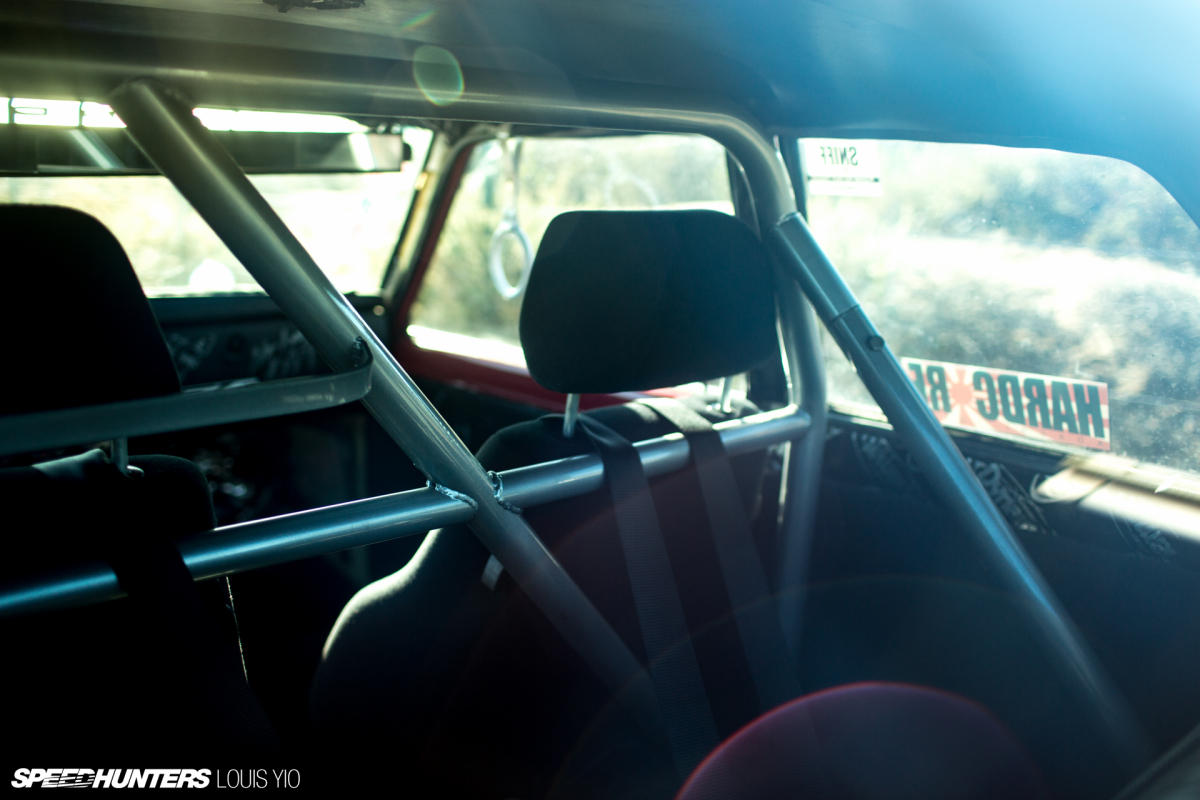 Inside the car, the original 510 dashboard has been restored and also fitted with a custom triple-gauge instrument setup. A pair of old school Recaro LSC buckets accommodate the driver and a passenger, while a half roll-cage is fitted for safety and stiffness.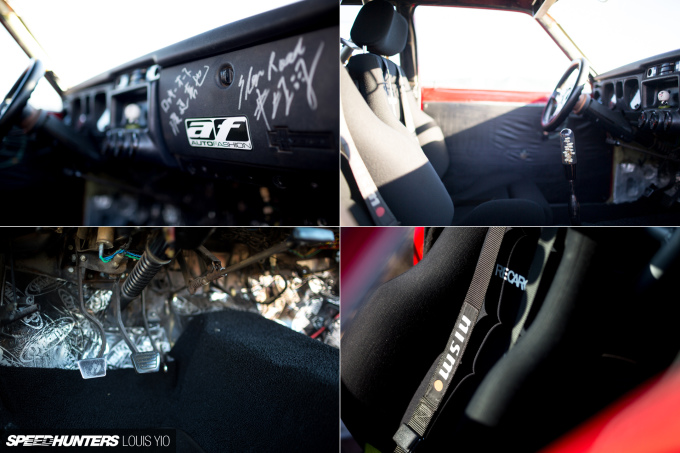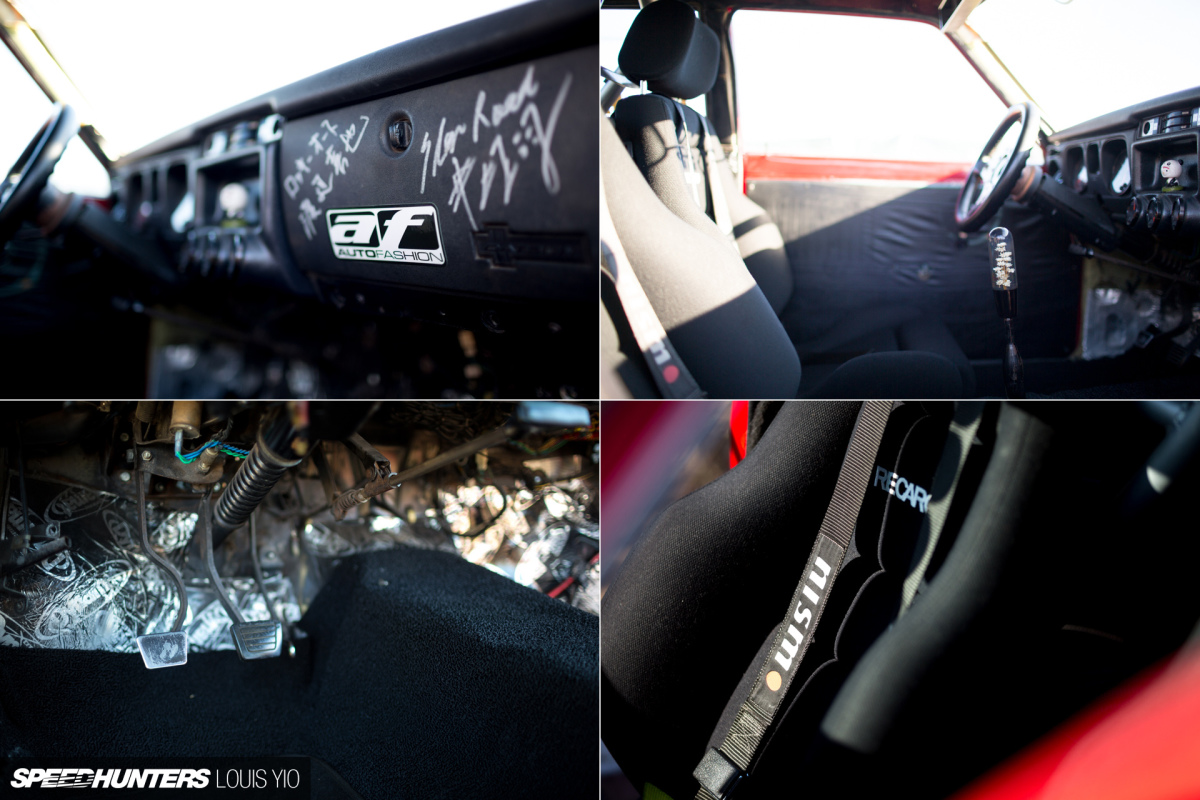 Let's not forget two of the most important interior additions either – autographs from Watanabe-san of Rocky Auto and Inoue-san of Star Road in Japan.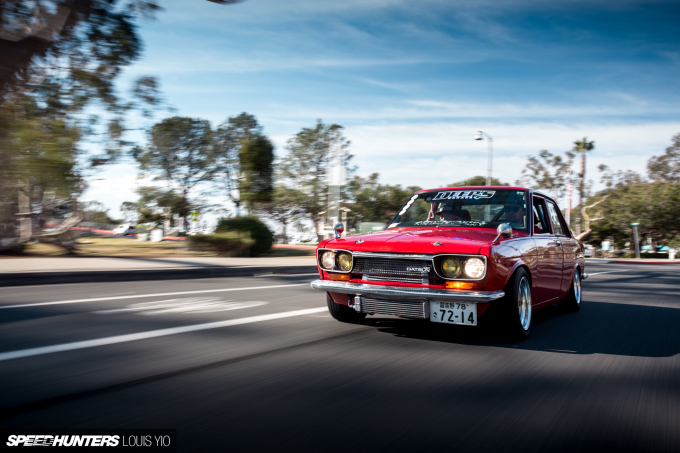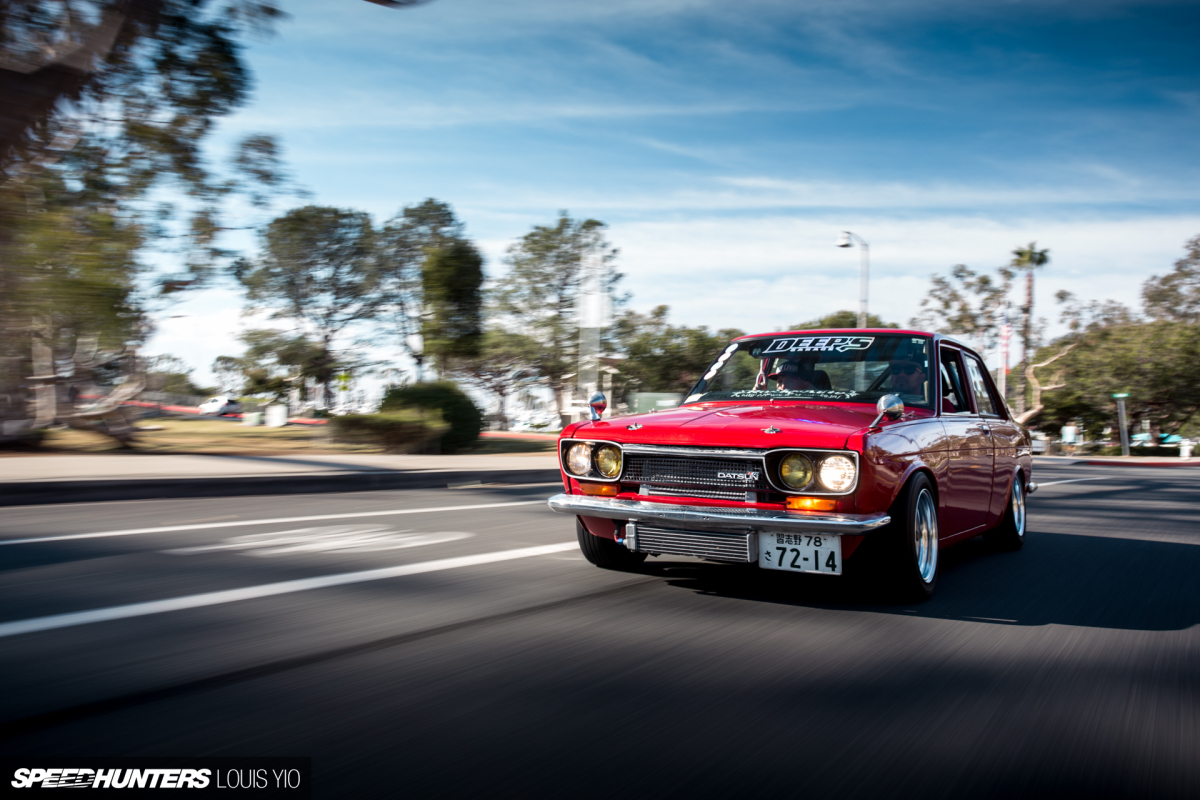 Raul tells me he plans on keeping this car for a long time, and while he's not exactly sure of his long-term goals for the Datsun he is currently looking at additional engine upgrades to hit the 400whp mark while still running on pump gas.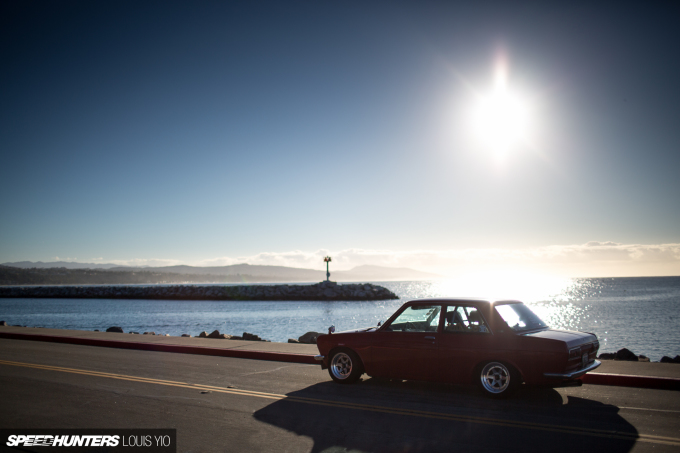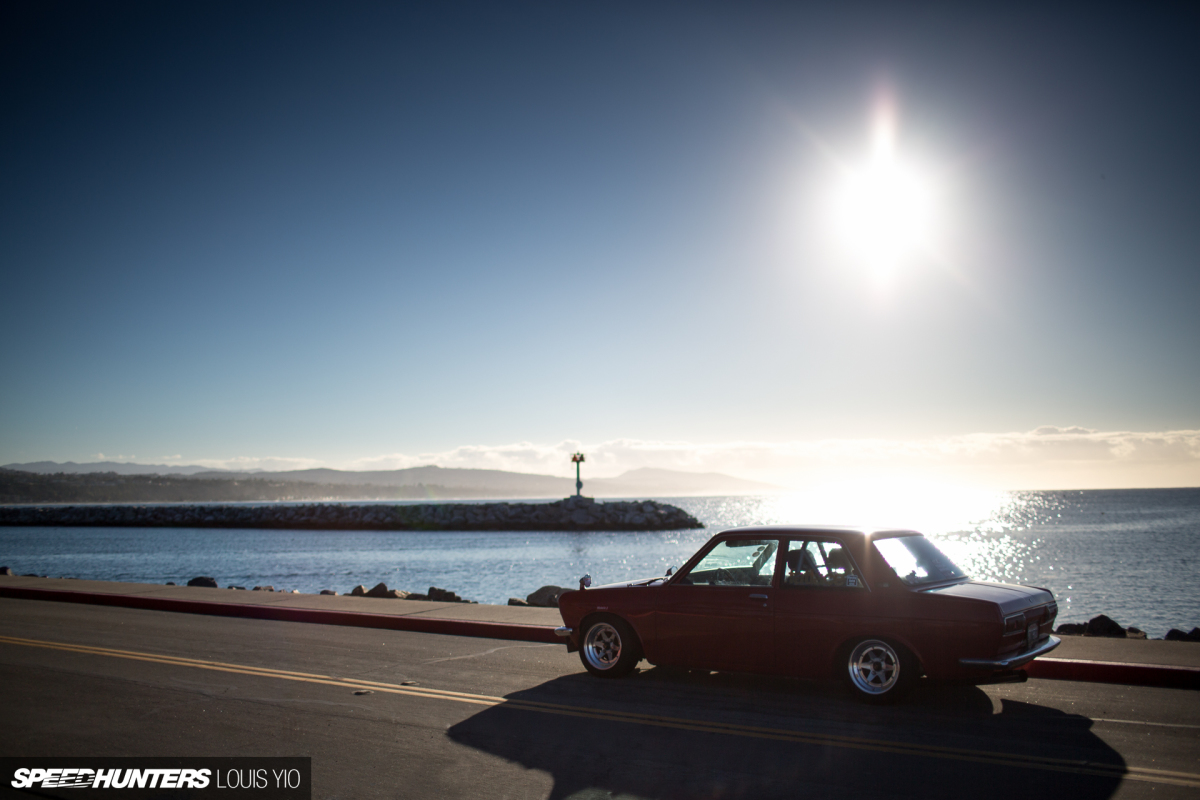 We've seen some amazing Datsuns here on Speedhunters lately, and Raul's 510 is the perfect way to close out a month of features that should have all of us scheming for a way to put one of these Japanese classics in our own garages.
From America to Japan to New Zealand and back – damn it feels good to be in a Datsun.
Mike Garrett
Instagram: japanifornia_media
mike@speedhunters.com
Photos by Louis Yio
Instagram: lusciousy
Engine
Nissan SR20DET swap, CP forged pistons, ARP head studs, ISR intake manifold, Tomei M7960 turbo kit, HKS actuator, full 3-inch exhaust system, A'PEXi Power FC engine management system, Ron Davis radiator, custom oil catch can, full engine bay wire tuck
Driveline
5-speed manual transmission, R160 diff with viscous LSD
Suspension/Brakes
Datsport handling kit, Datsport steering box support brace, custom adjustable coilovers, Wilwood master cylinder, custom brake lines
Wheels
SSR Longchamp XR4 14×7-inch +0
Exterior
Nissan Bluebird grille, Nissan fender mirrors, Mazda RX-7 oil cooler, deleted side-markers Mazda Velocity Red paint
Interior
Roll bar, Recaro LSC bucket seats, Nismo harnesses, restored factory dashboard, custom gauge cluster, bubble shift knob
Raul would like to thank Autofashion USA, Deep's Garage and Team Wild Cards for their support

More Datsun stories on Speedhunters
Cutting Room Floor