Have It Your Way
The flexibility of embarking on the build of a retro car project typically allows a couple of different techniques of attack to flourish.
Firstly, there's the crowd that prefer to stick with the nostalgic theme; those who quest tirelessly for a build that captures the essence of an era past, outfitting period-correct parts in an effort to maintain a certain character. The second group throw nostalgia to the wind and wedge in modern components, enjoying the look of the old and the performance and reliability of the new.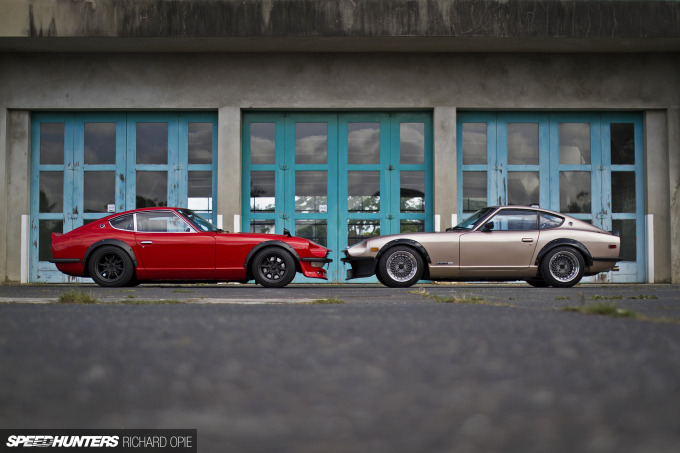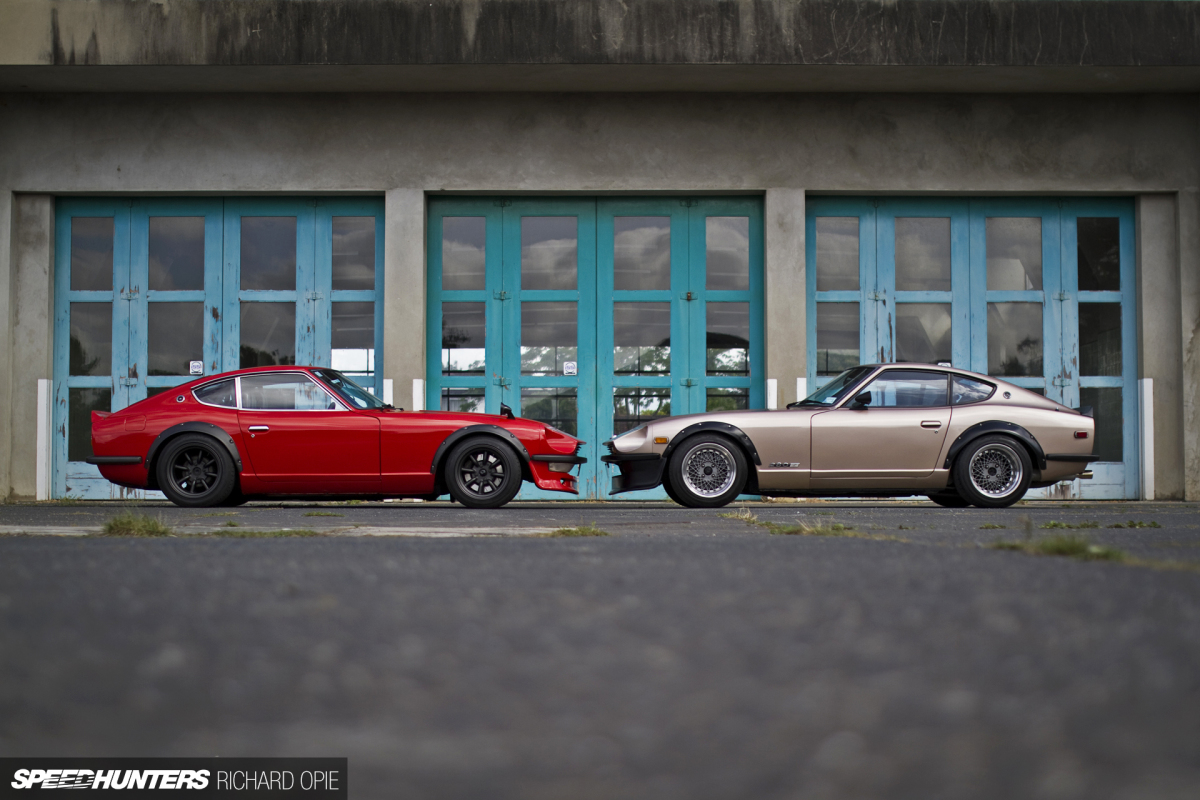 Between these two New Zealand-based Datsun Z cars is a collision of worlds. While stylistically this pair of iconic 1970s Datsun coupés appear comparable, the packages lurking beneath the skin paint a very different picture of how each owner has chosen to complete his respective build, and of course provide a strikingly different Z-car experience, which I'll detail later.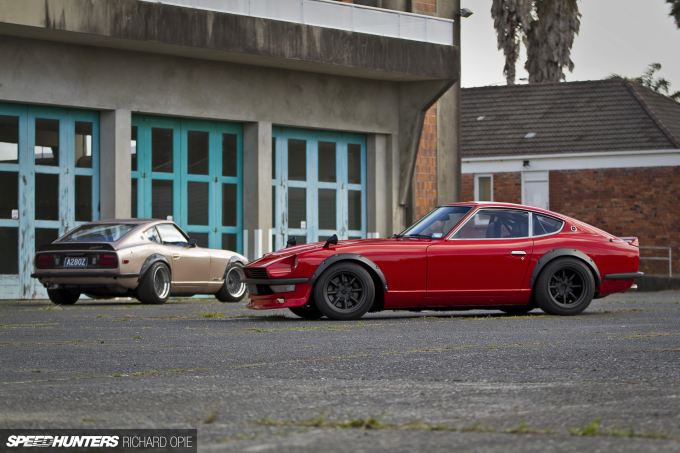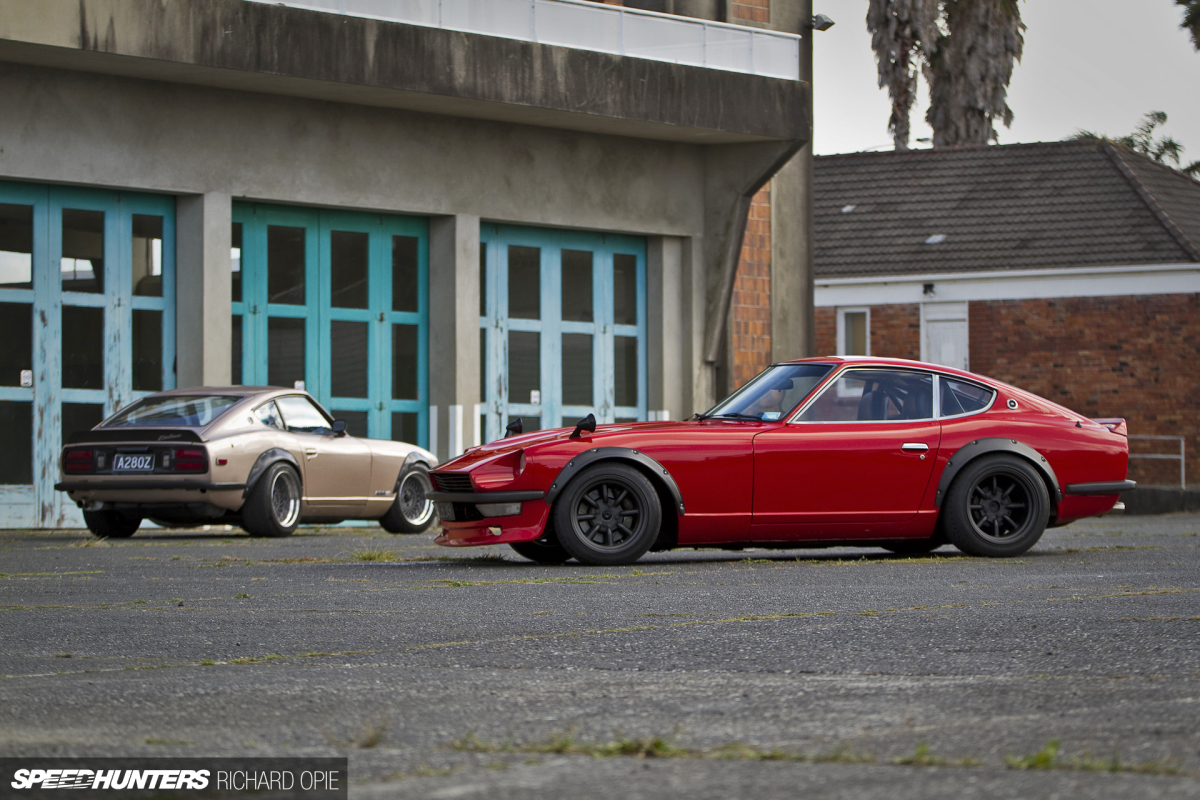 Both built by their respective owners at home, within the four walls of their respective sheds, I was privileged enough to get amongst the champagne-toned 1976 280Z belonging to Anthony and compare it to the very different vibrant red 1972 240Z variant constructed by Mikey.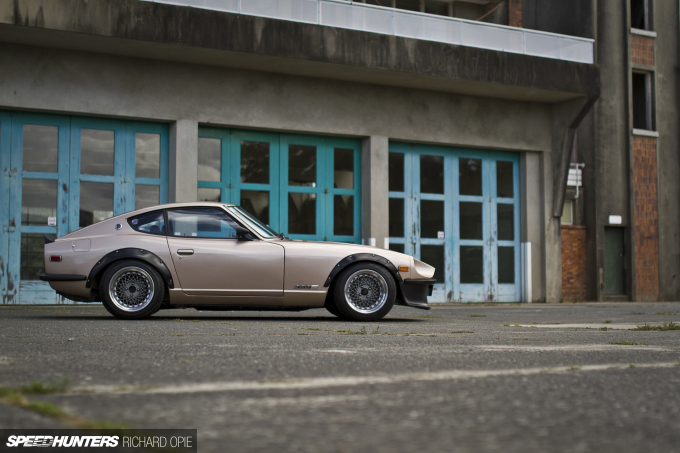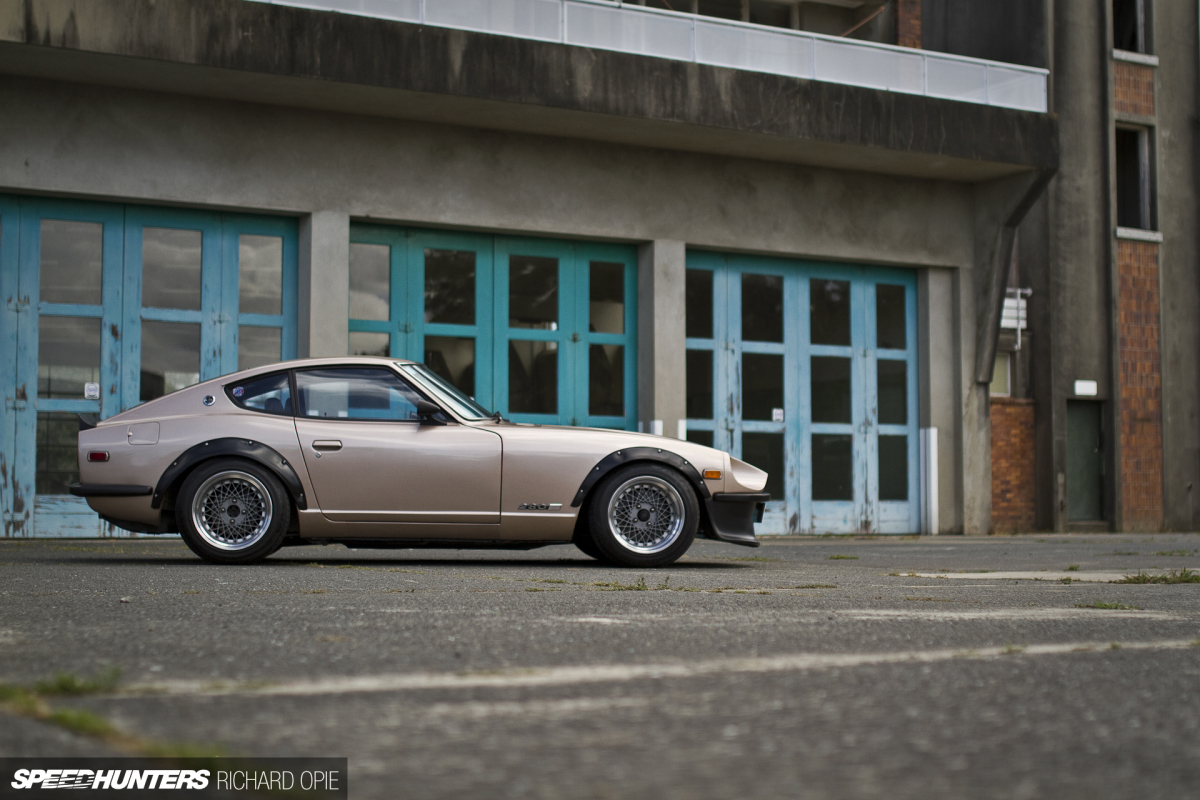 As a nod to the past, it'd be rude not to begin with Anthony's USA-import 280Z. It's unusual to find on these shores; one of a very exclusive clique of American market S30s to make it to New Zealand – of which Pedey and Taryn's Project Z is also a member. Somewhere along its journey the car saw a conversion to right-hand drive, but memoirs of its origins remain; particularly the side marker and turn signal layout unique to the Zs sold in the US.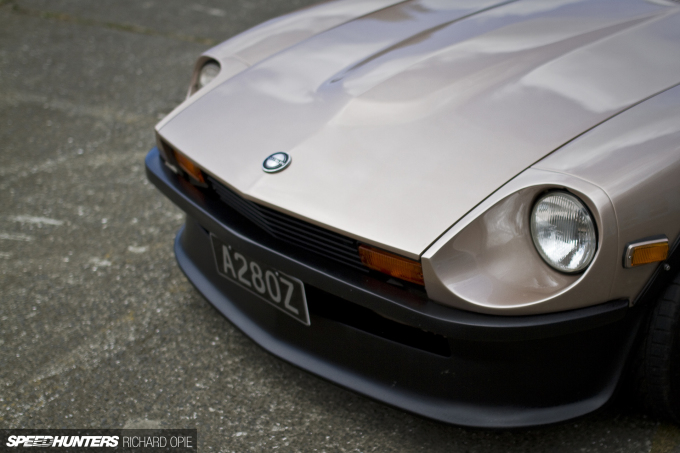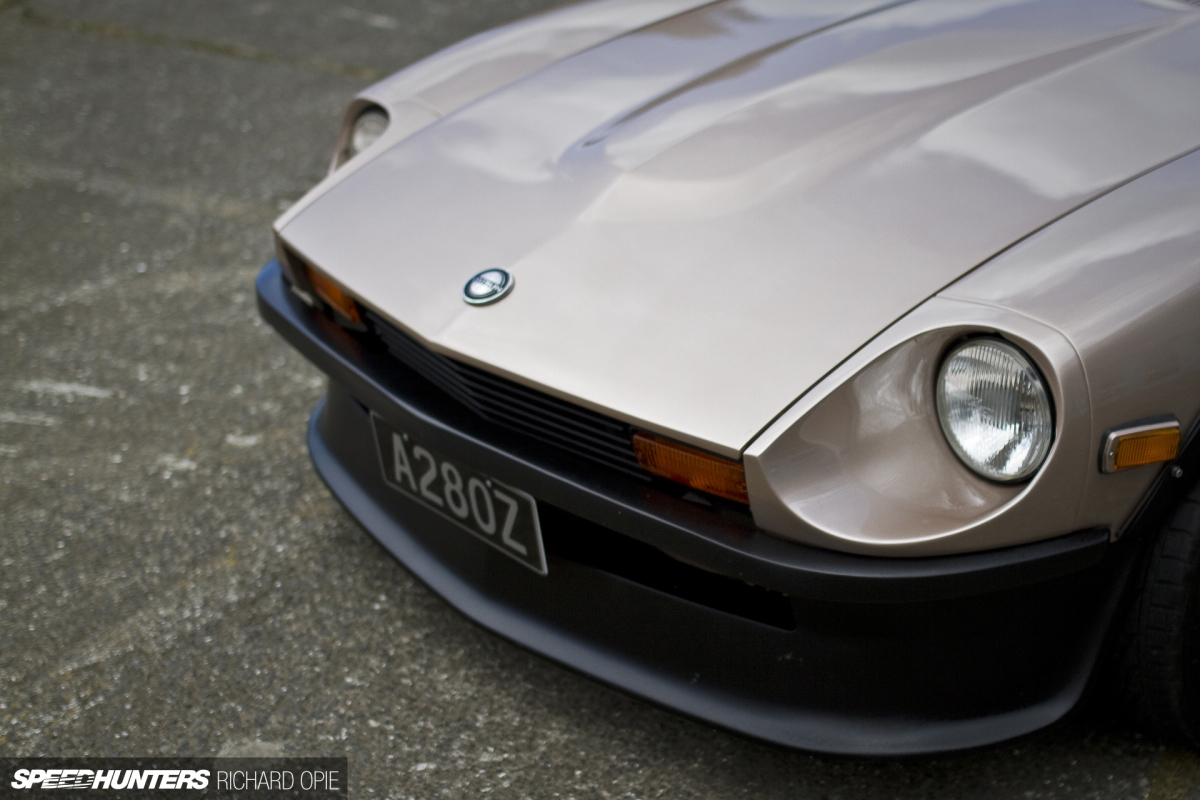 How about that champagne hue? Its pulled directly from a distinctly 1970s colour spectrum, accented with satin black bumpers. And of course, what self-respecting S30 would be complete without a deep front air dam, in this case a 240Z item modified to fit the subtly different 280Z front end.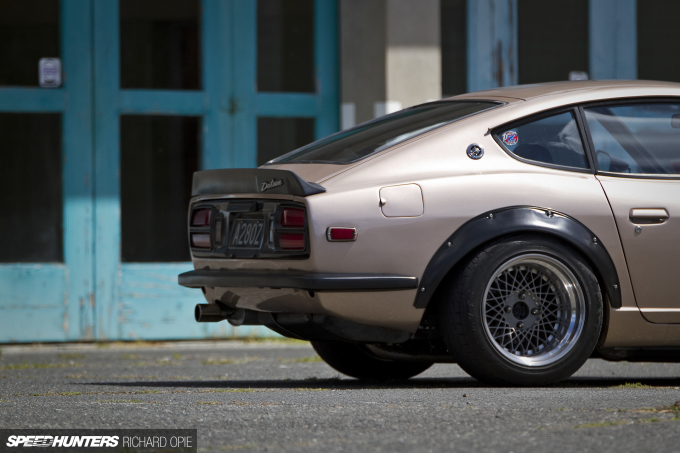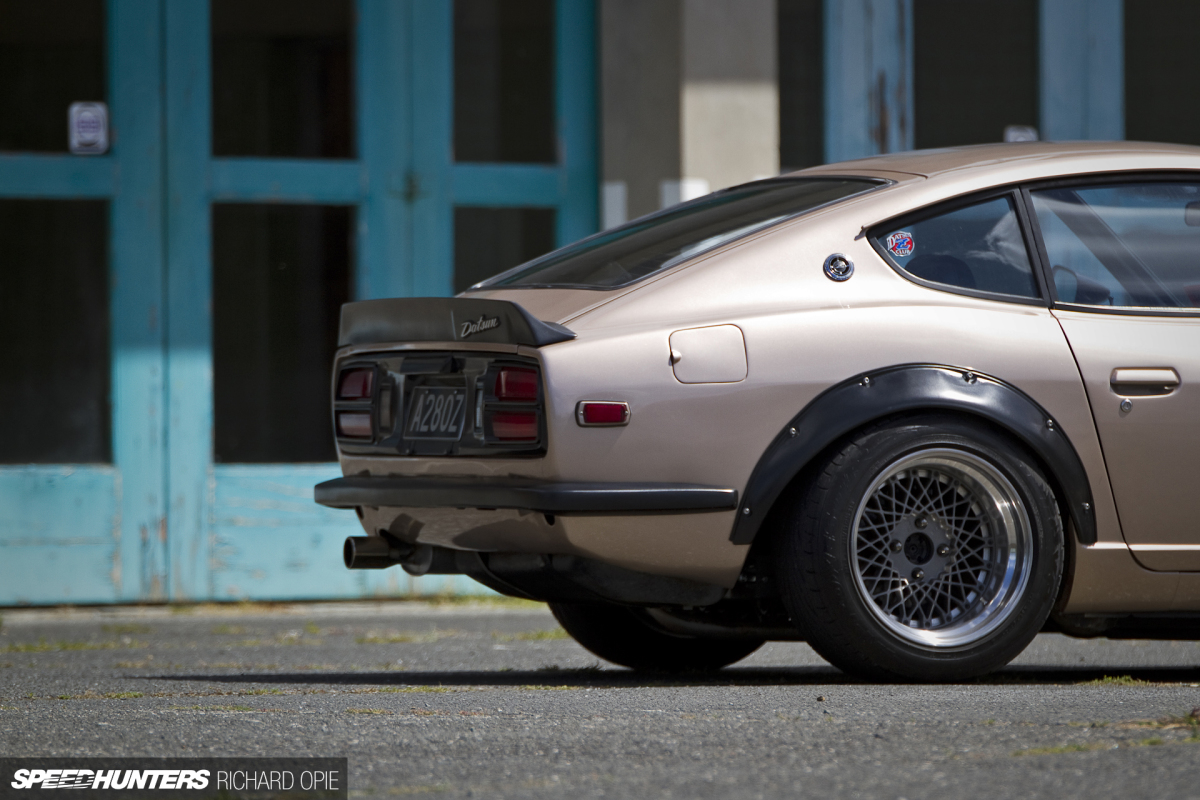 The way the defined waistline tumbles over the rear arches has always been – stylistically at least – one of my favourite aspects of the Z. Utlising a basic suspension combo of Koni adjustable shocks lurking inside shortened strut housings, matched to Moog progressive-rate springs, this crease in the sheetmetal is further emphasised as it sweeps across the rear bolt-on flared arches, again in a contrasting satin black.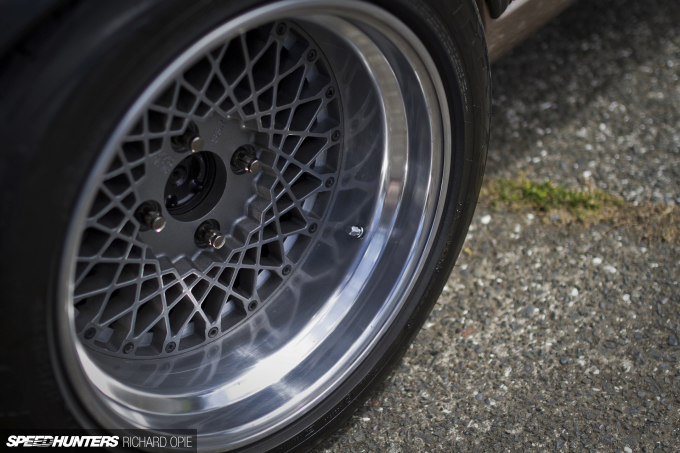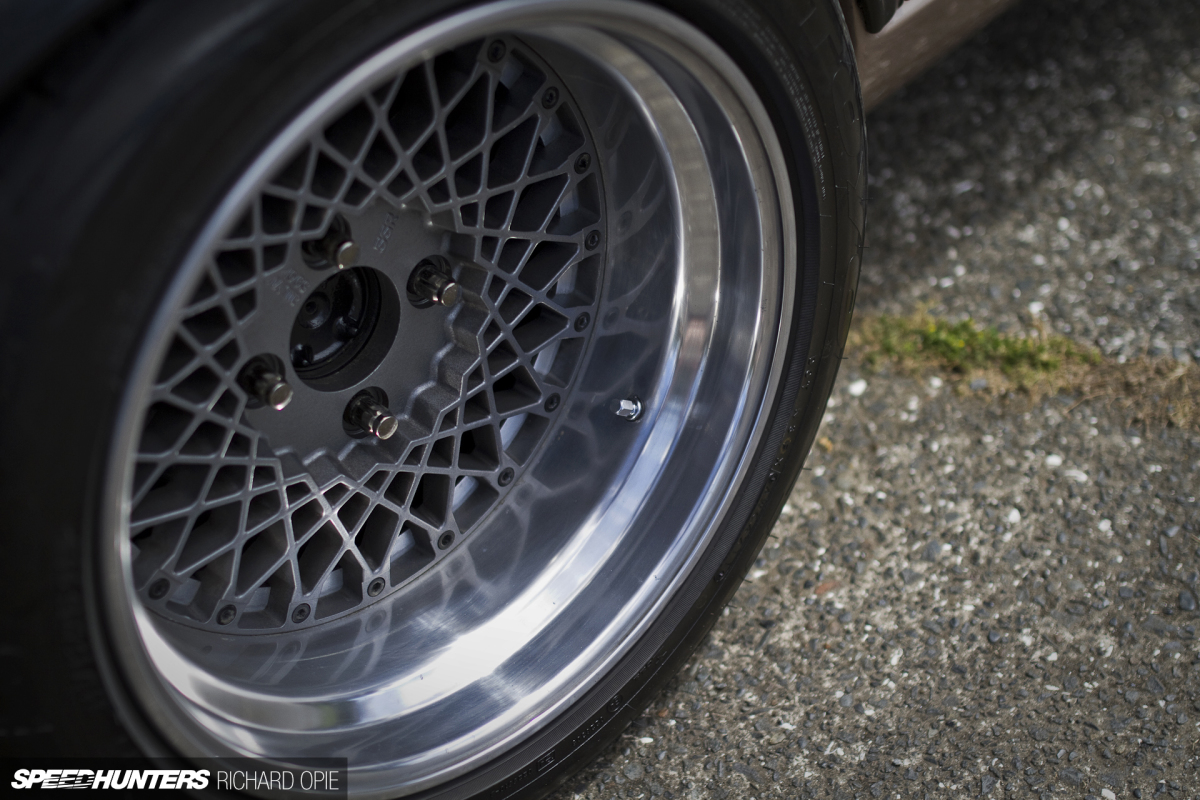 Visually, the icing on the cake has to be the wheels. While modern iterations have their place, nothing offsets classic Japanese metal like a set of dishy, old school rolling stock. After running a set of replica 17-inch wheels, Anthony's current choice of SSR Reverse Mesh, measuring 16×9-inch -12 front and 16×9.5-inch -14 rear, with enough dish to put a homeware store to shame.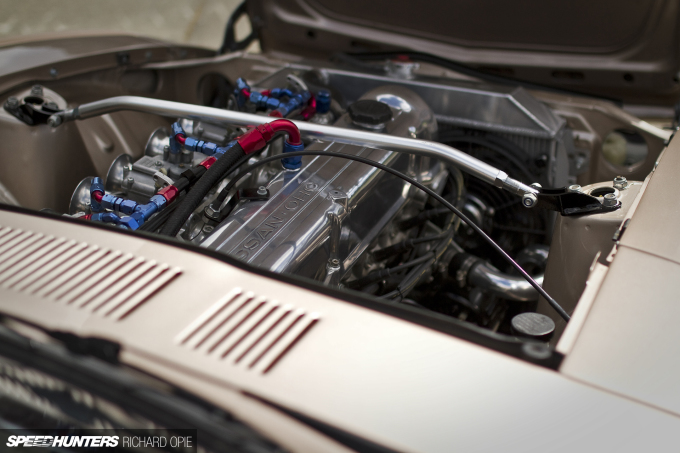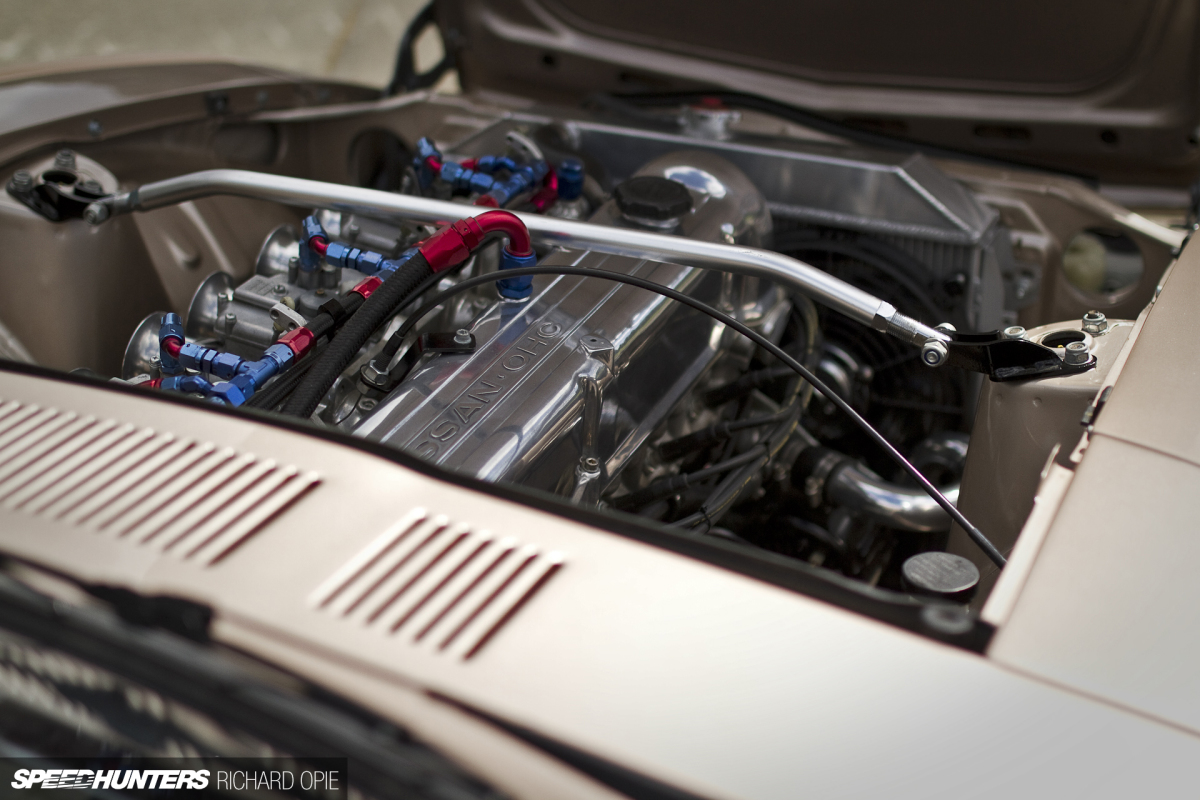 Here's where the purists will sit up and take real note. Although the initial plan was to fill the void between the struts with a Nissan RB25 engine, the 280Z's original L28 remains bolted beneath the car's characteristically long nose.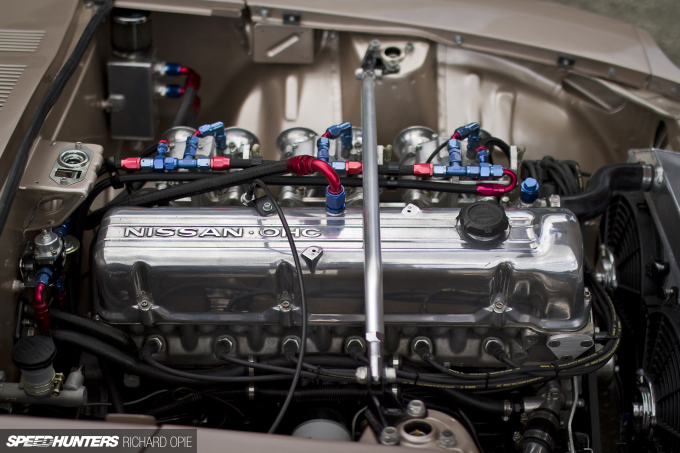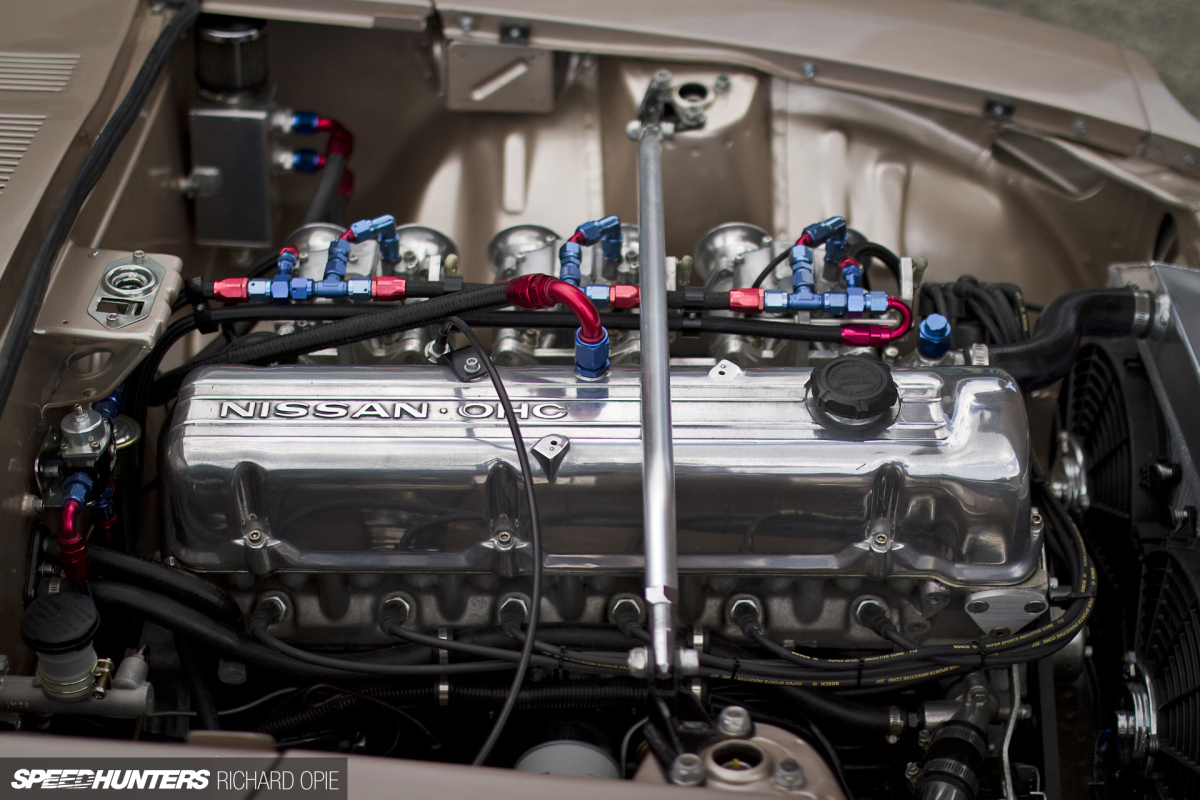 When it comes to engine bays there's something to be said for period aesthetics, and the 280Z speaks a million words. Although a non-crossflow design, the old L-series command serious attention when treated to a high level of detailing; Anthony's L28 benefiting internally from a thorough rebuild as well, including a slightly more aggressive cam grind.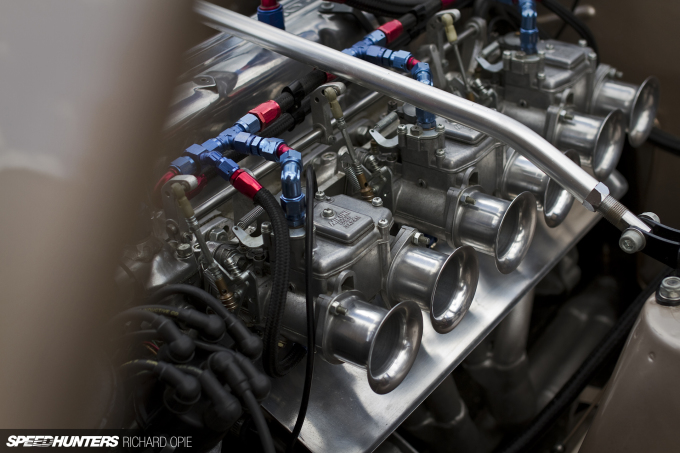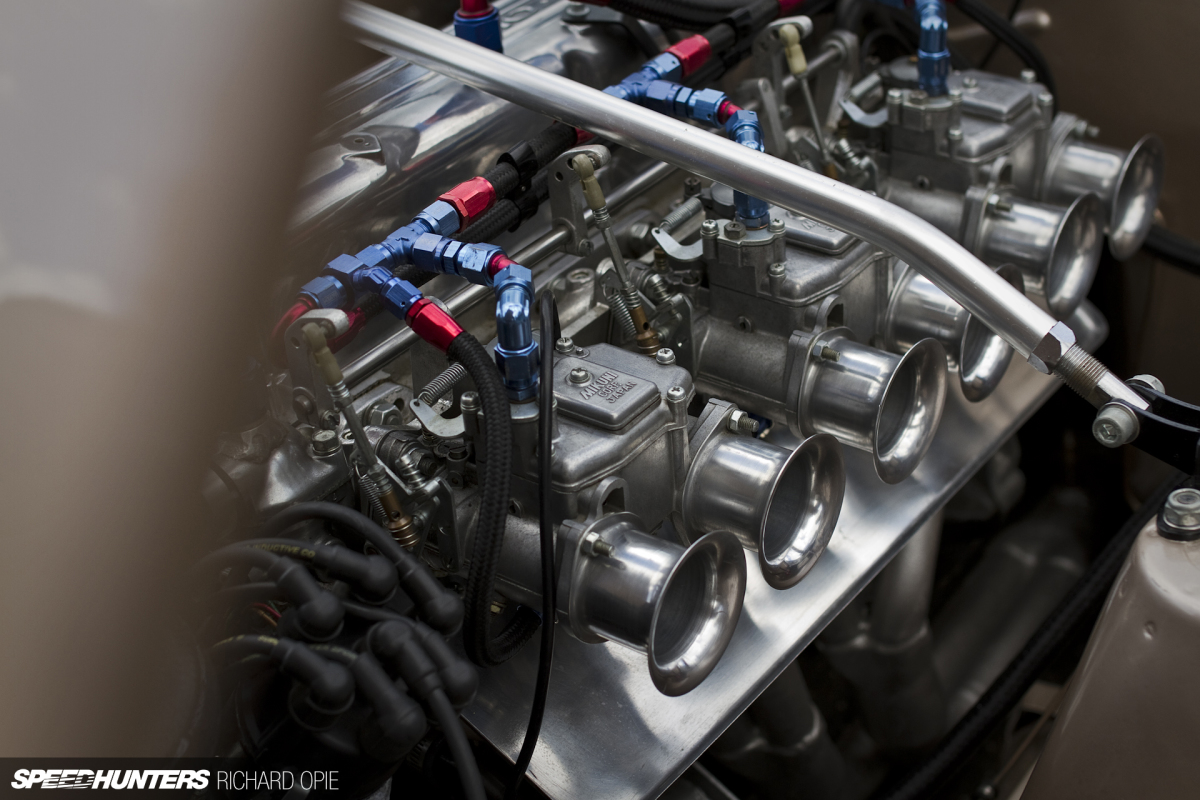 I'm not sure if there's a sight more functionally aesthetic than a set of side-draft carburettors slung from an old engine. The L28 makes full use of a Mikuni PHH44 carb trio sucking air through 60mm trumpets to replace the original, rudimentary electronic injection system these cars were blessed with from factory. Beneath the alloy heat-shield a glimpse of the 6-2-1 headers can be caught, directing spent gases to the rear of the car via a 2-inch exhaust.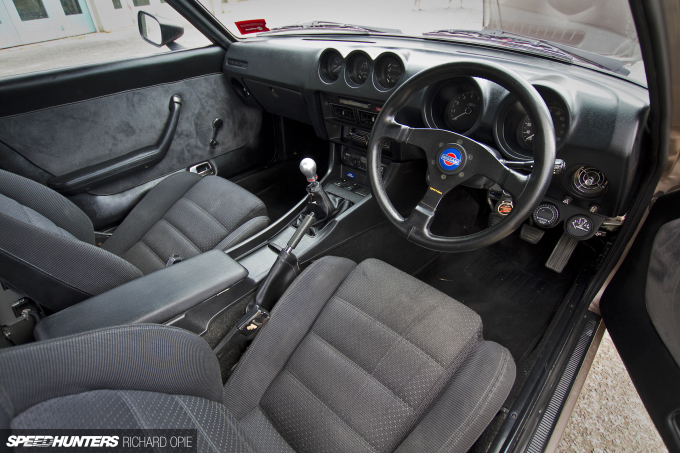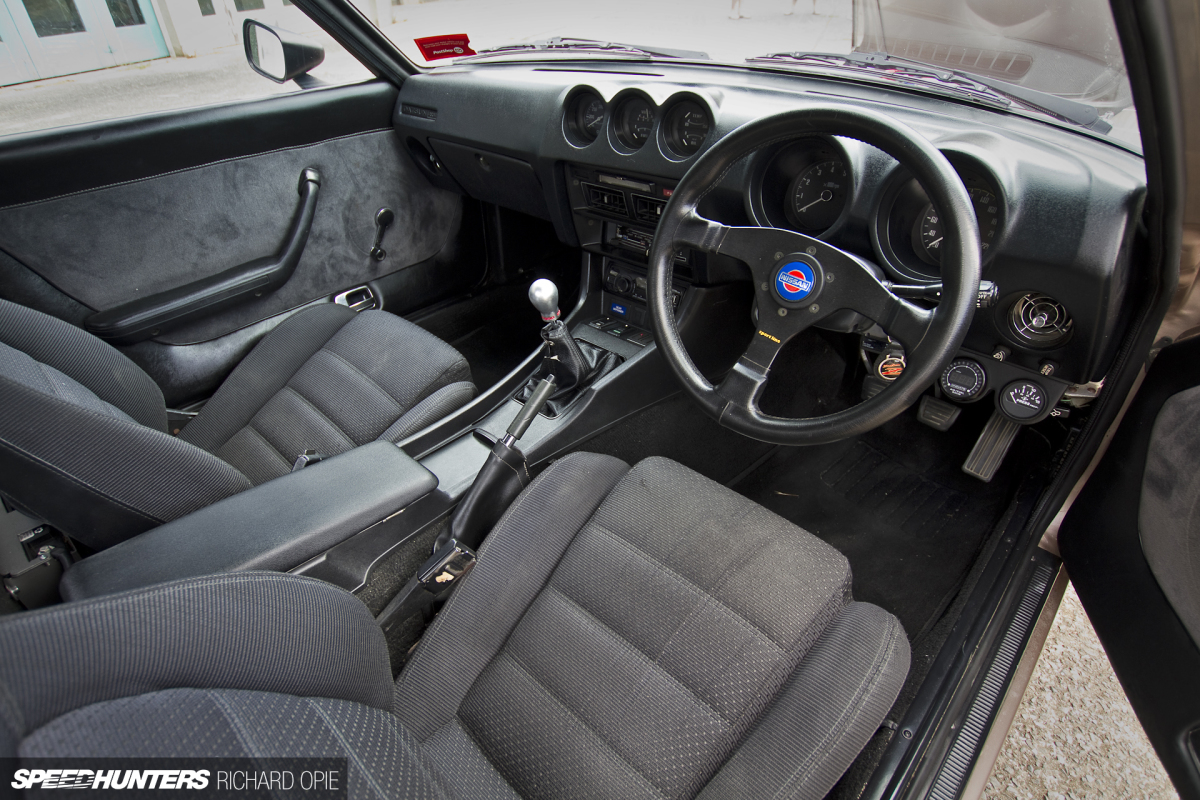 Open the door and things have been slightly updated. Mazda MX-5 seats take place of the OEM items, while a chunky Sportline wheel and Momo alloy gearknob provide an improved tactile experience while preserving the Z experience.
The Elixir Of Youth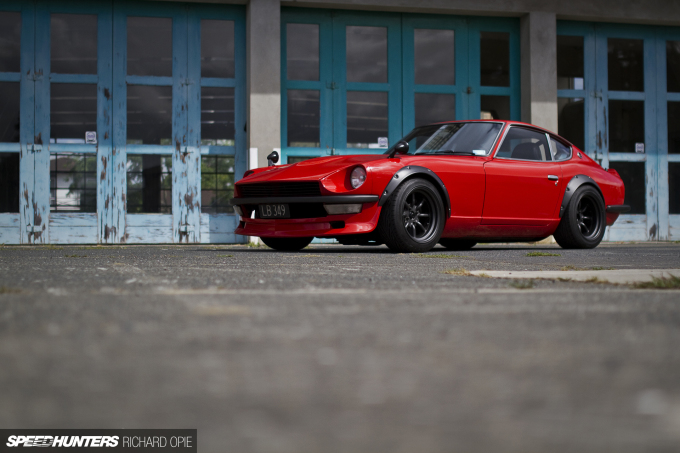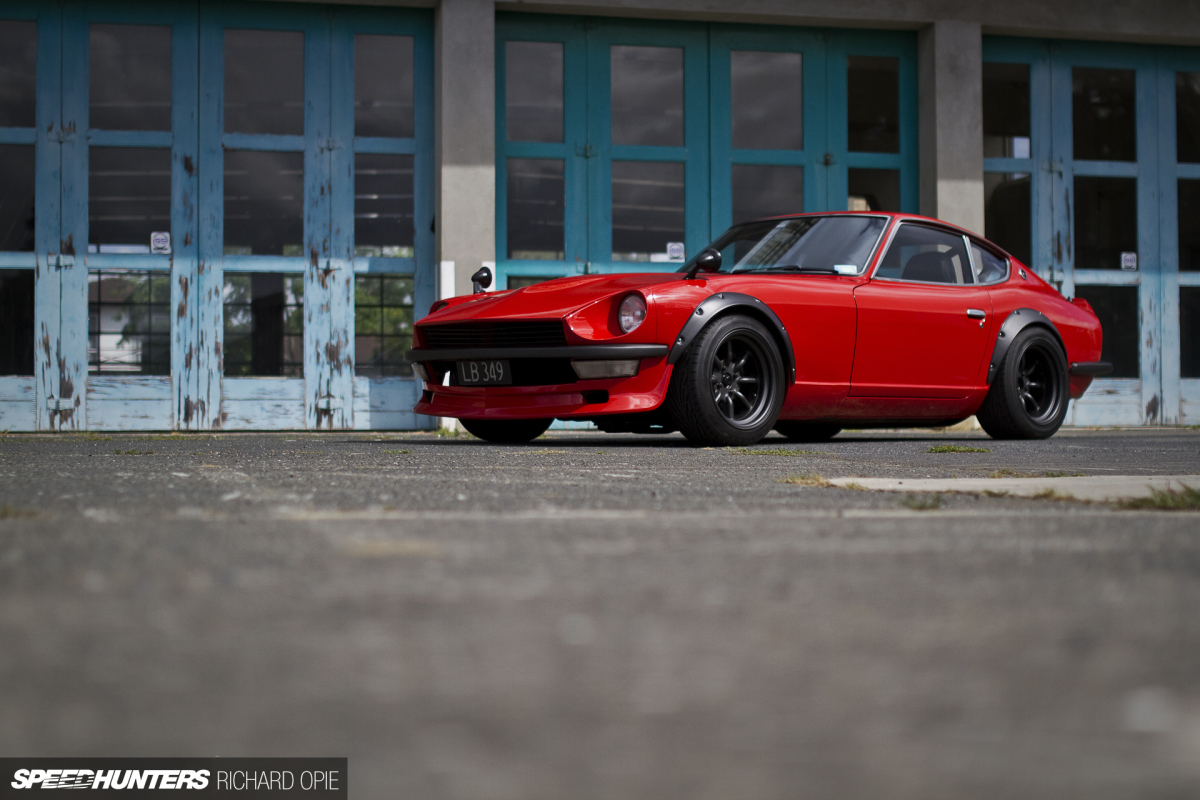 Moving ahead to the striking red 1974 240Z belonging to Mikey, things are a whole heap less subtle. Arrow-straight and swathed in an energetic red hue, 'shrinking violet' is not the term that immediately comes to mind when the lithe coupé is positioned within the viewfinder.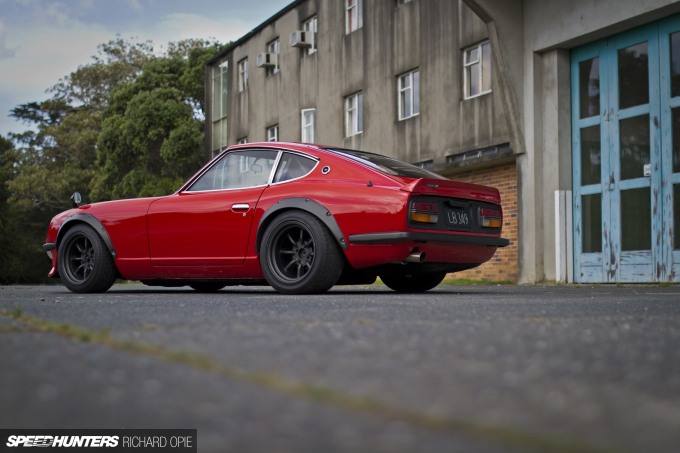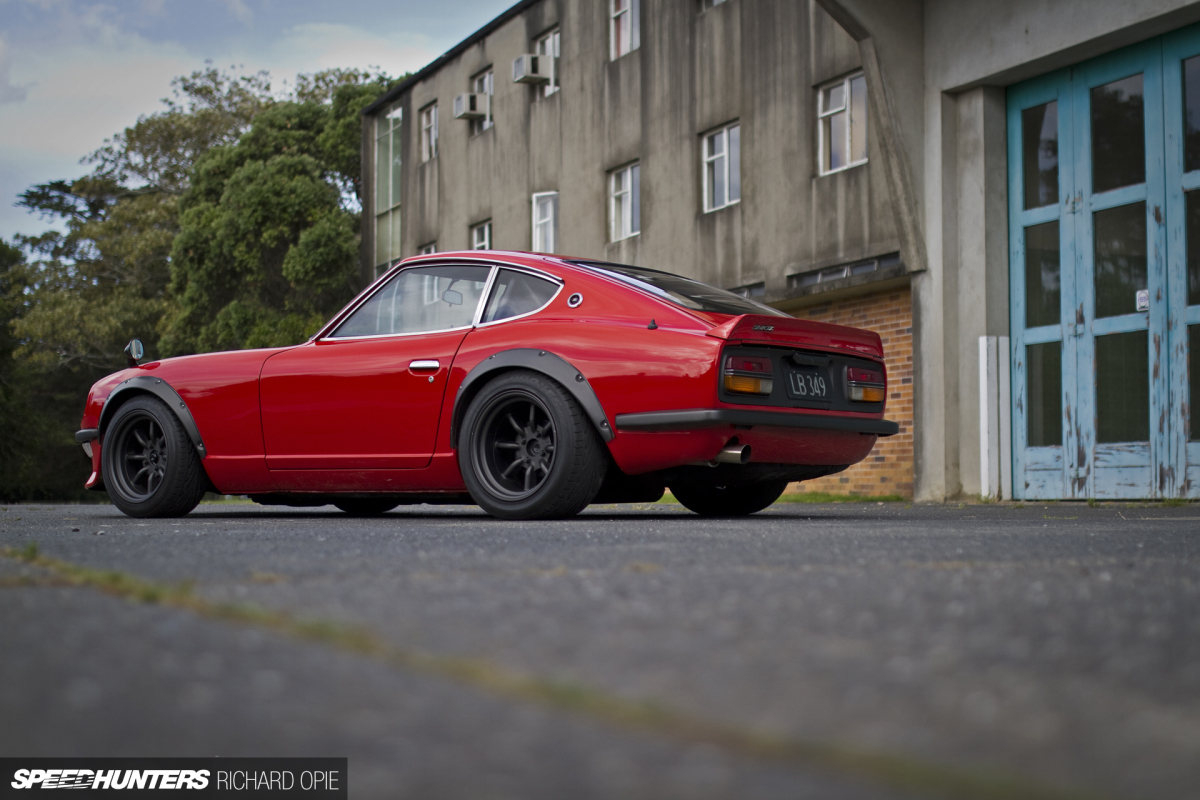 That factory-fresh bodywork is the result of a bare metal respray; just one of myriad of tweaks Mikey has applied to what he terms, his "first proper car," preceded largely by a selection of motorcycles and scooters. Interestingly, the initial passion was ignited after reading a Speedhunters story by Dino some five years ago, prompting a search for a suitable base 240Z.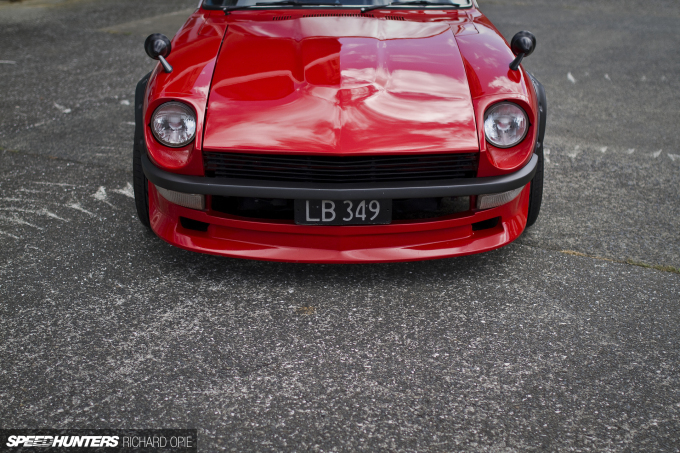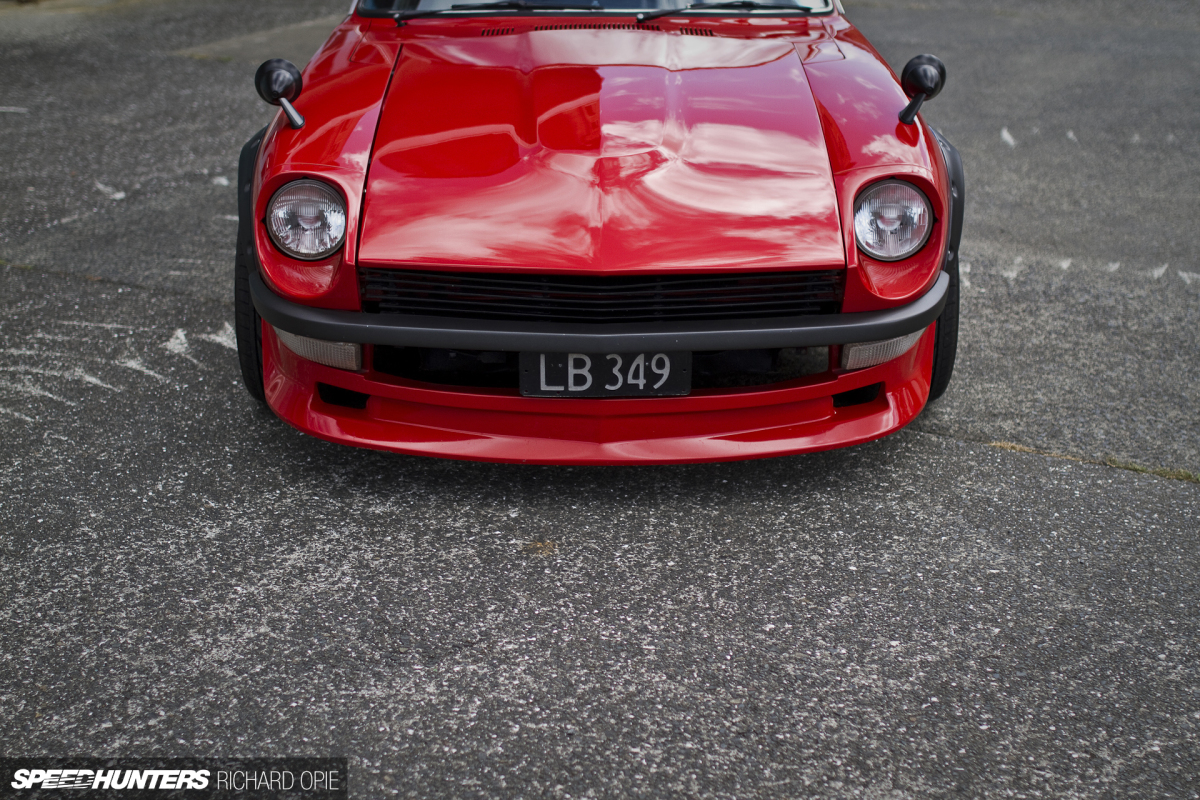 You're probably thinking that this example looks suspiciously period in its approach too, and outwardly speaking, you'd be right. Like Anthony's car, Mikey employs a front air dam for just the right amount of aggression, as well as a pair of essential (but largely useless, if you've ever tried to use them) genuine Nissan Z fender mirrors.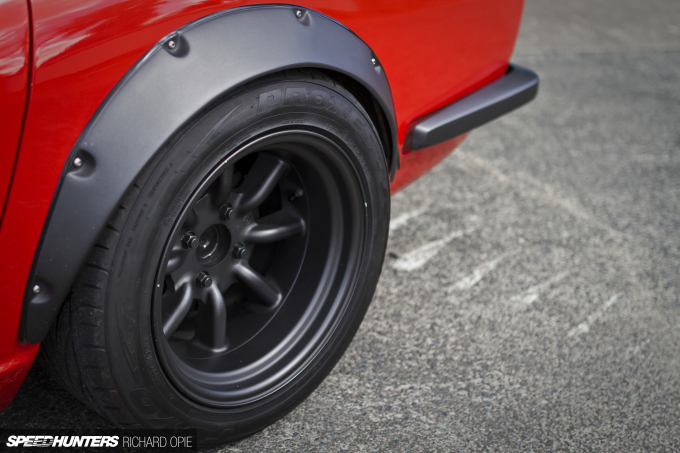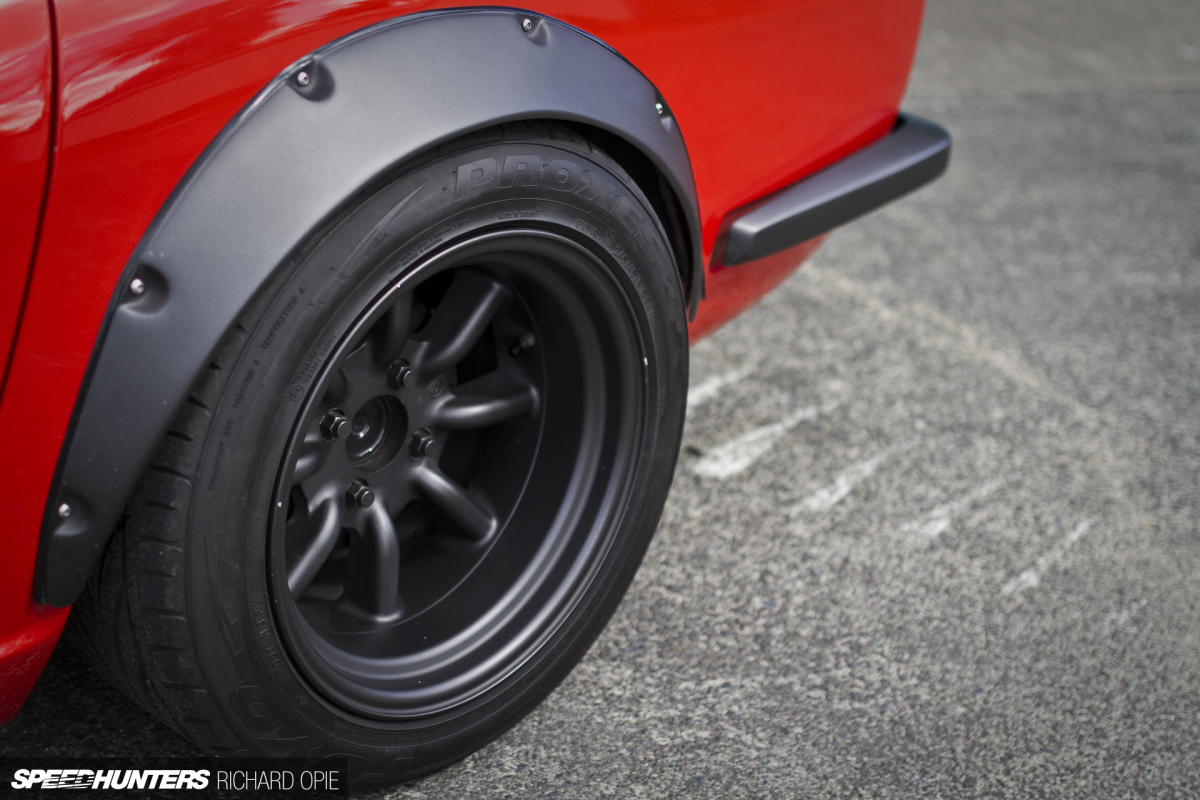 Will an S30 sitting on RS Watanabe 8-spoke wheels ever go out of style? Probably not, hence the choice of the 16×8.5-inch front, and 16×9.5-inch rear examples all tucked neatly beneath a set of satin gunmetal 240ZG fibreglass flares.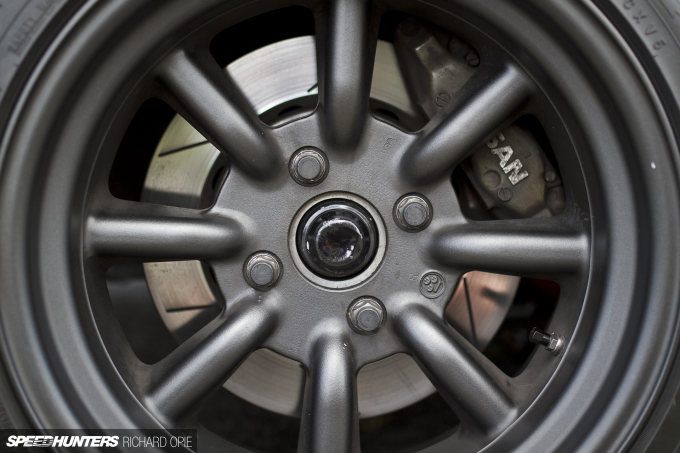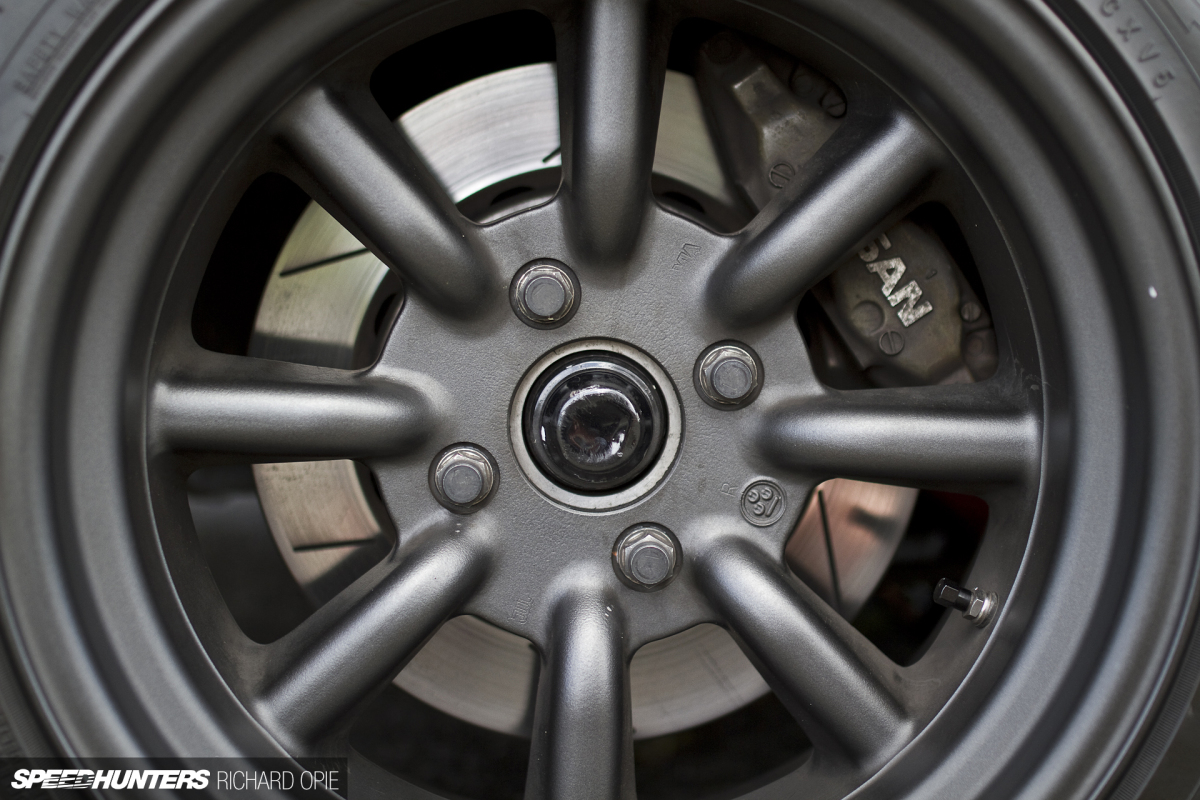 Peek past the eight spokes and the brakes gives an idea of what power potential the 240Z is packing. Increased demand at at the track prompted an upgrade with Wilwood 300mm vented rotors clamped by R32 Nissan Skyline GT-R 4-pot calipers; the package hauling up the 240Z lap after lap without a hint of fade.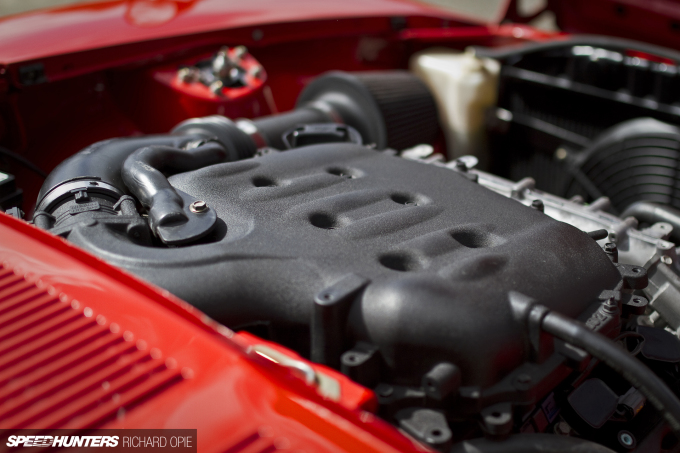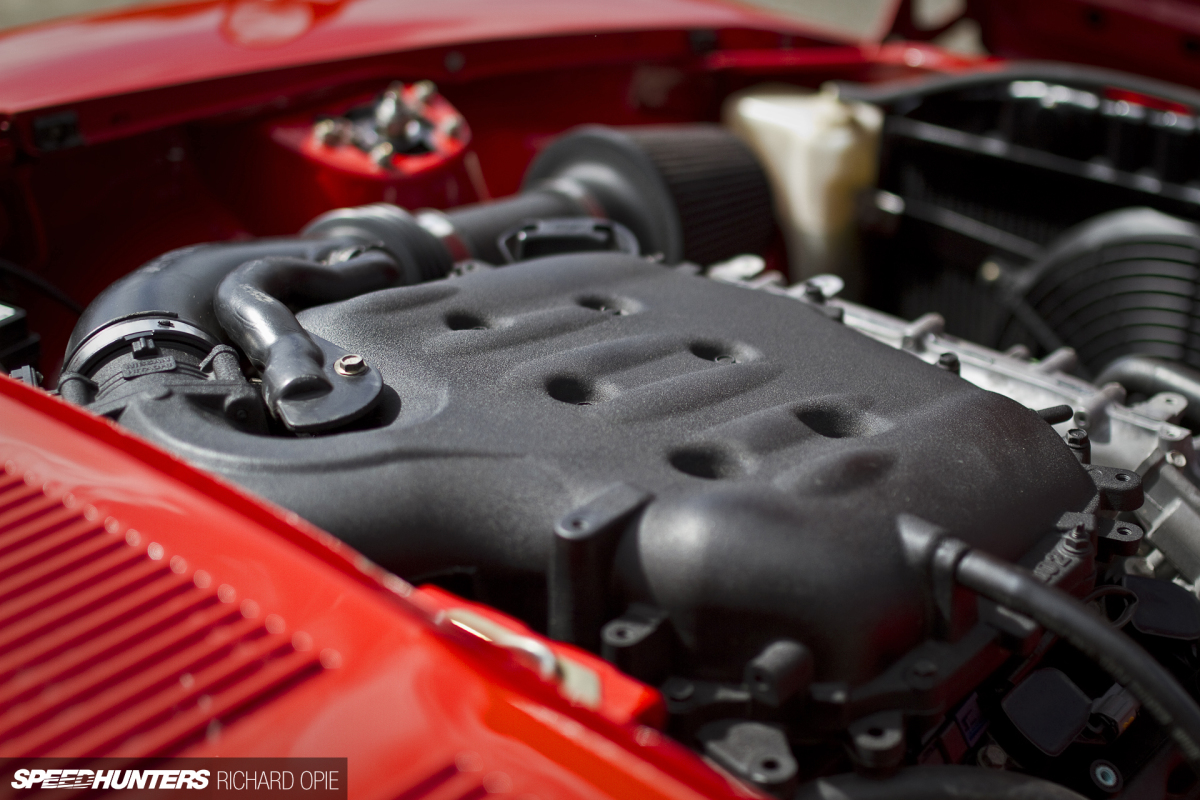 Lifting the bonnet forwards, the reason for the enhanced stoppers becomes clear. Like Anthony, Mikey's initial thoughts circulated around Nissans RB family of engines – in particular the RB26DETT – as means of getting around the expense and relative lack of gain for dollar spent when extracting power from an L-series engine.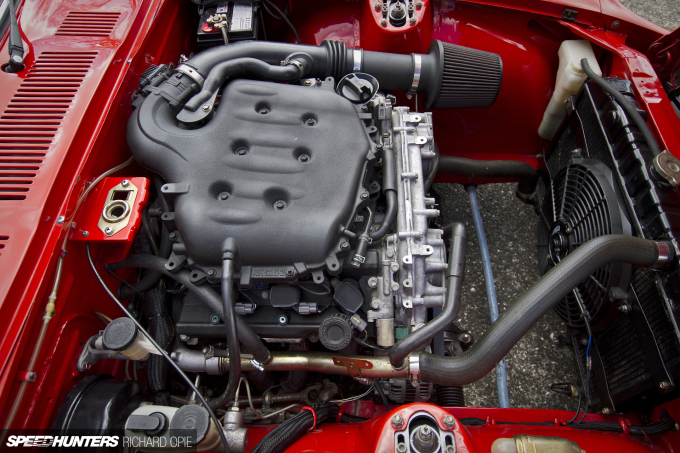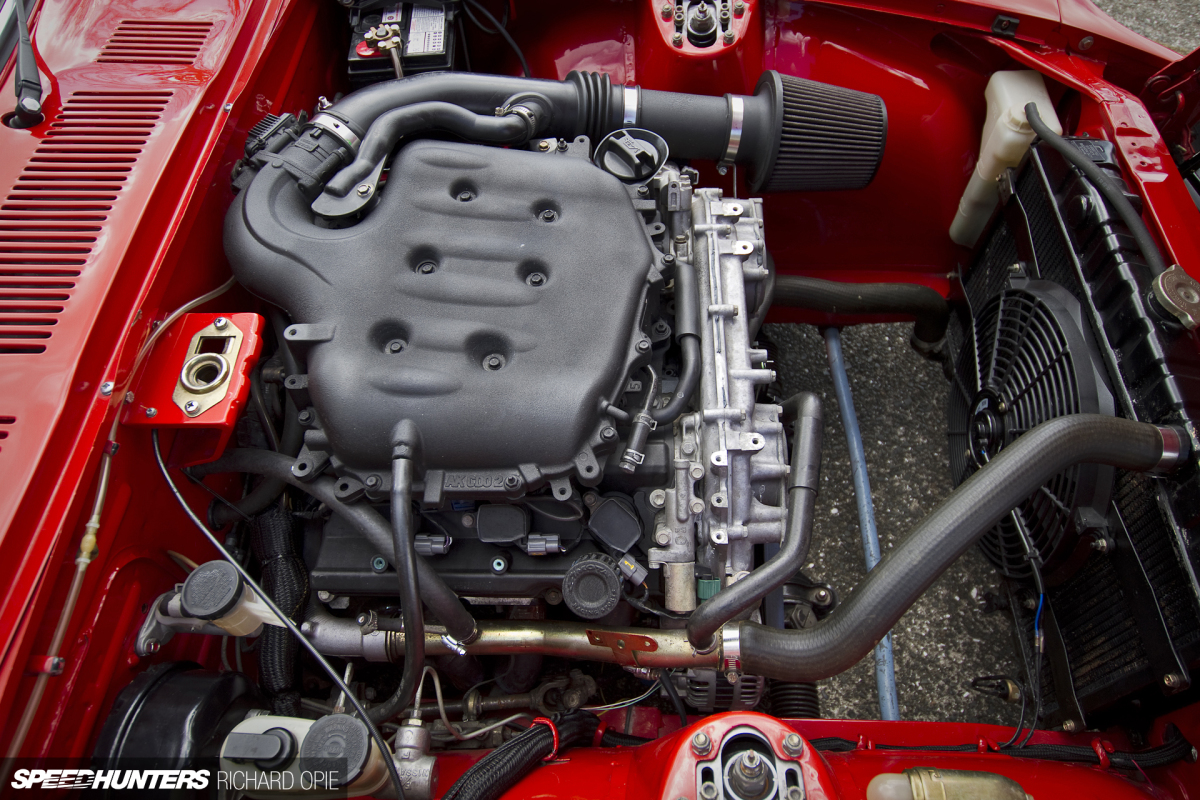 What eventuated however, was a VQ35DE V6, sourced from a 350Z complete with its 6-speed manual gearbox. Compared to the L-series, the function-over-form visual of VQ isn't exactly an oil painting; but then it doesn't need to be. There's around 300hp of naturally aspirated power on tap here, and the compact packaging enables the block to be mounted almost entirely behind the front axle line without drastic metalwork. With all-alloy architecture, the engine's light too.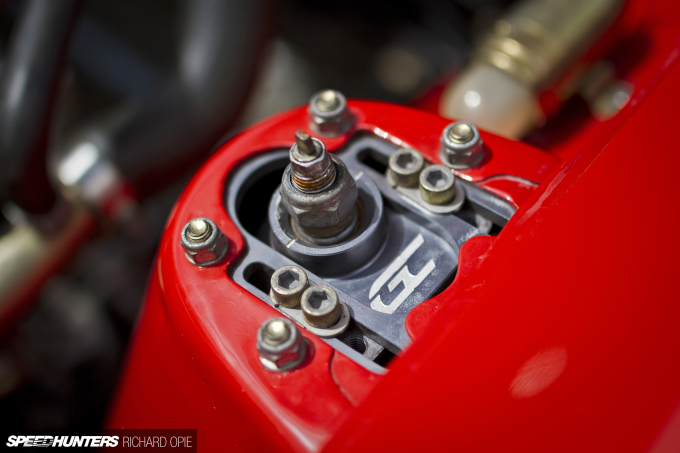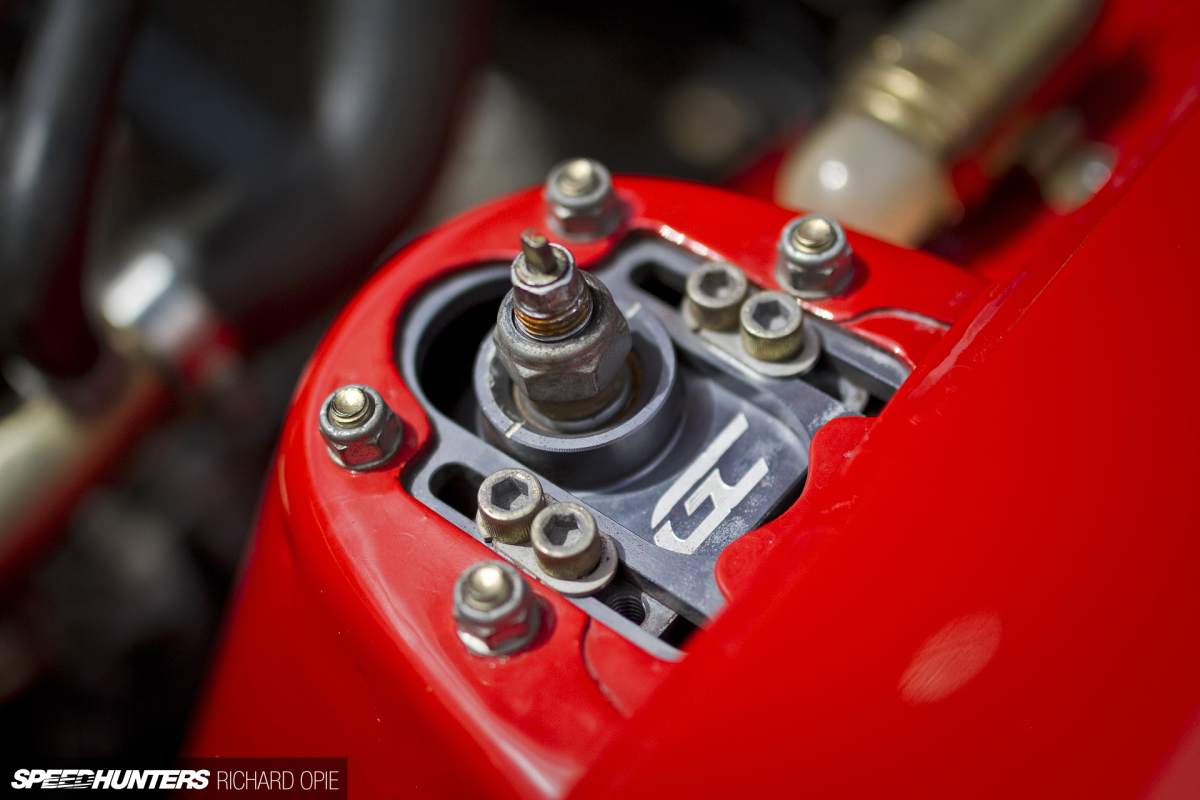 With the updated braking and VQ power delivery, it goes without saying that the Z's suspension was overhauled too. Neatly slotted strut towers front and rear (a byproduct of Mikey's attention to detail) accommodate Ground Control camber plates, with strut housings modified to accept adjustable platforms hosting Koni adjustable inserts at each corner.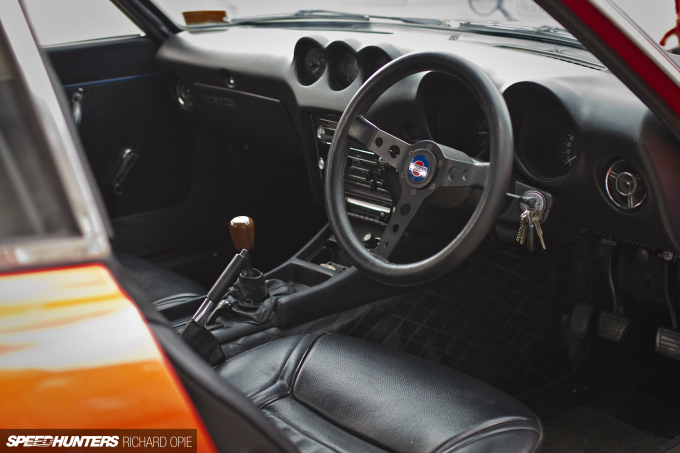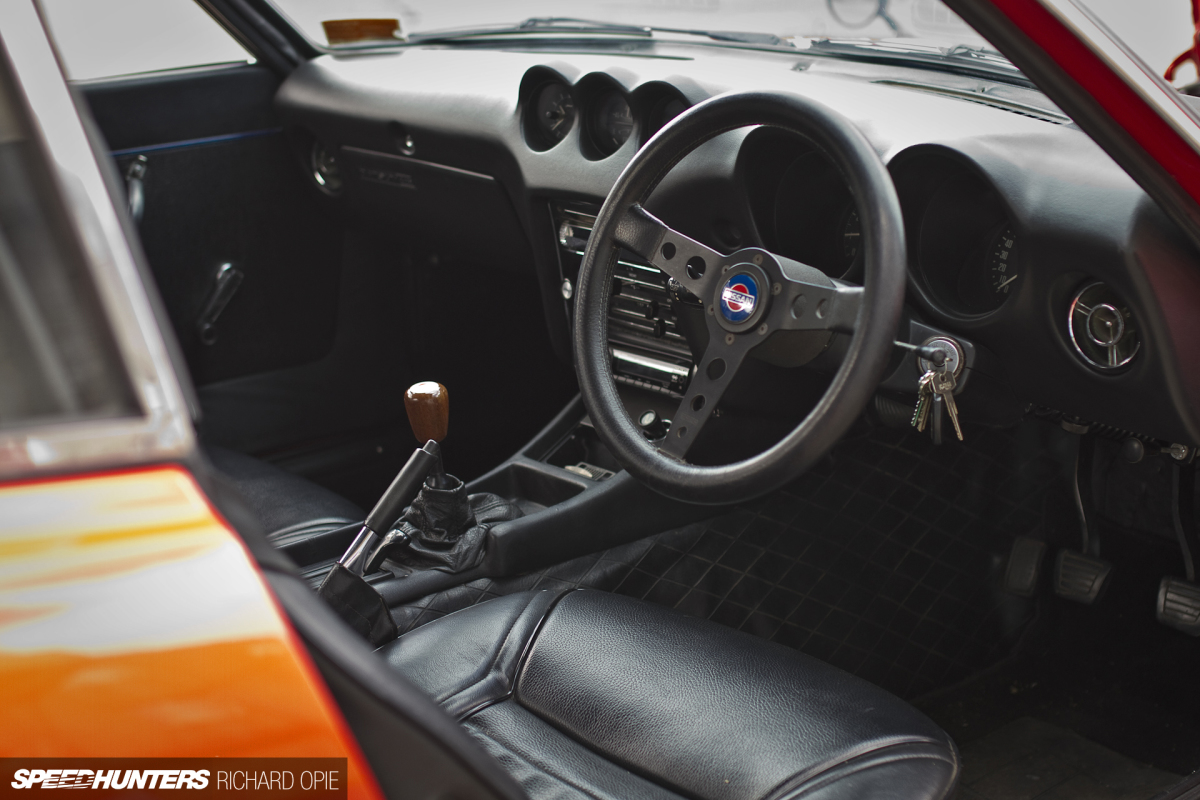 The interior may seem a little at odds with the powerplant choice. Things are largely as Datsun intended; the original vinyl floor covering and seats reupholstered to factory trim, complemented by the RS Watanabe of steering wheels – a vintage Momo Prototipo.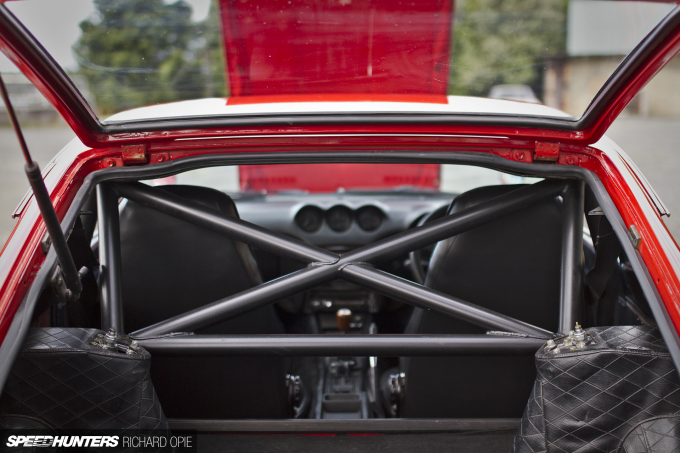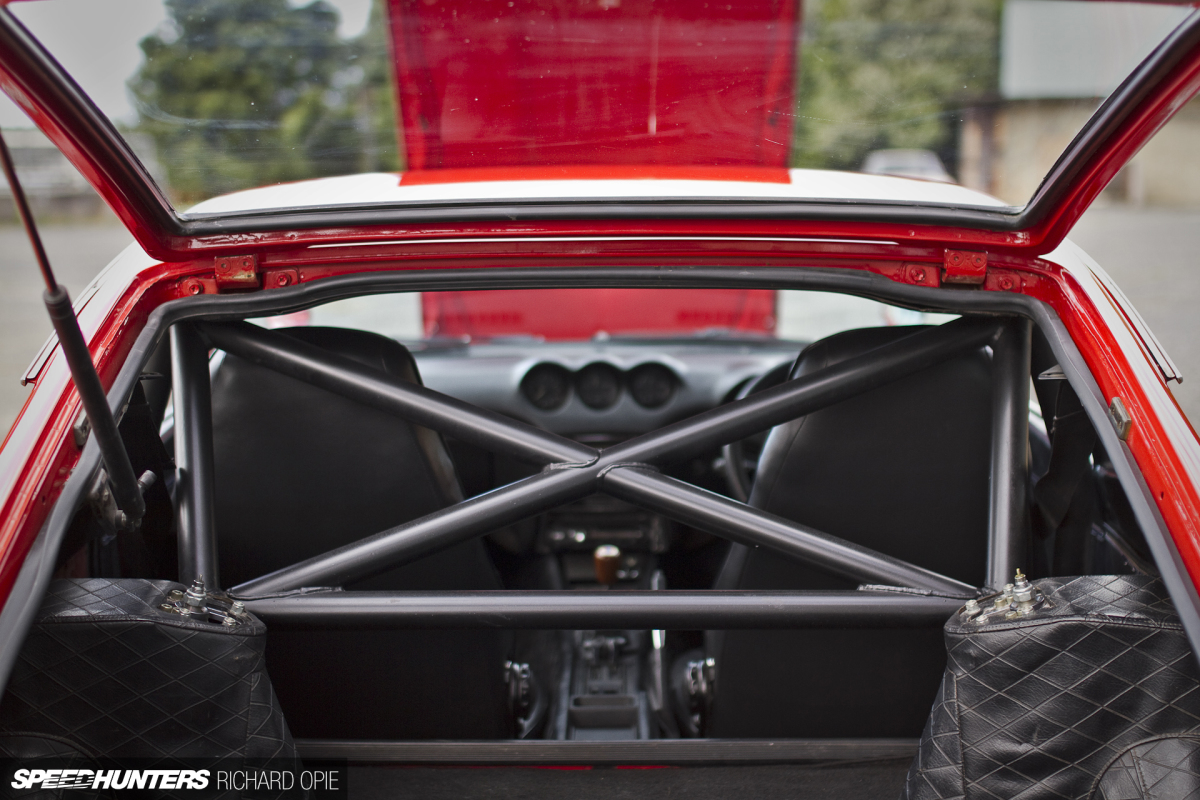 Added safety and rigidity comes by way of a half-cage installed from the B-pillar back. I can't explain why, but ever since a kid I've always thought cages were a great visual indicator of a fast car. It's just been one of those ill-formed preconceptions I guess, but thankfully, I was about to be thrown the keys to both of these cars to see just how different each build behaved in a real-world situation.
Run To The Hills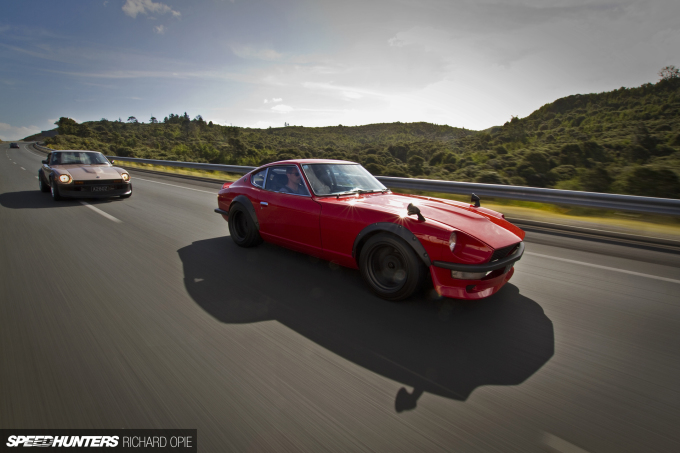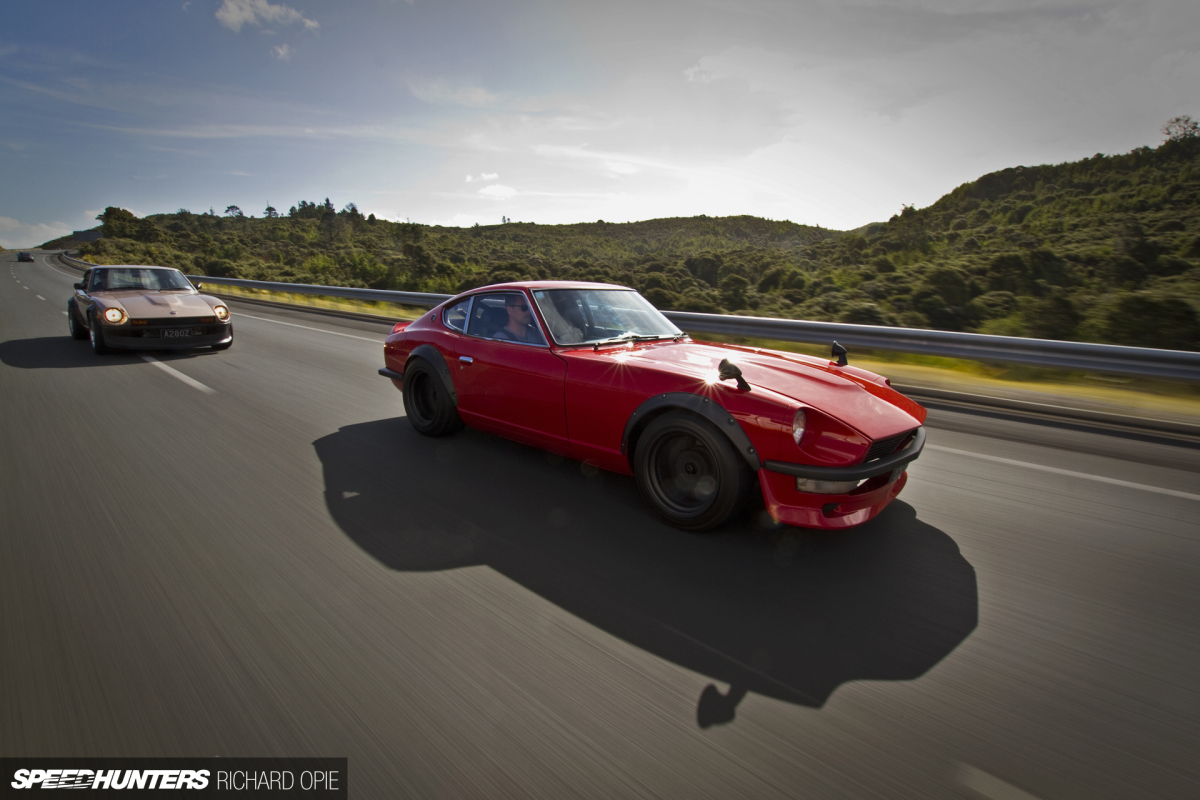 Living in New Zealand's largest city, Auckland, we're treated to a variety of driving opportunities all within less than an hour of each other. Motorway driving through rolling valleys on the outskirts of the city afforded the perfect opportunity to snap a few tracking shots of the Zs, as well as get a handle of the on-road presence and sound of these two similar, yet glaringly different 1970s Datsuns.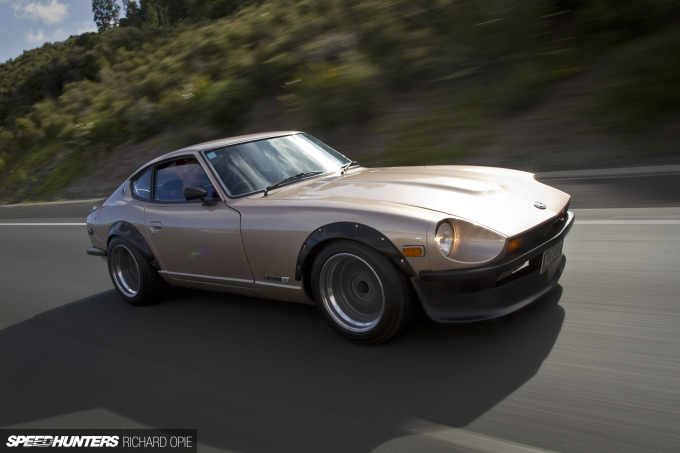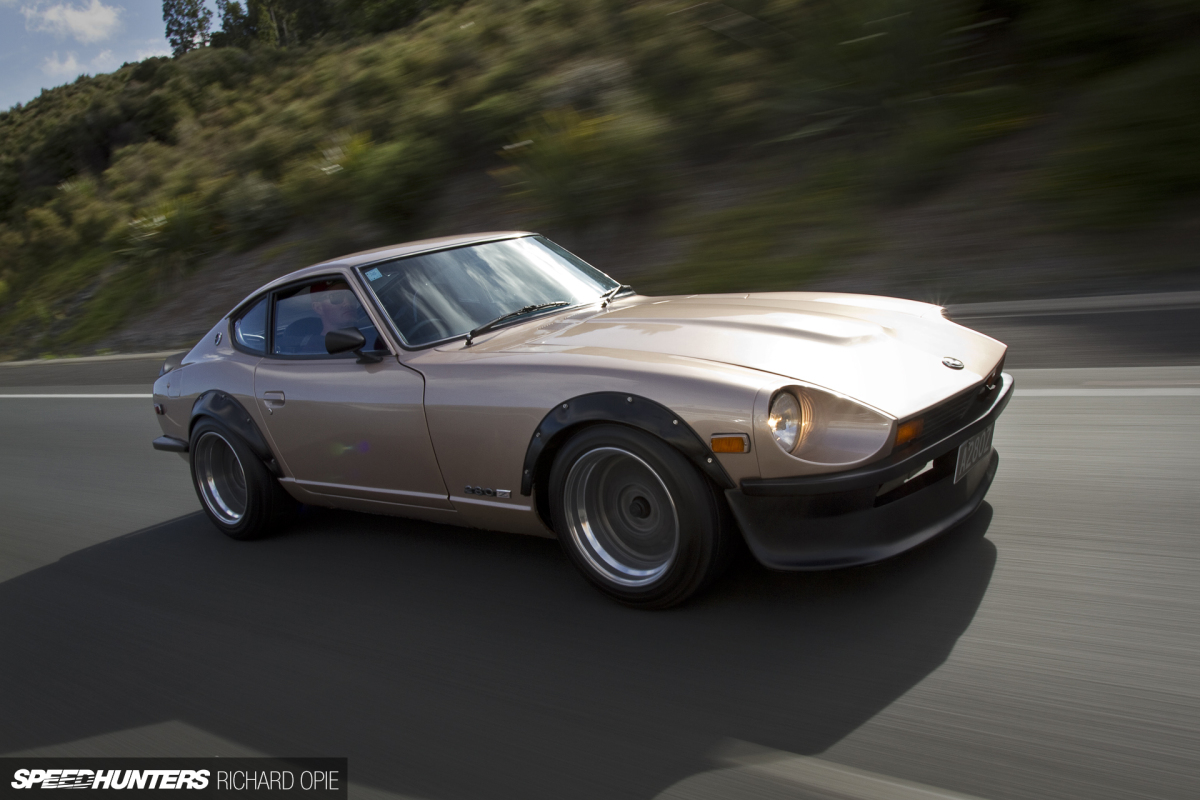 While the VQ of Mikey's red Zed (that's how we say 'Z' over here by the way…) emitted a guttural snarl as he changed back a couple of ratios and dropped the hammer to pass, Anthony's mild-tuned L28 produces a tone that's easy on the ear and almost orchestral in its delivery. Open trumpets just have this innate ability to let the listener know that something mechanical is going on beneath the bonnet.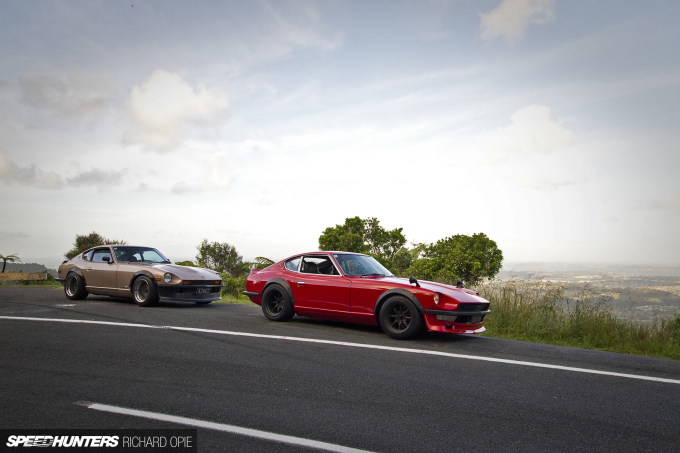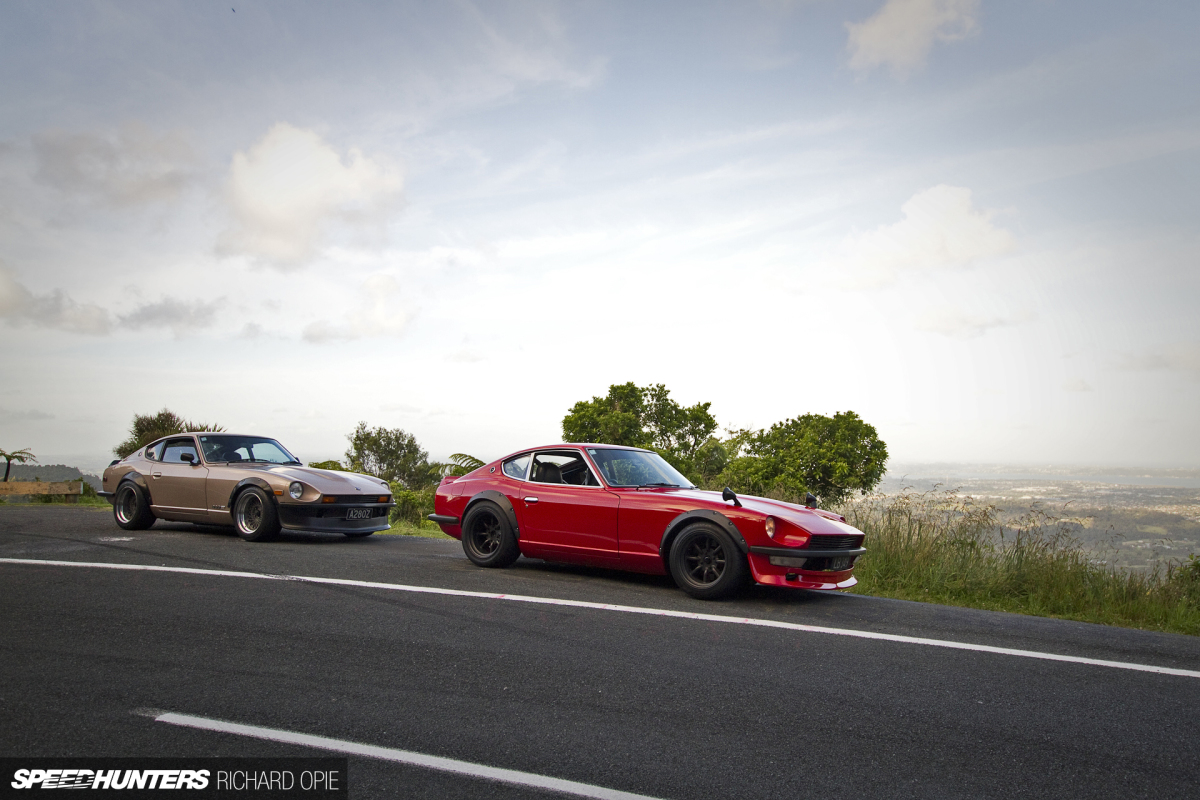 It wasn't long however, until we reached the hills – in this case one of the myriad of twisty strips of asphalt that wind their way among the Waitakere Ranges on the western side of Auckland. Call it the perfect place to get acquainted with these two machines.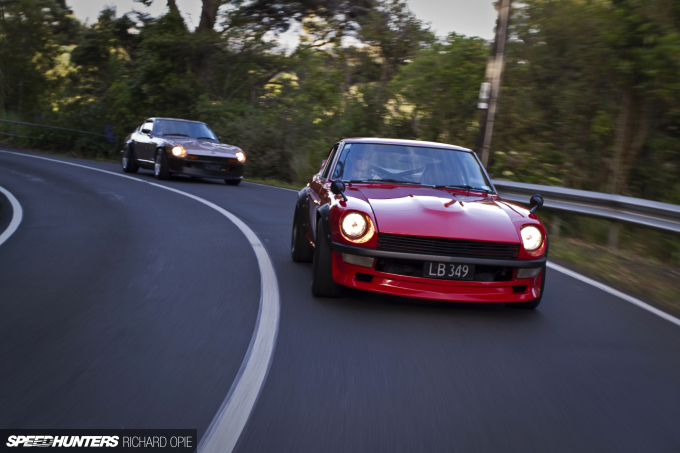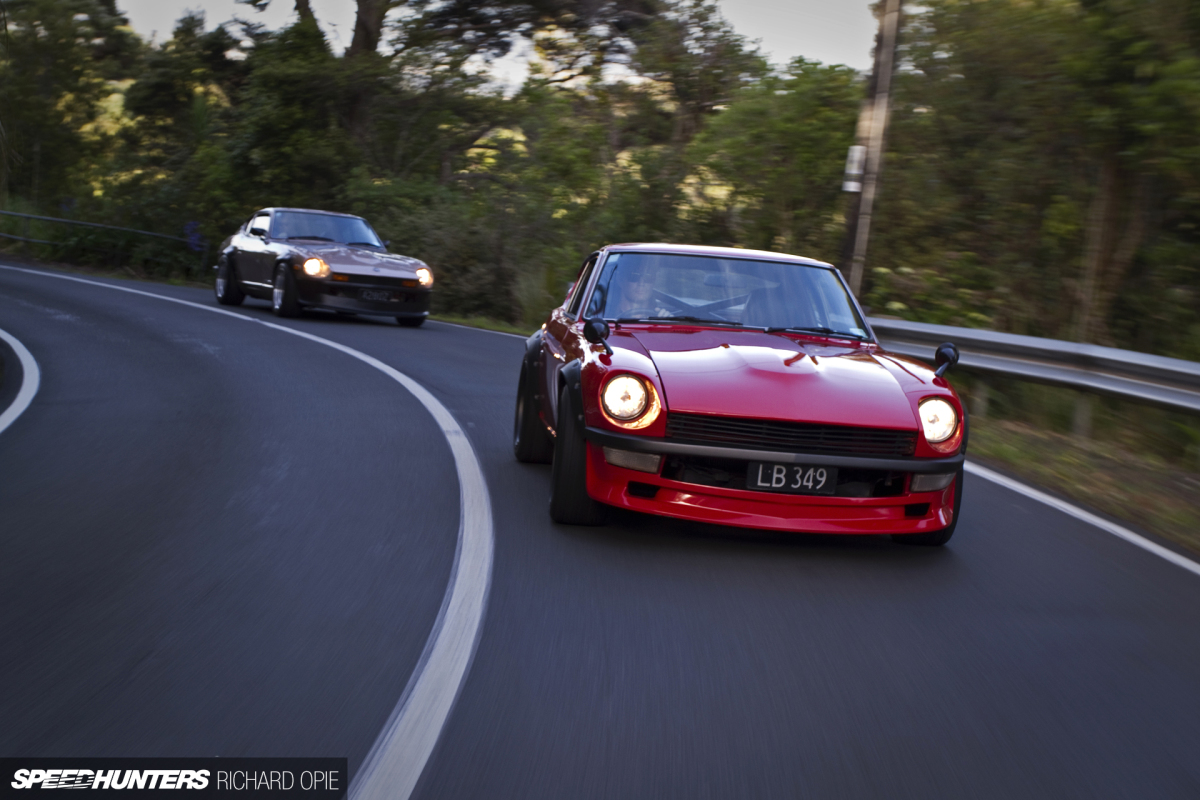 Seated in the vinyl of what, to be honest, wasn't the most immediately supportive seat I've parked my butt in, it was with some trepidation I buckled myself in with the non-retractable 3-point belt and spun the key in the ignition. The immediate advantage of a modern engine hit home – they start when you turn the key. No faffing around with a choke, or three pumps of the throttle then start – just instant party time.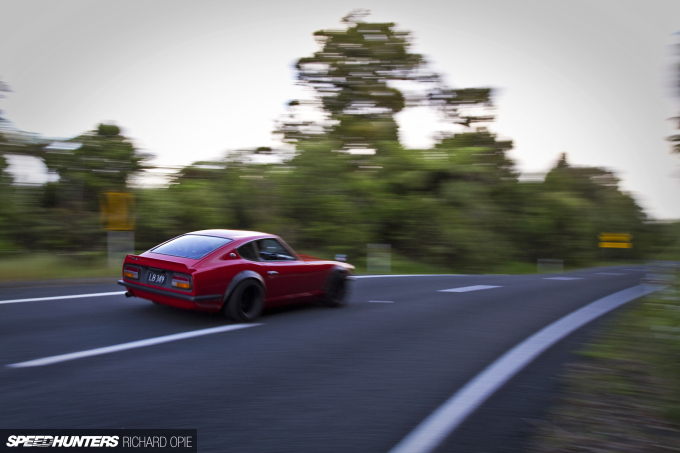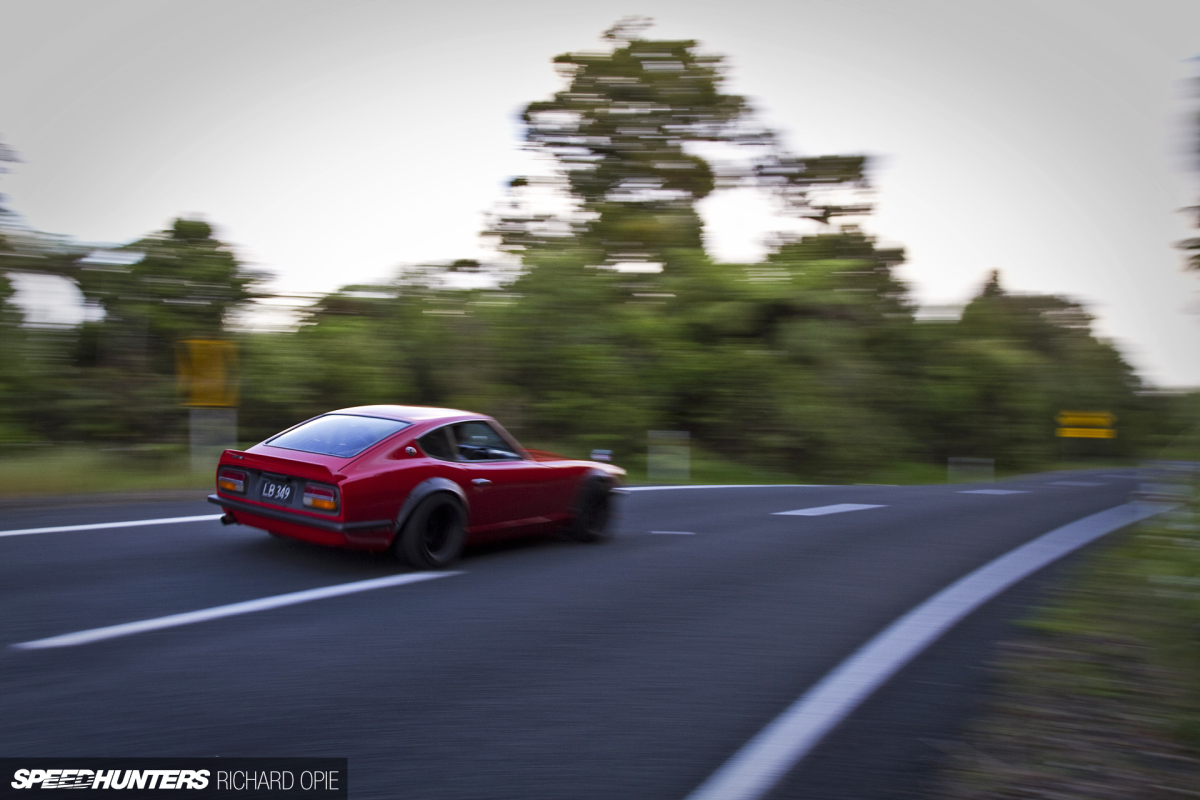 Thanks to a factory clutch, easing off wasn't a big deal, but as soon as things were moving and my right foot was planted all the way down, the appeal of the VQ became all too clear. Torque. Mountains of it, from idle through to the 7000rpm redline. While a 350Z is no slouch, its engine in a 240Z weighing approximately half a ton less is another level. Unless you're careful on the throttle it'll light up the 245/45R16 Toyos effortlessly through the first three gears – in the dry.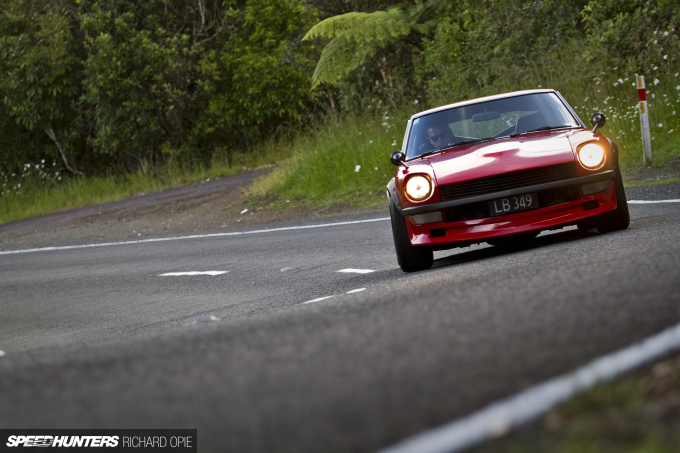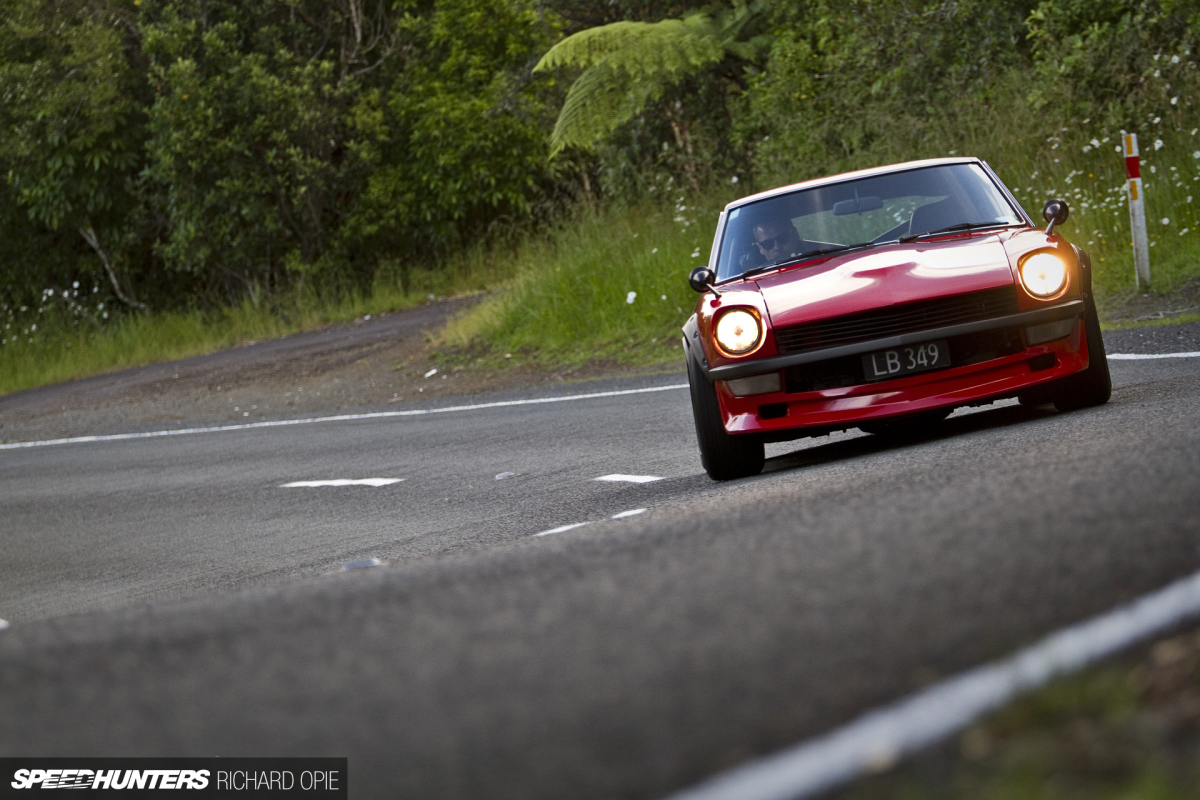 Built for comfort it is not though. The heat introduced to the cabin by the V6 is significant, as is the heightened rattling and banging so typical of old cars with serious suspension setups. But none of it matters. Revelling in each decibel of the VQ's abrasive melody, the aggressively valved Konis kept the Z flat through corners, although turn-in was an effort in slower corners due to the wide track and aggressive R180 clutch LSD. This in itself requires some learning as the unit locks up quickly on acceleration, meaning lifting off to turn in is a necessity, while picking your line and stamping on the loud pedal on corner exit was a technique demanding some forethought.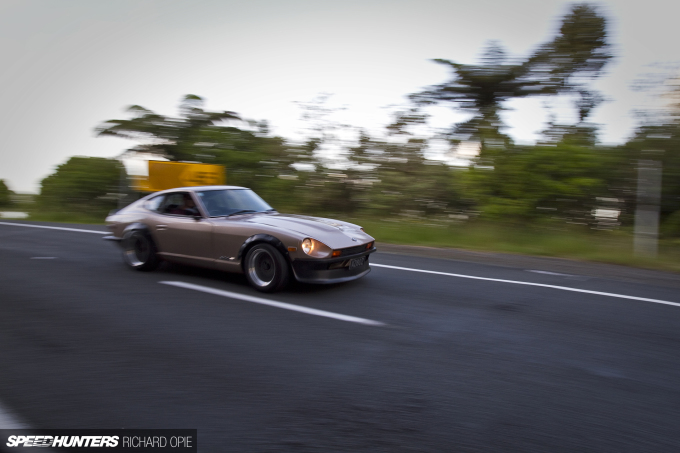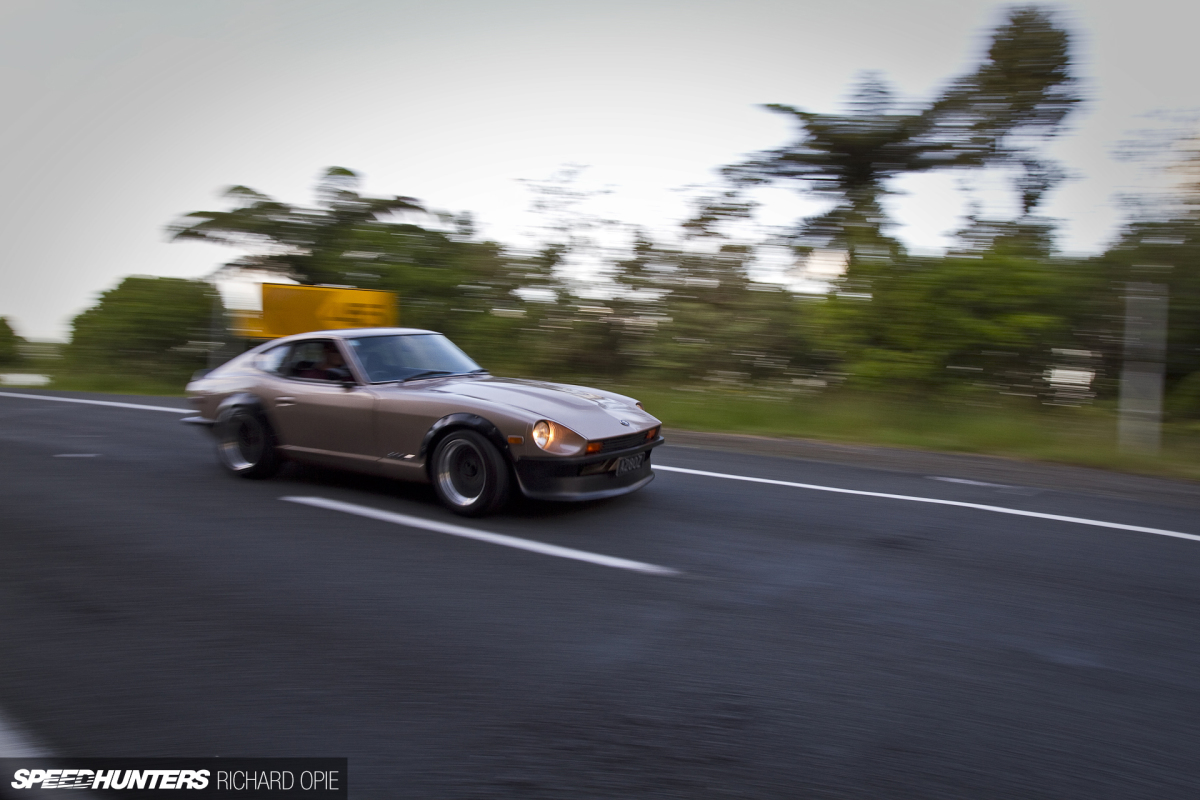 Mikey's car definitely rewarded a driver willing to push a bit harder and get a bit closer to the edge. And the harder I pushed, the easier it was to maintain a flow through the cambered back roads. Soon enough I was due in the driver's seat of the period-perfect champagne 280z, a contrast I probably wasn't ready for. Anthony's car immediately felt more usable, friendlier to the casual hoon opposed to the focus of the 240Z.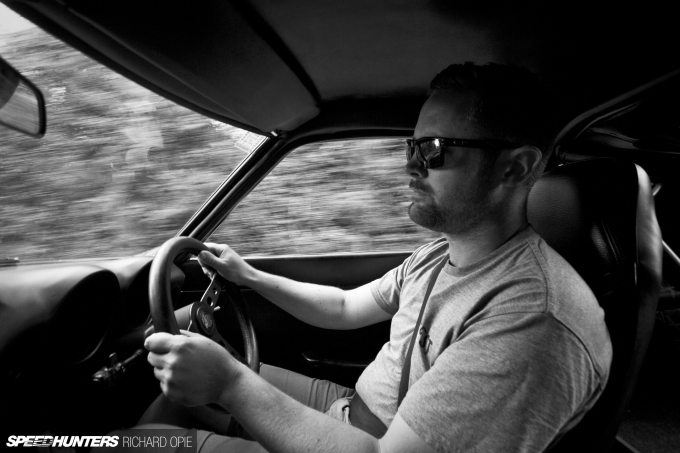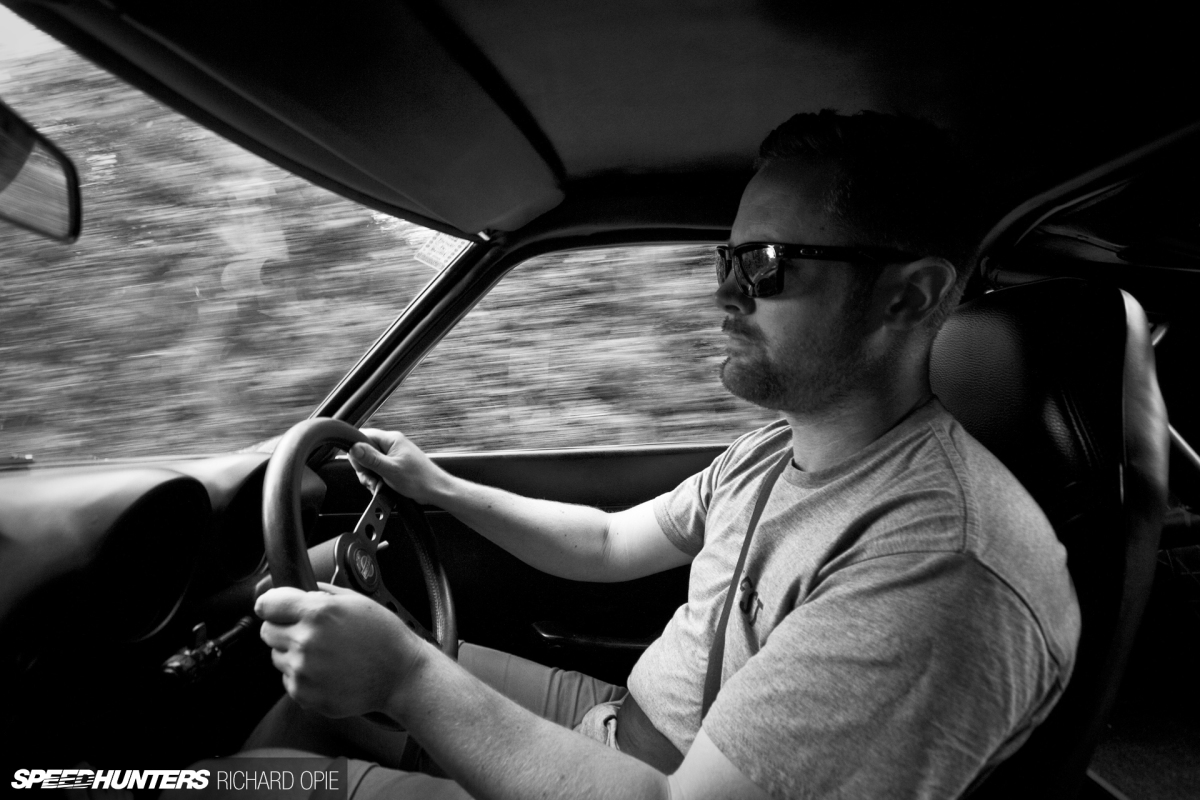 Plonked in the MX-5 seats, things were obviously more comfortable, but the smoothness of the L28 thrumming away blew away the coarse VQ35 by comparison. Inline sixes are, of course, revered for their perfect primary and secondary balance, and although an old design, L-series Datsun engines more than exhibit this. Although definitely lacking in power and torque compared to the VQ, the L28 endowed the 280Z with a very real sense of nostalgia. This is what retro motoring is about – sawing through a less-than-perfect old 5-speed gearbox, keeping the L28 in its powerband all the while listening to the Mikunis devour the cool evening air.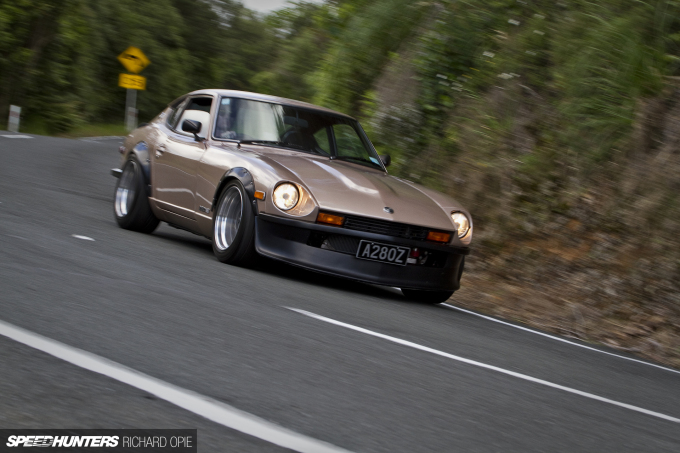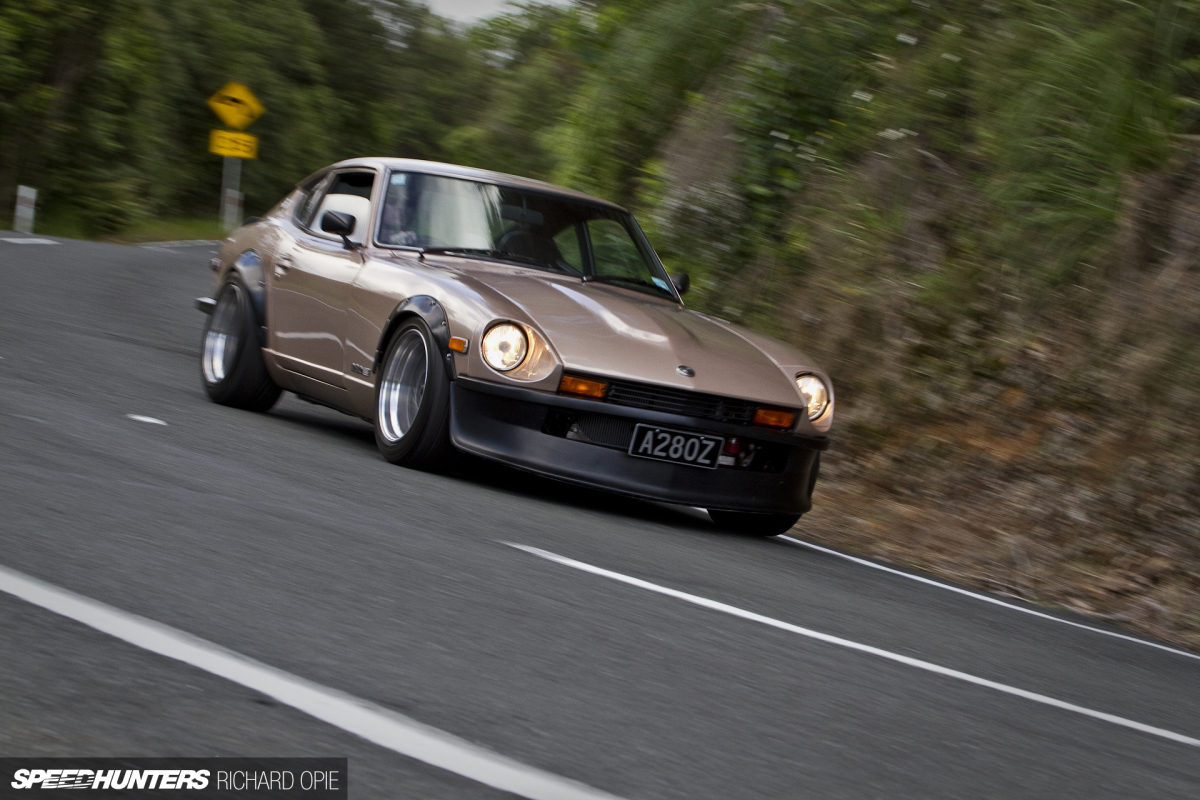 I'm unashamedly an old car fanatic, and Anthony's Z delivered all of the traits I've grown to adore about older vehicles. It just felt usable. The more compliant suspension setup proved to be a bonus on the bumpy hillside tarmac, leading me to think that as a vehicle to cover longer distances at pace, this car might well be the better option. Take things to a track however, and the sheer aggressiveness of Mikey's 240Z would surely prevail.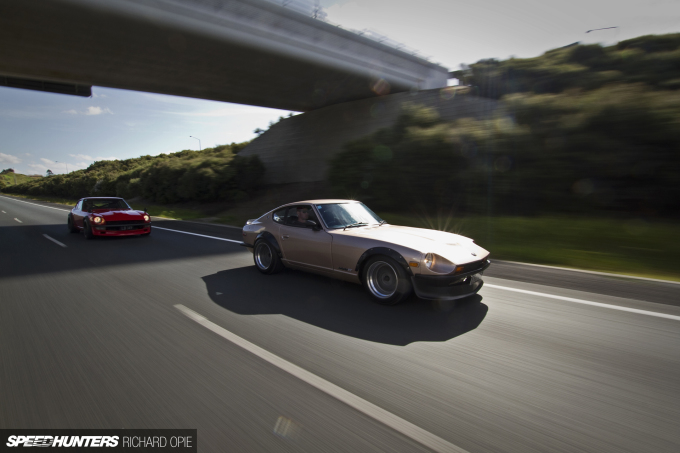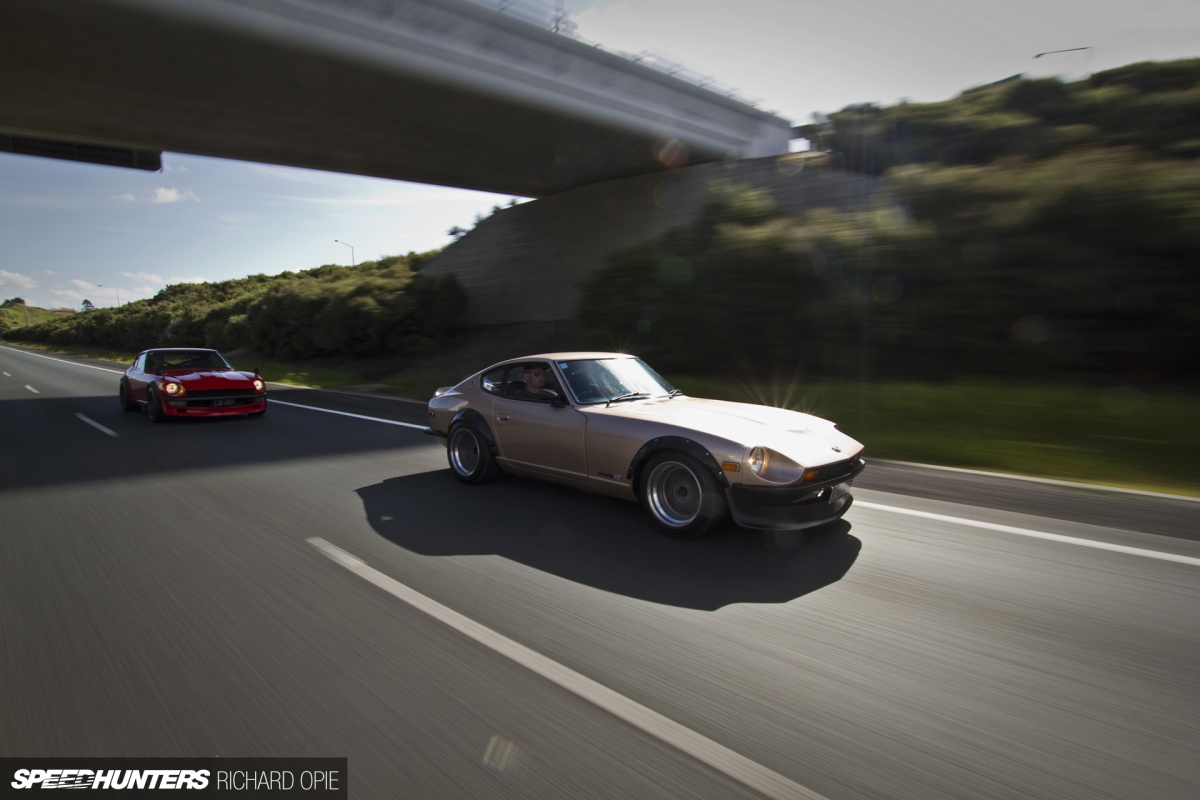 As the sun sank beneath the horizon, an afternoon of Datsuns, tall stories and exploration of why two different car guys built two different takes on the same chassis came to a reluctant conclusion. Is there a right or wrong way to go about creating your nostalgic steed? Should you eschew tradition in favour of modern efficiency? You know, I don't think there's a definitive answer. As long as the two schools of thought continue to develop, the scene will continue to prosper and bask in the radiance of creative interpretation.
Richard Opie
richy@speedhunters.com
Instagram: snoozinrichy
Cutting Room Floor