Badges Of Honor
Earlier this year during a Skype chat with fellow Speedhunter Bryn, he brought up an idea for a story – stickers. 'Stickers?', I wondered to myself, not exactly sure what he was getting at. Then he explained more, talking about how it might be cool for me to go through my collection and put together a post about some of my favorites and what they mean to me.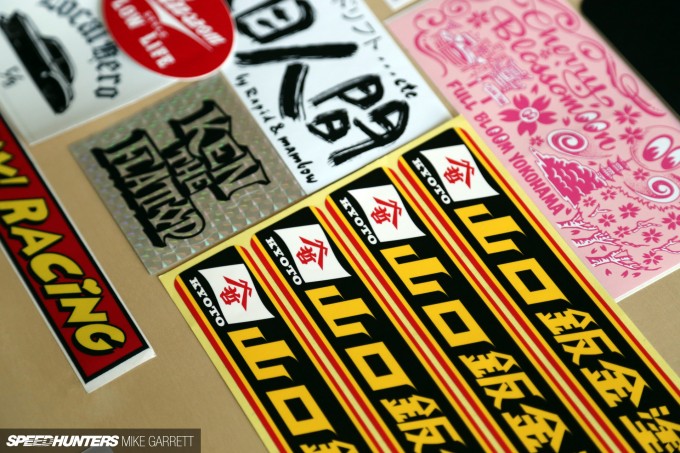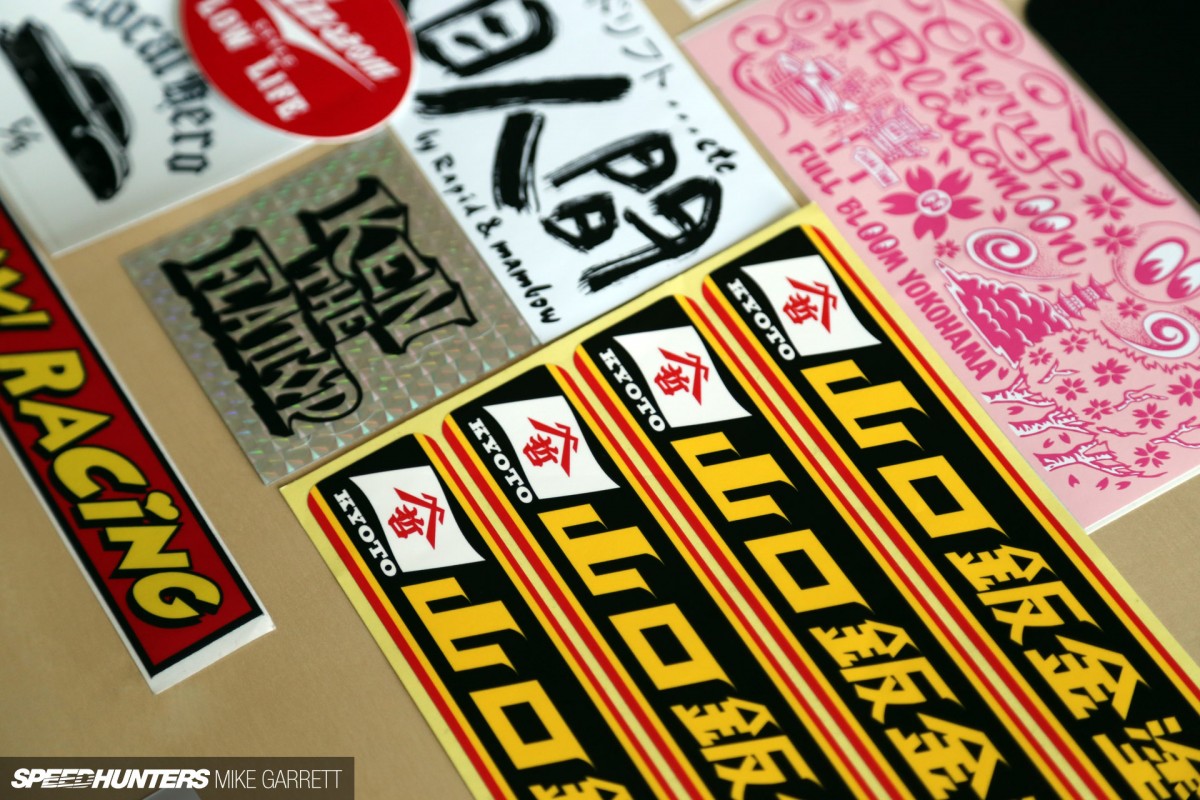 Then I began to understand. Car enthusiasts love stickers – perhaps more so than people involved in any other hobby on earth. We like to collect them, buy them, trade them and sometimes even stick them places.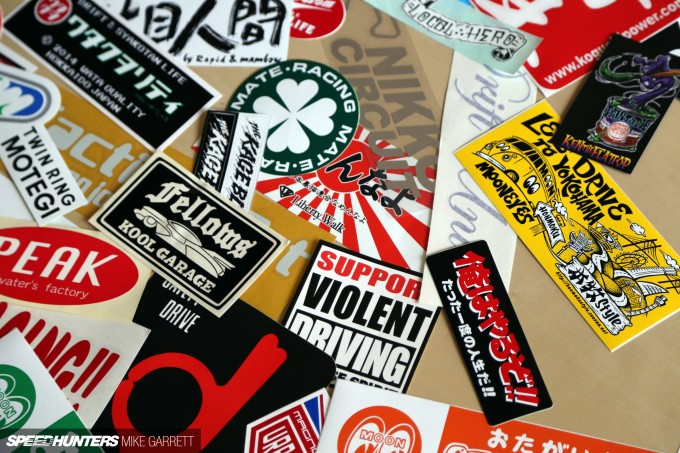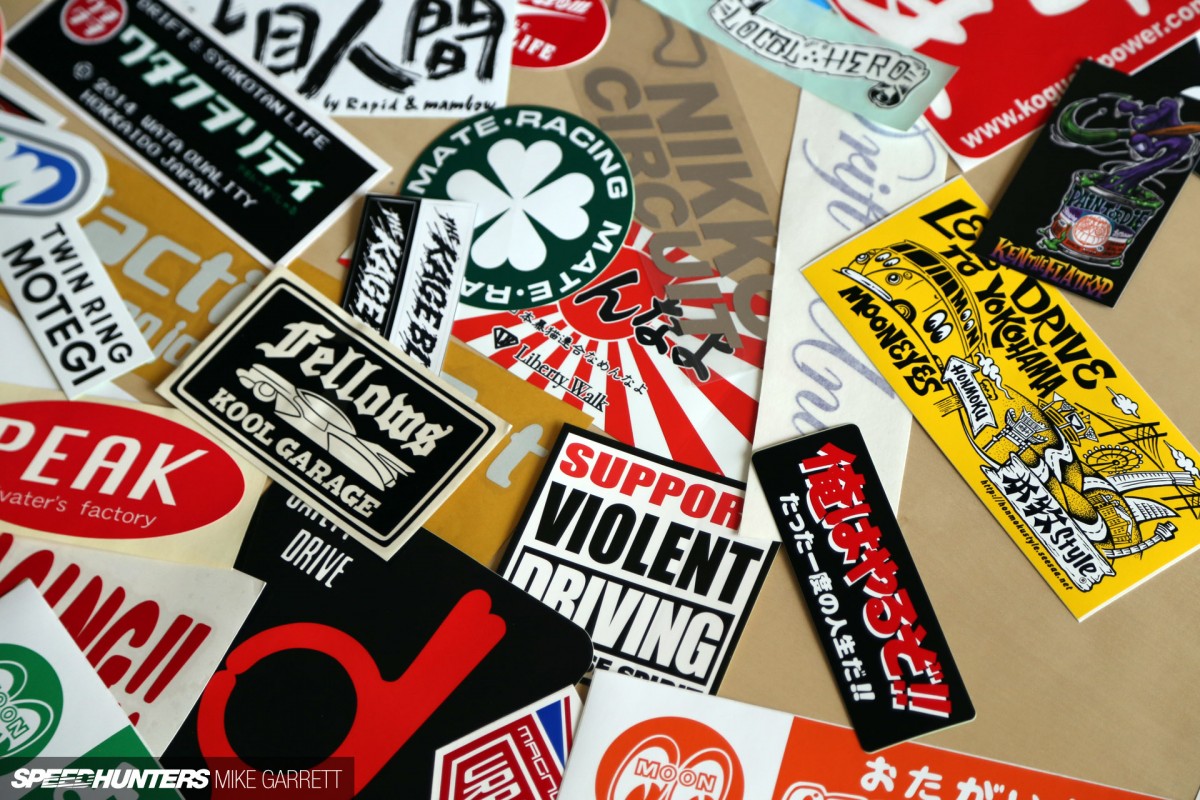 Some of us like to cover our windows in them, while some of us just apply a few to our cars. Some like to slap them on toolboxes, suitcases or even camera gear. Some of us like to collect them for the simple sake of collecting them. Whatever the case, we love the things!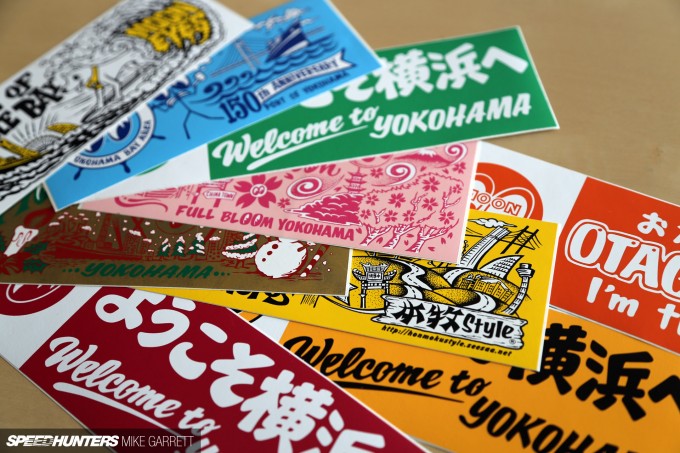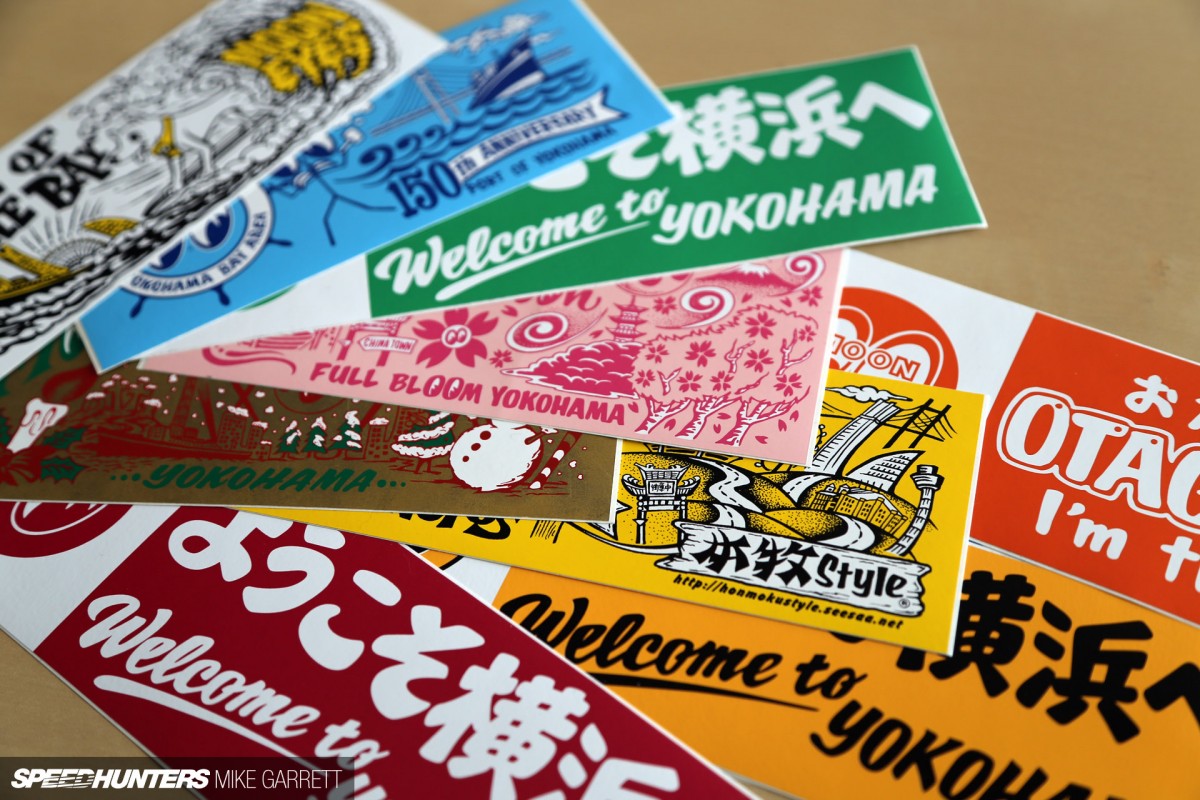 So with this in mind, I spent some time over the weekend going through my personal collection of stickers which I've acquired over the years.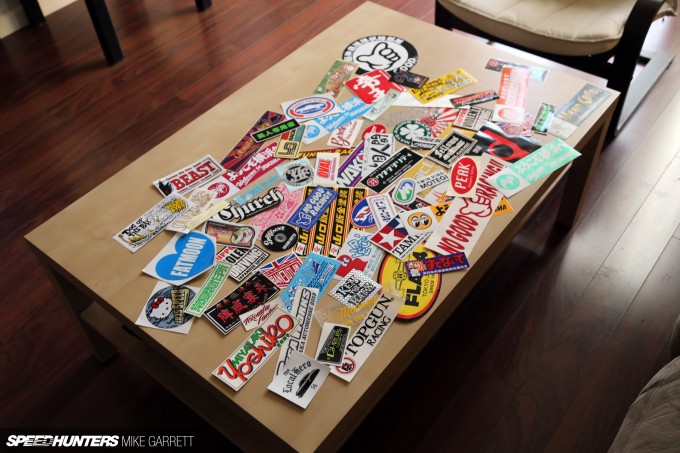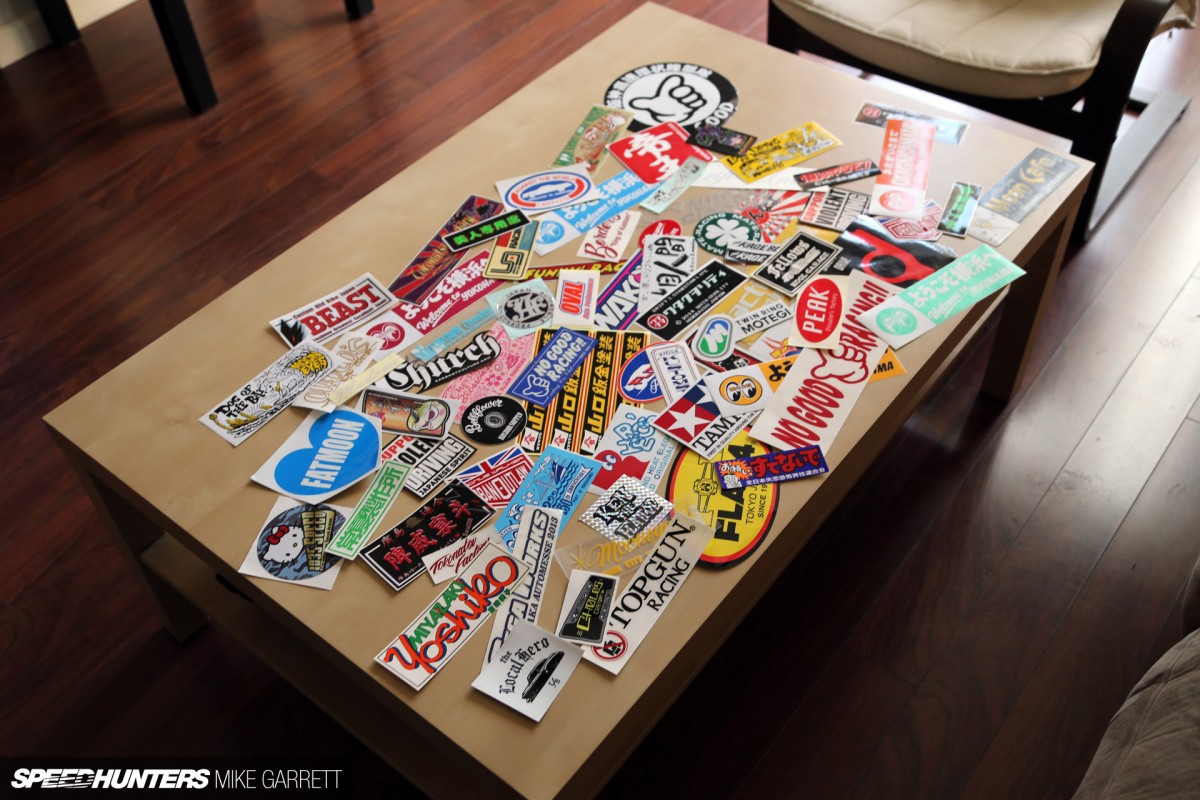 Naturally, my wife wondered what the hell I was doing when she came downstairs and saw our coffee table covered in stickers. But when I told her what I was planning on doing, even she thought it might make for an interesting story.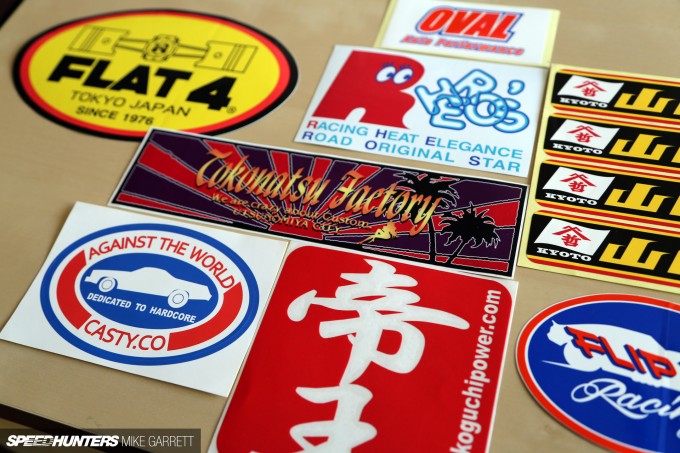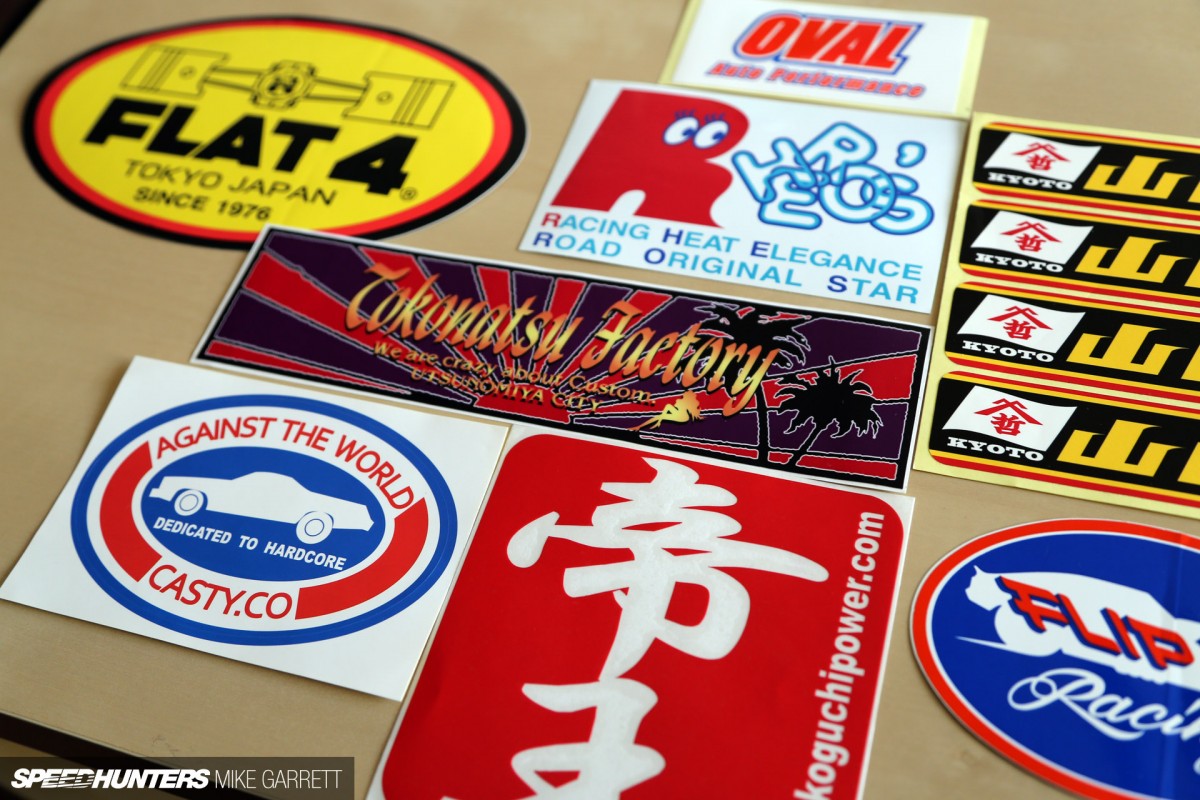 I'm not exactly sure how many stickers I have in my collection, but there are a lot of them. A few were bought as souvenirs for places I've been, many I've been given, and some I've traded Speedhunters stickers for. As I was digging through my collection, uncovering stickers that I didn't even remember getting my hands on, I realized that a massive percentage of them had come from my various travels around Japan.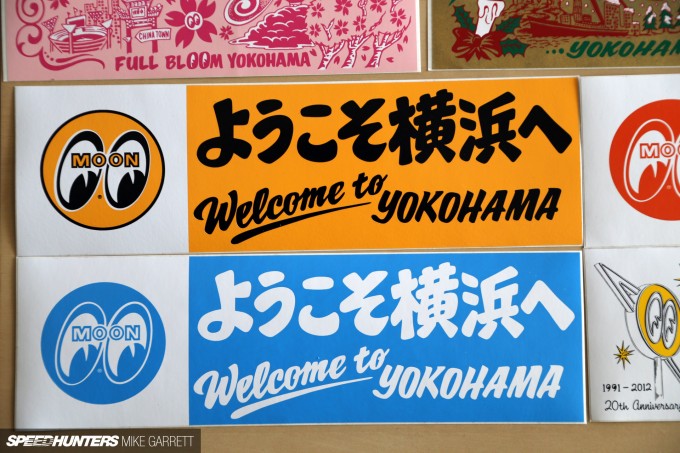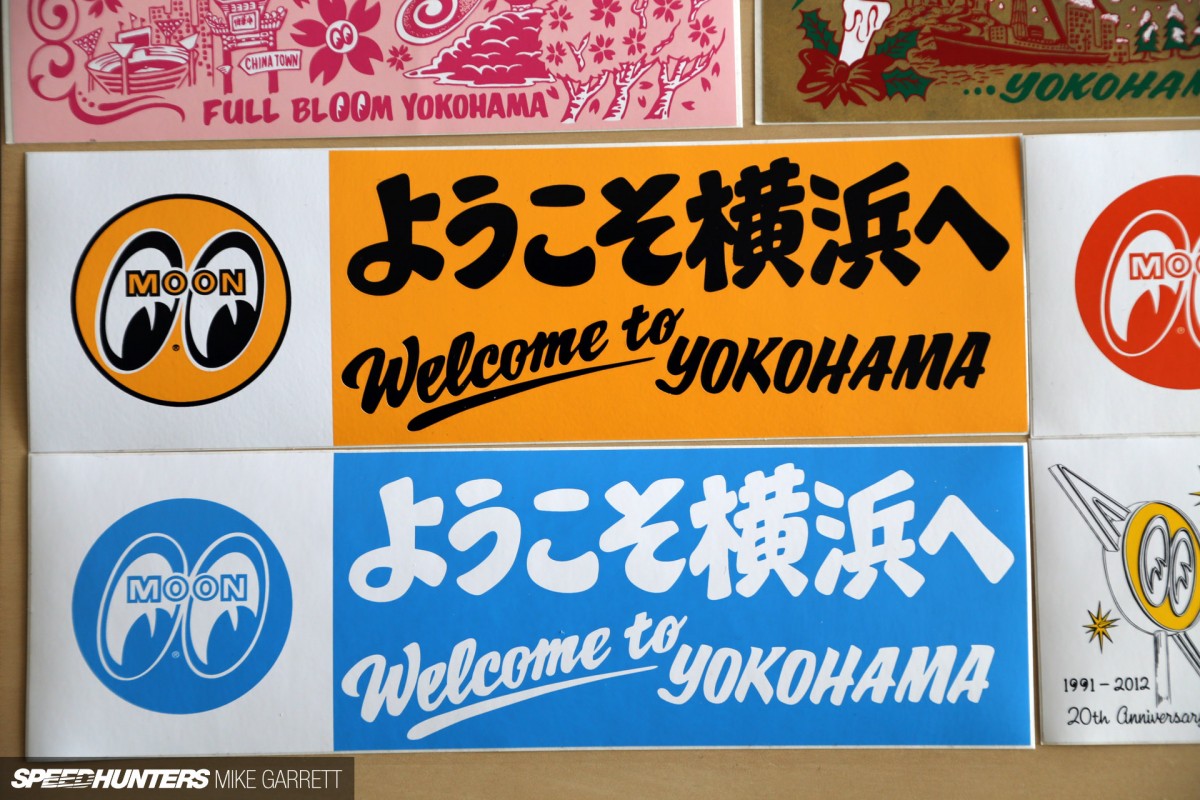 What can I say – they seem to love stickers over there. These little pieces of sticky paper have helped to serve as a great reminder of the places I've been and the people I've met.
Team Spirit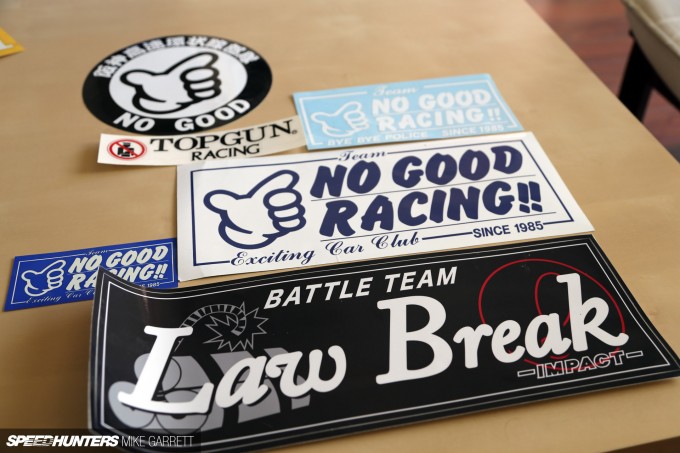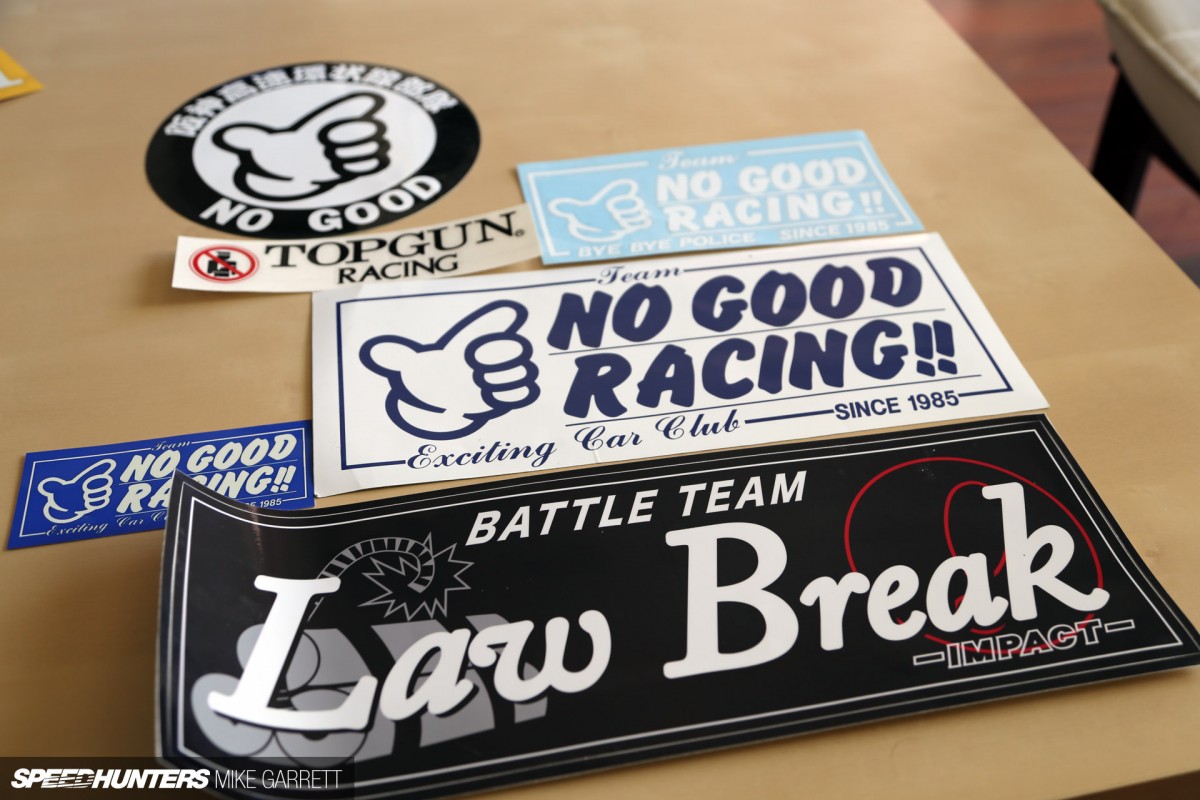 When it comes to the world of stickers, there is nothing better than those that come from a team or club. These aren't just logos of brands or companies, they are badges of a brotherhood.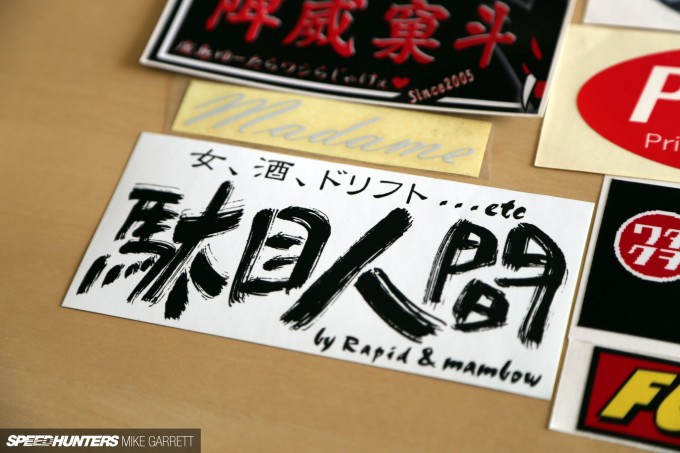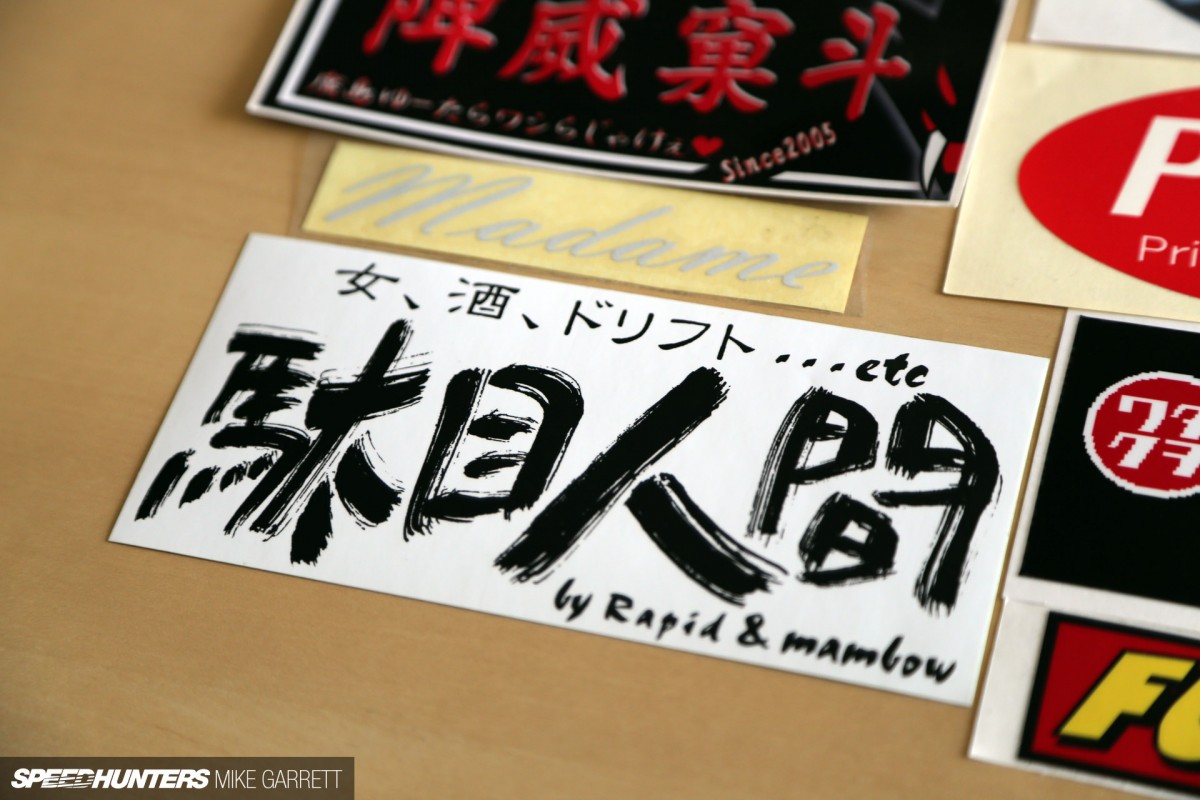 'Bad Human Being' – it's the well known badge of Tochigi's Hideo Hiraoka and his garage Pro Shop Rapid. Up top it reads 'women, alcohol, drift etc'.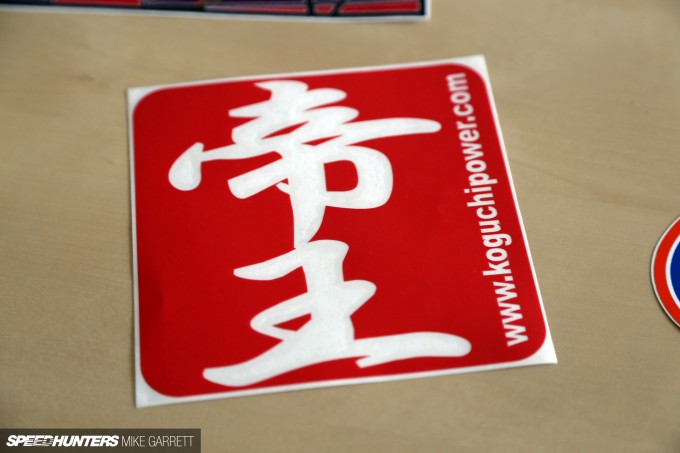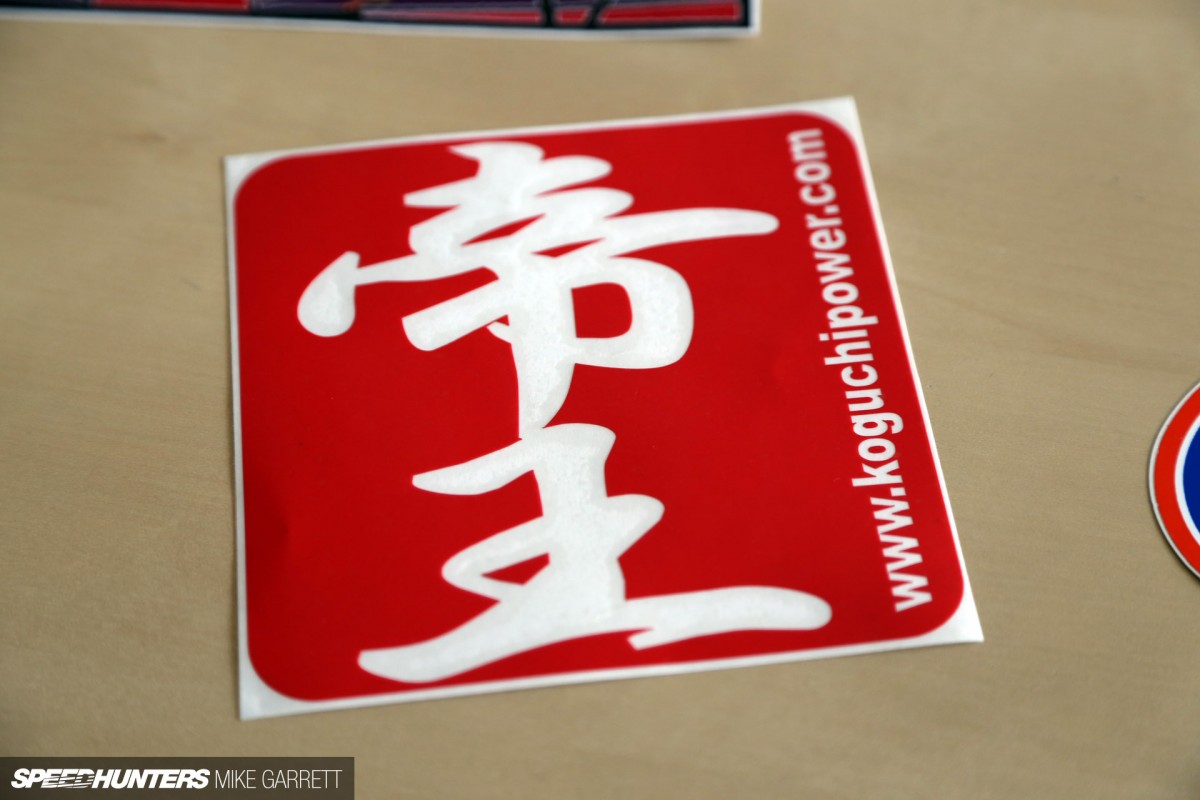 And speaking of Tochigi, here's a sticker that the Emperor himself, Yoshinori Koguchi, gave me when we visited his shop in Utsunomiya several years ago. I want to get a 180SX just so I can throw this on it.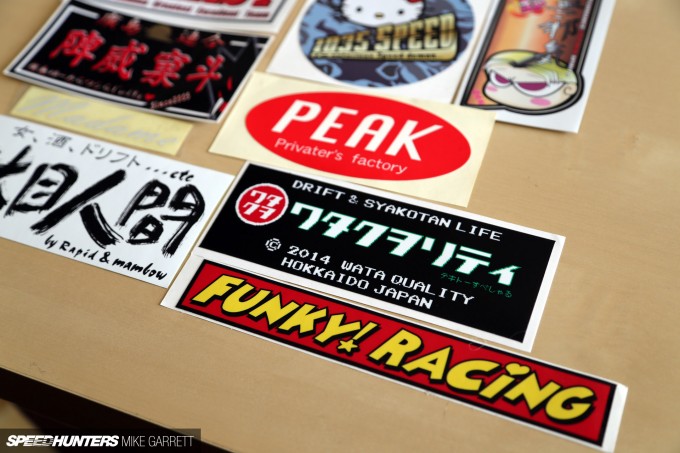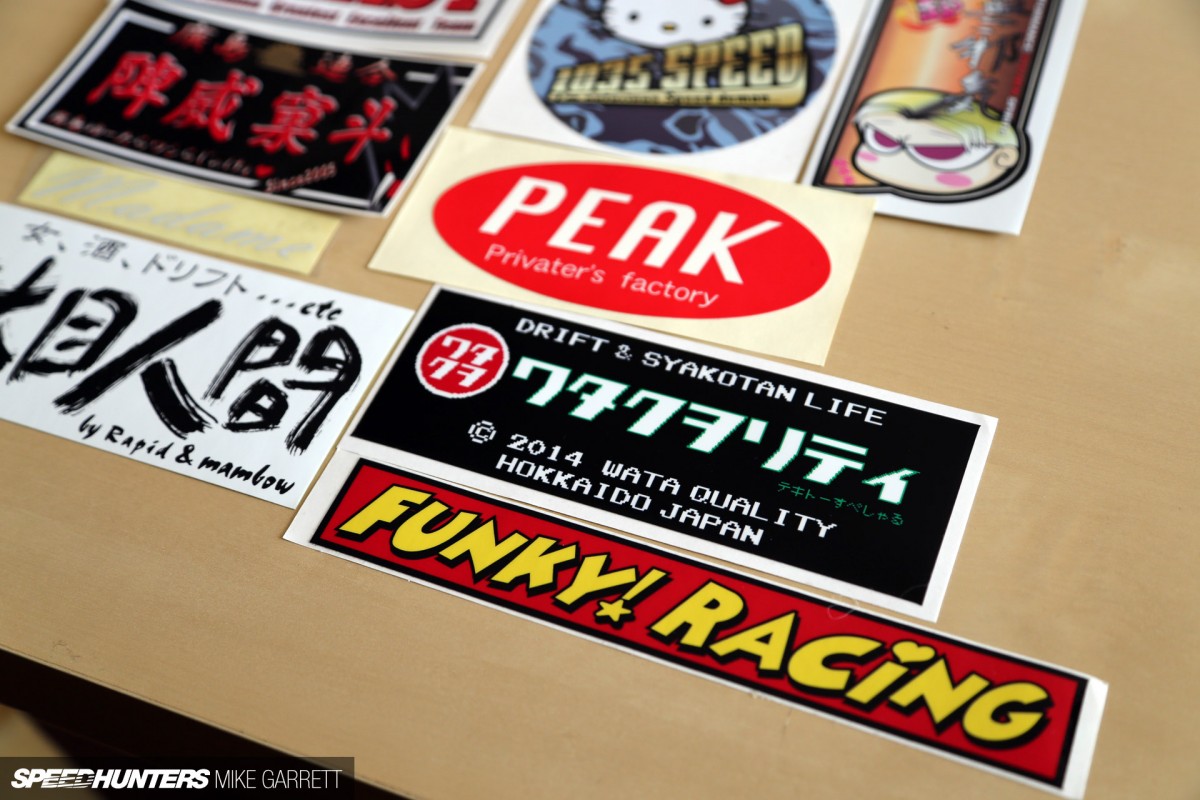 Here are some more drift team stickers – one from Funky Racing in Kanto, along with the team sticker for Toyota drift specialists PEAK. Last but not least is one that AE86 drifter Ryota Sakaguchi sent all the way from Hokkaido. I love the 8-bit style graphics on this one.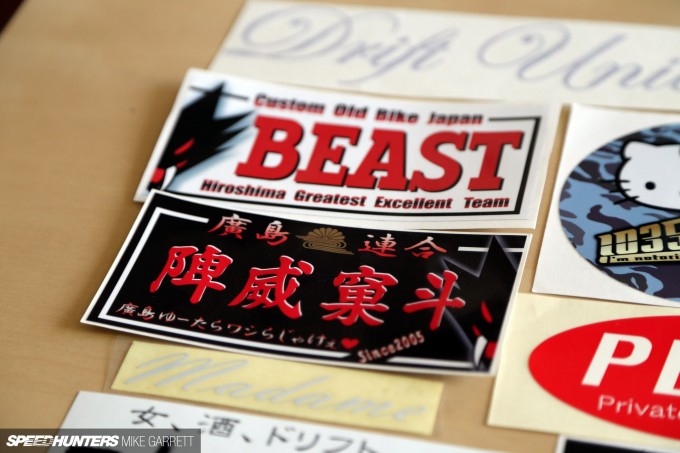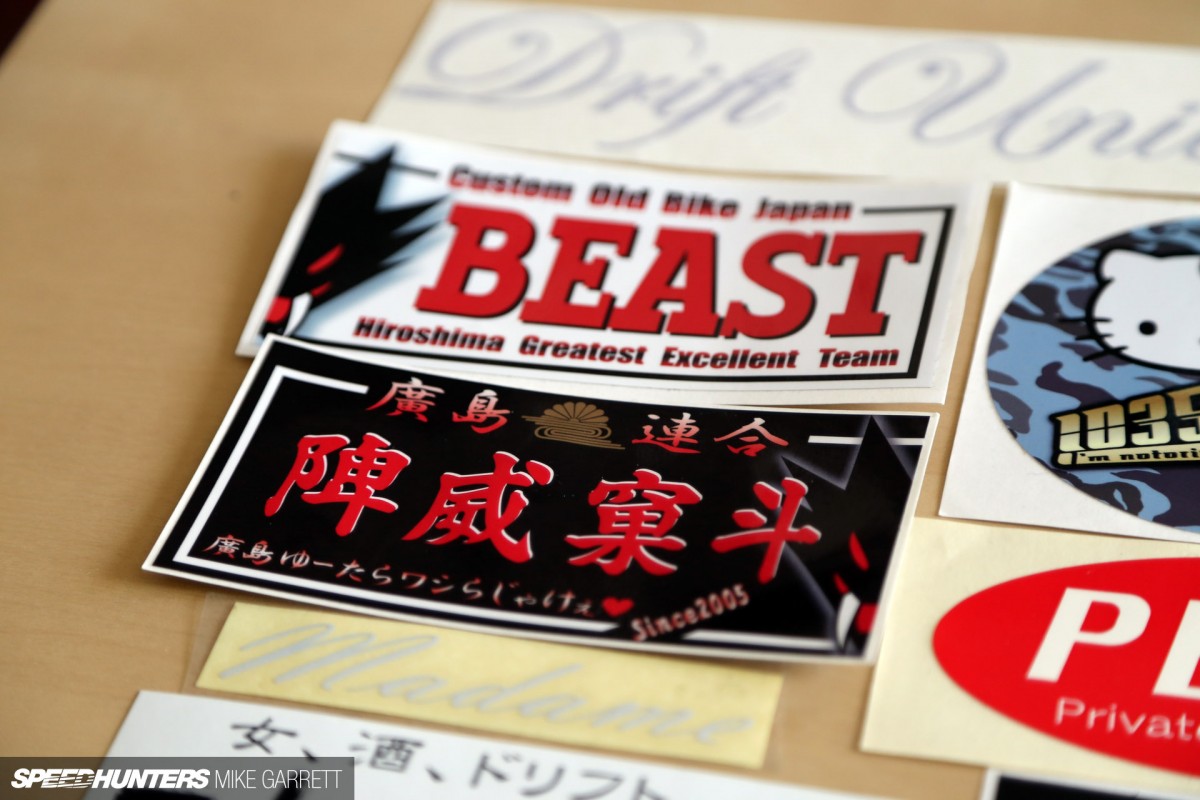 I even managed to acquire a couple of bosozoku team stickers from some local bikers when I was in Hiroshima earlier this year. Now if only I had some sort of cool Yamaha or Kawasaki to throw them on…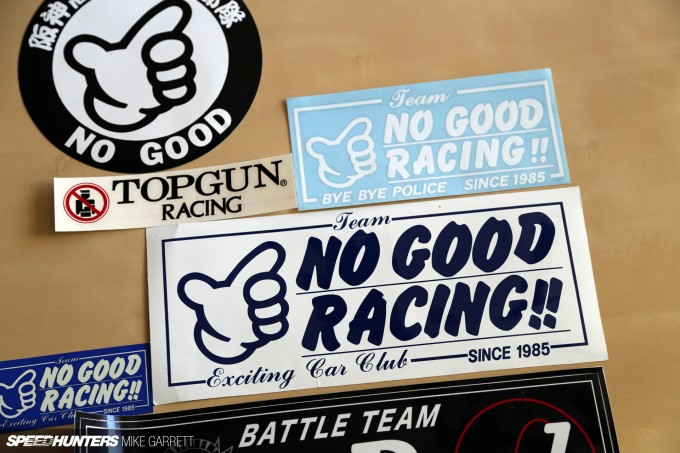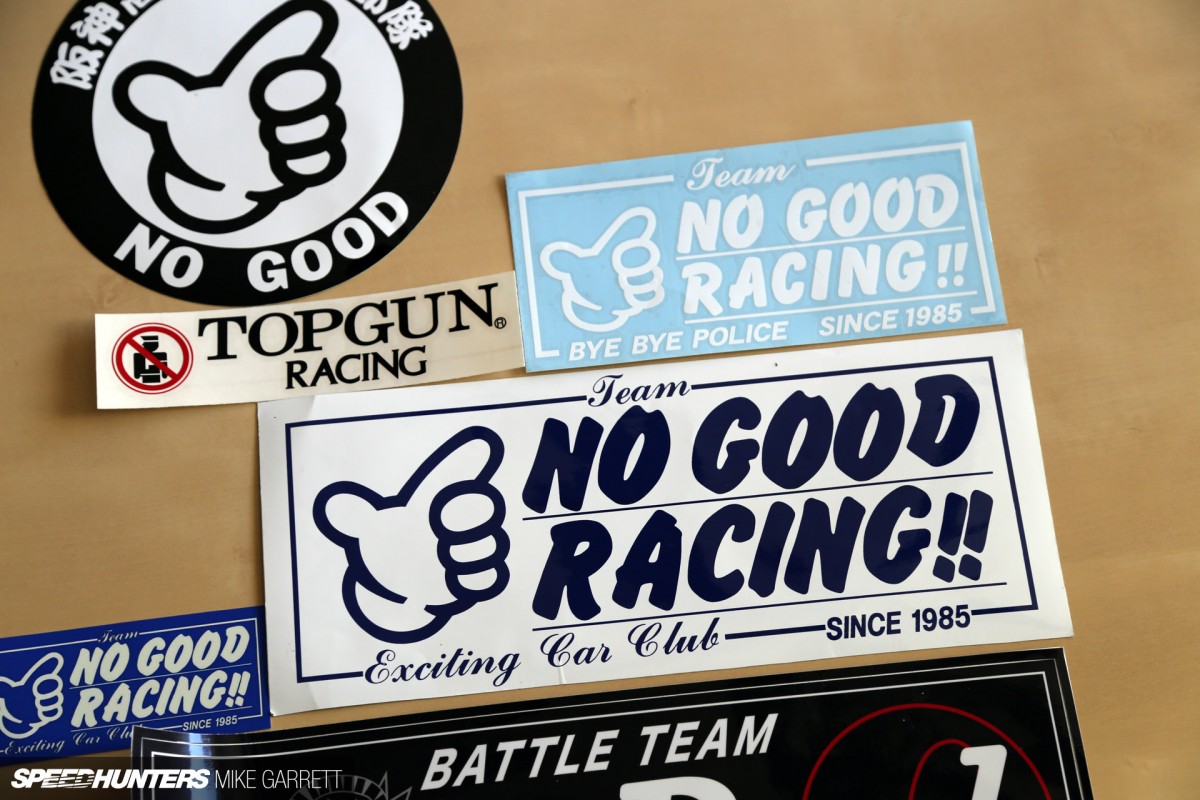 Of all the stickers I have, some of the rarest are from the Kanjo racers of Osaka. I've had the opportunity to observe these guys in action on a couple of occasions over the last few years, and besides the memories, I've assembled a decent little stack of team stickers from this scene.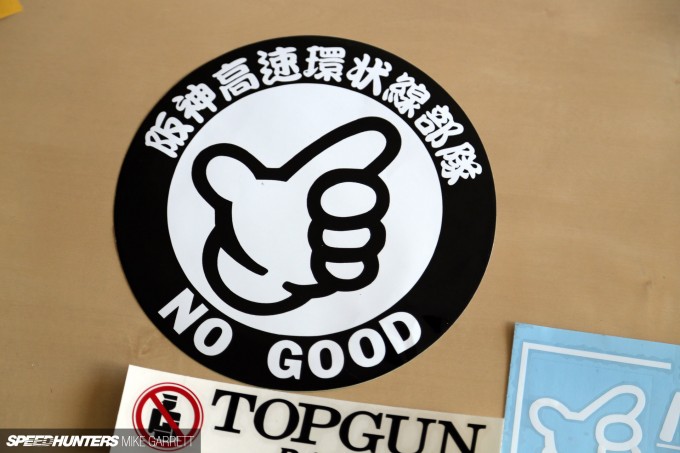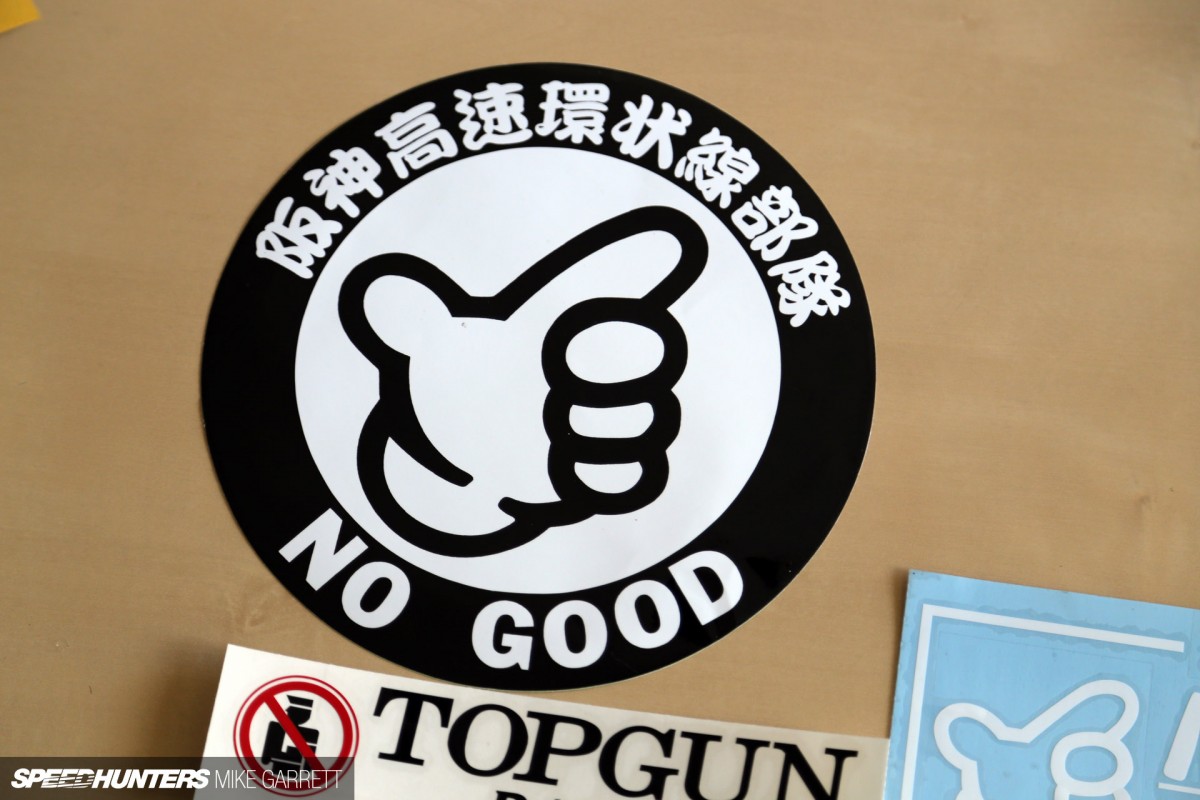 While I in no way condone or encourage illegal street racing, I can't help but chuckle when I see No Good Racing's 'Bye Bye Police since 1985′ slogan or Topgun Racing's club logo, which is a police officer icon with a line going through it. They provide little hints at the mysterious subculture that lies beneath it all.
People, Places & Memories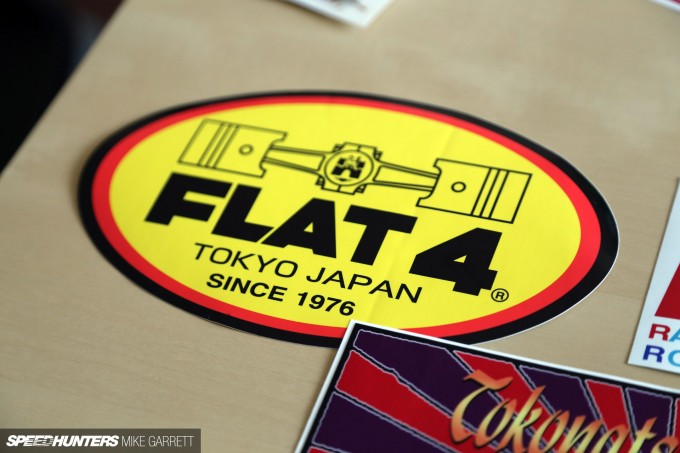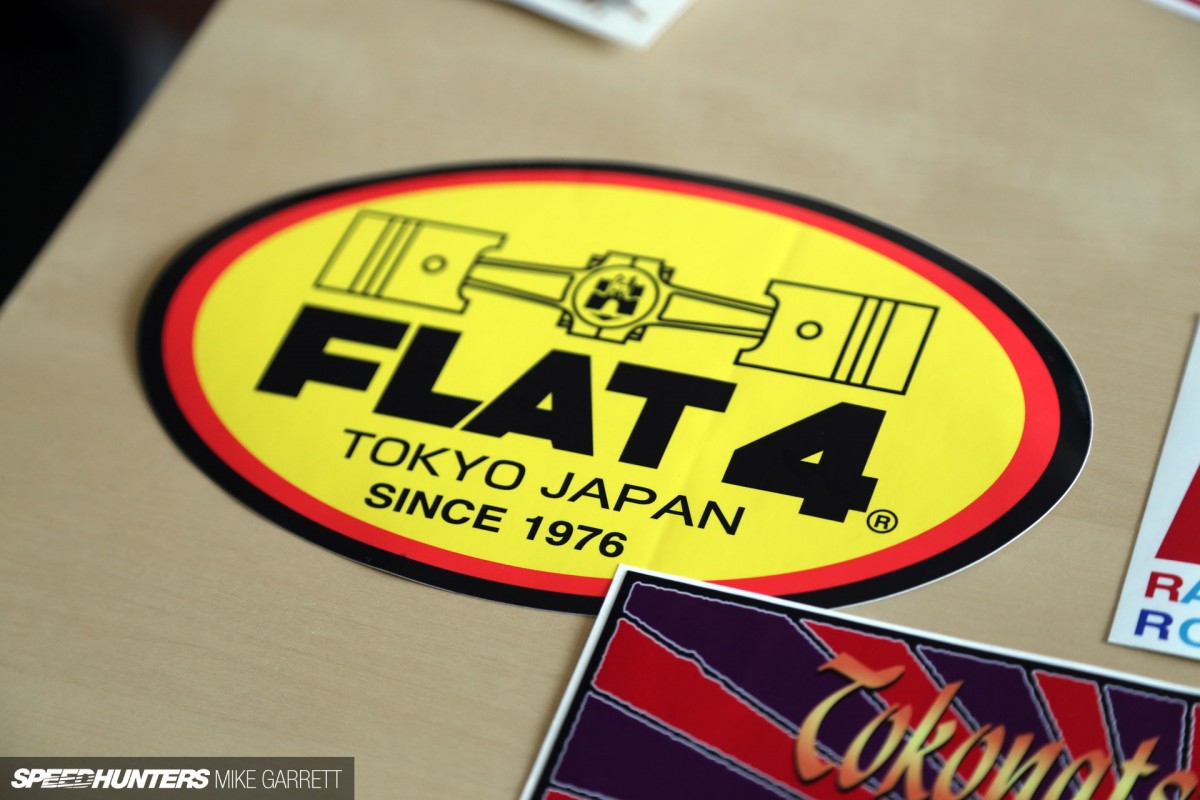 Shop stickers are another great thing to collect, and it doesn't matter whether it's a well known place like Flat 4 in Tokyo…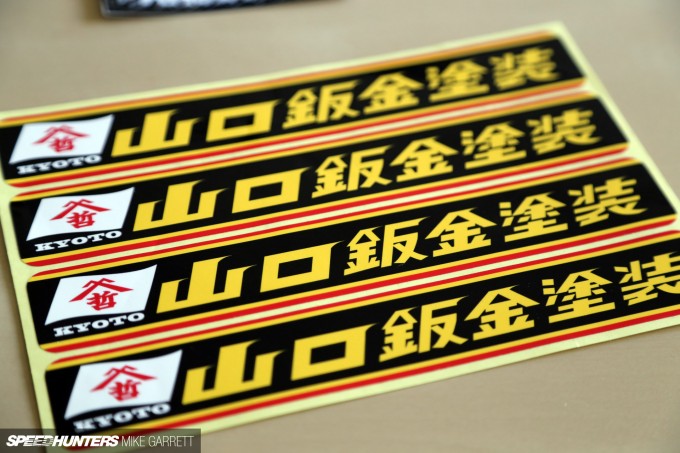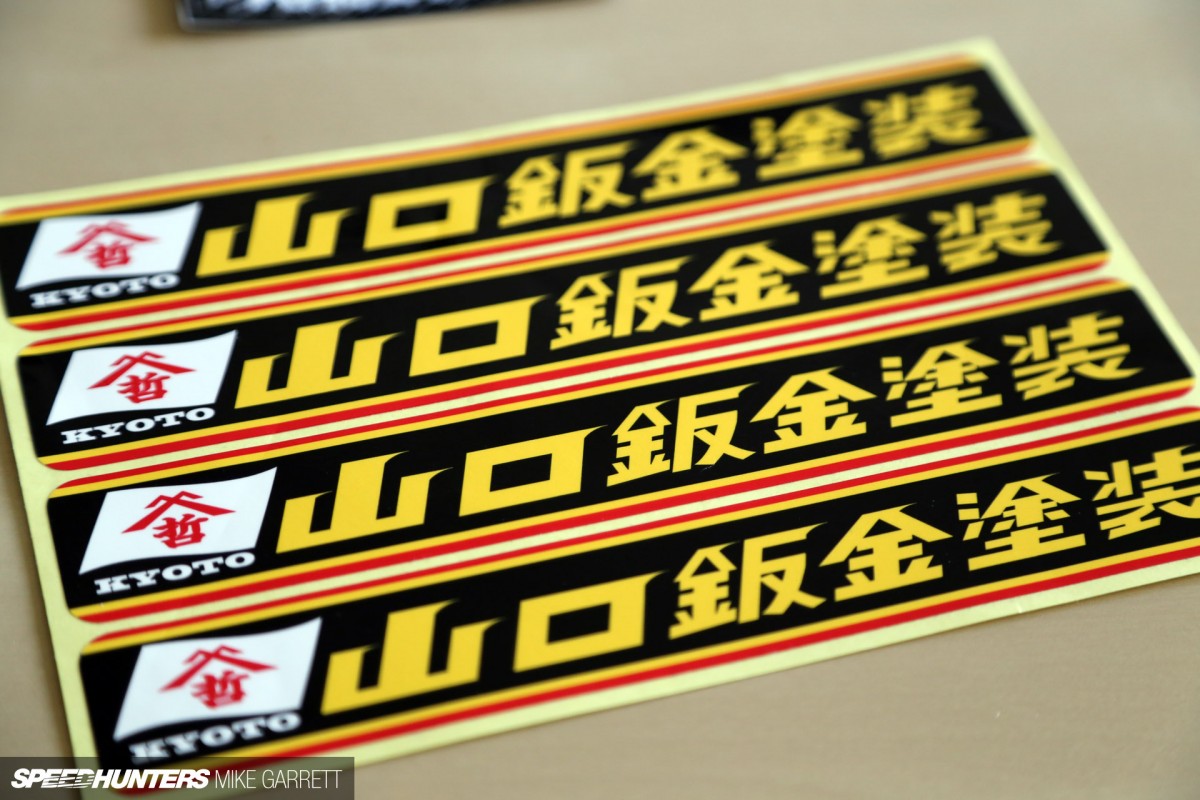 Or a small independent workshop like Yamaguchi Paint & Body in Kyoto. Keen eyes will notice this decal is actually inspired by the old Dunlop logos seen on Japanese racing cars.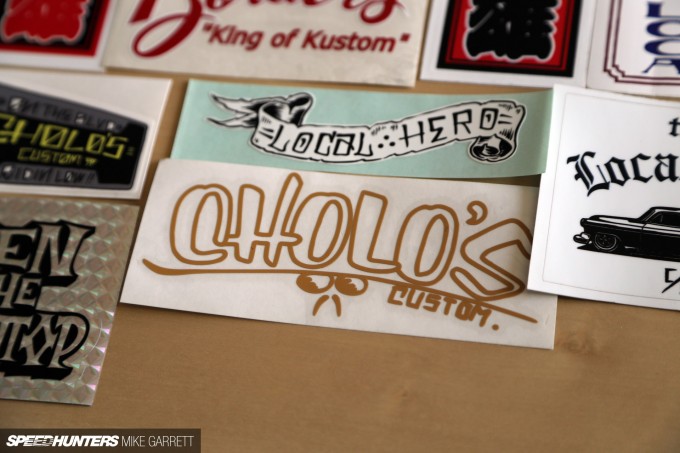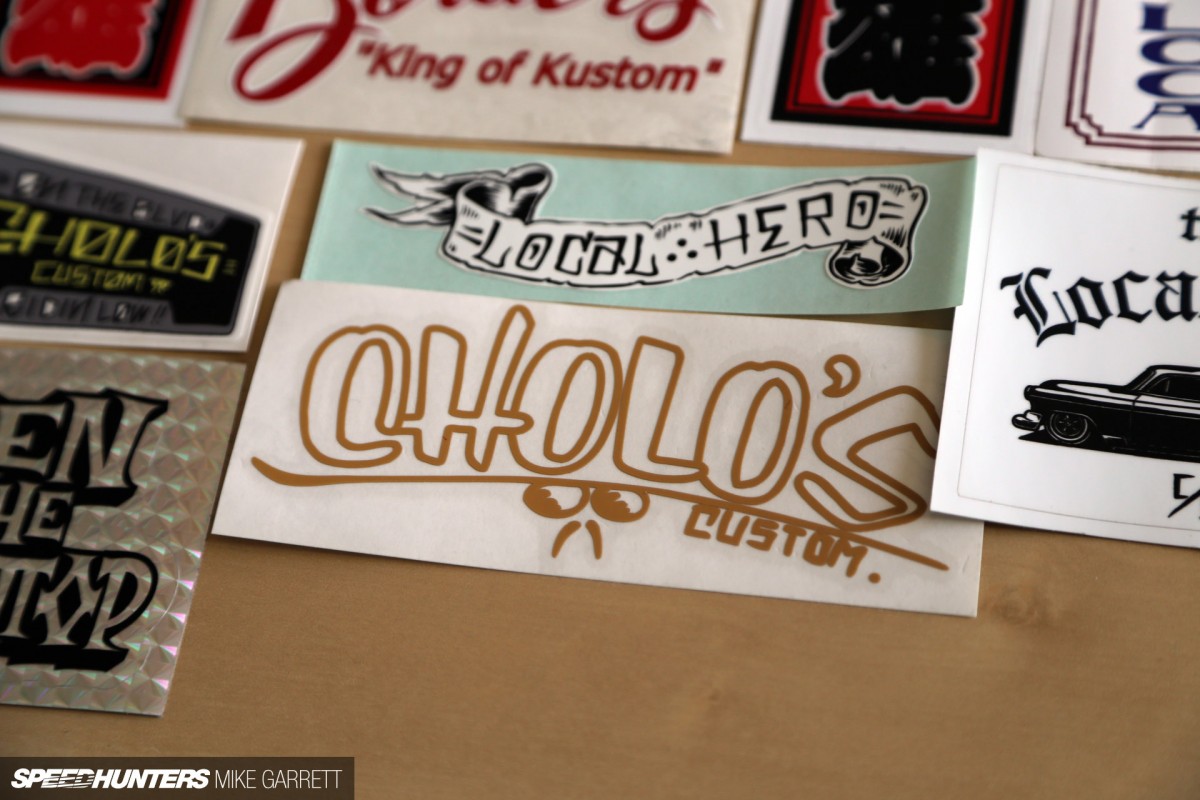 I've also picked up plenty of stickers from the hot rod and custom shops I've visited in the Nagoya region. I've got a few that Hisashi from Cholo's Custom gave me, and several from The Local Hero – my friend Toshi Shimizu's website.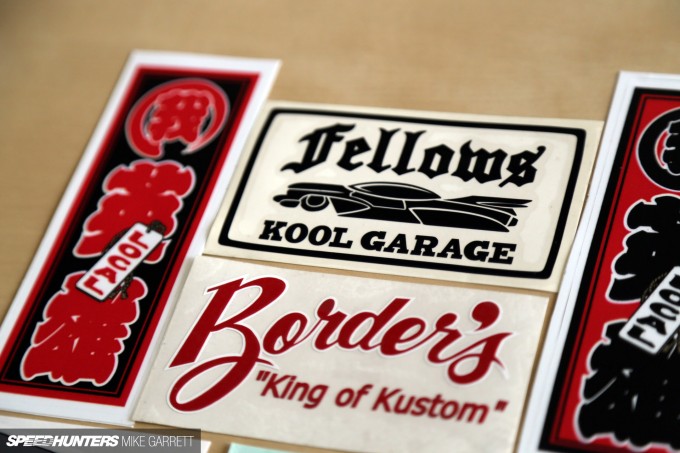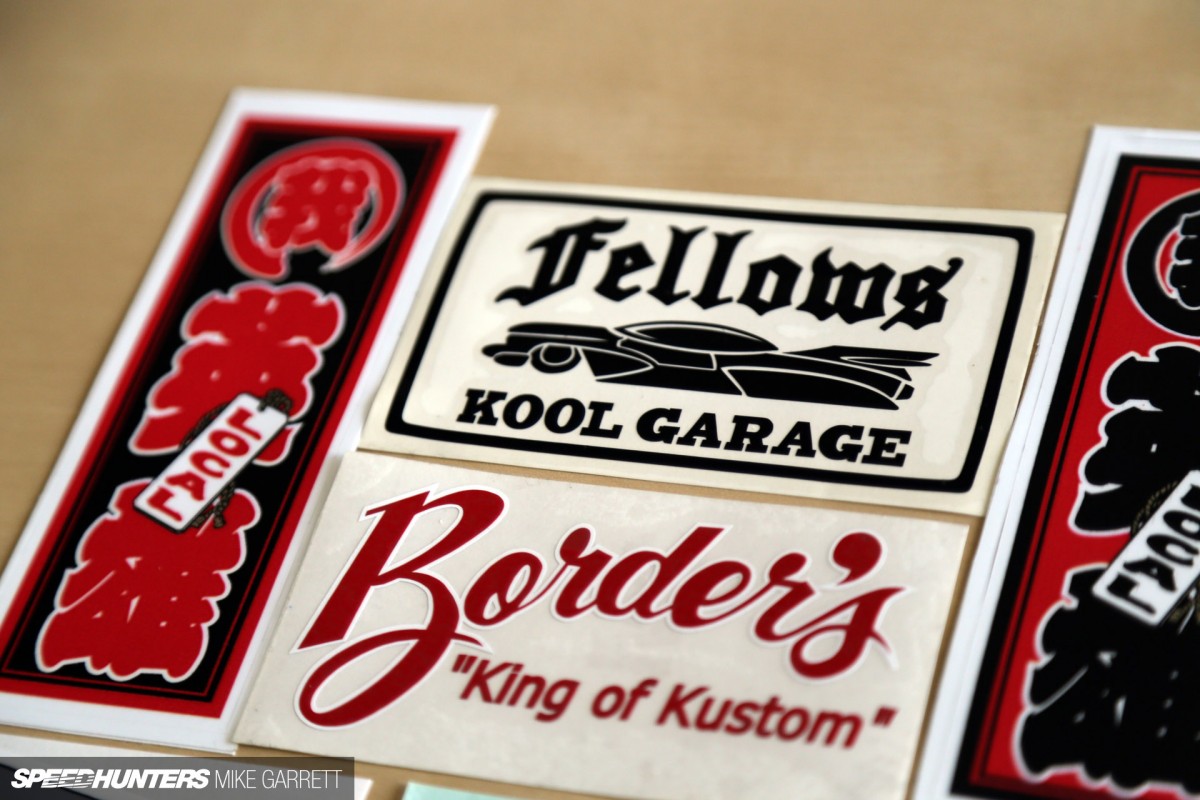 It actually seems like it's impossible to find a garage or workshop in Japan that doesn't have a sticker with its logo on it. Here we've got one from Kool Garage Fellows and another from the Mercury maniacs at Border's. You can expect to see more on Border's here on Speedhunters very soon…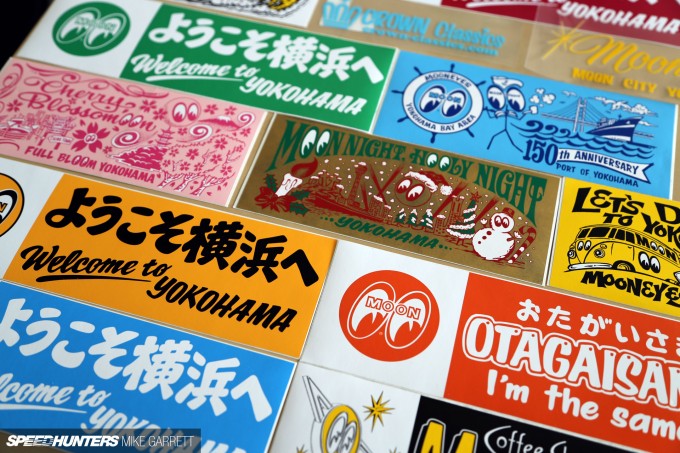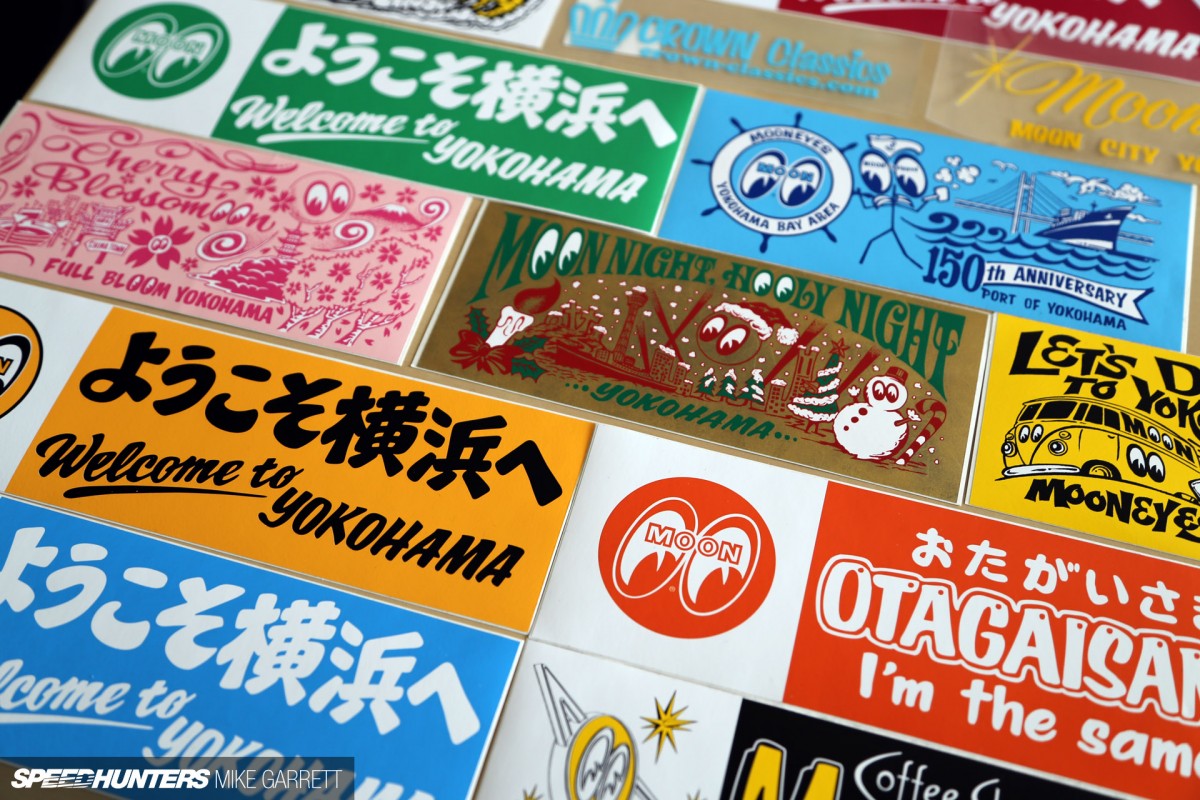 When it comes to my personal stash of stickers, the Mooneyes section could be a separate collection in itself. Everytime I visit Area 1 in Honmoku there's a couple of new designs to grab, and they include everything from special seasonal stickers, to designs for the Moon Cafe and even the 150th anniversary of the Port of Yokohama.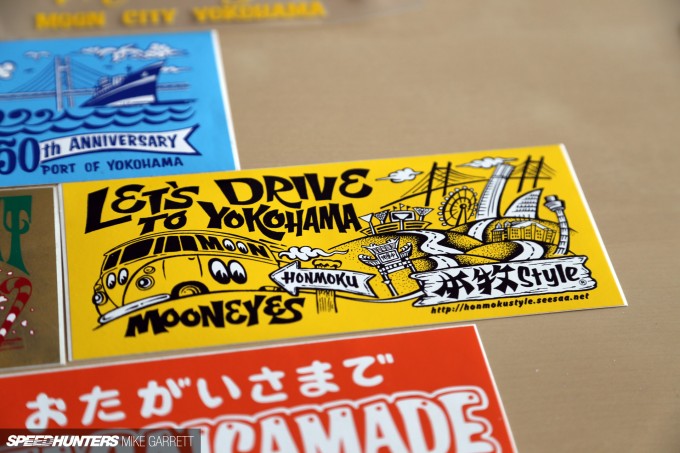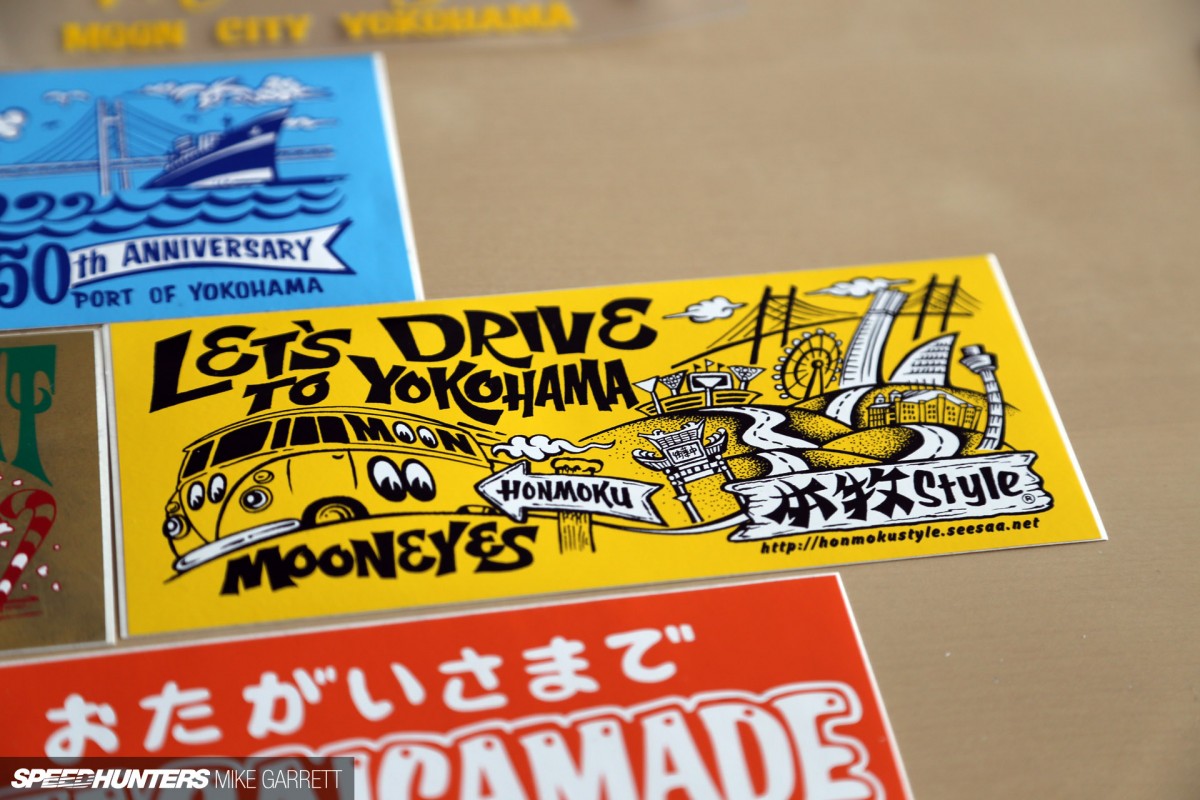 You actually have to be careful not to go crazy while buying stickers at Area 1, and they usually make the deal even sweeter by throwing in a few extras if you spend over a certain amount. Never go anywhere in Japan without cash.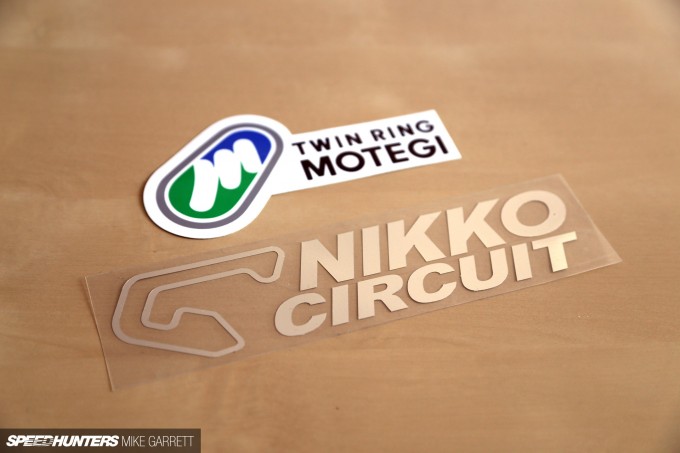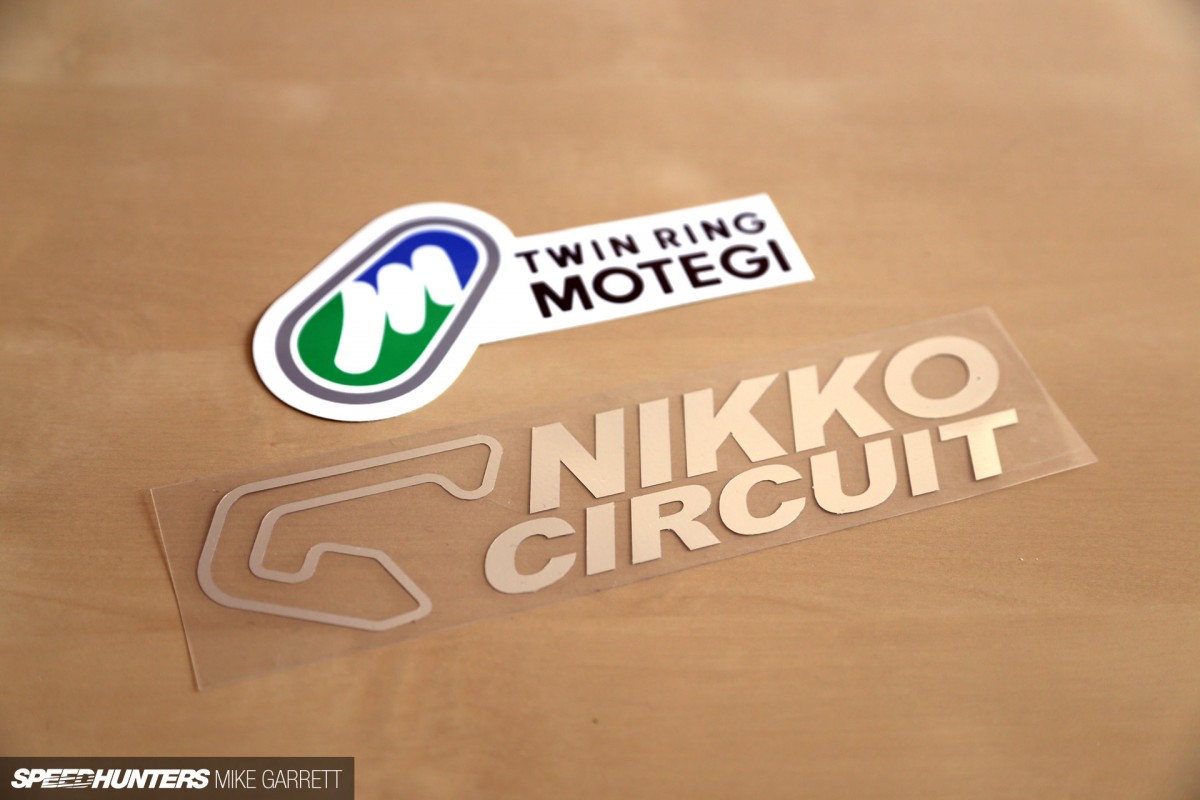 Buying stickers from race tracks you've been to is something that everyone should do, but I'm a little ashamed to admit I've been slacking a bit in this area. I do have these two from Twin Ring Motegi and Nikko Circuit in my collection though.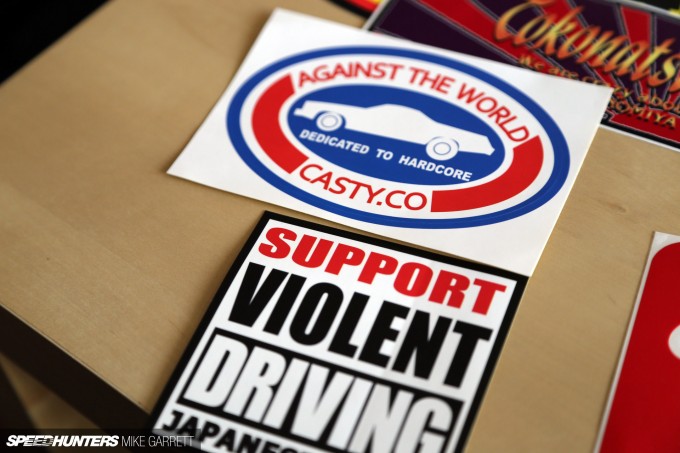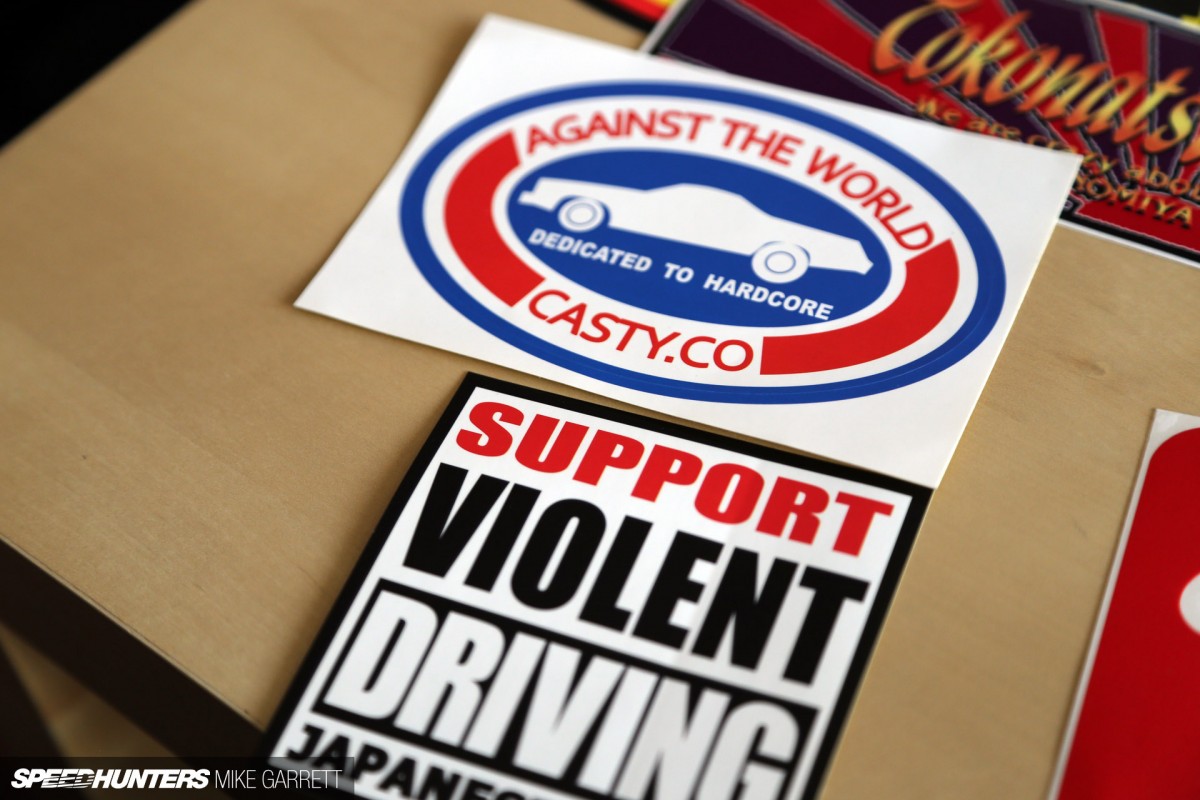 Here are a couple of stickers I picked up from the guys at Casty.co and Hardcore Japan when I visited their headquarters in Tokyo earlier this year. It's a cool mix of the fashion and automotive worlds, as you find so often in Japan.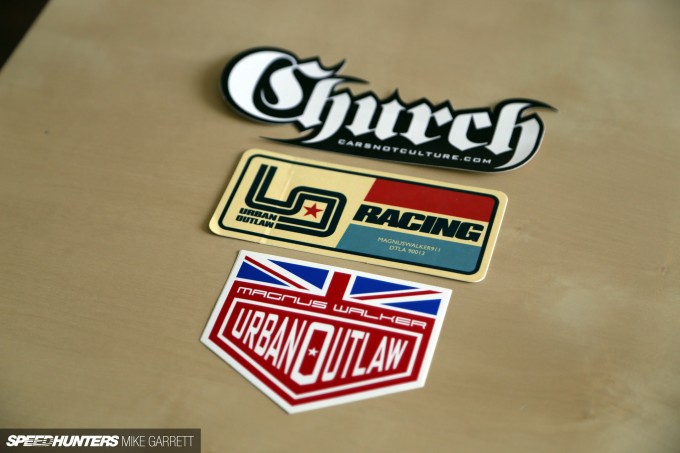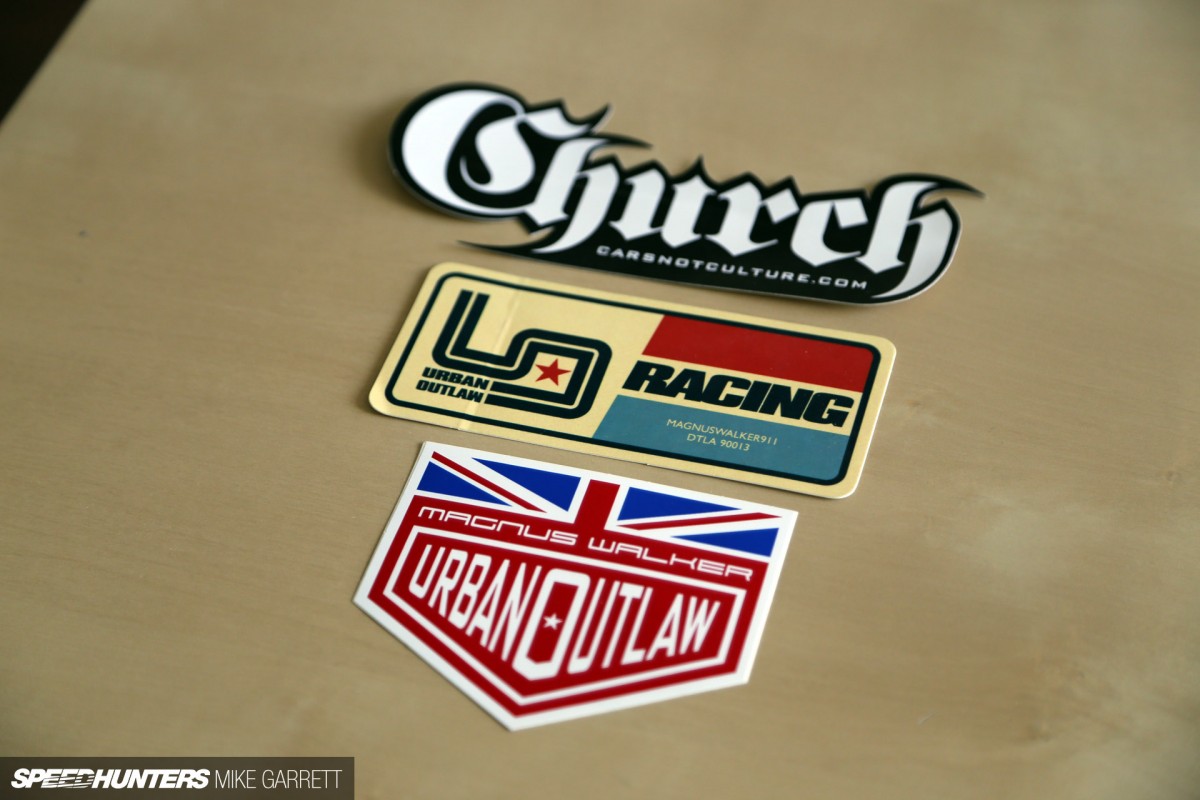 Of course, not all of my stickers come from Japan, and I've got a decent stash stickers from here in the States as well. Included are some from Coby Gewertz, the owner of Van Go, and a couple that Magnus Walker gave me when we visited his garage in LA this spring.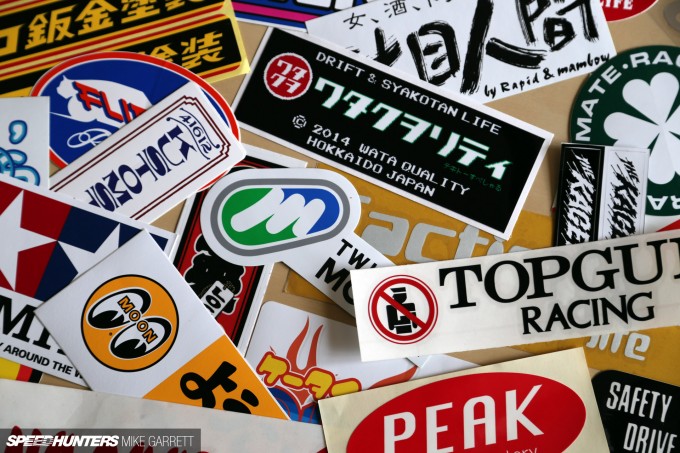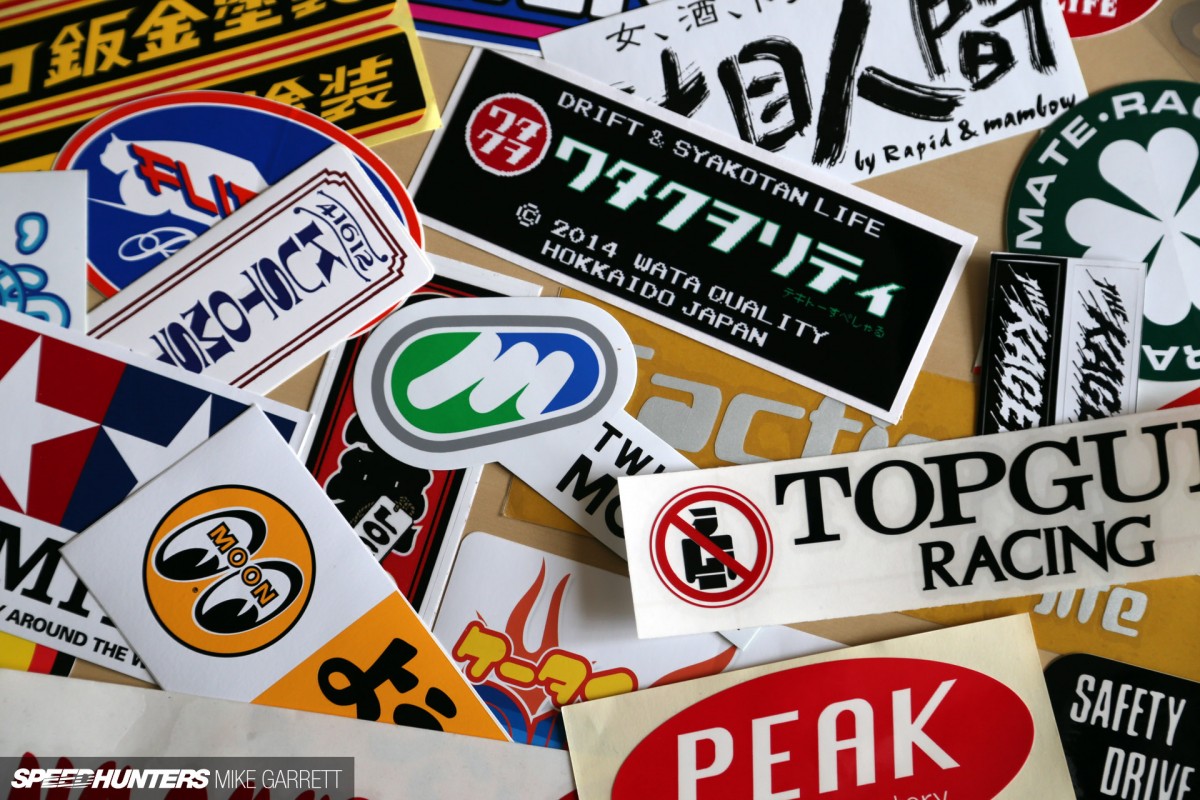 But in the end it doesn't matter whether the stickers come from a place down the street or a place across the world. The point is that to us they are worth infinitely more than the paper they are printed on. Friendship, support, respect, history, connection, memories – to car enthusiasts stickers and decals represent all of that and more.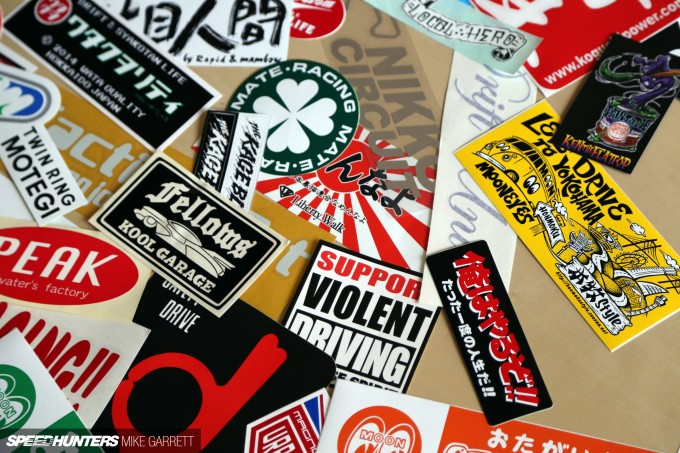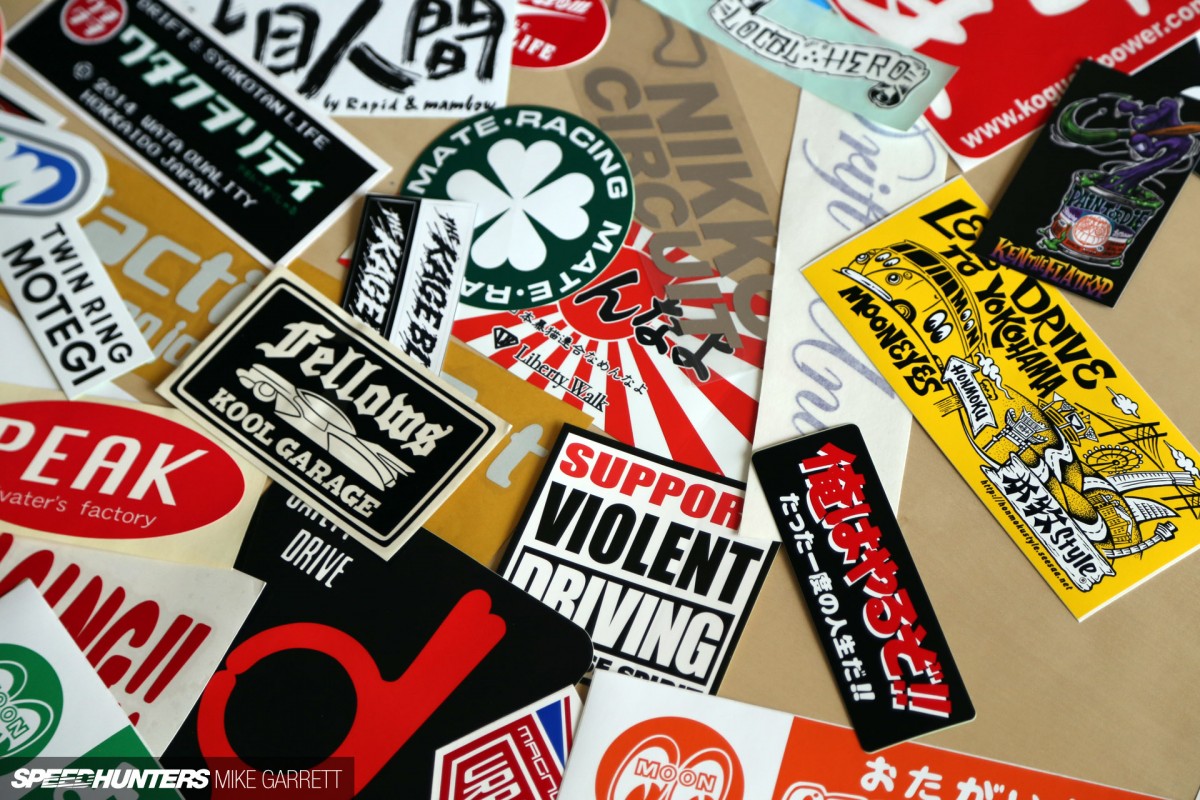 We love stickers, and until this world is fully removed of both automobiles and adhesive strips of paper and vinyl, I think that' always how it's going to be.
So now that I've shared a little about my little sticker stash, I'm curious to see and hear about yours. I'm also interested to hear if you have one certain automotive sticker that you cherish more than any other. Share yours in the comments section below..
Mike Garrett
Instagram: speedhunters_mike
mike@speedhunters.com
Cutting Room Floor