Where the past comes to life
Let's say you're planning a trip to Japan. And really, who wouldn't want to be doing that? Chances are there are some important places you'll want to see. Surely Tokyo will be on the list, being Japan's largest and most well-known city. You'll probably want to venture into the countryside see the incredible Mt. Fuji. Osaka is another place you gotta see, even if it's just for the food. Then there's Kyoto.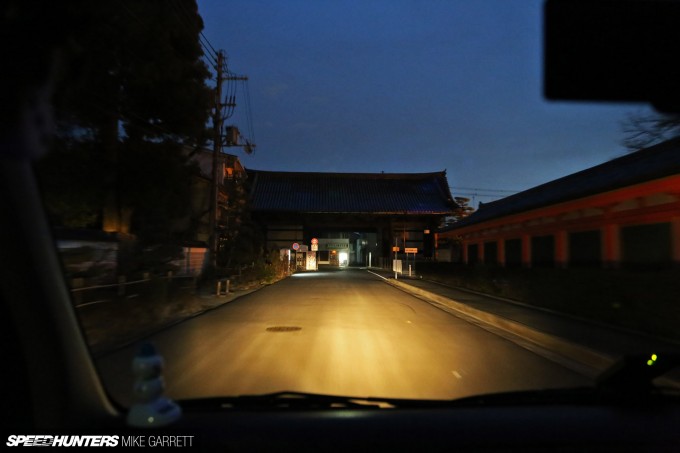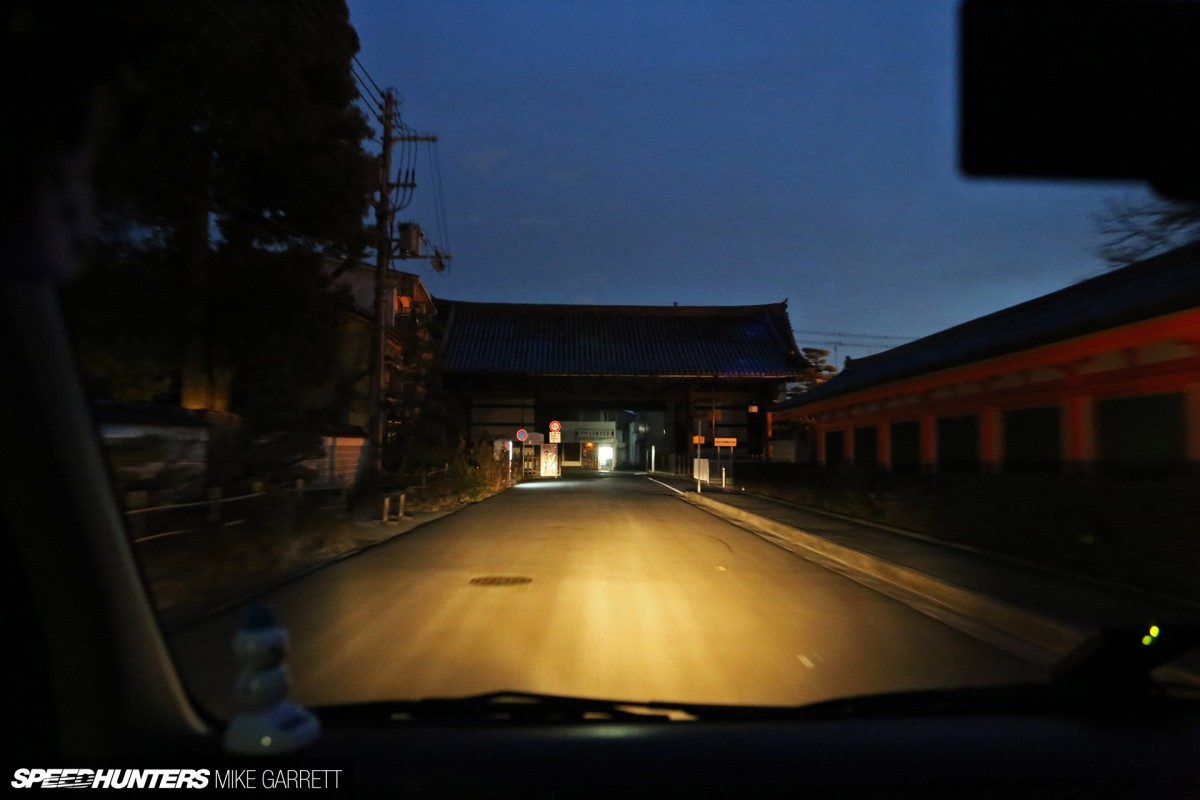 Kyoto is of course Japan's most historic city – one that's filled with hundreds of temples, shrines and other celebrated locations. Because of this, it's one of the country's biggest tourist destinations with visitors flooding in from both Japan and abroad.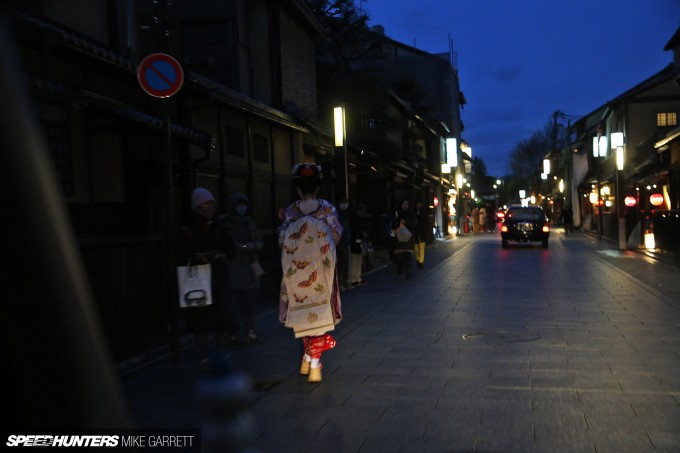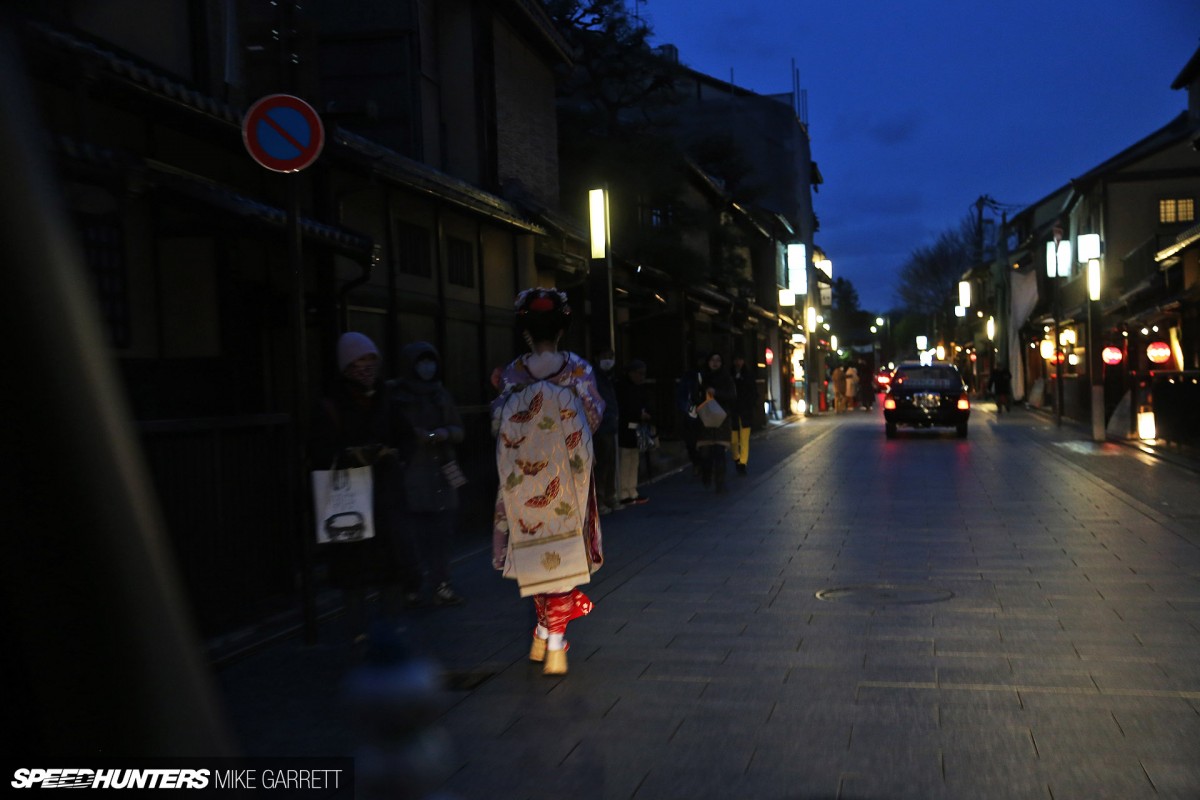 If you want to experience traditional Japanese culture, there's simply no better place than Kyoto. A few weeks ago, I had the chance to spend a couple days in this majestic city, but this time I wasn't there to visit the ancient temples or do some geishahunting. Nope, I came for the cars.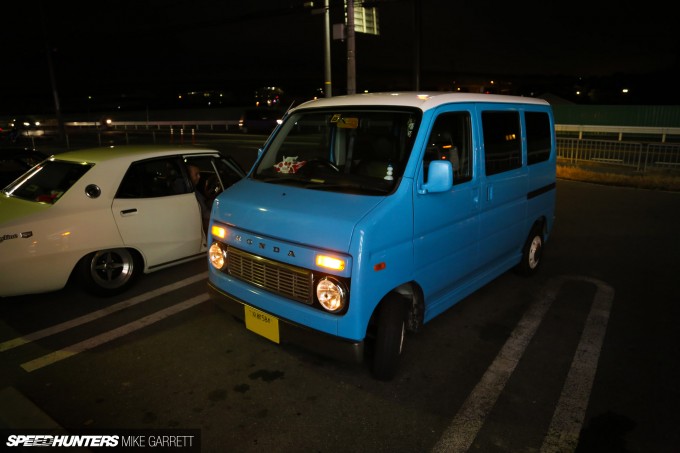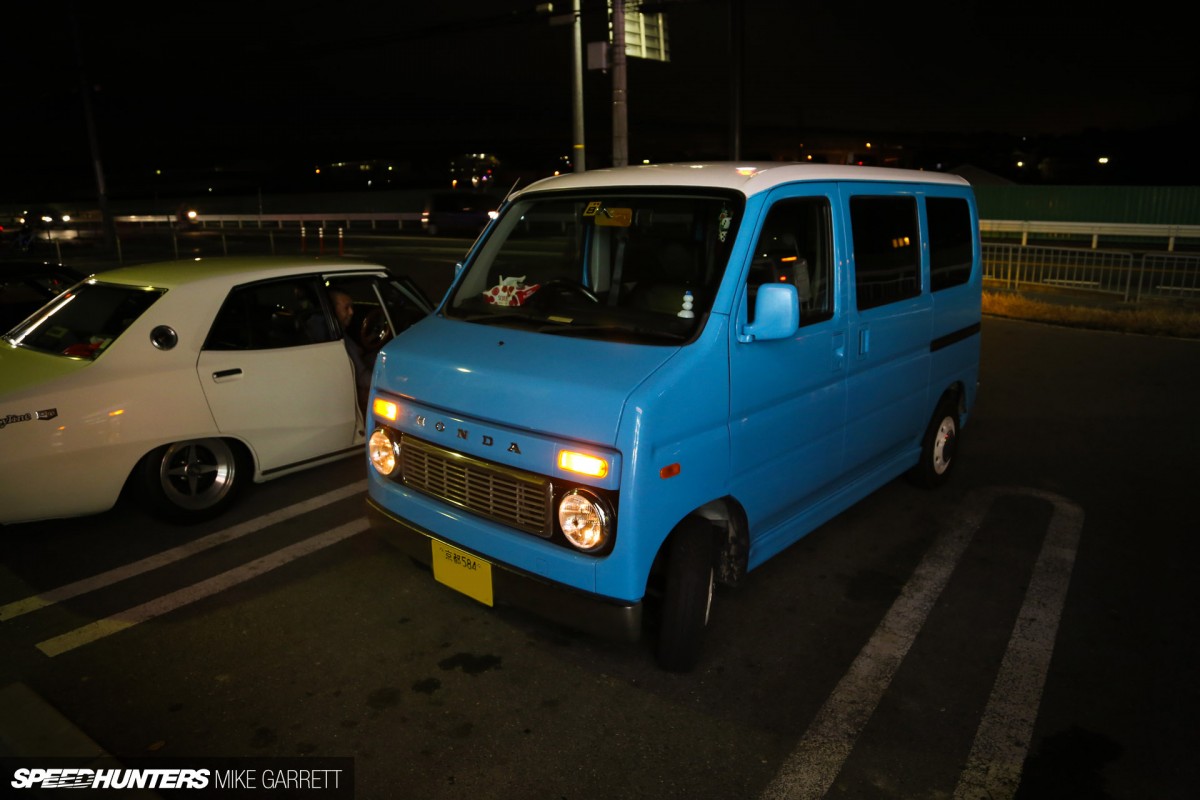 After hopping off the bullet train at Kyoto Station one evening, I was greeted by my friend Shun Ohgishi in his super cool Honda Vamos kei van. I'd run into him at a few events in the past and he promised that if I ever came to Kyoto, he'd show me some cool stuff, so this time around I took him up on his offer. Prior to my visit he'd reached out to some friends and fellow vintage car enthusiasts, who were planning an informal night meet so I could experience the local scene. Talk about Japanese hospitality.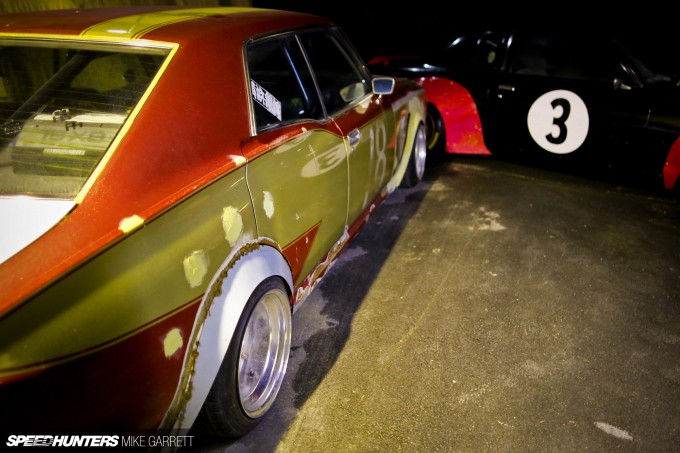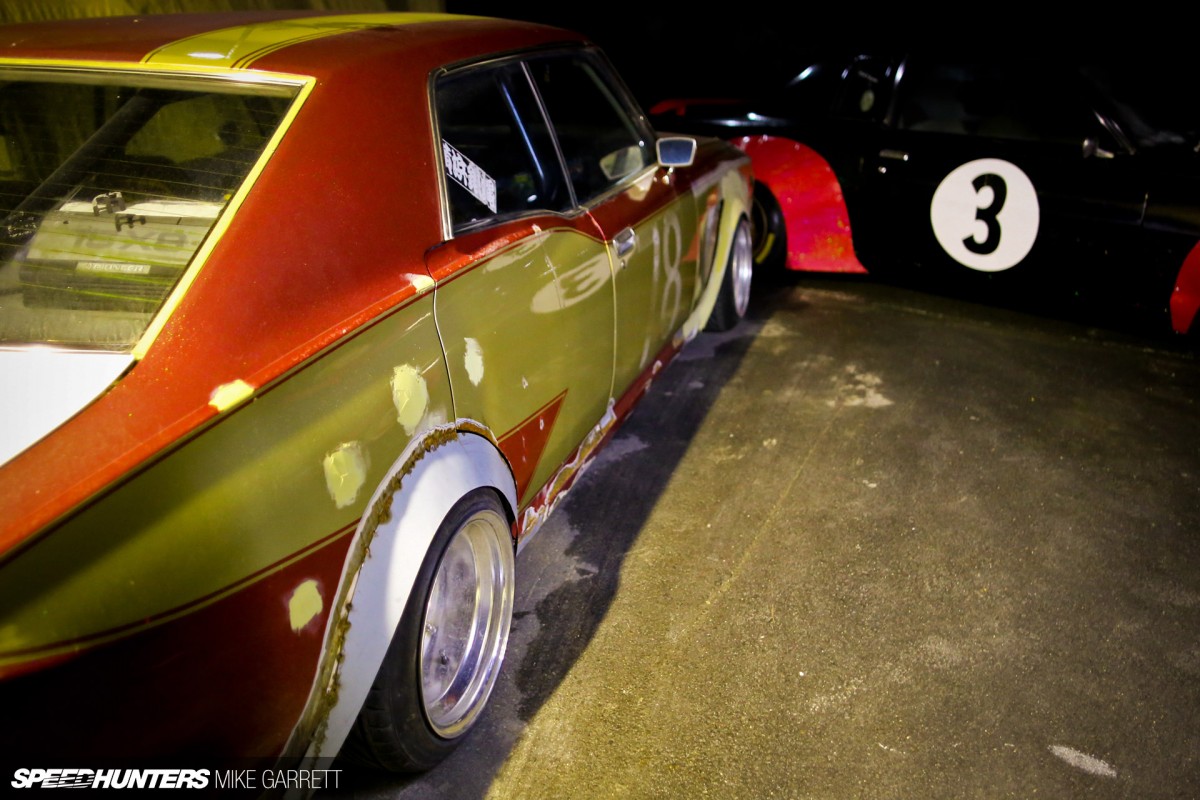 Prior to the meet, we took a ride over to Yamaguchi Paint & Body Works – a small local shop where some of Ohgishi-san's fellow club members were gathering after work.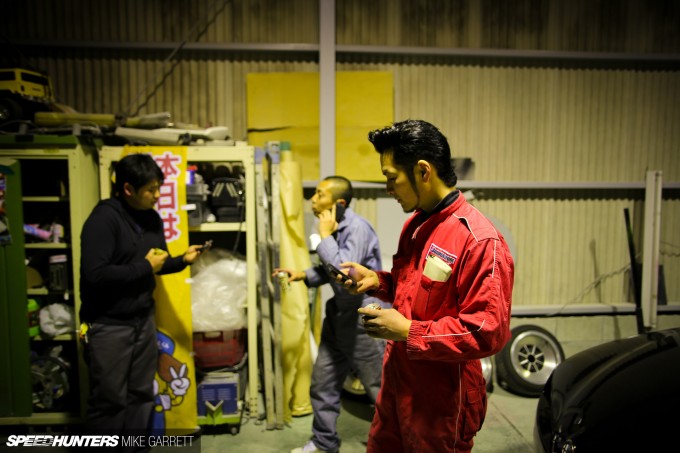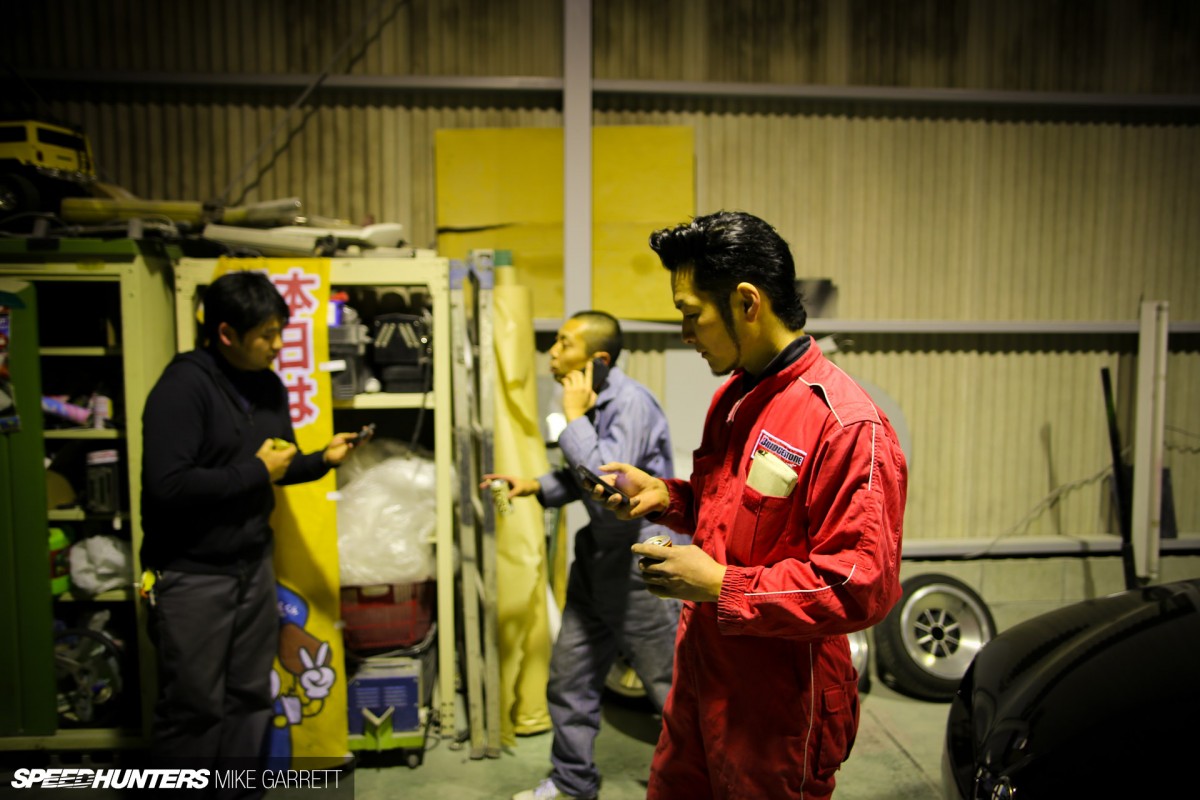 It was here that I met Mr. Teppey Yamaguchi and other members of the Otona No Omocha (Adult Toy) car club. Not only was this a group of extremely friendly and funny dudes, but these guys are more than just vintage car owners. They are kyusha otaku to the fullest – living and breathing 1970s and 1980s custom car culture and fashion, despite their young age.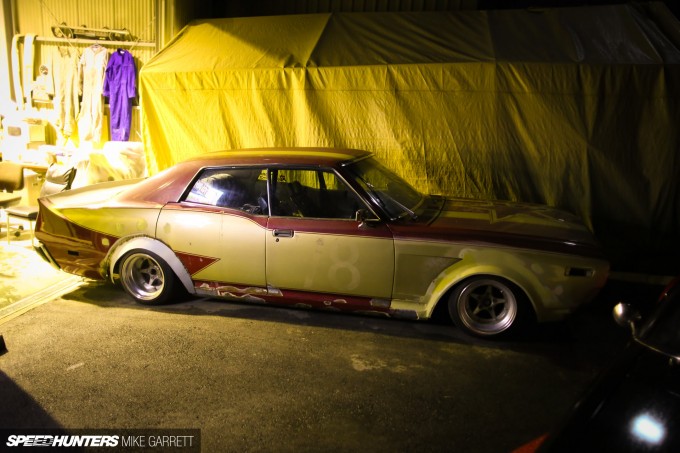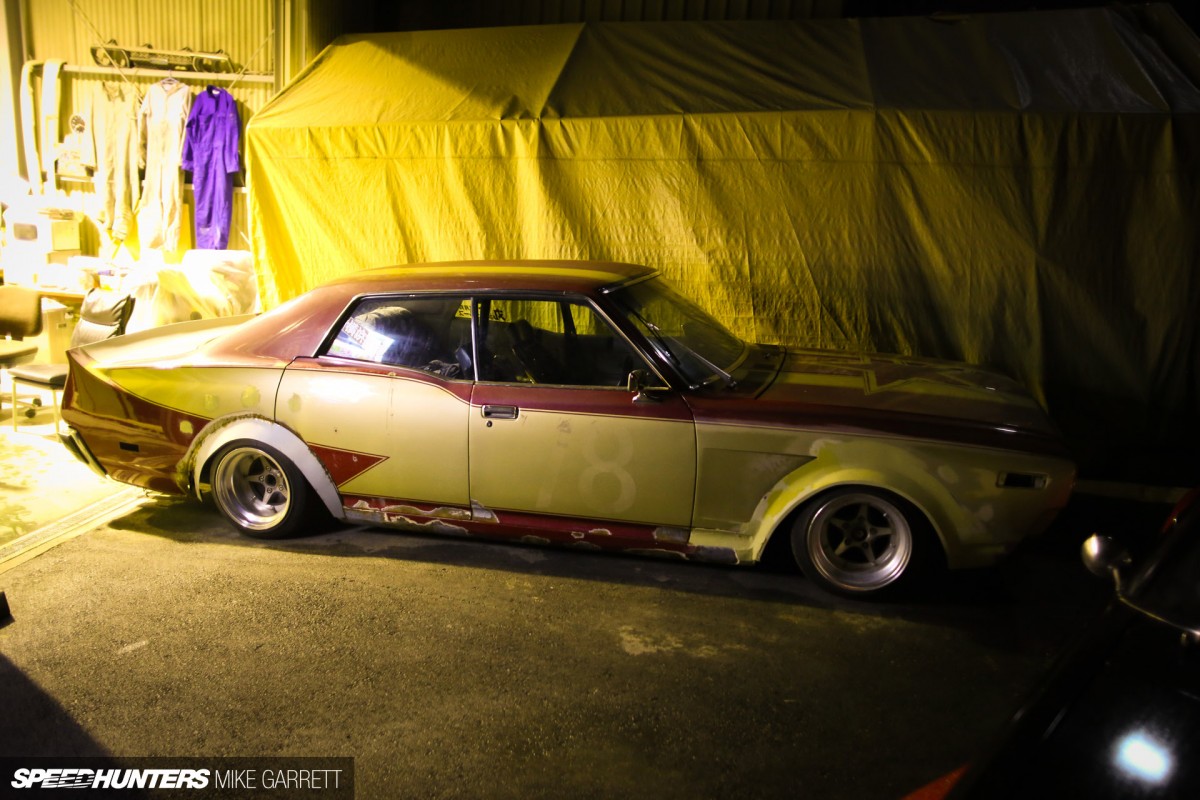 While hanging out at the shop, I was able to check out this bitchin' 330 Nissan Cedric kaido racer that was in the process of being refreshed. Check out those custom fenders and rare five-lug, five-spoke Longchamp wheels.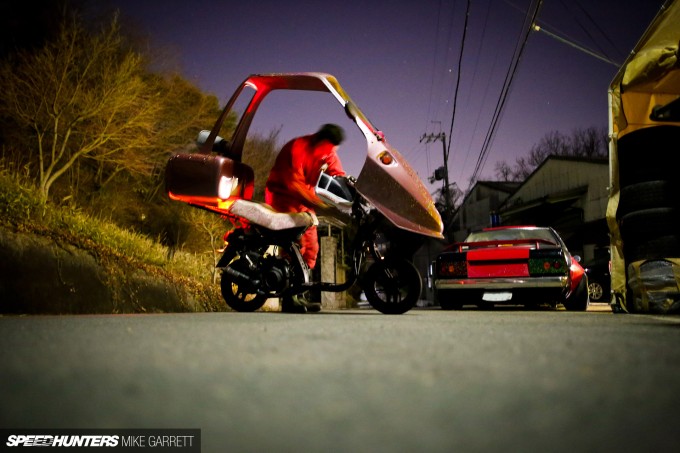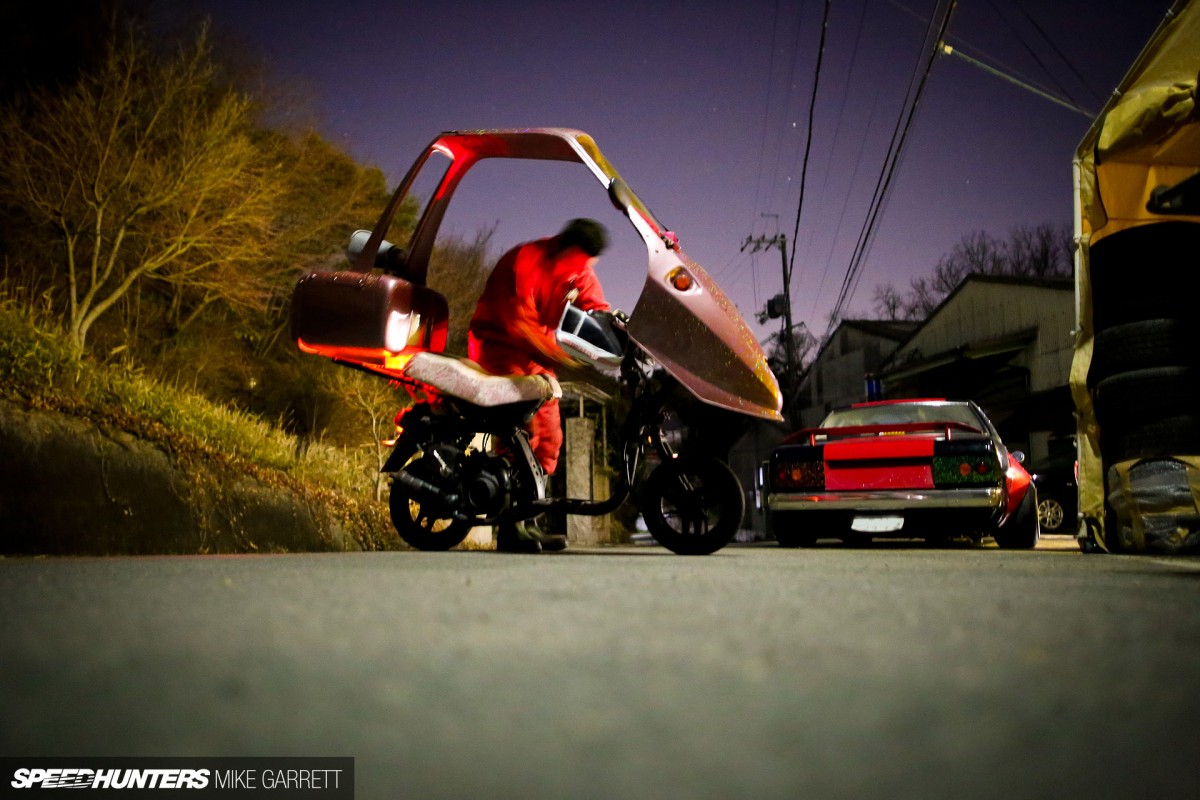 At one point Yamaguchi-san even went to his shed and busted out this ridiculous custom scooter. See what I mean about these guys being kyusha otaku?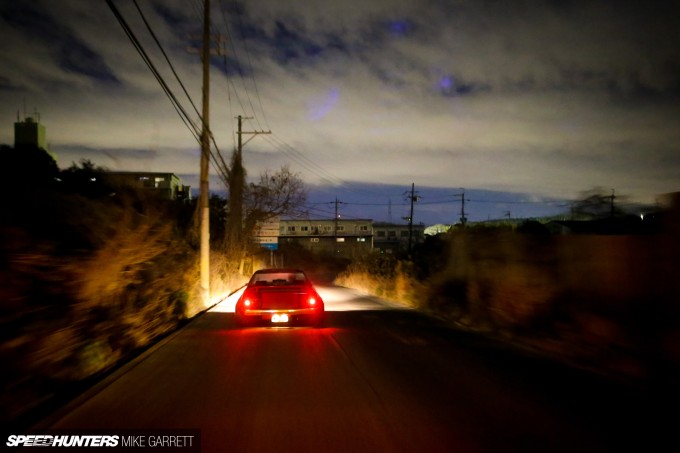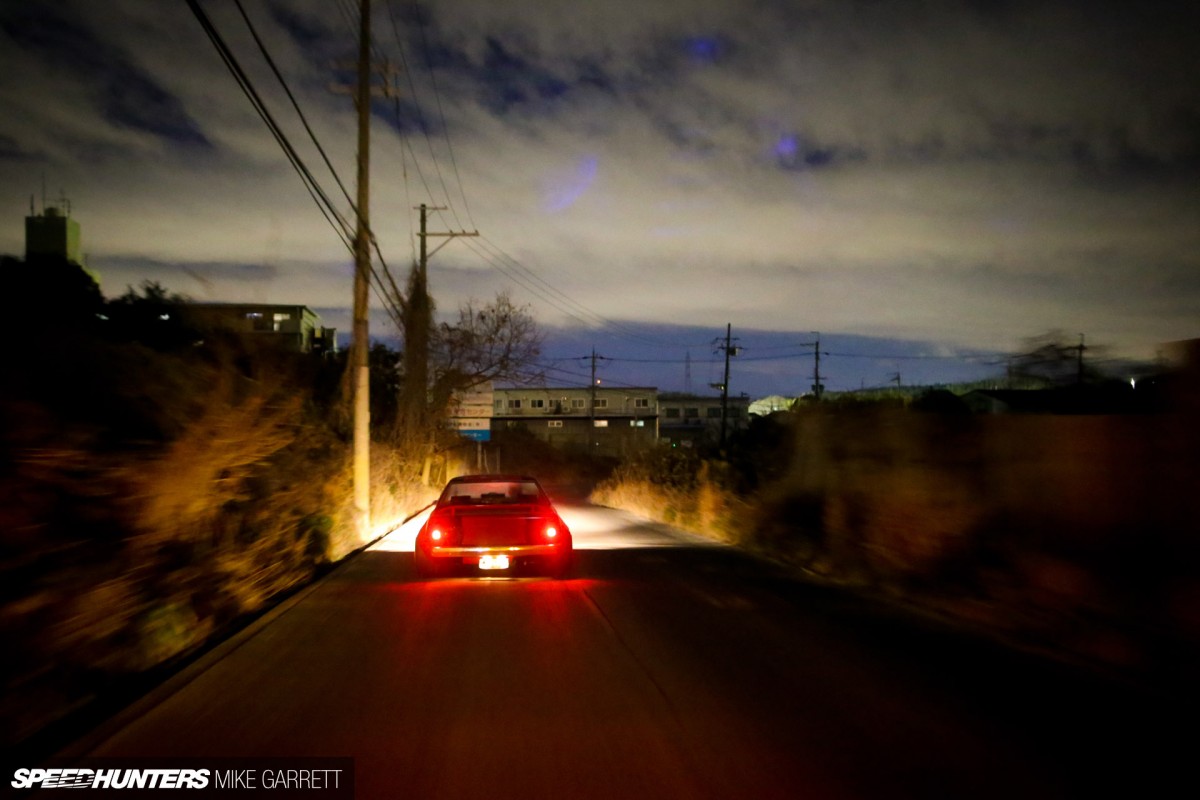 A short time later, it was time to head out to the meeting spot, which would be a parking area on the local expressway. Before that though, we'd stop at a nearby convenience store to join up with more local gearheads.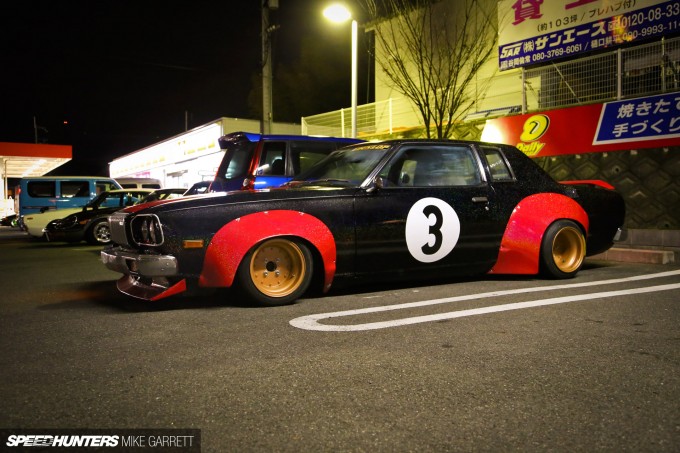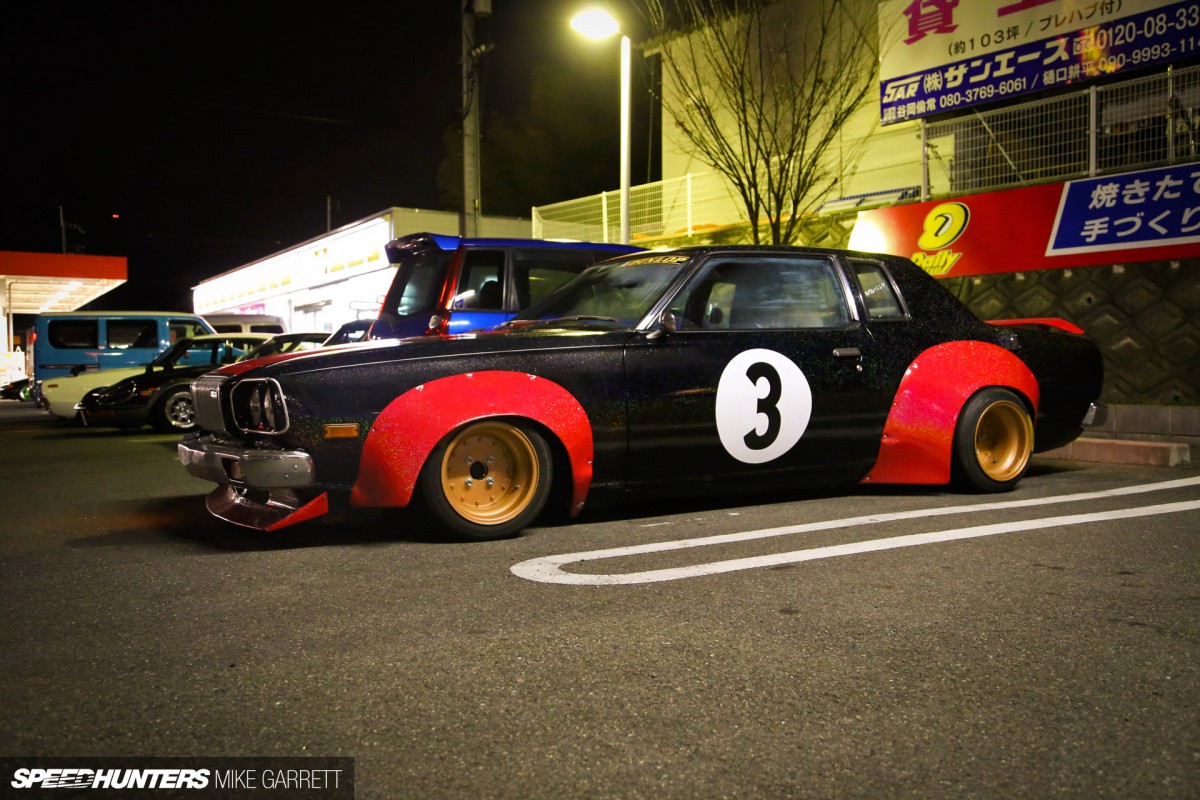 It was there that I got better chance to check out Yamaguchi-san's ride of choice. It's a Mazda Cosmo – which is a rare vehicle in itself, but this one's the even less commonly seen notchback 'L' model. Naturally, he's got it outfitted to full Kaido Racer spec, with works-style overfenders, mega deep SSR Mk1s and Dunlop slicks. Definitely one of the coolest cars I encountered during my recent time in Japan.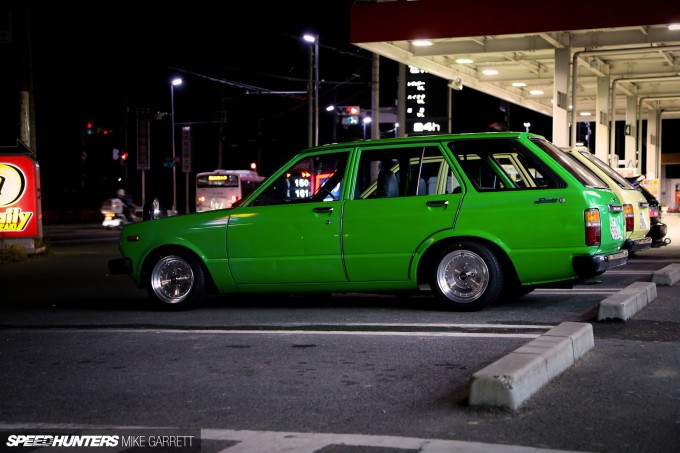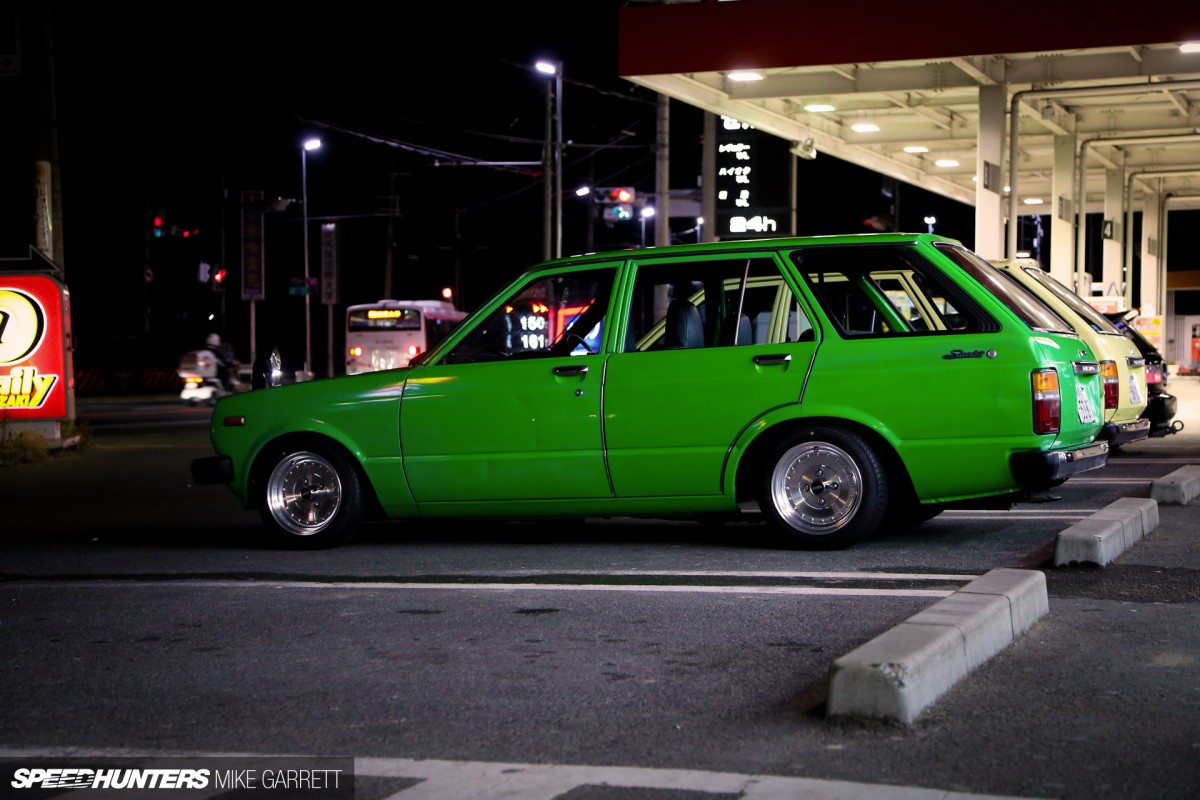 Also joining our little convoy at the convenience store were a couple of KP chassis Toyota Starlets, and once again these weren't the usual three-door hatchback body style, but the rare station wagon type.
Cold night, hot cars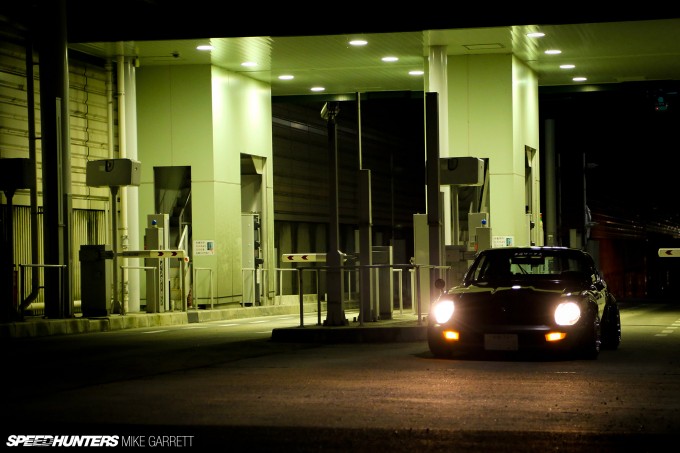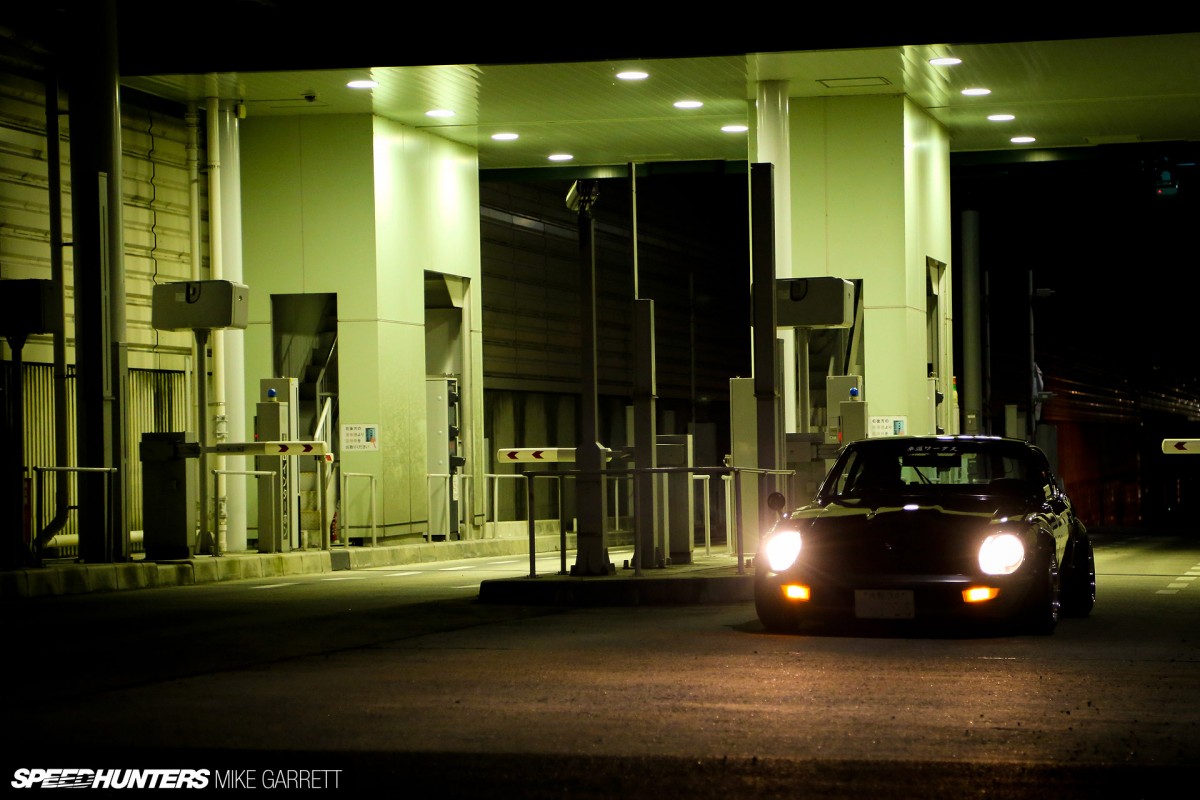 After a few minutes we hopped back in the cars and made the short drive up the expressway to the Kyotanabe Parking Area, where the party was already getting started.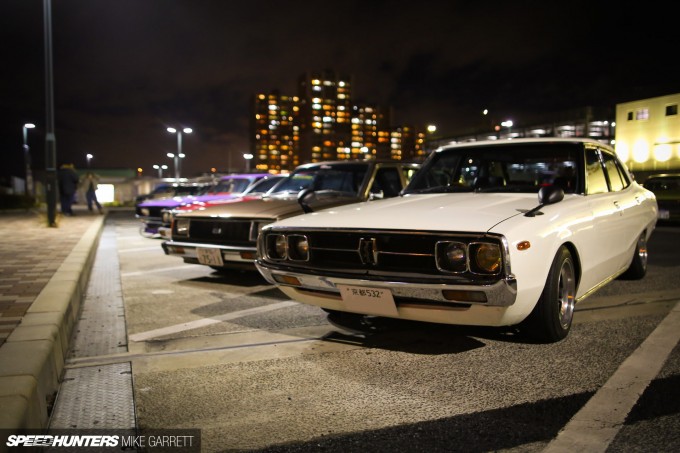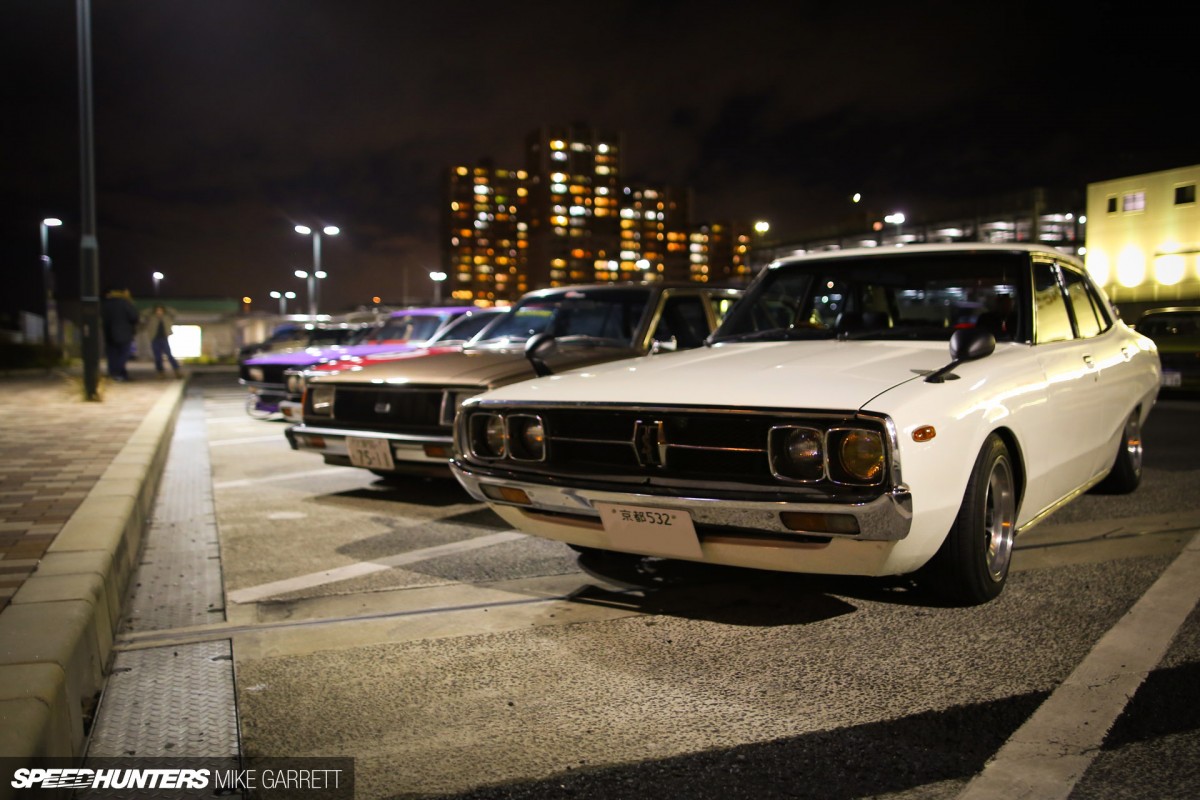 Despite the fact that it was both bitterly cold outside and a week night, the turnout was nothing short of impressive. There weren't hundreds of cars, but it seemed that every vehicle that came out was a damn cool one.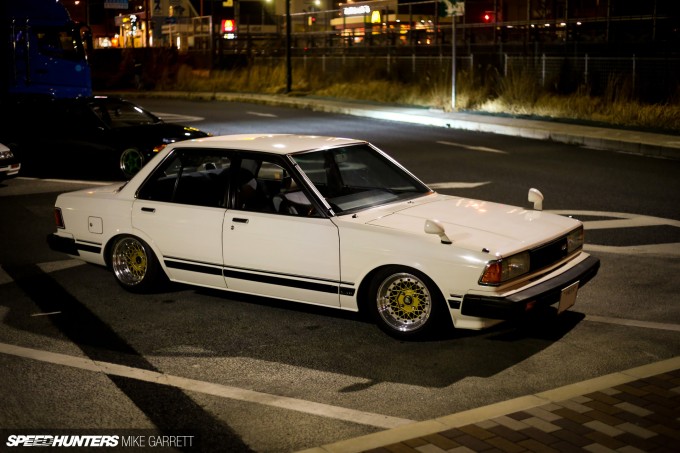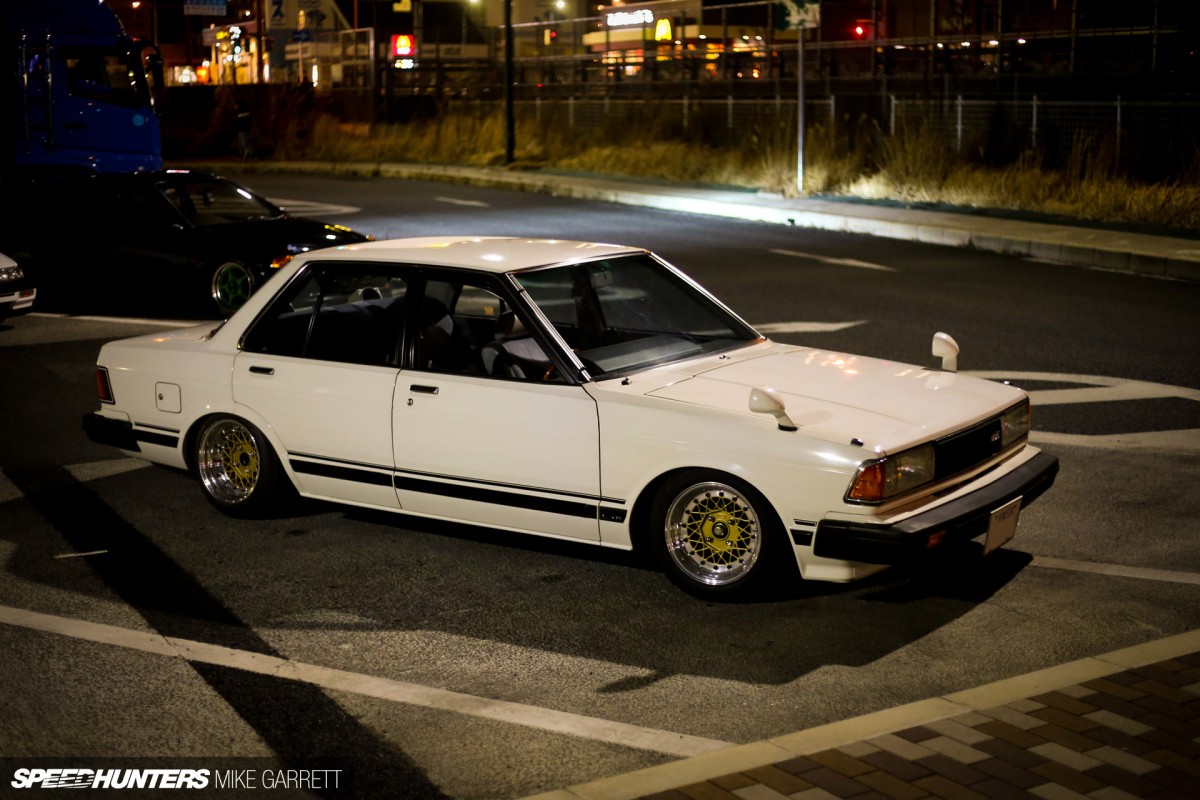 Here's a stylish 910 Nissan Bluebird that happens to be owned by Ohgishi-san's younger brother Takuma. As you can see, a passion for old low cars runs in the family.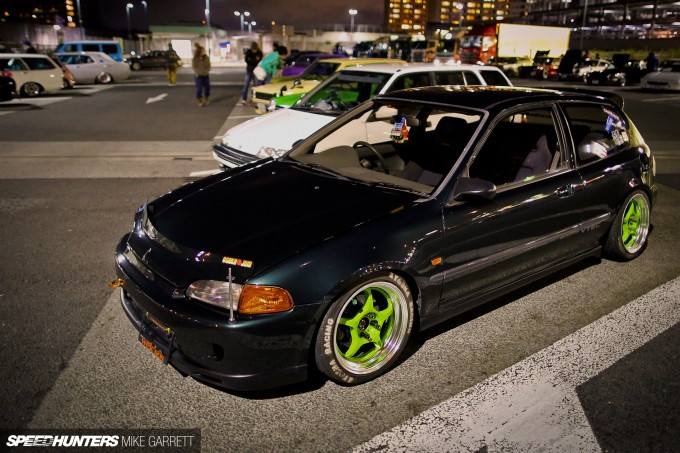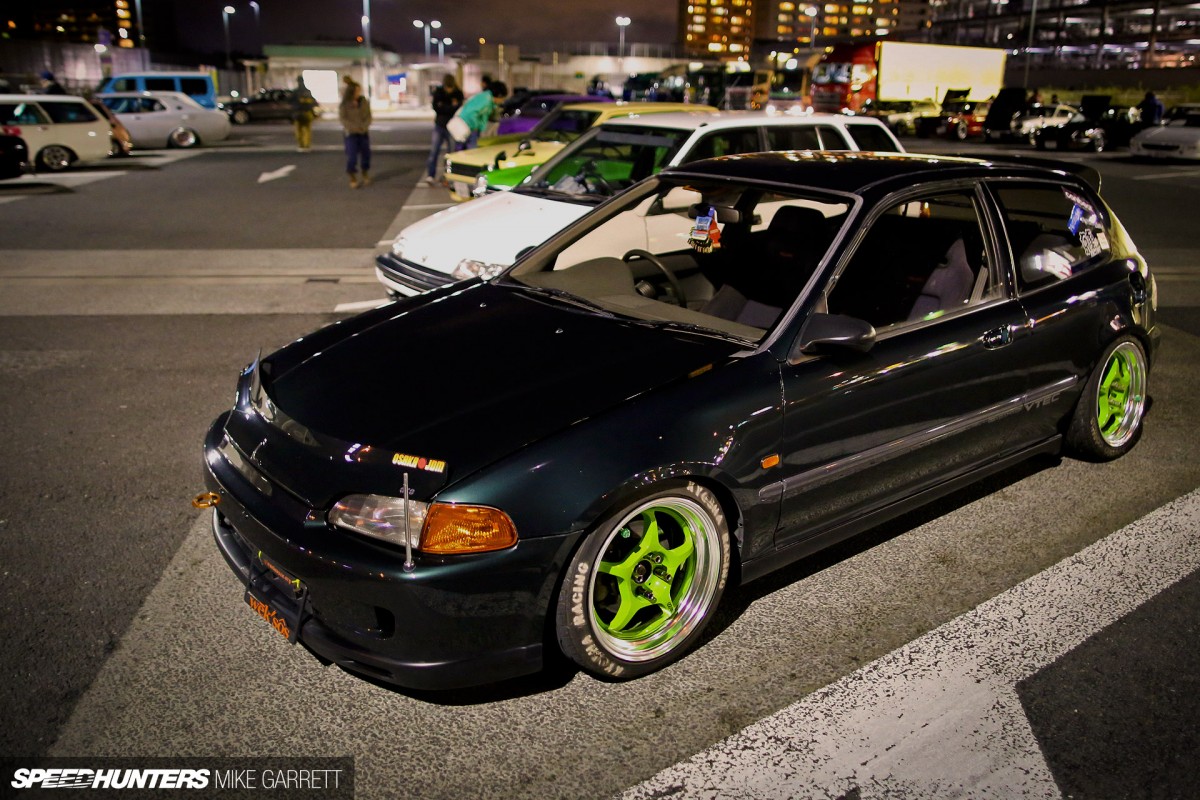 It wasn't exclusively classic cars either – here's an aggressive little EG6 Civic that came out to join in the fun. Then again this body style is nearly 25 years old now – as hard as that might be to imagine.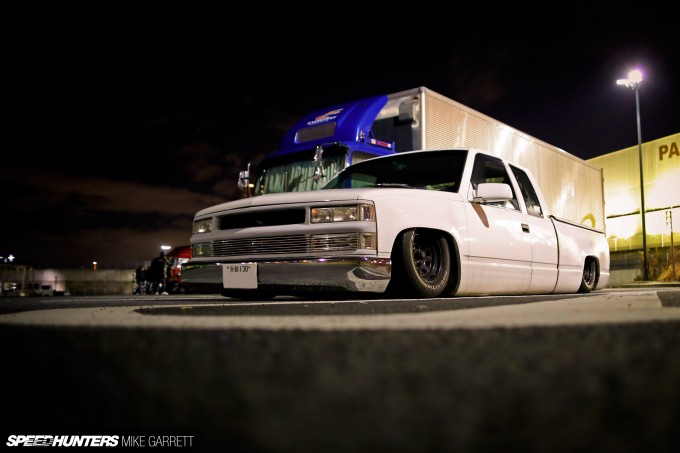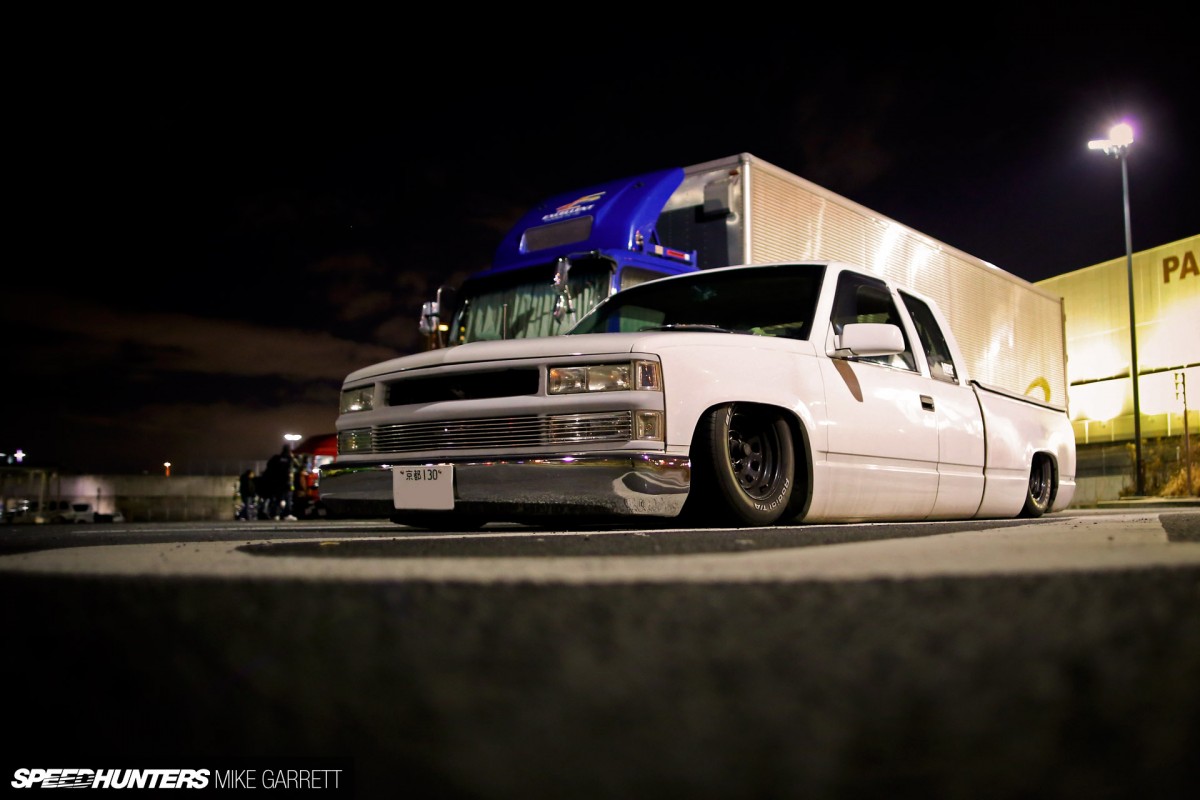 Or how about a pavement-scraping Chevy Silverado that made me forget I was in Japan for a moment. You really never know what you'll find at these gatherings.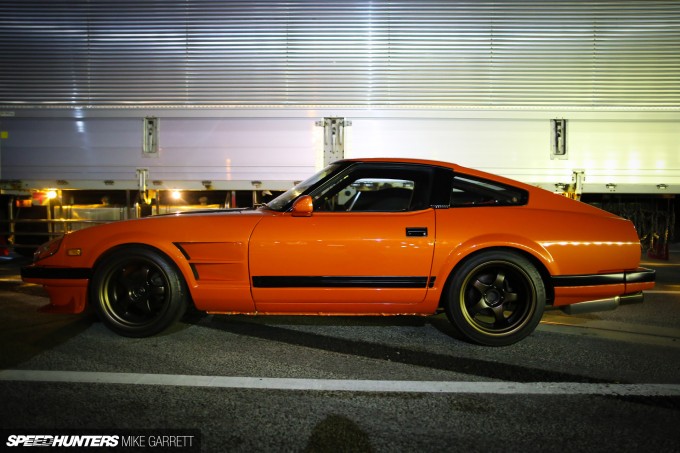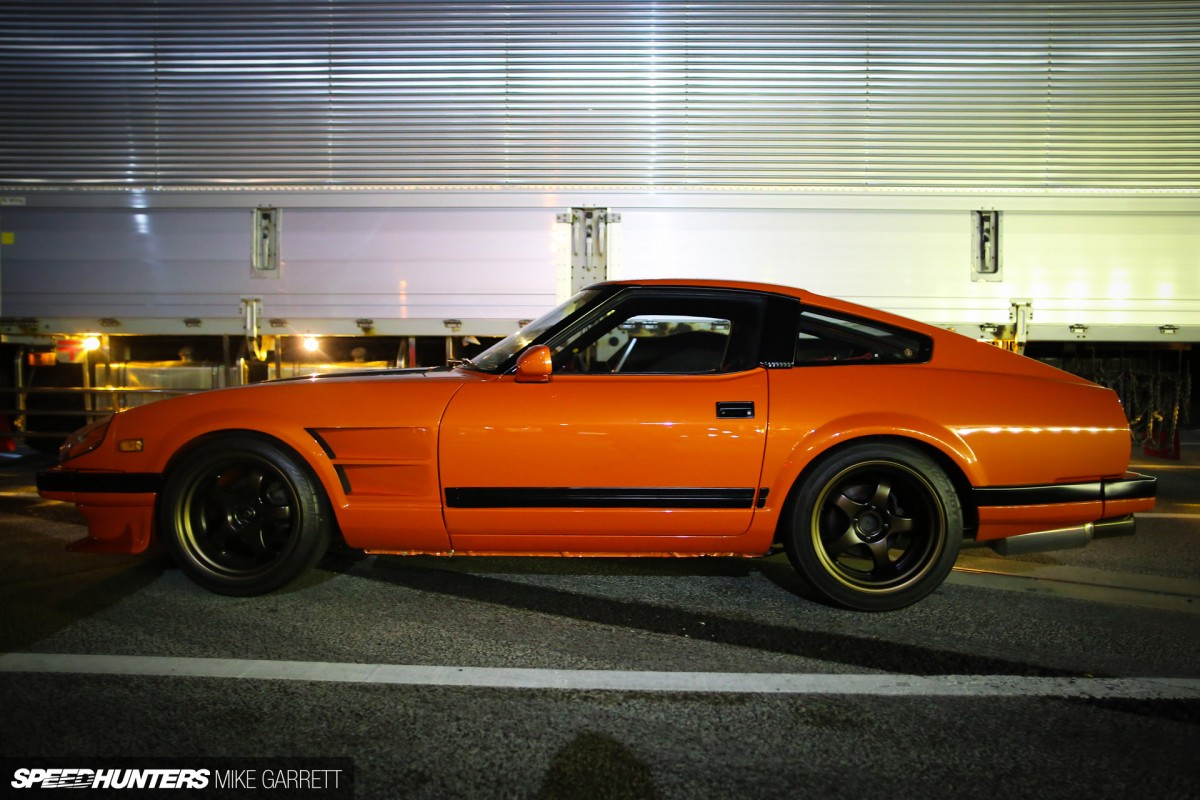 I've had the good fortune to be able to attend lots of meets in Japan, but it didn't take long to realize this night was something special. Rarely have I seen such an impressive collection of both unusual and well-modified cars in one spot. Take this S130 Fairlady Z for example, a pretty rare car on its own – but this one was set up perfectly with a built L-series under the hood, some subtle bodywork and a set of Work Meisters. Looks like it's ready to tear up some highway, doesn't it?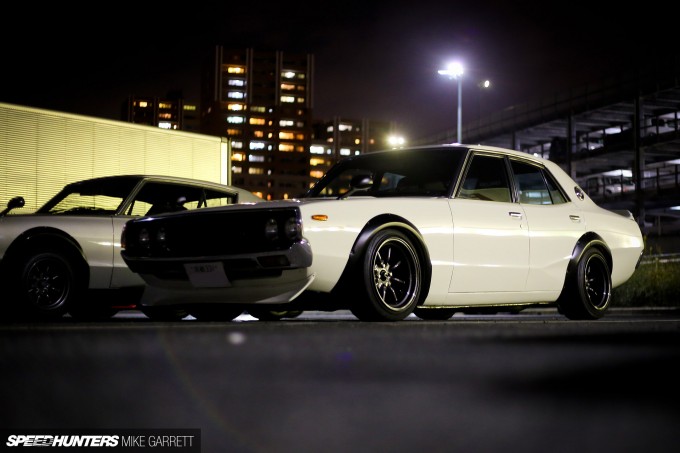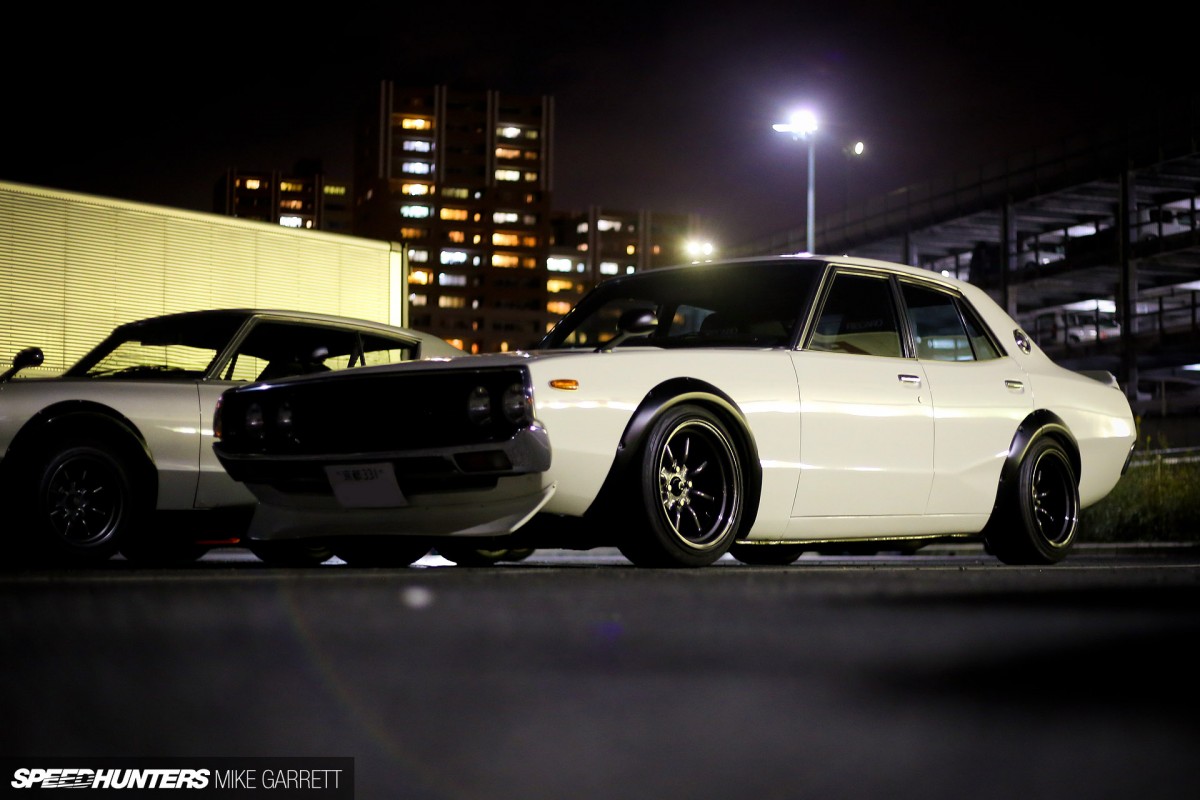 Here's a four-door C110 Skyline doing its best GT-R impression with a dropped stance, OE style flares, Watanabes and sticky rubber.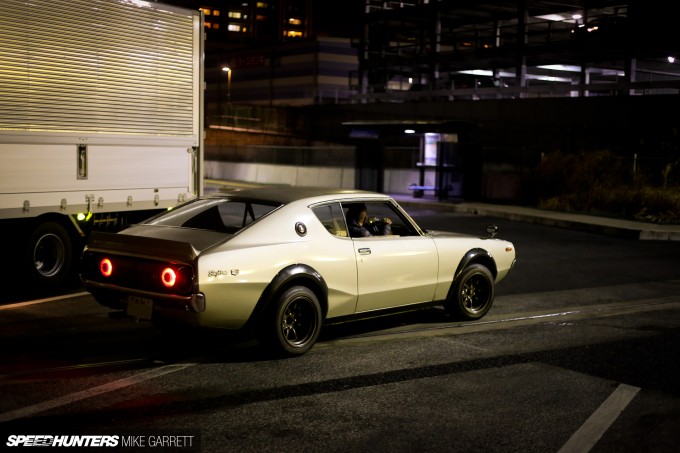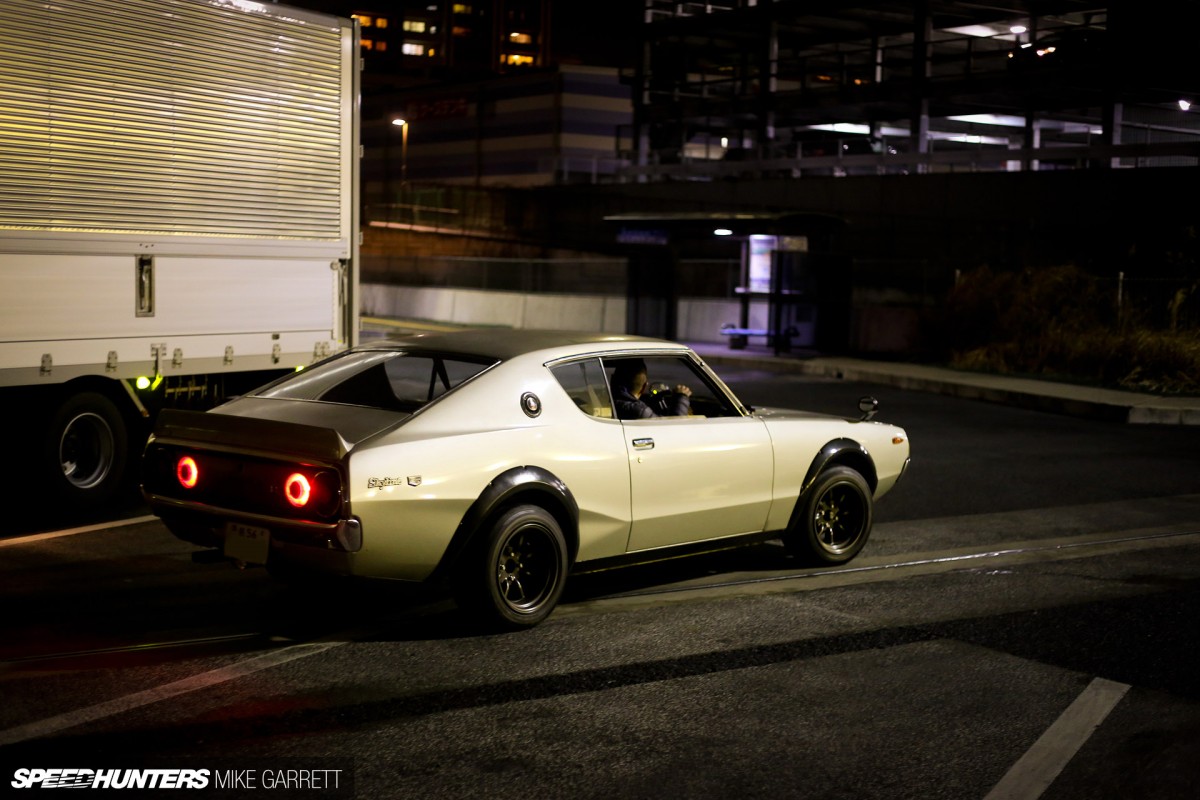 Speaking of GT-Rs, you might be wondering why this Kenmeri is sitting up so high compared to the others at the meet. Well it turns out this is a genuine KPGC110 GT-R, one of just 197 built before the oil crisis put the program on a long hiatus. The fact that this rare piece of Japanese motoring history came out is another sign that this was more than your typical night meet.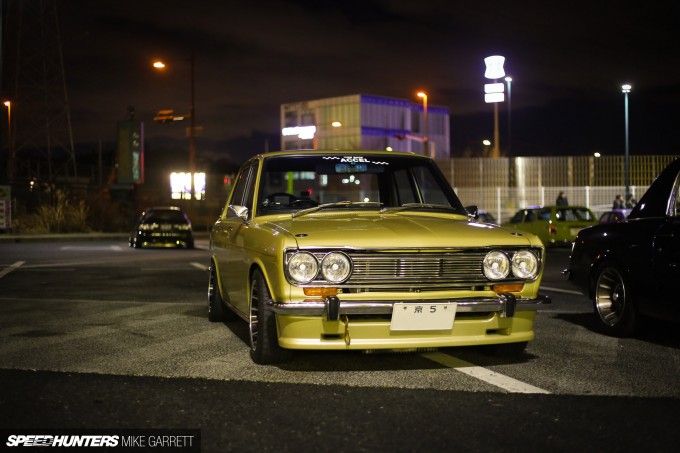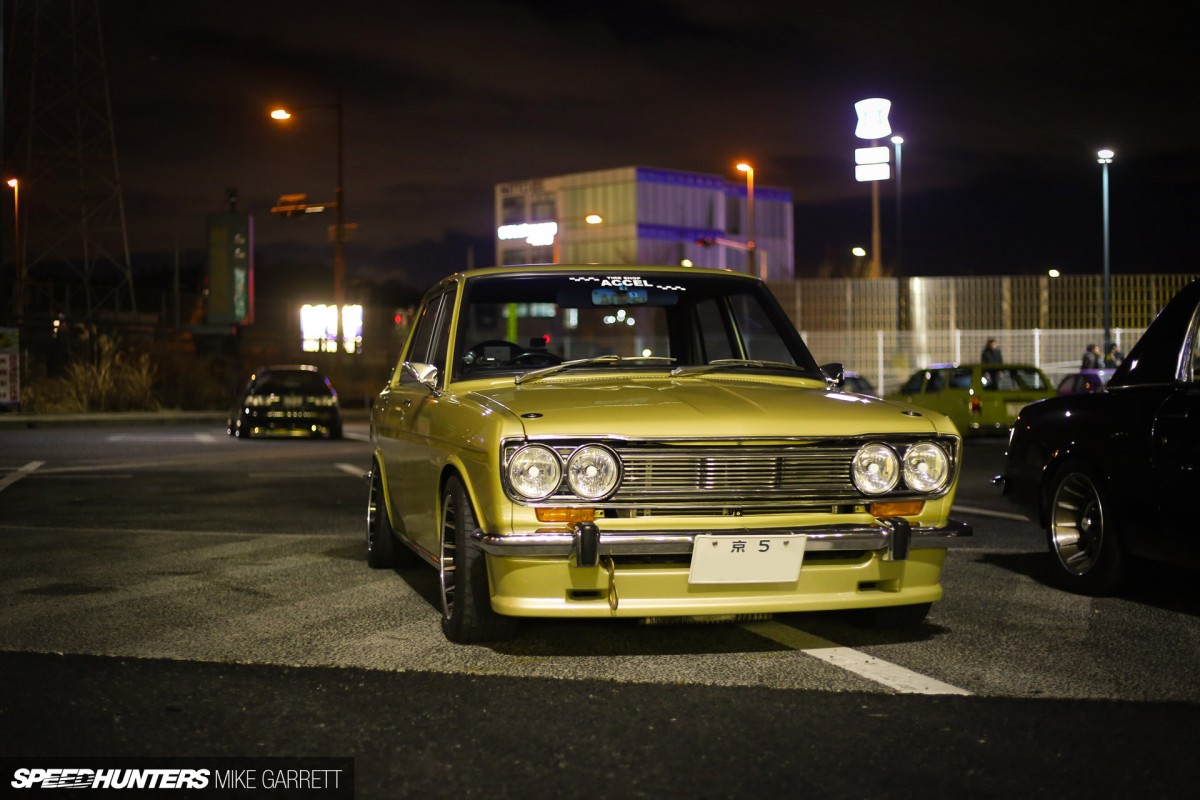 Elsewhere I came across this very tidy 510 Bluebird with an appeal that was made even stronger by the fact it was packing some muscle under the hood.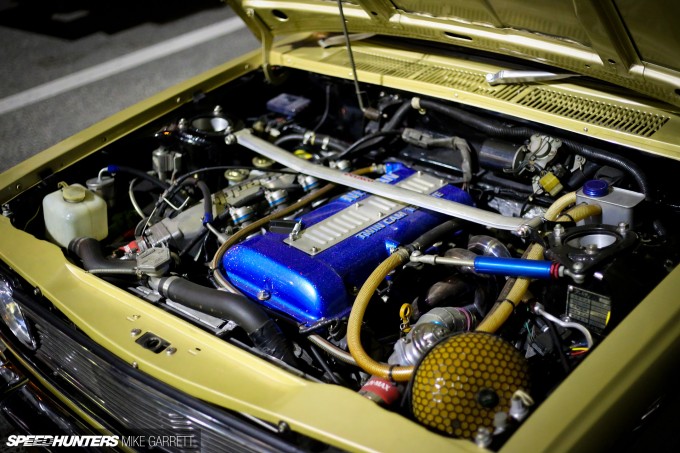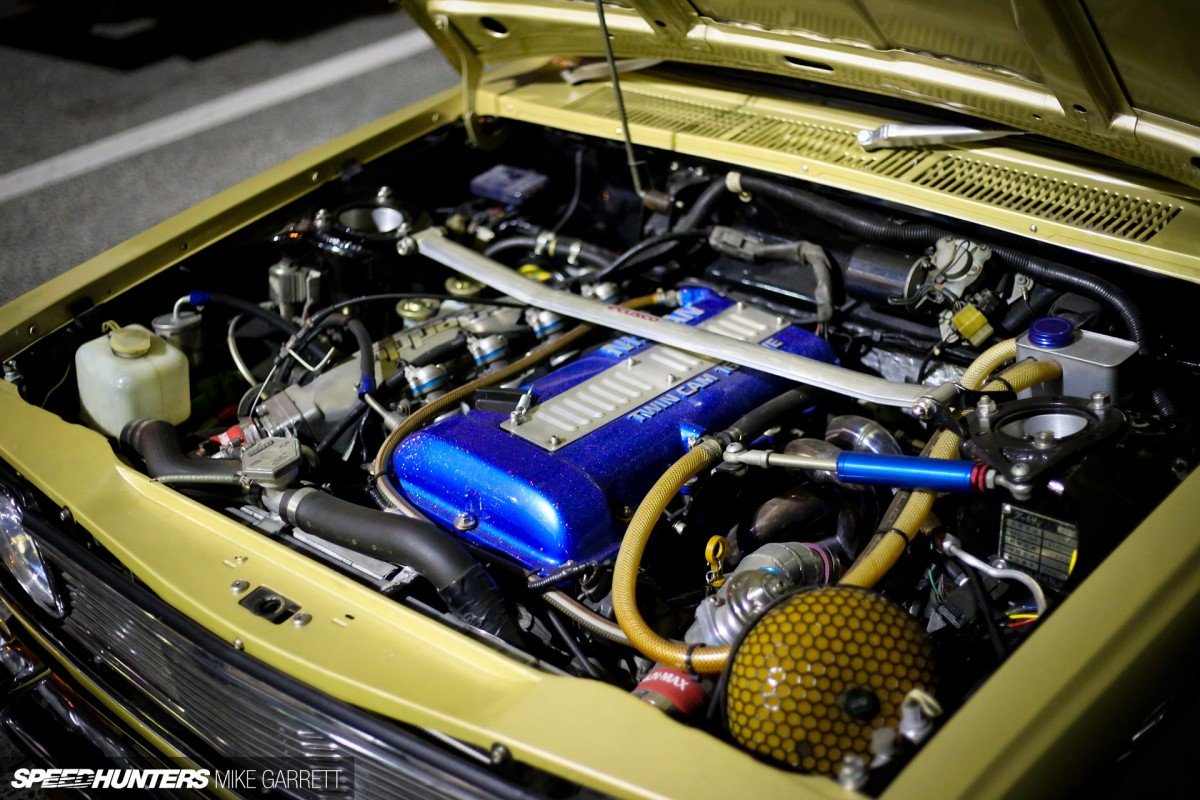 A full SR20DET swap to be exact, and an extremely clean one at that. It's really hard to think of a car and engine better suited for each other than the 510 and an SR.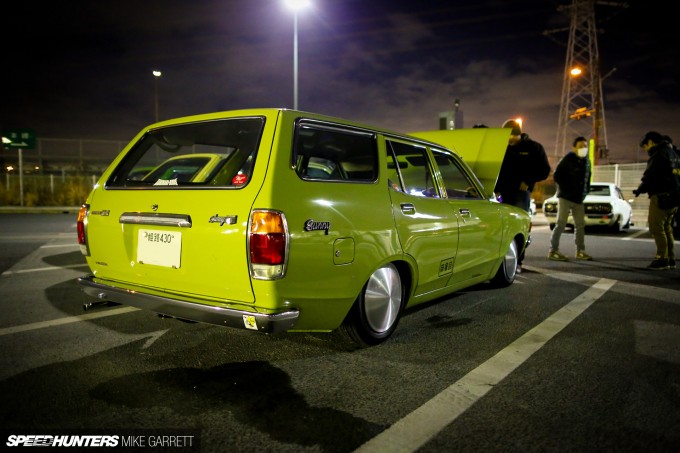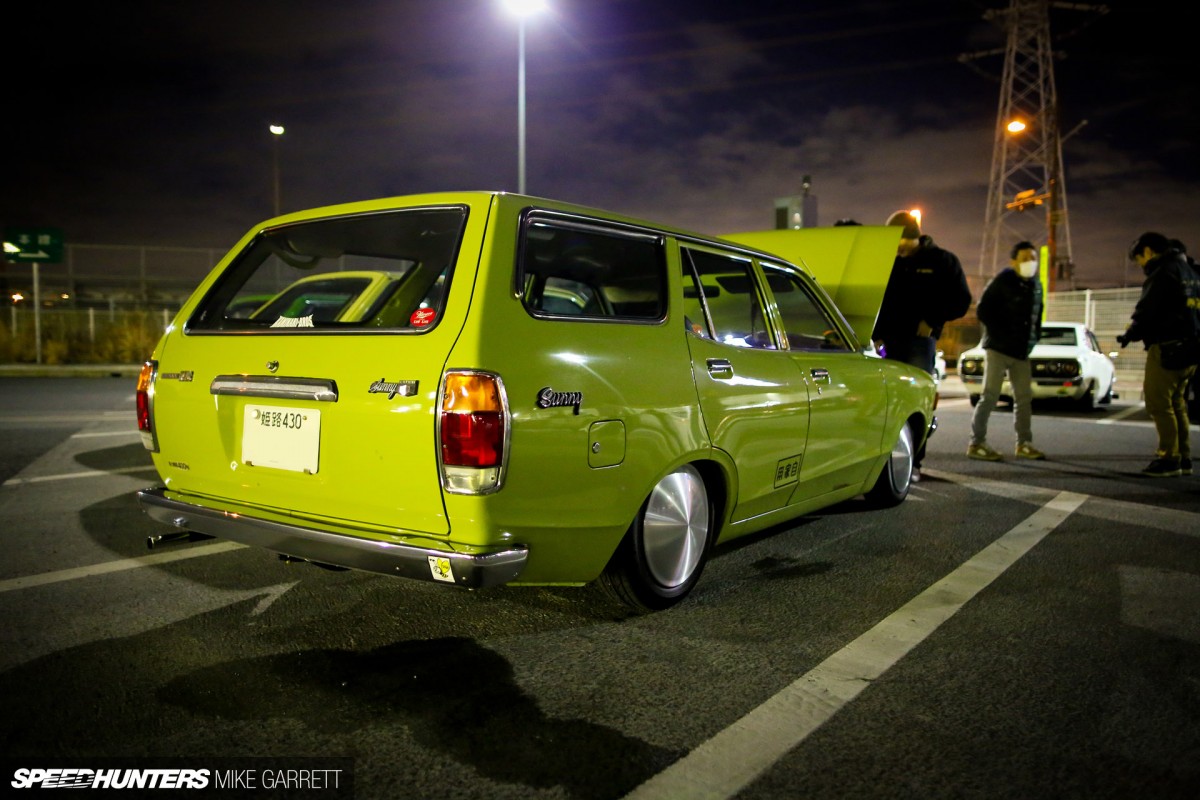 Along with the sexy Skylines and Zs, there was a good showing of more obscure models – like Yoshitomo Kamata's immaculate 210 Nissan Sunny wagon. I dig everything about this car, from the unique color choice to the low ride height and aluminum Moon discs.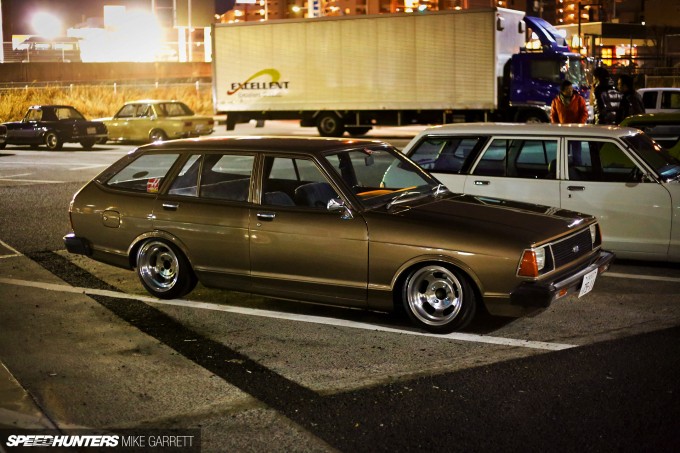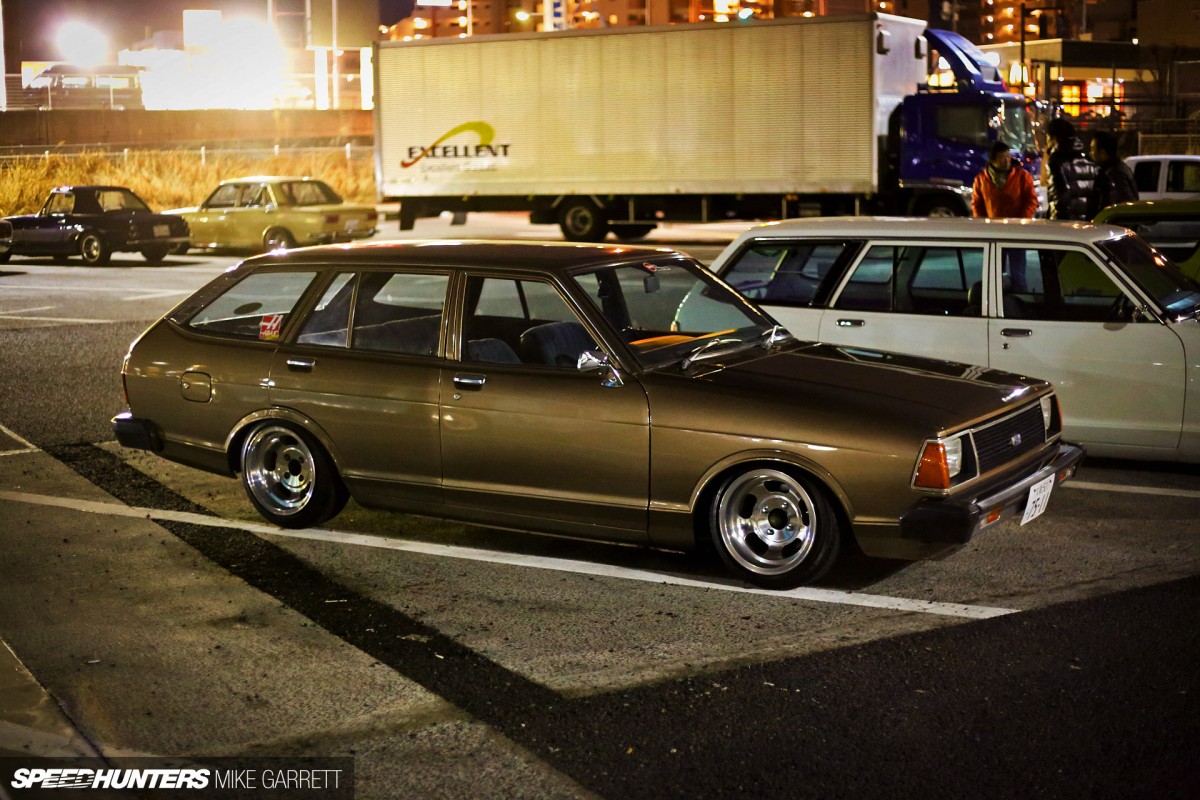 Here's another Sunny wagon: this one a 310 model dropped on a gleaming set of slot mags. Yes, I love wagons.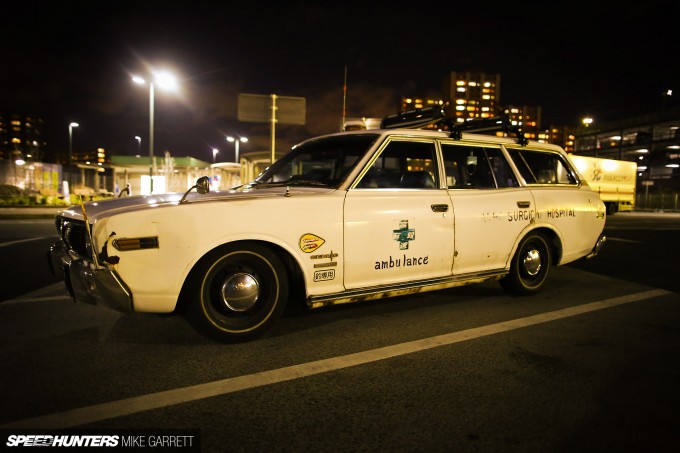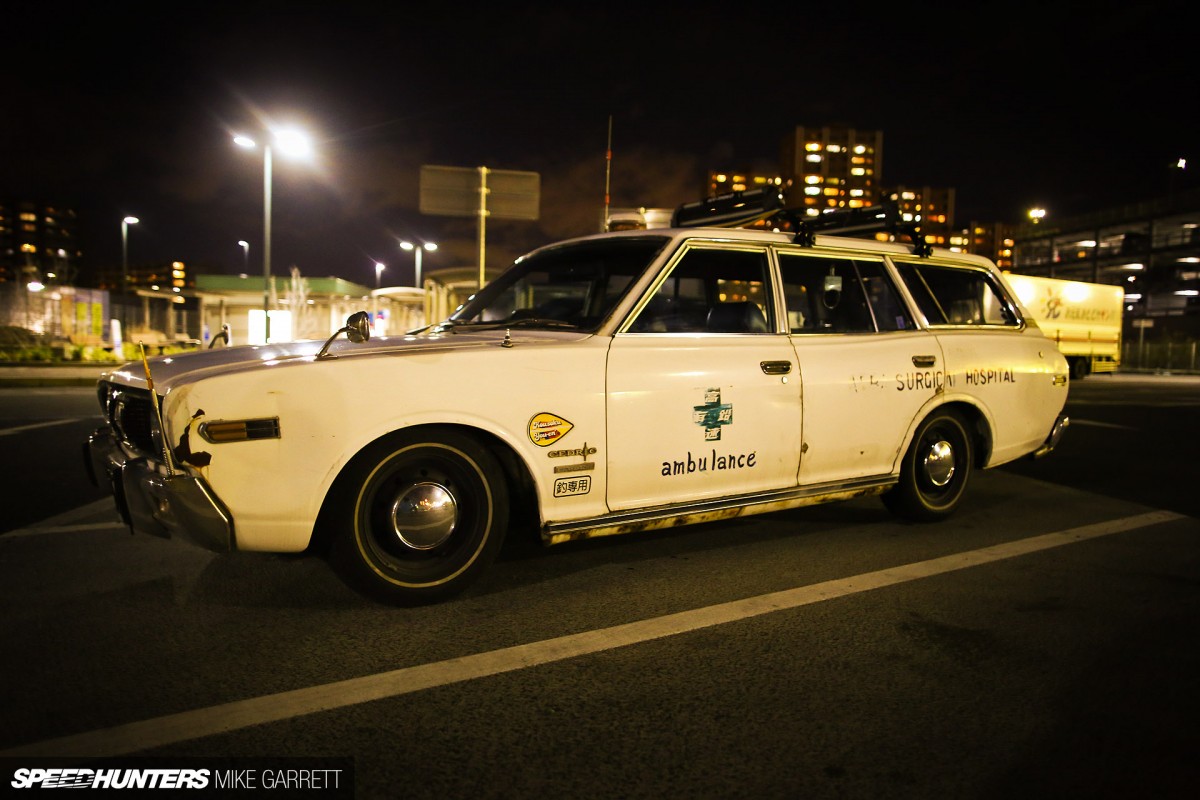 It might be a Nissan, but seeing this 230 Cedric Ambulance got me thinking about all sorts of cool things I could do with my MS53 Crown. Maybe I'm just a sucker for weird cars?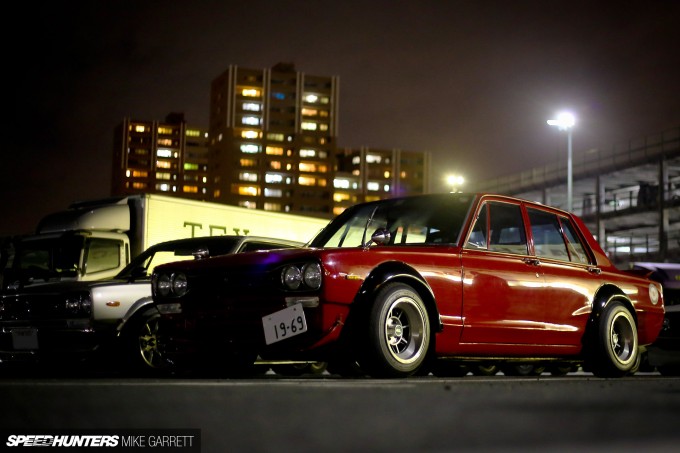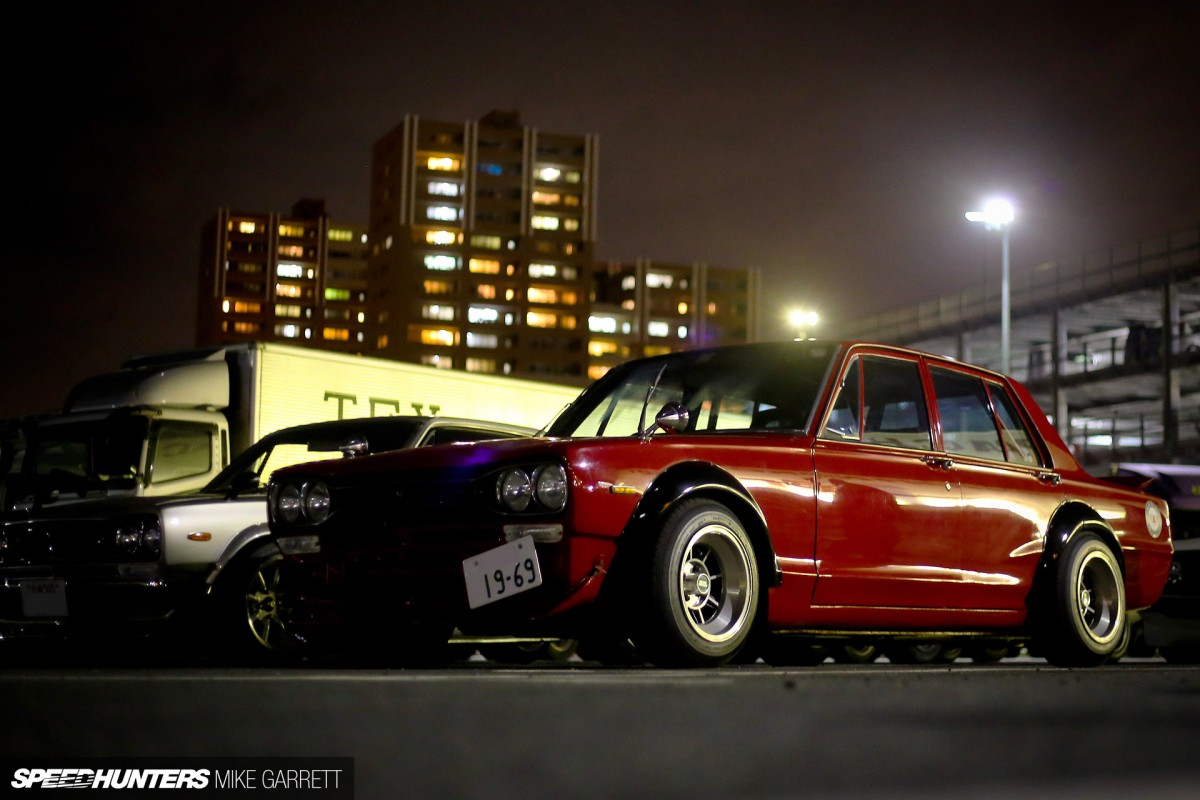 Ah yes, let's not forget the Hakosuka, among which several examples were present this night, including a tough-looking de-bumpered sedan on Hayashi Street CRs.
Kyusha family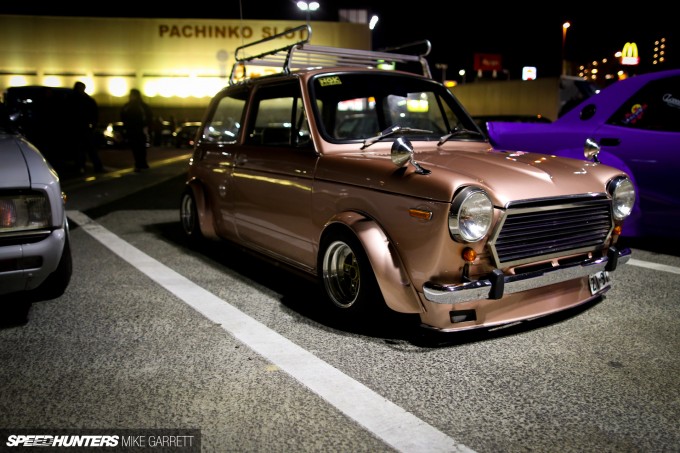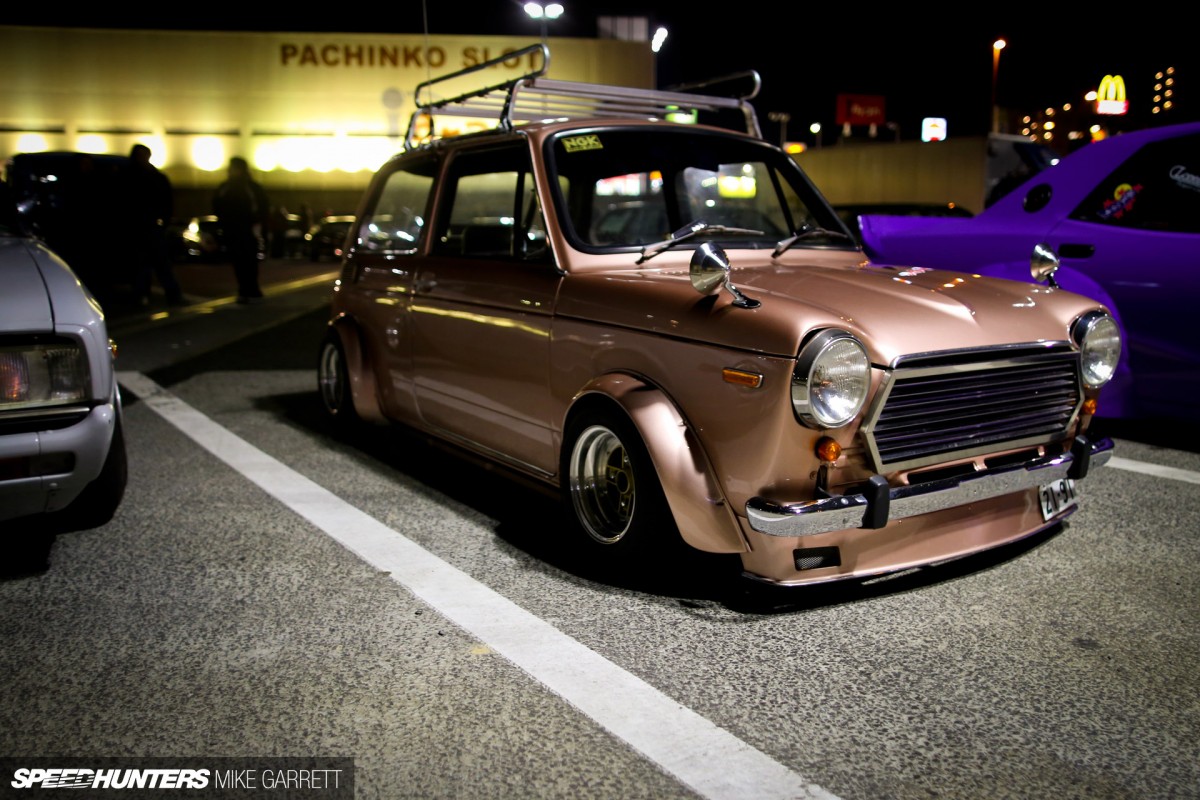 Without a doubt one of my favorite cars of the night was Tooru Waka's Honda N360. The little Honda Ns are relatively common in the Japanese vintage car scene, but you aren't likely to see many done like this.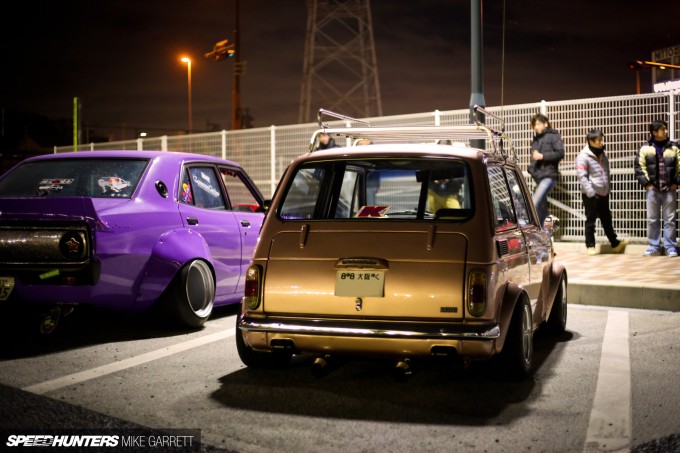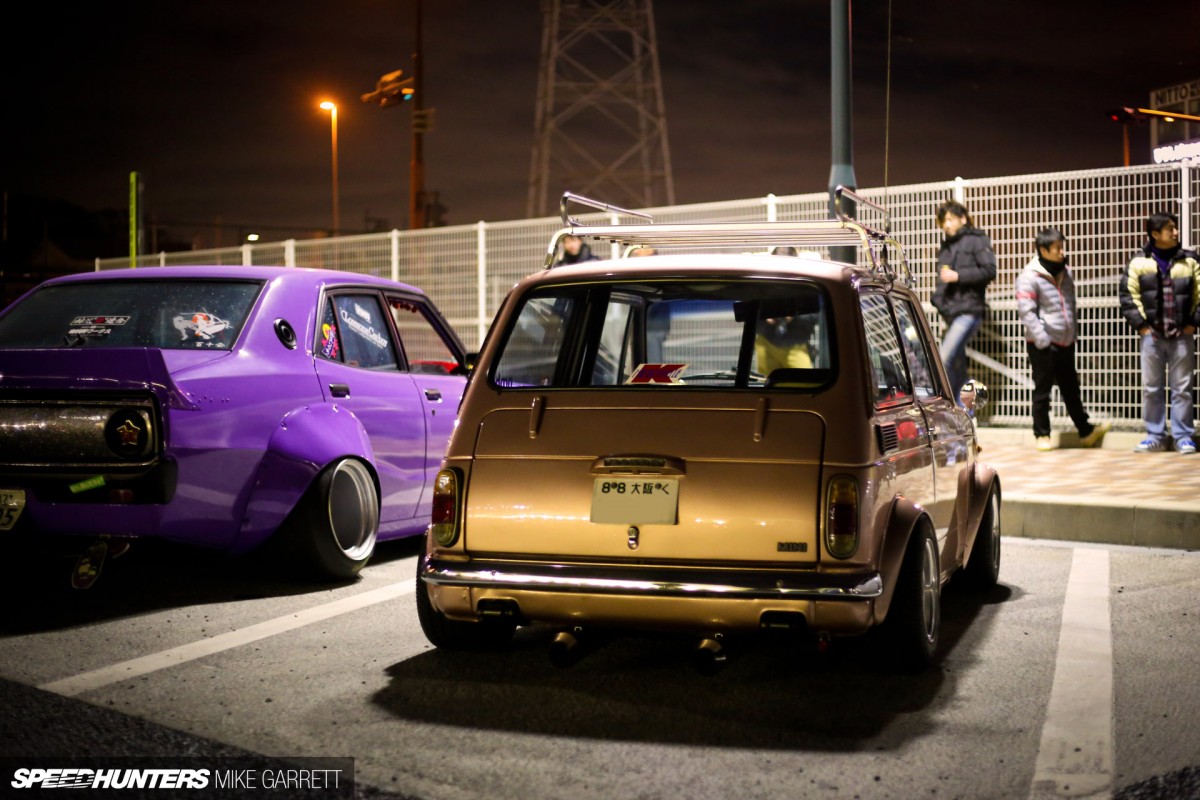 From the chin spoiler and overfenders, to the tiny little SSR MkIs and dual exhaust out back, this pocket-sized street racer seriously warms my heart.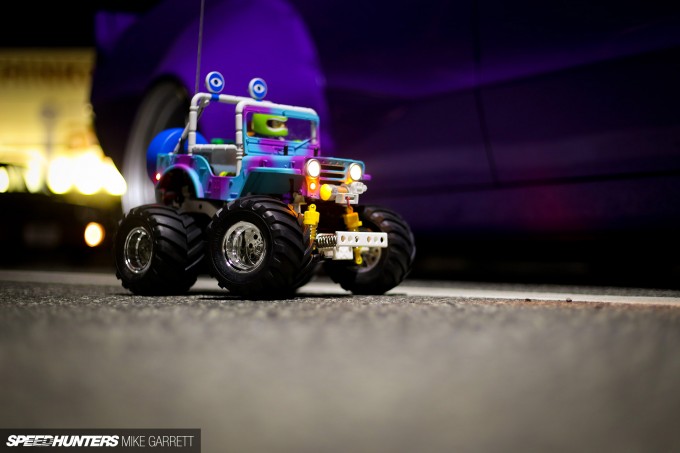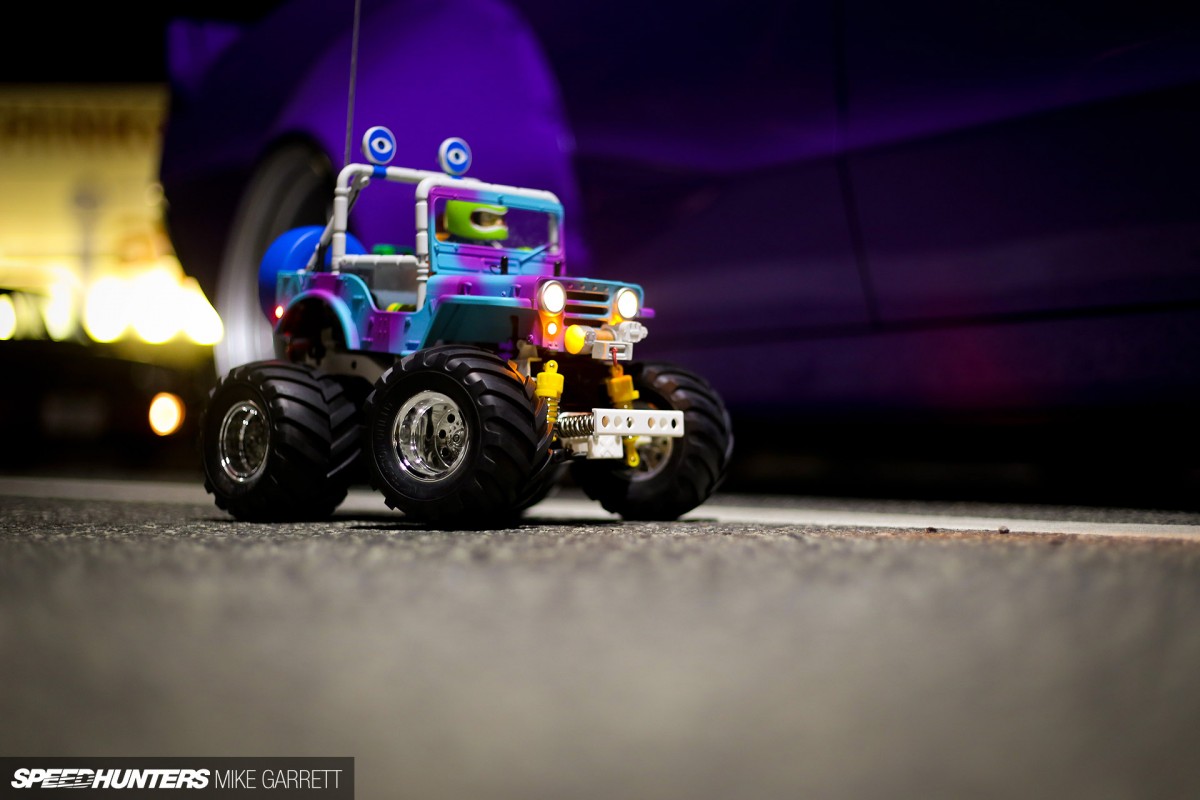 And if the Honda wasn't small enough, Tooru also brought out his customized Tamiya Wild Willy RC car. Cool!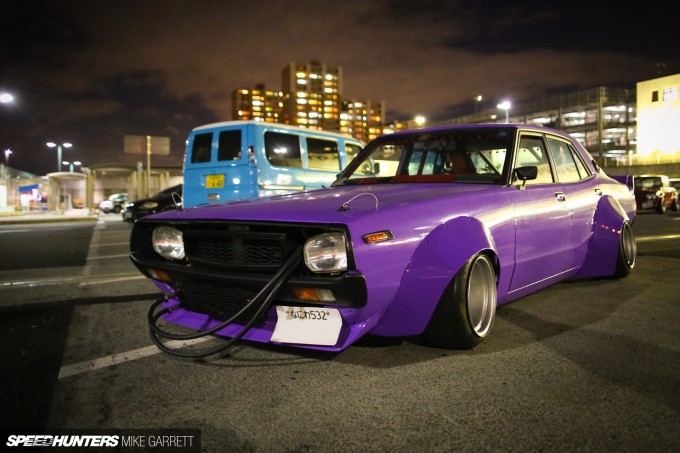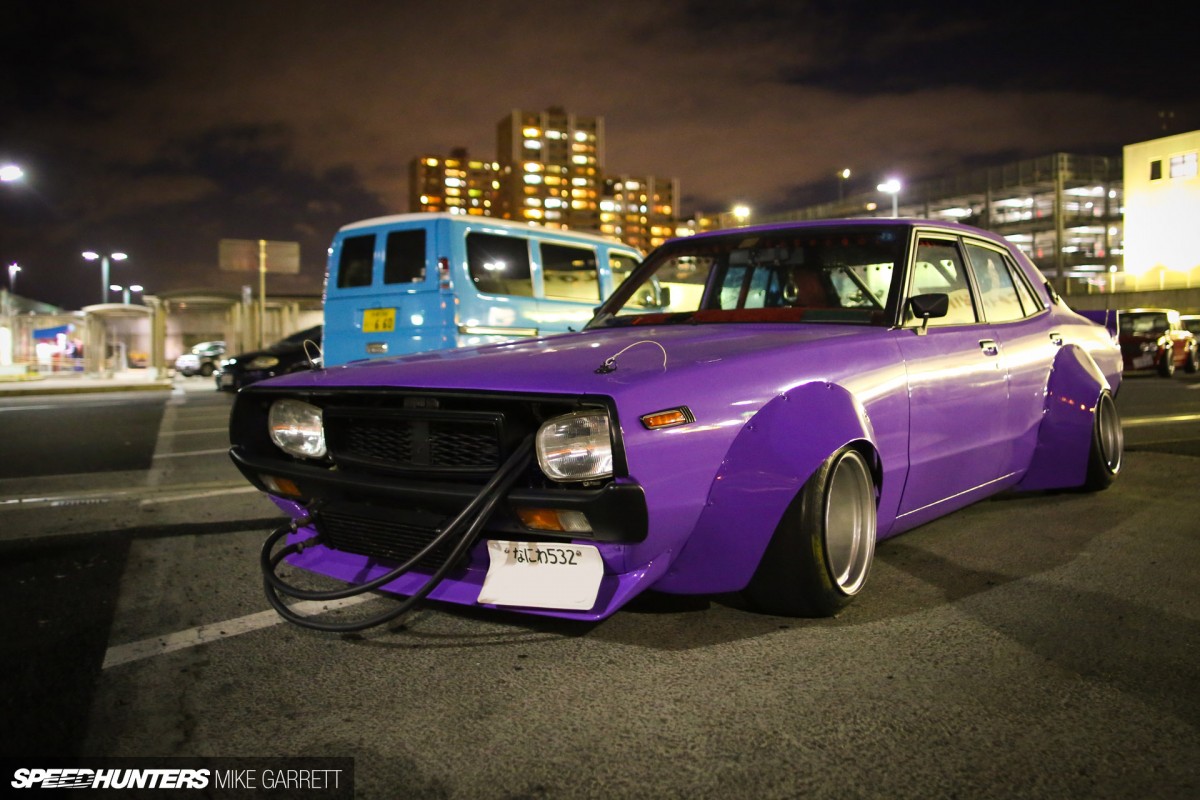 Another one of the evening's more memorable machines was this Yonmeri Kaido Racer which made the trip over from nearby Osaka. You might think of Kanjo Civics and slammed VIP cars when you picture Osaka, but the area's kyusha scene is second to none.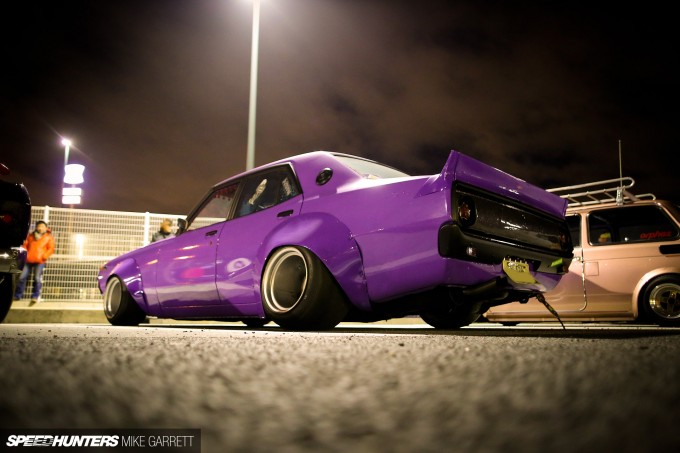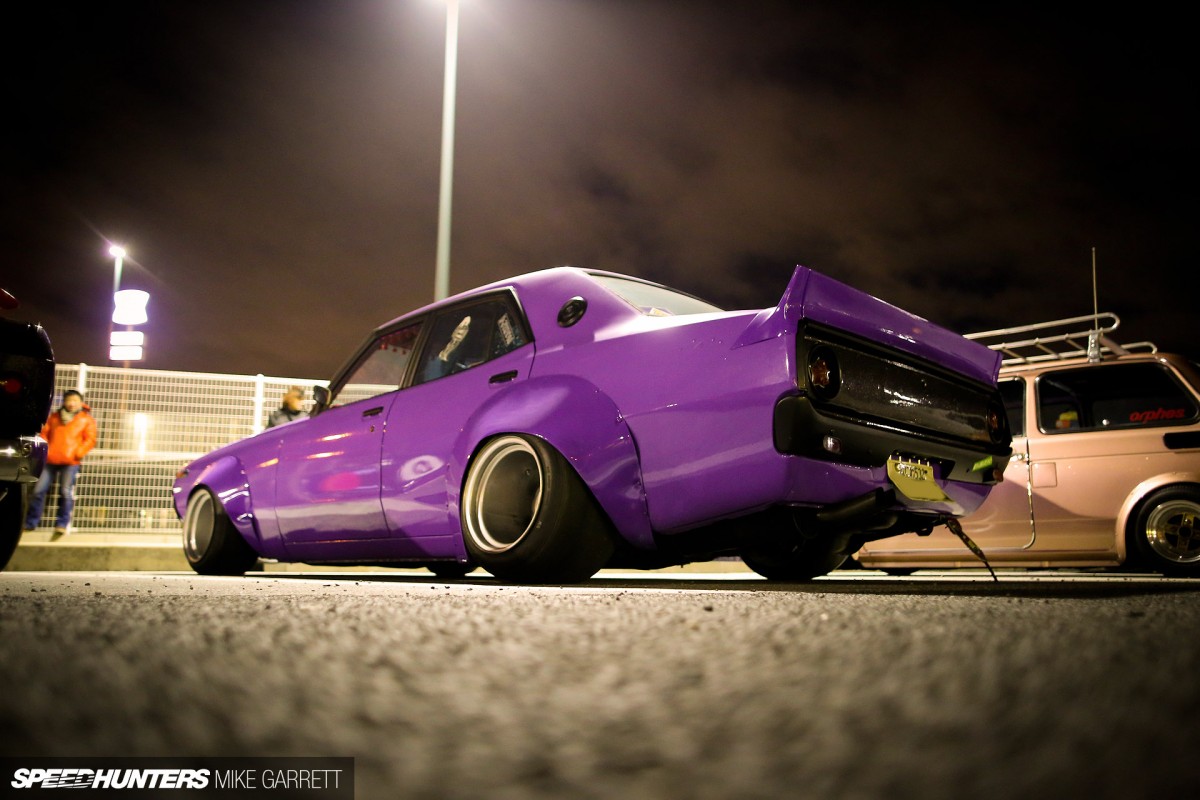 And yes, those heavily widened steel wheels are stretched with a set of full-on racing slicks, because why not?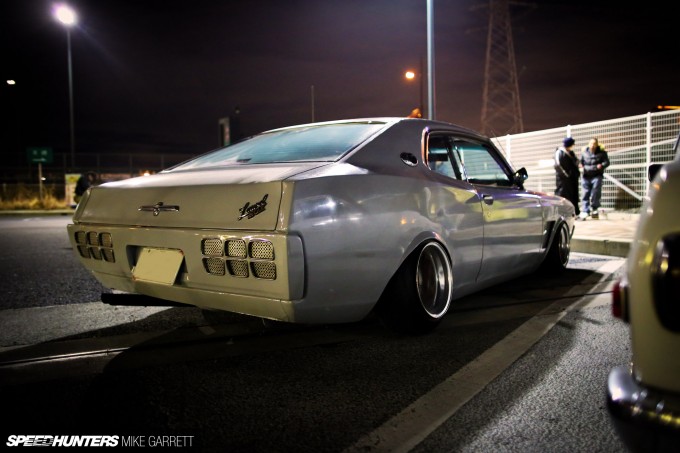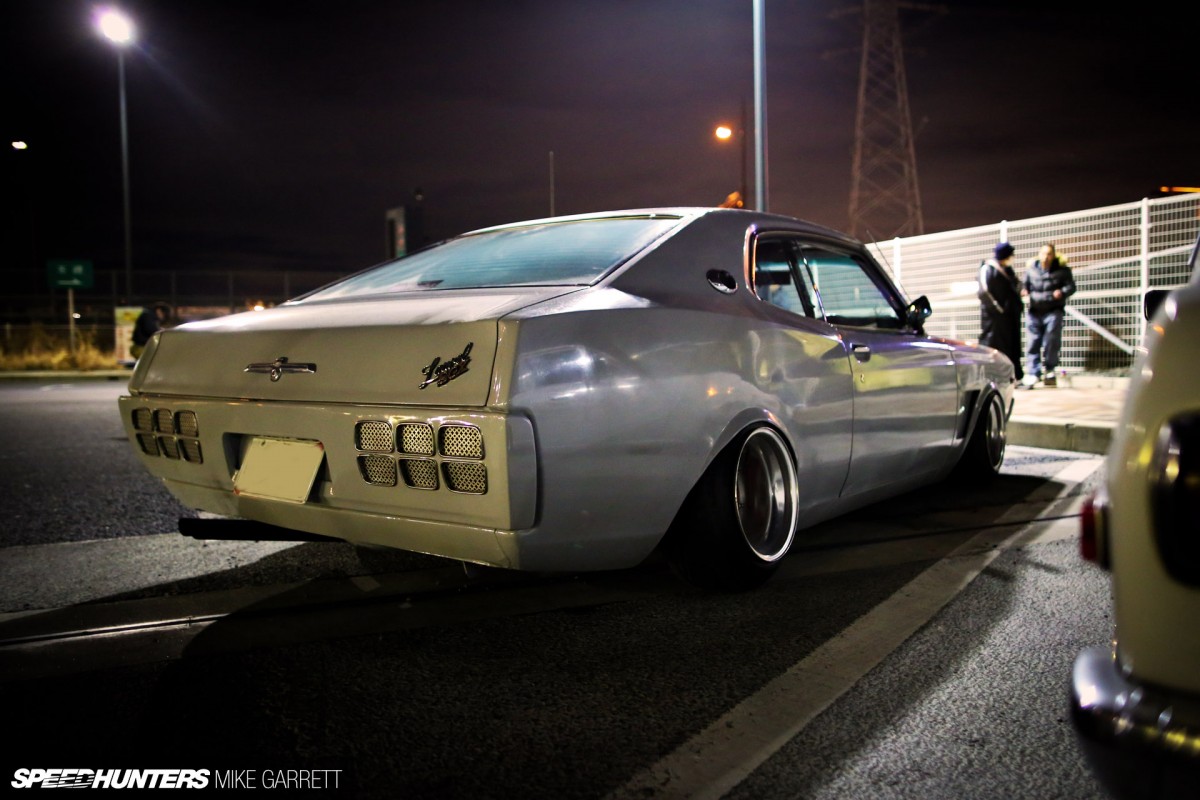 Also over from Osaka was this shakotan C130 Butaketsu Laurel. Never before has a car dubbed 'pig ass' been so sexy.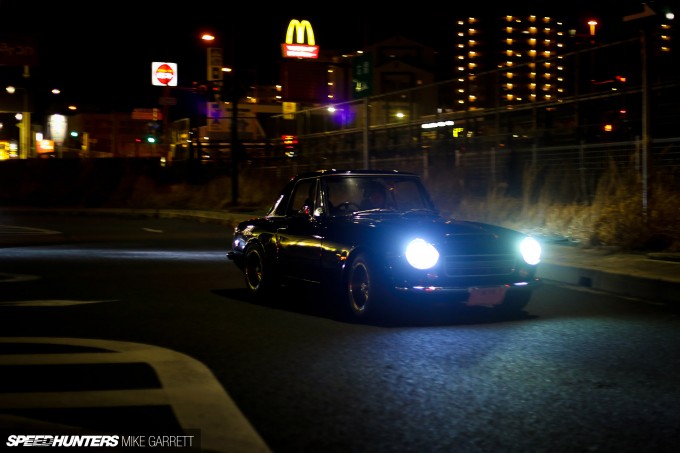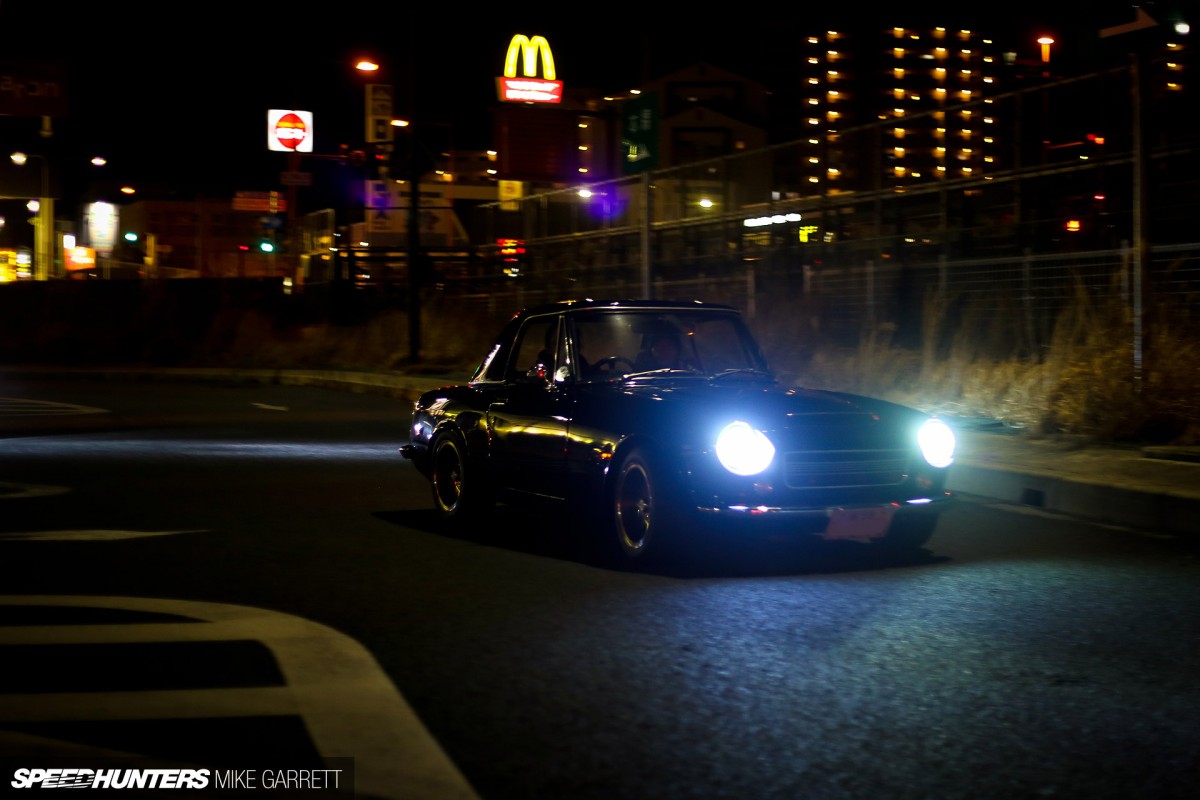 After a couple of hours of checking out cars and chatting, it was time to call it a night. One by one the vintage machines fired up and made their way onto the highway, exhaust notes bouncing off the concrete for the perfect farewell.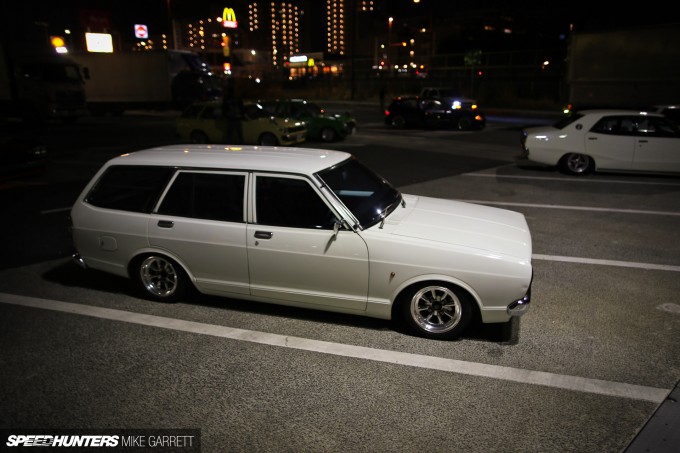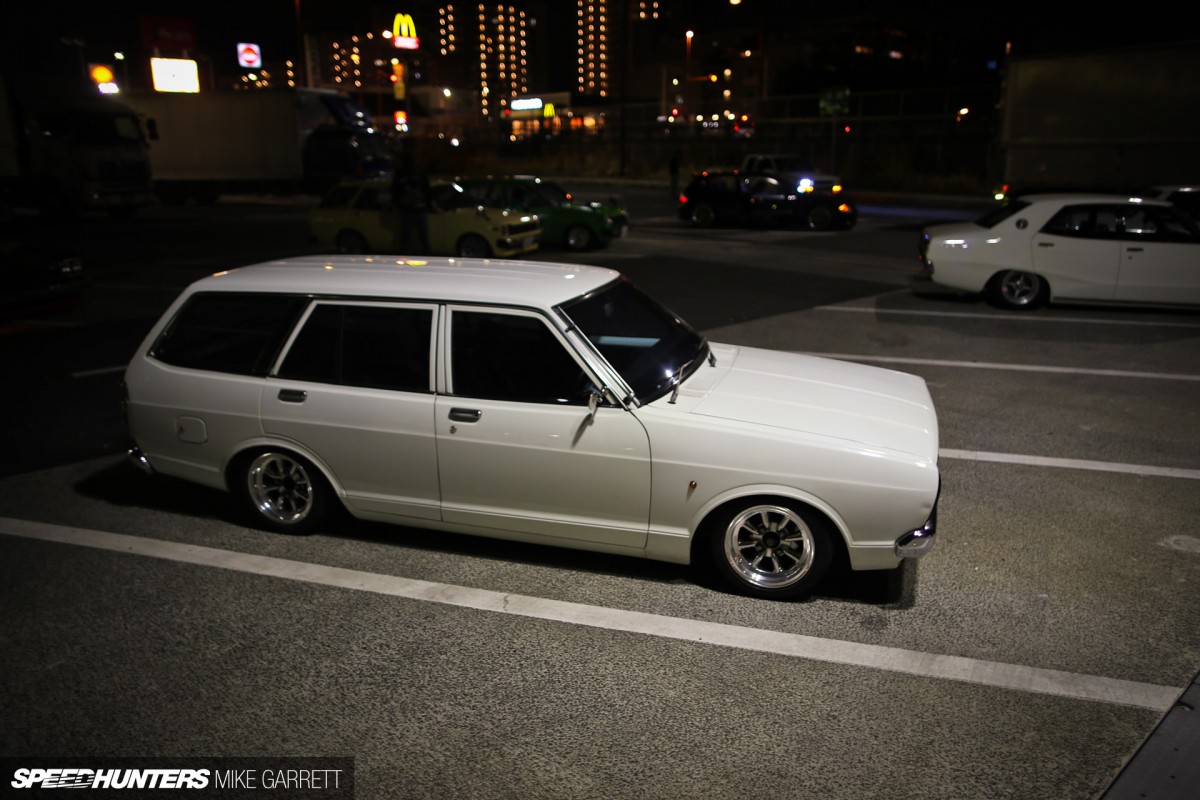 I'd like to sincerely thank Ohgishi-San for putting this meet together and also extend my appreciation to everyone that came out to spend a cold weeknight on the side of the highway with us.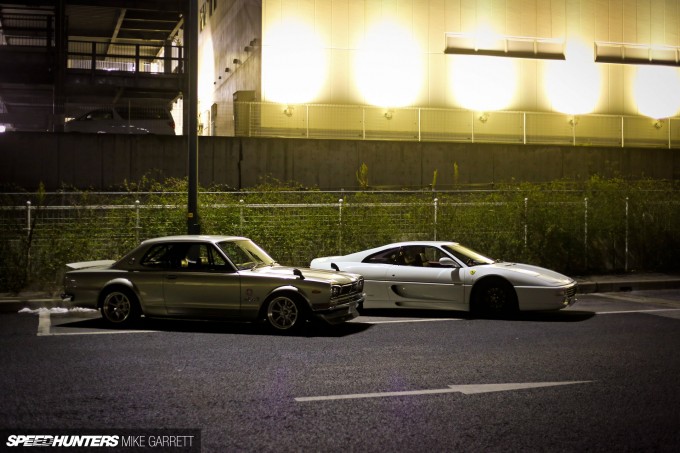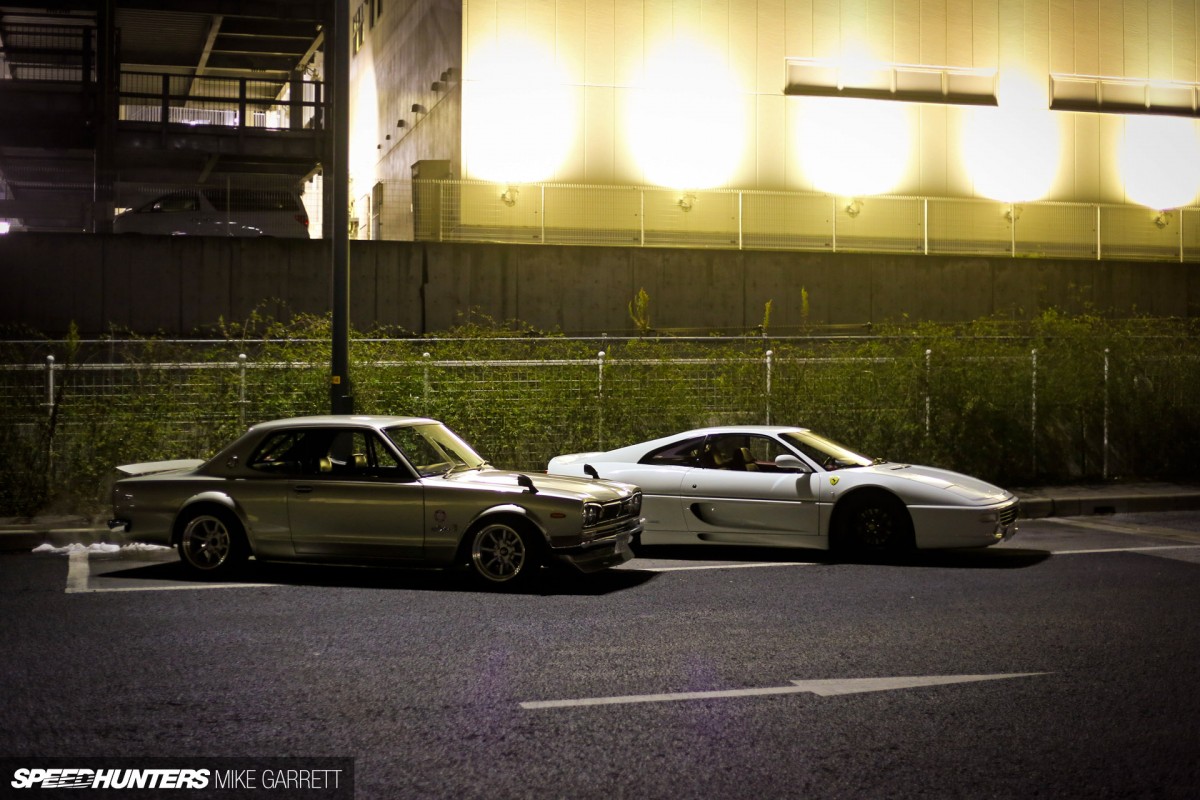 Who needs temples and geisha when you have stuff like this?
I'm already looking forward to my next visit to Kyoto.
Mike Garrett
Instagram: speedhunters_mike
mike@speedhunters.com