By now I think that most Speedhunters readers are aware of Japan's – for lack of a better word – "awesome" car culture. Regular followers will also know that Japan's love for the automobile spreads far beyond just its own domestic vehicles. From ultra-rare European exotics to hot rods and customs that could rival the world's best, every automotive subculture has a passionate following in Japan. Classic Volkswagens are certainly no exception.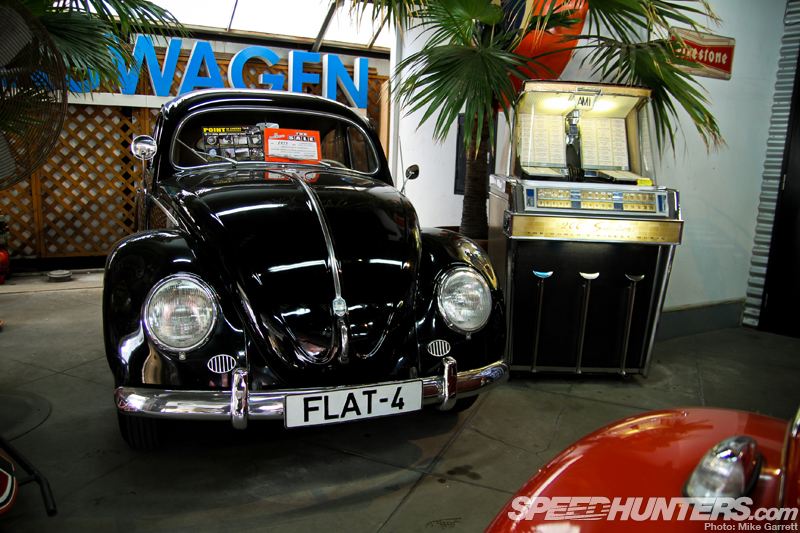 For decades Japan has had an aircooled Volkswagen scene that can easily rival the best of what the USA or Europe has to offer. And when it comes to the Japanese VW scene there's no name bigger than FLAT4. I'd heard about FLAT4's products and its amazing shop before, so during my recent time in Tokyo I made a point by to stop by and check out the company's headquarters. I was not disappointed.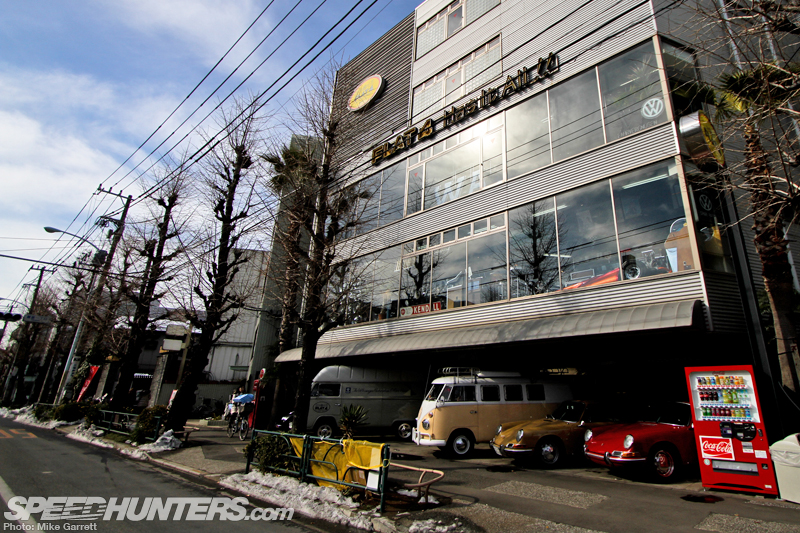 FLAT4 is located in the Meguro district of Tokyo, right on Meguro Dori, which is a major street lined with car dealers representing brands from across the world. This certainly isn't one of those little Japanese shops you see tucked away on a nondescript side street. This is prime real estate in the middle of one of Tokyo's more fashionable neighborhoods.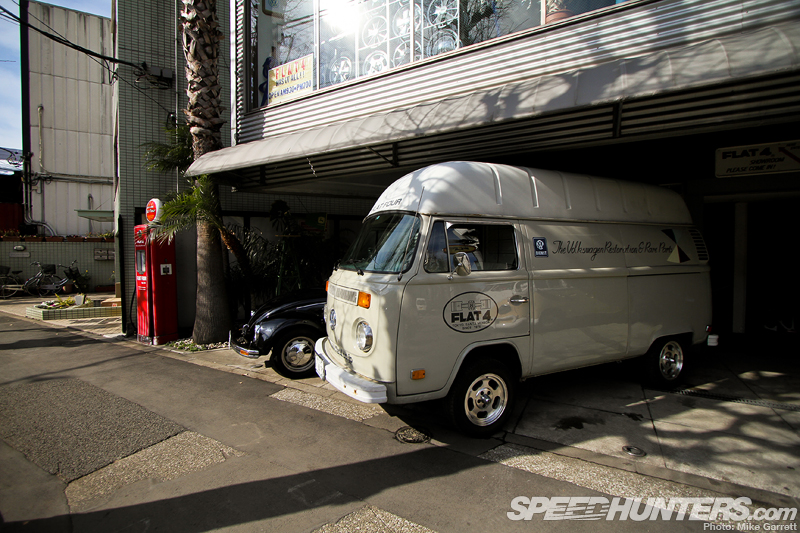 And fashionable is certainly a word you can use to describe FLAT4's large, multi-story headquarters. It's not just a workshop either. It's more a combination of parts maker, car dealer, retail store, and museum. In other words, a mecca for Volkswagen enthusiasts.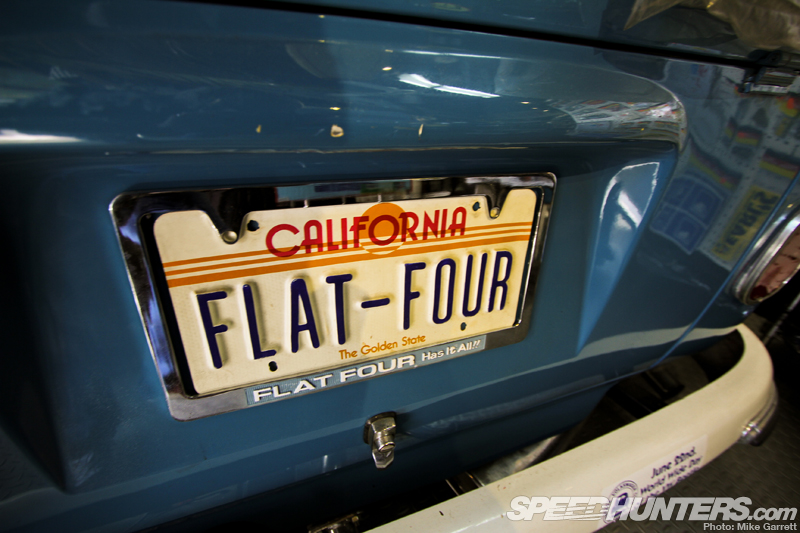 The company itself has been in business since 1976 and in the time since then FLAT4 has become one of the most respected names in the VW scene. It's not just in Japan, but around the world where you'll find Volkswagen owners installing FLAT4 parts and accessories on their cars and buses. Besides distributing parts in the US and Europe, the company also has branch locations in Kyoto and Fukuoka.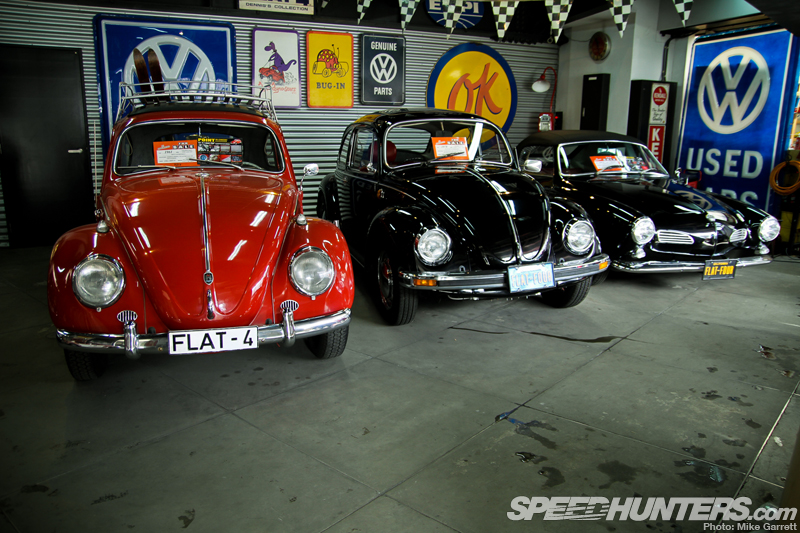 The Meguro facility, however, is the center of it all. It's also a tourist destination as much as it is anything else. As you head inside, the first thing you see is a selection of fully restored VWs offered for sale. Some of them remain in showroom stock condition…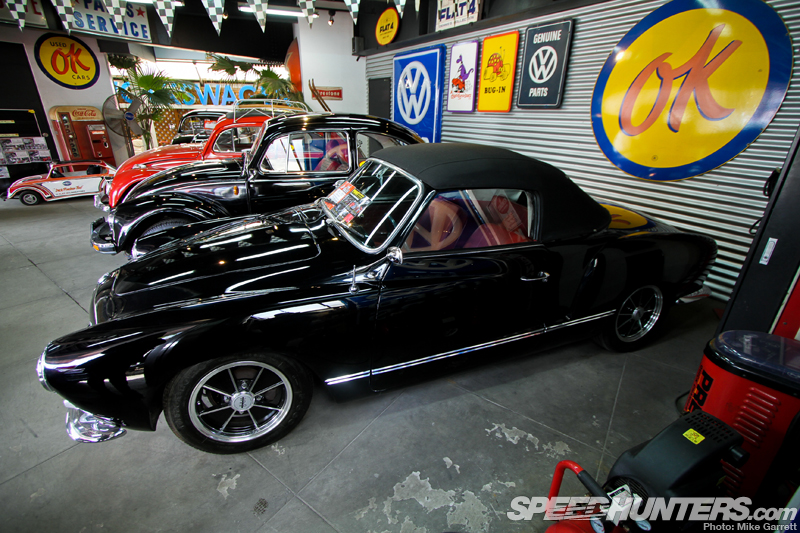 …while others like this '71 Karmann Ghia Convertible have been built in an authentic California Look custom style.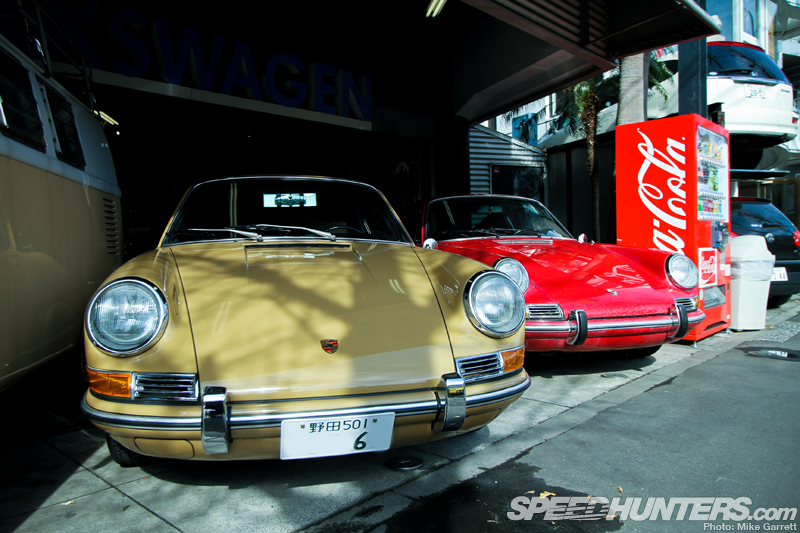 Besides the Volkswagens, FLAT4 also deals with the occasional Porsche 356 and Porsche 912. Something that's not surprising given how much these cars have in common with original VWs.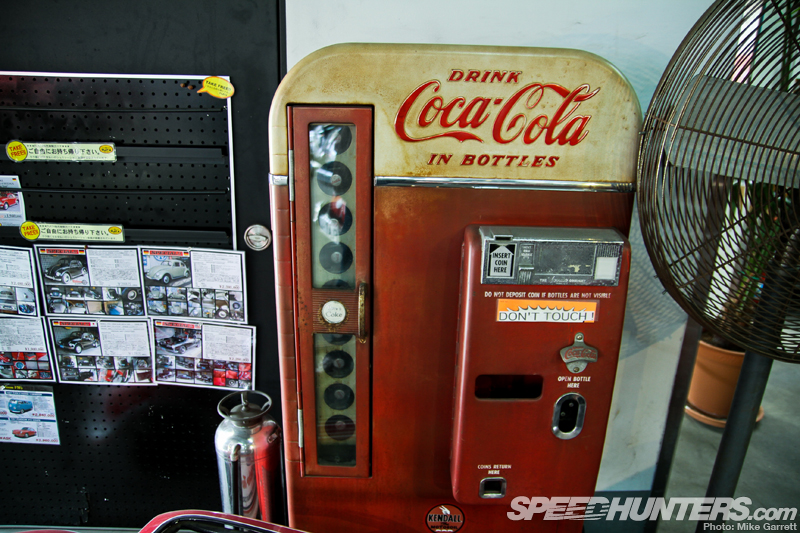 While the cars may be of German descent, the atmosphere here is strong on vintage Americana. 1960s era rock 'n roll pours from the speakers and the entire place with is littered with old gas pumps, signs, soda machines, jukeboxes and other cool period artifacts.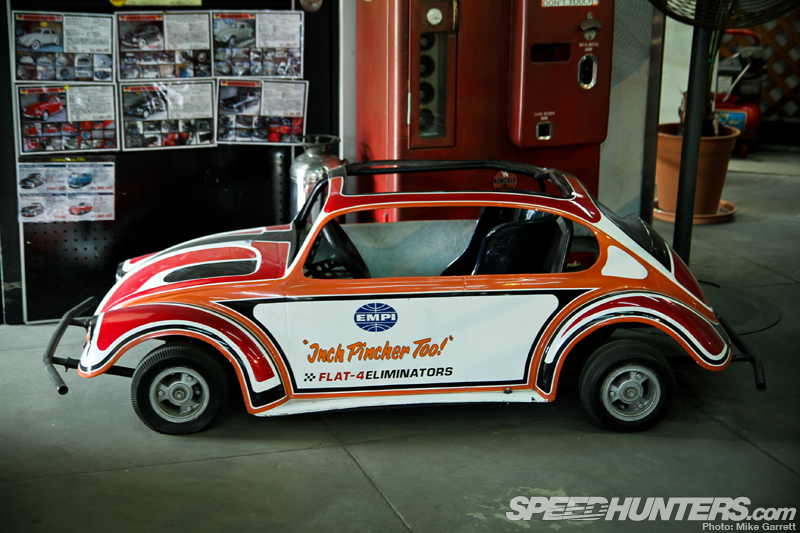 How can you not like this go-kart styled after the famous EMPI 'Inch Pincher Too!' race car?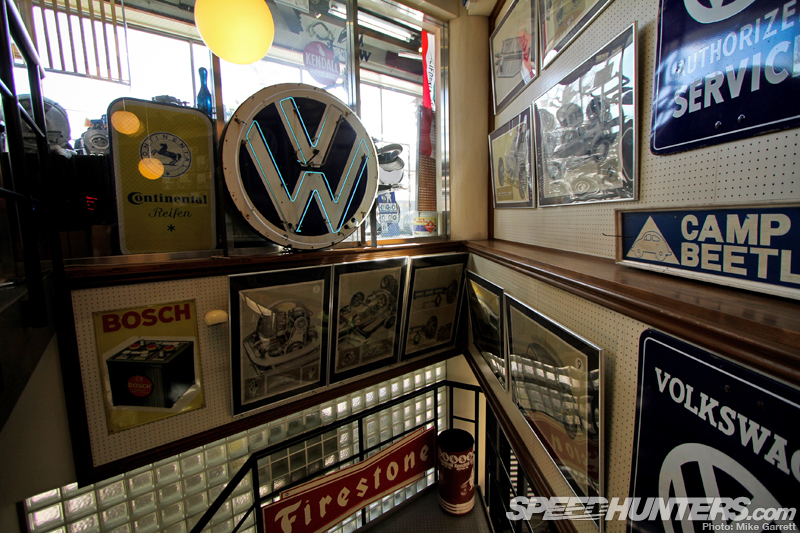 After browsing around the ground floor I headed upstairs to check out the main showroom and retail store. As you make your way up, the walls are completely covered in Volkswagen memorabilia.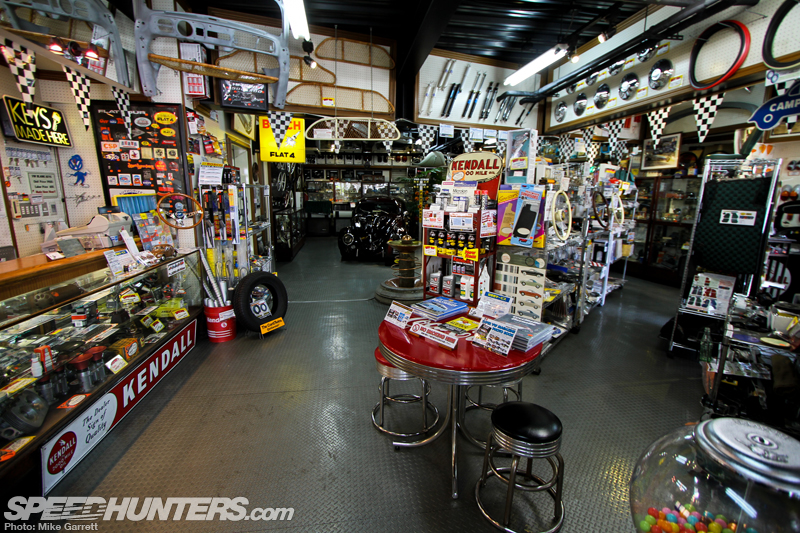 This is the sight that greets you as you emerge from the stairway. The feeling is actually a similar to what you find at Mooneyes Area 1 in Yokohama, but while that shop focuses on a broad spectrum of American-influenced car culture, FLAT4 is dedicated specifically to classic VWs.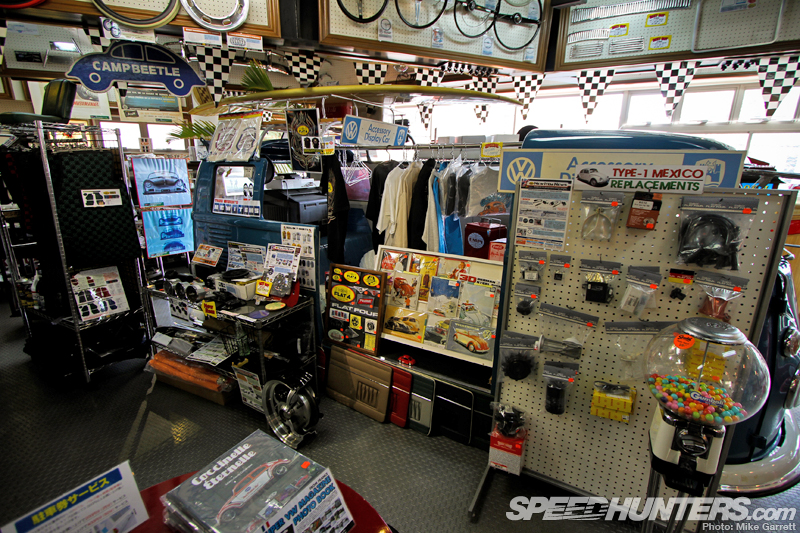 Now, I don't own an aircooled Volkswagen right now, but I can only imagine the sort of joy a VW maniac would feel upon visiting FLAT4. The place absolutely drips with character.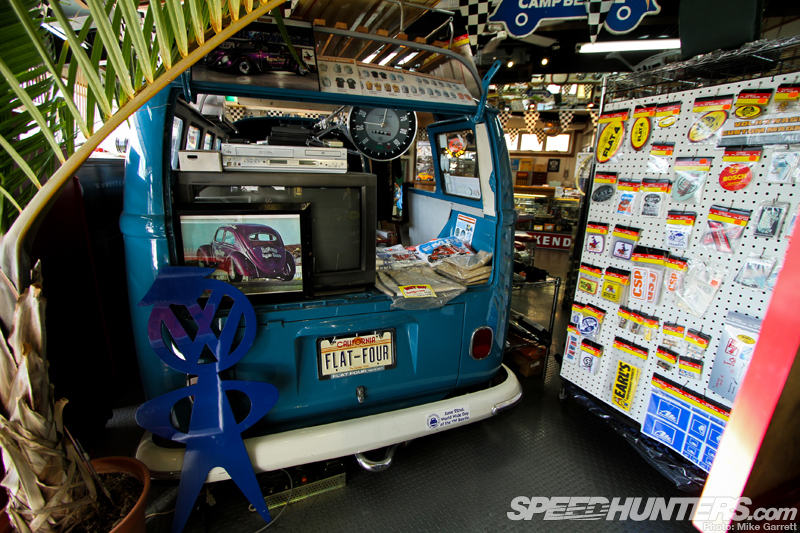 Just walking around the store, you immediately get a sense of FLAT4's long history and the immense passion the company has for the Volkswagen brand.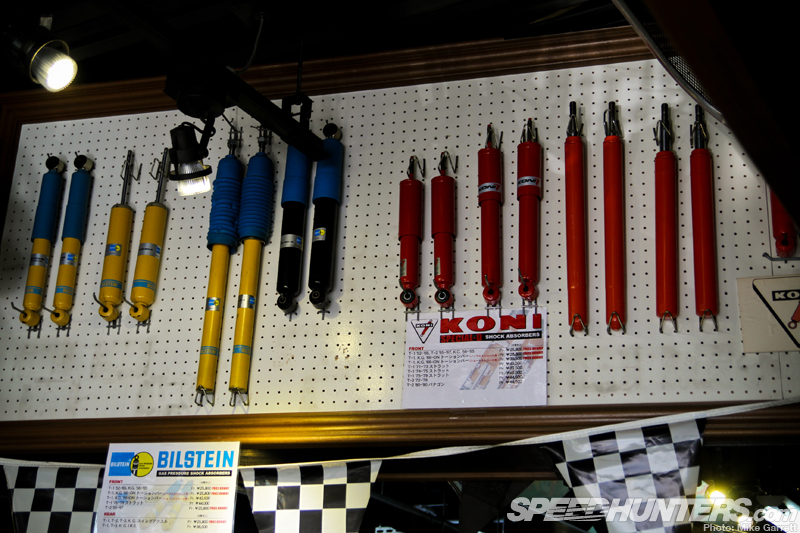 Not only does the store stock the company's own parts, but you'll also find Volkswagen parts from all of the top names in the international scene.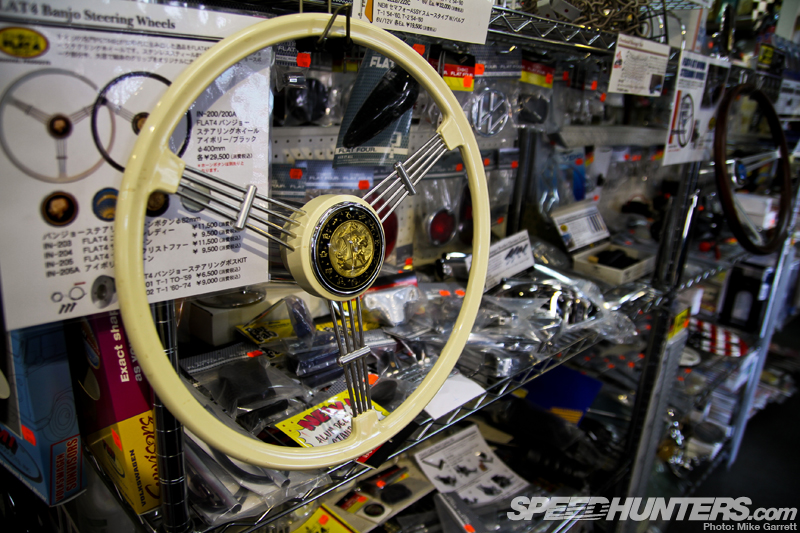 And as for FLAT4's original line of parts, the catalog is extensive. Some of its more well-known products include steering wheels like the Banjo, which is a reproduction of the PETRI wheel used on coach-built German cars during the 1950s.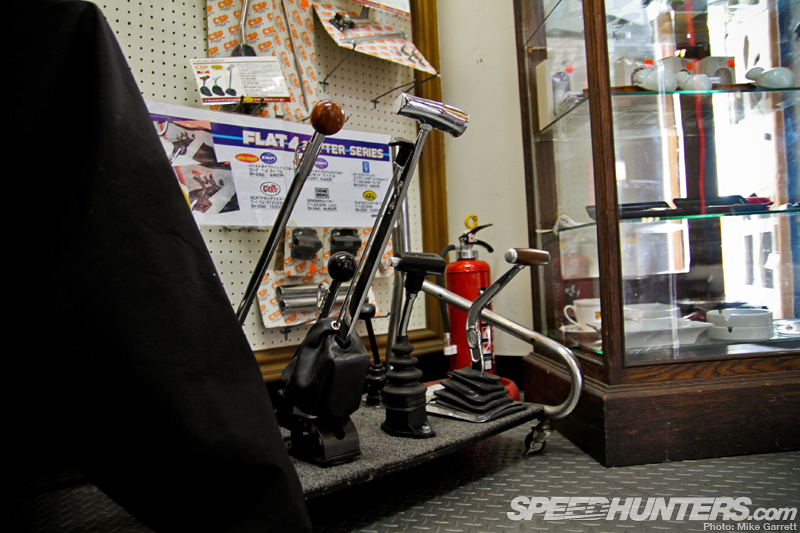 FLAT4's own VW shifters are popular products too. The line-up includes the Eliminator – a modern version of a rare and highly desirable EMPI product from the early 1970s.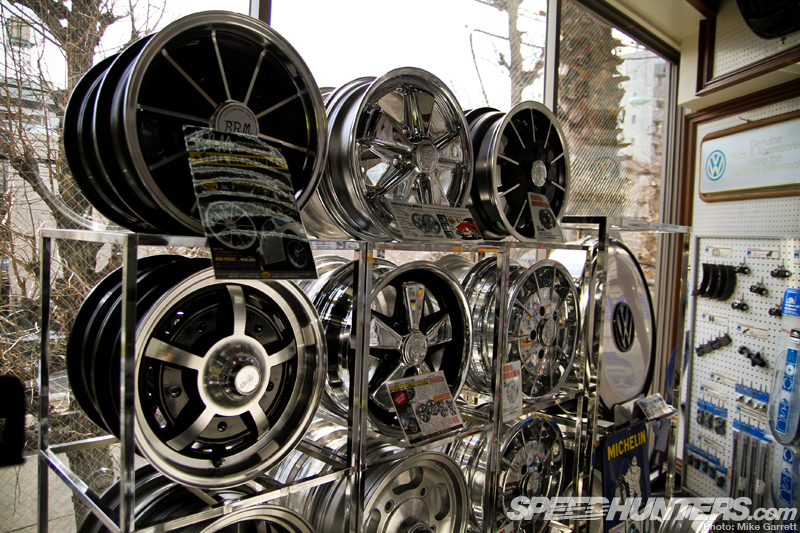 But it's wheels that are FLAT4's most famous product. The FLAT4 BRM was originally released back in 1991 as high quality reproduction of the original 1960s EMPI/Speedwell BRM wheel. That particular wheel is nothing less than legendary in the VW world.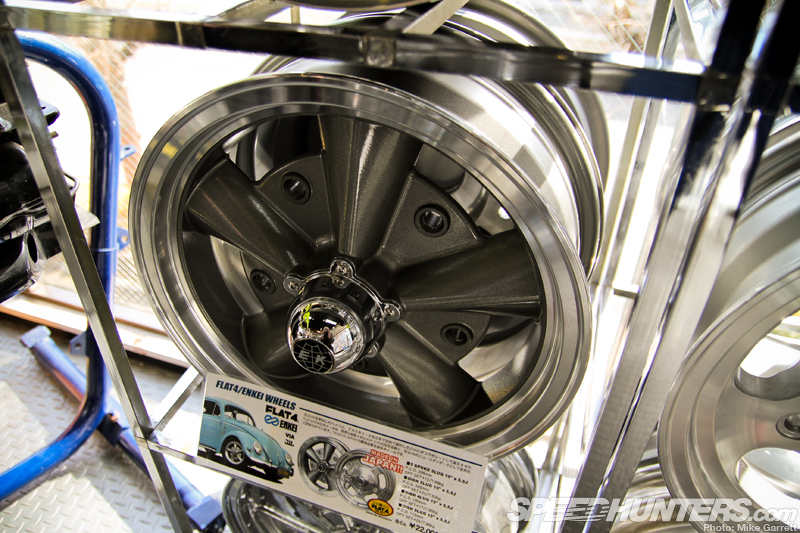 In addition to the BRM, FLAT4 has also partnered up with Enkei to release VW-specific versions of the original Enkei 5-spoke wheel…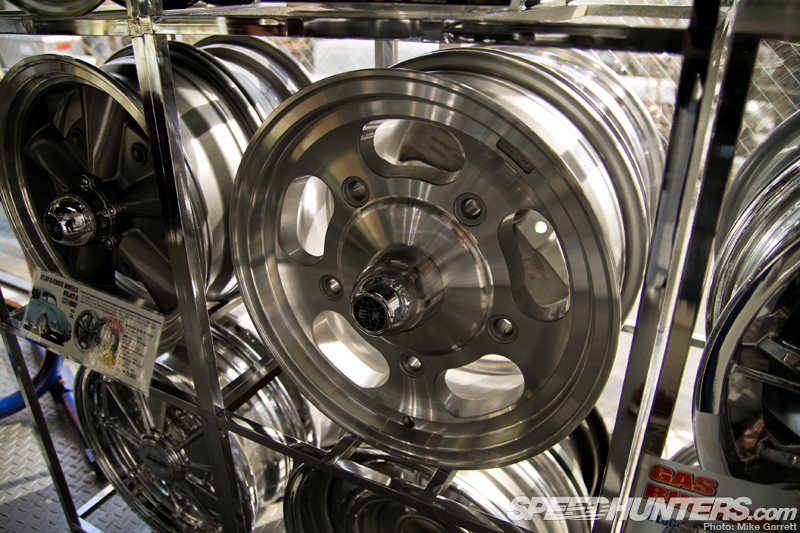 …as well as the equally-classic Enkei Dish.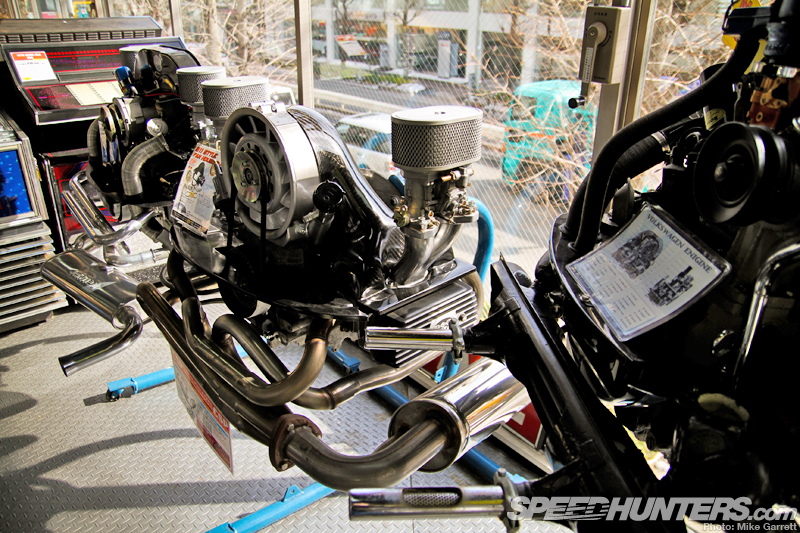 You'll find plenty of VW engine parts at FLAT4 as well, both original items and parts from well-known high performance Volkswagen shops.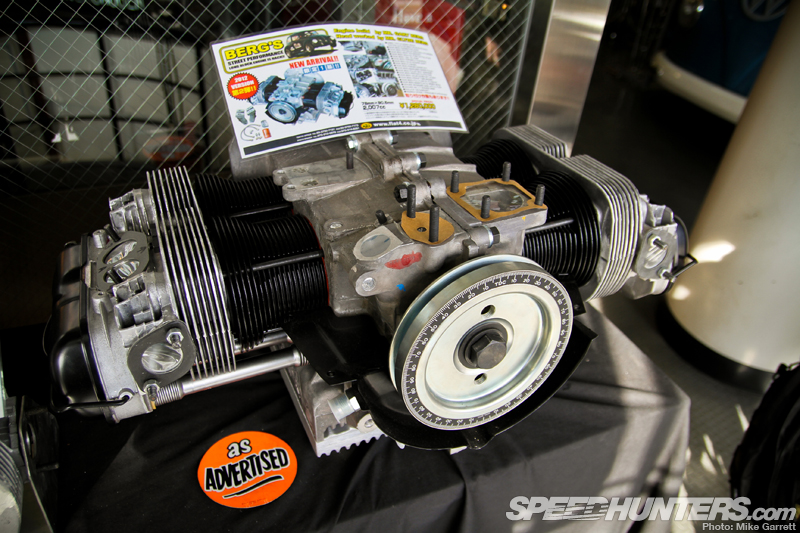 How about a complete long block built by Berg's Street Performance? Another legendary name in the aircooled VW scene.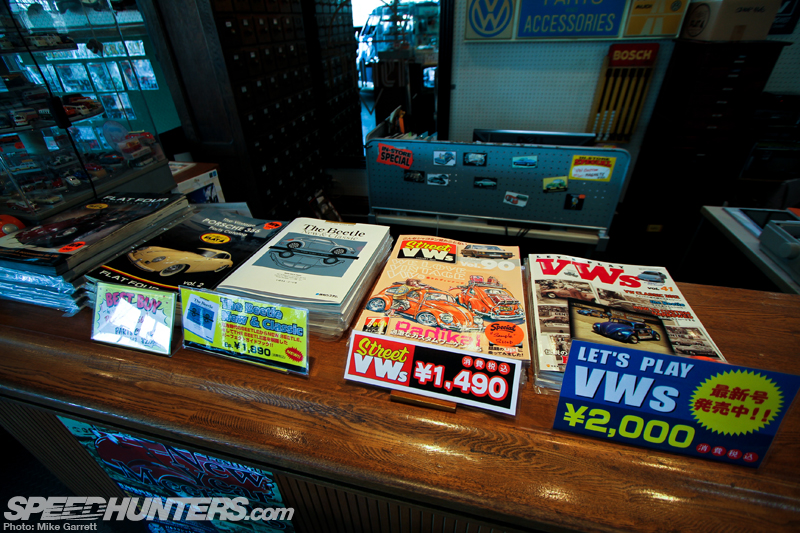 On the other end of the spectrum, the store is also stocked with lots of collectables, VW diecasts, and magazines from Japan and abroad.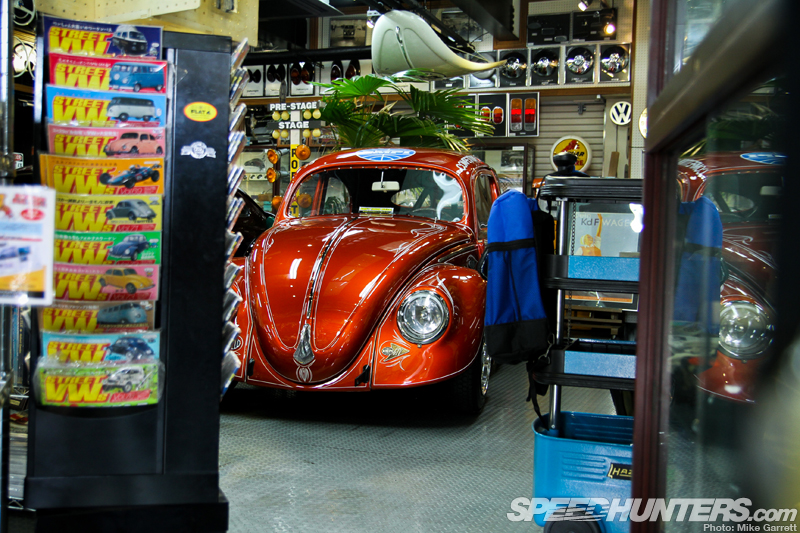 And besides the extensive selection of retail parts and accessories, FLAT4 is also home to what must be one of the most impressive collections of vintage VW parts and memorabilia anywhere on the planet.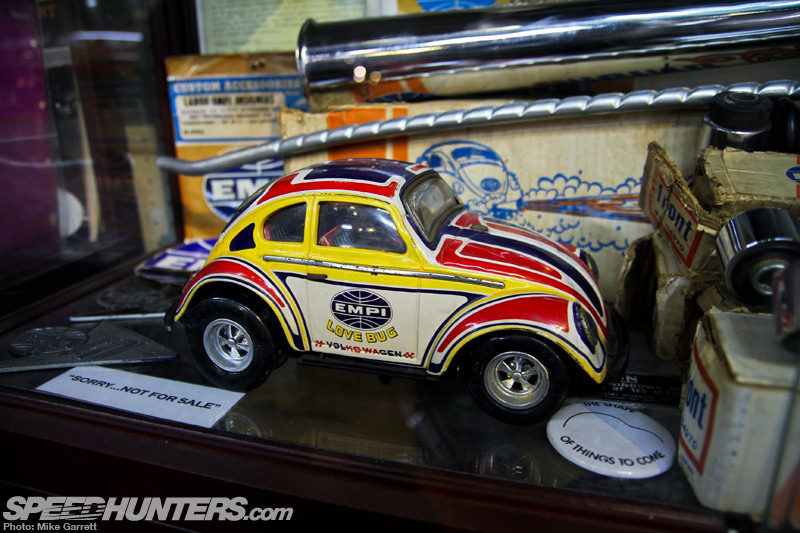 As I said a moment ago, there's enough stuff here that you could easily consider FLAT4  a VW museum.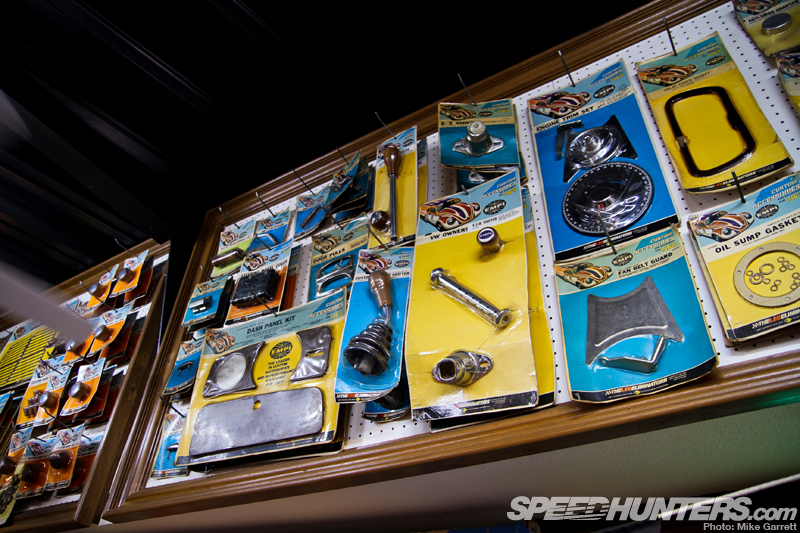 The collection includes an incredible assortment of NOS parts produced by the original EMPI company back in the '60s and '70s at the height of the custom VW movement.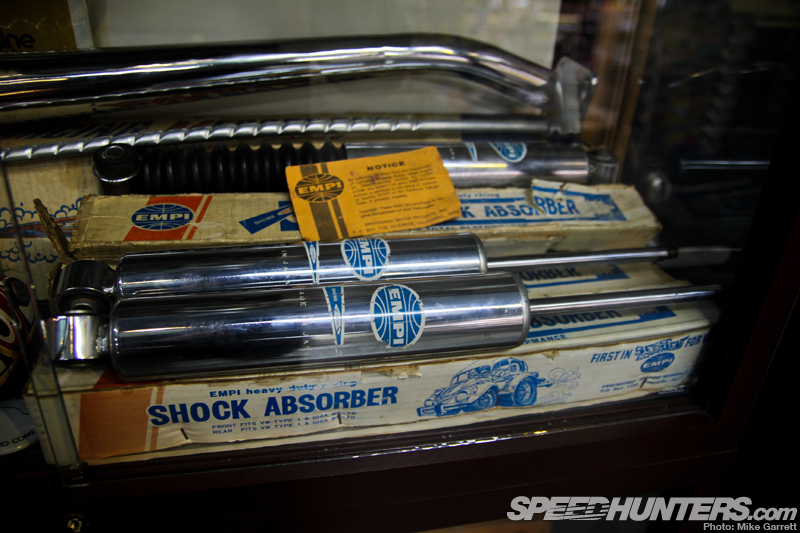 There's no telling the value of these rare parts, almost all of which include their original packaging. You can still find new EMPI-branded parts on the market today, but the current company shares nothing but its name with the original VW pioneer of the '60s and '70s.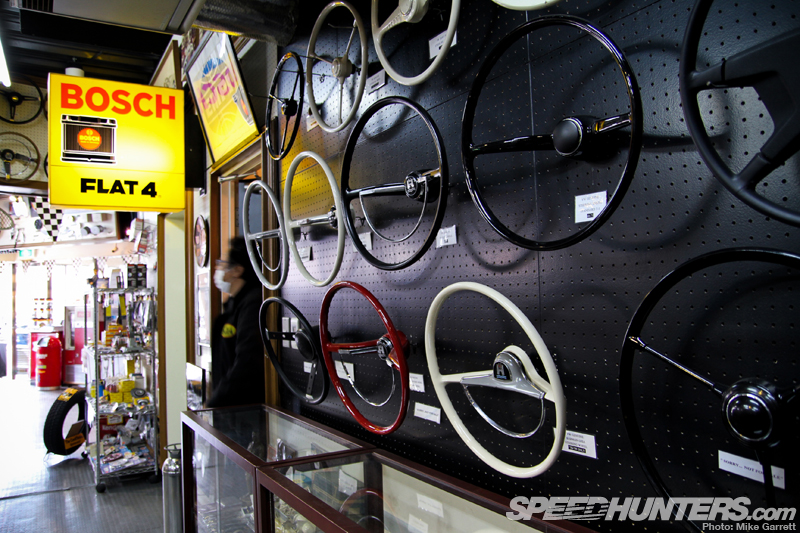 Other displays in FLAT4's VW 'museum' include a wall of original VW steering wheels spanning from the 1940s all the way through the modern aircooled Beetles that were produced in Mexico through the early 2000s.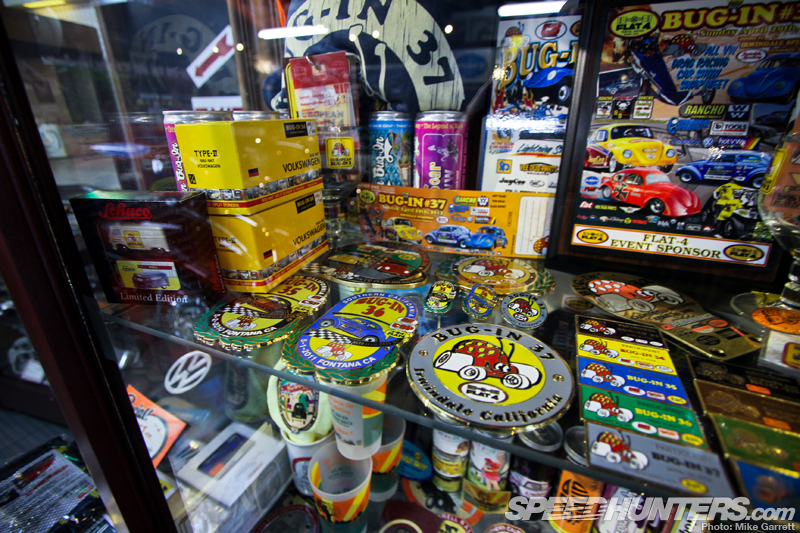 The collection also includes a massive assortment of artifacts collected from VW events held all over the world, including the famous Bug-In gatherings held in both Europe and California.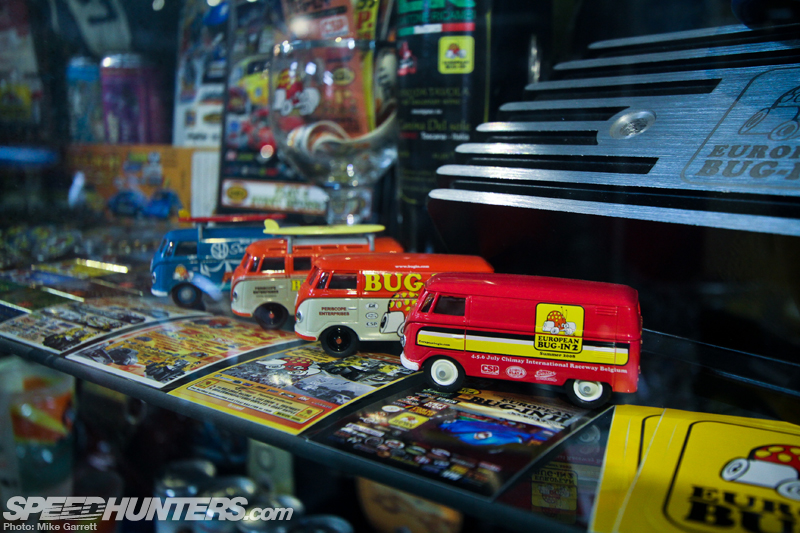 The items help to tell the story of the company's history, from its early days helping get the Japanese VW scene off the ground, to the global recognition it has today.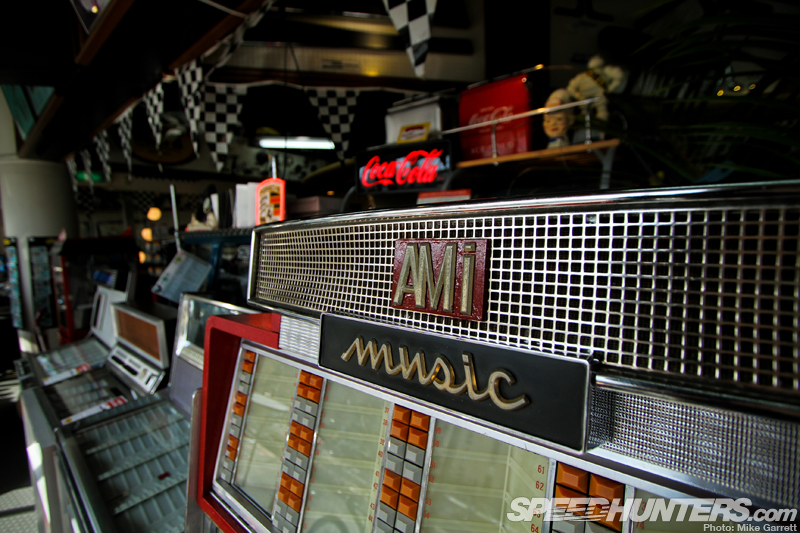 The aforementioned jukeboxes also add to the atmosphere inside FLAT4. Most of them are for sale should anyone be looking to add some retro flavor to their home or garage.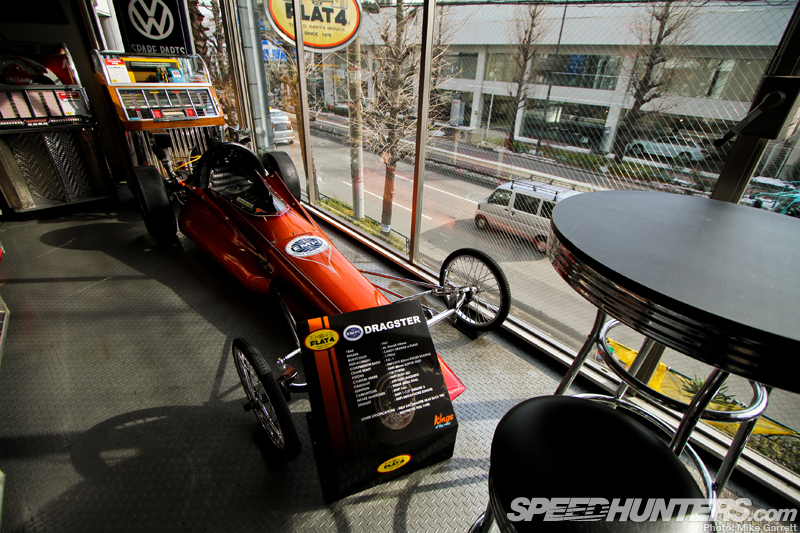 The FLAT4 collection also includes a number of historically important VWs from both Japan and around the world.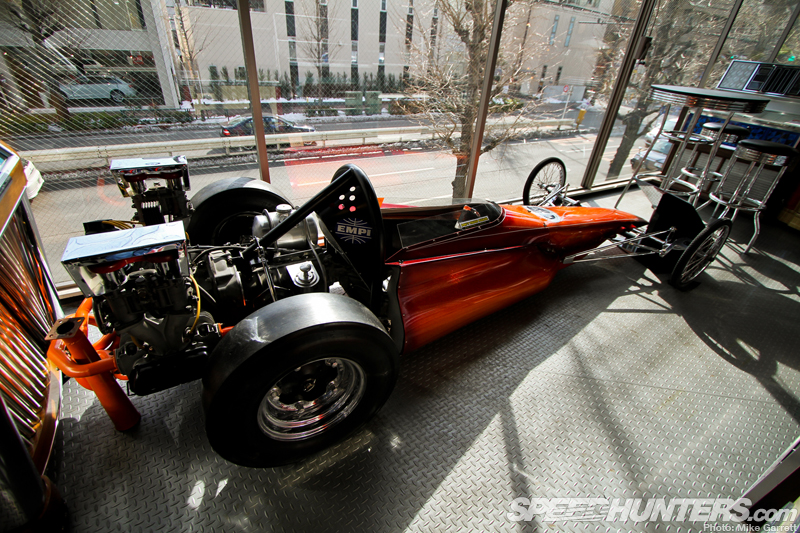 On the particular day I visited the shop, I found the historic EMPI rail dragster originally built and raced in the states during the 1960s. It's powered by an EMPI-built two-liter Porsche motor and you can probably imagine how unusual it was compared to the traditional V8-powered dragsters of the day.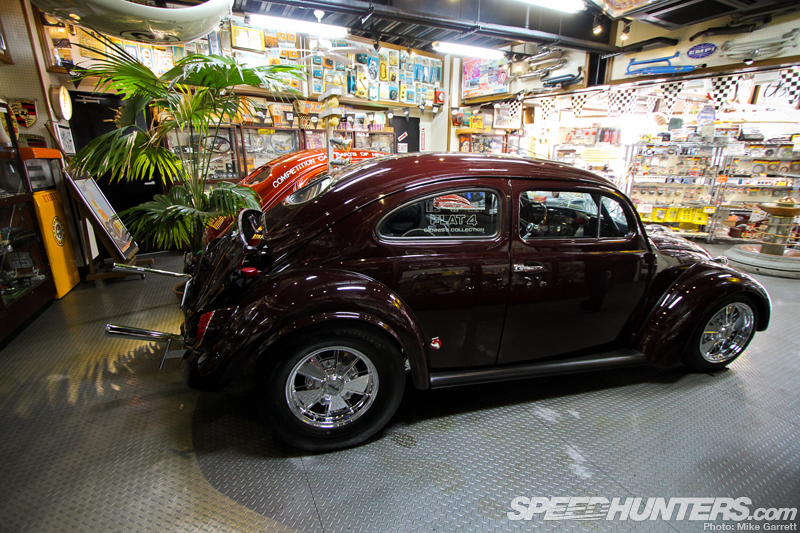 Also in the shop was this '52 Beetle built by FLAT4's owner Takashi Komori. The car is known as one of the earliest California Look VWs in Japan.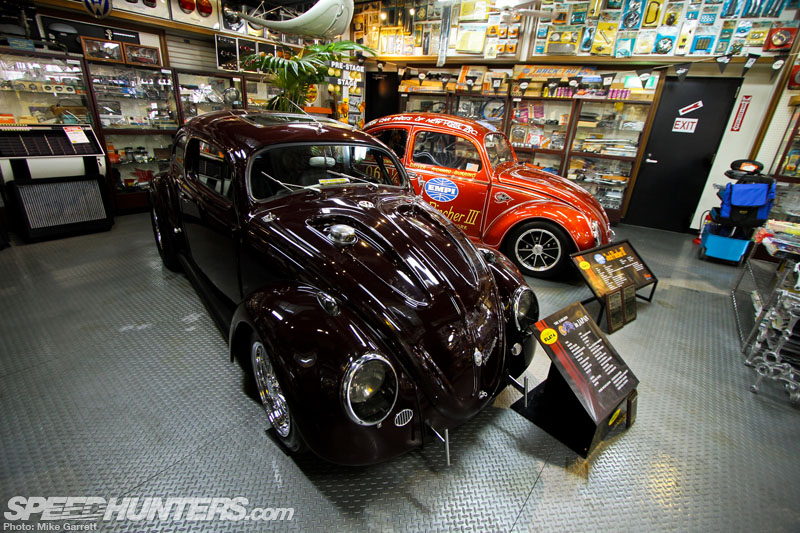 The chopped Bug is powered by a built 2180cc motor with dual 48IDA Webers. Of course, it's wearing a set of FLAT4's original BRM wheels complete with old school Firestone Wide Oval rubber in the rear.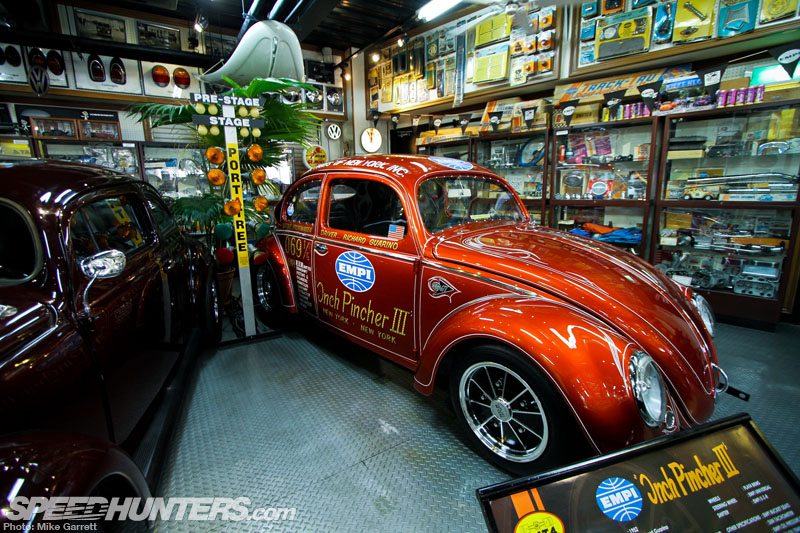 Sitting besides Komori-san's Cal Looker is the genuine EMPI "Inch Pincher III" – one of several historic EMPI race cars (and authentic replicas) in the FLAT4 collection.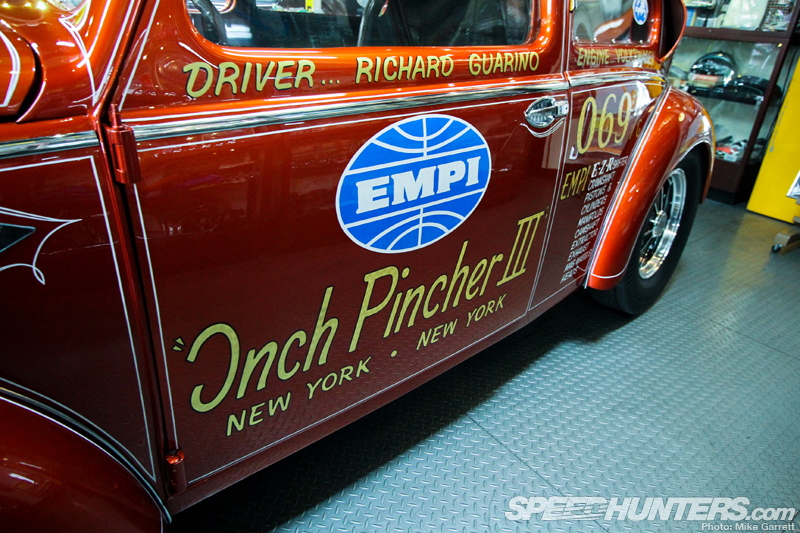 The Inch Pincher III was originally built and driven by Richard Guarino who ran EMPI's East Coast operations in New York.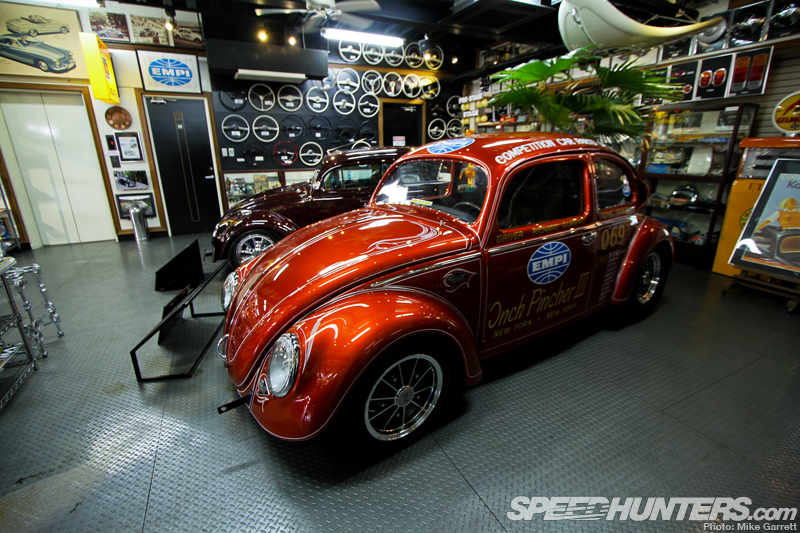 Like its counterparts that were based on the West Coast, the Inch Pincher III proved exactly what a properly-built VW could achieve in a racing world dominated by V8s. The car is preserved just at it was raced during the '60s and '70s.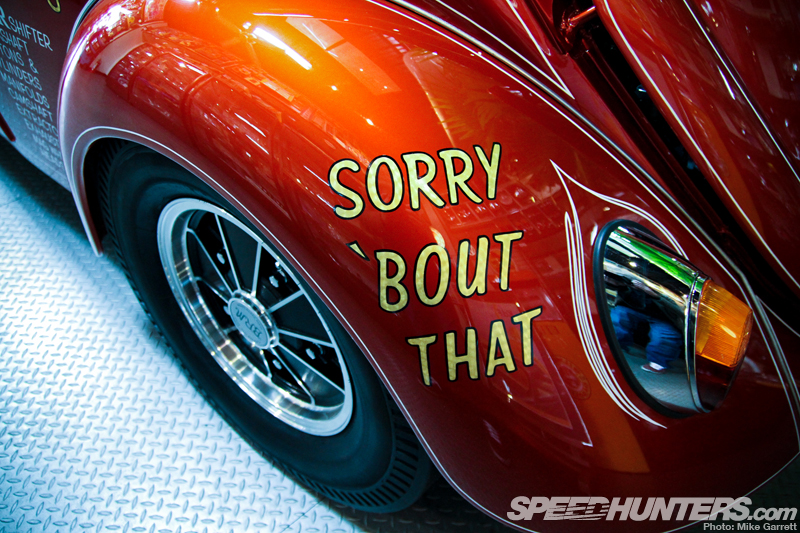 It was around this point that I began to have a slightly surreal feeling.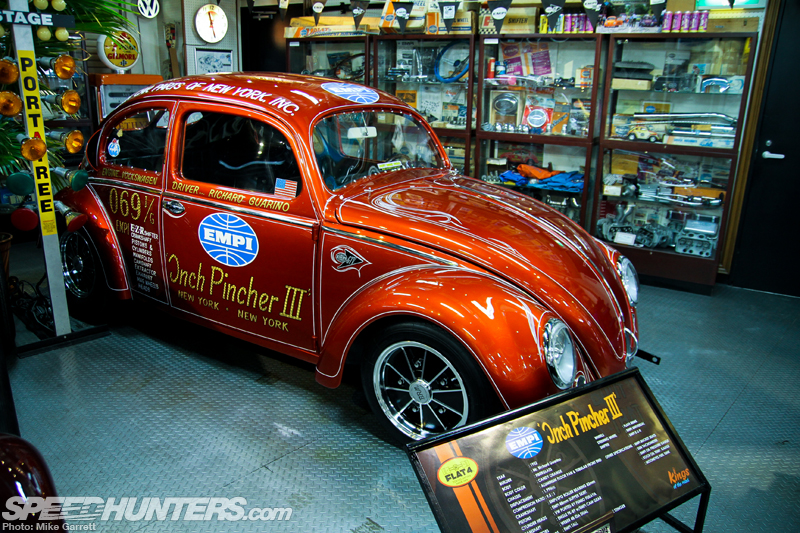 Think about it. Here I was in the middle of Tokyo, Japan, looking at a group German-built cars modified in a style that was pioneered on the streets or race tracks of Southern California. It was a truly global, and a completely awesome mix of car culture. One of those great Speedhunting moments.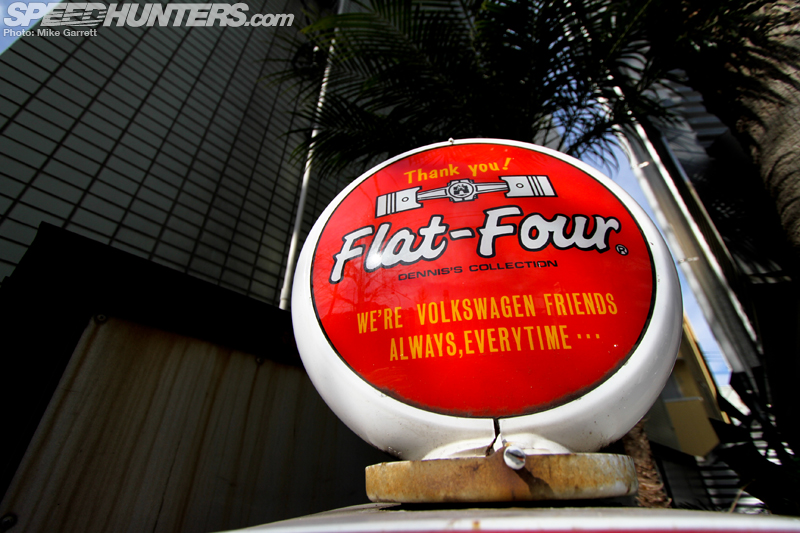 Time and time again my experiences in Japan continue to raise my perception of how far car obsession can go. Even if you aren't into VWs, I highly recommend dropping by FLAT4 if you are ever in Tokyo. If you ARE into vintage VWs and the history that surrounds them, this is an absolute must see destination.
Mike Garrett
mike@dev.speedhunters.com
Instagram : speedhunters_mike
---
---
---