What's A Show Car?
Building a properly fast car is all well and good, but it's what you do with it that counts. So it's fitting that the final round of the Optima Ultimate Street Car Invitational (OUSCI) takes place straight after the annual aftermarket madness of the SEMA Show.
Acres upon acres of the world's finest modified projects – from modern supercars to classic muscle – all sit patiently waiting for the weekend to come, and when it does, a select few get to let loose in style.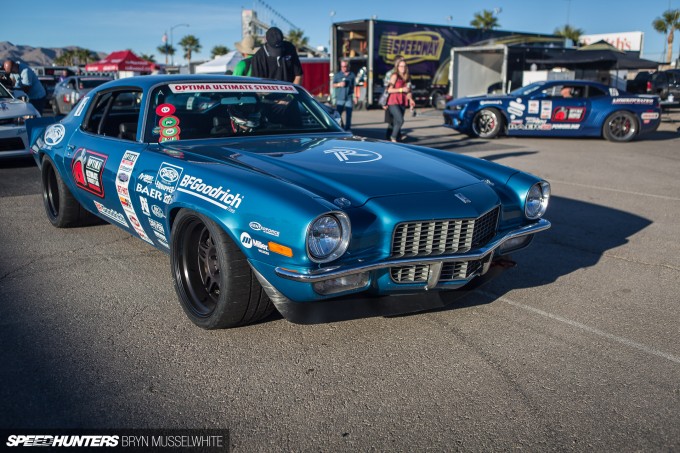 I genuinely can't think of another event where you can see such a diverse range of cars being pounded on the track in the name of good natured competition. Time attack certainly doesn't have the variety, and when you throw in a mandatory cruise that takes in the Las Vegas Strip and visiting the Shelby Museum as part of the proceedings, it only gets better.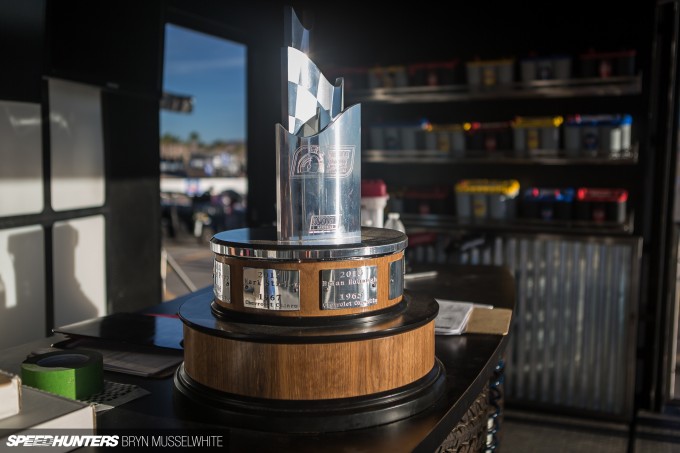 Optima really stepped things up for 2014. Larry headed out to the one-day event last year when it was held at the Spring Mountain Motorsports Ranch, roughly a 90-mile drive south west of Vegas. But for 2014 they moved the whole lot to the Las Vegas Motor Speedway complex, then added a second day for more chances to get in on the action. That way we'd be much closer to the city, with the added bonus of the event being more accessible for spectators.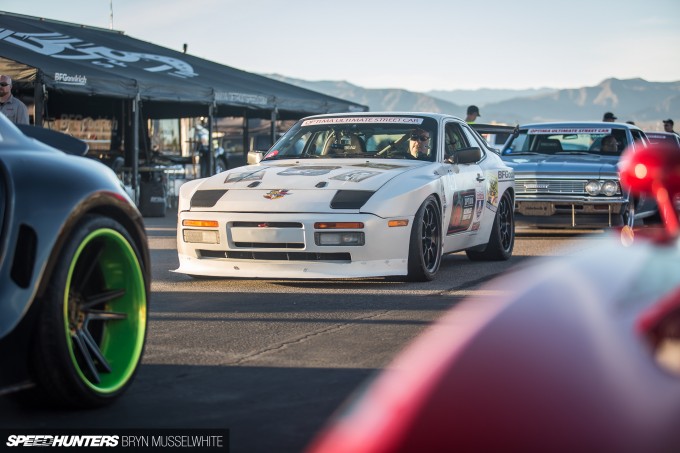 Quite frankly, after four days of trawling the halls at the Las Vegas Convention Center and being teased by the thought of screaming engines and functioning aero doing their thing, it was literally a breath of fresh air to turn up in the busy pits. Walking the fire-up lanes for the autocross track I could now get to hear and feel the cars I'd seen lined up in the Optima Batteries display areas at the show. Chris Porter came 55th overall in his 'Porvette', which would have placed the 944 one place from the bottom last year.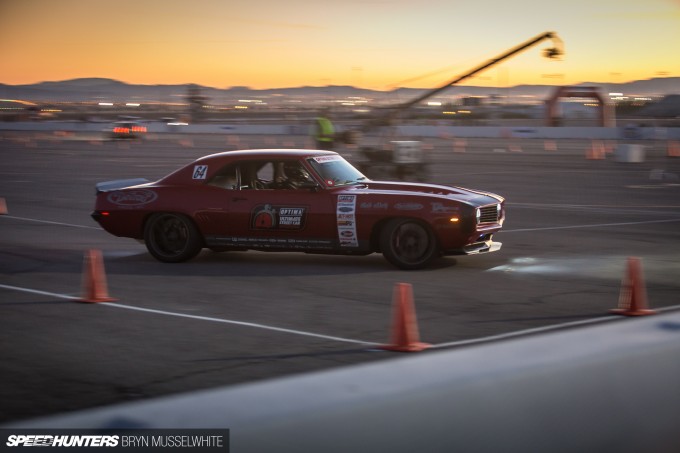 But not in 2014 though. As well as doubling the days, Optima had also invited more cars to take part, with 91 machines competing for the top honours, plus an extra 12 exhibition cars. When it comes to American base metal, the '69 Camaro is synonymous with the pro touring movement – mainly thanks to builds like 'Big Red'. Mark Stielow, who owns this example, has worked his way through a large number of F-body coupes and now runs over 750hp thanks to a supercharged LS motor. 18th place was claimed when it was all over.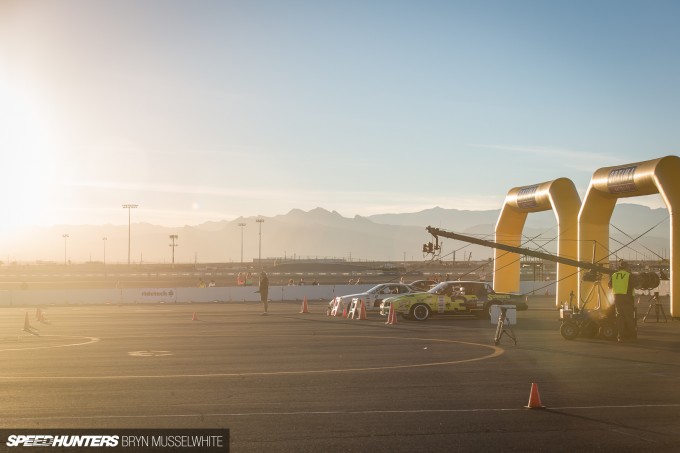 There were a number of different disciplines the teams had to go through, including a stop-go challenge, the full autocross course pictured here, some hot laps on Sunday, and the Saturday night road rally in to downtown Vegas. Combine the best times and some points for the road rally, a little spice, some burnt rubber, and bingo – we'd have a winner.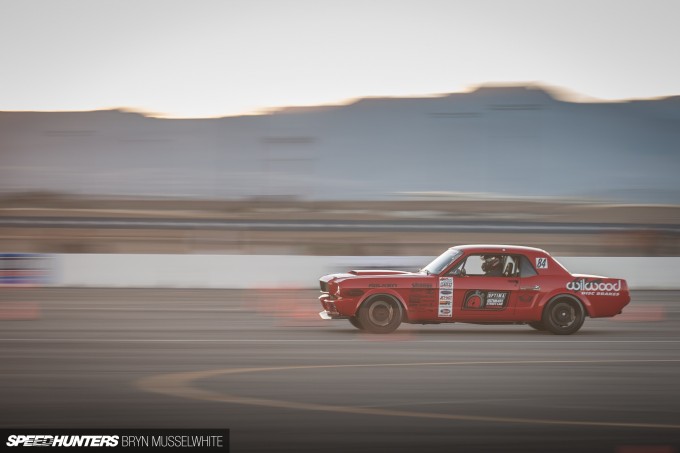 Without fail, everywhere I looked there was something that caught my attention. I'm an early Mustang fan and sold a '65 project last year, which on reflection now might have been a bad decision…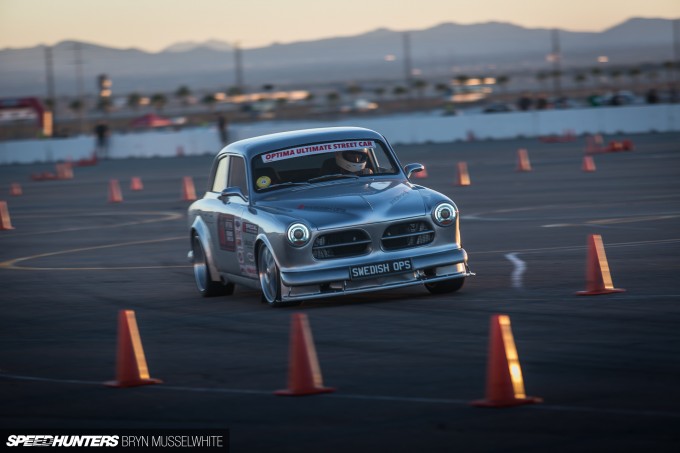 The Volvo Amazon is pretty popular in classic rally circles and in its native Sweden where they get boosted and drag raced. But in America? Robert Jackson fitted his with an LS and came one place lower than the Porvette in 56th. Still nearly half way up the field though.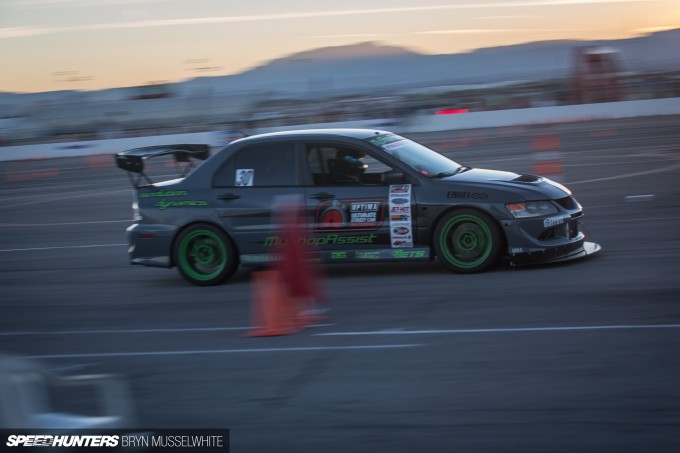 But whoa, it's not all V8s – the Japanese manufacturers were well represented with a pretty even spread across the marques. It's always interesting to watch how different styles of car attack a course, and the autocross was the perfect place for this. I took this picture of Todd Earsley in his 2003 Mitsubishi Lancer Evo from the public area, which was pretty sweet access if you didn't have a media bib or a long lens. Todd ended up 7th overall, but the highest placed Japanese car – another Evo – was that of Brandon Ranvek who came in 2nd.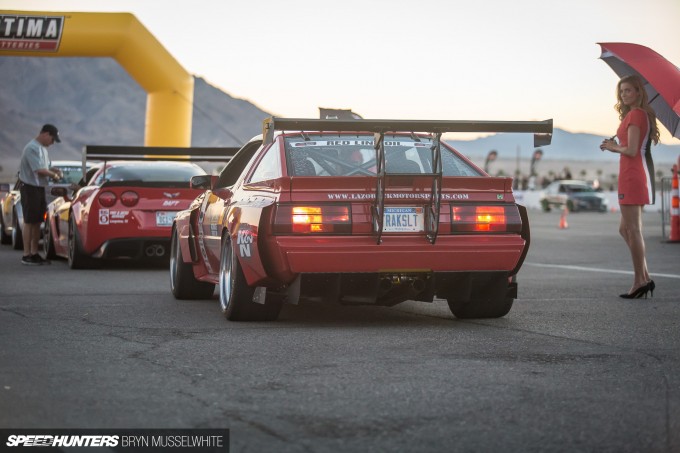 Maybe it's my European upbringing which has convinced me of the firepower you can get from a four cylinder engine, but I kind of expected the Japanese and European models to have been thicker nearer the top of the ranks. But it just wasn't so, and only eight out of the top 20 cars weren't American in origin. So maybe John Lazorack had the right idea – because this is a 1988 Chrysler Conquest. I know right – it looks like a Mitsubishi Starion to me! Badge engineering at its most comedic, huh? The fit and finish of this build meant we lined up a feature shoot there and then, but you'll have to wait a little longer to find out more about this gorgeous build.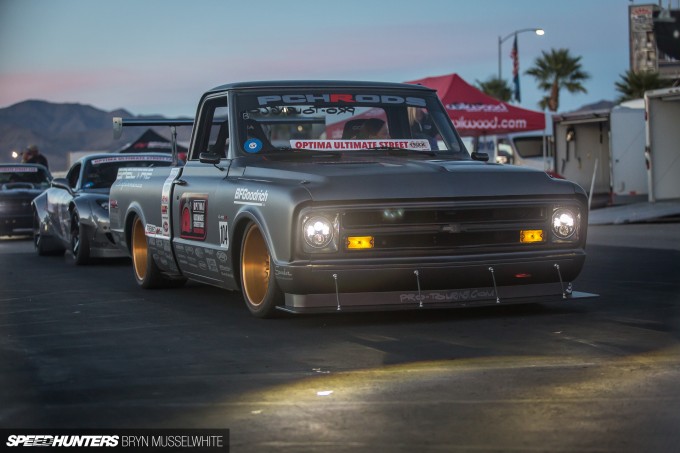 As the sun started to go down the drivers were still lining up – a number of minor delays throughout the day had added up and limited their run time. Brandy Philips caught me off guard when I asked if she'd heard of Speedhunters and if she would be up for a feature on the newly-completed '72 C10? She smiled as she told me she'd grown up with Linbergh and knew Larry too, so expect to see more of this brutal Chevy.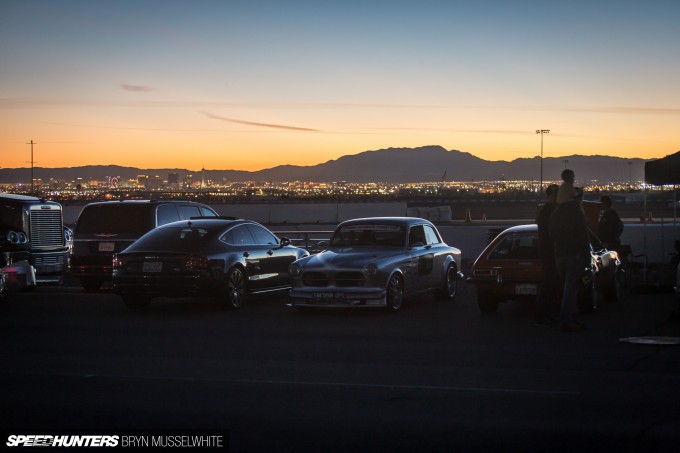 With the sun going down the city was calling us from a distance – the day was far from done yet. We still had a small road rally, a petrolhead legend and some deep fried goods to deal with…
Time To Strip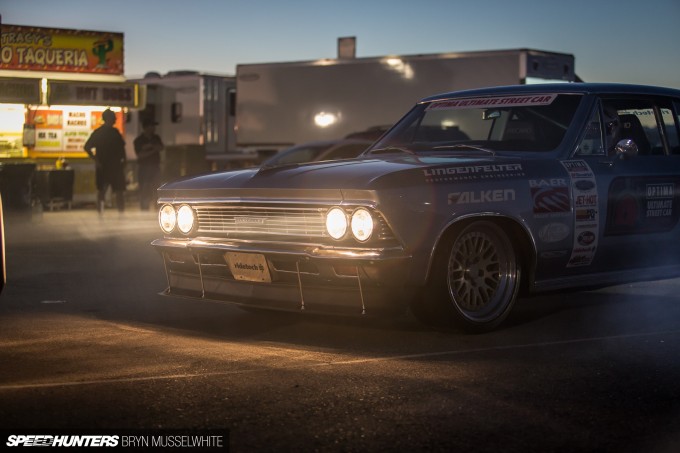 There is something about the descent into night that makes things all the more exciting – especially when there's racing involved. Headlights become eyes and senses start to rise to new states of alert.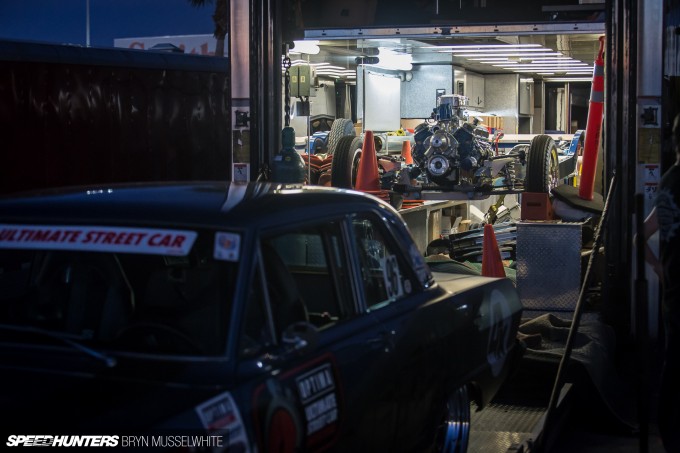 As darkness fell the Las Vegas Motor Speedway pits started to buzz even more. Perhaps it was the cooler air that helped with the energy levels, but I genuinely think it was also to do with the fact that all of us had been 'through' SEMA. Often the race trailers bore signs of the week's displays, now packed away and not needed.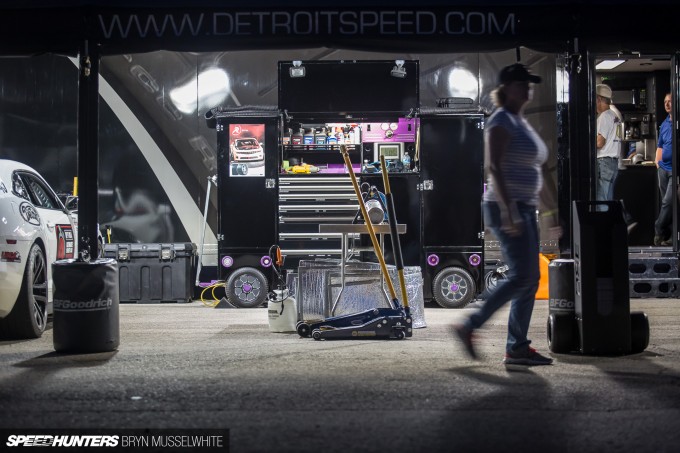 With many of the participants being industry people, some of the pit setups were pretty impressive. This roll chest is probably better equipped than a lot of our home garages!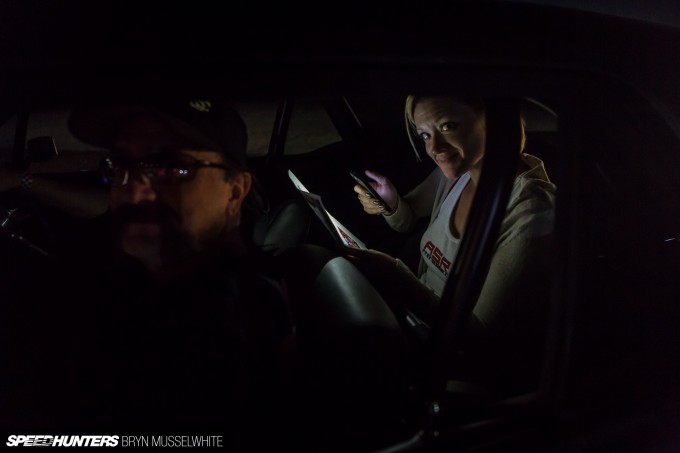 With racing stopped for the day every team was given a simple two-page route map, with the plan to head out on a 25-mile road rally taking in downtown Vegas, then the Strip. So it was about time I found a lift…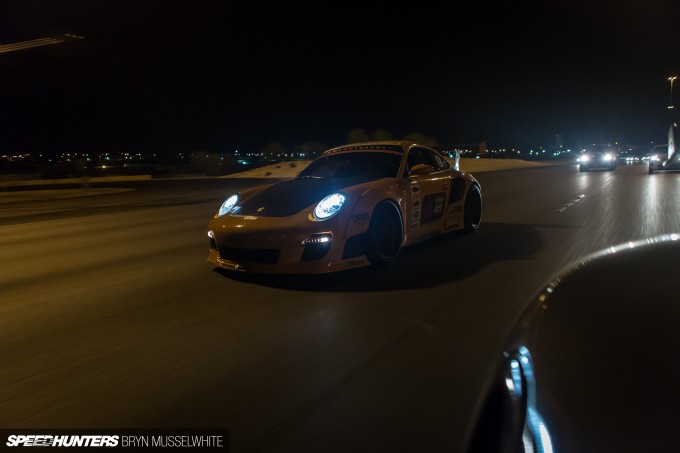 I'd actually given this some prior thought and earlier on sounded out Joey and Betim from BBI Autosport to see if they had any spare seats. With a pair of 997 Porsche turbos and roughly 1200hp between the two of them, I was glad when the answer came back yes!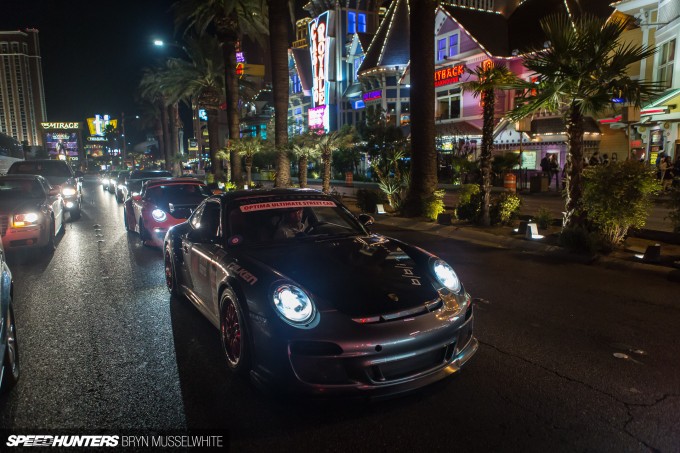 I rode with Betim on the way down in to Vegas. He'd had some tyre trouble earlier in the day, but had managed to sort out some new Falken rubber at the last minute – which seemed to be keeping him pretty happy. With a consistently good time on the autocross and stop-go, he didn't know it at this time but third place overall and a place on the podium was going to be his.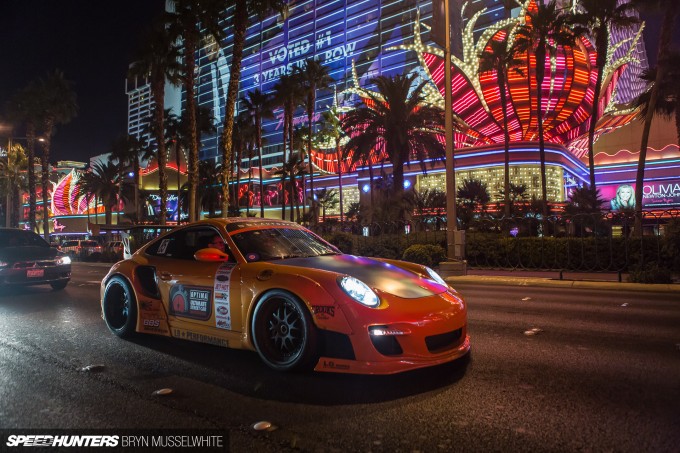 Having put together a couple of Liberty Walk kitted 911s for the SEMA Show I was keen to find out what the guys thought of the 'all form and no function' reaction the name tends to evoke? Joey said they'd discussed it and figured the only way to prove that the kit is functional was to race the rubber off it all weekend. Given that this customer car is destined for Hawaii eventually, Joey did well to rank 19th at the end of proceedings, whilst making sure no harm was done.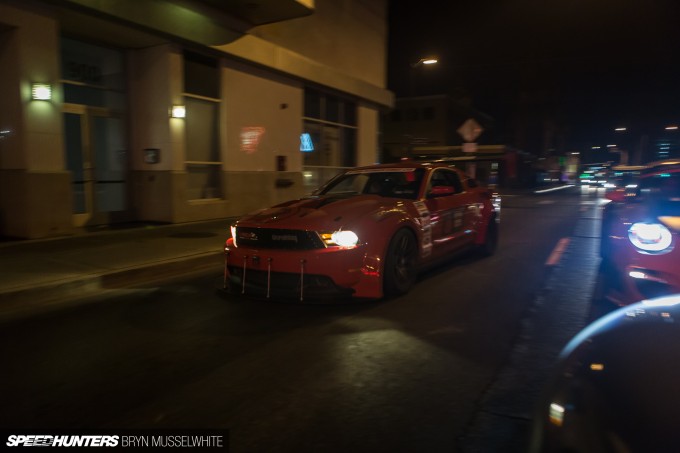 As we picked our way through old town traffic down towards the Strip, you could hear the rumble and occasional explosive burst of V8s and turbo shreek all around us. Winged road warriors appeared and disappeared just as quickly.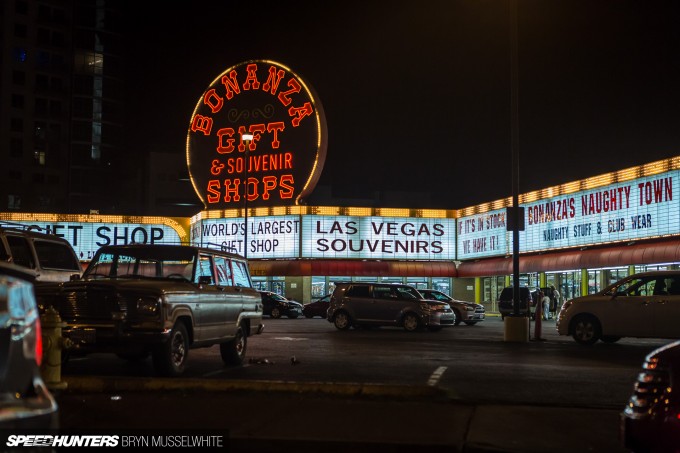 After a week of shiny lights and polished meetings, it was good to catch sight of the world and take it in. I really like Vegas, and for all the pomp and splendour of the shinier parts of the Strip, I'm just as fond of the older shops and neon that lights up the night.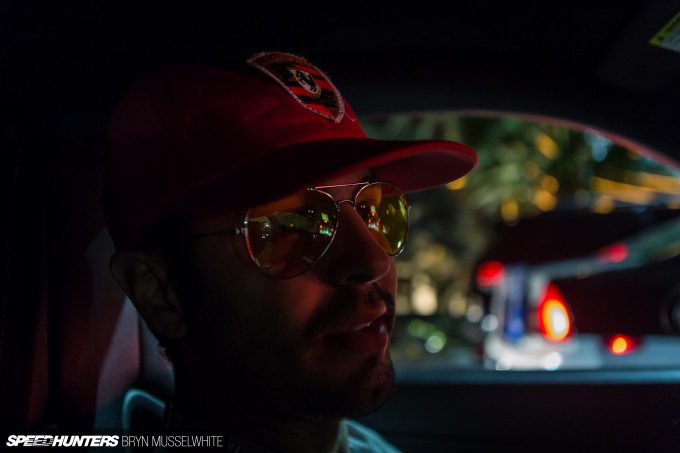 It turns out that Betim and Joey are kind of nostaligic too, getting in the '80s road rally vibe with matching period Porsche caps and yellow lens aviators. These two items alone are probably worth an extra 10hp across the rev range.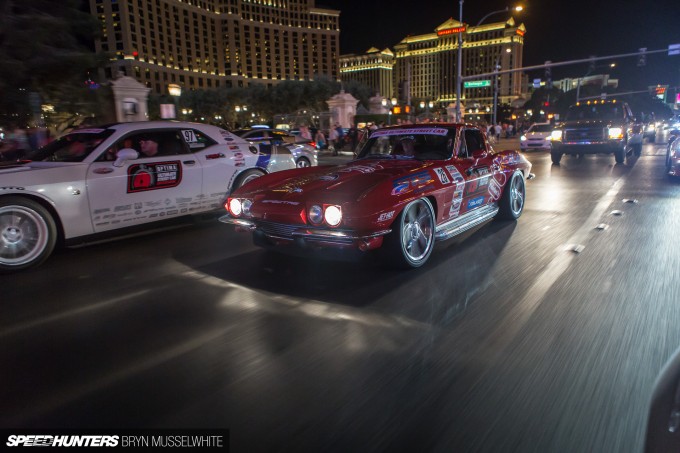 This wasn't some cross country epic drive, just a quick 25-mile blast in to the city and down the Strip, showing that these are very much 'real' cars which can handle everyday life like the rest of the wheeled world.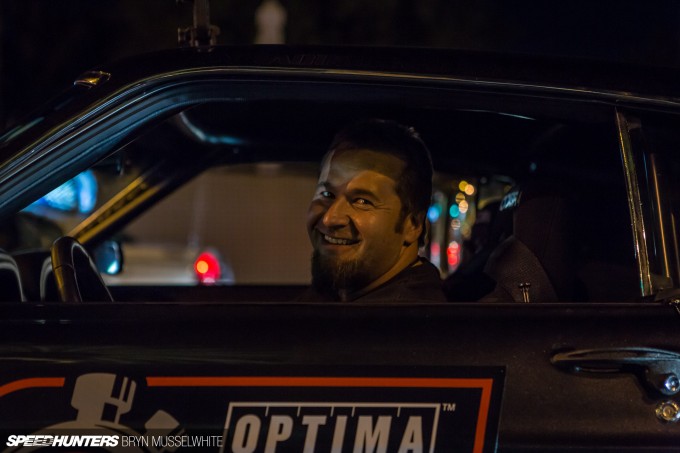 I can't think of many places where you could lean out of the window of a modern Porsche and get a grin from a Ford driver like that. Dave Tucci was digging the scene as much as I was – except maybe his smile was a little more satisfied. After all, he was driving his badass '70 Mustang.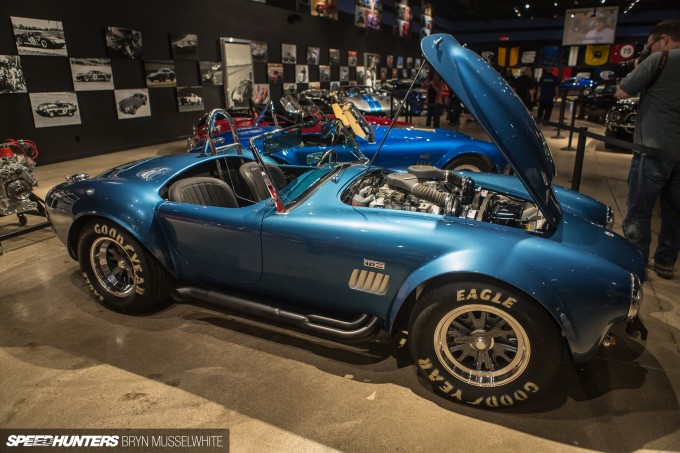 Our destination via a rolling check point was the Shelby factory and museum. There's a few million dollars worth of cars on display here and we could see straight through to the assembly floor too. But I had to show you this twin Paxton supercharger equipped 427ci Cobra, all Goodyear bubblegum tyres and alloy curves. As if the standard 427 wasn't already lethal enough, this one has even more added danger.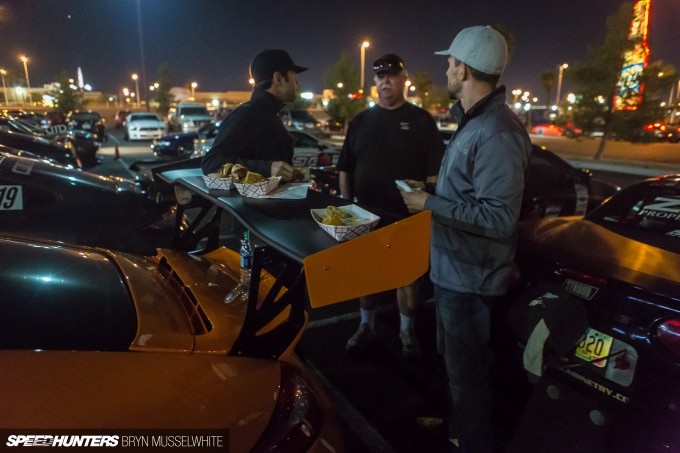 And check this, another validation of the Liberty Walk kit – functioning aero and handy fried food resting spot! That's my kind of fast food combo right there. Healthy and nutritious it wasn't, but welcome it was.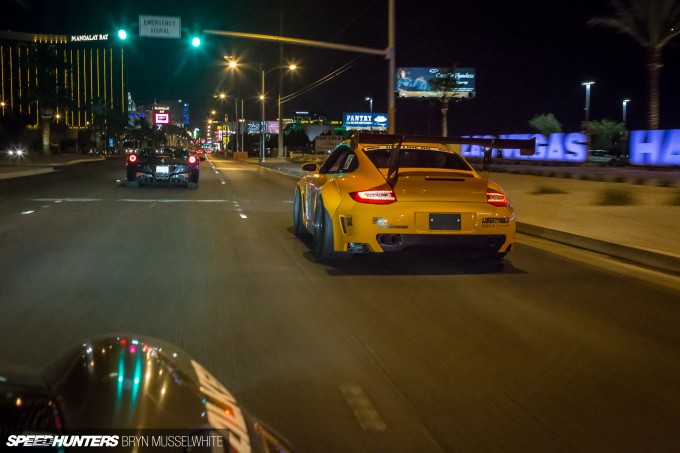 As the drivers started to disband and head off for a good night's sleep we made our way back to the track where the guys would leave one of the Porsches and drop us to our rental car. After a quick roll along with a random Ferrari (well, it is Vegas…) we made for the interstate where the joys of boost and traction were ours for the taking. Grip and go, grip and go…
We had it all to look forward to again the following day…
Round & Random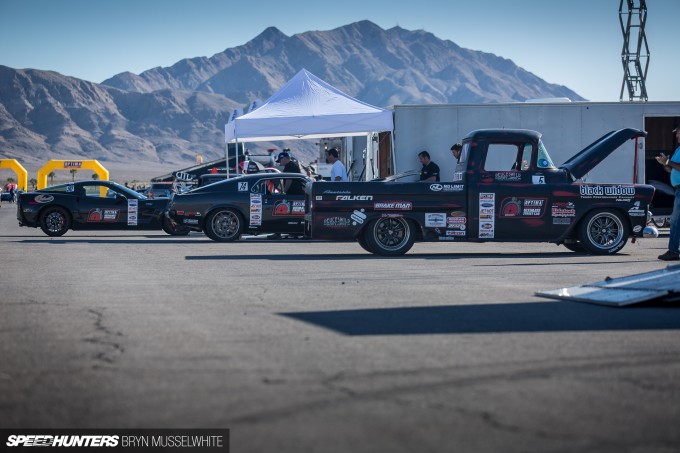 This might sound odd if you're from Nevada – or any of the dry southern states for that matter – but waking up to this clear, almost crystal light and clean dry weather is such a blessing for somebody who was looking out his office window at pouring rain and pools of mud in a field as he wrote this story. I'm sure the novelty would wear off, but each morning I'd wake up and peak out of the curtain hoping it wouldn't have changed for the worse. This line up with Wes Drelleshak's '59 Chevy Apache pickup shows the variety – but at the same time almost a similarity too. Big modern rims, lowered but not slammed and modern, muted tones – albeit with some creative patina on the truck.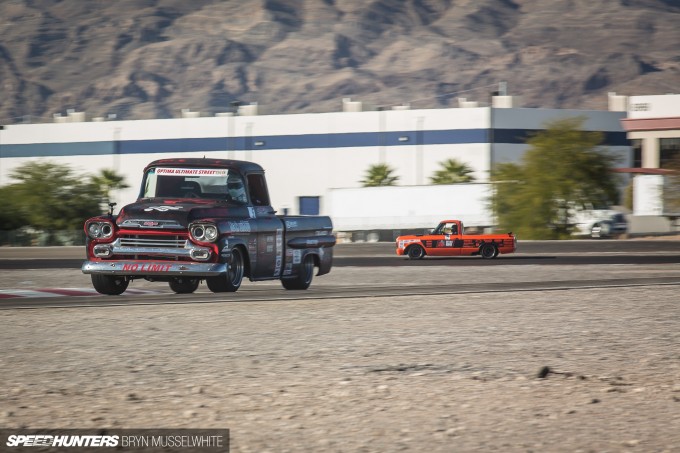 For a big, nigh on 55-year-old body it kicks ass though – Wes placing a very respectable 37th. That's above all sorts of really good metal, but I guess it really helps when you build a project yourself from the ground up. The connection comes together in the corners when you know just where the limits are. Click Presentation Mode and you'll see that the inside front wheel is almost off the ground here.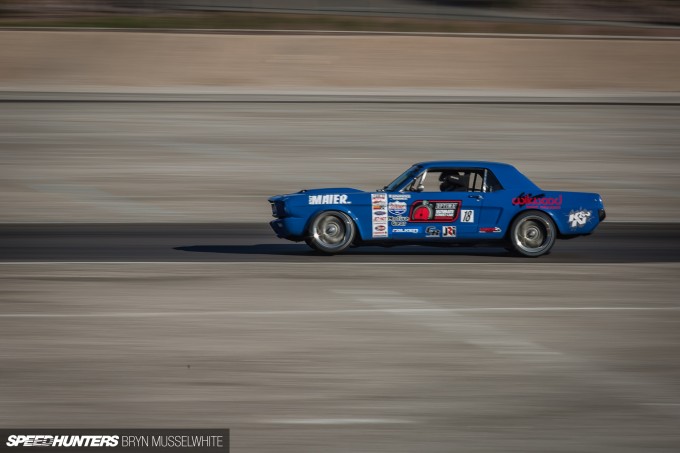 I'll apologise now for the slightly soft front-end focus of Mike Maier's Mustang, but that front wheel is totally off the ground and 100 per cent shows his commitment to thrashing this thing on track. We recently ran a feature on the Mustang if you want to know more, but for now lucky 13th was Mike's final position.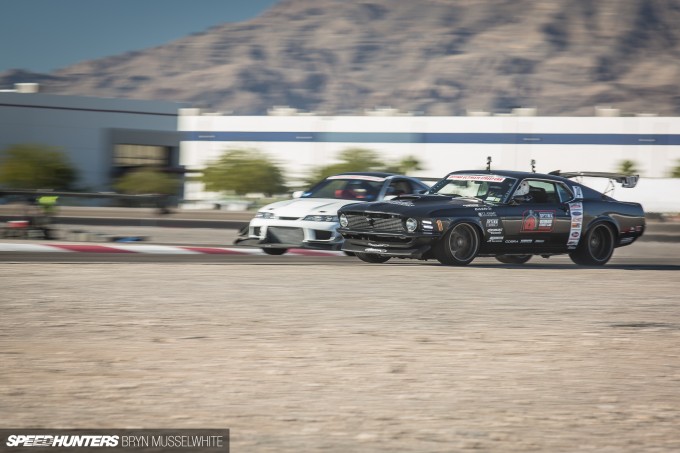 I hung out trackside for most of the day, watching some epic impromptu battles. How about a '70 Mustang going around the outside of an aero-equipped Integra? You got it!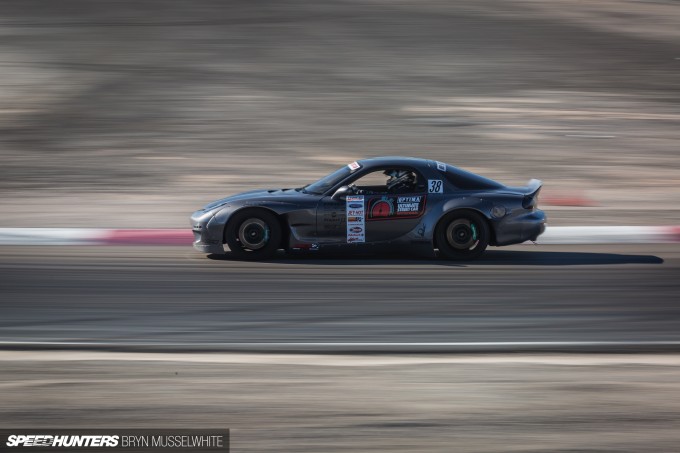 Another fresh sight was Scott Sengpiel in his '93 FD3S RX-7. The Rocket Bunny kit looked right at home here on the track, with another American V8 soundtrack to back it up.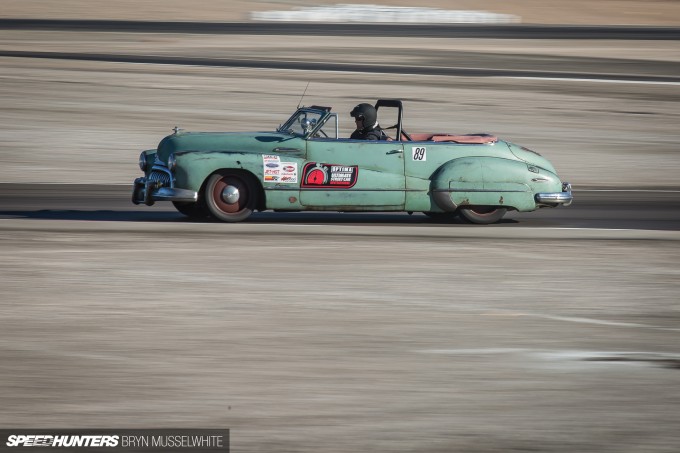 It wasn't quite all #MaximumAttack on the track, although this Buick Super 8 of Tim Vest has some hidden secrets as it's one of ICON's 'Derelicts' cars. When Mike went down to see them earlier in 2014 it was still in the build stages, and you can take a look here at how at home the Cadillac-sourced supercharged LS9 looks. With a single roll hoop added for safety the Buick was hustling along.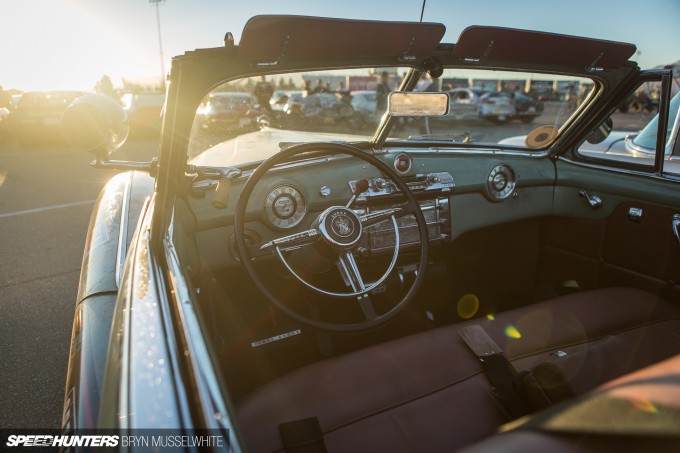 I can't imagine how it must feel inside the cabin through the corners though. I guess the aged leather of the front bench gives extra grip to the seat of your pants?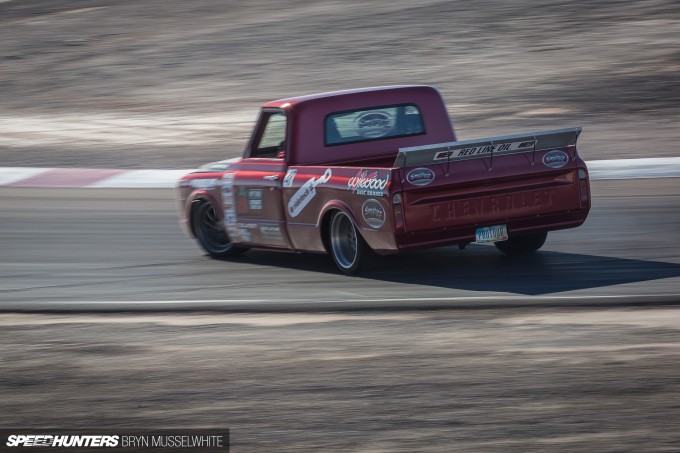 It wouldn't have been much use in a situation like this though. Some late braking meant a nose-heavy dive threw the back end of this Chevy off line, but it simply wagged its tail a couple of times before a seemingly effortless drift carried it out of the corner safely. Showboating? No, but it looked damn good!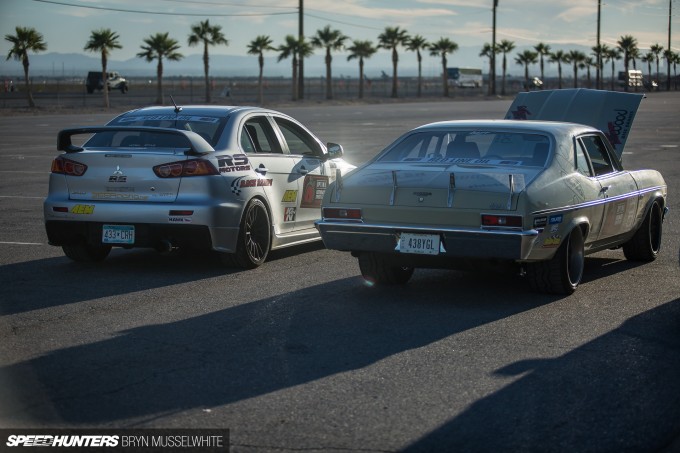 Even though it felt as though we'd only just got started, once again the sun started heading south. As the final heats took place the entrants were ushered to a large open tarmac pad for a full line up picture. Chevy Nova side-by-side with Evo.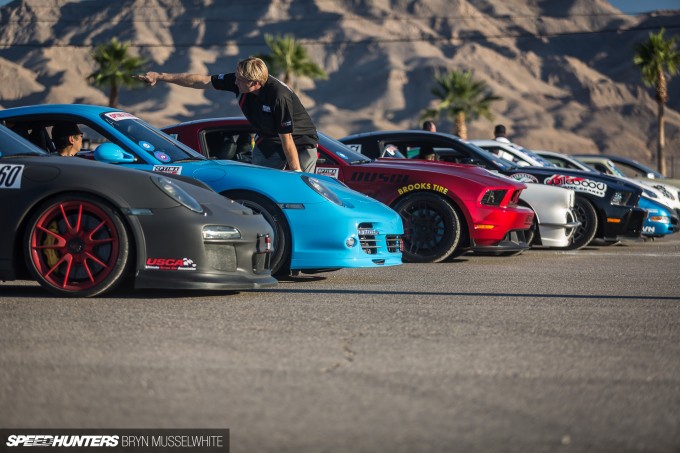 It took some setting up, but the Optima team corralled the drivers and hardware in to neat lines.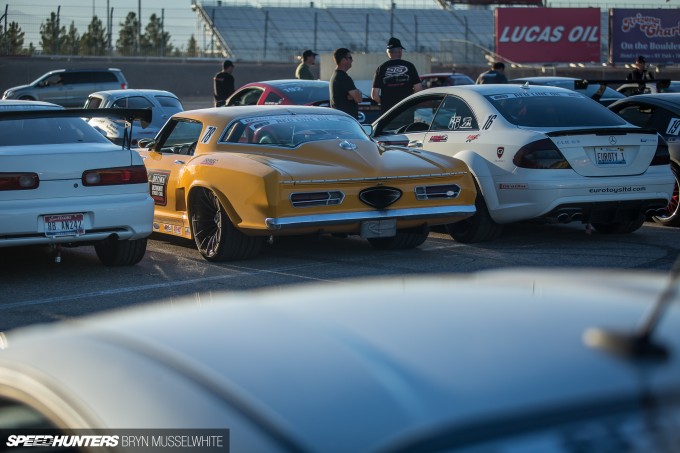 Which gave me one last chance to take them all in. As a perfect example of what I think OUSCI is all about, you might remember this Riviera from Mike's story earlier on in our SEMA Show coverage. It won the Ridler Award early this year – one of the most prestigious accolades going – and after a week of being drooled over in the halls here it is covered in dust…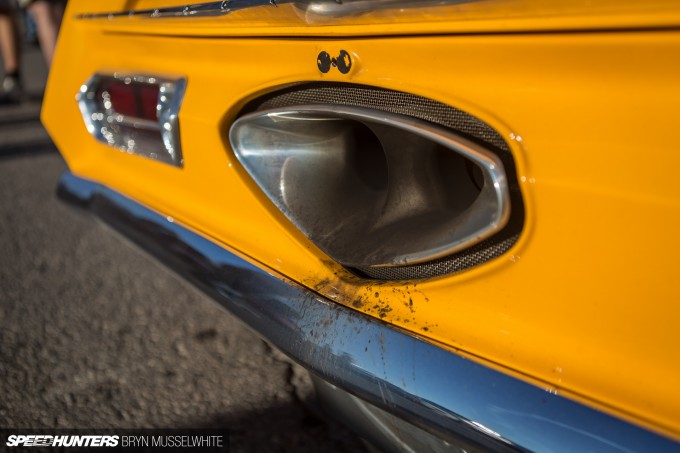 Show or go? You decide, but I'll take both if it's on offer.
The overall winner in the end was Danny Popp in his 2003 Chevy Corvette, which I'm ashamed to say I didn't get a decent shot of! So I'll apologise now for that. My failings aside, the Optima Batteries crew have a lot to take credit for. With a TV show and qualification rounds taking place in the run up to this grand finale, I wonder just how big this event is going to get? With more and more people wanting to prove themselves, the quality will only ever go up… Which means we'd better put it in the diary for next year. See you there!
Bryn Musselwhite
bryn@speedhunters.com
Instagram: Speedhunterbryn
Cutting Room Floor