Next Level Muscle
What's the best part of the SEMA Show? Because it's so large and so varied there's really no wrong answer to the question, and as always we try to show all sides of this enormous event. But given that this is USA and all, the selection of Detroit iron at SEMA is never to be missed – and my duties are to share with you guys some of the greatest American machines at this year's show.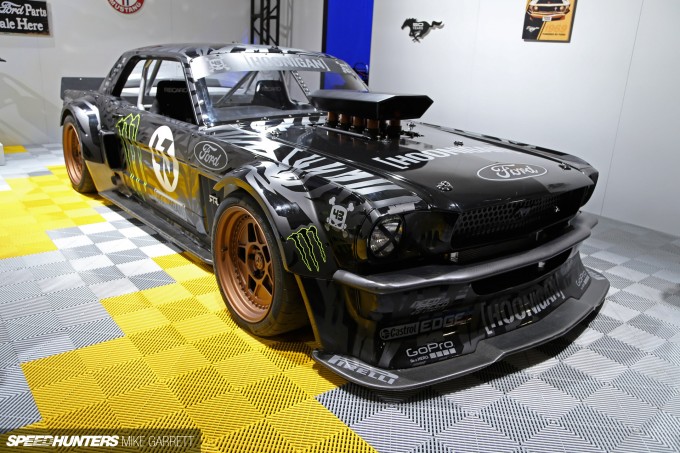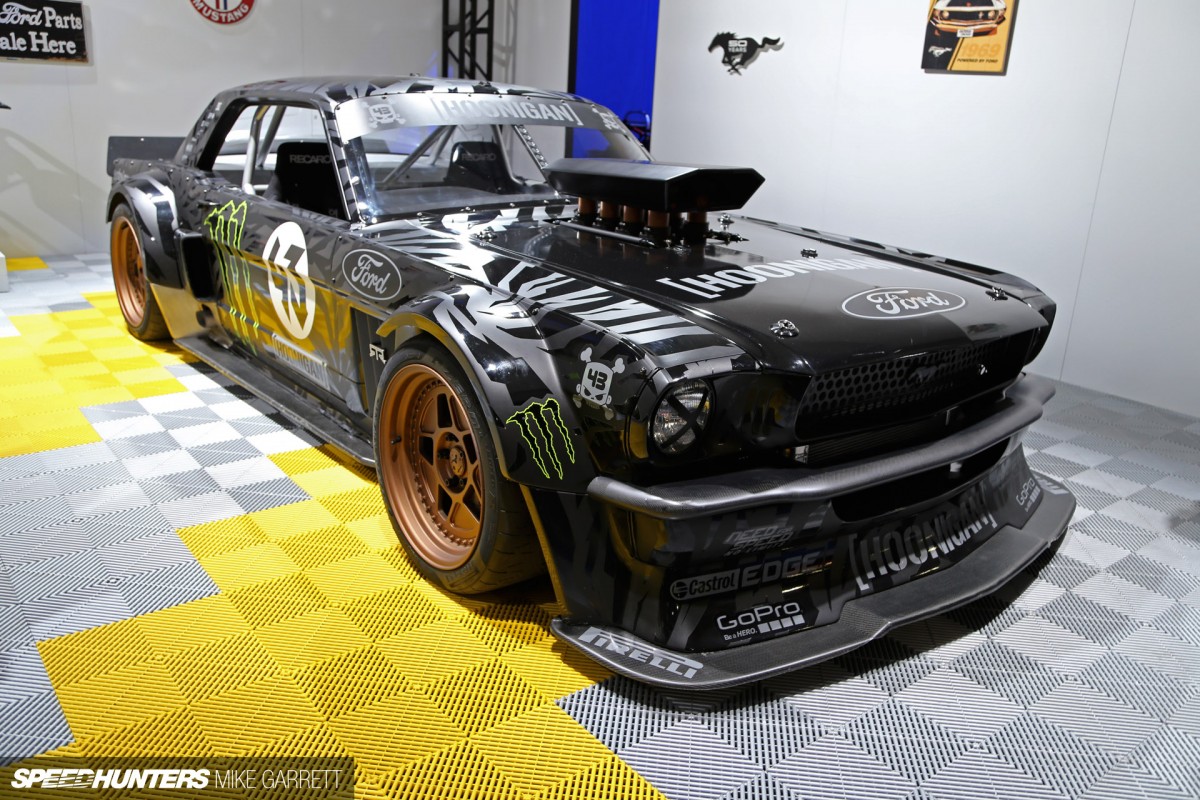 Because pro touring and muscle car builds are always such a big part of SEMA every year, I thought that would be a good place to begin. And why not start with the car that might be the most talked about vehicle at the entire show. Say hello to Ken Block's latest steed and the star of his upcoming Gymkhana 7 film.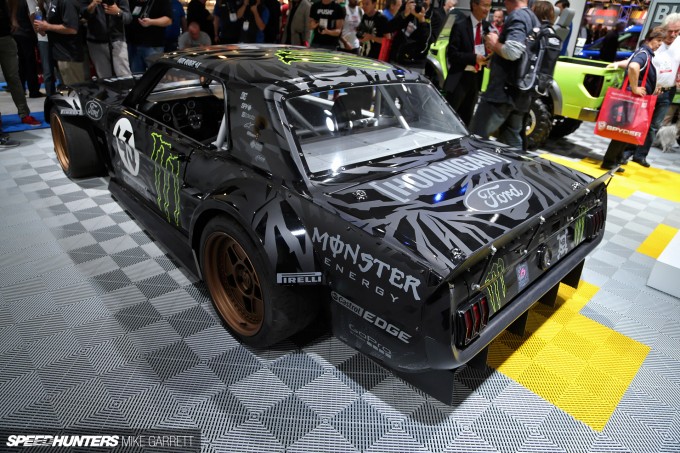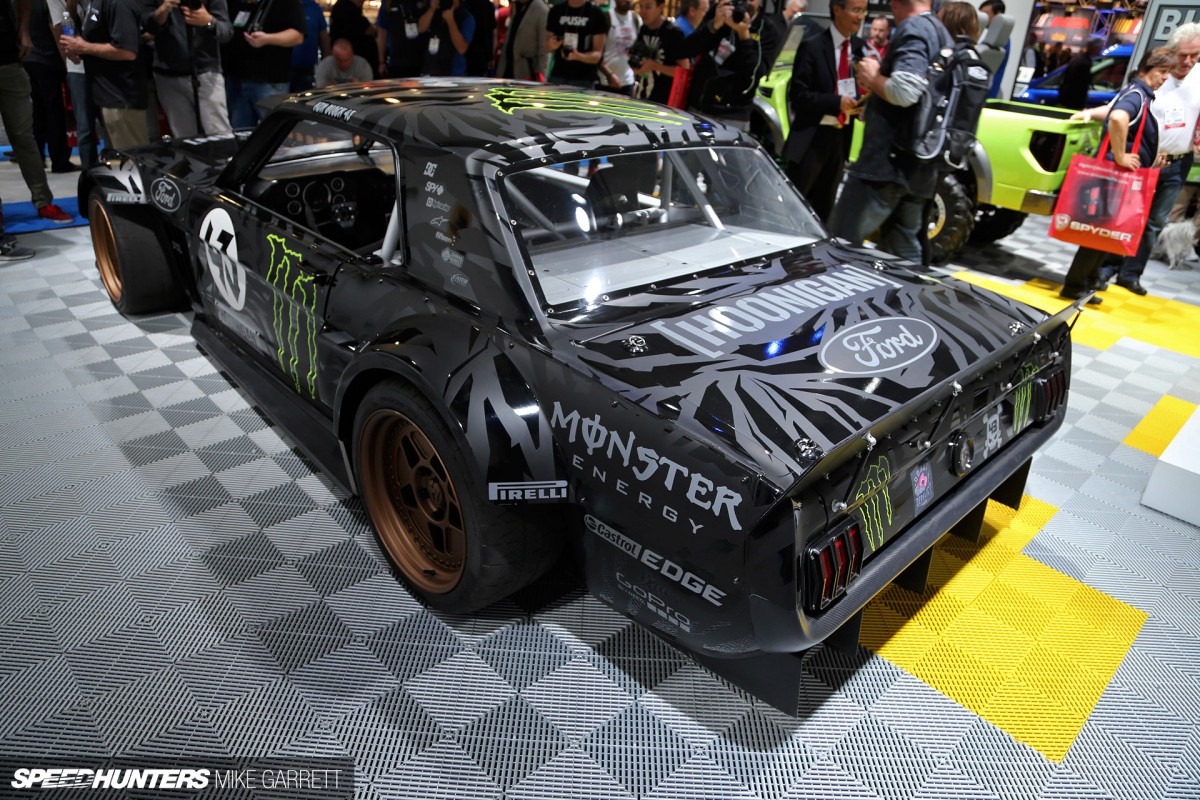 As you can see, he's well and truly left the Fiesta behind for this project, and instead, will be taking to the streets in an absolutely ridiculous '65 Mustang. It's called the HoonicornRTR and it's a collaboration between Block and Vaughn Gittin Jr.'s RTR brand. Beneath the classic Mustang body sits an ASD Motorsports built, tire-shredding monster that's unlike anything we've ever seen.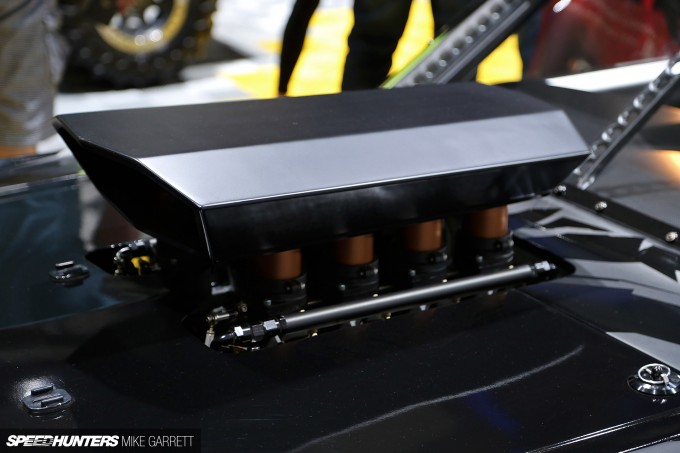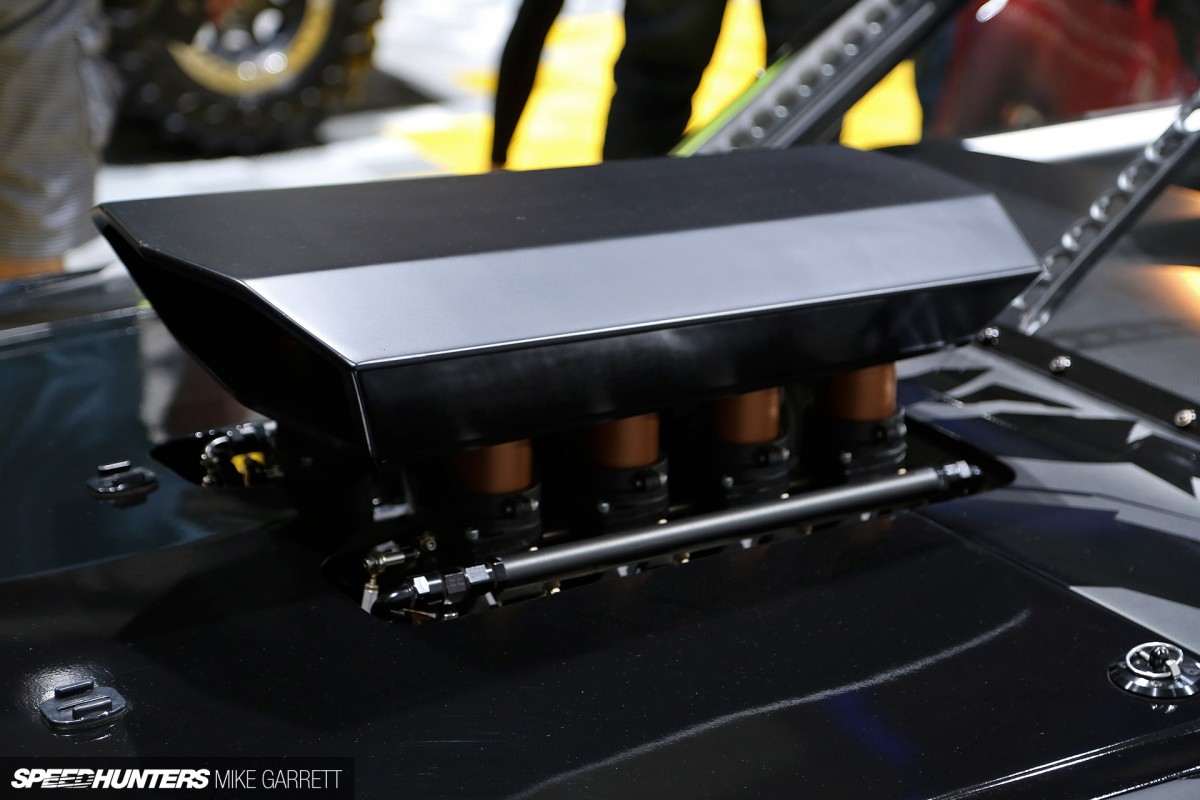 Power comes from a naturally aspirated Roush Yates 410 cubic inch V8 outputting 845hp and 720lb/ft – but that's just the beginning of it.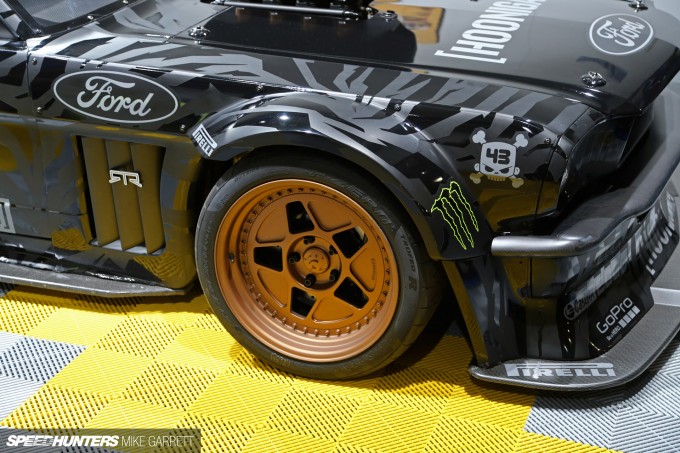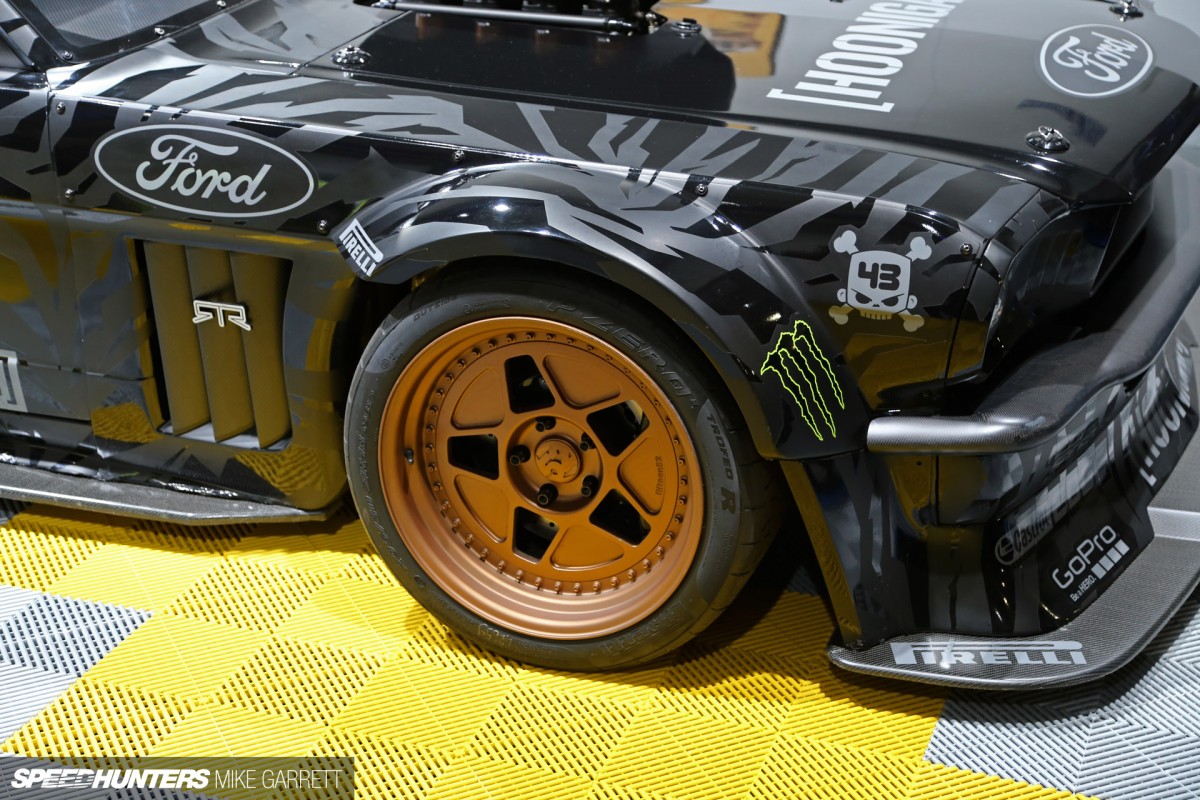 The Roush V8 actually sends power to all four wheels via a SADEV 6-speed transmission and all-wheel drive system – making it the first AWD '65 Mustang in the world. It's an insane build, and I can't wait to see this thing in action in what's sure to be another viral mega-hit. Larry and Keith have a full feature coming up soon too, so keep an eye out for that!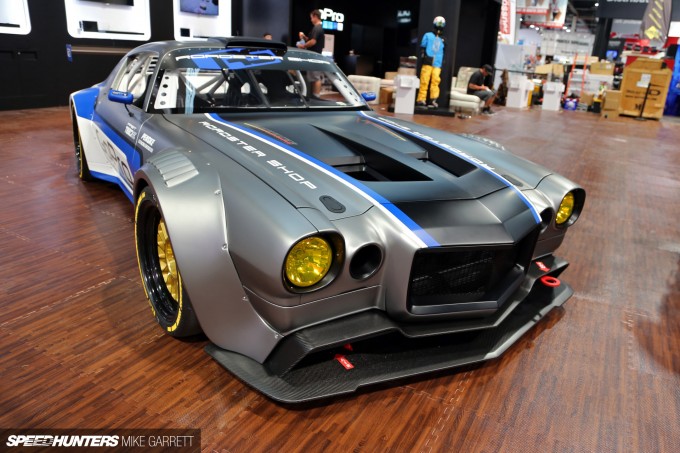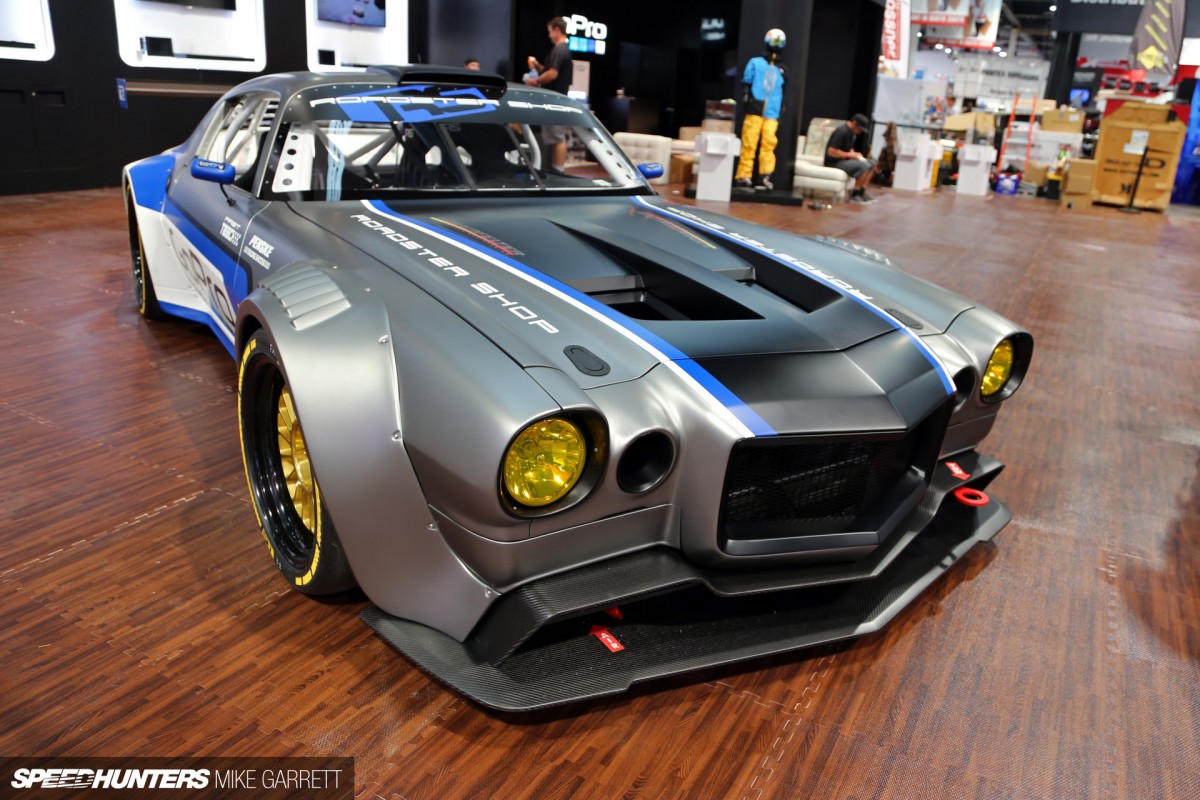 Now we move from a Mustang to a Camaro, or more specifically – a second gen car known as Rampage that was built by Roadster Shop and currently being displayed in the GoPro booth.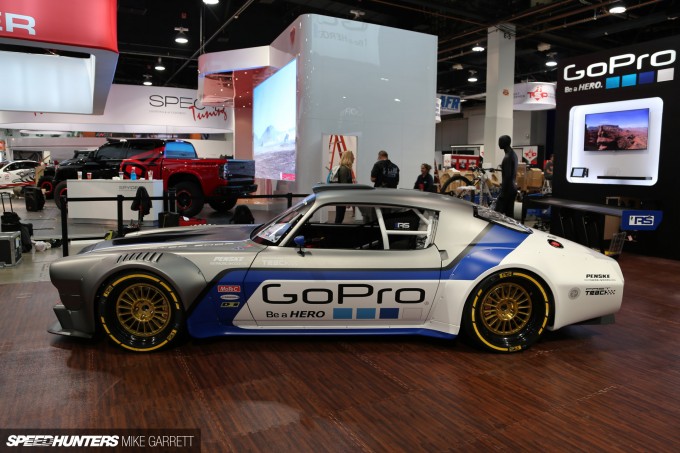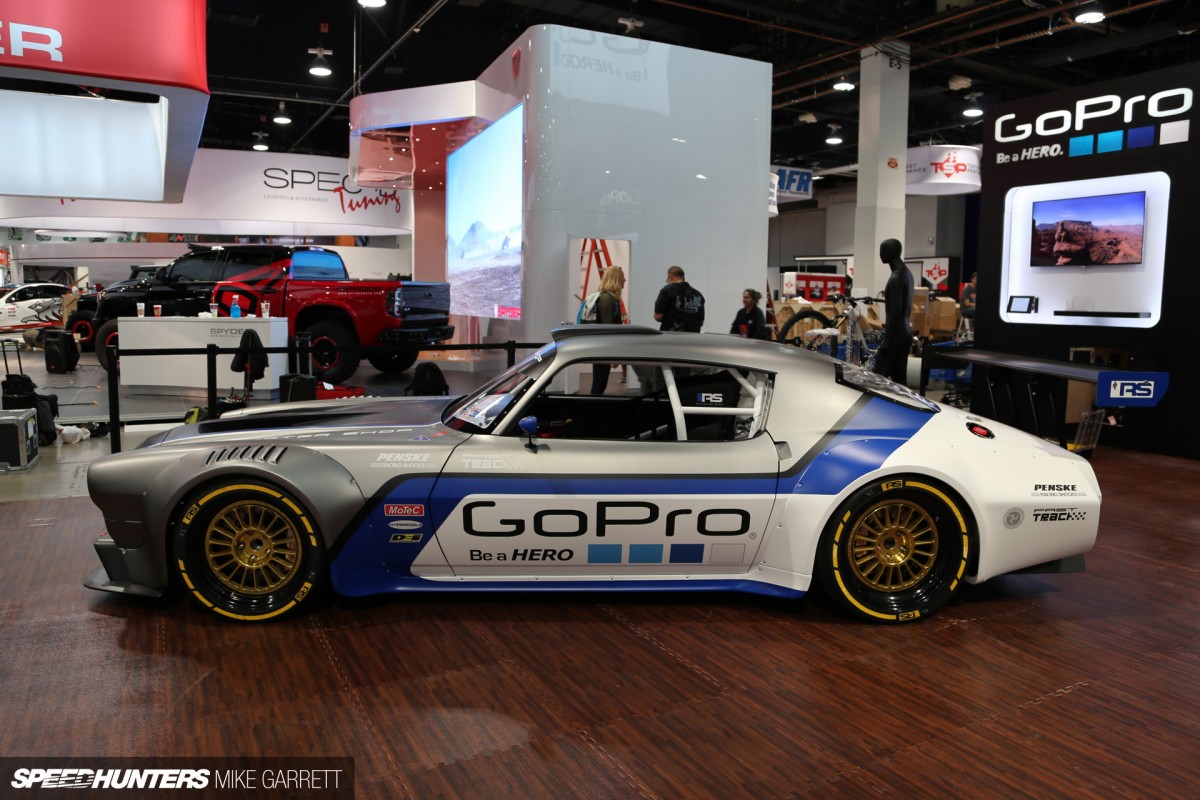 Like Block's Mustang, this bespoke build stretches the boundaries of what a pro touring car is, with a very heavy emphasis on the 'pro' side of the equation. If you were to mash up an early '70s Camaro with a modern GT racecar, this would be the result.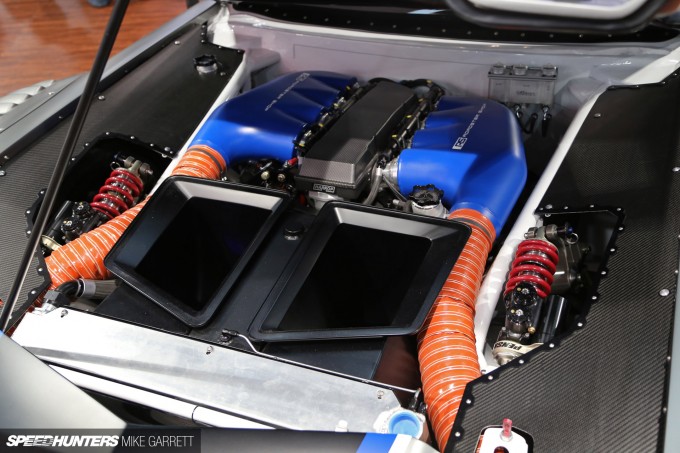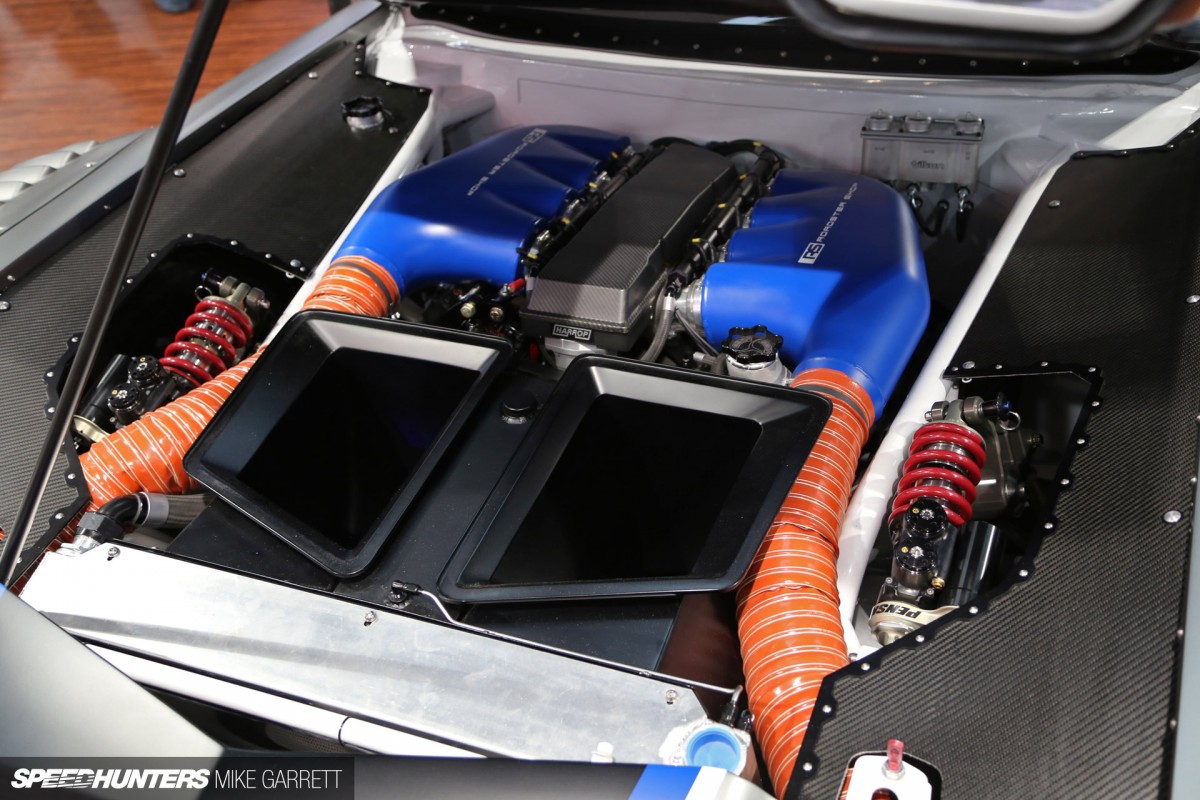 Not only is it an amazing concept, but the attention to detail is unreal. With its Penske race suspension, carbon fiber paneling and one-off airbox setup that's fed directly through the vented hood, you could spend hours looking at this thing.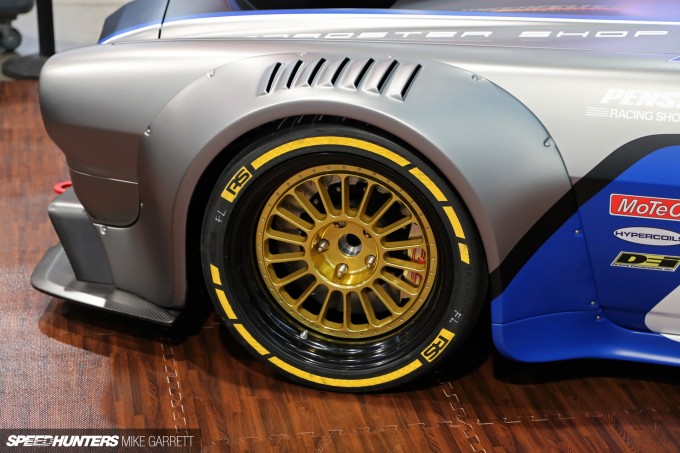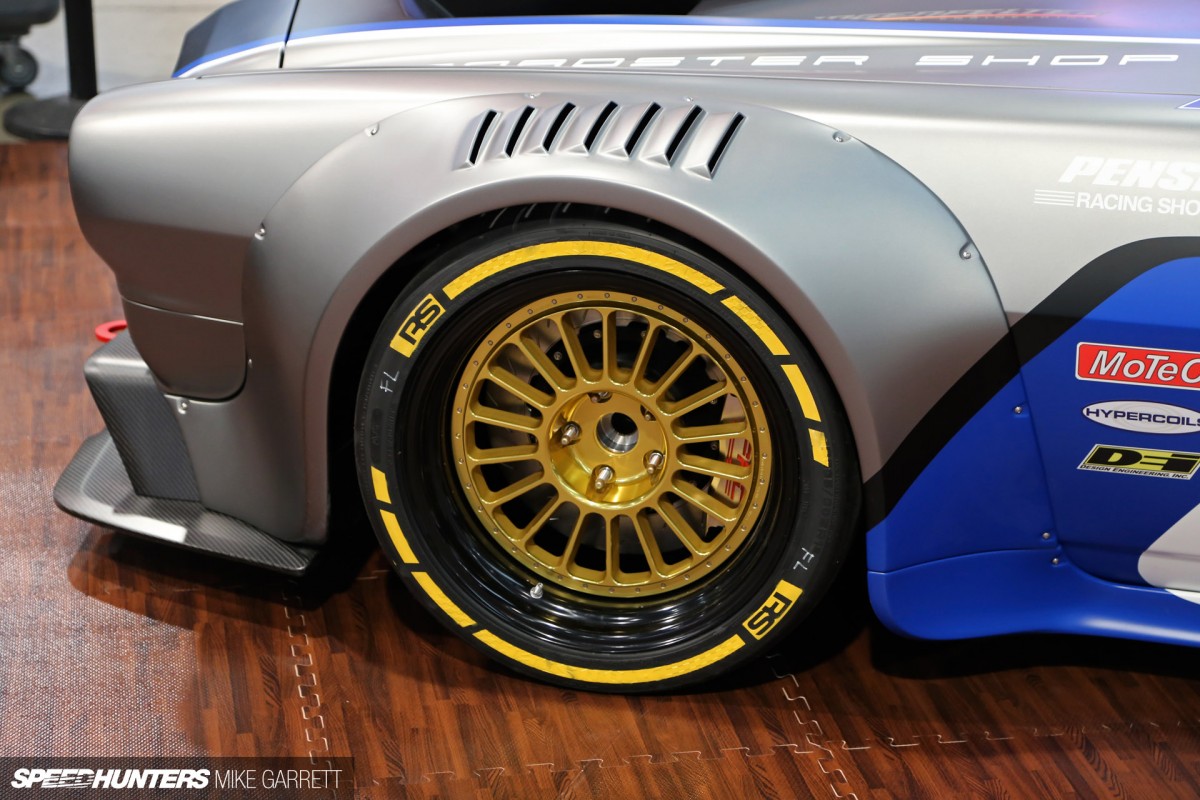 Needless to say, all of the bodywork is completely custom too, and the builders have done a fantastic job injecting the classic pony car with the look and feel of a modern race machine.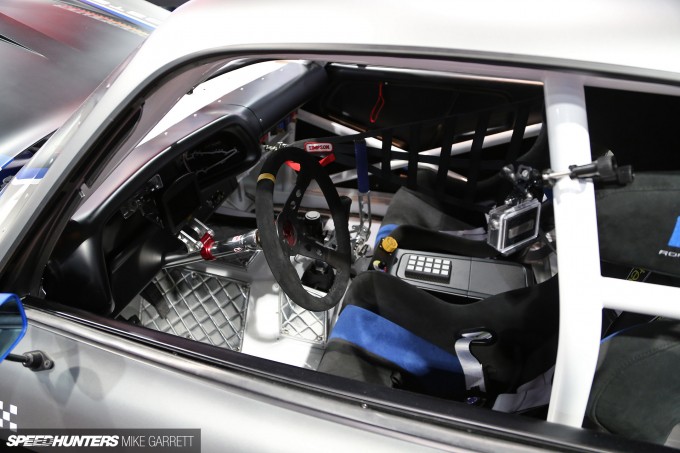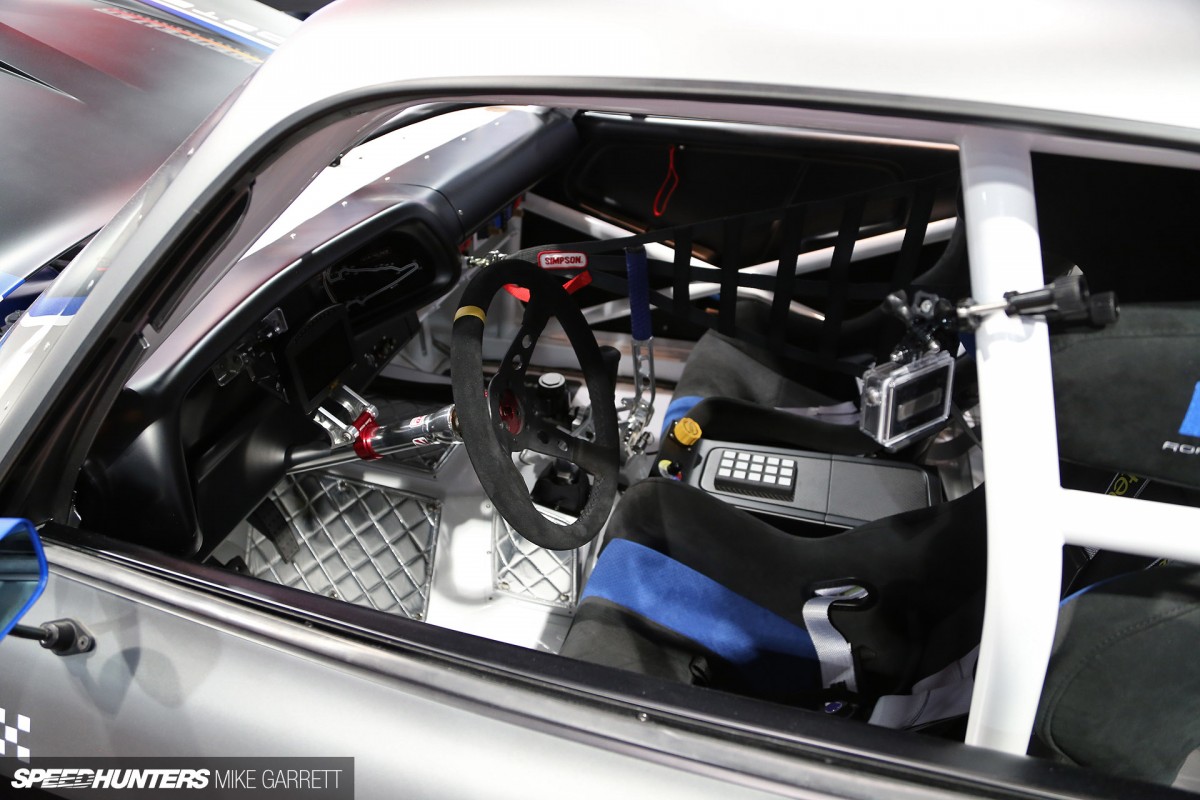 With all of the safety and data-logging equipment fitted within the Camaro's interior, I have hope that this will be one of those SEMA projects that actually gets put to use on the track.
Elegance & Power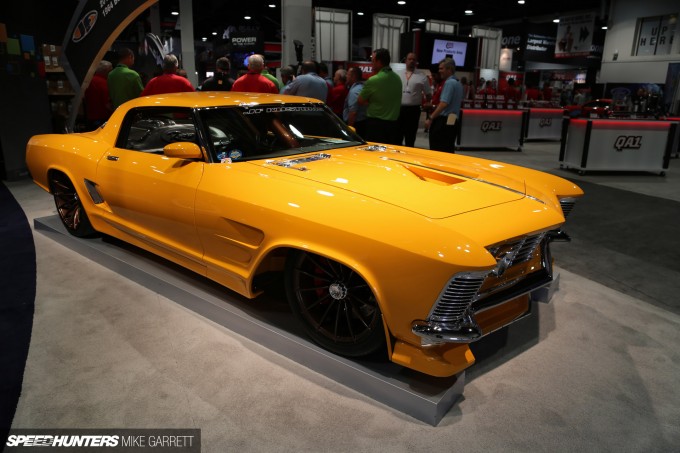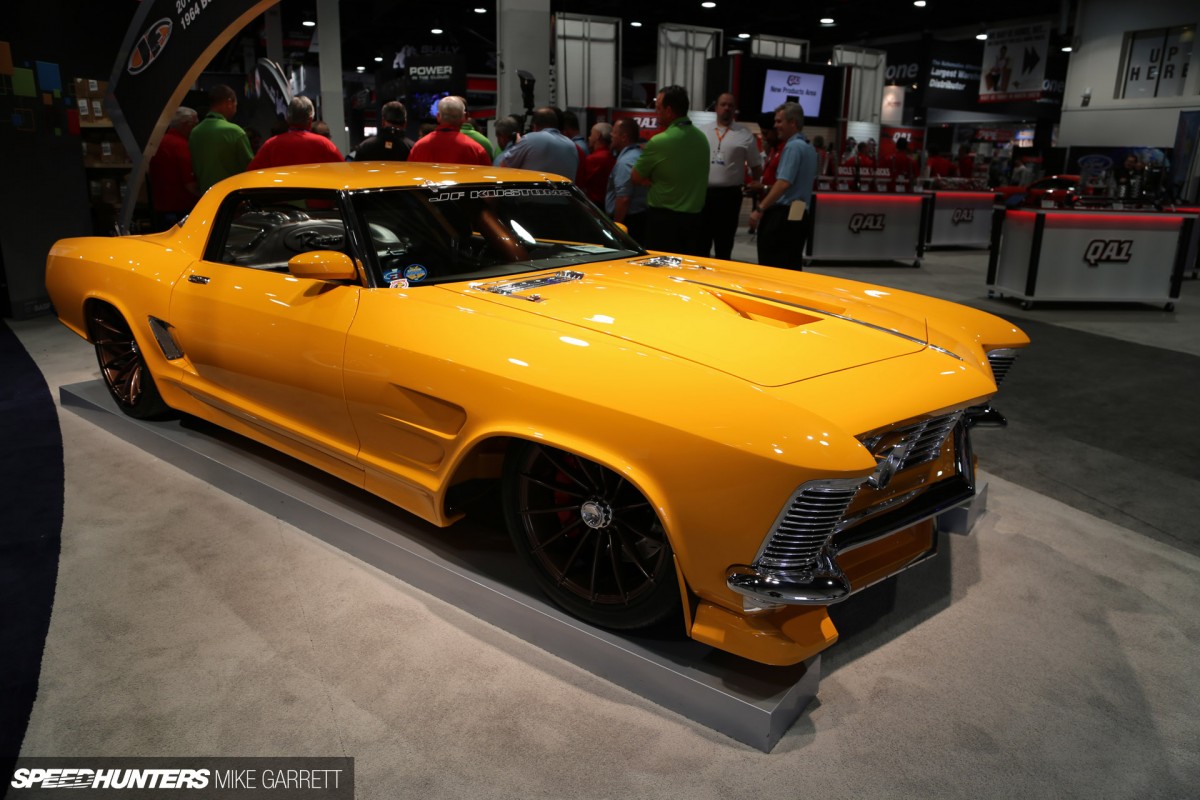 While a 1964 Buick Riviera might not be a traditional pro touring platform, this one has all of the high performance goodies and mind-blowing craftsmanship that's come to define the genre. It's called Rivision and it was the recipient of the prestigious Riddler Award at this year's Detroit Autorama.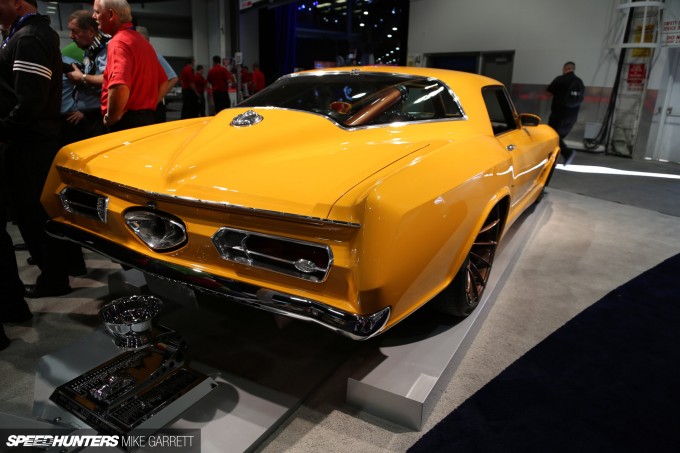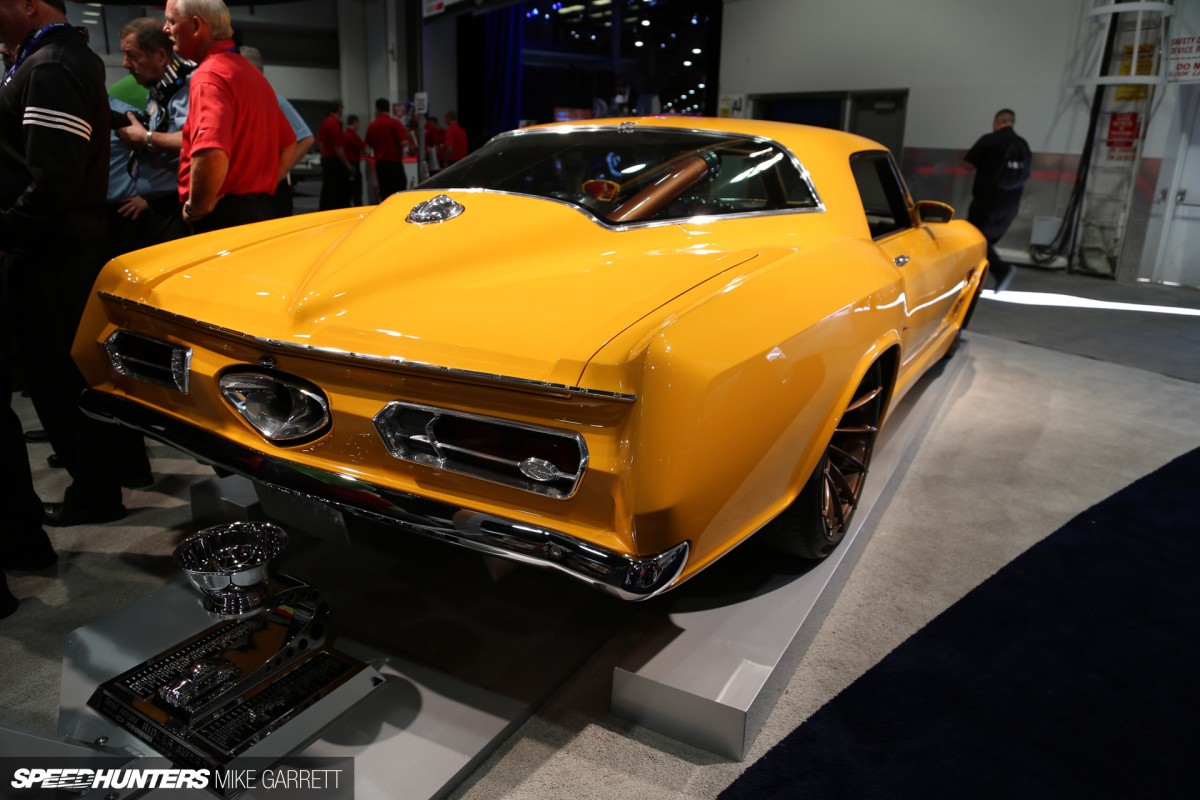 The car was built by J.F. Launier and is wearing a hand-built body that while still recognizable as a mid '60s Riviera, uses features from a few different GM models – including a boattail rear end from a newer Riviera. The result gives it an almost Corvette-like profile from the rear.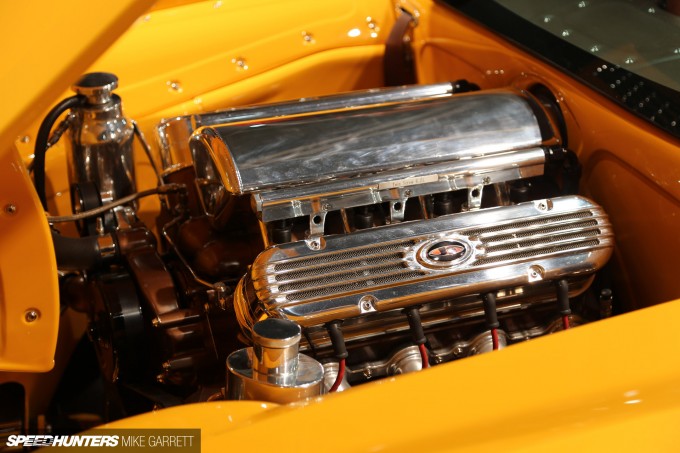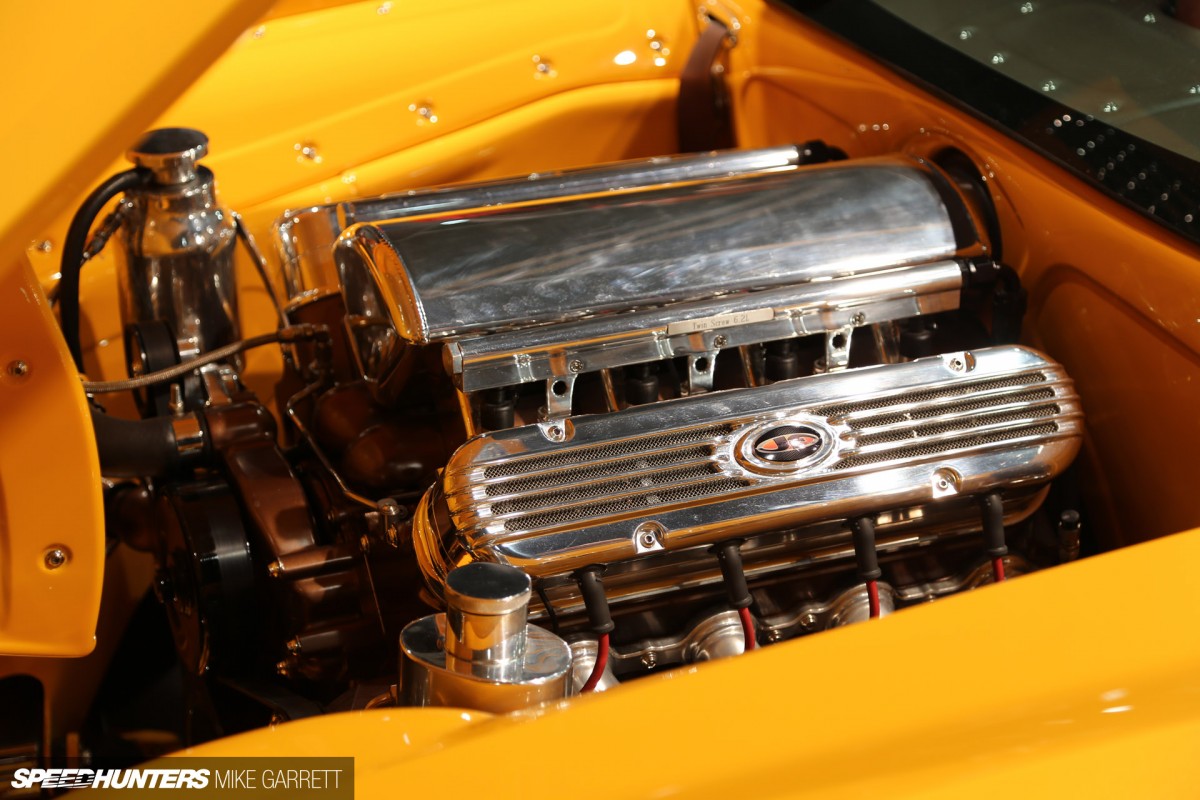 Unlike many Riddler Award winners, this car was built to be driven – hence the 6.2-liter LS-based engine mated to a Tremec 6-speed gearbox.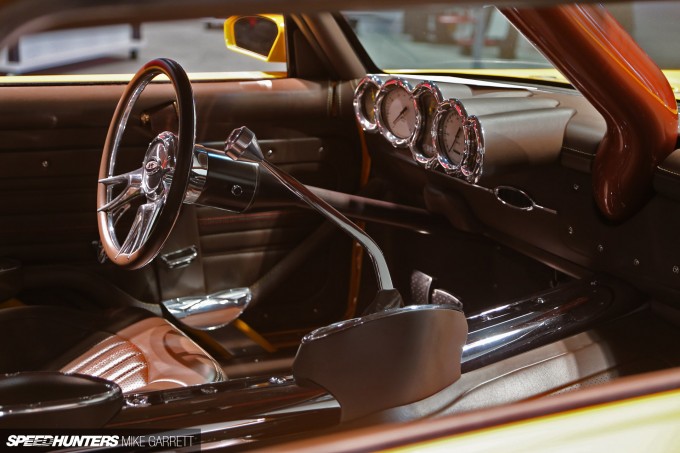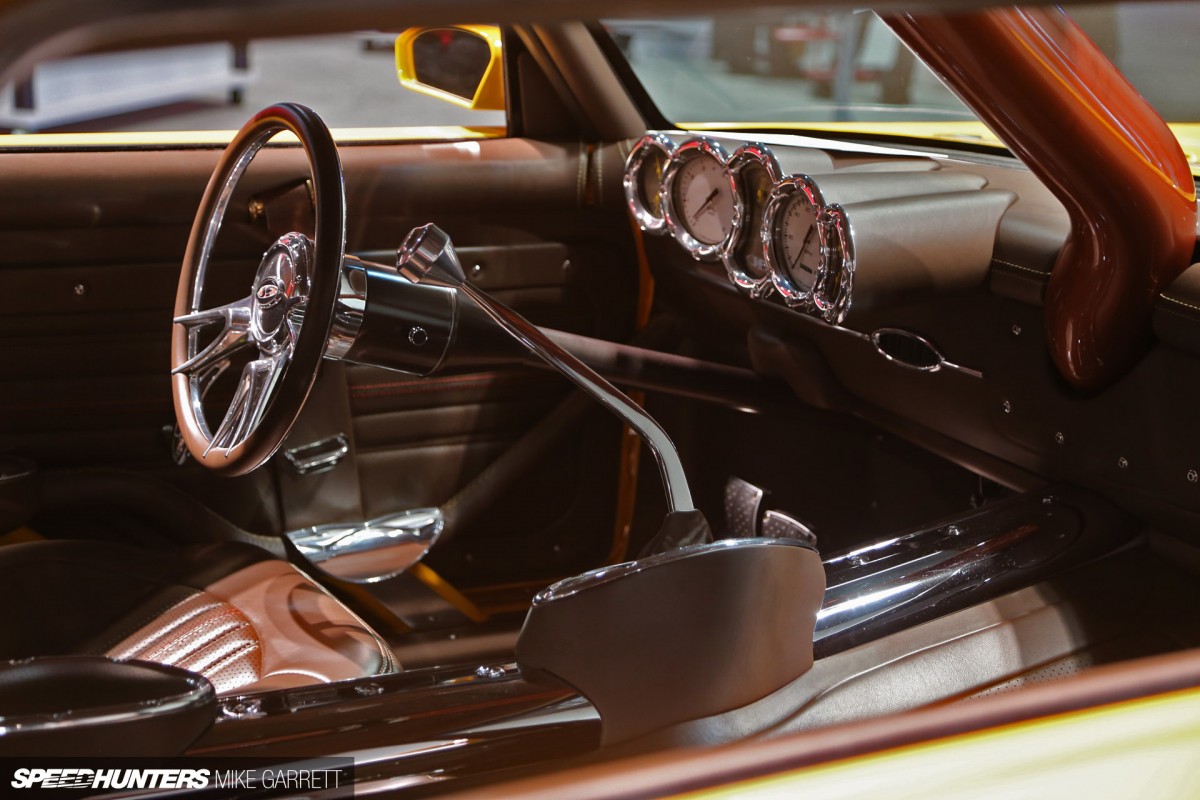 The detail on the Buick is simply unbelievable – particularly when it comes to the interior, which is completely bespoke and finished in Hydes Leather upholstery.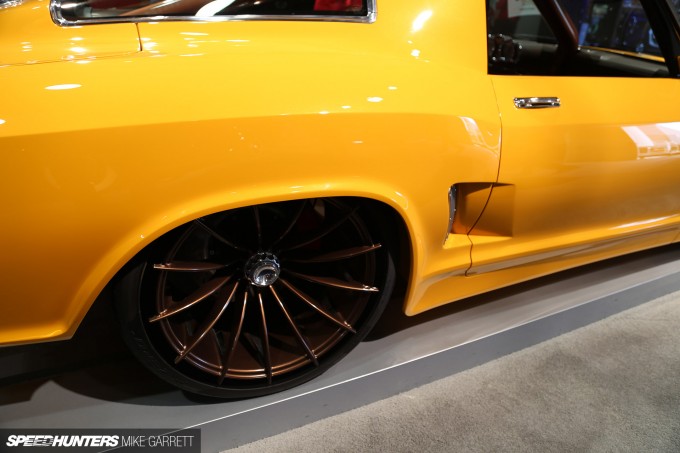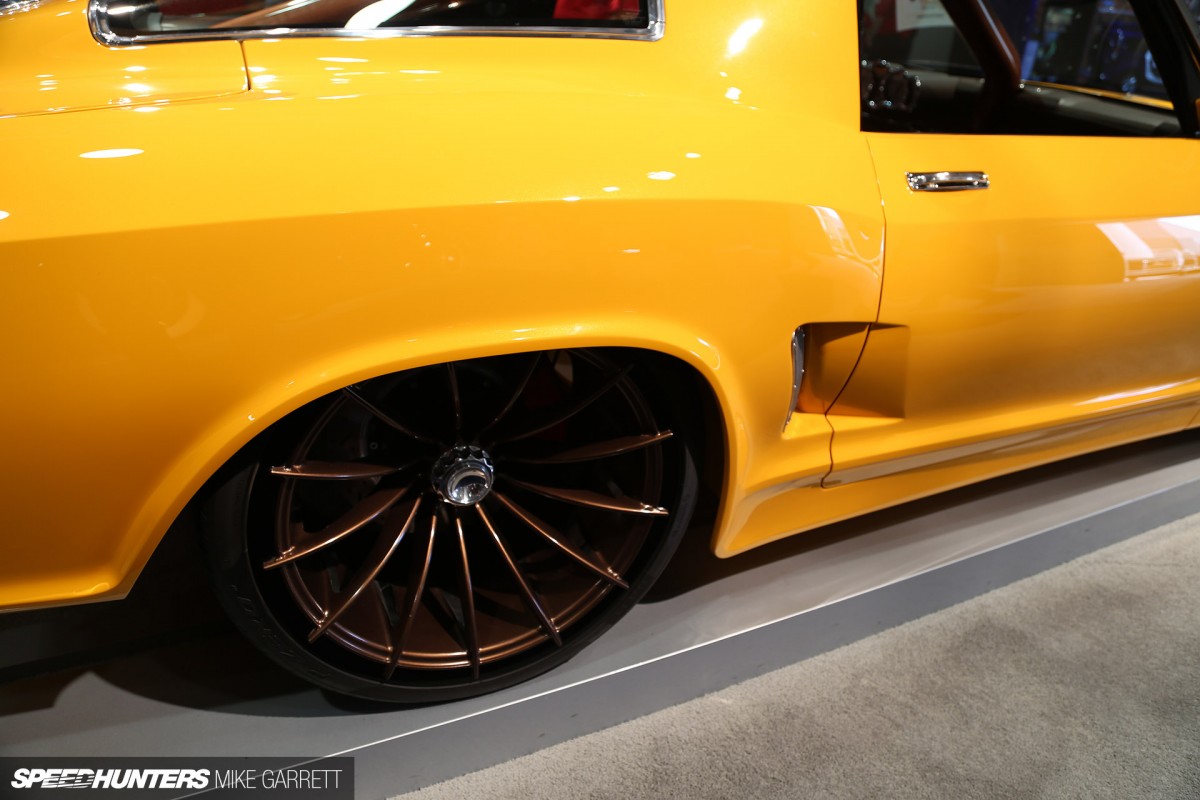 While there's never any shortage of tri-five Chevys, Camaros and Mustangs at SEMA, it's always nice to see out-of-the-box builds like this one.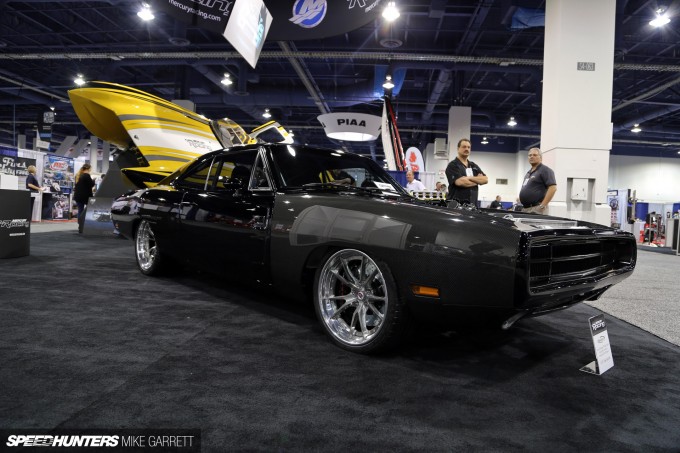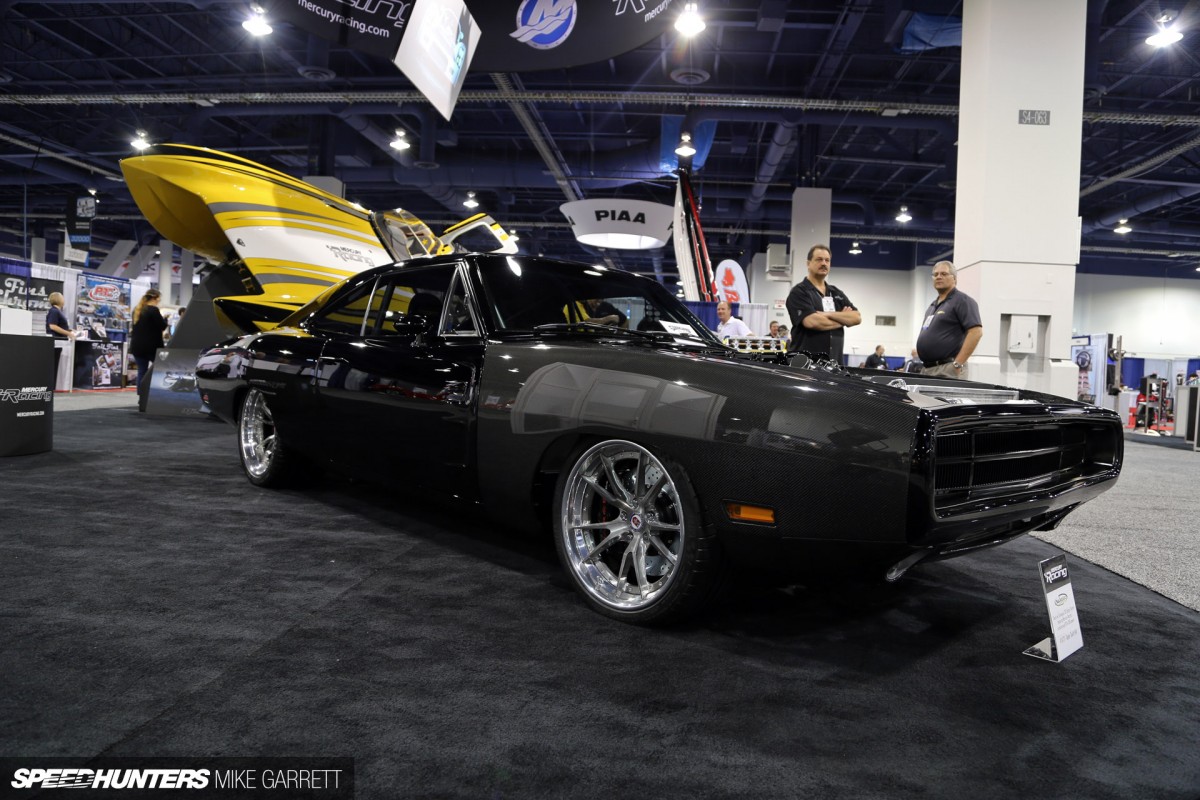 Speaking of which, check out this '68 Charger built by Wisconsin's Salvaggio Automotive Design, on display in the Mercury Racing booth.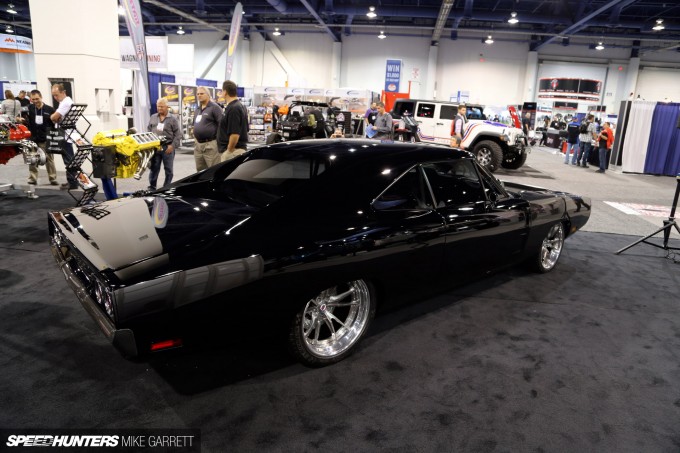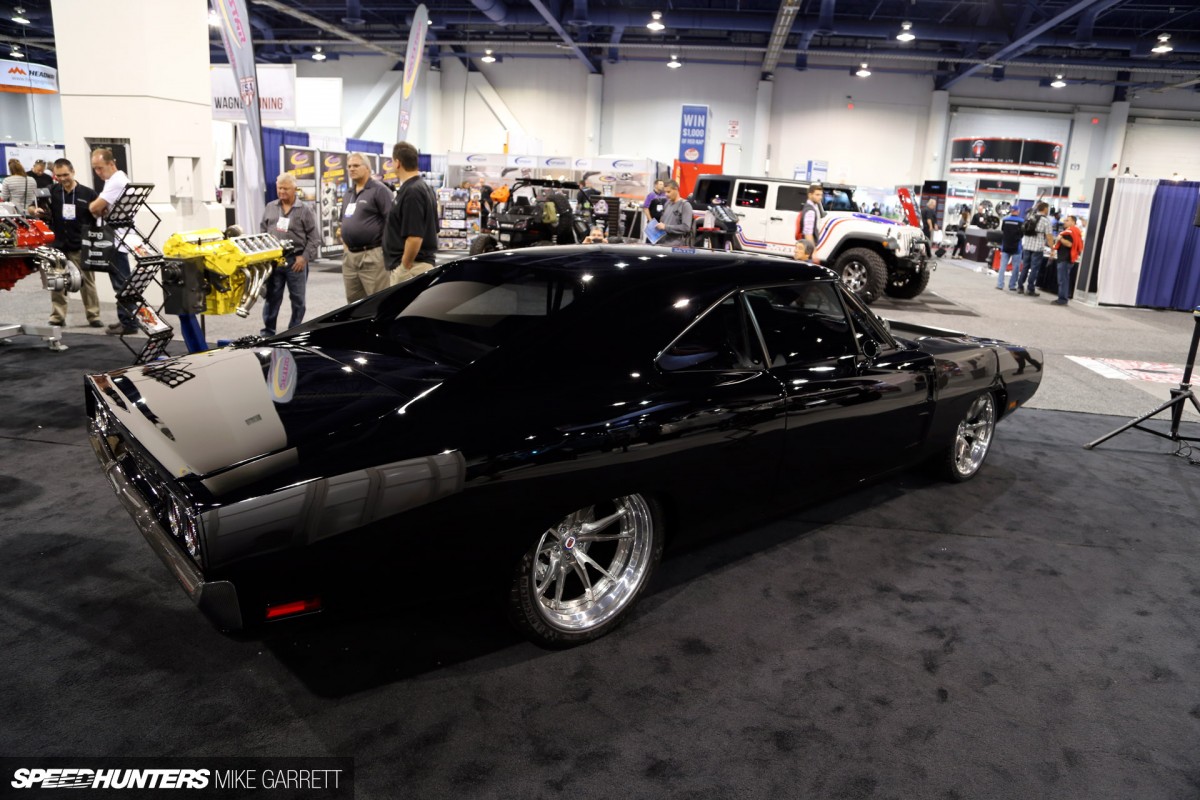 The big black Mopar has a real sinister look to it. There's subtle but aggressive body treatment here, backed up by HRE wheels with giant Baer brakes lurking behind.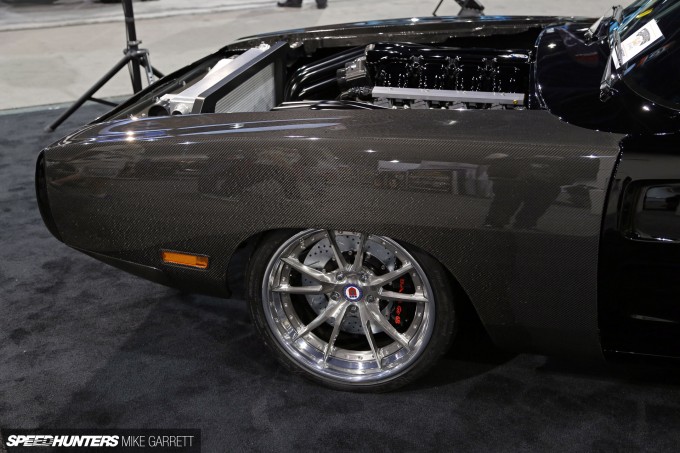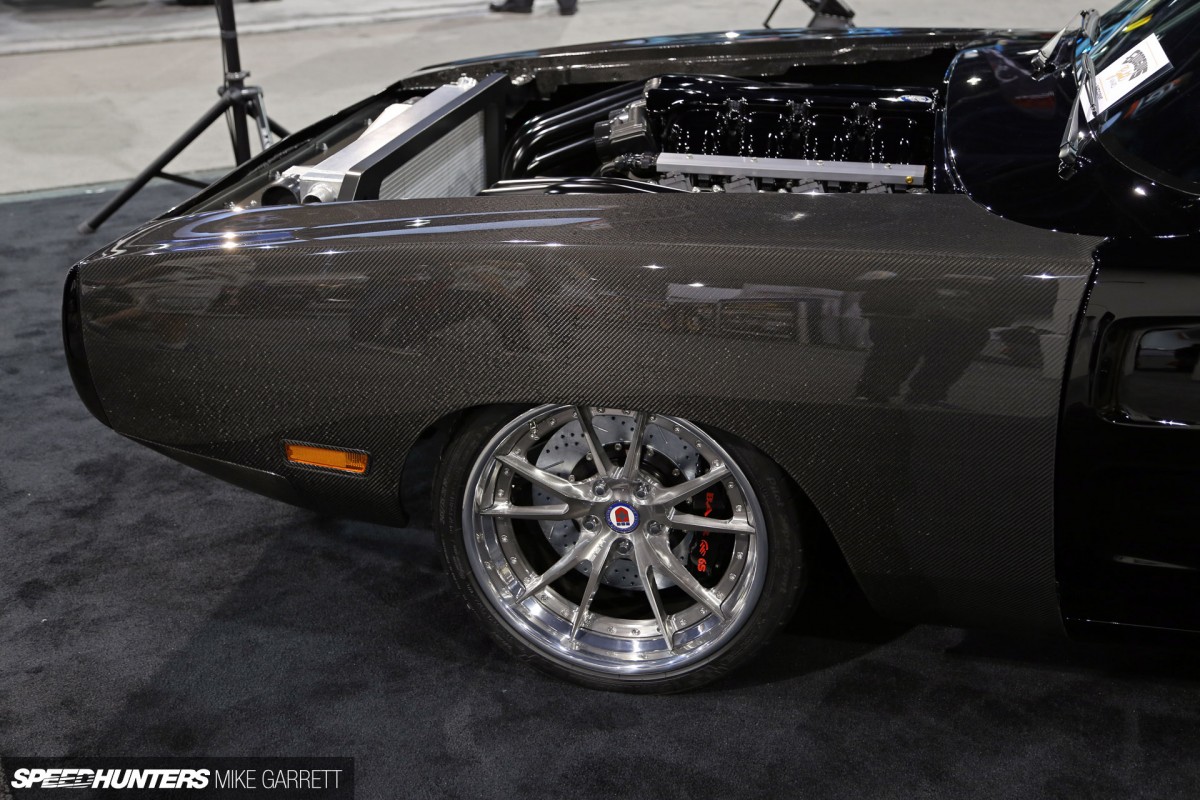 There are many more impressive details too – like the beautiful carbon fiber front fenders. But all of this is nothing compared to what's residing in the Charger's engine bay…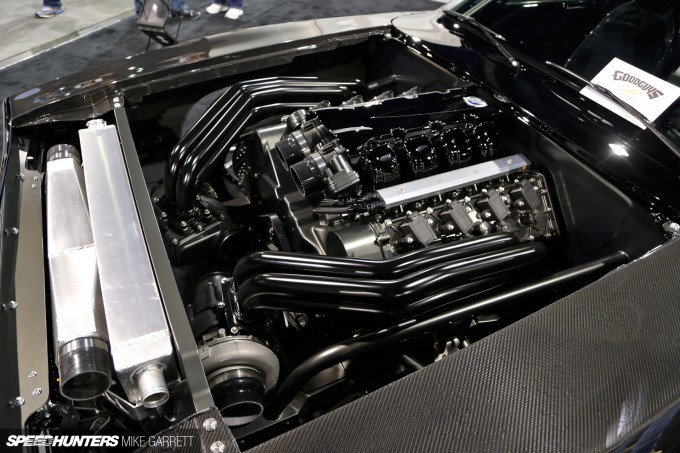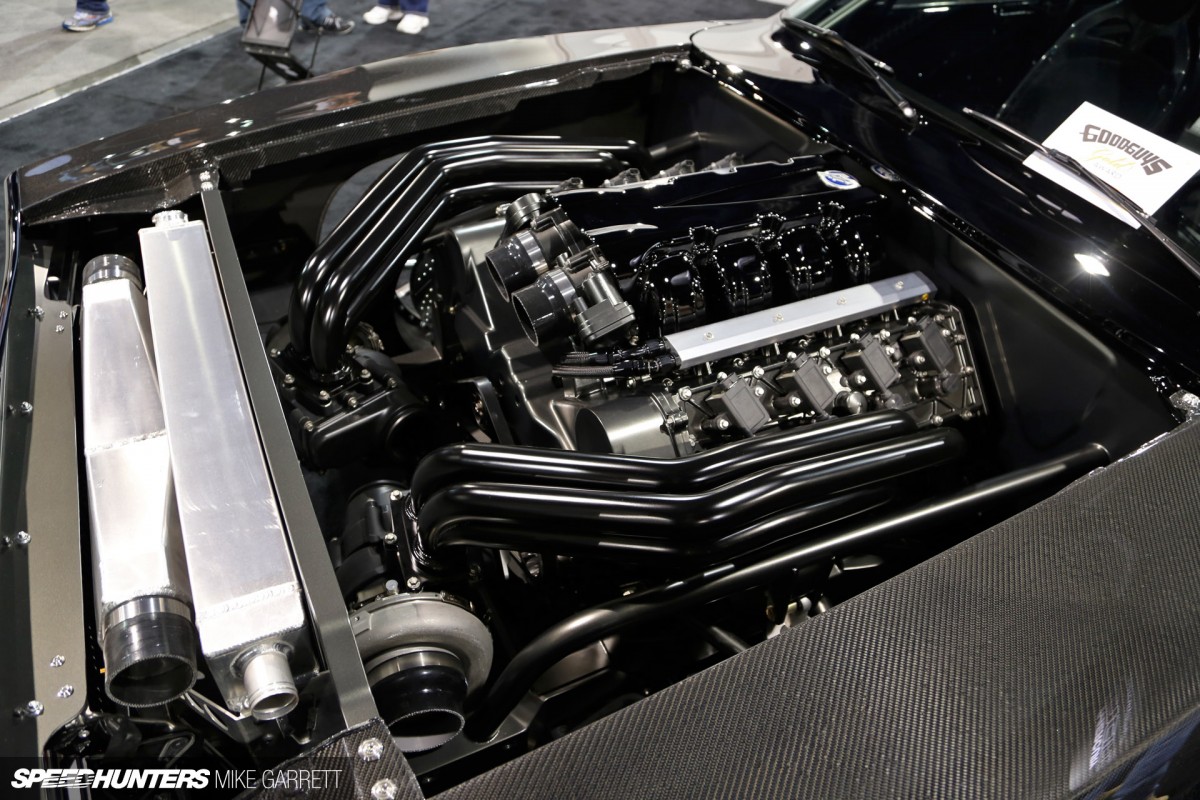 That's not a HEMI, nor a Viper V10 – it's one of Mercury Racing's QC4v crate engines. The twin turbocharged V8 was originally for designed for high-end powerboats, but it's now making its way into automotive applications.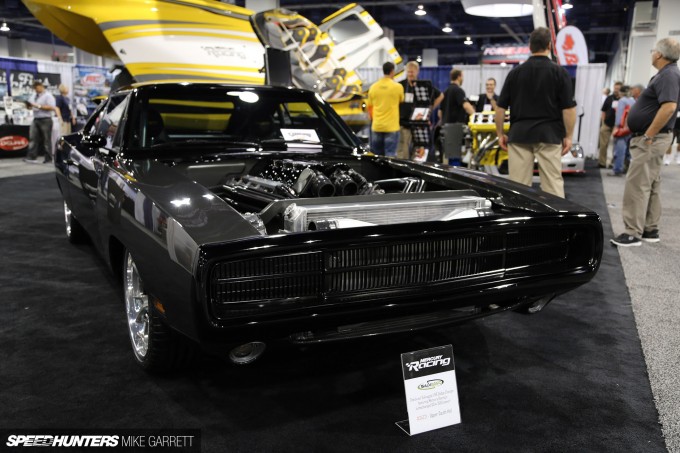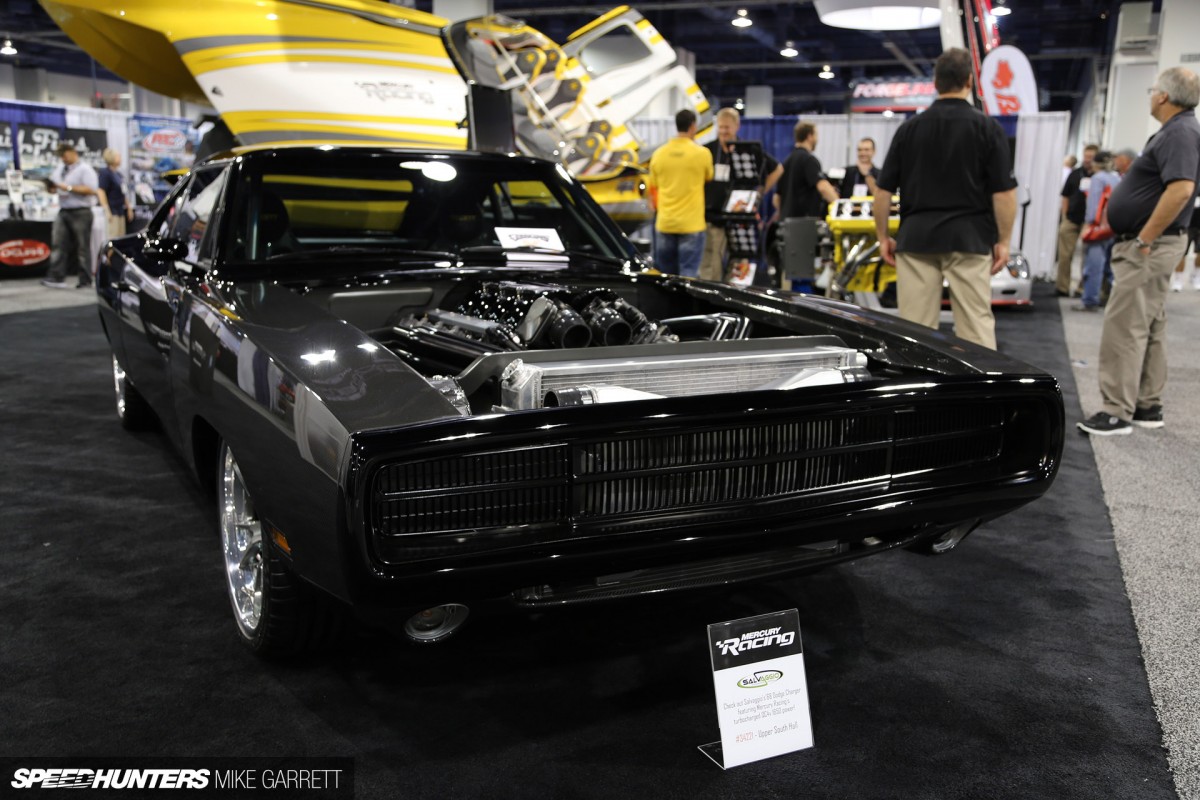 A Dodge Charger with a 1,650hp boat engine? This is the exactly the sort of thing that makes the SEMA Show so damn fun.
Factory Efforts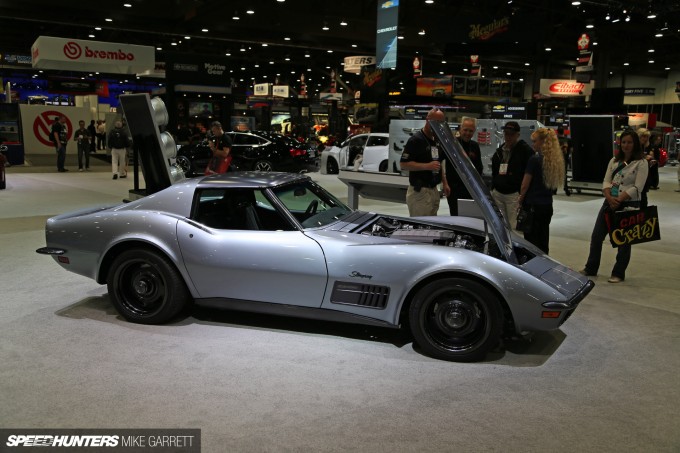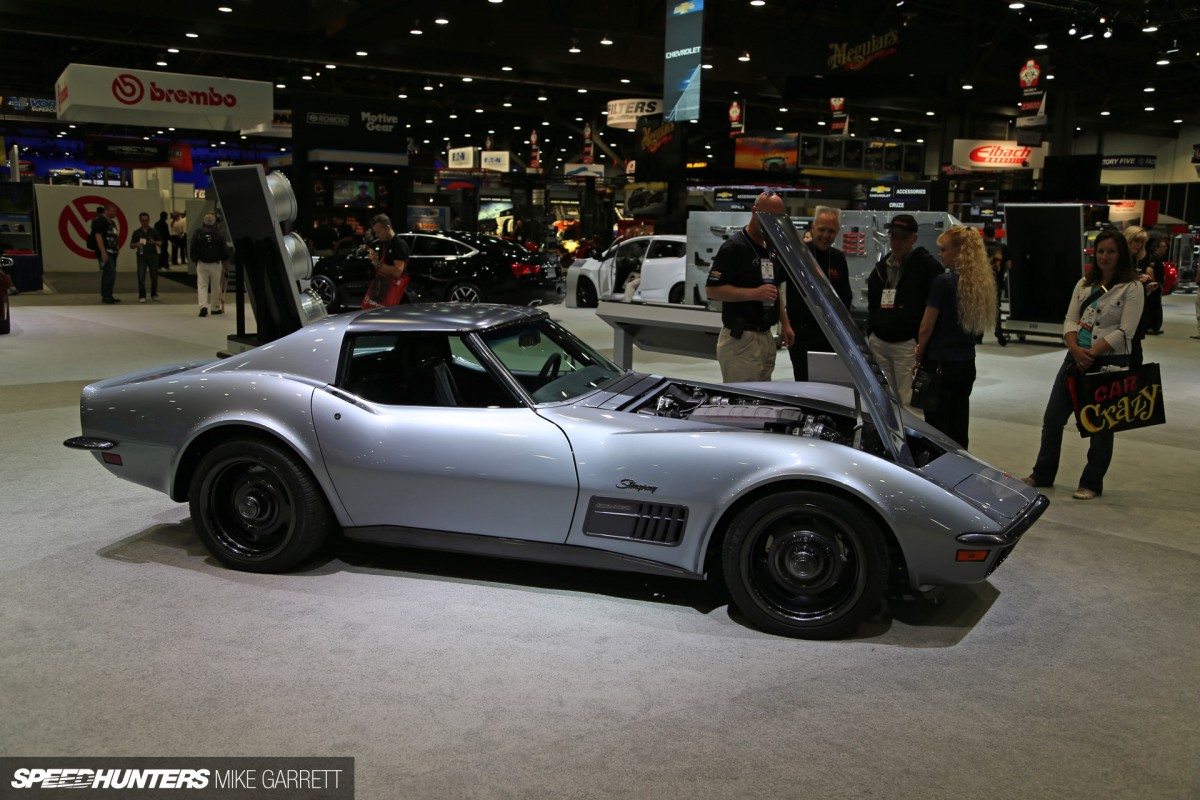 While SEMA has more than its fair share of over-the-top pro touring and muscle car builds, sometimes it's the simpler stuff that makes the biggest impact. I was very impressed with this tastefully modified '71 Corvette being shown in GM's booth.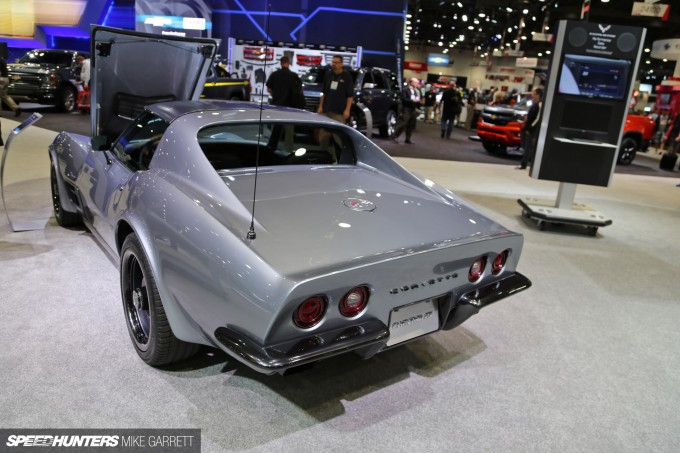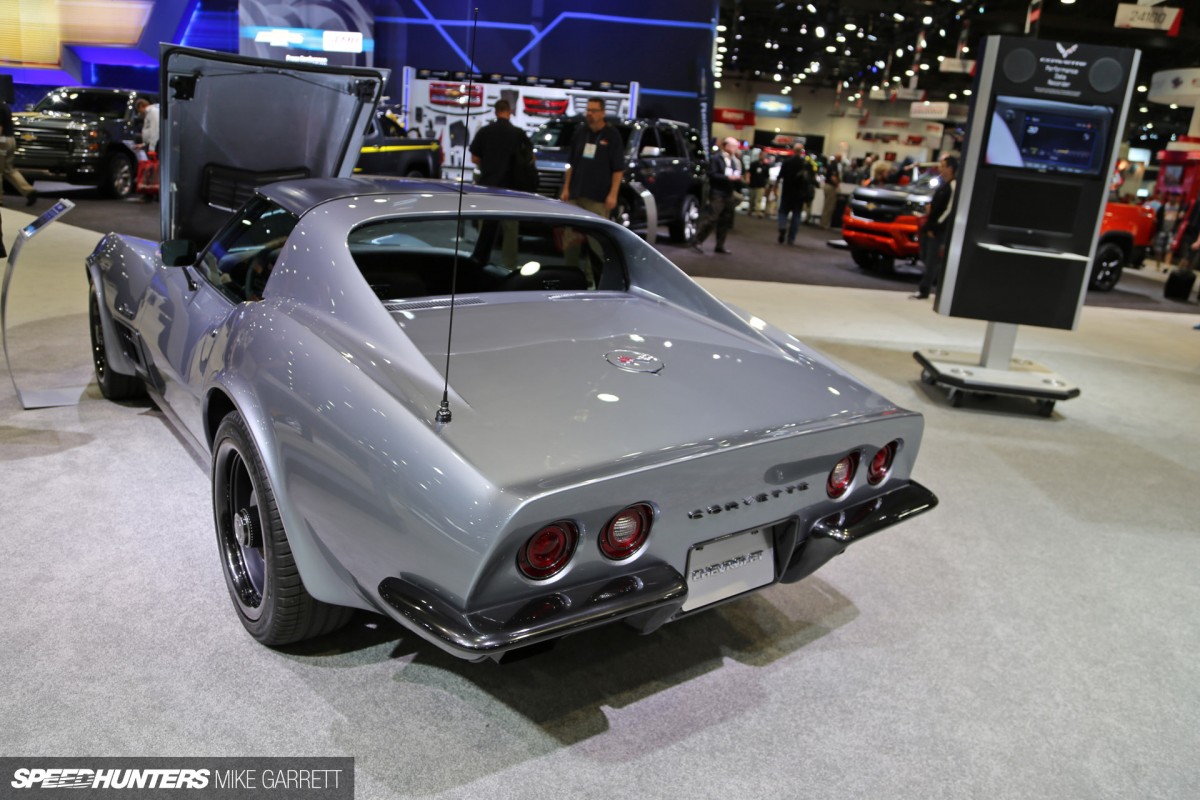 Built for NASCAR champ Jimmie Johnson – who is quite a car enthusiast himself – the idea was to take the classic styling of the C3 and upgrade the performance to match that of a newer 'Vette.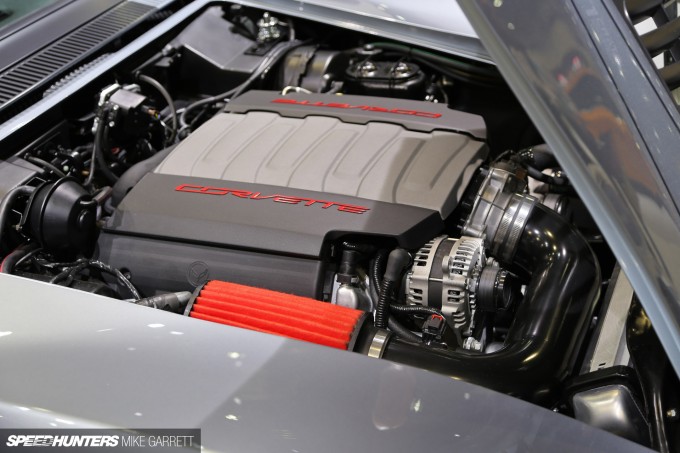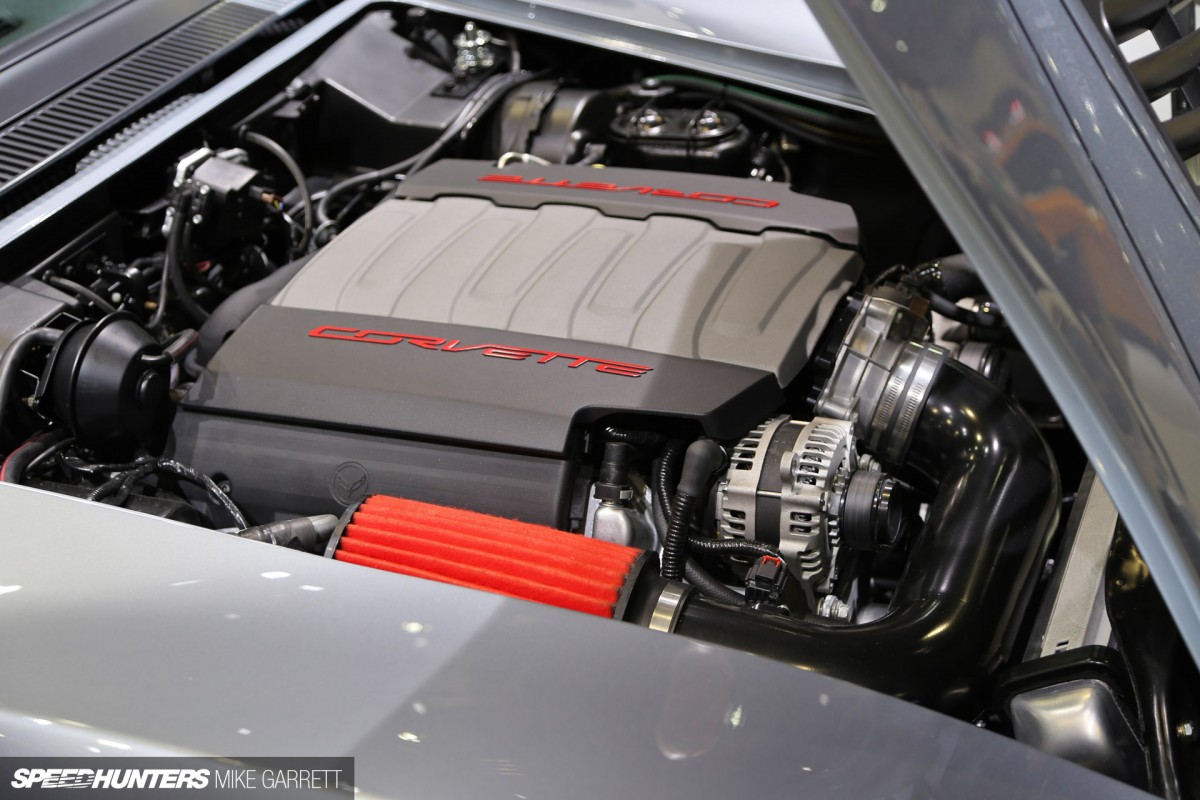 The car is powered by GM's new Gen V LT1 crate motor making a smooth 460hp, and the gearbox is a Super Magnum 6-speed that's also offered through GM's catalog.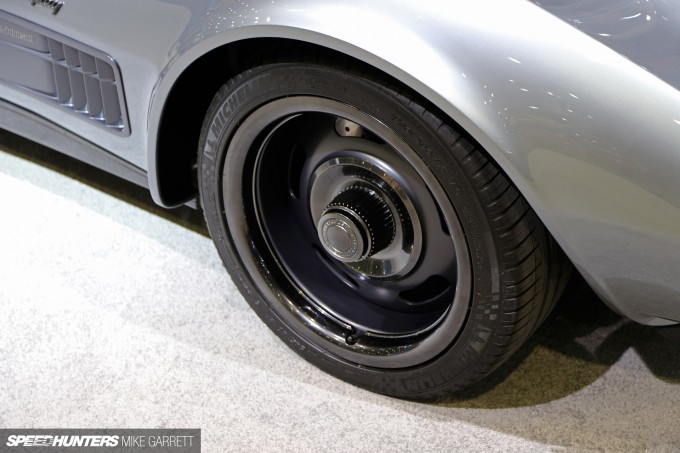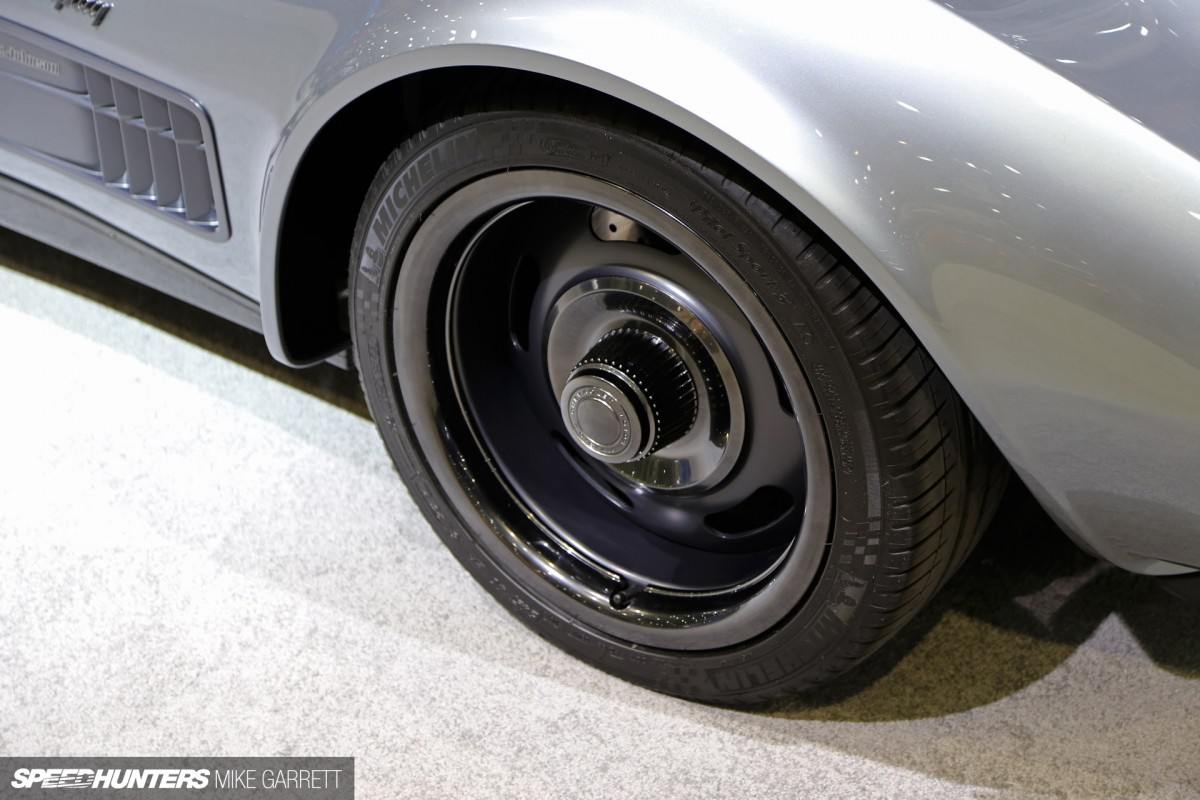 The suspension has also been switched over to a more contemporary coilover setup and there are C6 Z06 brakes hidden away behind the 18-inch rallye-style wheels and Michelin tires.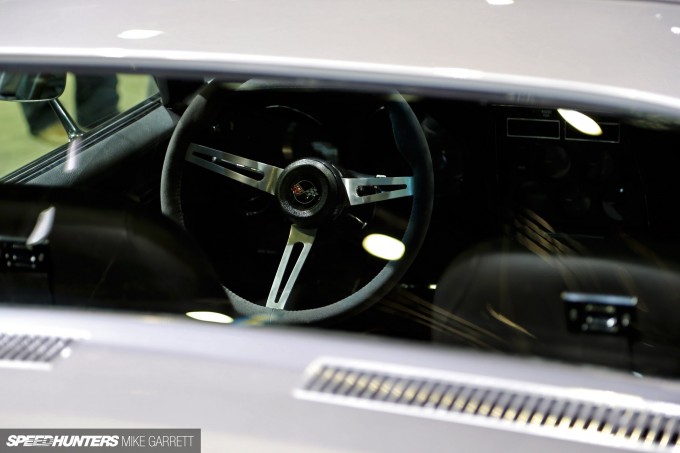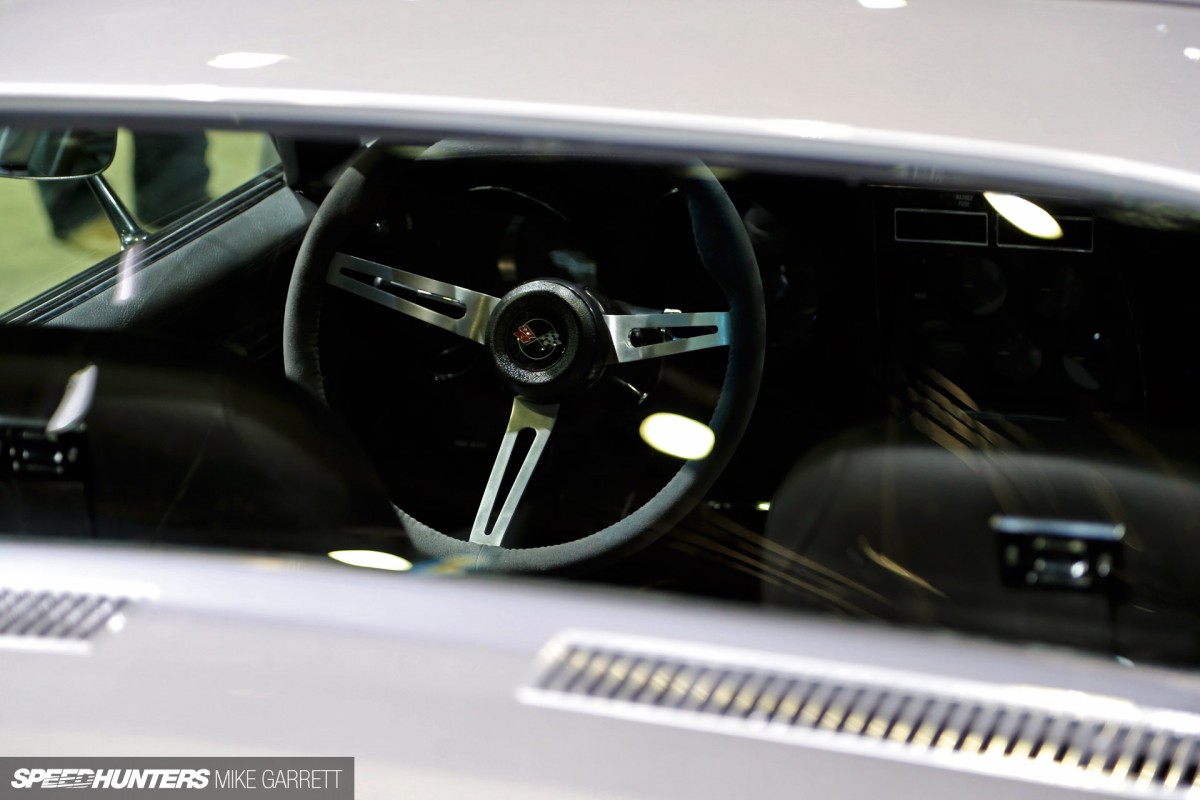 What I like most is the understated nature of the whole thing. The interior is almost completely original save for some subtle suede inserts, and great care has been taken to keep the original C3 style intact. Mr. Johnson, it seems you have very good taste in cars.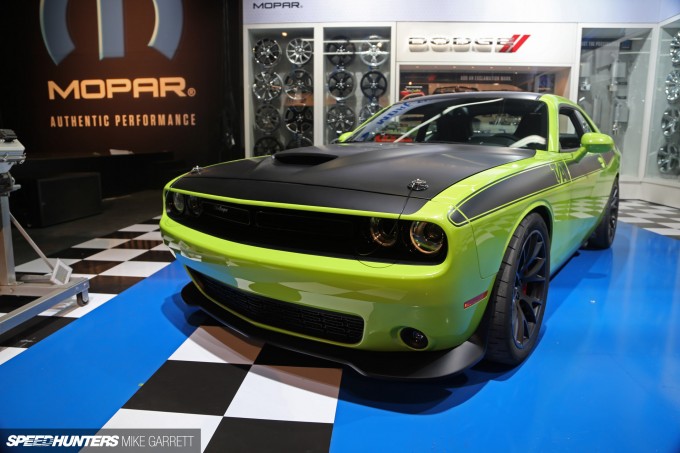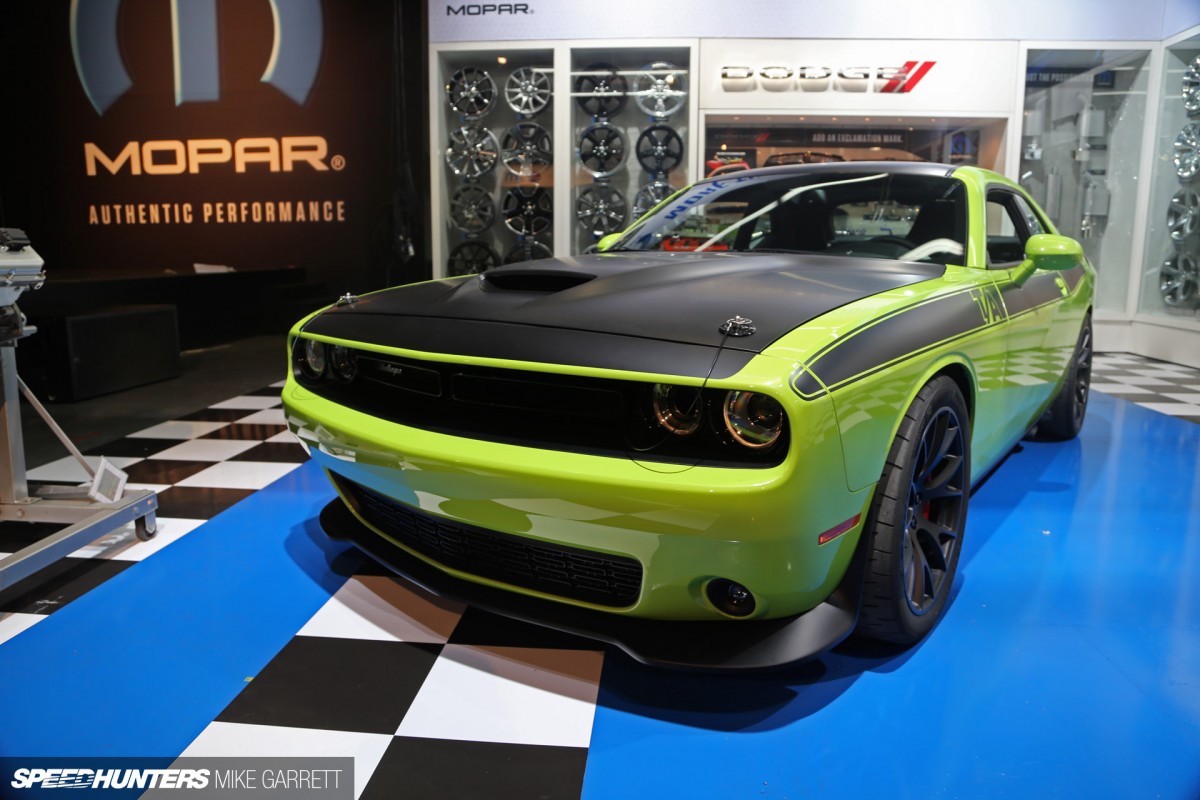 Last but not least we get to the modern muscle car of the bunch – Dodge's Challenger T/A Concept. While much of the excitement in the Mopar booth is about the supercharged Hellcats this year, I quite like this simple throwback build.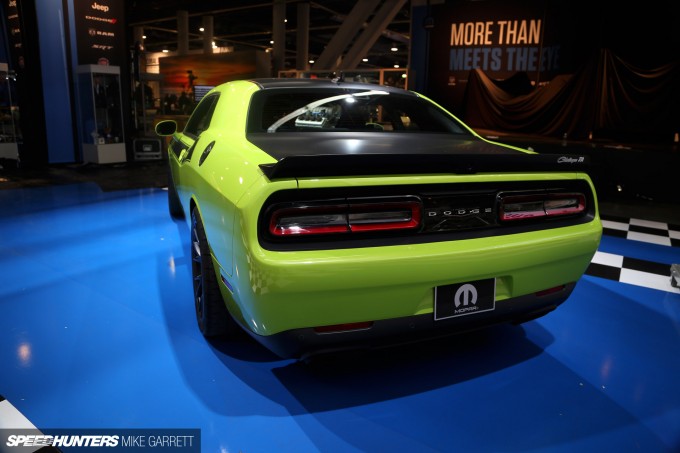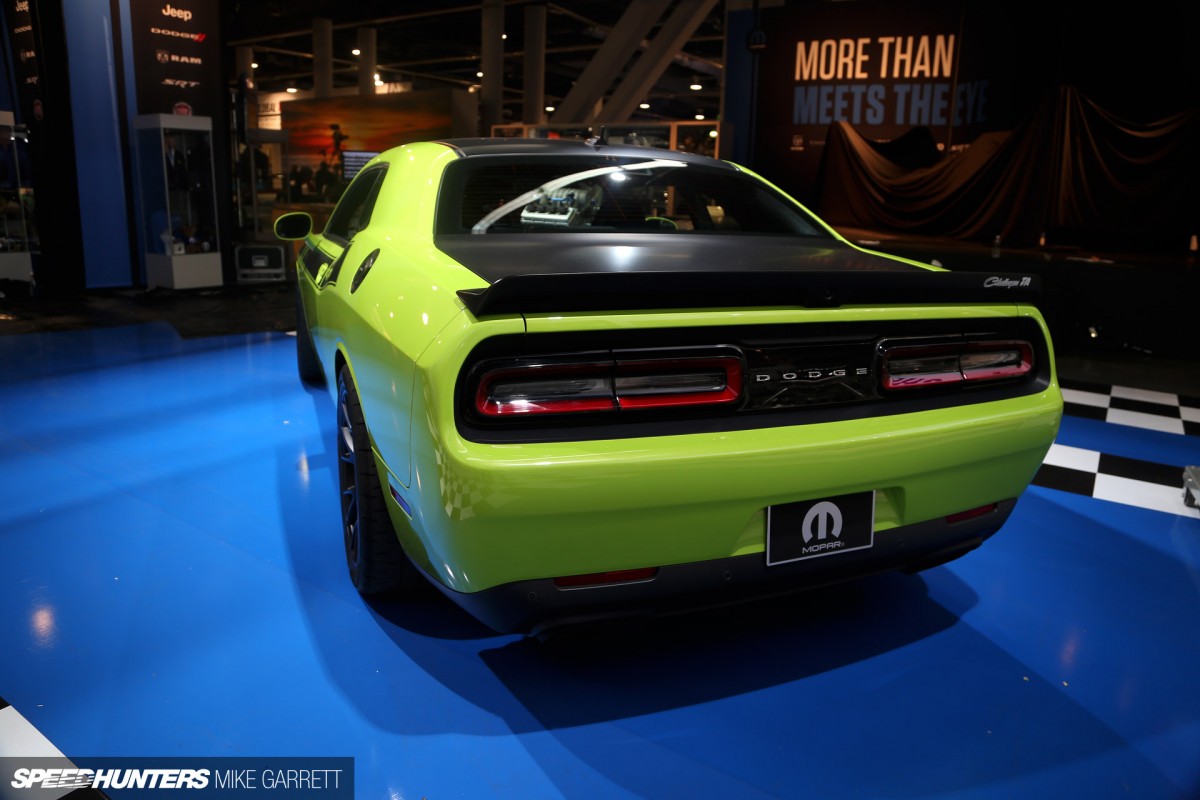 The 'old meets new' concept can be harder to pull off than you might think, but Dodge has done a great job reviving the legendary Challenger T/A of the early '70s without being cheesy.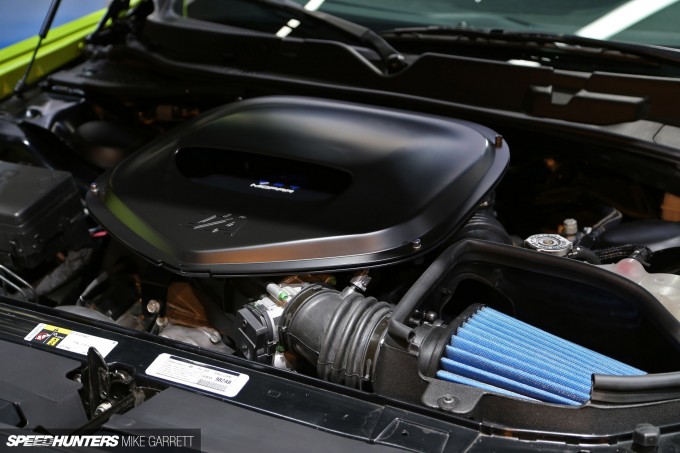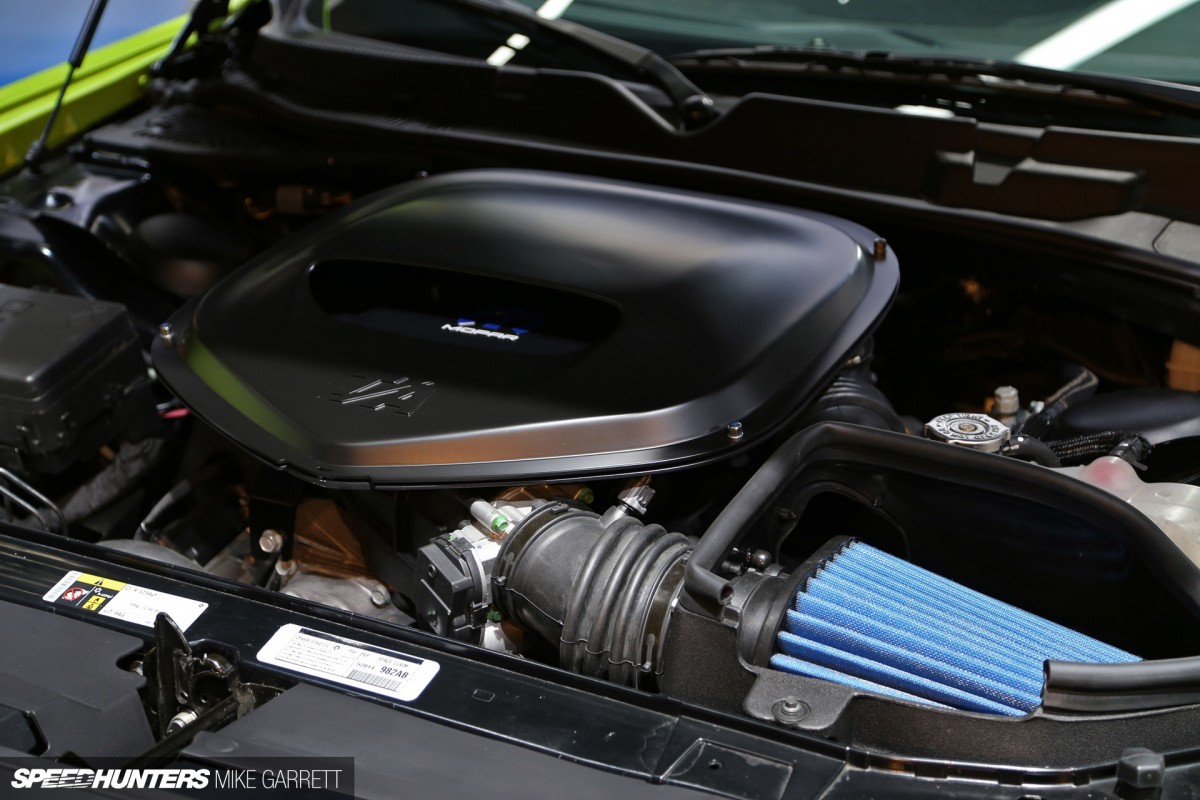 Rather than the big-dog Hellcat motor, this one's powered the 392 HEMI with a few bolt-on enhancements. Those familiar with the original T/A know that this stays true to that car's small block, road racing roots.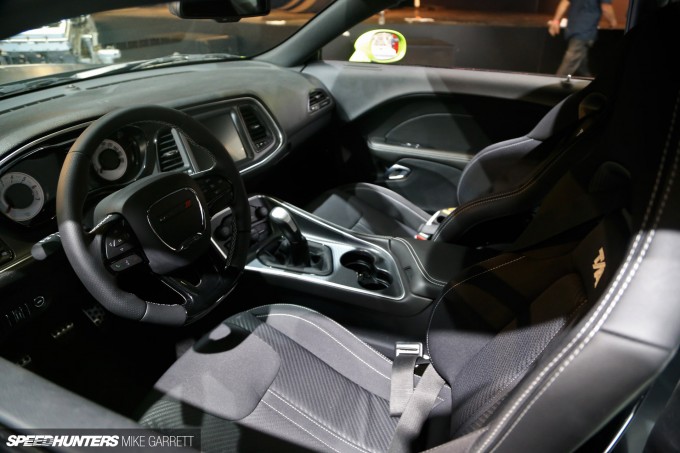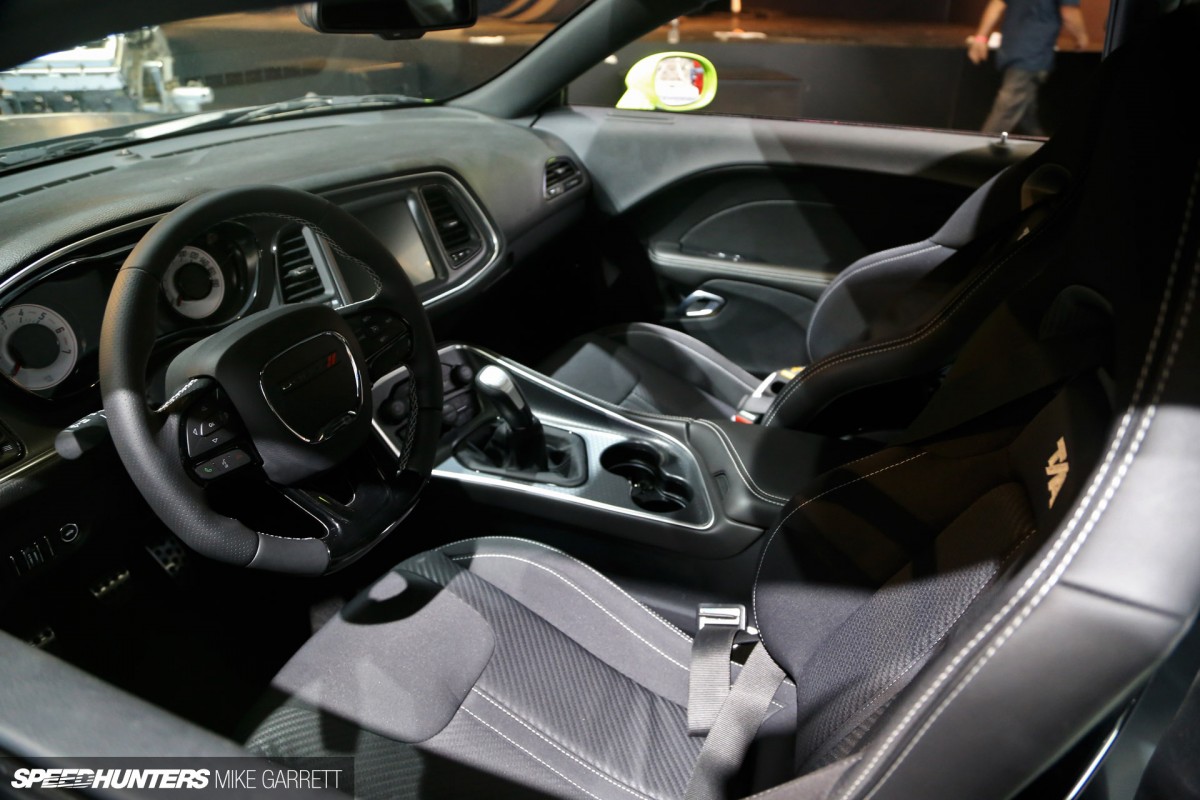 The interior features upgrades like a pair of carbon fiber bucket seats along with a rear seat delete package and a roll bar for the inevitable track day.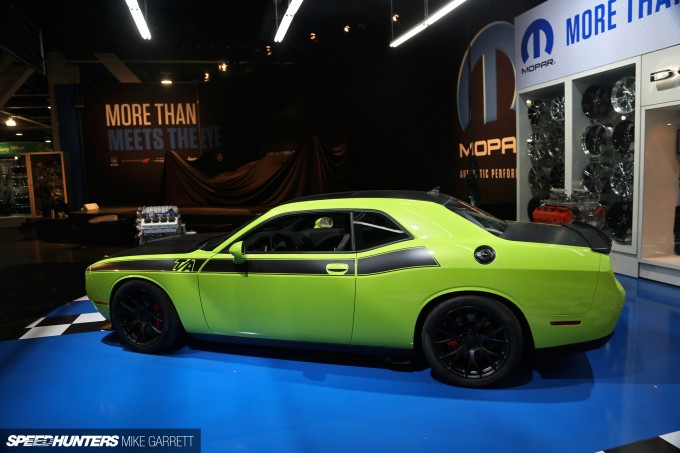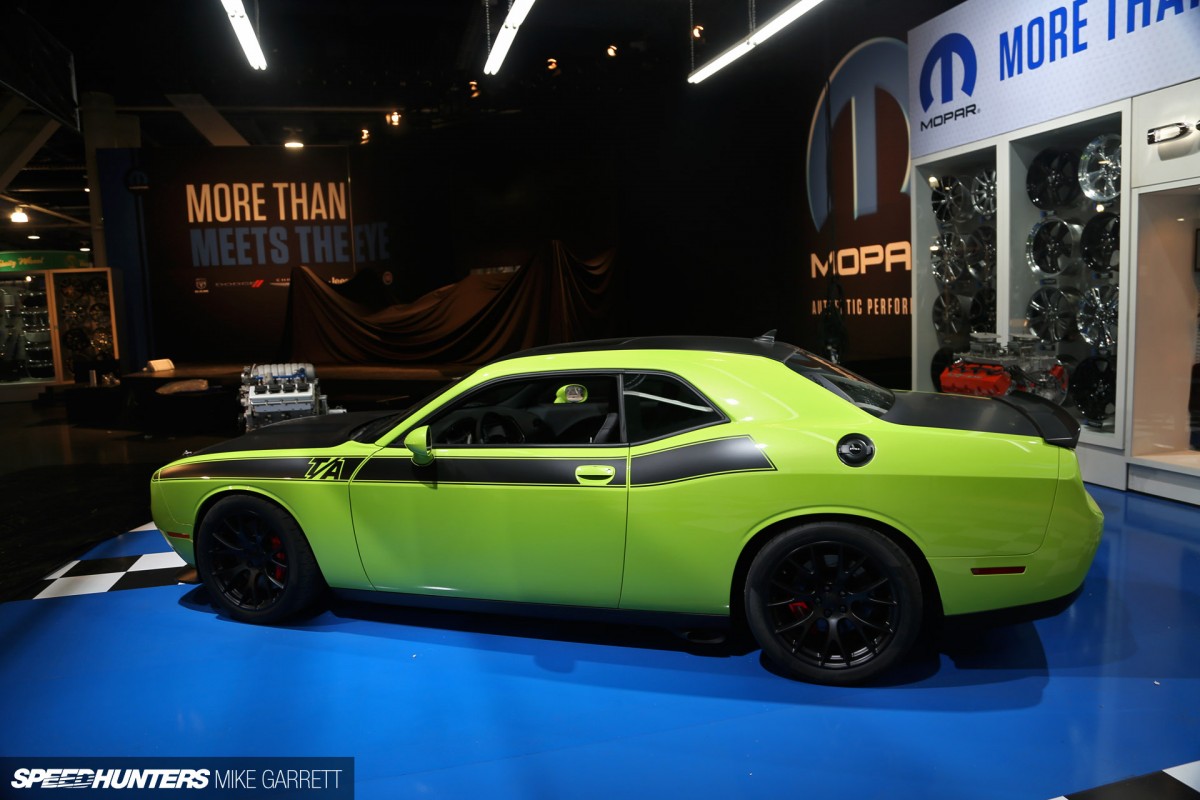 Along with the Sublime Green paint, iconic T/A graphics and the original car's signature side pipes, the concept has also been fitted with a number of body and suspension upgrades from Mopar's parts bin. This leads me to believe that a similar package might soon be offered up to Challenger owners looking for some old school Sam Posey SCCA Trans-Am attitude, too.
So there you have it – a glimpse at some of the coolest muscle and pro touring machines we've found so far. Stay tuned for more from SEMA…
Mike Garrett
Instagram: speedhunters_mike
mike@speedhunters.com