It's that time again!
It's the end of January again and for the performance car community in New Zealand, that only means one thing. Each year, around this time, thousands of car enthusiasts flock to the ASB Showgrounds in Auckland for the 'V' 4&Rotary Nationals Show & Shine competition, one of our longest-running and most important events on the calendar. It's here that you'll find not only hundreds of vehicles from almost every facet of kiwi car culture all under one giant roof, but a real sense of community and an atmosphere of shared enthusiasm that only this weekend seems to produce.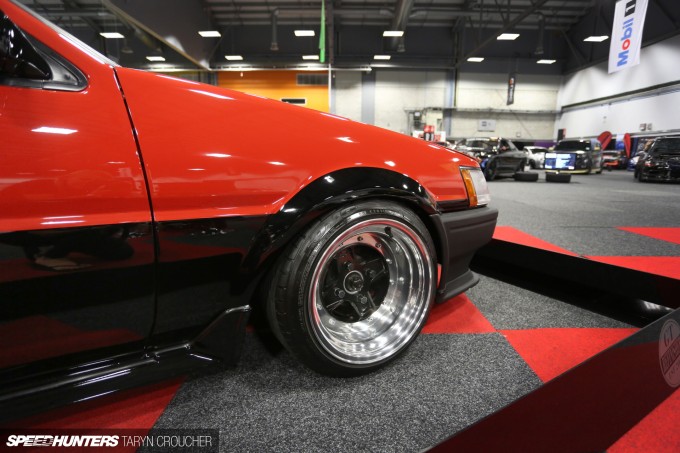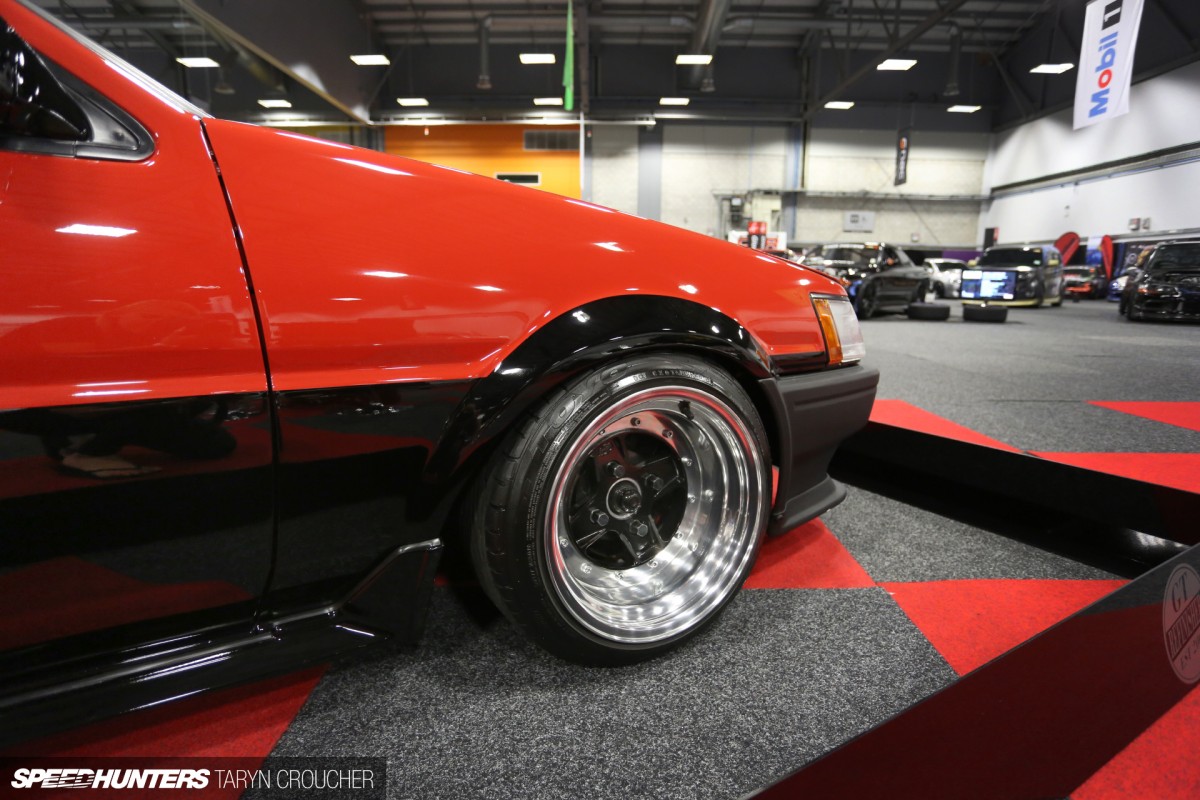 Having entered a car in the show for the past four years now, I've come to associate this weekend with many things: stress, anxiety, excitement and above all, sleep deprivation. But that's all part of the fun, and the 2014 Show & Shine saw plenty of new builds being revealed, old cars coming out of hiding and a few surprises here and there.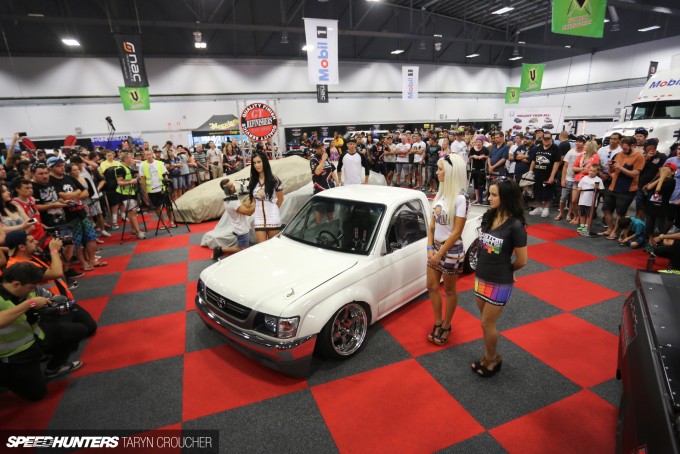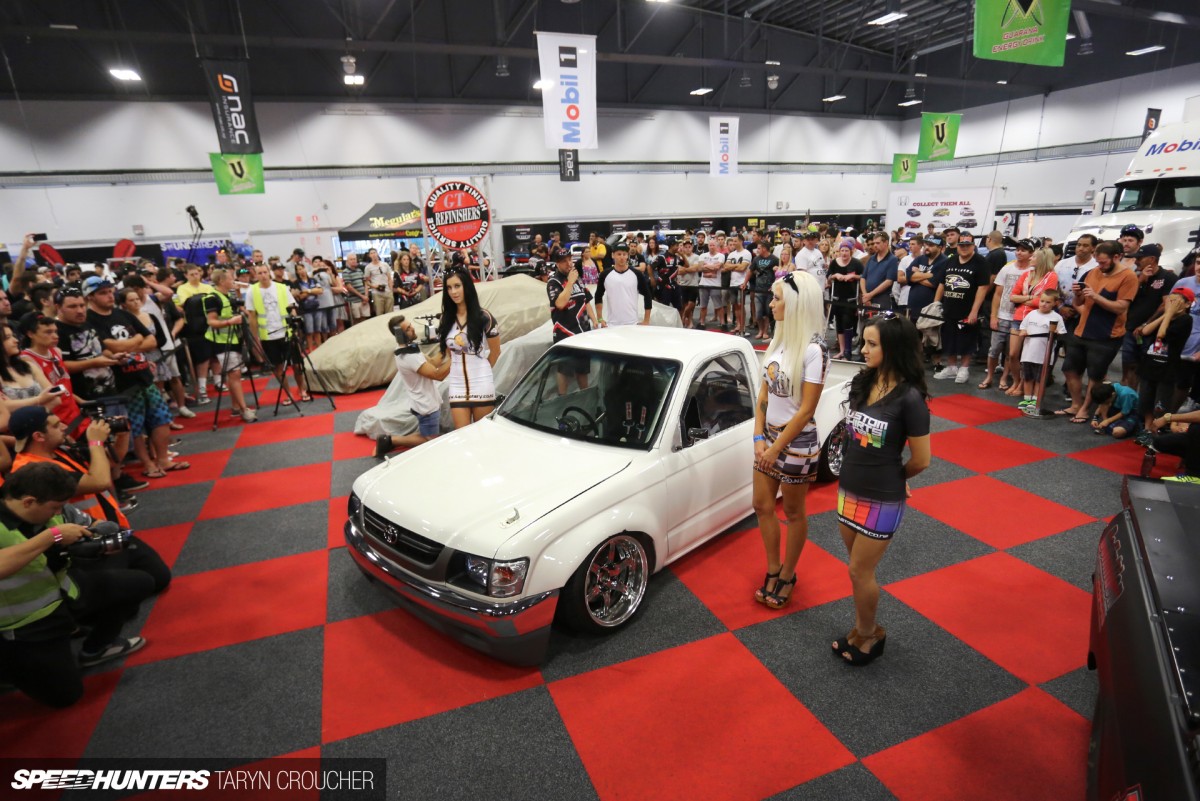 Nigel Petrie's Engineered to Slide Hilux made the trip over the ditch from Australia and was undoubtedly one of the stars of the show. Although perhaps not as thriving as it once was, New Zealand still has a big mini-trucking scene, so Nigel's ute was admired and pored over by many. In saying that, his creation is an absolute engineering marvel and no matter what automotive subculture appeals to you the most, there's just no way that this build won't blow your mind!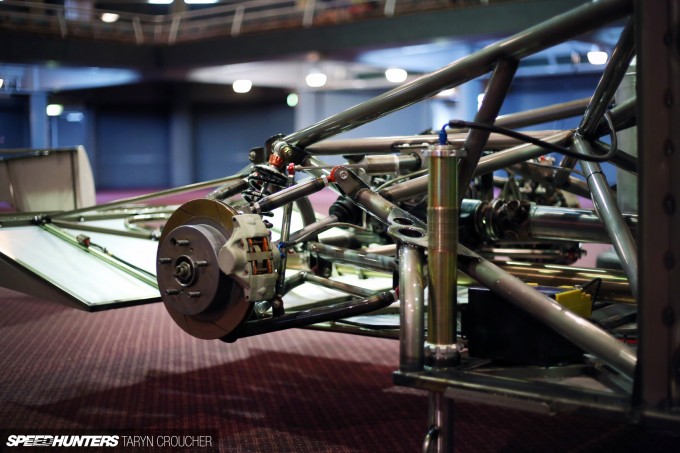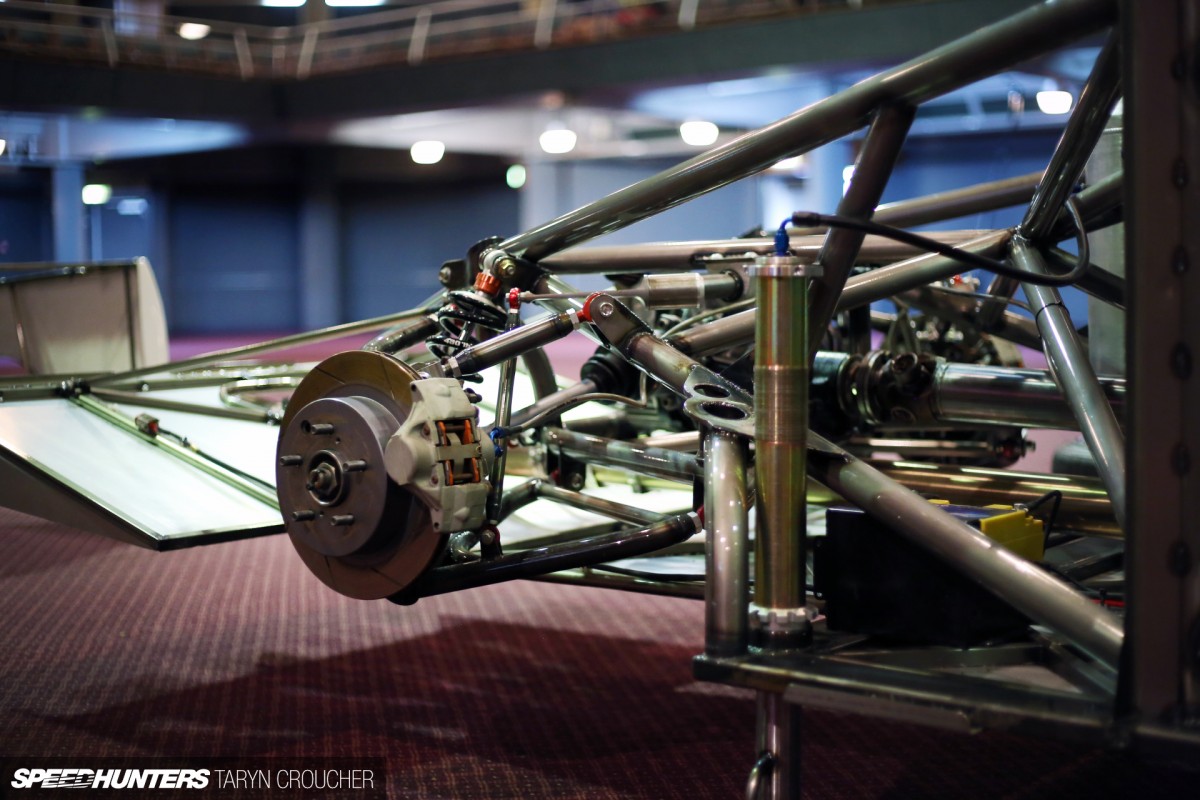 Prior to the show on Saturday, a special interactive unveiling event was held in the neighbouring Logan Campbell centre building on Friday evening. This involved Nigel assembling the Hilux from a bare chassis in front of a live audience, and gave people the opportunity to ask questions and get an up-close and personal look at Nigel's incredible craftsmanship and fabrication skills (which he still describes as 'amateur' – oh, come on!).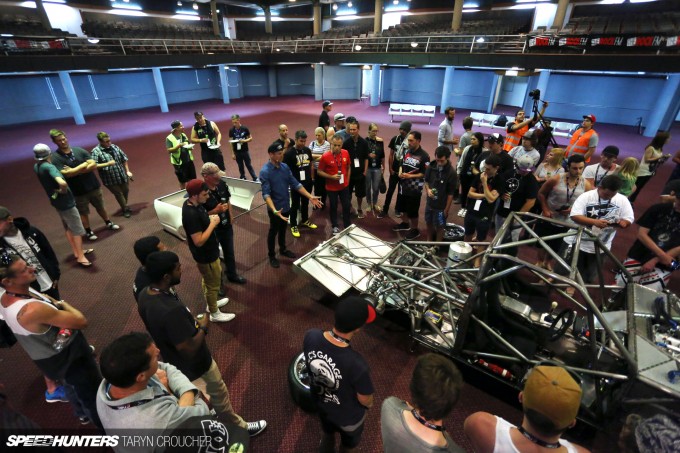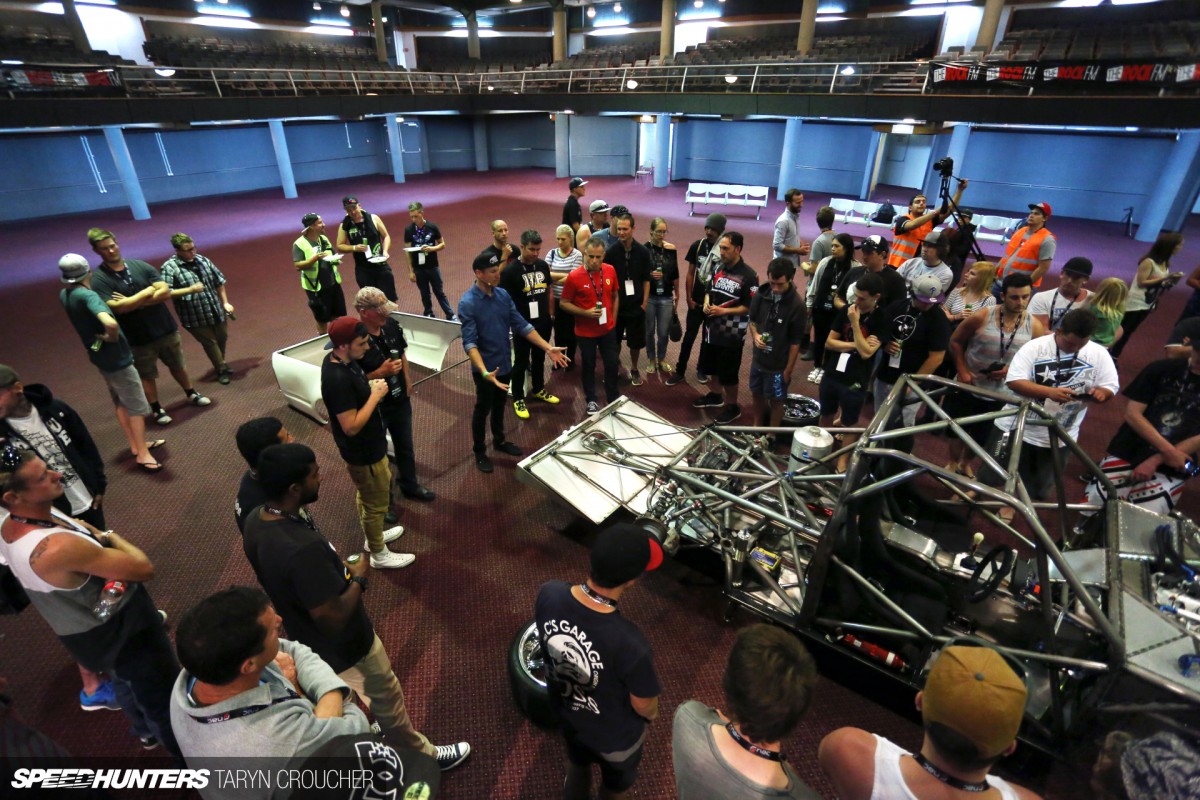 After hearing Nigel speak firsthand about the obstacles and challenges involved in building his dream drift project, I think a lot of these people left feeling extremely inspired – myself included. Where there's a will to dream, learn and succeed, there will always be a way to achieve.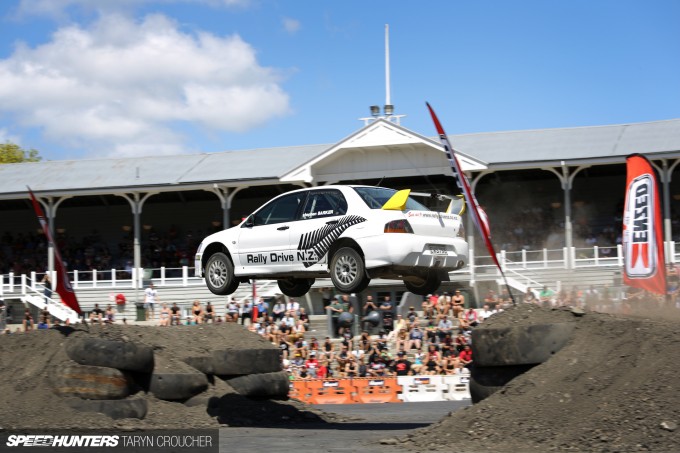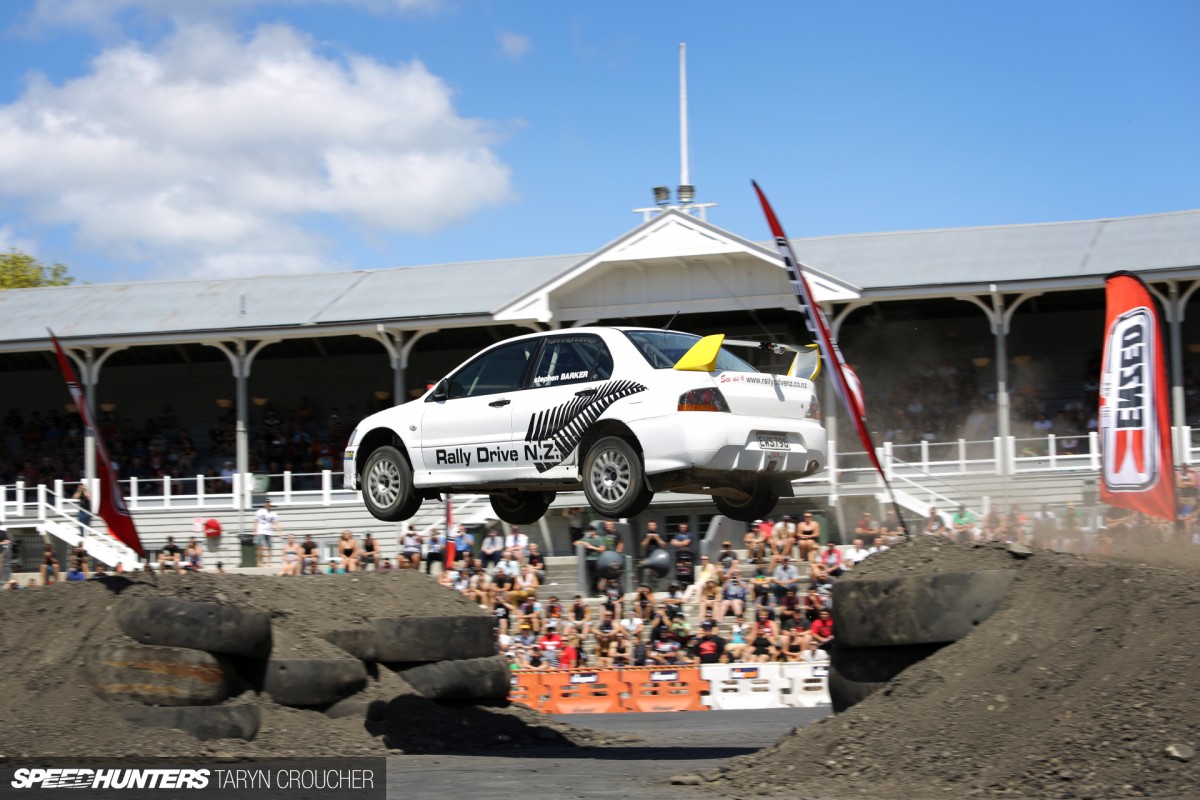 Another highlight was the NAC Insurance Rallycross Showdown, which saw five of our top drivers tackle two massive dirt jumps, sending gravel flying everywhere while 'oohs' and 'aahs' from the audience were drowned out by the sound of anti-lag and rowdy exhaust notes. I can't say I've ever seen an Evo literally fly like this before!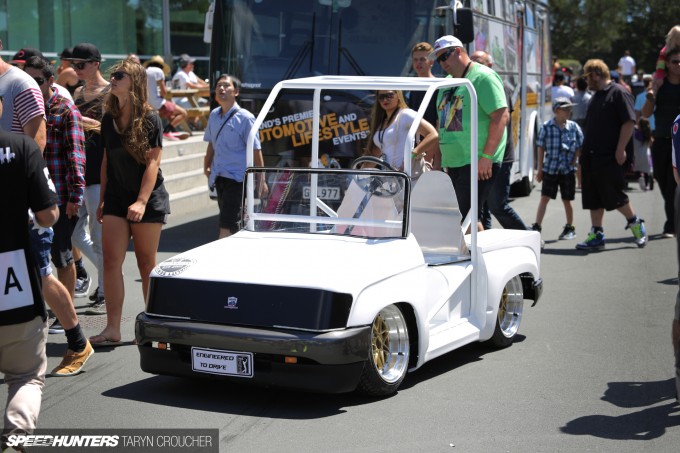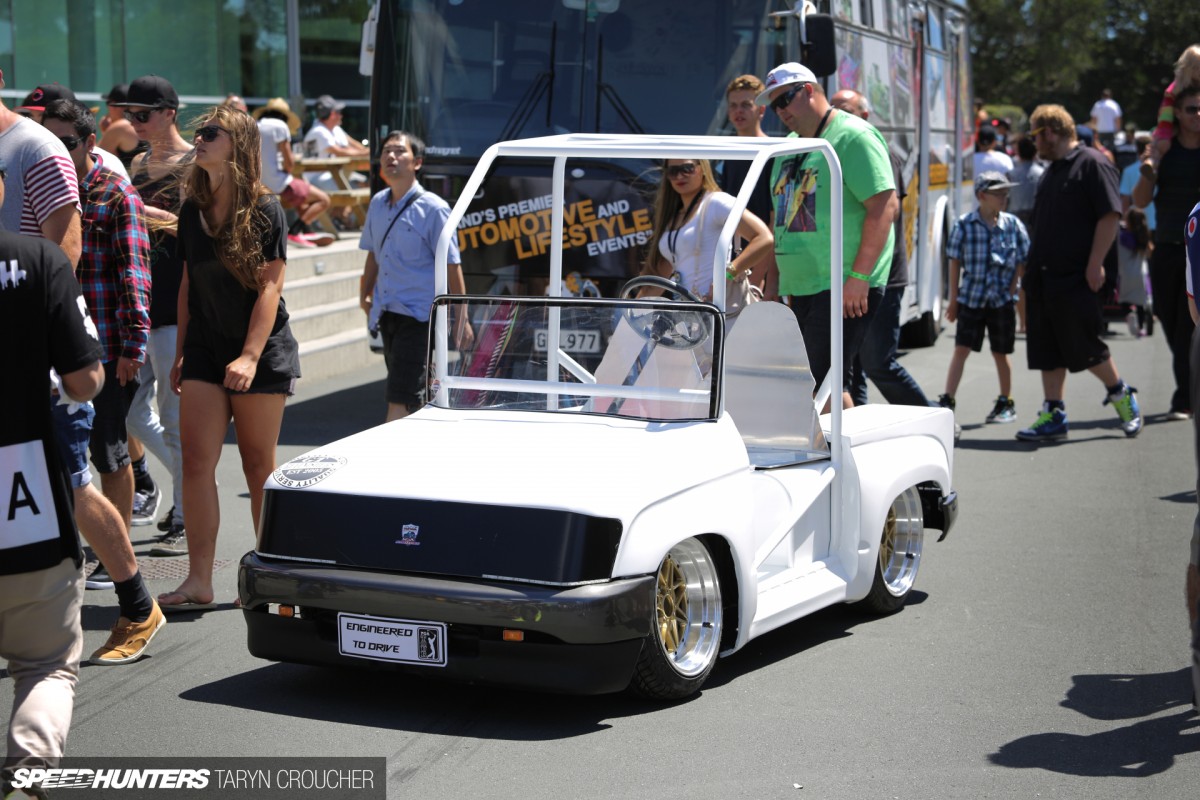 Each year the organisers at 4&Rotary seem to be rolling around in a freshly pimped-out golf buggy, and this year's cart design looked like it had taken inspiration from a certain Australian Hilux build!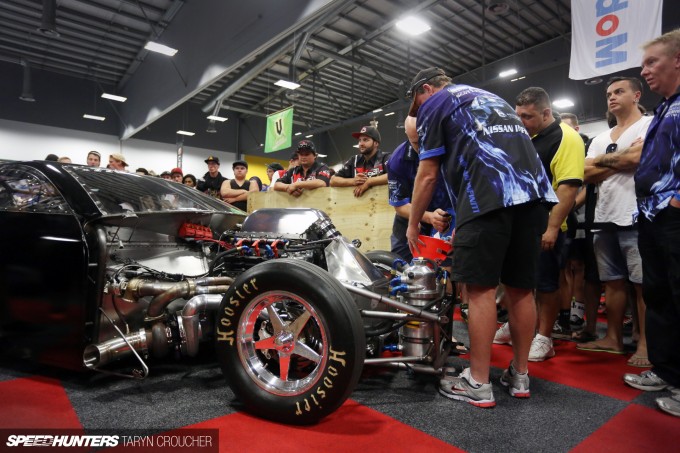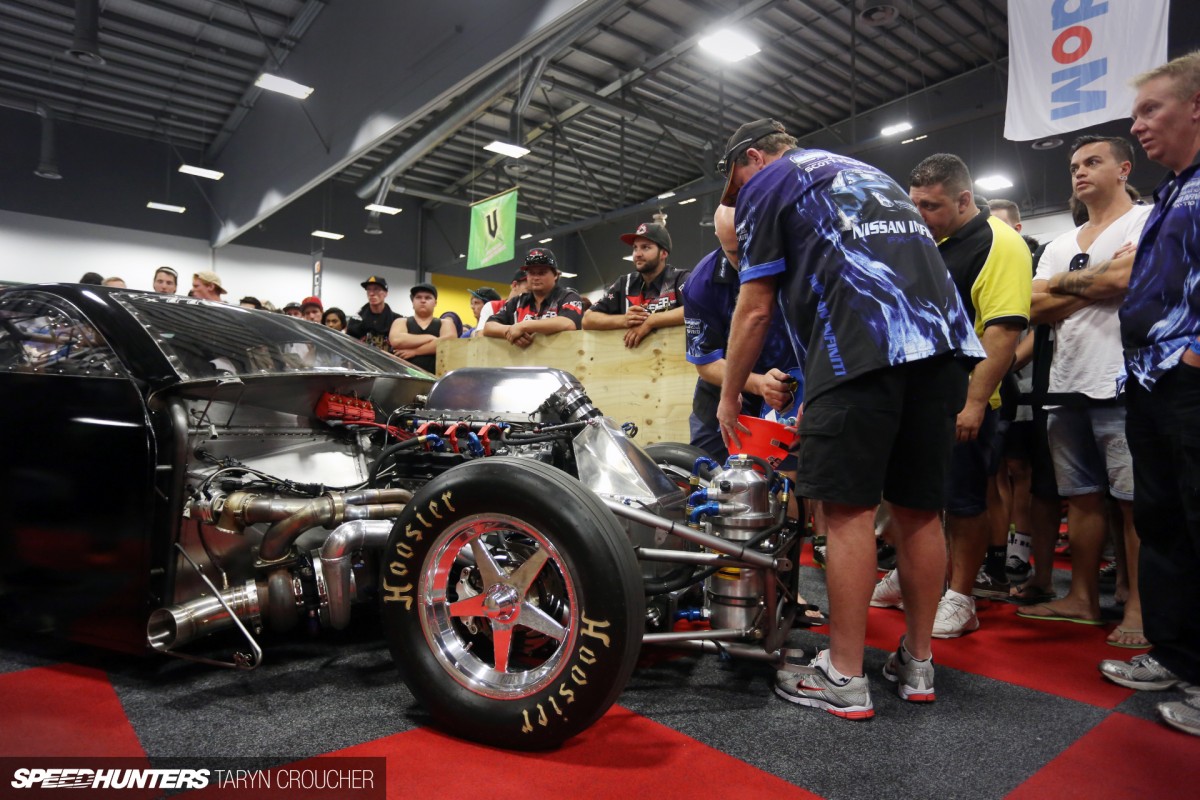 Spectators were also treated to an eardrum-splitting display of two-step dominance and power from some of the pro drag cars that had come over from Australia for the 4&Rotary Drag Racing event. Shortly after I took this image, I said goodbye to the proper use of my hearing for the rest of the day. This was only a tiny taste of what these mental machines had in store for us down at Fram Autolite Dragway, but I'll get to that in my next story.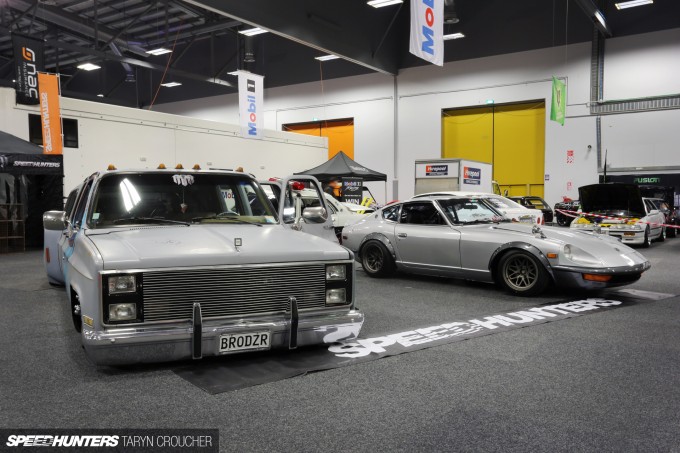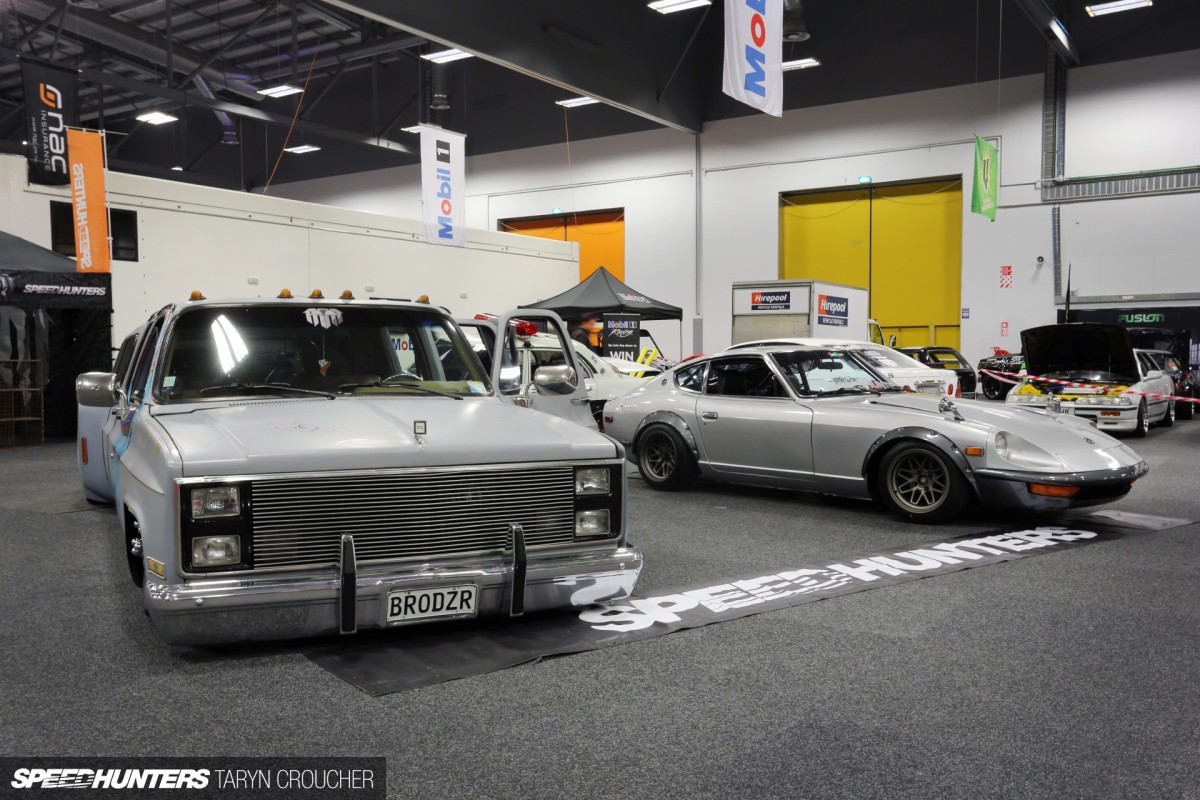 Over at the Speedhunters booth, our own Mad Mike Whiddett's Chevy C30 'BRODZR' was cranking some sweet tunes and taking up the majority of the display area. Photos just can't convey how ridiculously long and low this thing is – it just has to be seen in real life to be truly comprehended. My own Datsun S30 280Z made it along to the show, but only just! I'll elaborate on that in my next Project Car update…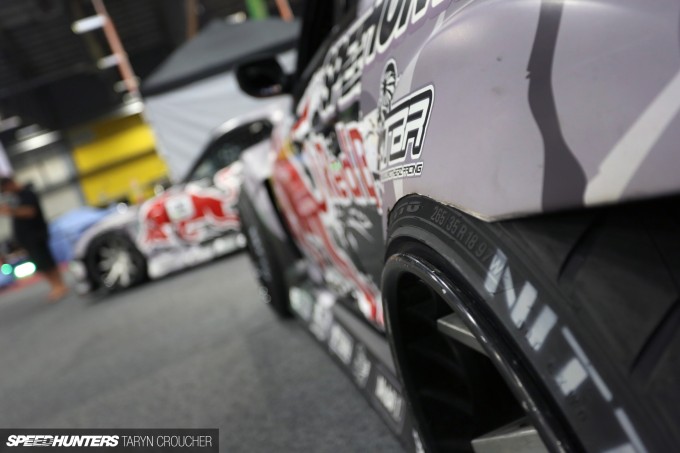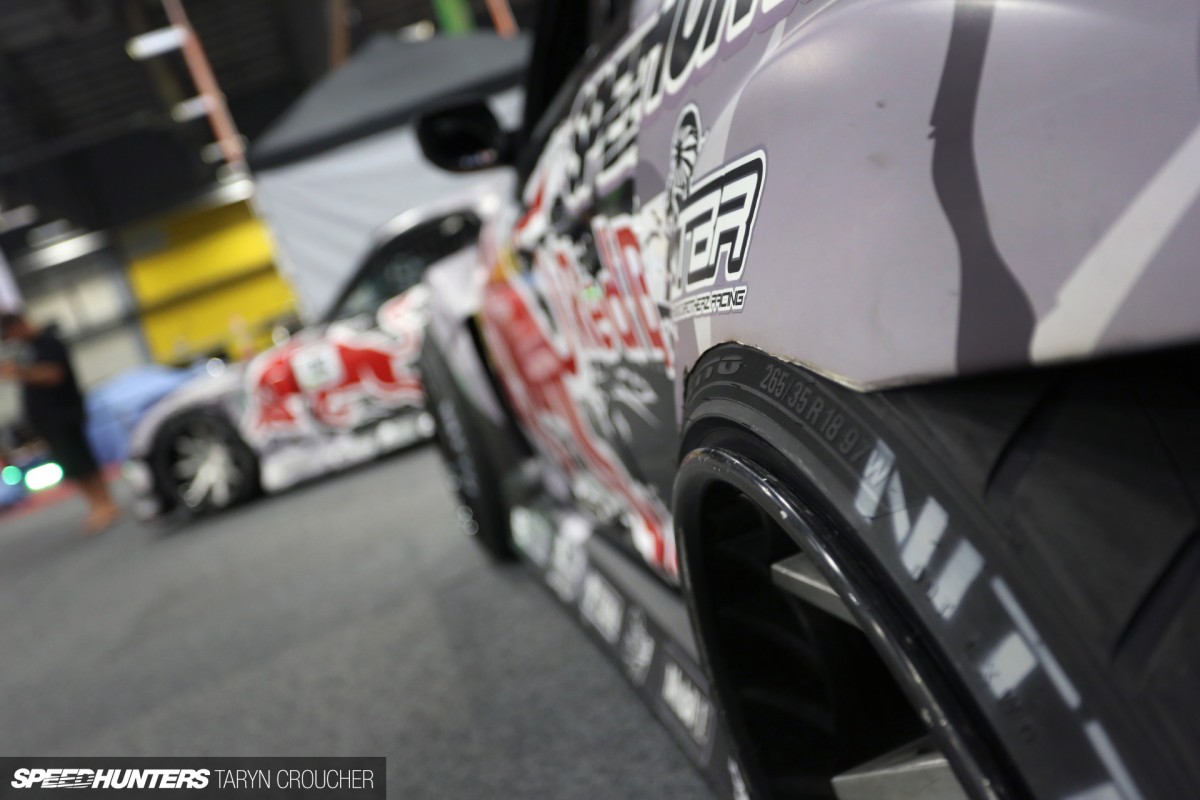 Mike's two trusty drift steeds – or should I say bulls – were on display and attracting a lot of attention from people of all ages. His RX-8 BADBUL takes drift stance to a whole new level.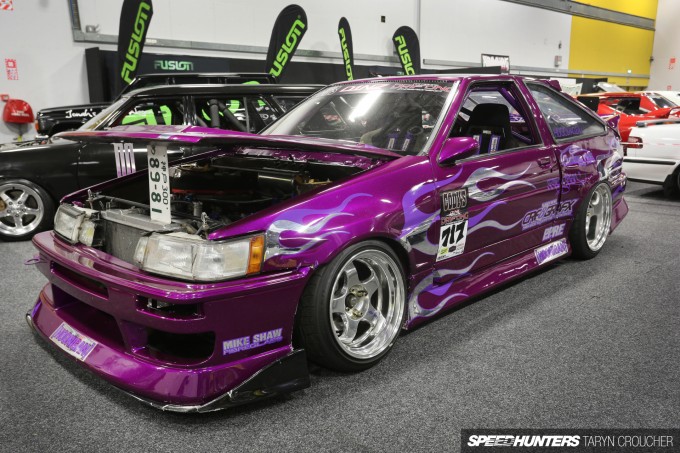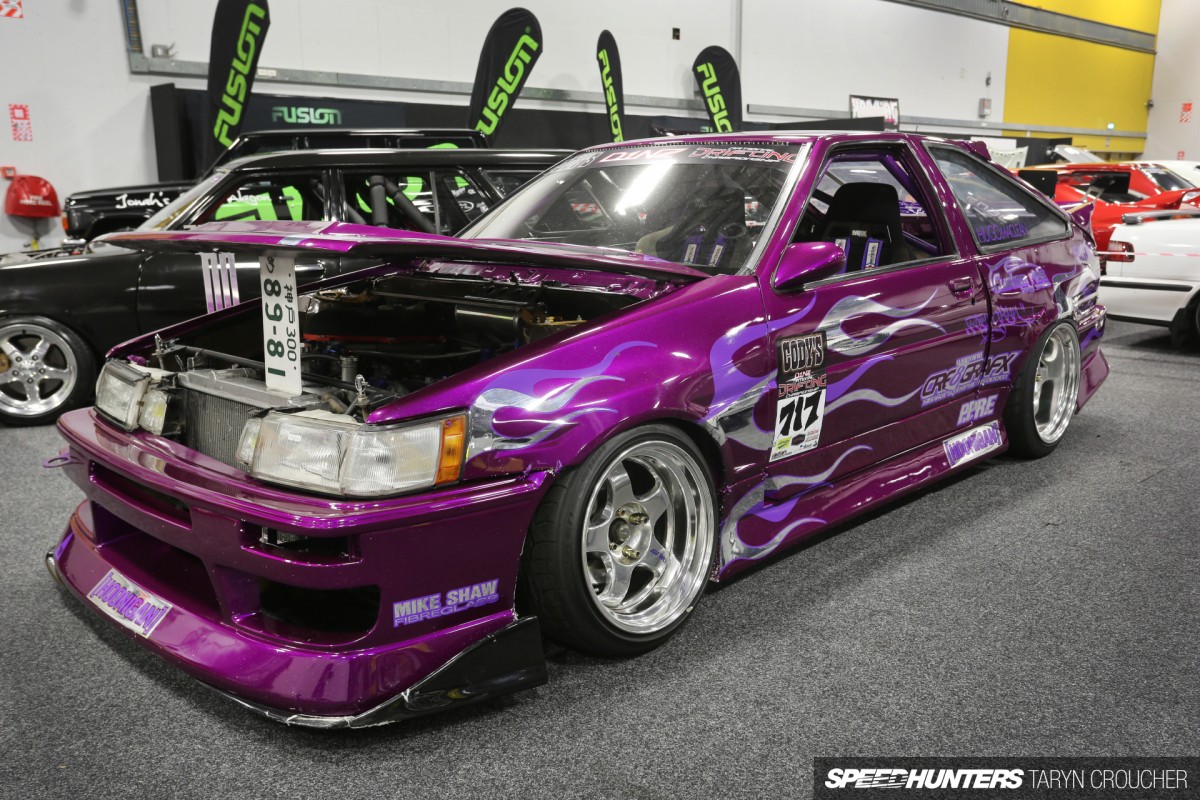 Hugo Maclean's AE85 Levin is still running the same PPRE-built naturally-aspirated 20B motor from when we featured the car in May last year, but with a few changes: an all new intake set-up and HKS sequential gearbox, and a potent metallic pink paint job replacing the old brown livery.
Speaking of rotary-powered machines, let's take a closer look at a few more of the show's finest offerings…
Embracing the Wankel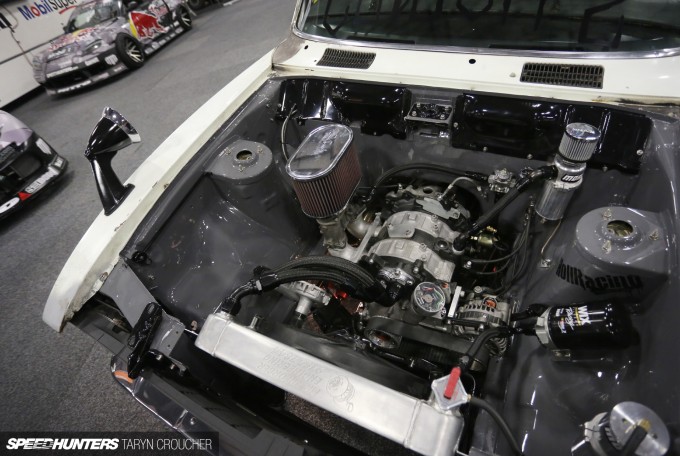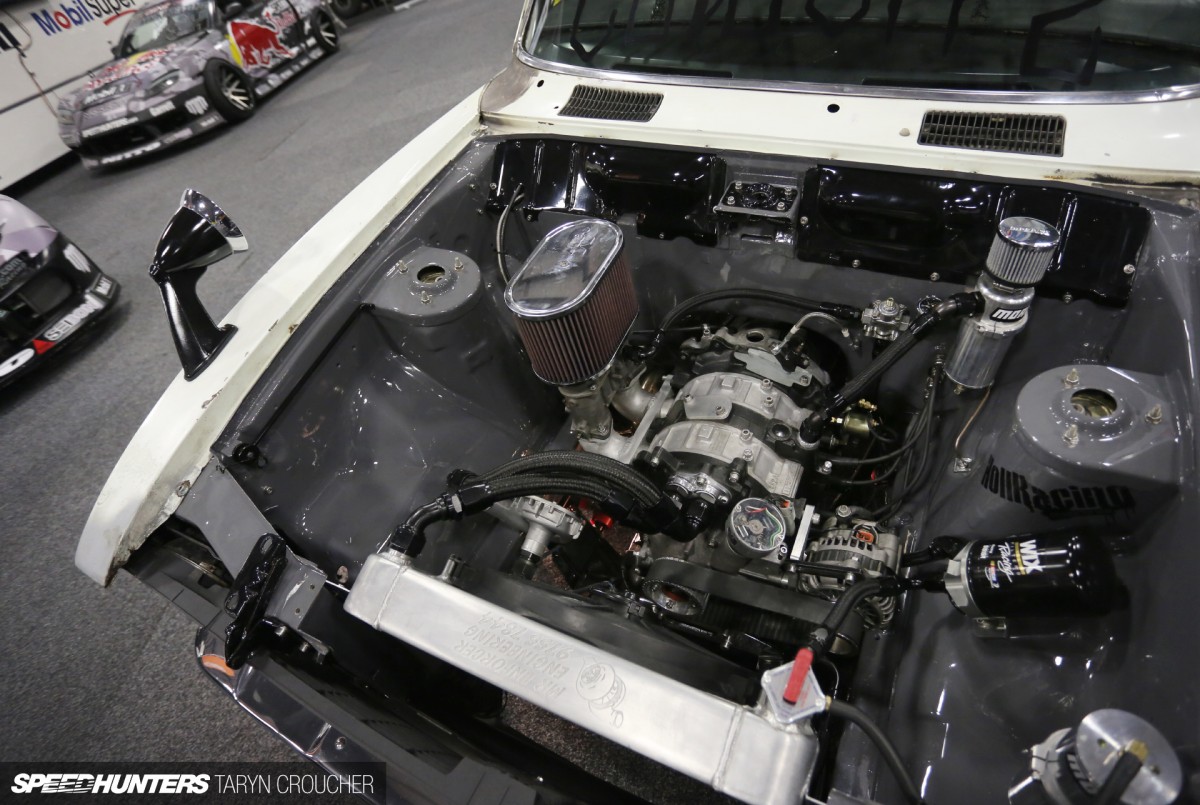 It's no secret that New Zealanders have an obsession with the Wankel engine; it's one of the biggest and oldest facets of kiwi import culture and a proud part of our racing heritage. It was cool to see a few builds that had not only taken inspiration from international trends, but had also put their own unique NZ spin on them – a typical kiwi-style rotary engine swap, of course!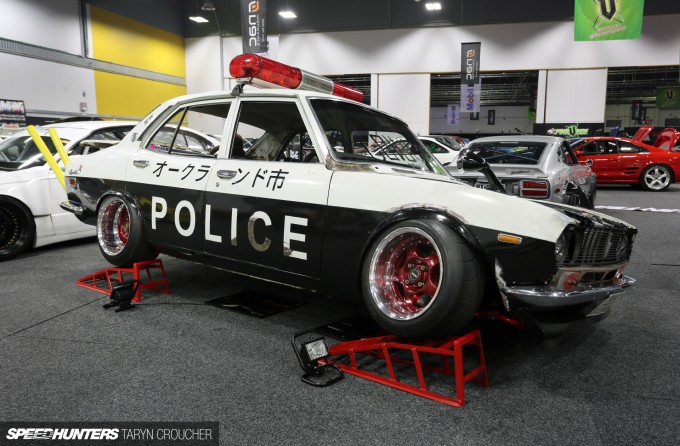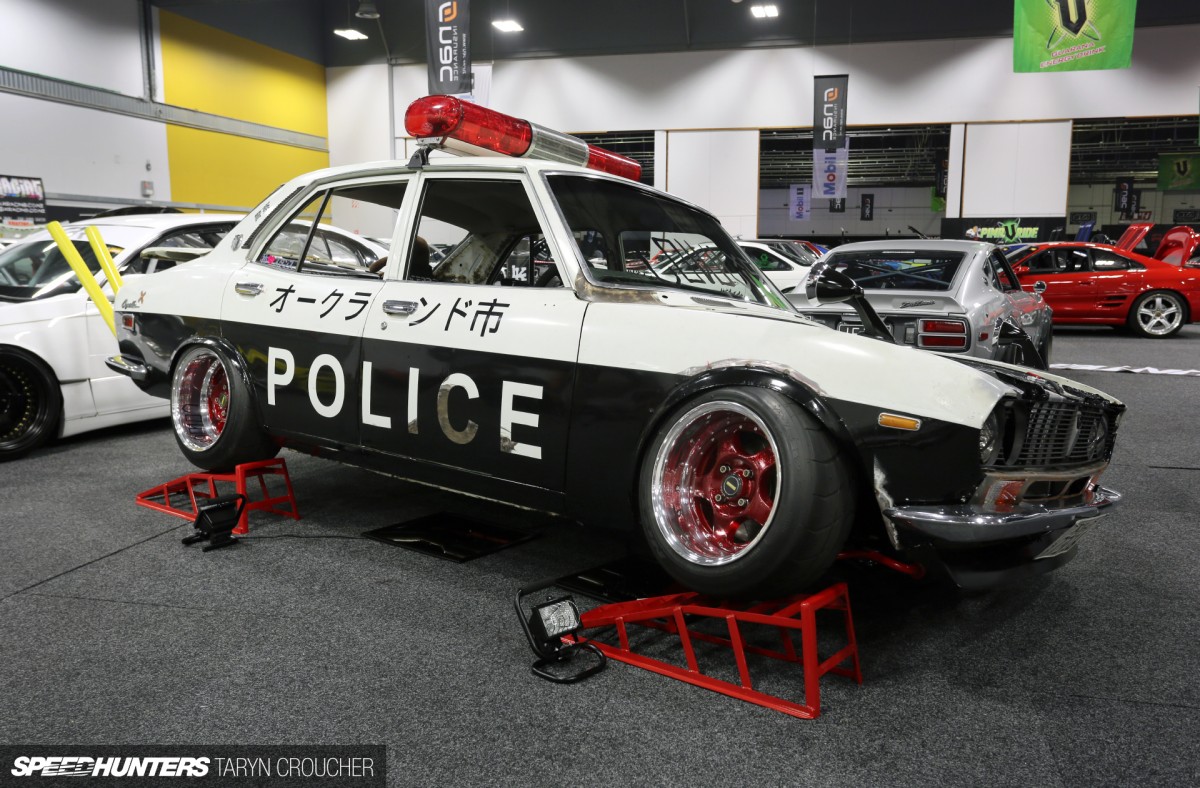 Mark Strawbridge revealed a new look with his ongoing 12A PP-powered Mazda 616 project car – it's now turned into a bosozoku-inspired police car! The old Capella certainly attracted a lot of attention throughout the show with its extremely loud police siren (obviously this didn't affect me as I was already temporarily deaf from a six-second drag car starting up less than two metres away from my head) and super-wide Simmons FR wheels, now coated in a stunning concoction of red candy paint and metal flake. The Japanese characters read 'Auckland City'.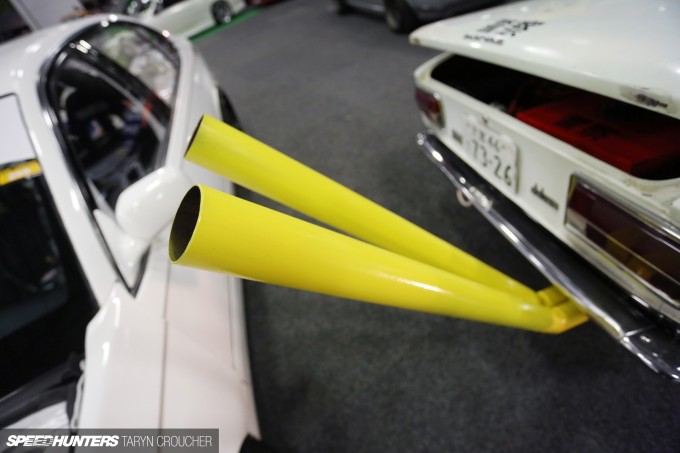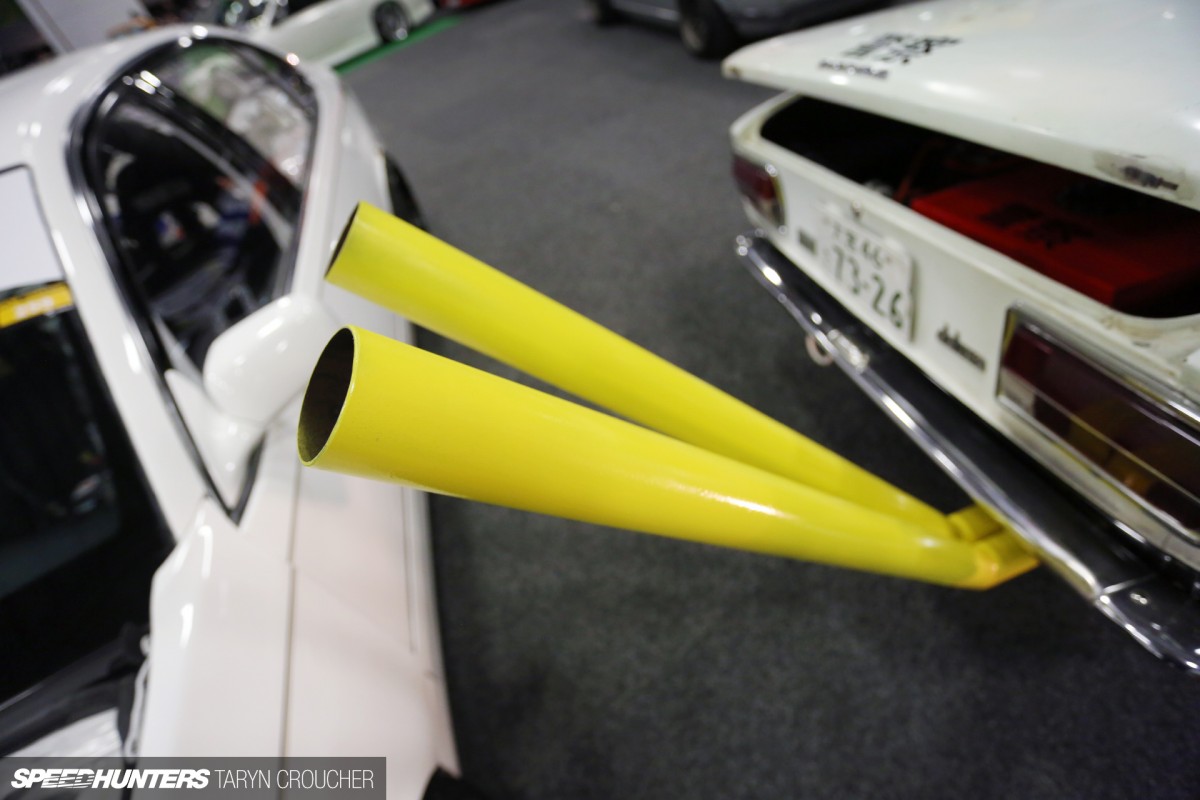 Here's something you'd usually see in one of Dino's stories! This is certainly the first time I've ever seen kaido racer-style takeyari exhaust pipes here in New Zealand.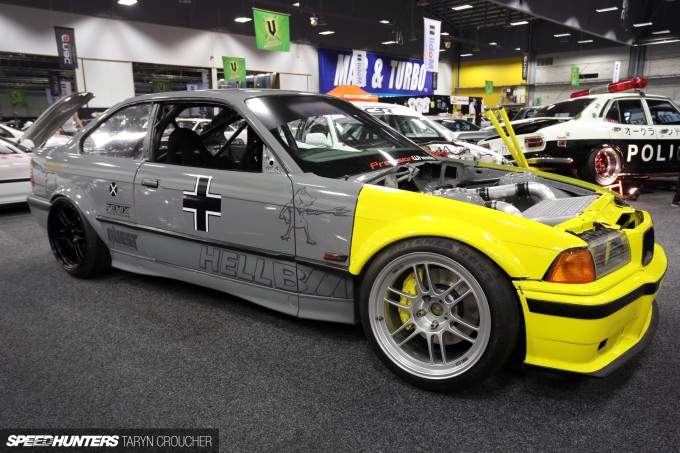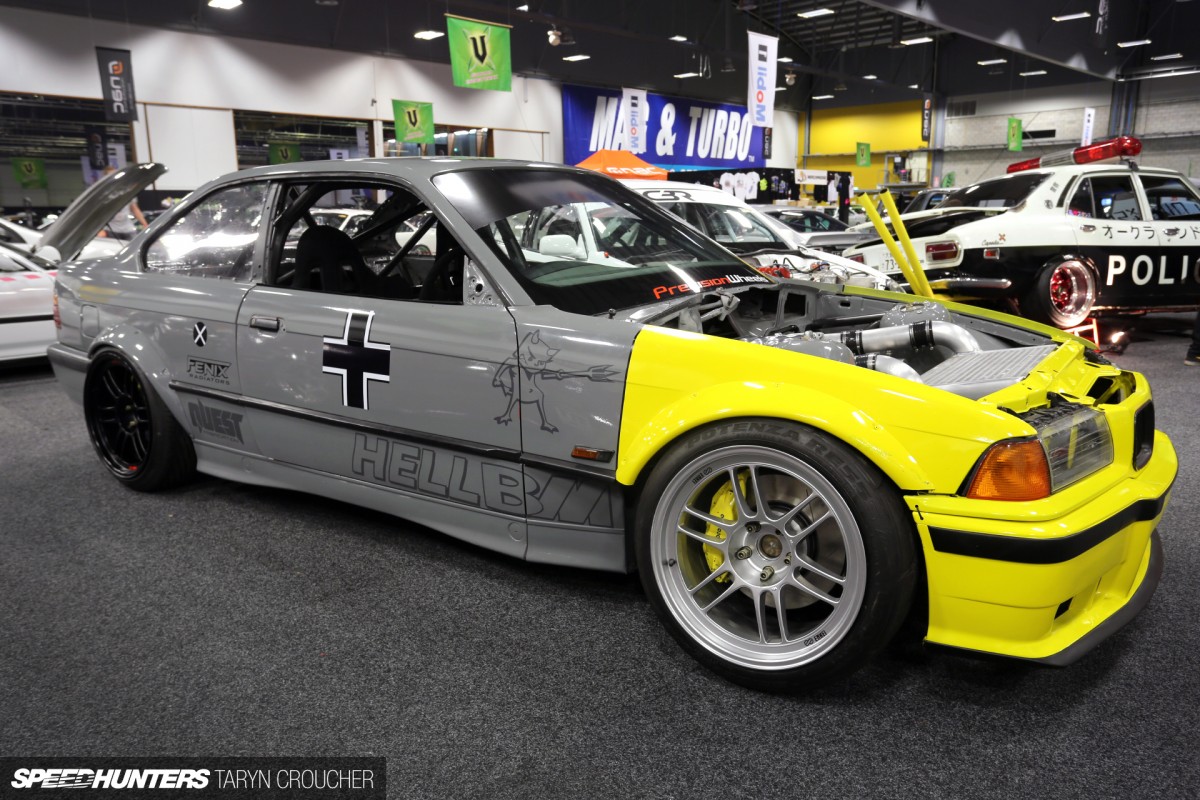 The BMW 3 Series coupe of New Zealand Performance Car's Assistant Editor, Marcus Gibson, lovingly named 'Project Drift Hack' looked to be almost near completion. The E36 mixes some really cool Euro and JDM styling cues, like the German Stuka fighter plane-inspired graphics, bolt on fenders and aggressive Enkei RPF1s. There's also been a bit of a change-up from last year…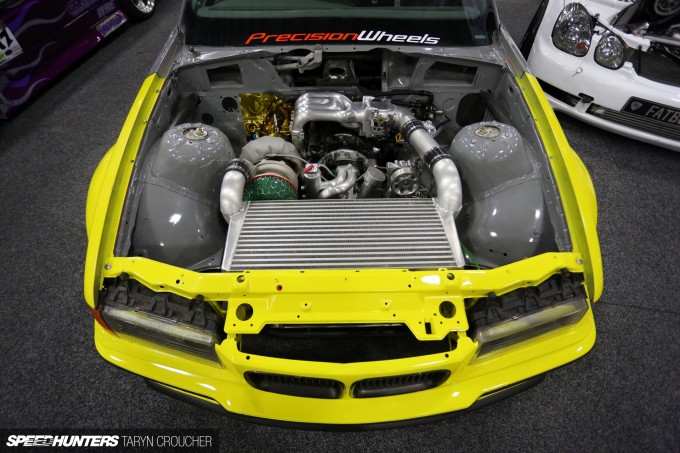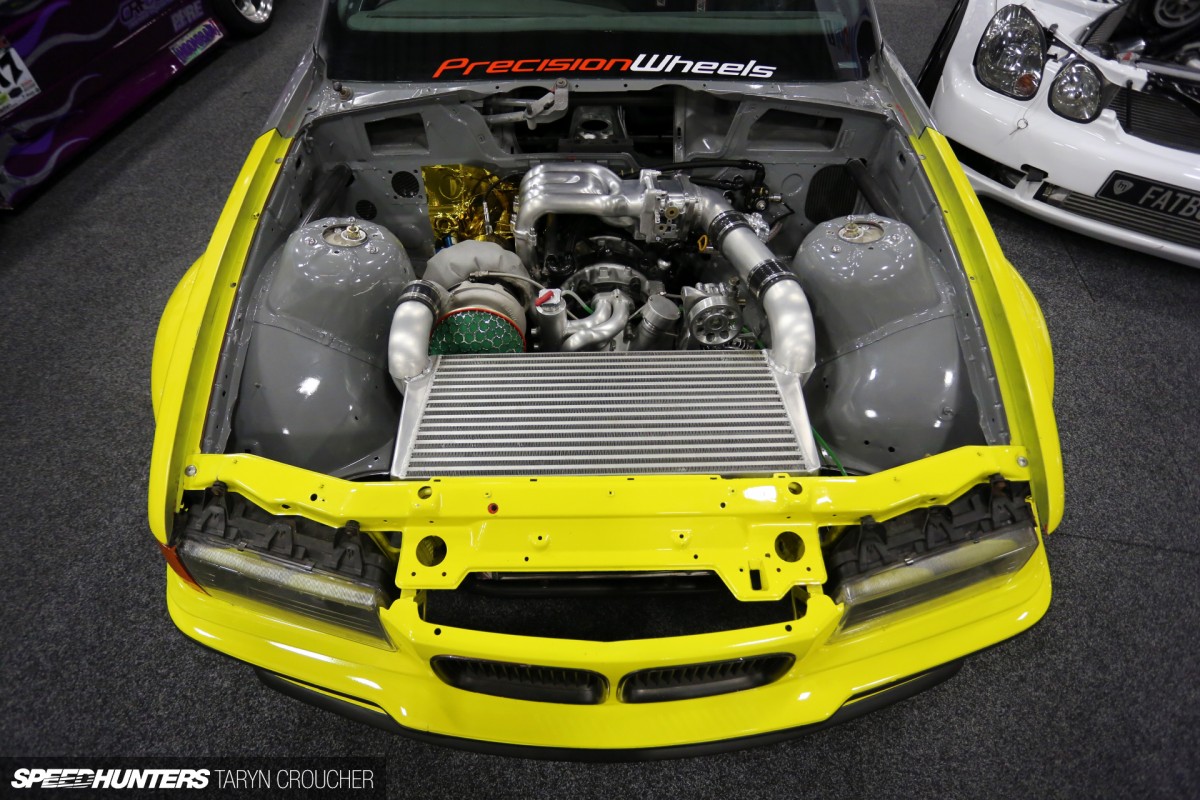 That's because the naturally aspirated 1UZ-FE V8 with ITBs has been ditched in favour of a turbocharged 13B powerplant. Marcus has been building rotary engines for most of his life, and considering it's a much lighter option that also sits further back in the chassis and will make at least 2-3 times more power than the V8, I can see why he's decided to go down this path.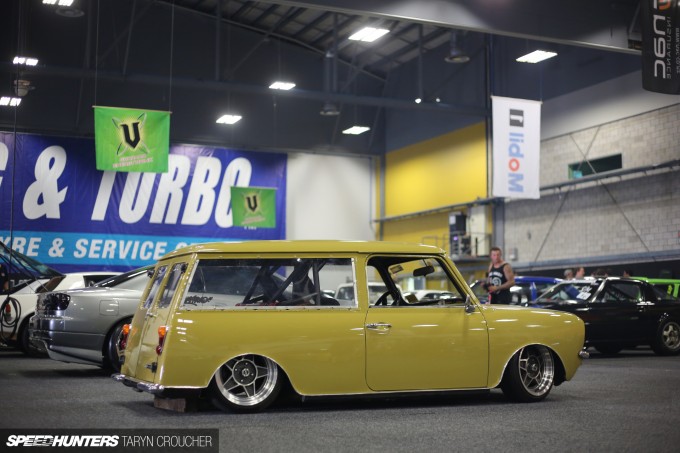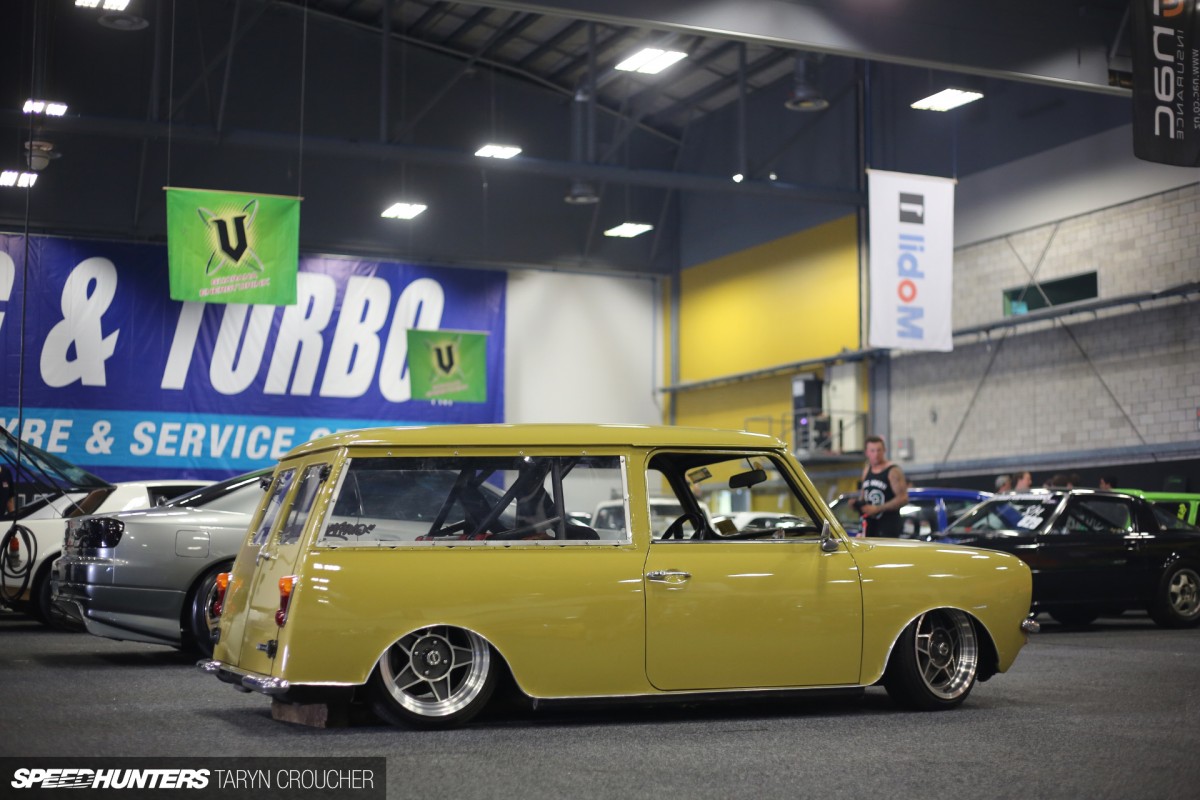 This heavily modified Mini Countryman was easily one of the cars that stood out the most – which, because of its small stature, should say a lot. I didn't get the chance to talk to the owner, but the car looks to be a Mini body mounted over a full custom box section and tube-framed chassis.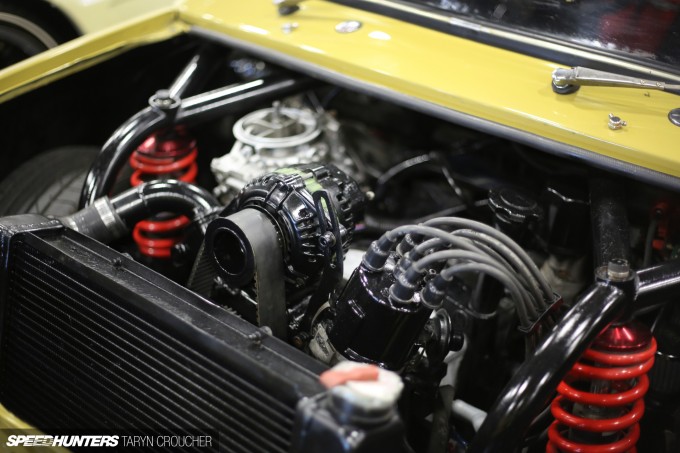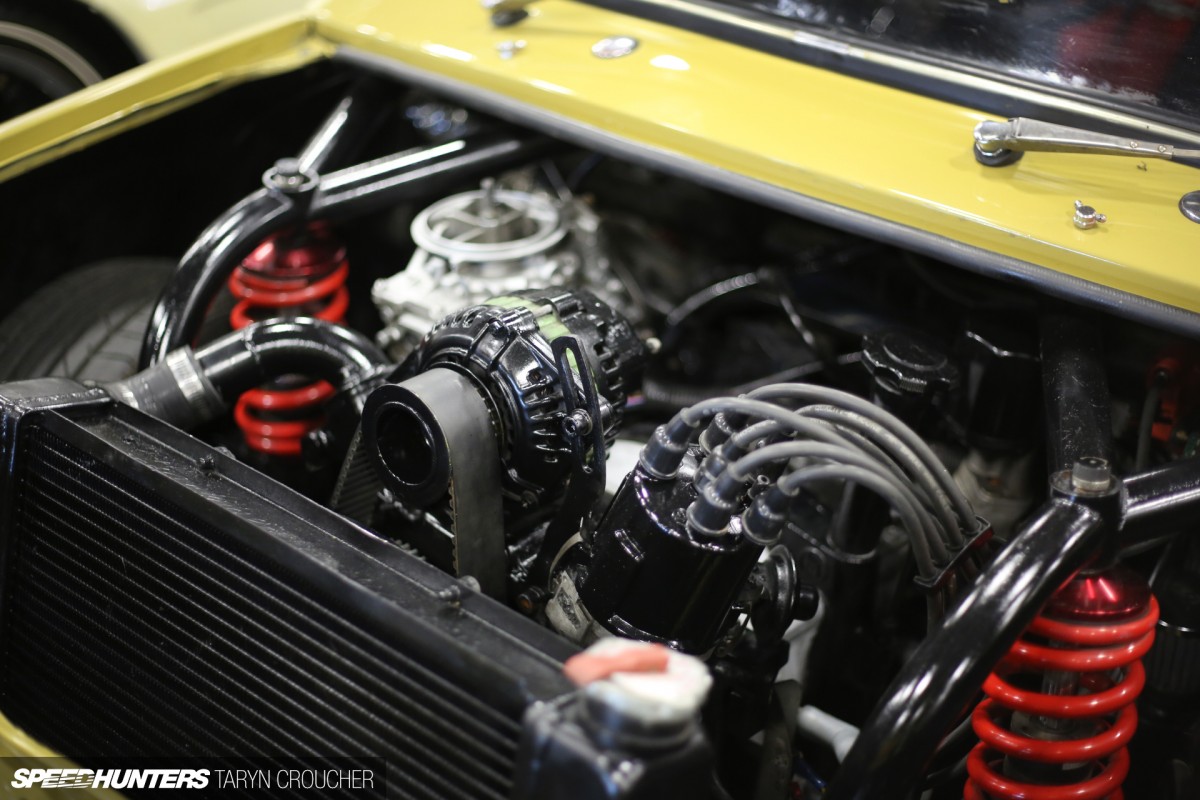 The miniature machine is powered by a Mazda 12A motor and is built to shred rubber!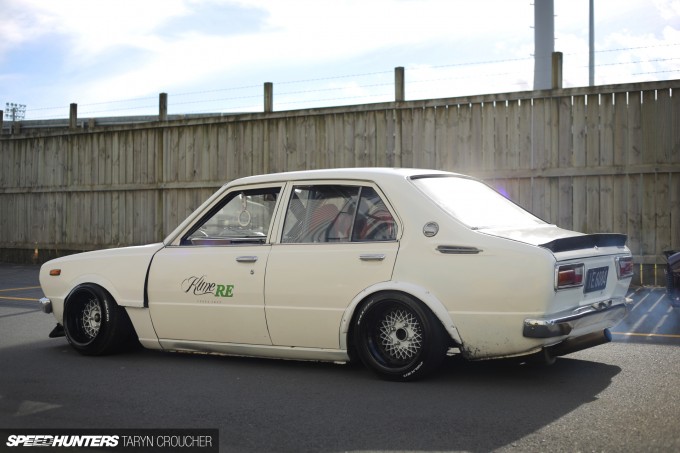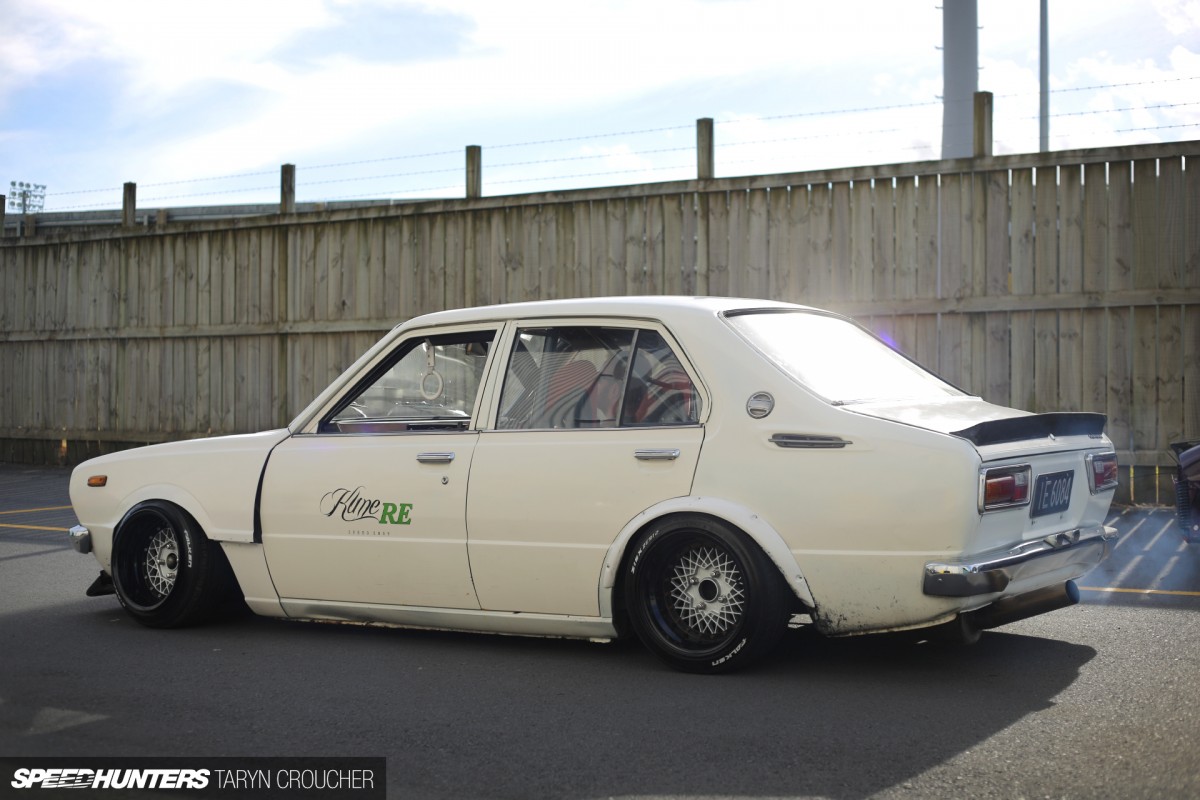 This might sound a bit stalker-ish, but I specifically waited for this slammed '76 Corolla to drive outside after the show to get a better photo, as the dark corner it was parked up in just wasn't doing it justice. The beat-up Toyota features a four-linked, c-notched rear end with a raised floor and tunnel, and the refurbished Volk mesh wheels, measuring 14×9.5 up front and 14×8 at the rear, give the pavement-scraping sedan a particularly evil-looking stance.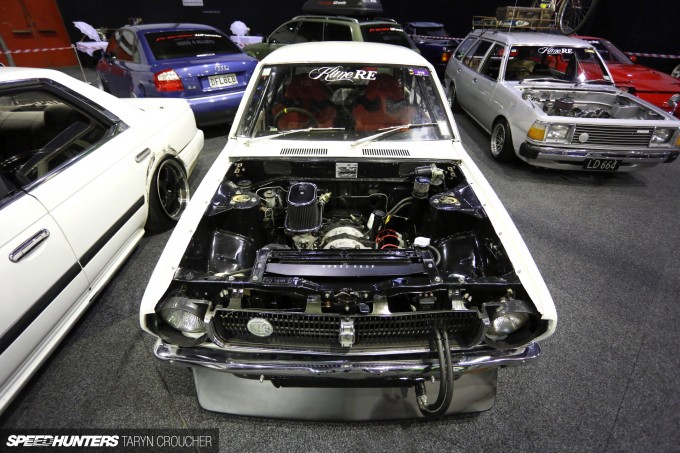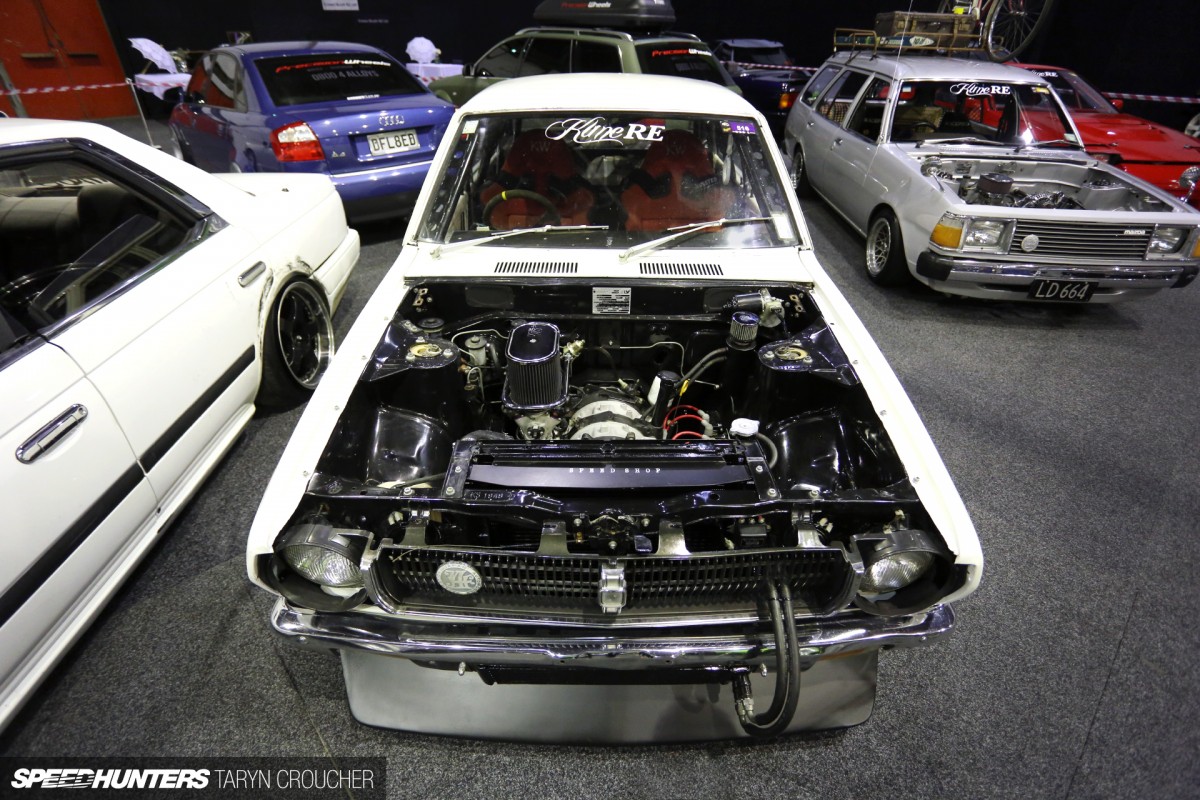 The aggressive KE30 is powered by an angry-sounding 13B PP package originally built by Warren Overton from Pulse Performance Race Engineering. After the show I managed to catch up with the Corolla's owner, Sean from the 'Kune RE' crew, who told me that that he's owned the car for eight years, but he's spent the last year modifying it to this particular look. And yes, he gets it sideways!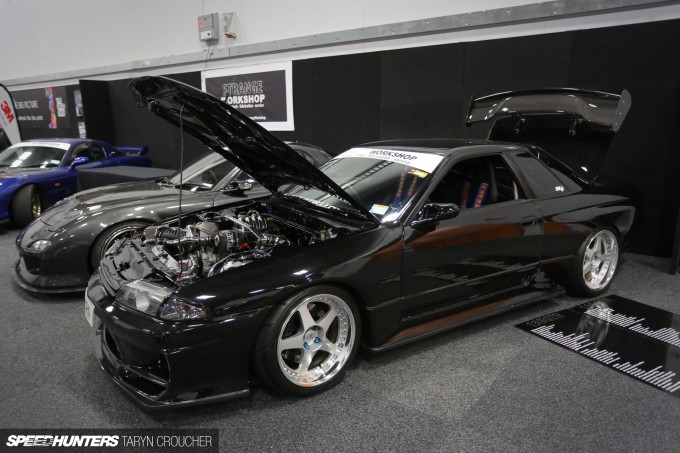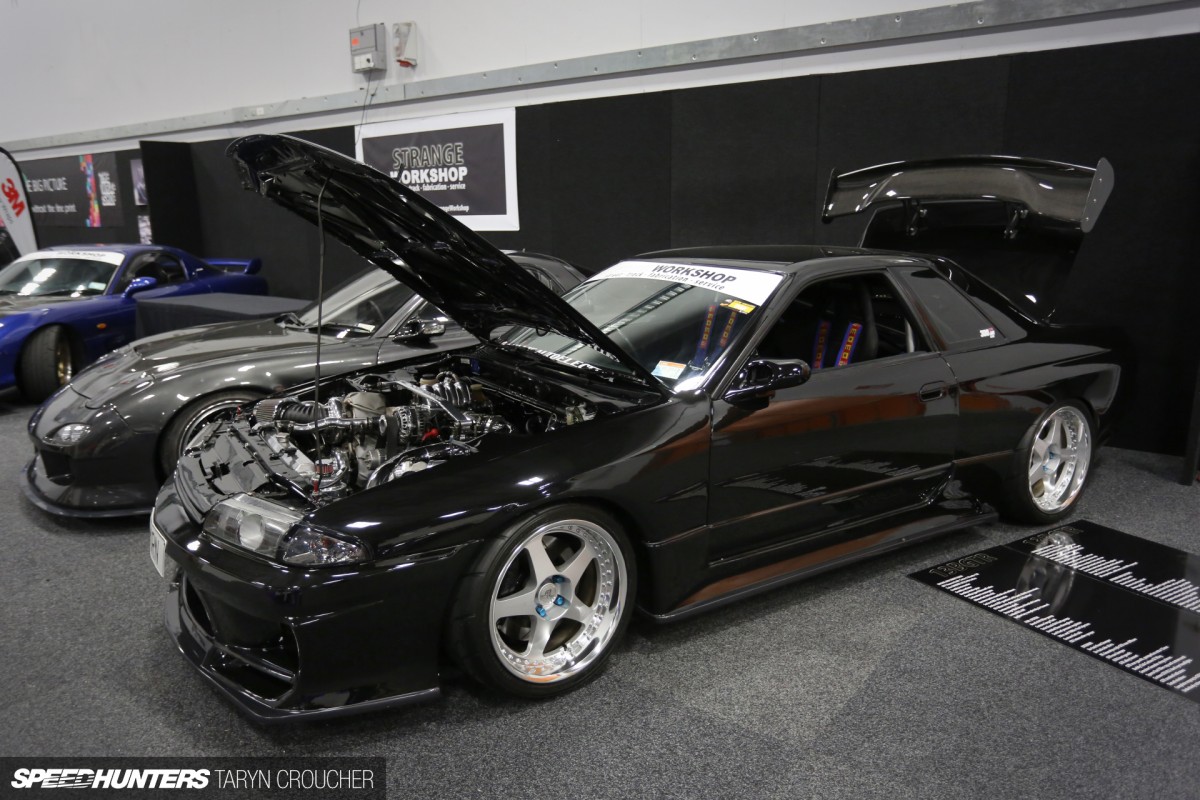 Everyone checking out John Purdie's immaculate R32 Skyline was impressed by the quality of workmanship and attention to detail; that was until the occasional purist walked by and scrunched up their nose in terror at the controversial 13B conversion.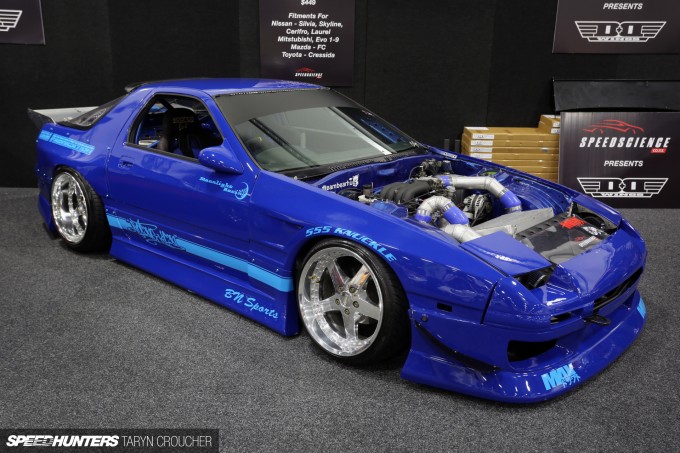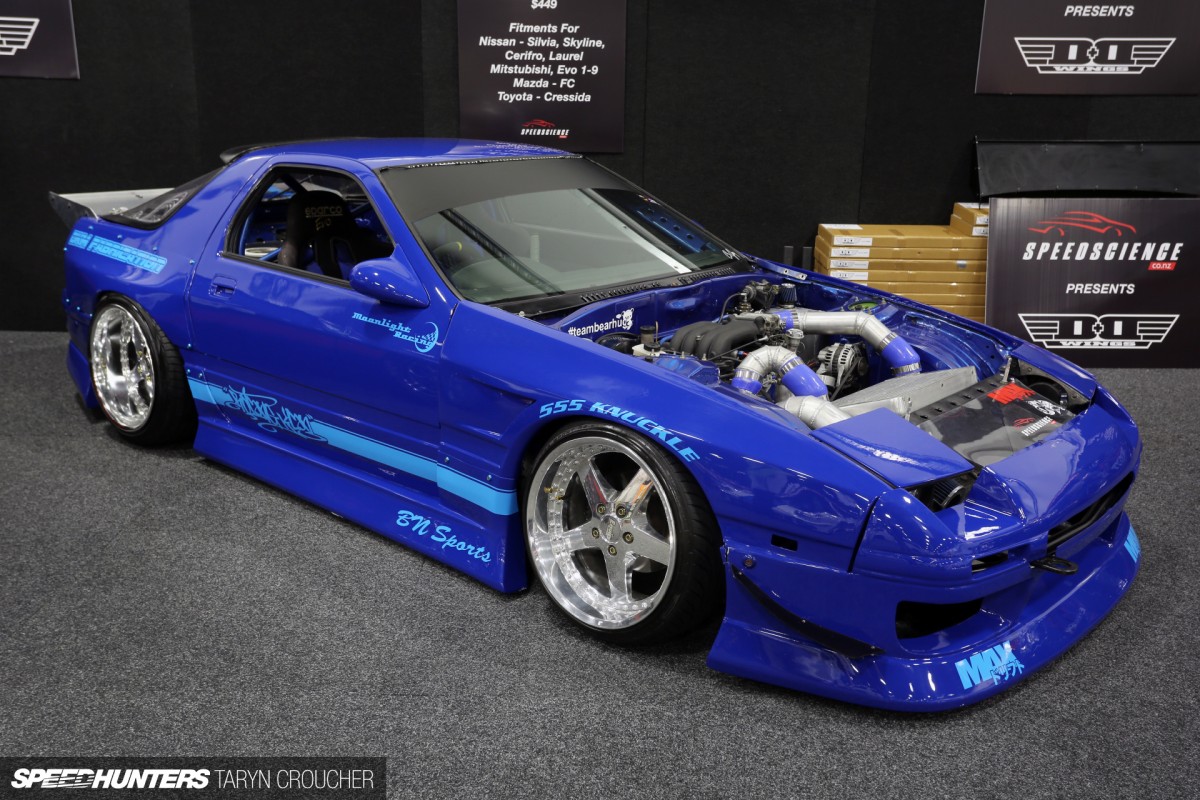 It's not very often you get to see a competitive drift car looking immaculate like this, but I'm pretty sure I could've eaten a meal off Matt Jackson's 13B-powered RX-7 and nothing bad would've come of it. The new-look FC3S features some drool-worthy genuine Japanese parts.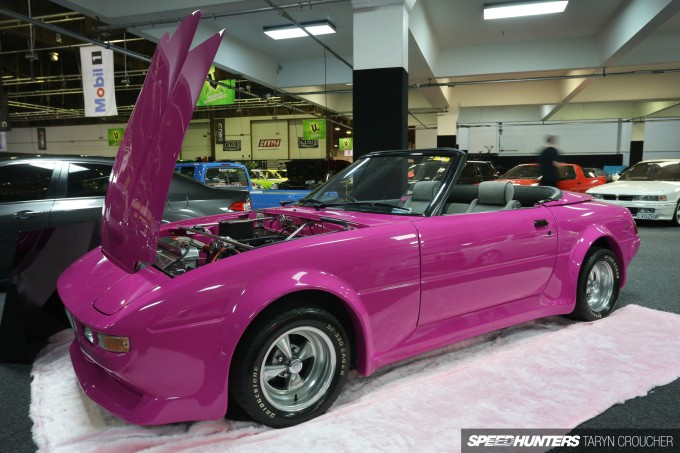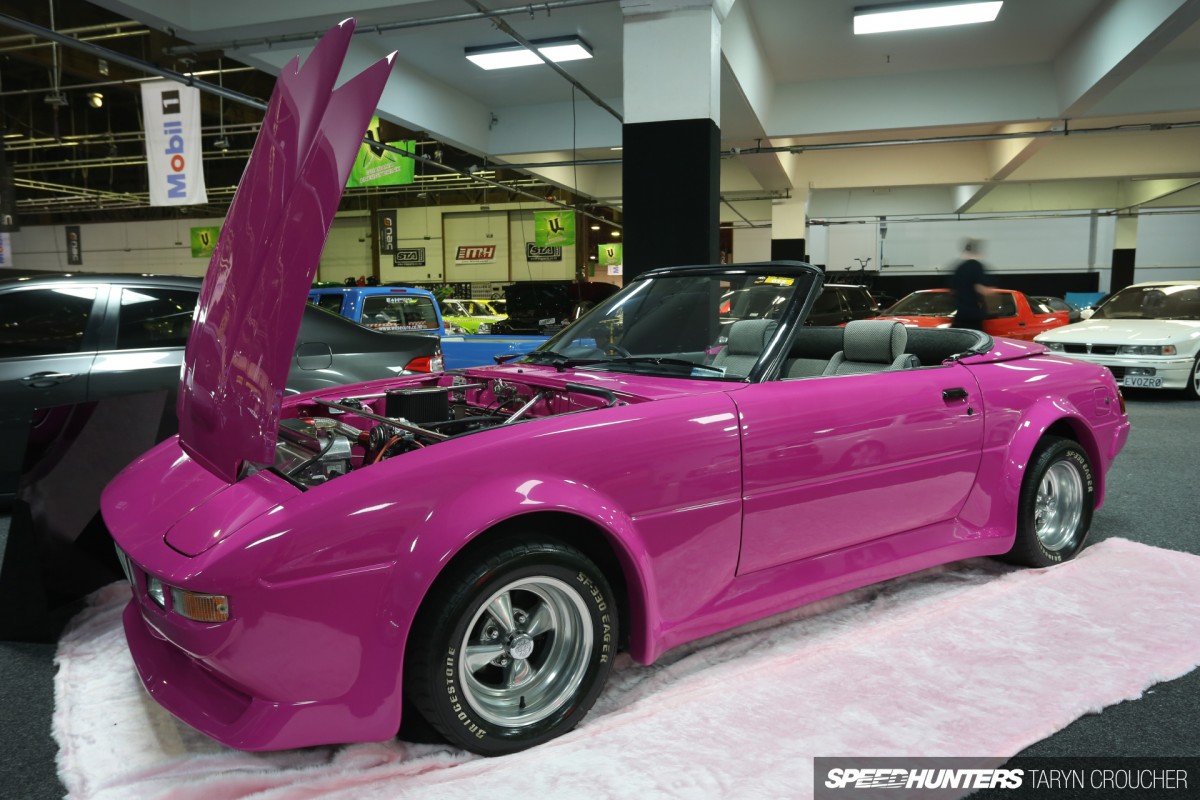 Does anyone recognise this custom RX-7 convertible? Although the styling hasn't dated all that well, it still put a smile on my face to see the first official New Zealand Performance Car magazine cover car in person, in exactly the same condition, untouched since the mid-'90s. Talk about a blast from the past! Speaking of cars from the past…
JDM invasion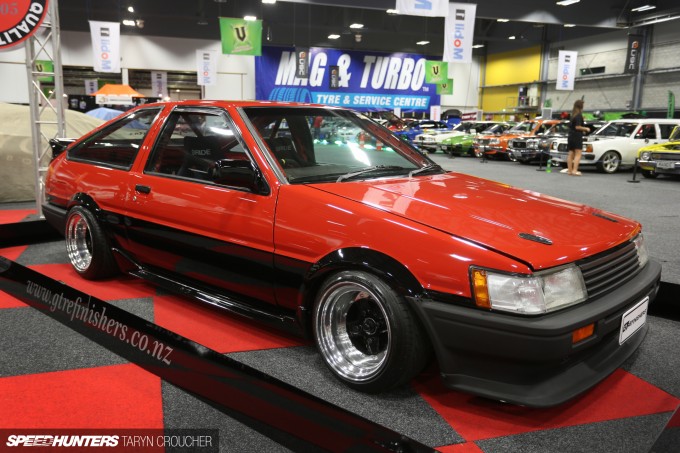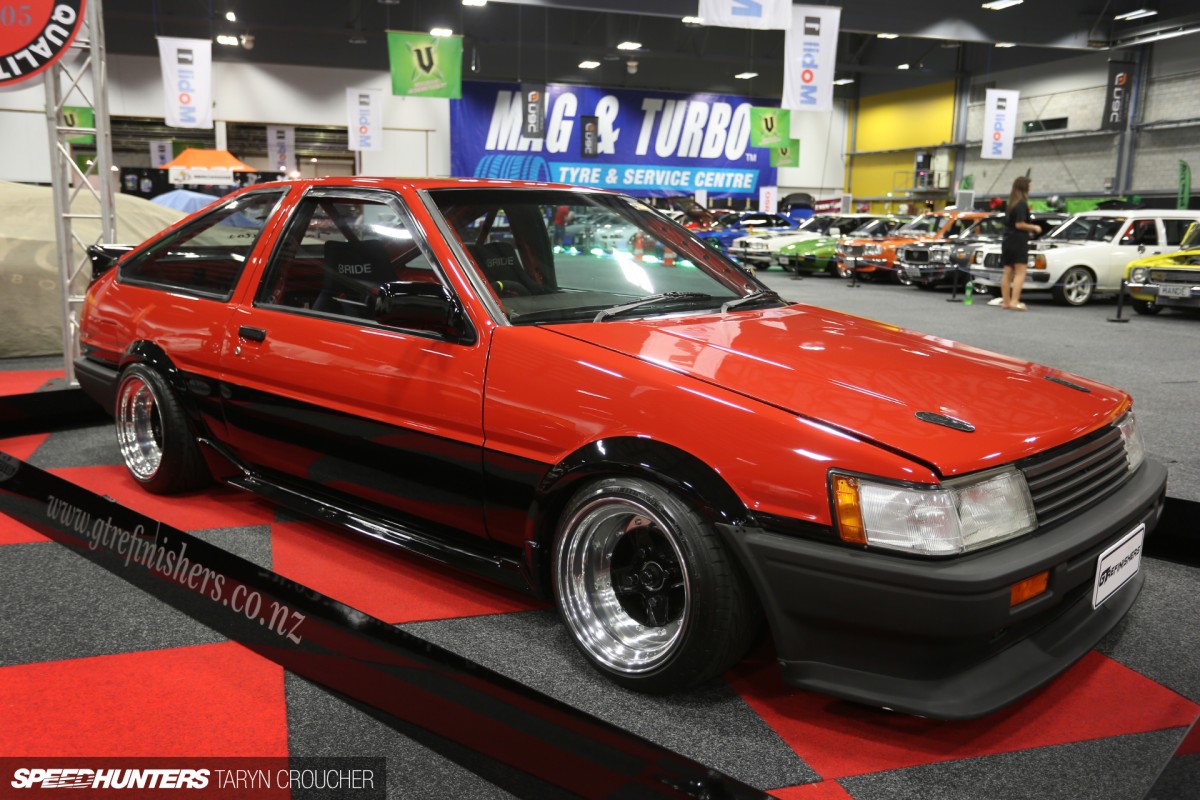 This immaculate two-tone AE86 on the GT Refinishers stand was making me have second thoughts about whether I'd made the right choice in classic Japanese vehicle ownership, and I'm still feeling internally conflicted. The fully stripped and caged interior and period correct SSR Mark II wheels had me green with envy. I wonder how the owner feels about taking it out for a midnight touge session – with paint that beautiful, I think I'd be too scared?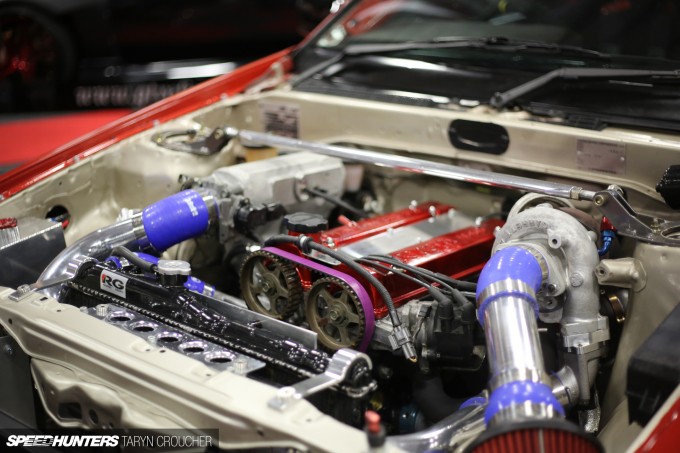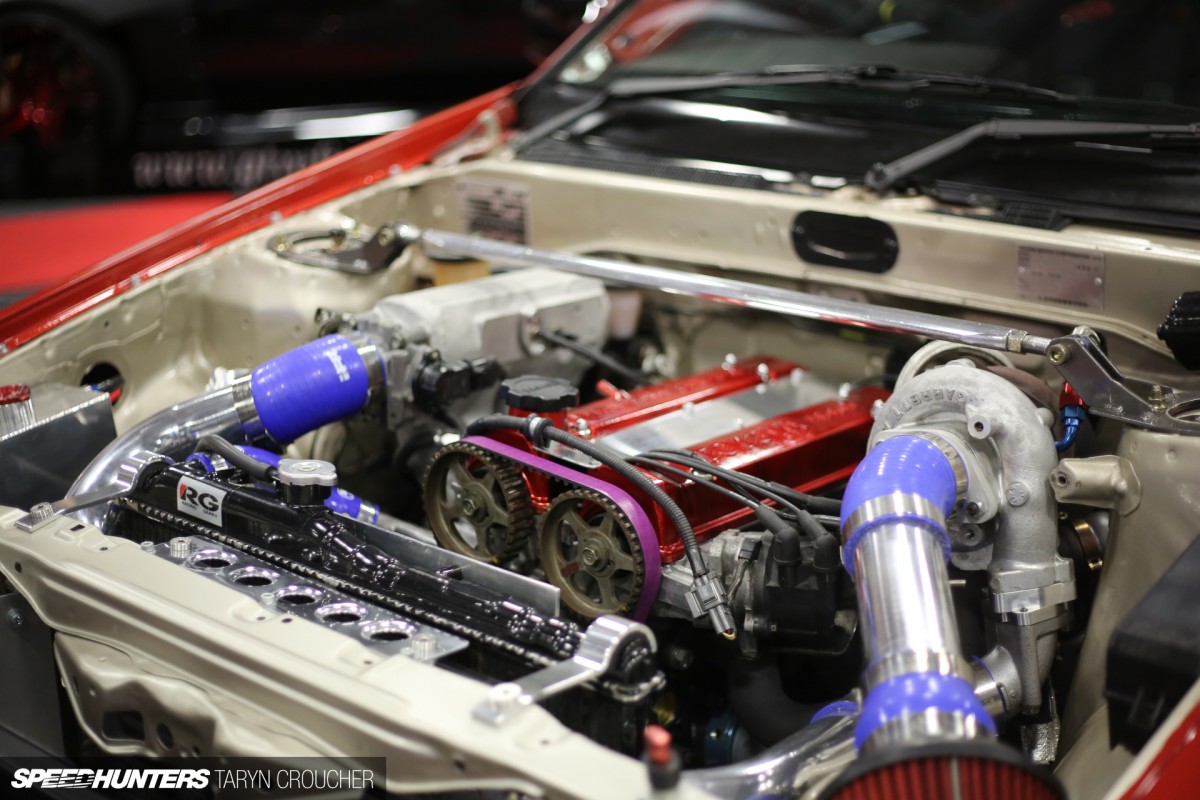 It comes without a surprise that the engine bay was just as clean as the rest of the car. What an all-round, beautifully-built machine.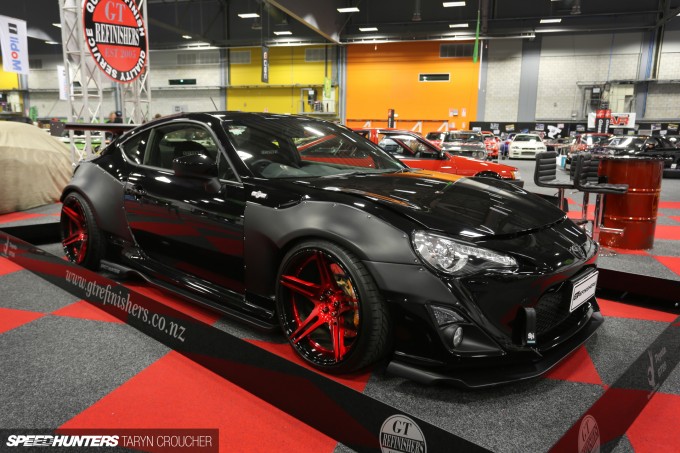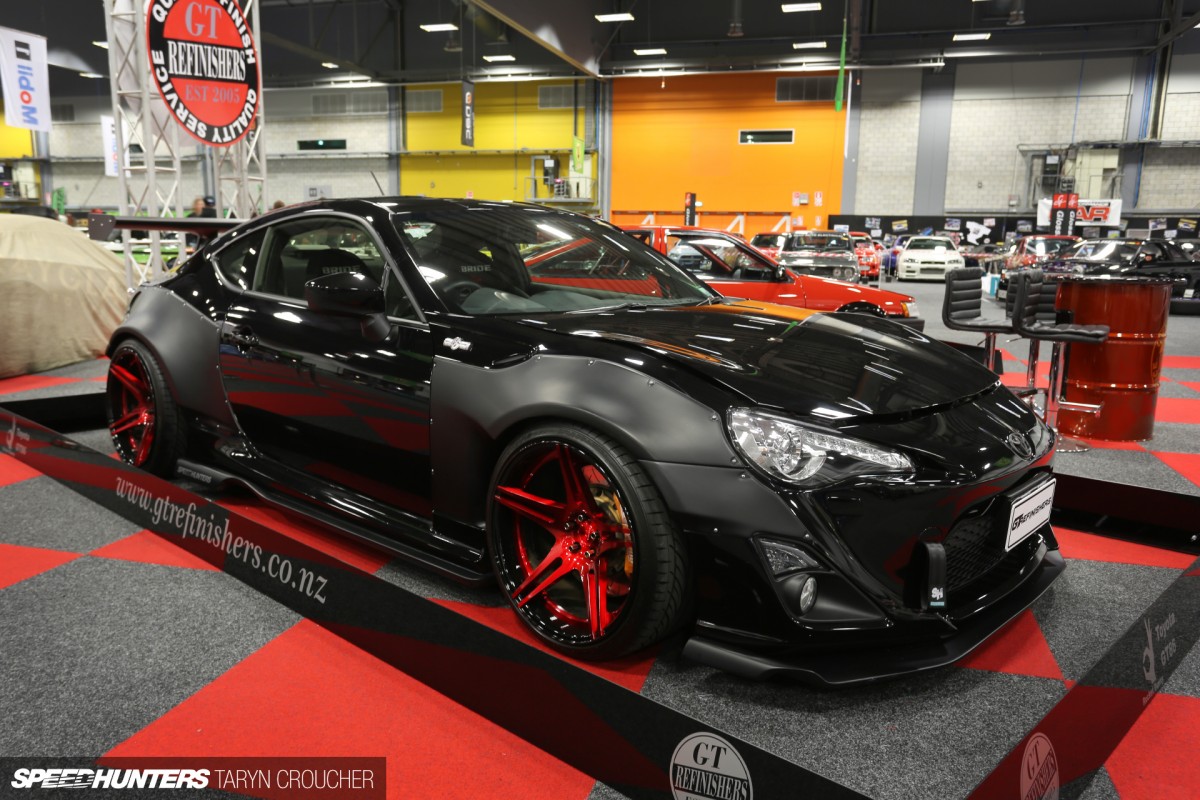 Kei Miura's Rocket Bunny 86 kit has finally found its way to NZ shores, as seen on this supercharged Toyota GT86. Grant Walker, the owner of GT Refinishers, explained that owner had chosen to go with this particular paint scheme as he had always liked the look of the original GReddy/Trust demo car. The contrast between the matte and gloss paints really accentuates the riveted fenders.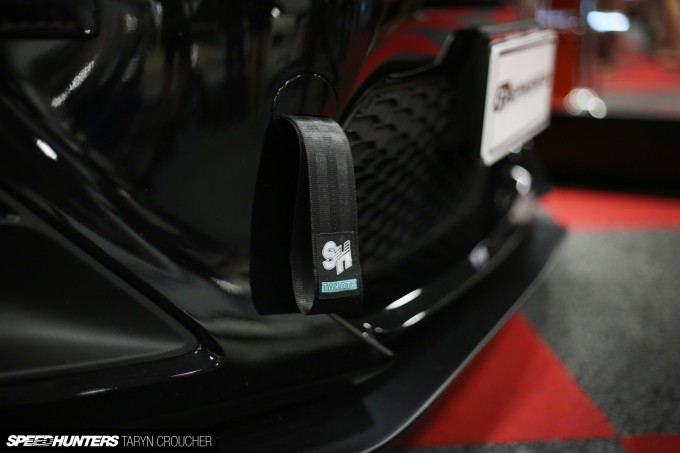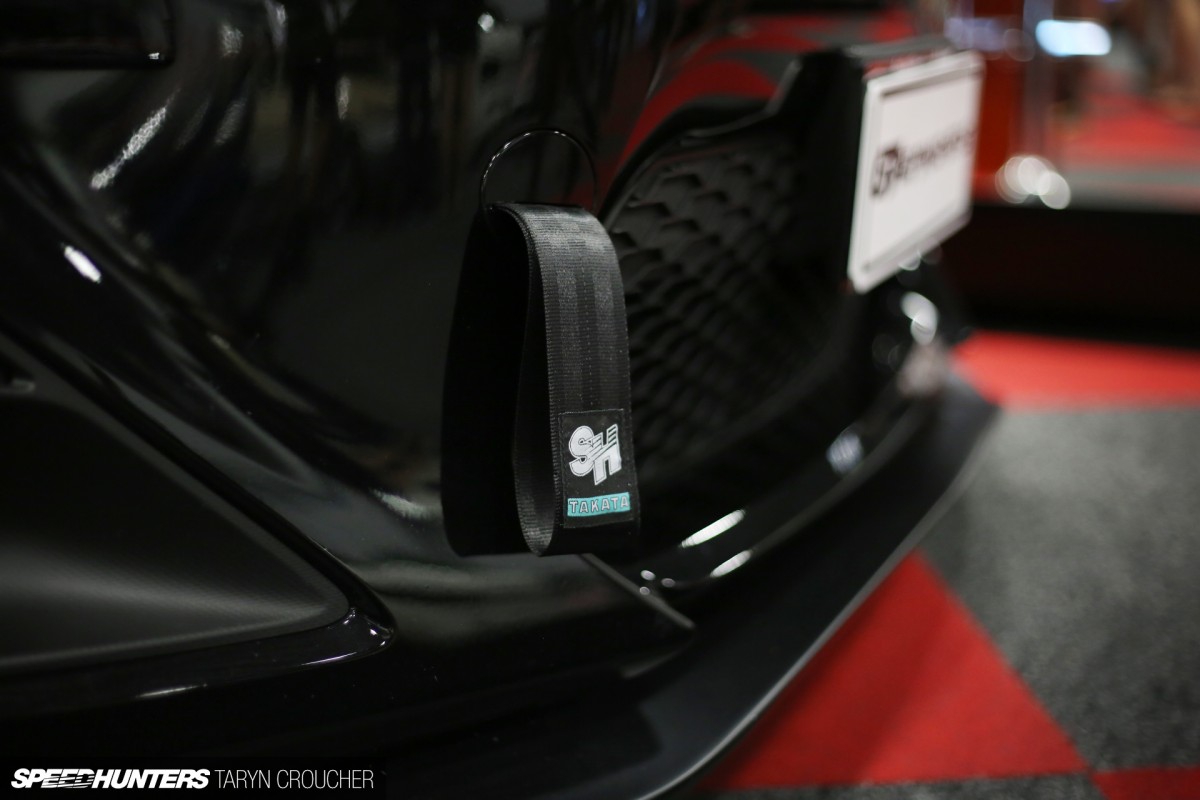 Speedhunters x Takata tow strap spotted!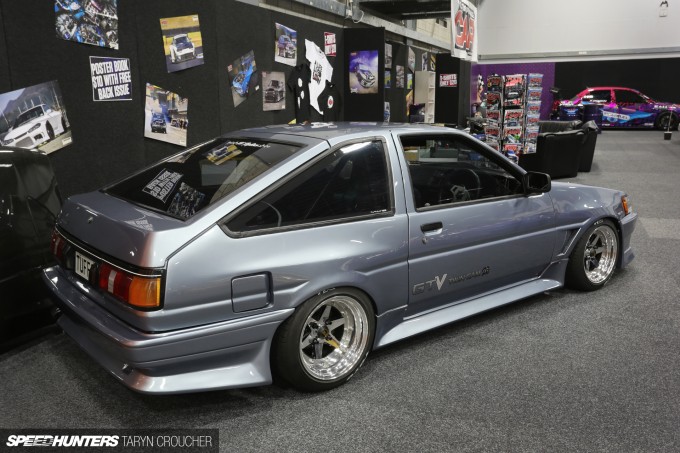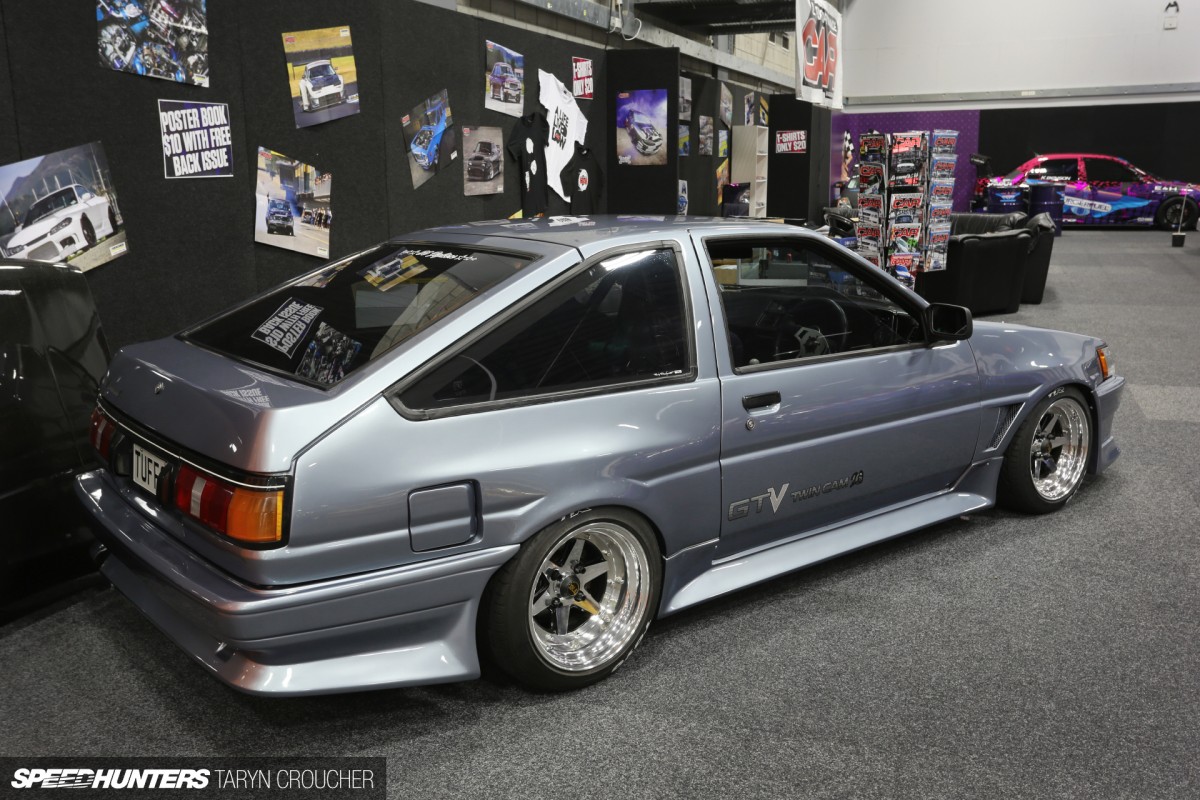 Shaun Borland's wide-body AE86 has seen some pretty interesting changes in the last couple of years, and although the new choice of 14-inch SSR Longchamp wheels caught my attention at first, it was the engine bay that made me stick around for a closer look.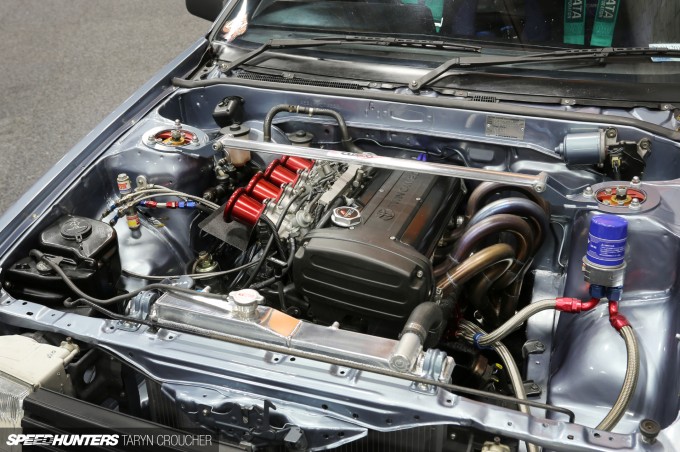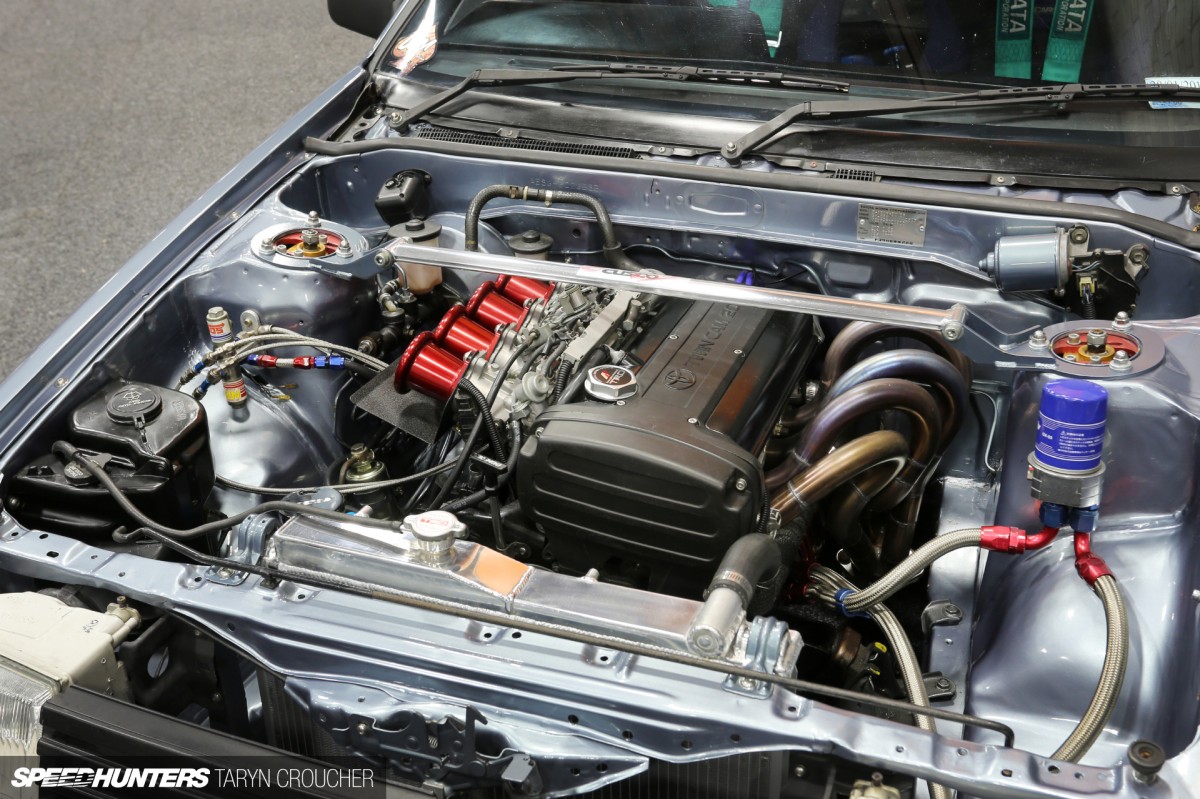 The hachi-roku's former 4AGE turbo set-up that I'd last seen the car with had disappeared. In its place was an ex-race motor: a ported blacktop 20-valve head mated to a silvertop block, featuring ITBs, custom cams, shims, valve springs – the works!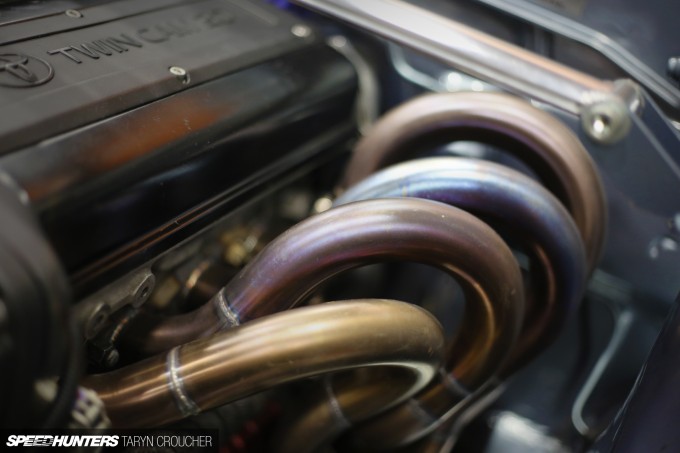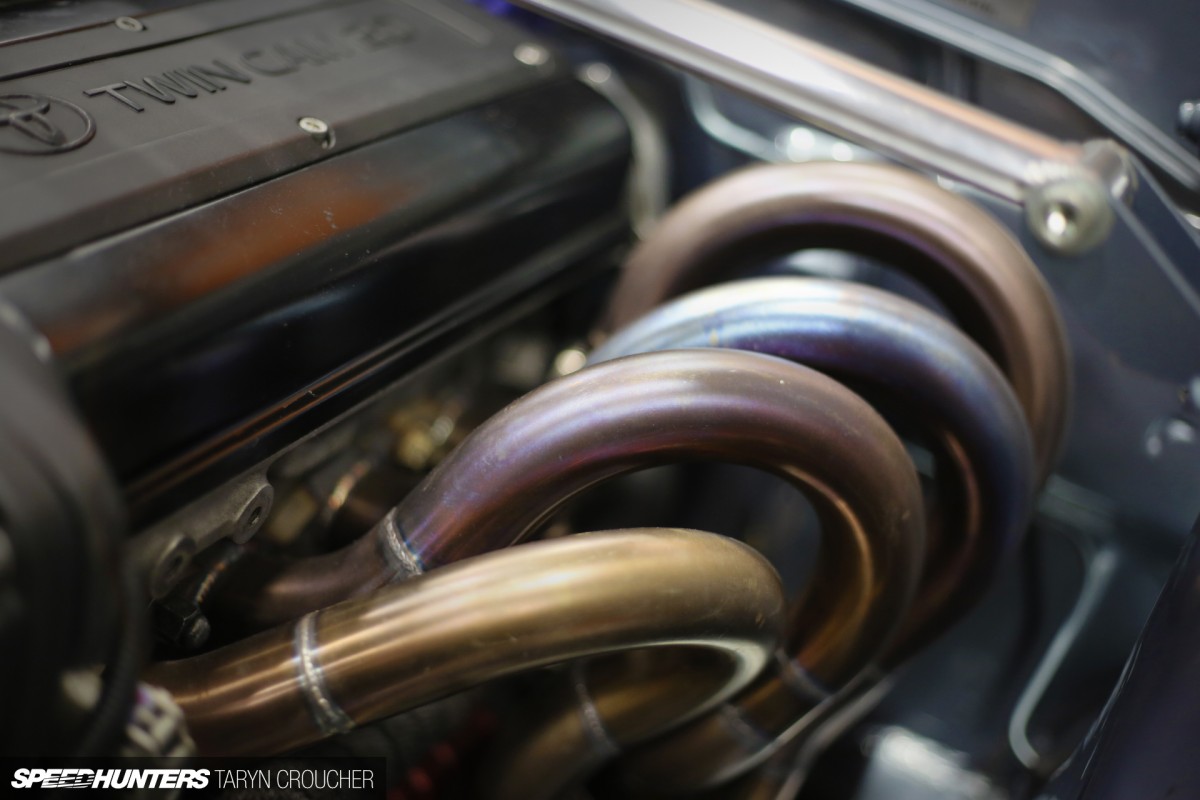 The custom stainless headers are a work of art on their own, and I love how they've become tarnished and changed to all different metallic hues. This photo may or may not be my new iPhone wallpaper…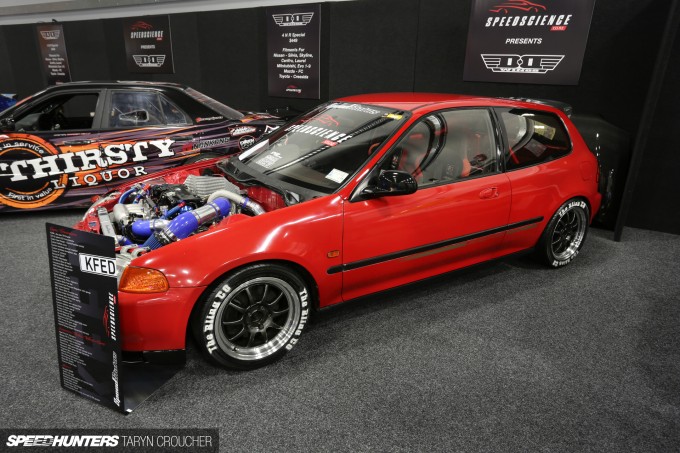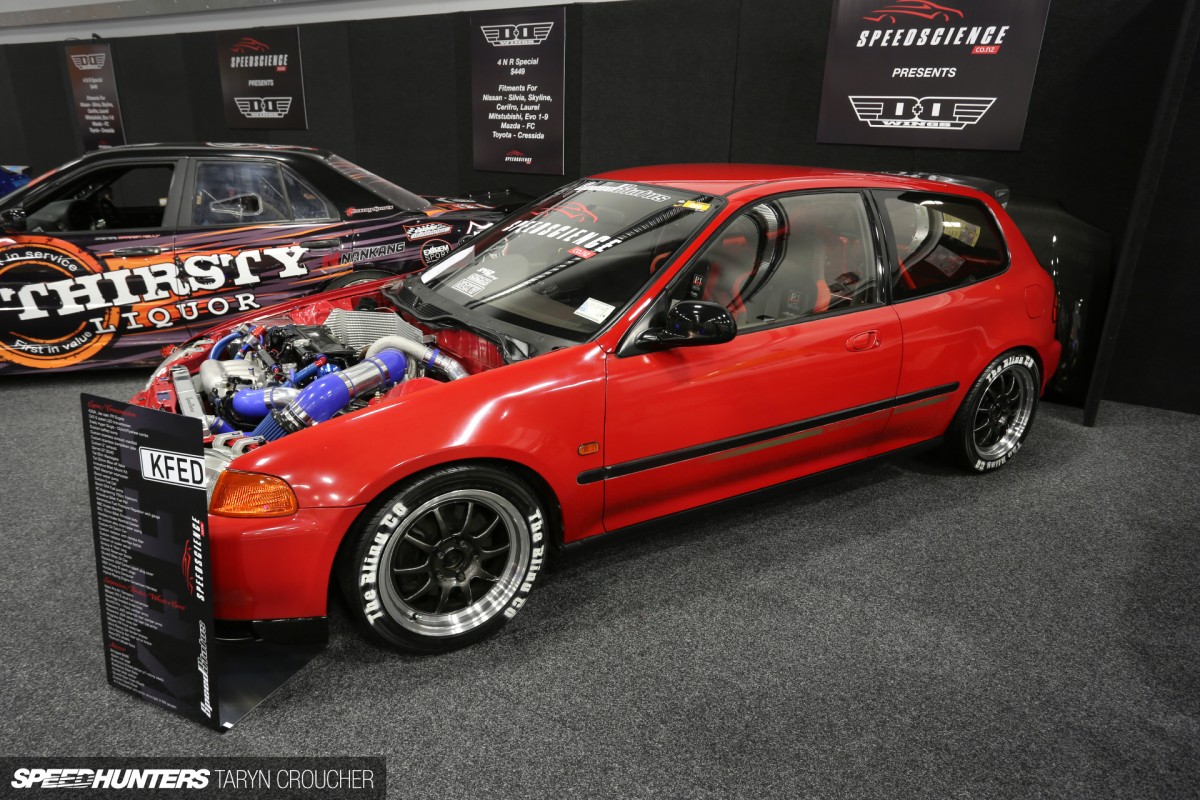 This EG Civic boasted a bigger K20A motor with an interesting PWR water to air intercooler set-up, which was actually mounted inside the car. The chunky tyre stencils perhaps suggest a slight Kanjo Racer influence; I'm not sure if that was the owner's intention or not, but the addition of some colourful retro graphics and window nets would certainly go down a treat! This was just one of the many clean Hondas on display this year, and I bet it makes for an incredibly fun little track day weapon.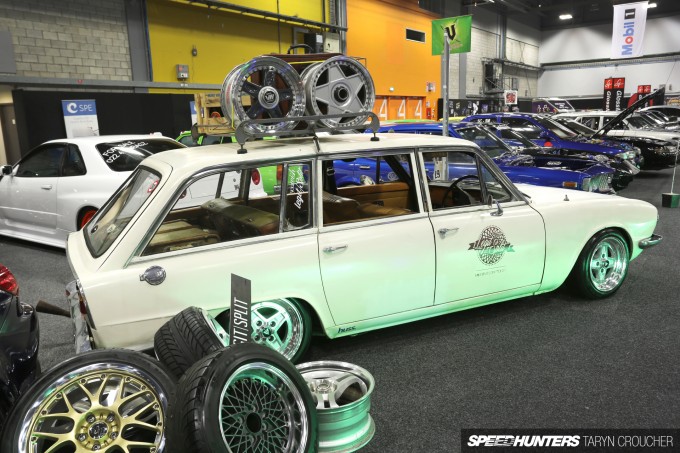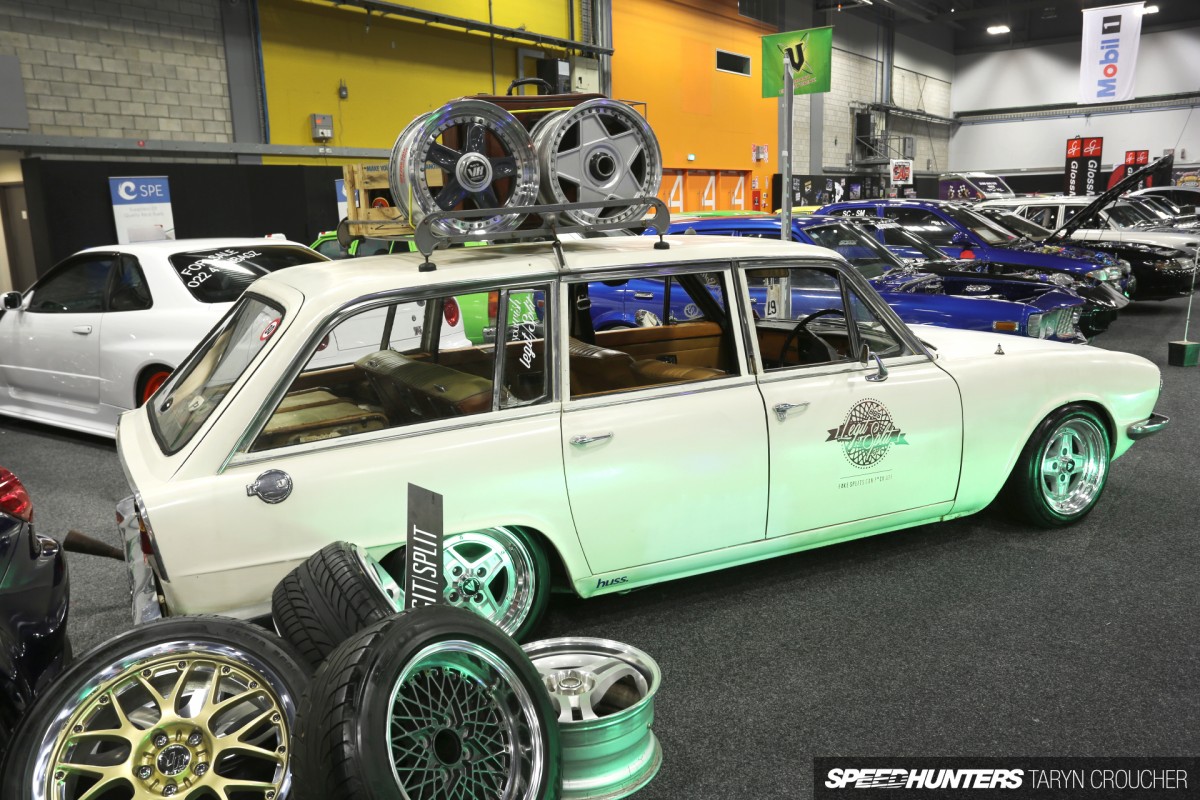 The Legit Split crew had an alluring collection of new and old rides on display – all with one thing in common, as their name suggests. Okay, so it may not be a Japanese marque, but this gorgeous '71 Triumph 2000 Estate on Enkei Apache II wheels looks like the perfect old-school summer cruiser to me.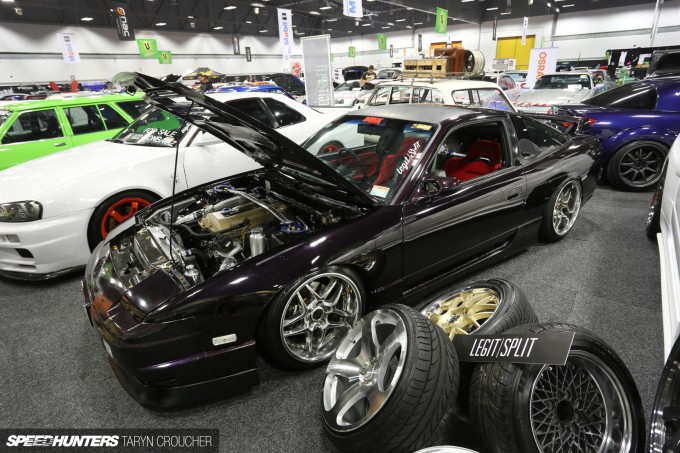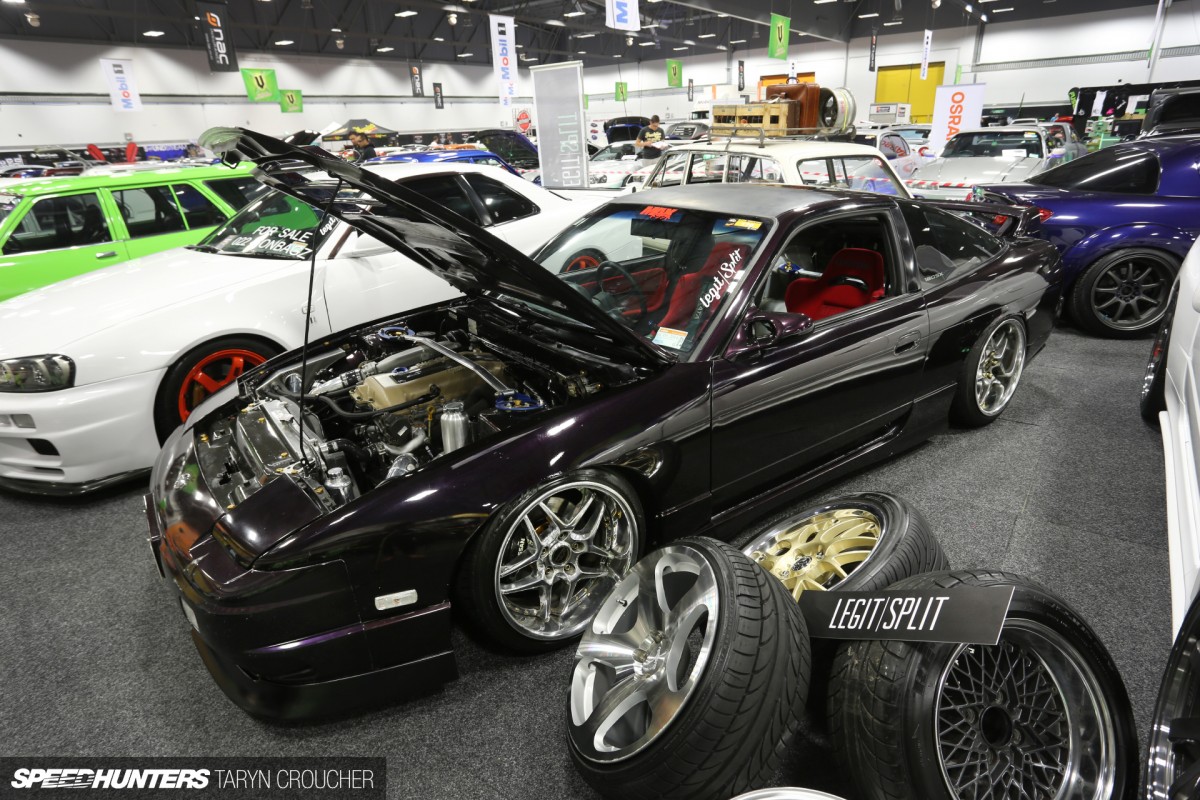 With its well-suited 17-inch Blitz Type 03 wheels, Scott Wedlake's 180SX won the award for 'best stance' of the show. People might not know that this car used to belong to Adam Hedges (from C's Garage). Scott bought the S-chassis (which was practically just a rolling shell at the time) over two years ago, and has taken his time rebuilding it with a range of new high quality parts. But in typical perfectionist fashion, he's already planning on taking it all apart again to get everything up to his high standards.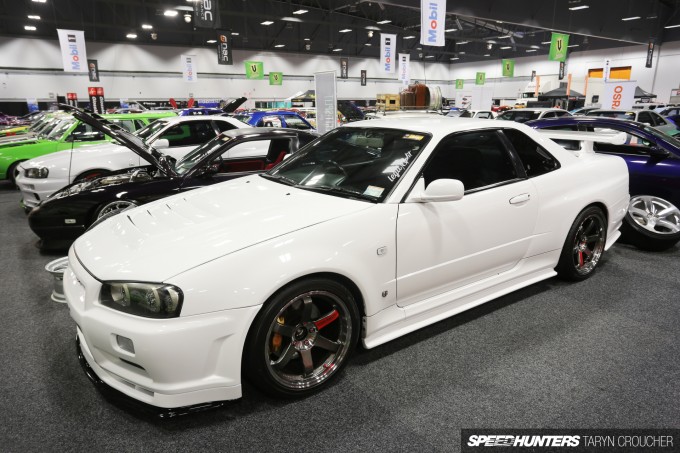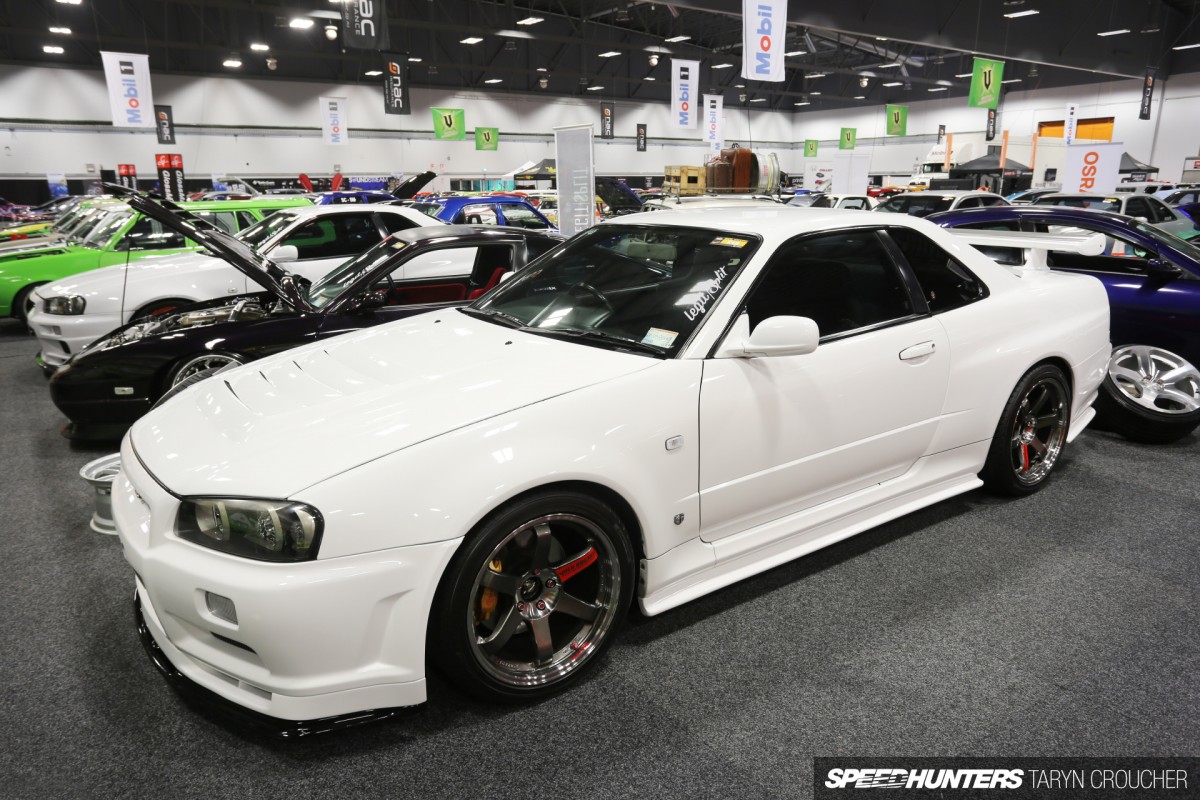 The R34 GT-R had a massive presence at this year's show, and I was glad to see this gorgeous white example back in the hands of its rightful owner after it went on a little, err… adventure recently. The driver was involved in a terrifying car-jacking incident late last year, where a gun was held to his head shortly before he watched his precious R being driven off into the night by some idiotic thieves. This was a bit of a shock to all of us here in NZ, as we see about as many car-jackings as we do polar bears. I'm not sure how the culprits thought they could get away with such a shameless act – but I believe both of them were caught and prosecuted in the end.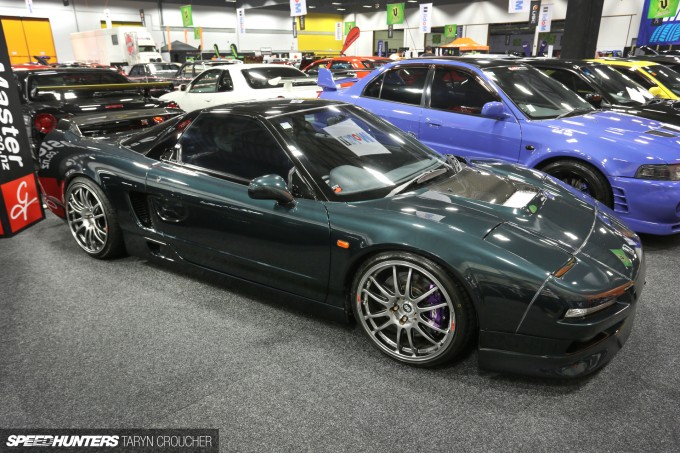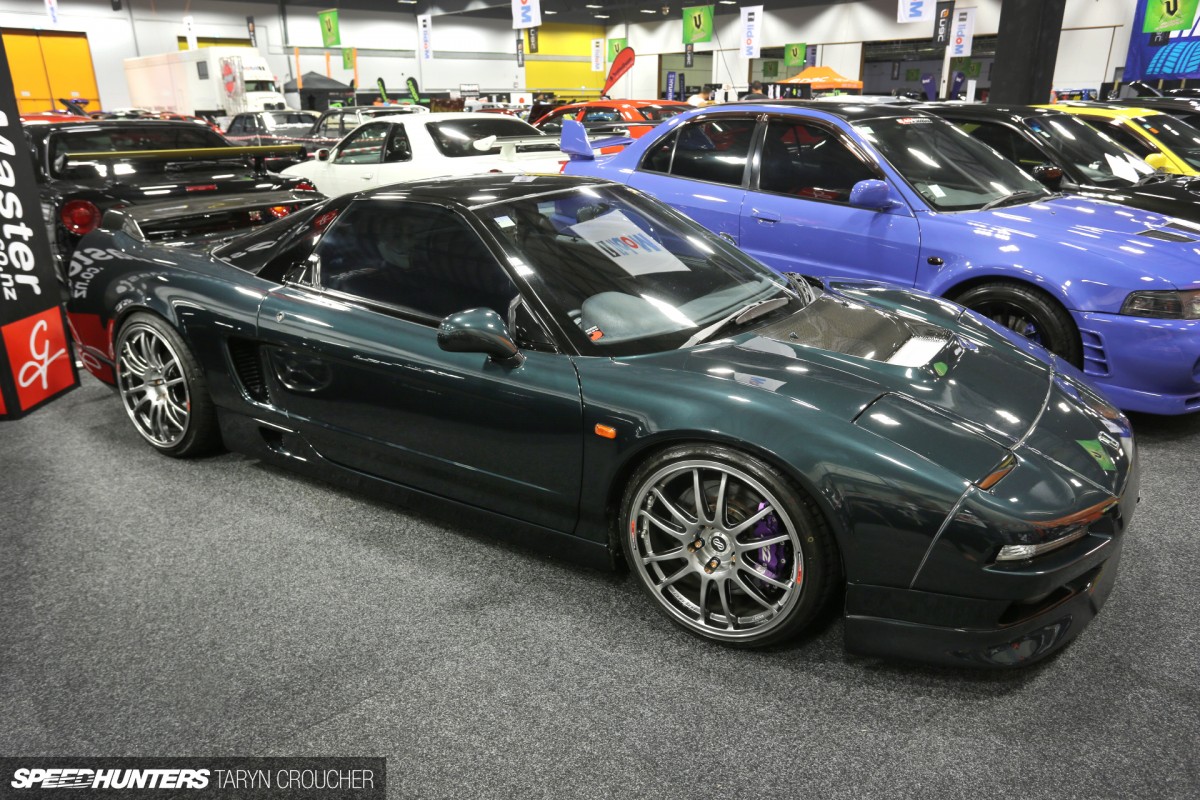 Paint restoration specialists Gloss Master had a large stand with a variety of badass modified rides, including two Honda NSXs in beautiful condition.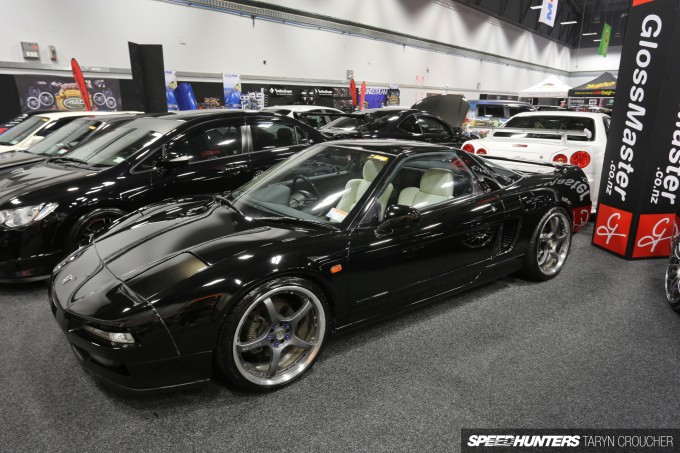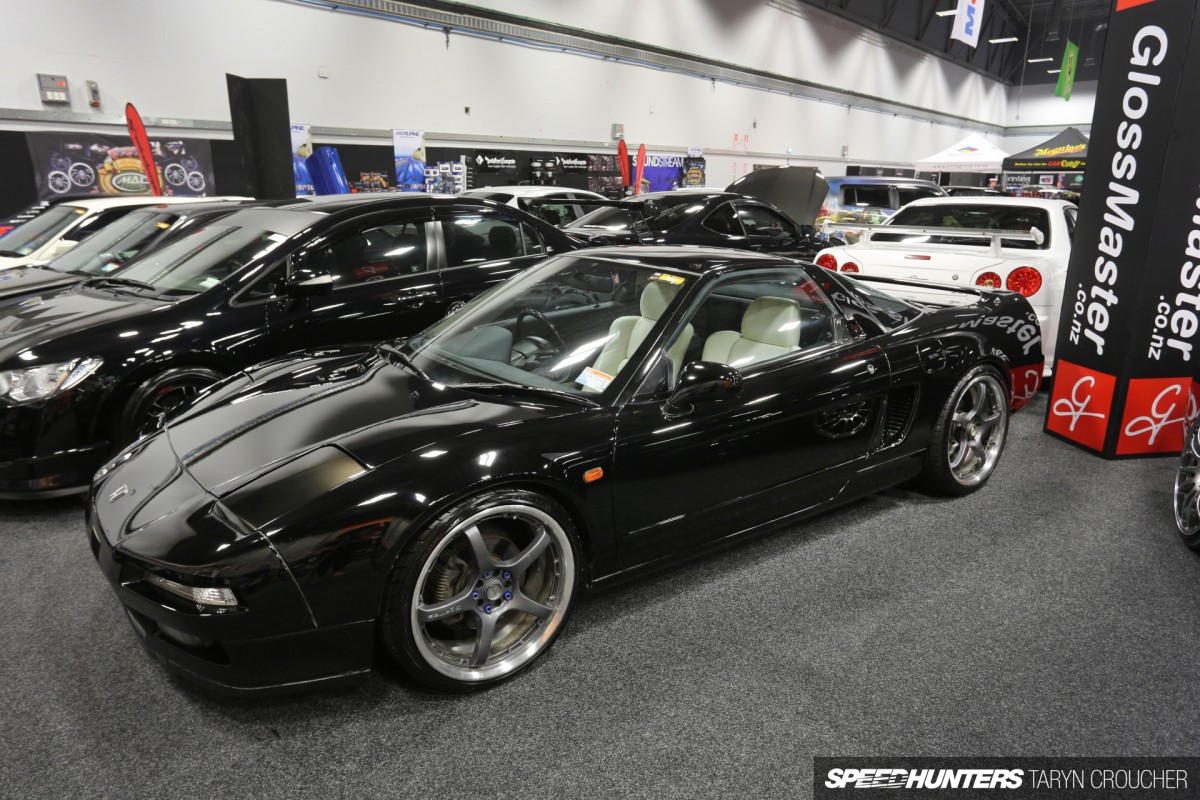 I later found out that the owners are brothers – it must be pretty fun to have that share that kind of bond with your sibling! Somehow I don't think I could ever convince my sister to roll in a modified Japanese street car convoy with me…
More than just a car show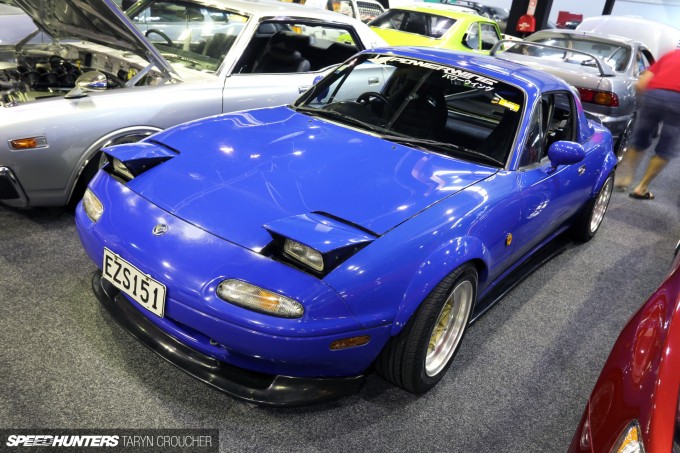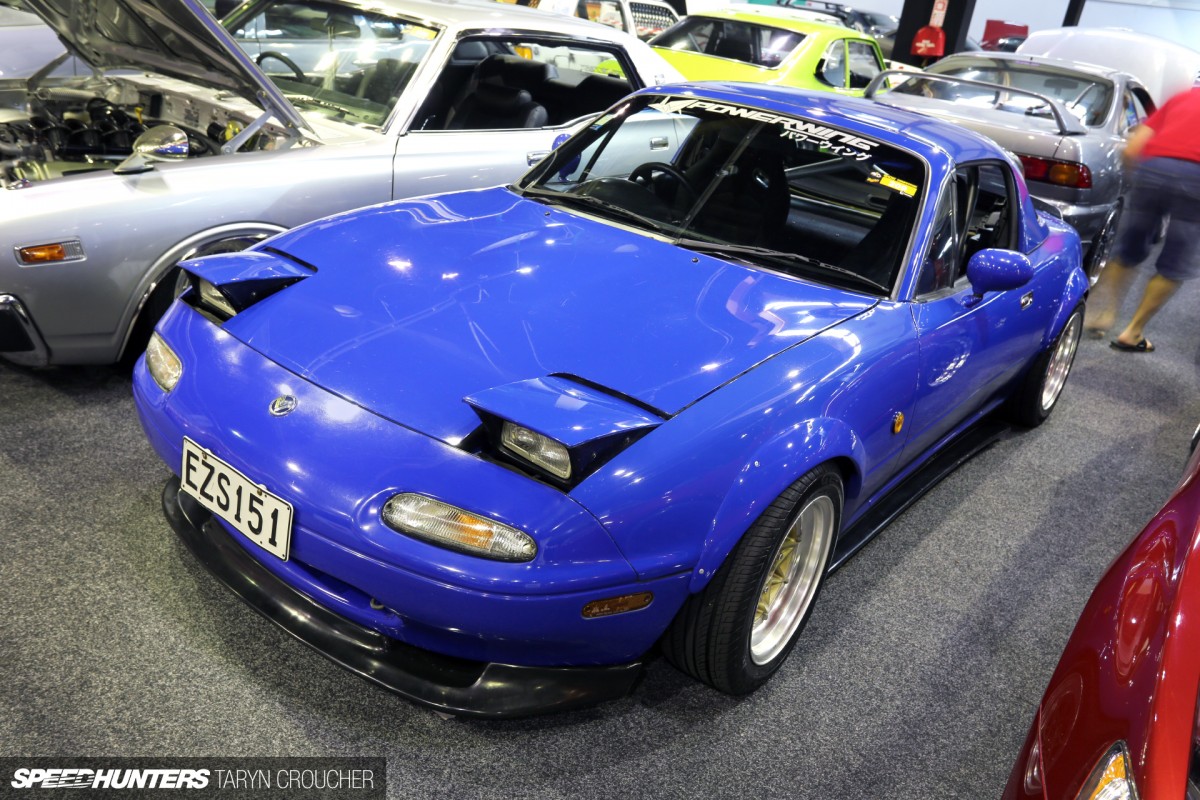 On the subject of females getting behind the wheel, I've been following Hayley Culverwell's Mazda MX-5 build for at least three or four years now, and was pleasantly surprised to see the car looking virtually complete at the show. The little Roadster has undergone a manual conversion and now sports a Garage Vary front lip, SSR Starsharks and a range of products from the Project-G catalogue. The NA6 motor remains stock, but somehow I don't think that'll last for very long.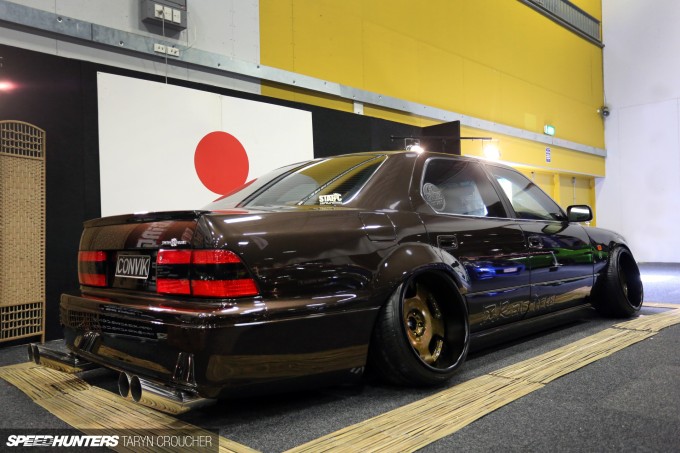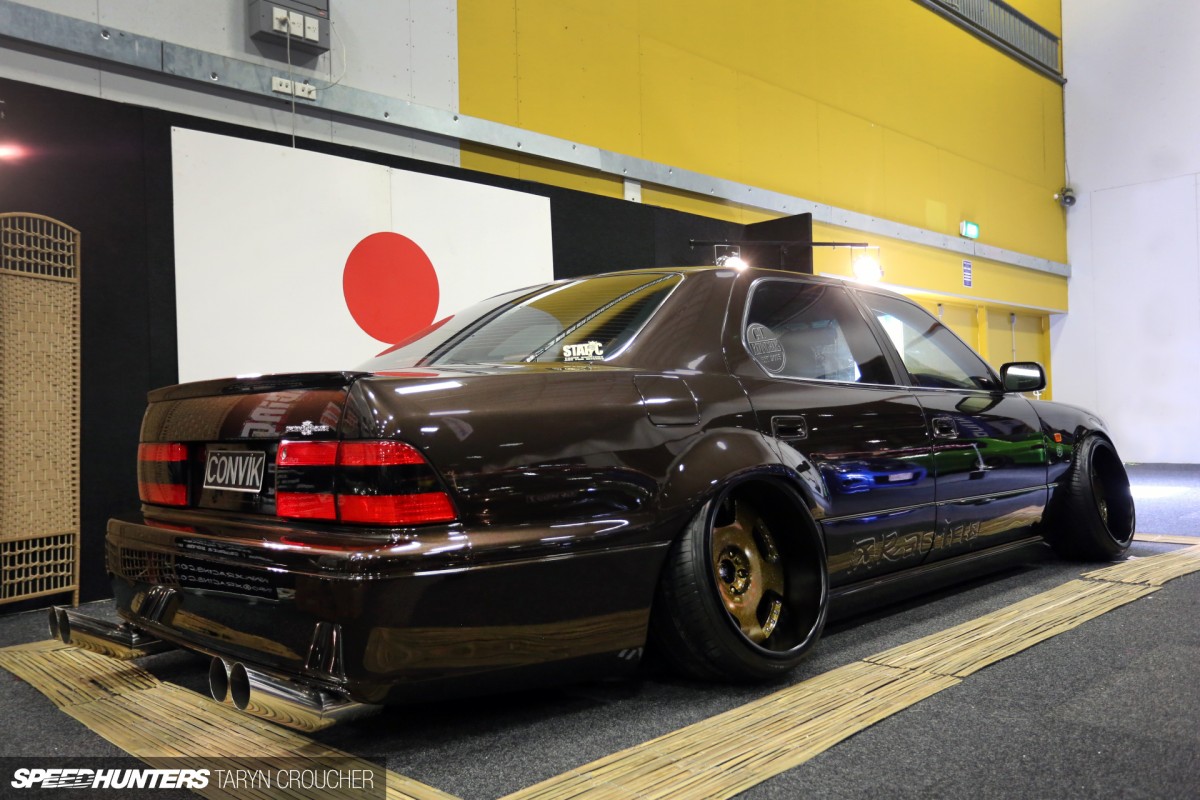 Bringing a slice of Japan's VIP car culture to New Zealand was Vick Bhatti's newly finished Lexus LS400. Why is it that I feel like I'm stuck in one of Dino's stories again?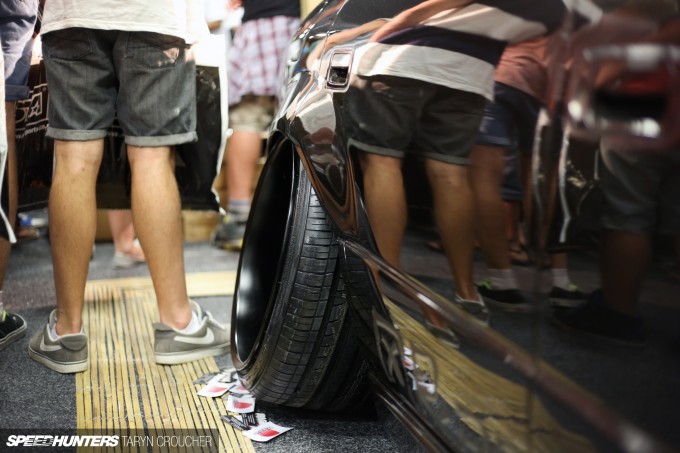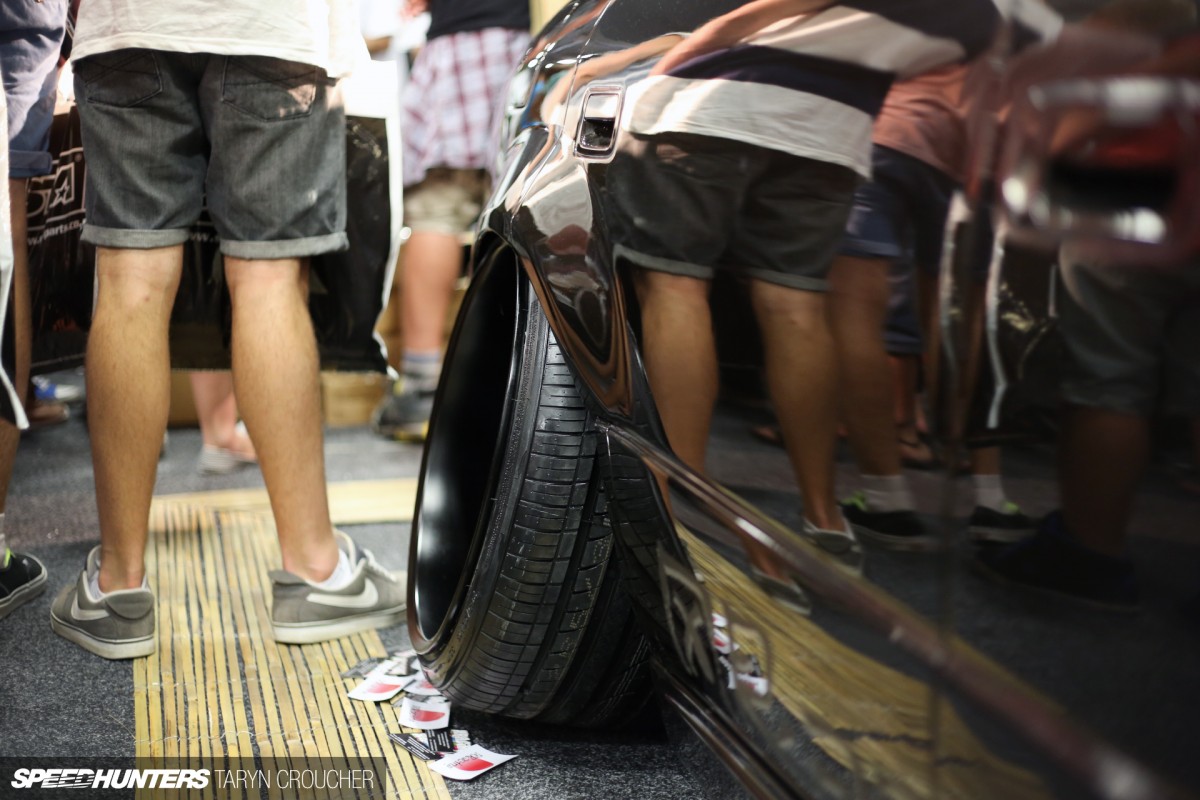 Probably because the massive sedan would look right at home at a Japanese VIP car meet, especially because it's not lowered on air-suspension. The massive 19×11 and 19×13-inch Work Eurolines were sticking out from the widened arches like nobody's business, and had many people scratching and tilting their heads in confusion as they tried to figure out what on earth was going on with that extreme negative camber!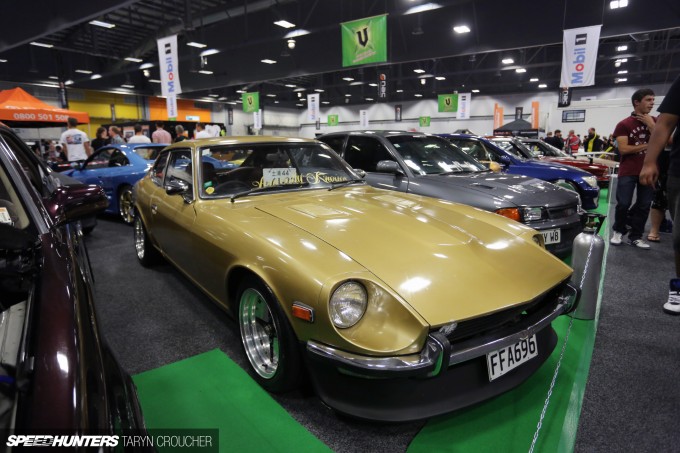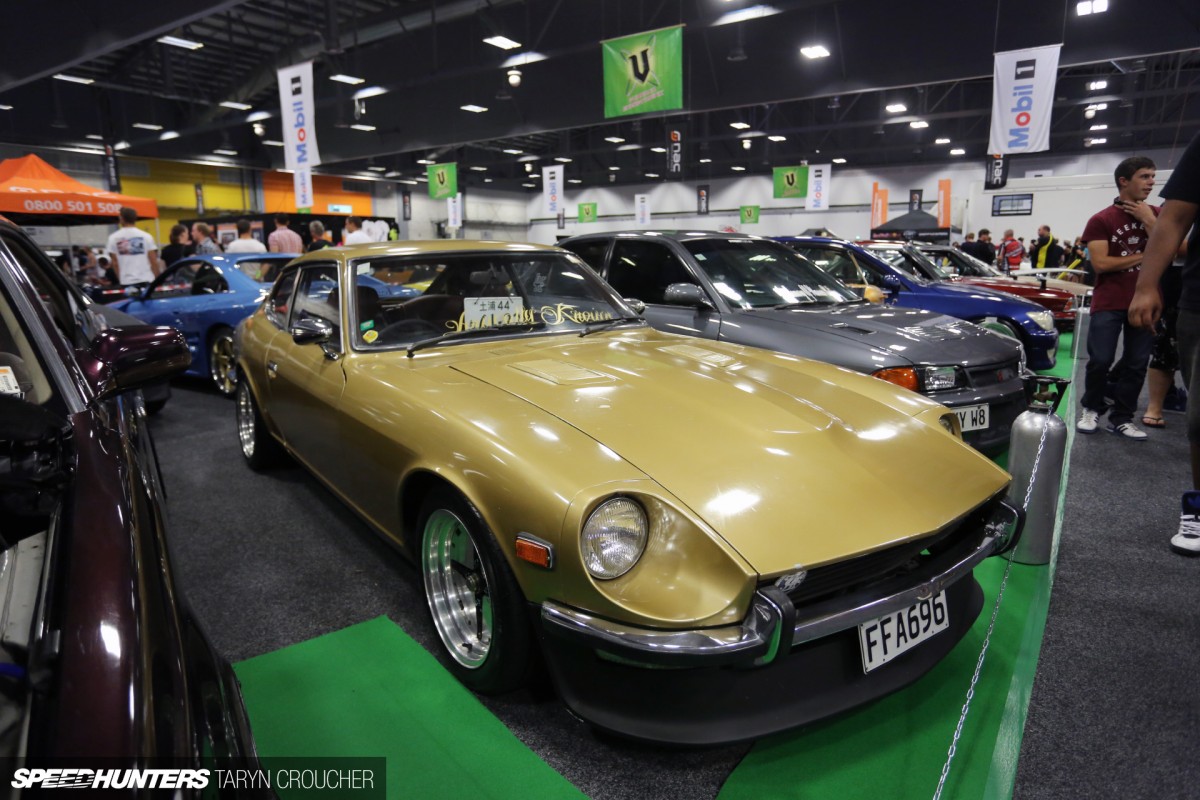 It was great to see this Datsun 260Z 2+2 receiving some attention, and for the right reasons. It might not be for everyone out there, but the combination of the original gold paint and brown leather interior gives the S30 a rad retro vibe, accentuated by the front air dam and vintage Hoshino Impul wheels. This gold is actually the original colour of my S30 too!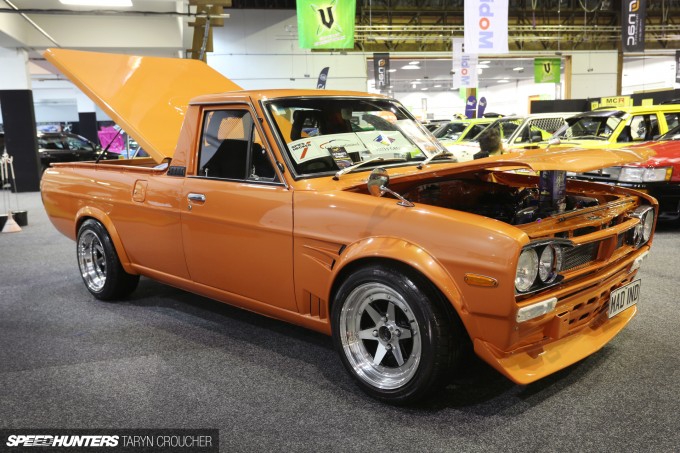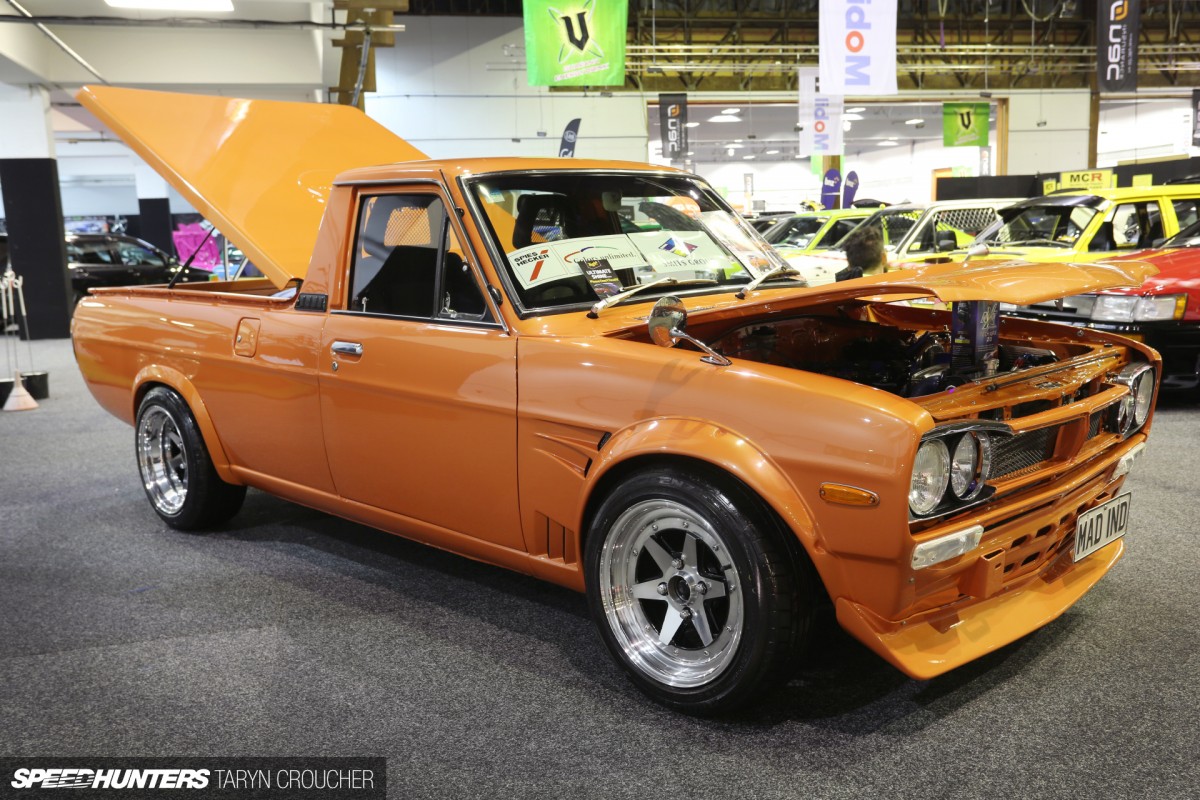 This Datsun Roadstar has been kicking around the New Zealand scene for a little while now and runs a forged 4A-GTE set up, nitrous and a clean set of SSR Longchamps. For this year's event, owner Abhinesh Pratap turned up to the show hall with a new look for the car, based around a 2000GT Skyline front end conversion; pretty unique huh?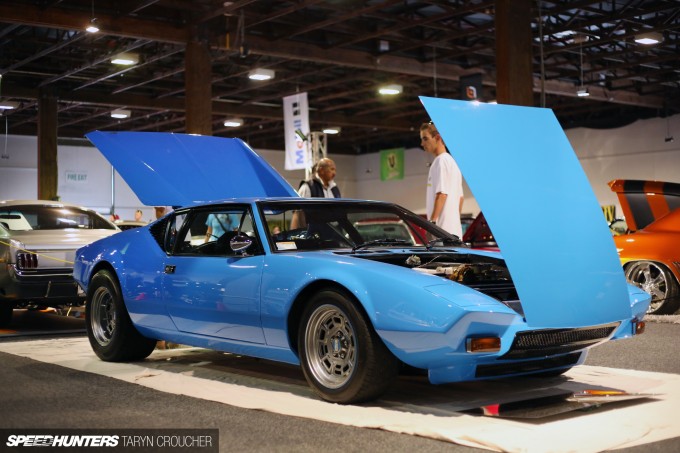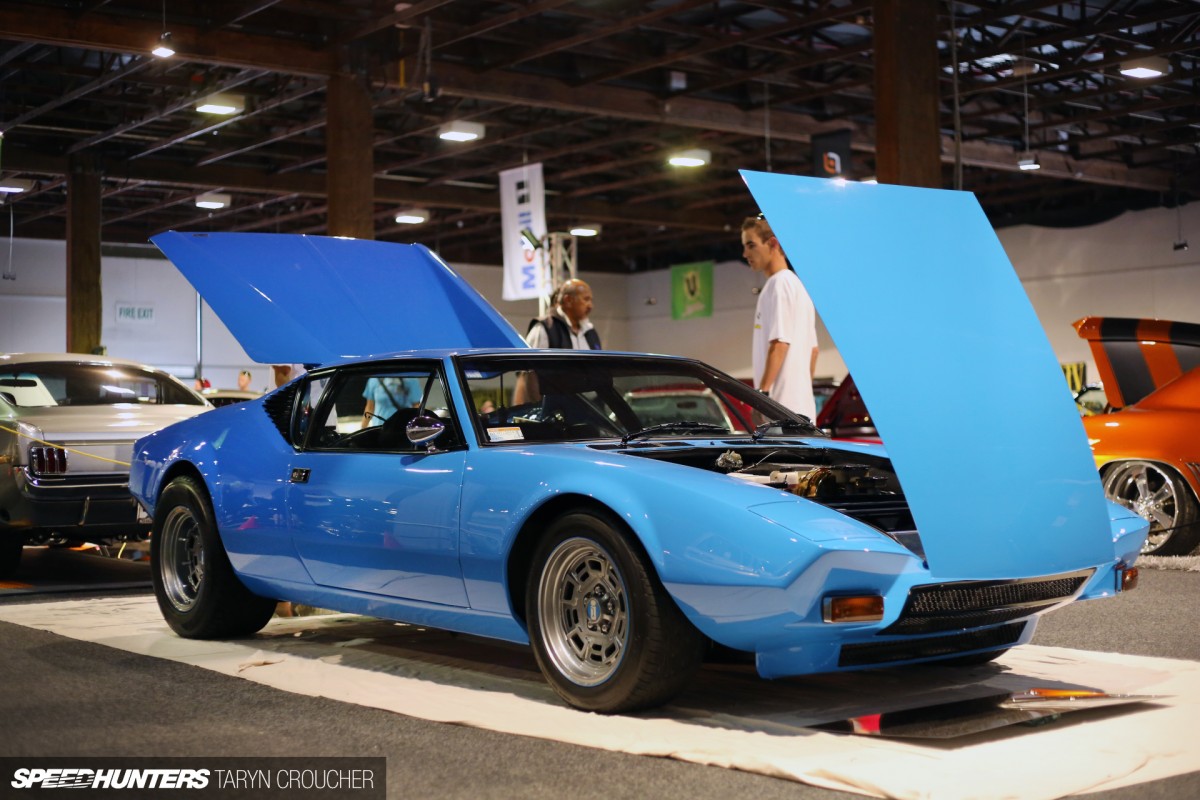 The classic car section of the show had many beautifully restored vehicles on offer, but if I had to choose one it would have to be this mesmerising '72 De Tomaso Pantera, having been fully stripped back and completely rebuilt down to every last nut and bolt.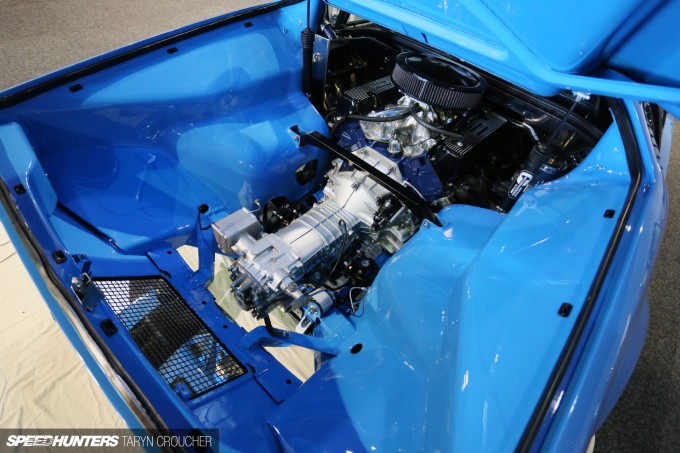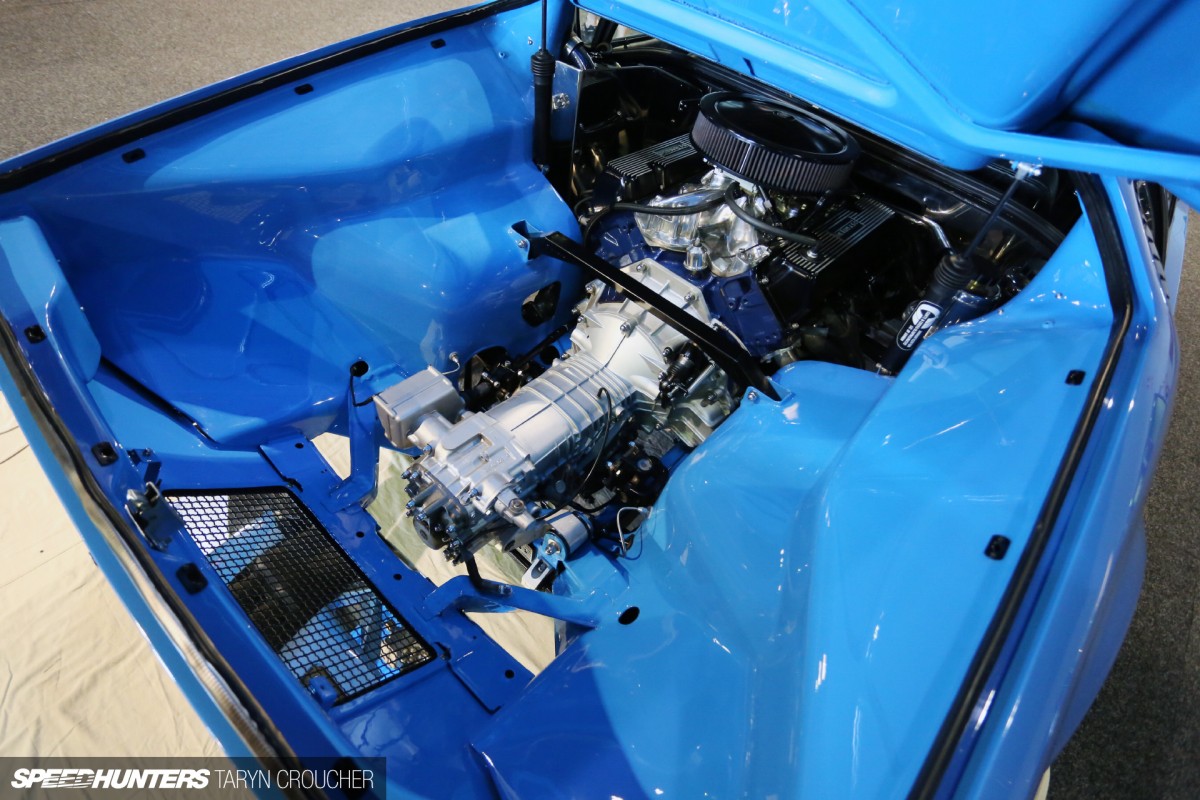 As I walked around to the back of the car, I was pleased to set eyes on the original Ford 335-series V8, refreshed to an absolutely pristine state. There must only be a handful of these Italian beauties in New Zealand, so getting to closely examine one in this condition was a real treat. I think my mouth was watering by this stage.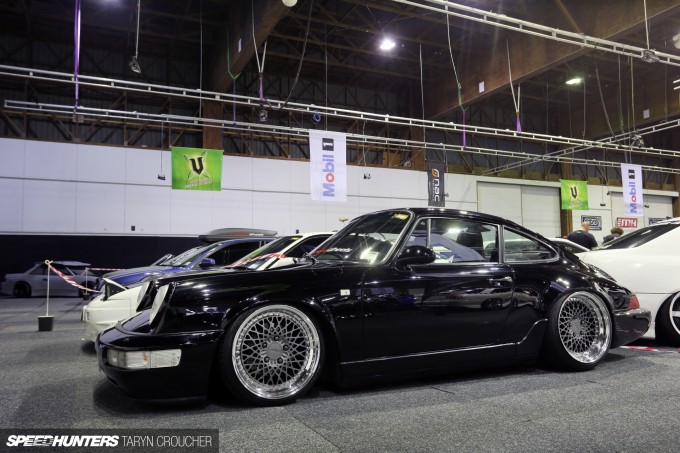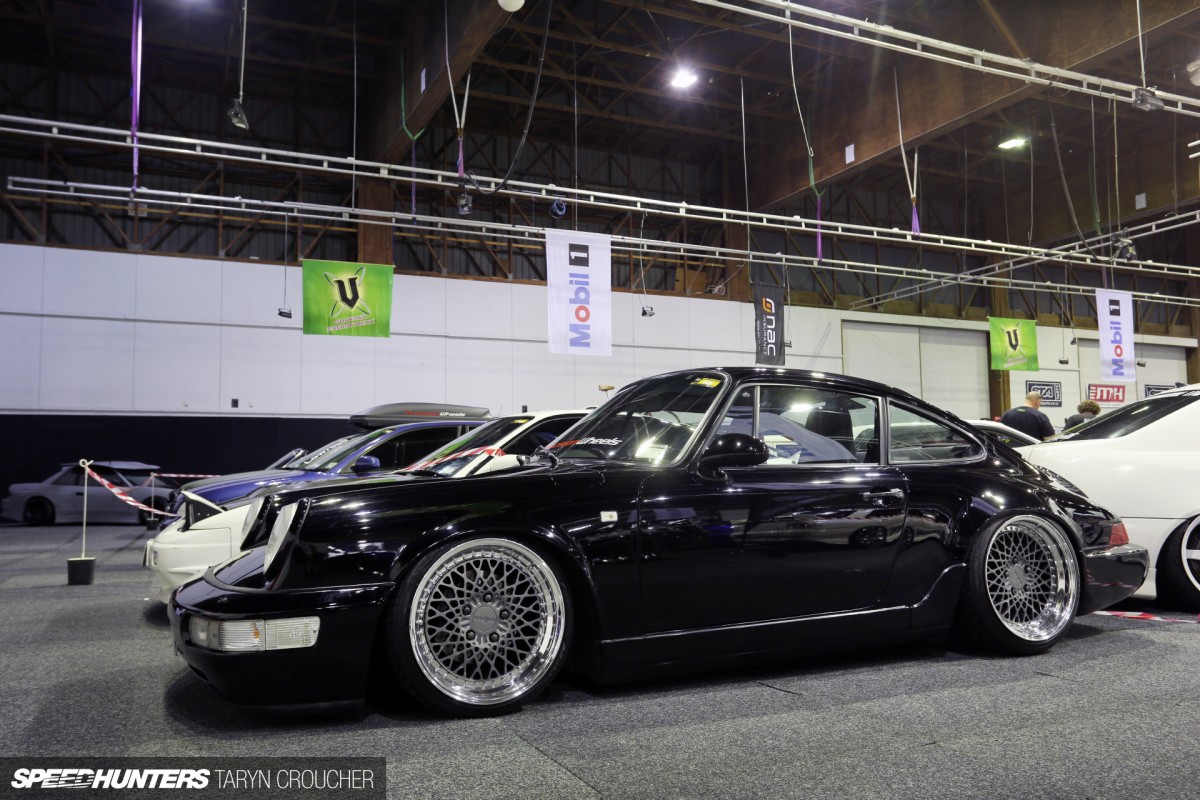 Ant Hassett's bagged Porsche 964 on Rotiform LHR wheels was easily the classiest European ride on display. I can't look at an older model black 911 without the Blackbird 911 Turbo from the anime series Wangan Midnight coming to mind. Is it just me, or does anyone else have one of these on their dream car list?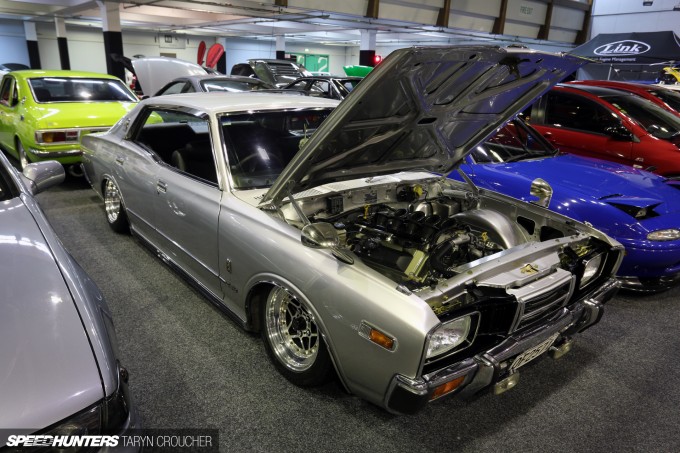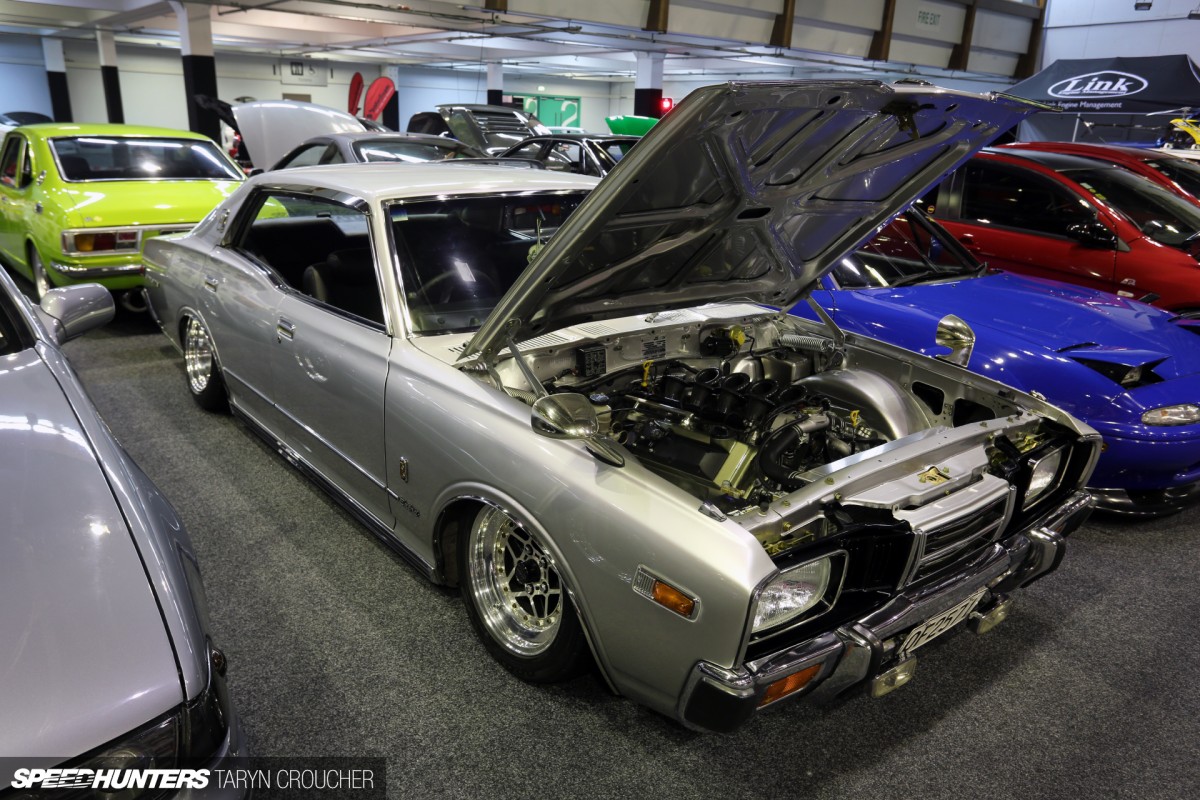 John Van Beek's incredible VH41-powered Nissan Cedric took away three awards for Best V8, Best Nissan and Best Engineering. The poor lighting and squished surroundings in the tightly-packed hall just didn't do it justice at all though, so I took it upon myself to conduct a mini photoshoot of this car after the show. Expect to see a few desktop worthy images in my next Project Car story very soon!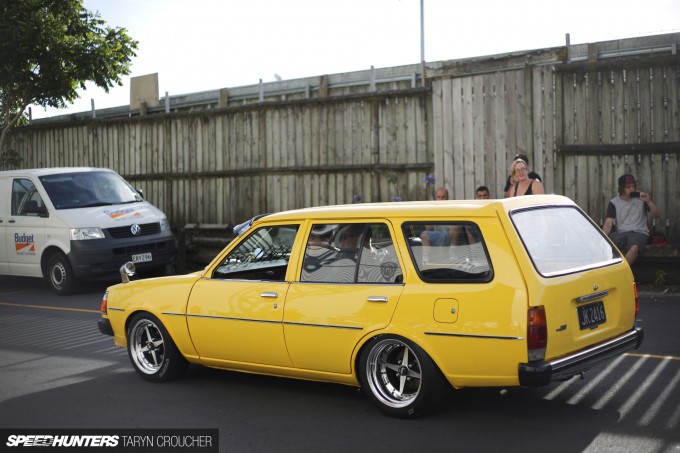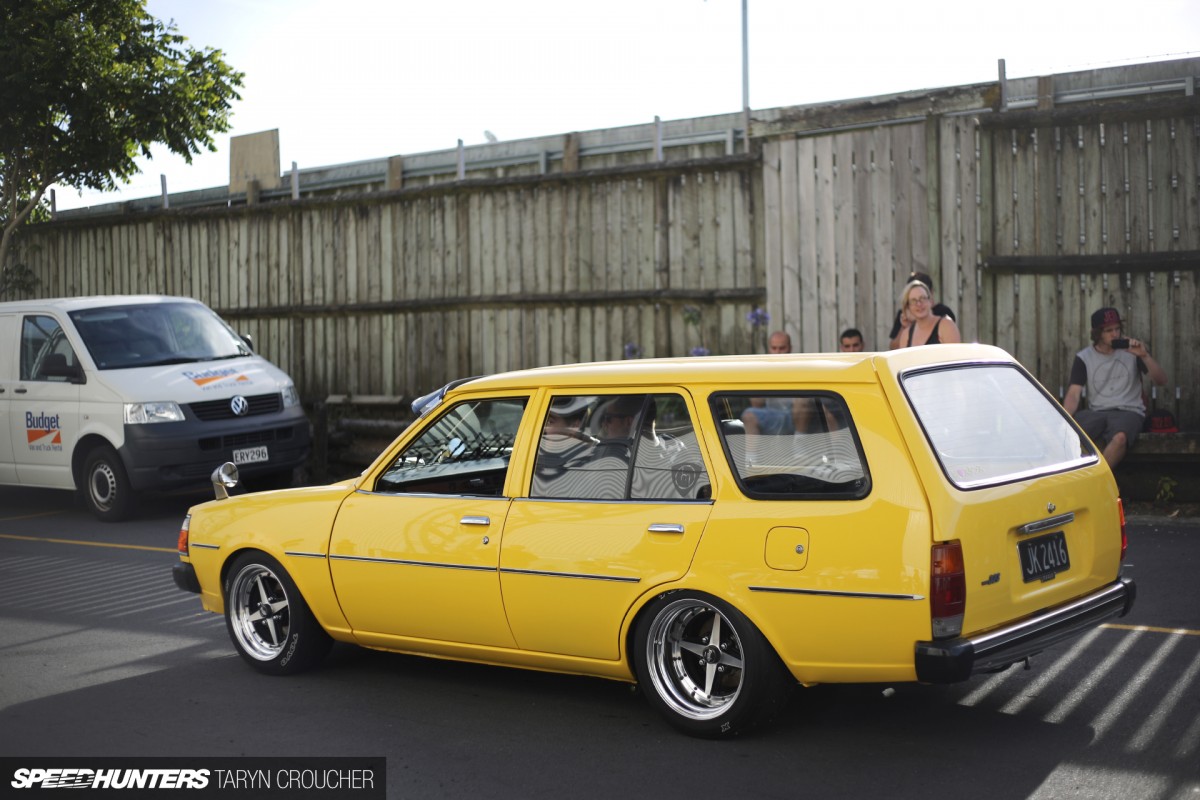 To some of the spectators that walk through the doors at the 4&Rotary Nationals, this show may be just something to pass a lazy Saturday with, or something to do with the family and get out of the house. But to me and many of the other keen entrants involved (and I'm sure this applies to the 4&Rotary events team too), this buzzing metropolis of like-minded petrolheads is like home to us. Although it may sound cheesy, it really is more than just a car show. Business cards are exchanged, friendships are formed and new kinds of automotive inspiration and motivation are discovered here. It's an integral part of our car community, and I hope I can take part in it for many more years to come!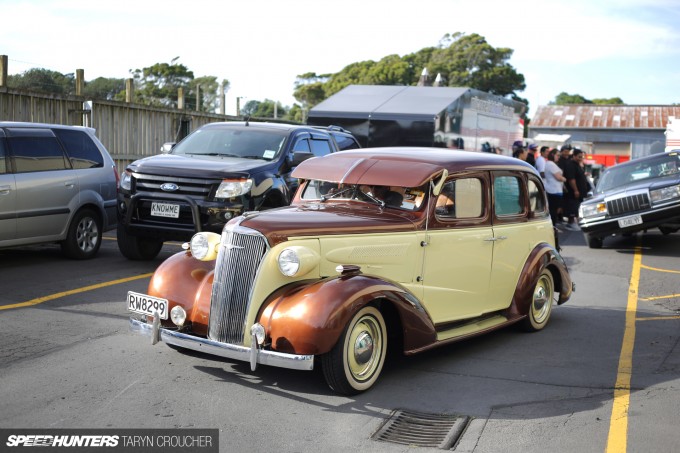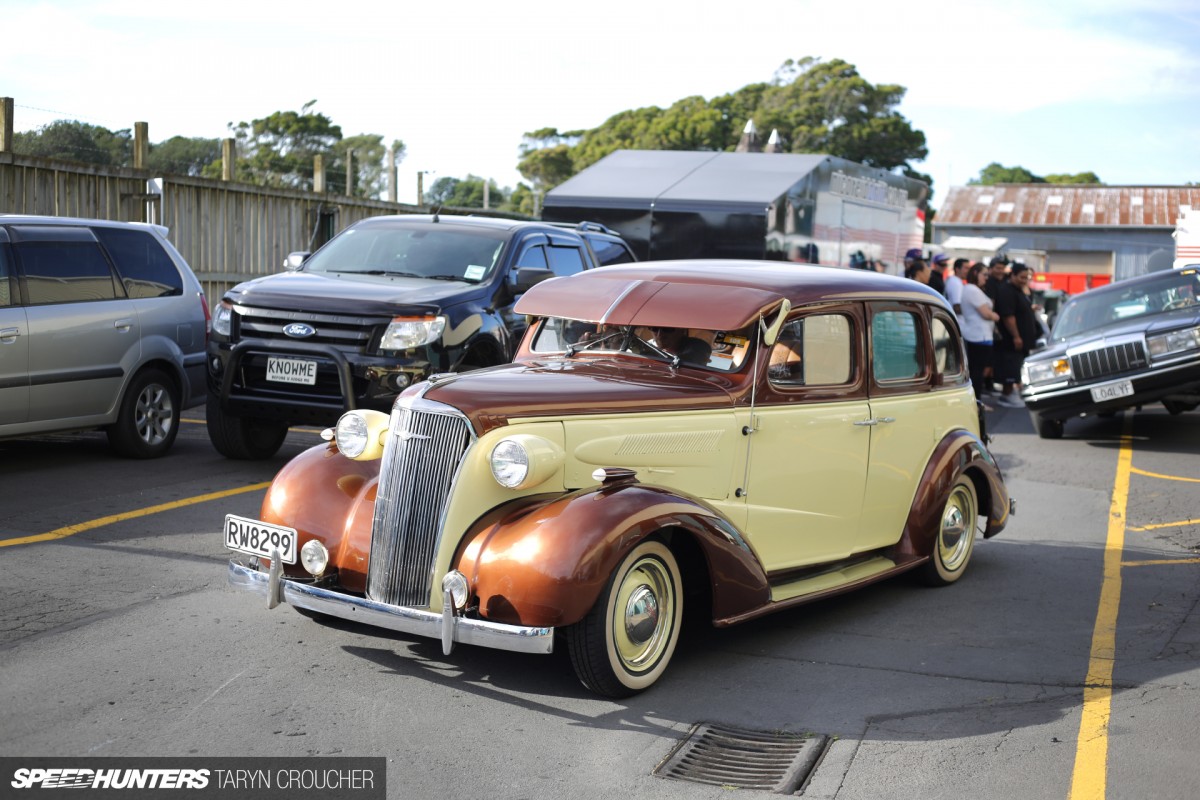 I hope you've enjoyed taking a look at some of the stunning machinery on offer at the 2014 V 4&Rotary Show and Shine. Stay tuned for an eye-watering, flame-filled event report from the second half of the V 4&Rotary Nationals though – the Drag Racing competition at Fram Autolite Dragway…