I've always been fascinated with the love our antipodean friends seem to have for the rotary engine. It's not so much a passing interest, oh no, they've developed quite the affliction with the buzzing Wankel. Our first trip to Australia in 2010 is where we got our initial exposure of all things rotary, when we visited places like PAC Performance and JC Racing, allowing us to enjoy the more drag-oriented applications. A few weeks ago at the Formula D Asia round in Calder Park however, we got treated to a slightly different and even more aural interpretation of the rotary…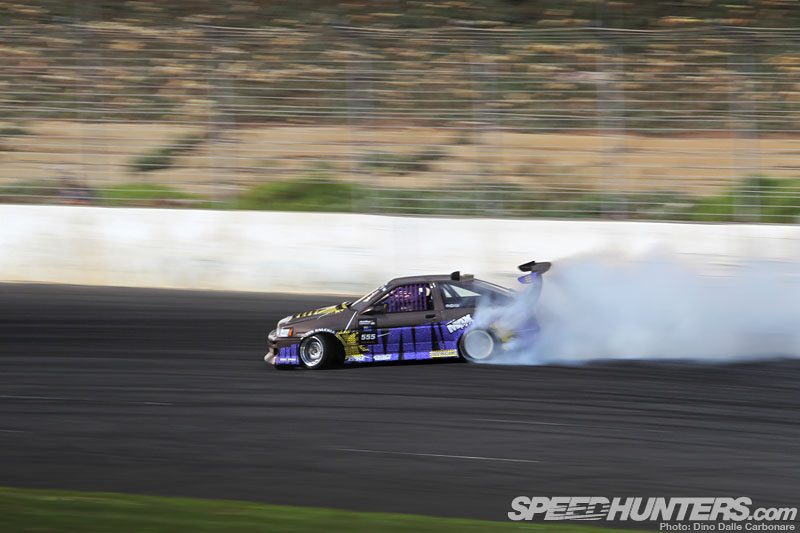 … courtesy of a couple of well-known New Zealanders. While we know all about our very own Mad Mike Whiddett and his four-rotor FD3S RX-7 , it was Hugo Maclean's AE85 Levin that quickly grabbed everyone's attention. Despite the fact that he spent much of the weekend fighting some rather annoying clutch issues, the few outings he had definitely didn't go unnoticed – something that is pretty easy to do when your little hachi is propelled by a screaming 400hp-plus rotary motor.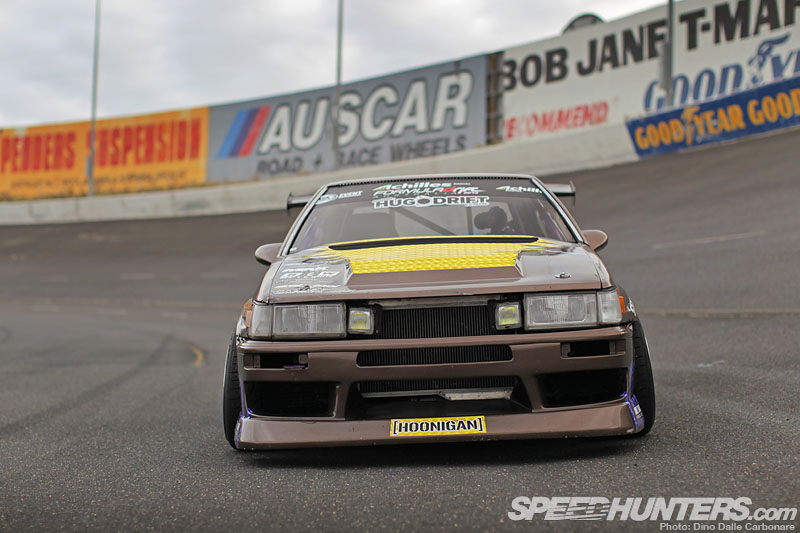 There was no way in hell I was going to fly out of Australia before getting a chance to shoot this insane Levin, and I have to give a special thanks to Hugo and his team for giving me time with the car early on Sunday morning, bringing it out onto one of the Thunderdome's steep bankings just after they managed to mend the clutch ready for the day's main competition.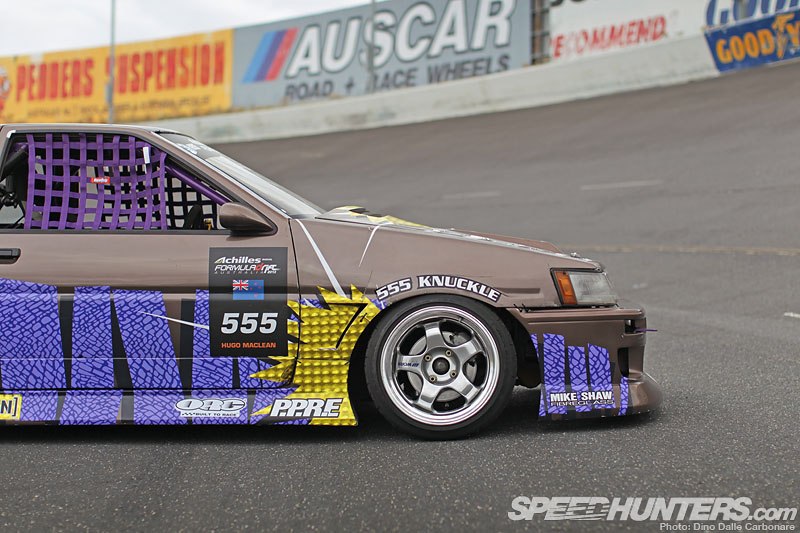 Hugo purchased the car years back at the age of 16, picking the AE85 up cheaply after it had been crashed. At the time it was running a Honda F20C motor out of an S2000 so already sported a decent set-up. He stuck with that for a while before adding a turbo, allowing him to push power all the way up to the 550hp mark. That incidentally, was also around the same time we became familiar with the car here at Speedhunters.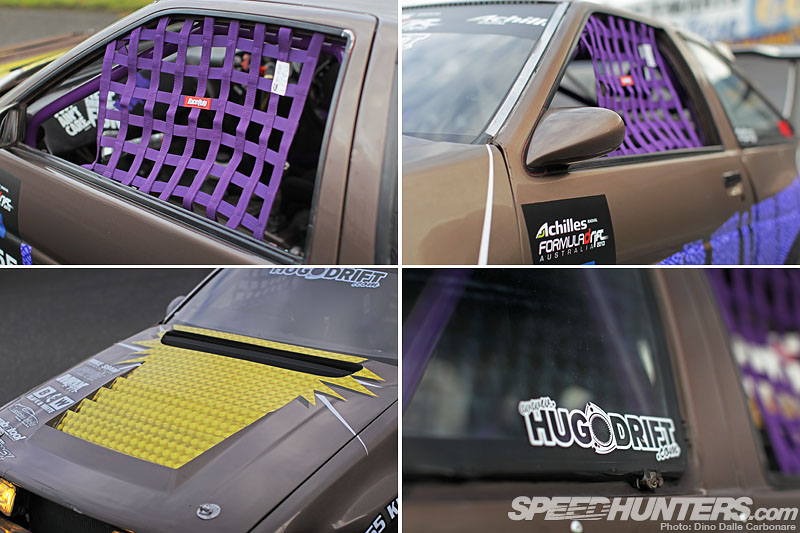 He eventually replaced the boosted Honda motor in favor of some rotary power, fitting a 13B running a similar amount of performance. He also began dedicating more time to the chassis, exterior and interior…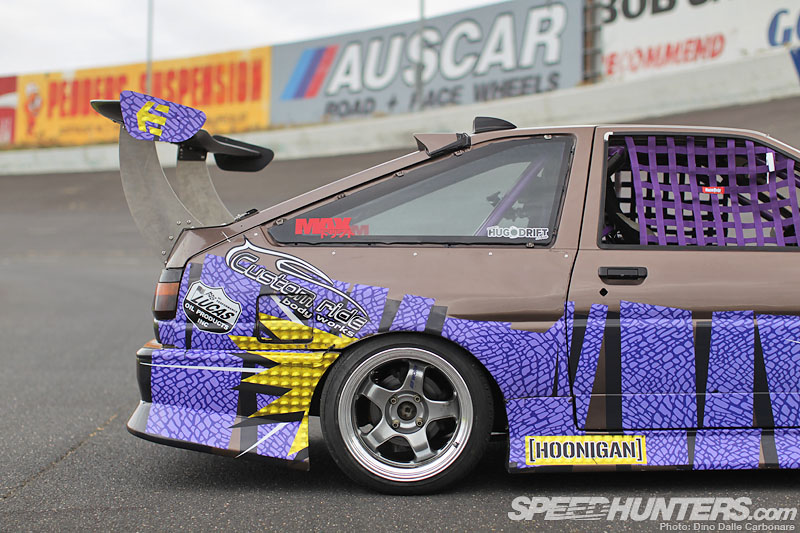 … slowly turning it into the car you see here. Today the Levin sports a full BN Sports body kit along with j.blood wider fenders, D-Max vented hood…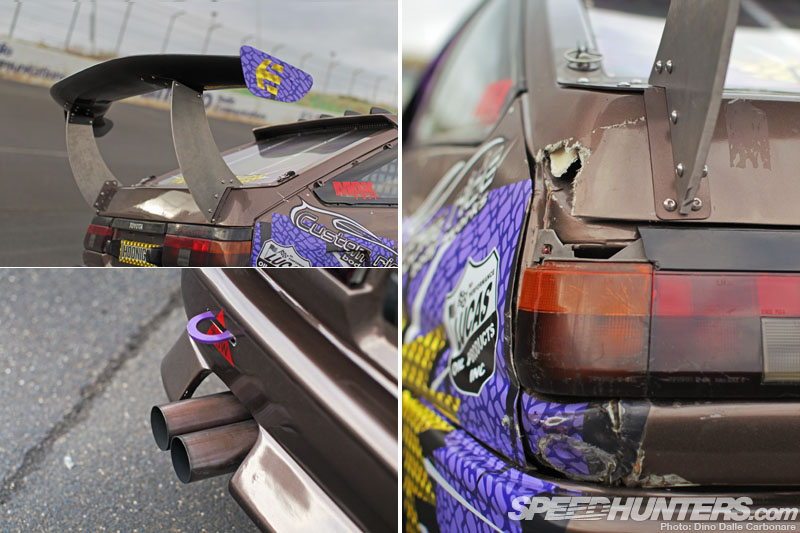 … and a Mike Shaw Fiberglass hatch. The curved C's Garage wing stays and big GT-style wing make it pretty easy to recognize among other Corollas…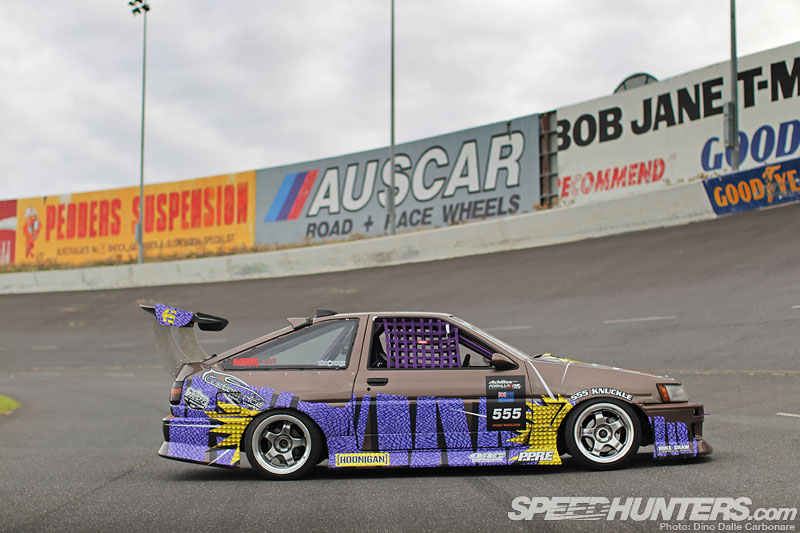 … and is a necessary addition to help Hugo keep the rear end planted through the faster drifts. The stiffened and caged chassis runs on Parts Shop MAX Competition coil-overs with geometry addressed through custom front lower arms and caster arms, as well as 555 knuckles to maximize steering lock.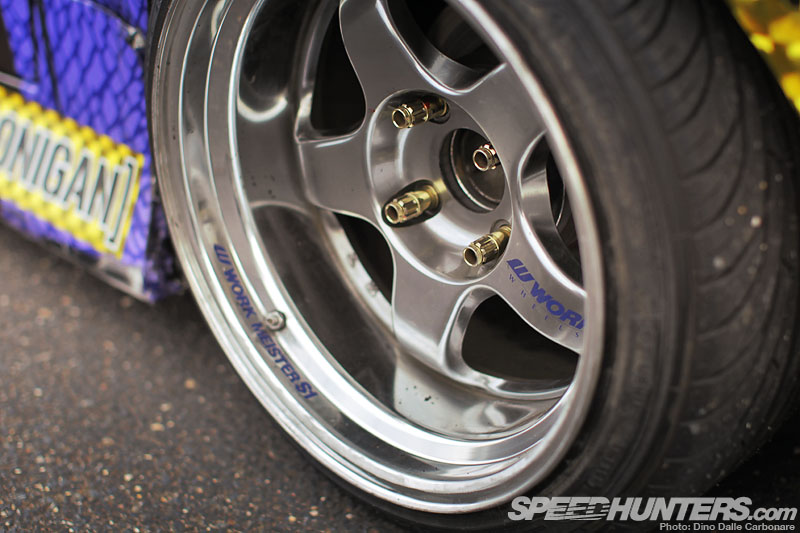 A set of deep-dish 16-inch Work Meister S1s have been fitted in the wheel department, measuring 8.5-inch across the front and slightly wider 9.5-inch at the rear. Hugo runs grippy Falken 615K in 205/40 size at the front with the rear smoking duties taken care of by 215/40 Nankang NS2s. Hiding behind the Meister's spokes hides the car's braking system made up of 4-pot Lockheed front calipers with the rear running twin Nissan S14 calipers – one set exclusively used for the e-brake.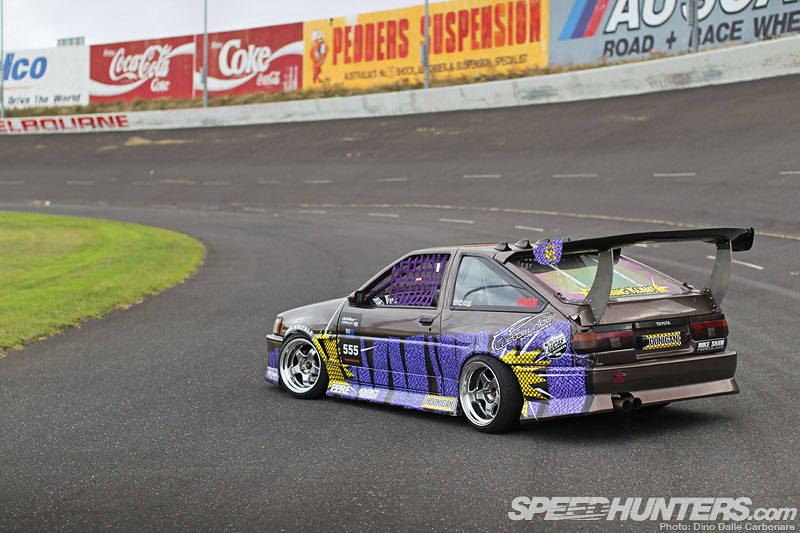 This is no big budget build, and precisely because of this, it all oozes a sort of authenticity embodying a very Japanese feel but mating it with some interesting touches. It's the epitome of a drift car – self-funded and built over time, but one that now hides a very special and unique detail. After running the 13B…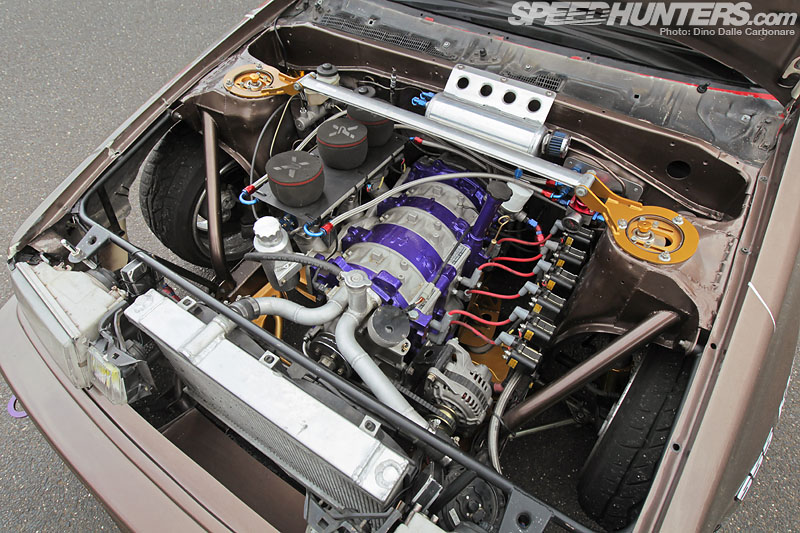 … Hugo decided it was time for a bit of a change and so got the guys at Pulse Performance Race Engineering (PPRE) to built him up the mother of all three-rotor engines. This is the same shop that built Mad Mike's four-rotor engine. There is no turbocharger to be seen, Hugo preferring to trade off outright power in favor of electric-like response…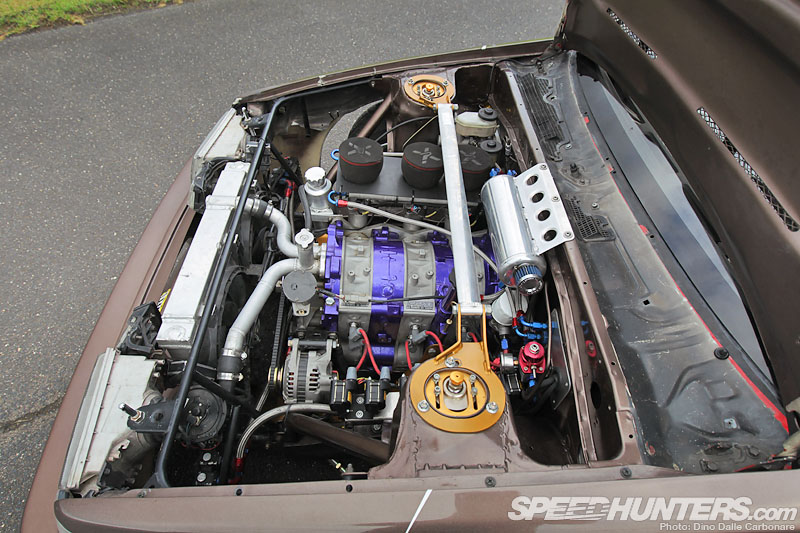 … and the intoxicating scream of a peripherally-ported, naturally-aspirated Wankel. Once you hear his AE85 out in action…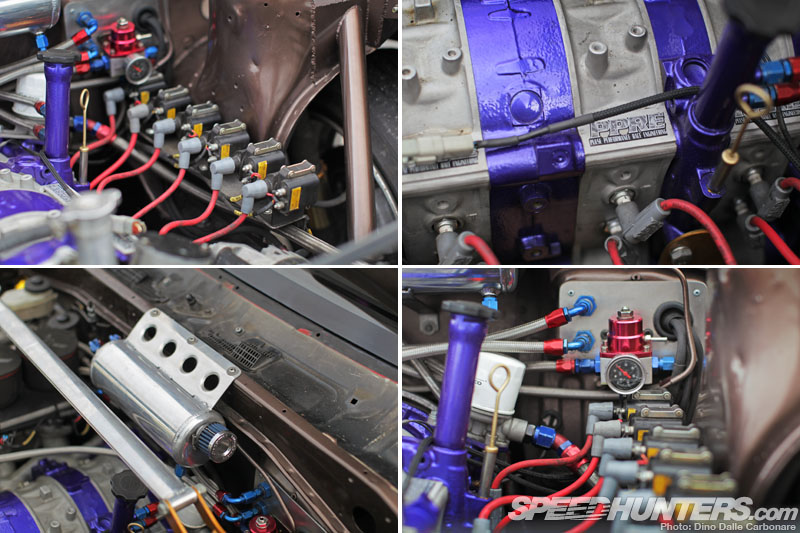 … it's hard to fault his decision; the car boasting a very unique character and the sort that steals the hearts of crowds. Like I mentioned, it was just a pity that a small clutch issue kept Hugo in his pit most of the weekend as this is one car – along with Mad Mike's FD and Aasbø's RS-R 86 – that perfectly represent what the modern-day competitive drifting scene is all about.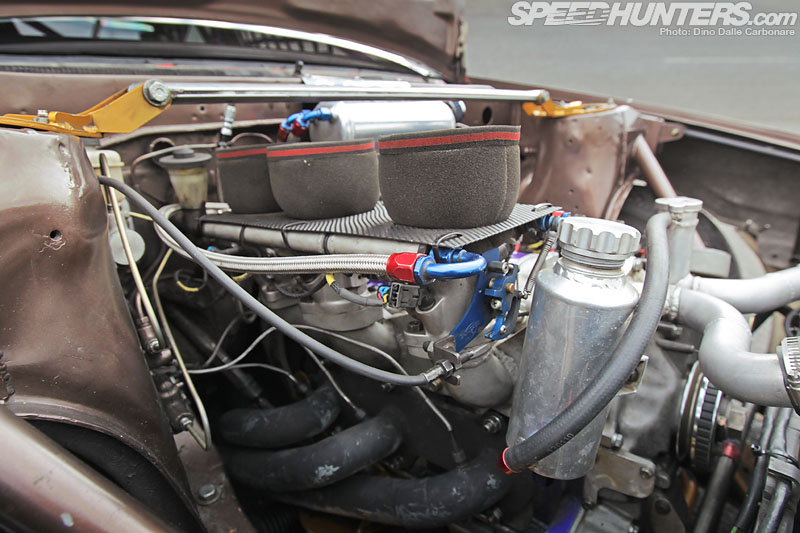 The three-rotor breathes through custom intakes with 55mm throttles, the velocity stacks topped off with a some filters to avoid the engine swallowing up too much debris. This is because most of the front end has been cut away and replaced with a tubular frame, so there's not much to stop anything flying in.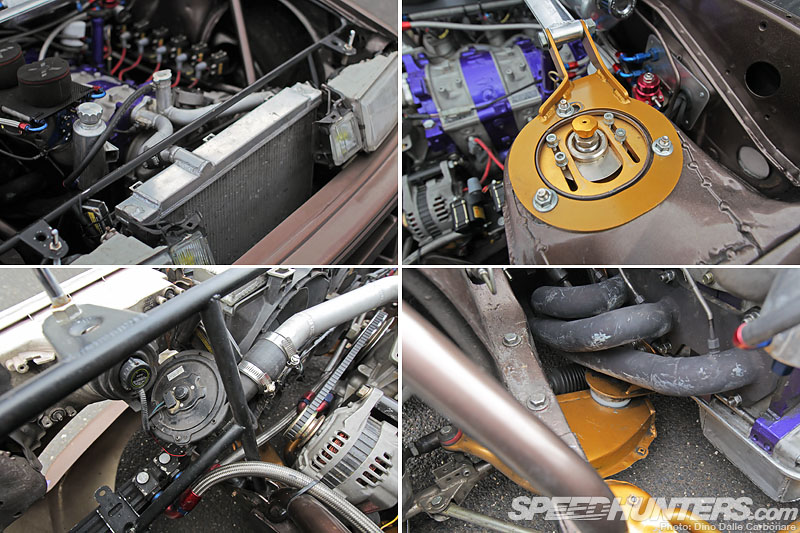 You can see this in the bottom right picture above; the exposed suspension arms, subframe and engine mounts, not to mention the Sinco exhaust manifold.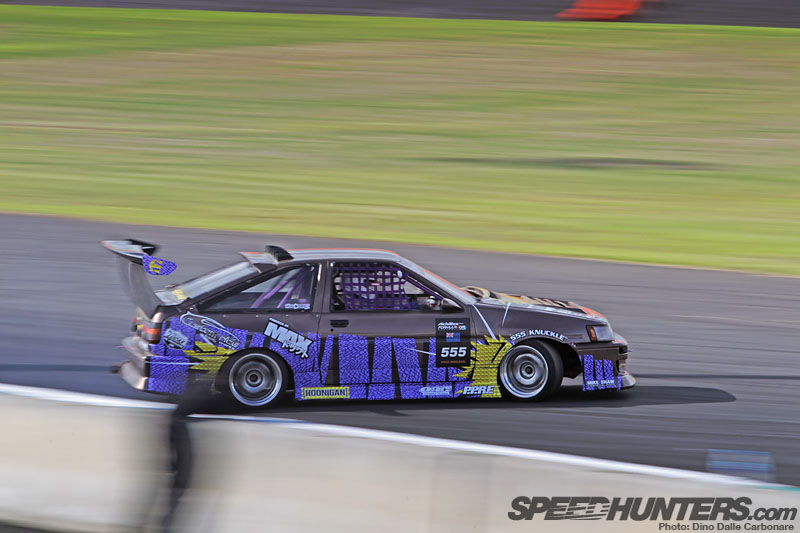 It's a real pity this picture isn't accompanied with sound, but then again that's what YouTube is for!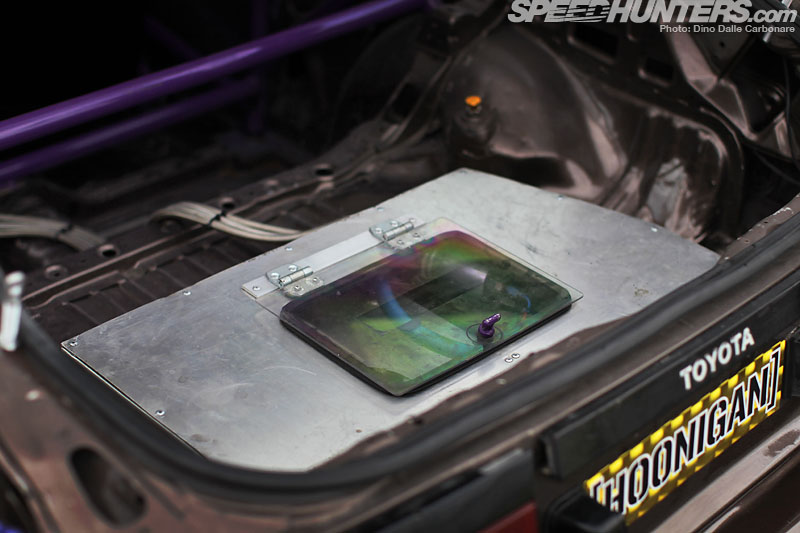 The fuel system has been closed off in its own enclosure, in the rear of the car…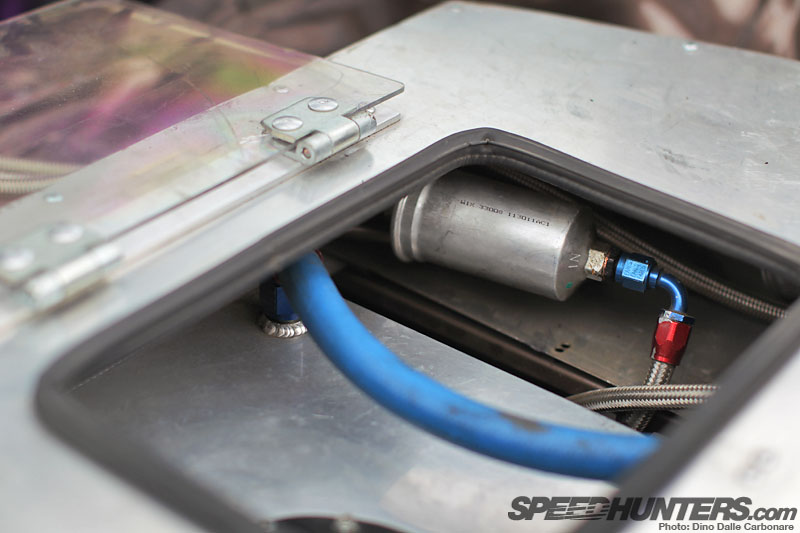 … accessible via a transparent door that allows you to get to the fuel cell, the fuel lines and the pump.
Swing the door open and the purple on metallic brown color theme…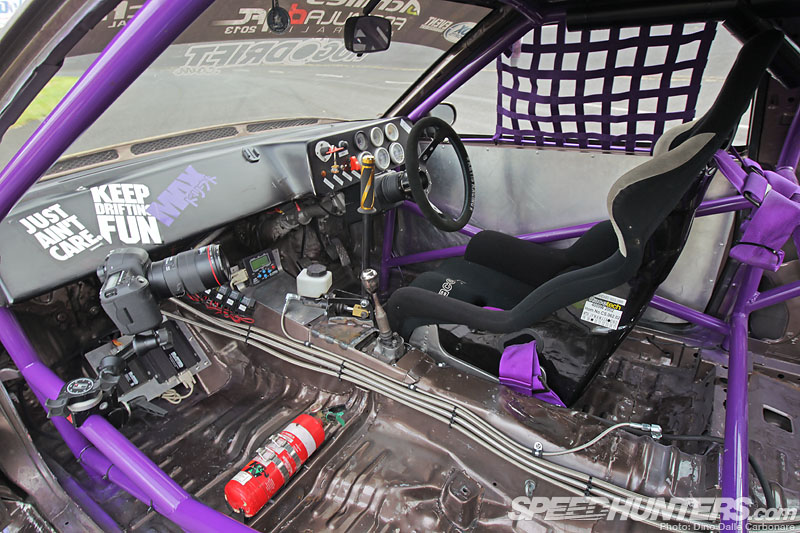 … is continued beautifully on the inside. It's all business in here, aside from the main dashboard everything having been stripped out.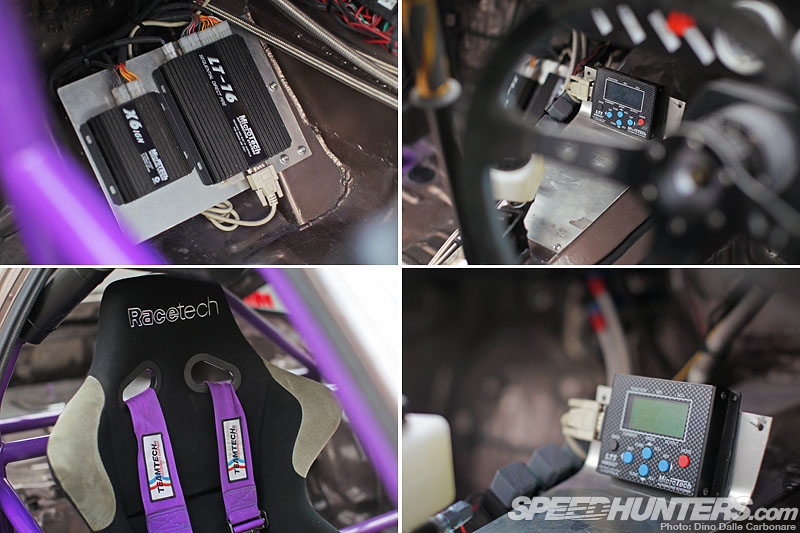 The PPRE three-rotor, its ignition and EFI is all controlled by the MicroTech ECU, neatly laid out in the passenger side footwell. The matching MicroTech controller allows access to the fuel and ignition maps on the go, while displaying data on its LCD screen.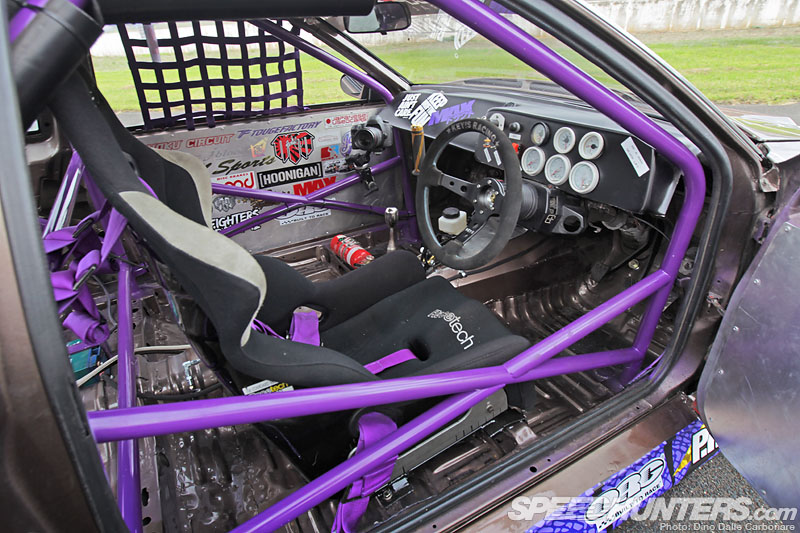 Hugo sits on his…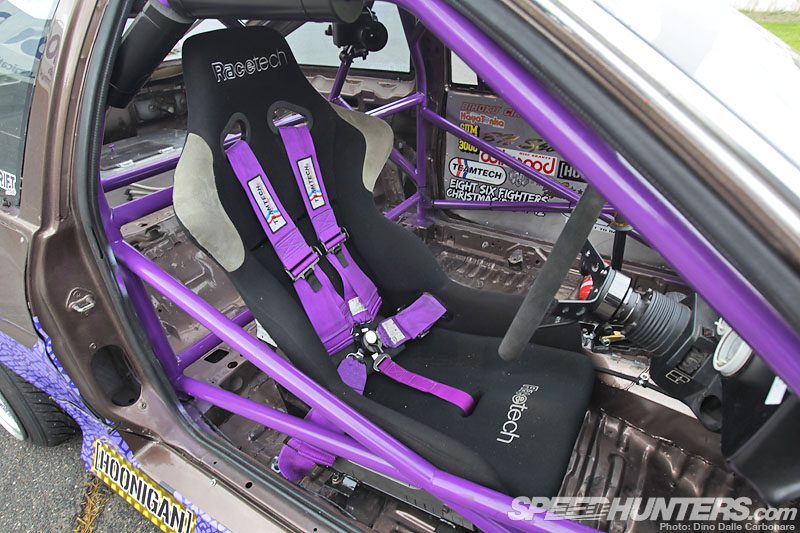 … Racetech bucket seat faced with a chunky Key!s Racing by ATC steering wheel…
… and a big Parts Shop MAX hydraulic e-brake lever, which actuates the S14 calipers on the rear brakes, instantly locking up the wheels to initiate and fine tune his drift.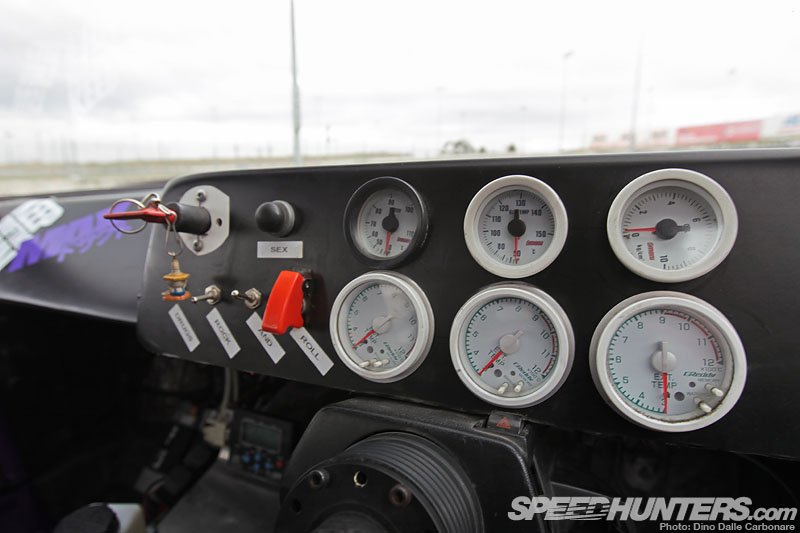 The stock instrumentation has been replaced by a series of GReddy and Omori gauges, giving Hugo access to crucial temps and pressures so he can keep an eye on the engine at all time. I was afraid to ask what the button labeled 'SEX' does!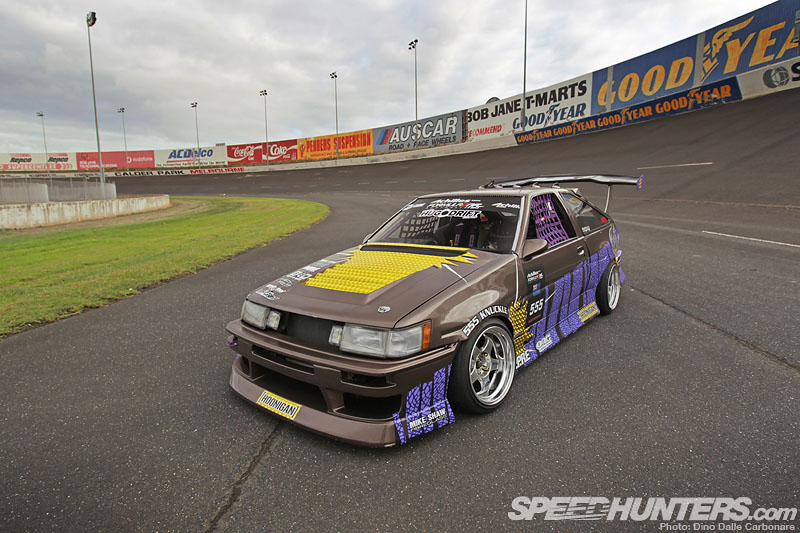 The Formula D Round in Melbourne was actually Hugo's first trip overseas with the car, and despite the issues he really seemed to have enjoyed the experience, looking for a chance to hit up more rounds this season if he can get enough backing.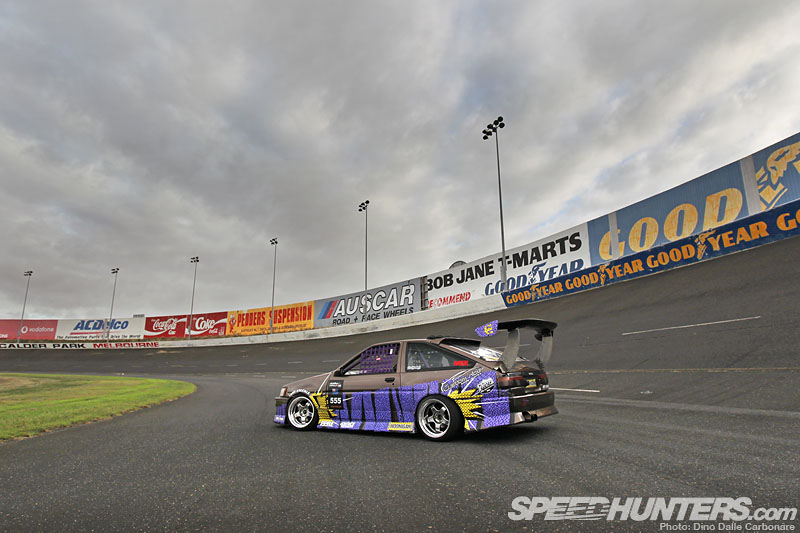 Hugo and his car can usually be seen participating in New Zealand's D1NZ championship where he rips it up against the best Kiwi drifters around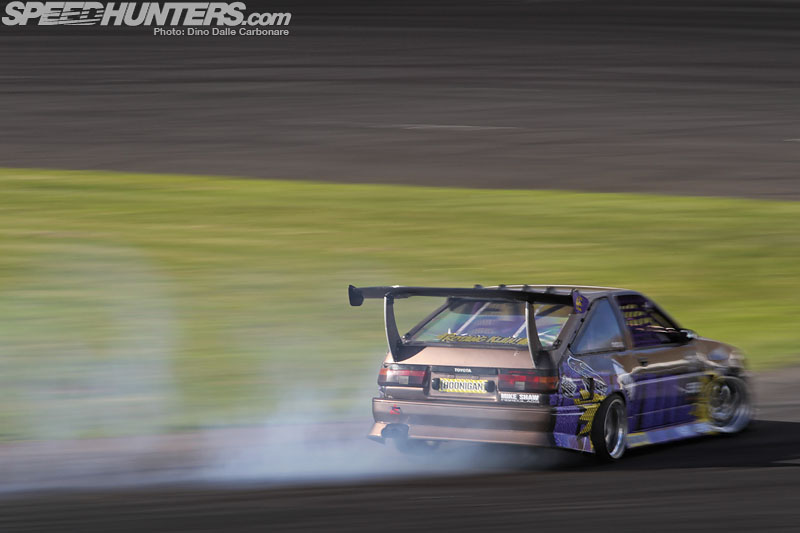 And while he may not have had the chance to show what he and the car are really capable of at the FD round in Melbourne, this is one Corolla that I – and a lot of other people that were present – won't be forgetting any time soon! When it comes to drift cars, character goes a hell of a long way.
Dino Dalle Carbonare
Instagram: speedhunters_dino
Hugo Drift Toyota Levin 
Numbers
411hp
Engine
PPRE-built naturally aspirated triple rotor, peripheral ported, EFI Hardware, 55mm throttle bodies, Sinco manifolds, MicroTech ECU
Driveline
Mazda FD3S 5-speed gearbox, Powertrain 5.5-inch clutch, Hilux diff 4.8:1 ratio
Suspension/brakes
Parts Shop MAX Competition coil-overs, Parts Shop MAX rear 4-link, custom front lower arms, custom castor arms, 555 Knuckles, 4-pot front Lockheed brakes, S14 twin caliper rear brakes, C's Garage tube front end
Wheels/Tires
Work Meister S1 16×8.5J -6 (front) – 16×9.5J -16 (rear), Falken 615K 205/40R16 (front), Nankang NS2 215/40R16 (rear)
Exterior
BN Sports body kit, j.blood wide body, D-Max hood, D-Max roof wing, Mike Shaw Fiberglass hatch, C's Garage wing stands & GT wing, BMW 'shark fins'
Interior
Six-point roll cage, Racetech bucket seat, Teamtech 5-point harnesses, Mike Shaw fiberglass dash, Key!s Racing/ATC steering wheel, GReddy & Omori gauges, Parts Shop MAX hydraulic handbrake, MicroTech controller