Urban enthusiasts unite
I'm a happy chap right now. You know why? It's because I've discovered another awesome bunch of people that are into cars. Coming across a new gathering of enthusiasts is always fun, but to have one happen literally down the road from your home, well it just makes it so damn exciting. Think about it as the Tokyo version of Cars & Coffee, but with a pretty evident Japanese twist to it. So after finding out about this early morning Sunday meet that happens once a month at the Tsutaya T-site in Daikanyama, I jumped in the GT-R at 6:45 am last Sunday and cranked a very cold RB26 into life.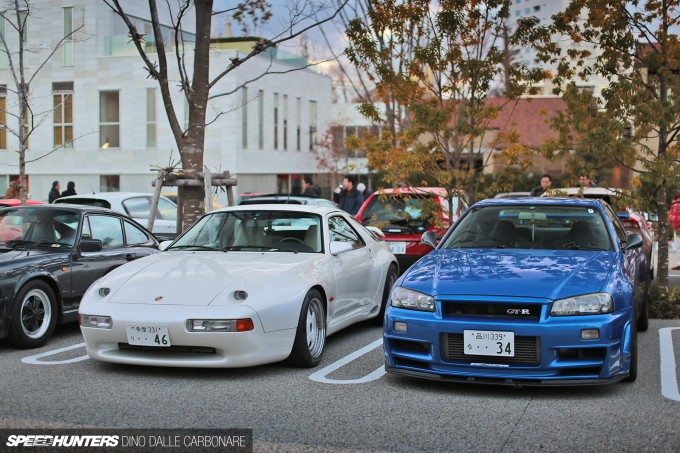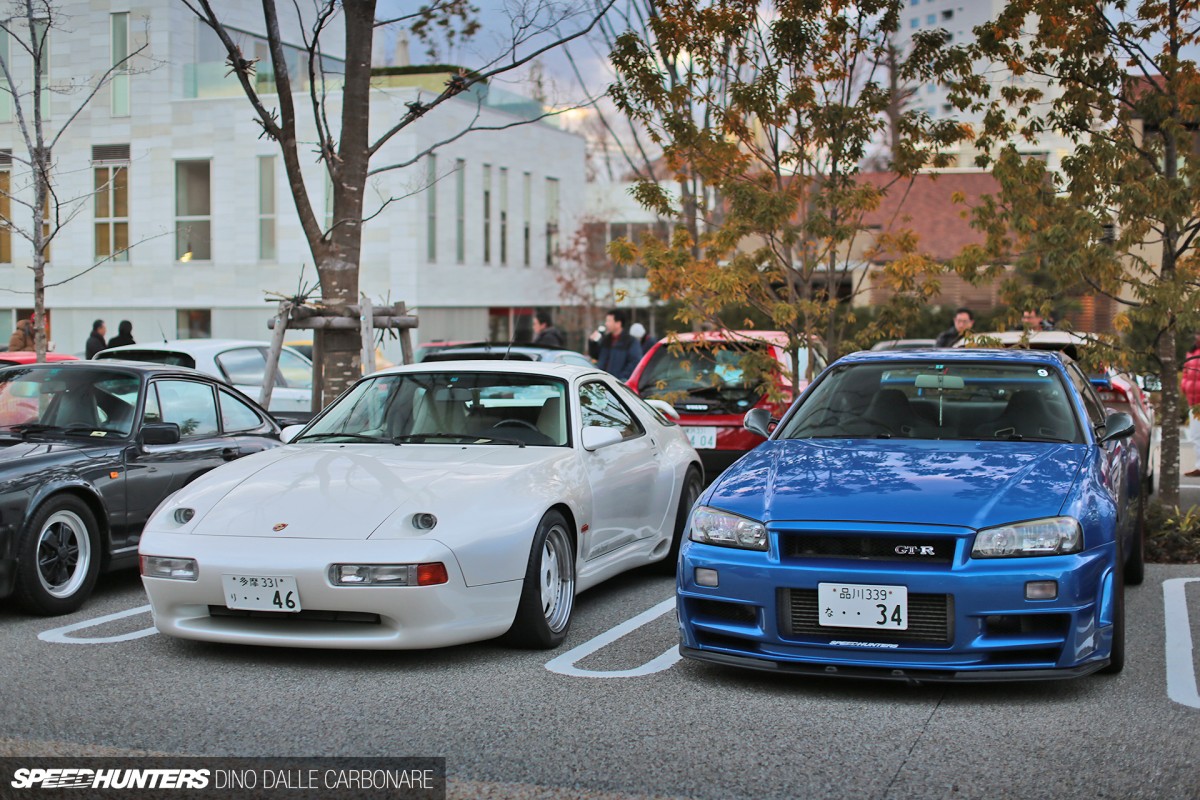 Fifteen minutes later I was already parked up in the small T-site lot and despite being ridiculously sleep deprived after three days of TAS, I was already grinning ear to ear. I had been tipped off by a Speedhunters reader about this meeting and was so happy I had sacrificed sleep to make it, despite the freezing temperatures. It's so cool to check out new gatherings like this, for the simple fact that you never know what to expect. The Strosek Porsche 928 Ultra I parked next to proved to be just a little taste of what was already there, and what was about to come.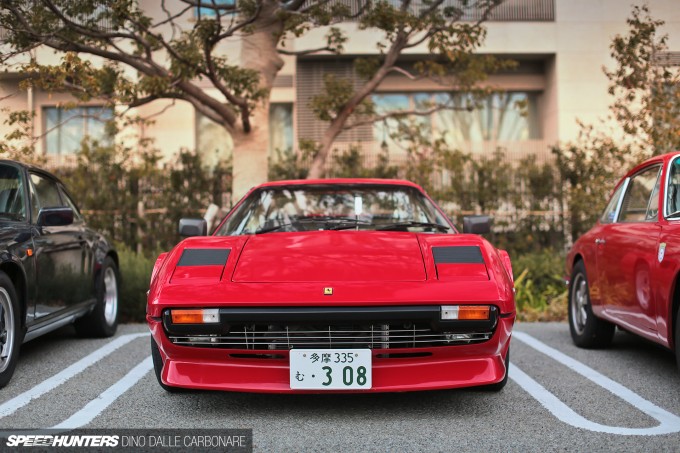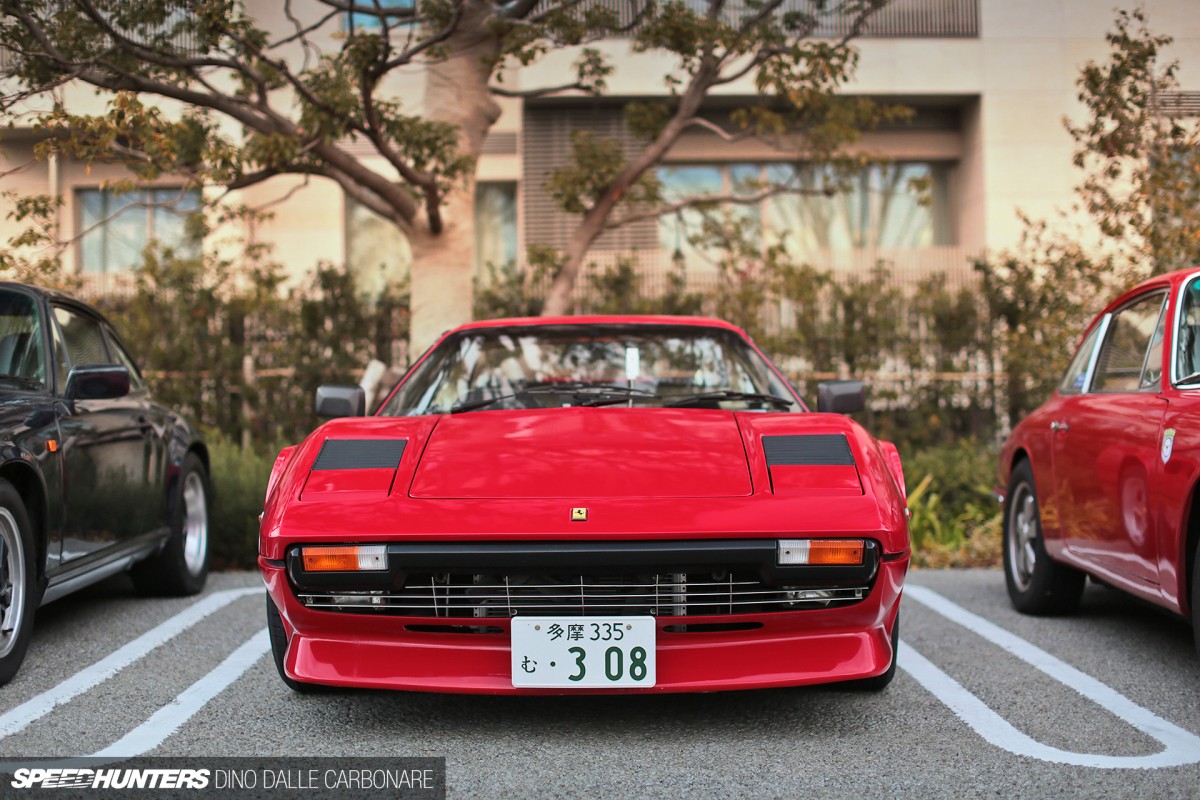 With frozen fingers I stumbled around in my backpack to find my camera body and attempted to attach a lens onto it. I had no intention of wasting one second as the meeting was a short two hours, from 7 am to 9am, before the main bulk of customers start rolling into the hip bookstore slash compact shopping mall. The cars that were already there quickly made me realize that I'd be able to show a slightly new angle of Japanese car culture; one where no, or maybe very little customization is involved. After TAS, trust me, this was a humongous breath of fresh air.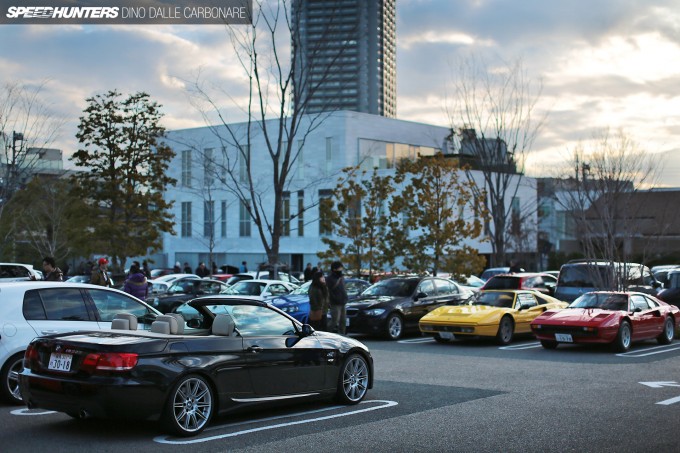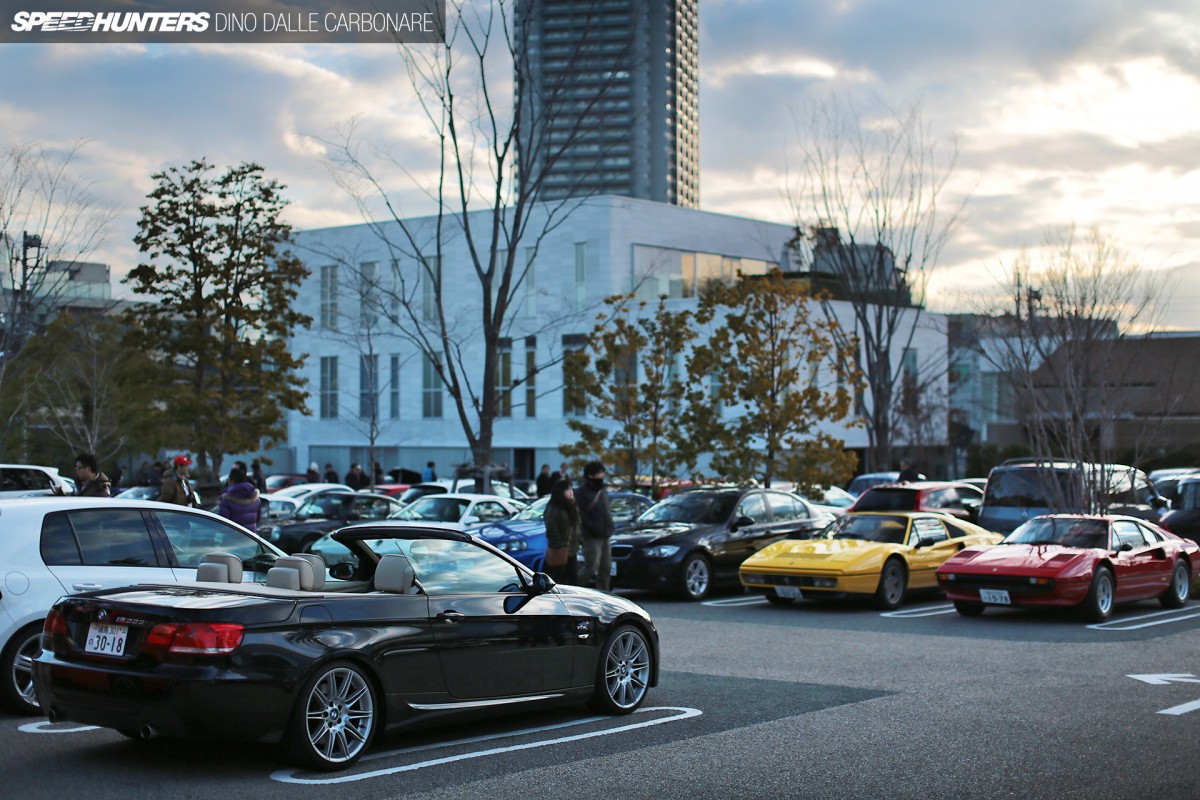 It didn't take long for most of the spaces to get filled up, most going for the same "in – shoot a bit – have a complimentary coffee – shoot some more – and then get out of there" sort of approach as I had.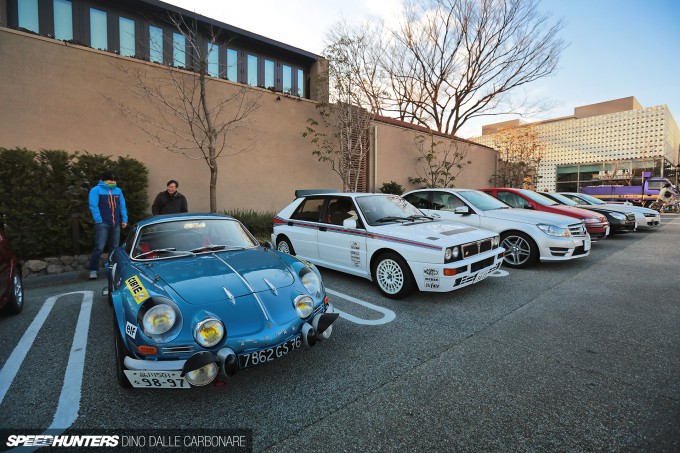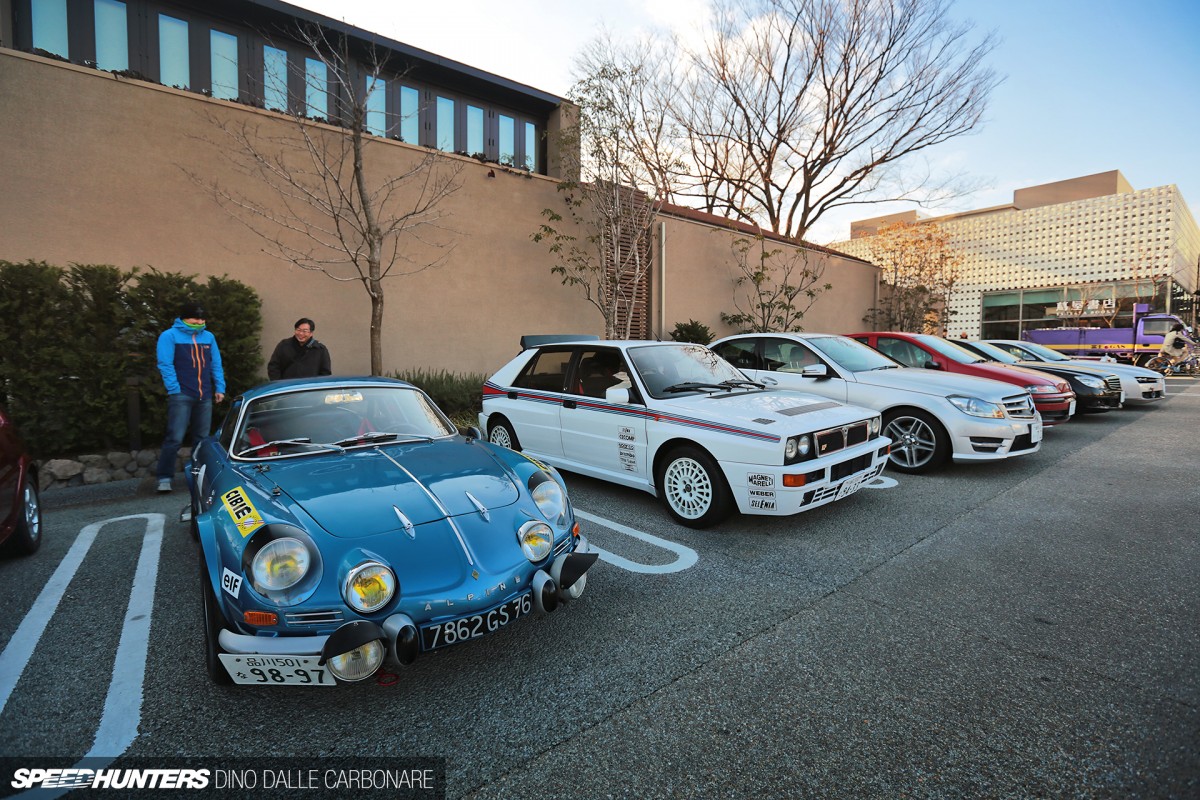 The variety was nothing short of mind-blowing and this little rally pair quickly caught my attention. This Alpine was sporting the full night-stage set-up with a pair of auxiliary Cibie projectors mounted onto its bumper while the Deltone next to it sported the unmistakable Martini Racing colors.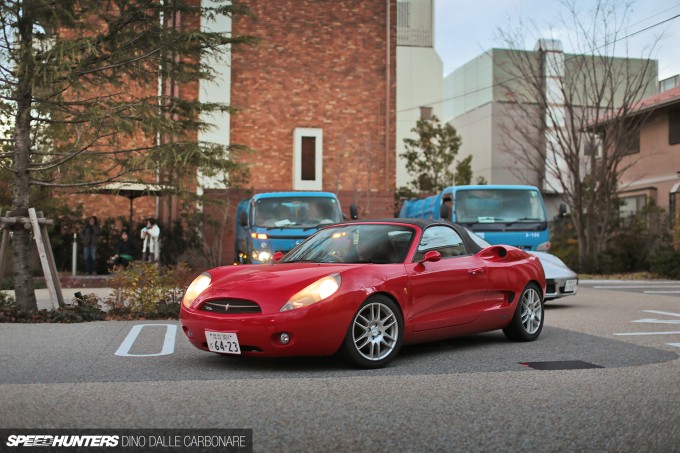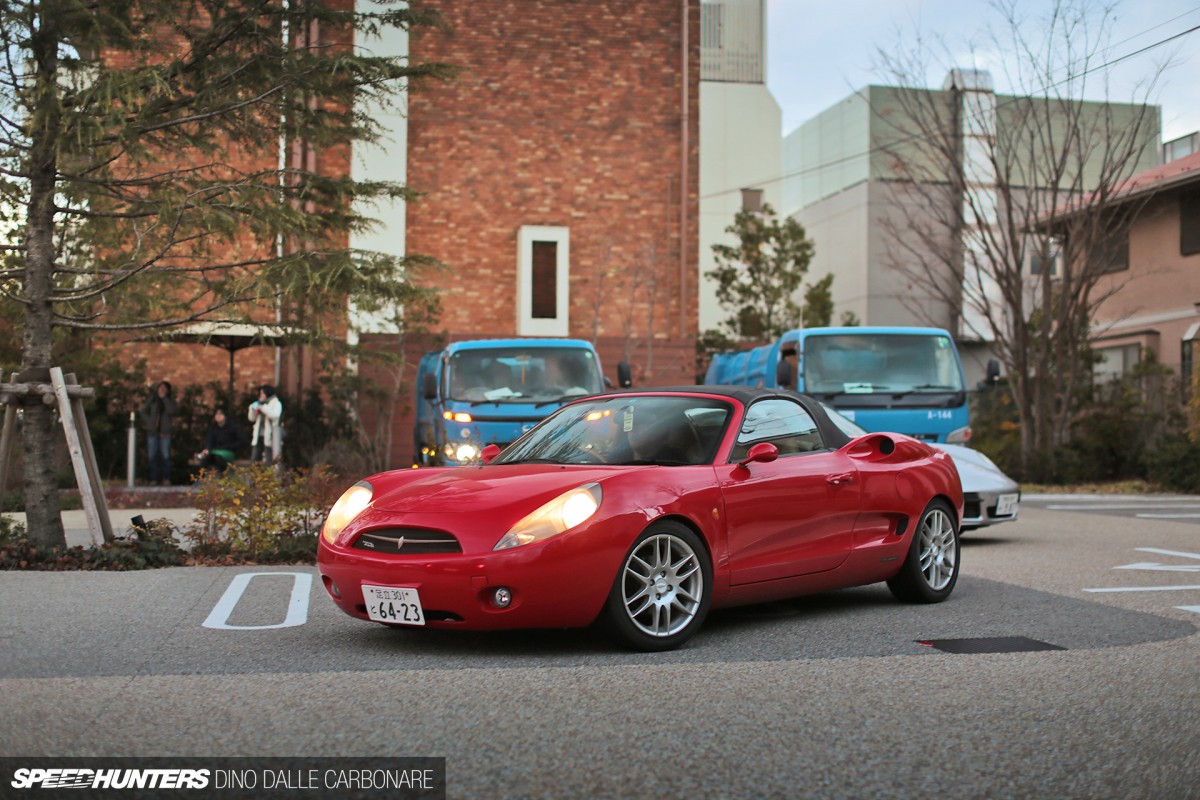 I was hoping that some rare cars would show up; after all Tokyo is one city where rare collector cars are often driven and enjoyed on the road, something you will know if you check out my Instagram feed when I happen to have a free weekend and hit up my favourite coffee shop. Take this red Carrozzeria Abarth Roadster, probably the most mysterious car at this particular meet.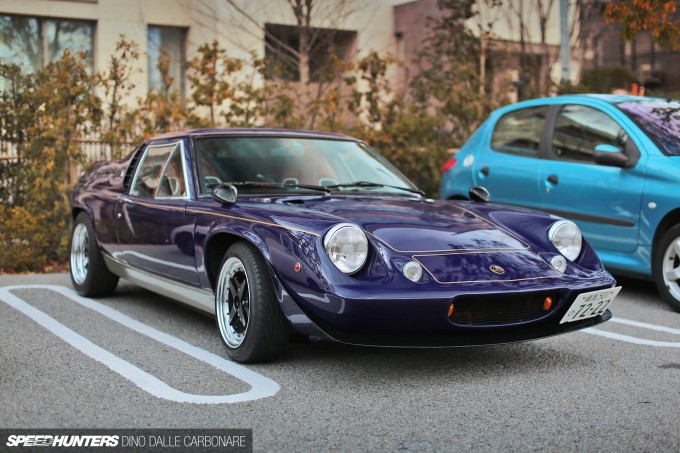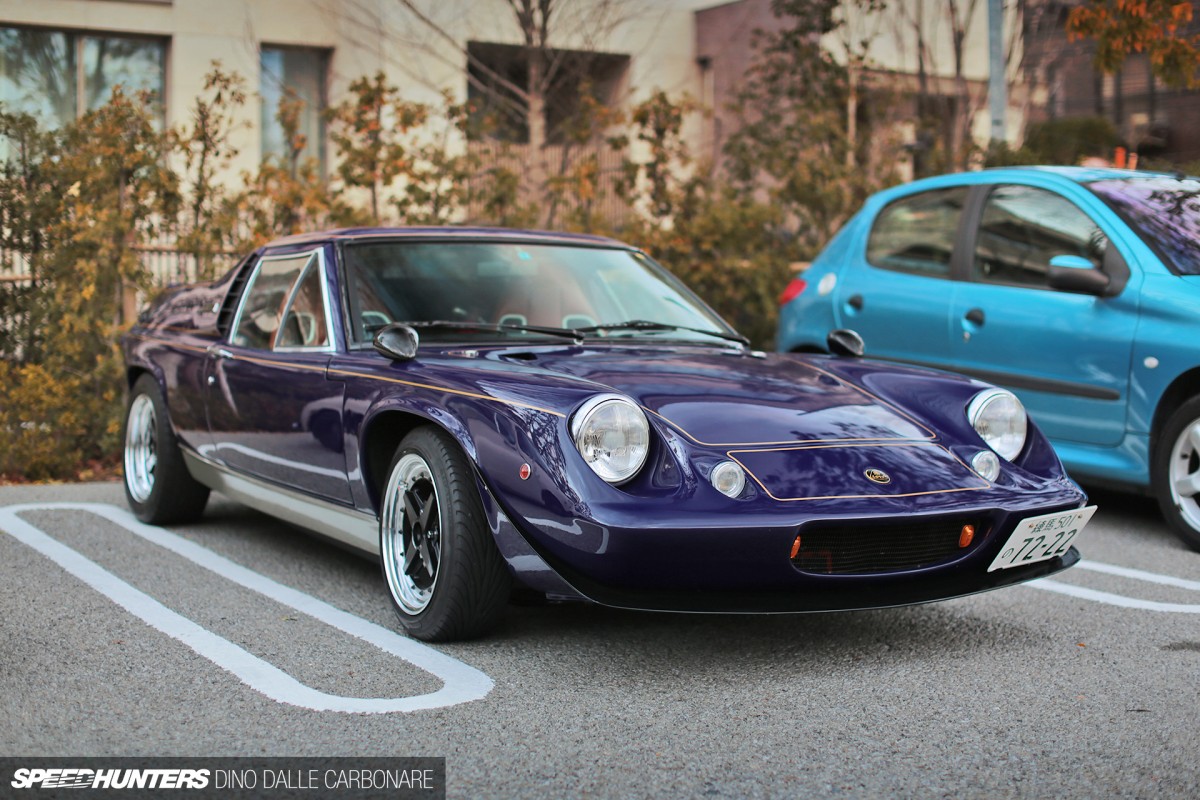 As you may be aware from our Idlers event coverage, the Lotus Europa has a great following in Japan and this was one of two spotless examples that were already there when I arrived.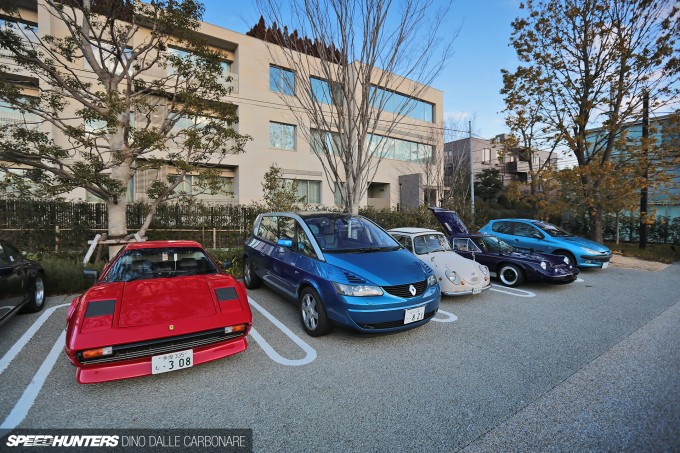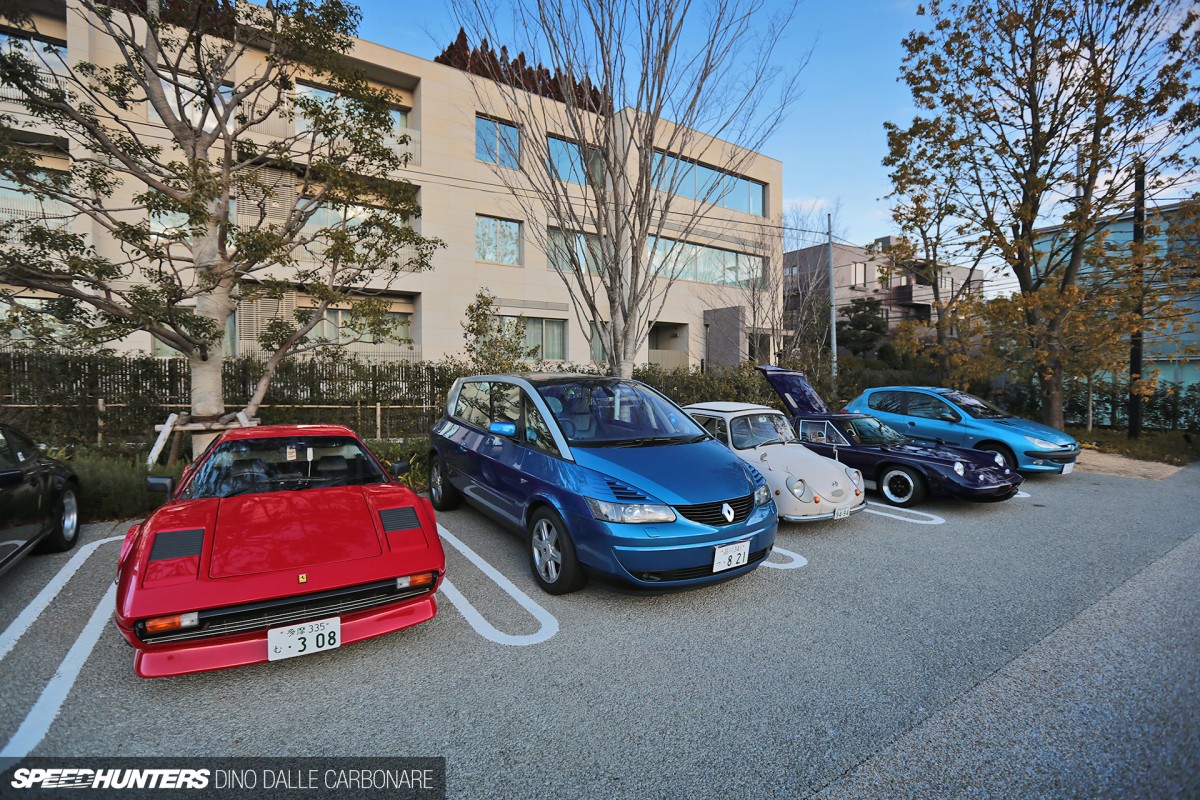 A Renault Avantime? Yep, like I said anything that is rare is popular in Japan and while there weren't many made, I do happen to come across some, even at Daikoku. Can you spot the little Subaru 360 sandwiched in there?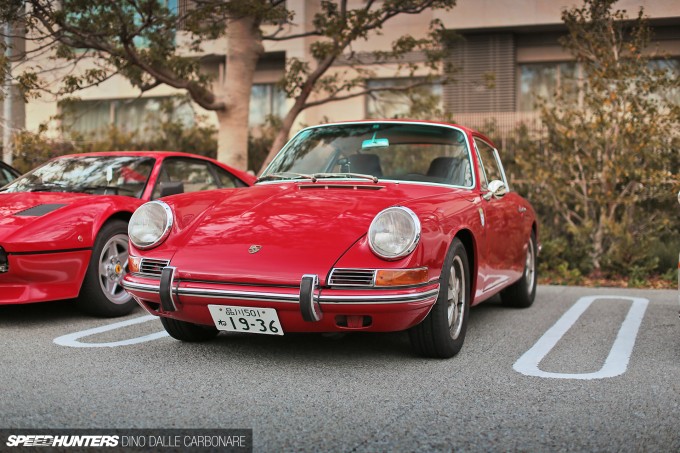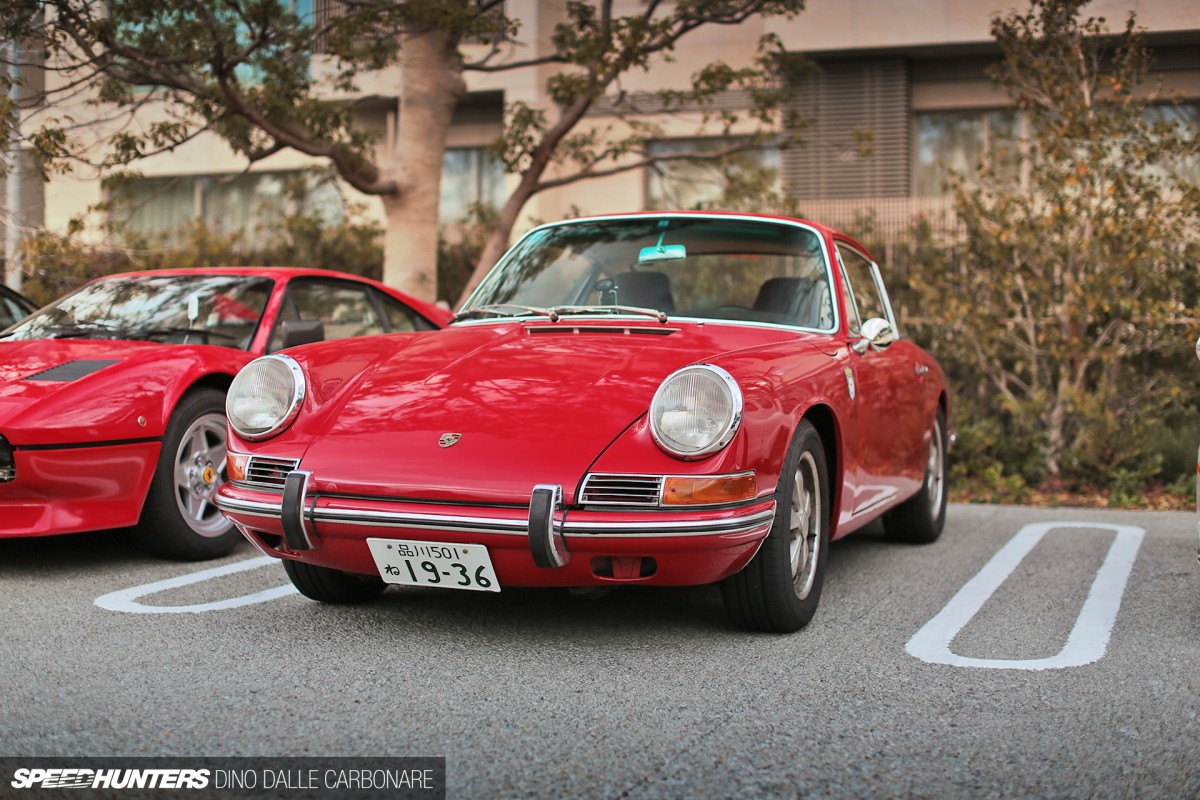 There's just something so pure about an older 911. I'm a great fan of the long bonnet look and it's always so interesting to observe how the iconic shape has matured over the decades, all the way to today's 991.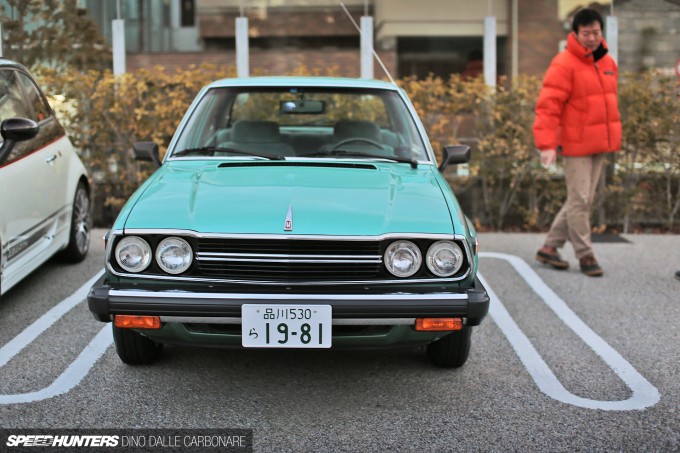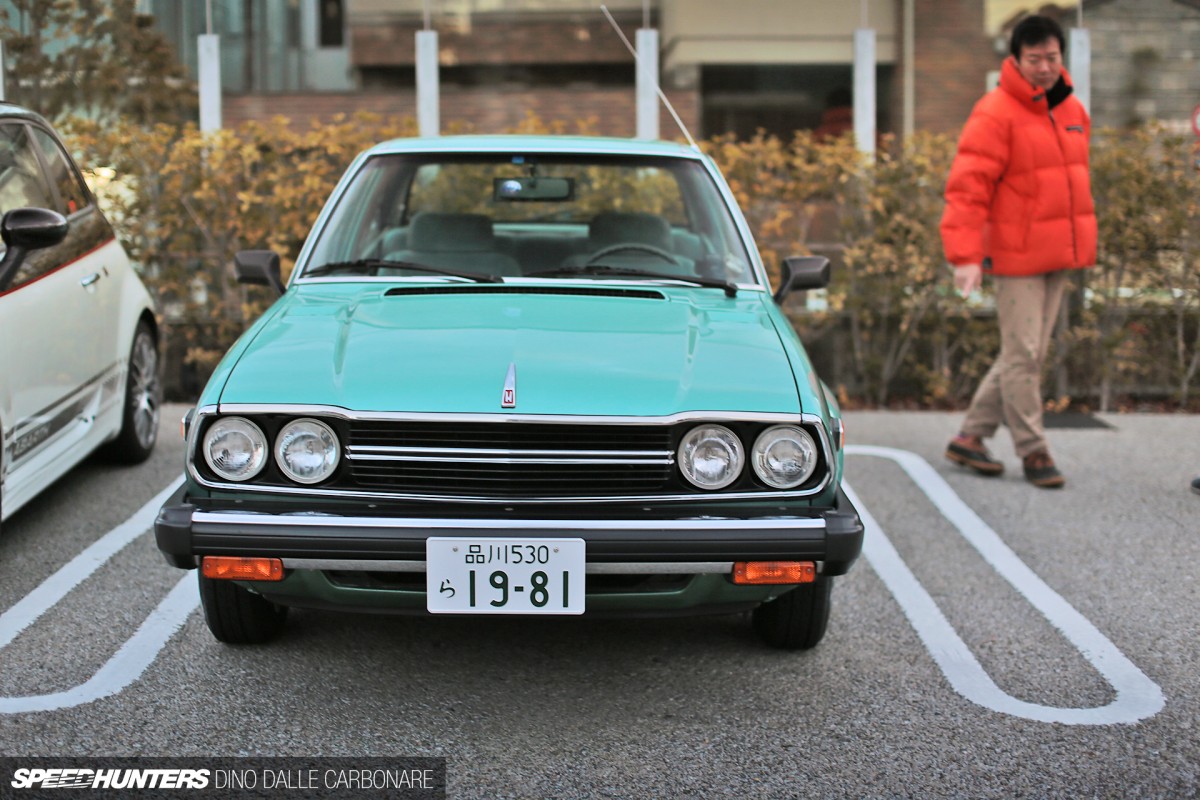 This 1981 Honda Accord LX was in such perfect condition it might have come straight from Honda's Collection Hall in Motegi. What made it even crazier was that it was a USDM model!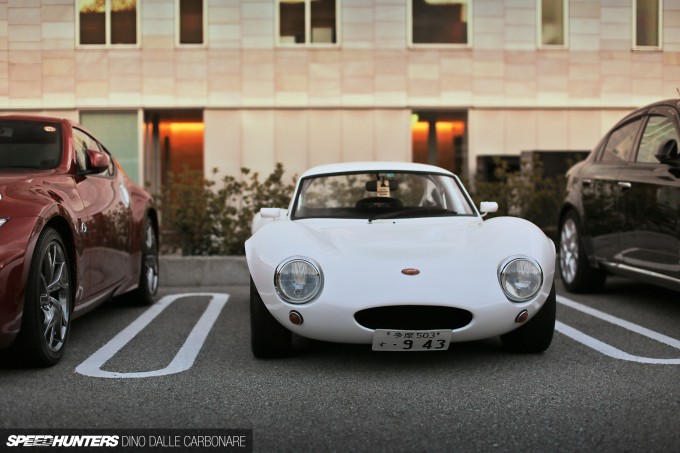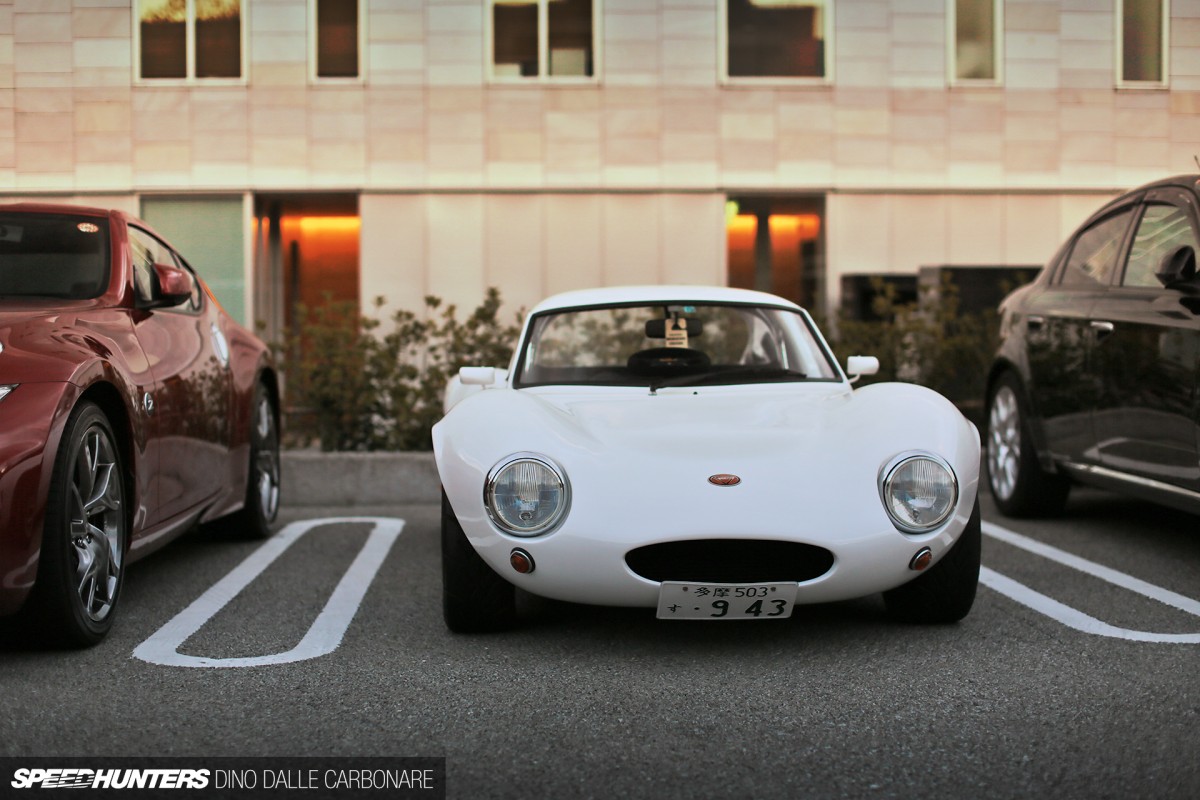 Not too far away was this microscopic Ginetta; another of those vintage cars that has quite the following here in Japan.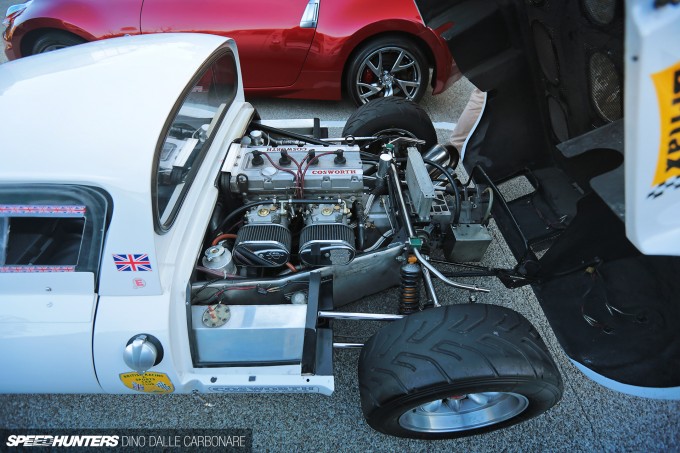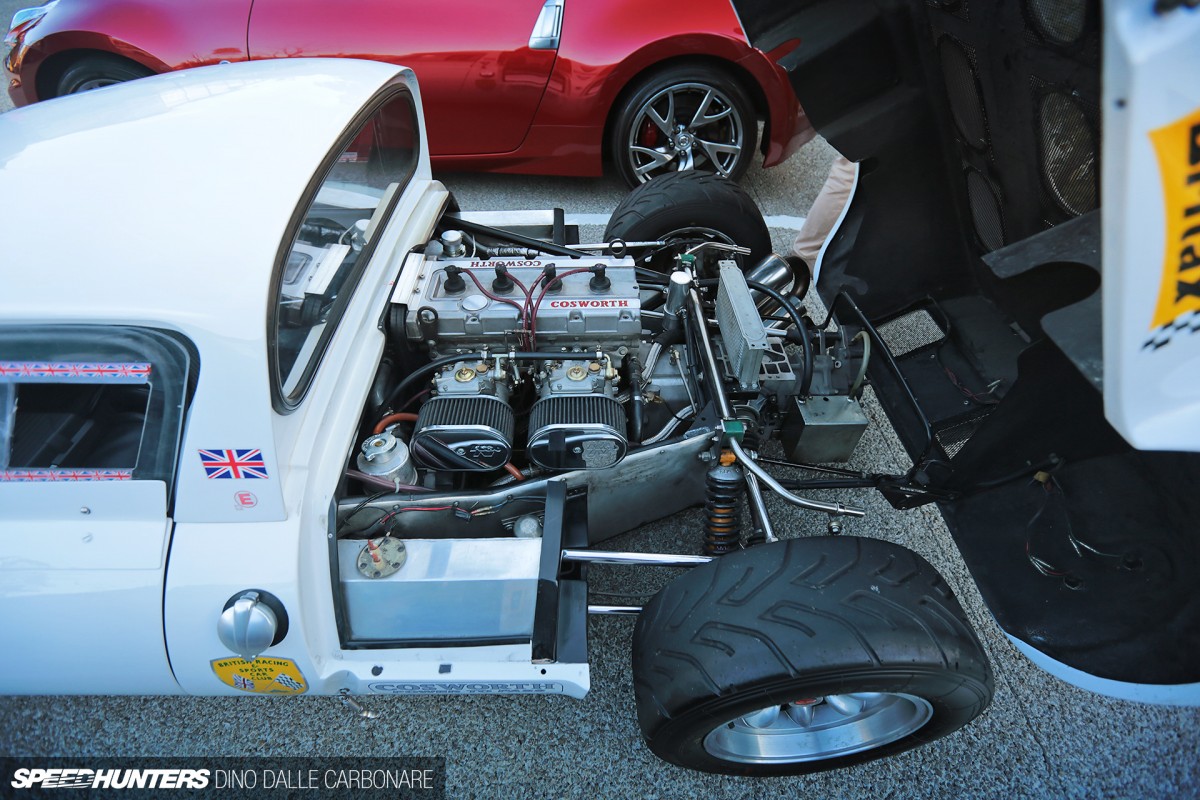 Luckily, later in the morning its owner opened up the rear cowl to allow us all to have a nice look at the Cosworth unit that powers it and the impressive condition it was in. This car gets mainly used on the circuit, as the semi slicks sort of hint at.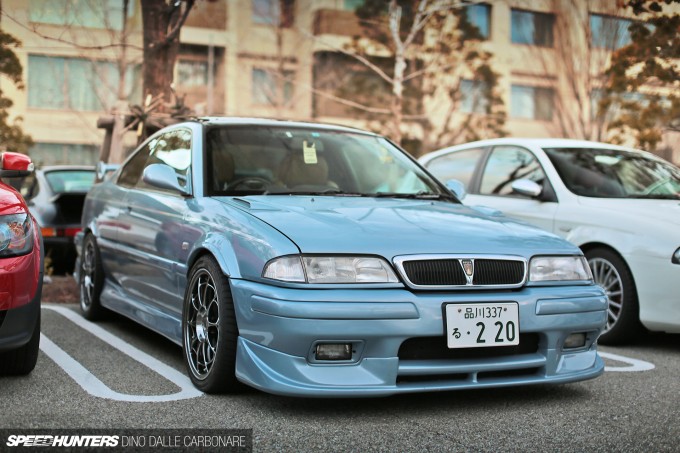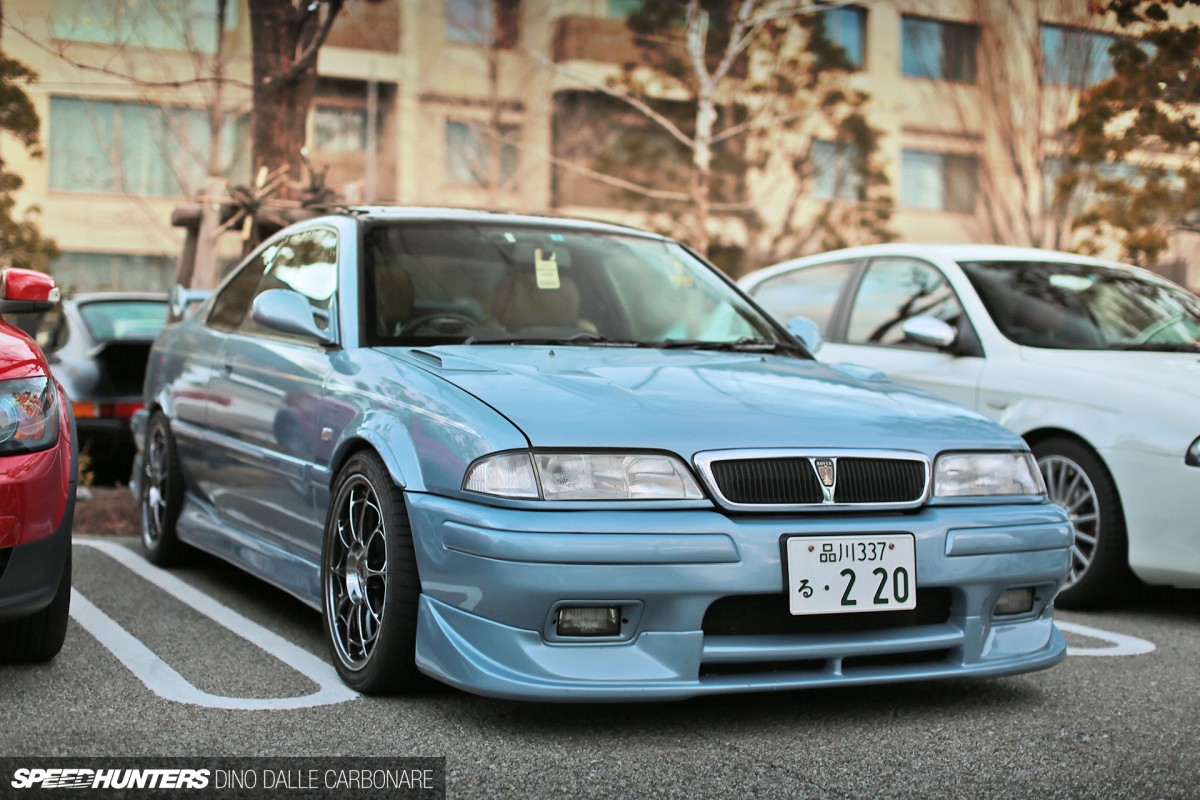 Another one from the UK: this time a Rover 220 which has been given the Japanese touch. By this of course I mean an aftermarket bodykit, a proper set of suspension with an accompanying drop in ride height and a set of JDM wheels.
Japanese legend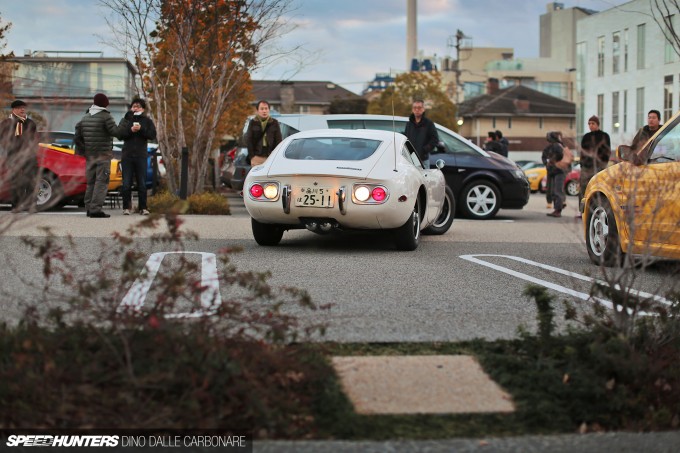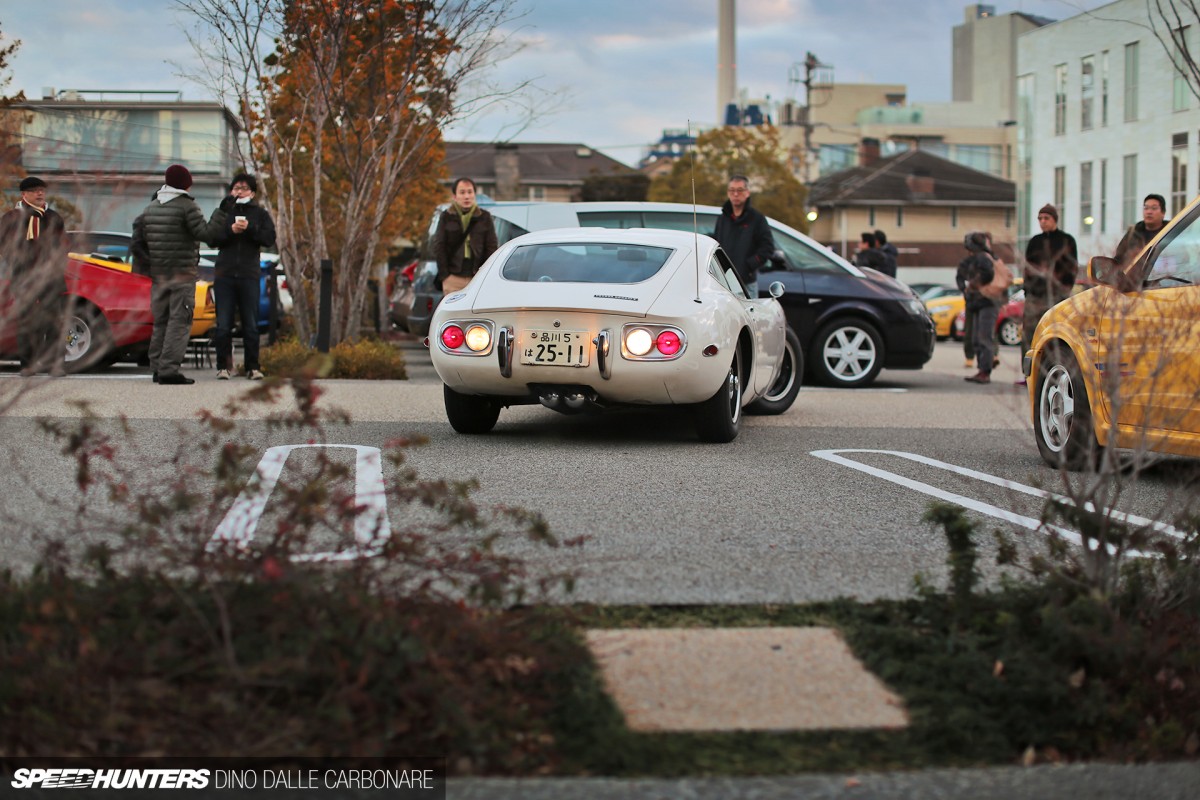 And then all of a sudden everyone started walking up towards the entrance of the car park, gathering around a very familiar white shape. This was a total surprise and a great addition to what was quickly becoming quite the epic meeting.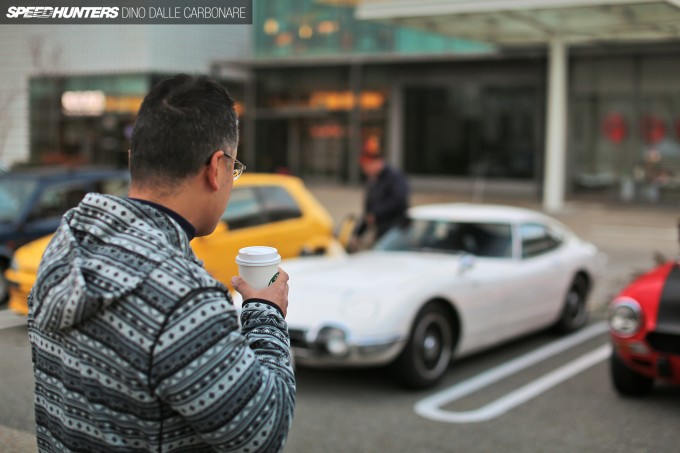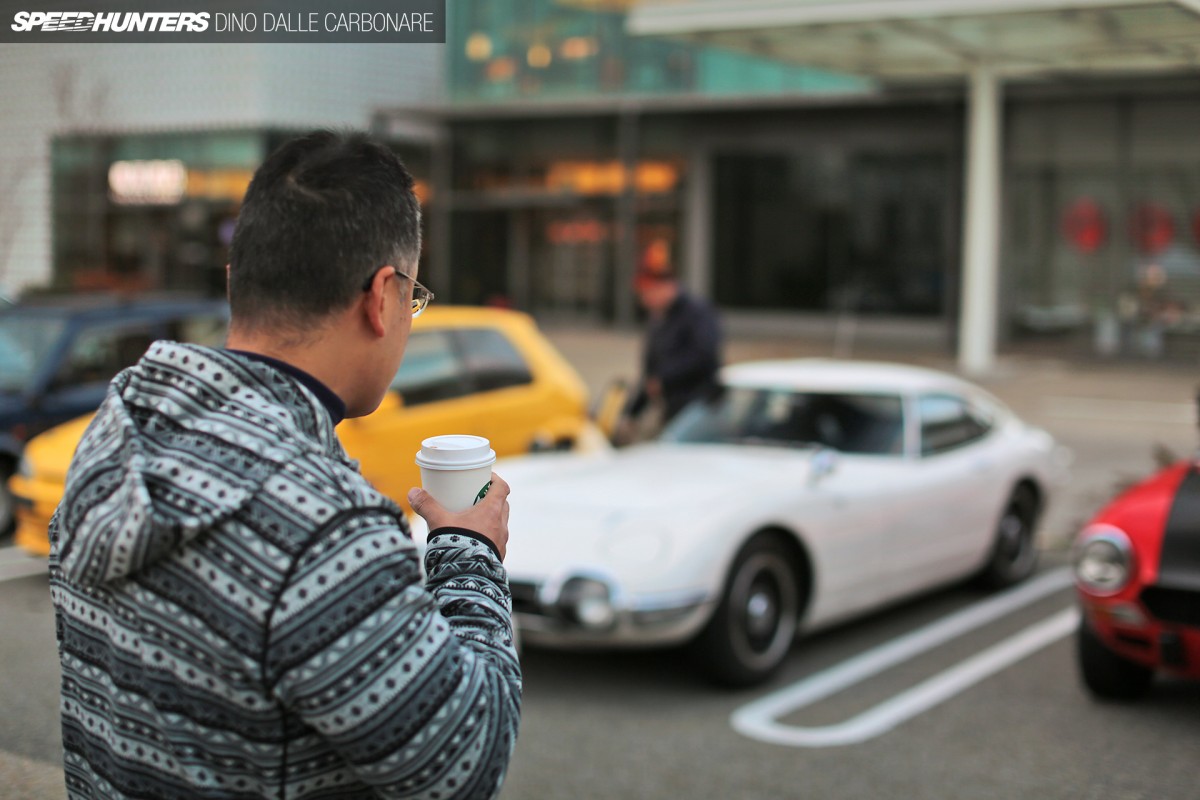 Like a lot of other people, I quietly watched as its owner parked up, admiring the flowing lines of Toyota's most sought after classic. I guess this is what Cars & Coffee type events are all about.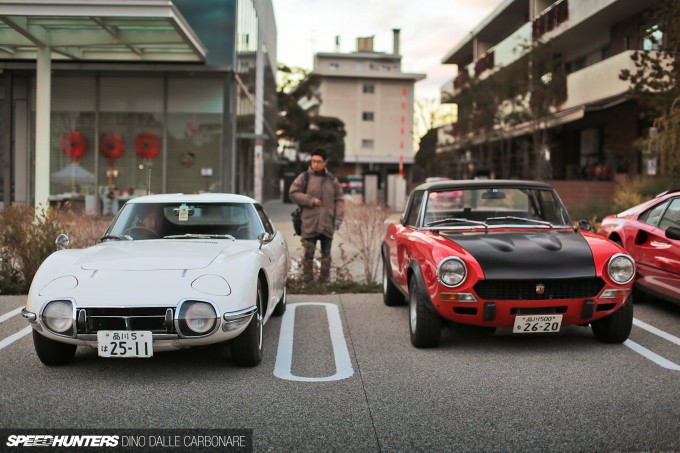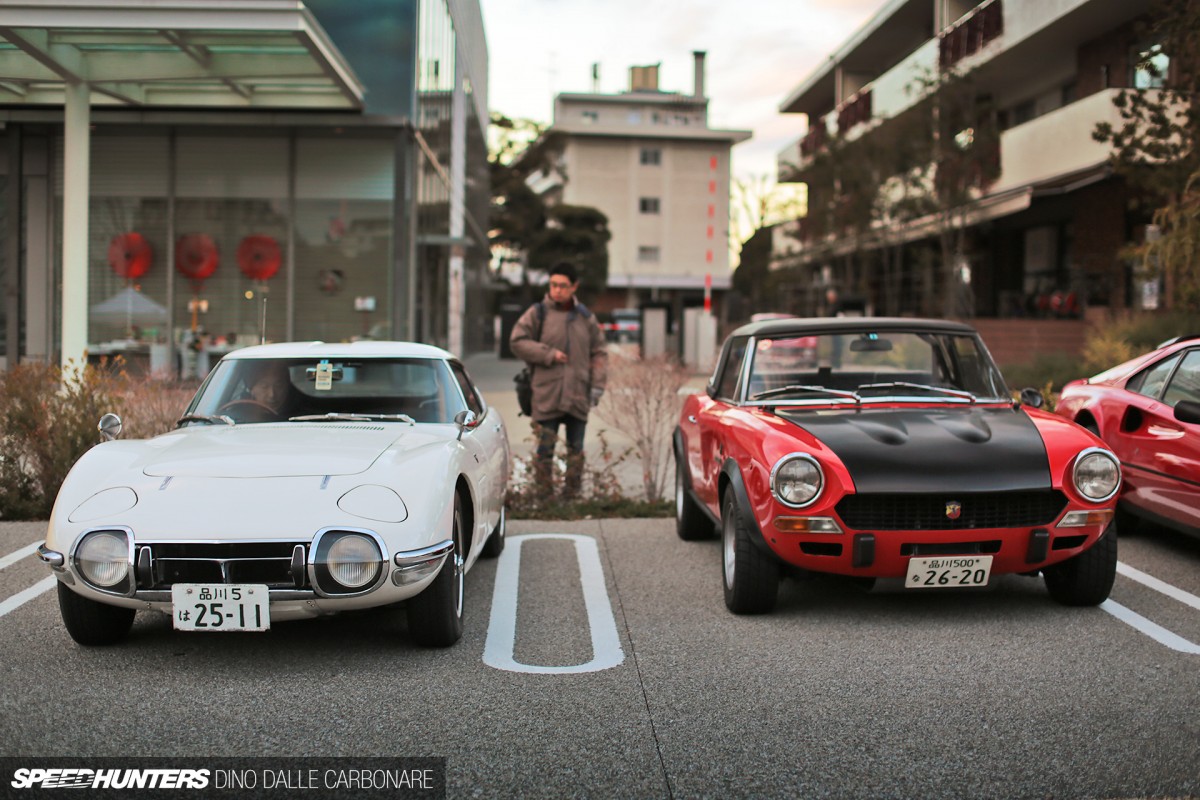 Right next to the 2000GT, a Fiat 124 Abarth pulled up immediately after, sporting a more angular shape with an unmistakable Italian flair. Two very different cars, but both with their own distinct lure.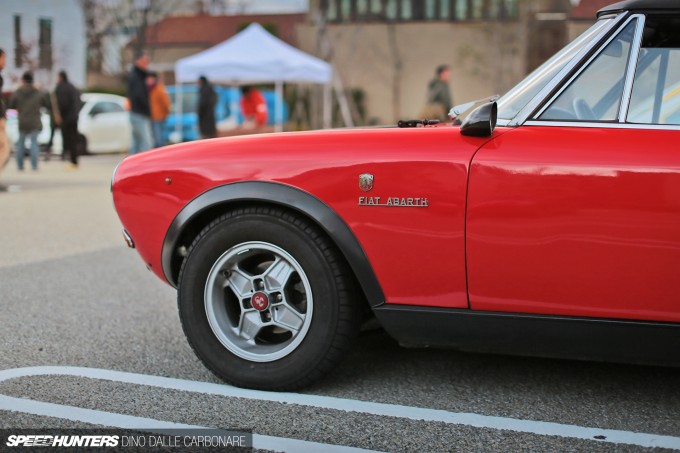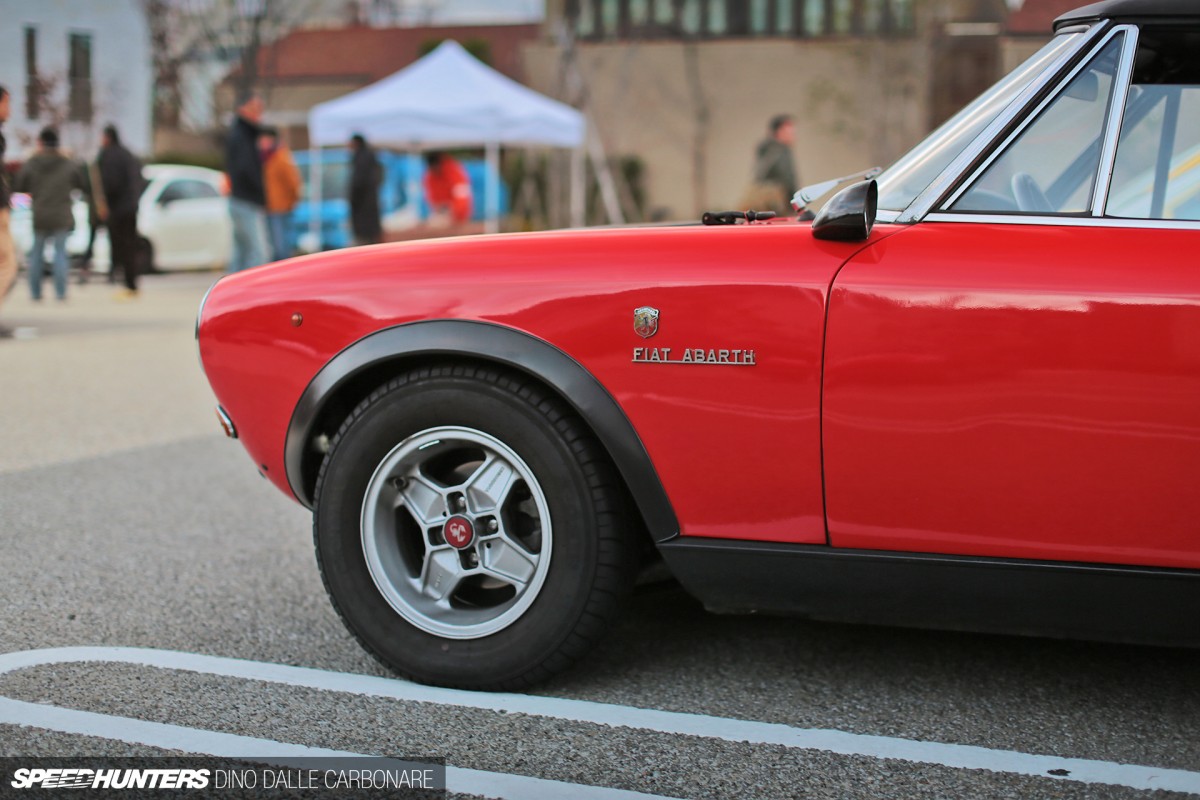 I've heard lots of stories of the 124 in its rally days back in the seventies, so it was really cool to be able to enjoy looking at one in detail as it was actually my first time seeing one up close like this.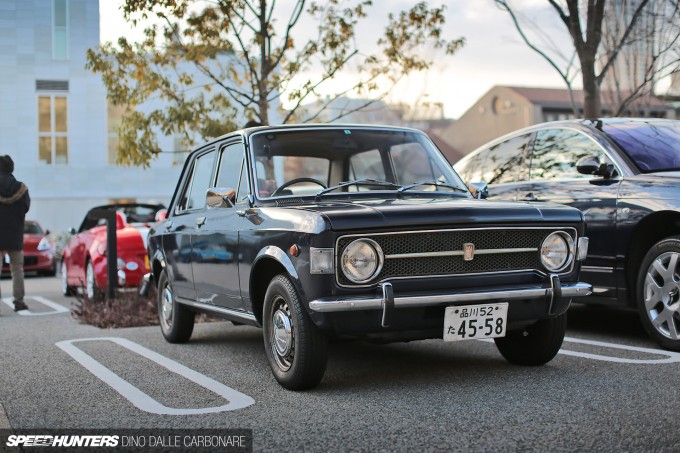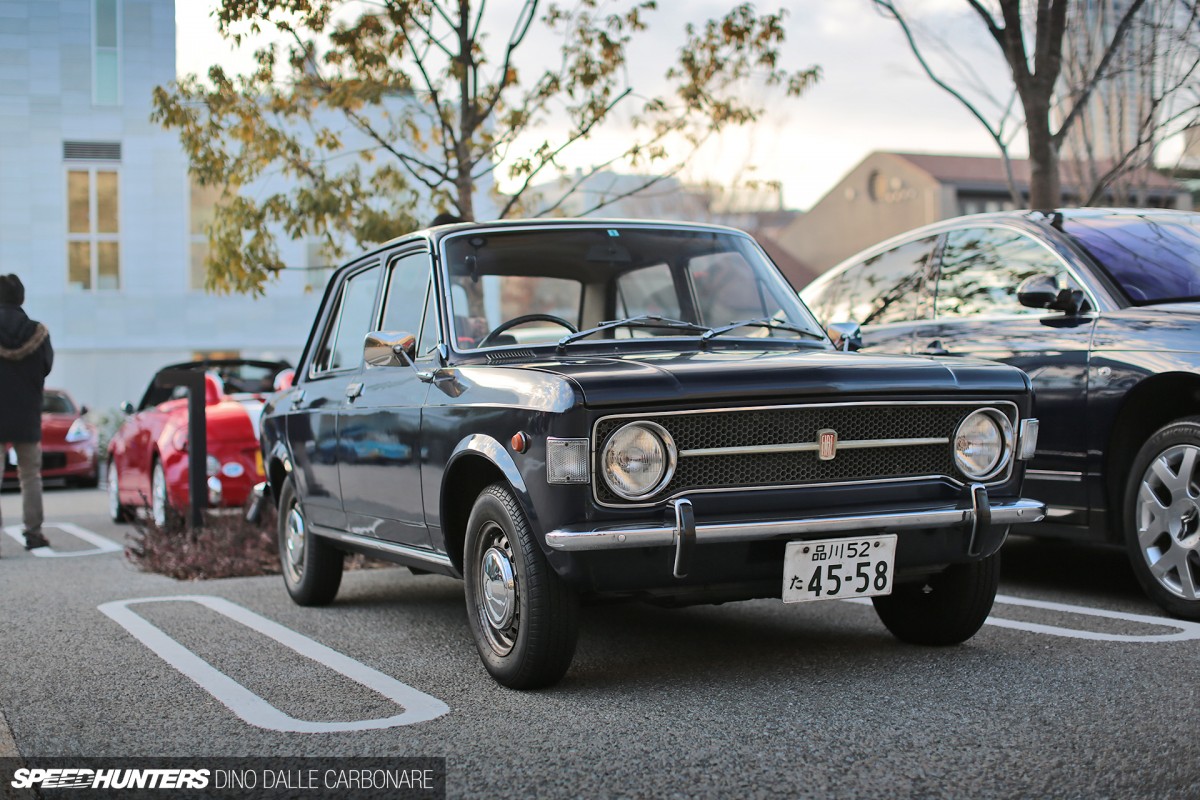 This Fiat 128 however brought back all sorts of memories as an uncle of mine ran one for years when I was a kid back home in Italy. Funny how the only thing I remember about this car was how water would leak in through the door seals when it rained heavily.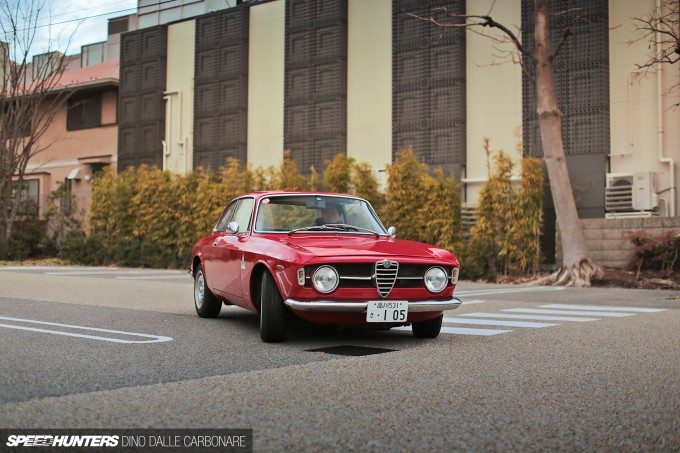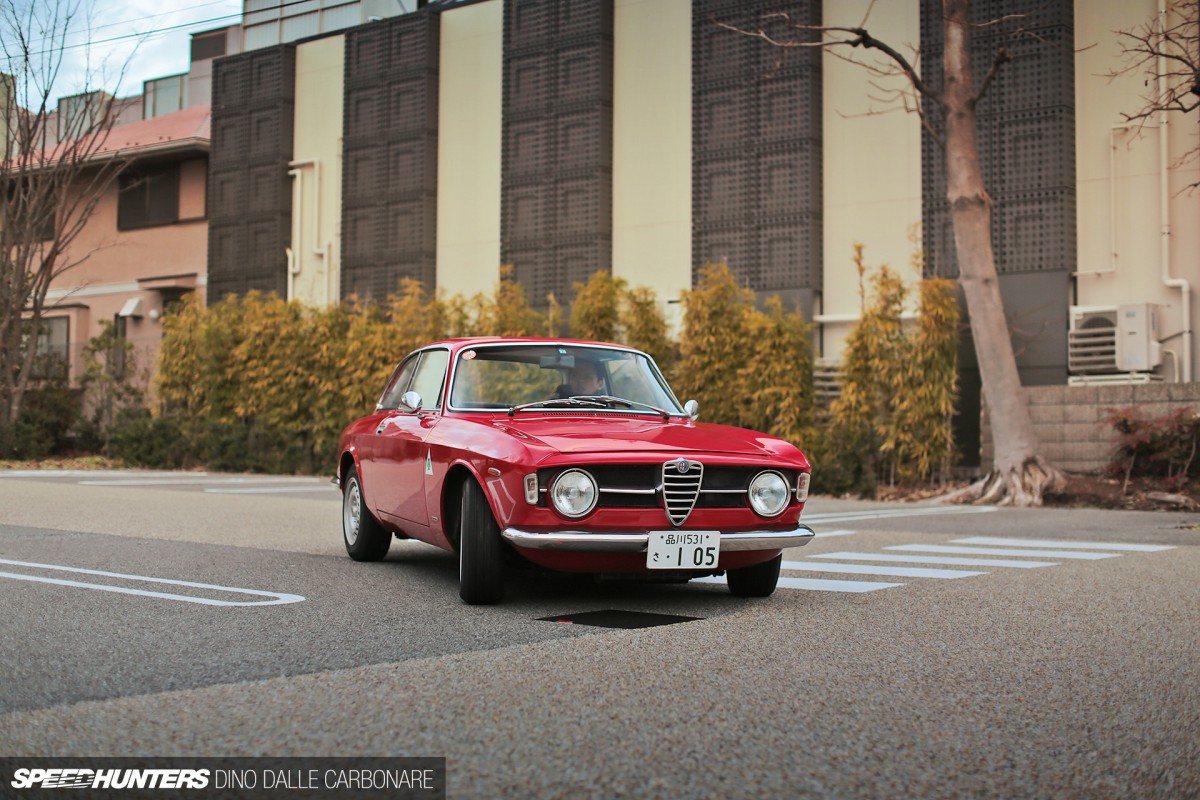 But there was far more to come from Italy, starting off with this Alfa Romeo Giulia, a favorite among those that enjoy tracking their vintage cars in Japan. At Idlers events it's always surprising how fast some of these cars can be!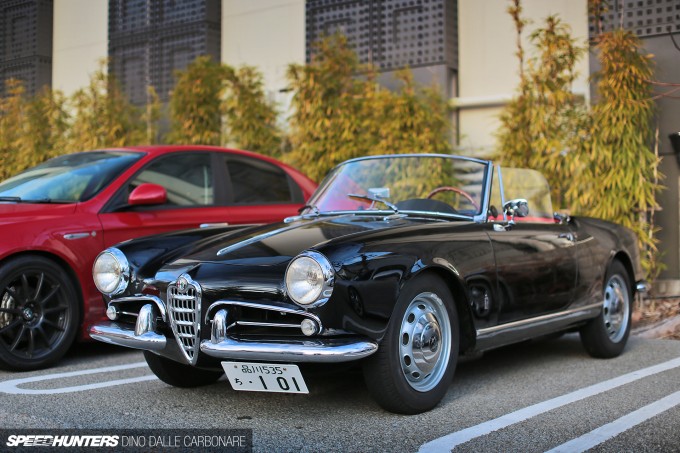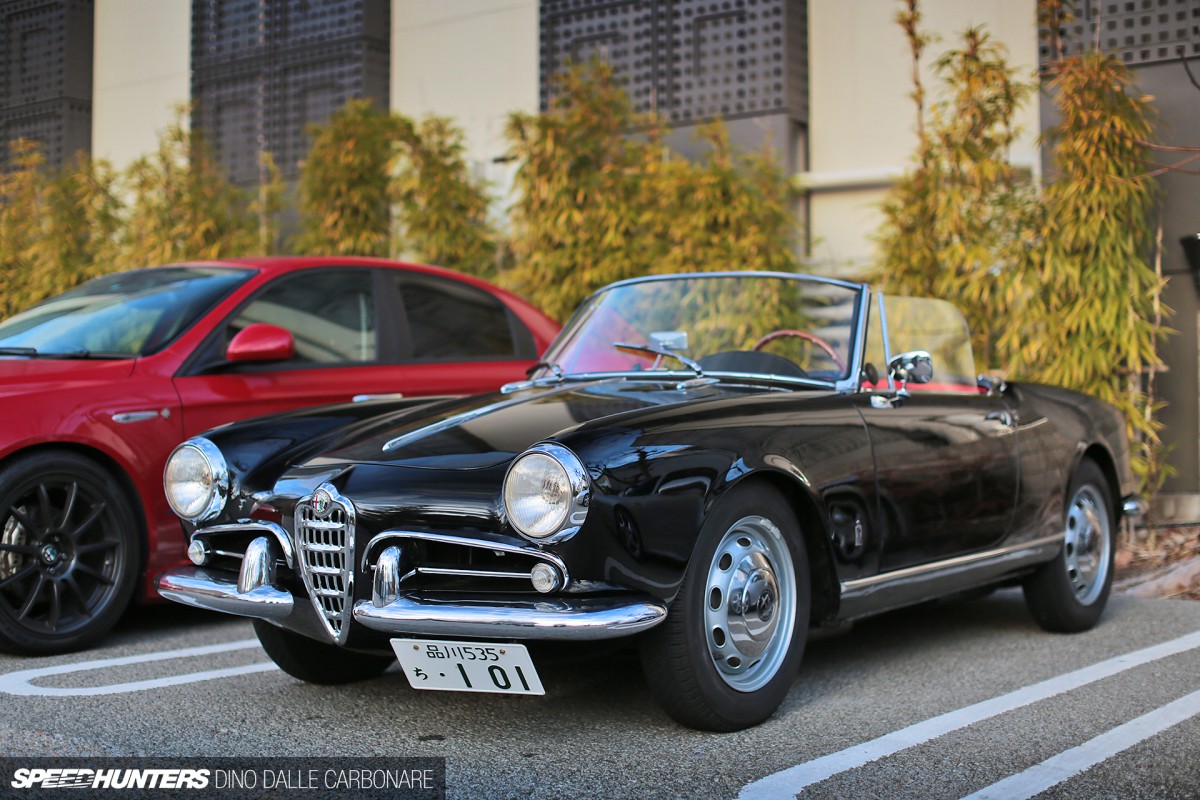 This Giulietta however, an insanely beautiful car both up close and in pictures, is purely for enjoying the open roads – top down and wind in your hair (if you're fortunate enough to still have hair that is).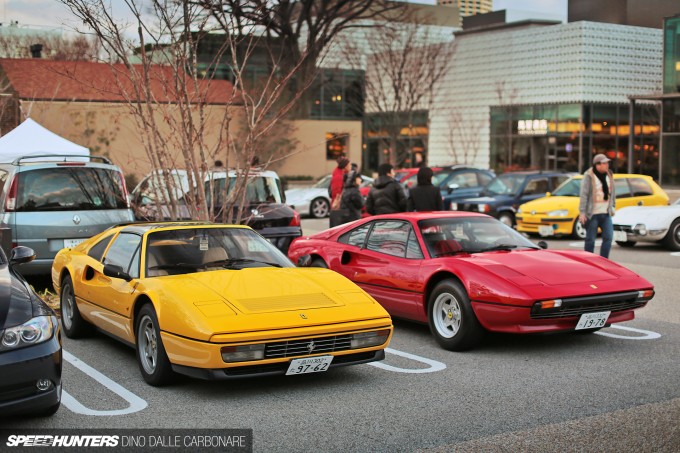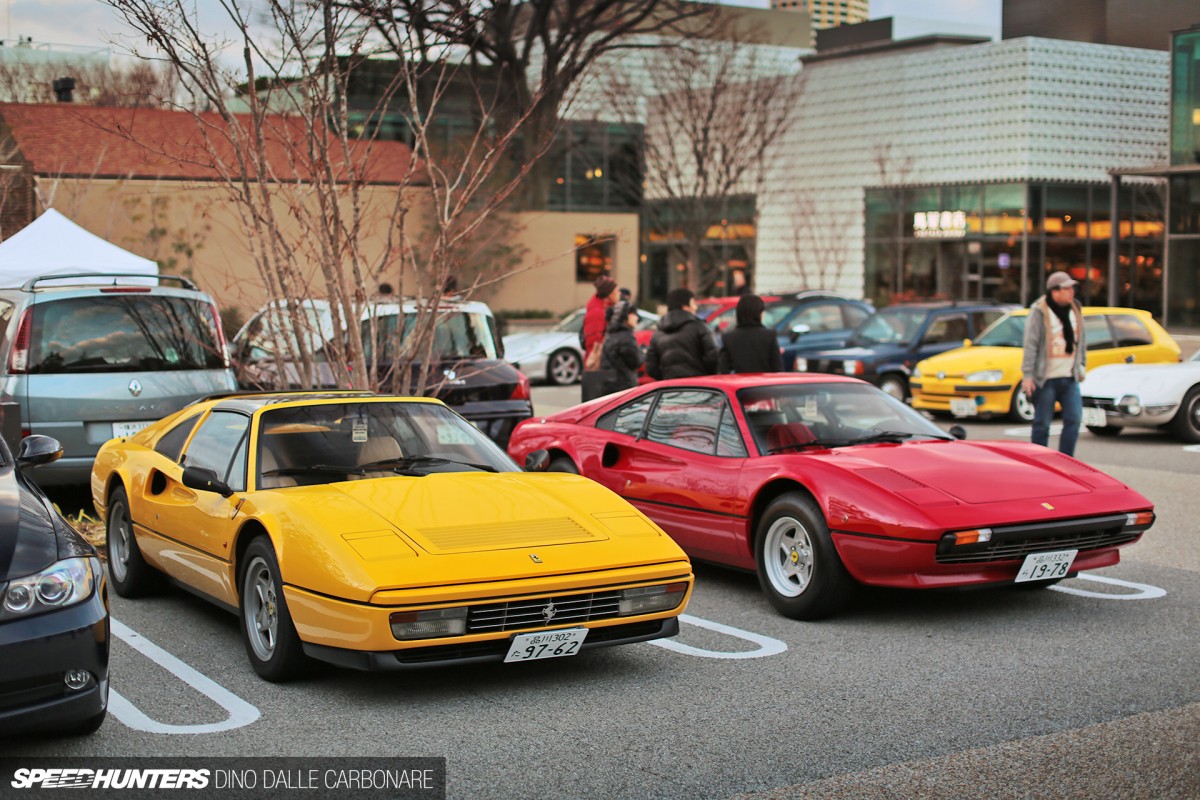 While I did expect to see a lot of Ferraris, the next car I stumbled upon really made me laugh.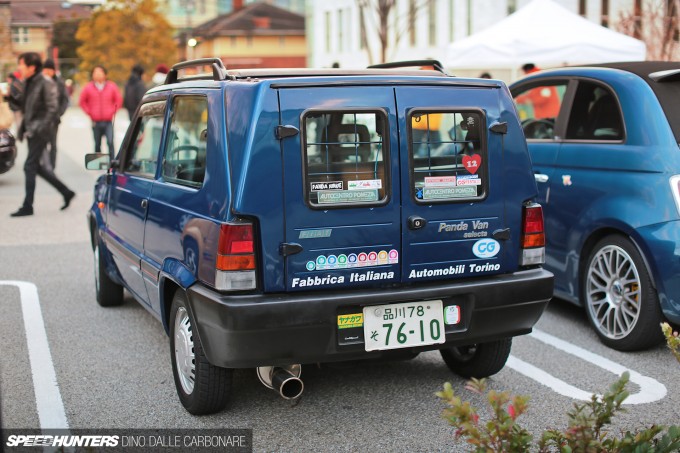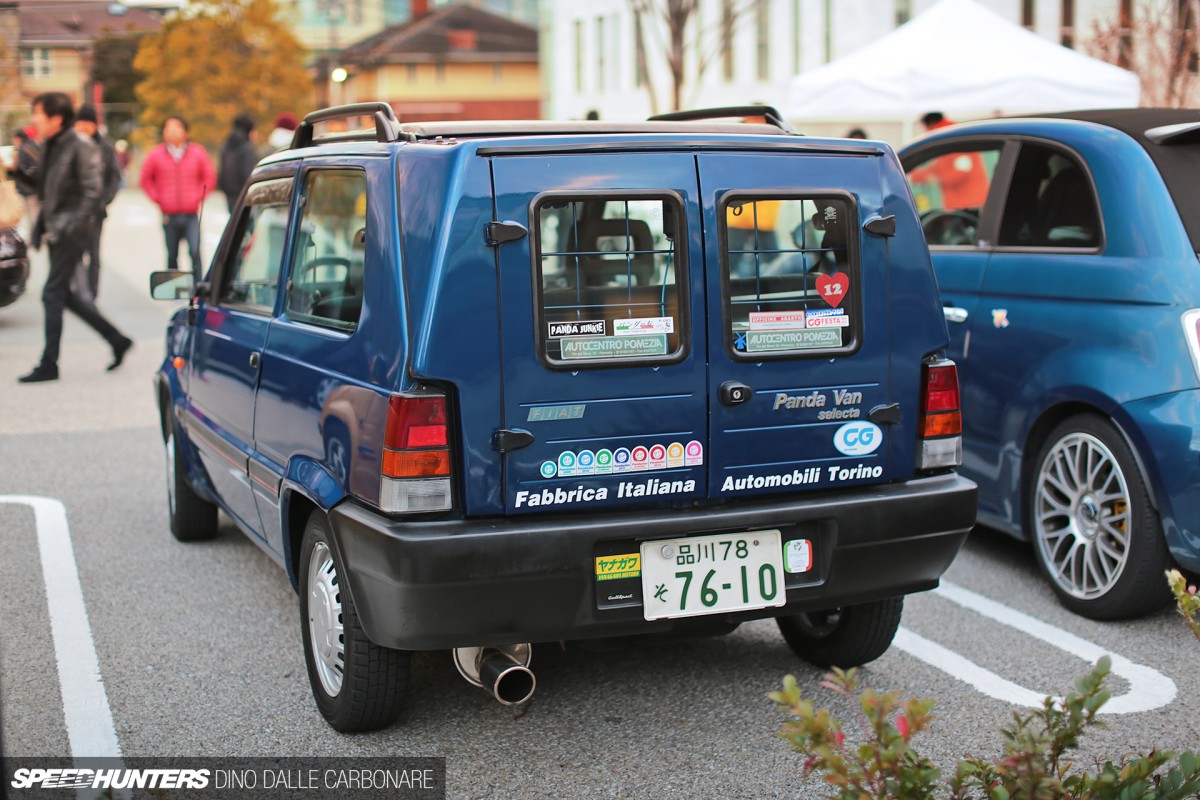 Yep, it's a Fiat Panda. Ever since coming to Japan back in '93 I've always wondered what the hell the attraction is with the Panda. They're everywhere and they still fetch an unusual sum of money to this day. It's a bizarre car to like, but what was even stranger was seeing the Van version of it at the meeting. And an automatic selecta version to boot! Oh and check out that fat exhaust.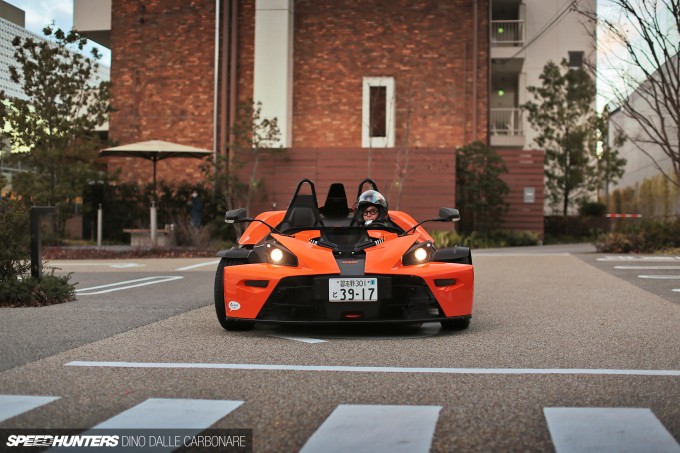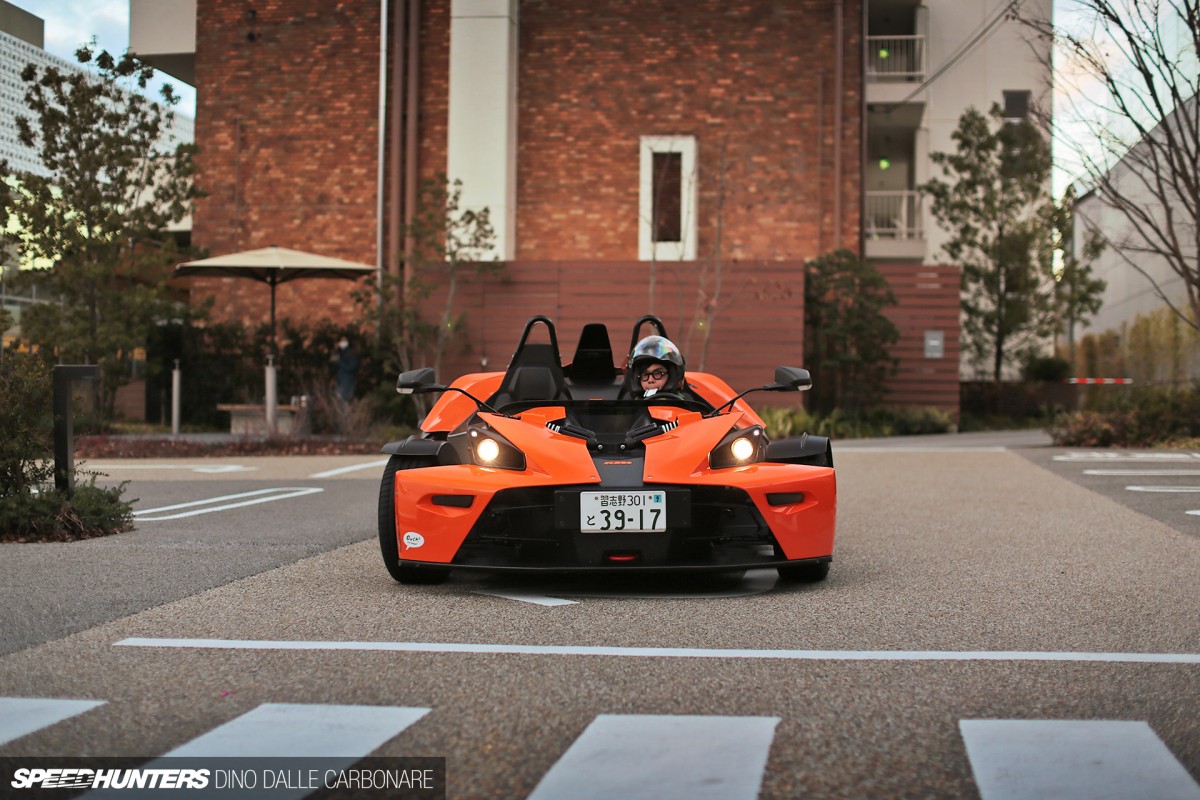 The KTM X-Bow isn't the first car I'd probably like to drive when ambient temperatures hover around zero Celsius, but thumbs up to this guy who drove across the bay to make it to the meet. And he wasn't the only one that was enjoying the fresh winter air.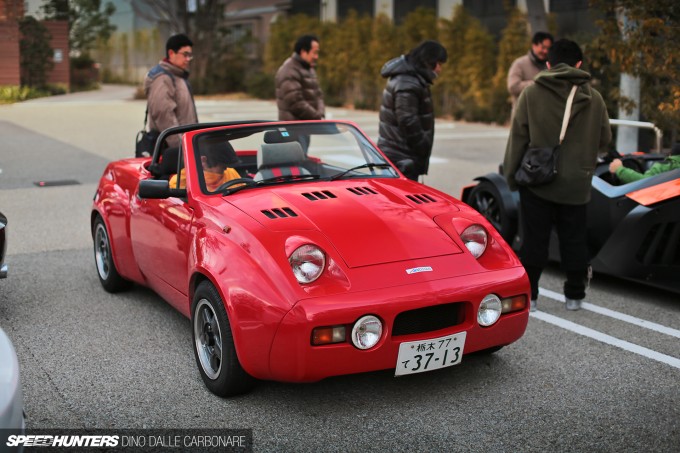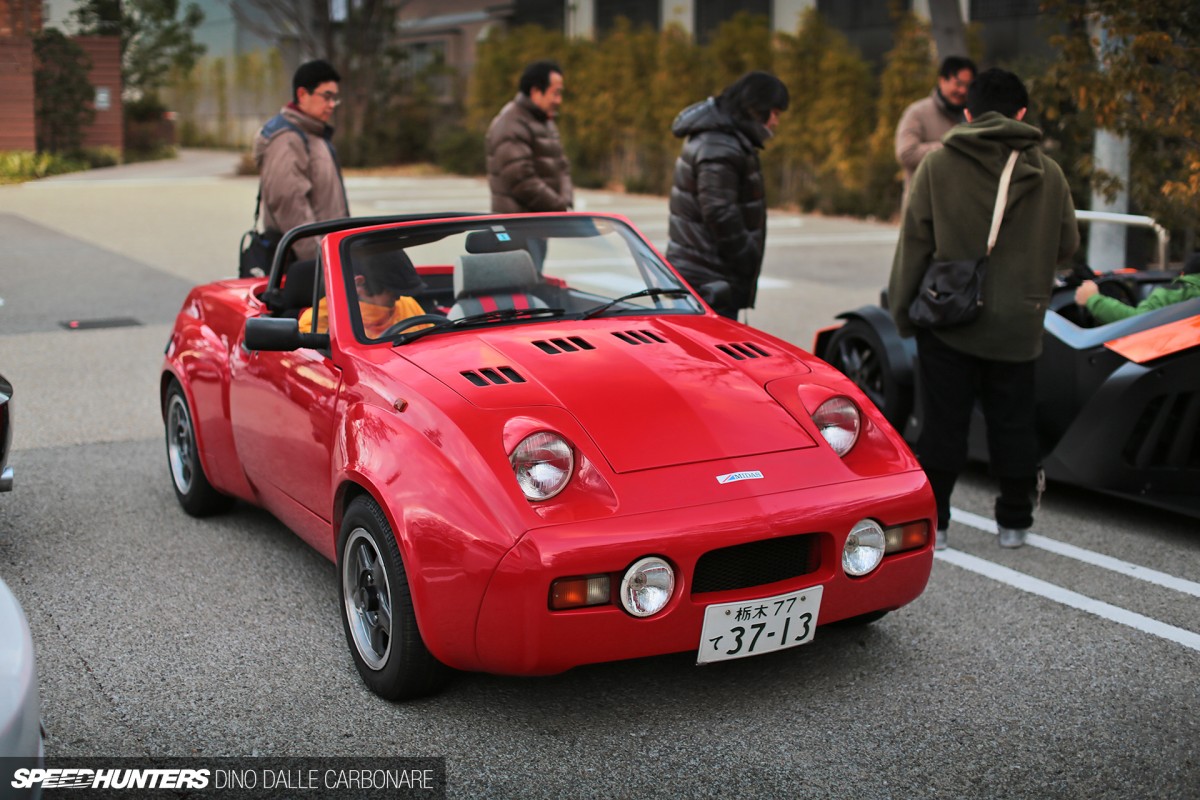 I dread to think what sort of time the owner of this Midas Gold convertible had to get up that morning in order to make it to central Tokyo by 7am, seeing he had come down from Tochigi prefecture.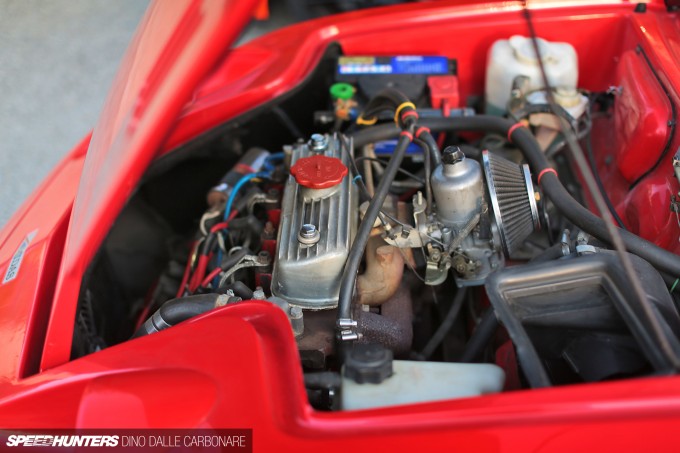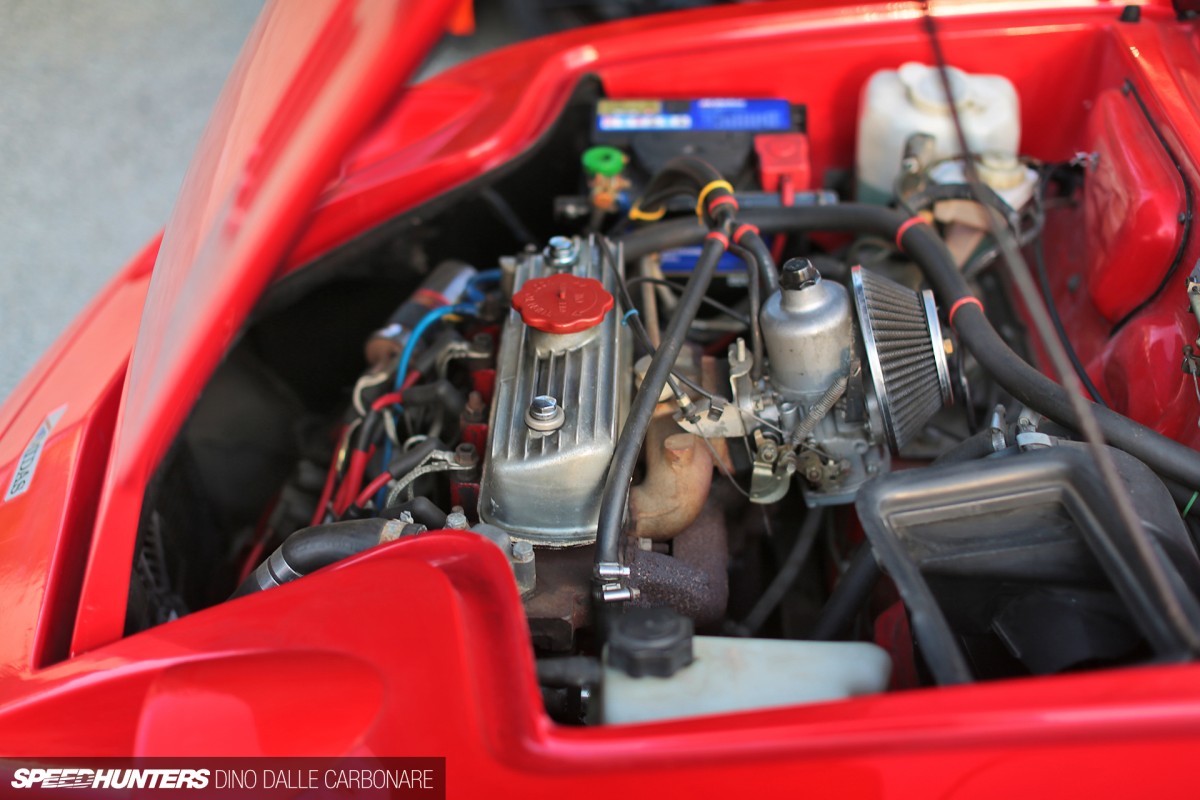 This successor to the Mini Marcos runs Austin Mini running gear as a quick look under the hood revealed, but despite its rarity in Japan (how many can there possibly be, surely?), the next British car to arrive still managed to steal all attention.
Enter the Eventer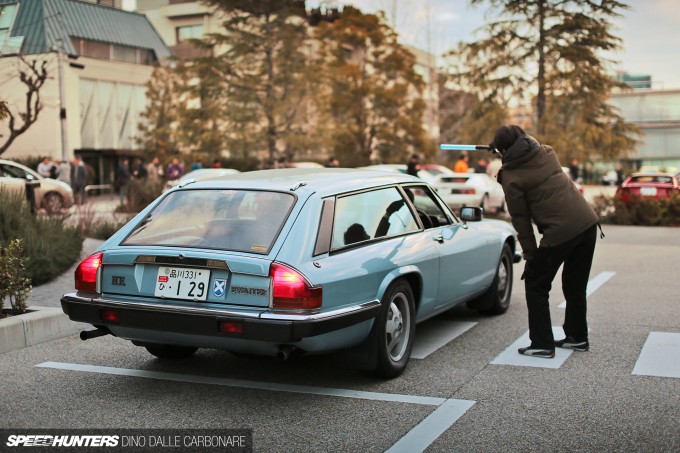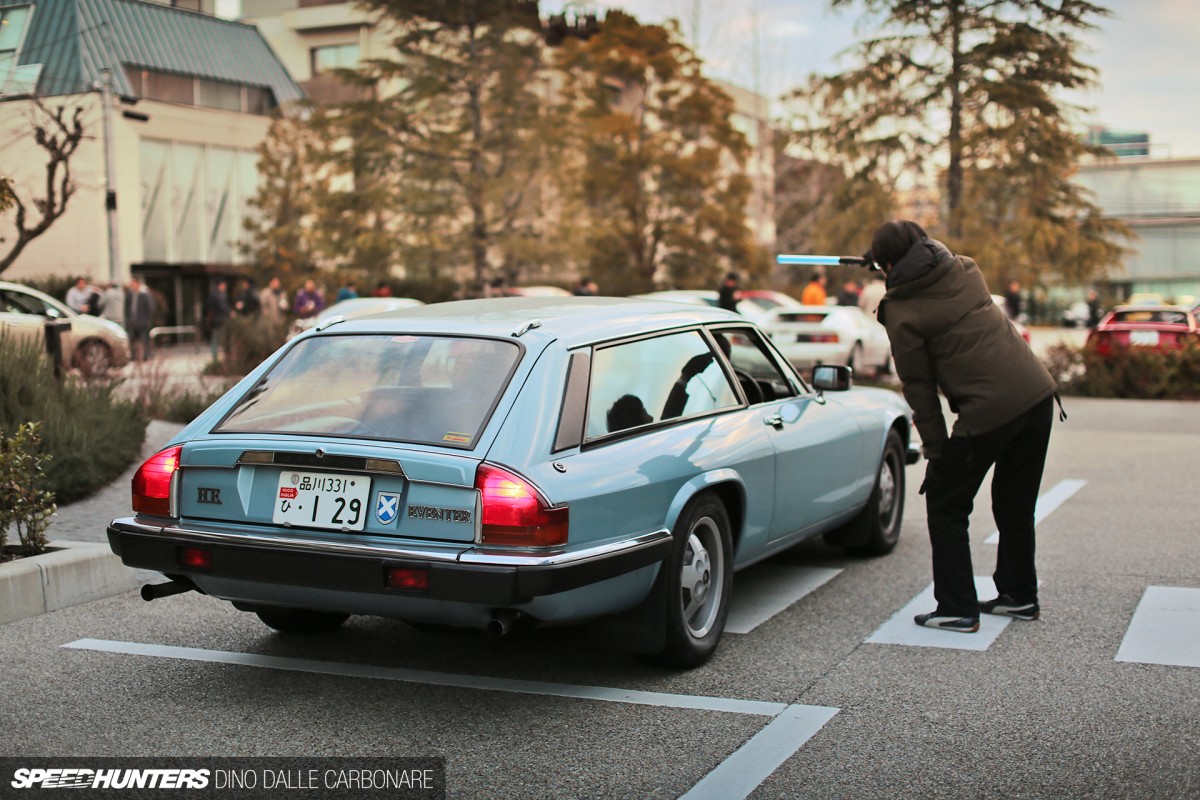 This is indeed a Jaguar XJS, except it's the Eventer shooting brake estate version, which was custom built for some owners by Lynx bodyworks. How ridiculously cool!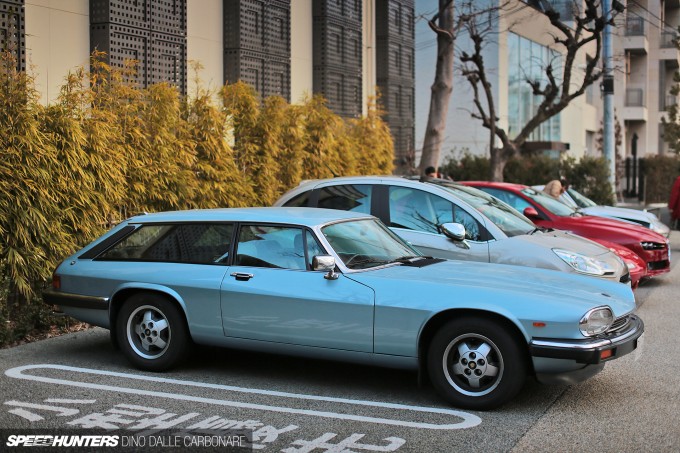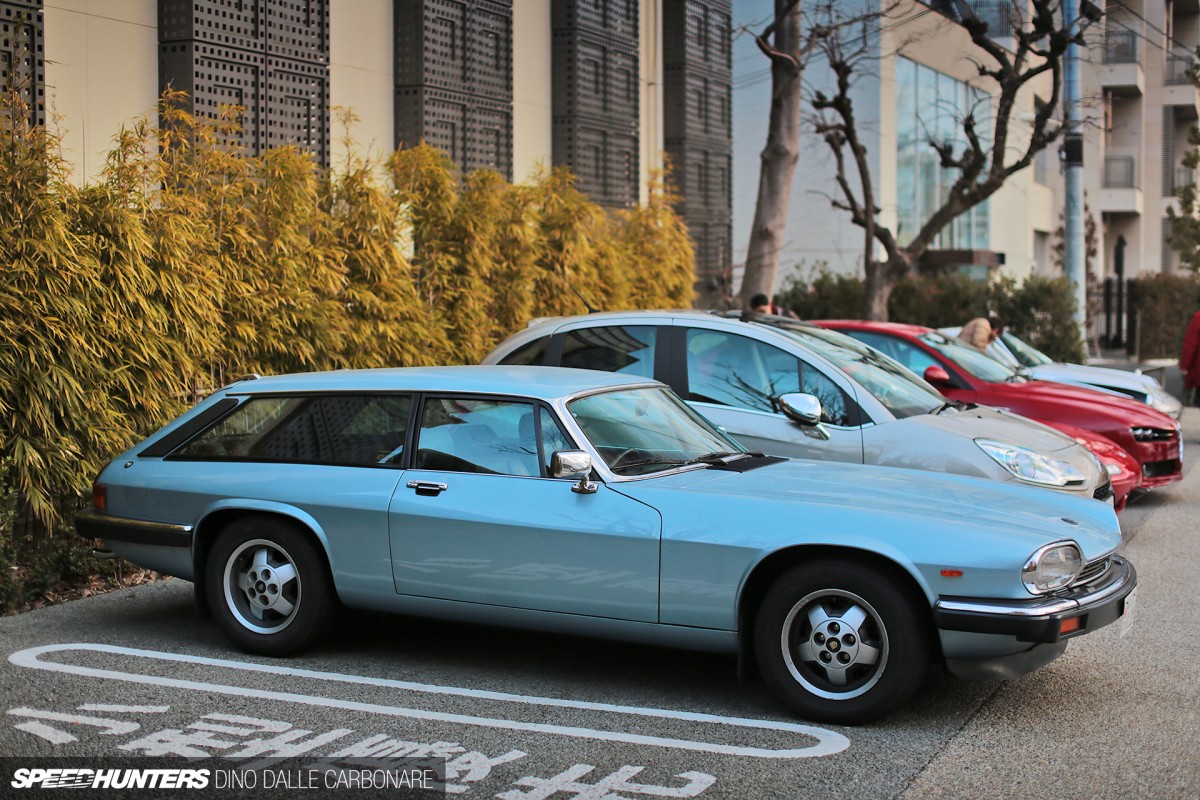 Granted it's far from the prettiest car ever made, but that's obviously why it attracts those with a need to stand out. I felt privileged for having been able to see this in the flesh.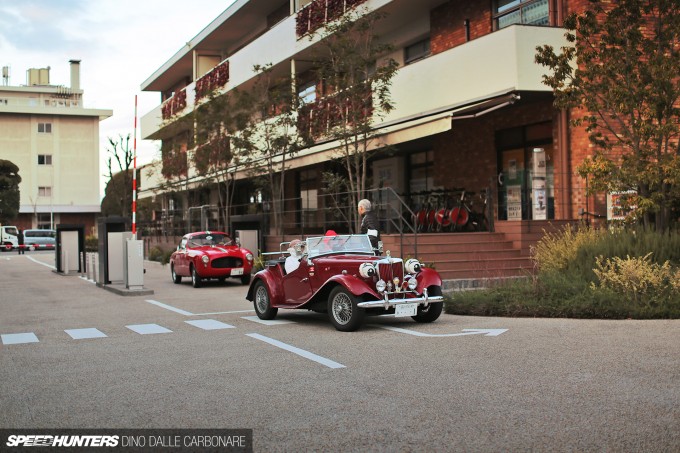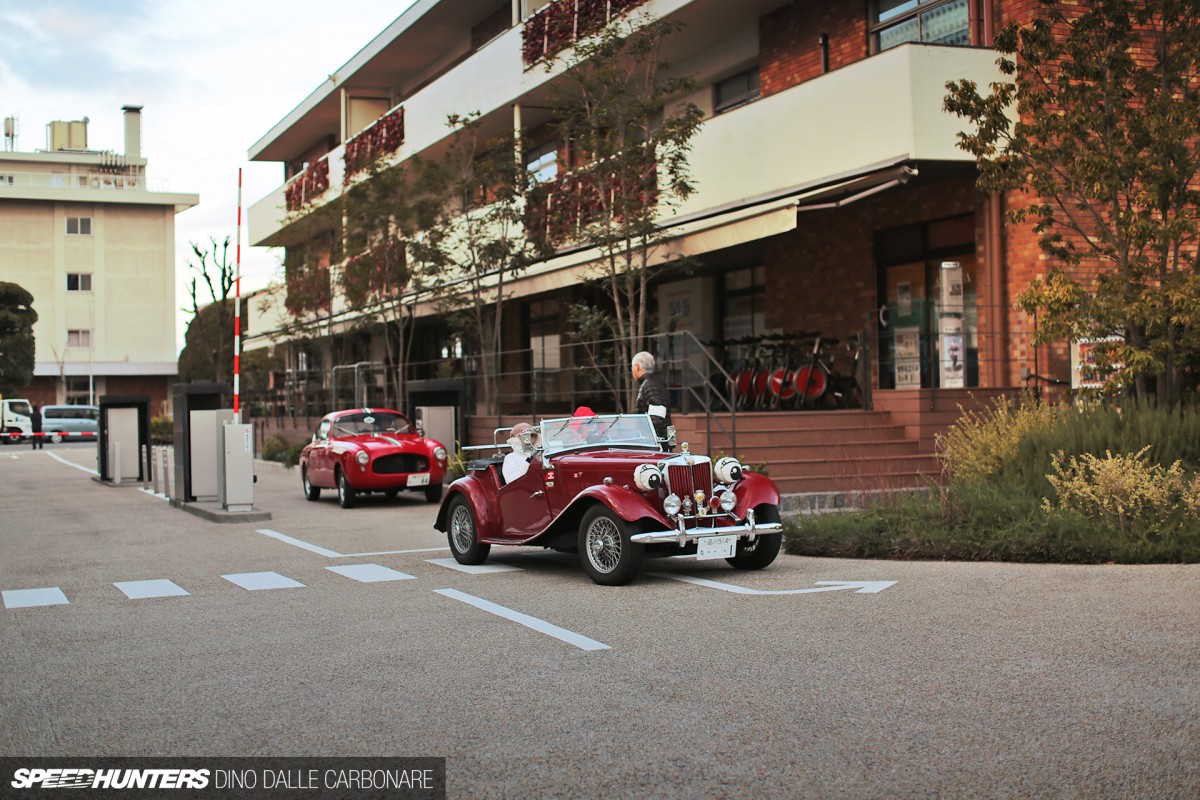 The event organizers have set up an awesome system where those that show up for the meeting every month can sign up for a parking permit which allows them to park free of charge for those two hours the meeting lasts for. Considering the regular price is ¥300 for 15 min that's a great deal. Oh and you also get a complimentary cup of hot coffee.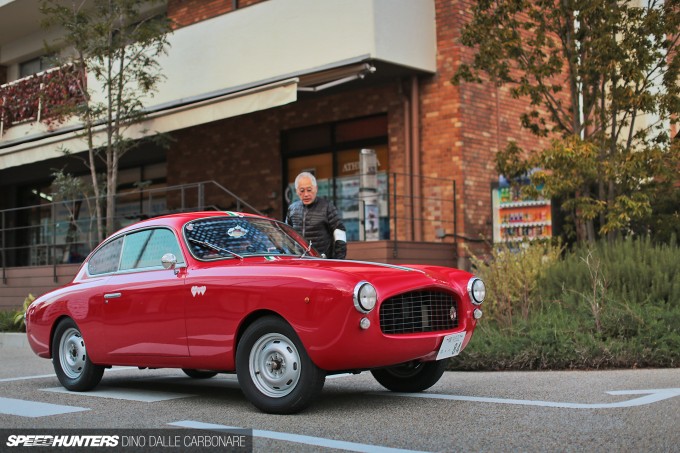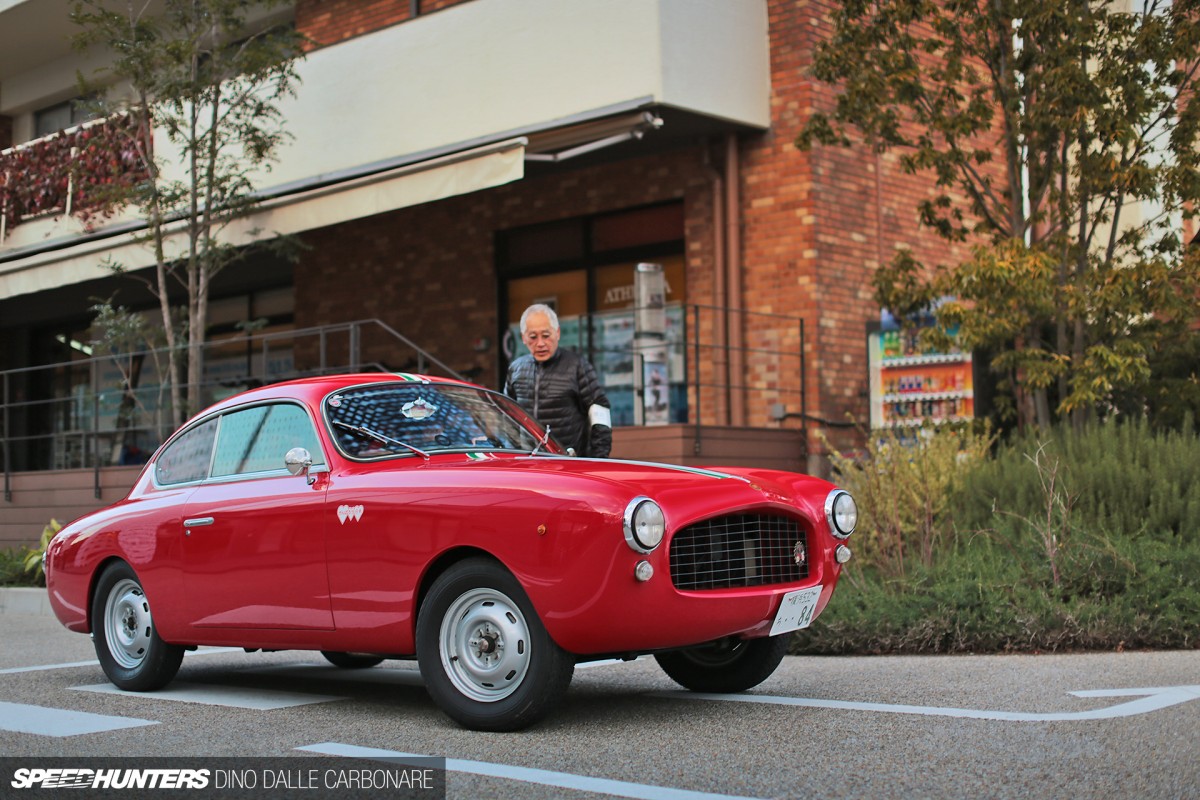 The historics kept arriving, like this 1953 Fiat Pietro Frua 1100 which I have seen at a few classic car events in Japan before –  an extremely rare car.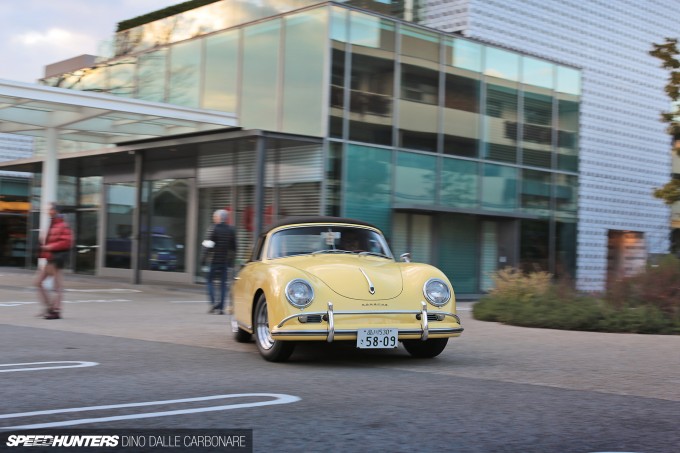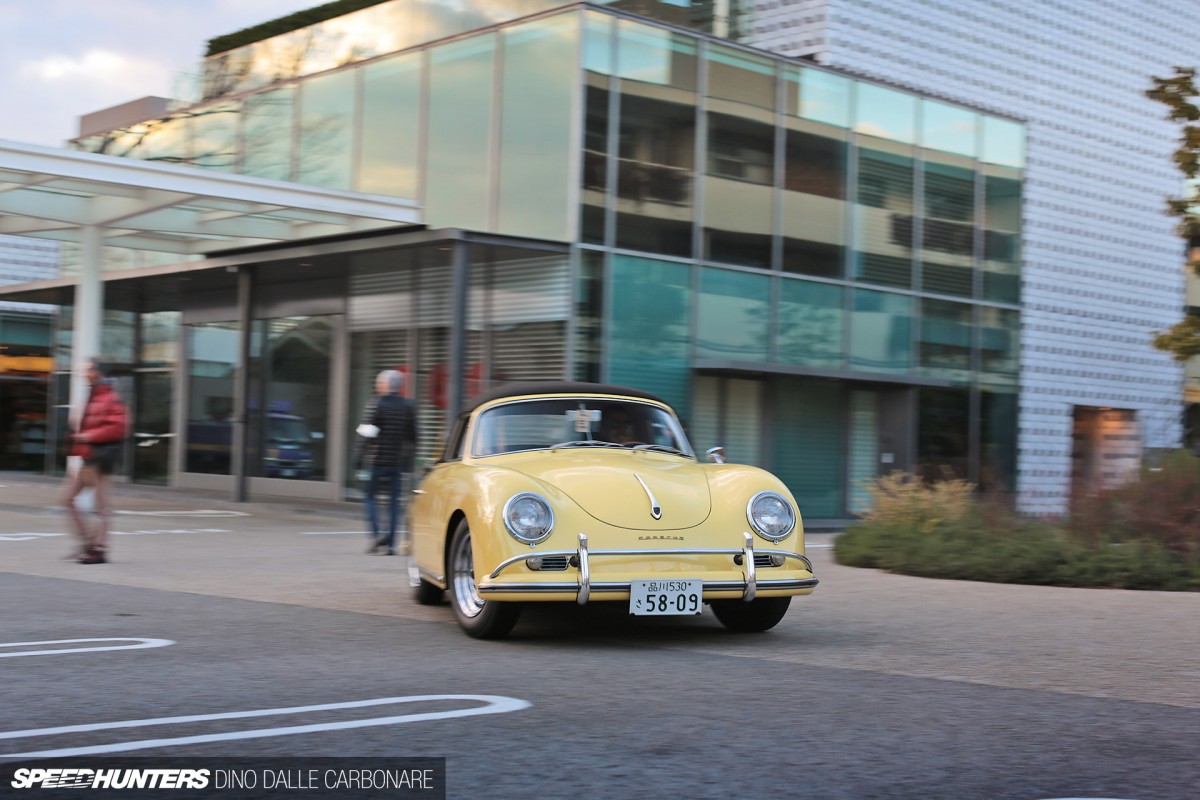 Right behind was a car from the same time period: this yellow Porsche 356, the 911's predecessor.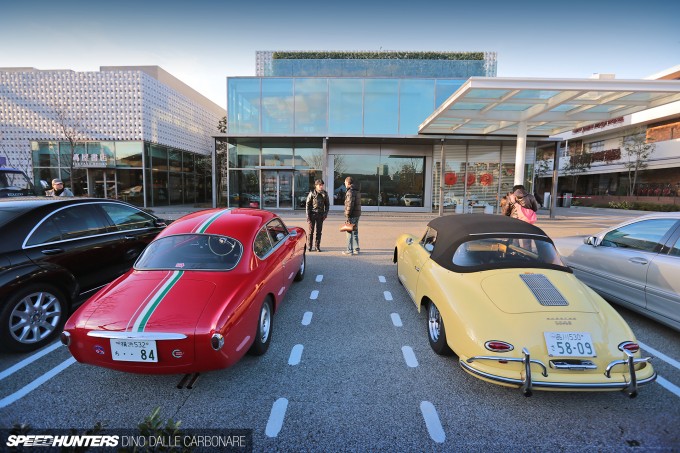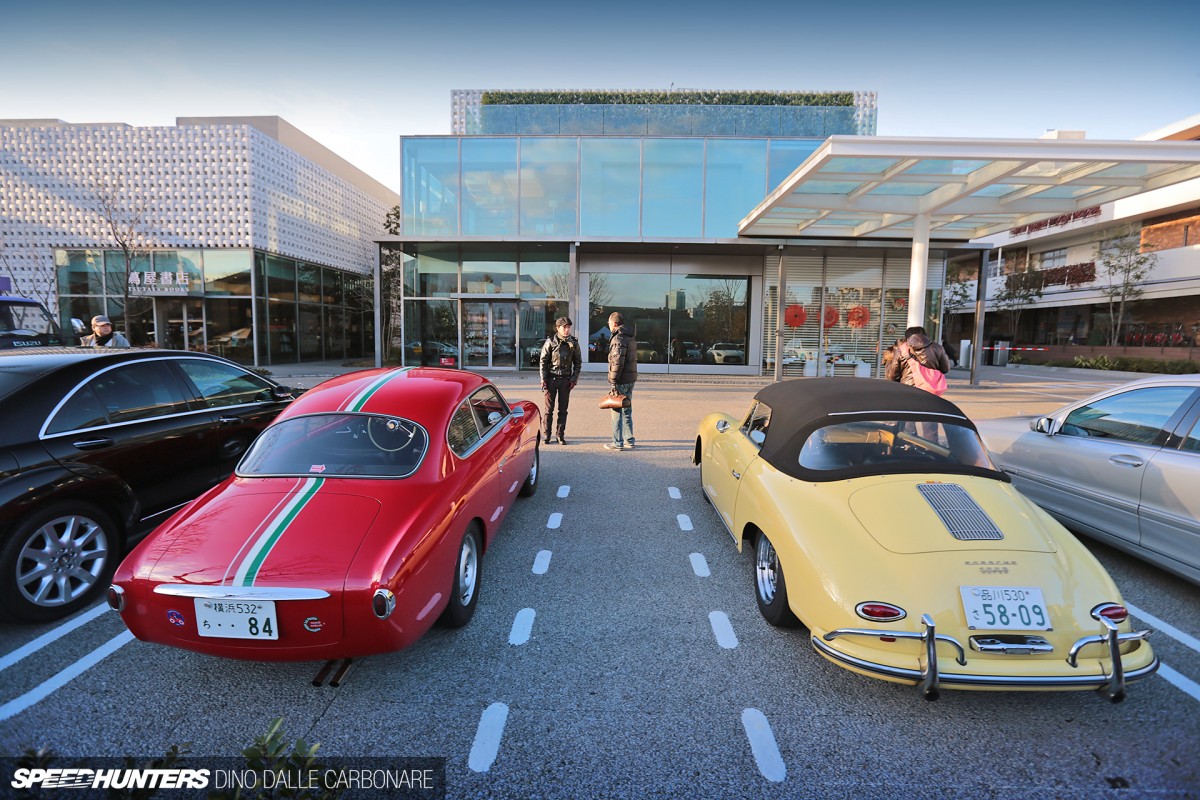 They ended up parking next to each other; the question is, which would you have? The fiery red Italian with a rare coachbuilder body or the slightly more widespread, but equally attractive German drop top?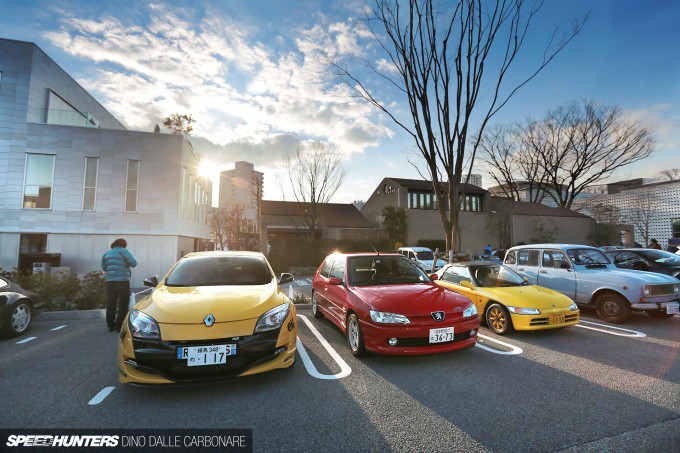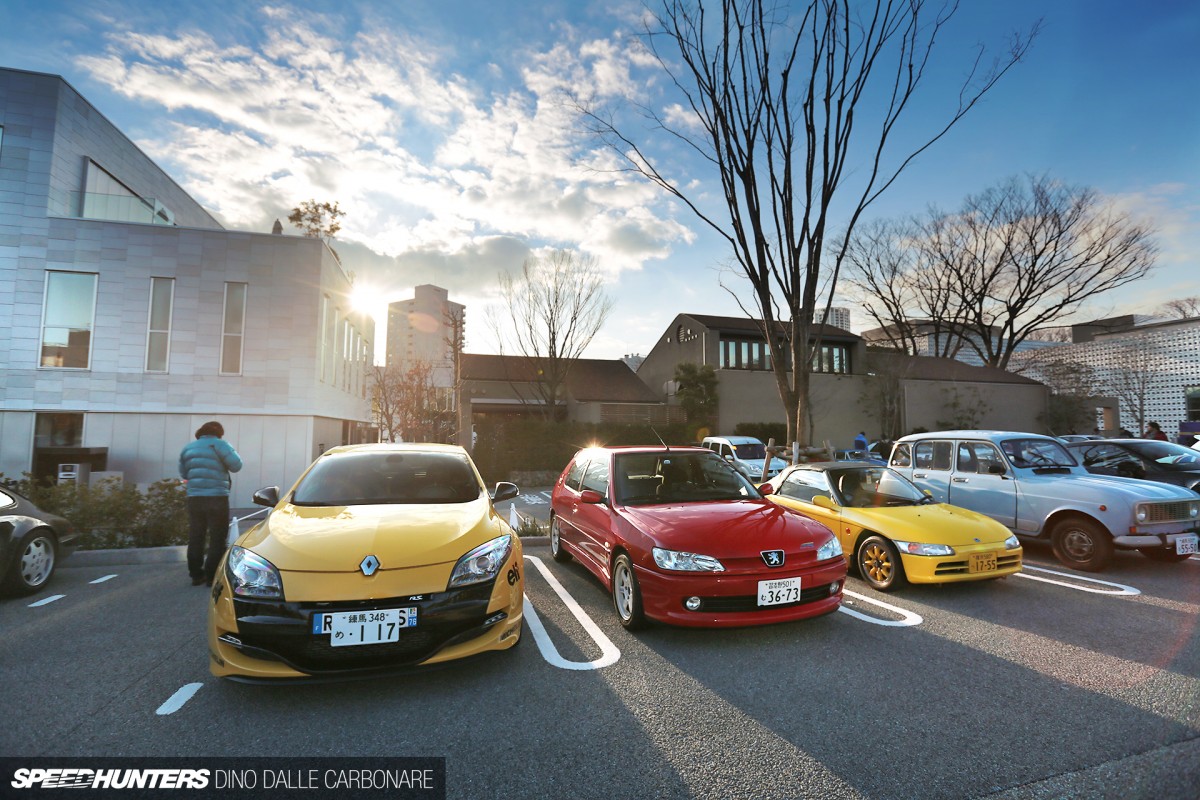 Thankfully, about an hour into the meeting, the sun began to break over the buildings that surround the T-site, bringing some much-needed warmth to  this bunch of car guys. It also shined some warm rays over this pair of French cars: a Mégane RS and the 306 GTI on white TE37s next to it.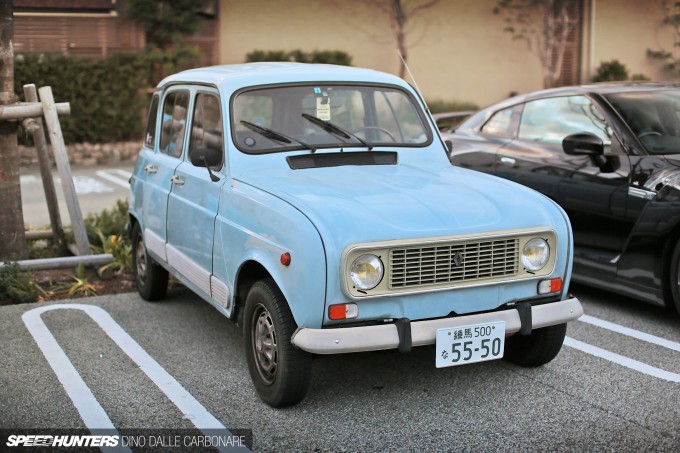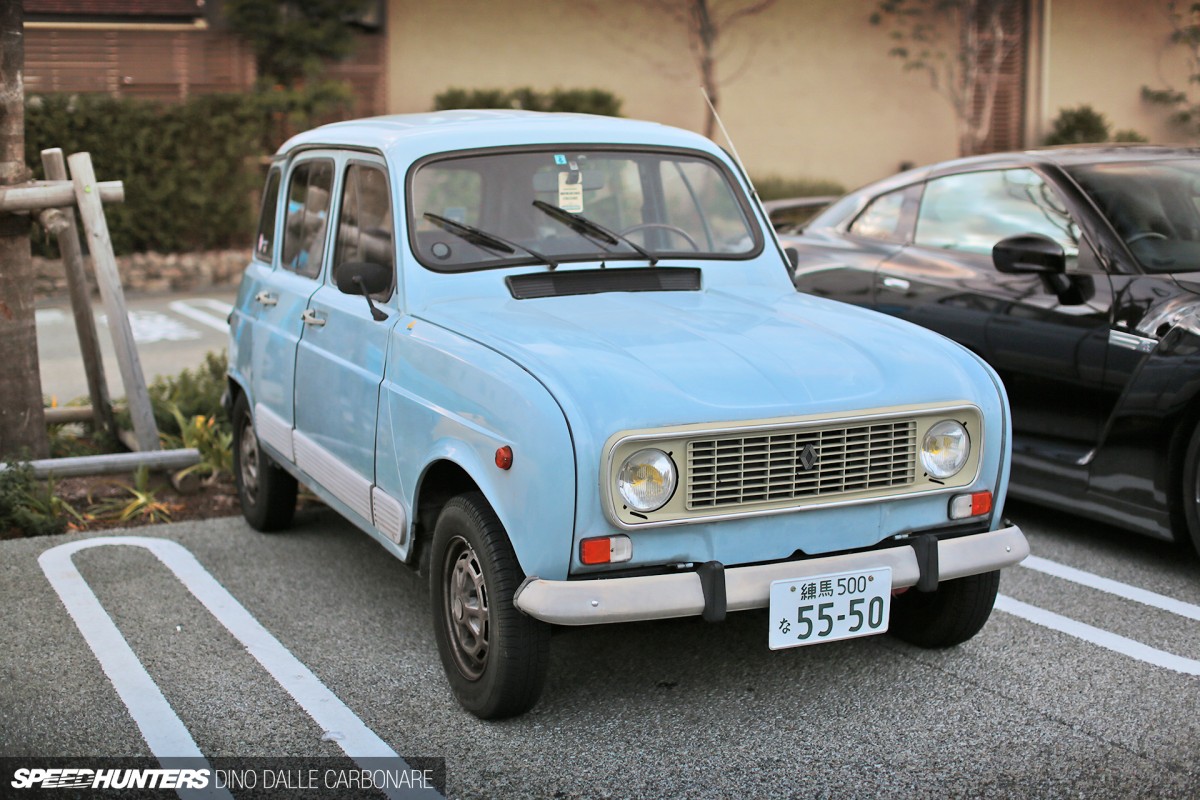 And yes, next to the yellow on yellow Honda Beat was also this Renault 4, always a popular choice for those what want to run a interesting classic import in central Tokyo.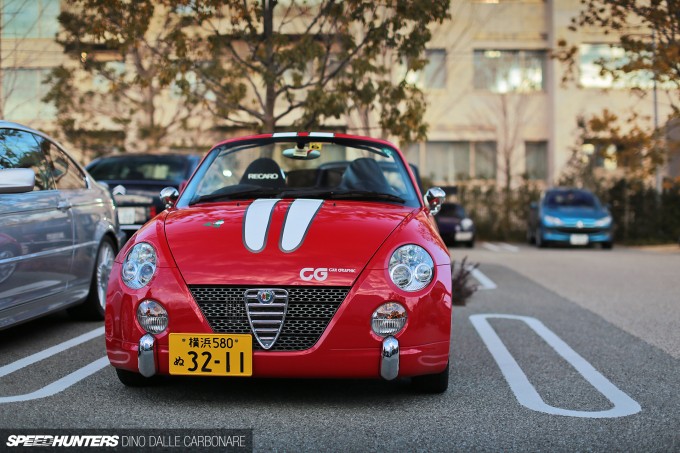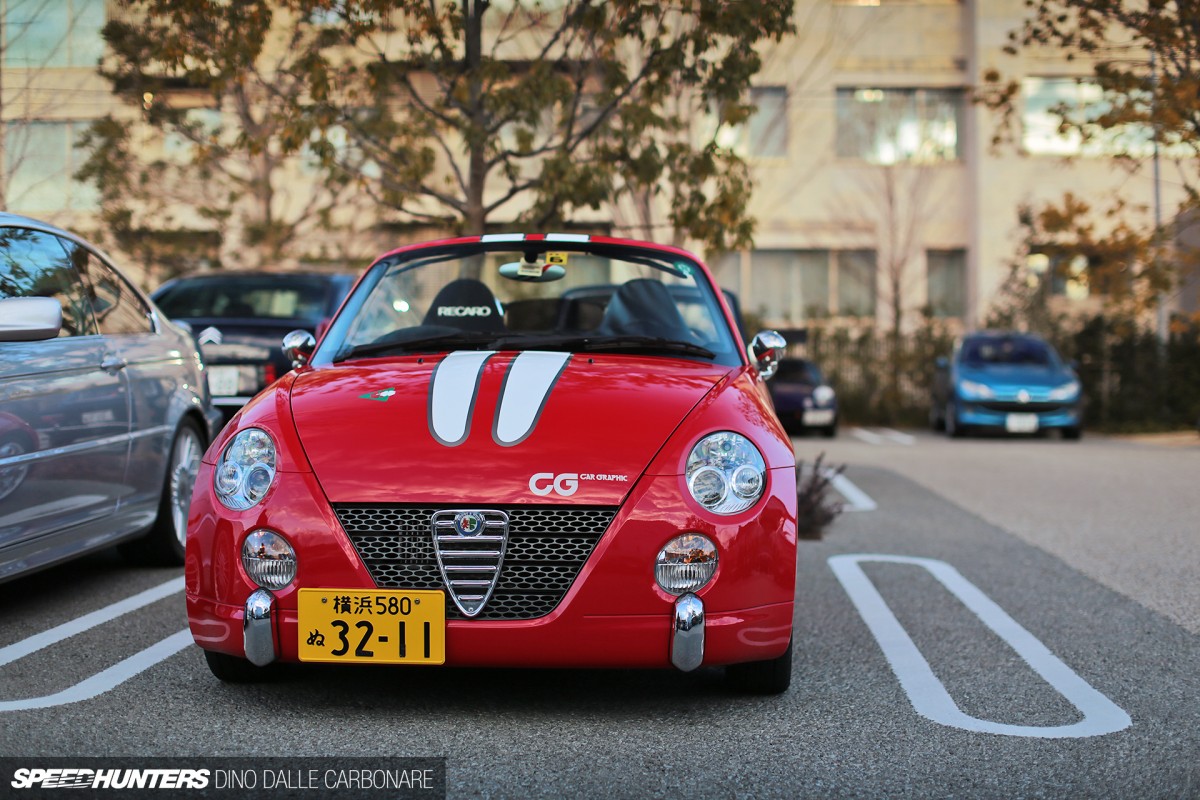 Is this the new Alfa Romeo Spider? Not quite, but nice try little Daihatsu Copen!
Le petit bleu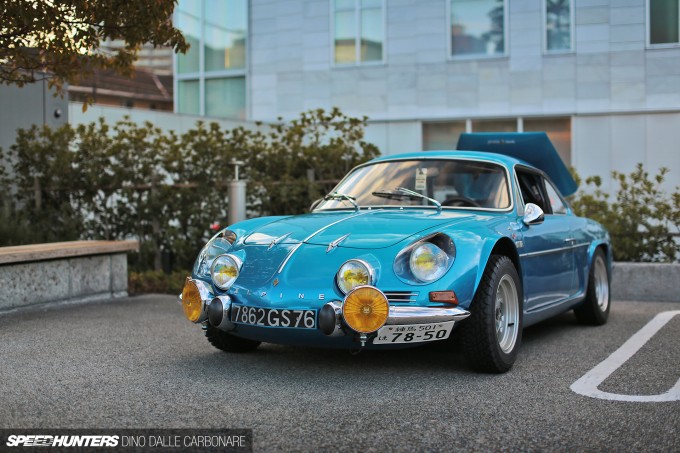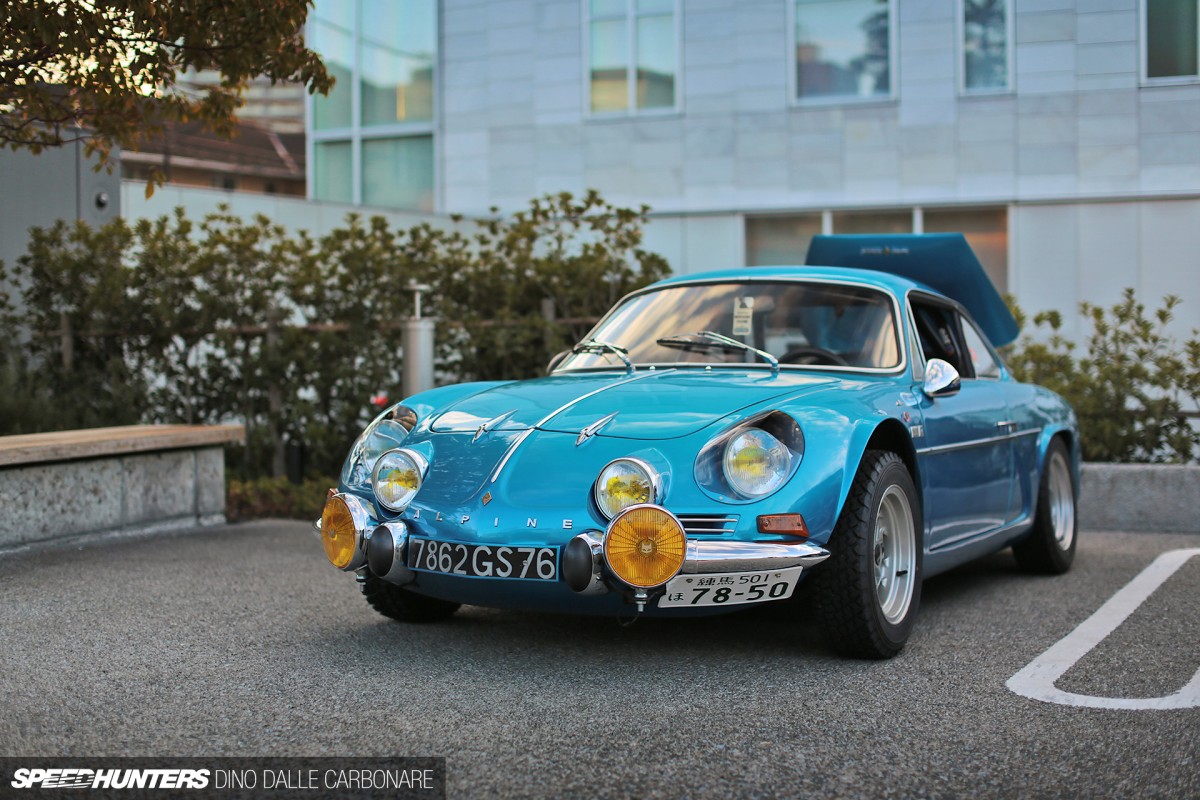 While sipping on my cup of coffee I noticed a second Alpine A110 drive in and head to the far corner of the car park. What was instantly obvious was that this particular car sported a lighter blue than the darker hue I usually see on these cars and it really made a difference. Check out the cool details like the vintage rally tires and those massive Group-4-style yellow driving lights, that like the car we saw earlier were mounted onto the bumper.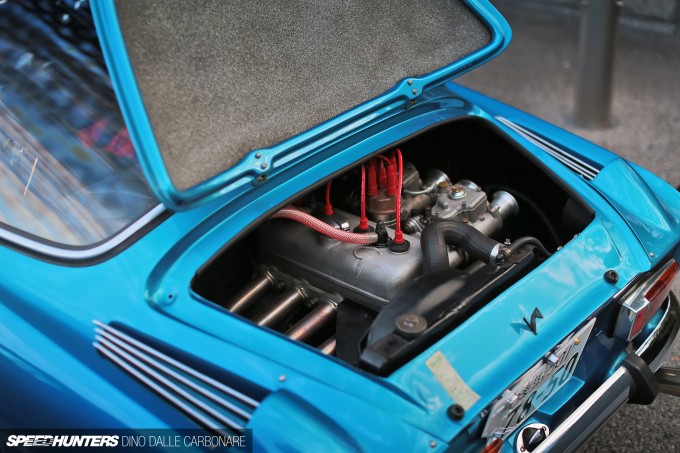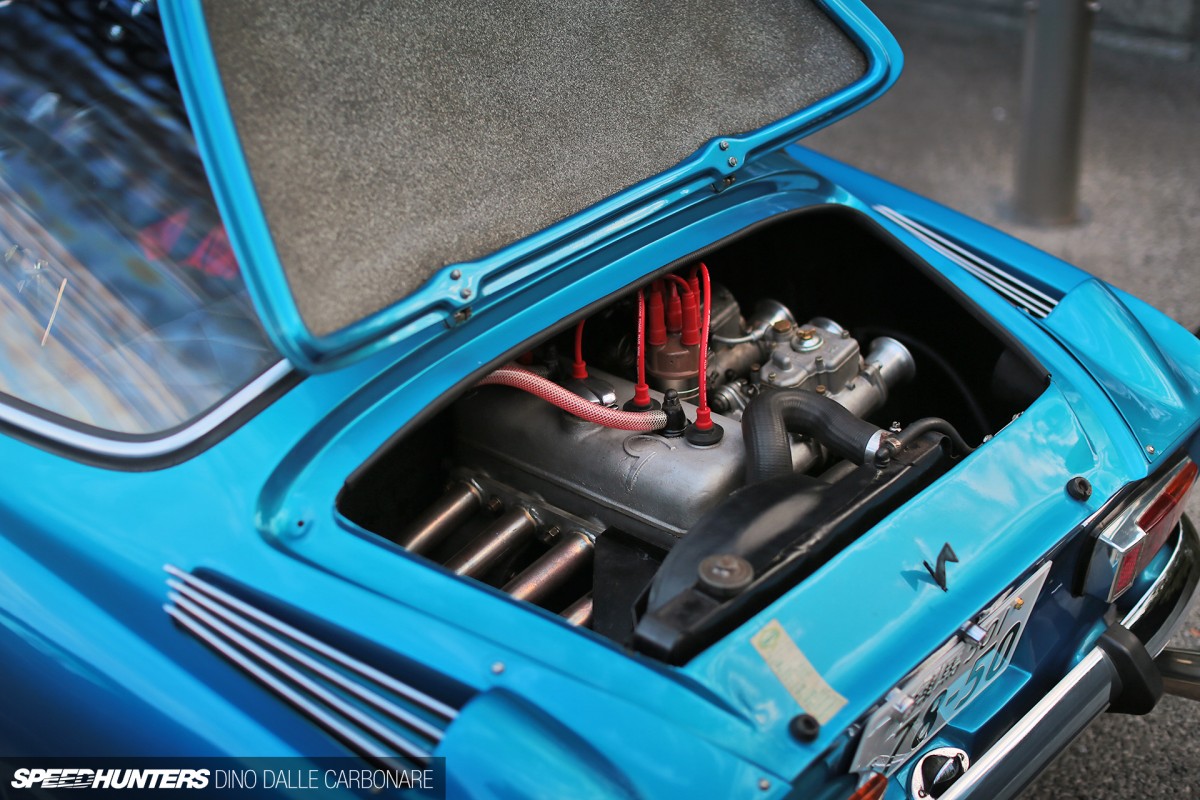 The owner kindly opened the engine cover so everyone could indulge in what was a beautifully cared-for Renault four-cylinder motor.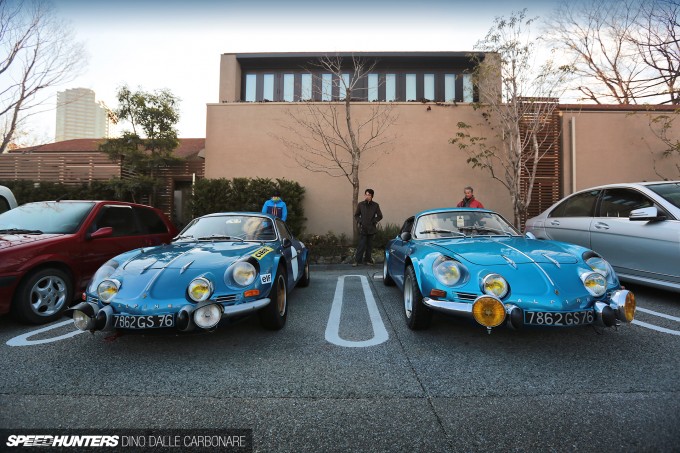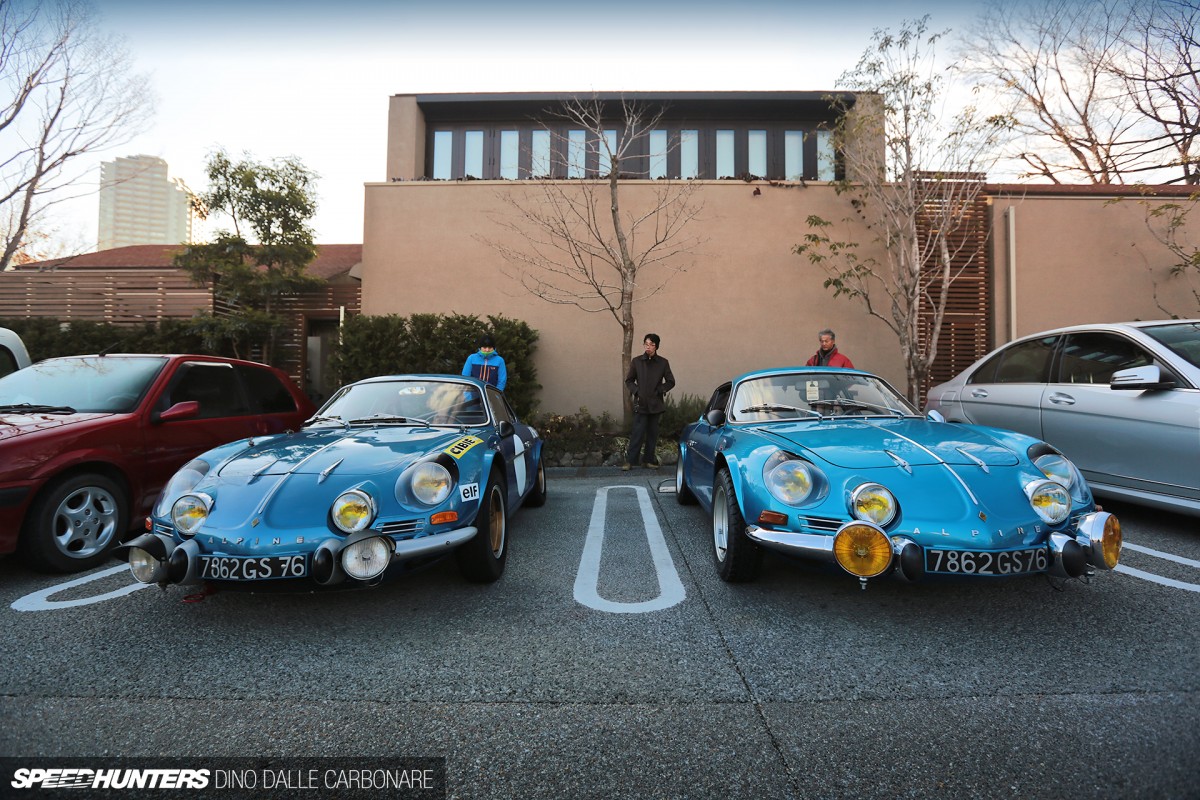 Once the white Lancia Delta Integrale left, the two cars could join forces to make a sight that would have made Jonathan a very happy man. I'll soon be showing you quite a different Alpine, one that I happened to photograph about an hour after I took this picture. Trust me, you don't want to miss it!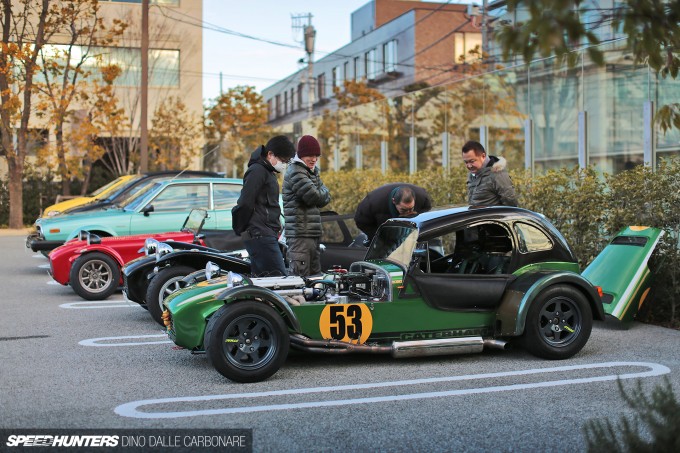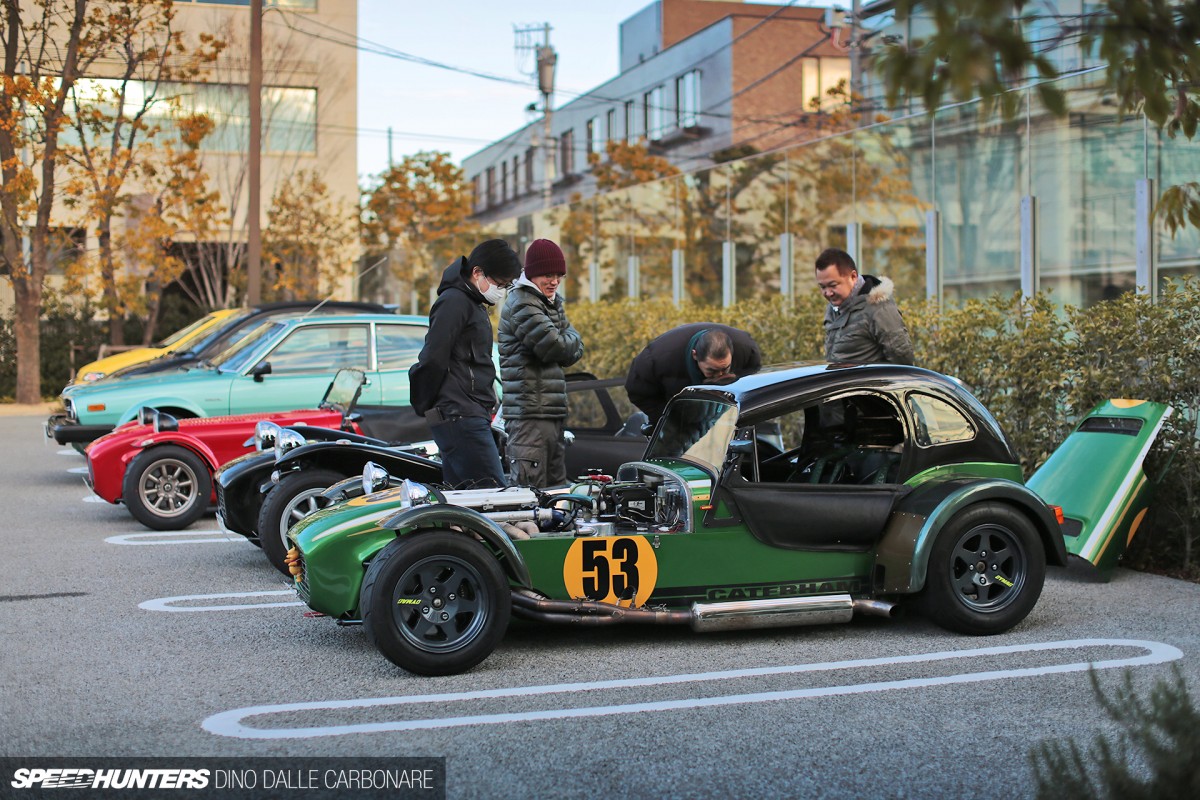 It doesn't matter what kind of meeting it is: you can always be sure to find a little group of Caterhams. Most owners of these cars are so passionate about driving they don't really care what other vehicles they mingle with. These guys were probably off for a blast up in the Hakone mountains after this meeting. If I wasn't so sleepy and exhausted from TAS, I would have joined them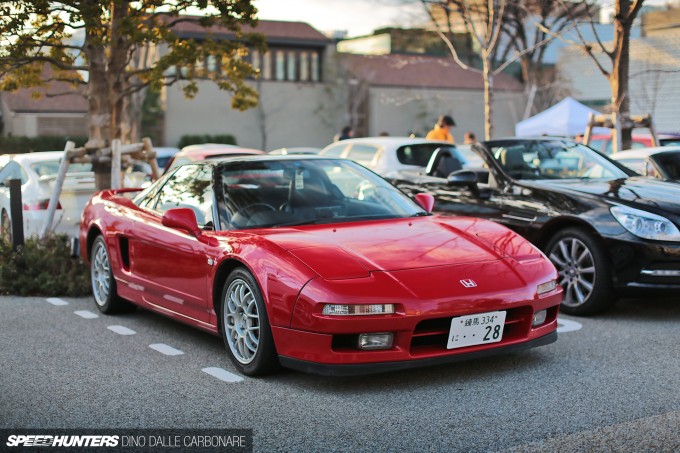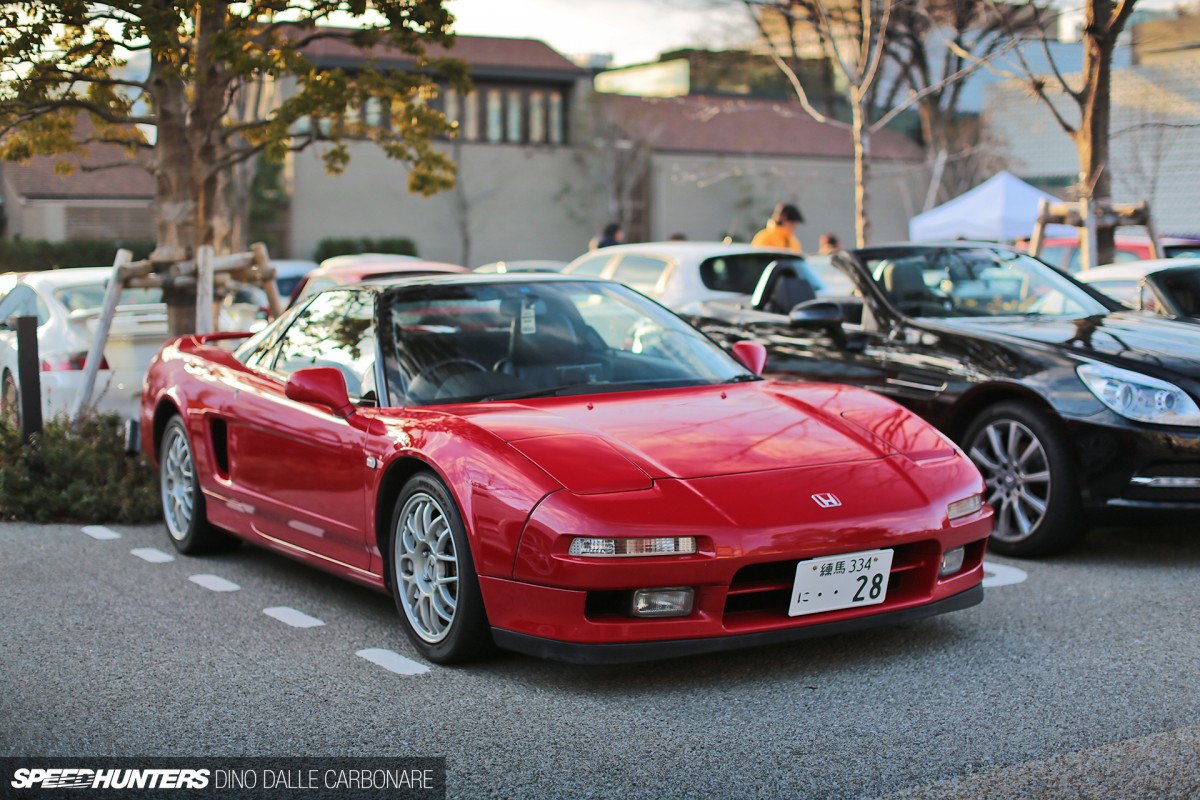 And much like the little lightweight Caterhams, the Honda NSX is one of those cars that's always a welcome sight, especially one kept in such stock and unmolested condition.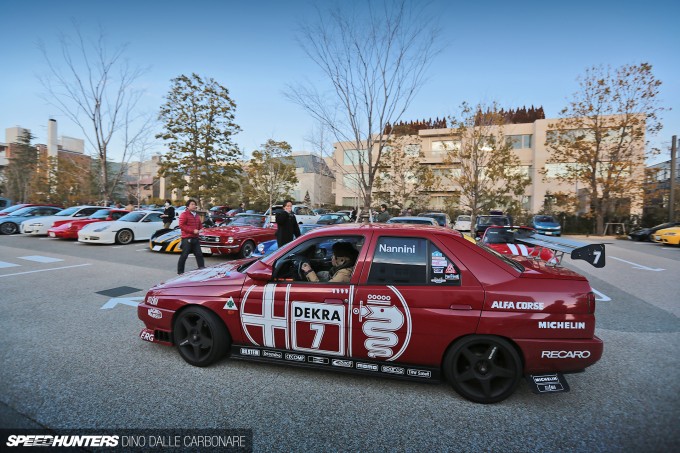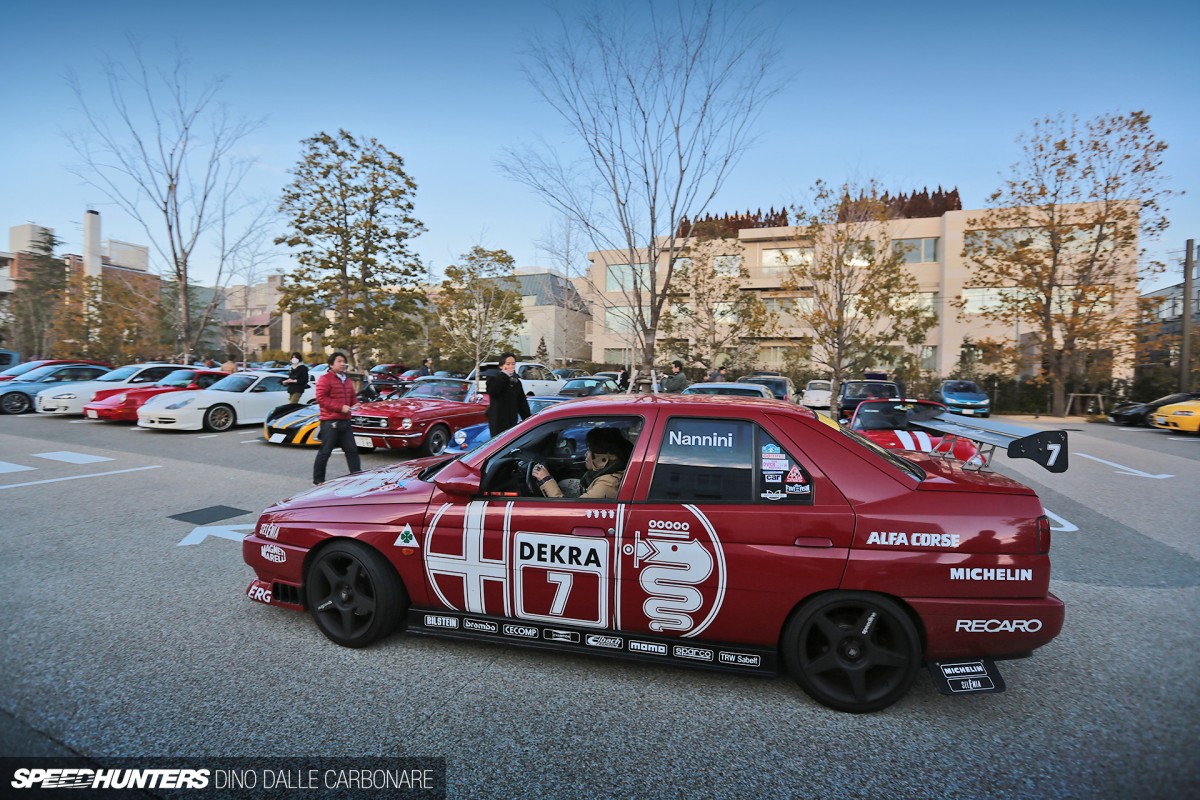 The owner of this 155 is obviously a great fan of the legendary Alessandro Nannini and his stint in DTM with his equally legendary Dekra-sponsored one-five-five.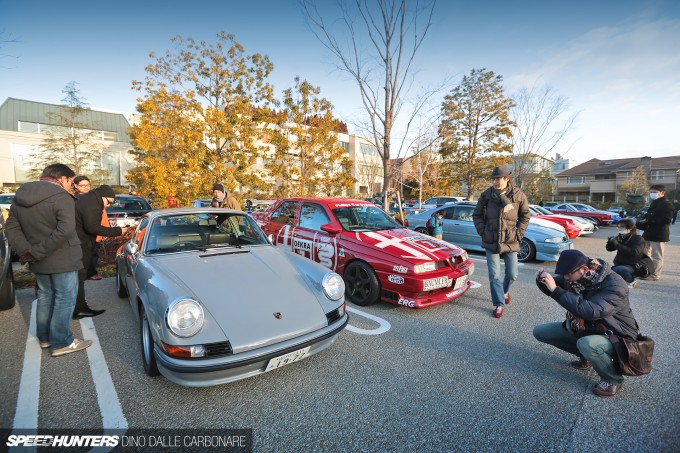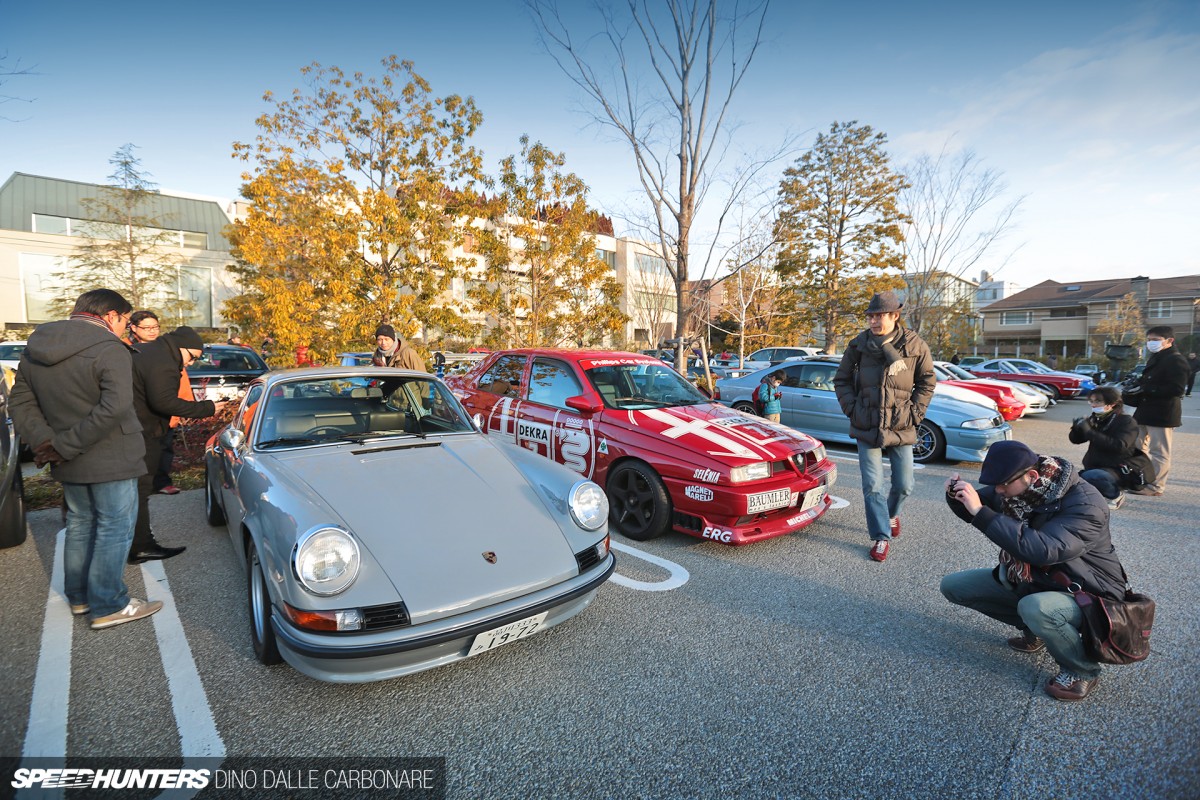 The DTM replica Alfa pulled up next to yet another awesome classic 911, which as its number plate suggests, dates back to 1972.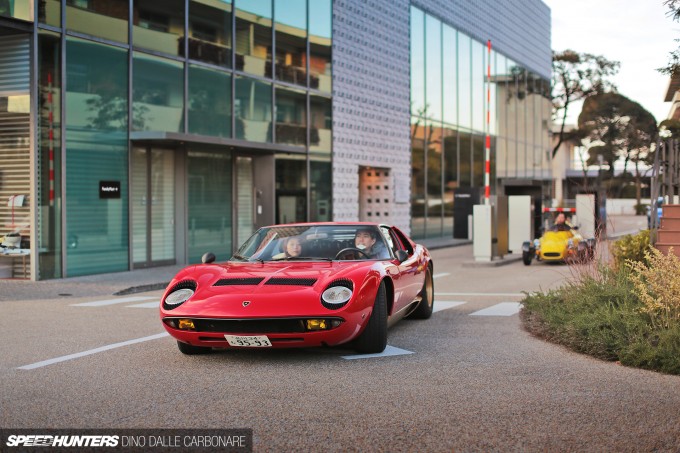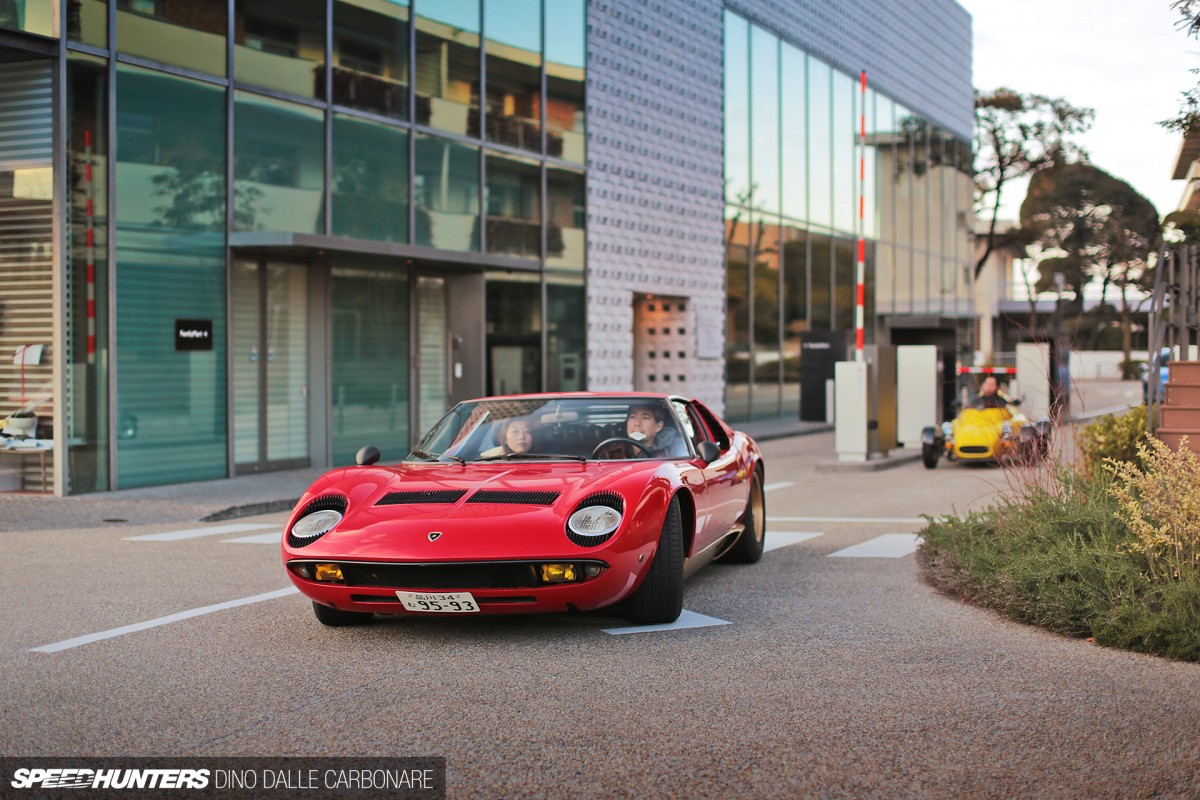 I may have been tired and groggy but boy did I run fast when I saw this work of art slowly making its way into the parking lot. There's no arguing the fact that the Miura is one of the most beautiful cars ever made, and I'd be surprised if someone doesn't rank it in their top ten cars of all time.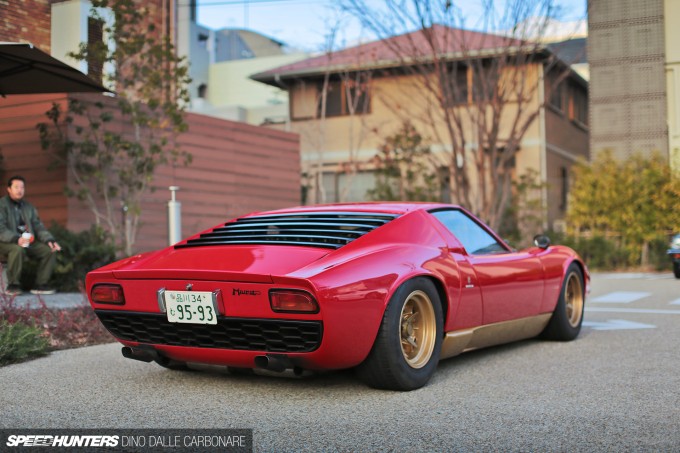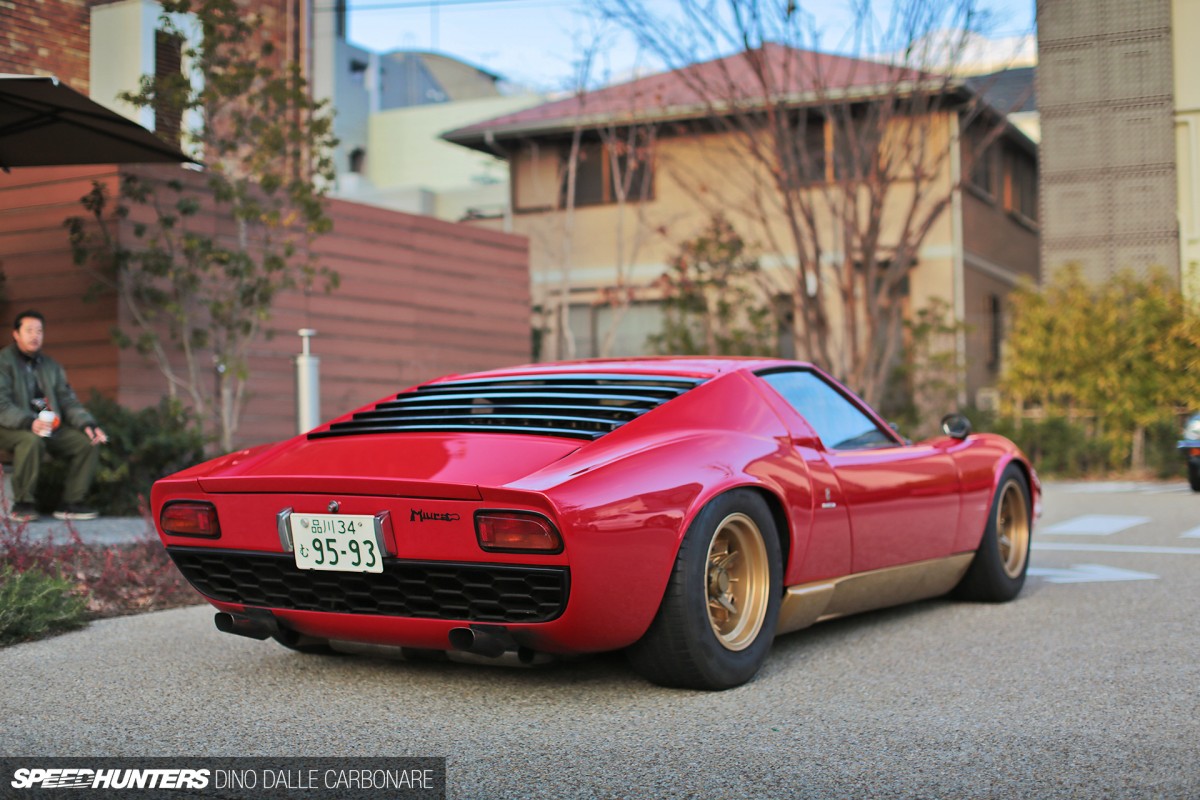 Just look at this thing; every curve and crease is just so right! Needless to say I was more than content, its presence beautifully completing the impressive line-up of cars that had turned out that morning.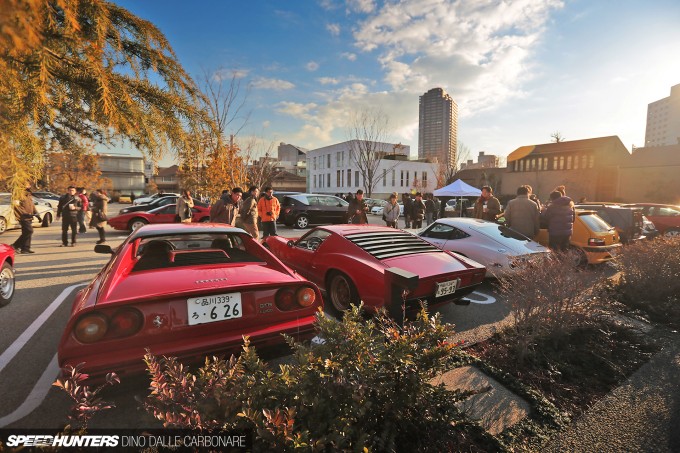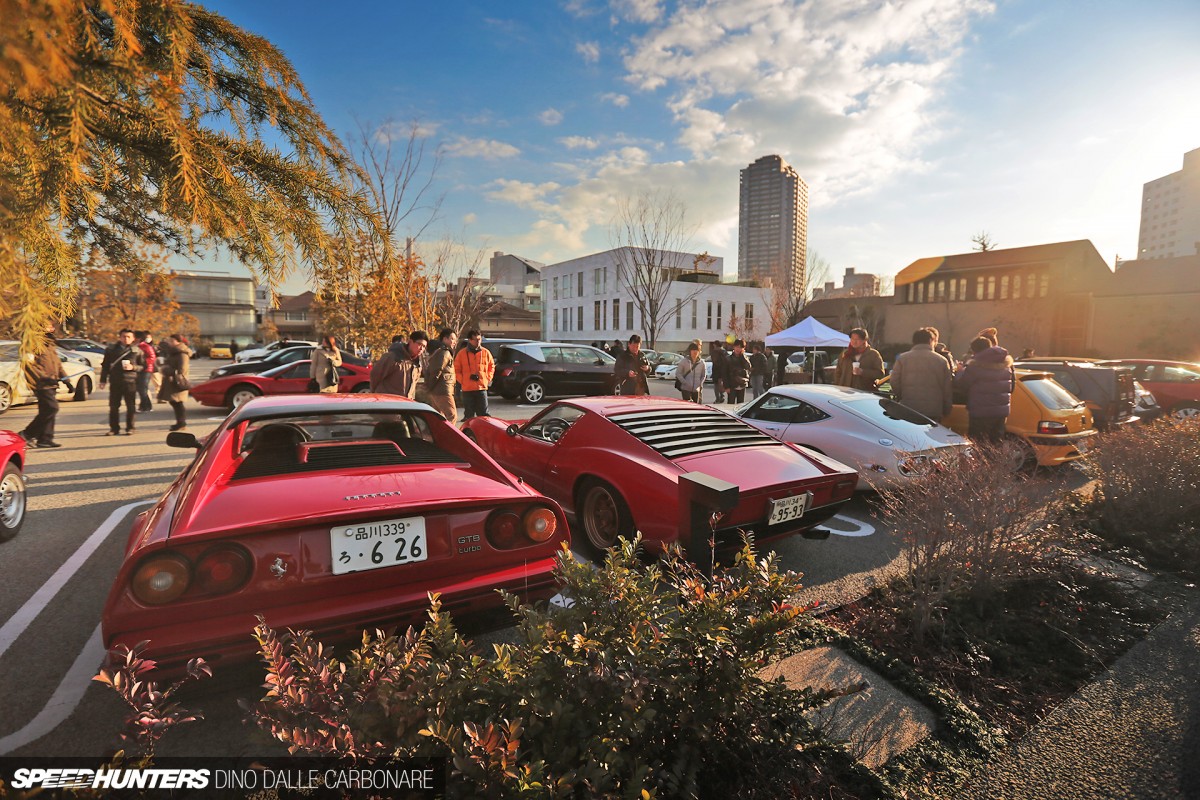 Seeing as the Fiat 124 Abarth had left, the Miura slotted beautifully in between the Ferrari GTB Turbo and Toyota 2000GT, creating quite the view!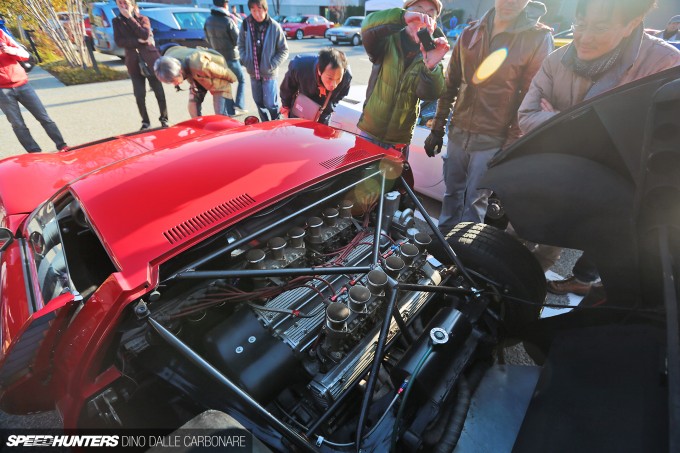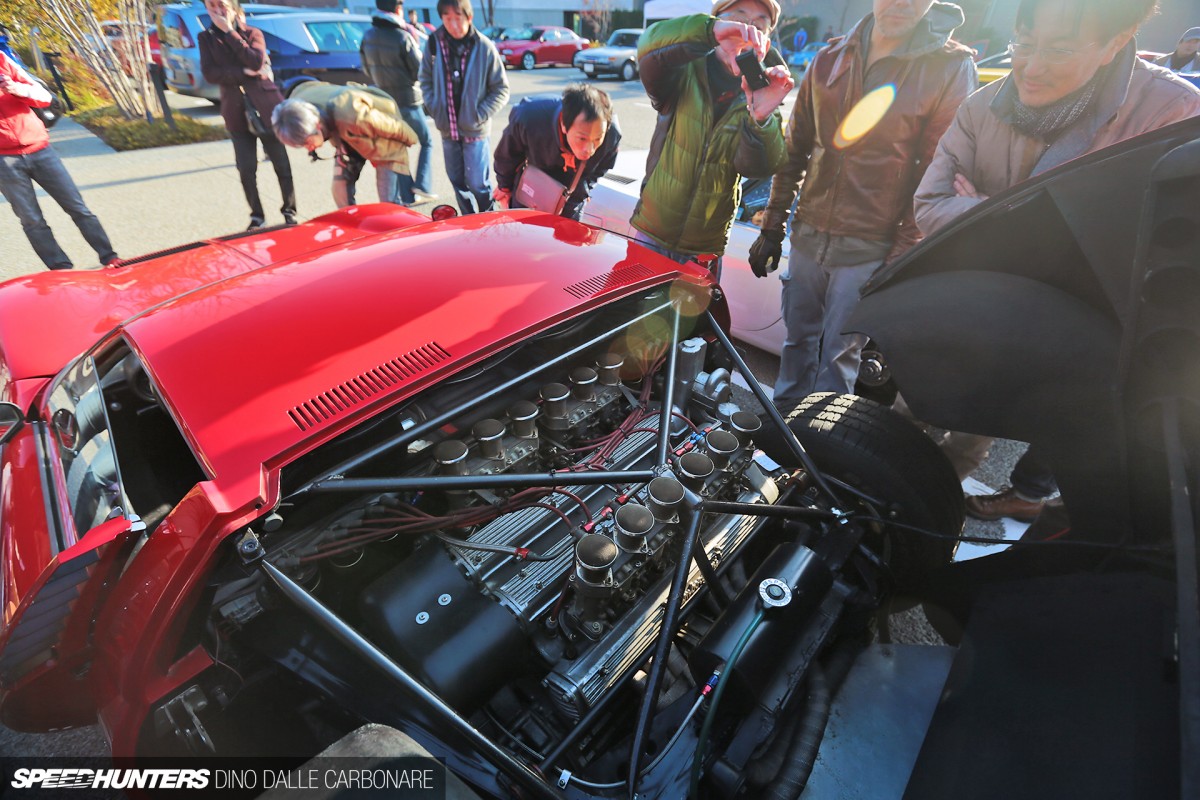 And like every car there, the Miura's condition was nothing short of concourse-ready. I mean, seriously, look at that transversally-mounted V12! No doubting its beauty despite the curious layout, but making all four Webers sing in harmony must be one big carburettor headache.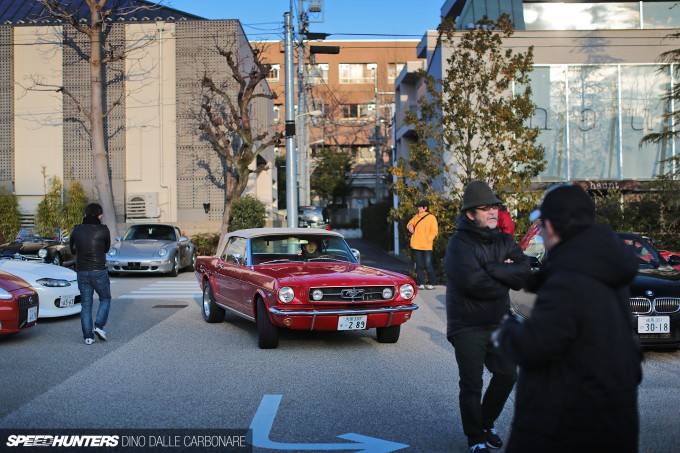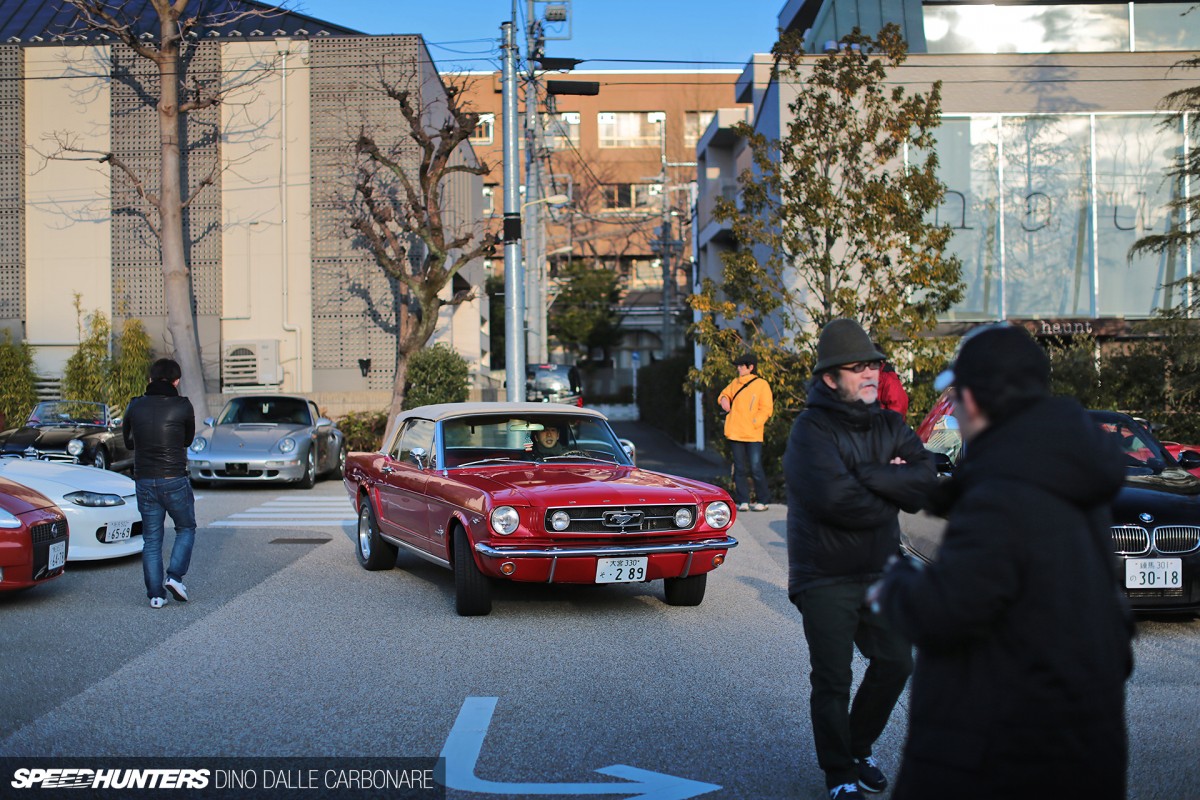 You may have noticed a certain lack of American cars, but a little before the meeting ended, a couple of iconic cars from the good old US of A did show up, starting off with this Mustang.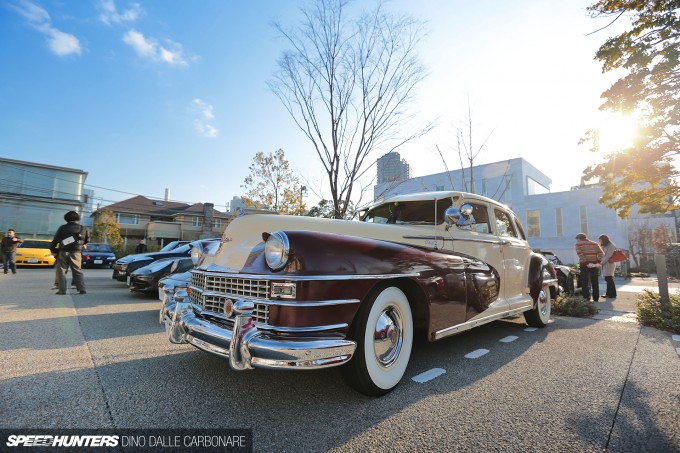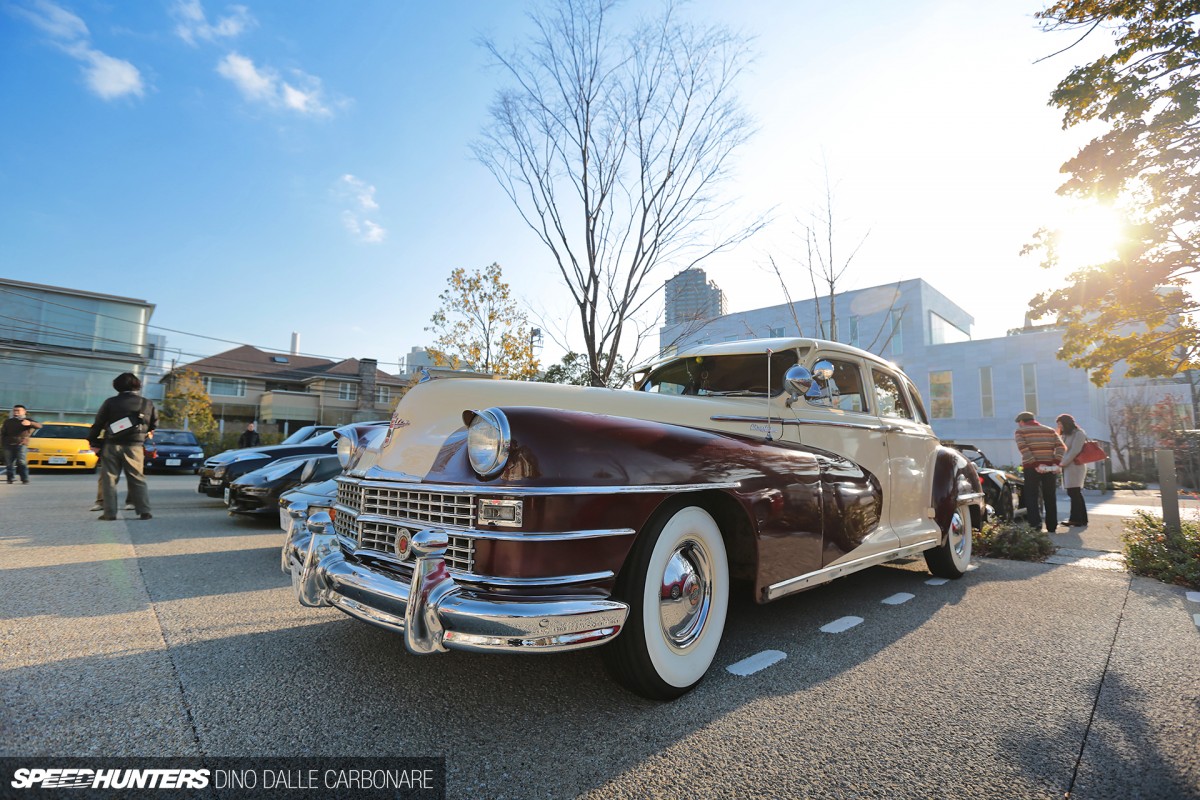 Joining it was this huge Chrysler New Yorker, adding yet another slice of awesomeness to the morning's proceedings.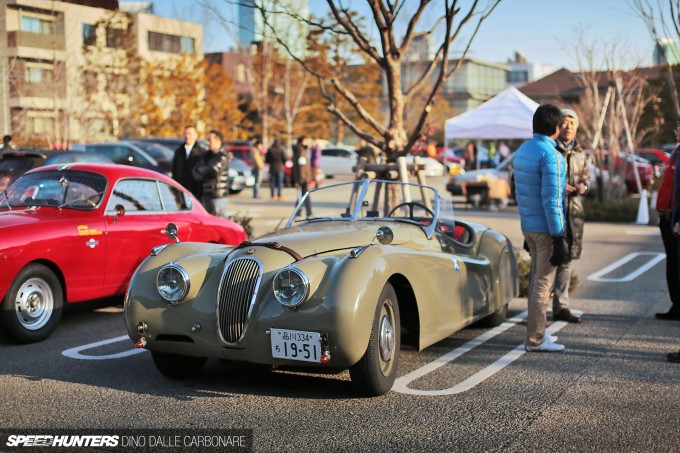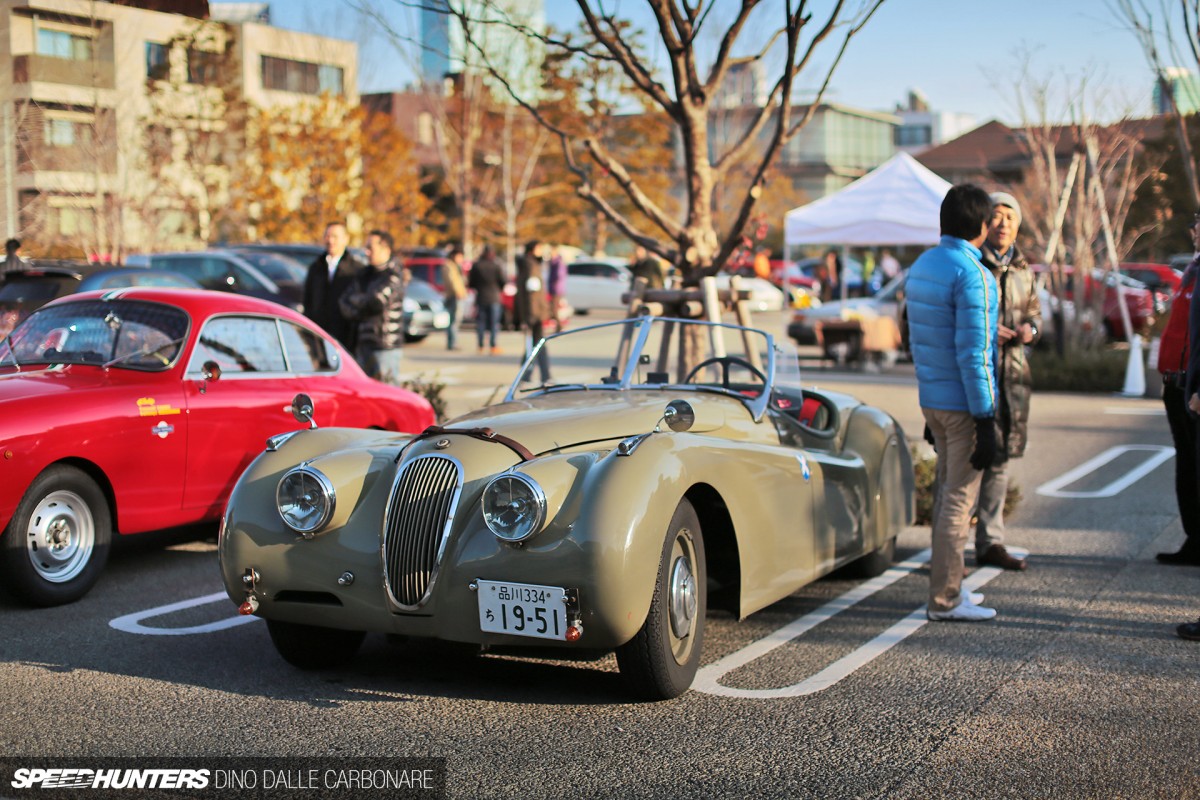 As I grabbed the last couple of shots of the last few cars that arrived, 9am came around and it was time to head back home and get back to reality.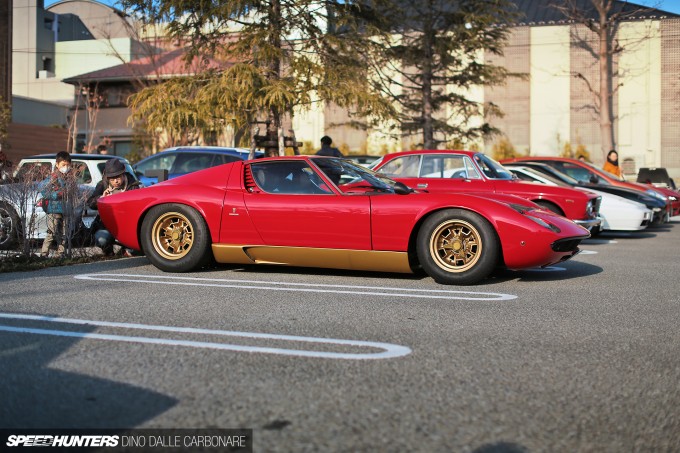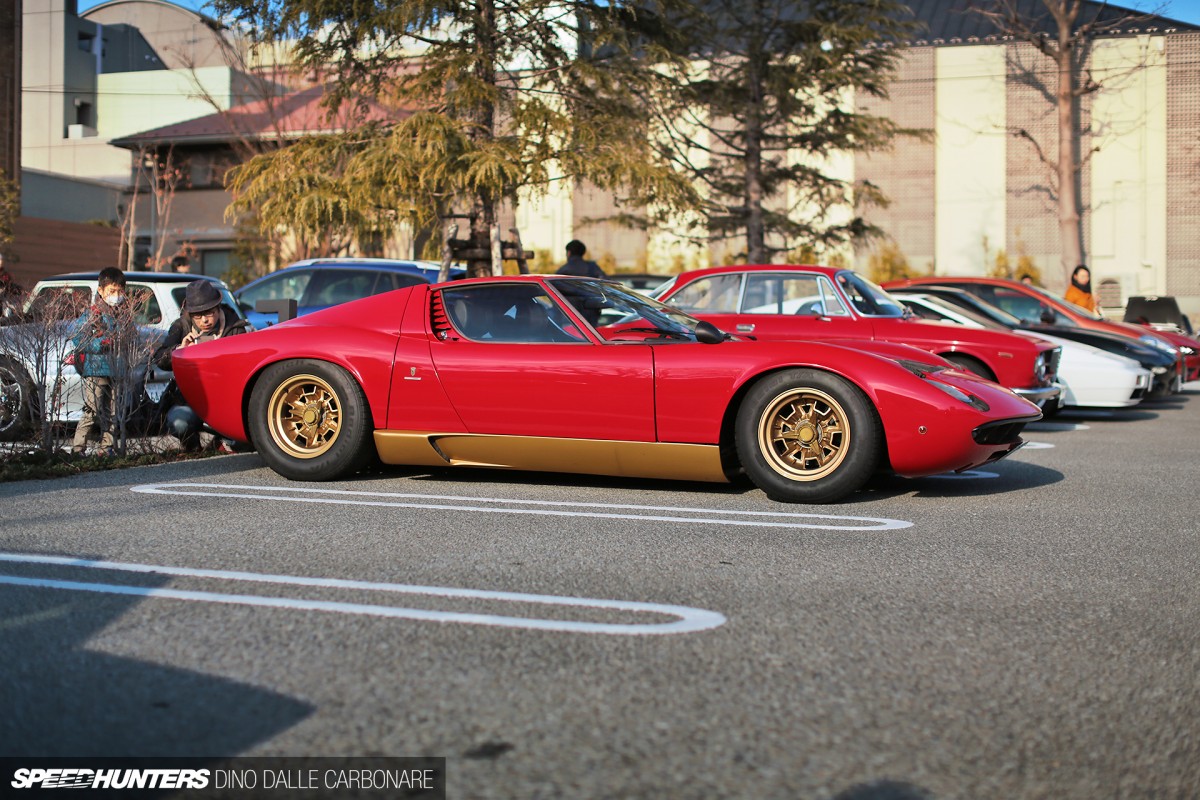 I left so satisfied, so content with what I had witnessed and the new car enthusiasts – or should I say connoisseurs – that I had met, that I was in a great mood for the rest of the day. Needless to say, I will be making damn sure I don't miss this monthly meeting. I wonder what cars will show up next month!