There were just too many great cars at the Cruisin' Nationals to fit into one Spotlight-o-Rama, so I'm doing a special Overload story to show off the rest. You didn't think we'd forget to take a closer look at Brett Cowan's jawdropping '49 Chev from yesterday did you? First things first, just look at the reflection of the parking space lines in the side of the car. That is some perfect bodywork.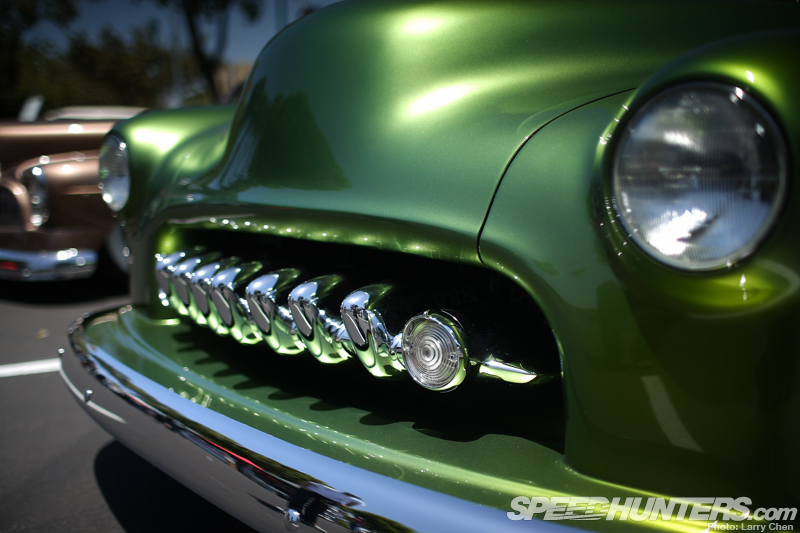 This was the first car that stopped us in our tracks as we walked into the event last weekend, and you can see why. The pearl in the paint was electrified and glowing in the California sun. Obviously there was a ton of sheetmetal work done to the front end, including a DeSoto grille with round marker lights, molded (but not tunneled) headlight rings, and a super-smooth opening formed around the grille.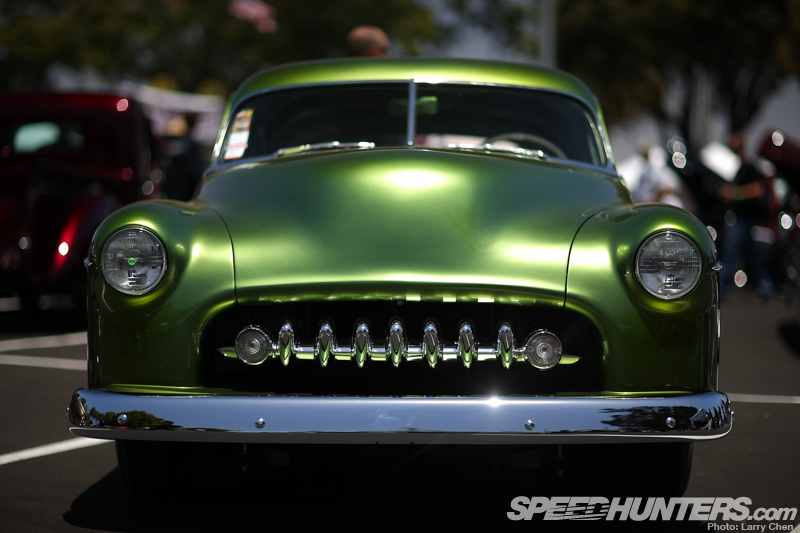 The hood has been nosed, meaning it was shaved of any extraneous trim or emblems. As part of this job, the factory bullnose molding that runs down the center from front to back was removed and welded up too.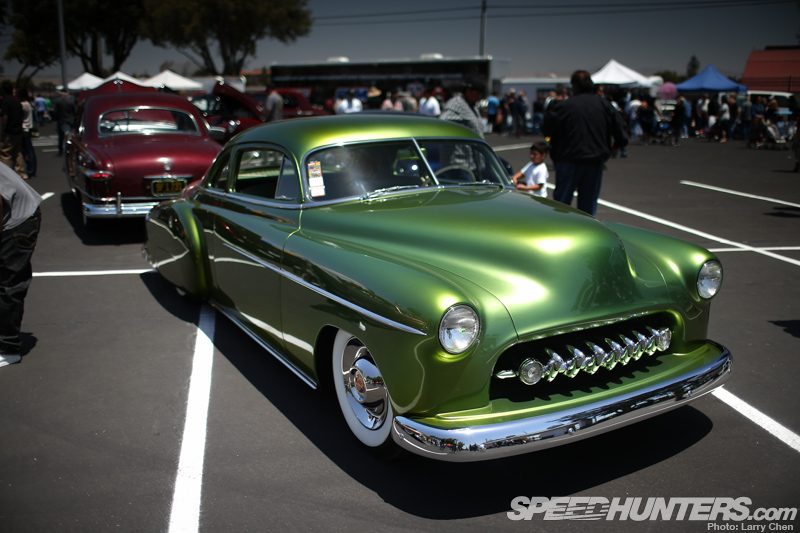 The roof was given a mild chop and sombrero hubcaps fit the style perfectly.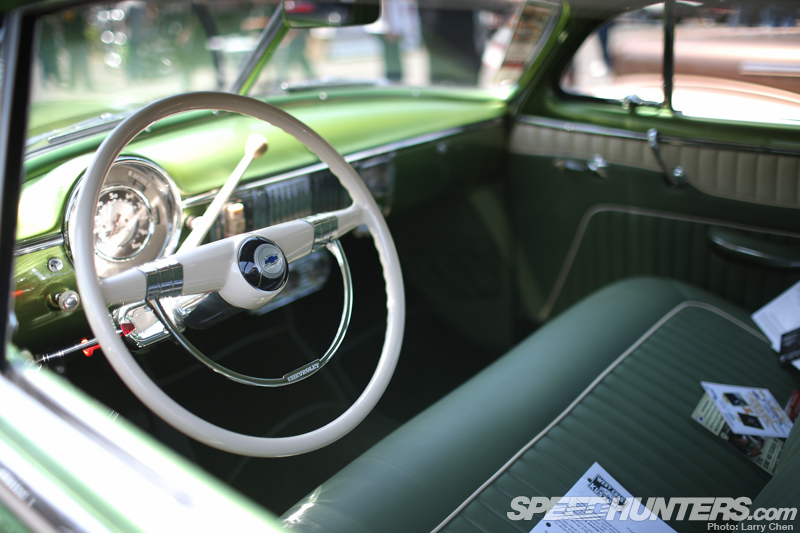 The contrasting green vinyl works well inside.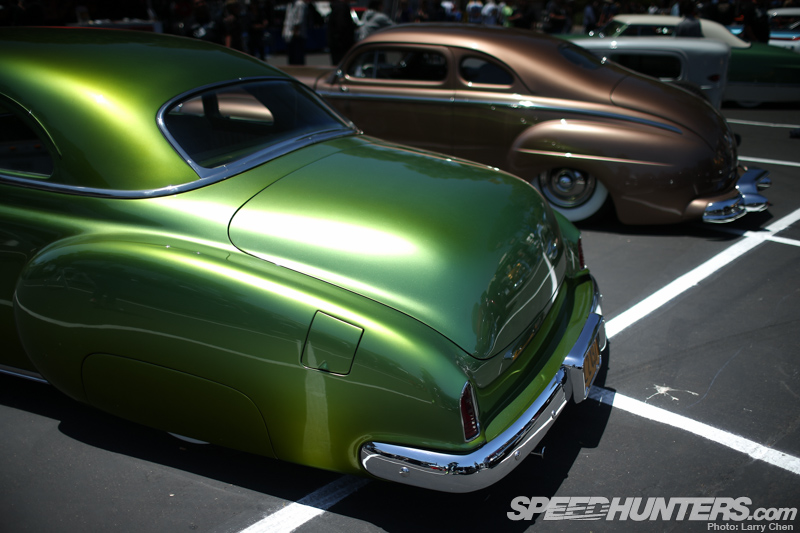 The trunk lid was decked, again meaning it was shaved of emblems and handle, and a set of flush skirts hides the rear tire almost completely. We just barely skimmed the surface with this build, so hopefully we can find the owner and do a full feature.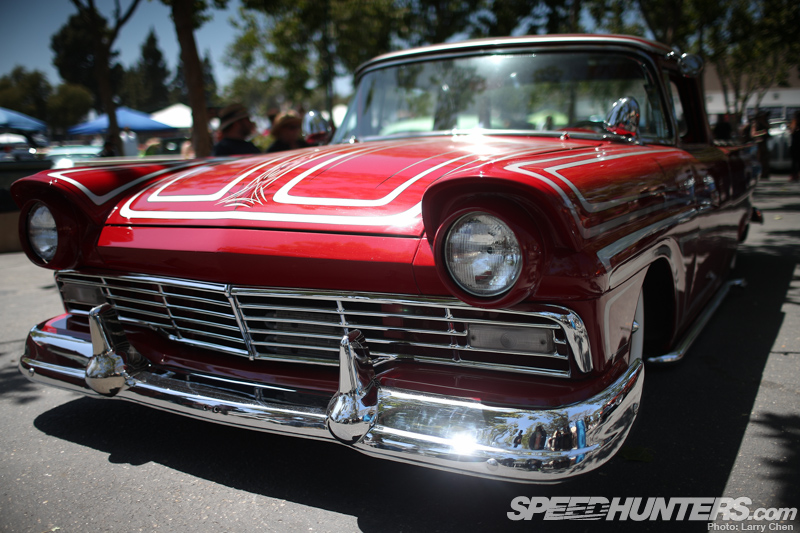 I have a thing for '57 Rancheros, and '57s only. It was the only year they came with single headlights, and although I always found them to be a bit bug-eyed, they're the best looking version to me.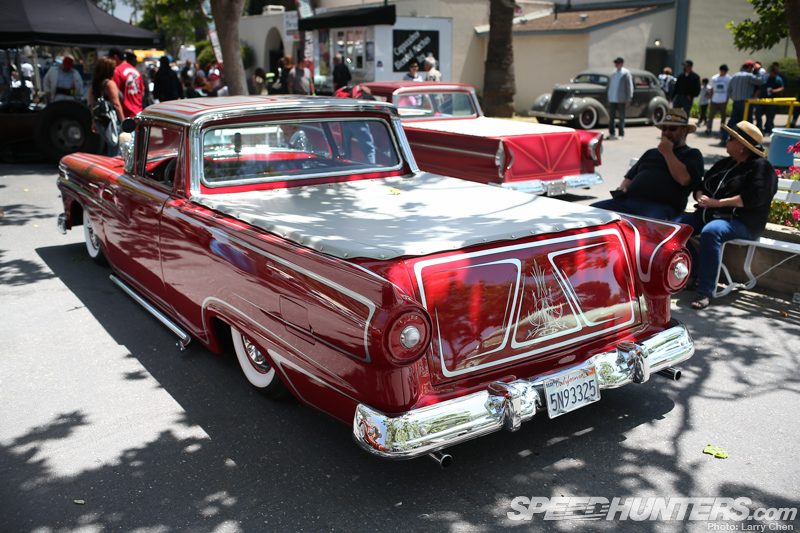 I think it's the slammed truck silhouette they take on when customized that I like most, although the small fins and round taillights aren't bad either. It just doesn't take much to make them look great. This Ranchero didn't need much more than custom paint and a good lowering.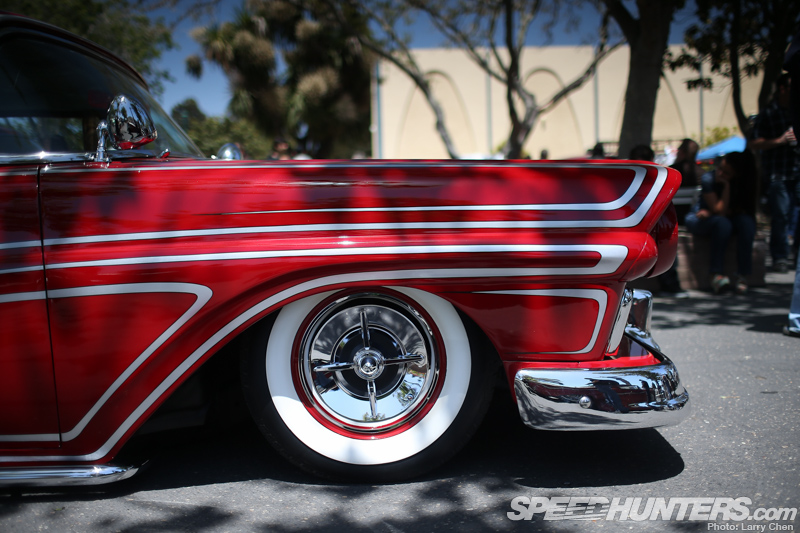 The thin white scallops follow the bodylines as they should, and the flipper hubcaps on whitewalls are classic.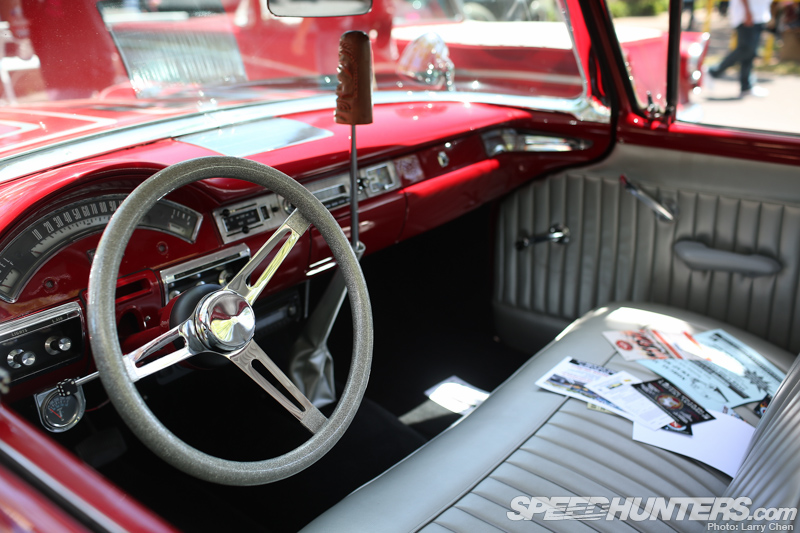 A metalflake Mooneyes steering wheel fits in with the vibe. You'll see why these keep catching my eye next week when I post a Galaxie project update.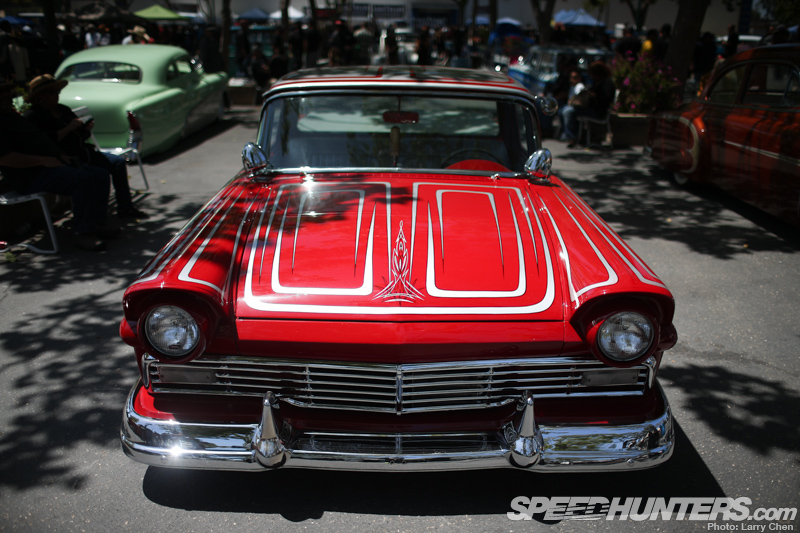 This thing would make such a fun driver!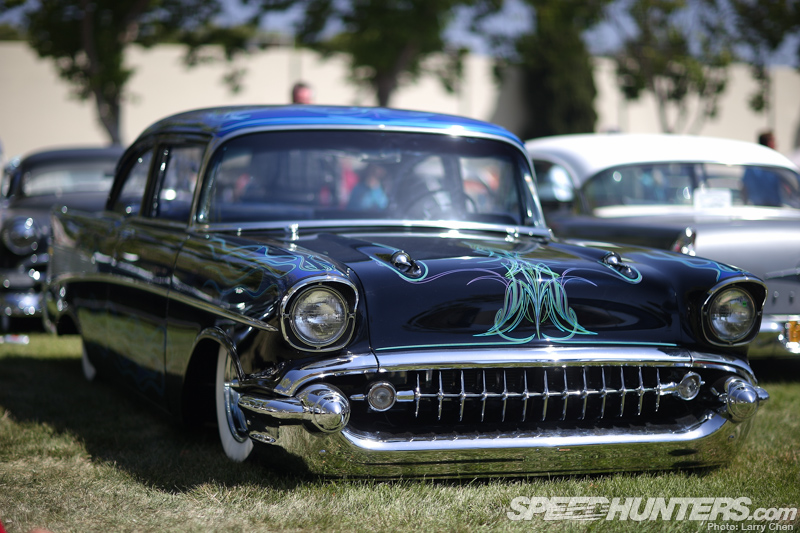 You don't usually find a '57 Chevy built as a kustom, so this one intrigued me with its airbag suspension, chrome wheels, whitewalls and custom paint.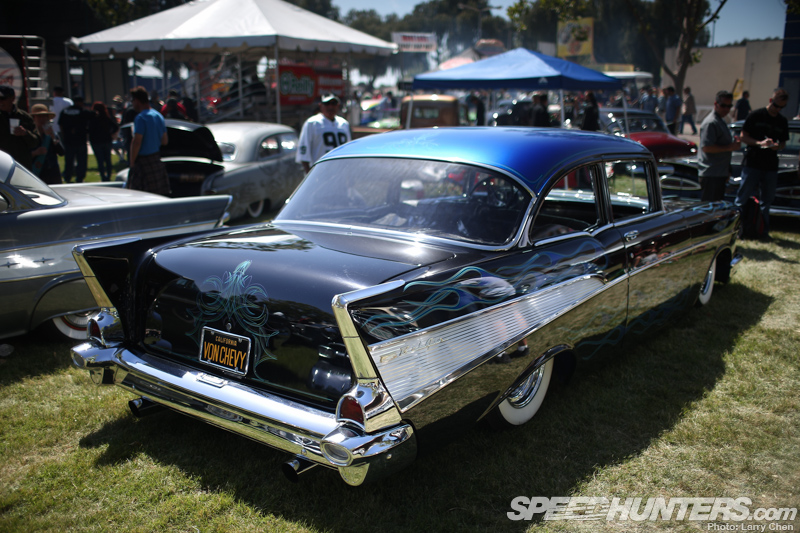 The body style actually lends itself nicely to a kustom treatment, and the black paint shows how nice the bodywork is underneath. The pearl blue roof really sets it off though…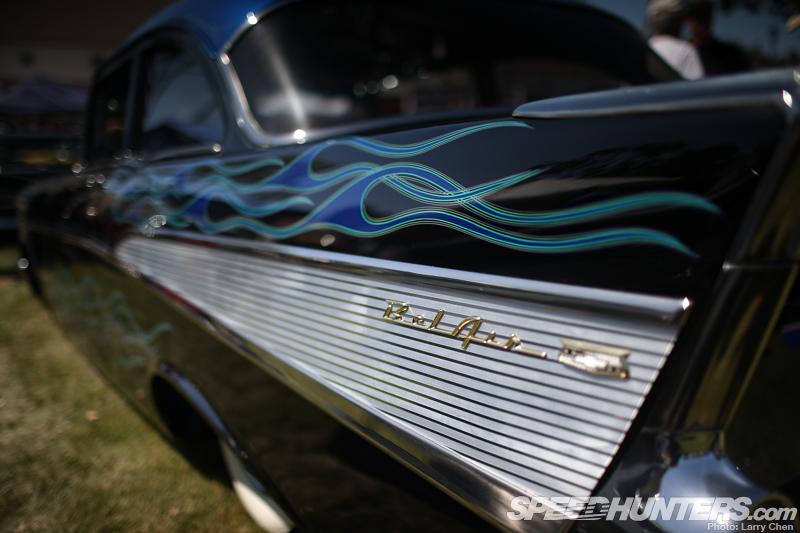 … along with eye-blurring triple-pinstriped flames. Luckily I got to chat with the builder, David Lopez of Fresno Customs, and he even had the owner give me a call too.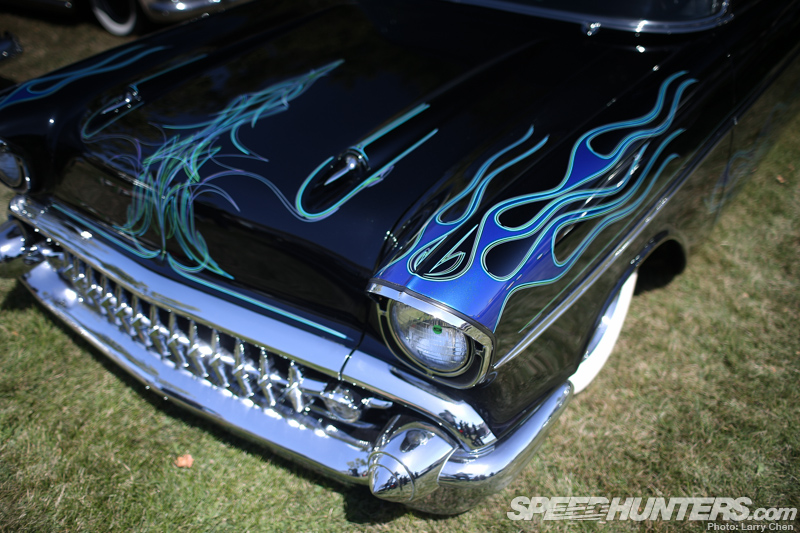 After the show I found out they won their class, mild kustom, a very deserving win for these guys.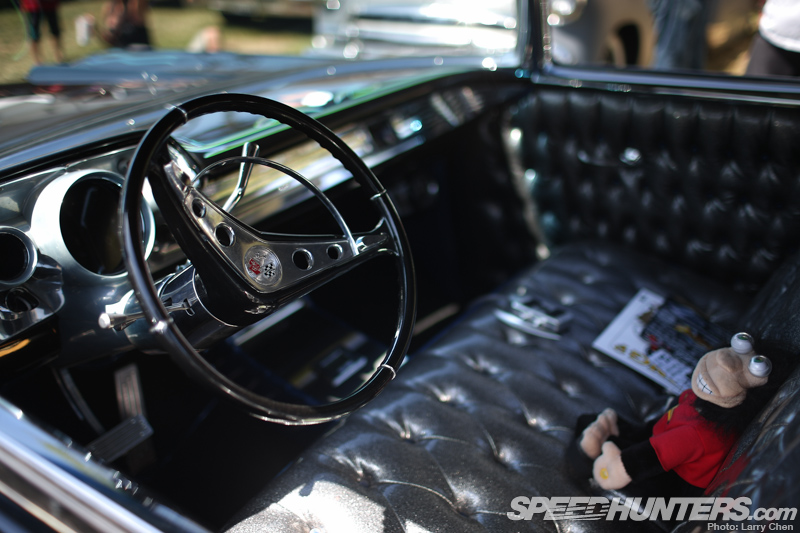 I think the stuffed monkey stared at the pinstriped flames too long!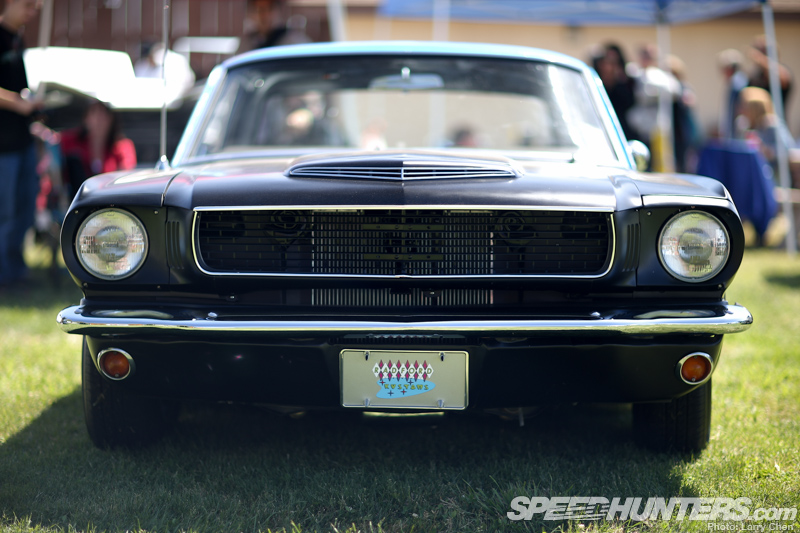 Here's another build that somehow fits the same exact same description as the '57. An unexpected body style, black paint, metalflake blue roof, chrome wheels and whitewalls. No way, right?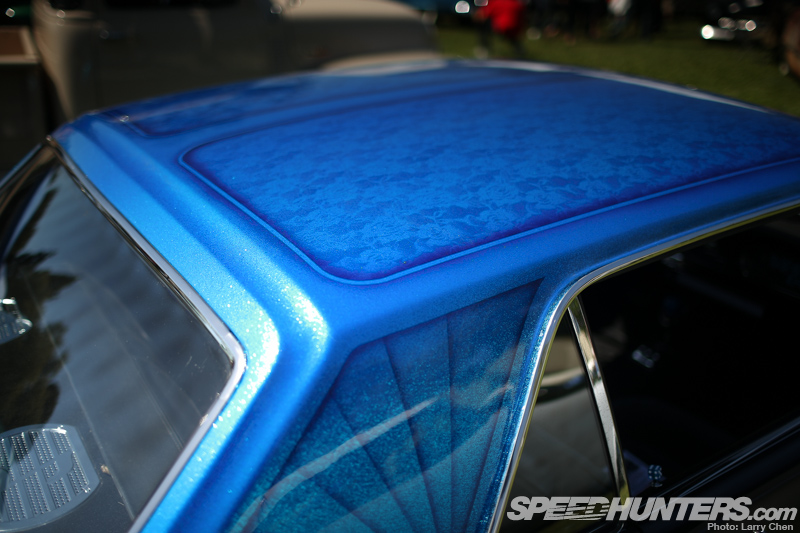 So it sounds the same on paper, but it's not even close to the last car. Bobby Rudford took a '66 Mustang and fast-forwarded it into a '70s SoCal lowrider. The line between genius and madman is often thin, but I say this build is brilliant.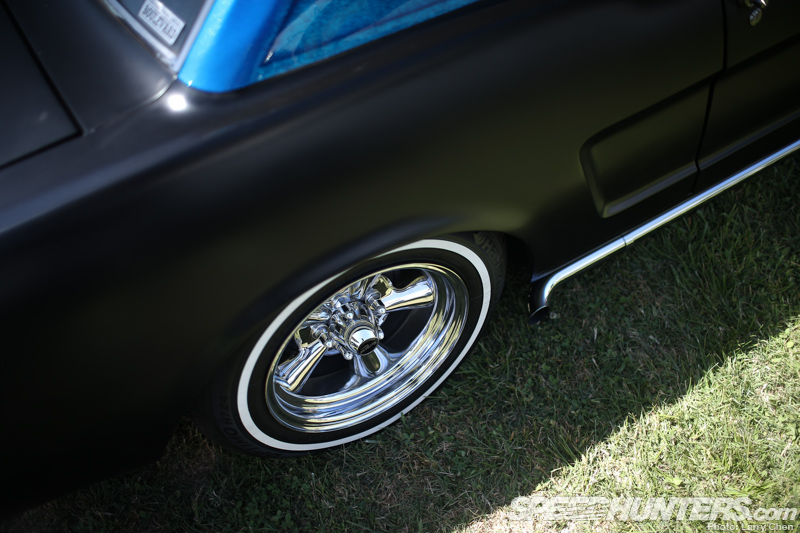 Supremes with thin whitewalls and sidepipes make this Mustang into a boulevard cruiser.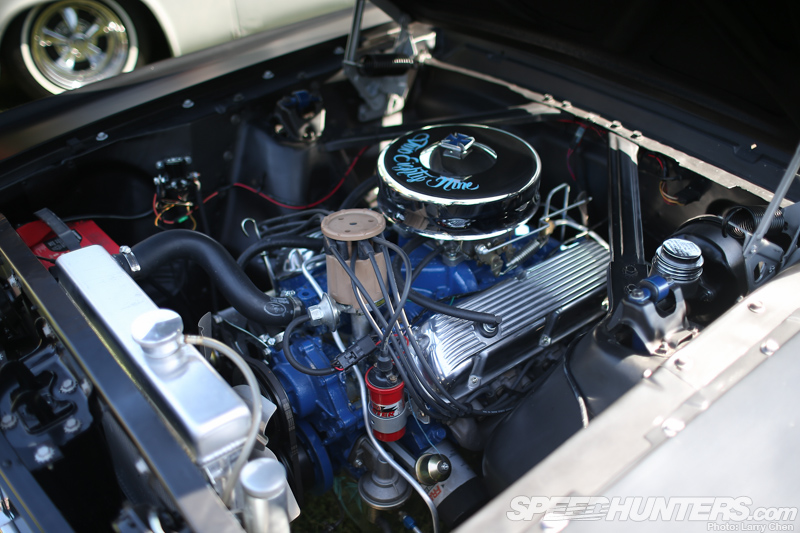 Bobby said the 289 wasn't very clean, but I was thoroughly impressed when he popped the hood.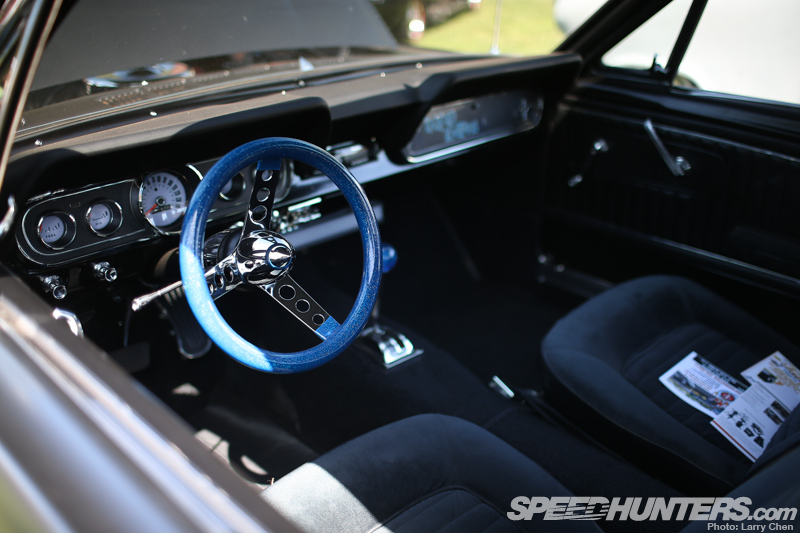 A matching glitter steering wheel was about all he needed to tie in the black interior…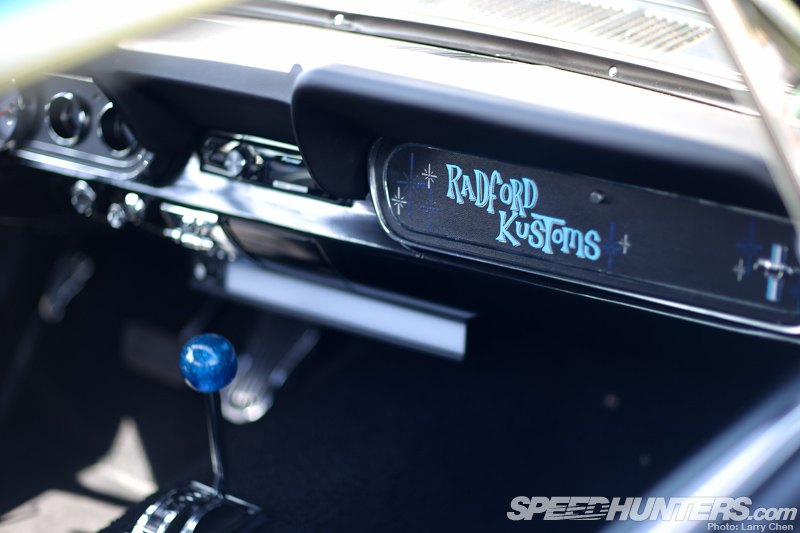 … along with a hand-painted shop logo and matching shift ball.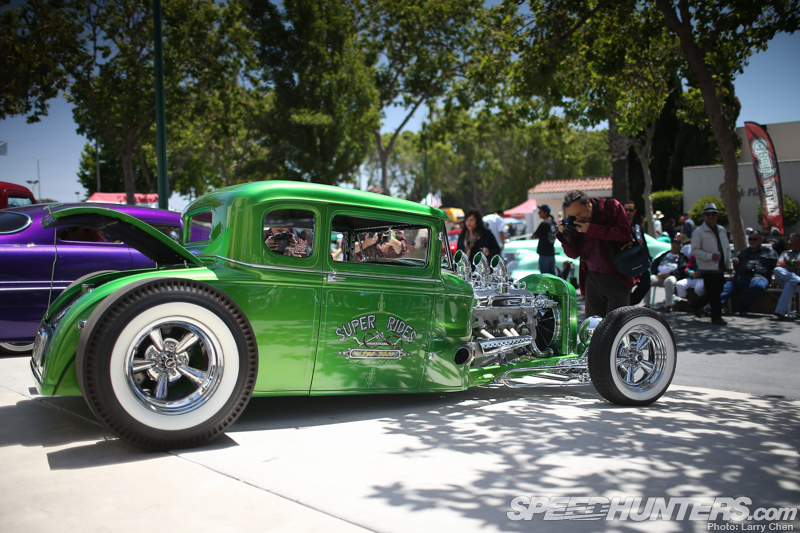 I saw this '30 Ford hot rod at the Grand National Roadster Show, but it was trapped in a monstrous display and to be honest I walked right by it. It didn't get my attention until I saw it roll out of the show with a very nasty cam lope.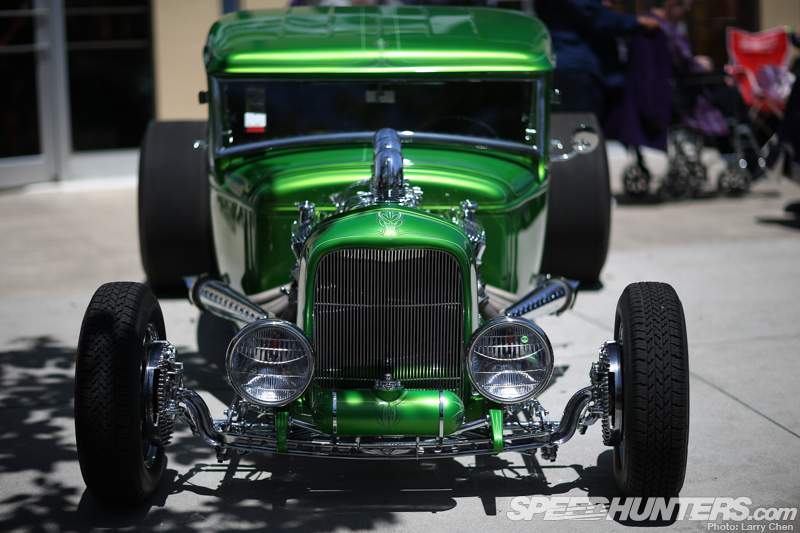 It just looks so much better sitting on the ground with the sun lighting up its pearl green paint. Now I understood why this car won its class at the GNRS.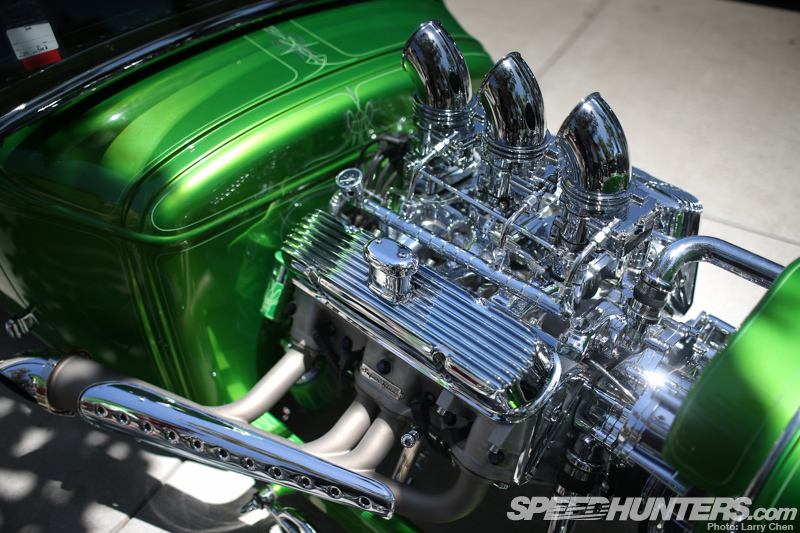 This is a pro-level build, with gobs of paint and chrome, and every detail attended to.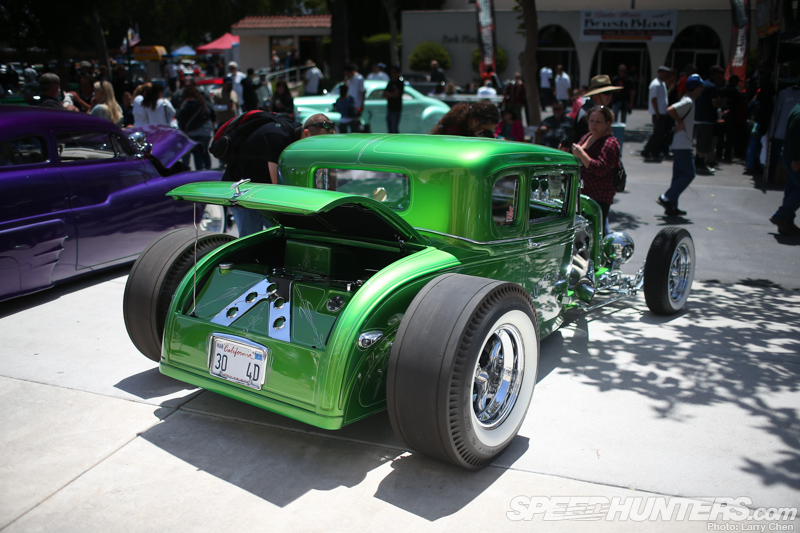 Even the trunk was as nicely finished as the rest of the car, the mark of a seriously competitive show car. The pie crust slicks are just breaking into steamroller territory.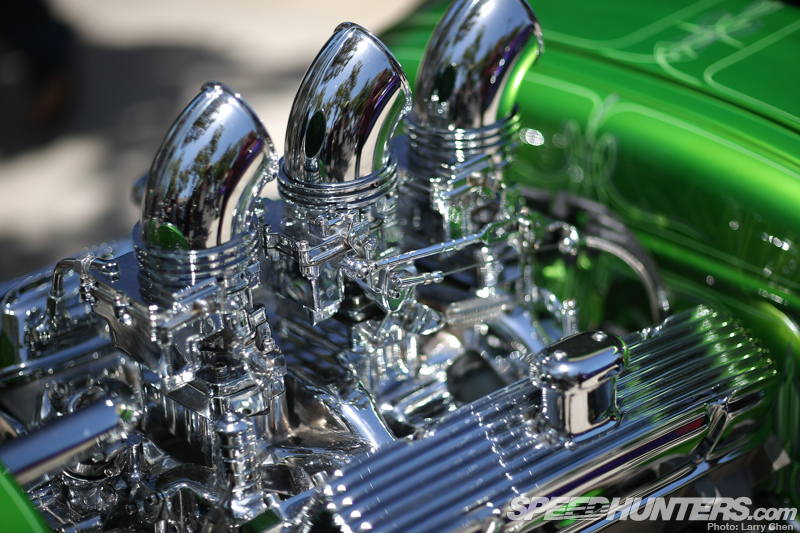 Imagine the amount of work to reassemble the triple carbs after chroming all of the individual parts.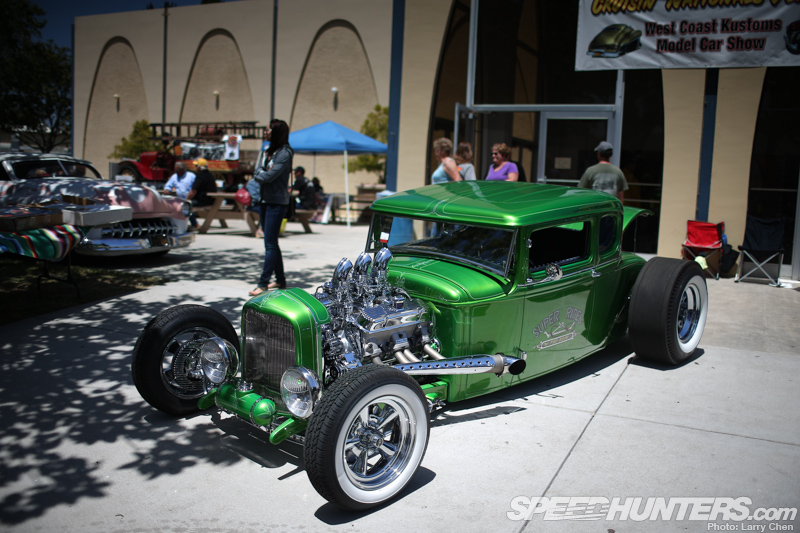 That makes a total of 10 Spotlights, and we had to cut some out! Santa Maria is on my list for next year for the simple fact that the show attracts some of the most beautiful hot rods and kustoms around, and you get to enjoy them in a laid back outdoors environment.  I hope you enjoyed the coverage.
Words by Keith Charvonia
Instagram: SpeedhuntersKeith
Email: keith@speedhunters.com
Photos by Larry Chen
Instagram: larry_chen_foto
Email: larry@speedhunters.com
Cruisin' Nationals Spotlight on Speedhunters