Although I'm presenting this '65 Ford Galaxie as a project, it's really more courtship than commitment at the moment. I met the owner of this Bellflower-styled custom at the carwash a month ago, and based on my observations he needed a little help. The poor carwash attendant closed the door when he jumped out (car still idling, mind you) not realizing that the car lacked door handles. Having owned a slew of vehicles with shaved handles, I already knew what came next.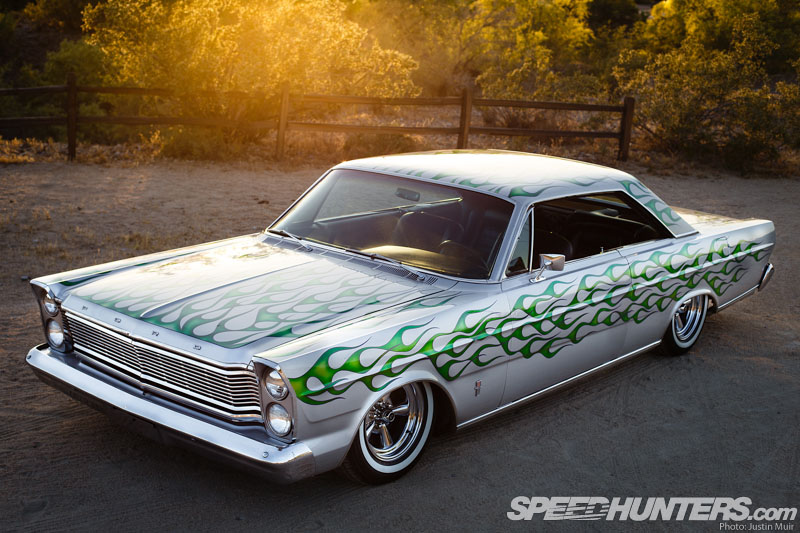 I watched from a distance as the owner scratched his head and tried to figure out how to break into his own car. As both of our vehicles were being dried, I wound up standing next to the guy and struck up a conversation. Turns out this was his first day with the Galaxie, and he hadn't a clue how any of the systems worked. We exchanged cards and the next week he called me with an intriguing request.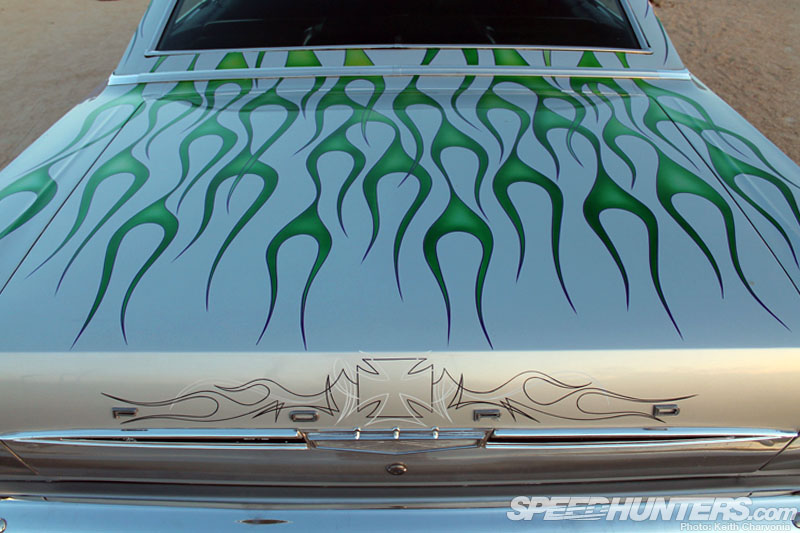 "I want you to pick up the car and drive it for a week so you can tell me what it needs." Cruise your bagged and flamed Galaxie for a week?  Yeah, I think I can do that.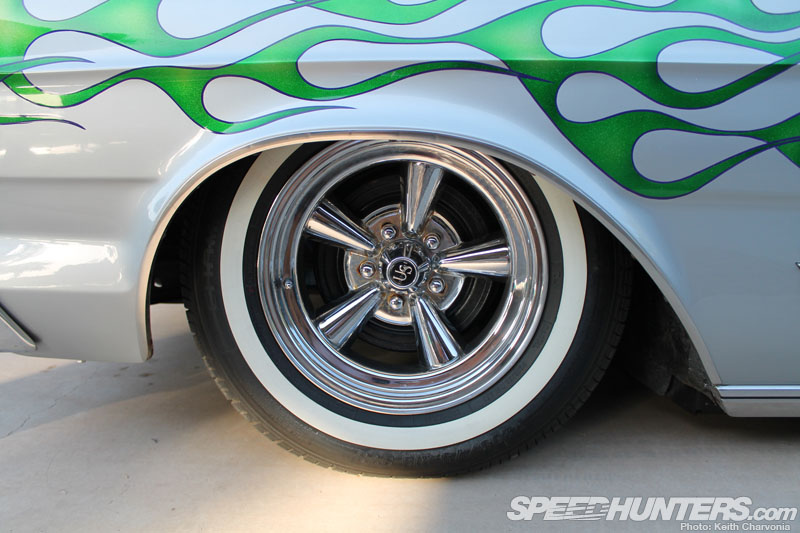 Let me pause for a second to explain what makes this a Bellflower custom in my eyes. It's a simple formula that can be summed up with the above image:  take a mid 60's American body style, add 14-inch or 15-inch Supremes, thin whitewall tires, a slammed stance and some custom paint and you've got yourself a SoCal cruiser that would be right at home on the boulevard.  In a nutshell, this was the transition between kustoms and lowriders.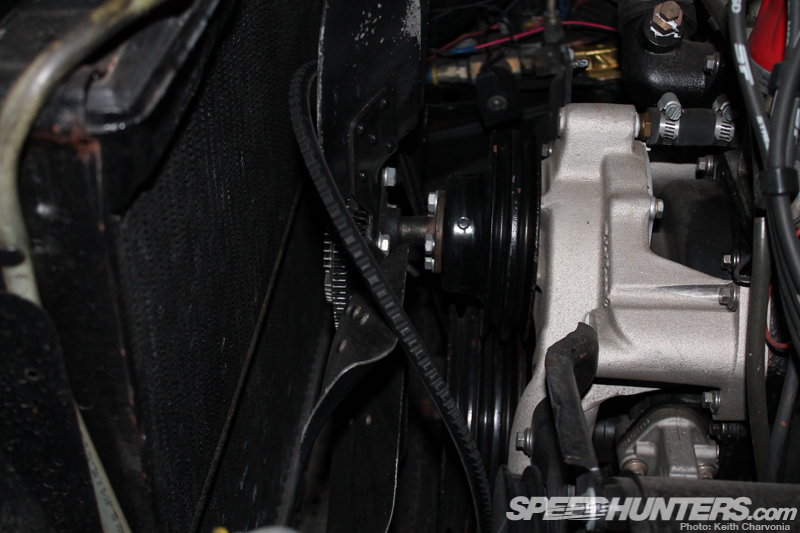 Night one: I picked the car up from the owner's house and proceeded home. A squeaky belt turned to an all-out wail, until the belt snapped with a loud pop. In the sudden silence I learned a few things quickly. First, the power steering was out – no big deal.  Next, the alternator wasn't turning based on the voltage drop on the gauge – again, no big deal. Within a couple more blocks I realized that I had also lost the water pump and the temperature was rising fast – big deal. I cautiously hustled home before I cooked the big V8. I popped the hood and snapped this picture before heading inside for the night.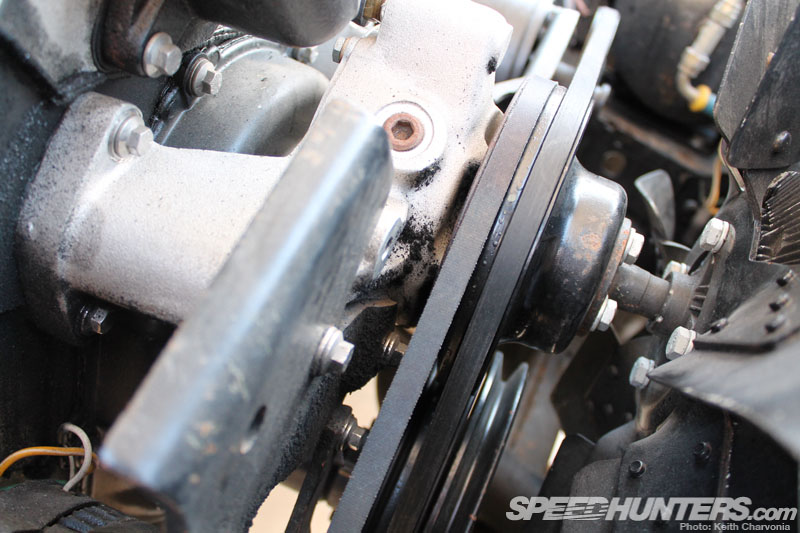 Day two:  I measured for the missing belt and purchased a few in similar sizes, knowing that V-belt sizes can be deceiving. Fortunately one of them fit. During the install I found the powdered remains of the former belt – look at the black dust on the water pump.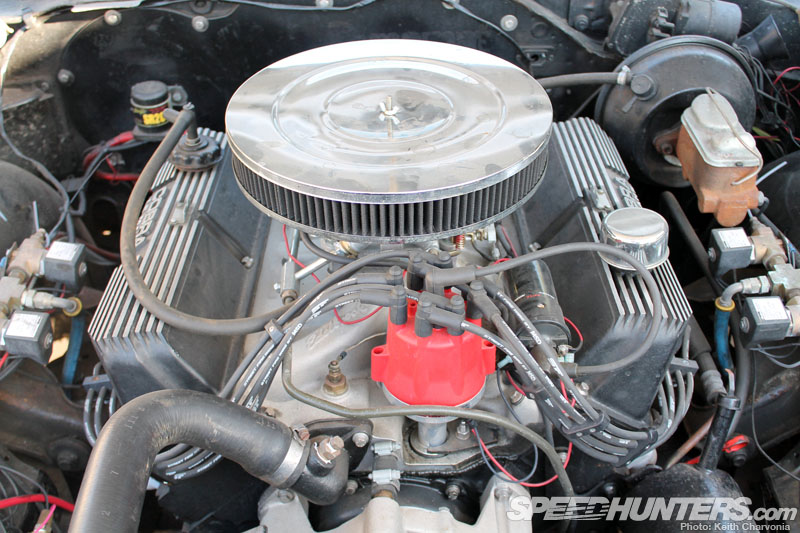 The Ford FE 390 has definitely been rebuilt and is fairly clean, save for a bit of oil seepage here and there. It's got an Edelbrock intake manifold and water pump, long tube headers…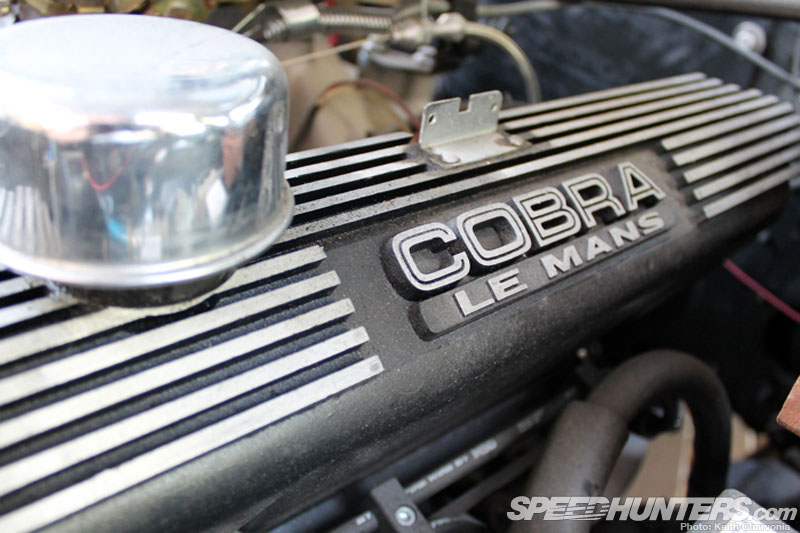 … and some interesting Cobra valve covers. A bit of Googling revealed that these came on late '60s Shelby models.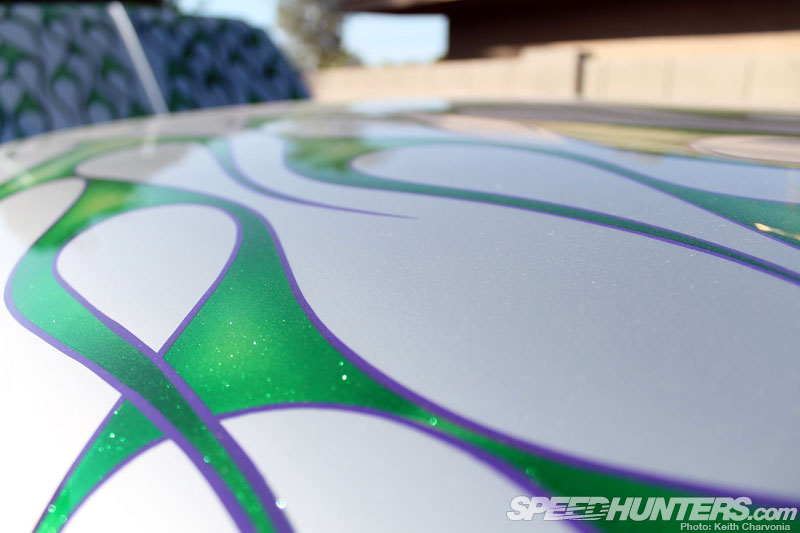 In the daylight I could look the car over and appreciate the seaweed flame job.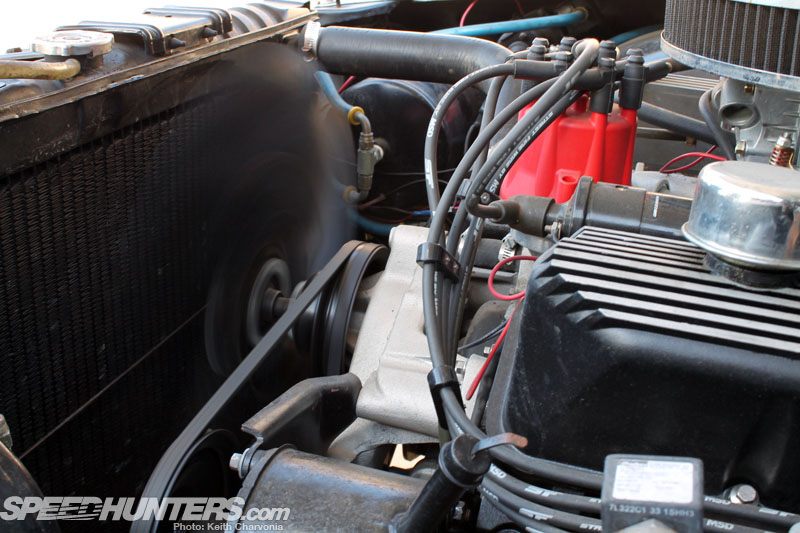 With the new belts installed I fired the motor and the accessories whirred back to life.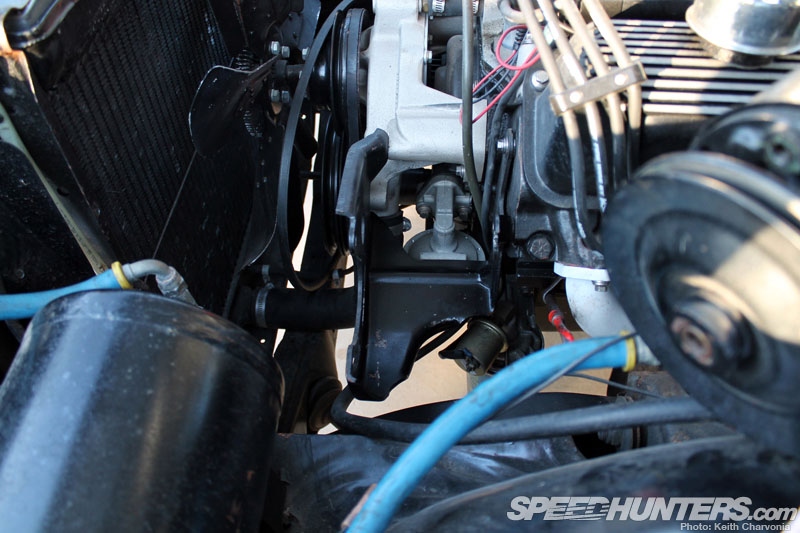 Until I threw a couple of revs at it and the power steering belt jumped right back off. Further examination revealed a misaligned pulley so I yanked the pump out of the way.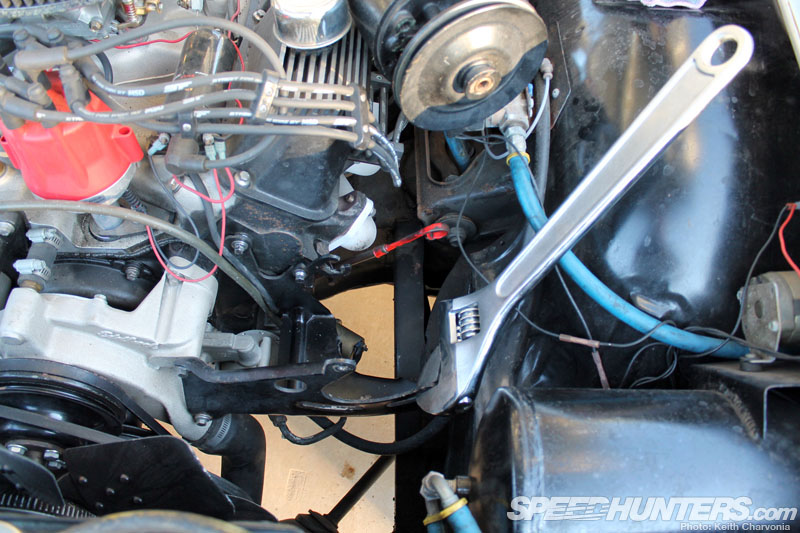 My large crescent wrench (aka BFCW) persuaded the bracket into alignment. If this keeps up I have a feeling I'll be installing a serpentine set-up though.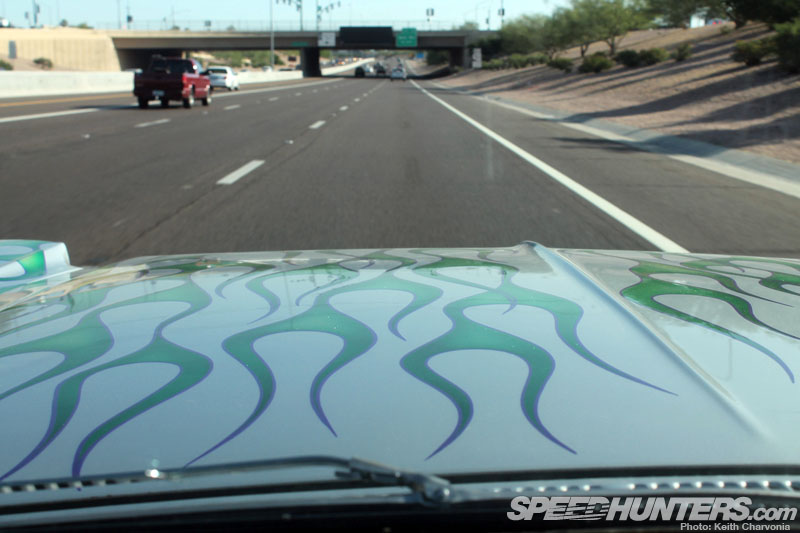 Day three: I finally got to drive the Galaxie, even if it was just to work and back.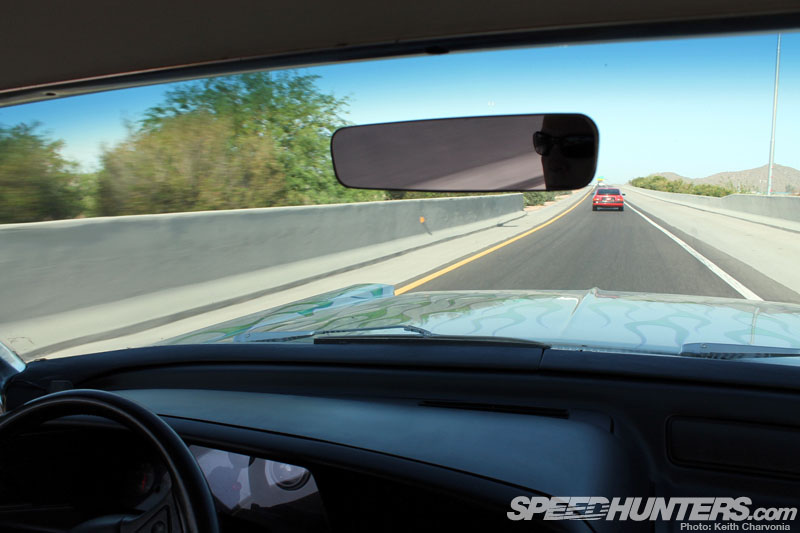 The 390ci V8 kept up in traffic with minimal effort…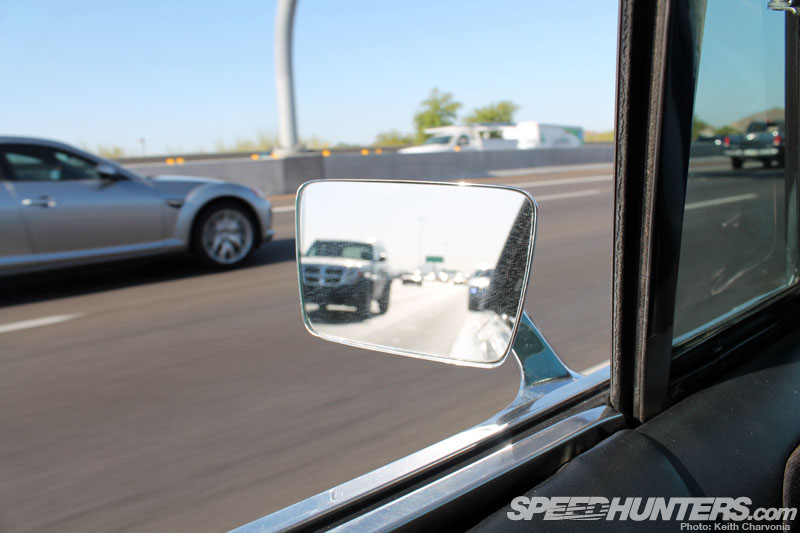 … but I was a bit leery with four wheel drum brakes in rush hour traffic. Once the brakes were warm they began to shudder too – another job added to list.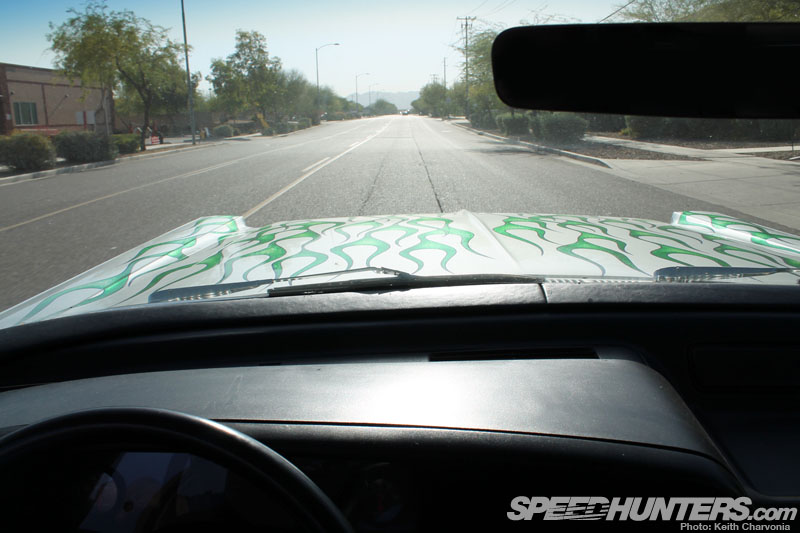 Feeling pleased that the car hustled to work so well, I turned onto the block where my office is with a sense of relief.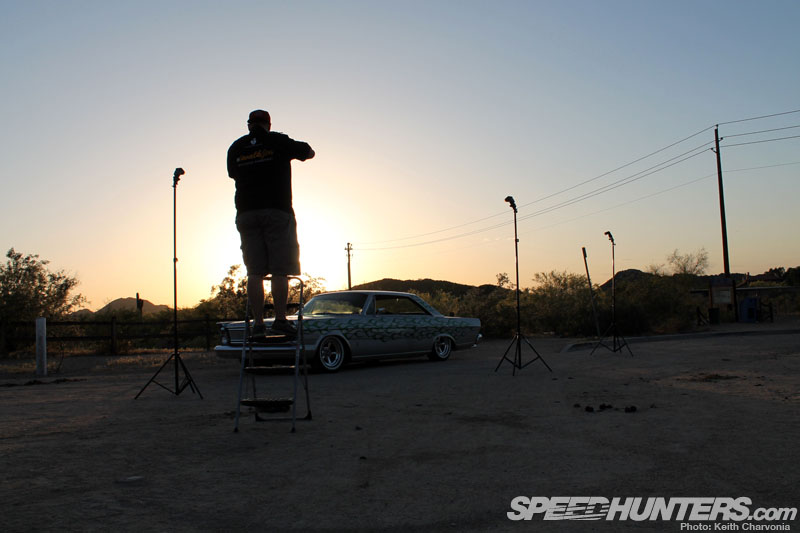 Day four: I posted a picture of the Galaxie on Facebook and my friend Justin from Pure Street Photo sent me a message asking if he could shoot it.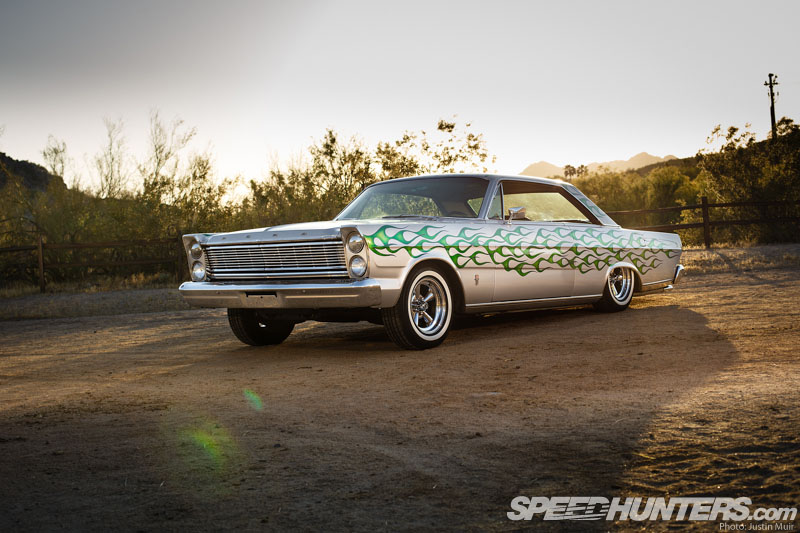 Selfishly, I complied, knowing that I would twist his arm to use the photos in this story. We met at a spot near my house and he worked his magic. I've been on several photoshoots with my Kaiser and always find it interesting to see how every photographer works differently.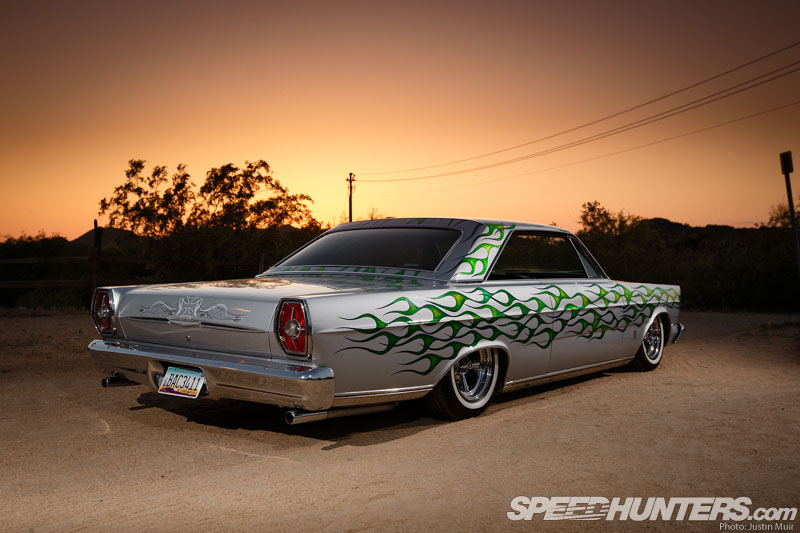 As you can see, Justin is quite a bit more skilled behind the lens than I.  Hopefully hanging around people like Justin, Sean and Larry will allow me to hone my photography skills over time.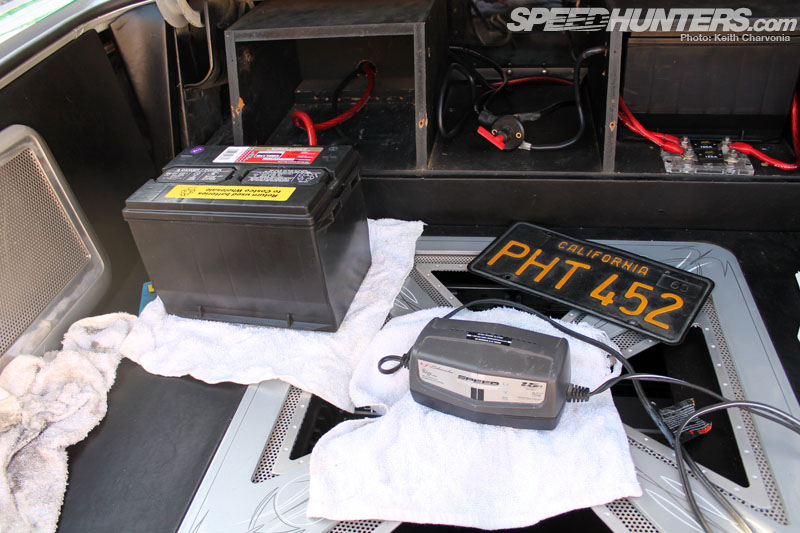 Day five:  I noticed the starter cranking more slowly each time I turned the key, so I threw the trickle charger on the battery overnight.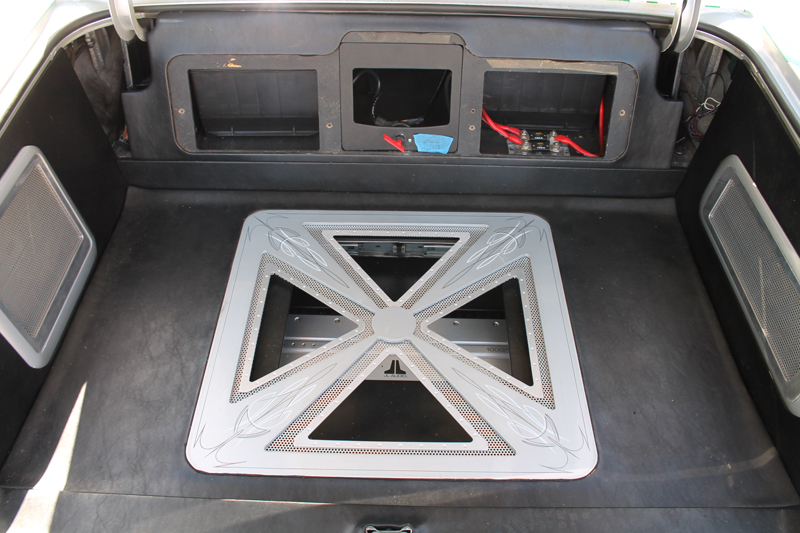 Unfortunately this required disassembly of the trunk!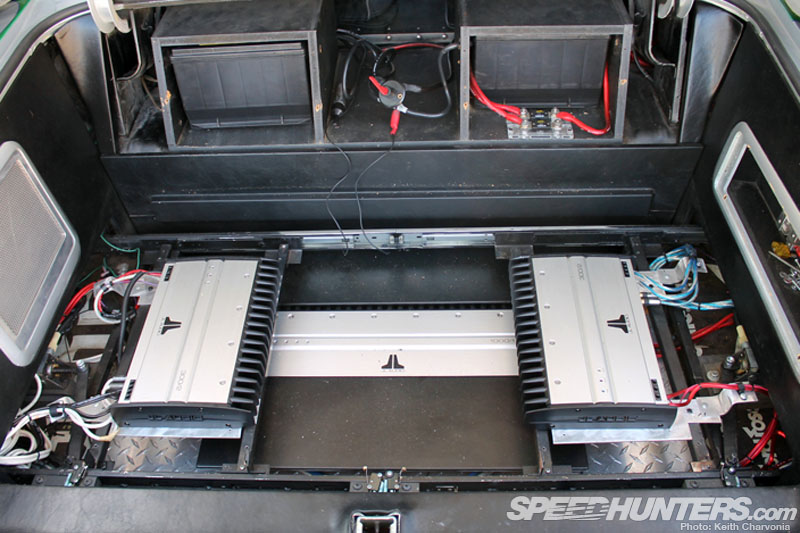 There is a metric ton of stereo equipment buried in the custom trunk, none of which turns on. A quick probe with the test light revealed power in some places, but not others. This will need a lot of sorting if the owner wants to keep all this stuff.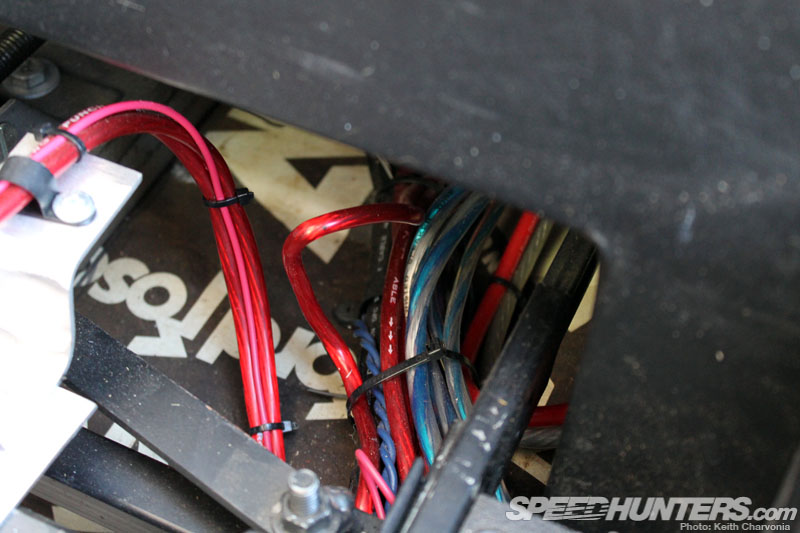 There are miles of wire, and I didn't put it there. This is the worst type of problem to chase down: someone else's handiwork.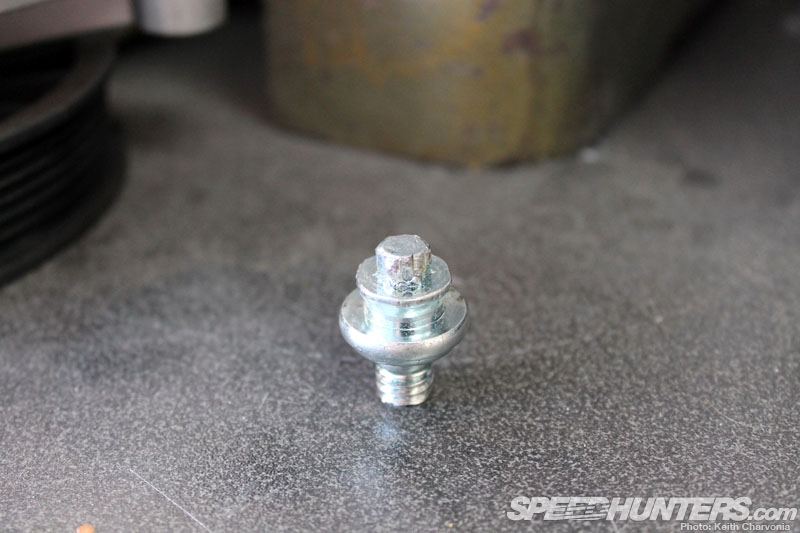 I also discovered that someone had used pliers to install or remove the battery terminal screws instead of the proper 5/16″ wrench. So annoying!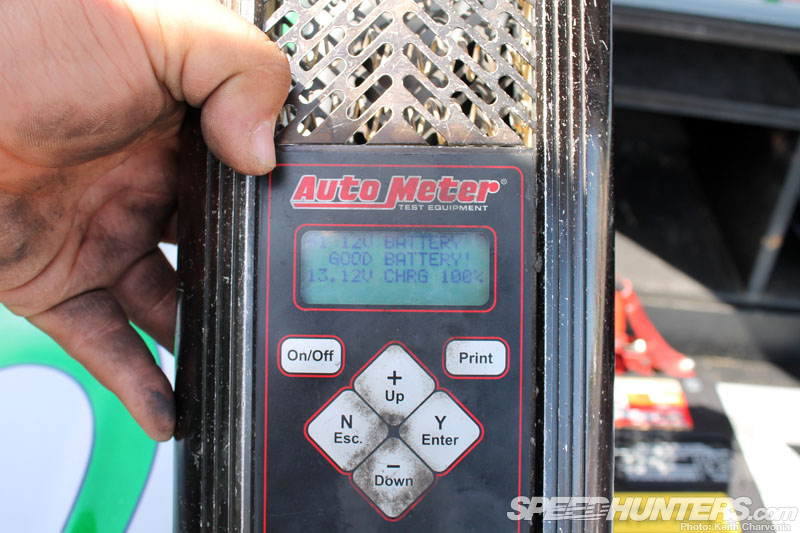 Day six: I ran up to my local auto parts store to have the battery and alternator tested. Congratulations, you have a good battery!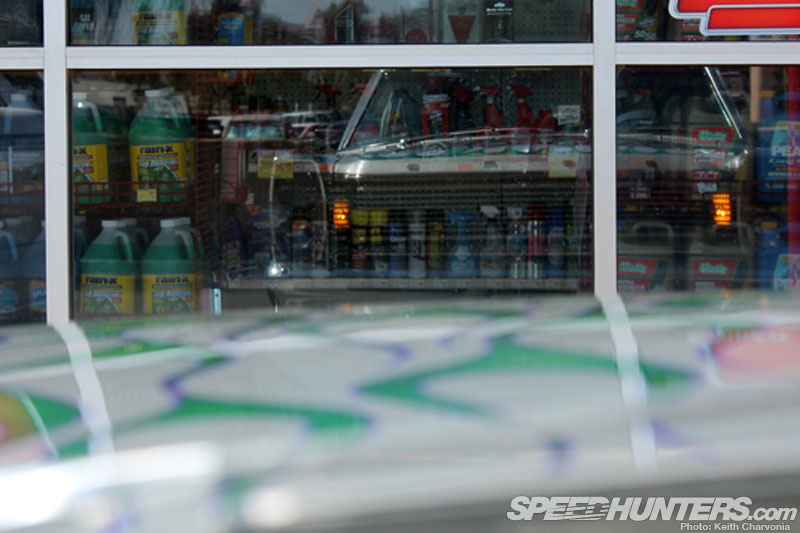 As I backed away from the store I noticed the parking lights flash on. I pulled back into the parking spot and realized they were being triggered by the brake pedal. More wiring gremlins?  It might be time to order a wiring harness for this car.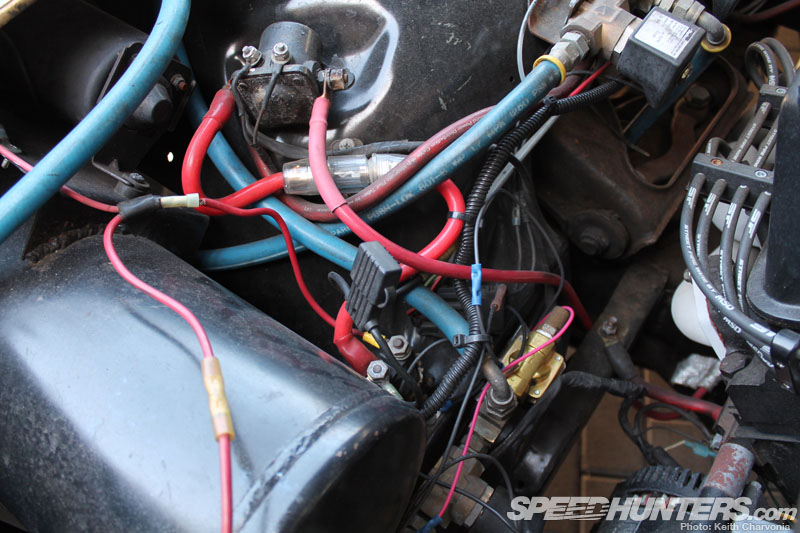 I picked up a new starter solenoid while at the auto parts store because the owner felt it was suspect. For $15 and even fewer minutes it was worth swapping out just to see if it helped the slow cranking issue. I'm wanting to gut the wiring in the car more every time I look at it.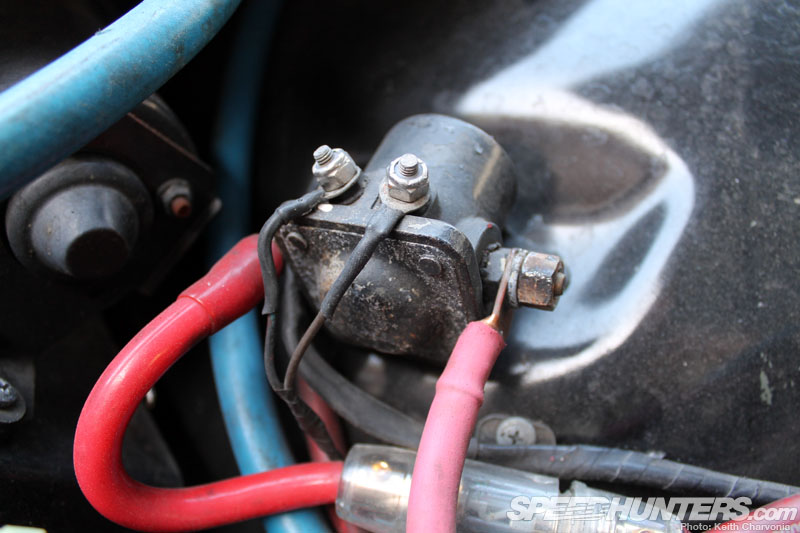 The scorch marks on the starter terminal tell the tale of someone jumping the solenoid at one time or another.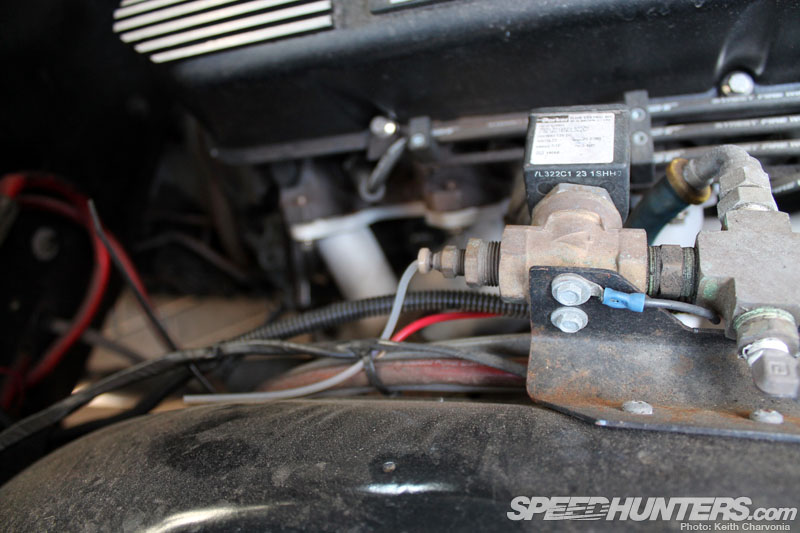 This is a solenoid of another sort, used to inflate and deflate the air springs in the suspension. That tiny clear plastic line is the dump for the airbags, and it causes the car to lower extremely slowly. I'm going to remove the fitting to the left and install a muffler in its place. It will still lower the car slowly, but you won't have to hold the button for minutes waiting on the car to go down.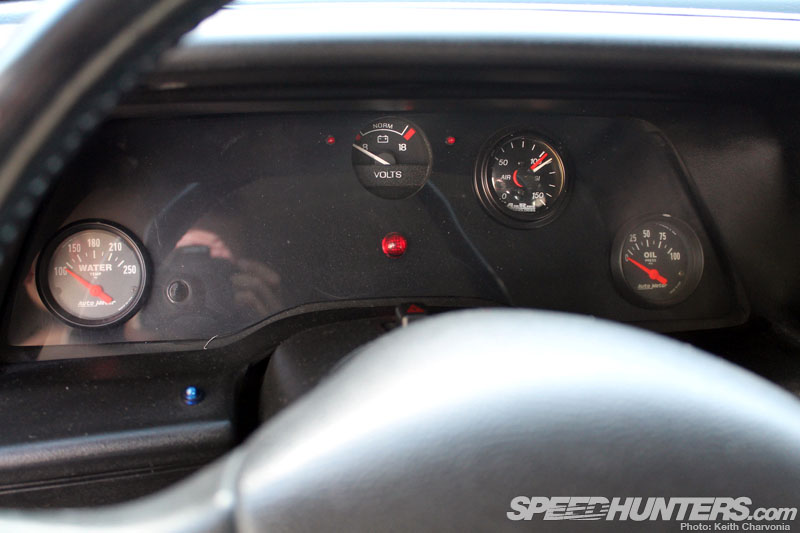 The instrument panel also tells a story of multiple owners each adding systems to the car at different times, resulting in an eclectic (that's the nice way to say it) and incomplete gauge package. I'm fairly sure I recognize the volt gauge from a '90s Ford. A speedo and fuel gauge would be nice to have too.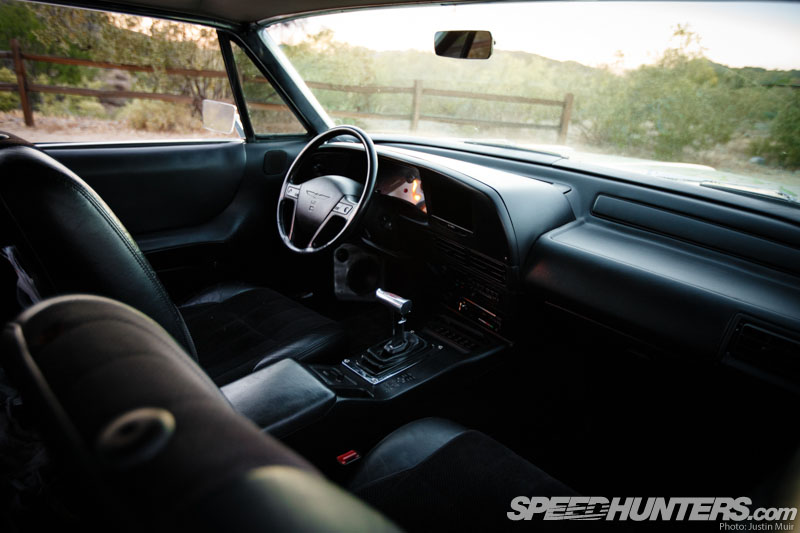 The '90s theme continues with the dash and steering wheel and even Justin's nice photography can't make up for it. I'm not the guy who says he appreciates someone's hard work even though I don't like the end result. Some mods are just blasphemous.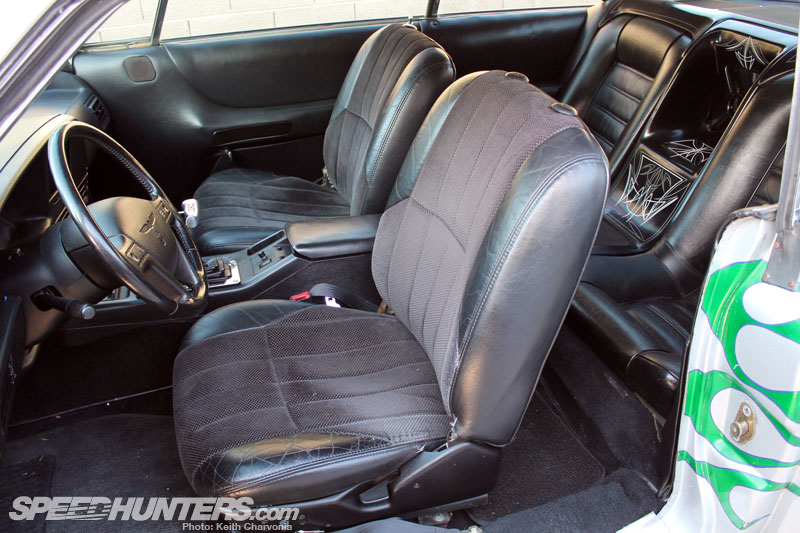 The interior has a heavy dose of what I'll call 'stereo shop' design – meaning lots of custom fiberglass shapes covered in vinyl and paint.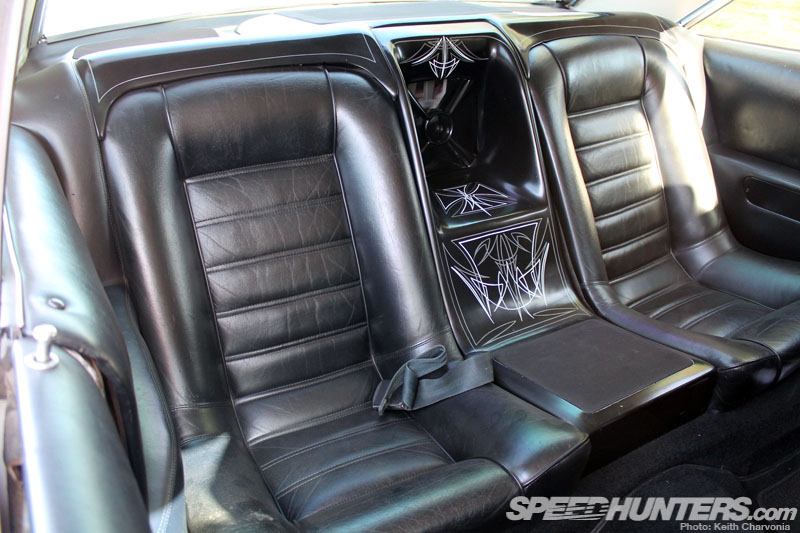 I'm really itching to put a stock interior back in this car.  If you're reading this and you did the work, let me apologize in advance for when I undo it.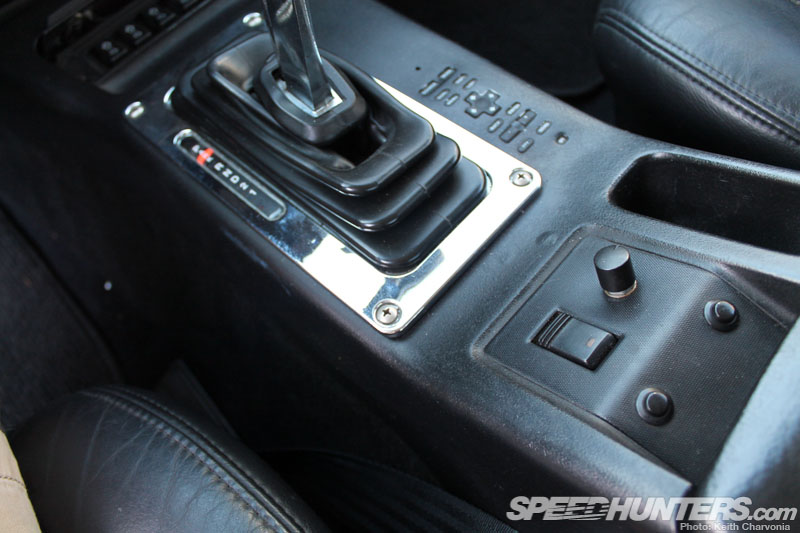 The bevy of switches control things which I do not comprehend. Occasionally you'll hear a relay click when you flip one of the switches, but that's all you get.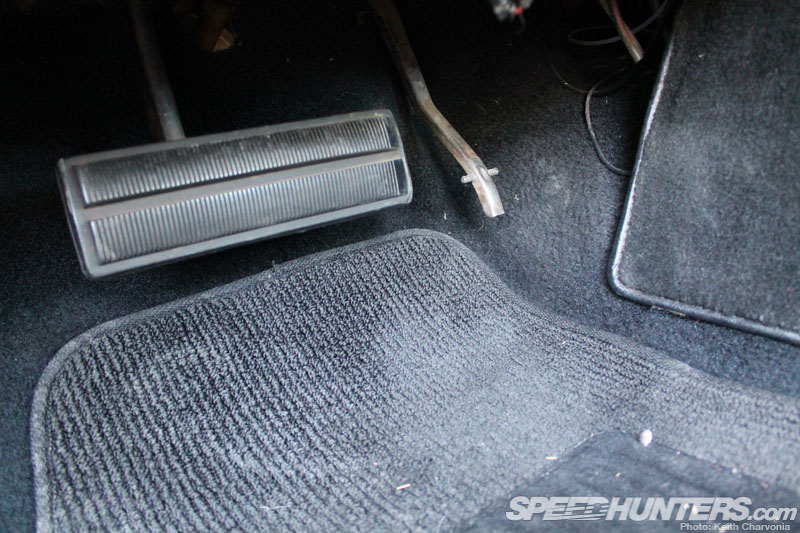 The gas pedal was missing too, but I found it under the seat. One more thing to add to the list.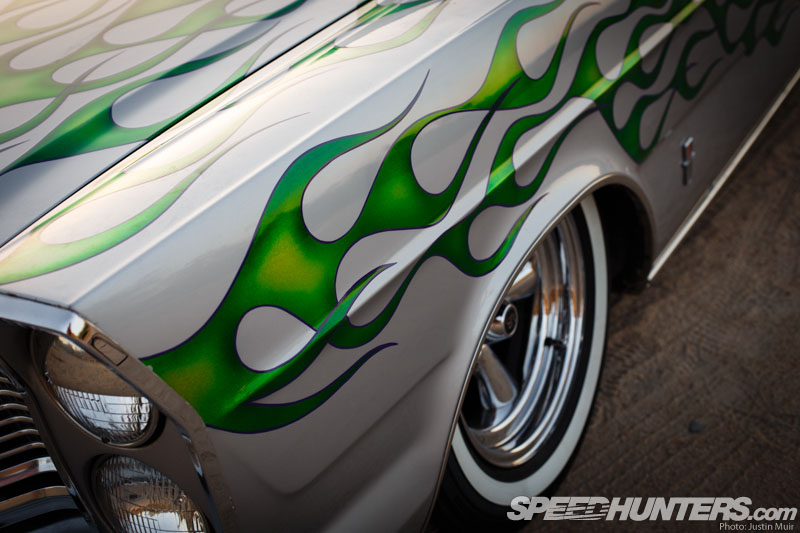 Day seven: At the end of my week with the Bellflower Galaxie I've compiled quite a list of repairs for the owner, so now we'll see how far he wants to open his wallet to whip this thing into shape. I've nitpicked the hell out of it here, but that's what I was asked to do, right?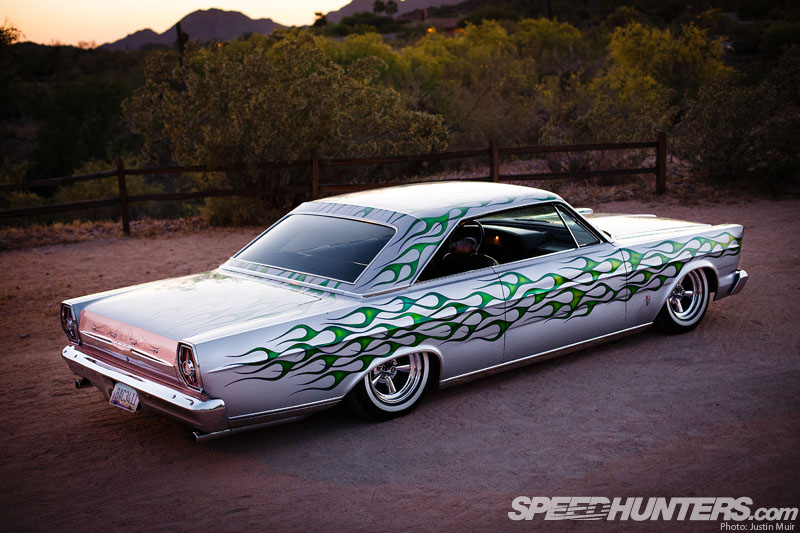 Despite the shortcomings, this car has good bones. It has proper Bellflower style with a great running engine, air suspension and pretty decent paint too. I hope the next time you see it on Speedhunters it's blown apart in my garage getting the full custom treatment it deserves.
Keith Charvonia
Instagram: SpeedhuntersKeith
Web: Charvonia Design
More stories from Keith Charvonia
More Galaxie posts on Speedhunters