I've been to more car shows in the last year than at any other time in my life. Between debuting my own car and coming on board with Speedhunters, I've been fortunate to hit major shows nearly every month – a petrolhead's dream come true. An unexpected benefit of this recent and rapid exposure has been the opportunity to compare some very different events. Let's be honest, nothing sucks more than attending shows that all feel the same – especially when the same cars show up over and over… and over.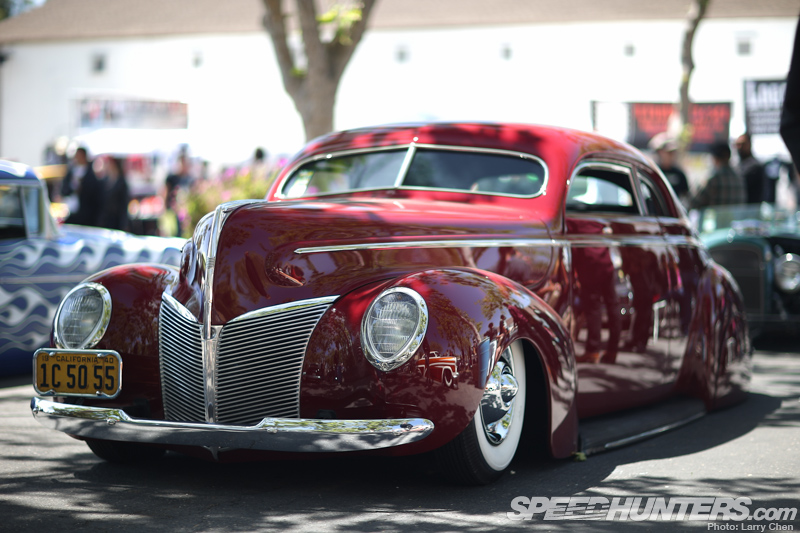 I was excited to attend the Cruisin' Nationals in Santa Maria because it's known for having a strong contingency of my favorite genre: the traditional kustom.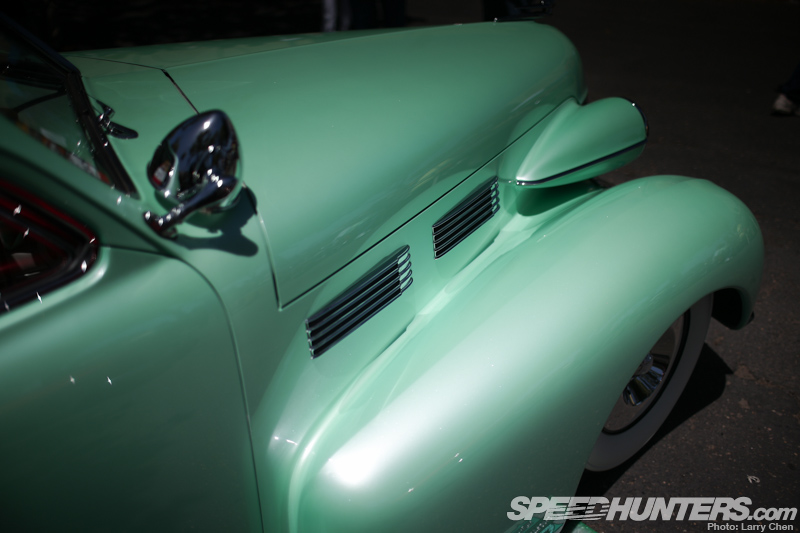 Walking in the gate, Larry and I immediately had our socks knocked off by all the shimmering pearl electrified by direct sunlight. We both just walked off and started shooting the sun-charged masterpieces in their natural habitat, regrouping every so often before making our way to another set of cars.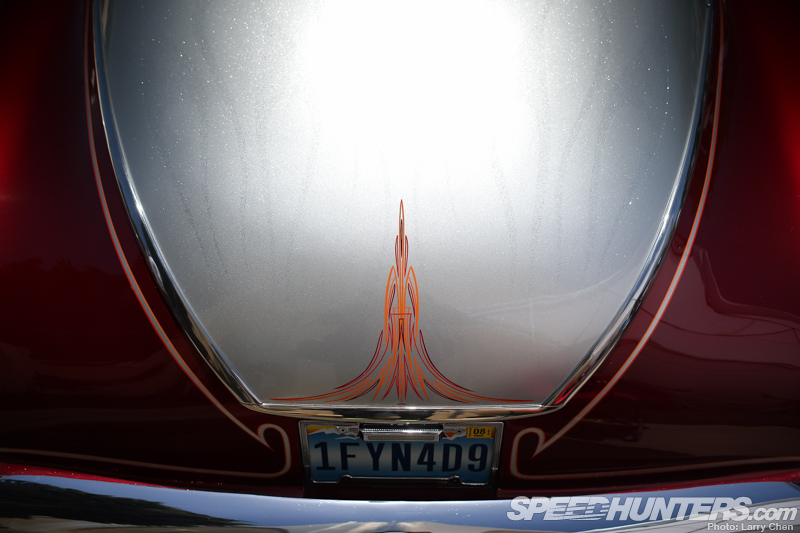 Many of the major rod shows are indoors, a tradition that dates back over 60 years. It gives builders the chance to put their best foot forward, with a perfectly-polished and detailed car sitting in a display to complement it.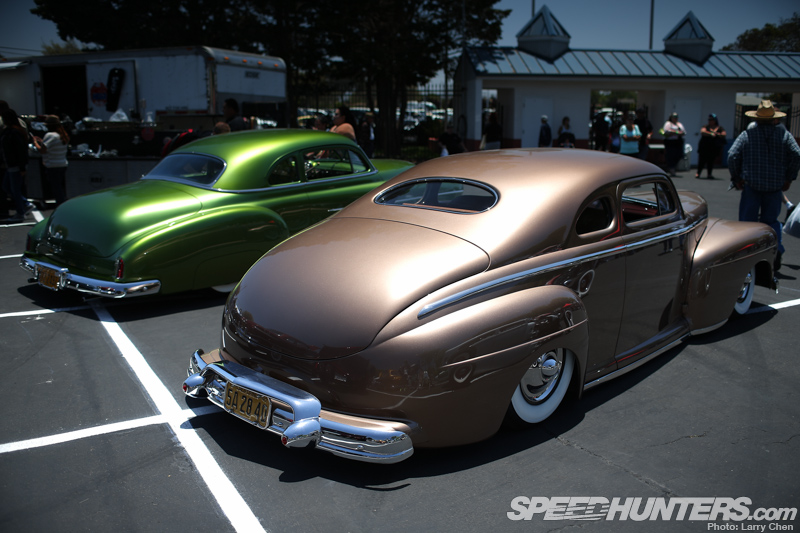 Now don't get me wrong, I enjoy the prestige of a national indoor show as much as the next guy, but the Cruisin' Nationals reminded me of what you miss while your brain is being numbed by artificial lighting.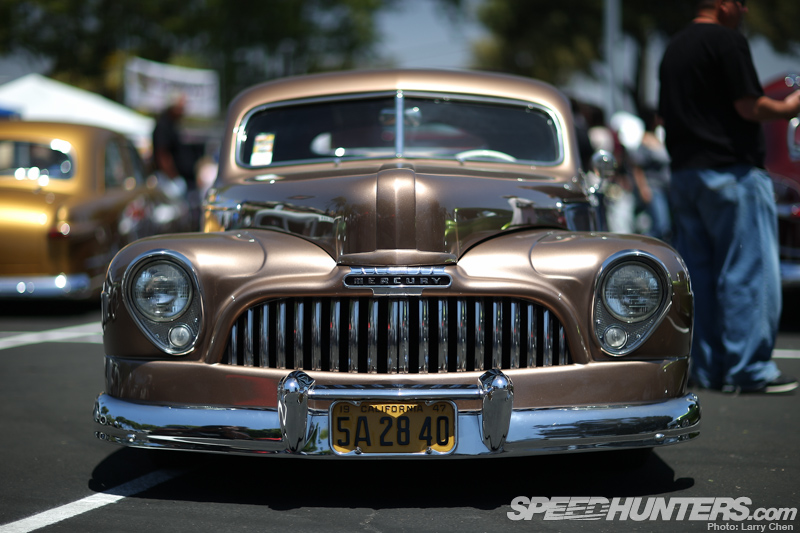 With the natural light enhancing every voluptuous vintage curve, we could truly appreciate the finest kustoms and rods on the west coast.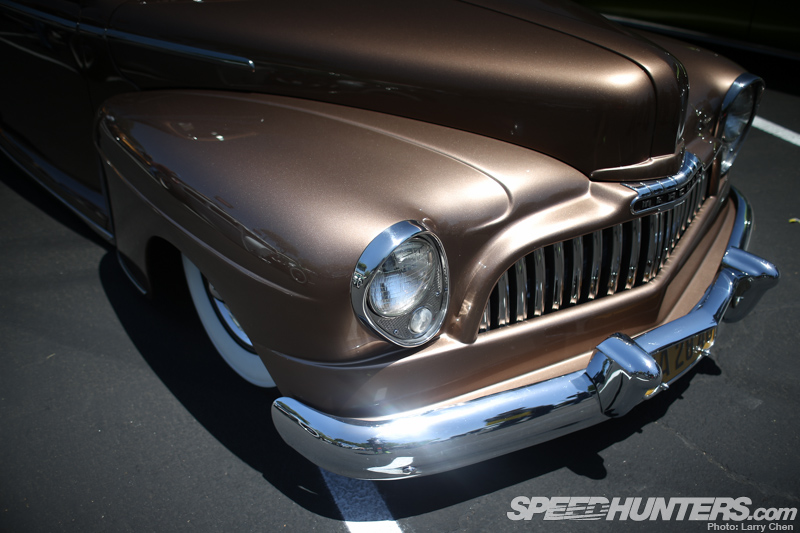 '49-'51 Mercurys are by far the most legendary of all kustoms – it's just the go-to bodystyle for customizing – so this earlier '48 model with canted Buick lights was particularly refreshing.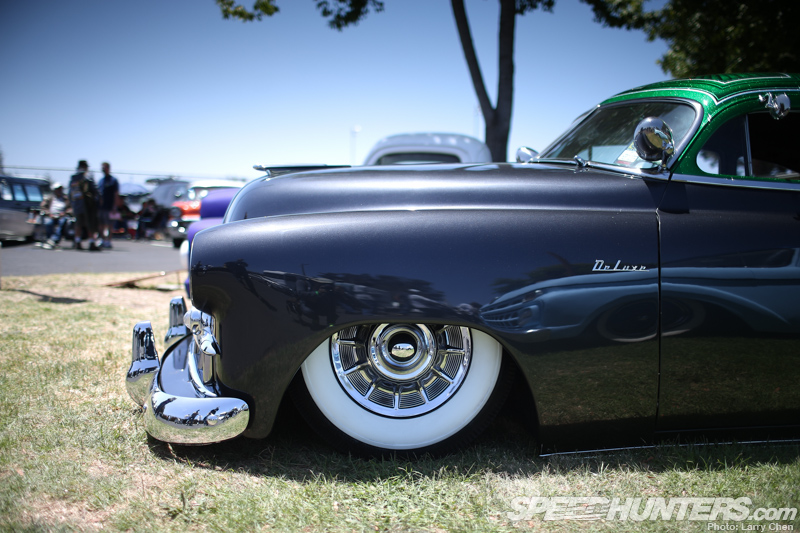 Being a kustom-centric show I thought we would see tons of chopped and dropped Mercs, so I was surprised by the overwhelming number of slammed Chevys.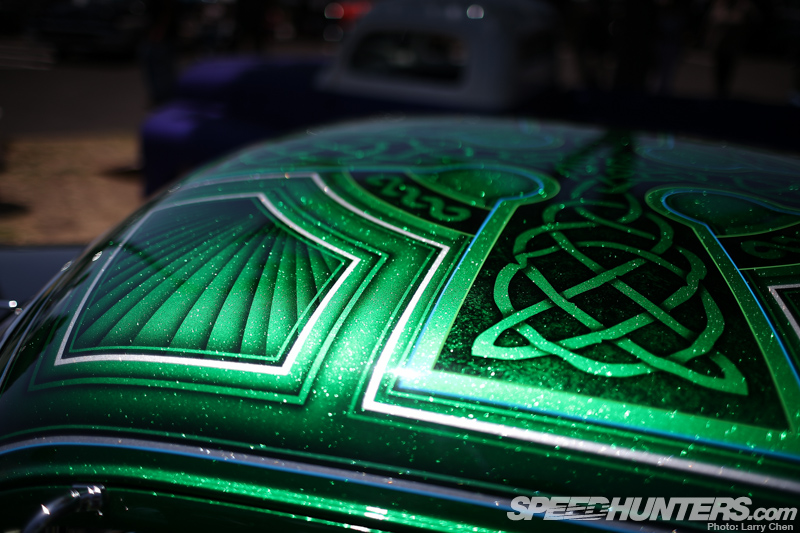 This one had plenty of intricate paintwork on the roof – a theme we would see a lot more of throughout the show.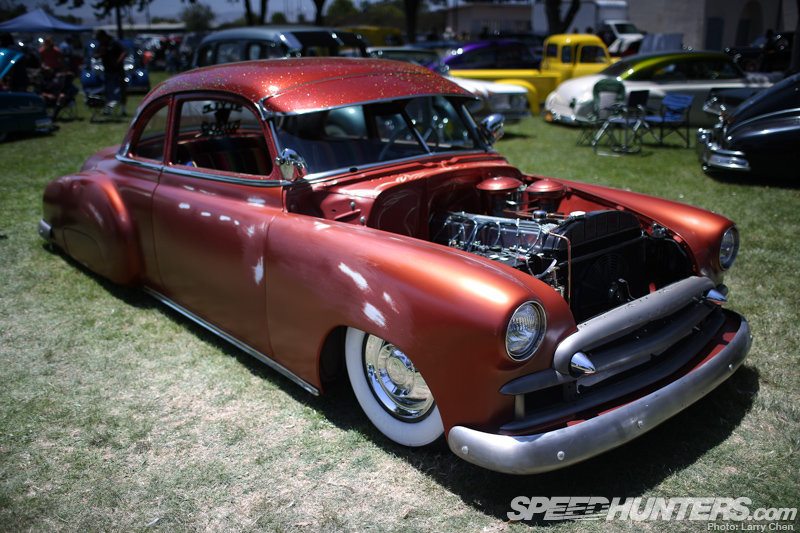 Here's another with the mild custom treatment – slammed, shaved and flaked – but not chopped.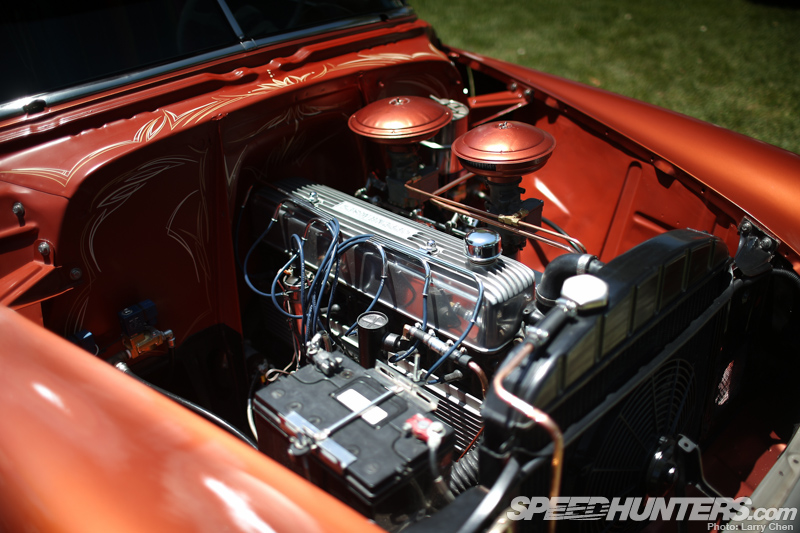 Plus a nicely detailed original straight six. I hope this one gets finished.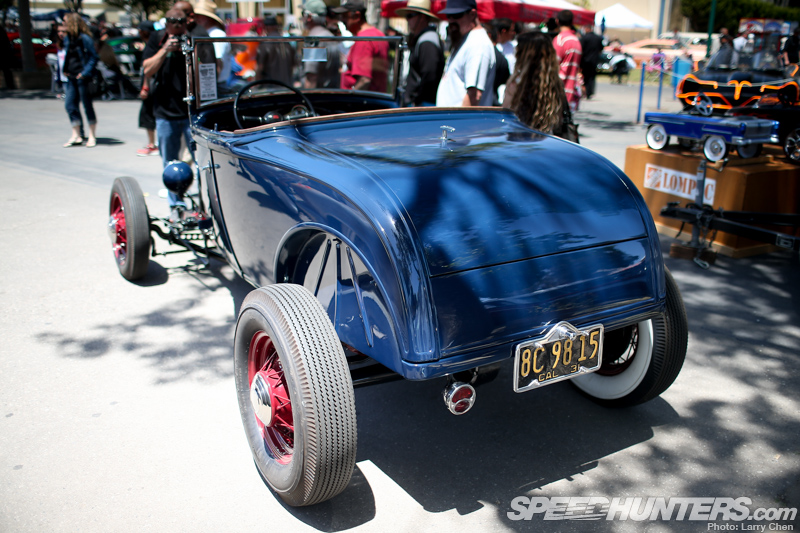 Traditional doesn't always have to mean dumped though. I'm sure some would argue that this stock height Ford roadster is more traditional than any of the bagged and candied kustoms being built today.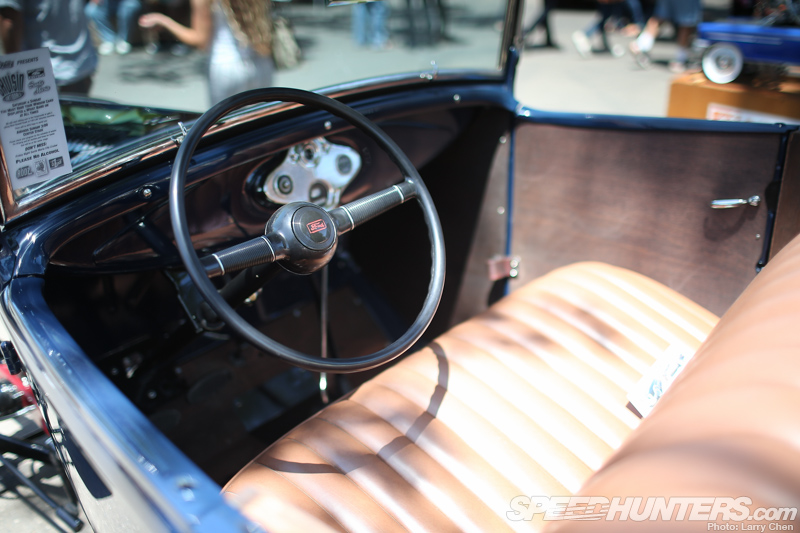 I took Gene Winfield's metalworking class with a few guys who are now making their mark on the scene, like the owner/builder of this car, Bear Metal Kustoms' Jason Pall.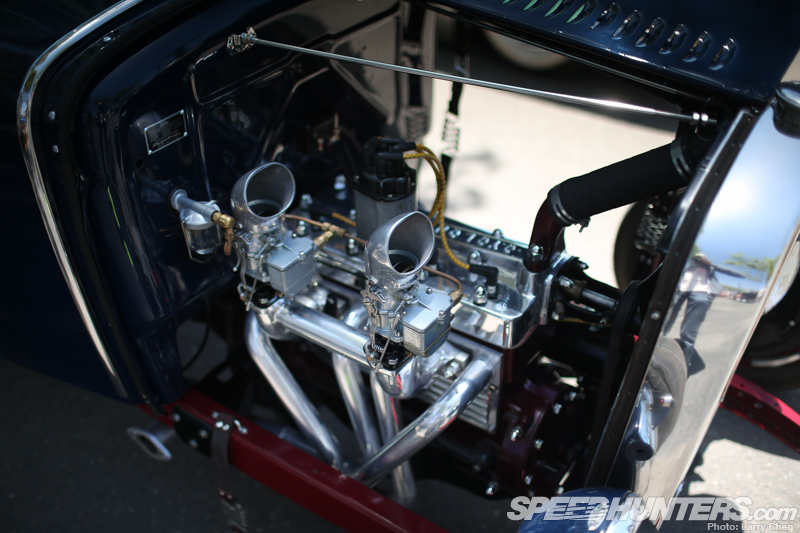 Jason showed us the trick four banger he built with an NOS Cyclone racing head.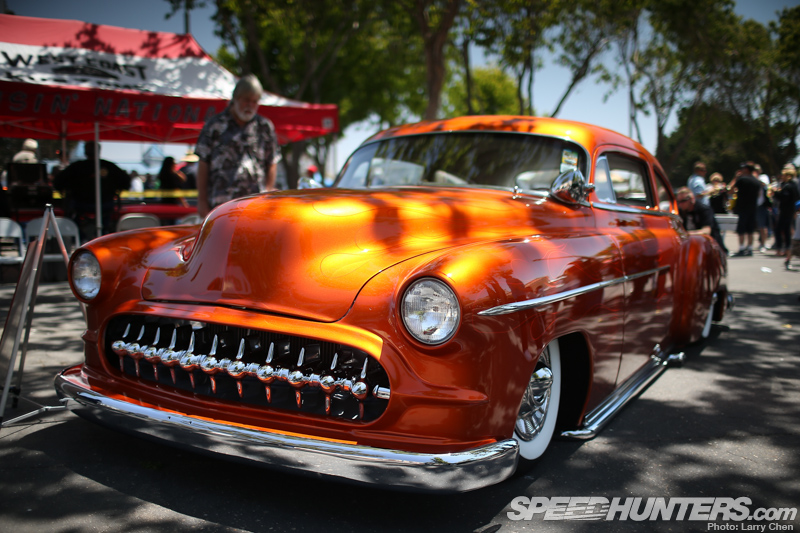 It seemed like the nicest cars were always clustered together. This row started with a bagged, subtly flamed Chevy…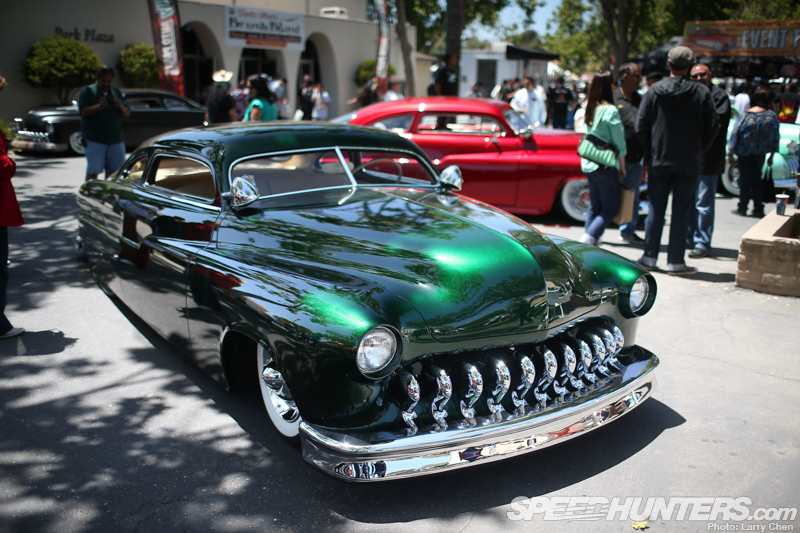 … next to a traditionally-styled Merc…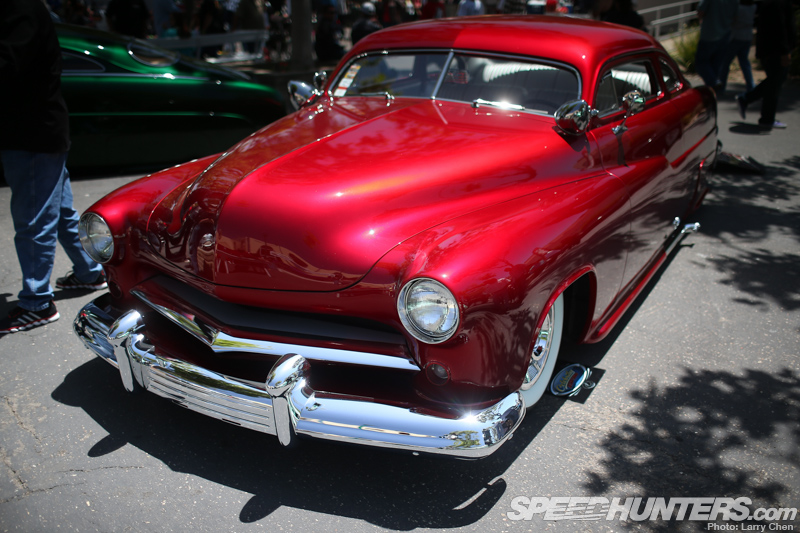 … next to yet another Merc from Celebrity Customs…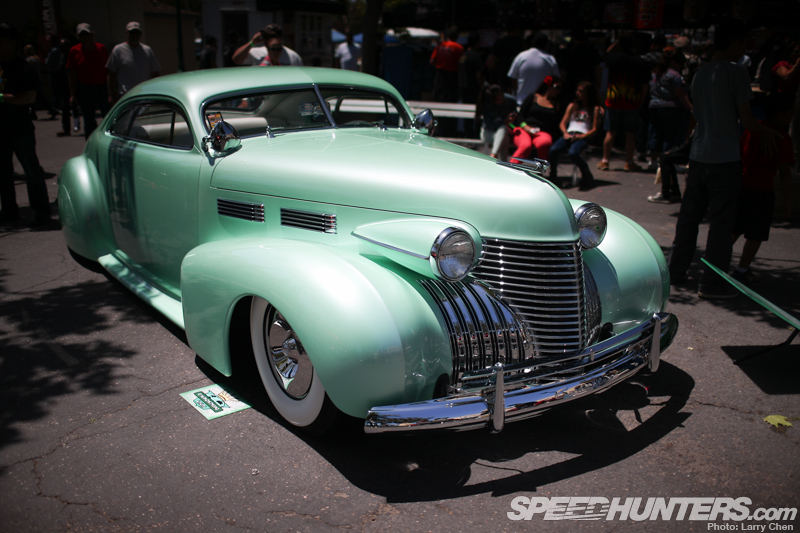 … bookended by John D'Agostino's latest creation: Sophia.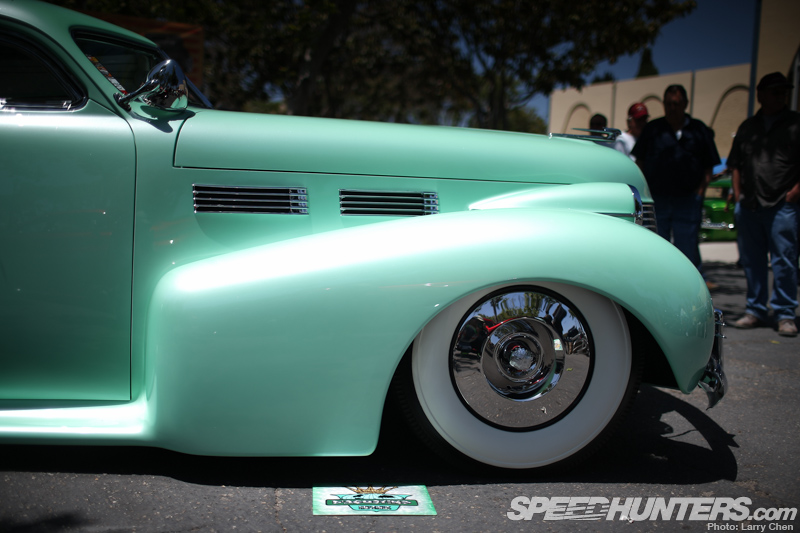 We first saw Sophia at the Grand National Roadster Show, but it just wasn't the same as seeing her out in the daylight. We've just confirmed a full feature shoot on this car for next month, so stay tuned!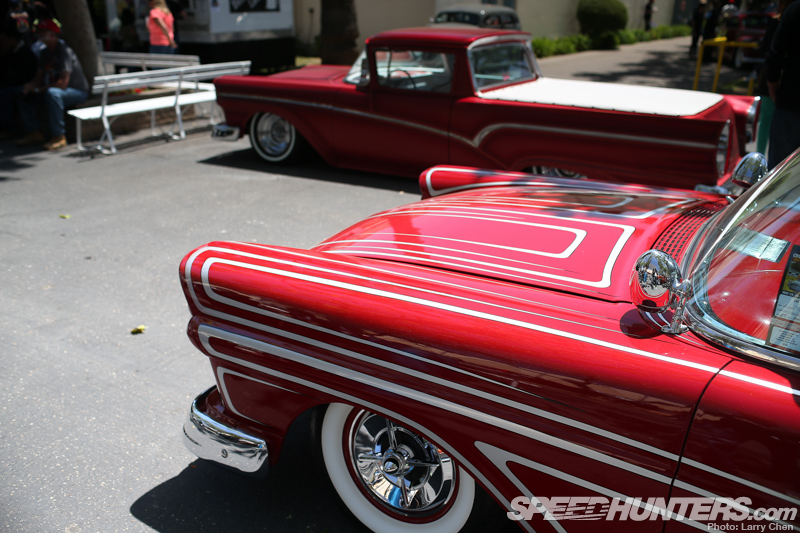 I watched the matte painted '57 Ranchero in the background as it was built on the HAMB. Between this car and Keith Weesner's renderings, a '57 Ranchero is now on my short list of must-have cars. It's always cool to see a car like this in the flesh for the first time.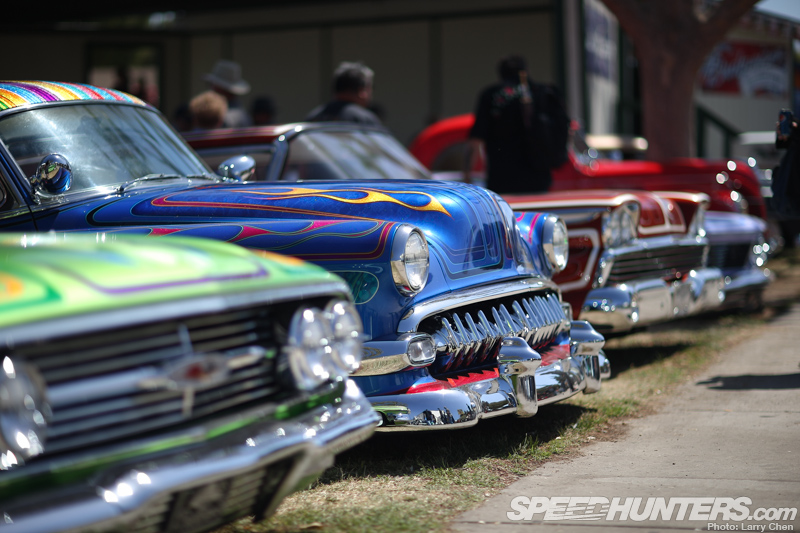 The Loco Banditos CC were lined up front-and-center by the stage.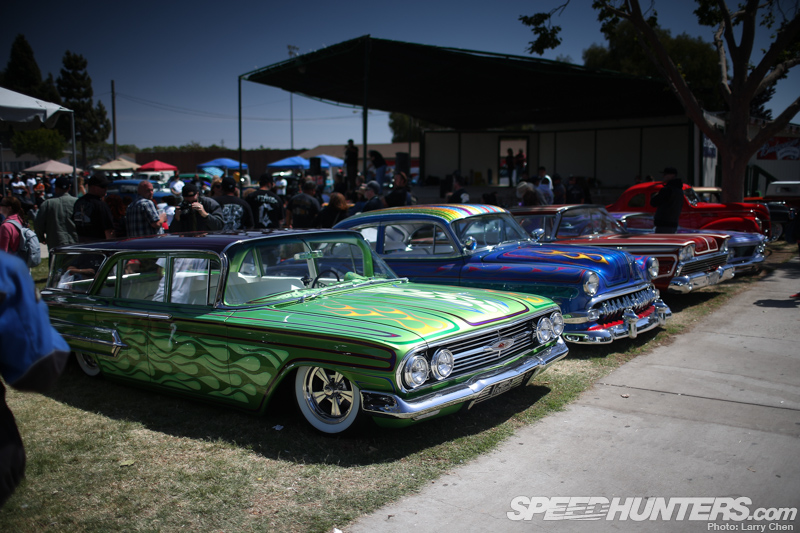 We've been trying to tee up features for these cars since we met the guys at March Meet. In the meantime, look for a Spotlight on the '60 wagon very soon.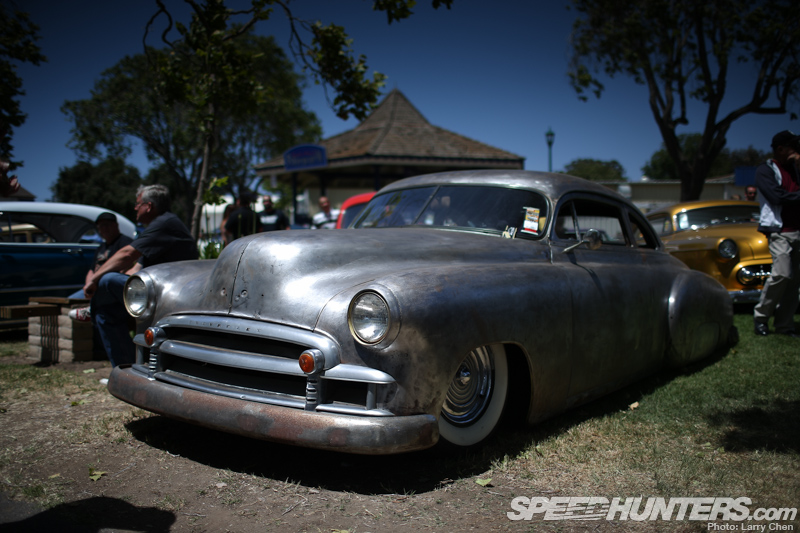 There were surprisingly few under-construction vehicles at the show, but this bare metal Chevy deserved to showcase its fine metalwork.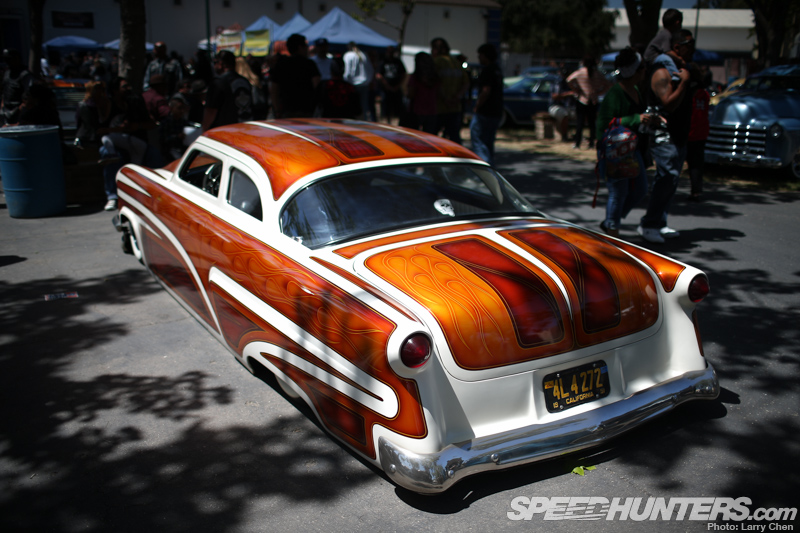 Who would have thought white could look so bold?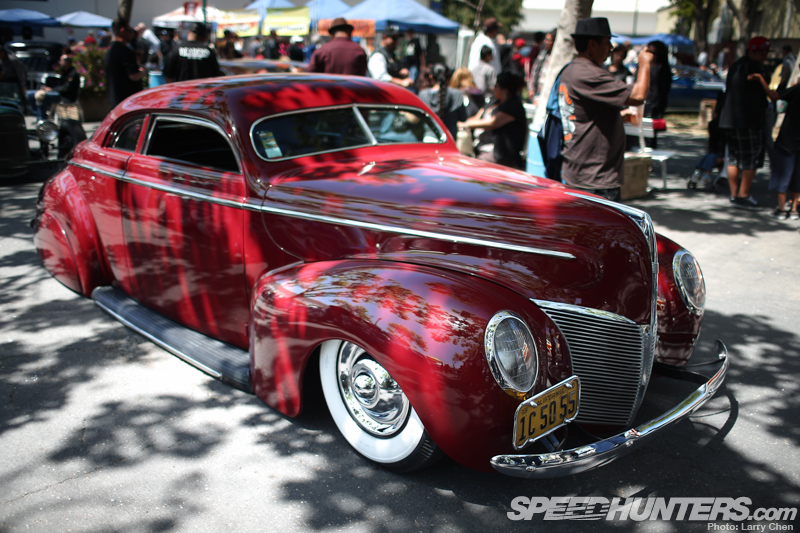 This '40 Merc looked like it fell off a page of Rodder's Journal.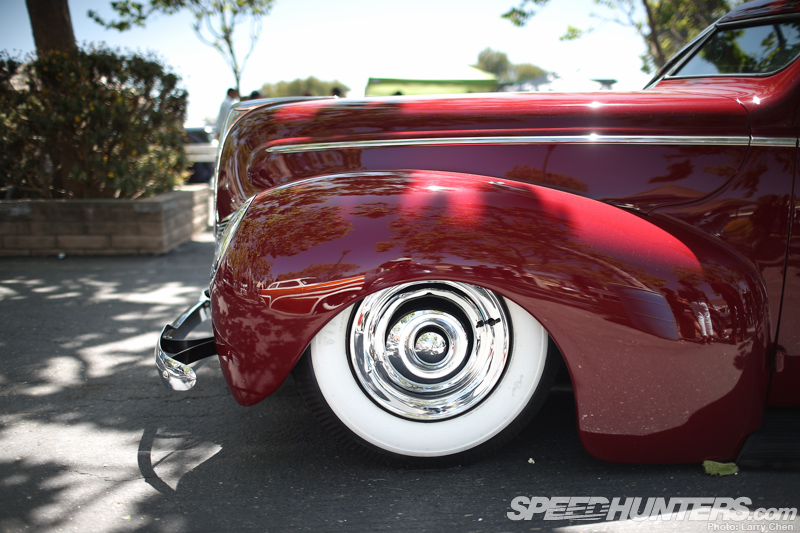 Wide white bias plies are as traditional as it gets. Some guys cheat (myself included) and run radials on a full fendered car, but obviously this owner wanted to go all-in with his traditional build.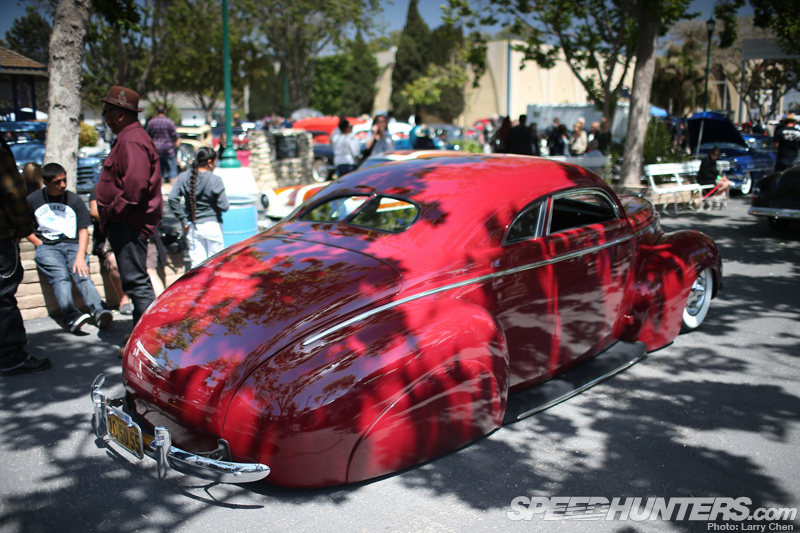 It's funny how such an extreme build can start to look tame in a sea of candy colored customs.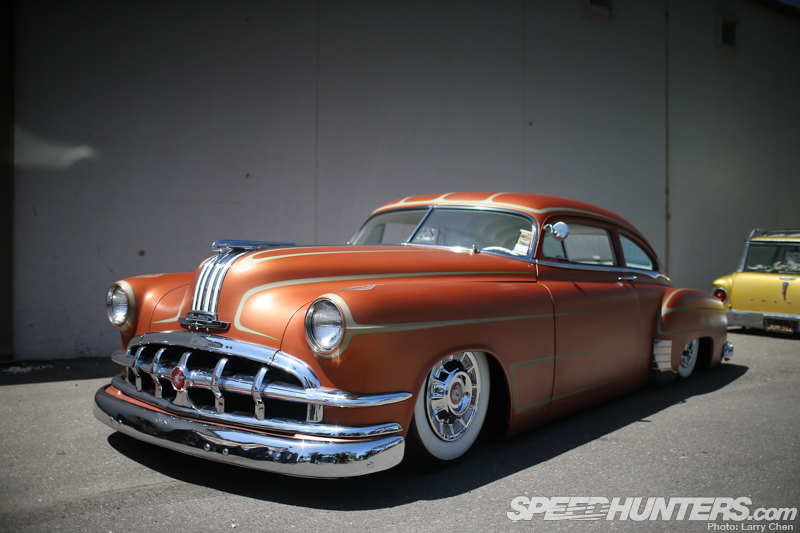 Here's a nice slammed Pontiac, with matte paint glowing under the bright sun.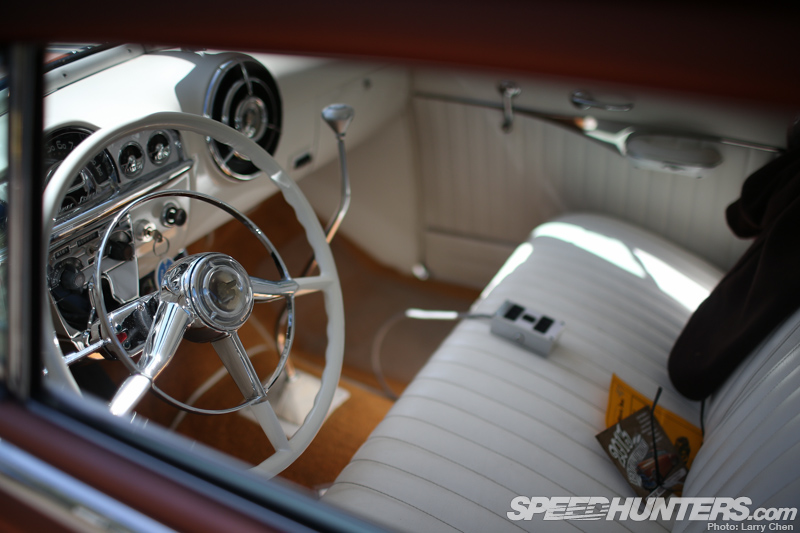 The switchbox for the air ride is the only tell-tale that this picture was taken in 2013 and not 50 years earlier.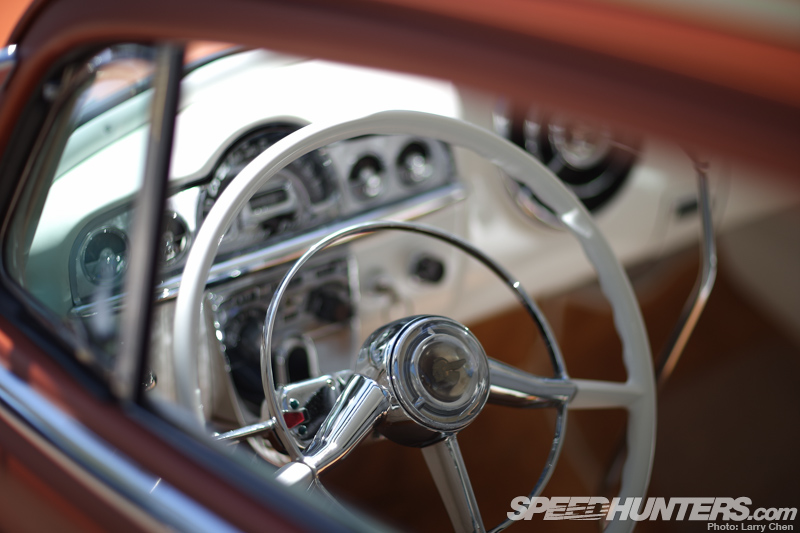 White, chrome and color-matched carpet makes for a fresh interior.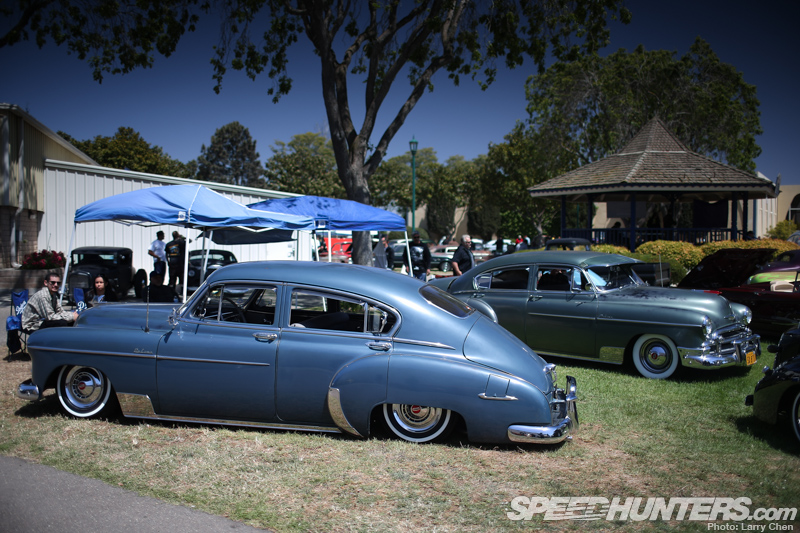 Two doors are generally favored, but these sedans loaded with factory accessories looked absolutely perfect with nothing more than a slammed stance.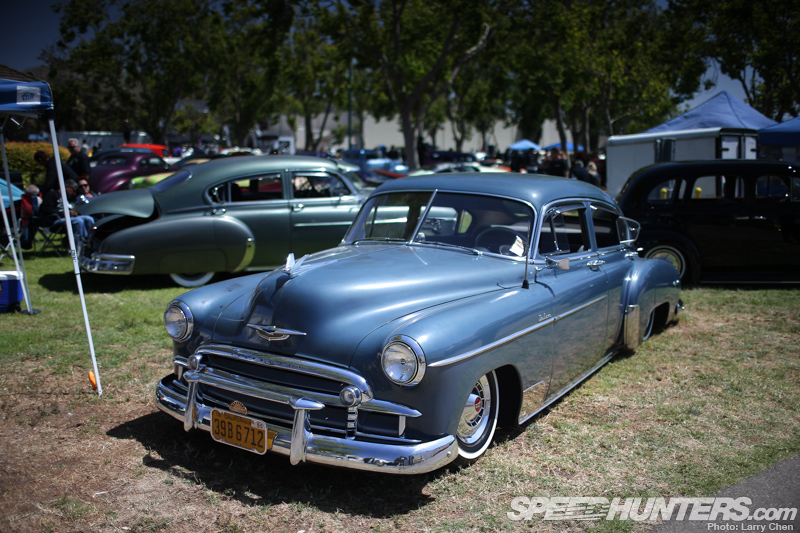 I wouldn't change a thing.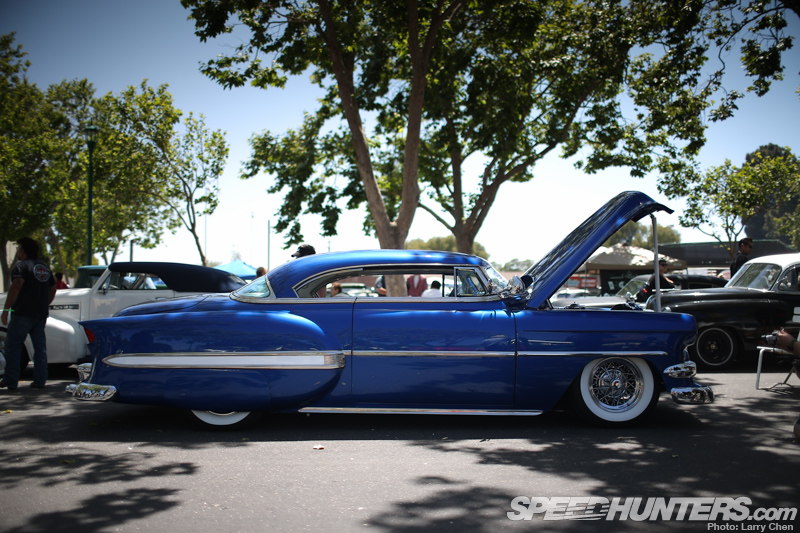 This '54 Chevy came down from Canada and had a slightly different vibe…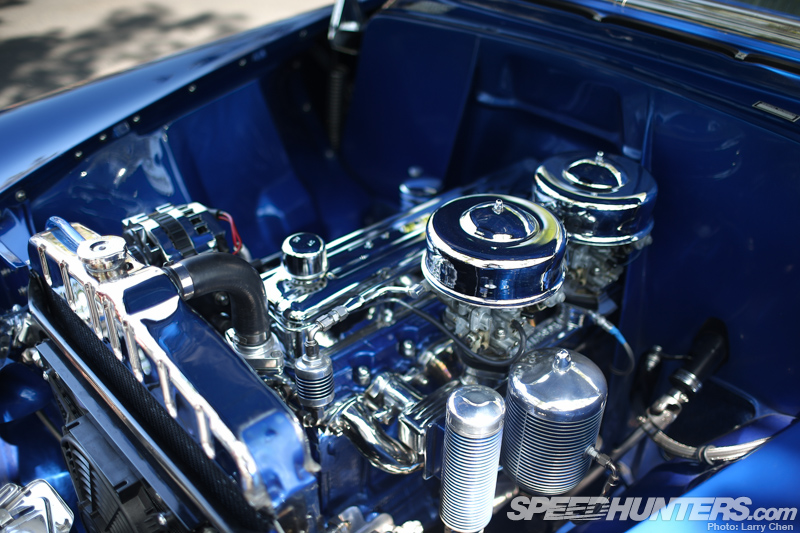 …with a tame but nicely appointed six banger…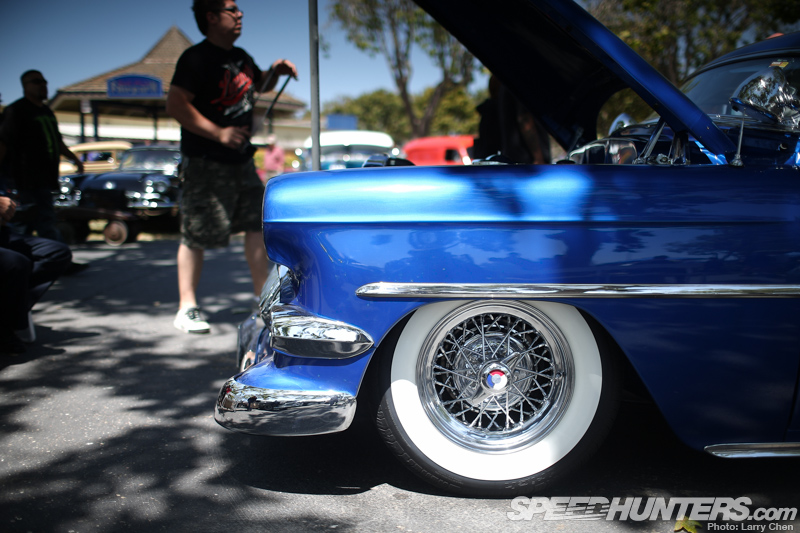 … plus full trim and wires, creating an upscale, sophisticated feel.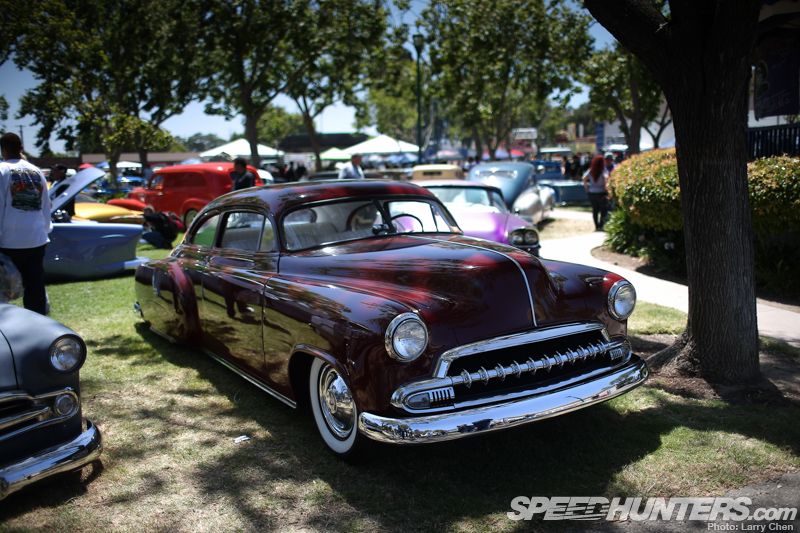 Here's another Chevy that I would put in the sophisticated camp. The owner really restrained things, resulting in a very clean build.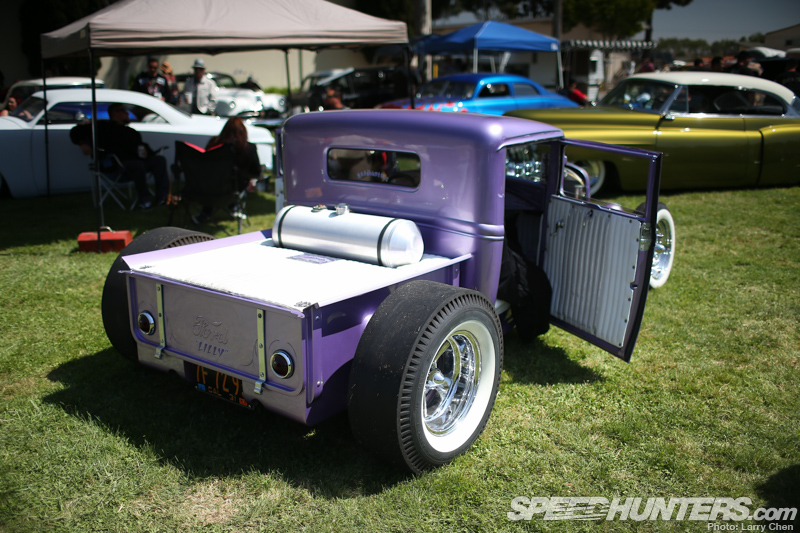 This little pickup was quite the opposite.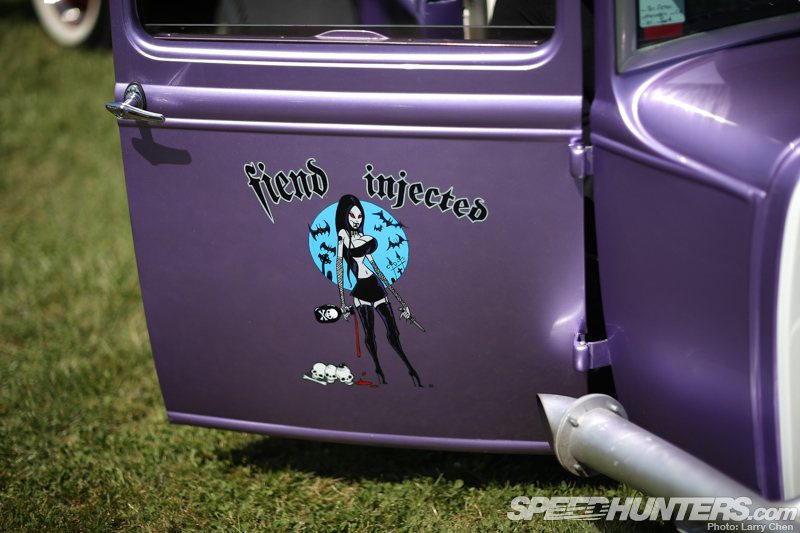 Loud and in your face.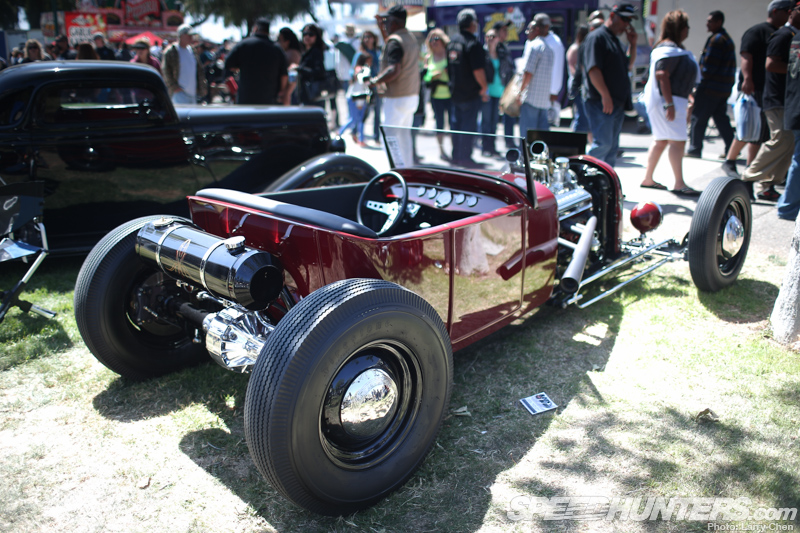 Another little hot rod in a sea of kustoms, this time a Modified on narrow bias plies with open headers.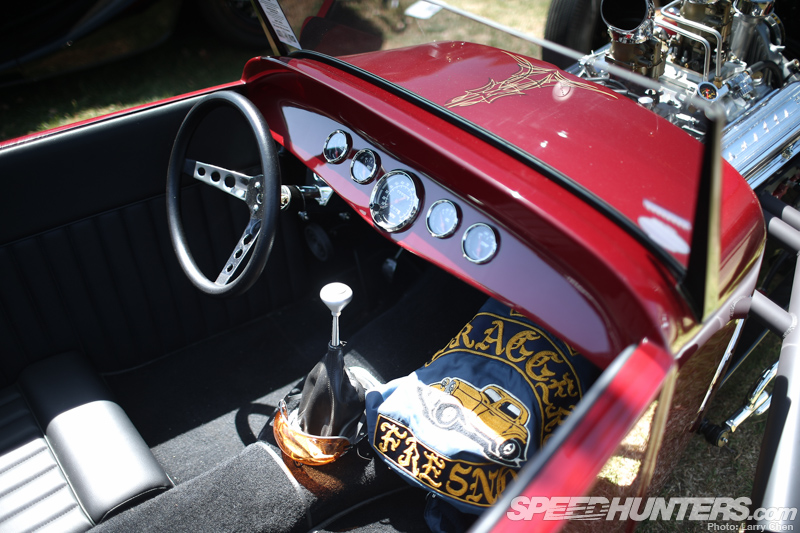 I hope he wears those goggles when he drives.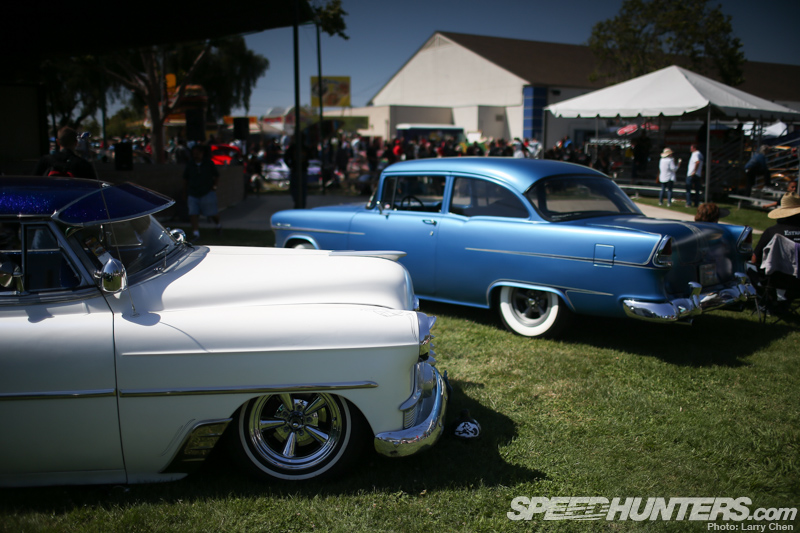 This pair of Chevrolets was a good demonstration of two different styles. The matte blue Tri-5 had a mean '60s street race vibe, while the earlier shoebox Chevy was more of a SoCal lowrider custom.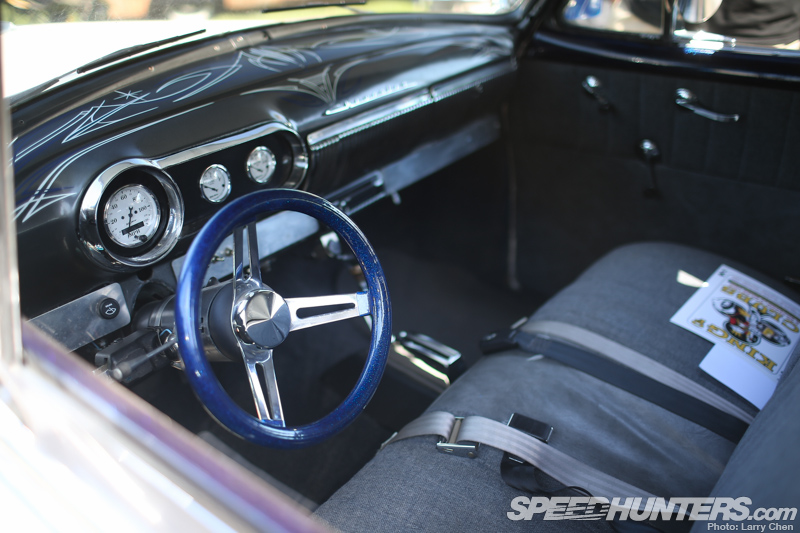 I spotted a period metalflake Mooneyes steering wheel inside the Tri-5 too. You'll see why I had my eye out for these soon enough.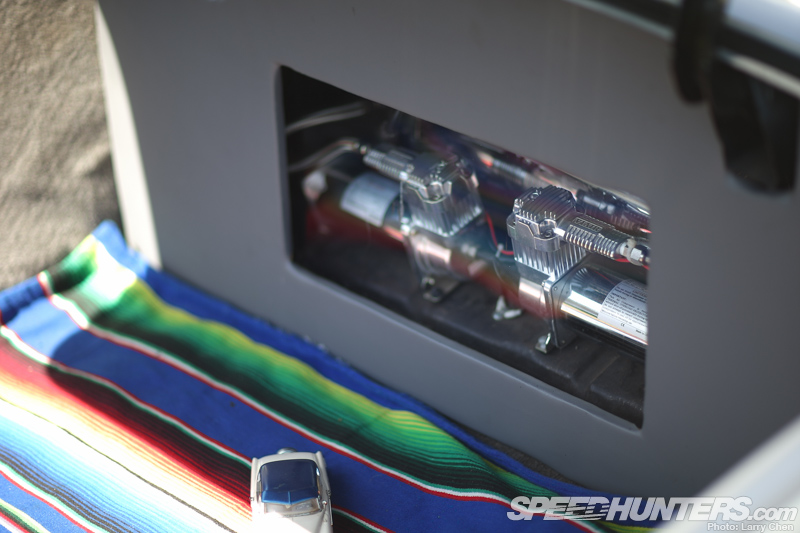 Guys used to showed off their hydro pumps behind acrylic, now it's air compressors.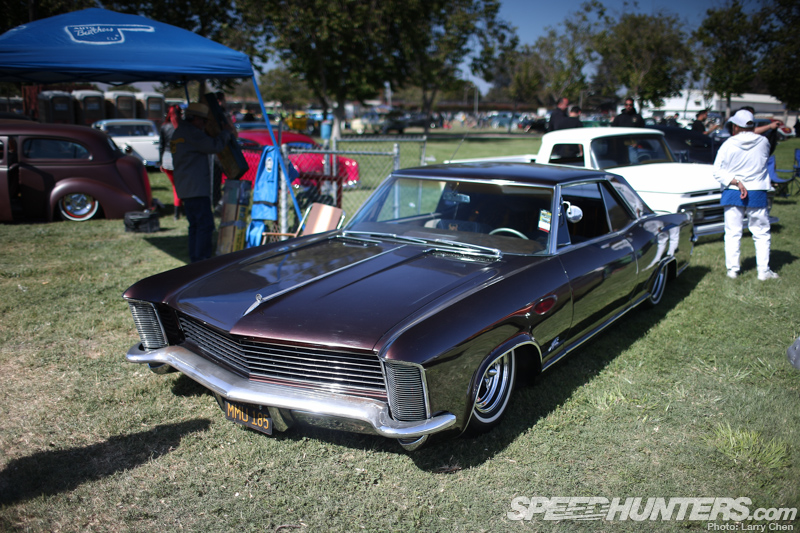 As Larry and I finished lunch I realized there was a whole field behind us that we hadn't even seen yet.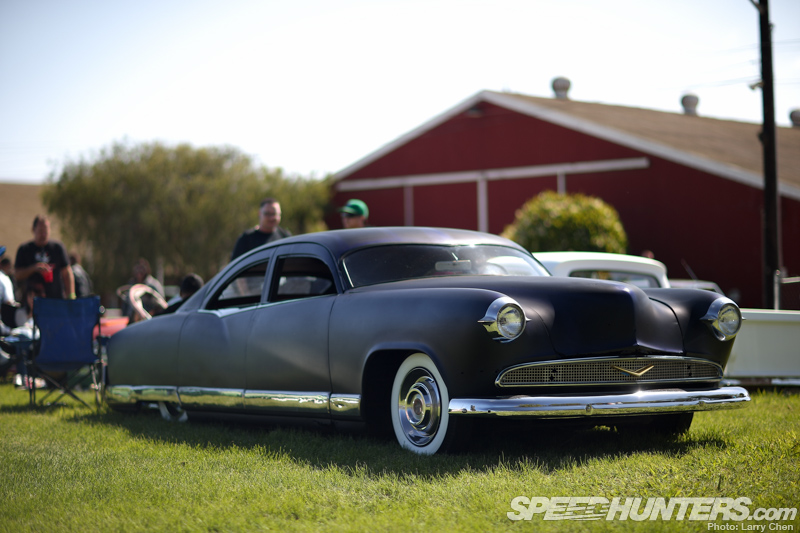 I instantly spotted the Kaiser from across the grass. I looked for the owner but he wasn't around, so I threw my card on his seat. You just don't see chopped Kaisers very often.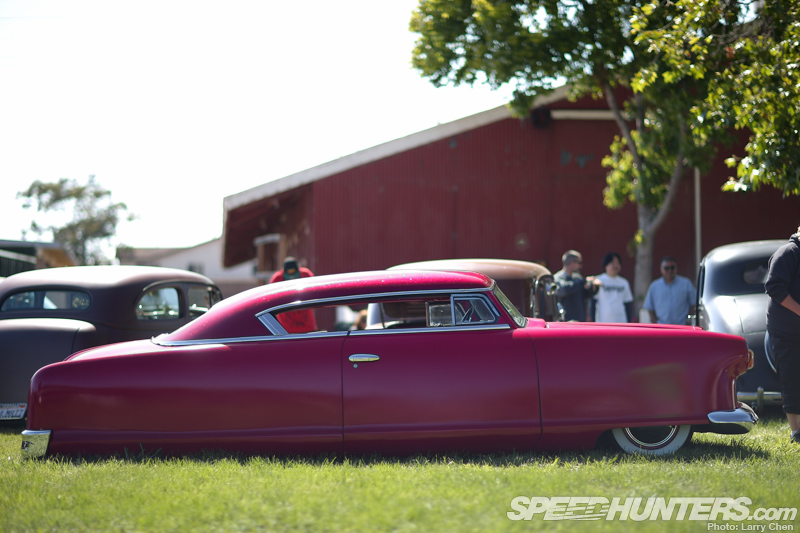 Nor do you ever see a chopped Nash Metropolitan!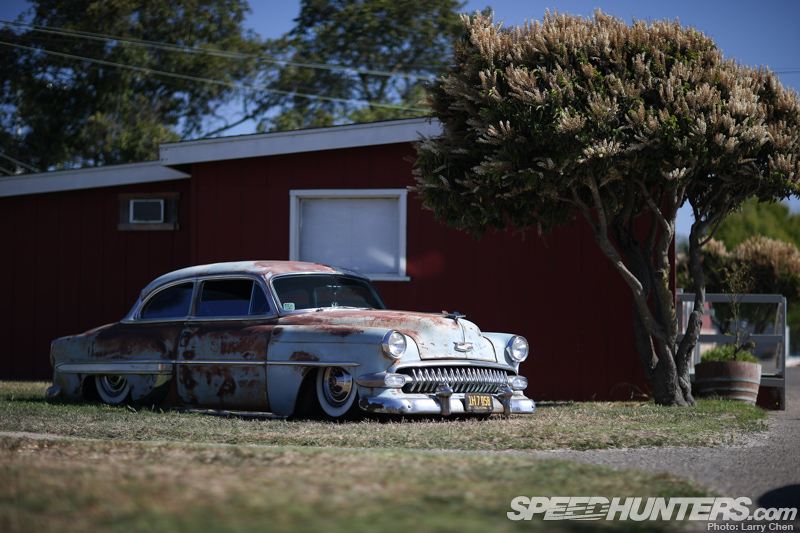 While I was checking out these custom oddities, Larry had slipped away again. I found him shooting this amazing scene – a patina'd two-door Chevy sitting alone in front of a barn.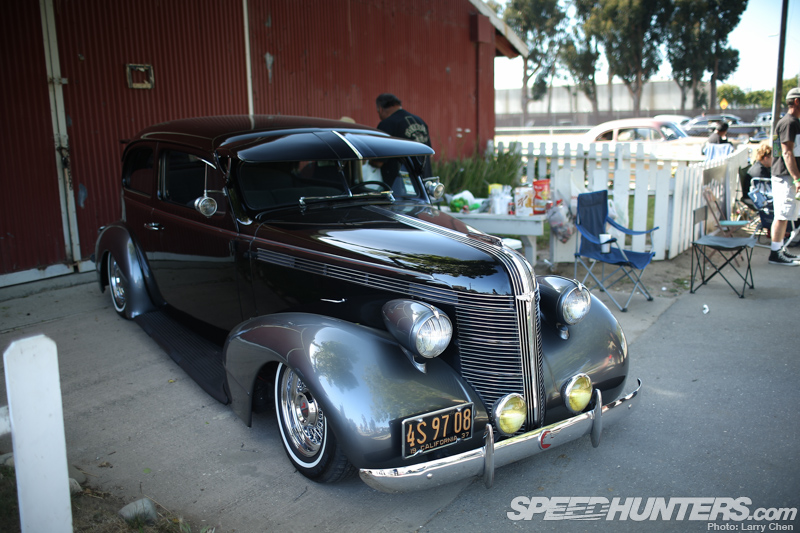 It was an interesting layout at back of the show.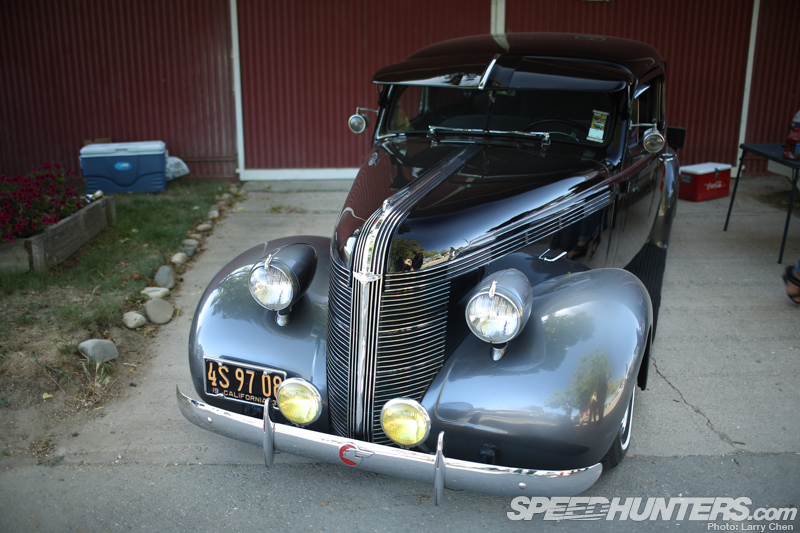 It seemed like people just parked anywhere, resulting in some unexpected backdrops.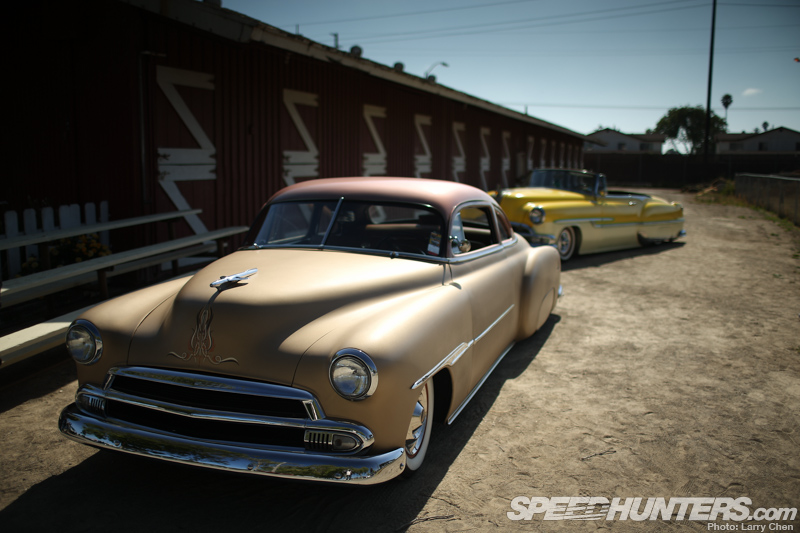 Larry was having his own private shooting session with the cars and barns.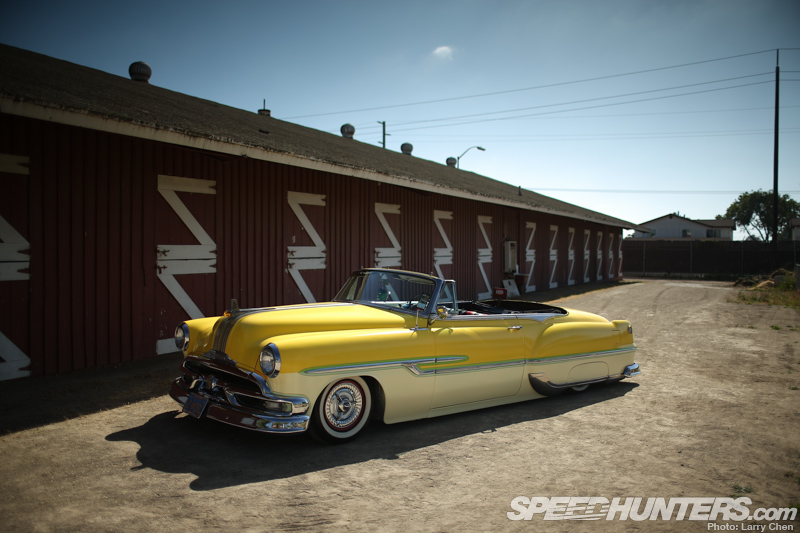 I know he wouldn't let an opportunity pass without pointing his lens and making some poster-worthy images.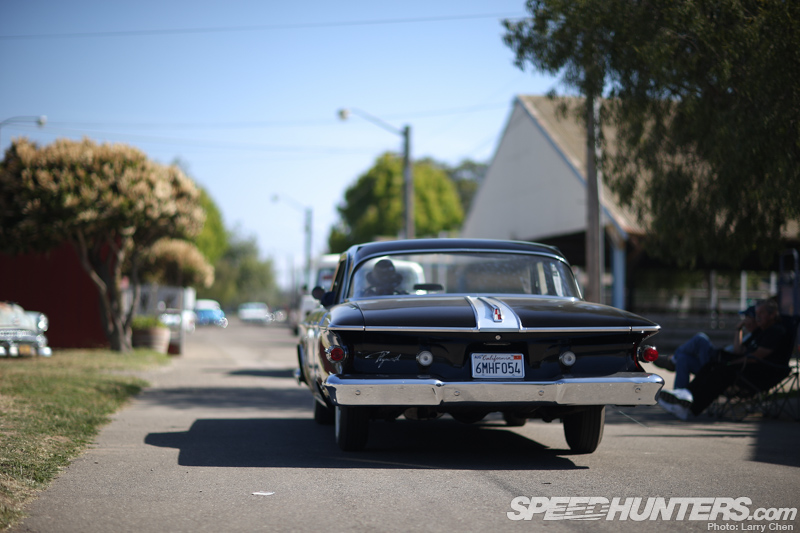 Before long the rumble of engines got our attention.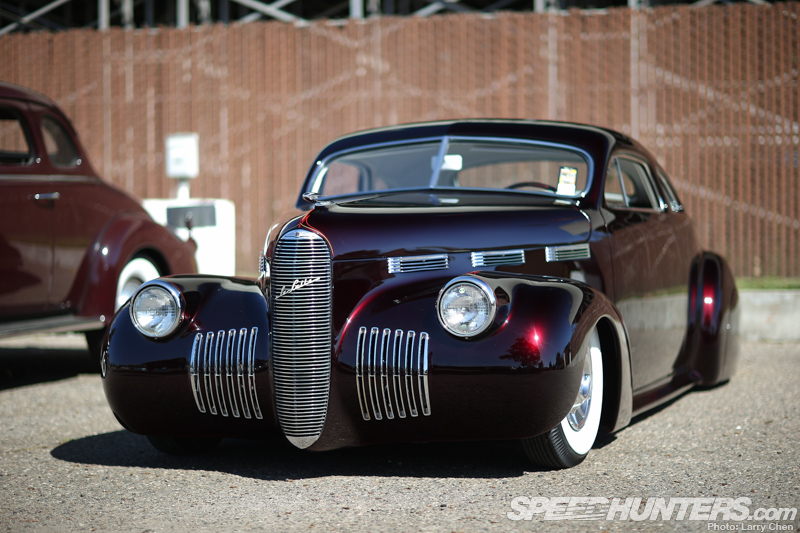 I dragged Larry away from his impromptu photoshoot so we could see what was left in the back field. We spotted this LaSalle grille'd '40 Caddy.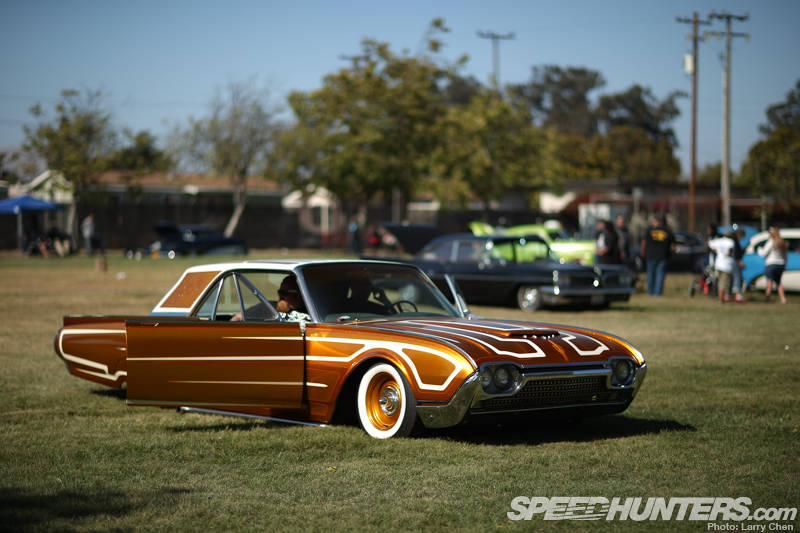 I was glad we walked the field before everyone left because we caught two really nice bullet birds.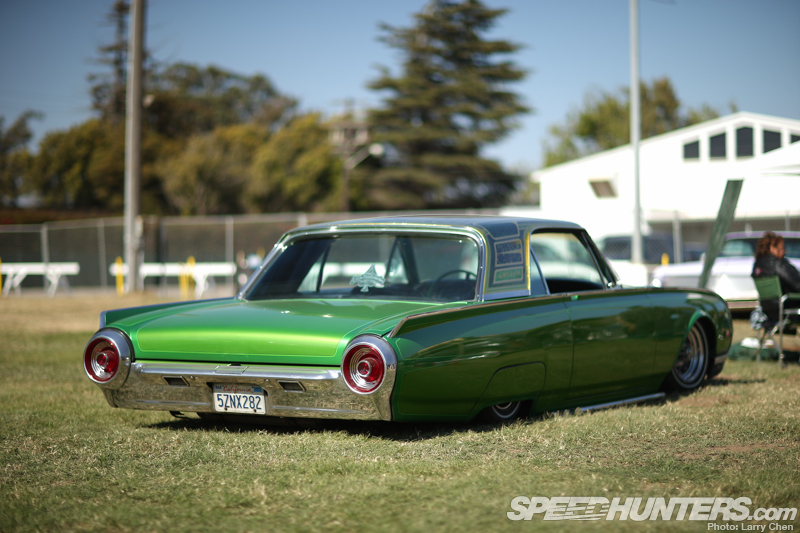 The '61-'63 Thunderbird is another car at the top of my must-have list.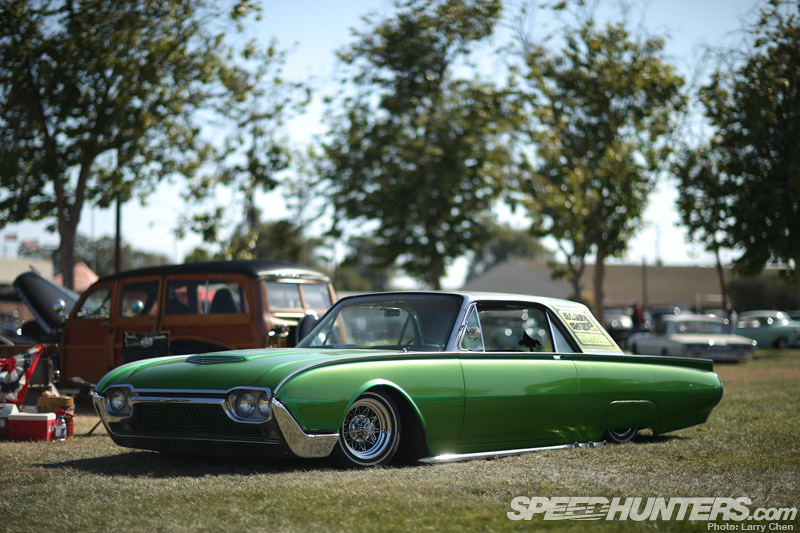 The factory customs don't need much to be show stoppers.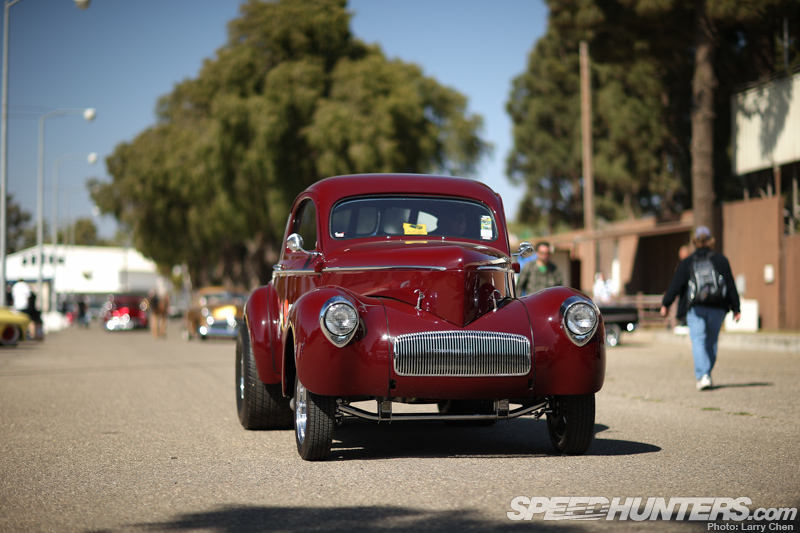 I'm pretty sure this Willy's was the only gasser at the show.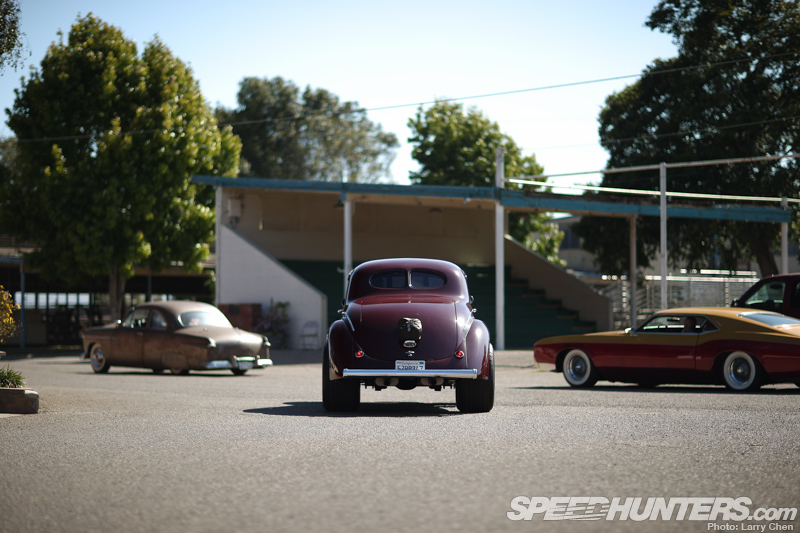 Check out the diversity of styles in this shot. The '50s, '60s and '70s are all here and each representing a unique traditional genre.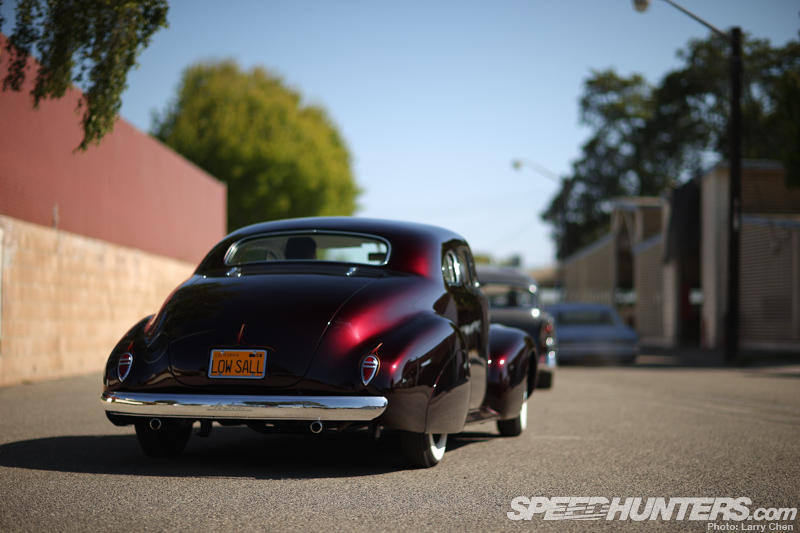 As the cars rolled out we got one last reminder of why we were here.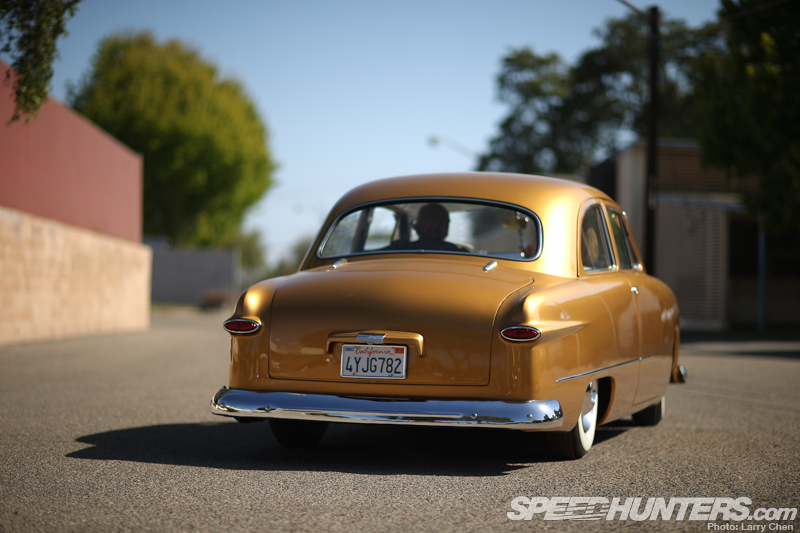 After months of attending high-zoot indoor shows…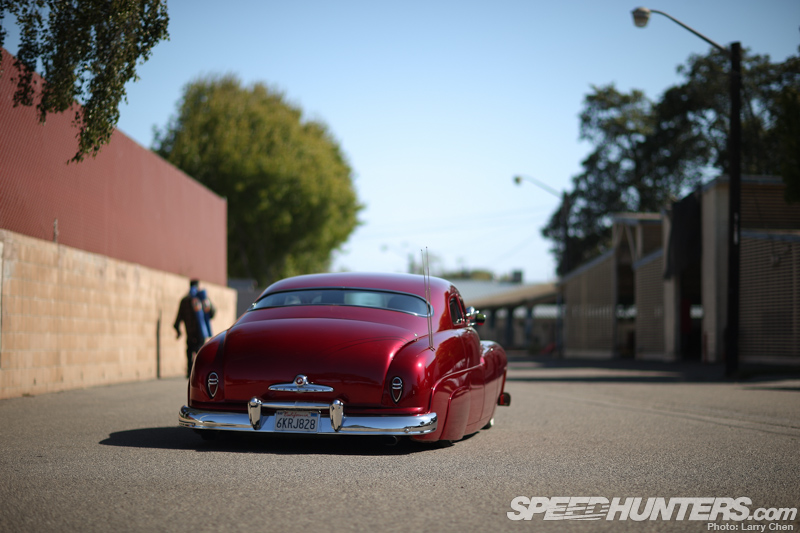 …we finally got to see some show-stopping kustoms where they belonged, under the California sun.
Words by Keith Charvonia
Instagram: SpeedhuntersKeith
Email: keith@speedhunters.com
Photos by Larry Chen
Instagram: larry_chen_foto
Email: larry@speedhunters.com
Grand National Roadster Show Spotlight on Speedhunters