Attending events like the Grand National Roadster Show without your own vehicle is akin to torture. It's tough to enjoy everyone's finished rides while yours sits unfinished 400 miles away. But this year the tables would finally turn, and planning began upon being formally accepted to the show. It would be my third GNRS, but the first opportunity to bring a vehicle of my own.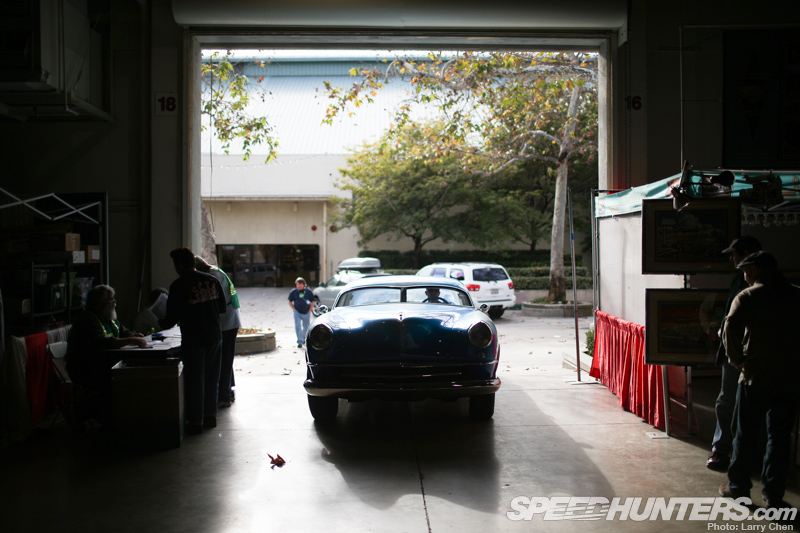 I would need carpet to park the car on, signs, ropes and framed articles… Oh yeah, and a truck and trailer to tow the car with too. After some mooching, I secured transportation and started polling my friends to see who was going to hit the road with me.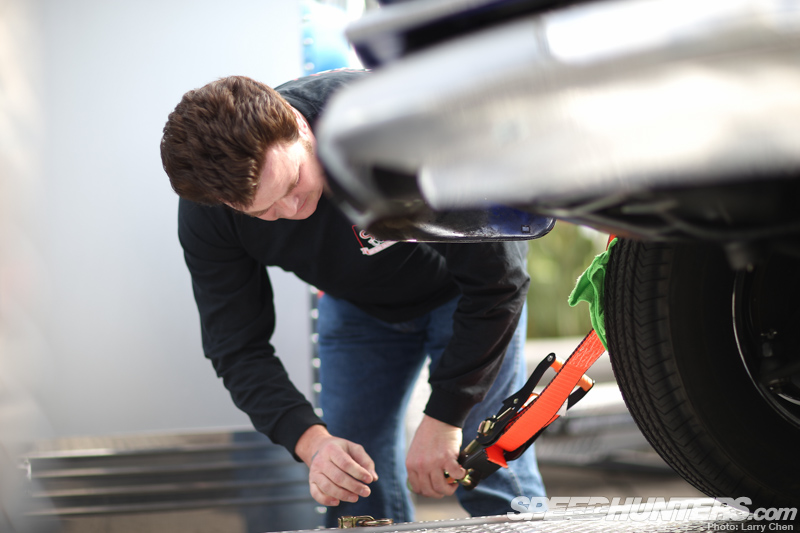 My friend Rob stepped up this time. If you roll with me you do more than drink Mountain Dew and eat sunflower seeds from the passenger seat. Rob assisted with everything from loading the car to cleaning all the muck off once we got there. Having a friend to help is imperative.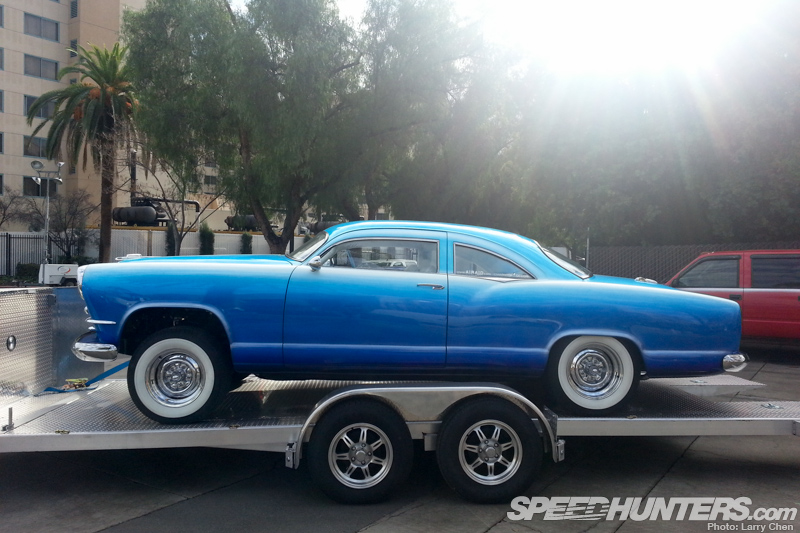 The drive was painless other than being rained on with the car on an open trailer. No biggie, we would detail the car when we got there anyways. Larry Chen met us at the drop point with a camera in hand and a friendly smile too.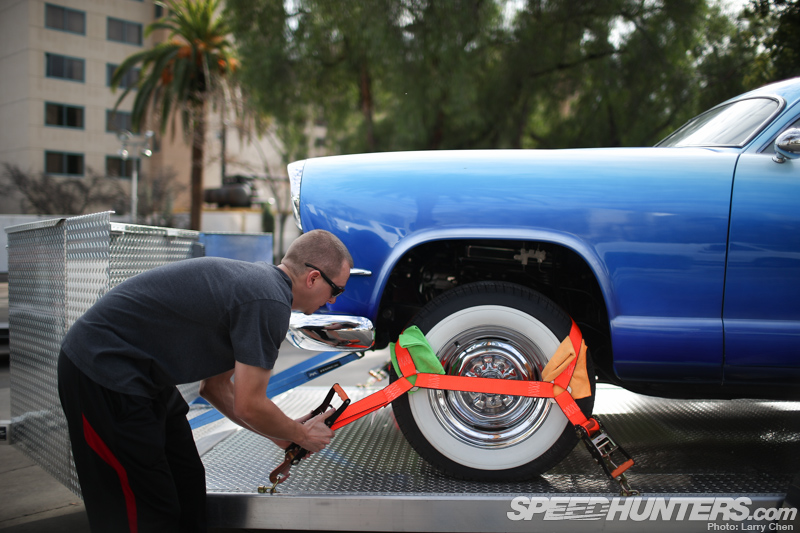 After towing the car to SEMA I learned to leave the air in the bags so it has some cushion. Towing with the car on the frame just beats it up too much. I also use tire straps as an added precaution. Yes I'm paranoid, and yes I love my car.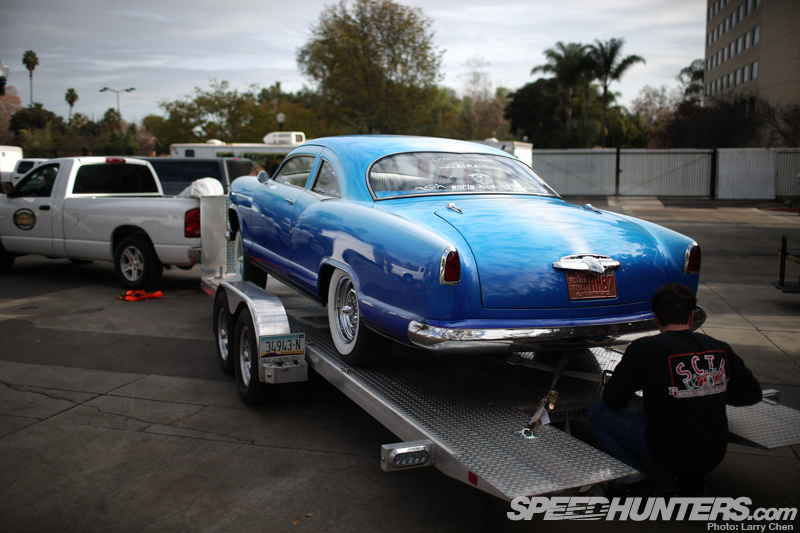 Here's Rob performing his duties as co-pilot.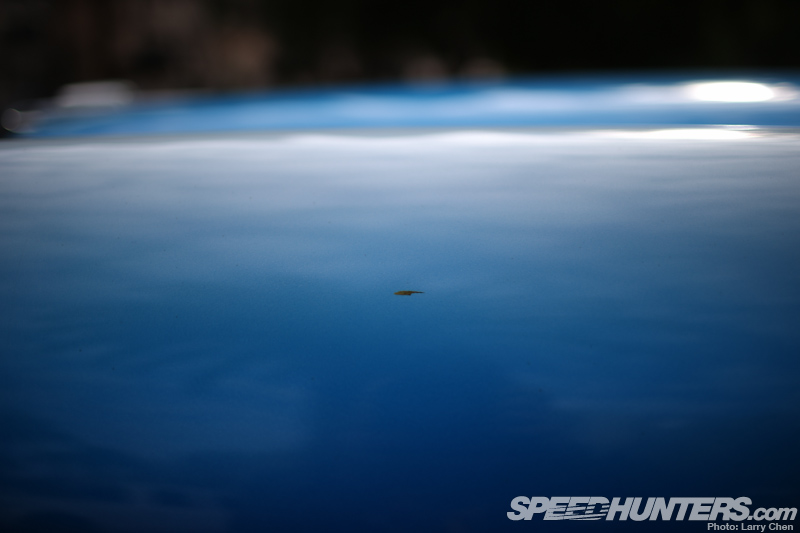 Splat! It was hard to photograph the grime from the hours of rain, but trust me it had to be thoroughly cleaned.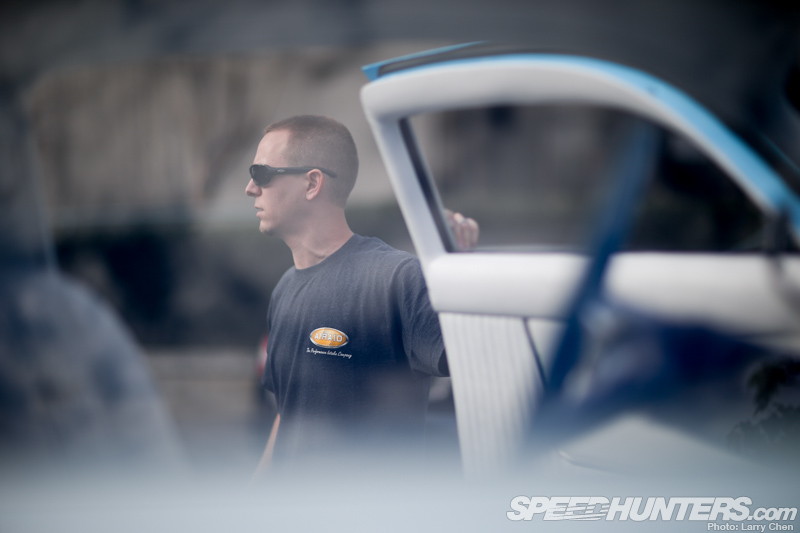 Here I am trying to figure out the game plan. Venue staffers aren't always on the same page, but this show was better organized than most.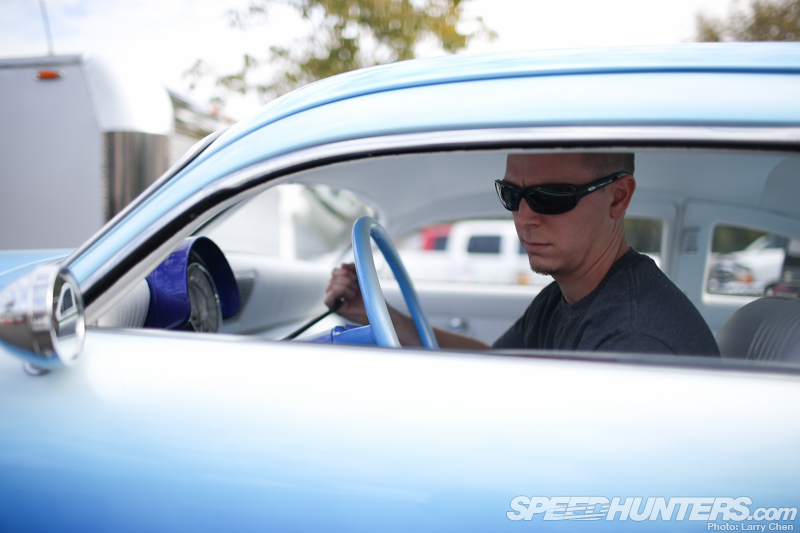 Time to get the Kaiser off the trailer very carefully with all the action going on around us.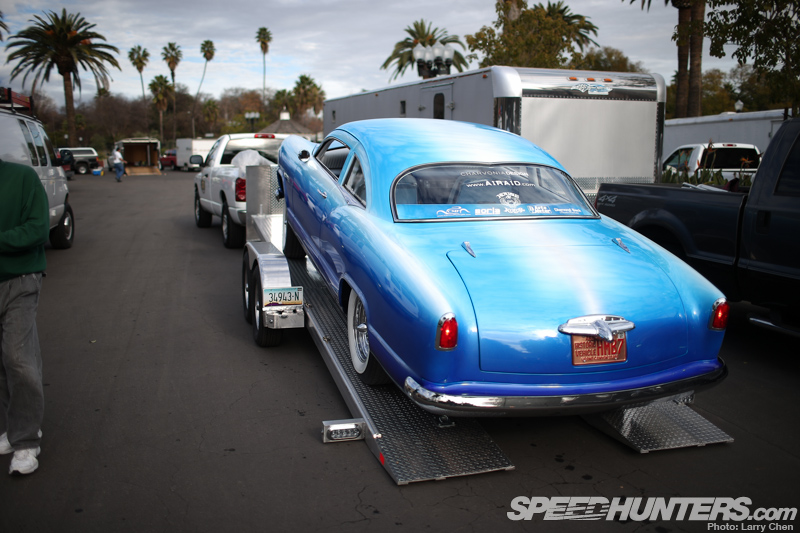 Backing the car down in the middle of a trailer traffic jam.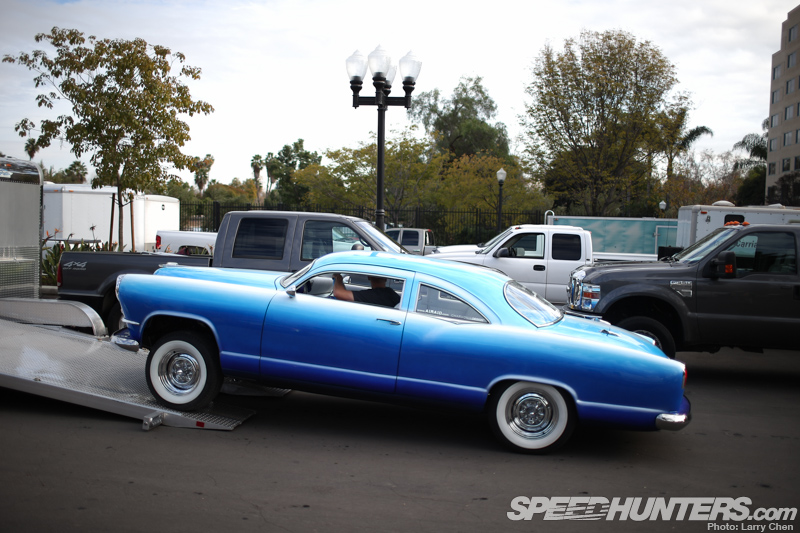 You can't move too carefully in a situation like this.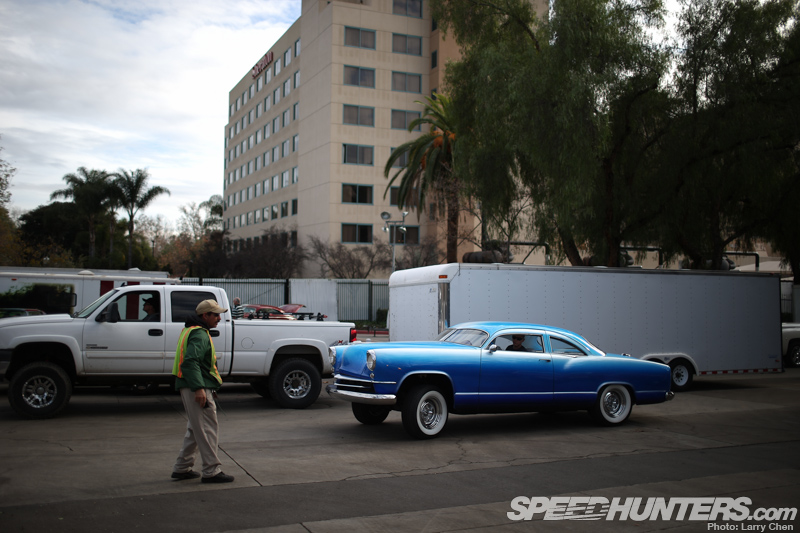 Watching cars roll into the show is sometimes one of the best parts. It's more pleasant to view a vehicle on the move than on static display.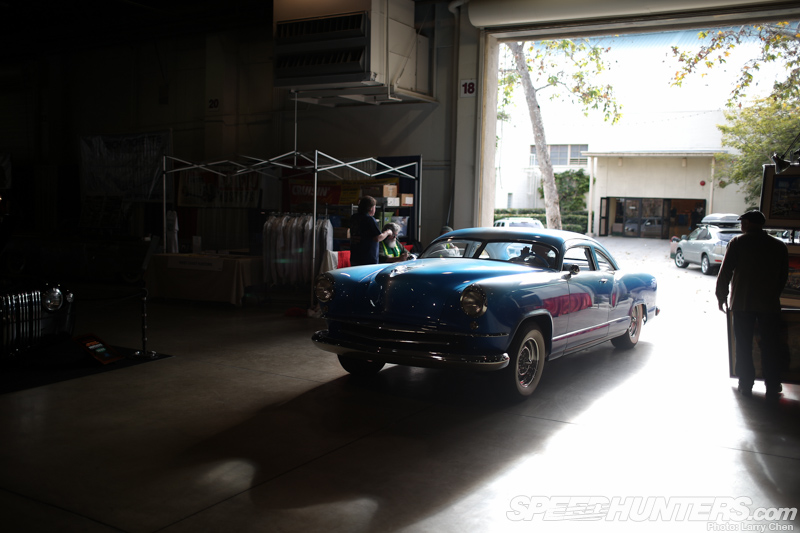 After getting clearance and finding out where my space was I finally brought the car inside. Time for the Kaiser's first indoor car show!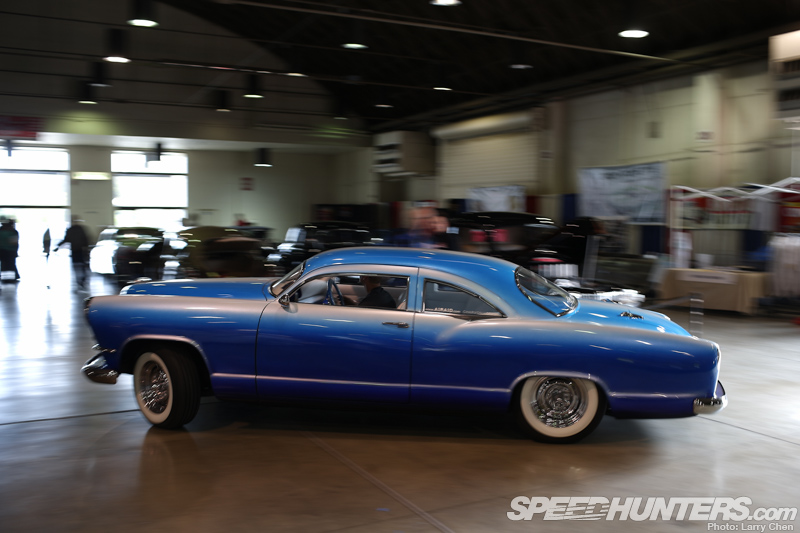 I think Larry snapping away like paparazzi made people wonder what was going on.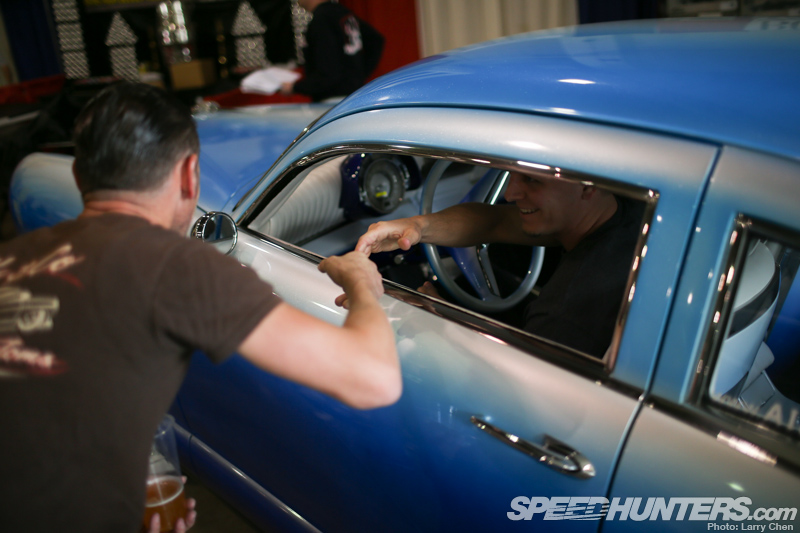 The best part about car shows is meeting like-minded individuals and reconnecting with old friends. I haven't seen my Aussie friend Justin Hill in two years, but we were both excited to run into each other. The last time he saw the Kaiser it was half completed and trapped in my garage.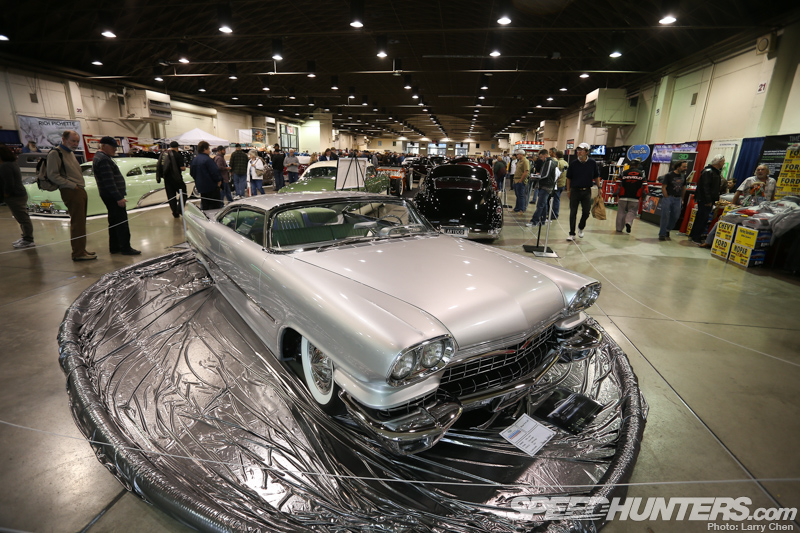 Here's Justin's latest debut: a 1960 Dodge Dart he built in his custom shop Down Under.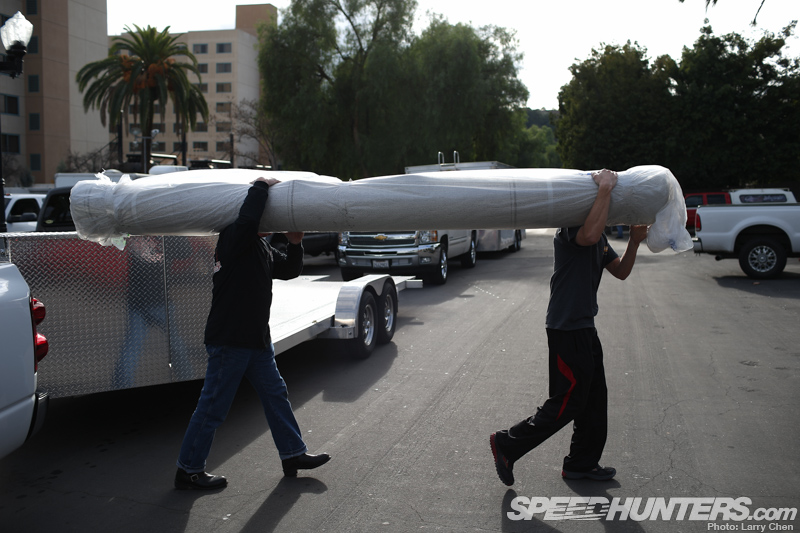 I've shopped for carpet for a car before, but not like this. 200 square feet of black commercial carpet had to be carried in and placed before we could park the car.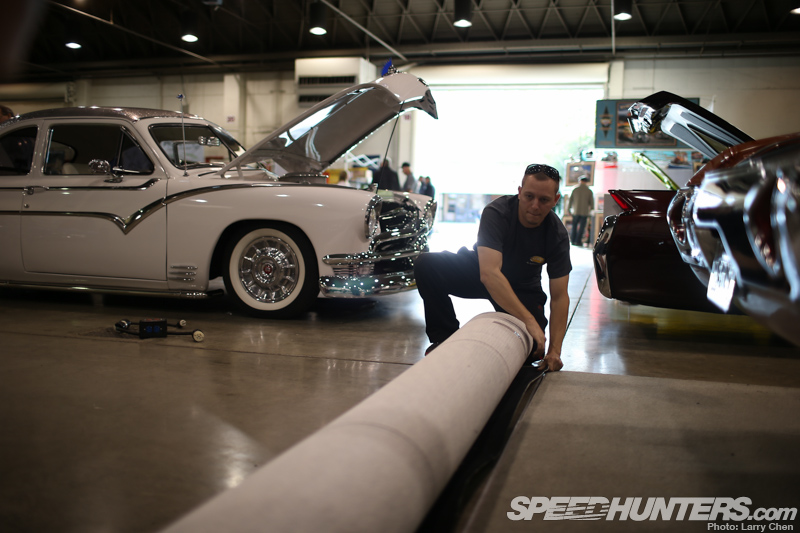 Line it up…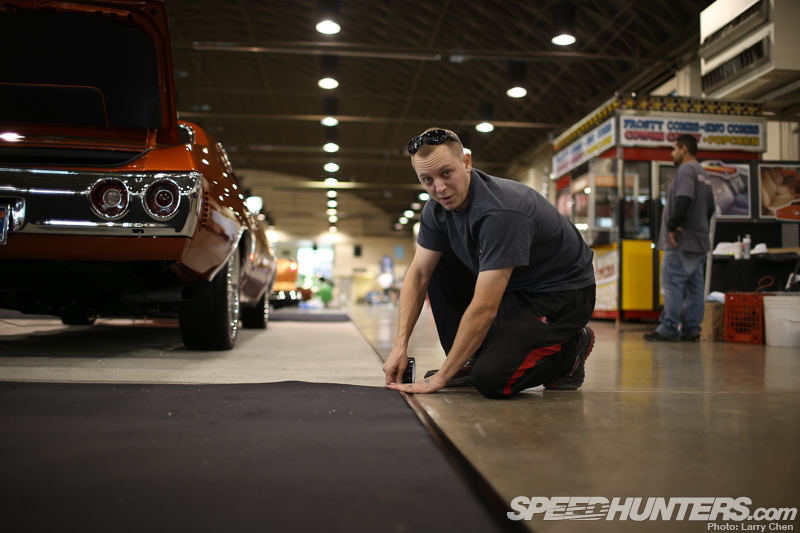 …and tape it down.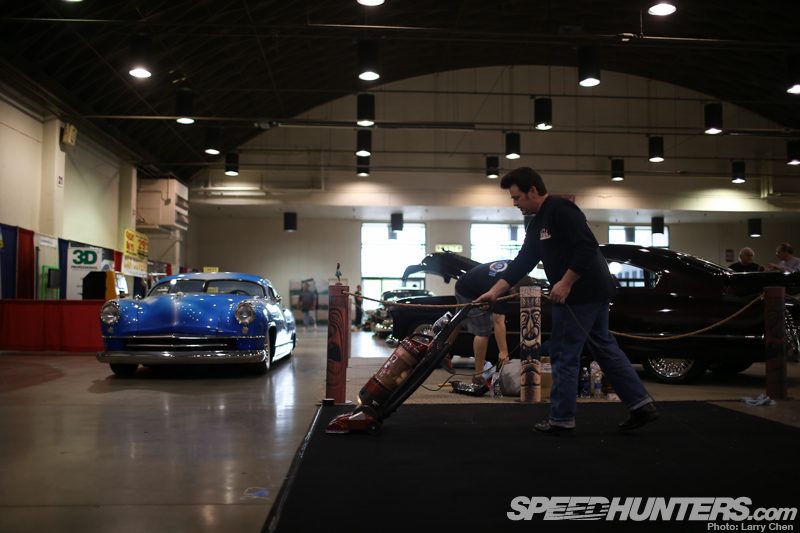 I told you I was demanding of my co-pilots. Rob took on the glamorous duty of vacuuming the carpet while I was readying the rest of the display.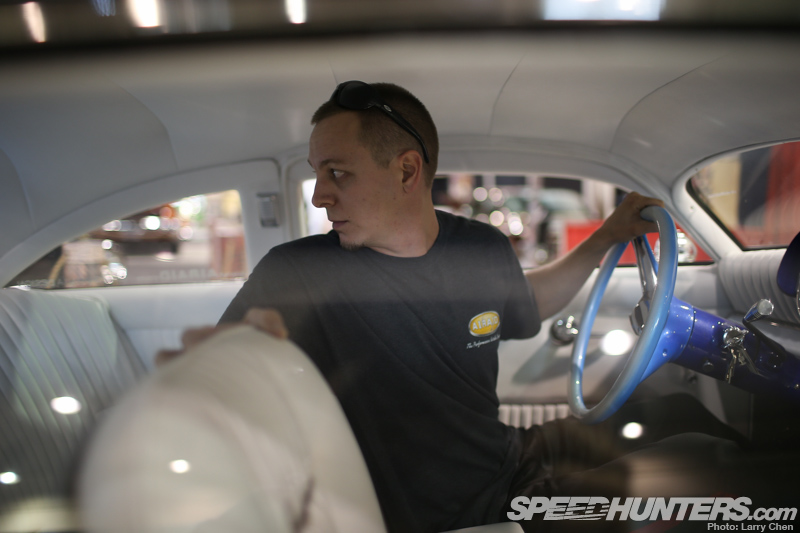 Then we realized the car was backwards!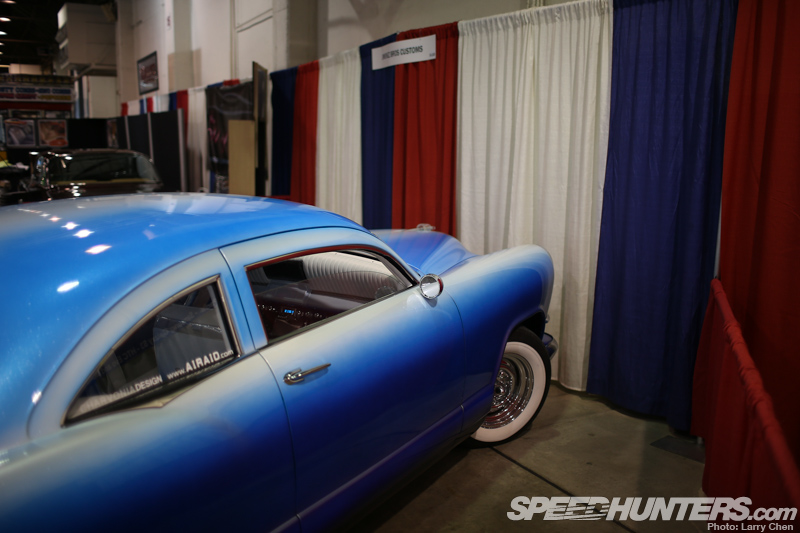 Some Austin Powers-style maneuvering got it turned around.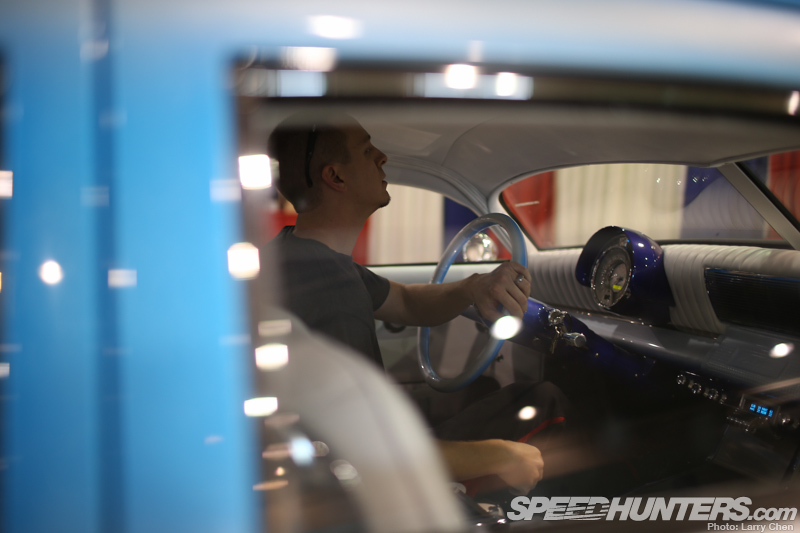 Parallel-parking a chopped car in front of everyone can be stressful.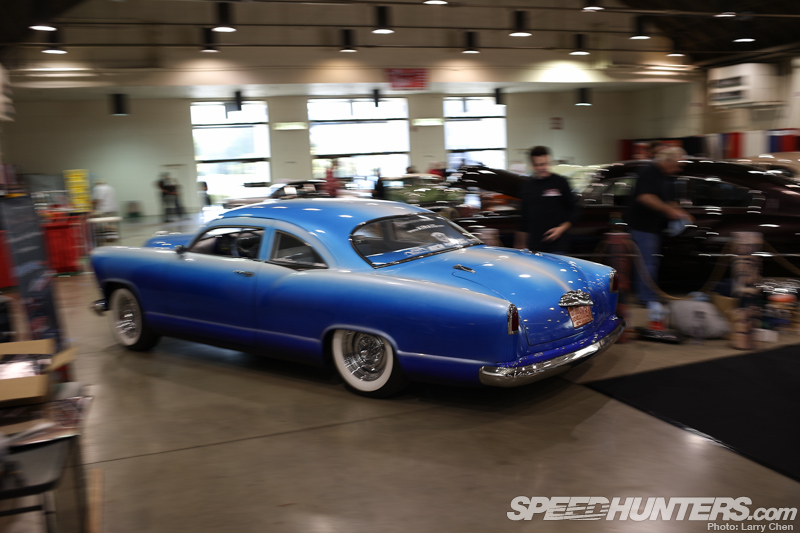 I couldn't get the car in place without bunching the carpet.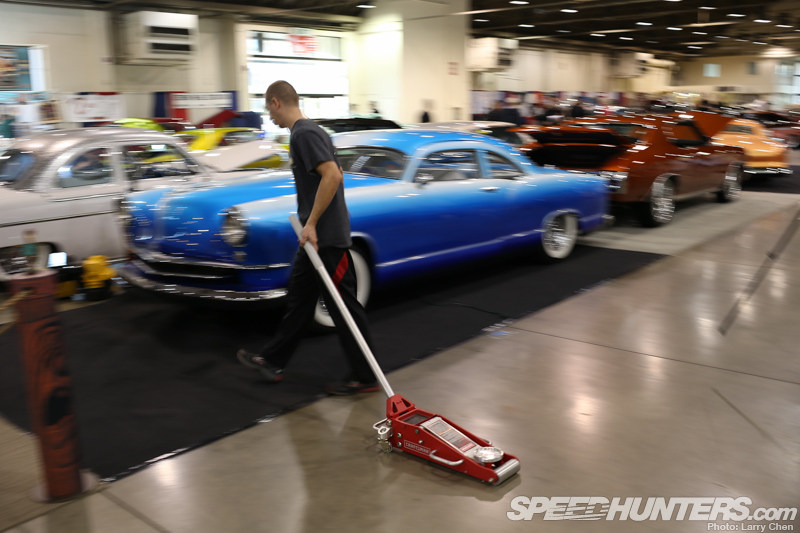 Luckily our neighbors loaned us a floor jack so I could lift a wheel and pull the carpet back tight.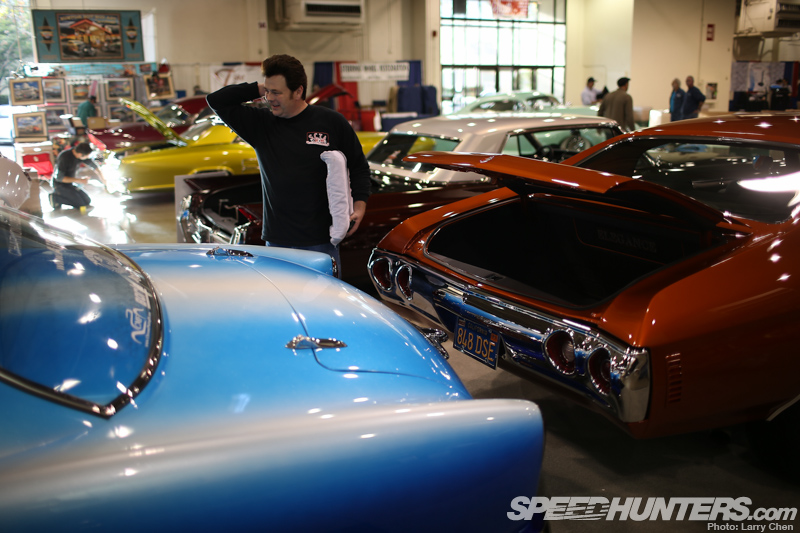 I think I got too close!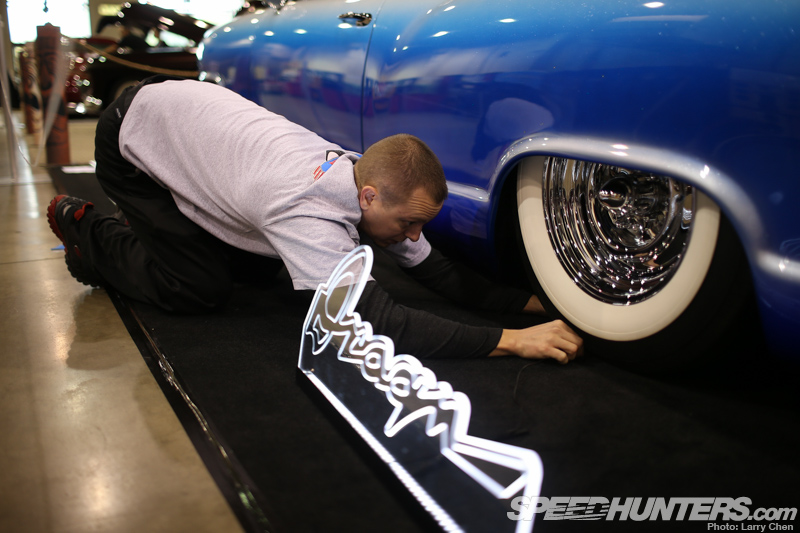 I've named my car Drag'n, so I might as well let everyone know. After several failed attempts on a glitchy laser engraver I had a friend cut and engrave this on a CNC router. LEDs and a 12v power supply light it up.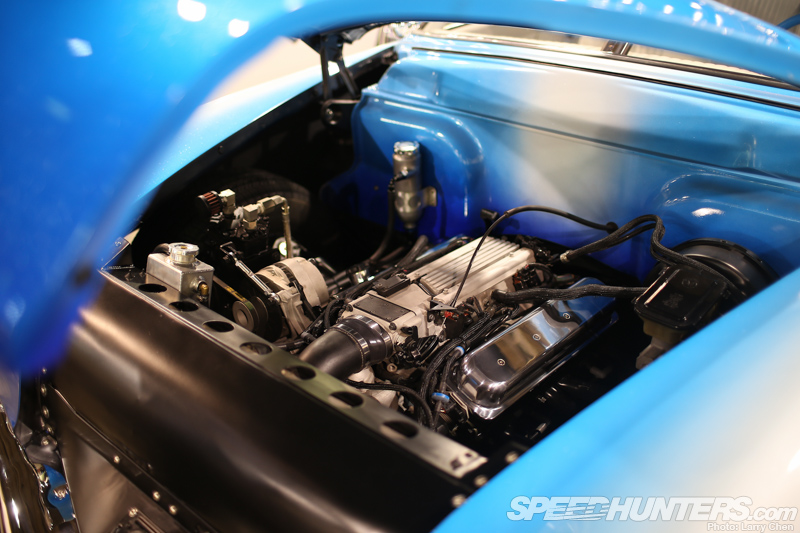 As a kustom guy I am pretty adamant about not showing my car opened up like a transformer. I just don't think you can appreciate the lines with the hood, doors and trunk popped. The bad news about that approach is that you get a big fat ZERO if the judges can't see the area they are judging. I reluctantly submitted and cleaned the engine to make it presentable.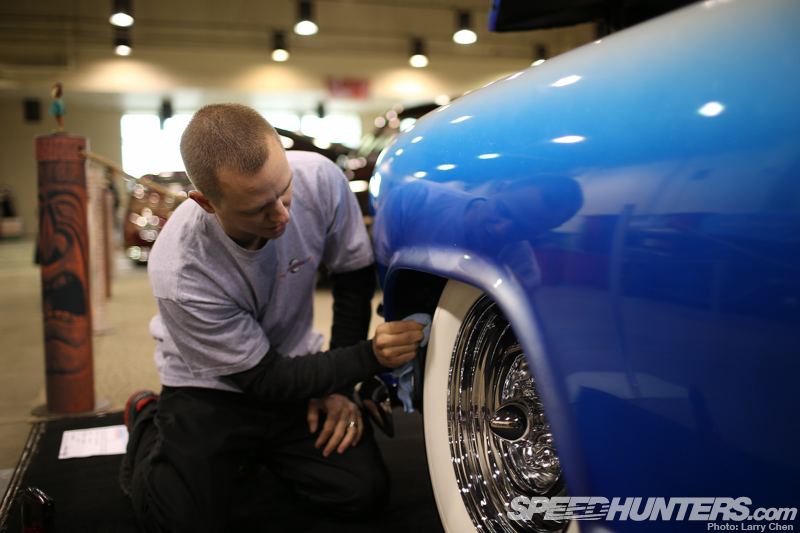 The next morning we had an hour for finishing touches on the car. Appropriately wearing my tire sponsor's shirt, I set about cleaning the wide whites.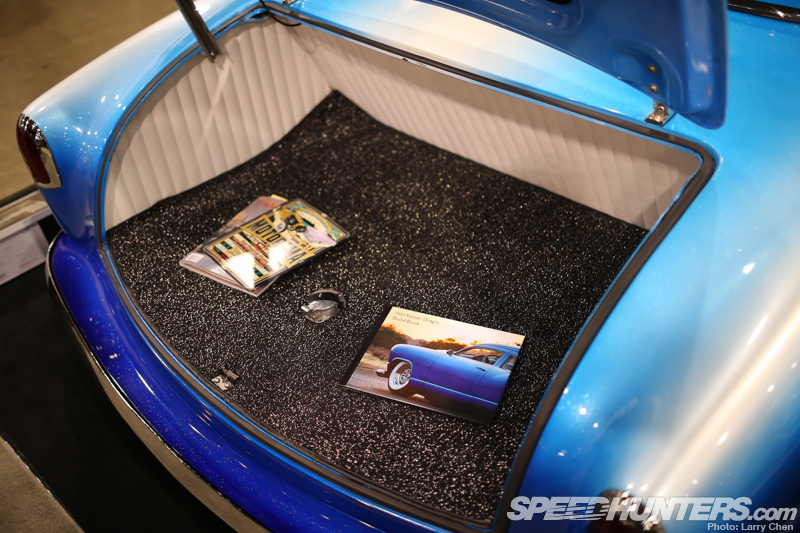 Another rare sight, the Kaiser's open trunk. I stashed my magazine features and Build Book in here for the judges.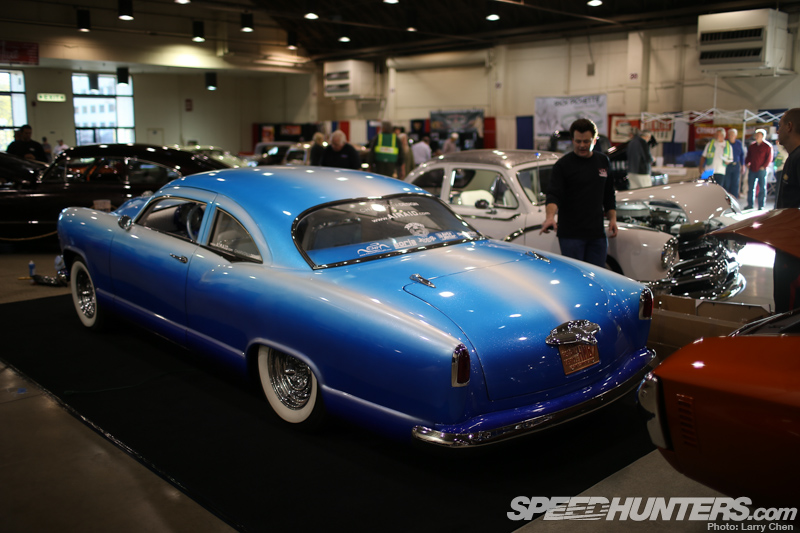 That gives you a glimpse of the planning and work involved to participate in an indoor car show like GNRS. Just when I was starting to stress I realized there are guys like Justin Hill who traveled all the way from Australia to participate, making my trip look like child's play. Once the car was placed and cleaned up there was nothing to do but go check out other cars for the rest of the weekend. To me the most enjoyable part of GNRS was catching up with old friends and making new ones, and a three-day show is the perfect opportunity to do just that.
Keith Charvonia