When Rod invited me to write a series of guest features on my 1951 Kaiser Drag'n back in October I figured it was a one shot deal, so you can imagine my excitement when he asked me to cover the Grand National Roadster Show on behalf of Speedhunters.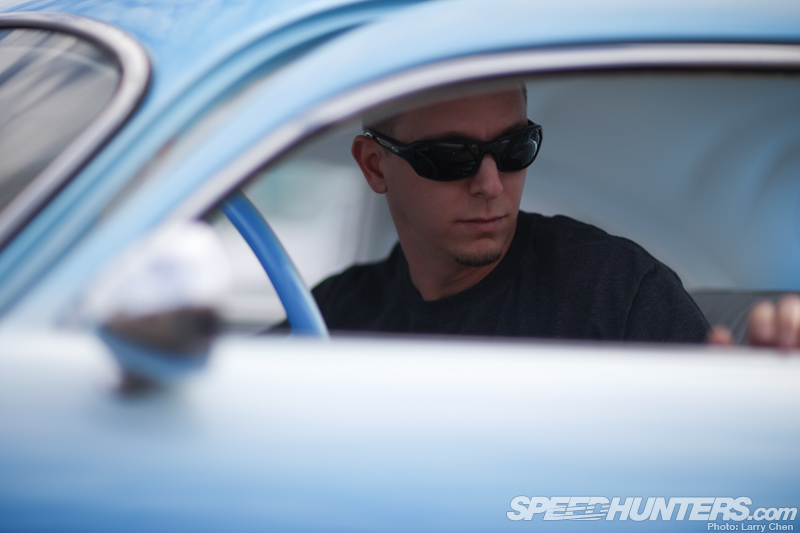 If you read the Kaiser stories you already know that I build custom cars, but I'm also an Industrial Designer for an aftermarket parts manufacturer.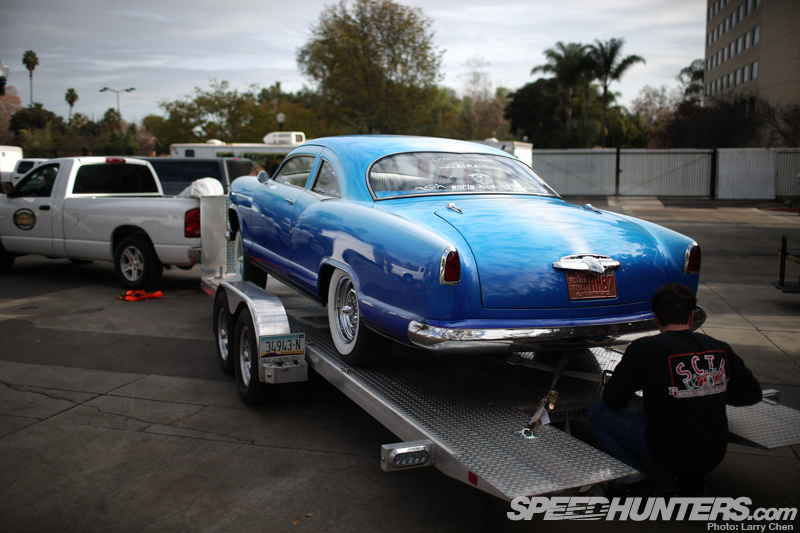 One of the advantages of working in the aftermarket is that your employer does things like send you to car shows with the company truck and trailer and calls it 'work.'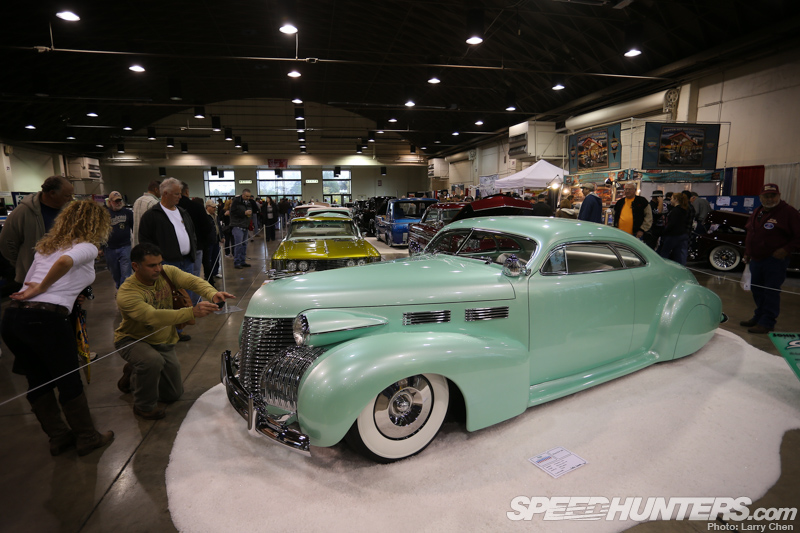 Since I was already going to the GNRS, it created the perfect opportunity to answer Rod's call for some reporting from the show.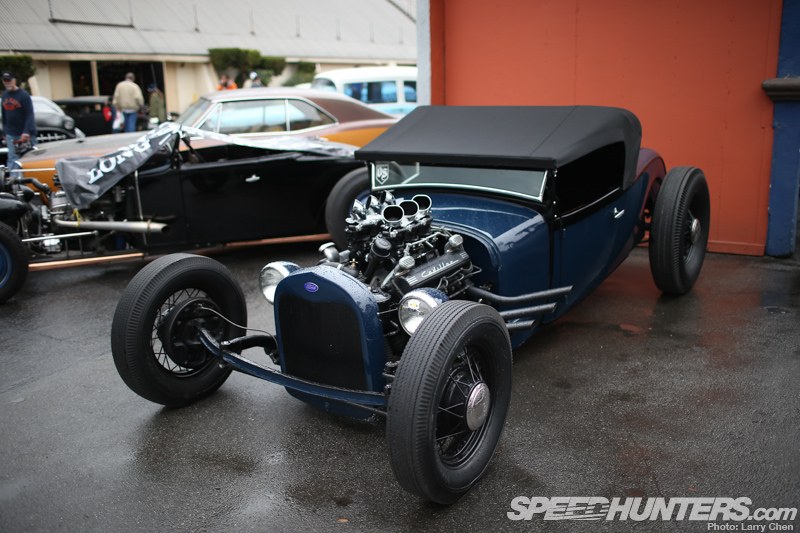 This year marks the 64th Annual Grand National Roadster Show.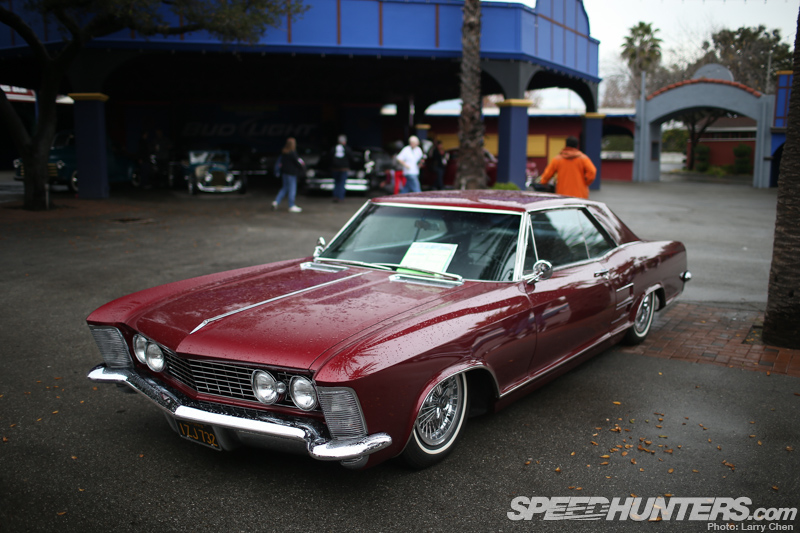 Sixty-four years…let that sink in for a minute.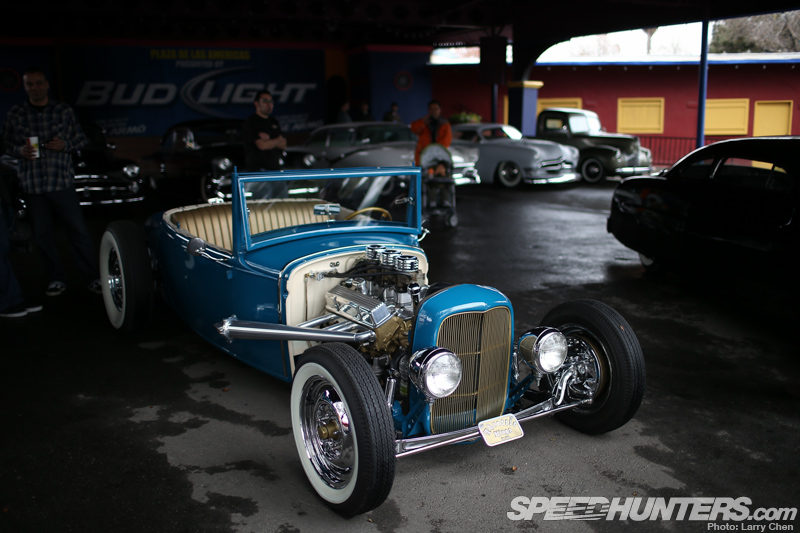 Before many of our parents were even born, guys were bringing their hot rods and customs here to show them off.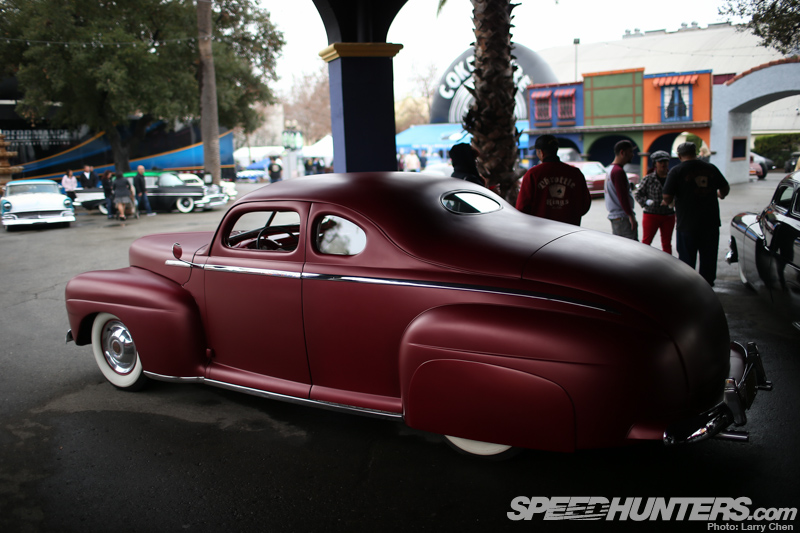 With over 600 hand picked show cars in 8 buildings and an additional 400 parked outside, there is no shortage of quality vehicles to bring to our readers.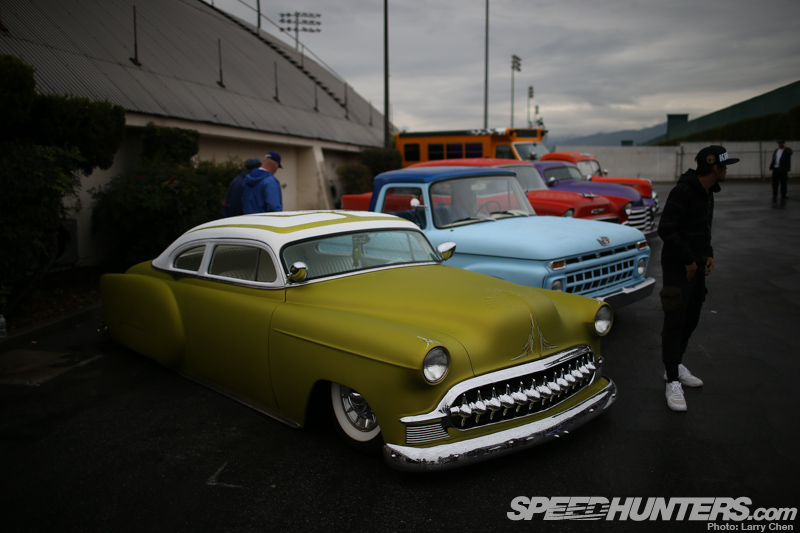 It's a daunting task to be honest, so I decided to follow my instinct and feature cars that grabbed my attention from across the room.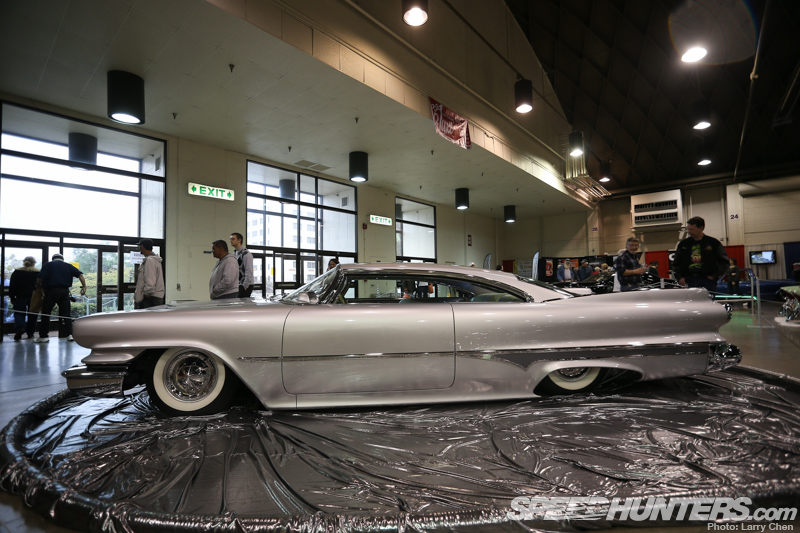 Sure there are cars here that will earn more points with the judges, but these are the cars that catch your eye and draw a crowd.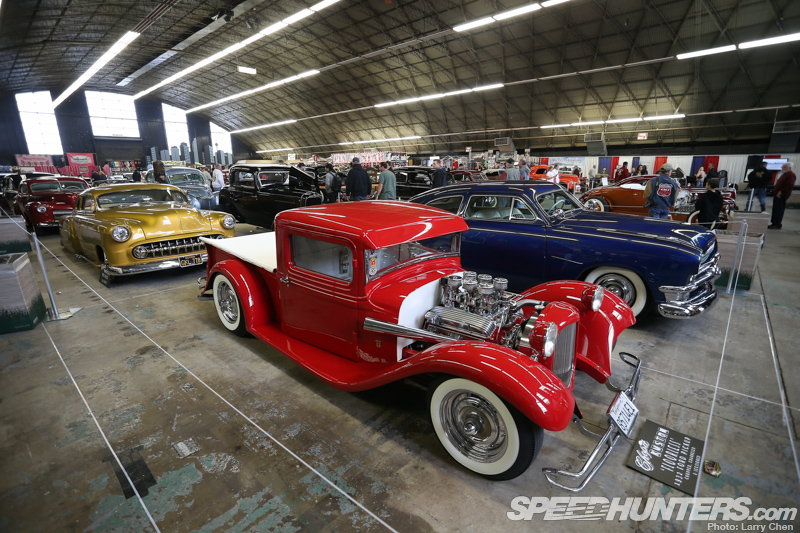 This Model A Pickup stopped us dead in our tracks with proportions that push things right to the limit.  Another inch taken out of the roof or body would have taken the little A into circus freak territory, so we were glad to see the builder knew when to say when.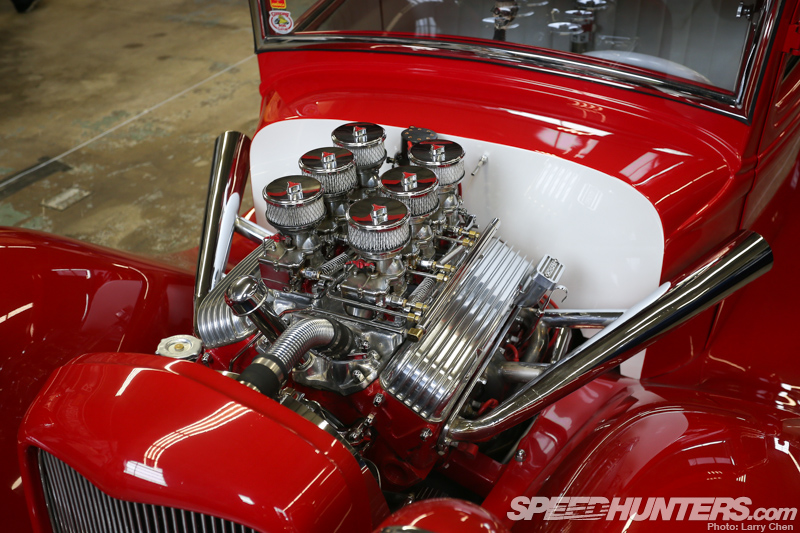 The small block Chevy is topped with an Edelbrock manifold and six vintage Strombergs for the ultimate in carbureted delivery.  Long before we had fuel injection this was the old school solution for  evenly distributing fuel to each cylinder.  Finned valve covers and chrome open headers round out the retro vibe.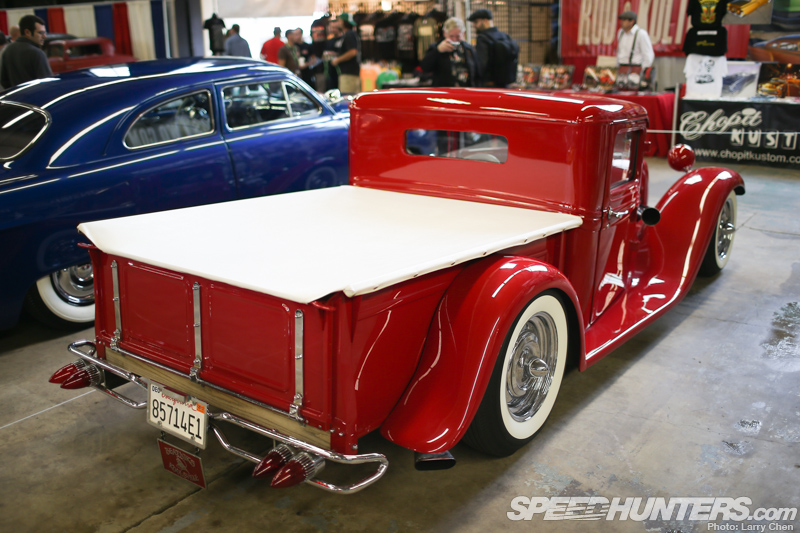 The nerf bumpers, originally derived from sprint car and Indy racing, are a nod to the '60s show car style.  '59 Caddy tail lights are a bit loud, but fit the show car theme nicely.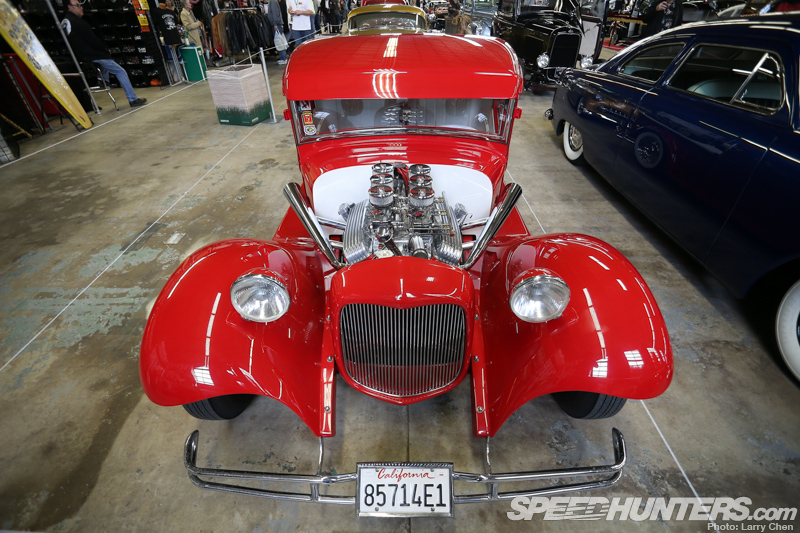 Its rare to see a chopped, sectioned and channeled Model A with full fenders, but that's precisely why we liked it.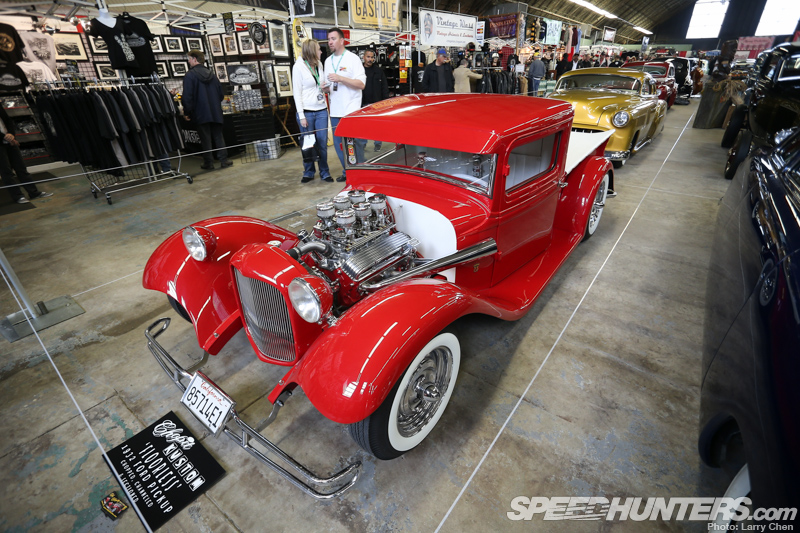 With all that red paint the white firewall and bed cover create a nice contrast and coordinate with the wide whitewall tires and interior.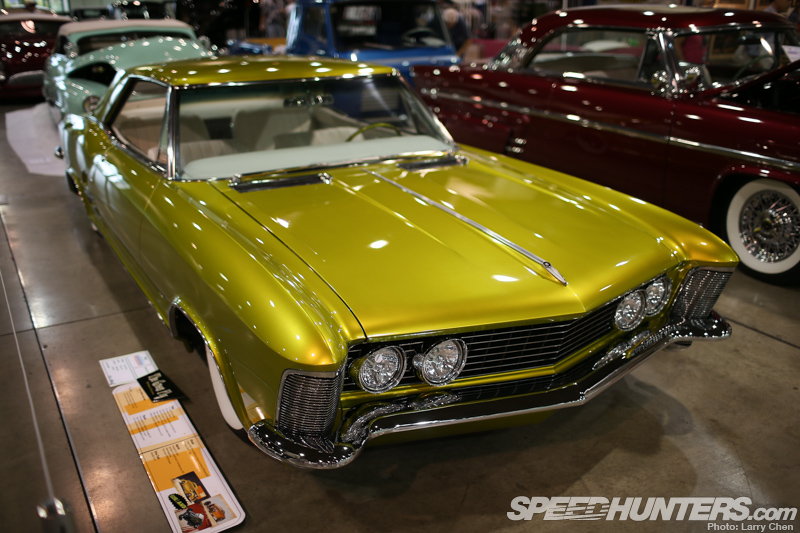 Over in the custom building we found this beautiful '63 Riviera.  These cars are sometimes referred to as "factory customs" because they borrowed ideas from '50s customizing and used them in the design right from the factory.  The result is that there is not much left to do to a Riv to create a showstopper like this.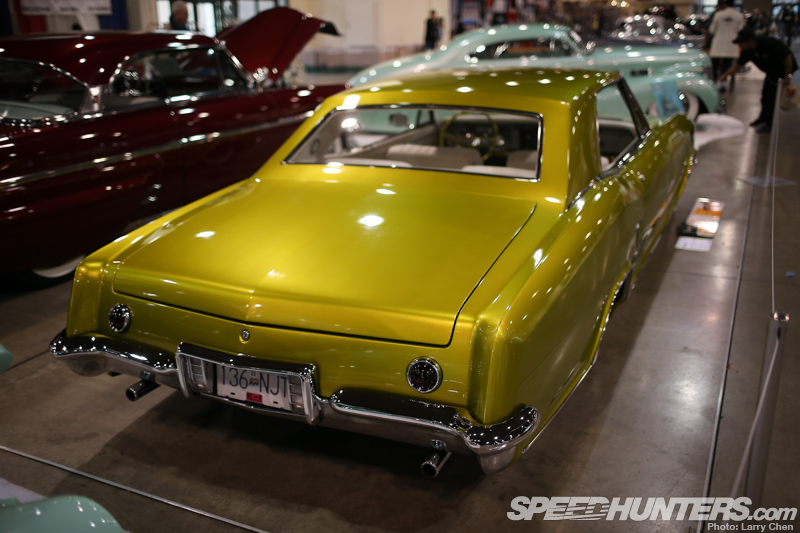 Dubbed "The Green Fly" this Riv uses Dirty Lime Gold paint to accentuate the already great factory lines.  One of the very few body mods is the addition of '50 Pontiac tail lights, a trick normally reserved for '32 roadsters and the like.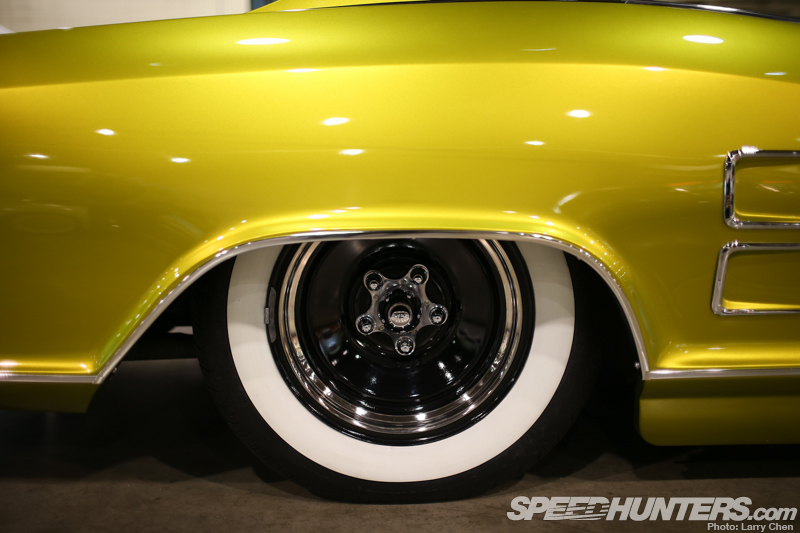 Air suspension gets it low and painted steelies with spider caps and trim rings keep the look aggressive.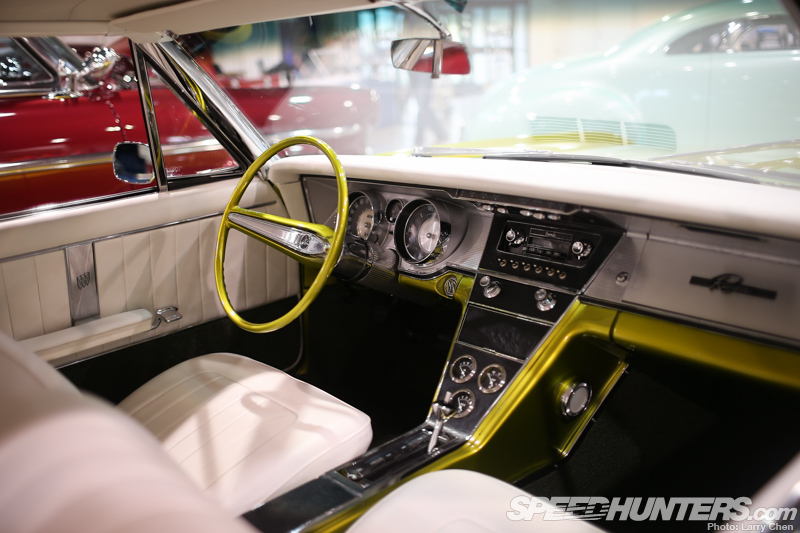 White vinyl and color matched paint are all the interior needs to achieve the mild kustom look.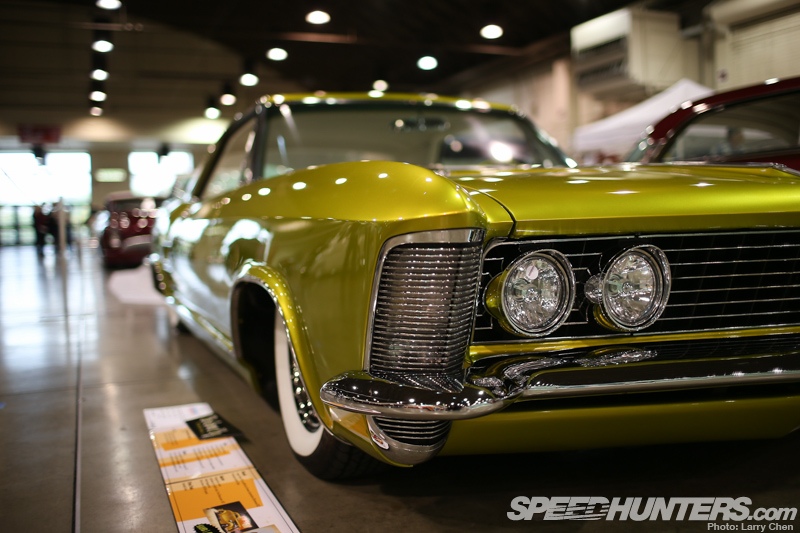 The 1965 Riviera is typically favored because the headlights are hidden behind grilles on the fenders, but the '63-'64 models can still look great too.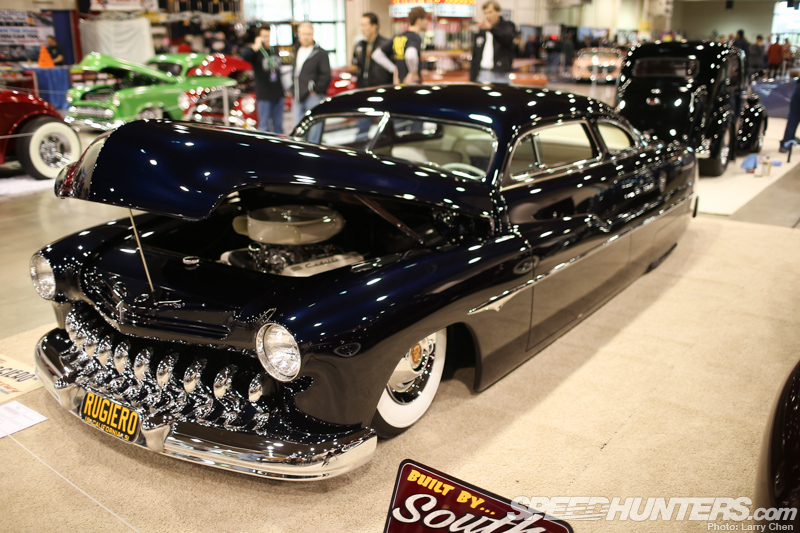 Pat Ganahl is a legendary journalist and mainstay in the hot rod world, so you can imagine how much his son Billy must know about kustoms.  Billy works at Brizio Street Rods during the day, and finished this '51 Merc in his spare time to debut it at GNRS.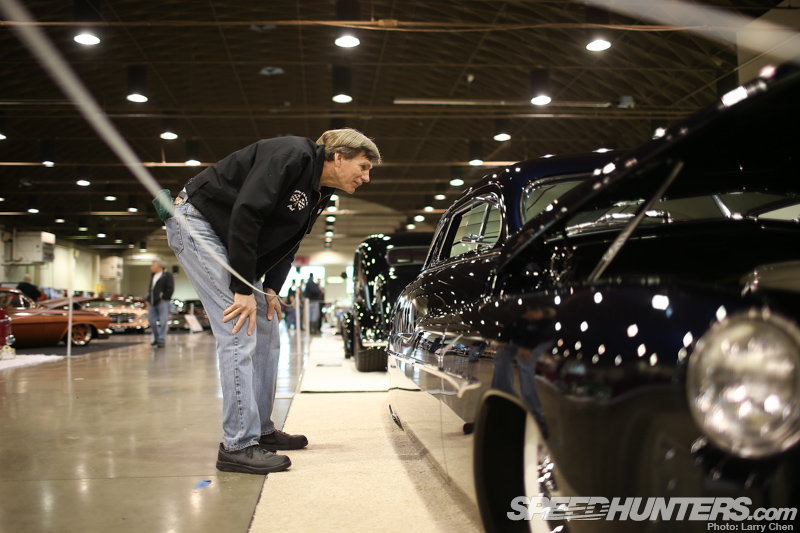 Pat's nickname is Too Tall Ganahl, and we can see why in this shot of him admiring his son's work.  The look on his face tells it all.  A proud father he must be.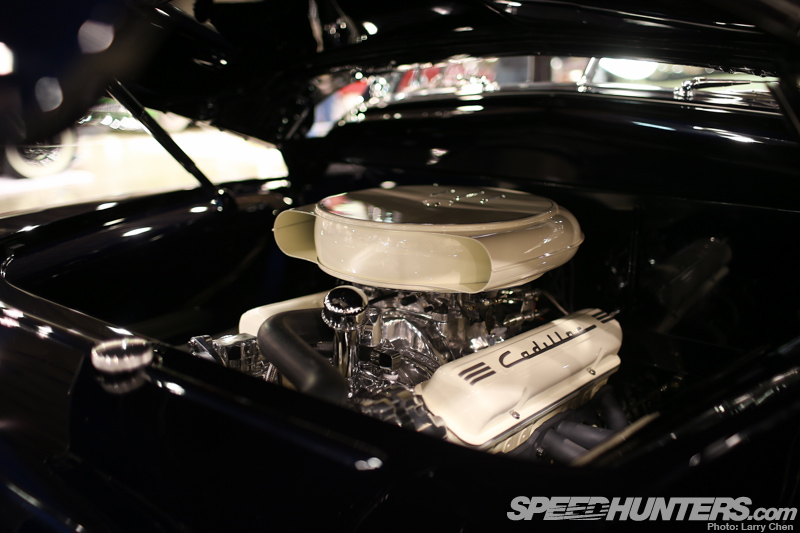 The white valve covers and original Caddy air cleaner really pop against the deep blue paint.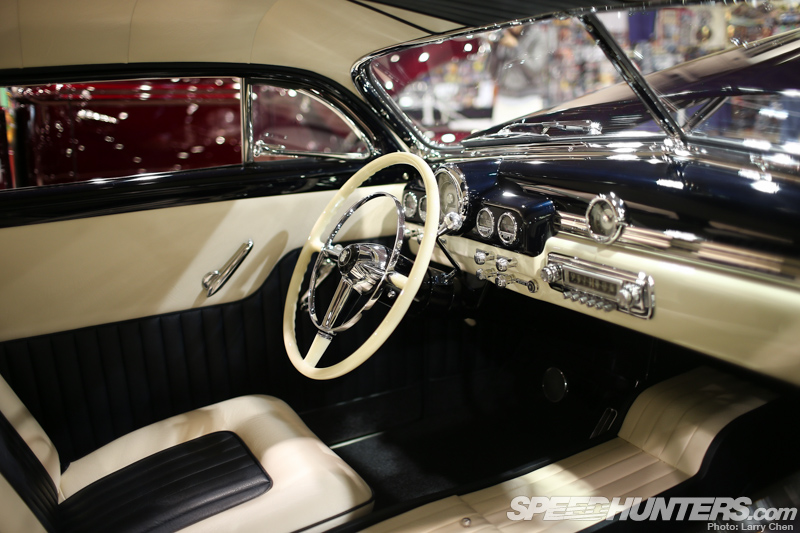 A '49 Merc dash was swapped in and the interior was tastefully dressed in dark blue and white.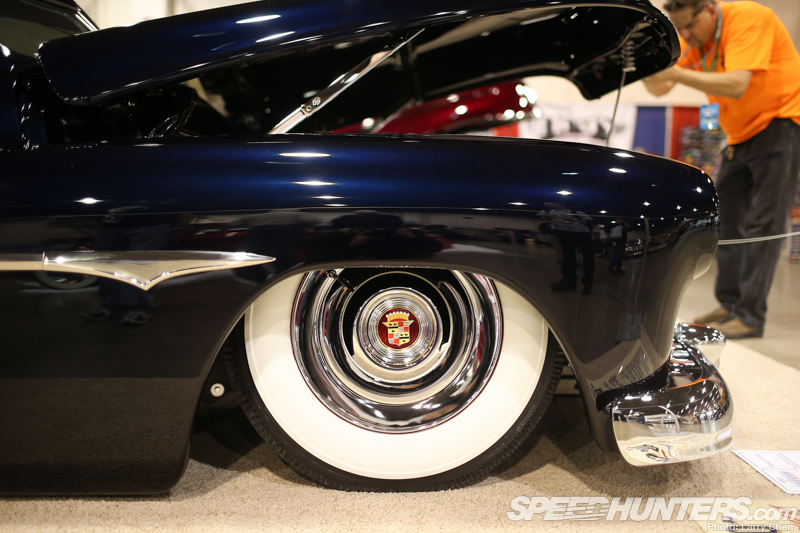 Just like the Model A pickup, this car pushes stance to the limit without going too far.  Some cars would look ridiculous this low, but the Merc pulls it off.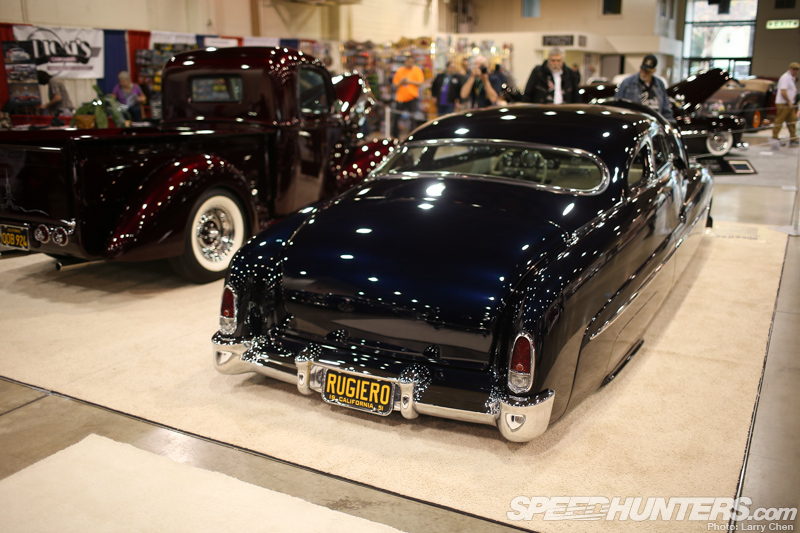 When people evaluate a chop they are looking for a flow from the front to the back of the roof.  This car nails it.  Kustom fans will always have their "perfect Merc chop" and I suspect this car just jumped to the top of the list for many.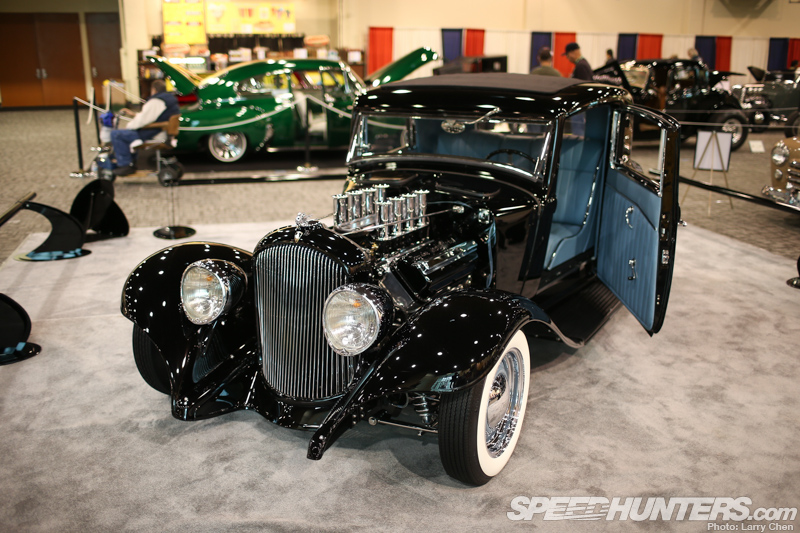 In a sea of '32 Fords this '32 Plymouth was a sight for sore eyes.  It has a similar look but with slightly different proportions.  What I assumed were stock headlights turned out to be '33 Chrysler Imperial units.  Also check out how well the blue interior works with the rich black paint.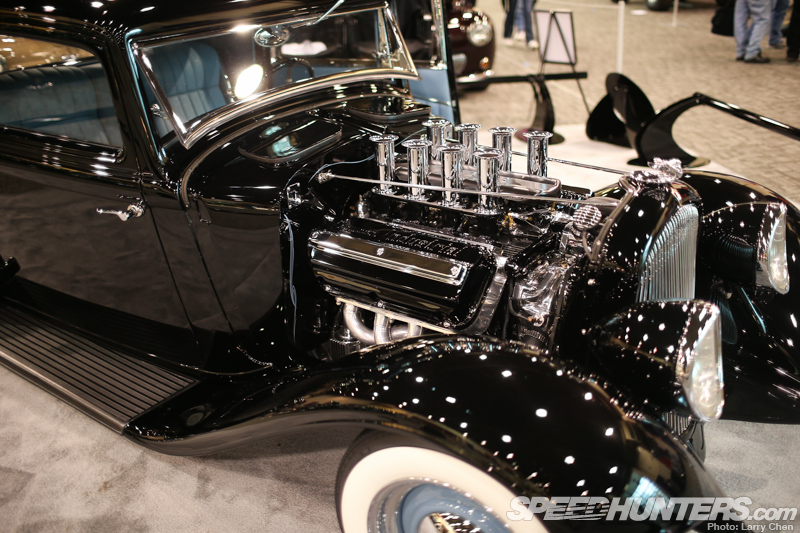 Minimal pinstriping on the firewall and painted wheels match the interior, and the chrome-on-black detailing on the engine plays tricks with your eyes.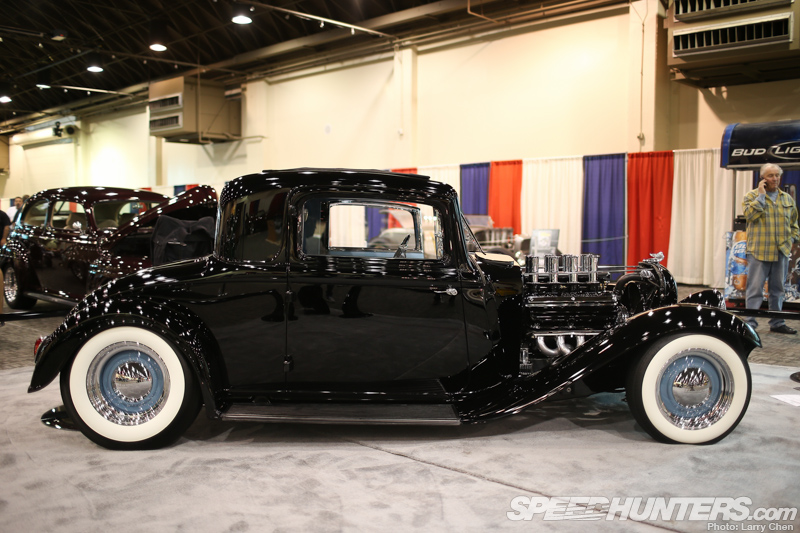 A 5" channel job, but no chop, fits this body style perfectly.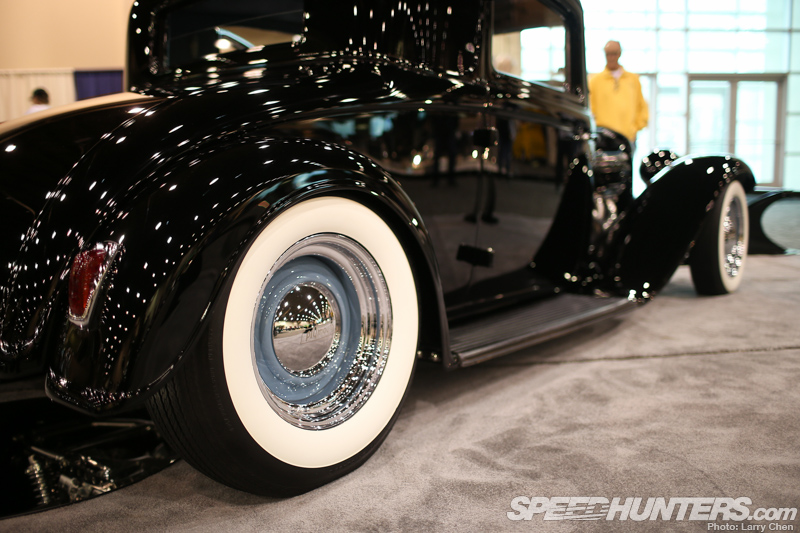 The ride height and tire size is dead nuts, with the fender perfectly concentric to the wide white.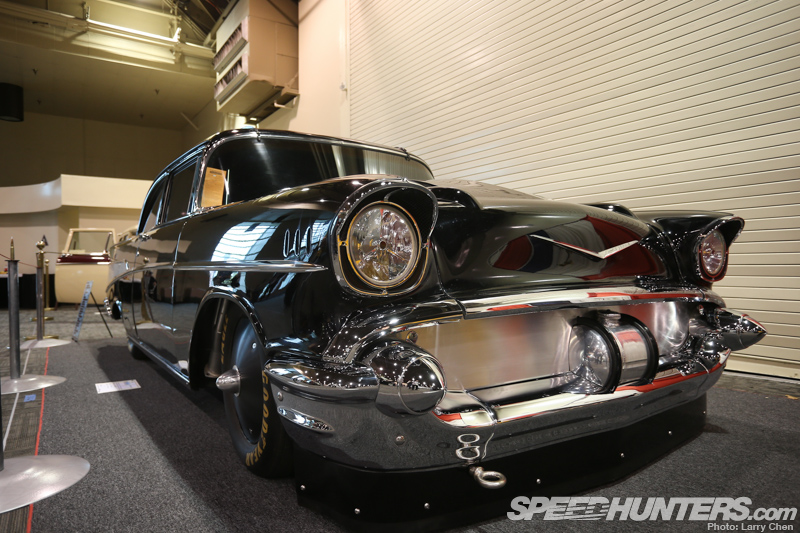 Tri-Fives are like '32s; very desirable but also way overdone.  Not so in the case of this landspeed style '57 Chevy.  Notice the chin spoiler, blocked off grille, tow hook and windshield tabs – all necessities if you are going to race.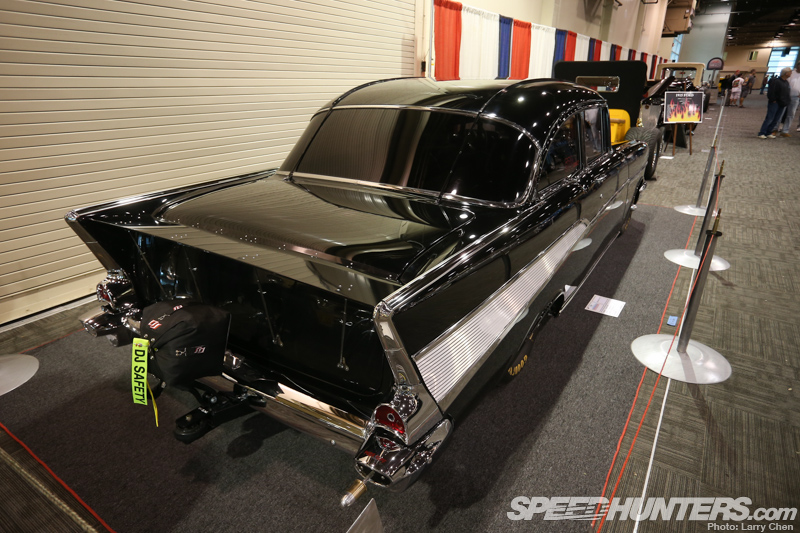 Out back the push wheel, chute, spoiler and roof rails let you know this car is legit.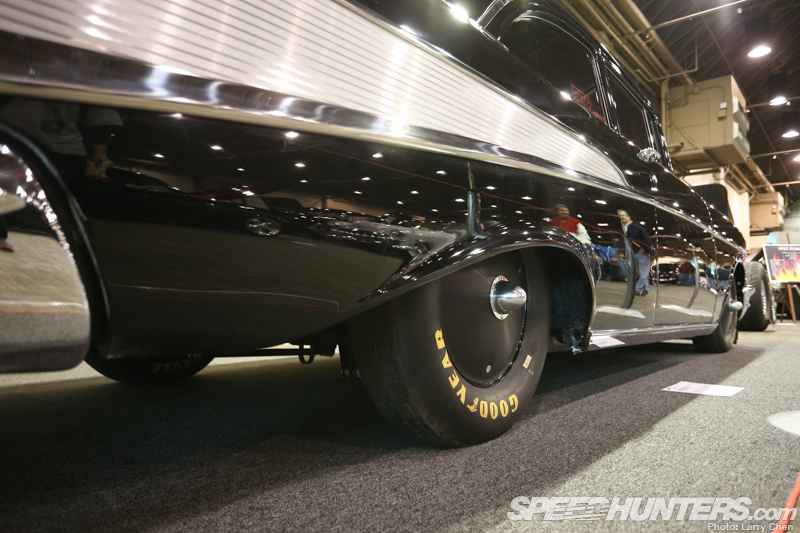 And my favorite part, the skinny landspeed rear tires.  When's the last time someone put a 4" wide rim on the back of a '57 Chevy?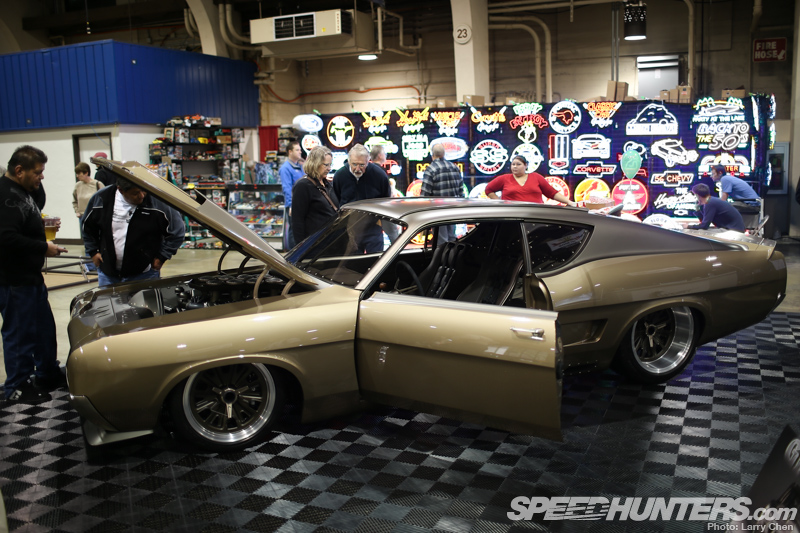 Rad Rides by Troy has been building cars for George Poteet for several years now, and every one of them has been a masterpiece.  This '69 Talladega Torino is no different.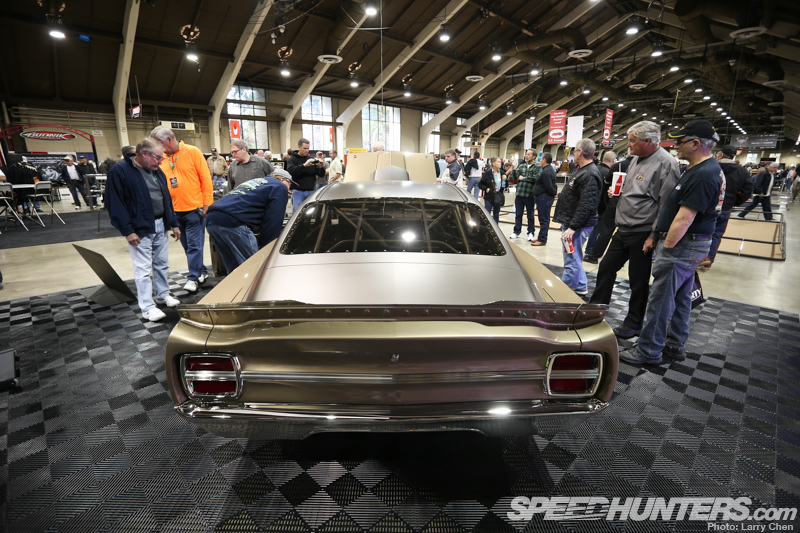 George came to Troy Trepanier when he wanted to build a land speed car, and it's obvious that influence is now creeping into their street builds.  As Troy told it, this is the road-going version of their '69 Plymouth Barracuda Blowfish, one of the nicest land speed racers ever built.  Google it.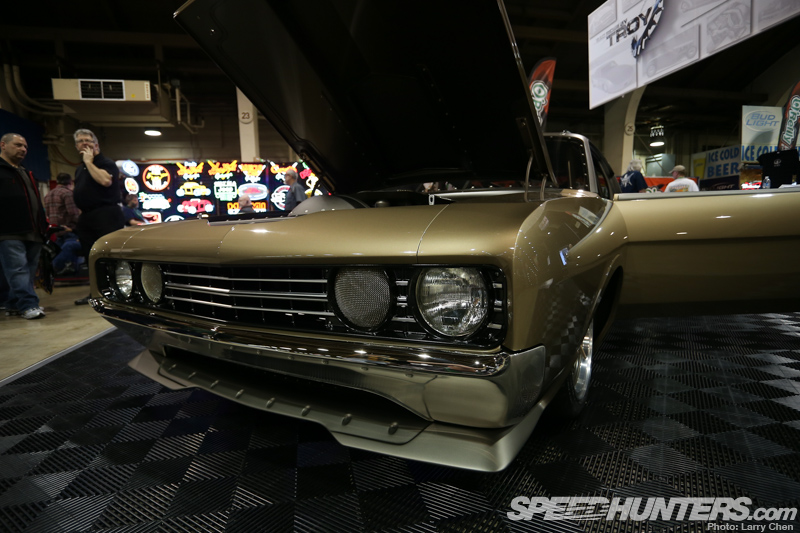 The grille was machined from one large chunk of billet, but you aren't supposed to know that.  They did it out of necessity.  Most builders would have polished it to make sure you know, but Rad Rides puts taste before flash.  Also notice the oblong dimples on the spoiler that will continue to show up in other places on the car.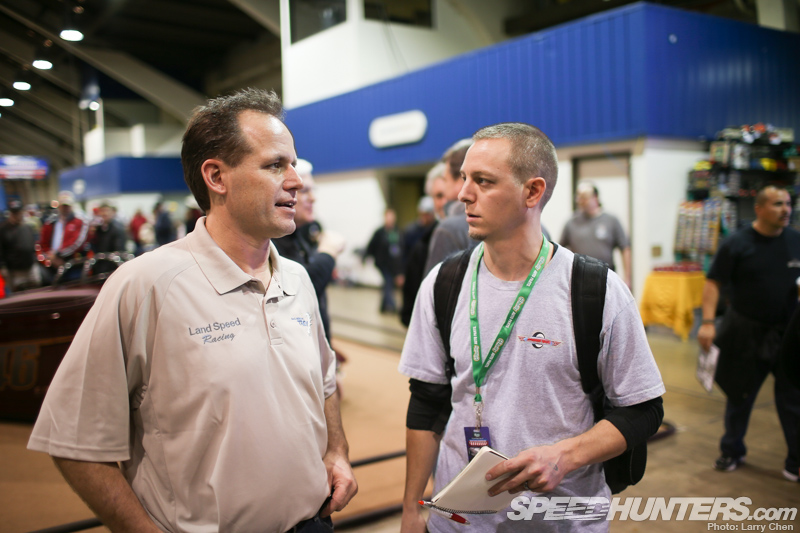 I really look up to Troy Trepanier and consider him to be at the top of the heap in the car building game, so frankly I was flattered that he took the time to walk us around the car.  This is the kind of guy that makes our hobby great.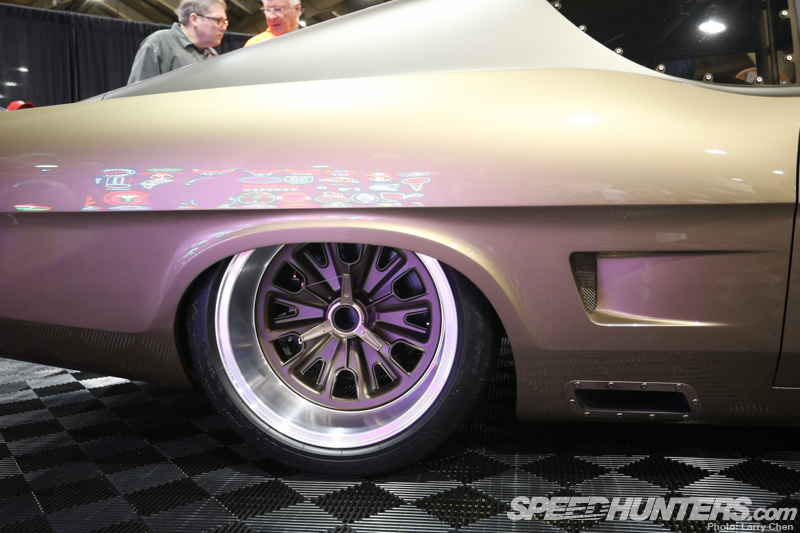 One of the wild features that you wouldn't even notice is this hand-built quarter panel.  It has been widened and stretched, and the wheel opening was also shifted and reshaped.  While we're here check out the safety-wired knockoff.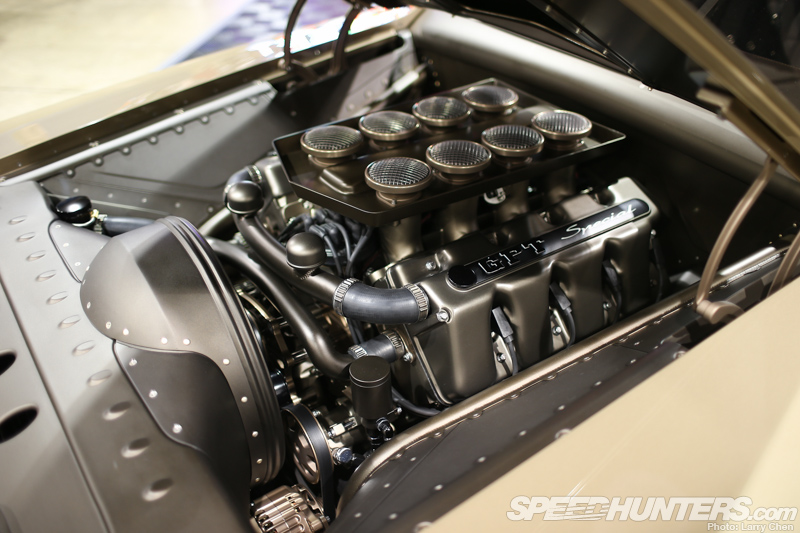 See the dimples again?  The engine is a 429 bored and stroked to 529 cubic inches and has a rare factory experimental intake that Mr. Poteet found at a swap meet.  For such an influential figure in the scene I think it's awesome that he still walks the swap meets looking for parts just like the rest of us.  It just goes to show that he is a car guy to the core.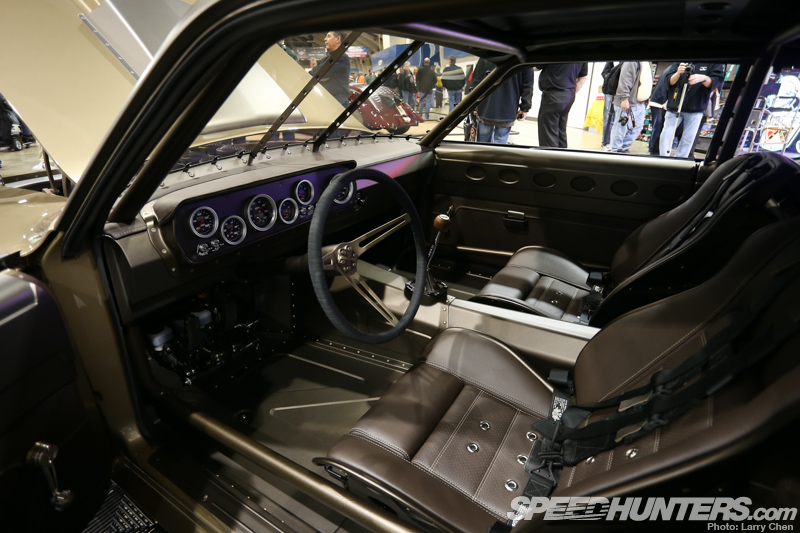 The interior is not quite all-business, but close.  The door bars were placed low to ease ingress, and the seats appear to have a bit of padding.  Race car touches like the pedal box and window tabs continue to dominate, but there are door panels and turn signals too.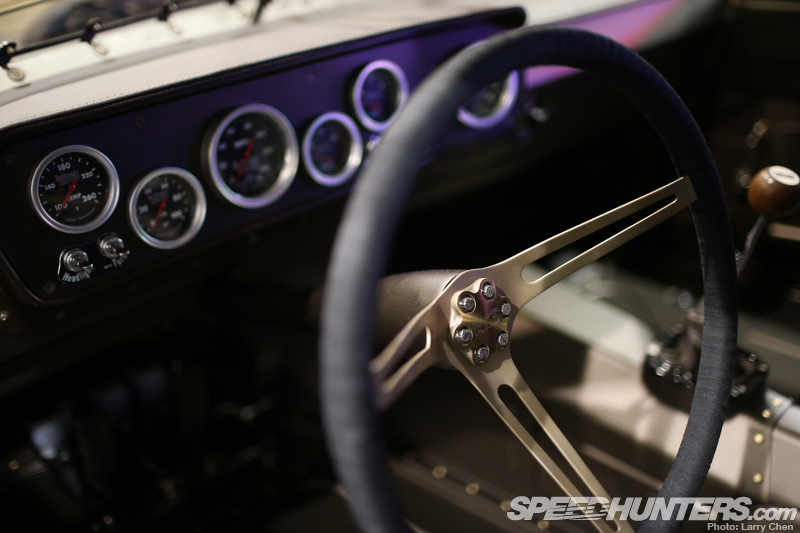 The bare bones steering wheel is no doubt a hand made piece.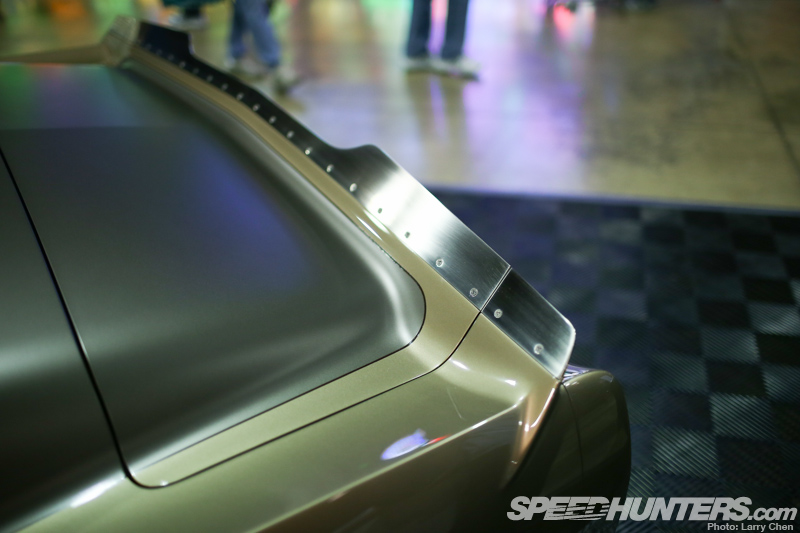 Look at the gaps around the trunk – super tight and exactly spaced.  This is the mark of a pro build.  Also notice the fasteners on the stainless spoiler…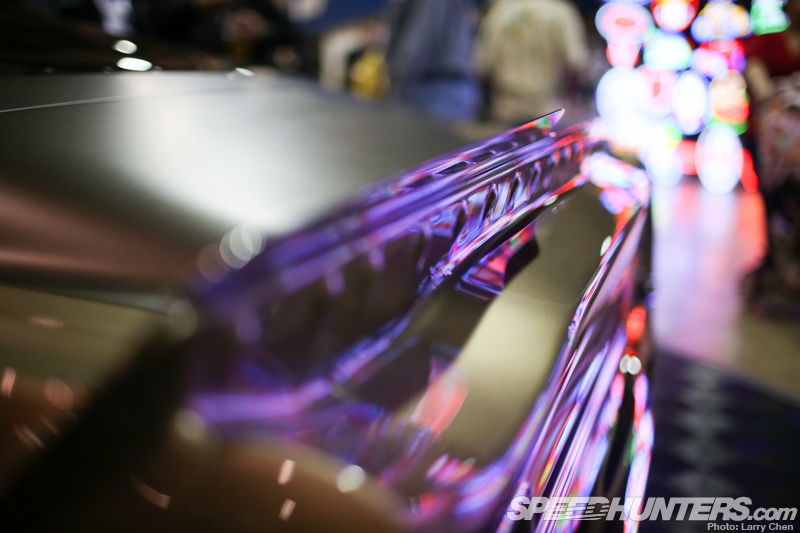 …and the dimples that make room for them on the back side.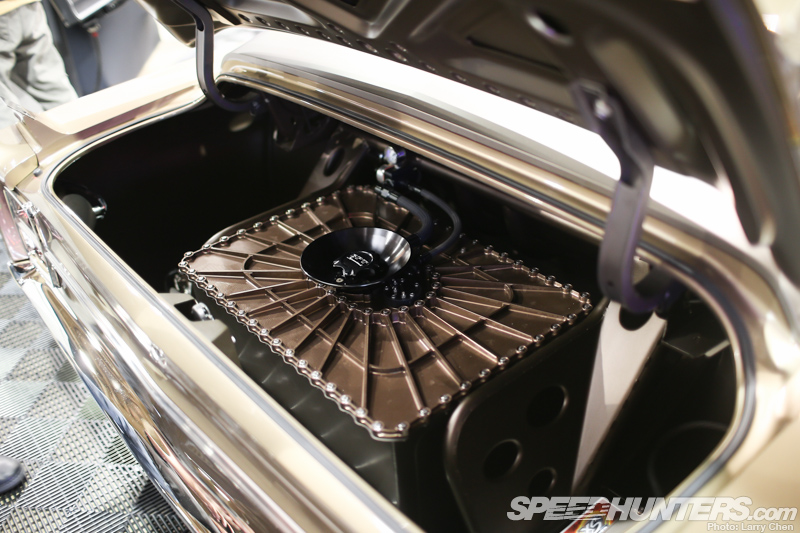 It took a ton of machine time to mill the fuel cell top, but it looks amazing!  These are the things that differentiate a Rad Rides build from the rest.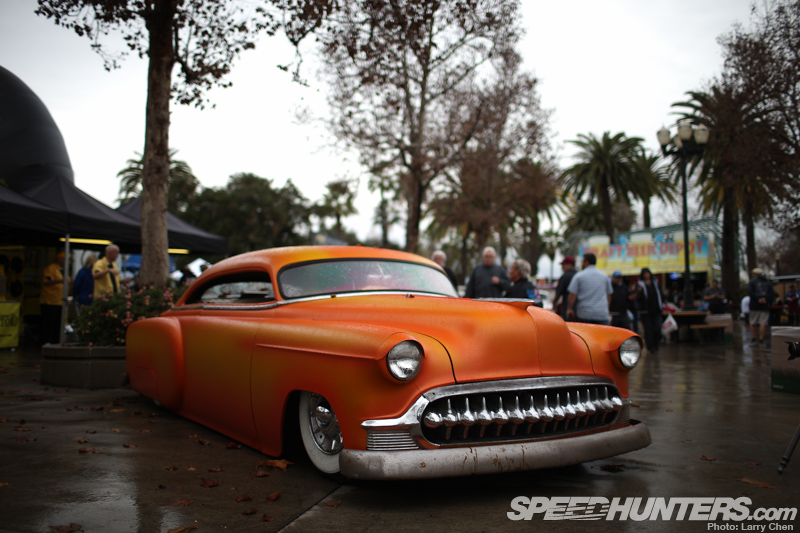 So there you have it, my picks from GNRS.  No America's Most Beautiful Roadster analysis (you can get that anywhere, right?) and no allegiance to any certain genre or marque, just the cars that caught my eye.  I hope you enjoyed the ride.
Back soon with more coverage.
Keith Charvonia
More stories from the Grand National Roadster Show on Speedhunters