This is it, the day many of you hardcore Speedhunters readers have been waiting for – the fourth installment of Keith Charvonia's insane Drag'n Kaiser. Strangely I don't what I was looking forward to more; finally getting to see the car in person and photograph it or witnessing the end result of eight years of hard work coming to fruition on Speedhunters. This is the final chapter in an epic tale of a man and his automobile.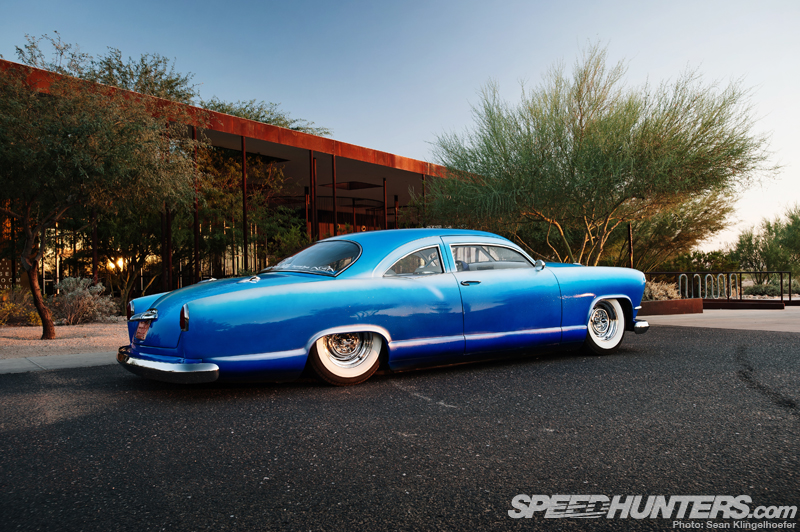 I have to admit I'm no expert on custom cars, actually I couldn't be further from it, but even I can tell there is something very special about this car. I can't quite put my finger on it, but it exudes a certain aura that is unavoidable. Although the library where I shot the car was closed for the day, I don't think there was a single person who had come by to return their books that wasn't stopped in their tracks. Young and old alike were completely astonished.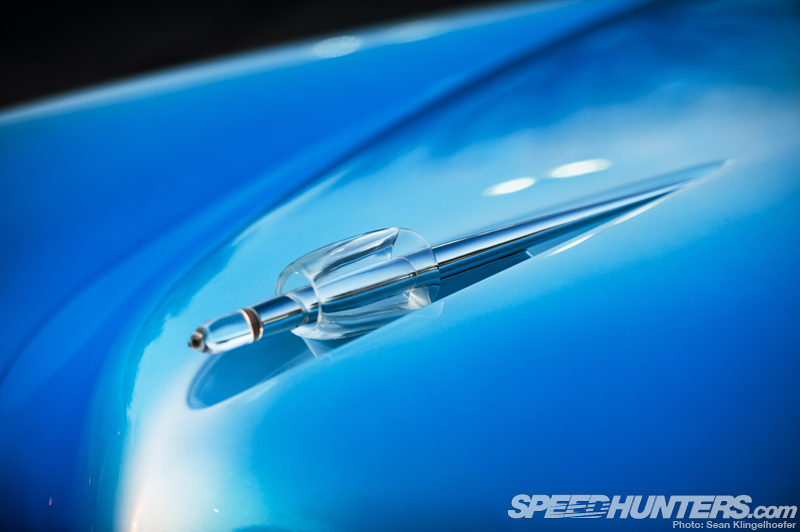 It goes without saying this isn't your ordinary feature car, so you can bet that this won't be an ordinary feature. Picking up inspiration from Keith's bold build, I decided to try something a little different with this story – a build post / car feature hybrid… a custom feature if you will. So without further ado, I'll let Keith explain how the car went from where we left off in part three to the amazing completed machine it is today and add some of my own input along the way. Here we go…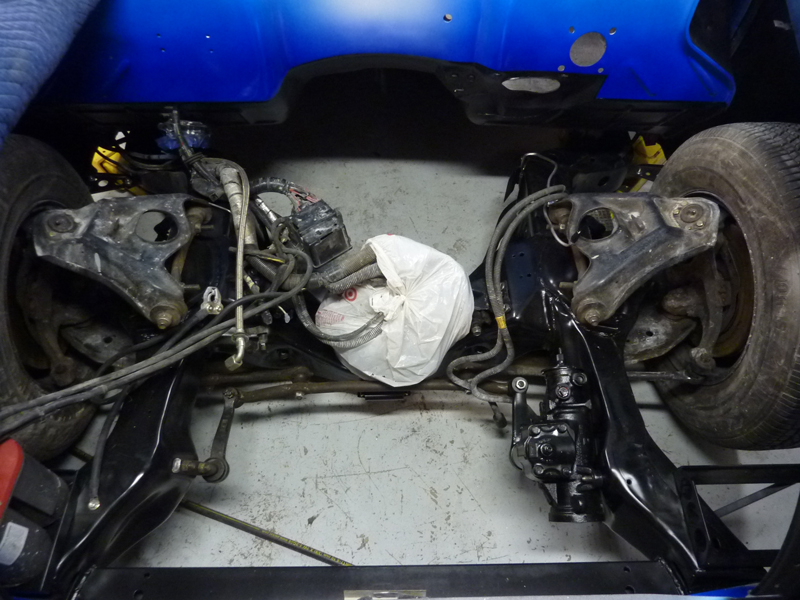 Despite all the masking and covering we did at Winfield's I still had to clean the frame up and touch up the black paint in places.  I also masked the firewall and hit the bottom with black bedliner to make it disappear.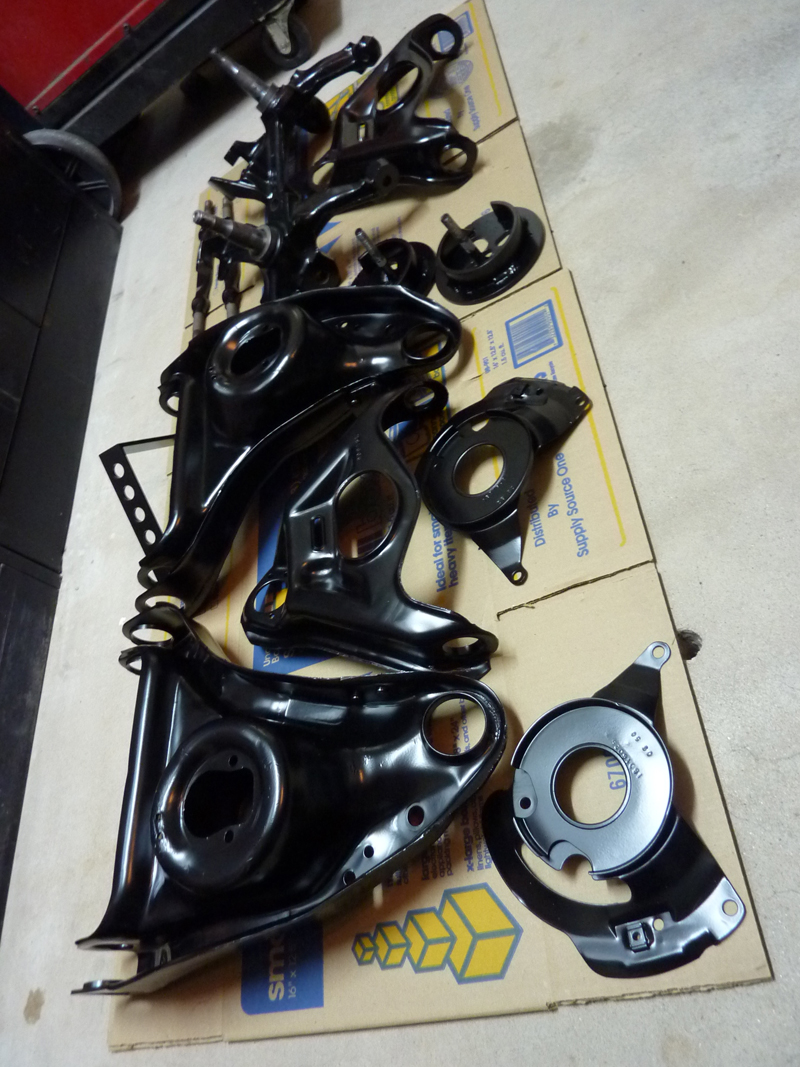 I tore all the suspension off and had it powdercoated before reassembling with new ball joints and bushings.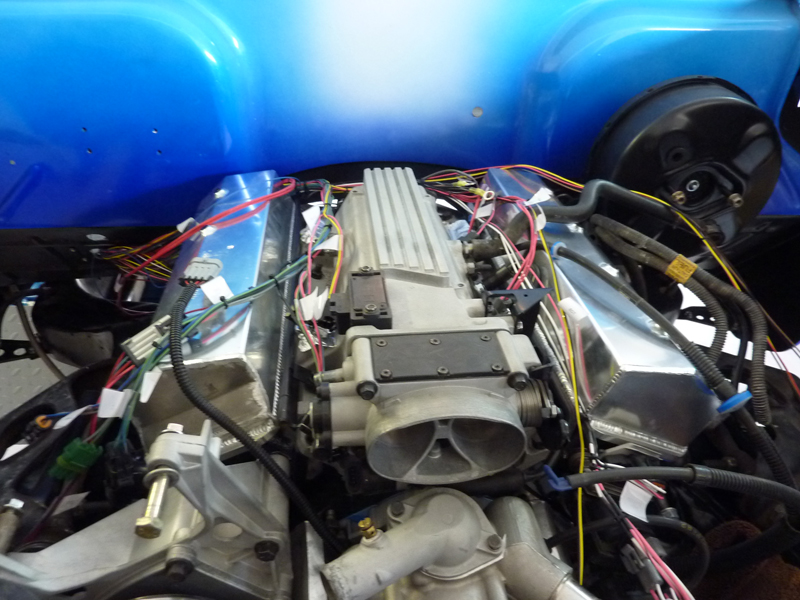 Now I could finally swing the engine back into place.  It was a much more pleasant task working with clean, freshly painted parts. I also decided to ditch the old factory wiring for a Painless Wiring harness.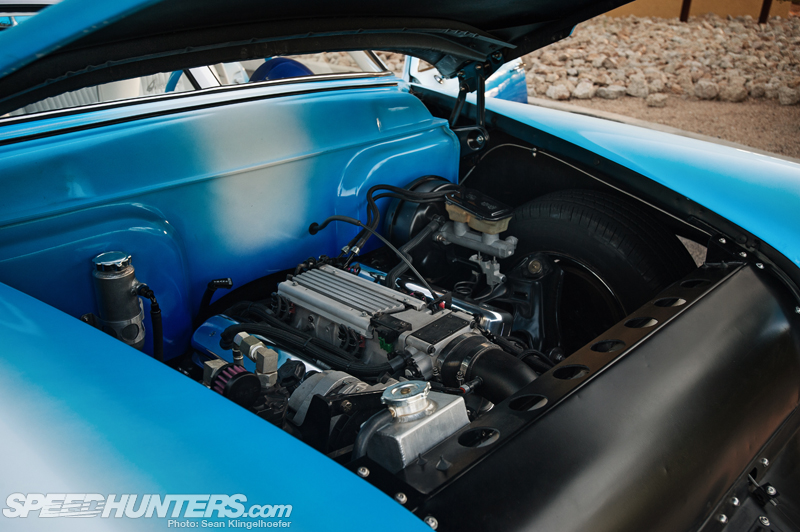 When I asked Keith if he wanted to pop the hood at the photoshoot I wasn't sure what he was going to say, but to my surprise the engine bay was pretty incredible. It was nothing like the boring old Chevy 350 sitting in a mess of wires that I had pictured in my head. The engine was very presentable and the detail work done on the firewall and suspension pieces really shows here. Even still Keith didn't seem too impressed by the bay, perhaps hinting at the perfectionist he's become.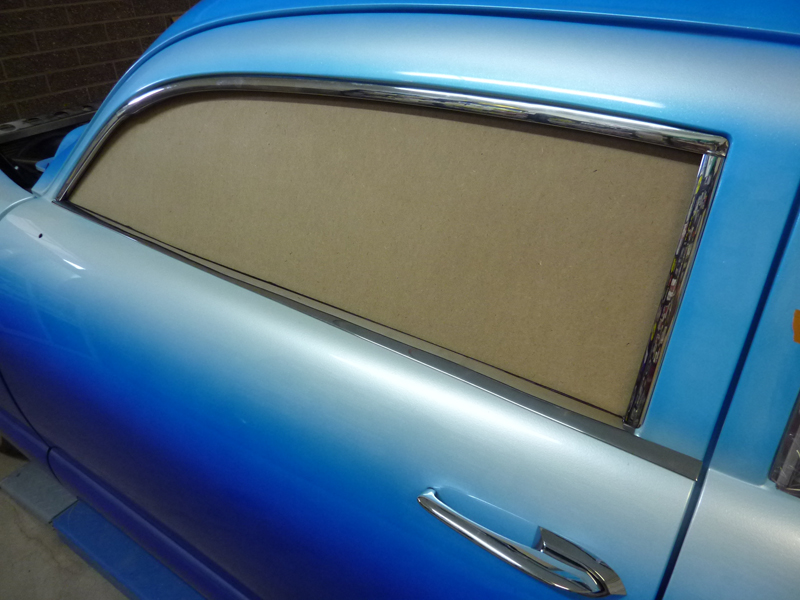 Next I turned my attention to the glass.  The side glass is flat so I just had to make MDF templates and take them to the glass shop.  However I soon found out that I should have fit the window regulators before paint. I painstakingly modified the regulators to work with the new angle of the chop.  Another lesson learned!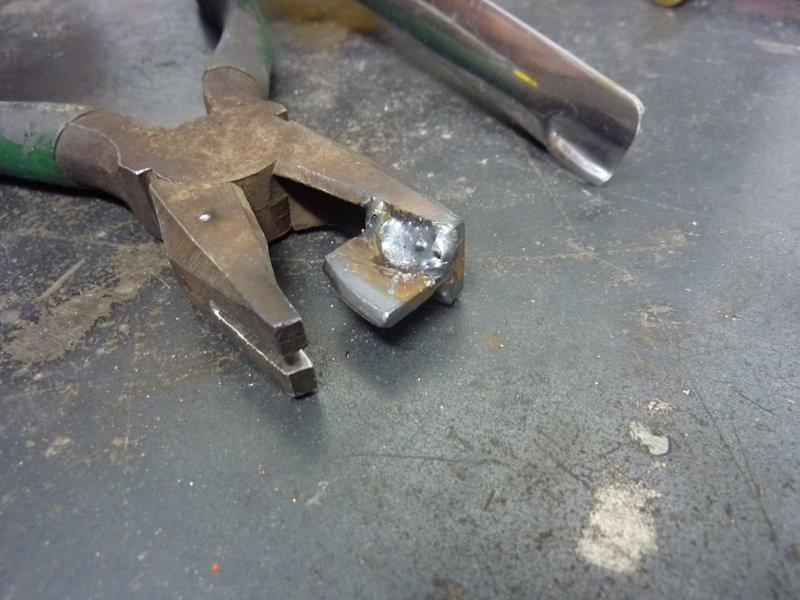 Also notice the extended stainless window trim. I made a tool to reproduce the factory crimp on the end and Josh at Custom Metal Finishing made them shine.  He is an expert in polishing and is actually working for a prosthetic manufacturer polishing surgical implant joints now.
I didn't want the chrome right against the paint so I bought rolls of rubber and made my own gaskets so they would fit correctly.  Notice the hole punch made from a piece of scrap.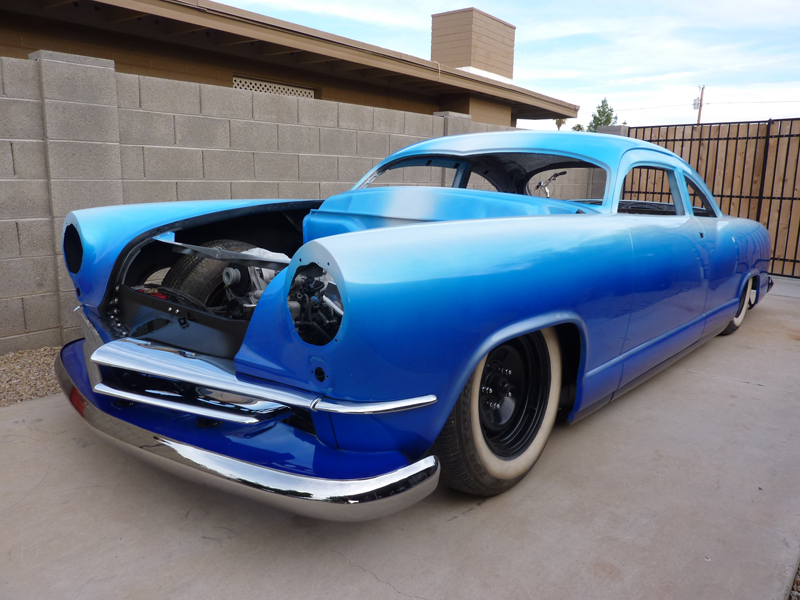 Next the chrome slowly made its way onto the car.  It really looked good against the shiny paint.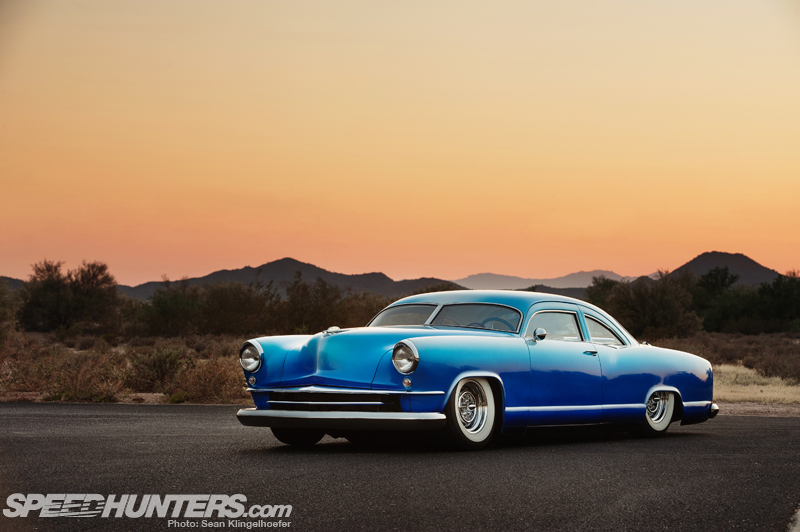 While Keith's input might sound a little simpleton, you can't argue with the man – the chrome literally does look quite good against the paint. The most interesting thing to me about the chrome and the paint is how they interact with one another, they both seem to be constantly changing color and shape almost as if the car is alive.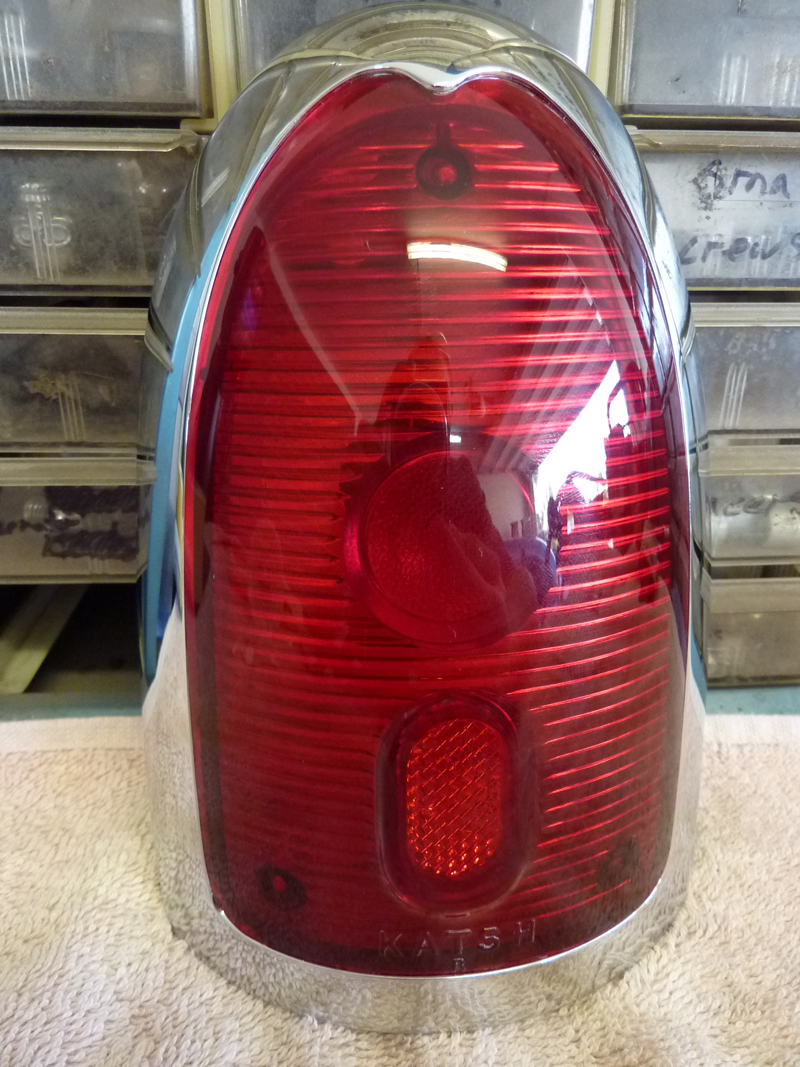 A set of NOS tail lenses were wet sanded and buffed to perfection before being installed with more custom gaskets.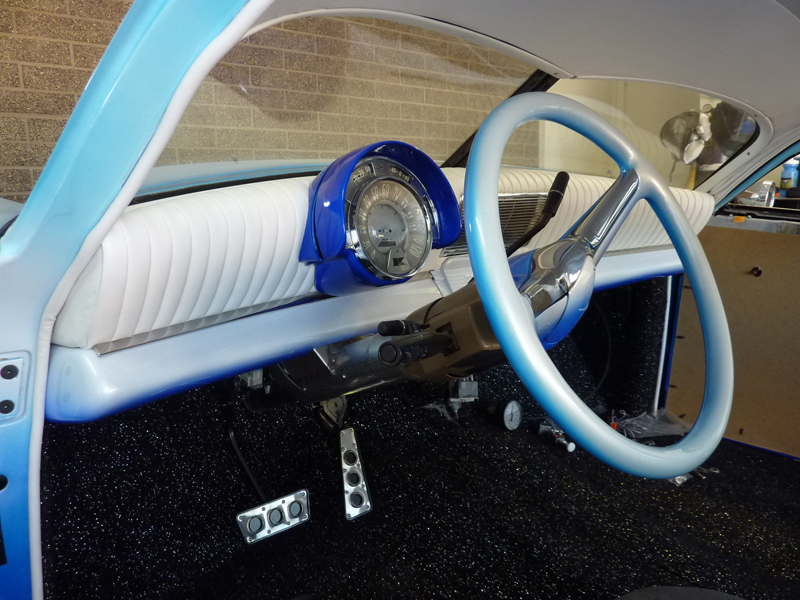 Here's the interior coming together in traditional white tuck 'n roll with lots of chrome and paint.  The carpet is discontinued and I got the last of it.  It was originally used in late '50s Pontiacs, but I think it suits this car well.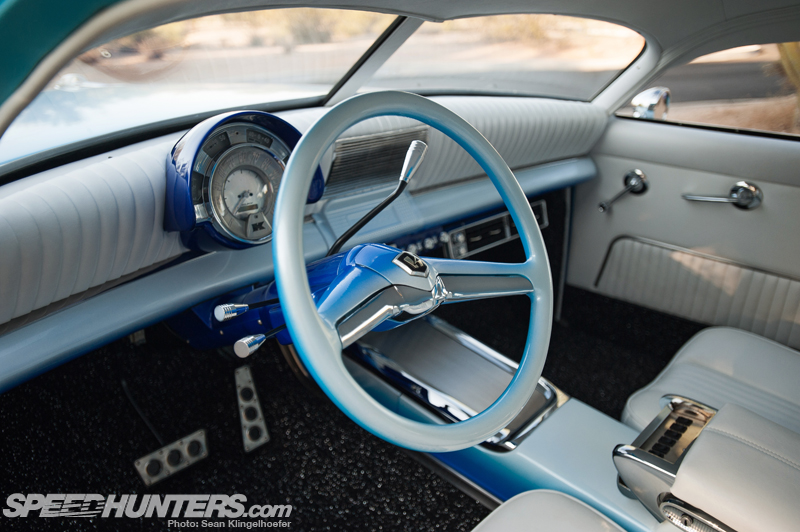 Again I think Keith might be a little too modest here. The interior of the car is incredible and I had no idea how much work goes into building the cabin of a custom car. There is probably more paint and bodywork done on the inside of this car than the outside of most of the cars we feature. And the creativity involved like building your own steering wheel or forcing seats and consoles from other vehicles inside is pretty amazing.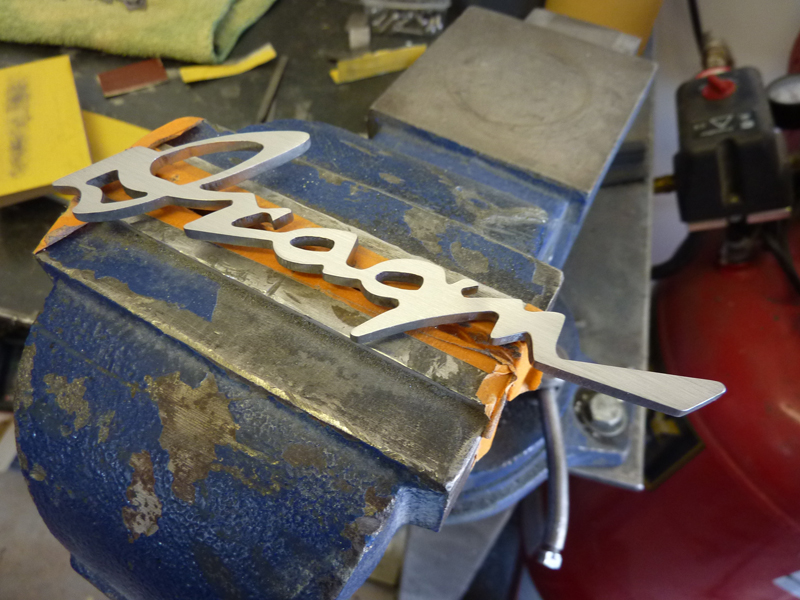 I drew up Drag'n emblems based off the original Kaiser font for the front bucket seats and had them water-jetted from .120" stainless steel.  Studs were welded to the back for mounting and they were brushed by hand.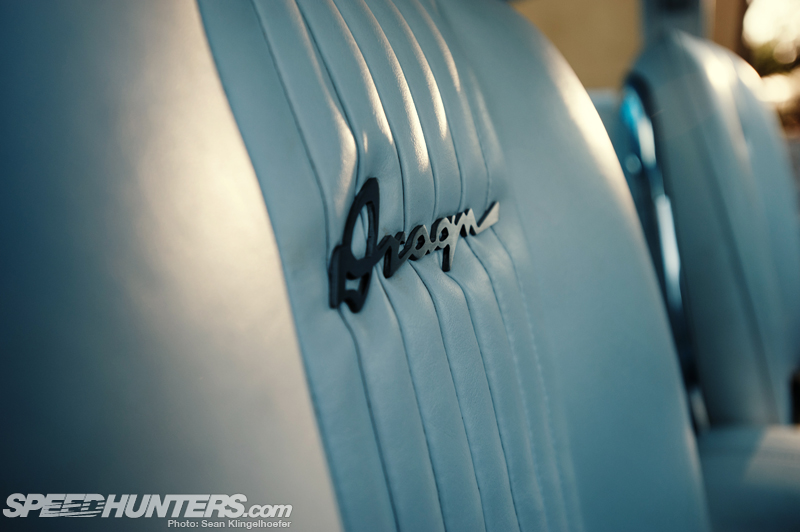 On its own items like the seat emblems are just one small, albeit very cool, detail. What I discovered about custom cars is that this is how you arrive at a finished car, when you compile hundreds and hundreds of cool details they form one badass car. I'm not sure if there is a single part on this car that is in 100% original form. Everything is shaved, chopped, bent, smoothed, polished or replaced. It's wonderful.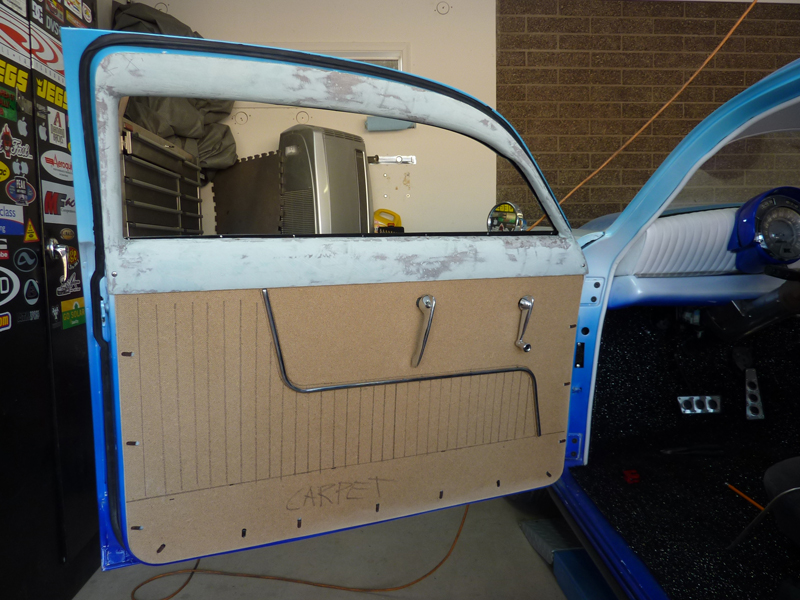 I designed the door panels based on the stock Kaiser design but adjusted the proportions for the car.  I also moved and clocked the door handles to make them more streamlined, you'll see this in the feature pictures.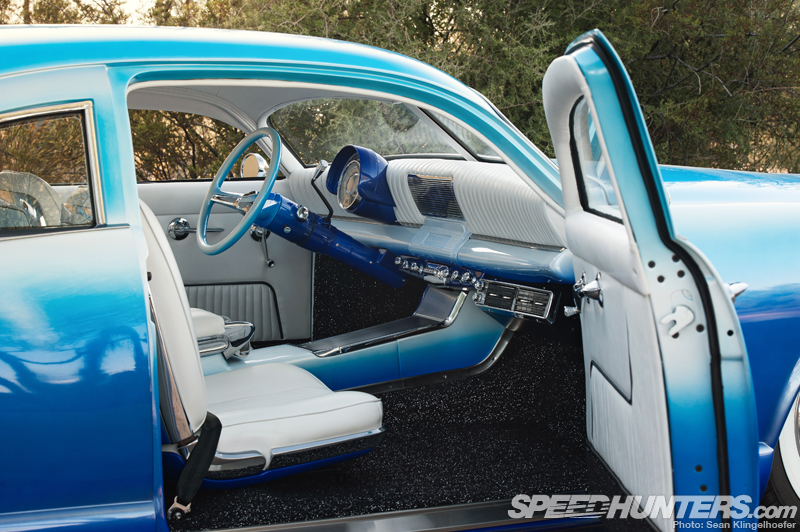 I'll give Keith that one, the car is nothing if not streamline. There isn't a single bend or curve anywhere on the interior or exterior of this car that hasn't been meticulously calculated. The way each line draws a shape and interacts with the other curves is exquisite. I'm quite literally speechless.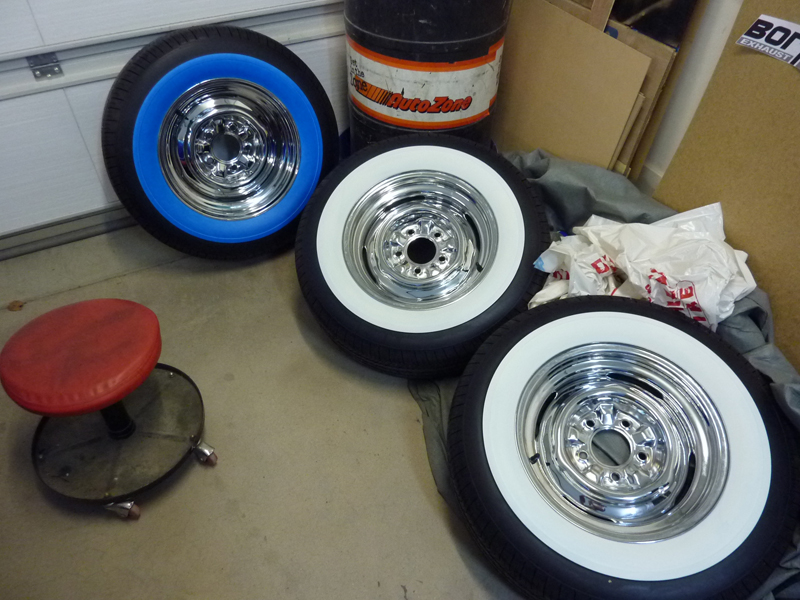 One of the last sponsors was Diamondback Radials, who sent me a custom set of wide whites.  They added a step to the whitewall to make it deeper and eliminated all the lettering on the sidewalls.  Custom tires!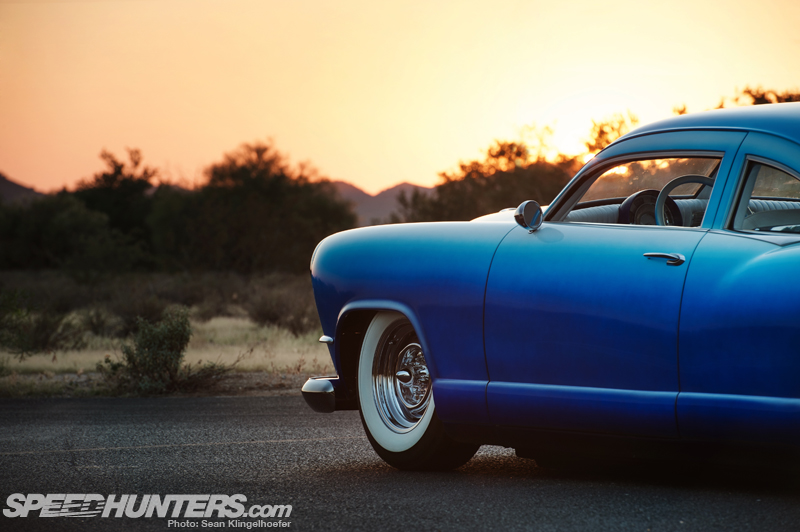 It might seem like an obvious piece of the puzzle, but can you imagine the car without the white walls? On almost any car one can argue that the wheels make or break the visual appeal. On a custom car the same can be said for even the most minor details that most enthusiasts never even think about, like the sidewall of a tire.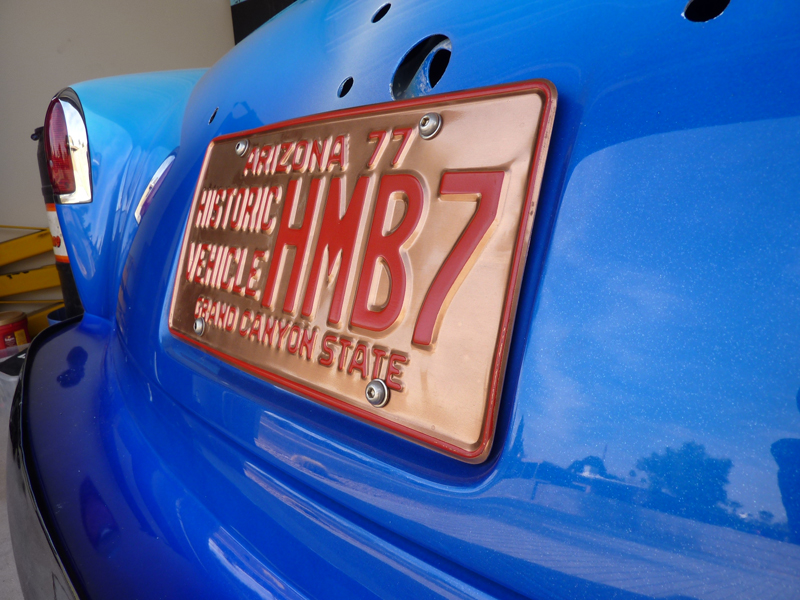 I hand trimmed the copper license plate so it would have an even reveal all the way around.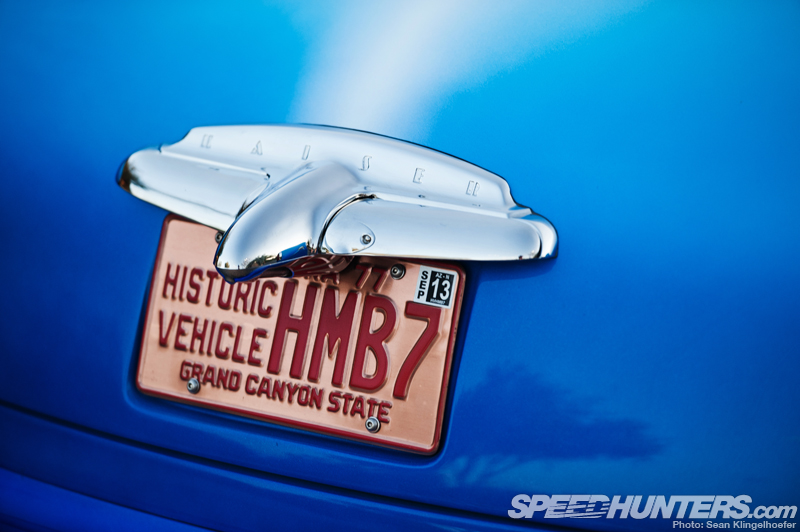 It's this type of obsession that makes a custom car a work of art. When you can't find anything else to reshape why not go after the number plate?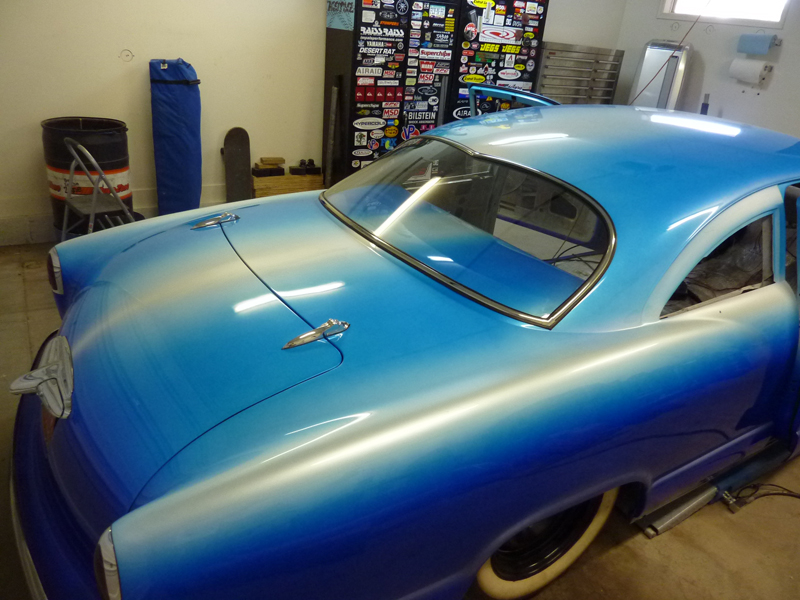 This is often overlooked, but one of my favorite features of the car so I want to point it out.  Check out how the paint flows right through the back window, blending interior and exterior.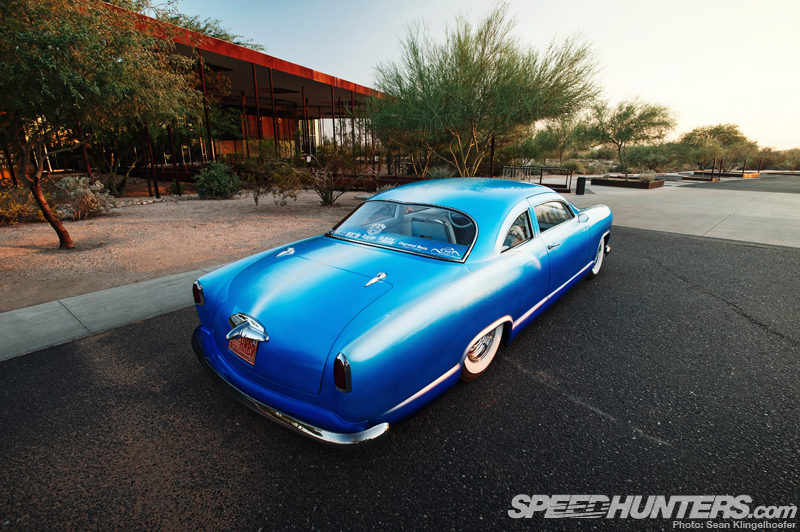 I'm not going to lie, I probably wouldn't have noticed the parcel shelf either had Keith not mentioned it to me. But I think that's probably what Gene Winfield was going for, a seamless transition that ties the interior and exterior together. It's almost as if the glass is merely a suggestion. There is likely more man hours put into shaping, fixing and painting that single piece of metal than most people have in their entire cars.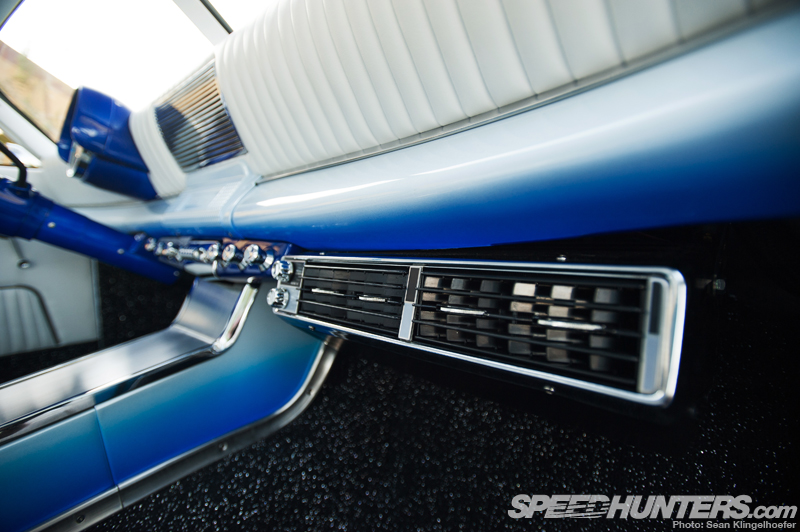 I just picked up my last sponsor, Vintage Air. They hooked me up with a reproduction Mark IV underdash AC unit which I was able to install just in time for the Speedhunters photoshoot.  It's a necessity when you drive a hot rod in Arizona, and the period correct look is perfect for this car.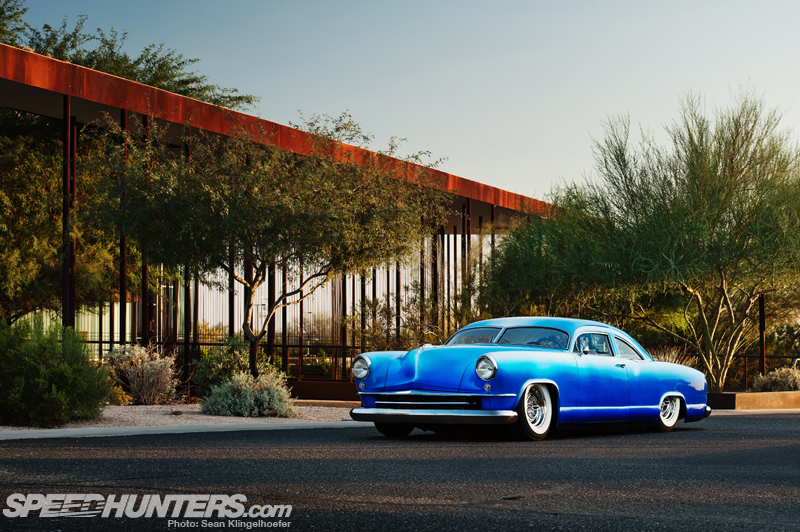 I 'finished' the car around midnight on November 18th of last year.  I remember the date because November 19th was the looming deadline for the Goodguys Southwest Nationals.  In an interesting twist, I ended up scheduled for a Rodder's Journal photoshoot that same weekend, so the pressured was doubled.  Fortunately I work at a car place with car guys who understand, and they let me take my vacation time to finish the car.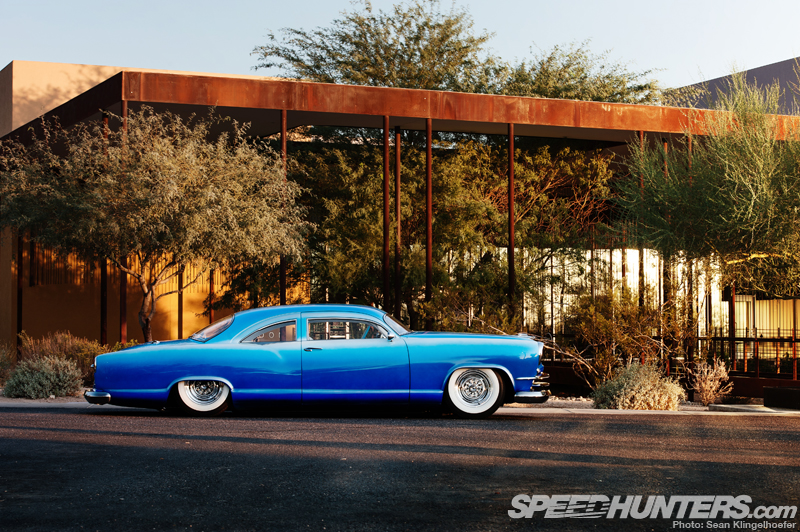 It was a two-week thrash of 16 hour days non-stop until the show. I think I logged a couple hundred man hours in the last week with the help of friends. Now that the car is done I have been driving it, showing it and refining it. Every time I take it out I find something small to improve on. My son was born at the beginning of the year so that prompted me to install a rear seat belt for the car seat and run the exhaust out the back to keep the fumes out of the cabin.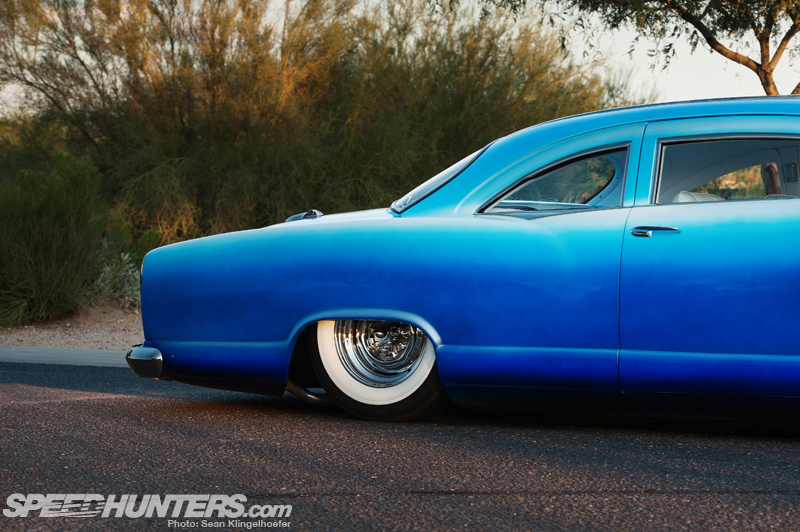 I'll let it sit for a month and then take it out for a drive and I'm reminded all over again how cool it is to build something you're proud of and then drive it on the street. A few months back I was driving and I ended up at a stop light next to a school bus. The kids were looking out the window and yelling at me, so I hit the switches and laid the frame out and their eyes just popped out of their heads!  I bet that made an impression on a couple of those kids, and opened up a world they didn't know existed.  I remember when I saw my first bagged truck and the way it opened my mind to custom automobiles, and I hope this car can do that for some people too.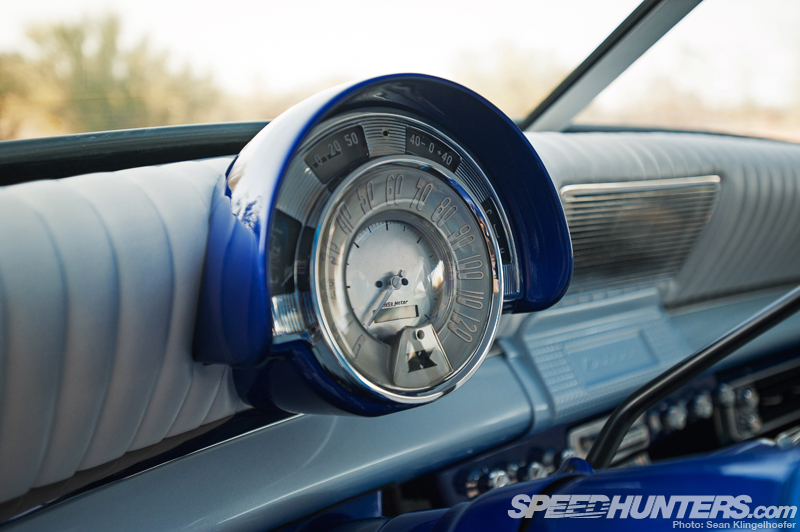 Sean asked me to write about what I would do differently, and I would have to say 'nothing.'  Sure there are little things like the light leaking out around the gauges at night that I can't let go.  I could call it done and leave them, but this car is so representative of me and my craftsmanship that I can't leave little things like that alone.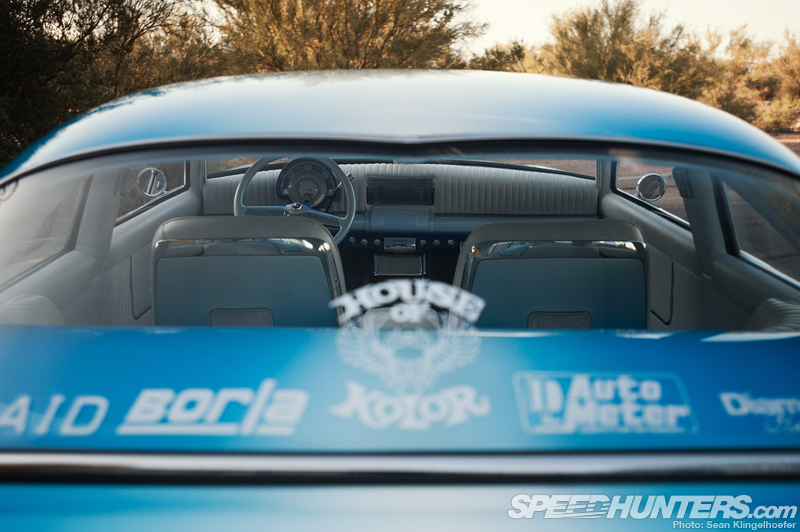 There are things that I did two and three times on the car and things that could have been done better, but my answer is still 'nothing' because this entire build was a learning experience.  Without doing things the hard way I would not know there is an easier way.  This car took eight years to build, from age 22 to 30.  A lot changed in my life in that time, and the car evolved right with me.  I think I could build the same car in 2-3 years now from what I learned the first time, but I wouldn't trade the learning experience of a first-time build for anything.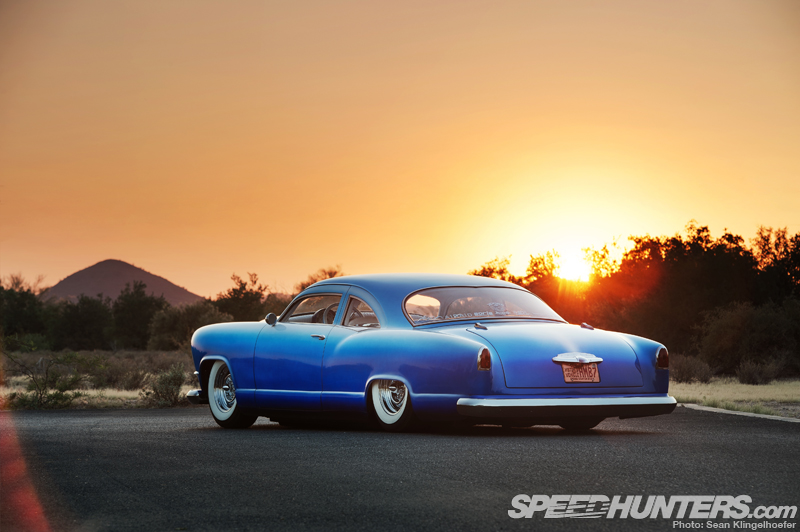 Thanks to all who read along and commented, I'm going to work on the next build now!
I can't think of a better way to finish a story than that, if you don't feel inspired after reading this then you're a corpse. Keith said he hopes that this car can open people's minds to the world of custom automobiles and, while I can't speak for everyone, it certainly has my full attention and I can't wait to see what he comes up with next. Until then if you want to get a look at the car yourself it will be on display at SEMA in a few weeks.
1951 Drag'N Kaiser Kustom
ENGINE
'95 Chevrolet LT1 V8 9C1 Police Package; Airaid intake; Taylor Thundervolt 8.2 ignition wires; 30lb red top injectors; Borla mid-length headers custom coated black, stainless cat-back; ARP header bolts; Painless engine and chassis harnesses; York belt driver compressor for air suspension; chrome valve covers; custom radiator mounts; plating by Custom Metal Finishing Indiana
ENGINE MANAGEMENT / ELECTRONICS
PCM4Less tune; Autometer gauges retrofitted into stock cluster
DRIVELINE
4L60E transmission; shortened driveshaft;
SUSPENSION / CHASSIS
'95 Chevrolet Caprice frame w/ notched rear and trimmed front; Slam Specialties RE-7 air spring (front), RE-8 air spring (rear); RCD Classic shocks
WHEELS / TIRES
Wheel Vintiques OE chrome steel wheels; bullet center caps and lug nuts; 215/75R15 Diamondback Radial tires
CABIN
'65 Ford Thunderbird seats modified to fit, tuck n roll pleats, Winfield painted seat backs, custom "Drag'n" emblems; Trinidad black/silver carpet; stretched vinyl headliner; shaved dash switches, e-brake and glovebox; custom switch panel, custom paint and chroming, extended T-bird center console with hidden air-ride switches; cutom built '55 Kaiser steering wheel insulated with plastic and painted, custom rear package tray built by Gene Winfield and Keith Charvonia to merge Thunderbird rear seats into the Kaiser; Vintage Air Mark IV A/C system; upholstery by Lui Contreras at Country Auto Upholstery
BODY
Body conversion from 4 door to 2 door, 6″ chop, shaved side trim, frenched license plate, molded drip rails, shaved locks, antenna and wipers, welded factory seams, modified stainless window trims, rear fenders built from '55 front fenders; Cobra side mirrors; custom glass; stock bumpers tucked and smoothed, flipped upside-down and plated, shortened rear bumper, frenched hood ornament; Ford Zodiac headlight rings; House of Kolor paint by Gene Winfield, bodywork by Keith Charvonia and Gene Winfield
More stories by Sean Klingelhoefer on Speedhunters
-Sean