It's a very modern world we're living in today and technology is advancing at an alarming rate. Chances are that the device you just pulled out of your pocket to read this very post on has more computing power than the F1 paddock in the '90s. This never ending desire for improvement is human nature and the rate at which we can refine and innovate separates us from the rest of the animal kingdom. Audi know's it's this same ability that separates a winning race car from the rest of field.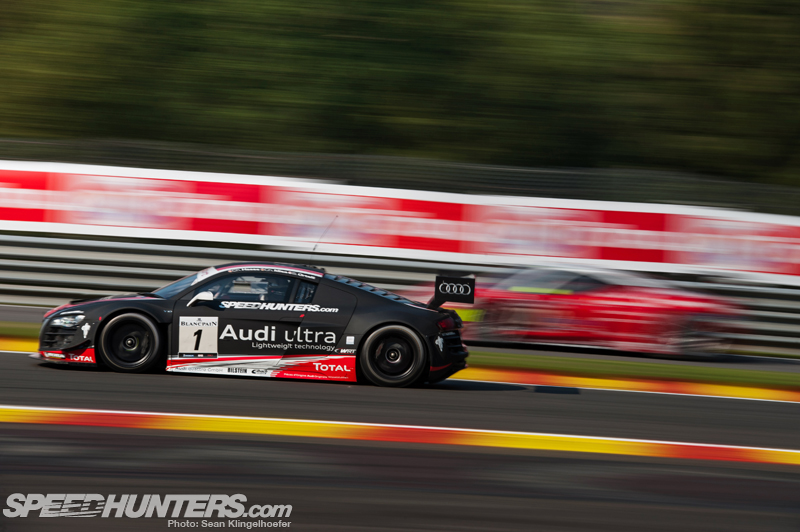 From the various posts we've done from racing circuits all over the world in 2012, most of you have probably noticed that we've been closely involved with a racing outfit from Belgium known as W-Racing Team or WRT for short. Through this partnership I've been fortunate enough to see these cutting edge sports cars destroy tracks across Europe.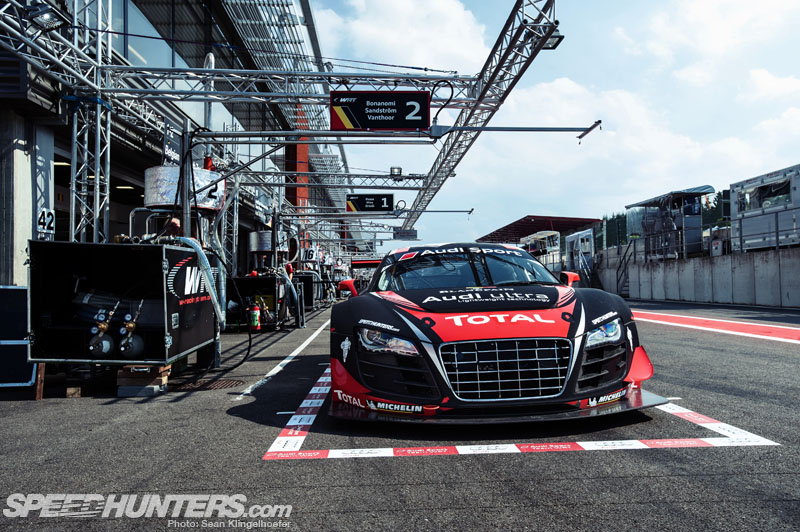 But what's even better to a nerd like me is the ability to get unrestricted access to these marvels. It's one thing to watch them throw down blistering laps on treacherous circuits, but it's something else to see them up close. You get a new sense of just how intricate these pieces of science fact really are.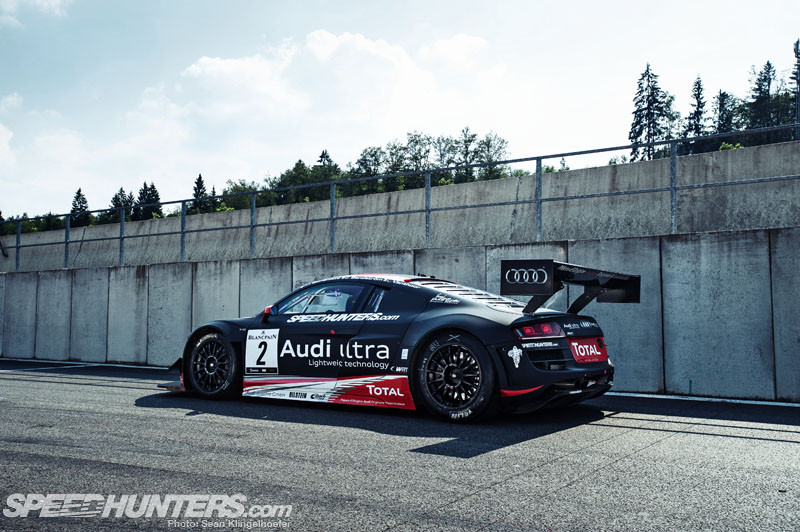 Suddenly new details present themselves that are practically impossible to spot while the car is moving at speed. Even from twenty feet the cars don't look that much different from a wildly modified street car, but when you get right up next to it your perception changes rapidly.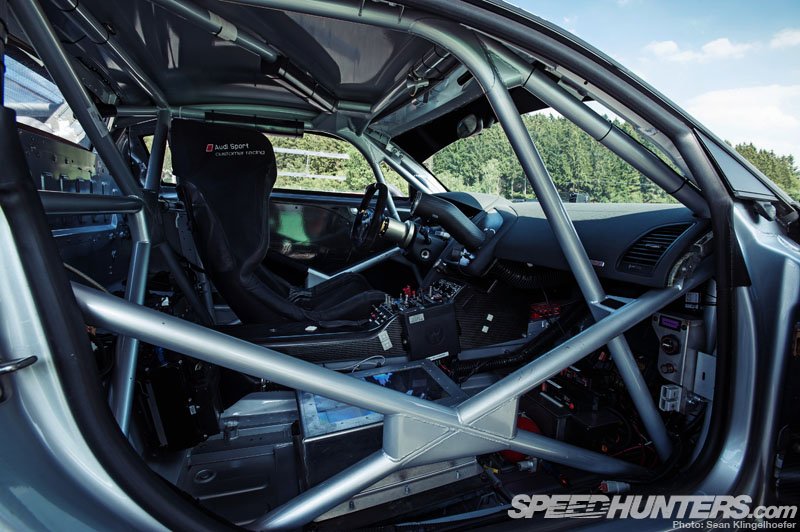 Living in Hollywood, I've become pretty accustomed to crossing paths with actors and other celebrities, but every time I'm standing next to a famous driver or race car I can't help but find I'm also susceptible to being star struck. Sometimes even a circuit can evoke the emotion, so when I was told that I would have some time to shoot an Audi R8 LMS Ultra, at Spa, I very nearly fainted.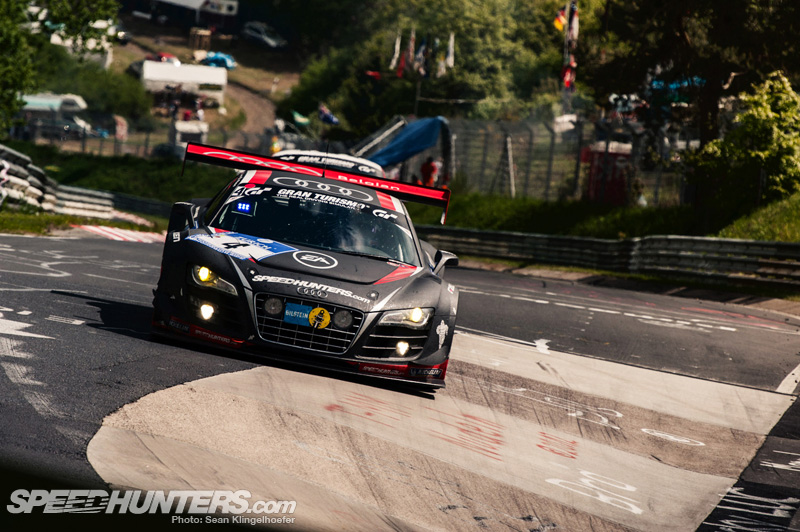 By the time Spa 24 rolled around I had already enjoyed watching the car go round and round the Nürburgring, but due to the insanely chaotic nature of the German event, I hadn't yet had an opportunity to spend some time alone with one of the cars. The anticipation made the two months between the N24 and Total 24 of Spa seem like an eternity.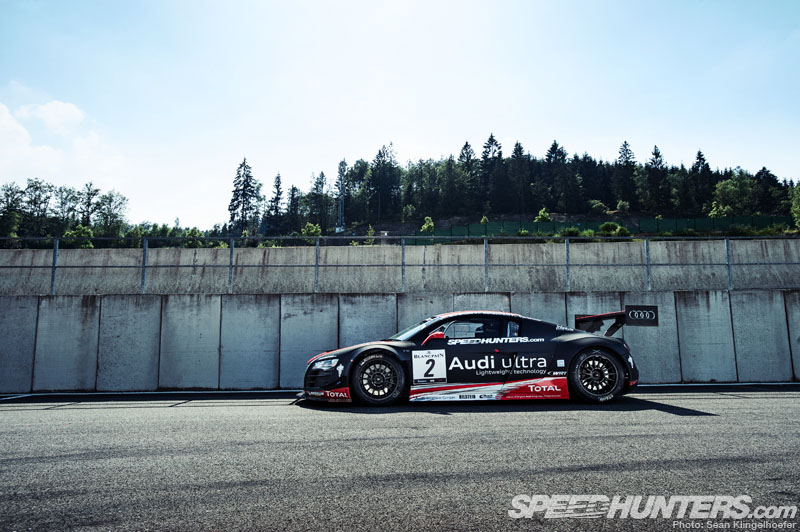 But when I finally walked under the tunnel into the paddock area of Spa and looked out onto the legendary Eau Rouge, it was totally worth it. Minutes later I had been issued credentials and made my way to the very front of the pit boxes where I met "the car." Being that Spa is a very important race for the Belgian-based team, they couldn't spare any test time for one of the weekend's entries; fortunately they brought a spare.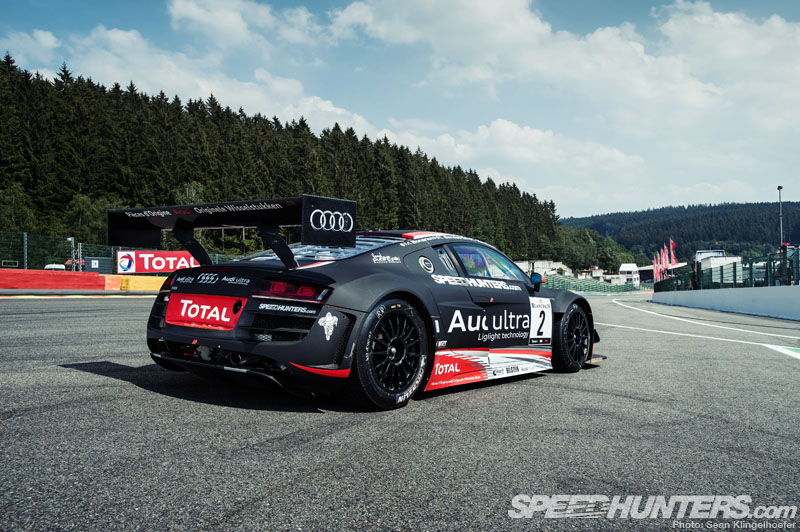 Although this car wasn't technically one of the cars that ran at Spa, it is another 2012 LMS Ultra that is virtually identical in every way aside from livery. This particular car is run in the Blancpain Endurance series, which is a sister organization that operates under the same rules which is also run by the SRO. But enough about politics and technicalities, what we really want to see is the car right?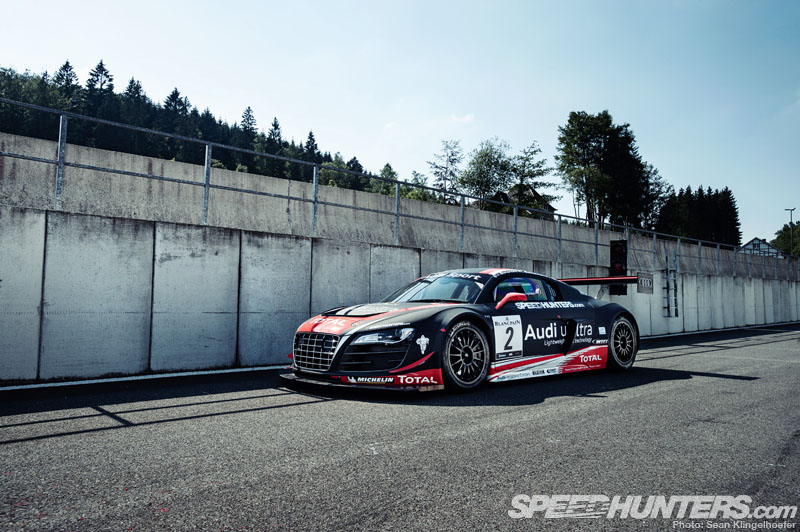 And what a car it is! Ironically I used to find the R8 race car to be one of the worst looking in the GT field, mostly in the nose area, but it's definitely grown on me. Part of it I would imagine has to do with me seeing the cars more and more since familiarity plays a large role in perception, but I think the main contributing factor is that Audi's commitment to the continued tweaking and improving which has means the cars are always changing.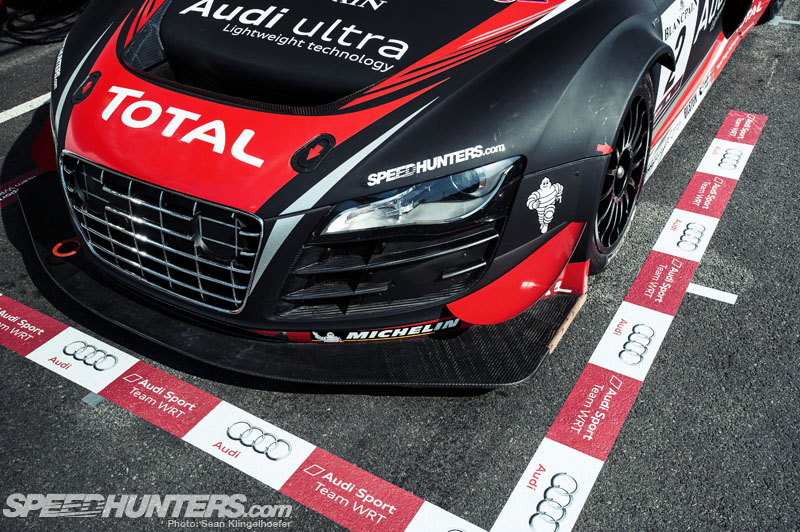 These changes are obviously an effort to improve performance, but many of these aerodynamic alterations also enhance the aesthetics as a byproduct. The dedication Audi gives to improving and marketing parts from the race track for the eventual trickle-down to their road cars I'd say is second to none. This is never more evident than their world renowned HID and LED lighting systems.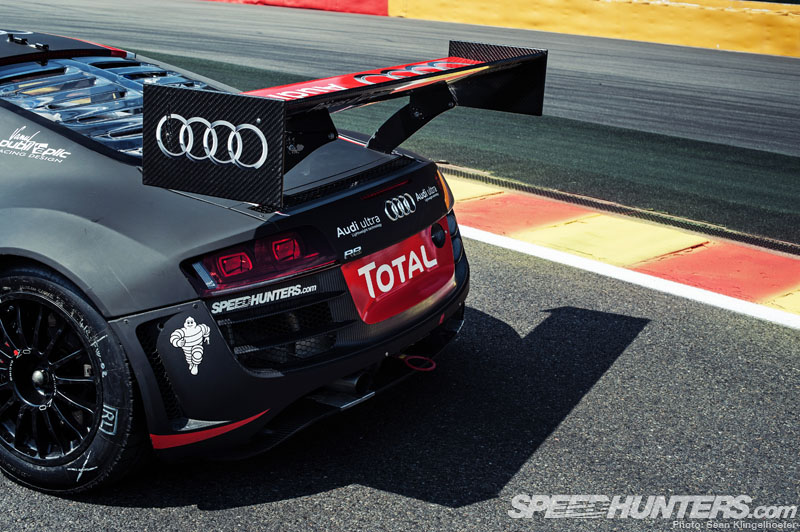 Their latest stroke of marketing genius is to take the Lotus "add lightness" concept  synonymous with race cars since the dawn of time, and turn it into something even average everyday people can get excited about. They've already begun slathering the phrase "Audi Ultra" onto all of their race cars, the R8 LMS being just one example.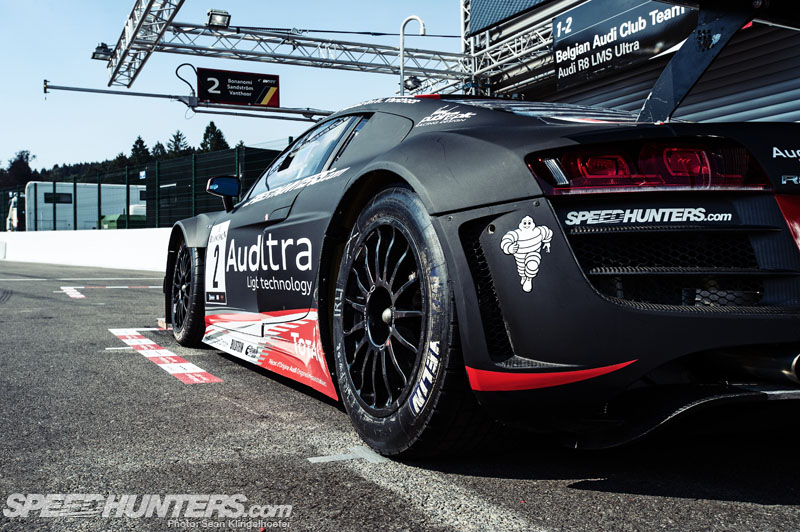 In much the same way Apple sells products that are already available in a manner that people cannot seem to resist, Audi is spreading information petrolheads have known for ages – making a car lighter improves everything about it. Constructed entirely of space age materials, from the aluminum chassis to the carbon body panels, this is one seriously light and rigid sports car; one worth bragging about.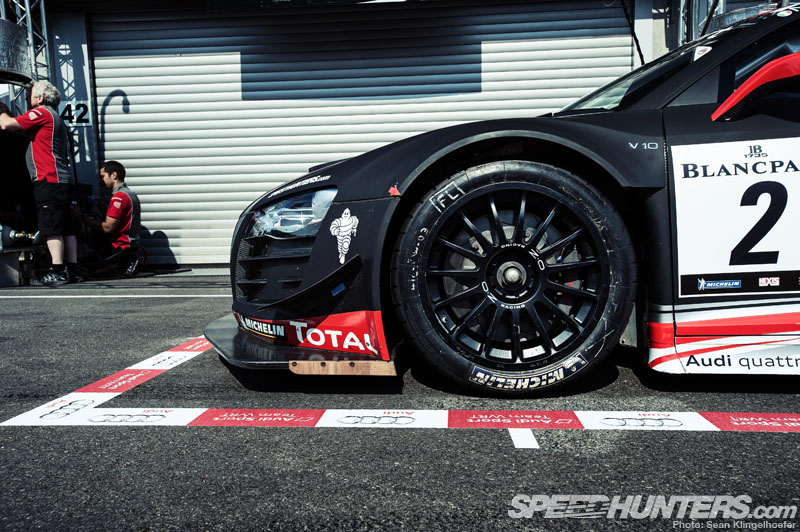 Shockingly, at its base the car remains 90% the same as the road going version. While most of the car is unchanged from last year's model, there are some additional changes that come along with the "Ultra" moniker. For starters, the front splitter has been improved and the fenders are now offered with optional louvers (not pictured) for improved arch ventilation. These modifications have been performed to balance out the aero load created by improvements at the back.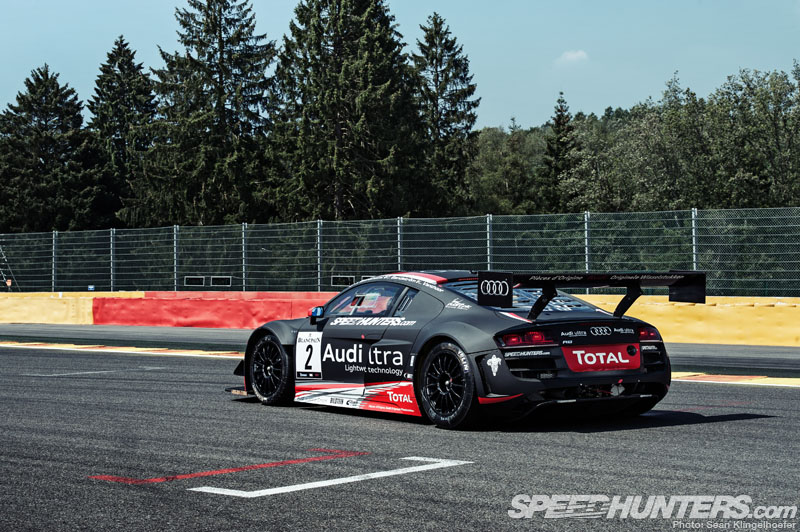 The most obvious visual change between the previous version and the LMS Ultra is the rear wing, which has been reshaped with larger end plates fixed and then relocated to improve efficiency and reduce drag. Last but not least, the distinctive "side blades" have been further exaggerated to engulf even more air for cooling and induction purposes.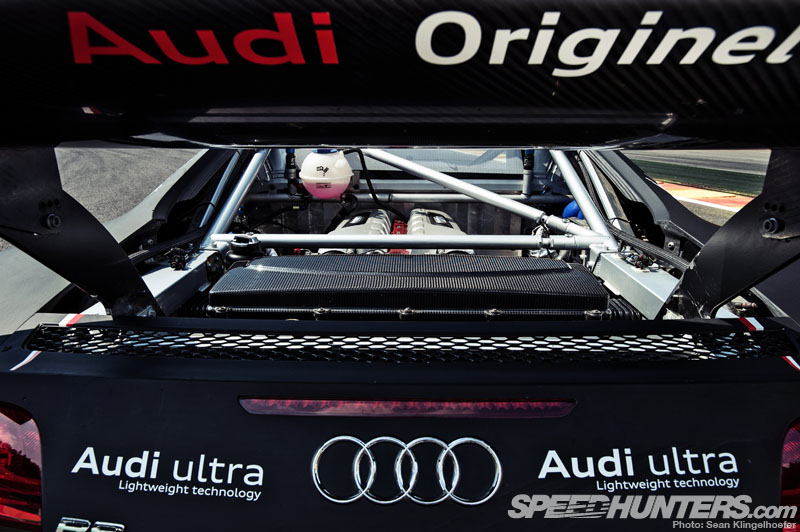 Behind the driver sits another piece of engineering magic in the form of a 5.2l V10 engine. Tuned to an FIA-restricted 570hp, this engine isn't a far cry away from those that Audi offers in their street cars either. As you can see from the overflow tank, many of the OEM items remain for racing duty. Knowing how seriously Audi takes motorsport, that says something about the products they make for the road.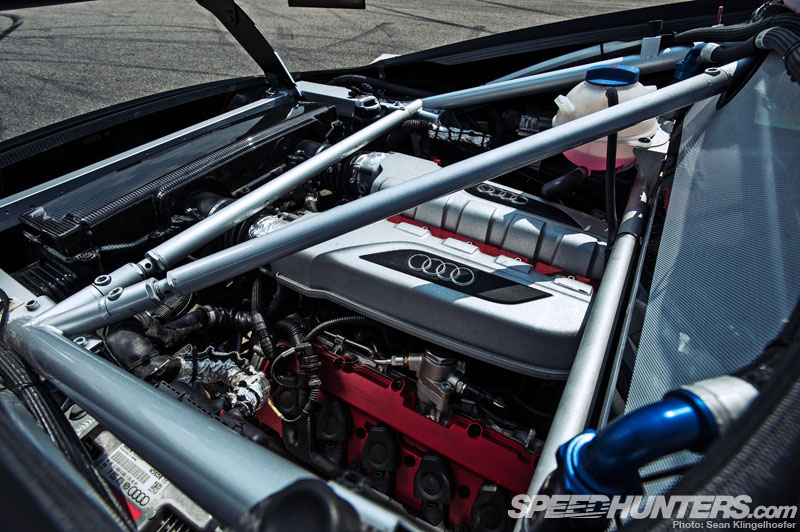 Sadly you won't see much of the techno-wizardry behind the engine because Audi has done a good bit of work to conceal it. Take for example the intake ducting which actually begins at the side blades and works its way inside the body to meet the airbox at the very rear of the car. Similarly, the exhaust is also completely hidden from view and runs underneath the cylinder heads straight out through the rear bumper.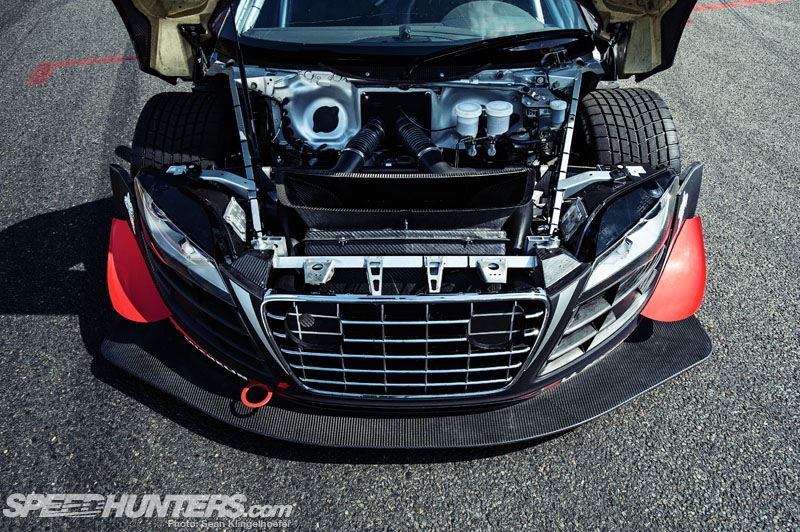 At the front there is even more ducting to be ogled once the one-piece front end is lifted. After a while you begin to realize that this car is actually just a state-of-the-art energy transformer. The aerodynamics are seamlessly multitasked as both downforce generators and heat exchange conduits without leaving any last bit of open air to go to waste.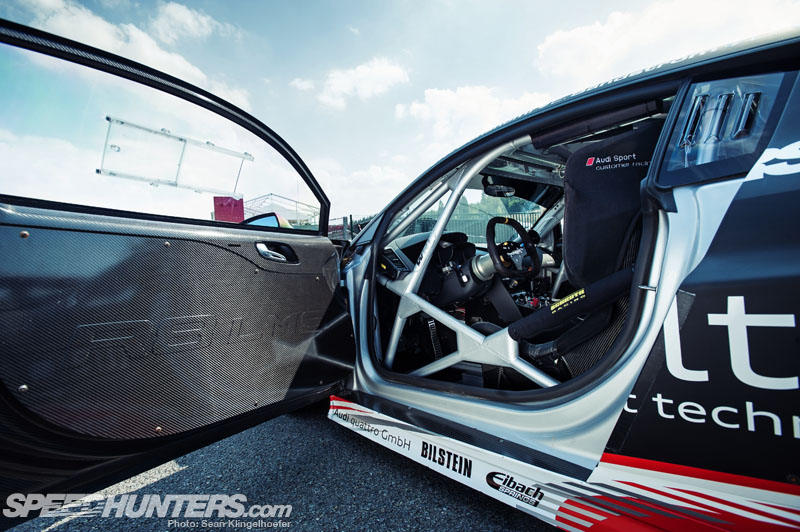 Of course we can't talk about Audi's passions without touching on safety, which is one obsession that is also very evident in the construction of their race cars. I don't think I'm the only one who was shocked to see Allan McNish walk away from a horrific crash at Le Mans last year. McNish claims the "safety cell" in the R18 saved his life. While such a piece cannot exist in a GT car, Audi goes to great lengths adding items such as carbon doors filled with high-energy absorbing foam to ensure driver safety.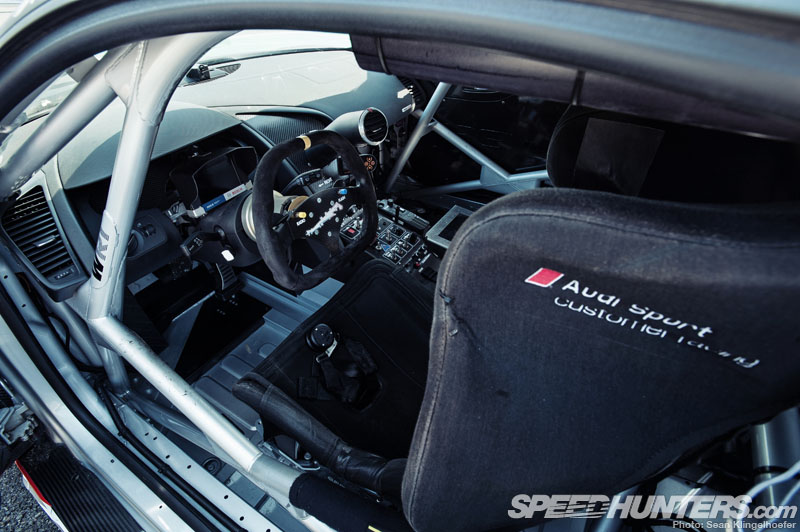 Inside the car Audi has added their own PS1 custom safety seat as a standard item with the Ultra which exceeds the criteria required by the FIA. I would imagine that Edward was thankful for this piece of R&D during his violent shunt at Eau Rouge. There's also a very special roll cage designed specifically for the R8.  Ironically,  many people will laugh at the site of a bolt-in roll cage, but due to the R8's all aluminum construction that's the only way they could fit a steel cage to the car!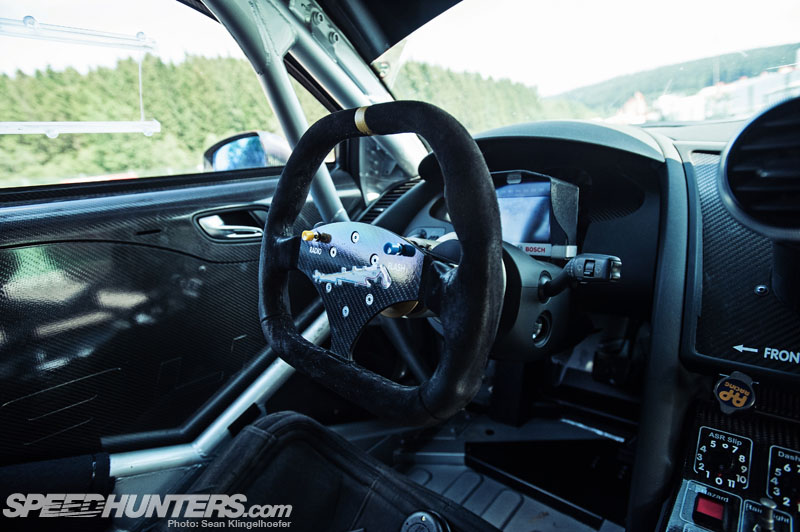 As you would guess there are plenty of pieces of technology for the driver to play with while piloting the LMS Ultra. The dash display and engine management system are both Bosch units which are less common in North America, but considering Bosch's strong ties to the Volkswagen-Audi Group, it's not at all surprising to see them being used here.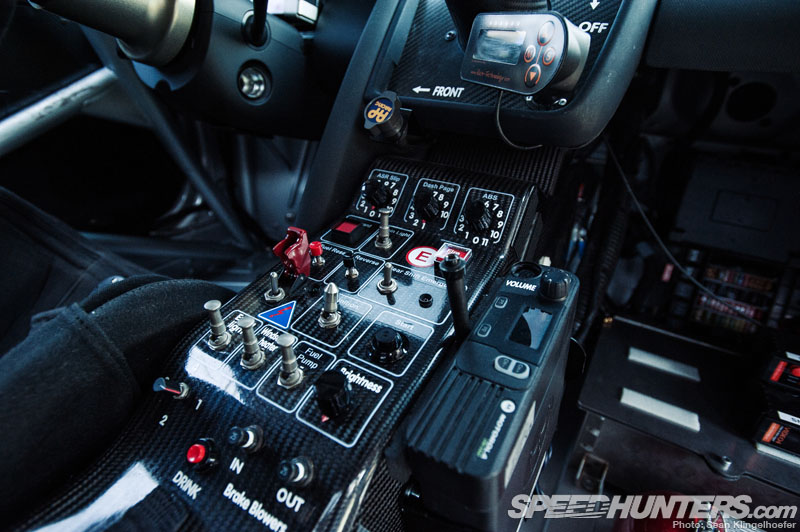 As you'd expect of a German luxury brand, even the switch panel is more elegant than what you'd normally expect to find inside a racing car. Within a finger's reach the driver has access to the brake bias, ABS and traction control settings. Worth noting is Audi's willingness to go above and beyond for their drivers – the switches actually go all the way to "eleven!"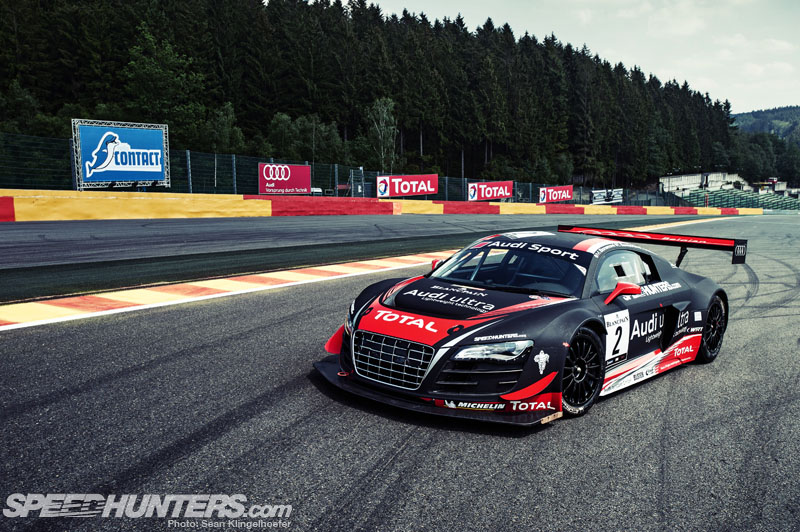 Before I knew it my time on track had come to an end, but not before sitting inside the car and posing for a really bad Instagram pic. It was another in what I can only hope will continue to be a long line of surreal days as a Speedhunter, and one I will never forget. However I have to admit I left with one burning desire pipe dream left unfulfilled – driving the car.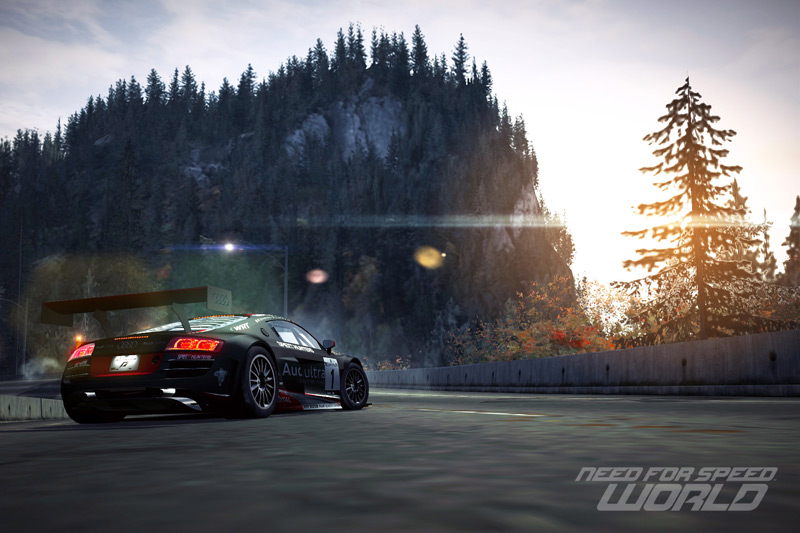 Happily, thanks to our friends at Need for Speed (along with some reference photography by yours truly), we can all experience the WRT Audi R8 LMS Ultra in NFS World. If you haven't already checked out Need For Speed World, head over to the site now and download it for free and get ready to spend countless hours of your day playing it.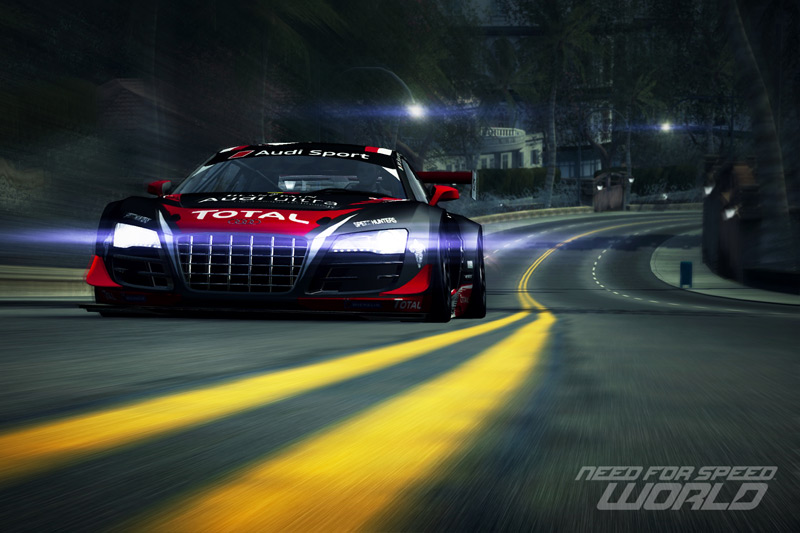 But it gets even better for Speedhunters readers – if you use the code BN3E-ATM5-GLEM-R4Q8 from now until December 14th, you can rent the WRT R8 LMS Ultra for free! So what are you waiting for? Head to the site, download the game and/or the car and experience Ultra technology for yourself!
2012 WRT Audi R8 LMS Ultra GT3
ENGINE
Naturally aspirated DOHC 5.2L V10; Staubli fuel cell
ENGINE MANAGEMENT AND ELECTRONICS
Bosch Motronic MED 9.1.2 EMS, DDU 8 digital display
DRIVELINE
Sequential 6-speed gear box w/ paddle-shift; Audi racing clutch, LSD
SUSPENSION / CHASSIS
Audi Space Frame aluminum chassis construction; FIA certified steel roll cage; Bilstein dampers; Eibach springs; adjustable roll bars
BRAKES
AP Racing dual-circut hydraulics; Brembo calipers and rotors; Endless racing pads
WHEELS / TIRES
18×12(f) / 18×13 (r) OZ Racing center locking wheels; 30-65/18 (f) / 31-71/18 (r) Michelin race tires
CABIN
Audi PS1 protection seat, Audi Sport fire extinguisher
BODY
Audi Sport carbon fiber LMS Ultra bodywork
PERFORMANCE
570hp (as restricted by FIA)
More Endurance GT coverage on Speedhunters
More car features on Speedhunters
More stories by Sean Klingelhoefer on Speedhunters
-Sean