The Spa 24 Hours is one of the most gruelling races on the calendar alongside the Nürburgring 24, and like the 'Ring is held on one of the world's legendary circuits. The Belgian WRT team won the race last year by just a lap from Edward Sandström's BMW Z4; this year Edward switched across to the Audi team, teaming up with Laurens Vanthoor and Marco Bonanomi in the #2 R8 LMS Ultra. The sister #1 car featuring Stéphane Ortelli, Christopher Haase and Christopher Mies finished in second at the end of the 24 hours after a huge fight with the eventual winners in the #16 Phoenix Audi R8.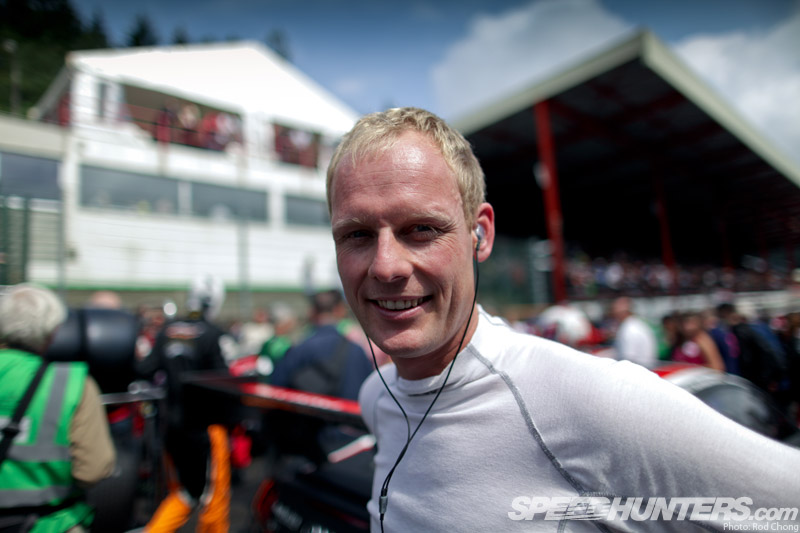 As the party ended at Audi following their one-two result, I sat down Edward and Stéphane to get the inside view from the two WRT Audis in the race. Edward we of course already know well from his previous years with Speedhunters: he came to GT racing via the Swedish Touring Car Championship and the Scandinavian Porsche Supercup series. For the last two years he drove in the Team Need For Speed BMW Z4 with Schubert Motorsport before swapping to the WRT team for 2012.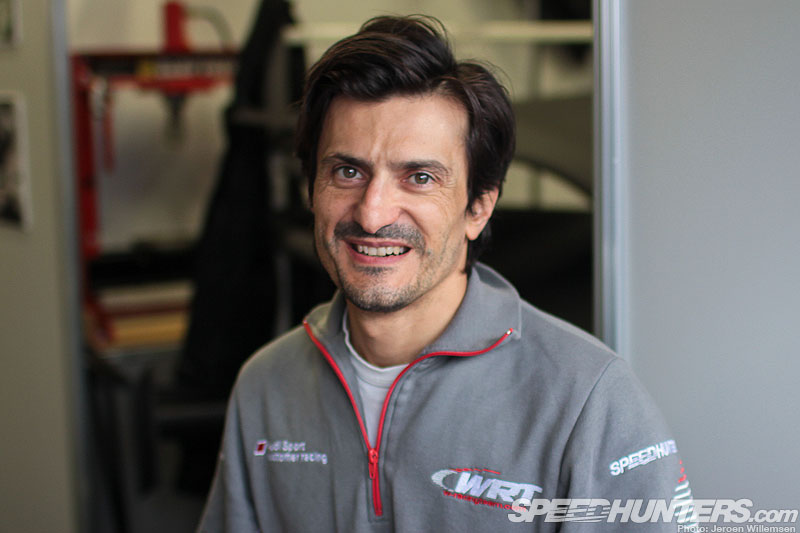 Stéphane Ortelli is a veteran sportscar driver: the Monagasque is a multiple champion, having won the French Touring Car title back in '95, the Le Mans 24 Hours in a Porsche GT1-98 alongside Alan McNish and Laurent Aïello in 1998, the FIA N-GT-class in 2002/3 and several Porsche Supercup titles. He's raced at Le Mans 14 times since 1995 in LMPs and GTs and competed in the World Touring Car Championship… You name a category, Stéphane has likely raced it! This year he's driving a WRT Audi R8 LMS Ultra with WRT in both the Blancpain Endurance Series and World GT1: he and Laurens Vanthoor won the opening GT1 race at Nogaro plus the Paul Ricard round of Blancpain with the two Christophers.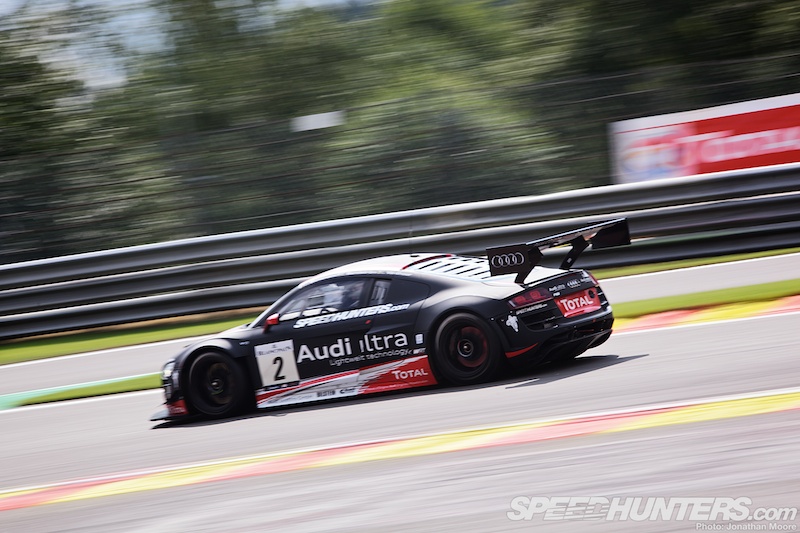 Jonathan: So Stéphane and Edward, the Spa 24 Hours is always a difficult race: its changeable conditions and the sheer number of similar-spec GT cars meant it was always going to be a huge challenge. What were your major thoughts going into race week?
Edward: I had a great experience in 2011, but I must say I felt even better prepared this year. I had a good feeling for the weekend, especially regarding pitstops as the team had been practising a lot. My fitness work for this season has really improved my capacity, so that was also something that felt really good.

Stéphane: For me it was to try to win it again and to score maximum points as possible for the Blancpain Endurance Series.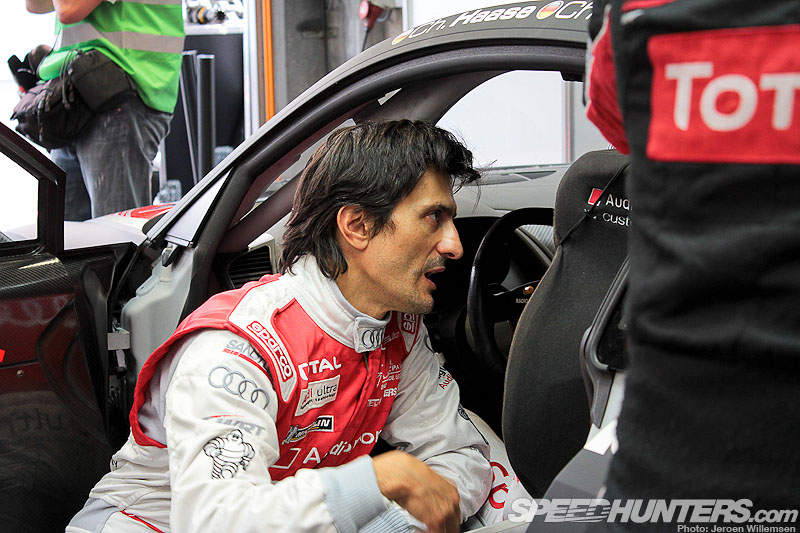 Jonathan: You've both got a lot of experience of the track and the race: do you have a particular memory or favourite car you've driven there? For instance, Stéphane: you won there in the Freisinger GT3RS in 2003, which was a shock victory against the GT1s.
Stéphane: Ed and myself were in a war against each other last year, which was a fair and good one – although he beat me! We finished second and fourth. Of course, going into such a race you always remember the one from last year and the overall result was already something, but the memory of my first stint is really special to me as I started 44th and came through to second in an hour. I truly think that it is still now my best race moment ever! The best win of my life is sharing with Romain Dumas and Marc Lieb at Spa in 2003. It's even better than winning Le Mans for me, because we really did not expect to beat the big GT1s with our little GT2 Porsche.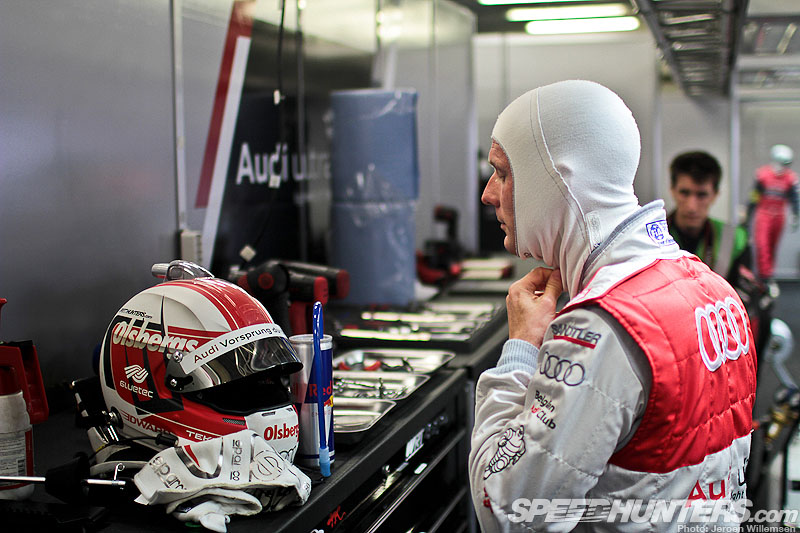 Edward: I must say I'll always remember when I did my first race in a Formula Renault V6 here. A single-seater with 370 hp was a big challenge, as it was my first time on the track. But I loved Spa from the first lap. Last year's race was a bigger memory as we reached the podium and I did 11 hours driving. I was dehydrated but was using my fighting spirit to the limit.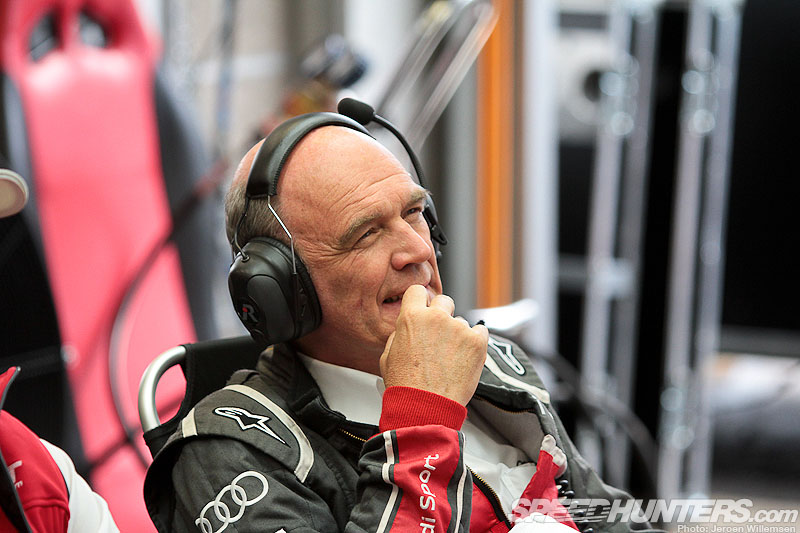 Jonathan: How much did it mean to have the additional level of Audi factory support, and the presence of Dr Ullrich, head of Audi Motorsport?

Edward: It's the first time in my career I've had real factory support and can say I'm a factory driver for Audi. For sure it's a big thing and took every detail closer to perfection. Dr Ullrich makes us act like a family and motivation is a big secret for getting passion transformed into success.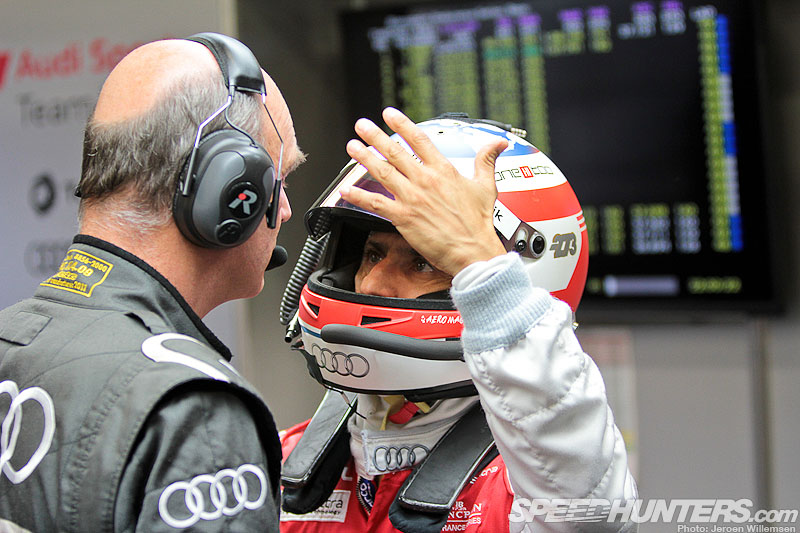 Stéphane: I've been driving Audis for nine years, so I know how much it means to have Audi Sport next to us! I always fight harder when I admire my captain: Dr Ullrich is just the best in motorsport and he always makes sure we can race under the best conditions. For me he's the man of this race, as he let us fight together till the end – just as he did last month at the Le Mans 24 Hours with his LMP1 drivers. How many others team bosses would decide that in the name of the sport and not company interest?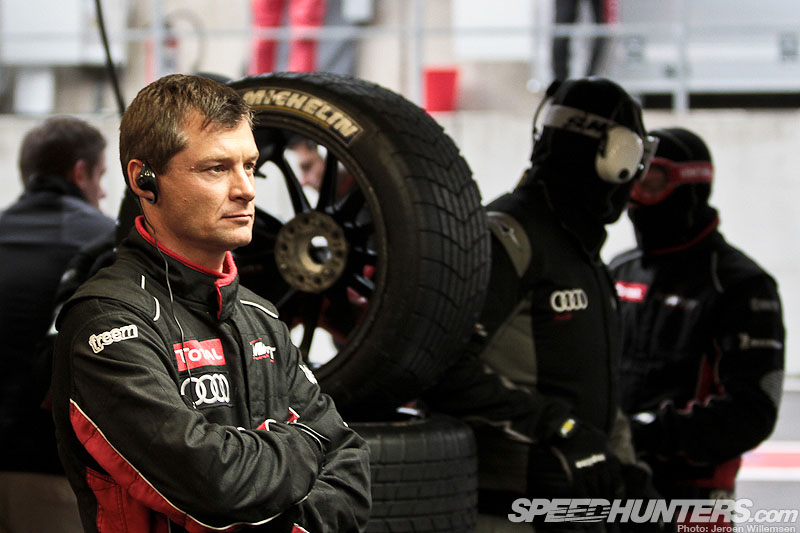 Jonathan: WRT are obviously a very professional team anyway, but how do you think they coped with working so closely with Phoenix? Or was there still a clear separation, despite the garage layout? There seemed to be a very close relationship.
Stéphane: We were a real family; there's no other way to describe it.
Edward: We were there to win the race for Audi and we are told to do it together. Of course you want your car to be the one, but in the end you've to cope with the job. It means we worked tightly together to reach the goal. WRT and Phoenix are two very strong teams and you could see there was a fight until the very end. Great!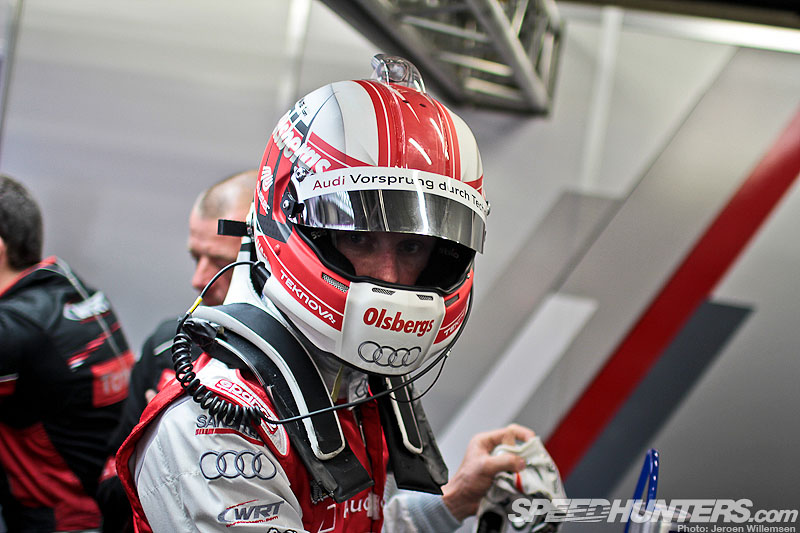 Jonathan: The Spa 24 Hours is a prestigious event, but it's also part of the Blancpain Endurance Series – did that change how you approached the race, with it being part of a longer series?
Stéphane: I won my two FIA N-GT championships at Porsche ('02 and '03) by winning every time that therace who paid double points – I know that the title is always decided there by getting maximum points.
Edward: I must say due to what's happened that I lost a bit the focus on the championship during the end of the race and had my sights on the podium. To be on that podium means a lot as it's one of those big things. It's a dream for me to win at the Nürburgring and Spa 24 Hours.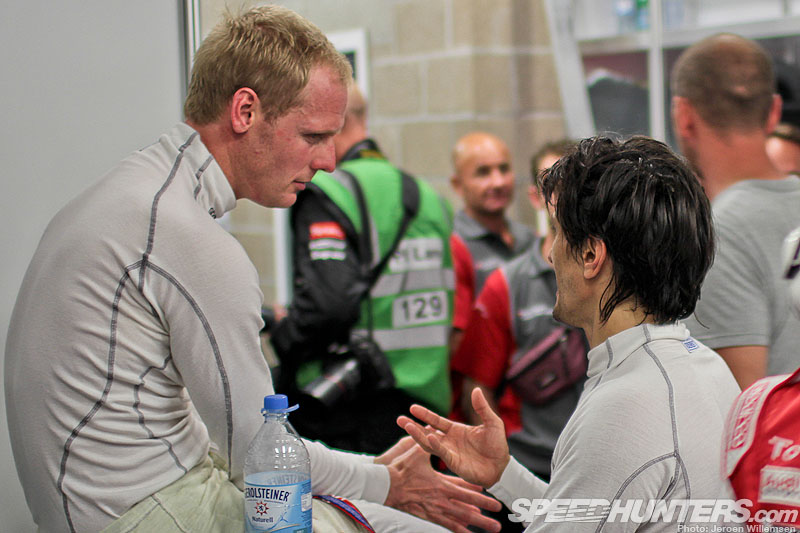 Jonathan: What is your preparation for a 24 hour race? Both of you have raced at Spa before and a lot of the competitors you already race against in the Blancpain series, but do you do any extra research before the race?
Stéphane: It's more of a team approach: we help each other even more than in a sprint race. That's how it works, as we need to work together and learn from each other.
Edward: For sure I visualise the track as much as I can. I was really recharged before I left for Spa. I was more ready than ever for a big race.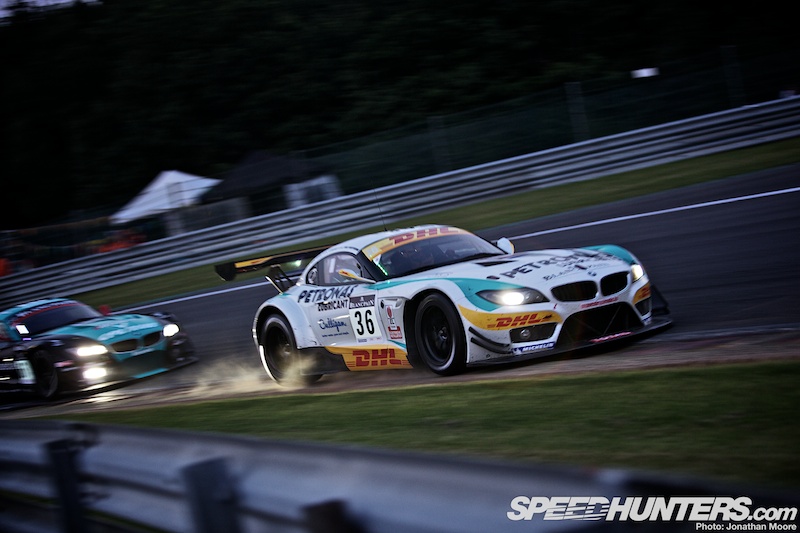 Jonathan: The BMW Z4s always looked like being fast – were they the main challenge? Marc VDS have already won twice this year, and the DB and Vita4One BMW teams were strong in qualifying.
Edward: They where fast, but I guess they did had more problems then WRT or Phoenix during the race. They for sure were fast, especially when Maxime Martin was driving. I know the car has a good speed, but so has the R8 LMS Ultra.
Stéphane: Ed knows how fast the BMW is better than us, but we will catch them at the end!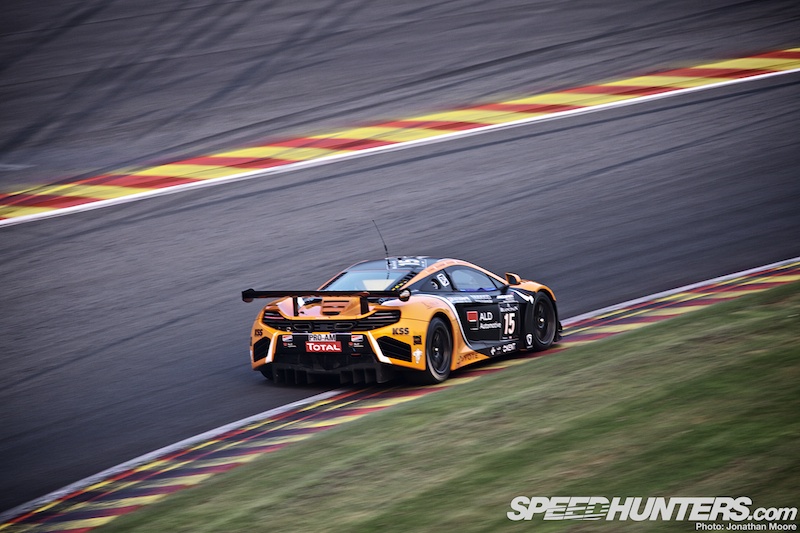 Jonathan: What do you think is wrong with the McLarens, if anything?
Stéphane: They were strong in the '90s, but they were working alongside BMW at that time. Perhaps they miss the involvement of a strong team – though I guess in World GT the French Hexis team is doing that.
Edward: Last year it looked like they had really strong driver line-ups, but in the end they don't seem to put enough work into the preparations to be able to challenge for the win. In my eyes it isn't about the speed of the car – it's more about driver line-up, team work and reliability. I'm surprised McLaren doesn't put this little extra things in to be right there and challenge us.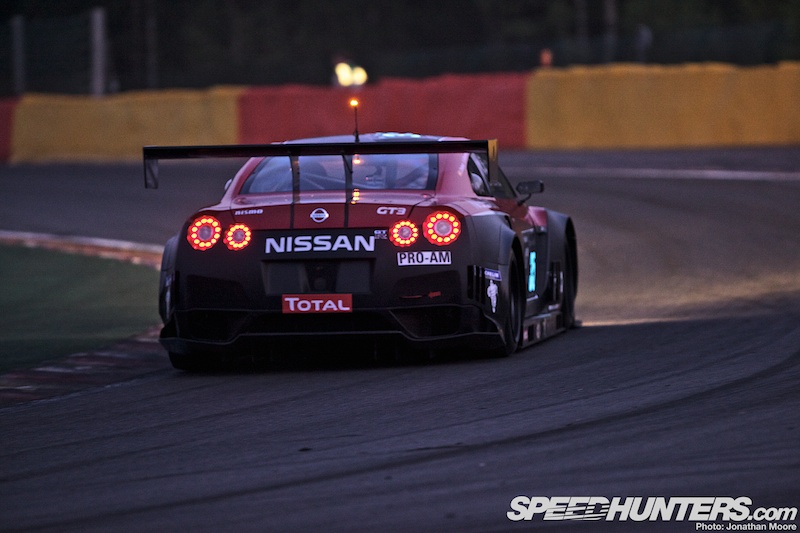 Jonathan: There was a great mix of other cars, with the Mercedes, Ferraris and Porsches – and then the single entries of Nissan, Lamborghini and the new Jaguar. Were there any stand-outs among them?

Stéphane: Nissan for sure. I really think Japanese are in love with this race and will come back stronger in the near future.
Edward: I agree with Stéphane, I think Nissan will be back harder. And I guess Porsche as well want to ramp up a bit.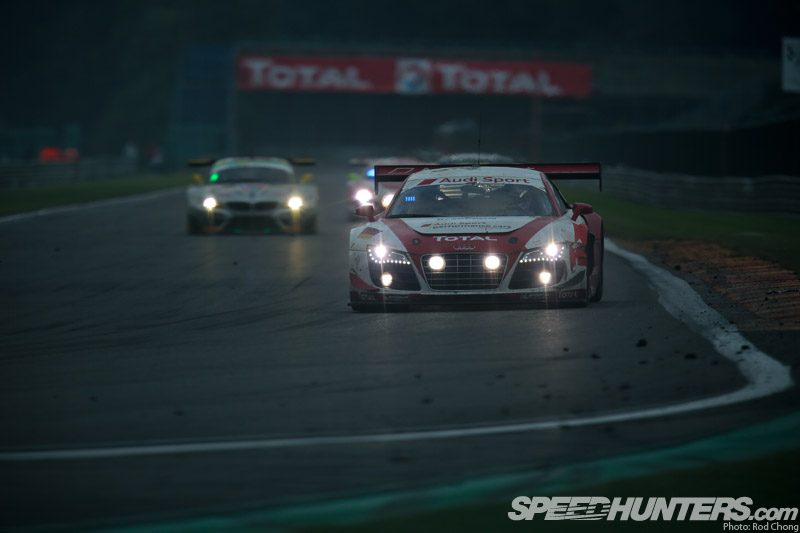 Jonathan: It must feel good to have other Le Mans winners, F1 drivers and big-name drivers join teams for Spa. How was it working with Tom Kristensen? And how do you think Olivier Panis, Bernd Schneider and Mark Blundell performed?

Stéphane: Considering Tom was driving only high-downforce cars in the last 15 years, I have to say he was a class apart this weekend. He didn't put a foot wrong and he proved again that he is the biggest star in endurance racing!
Edward: Tom is a clever man with huge experience. For sure I could learn a lot from him. He's also a very motivating person for all involved. About the others I didn't really followed their performance in detail, but they are great drivers. Panis was in the top 10 in a Pro-Am team; Schneider qualified the Mercedes in the top 20 straight out of the box. In endurance the experience is everything because you've to deal with all different situations.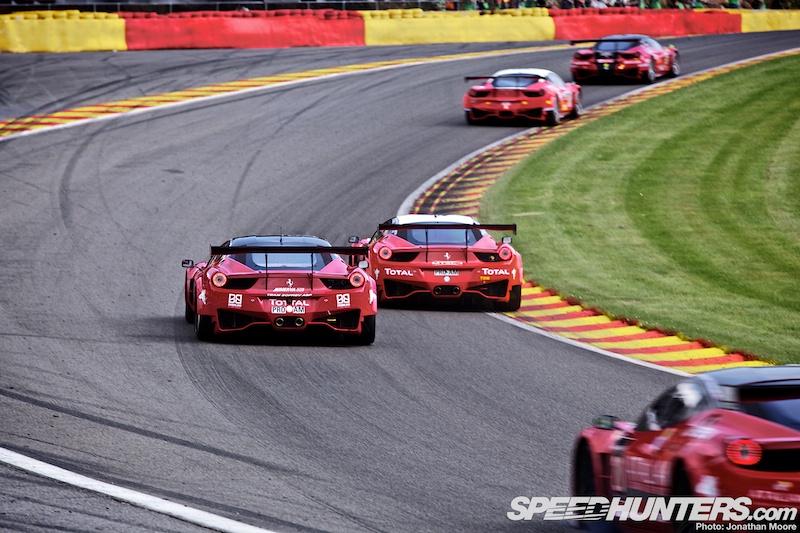 Jonathan: There are also a lot of privateers out for the race. Did you note some cars that you needed to watch out for?
Stéphane: Privateer Porsches such as Manthey and Almeras did an impressive race, but the SOFREV Ferrari with Olivier Panis were the star of the race for me, finishing in the top 10 and on the Pro-Am podium for their only second year at Spa.
Edward: I think I mostly watched the Vita4one BMW, as we raced for the podium against them.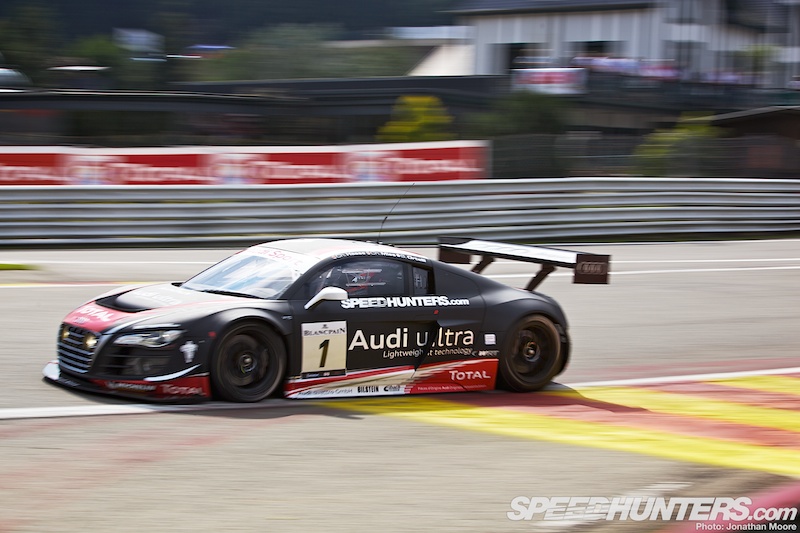 Jonathan: Thursday's sessions were held in such great weather. Did you ever believe that it might last through the weekend, or do you know Spa too well to be that optimistic?

Stéphane: It was my 11th Spa 24 Hours, so what did you expect me to answer? I know the place too well, my friend!
Edward: Spa is always changing, so no way I thought it would keep like that. Then I would seriously think the earth would be near to going down!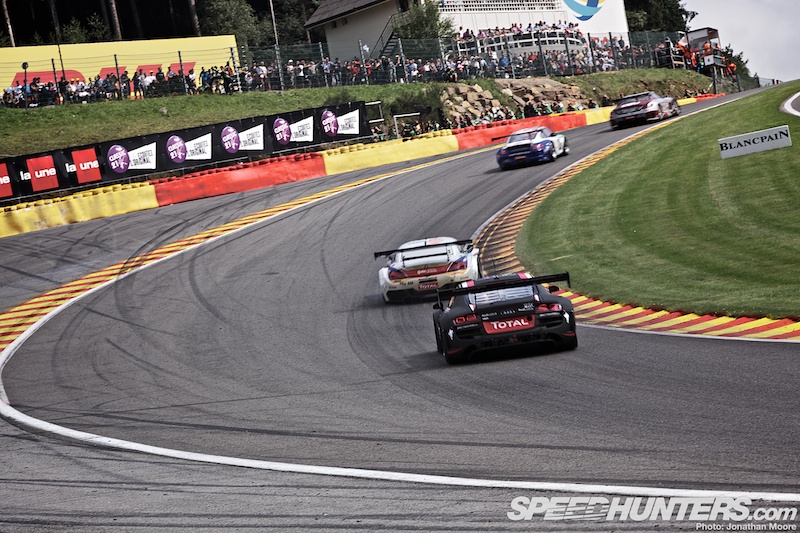 Jonathan: Just how challenging is Eau Rouge/Raidillon now? Is there another corner on the track that you can point out as a real challenge? It doesn't seem like Spa has an 'easy' corner…
Stéphane: Even the straights are not relaxing in Spa. It is definitely one of the most demanding tracks in the world and Eau Rouge is still a juge de paix.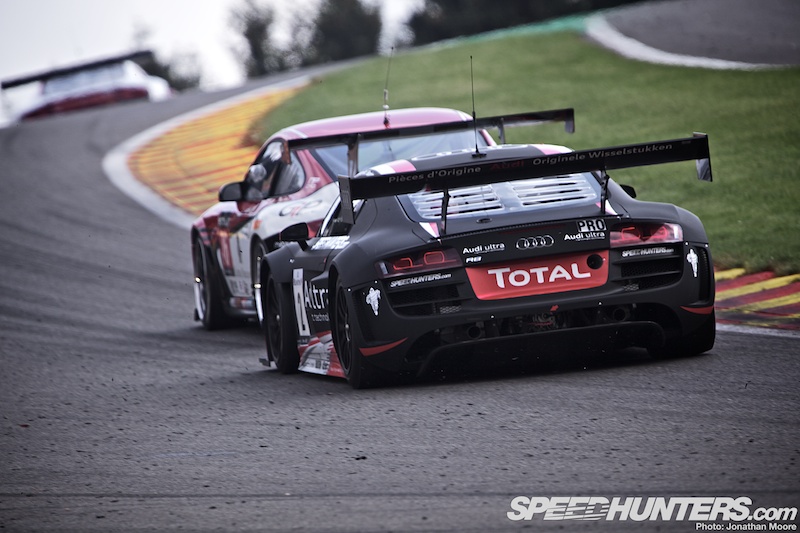 Edward: Spa has a mysterious flow which gives you goose bumps. La Source is the start of the rollercoaster. You wait to go and then comes the best corner in the world. You have to do it perfectly and you can then really gain all the way up to Les Combes. For sure it was more risky before, but still the track is the same and if you do it right you don't need to exceed the track limits. But you've to do every centimetre right from start to end. When you're in the rollercoaster it's to late to change…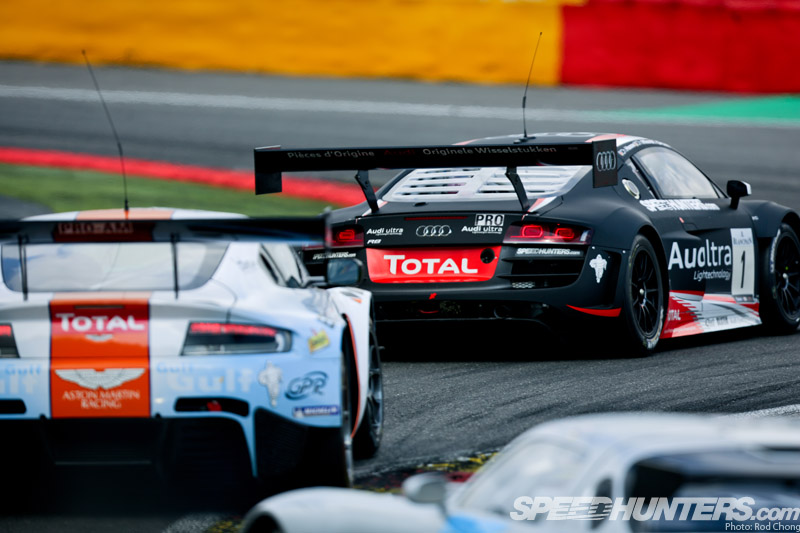 Jonathan: How is the track now? How do you find the new Bus Stop?

Stéphane: I miss the old one of course! Now it's just entry and then exit! But c'est la vie.
Edward: It's okay, but I liked the old version much better as it had a better flow. The pit entry now is a bit risky and strange things happen there a lot of times.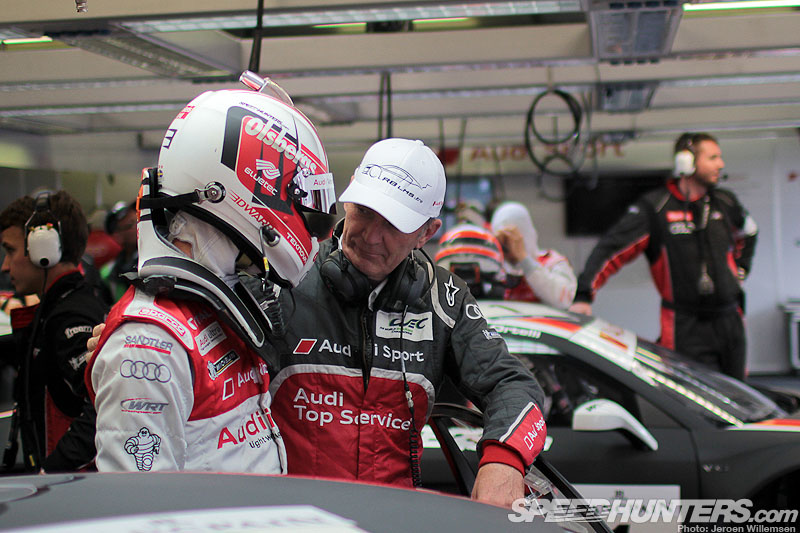 Jonathan: Talk through your qualifying strategies for the two cars. The first session had a red flag interruption; the second looked like it was hectic out on track in the dark. It looked like more of a race than qualifying!

Stéphane: That's also related to the numbers of cars out there, but it is better like that, no?

Edward: We decided to go for it at the start of Q1 and I was on a really good lap, but unfortunately I got caught up traffic and lost half a second in the Bus Stop chicane. We then decided to wait until Q2, but the track was more dirty and the traffic in combination with darkness made it difficult to improve. It's always simple to be clever afterwards, but it would have been better to do another lap in Q1.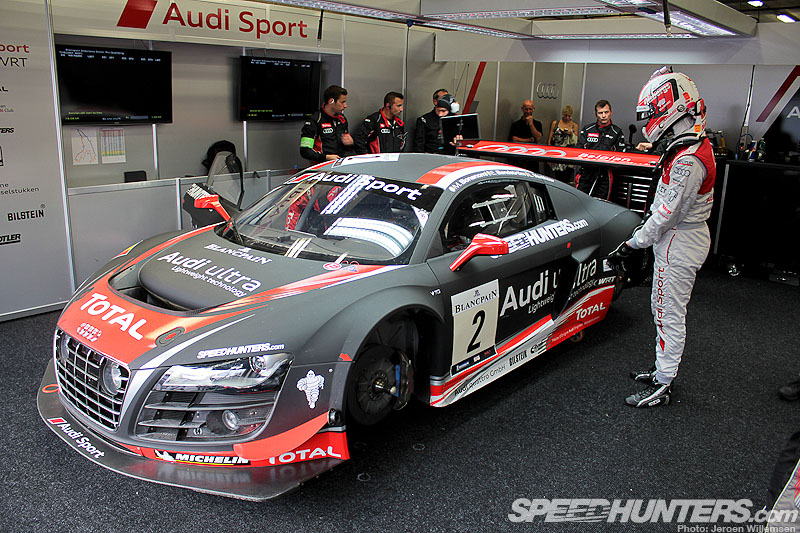 Jonathan: With the Friday wash-out, did that make a major difference to your plans? The Super Pole idea was used in the twinned-for-2012 Nürburgring 24 – it's more of a spectacle for TV, but do you like the idea of the shoot-out?
Stéphane: Yes we love that idea! Wait till next time and you will see that we will love that on TV!
Edward: For us it didn't make a difference as we weren't in the Super Pole. But for sure it would had been really cool to be part of it. At least you maybe have less traffic, which make sense in qualifying.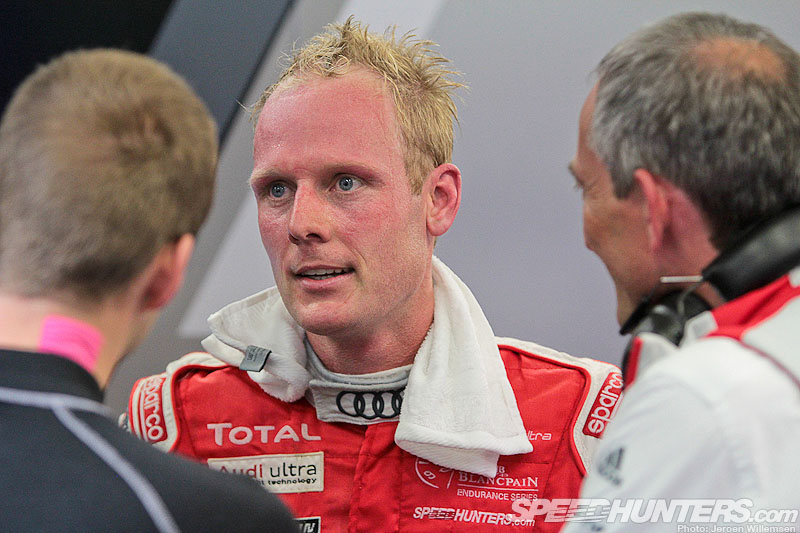 Jonathan: Was it a good thing having extra time to work on the car, or had you effectively locked off the set-ups ahead of Super Pole, knowing that it would finish late in the afternoon? Did that mean that the crew could get an early night for once?
Edward: I think they where ready anyway, but for sure you have to do everything once again if you have the Super Pole, so it helped the mechanics to get some more relaxation the night before the race.
Stéphane: Spa is a 'week of war' anyway. For all of us.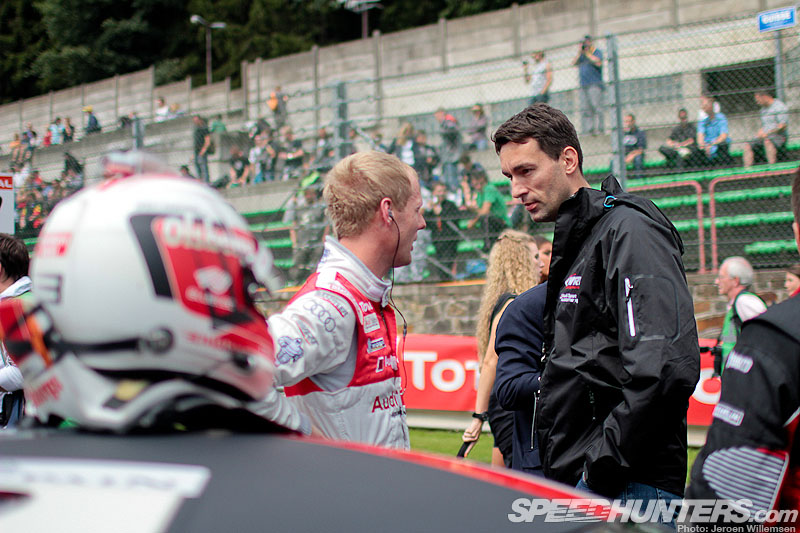 Jonathan: The downhill grid formation always looks difficult. A McLaren got its door knocked off, and the cars at the front can barely fit two-wide on the track at the lower point. I really don't like such tightly-packed places! What's your attitude? You were a way from your pit-box, so it wasn't like you could sit in the garage and wait for the start, so what did you do in the build-up?

Edward: I was staying around the car and trying to focus on what was soon going to start. It got a bit warmer and I focused on drinking enough.
Stéphane: I didn't start, so I was relaxing in my bed instead!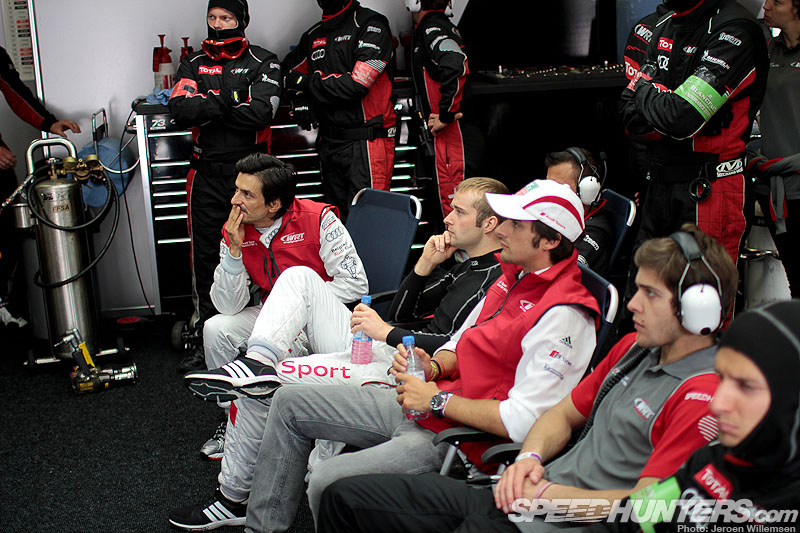 Jonathan: The start looked reasonably well behaved, though both WRT cars seemed to lose places – or at least not gain them. How did the starts for your cars go? Stéphane, you were watching the #1 car: is that worse, as you're not driving and can only look at the screens?

Stéphane: I think about the chequered flag, as I always do at that time. Be there again after 24 hours.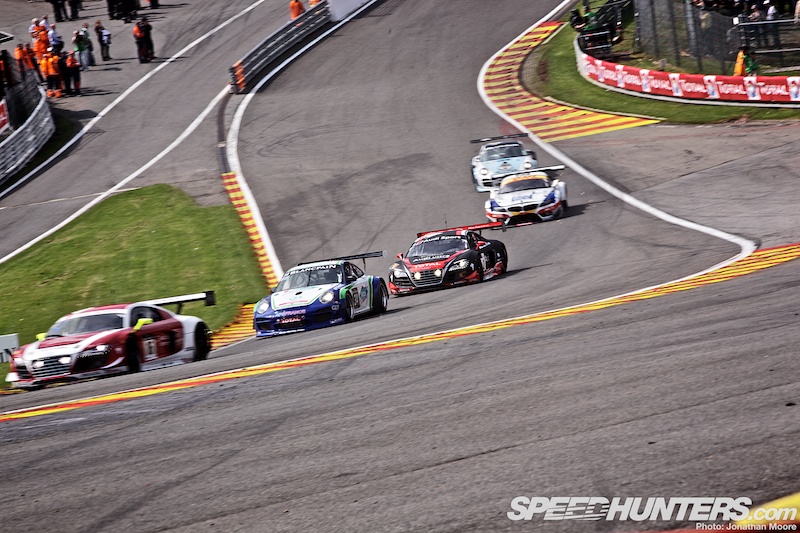 Edward: I think mainly it was difficult because we were a bit low on tyre pressures. Apart from that I caught traffic into Eau Rouge two times and because of that was passed by a train of cars. It took me a lot of time to work all the positions back. At this point you also need to make sure the car doesn't get any stupid damage.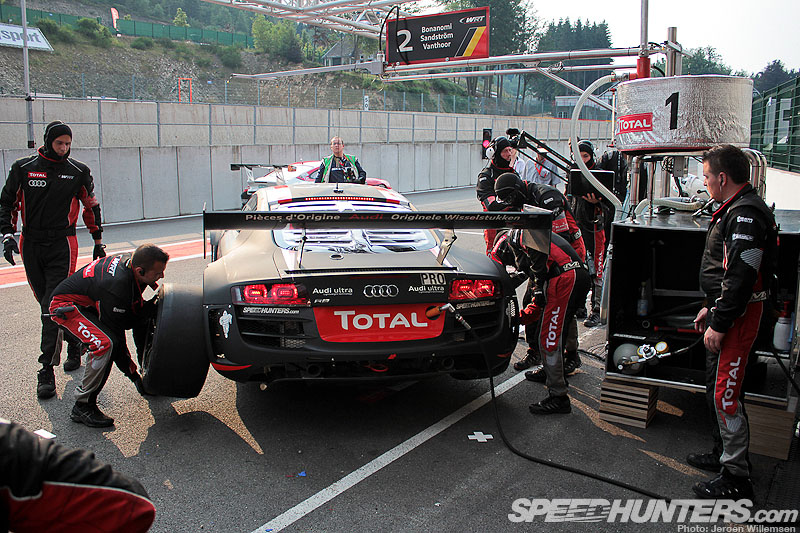 Jonathan: Edward, #2 jumped up a whole load of places at the end of the first stint. How did that happen? One minute you were 20th or so, the next you were near the battle for the top five!

Edward: We had a very good pitstop for sure and then the car worked a lot better on the second set of tyres. The second stint was really enjoyable to drive. I loved the battle with Uwe Alzen: he's hard but as I experienced fair as well.
Stéphane: I loved to watch it, Ed!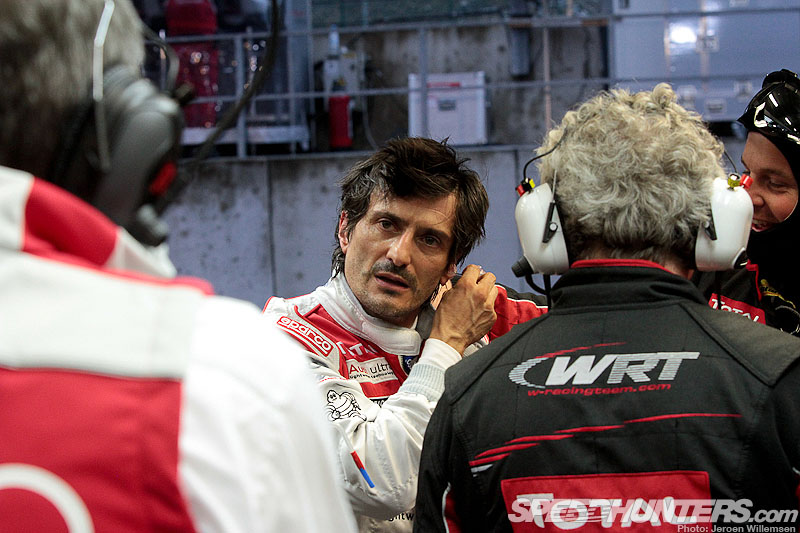 Jonathan: The rain started coming down hard after 6pm – earlier than expected. #2 seemed to be caught out by that; how did it go for the two cars? The conditions seemed lethally slippery and cars were flying off all over the place.
Edward: We really missed our contact to the leaders due to this as we had to pit twice in two laps when it started to rain cats and dogs.
Stéphane: Once you see lights facing you, you understand it's bad..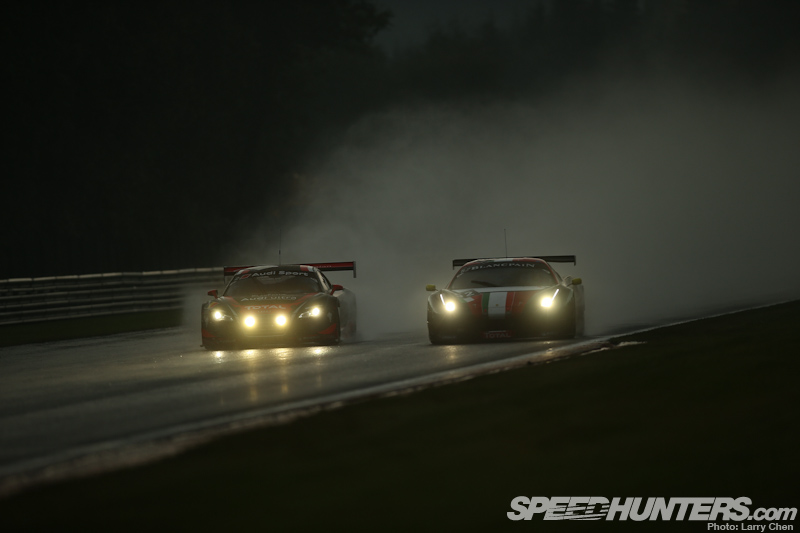 Jonathan: The first safety car came out just after that. Was it the right decision? How do you feel about driving in those conditions? How were other drivers coping?
Edward: The safety car is always necessary to make the recovery work safe on the track. It happened a lot during night, so for sure it's the right decision to use the SC when necessary and keep things safe for the marshals. Though, I like driving in tricky conditions.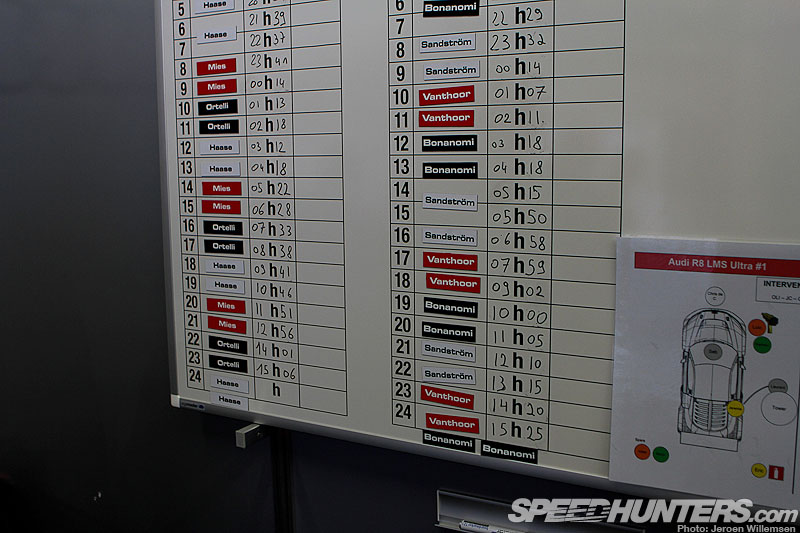 Jonathan: What were the plans for the drivers of each car after that? Christopher Mies started #1 and Edward #2. It looked like both cars were originally scheduled for double-stints with each driver, but the sheer quantity of safety cars must have changed that. The time-limit regulations for drivers must have taken some juggling because of them.
Edward: I did one double and then two triple-stints during the night and the morning. It felt okay for me. And when I crashed I was about to start my last double. I would have reached 10 hours.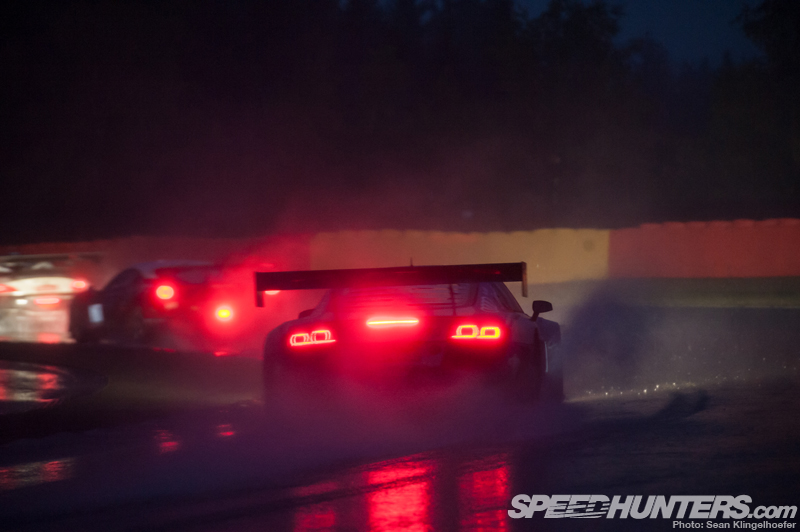 Jonathan: How difficult is it to drive a high-powered GT car in the dark? Is it easier in a way, as you have to trust your instincts more? At least once the track dried?

Stéphane: It's all about feeling and understanding the level of risk.

Edward: I use my instincts a lot and if the lights are good I don't feel so much difference. When it's drying it can be tough to see exactly where the line is: you really have to focus and also change your line. I was going outside when it was wet and then started to tighten the line when it was drying more.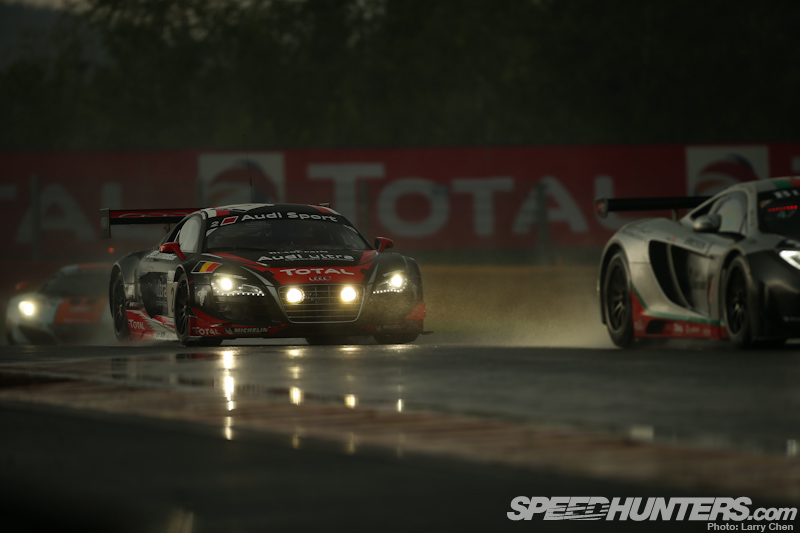 Jonathan: The combination of the rain and the dark looked horrible. Can you actually enjoy driving on the track when it's like that?
Stéphane: No doubt! I love it and always feel happy to have harder conditions, as it's where we can make the difference in a 24-hours race.
Edward: If the car is balanced and the tyres works I like it. If you've grown up in Sweden and experienced icy roads during the dark winter period you'll understand it feels like being at home!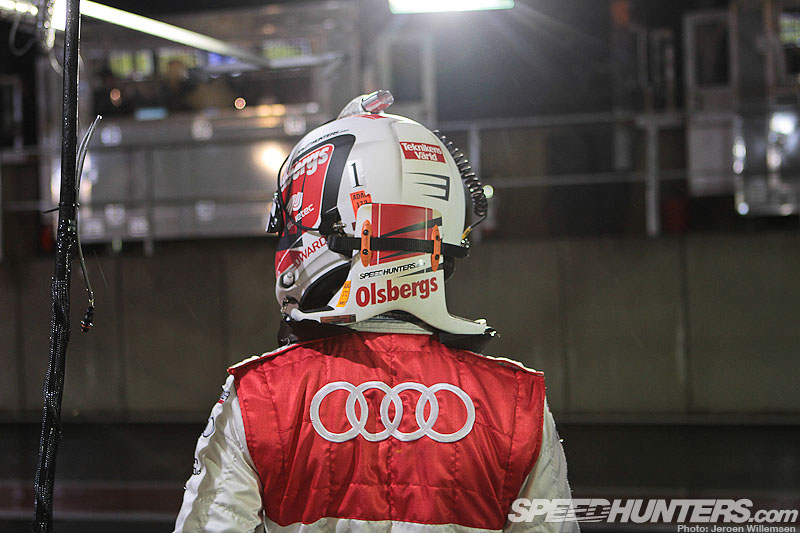 Jonathan: Edward, how was #2 behaving? There were problems with restarting the car after a stop, and after one of the safety cars you stopped at the end of the Endurance pit-lane for a moment. Why was that?
Edward: The problem just happened once when Laurens took over from me. It was something with the electronics but was easy solved with a reboot of the system. Mains off and on. The second thing when I was stopping in the fast lane was due to problems with the seat belt. Actually it got wrongly mounted and I couldn't get the last belt in position and had to open everything and redo it. This caused me to over-rev a bit and later maybe it was a bit why I lost the focus and made the mistake through Eau Rouge. I'll for sure learn from this moment for next time. I usually keeps very calm, but this time I lost my head a bit, which actually never helps.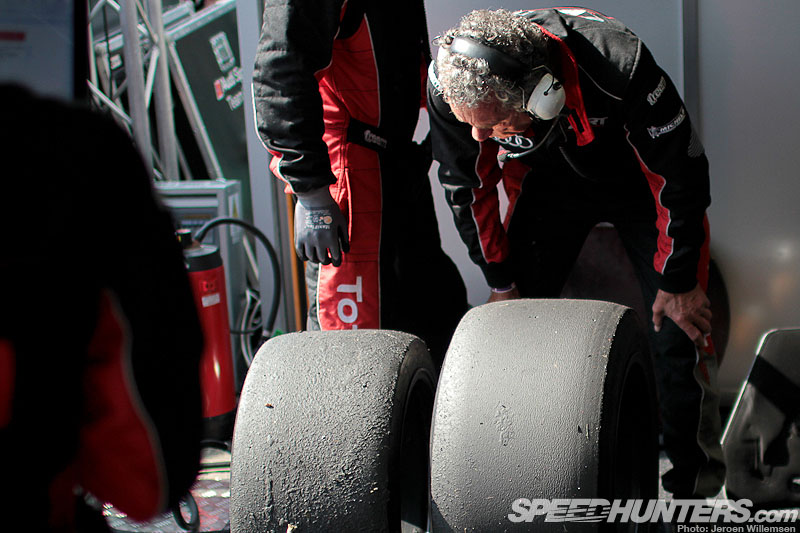 Jonathan: #2 dropped back a couple of places after running with #1 in third and fourth for a couple of hours. What caused the delay, or was it just fast cars coming up during stops?

Edward: We lost our lap to the leaders mostly because of the first stop when we put on slicks and had to change again to rain tyres. After that we actually often gained a lot of time, but we were sometimes unlucky during safety car periods and lost what we'd gained again. With two SCs in use around Spa it isn't so easy to fight back.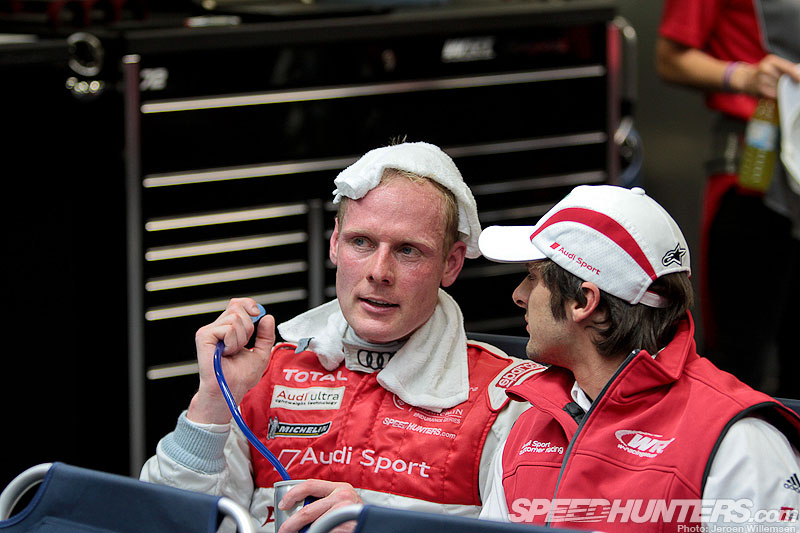 Jonathan: The Marc VDS BMW kept having problems restarting at pitstops. Not that you'd wish ill of a competitor, but it looked like you had enough problems with #16! The #66 BMW also came back into play around 11pm. Was their early stop to blame for them dropping back in the early part of the race?

Edward: I think it could have been the reason. Positions get mixed up a lot during pitstops, but also it changed during all the SCs. It's It's about trying to predict how many stops everyone will do in the end. Brakes changes and this sort of things also put everything in a big spread.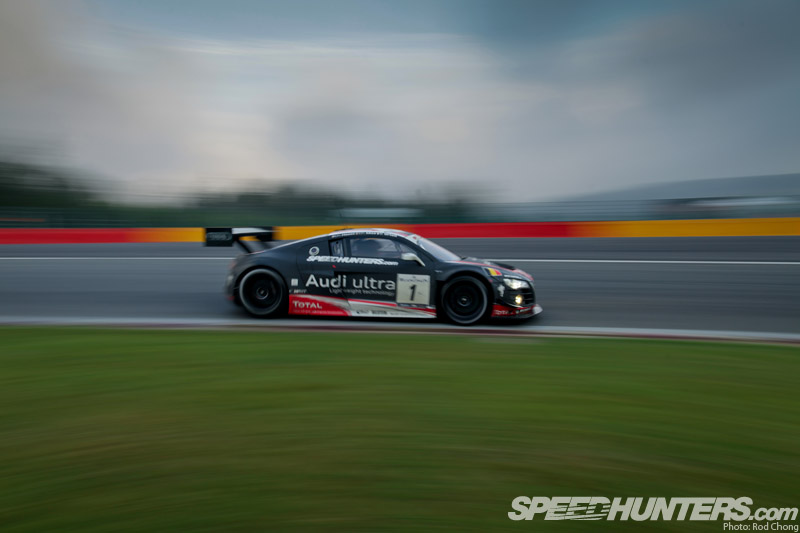 Jonathan: How does it feel when the sun comes up? Track-side it's always amazing, as the morning light shows the battle-scarred cars in their full glory. What's your favourite period in a 24 hour race?
Stéphane: I loved it and felt awake pretty soon because of this intense speed! The R8, what a car! It's all about fun and desire to go to the limit, and for me the morning is the time.
Edward: My triple stint in the morning was awesome. I enjoyed it very much, especially the last hour. The car was in a great balance and I could push without any problems. It's when racing is at its best.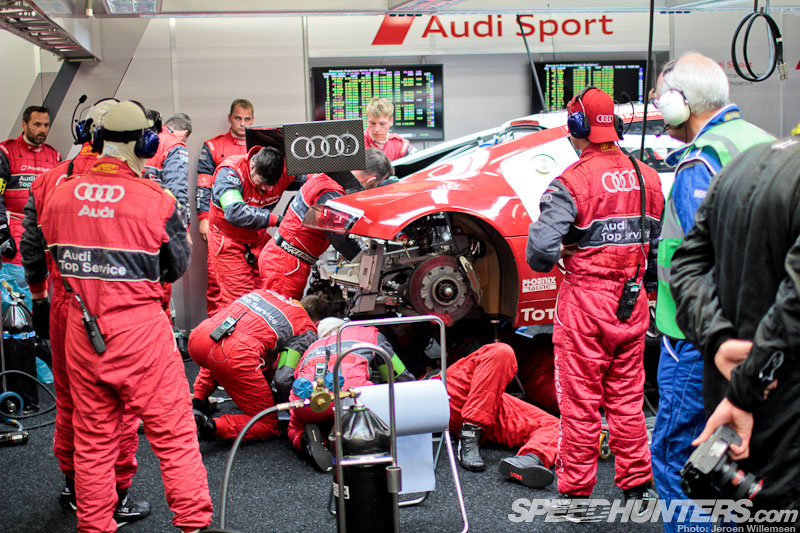 Jonathan: Christopher Haase in #1 was having a great battle with the #16 Phoenix Audi until he ran wide at Les Combes. A load of alarms went off in the car. Was it anything serious? And what about that #6 – they seemed to always be very fast. It was a shame that they got tagged by the McLaren at the beginning, as their pace seemed to show that they would have been fighting at the front without that problem.
Stéphane: I was not listening the radio at that time… it's better! #16 were strong and the car to beat.
Edward: I think #6 would have been very hard to beat without that incident, but clearly they were very fast. No one ever thought Lotterer, Fässler and Kristensen would be slow!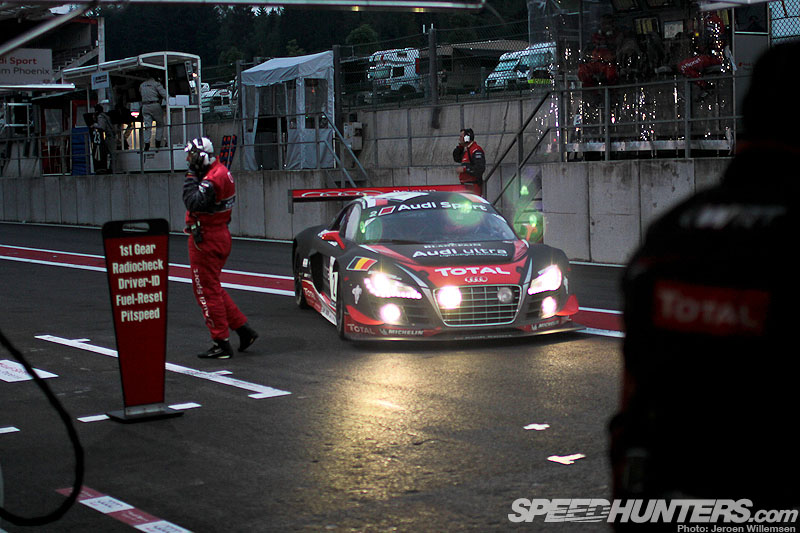 Jonathan: Edward, you'd just pitted before the crash for #2 – brakes pads and tyres were changed. Was the car okay when you came out? It must be frustrating to have to relive it, but how does it feel when you know the car has gone from under you and you're heading for the barrier? And how are you feeling now?
Edward: Nothing was wrong with the car. I was as I mentioned earlier irritated because of the seat-belt blunder, but the car was all fine. The tyre pressures were a bit low when I entered Eau Rouge, which made the car more pointy going into Raidillon. Therefore I think I missed the line slightly and hit the inside curb, which unsettled the car – and then it was game over.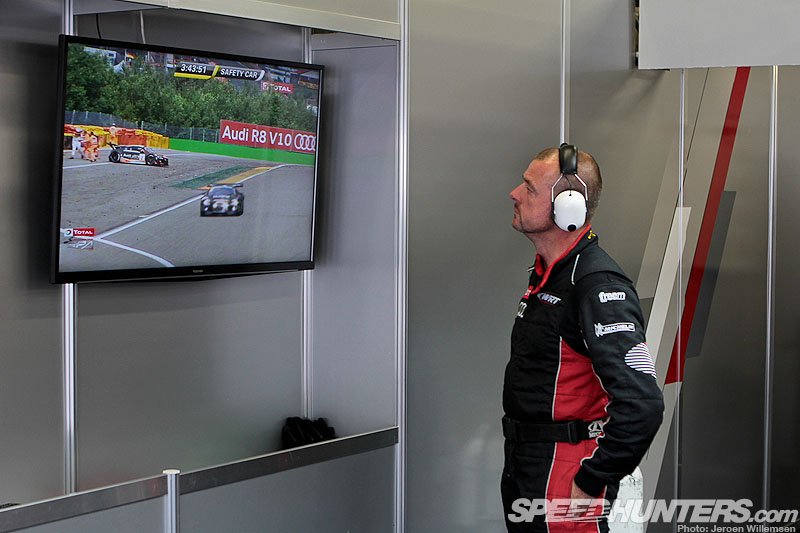 In the end I pushed a bit too hard at this point. I did a mistake and unfortunately a costly one. To go for it you've to take a certain risk but this time it didn't work out. I'm happy I was in a surrounding that gave me so much good feedback and support, because it's for sure hard to be the one that was responsible for it. Now I'm looking forward to take with me what I learned from this.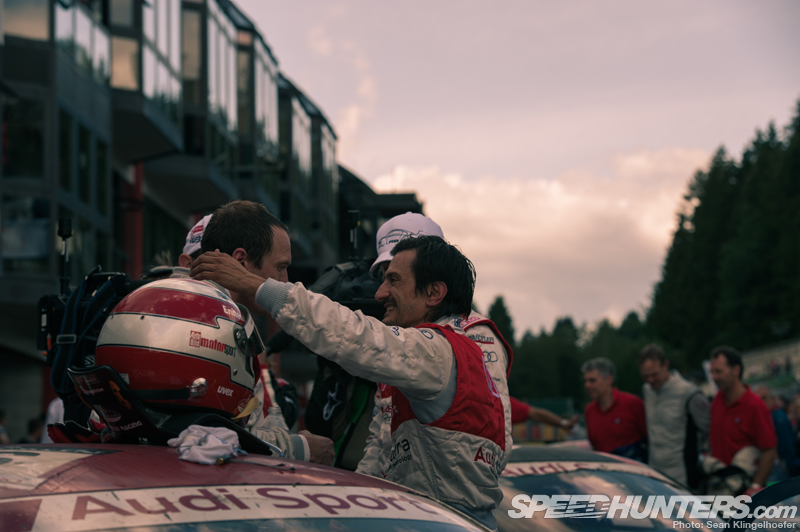 Jonathan: Stéphane, you drove the final stint. There was a constant back and forward fight between you and Frank Stippler: it was a hell of a battle. You had a slow puncture and the splash and dash in the closing stages – did that mean it was all over for the win? Did any team orders come into force near the end? Frank looked absolutely worn out when he got out of the car, which shows how hard he had been pushing…
Stéphane: That's what we love about racing, isn't it? This puncture cost the #1 Speedhunters/WRT Audi the overall win at the end and we know it's hard. It was so close, but there was nothing we could do about it. Frank did an amazing job and at the end we have to accept the defeat and keep our heads up. They were hard to beat, but at WRT we never gave up.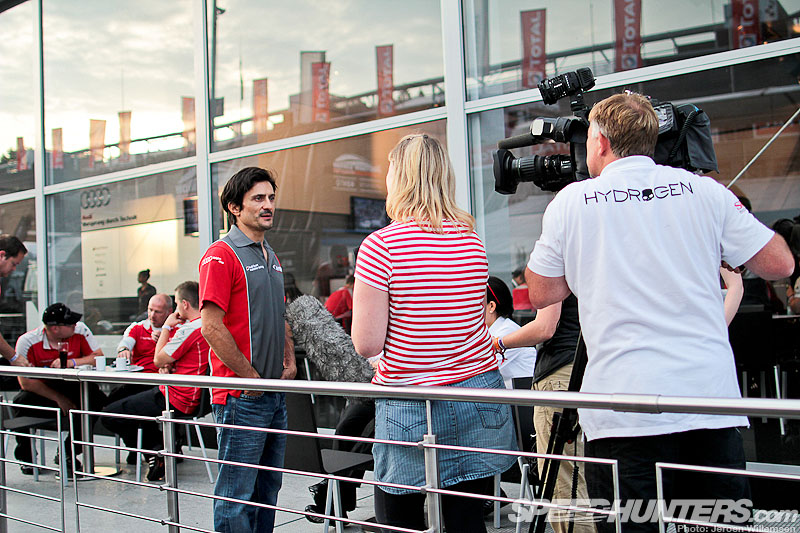 Jonathan: The adrenaline must keep you going for the podium and immediate post race, but when does the tiredness kick in, and how do you plan your recovery?
Stéphane: I can really say I am doing the best job in the world: I loved it at the podium, and all adrenaline went down only after a couple of beers at the hospitality! Once I am back home, I can finally relax and think about something else.
Edward: I plan two days off and then back to normal fitness. I like this period of the year. Now the autumn part soon starts and I want to be fully prepared to end this year on a high.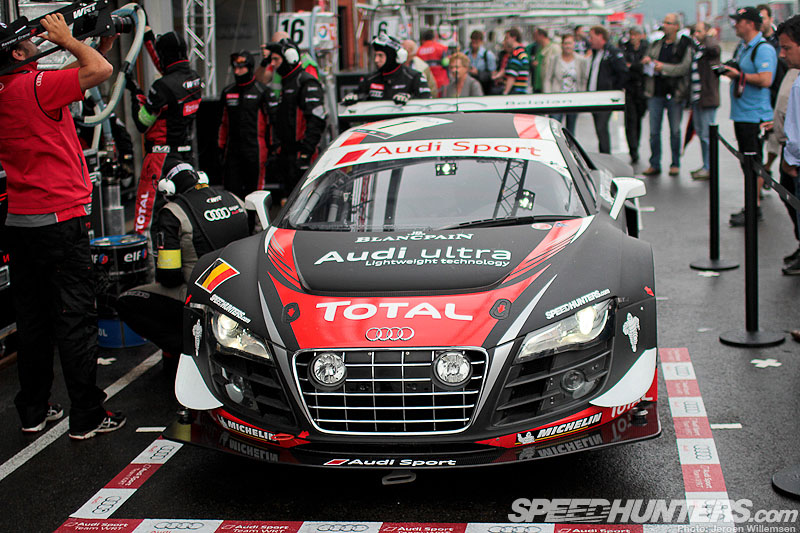 Jonathan: What's next up on your driving schedule? And how are your other drives going?
Stéphane: Next race for me is in mid-august for the World GT1, again in Slovakia. Now I am staying in my mountain house, away from busy Monaco and I will mostly go cycling in the morning and then a trial bike in the afternoon for August. I'm planning a day or two of go-karting with friends as well. Always flat out, that's how the life should work!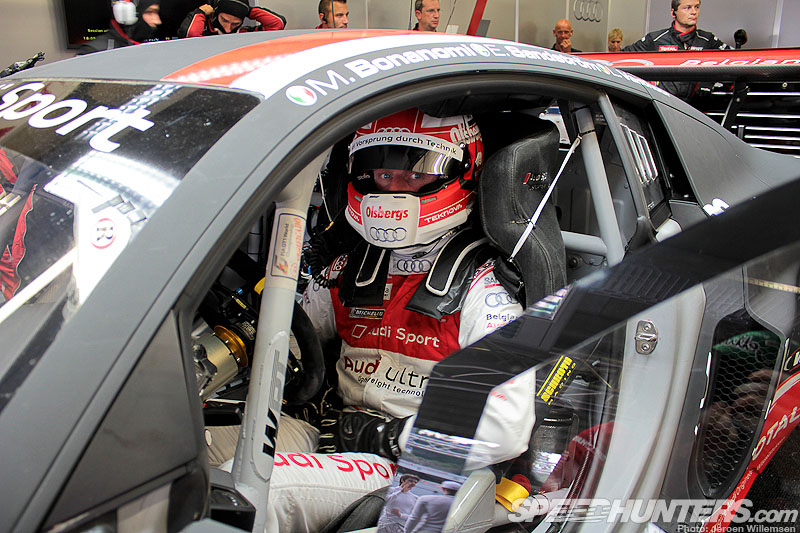 Edward: I'm going to the Red Bull Ring next week to do another race in the ADAC GT Masters. A big thanks to all you Speedhunters out there! Next year I hope I can be drifting an R8 at Gatebil…
Jonathan, Stéphane and Edward