Hello again all Speedhunters fans! Yet again I've been trying to nail a 24-hour race. It isn't easy, that's for sure, but if I compare this year with how I felt in 2010 when I made my first attempt at the legendary Nürburgring 24 Hours, experience can't be underestimated. I hope you enjoy this summary of the week building up to the race.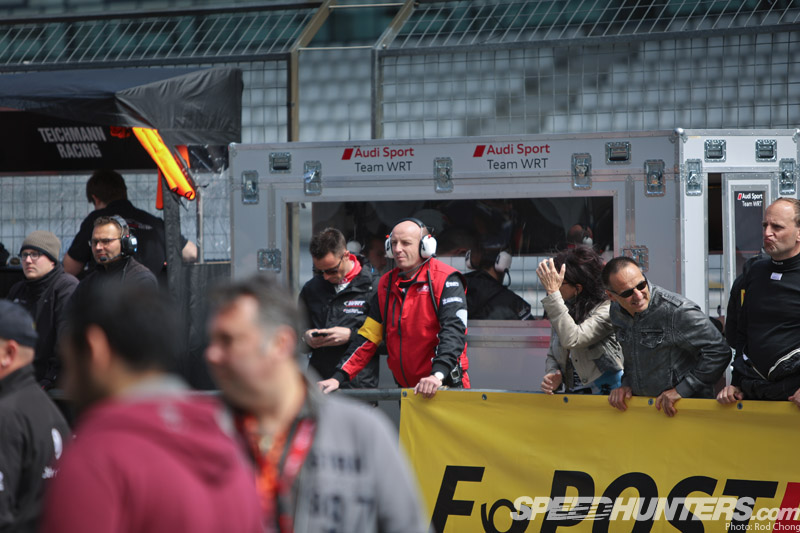 I felt very motivated for this race and I must say I couldn't have been better prepared. Vincent Vosse is the team boss of WRT: that's my new team for this season. Vincent also has a very good CV as a driver and it's the first time that I've had a boss who really understands what you go through as a racing driver during a racing weekend. Well, the whole team has a good understanding, but Vincent gives these extra pushes you need to deliver to your maximum capacity.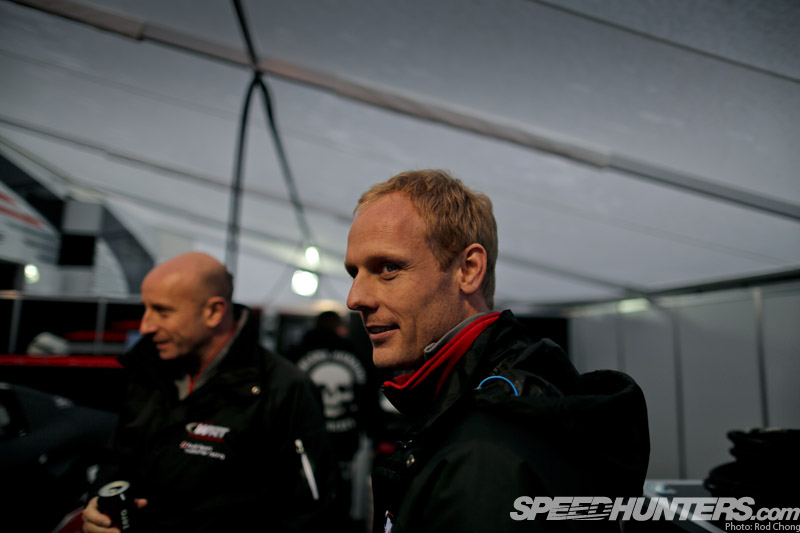 The whole driver line-up was new to me and I hadn't raced with any of the other guys before. The first opportunity to drive together and share our experiences was at the third round of the VLN series at the Nordschleife as a warm-up for the 24, but we were ready to fight for glory.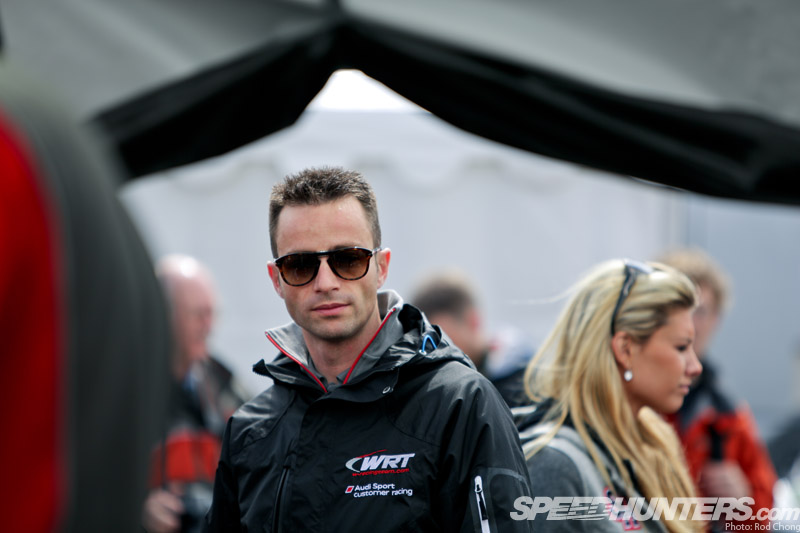 Andrea Piccini comes from near Toscana in Italy. He has a lot of experience from Le Mans and driving GT cars and was very easy to get along with. Last year Andrea did the 24 Hours with Audi in the TT RS, so he's been a part of the Audi family for a while.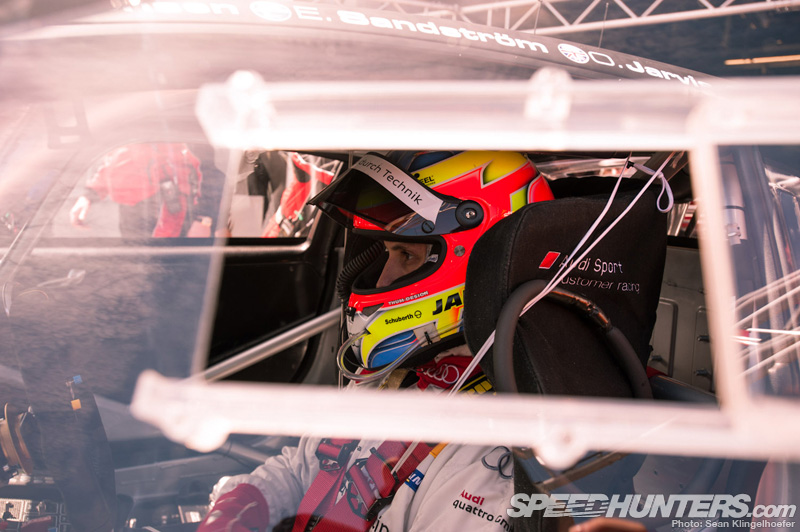 Oliver Jarvis is also well known and has been an Audi factory driver for many years now. I'd met Oliver before through my friend Mattias Ekström when he lived near by me in Switzerland. Actually I think he mostly remembers me spraying cold water over him when he was trying to sleep out in the sun. You shouldn't do that when two Swedish guys are out for a run and a bit bored. He woke up quickly, that's for sure!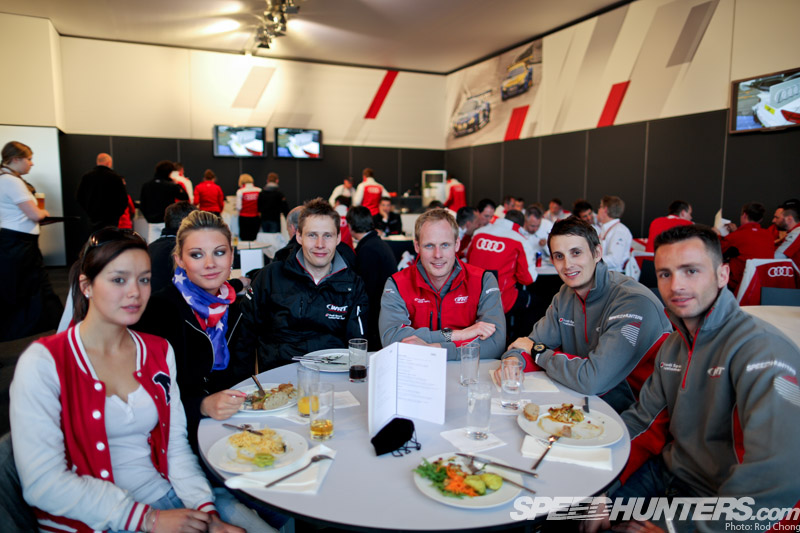 Next to Olivier and Andrea the last driver on board my #4 Audi was Allan Simonsen, and despite coming from Denmark strangely he was the only one I hadn't met before. Anyway I quickly picked up that Allan is driving more than anyone else I know. This year he's racing for seven different teams in different series, from British GT to V8 Supercars in Australia.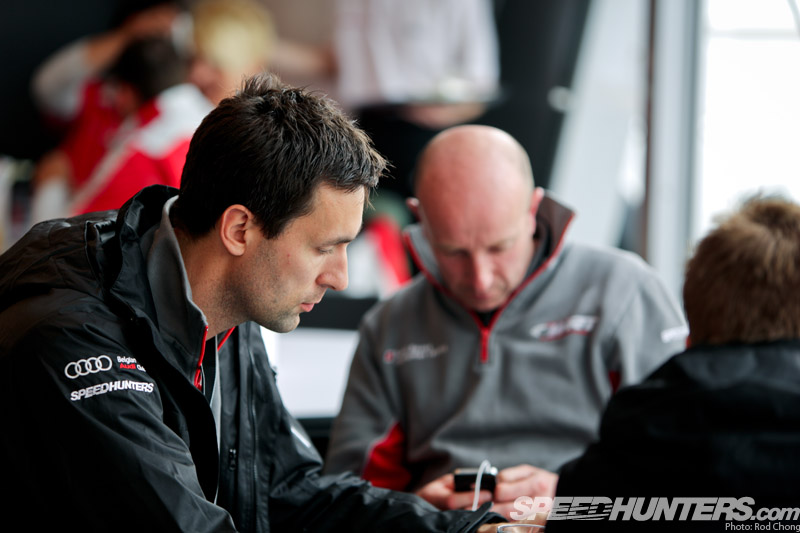 Patrick Söderlund drove with me in 2010 and last year he played a important role calling the strategy when I was driving for Schubert Motorsport in the BMW Z4 – remember we were running second when we crashed out during the night. This year he was again running strategy, this time with the Speedhunters WRT team, and is a hugely competitive person – you can never get enough of this sort of person in a race team.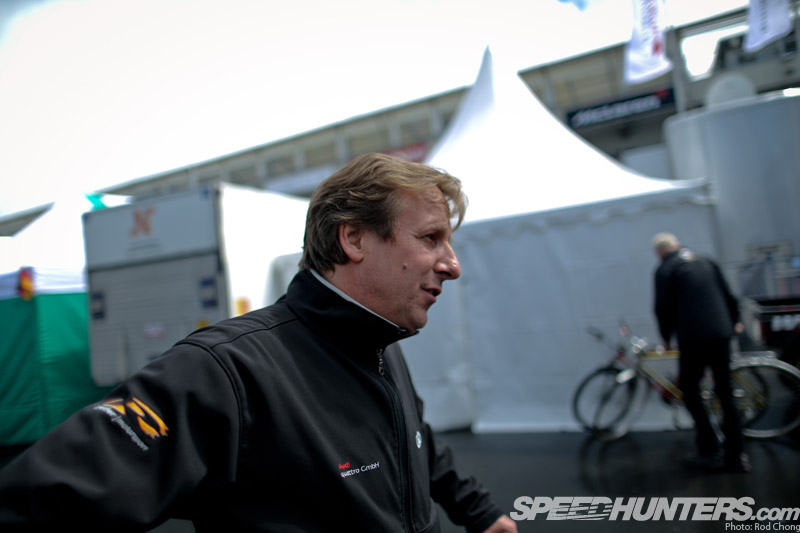 There were some great drivers in the other Audi teams as well: Frank Biela doesn't need much of an introduction. He was driving in a sister R8 LMS Ultra with Raeder Motorsport. Even if he isn't young any more his skill at driving racing cars is still on a very high level, and I think you can't find a more relaxed driver in the paddock. He well deserved his drive this year I would say. I think he more or less has won in every series he's entered – it's amazing. I mostly remember when Frank was driving the Audi A4 in the BTCC during the mid '90s, which was broadcast in Sweden during the period when Volvo were participating.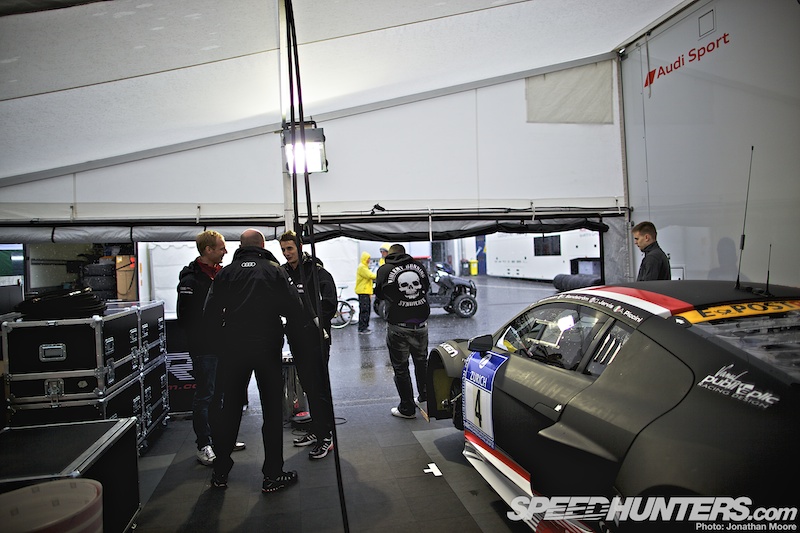 I arrived at the circuit late on Tuesday, but for me the preparations had already started well before then. Two weeks before the race I started studying data, watching videos and visualising the track. Every time I learn something and I really try to avoid repeating any mistakes. I know how much energy I use during a week like this, so eating is one important point. To be really fit and at a high energy level when you start the weekend can only help, so all the sleep you can get had a huge benefit in the end.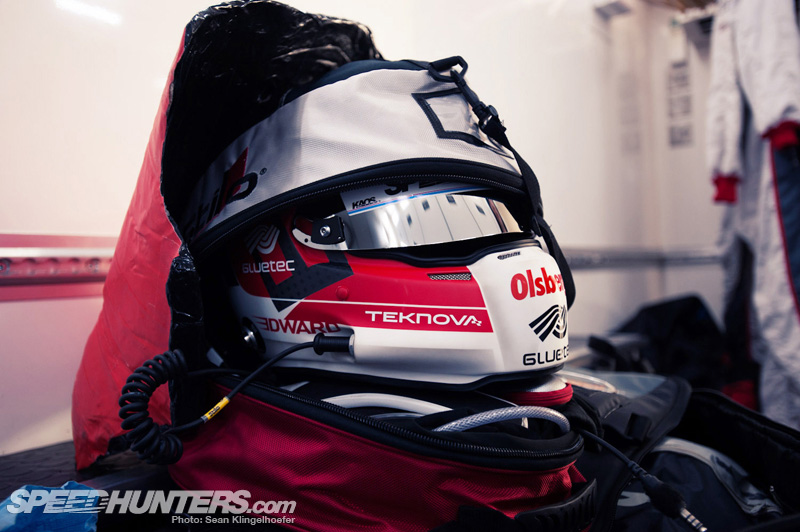 The first time I raced here in 2010 I think everything was the opposite. I was really tired when I arrived, I got dehydrated during my first stint because of a blocked air intake and then I had a fever during the night, but anyway we ended up fourth overall. And this is still what I'm trying to beat. With the experience I've now got it would be easy to compare my different approaches between now and then.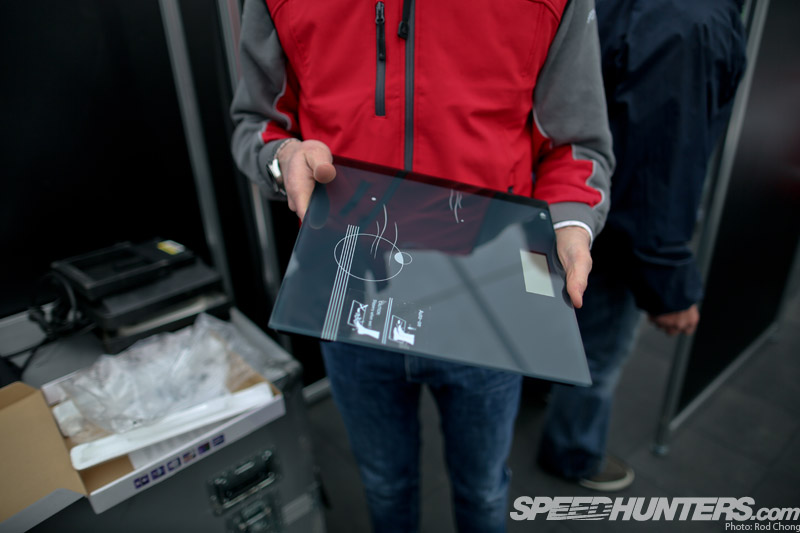 Since I knew dehydration can be a problem for me I prepare a lot to avoid this. This year I've got a cooling intake on the helmet and a weight scale to see how much fluid that I'm sweating out – I can lose two to three litres during a stint, though this weekend wasn't looking like being that hot. I've found a Swedish sport drink that keeps my electrolytes in balance in a very good way.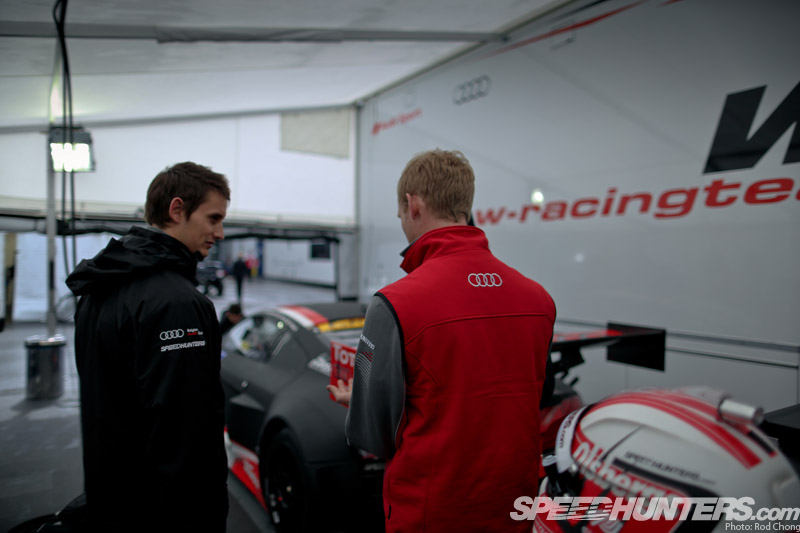 Apart from that I'm stronger this year: I've especially improved my core stability, but even then I've found a new muscle I need to improve a bit. All the time you find something that can be improved. I must say I've been training a lot since Dubai: between the races I've tried to have less work and find more time for fitness preparation. I think it pays off. Between the sessions you get help from the physiotherapist if needed. I've a friend from Sweden that knows my body really well, so he works on me when needed. You can never be in too good shape: I'll always remember last year's Spa 24 Hours when I had to drive for 11 hours as one of the other drivers was ill. It could happen again and then you need to show you're capable. I was on the limit last year and learned a lesson from that.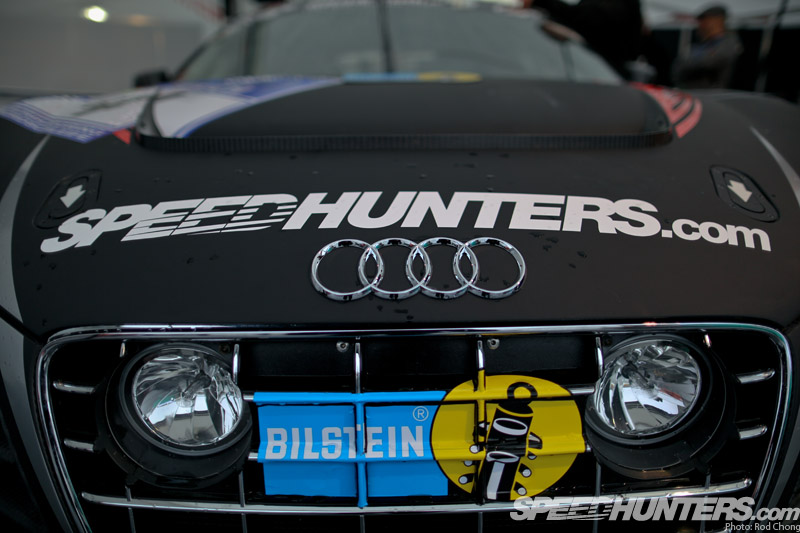 For this race we'd use the Audi R8 LMS Ultra that was new at the Blancpain Endurance Series race at Monza. Set-up wise you have a special configuration for 24 hours around the Nordschleife, but still it's more or less the same regulations as in World GT1 and Blancpain, so you quickly feel at home. The biggest change is the tyres between the different series: at this race we had support from Michelin and I've never experienced better tyres before. Still, you've a lot of different compounds to choose from and you really have to make the right call to get the maximum out of this. The pressures are as usual very important and at the Nürburgring you sometimes fight with long straights that bring the pressures down. You really have to be on it when the tyres cool.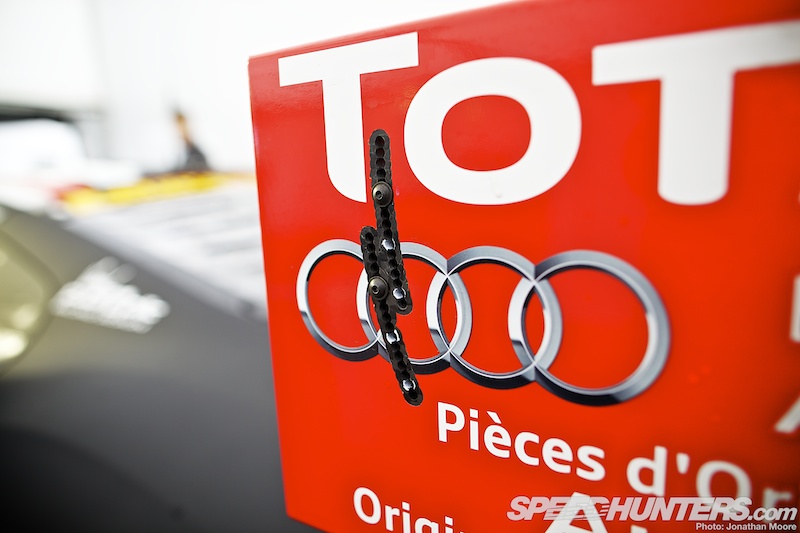 Aero balance is a hard thing to choose at the Nürburgring, especially for Döttinger Höhe – the long straight on the old Norschleife. For sure you're faster with more aero if you talk about the whole lap without traffic, but when it comes to the race you can easily get hindered behind a car with a high top speed. This is a tiny balance, and I've got to say that we were just on the borderline – 2kph slower and it would had been a really big problem.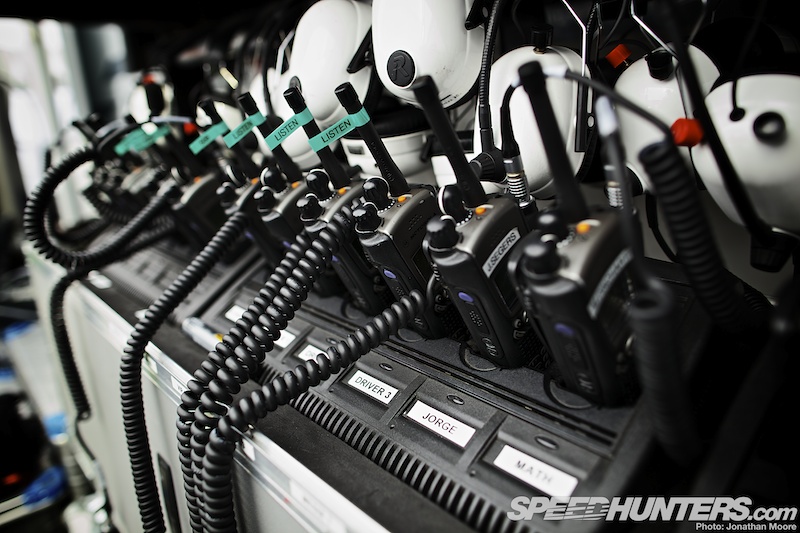 We rely on radios for communication during the race. They worked fine, but this is one of the areas I'm trying to improve. The engineer is always complaining that I'm one of the hardest to hear; often it's the position of the microphone that has to be precise. Still, we more or less can speak through the whole lap. But it was fine, and we've got our own headsets to use to follow the race when another driver is in the car.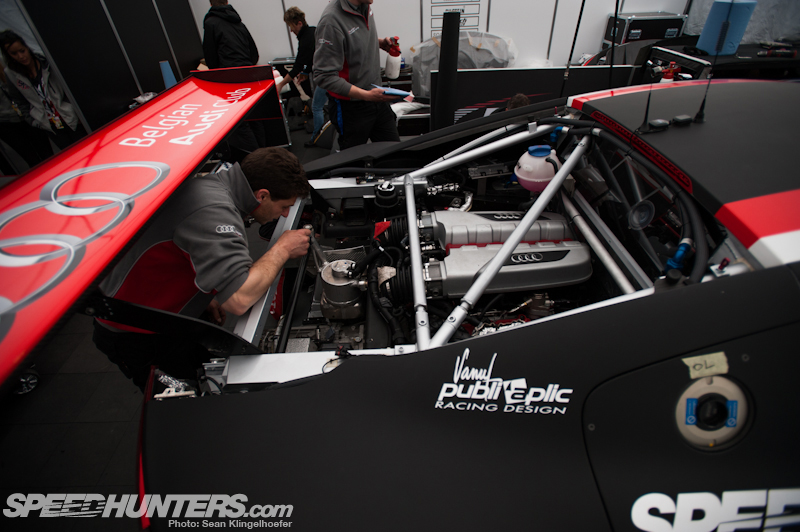 We shared the pit-box with another Audi team, Mamerow Racing. They had the box and we used our trailer to prepare, so we both had enough space. It's a bit chaotic at Nürburgring and it was the first time WRT had taken part, but a lot of the crew had worked at the race before.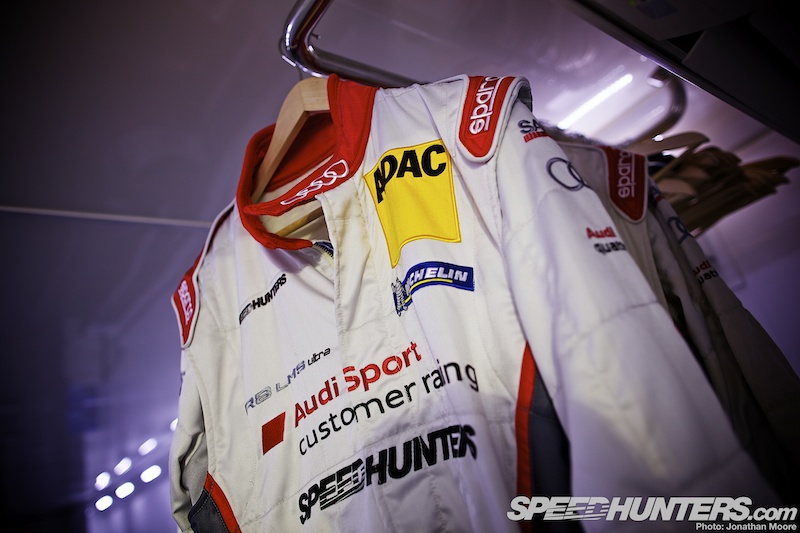 I never mind getting a new suit, especially when they fit well. My first one was a bit tight so I had to ask them to supply the second one a bit bigger. The most important thing is that they are breathable, then I'm fine. And I must say the Sparco is one of the bests in this area.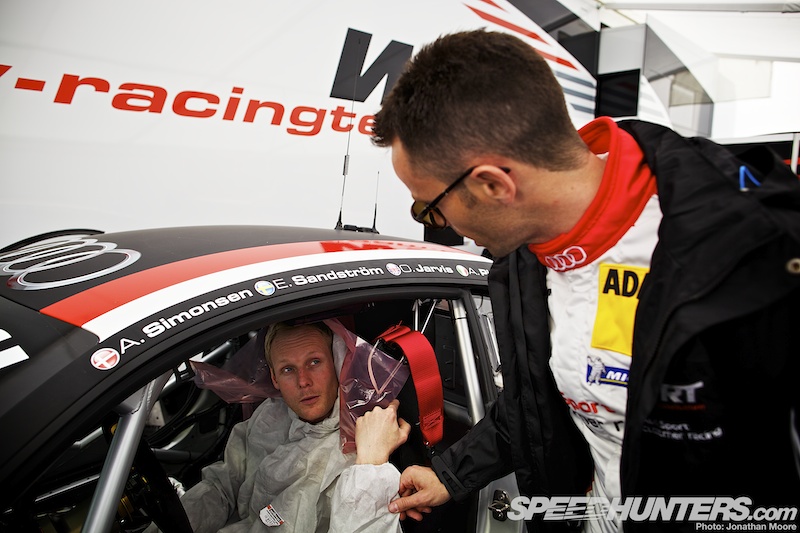 On Wednesday it was time for me to make my custom seat insert. It's really important to get perfect support to be able to relax in the car and also to avoid unnecessary stress for the body. Nürburgring is physically the hardest race I've driven.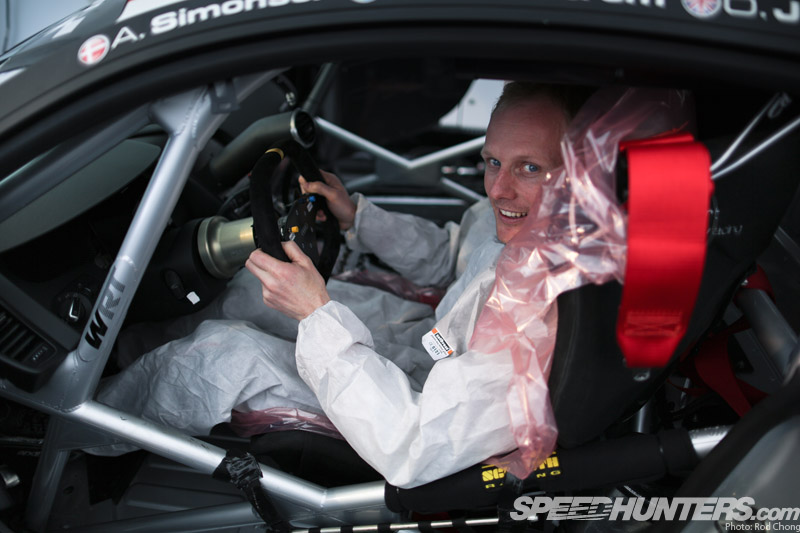 The safety seat from Audi is really good and you just have to make this foam insert to adjust the last bit for your body. It's easy to do – even if you have to try several times to get it right. You fill a big sack with foam and let it expand. Afterwards you cut off the unnecessary parts and then often wrap it in tape. Sometimes you can cover it with nicer materials, but when you need to use it straight away tape is the thing.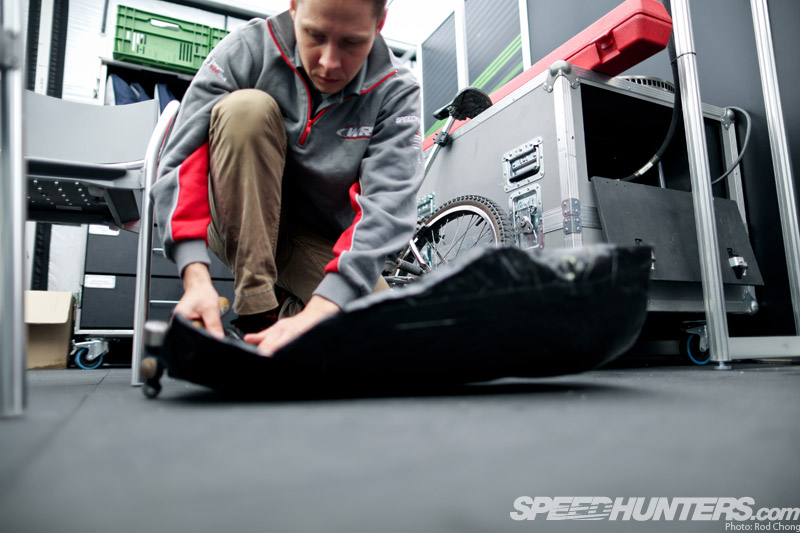 This is Allan fine-tuning his insert…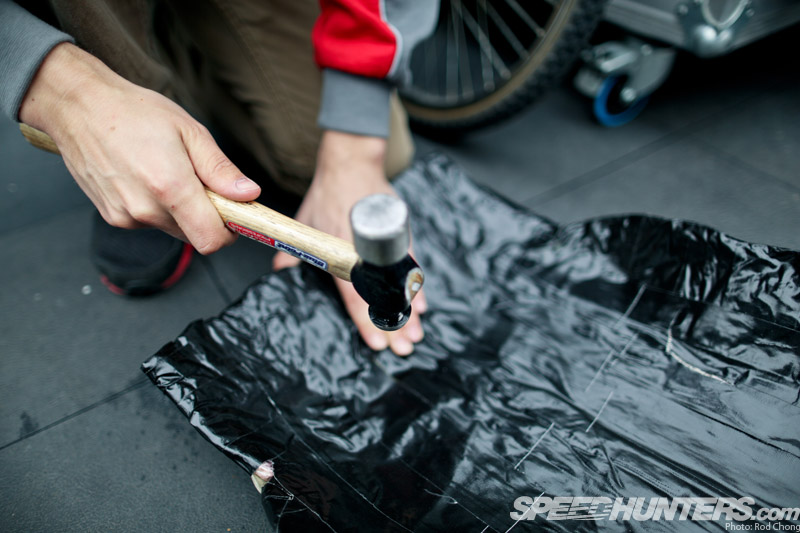 Because the foam gets quite hard you sometimes have to adjust it – and it's easier to do it with a hammer! Often you feel it dig into you in small places, so you hammer a bit to flatten it down.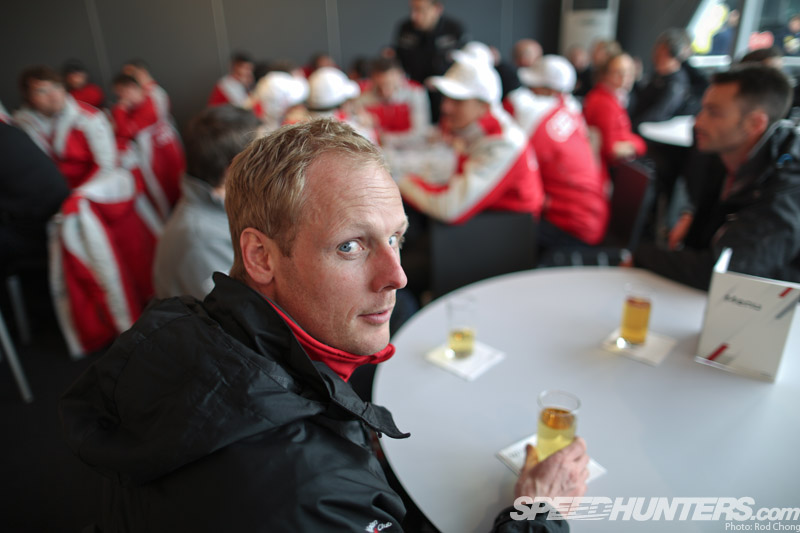 As a customer team we could use the Audi Hospitality this year, which couldn't be better. The service and the food was brilliant. It's so important and it makes it a lot easier for you as a driver. It's always possible to get something to eat: you just ask and then it's there. I'm addicted to Apfelschorle since I moved to Switzerland!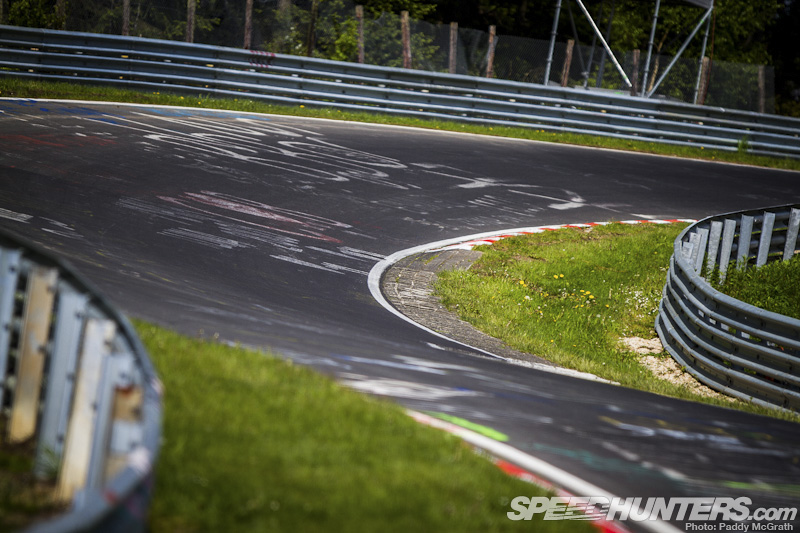 During practice and the race you just dream about a clear lap. You can sometimes have something close to it, but for sure most of the laps have intensive traffic. The traffic is all about communication. If a slower car doesn't recognise you in time anything can happen, so you've got to get a feeling for this and really try to understand if they have seen you or not. Otherwise you take risks all the time, but I feel more comfortable with it now. I think it's like Mount Everest: you have to be friends with the mountain otherwise it bites you back. I've now pretty much downloaded the track in my head and I'm starting to understand better where to pass cars, but every time I race there I always learn something new; small things here and there which can be improved slightly. I think it will be a never-ending story. But I really love the track; it has everything.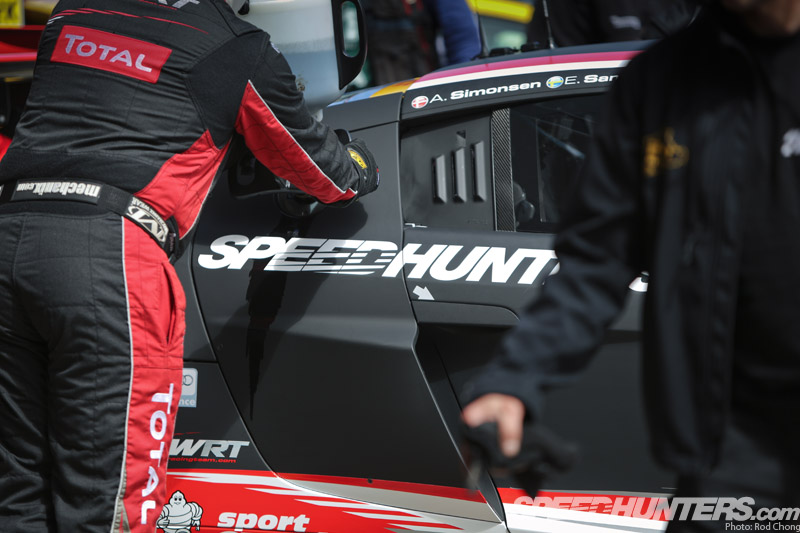 Refuelling is a very important part of this race. Everyone has to use filling pumps which are the same as on a normal gas station. It takes a lot of time. So every litre you can save will benefit a lot in the stop: more fuel means extra seconds stationary.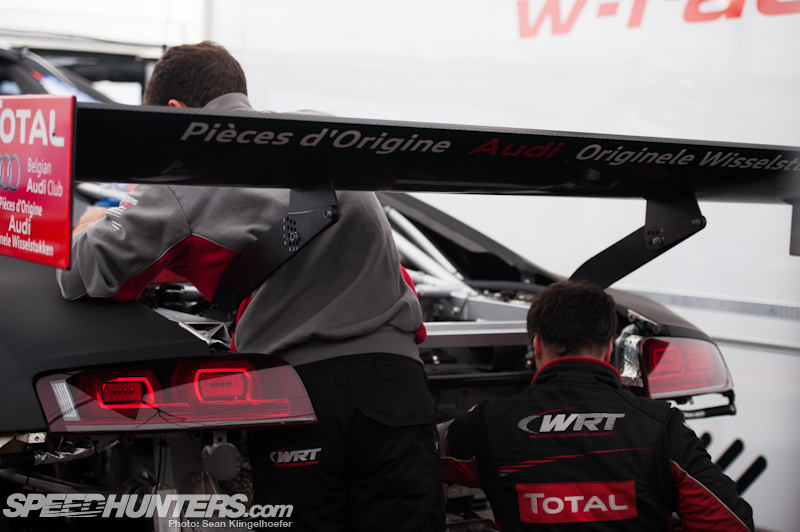 On Thursday we had our first practice sessions on track. We were well prepared and had a lot of support from Audi, so actually everything felt really relaxed. The initial plan was to let all four drivers take a turn in the car and drive the stipulated amount of laps written in the regulations, which meant at least two laps each during the first qualifying session that was running into the darkness.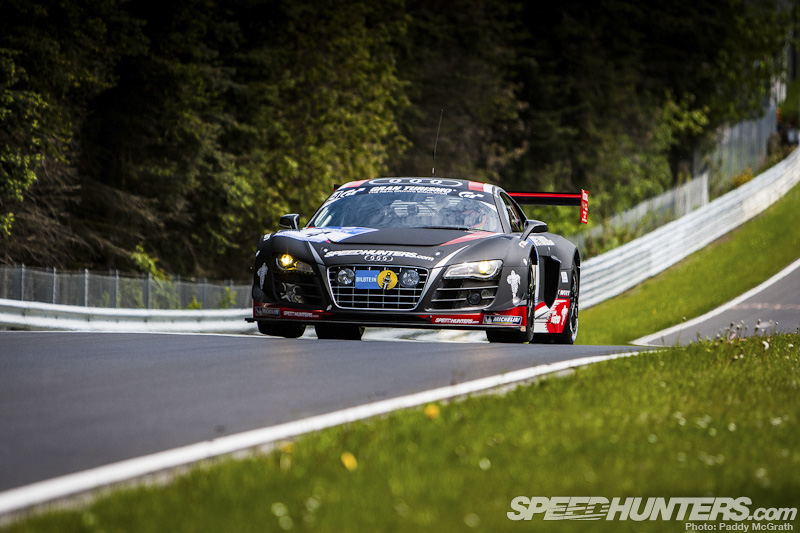 During first practice Olivier went out to evaluate the fuel consumption in a special configuration and to make sure our tank worked properly. Nine laps was the target for a tank-load.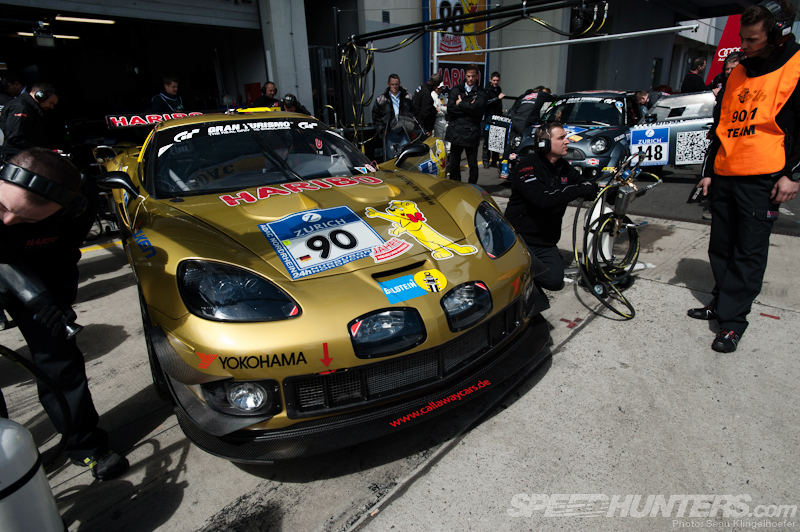 The opposition this year looked really strong. Apart from the other Audis, the BMW Z4s looked very fast and you never go to the Nürburgring and forget Manthey's Porsches. But this year the field was filled up with ultra competitive line-ups and cars. My former team-mate Tommy Milner was in a Corvette with Richard Westbrook and Jan Magnussen.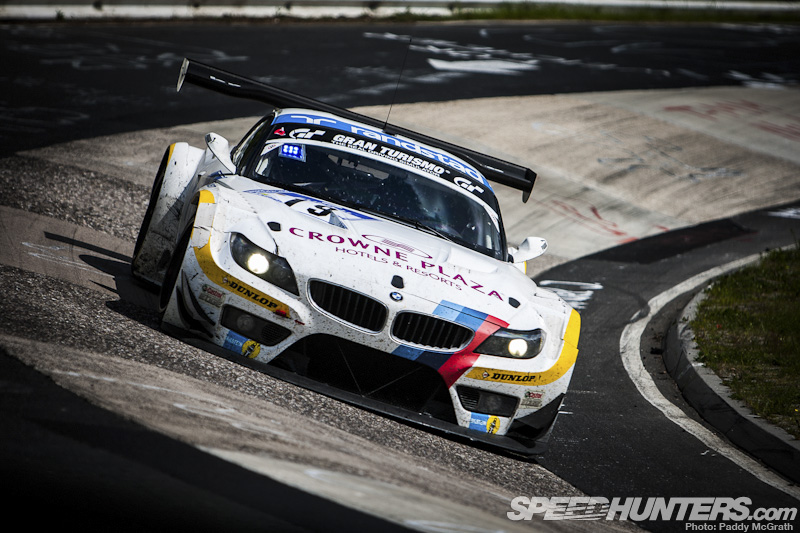 Personally I never thought the McLarens would last, and they didn't… But for me the clear favourite from the start was the Phoenix Audi R8 LMS Ultra driven by Stippler, Mies, Rast and Fässler – I thought they'd be very close with the sister car of Basseng, Stippler, Haase and Winkelhock. The lead Schubert Z4 with the Mullers, Alzen and Adorf was for me also very strong, and when you see Lieb, Luhr, Lietz and Dumas in the #11 Manthey Porsche it was clear they'd be a threat.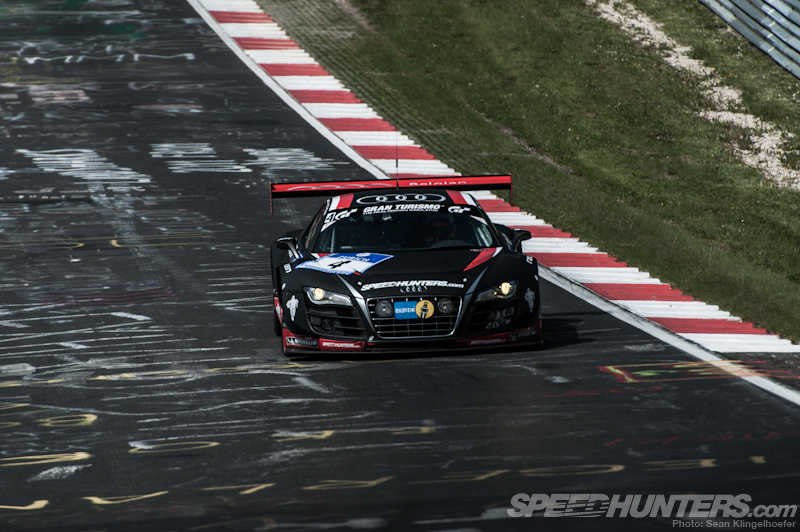 During the four-hour Qualifying 1 session on Thursday evening we first drove two laps each – this is when I did my first laps for the weekend. The target was to get into the Top 40 qualifying. We managed that with a good margin and the time of 8:32s was my second lap on the track – that put us sixth, about five seconds away from the fastest time. Later I did one more lap in the darkness to check the lights and get comfortable with the car at night. Everything felt fine, and I must say that the Audi R8 LMS Ultra is the best car I've ever driven around the Nordschleife.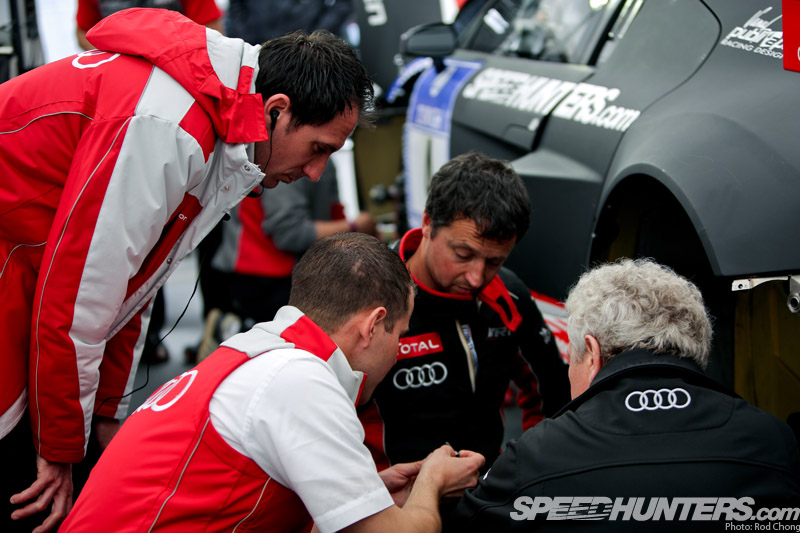 For the two-hour Qualifying 2 session on Friday morning the R8 stayed in the garage and the team spent the time working on the car. We were short on time and if we did the rebuild for the race after the Top 40 Qualifying that evening the mechanics wouldn't get much sleep ahead of the race. So we thought it was better to do it this way.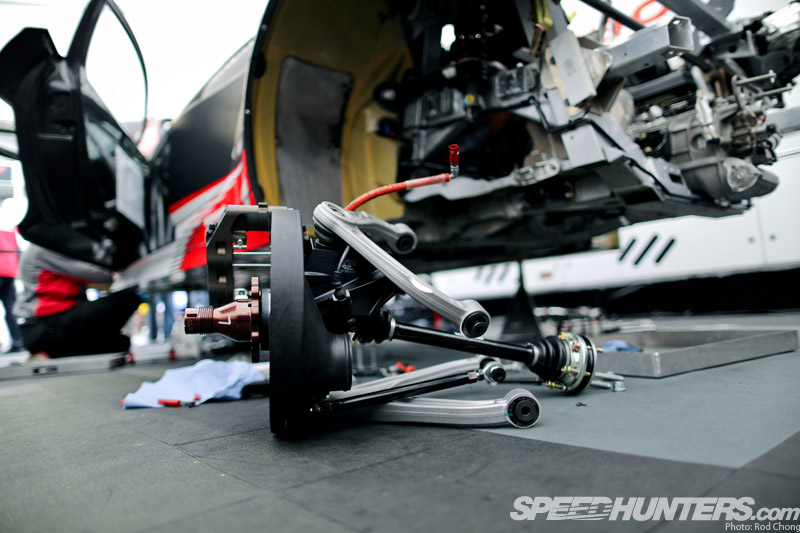 Before the race we change all the major assemblies and consumables and glue all the bolts that need it. My team-mate Allan Simonsen said it very well: you only win this race if you can avoid the pits.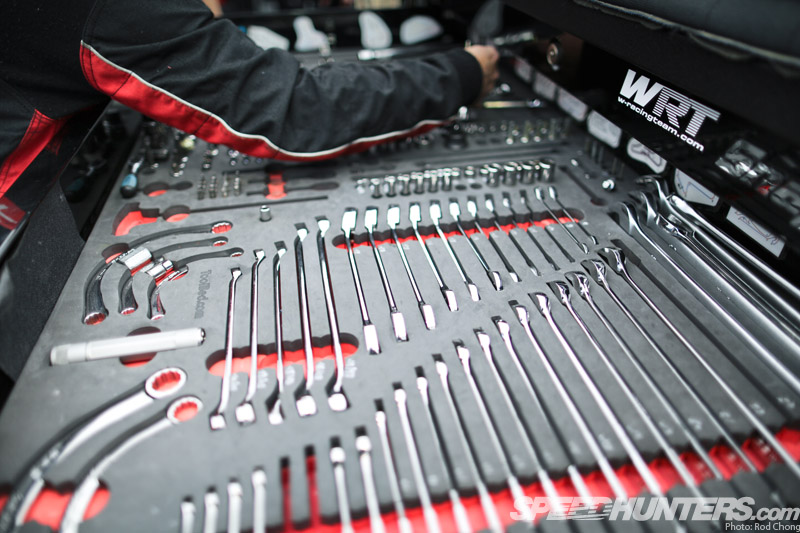 When you dream about a toolbox then it looks like this…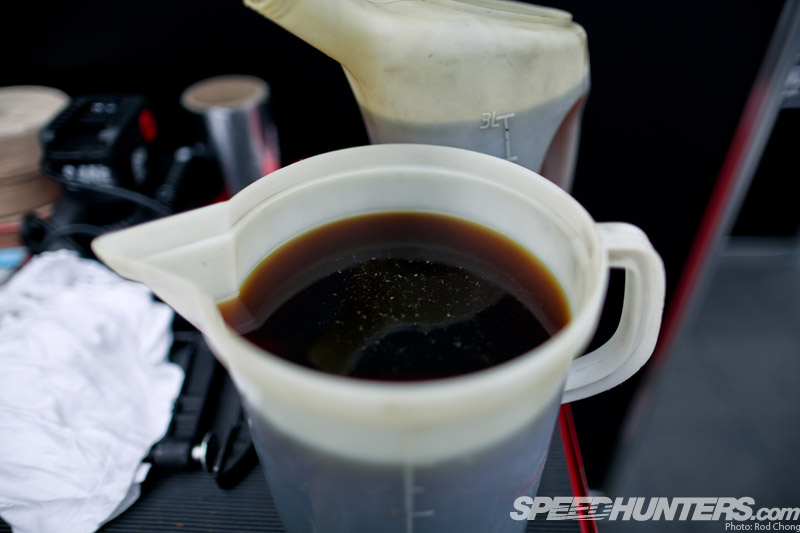 This looks like Swedish coffee, but I guess it's not…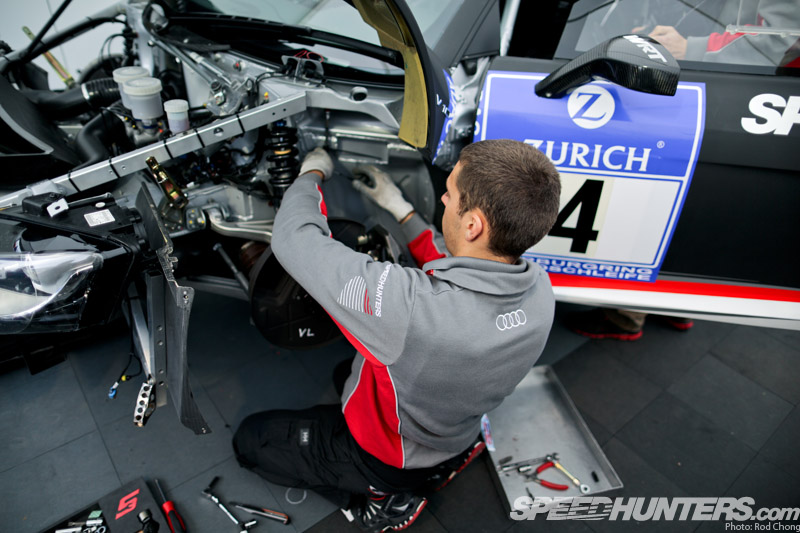 Without the work of these guys this race would never happen. They are so impressive and professional in their work.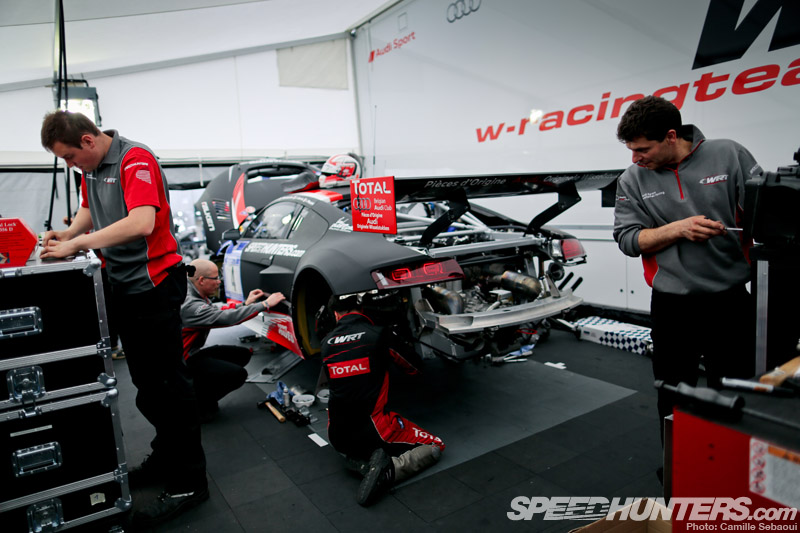 It can be tricky to work with a car when it has a mid-mounted engine. But I've never heard them complaining, and they are always ready on time.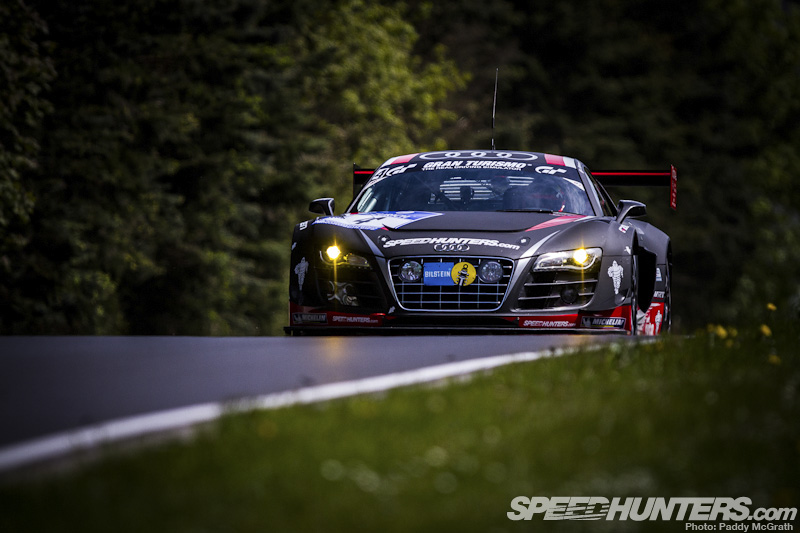 So, come 6pm the car was good to go and it was time for the Top 40 Qualifying run-off, which I'd be doing. This was maybe the best thing I've ever done: so much adrenalin rushed trough my body I couldn't believe it. I'd have just two flying laps on the Nordschleife to set a time – and hopefully clear laps.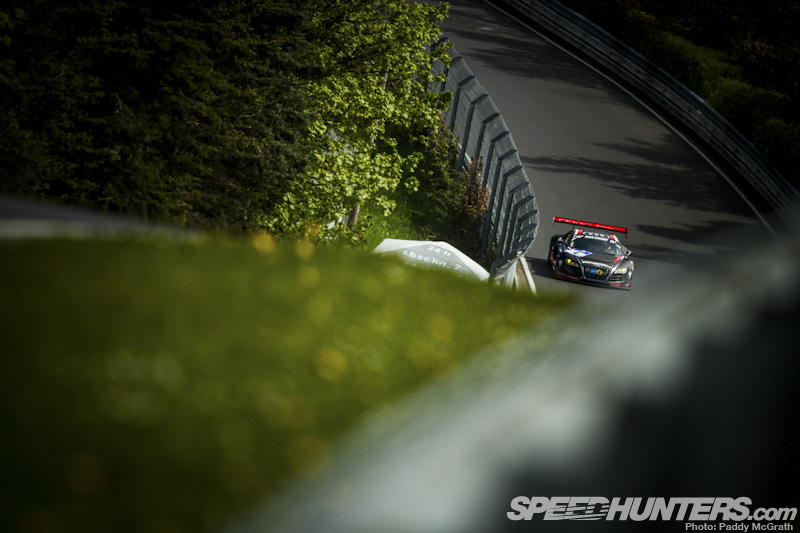 It was only my fourth lap of the weekend when I started, so of course I could have had a better feeling for the grip and so on, but from all my preparations I felt reasonable ready for it. The grip was just mega. I couldn't really cope with it at first, but when I understood it I felt I could push massively.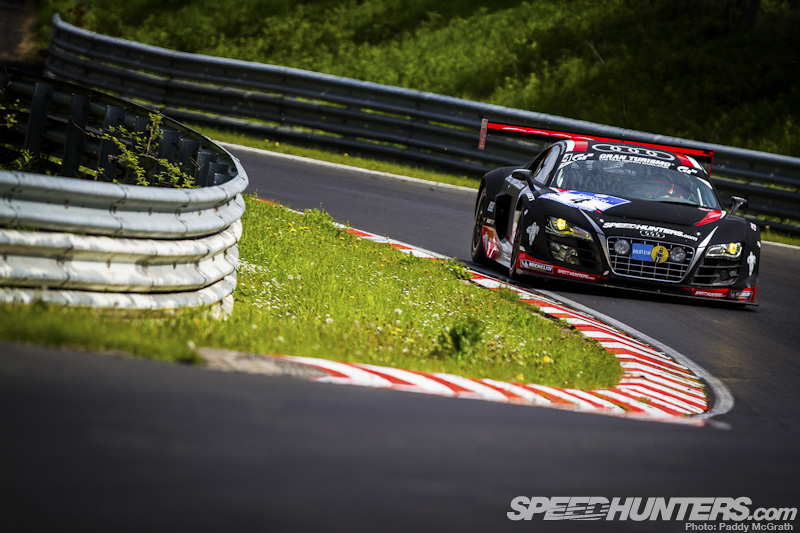 I would say that the first lap was good. The car felt perfect, but I knew I hadn't used everything. The second lap was was good to start with, but then I caught a very, very slow Kremer Porsche at Fuchsröhre and he didn't let me pass until Kallenhard – which is 1km later. The lap was destroyed and I could only hope the first one would be okay.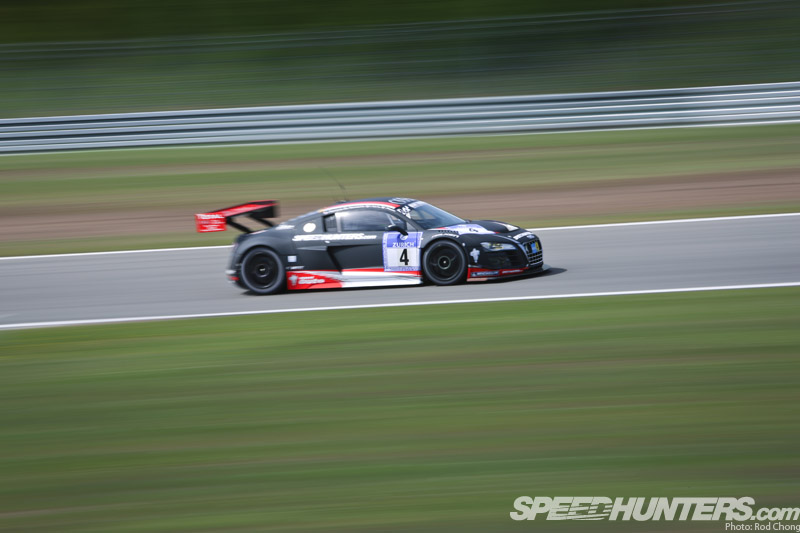 My lap was enough for 11th position on the grid, with an average speed of 182kph. The car felt glued to the ground and I just wanted to do it over and over again. Everyone thought 8:22s would be enough for pole, but when the traffic was gone then you could see what was possible.The 8:18s pole lap from Uwe Alzen in the #19 Schubert Z4 was impressive, but the Mamerow Audi R8 did an 8:19s – so I knew our car was fast enough. I was happy. With only three laps before this I think my time was quite impressive anyway. But Stefan Bellof's time in a Porsche 956 is still out there – that record is not yet beaten… Next up I'll talk through the build-up to the race and the 24 Hours itself.
Edward Sandström