Why do I love drifting? Because of events like Formula Drift Vegas. It was epic to say the least. There was just so much to take in and everything you could want as a fan. There were huge upsets and some of the closest, most intense battles I have ever seen. I will try to convey my experiences and what I saw through my lens to my best ability, but I urge you Speedhunters out there to check it out for yourself if you have not seen drifting in person.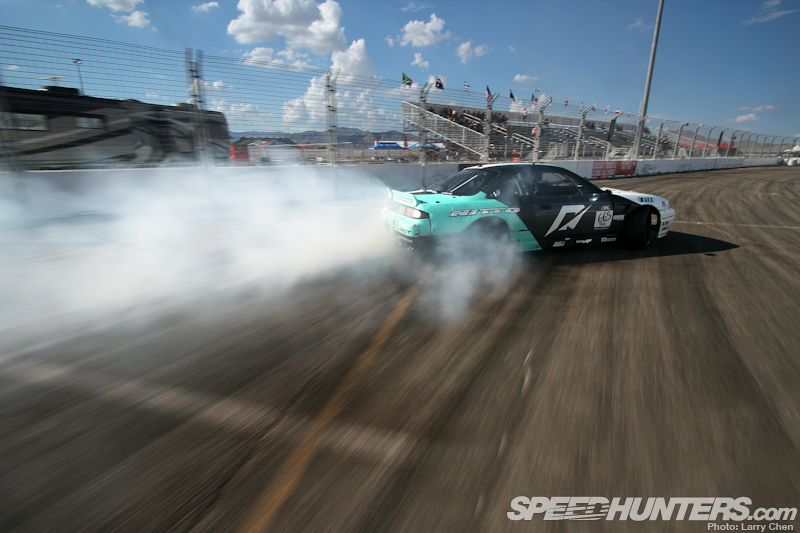 This event was unlike any other round of Formula Drift because of the heat. Many cars are modified specifically for this round of competition and the schedule is also turned upside down. Everyone has to adjust their sleeping schedules accordingly, because most the activities besides Saturday practice take place at night.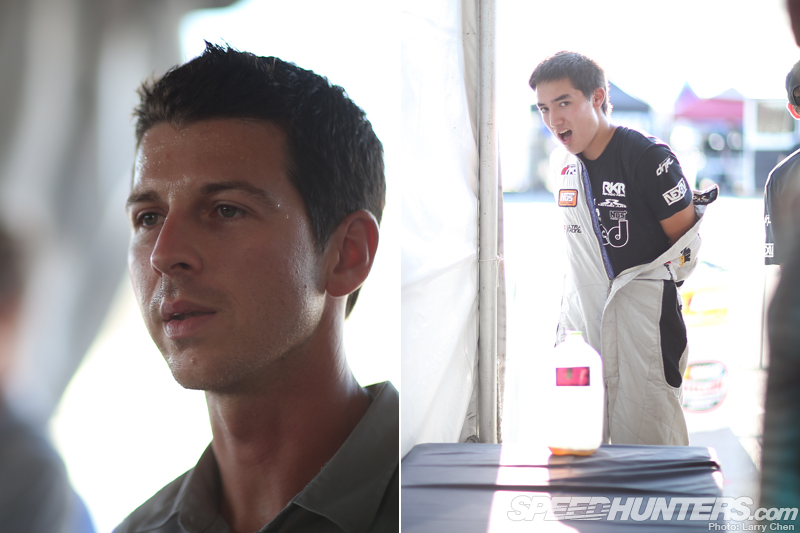 Everyone at the event had to battle the fatigue. Every day I arrived at the track around 2pm and found myself leaving at around 2:30am. Then I stayed up till 5:30am editing photos and writing my posts. I had a quick bite to eat while I watched the sun come up, then I went to bed at around 6:30am only to wake up at 1pm. I had the same routine for three days.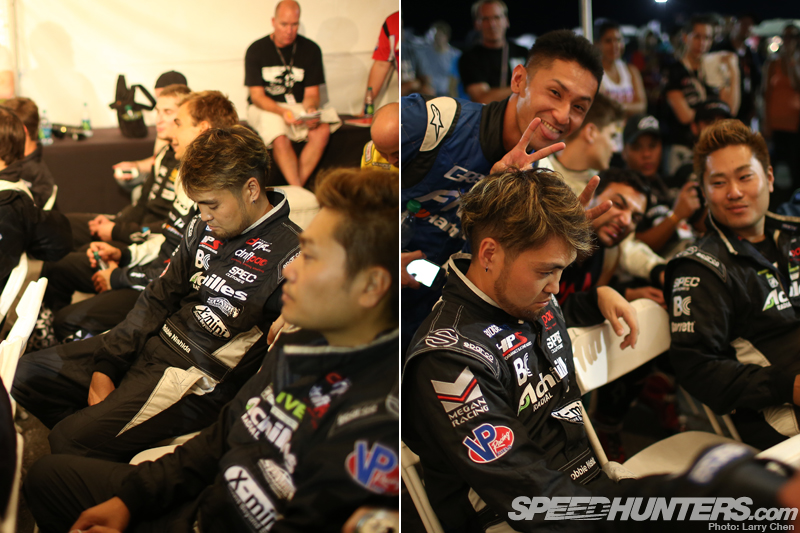 Robbie Nishida did not fare too well from lack of sleep, but his power nap in the drivers meeting went a long way during tandem practice.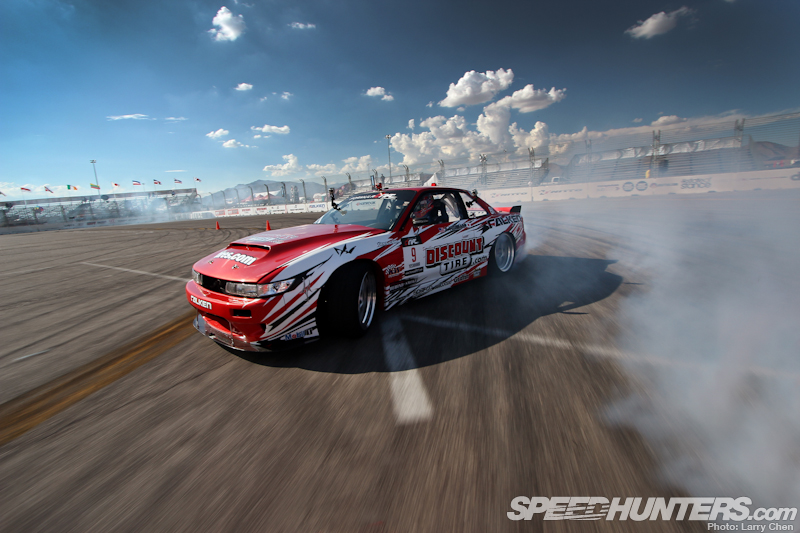 I couldn't understand how some of these drivers could stand the heat without wearing cool suits, but what was crazy were the weather extremes we experienced.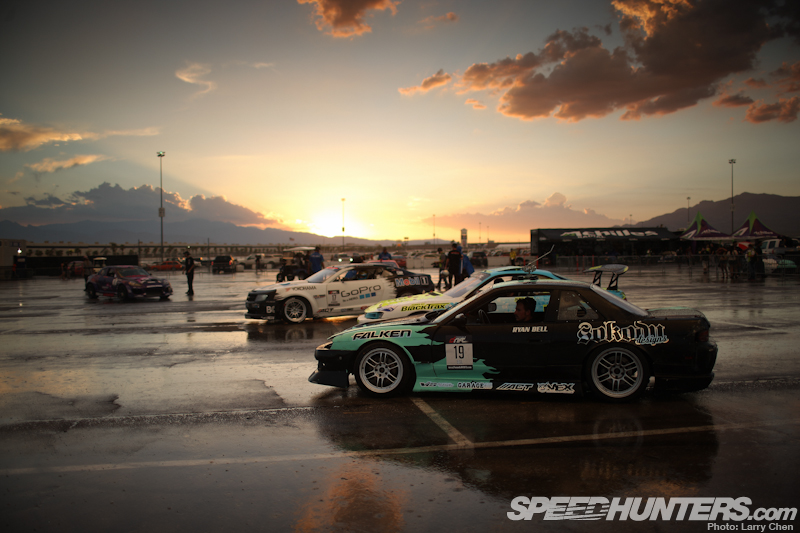 There were thunderstorms – though one year Top 32 practice was even canceled here due to a flash flood.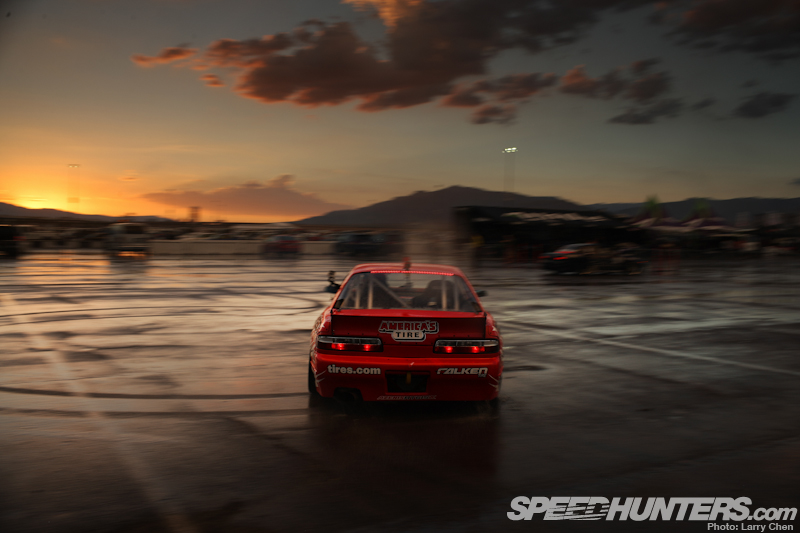 This year the rain came at the worst time because none of the drivers had any rain practice and the track surface was super slick, so there were many upsets – including Dai getting knocked out of the Top 16 by Tyler McQuarrie.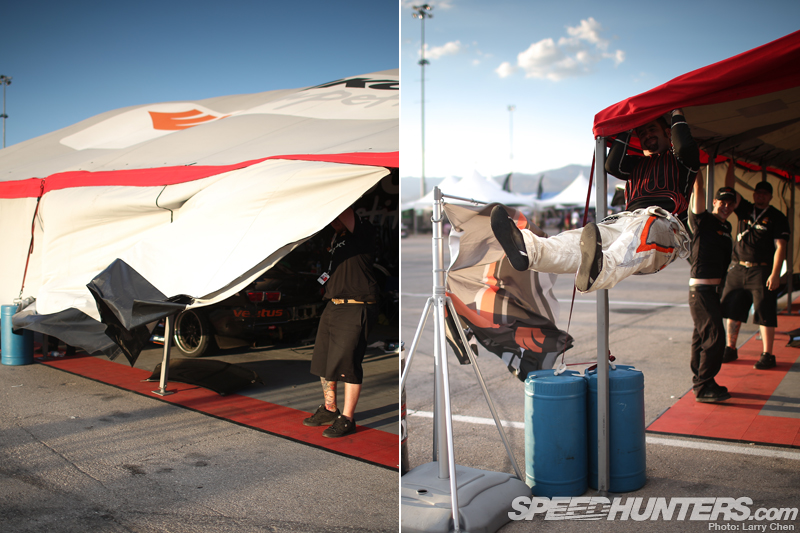 Then there were the extreme gusts of wind. I was half expecting to see a giant tent fly and tumble down the track.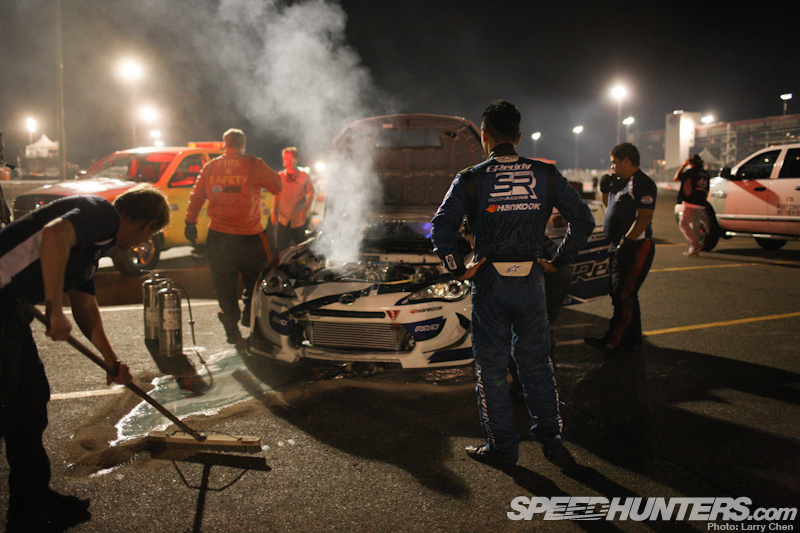 This round of competition had its fair share of spills, with a car even catching fire – which I will go into detail later in this article.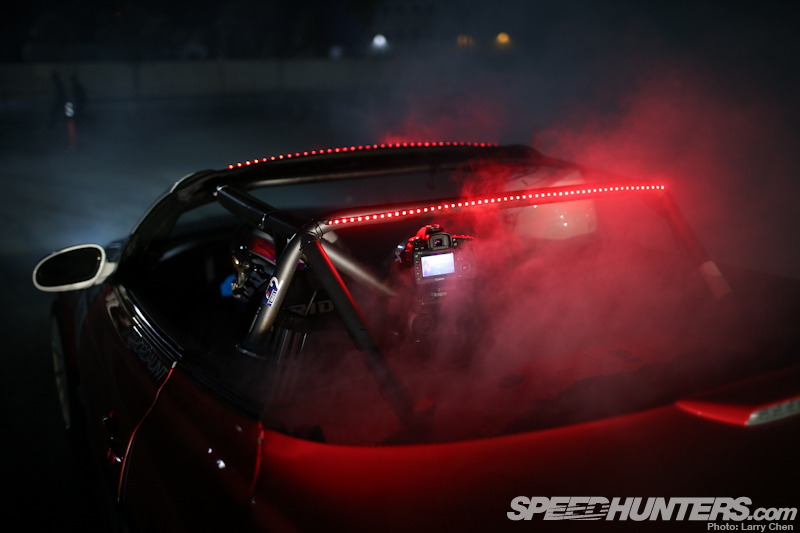 And of course from a photographer's point of view there is the darkness that we had to deal with.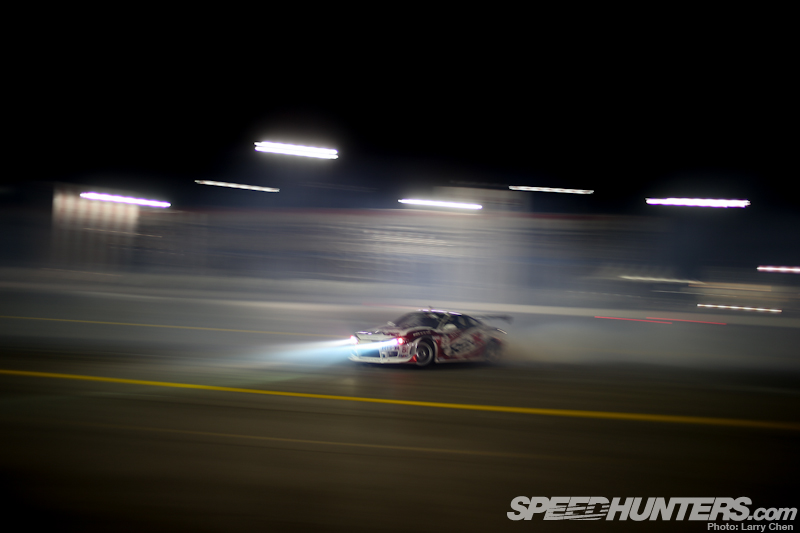 Sometimes it's a blessing in disguise, but I don't think I will ever perfect the hard craft of night photography.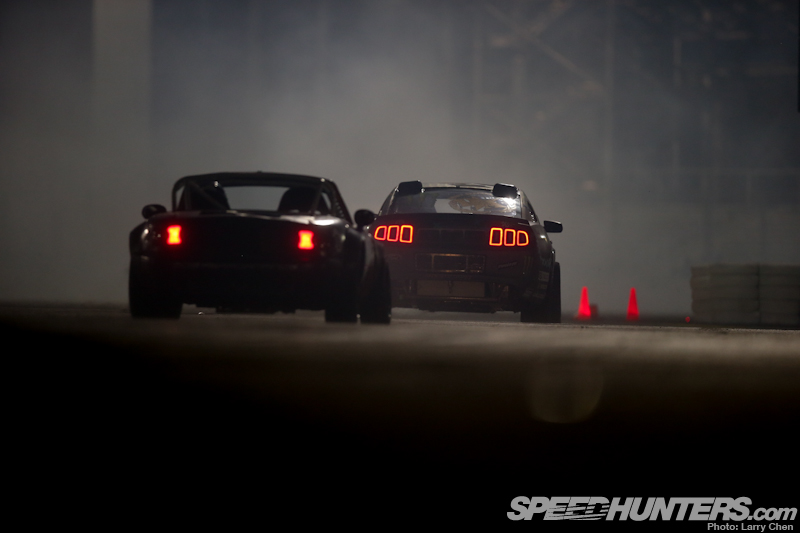 However, I was very excited to shoot this round because there was a new track configuration. This meant never before seen angles, like this shot from the start line.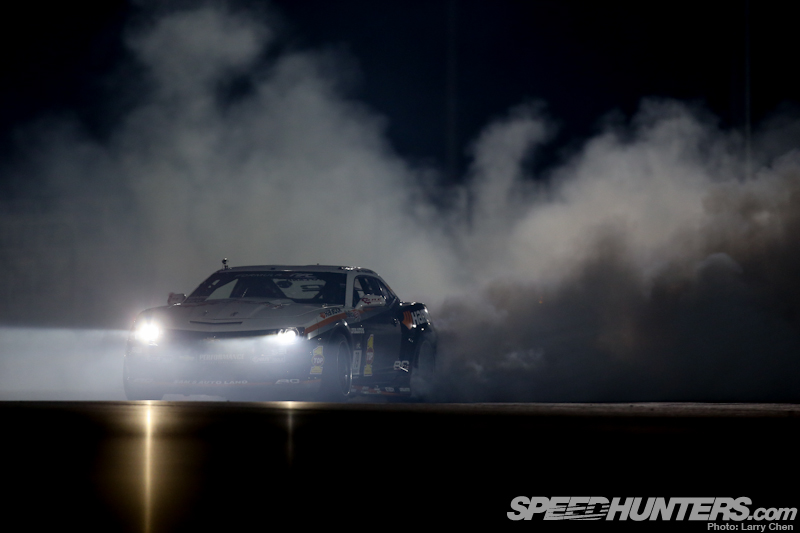 It is rare that I am able to go prone and shoot from the ground because usually there are K-rails surrounding the entire perimeter of the track. It made for some interesting angles and cool reflections on the heat-soaked asphalt.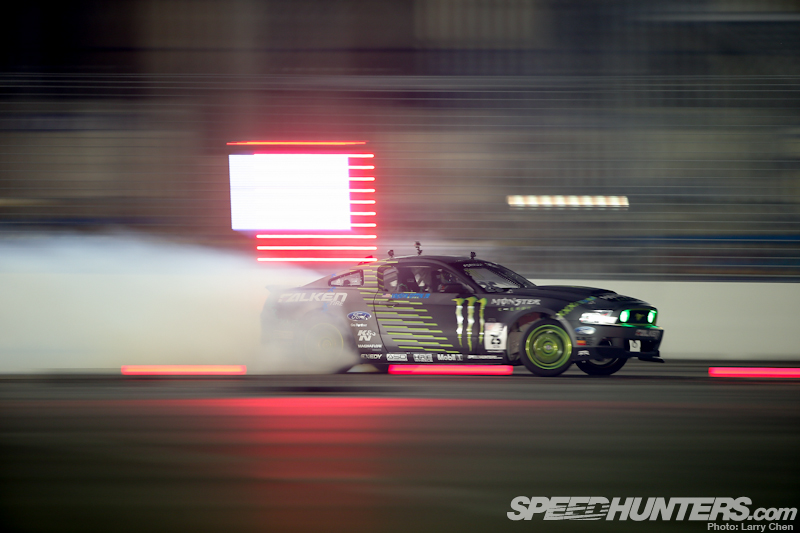 Shooting at night also enables me to slow down my shutter immensely as there is no sun to battle. Doesn't this V-LED proximity sensor look like a glowing american flag?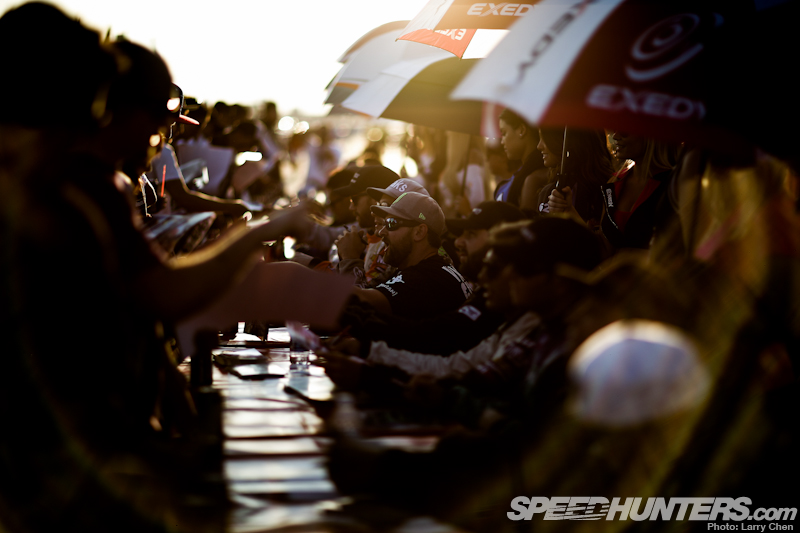 The driver autograph session usually begins after qualifying, but seeing as qualifying would end at 1am the FD staff decided to hold it before the session.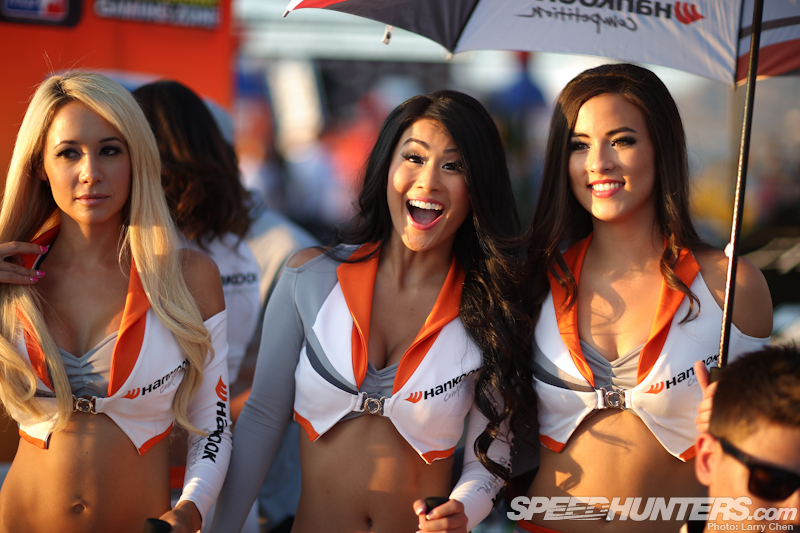 That meant we could all soak up some sun. Wonderful. I will just touch on some qualifying highlights that I missed in my initial post.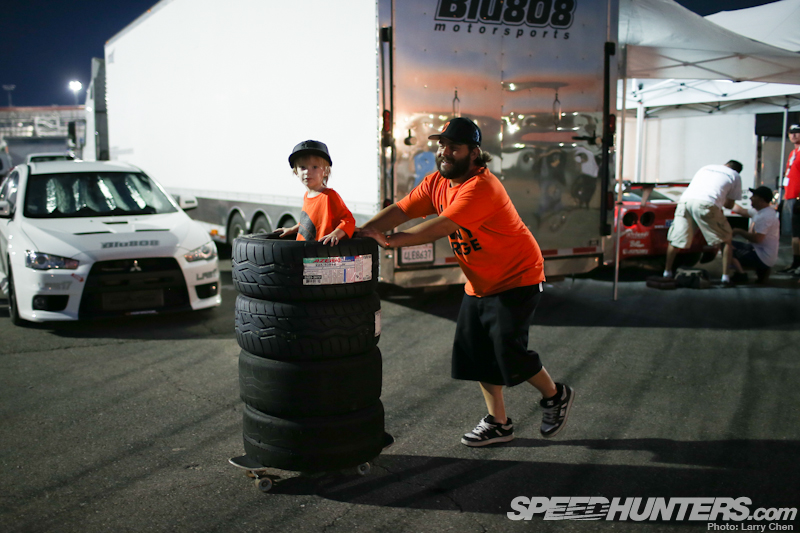 This is Danny George and his son Jack. I've been following him ever since he started drifting and Las Vegas is where he calls home.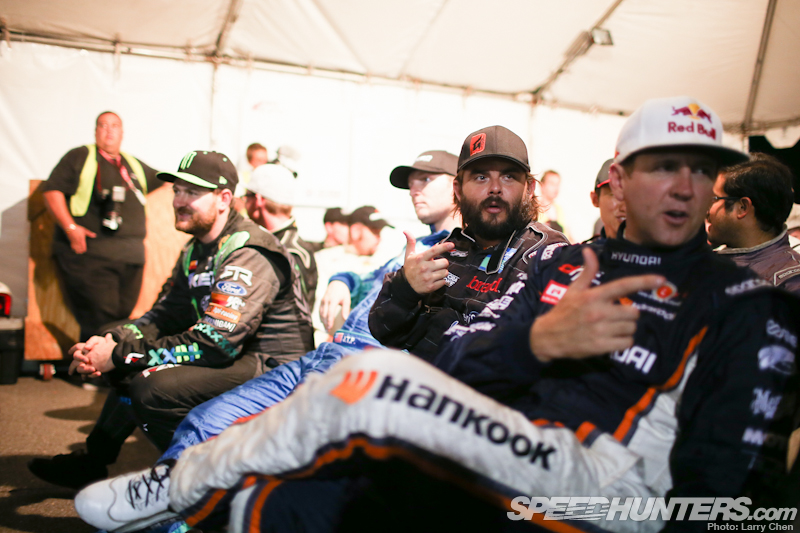 I always love covering stories of the hometown heroes, as their friends and family come to support them and it is a very personal event for these drivers. Danny ended up qualifying 11th, which was the highest of his rookie season.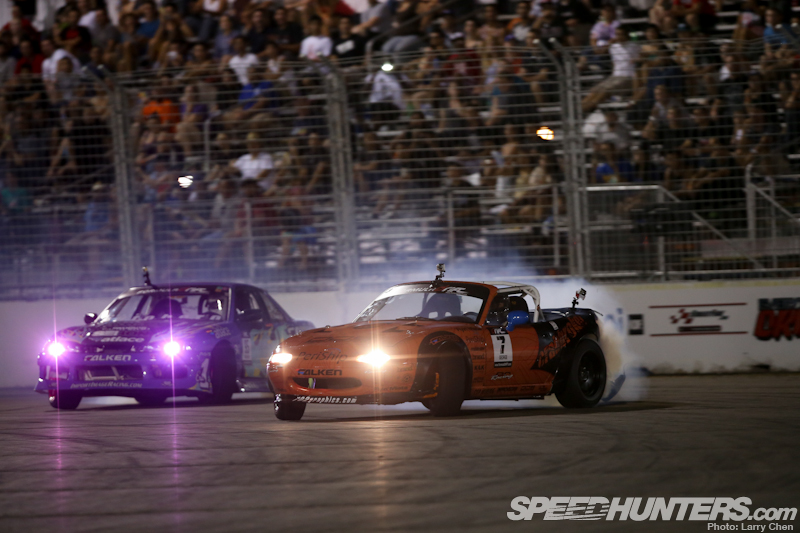 Unfortunately, he knocked himself out going against Walker Wilkerson when he tapped the wall with his rear end. At least he did not lose drift.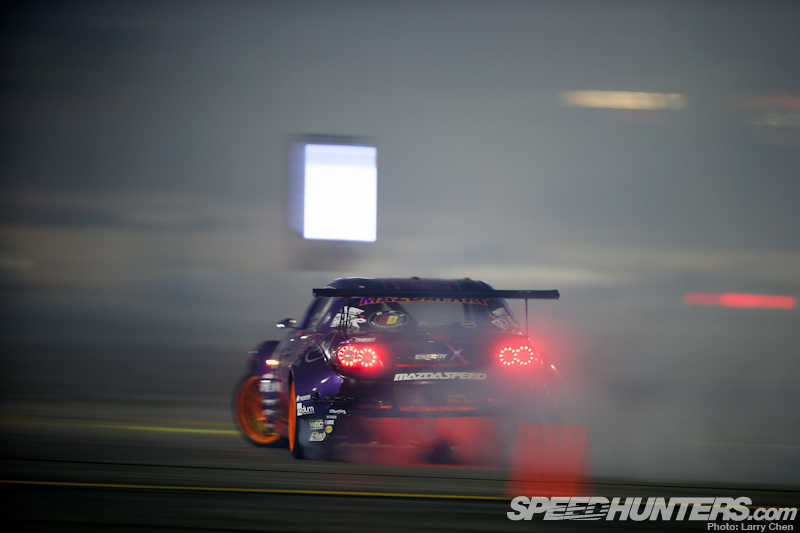 Kyle Mohan was MIA at the last round due to engine failure, but this time he was back for blood. He qualified in 16th place.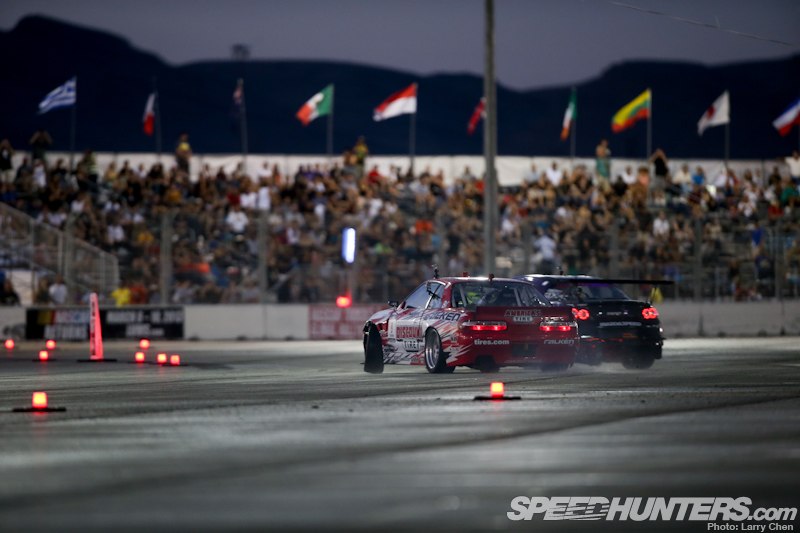 He went up against Daijiro Yoshihara in the Top 16, but he spun out during his follow in the slippery conditions.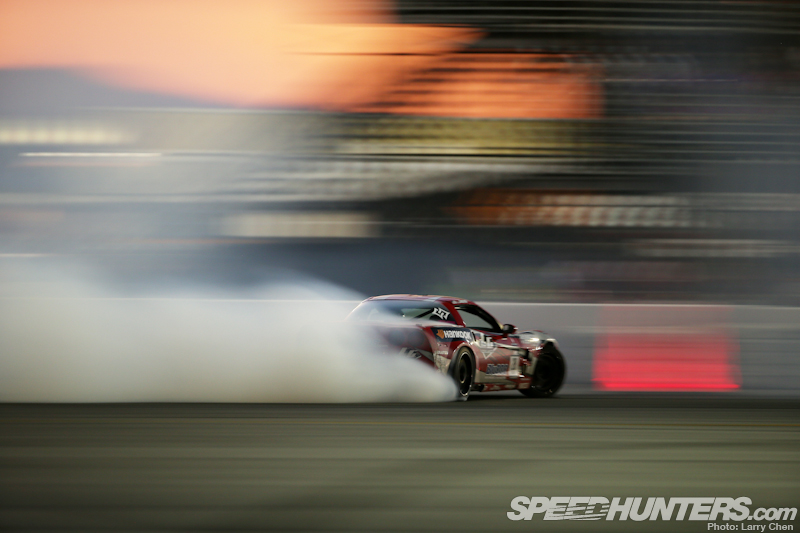 For the first time this year Luke Lonberger made it into the Top 16, after qualifying in 21st position. He went against Joon Maeng…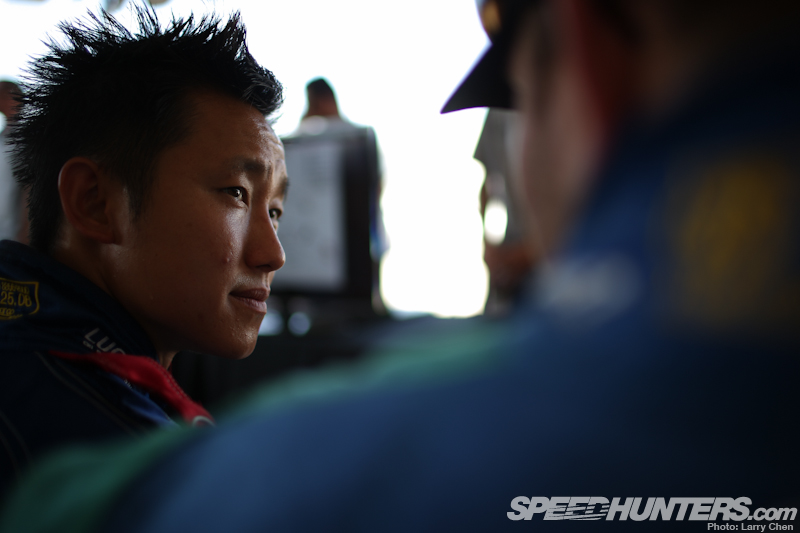 …who also was MIA last round due to parting of ways with his former team, Bergenhotlz Racing. This time Joon is back with his personal car and a grassroots team. They built the car in only a few short weeks and qualified 12th overall. They pulled off an amazing feat, especially on a privateer's budget.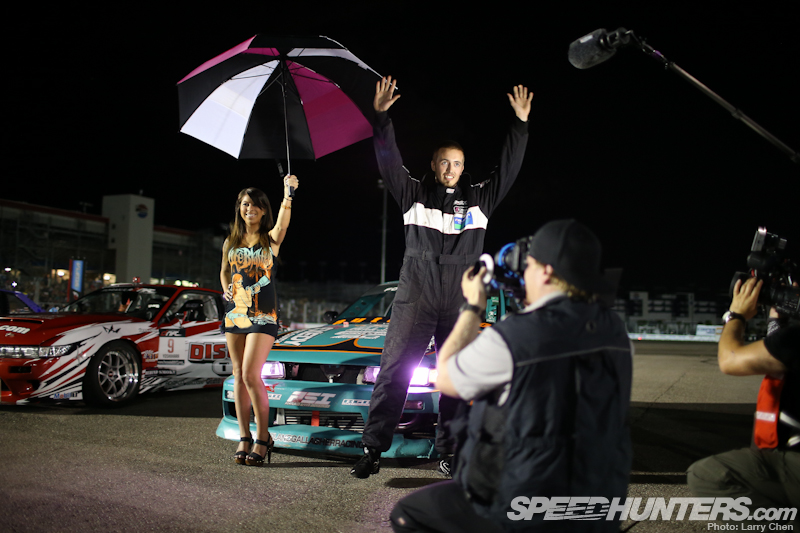 Roland Gallagher is living proof that being persistent pays off. Not only does he stick with an S-chassis, but he is sticking with a 4-banger SR20DET motor.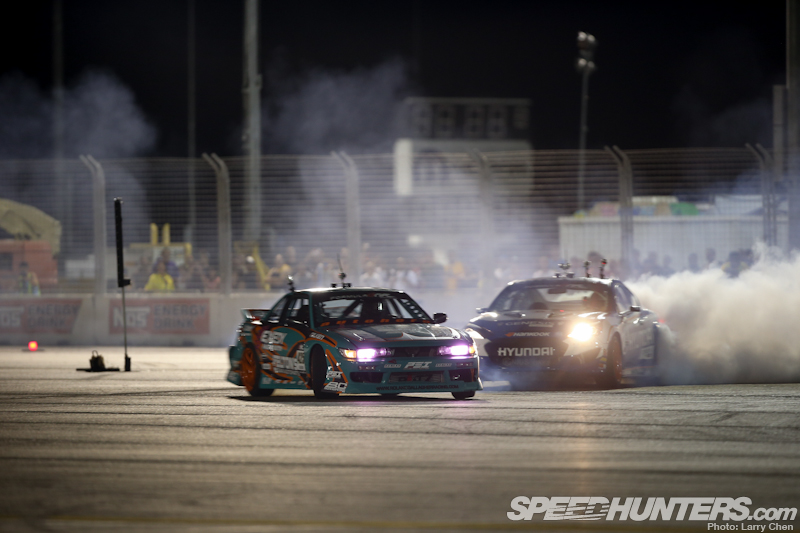 This was his first time making Top 16 and he did not go out without a fight. He actually did quite well against Rhys Millen considering he is under-powered and under-experienced. I hope he continues to drift and in his own fashion.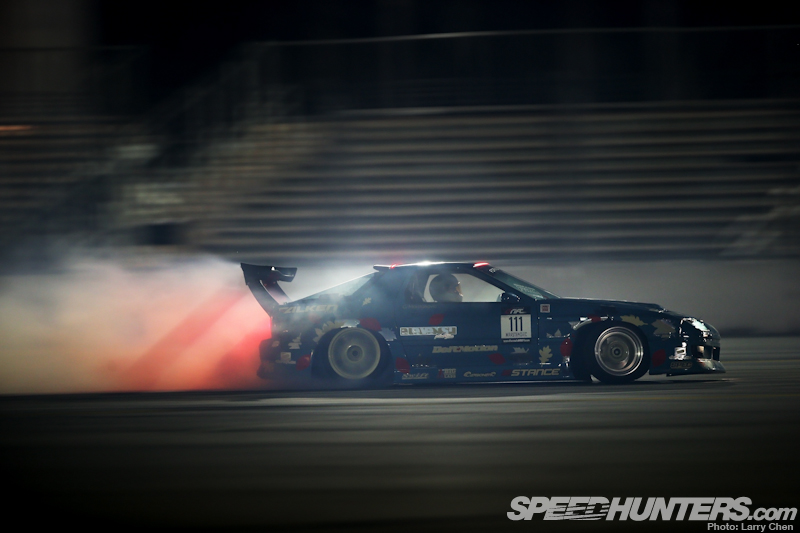 I think one of the best looking cars on the grid is George Marstanovic's V8-powered FC RX-7.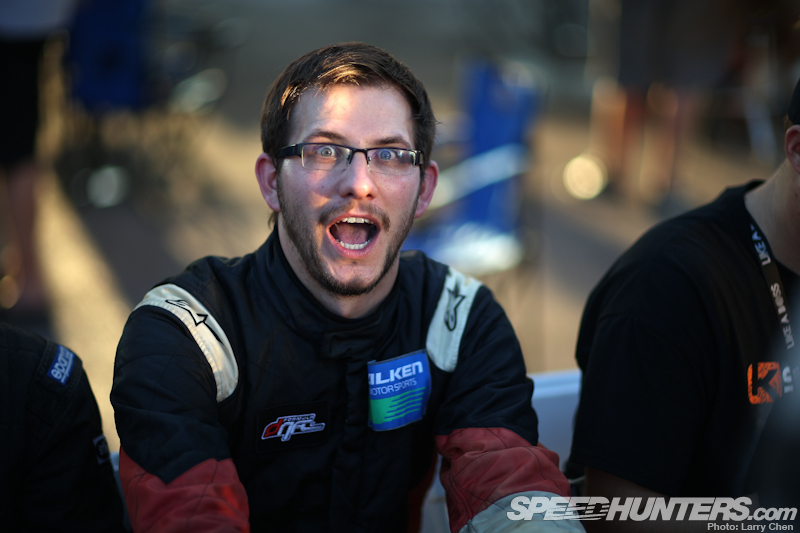 This is his rookie year in Formula Drift, but he has been drifting for quite a while in other Pro-am series.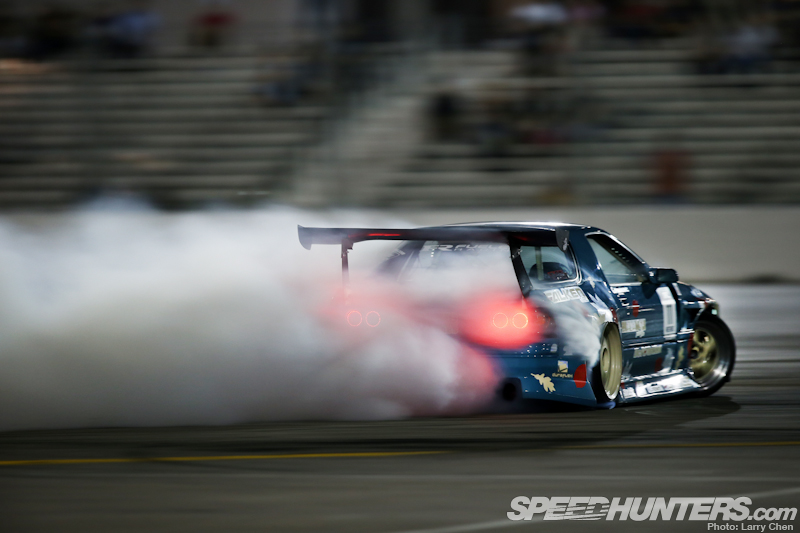 Unfortunately, he did not qualify in Vegas. Hopefully he will have sorted whatever bugs they may have for next time.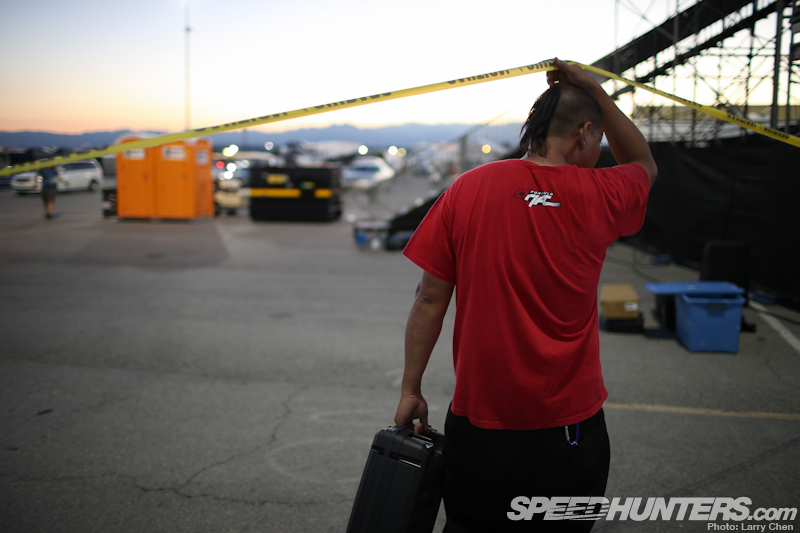 The next day I sat down with the Formula Drift judges – Andy Yen, Ryan Lanteigne and Brian Eggert – for an interview. Make sure you guys keep an eye out for the in-depth article this week.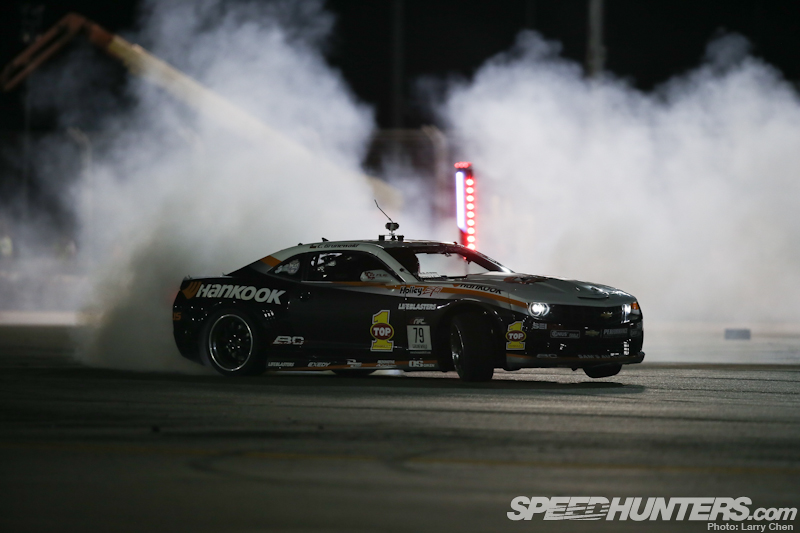 The asphalt surface of the course actually had quite a bit of traction. I noticed many of the top cars lifting the inner front wheel from the cornering forces.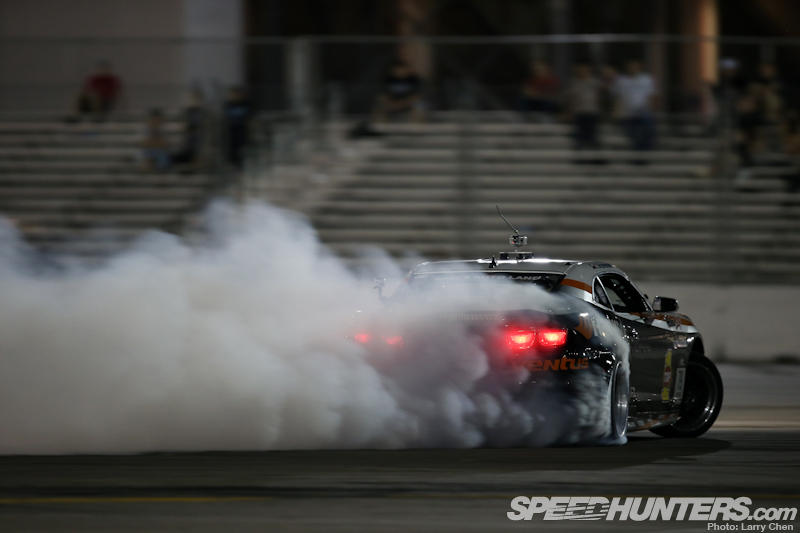 It also provided a great surface for making tons of smoke.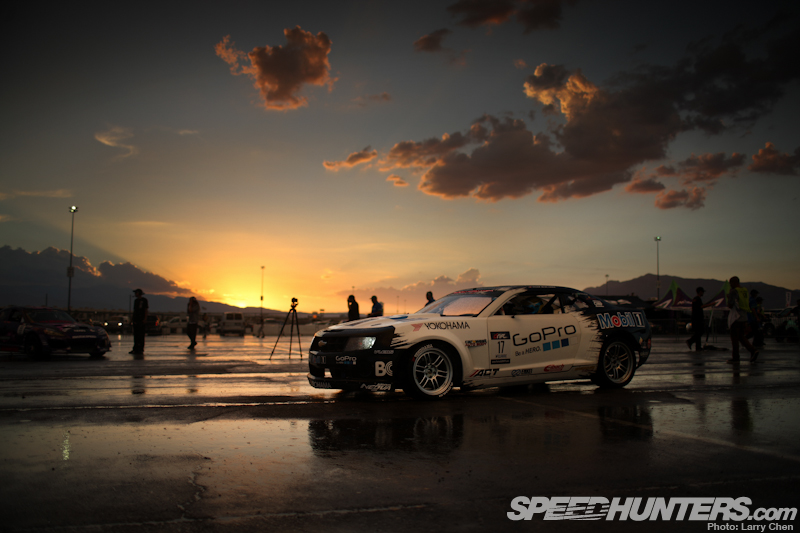 Right before the Top 32 elimination the clouds opened up and the track was soaked again. Tyler McQuarrie was dealt a pretty bad hand last year as he was booted out of his car when Justin Pawlak blew his motor during practice. They gave Justin the car because he was the favorite out of the Falken team to win the championship.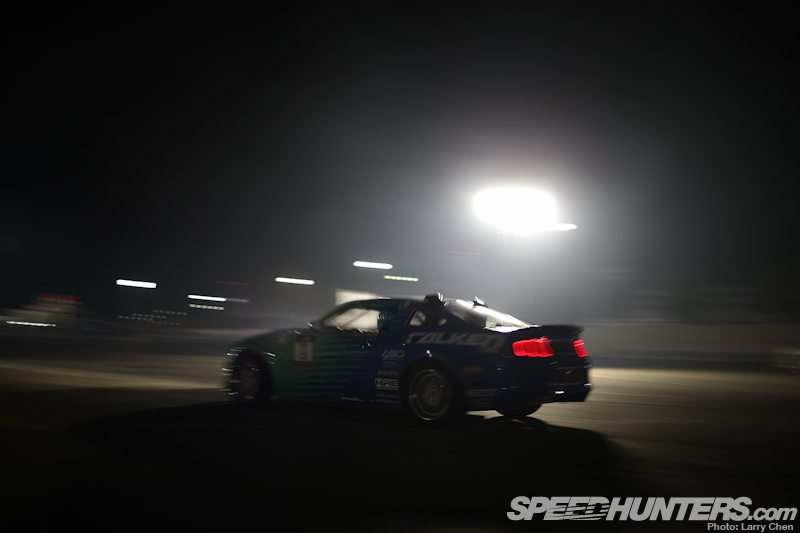 This year Justin and Tyler were paired up together in the Top 32. All eyes were on the two former teammates as they battled for a coveted spot in the Top 16.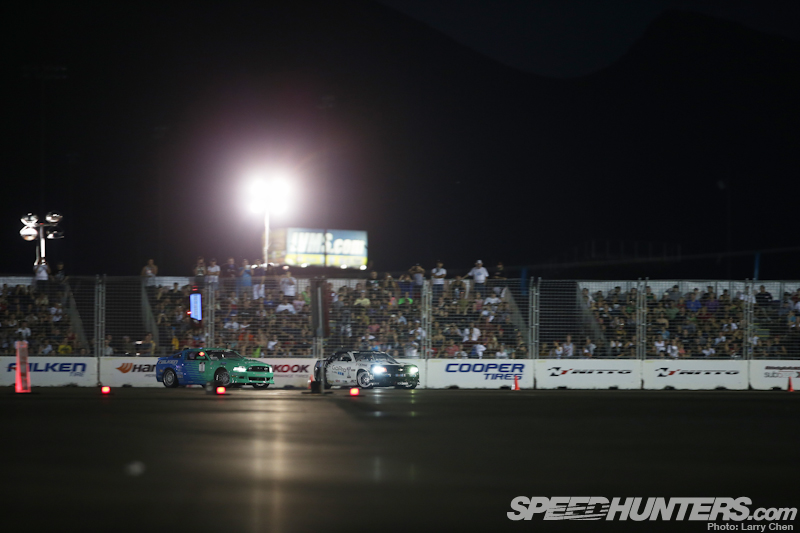 Justin tapped Tyler during his follow run, which made Tyler bobble but he did not lose drift. Tyler was awarded the win.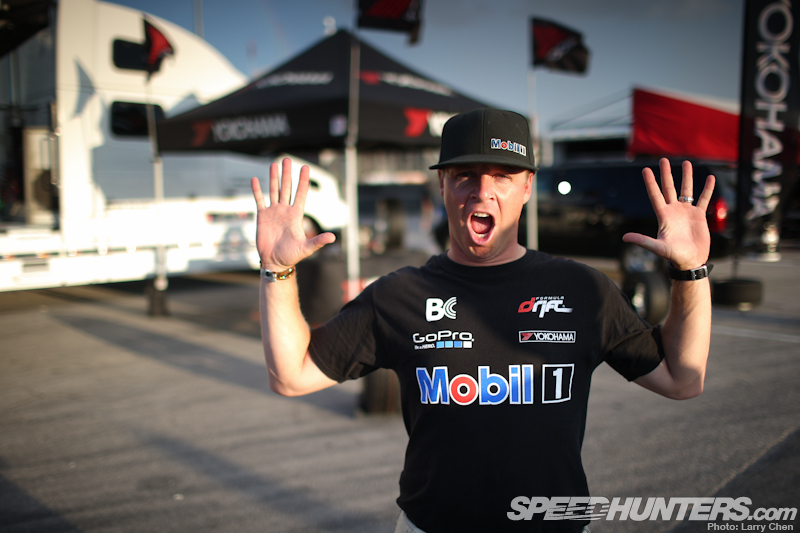 In an interview with the Formula Drift Online stream he mentioned that he just wants to do well for the rest of the season, because he had quite the string of back luck during his first season as a team owner.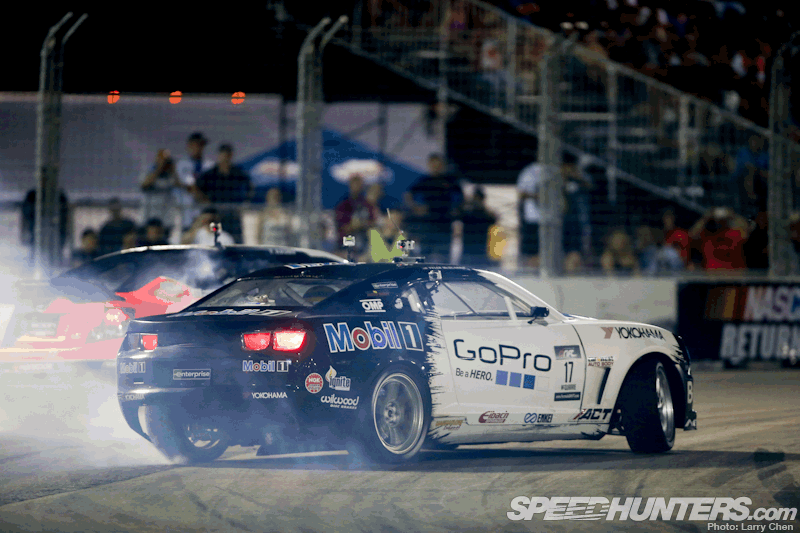 He eventually met with Fredric Aasbø in the Top 8. It was a very close battle, but Fredric came out on top. However it was amazing how far Tyler dug his nose into Fredric's personal space.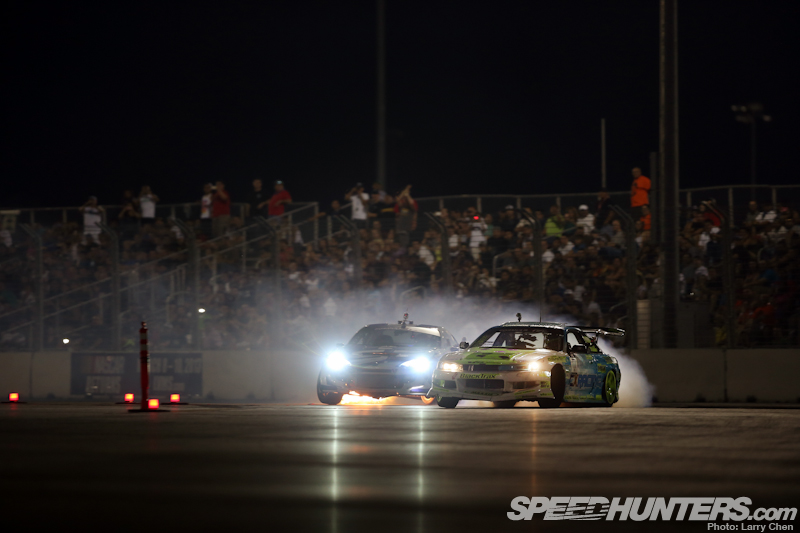 The most dramatic battle of the Top 32 bracket went to Ken Gushi versus Matt Field.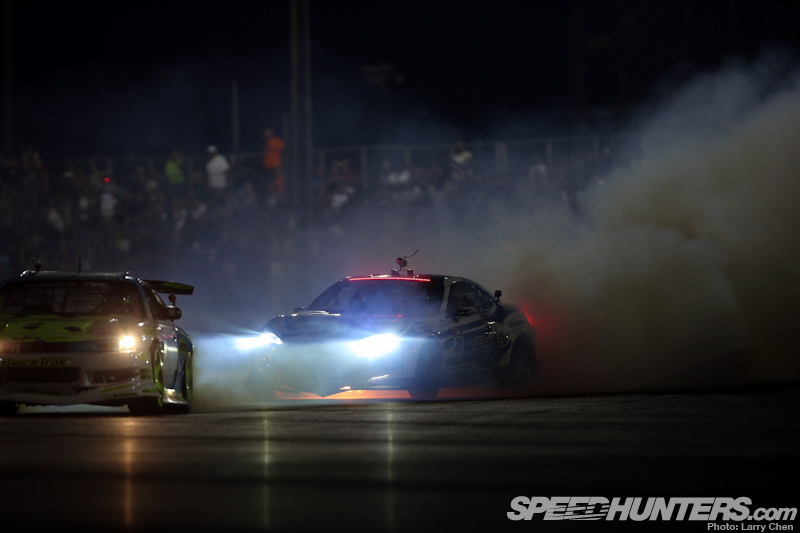 Ken's GReddy Scion FR-S actually caught fire about a quarter way through the run on his follow run. But he kept at it and finished the battle while on fire.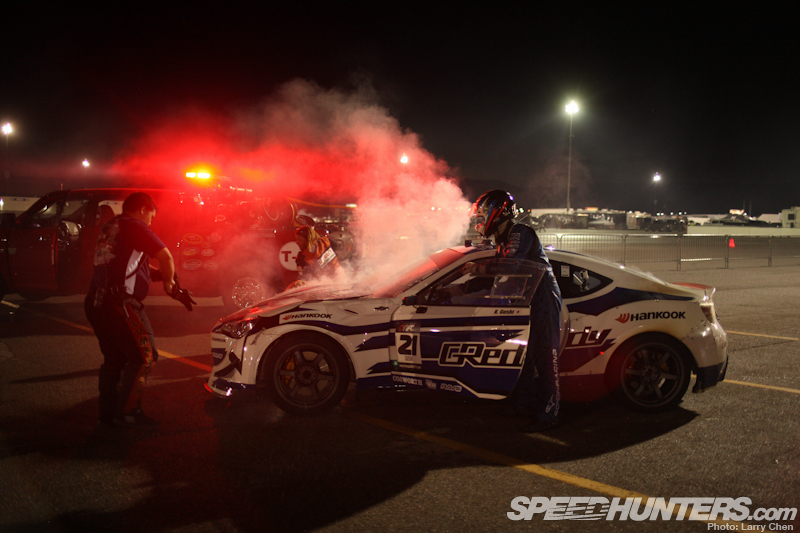 As soon as he crossed the finish line everyone including his spotter yelled at him to stop because he was still on fire.
He jumped out and lifted the hood as flames shot out. It was an oil fire.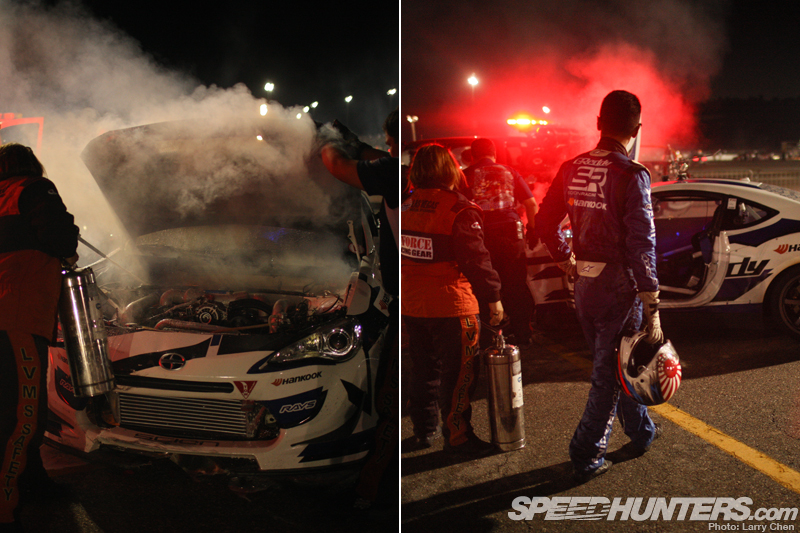 All he could do was watch as the flames were extinguished.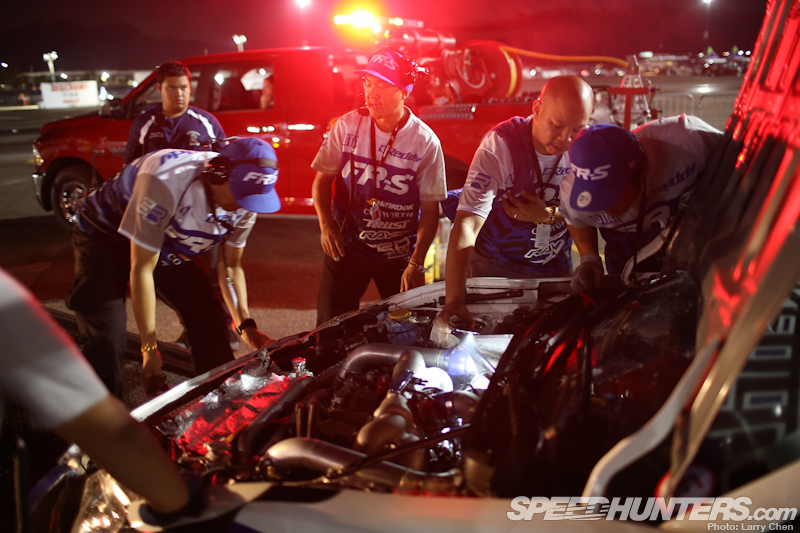 The team quickly came by to assess the damage. They were lucky it was not a total loss.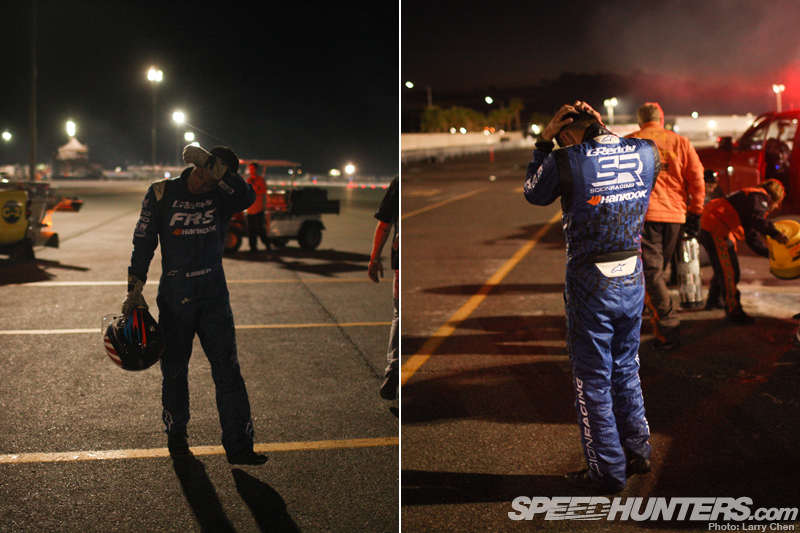 Ken was crushed. He thought he lost the battle and also that the car was destroyed. Then the Formula Drift announcer, Jarod Deanda, yelled out Ken as the victor. So what happened? I spoke with Ken today and he said that everyone thought it was because he ran over a clipping point, which may have snagged an oil line. Well that was not the case. It actually was completely unrelated to the clipping point because he ran it over on the complete other side of the car. What actually happened was a capped tube that came out of the crank case popped off, shooting out oil over the hot turbo. The area of the motor is usually under vacuum, but for some reason it built up positive pressure. As of today GReddy has the engine out of the car and they are investigating the problem.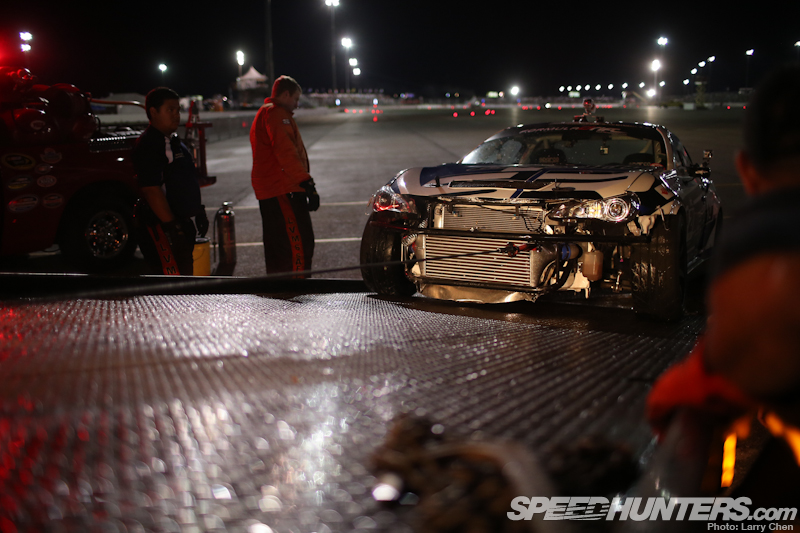 I asked him if he knew that he was on fire. He said no, he just noticed a loss in power and also a bunch of smoke coming from the front of the car, but he figured it was just his front tire rubbing on the fenders. He also told me that if he knew the car was on fire he still would not have stopped, because he wanted to win that badly! He initially thought he lost the battle and he was very close to pulling the on-board extinguisher system, but he knew that without a doubt his day would be done if he pulled it – so he just waited for the track safety crew to put the fire out.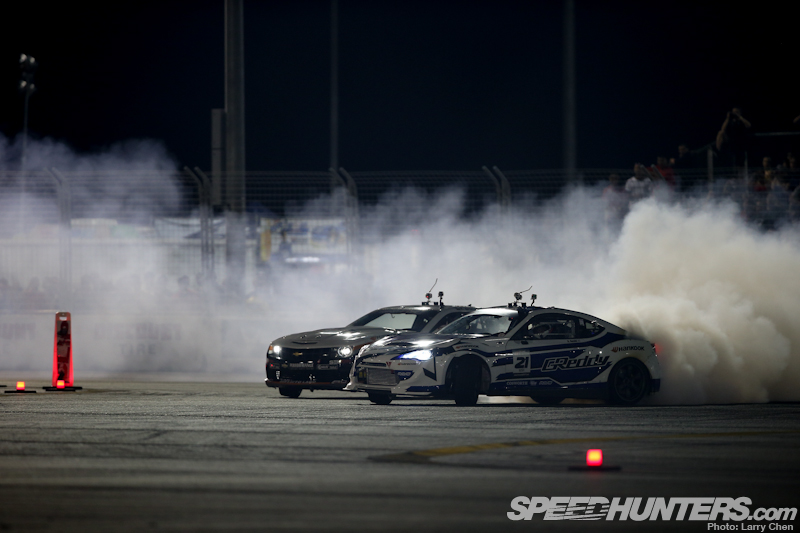 The team buttoned the car back together in time for Top 16, but it was too late. The damage to the motor was already done and Ken was at an extreme power disadvantage going into battle against Conrad Grunewald. After all that work, Ken's day would end in the Top 16.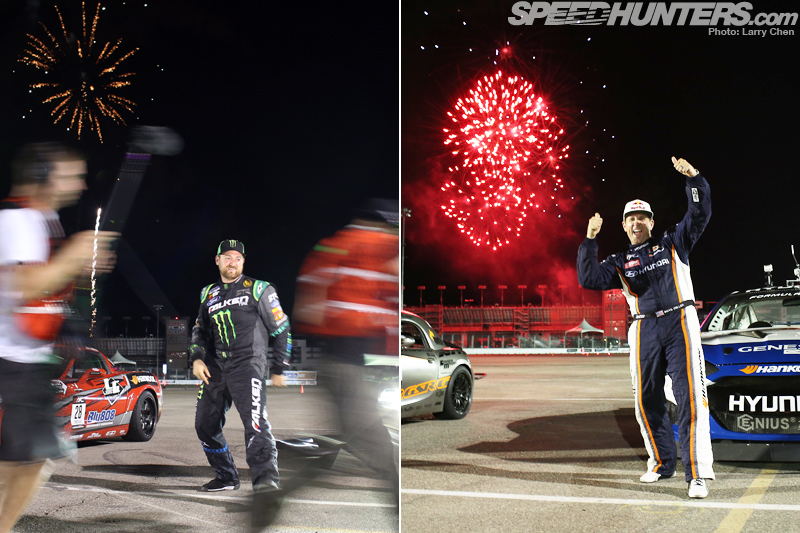 The Top 16 introductions were spiced up a bit with fireworks. The drivers seemed to like it…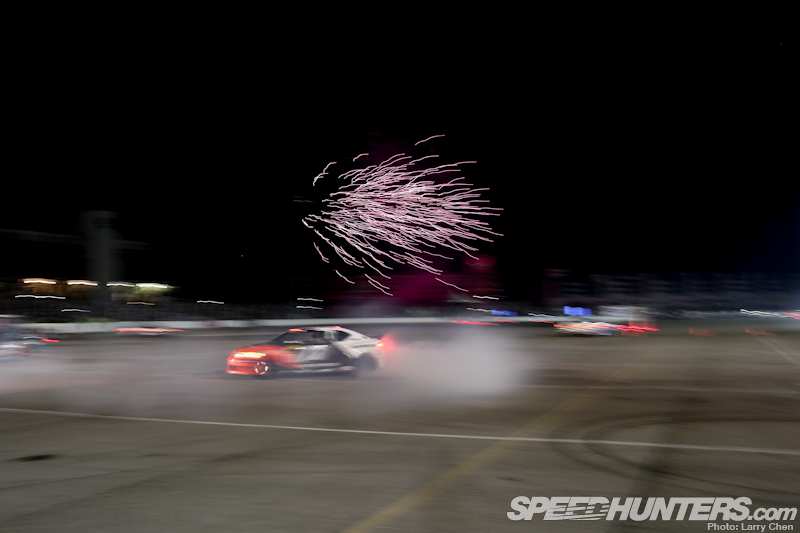 …and it made for some interesting photographs.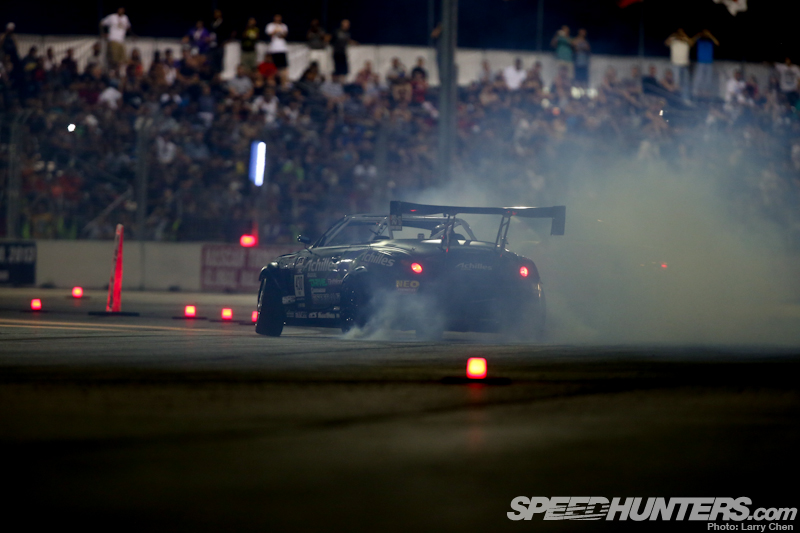 The battles in the Top 16 were very close, but many had very clear-cut winners. This event actually had very few One More Times.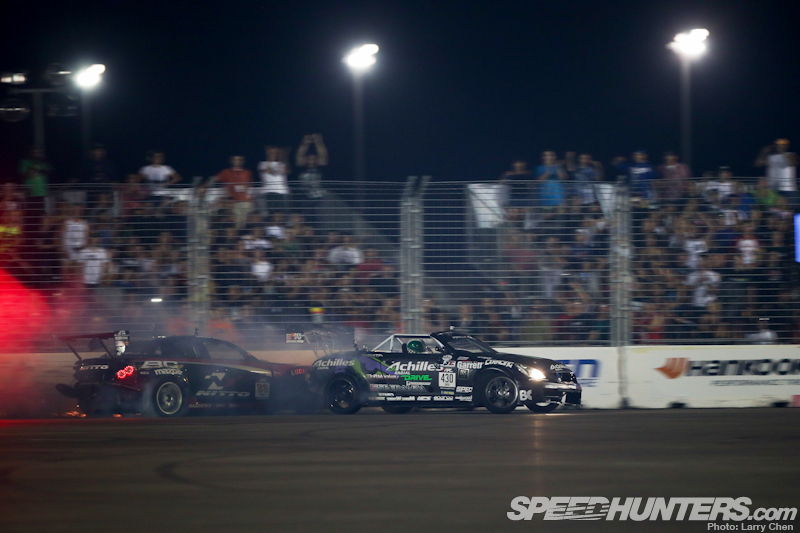 Daigo Saito is a name synonymous with insane tandem battles. It seems like whether he is leading or following there is always going to be some intense action. He went up against fellow Formula Drift rookie Chelsea Denofa in the Top 16. The Bergenhotlz driver pushed it just a little too hard and ended up in the wall, but he was not hurt.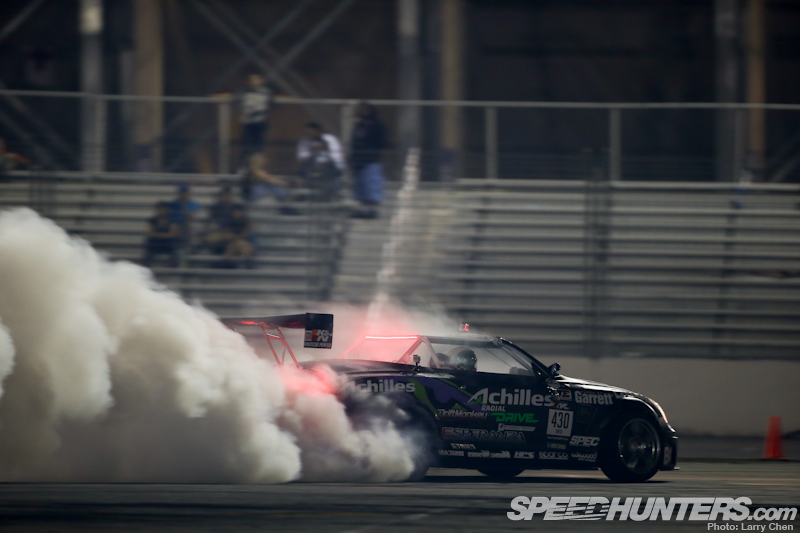 He then went up against Rhys Millen, whom he had beaten before in Round 1 at Long Beach.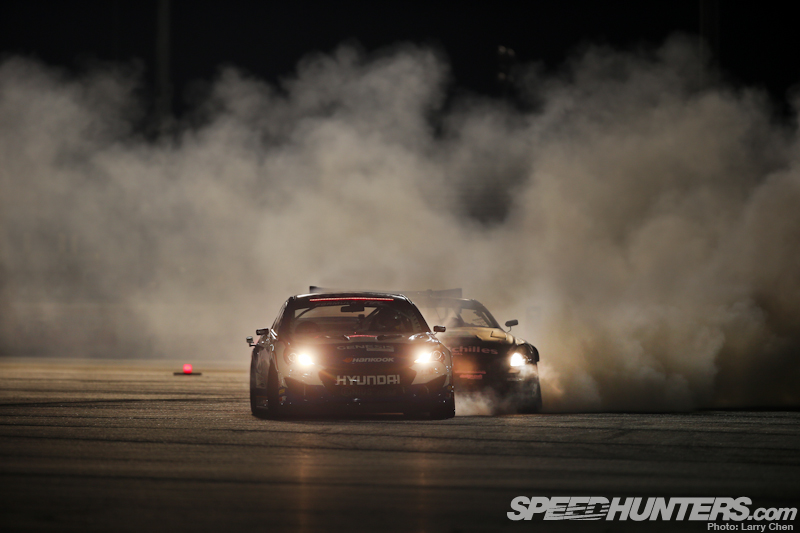 This time Rhys was not going to play around. Coming off an overall win at Pikes Peak meant that he had something to prove.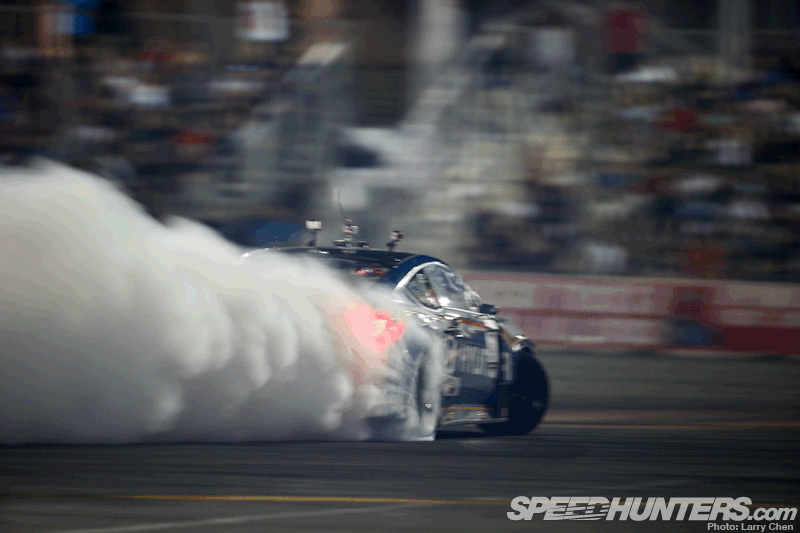 Daigo showed the world his version of peek-a-boo. I will never forget how he just surged out of the smoke like a boss. However, he crashed out on his lead run and Rhys was awarded the win.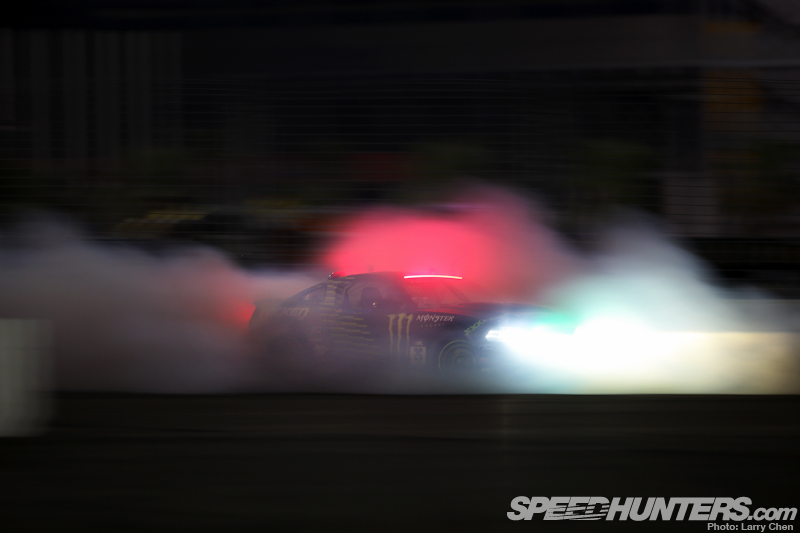 After a rough start to the season Vaughn worked had his way back to the top, so he was not going to let anyone else surpass him, especially coming off of a perfect score in Seattle.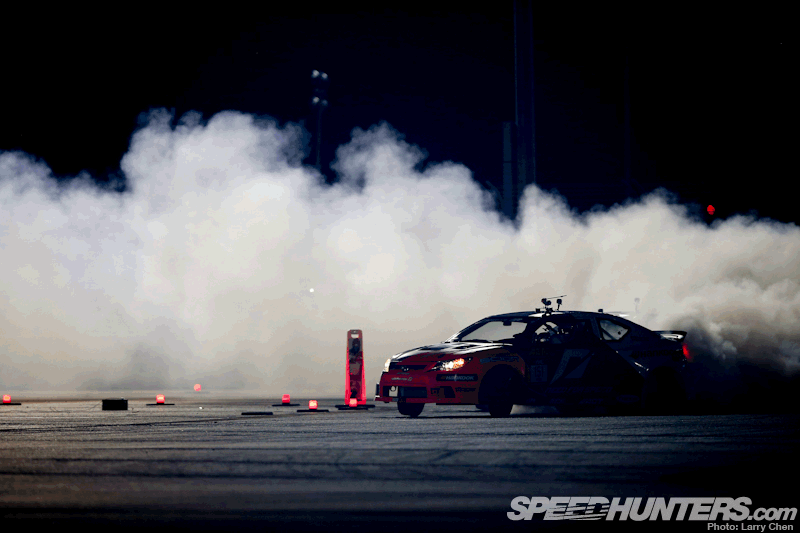 So when he battled Fredric Aasbø, the number one qualifier, he pulled a little bit of a Daigo Saito peek-a-boo move.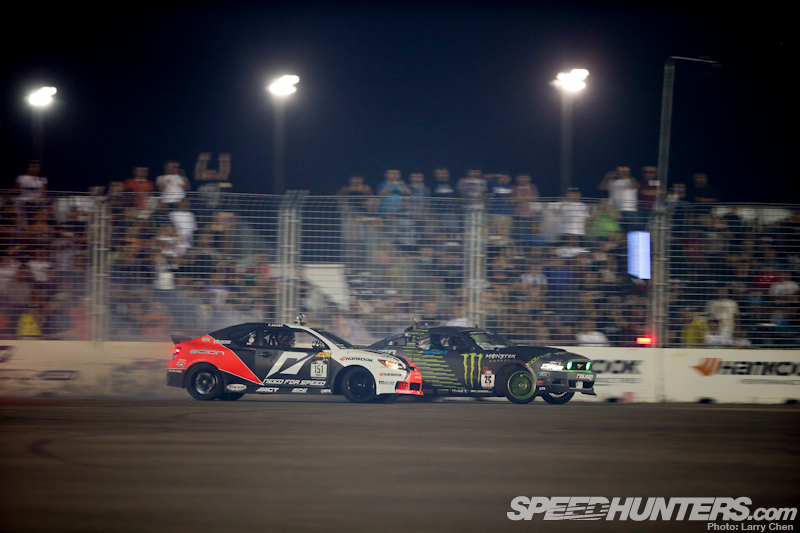 For his lead run he charged as hard as he could but Fredric stayed right behind him, sticking his nose in whenever he had the chance.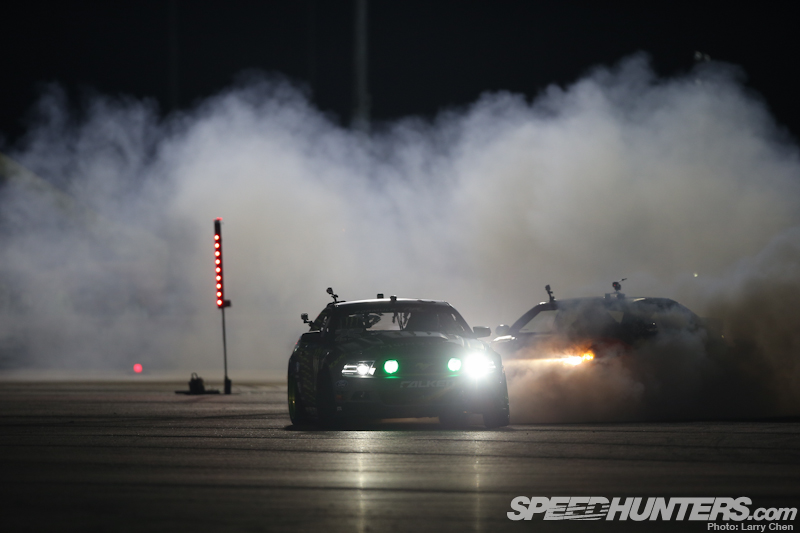 He was there with him for the entire run. They were both very close to each other and a One More Time was called.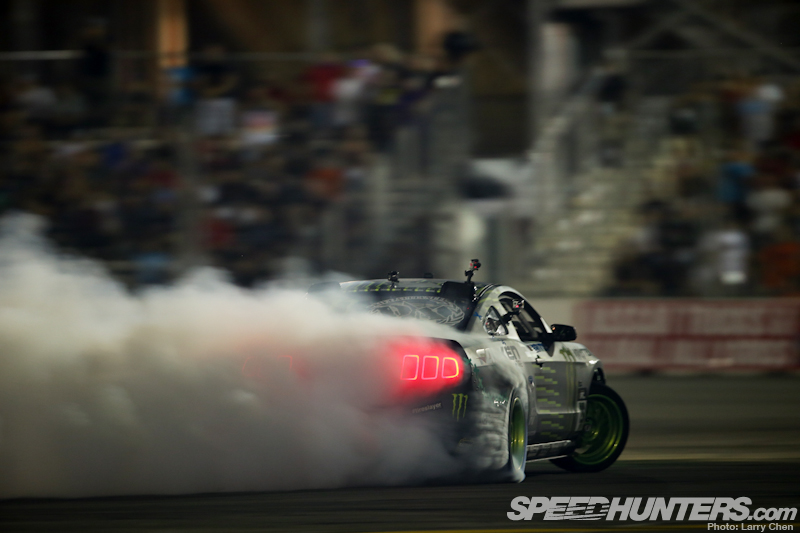 Fredric would come out on top, earning second, and Vaughn would end up in third.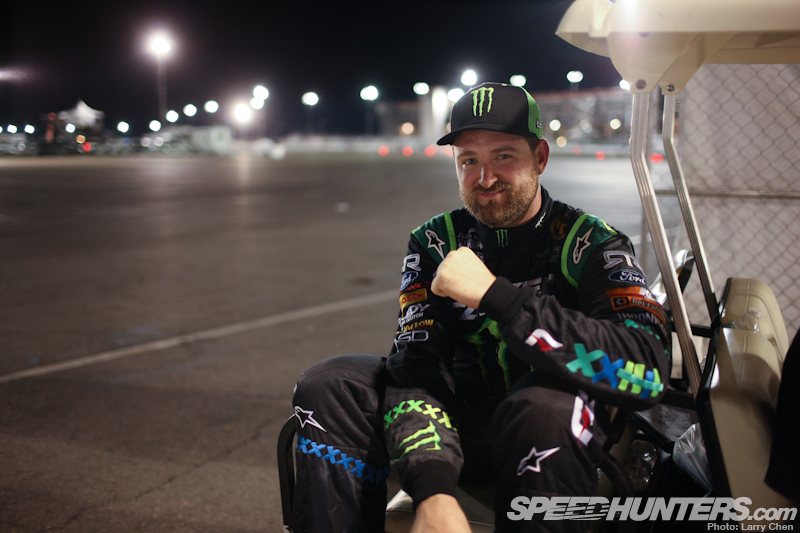 I asked Vaughn about the battle and he told me that he usually beats himself up when he loses from making a mistake, but his battle with Fredric was solid. He was not disappointed at all. He was proud of the fact that he drove his hardest and so did Fredric. They put on an awesome show for the crowd and at the end of the day that is what it is really about.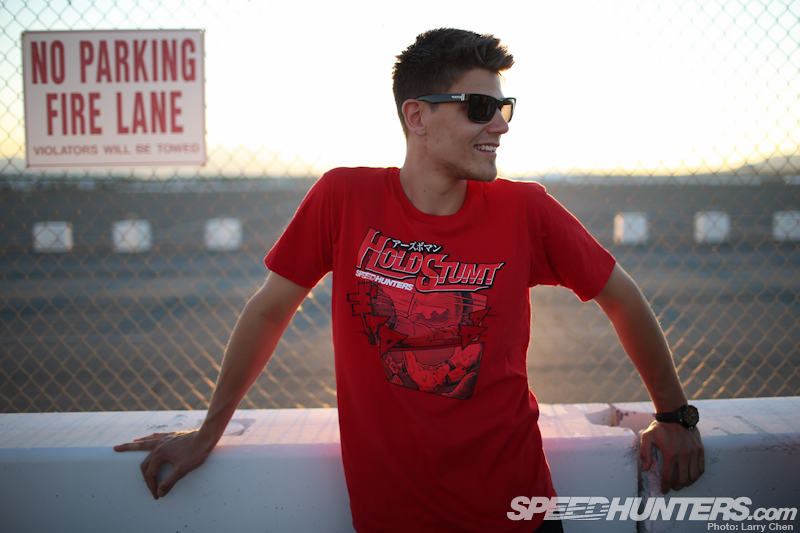 Over the years I have seen Fredric grow so much as a professional driver. He mentioned to me that when he comes to Vegas he likes to take risks and 'gamble.' He wrecked badly in his Toyota Supra (also known as Chucky) back in his rookie year in 2010.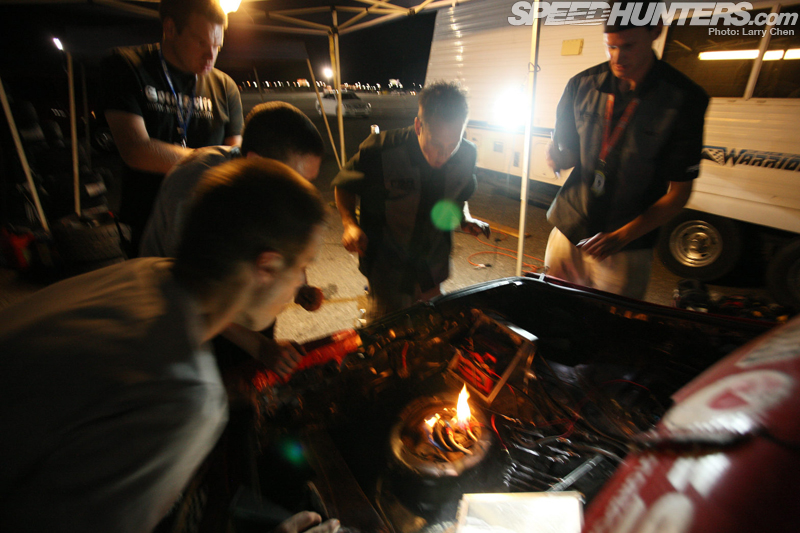 Fredric always laughs when I bring up this moment, but it is one of my fondest memories of our travels together. His friends from Norway were frantically trying to fix his car in time for competition, as he crashed the night before. While they were just about to button it up there was a spark and the fuel cell caught on fire. Simultaneously all the Norwegians leaned in nonchalantly and blew on the fire. Luckily it went out, and Fredric continued on to the Top 32 eliminations.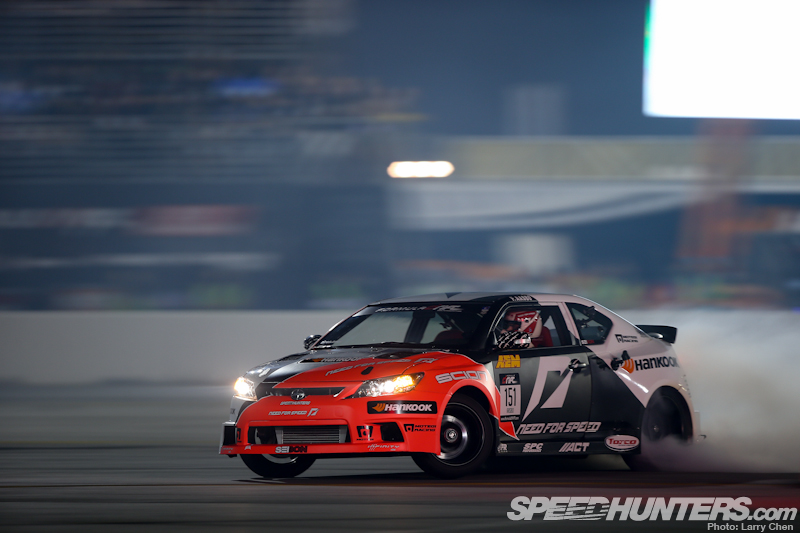 So watching him go from a car that would spontaneously combust to qualifying first and eventually finishing second in just two years at the same event just amazes me.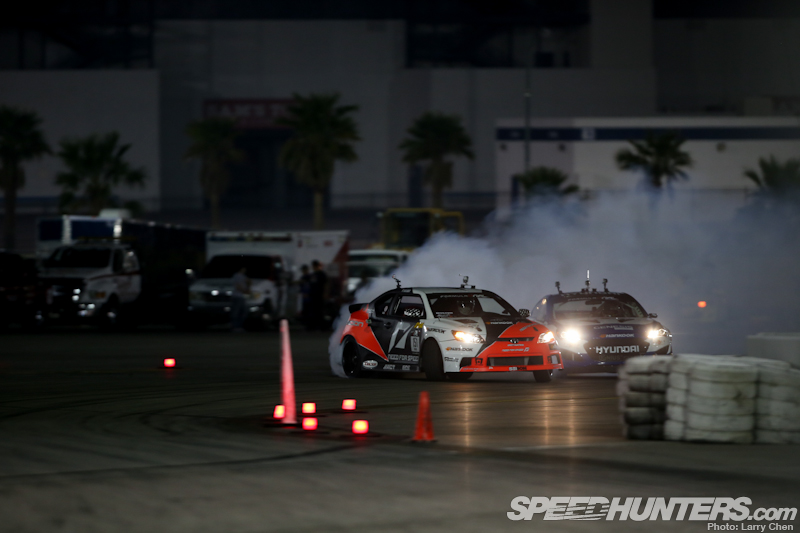 His battle with Rhys in the finals started out pretty normal.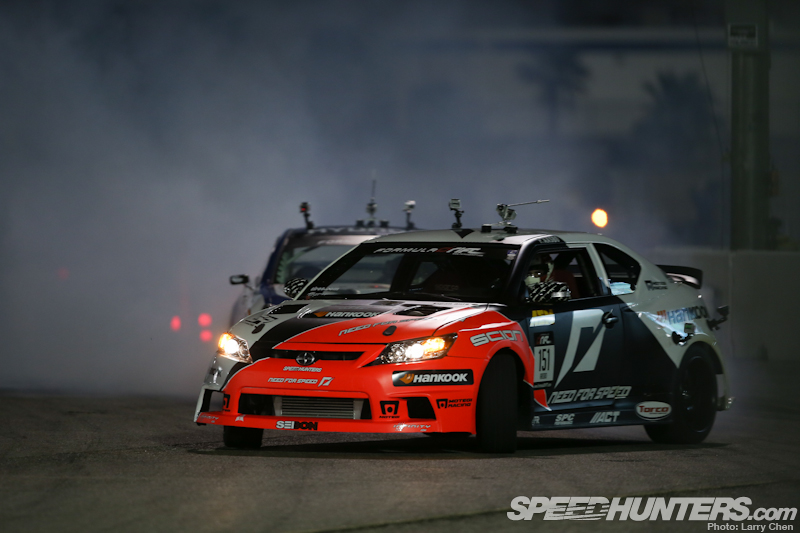 But after the first transition I knew something was wrong. His car just did not really change direction. Instead it just continued its forward momentum. Eventually he slammed the rear of the car into the wall.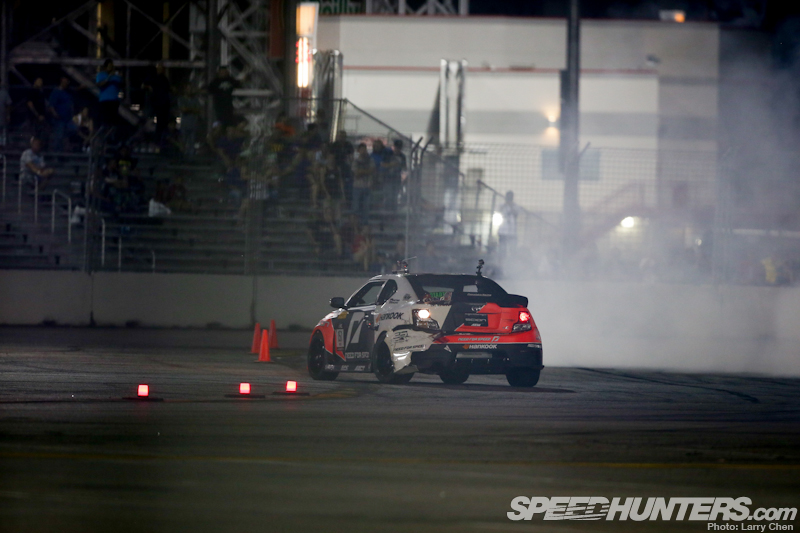 His lead run would be a zero. So what happened?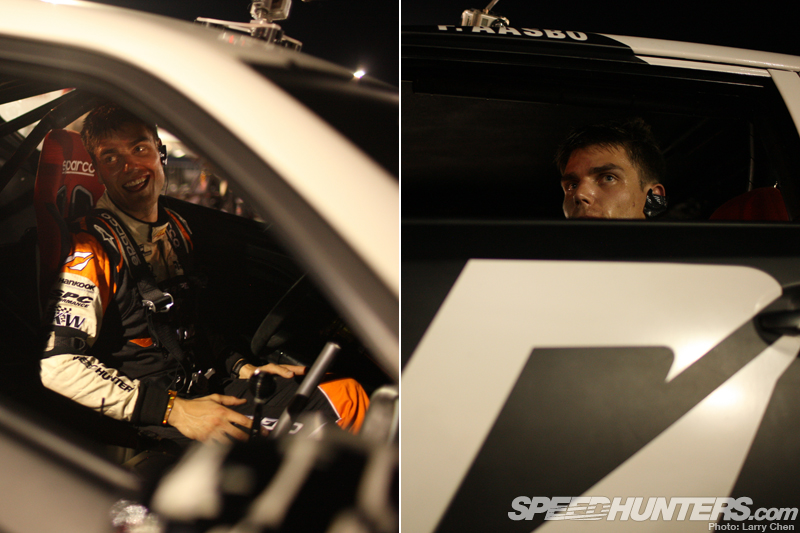 Well initially he had a smile on his face thinking. 'Oh well, I gambled and I lost', but then things got serious. The team only had five minutes to fix the damage to give Fredric just the slightest shot at getting his first ever Formula Drift Victory (not including overseas demos).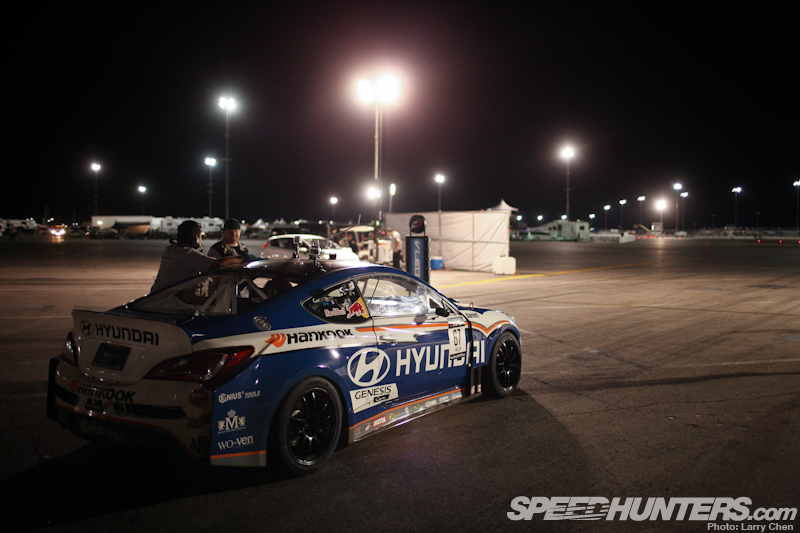 Rhys waited patiently at the startline as the clocked ticked down, never removing his helmet.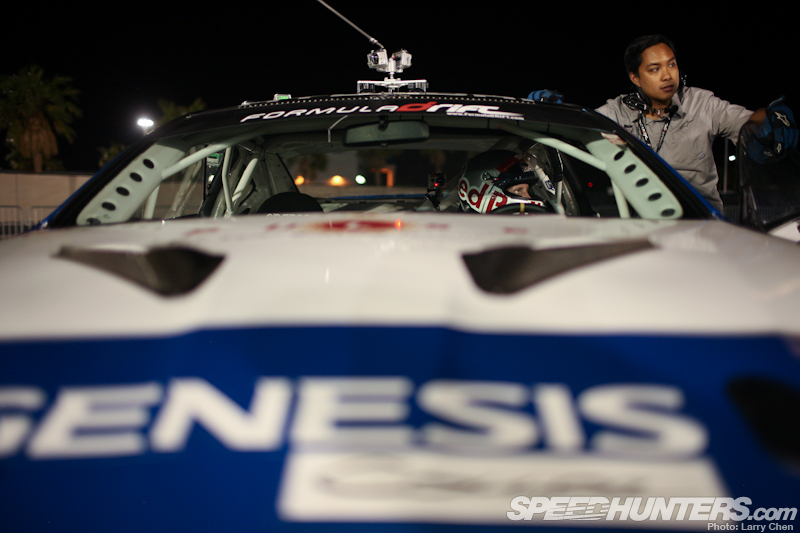 He waited and waited. Eventually the car was fixed and Fredric was back on the starting line ready for his follow run. His run was good, but it was not enough to overcome a zero.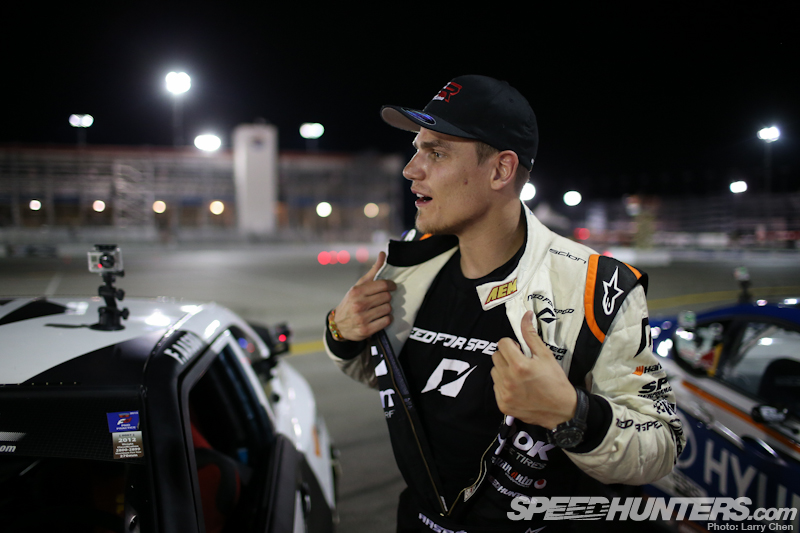 This is when the doubt kicked in. Was it the car? Did a rear toe rod break right as he was transitioning? Well I asked the team and after extensive review of the footage and pictures (including mine) the team has concluded there was no mechanical failure. Fredric's initial thought was correct: he gambled and he lost. He will go into more detail in his upcoming blog.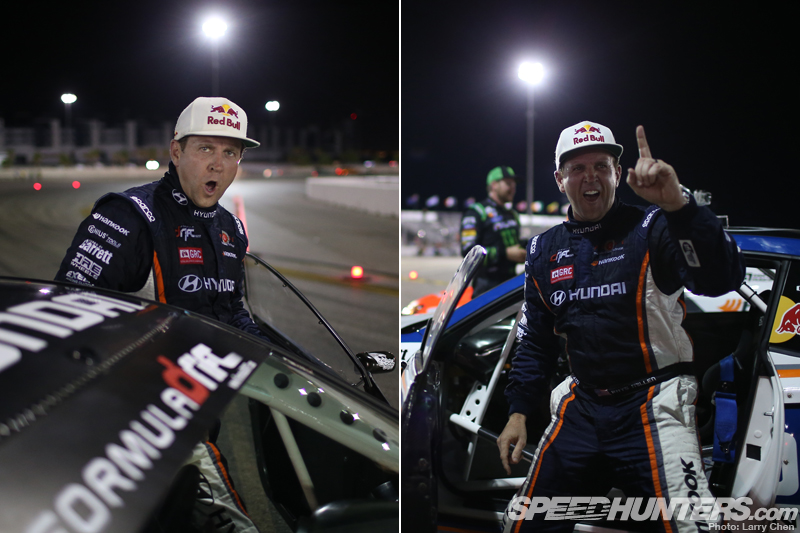 Rhys Millen was ecstatic, as he has proven that he is a force to be reckoned with and now he is back in the race for the championship.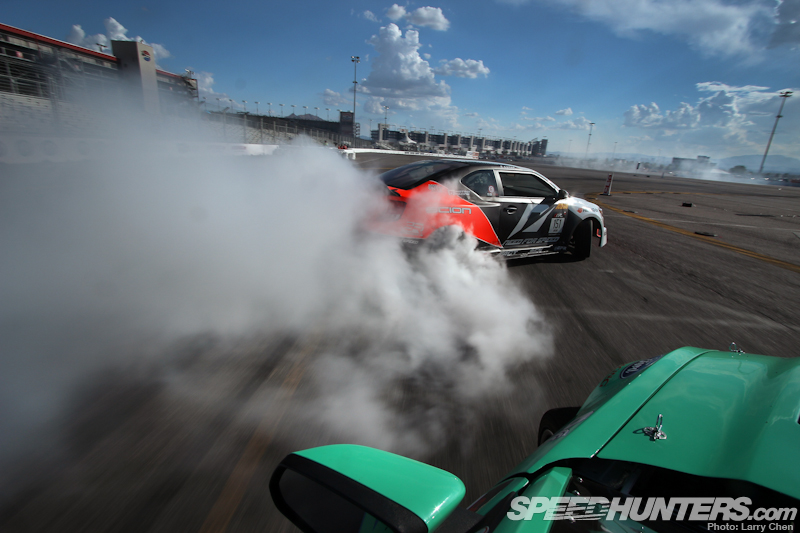 Fredric moved up a few spots and now he is within striking distance of getting his first top three finish in the championship.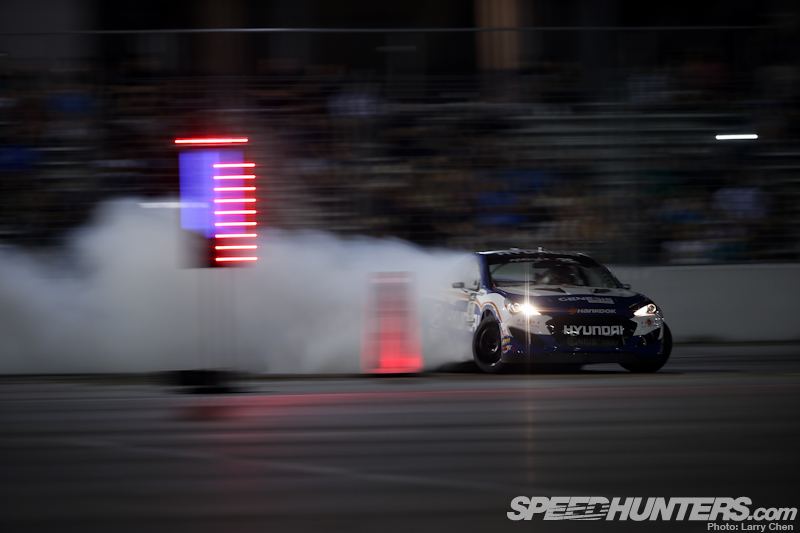 Rhys is 44.75 points away from leading the championship, but that is close enough to take it if all the cards fall in the right place.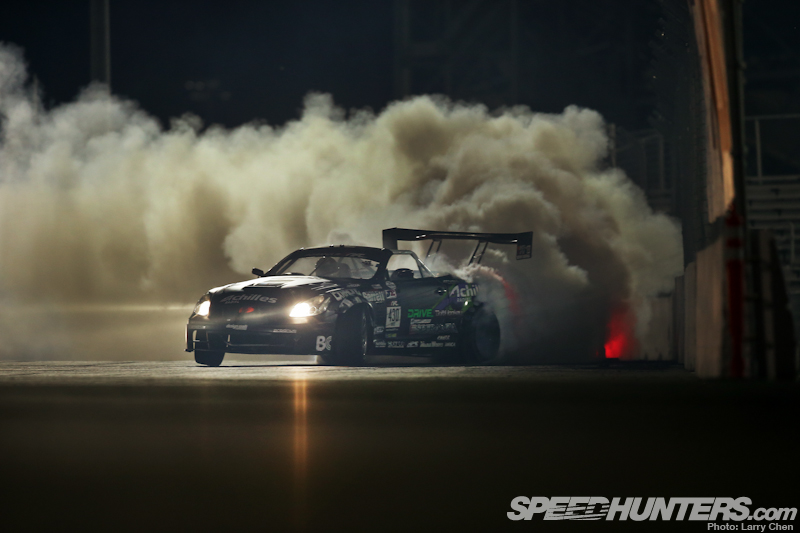 Saito came into this season just wanting at least one first place finish. Now he is in the race for top honors and it has come down to the last round.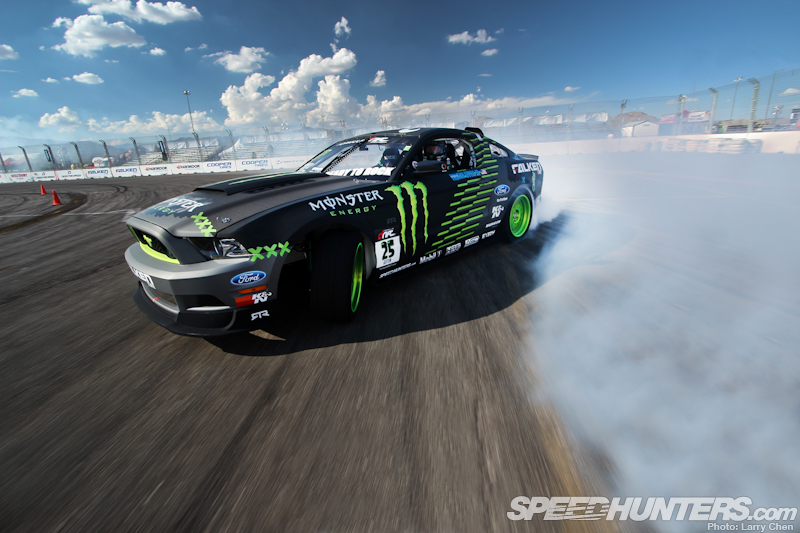 Vaughn jokingly asked to be excused for his performance last year as he had already won a championship the year before, but he has no excuses this year as he is in the lead. He says Irwindale is his house, and I think it is considering he was the first American to win a D1GP event there. Then again, it is Irwindale and anything can happen. We will just have to see.
Larry Chen
larry@Speedhunters.com
More stories from Formula Drift on Speedhunters
More stories from Larry Chen on Speedhunters
---
---
---
---
---
---
---
---