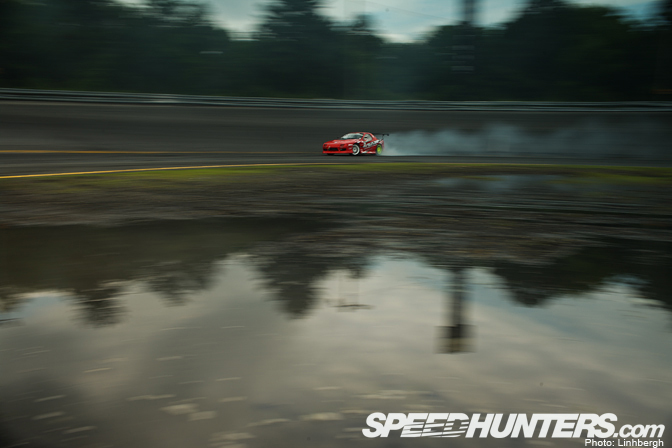 Friday's qualifying day at Wall Stadium in New Jersey was a day filled with heat, excessive humidity, and something very, very unexpected.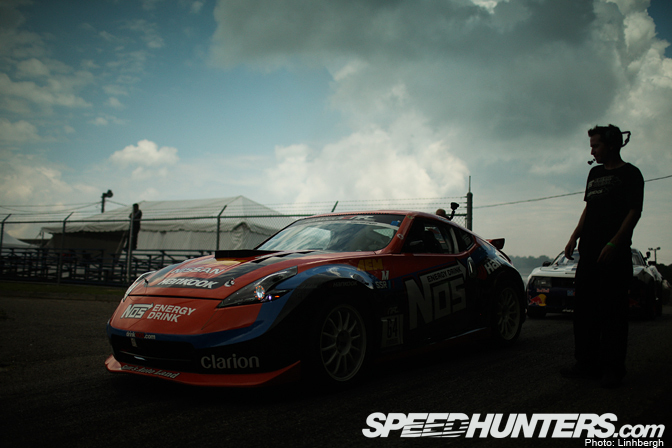 But for most of the day, everyone was treated to an overall gorgeous day filled with a sky full of clouds that required hunting.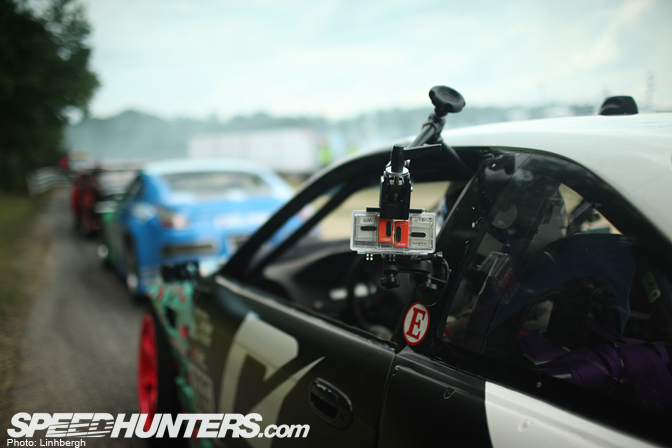 Will Roegge came out to test out his new toy, a 3D GoPro video system. I had a brief view of the results and I have to say that it's a very neat experience.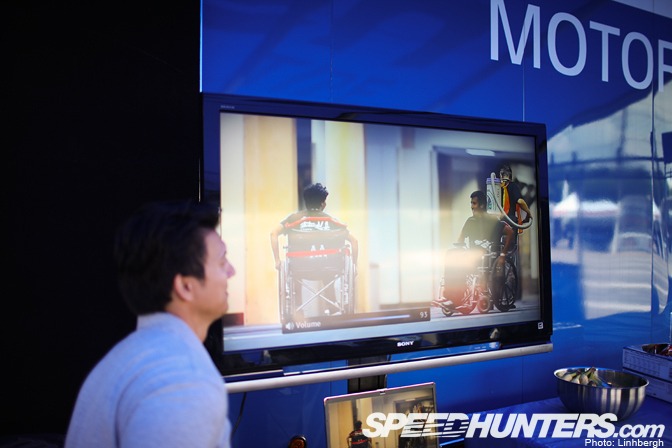 The guys from Falken were having a viewing party for Larry Chen and Joe Ayala's, now worldwide, viral short, "Stuck".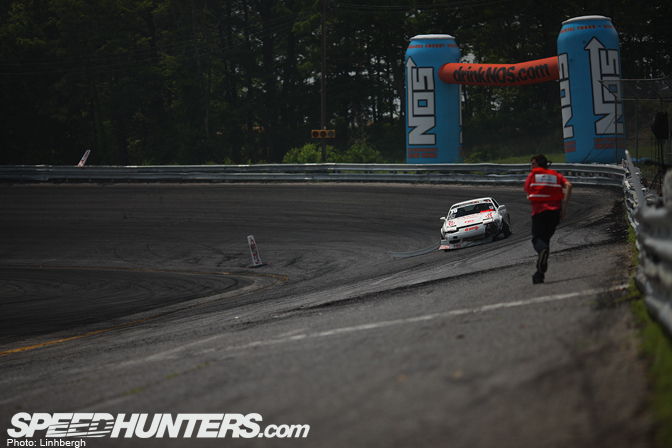 But let's talk turkey. Jeff Jones was the first casualty of qualifiying as he slammed into the guard rail rather hard and was unable to repair the car in time for his second run.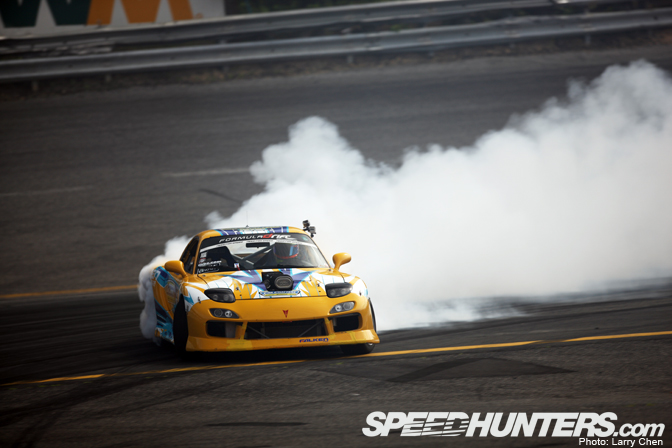 Jim Guthrie was having a hard time for most of the season so far, but we are happy to report that he has qualified for the top 32! He qualified in 31st place. There is no 32nd qualifier as everyone else was not able to run or ran a score of zero for both of their runs.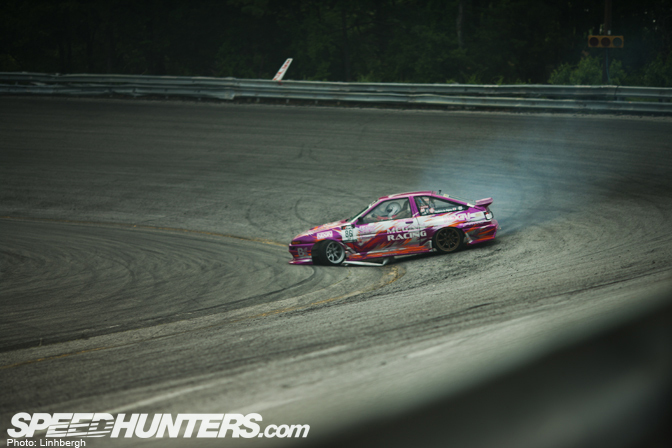 Taka Aono fudged his first run which resulted in a zero, but he was able to complete his second run which put him 29th on the grid.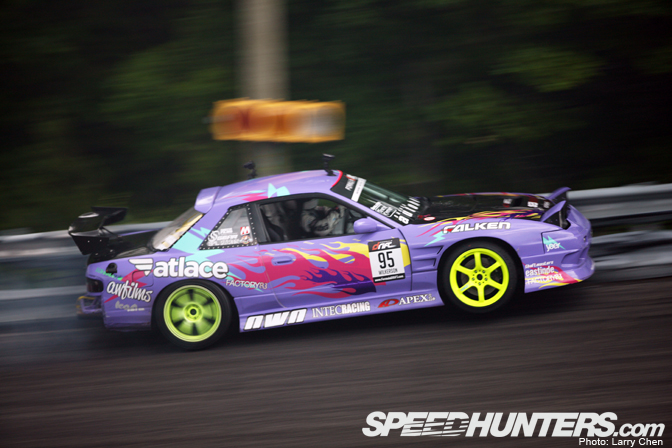 Walker Wilkerson was looking very promising in practice, but during his first qualifying run, he made contact with the railing damaging his wheel and suspension…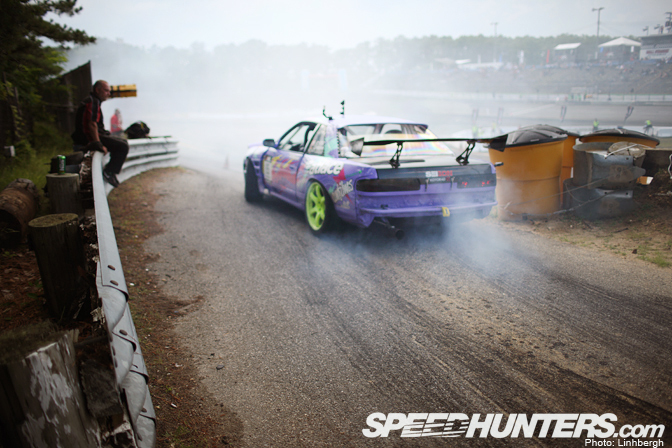 …But miraculously he was able to repair his car in time for his second qualifying run. He sits 27th on the grid and will be battling Forsberg in tomorrow's top 32 battles.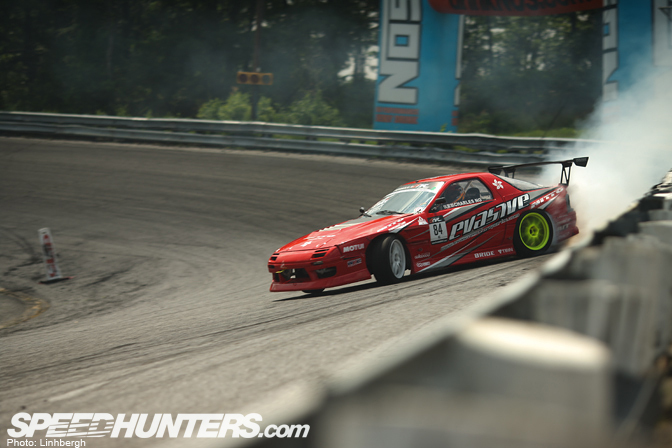 Charles Ng's Evasive FC RX-7 is my 2011 pick as favorite car to shoot because of his D1GP inspired red and white livery. It just pops out on any track. Charles qualified 22nd.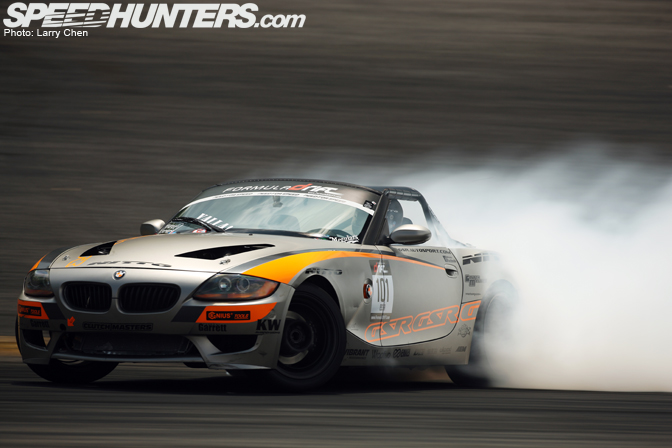 Mike Essa put in some solid qualifying runs and was able to qualify 19th on the grid.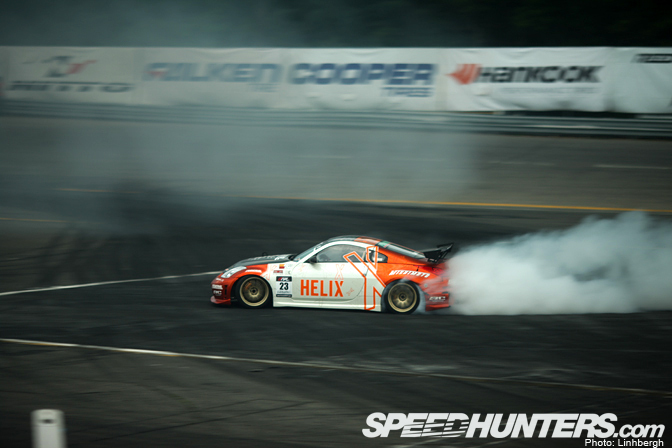 Matt Waldin walked away from today's proceedings with a 20th grid position.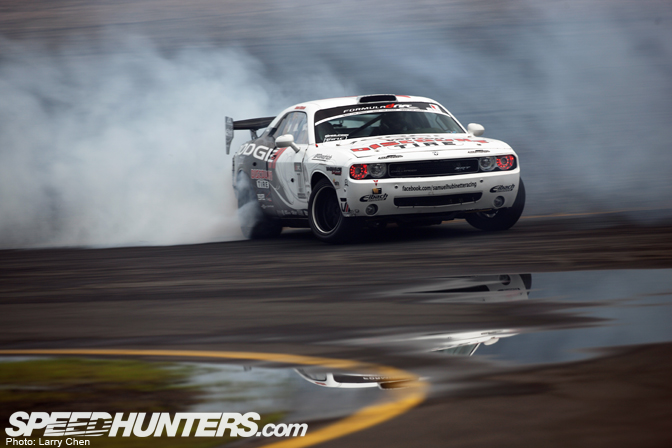 Sam Hubinette is absent for this round of FD as he is currently pursuing off road truck racing. But his signature black and white Dodge Challenger was still present with Kenneth Moen behind the wheel. He qualified 17th.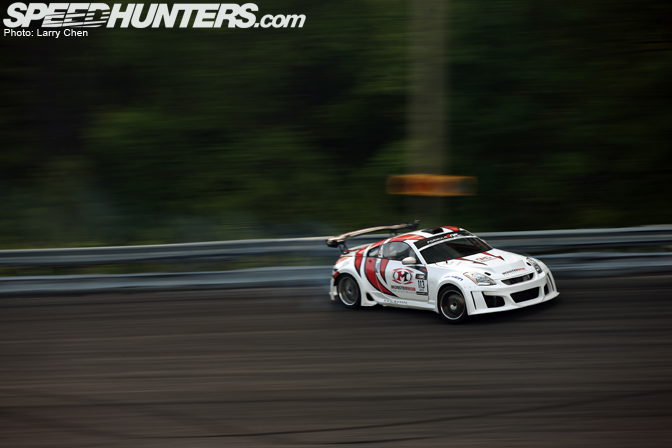 Otto Graven drove the pants off his 350Z and is sitting 13th on the grid.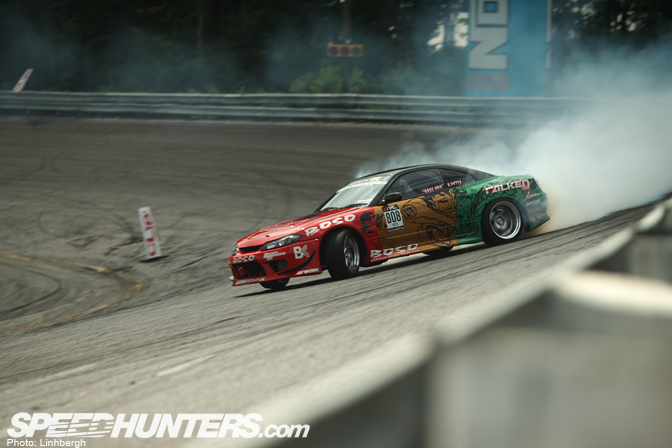 Ross Petty sits 11th.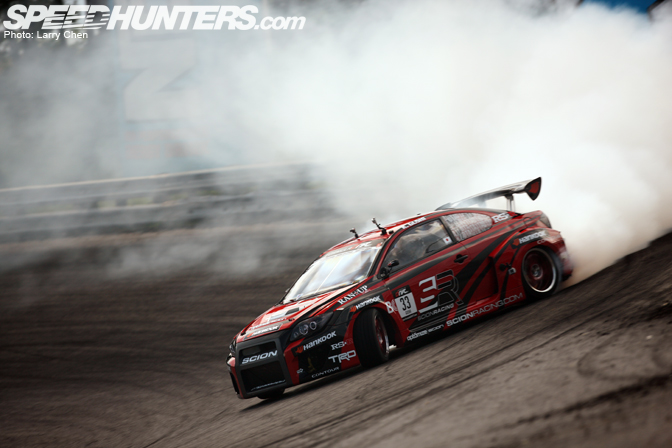 Now we're going to highlight the top 10 qualifiers. Tenth place went to Ken Gushi.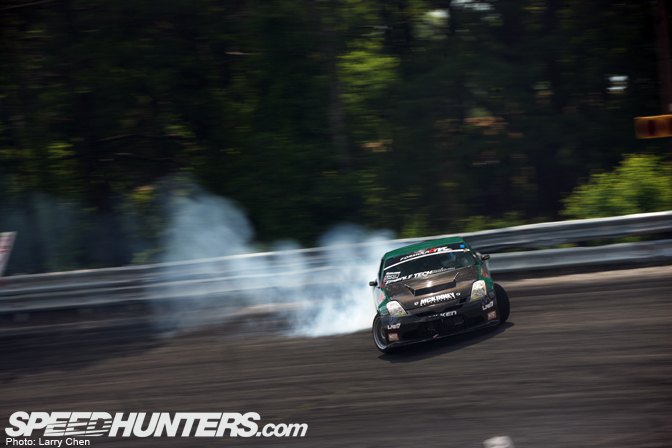 Privateer, and FD rookie, Ryan Kato was on fire in his first qualifying run. That locked him in 9th place. Like Walker Wilkerson, he's definitely someone to watch this season.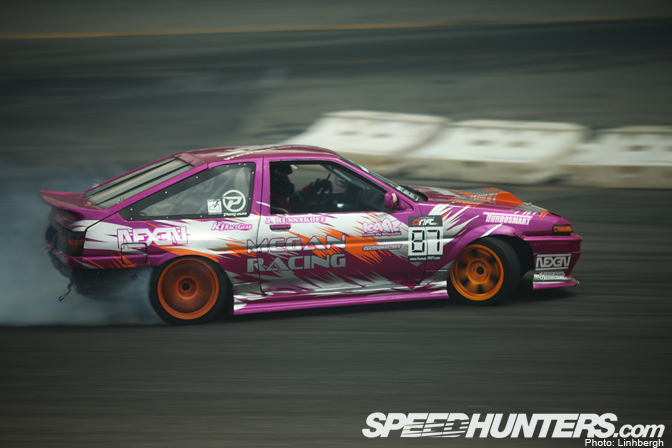 John Russakoff slammed down some quality runs with his K24-powered Corolla. He sits in 8th.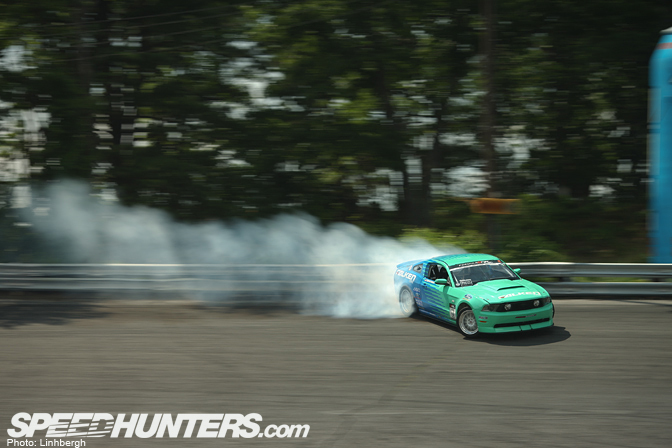 The 7th spot on the grid goes to the man that is currently leading the drivers' championship, Justin Pawlak.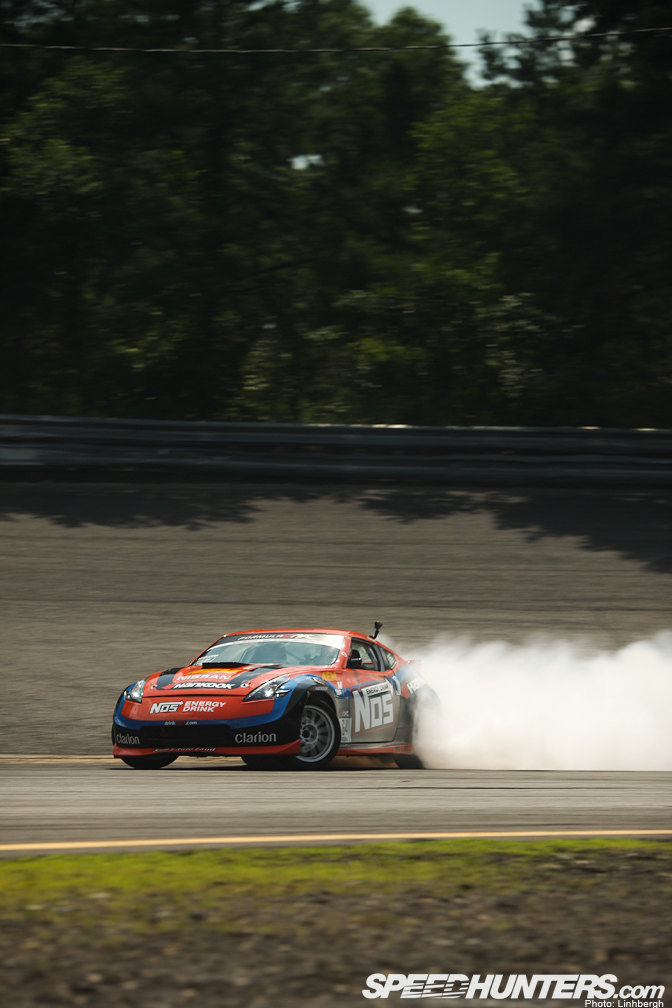 Sixth position went to 2011's robot drifter, Chris "consistant" Forsberg.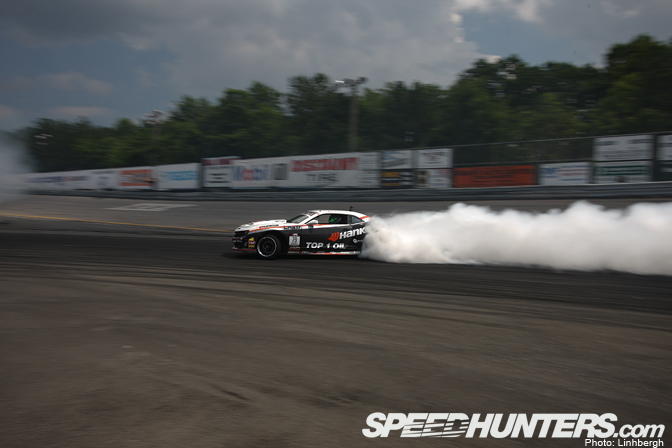 Conrad Grunewald put on quite a smoke show with his Hankook Camaro. He sits in 5th.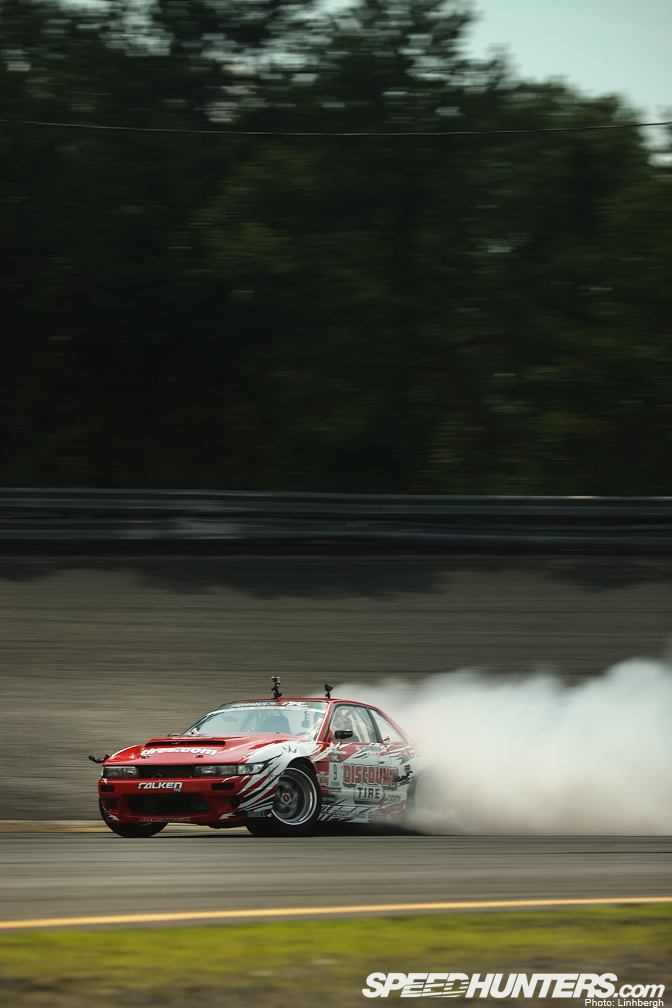 Daijiro Yoshihara qualified 4th…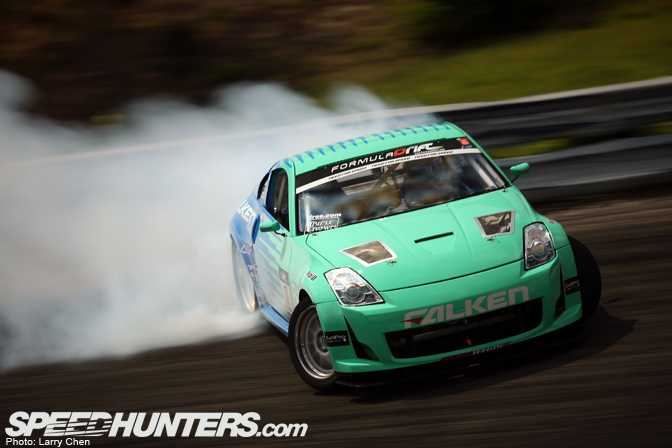 …and his team-mate, Tyler McQuarrie, sits in 3rd.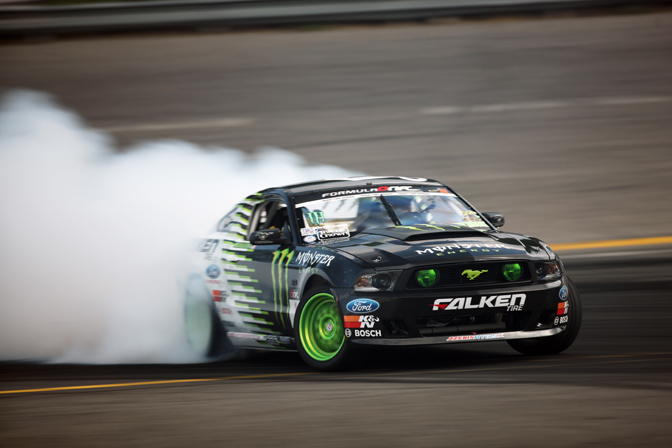 Vaughn Gittin Jr. is looking to be a very strong contender at this event. His car looked dialed in, and during each qualifying run, he drove the living socks off the Mustang. Driving your socks off rewards you with the second qualifying position.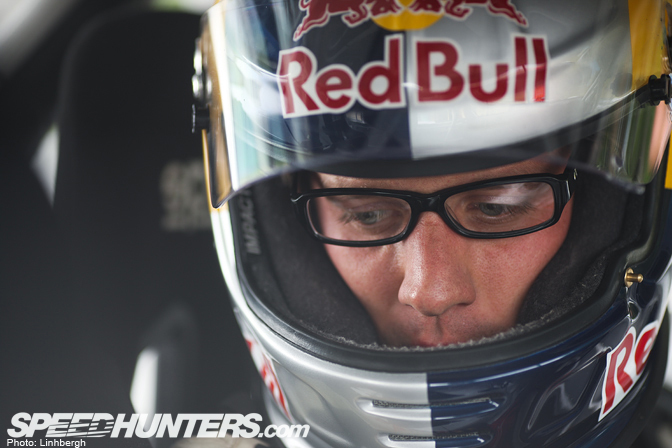 The number one qualifier of the day went to the man with a brand new LS7, Ryan Tuerck. Also, he automatically moves onto the Top 16 as there is no 32nd qualifier.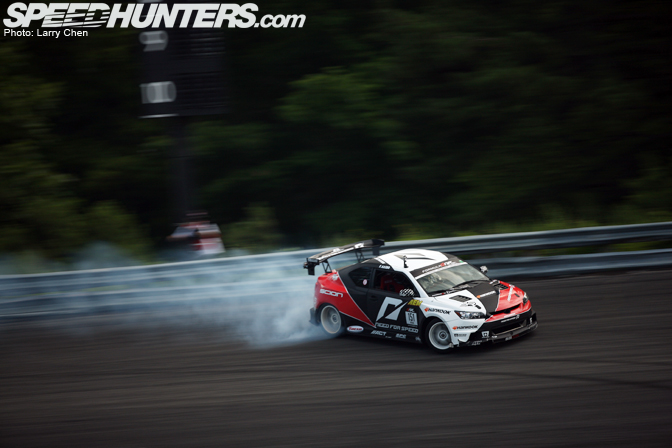 On the Team Need for Speed side of things, Fredric Aasbo sits 18th and will be battling Darren McNamara in the top 32.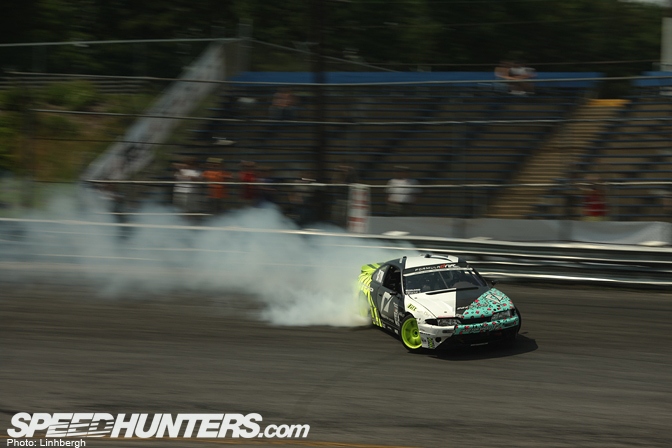 Matt Powers sits 25th and will be battling John Russakoff. Both Team NFS drivers have some stiff competition going into the top 32!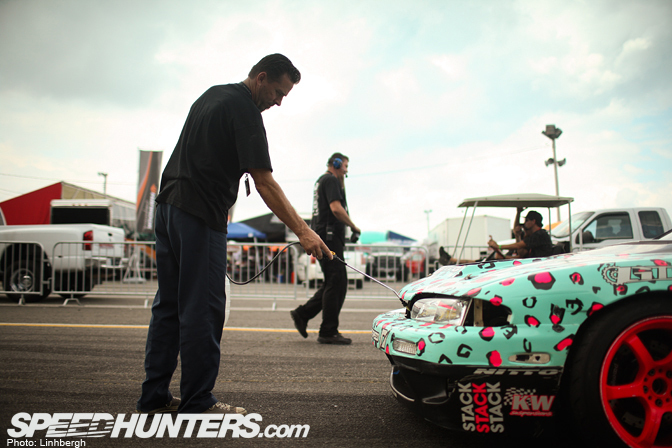 All day, during both the practice and qualifying sessions, the heat, and especially the humidity, was something everyone on the grid had to battle – especially the cars.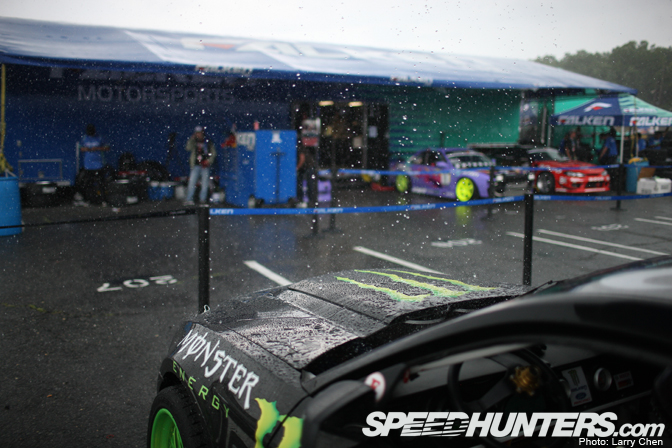 But immediately after the qualifying session ended…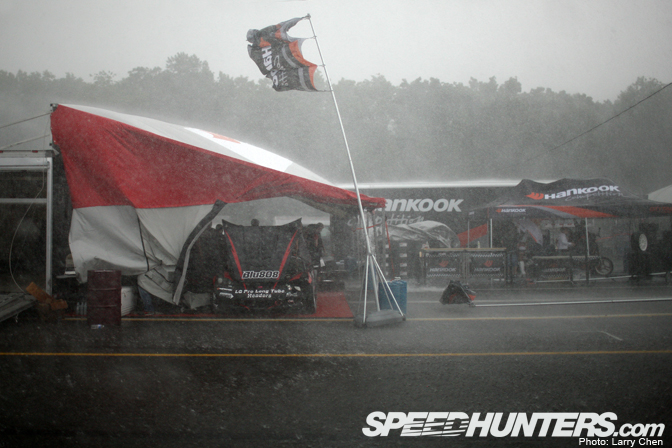 …the heavens opened up with great vengeance and furious anger!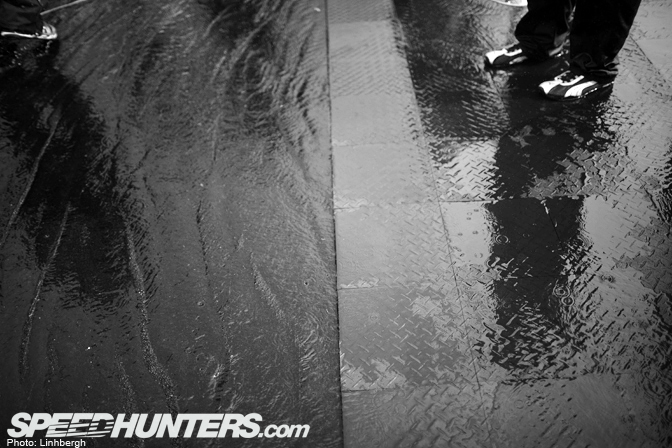 And before we knew it, it was over.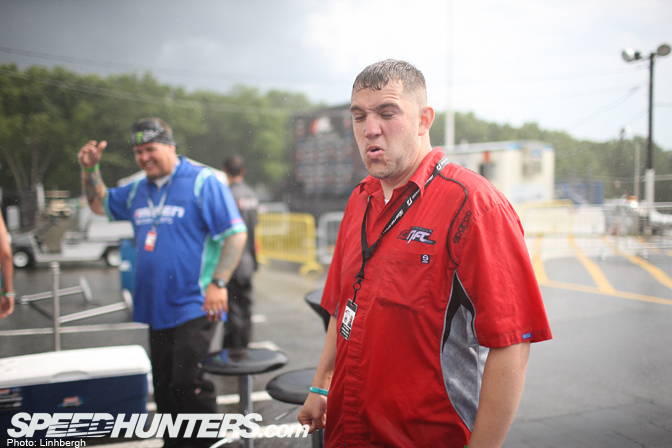 Everyone on the grid was caught completely off guard.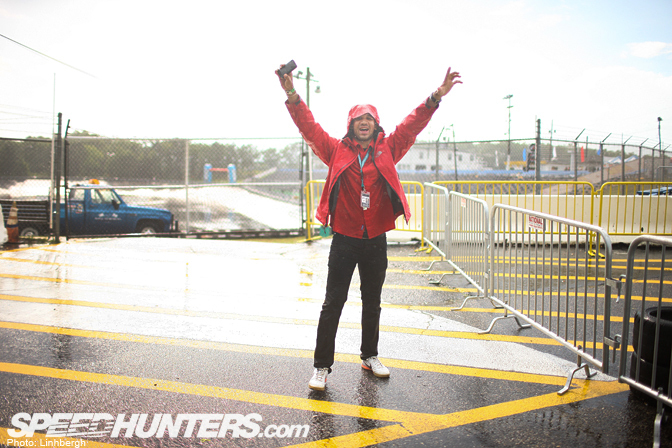 There was a jubilant "I survived the worst freak rain storm in FD history" mood throughout the paddock.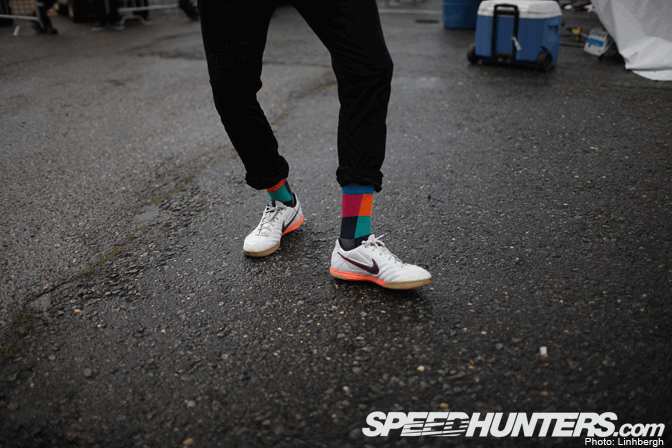 Jose Martinez, the FD Staff Photographer (who is also pictured above), even broke out in song and dance!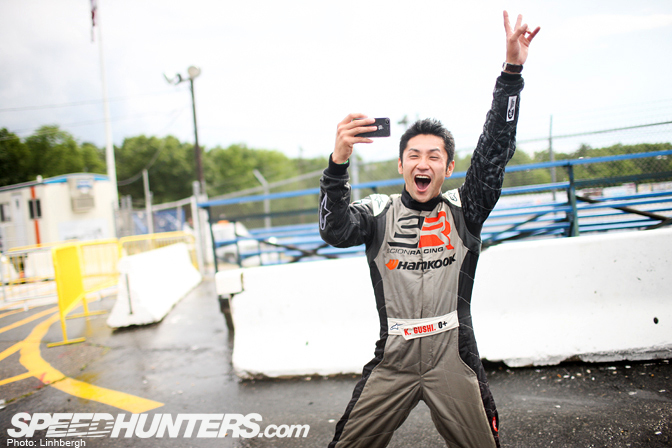 The mood also extended to the drivers, like this very happy, smart phone wielding, Ken Gushi.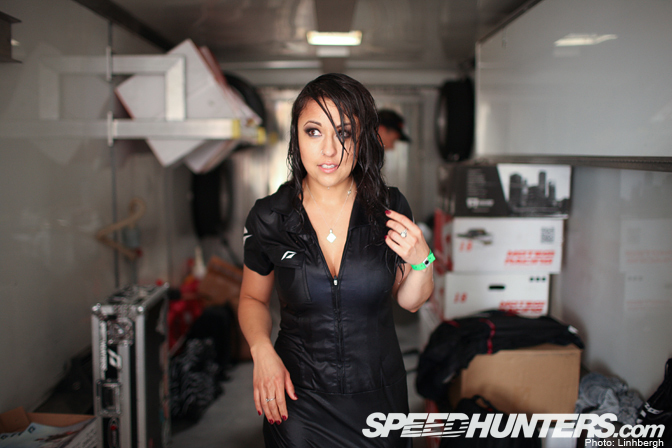 Others were not so jubilant. Miki Taka found herself completely drenched along with her DJ'ing equipment.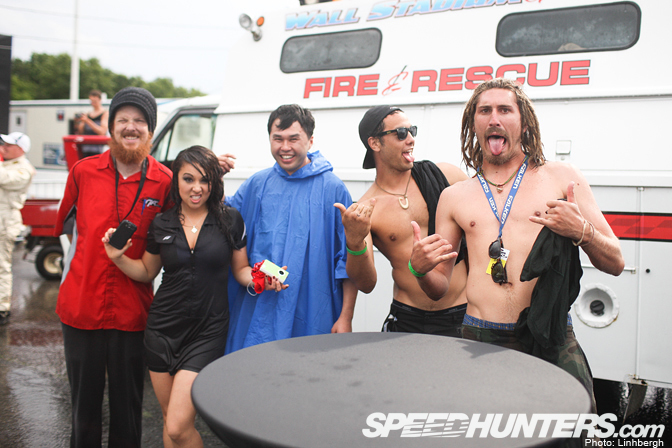 But a bit later, Miki was found to be in a much lighter mood.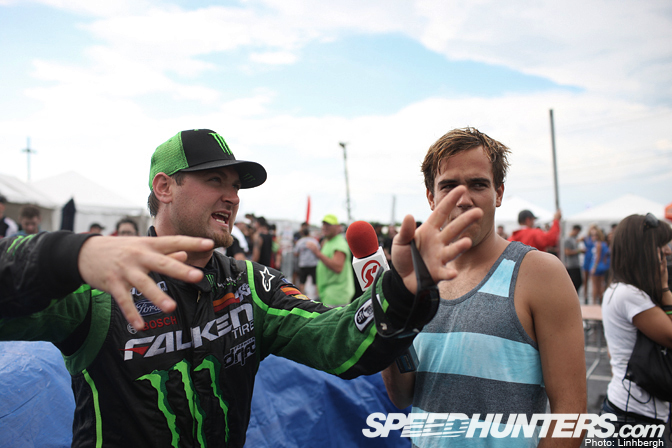 The freak storm happened during the post-qualifying drivers meeting and here Vaughn Gittin Jr recounts the epic tale…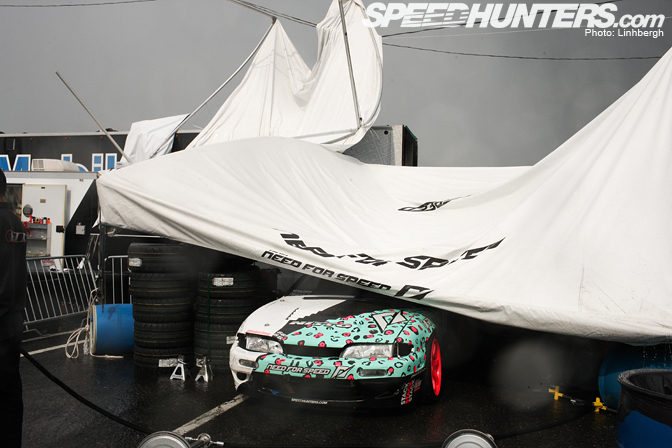 …of him trying to save the Need for Speed booth.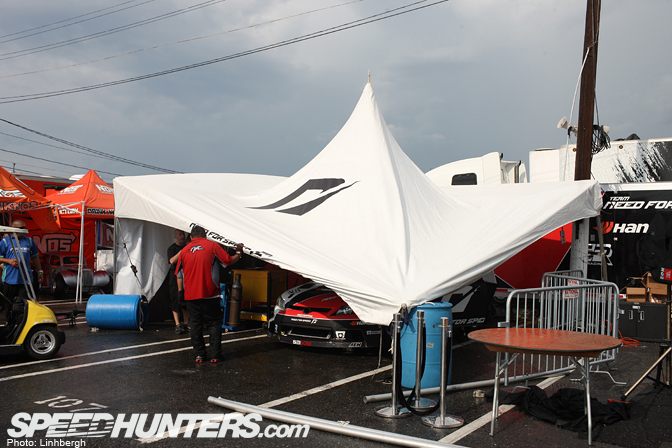 The NFS Electro Lounge was a casualty from the freak rainstorm. Everything blew away and everything got soaked. Luckily, no one was hurt which also includes the both Fredric's and Matt's cars.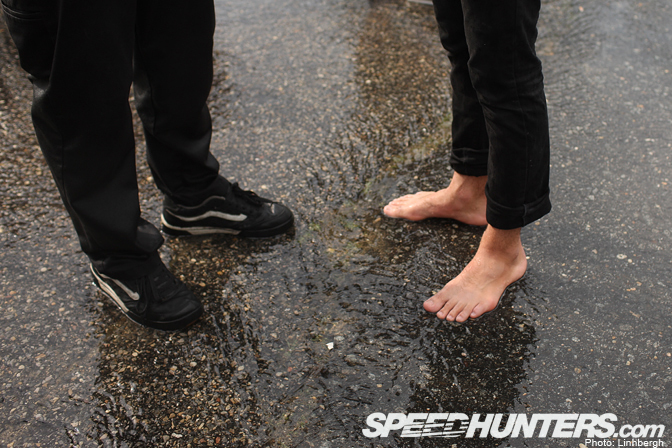 Seeing how it was so wet, some folks decided to forgo footwear completely.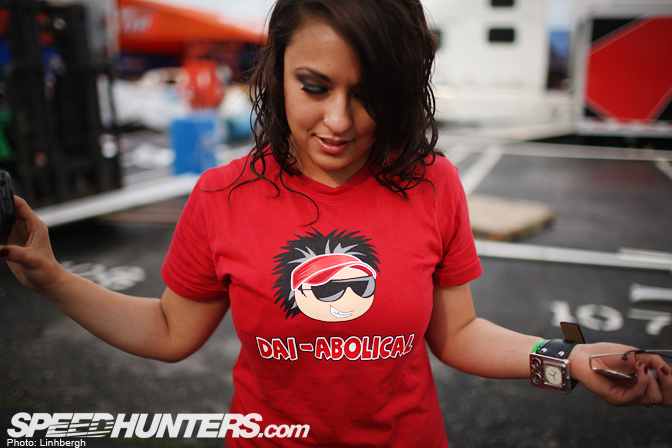 Here's a much happier Miki Taka having changed into much drier clothes.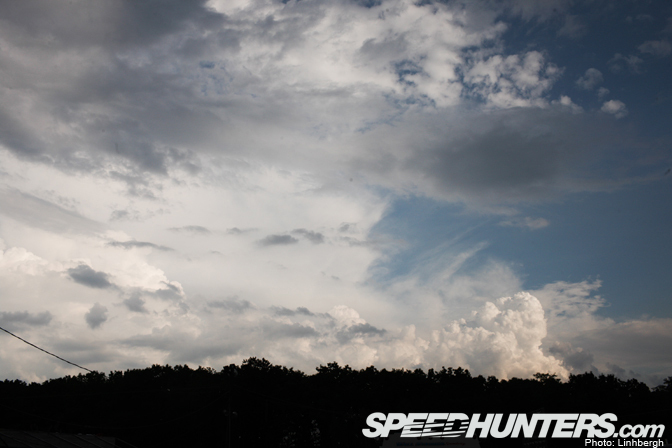 These are the passing storm clouds. This was photo was taken half an hour after the downpour. It's strange to think how something so devastating can also be so beautiful.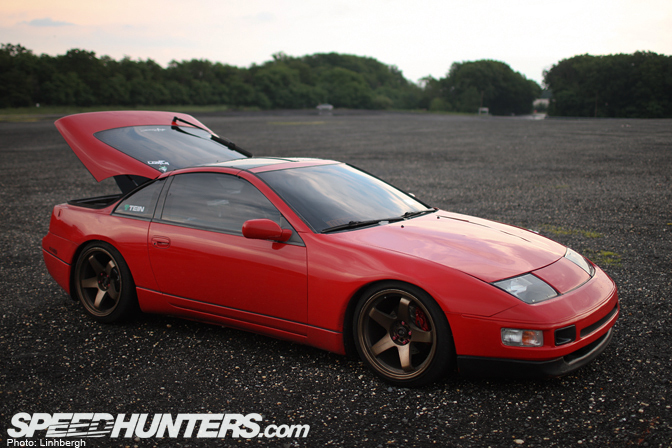 As Larry and I made our way out to the parking lot, we spotted this very clean Nissan 300ZX. I couldn't let something that looks this good pass up a speedhunting opportunity.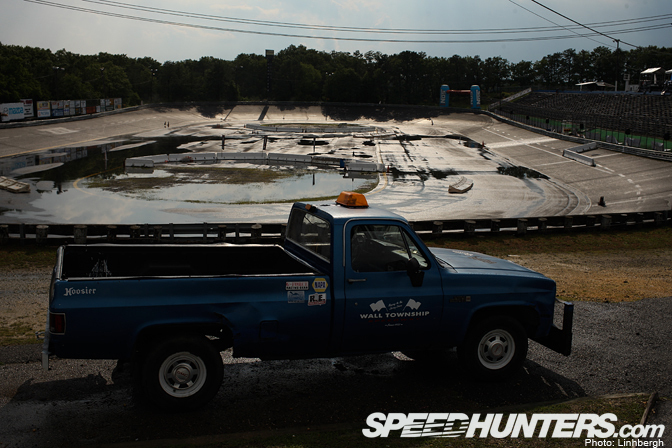 Whenever it rains, Wall Speedway turns into a lake. We saw this two years ago during qualifying which cancelled out the qualifying session completely. Luckily, tomorrow is forecasted to be bright and sunny all day long. 
-Linhbergh
Additional photos provided by Larry Chen
Speedhunters FD New Jersey coverage
Top 31 Qualifiers:
1. R. Tuerck #44
2. V. Gittin #1
3. D. Yoshihara #9
4. C. Grunewald #79
5. T. McQuarrie #17
6. C. Forsberg #64
7. J. Pawlak #13
8. J. Russakoff #85
9. R. Kado #614
10. K. Gushi #33
11. R. Petty #808
12. J. Maeng #51
13. O. Graven #113
14. K. Mohan #99
15. D. McNamara #8
16. M. Field #777
17. K. Moen #76
18. F. Aasbo #151
19. M. Essa #101
20. M. Waldin #23
21. O. Bakchis #723
22. C. Ng #84
23. E. O'Sullivan #35
24. T. Yoshioka #21
25. M. Powers #665
26. L. Lonberger #28
27. W. Wilkerson #95
28. D. Mertzanis #323
29. T. Aono #86
30. D. Kearney #43
31. J. Guthrie #27