I used to be afraid of the dark when I was a young boy, but now I prefer the dark, especially when photographing cars. There is no better way to have the ultimate control over light and the way it enters your camera. That is why I love endurance races. I can take my time and chase the light at my own pace.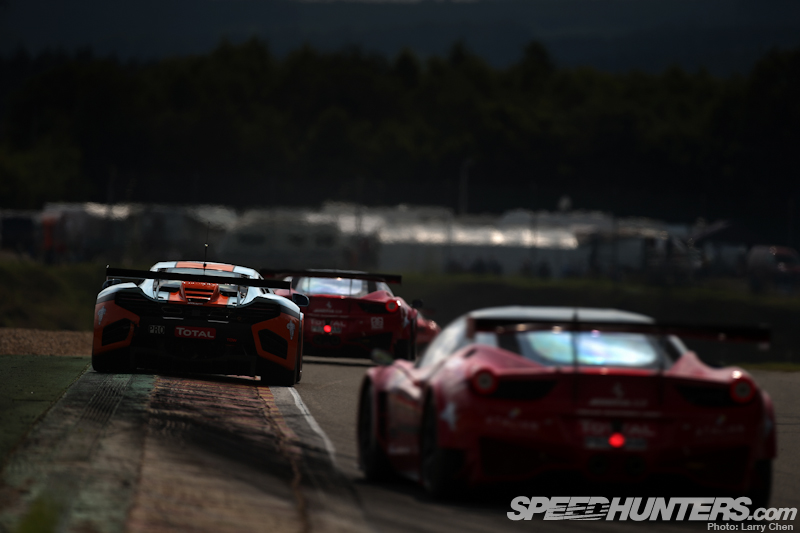 Race day started pretty normally. After shooting the start I moved down a few corners to snap some photos as I had not seen all of the cars in the race yet.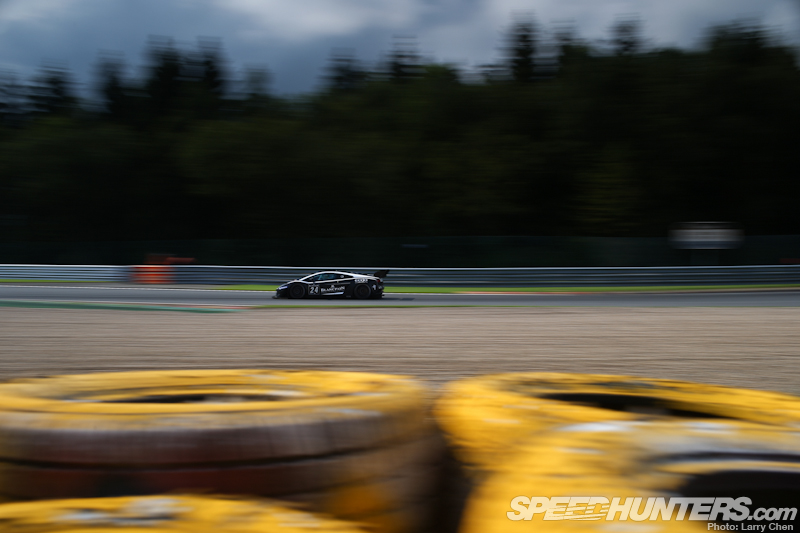 I began to make my way back to the media center to dump my cards, but I made sure to stop along at some nice shooting locations along the way.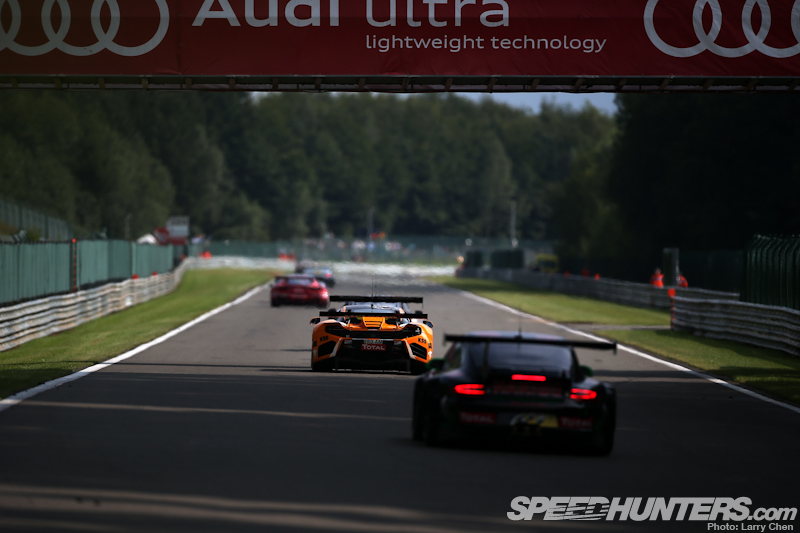 It was fairly hot so I was just wearing a T-shirt. It seemed like the locals as well as the official photographers praised the hot weather. All I wanted was some rain! I rarely ever get to shoot photos in the rain.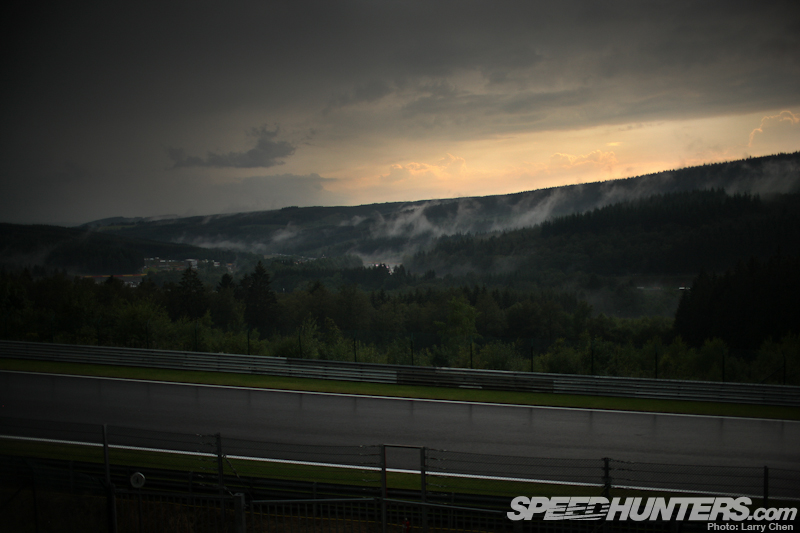 I should be more careful for what I wish for, as the rain clouds started to move in.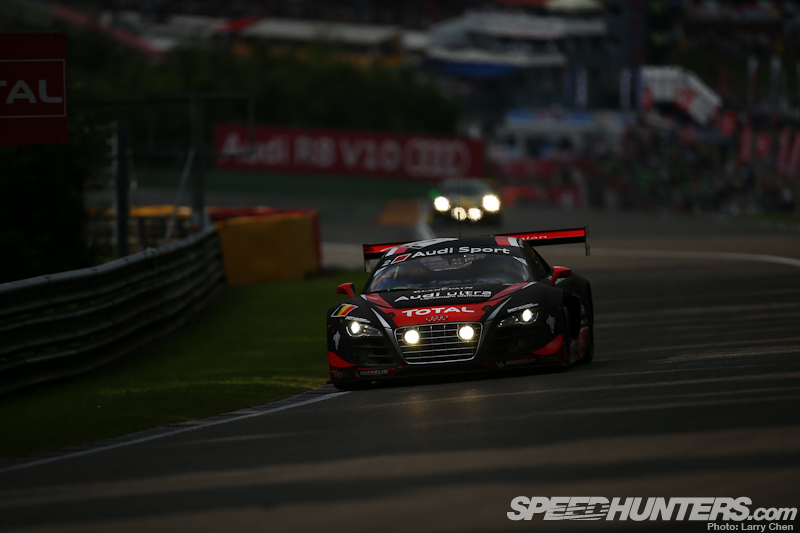 It was still dry, but soon there was a nice even cloud cover.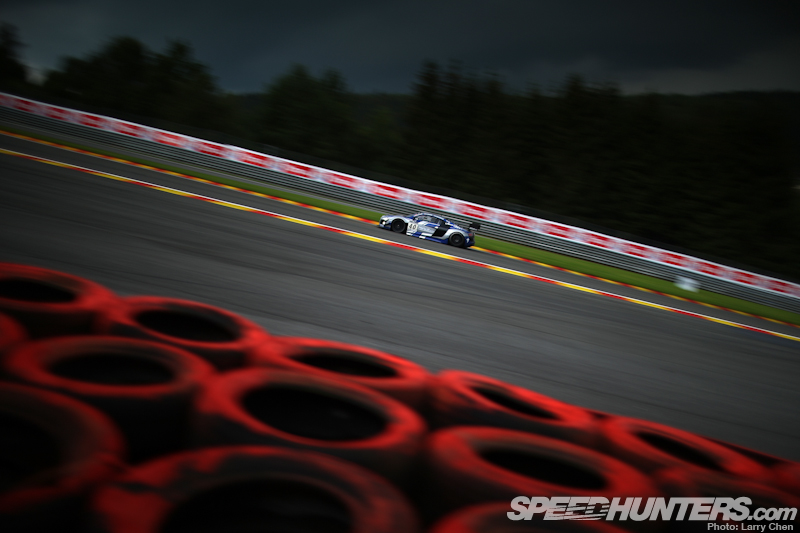 By the time I reached Eau Rouge, I had a feeling I wouldn't have dry socks for much longer.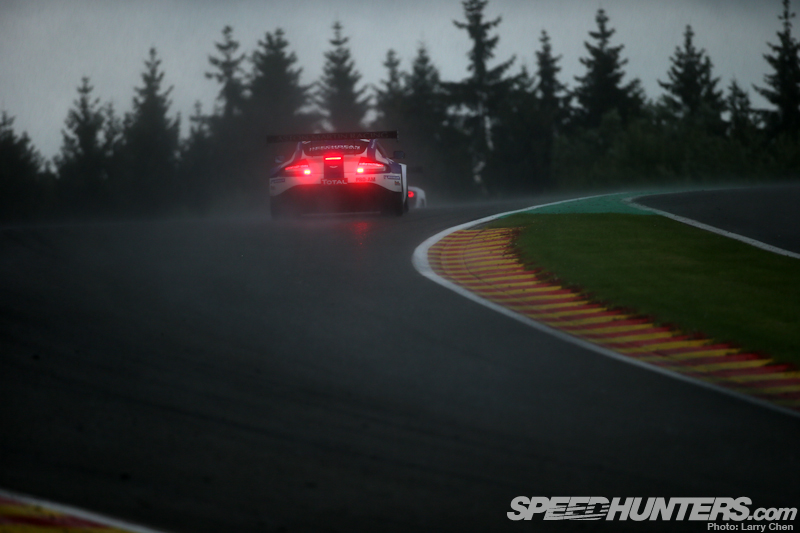 As I stepped foot on the base of the famous corner the skies opened up and it started to pour down.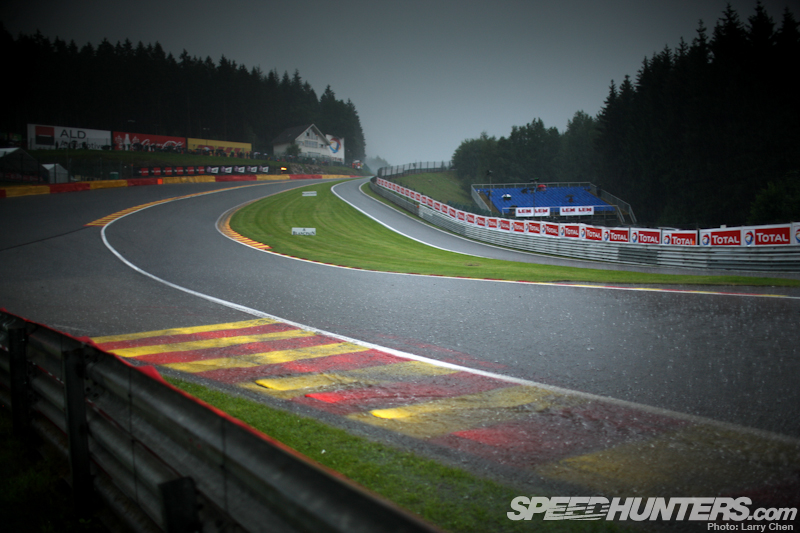 Within minutes I was ankle-deep in water. A large puddle gathered on the track completely covering the candy stripes.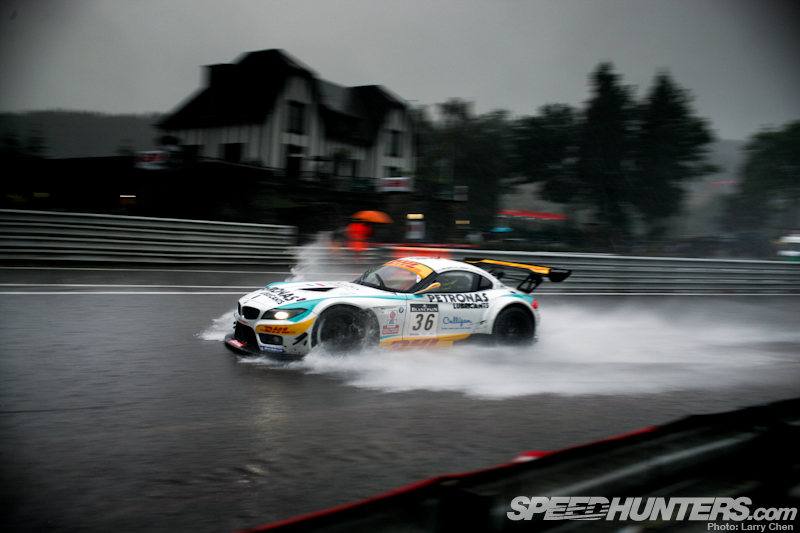 I felt like I was in high school again waiting for the bus, as oblivious drivers splashed water all over me. Except this time I was armed with light-capturing devices.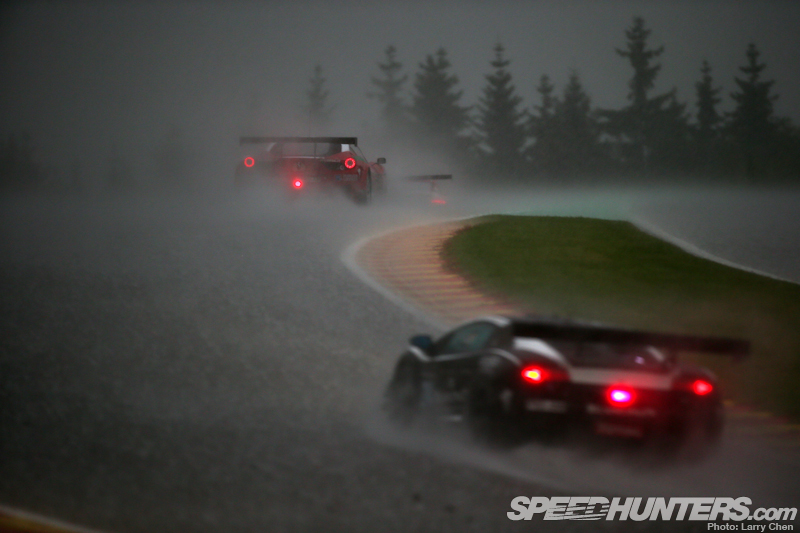 It rained so hard that it looked like the race track was covered in snow.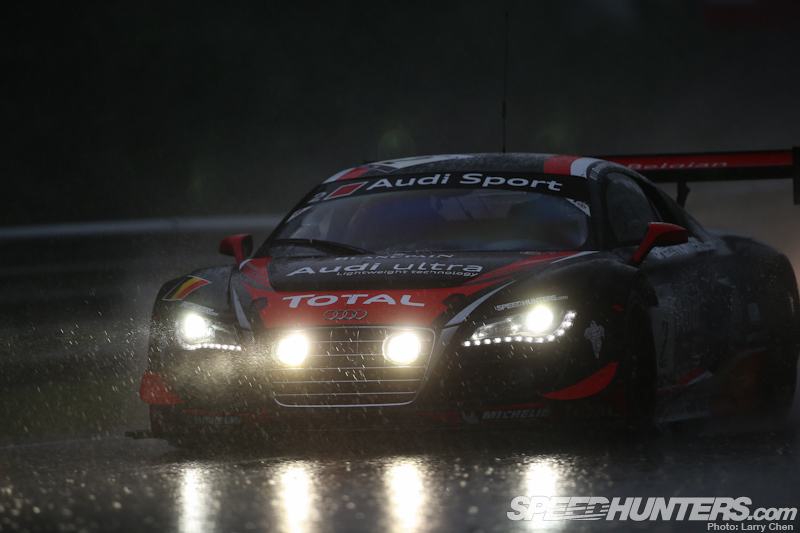 I figured this would be a great opportunity to get some cool rain shots,so I went right back to were I started my day.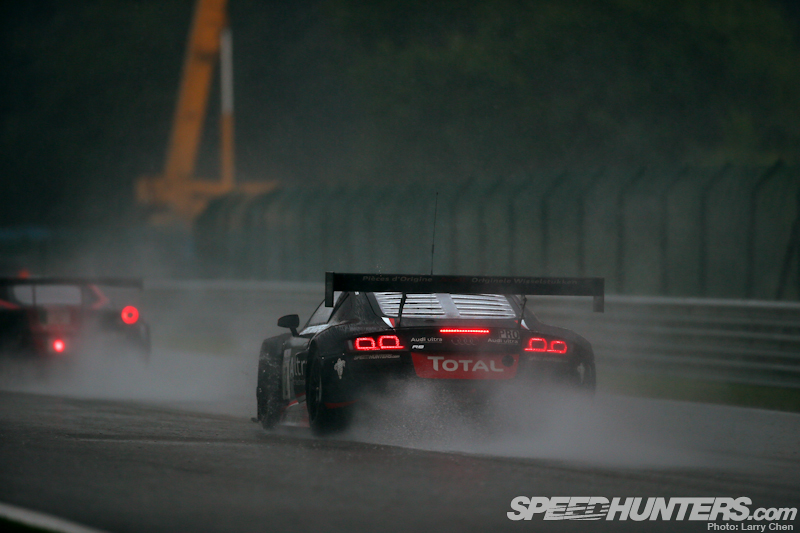 Around this time is when the number one and two WRT Audi R8s were battling it out for first and third places. The rain was slowing everyone down, but the battles were getting very intense.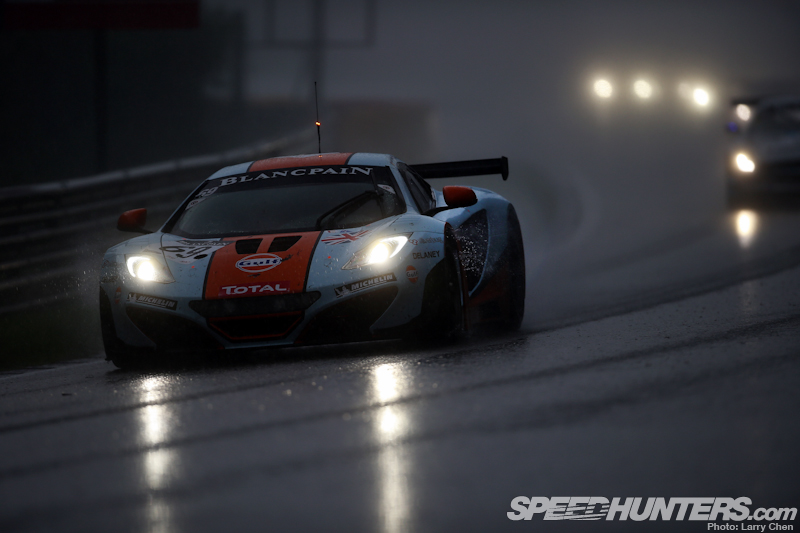 The rain let up a bit which allowed me to move the rest of the way, as I had got stuck on the straight-away.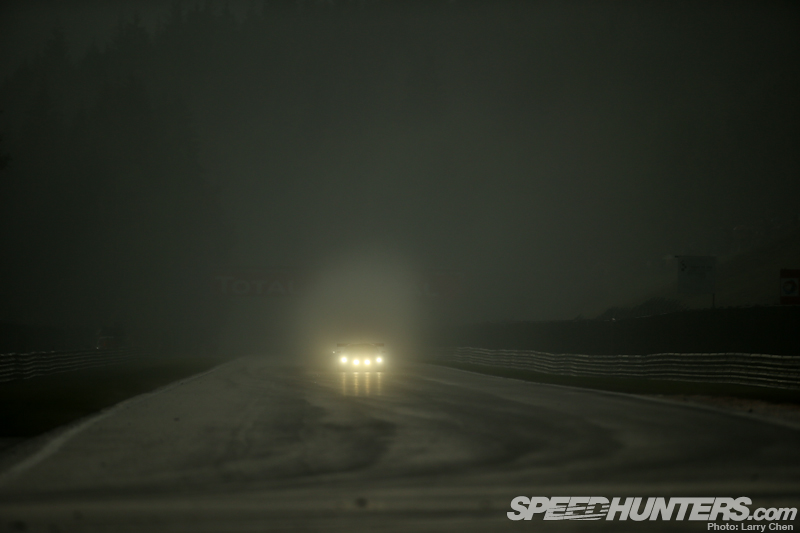 Finally, I arrived at the corner I started at: Les Combes. Except this time it was not so bright and sunny. Just the way I like it.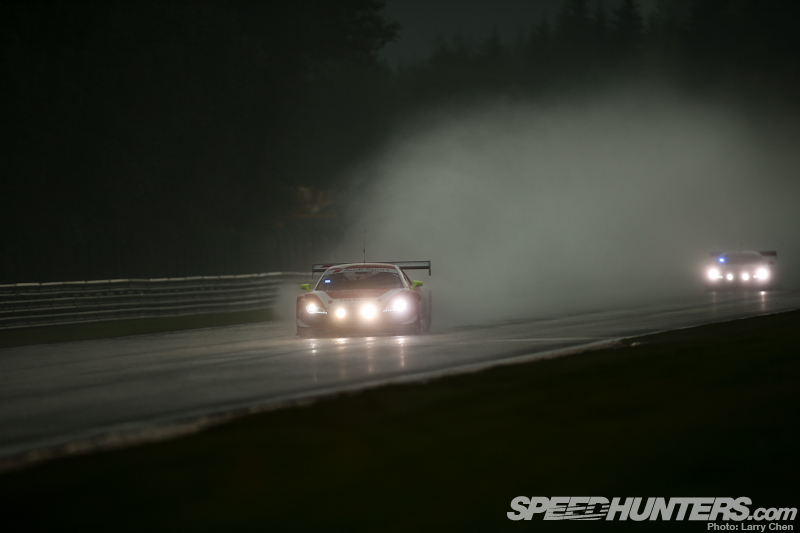 It is just so incredibly cool how big of a rooster tail these guys kick up going down the straight-away.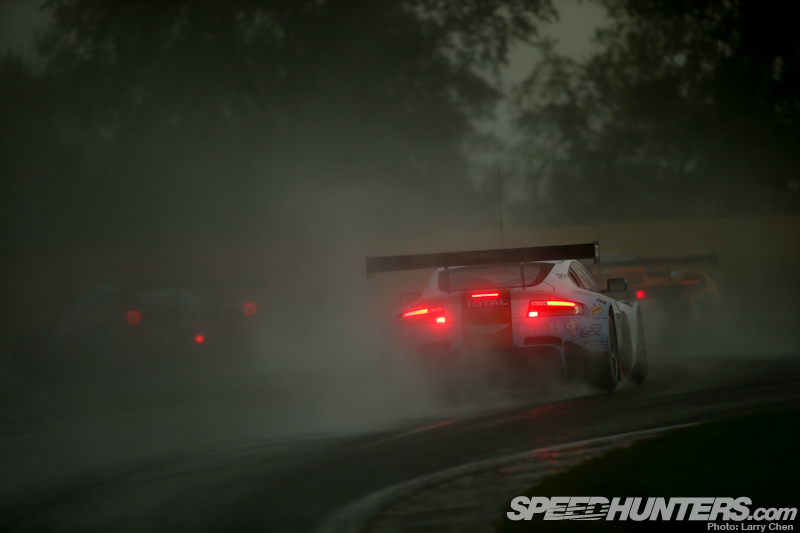 The mist of rain-water seemed to linger around forever as the non-stop stream of racecars come through.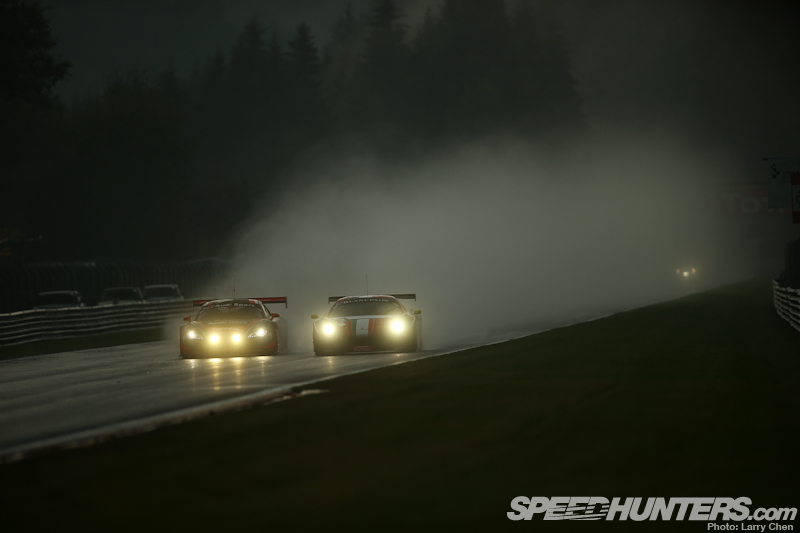 Soon the number one Audi driven by Stéphane Ortelli was leading the race.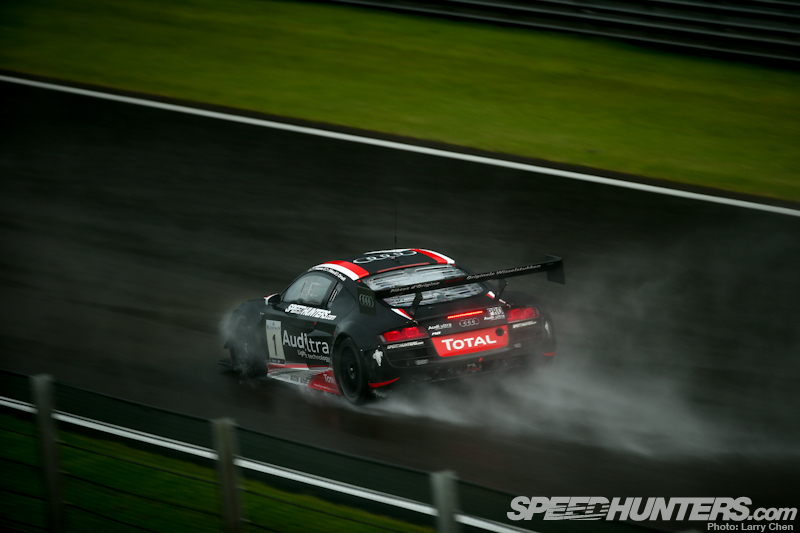 It was still too early to tell what the outcome would be, but it is a good sign if your team is in first place.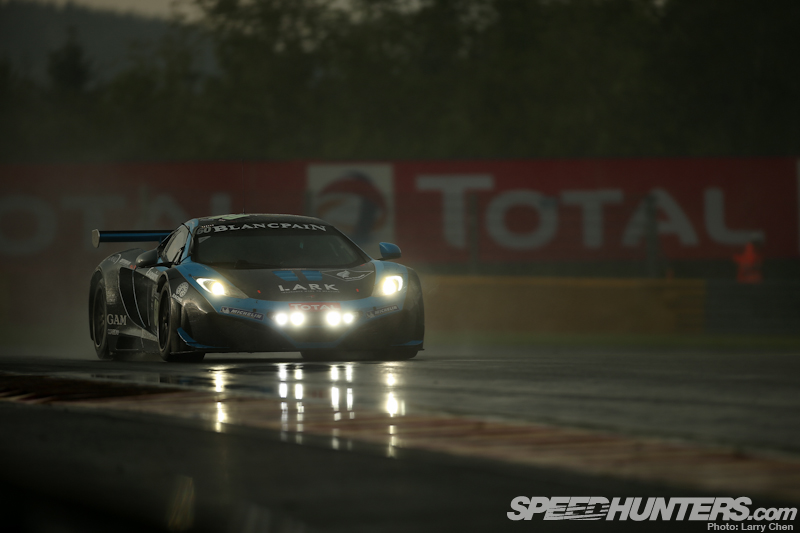 The rain let up a bit more and the drivers started to push it.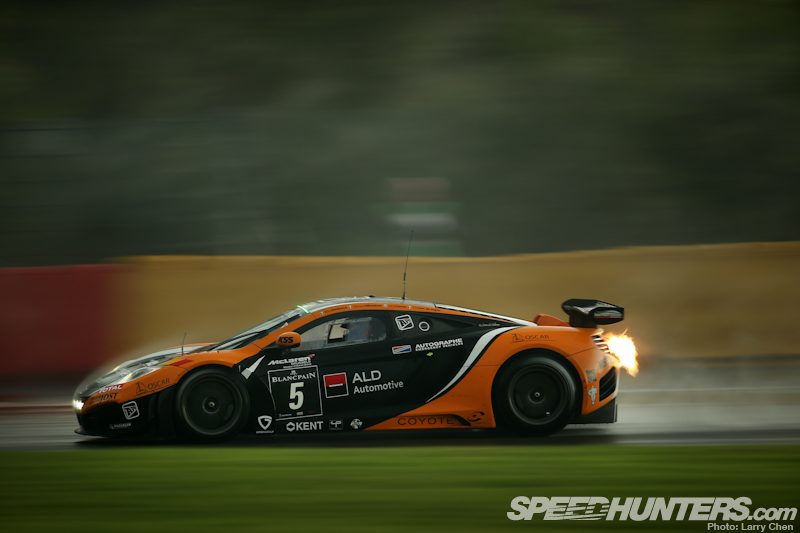 Check out that awesome pressure wave on the nose of this McLaren MP4-12C.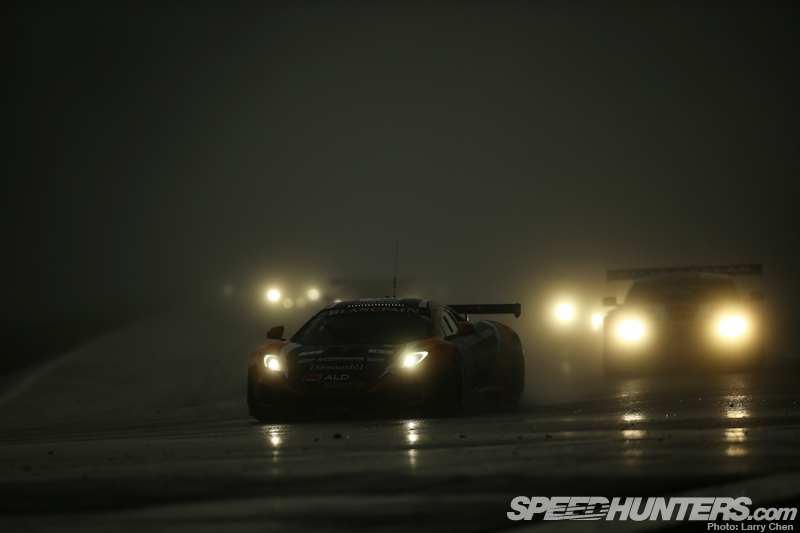 As night fell I had more and more energy as I was looking forward to capturing what little light was available.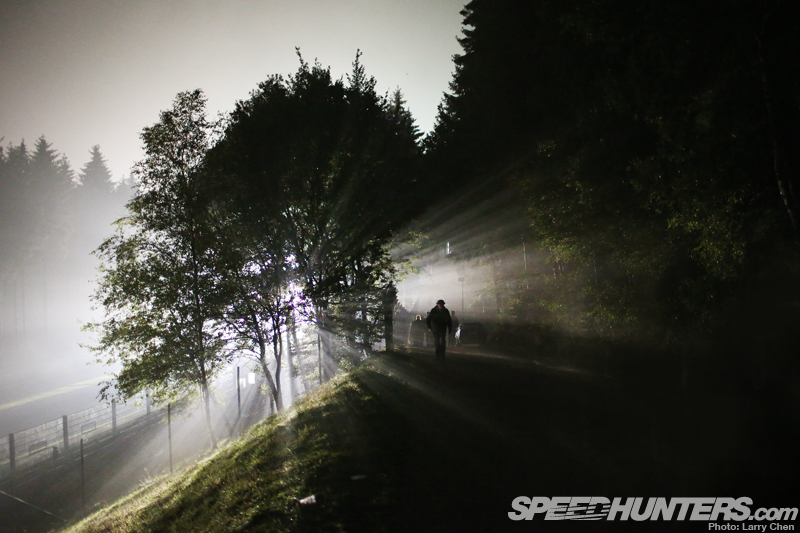 Spa Francorchamps has this mystical beauty, partly due to a constant mist of moisture in the air. I'm talking real beauty, not some plastic bag getting blown around in the wind.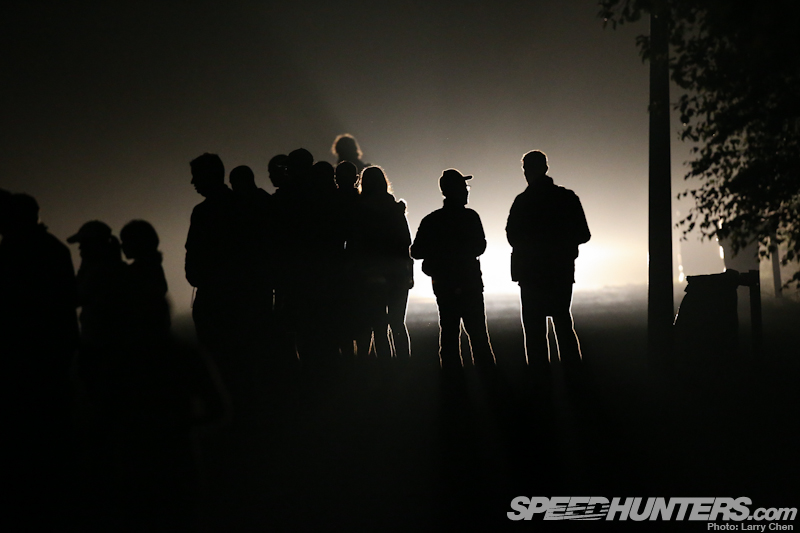 Around this time is when the crazies come out. Joyful race fans fueled by alcohol is always a fun sight.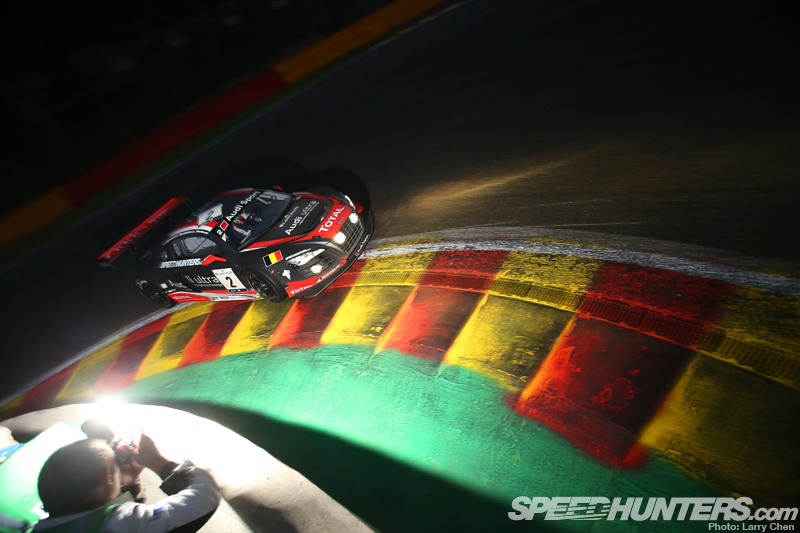 This is also around the time when photographers bust out the flashes. I caught this photo right when that guy was shooting. Thanks Mr Flashman!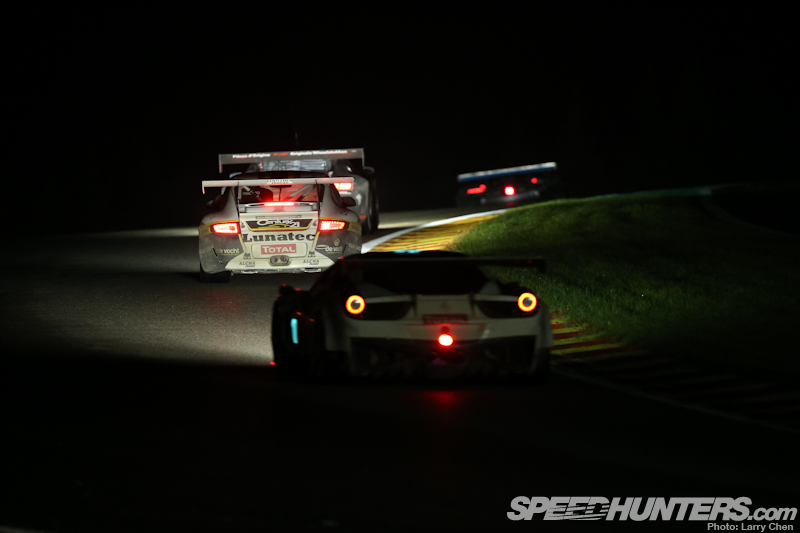 I do prefer shooting with available light, which in this case were the headlights on the cars following my subject.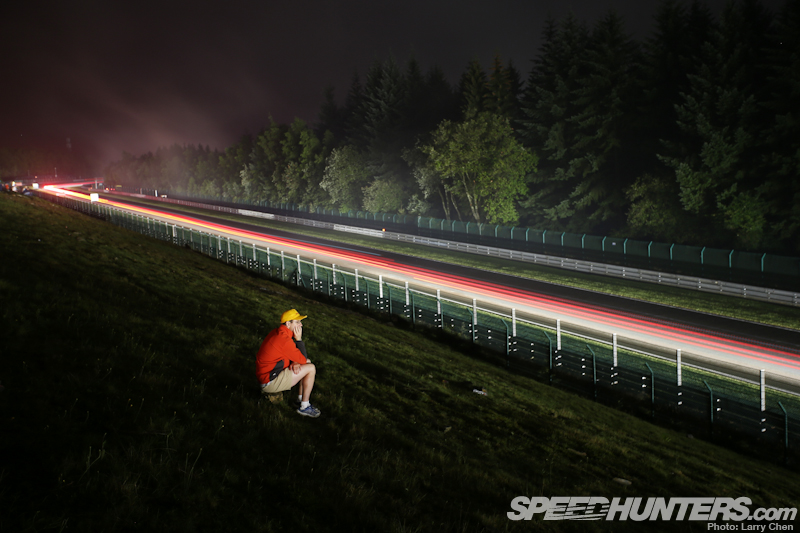 And then of course there are the long exposures. I guess some guys just want to enjoy the sights and sounds of race cars at 3am in the morning alone.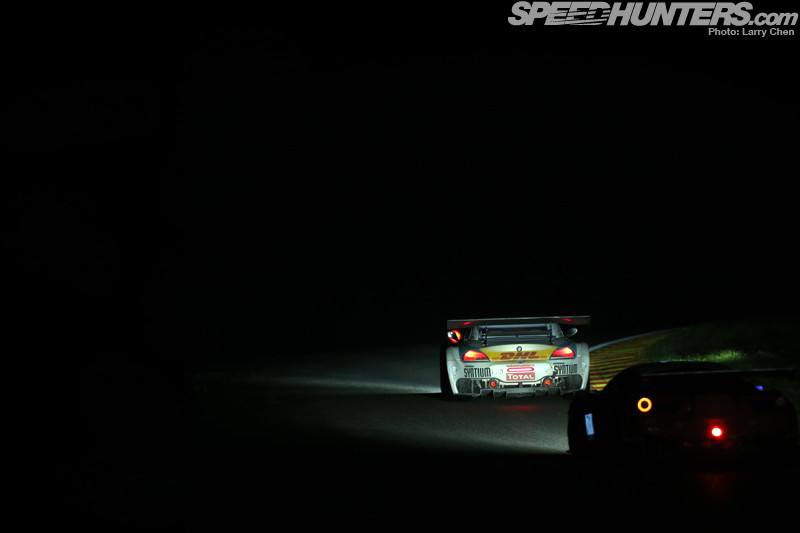 I don't blame that guy. Everything is so isolated at night and all you can really see are these awesome machines flying by.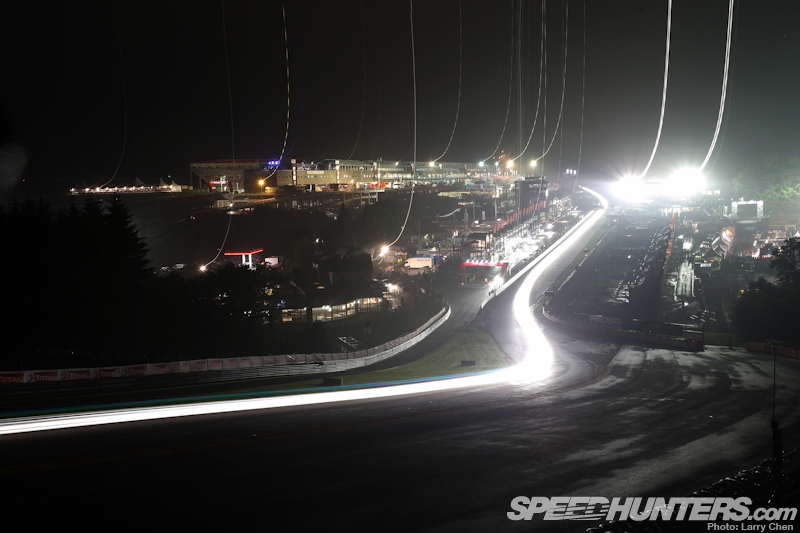 The track started to dry at this point, so I decided to make the hike back to the media center as I was sure everyone was wondering if I drowned in the downpour.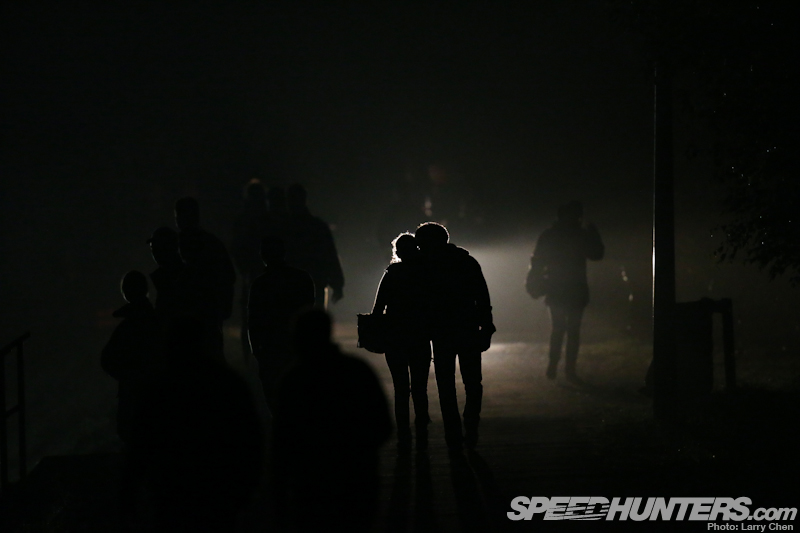 I've said it before and I will say it again, Spa Francorchamps is the most visually appealing track I've ever been to. It also draws in a very enthusiastic crowd of motorsports fans. Everything from the atmosphere to the on-track action is amazing.
Larry Chen
larry@dev.speedhunters.com
More stories from the 24 hours of Spa on Speedhunters
More stories from Larry Chen on Speedhunters
---
---
---
---
---
---
---
---