Thursday
It's coming up to a week since the 2018 Formula Drift Pro championship was settled in California and, as I sit back at my desk in a different timezone, on a different continent to the one I was in when I witnessed last Saturday's unbelievable turn of events, there's still adrenaline in my veins when I think about what went down.
Over the past 12 years – obviously at different stages – I've been a fan, a driver, a judge and a photographer working in the sport, and in all honestly it takes a lot to get me pumped up about drifting nowadays.
However, myself, along with – I dare say – everyone else watching last Saturday, was utterly besotted with the discipline, thanks in part to how things unfolded, but also to the level of driving we witnessed.
There were a lot of rekindled spirits in Irwindale that night.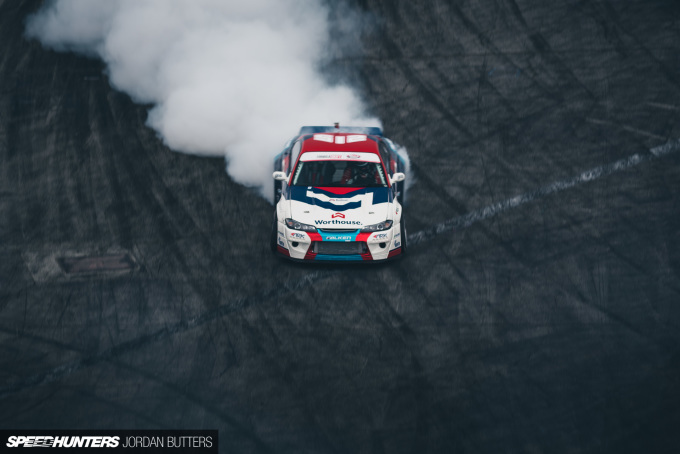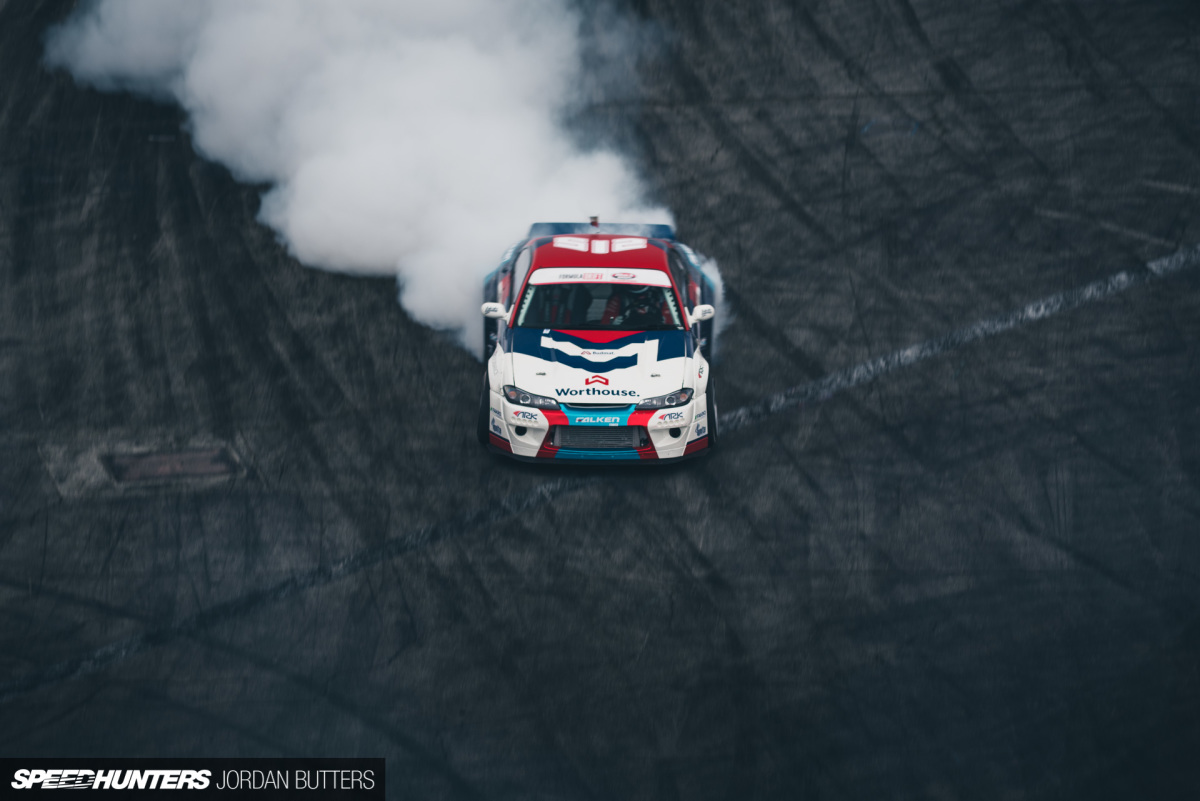 Rather than retread the goings on of the entire event turn-by-turn here – you can read up on our coverage so far (here, here and here), or watch the livestream replay if that's what you're after – I want to bring you a sense of what the event felt like from the inside of the Worthouse team looking out, and how the end of the season came to be for the 2018 champion, James Deane, and third place finisher Piotr Więcek.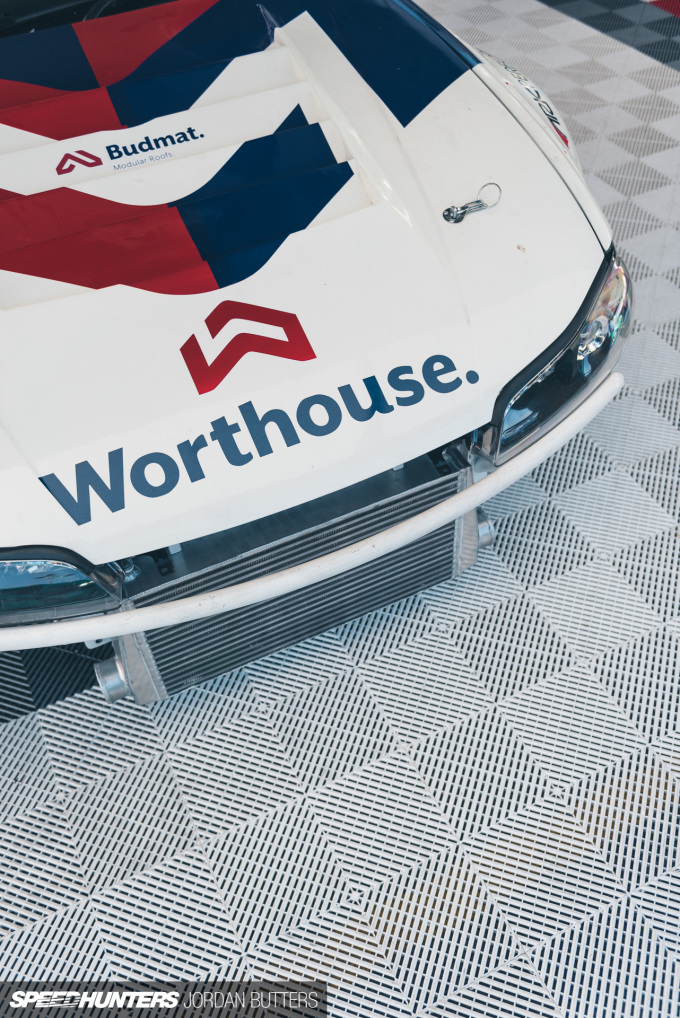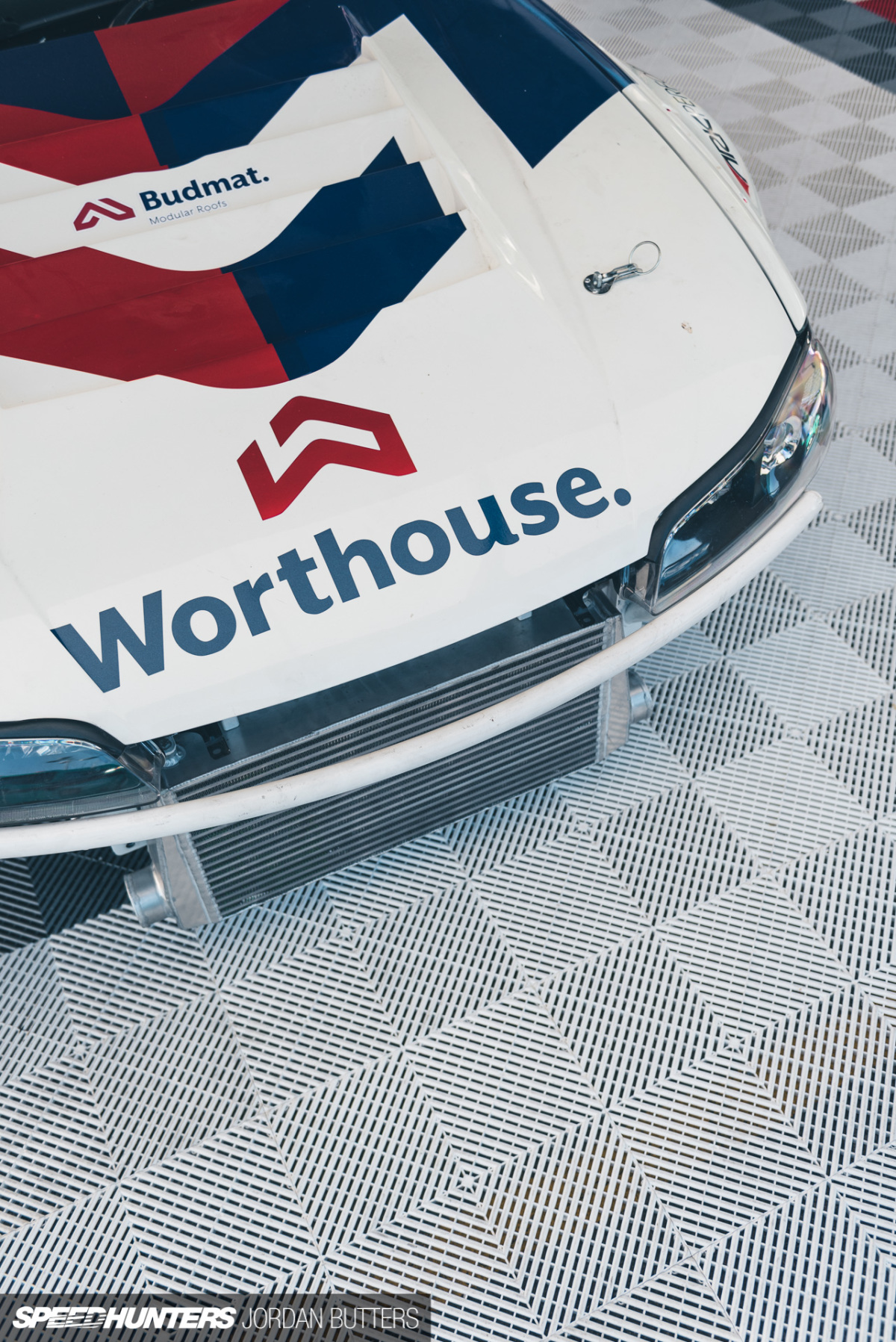 As I arrived and set up shop in the Worthouse paddock on the Thursday, the team were already busy at work unloading and preparing James' and Piotr's machines for the four-hour open practice that evening. Although there were adequate practice sessions throughout the event, Thursday's evening practice would be the only chance the team would have to assess how the circuit changed after nightfall, when visibility and ambient temperatures dropped.
Crucially, this aligned with the time of day that the Top 16 would begin on Saturday too, so it was important that there were no surprises come the main event.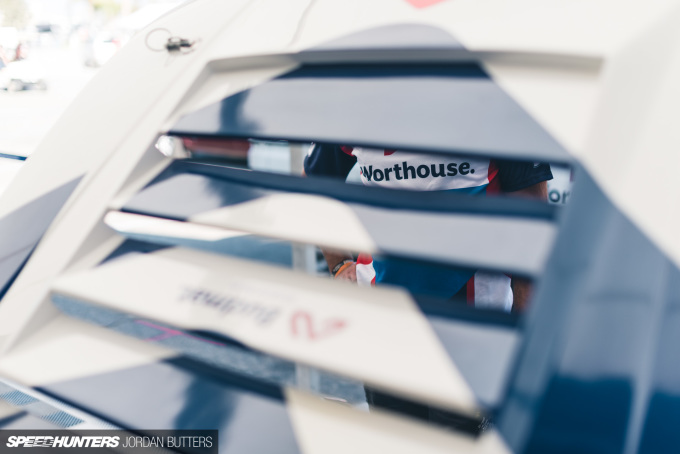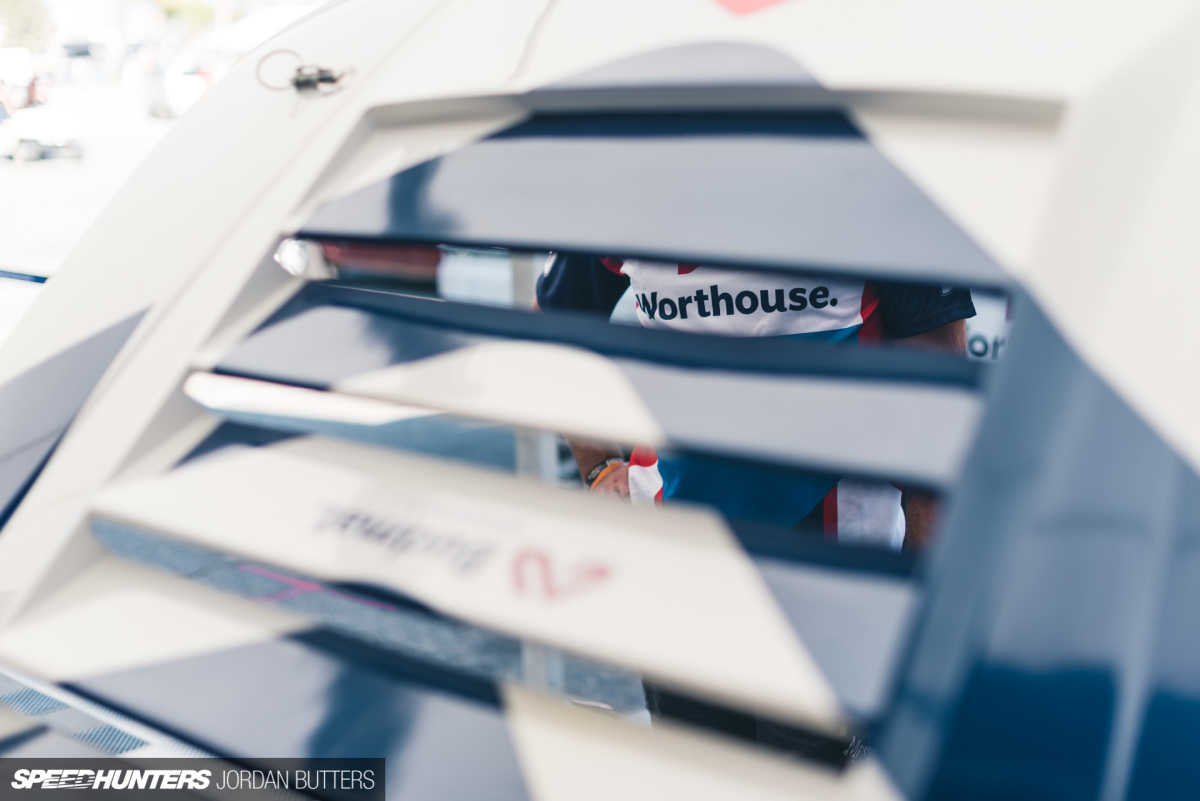 As I mentioned in our pre-event coverage, the discipline and work ethic in the team struck me immediately. Everyone had a job to do, from cleaning the cars to checking bolts, nuts and fluids, attaching body panels and replacing stickers, and the Worthouse paddock was a blur of red, white and blue uniforms buzzing around the two cars.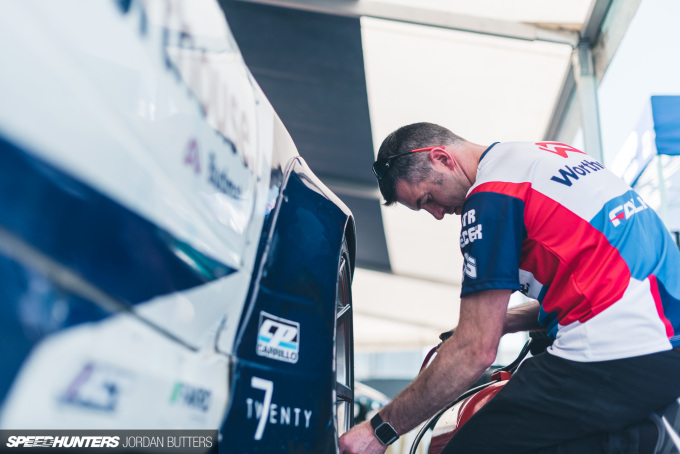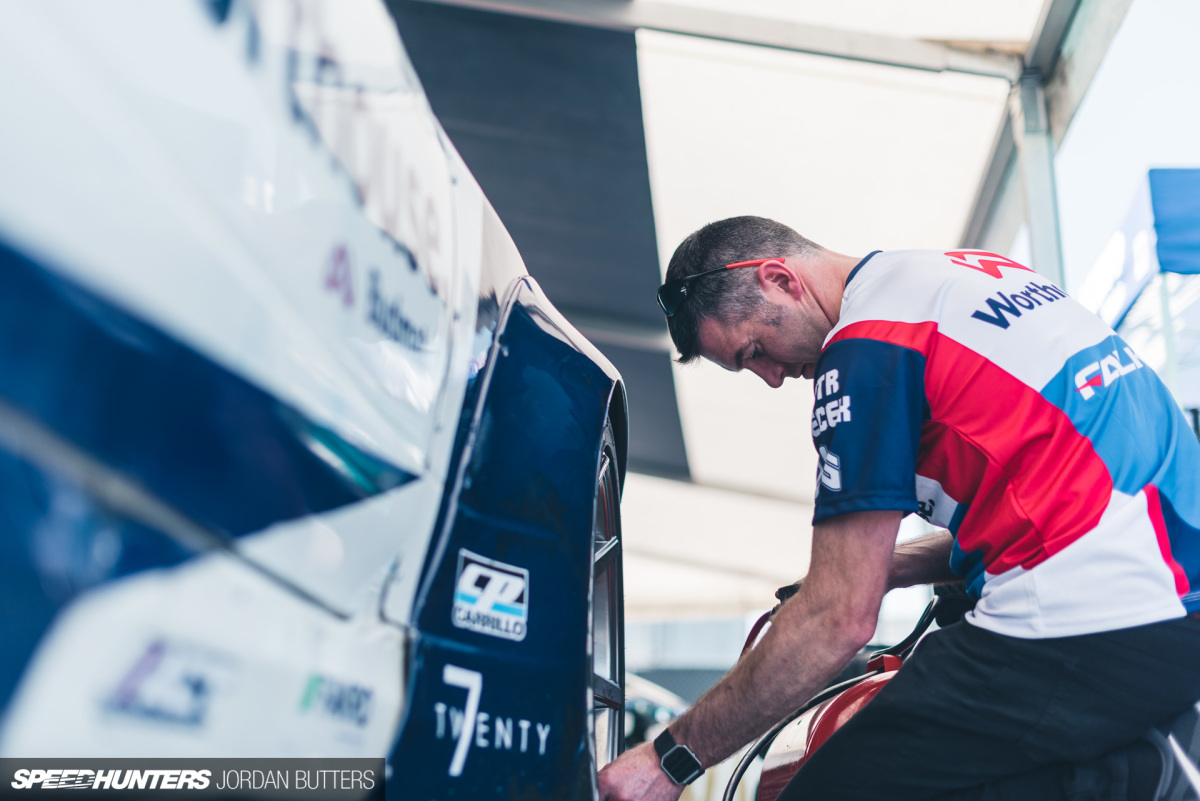 A welcome addition to the team, James' brother Ken made the trip over from Ireland to join the Worthouse pit crew, as did Popa and Moma Deane, who were there in a supporting capacity.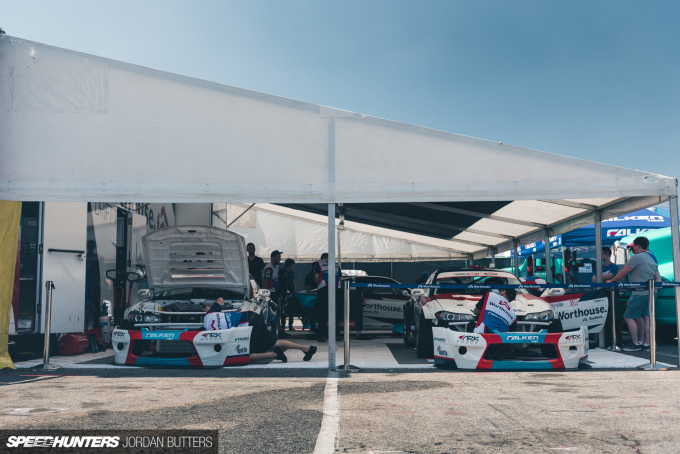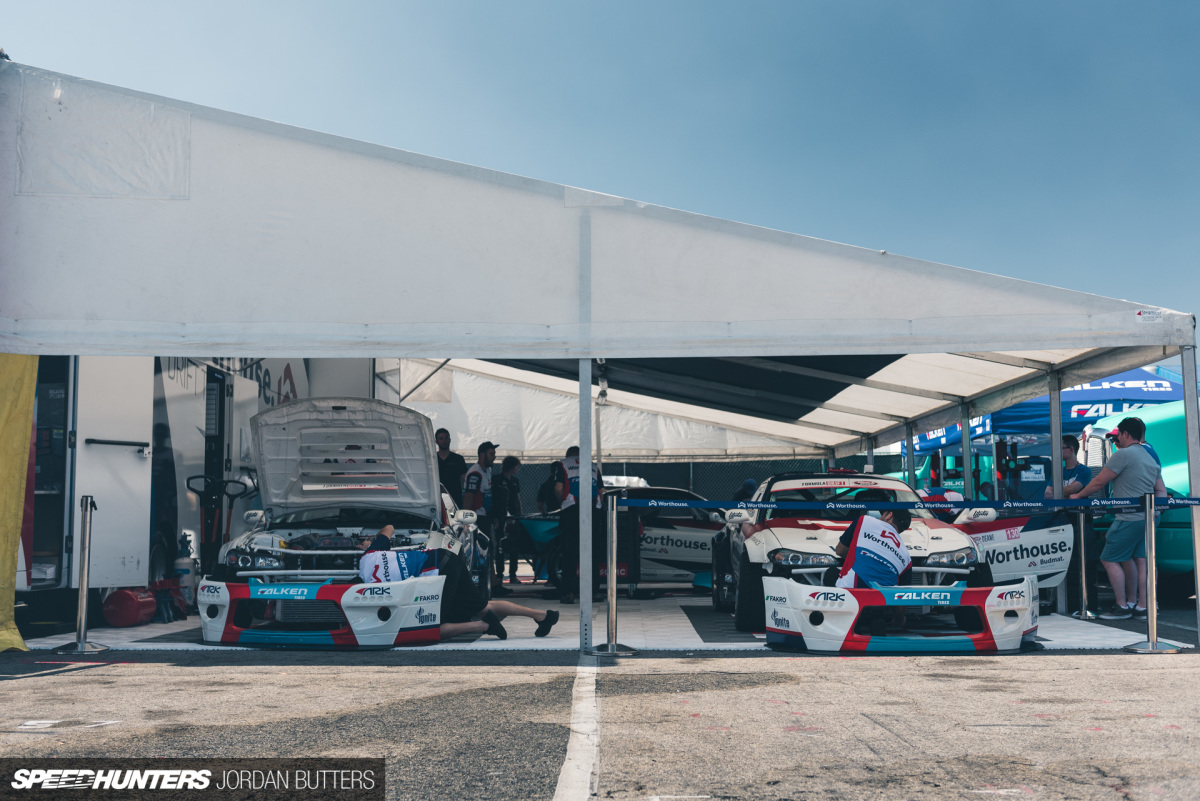 Have you ever noticed how immaculate the Worthouse cars look during competition? The team carries an entire shipment of spare painted bumpers, diffusers, wheels and lights with them at all times. If a part is damaged it gets binned and a new one immediately fitted.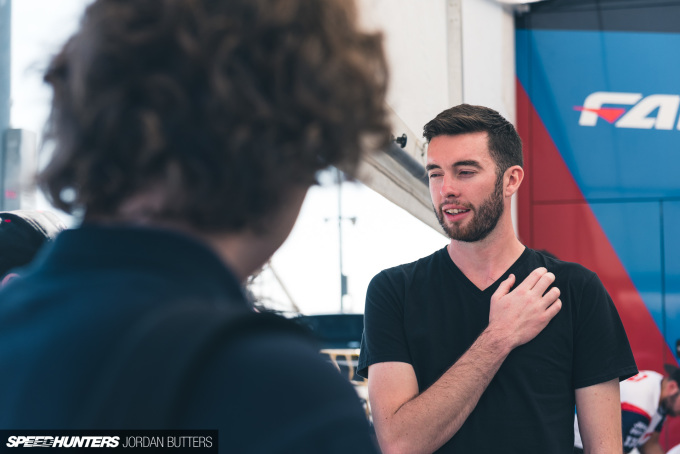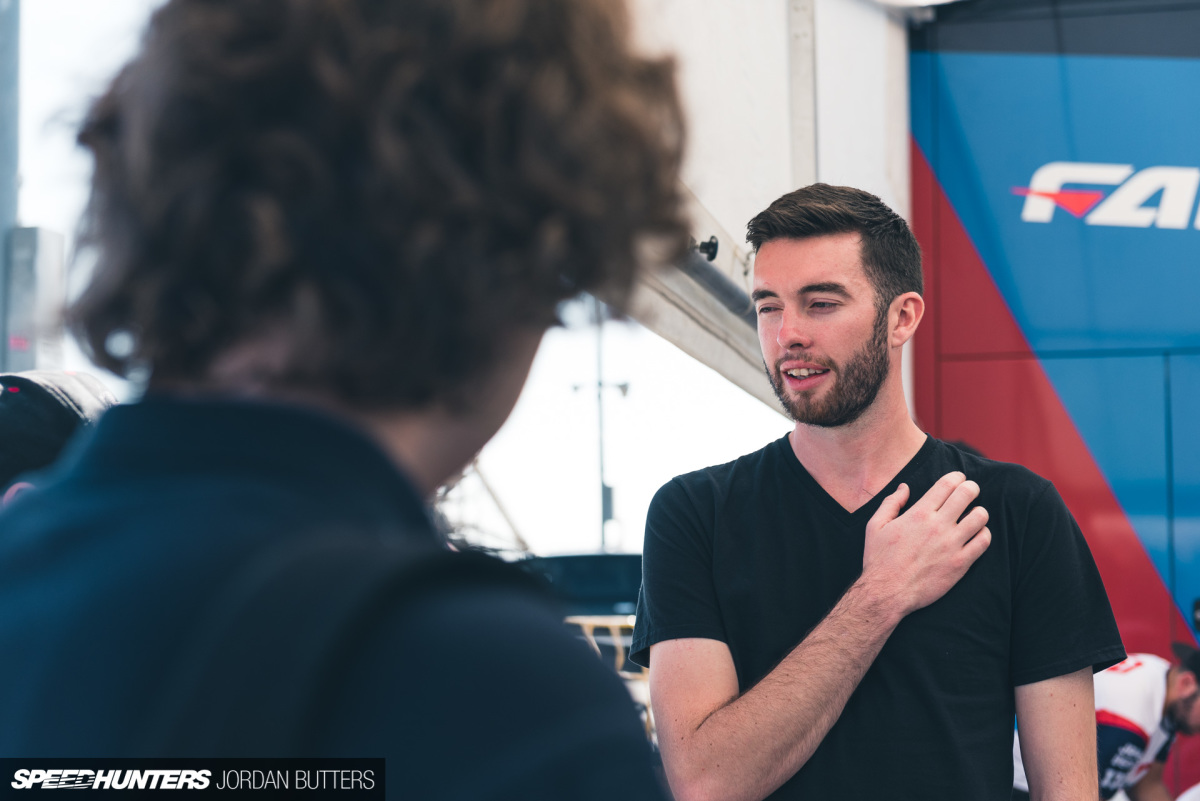 As the drivers arrived ahead of briefing, the mood was hugely positive. While the finish line was still very much ahead of them, it was within reach. There was no complacency, but rather a feeling of positivity towards the weekend. How things would turn come Saturday…
Both James'  and Piotr's position going into the event was strong – while James had considerably more to do than last year's finale in order to seal the championship, the odds were still stacked largely in his favour. A top 16 finish would make it difficult for Aasbø to overtake him on points, a top 8 finish would almost certainly secure it, while a top 4 finish would lock the championship down regardless. James Deane had only failed to progress into the top 8 once before.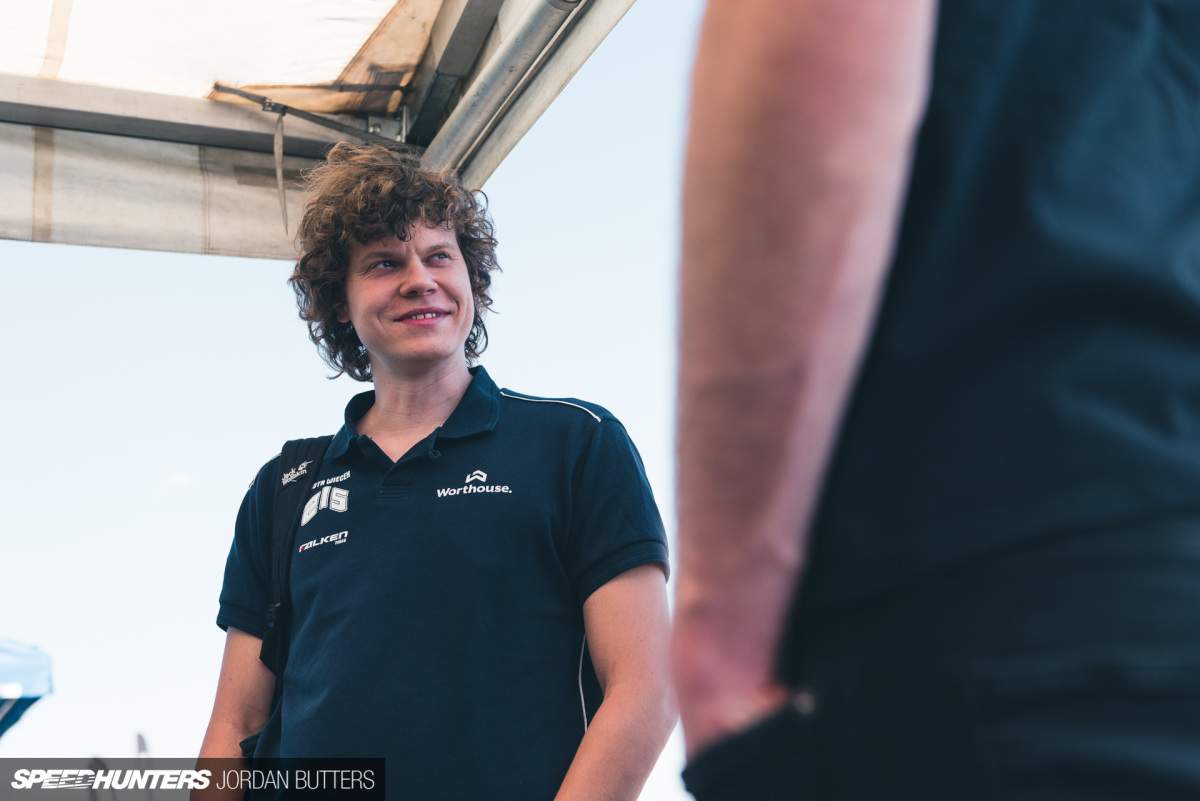 Piotr was also fighting for a championship position, although he couldn't be caught in third place, he could still challenge Aasbø for second, and that's what he fully intended to do – not only for his own sake, but to help secure his teammate's title.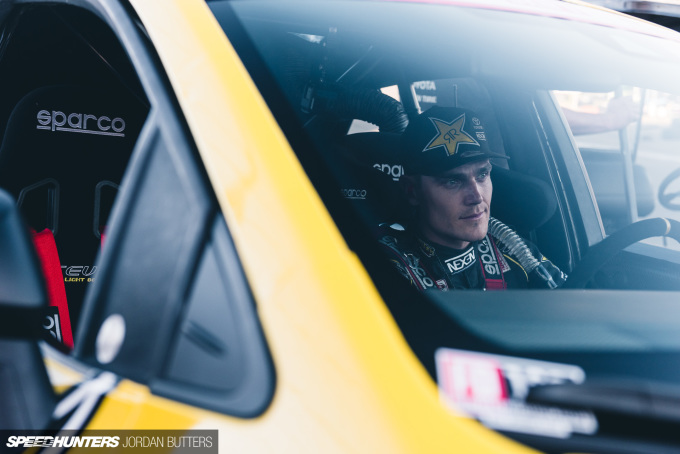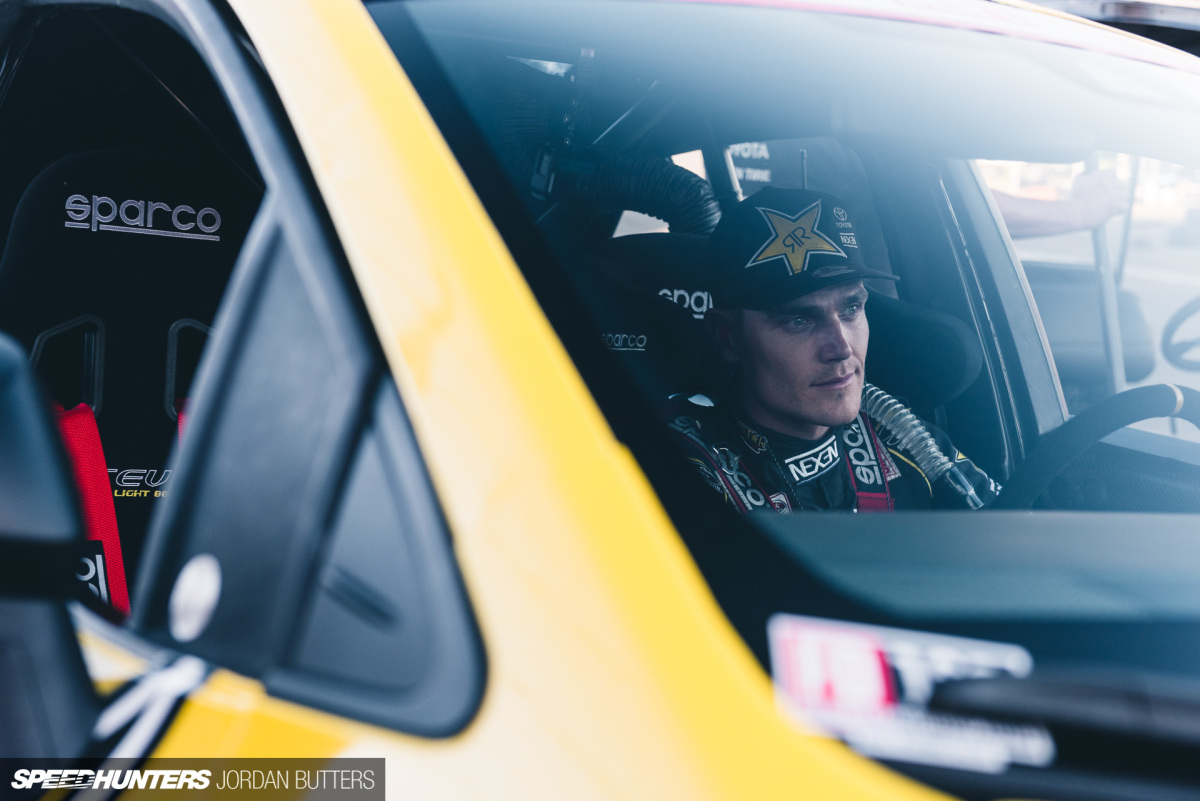 Coincidentally, the Papadakis Racing paddock was positioned perfectly opposite the Worthouse stable. The tension was there, even if it was well hidden in the driver's interactions. Occasional glances across the paddock from both teams reminded everyone who the competition was over the weekend.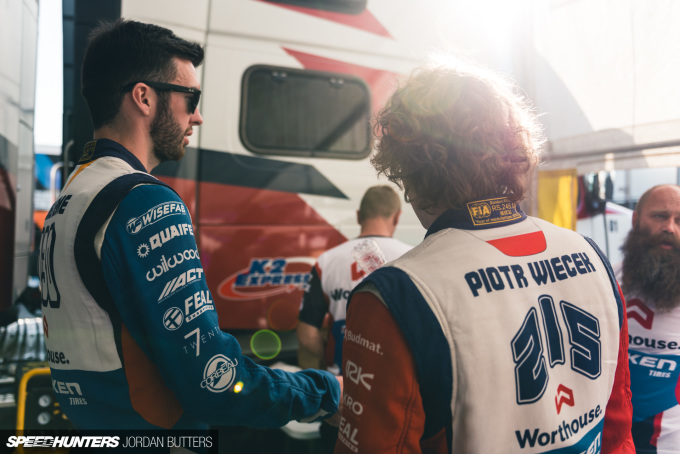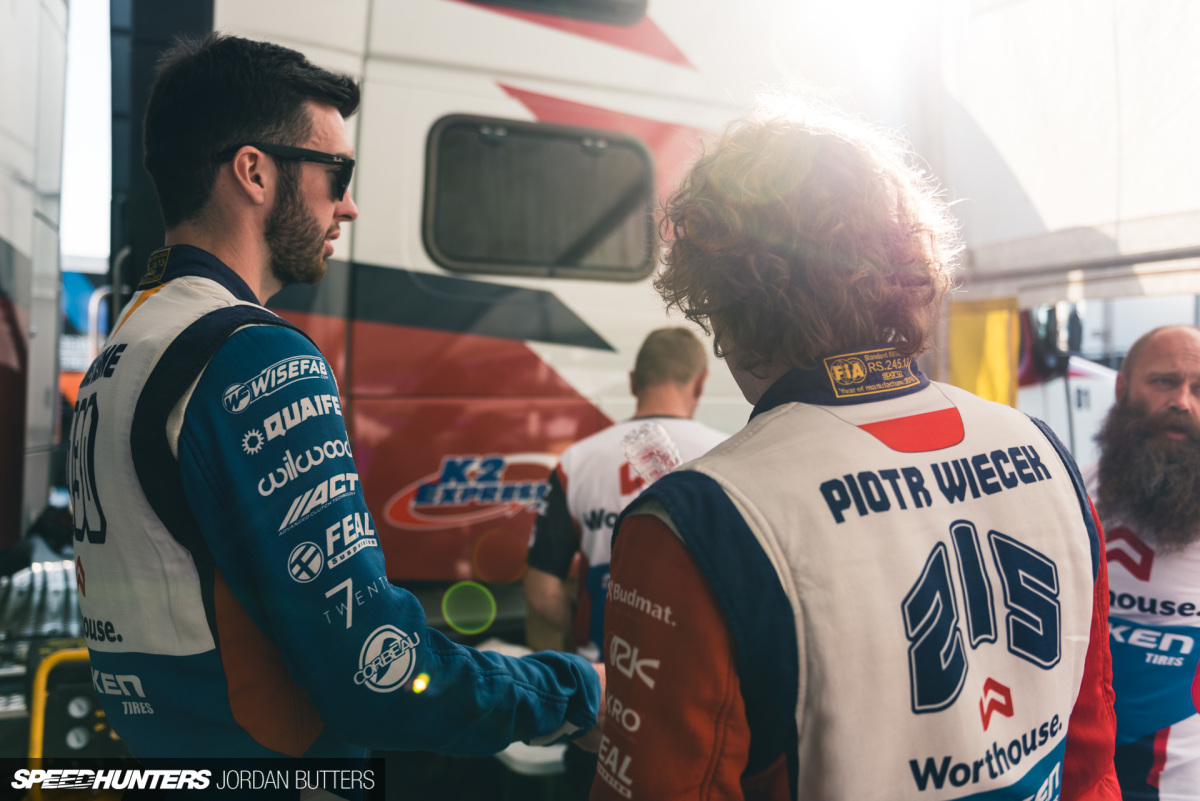 With practice approaching, the duo donned their familiar race suits while the team transferred the cars to the hot pits.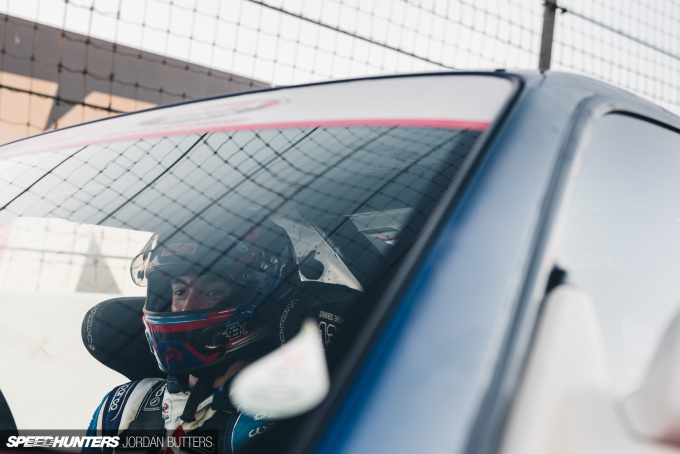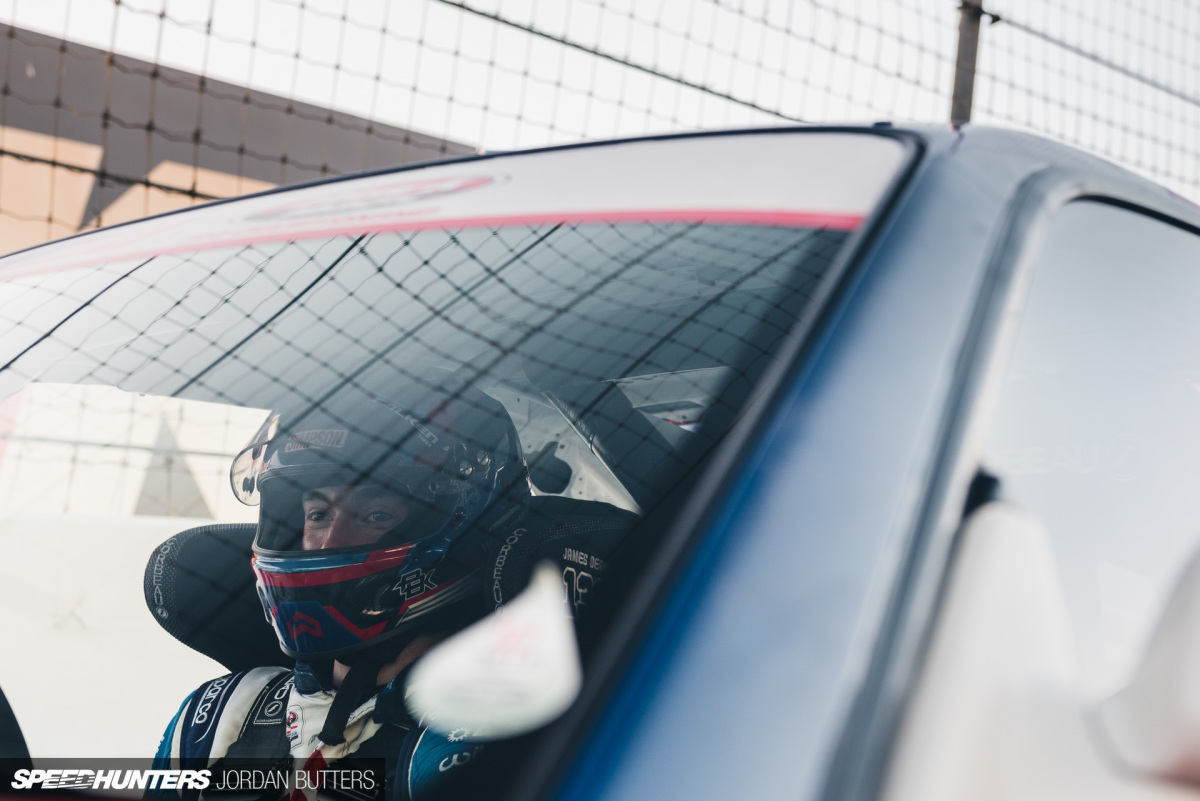 I've known James for a number of years now and followed him around Europe as he won numerous titles along the way. He's really found his feet in Formula Drift, and seems to be having an absolute blast in the series. Despite everything that's on the line, he always seems well-grounded in himself.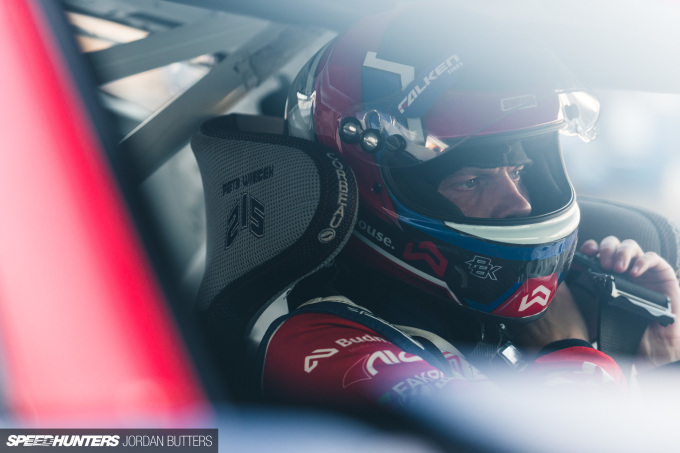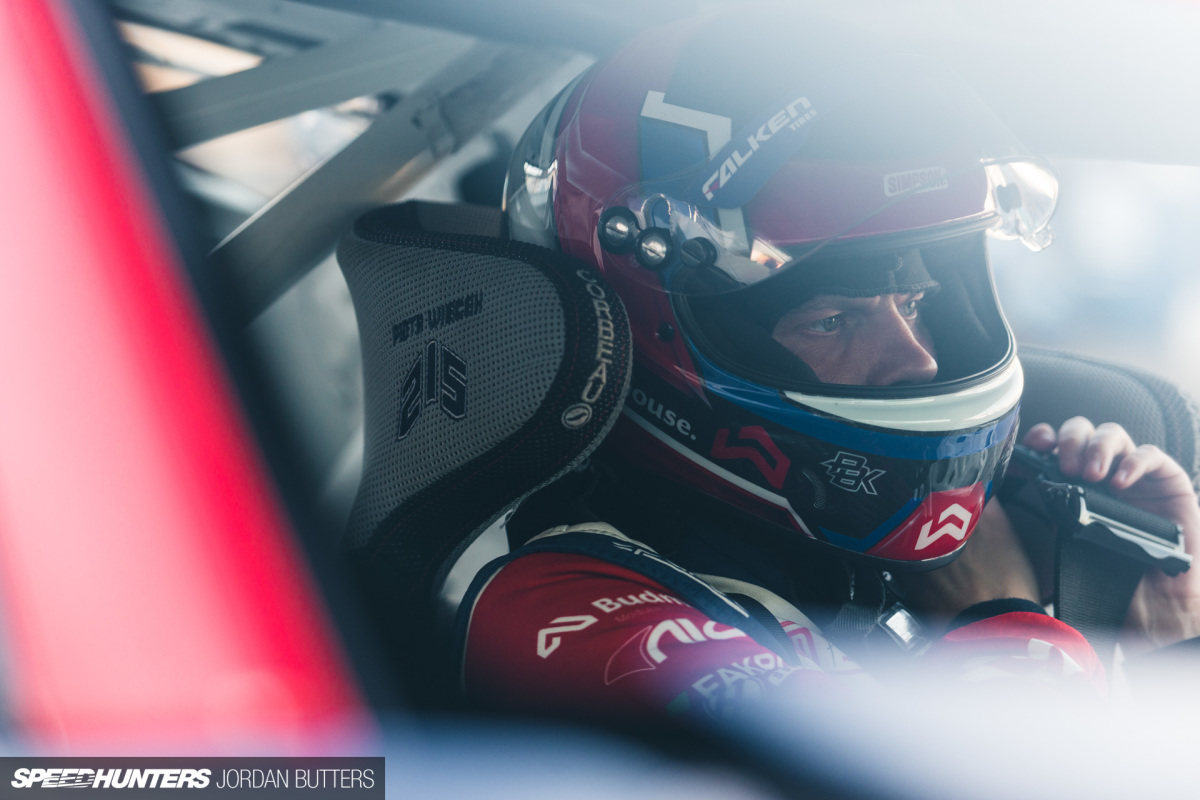 Piotr has quickly become a fan favourite too – he's established somewhat of a character for himself and is both fascinating and funny to watch. I'm not sure if it's an American curiosity with Europeans, their quirky relationship and nature or a combination of the above, but the Worthouse pit is constantly surrounded by fans eager to meet and greet the drivers.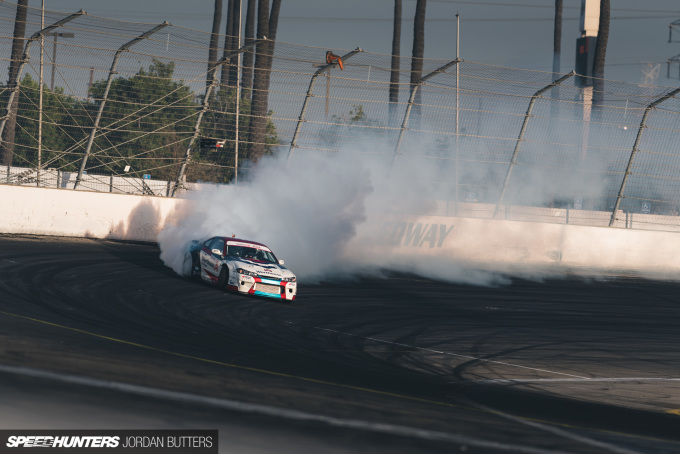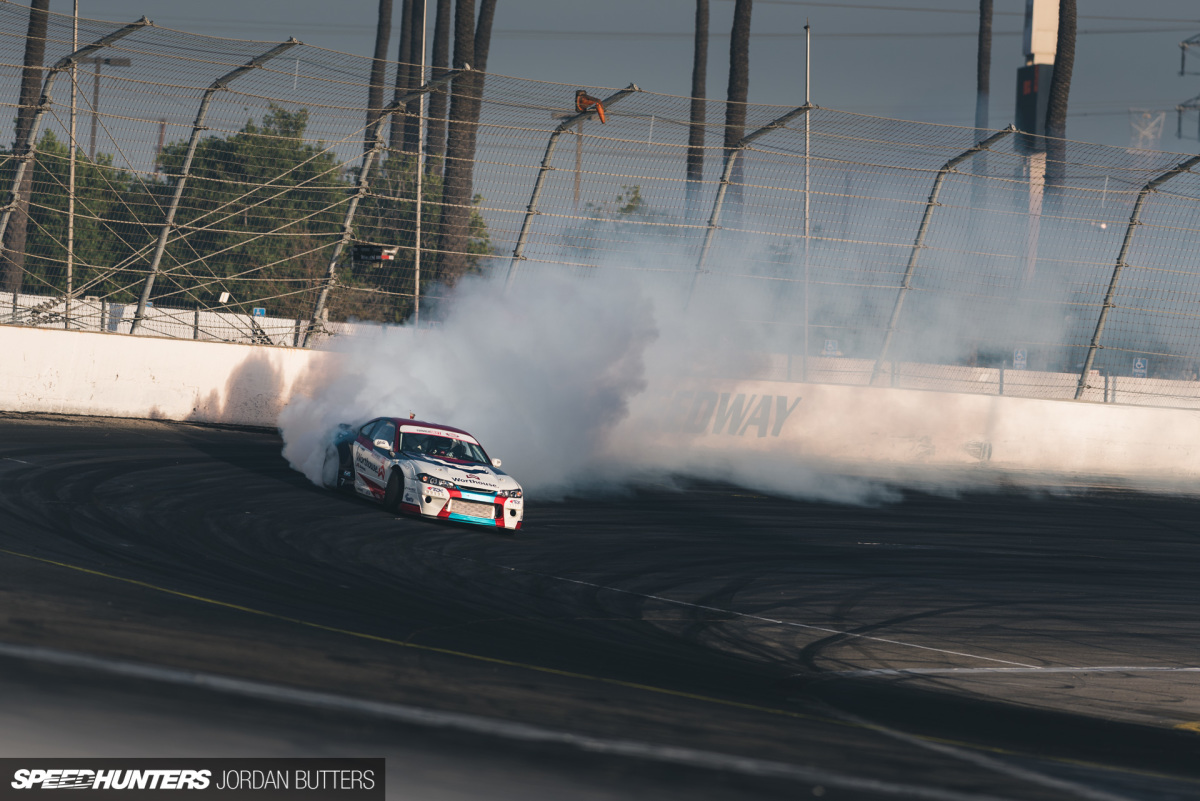 Thursday's evening practice went without a hitch. Piotr looked to be on fire straight off the bat. After winning here in 2017, he remained one of the fastest and most aggressive drivers from the start, destroying bumpers and taillights on the outer wall of turn one from the first run to the last.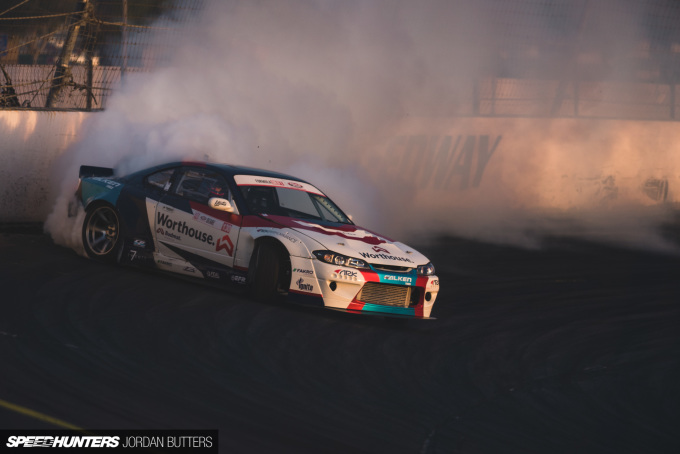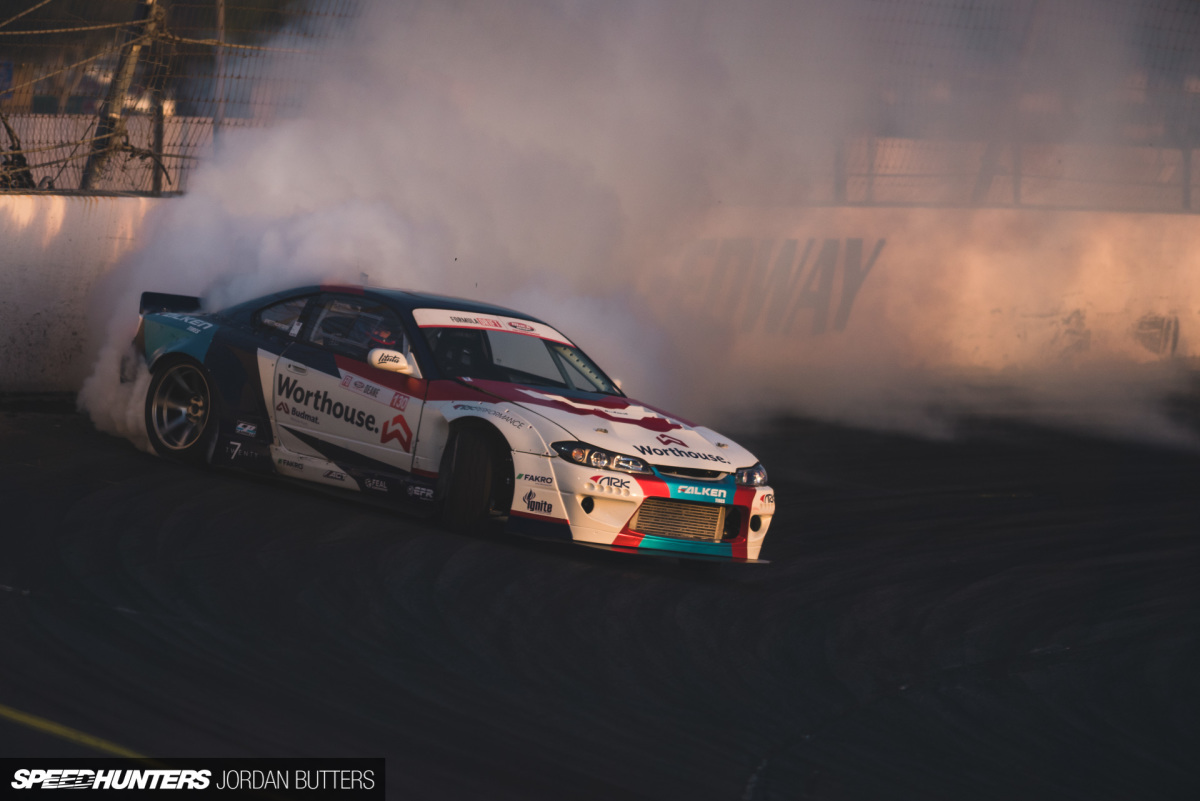 James' practice didn't start off so well in comparison. An issue with his S15's nitrous system left him down on power, causing him to miss much of the session while the fault was diagnosed.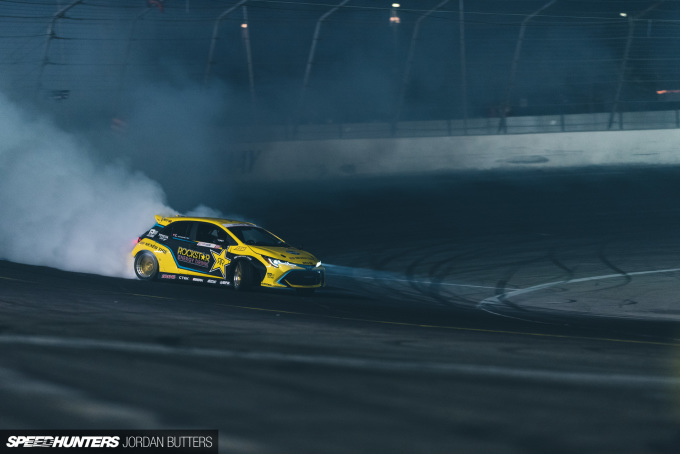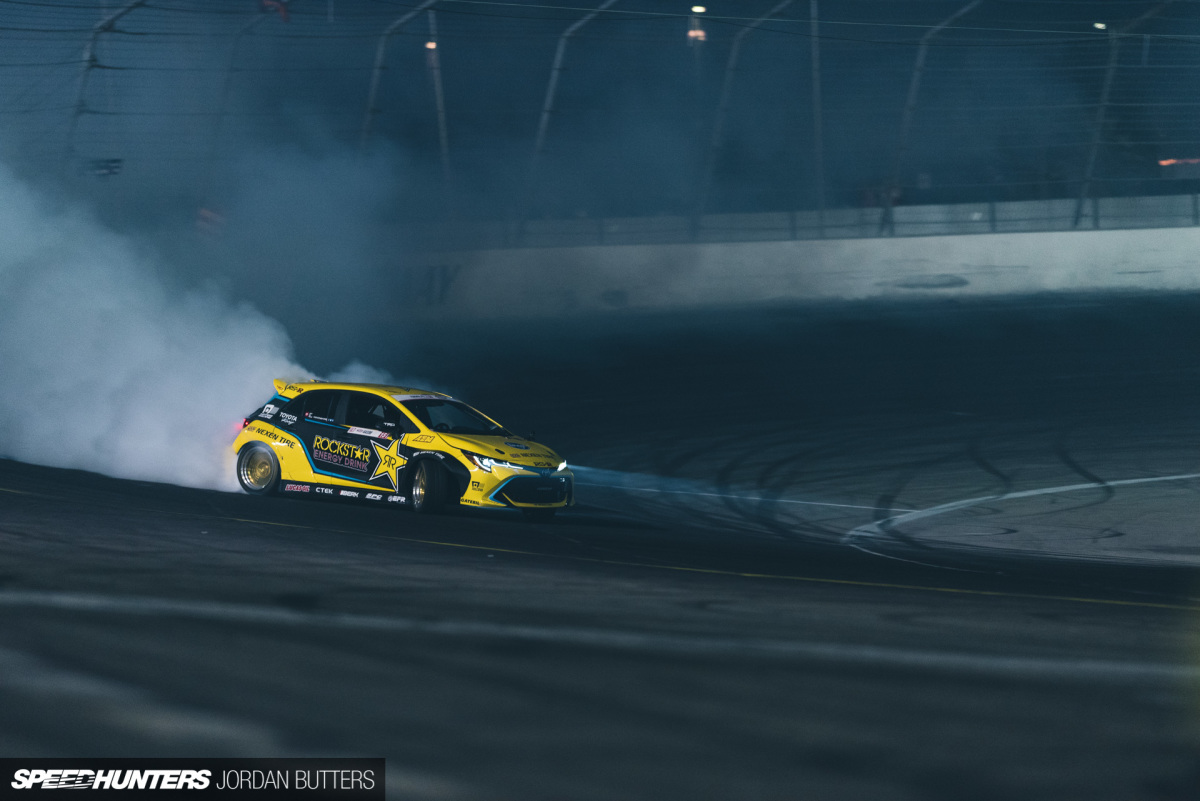 Of course tabs were being kept on Aasbø's performance during practice too. After shutting down his first practice run almost immediately, there was some uncertainty about what was happening, however the Norwegian Hammer soon returned to the field and looked comfortable on the circuit.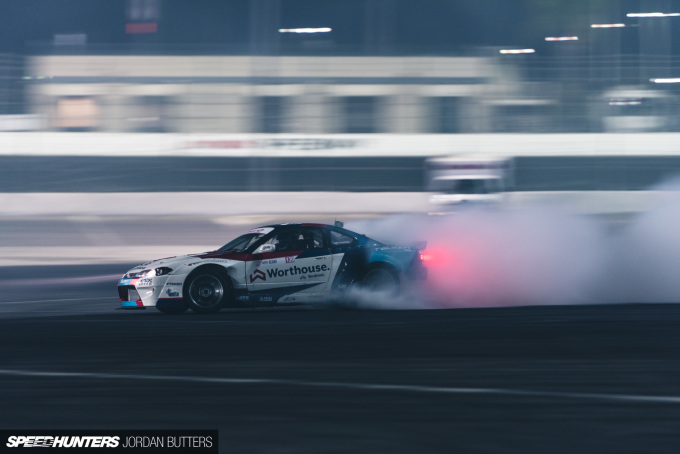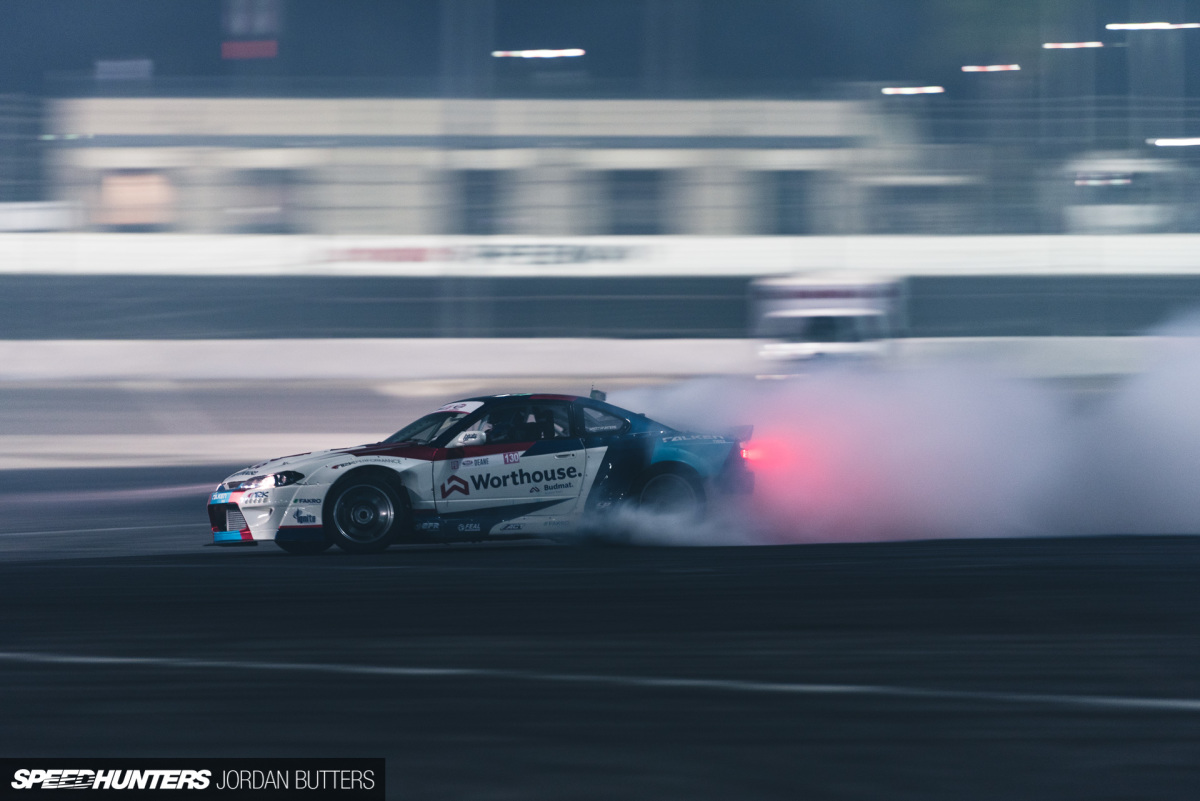 Thankfully the team were able to overcome the issues with James' S15 and he made it out for a few precious runs before the end of play.
Friday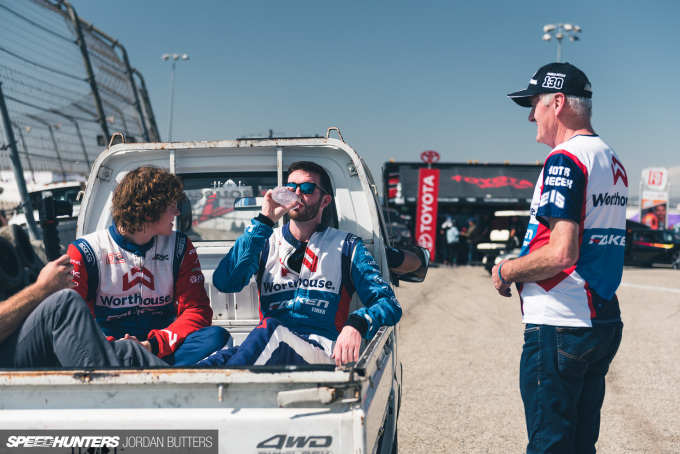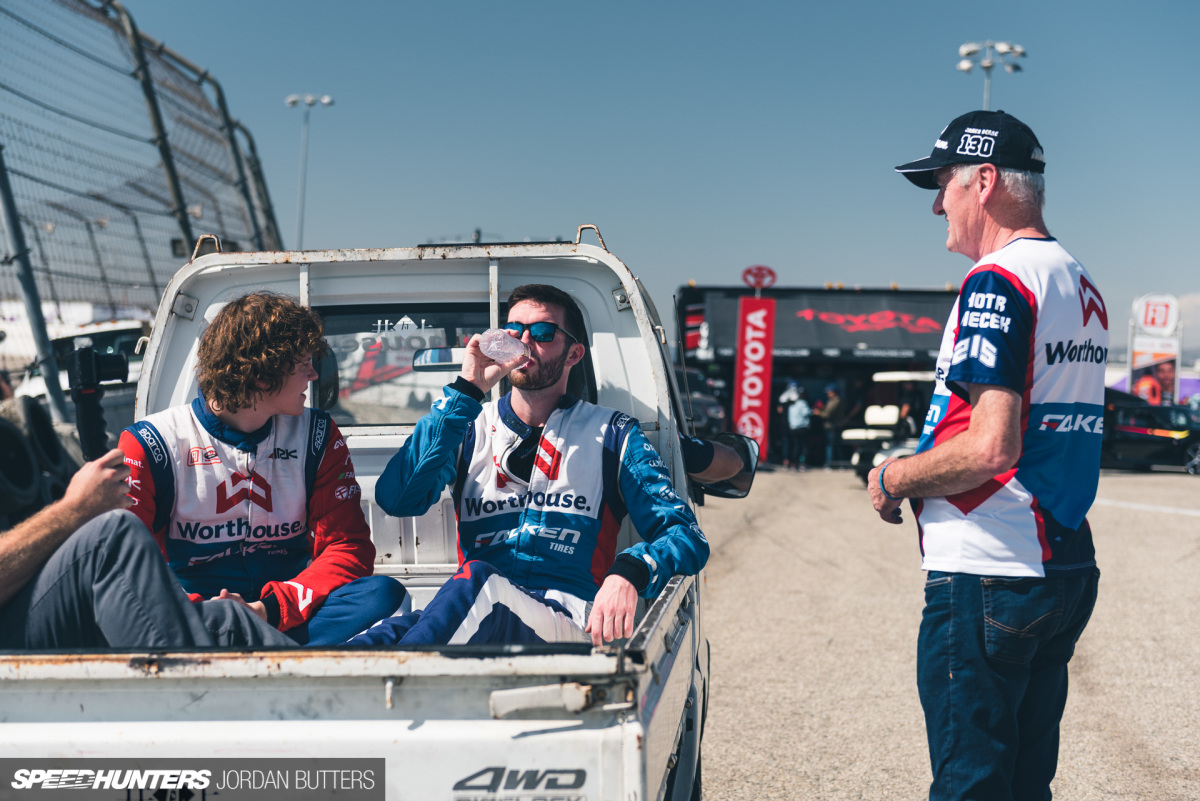 What uncertainty and tension was in the air on Thursday, it had undoubtedly eased somewhat come qualifying day, at least on the surface. With both drivers getting a chance to feel out the circuit and dial in their cars, there was no doubt that they were feeling positive about the weekend.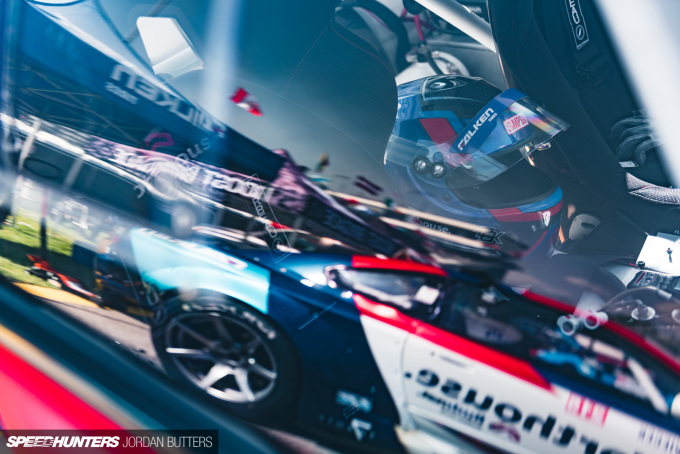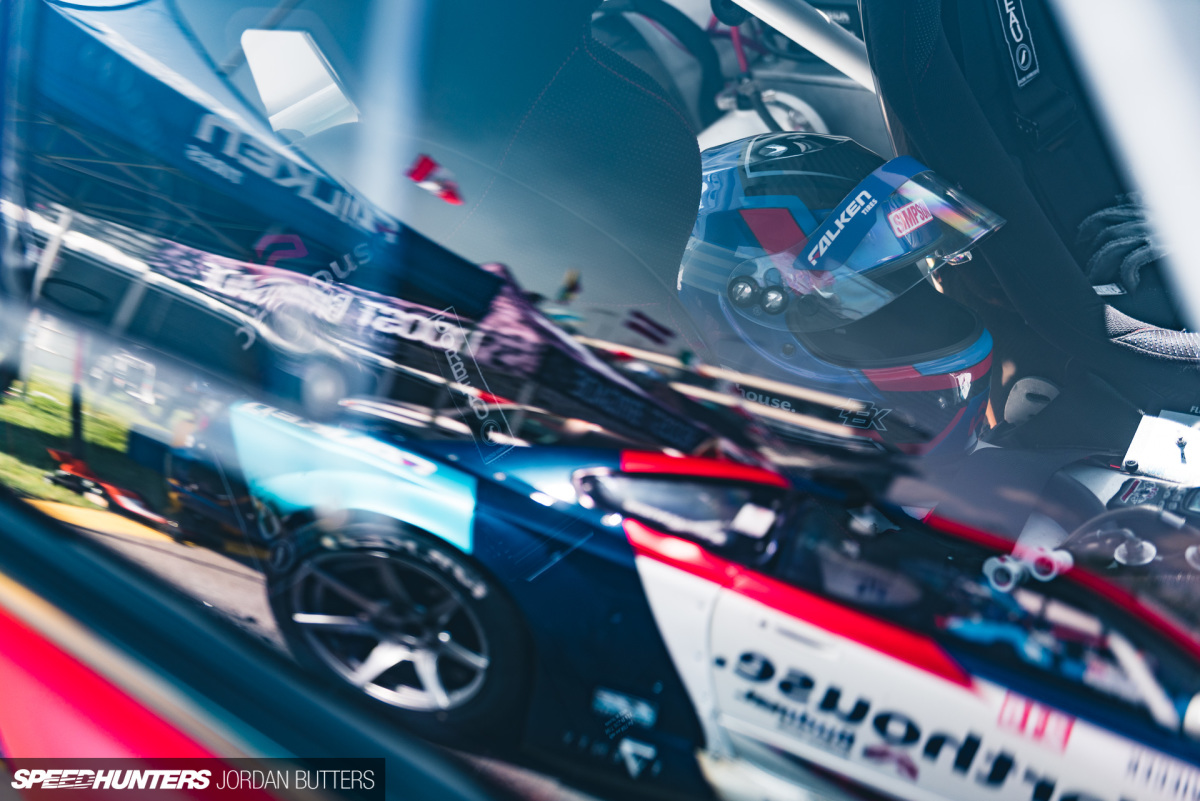 With less than 32 drivers in attendance (and some drivers failing to put a score on the board), a top five qualifying position would be enough to secure a place in the Top 16, an achievement that would take James a big step closer to retaining his title.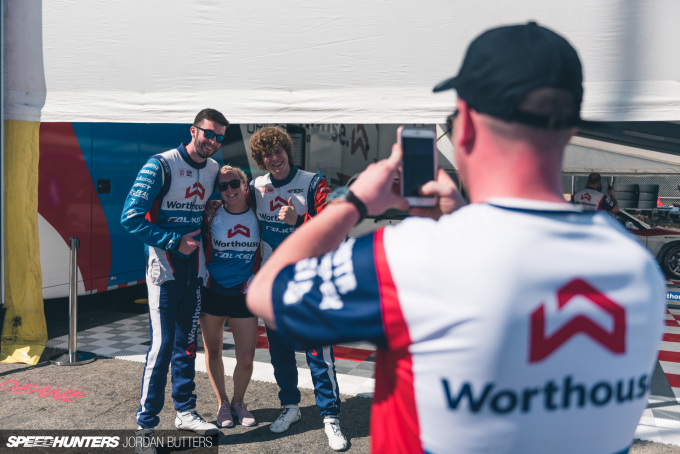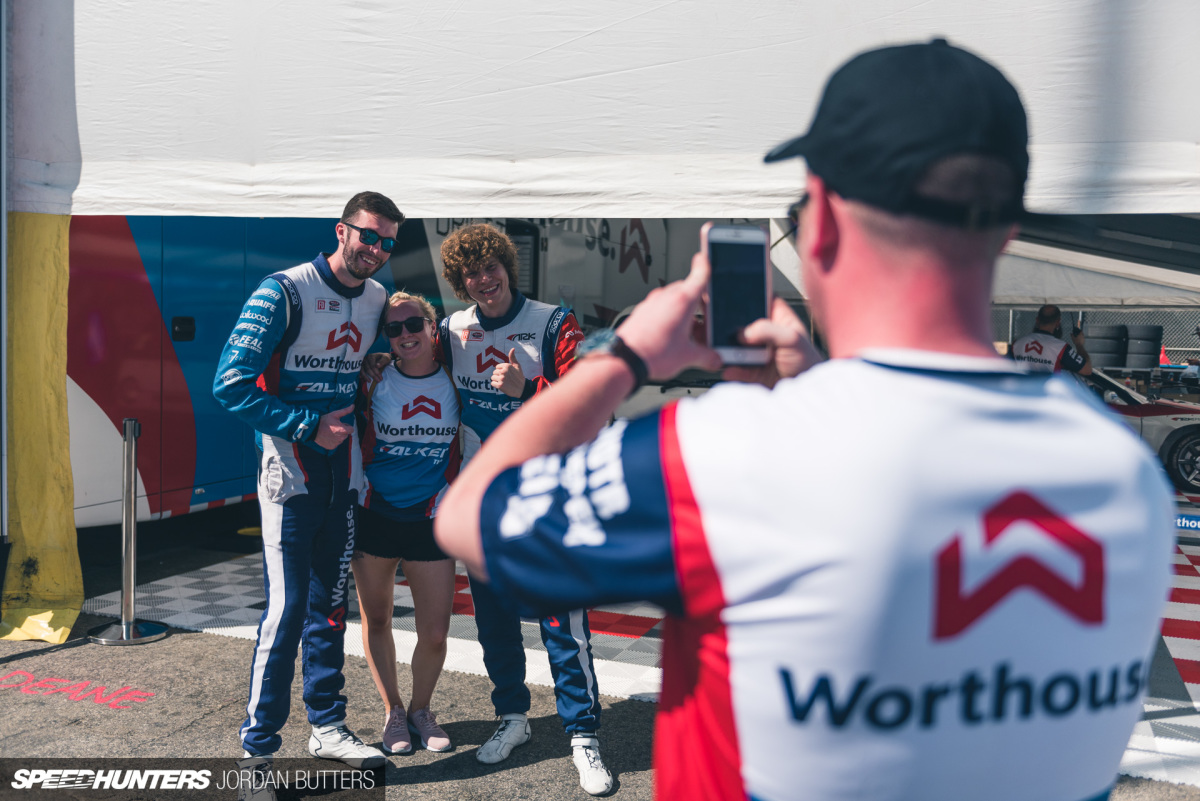 With the team taking care of the cars, the drivers were left with some spare time to relax, walk the paddock and meet fans. I'm not sure what the team dynamic was like in the early days last season when everyone was new to one another, but now at the end of year two there's a strong trust in everyone to do their bit and double-check every aspect of the machines.
Still, Piotr and James could regularly be seen checking things over and chatting to the mechanics about any changes. Unlike in many other forms of motorsport, these guys have come from building, maintaining and repairing their own cars, and I think there's always going to be that element of wanting to stay involved in the process, even at this top level.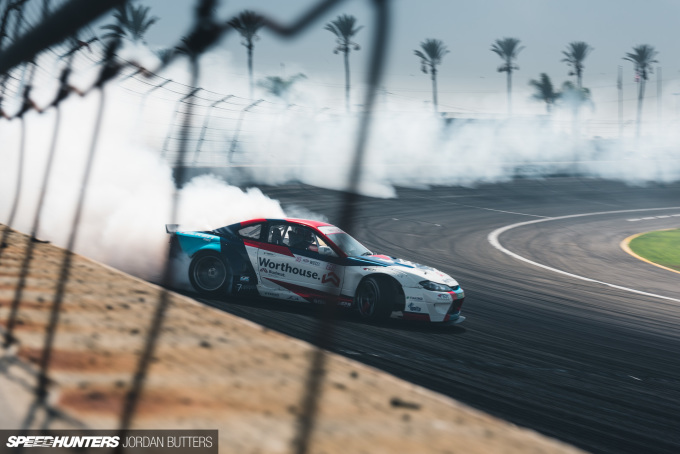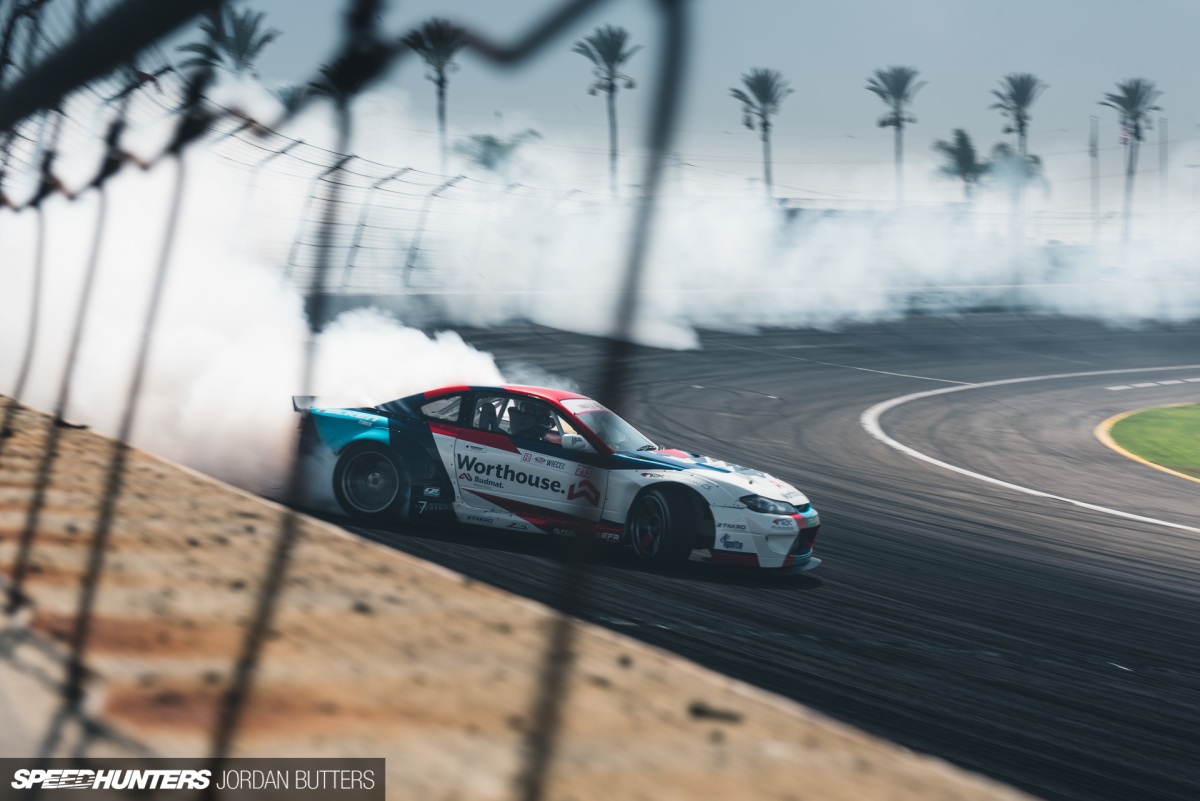 With qualifying underway, and James and Piotr sitting high in the championship, they would be amongst the last to qualify, alongside Fredric, or course. Piotr would go first and, when it mattered most, would pull out his most impressive solo run of the weekend so far, scoring a then unrivalled 98 points whilst grazing the rear end of his S15 around the bank and flying through transitions without fear.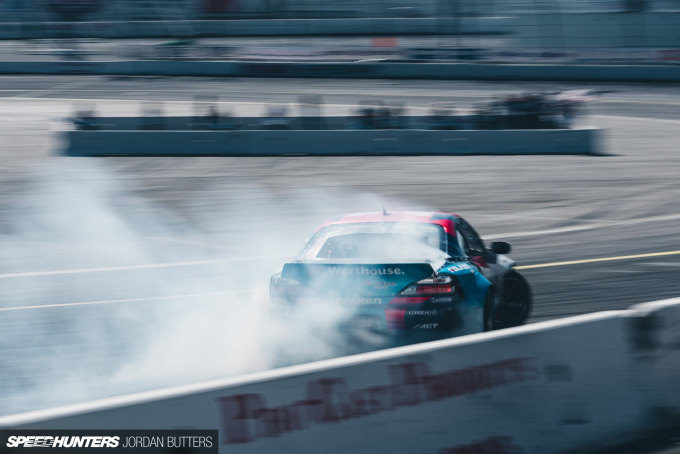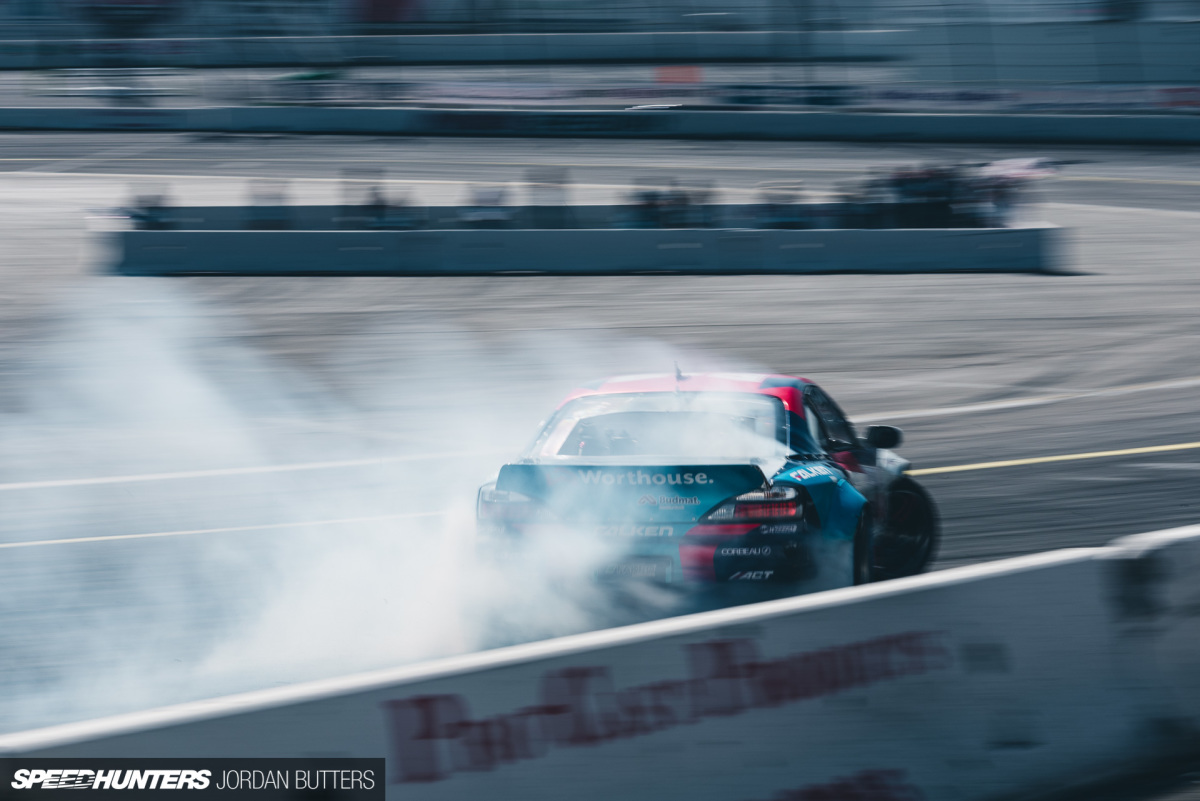 The livestream doesn't do justice to the speed and aggression these guys display at Irwindale, and the transition in front of the grandstand towards the solid wall of the second sweeper is lunacy. Piotr's run was fast – at full throttle throughout the course pretty much – and he shot straight to the top of qualifying.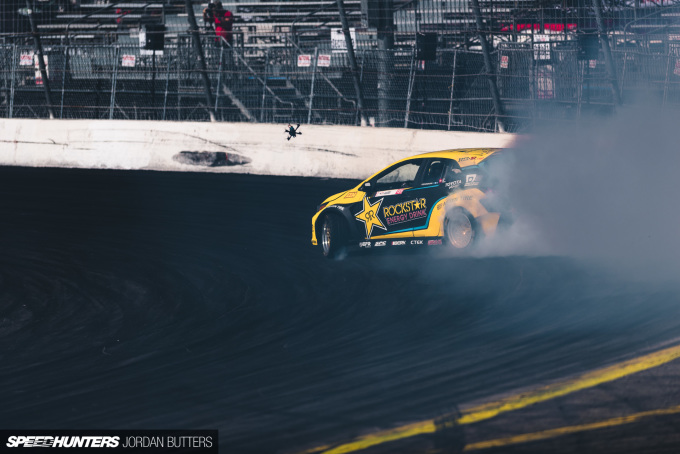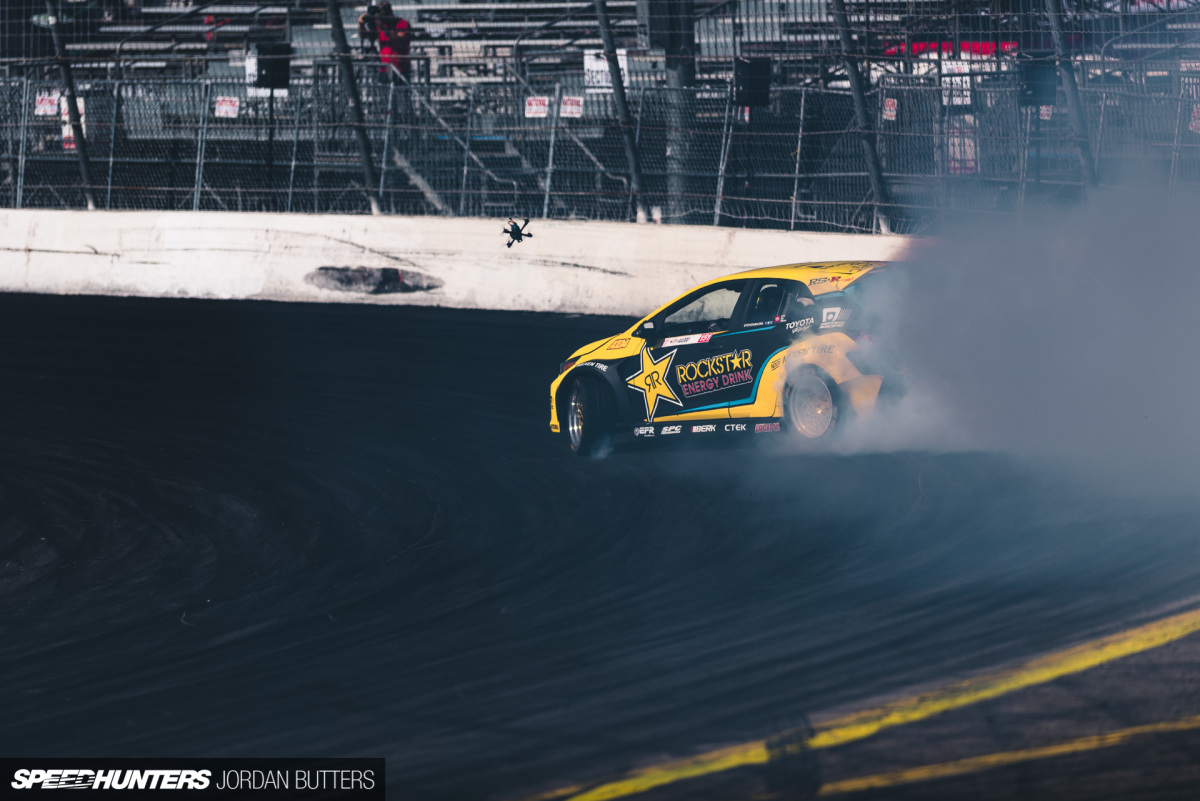 Aasbø was up next, scoring a solid 94 and looking strong and consistent in third place. If Piotr's run was throwing caution to the wind, Fredric's looked a little held back. Not that there's anything wrong in banking a good score with so much on the line.
To be honest, I partly expected the same from James – a nice, steady run to get a qualifying score on the board before going all out on run two. However, 'nice and steady' doesn't appear to be in the Irishman's vocabulary.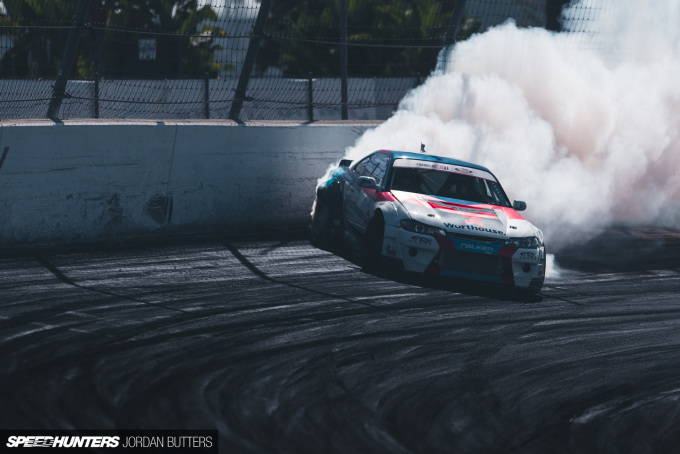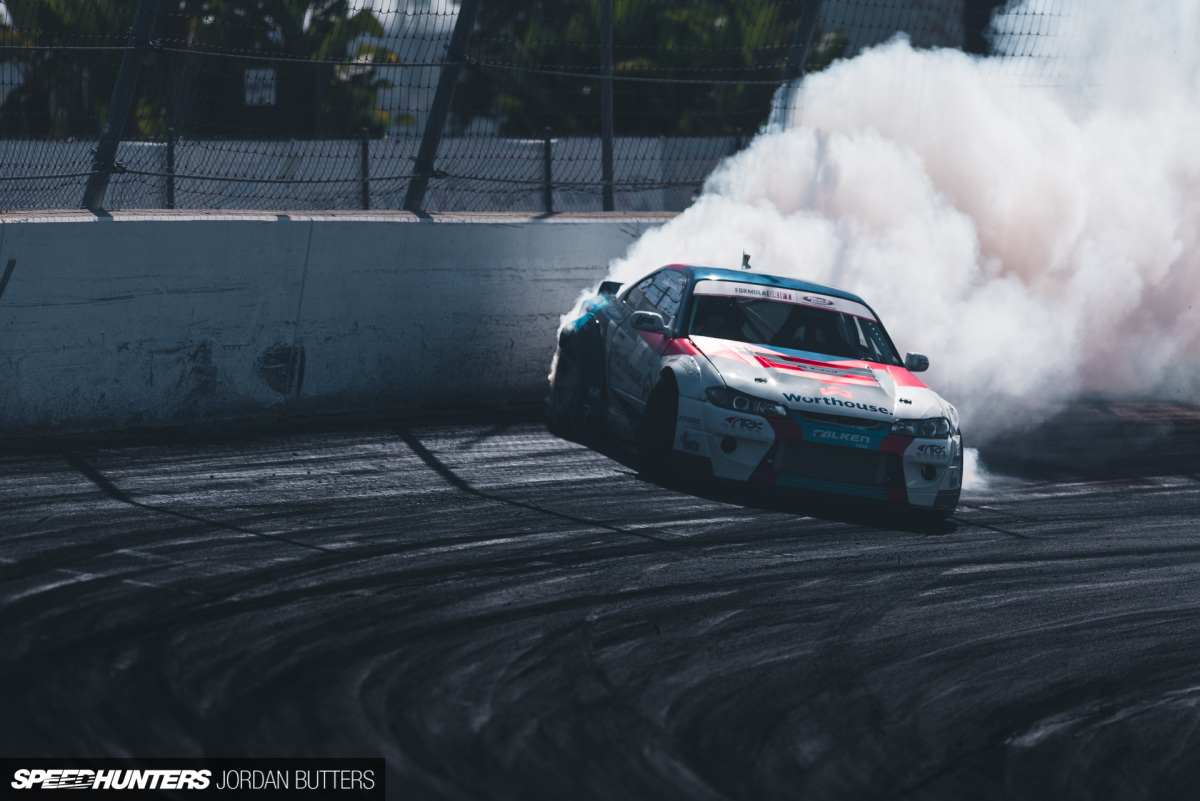 Free from the gremlins that plagued the car the night before, James absolutely sent it. There's not the all-out limiter-bashing aggression of Piotr's run, but his line, angle and inputs were so smooth that the S15 looked to be skating on ice around Irwindale. The pass would net him 98 points also.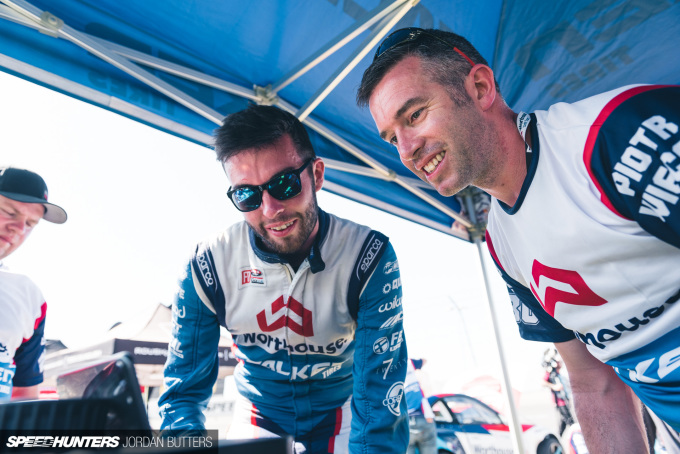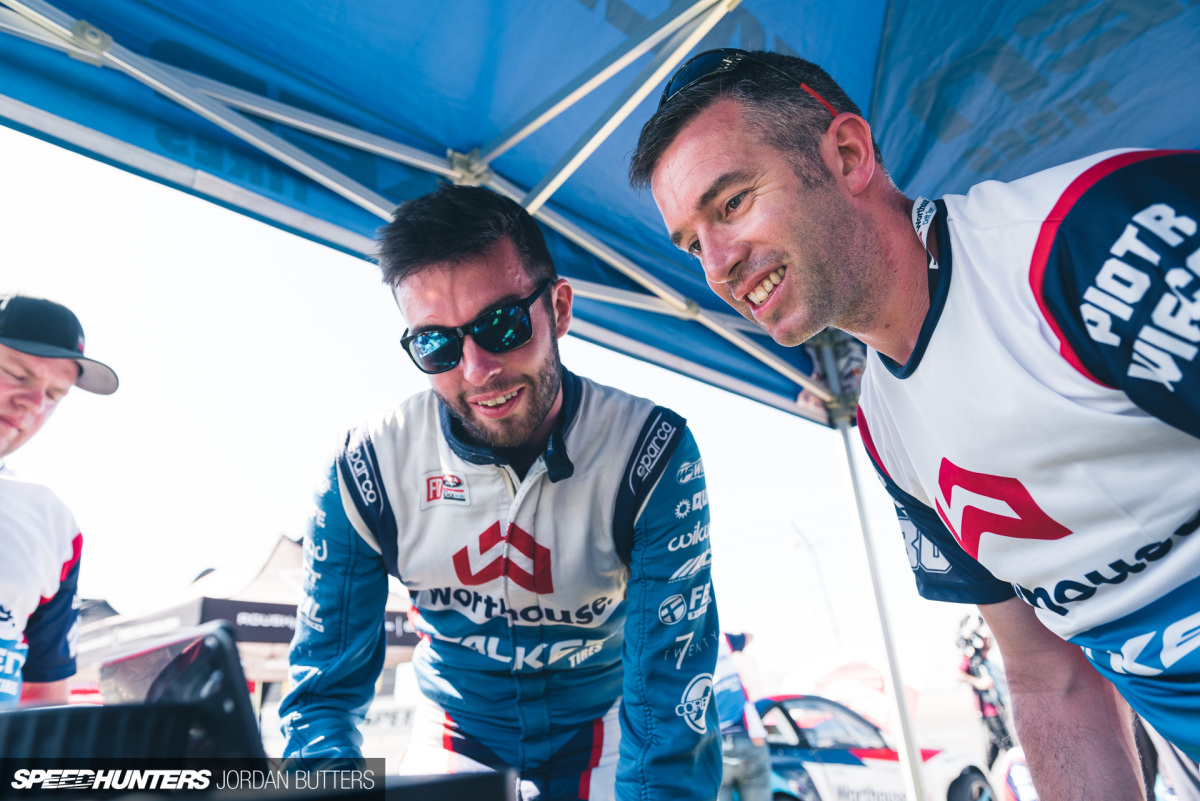 James and Piotr sat in first and second place with the same score, respectively. The mood in the Worthouse hot pit was incredible. Interestingly, the delay on the Formula Drift livestream is just enough for the drivers to complete their runs, return to the hot pits and watch the replay as it streams online.
With two scores that high, their place in the Top 16 was almost guaranteed, and James was a step closer to the championship.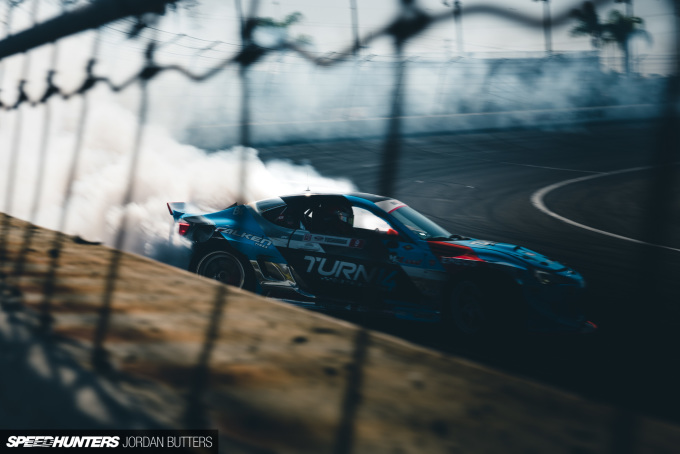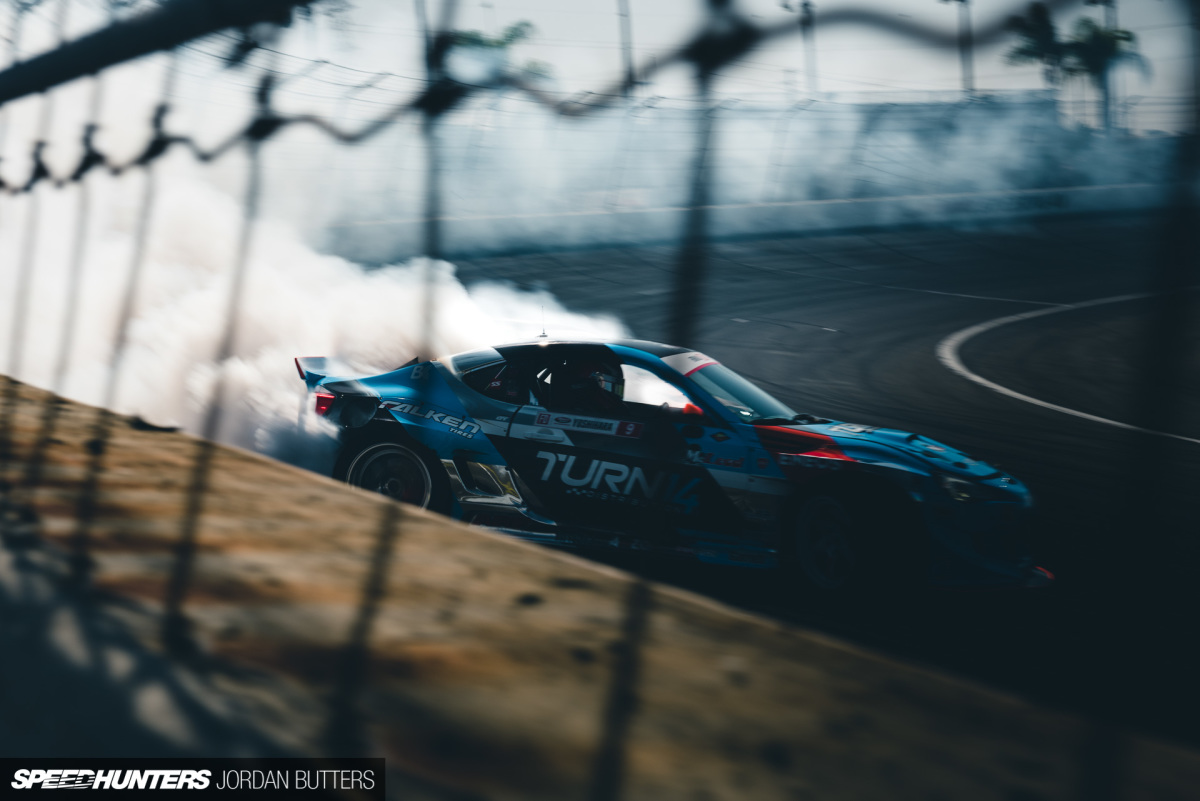 As the duo waited for their second runs, the team watched the rest of the field dutifully complete their own qualification passes. Yoshihara slotted home a 97 point run, nipping at Worthouse's heels, while Tuerck and Essa delivered 96 and 95-point runs, respectively. Most notably, Aasbø would be pushed out of the 'bye run' zone.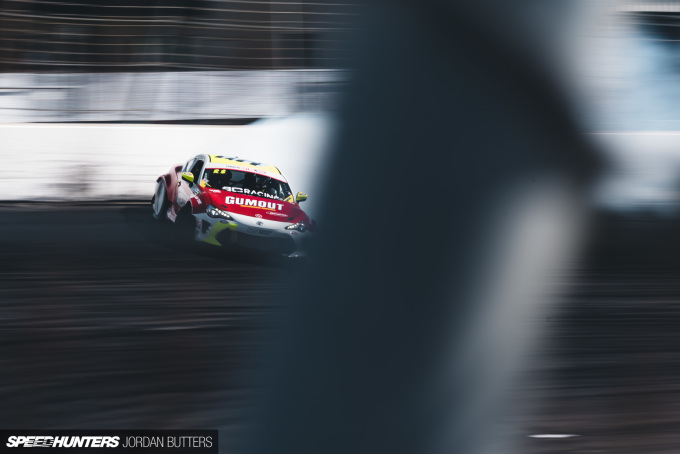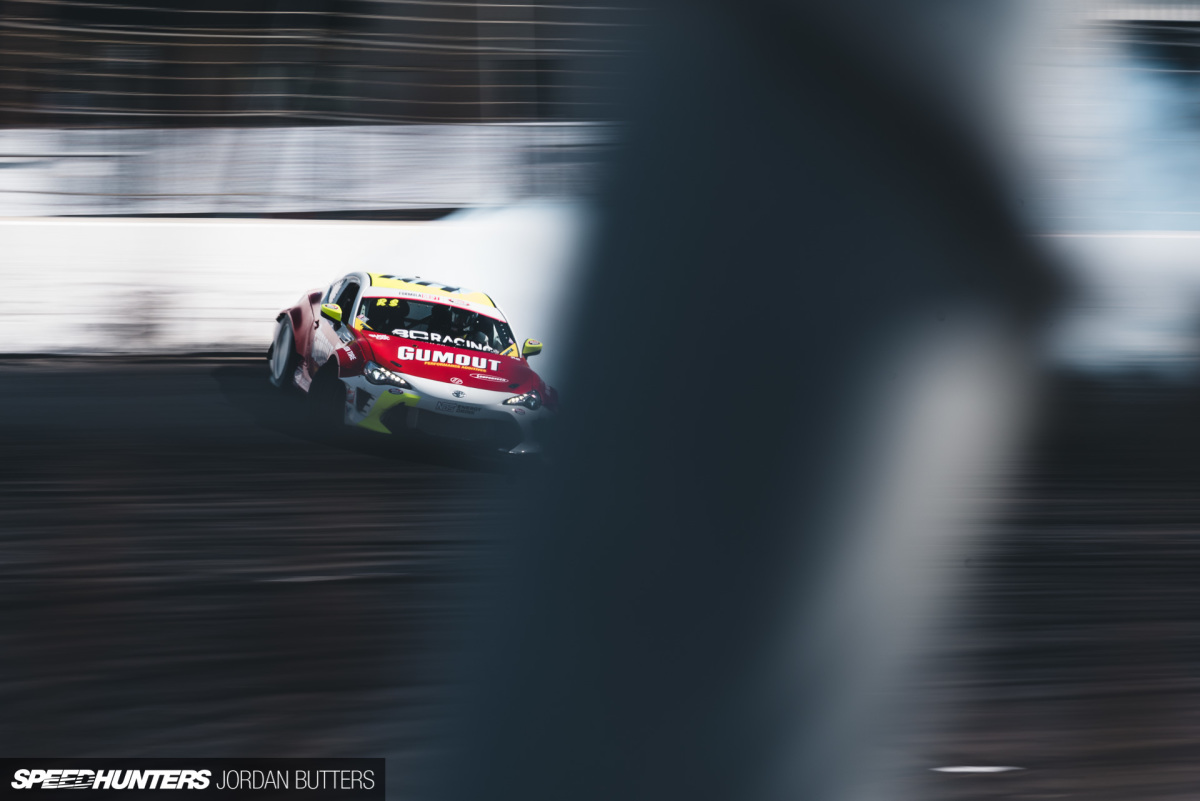 FD compères Jarod DeAnda and Ryan Sage summed it up best, and I'm paraphrasing, in that James and Piotr's presence in the championship has made the rest of the field step their game up. Safe runs have no place here anymore.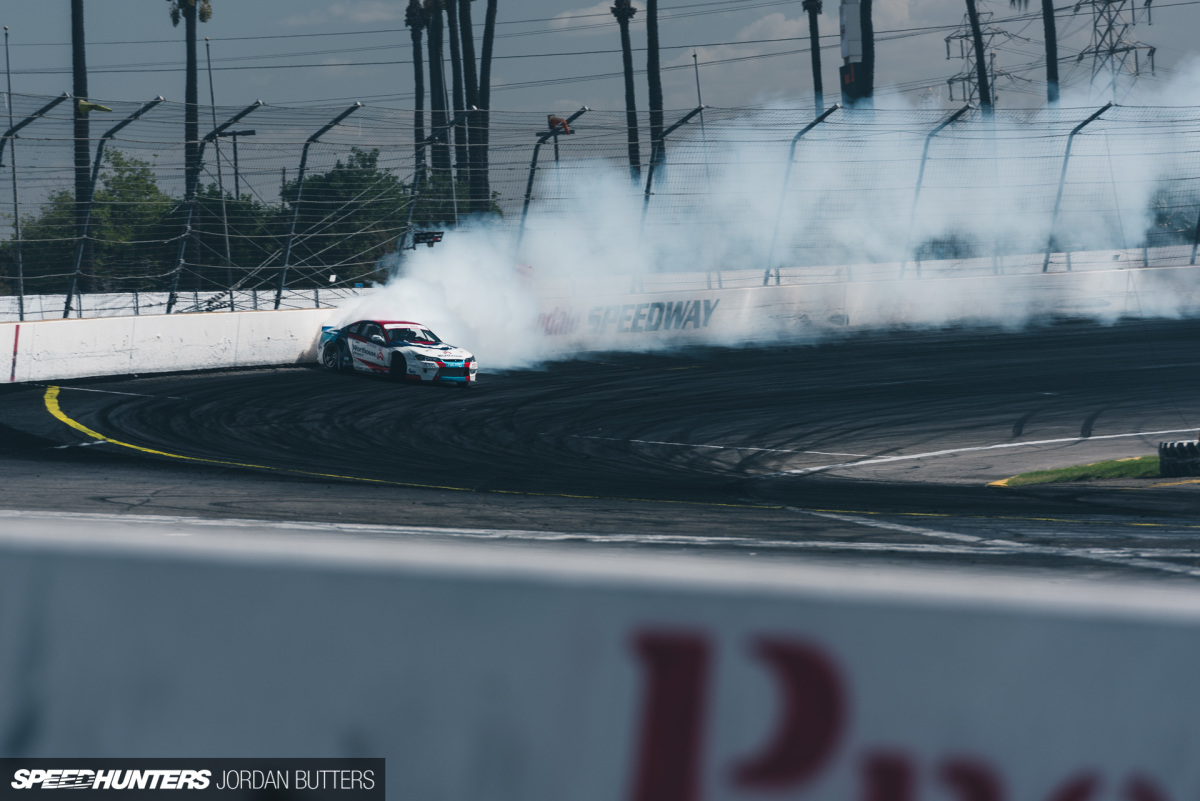 With Piotr, Fredric and James left to complete qualification, and Worthouse still holding the top spots, Piotr threw whatever caution he was holding onto (not much) to the wind for his second run, crunching the rear of his S15 into the first wall on turn one and grinding down the fibreglass rear bumper and spoiler around the entirety of the bank, dislodging yet another tail light in the process. The impact was big enough to cost Piotr some points, but still scoring him a respectable 94.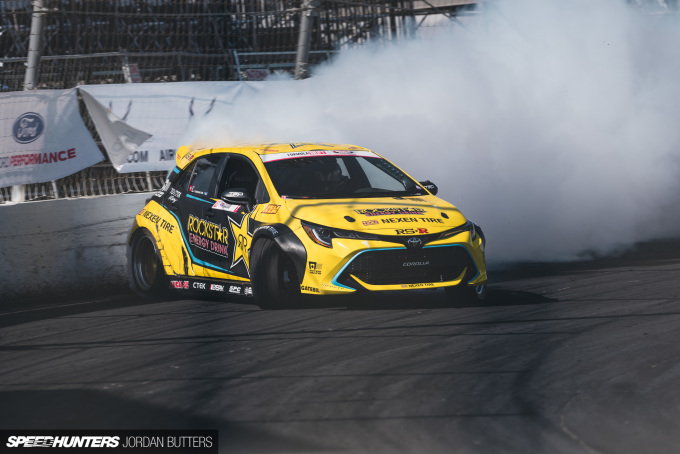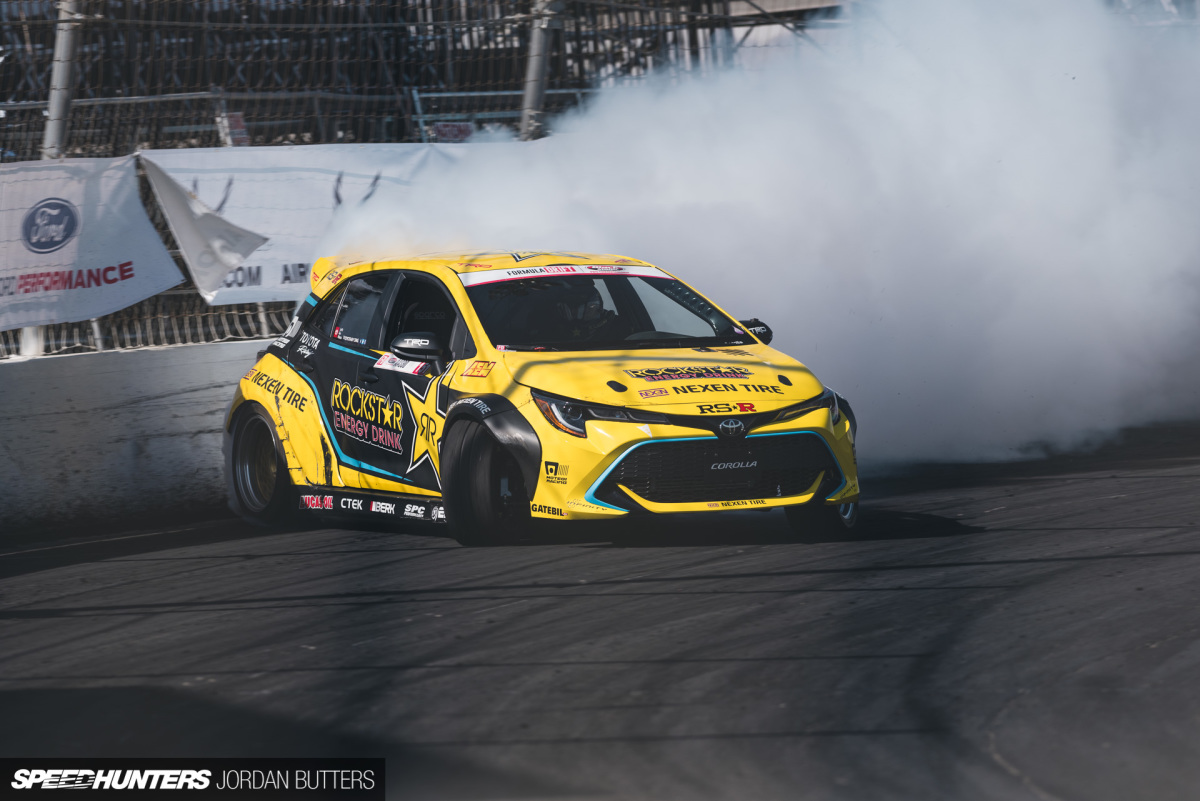 Fredric followed again, and reached deep for an impressive 96-point run, jumping into fourth place and securing himself a pass into the Top 16, too.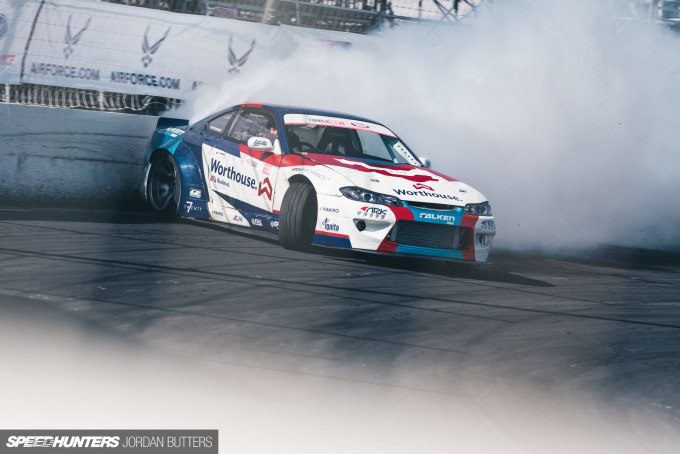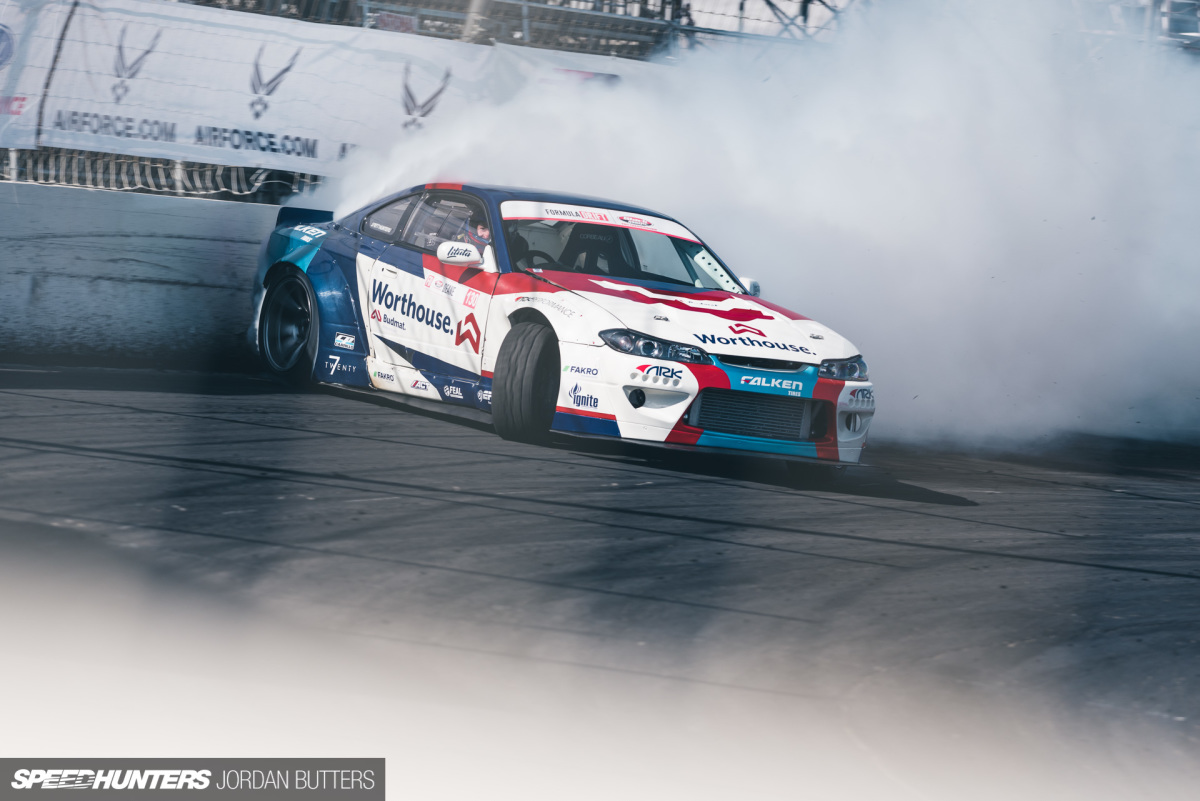 James needed a 95 or better to snatch top spot from Piotr – a tall order for a tall man. Smoking his way around the banked first turn and into the bowl, James' second run was inseparable from his first in my eyes. People always comment that James' ability to chase in tandem is his best skill, however in my eyes it's his consistency that's brought him so far above all else. Whether qualifying, leading or chasing, he seems to be able to place the car with unfathomable accuracy time and time again.
James would score a near-perfect 99 points on run two. To be honest, I can't see where the missing point is, but the judges know better than I. He would take top qualifier once again, and extend his lead over Fredric by a further three vital points.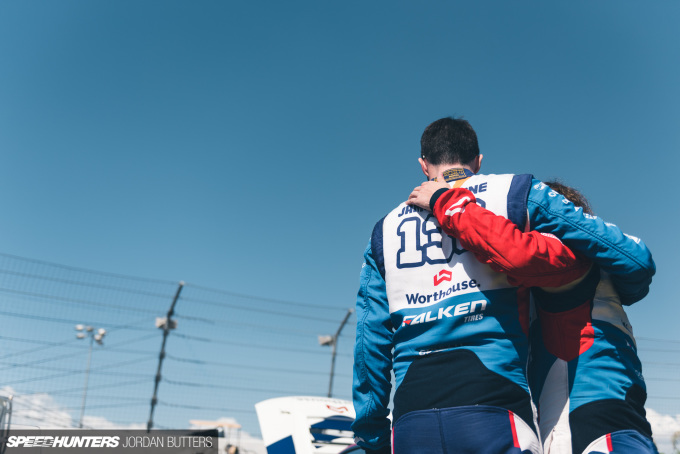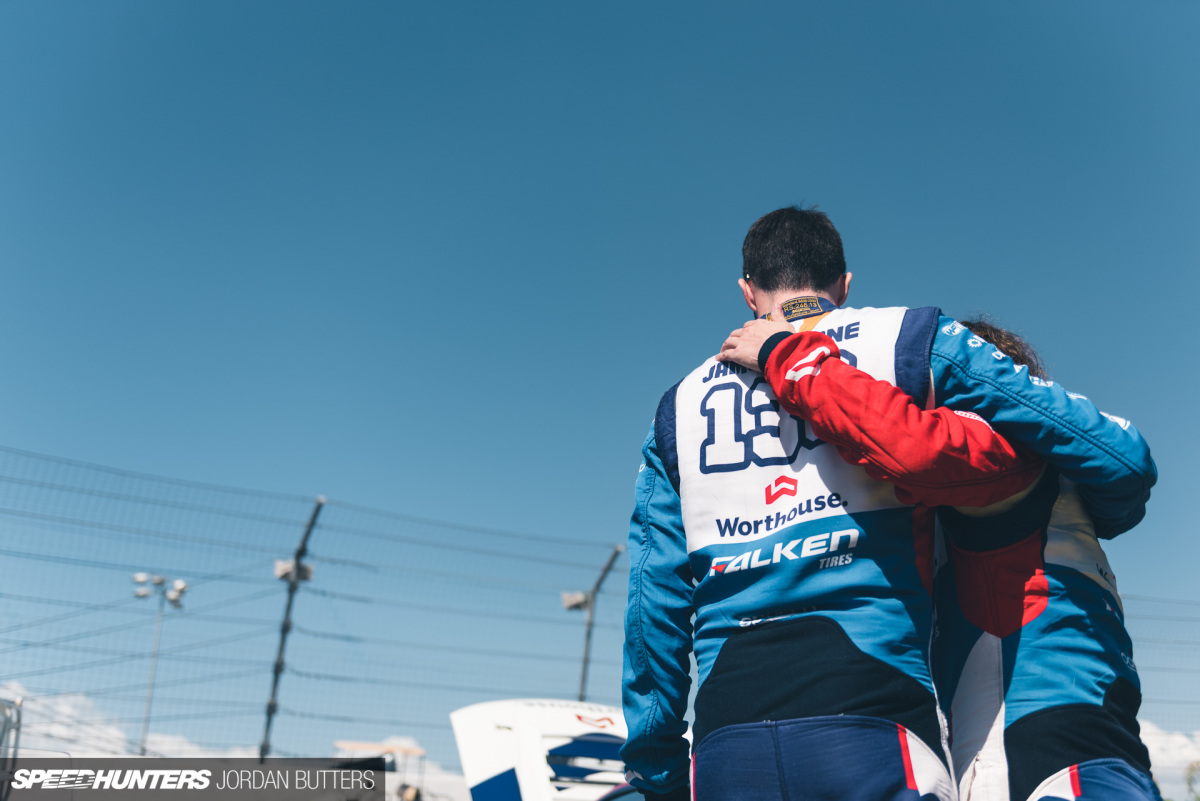 Piotr sat in second place which was a relief in itself – with James and Piotr on opposite sides of the Top 32 bracket, the only place they could theoretically meet was in the final. With them having eliminated one another several times already this season, no-one wanted to have to deal with the awkwardness of Piotr possibly costing James the championship early on in competition the following day.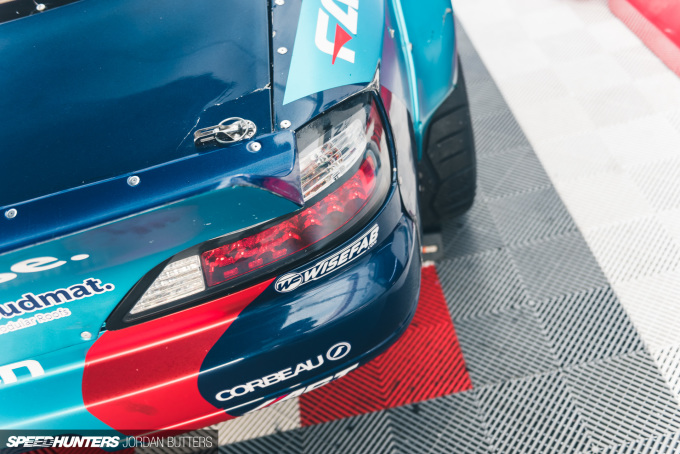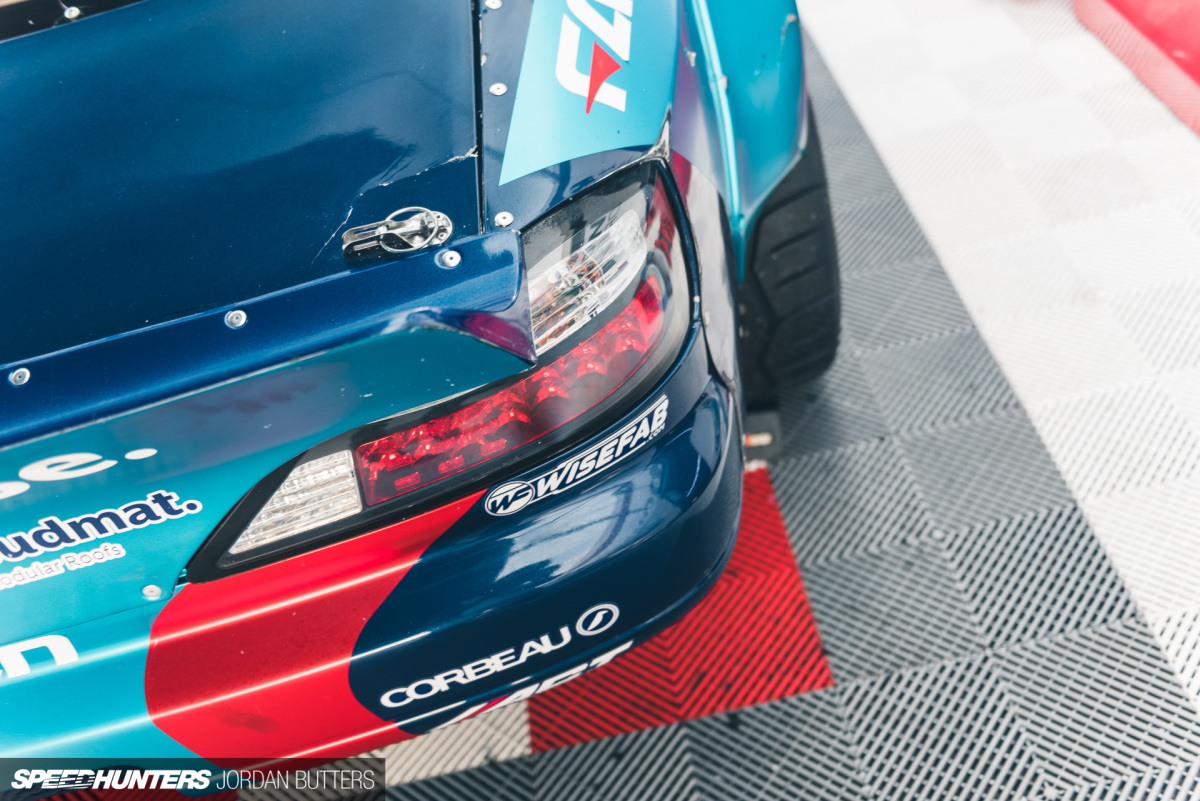 Nothing to see here. By the time I walked back to the paddock, Piotr's car already looked like it hasn't seen the track. Was I imagining all those wall runs?!
The day wrapped up with an autograph session under the grandstand, where the drivers would take time to meet the fans, sign souvenirs and take photos. Piotr hugged people, James signed a dog – the usual.
James would also receive a surprise birthday present a day early in the form of a custom painted race helmet from his family and team. The design is a collage of James' past, present and future, representing how far he's come in drifting.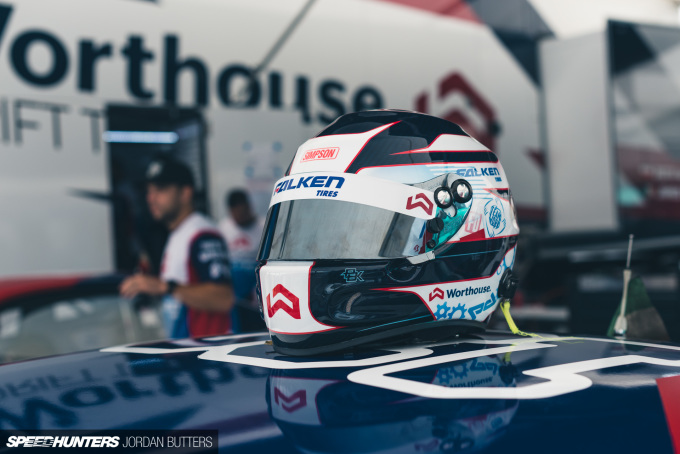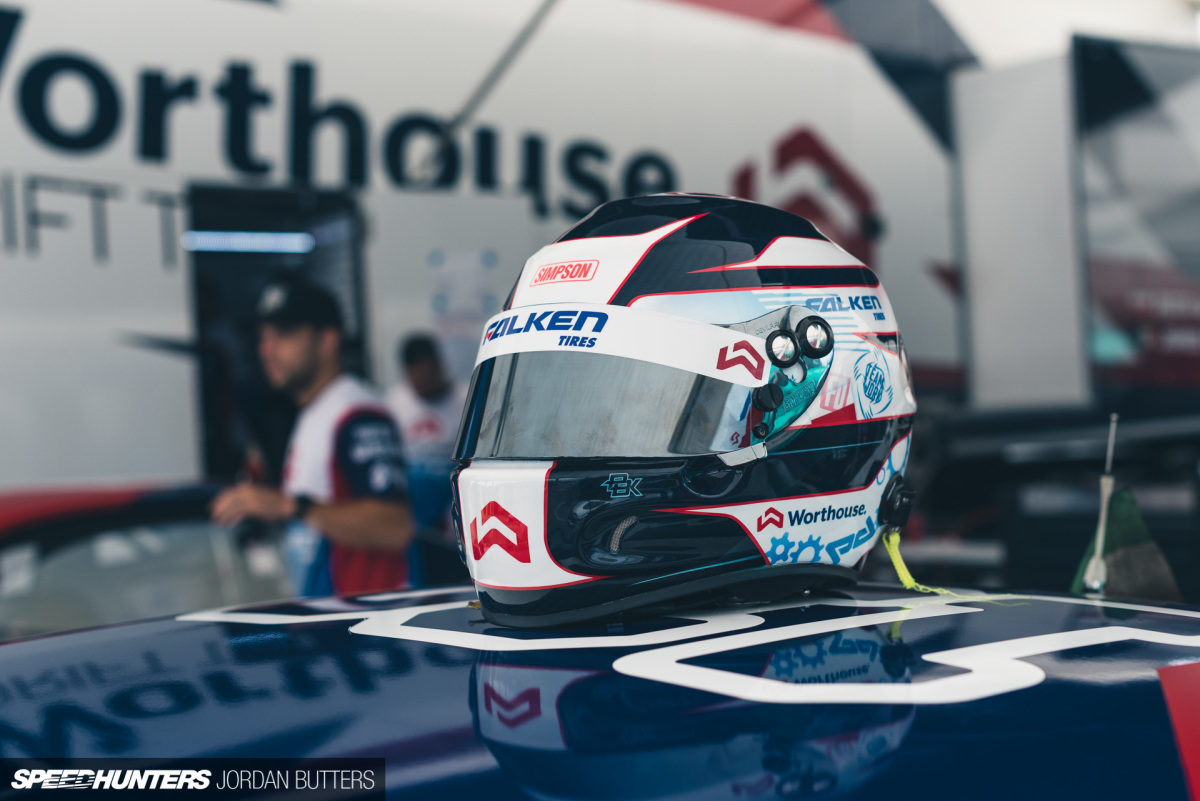 It was an emotional moment for all involved. Many of the people here have watched James grow, from a 16-year old winning his first Pro-class event in Ireland in 2007, to a world champion in 2017. This helmet represents his journey so far – it bears Piotr's number, as well as the Prodrift logo, where James won his first championship. The familiar Falken teal and blue heart on top, and Falken logo cut out in Irish, German and American flags indicate the countries in which James has represented the brand.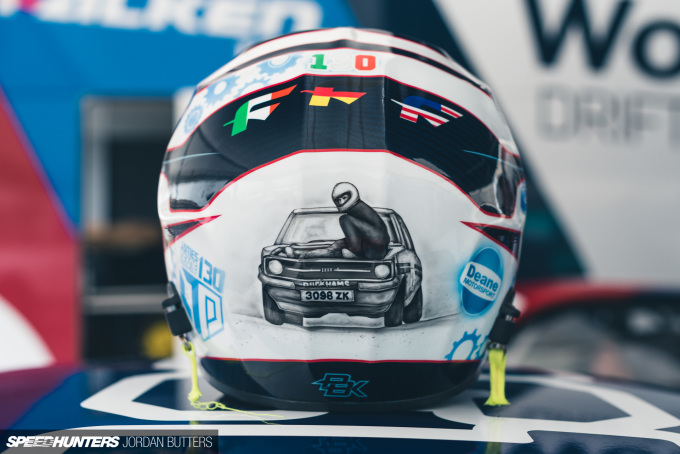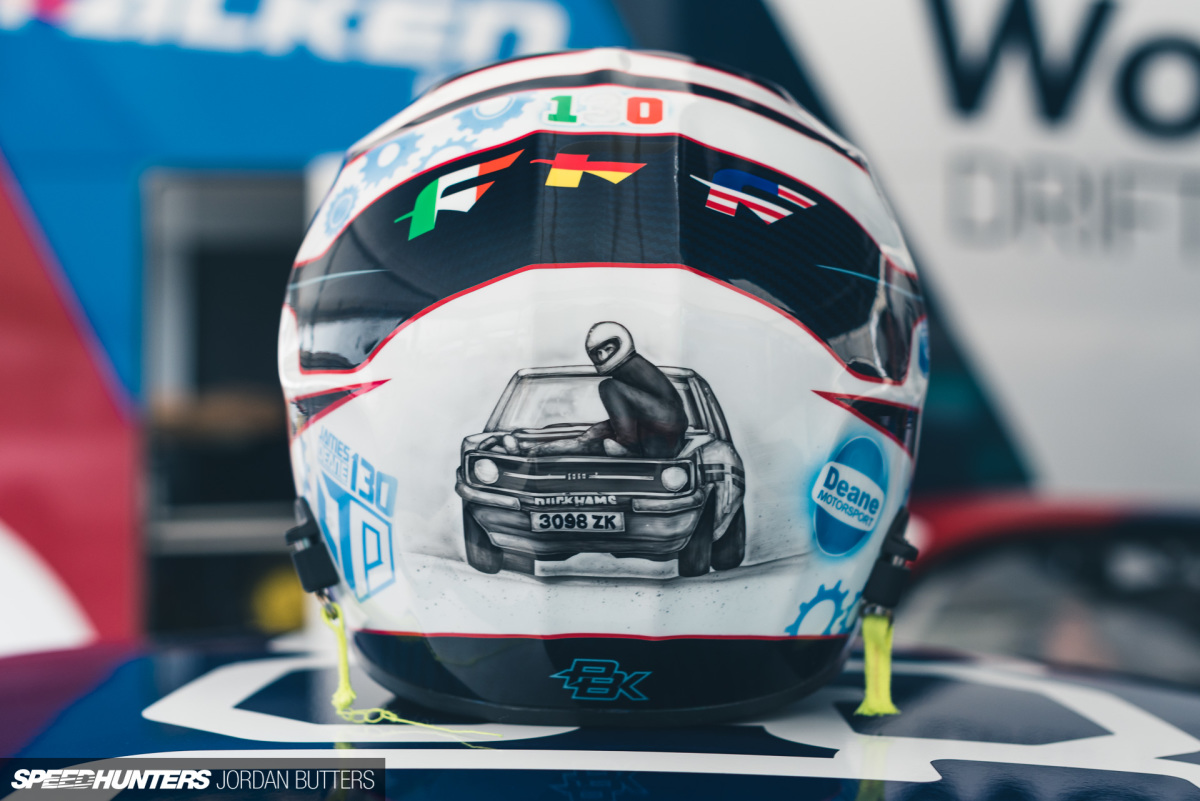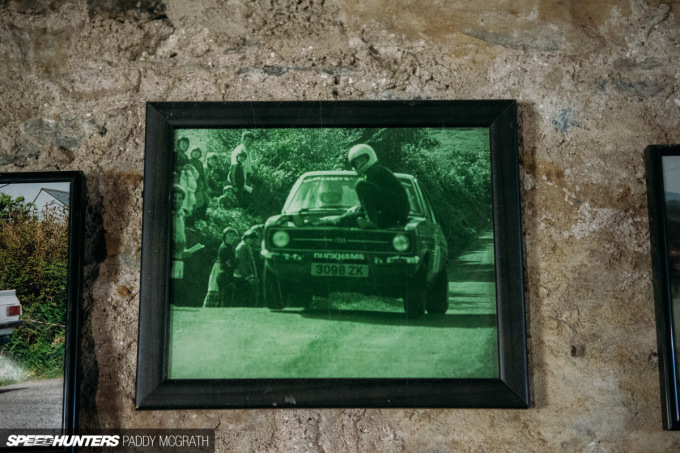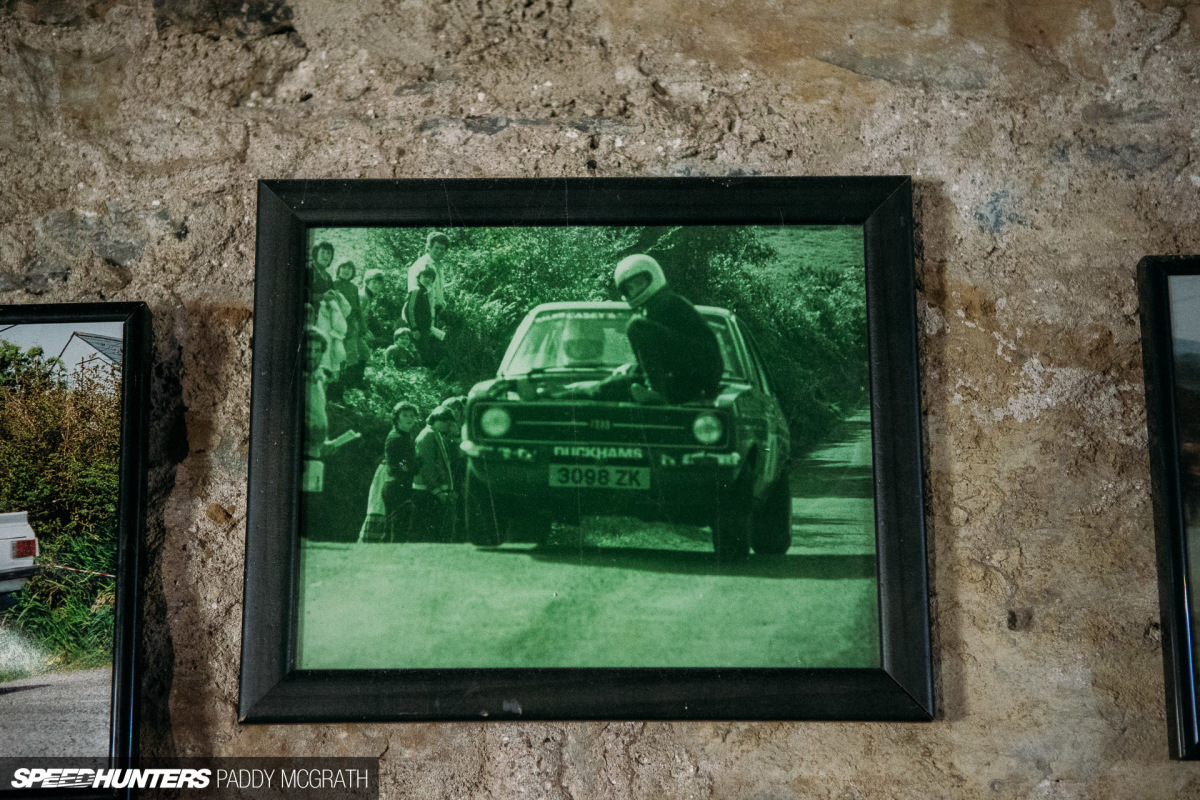 The mural on the rear is taken from a famous photograph of James' dad, Popa Deane, during a rally in Ireland. The throttle cable snapped during the event, so he threw the bonnet into the hedge, hopped into the engine bay and operated the throttle by hand to finish the stage.
Note that daylight can clearly be seen under the front tyre in the actual photo. Utter hero.
With the big day looming, and thank yous over with, James' team set about transferring his radio into the new helmet for the following day. We didn't know it at the time, but it would be the longest day in the team's short history so far.
Saturday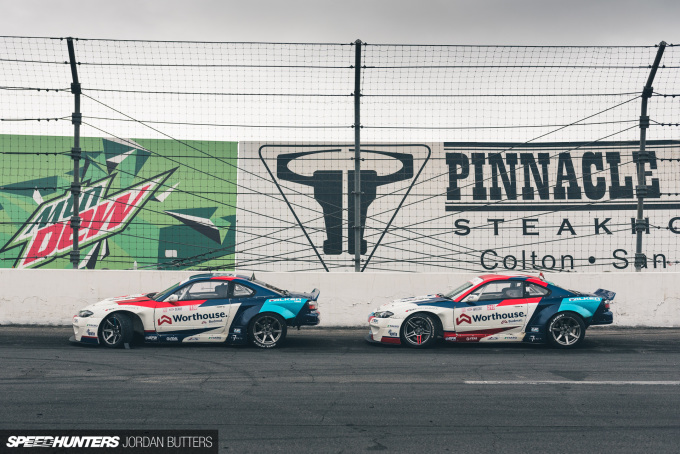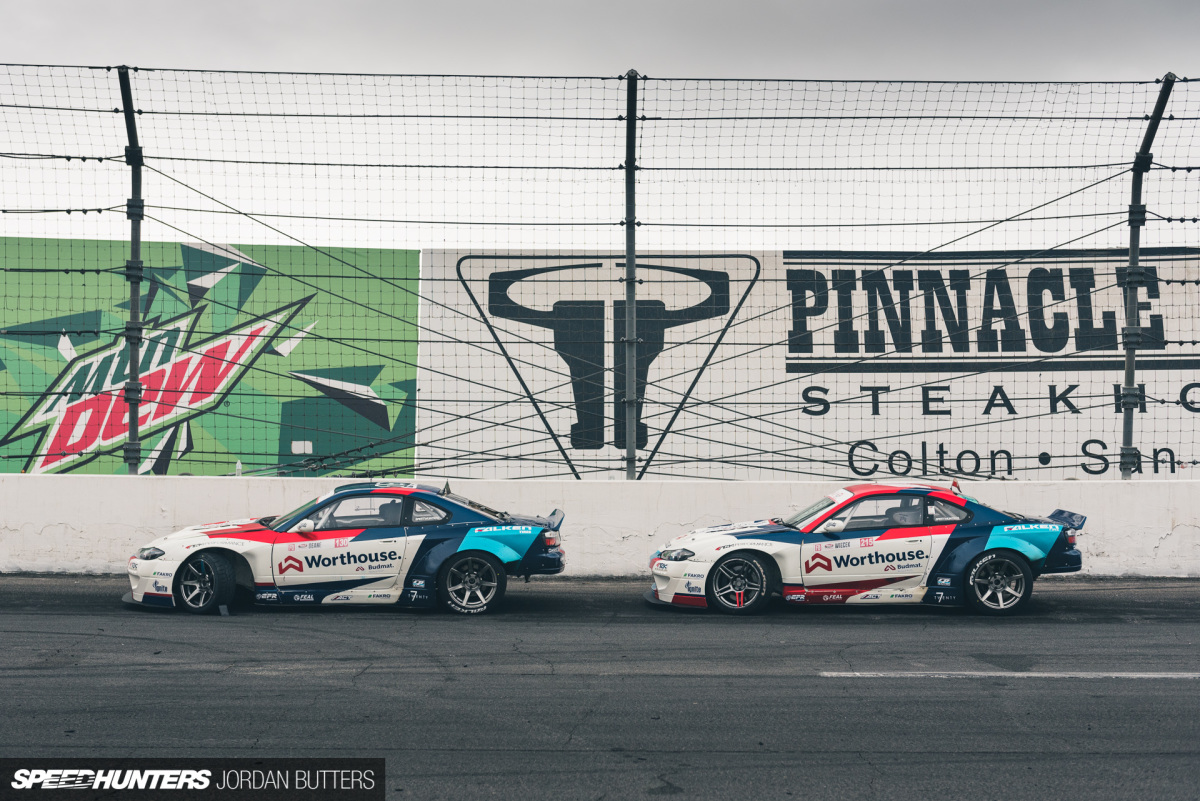 Compared to everything that the team had achieved so far, the goal for Saturday's competition would be almost within reach. James needed to progress, stage by stage into the Top 4 to ensure that Aasbø couldn't catch him on points. A Top 16 or Top 8 finish at this point would ensure that Fredric would need to win the event outright to be a threat. James was already in the Top 16. It wasn't an entirely comfortable situation, but you don't need to be a betting man/woman to see that the odds were stacked in James' favour.
If all that failed, then Piotr had to make it to the finals to beat Aasbø himself. He did it last year, he could do it again.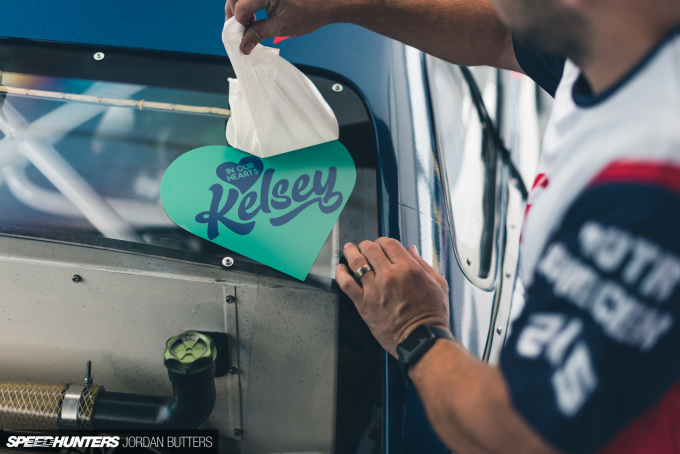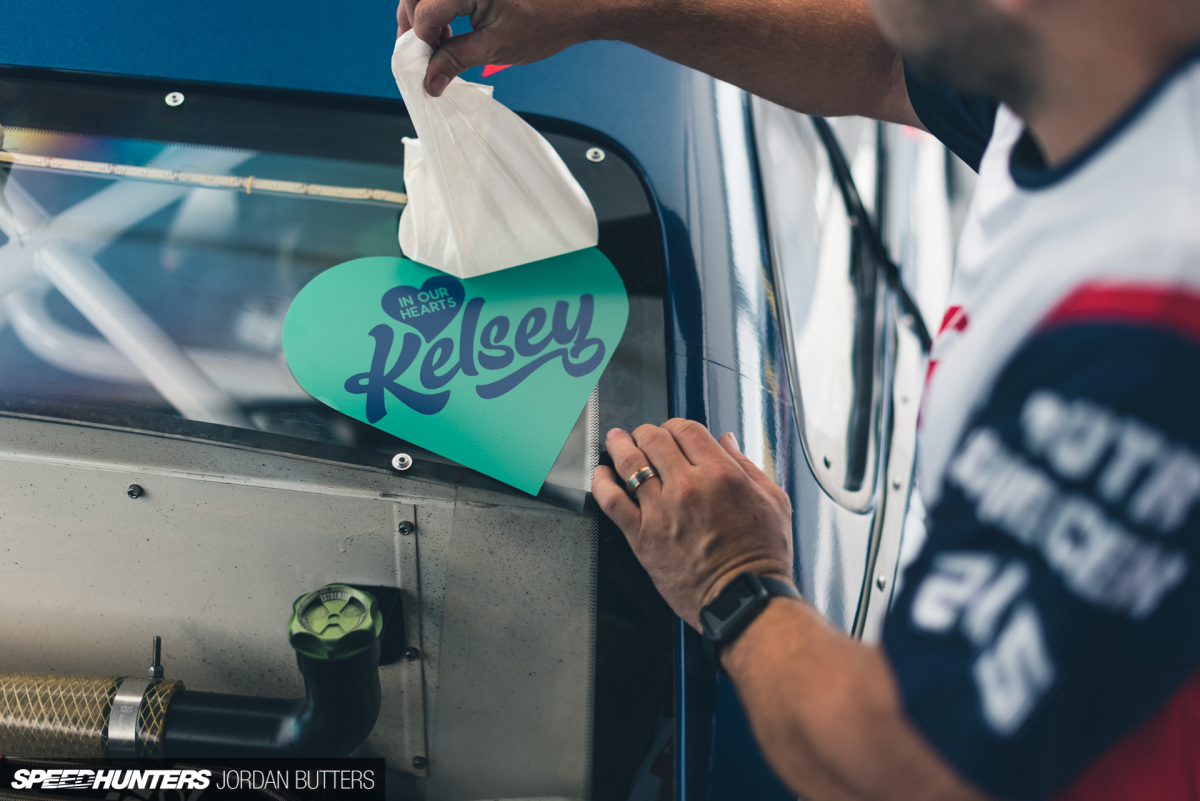 One last addition to the cars was sadly needed.
Falken Tire spokesmodel Kelsey Quayle was involved in a fatal shooting and subsequent head-on collision just the week before Irwindale, passing away shortly after after her life support machine was switched off. I'd not met Kelsey myself, but from talking to people in the paddock, and seeing the outpouring of love for her was a stark reminder that everyone involved in motorsport at this level are like family to one another.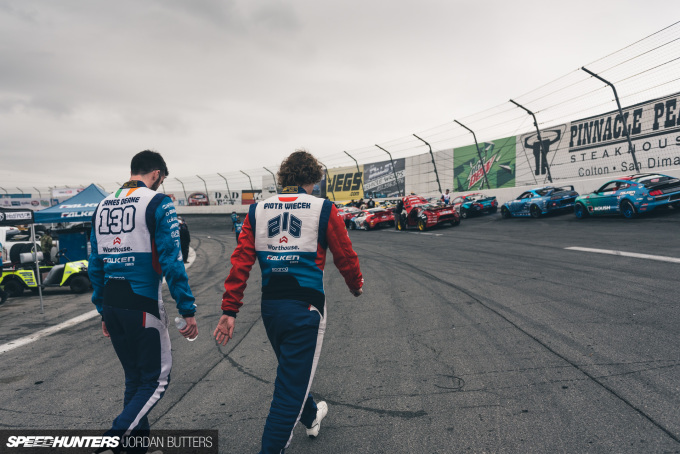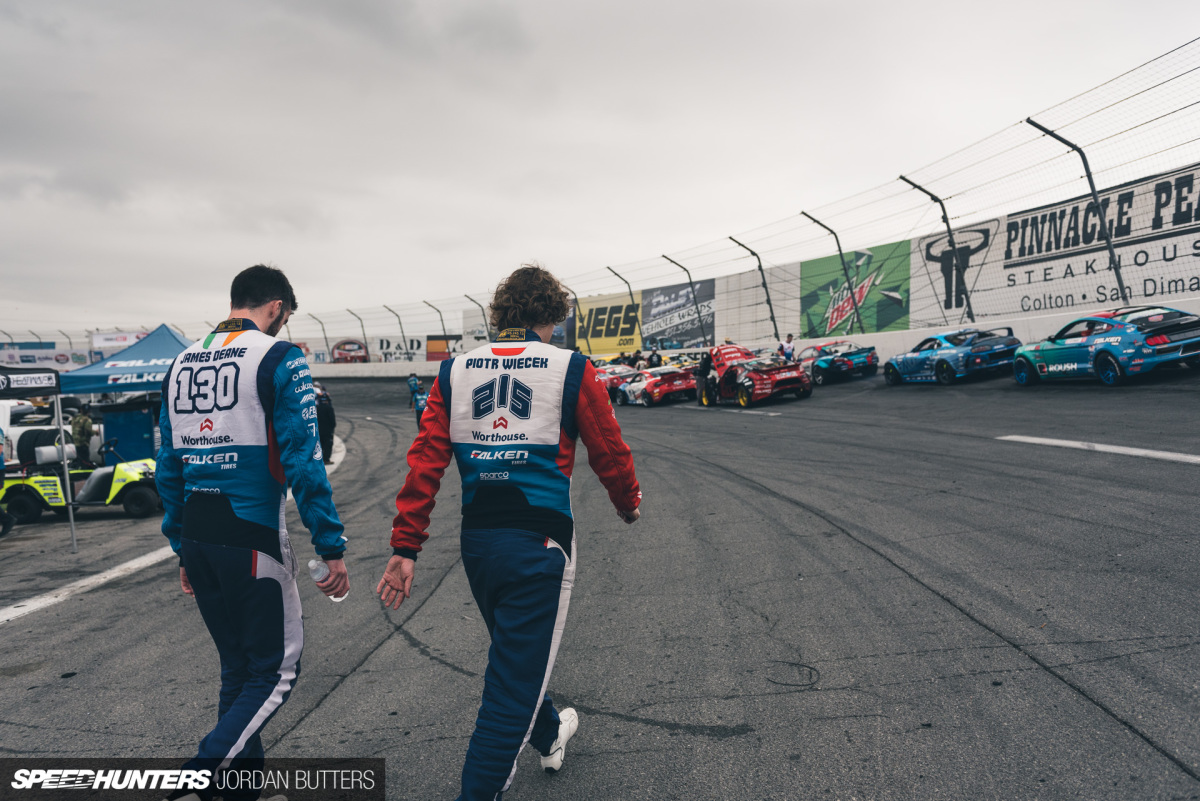 A heavy storm the night before had washed out the Pro 2 event and soaked the circuit overnight. It's typical that the one time I go to California and I get the same weather I'm used to back home. While James and Piotr are probably better-versed in wet-weather driving than most of the field in Formula Drift, it was a variable that no-one wanted to add into the mix.
Although the sky was still overcast and there was the odd drizzle during the morning, thankfully the track dried quickly. The drivers walked the track to assess the grip levels.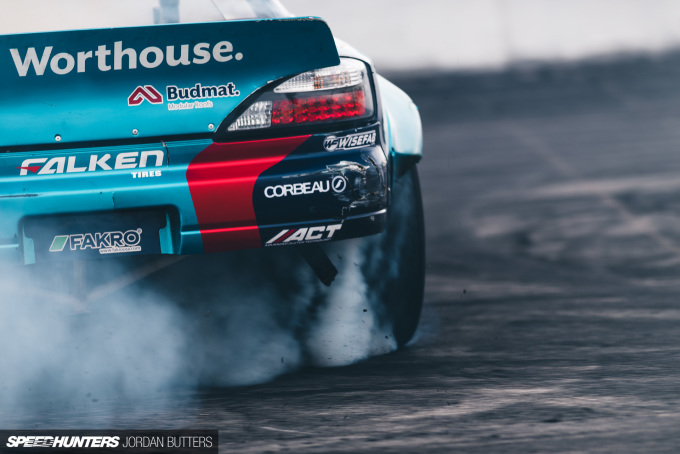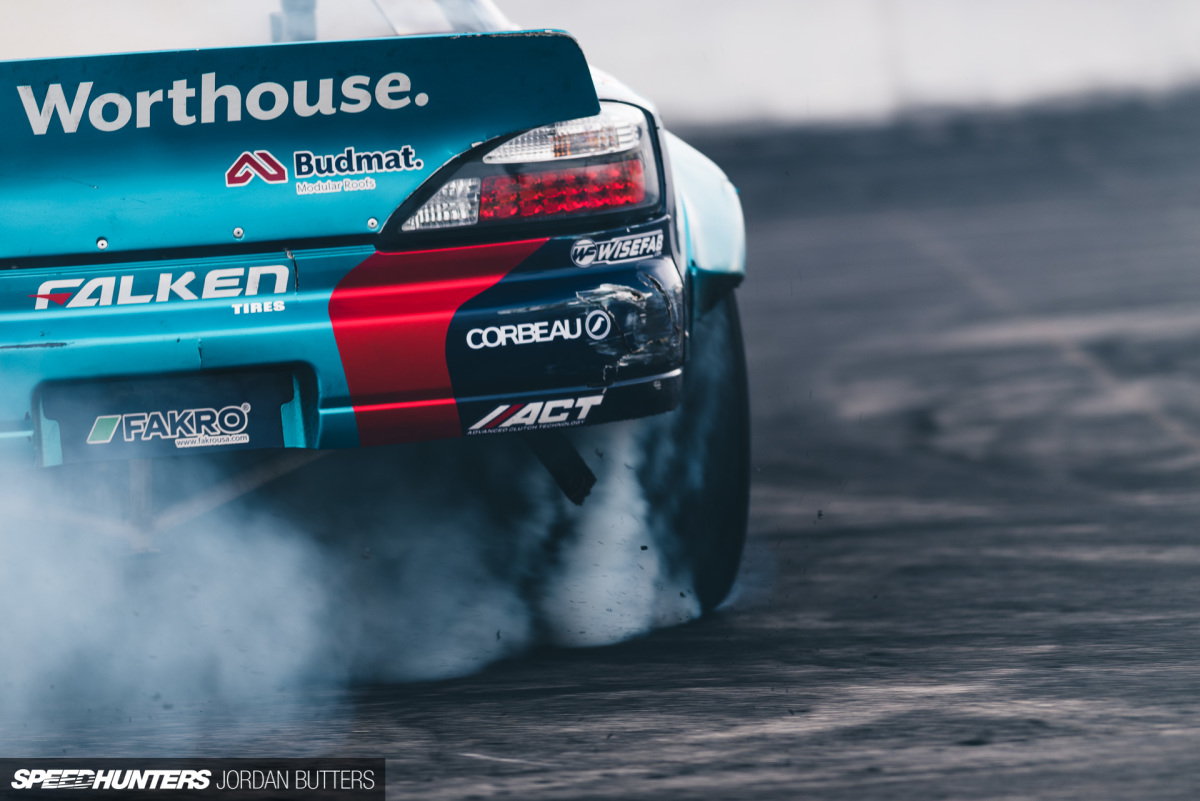 And then did a more thorough assessment. Tyre smoke soon started to appear, so we all knew it was going to be fine.
The mood definitely shifted on the Saturday morning. Maybe it was the uncertainty of the weather, or possibly the looming realisation that this was the drivers' last chance to change the course of the championship. Game faces were on.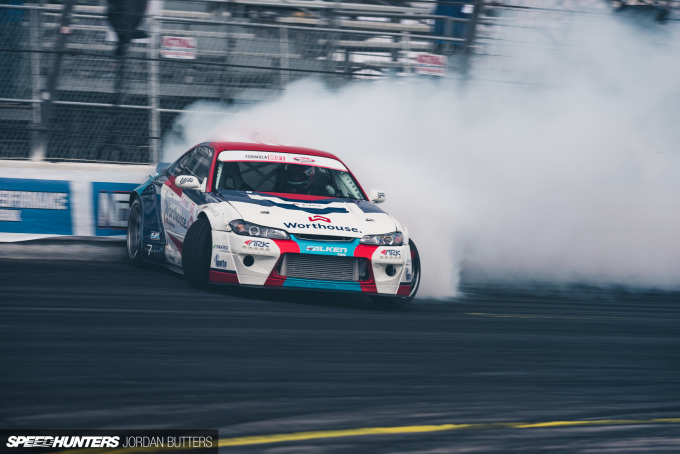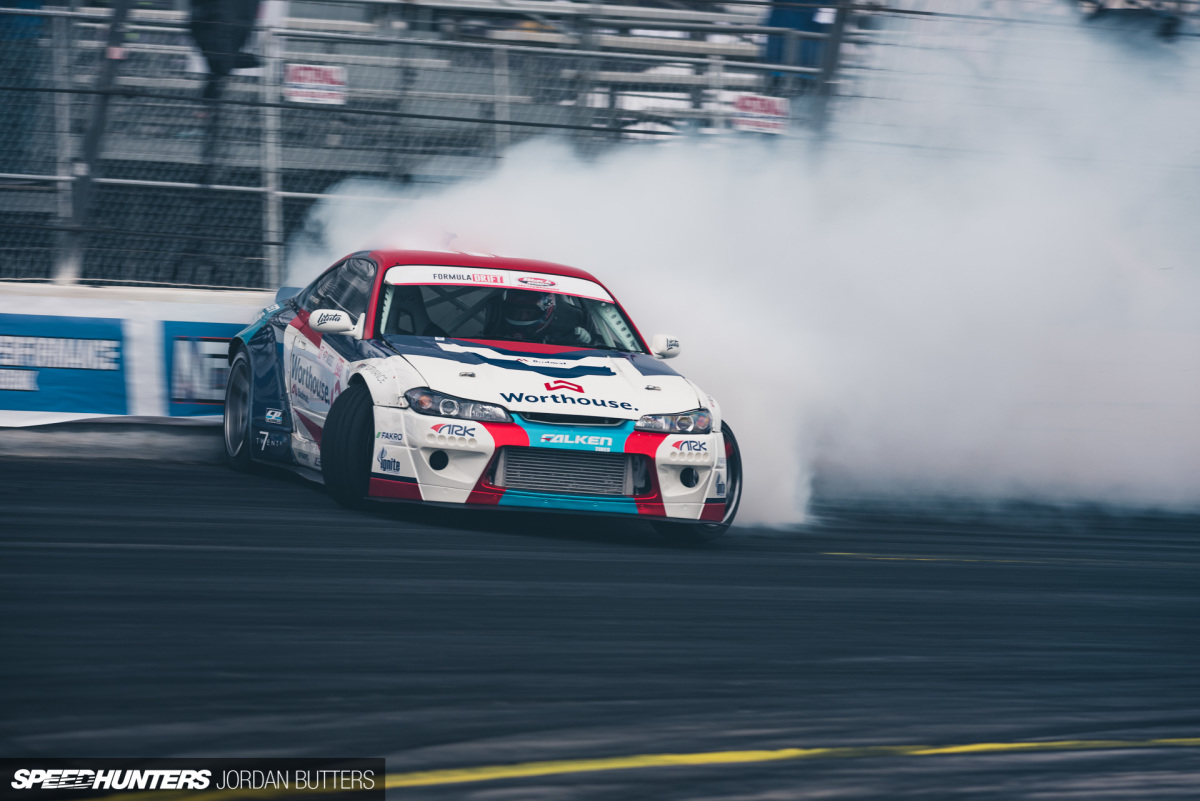 Both James and Piotr would alternate between leading and chasing with the rest of the field as they warmed up. Piotr continued to put the rear of his S15 through the wall. I'm not sure if he got the memo that it was just practice?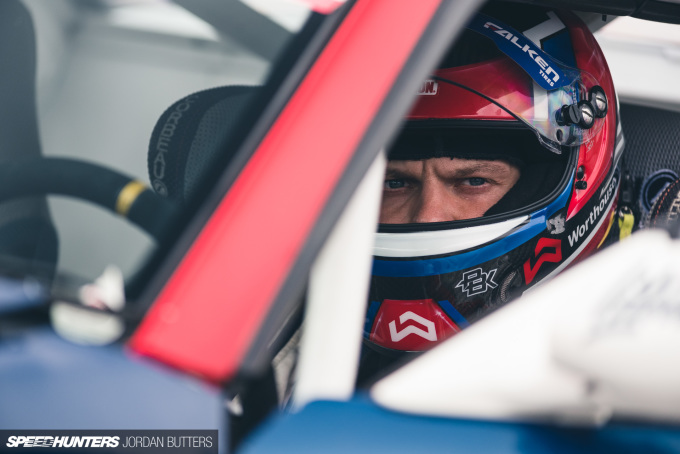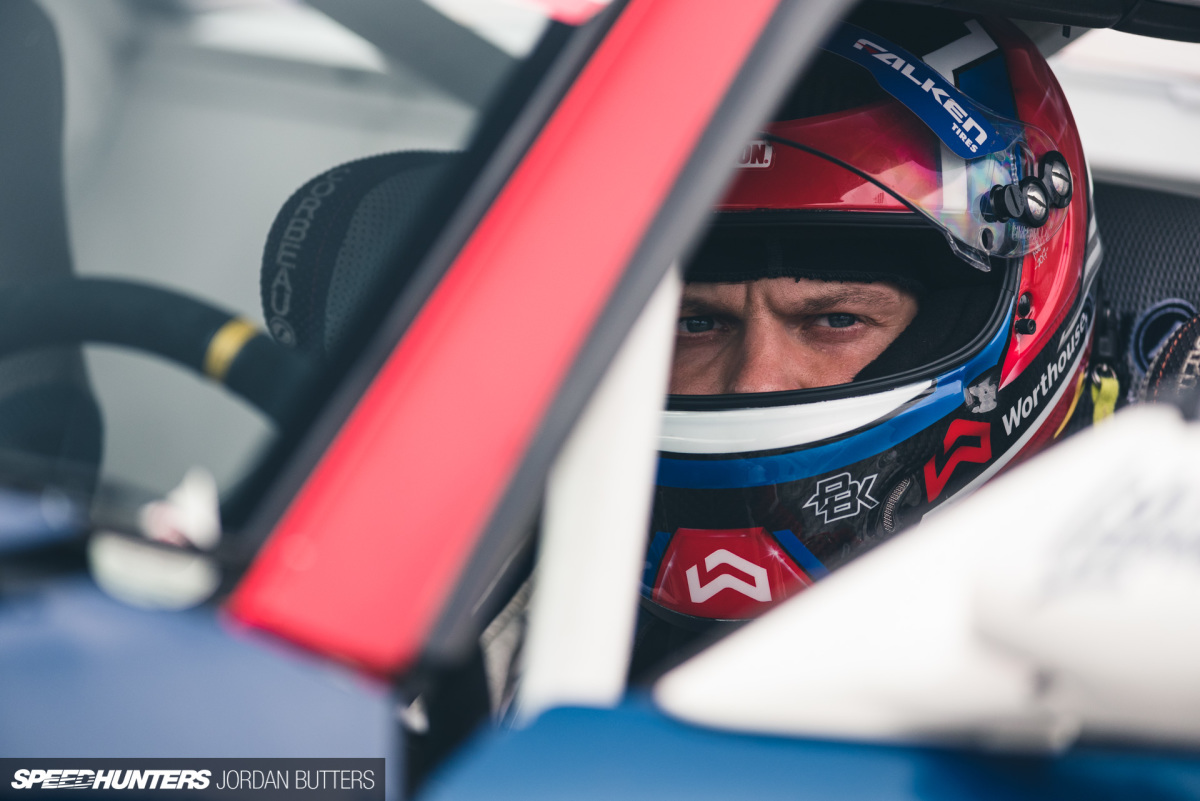 Or maybe no-one dared to tell him?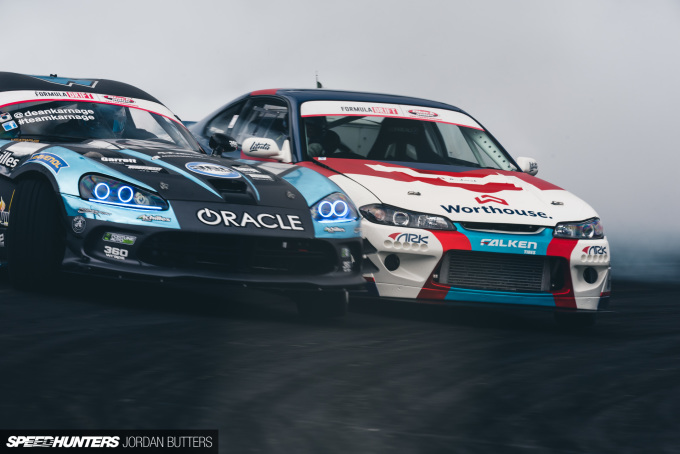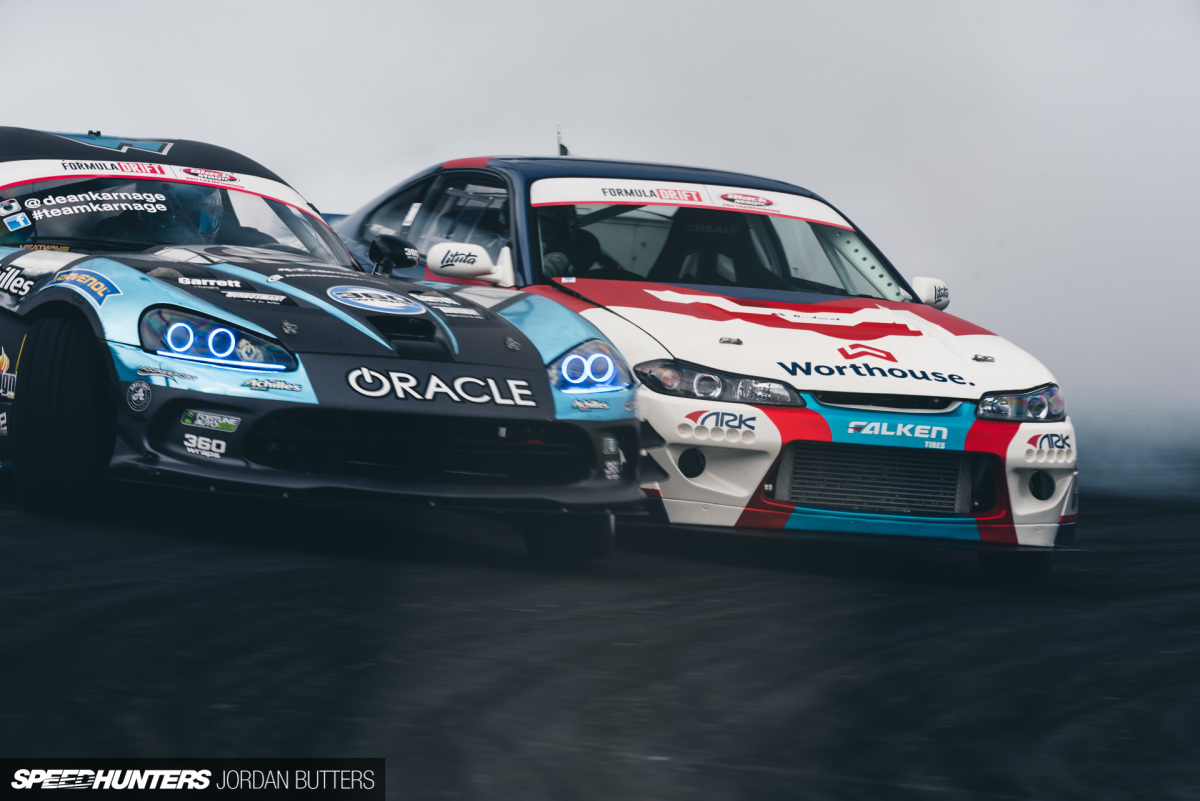 The team looked comfortable as the session ended, although James' car had developed an issue and was down on power, the team didn't seem too concerned.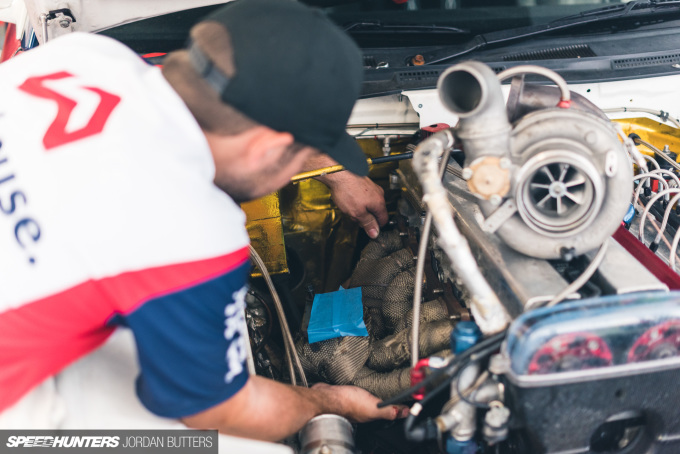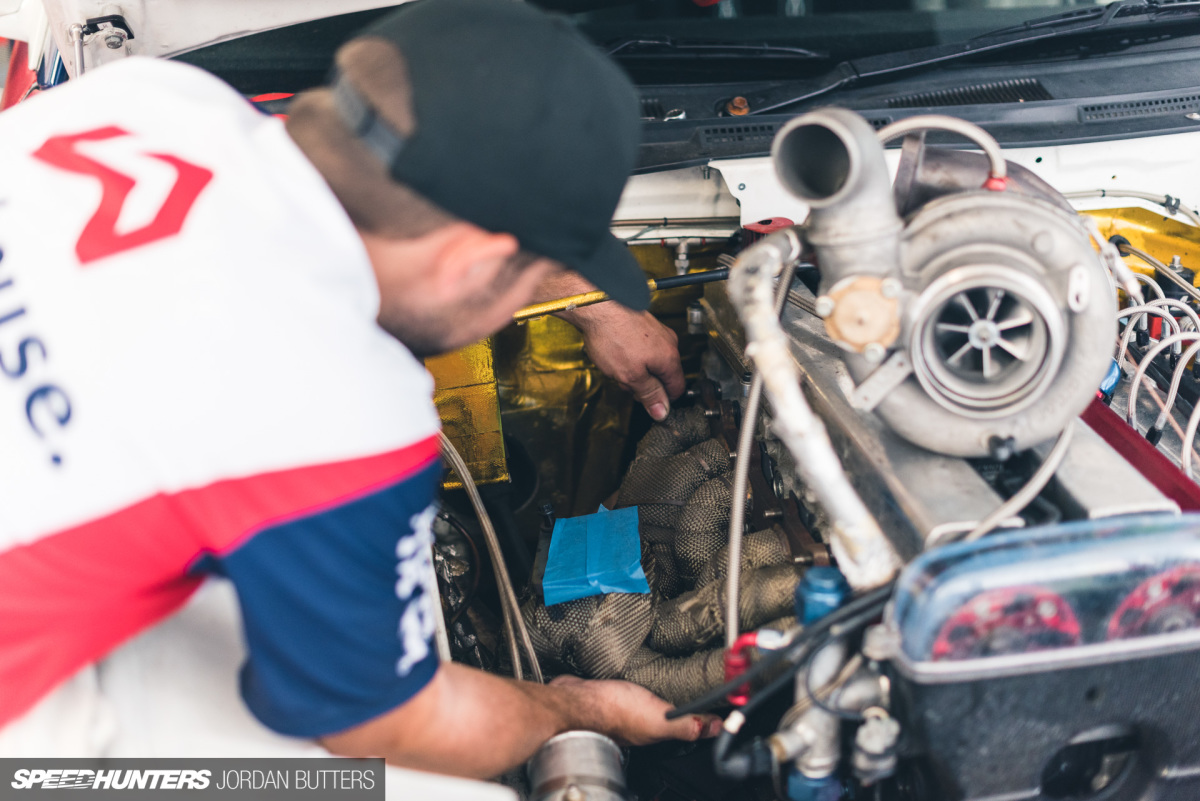 Joining them back in the paddock, there were already many spanners twirling on James' car – his exhaust manifold had cracked and was leaking. It was a simple repair, and one that was carried out in a matter of minutes as the manifold was removed from the car, welded and just as swiftly refitted. James was on hand to check over the repair too, and all seemed well.
It was something so minor compared to what these guys often deal with during an event that no-one thought that it could almost end up costing James the championship.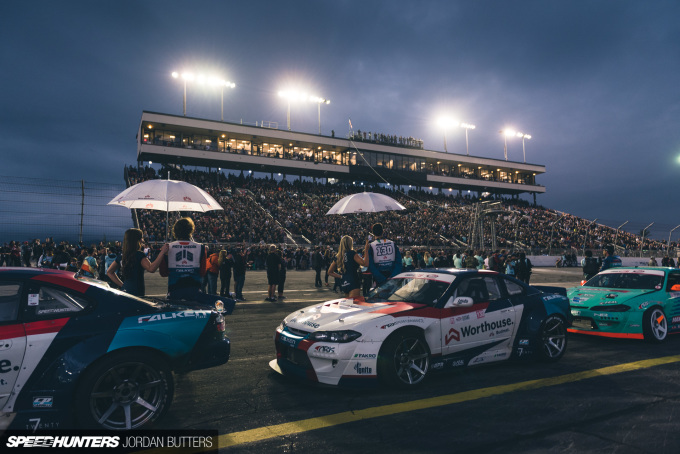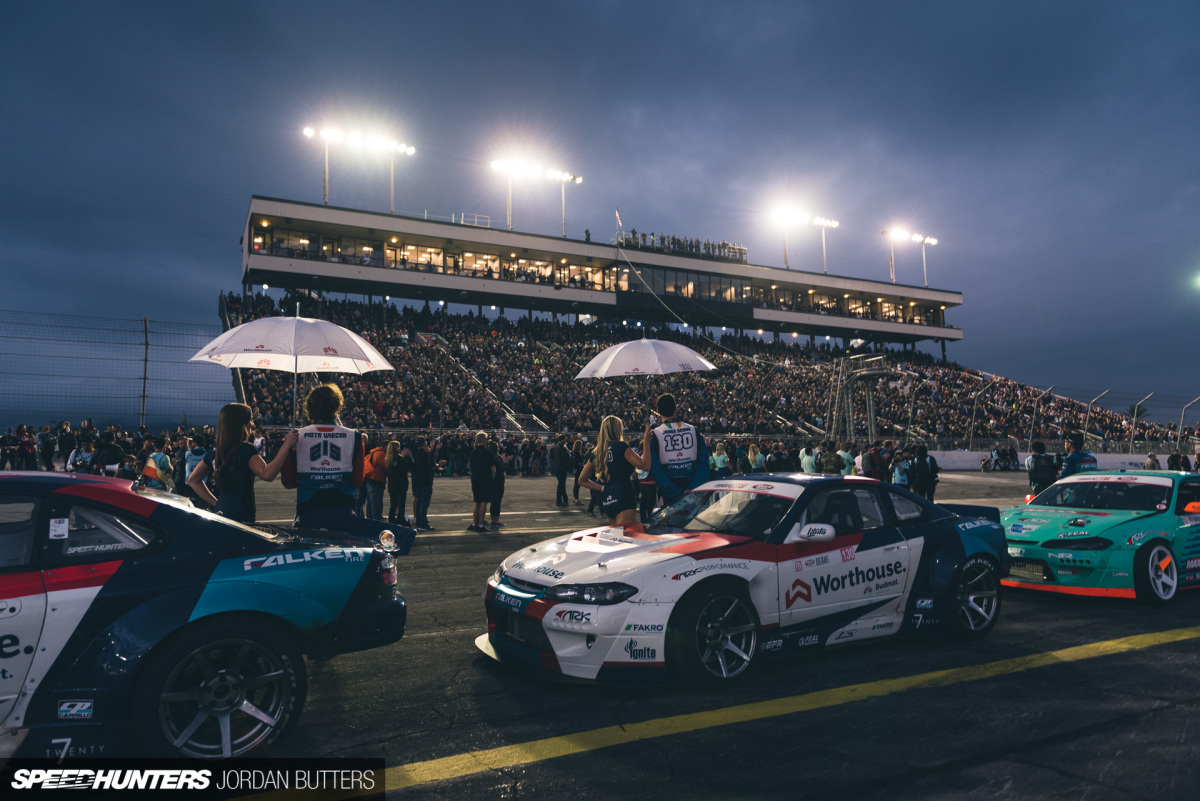 On a personal note, I had been wholly impressed with my first Formula Drift experience up to this point, but as the drivers rolled out under the floodlights in front of a packed Irwindale grandstand, my impressions escalated. It was a proper goosebumps moment.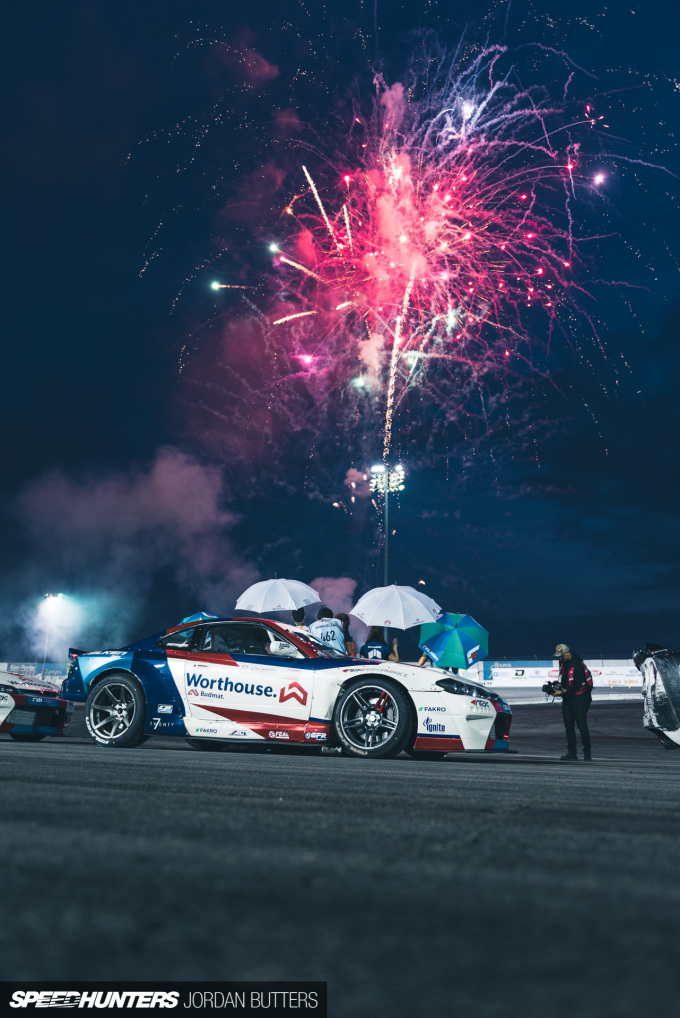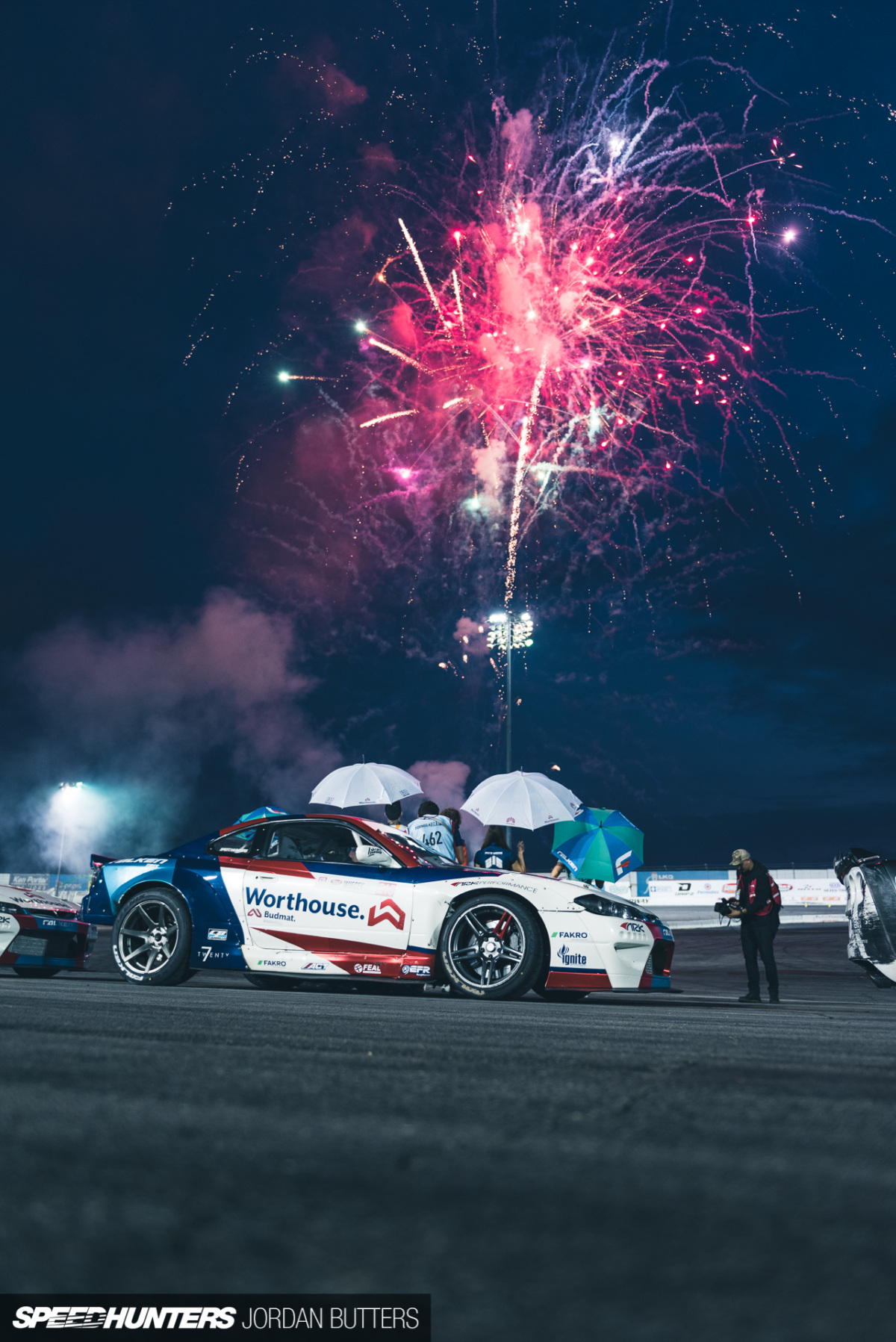 My experience of sports events in the U.S. has always been one of amazement – this is a country that can get hyped about anything – but for some reason I didn't anticipate just how incredible the atmosphere would be.
The crowd, the camera flashes, the pageantry and the fireworks. There was electricity in the air.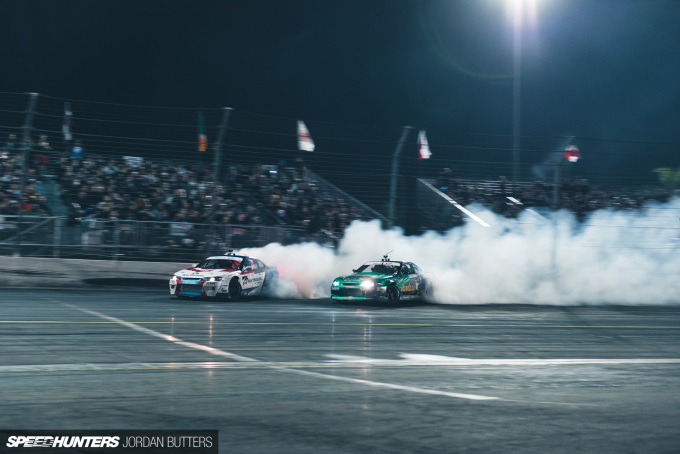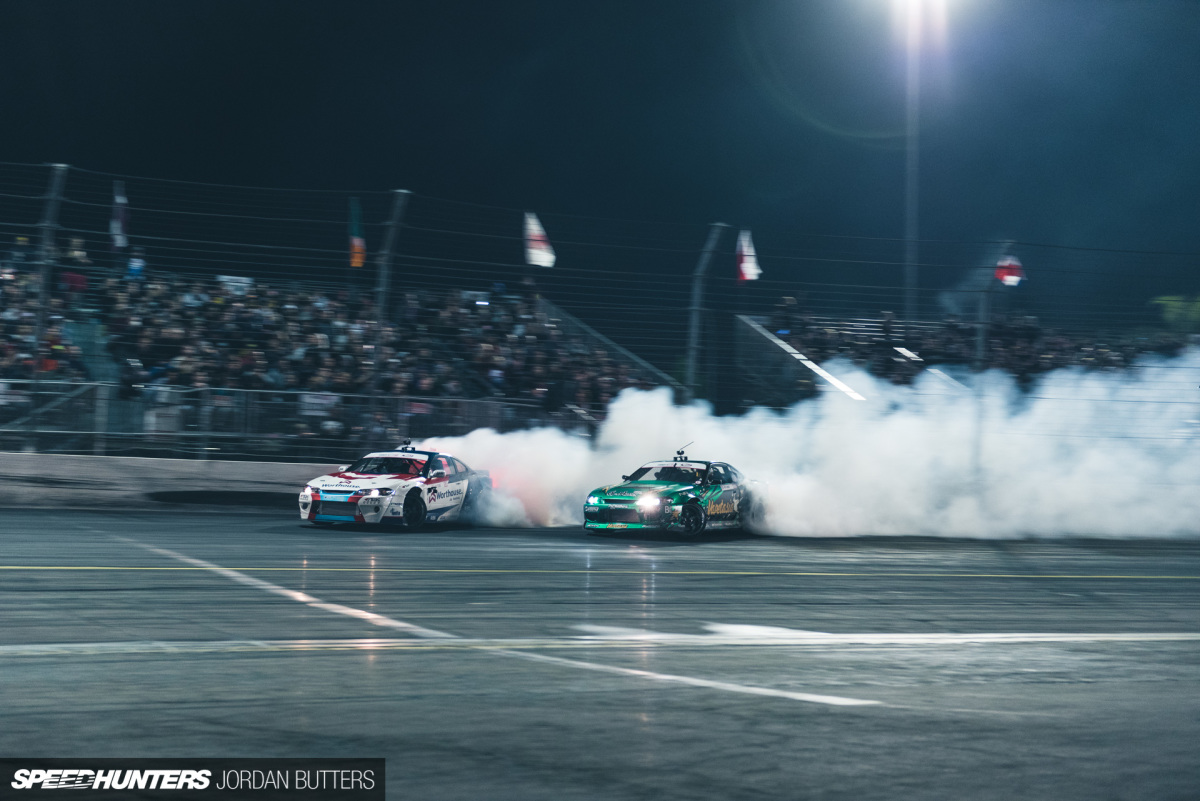 We wouldn't have to wait long to see action either. James was up first in the Top 16, and his opponent would be Forrest Wang. Forrest is a fan favourite without doubt, and although the American audience has welcomed James with open arms, everyone loves to see an underdog prosper. If there was one driver that could upset the balance here, it was Forrest. His aggressive and flamboyant driving style lends itself well to close chase driving, and wouldn't be easy for James to chase either.
With James being the higher qualifier, he would lead first. His lead run was par for the course, high on the bank, with little to no wobbles or corrections, bar one: a slight adjustment coming around outer zone two that wouldn't have been noticeable were it anyone else behind the wheel. The car looked to hesitate coming out of the transition.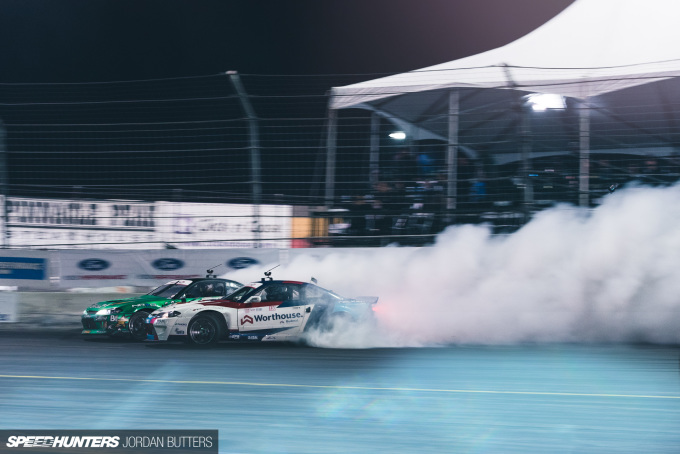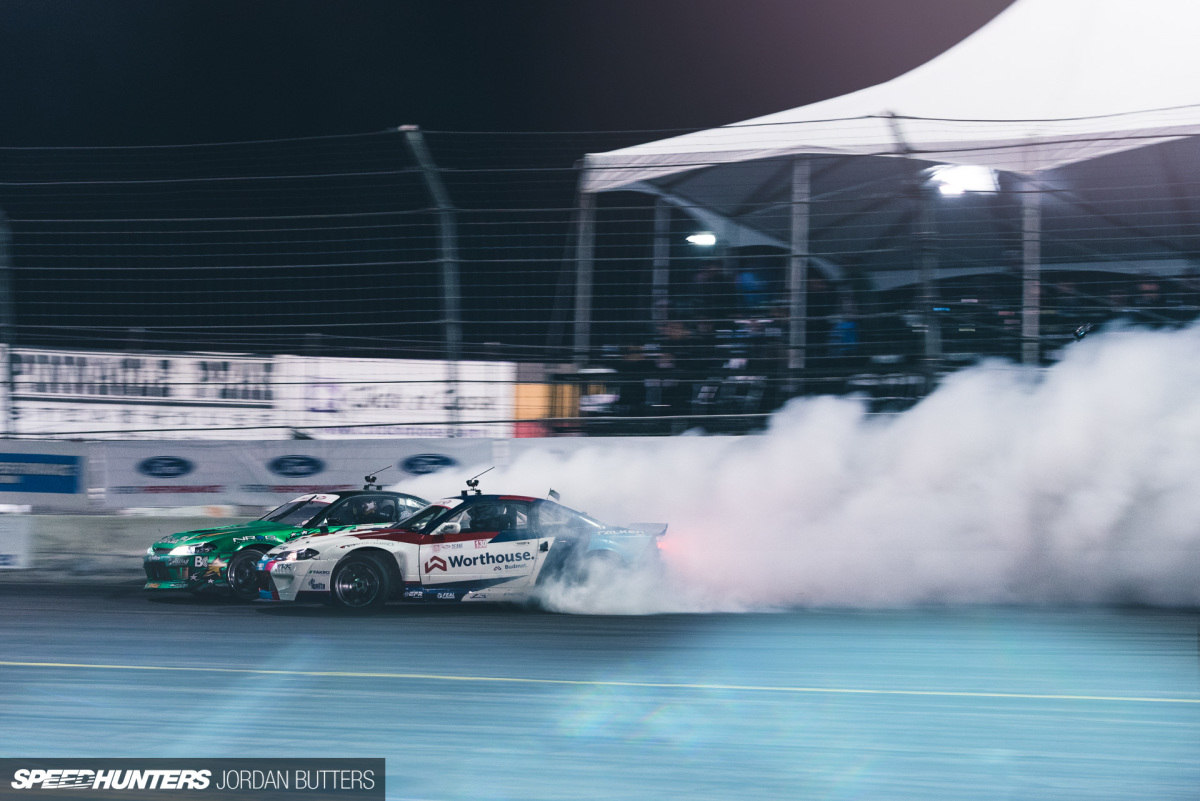 Run two and, from my position inside the second sweeper, I didn't see James's entry into turn one, but I heard the crowd's reaction to what happened. James went to initiate and straightened, forcing him to initiate again and push hard to get up close to Forrest. By the time the two came into view, James was nudging Wang around outer zone two, making contact two or three times with Wang's door. I thought James had done enough, but it wasn't until the replay popped up on the giant screen on the infield that I realised what had happened.
James Deane had been knocked out in the Top 16.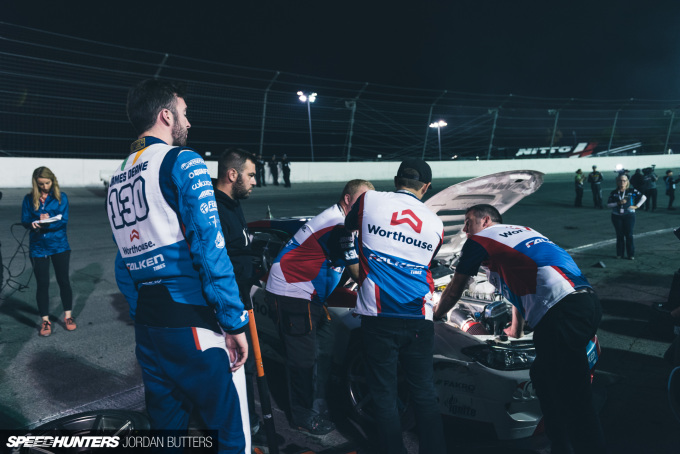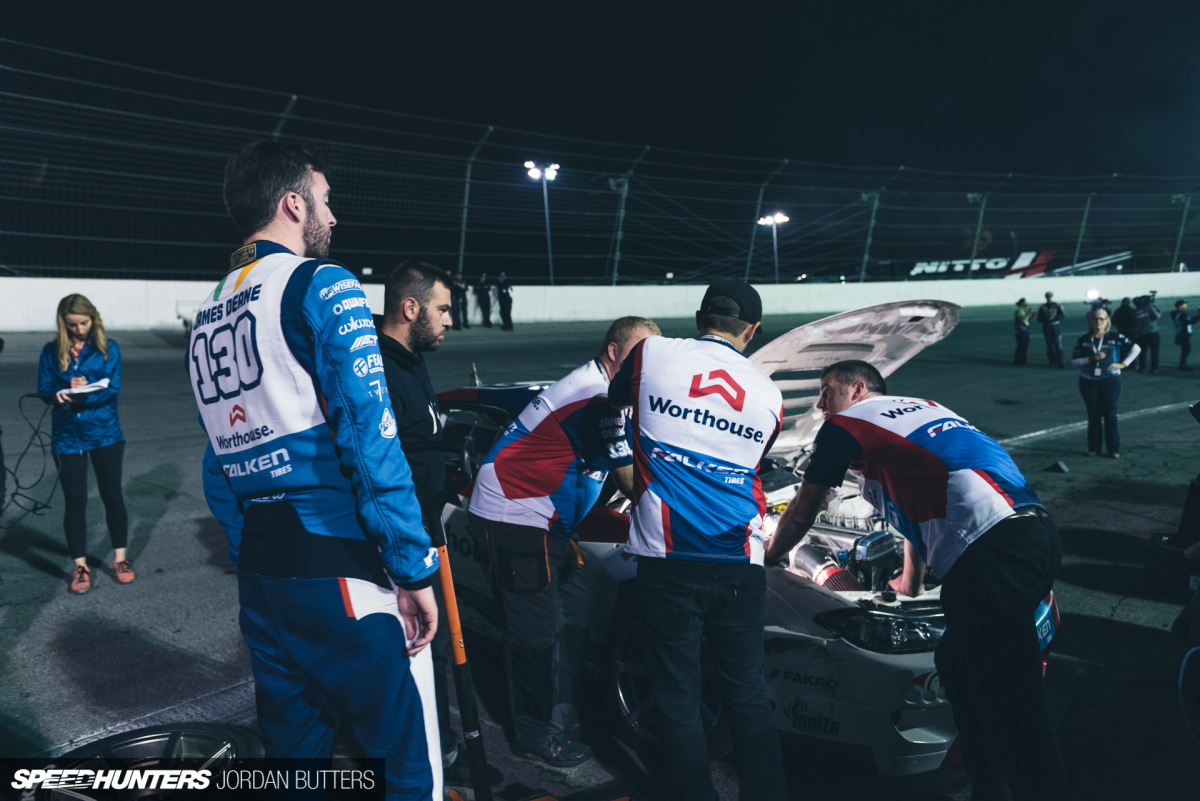 I immediately made my way to the hot pits and a post mortem was already underway. It seems that the exhaust repair had shifted something, and the wastegate pipe was hitting the steering column. Frustratingly, for James, he had noticed it briefly on his lead run, and could feel it rubbing on the start line before run two, however the issue wasn't bad enough at a standstill for him to feel like he needed to use his competition time out.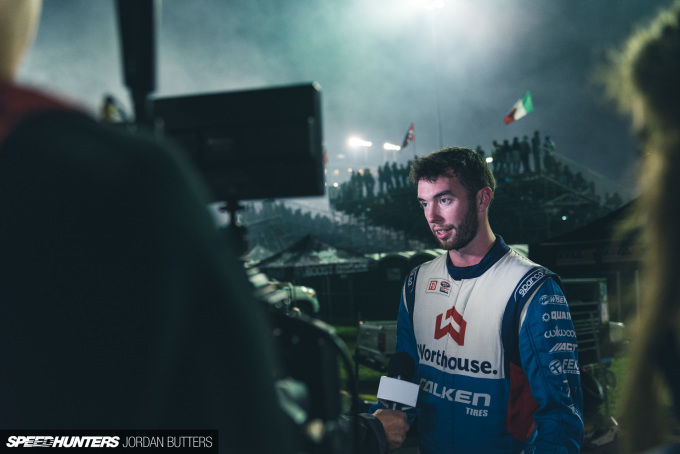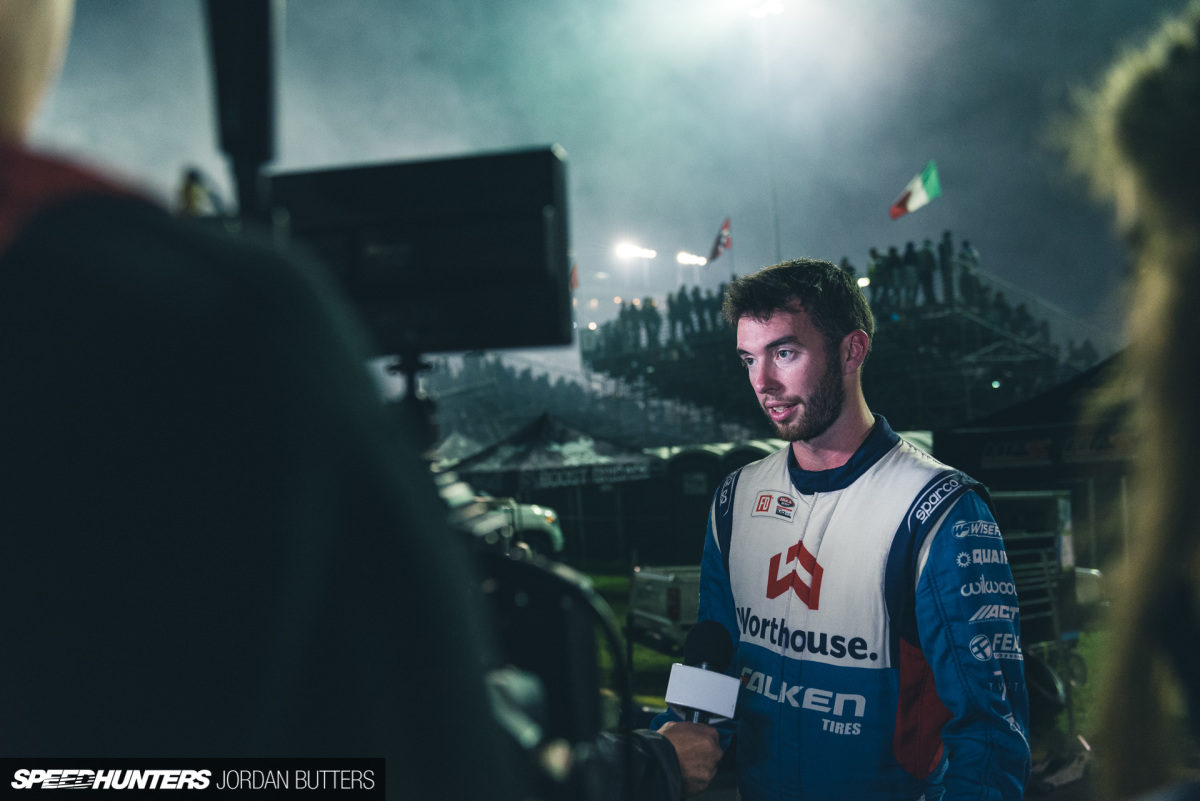 Once chasing Forrest, James found himself fighting the steering as it got stuck on each revolution of the wheel. I've seen James drive through all manner of issues before, but at this level of competition even the smallest correction can cost you. It might have cost him dearly.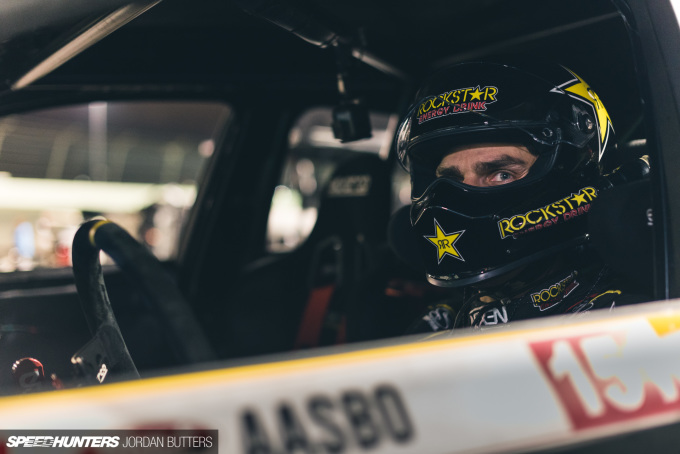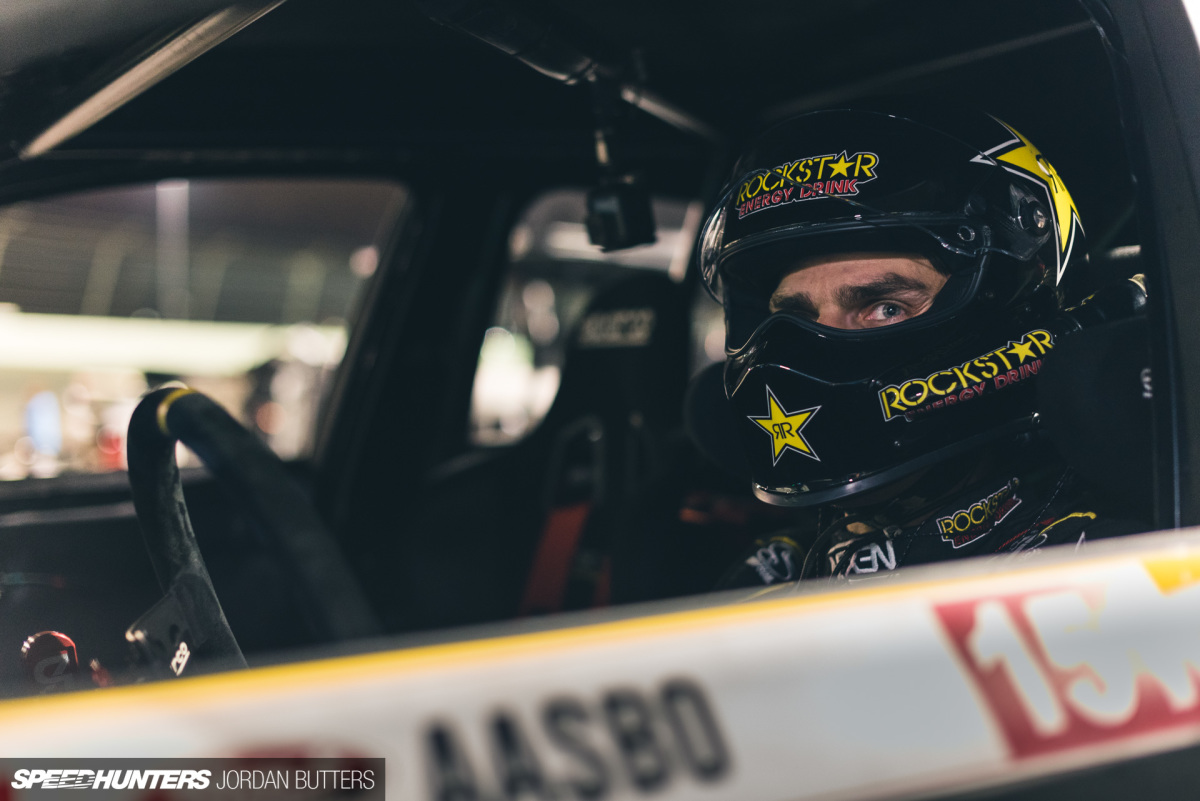 Fredric was in his car as he received the news of James' elimination. Although we could only see his eyes, he almost held onto his surprise. Almost.
As we now know, Aasbø would go on to defeat Jhonnattan Castro before Piotr had his chance at taking down Odi Bakchis.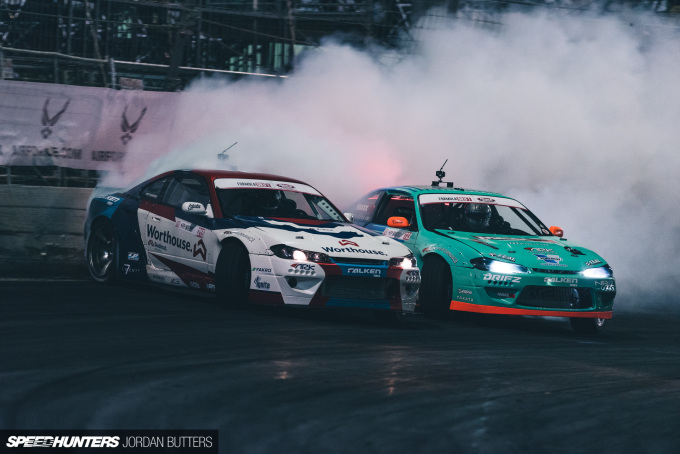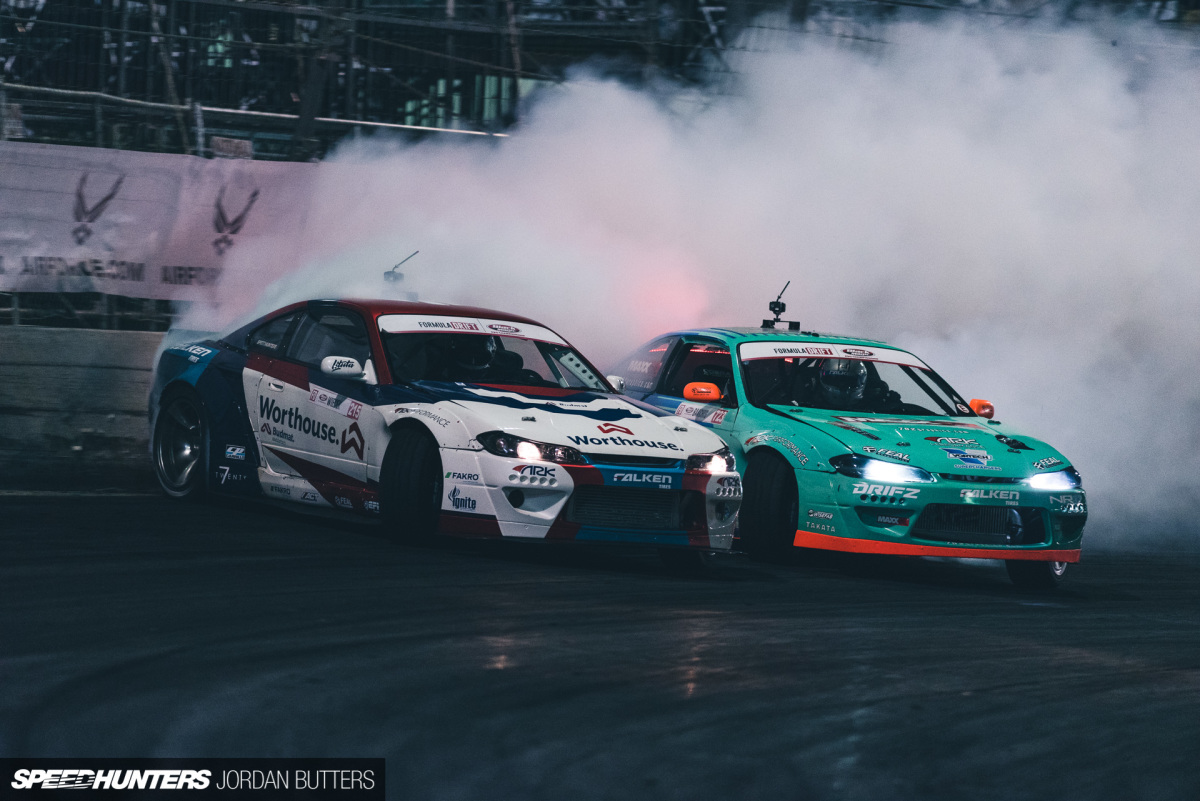 As far as I recall, in Worthouse's brief Formula Drift history, when one of its drivers has fallen early the other has progressed well into the competition. Irwindale 2018 would be the big exception. Odi's chase run behind Piotr was phenomenal – Piotr would lose yet another taillight (any taillight sponsors out there please step up, financial ruin is on the horizon) but Odi would be right there in Piotr's shadow.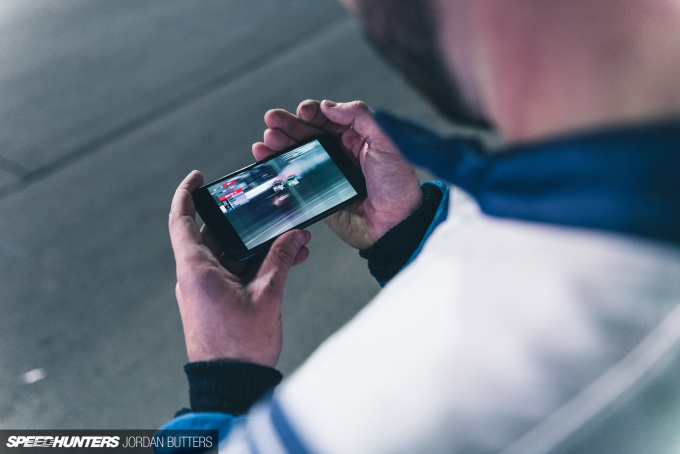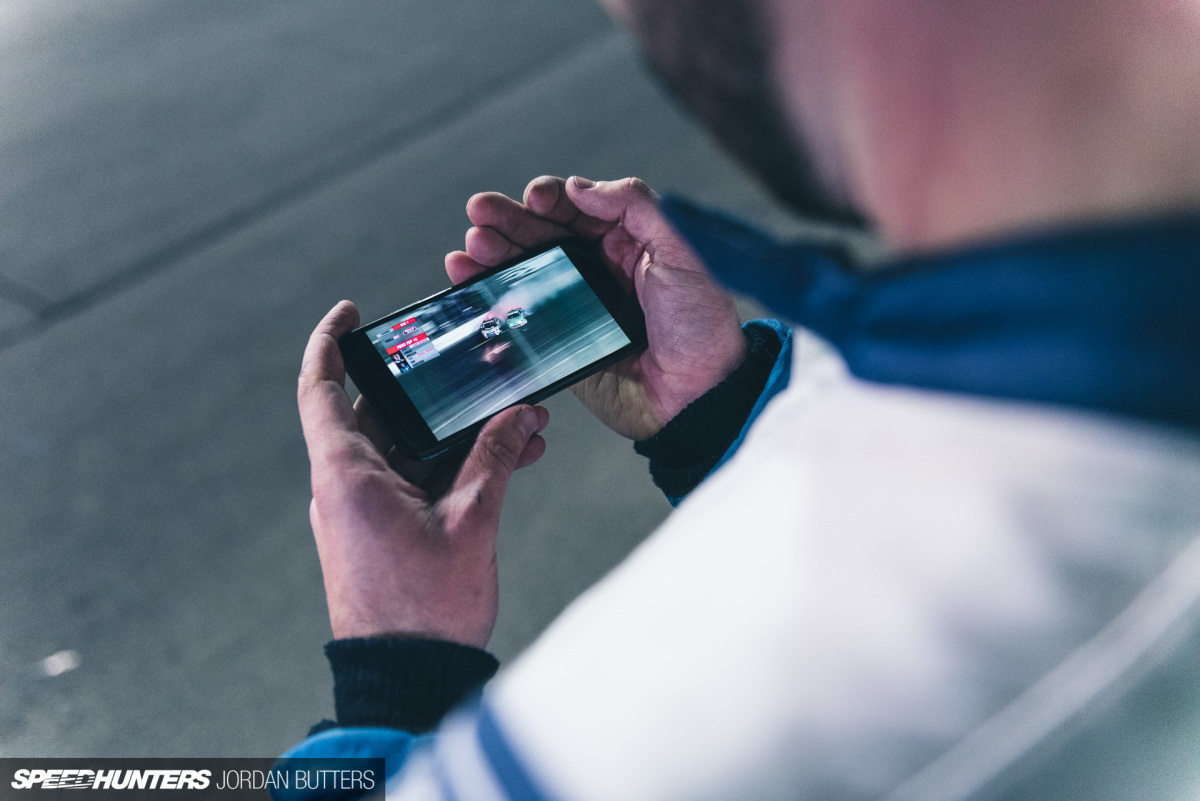 All James could do was watch from the sidelines as his teammate and best friend was eliminated from the competition. James seemed to take it harder than his own exit from the event, but it was a clear one-two blow for the Worthouse team.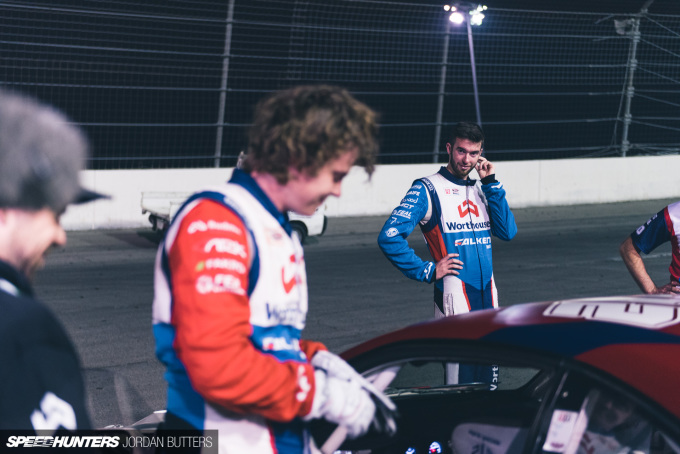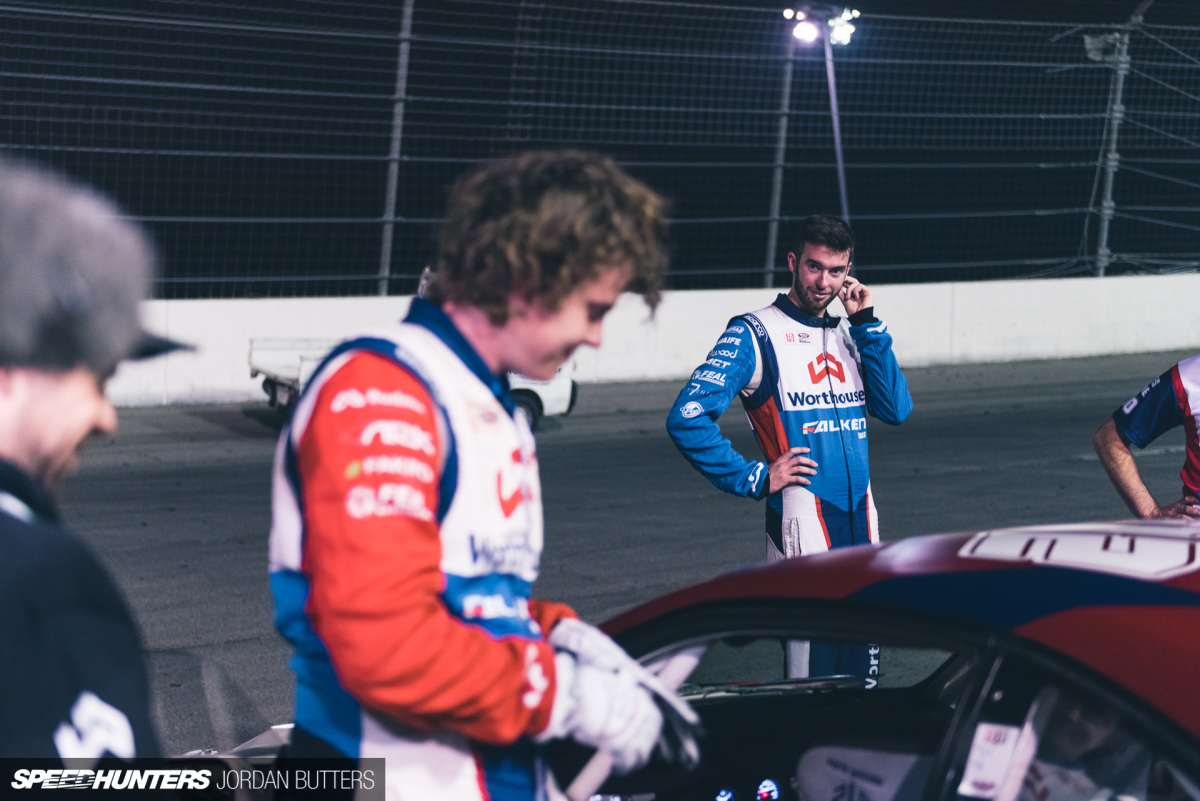 It's almost like Piotr was James' last form of defence against Aasbø reaching the top of the podium. A modicum of control left in the 2018 championship.
The high spirits of the weekend thus far were instantly erased.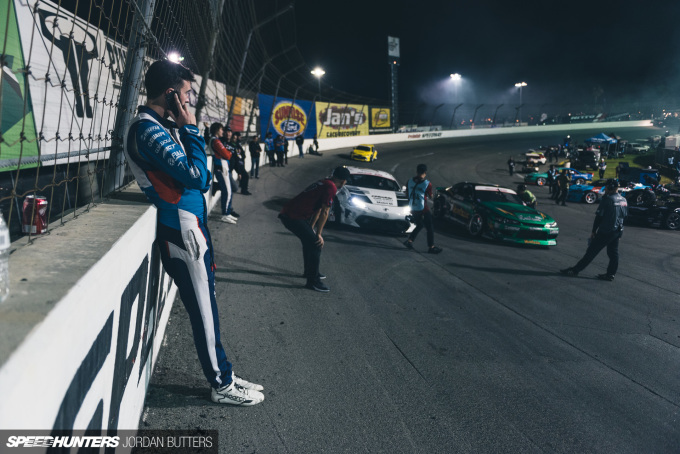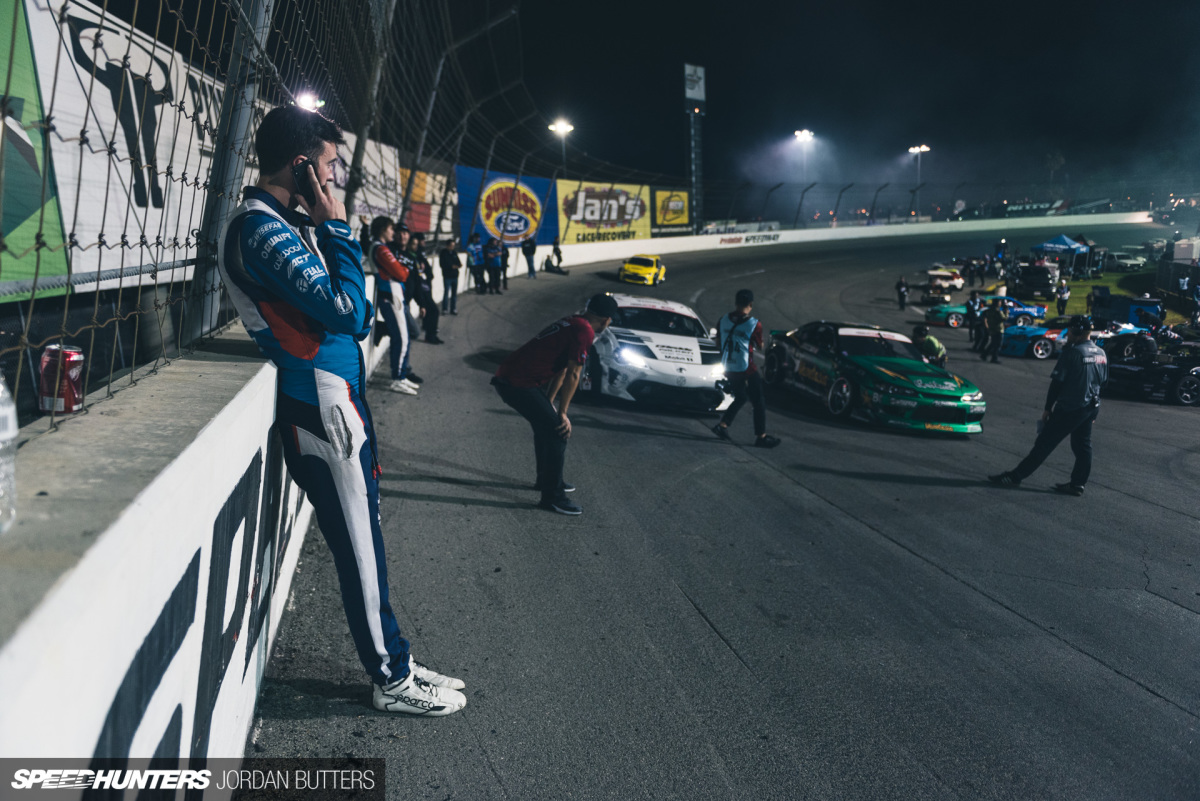 Now, James, Piotr and the team would find themselves in a very uncomfortable situation. The championship was completely out of their hands, and all they could do was watch the event unfold.
Rather than watch on the screen, complete with broadcast delay, James and the team climbed to the top of the unused bank above the hot pits where they could glimpse much of the action. It's almost as if James needed to know right away if there was an error or event that might hand him the championship. The team would watch as much of the run as they could live and then all crowd around a phone to watch the broadcast and replay.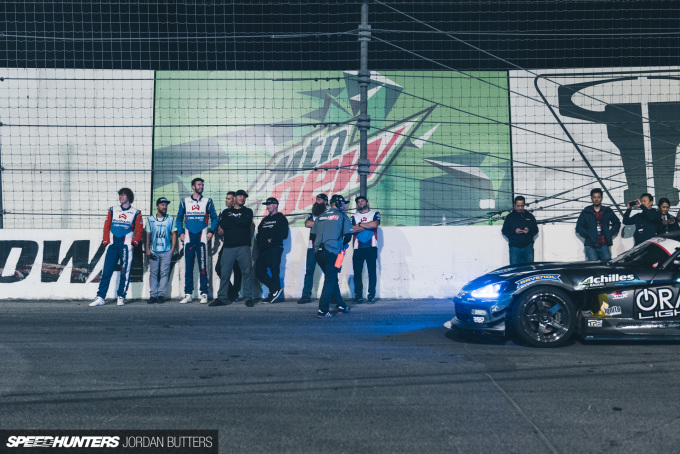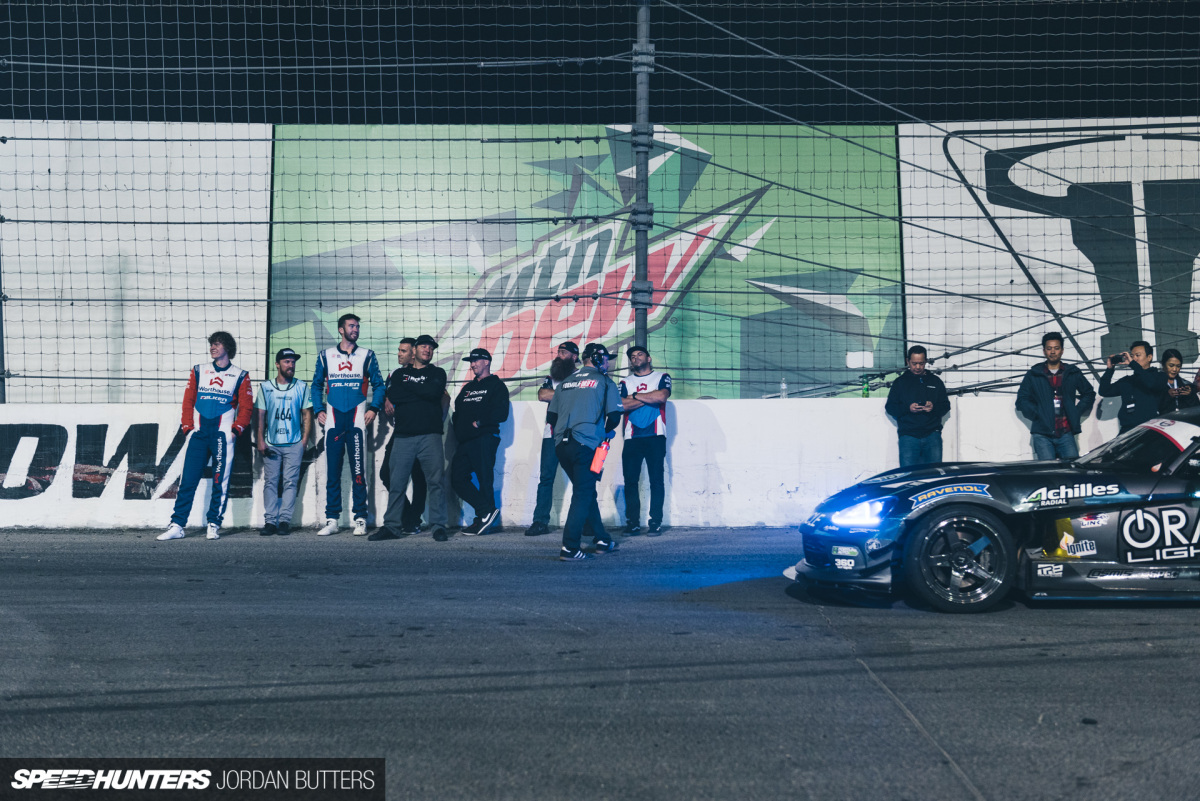 I'm sure it wasn't intentional, but this also made them very visible as each competitor drove to the staging area. There's no doubt in my mind that Fredric and every one of Fredric's opponents felt the weight of James Deane on their shoulders – not literally, mind. Knowing James, he's not the sort of person to pray for someone's downfall, but that was exactly all he could do if he was to retain the title. Ironically, his next point of hope would come from the other Irishman in the competition, Dean Kearney, who was up against Aasbø in the Top 8.
If Fredric was feeling the pressure, it wasn't showing – his runs were textbook. Kearney fell too, and before long joined James and Piotr on the banking in support of his countryman.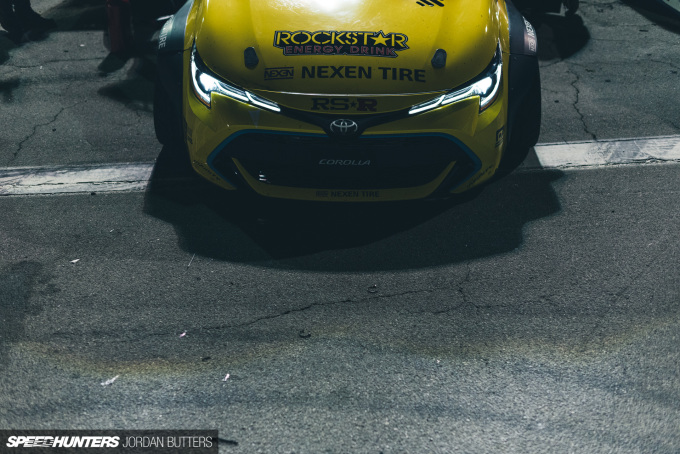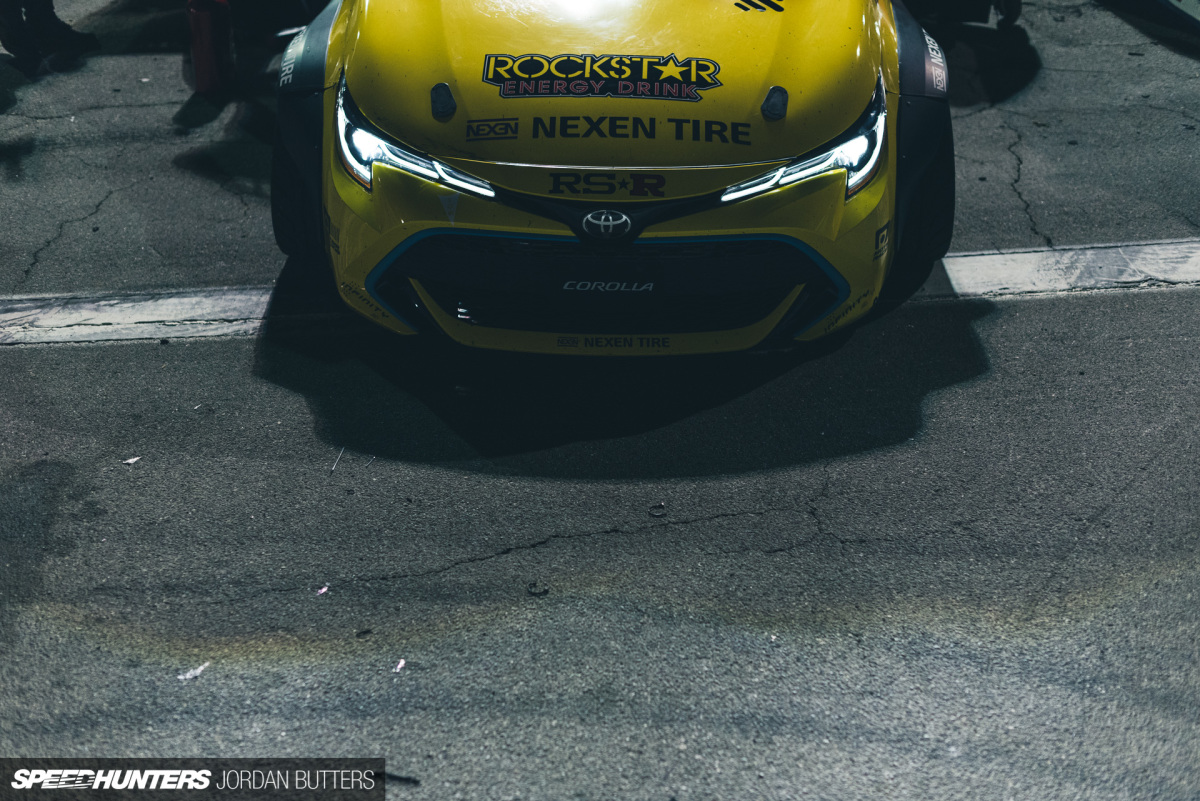 Come the Top 4, and James' hopes were now pinned on the man who scuppered them earlier in the evening – Forrest Wang faced Fredric Aasbø. By this point you could cut the tension with a knife – Aasbø was just two victories away from snatching the rug from under James Deane's season.
And then Wang fell too.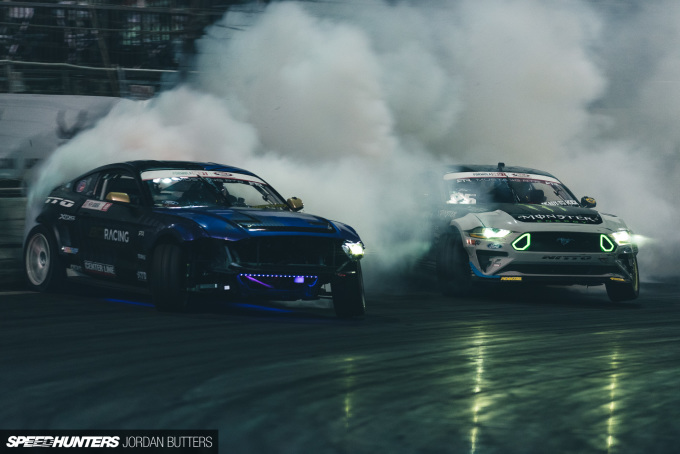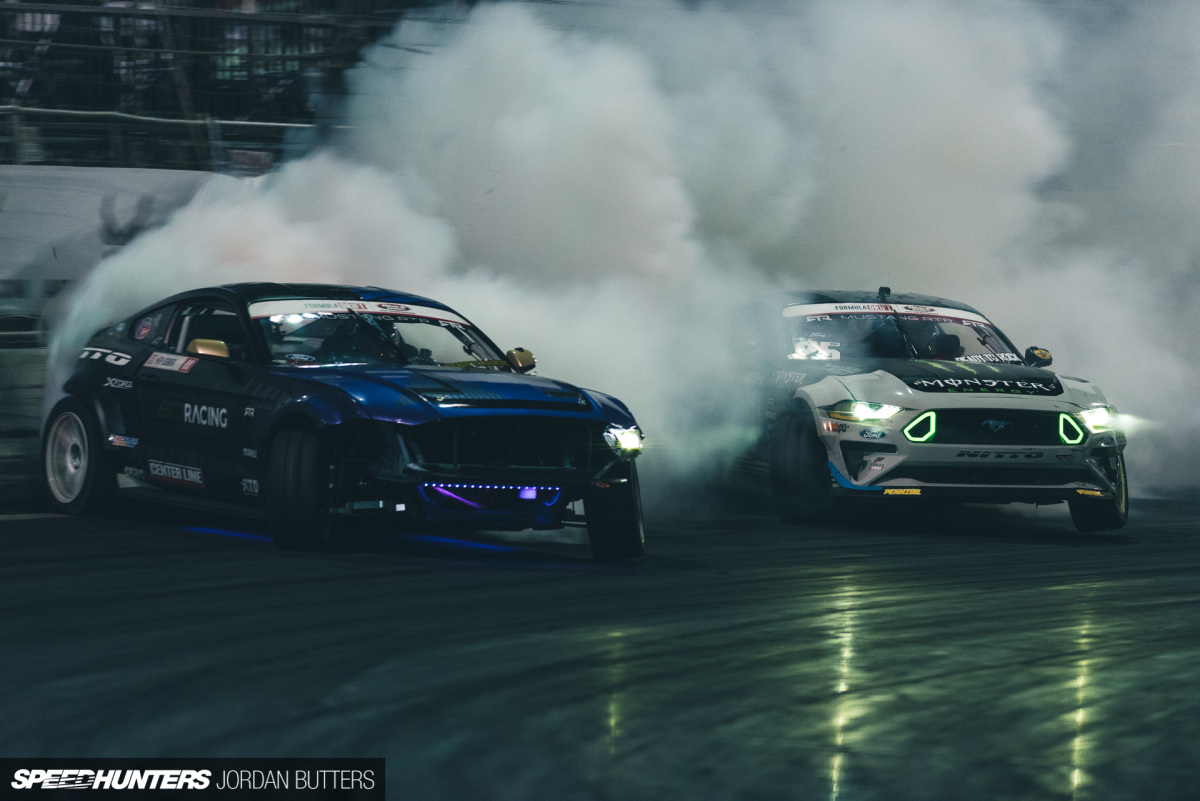 Come the Finals, and the last bastion of James Deane's year would be Vaughn Gittin Jr. Coming off a poor season, Gittin Jr had found his feet at Irwindale, and having survived a scathing battle with teammate Chelsea DeNofa in the Top 4, the Monster Energy driver was hungry for the victory.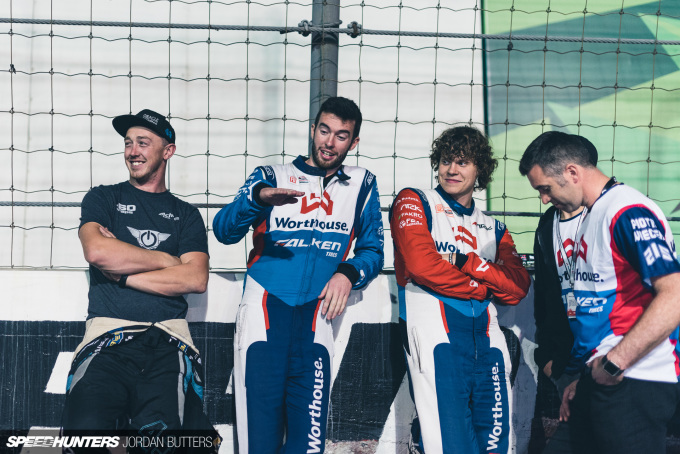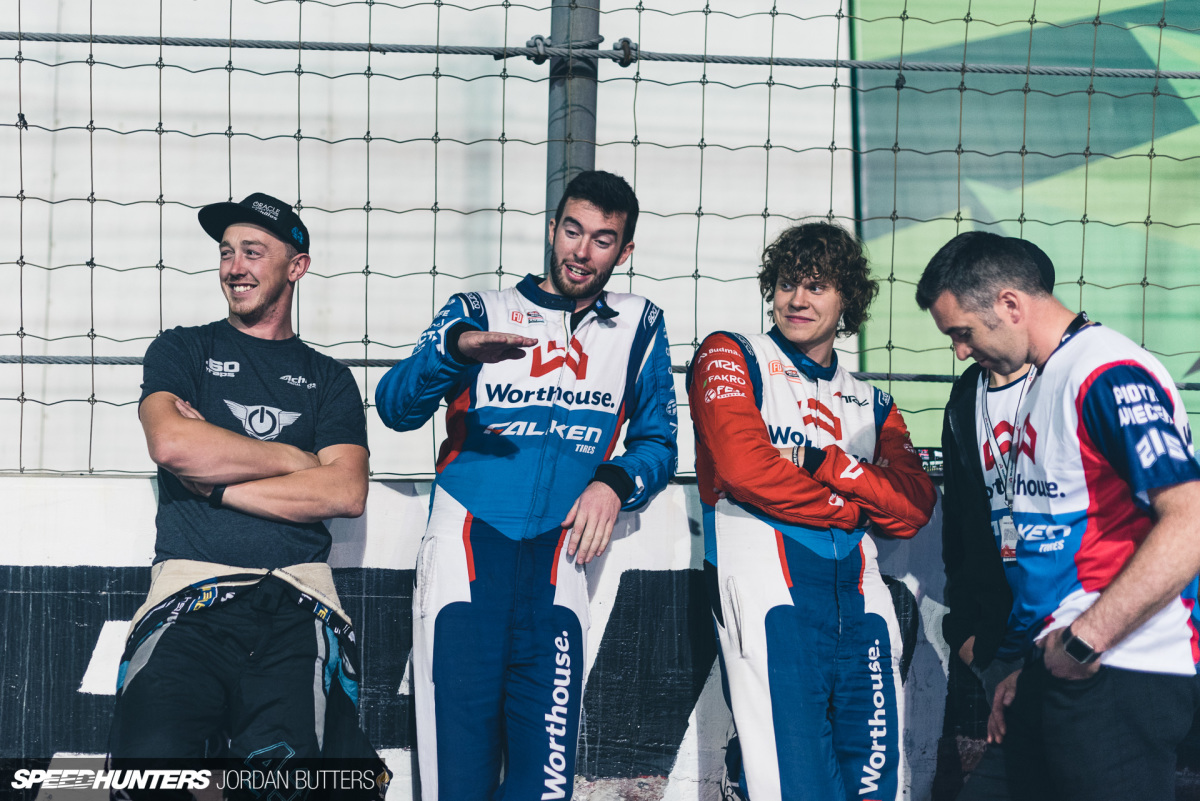 A last minute alternator swap on Gittin Jr's Mustang left us all holding our breath before he appeared at the staging area. James was smiling on the outside, but I can't imagine what he was feeling beneath.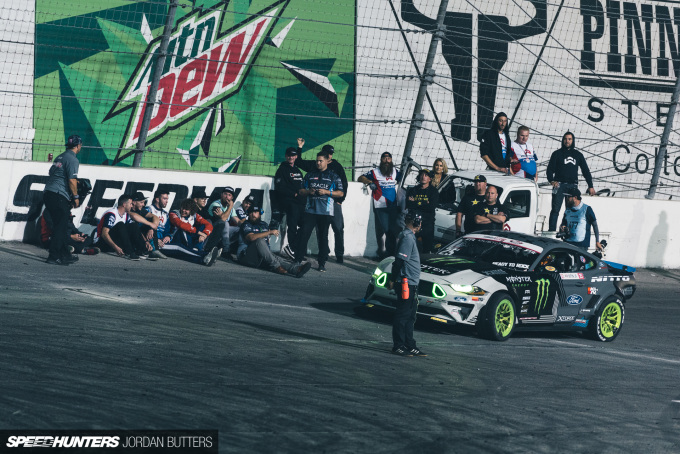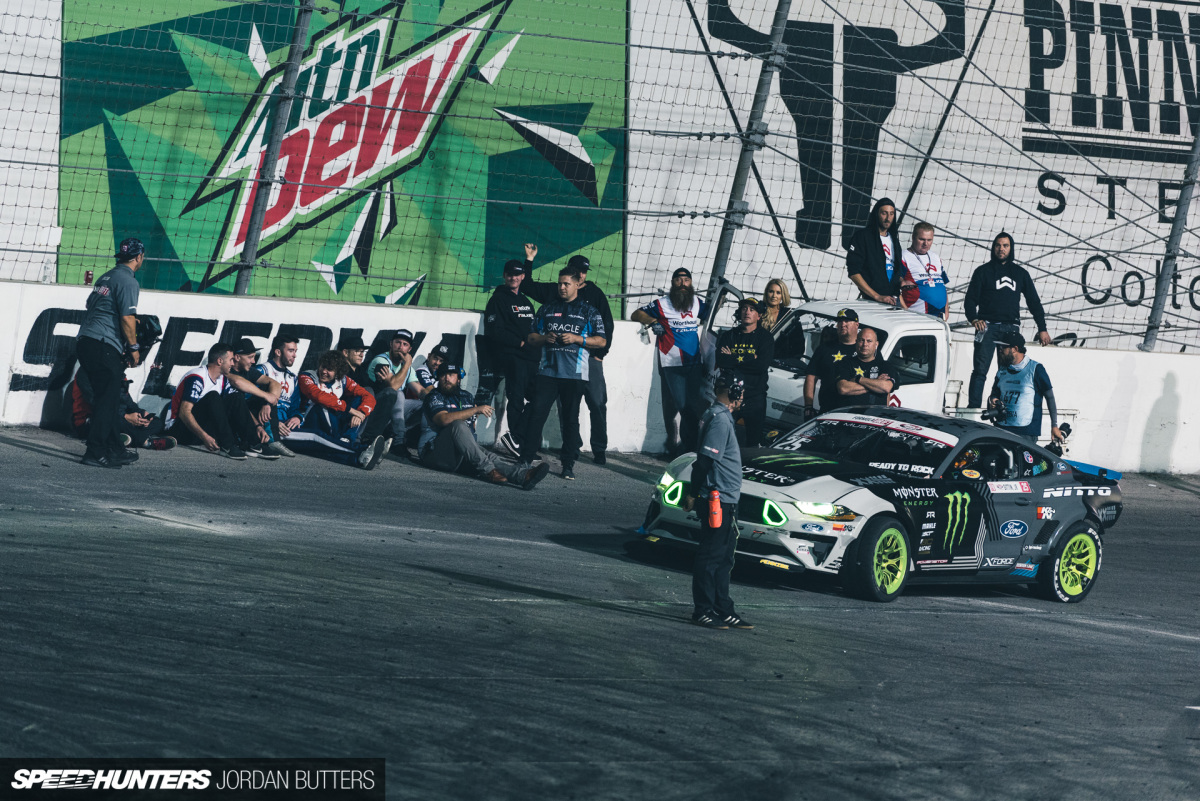 While checks went on in Aasbø's hot pit, Gittin Jr waited, ready to rock. Short, sharp barks of the loud V8 were sent into the air as a reminder that he wasn't waiting patiently.
A year of hard work, eight events, countless days spent working and travelling, blood, sweat, and nearly tears, and it all comes down to this.
Win or lose, it was almost over.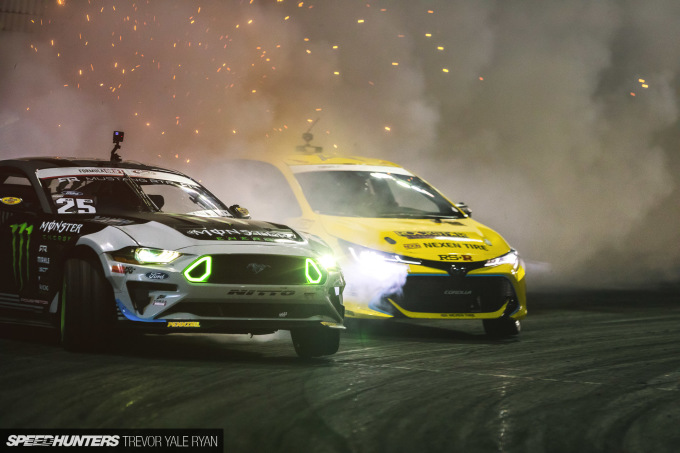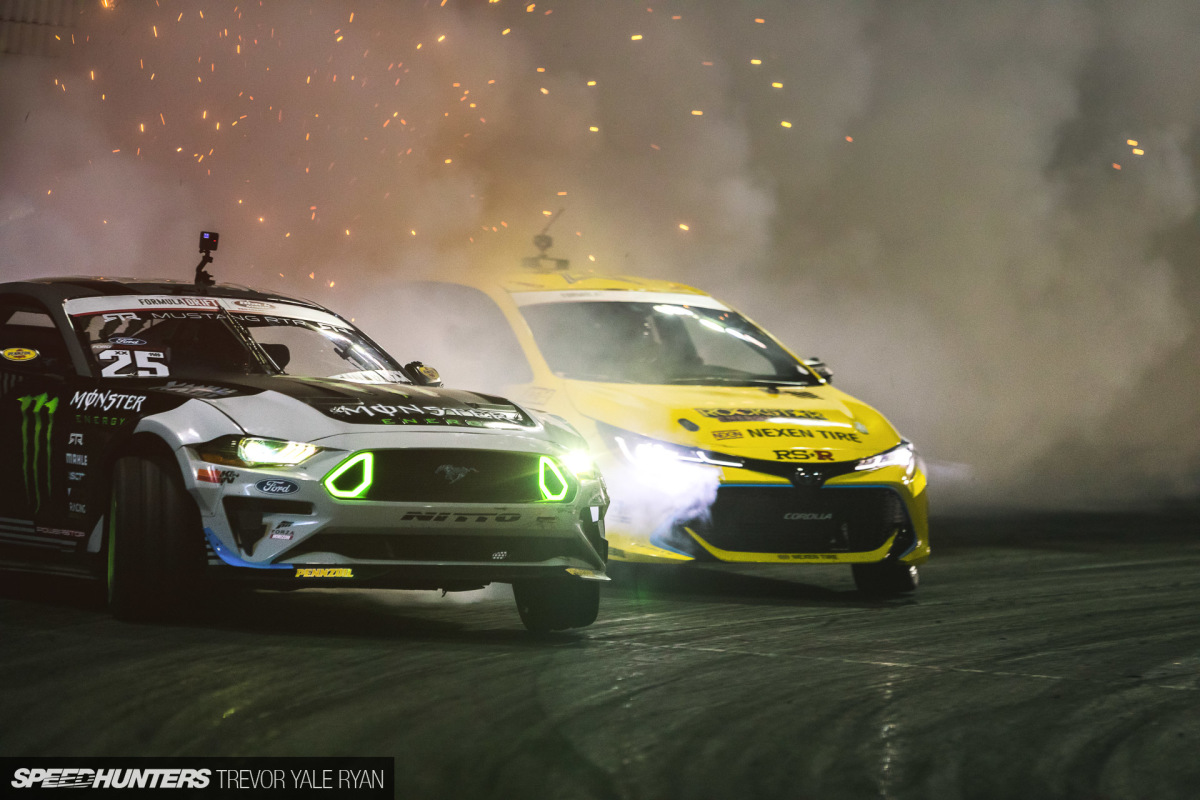 Of course it was never that simple. Gittin Jr and Aasbø went blow-for-blow on their first pair of battles. The two cars looked mismatched – Gittin Jr's Mustang looked difficult to moderate when chasing the short wheelbase of Aasbø's Corolla, while Aasbø's transition behind Gittin Jr into OZ2 was hesitant. One More Time was called.
I've seen James shaking with adrenaline in the driver's seat before, but never whilst watching an event. He couldn't stand still. Piotr was just as on-edge too, checking the livestream replay, his eyes darting from Aasbø's hot pit to Gittin Jr's.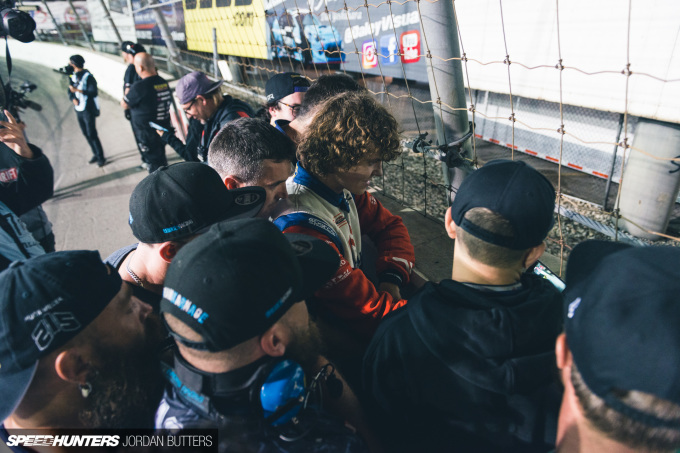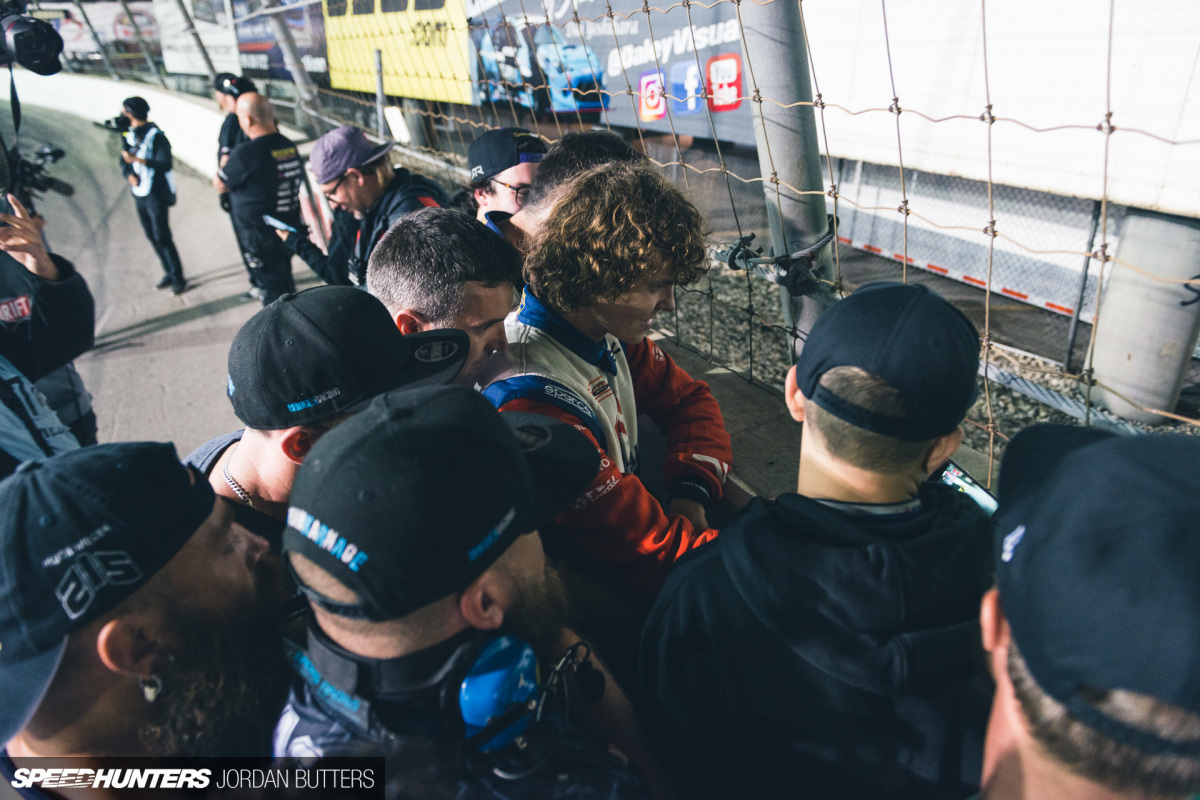 Into the One More Time run, and Aasbø would look comfortable and consistent, while Gittin Jr looked aggressive and dangerous, their two styles completely in contrast. The crowd around Deane, Więcek and Co ever growing, all crowded around a single smartphone screen. Sure, there were more phones in pockets not being used, but we were all in this together – 10+ people all crowded around a tiny screen gave us some form of solidarity against the events that unfolded before us.
Again, the battle was close. Too close. One More Time was called again. We could barely believe what was happening. I couldn't drag myself away from the hot pit to shoot the track – the reactions, emotions and drama unfolding as everyone watched was far more fascinating.
In what would be the final One More Time, everything looked exactly as it had up to this point – Aasbø was consistent, Vaughn Gittin Jr was chasing incredibly hard, but was driving on a knife-edge. Suddenly, after switching places, and with Aasbø was chasing he would make big contact with the wall on OZ2.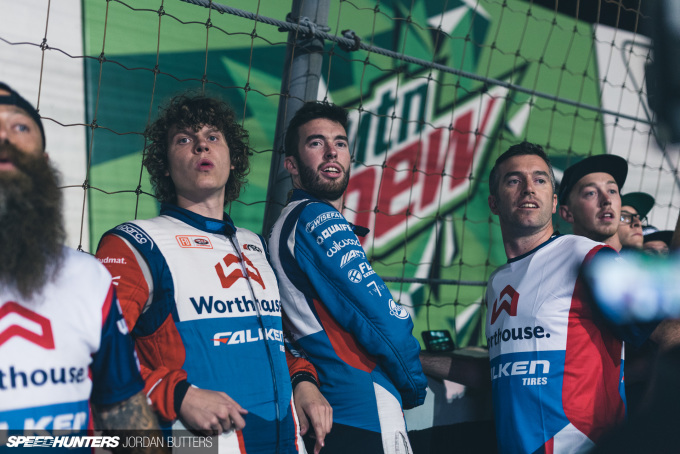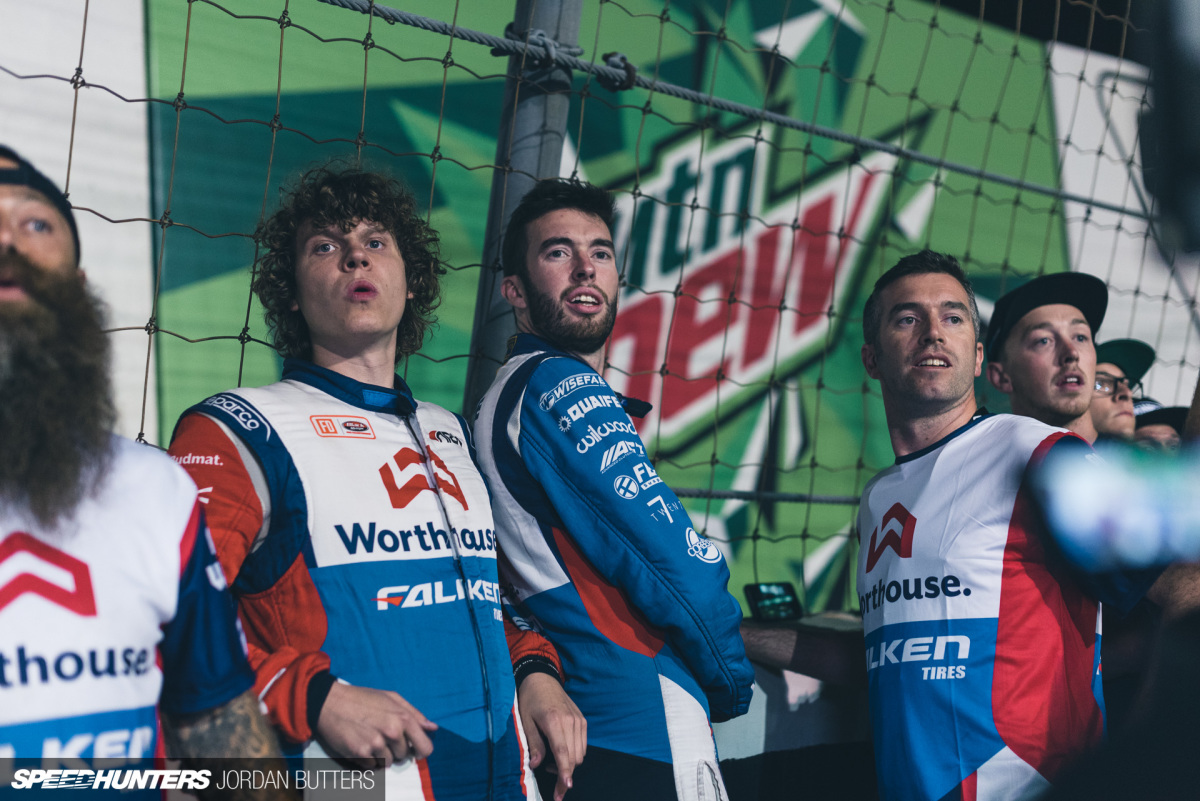 It was his only mistake all night, but make no doubt that James Deane saw it. He couldn't hide his reaction – it was one of complete surprise.
Upon hearing that we had a winner, James was whisked up in a golf buggy and taken in front of the grandstand. In complete contrast to last year's season clincher, this year fate had been removed from James Deane's hands at an early stage. He was a passenger, and Fredric Aasbø was in the driving seat.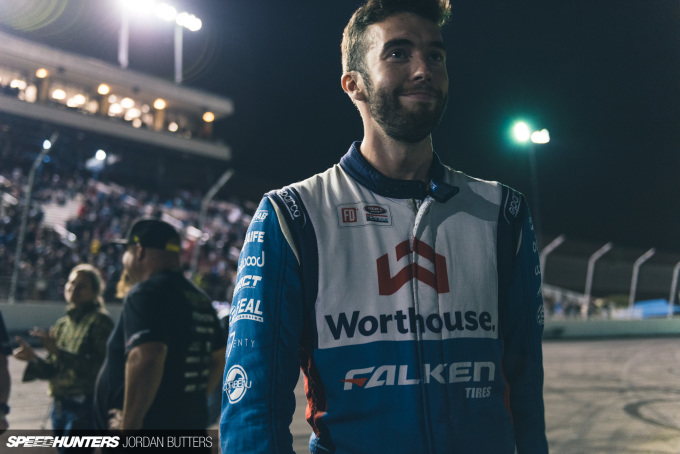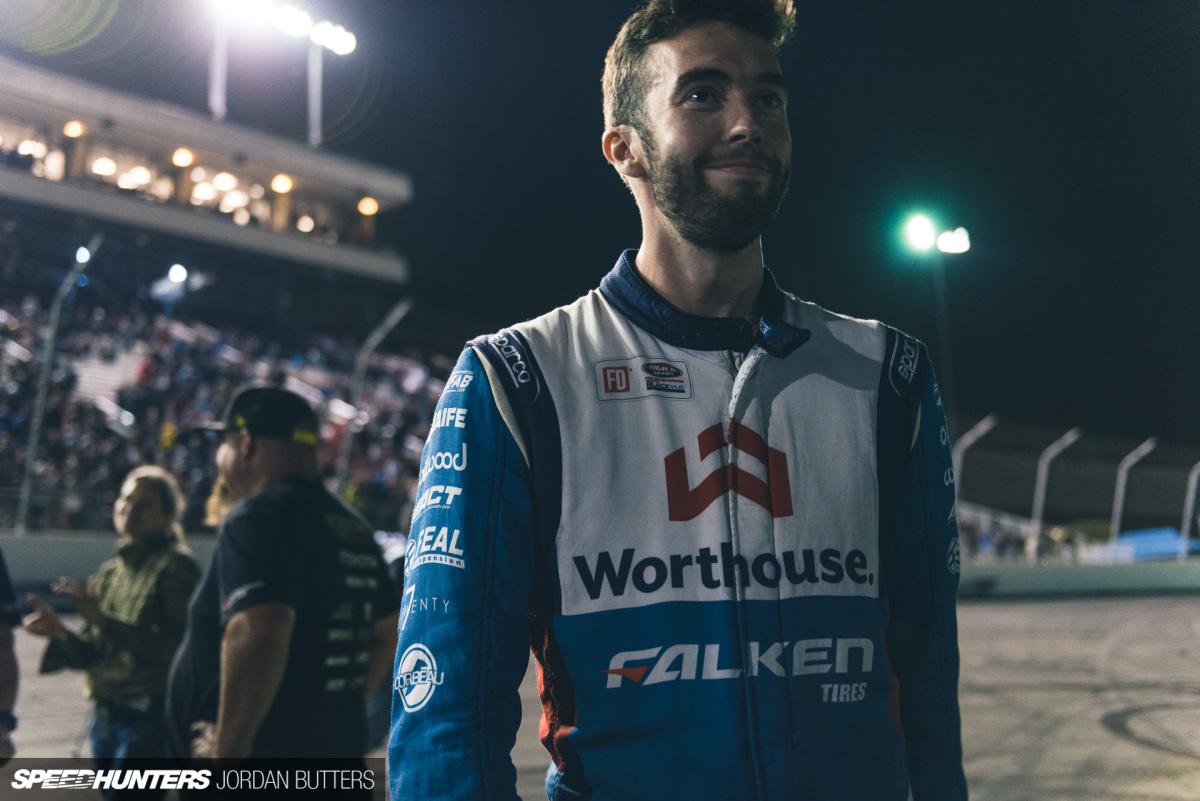 Hearing Vaughn Gittin Jr's name announced as the winner, James' reaction times were far slower than I've ever seen them when he's behind the wheel. Exhaustion, relief and joy all fought each other to come to the surface – the first two prevailing at first, before James turned to his team and the third stifled all other emotions.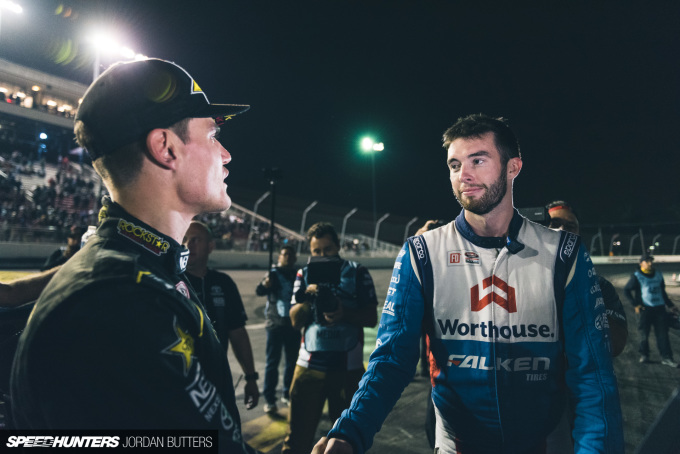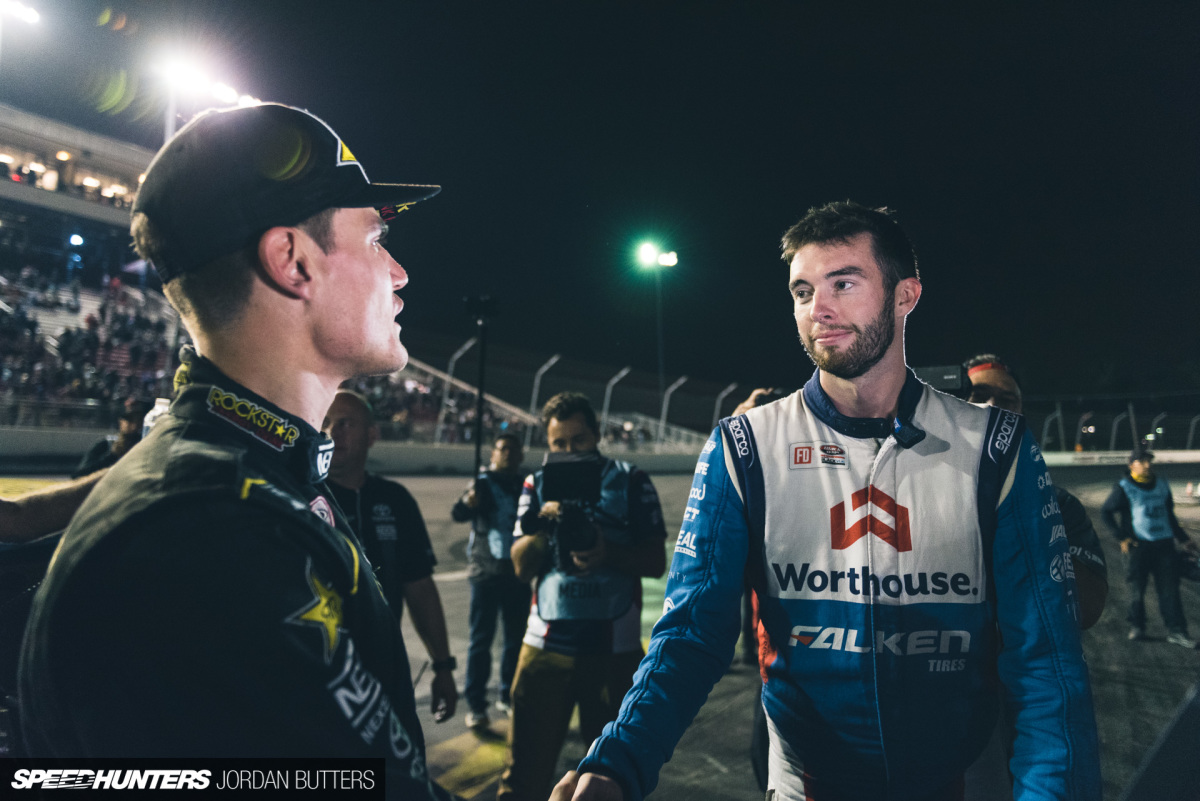 Fully aware that Fredric had also gone through similar emotions in the past few hours, James quickly sought him out, the two drivers both as humble and gentlemanly in both victory and defeat as ever. Fredric had done everything he could, and drove like a true champion under immense pressure – barely was a victory more deserved than the one that he narrowly missed out on that evening.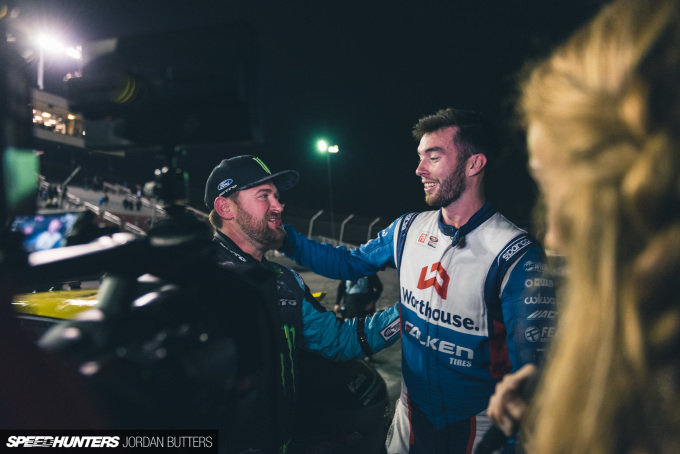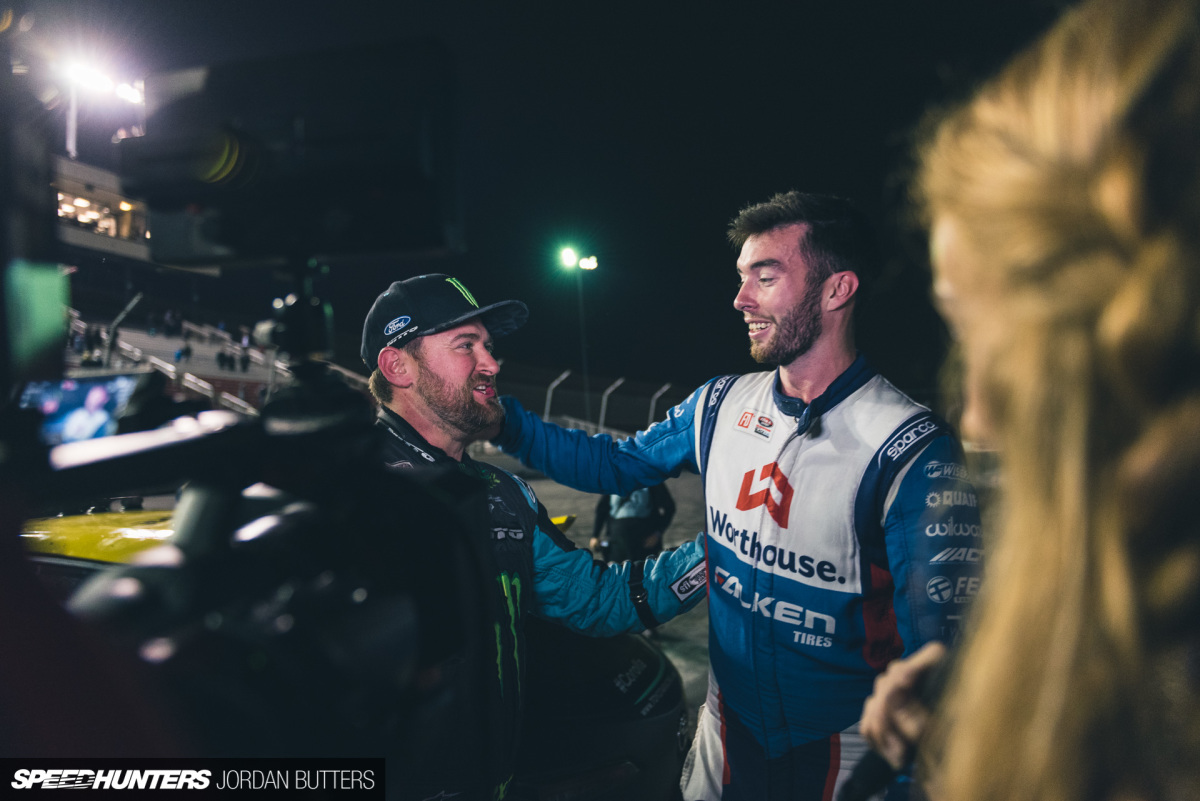 Of course James shared his victory with Gittin Jr, who had driven the wheels off his Mustang (certainly the bumpers, at least). From a season where things really didn't go his way, Gittin Jr had pulled one of the highlights of Formula Drift history. Someone owed someone else a beer or two, I feel…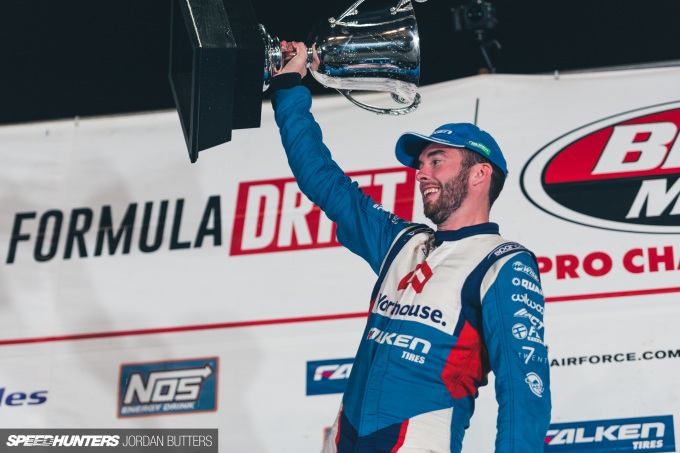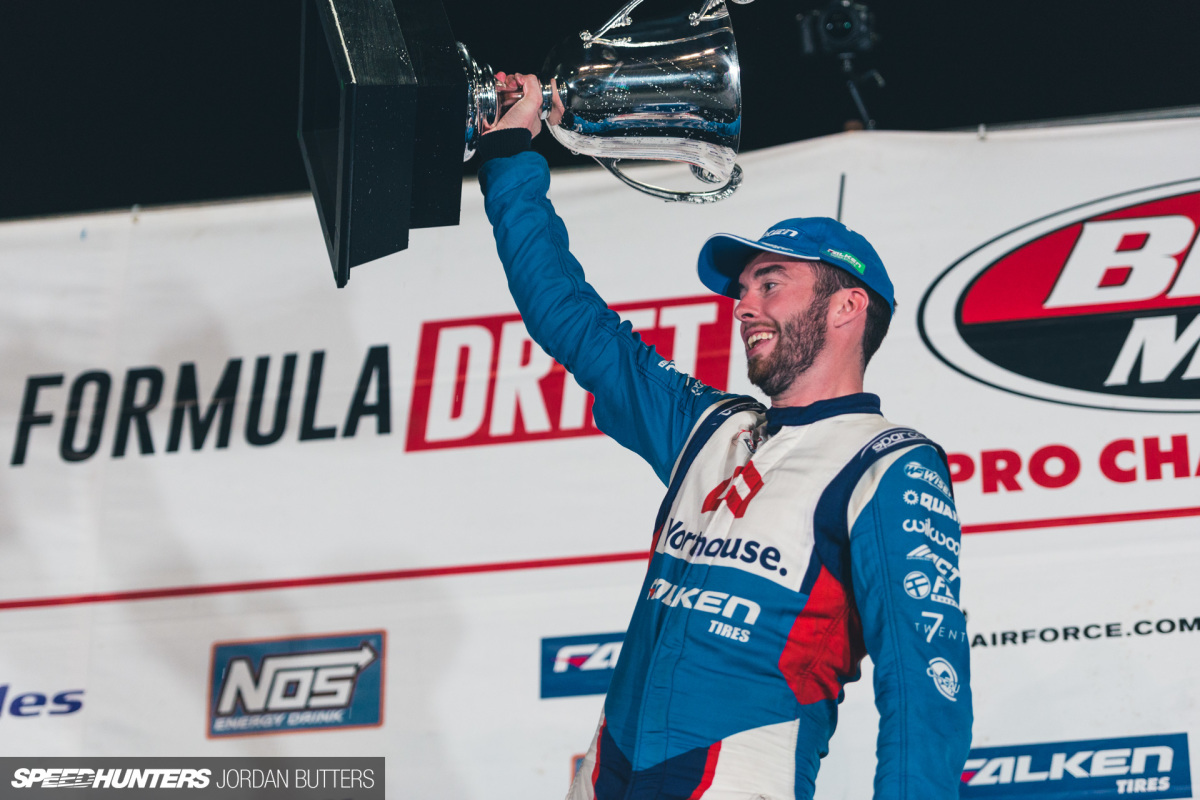 Last season, the Worthouse team came out of nowhere and took the Formula Drift grid by surprise. These two humble guys from Europe had successes that no-one could have forecast.
This year, their job was ten times more difficult: they became the team to beat. Not only did everyone else want to dethrone the champion, but they saw the potential threat of a future champion in Piotr, too.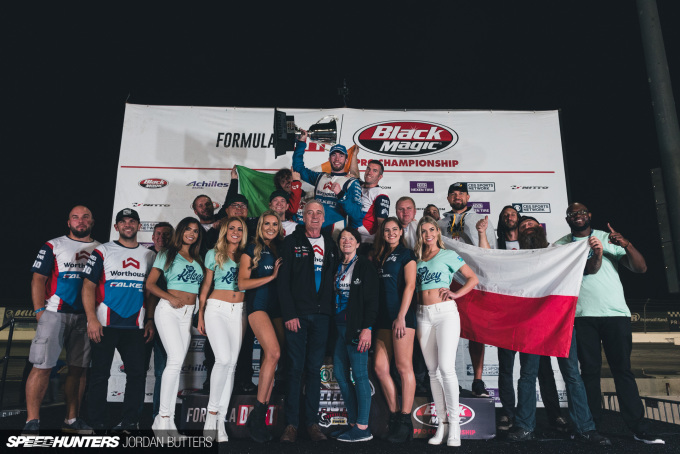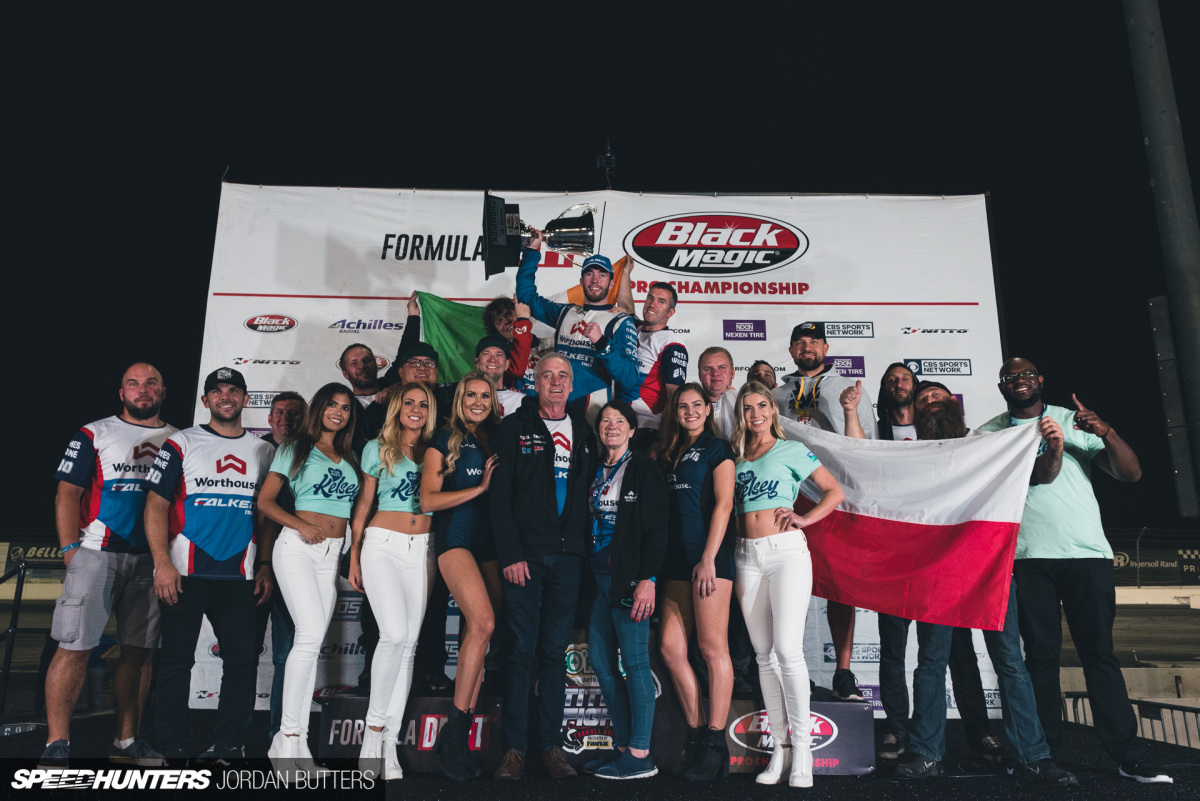 Despite all they've achieved, and how quickly they've done it, both James and Piotr remain the same humble people that I've always known them to be.
No-one could've predicted the impact that these two would have on this championship, even fewer would've pegged James for winning back-to-back titles in his first two years. The bond between the two, as well as the sense of family and pride in the team is like nothing I've seen in motorsport before.
When one falls, they all feel it, and the rollercoaster of emotions that night was experienced by everyone in a Worthouse shirt.
I defy anyone to say that they predicted the events of this one, very long, day in California.
Jordan Butters
Instagram: jordanbutters
jordan@speedhunters.com
Cutting Room Floor