The Engine Hunting Begins
Perhaps most interesting side of drifting is the machinery used to slay rubber.
For my second post from D1GP in Tsukuba, this is precisely the angle I want to concentrate on. The discussion about the series itself, the  judging process and the way it's still evolving has proceeded well in the comment section of the previous post, so I think it would be futile to touch on that side of things again.
So, without further ado… the cars.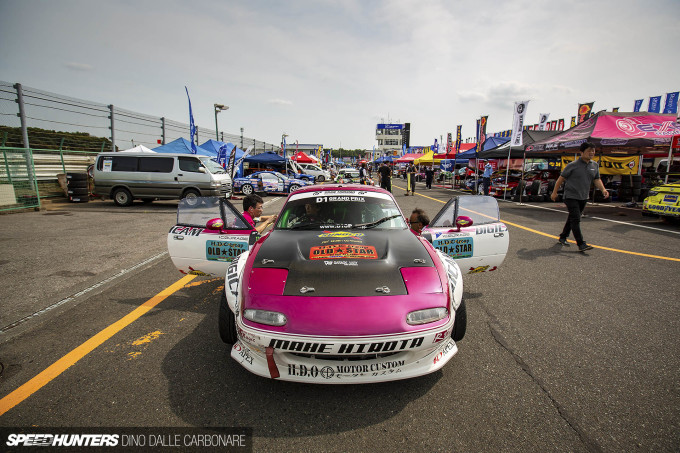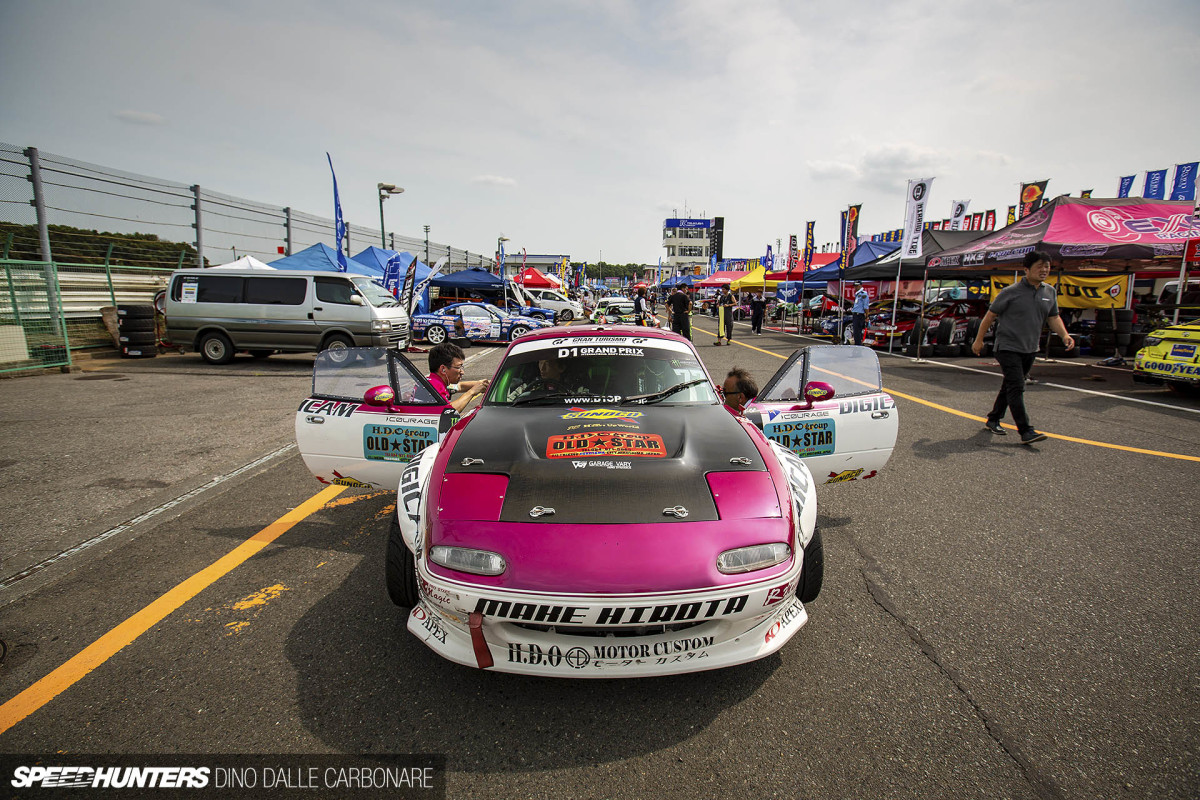 This is the one I'd like to kick things off with: the 500hp, 13B-powered, R-Magic NA Roadster driven by Iwai. It's the smallest car in the paddock and one that put a smile on my face, simply because I like seeing any generation of Roadster fitted with a rotary.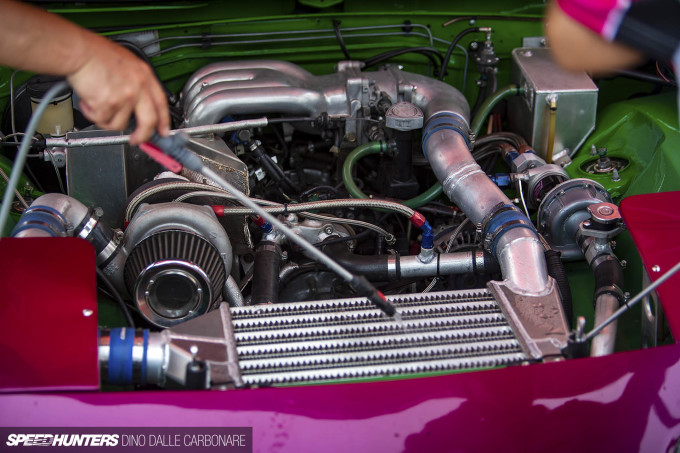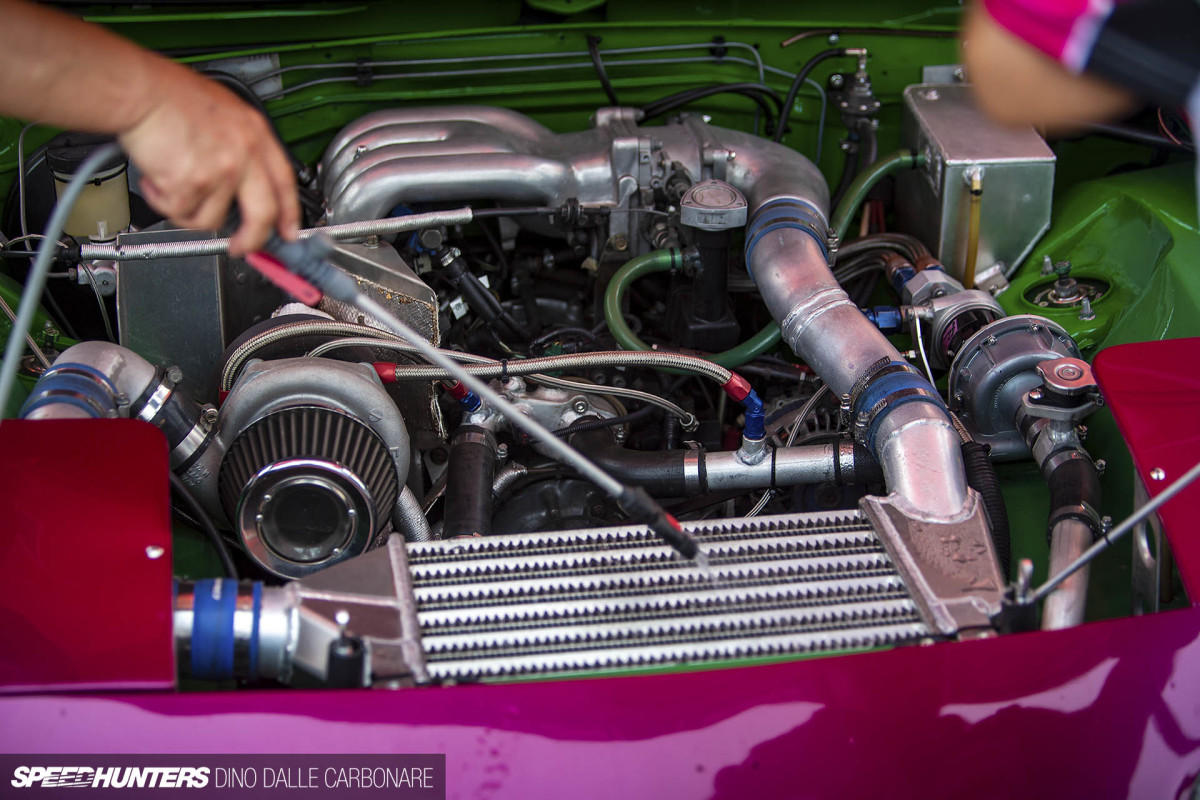 It's a no brainer really. A light chassis, with scope for as much power as you would need, contained in a neat, low weight package. This is a solution that makes a lot of sense from an engineering perspective.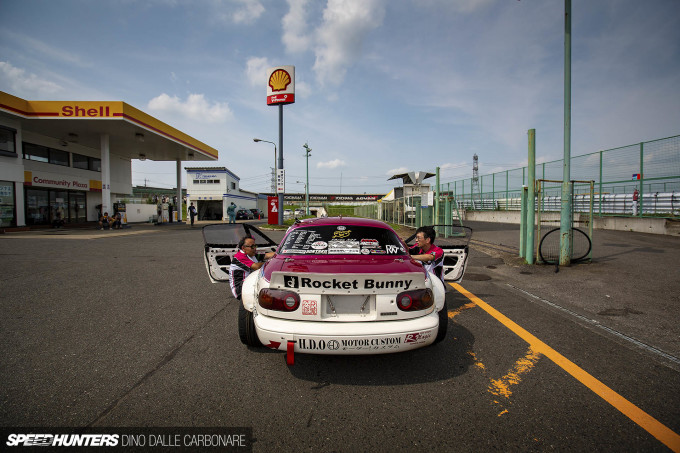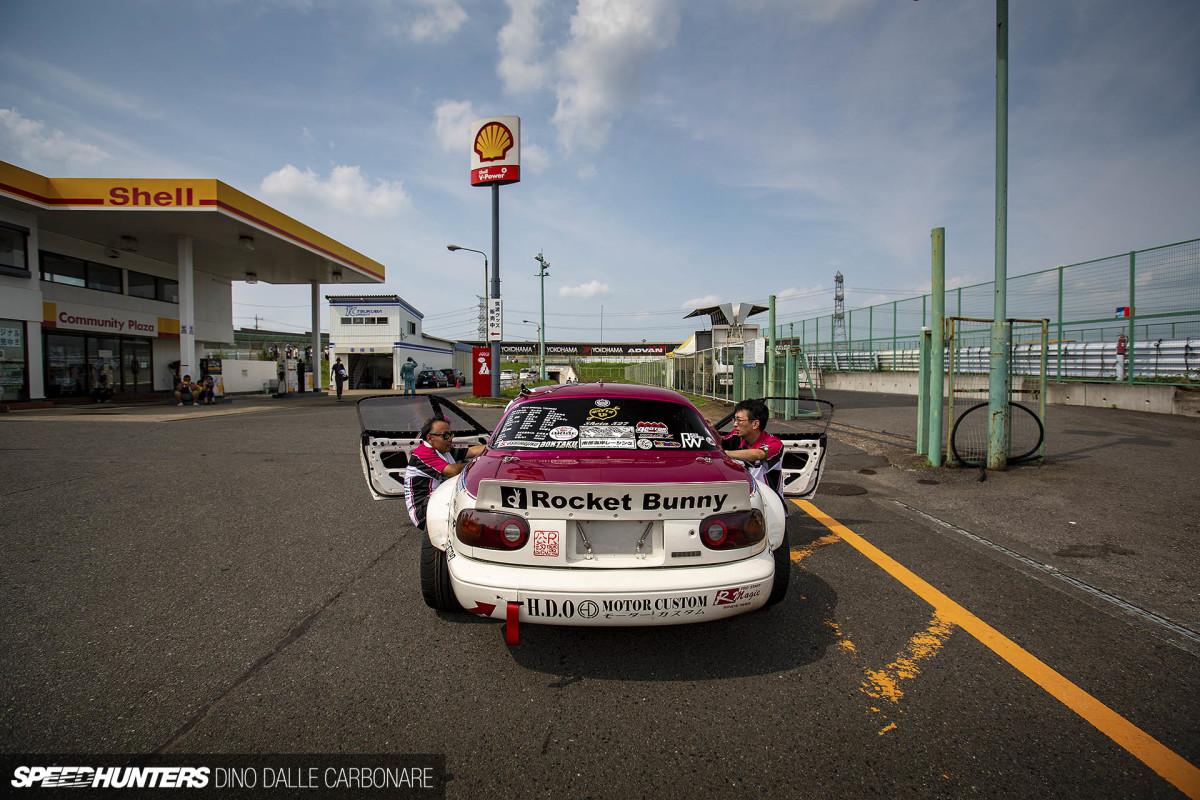 Add to this that the car looked pretty sick with the Rocket Bunny aero, pumping out those hips with the help of appropriately wide flares and the signature ducktail. Top points in execution for this one, and yes it sounded as good as it looked.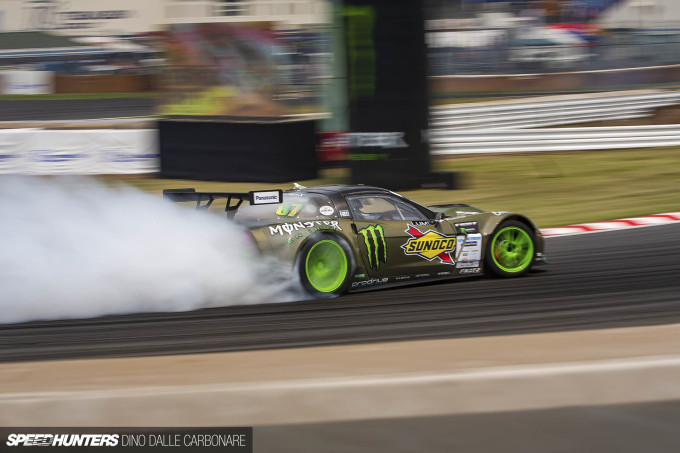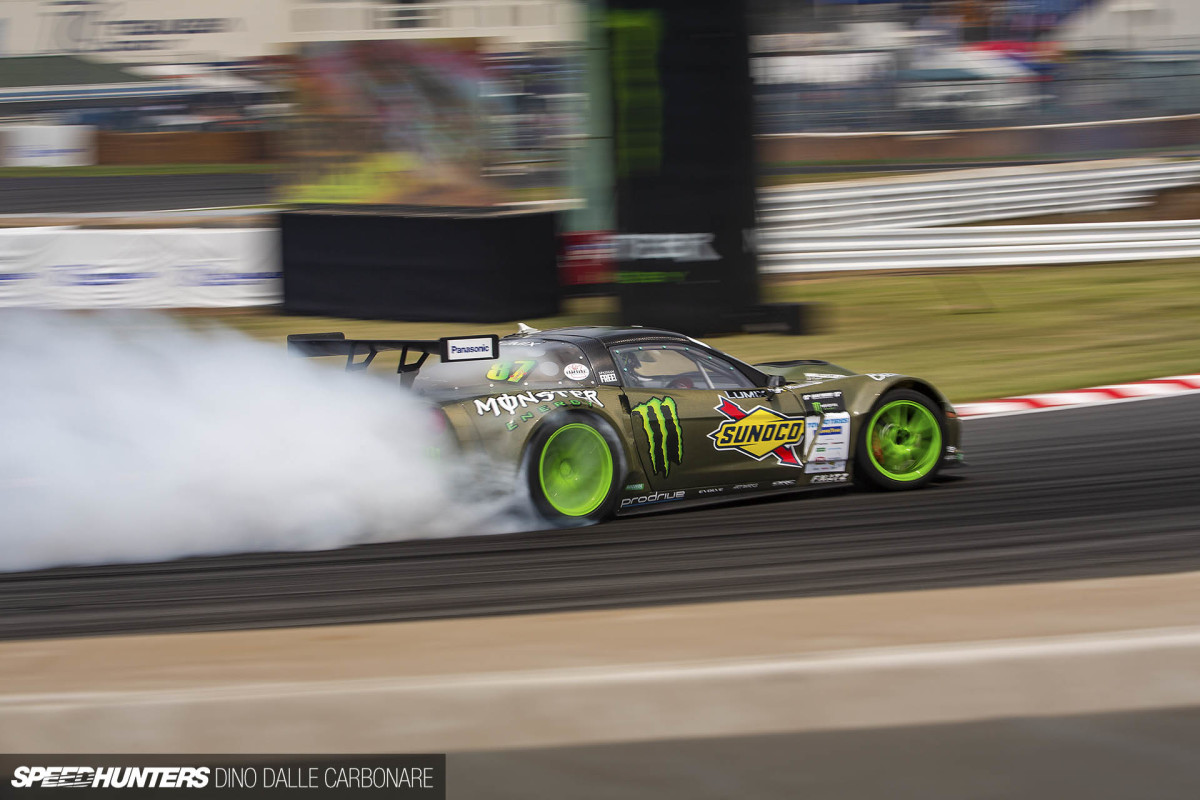 Speaking of sound, NASCAR has arrived in D1GP courtesy of Daigo Saito's custom built Corvette Z06 GT3.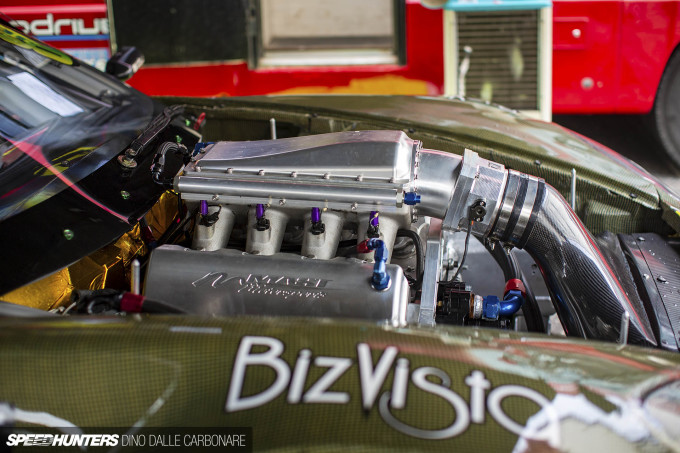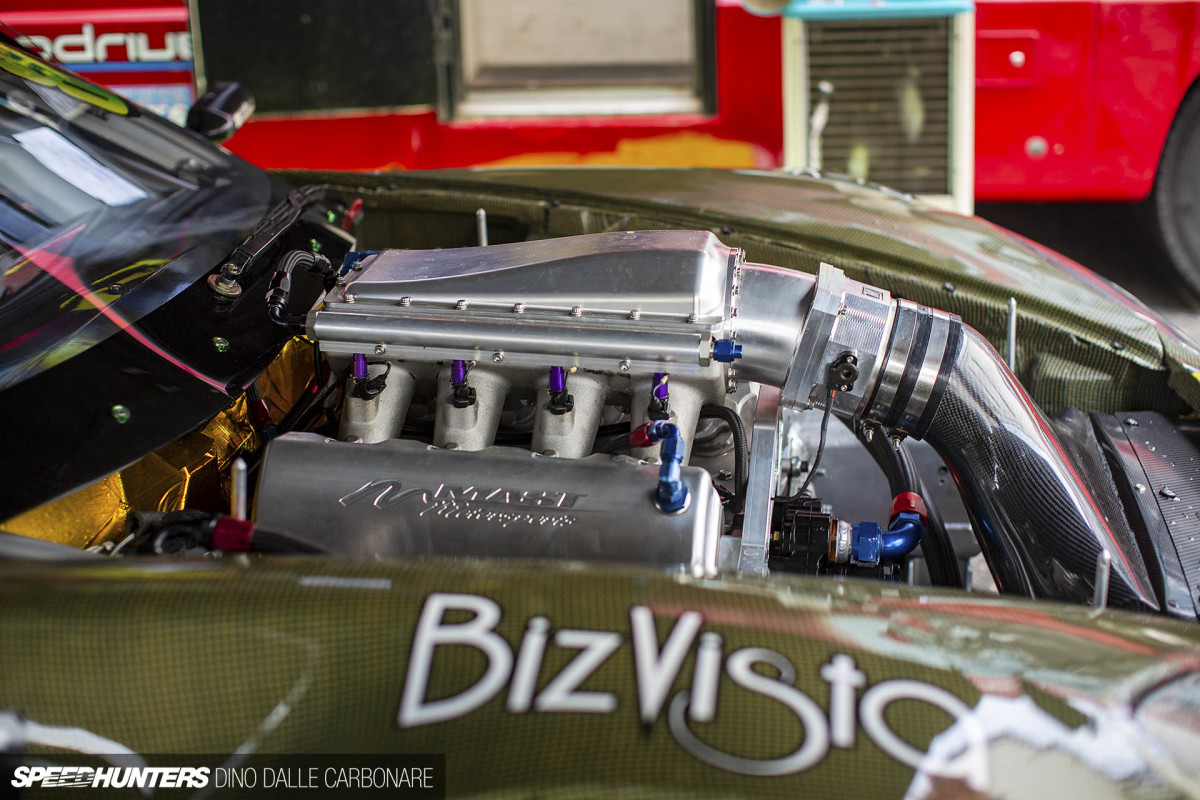 The hood-bulge dilemma aside, there's really nothing to fault here too. This car is built with no expense spared, from the literally see through kevlar body panels, the billet suspension components to the 7-litre LSX, which without any forced induction, pumps out around 900hp.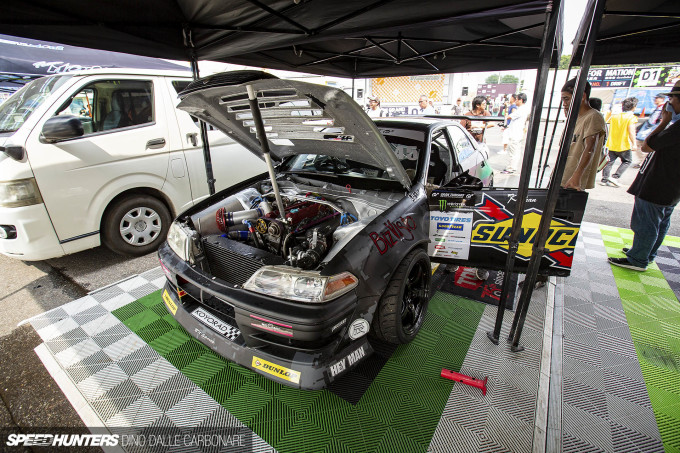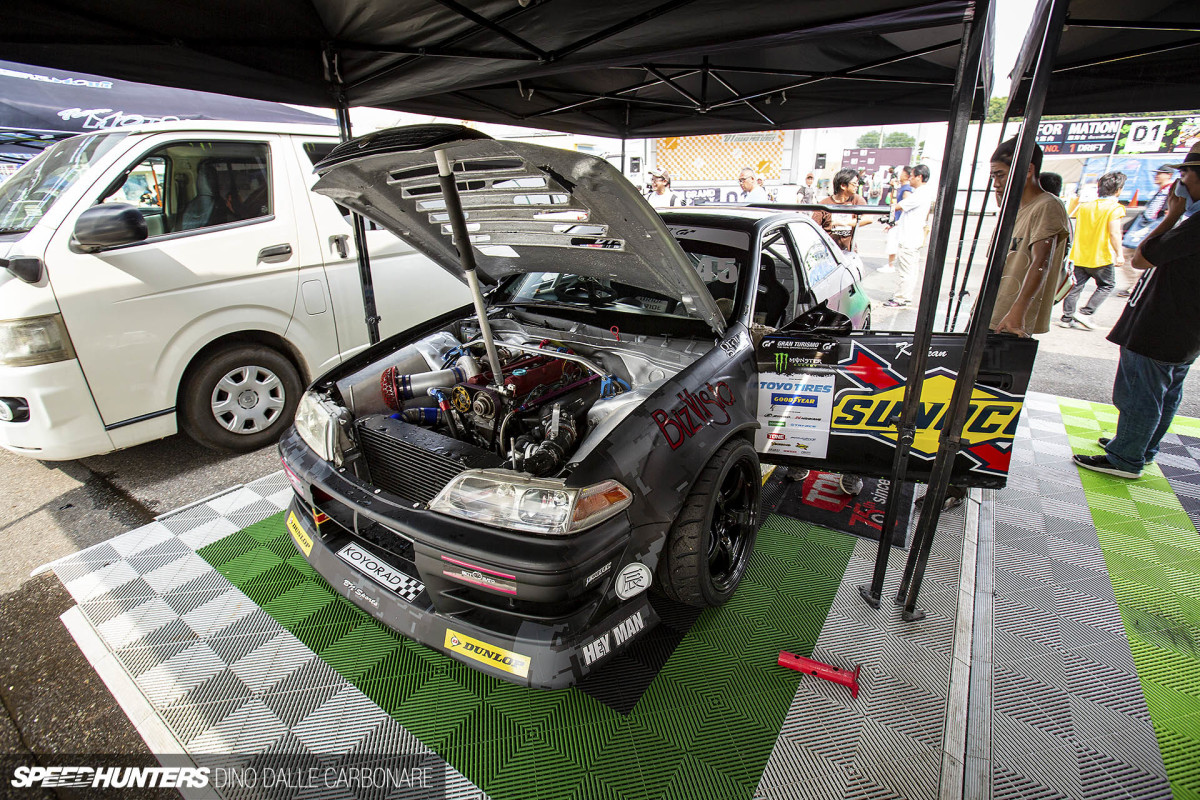 His teammate at Fat Five Racing, Shingo Hatanaka, has stuck to the original and proven FR recipe of a massively trimmed JZX100 chassis with super light body panels and a copious amount of power.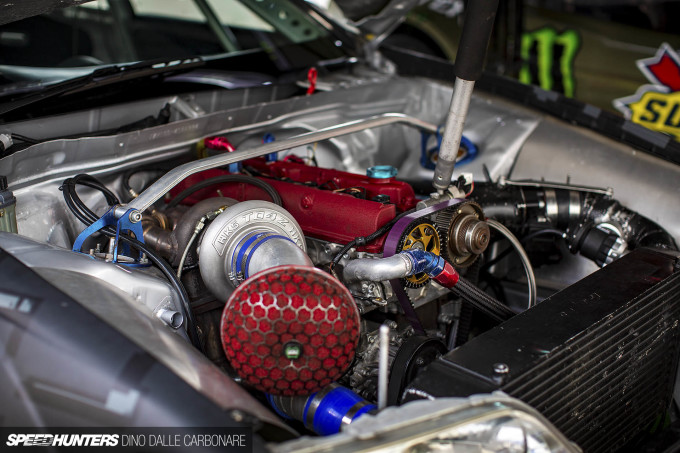 Which comes in the form of an HKS 3.4-litre stroked 2JZ with a HKS T04Z all mated to a Hollinger sequential. For longer and faster tracks, the old HKS turbo gets swapped out for a bigger GT3-4R from HKS' new turbo line up, which is good for an estimated 800hp.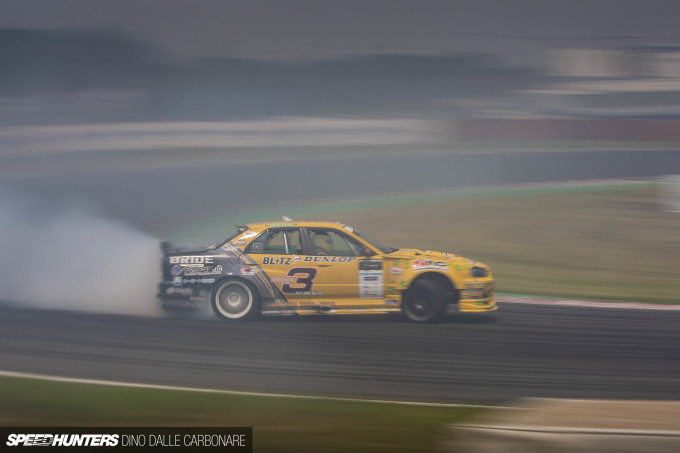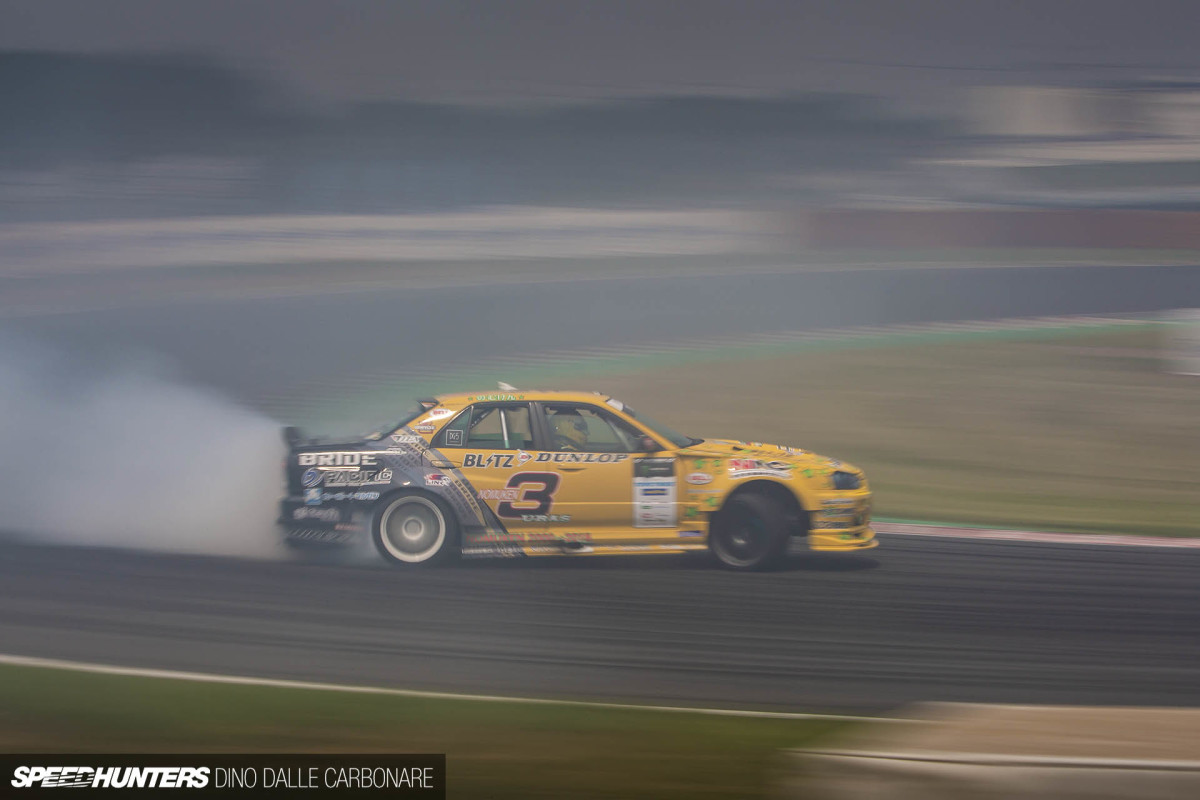 Nomuken too has jumped on the 2JZ bandwagon, ever since that short stint in a ZN6 chassis. He obviously liked what Toyota's mighty straight-six is able to deliver as he's decided to stick with it in his ER34 sedan.
His engine runs Tomei forged internals that push capacity up to 3.4-litres and is mated to a mid-sized GCG Garrett turbo which can develop just under 600hp. This setup is obviously tuned for low end torque and response.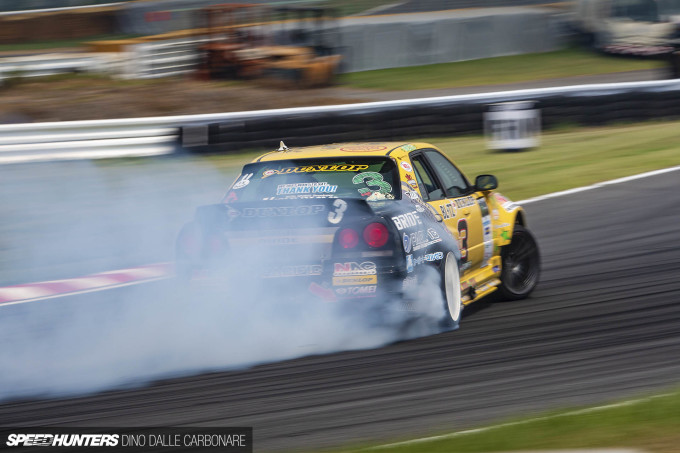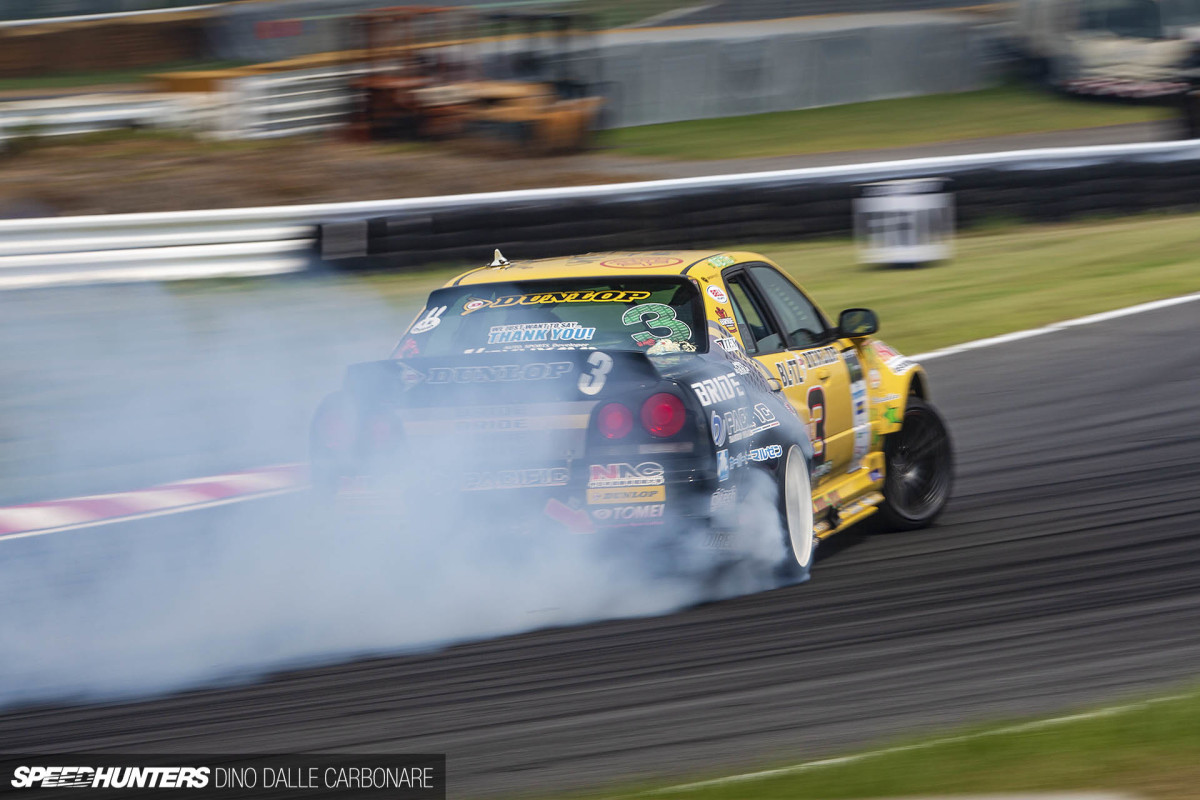 On the transmission side of things there's an OS Giken sequential sending drive to the beefed up rear end.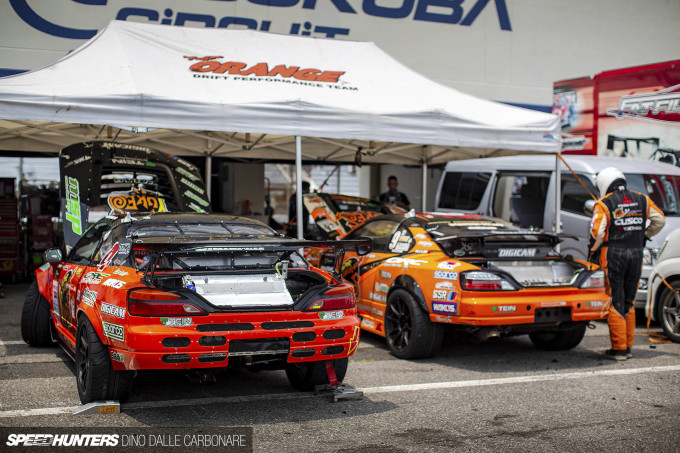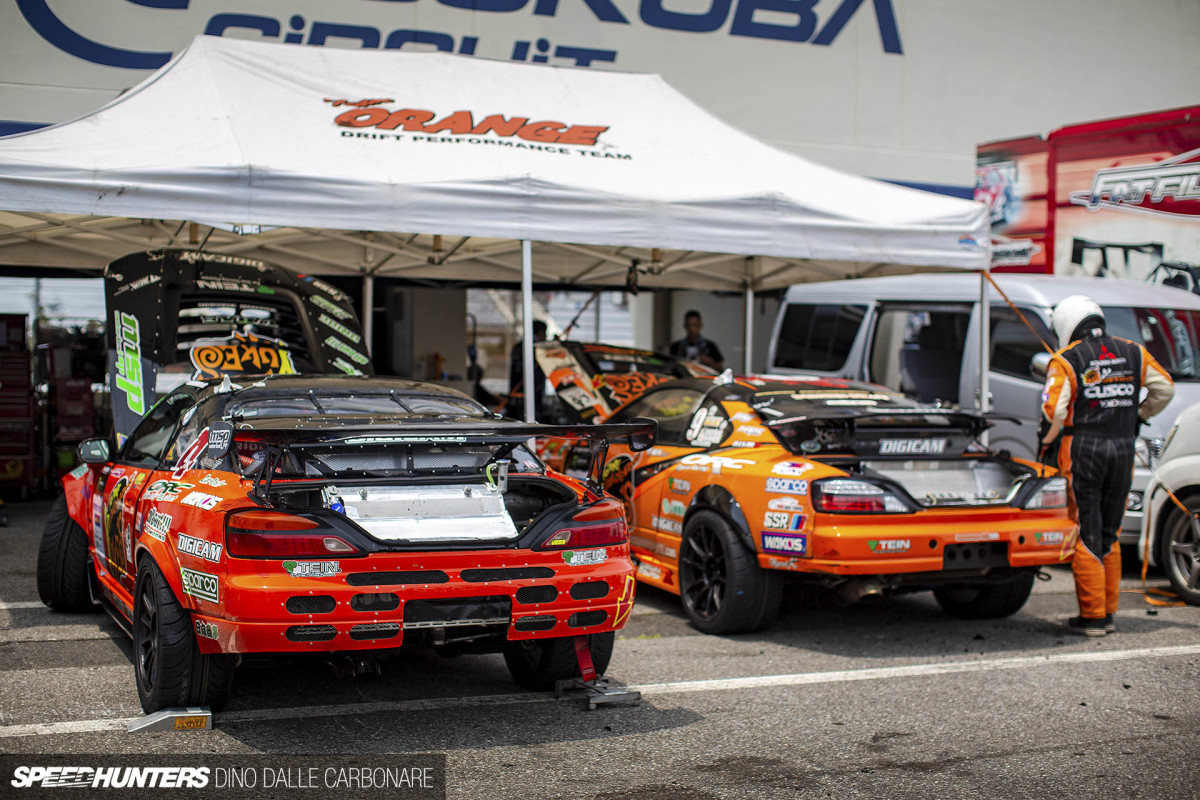 Team Orange is made up of a couple of Nissan S15 Silvias these days, but neither of these cars are actually powered by a Nissan engine.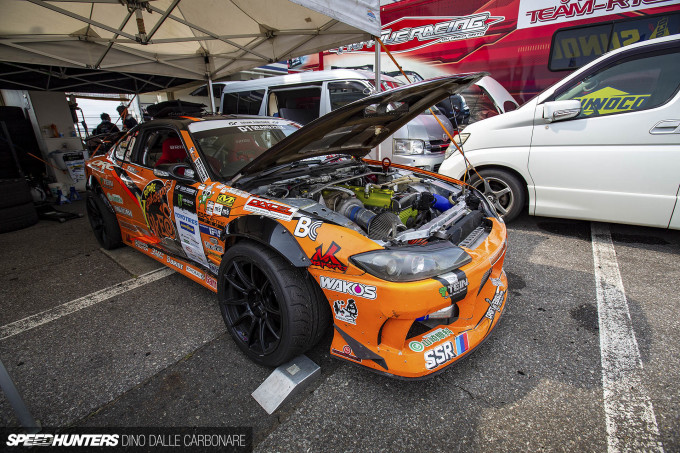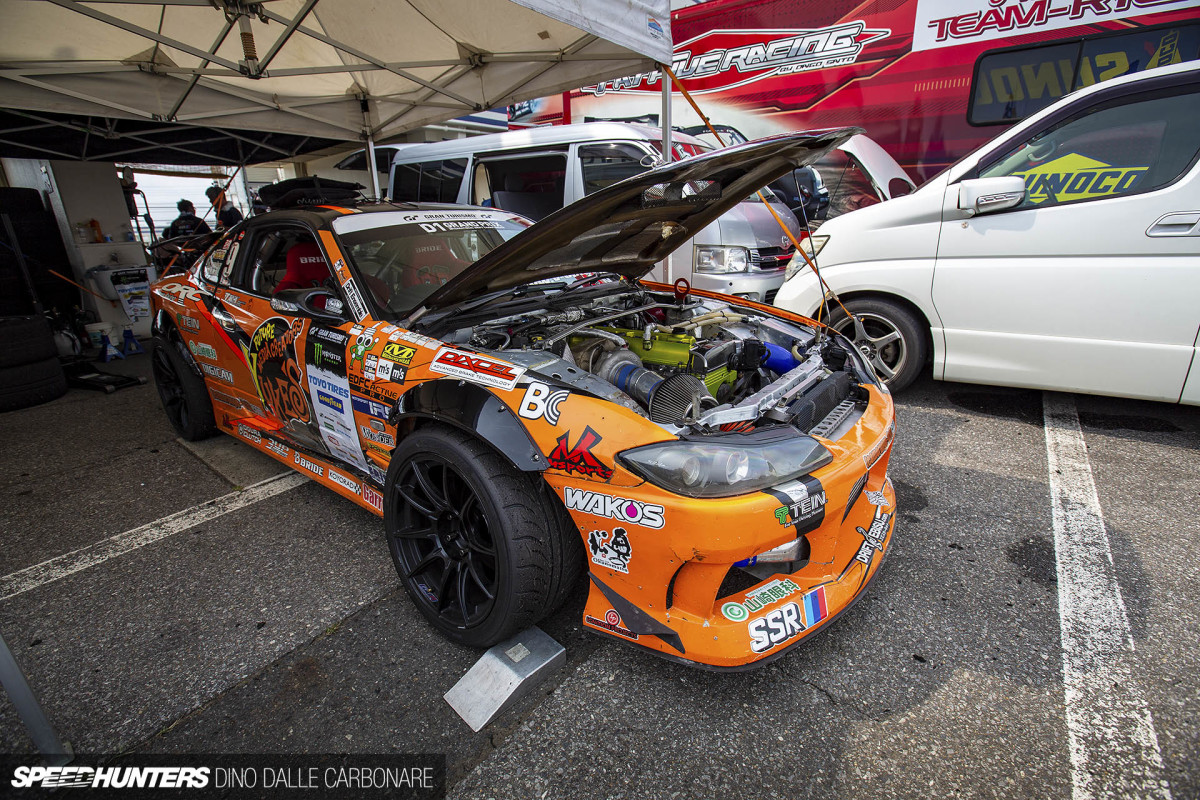 It was a bit of a re-adjustment for me to see that Kumakubo is no longer driving in D1. He pulled out and retired years ago leaving space for Suenaga and Kohashi to take over the reigns, despite him still being very much involved with the whole running of the team and brand.
Suenaga's S15 is quite the beast, running a 3.4-litre custom built 2JZ running a generously sized GCG GTX-4088 turbo good for 850hp.
26 year old Kohashi prefers a slightly different set up in his, with a stroked 6.7-litre LS3 boosted by a Vortech V7 blower rated to 500hp. I have to say this sounds slightly conservative when looking at the set up and when you witness the rate of speed he manages to instantly gather once he leans into the throttle.
Noticing a Pattern?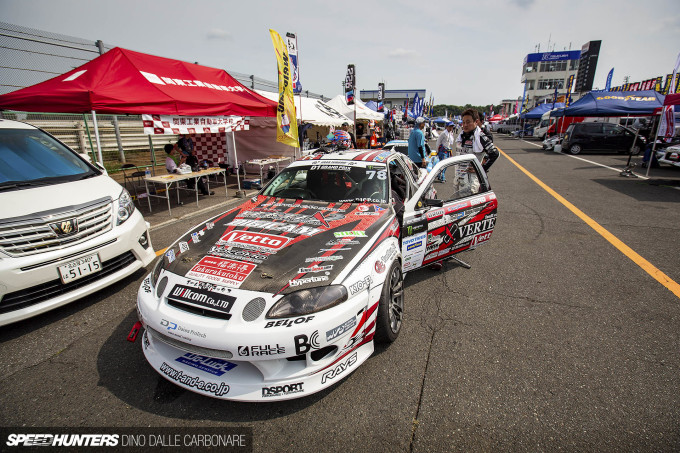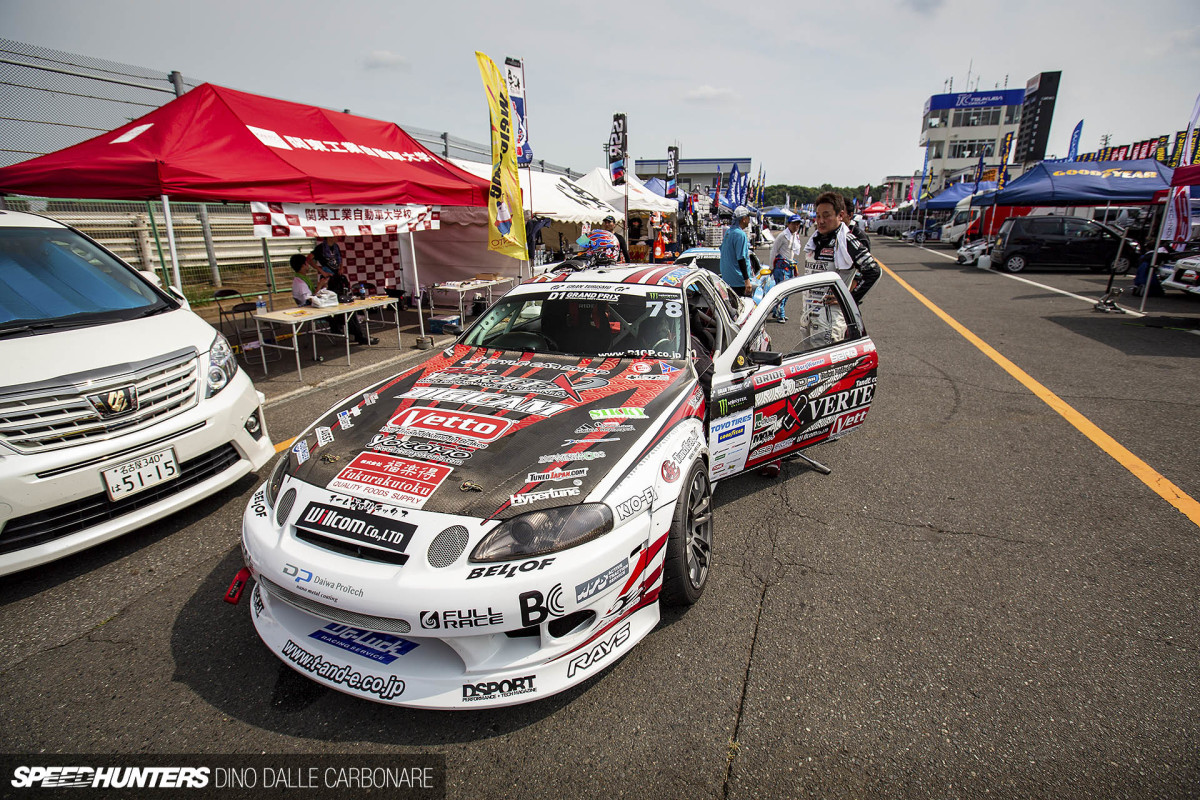 Seeing Ueno back in a Z30 Soarer put a big smile on my face. His BMW from back in the day, when I used to cover D1 regularly, was cool but for me he really does belong in a big ol' Soarer. There's something right about seeing him back in his trusty chassis.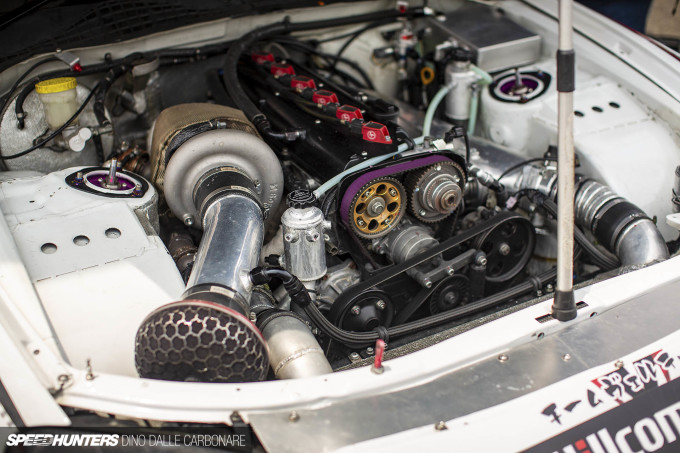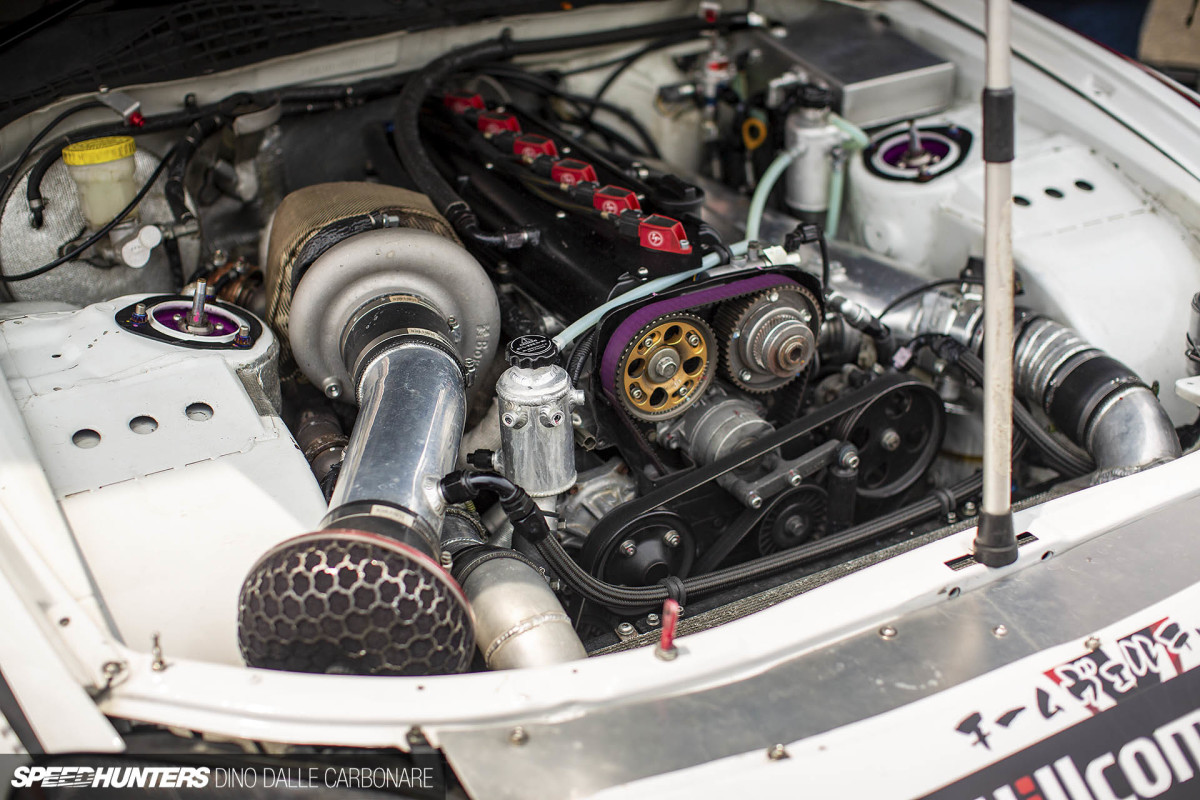 His set up is on par with the rest of the field, so another 2JZ, with a Borg Warner S300SXE sending drive to a Hollinger sequential. This is good for a solid 900hp.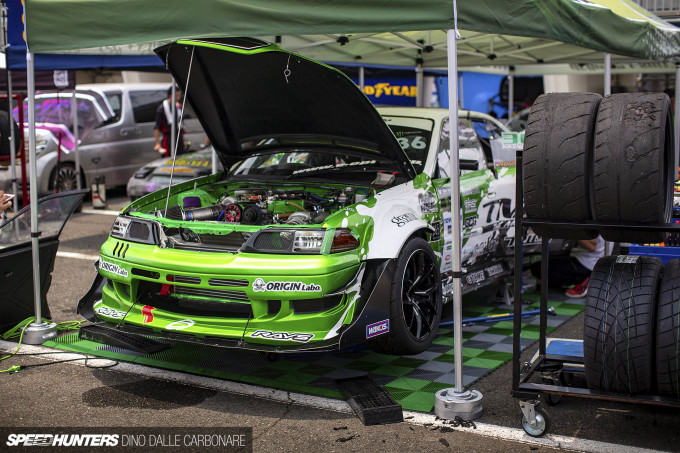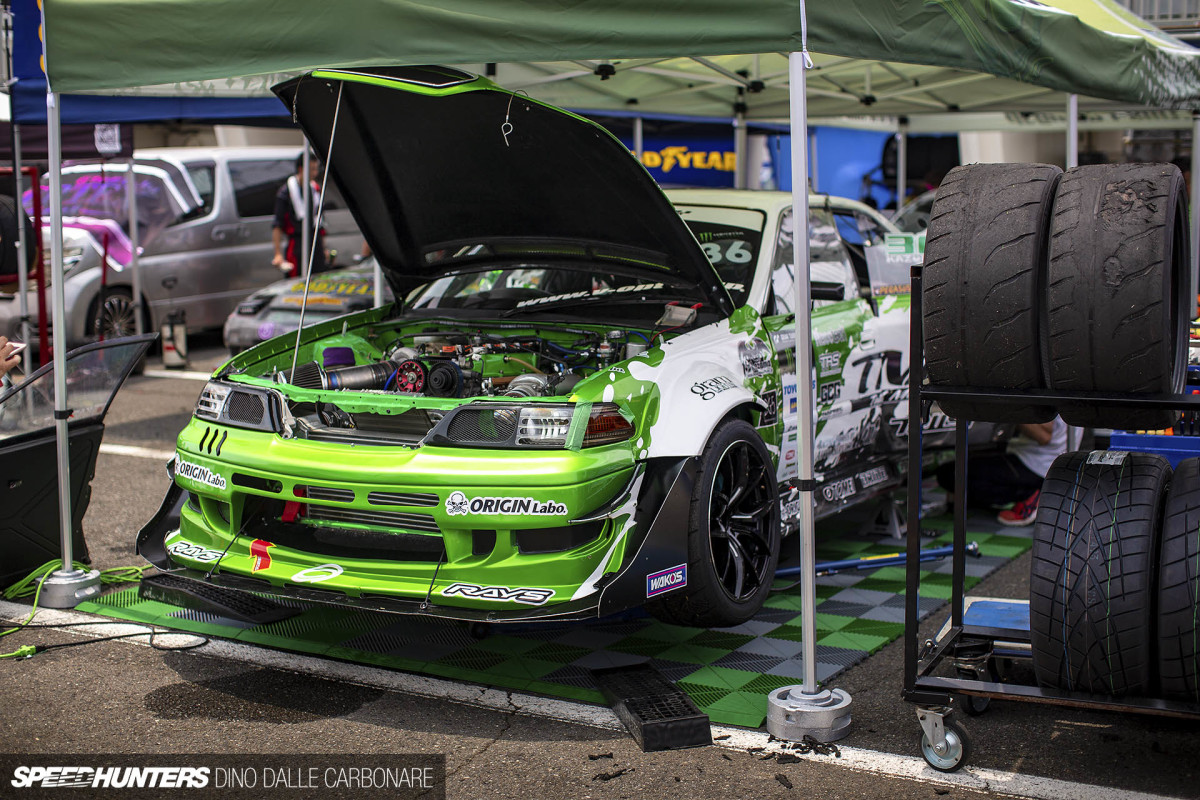 Kazumi Takahashi's candy green TMS Racing JXZ100 is certainly the looker with its Origin aero package and lots of carbon valances and canards that make it look more like a time attack car than a drift machine.
He's dropped the GCG turbo in favour of a Borg Warner lately, so power is slightly higher than the 800hp he used to have. His engine runs Tomei's 3.6-litre stroker, which still blows me away writing that, as it's 600cc over stock capacity. Just think of the torque.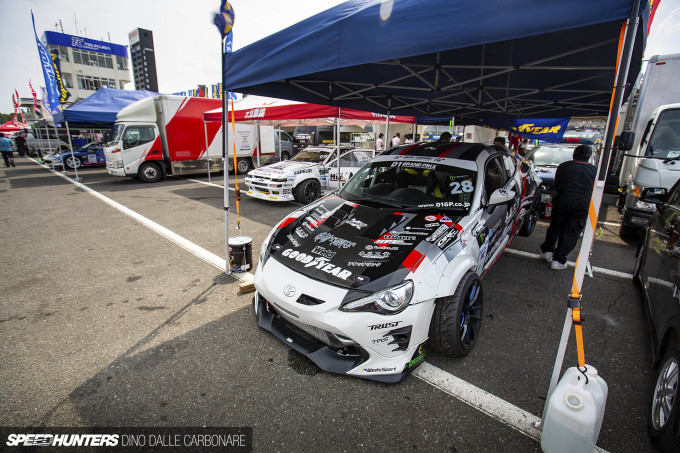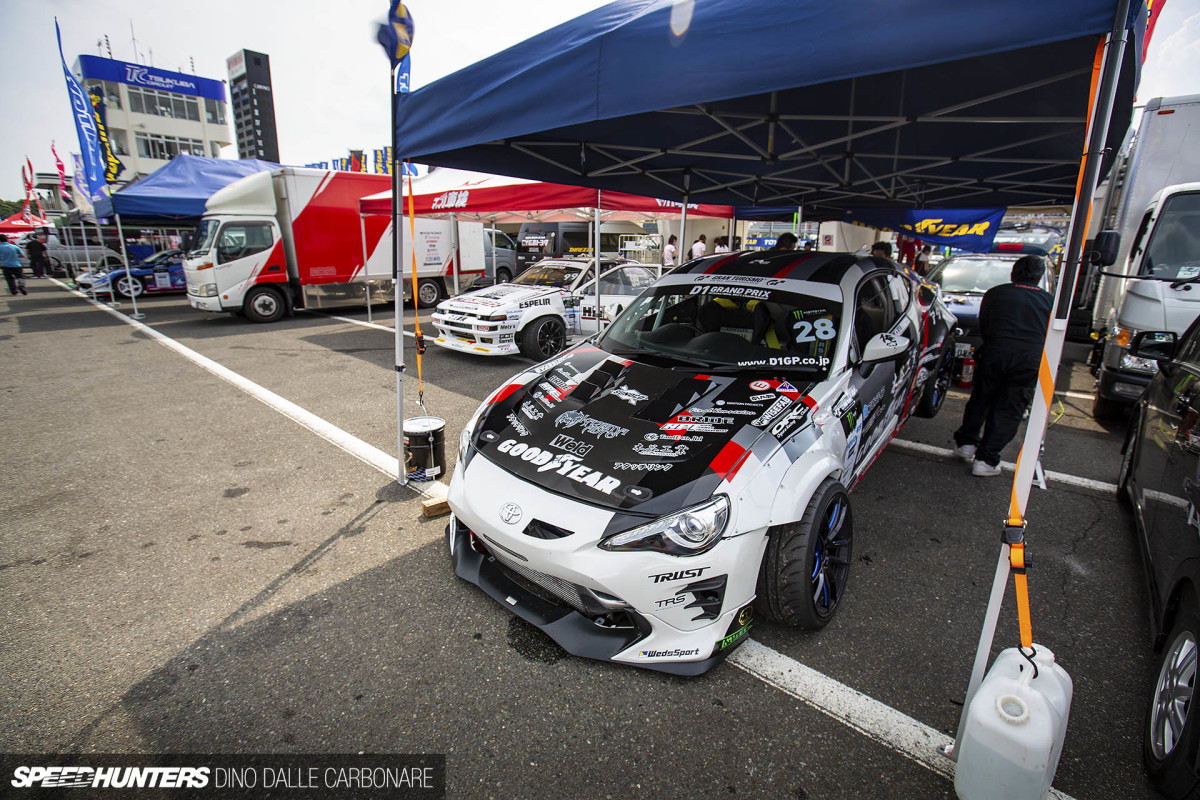 Tokita's 86 with its TRD front end mated to a Rocket Bunny wide body conversion looked especially good sitting propped up in the paddock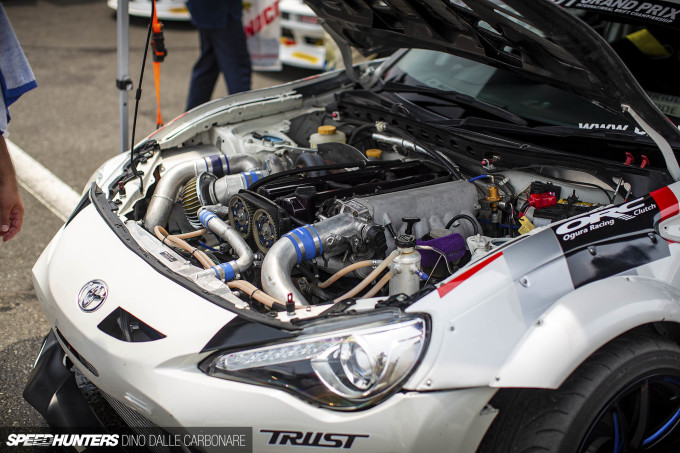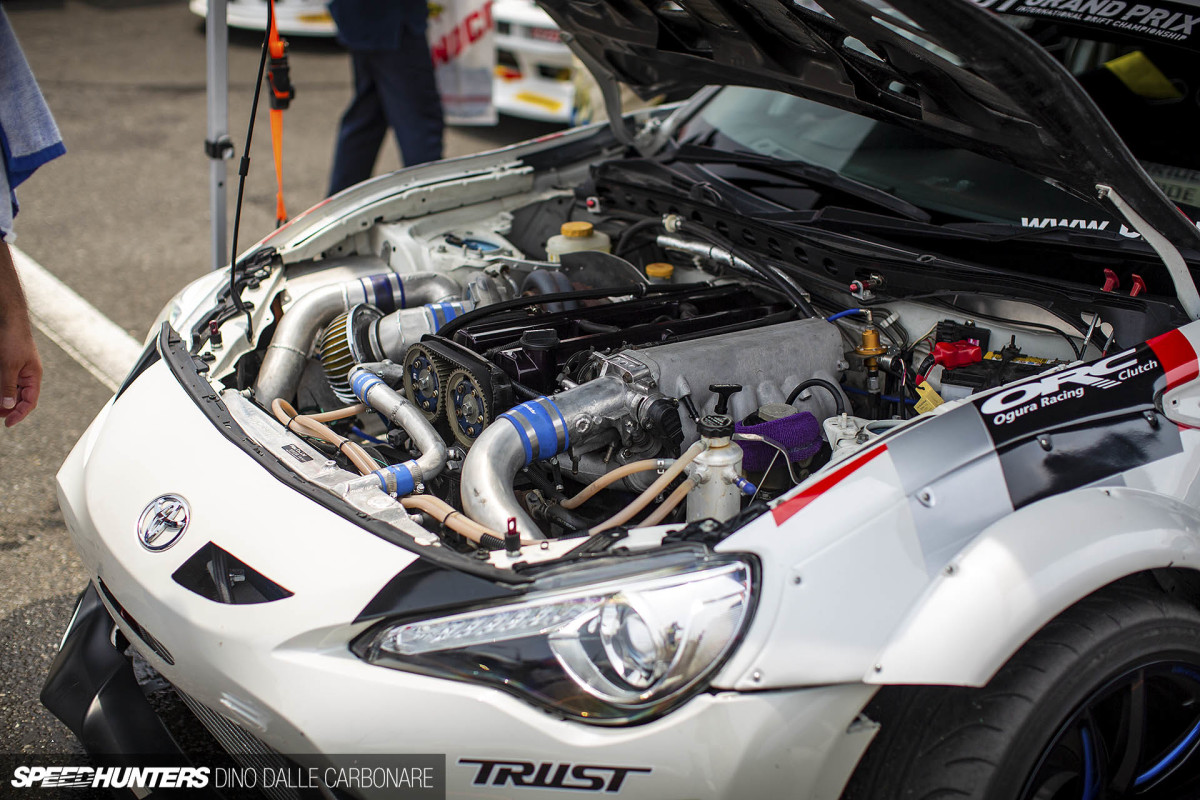 Unsurprisingly the stock FA20 is long gone, and in its place a 3.1-litre 2JZ with a trusty (I see what you did there – PMcG) Trust T88 strapped to its side. It may not be the most advanced setup, but one that is reliable and just plain works. Power is rated at 730hp.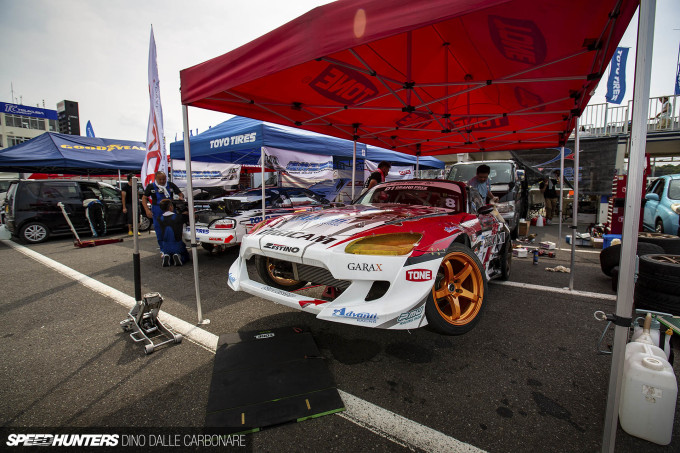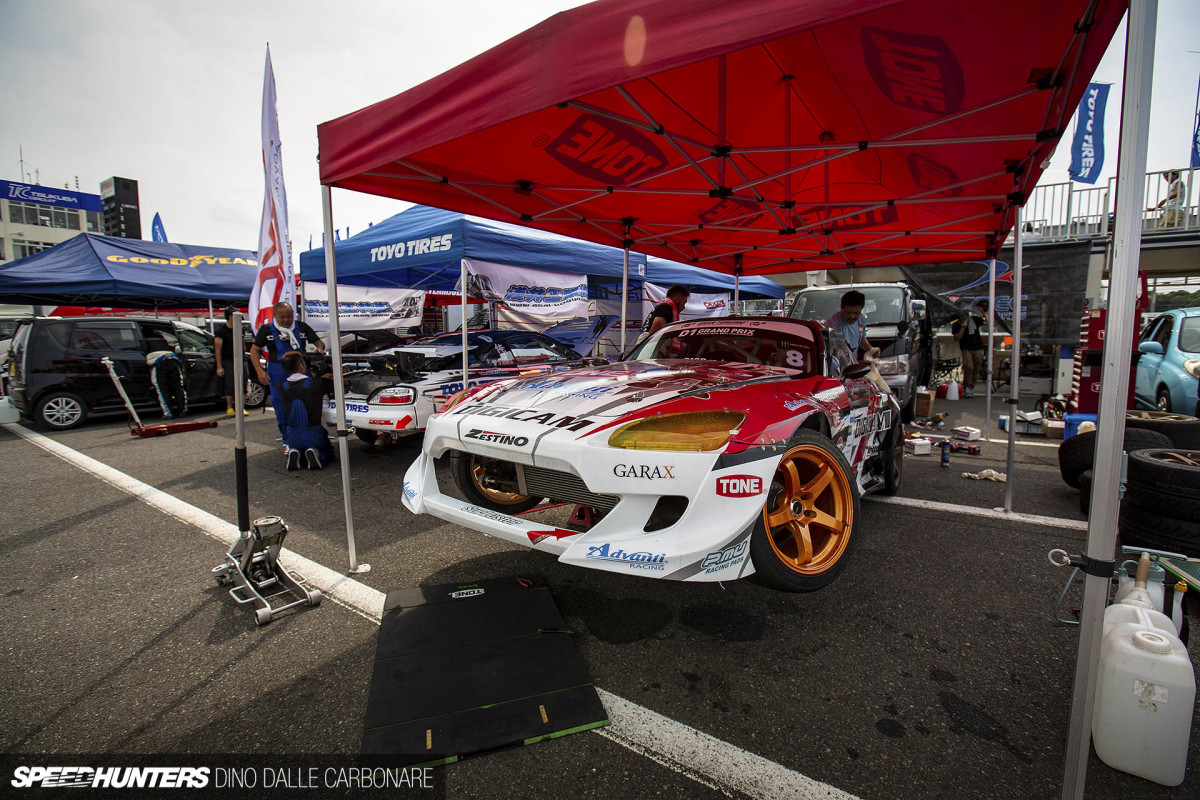 I came away from this round really liking Hibino's 700hp 2JZ-poweed S2000.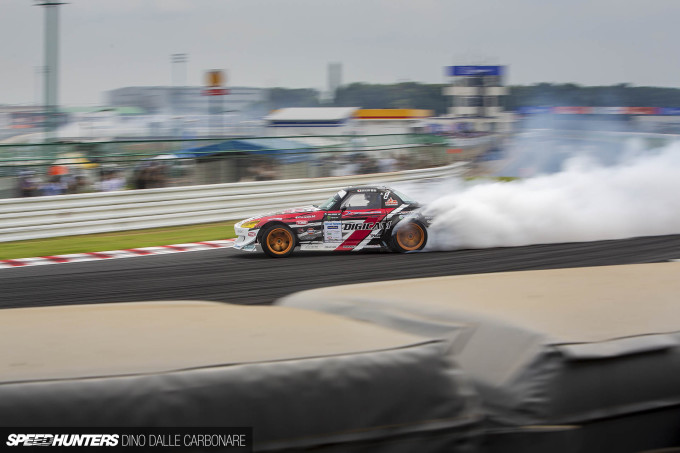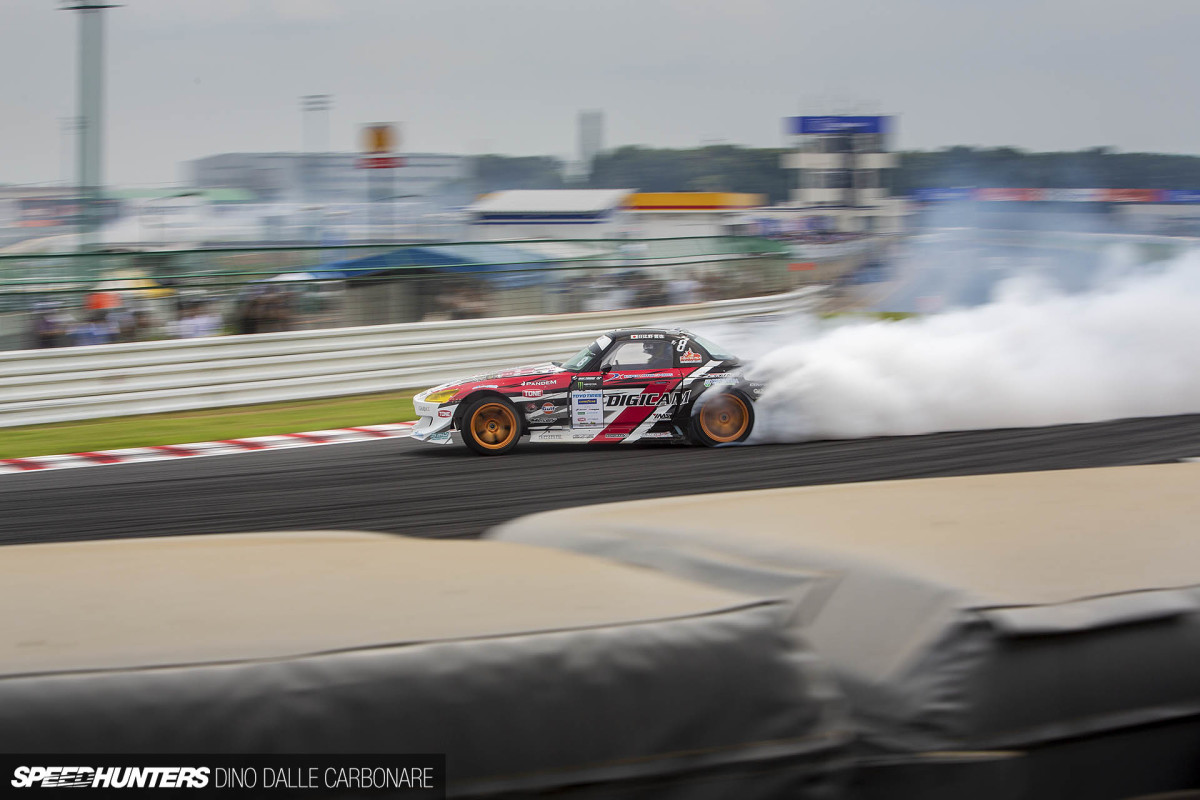 I never managed to get a look at the engine setup but out on track this was quite the sight with that Rocket Bunny aero really doing a spectacular job at smoke management, as the plumes of vaporised Zestino rubber poured out of the fenders.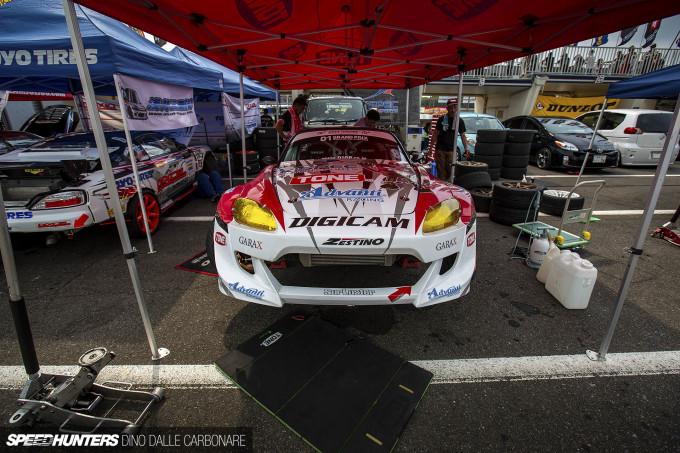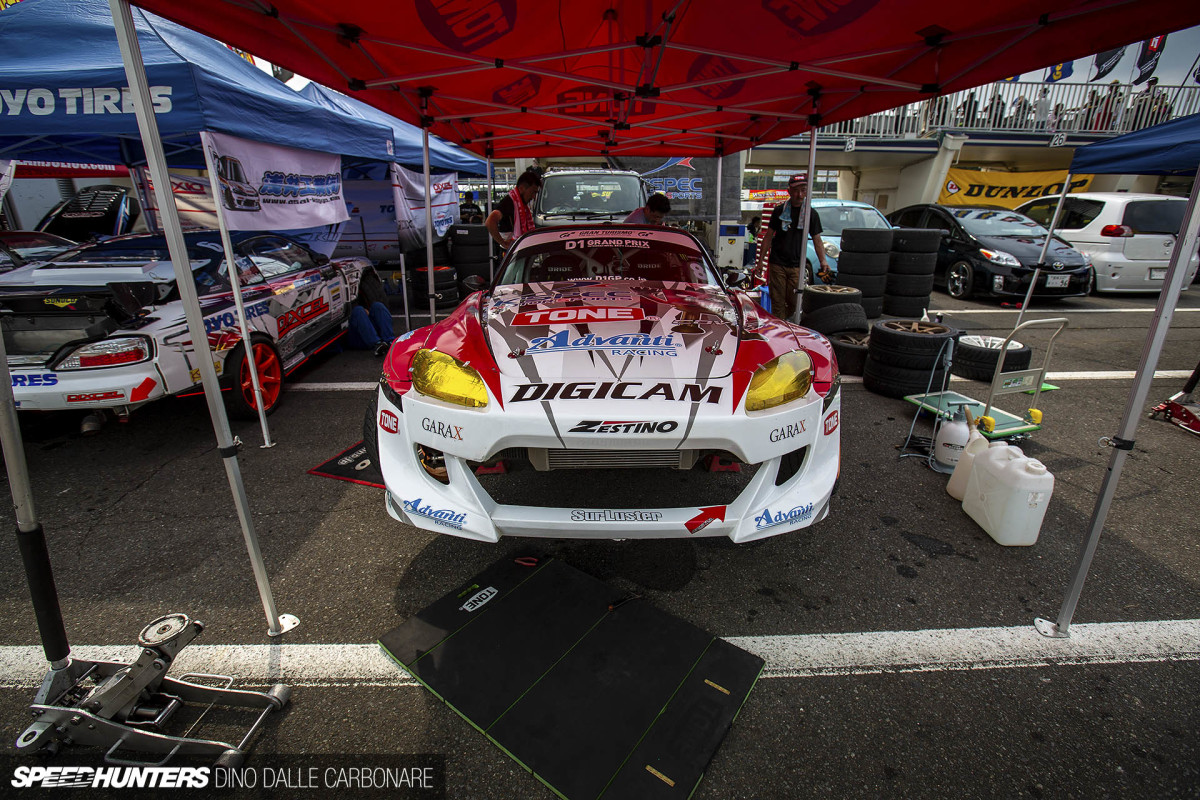 It also seems a difficult car to keep handle on the limit, but then again with the way the DOSS system gives points, the wildest approach to the course seems to earn the most points.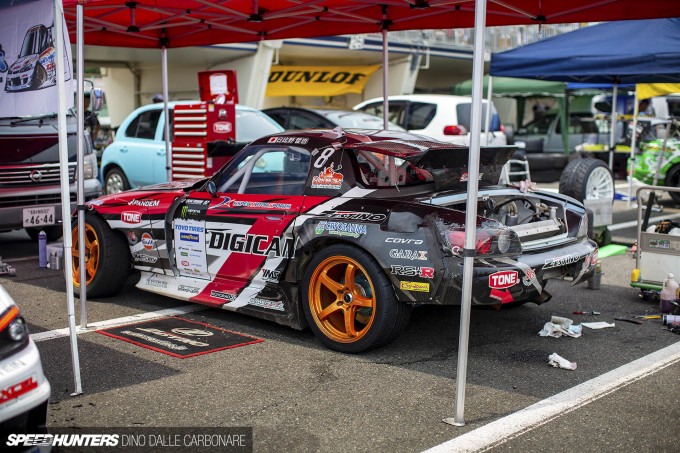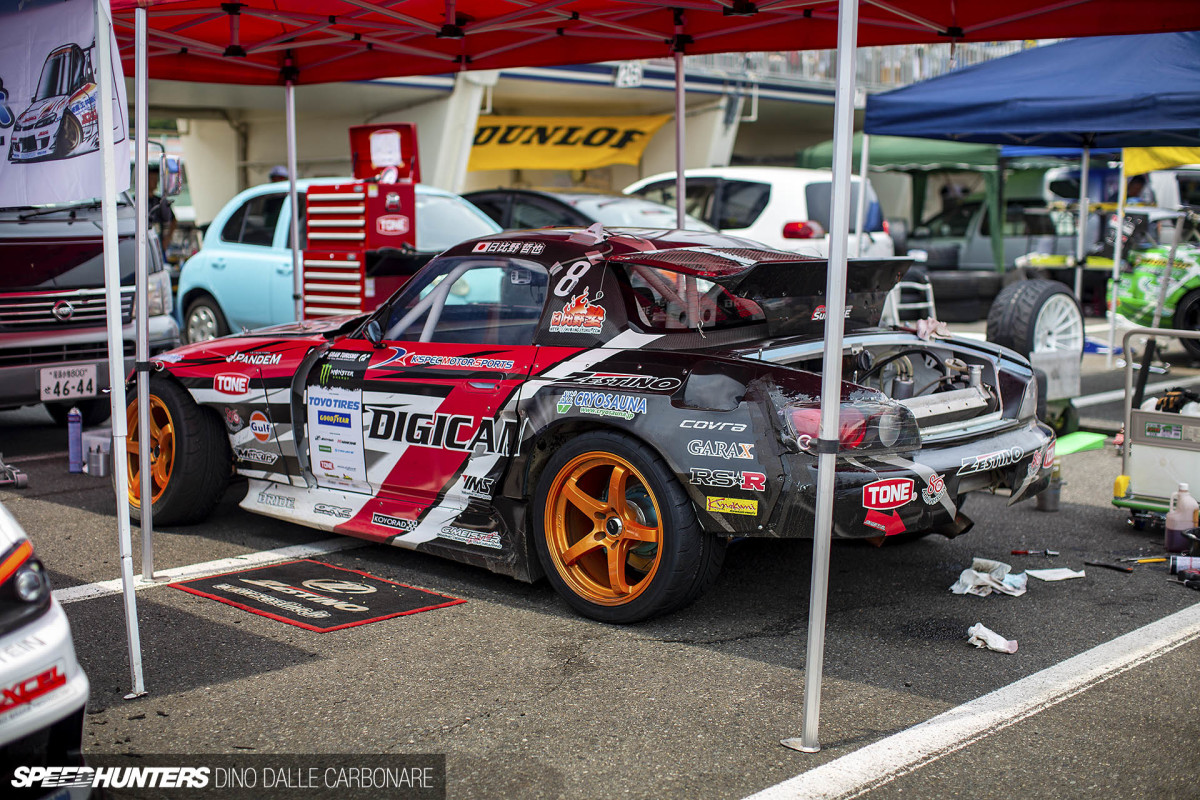 It's the freshest build that I've seen in D1 in a long time, and Japanese drifting in general, as you don't often see that many S2000s built to slide on this side of the world.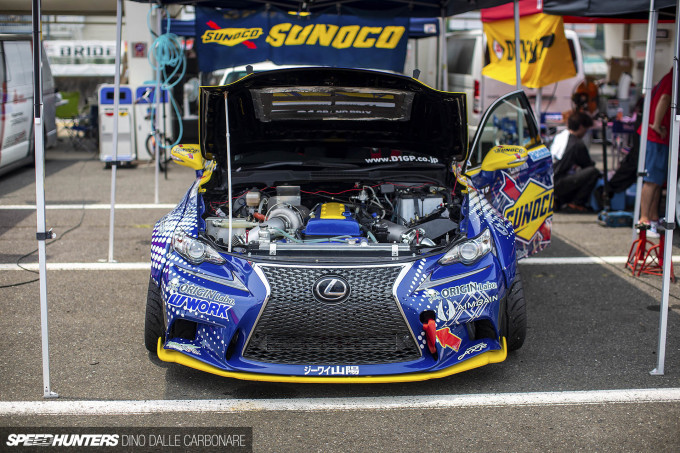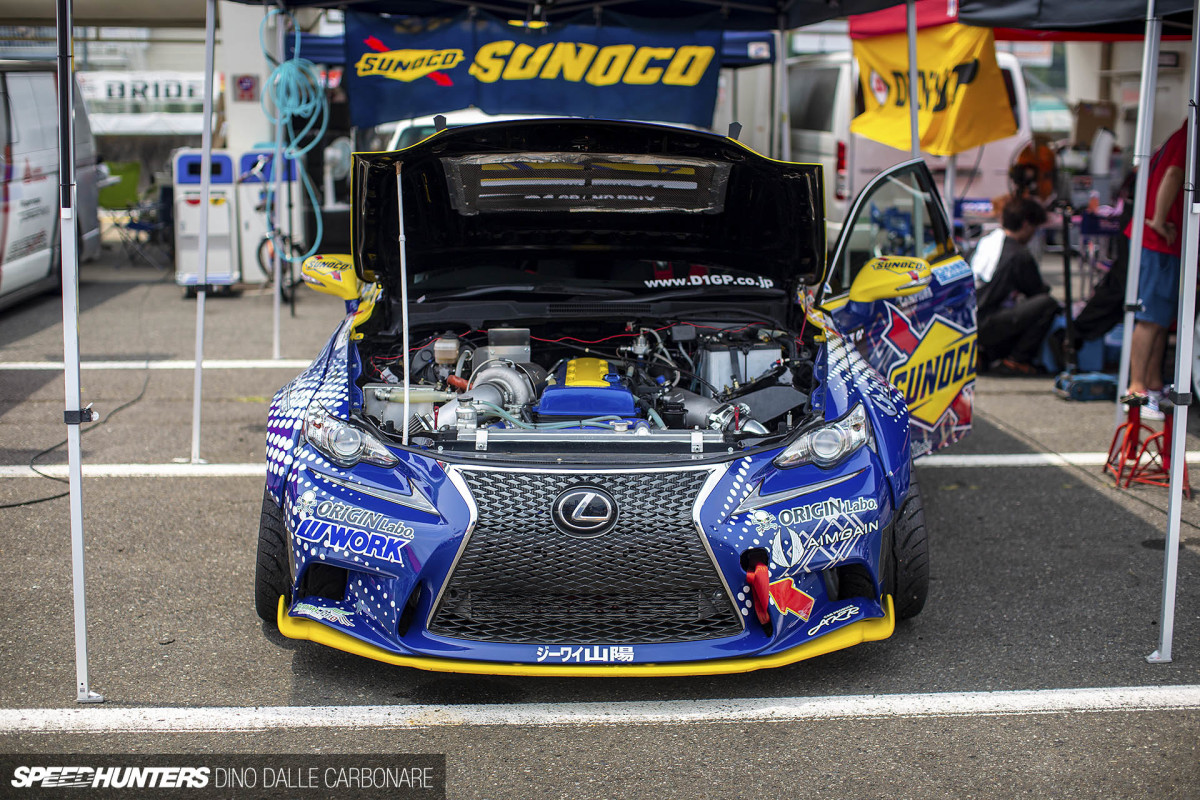 Here's another Tomei 3.6-litre stroked 2JZ setup on the Kamui Produce GSE20 driven by Tomoyuki Kitashiba. This first generation Lexus IS looks pretty fresh from the front with that new face conversion, but a tad aged at the rear.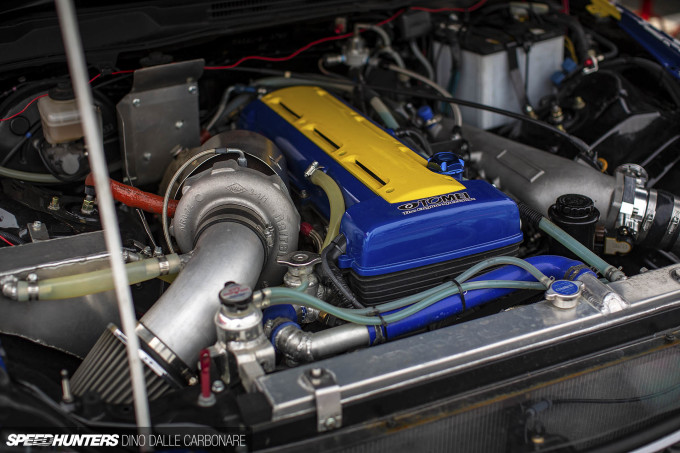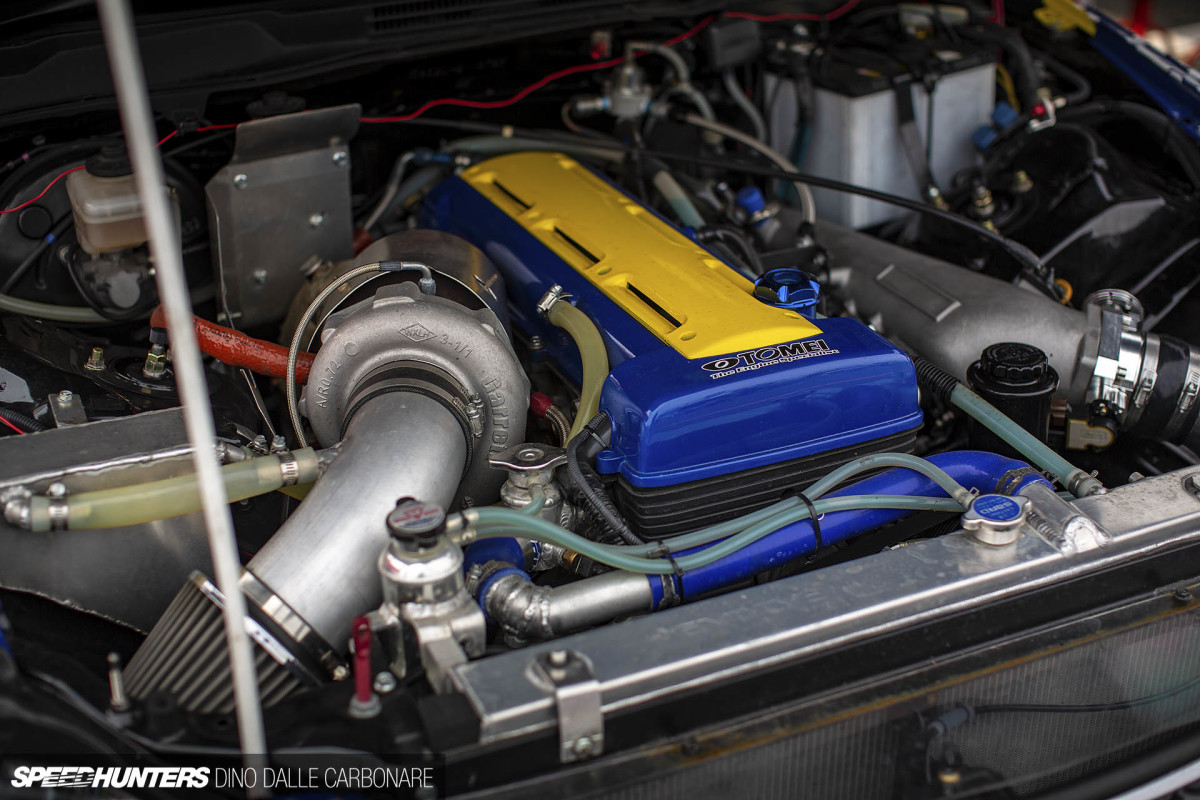 That's what a solid, reliable 800hp looks like.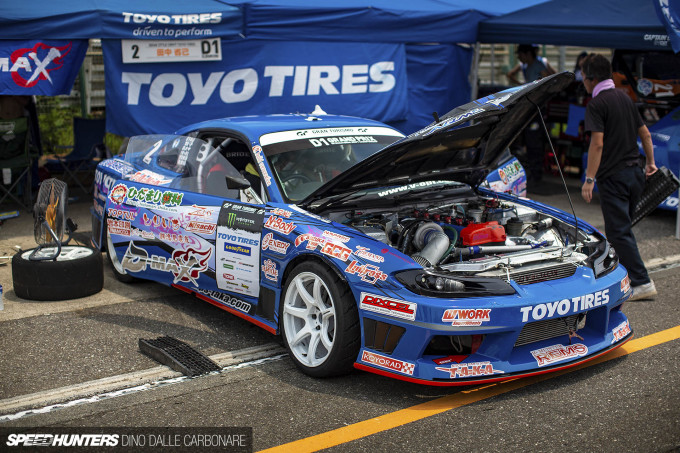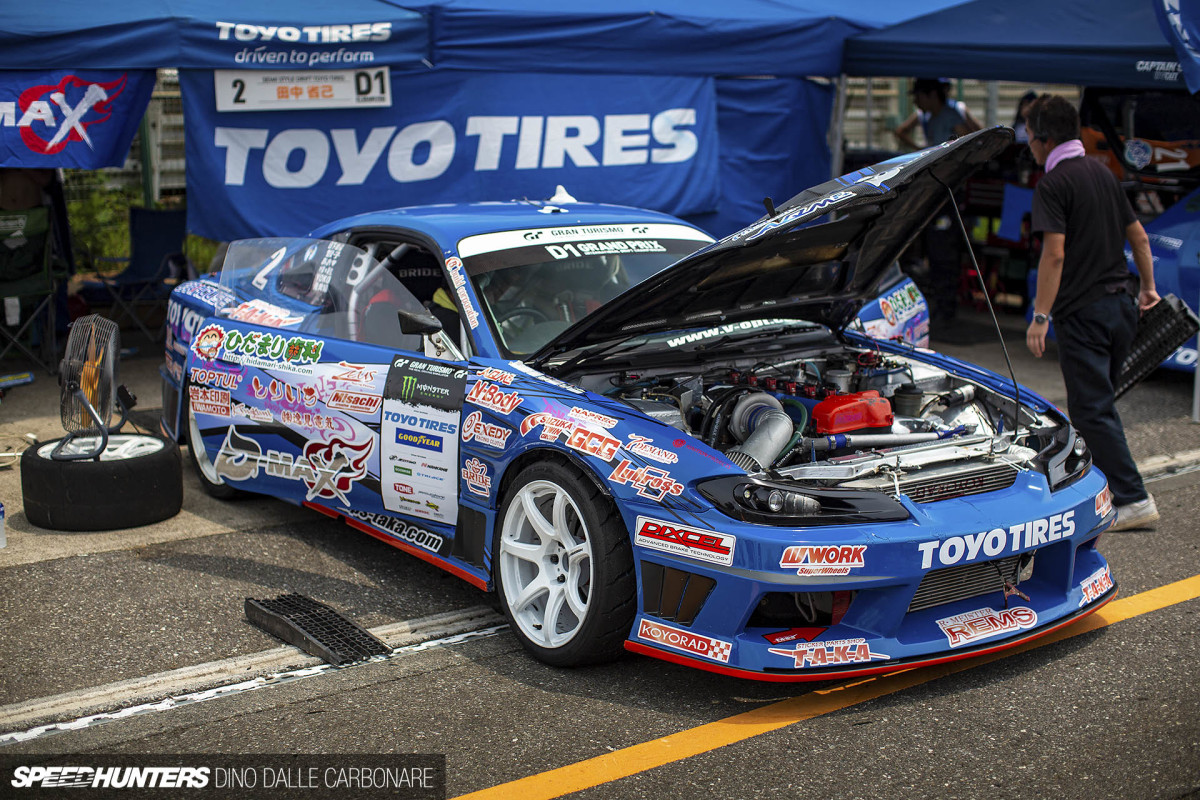 What do we spy here? More 2JZ? Seimi Tanaka's S15 has gone the dark side too with a 3.1-litre set up that generates 780hp.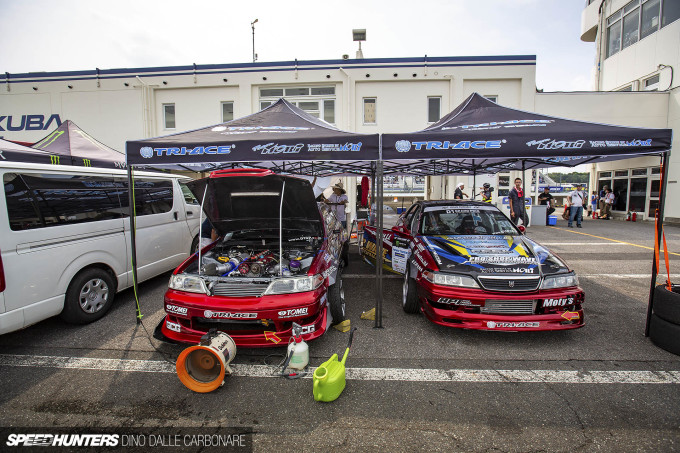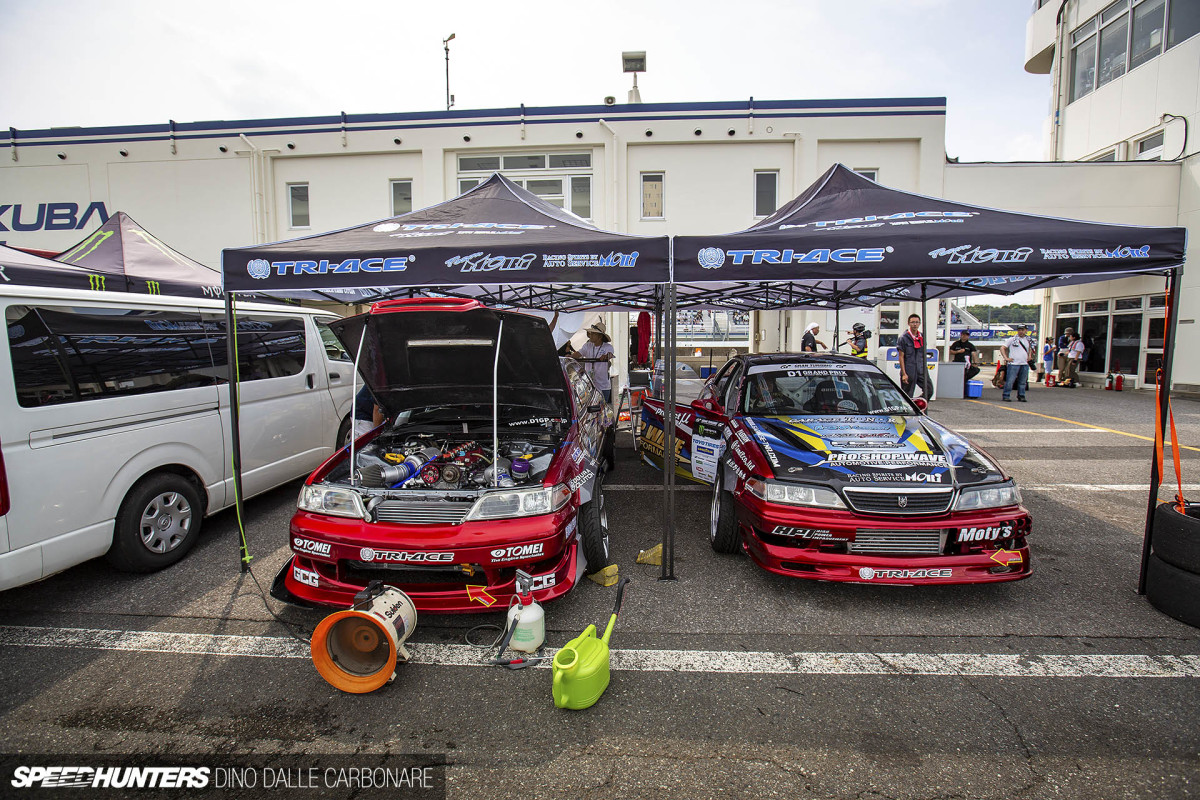 But hang on, I'm not quite done yet! We still have quite a few cars to go through so let's drop by Team Mori and check out their two JZX100s.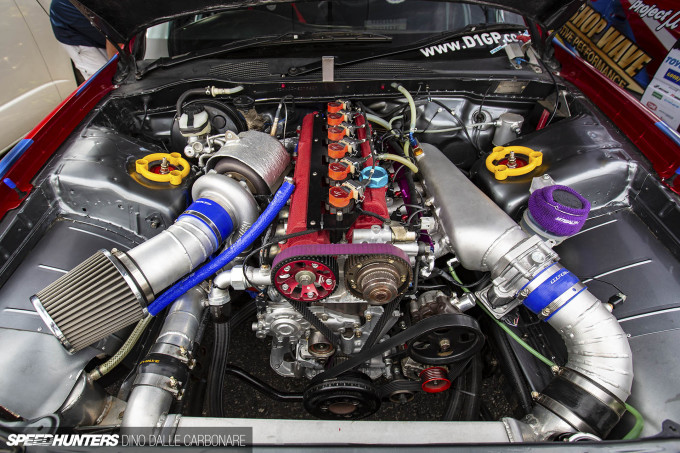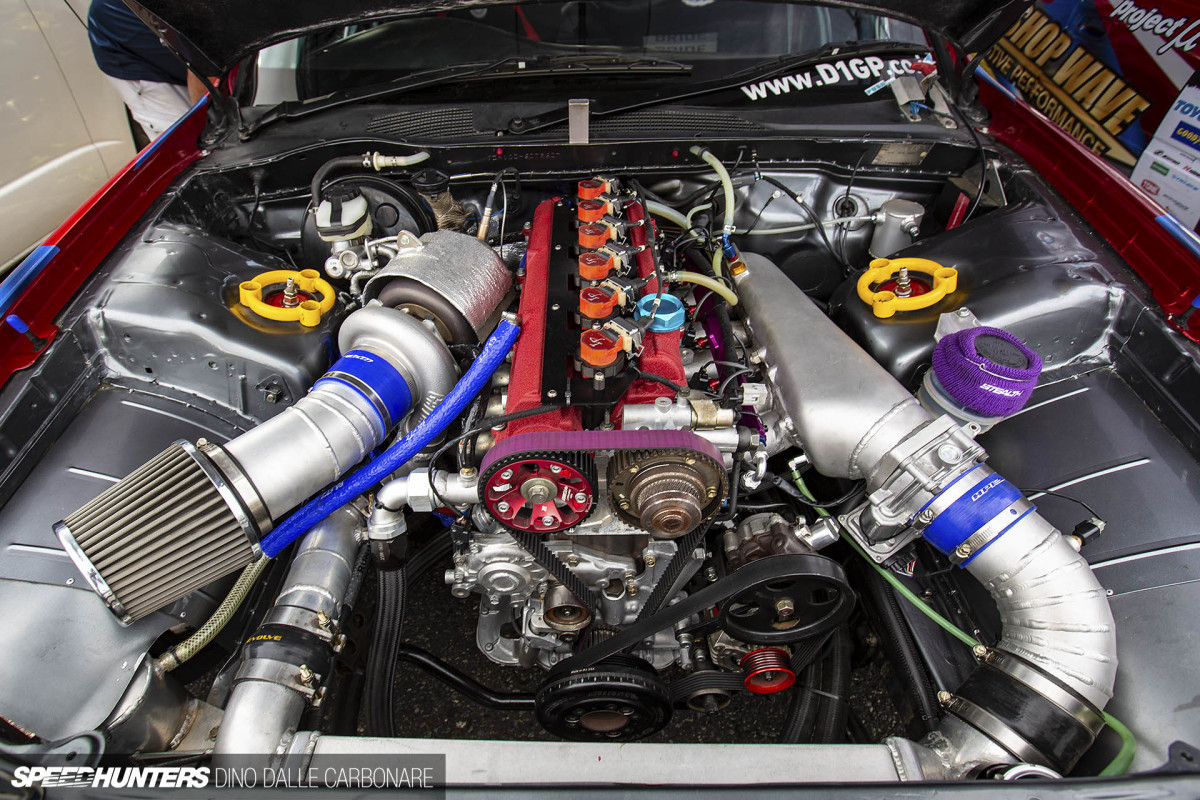 It's much the same story for Kitaoka's and Nakada's cars, one on a Tomei 3.6-litre, and the other on an HKS 3.4-litre with both around the 800hp mark.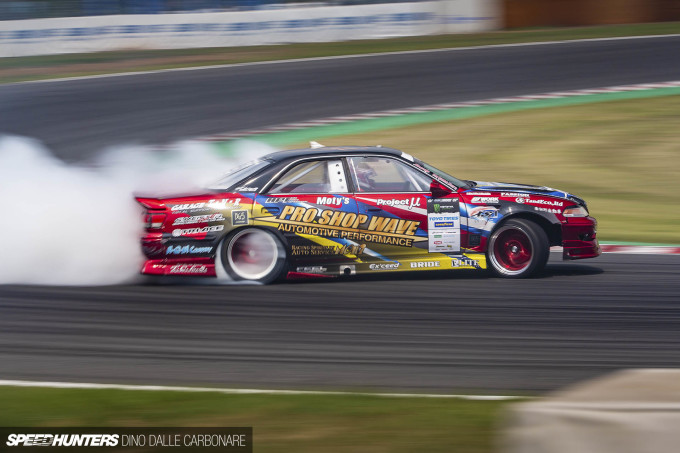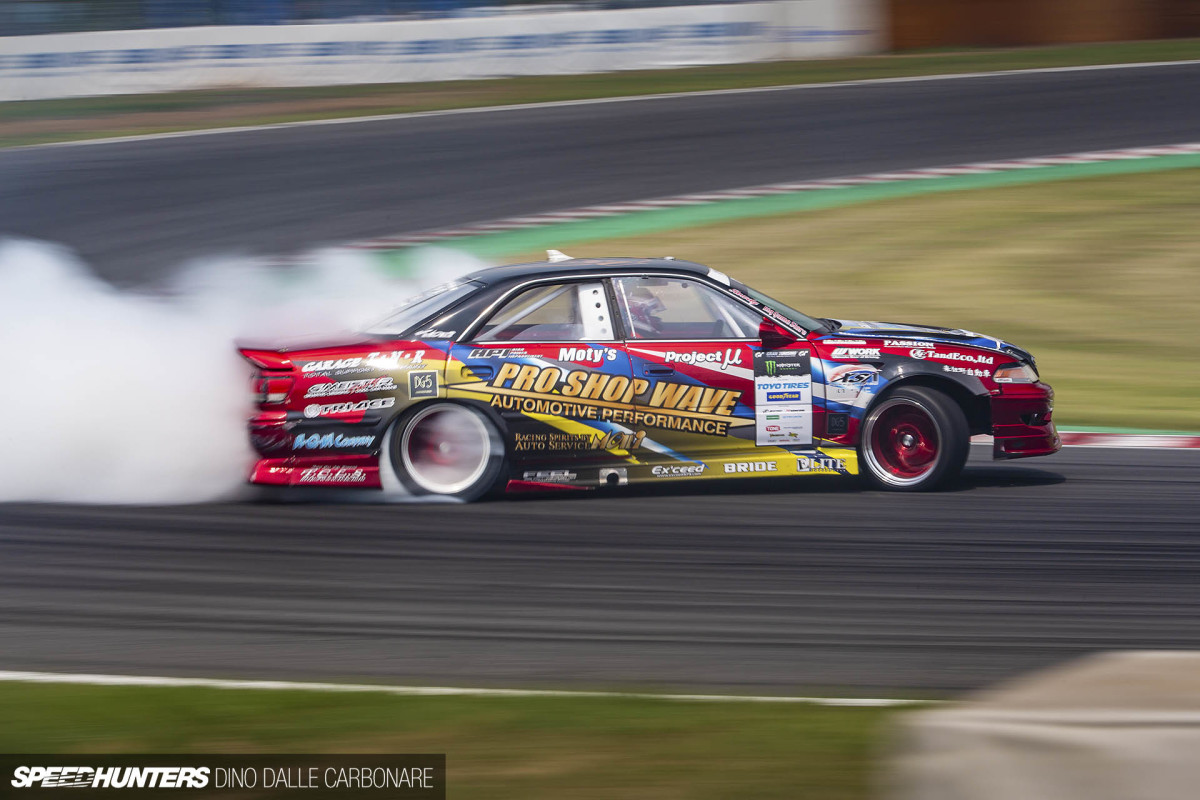 That all equates to tons of smoke and speed through Tsukuba's in-field judged hairpin.
Time For a Break!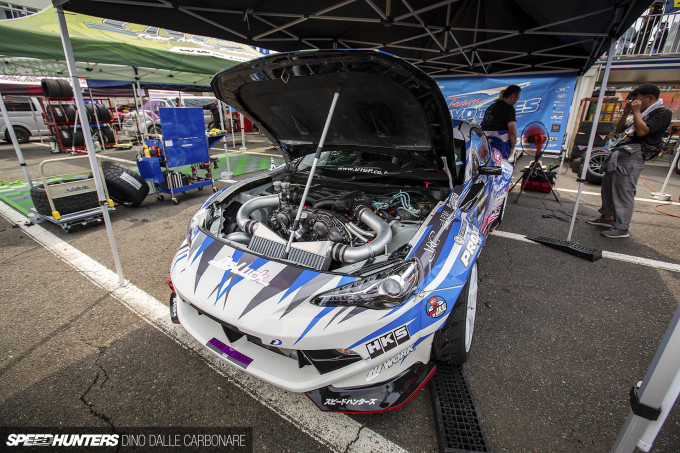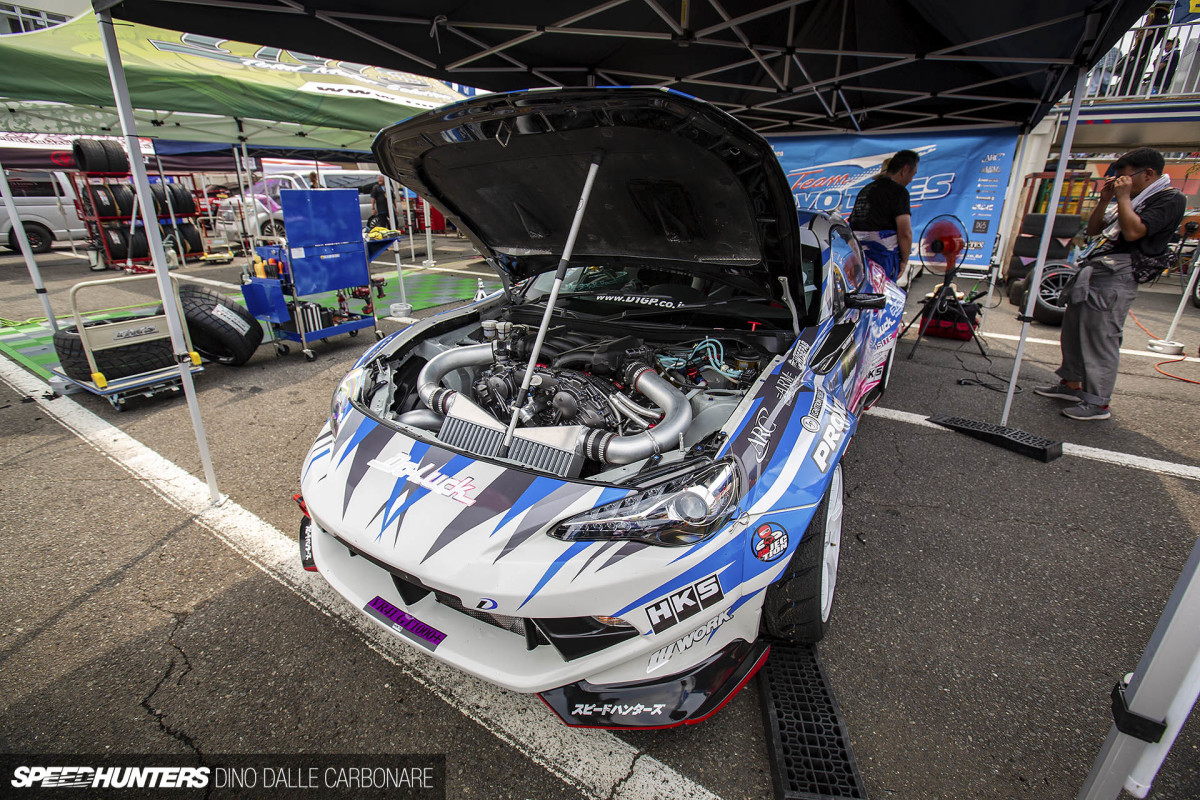 Had enough of the 2JZ yet? Shall we take a break?
I mean how can you fault drivers and teams leaning towards this solution when it continues to prove itself as unbeatable when it comes to power and reliability, the two most important things in modern day pro-drift car. But there are teams out there that really push the envelope, try new things, experiment and the results can really be impressive at times.
One such team is Do-Luck which has shoehorned a VR38DETT into Pon's ZN6.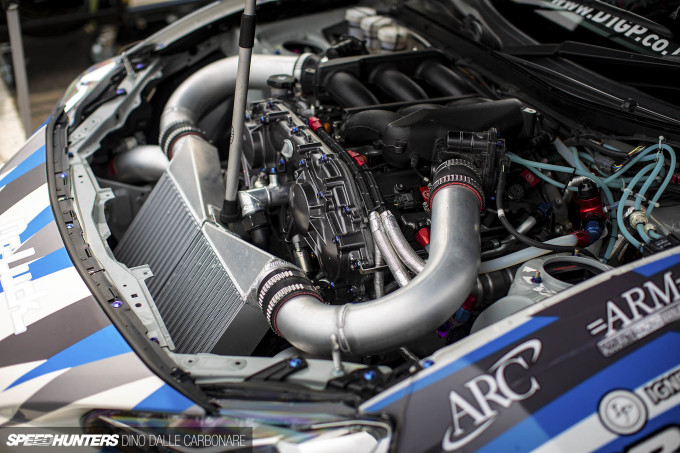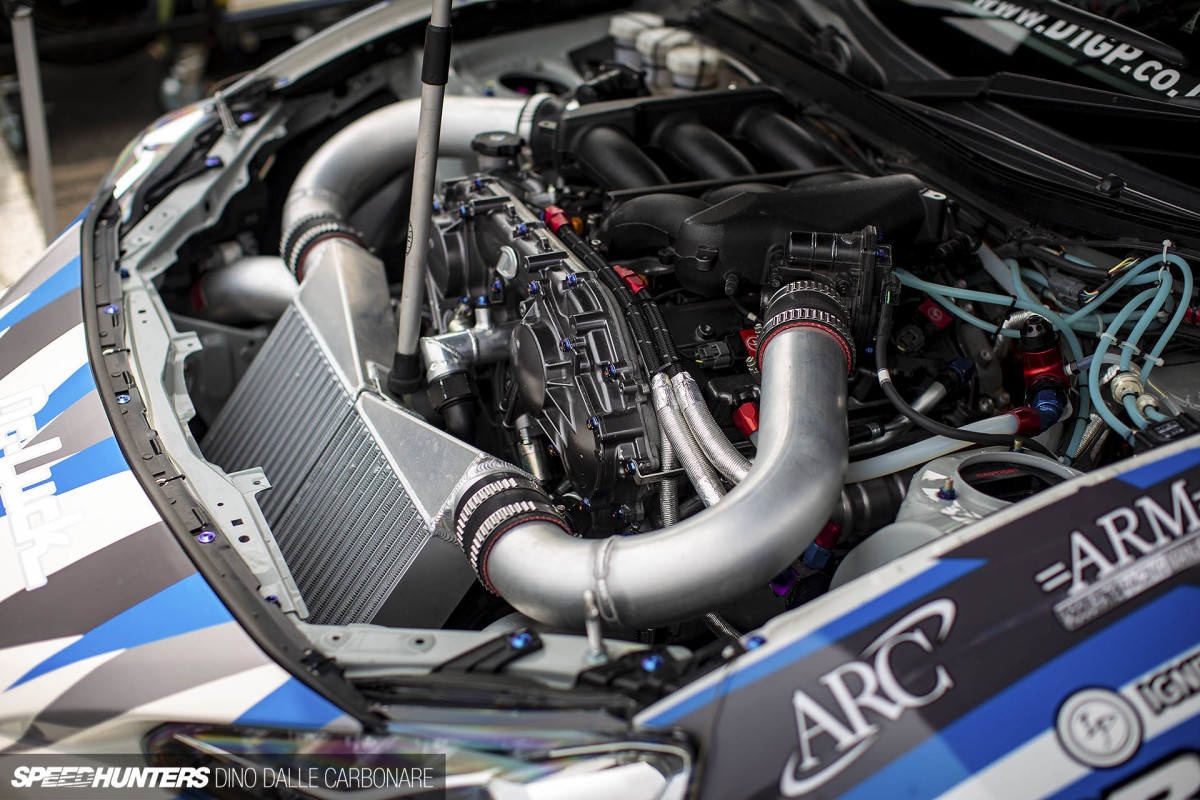 The 3.8-litre motor is mated to HKS GT1000+ turbochargers which effortlessly churn out 1100hp. I'll go into more detail when I bring you the build feature of this car, but as you can see packaging wasn't exactly straight forward, which is why ARC stepped in with a custom intercooler set up.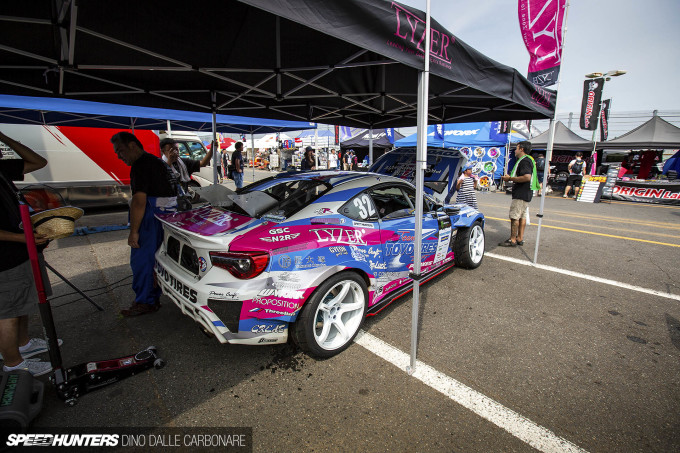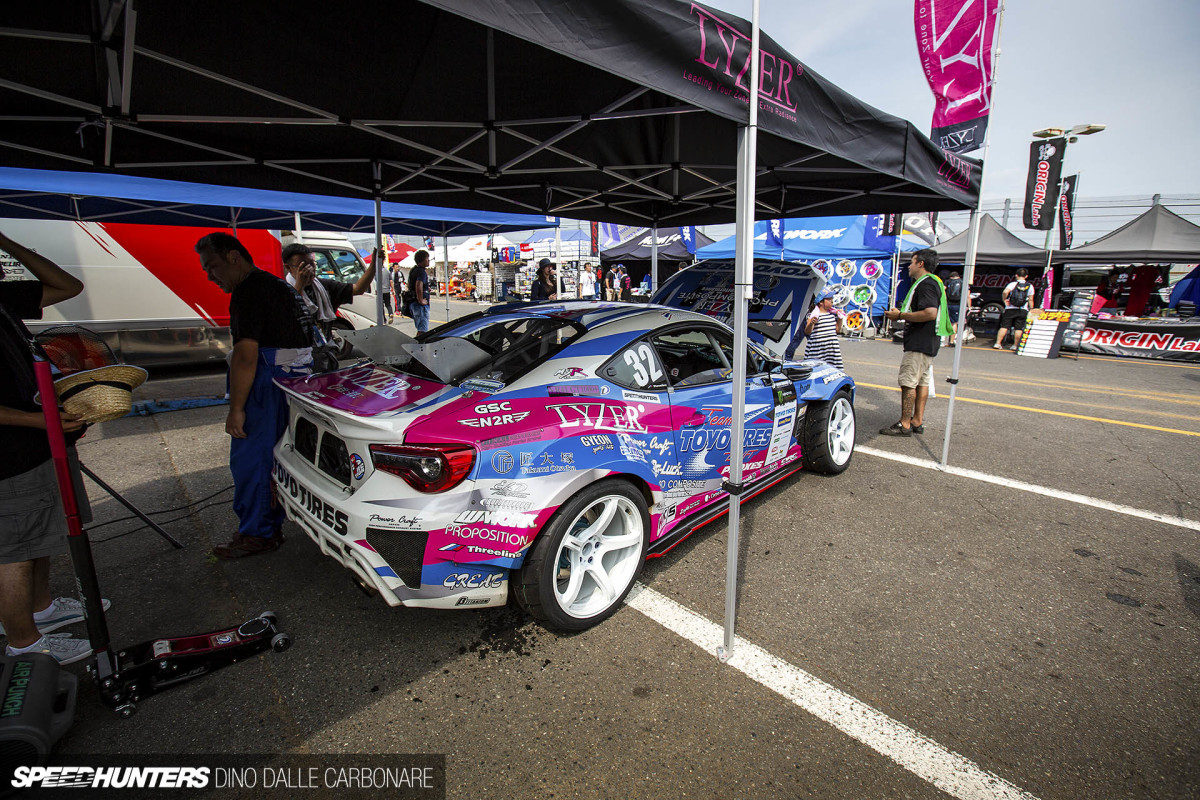 The radiator has been moved into the trunk together with other ancillaries like the oil tank for the dry sump system.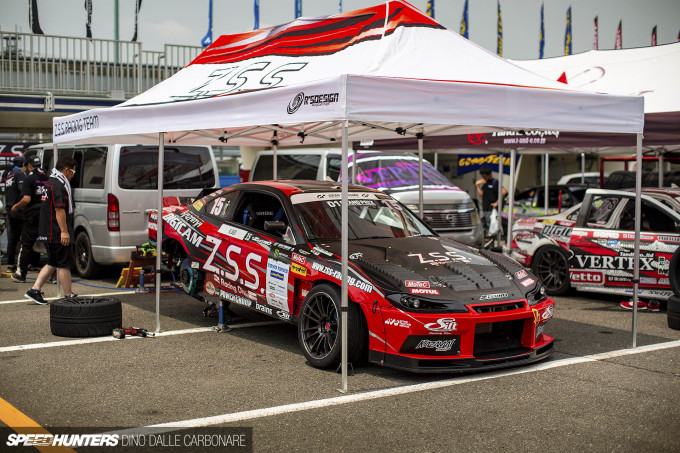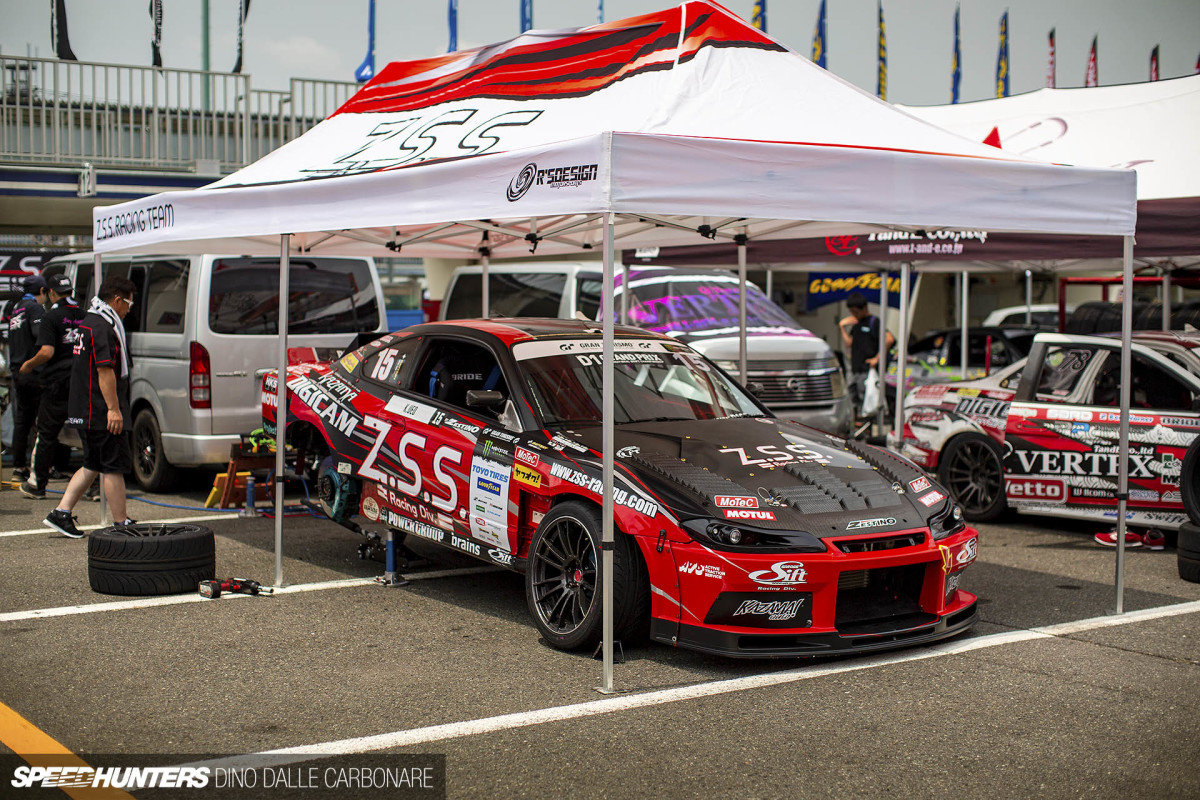 Another VR38 swap in the paddock was Ueo's S15, which is the first combination of its kind that I've seen, and reminds me of the Ben Sopra 180SX from a few years back. So yes, still an S-chassis, but different generations.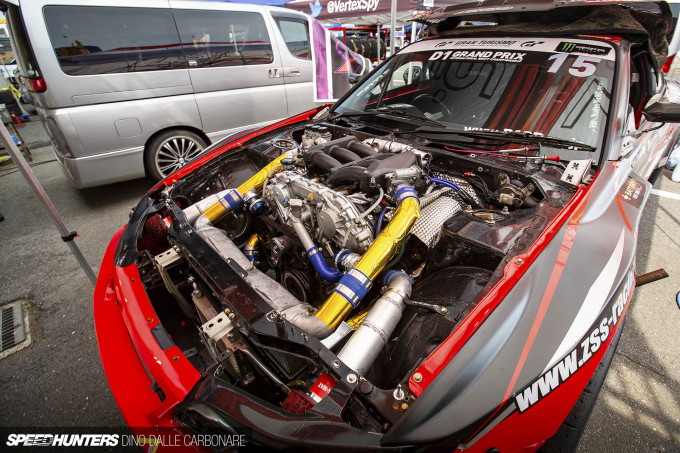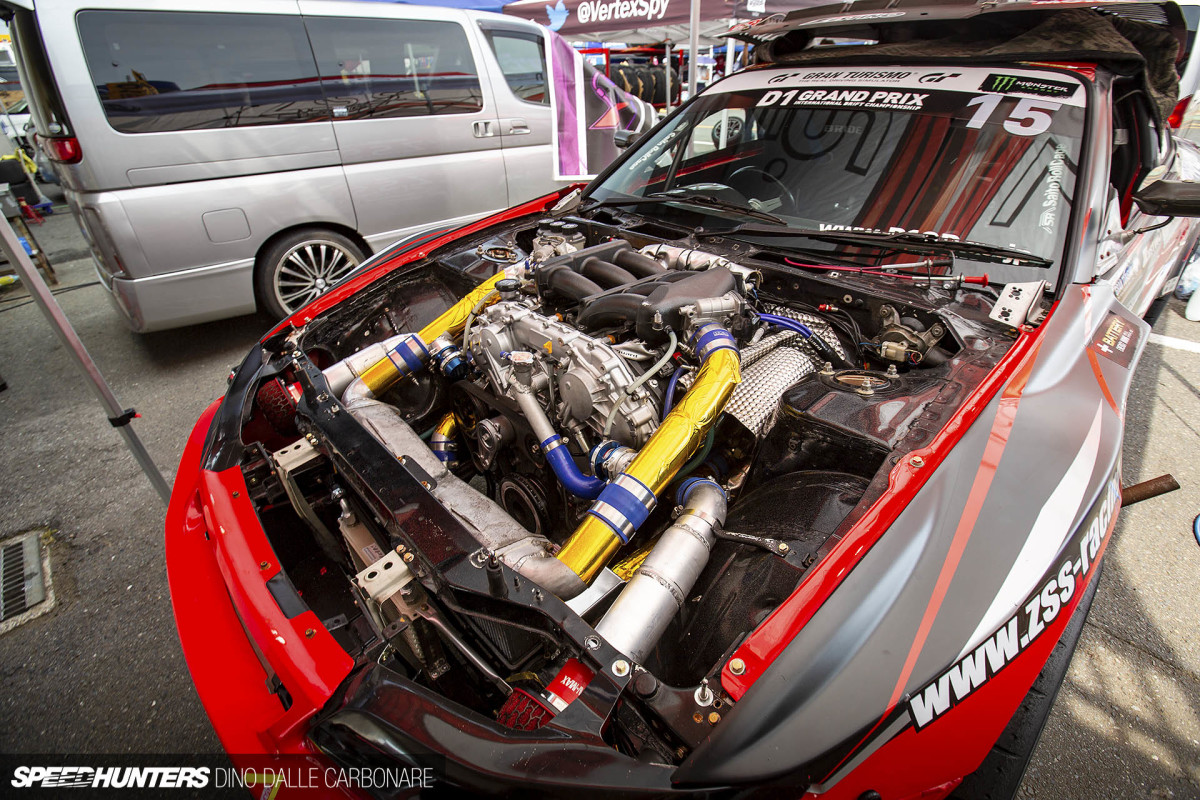 The stock capacity has been retained on this engine too, while it uses slightly smaller HKS GT1000 turbos for 930hp. I'm sure a tweak of the boost setting can see power easily reach the magical four figures. Wild.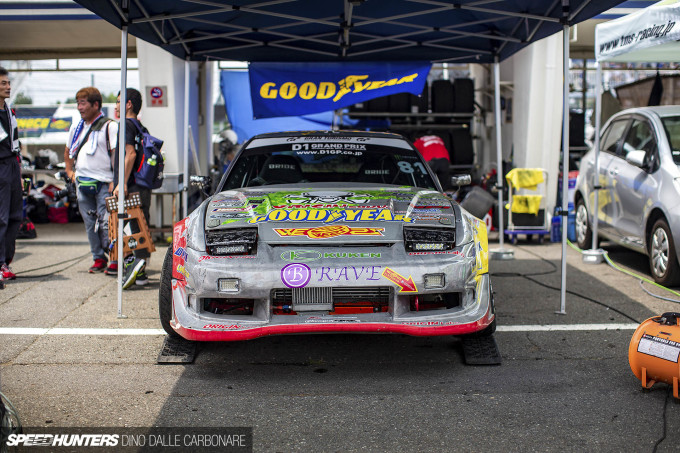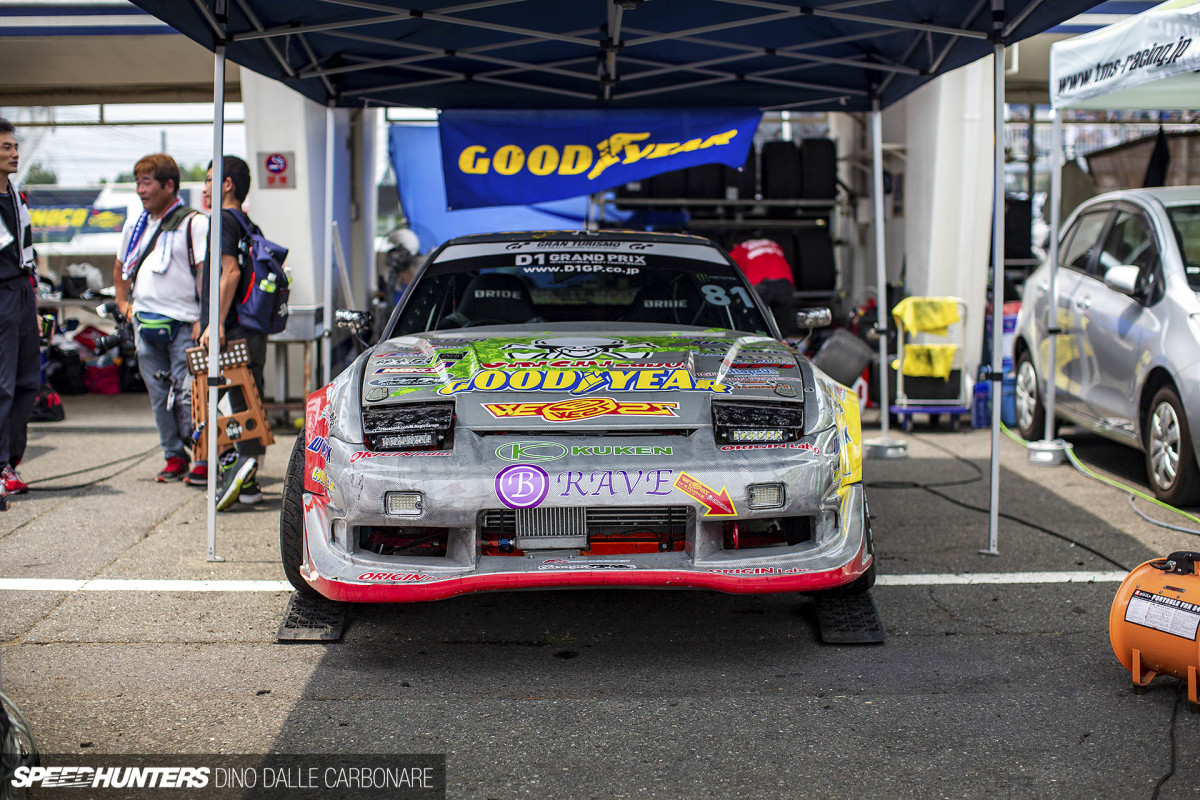 I take my hat off to Chunky Bai, who has stuck with his trusty SR20 in his RPS13. If you recall we checked his car out some years back at Origin and drooled over his 750hp SR22 with a VE head.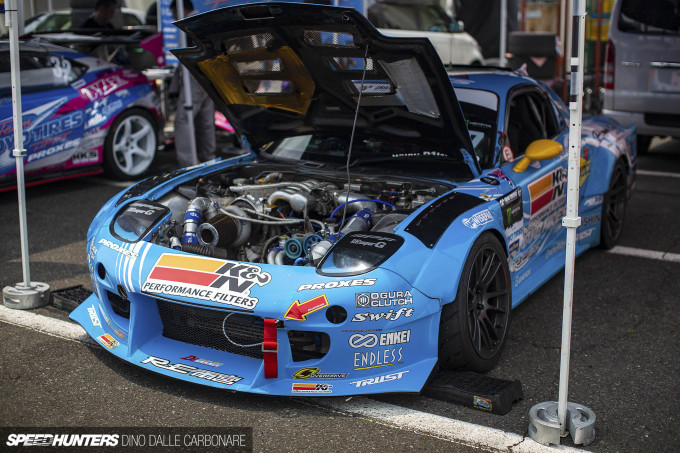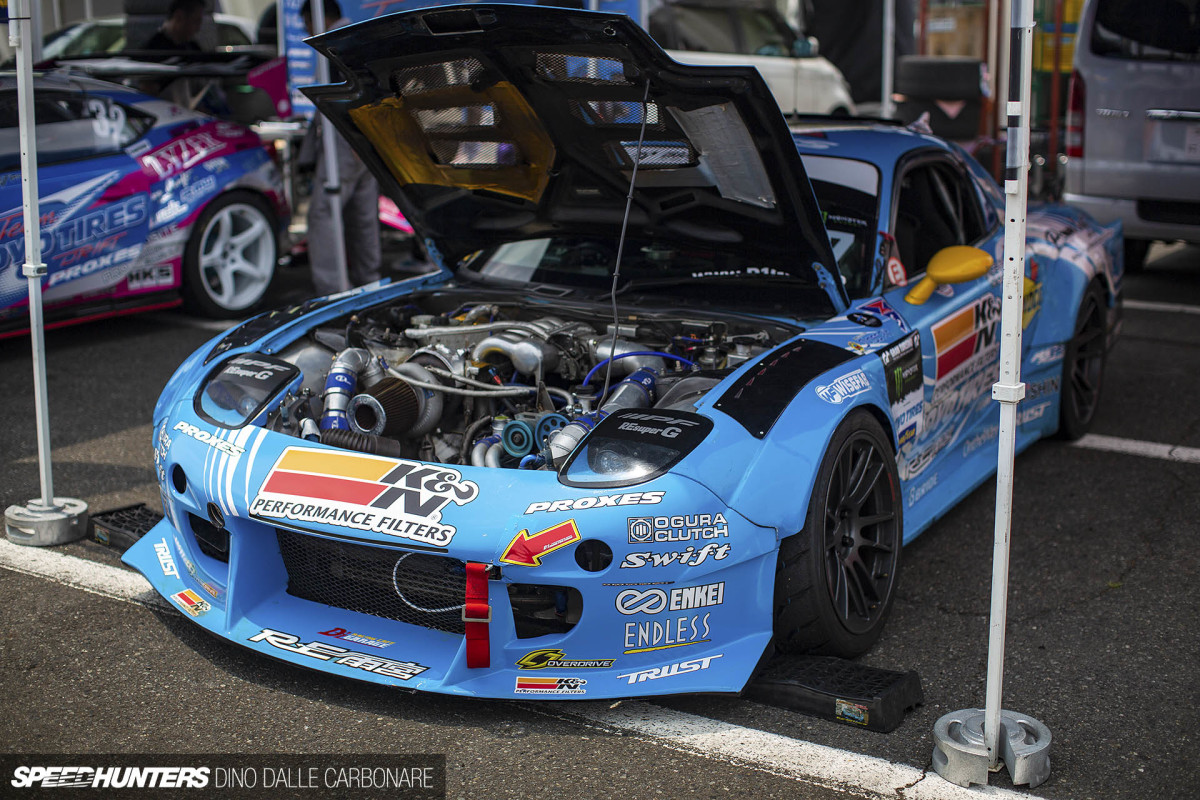 Here's another breath of fresh air, RE-Amemiya's 3-rotor FD which was built in collaboration with K&N and piloted by Yukio Matsui.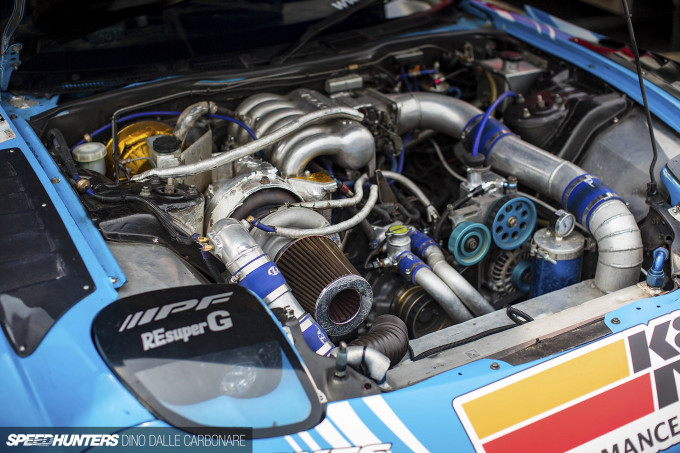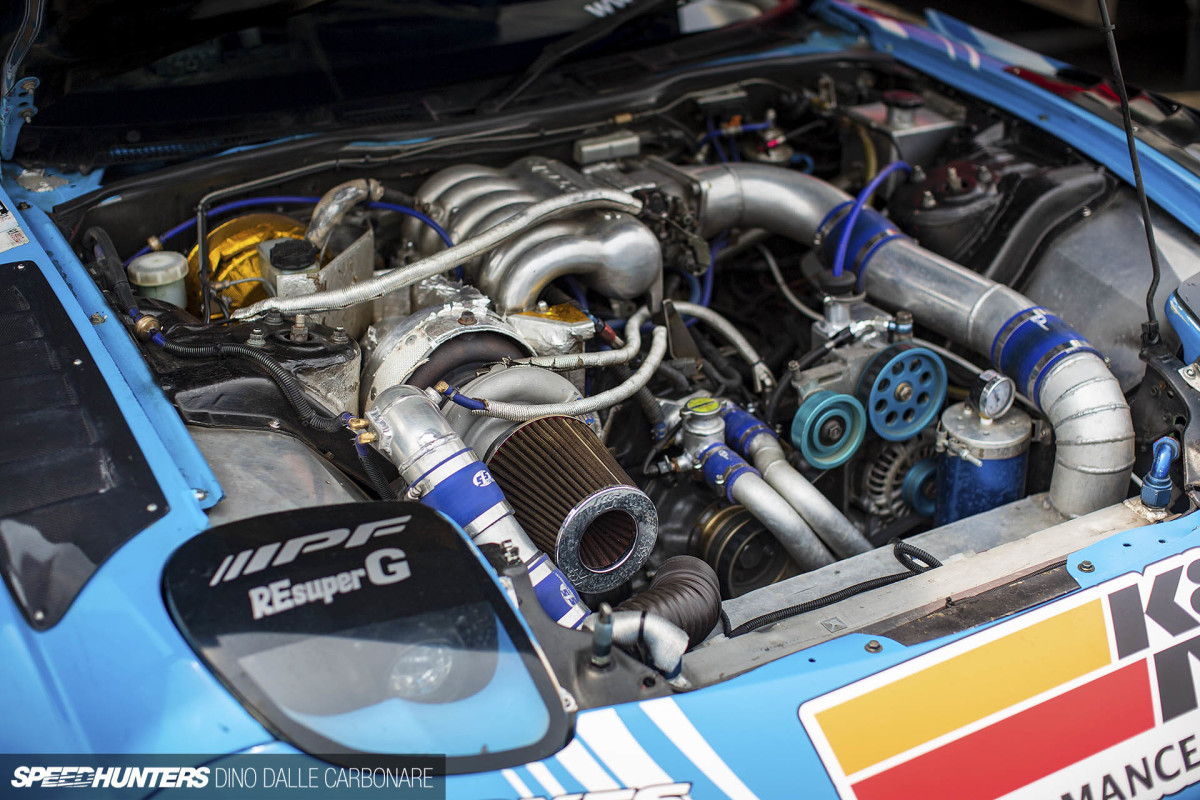 This thing sounds pretty epic under full power, there's just something so right about a tri-rotor setup like this. With all the exhaust pulses the Wankel throws out, it's even able to wake up the old T88 and make it semi-responsive throughout the rev-range.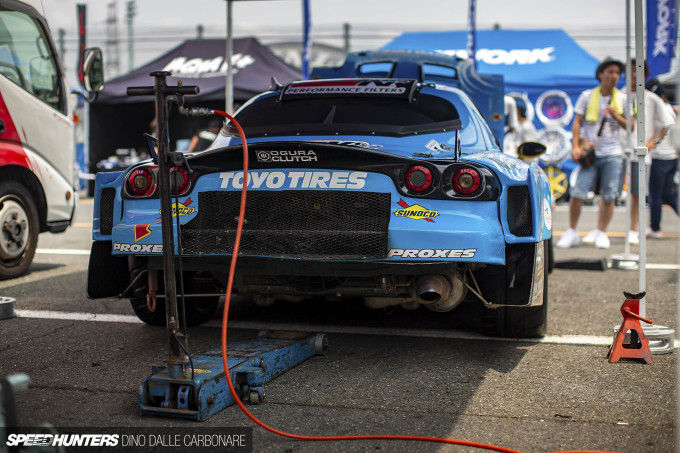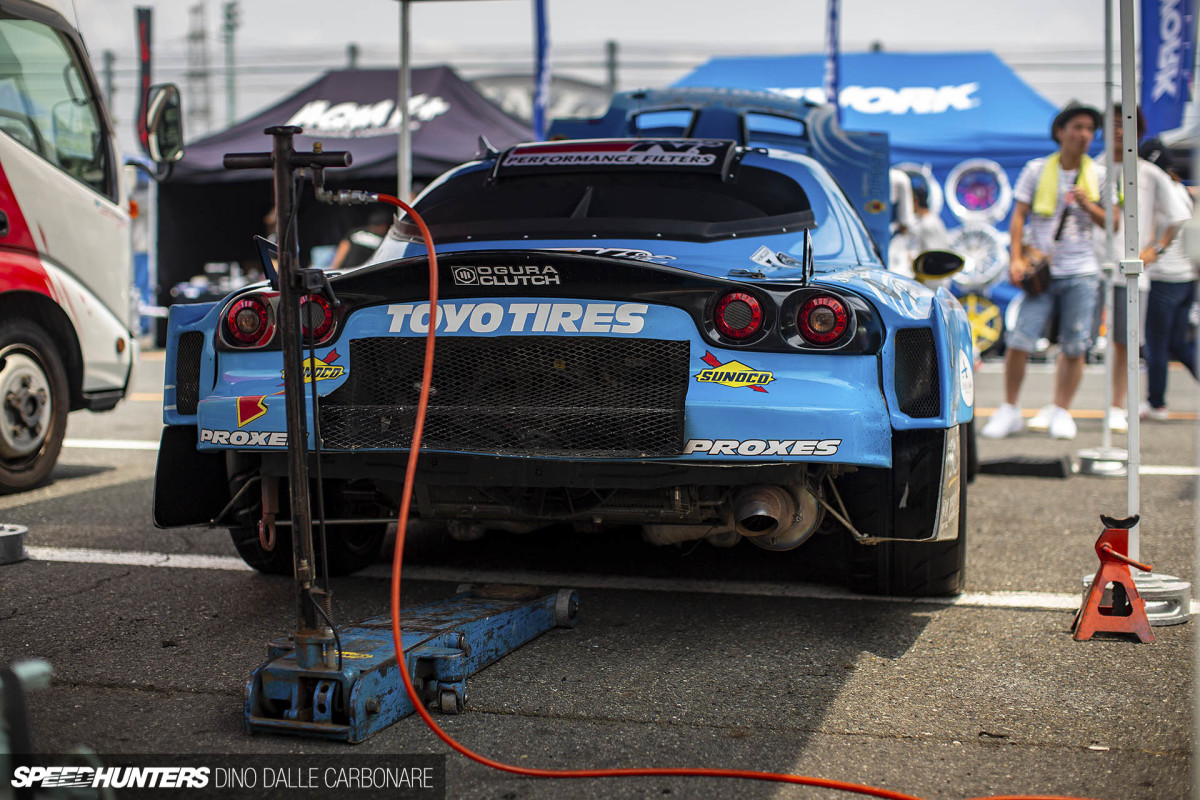 The 700hp that are developed here are sent to the rear Hewland transaxle sequential, making this one serious race machine. As you can tell, like a lot of other cars in the paddock, drivers opted to have the rear GT wing removed for this round at Tsukuba.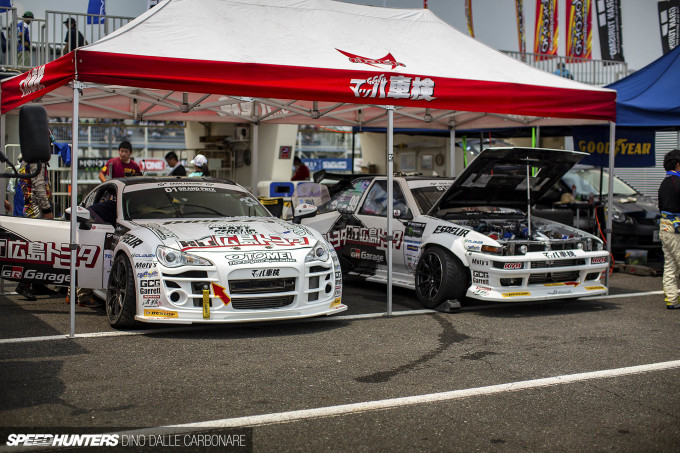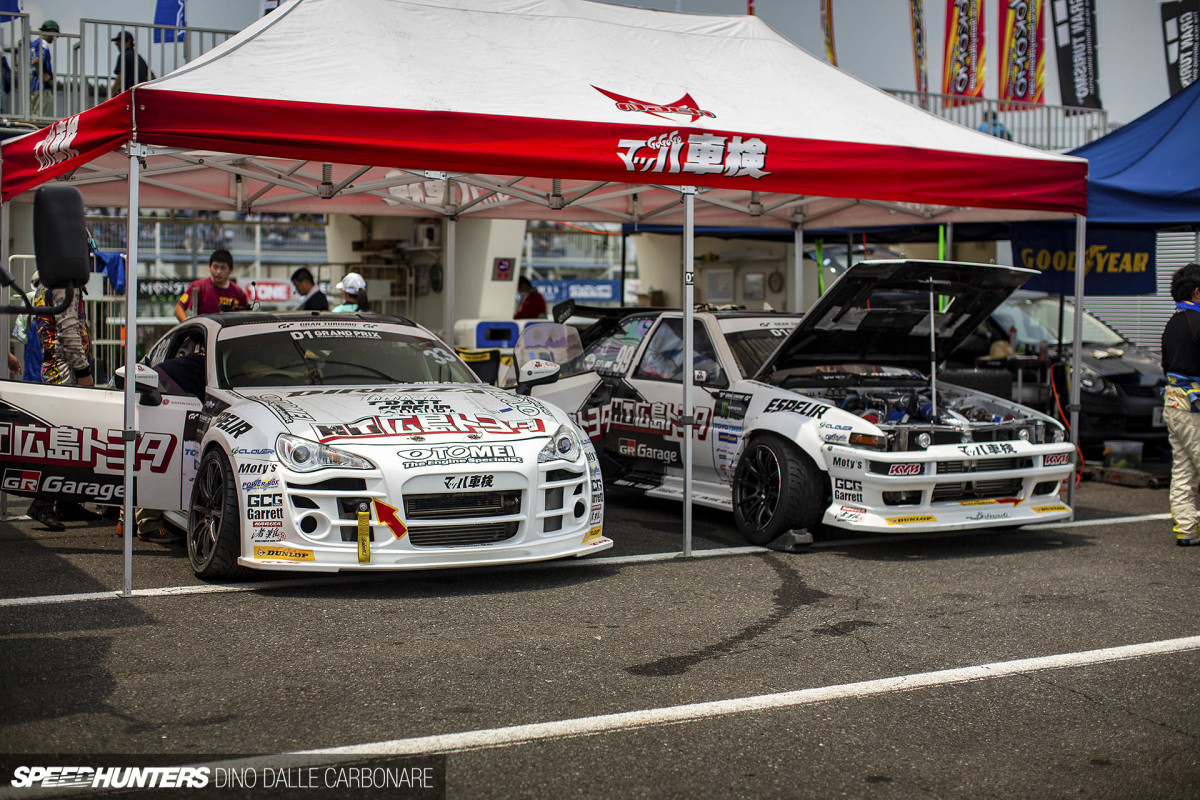 Under the Team Droo-P tent there were a couple of other interesting cars, one being Hayashi's 600hp 2.6-litre EJ25 powered ZN6 which I never managed to get a proper look into its engine bay. This is the only '86 that has at least stuck to its stock boxer layout, albeit a little massaged… or completely swapped out altogether. But still, you get what I'm taking about it.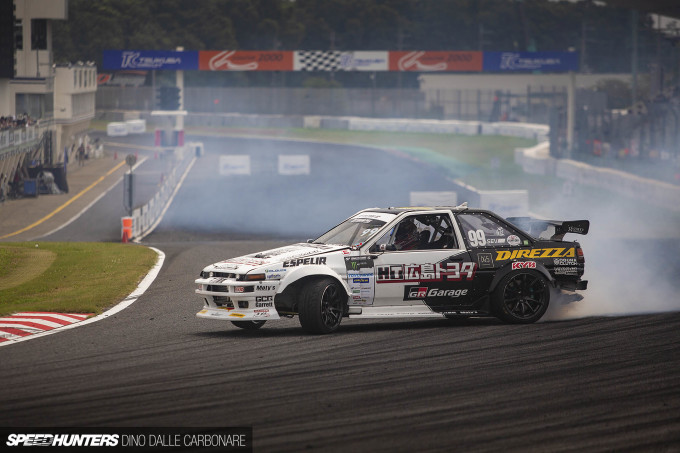 The older '86 sitting next to it is the one that will really catch your attention.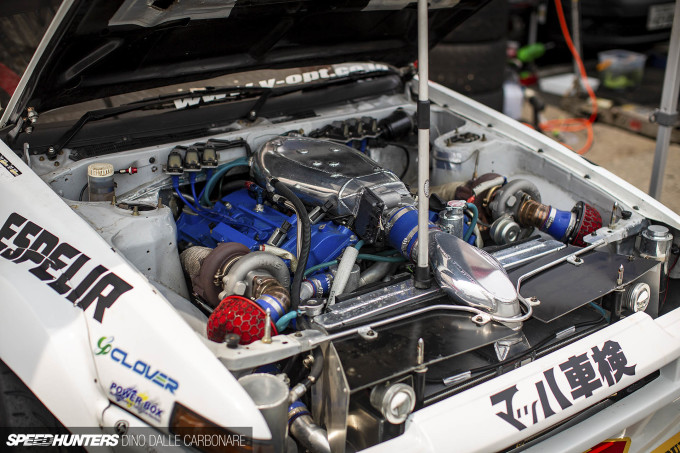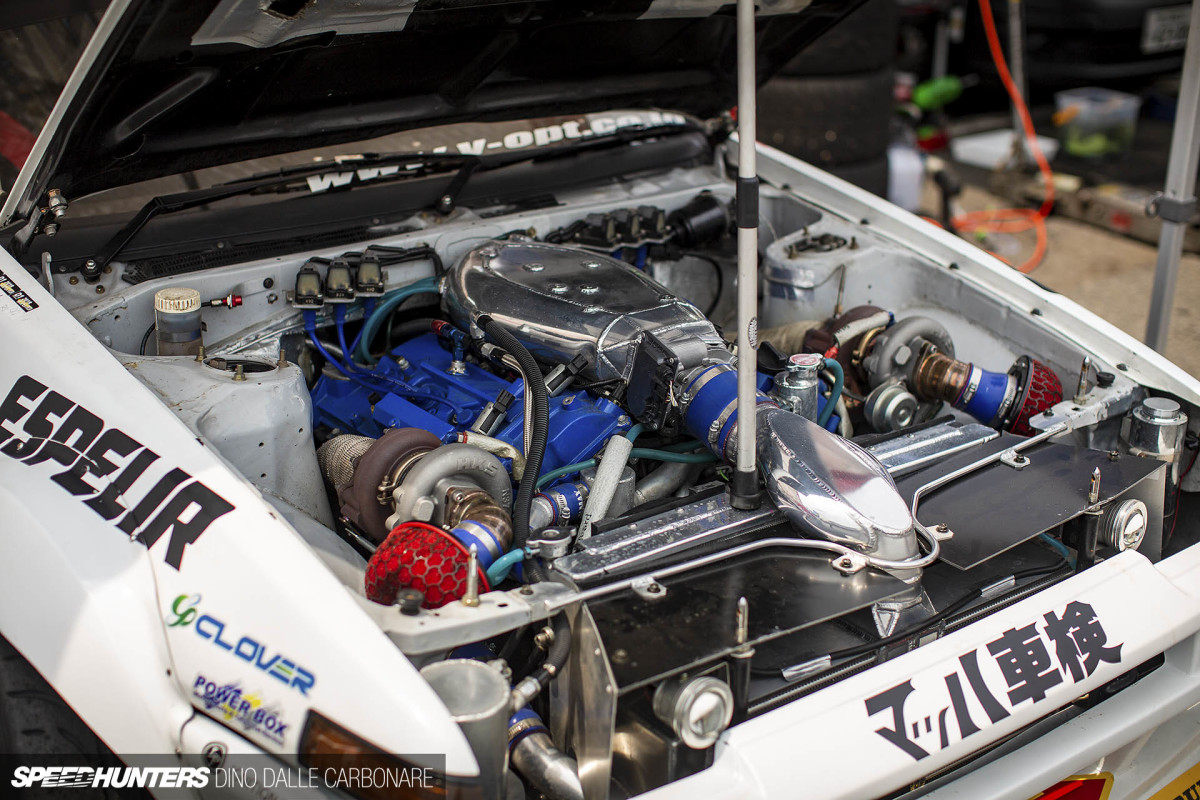 To start off, this has all been kept in the family as the V6 you see in there is a Toyota 2GR-FSE, the direct-injected 3.5-litre that powers Mark Xs, Crowns and any Lexus with a '350' after its name.
Except in this case, Droo-P have twin turbocharged it with a pair of HKS GT3-RS turbos.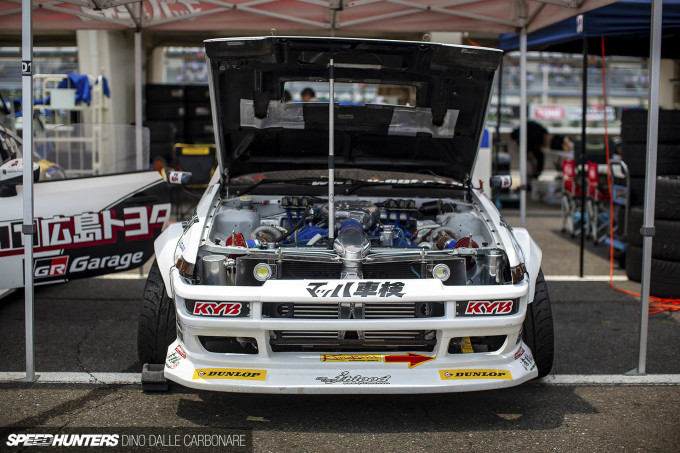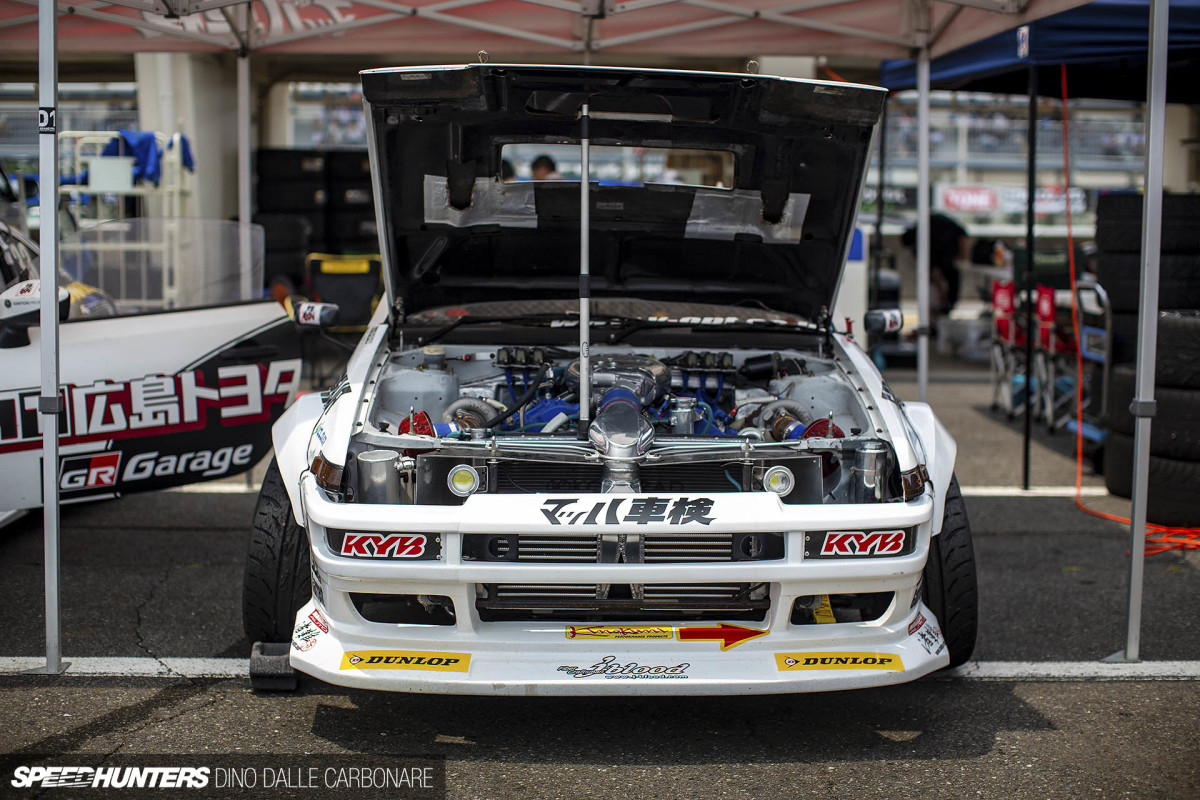 The result is 712hp…. in an AE86. Now, that sounds like a recipe for serious fun.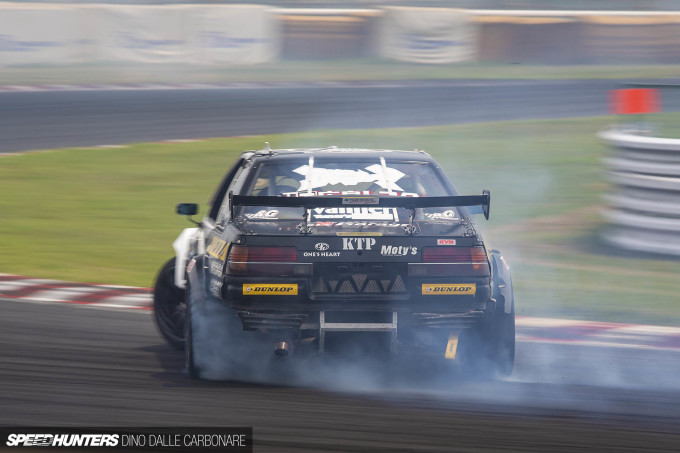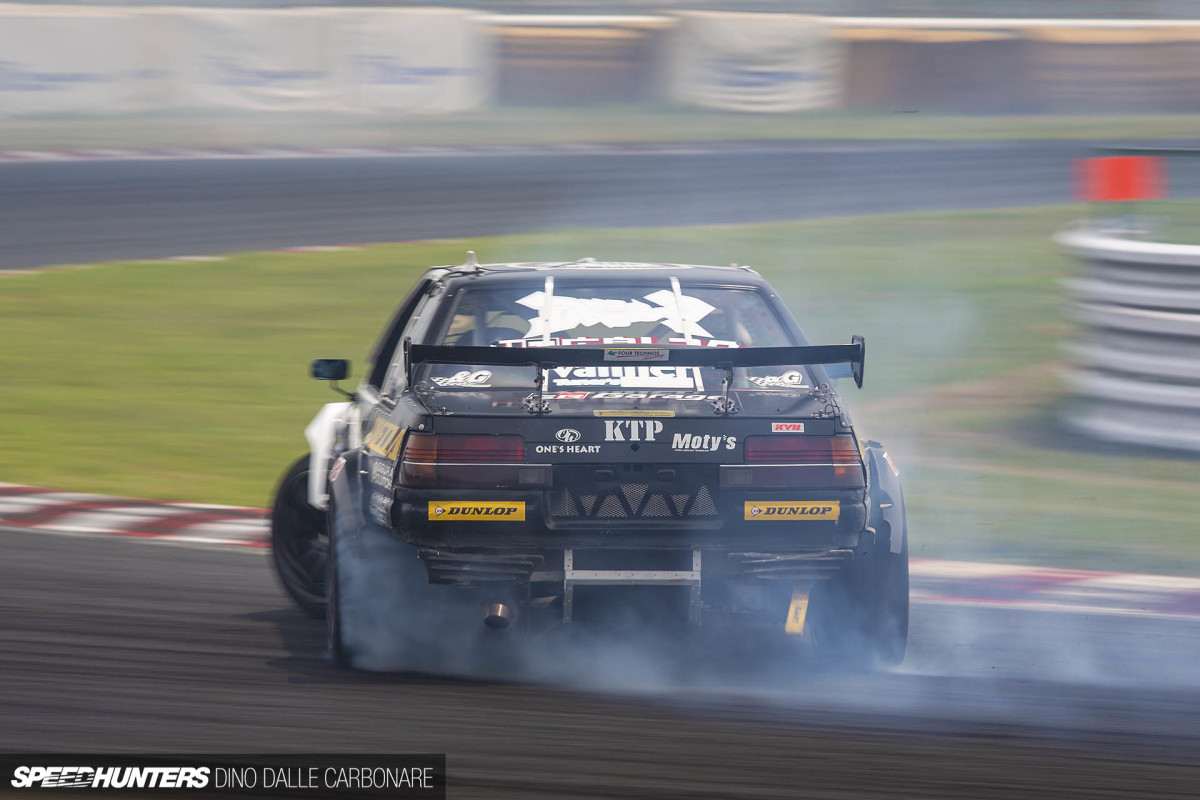 Drive is handled by a G-Force 4-speed, and yes, it does perform and sounds pretty epic. A 2JZ might have been easier, but this gets the respect from the people really appreciate it. Well done Droo-P.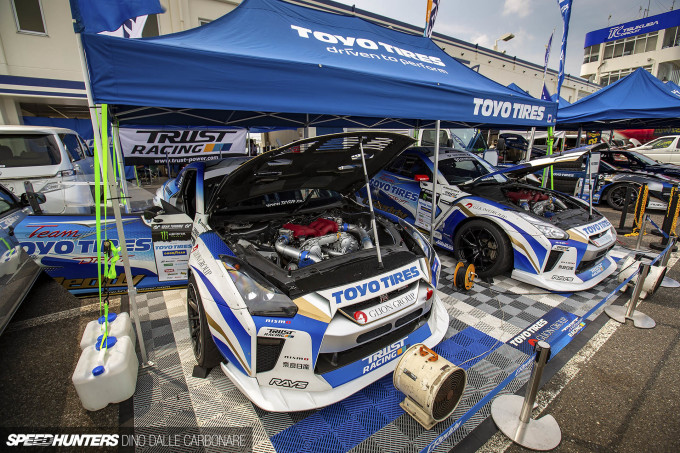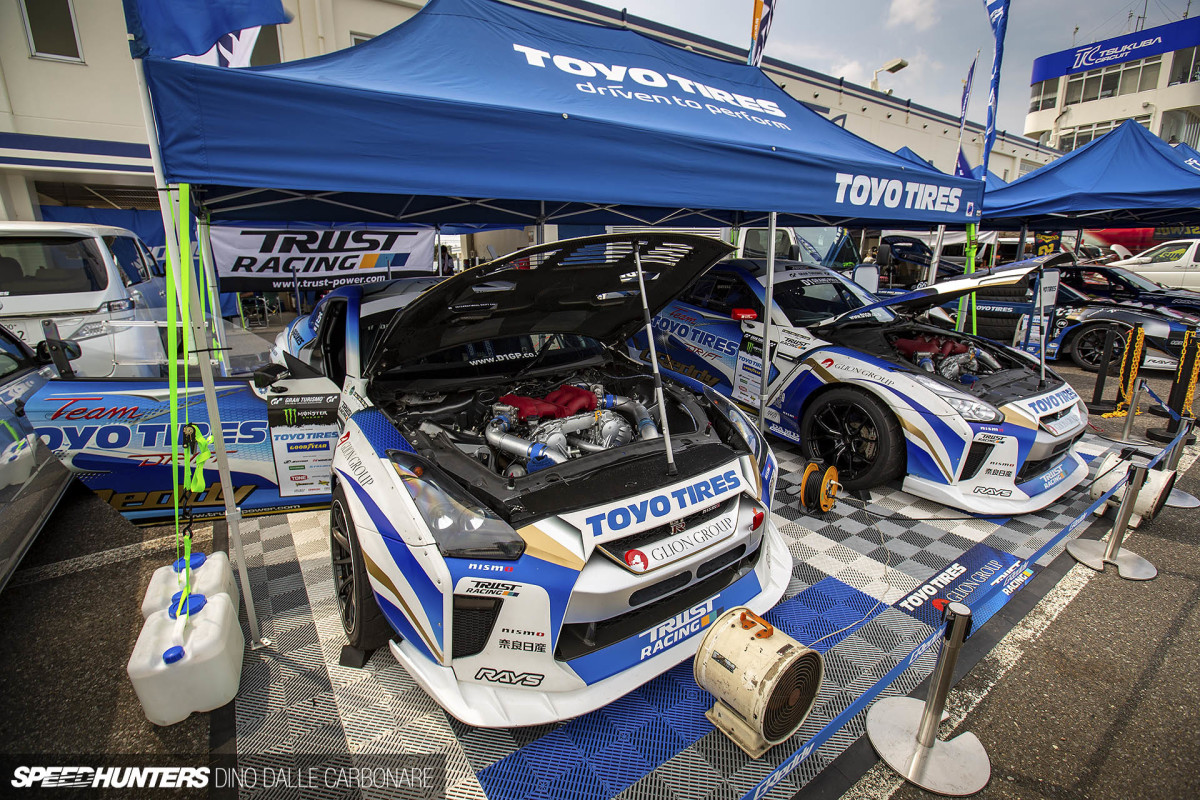 The Glion-Trust Toyo Tires GT-R pair are another impressive sight to see out in action. So much power with so much weight being tossed around, and both drivers – Kawabata & Suenaga – are masters of their craft as they extract some serious performances from these 1000hp GT-Rs.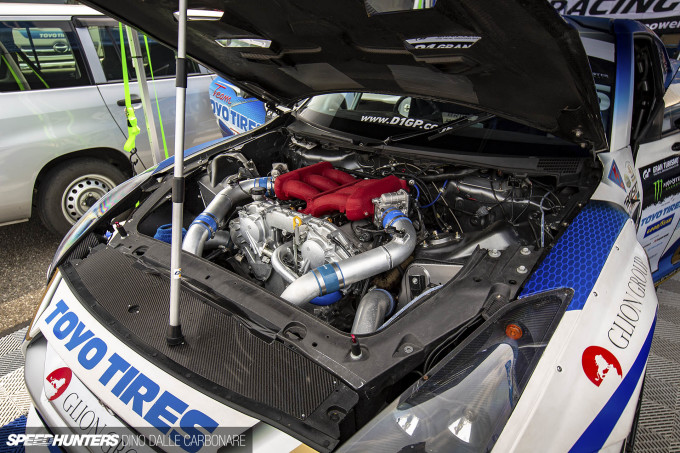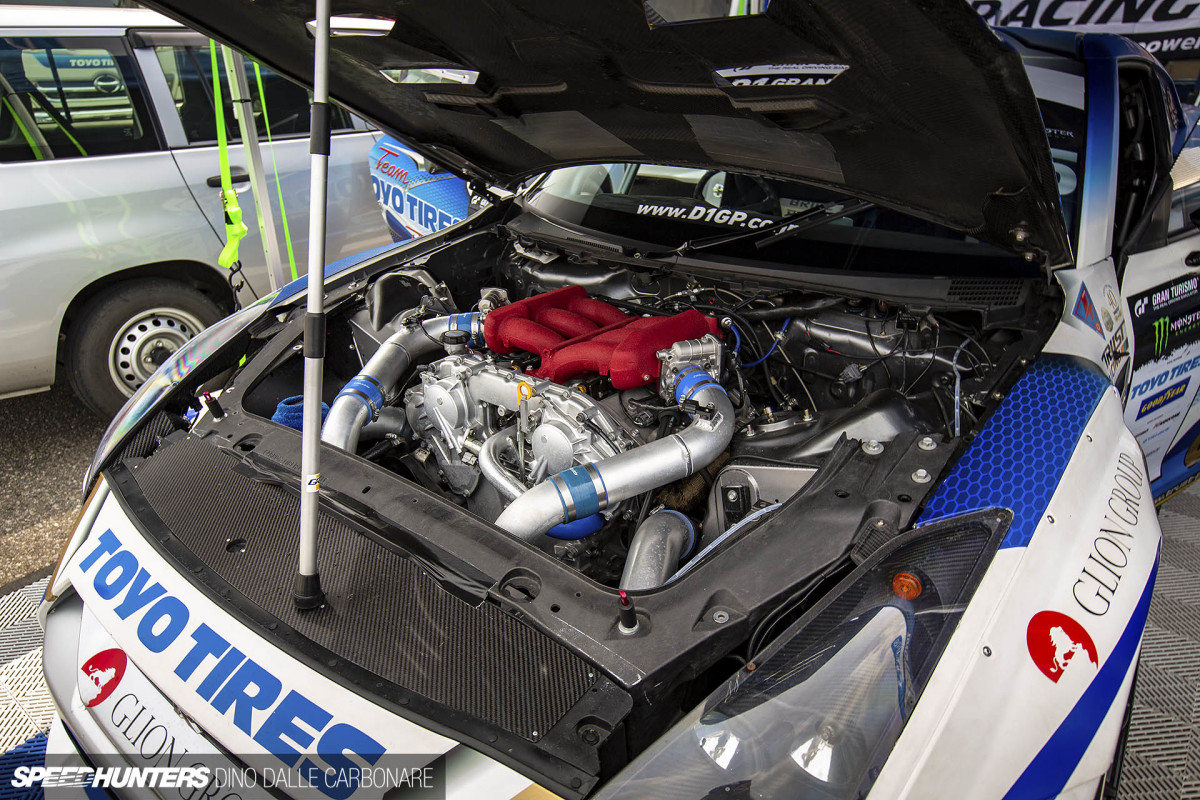 As with most big power VR38 setups, there isn't really much to see, as the good stuff is usually hidden away. Both cars run a Trust 4.0-litre stroker, but Kawabata has opted for the smaller TD06SH-20G twin turbo set up rather than the 22G variant used in Suenaga's car. The bigger turbos give an 160hp for a maximum of 1060hp, but the smaller turbos will offer better spool. It's down to driving style more than anything else.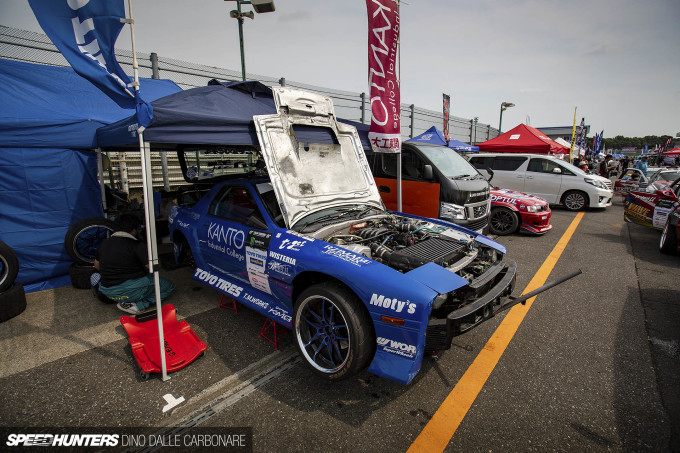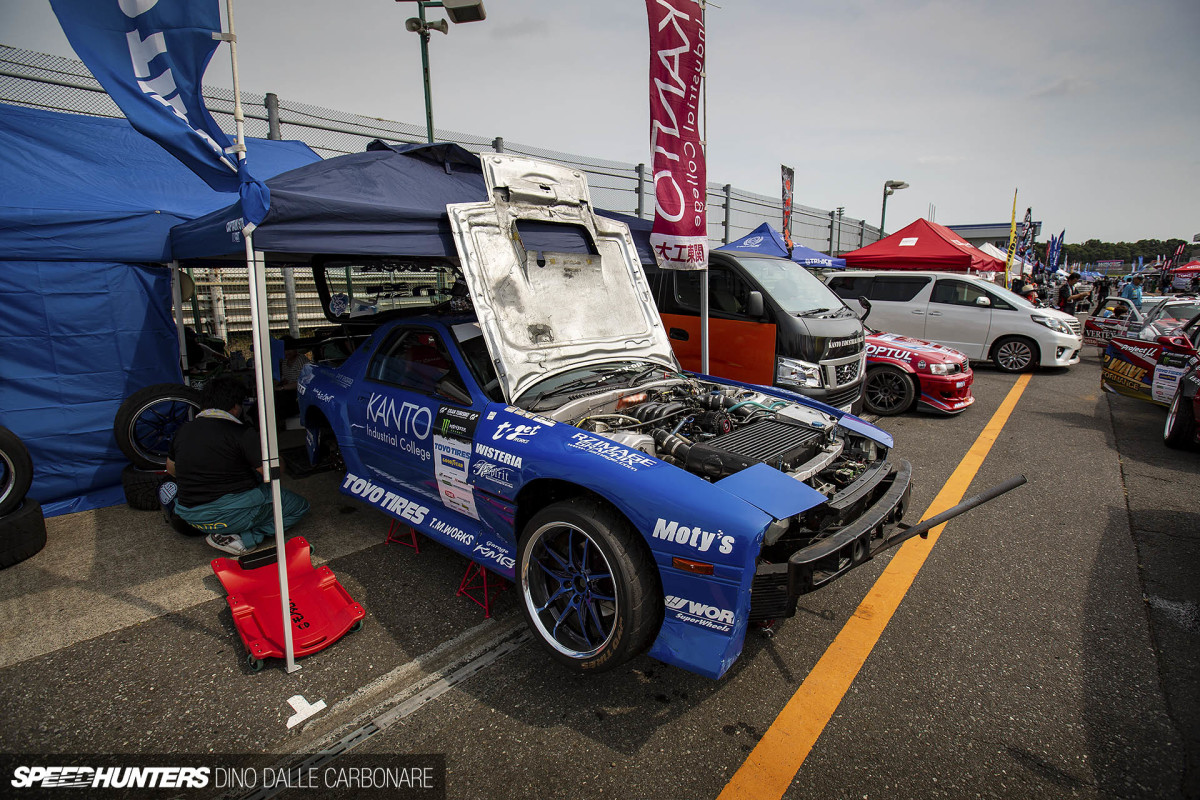 More rotary power, from more Japanese drift royalty.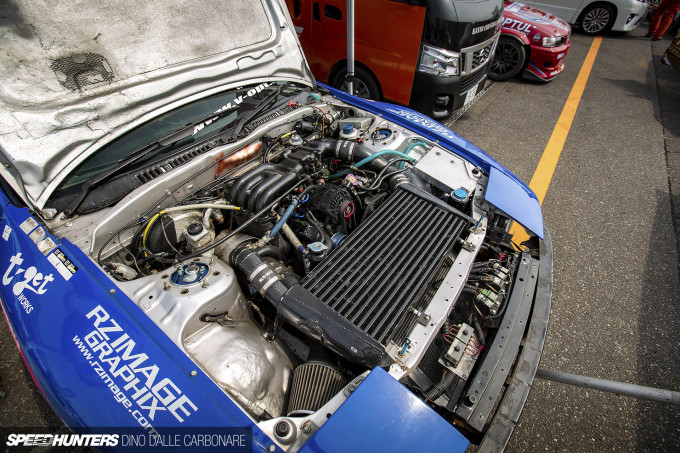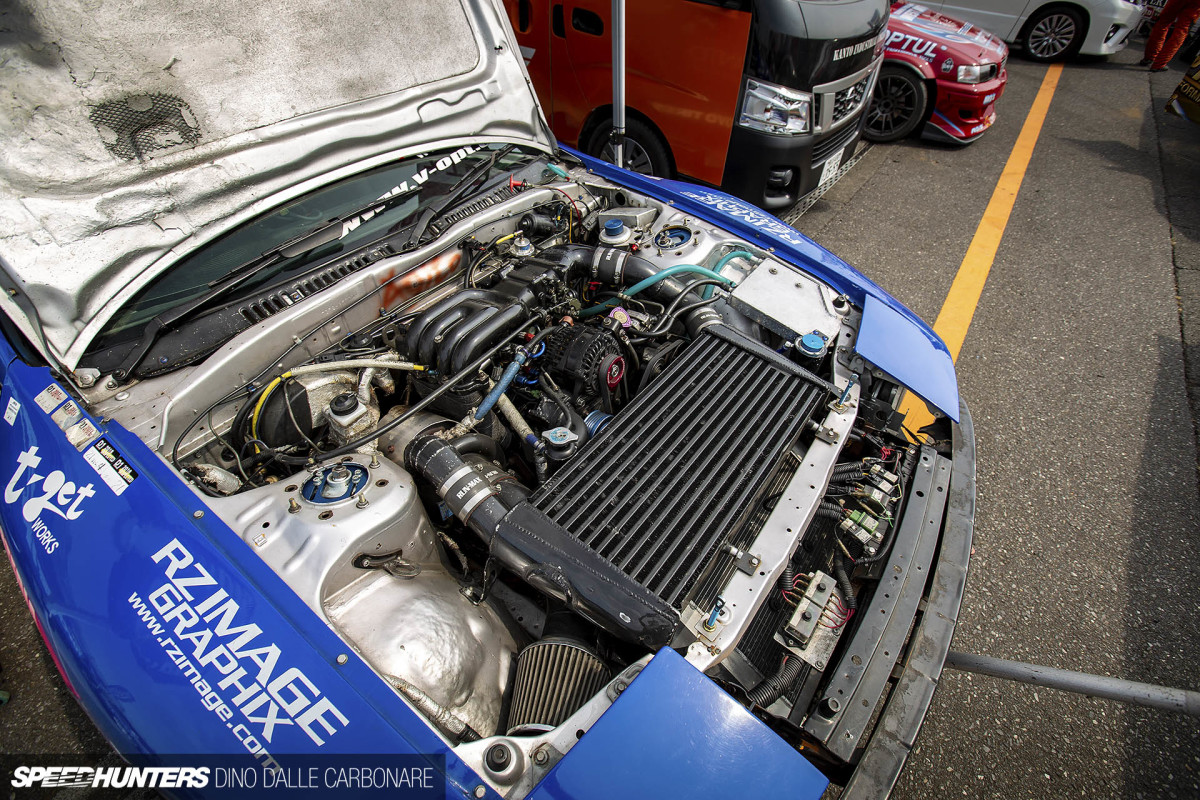 Man, was I pleased to see the Drift Samurai still at it with his FC doing his own thing. At 500hp, his 13B/T78-33D setup makes it one of the least powerful cars in the field, but whatever it lacks in outright numbers, it more than makes up for it with looks and style.
2JZ Fever?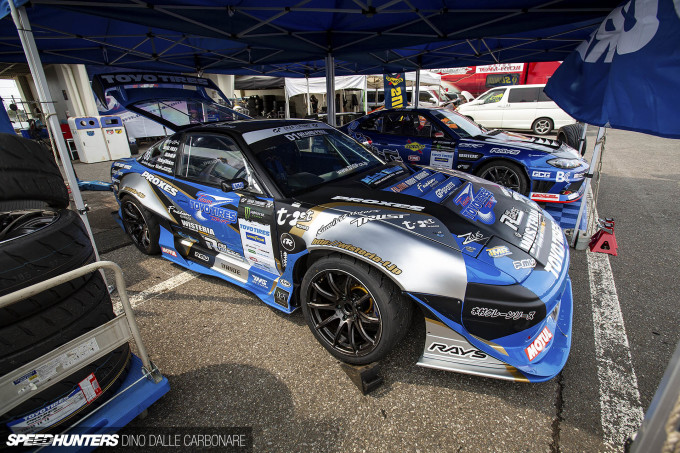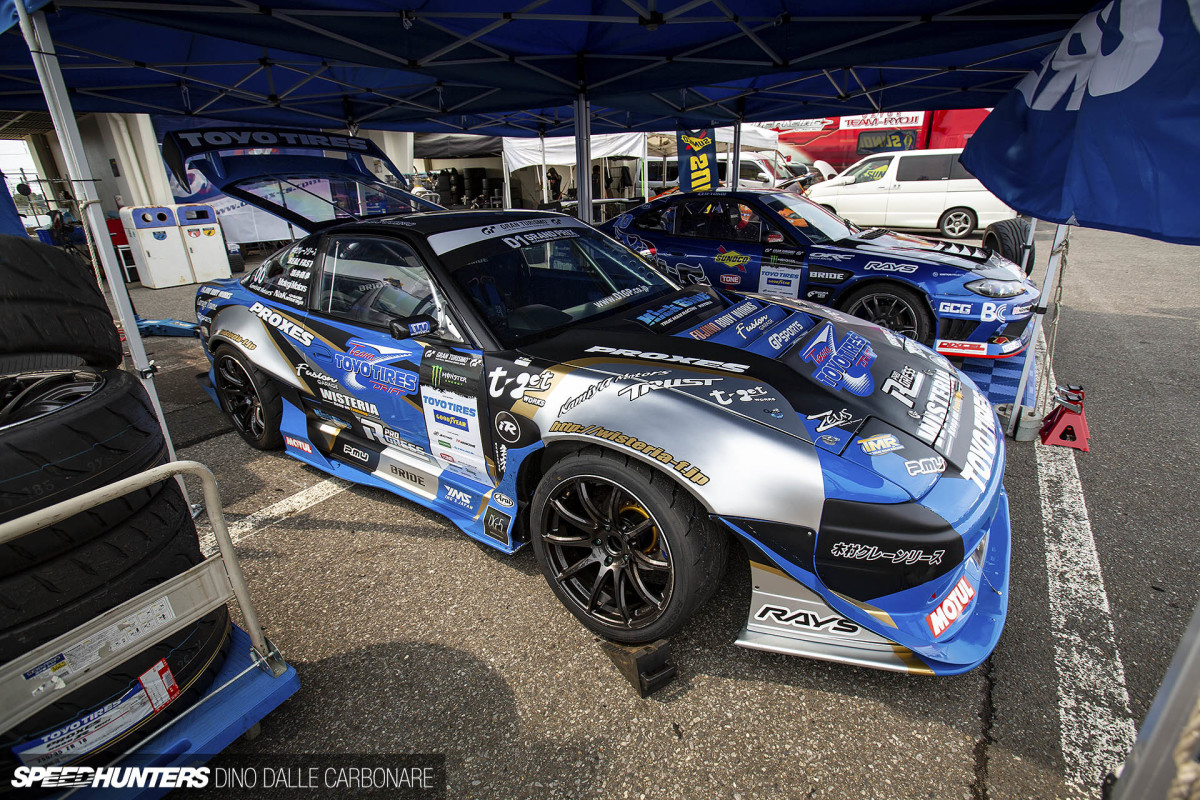 And we are back to more 2JZs, thanks to the Wisteria RPS13 of Fujino. 850hp of howling straight six might.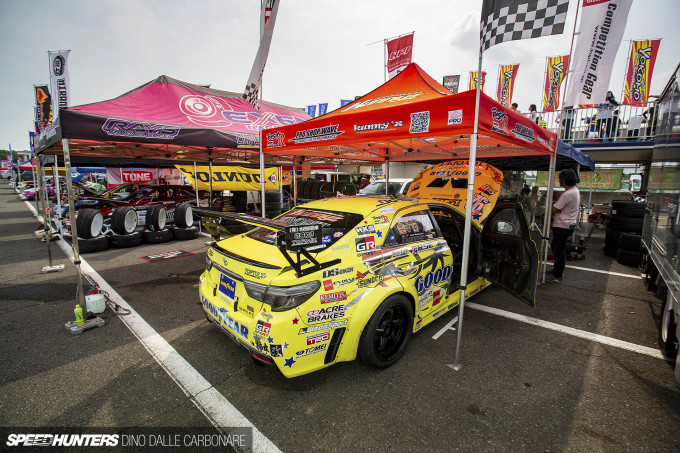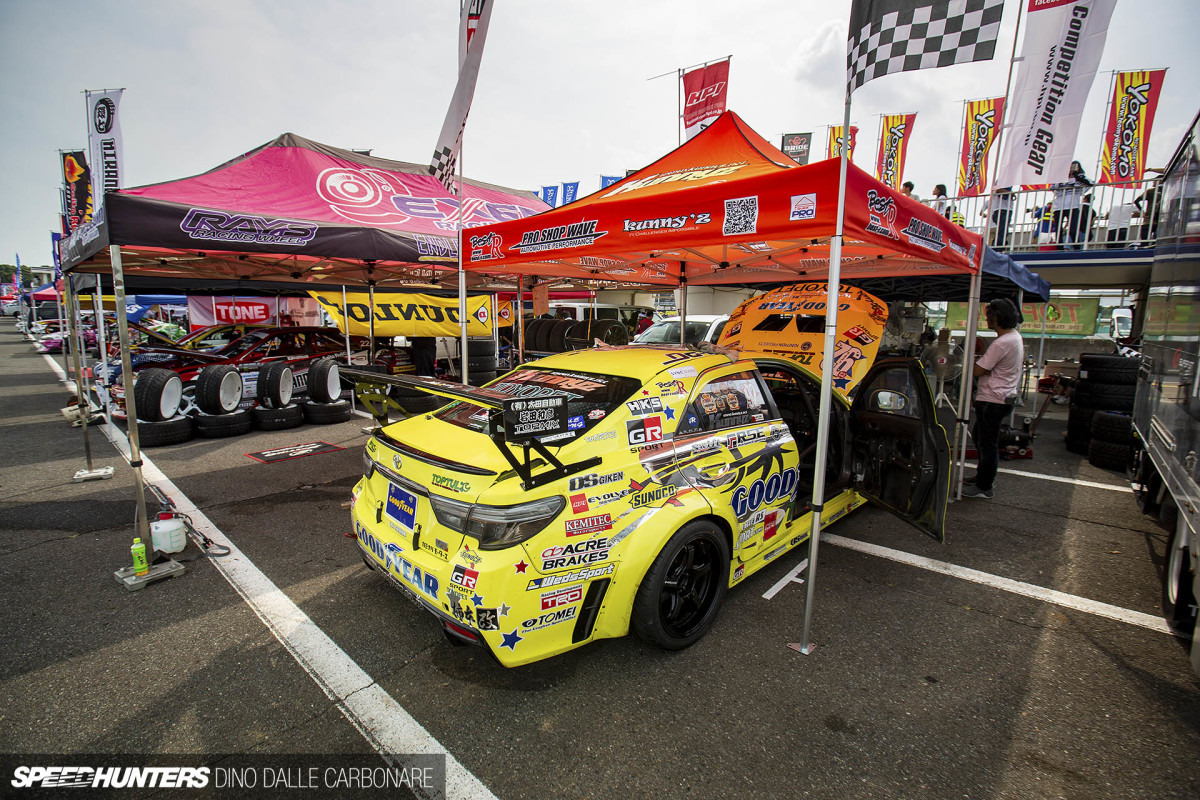 Over in Kunny's pit I wanted to take a look at another engine that Ito-san at Do-Luck set up. I hadn't seen this car since I spotted it at Idlers last month.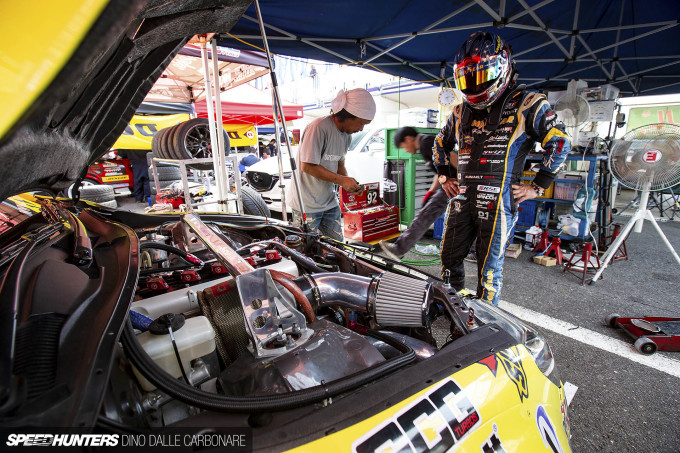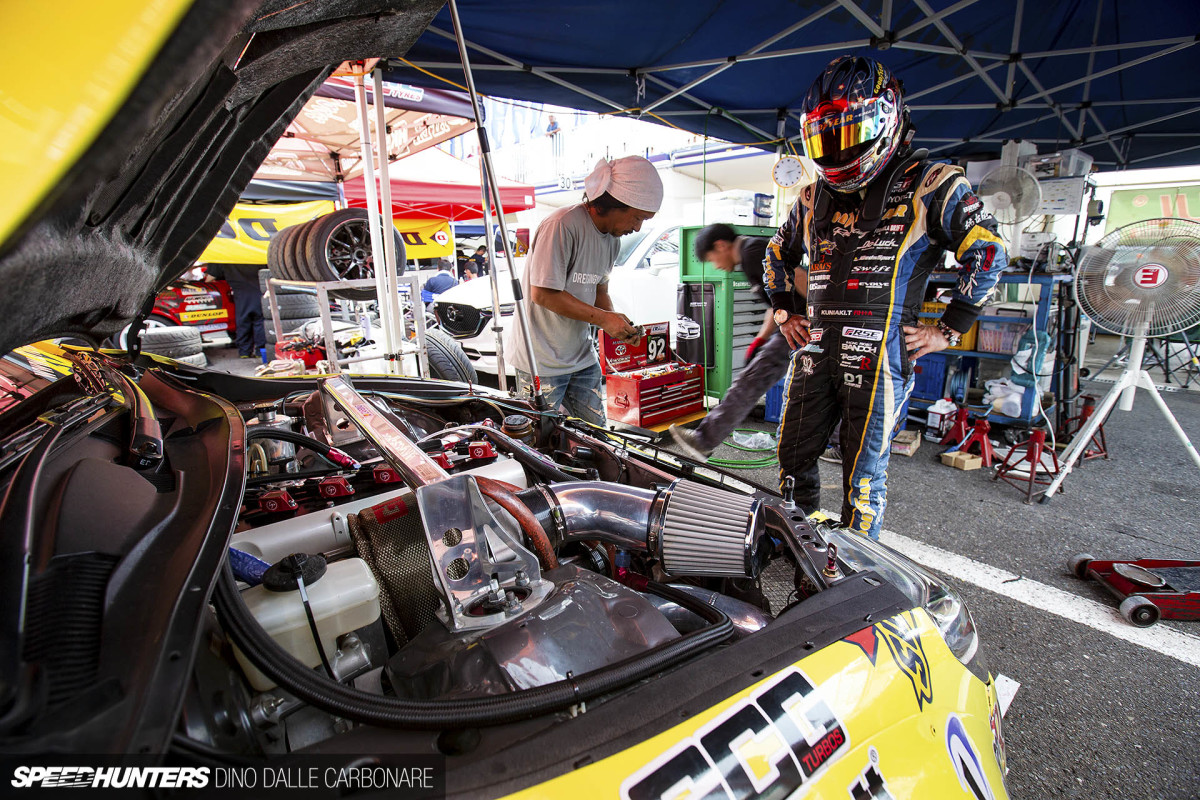 Another bullet-proof 800hp set up. How can you fault this motor in any way?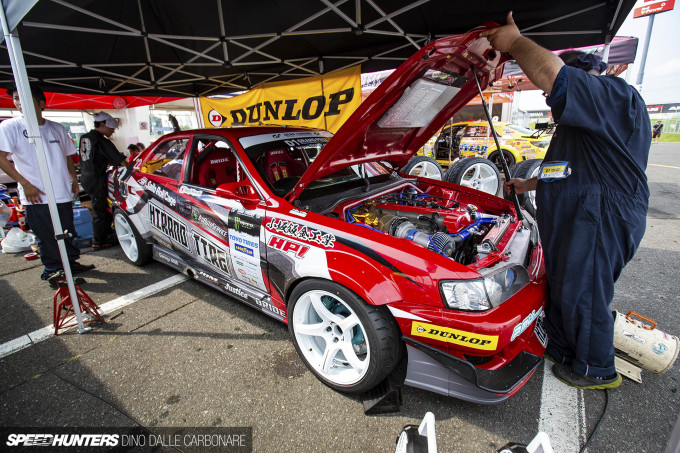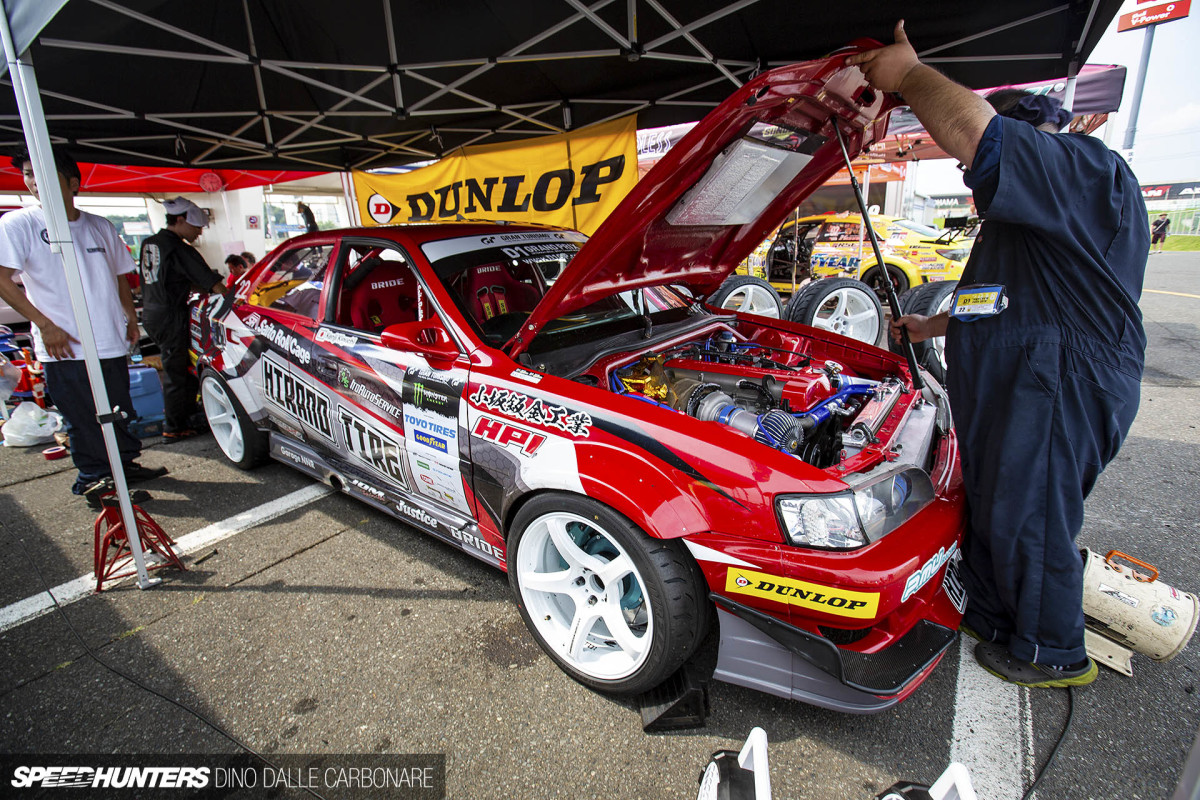 One more, I promise! Kuguchi's JZX100 of the Hirano Tire team, one of the biggest online tire resellers in Japan.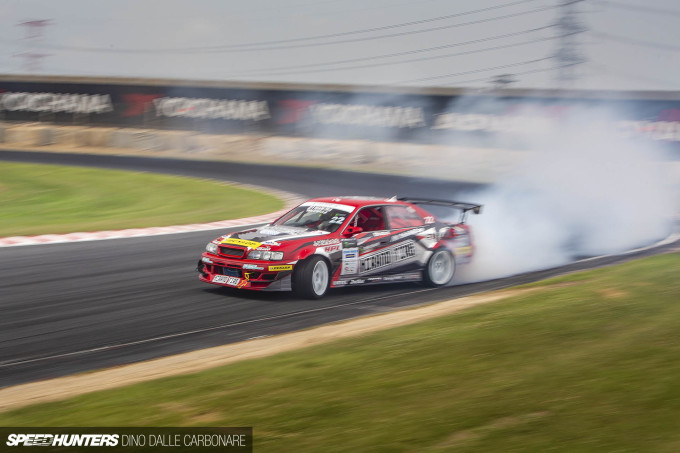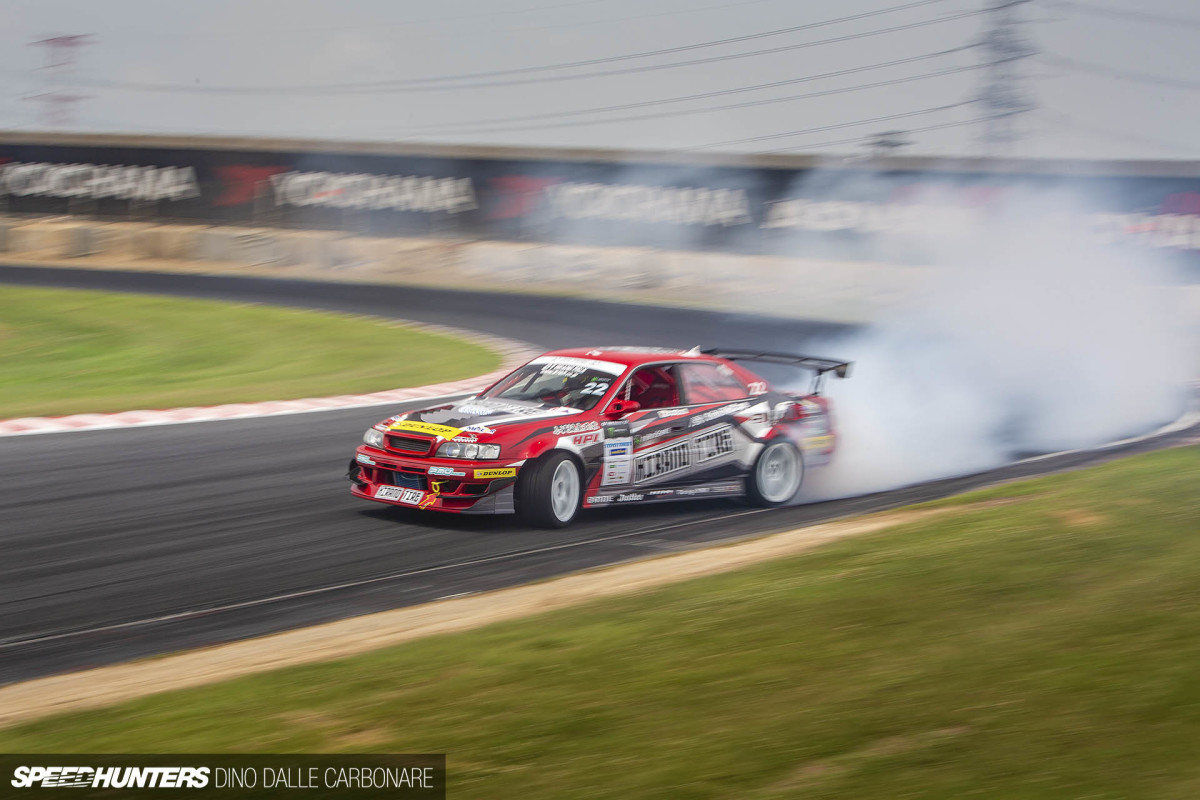 So, I guess I'll have to end by asking you guys what you think about this whole reliance on the 2JZ?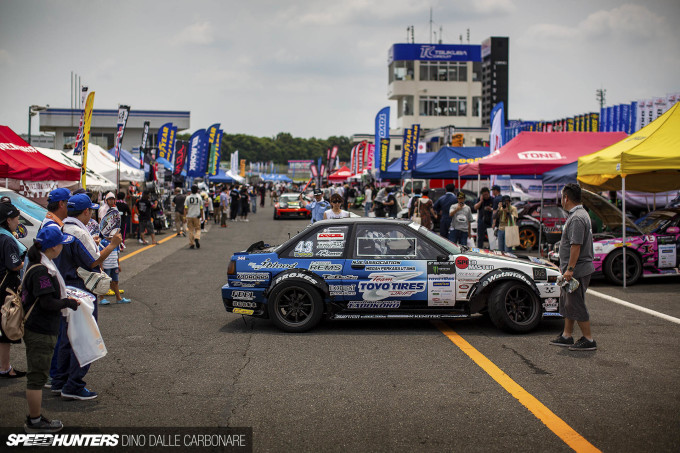 It's really come to the point where if you want to be competitive, you really don't have that many options. There's nothing wrong with that, it's very hard not to love the two-jay for its inherent attributes, but you do come away scratching your chin and muttering to yourself.
I'm keen to hear your thoughts. In the meantime, I'll just go and cry in a little corner as I couldn't find any RB26s…
Dino Dalle Carbonare
Instagram: speedhunters_dino
dino@speedhunters.com