Never Forgetting
Spending an extended amount of time in Japan can lead to certain curious side effects. You may start bowing when talking on the phone, falling asleep while standing on the train, or eating salad with chopsticks. You might also begin thinking that drifting is completely normal.
Let me expand on that. I remember when I first witnessed drifting, my mind was blown and I was instantly hooked. For years I actively tried to hunt out all the greater Tokyo drift spots with the hope of seeing kids in their cars attempting to link up a couple of corners sideways, and some years later that led to hitting up all sorts of drift events, from amateur track days to the professional side of things in the early days of the D1 Grand Prix. Nowadays in Japan, when you attend a circuit-based event there's nearly always a drifting component, be it an exhibition or a small competition. I'm not saying this saturation has killed the magic, but it's made drifting so accessible in Japan than you just end up taking it for granted.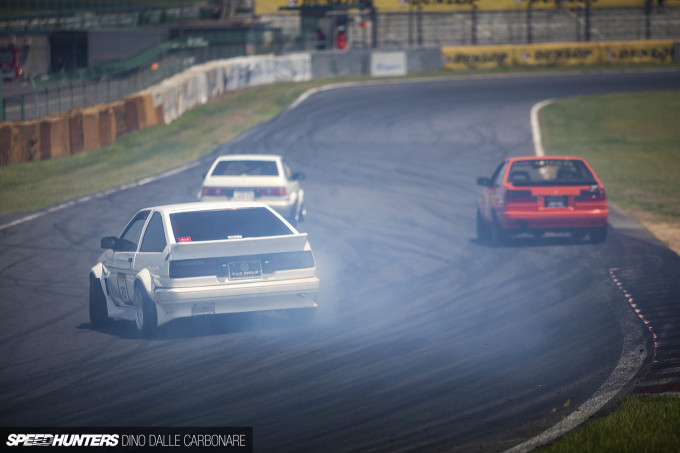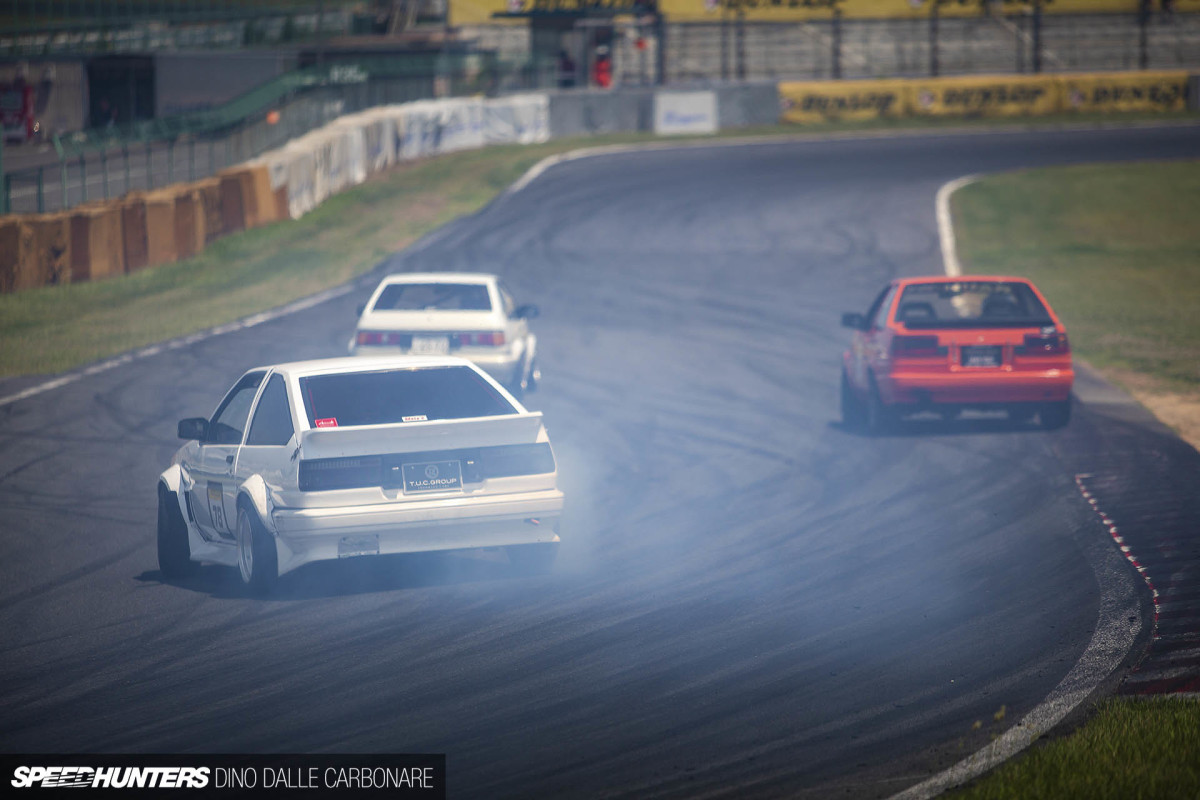 The first things you'd probably think of if I mentioned an Idlers Club event would be Nakai-san and a whole lot of RWB Porsches, and they're indeed a big part of it. But that's not all these events are about though, and while attending the latest Idlers get-together at Tsukuba Circuit the other weekend, I decided to embrace the drifting side of things to the fullest.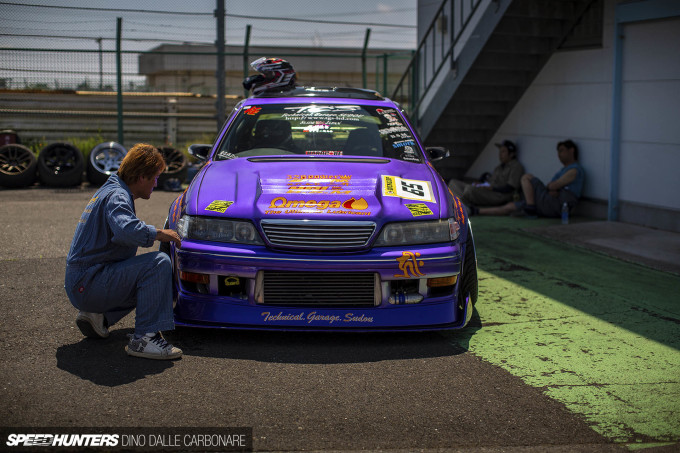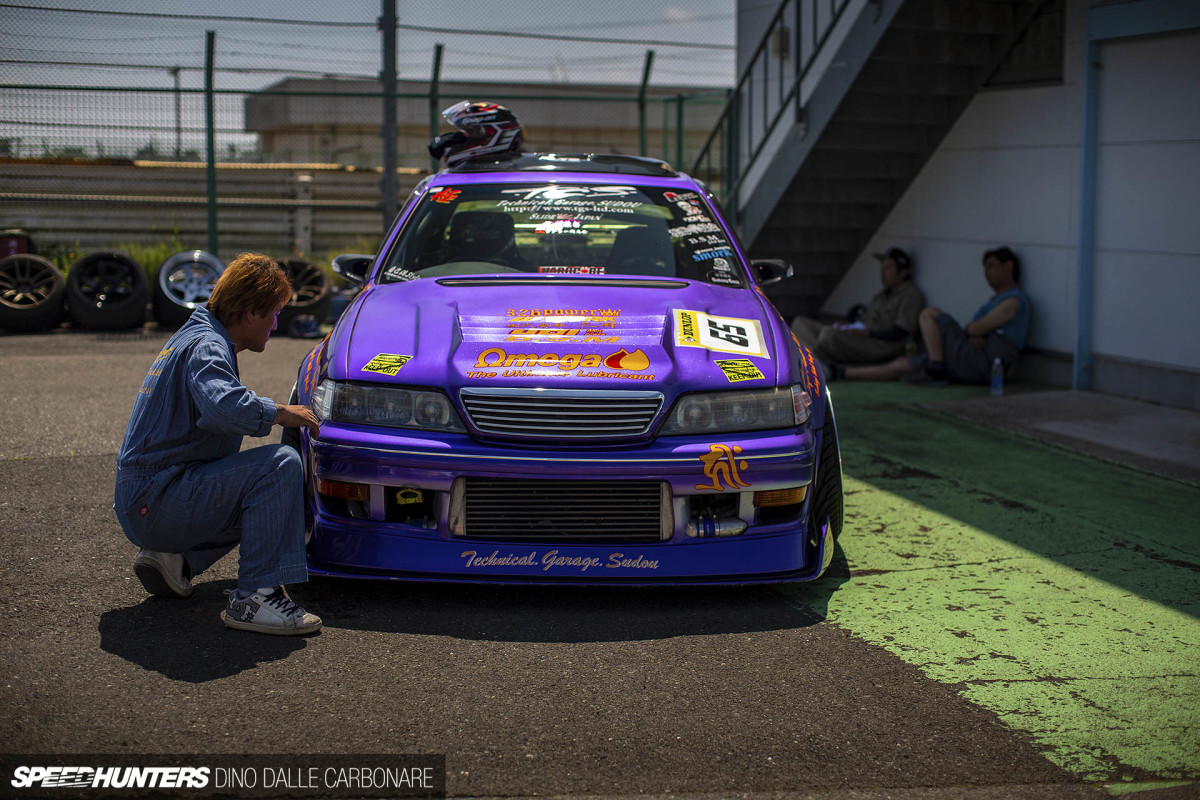 Like many motorsports, drifting is constantly evolving, and that goes for everything from the way drift cars are engineered to how they're driven.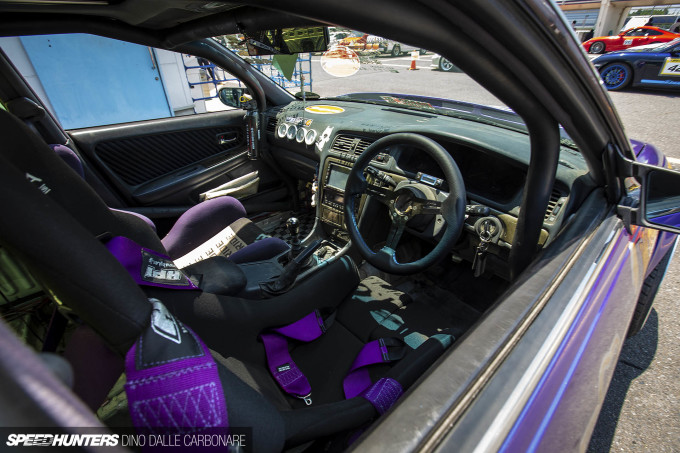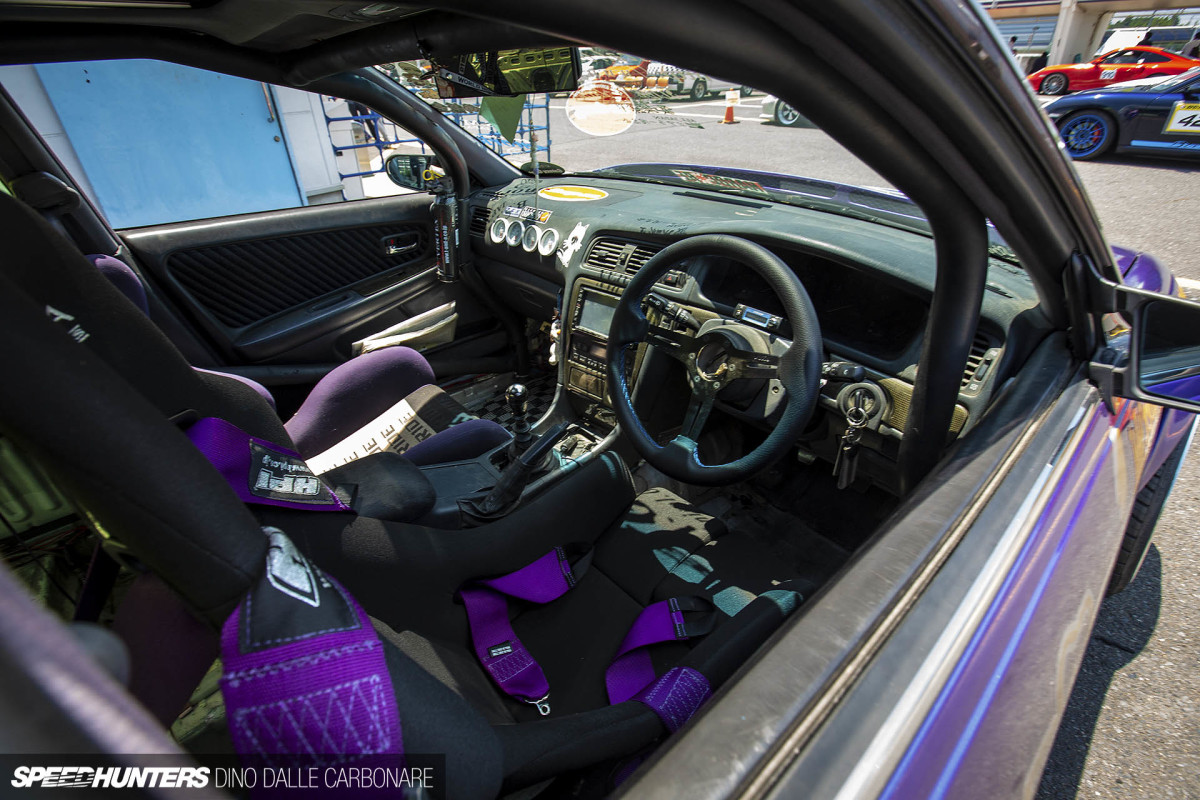 There are two main reasons for this. The first is that the love for the sport has never ceased, and advancements on the tuning side of things has helped bring it to where it is today. The other is that, for the most part, the chassis used by most people continue to be the old favorites.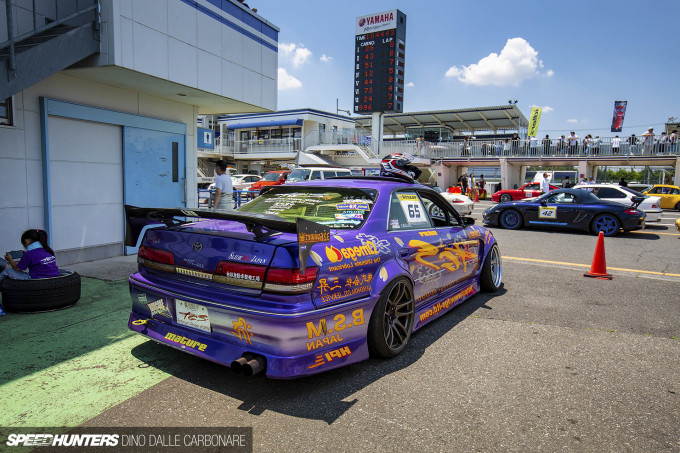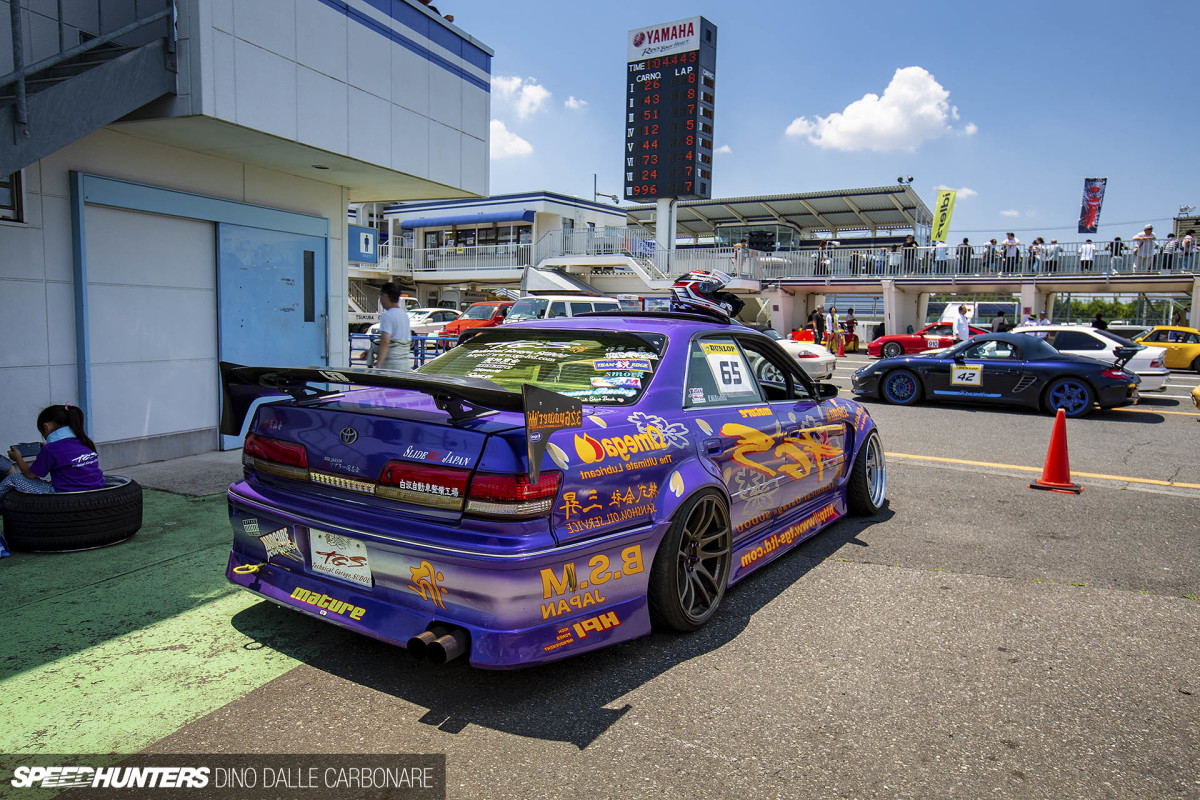 The JXZ100 is a good example. This is a popular platform thanks to its power potential, weight and long wheelbase which together allow drivers to use momentum to their advantage.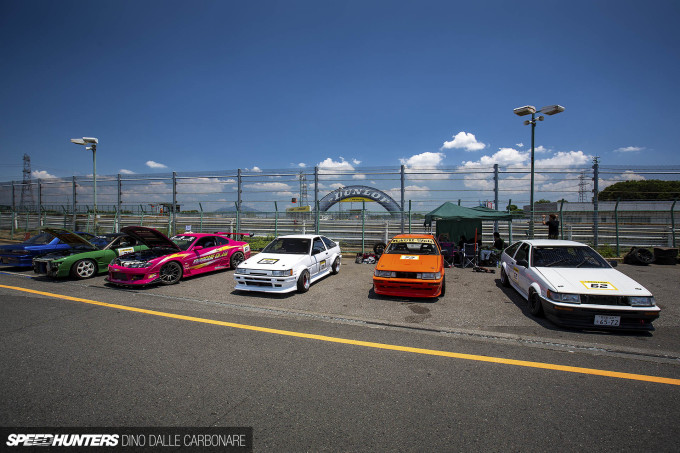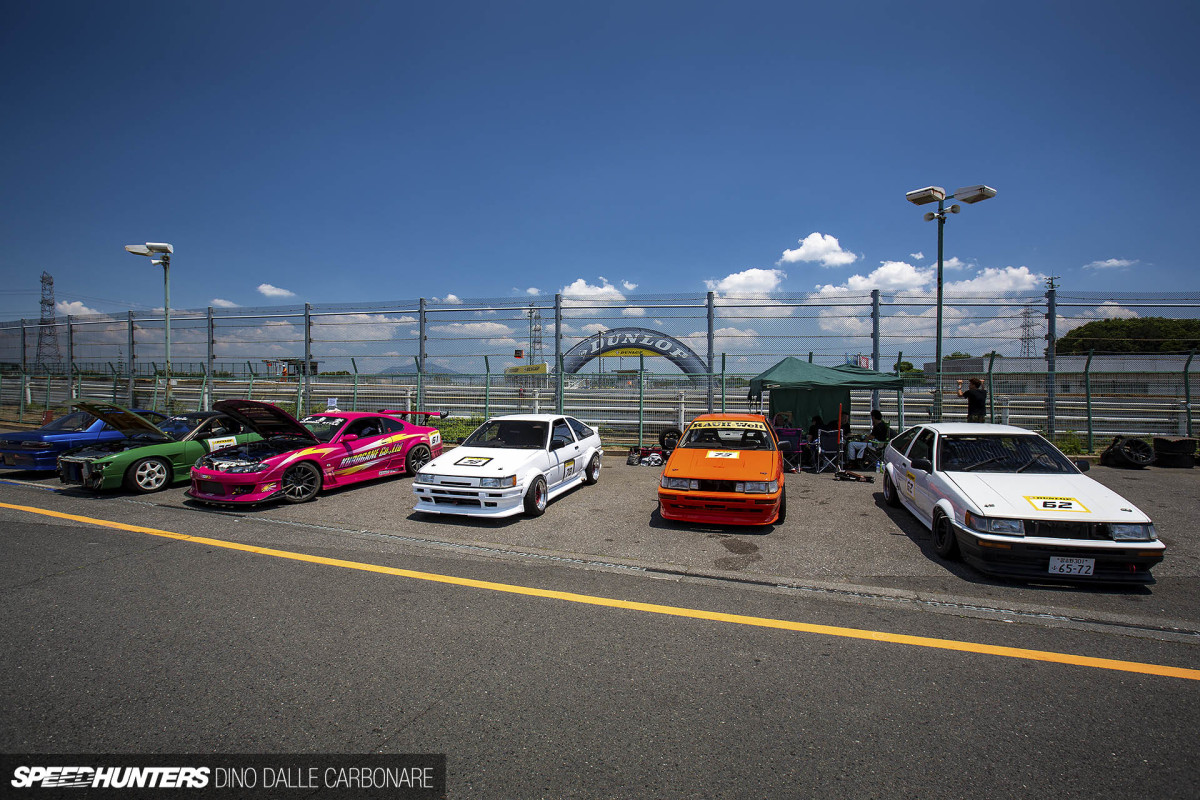 There was an awesome turn out of AE86s at the event, Nojima-san of Nojireal – the guy that paints all RWBs in Japan – leading the pack with his buddies following with their 4AG-powered lightweights.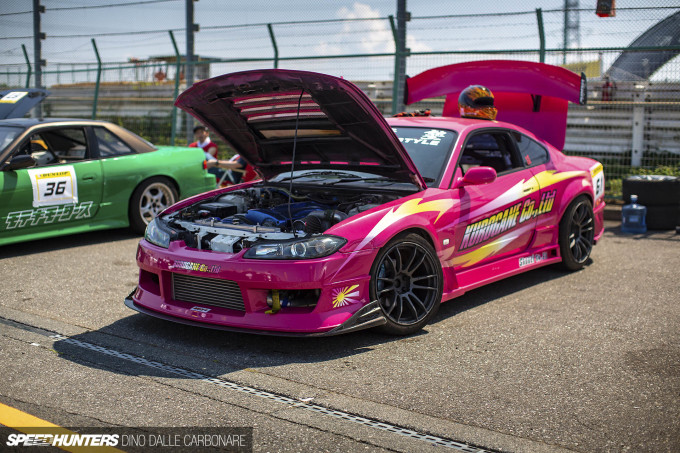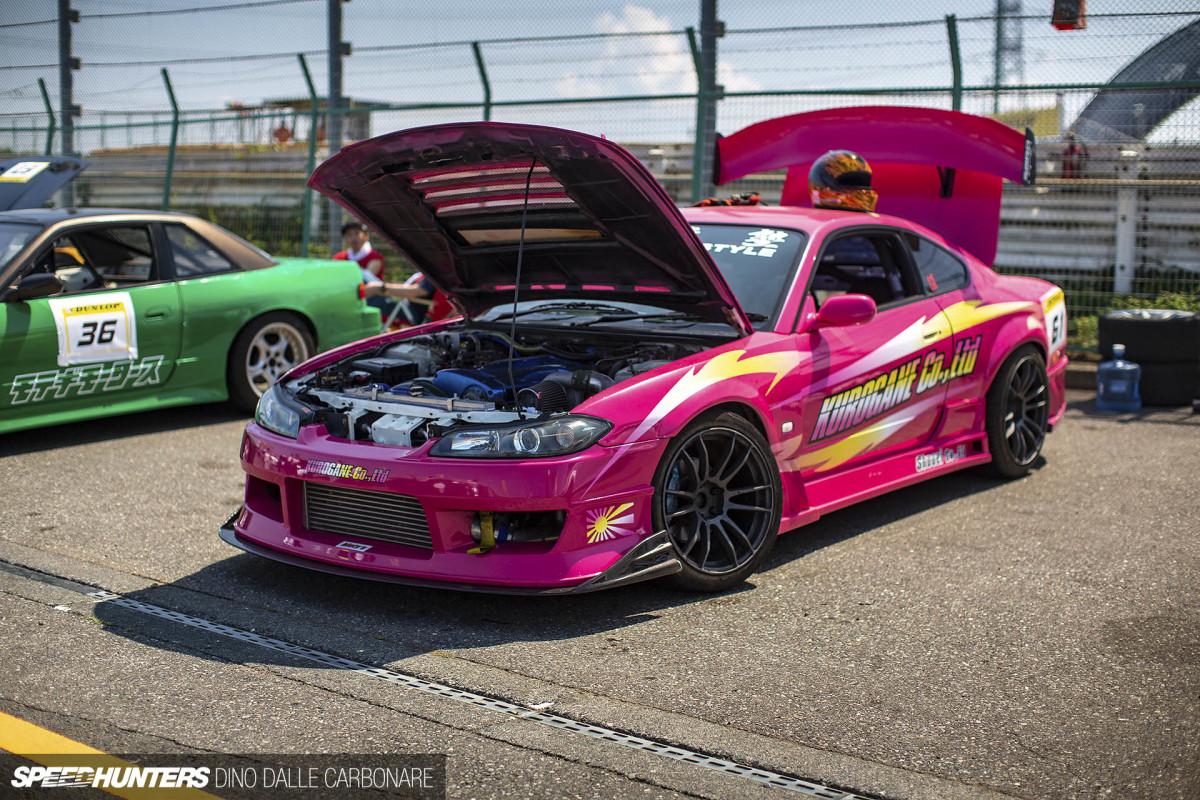 I love seeing interesting things being done to S-chassis, and an S15 and S13 trio I found in the paddock definitely ticked the boxes.
RB26 swaps are nothing new, but it's always cool when you run across one – especially shoehorned into the an ichi-go Silvia. With a T78 saddled next to it, this setup would be good for a reliable 600hp+ depending on the boost level.
The S15's interior couldn't possibly be more Japan spec: functional to the point of being raw, and dotted with an array of auxiliary gauges to keep an eye on vital temperatures and pressures. Most importantly given the A/C has been deleted, there's a decently-sized electric fan to keep some air moving on hot days.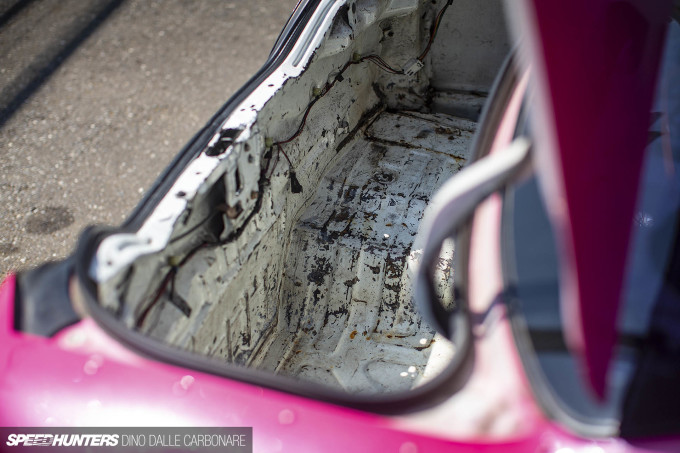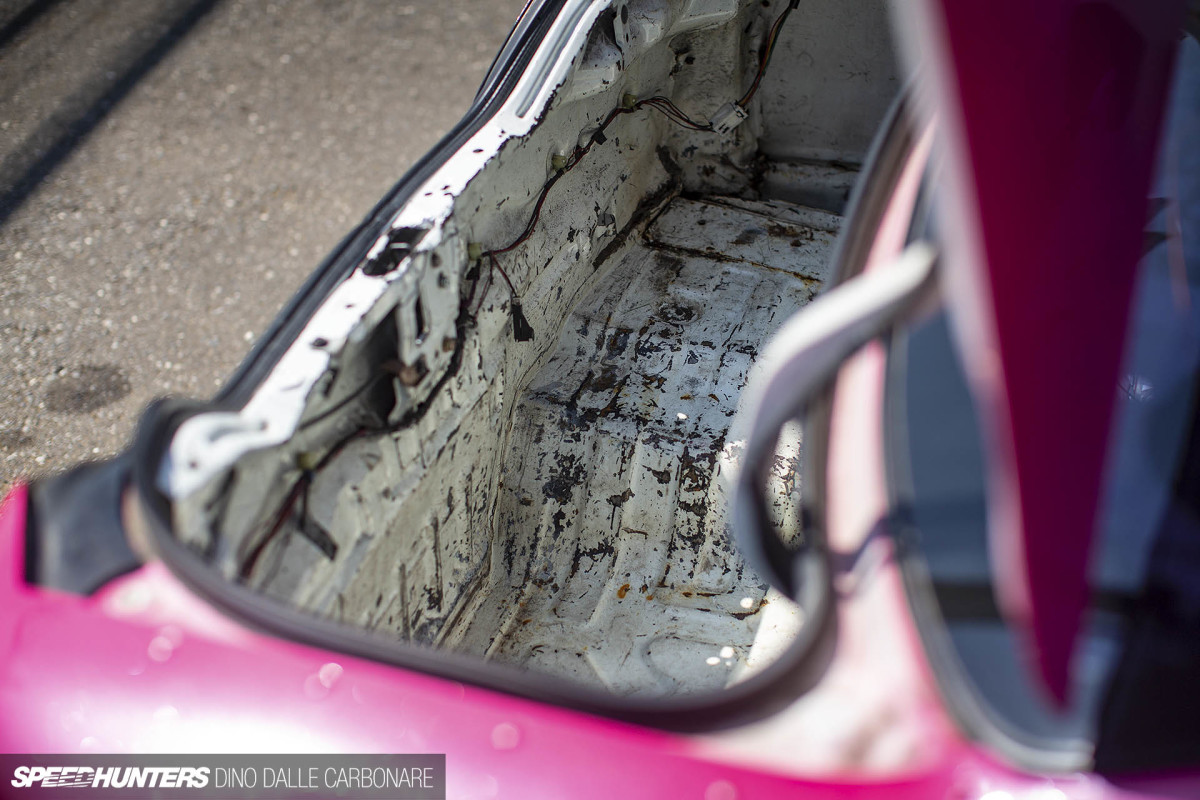 This particular car built by Kurogane has seen its fair share of action judging by the hammered-out trunk panels.
Both S13s were aesthetically very simple and straight forward, but the green one drew me in for a closer inspection when I noticed the absence of an intercooler up front.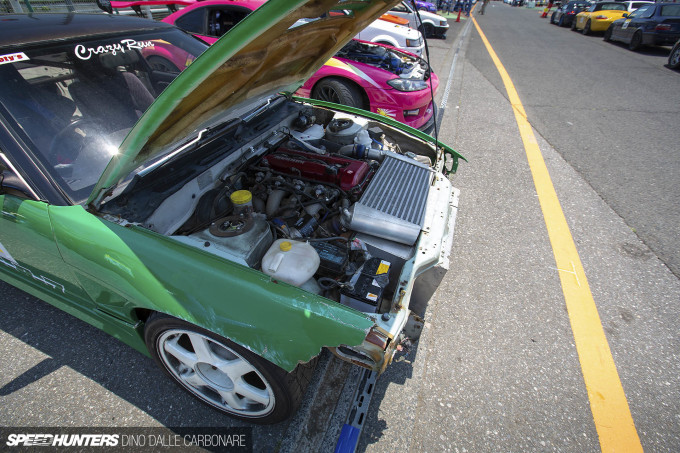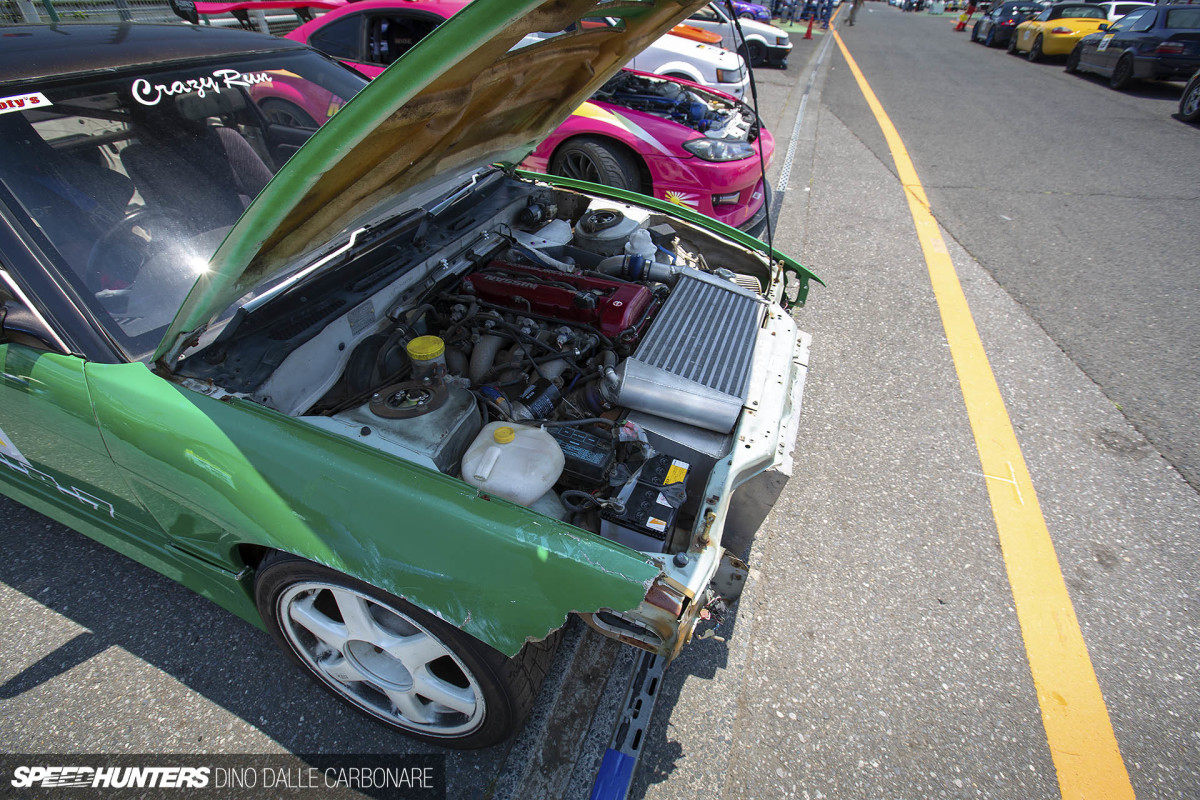 Instead, it was positioned horizontally right in front of the SR20DET with some mighty short charge piping.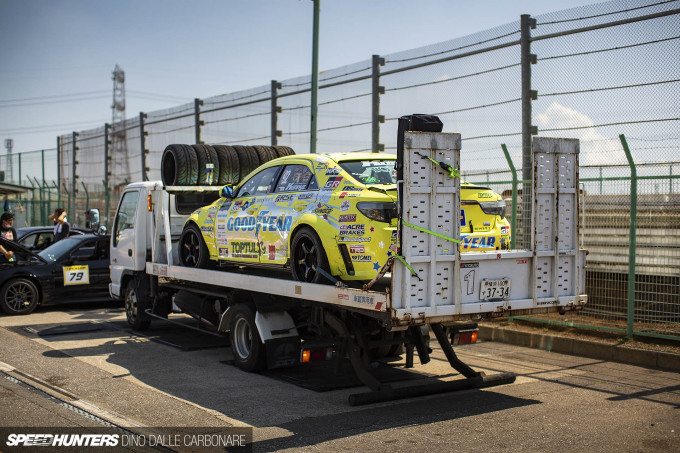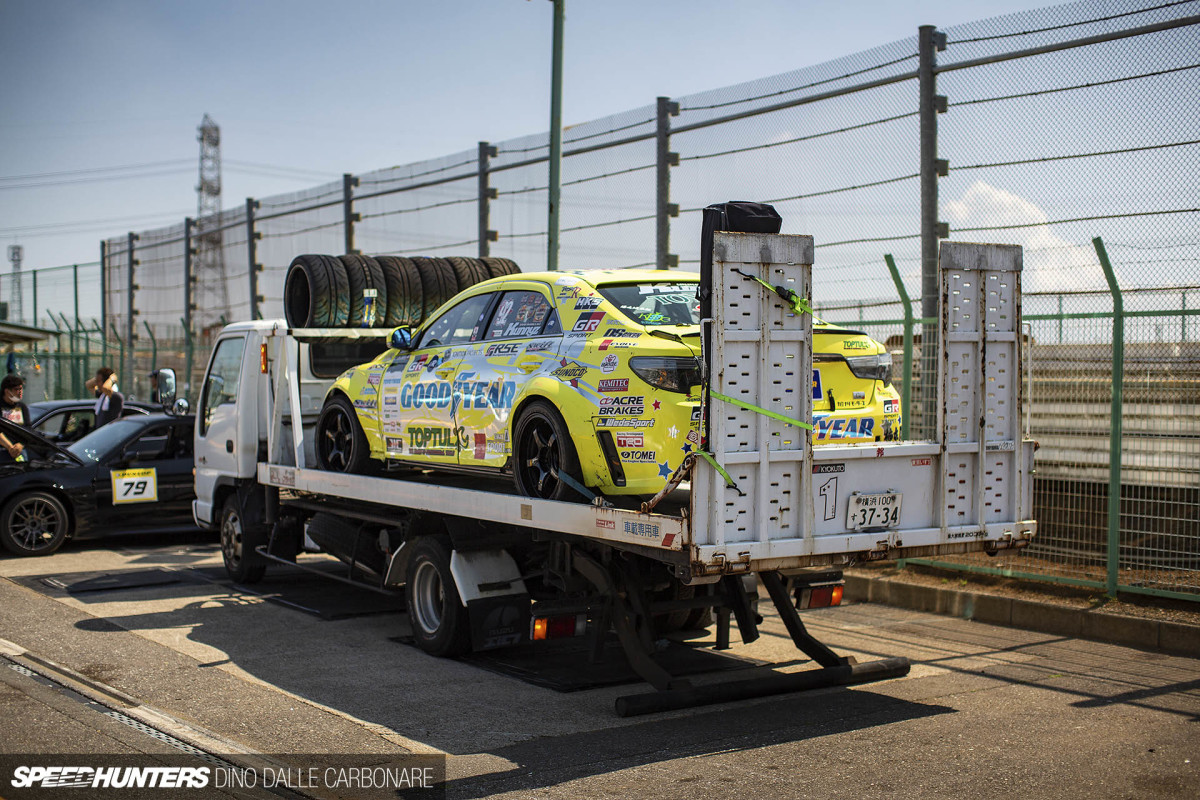 I was quite surprised to see Kuniaki-san of Kunny'z out at the track with Ito-san of Do-Luck, but it turns out they were only there to do a quick shakedown test of the Kunny'z D1 Mark X following some new additions to the setup. And I really mean quick; they did one outing and were happy with the way the car performed so loaded it back up and were gone by mid-morning.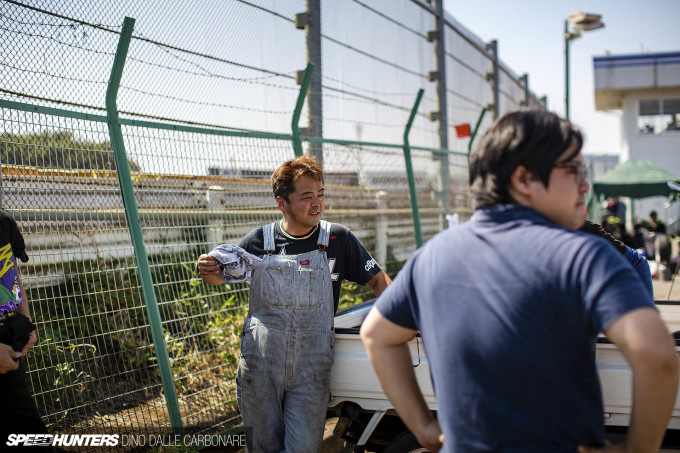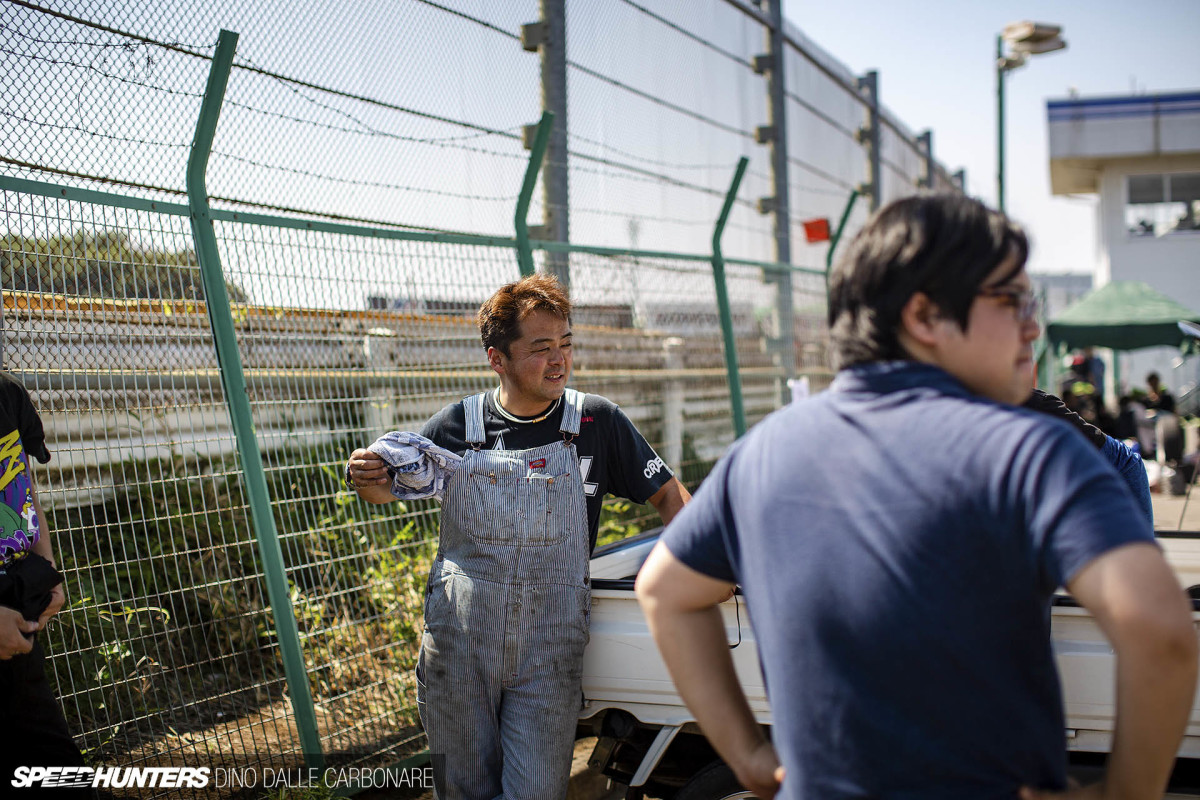 It was all in aid of the Hokkaido round of D1, which just played out this weekend past.
Back Paddock Full Of Gold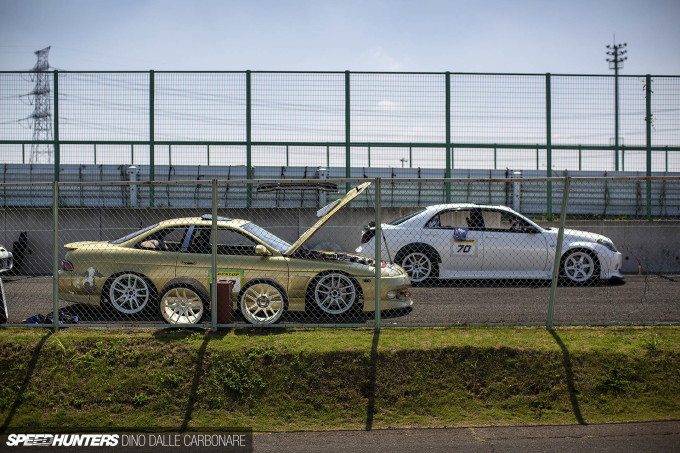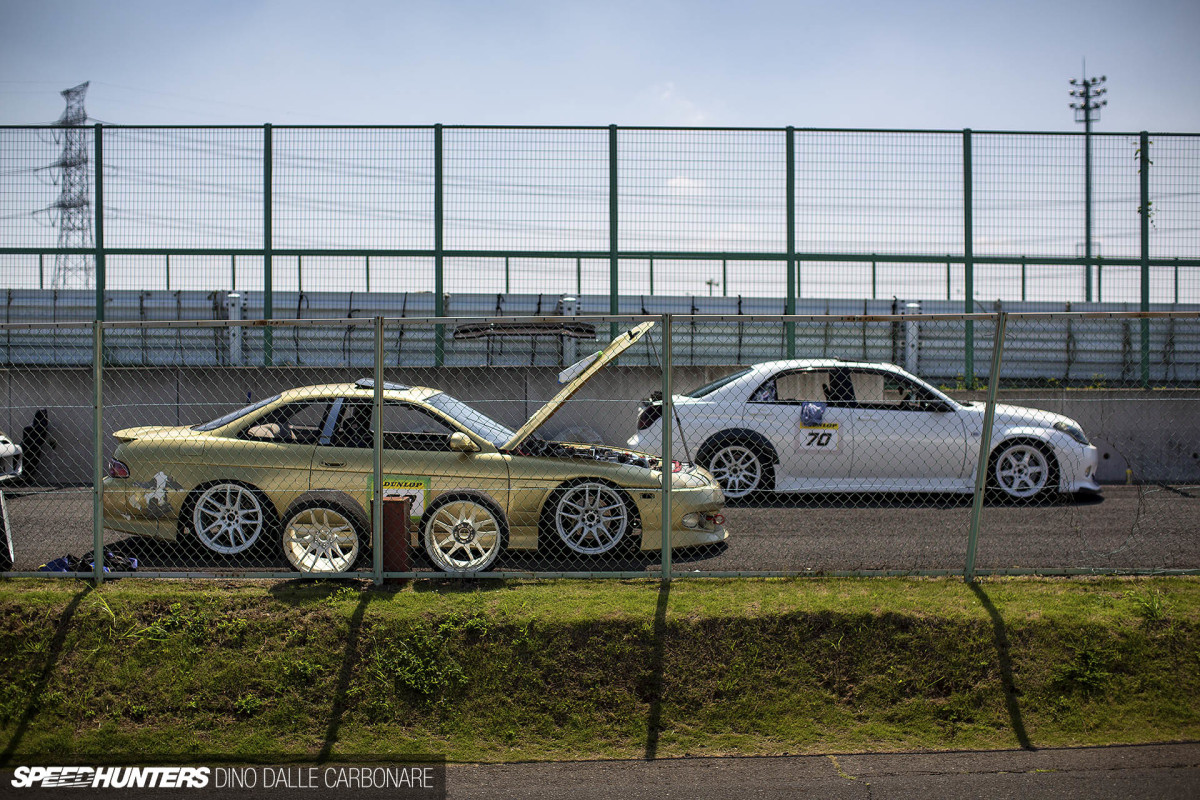 The fenced-off area of the paddock is where the other group of drifters had set up, and after their second outing I went over for a closer look at the cars.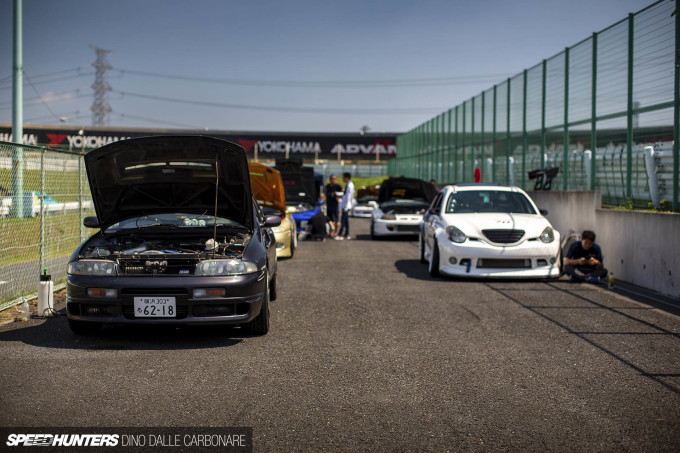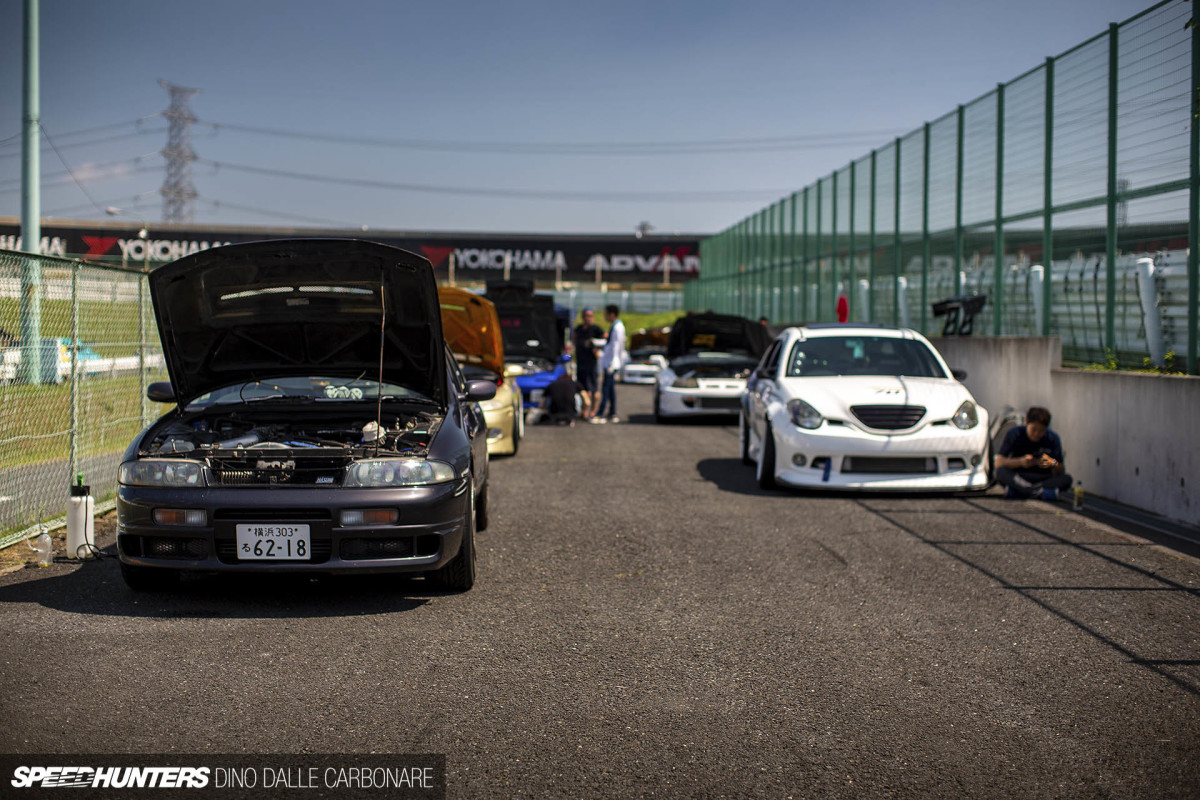 First up was this R33 Skyline sedan.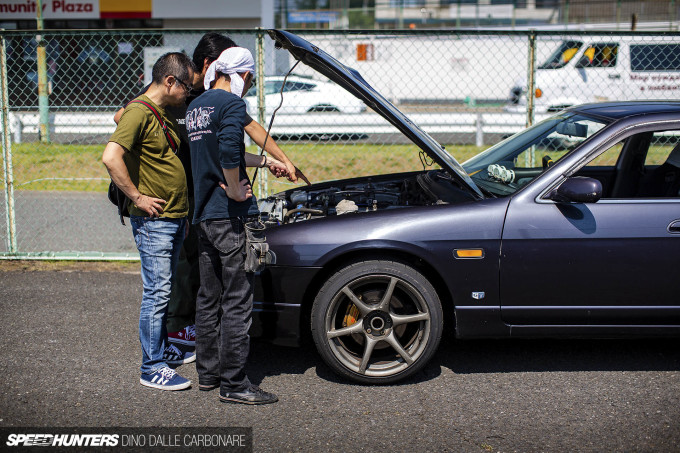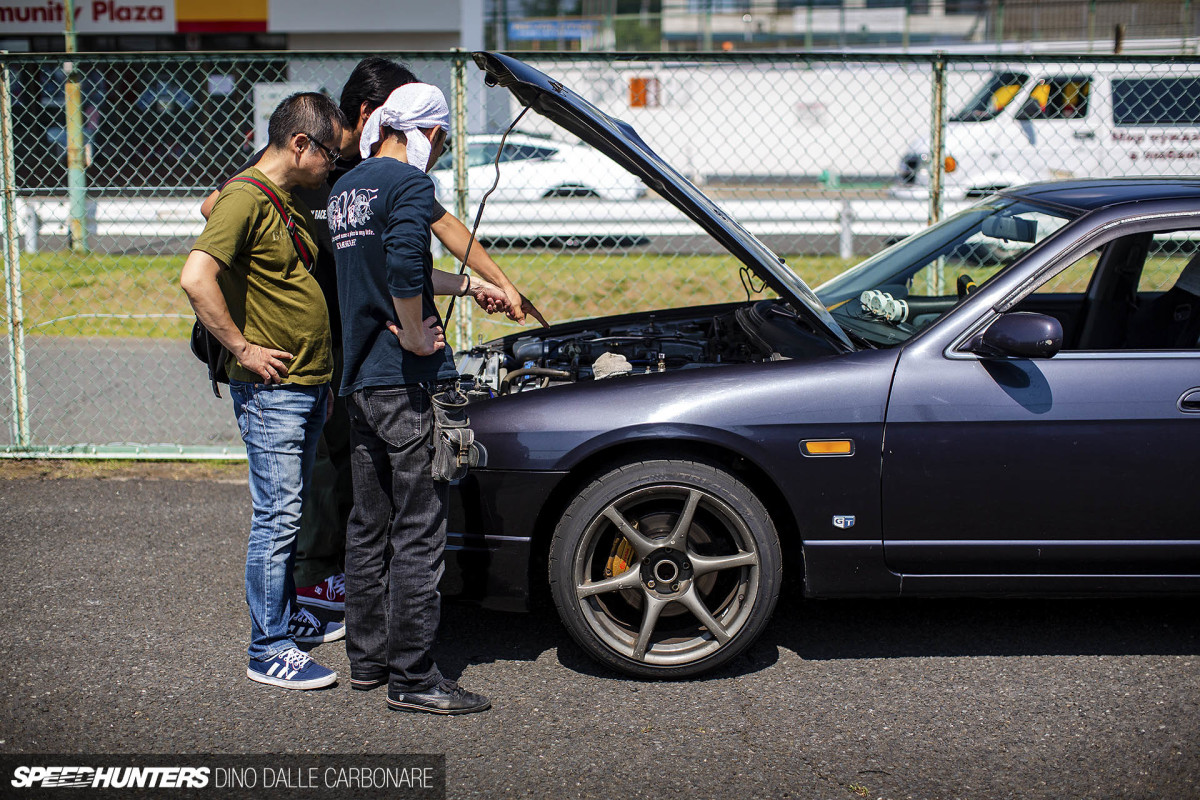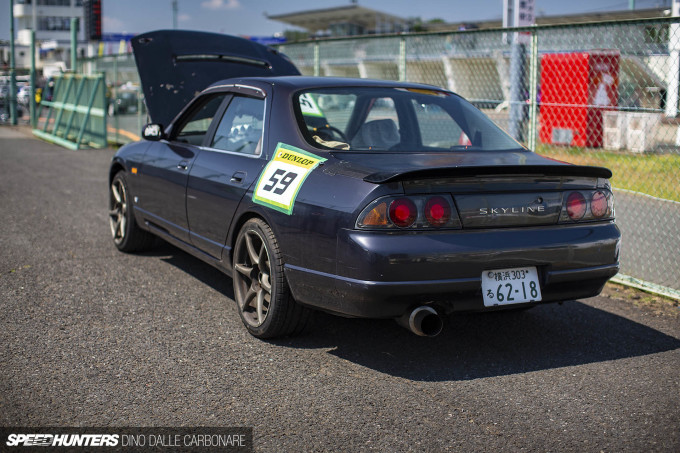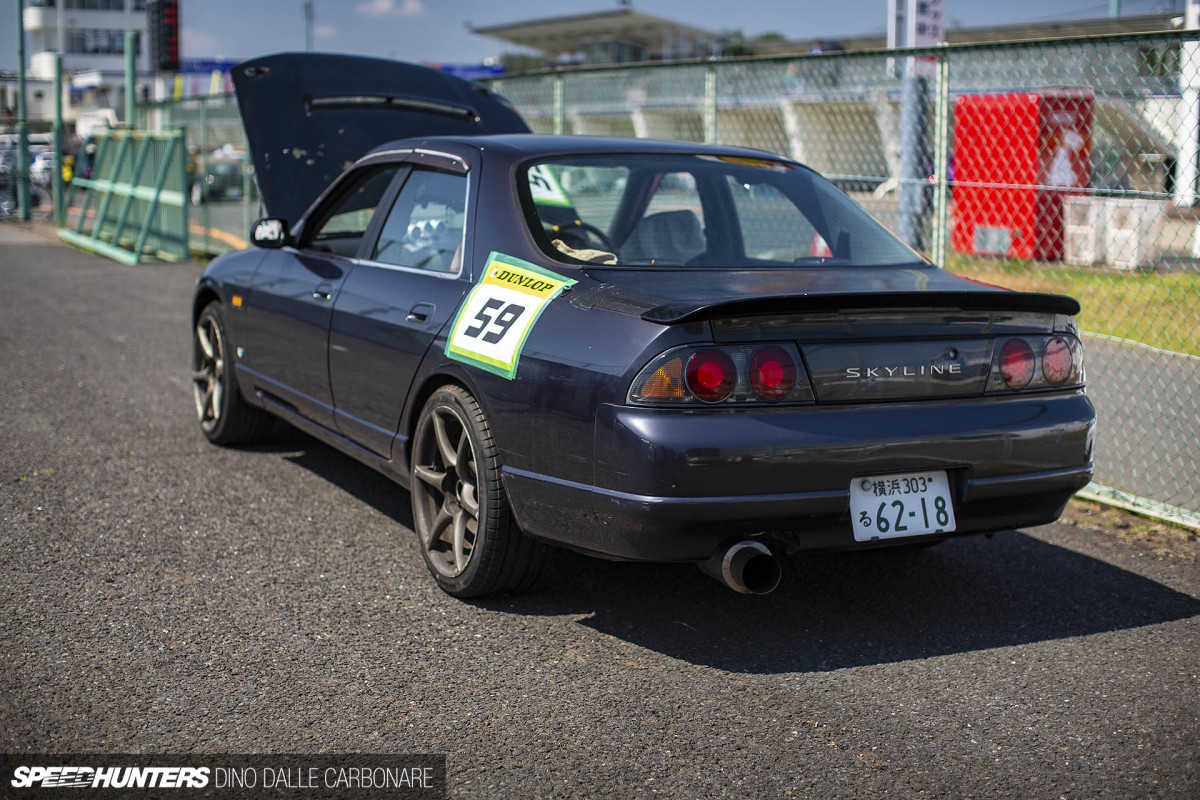 Possibly more than any other drift car at the Idlers event, this big four-door served as a perfect example of how simple you can keep things with a drift build. But don't let the stock looks fool you, this thing was packing on some serious speed down the Tsukuba back straight.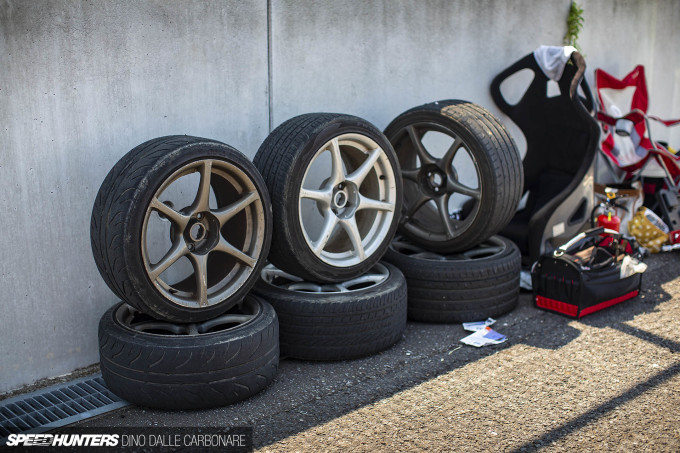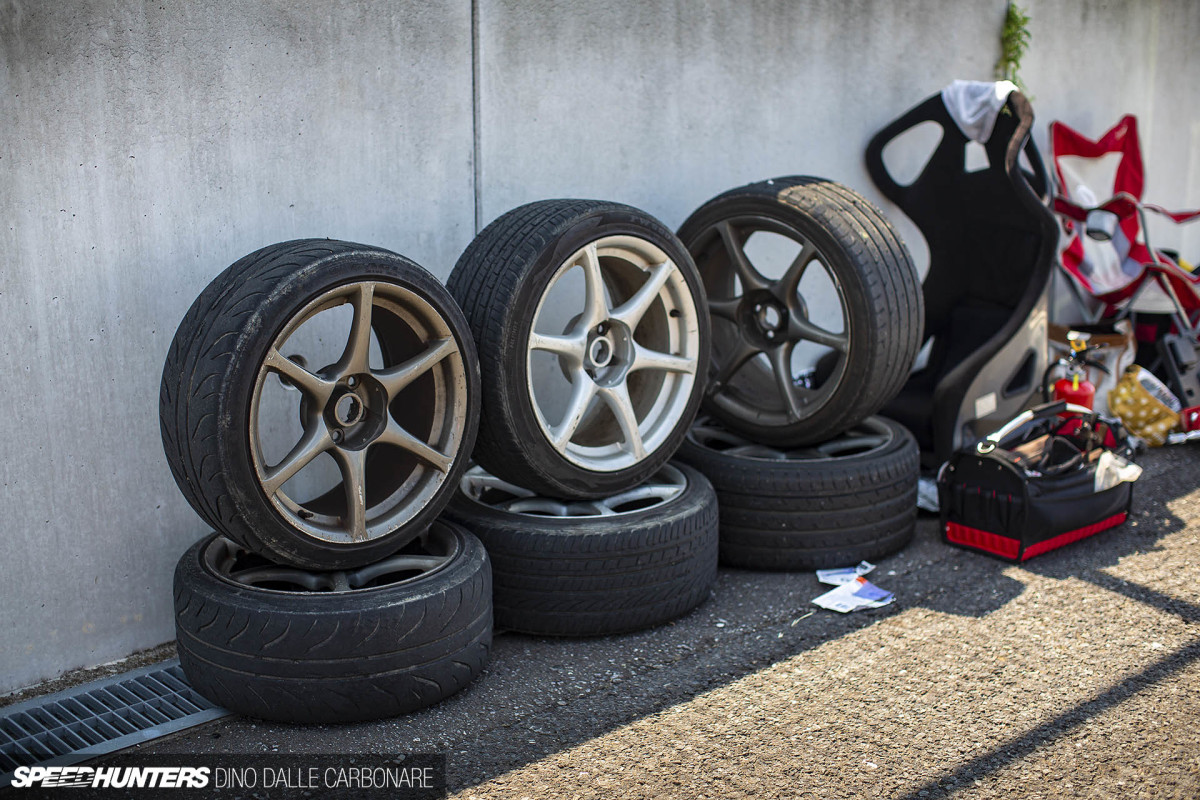 Every time I see stock BNR34 wheels I get a massive pain in my stomach, because back in the day I sold off Project GT-R's set for not a lot of money. Had I known then what these would be going for now, I certainly wouldn't have been in a hurry to ditch them. But money talk aside, I should have kept them for originality's sake, because with R34 GT-Rs continuing to increase in value, the more factory gear you hold on to the better. Ah well…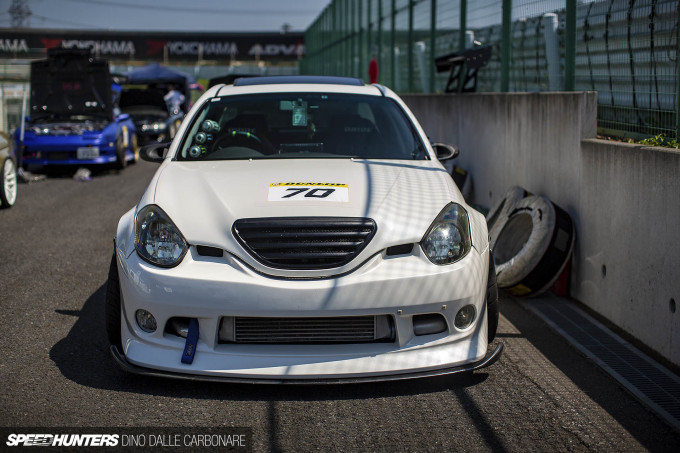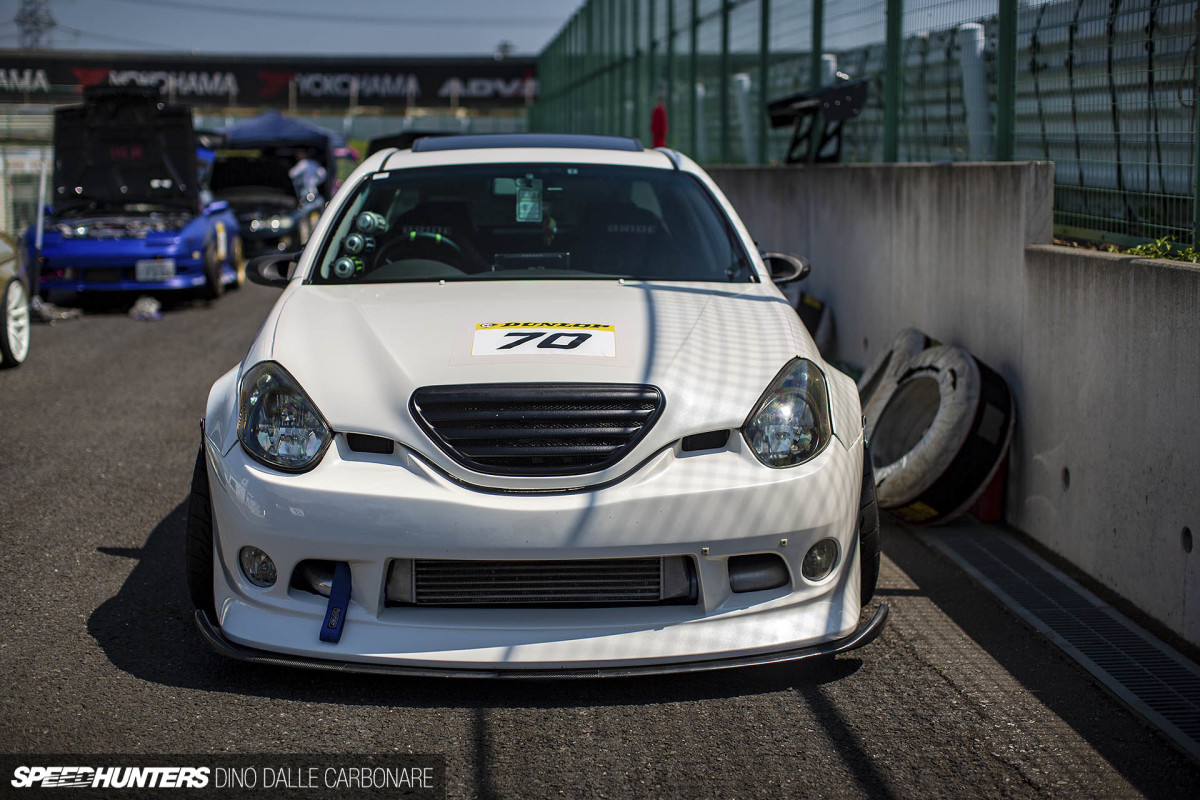 Next up, this JZX110 Verossa. Whoever signed this off at Toyota in 2001 must have been on mind-expanding substances. The car was only in production for two years and did very poorly when it came to sales, but boy is it a unique-looking machine. Throw on an aftermarket bumper and ditch the pensioner-spec front grille for something more aggressive and you have yourself one mean drift car.
This car was also running wider fenders to contain the increased offset the aftermarket knuckles introduce, and thanks to the vastness of the Toyota parts bin it was also fitted with Lexus front brakes to help bring the big sedan to a stop.
With a deep-dish steering wheel and a couple of Defi Advance ZD OLED gauges, this VR25 manual variant is ready to hit the track.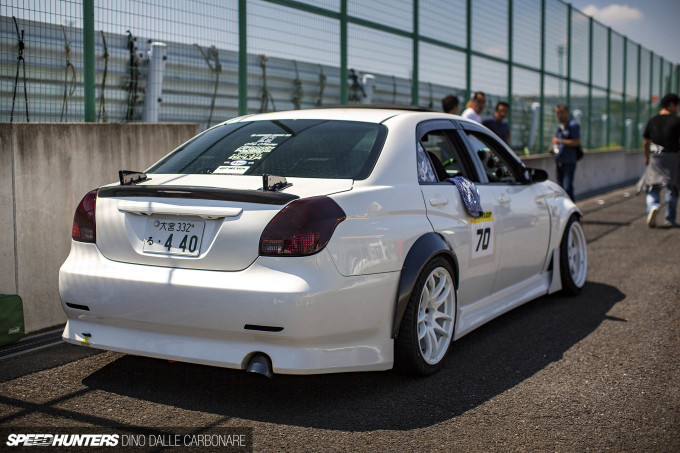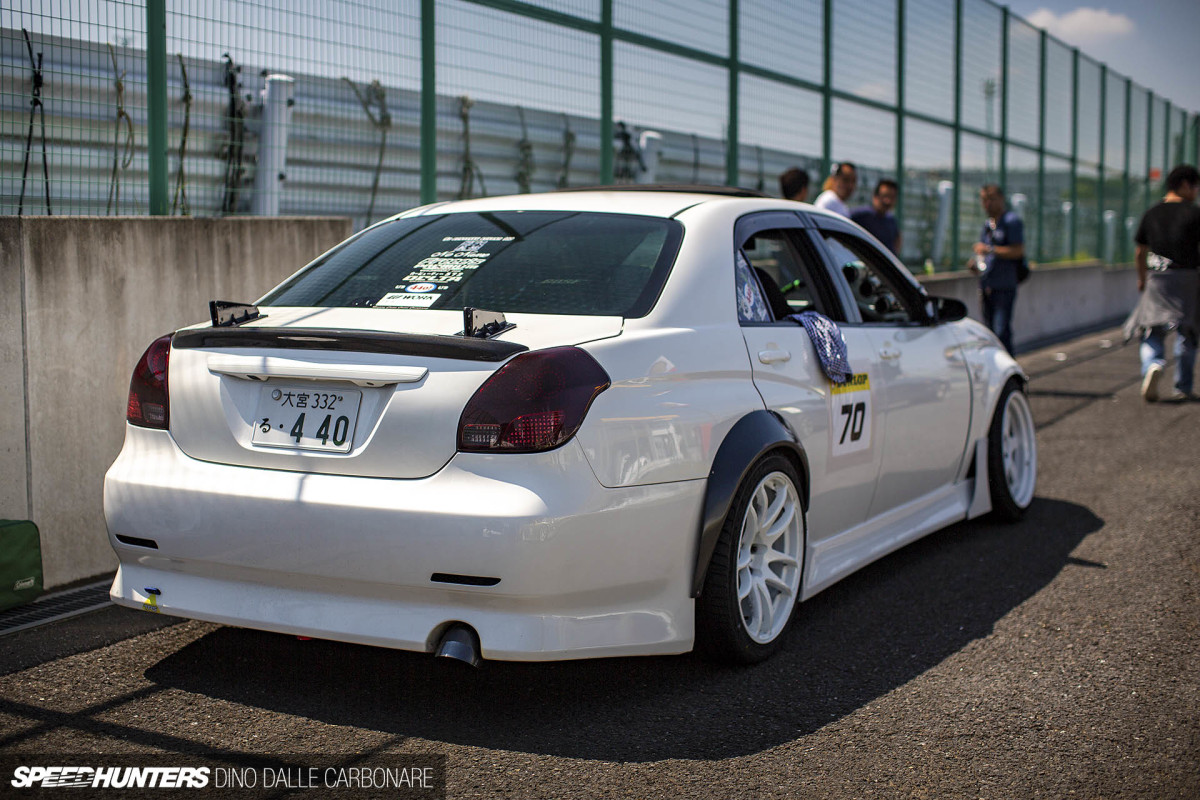 I didn't get to see what turbo was sitting alongside the factory-fitted 1JZ-GTE, but needless to say it was far from a stock setup. The downturned exhaust tip was a nice touch too.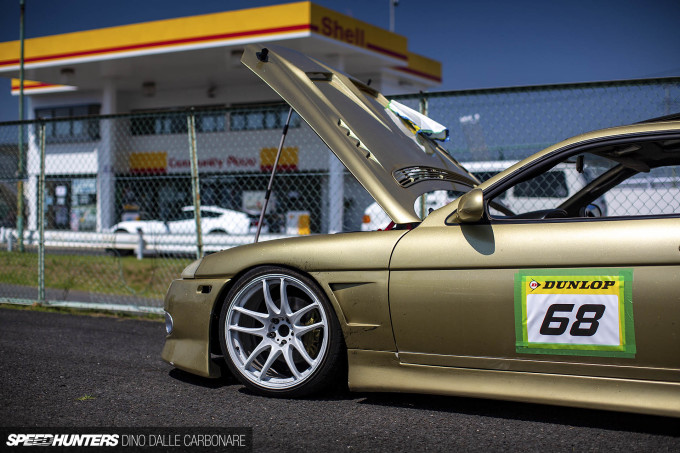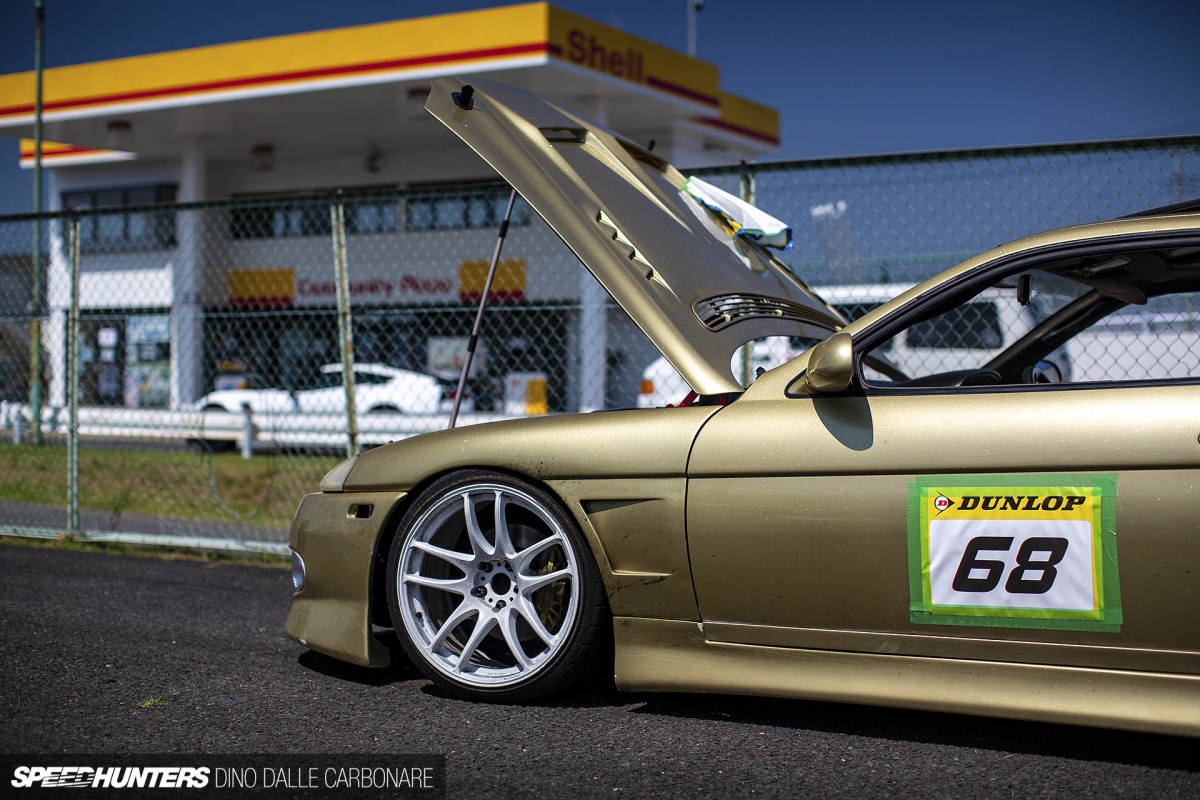 Next to the Verossa was more Toyota awesomeness, specifically a Z30 Soarer that has been aesthetically enhanced by the guys at N-Style in Gunma.
With power and presence in ample supply, this thing looked amazing out on track. Not only that, but its driver possessed the skills to really show off the capabilities of the big, powerful coupe.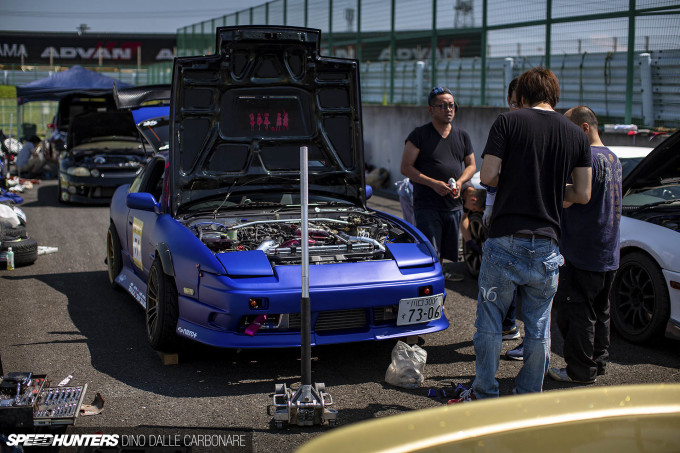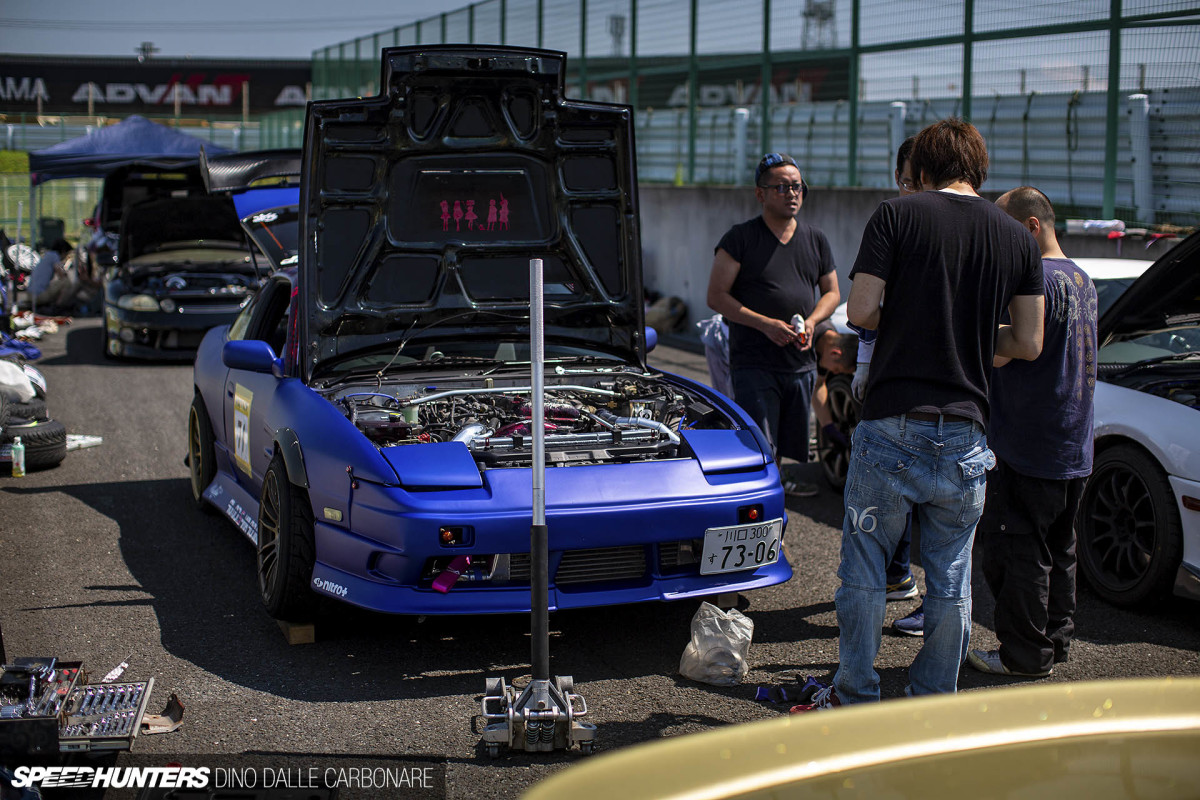 A little further down the line I found this flat blue RPS13, which reminded me of a toned-down, street-oriented version of Kawabata's D1 car.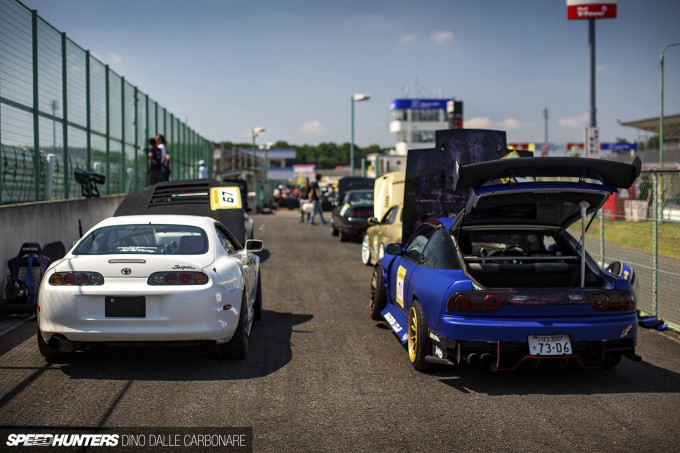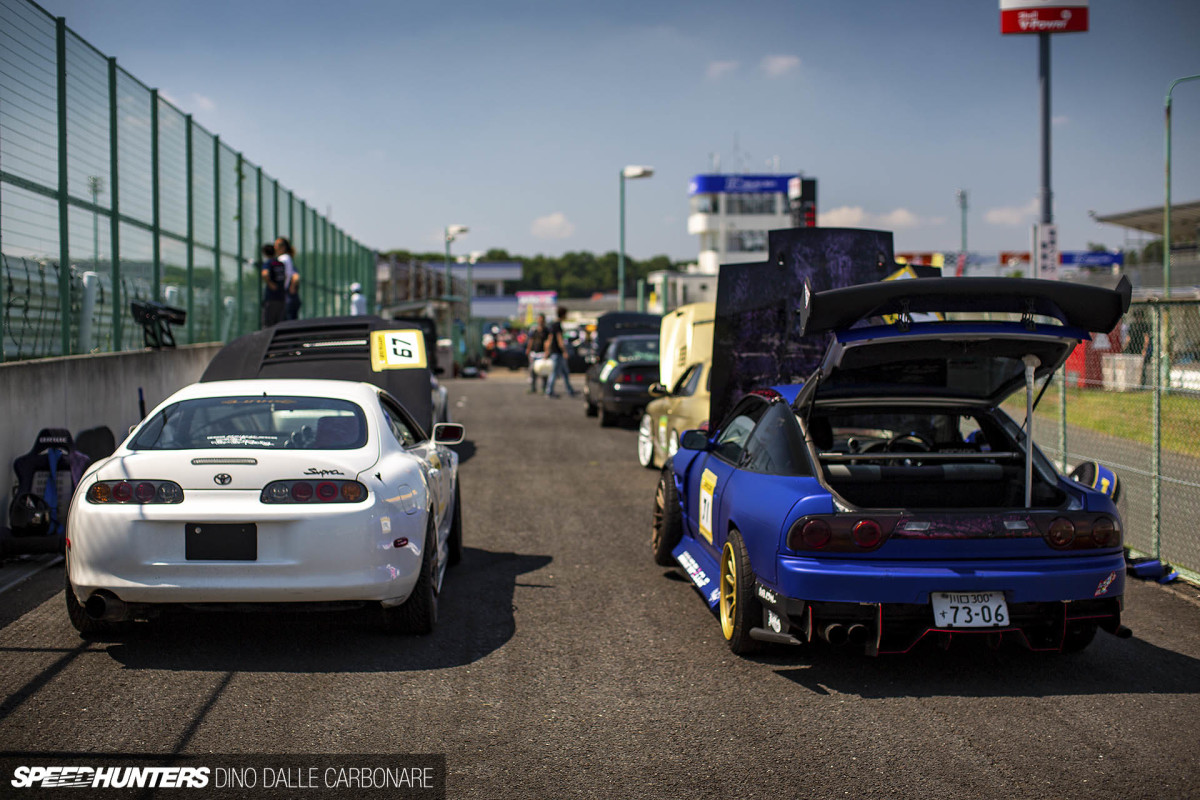 At the time it was receiving some under-hood attention, but as I didn't see it back out drifting I assume the issues couldn't be resolved trackside.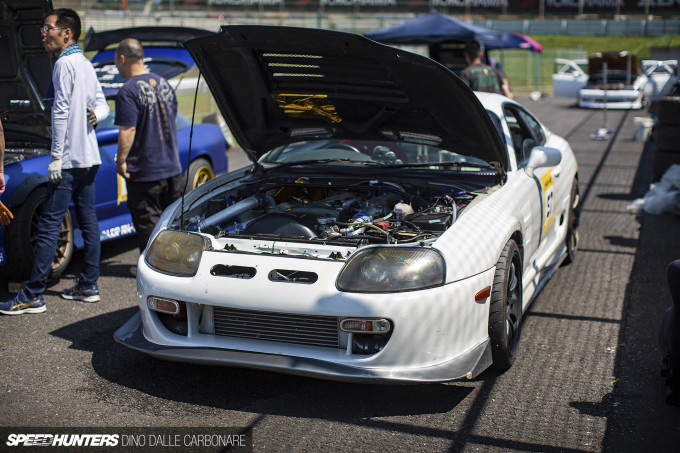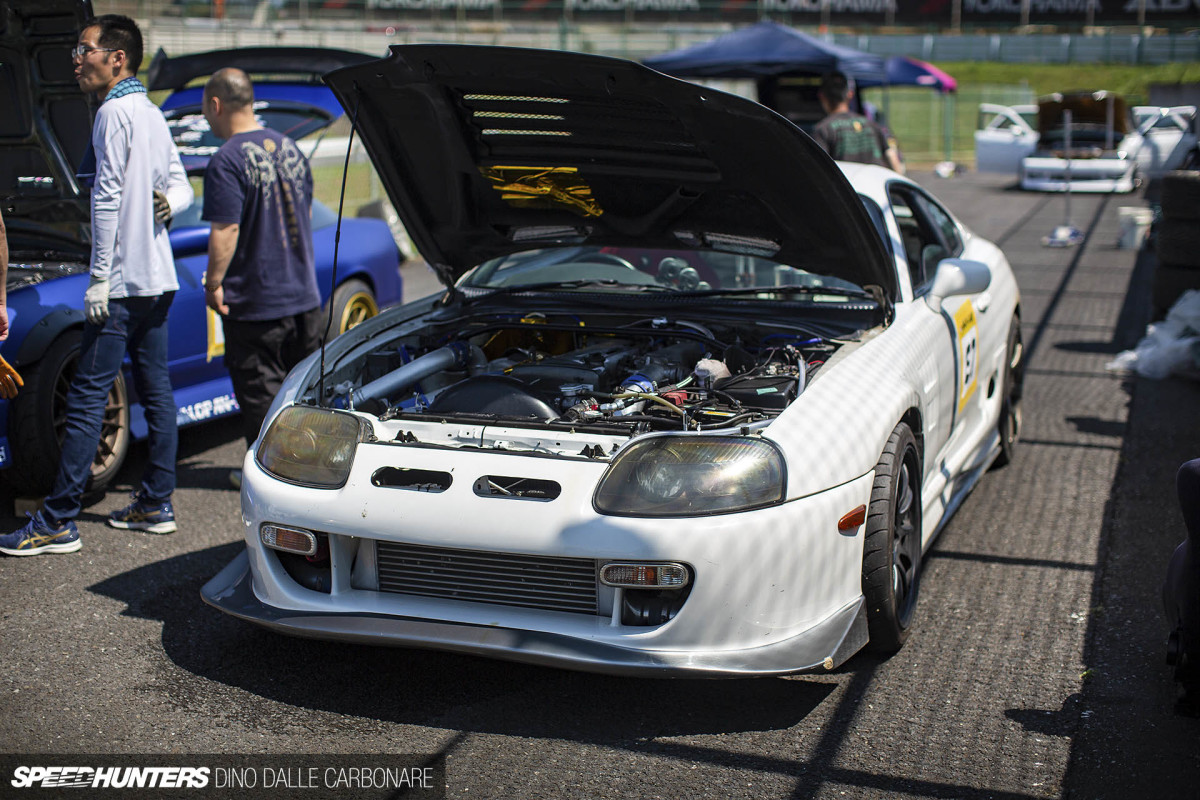 Aside from Nagahama-san of N-Style, I don't know too many other people that use a JZA80 for drifting. It's a pity too, because this is a chassis that's naturally gifted at going sideways thanks to an inability to put big power down.
And we all know how effortlessly a 2JZ can be persuaded to make power.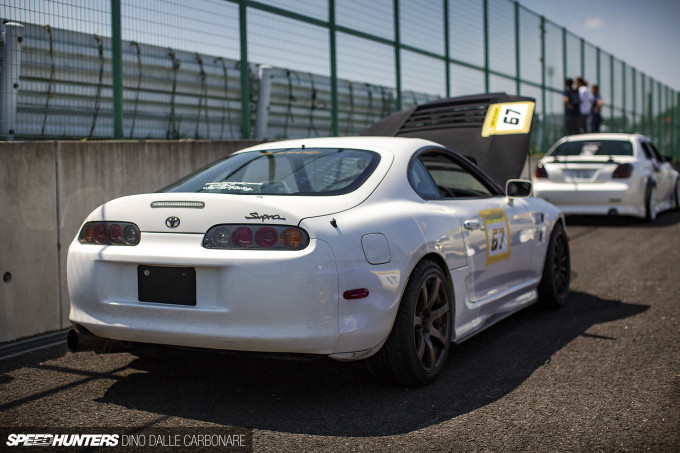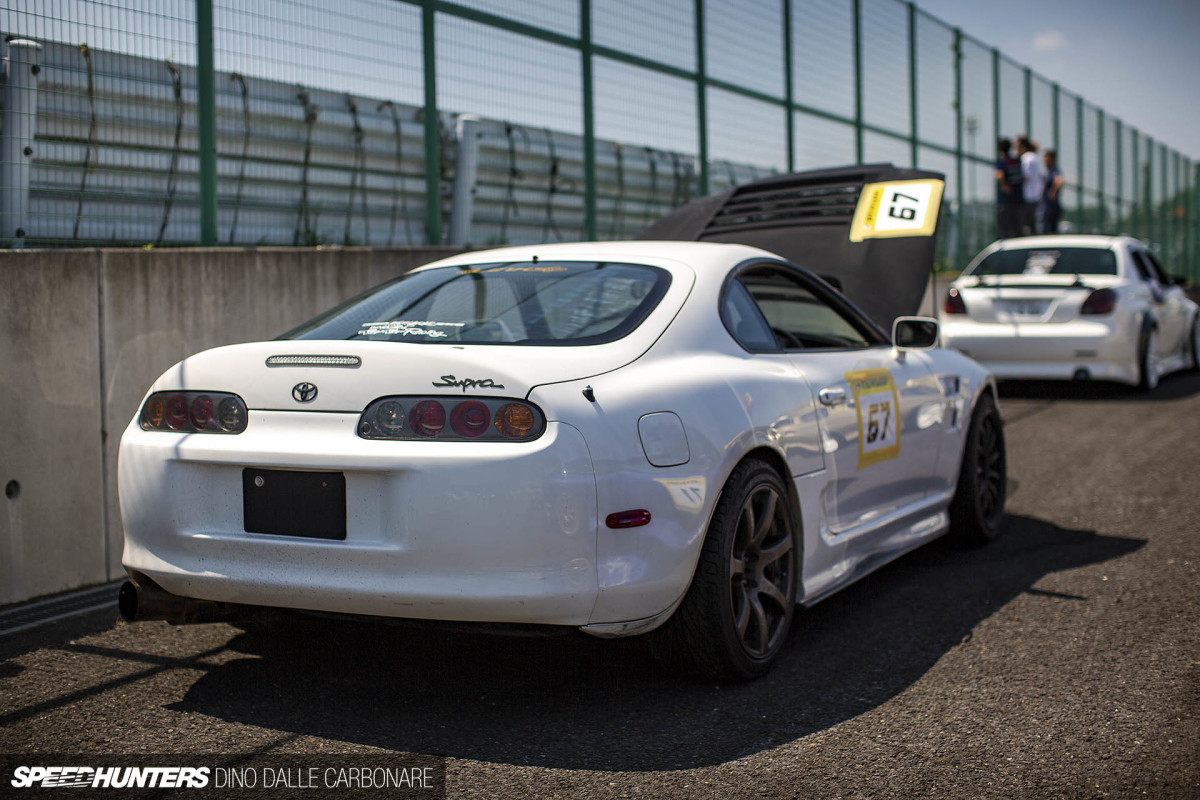 That said, with the finite number of Mk4 Supras around and their ever-appreciating value, I don't think we will be seeing an increase of drift-oriented JZA80s any time soon.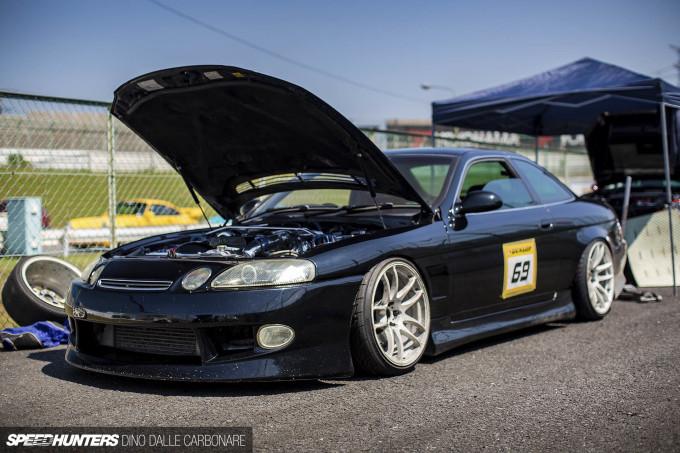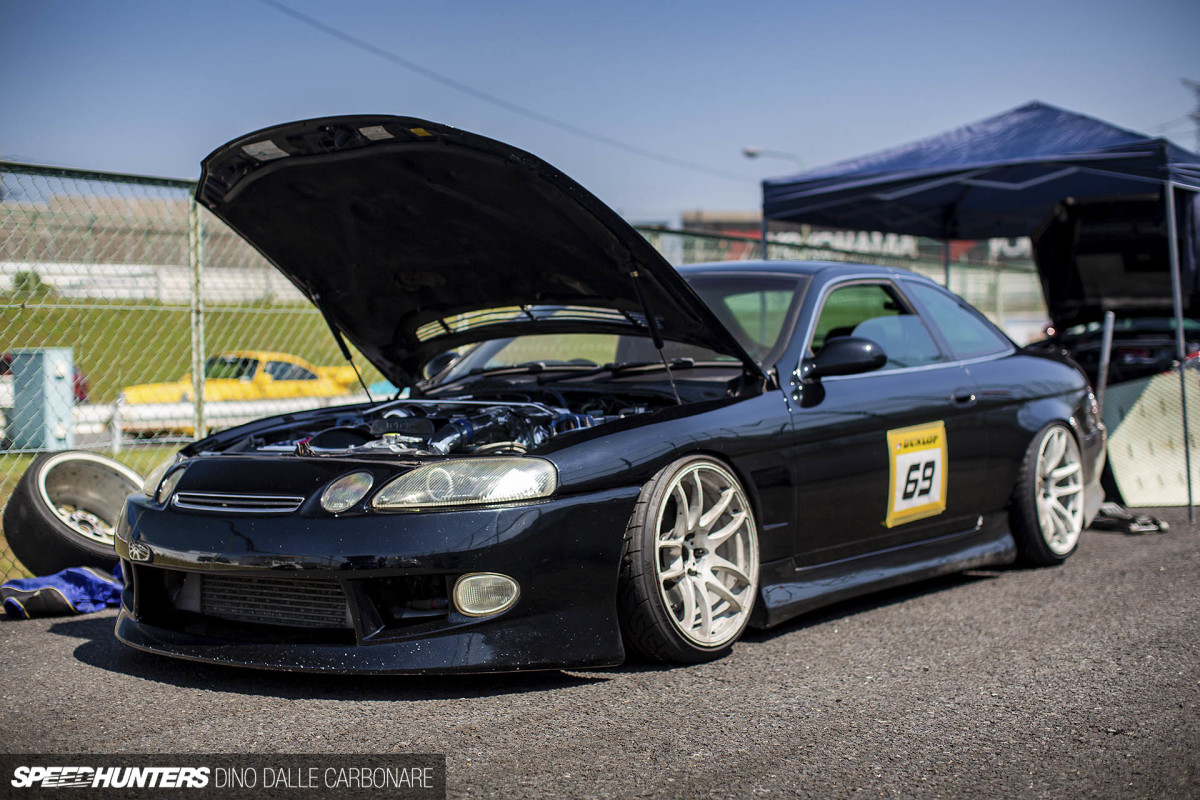 I'll never get tired of looking at different interpretations of the Z30 Soarer, and it's amazing how well this model responds to a few simple touches.
With a clean setup for the motor, plenty of power, handling and style in check, and a glovebox full of gauges, could a drift car be any more right than this?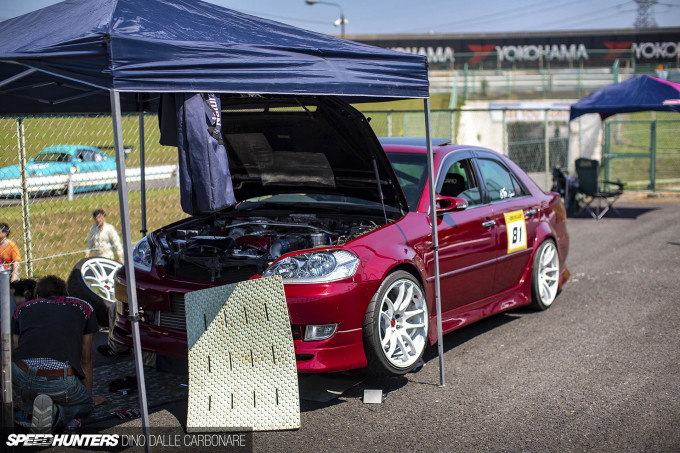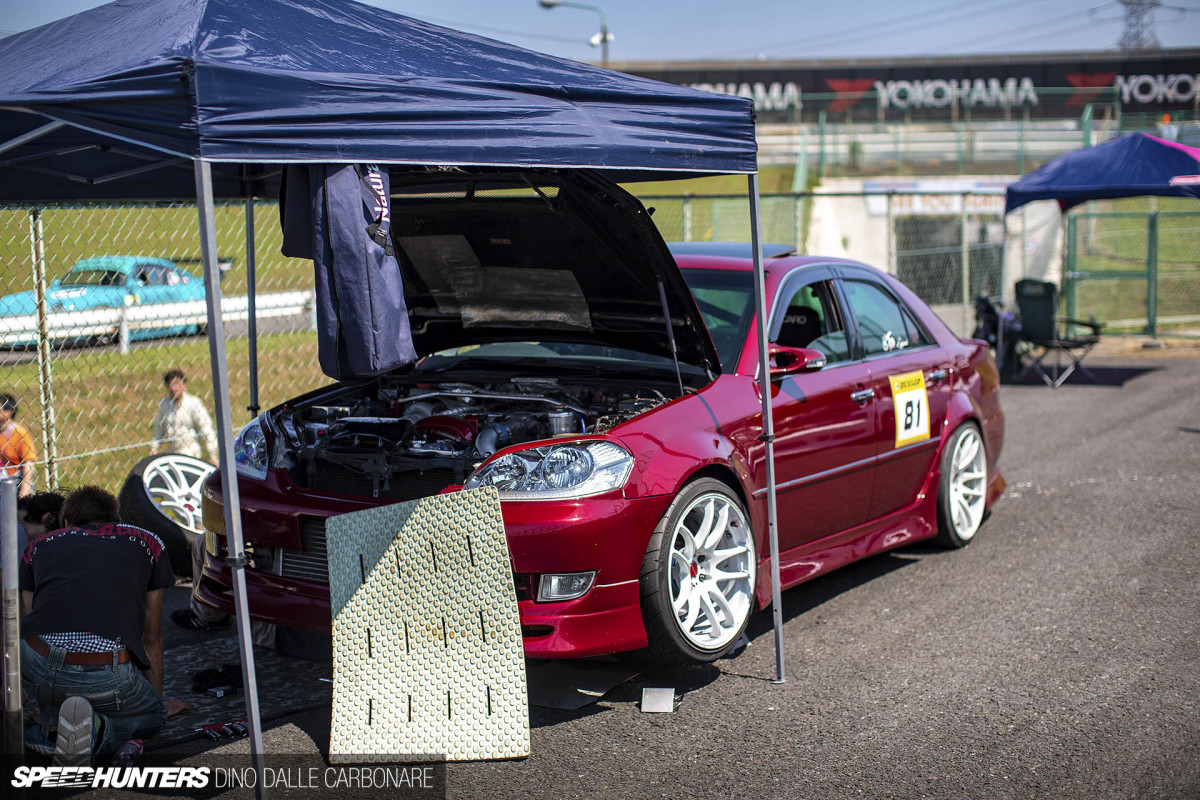 Sitting right at the end of the paddock was another JZX110, this time a Mark II.
It's interesting to see people still using old-tech turbos like the Trust T88. This is a tried and tested setup, but it's not exactly going to score highly on response. That said, there's no doubt it delivers at the top end, and when there's a screamer pipe off the wastegate venting to atmosphere you know it will have the sound in check too.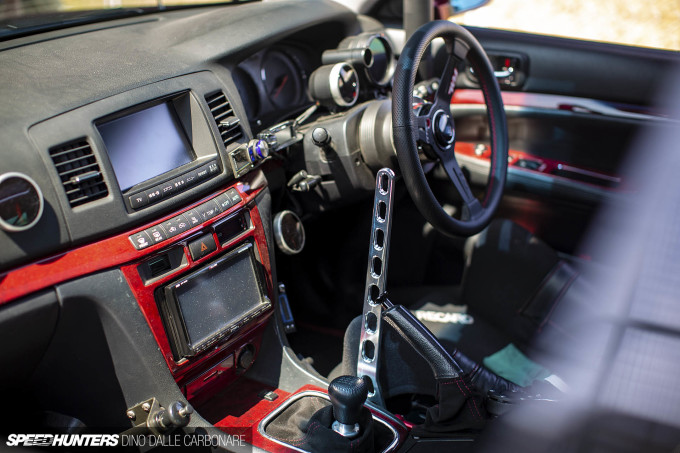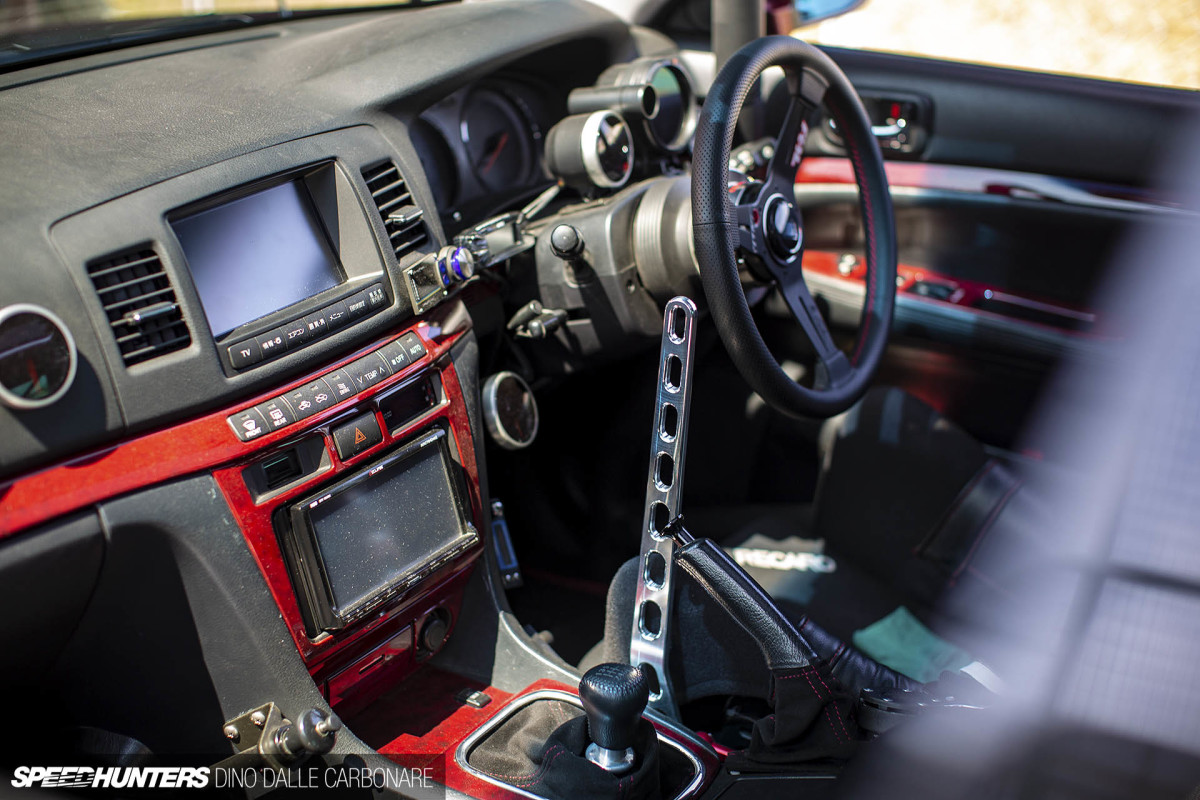 I always smile looking at these cars after they've been transformed into drift machines. The contrast of an old man interior spec with the faux wood trim against big e-brake levers and all sorts of gauges is comical in a way.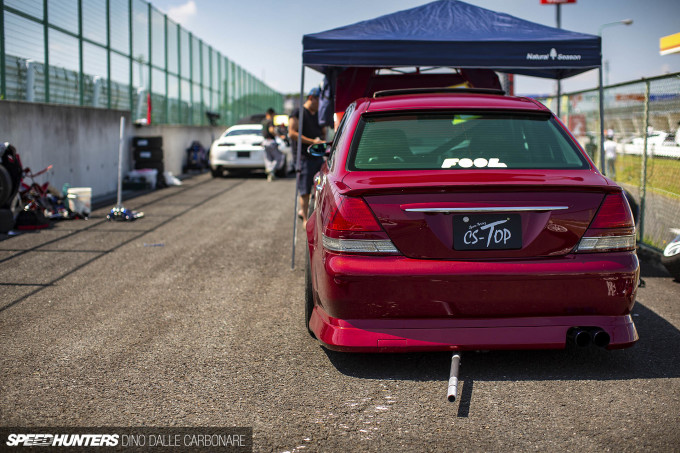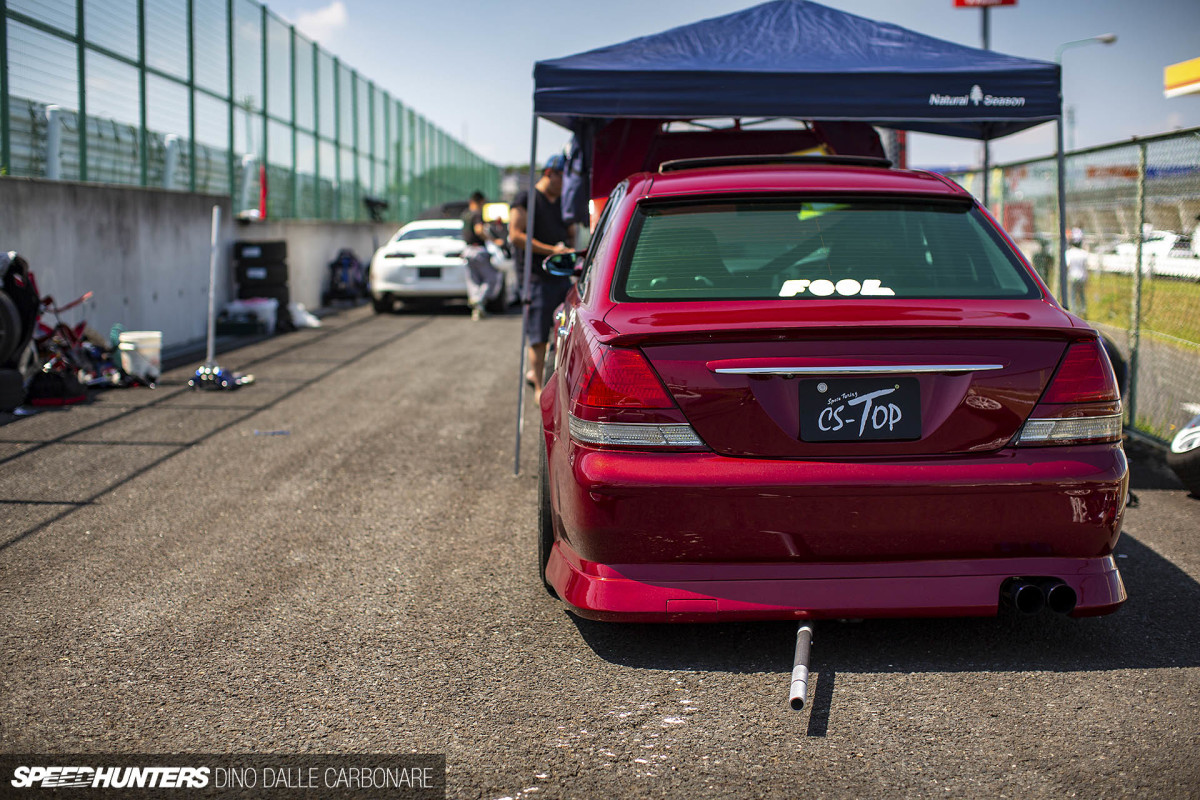 But you can't help but look back at these last few 1JZ-powered cars with a bit of sadness. Toyota aimed them at newly retired people, slotting them in between the more expensive and premium Crowns and Celsiors, all without knowing they were creating something that would still be revered by drifters almost 20 years later.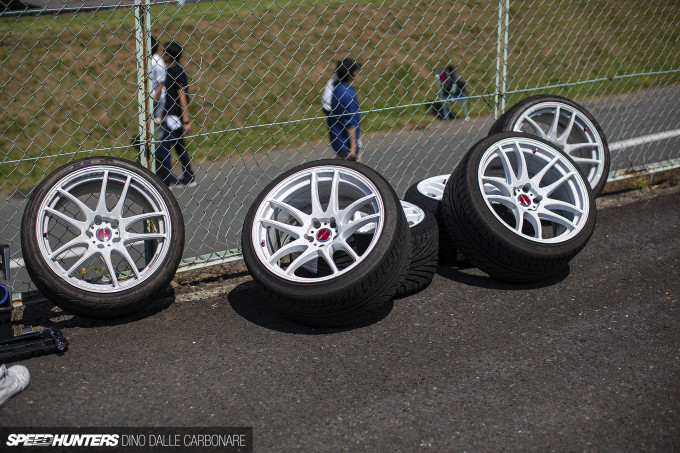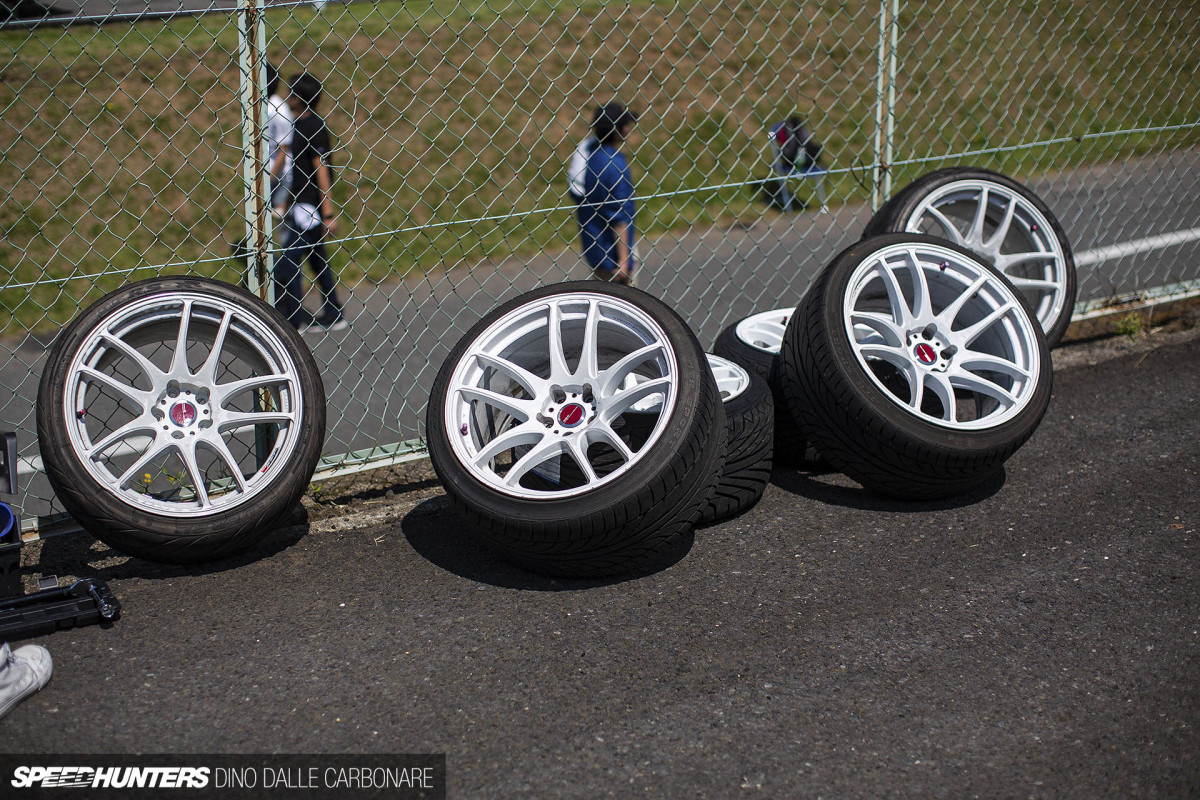 The 110 above had a whole bunch of Work Emotion Kiwamis ready to be used throughout the day. Matching wheels all 'round: baller status.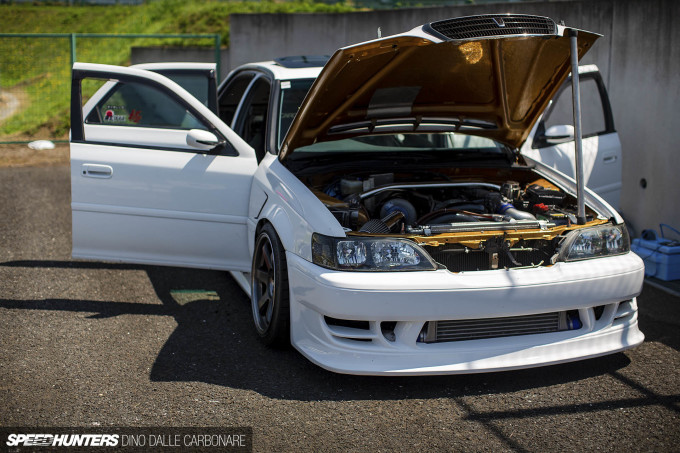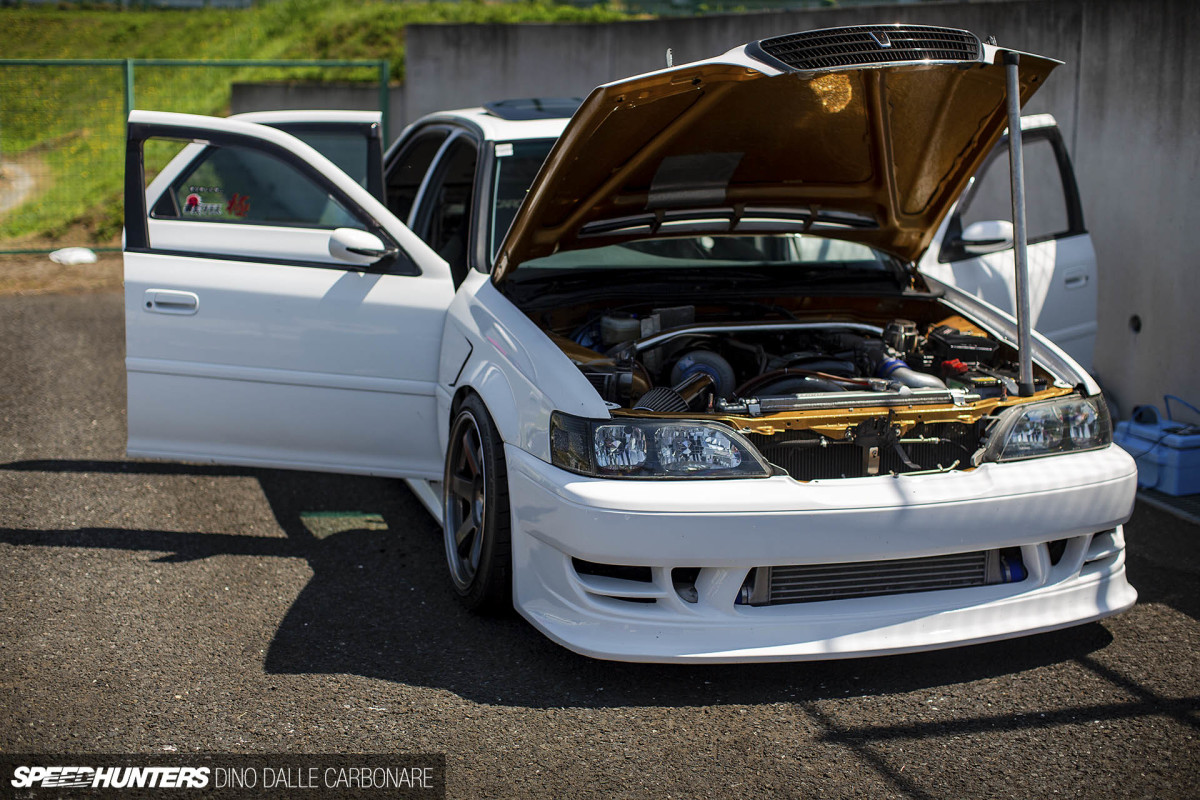 The very last car of the group was a fully built JZX100. It's beautifully executed with a spotless exterior, but there was a surprise under the hood.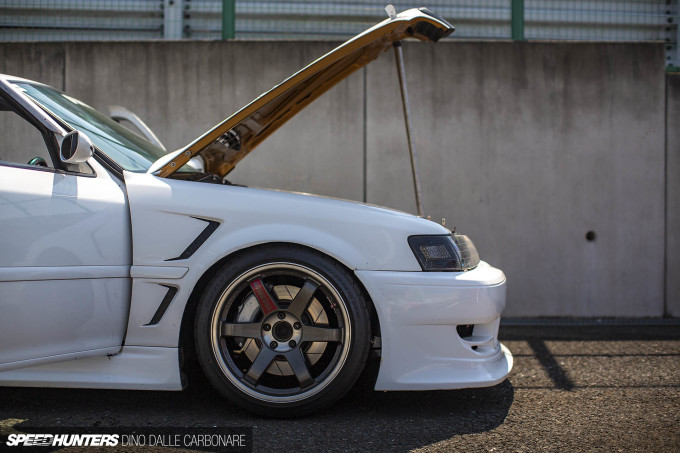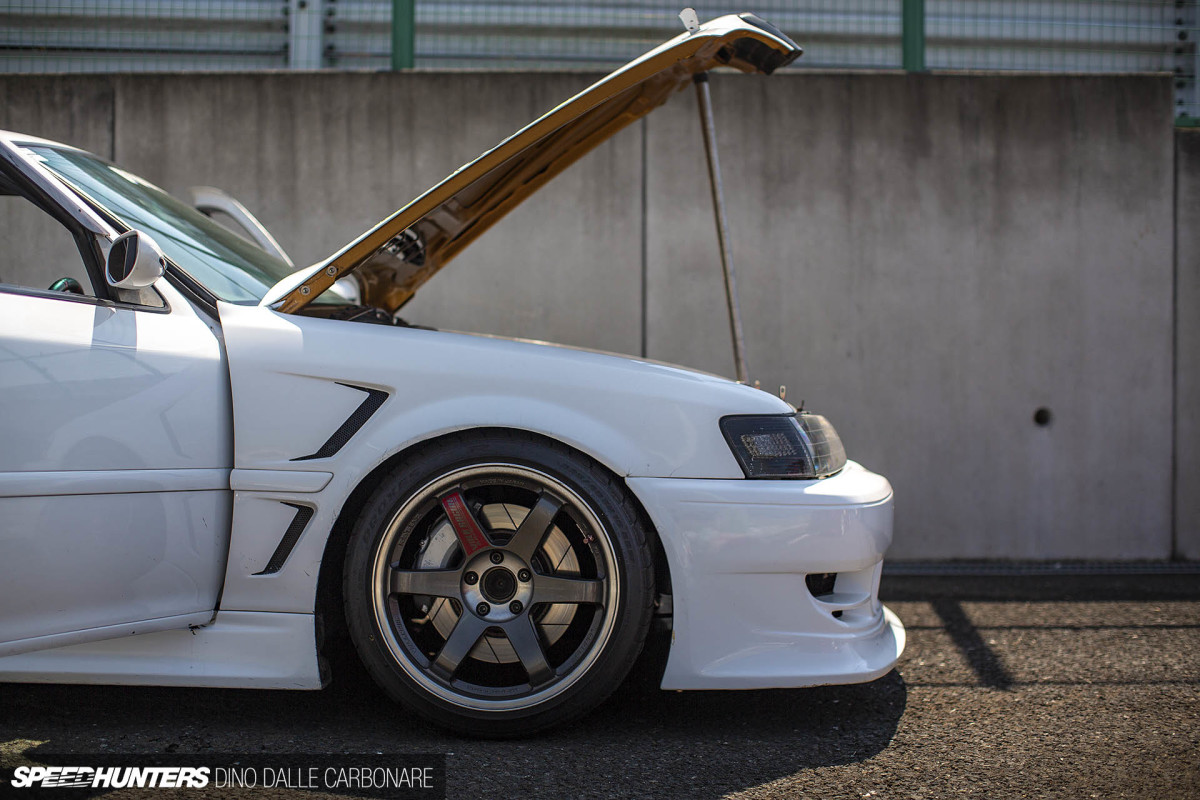 The easily recognizable SL version of RAYS' Volk Racing TE37s are always a perfect match for any performance-based car, be it built for drift or grip.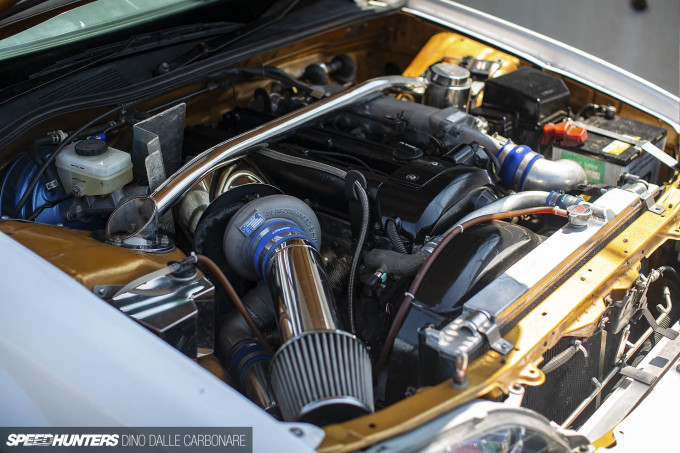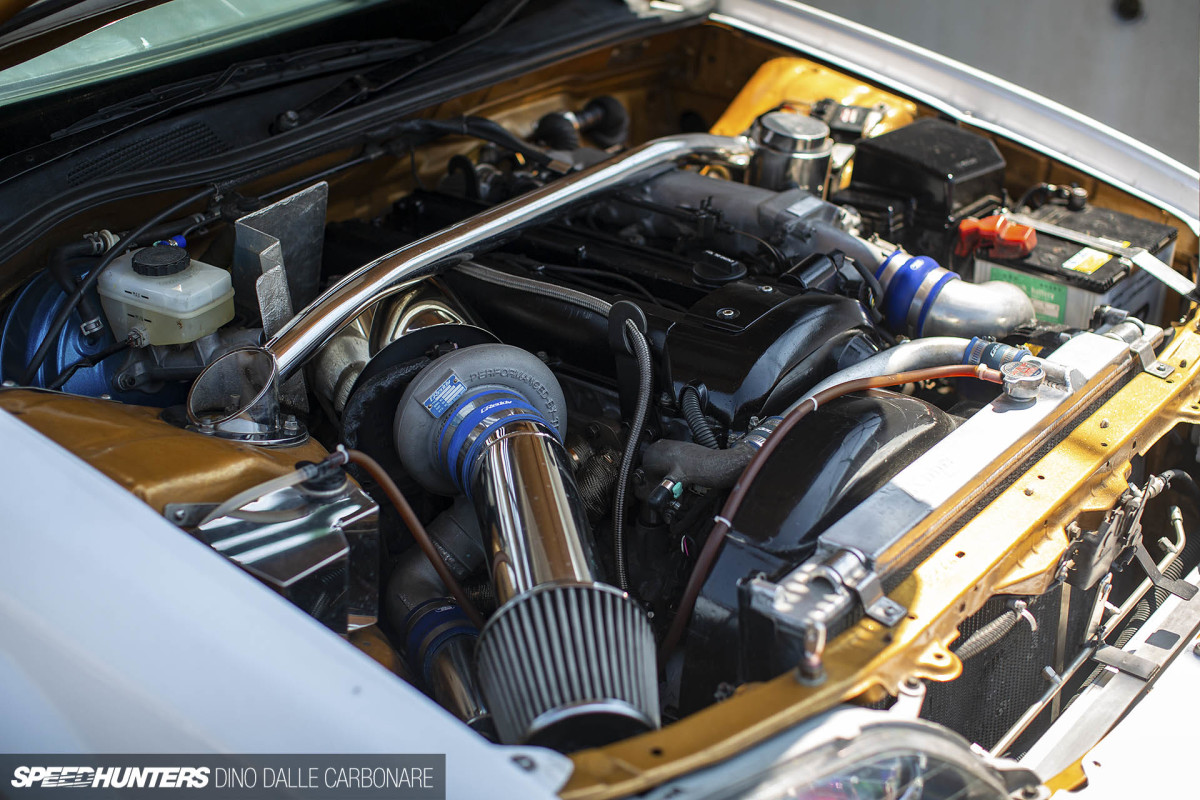 Yes, that's more T88 goodness.
Pretty much everything behind the front seats has been ditched, and there was even a large tank to supply water to an intercooler sprayer.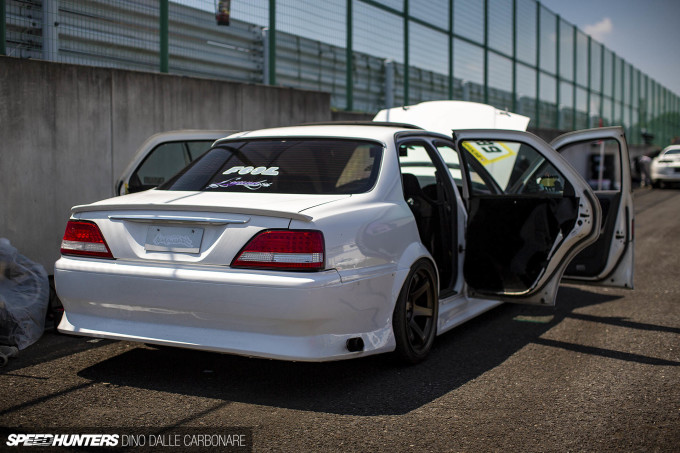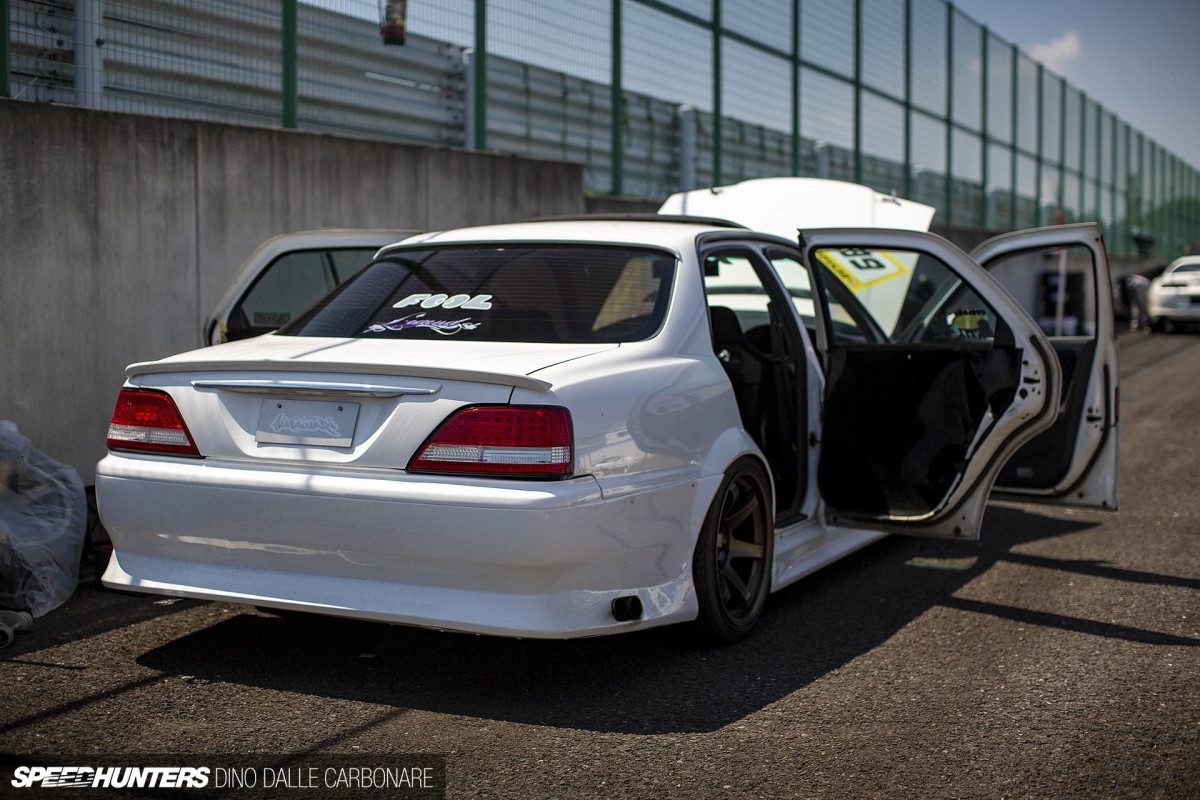 You may have already spotted the bronze TE37s at rear, but what really got me was the sneaky side pipes coming out of the bumper. What a cool touch.
The Drifting Gallery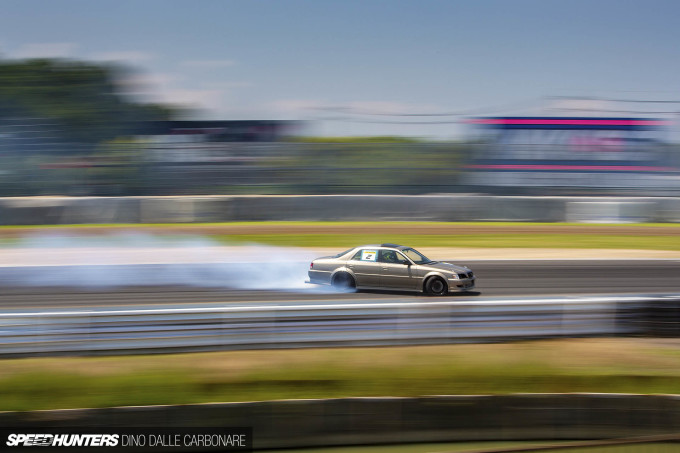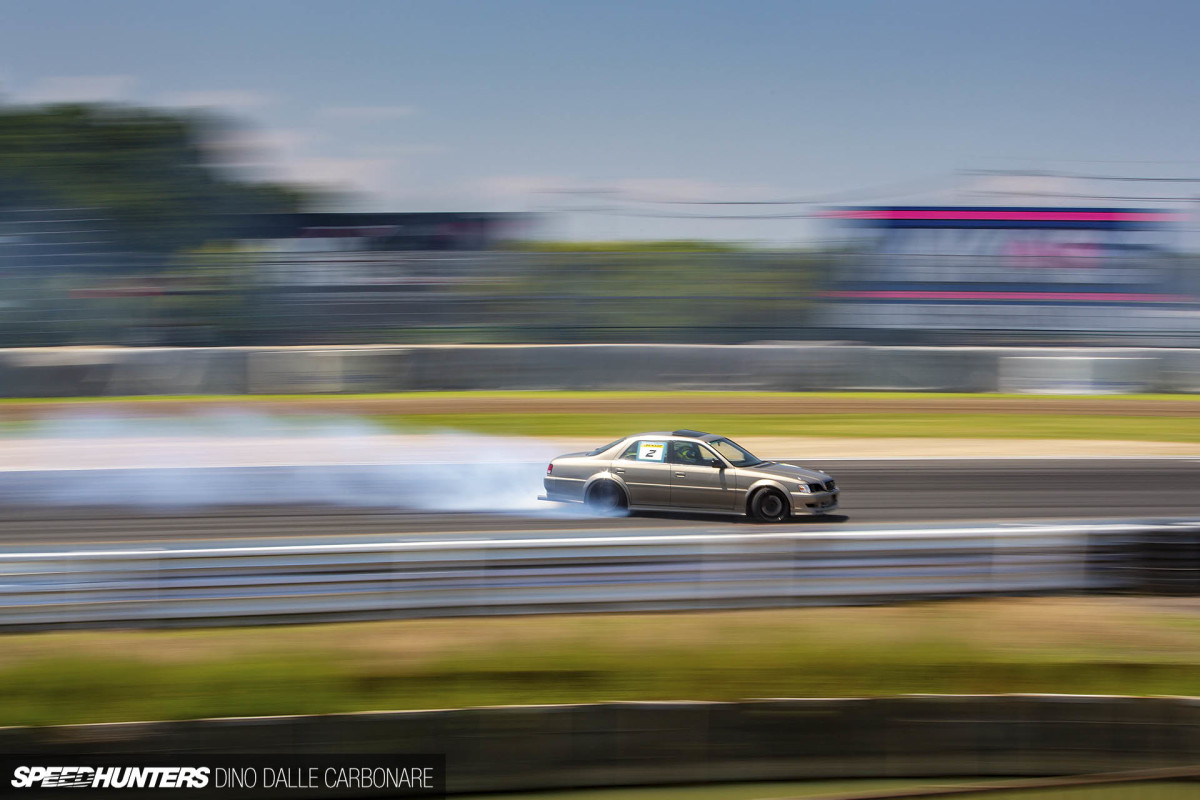 For me, Tsukuba is an awesome track for both time attack and drifting. I used to enjoy shooting D1 here back in the old days, and my favorite shots were always of cars setting up for the hairpin (as in the opening shot) and the high-speed entry into the final turn, as you can see above.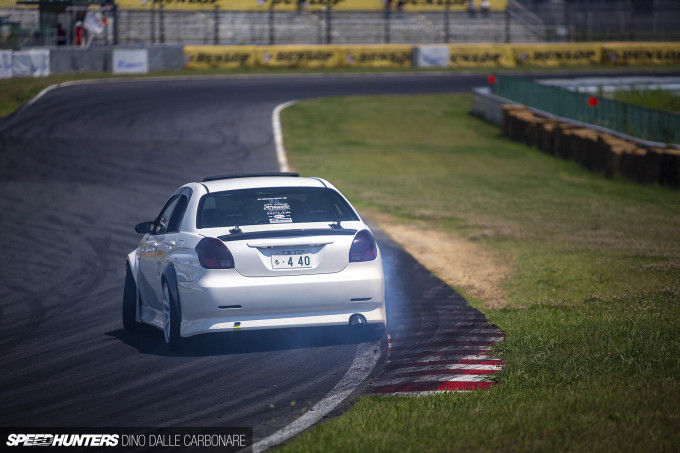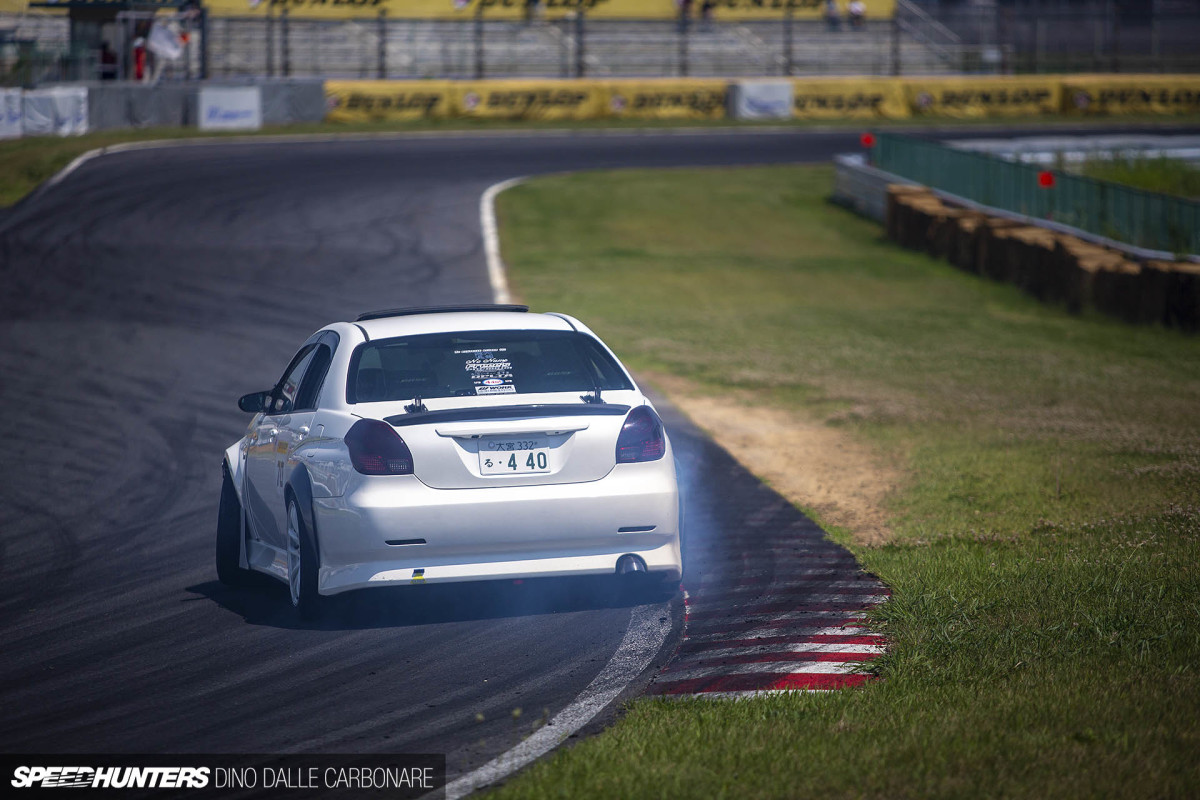 If there's one thing putting together this post taught me, it's that we need more grassroots drifting from Japan on Speedhunters. I really need to hit Mobara or Honjo one of these days…
Dino Dalle Carbonare
Instagram: speedhunters_dino
dino@speedhunters.com