From Mind To Matter
I couldn't make a car like this up if I tried. Lucky for you, me, and everyone who loves cars, someone else could. So he did.
It was four years ago that I first saw Aaron Beck's insane renders float across my computer screen and, unsurprisingly, his Beck Kustoms F132 Concept is the one that always stayed with me. It was the perfect mix of everything I loved, and I wasn't the only one.
Classic, unmistakable '30s Ford with a healthy dose of '90s Formula 1 and a dash of futuristic artistic liberty. Eventually the concept made it into Need for Speed and over time Aaron upped the insanity ante with more renders.
The only problem was that through all of this it wasn't a real car. But more recently, that changed.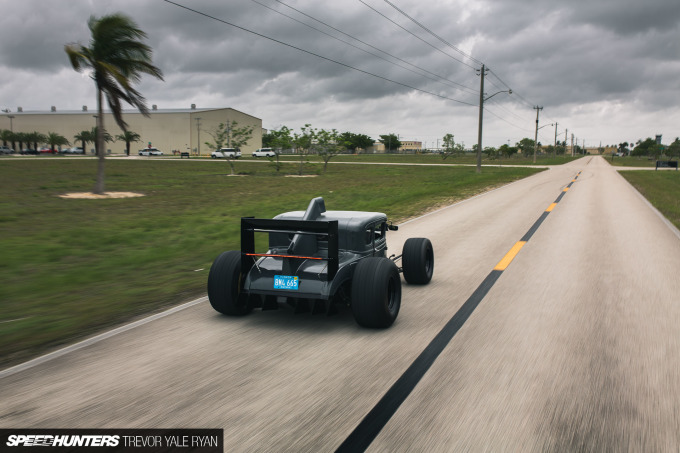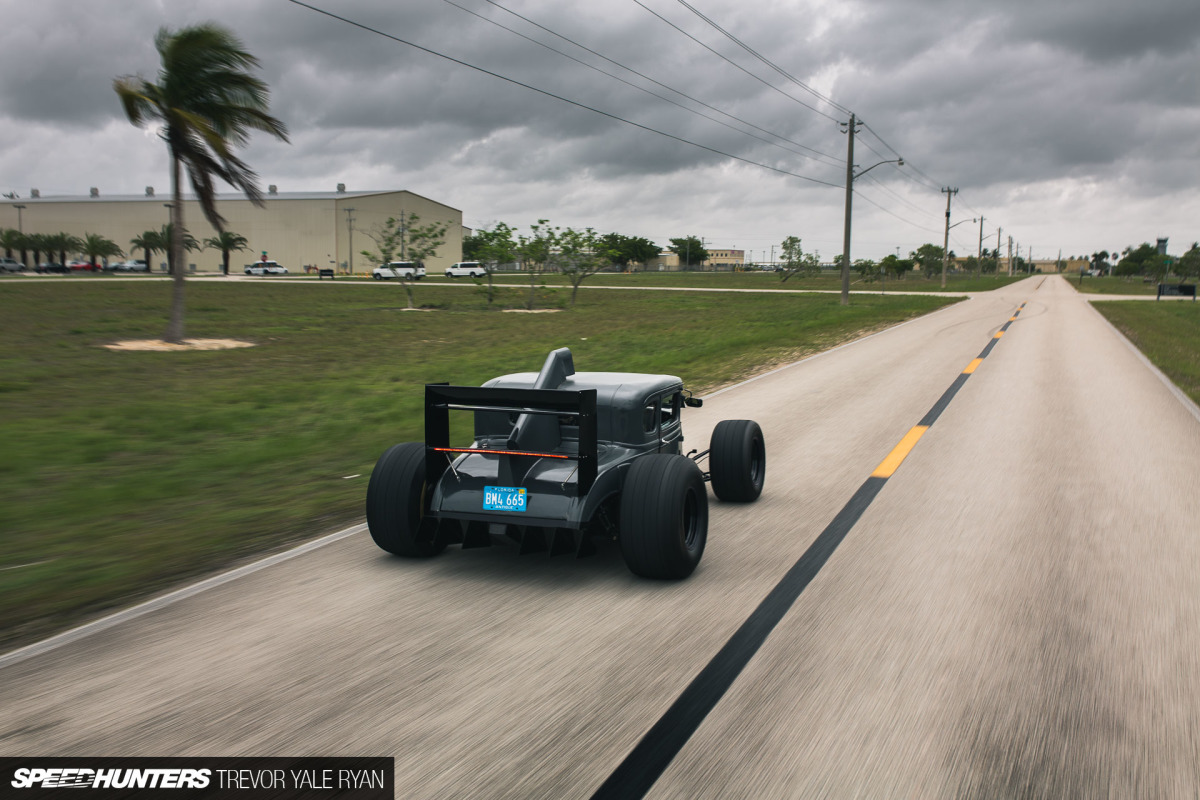 Seeing a real-life interpretation of the Model A that lived for so long in the back of my automotive imagination was such a mind-bender. Enthusiast or not, it's a total neck-breaker; you can't help but stare when you see this car next to you flying down the road.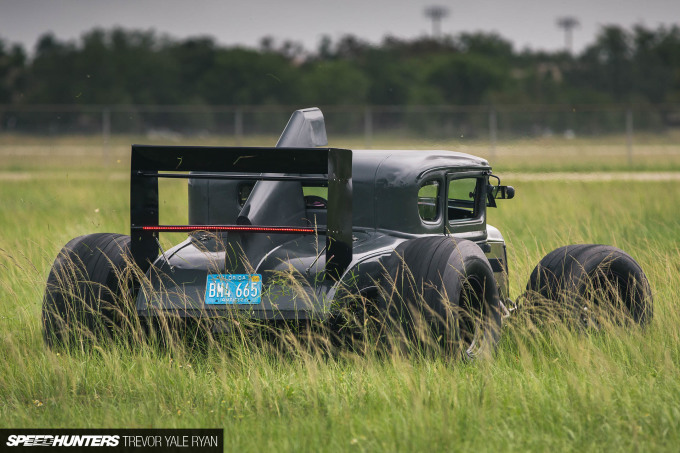 Or doing donuts in a grassy field…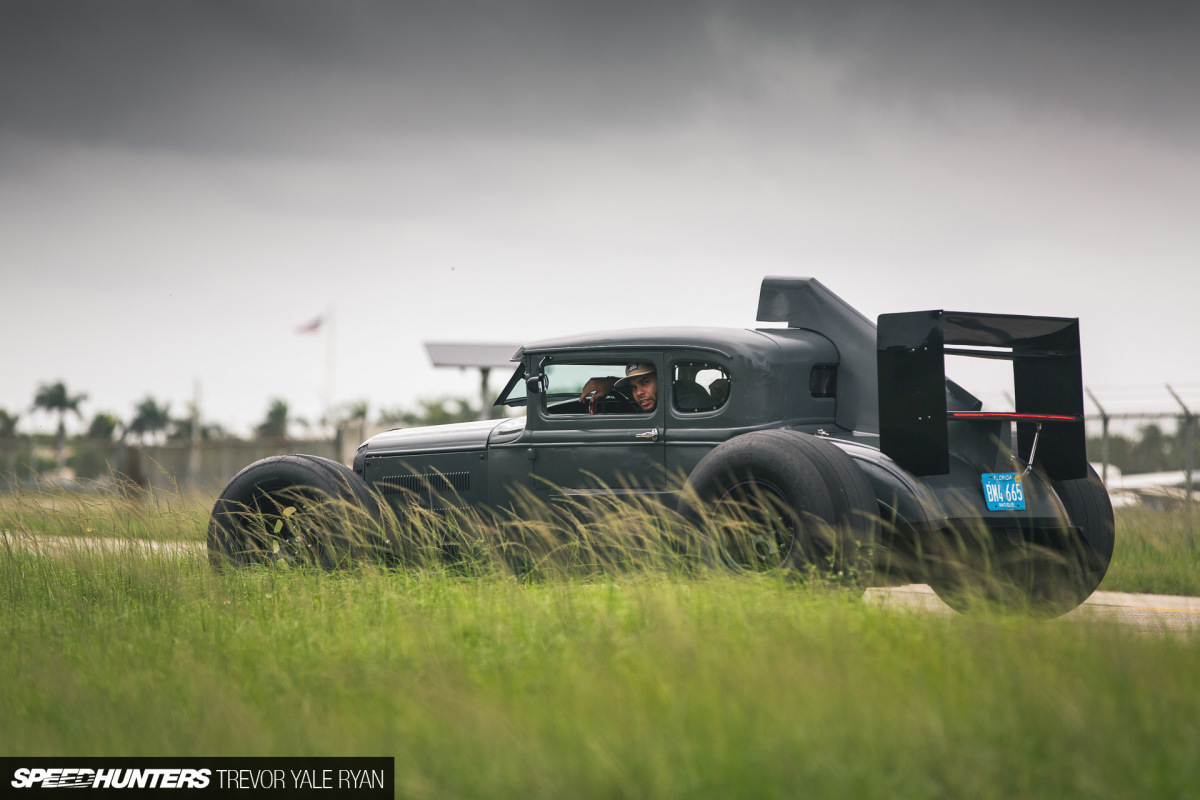 While Ricky Boada isn't the madman who decided to bring Aaron's concept into the real world, he is the madman who owns it now.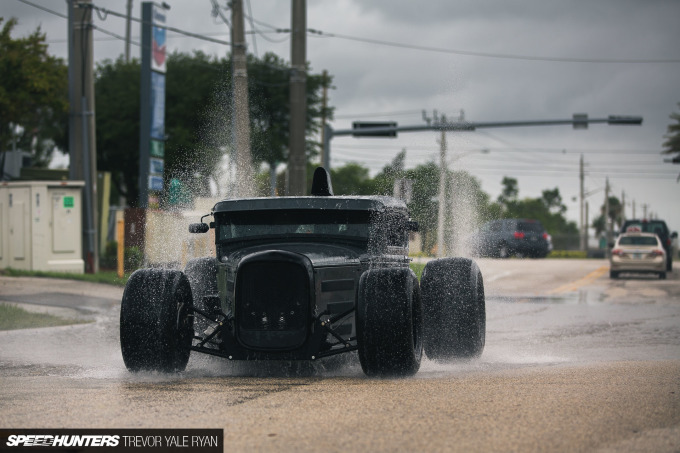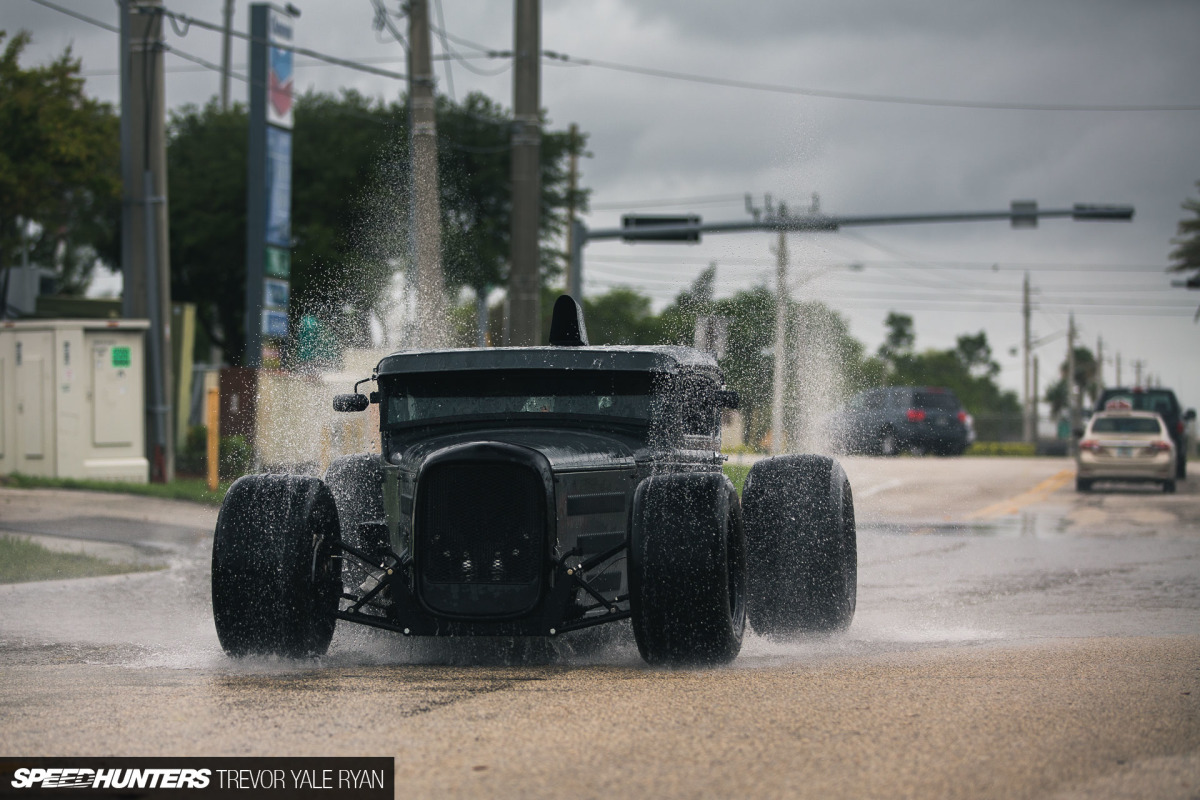 And you might have inferred that Ricky is a no f**ks given sort of guy. From start to finish, this was not at all a normal photoshoot.
Ricky aside, this isn't a normal car either, not by any definition of the word. The huge drag slicks, trick suspension, and wild aero on the car have transformed it so incredibly far from what it looked like 90 years ago.
And while Aaron had the advantage of imaginary physics (and an infinite budget), it's amazing how close this work in progress has come to the actual renders.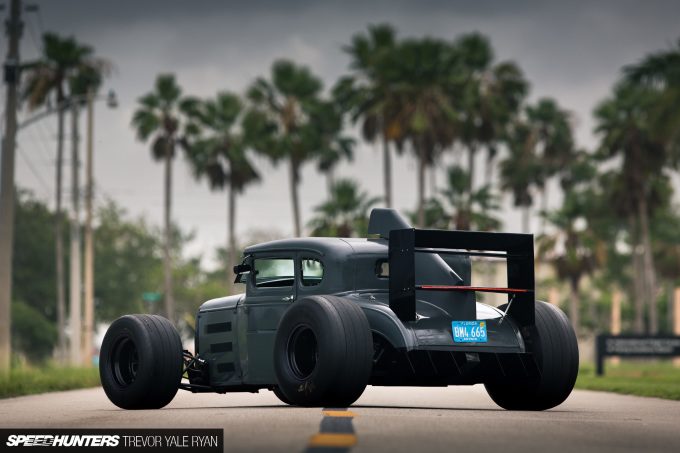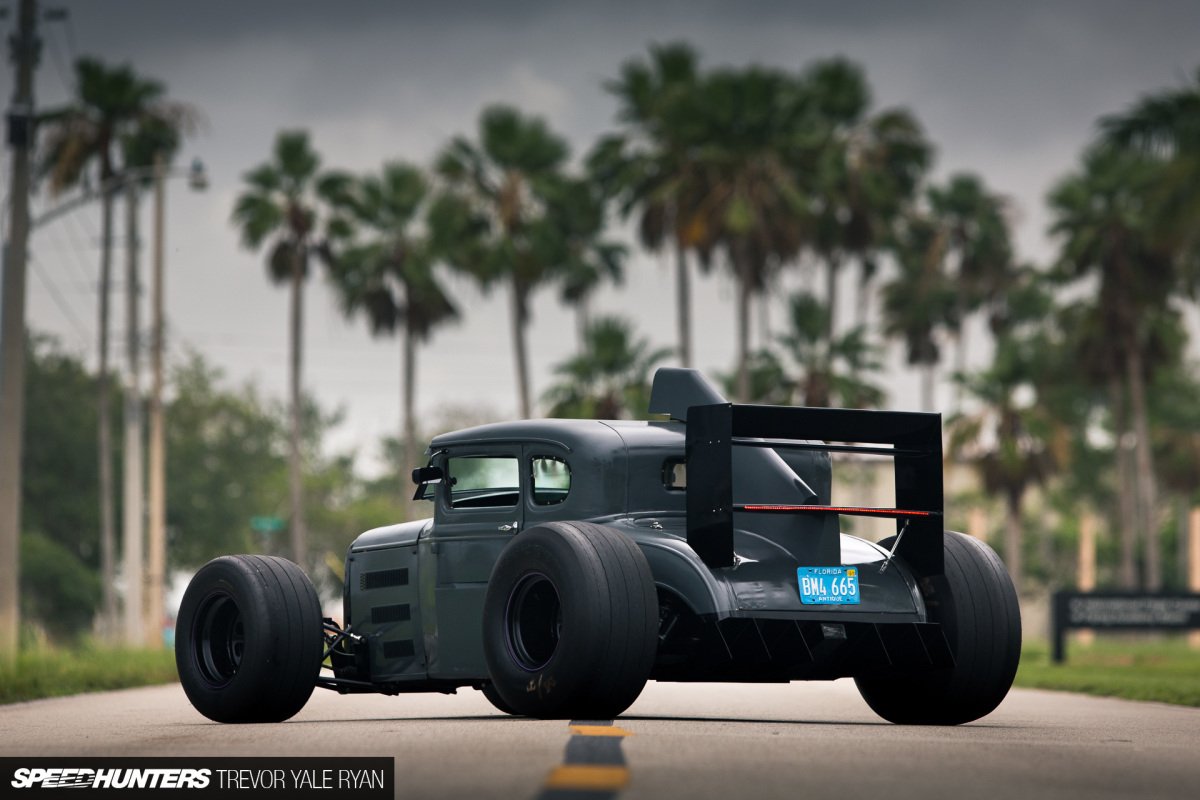 I'll do my best to put you in my shoes for the crazy shenanigans that Ricky got up to in the short time I spent with him and the car, but first we need to sort out a few technical details.
Work In Progress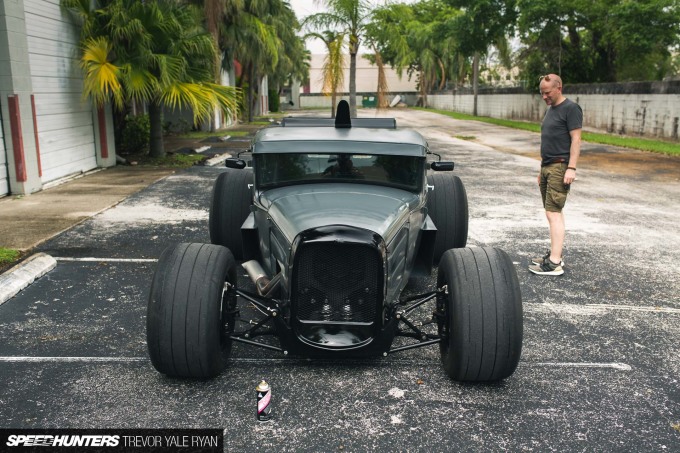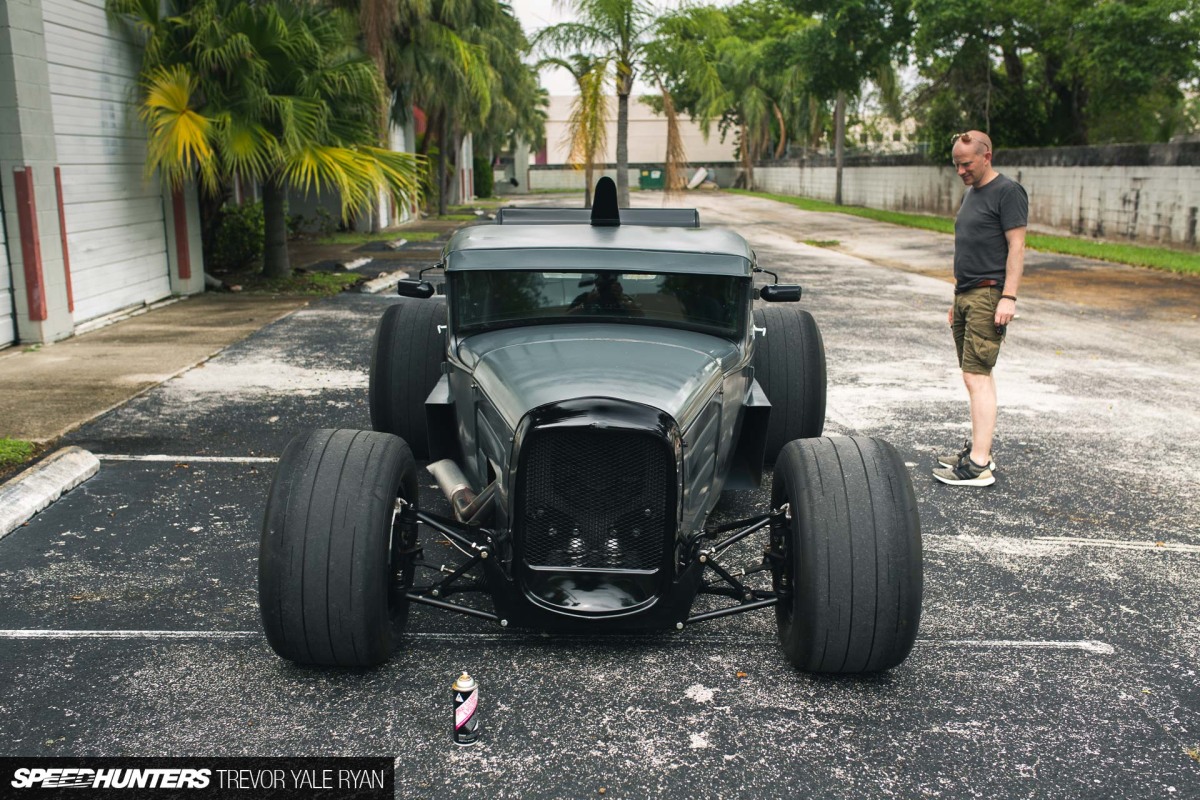 Ricky picked the car up roughly a year and a half before we met, and during this time he's gotten the car rolling down the road and the swap running smoothly. Before we get too deep into the build you need to understand that this is far from the finished product.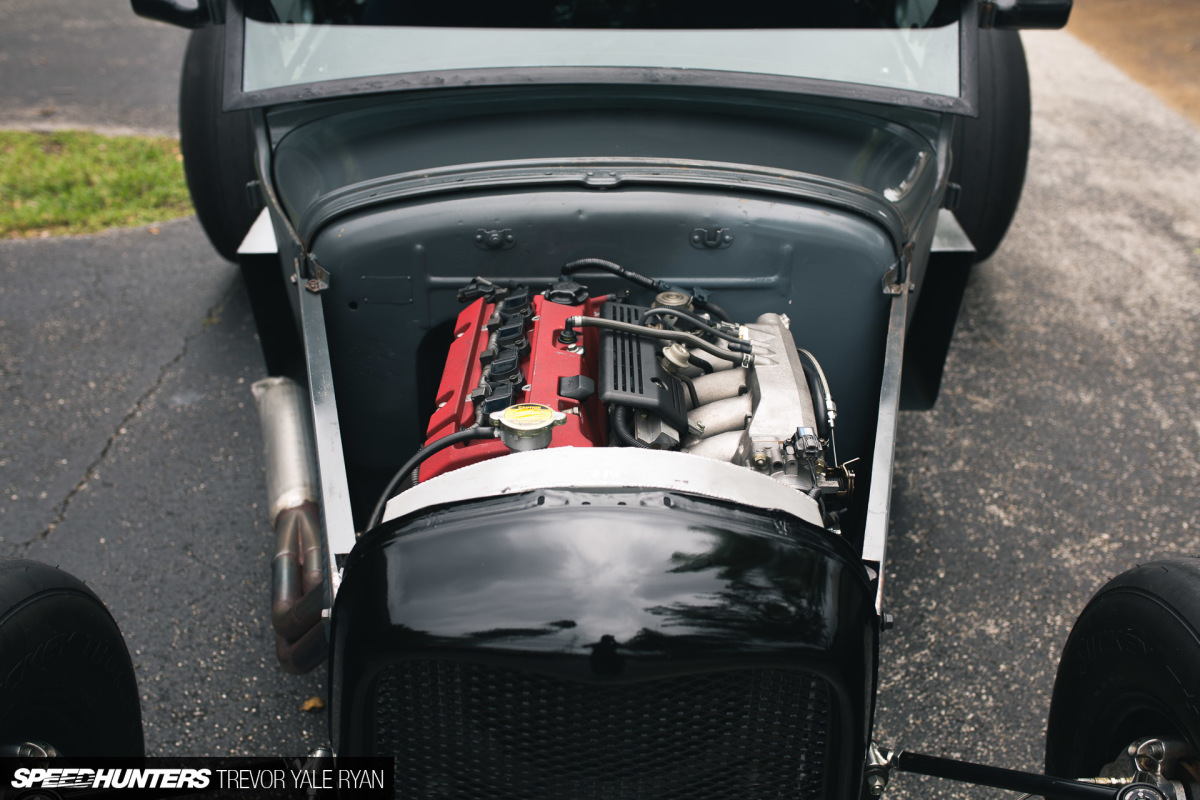 This will become apparent as soon as you take a look under the hood.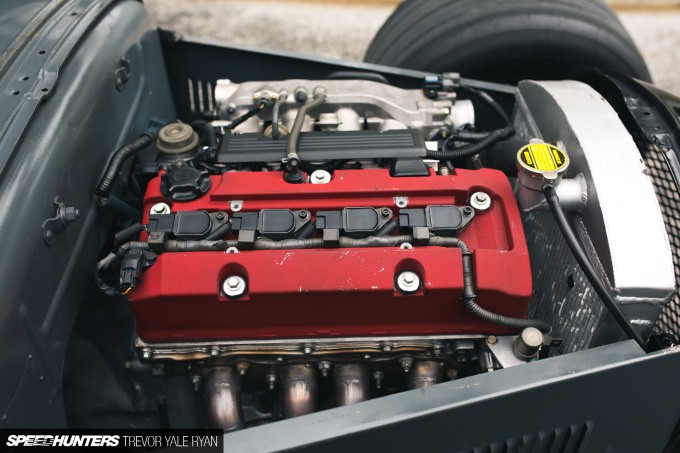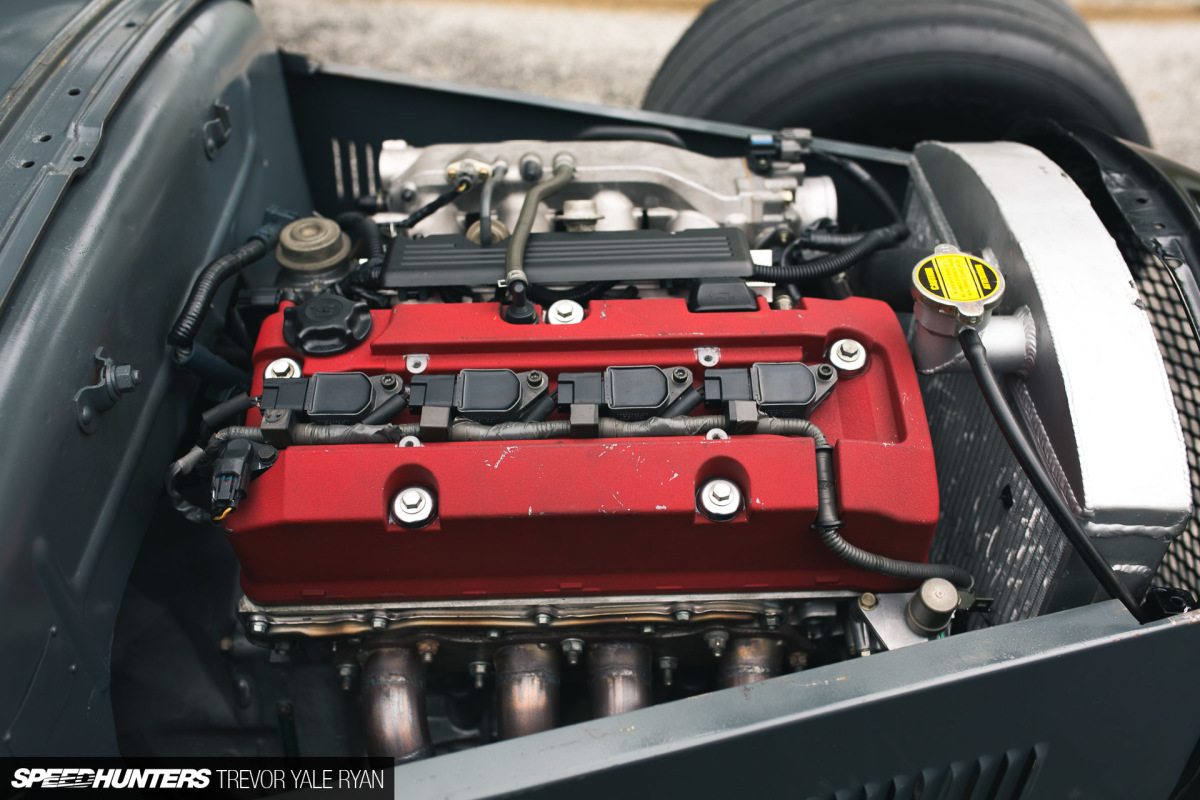 While the four cylinder F20C motor from a Honda S2000 looks right at home, internet sleuths will be quick to point out a major flaw.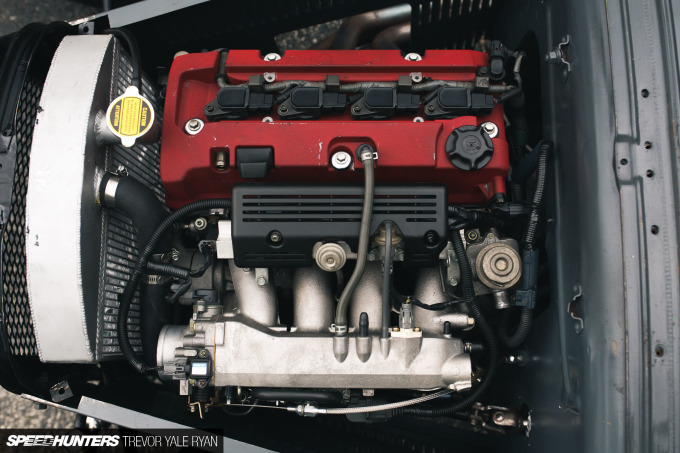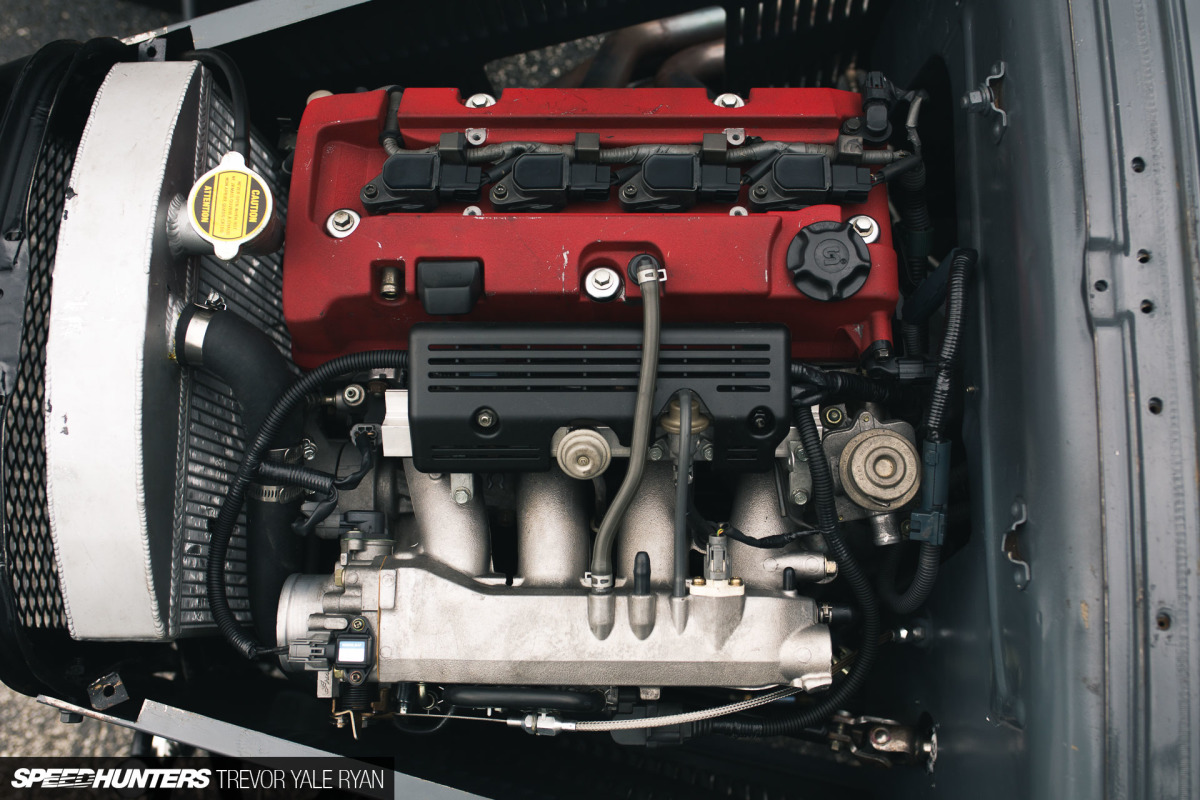 As tight and tidy as the motor may be, it's just a bit too tight and there's clearly no space for a proper air induction setup. But as much as a problem this may seem to be, a solution for this was devised up front in the design process.
The ducting along the sides and top of the Model A is completely functional and the radiator will be relocated to the back of the car. This will leave plenty of room up front for a number of options. Turbo? Supercharger? Who's to say…
After air is mixed with fuel and converted into pure joy the spent fumes scream out a custom-built 4-1 header and dump out the side pipe. Ricky says he wants to tune the exhaust for a better note so you'll have to wait for a follow-up when the car's finished to get a sound clip out of me.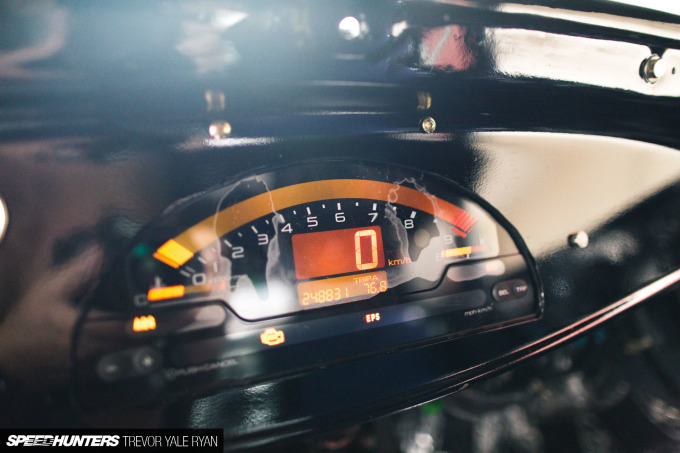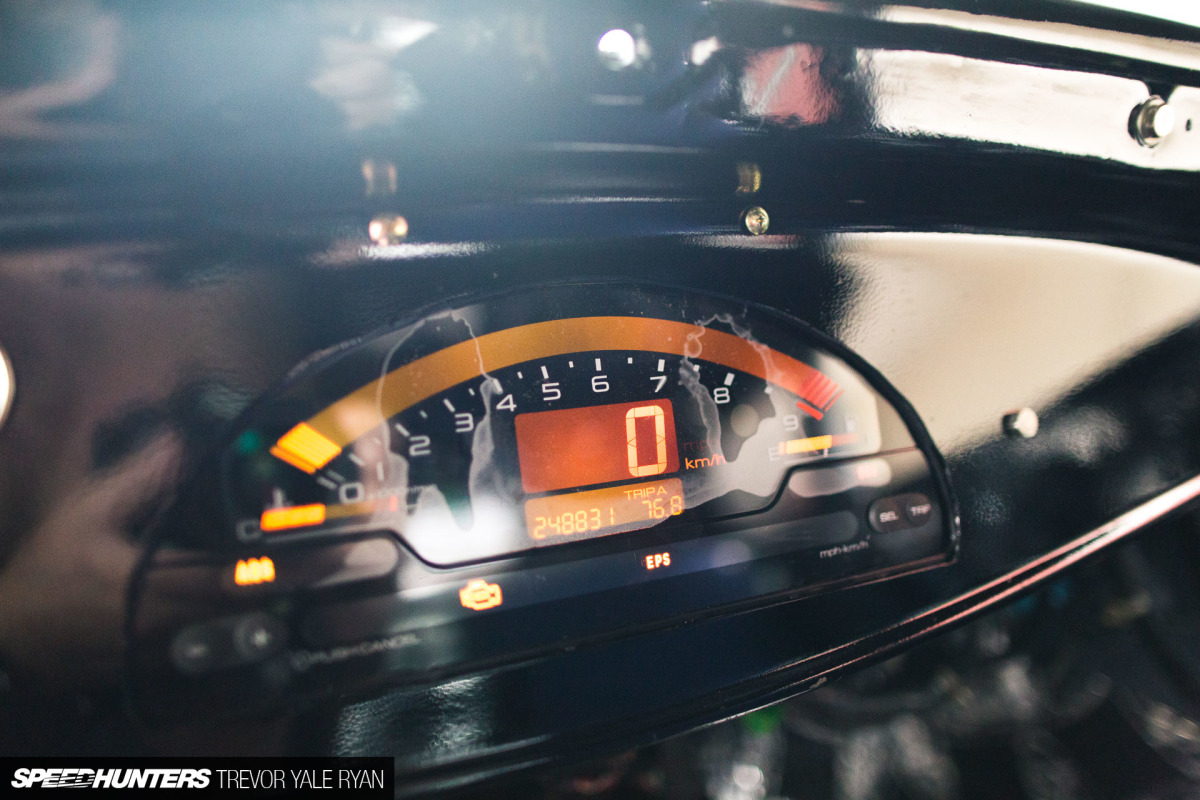 On that note, the interior is in a fairly stark condition at this point. While it's enough to keep the water out of the cockpit, Ricky's discovered that moisture continues to creep into the dash.
He'll need to take it all apart and find a way to properly seal everything up, but it's cool that the car uses the classic S2K gauges and start button.
This isn't all that's borrowed from a Honda either; with a Wilwood setup in the front the rear brakes are straight off an S2000. The Ford also makes use of the Honda's stock (for now) 6-speed and 4.10 differential.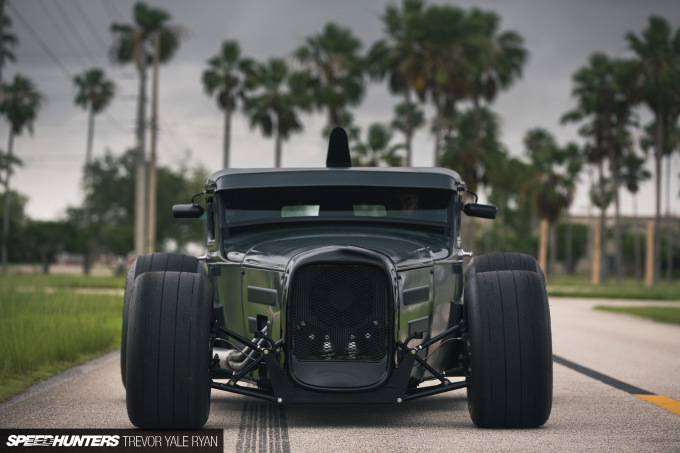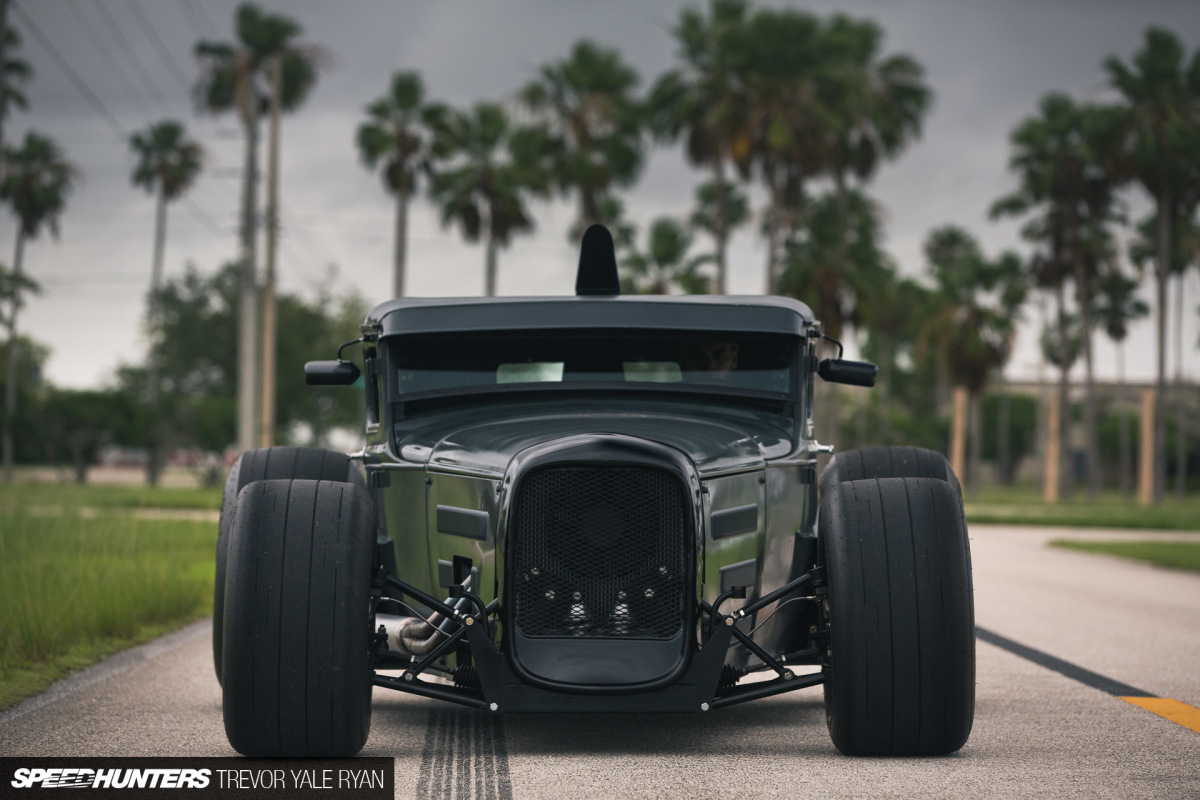 The suspension is more closely related to Aaron's concept, utilizing a proper open-wheel racing pushrod style setup. I can't speak for or against the engineering behind the geometry itself, but I will say that the unequal length A-arms make for a surprisingly comfortable and very stable ride.
While we weren't searching for grip at speed while cruising around, I'm sure it could be tuned for this fairly easily. You'll notice the struts themselves are mounted inboard and actuated via a bell crank; all that seems to be missing is a sway bar (unless I've plain missed it), but this should be a fairly straightforward addition later on.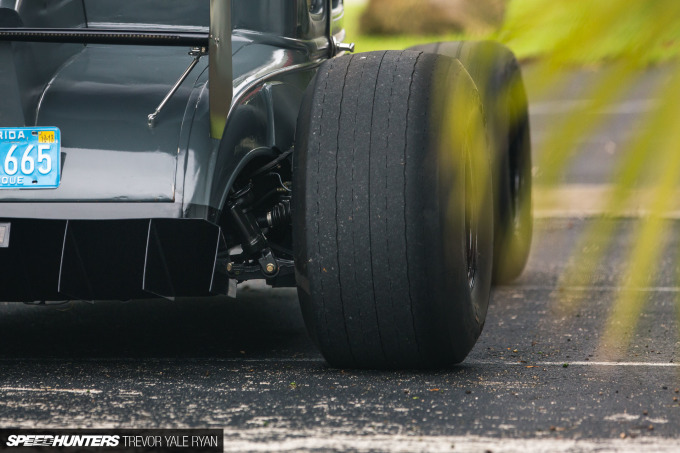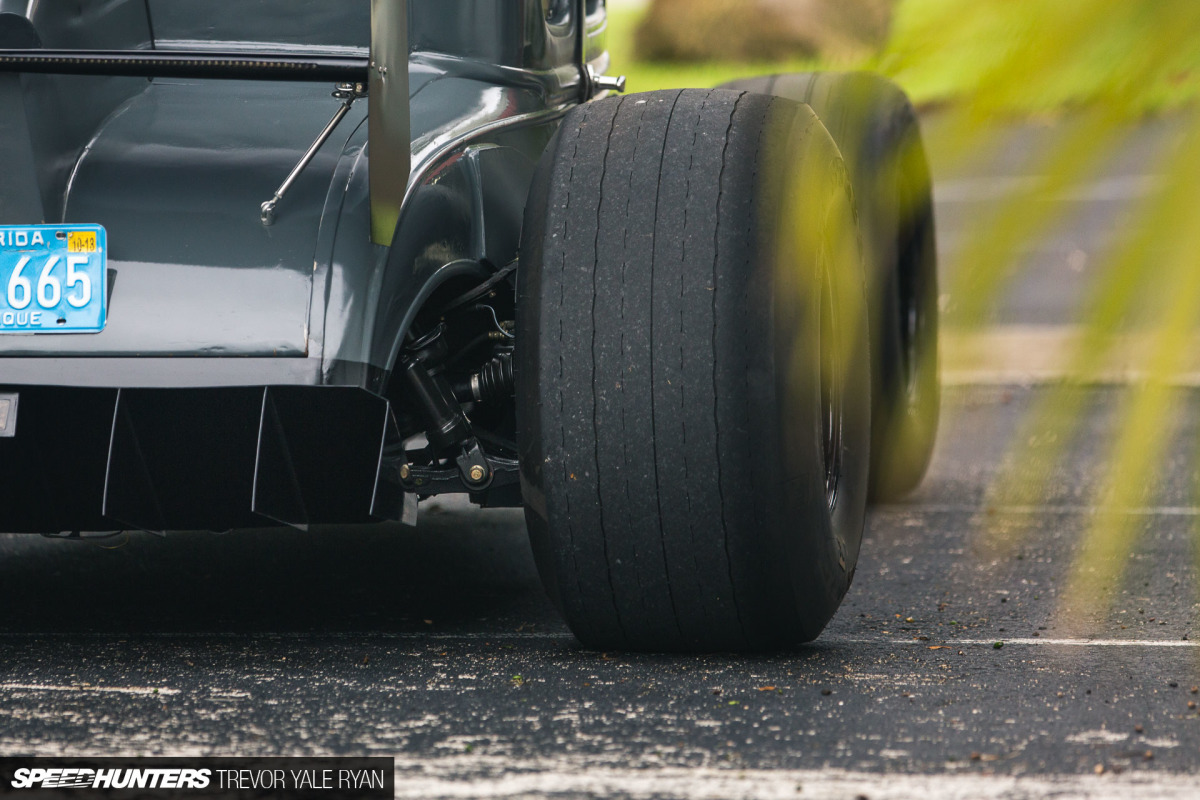 In the back of the car you'll find more factory S2000 bits in the form of the entire IRS setup. All things considered, this is a brilliant setup with loads of aftermarket support available, and there's tons more potential beyond a highway cruiser.
Over 9000!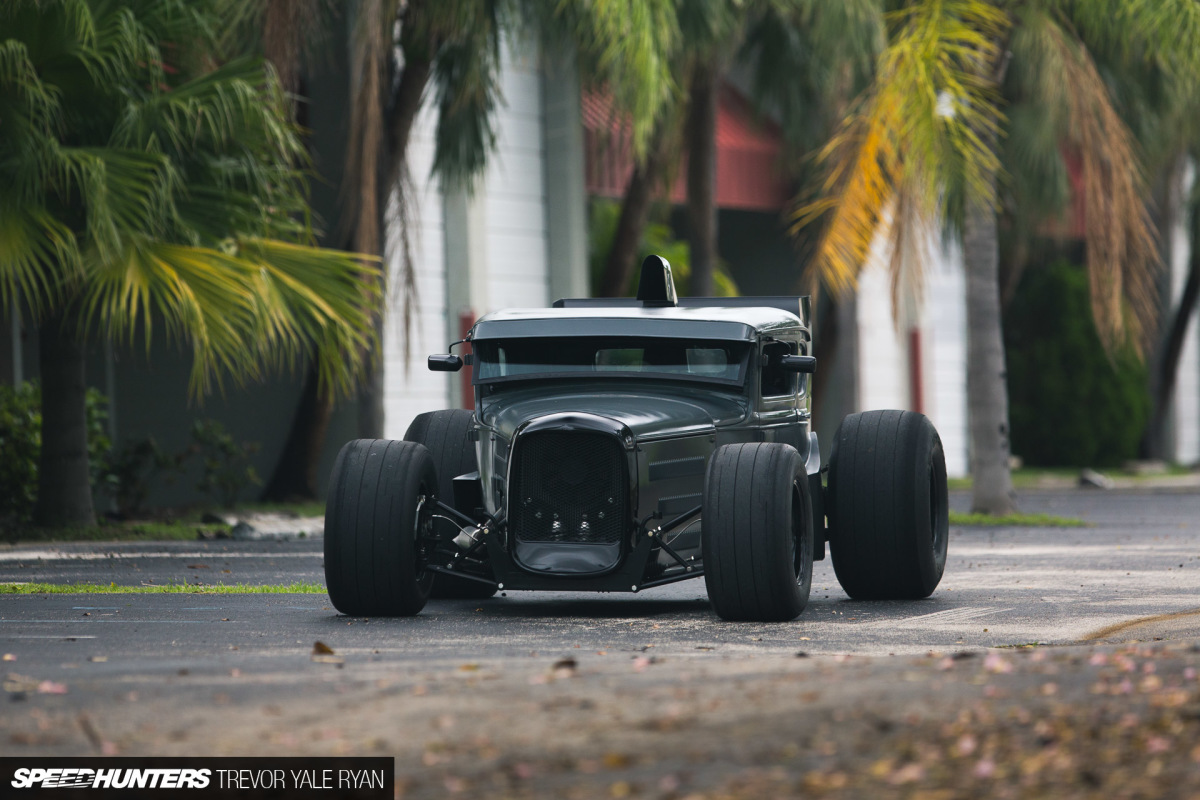 Curiosity satisfied and the temporary paint job wiped down, it was time to go a bit nuts. I just didn't know how nuts things were going to end up being.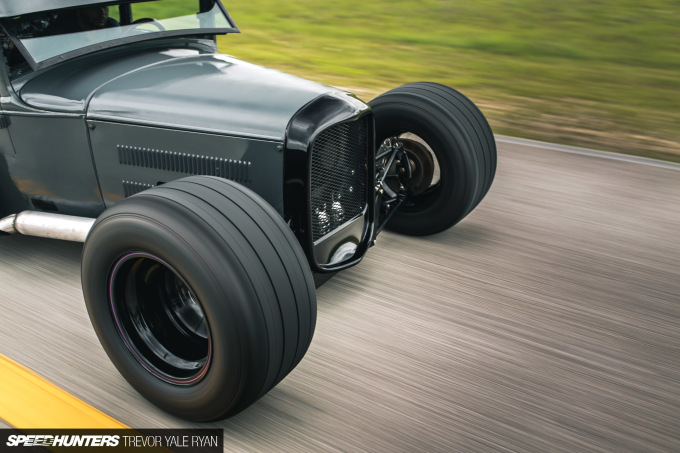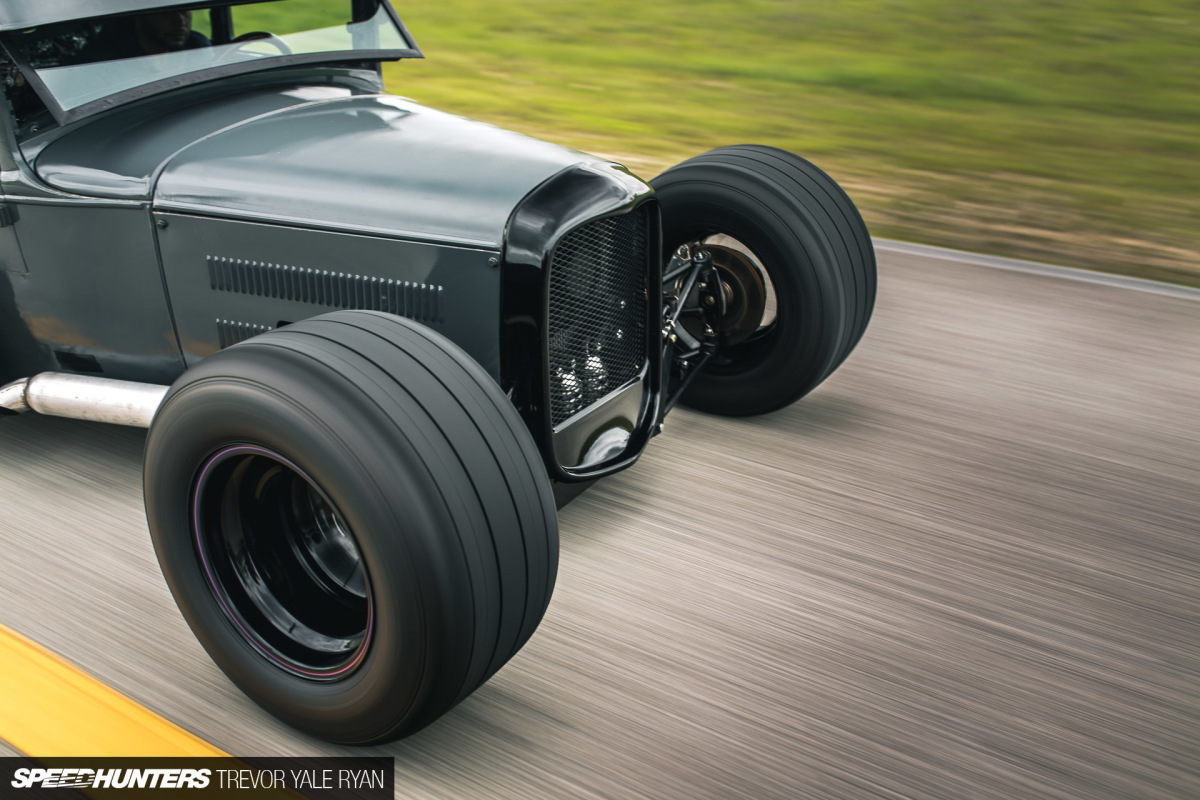 To get rolling shots out in Miami my new friends had commandeered the perfect car for me on this trip: a brand new Toyota 4Runner with a roll-down rear window.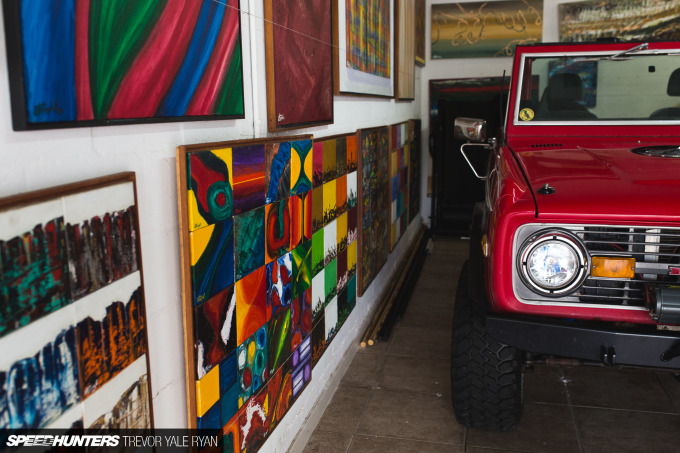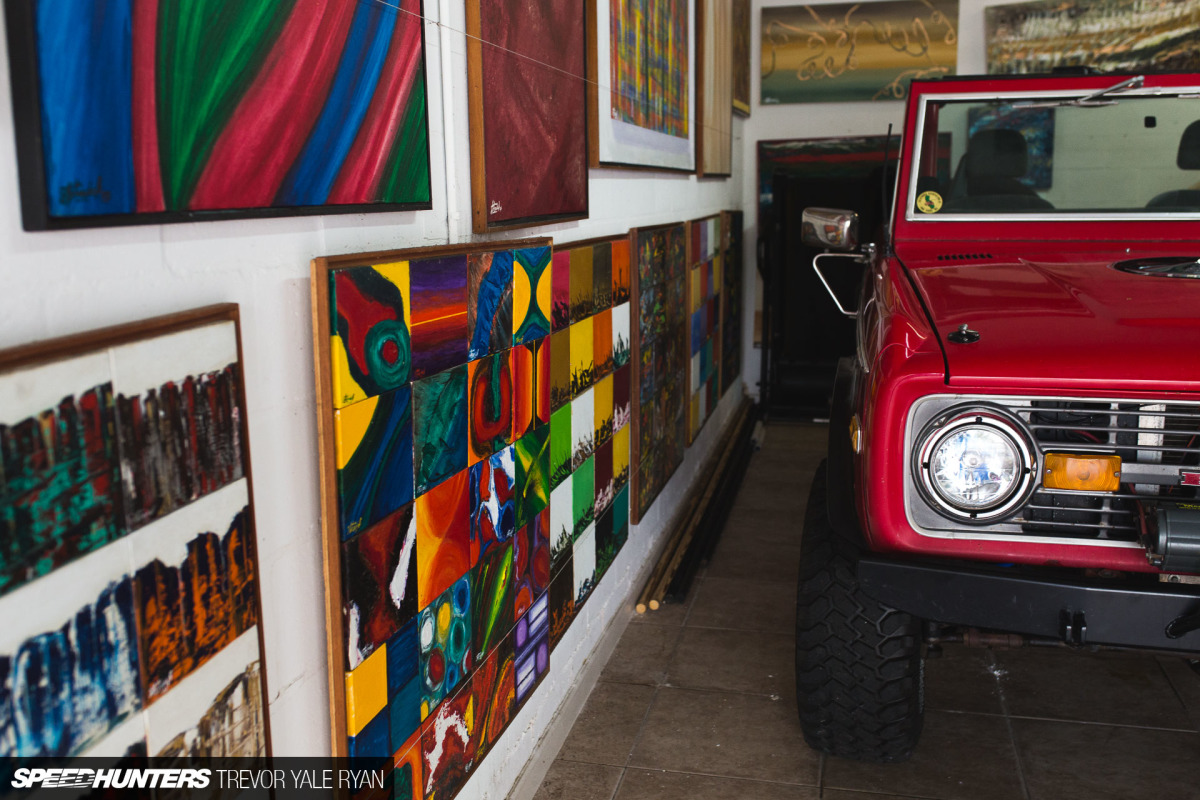 But that just wouldn't do today…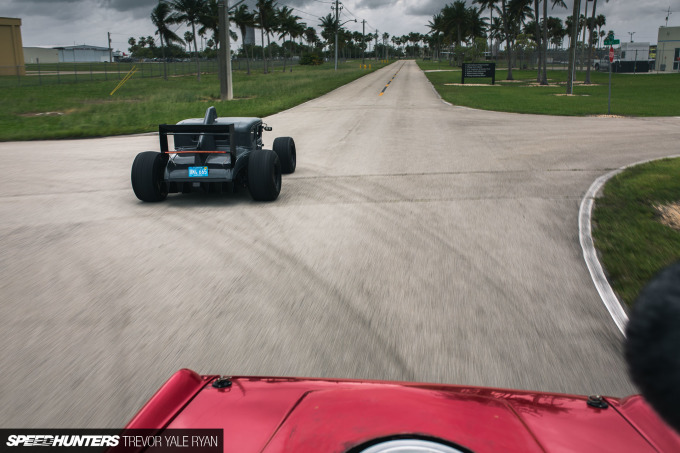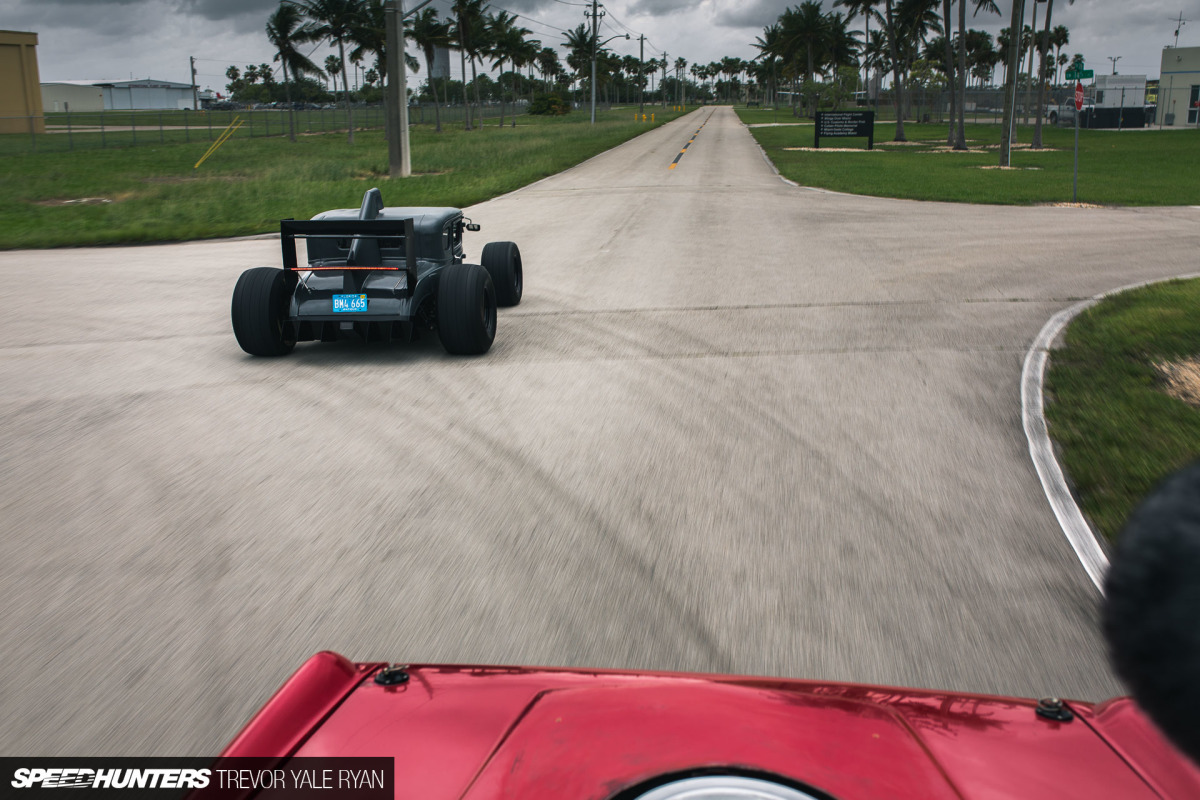 Instead, Ricky offered up his 302-powered '72 Bronco for the task and we took off towards a nearby airport.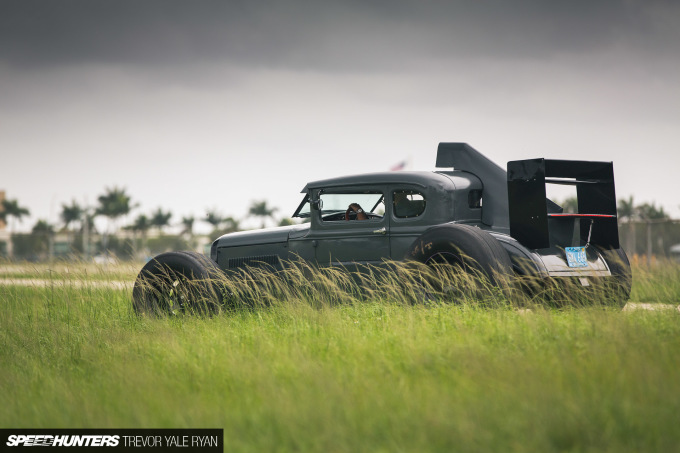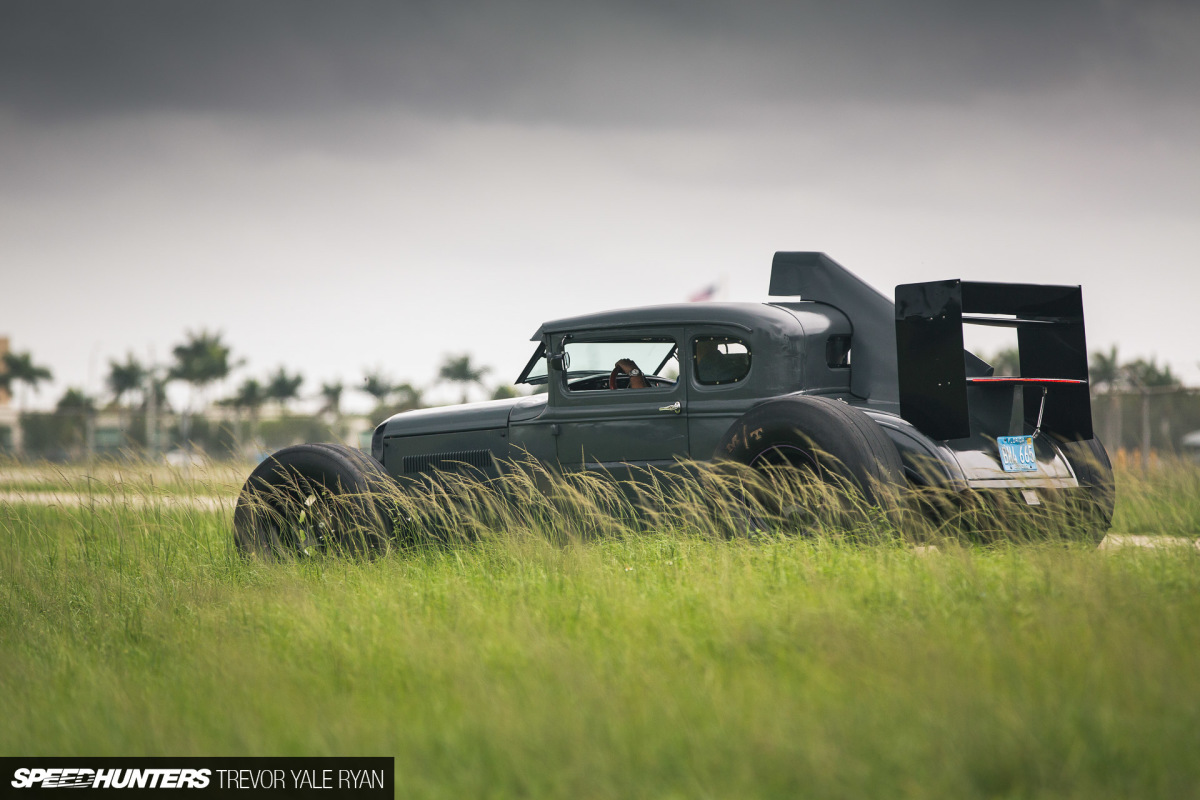 What happened next was the last thing I expected. I hadn't spent much time with Ricky and the car yet so I sort of saw it as a delicate thing; most '30s-era American cars and their owners are a bit persnickety and fragile.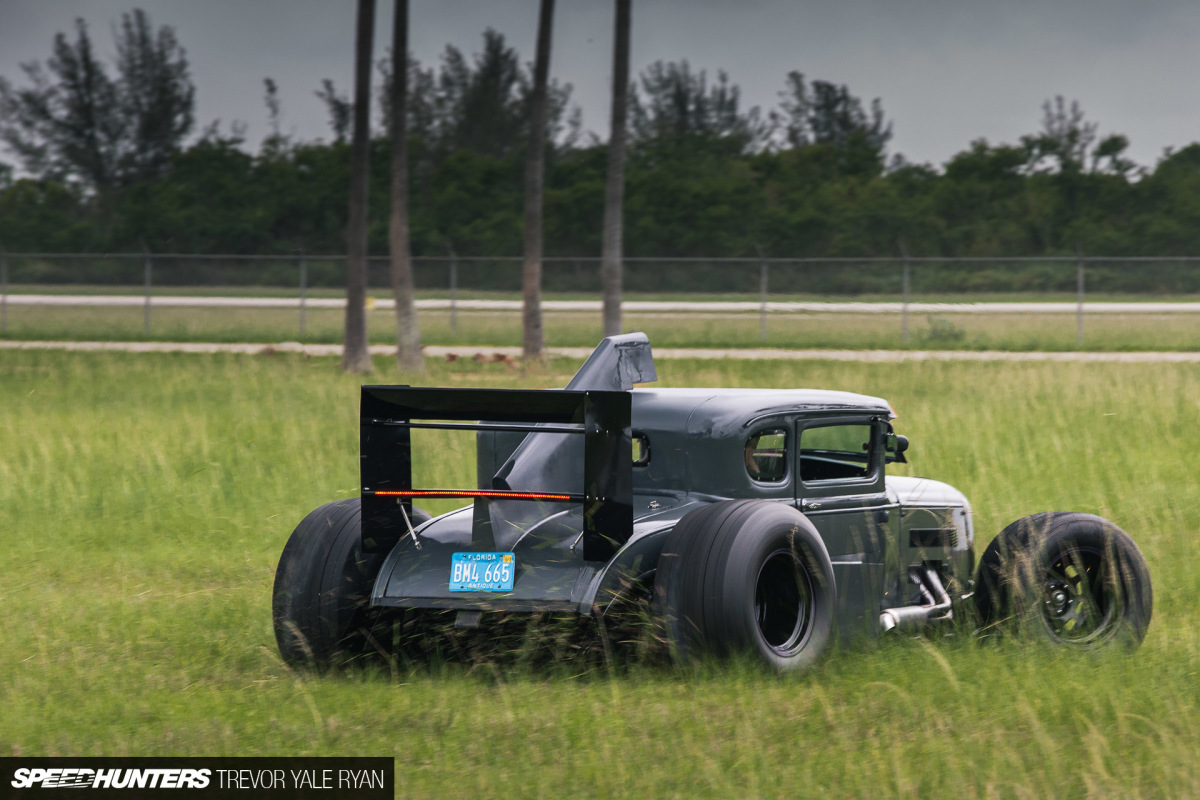 Yeah, about that. I told you Ricky doesn't give a darn, didn't I?
With humid air blowing by and light rain falling around us, Ricky opened the F20 up to its 9,000rpm redline; it was an overall sensory overload. To say that this sort of thing wouldn't fly back home in California (especially at an airport) is the understatement of the century.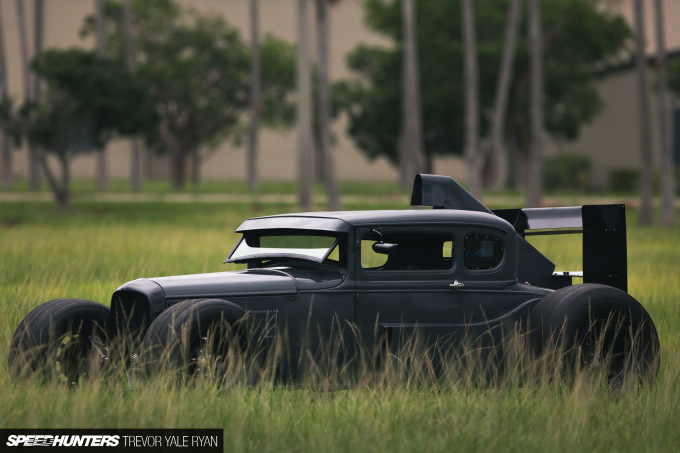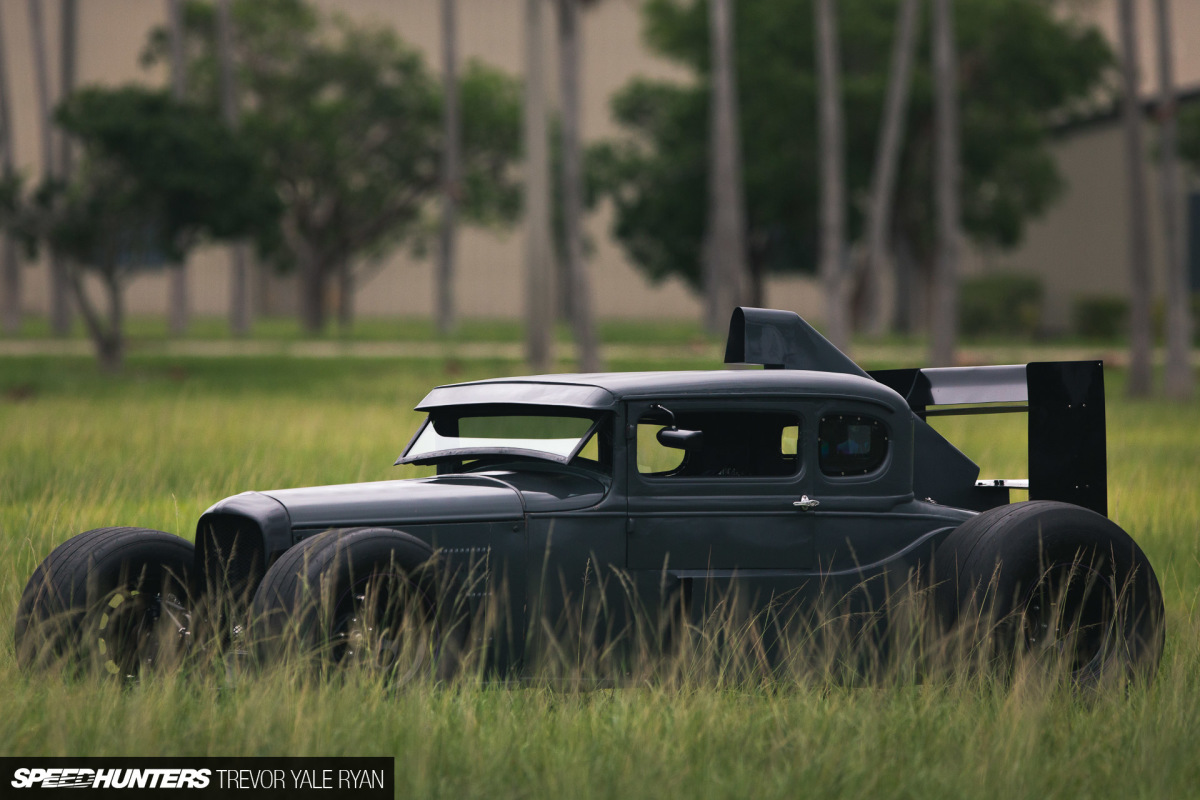 But in Florida, I guess it's fine; no one got arrested, anyway. With the surprising plot twist of the Ford deep in the knee-high grass I ran around excitedly with my camera and big lens in tow.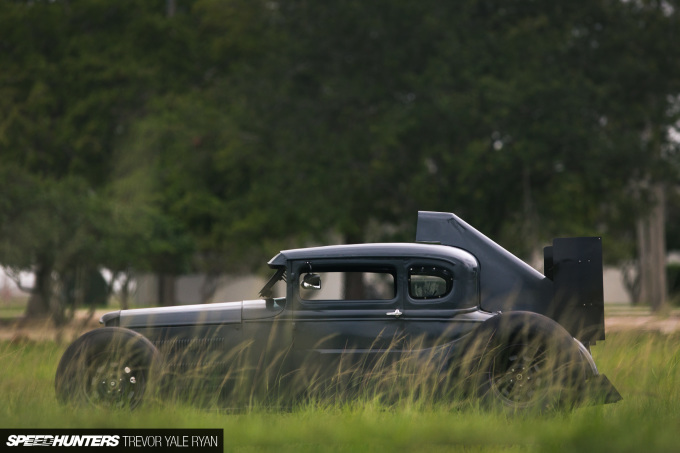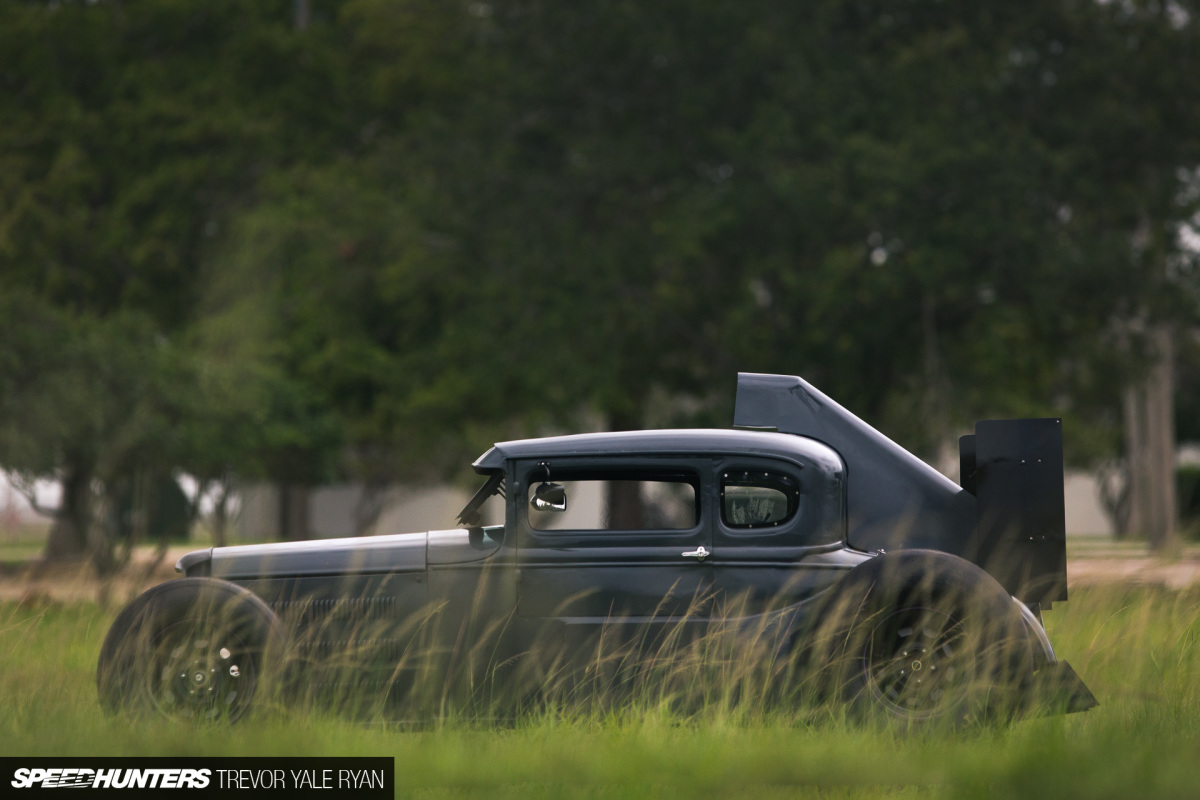 A hot rod Ford is already one of the most sinister looking cars you can build, if done right, and when you throw the aero and massive Mickey Thompson tires (28.5×13-15 up front and 31×16.5-15 in the rear) into the mix it transcends reality.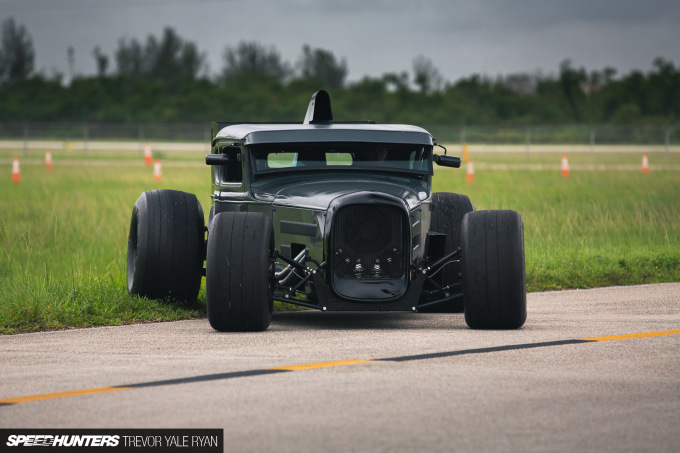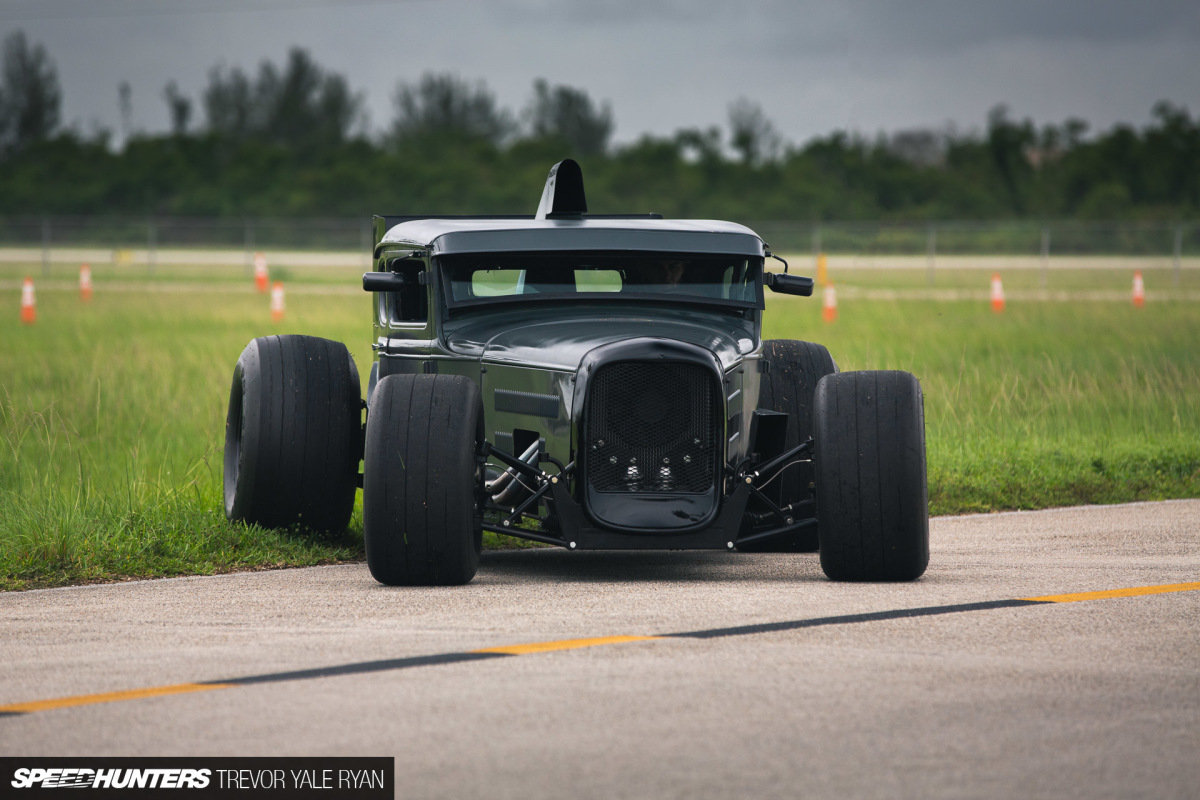 Properly jet-lagged and completely beat from all the hard work exhausted from staying out far too late being a tourist on Ocean Drive the night before, the whole experience with this car had a dream-like quality.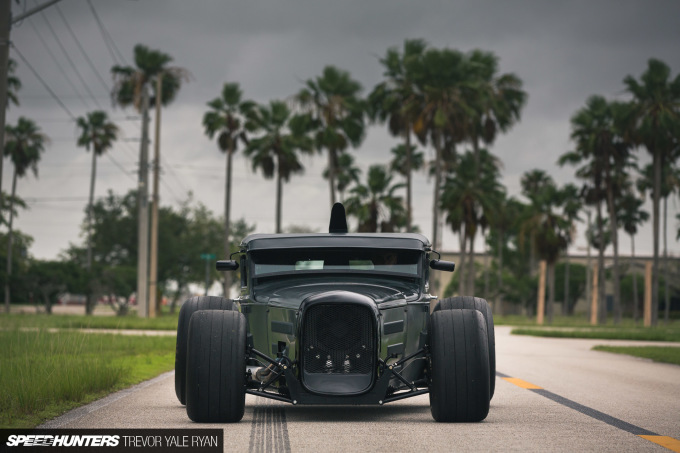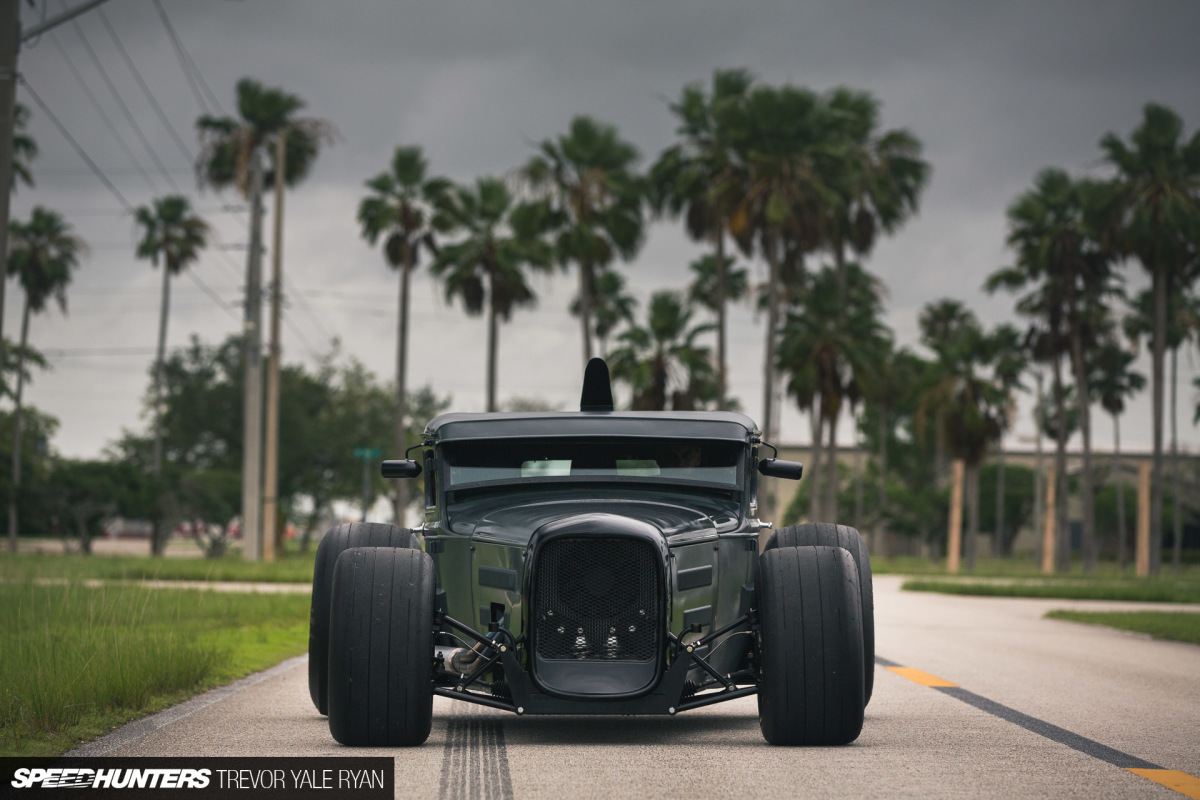 The fact that this car even exists is crazy in its own right, but how did we go from casual conversation to donuts in the grass?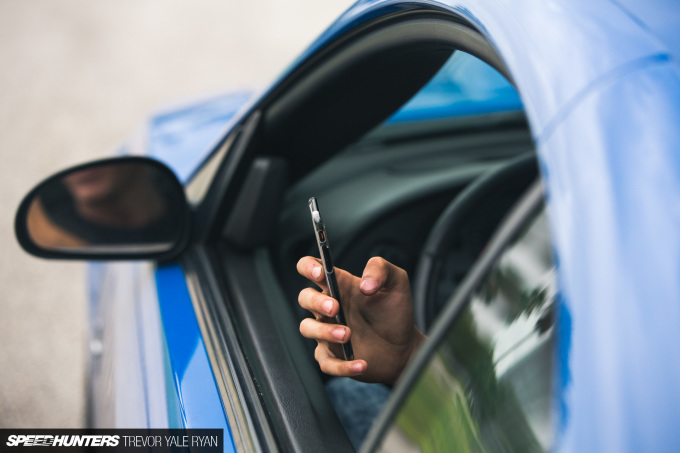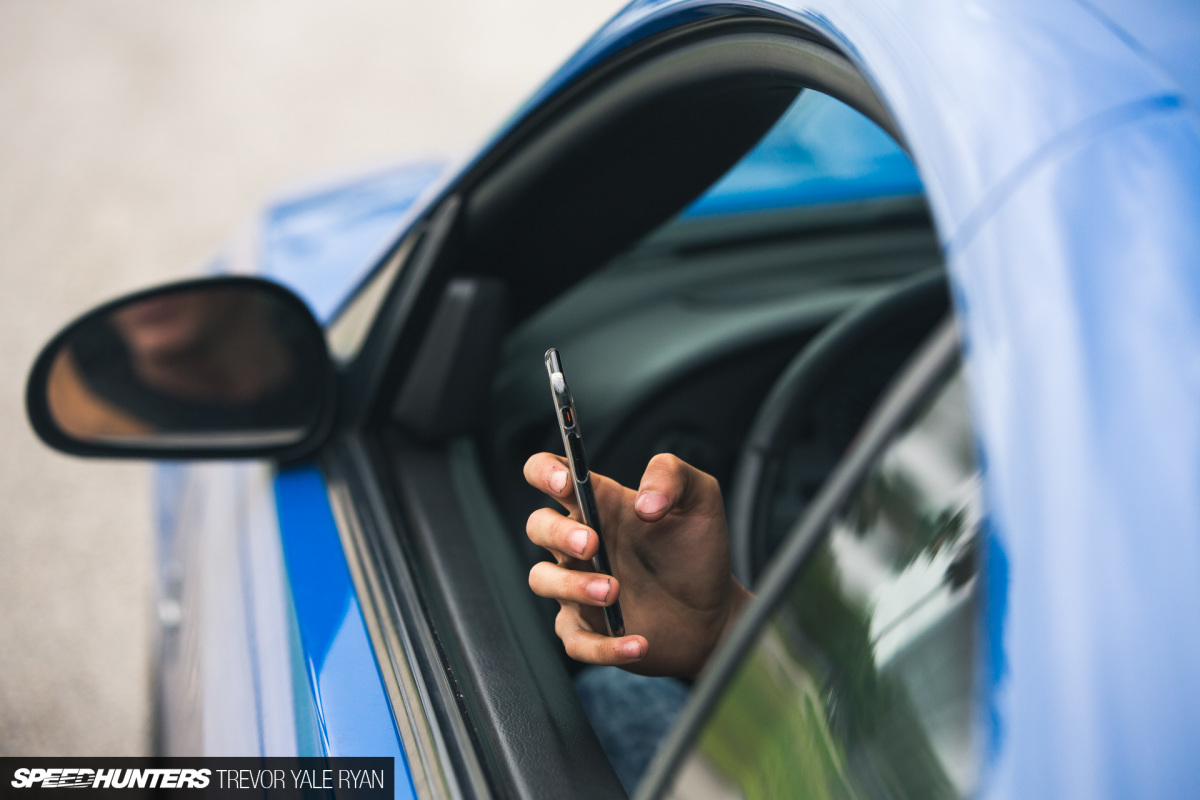 It's still somewhat of a mystery, but I wasn't the only one blown away by what was happening. Even when driving like a normal person, this is a build that commands attention.
Water Ride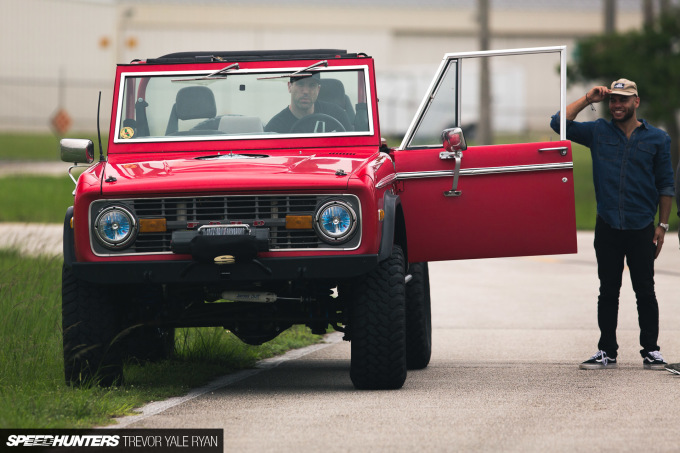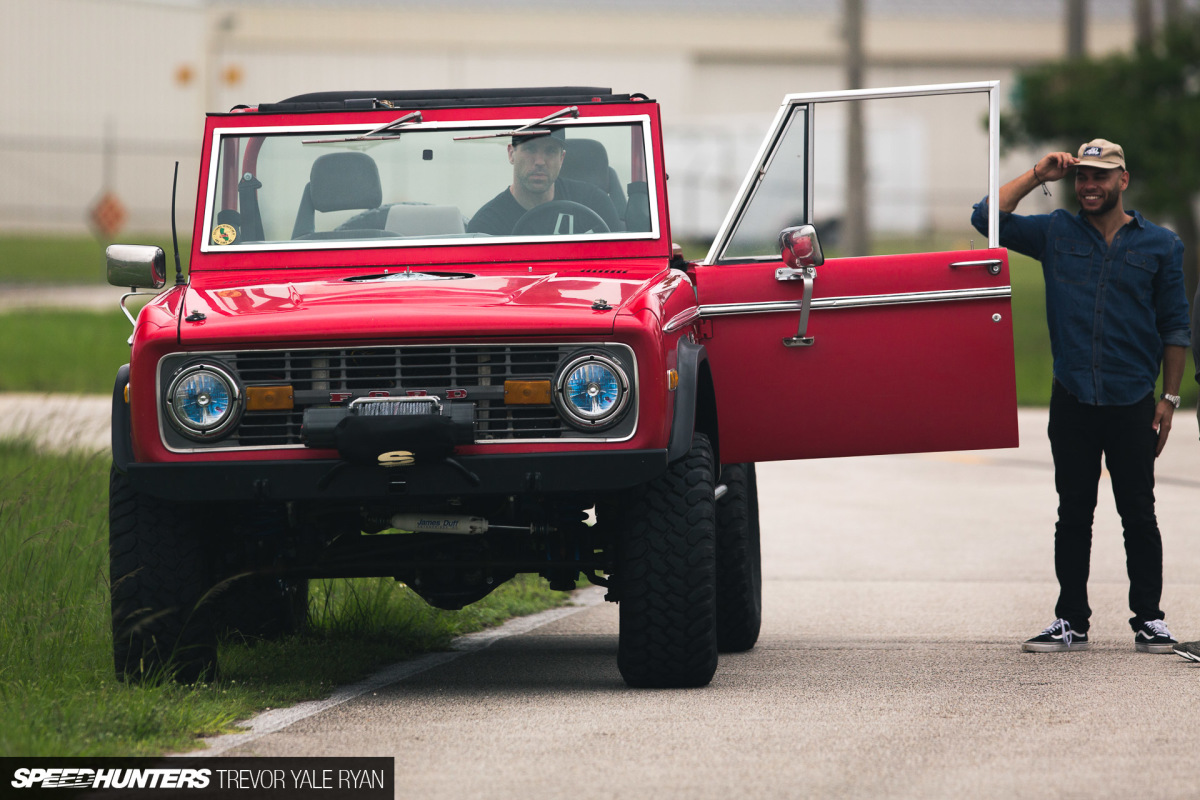 But driving like a normal person isn't exactly Ricky's forte; it was back in the Bronco and time for more rolling shots.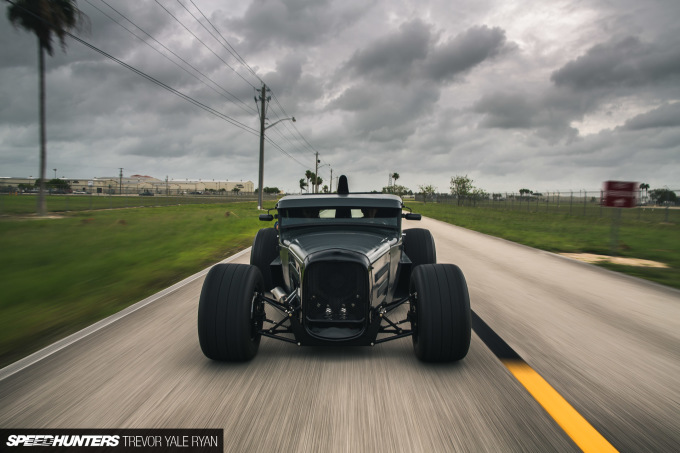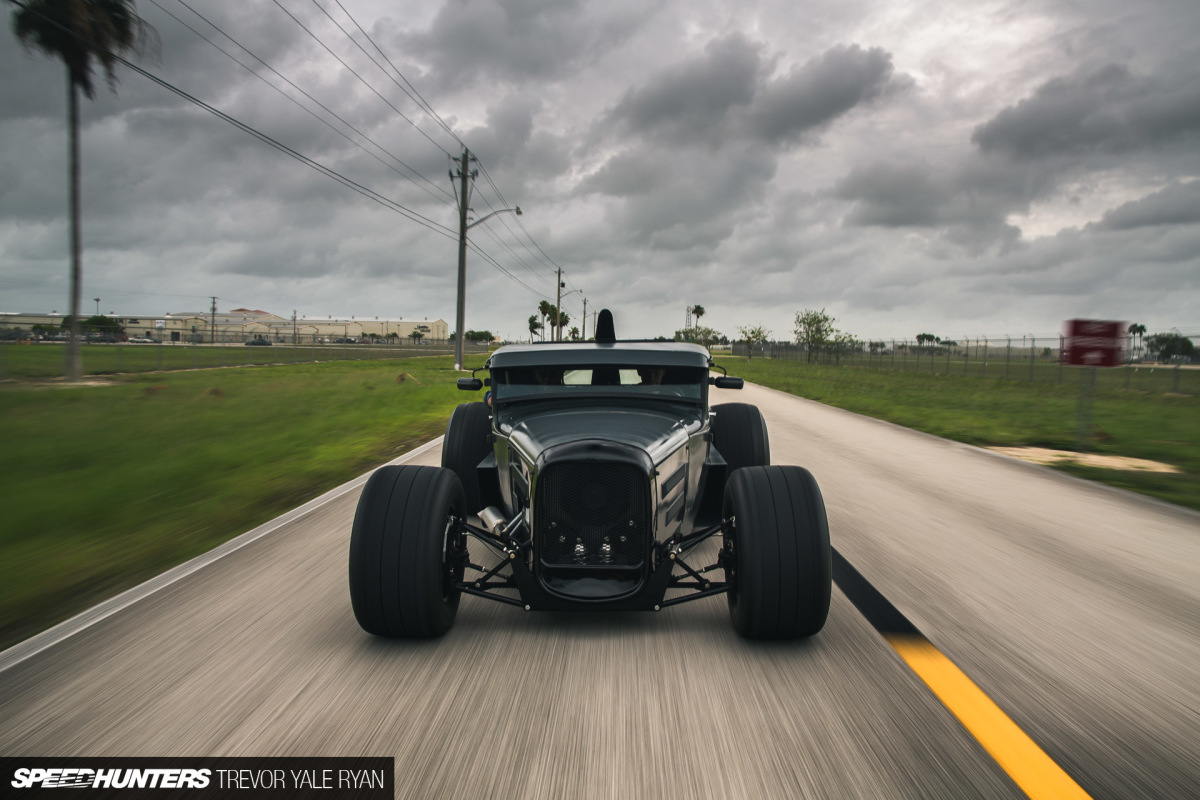 In fairness, grass donuts aside, it's not like Ricky was being reckless; the car just feels so fast even at normal speeds. Riding shotgun in the Ford, everything is magnified by a factor of at least 100 and I can only imagine the sensation in the driver's seat.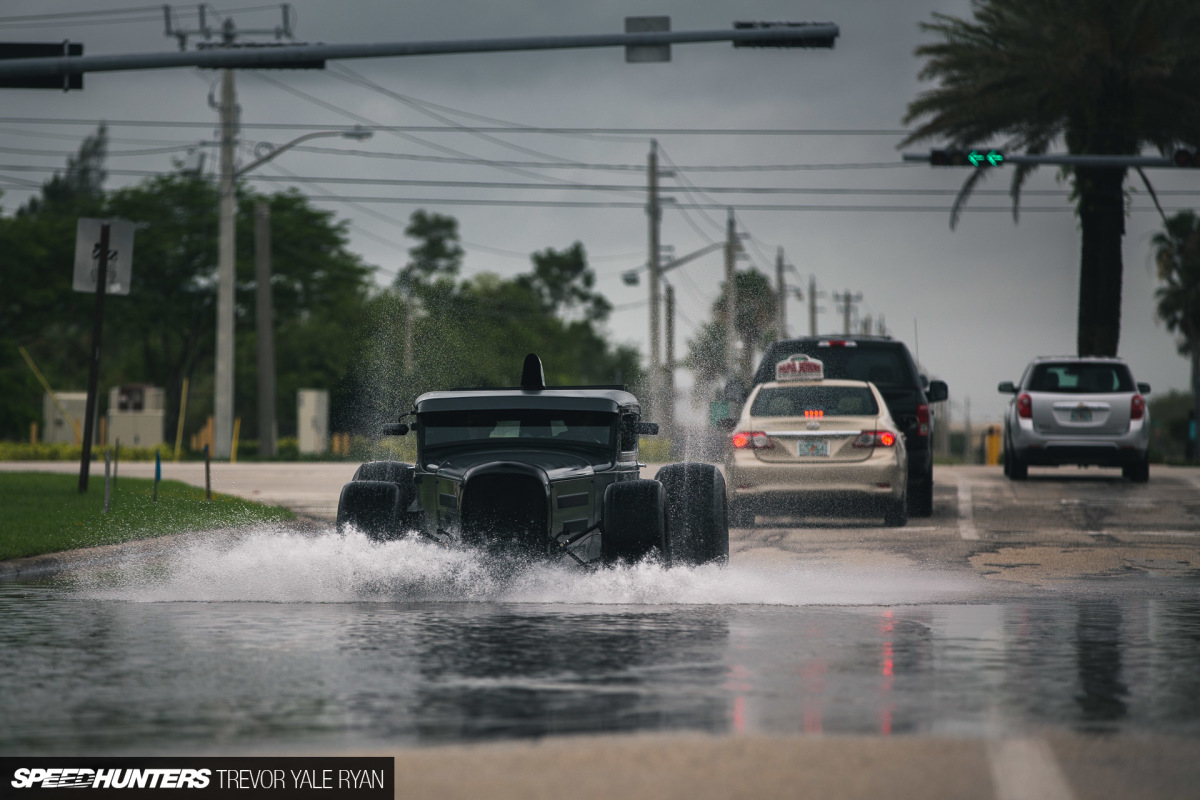 Before we were finished, Ricky had another trick up his sleeve. Since he actually cruises the car around Miami, it was only fitting to plow through a puddle.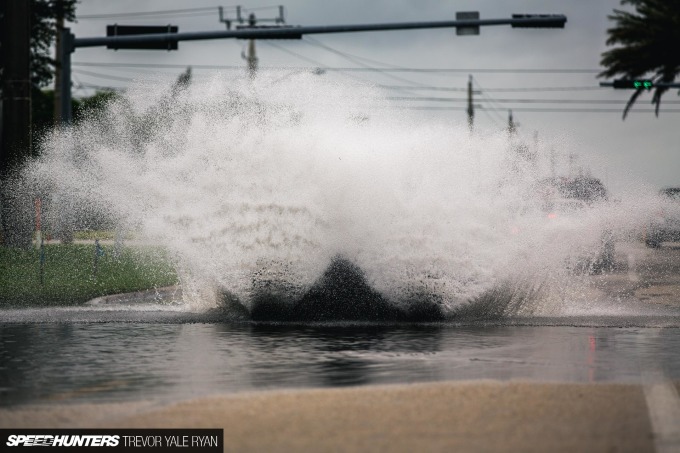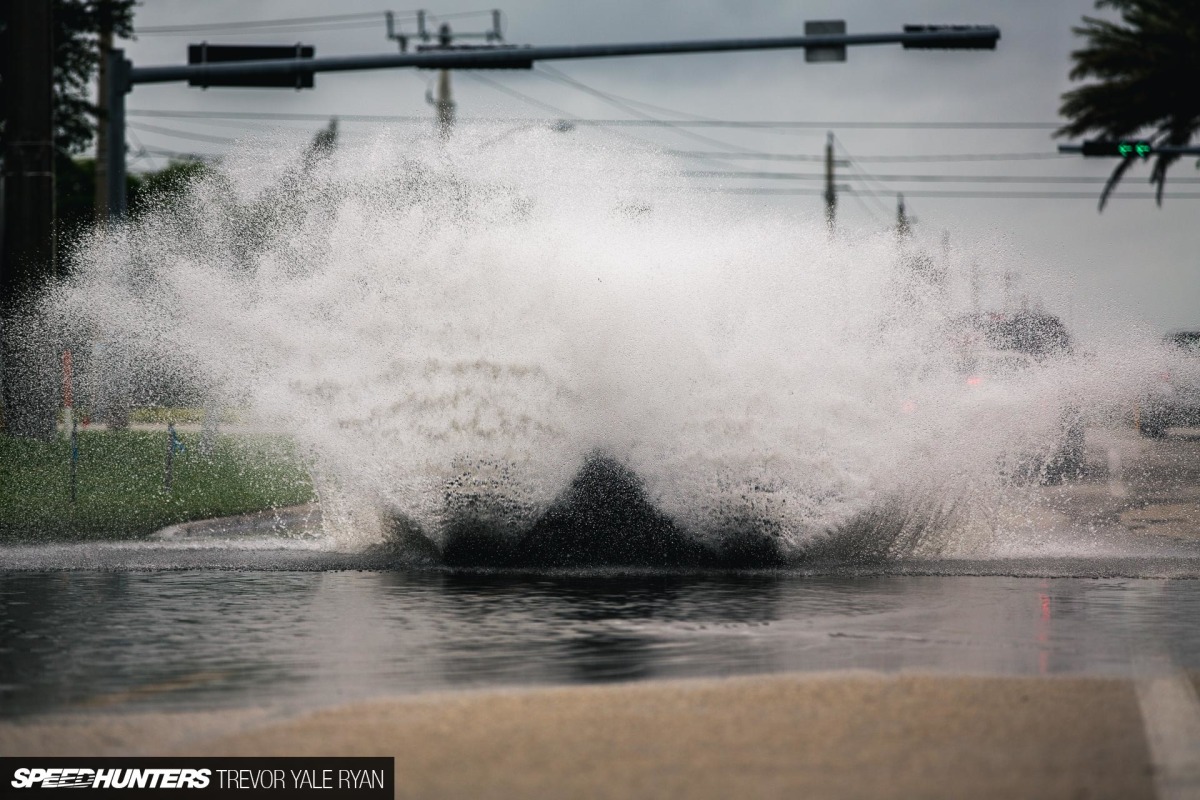 I'm not sure if this was a miscalculation or not but the results were quite exciting, to say the least.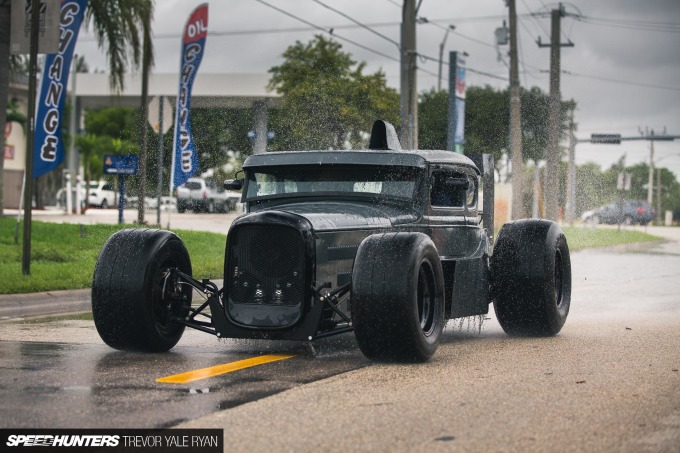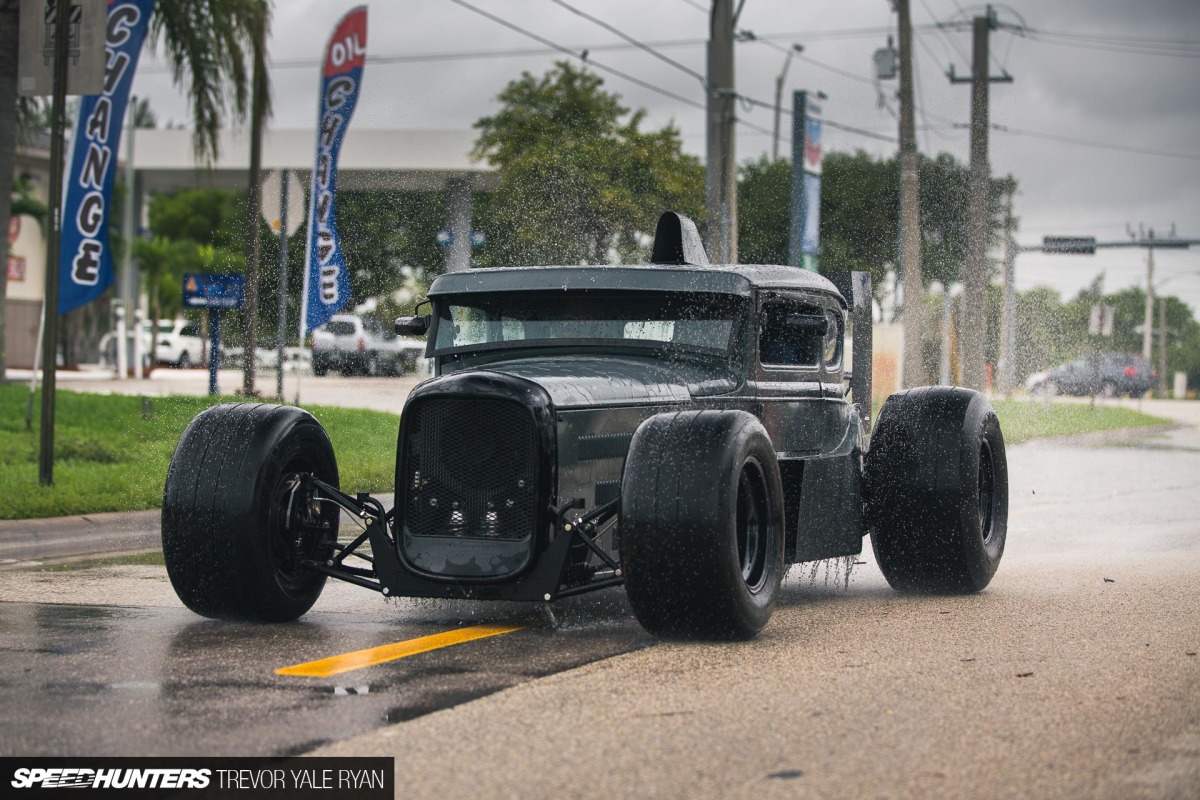 Emerging from the depths, Ricky enthusiastically opened the throttle to air-dry the car on the cruise back to his shop, spray flying off the drag radials which were designed for the opposite of what they'd just been through.
Finally, Grip Royal wheel removed, the wild ride was over. At this point we all had huge smiles and hungry bellies. We cruised down the road to the incredibly delicious Tattoos & Tacos where we talked cars and future plans.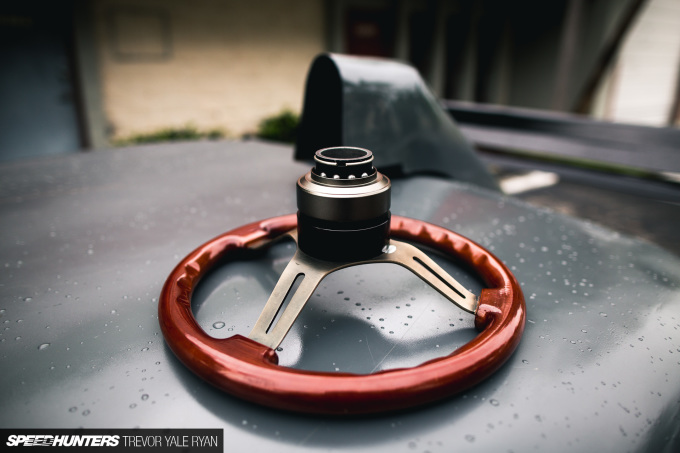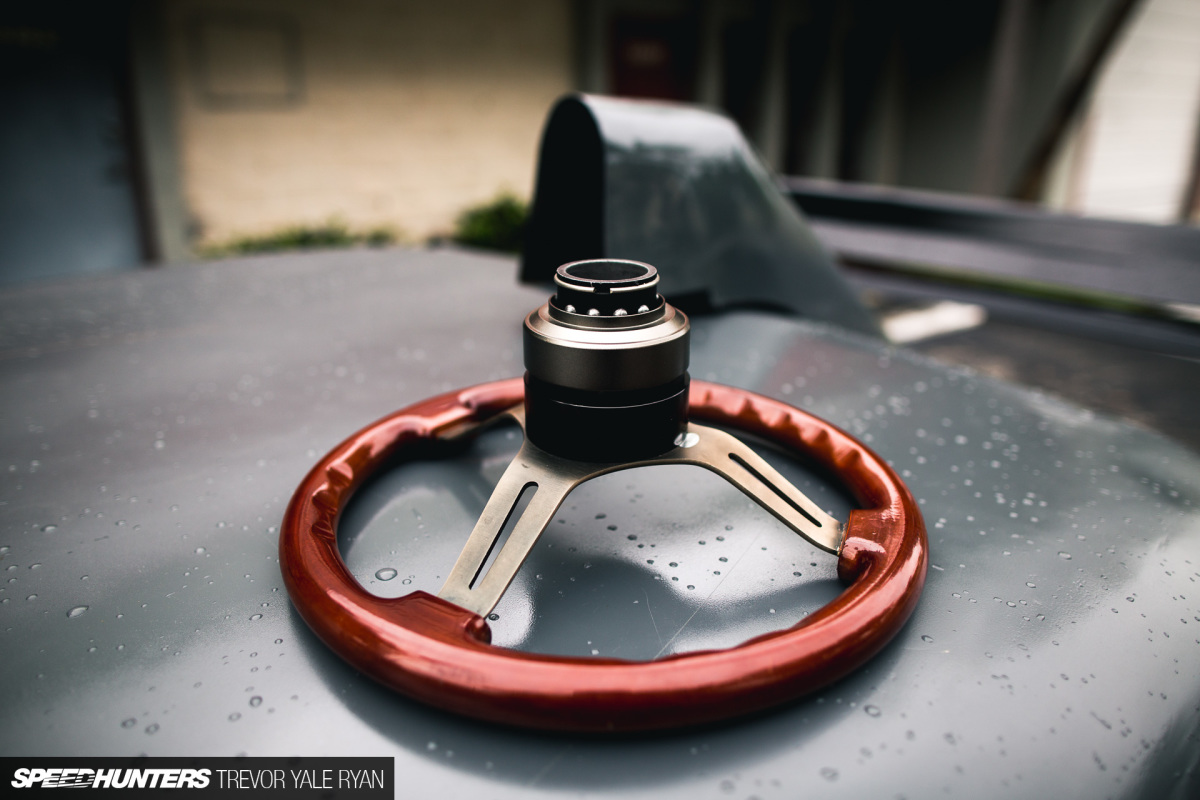 After reading Matt and Dino's recent #Kebabhunting account I'm embarrassed to say that I did not capture any photos of said tacos. Now home in California, I'll strike back with a #Tacohunting story of my own soon enough.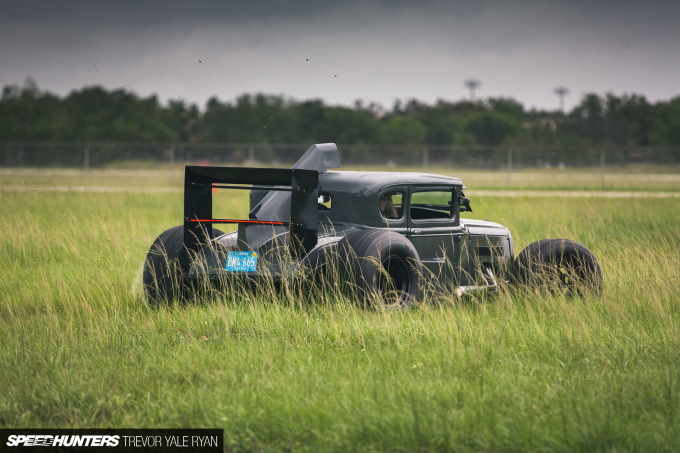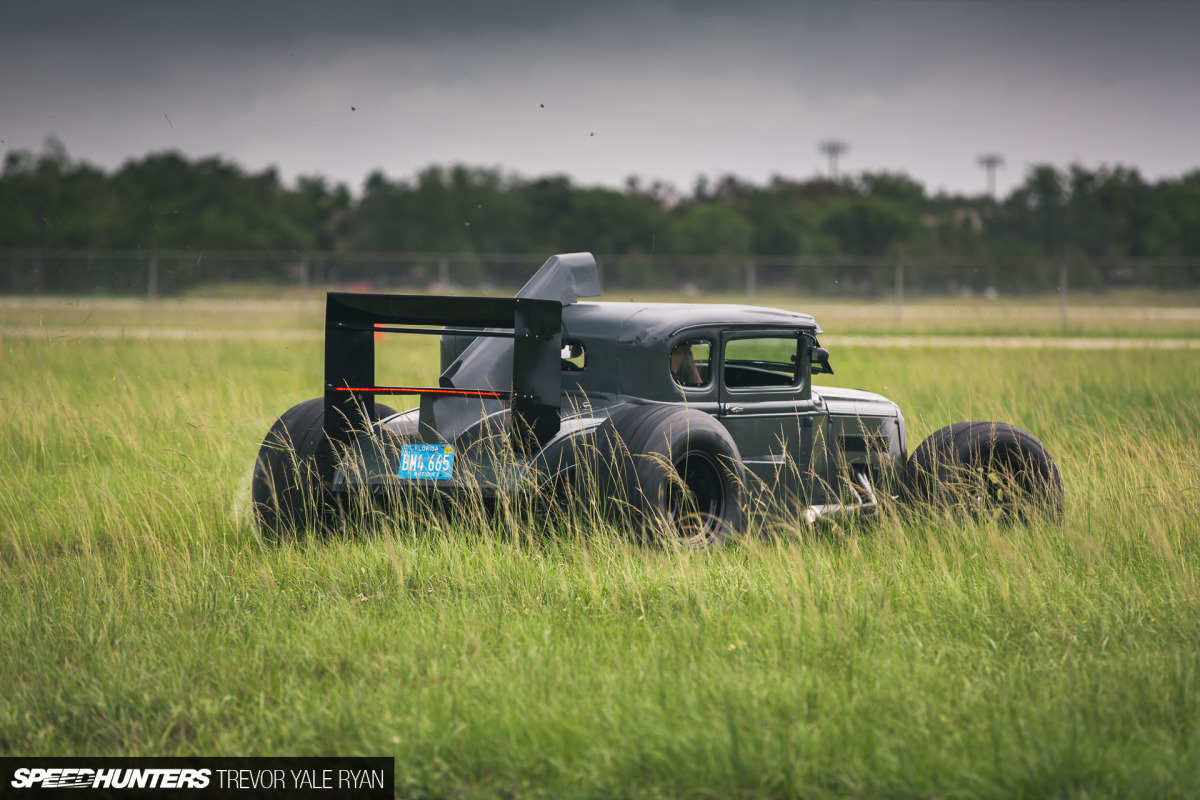 The important topic of food aside, Ricky explained how he came to get his hands on the F20 Model A. He's actually the third owner of the car and ever since he saw it was actually being built he could not get it out of his head.
When he finally got his hands on the car he started modifying the Ford before it even made it into his garage. He rolled it off the trailer, grabbed his tools, and started tinkering around immediately.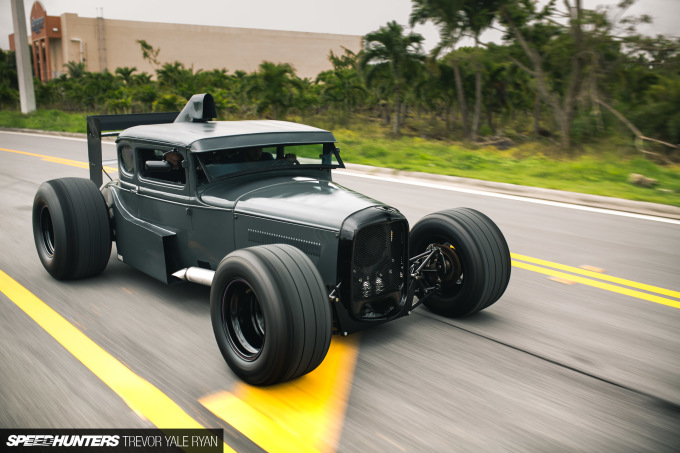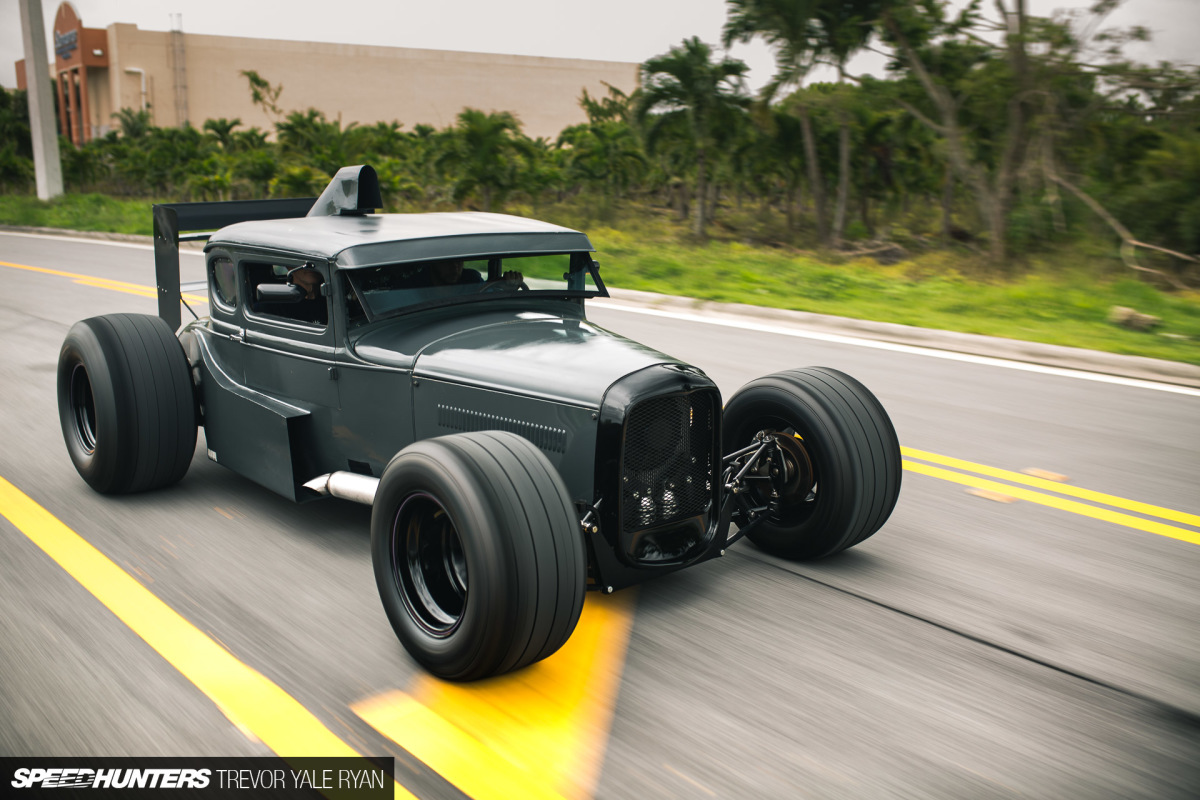 Since acquiring the Ford he's added his own motor mounts, rebuilt some of the aero (which he says he needs to further refine), modified the suspension, cut the firewall for clearance, rewired some of the car, and the list goes on.
Still, Ricky admits he has a long way to go. While each of the previous owners have made their own improvements to the car, it's one of those projects that may never be completely finished.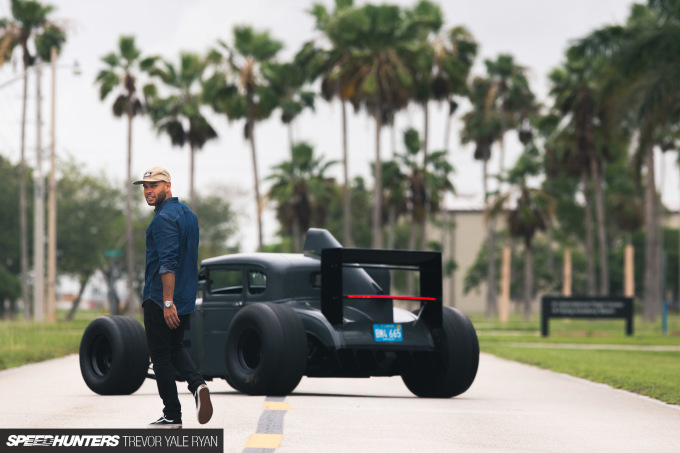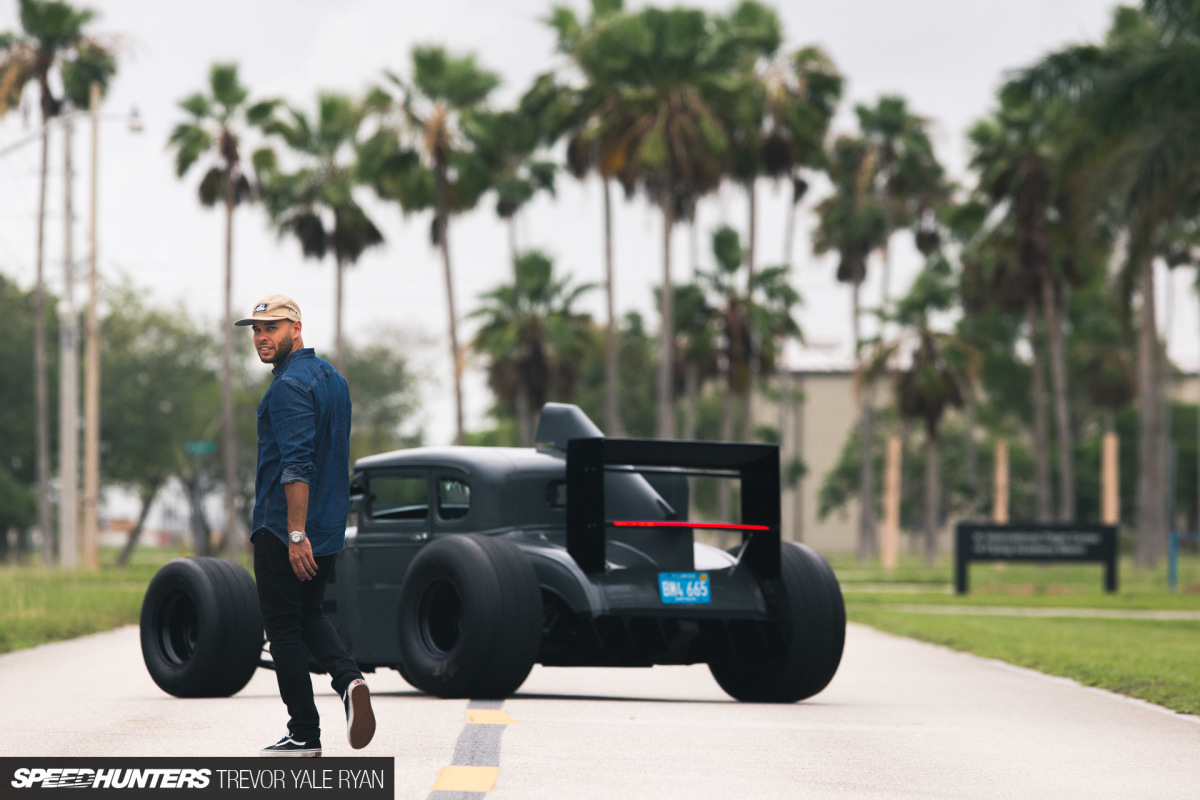 He needs to adjust the body on the chassis, address the radiator and forced induction situation, fix the top scoop, and clean up the harness before moving on to the big aesthetic choices.
It'll be loads of work, but Ricky says the more nuanced the build becomes the more connected he feels to the car. Once he's through he'll be able to truly enjoy that Honda reliability (and redline) in a package that doesn't even begin to match.
I suppose another Miami trip is in my future. Oh darn.
Trevor Yale Ryan
Instagram: tyrphoto
TYRphoto.com
Ford S2000