Hello again fellow Speedhunters! To follow up the recent article on the progress of my Kuda project, I've kindly been allowed to share some of my ideas for future projects with you.
Like most car people I know, I've always enjoyed daydreaming about cars and cooking up 'what if' scenarios in my head. Working as a concept designer and as someone who has always been sketching out ideas, realising them in visual form with modern tools like Photoshop and 3D software is a natural next step to take.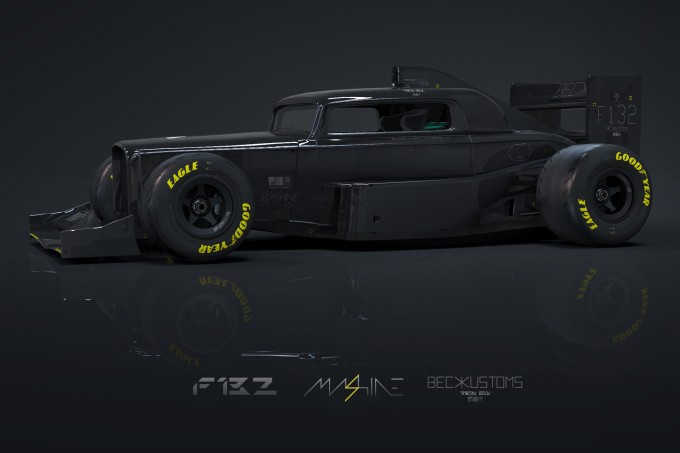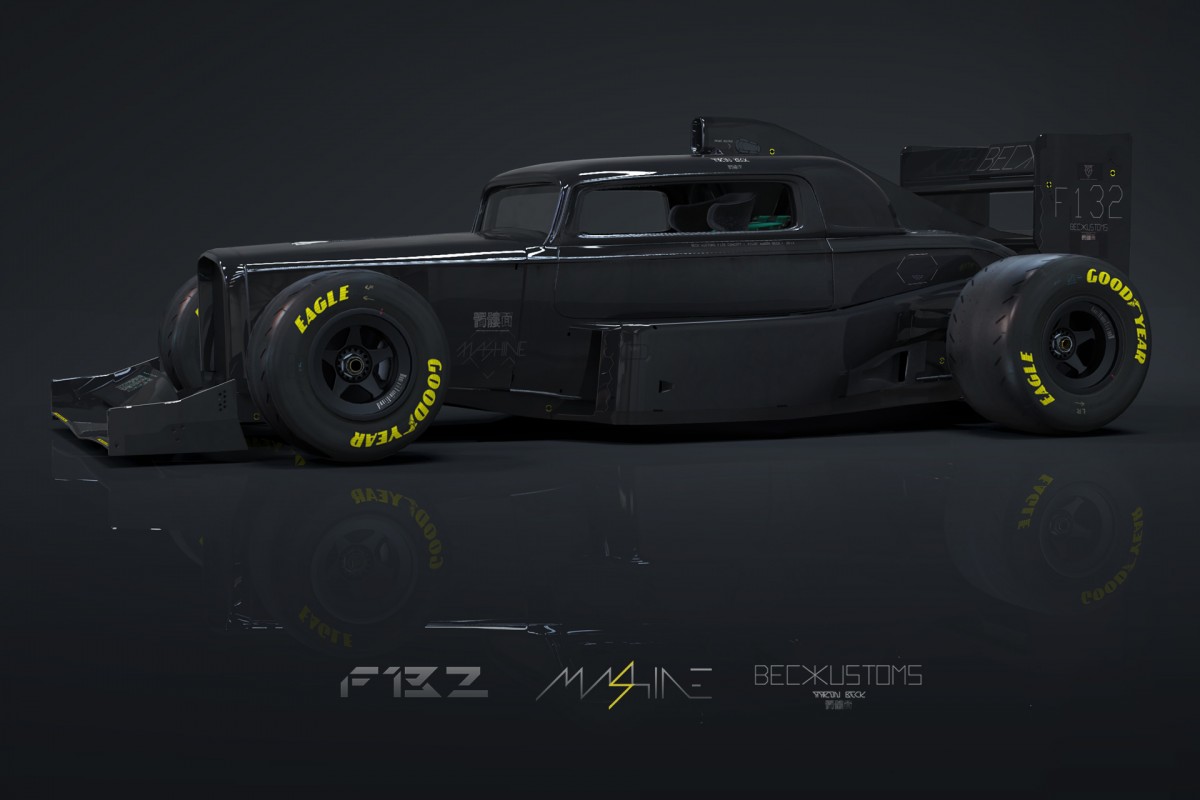 One of my favourite concepts of recent times is this – allow me to introduce the F132. The idea came to me while sketching in a meeting at Weta Workshop when we were working on early pre-production concept design for Mad Max 4 way back in early 2009. I've always loved the function-driven look of F1 cars and started sketching the aero onto the body of a '32 Ford three-window coupe. It all seemed to work together surprisingly well – to me at least!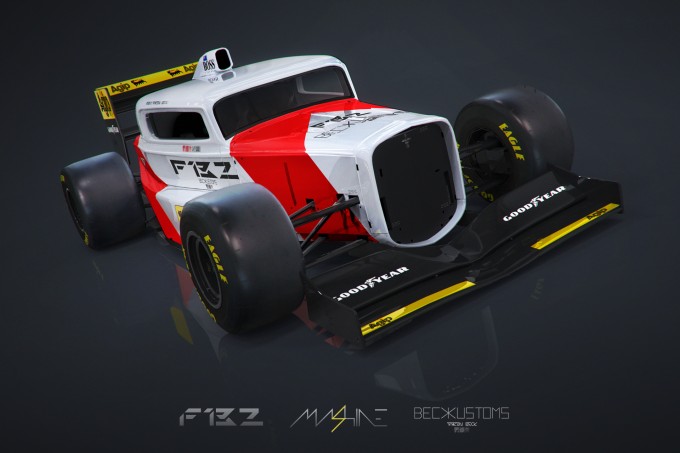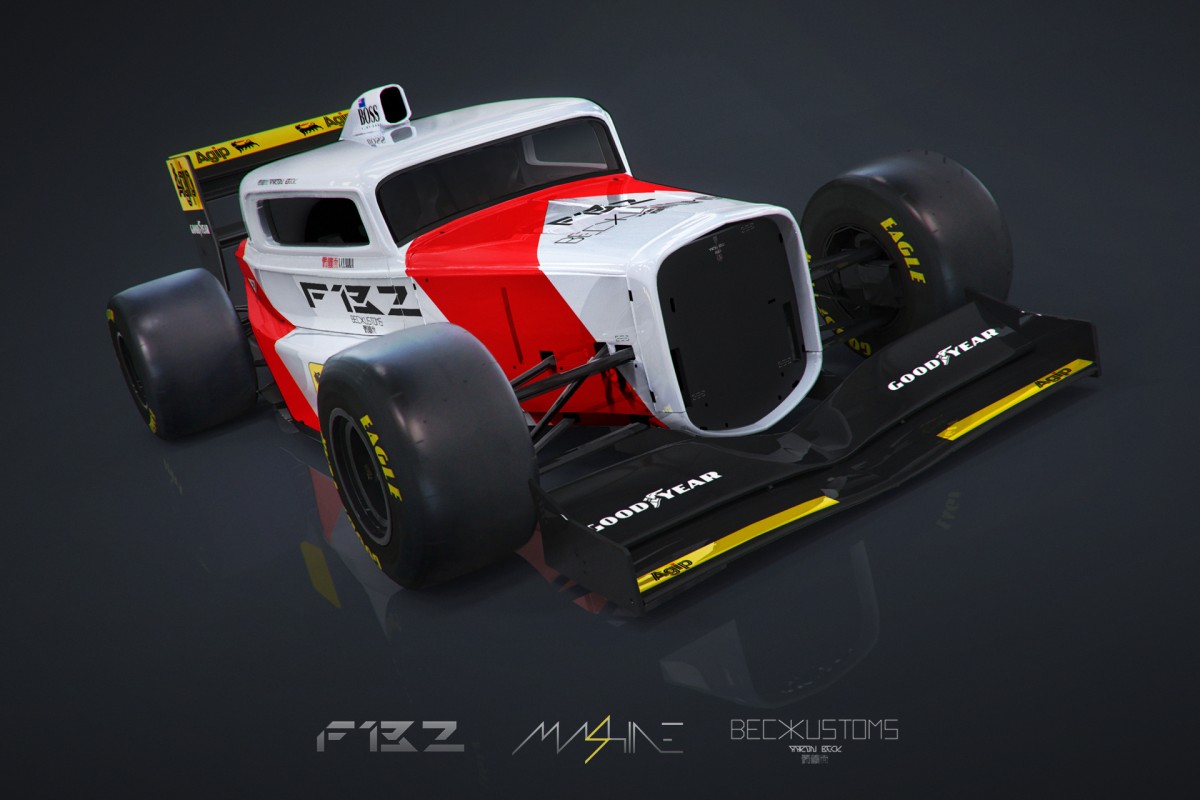 After occasionally playing with the idea in sketch form over a few years, I got a couple of basic 3D models of a Ford coupe and an F1 car off the internet and started to develop the concept in 3D. The paint scheme above is a homage to two of my favourite F1 car families: the MP4 Mclarens and the Ferraris of the early '90s – in my opinion the best looking era of F1. I like the way the red and white over the nose of this design echoes the famous SO-CAL Speed Shop coupe, a further mixing of the two worlds.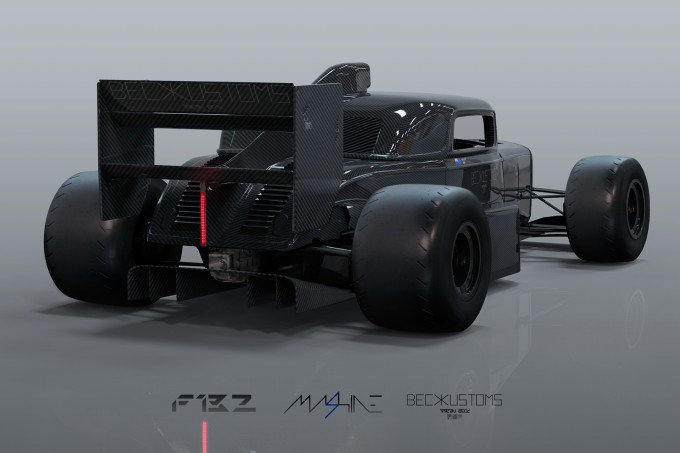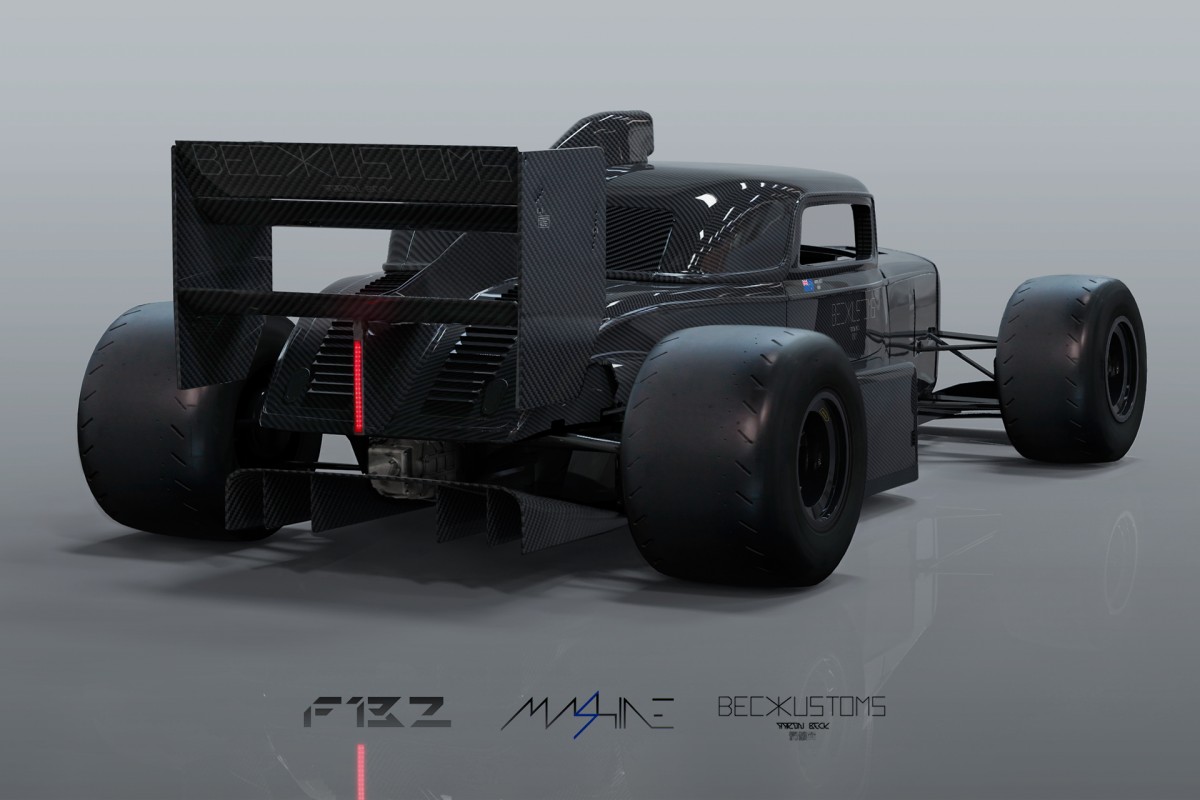 The F132 would be designed in CAD first, and feature a chromoly space frame, carbon body panels, and custom-fabricated suspension and components. A six-speed sequential transaxle would send power to the massive Goodyear race slicks, and the mid-mounted engine would be a modern Chevrolet NASCAR V8, to mirror but amplify the Chevy small block traditionally found in many '32 Ford hot rods. As this thing is pretty small (the roof is about 43 inches high) and because I felt it should be a two-seater to suit the hot rod roots, I've taken inspiration from the McLaren F1 road car and given the driver's seat preference in the cabin, with a smaller custom-moulded seat tucked just behind and to the right. This way a passenger can fit in but driver ergonomics aren't compromised. The slightly in-line cockpit configuration also matches the fighter-jet style F132 moniker nicely.
This thing would be a very serious build and involve a massive amount of time and support, but who knows what the future holds… But if the F132 is a little too much for my next build, what other ideas do I have?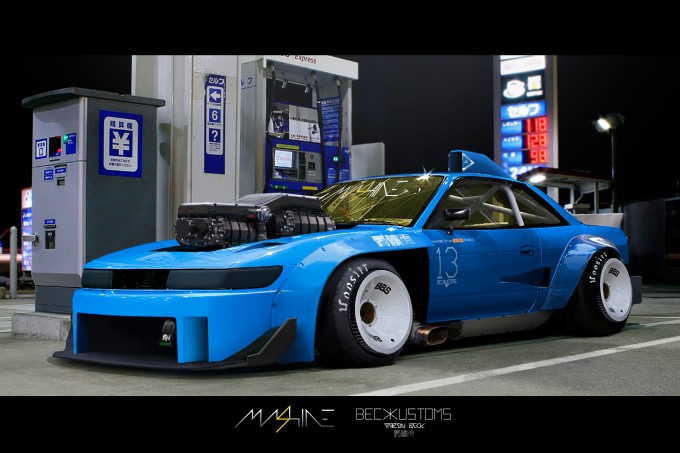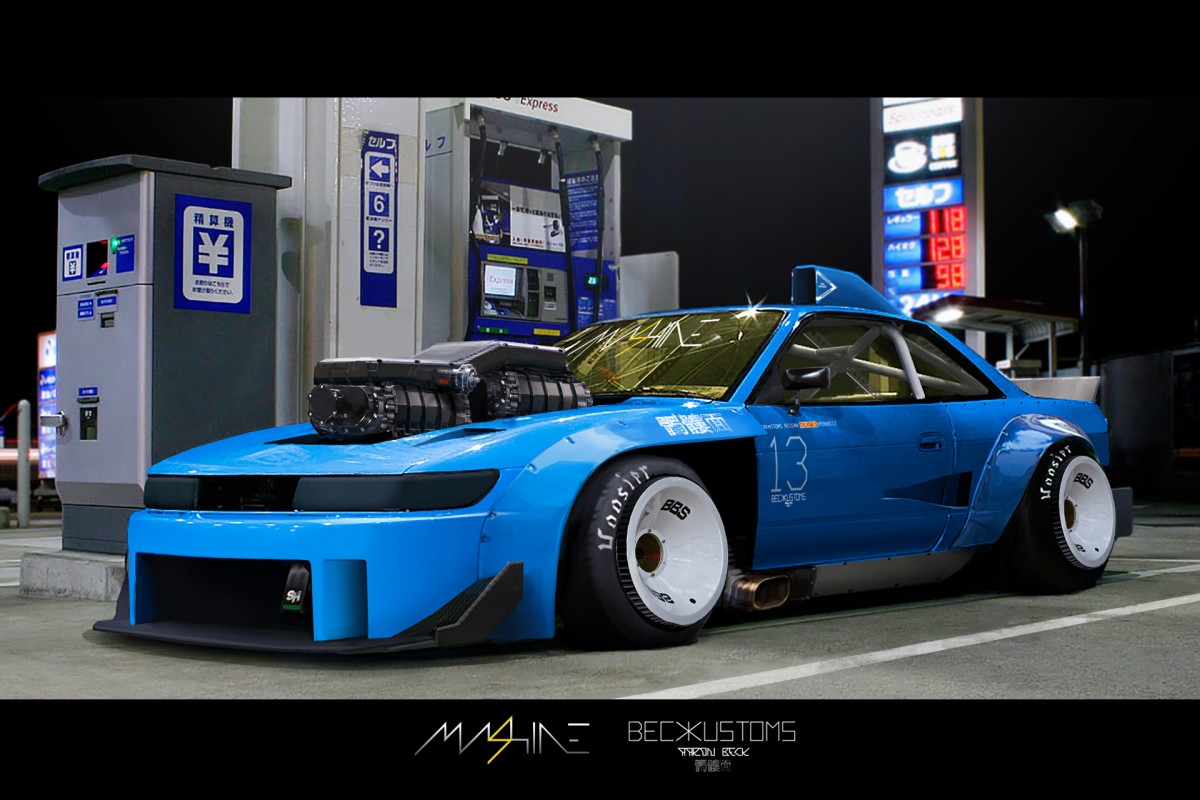 This one is called the Syber 13, and is a crazy Gatebil-style Nissan Silvia built to four-wheel drift. It features a set-back Chevy LS V8 with twin superchargers and a custom four-wheel drive setup. The front blower is mounted backwards and has its internals reversed so air goes in the bottom, gets compressed, and comes out the top and into the second blower mounted normally on top of the motor. I think it makes for a mean-looking beast head poking through the hood, and should have the performance to back up the looks. The radiator is in the rear, fed by the roof-mounted scoop, so when the one-piece front is removed you'd get an uninterrupted view of the front blower on its cantilevered brackets, and also of the front transaxle, and custom-built and white-painted suspension and spaceframe. Maybe the four-wheel drive setup is from an Audi to go with the rad BBS fan wheels I've long been a massive fan (sorry!) of. Maybe the engine could be a B7 Audi RS4 V8? The options are endless, and that's part of the fun of photochops like this – build difficulty and cost mean nothing!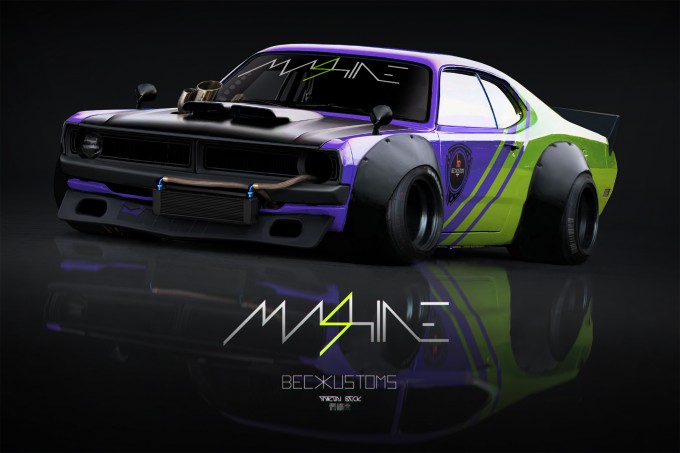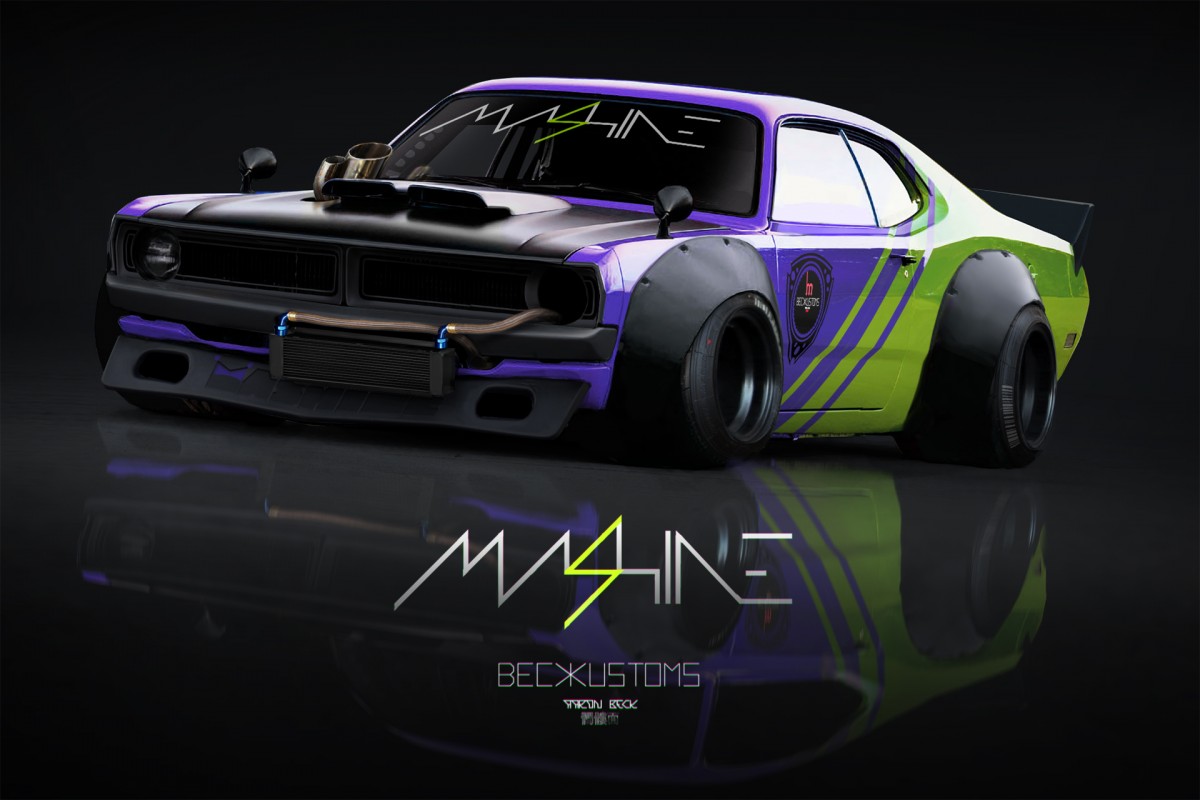 Here's something a little simpler. This is The Joker, or the Shakotan Demon, a straight-up mix of a 1971 Dodge Demon with Japanese shakotan/bosozoku styling. I've been photochopping works-style overfenders and big ducktail spoilers on all sorts of cars for many years now, and think this one really suits the look well. It's kind of like a big Mazda RX-3 or a KE35 Corolla. It's called The Joker both for the purple and green colour scheme (which is based on two of the famous Mopar 'High Impact' hues of the '70s: Plum Crazy and Sublime, and also happens to be the Joker's colours from Batman), and also because of its badass PPRE 26B turbocharged quad-rotor engine – a choice that V8 fans won't find very funny! Rotaries are generally not well-loved by the American car crowd here in New Zealand, but I love the noisy little things!
The Mashine logo is a hint of something myself and good friend and fellow designer and car nerd Ash Thorp are working on. A way to indulge our crazy car fuelled plans and make big things happen in the future…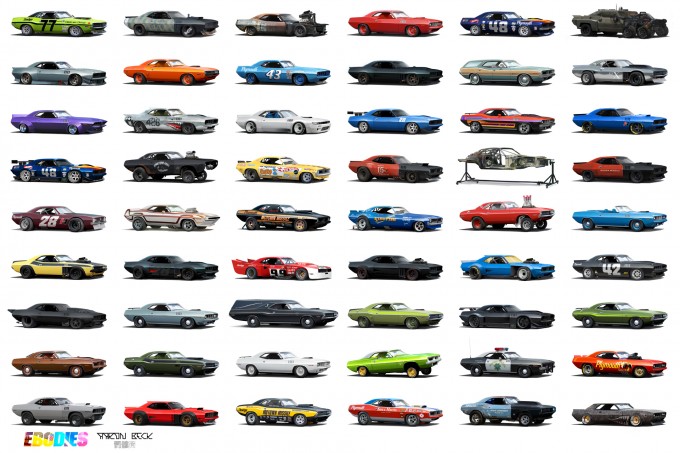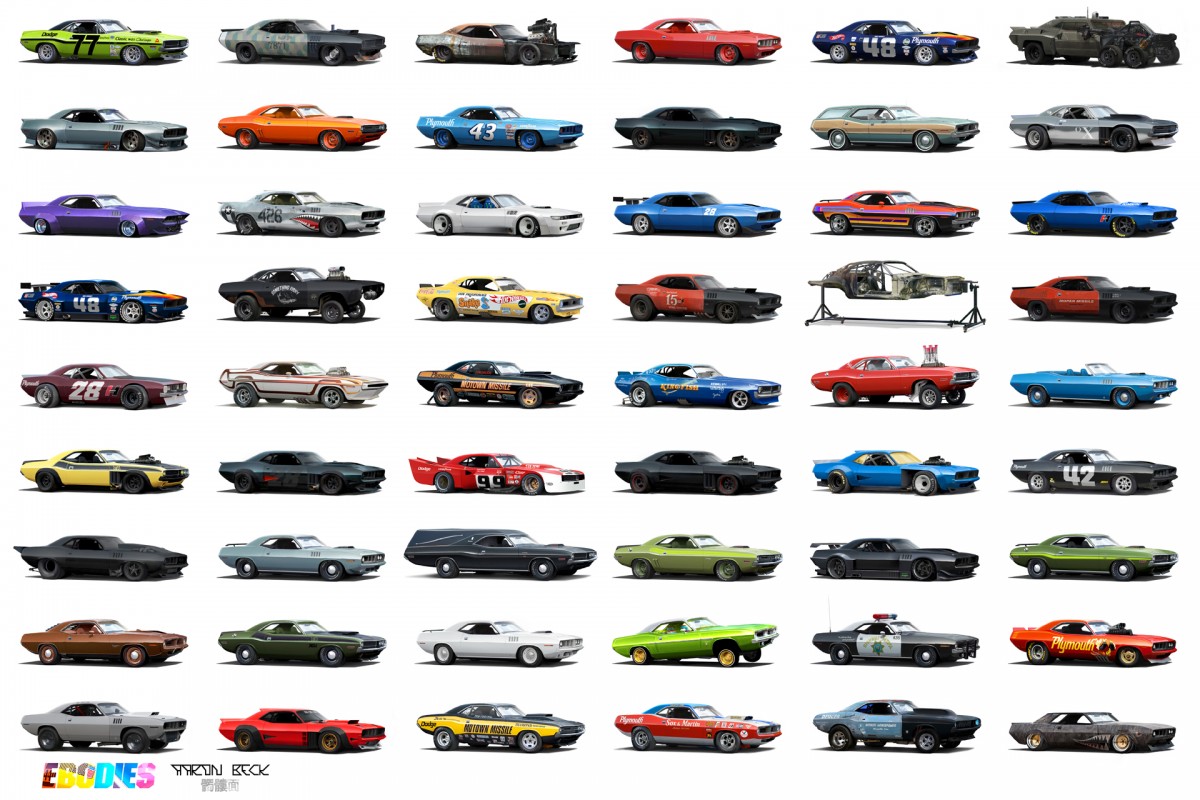 Here's a bit of fun – and it might be worth turning on the Presentation Mode to view this one. These are some of the many photochops of Chrysler E-Body cars (E-Body being the factory designation for the Dodge Challenger and Plymouth Barracuda) I've done over the years. There's a mix of real cars, ideas for future versions of my car, E-Body versions of other cars I love, and pure fantasy. Digital fun like these images is a great way of exploring ideas and trying new things. I love it and recommend it to anyone with crazy ideas banging around in your head. It's cheap and quick, and you get way less black snot and weld burns too!
Once again thanks for reading, and a big thanks to Speedhunters for the opportunity to share these ideas.
Aaron Beck
www.aaronbeck.com
www.beckkustoms.com
www.ebodies.blogspot.com