Authenticity
This is a 1968 Datsun 510 wagon. As is the nature of car communities, there are many thousands of Datsun enthusiasts out there in the world that will immediately recognize this car to be a 1968 Datsun 510 wagon. Not a 1969, and not a 1972.
What separates the 1968 model year are a number of details that automotive enthusiasts take delight in knowing. The grill, rear bumper cover, dashboard and indicator lights on the sides of the front fenders are among the handful of characteristics that separate the 1968 Datsun 510 from its peers. Said unique features, compounded by a limited production run, make the first model year of the Datsun 510 highly sought after.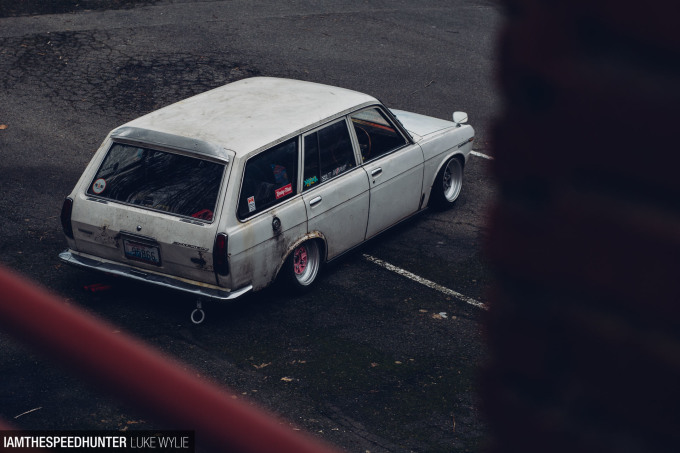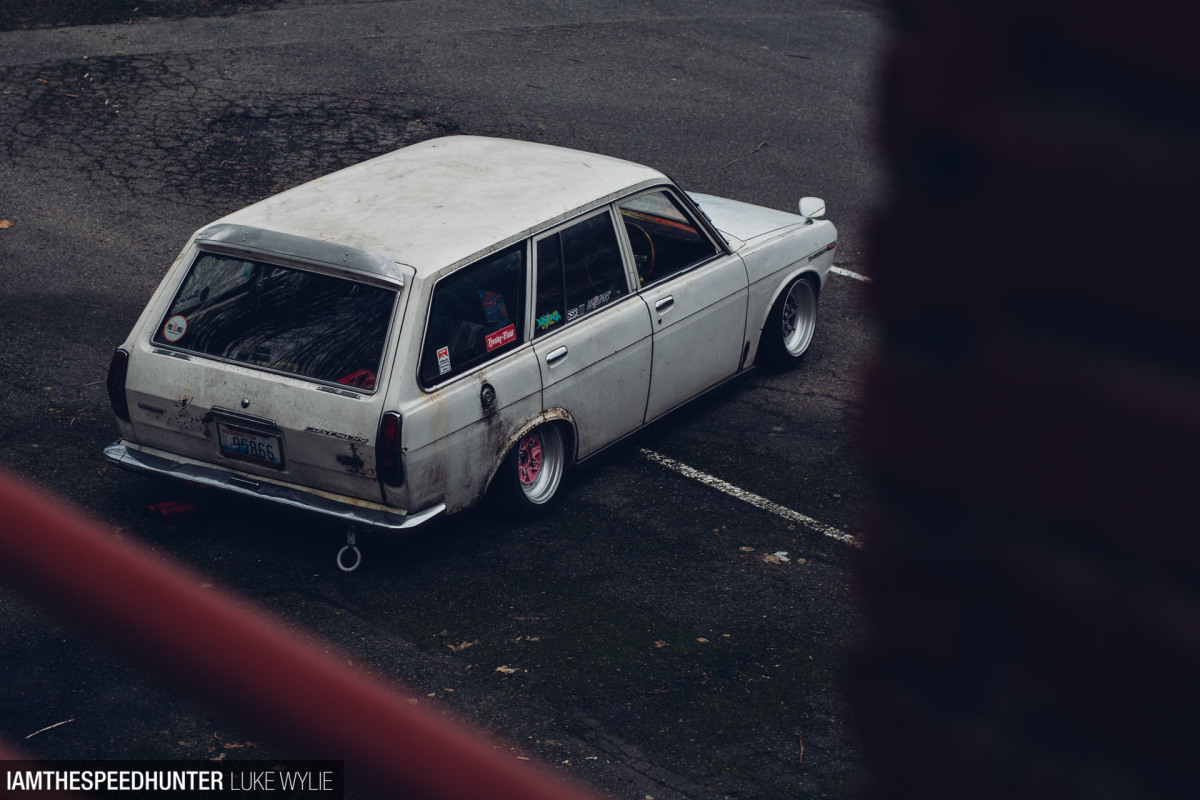 The 1968 Datsun 510 wagon has always been a cool car, but not in an ordinary or explicit way. It's that kid that you grew up with that was effortlessly cool; the one that always just happened to like the best music and played the guitar fairly well, not that he would be one to brag about it. When you went to the skate park for the first time that kid was already there, hanging out with the older kids. Because they liked him for who he was. That's the 1968 510 wagon.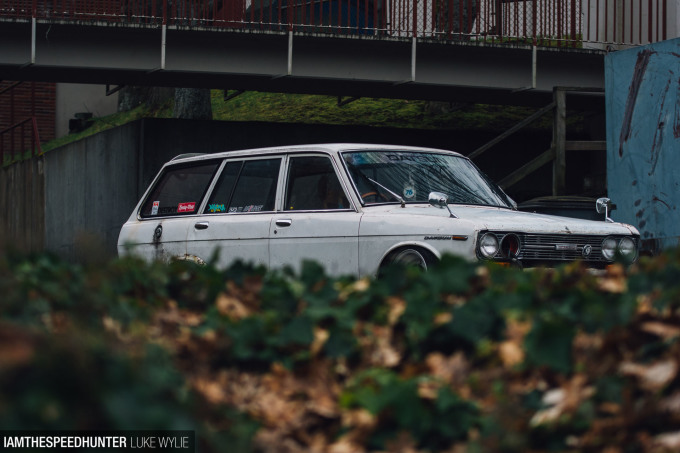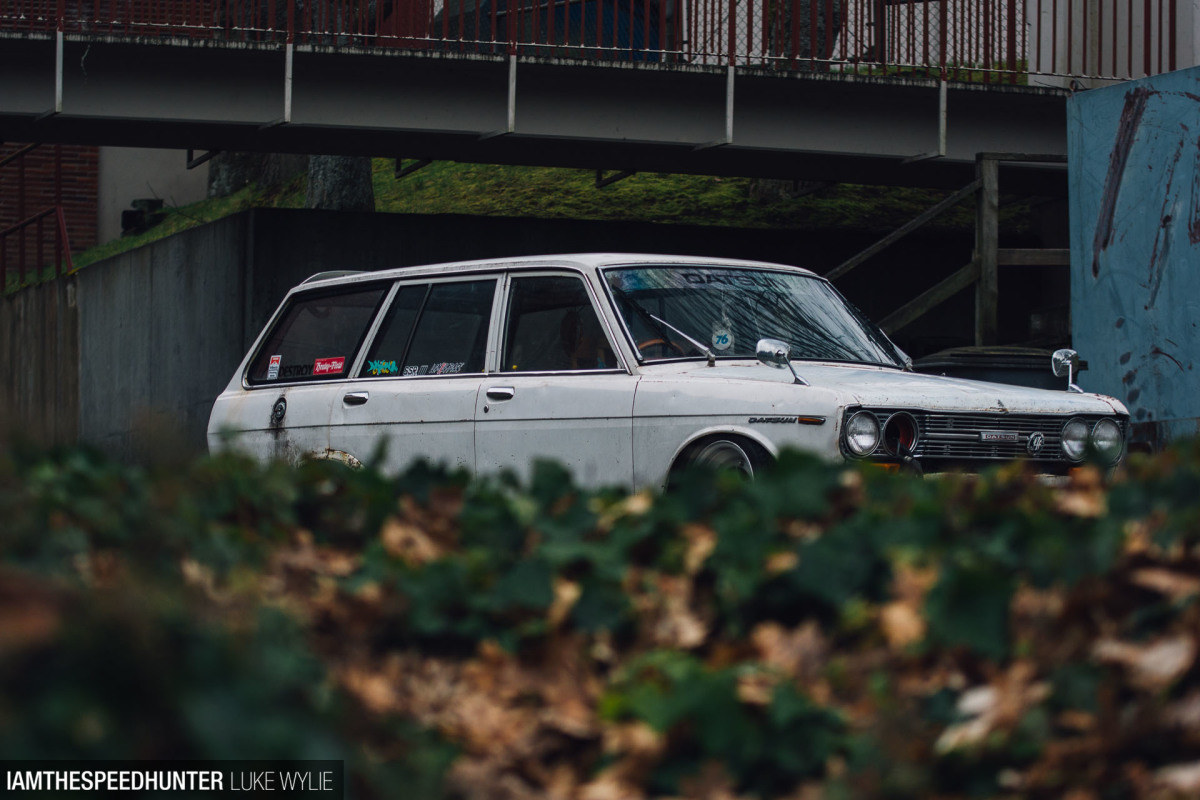 When the Datsun 510 was being brought to life in the Nissan design studios the president of Nissan USA, Yutaka Katayama (Mr. K), wanted to compete with the Neue Klasse BMW's of the day. That meant that among other features, the Datsun 510 sedan would arrive in the majority of markets equipped with independent rear suspension (IRS) and trailing arms. A simpler but less capable solid rear end with leaf springs could be found in the wagon and on some models of the sedan, depending on the market.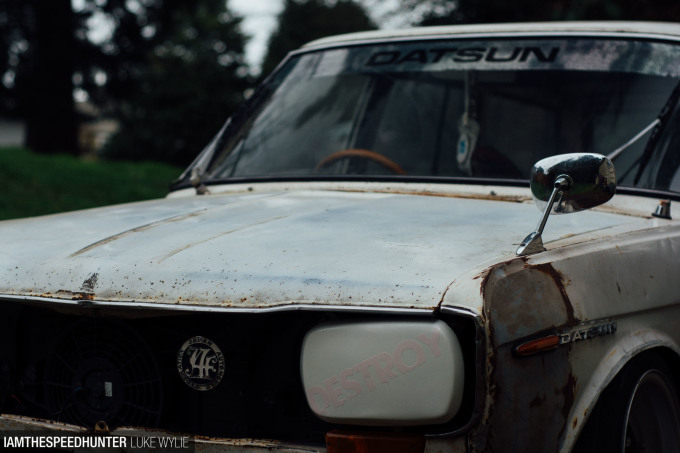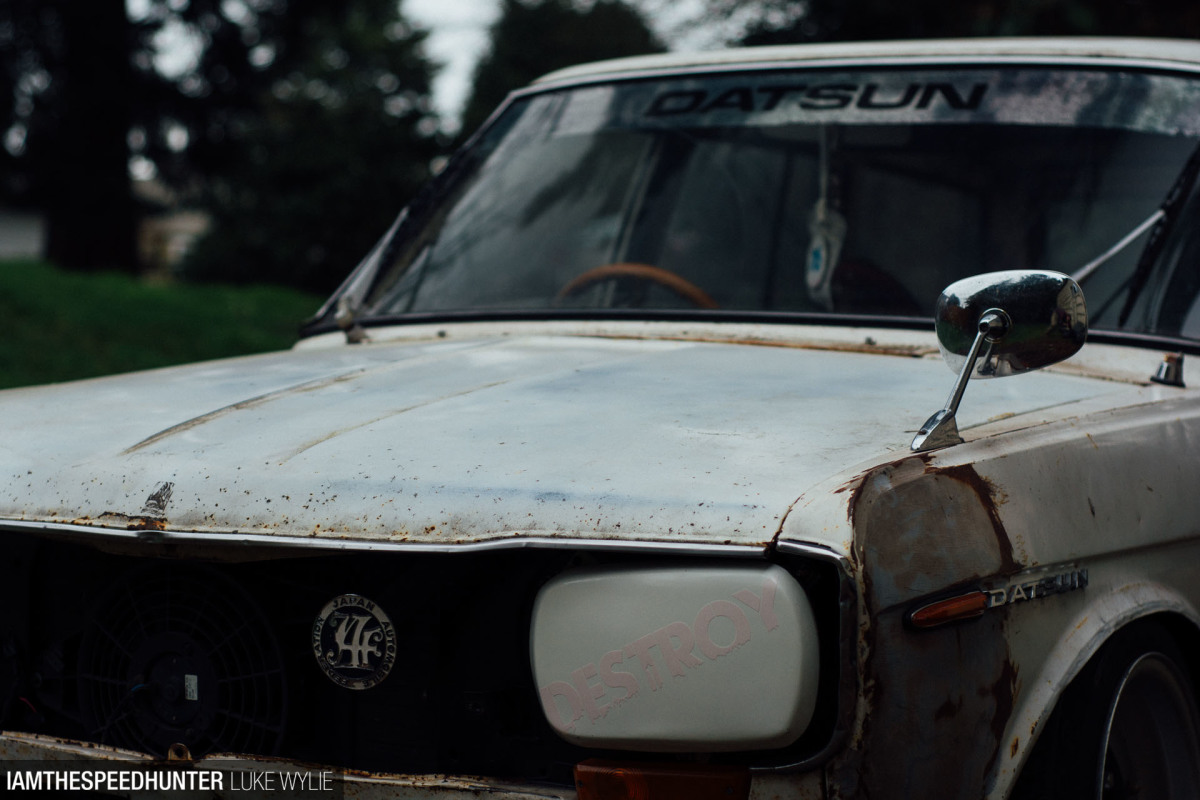 In 2006 this particular wagon was pulled from the gloomy depths of the Pacific Northwest hinterlands by two members of the PNW Datusn community, Wolf Man (yes, really) and Frank. The solid rear end and leaf springs were removed and replaced with the IRS out of a 510 sedan. This radical modification was done to get the wagon closer to the ground than ever before and is not something to be taken lightly.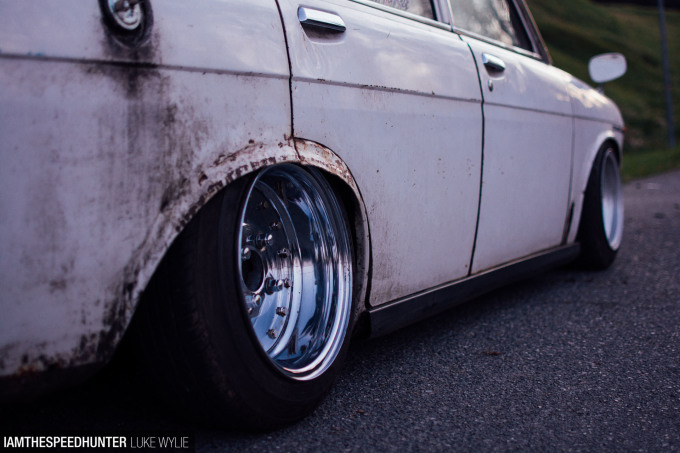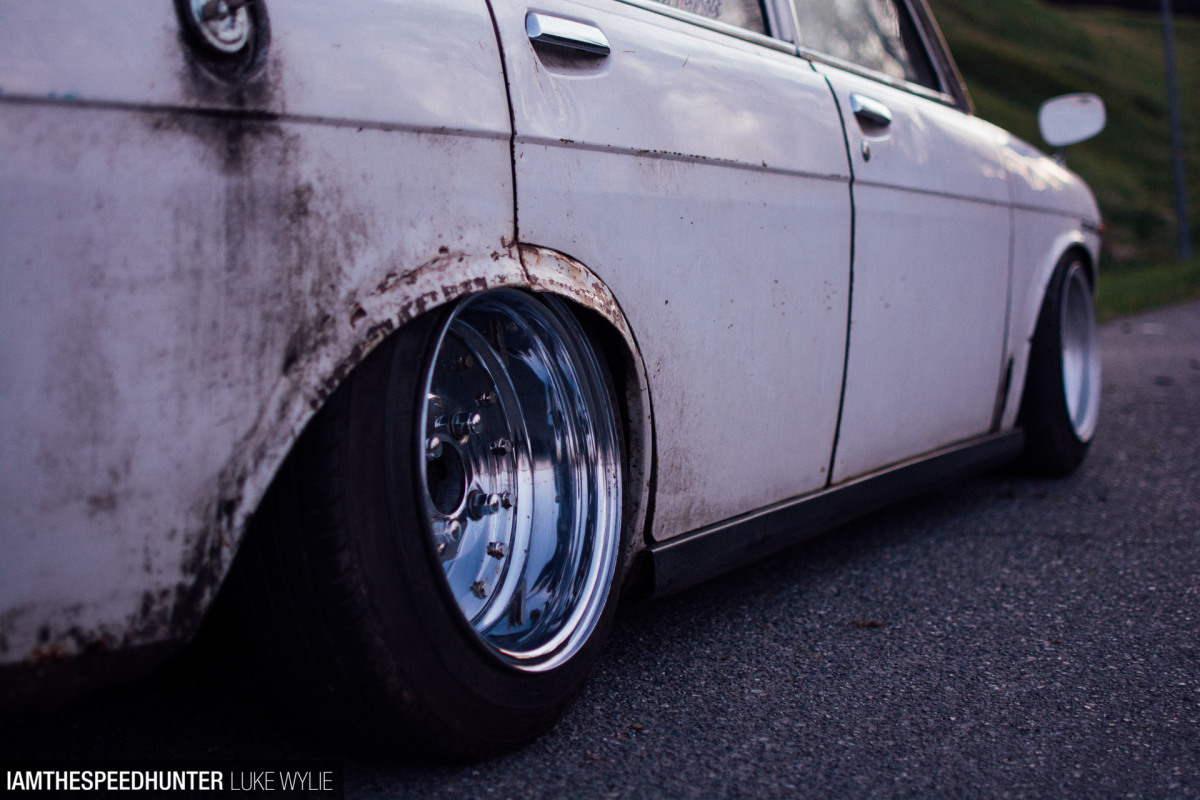 Much in the way of custom fabrication was called for: bits of a 510 sedan floorpan were grafted into the wagon to accommodate the new rear end, custom 'death hooks' were fabricated to hold a sub-frame, and so much more. Yet great care was taken to ensure that the character of the car remained intact. The wheel wells, for example, were not touched.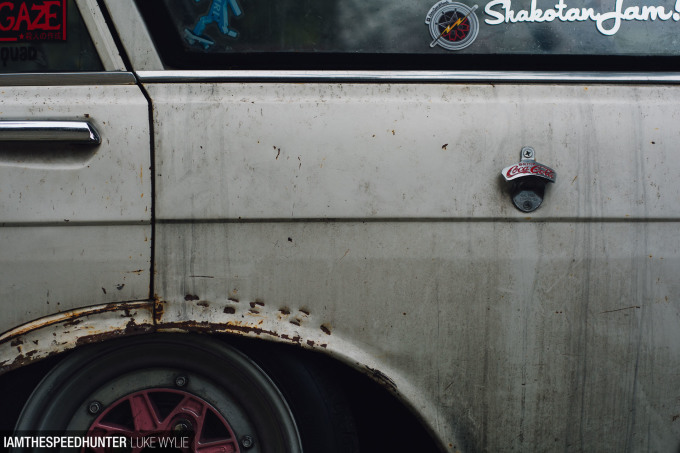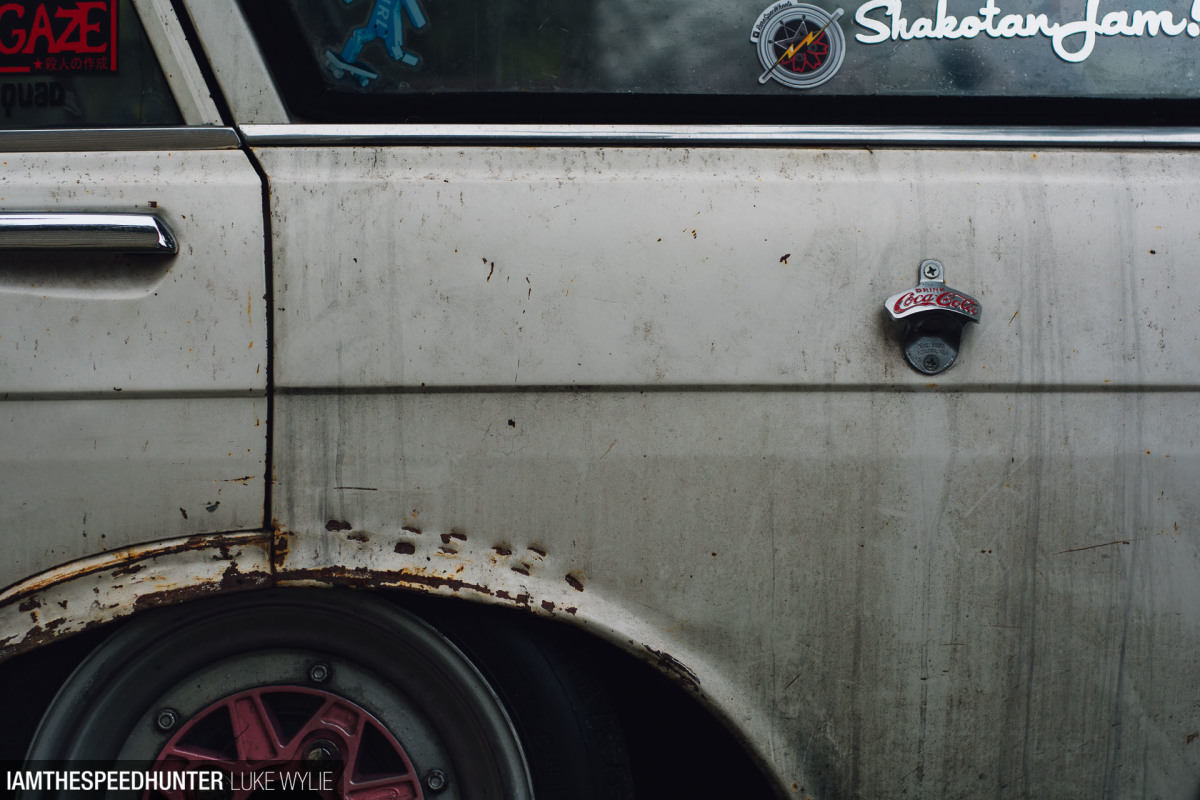 Note the year in the prior paragraph, 2006. At nearly 40 years of age this wagon had already lived the life Mr. K had intended and had then been reborn as a drag car when it was saved by Wolf Man. The 'drag car' bit is mostly conjecture; based off some old pictures and other bits of hearsay it is suspected that the fenders were originally pulled out to accommodate large Hoosiers or something of that ilk.
In the possession of Wolf Man and friends this wagon had something of a mid-life crisis, abandoning old habits that didn't matter much anyways and taking off in the unfettered pursuit of a passion.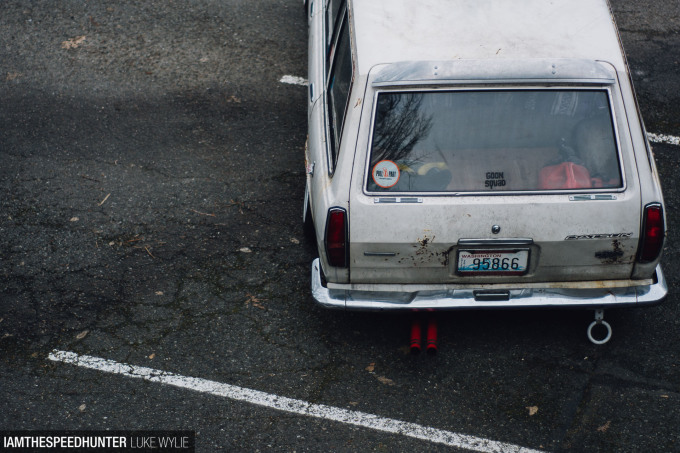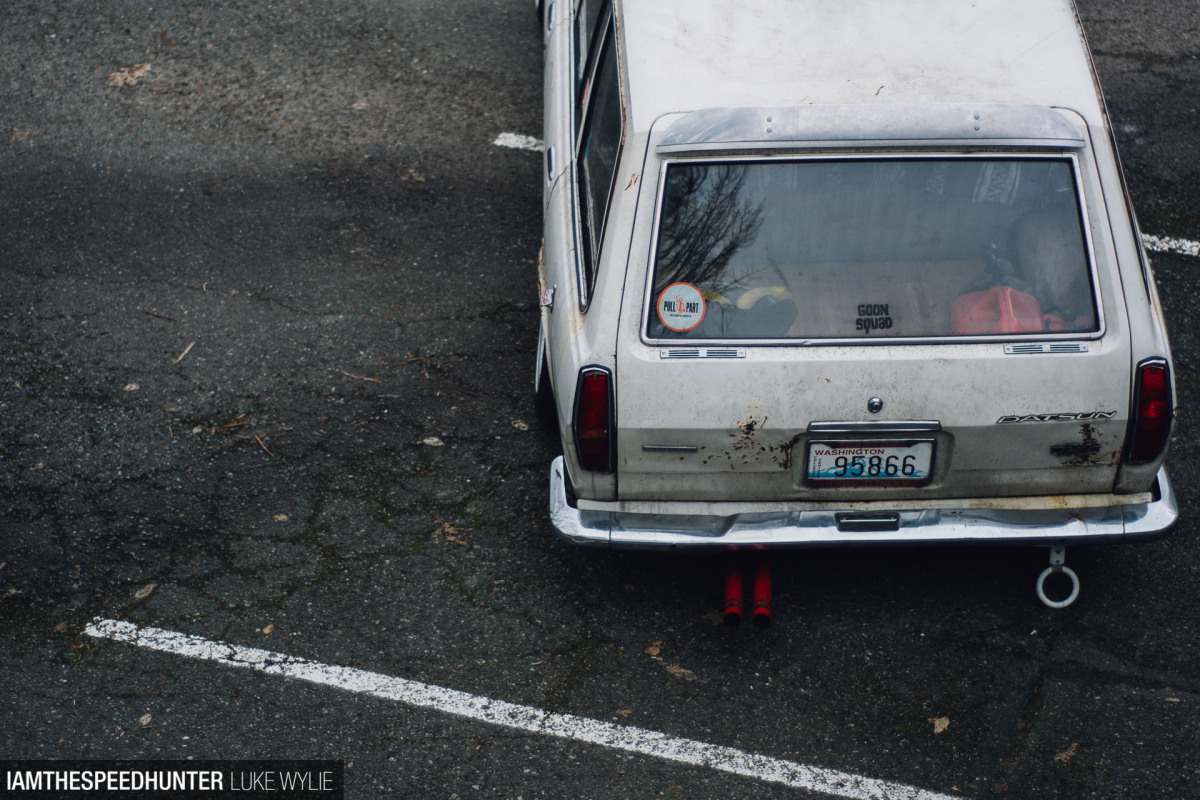 Enter the current owner, Aaron. Another Datsun wagon lit a spark in him in the late 2000s, and he had been searching for a wagon to make his own ever since. Aaron came to learn of this particular car in 2009 and purchased the 'wagon of doom' that same year. Although the IRS swap had given this car a new direction in life, it was still very much a work in progress when it came into Aaron's possession.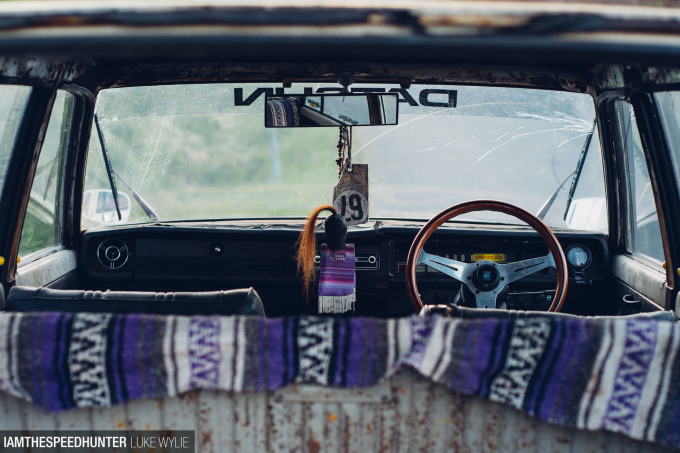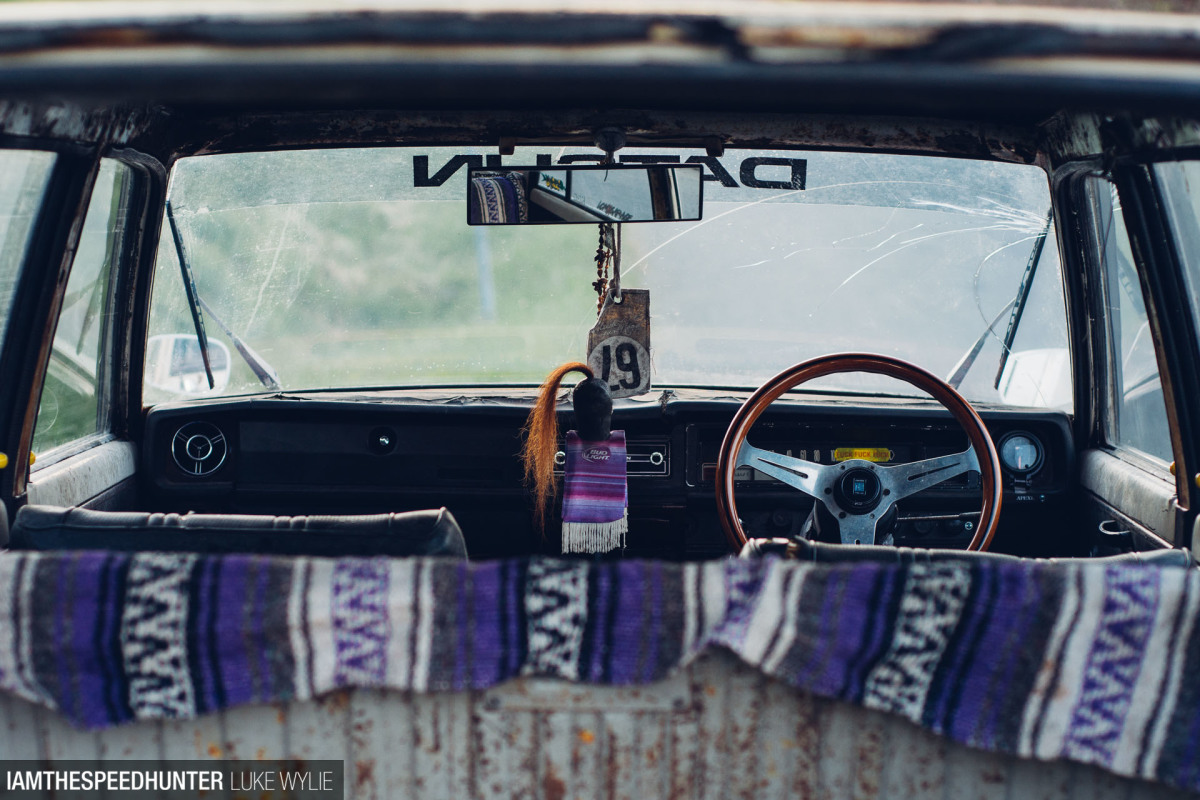 Like the cool kid you grew up with, this 1968 Datsun 510 wagon may have had a mid-life crisis, but instead of buying a V6 Camaro or attempting to get in shape, this paragon of suave started a skate shop. He emerged from his mid-life crisis so much cooler without even trying.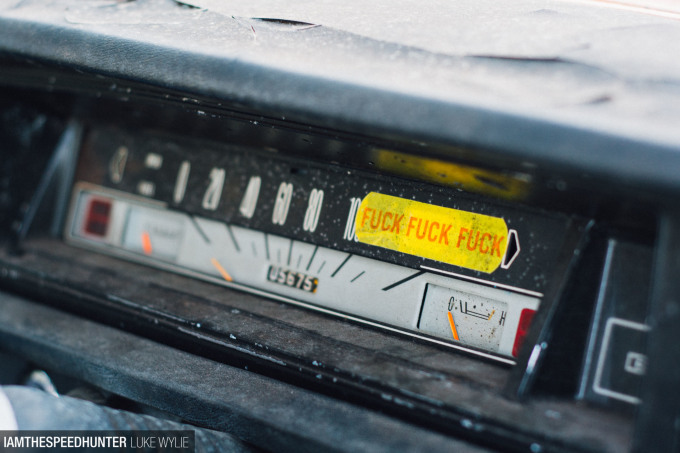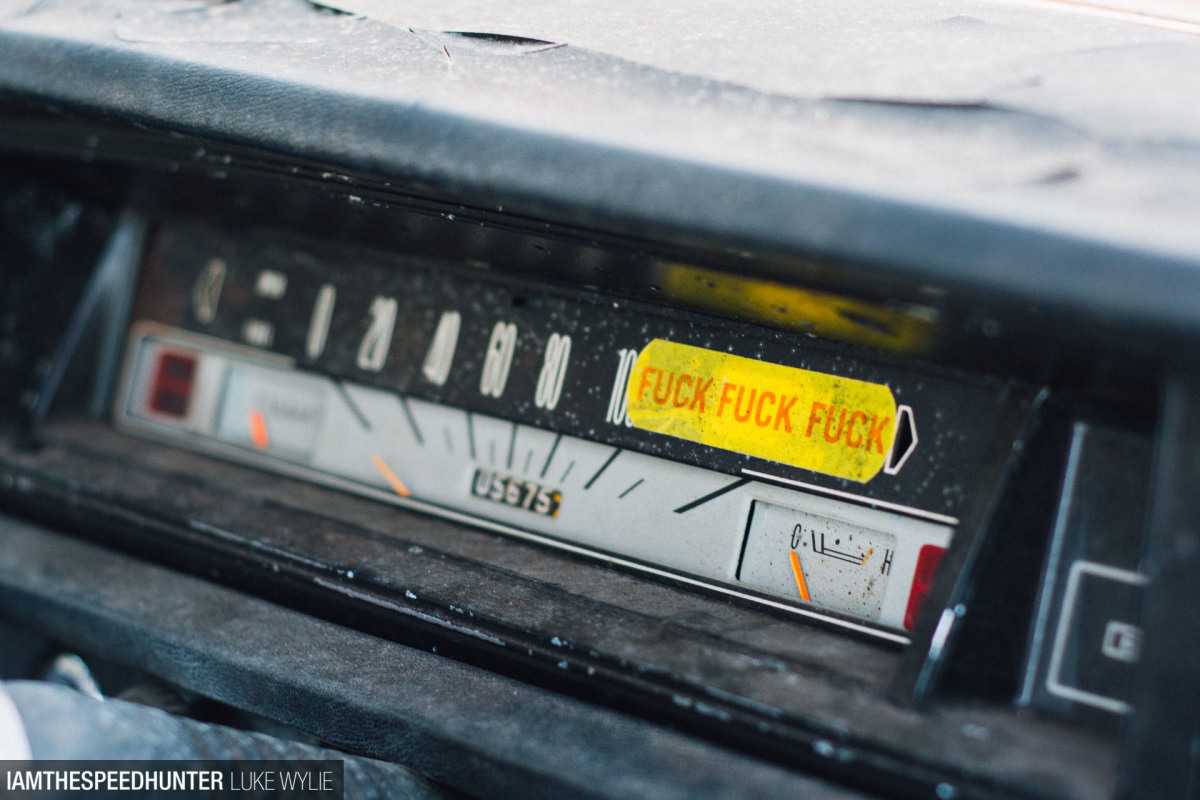 So how does one go about taking stewardship of this car and becoming a part of something so naturally hip? How does one properly befriend the guy who met his wife on the Pacific Crest Trail? Who soundproofed his garage with his daughter so her thrash punk band could have a place to practice?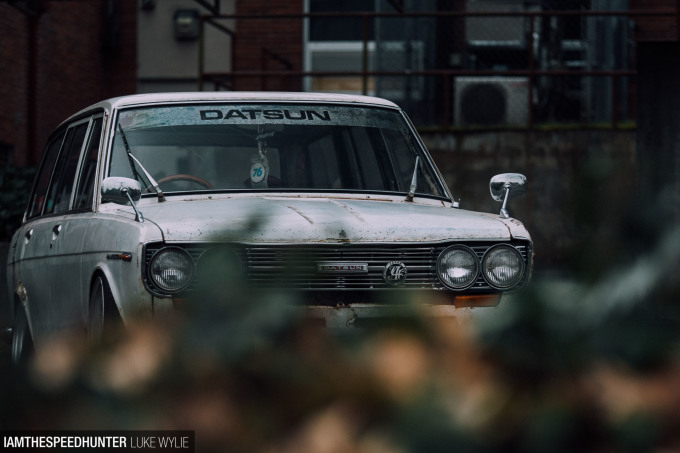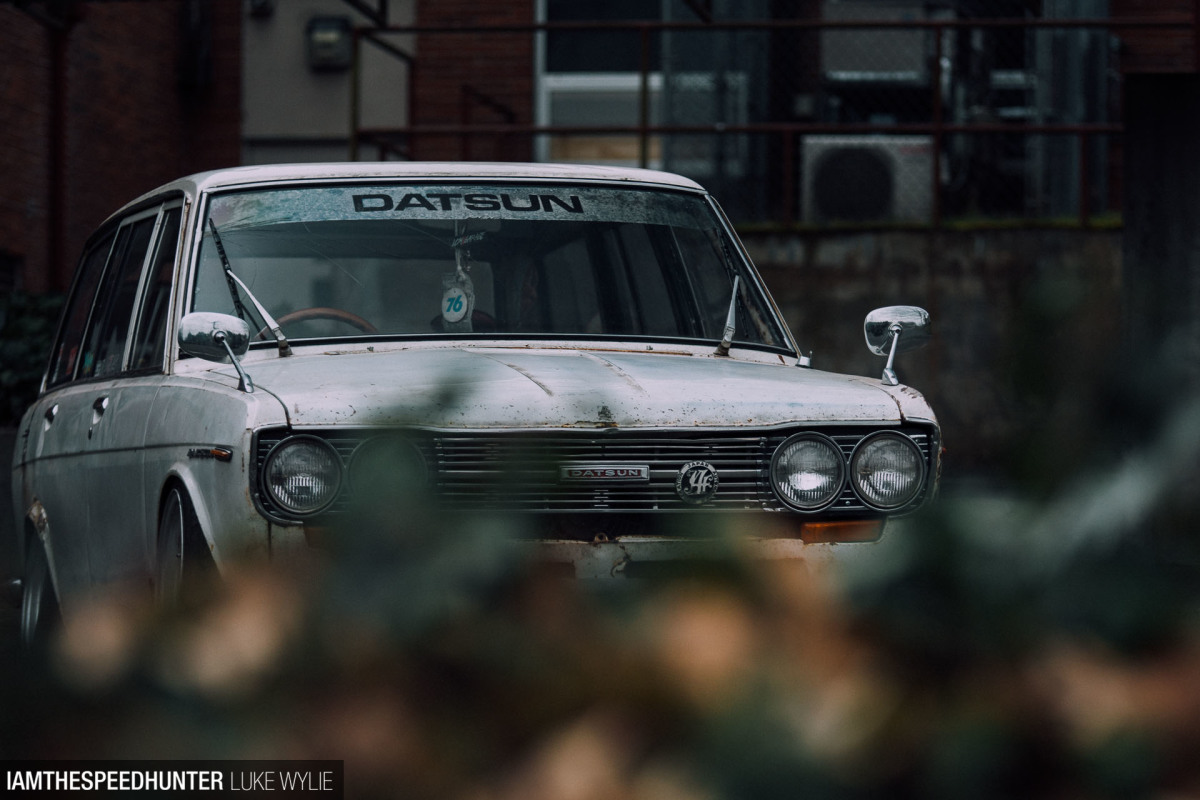 The answer is authenticity; one must be authentic and act as such. Authenticity is defined as the degree to which one is true to one's own personality, spirit or character despite external pressures. It concerns a person's relation with the world, and manifests through traits such as personal style and taste.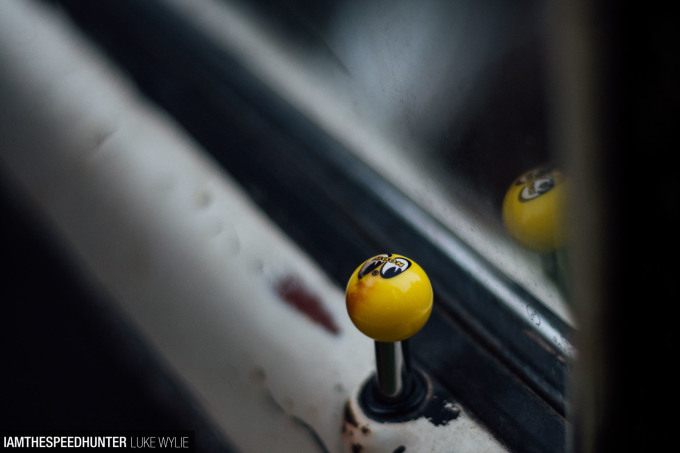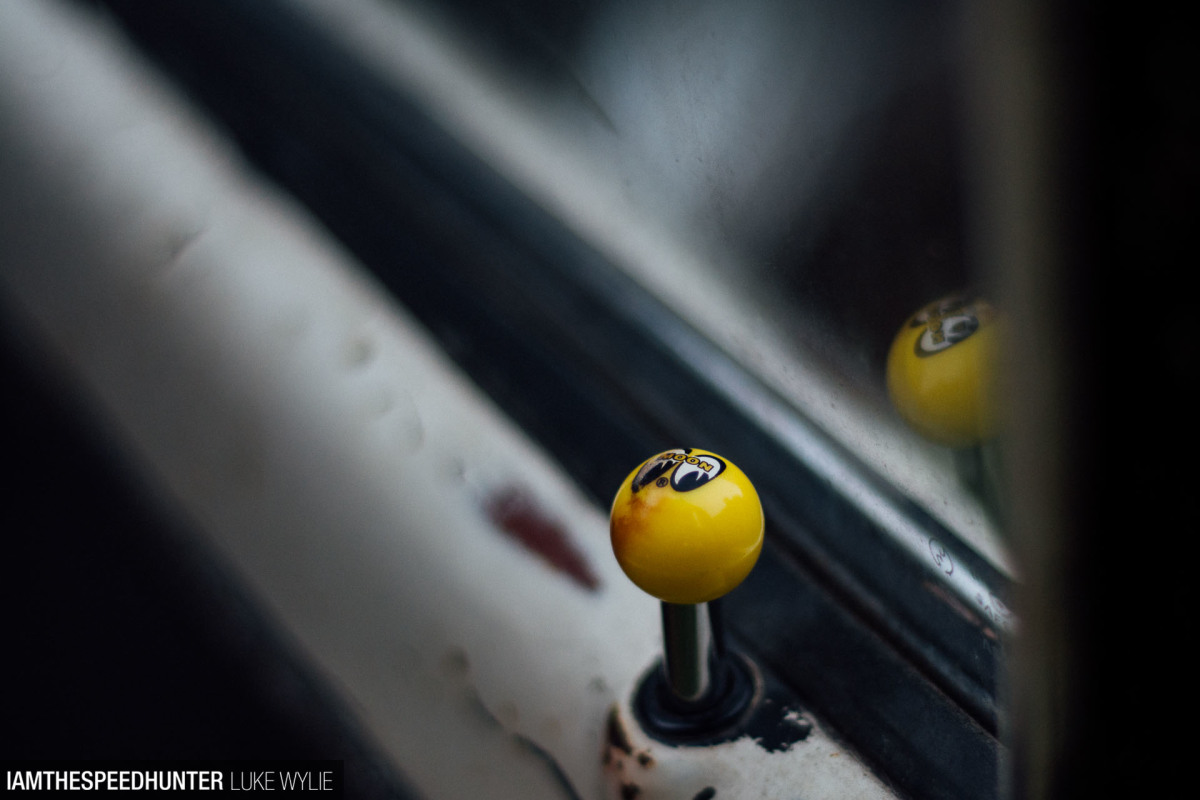 This car is cool because it is authentic, and so is the owner. Every modification Aaron has made to this car was born of a genuine personal motivation. Over the past seven years so much of who Aaron is has worked itself into the fabric of this car.
Design thrives on constraints, and the direction of this car's design is not defined by the norms of any one culture. Rather, the only guiding principles here are Aaron's personal tastes and style.
For example, the car wears genuine SSRs, but Aaron is as proud of them as he is the rare drag-spec Cragar Super Tricks in 4×114 that are sometimes fitted.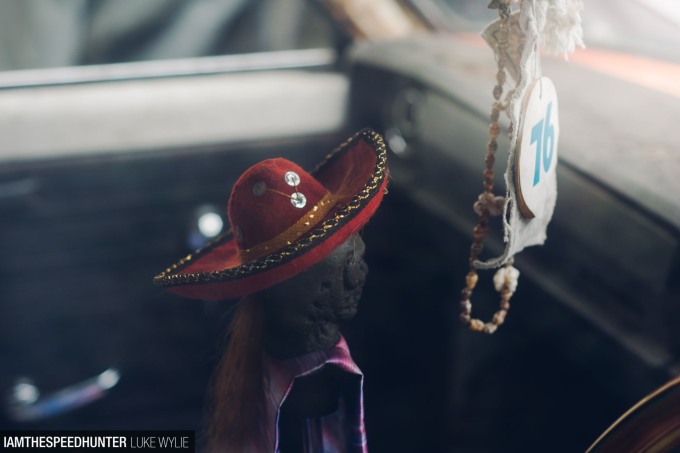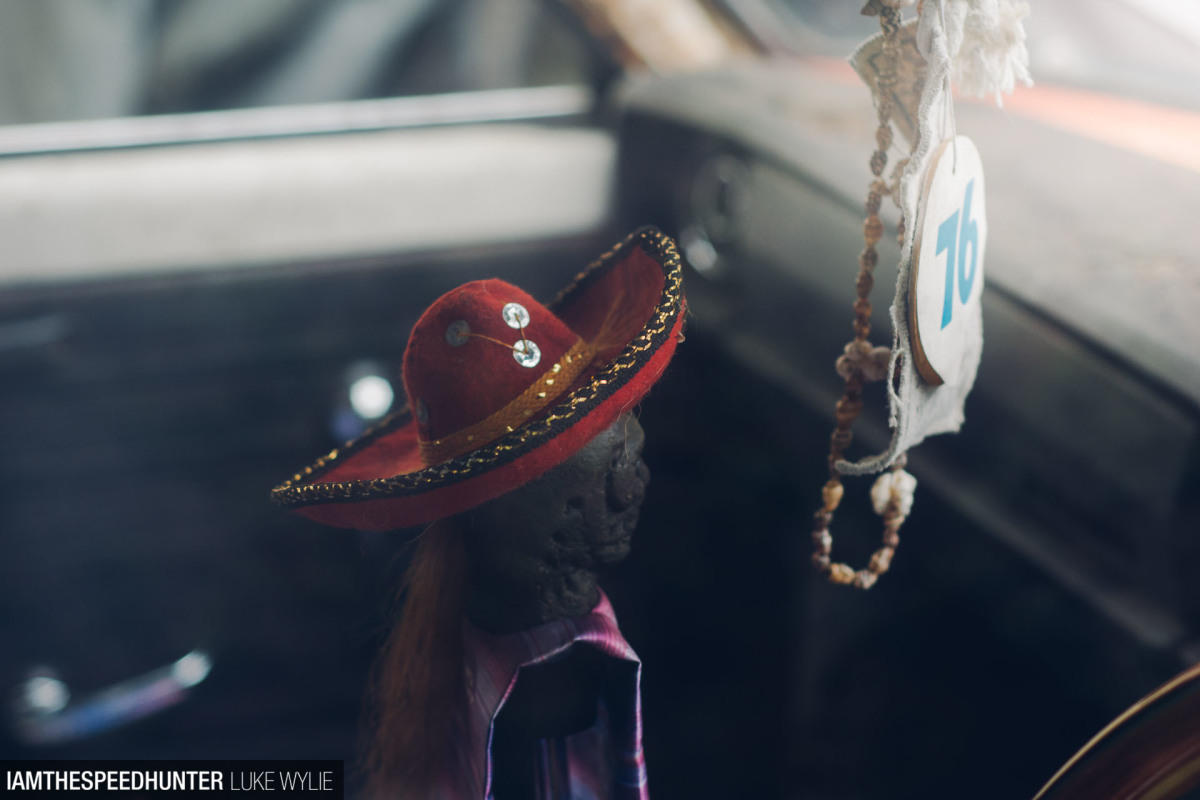 This car just exudes style. From the motor swap to the little baubles, everything has a story to it. Take, for example, the little black head on top of the shifter. It's made of asphalt and was hand-molded from genuine California blacktop. From the scalp sprouts genuine horse hair; the little hat is from a Corona. Can you get any cooler than that?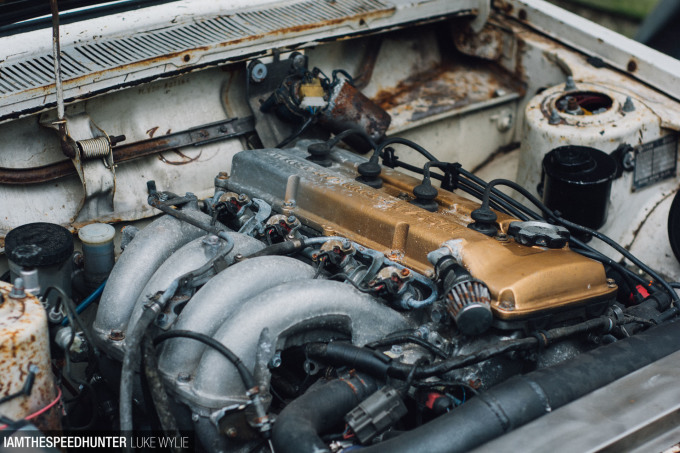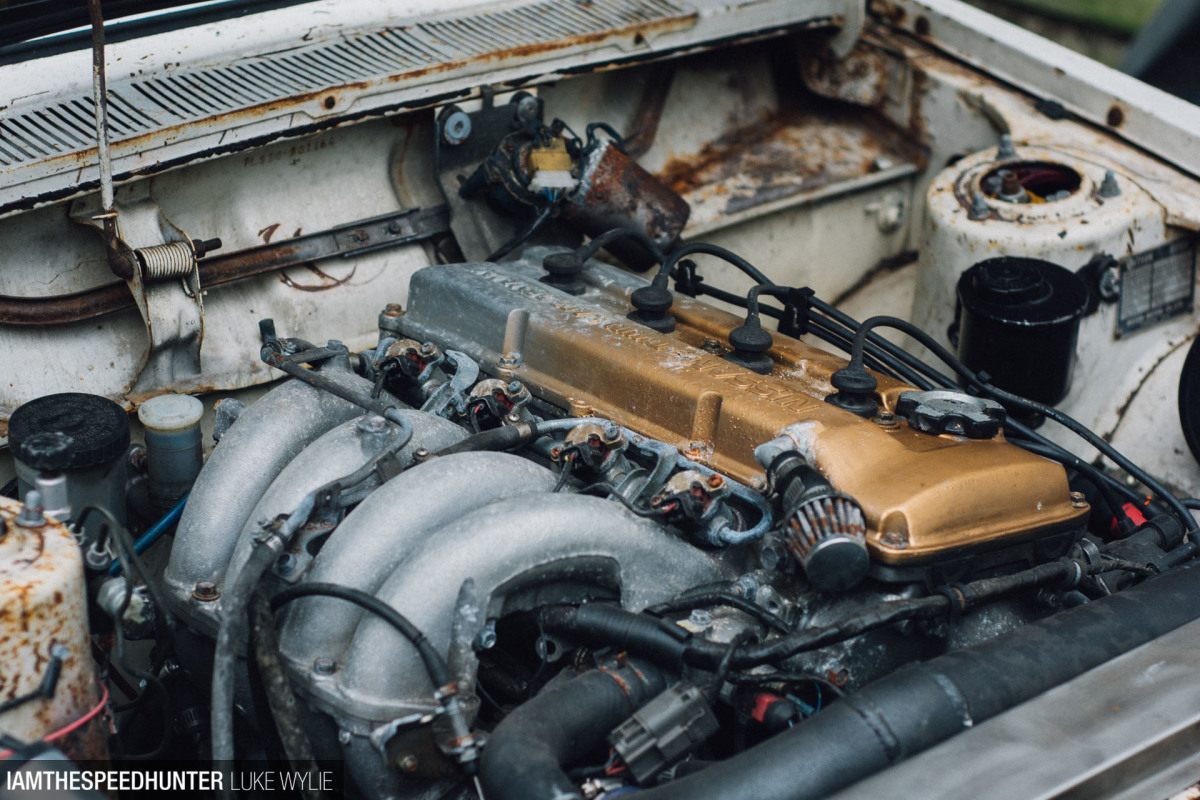 Under Aaron's care the wagon has seen two major modifications. The carburetor on the factory L20 motor went out so Aaron, with the help of his friend Kenneth, swapped in a KA motor and transmission from a Nissan 240SX a few years ago.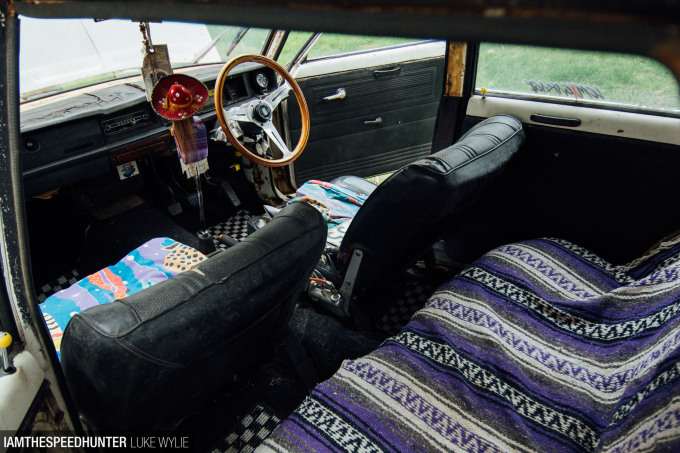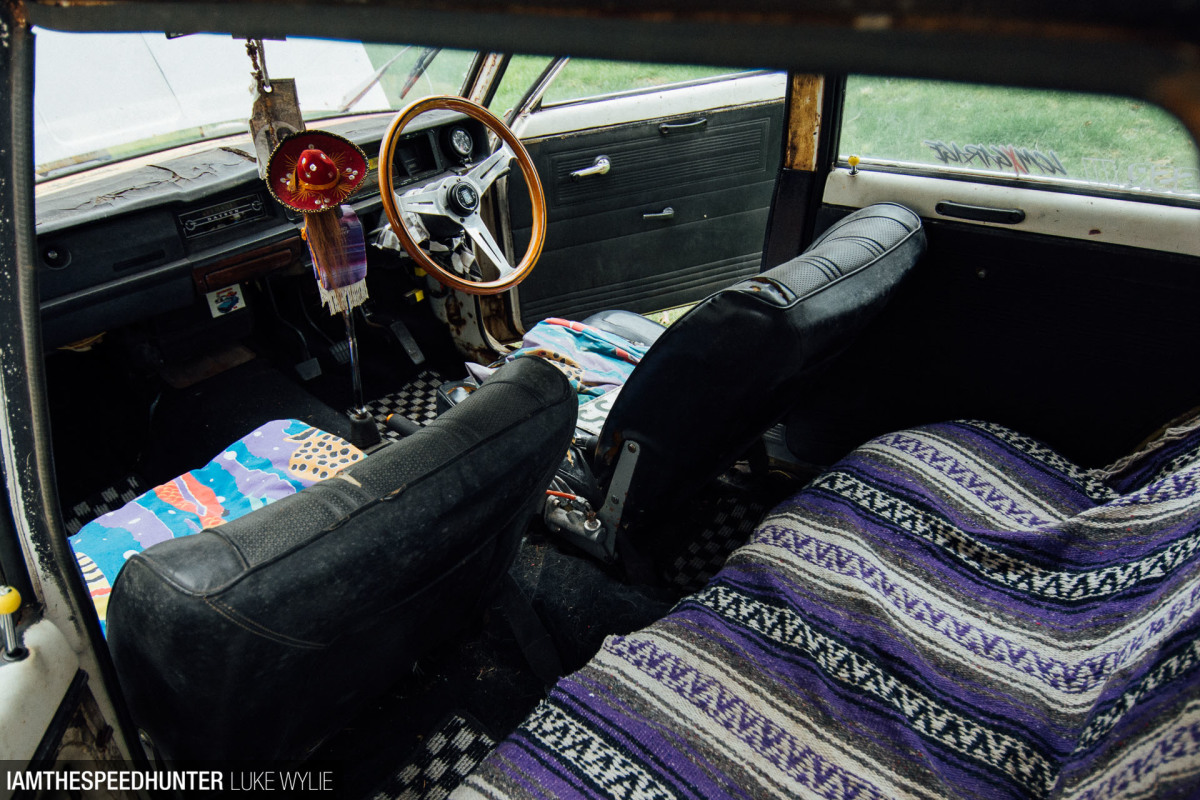 Kenneth also helped Aaron swap the car over to right-hand drive, with the latter learning to weld along the way. Both modifications were significant undertakings, but like Wolf Man before them Aaron and Kenneth were careful to ensure that nothing was lost during the transplants. No incisions were made to the factory tunnel to fit the KA transmission, and the rare 1968 Datsun dash was left almost entirely intact due in part to the glovebox being the same size as the dash cluster.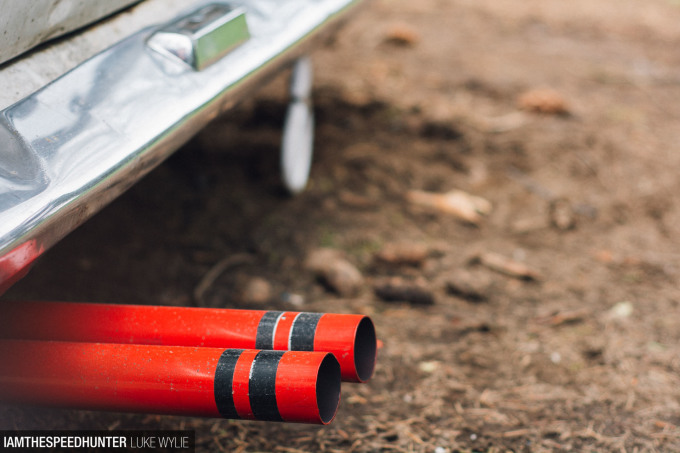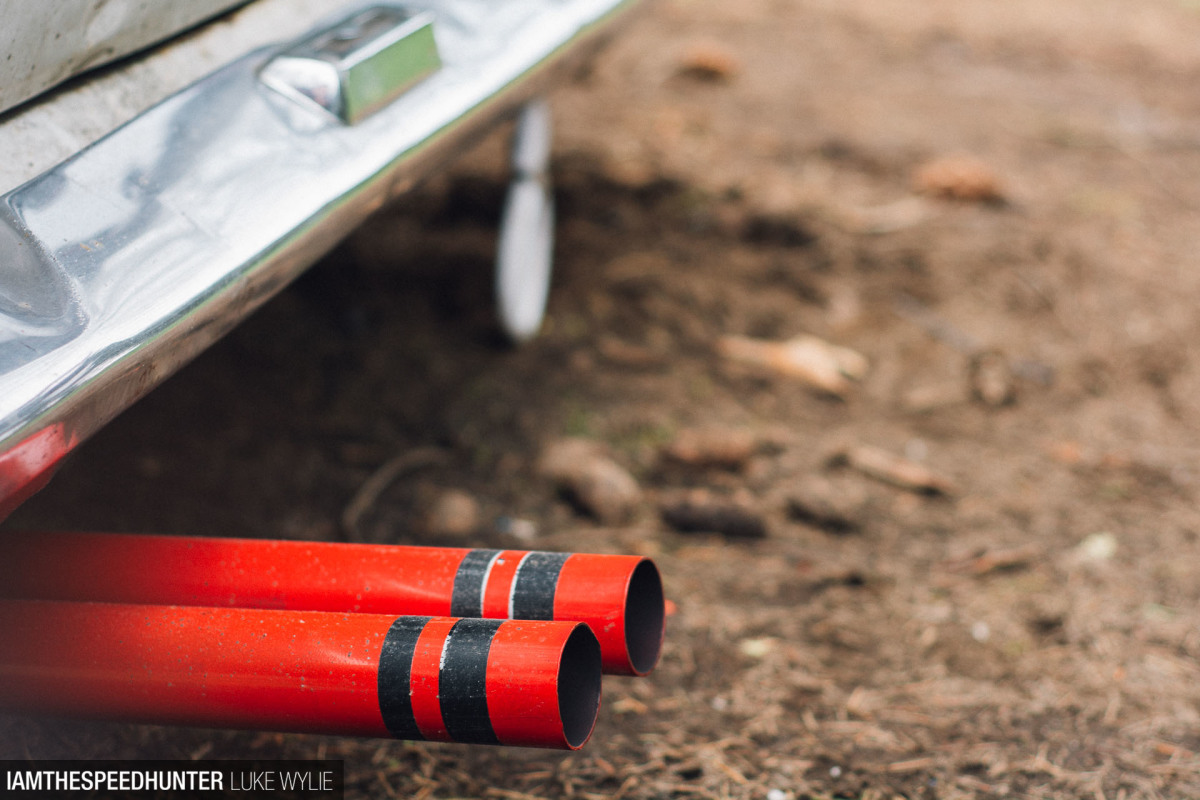 Hints of shakotan culture appear in the form of Nissan Cedric headlights and those red exhaust tips. Nothing too garish – too zokusha – but just enough to further complement the spirit of the car. Aaron will change out the grill and headlights to fit his mood and current motivations, taking equal joy in having the car wear either the stock mask or the more daring rectangular Cedric headlights.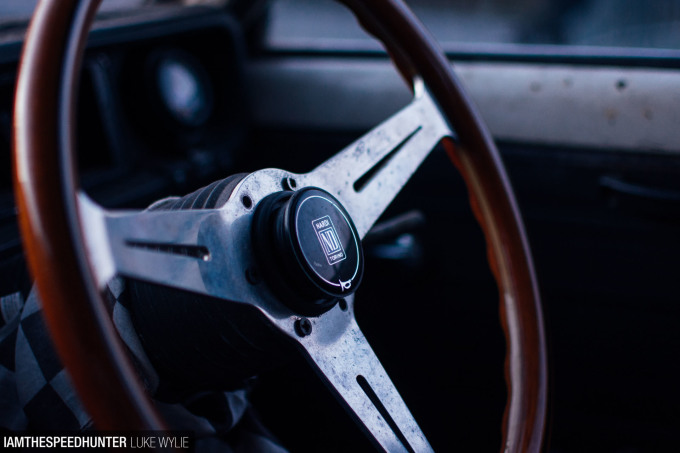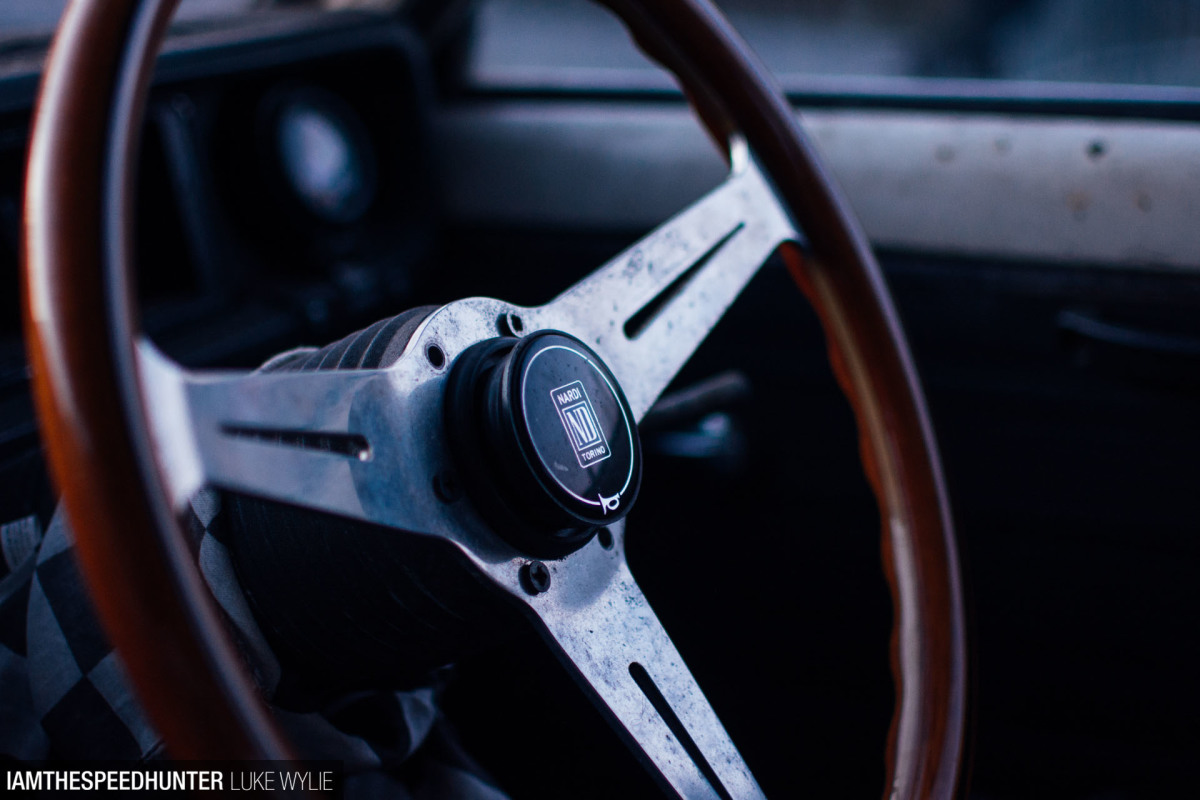 Other details gracing the exterior of the car include Datsun Bluebird tail lights, a 'bug guard' wing from a younger 510 wagon, and fender mirrors from a mid-century Volvo. A Toyota Aristo ashtray found a home in the factory dash, and a Nardi steering wheel works comfortably with the rest of the interior.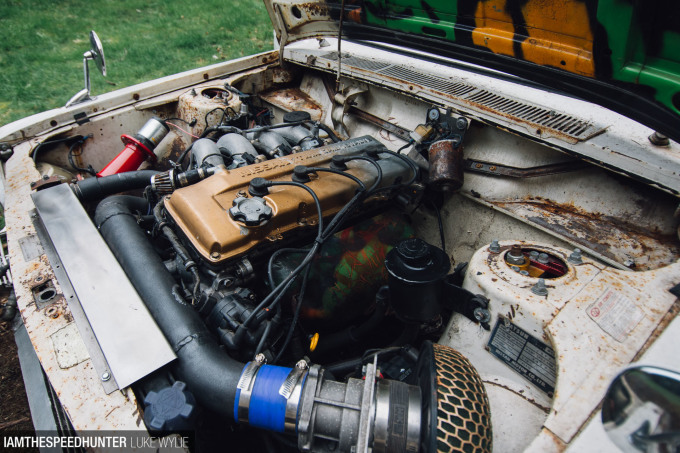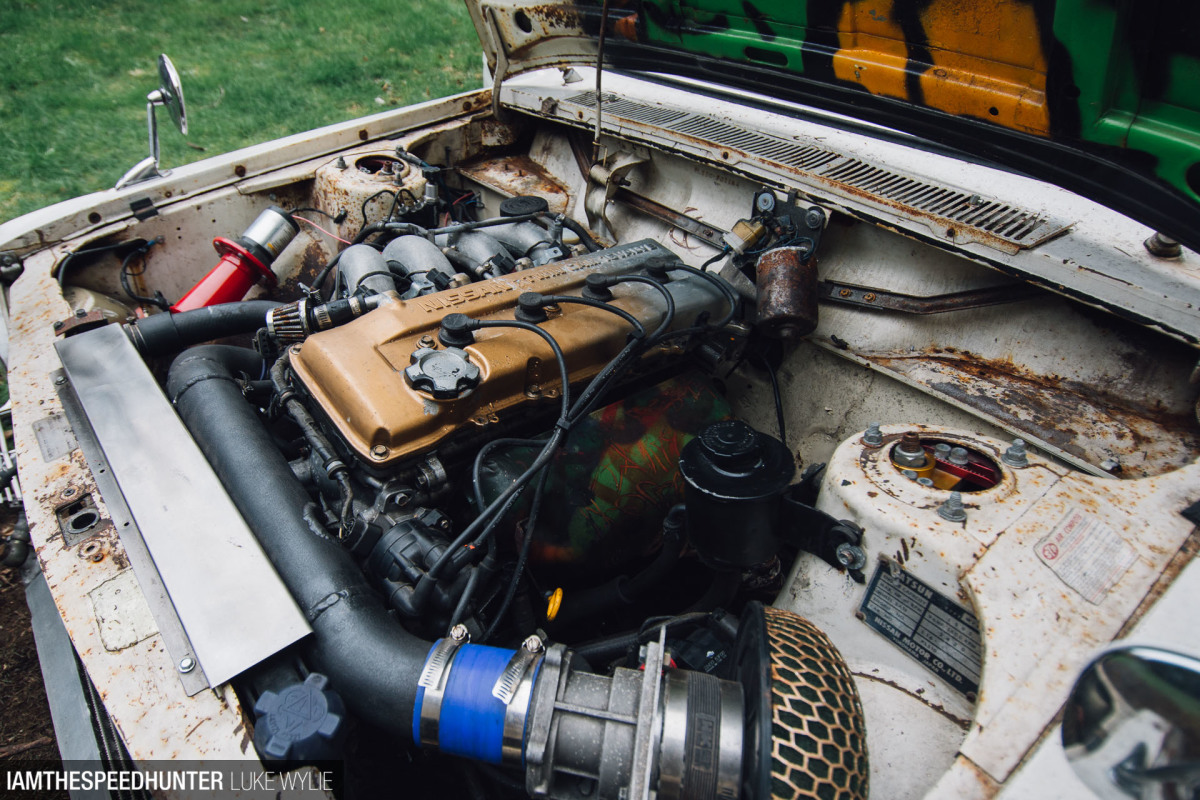 Under the hood one will find a S13 steering rack and column, complete with power steering. The brake master once served an S13, but true to the wagons hotrod nature there are numerous non-Nissan parts in the engine bay. A Kia radiator fan assists the VW radiator, and the oil cooler was borrowed from an FC3S Mazda RX-7.
The suspension tells a similar story, with parts meant for Subarus and VW Rabbits mated with items such as Nissan S12 inner and outer tie rods. In the future a Subaru differently may grace the rear end of the car.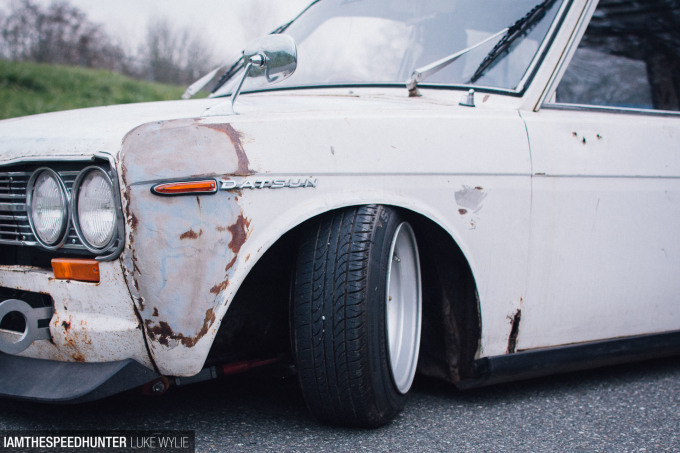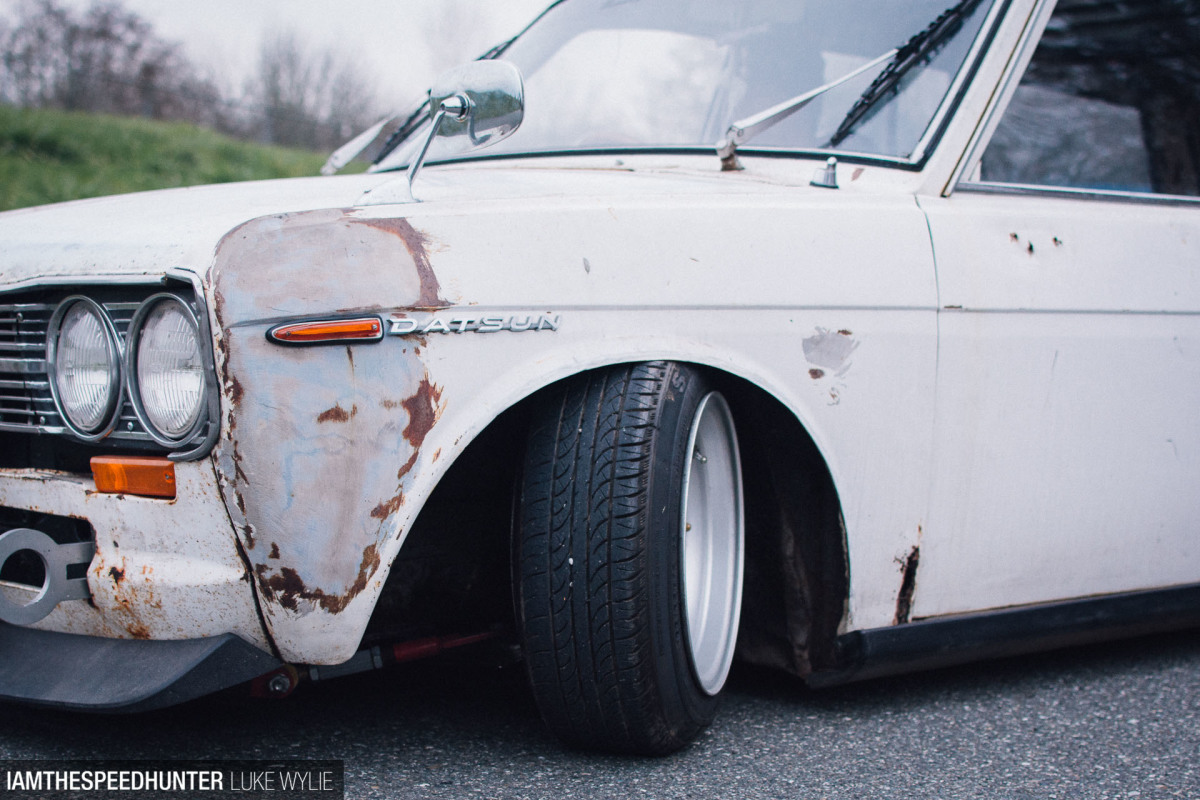 A founding member of the drift team DESTROY, Aaron is a consummate drifter. His passion for sliding ends up working its way into everything he touches because it is intrinsic to him and who he is.
While Aaron is terrified of damaging the car, the track calls and one day this car could see a lap or two. It wouldn't be anything wild; no absurd tandems or wall-rides would occur. But for one or maybe even two laps, Aaron might burn a bit of rubber and add another chapter to this car's story.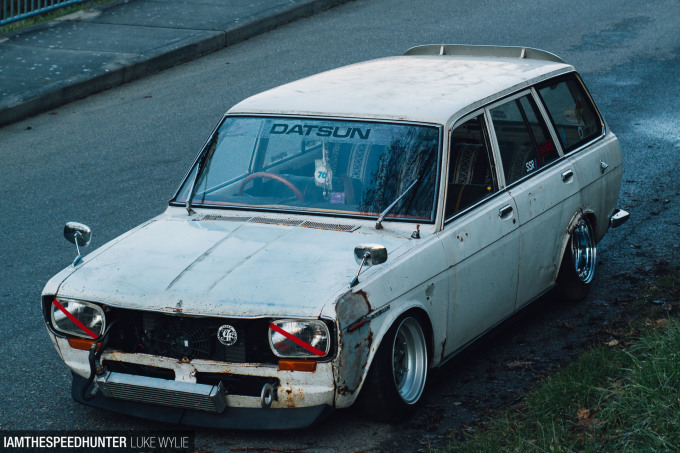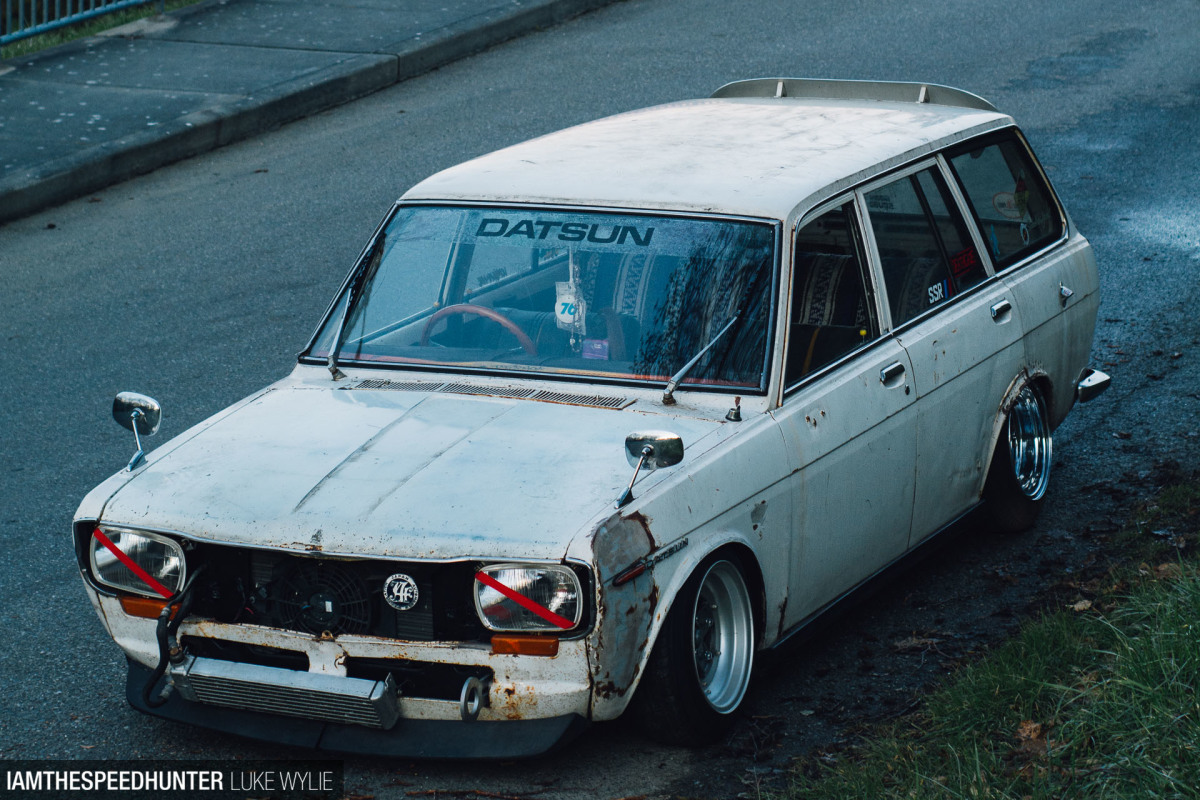 Being authentic is difficult in that the alternative requires much less effort. One is responsible for continuously shaping and evolving one's beliefs, and being authentic means acting on those beliefs even if it means conflict will occur.
One must perpetually theorize views beyond one's tastes and societal norms, even though it is far easier to entrench oneself in old habits and repeating the mantra 'well that's just how it's always been done'. Such stagnation can lead to the favoring of a sub-culture's norms over authenticity.
From that point it is only a matter of time until one's own style and preferences are subverted or entirely replaced by the norms of a sub-culture. In other words, you cease to be you and become some weird avatar devoted entirely to fitting in.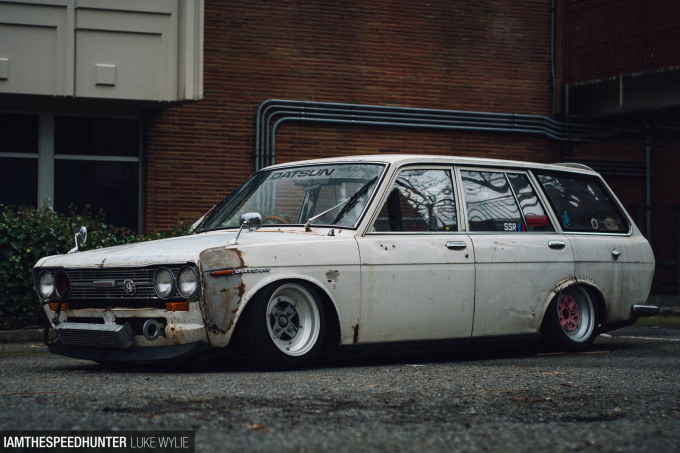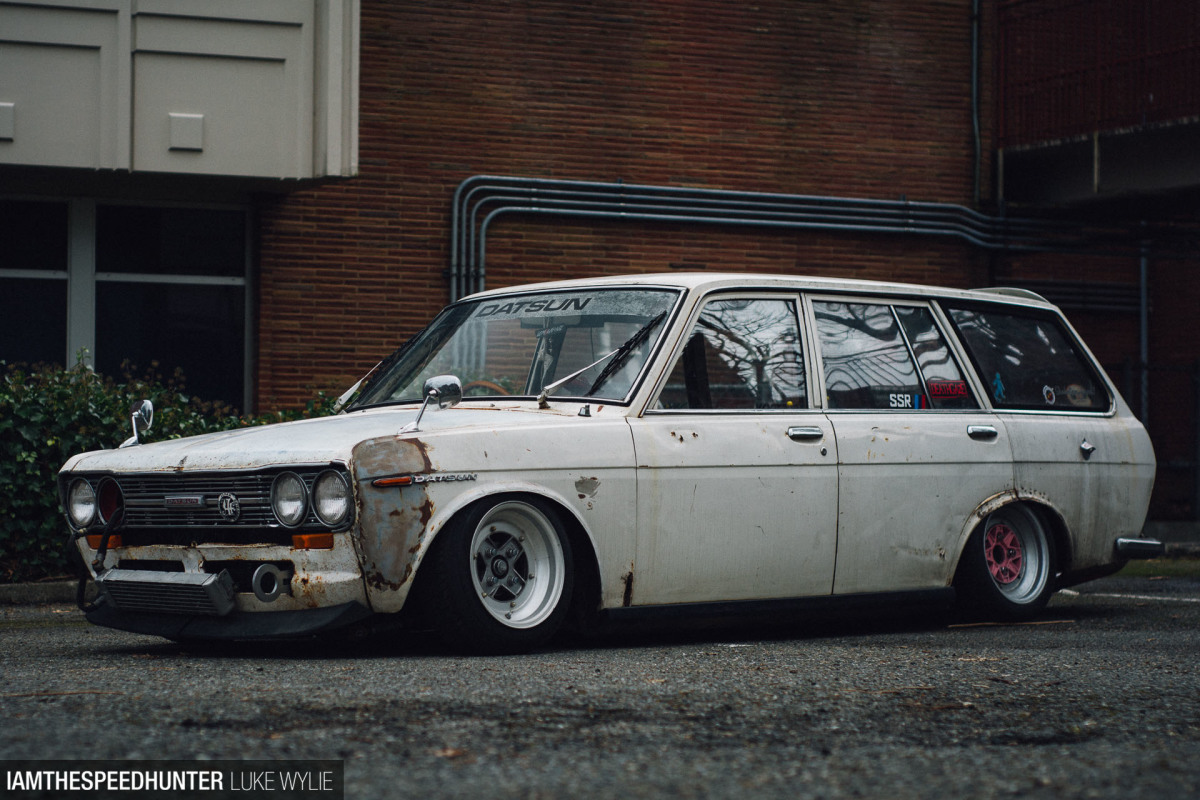 You do not have to like this car. It may conflict with your personal tastes. Alternatively, it could speak to you. Something about this car could push someone out there in the wide reaches of the internet to build their own wagon. Wouldn't that be great?
This 1968 Datsun 510 wagon is cool because it is more than the sum of its parts. All that I am asking is that you recognize as much.
Luke Wylie
Instagram: coyote_mnw
How To join the IATS program: We have always welcomed readers to contact us with examples of their work and believe that the best Speedhunter is always the person closest to the culture itself, right there on the street or local parking lot. If you think you have what it takes and would like to share your work with us then you should apply to become part of the IAMTHESPEEDHUNTER program. Read how to get involved here.