Handiwork, Twice
It was last year when Louis put me in touch with Kris Duggan to shoot his car, but only last weekend did the stars finally align for us at an OnGrid track day. Kris said his RWB 964 had never been featured anywhere before, and the car has had a wild ride since he picked it up in stock form a little over two years ago.
The 1990 C2 isn't Kris's first go around with a Porsche; he actually has a rather long history with them. His first car was a 1974 914 2.0L that he picked up in high school for $2,000, and his latest acquisition marks the ninth Porsche he's owned. On the first cruise in the car after Nakai-san wrapped up his RWB handiwork, Kris was rear-ended by a California Highway Patrol officer driving an SUV. It was at this point that Kris had some decisions to make, but we'll get into that later.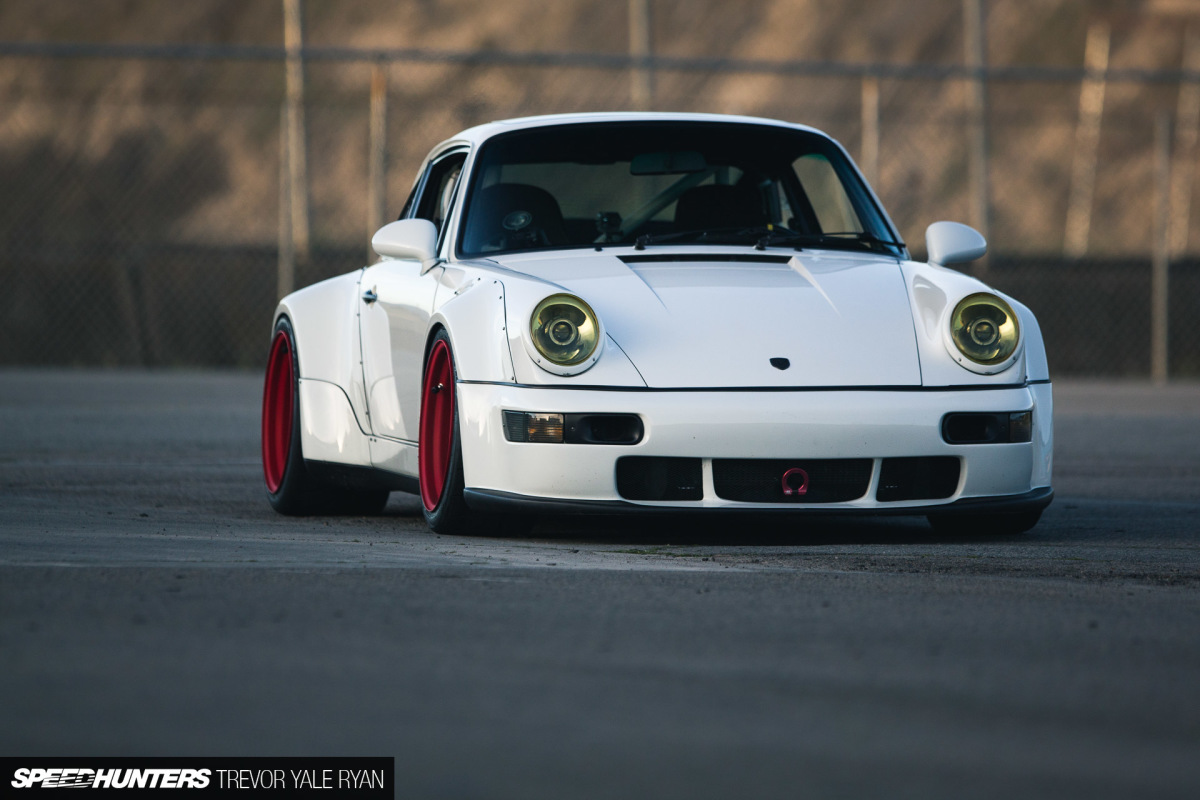 First off, it's obvious that Nakai came back on the States to rework his magic on the 1990 C2 to get everything to fit again. Kris has been enjoying the car ever since, regularly taking it to the tracks around California's Bay Area.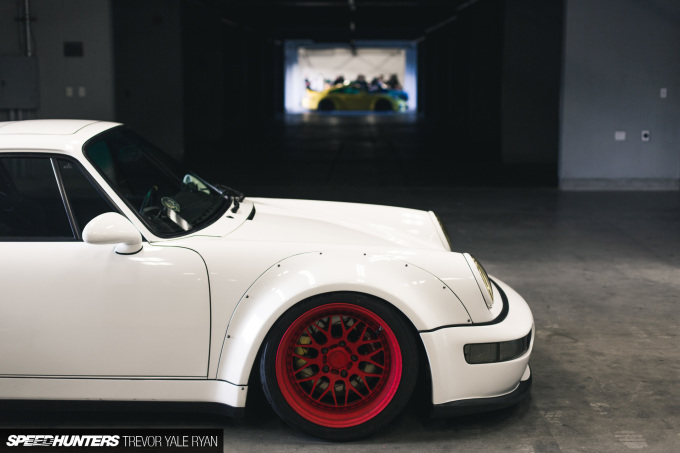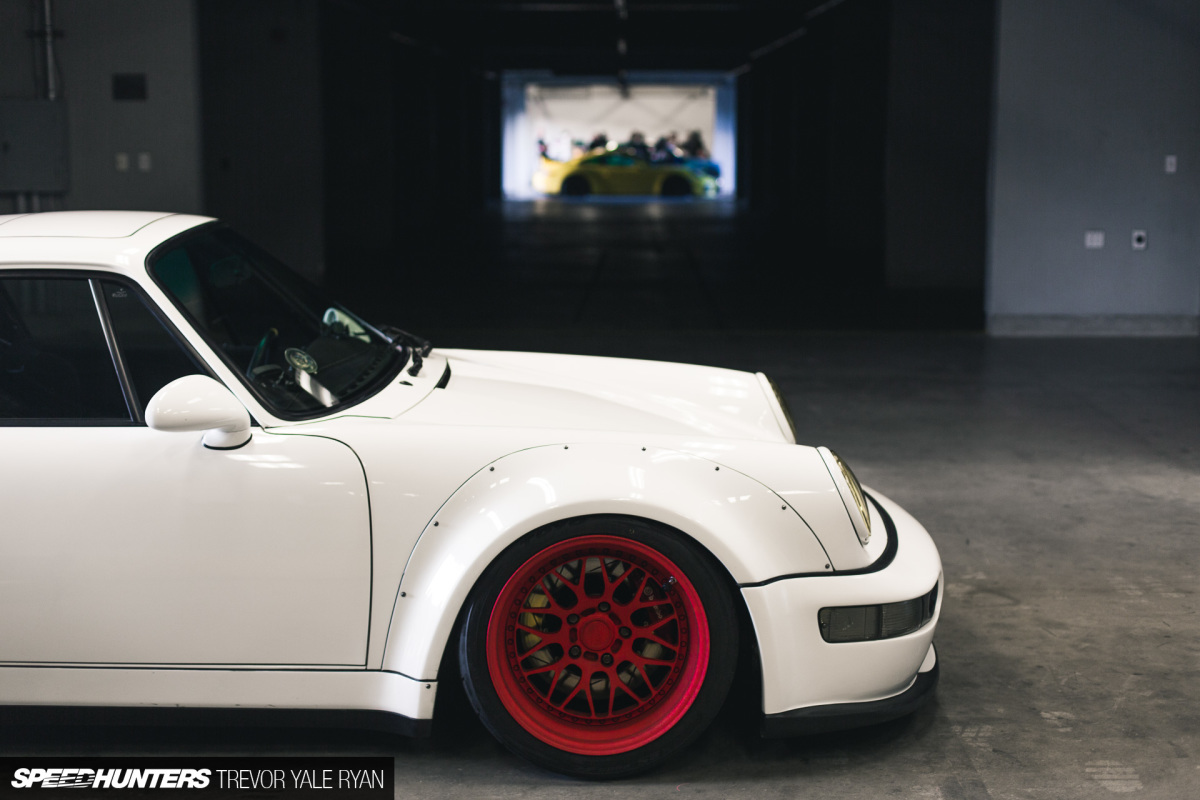 It was early in the morning at OnGrid's track day at Laguna Seca last weekend that I finally laid eyes on the car for the first time.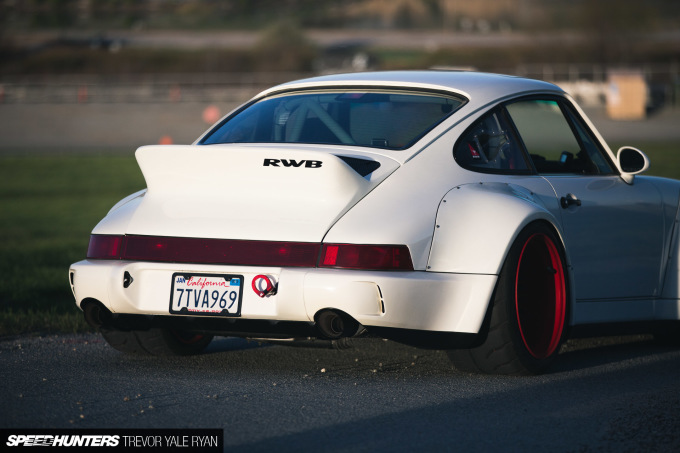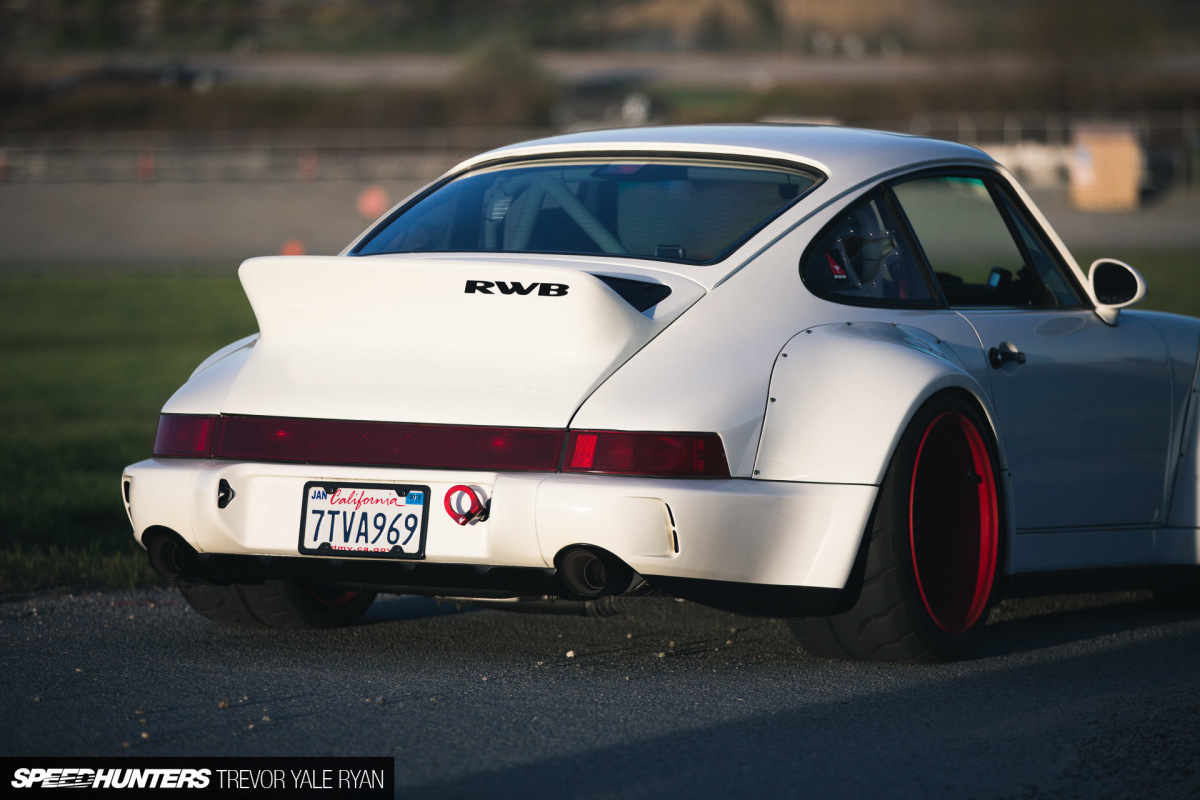 It was more striking in person than I expected it to be, and like all of Nakai's builds, very properly put together.
One of the first things I asked Kris was why he wanted to have an RWB in the first place. Of course, like so many others, he just loves that wide-body look, and as a Porsche aficionado he relished in the opportunity to watch Nakai work on his car. Kris describes Nakai as a true craftsman, and he's stoked to be part of a growing community of RWB owners around the world.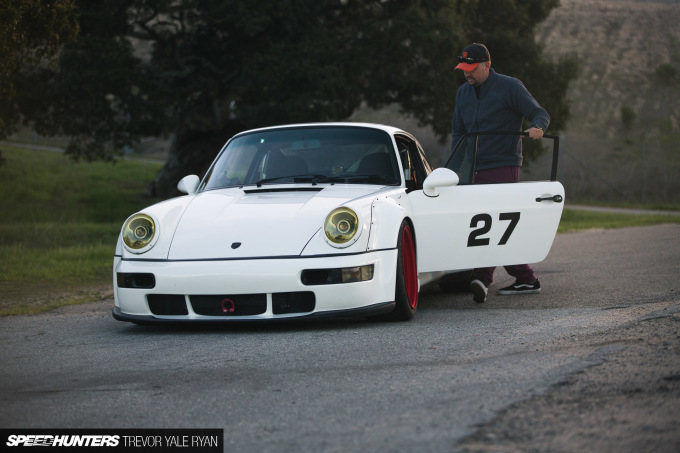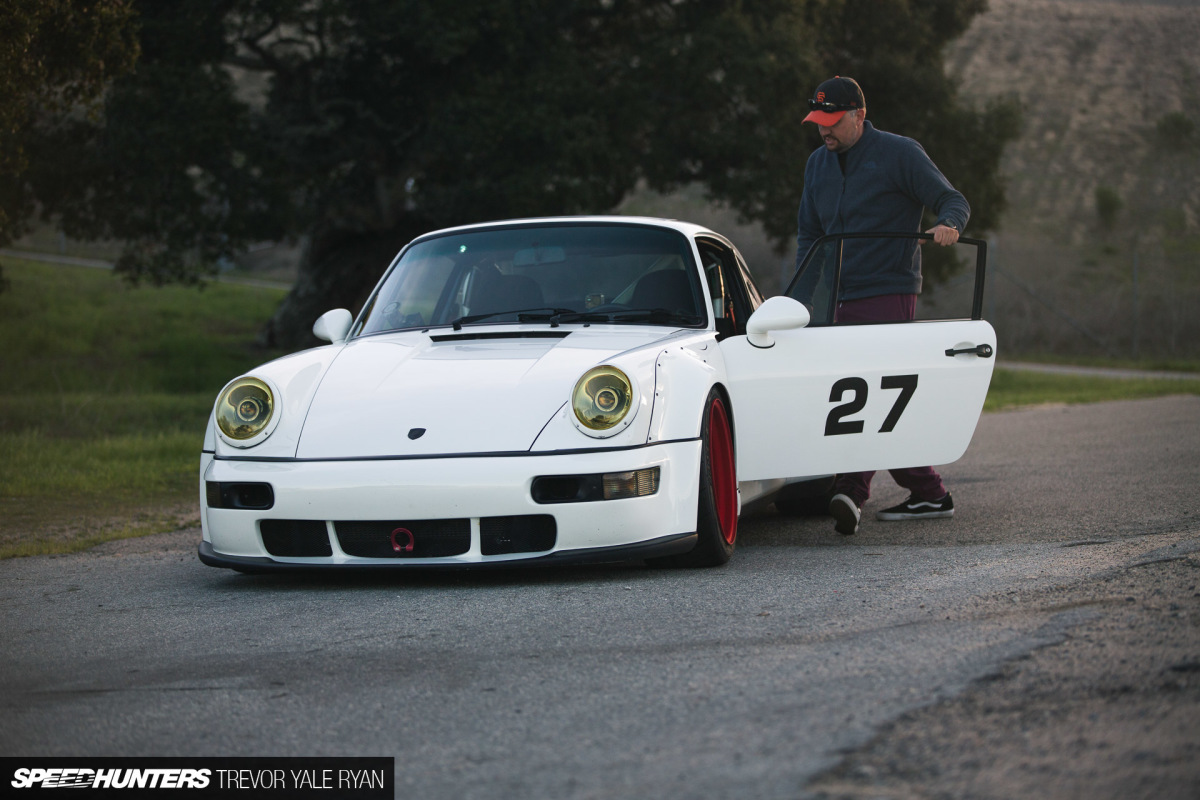 So far, everything seems pretty standard: Kris loves Porsches, the RWB culture, and driving the pants off his car.
Track Prepped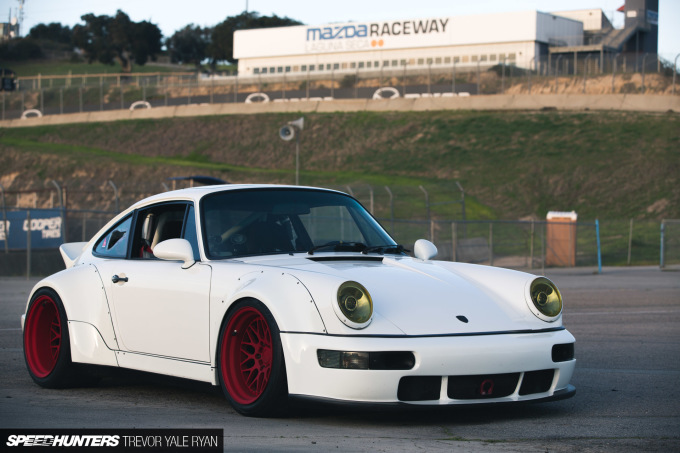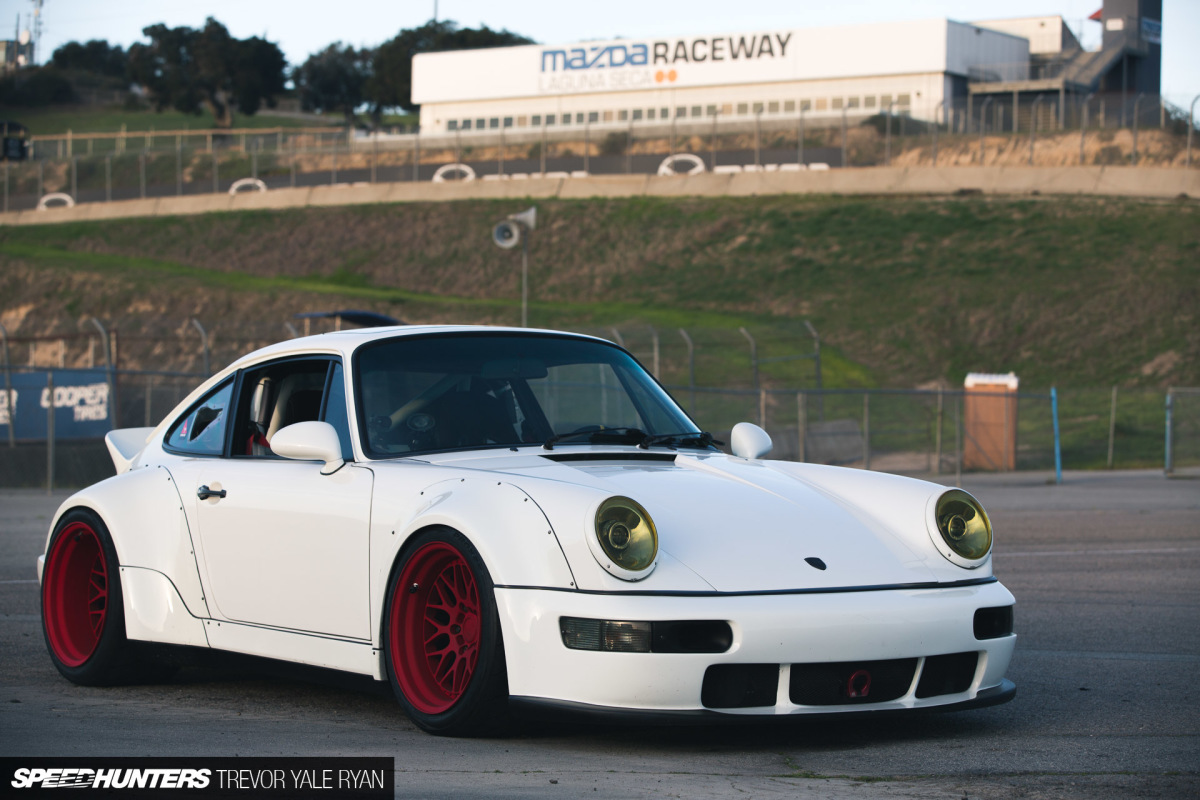 If you want to drive your car hard, the racetrack is absolutely the best place to push it to the limit. Don't get me wrong, I love a good back road, but the consequences of getting it wrong on a public street aren't fair to anyone around you. As such, Kris has the 964 prepped for track duty.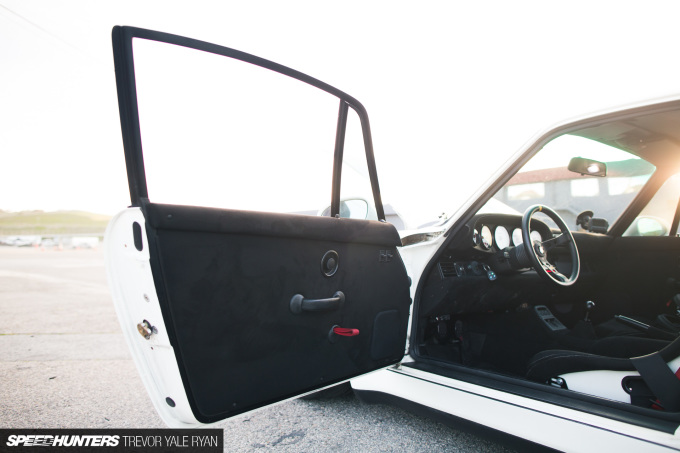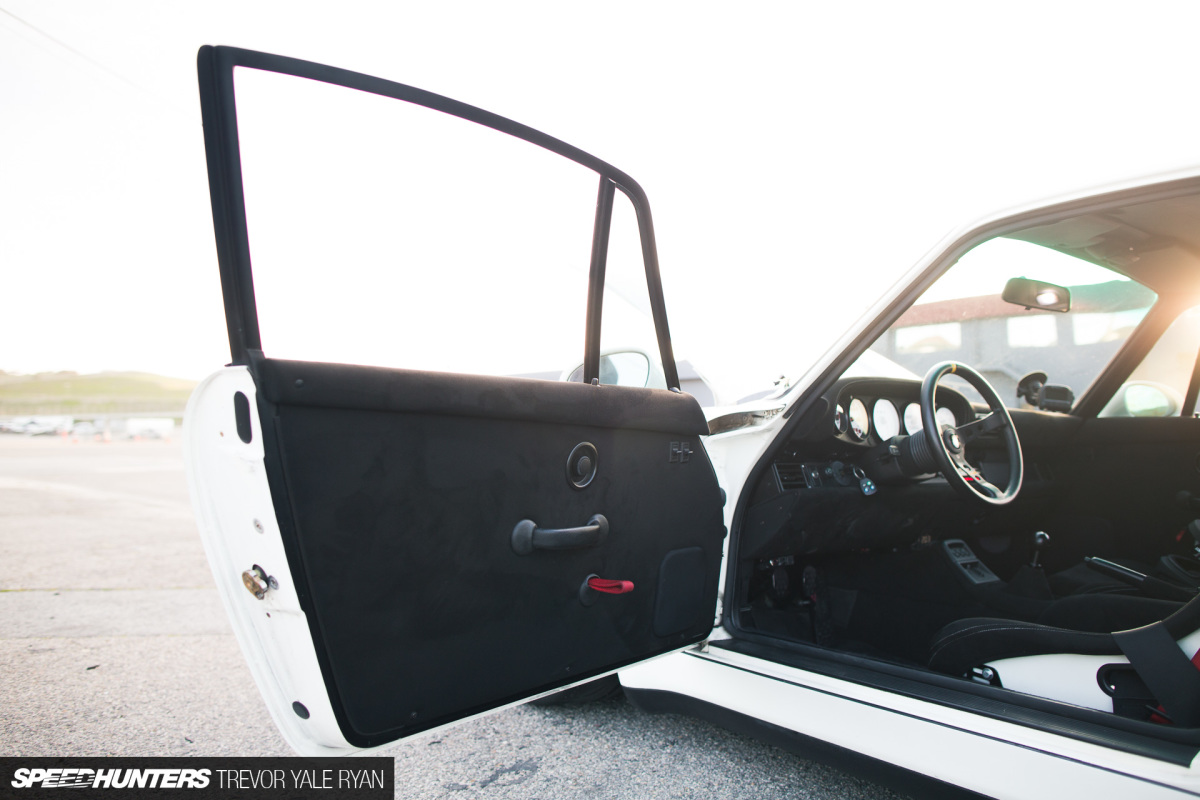 Like the outside of the car, the interior is has been tastefully refined. There's lots of Alcantara and aftermarket replacements, but everything's been done in a sort of minimalist way.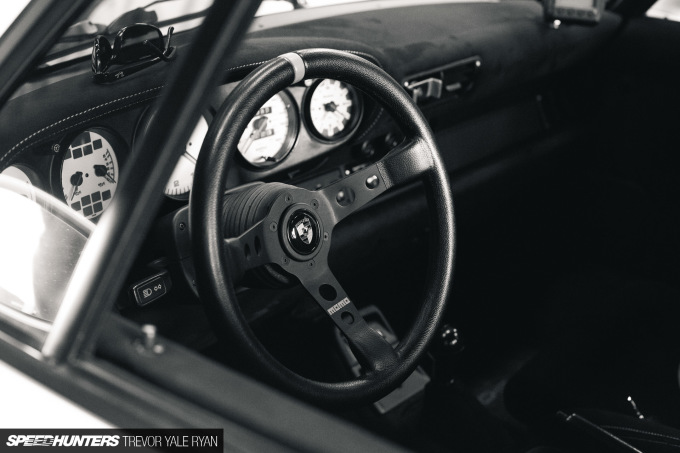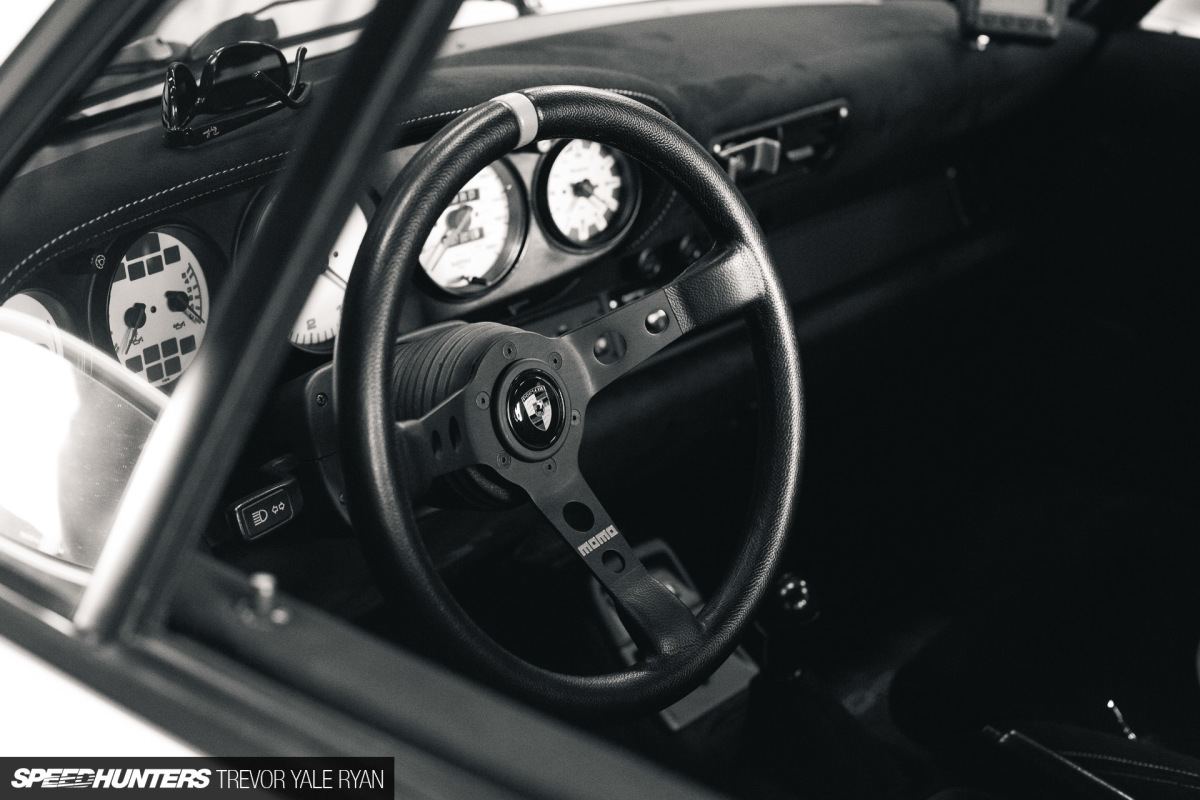 As Alex Ross from SharkWerks told me when I stopped by his shop, a good steering wheel is like a good computer mouse. Not only is it a basic requirement to interface with your hardware, but you're going to spend a lot of time with it in your hands, and as such, you should get a good one. Kris has gone with a dished Momo.
Meanwhile, the gauges have also been replaced with an OBD2 setup, and I noticed a fancy heads-up digital temp gauge above the center console.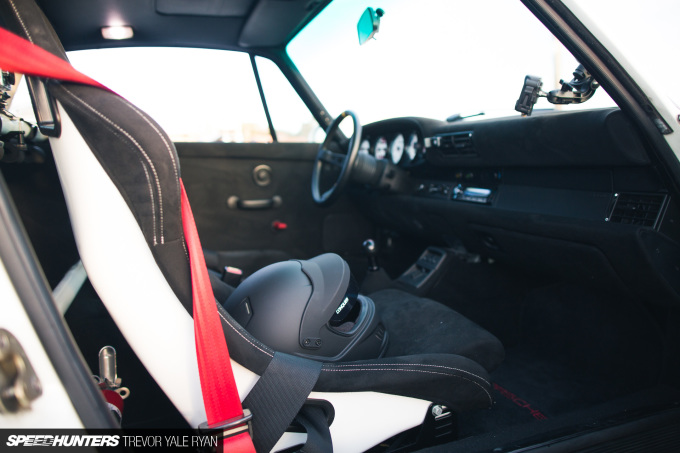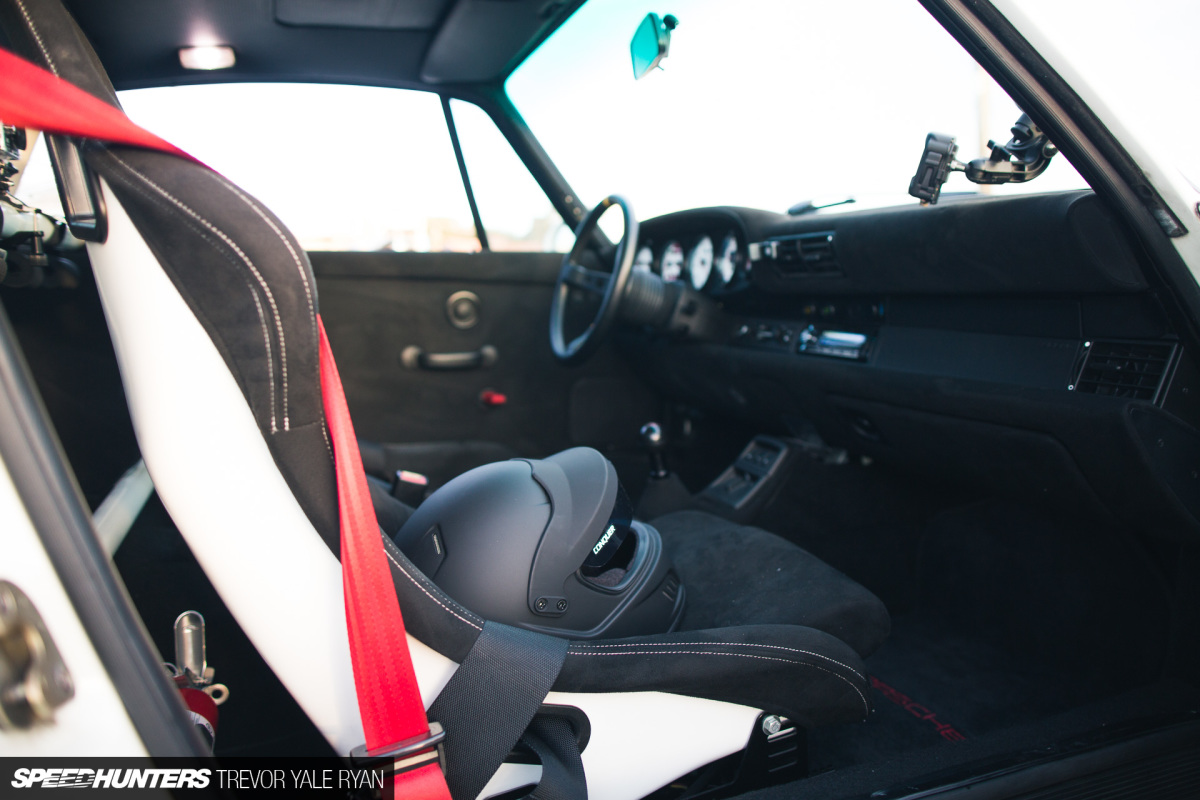 Sparco seats have been selected to keep the driver and passenger firmly in place. You'll notice that the OEM-style belts remain alongside the harnesses; this is the correct way to have your car good to go on the street as well as the track.
Kris already has several days completed at his favorite California circuits, as you can see from the Laguna Seca, Thunderhill, and Buttonwillow Raceway stickers on the side window.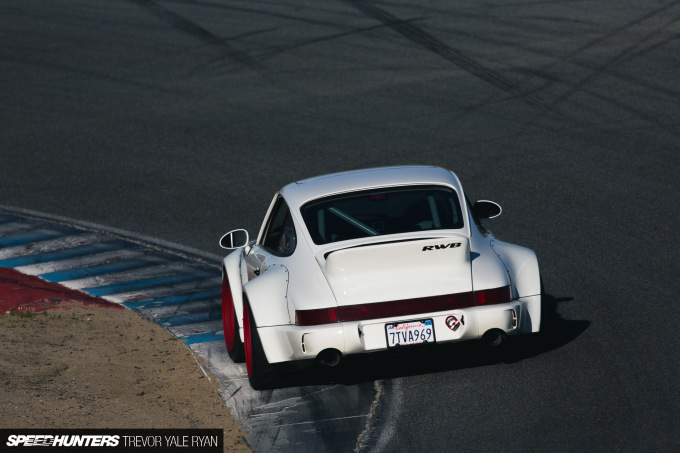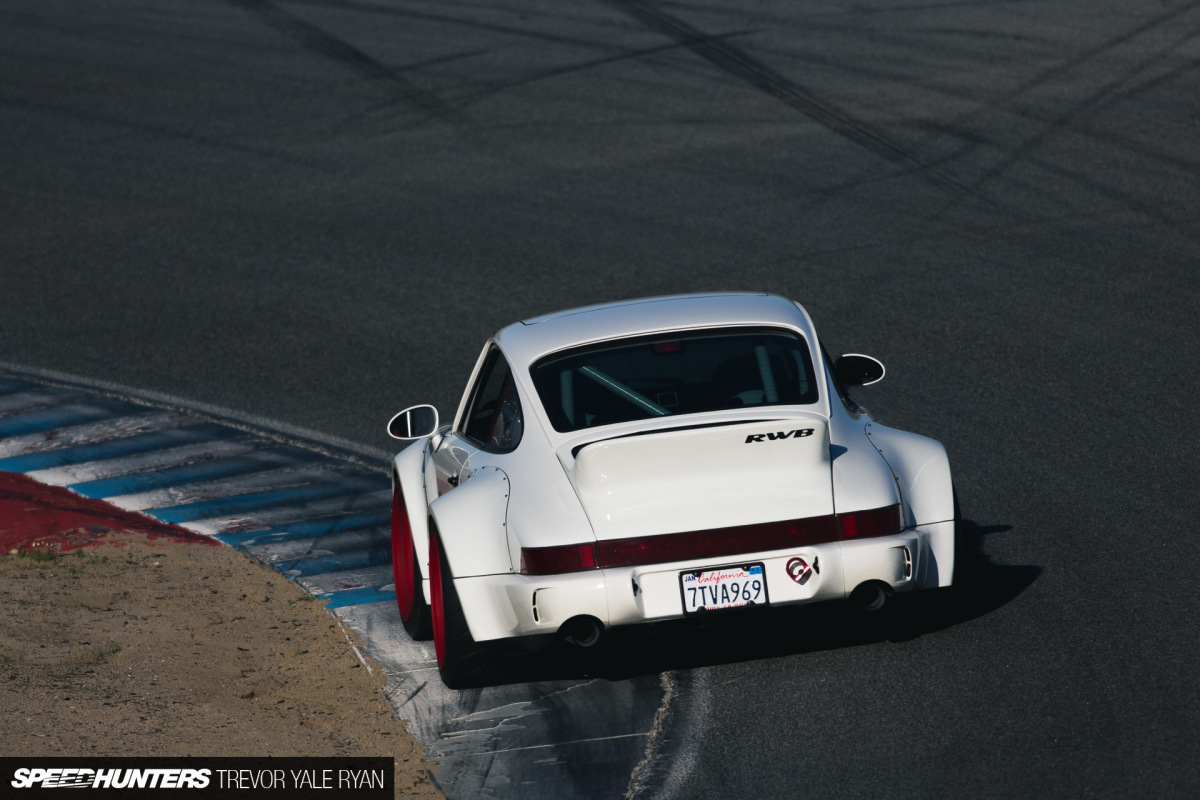 Kris is fast too, running in the 1:44s at Laguna Seca during his last outing. To give you a bit of perspective, that's only a couple seconds off of 981 Cayman S records with a professional driver behind the wheel. Kris admits he's probably leaving a lot of time on the table in the car, so how is this possible with the old 964 C2?
Welcome To America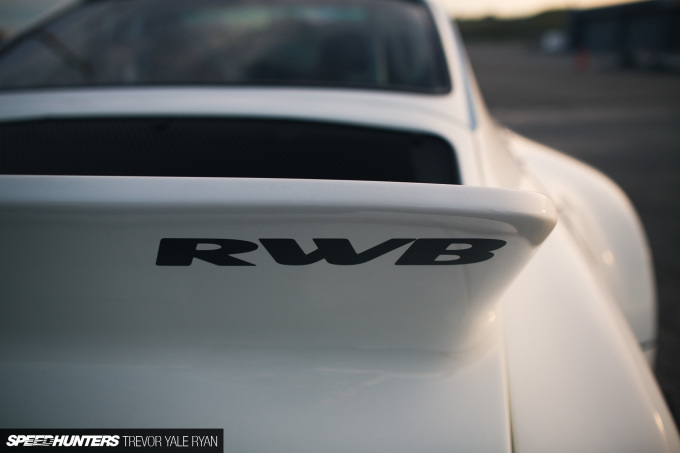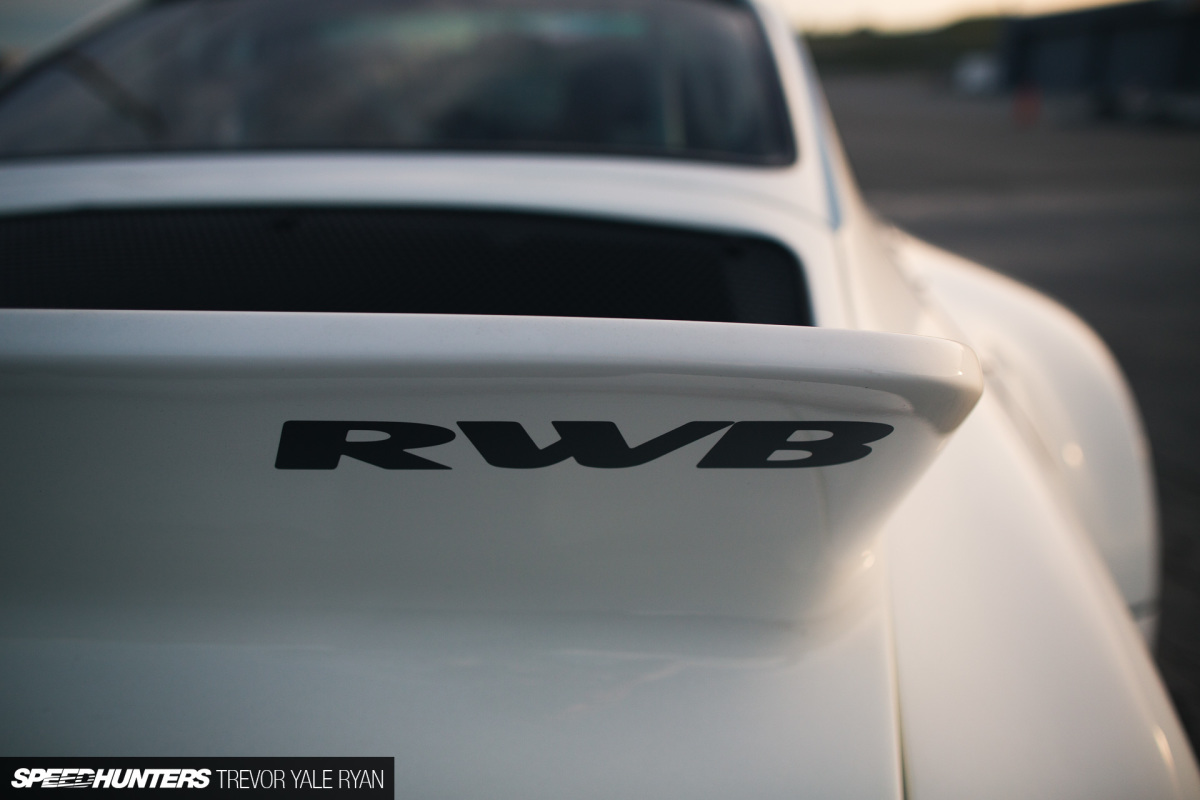 This question brings us back in time to when Kris was rear-ended by a police officer, of all people, immediately after having the RWB kit finished.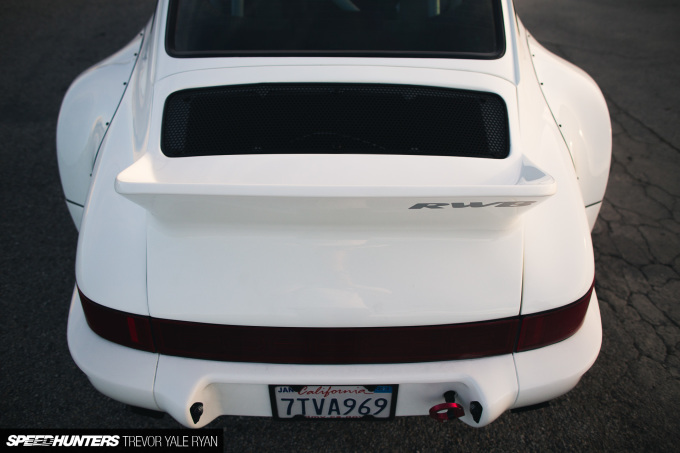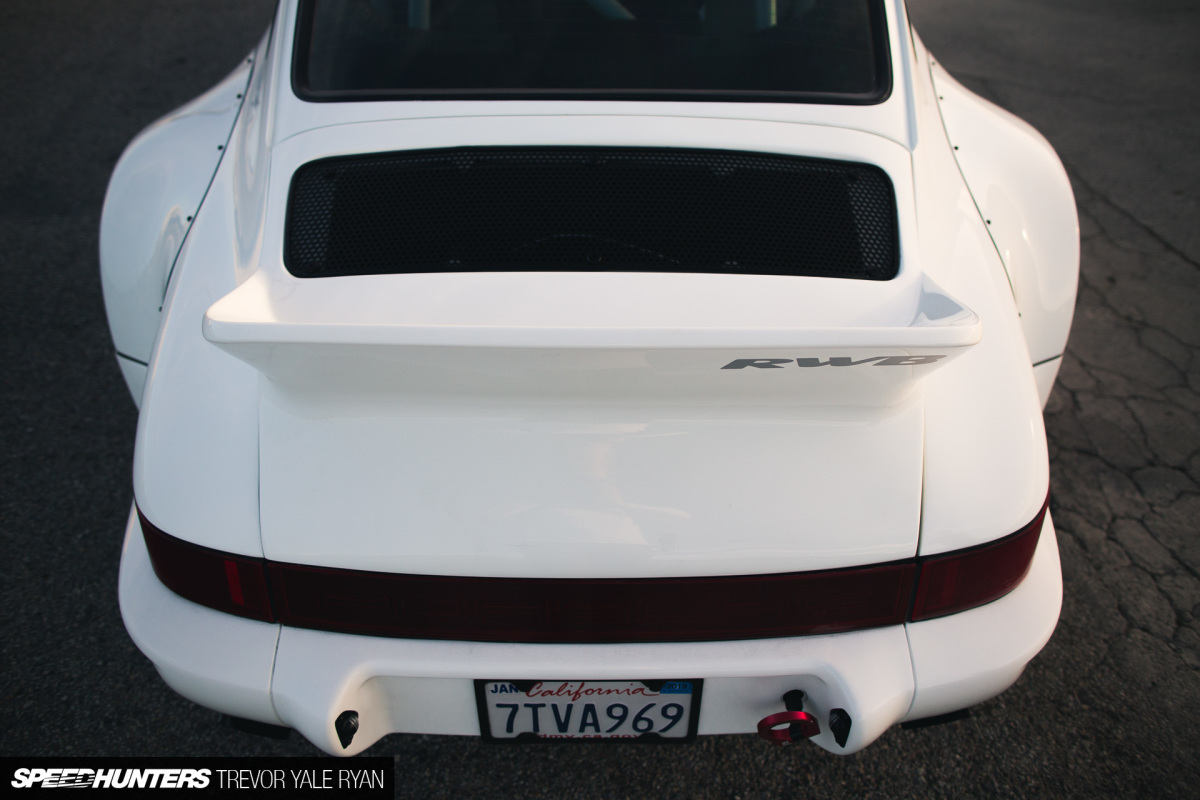 As I mentioned, the bodywork was all redone by Nakai himself, but it left Kris with a unique opportunity.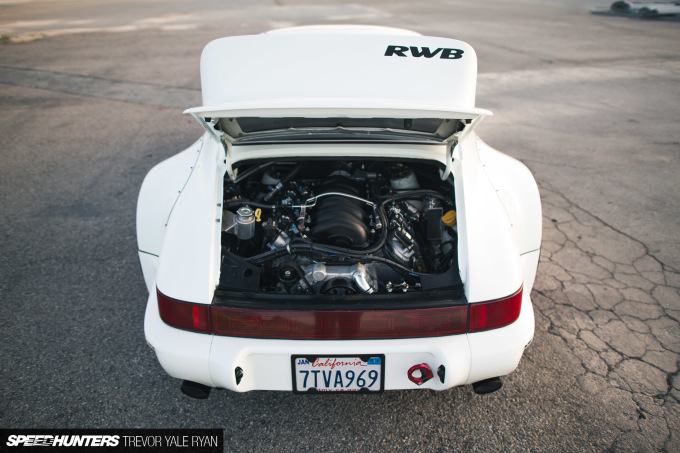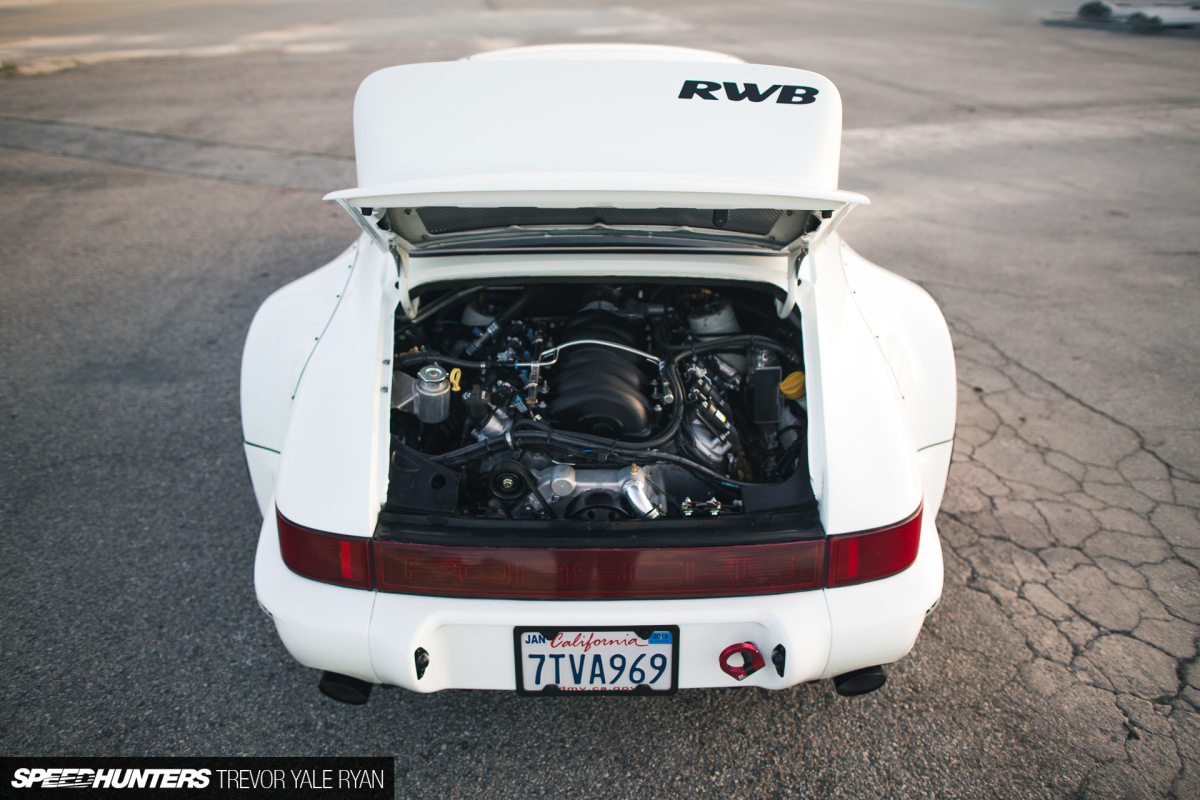 An opportunity that Kris made full use of, going with a GM LS3 V8 swap good for 410 horsepower to the wheels. Considering the original motor in the C2 — which would only make 250hp at the crank on a good day — was trashed, Kris figured this was the perfect chance to try something different.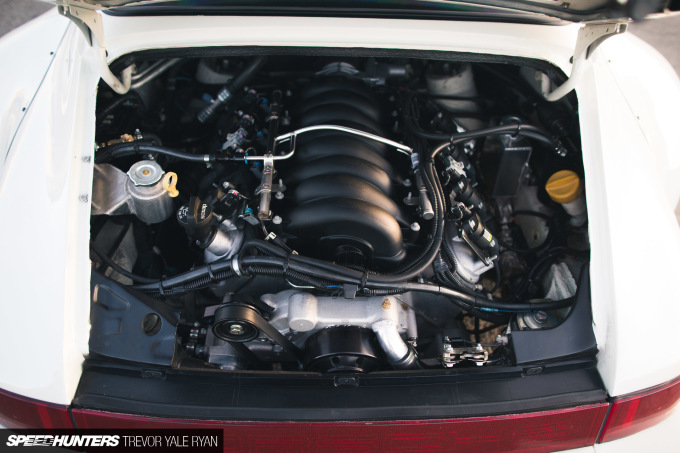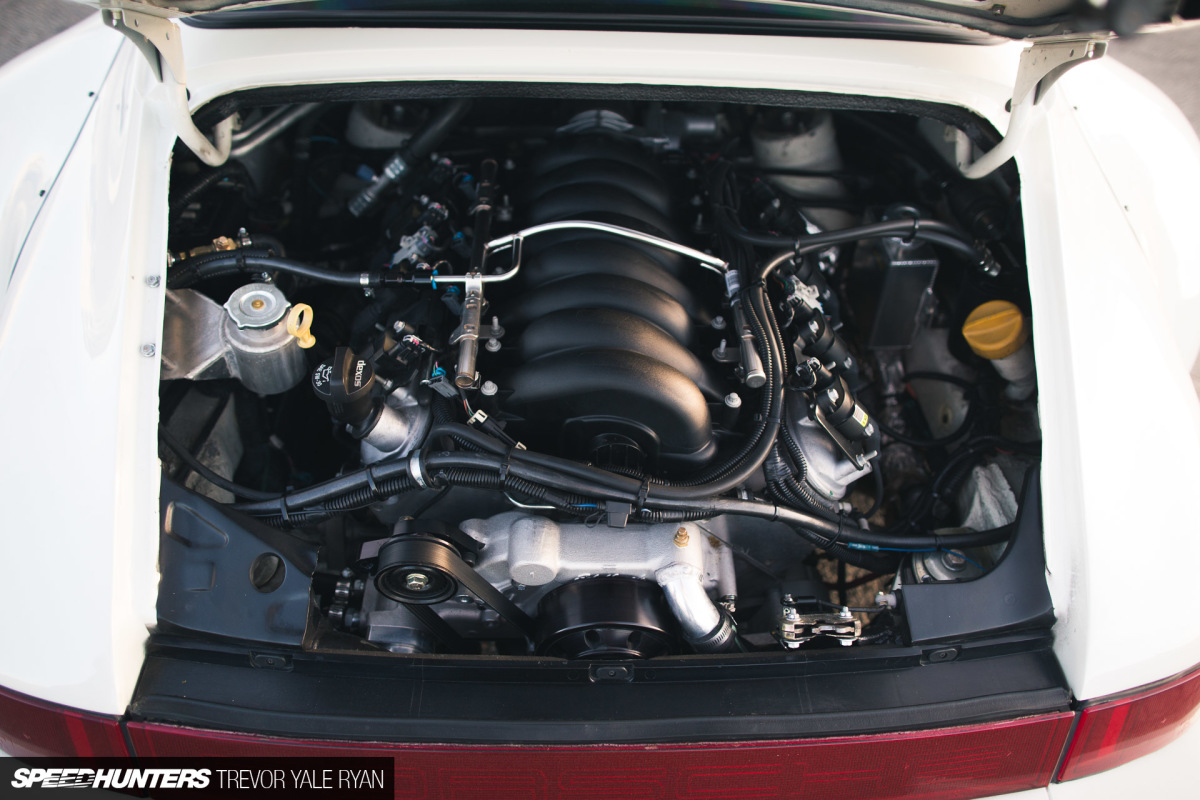 With roughly an extra 200 horsepower on tap (nearly double) in the 28-year-old wide-body, it's definitely an incredible driving experience. You'll also notice that the V8 is packaged quite tightly in the back of the car, with a bit of trickery to make it all work.
The swap makes use of a 5-speed G50 Porsche transaxle, and to make everything fit a couple of the rear panels were trimmed back and the deck lid hinge needed to be relocated. But they got it all in there and Kris says the resulting power is just simply grin-inducing.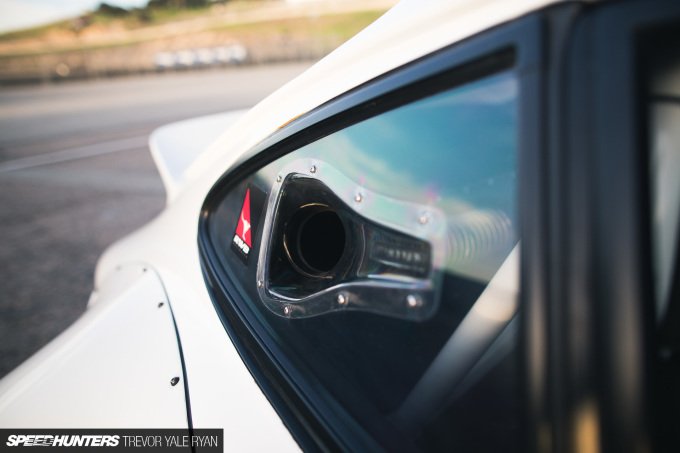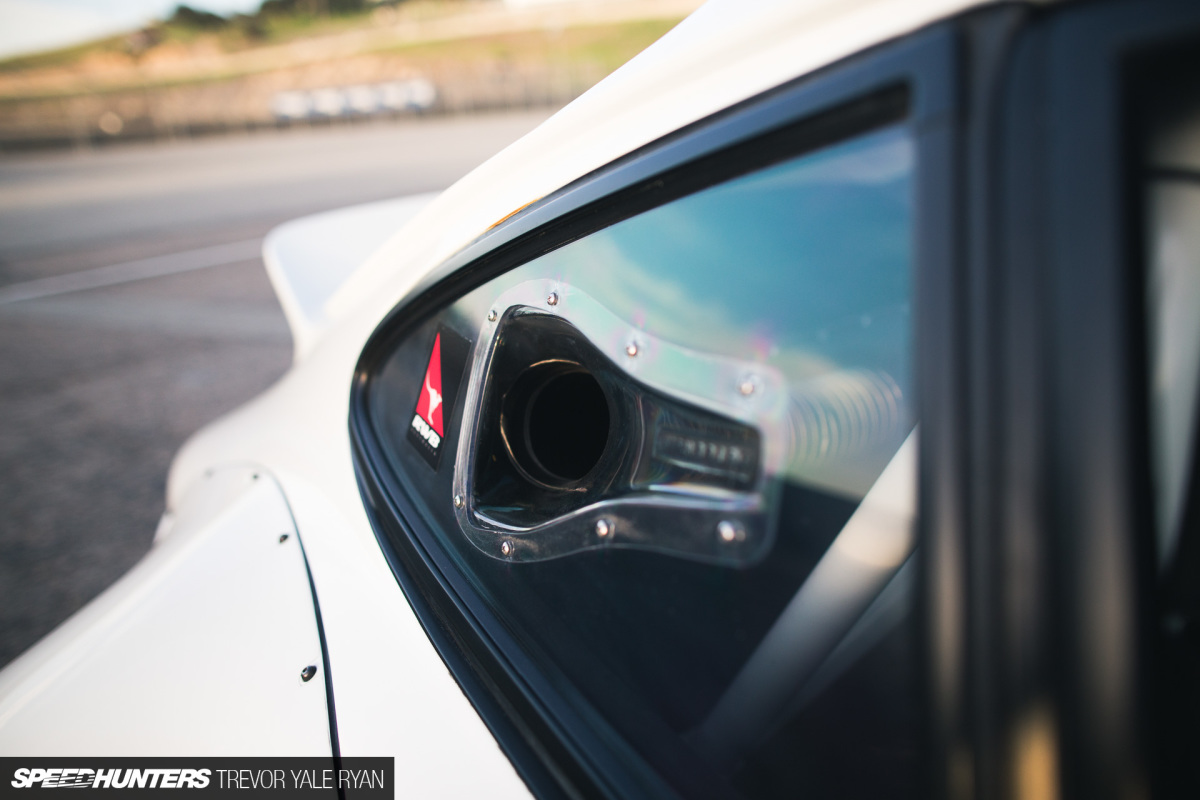 When you couple that with the insane induction noise from the window-mounted air scoops that feed the motor, Kris says the Porsche has been transformed into a "giggle machine." Just mash the pedal in any gear and it's a guarantee that the driver is going to get a bit giddy.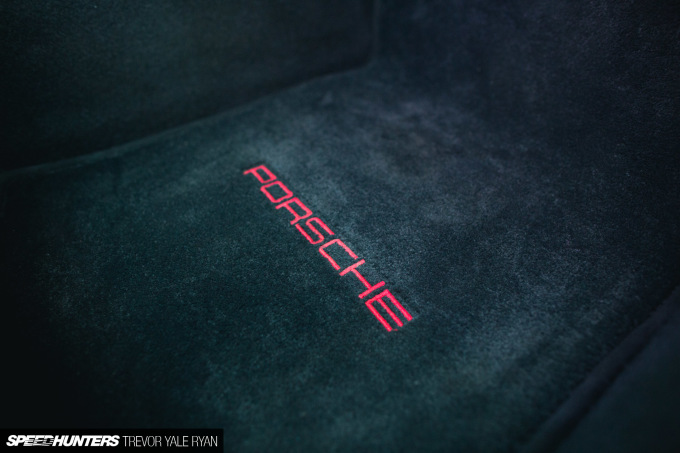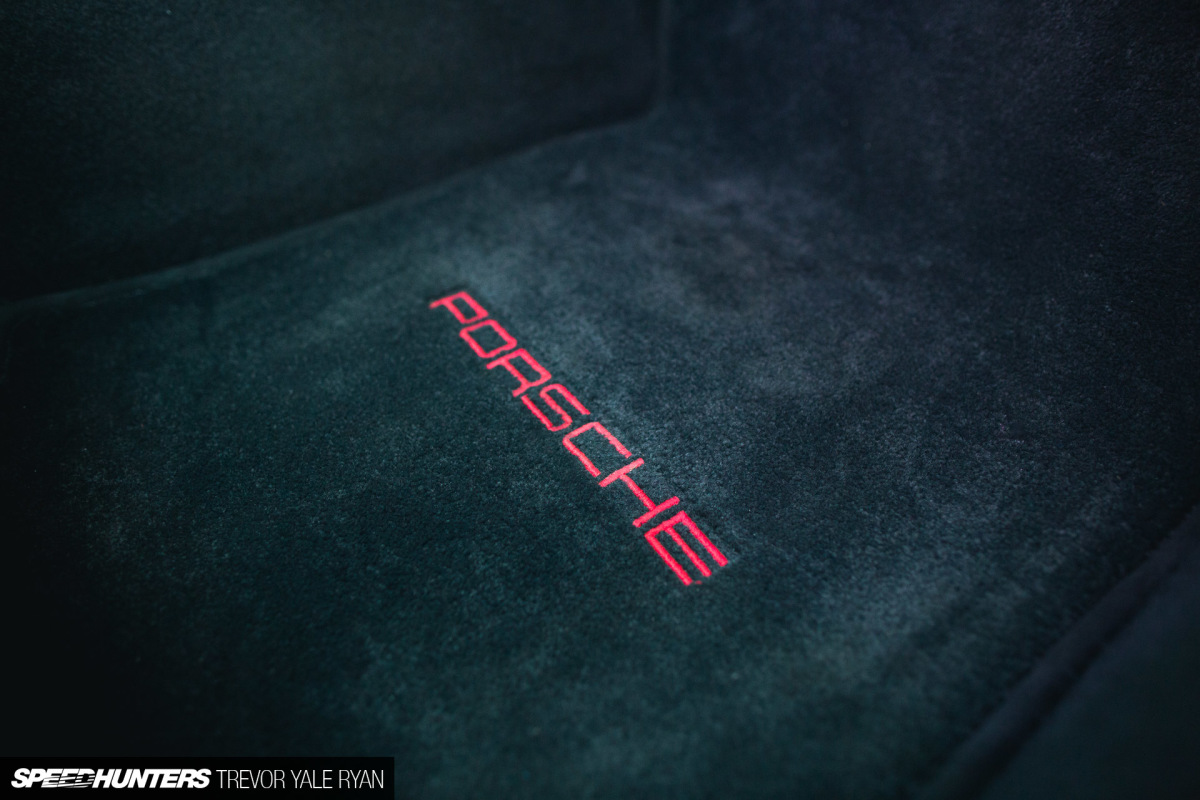 Even with the larger displacement motor, which actually doesn't really weigh much more than the original setup, it still has that Porsche DNA which makes it a dream to drive.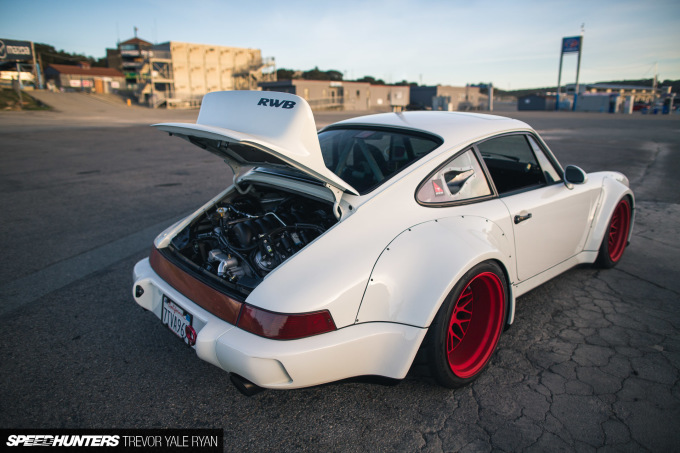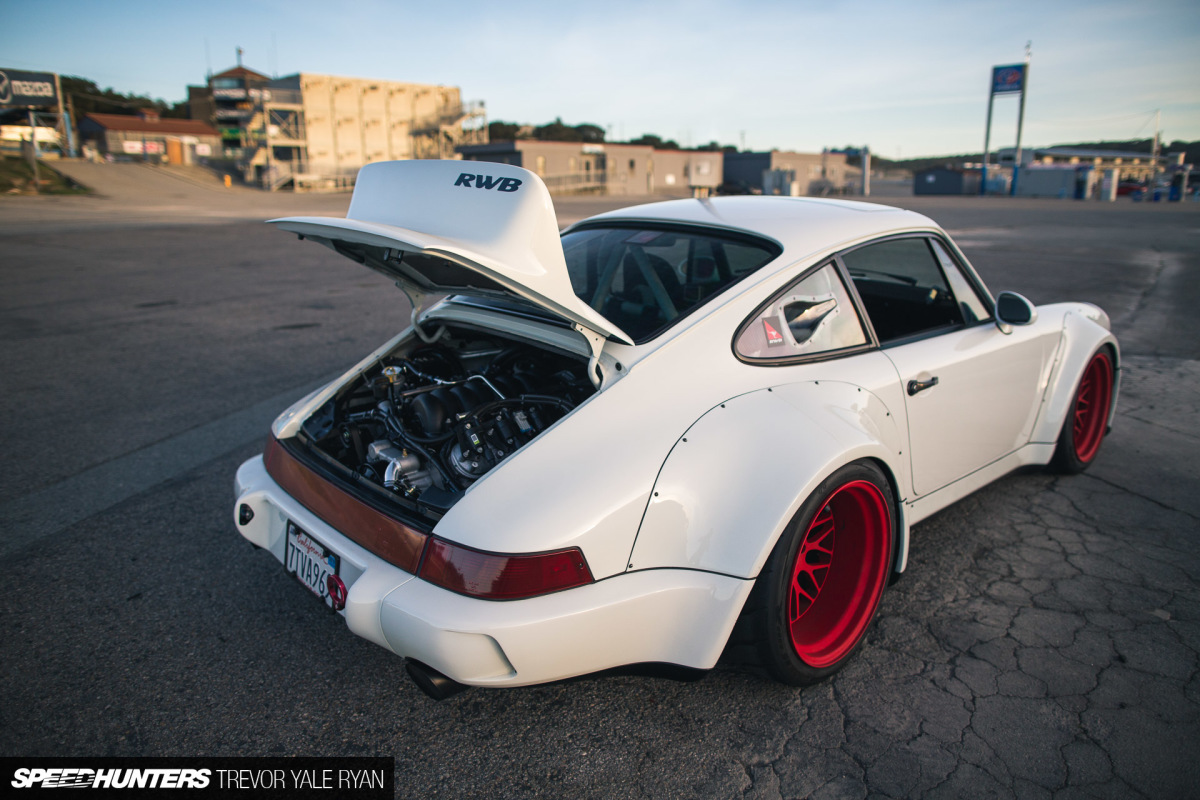 The suspension, which we'll get to in a moment, has been upgraded along with the wide-body and the motor so everything is well balanced.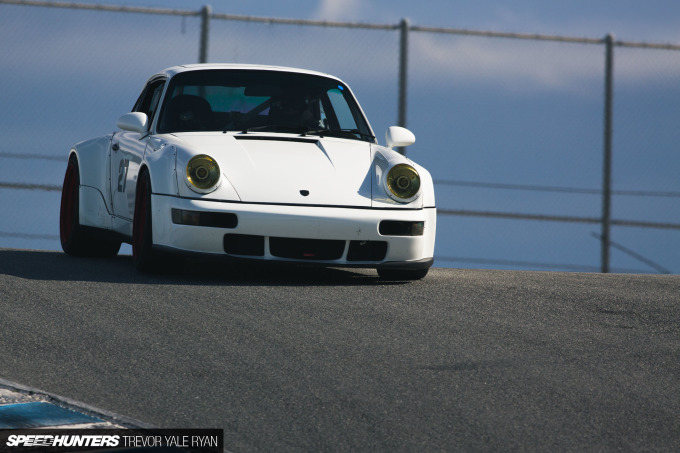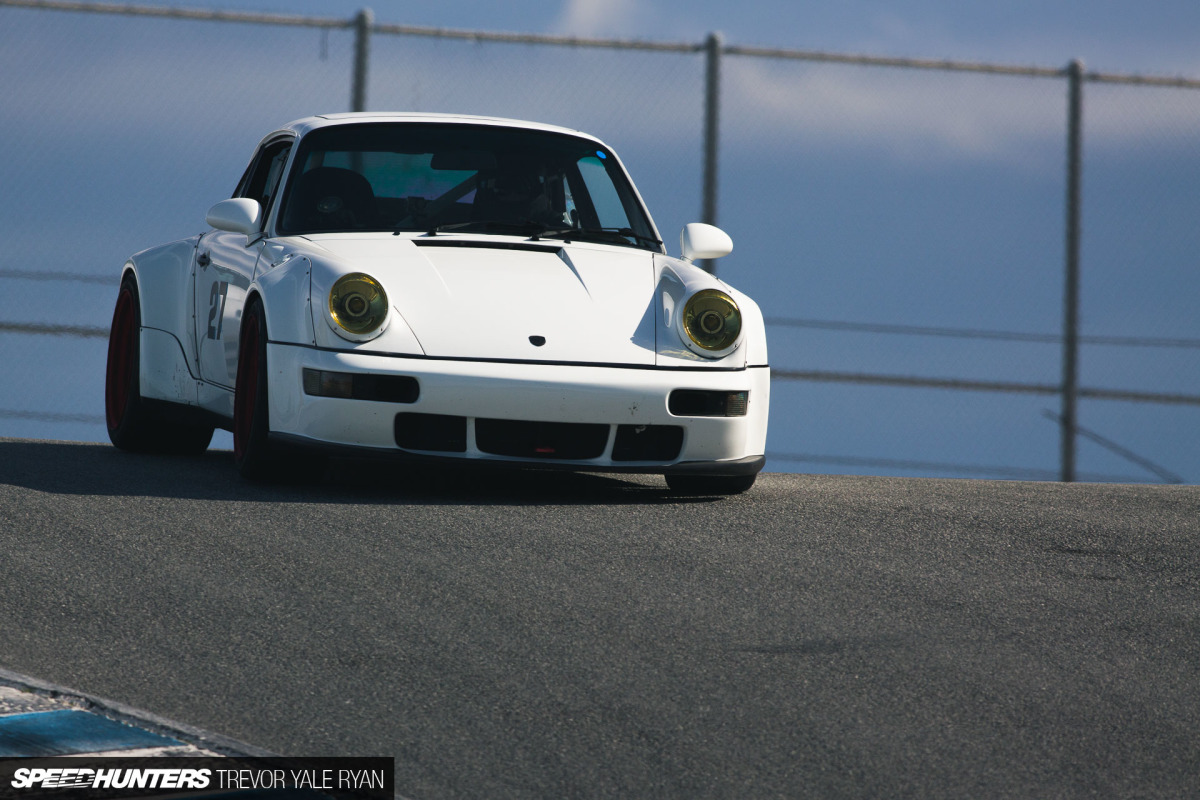 It's this awesome formula that keeps Kris coming back to the track looking for more and more grip.
Handling The Handling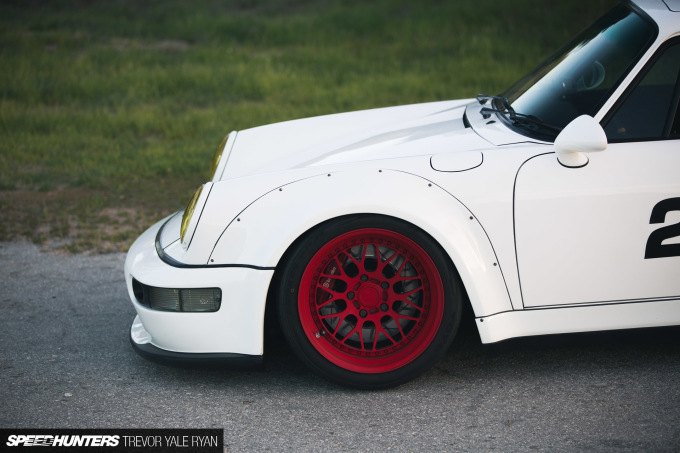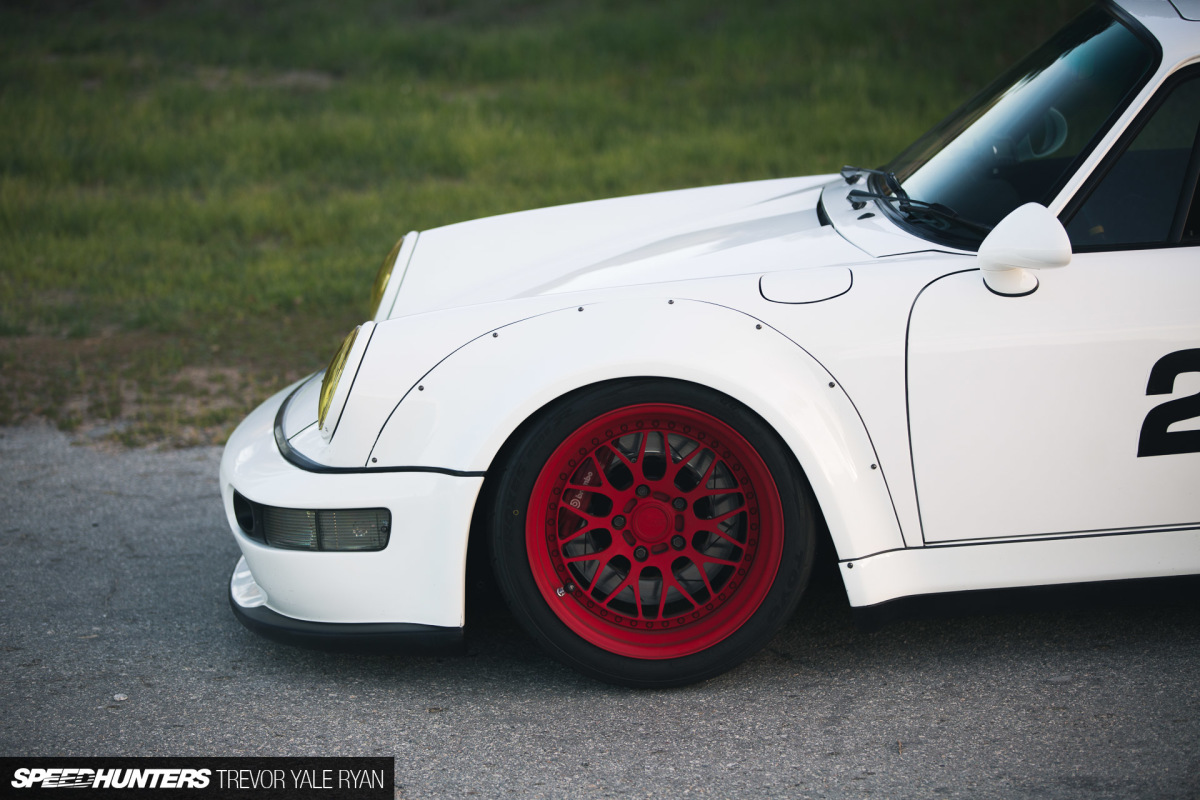 The car certainly has plenty of grip, aided by KW suspension and the fat tires Kris is now able to tuck under the RWB bodywork.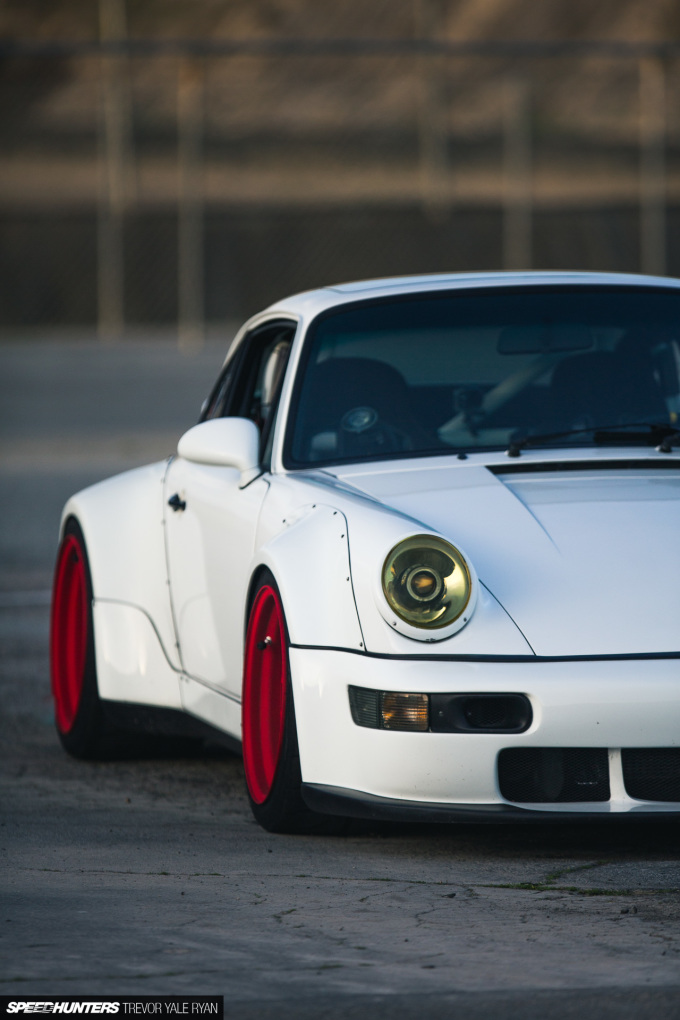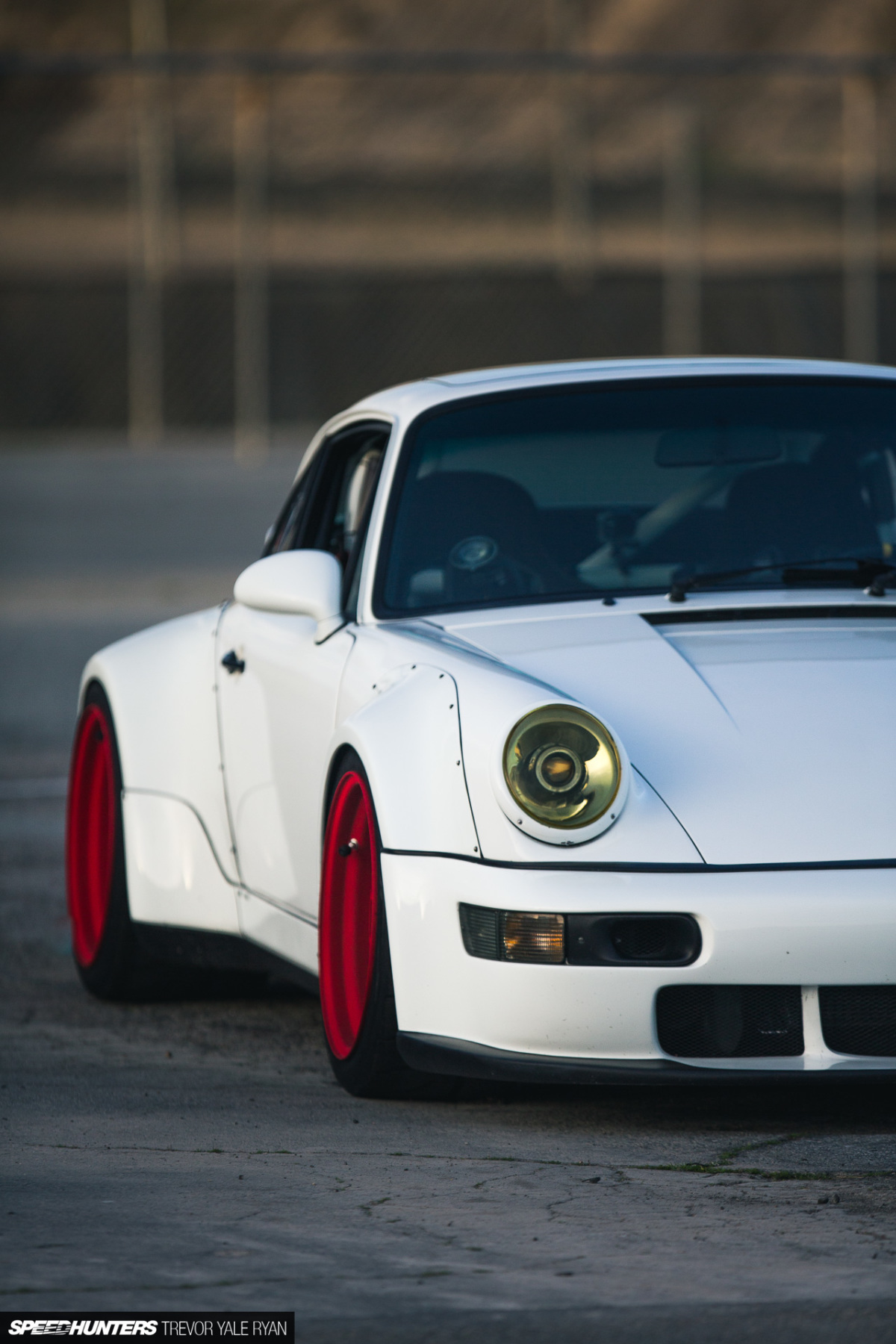 With sticky Toyo R888s in 315/30R18 out back and 265/35R18 in the front, it's a righteous setup for track use.
The massively dished AL13 wheels that Kris has chosen for the build are perfect in that bright red finish. Normally I wouldn't gravitate towards a wheel choice like this, but it looks so good against the Grand Prix White and fits in nicely with the aggressive RWB kit.
Ducting help keeps the big brake kit from getting too toasty at the track when Kris puts his RaceTech RS35 pads to use.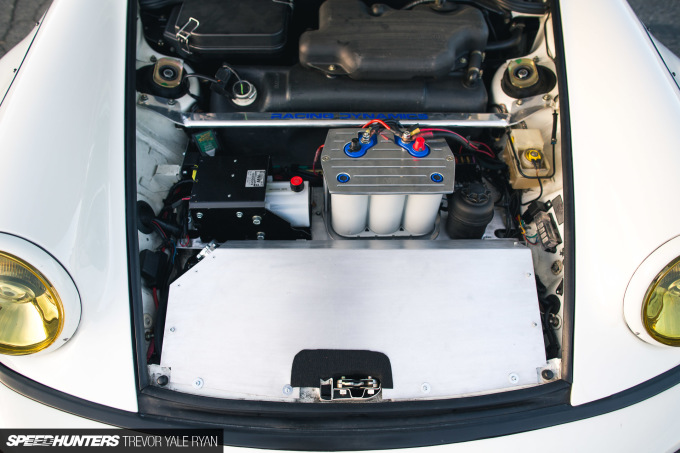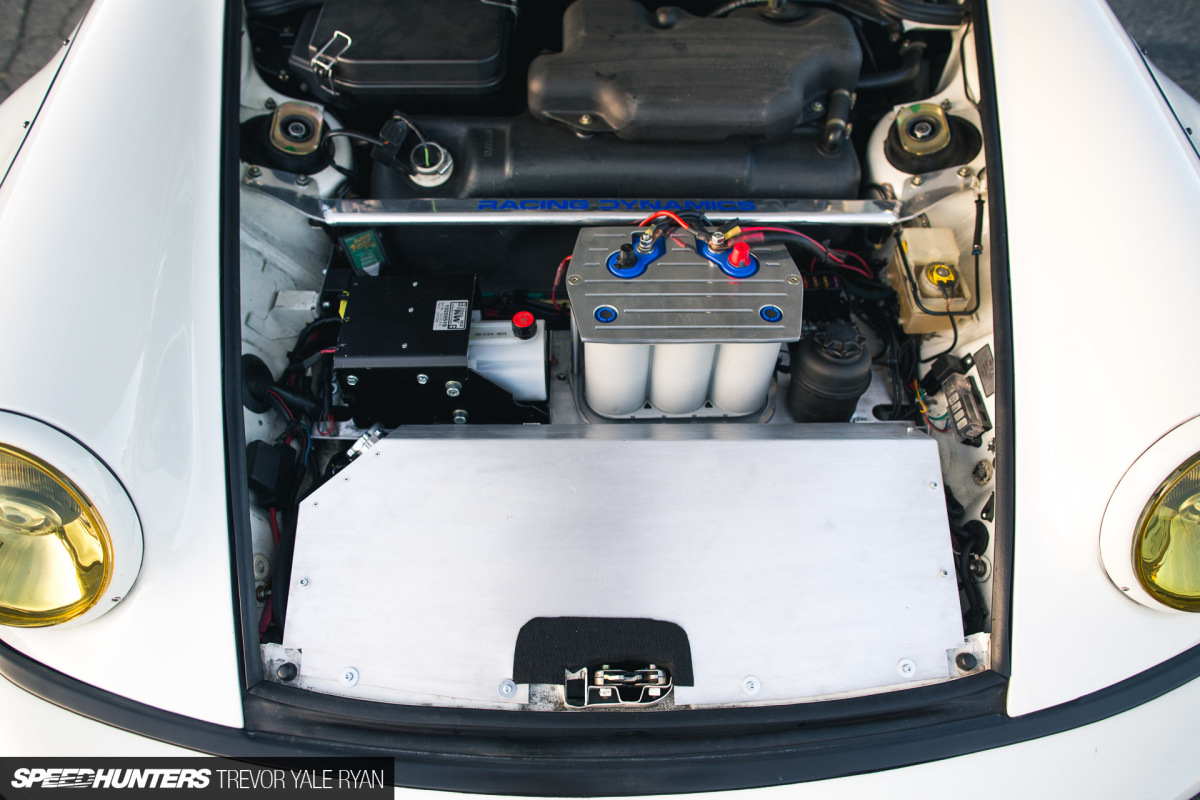 Suspension is handled by KW V1 coilovers along with a KW Hydraulic Lift System (HLS) similar to the one that Larry just installed in his 996.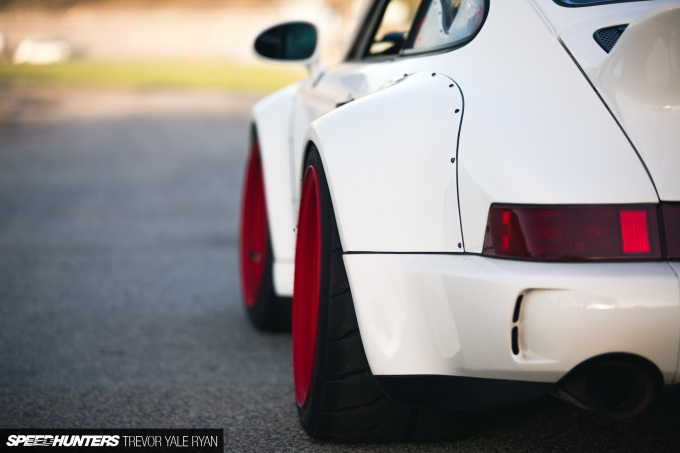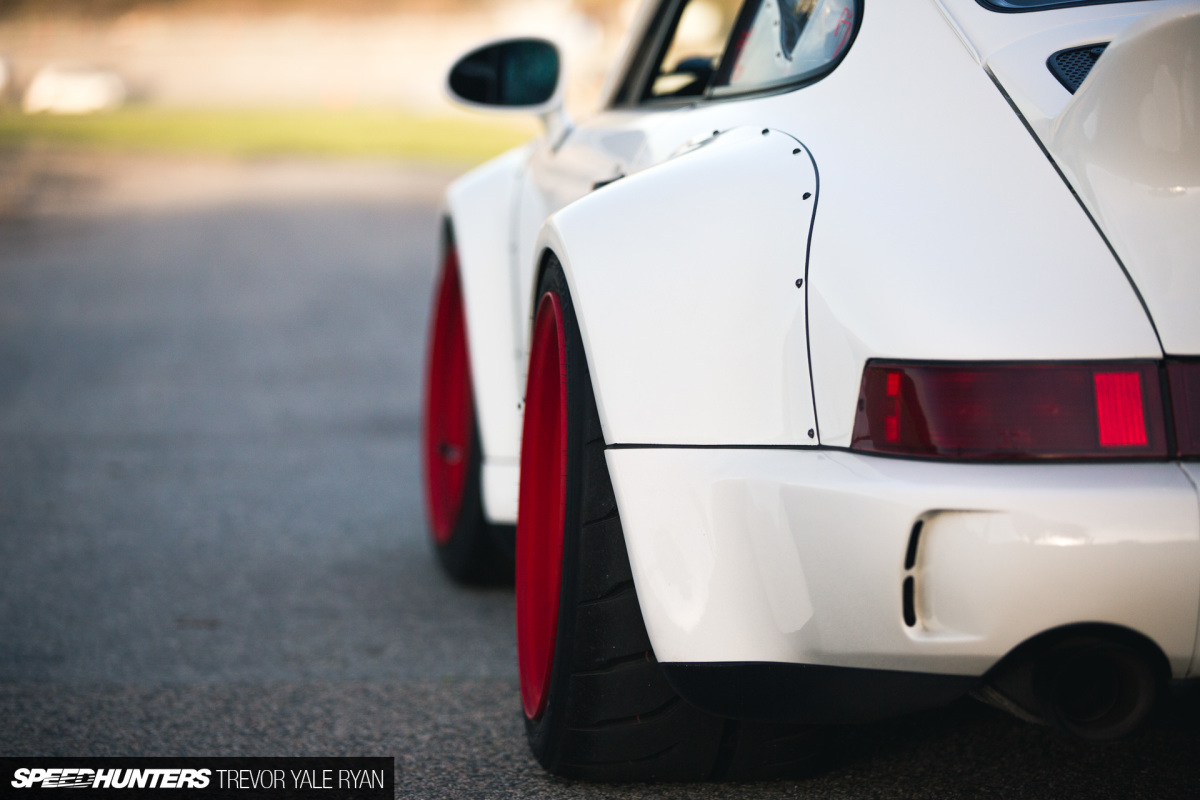 Other suspension upgrades make use of parts from Elephant Racing, including an adjustable spring plate kit in the rear. This allows Kris to get the car to sit exactly how he wants it to.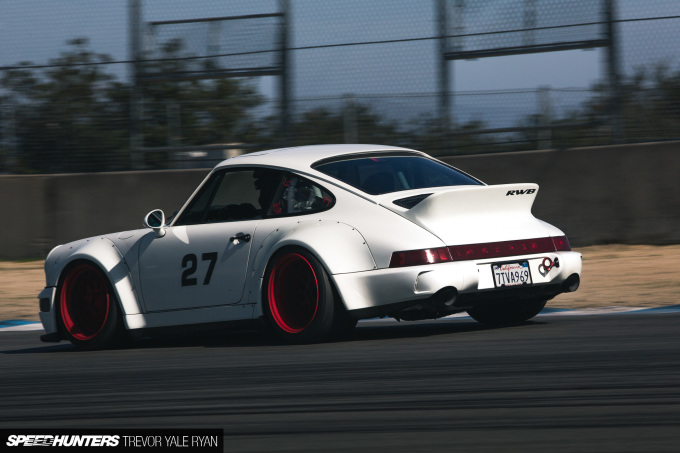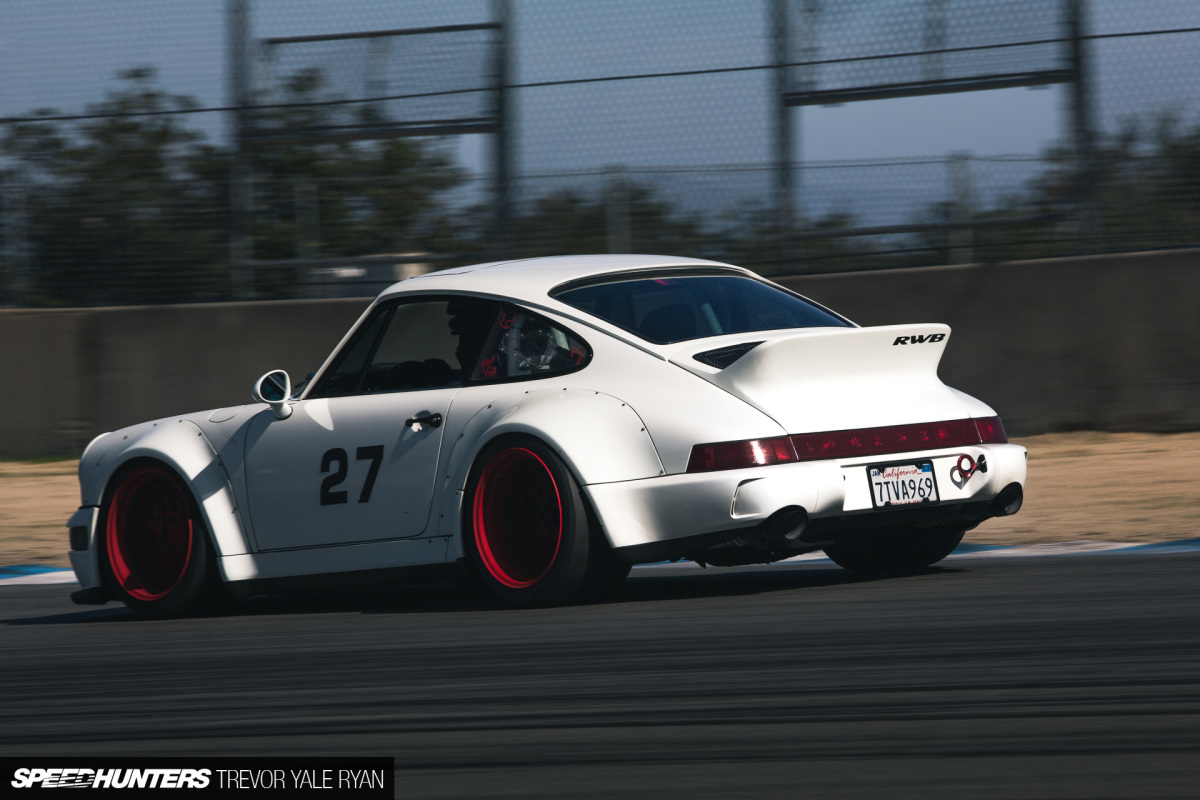 With these parts the car is perfectly set up for track use, but Kris can still make it out of a steep driveway and over speed bumps thanks to the KW HLS.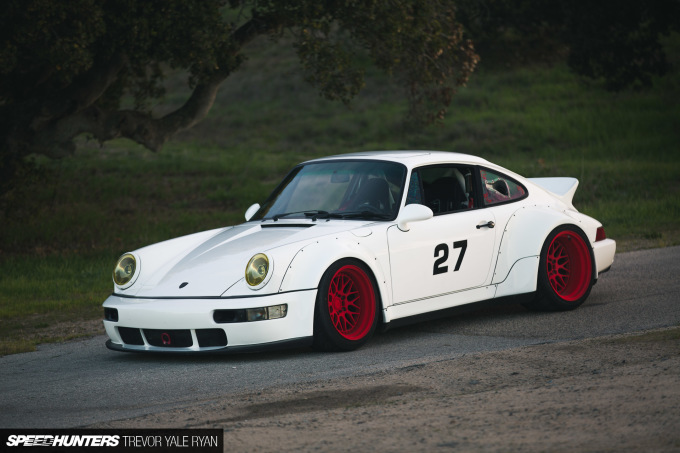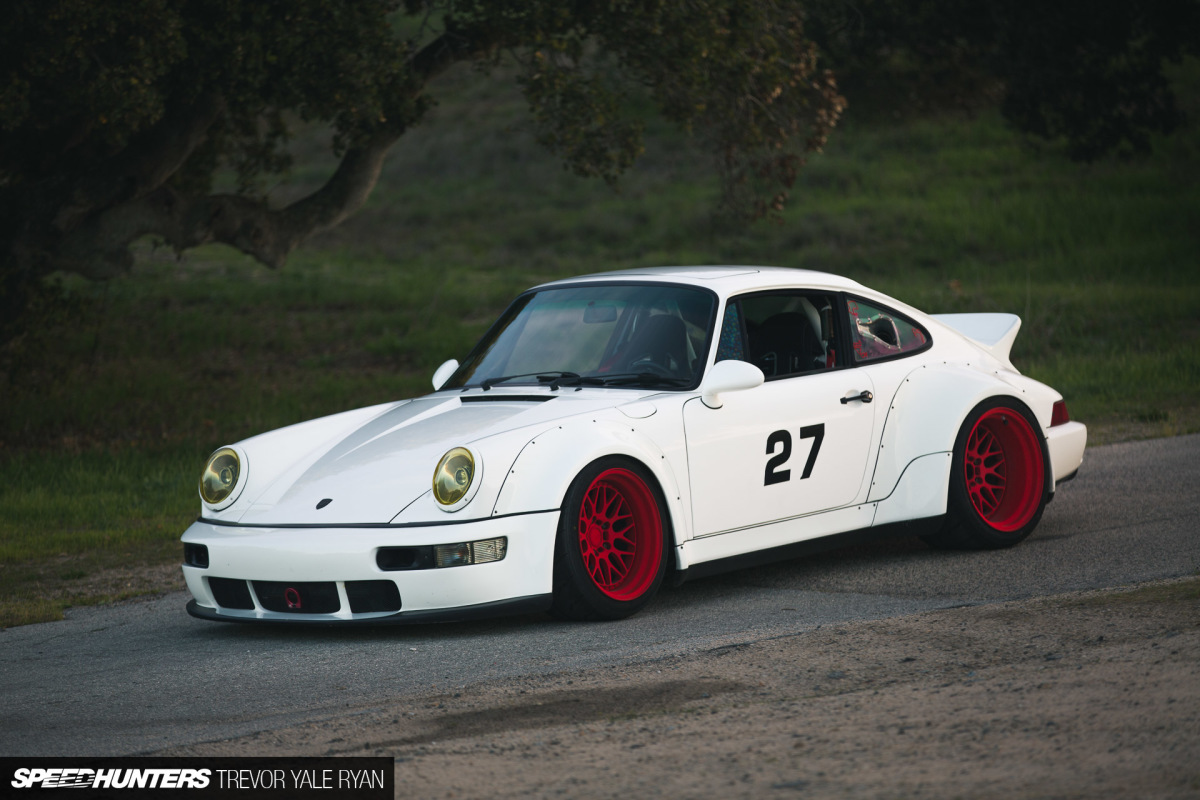 It's a no-compromises RWB build, being put through its paces at the racetrack on the regular. While so many things about this car are just so right, Kris tells me many still don't approve of the RWB kit and cry foul when they learn of the V8 swap.
But Kris is far too busy putting the hammer down in his C2, with a giant grin on his face, to be concerned about any of that.
Trevor Yale Ryan
Instagram: tyrphoto
TYRphoto.com
Cutting Room Floor