Down The Street & Through The Front Door
If you own a Porsche, or even if you don't, SharkWerks is a name that you've surely come across by now.
As a track day photographer I've always heard their name pop up in Porsche circles, but I wasn't at all savvy on the aftermarket for these German cars, so I didn't exactly know what all the buzz was about.
After graduating last year and accepting an engineering position in Fremont, California to pursue a career in automation, I realized shortly after that my office was literally a stone's throw from SharkWerk's home base. After a very short stroll down the street one afternoon, I ended up rolling out with a couple of the gents over there to shoot one of their 964s as well as their GT4 that they've modified.
Since then, I've left my job after a series of (very boring) disappointments, leaving me with loads of free time. Perhaps I'll pull a Ron Celestine, or maybe I'll find something engineering-related that can hold my interest. But for now, I'm enjoying spending this free time roaming around awesome shops like SharkWerks.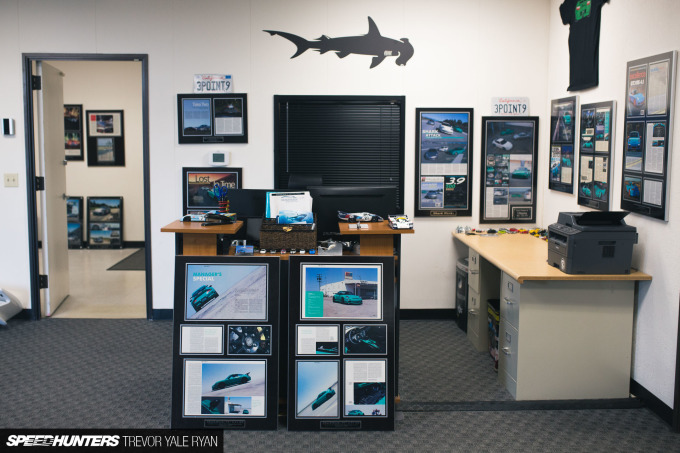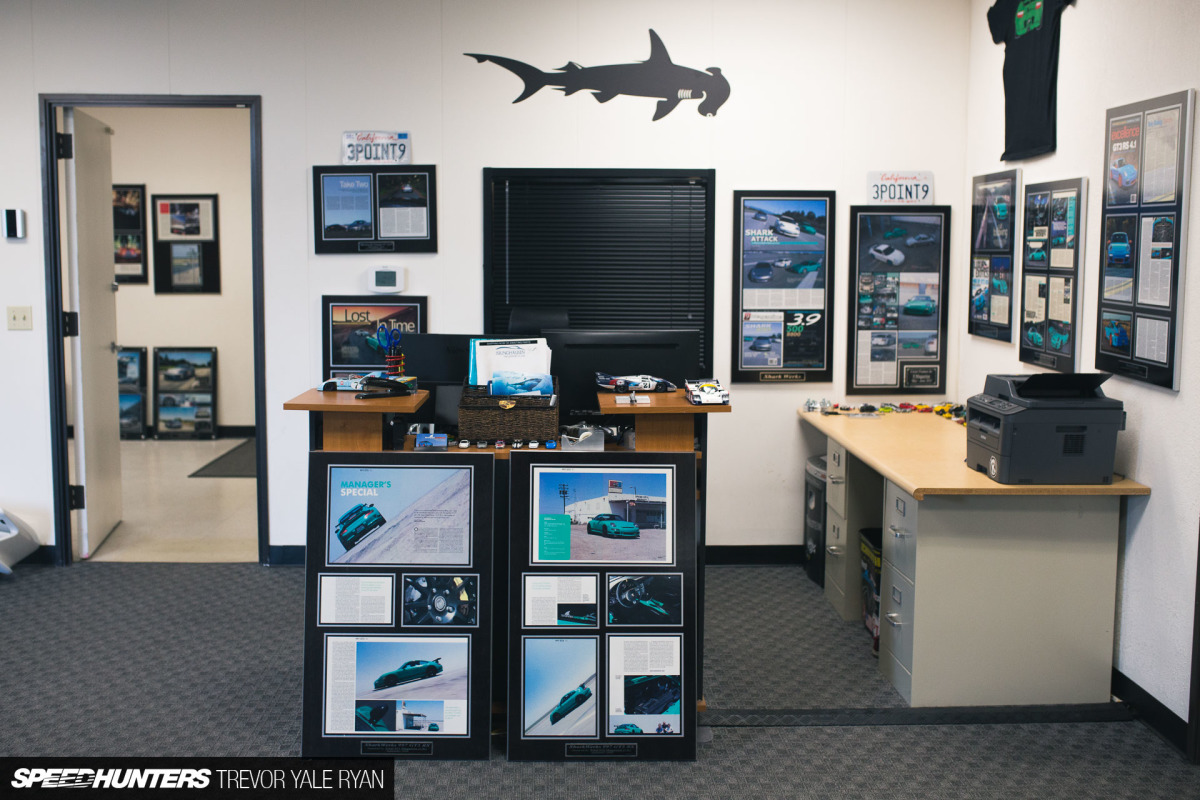 When you walk through the front door at SharkWerks you're greeted with a plethora of Porsche goodness.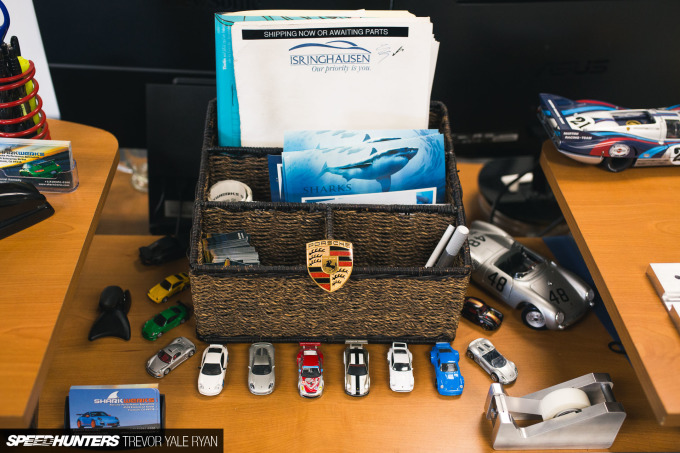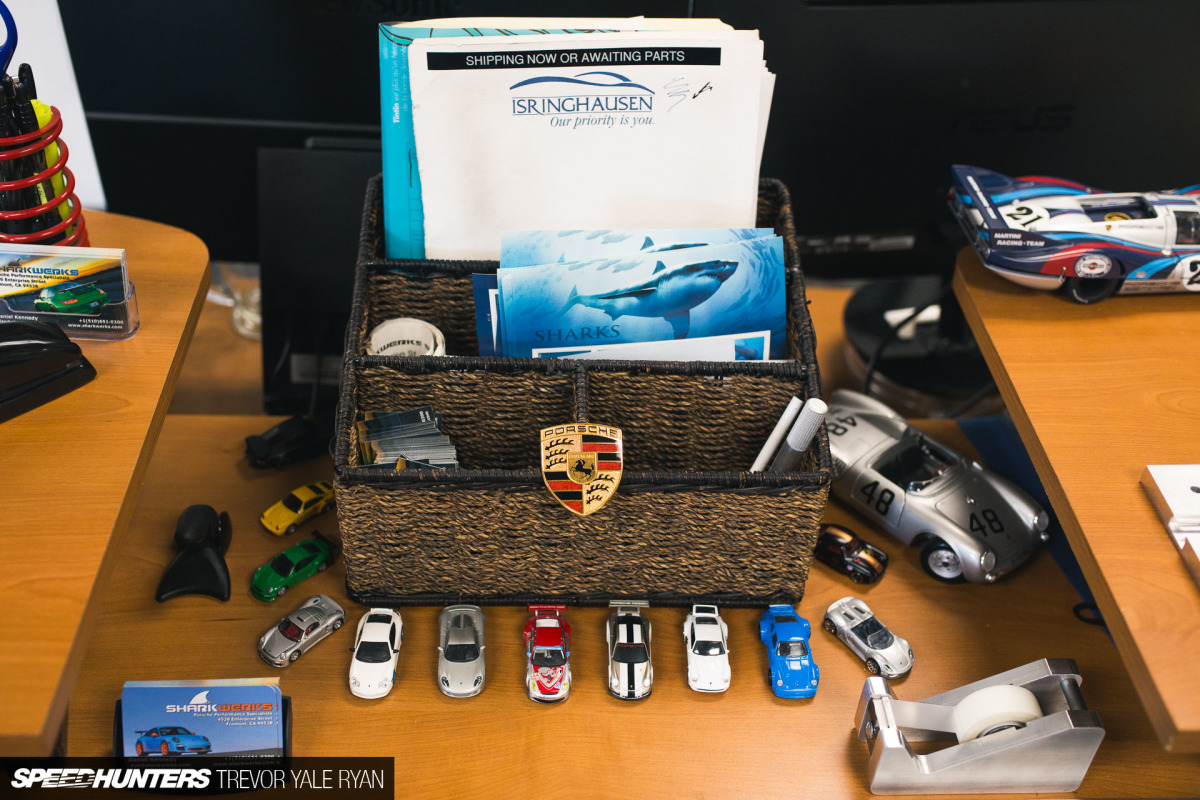 As a Porsche (or shark) enthusiast, it's exactly what you would want to see when entering a new or unknown place where you're about hand over your car or pick up some parts.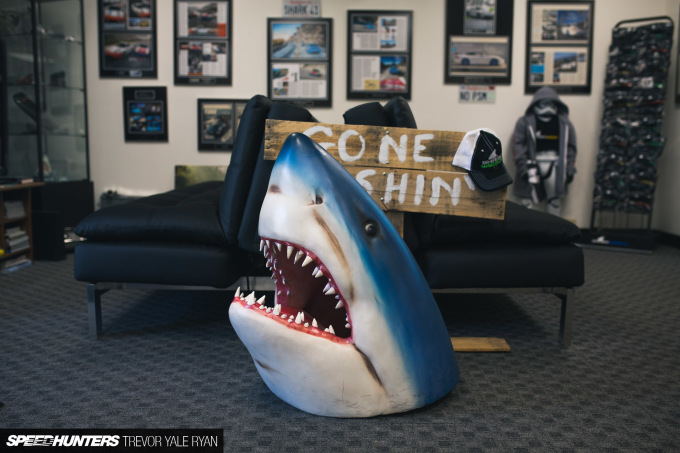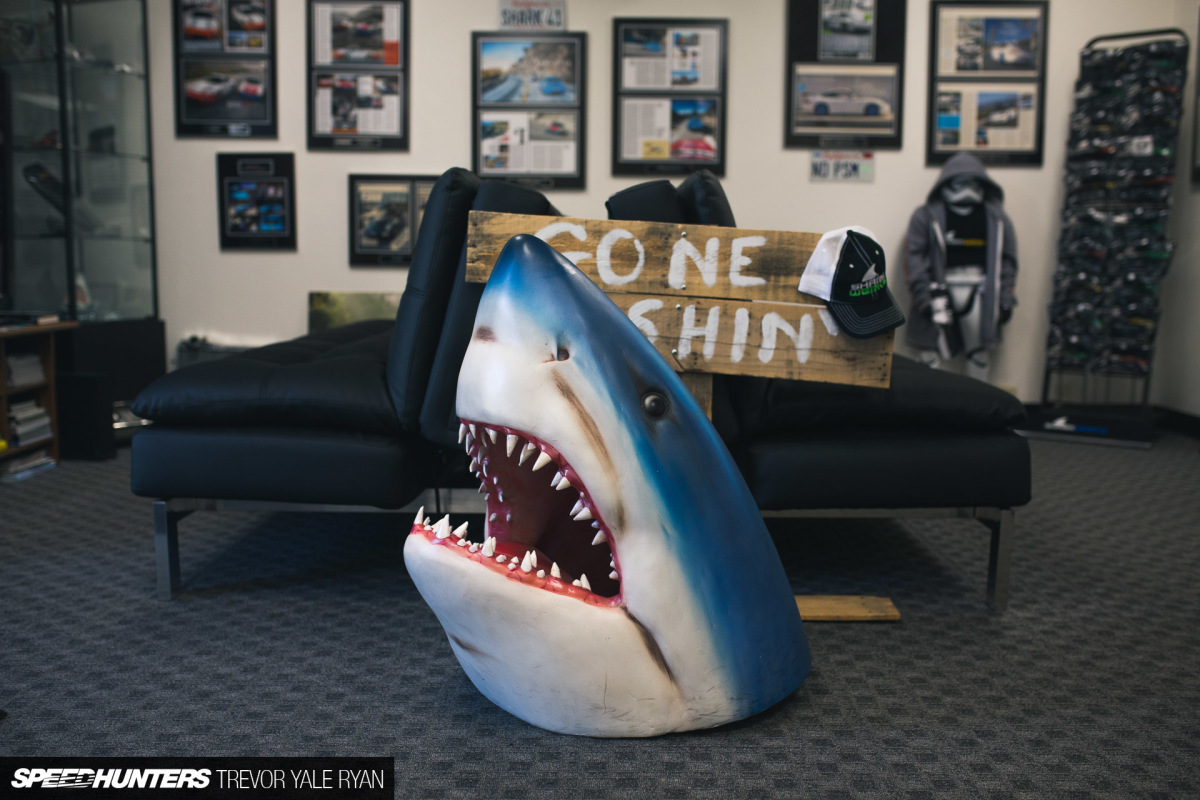 Tons of articles on shop projects that have been featured around the globe hang framed on the walls, and a seemingly endless amount of tiny cars line the desks. And naturally, there's loads and loads (and loads) of shark decor.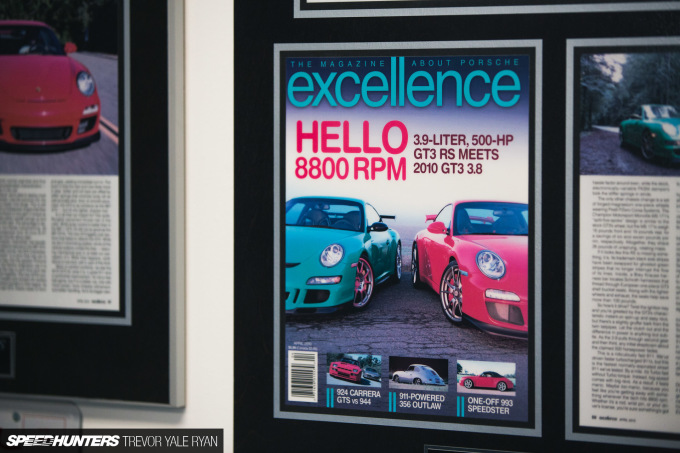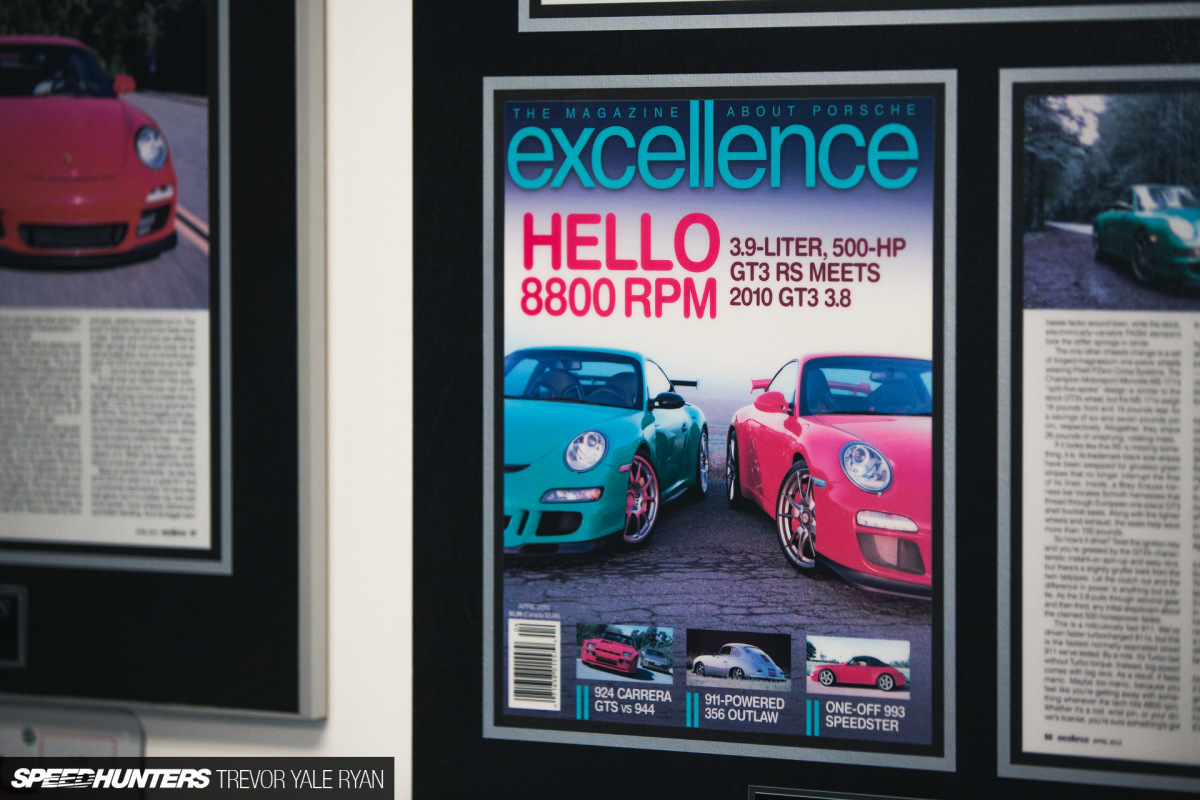 I could have easily spend the entire afternoon just reading some of the features that SharkWerks customer and shop cars have been a part of, like the popular SharkWerks 997 GT2 or when their 3.9L car was compared to the factory drivetrain (there was a clear winner here, let's just say that) some years back.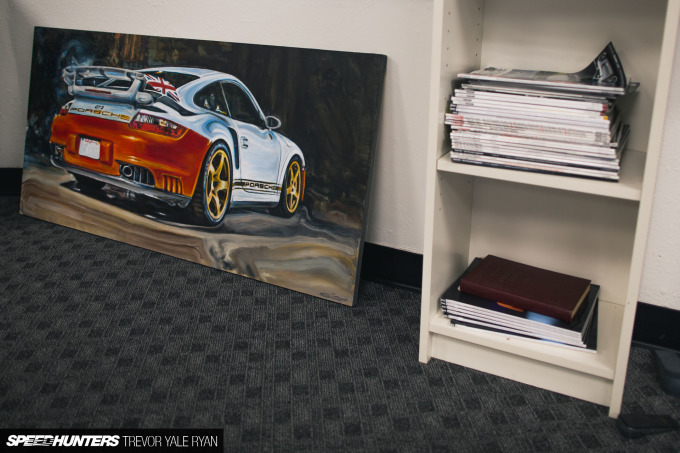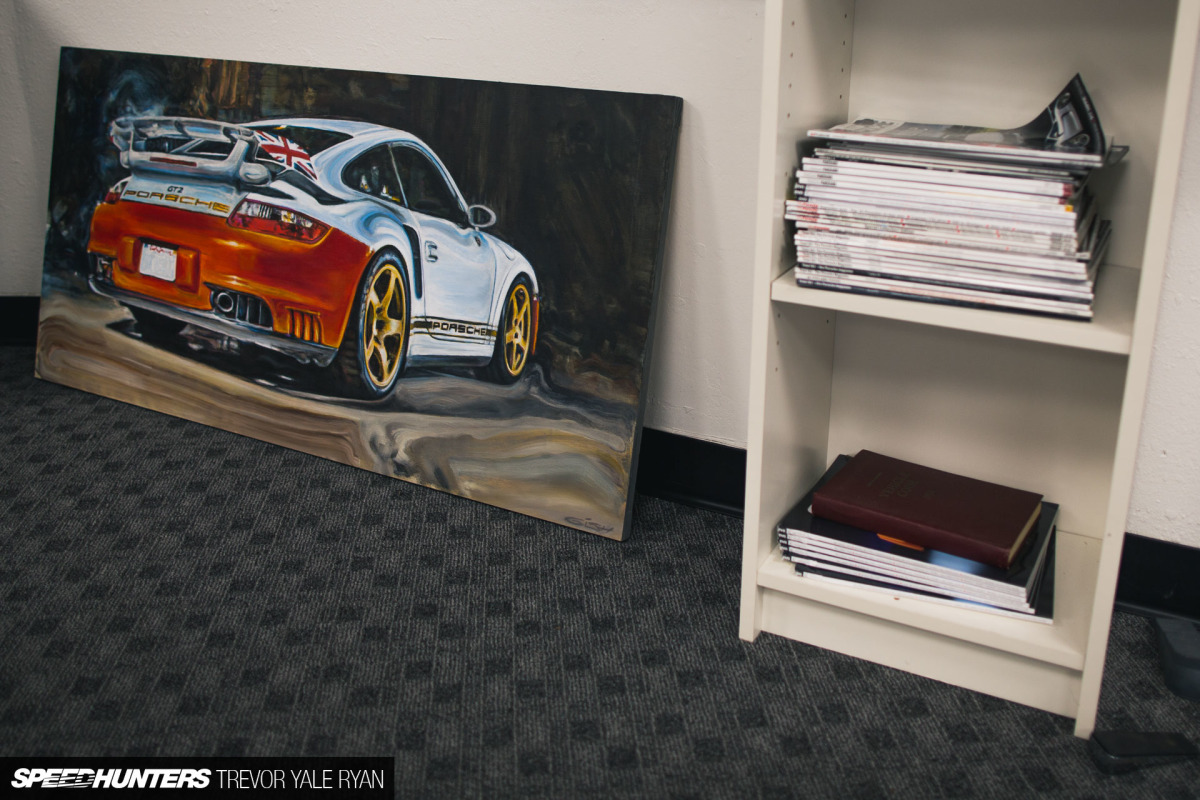 You'll recognize the GT2 in this painting as the one in the story I've just mentioned, and lots of other quality Porsche art and literature can be found around the waiting area.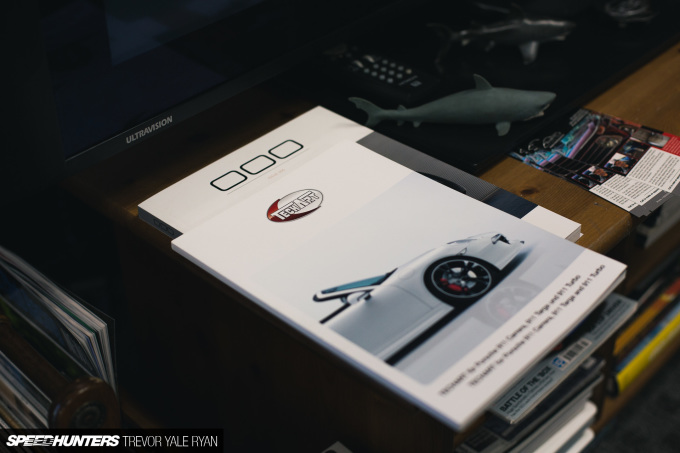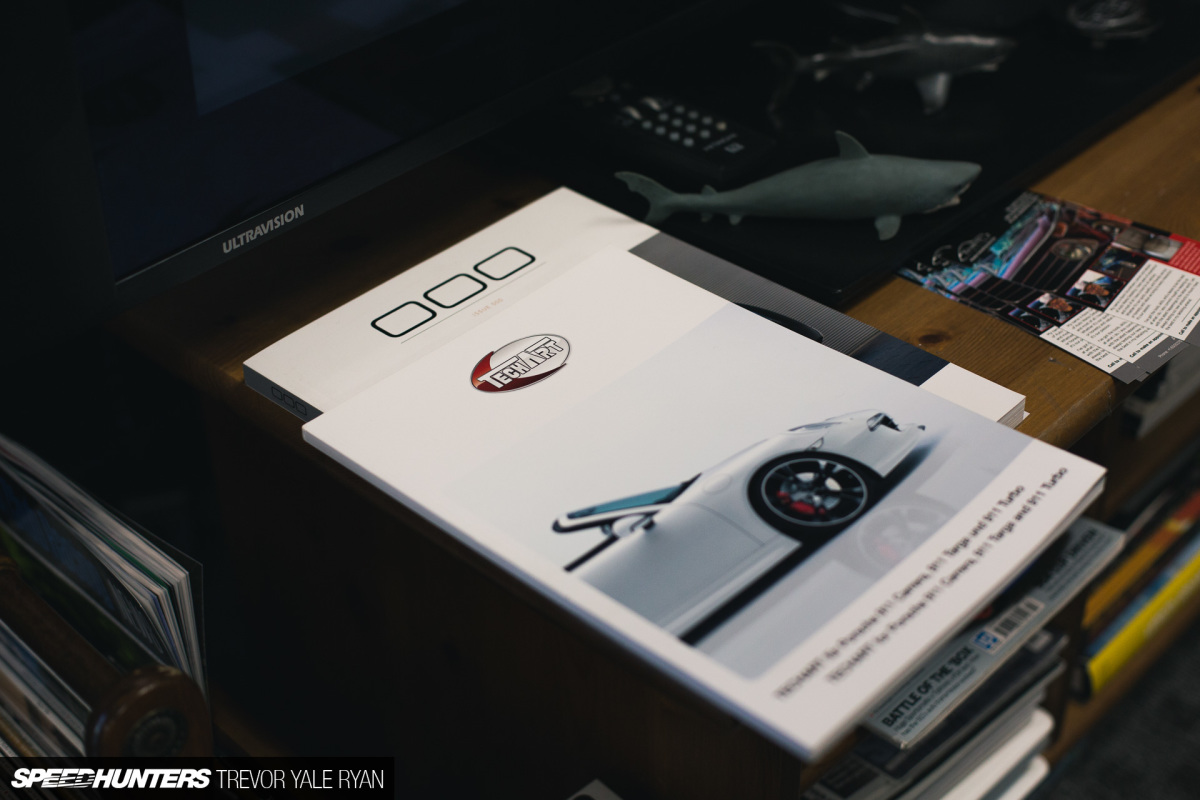 This includes pages and pages of parts from long-time friends and partners, as well as quality substance like Pete Stout's 000 magazine sitting next to little toy sharks.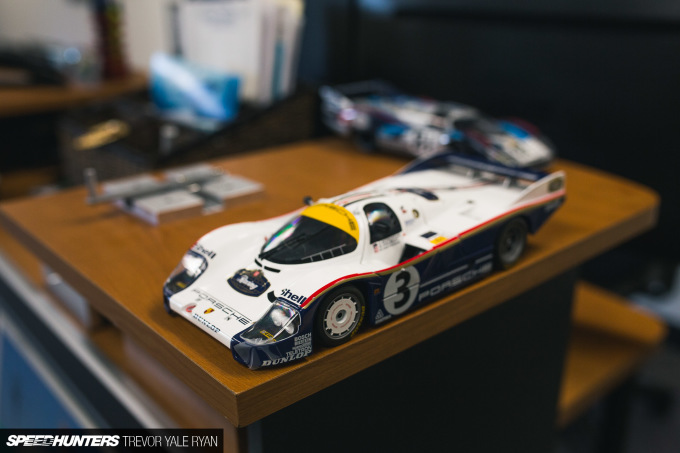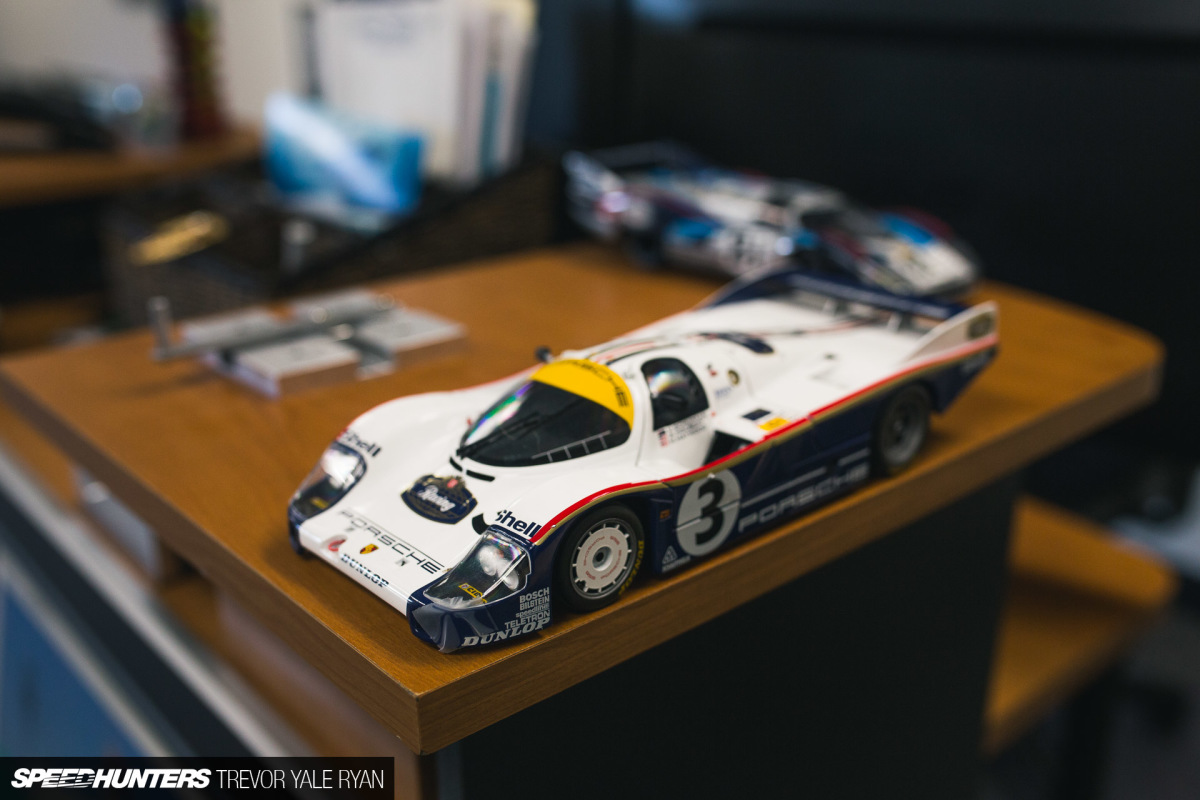 Next, I became fascinated with all of the model cars on display around the office.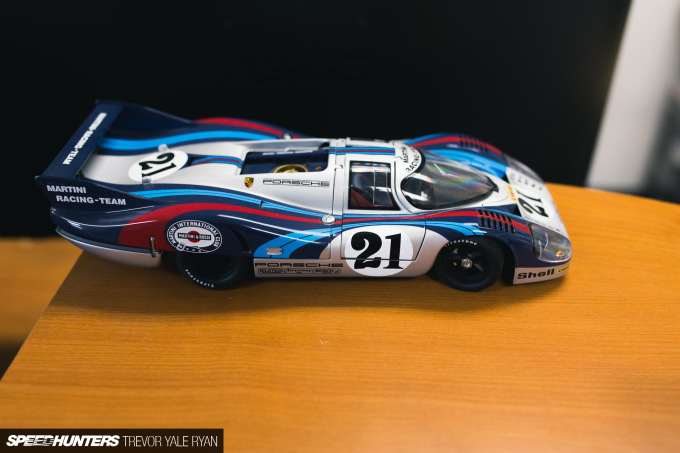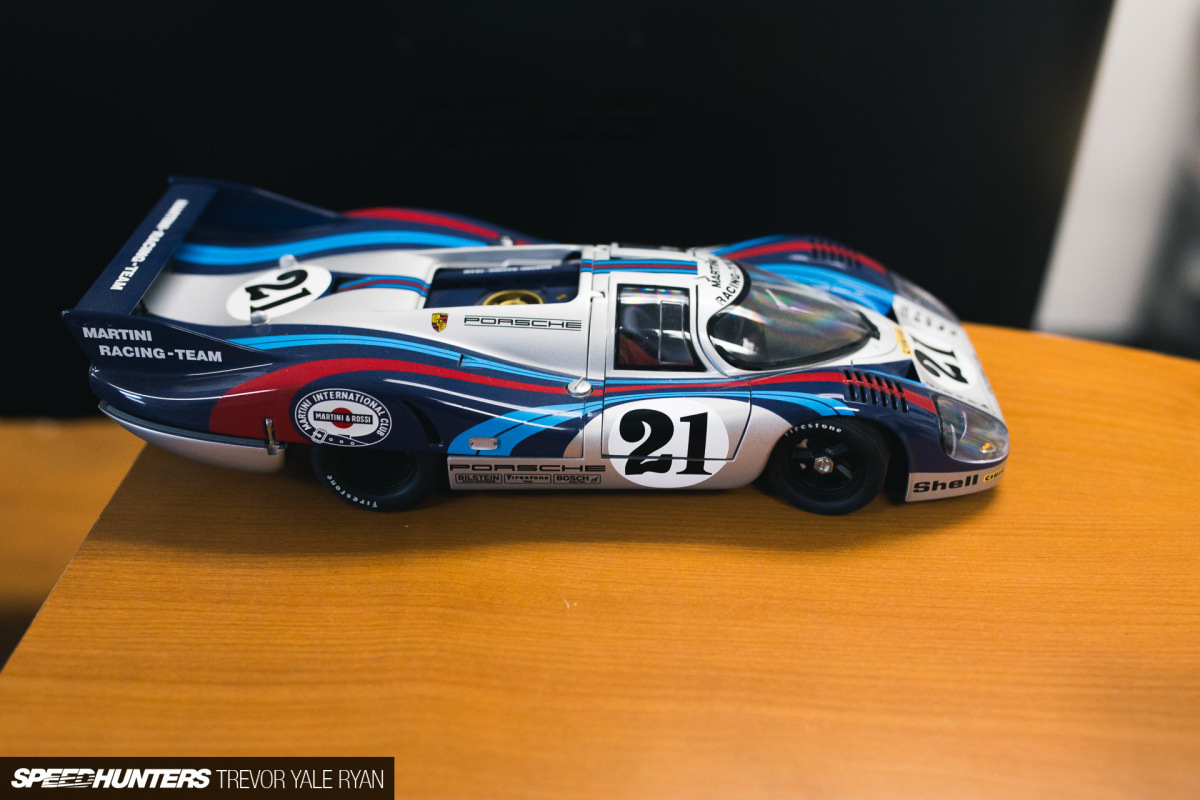 I've seen some other photographers do amazing work with scale cars, all the way from personal hobbyist sort of things to full-on advertisment productions.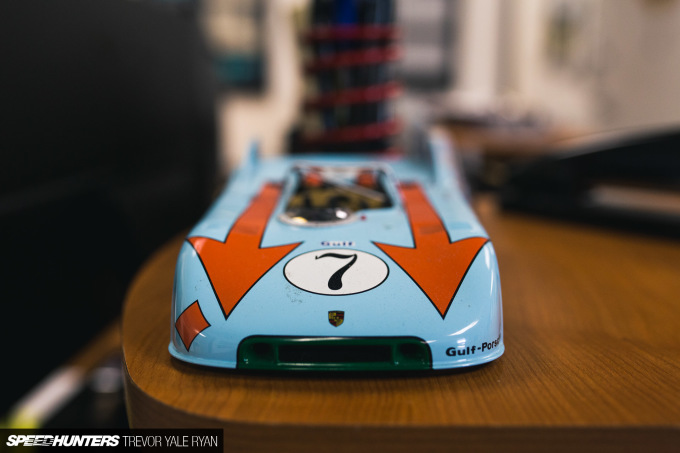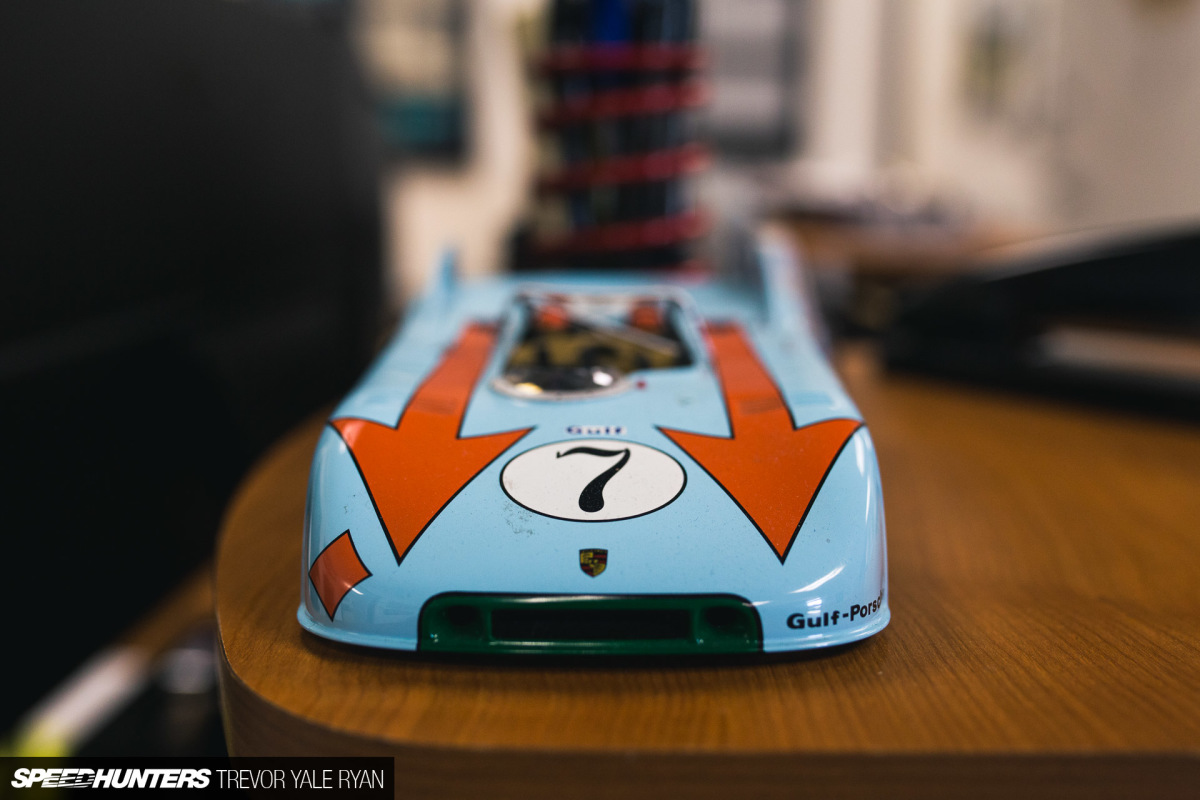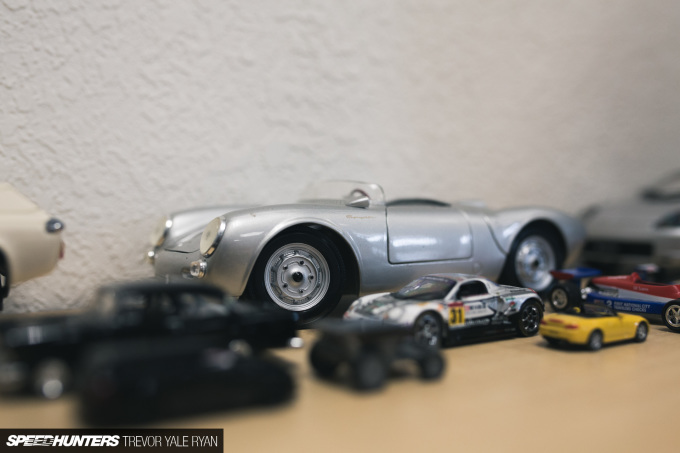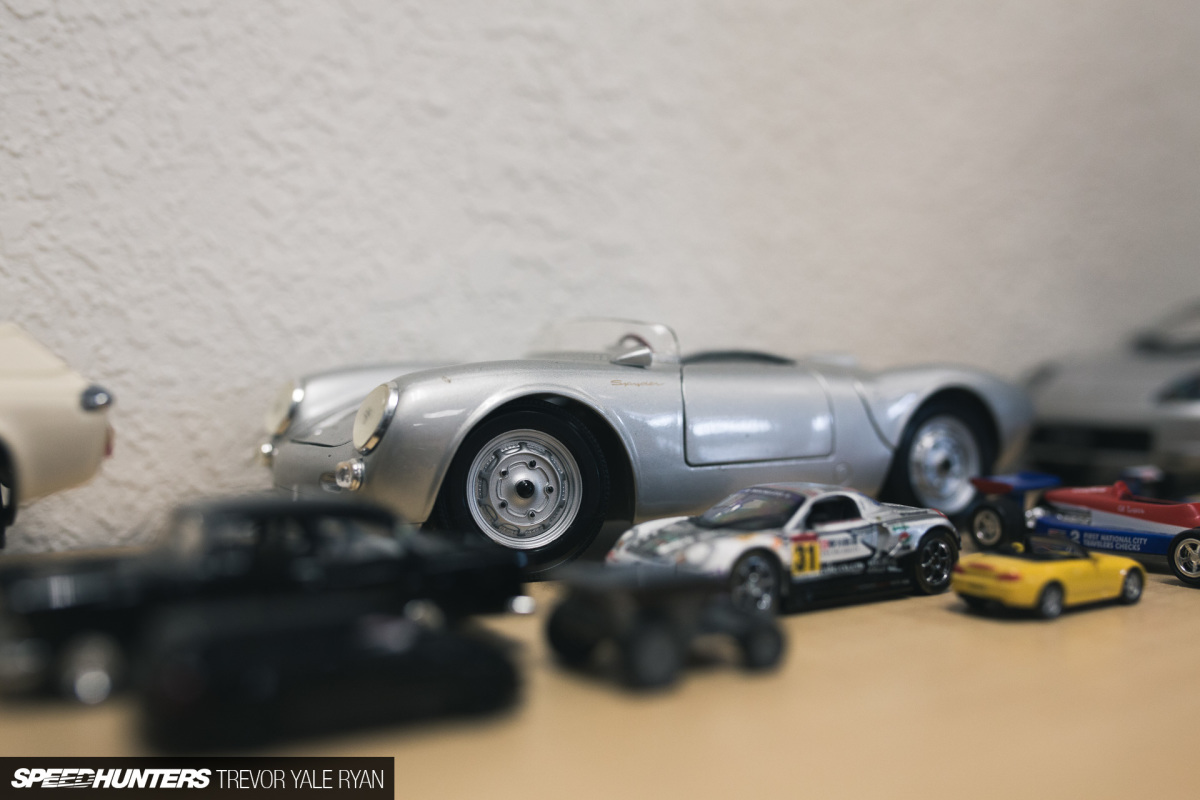 It would be seriously fun to do some day, but I didn't want to spend terribly too much time taking photos of these when there were plenty of 1:1 size Porsches behind a couple closed doors.
You can see how easy it would be to spend a good amount of time here just goofing off, though. And check out that RSA decklid just hanging out – this place is is full to the brim with good stuff.
James' Domain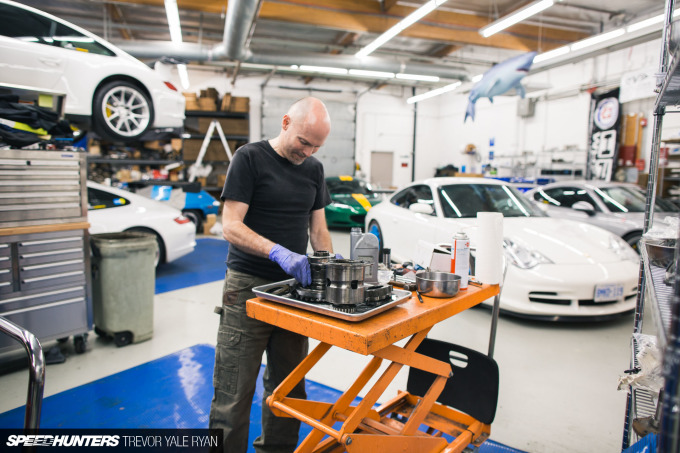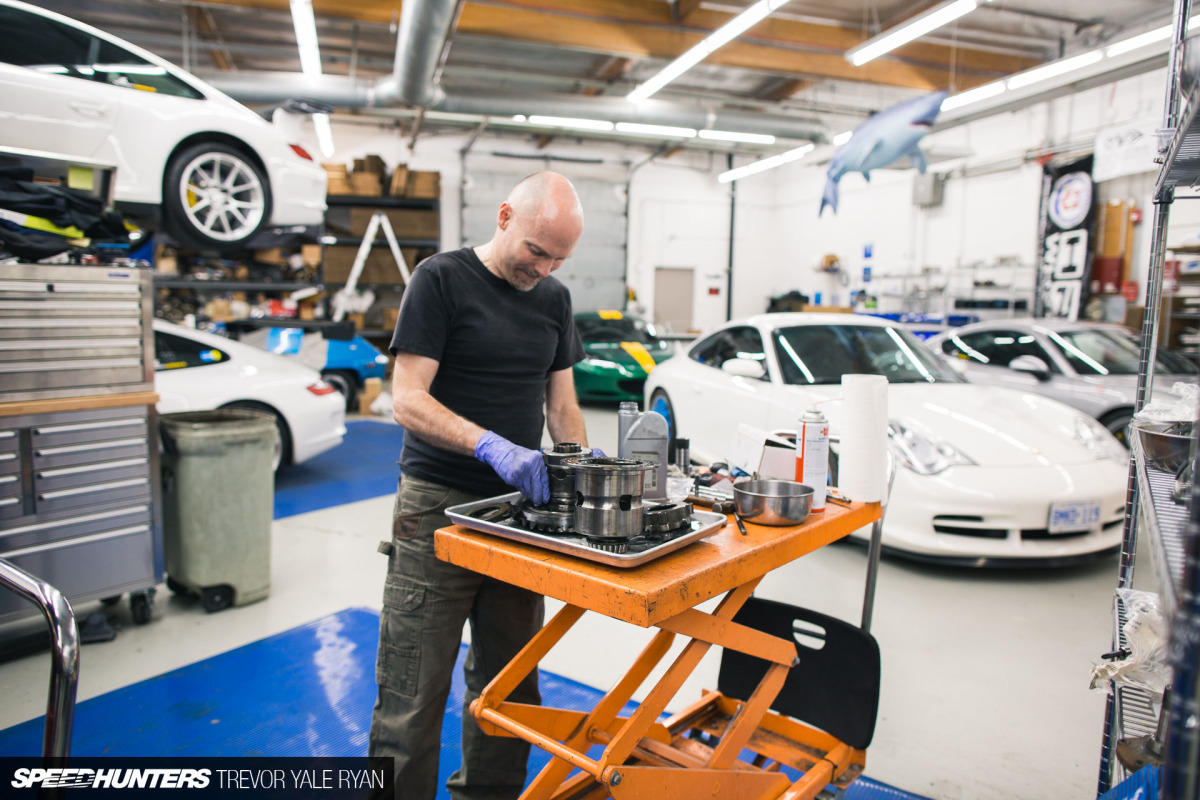 Heading through the break room and out back into the shop, you'll more likely than not find James Hendry here fiddling around with something.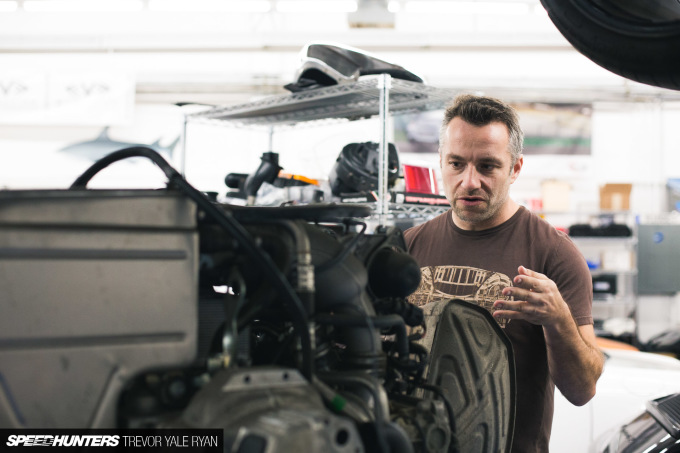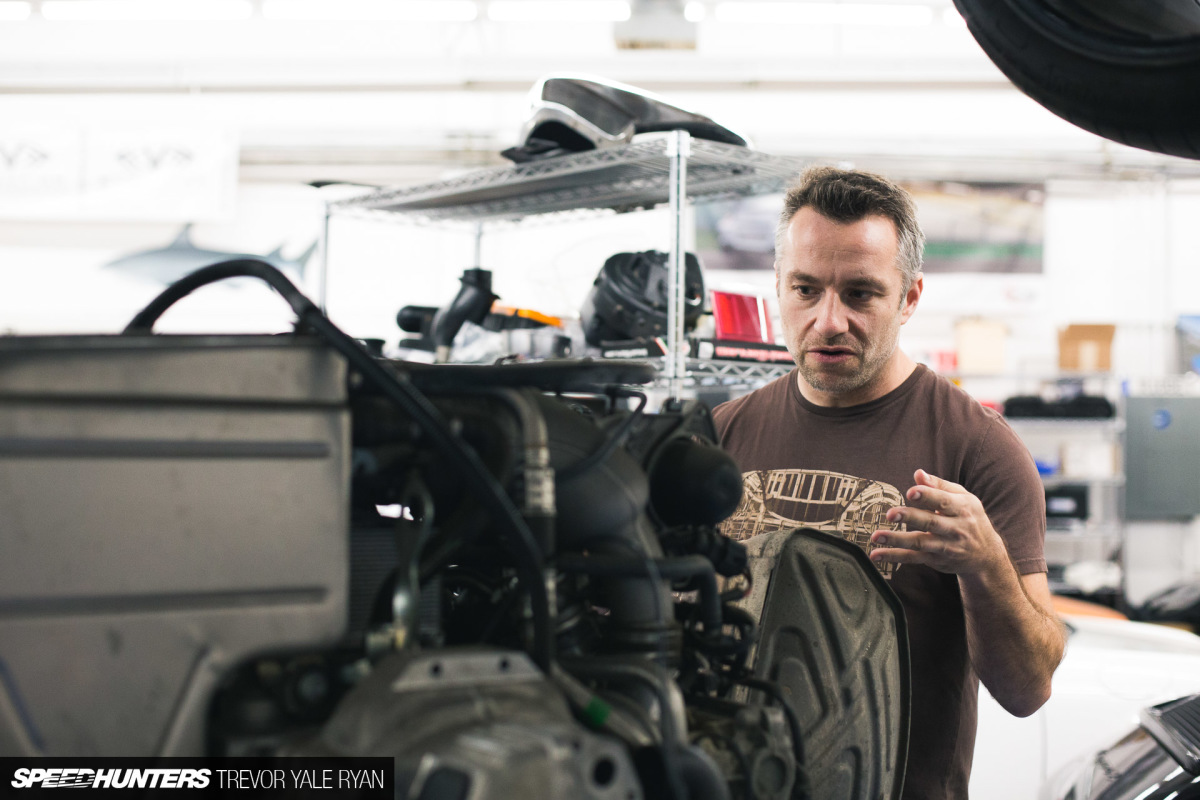 Alex 'Sharky' Ross was very keen to point out that James is the brains behind all of the in-house R&D that goes on here, explaining that when he has some wild idea it's James that reels him back into reality.
You might already know that it was Alex who was the first one to get a 996 Porsche to run 10s at the drag strip, but he tells me it's James' mind that's able to turn crazy ideas into a sustainable reality here at SharkWerks.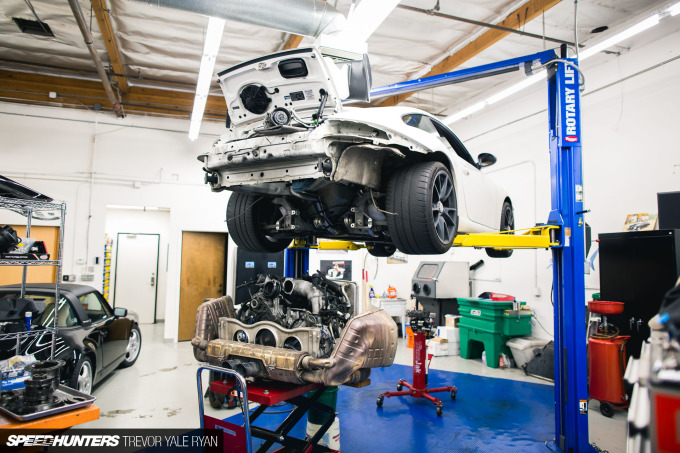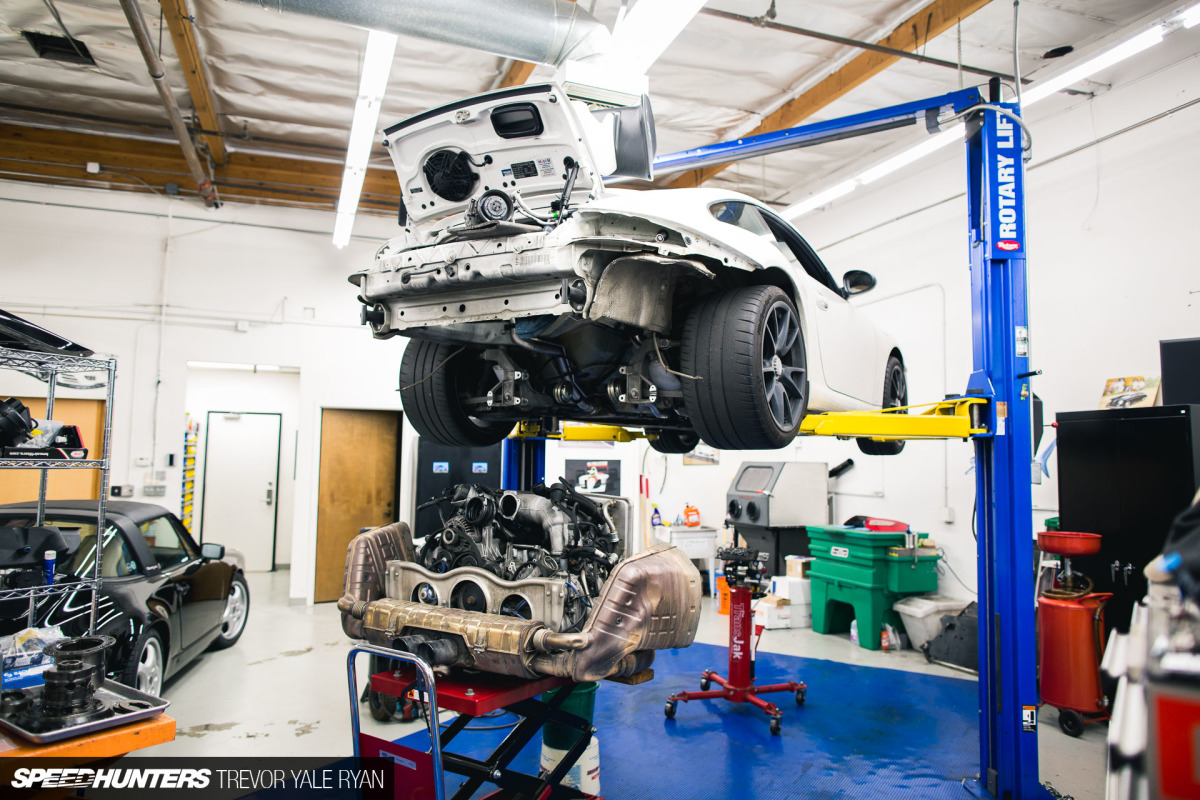 James was working on the differential of a GT3, and it was a unique opportunity for me to take a look at a P- car all in pieces.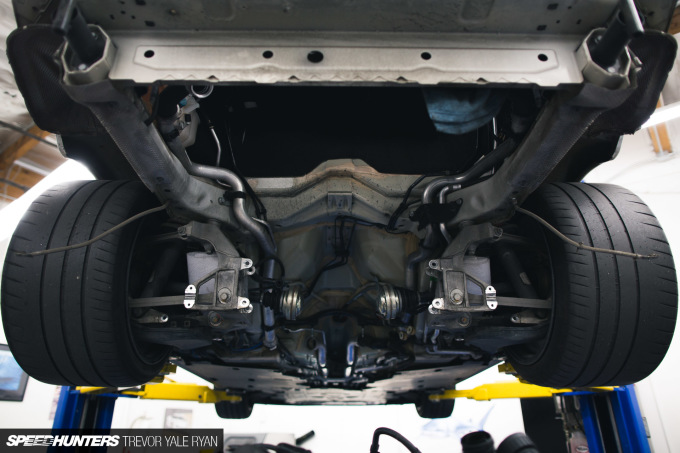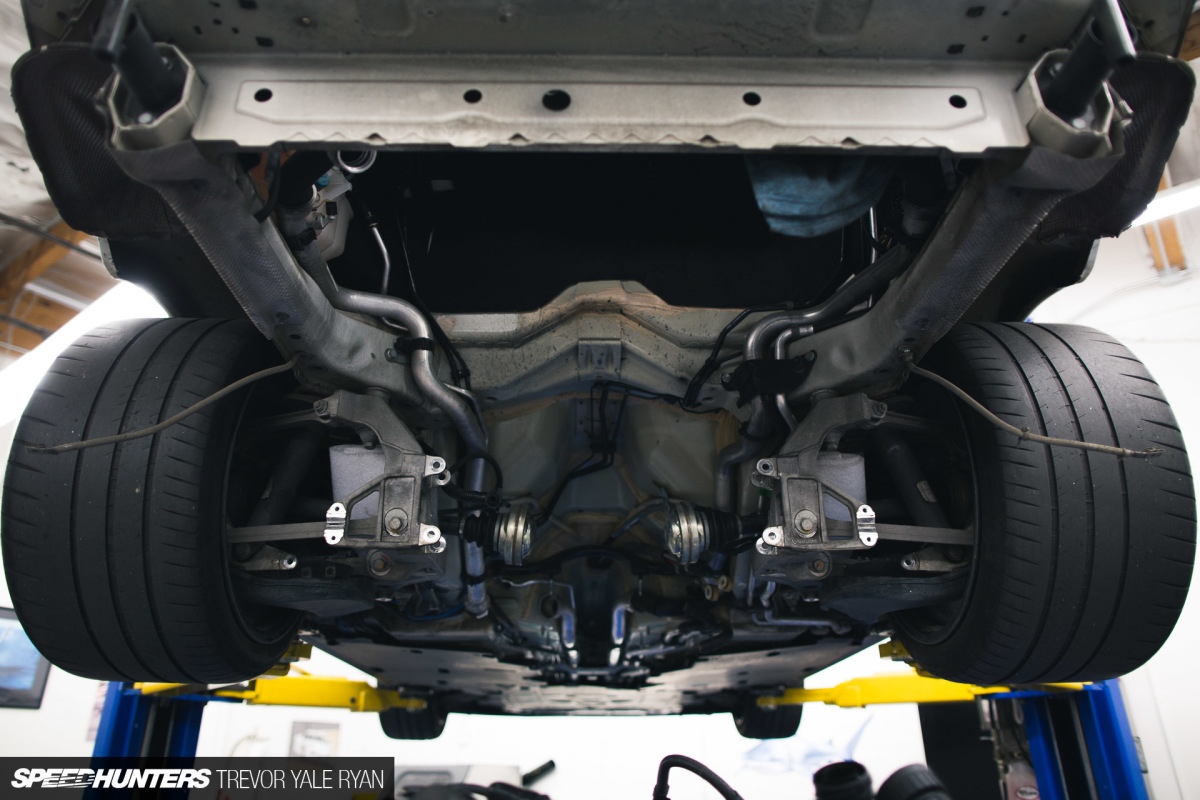 Besides some of the older models, I'd never actually seen one of these apart before. James pointed out that they aren't really supposed to be apart, which I suppose is a pretty good point.
This particular car was in for some SharkWerks reliability mods and re-gearing; it only had 20,000 or so miles on the odometer but the majority of those were clocked up at the racetrack.
Any of you who track your own cars know the insane abuse that comes with running them to the absolute maximum, even for a day at a time. The owner of this GT3 will surely be rewarded with a bit more pep and peace of mind after going through the SharkWerks ringer.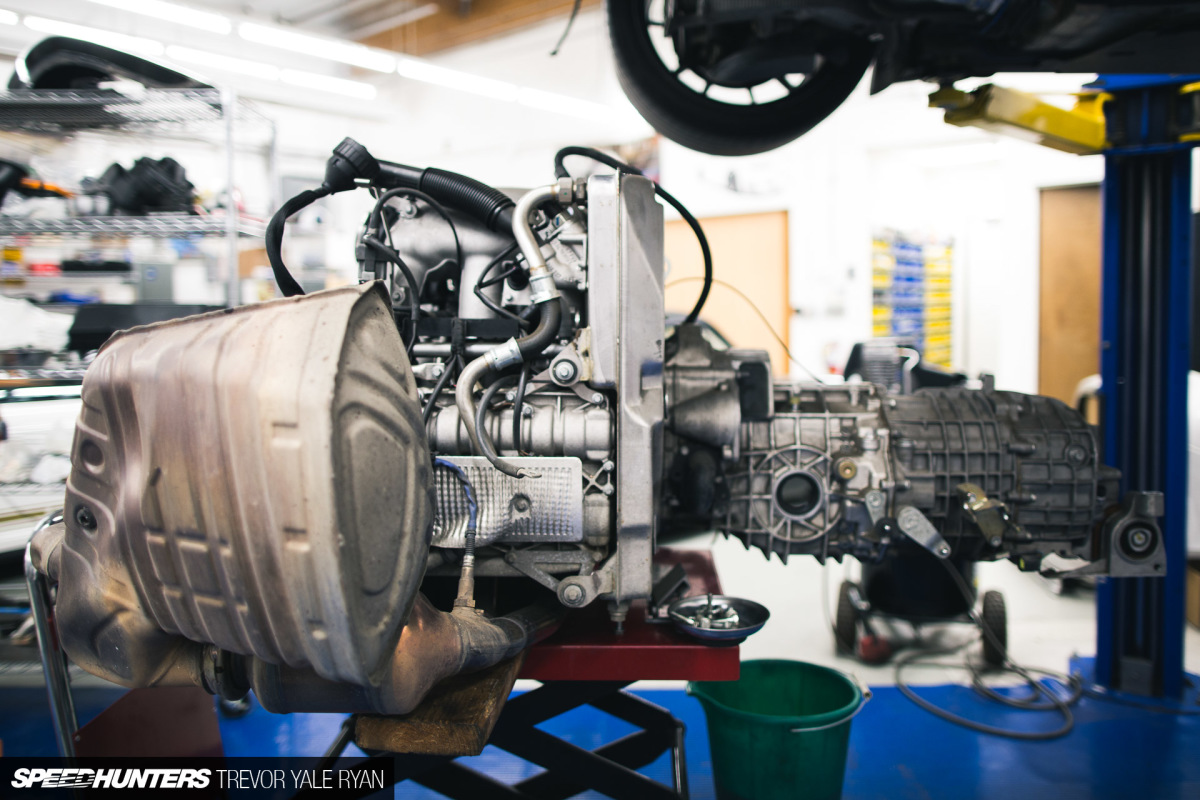 Again, it was the first time for me being up close to this particular drivetrain, and seeing it out of the car was a bit of a mind-bender. The packaging from the factory is quite tidy, and very tight.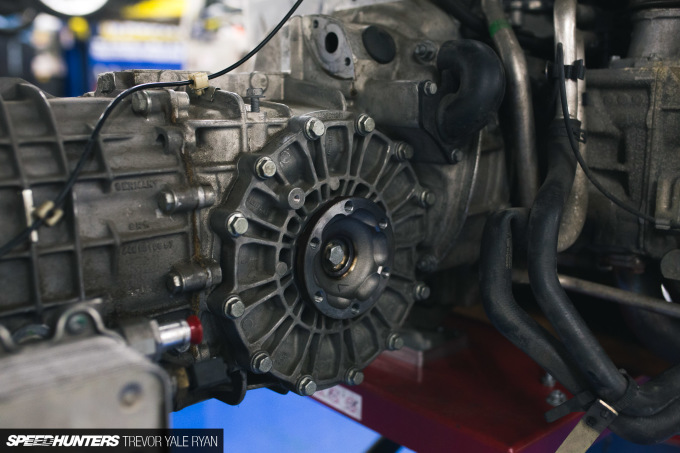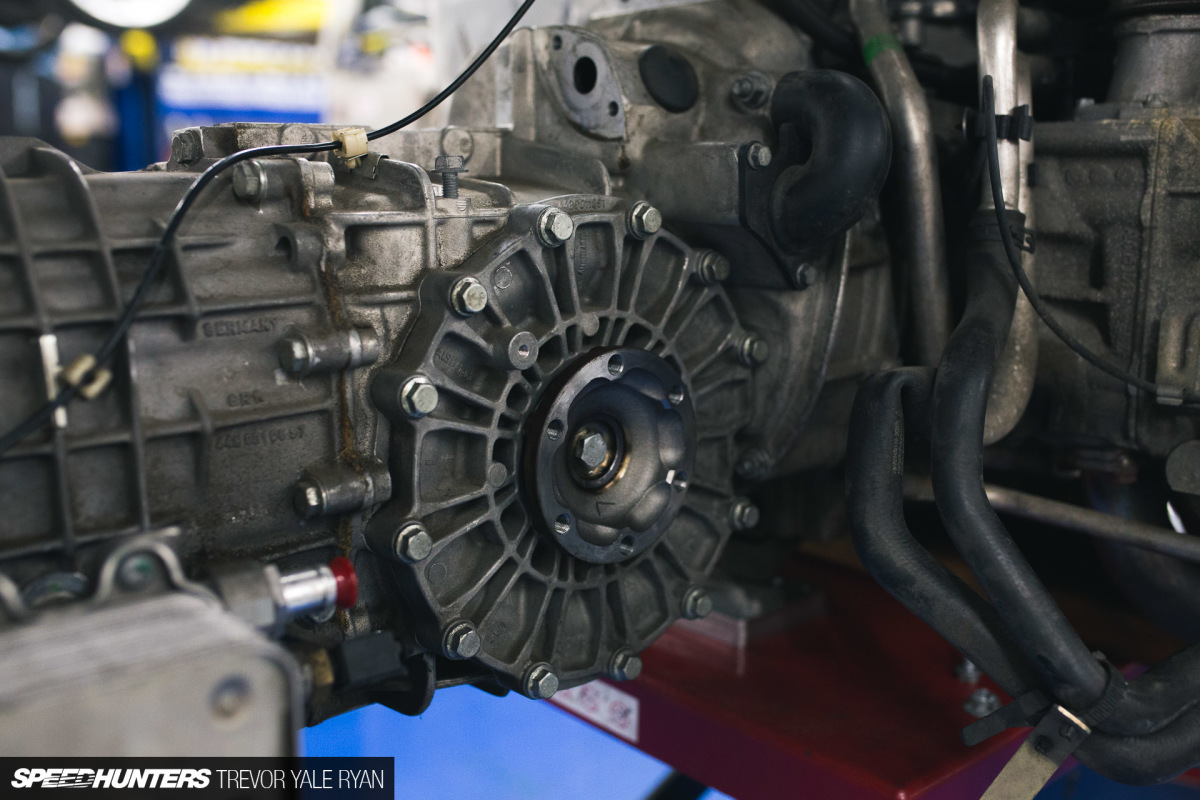 This was nothing new for James, though, who has decades of Porsche wrenching under his belt. He made quick work of the LSD while I had a look around the shop.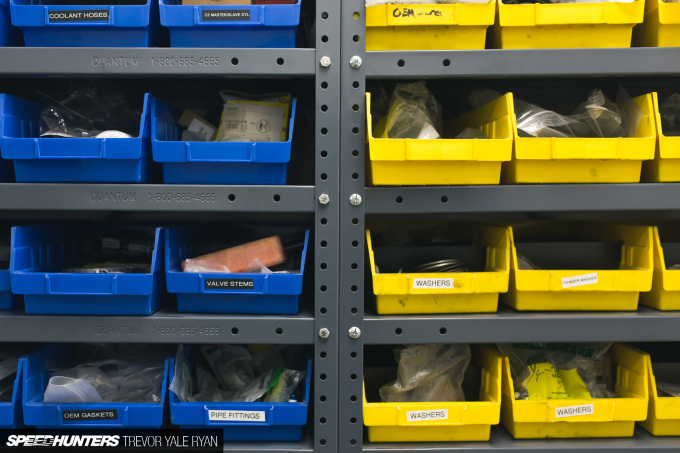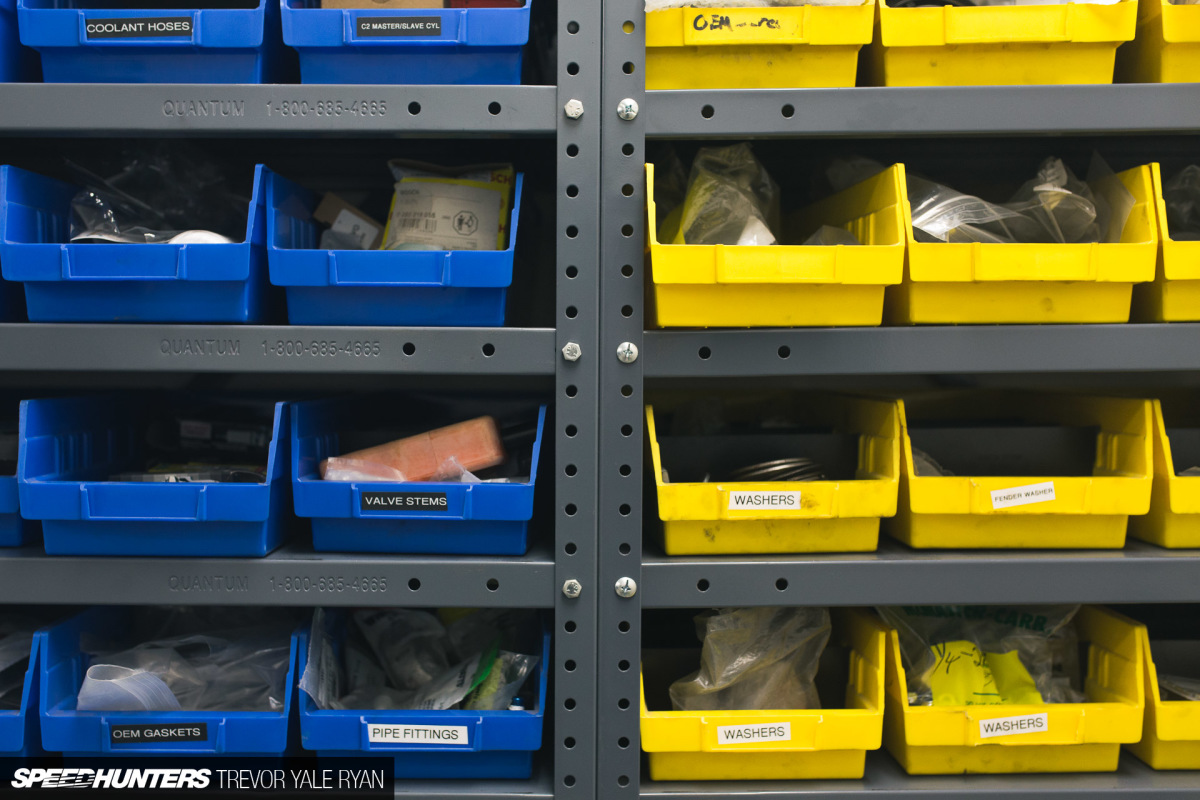 Actually, the first thing I noticed, before even making it all the way into the garage, was just how neat and tidy it all is. From my own experience working in a fab shop, organization is everything.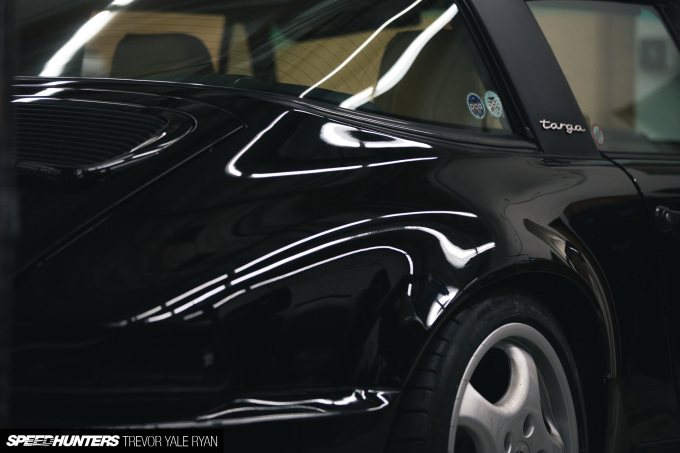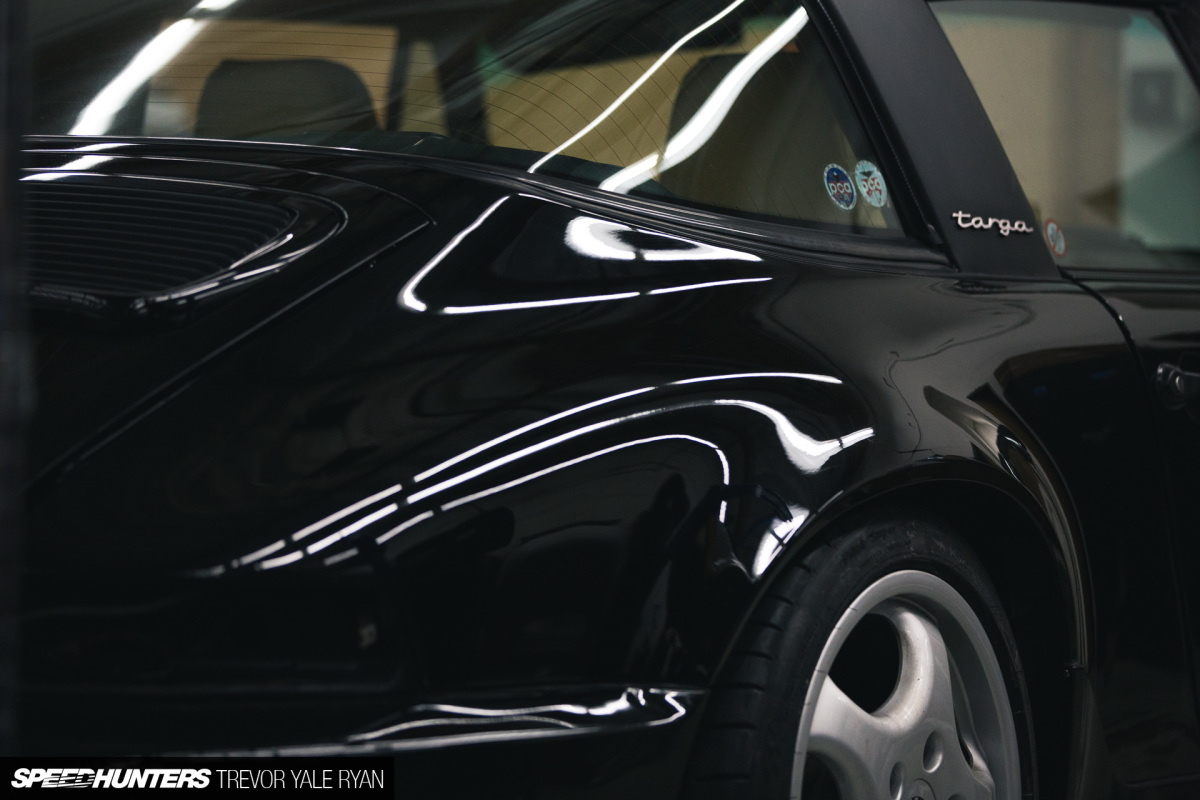 This is exactly the place where you would want to bring your beloved Porsche, and after peeking around a bit it's no surprise that SharkWerks is as successful as they are.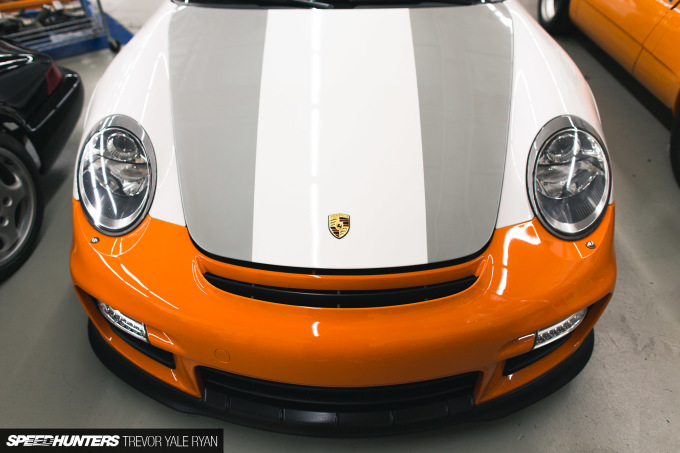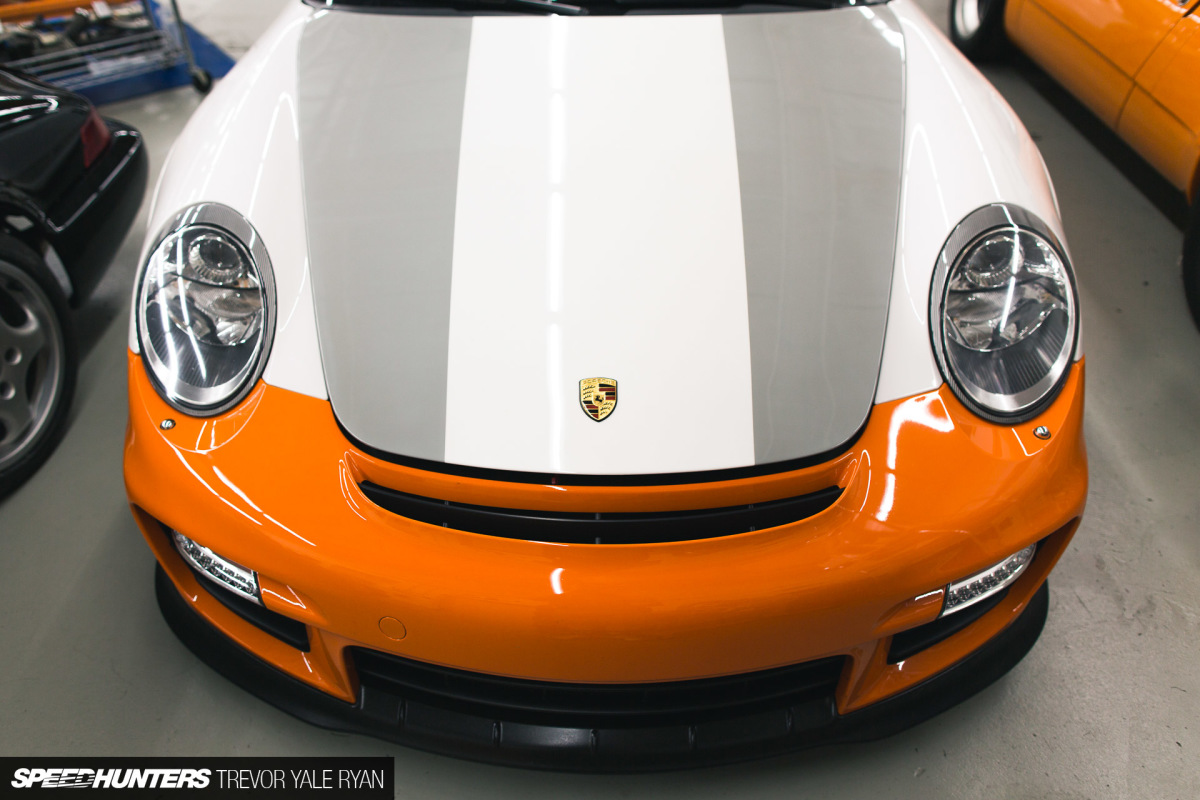 First off, a good handful of their own projects lined the garage.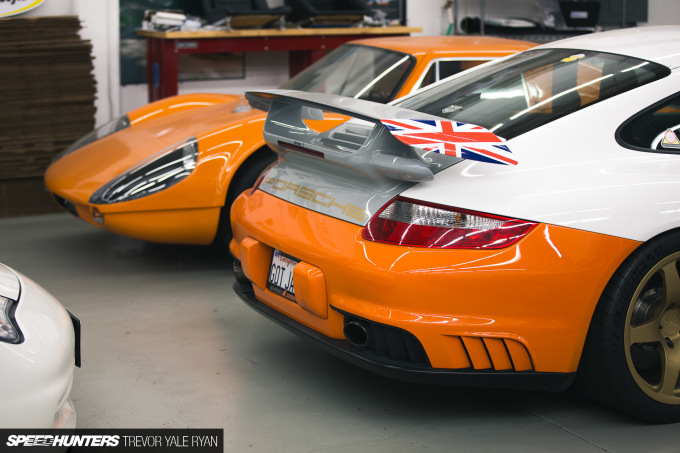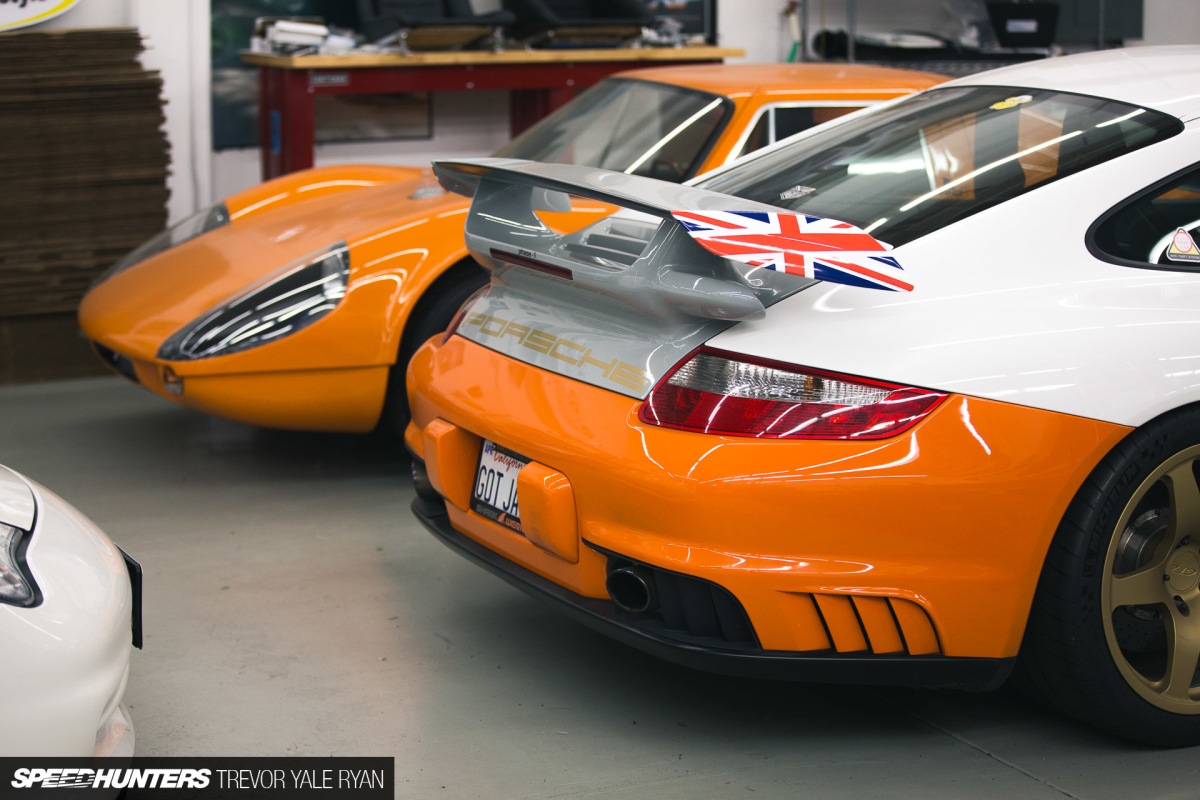 Hiding behind the aforementioned GT2 was a rather interesting project in James' possession.
While it isn't a genuine, multi-million dollar 904, it's one of a handful of quality replicas that James has had several motors in. There was no engine in the car when I visited, but James is looking to rectify that and get it back on the road when time allows.
You may have noticed by now that the SharkWerks' philosophy seems be that all of their cars should actually be driven, something I very much agree with. After all, it's pretty much the whole point of them.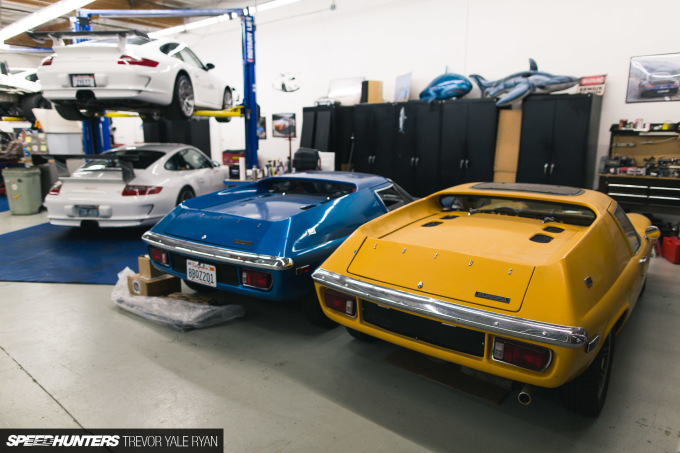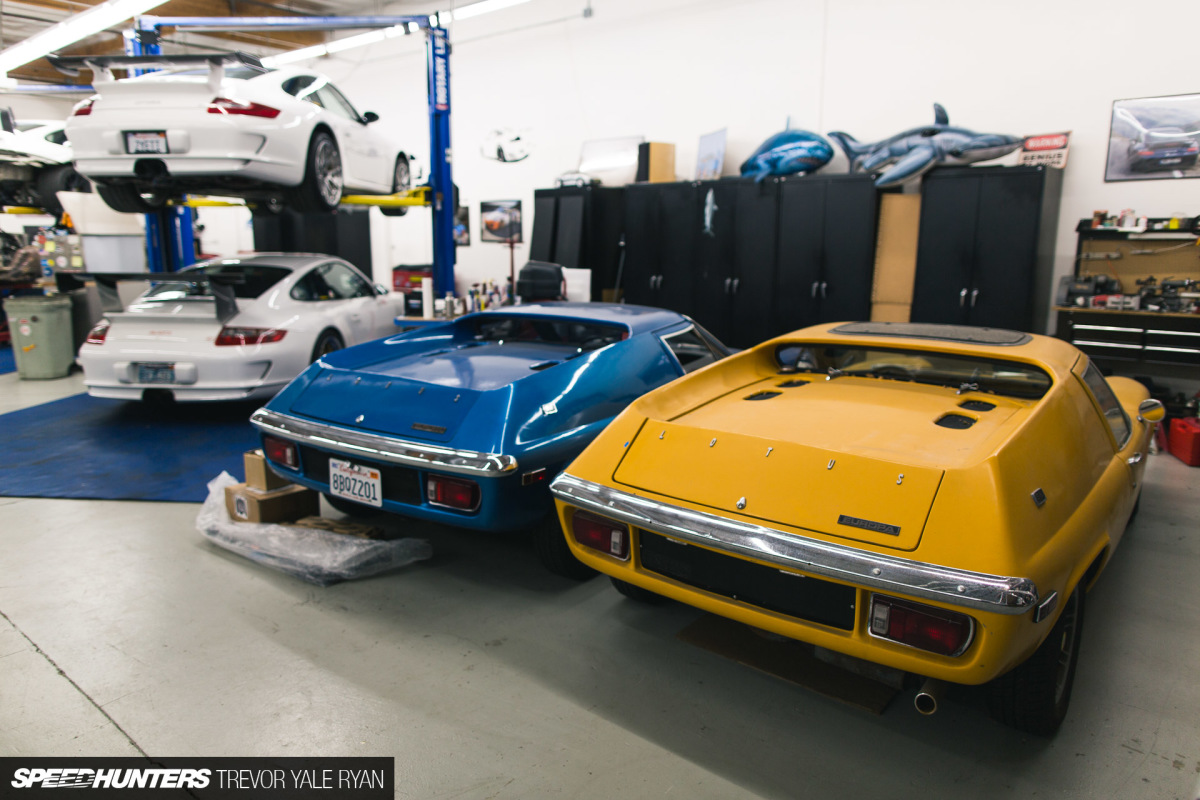 The 904 wasn't the only interesting older car sitting around, and a pair of '71 Lotus Europas caught my eye in the corner. They're relatively rare and odd-looking machines; I've only come across a couple others in the wild before.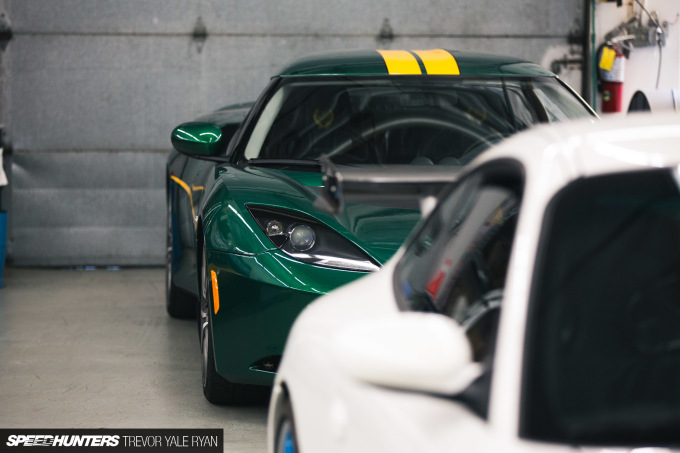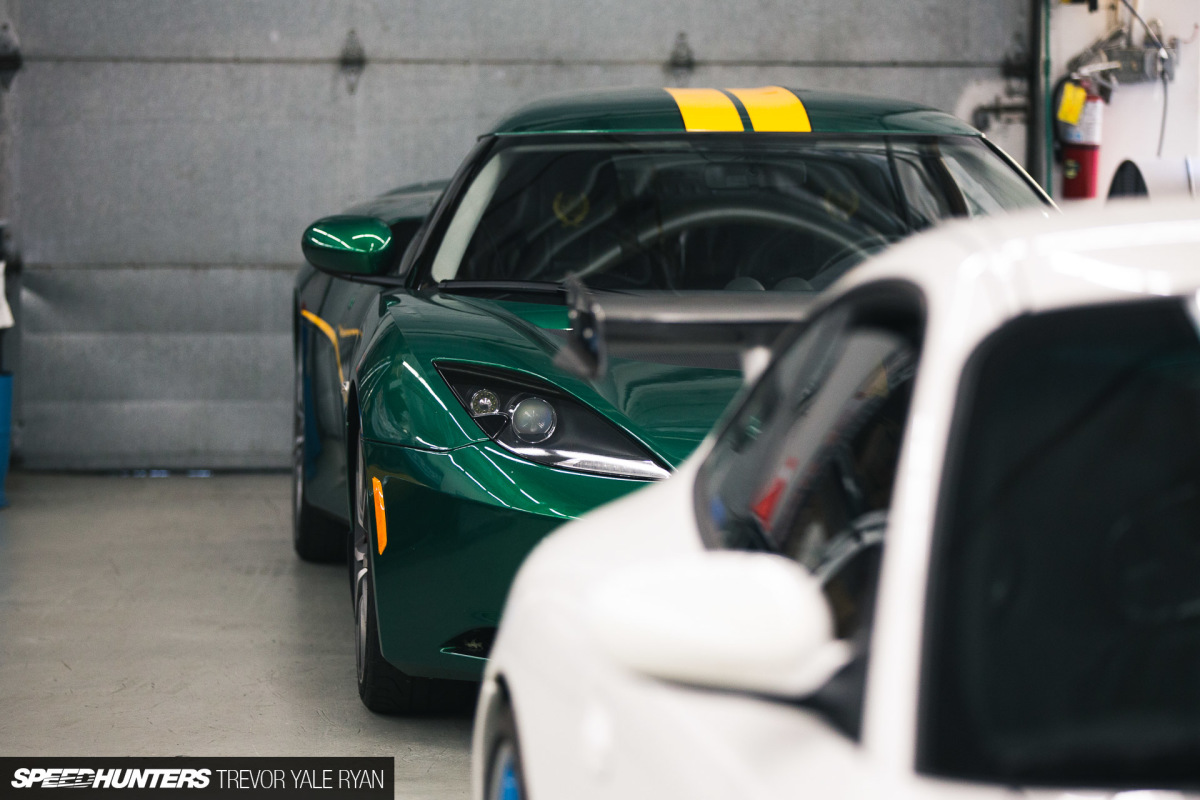 Further tucked in the back was another Lotus, something far more rare.
This is number three of only four Heritage Edition Evora S cars that were delivered to the US market. Lotus had planned to produce 25 cars, but the 2011 Tōhoku earthquake and tsunami in Japan left the automaker unable to source the proper paint. Rather than compromising, it simply stopped production.
Of course, Porsches are really SharkWerks bread and butter, and unsurprisingly there were a handful littered around the shop space. GT2, GT3, and GT4 variants were all present.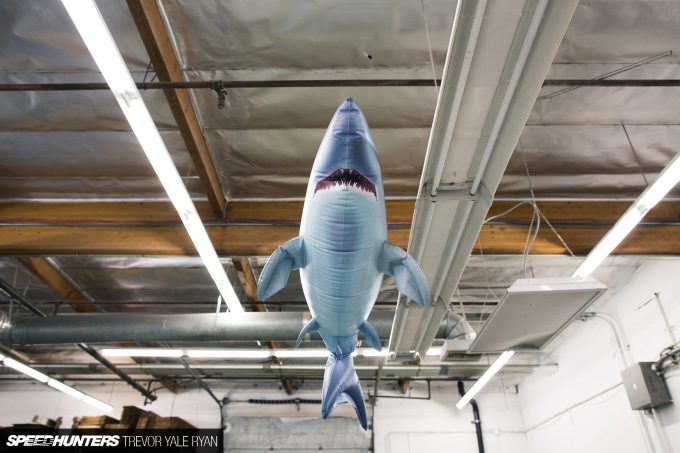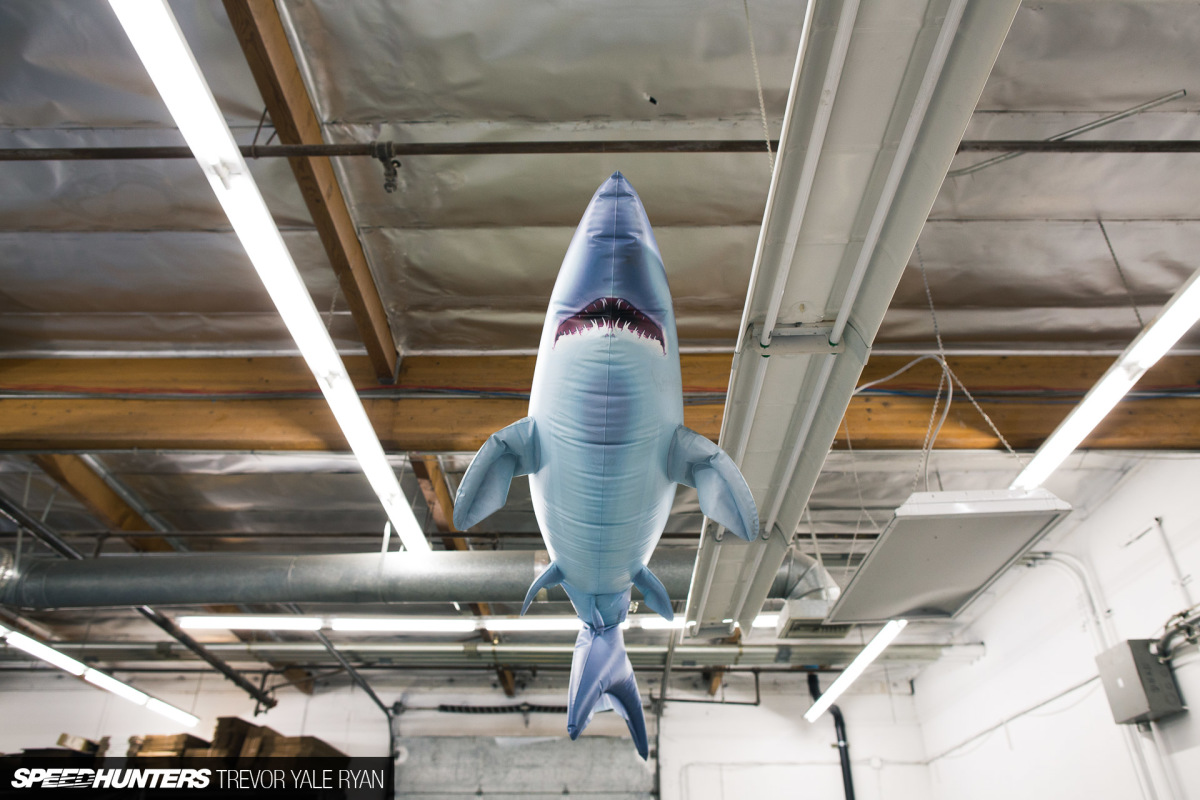 Overseeing everything is a friendly shark floating above the cars.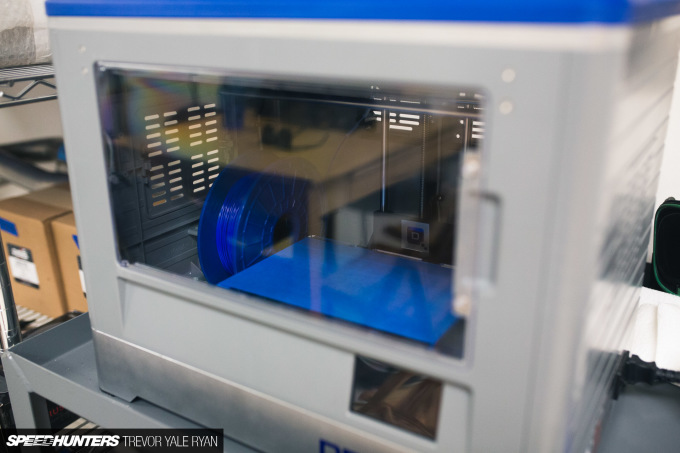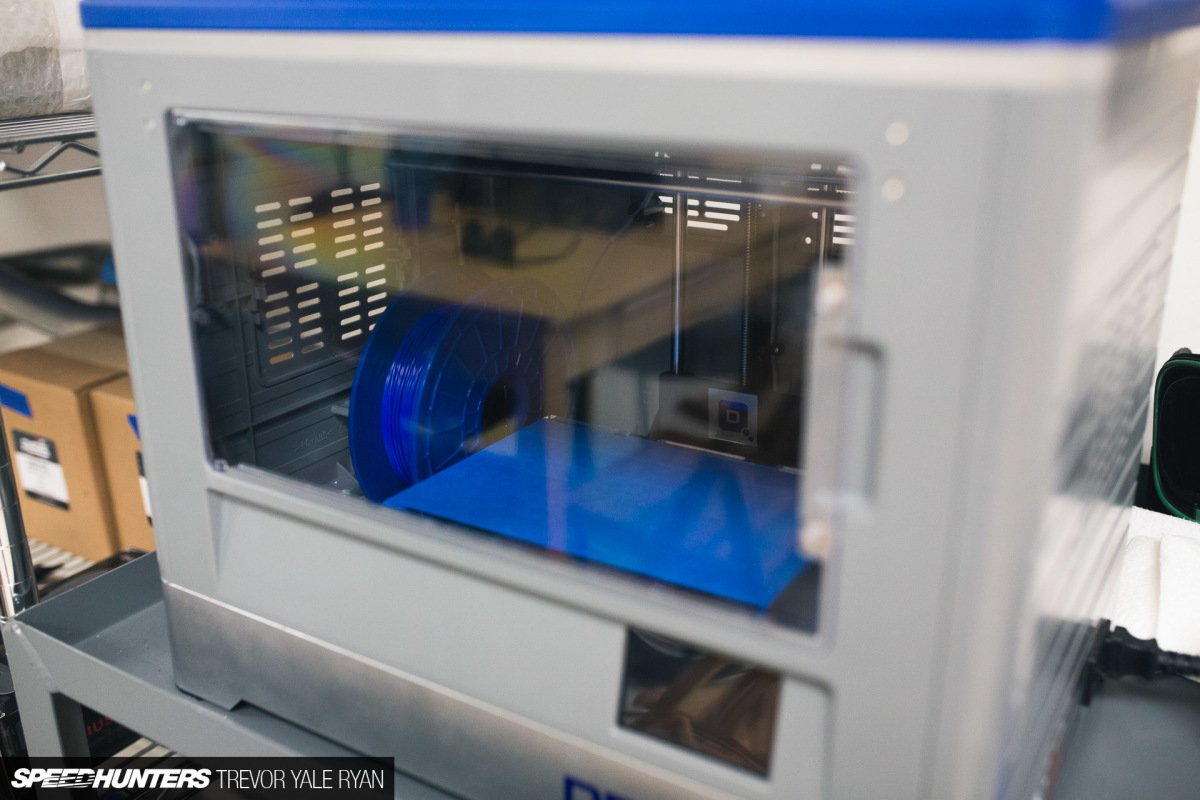 Ultimately it's their clever parts that make the SharkWerks cars what they are though. As I mentioned, a lot of in-house R&D goes down before they release a product; I spotted this 3D printer in the break room which obviously helps on that front.
Alex tells me it's Daniel Kennedy who handles most of the 3D design and rapid prototyping for the company, but I've missed him both times I've stopped by the shop. As a mechanical engineer, this is largely where my 'professional' interests lie, so I think another visit is in order to catch Dan at work here.
I can tell you firsthand that designing any part, no matter how simple it is, is always a lot more work than you expect it to be.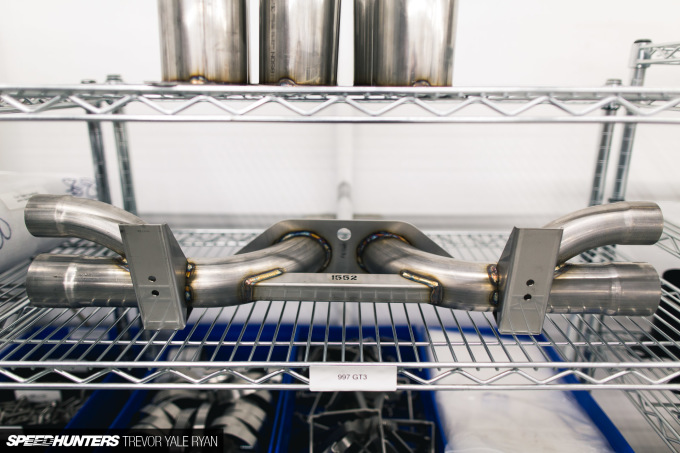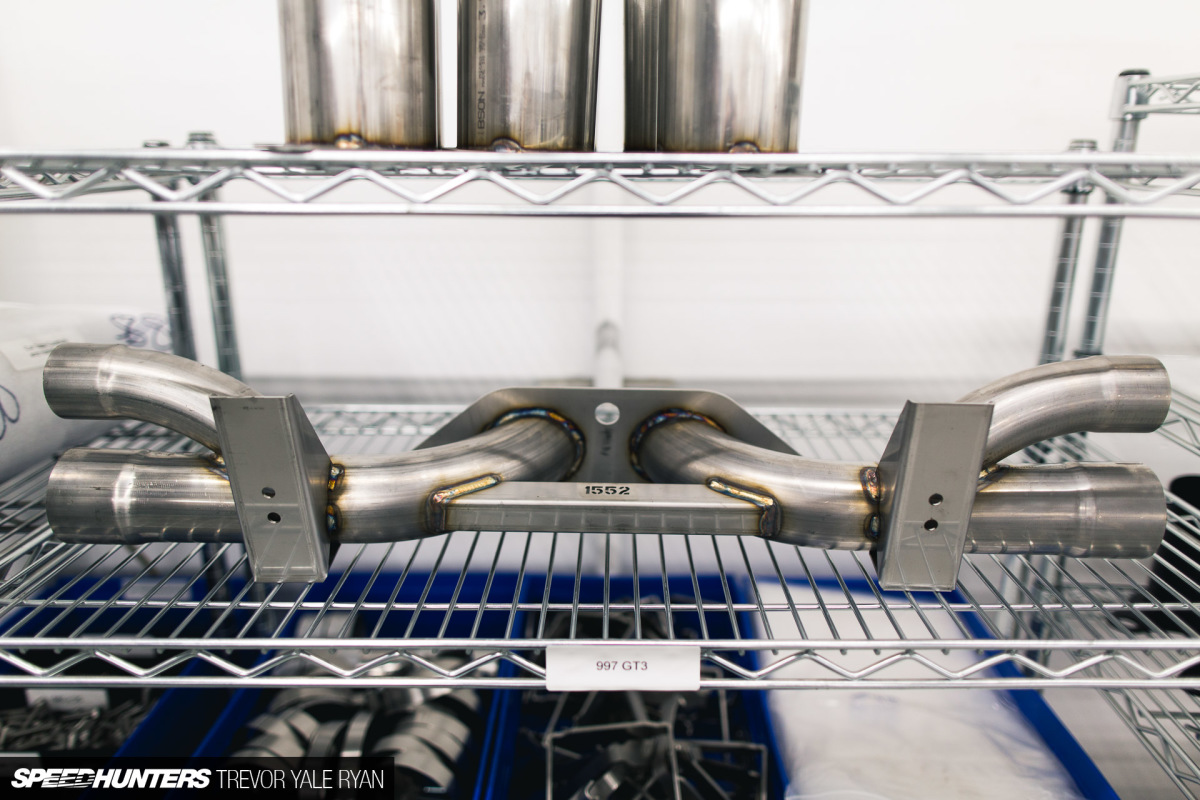 One of SharkWerks' most popular products are their exhaust units which will not only give you a bump in power but also a great sound; have a listen to a set of their race pipes on the dyno below.
If this doesn't bring you great joy, I'm not sure what will.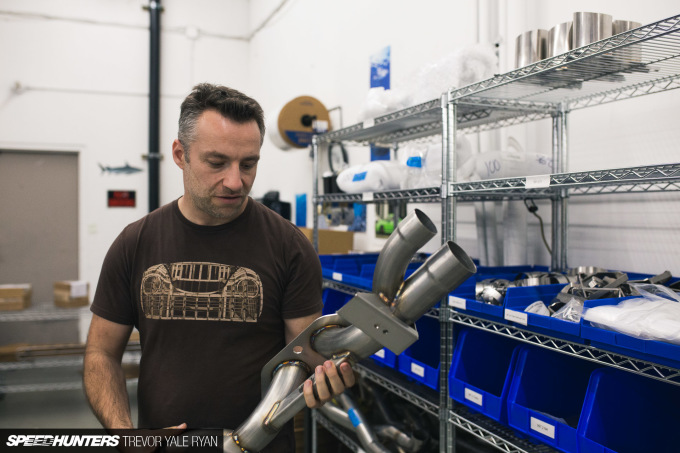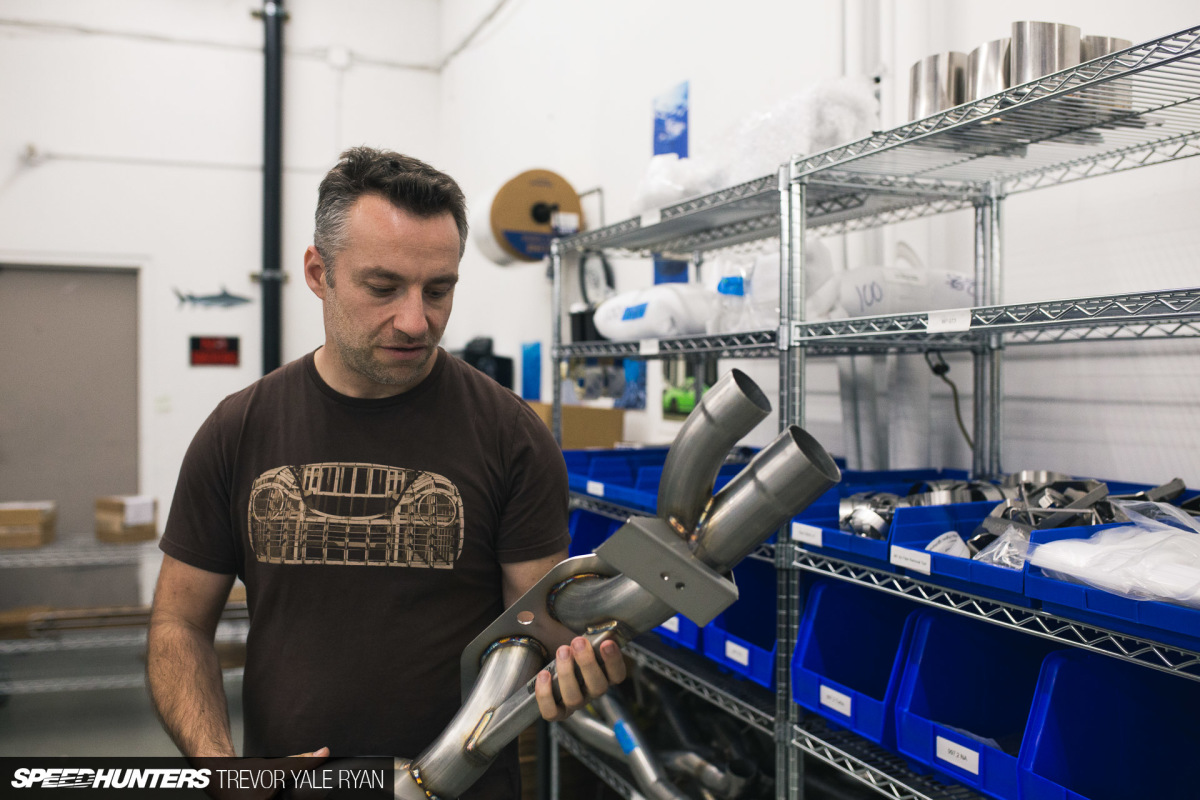 Alex explained that while all of the initial design iterations and development happen in house, production is done elsewhere in the US. Rather than dedicate their own manpower to producing the units, SharkWerks prefers to make a bit less money on each set and continue innovating to create new products.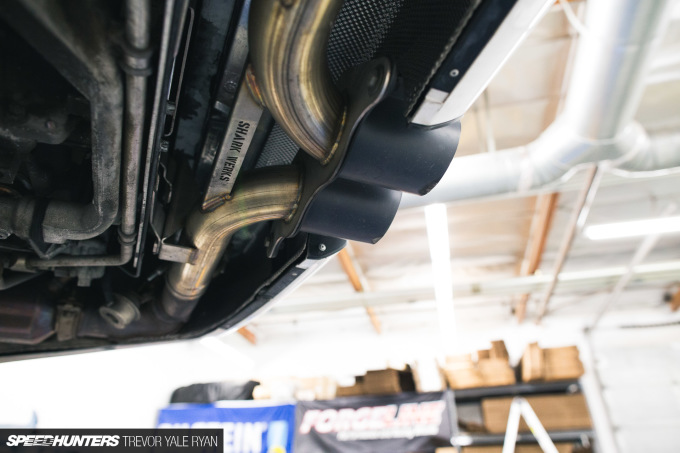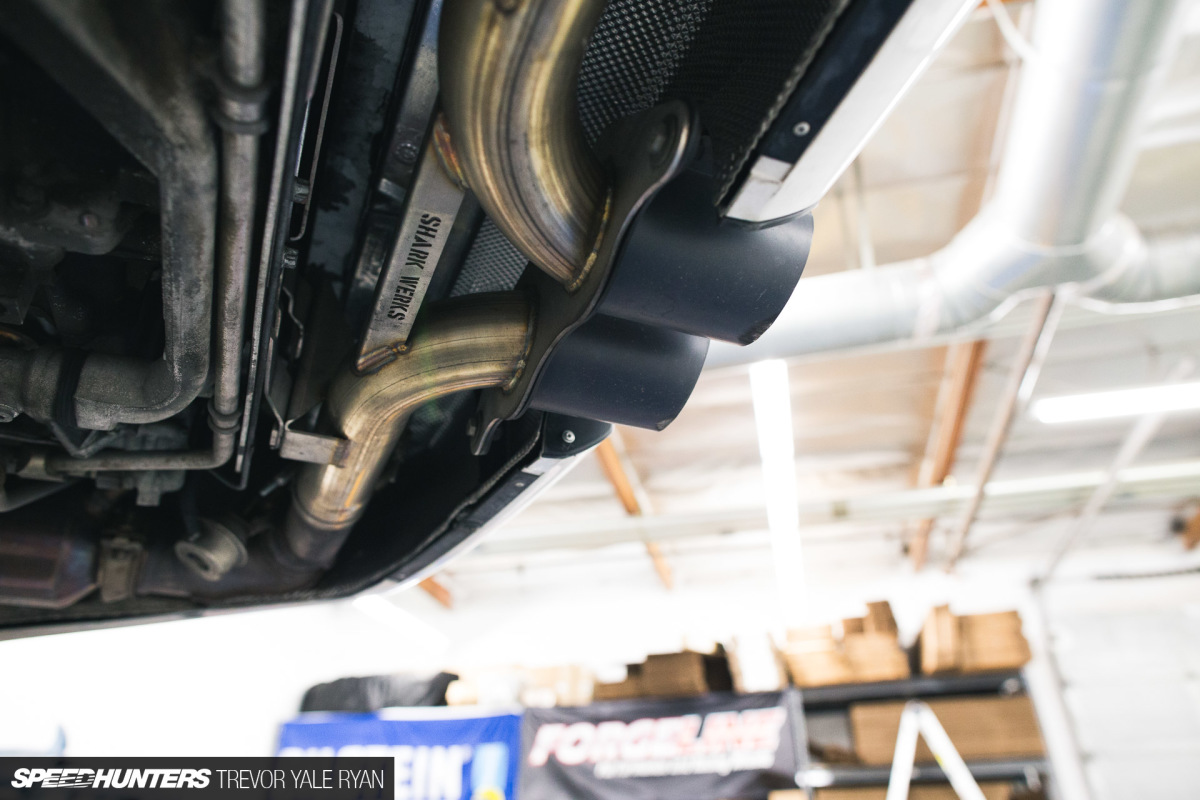 In my chat with Alex I also learned that all of their products have been designed to play nice with the factory Porsche bits, something that Porsche itself has actually taken note of.
This is no small feat, but SharkWerks has managed to get the attention of the manufacturer by not completely throwing out the original work it did, instead finding ways to make it all work better and last longer in a strained environment.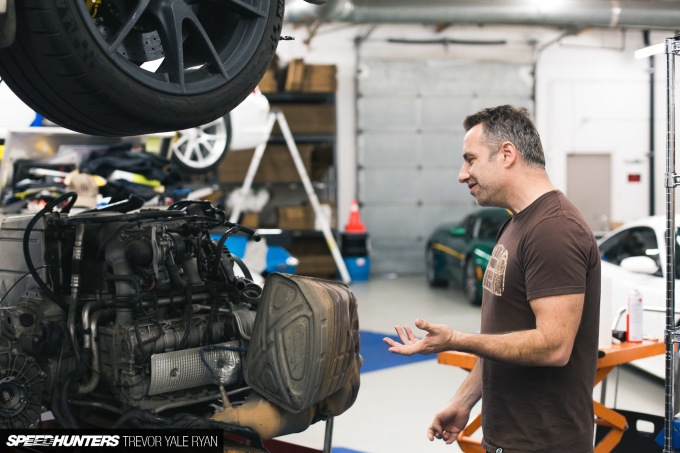 Getting Porsche's attention took years and years of hard work, but Alex tells me there are a few things that really make sense to do to these cars if they're going to see any regular abuse. When you're producing tens of thousands of cars, you simply have to make some sacrifices in the factory.
After all, the vast majority of sales are to people who just putt-putt around town to get groceries and the like. But for those going to the track, the glued-in coolant lines are bound to come loose eventually, and plastic bits will become brittle much more quickly from the extra-intense heat cycling.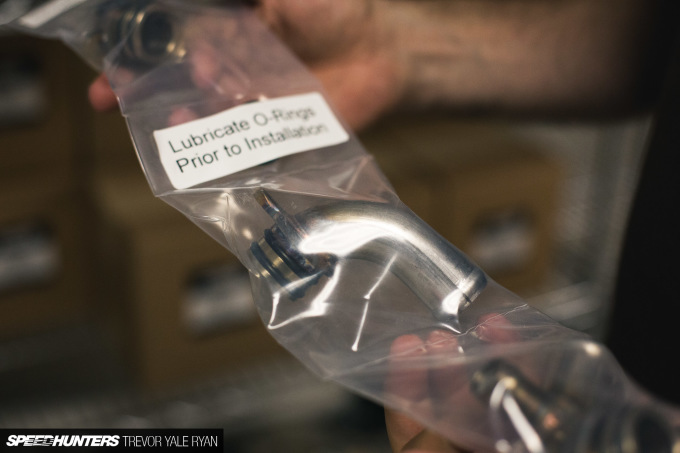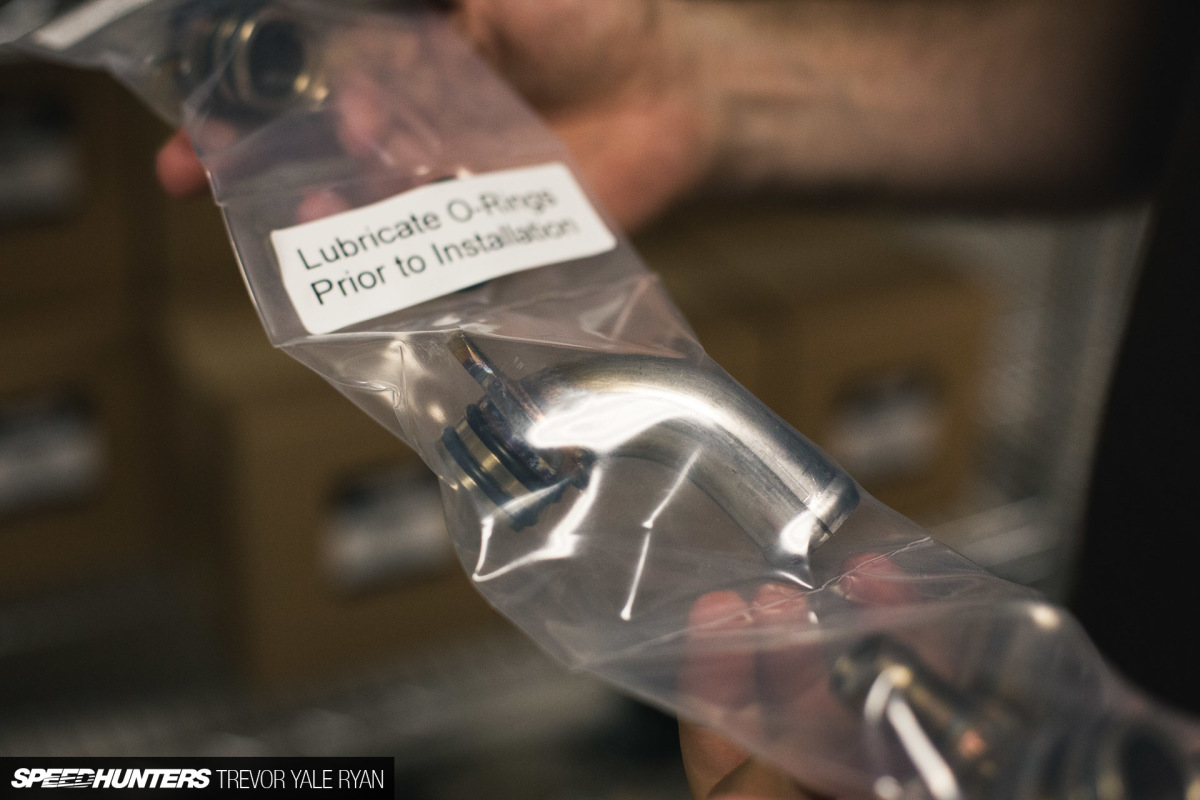 That's where parts like these metal coolant inlets, which replace a factory plastic piece, come in. It's a simple enough component, but one that is just a no-brainer to install when you're doing some maintenance work. Few things are worse than spewing coolant on a racetrack, especially when the only place for it to go is all over your rear tires.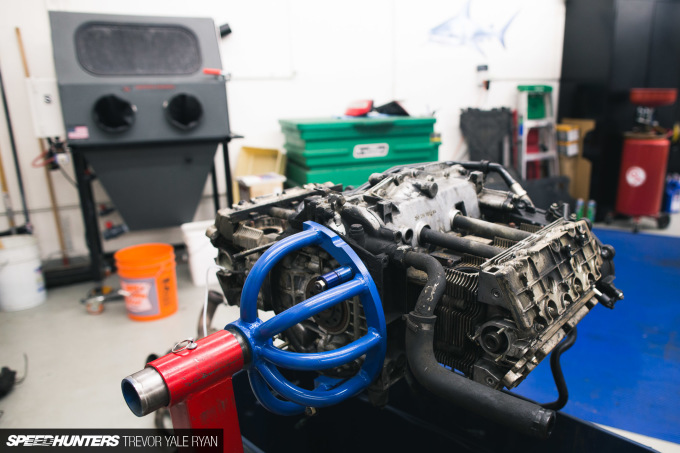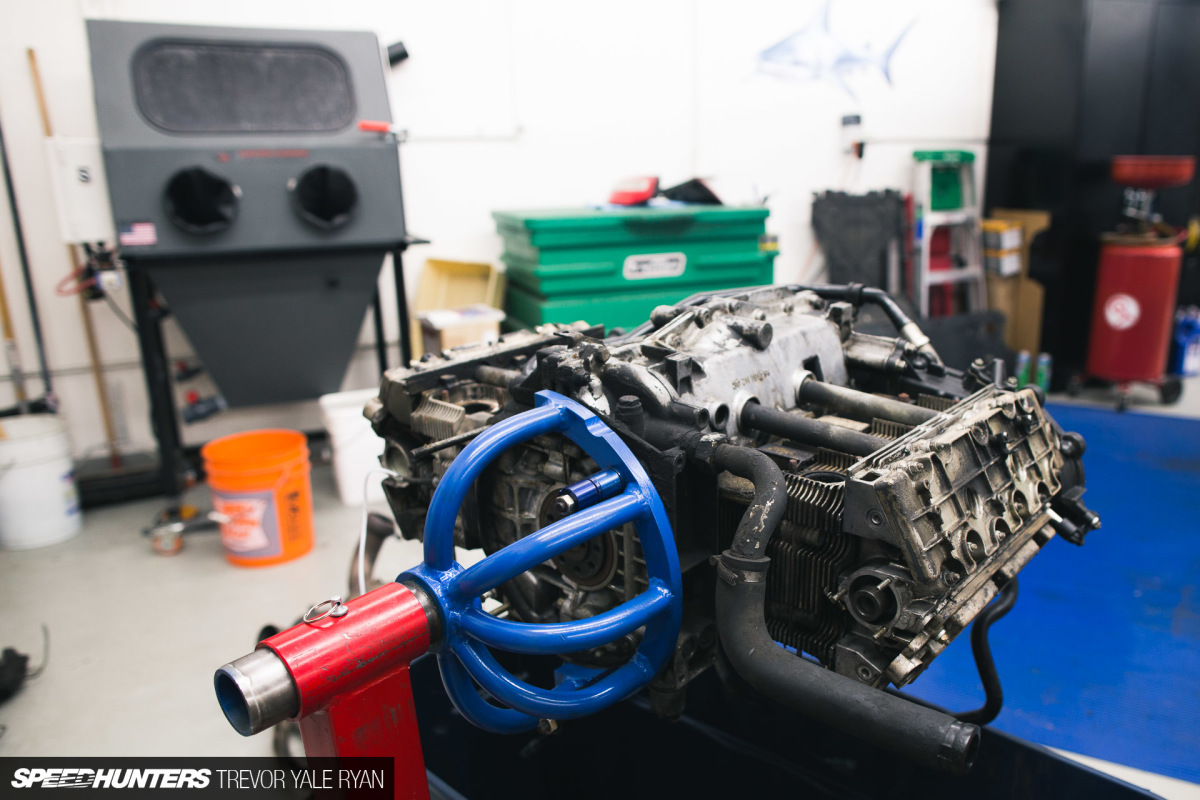 Along with the bigger stuff (engine builds, power kits, re-gearing, and so on) that SharkWerks regularly does, the three guys — along with Joan Wood, another entrepreneur at SharkWerks behind the scenes — are keeping themselves quite busy.
But how did all of this start in the first place?
Into The Shark Tank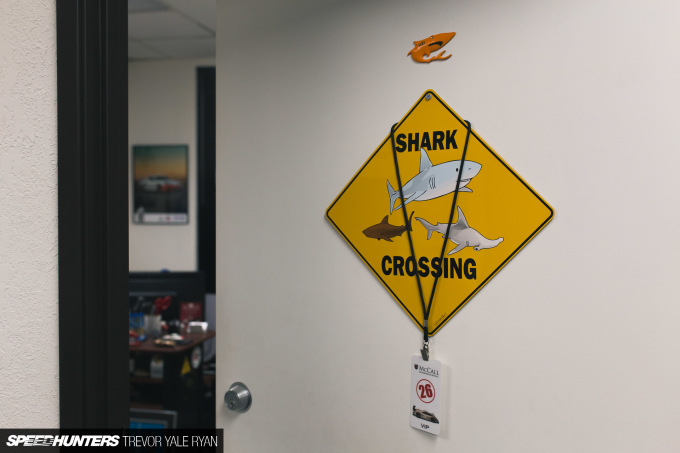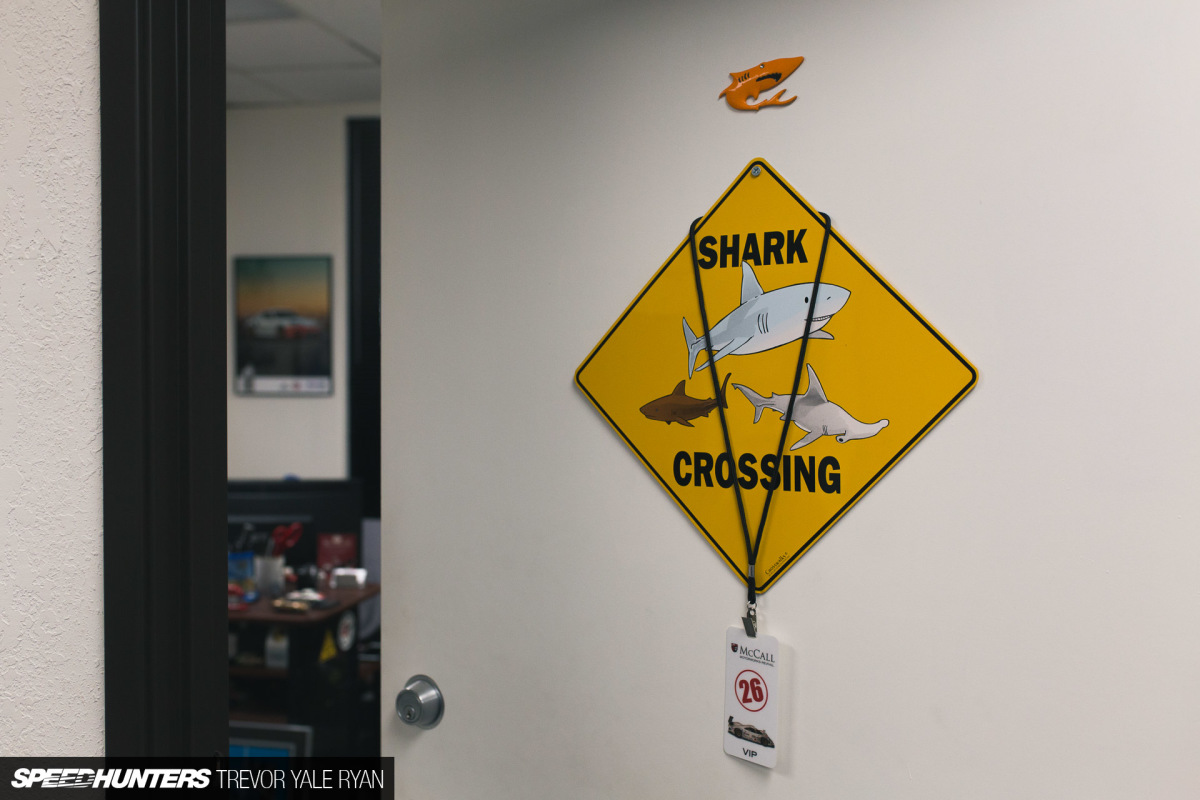 After a look around at all the parts and toys, I went for a dive into Alex Ross's office to see what I could learn about how SharkWerks came to be.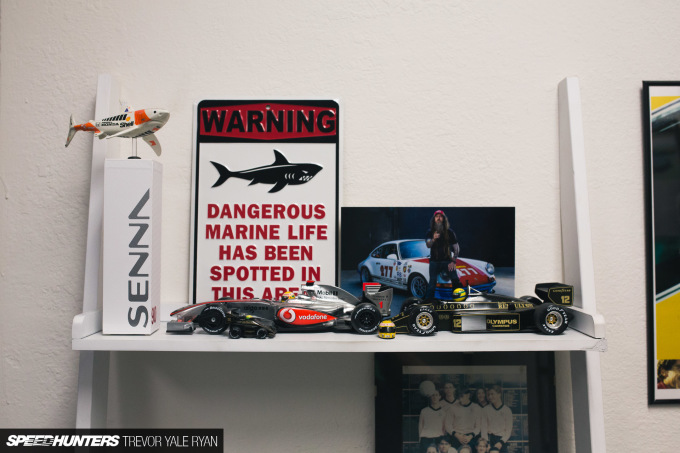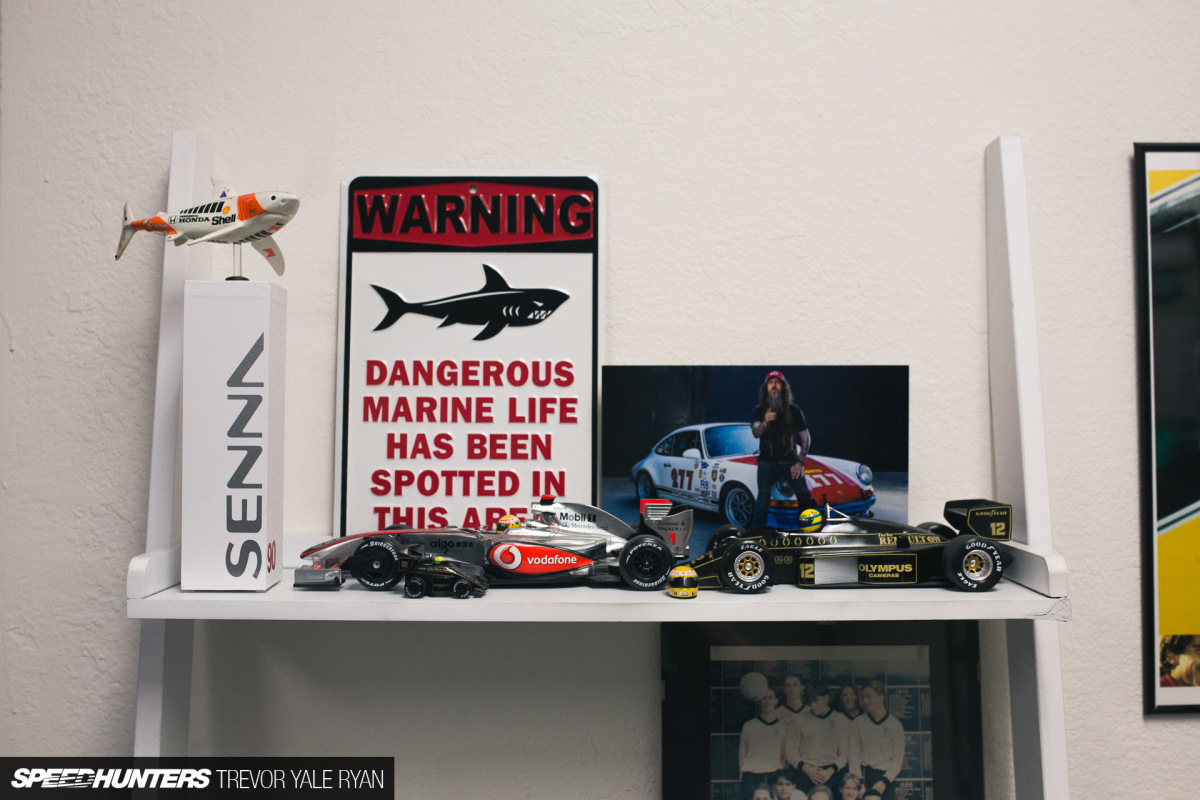 First off, I found another entire collection of small cars hiding among personal momentos.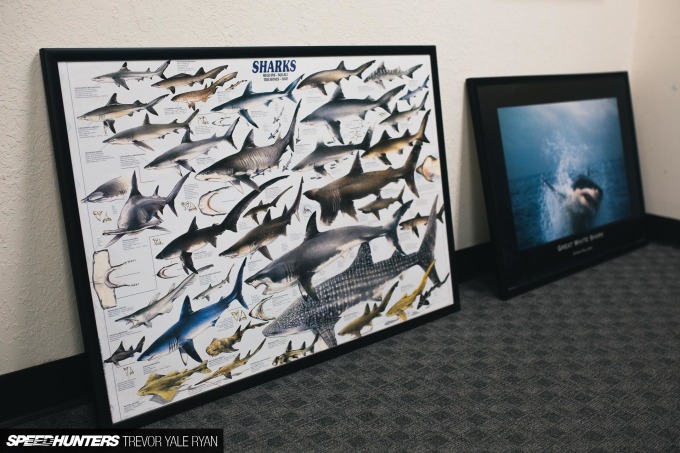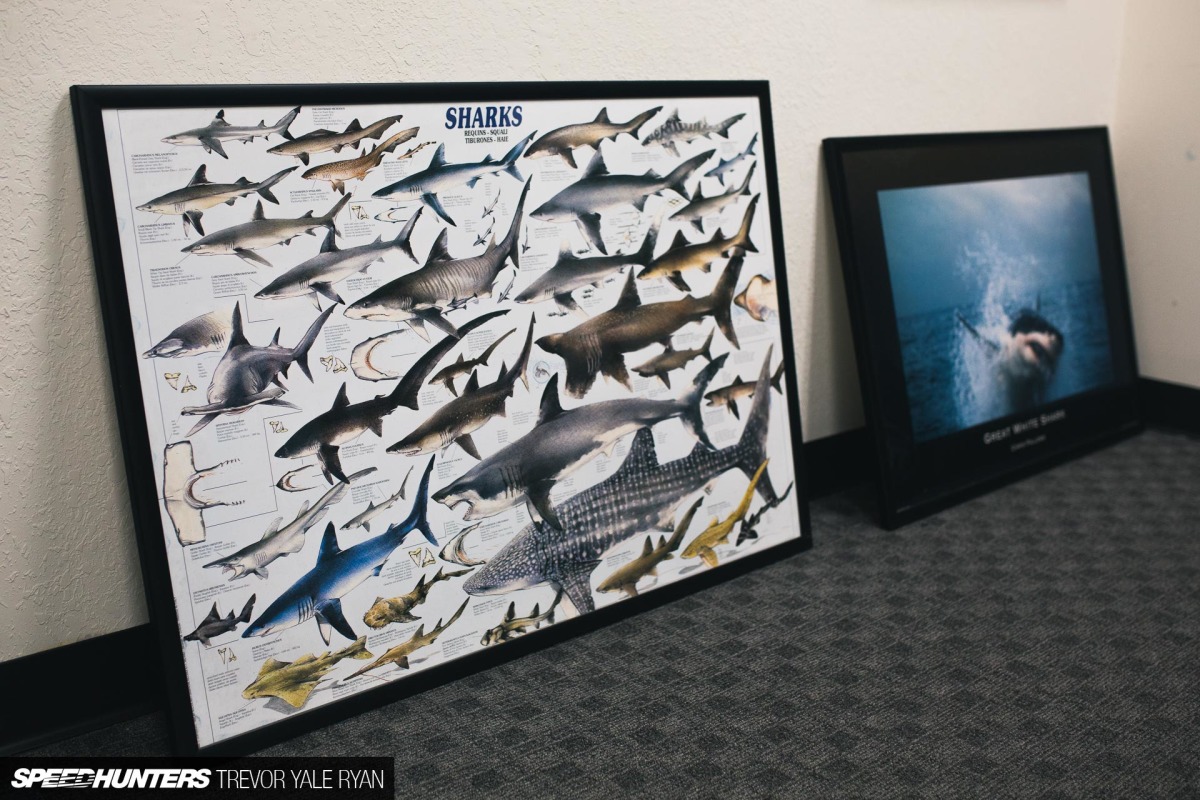 And, more sharks!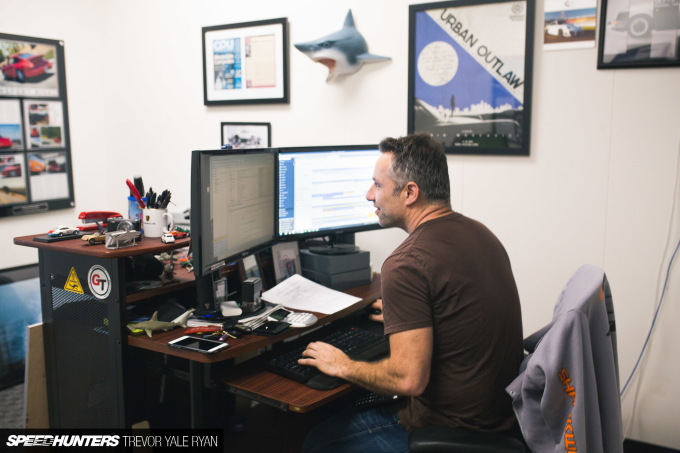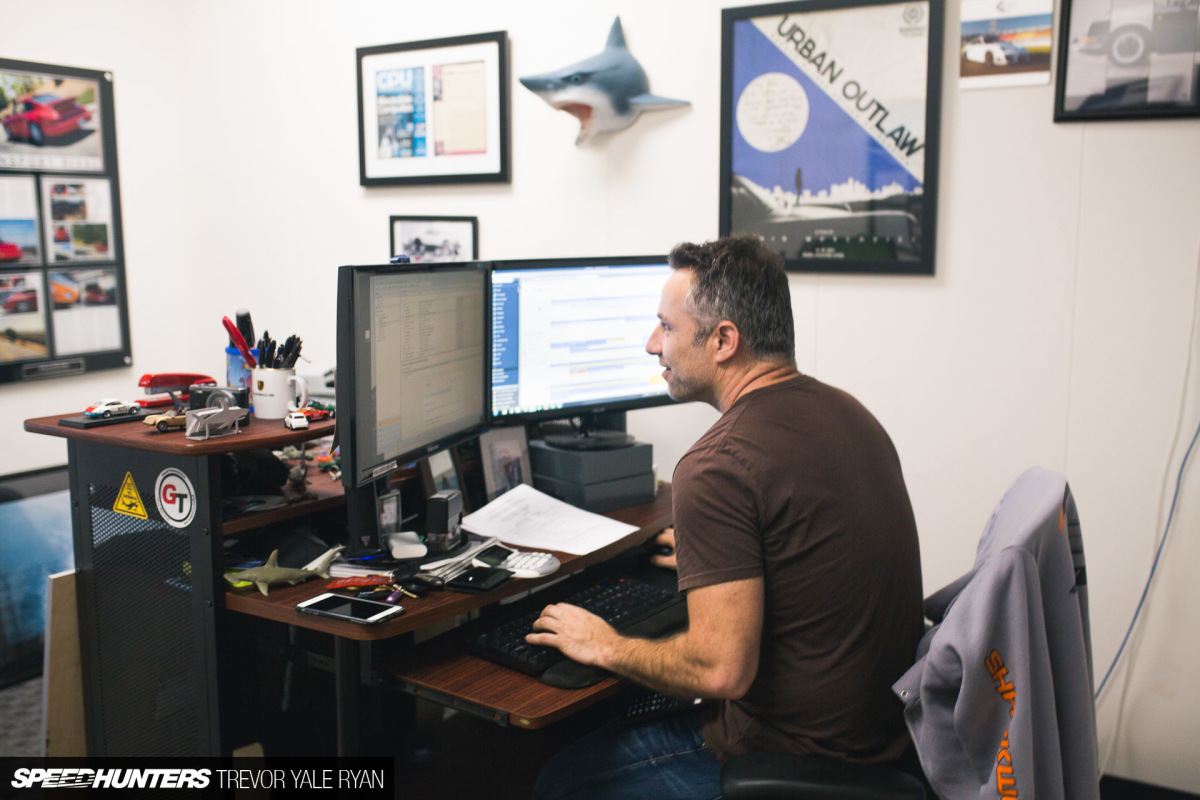 Alex was doing work at his desk when I came in for my investigation, but I promptly derailed him.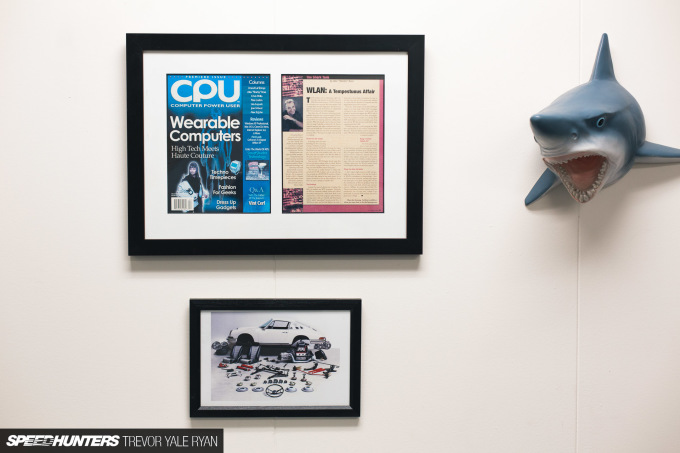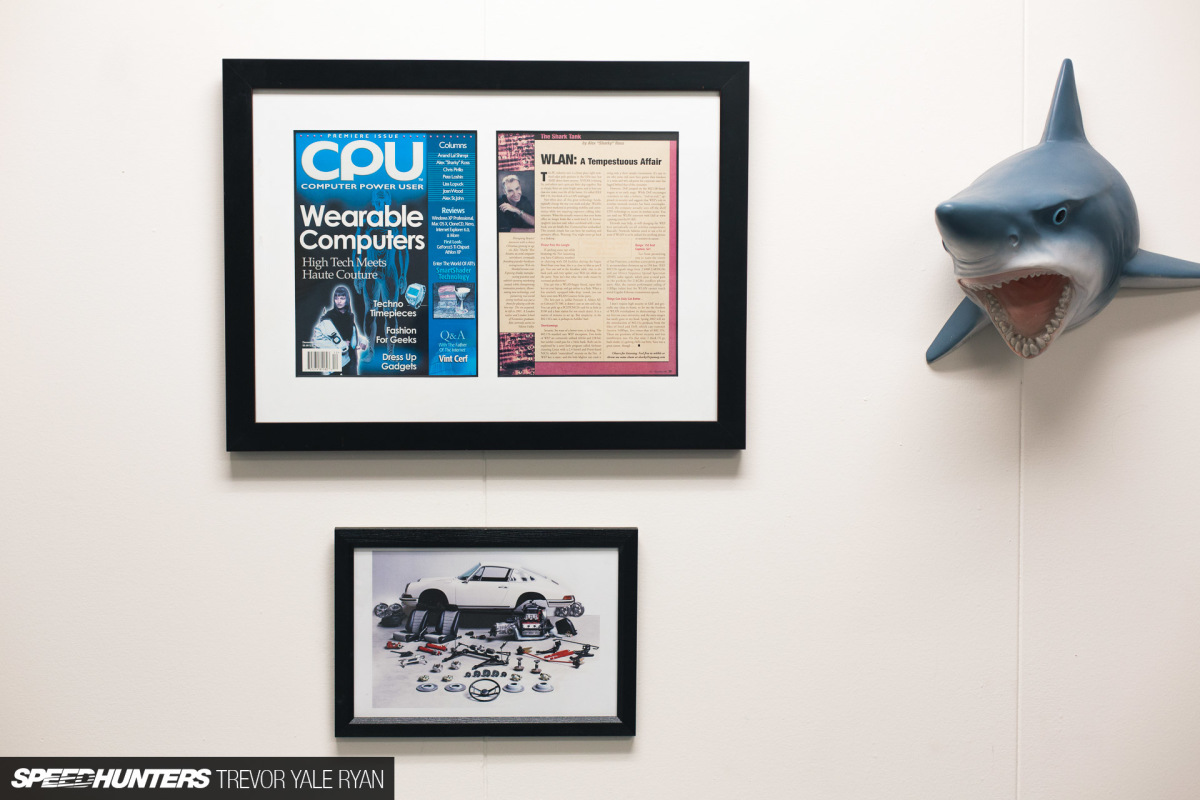 Previously a dot-commer, Alex started and operated a hugely successful computer hardware review site called SharkyExtreme. So really, he was a journalist, working 18-hour days and travelling around the world to tech conferences and the like. It was a bit crazy to learn this, as I had visited his site myself back in the day when I started to become interested in PCs and making them faster.
Eventually, Alex had an offer he couldn't refuse and sold the site, enjoying a few years of early retirement.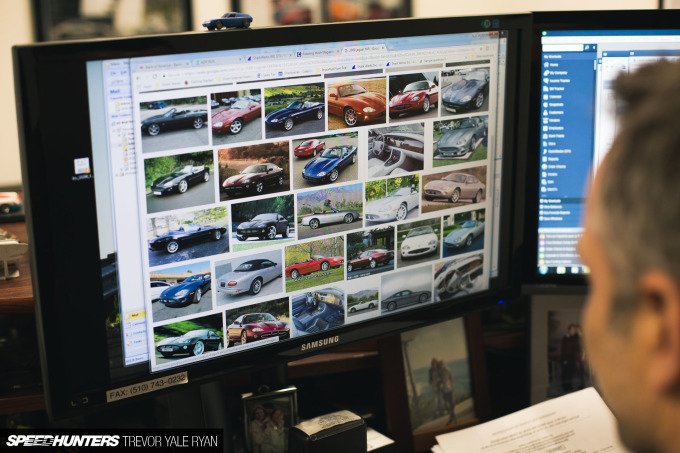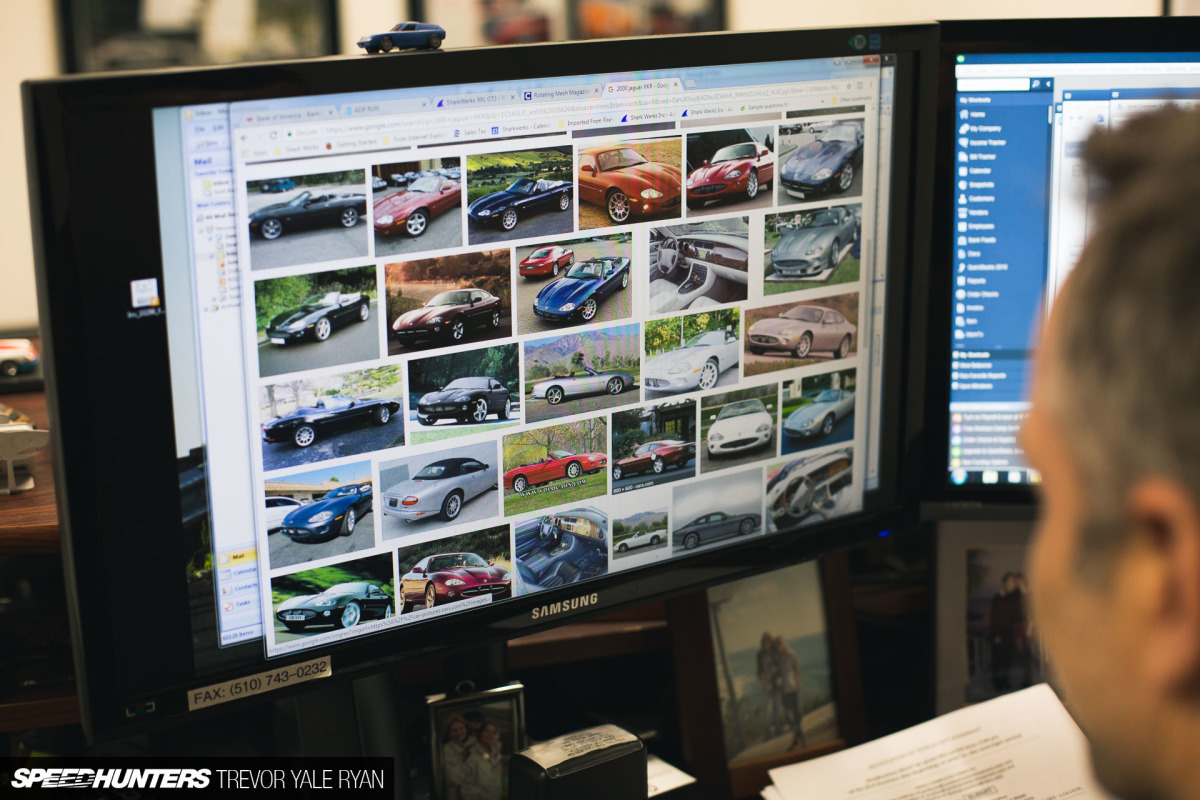 Before getting into the whole Porsche thing, Alex actually owned a supercharged 2000 Jaguar XKR and had a good time smoking American muscle cars with the British sleeper (bonus points since he's British, too).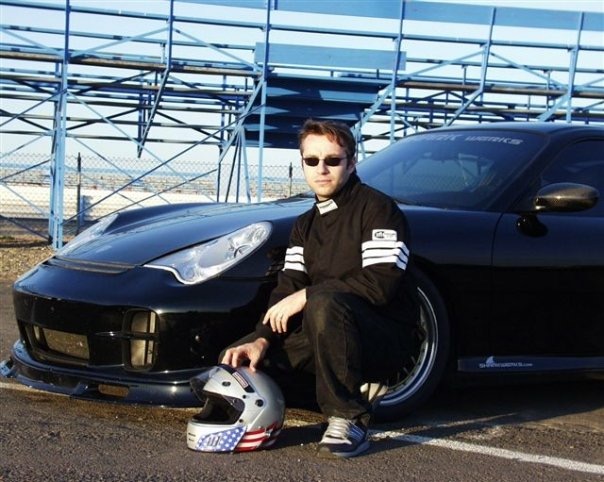 That wasn't enough, though, and Alex switched over to a 996 to turn it into a 10-second monster at the drag strip. This is Sharky himself after pulling a 10.5-second ET at 137mph. His quarter-mile car generated a lot of interest online but eventually Alex became more interested in road racing and setting up a more balanced car.
A few years of retirement was enough, and in 2005 he and James got together to start SharkWerks where, of course, they focused on overall driver experience and reliability instead of chasing raw power.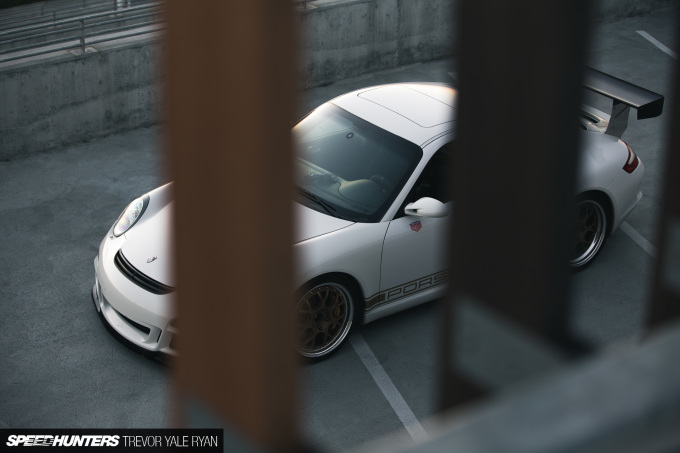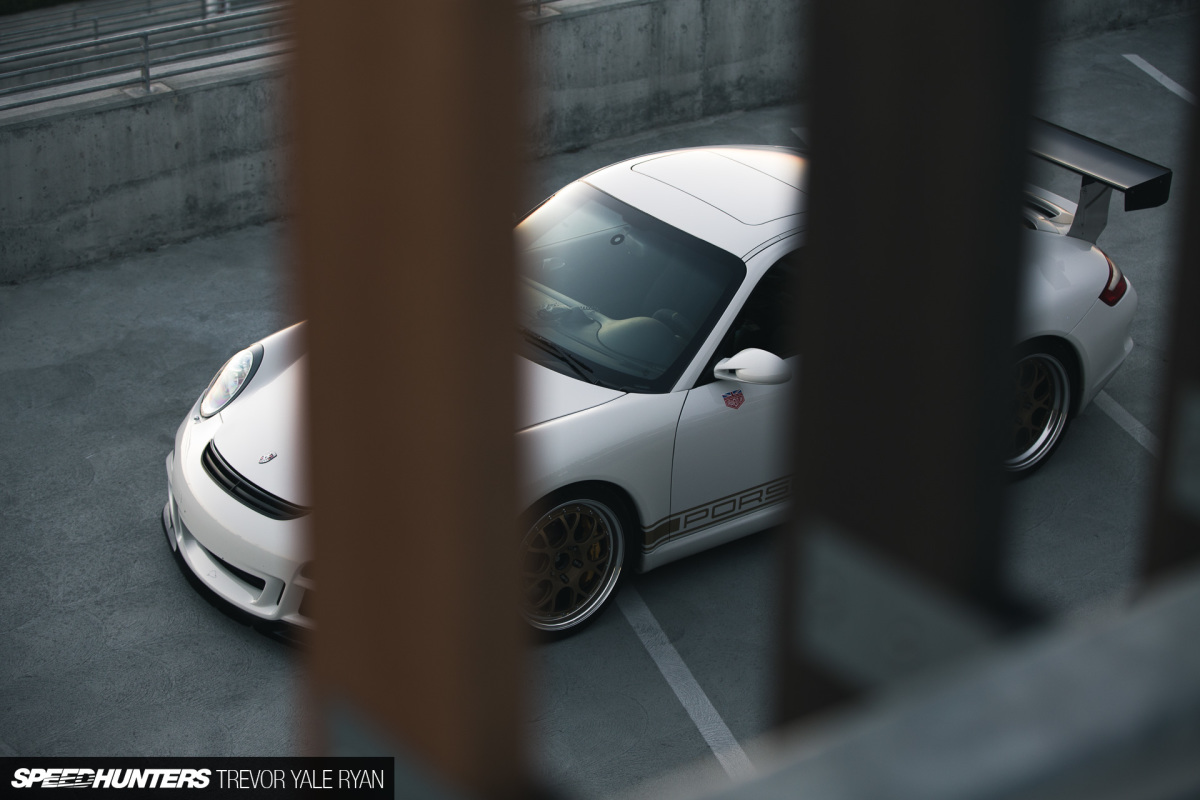 From there, the rest is history – SharkWerks has grown significantly, both in models covered and friends made. One such friend lent us his SharkWerks-built 4.1 GT3 car for the evening, and Alex and I took it out to get some photos and talk more about cars.
Arguably the best way to spend an evening.
Trevor Yale Ryan
Instagram: tyrphoto
TYRphoto.com
Cutting Room Floor