Getting HLS Equipped
I think I can safely say that I have the most varied collection of project cars in the SH Garage. I have my 1970 240Z, also known as Ole Orange Bang. I have my 2007 6-speed manual FJ Cruiser off-road vehicle. And out of left field I have a 2003 Porsche 996 Twin Turbo X50. That's one classic beater car, one off-road chase vehicle, and one German muscle car.
While each of my projects get equal attention, the 911 is the only one I am striving to achieve automotive perfection with.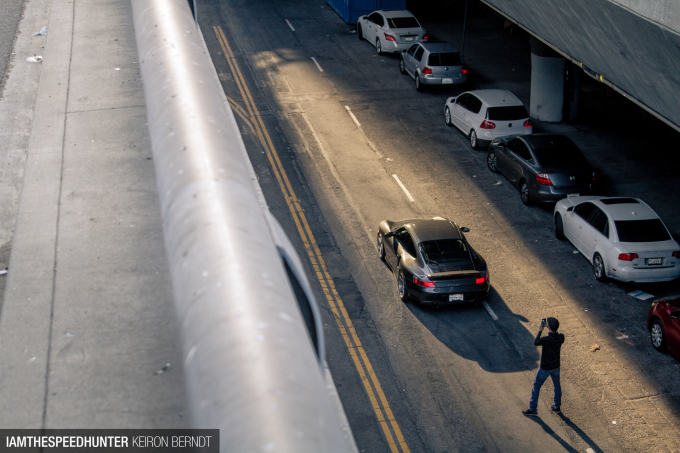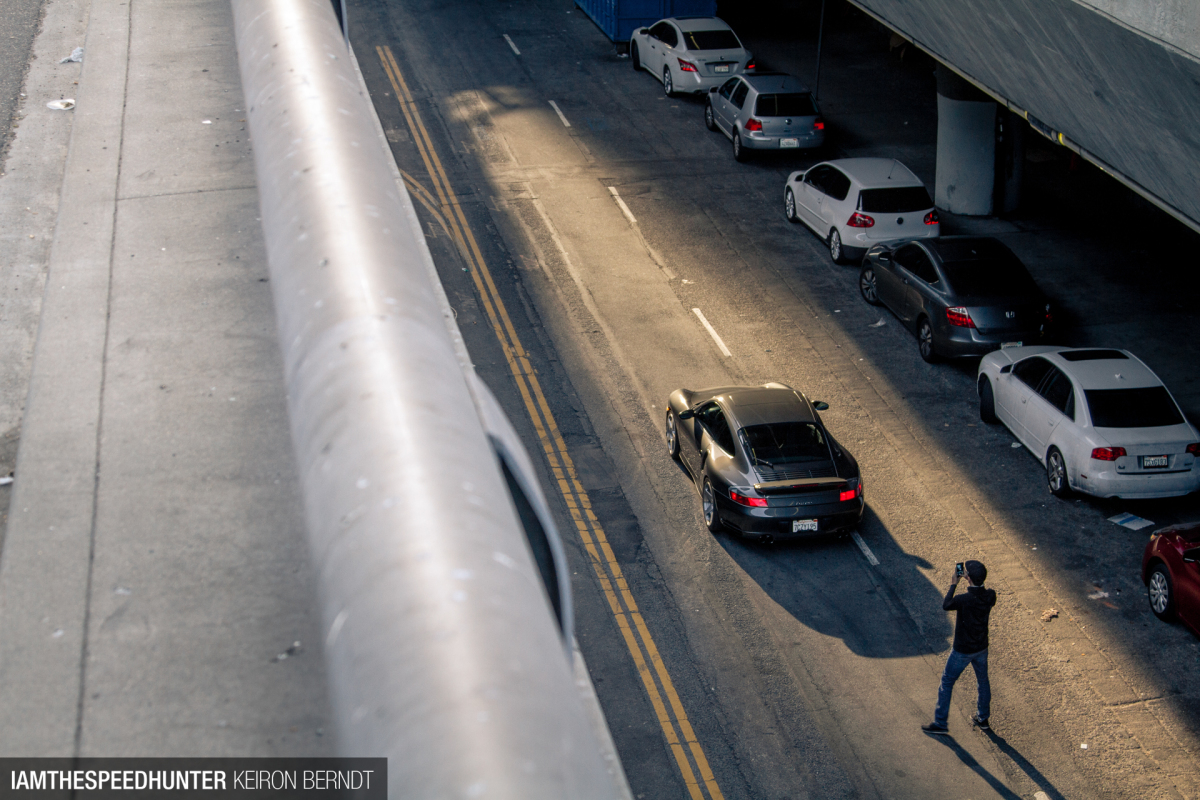 Ever since I bought the car a few years ago, I've been fixing and upgrading things piece by piece with the goal of it being my own interpretation of what a perfect 996 should be.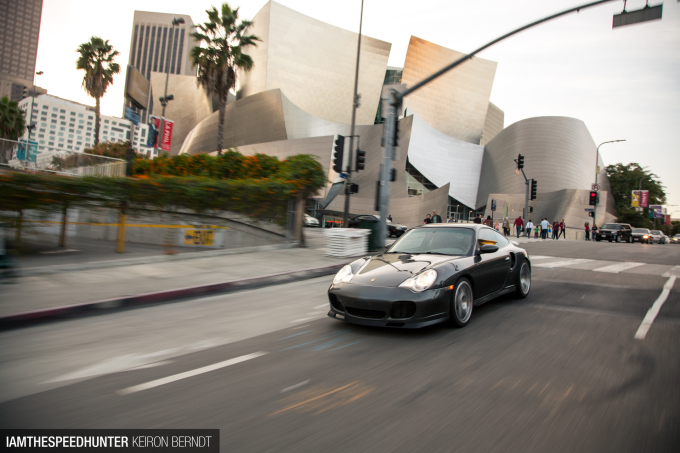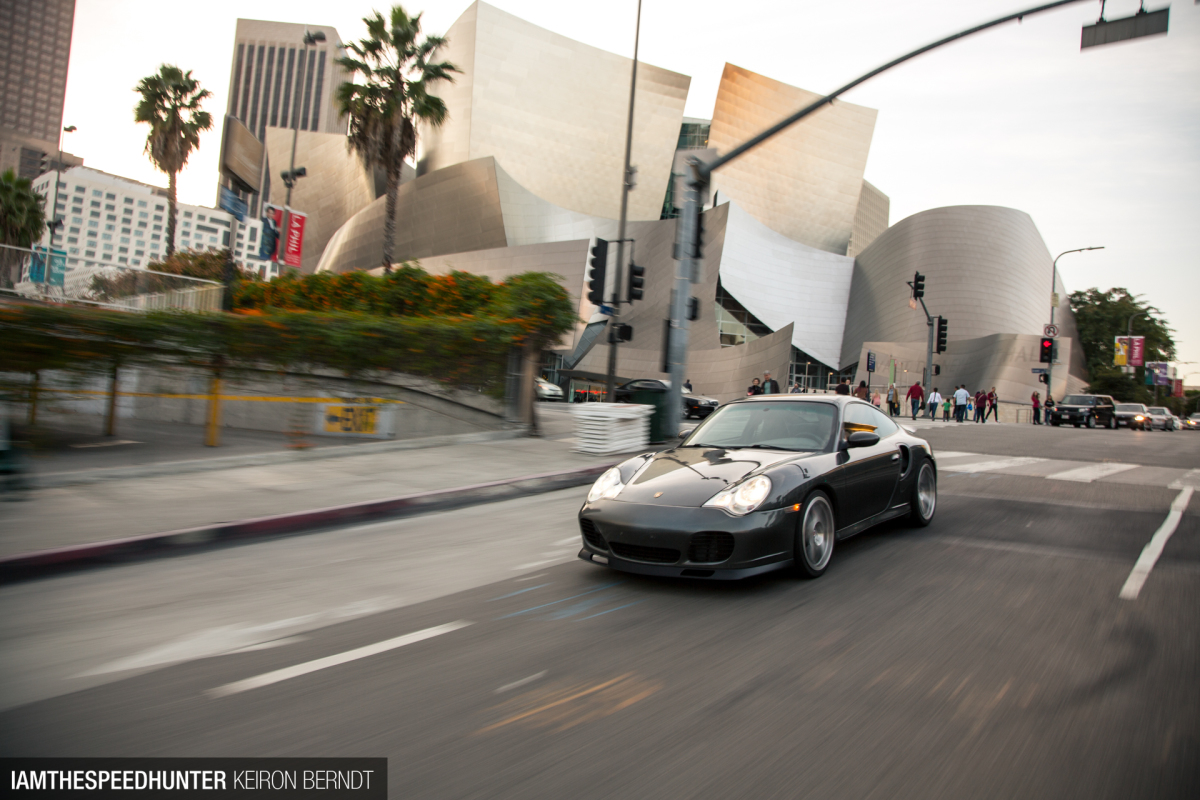 The look, the stance, the sound and the feeling I get while driving it is all equally important, and in this update I'm going to address two of those three things.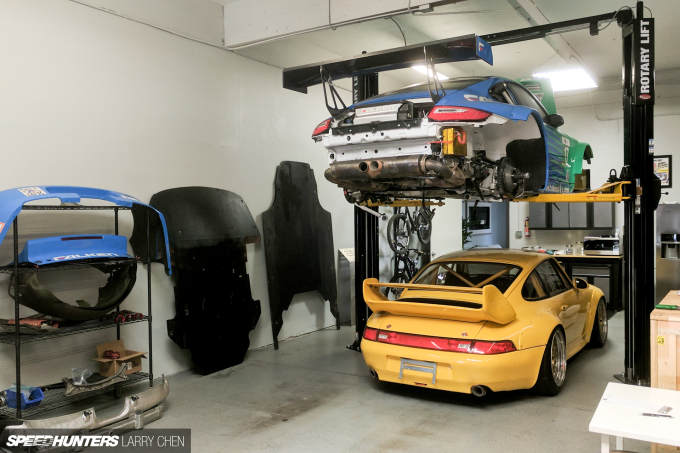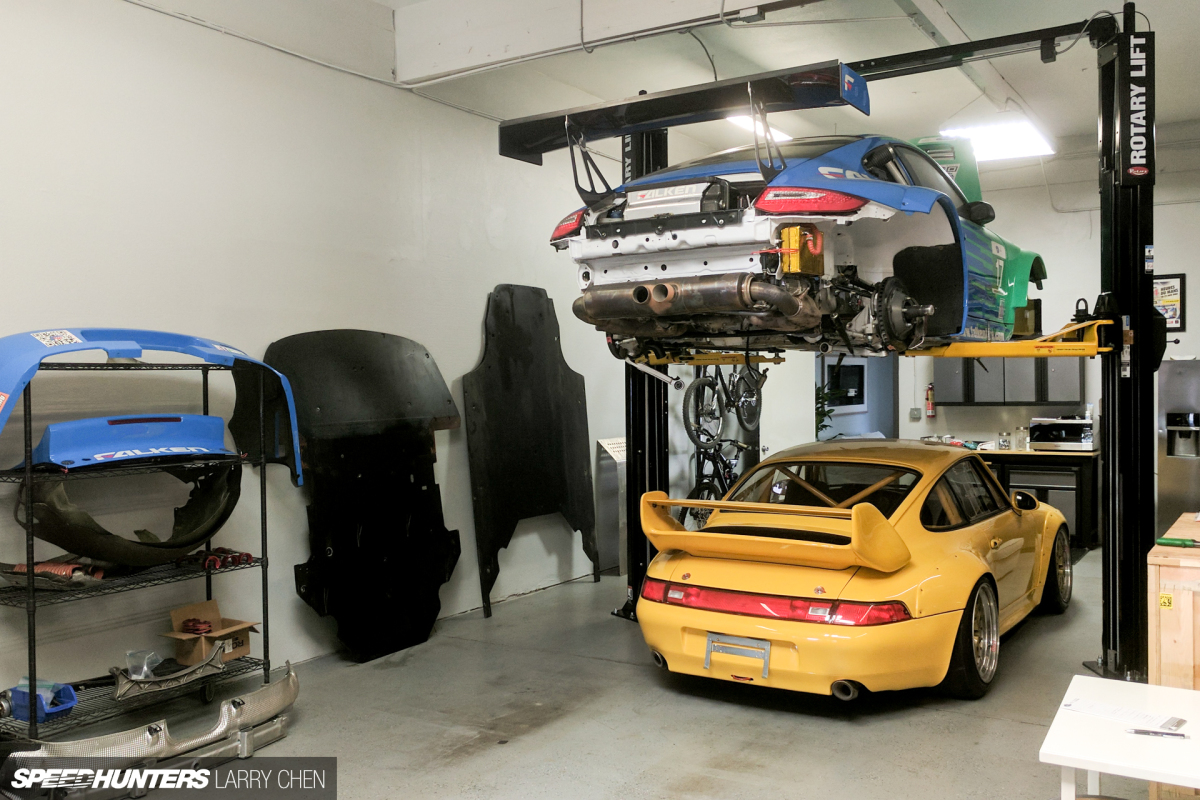 As much as I would love to work on the car myself, I just don't have the know-how, the space, or the equipment to undertake any major jobs, hence why it's visited a number of different shops in Southern California since I've owned it. Not all of my shop experiences have been great, though.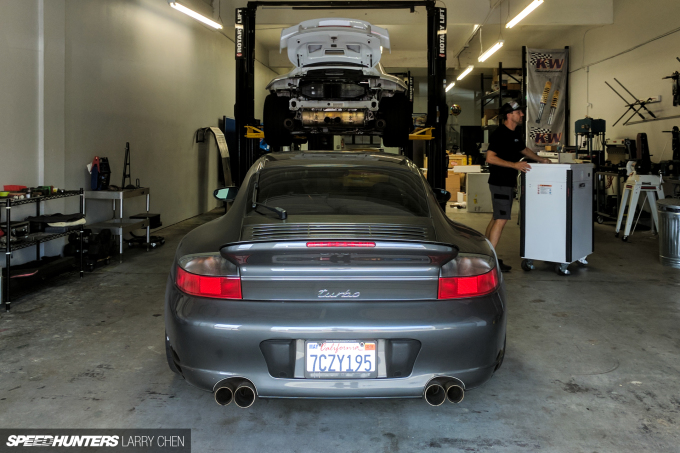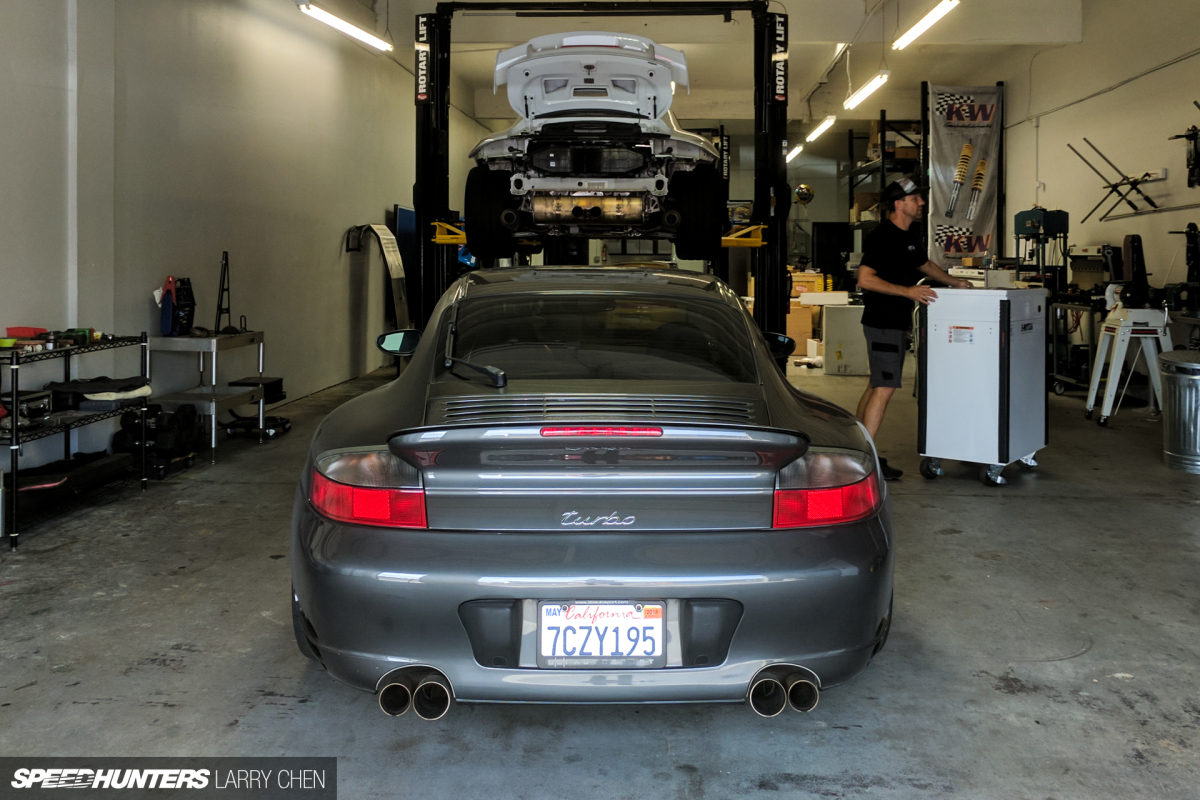 But I only have good things to say about Joey Seely's E-Motion Engineering in Newport Beach, California. While my Turbo is not as valuable as a GT3 RS or the like, it's still my pride and joy and I worked hard to save up for it, so when a shop offers the same level of care and attention it extends to its most exclusive customers, it means the world to me.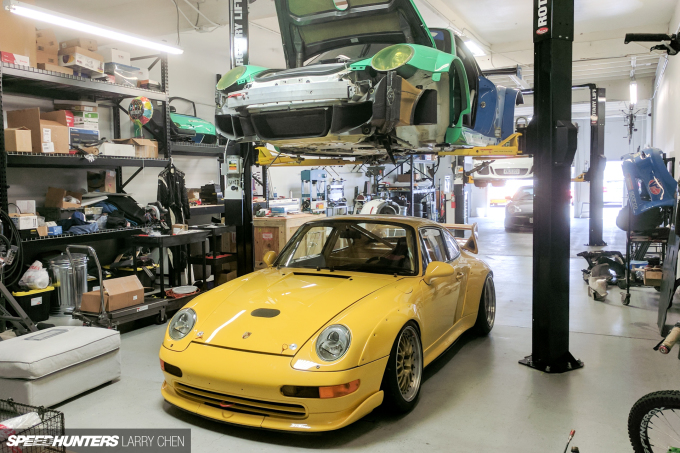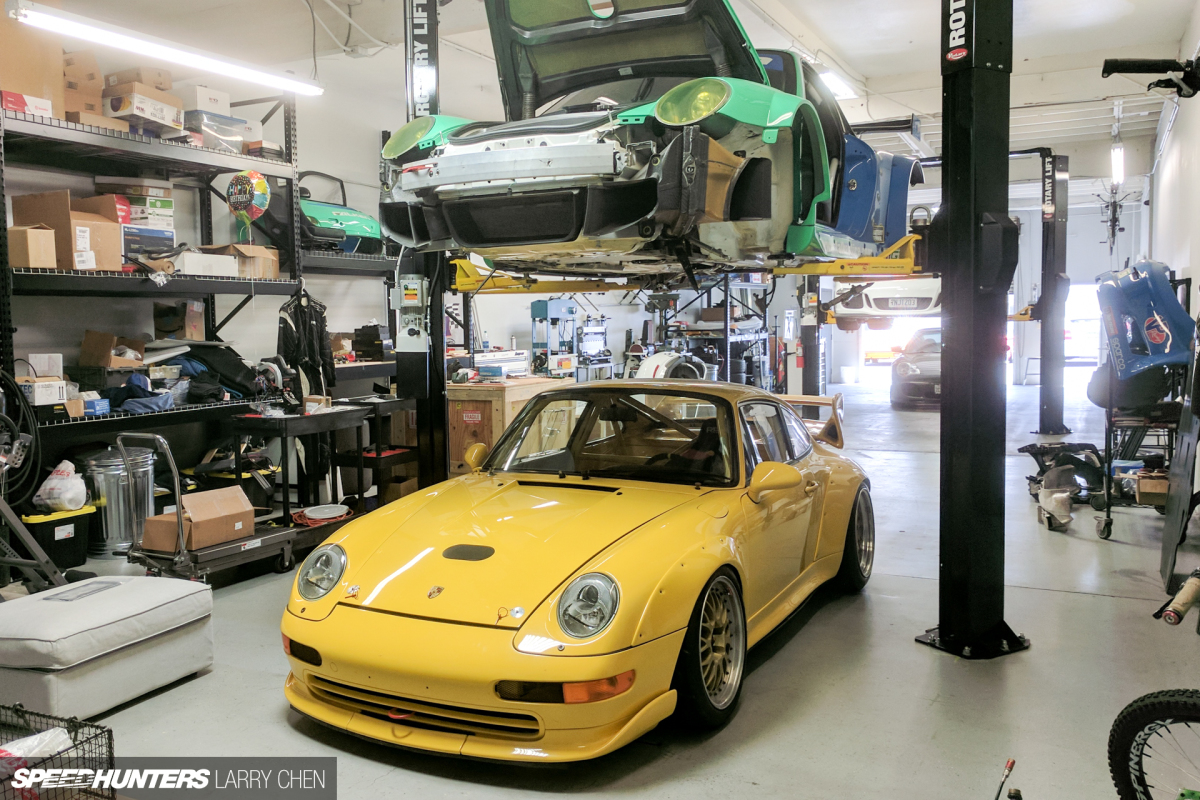 During its most recent visit to Joey's shop, my 996 was in good company too, sharing space with a former Petit Le Mans-winning Porsche and a genuine 993 RSR. You might remember seeing a couple photos of the latter from Paddy's visit to E-Motion Engineering when he was shooting the LuftAuto #002 911.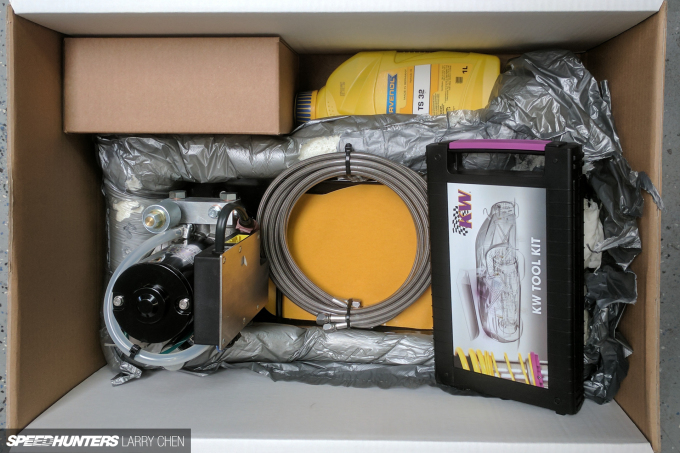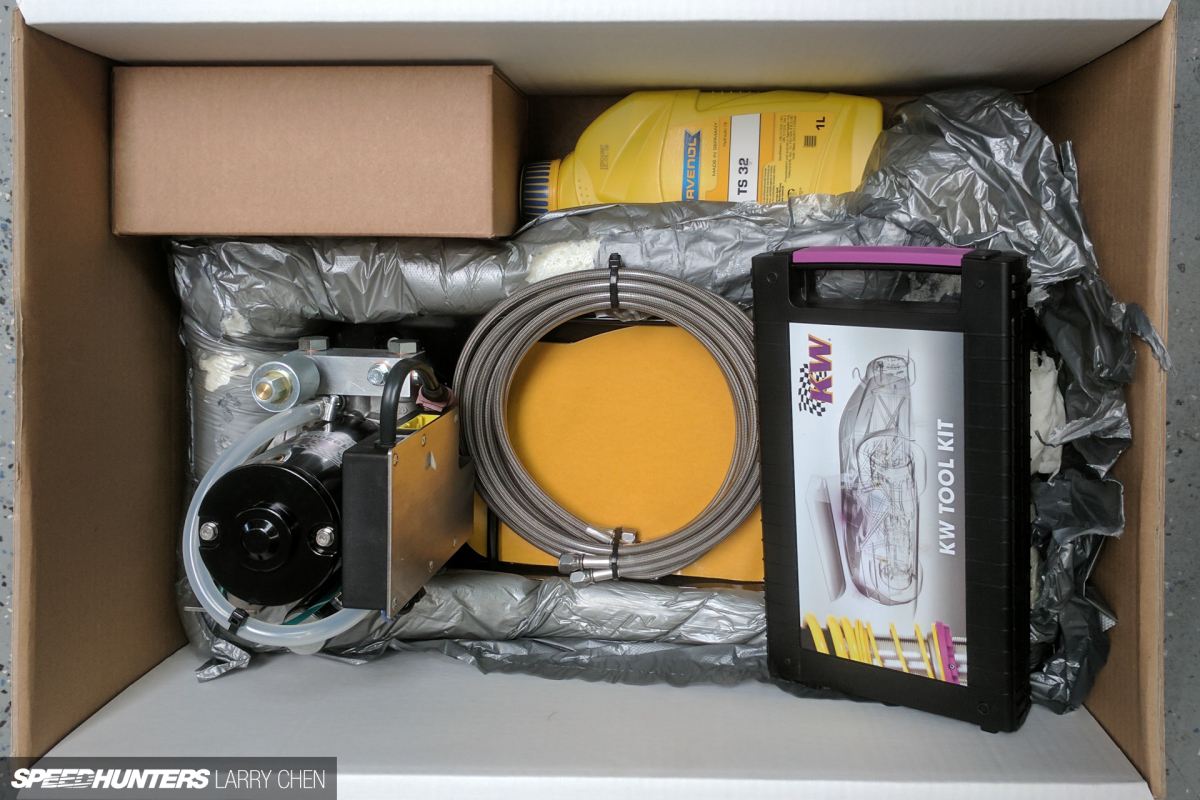 In my last Project 996 Turbo update I mentioned that I had destroyed my brand new Porsche aero lip as soon as I bought it. I had KW Variant 3s in the car which rode amazing, but with the look that I wanted my Porsche was just too low to go up any driveway or over any sort of ramp.
Enter the KW Suspensions Hydraulic Lift System, or HLS for short.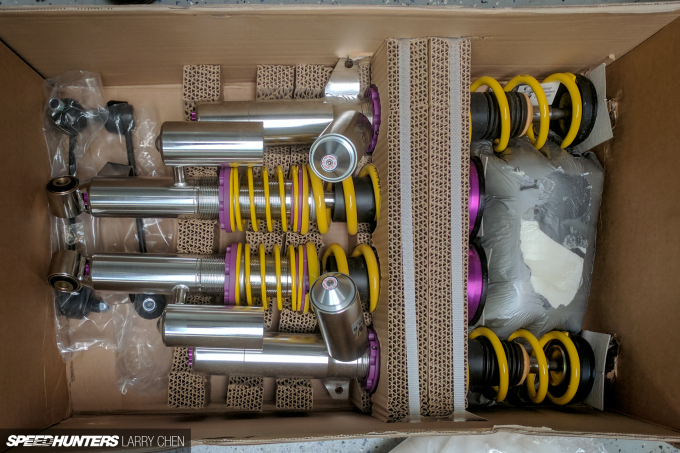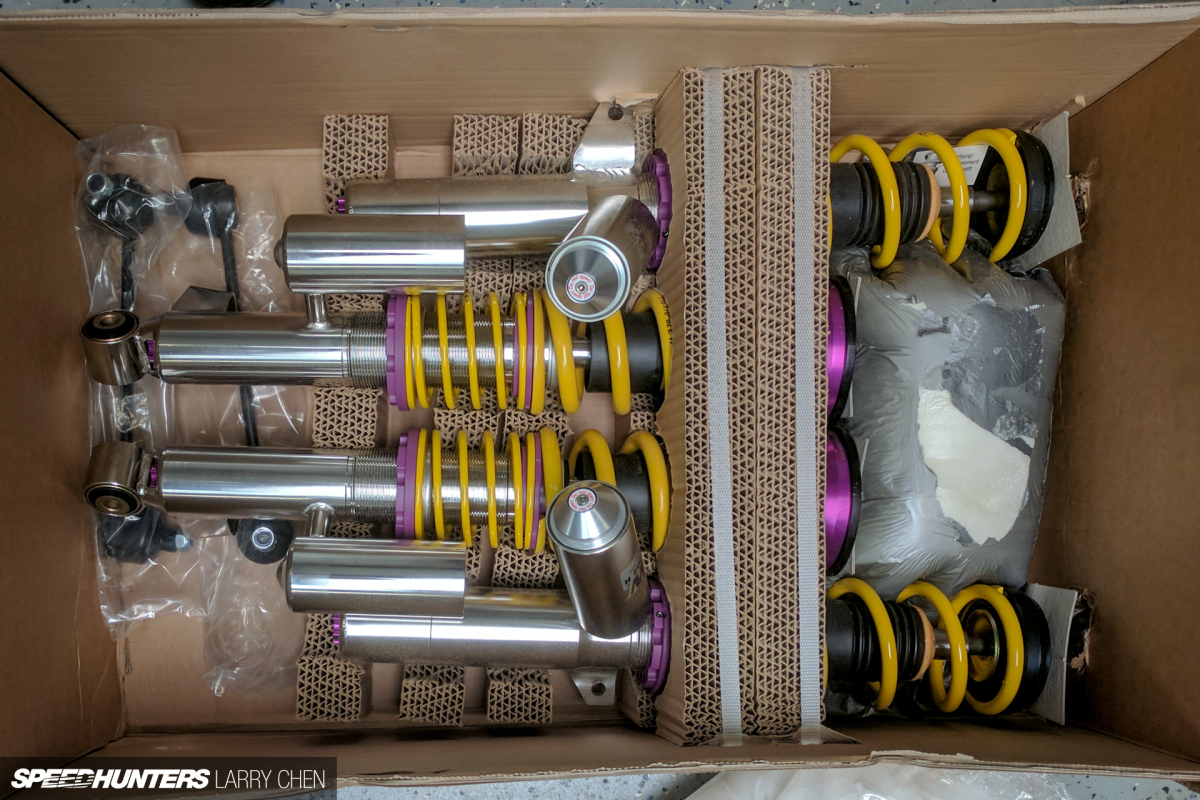 In doing the HLS upgrade, I also took the opportunity to switch from the V3 coilovers which are more aimed at street performance, to KW Clubsports which are designed with track driving in mind and have the valving, adjustment and spring rates to suit.
The HLS system is installed right under the springs to give it just enough lift for me to clear pretty much any driveway, including the one leading into my own garage.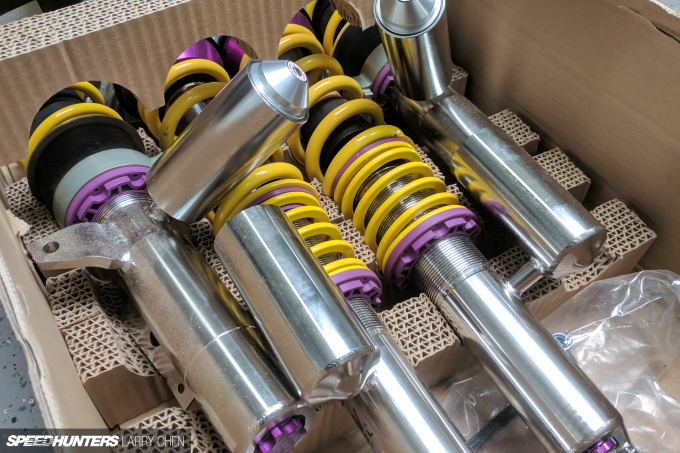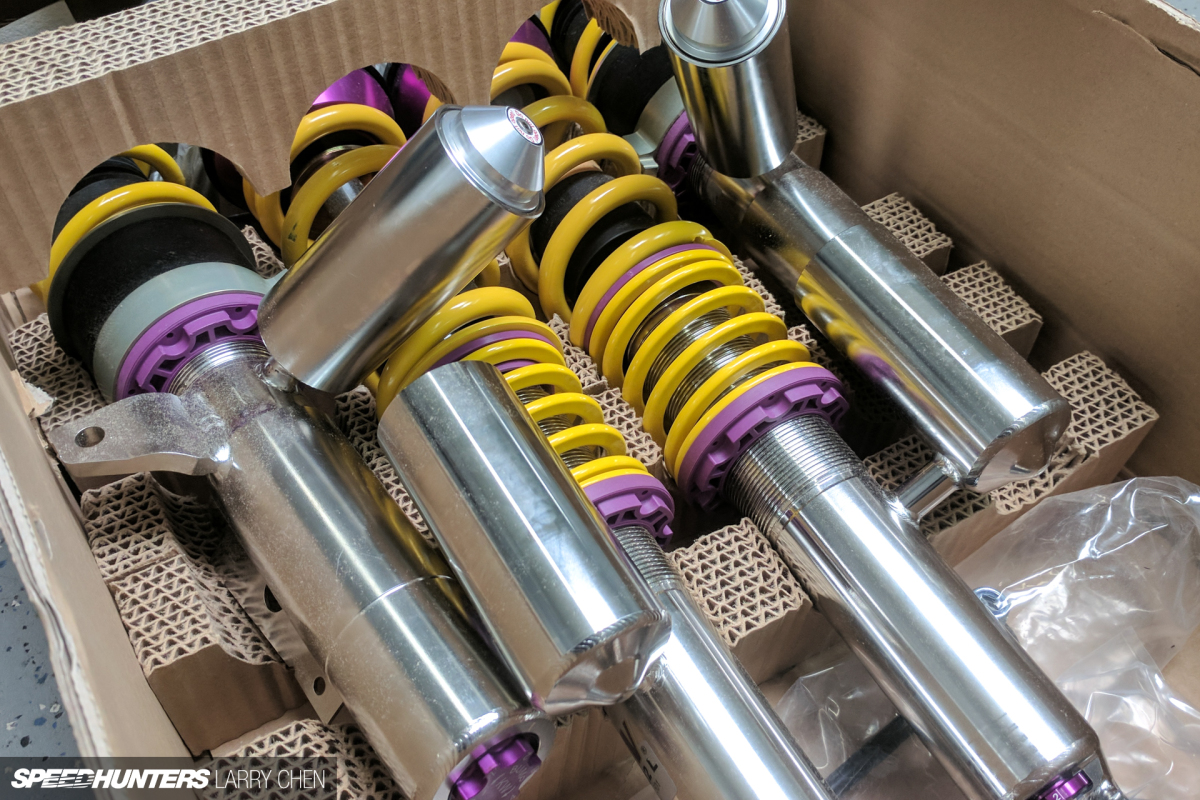 While KW does make an HLS that allows for all four corners to lift, I only needed the front end lifted due to the way the 996 is designed. I have plenty of clearance in the rear and with 45mm lift at the push of a button, it makes a world of difference.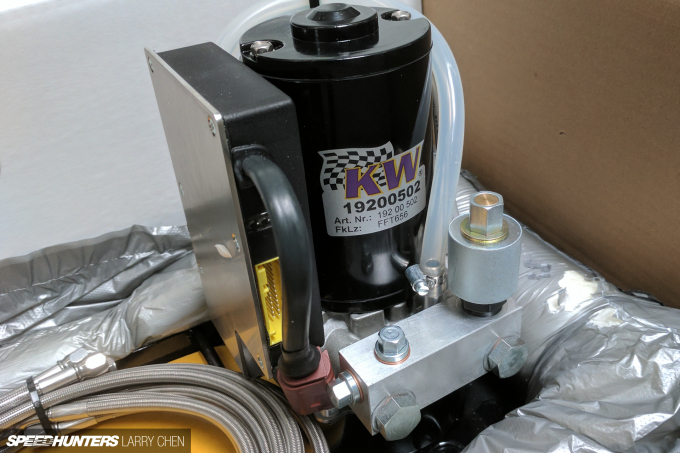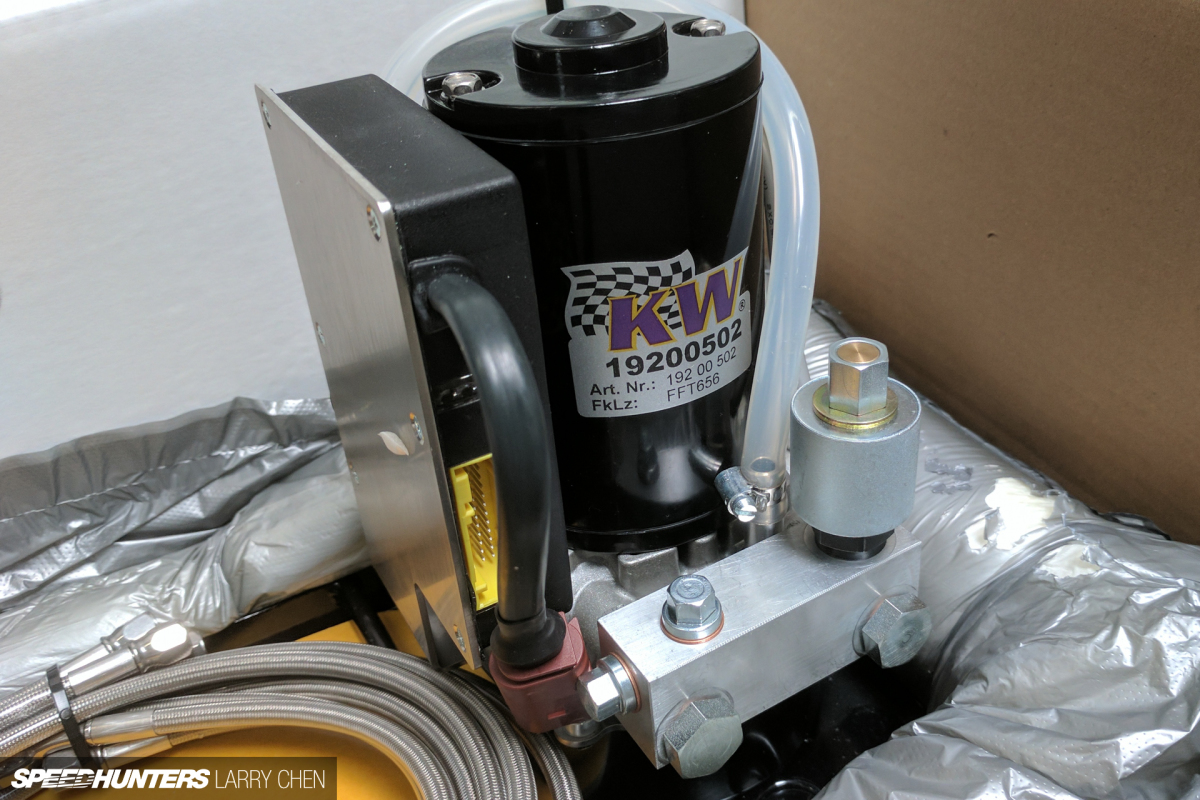 It's such a compact and well designed system; the pump is tiny and the hydraulic fluid is stored in a small tank. The best part is that it would fit perfectly in a little empty space right next to the car's battery.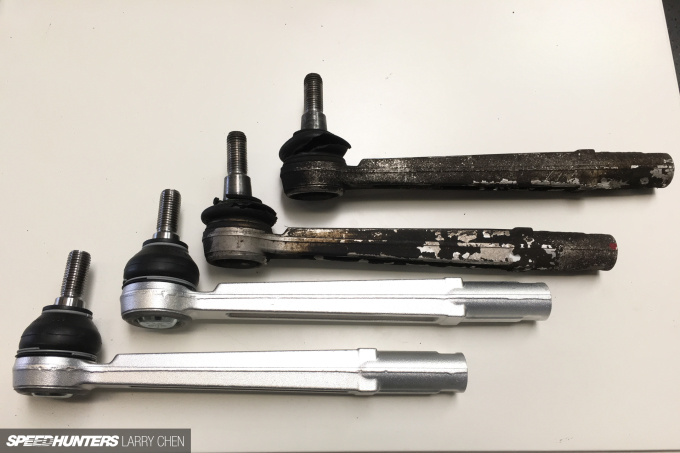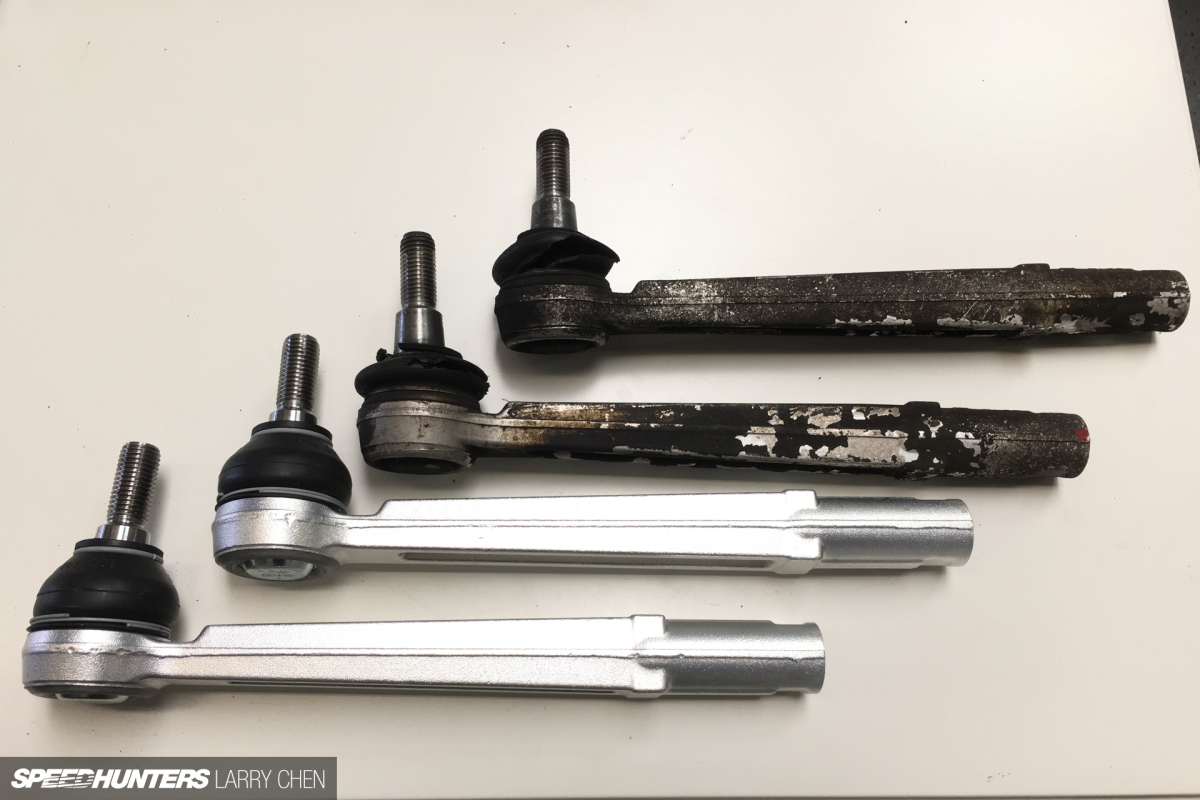 While Joey had my car in for the Clubsport and HLS install, he decided to replace a few worn OEM items. Under its previous ownership, the 996 was a daily driver, and as at the time of writing it has 75,000 miles on the clock, so I've been expecting to do some refresh work.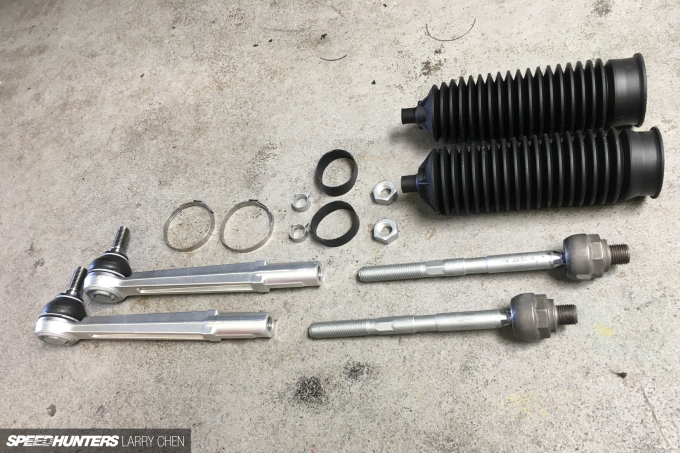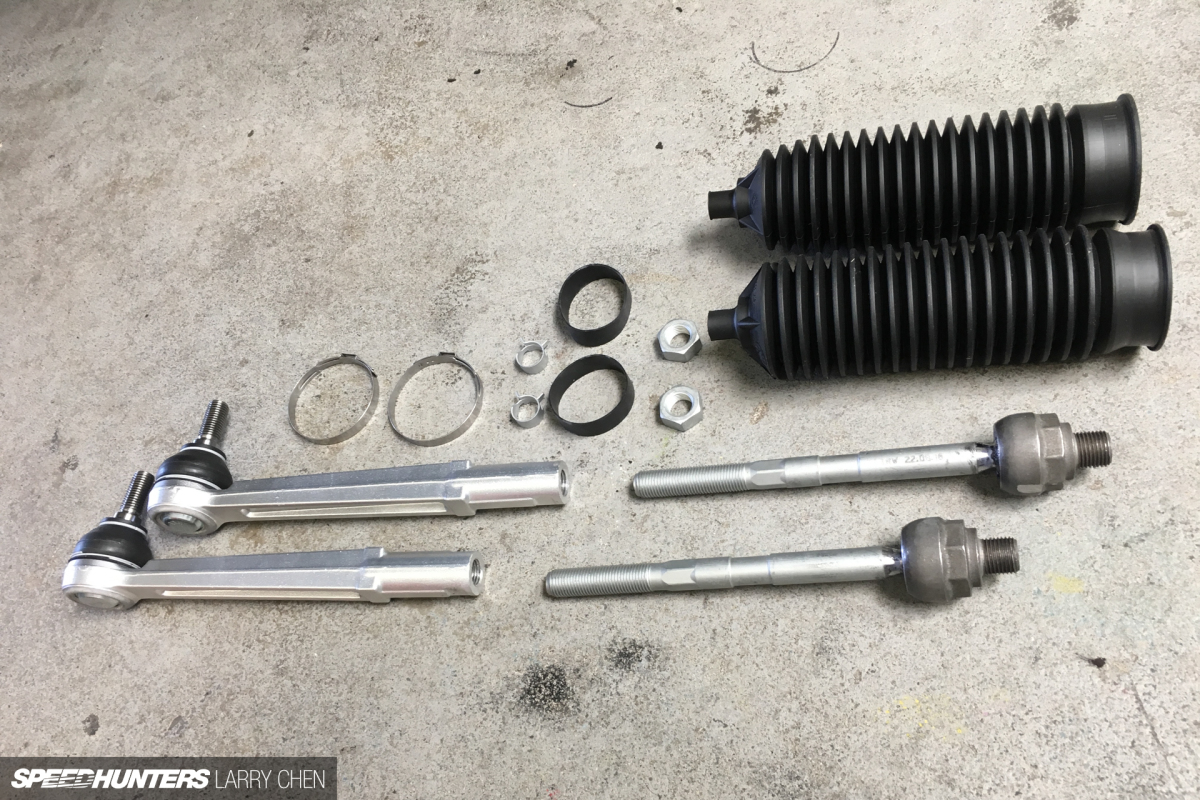 My tie rod ends and boots were replaced as everything was leaking and ripped.
To further improve handling, adjustable sway bars were also added. This is perfect as I don't want a harsher ride, but the response from stiffer sway bars improves turn in and the car leans noticeably less in corners.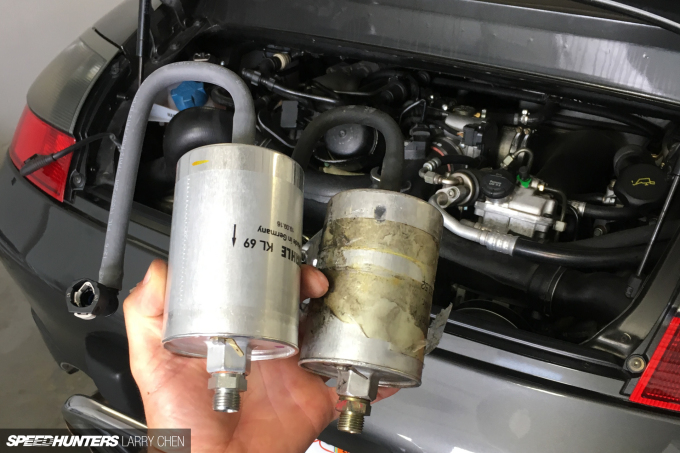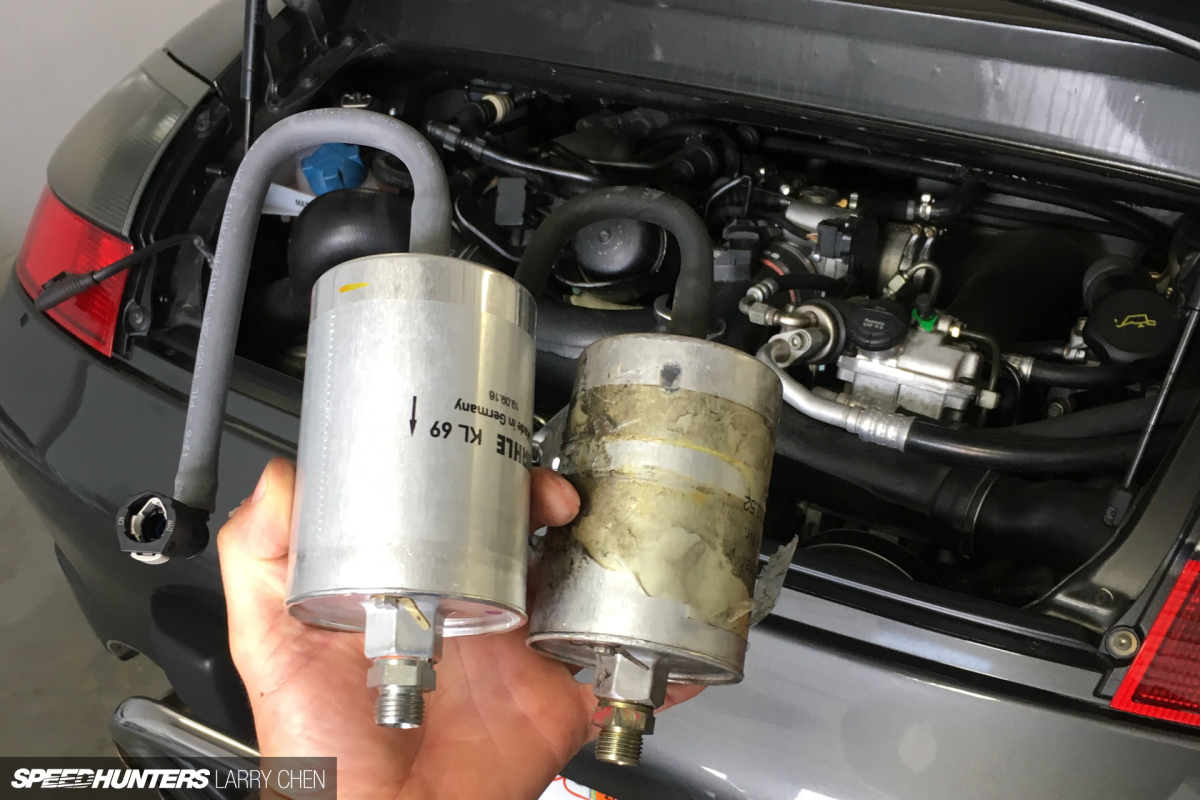 At the last shop I took this car to the motor was removed for four separate engine-out services, but not one time did they think to replace the fuel filter. Joey quickly swapped it out, and noted that it quite possibly was the original one that had came with the car.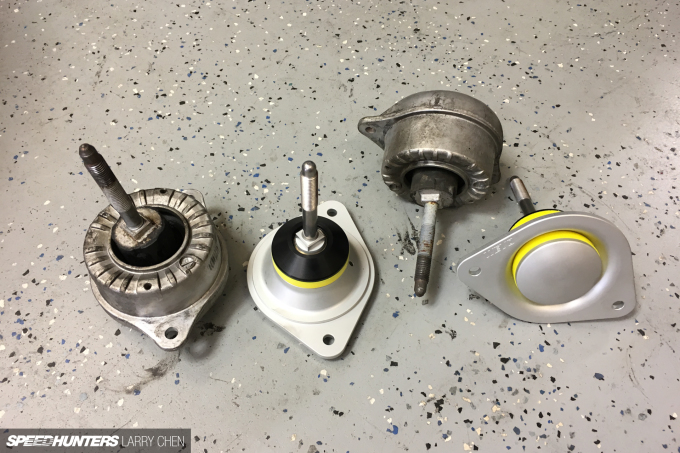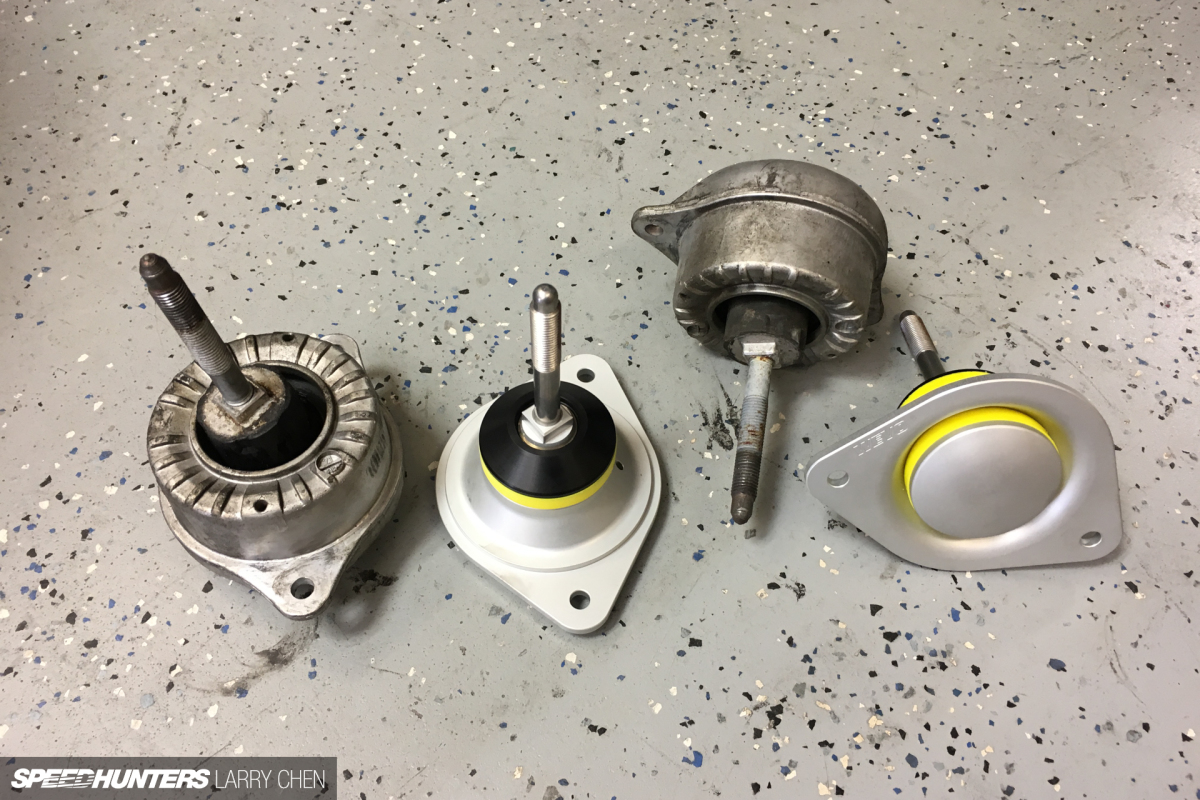 The same thing went for the motor mounts. Given that they were starting to leak, he suggested that I upgrade them for both more response and less headache in the future.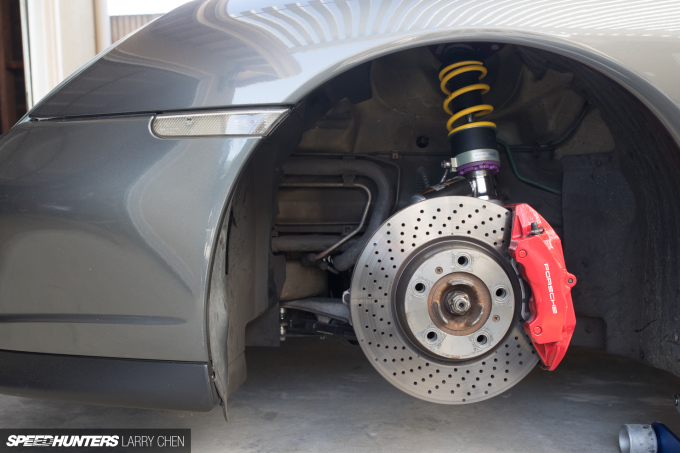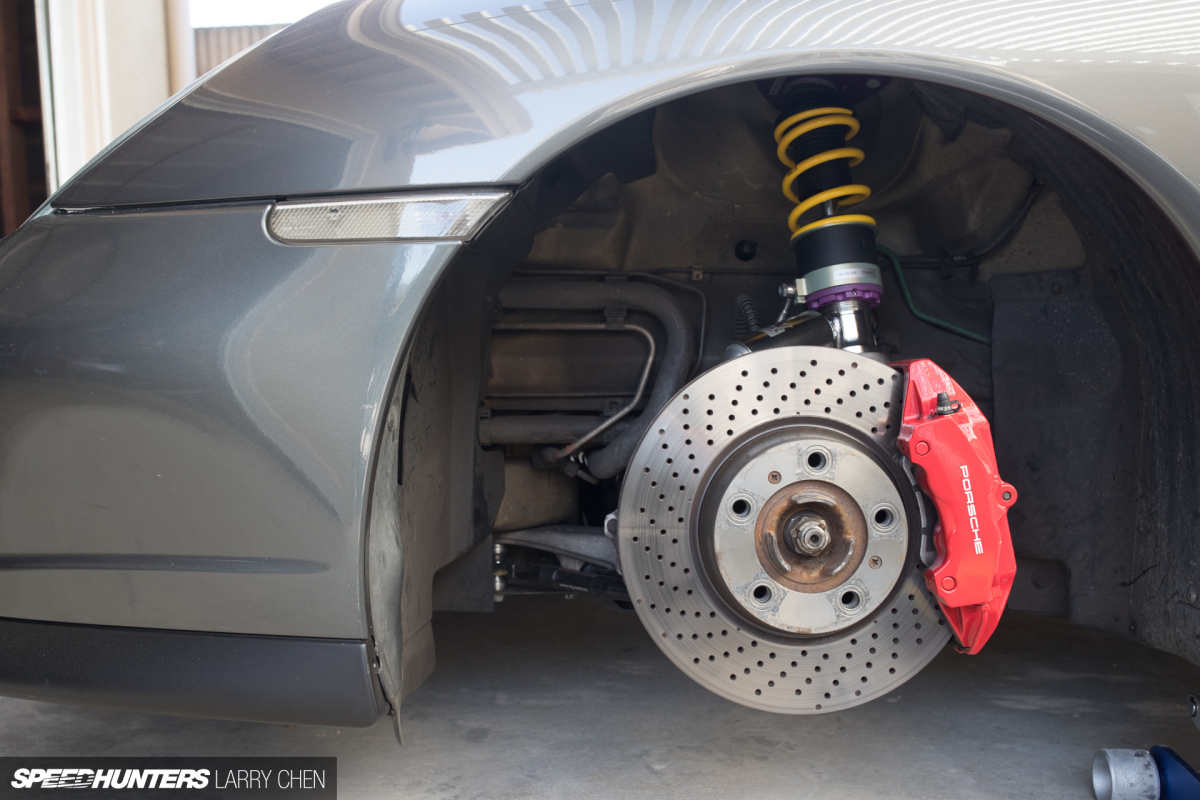 To me, the coolest thing about KW's HLS is that it doesn't actually affect the performance of the coilovers. The HLS technology can be traced back to mid-1990s motorsport, in the form of the International Touring Car Championship, and due to its design has no affect on the spring rate either when the car is lowered or raised. You do not have to sacrifice ride quality or performance one bit.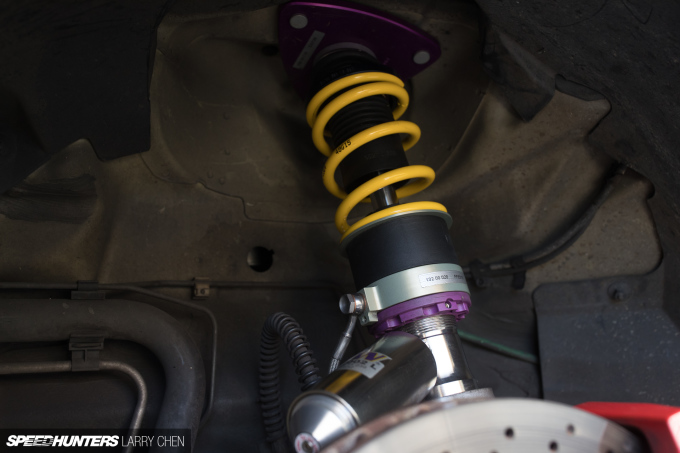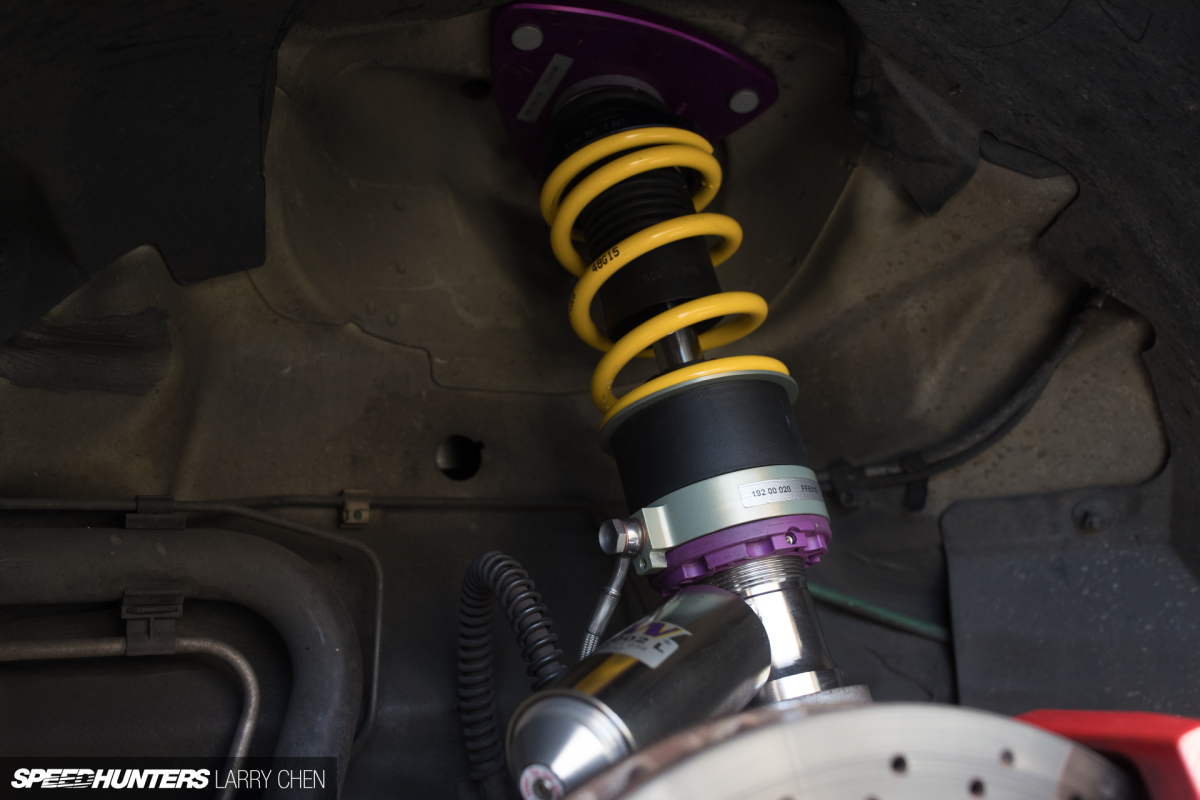 The unit just sits below the spring and when the pump feeds hydraulic fluid into it, it just pushes the spring up which raises the car.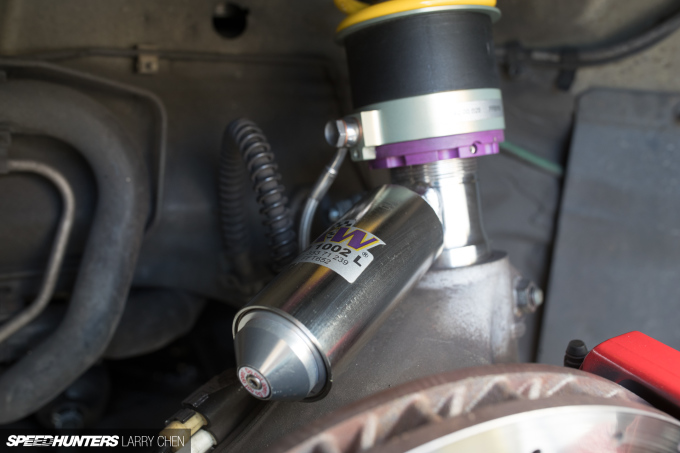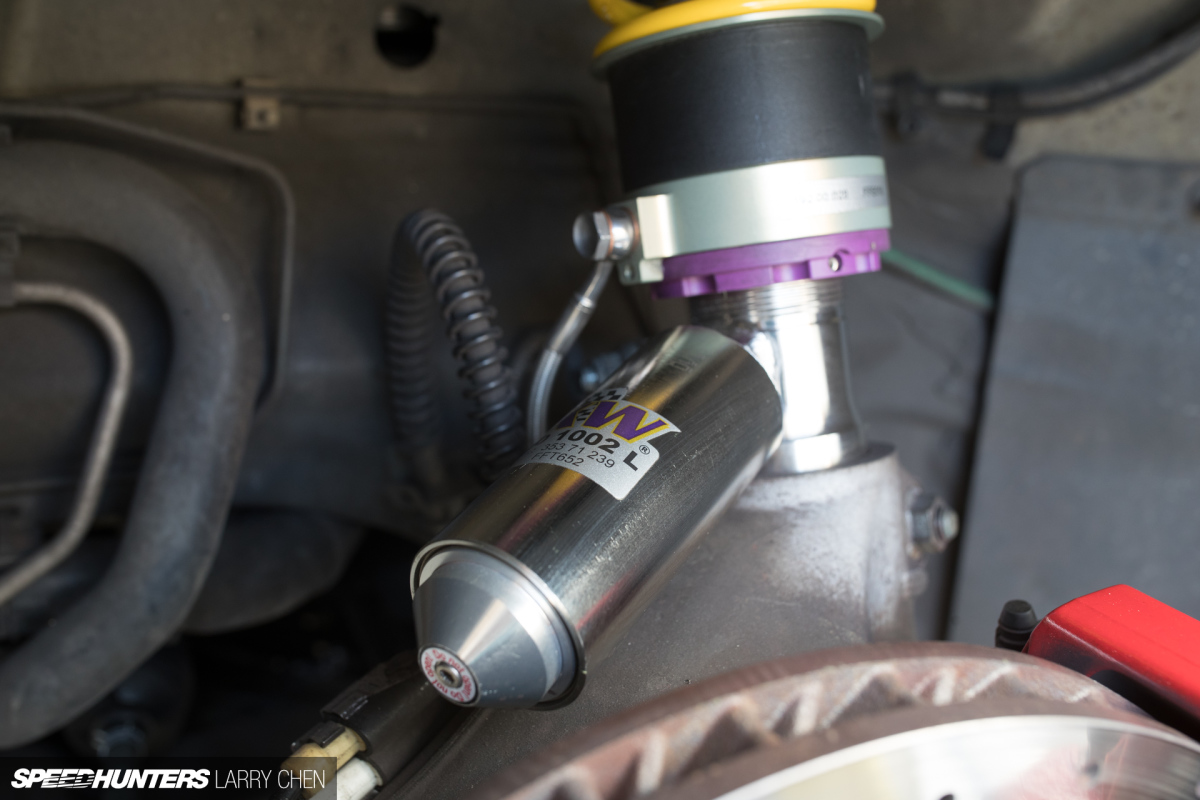 The system needs to be simple because being able to drive with the car lifted is just as important.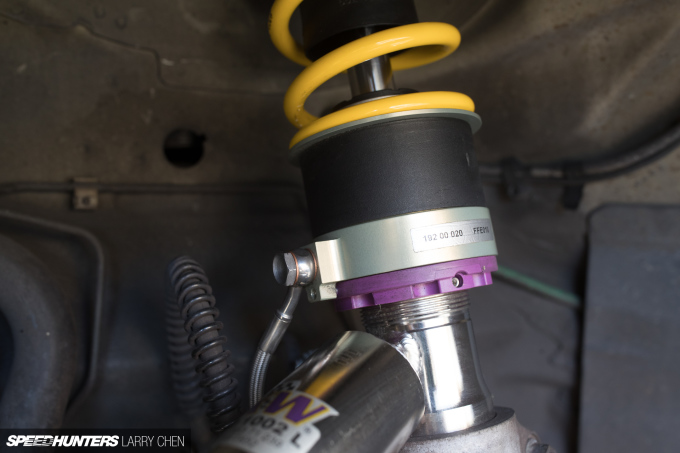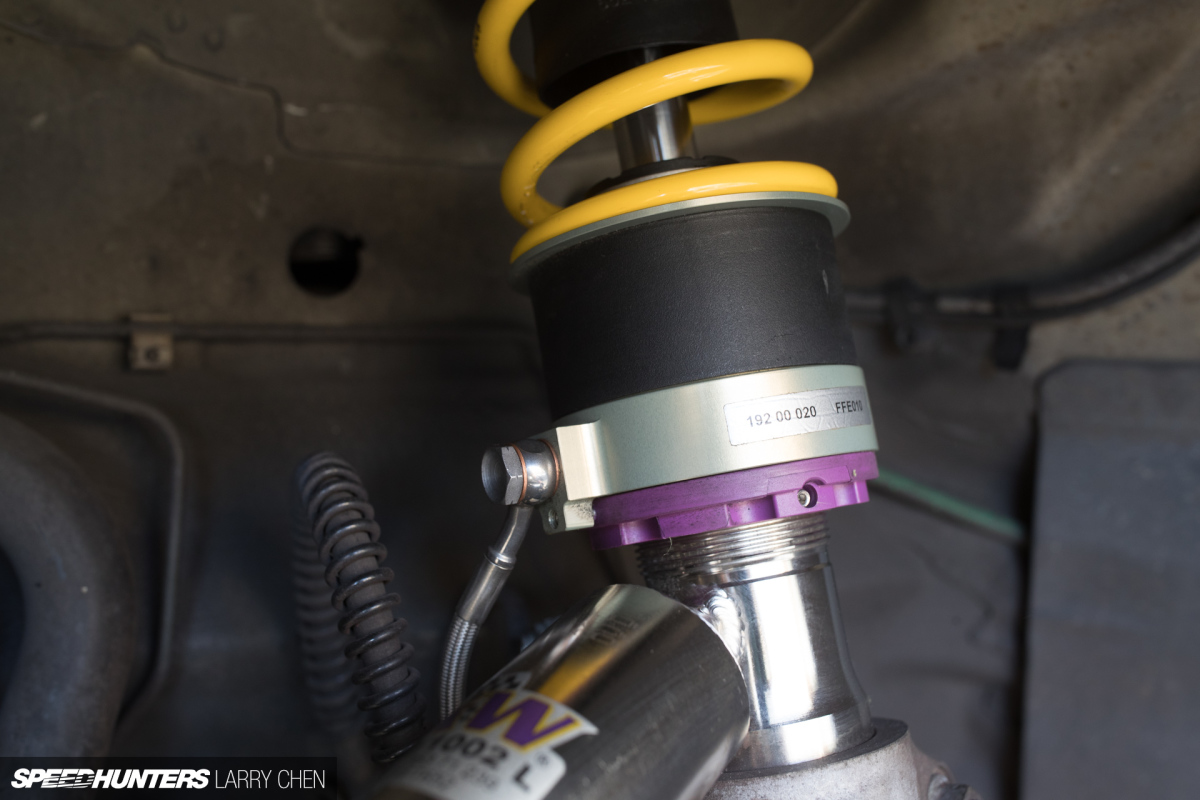 Technically speaking, this sort of system could be added to any coilover with the same thread as it just acts like a spring perch.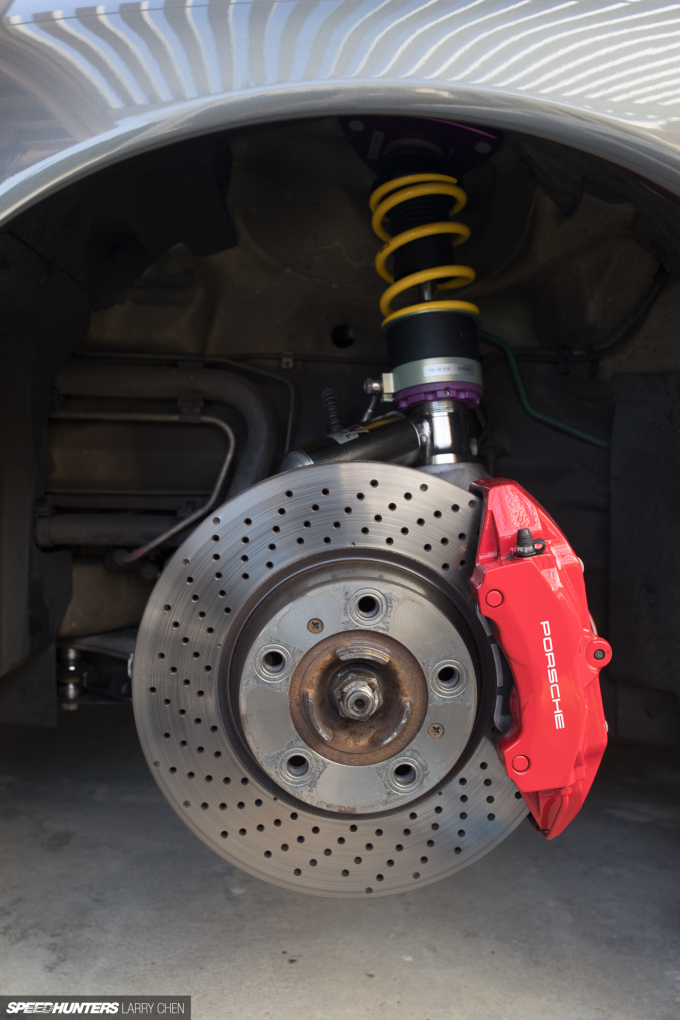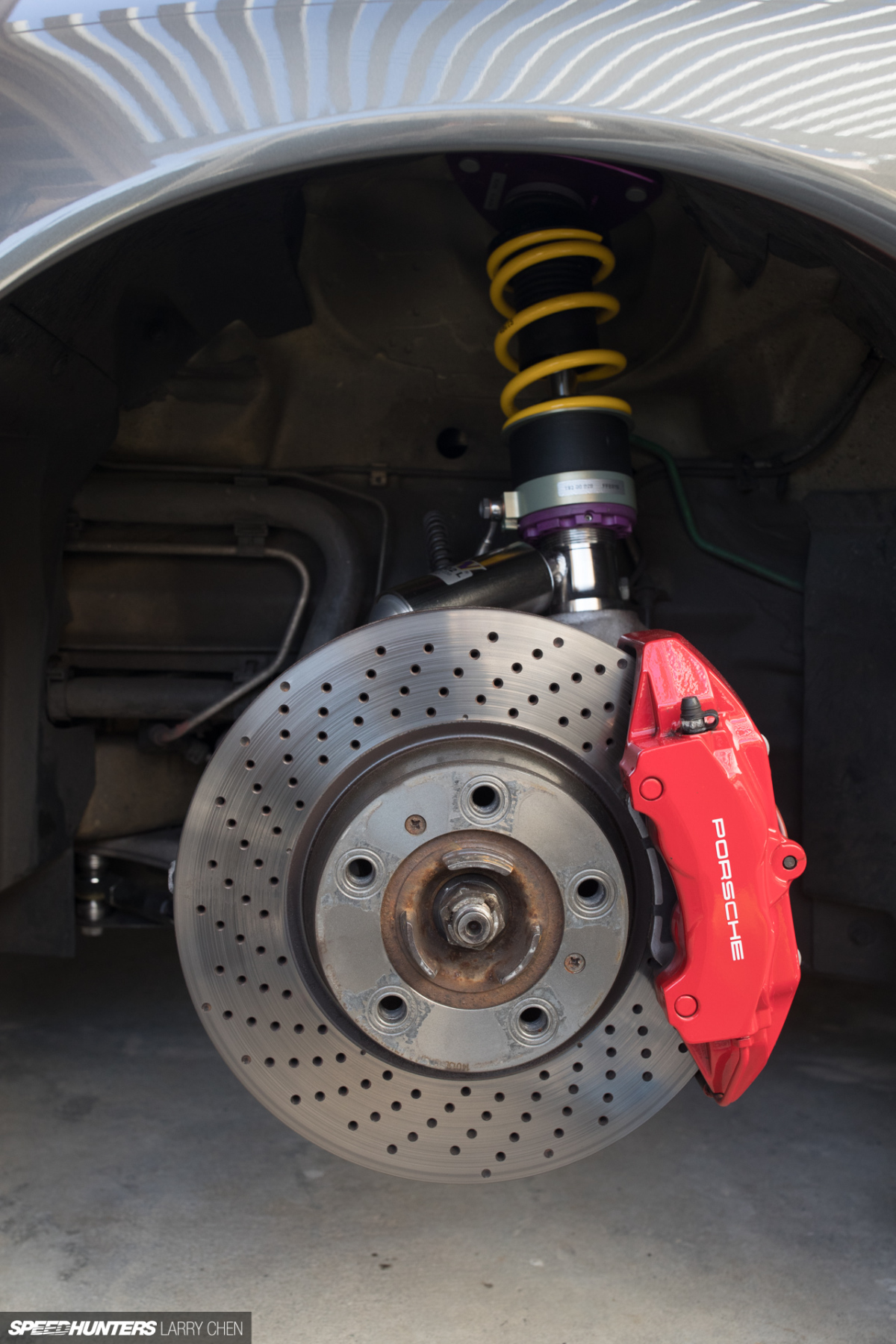 While it looks cool, the fun part is actually being able to drive it, which is exactly what I did next.
The Tables Have Turned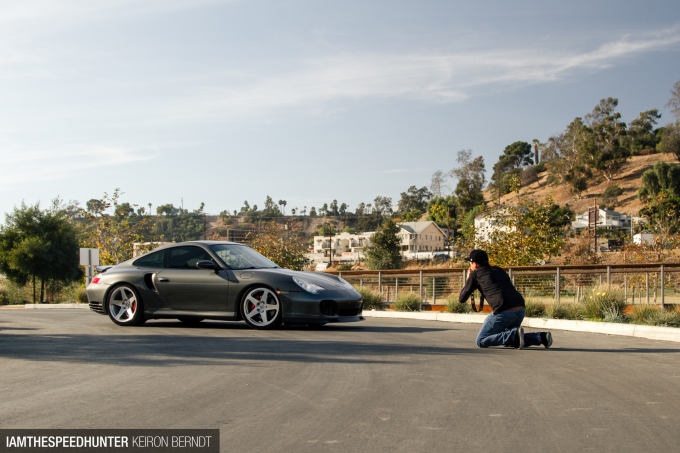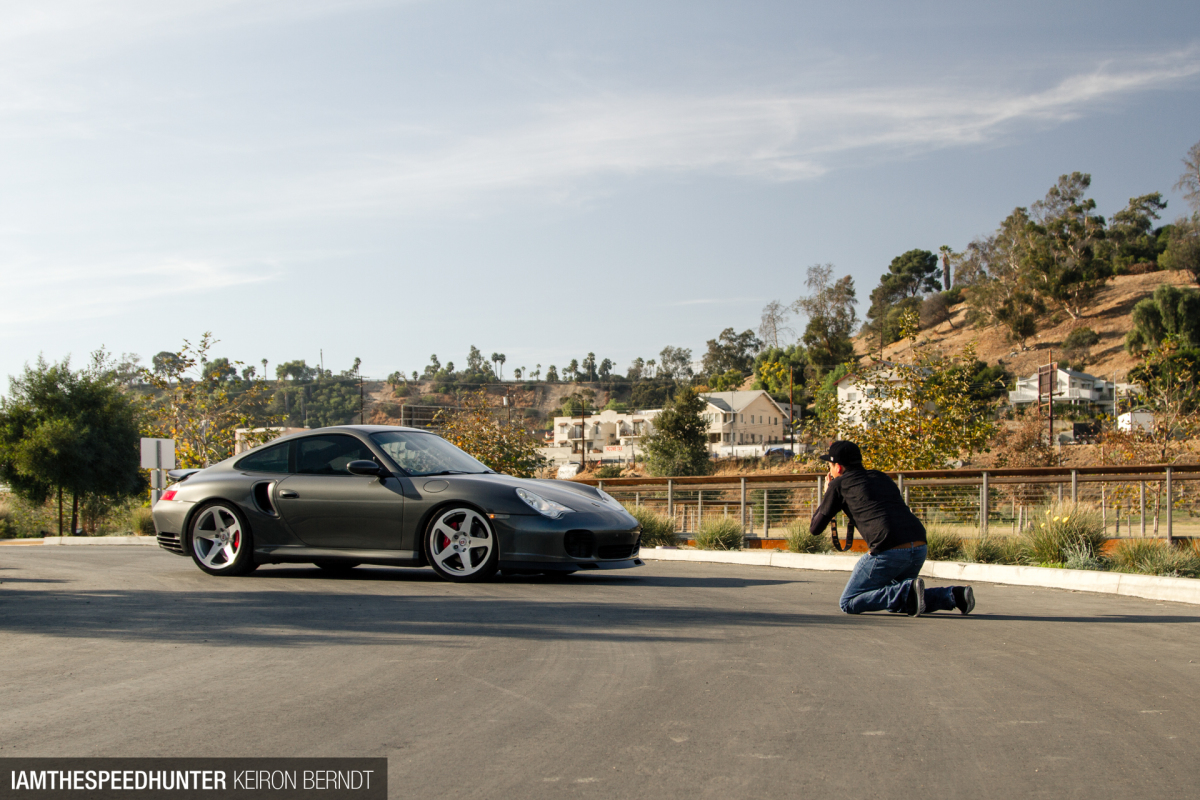 With all of the awesome upgrades it was time for me to go for a drive. Luckily, soon-to-be-Speedhunter Keiron Berndt gave me the perfect reason to bring the car out.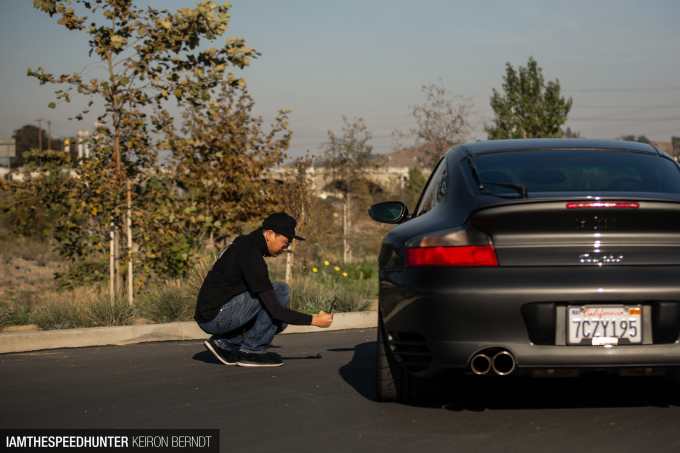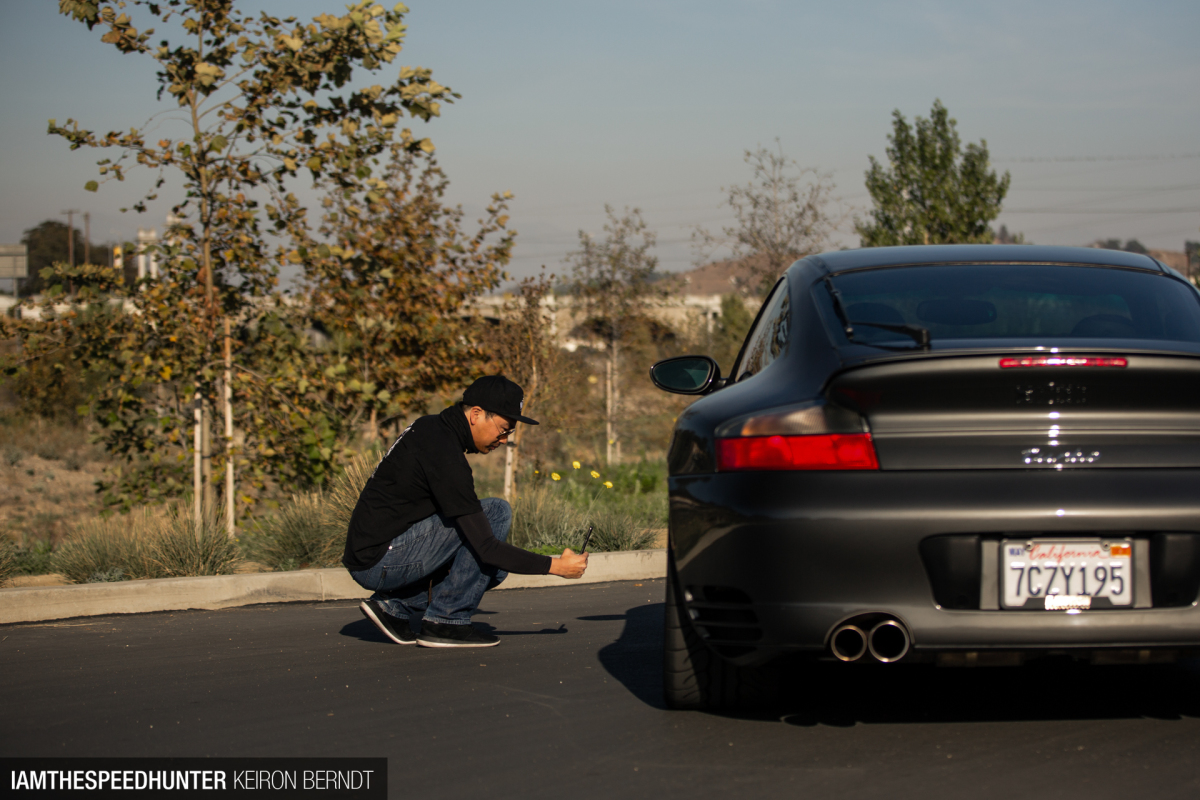 Keiron asked me if he could get some photos of my car for a feature, and of course I said yes. But it was so weird to be on the other side of the lens.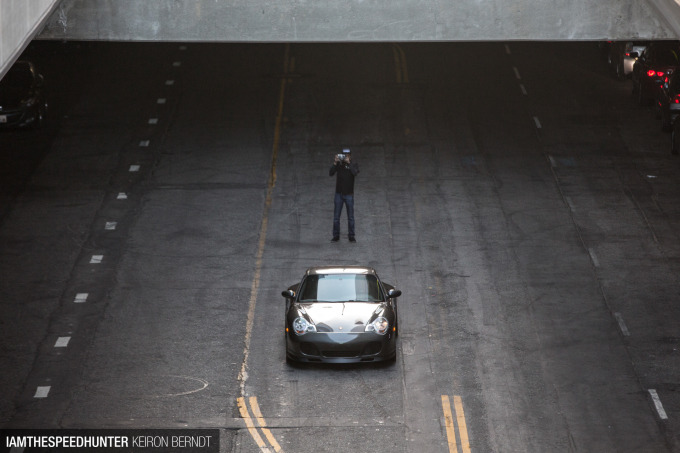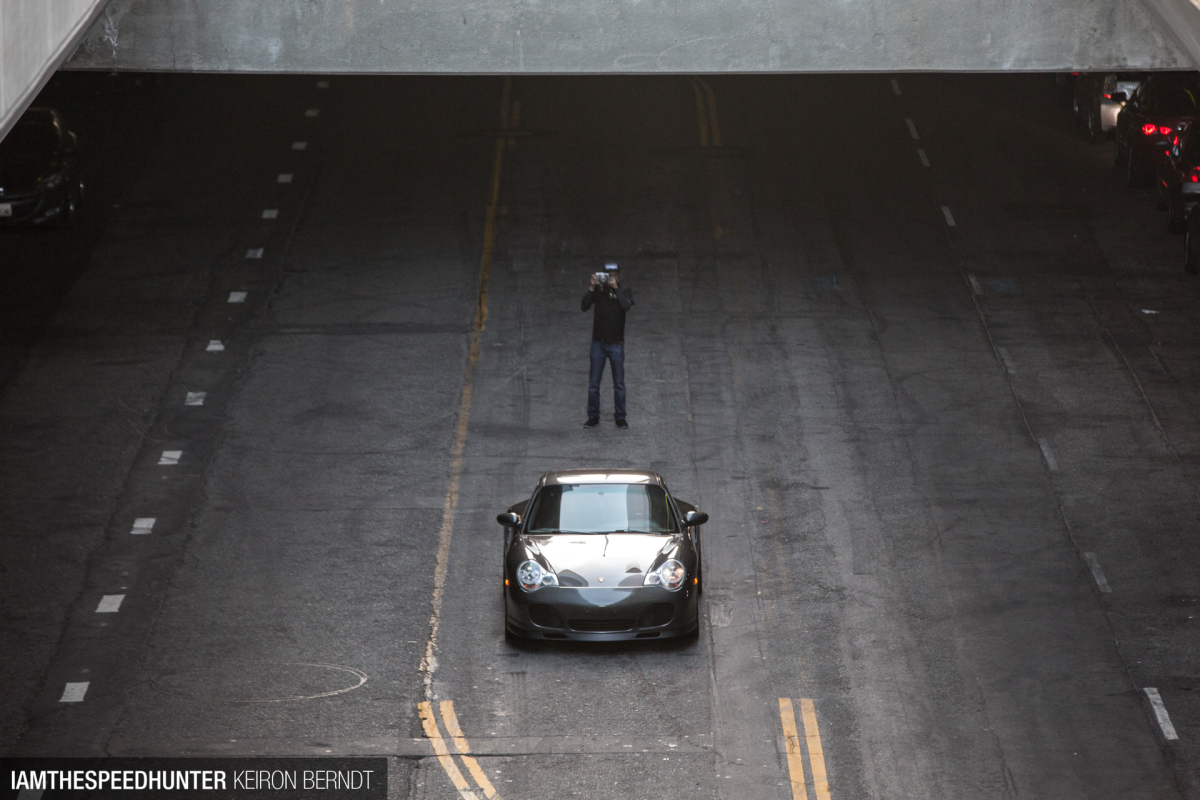 It was tough to stay out of his shots as I kept wanting to shoot as well, even though it was just with my phone. Sorry, Keiron.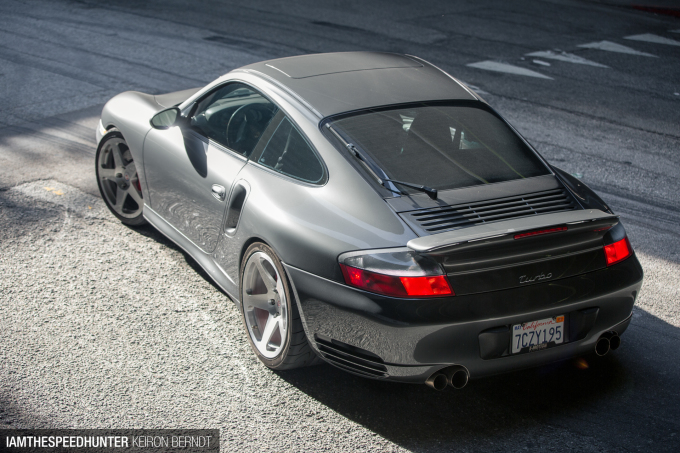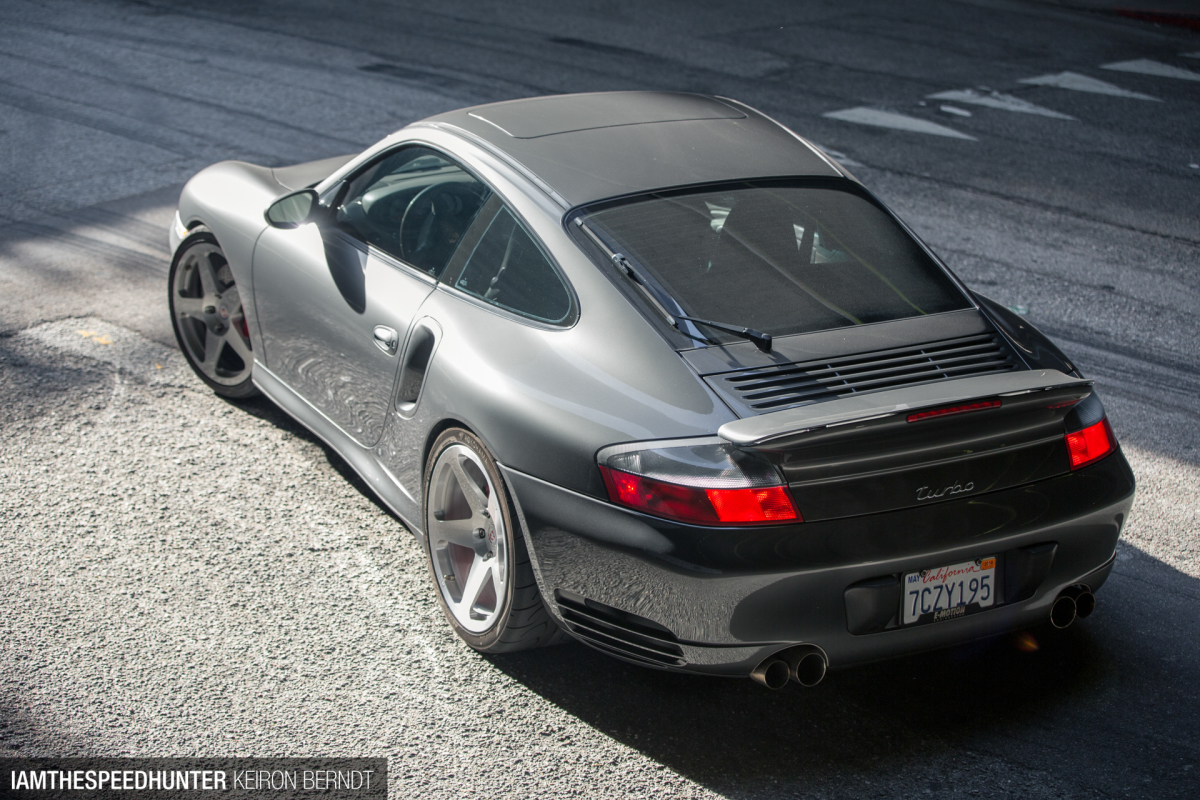 To test out the new suspension upgrades, we took a drive to downtown Los Angeles which has some of the most terrible roads in Southern California.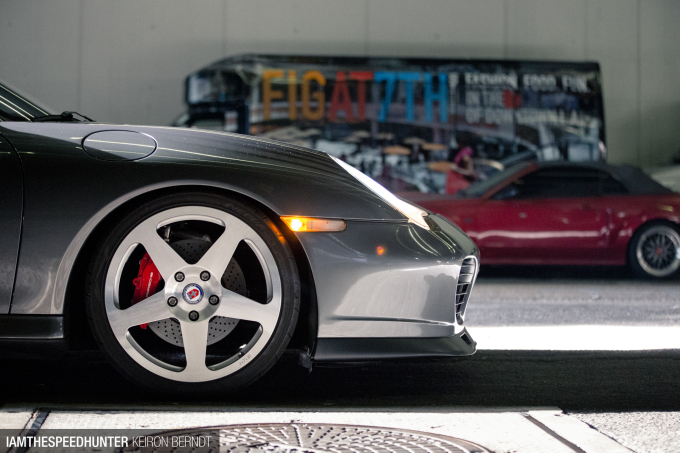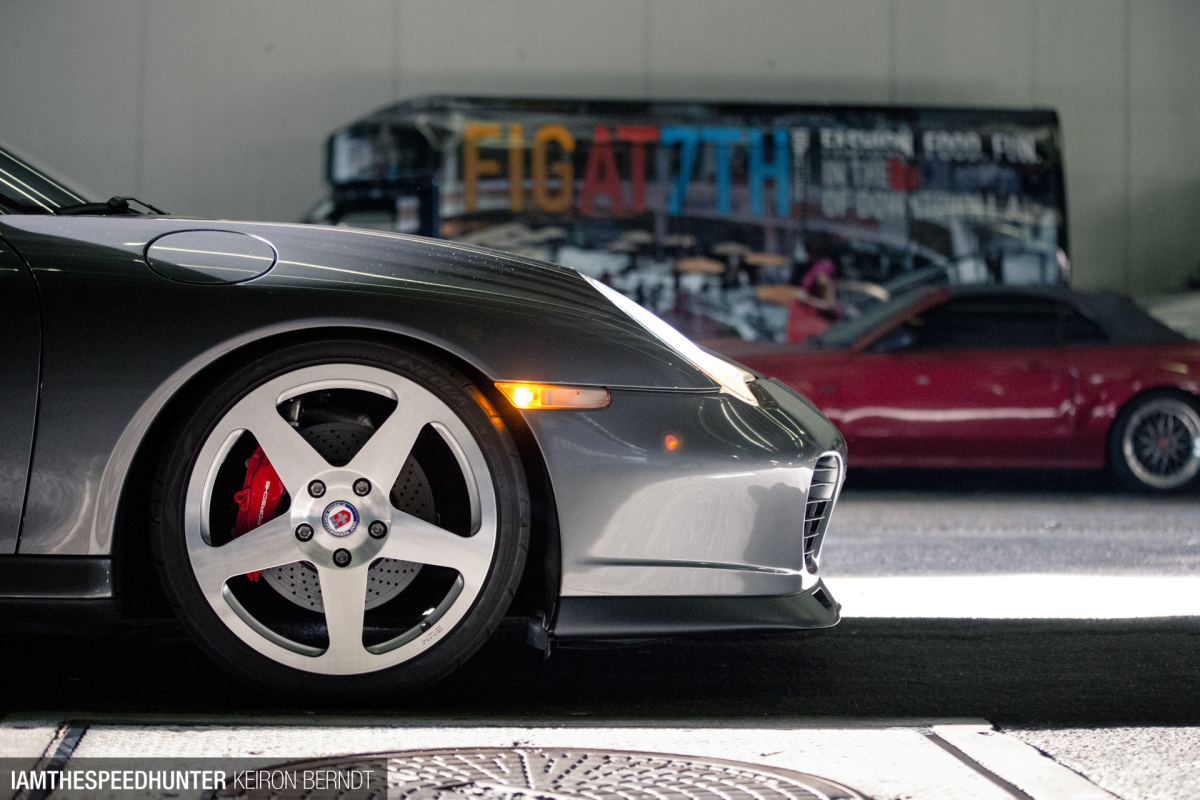 Almost at every intersection I had to raise the front end in a panic just to get over large bumps or even train tracks.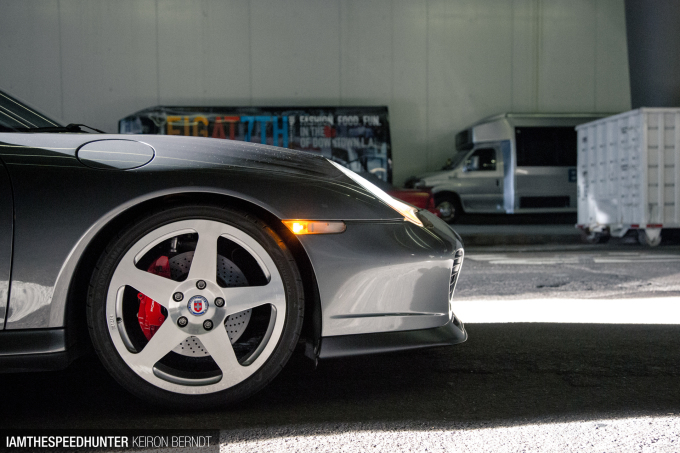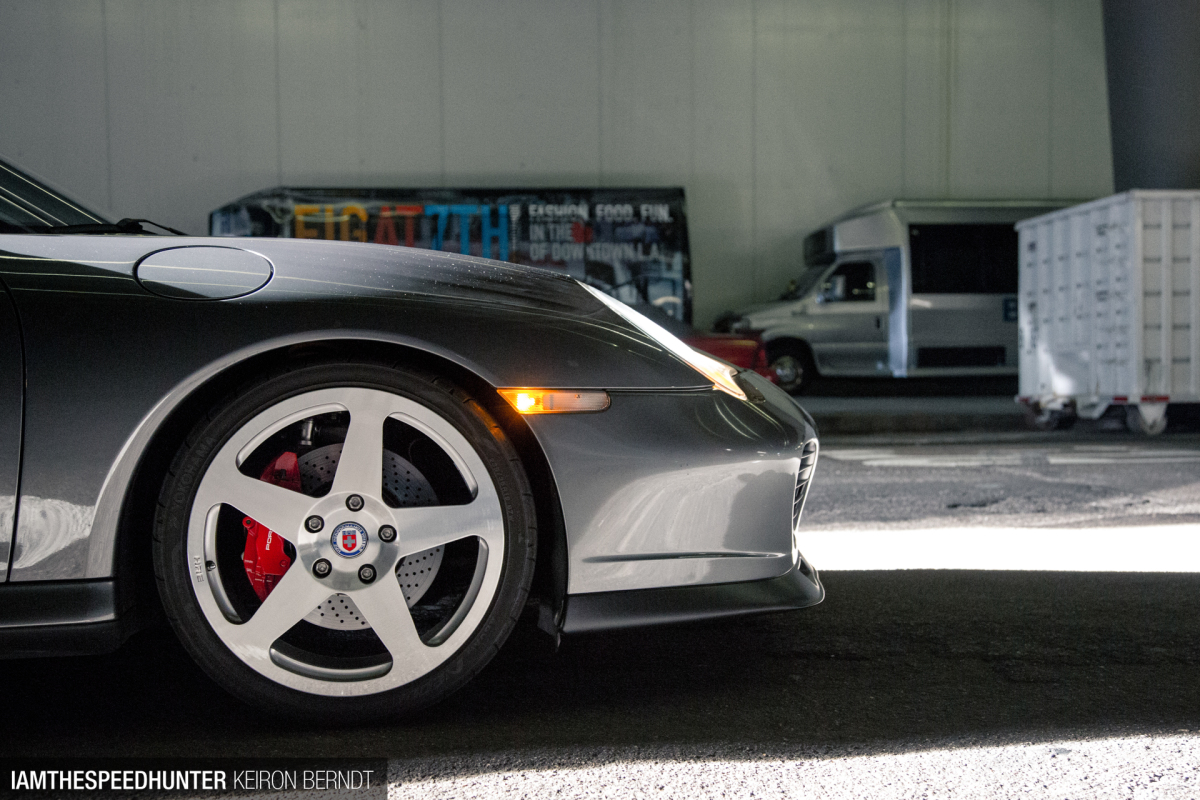 Here's a shot that Keiron took of the HLS raised. It's tough to tell in pictures how much it's lifted, but now after I drive my car I run my finger underneath my brand new aero lip to see if I scraped at all, and so far it's remained totally clean. You can watch a video of the car raising on my Instagram.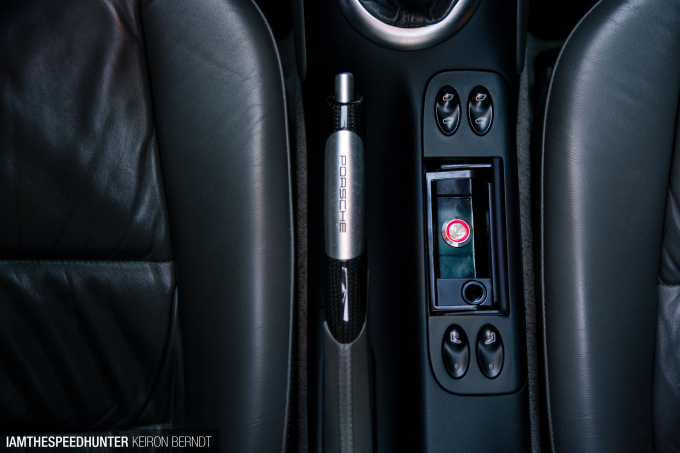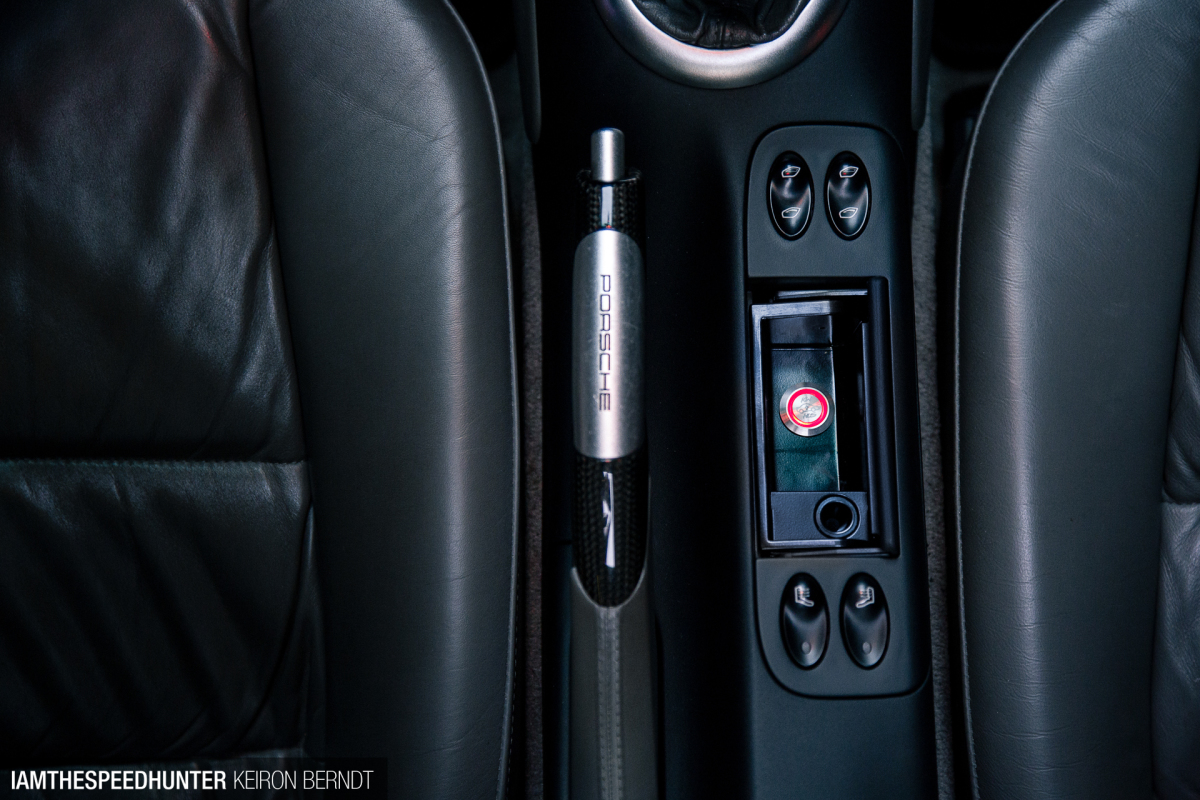 The best part is that it's all controlled by a tiny little button hidden under my ashtray. With one push the car raises and the button glows red indicating that it's been lifted all the way; another push and it lowers and the red light goes out. How simple is that?!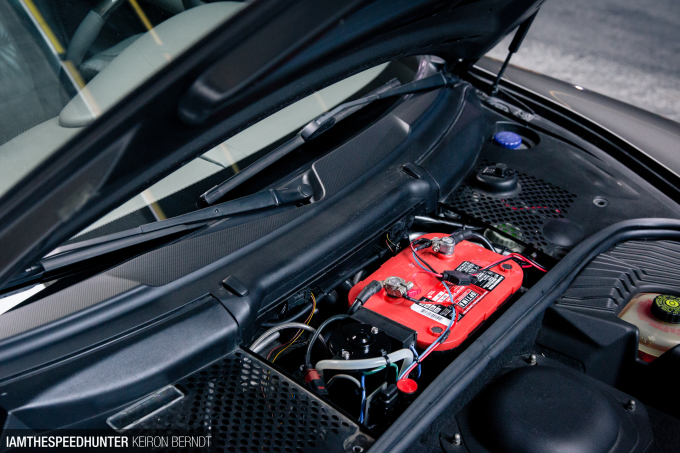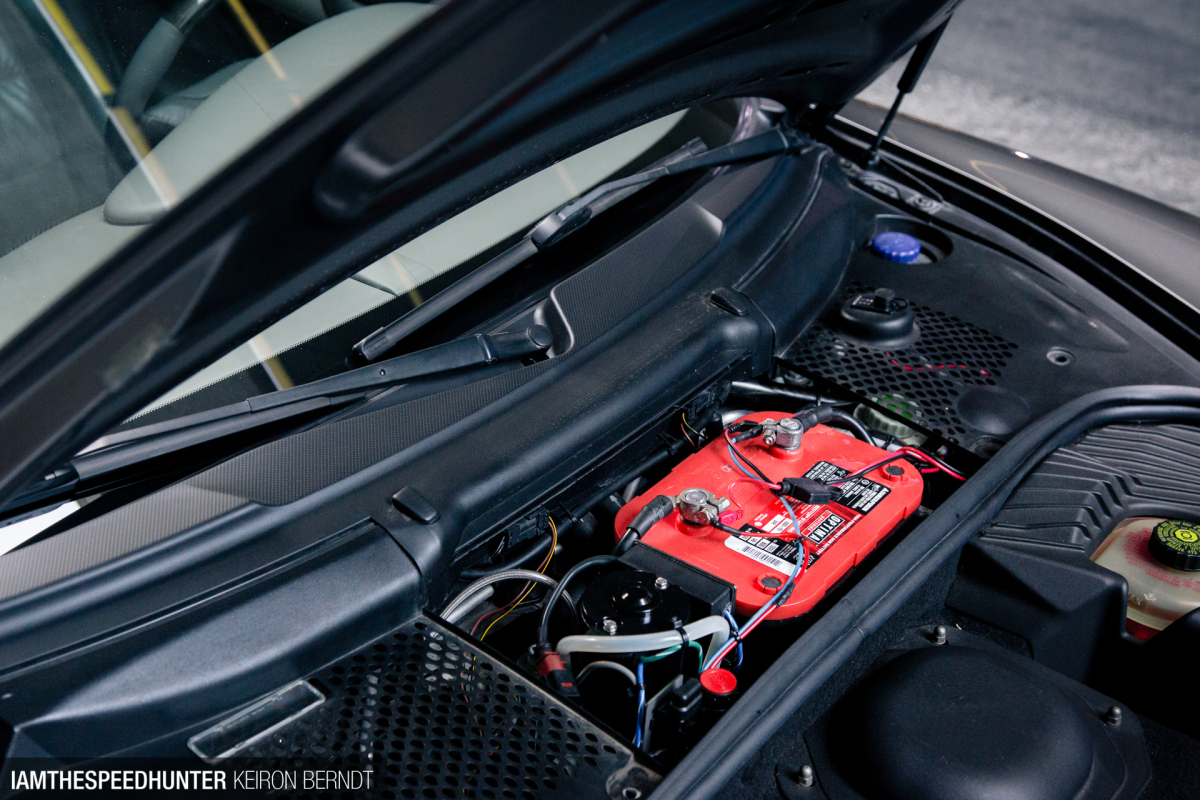 When you take off the battery cover you can see that the unit tucks in perfectly next to the battery. It's like Porsche left that space there for a reason.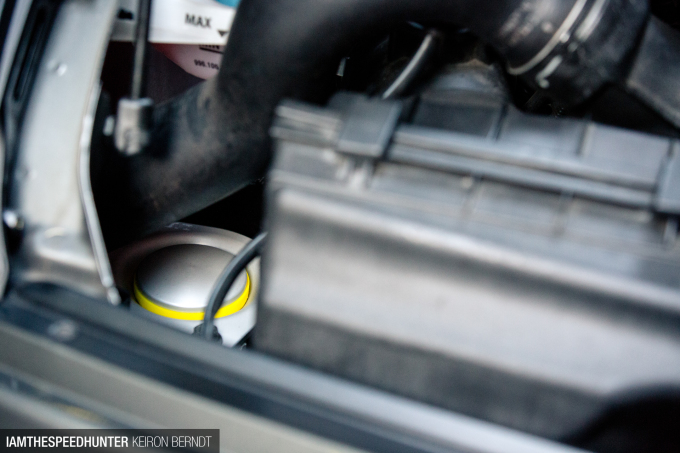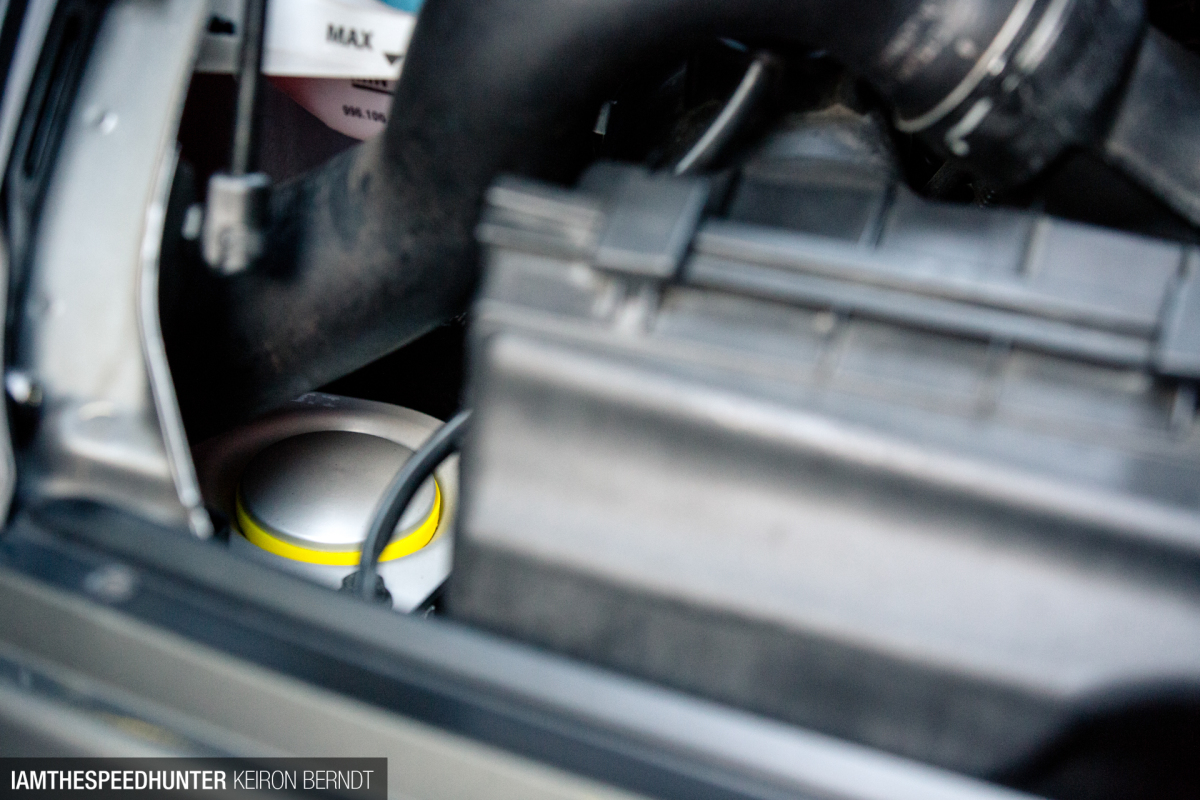 Aside from the HLS, taking the car for a drive gave me an opportunity to test out the benefits of the new motor mounts and sway bars, something I could feel immediately.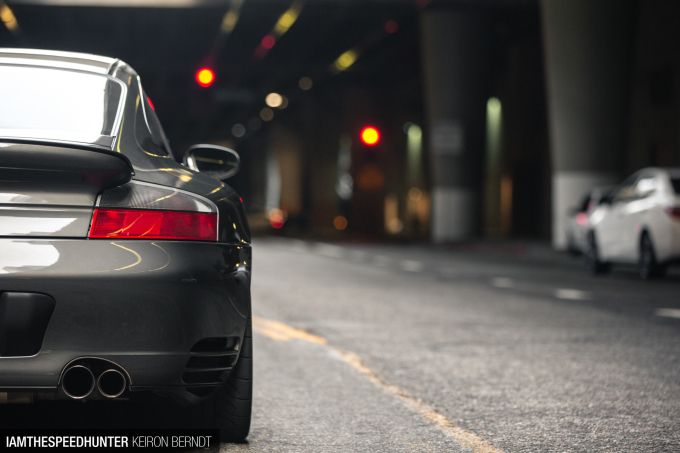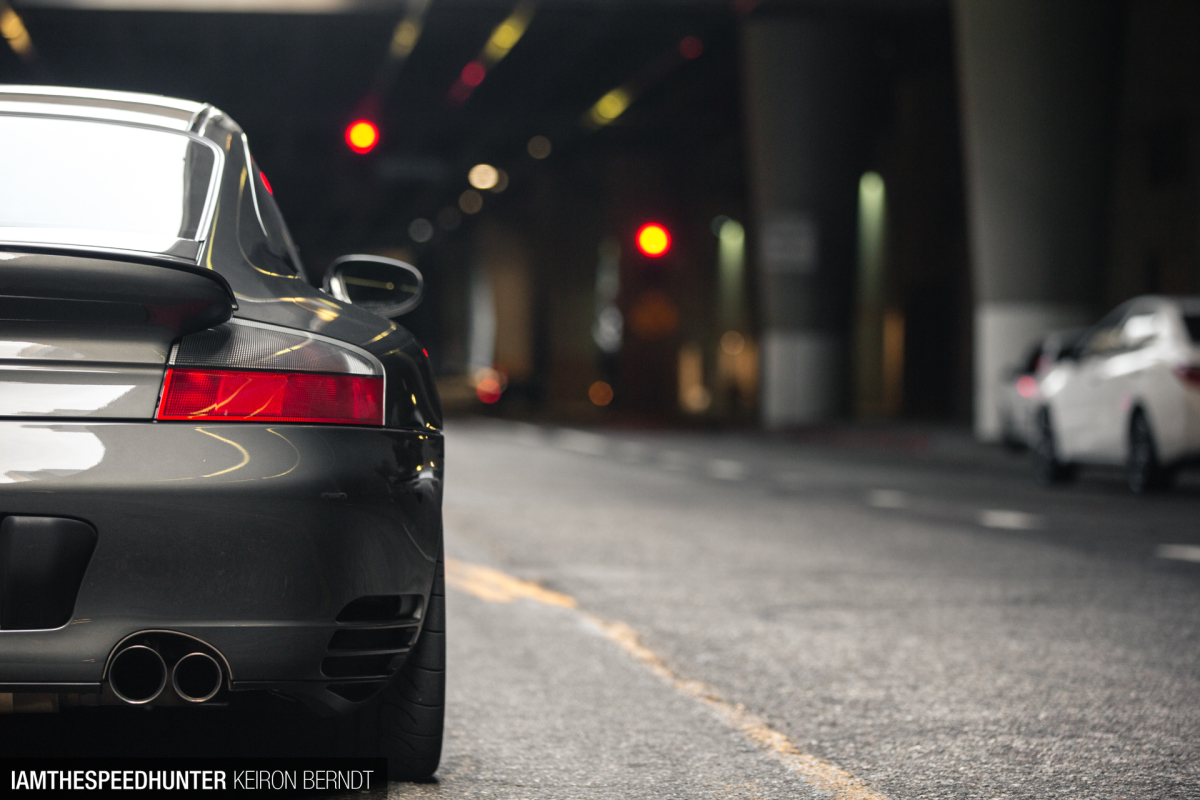 This car has come a long way since I bought it, but there's still more to do.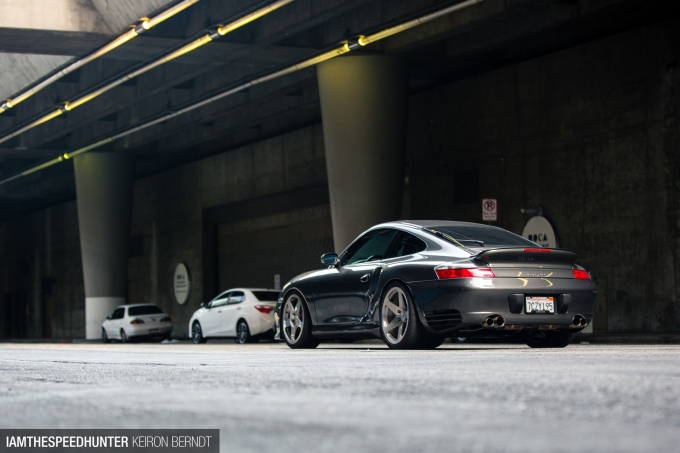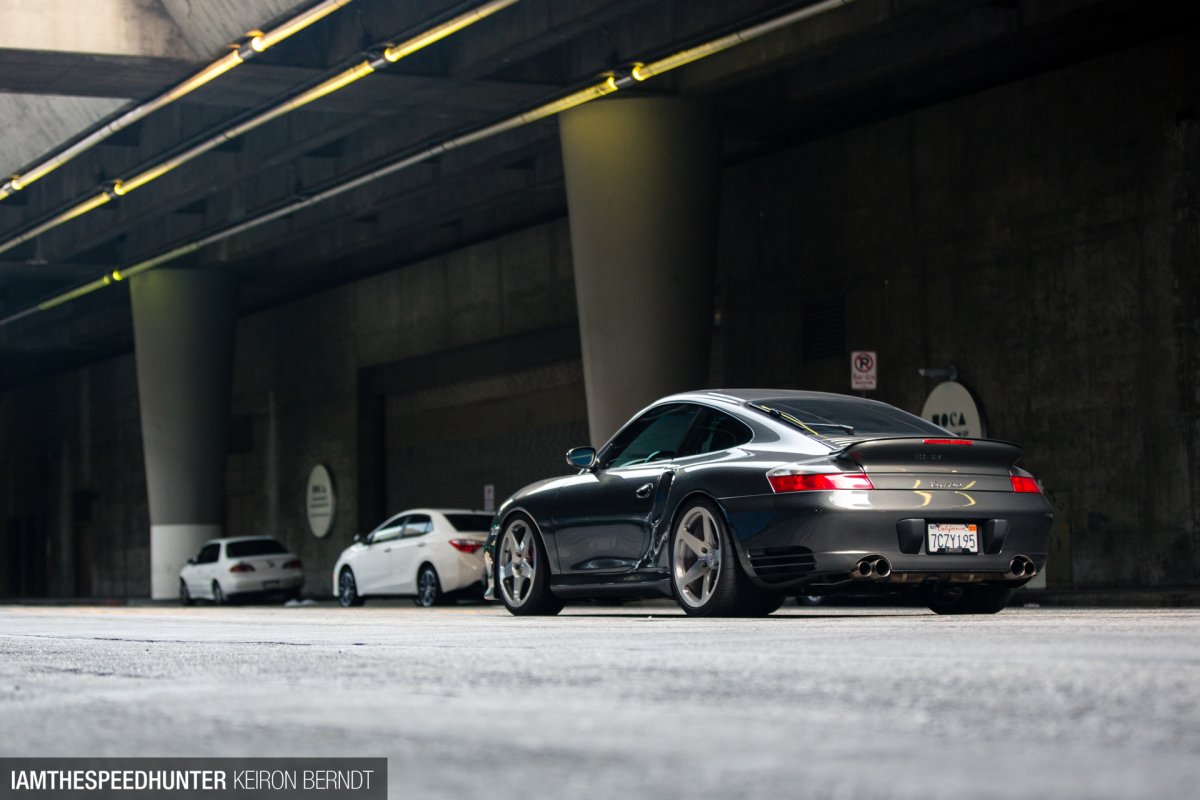 But whether it's a piece of replacement interior interior trim or something substantial like KW's HLS, with every upgrade the car is becoming closer and closer to the vision that I had in my head when I first picked it up. Although, at that time it barely ran and it seemed like everything was broken.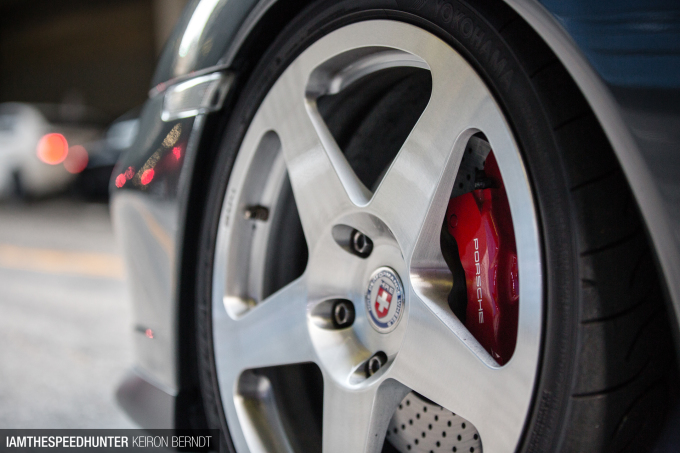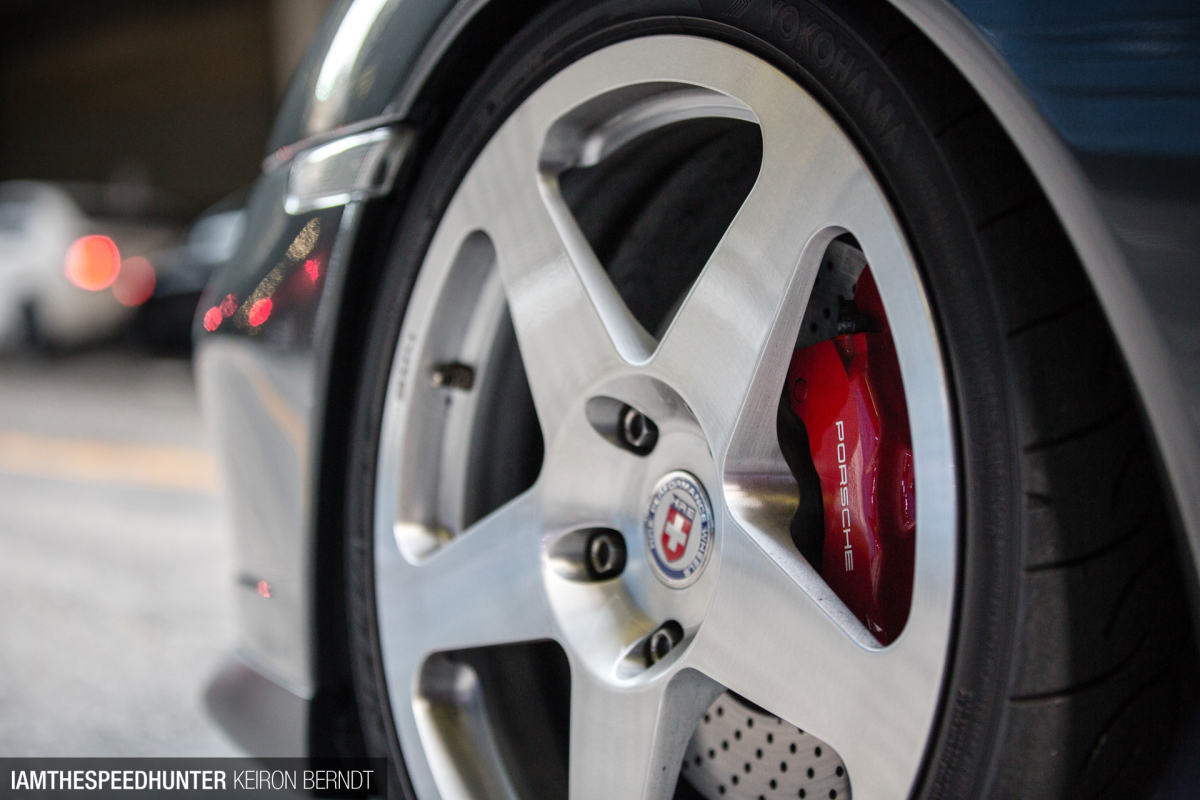 There are inspired pieces throughout, including the HRE 305Ms that pay homage to RUF 996 R-Turbo five-spoke wheels.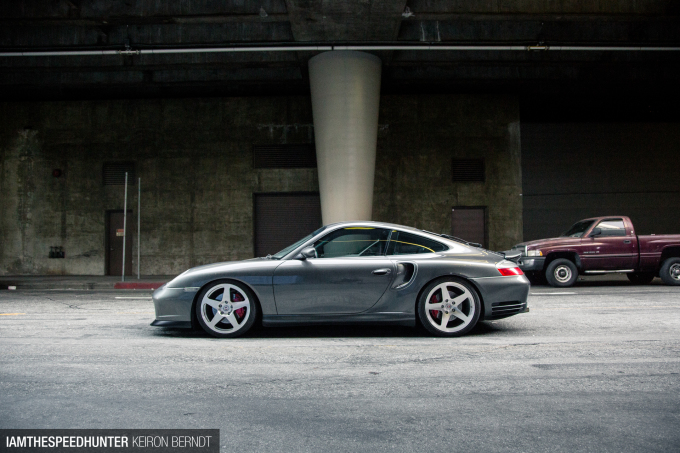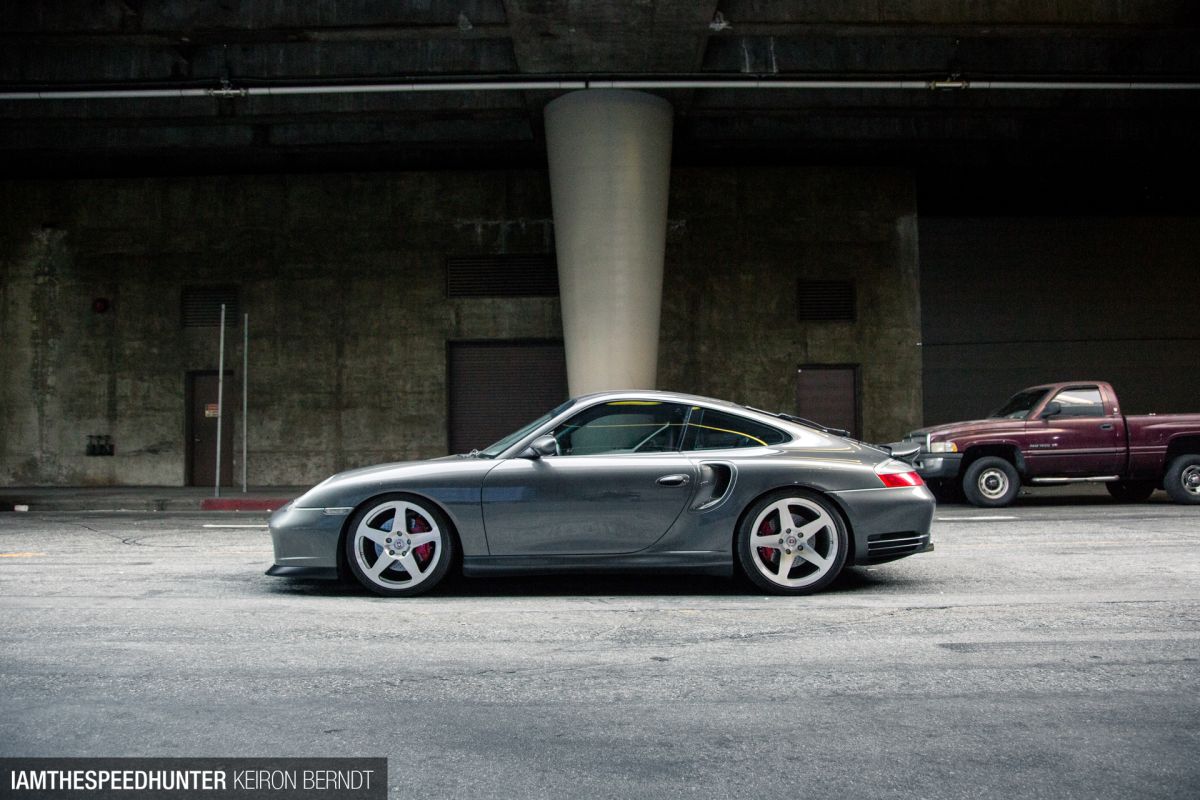 And now with the HLS it's great to be able to run the car as low as I want. Because at the end of the day, looks are such a big part of why we build these project cars.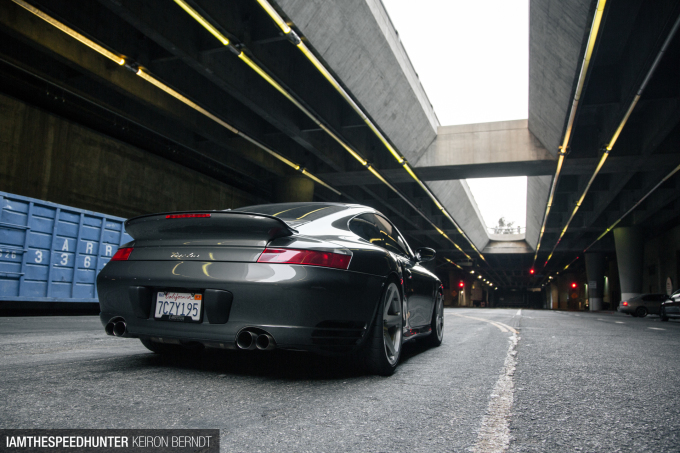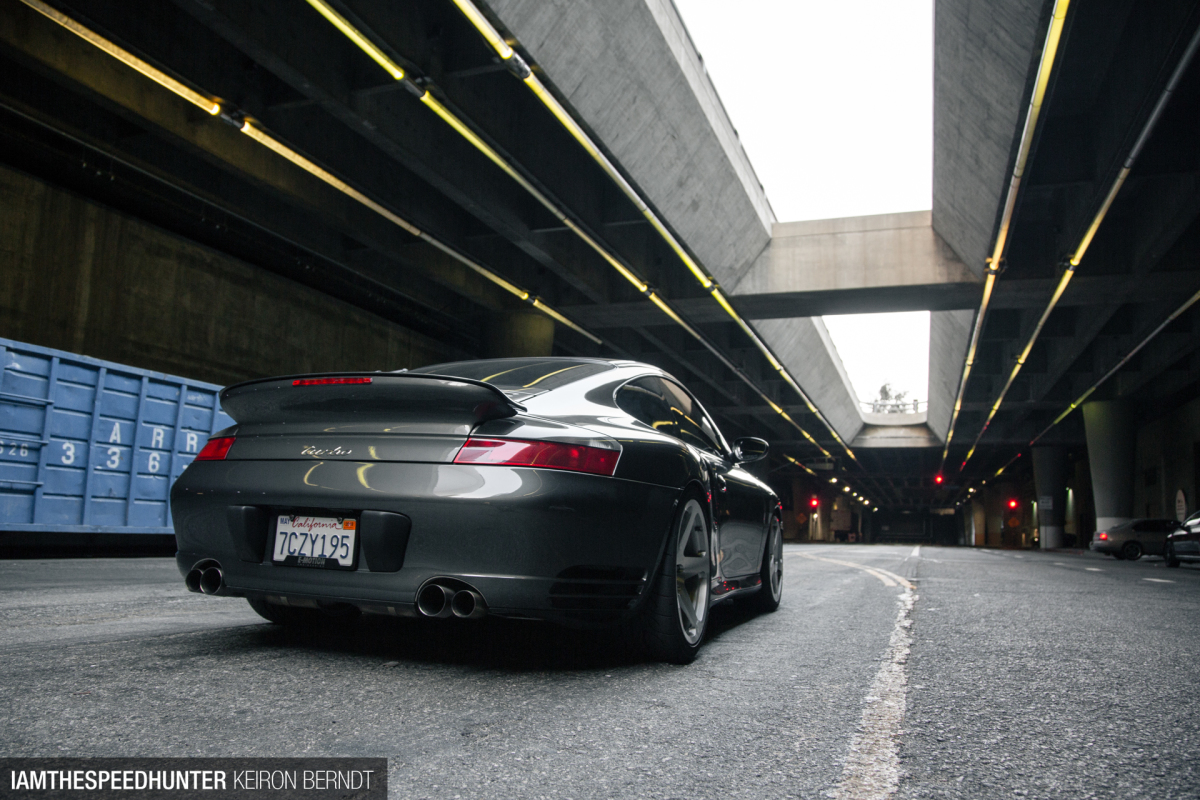 So what's next? I already have a set of CSF Racing aluminum radiators just sitting in my garage ready to go – I just have to find the time to do that install.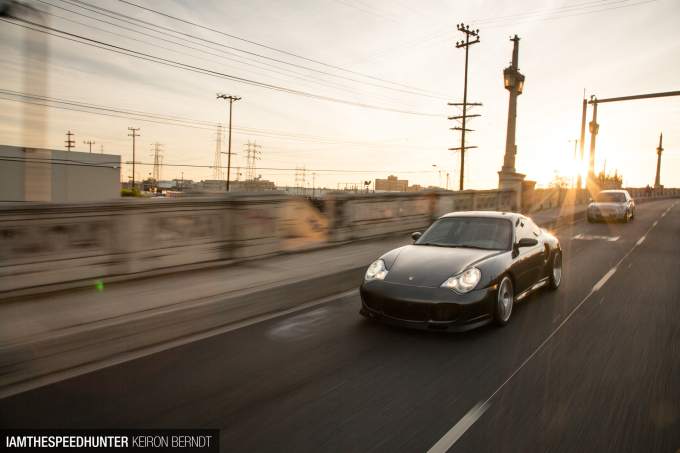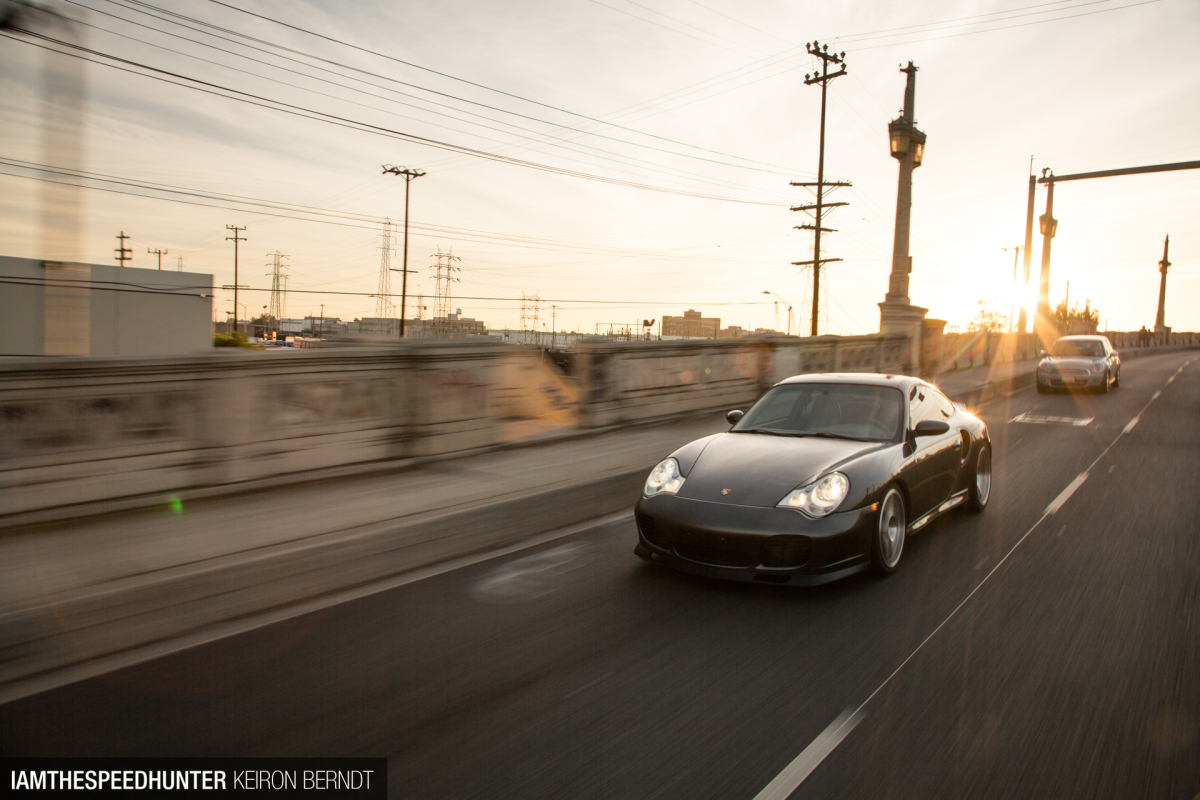 I also have to replace the clutch as the last shop I took the car to fitted a twin-plate unit without consulting me, which has made the car pretty much undriveable in Los Angeles' stop-and-go traffic. Once I get it rolling it's not so bad, but trying to get going from a stop takes all of my concentration.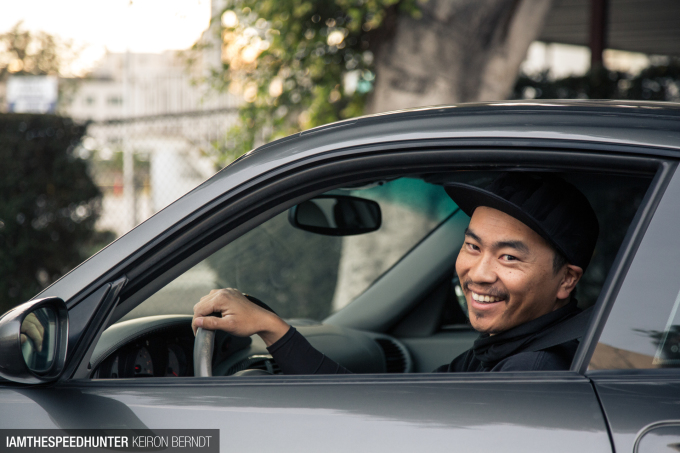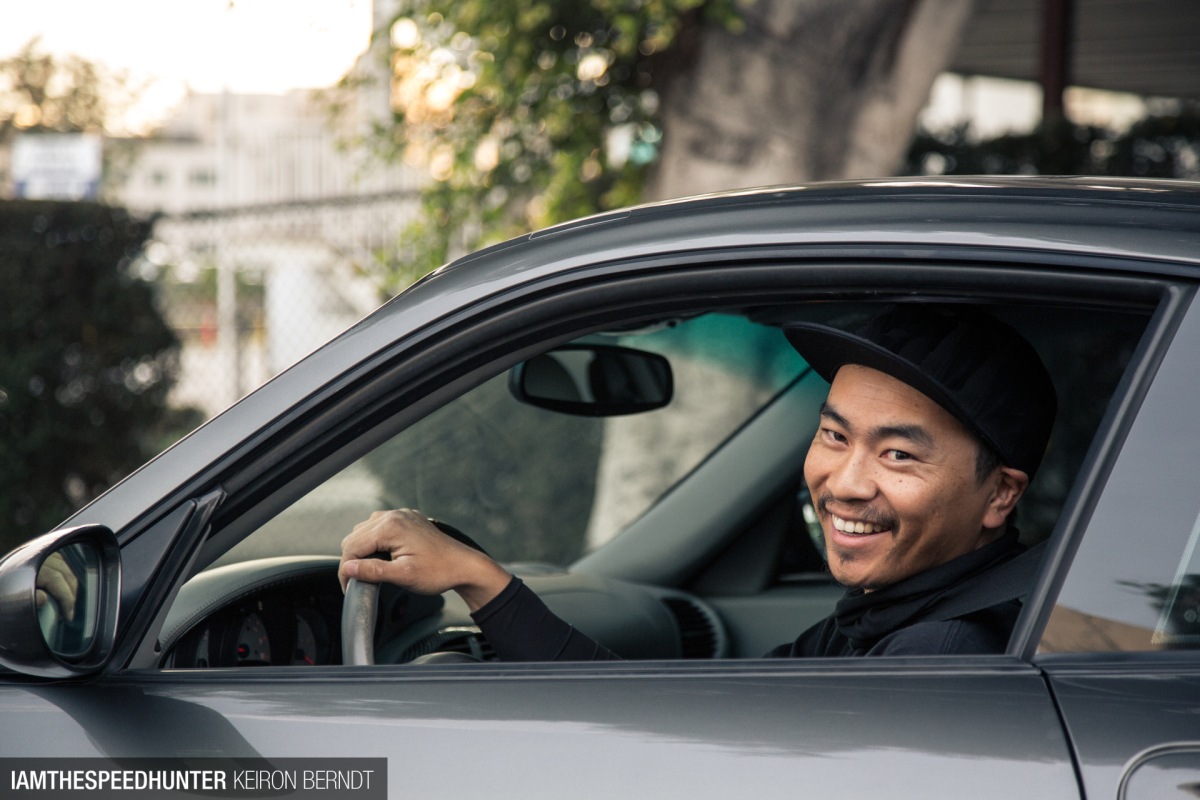 For now I'm just going to enjoy the ride for a little while before I start taking everything apart again. But that, of course, is the fun with project cars; you are never really done with them, and the process in between stages makes it all worth it, because the fun stops as soon as you are finished. Hopefully I never finish any of my project cars.
Larry Chen
Instagram: larry_chen_foto
larry@speedhunters.com
Additional photos by Keiron Berndt