The Garage
It's pretty obvious that this is a car that had to be featured. Earl Buenavente has been drifting Mazdas for the better part of two decades and in the last few years he seems to have created his masterpiece.
The inspiration for the car is immediately recognizable; if any of you haven't come across Dominic Toretto's FD3S Mazda RX-7 from the Fast and Furious franchise, you should probably reconsider your life choices.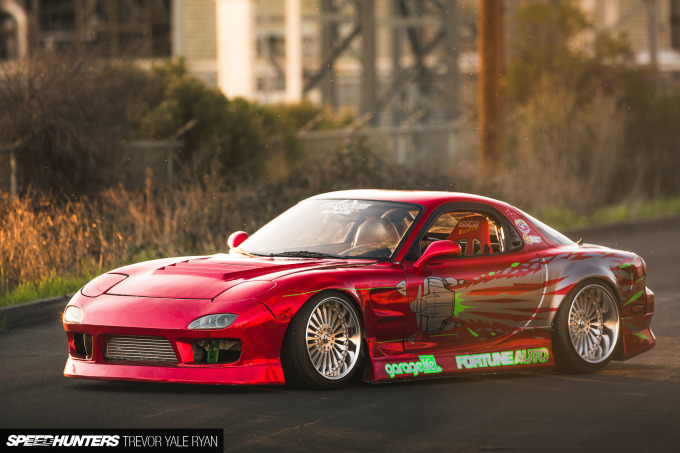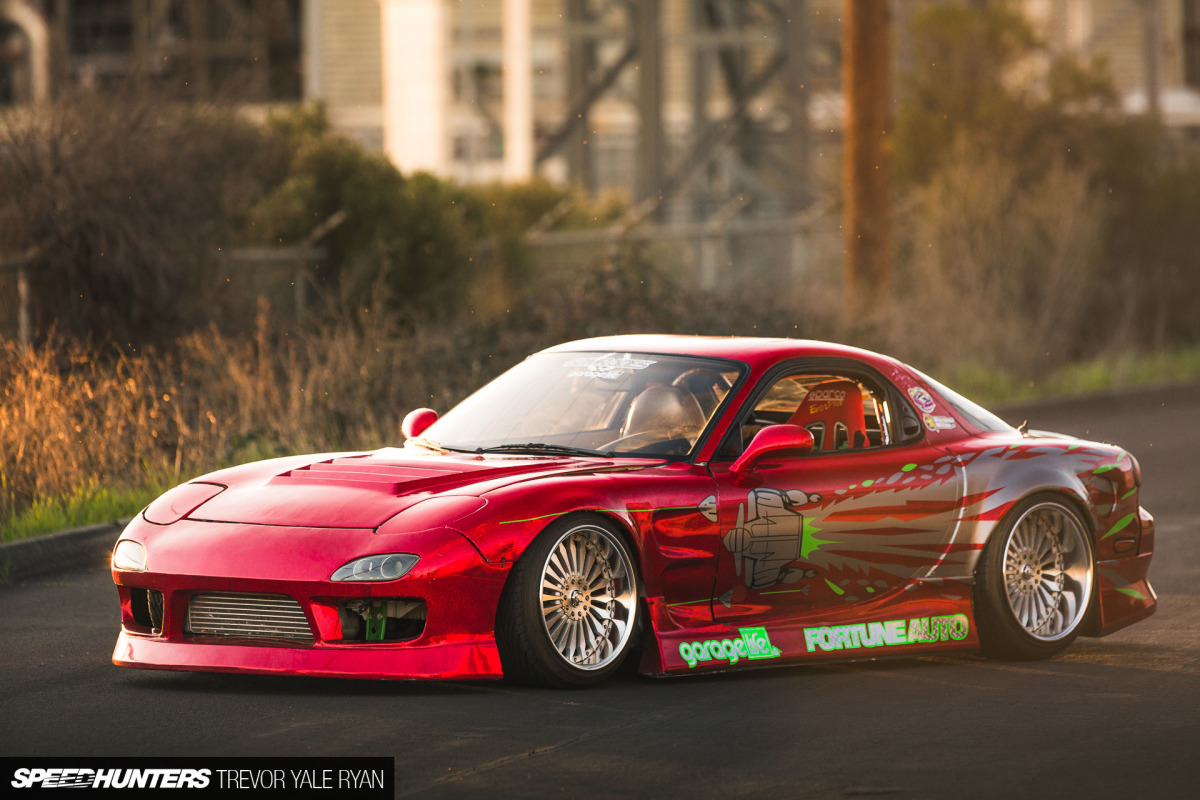 Before we even get into the car, please take a few moments to just look at it. It really is a car that needs some time to be properly taken in.
I love the FD chassis as it is, but this thing just blows my mind — it has an unequaled aura. Knowing that Earl continues to push the car to the limit at drift events is just the icing on the cake.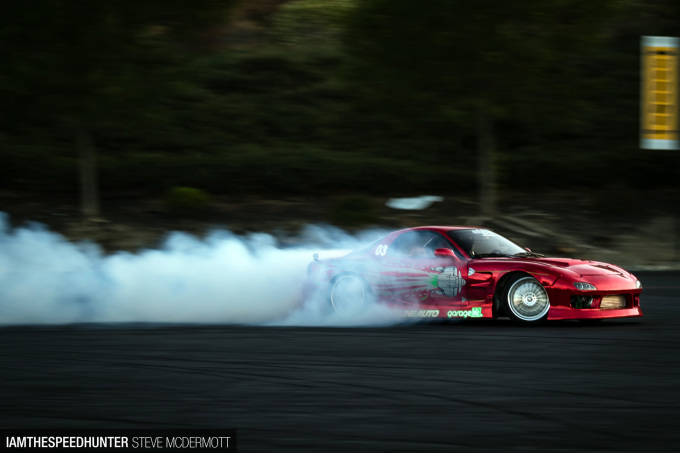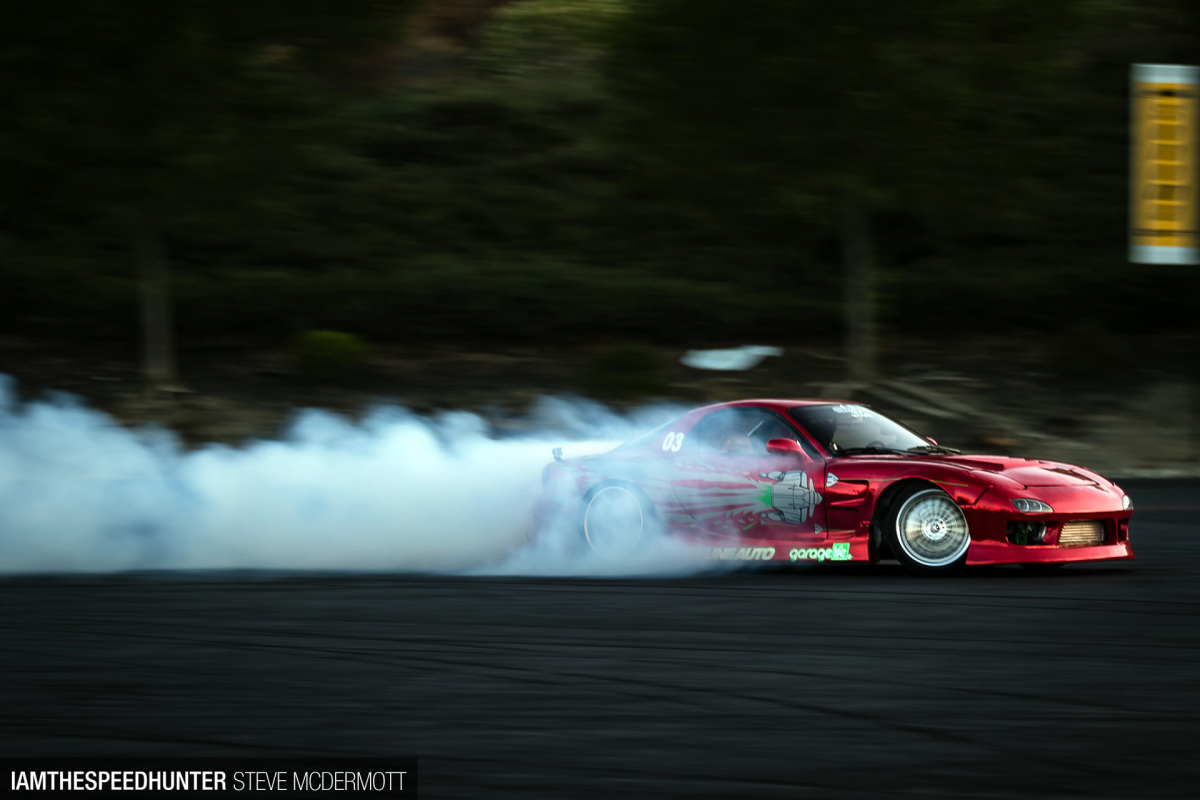 Somehow, the timing never worked out for me to actually see the car in action (yet), but my good friend Steve McDermott kindly provided some photos of Earl smoking tires and getting sideways at Sonoma Raceway.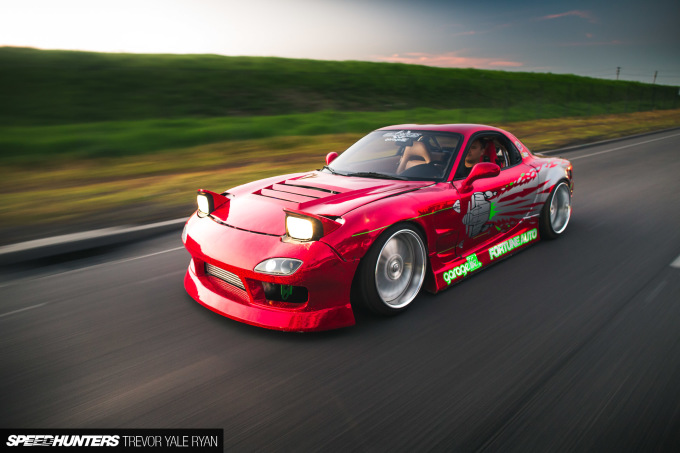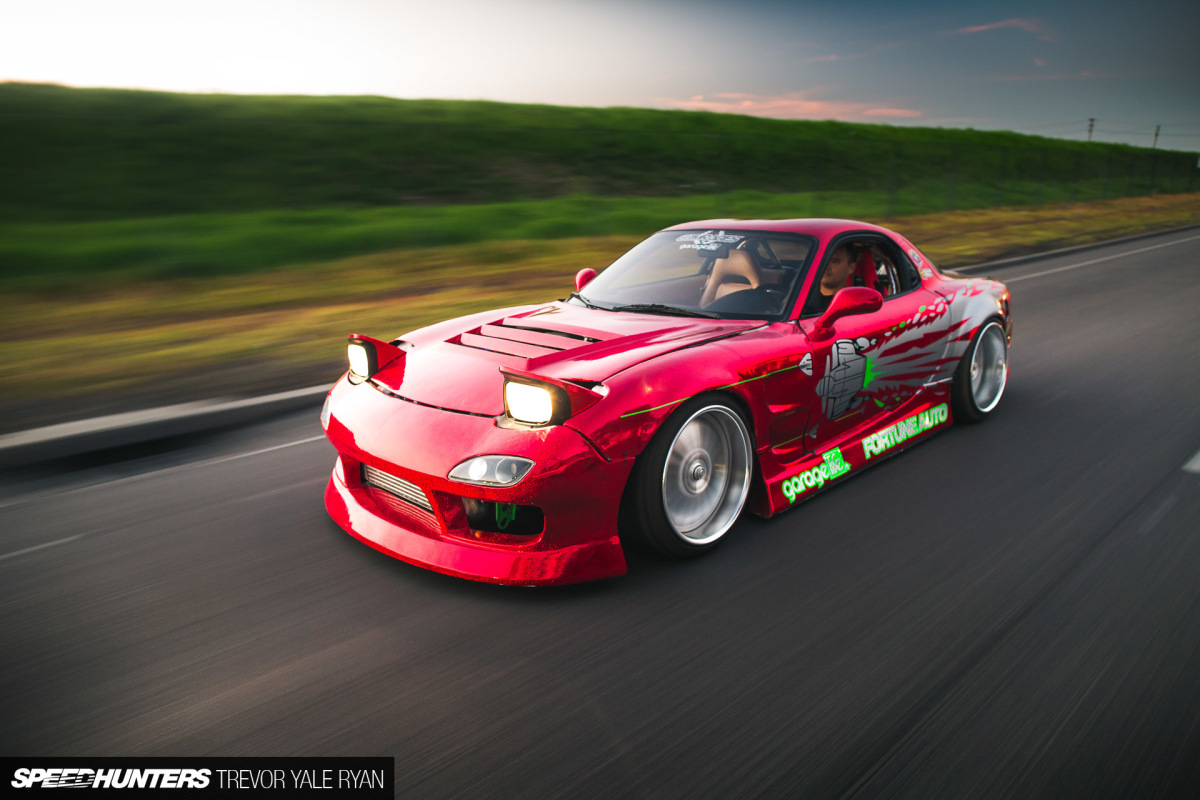 And before we get into any details of the car, you have to understand the owner and where he's coming from. Simply put, Earl is a guy who loves his cars.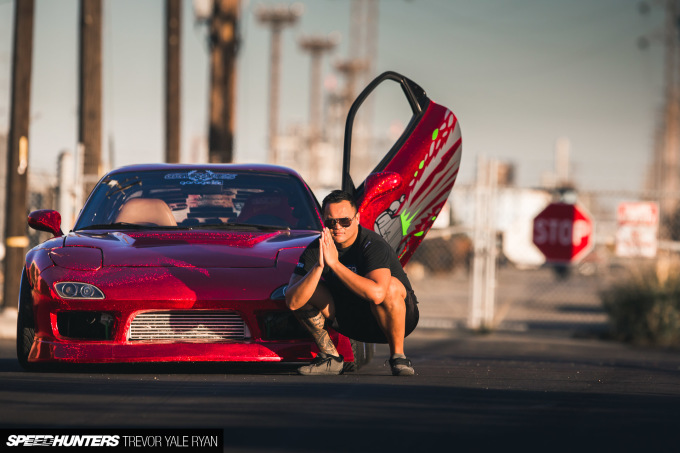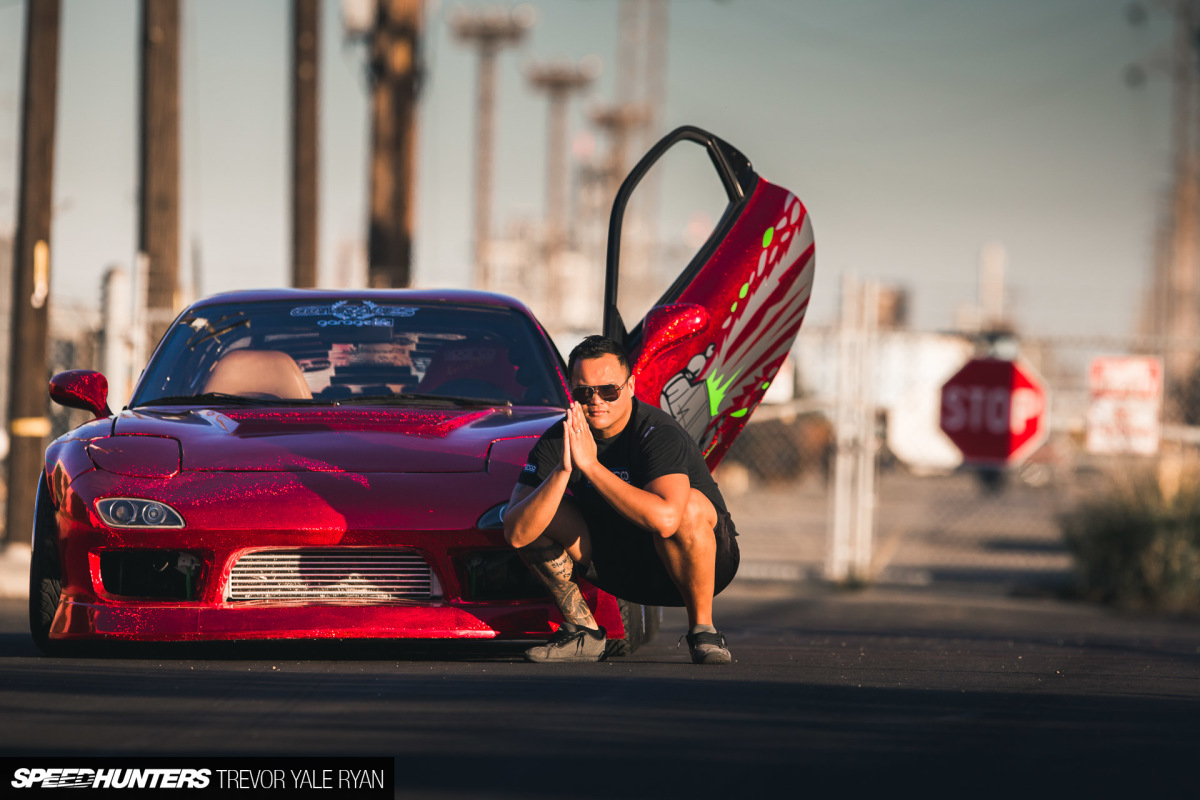 Seriously, he seriously loves them. He earned the nickname 'Angry Earl' at a party back in the day when a guy was leaning on his old FC. After a reasonable, likely enthusiastic, warning from Earl to kindly not lean on the car, the gent in question proceeded to literally kick the wheels and explain how Earl was overreacting. I'm not exactly sure what happened next – I wasn't there – but I think we can surmise the general outcome.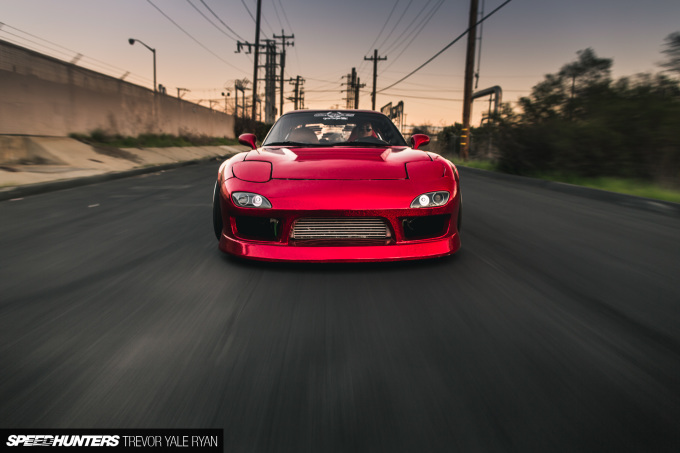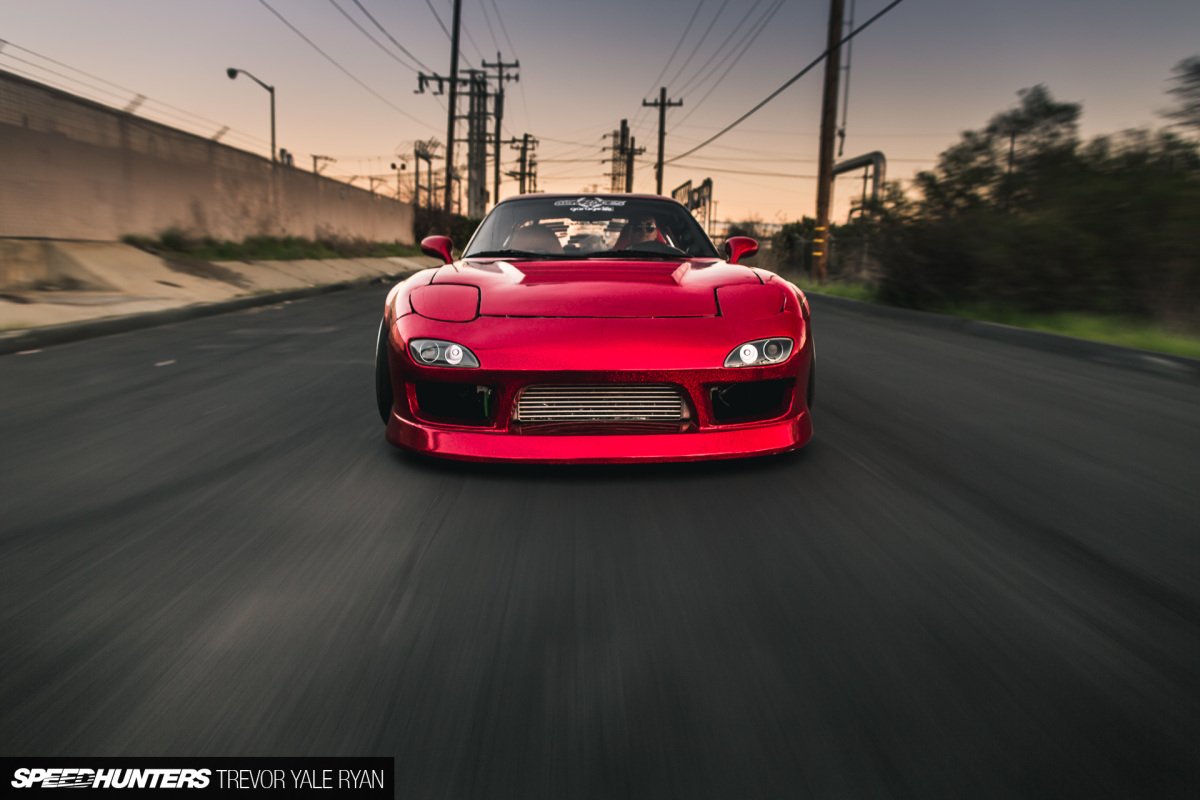 In contrast, the day I met him was the day we shot his RX-7 for this story, and I'd have to say he was more like 'Happy Earl' or maybe 'Super Enthusiastic Earl.' But how could you not be when you're behind the wheel of his TRTT-0 FD3S?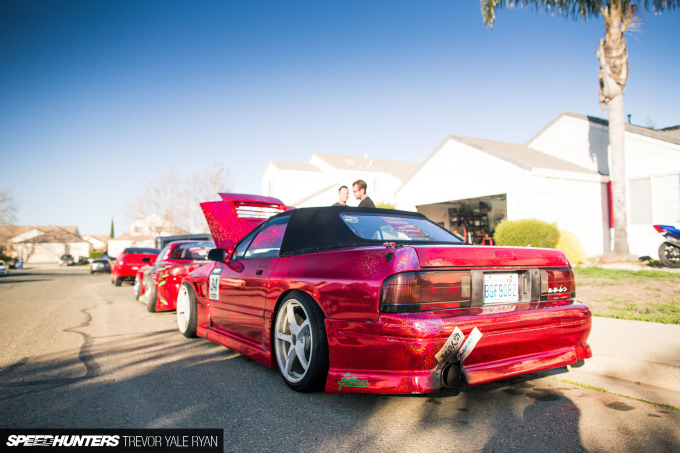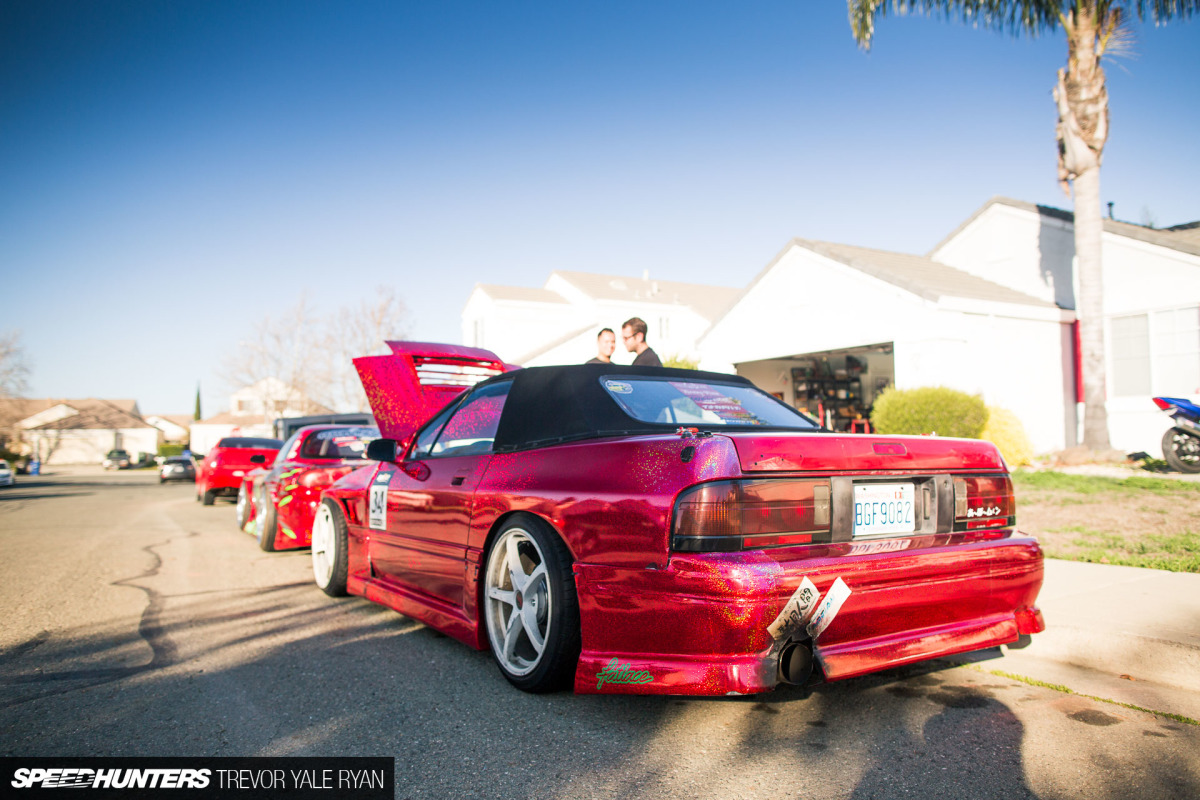 At any rate, Earl's passion is clear in both his driving and his collection which currently includes the 1993 RX-7 in question, another FD project chassis, and an FC3C RX-7 convertible that's been built to meet Sonoma Drift tandem spec. Oh, and his daily driver is a Mazda wagon.
Earl said he's always gravitated towards the RX-7, and pointed out that that both Playboy and MotorTrend awarded the chassis their Car of The Year titles in 1993.
When pressing Earl on the ins and outs of the FC versus the FD at the track, he dove into a lot of technical jargon about MacPherson struts and multi-link suspension (FC) versus independent double wishbone suspension (FD) and other differences in design. He says a lot of things are the same between the two, but ultimately any FC is going to be way cheaper and simpler to build.
He describes the FD3S the same way as others might describe a beautiful woman — clearly this is a guy who doesn't muck about when it comes to Mazdas.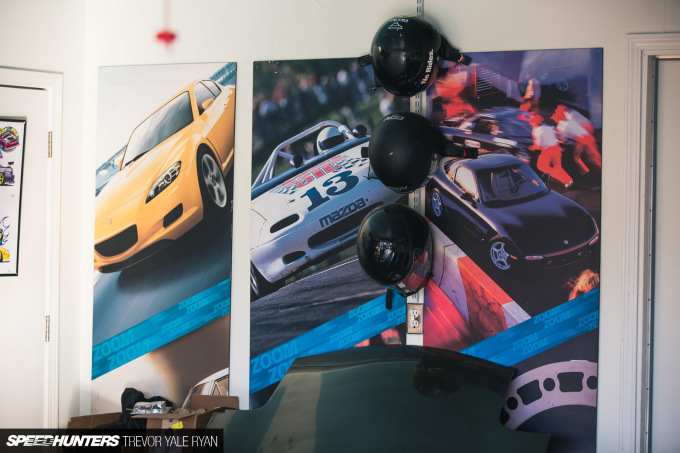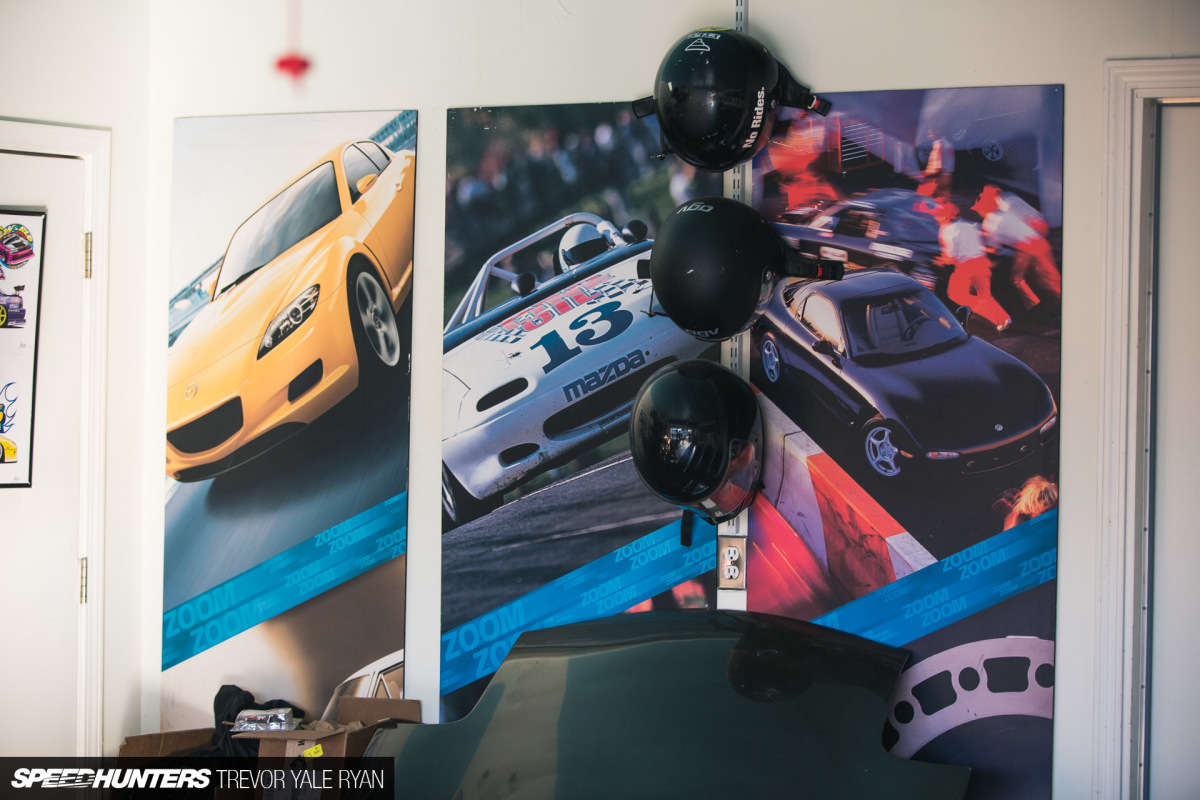 This becomes even more clear when you step into his epic garage.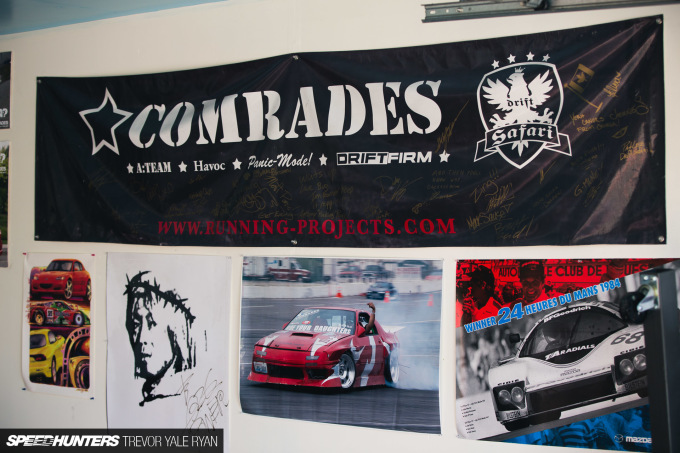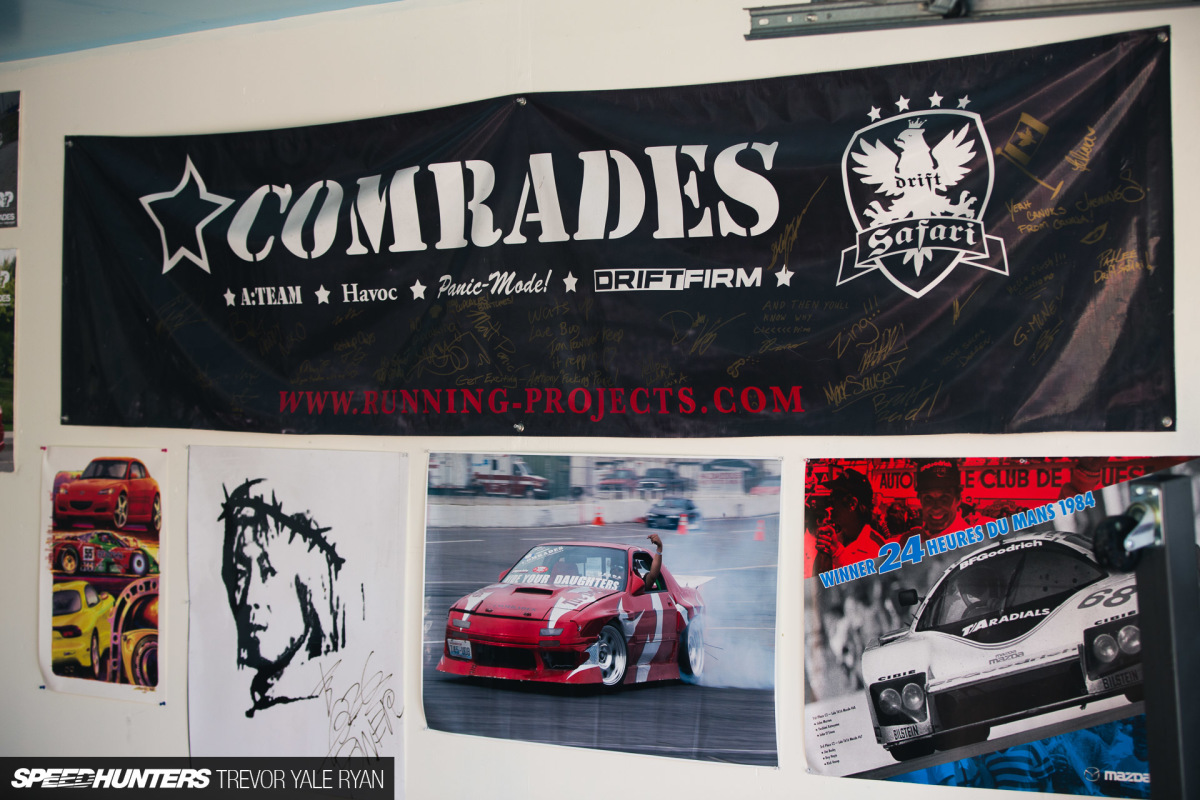 Spare parts tidily line the garage alongside an extra set of the VeilSide wheels and a bunch of tools. Spanning nearly an entire wall is a huge 'Comrades' banner.
Earl is originally from Washington State, where he began to get into drifting nearly two decades ago. Comrades is an old crew of guys that made up all of the drift teams in the Pacific Northwest back in the day. These were the guys drifting in the early 2000s, before drifting got big here.
Earl's made plenty of other friends over the years, too, a fact that's clearly evidenced by the very small amount of available real estate on the back of the car. Still, we managed to find a home for one more sticker.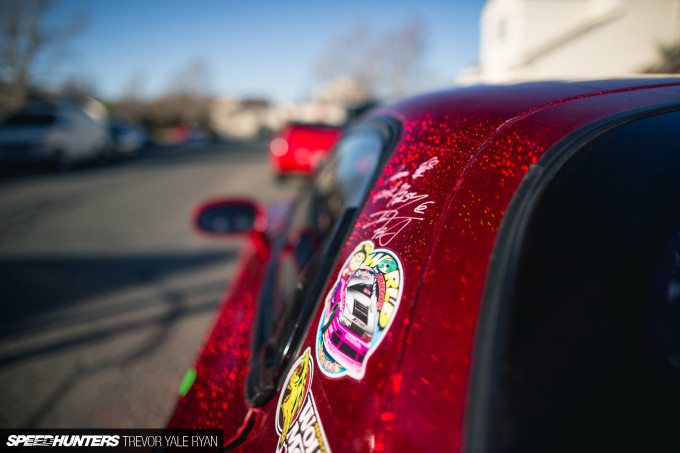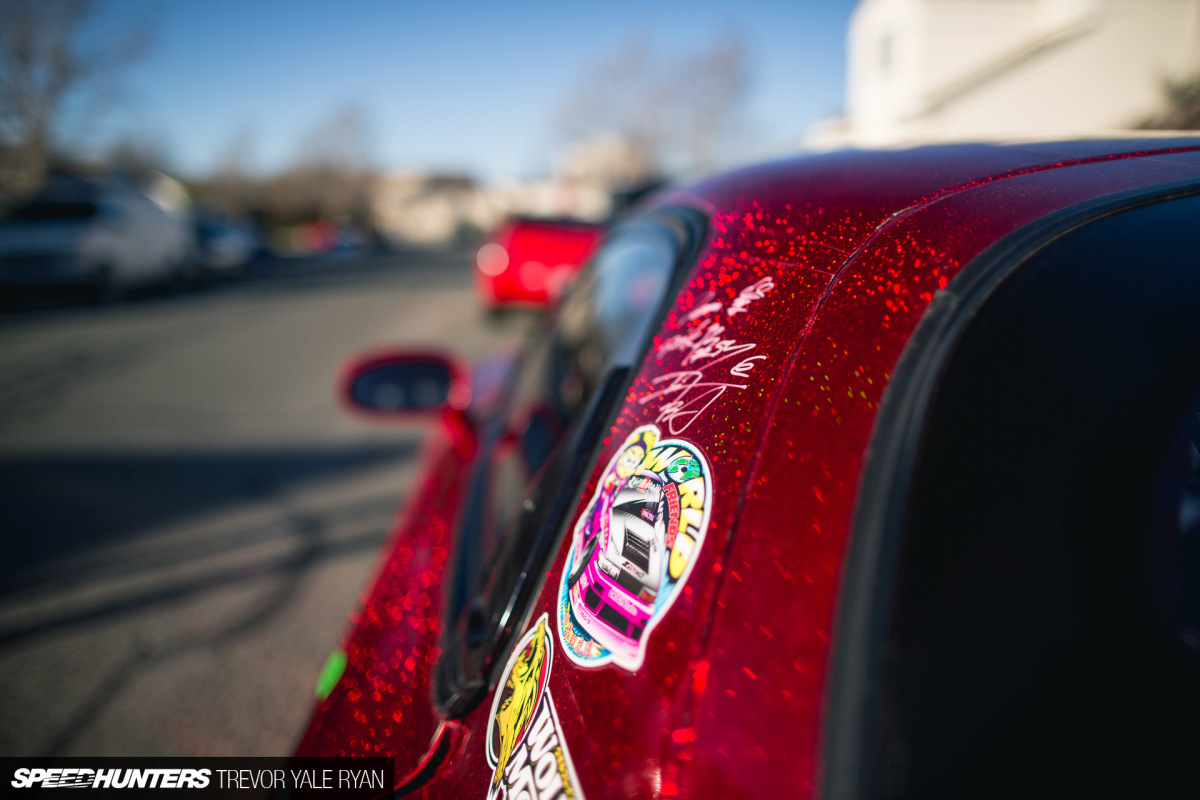 Another important sticker, along with a special signature, rides along on the driver's B pillar. Naoki Nakamura of Team Burst actually signed the car when he came stateside last year, and it's a cool little addition.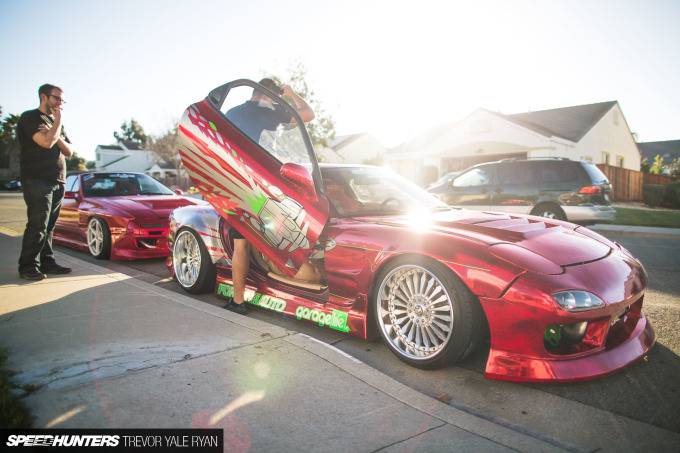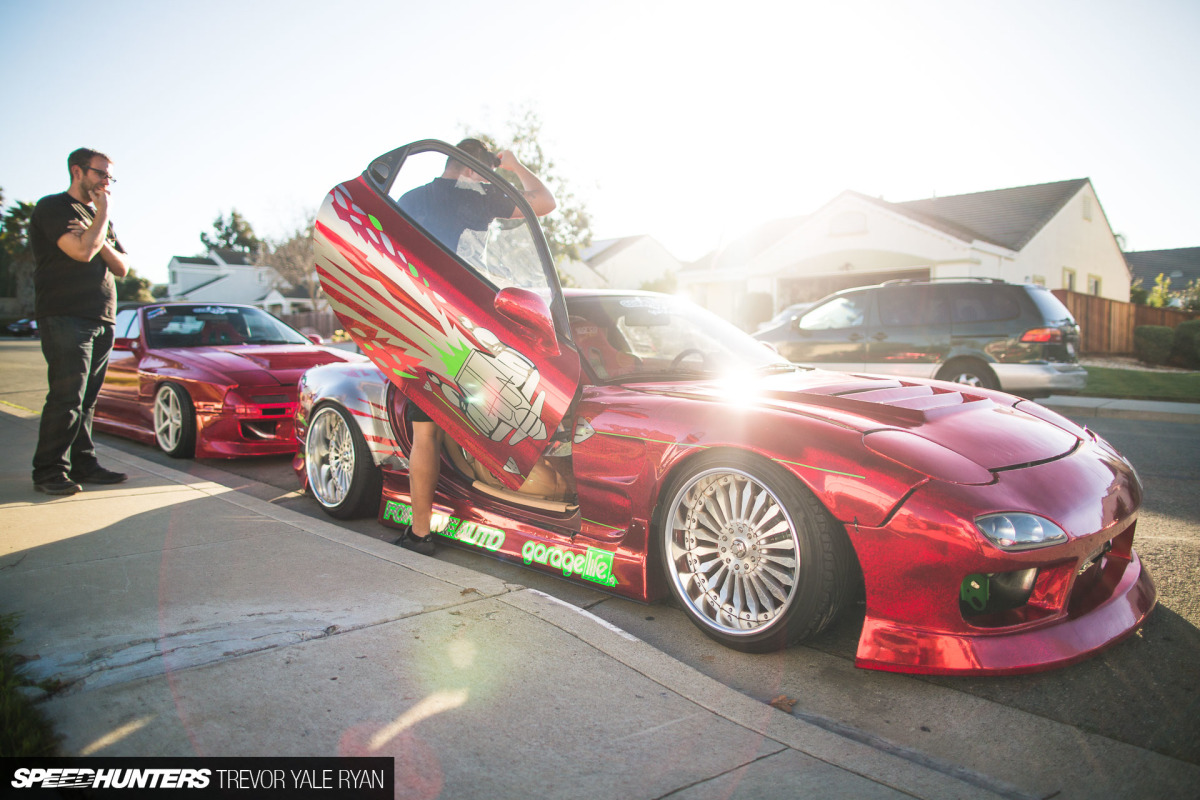 After chatting it up a bit, we were ready to roll out to shoot the car.
The Guts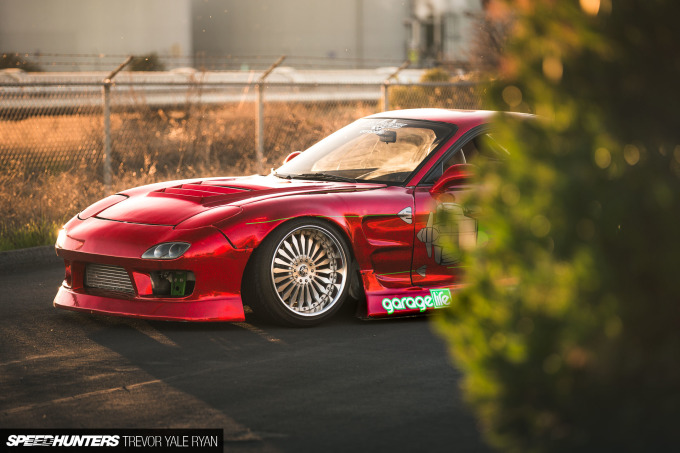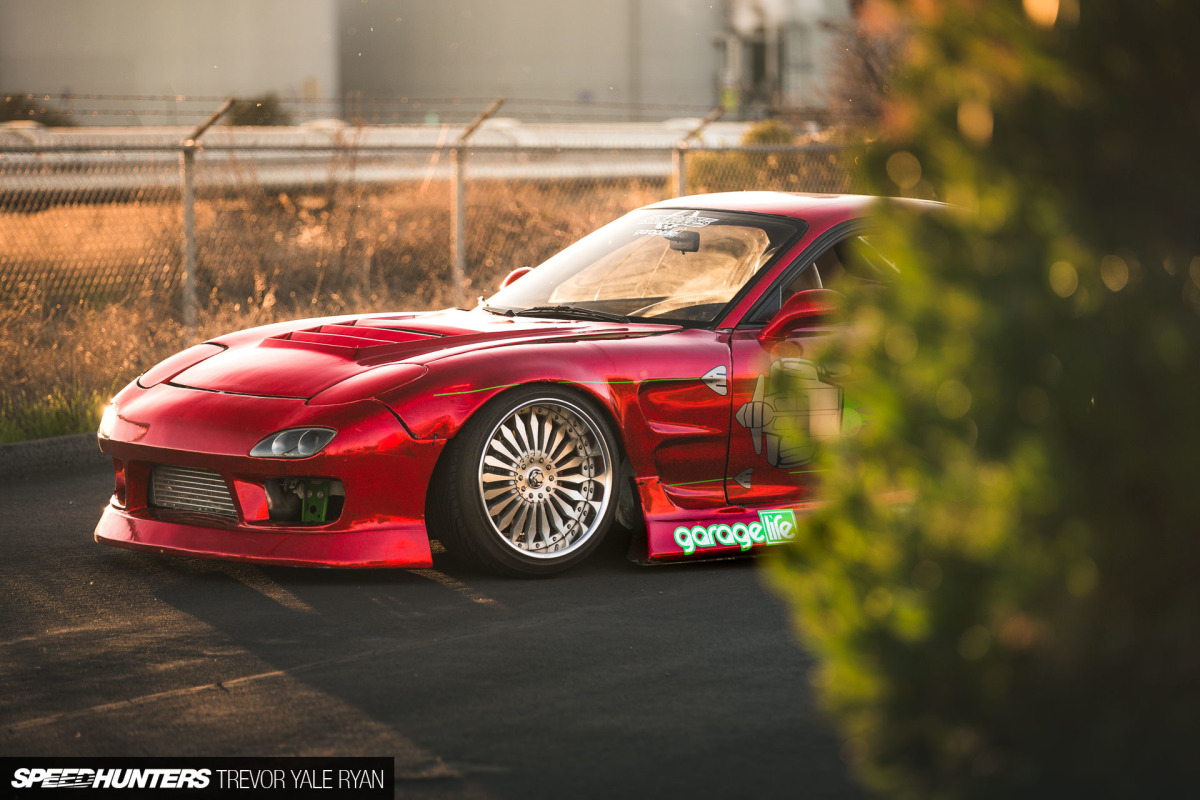 Look at that handsome devil peeking out at me. How could you resist it?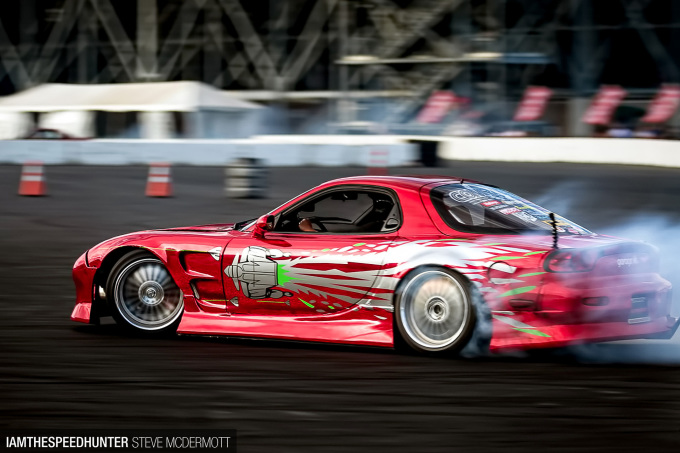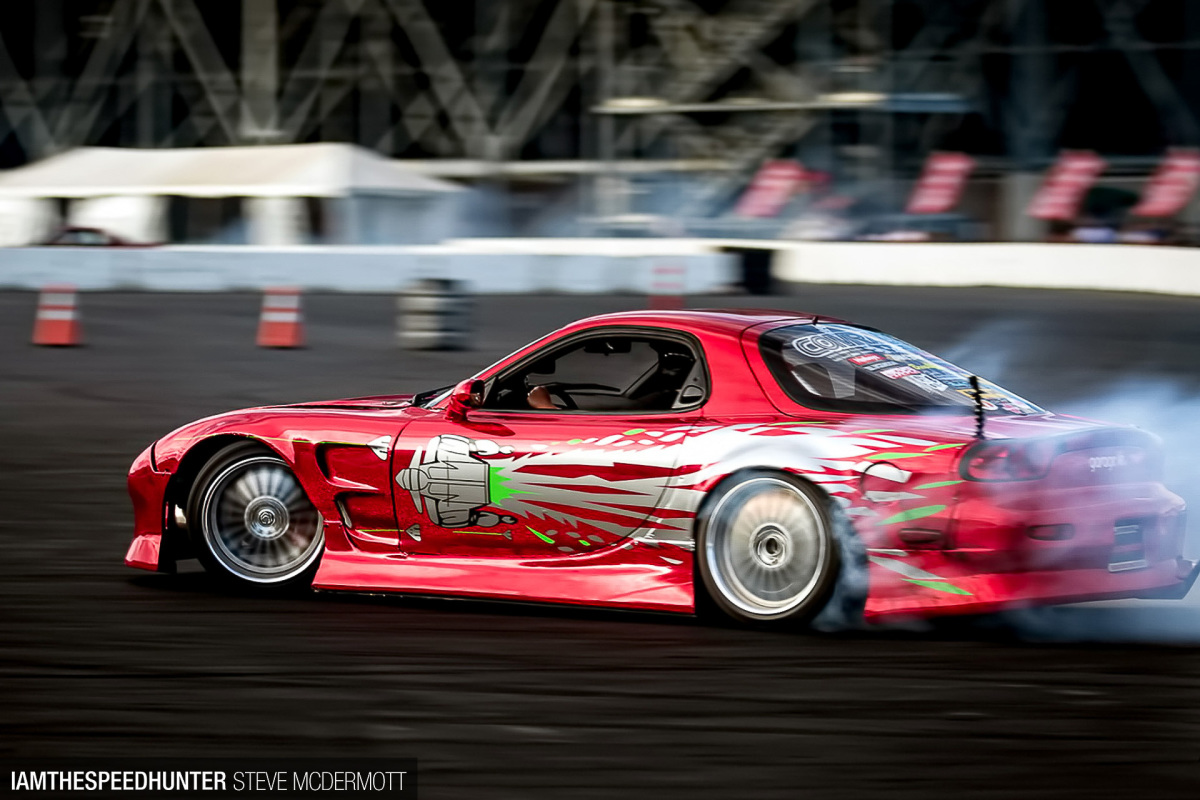 I think the answer is that you can't. I don't know if a car has ever excited me this much.
Earl explains that compared to his FC3C the FD3S is not nearly as durable; this has to do with the engineers compromising on the structural integrity of the later chassis to make the car as lightweight as possible. He says legend has it that this school of thought was heavily influenced by the lightweight, long-range WWII Japanese Zero Fighter planes, which just makes the car that much more badass.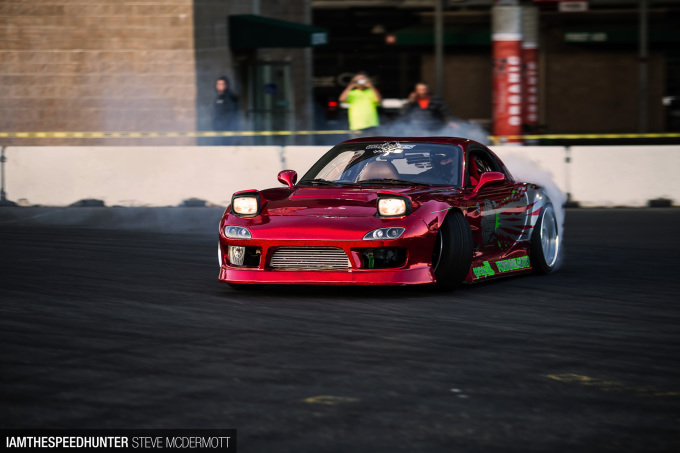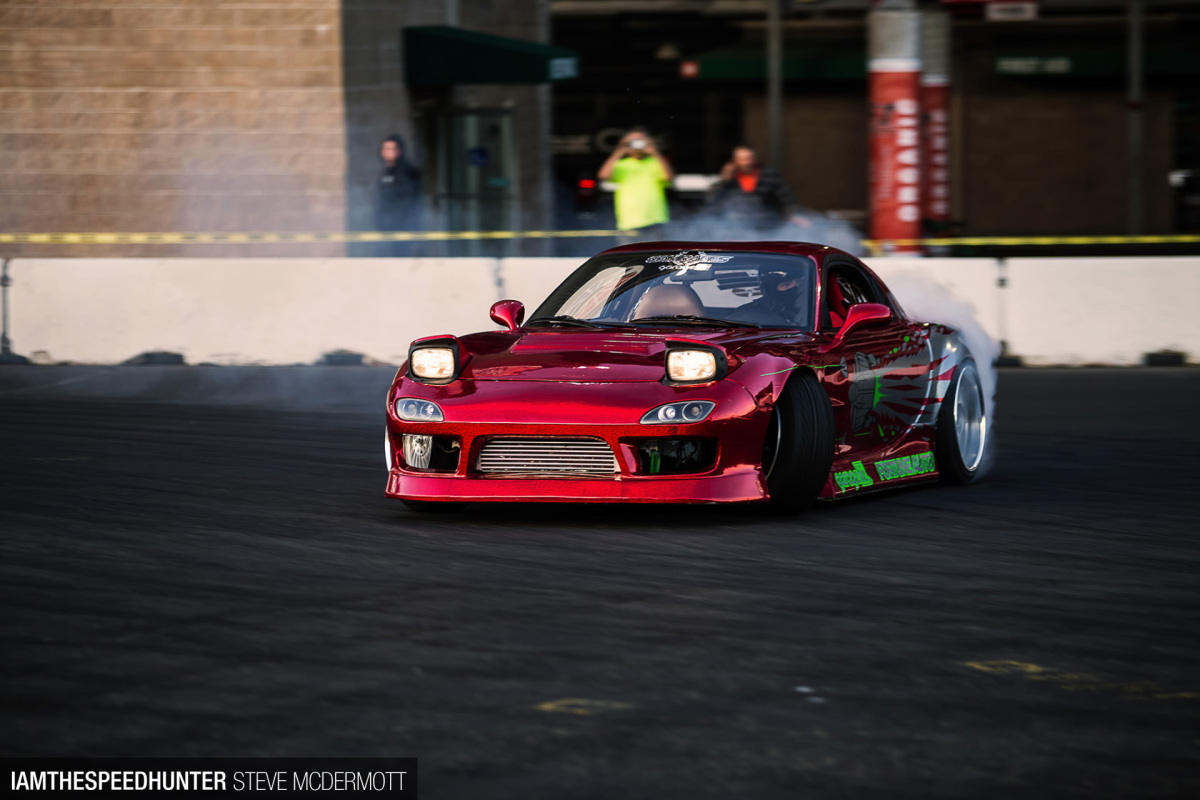 It's no surprise that the Mazda gets plenty of attention at the track, too. While it's a bit patched up here and there from years of aggressive driving, it still looks phenomenal, especially at speed.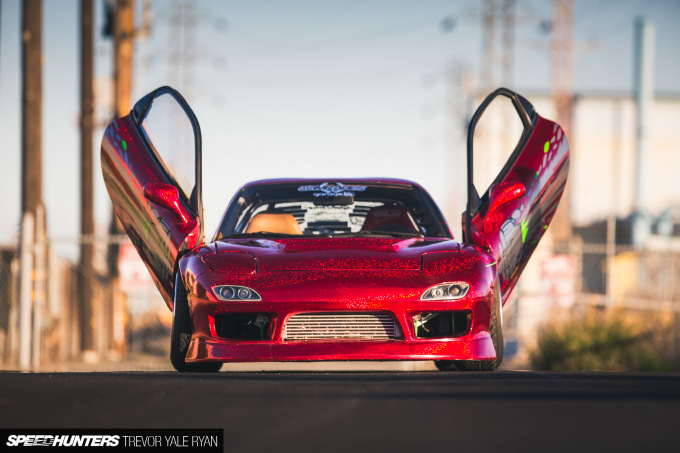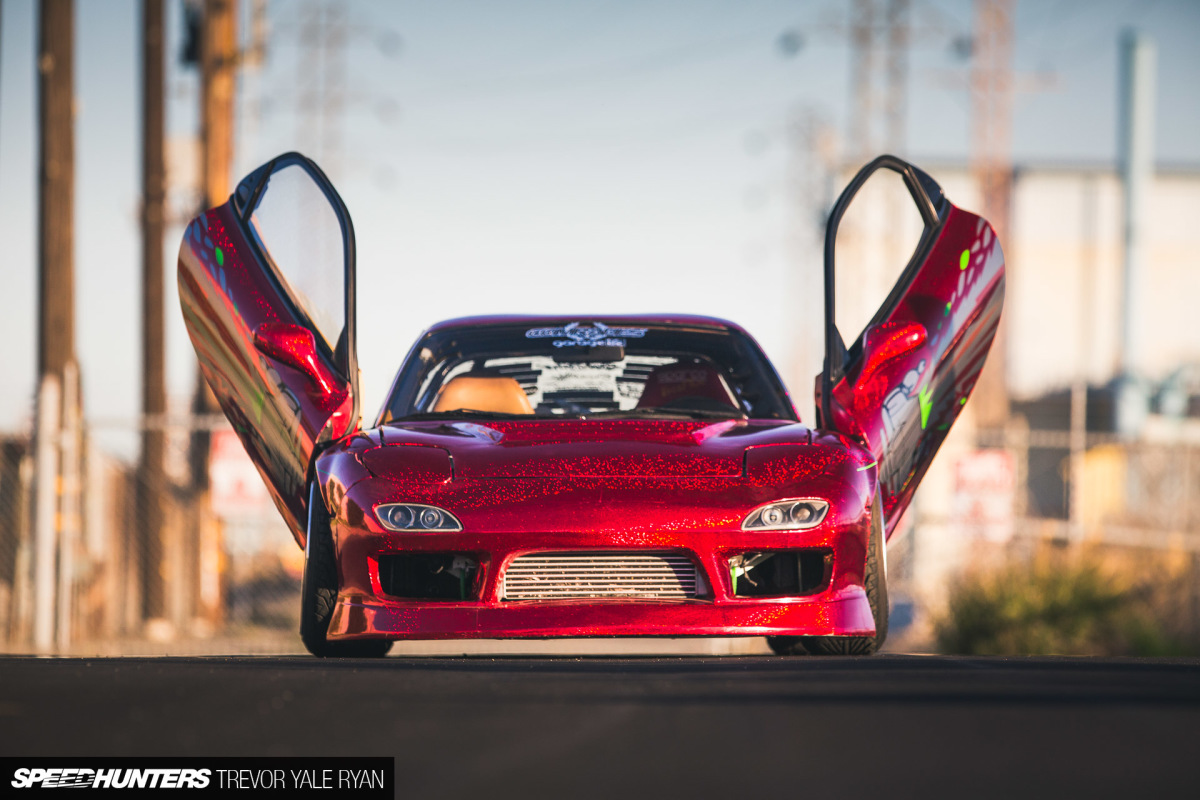 Again, just look at it. Built to make the doors open up like the diva it is, it's a truly insane Mazda.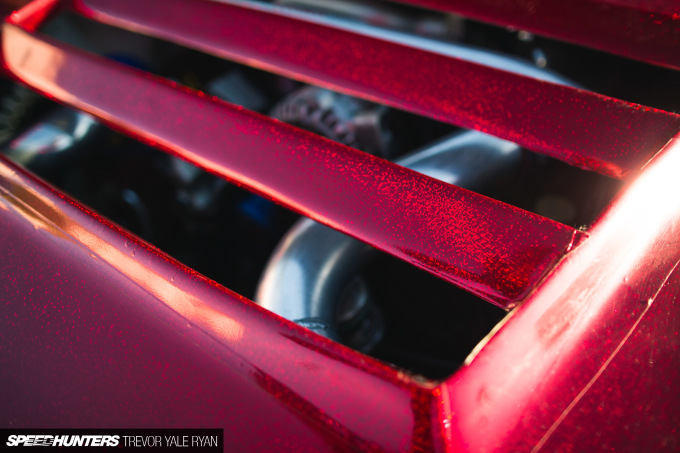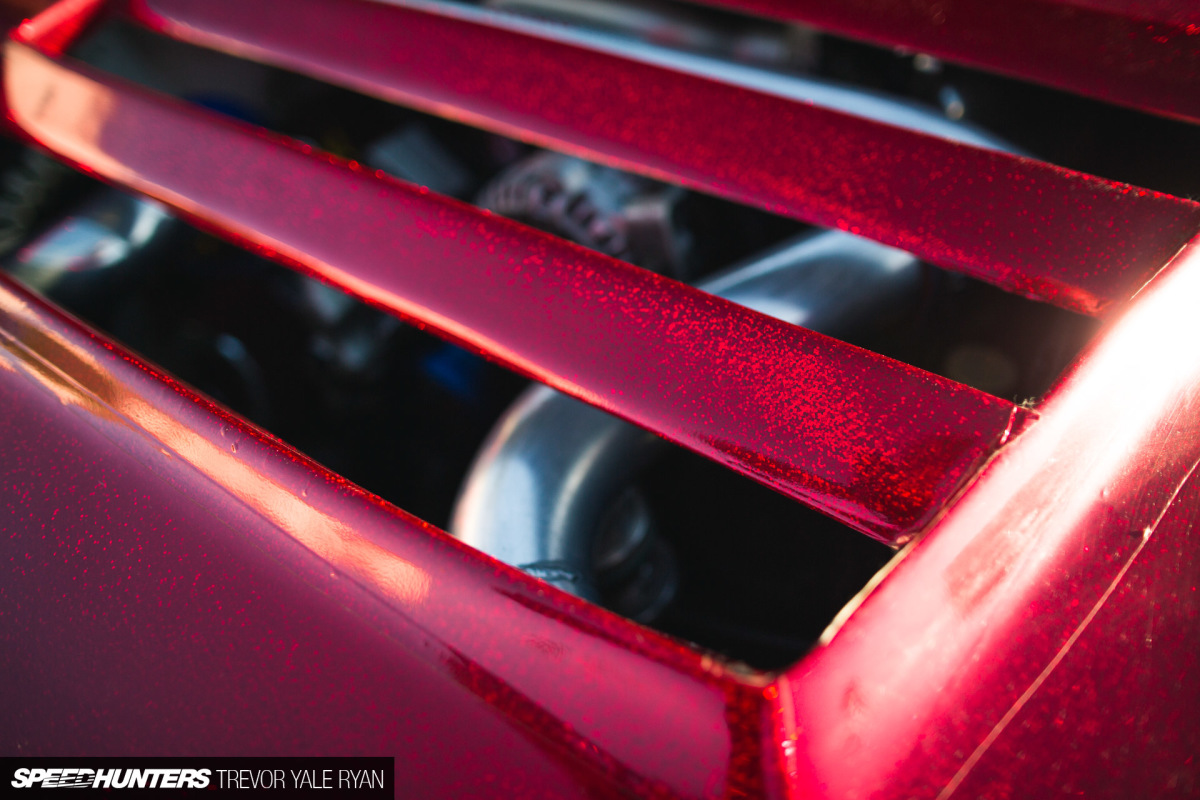 I know I already seem to have a reputation for featuring V8-swapped RX-7s (I got fairly torn up in the comments here and here), but fear not purists…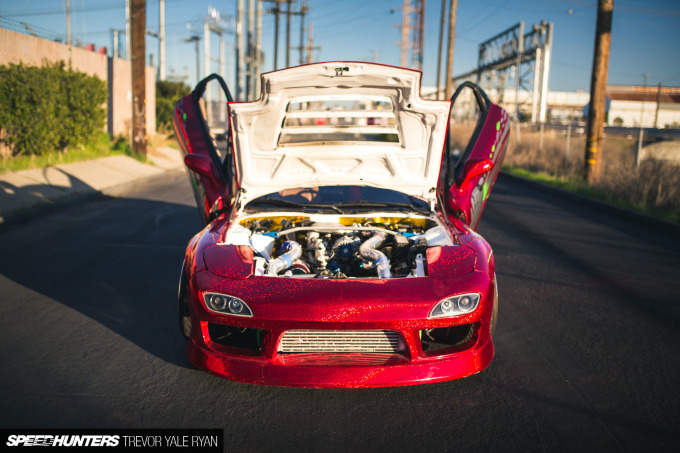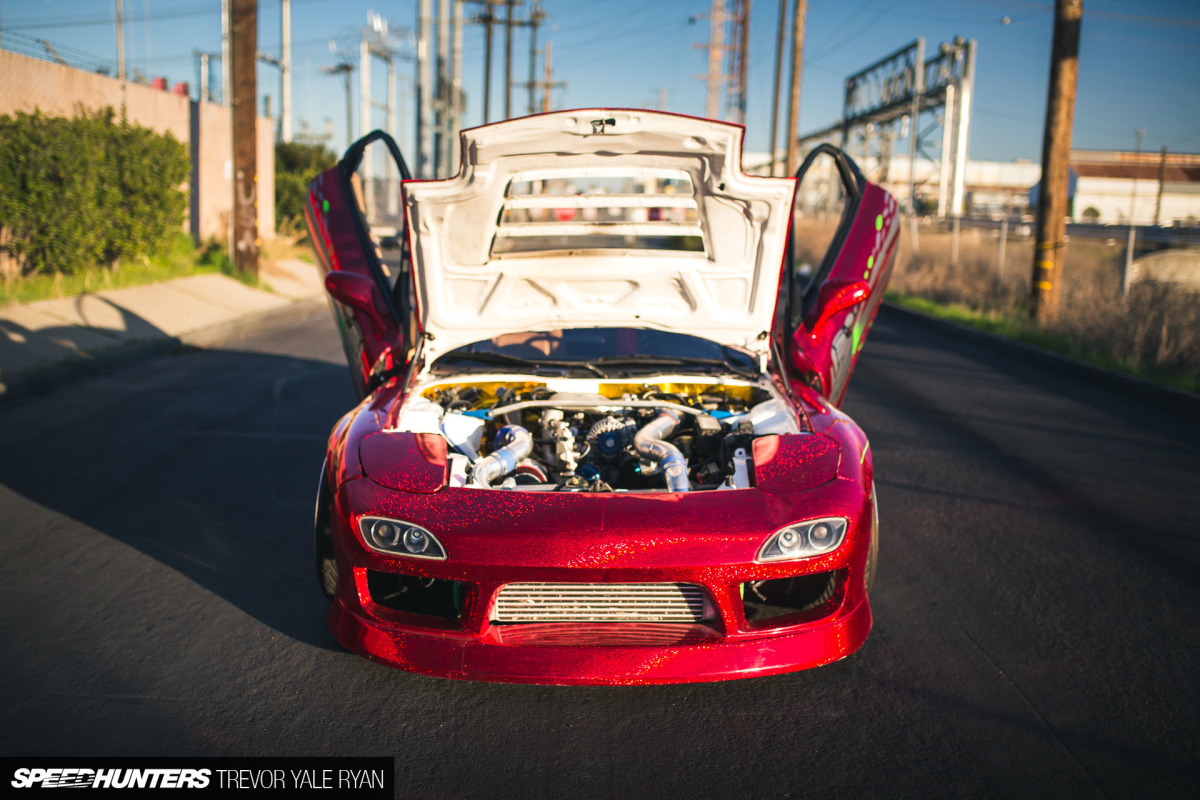 Earl is a Mazda guy, after all.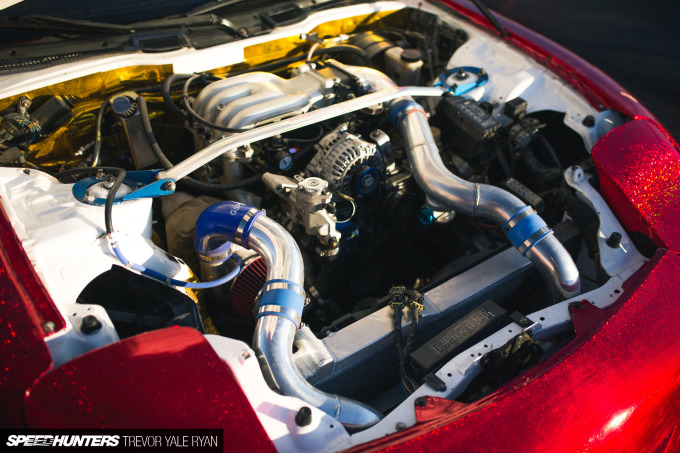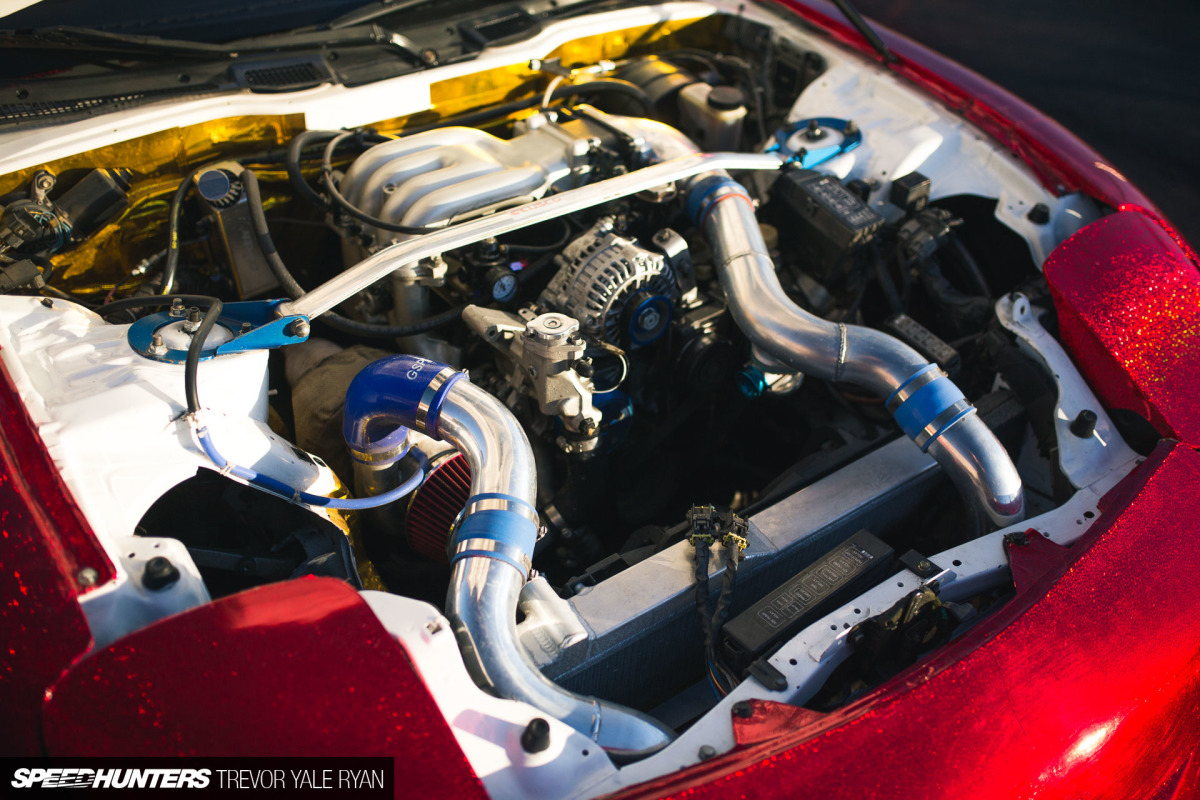 Thus, the proper 13B-REW can be found at the front of the car. This unit was assembled by Roarks Motorsports and tuned by GarageLife for 350whp at 8,300rpm. The rotary powerplant makes use of titanium valve springs so as not to implode under high-revving abuse.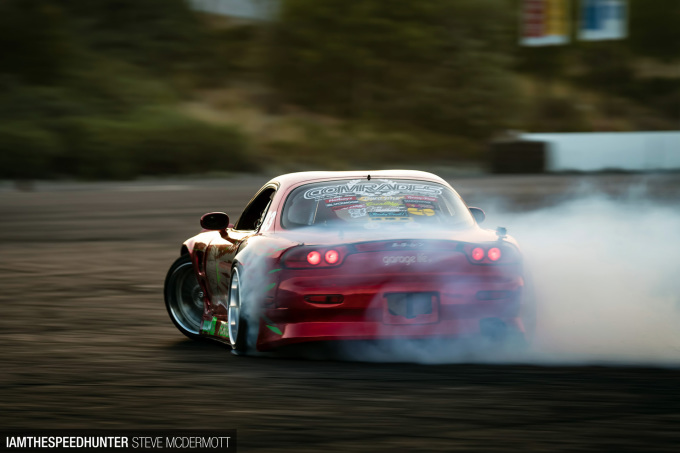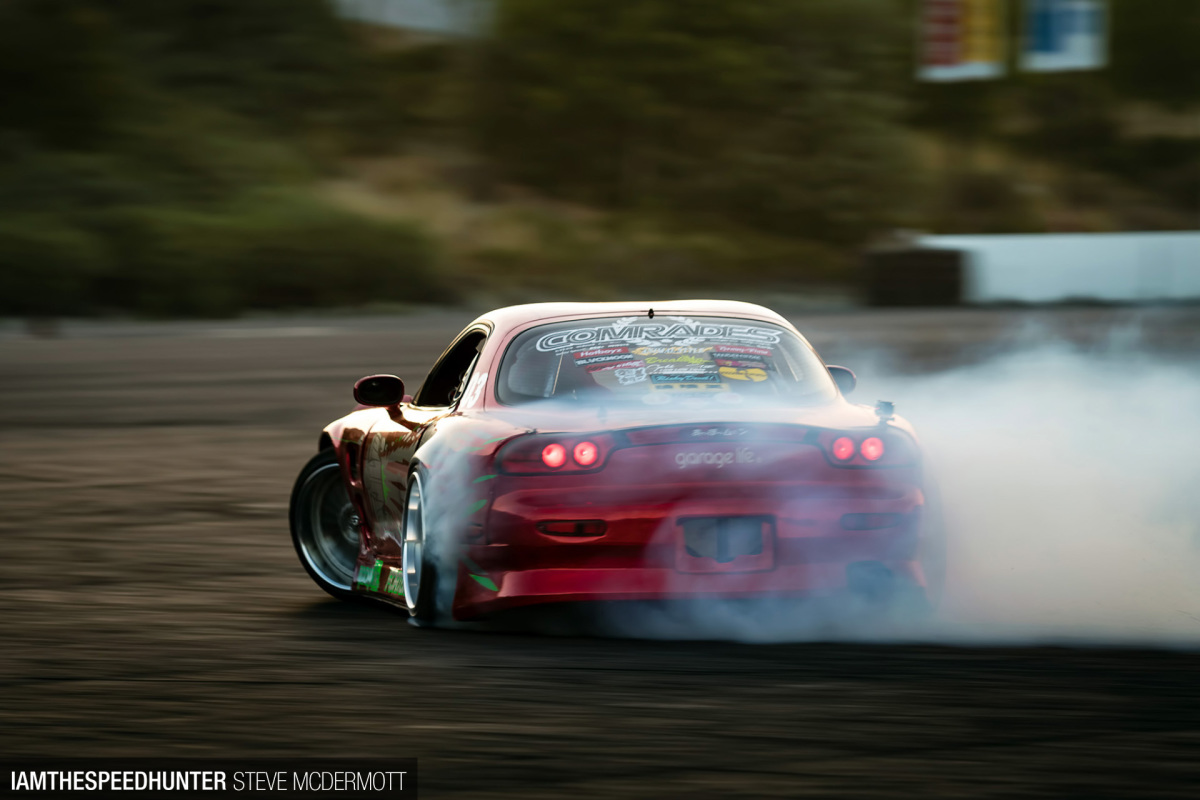 From the GReddy intake to the T88 ball-bearing turbo, this engine bay is actually quite nice to look at.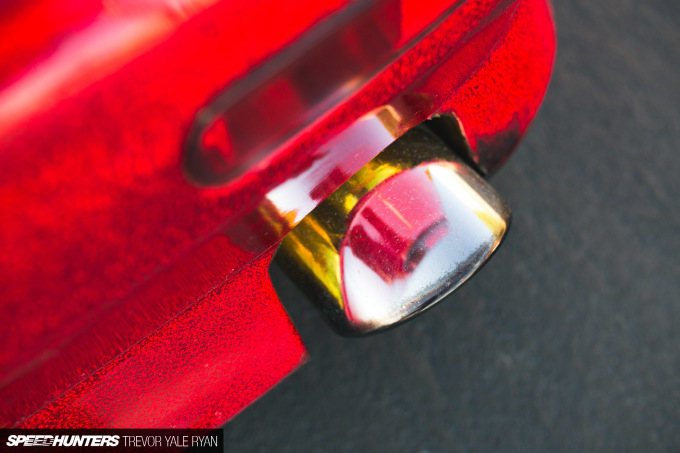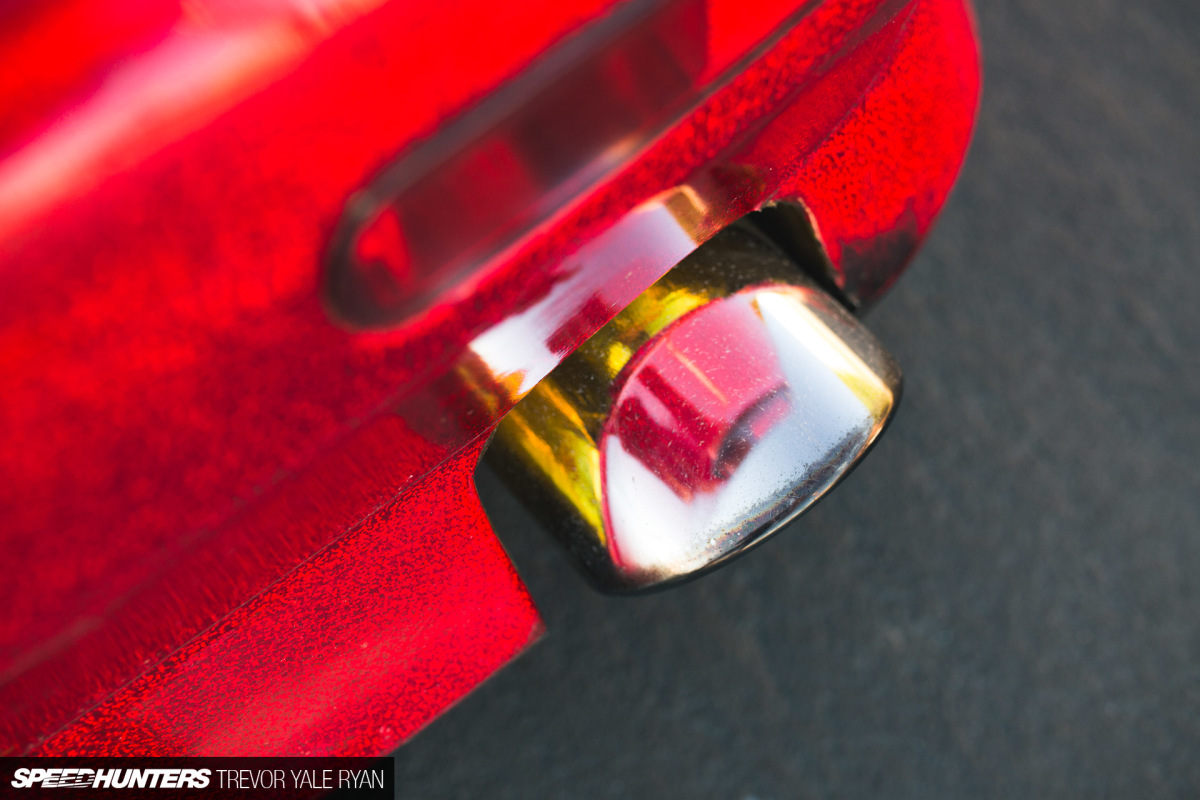 Exhaust is sent back through an extraordinarily loud (absent) exhaust, and forced out a massive six-inch tip.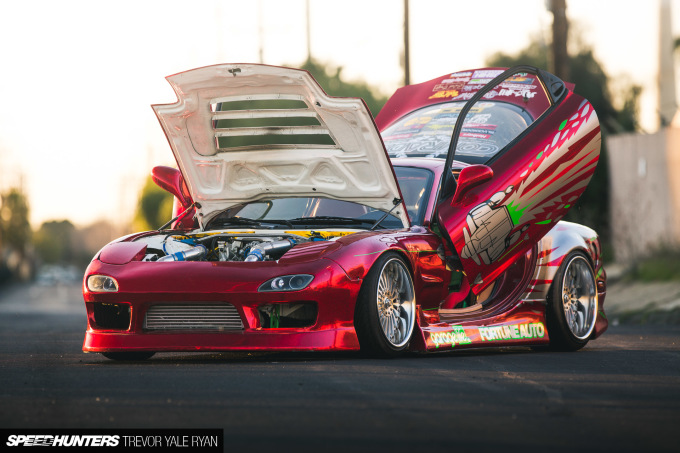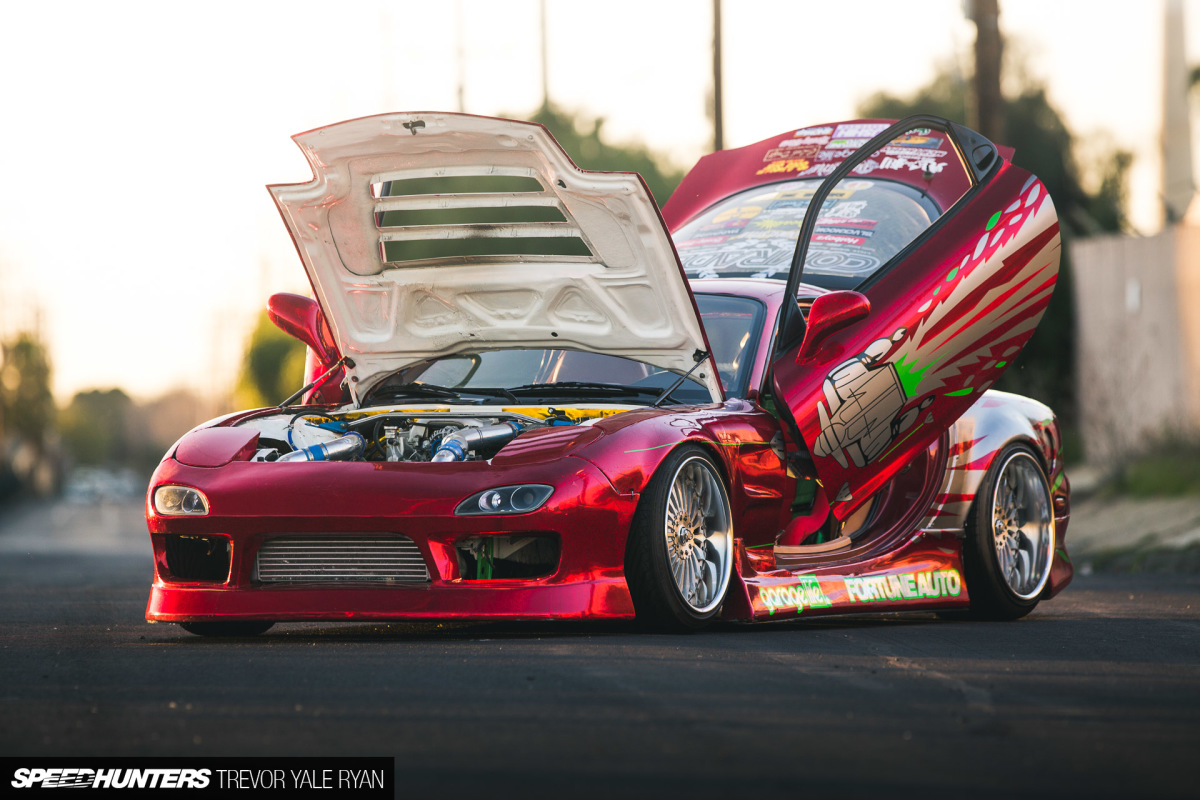 While it was all opened up, Gundam-style, I figured I'd better take a look inside, too.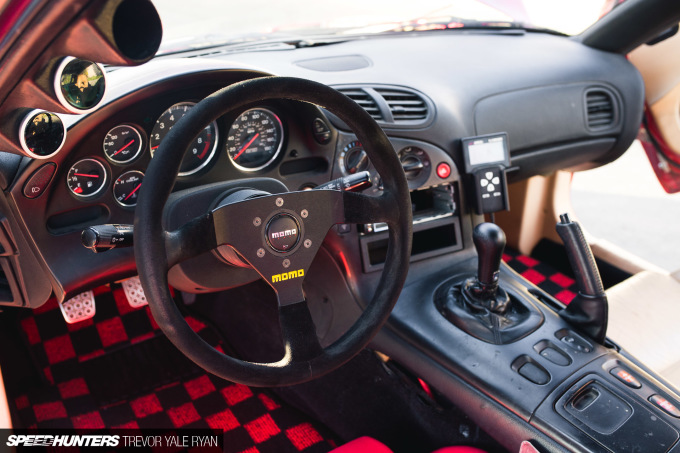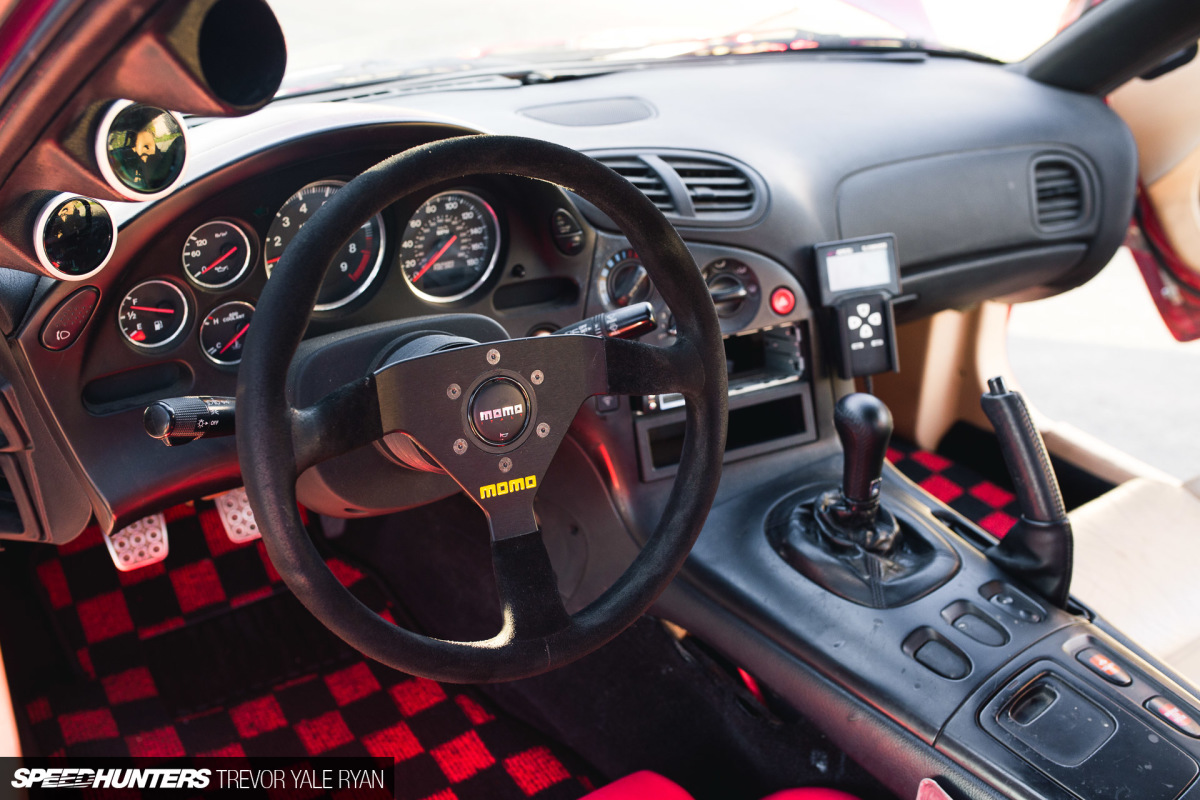 I have to say, I was a bit surprised here. Most of the interior is actually still in place and has been modified in a rather simplistic way.
Besides the checkerboard carpet, a proper Momo wheel is the most striking change from the driver's point of view.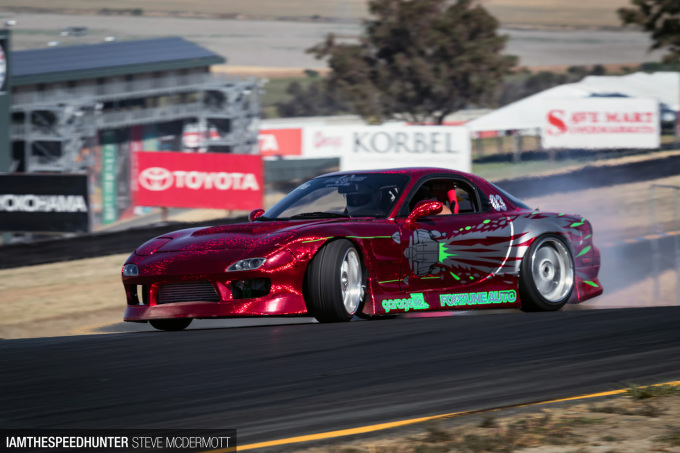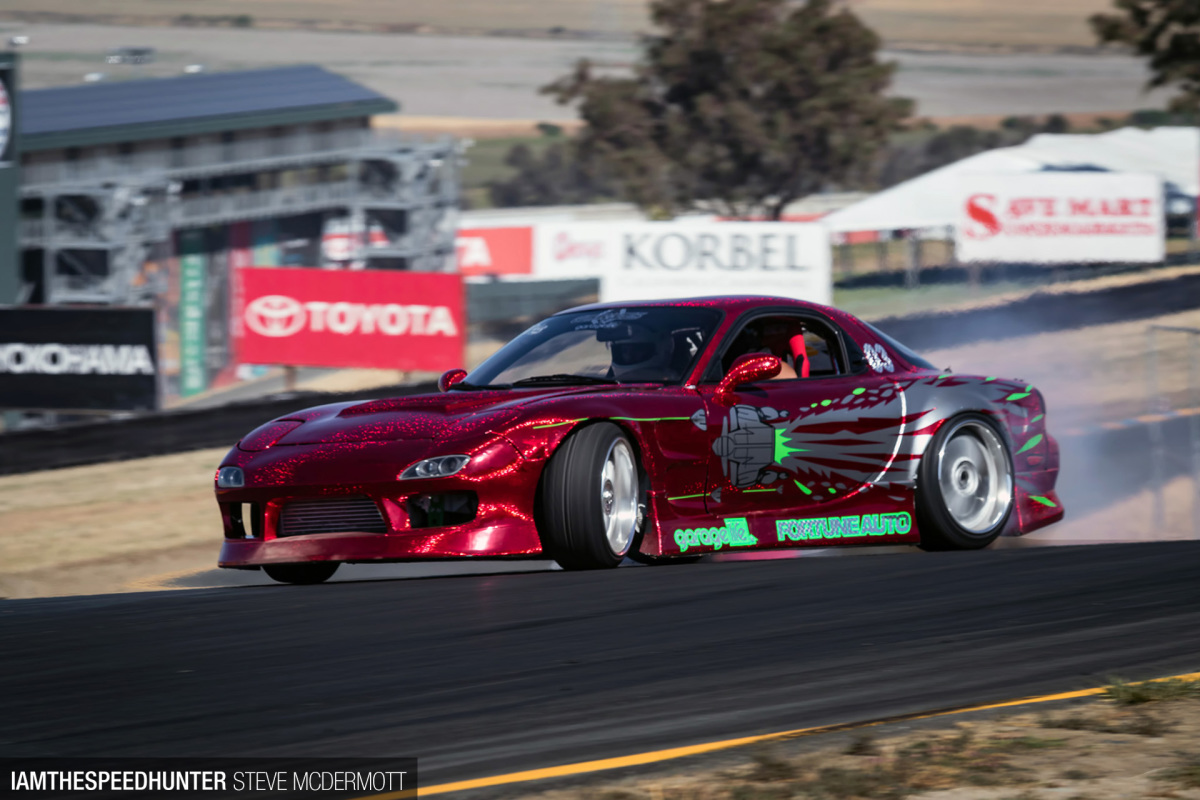 Seeing as how the car is driven in fury, at times on full track layouts, all of the safety bits have to meet strict tech inspections. I'm not sure if 'shiny' is a criteria or not, but it seems to be in Earl's book.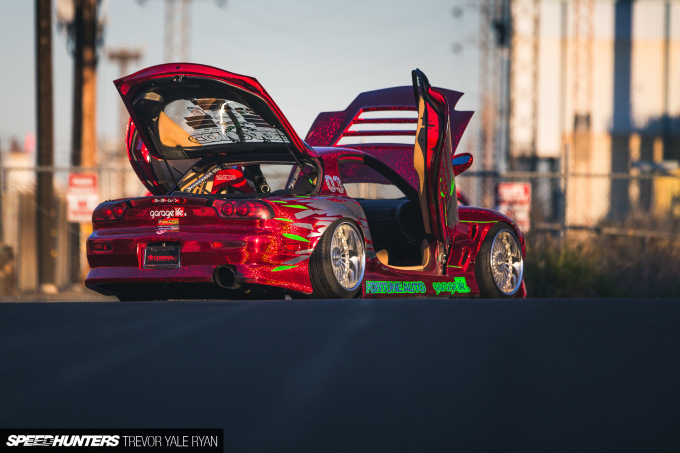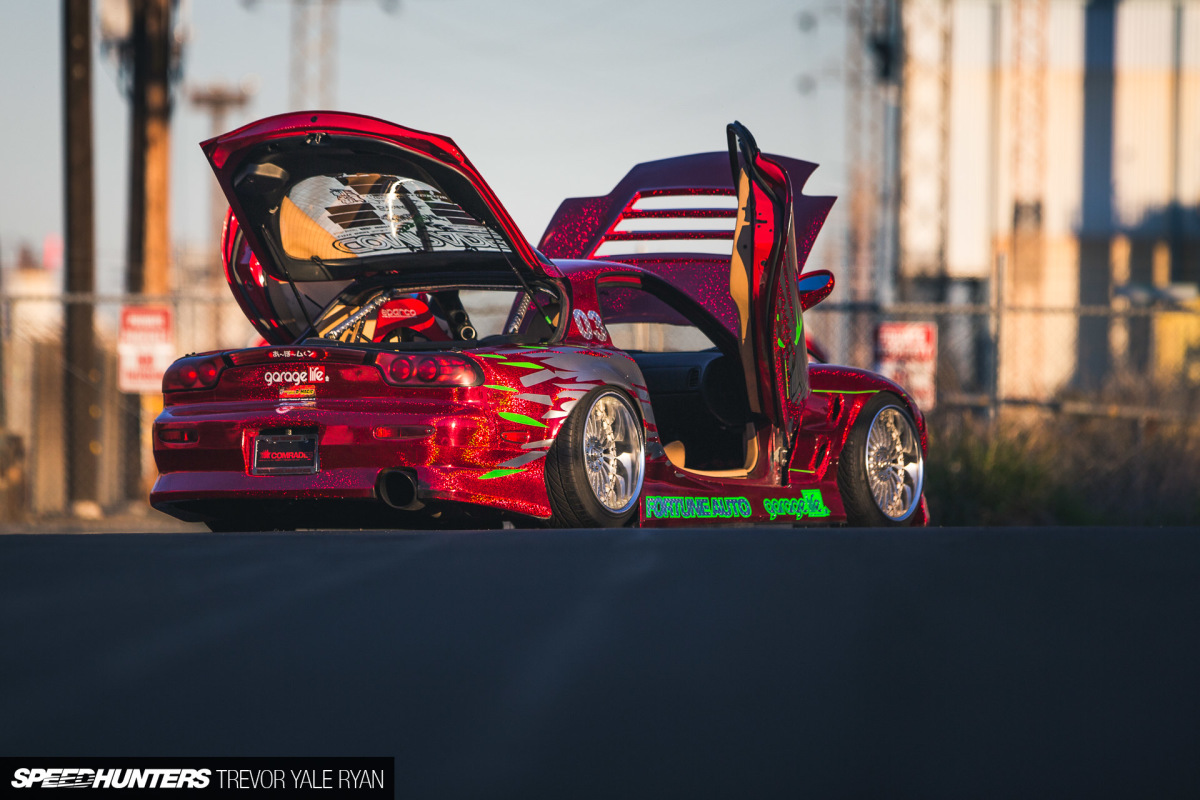 Not just 'shiny' but 'sparkly' too. And for that, I'm thankful; this was just such a fun car to shoot.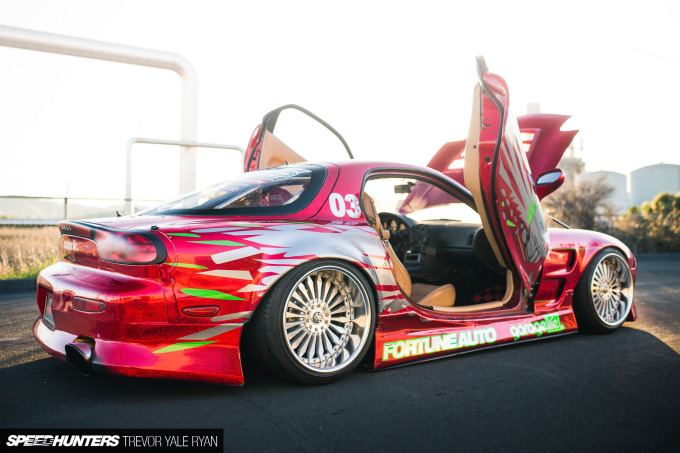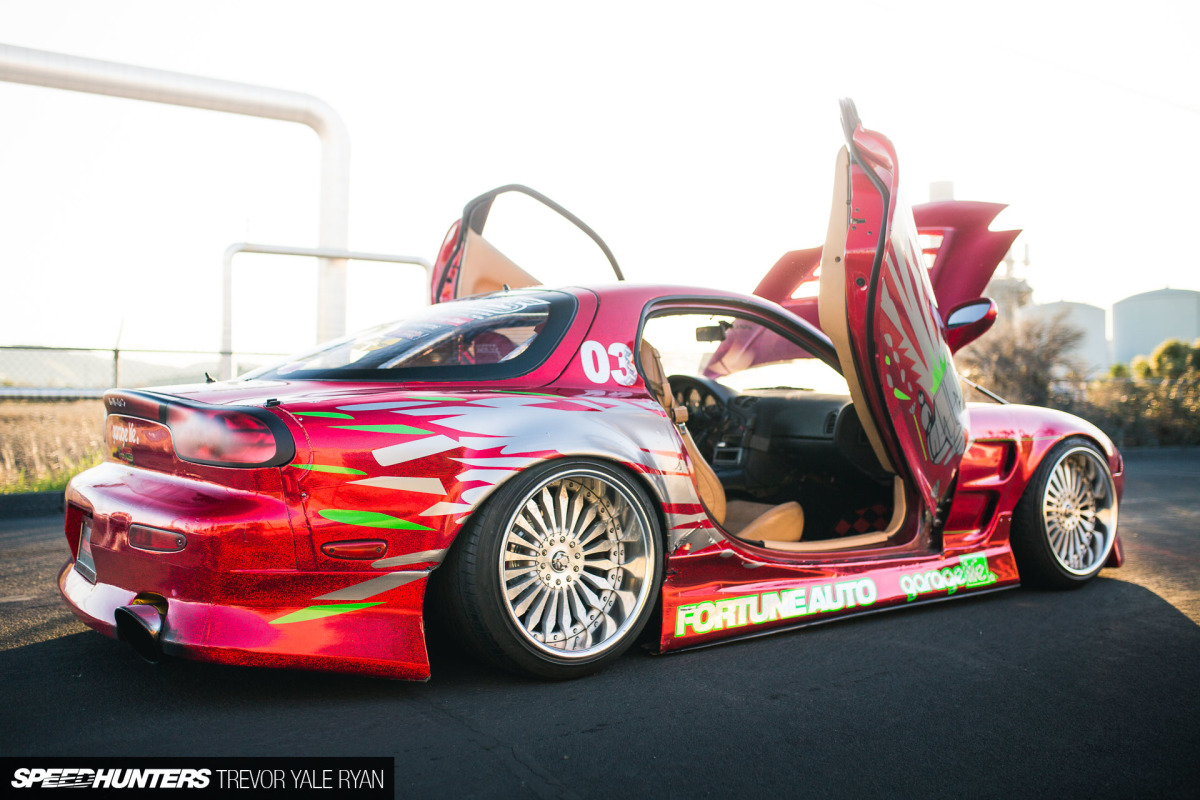 While we're on the subject of being thankful, I'm quite pleased Earl went with those massively dished VeilSide Andrew Racing Type F wheels, which not only match the Toretto FD but are just perfect for the car in every way.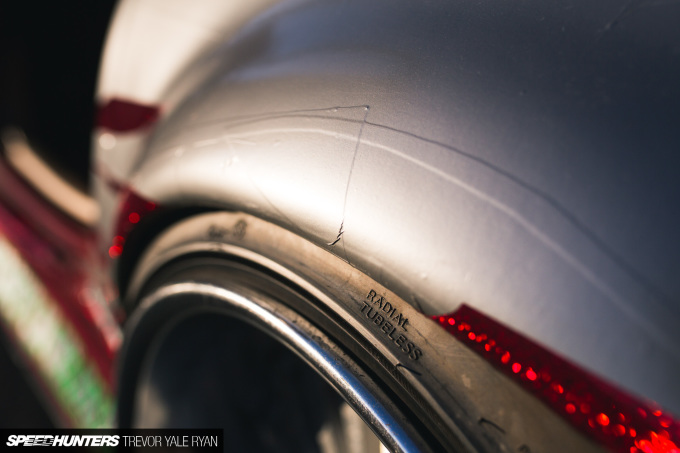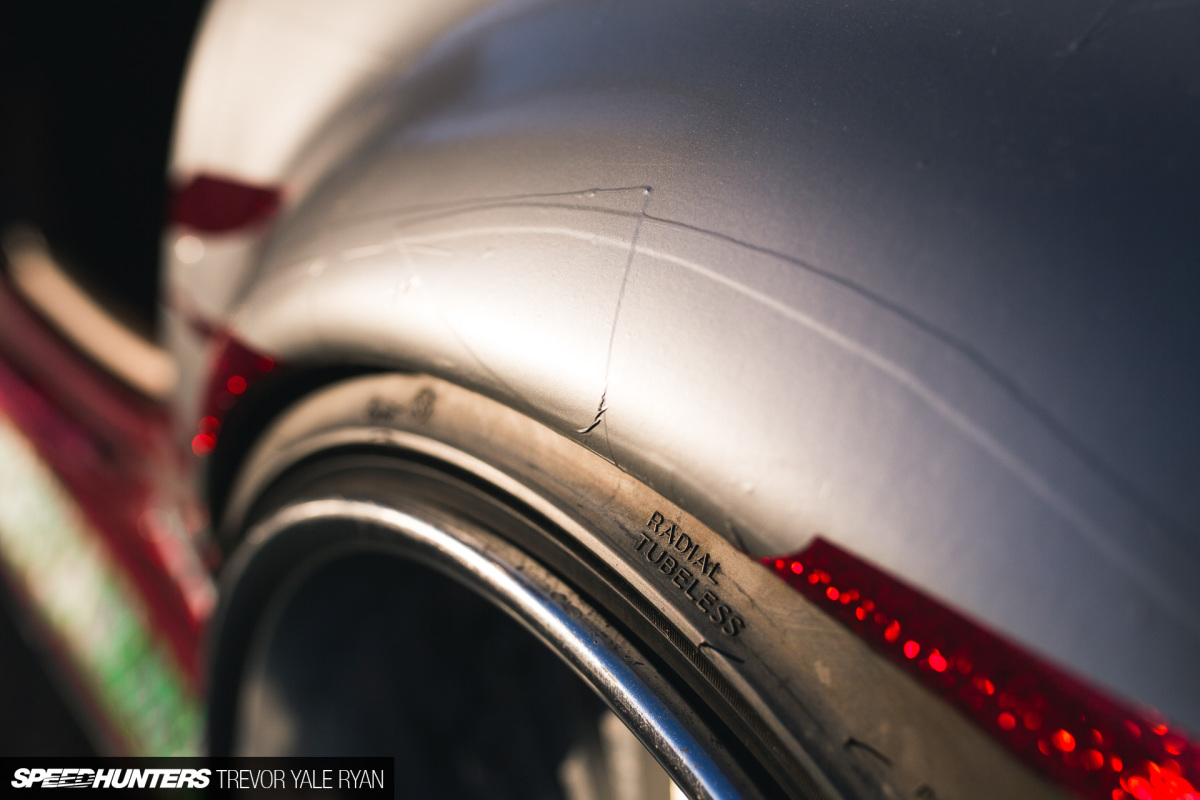 At 18×10-inch +0 in the front and 18×12-inch -20 in the back for street driving, with 10-inch wide spares for drifting, it's an absolutely perfect setup. Ride height is achieved with Fortune Auto 500 Series coilovers that are custom valved.
You can't really see the brakes through those spoked wheels, and when I inquired, all Earl had to say about them was that they "sometimes work." Perfect.
The Glory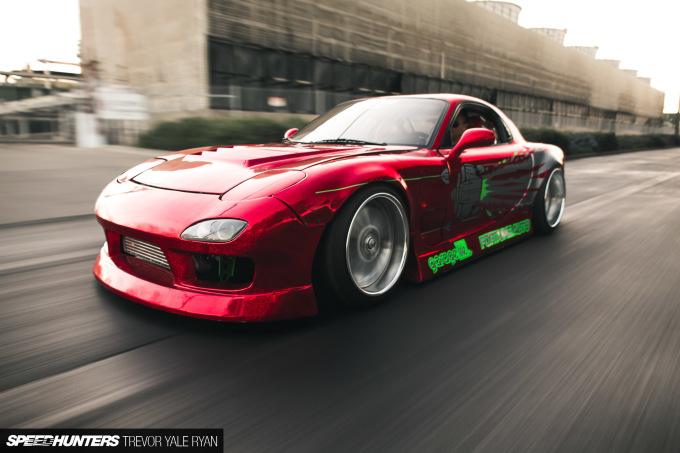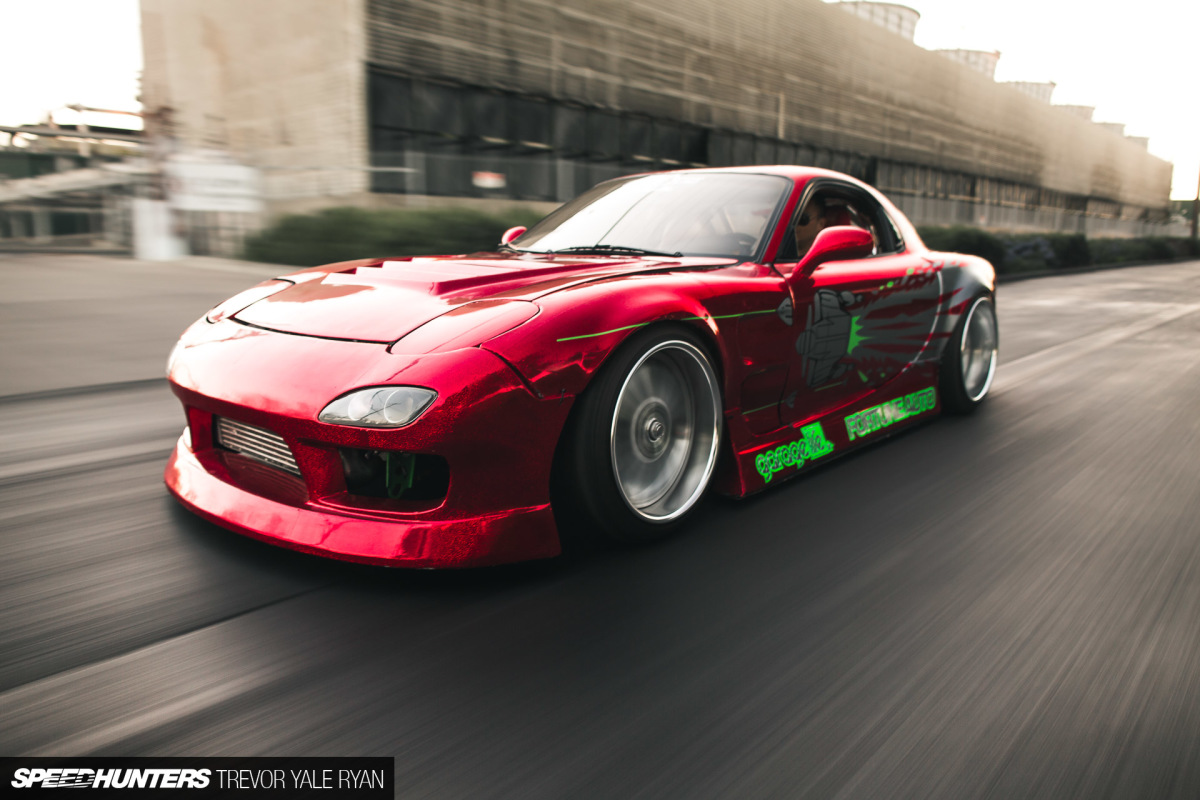 I appreciate all of the builds that I'm fortunate enough to shoot, but this is a car that I so badly want after spending some time with it.
I imagine that Earl won't find it in him to part with this piece of machinery for a long, long time, though. And somehow, as awesome as it is, it just wouldn't feel right to hop in and drive it myself.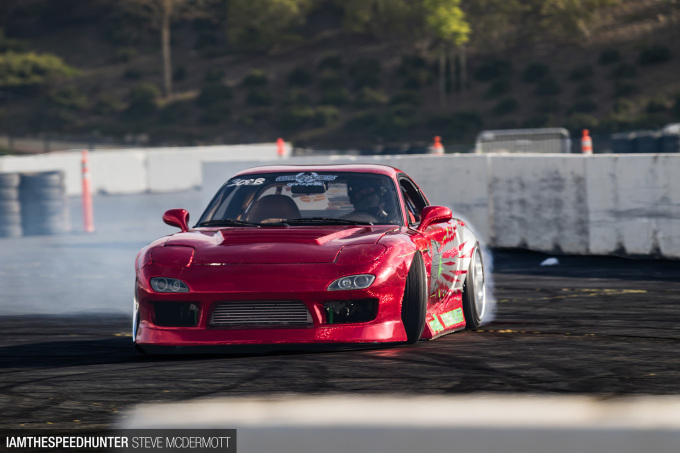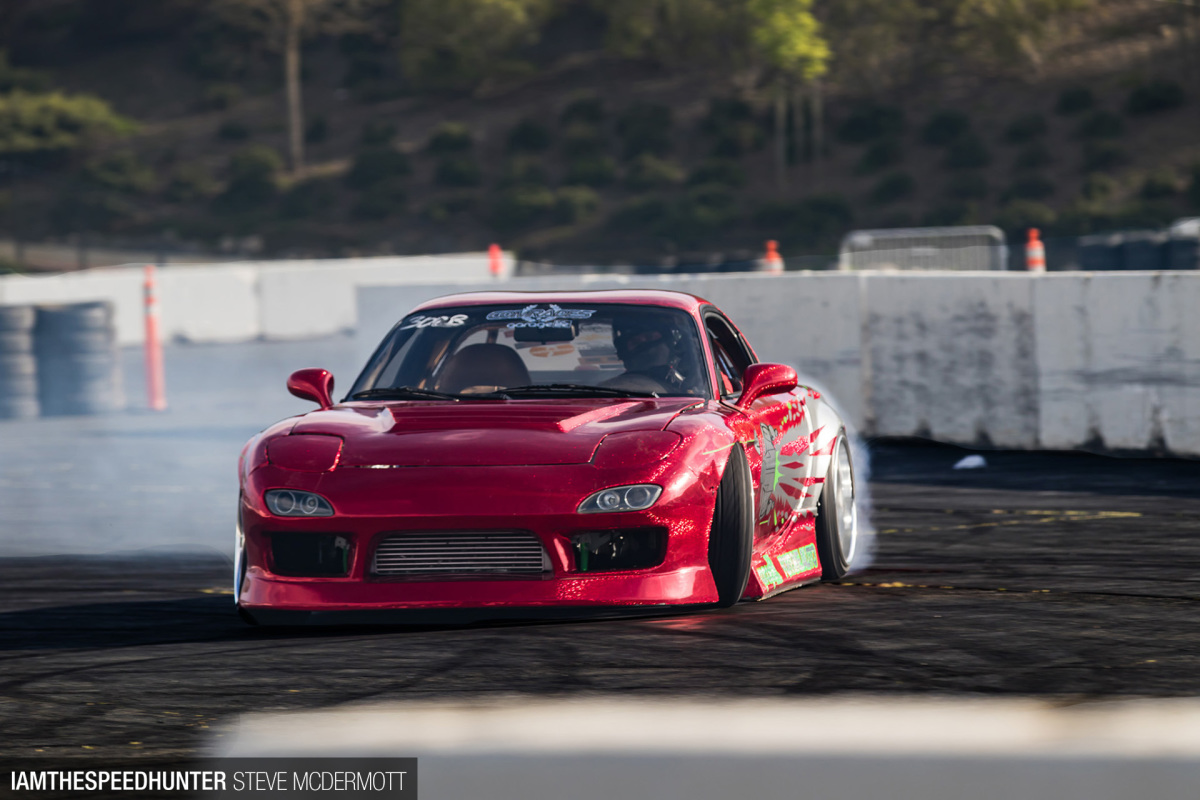 Earl is the one who has been laboring away for the last 15 years to learn the ins and outs of Mazdas, explaining that after 10 years of FC ownership you "receive your doctorate in the form of an FD."
This is a car that, in its current form, very select few have ever even been for a ride in at the track. This car is the product of countless hours of hard work ("Someone put the wrench time in…"), and as such it's a car for Earl alone to enjoy. It's his happy place, or whatever you want to call it.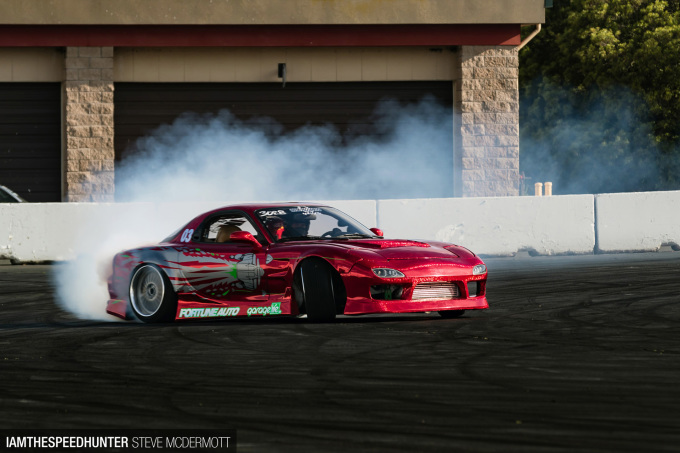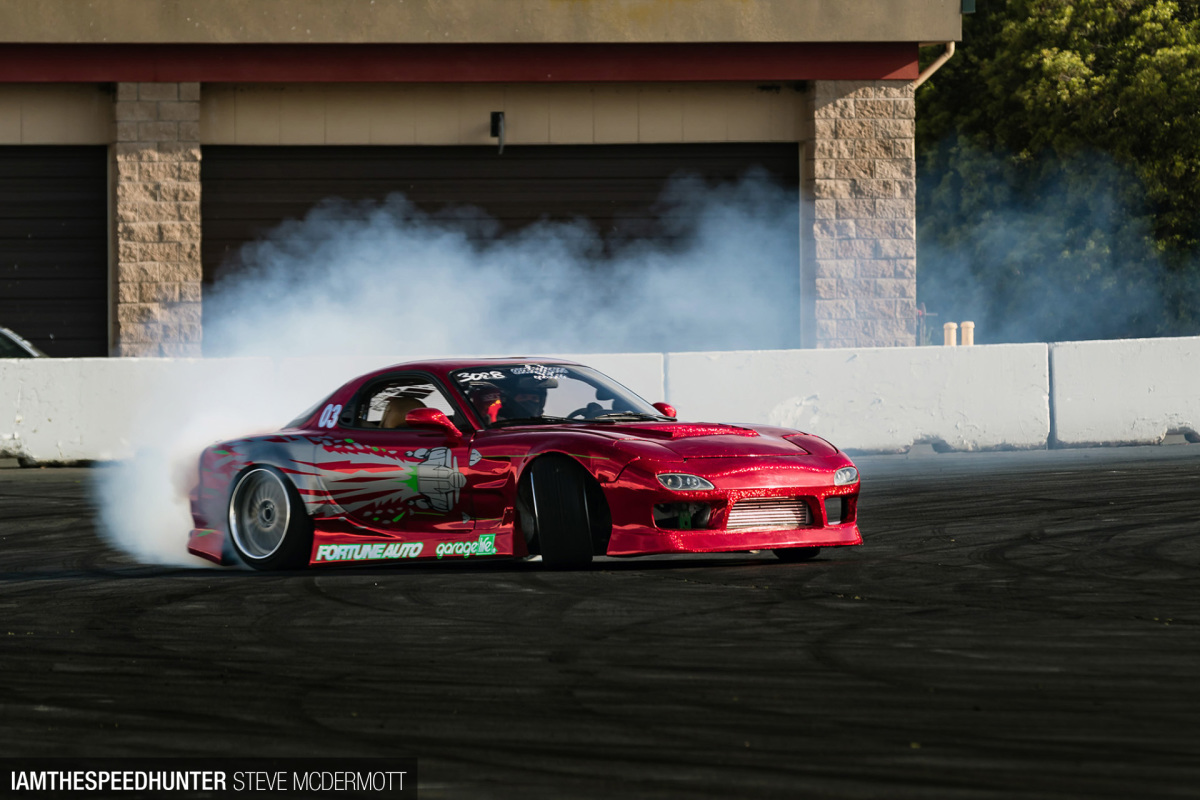 Not only is it loved by its owner, but just about everyone that comes across it. The RX-7 just looks so good both on the track and off.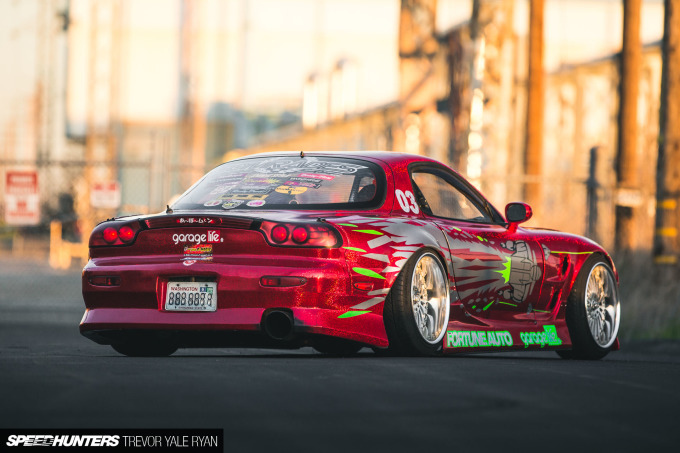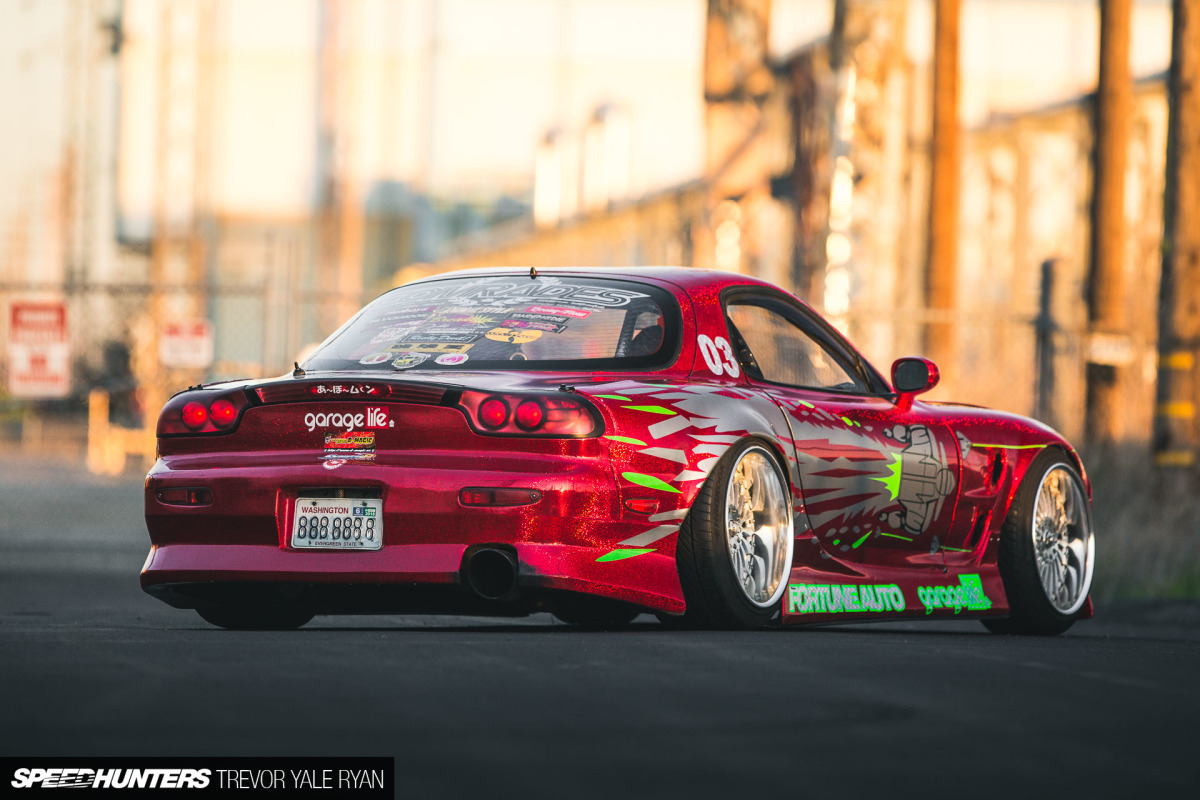 There's just something about that big butt that really gets to me, you know? With the body kit and that Toretto livery, the presence of the car is unmatched by just about anything.
We hung out a lot longer than anticipated, and I learned more about the RX-7 chassis from Earl in one day than I have anywhere else in the last decade combined. When asking what his favorite thing about the car is, the answer was simply "fire."
If you watch the above video to the end, this response about fire makes more sense. Other than the clip at the track, Earl put this together using only his phone and a clever homemade tripod while I shot the car and sent it to me before I made it back home for the night.
When I asked what his future plans were, he literally said: "I've considered going legit in the NIRA circuit, if you've heard of it." He then admitted he's just going to stick with grassroots drifting and enjoy his place as an "eternal hotboi."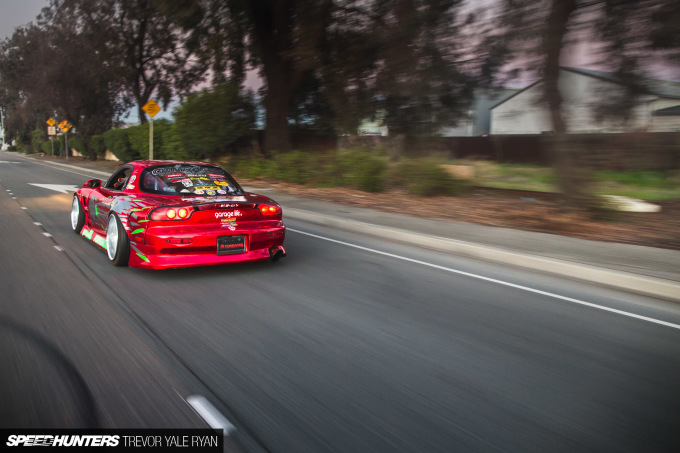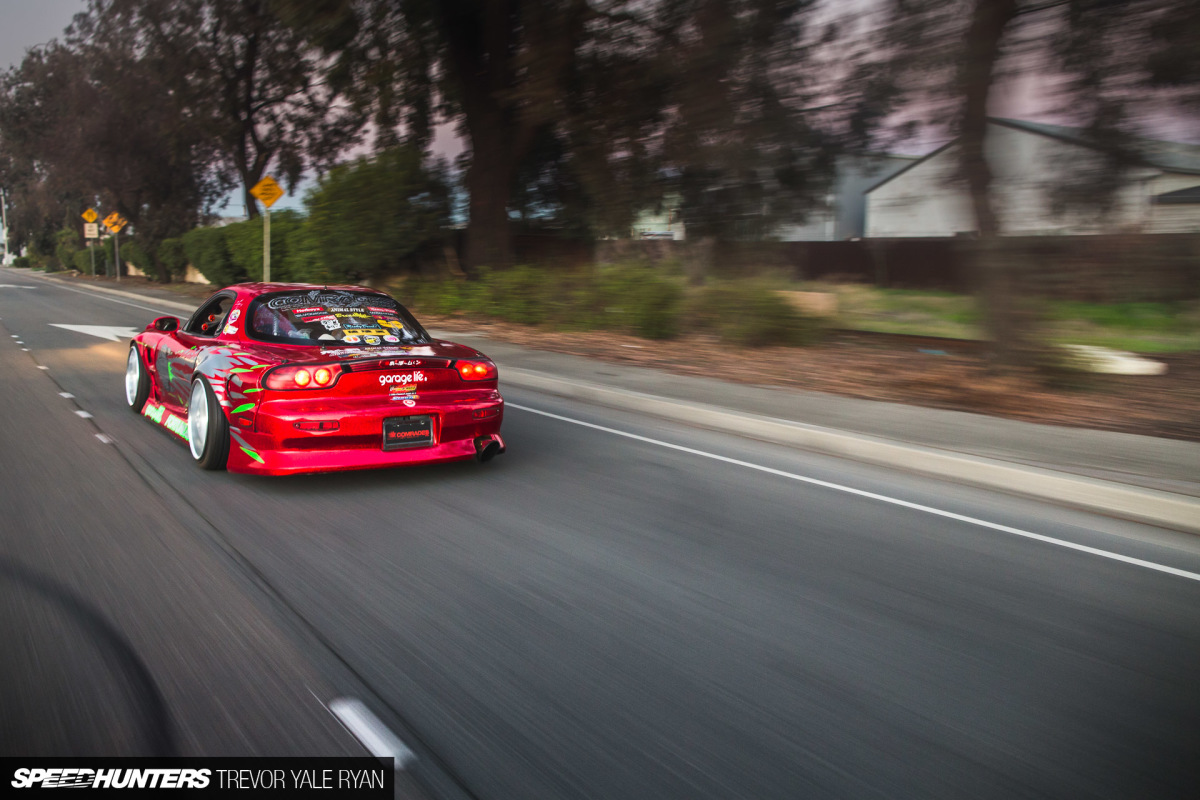 Earl is one of those guys who could carry on endlessly about these cars, their history, why he loves them, and so on if provoked enough. There wasn't a question I asked that he didn't have an immediate answer for.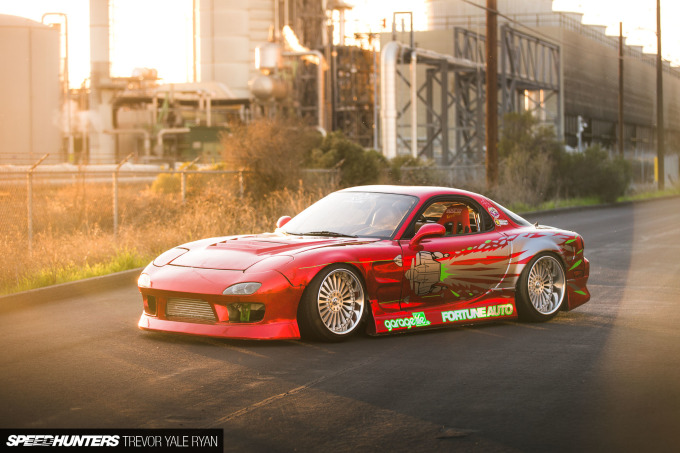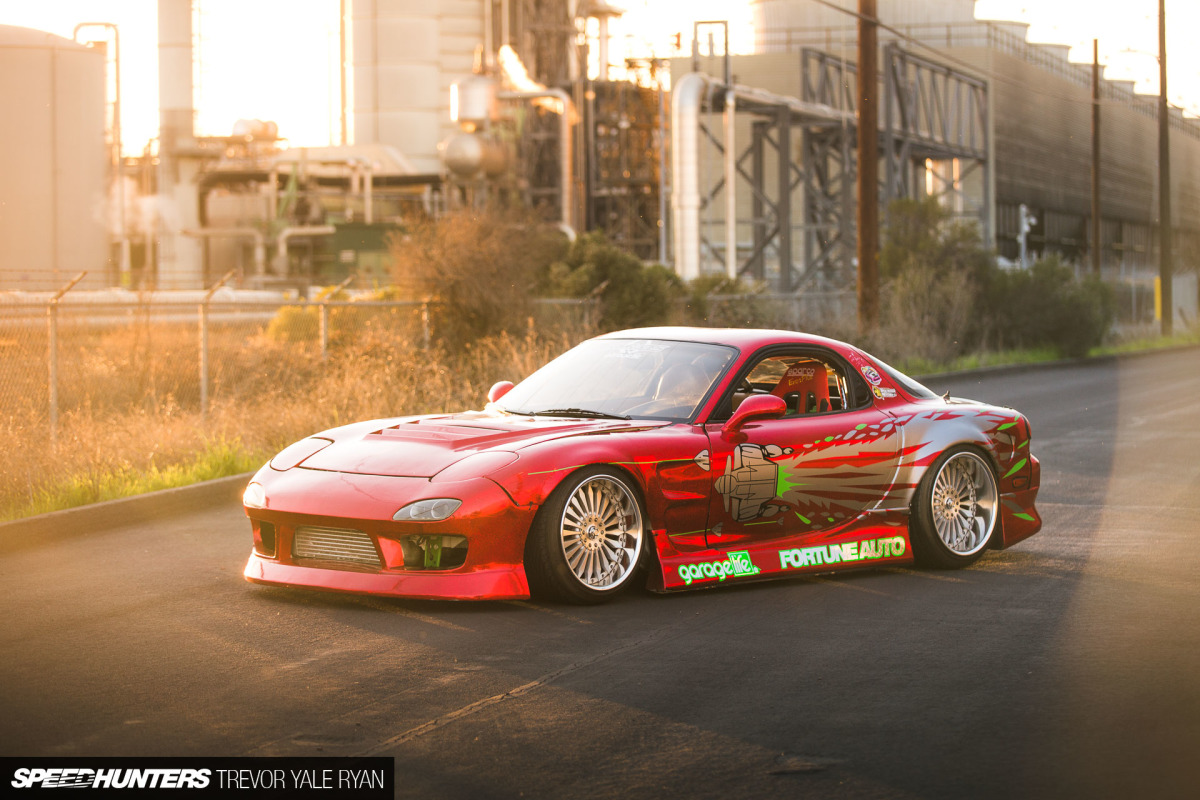 While the FD3S seems to be approaching semi-retirement with the FC3C getting more and more track time as the go-to drift car, that doesn't mean Earl can't still get behind the wheel and appreciate his creation in a more relaxed manner.
For this RX-7, these will surely be the golden years. All thanks to Angry Earl.
Trevor Yale Ryan
Instagram: tyrphoto
TYRphoto.com
Additional Photos by Steve McDermott