When I saw this RX-7 from afar for the first time, I knew it was something special.
Even so, I didn't look closely enough to appreciate exactly what I was looking at the first go around. While the car is definitely in excellent shape, if you're looking from farther away it seems as if it's sporting relatively stock trim. Certainly lowered with aftermarket wheels, but so are many other Japanese cars from this time period. But then you get a bit closer and notice the details. The car slowly draws you in and the more you look, the more you realize the excellent execution of this build.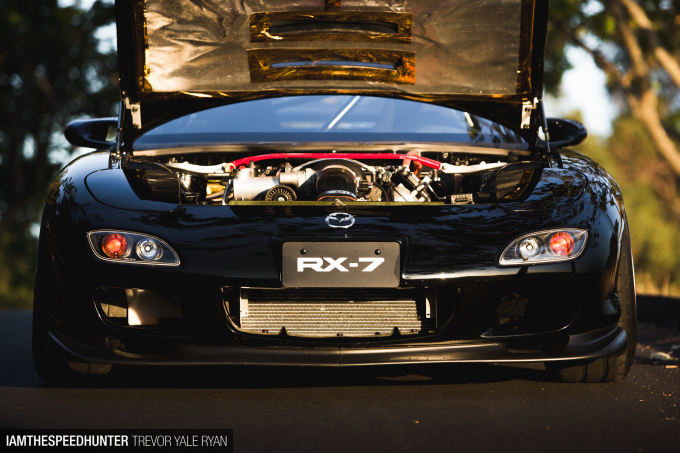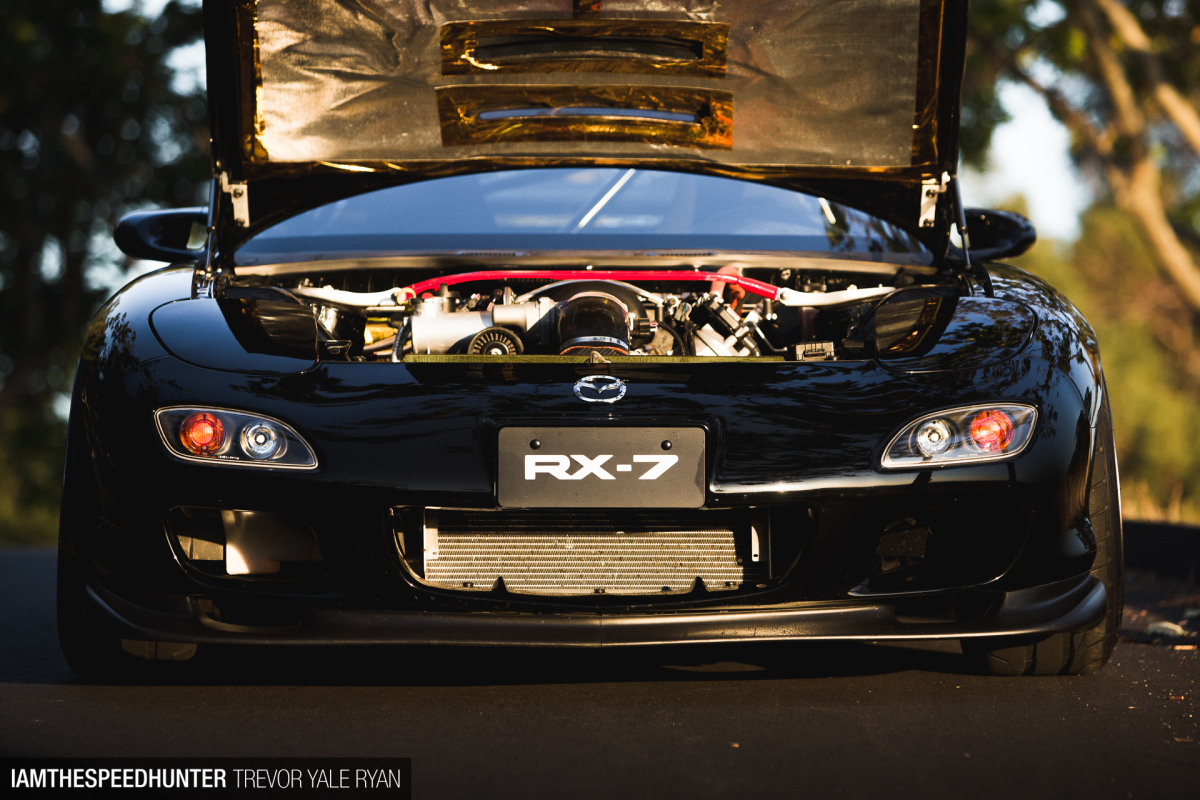 Before we get any deeper into the car let's address the elephant in the room, or rather, under the hood. I'm sure the V8 swap will disappoint some, but despite that substitution I really believe that this car would make the original manufacturer quite pleased. The first reason being that this thing is very well looked after: over the 23 years it's been alive it's clocked less than 26,000 miles.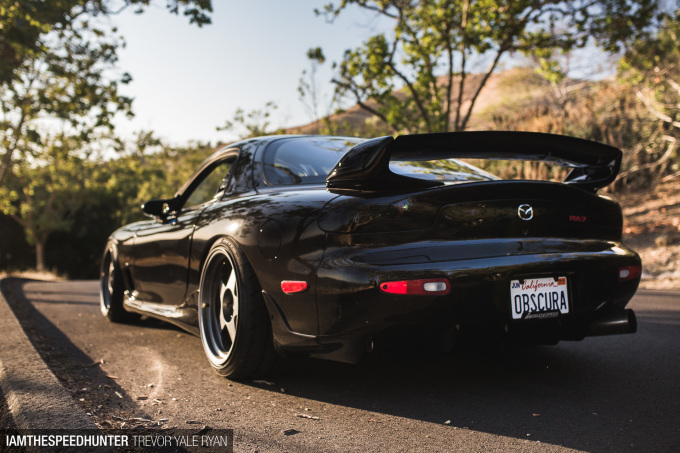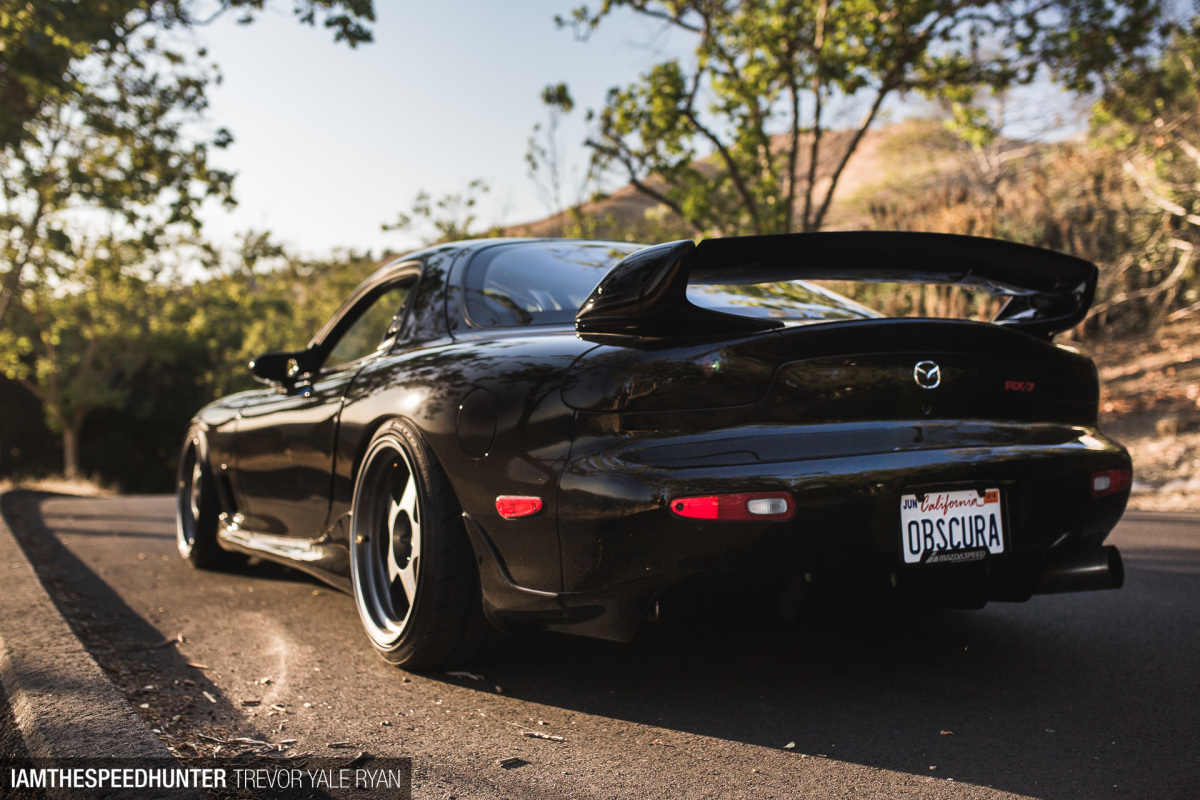 The second being that all the kinks and wrinkles associated with a swap like this have been ironed out. It's a car that just works.
But even more importantly, in our current era of all manner of bolt-on aero bits and wide-body kits, this RX-7 is aesthetically true to its heritage. The original design is not compromised by the aftermarket but instead amplified by it. All the original lines of the car are elegantly intact with a number of somewhat subtle details.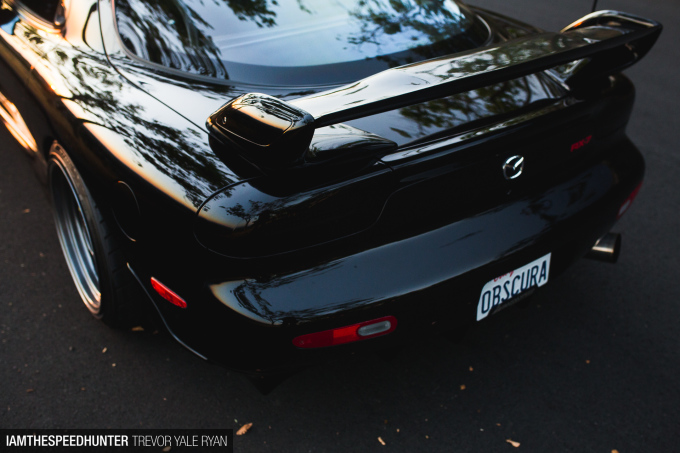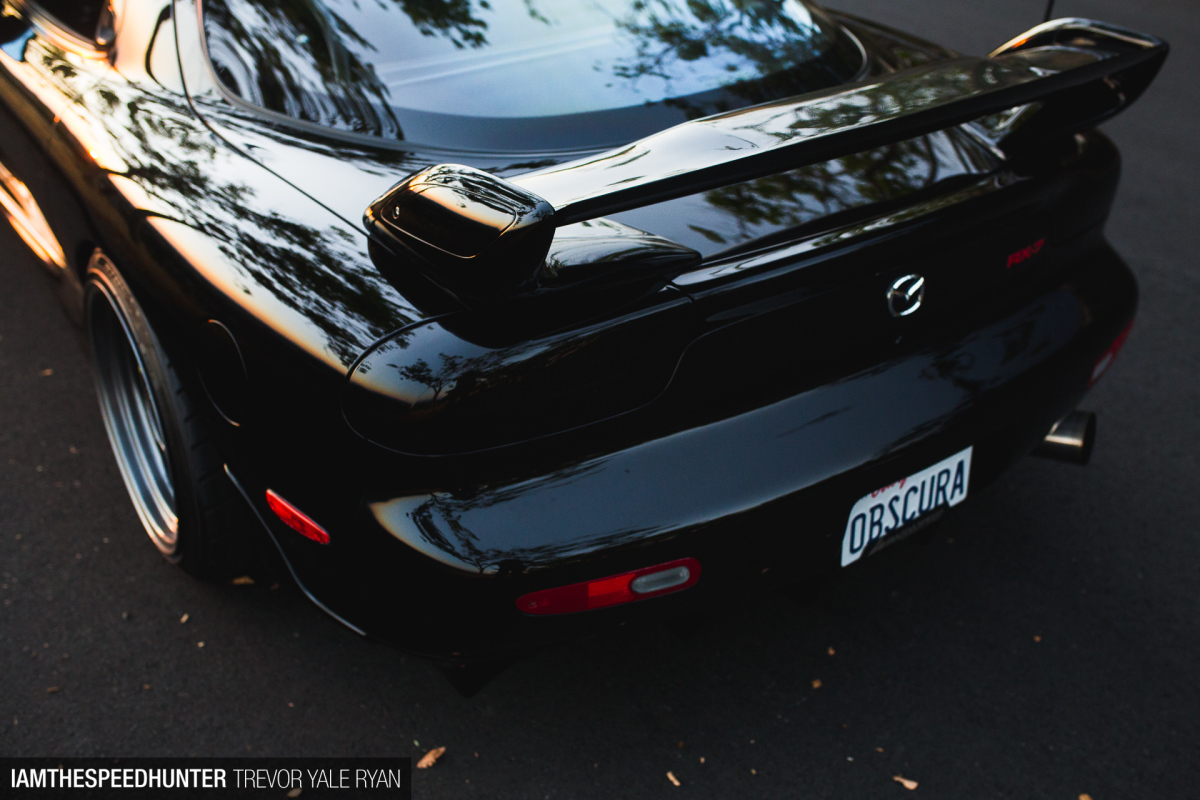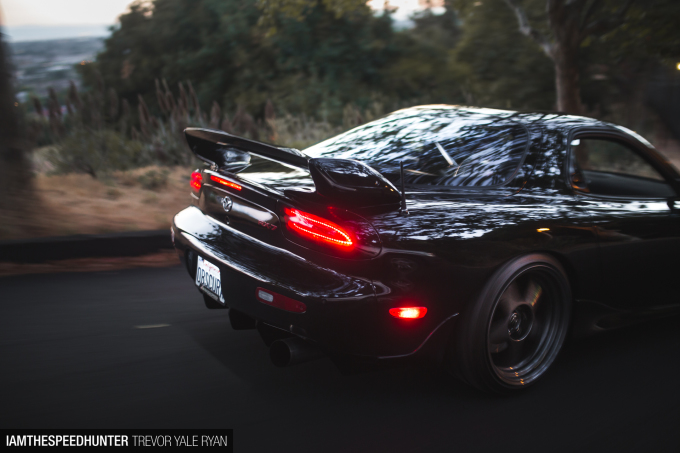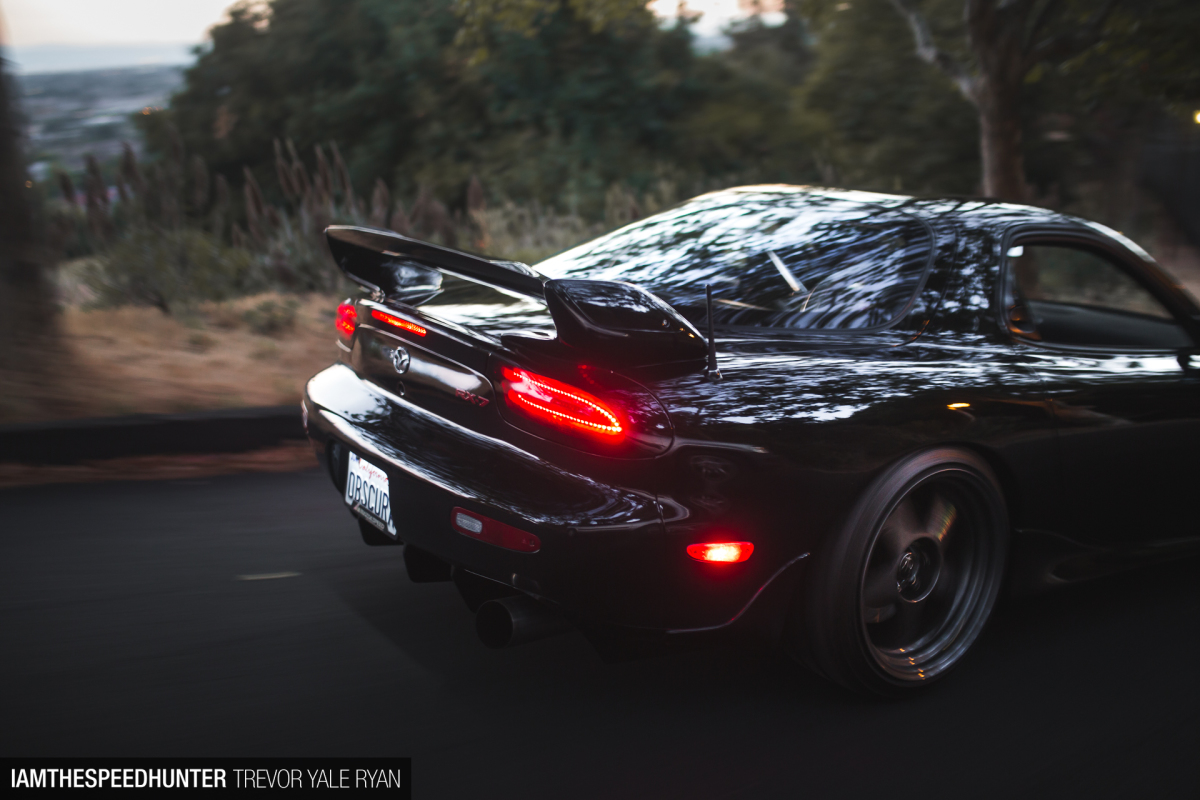 Out back, an RE Amemiya FRP diffuser helps to contribute a bit more aggression to the FD3S. The rear tails have been swapped out for modern LED units from Japan's aftermarket along with an LED third brake light. An Odula spoiler blade sits on a rear wing assembly from a '99 – far from the only part borrowed from its younger brother.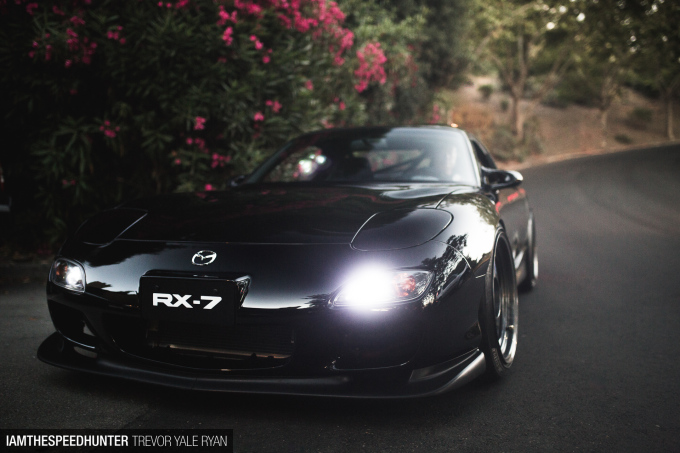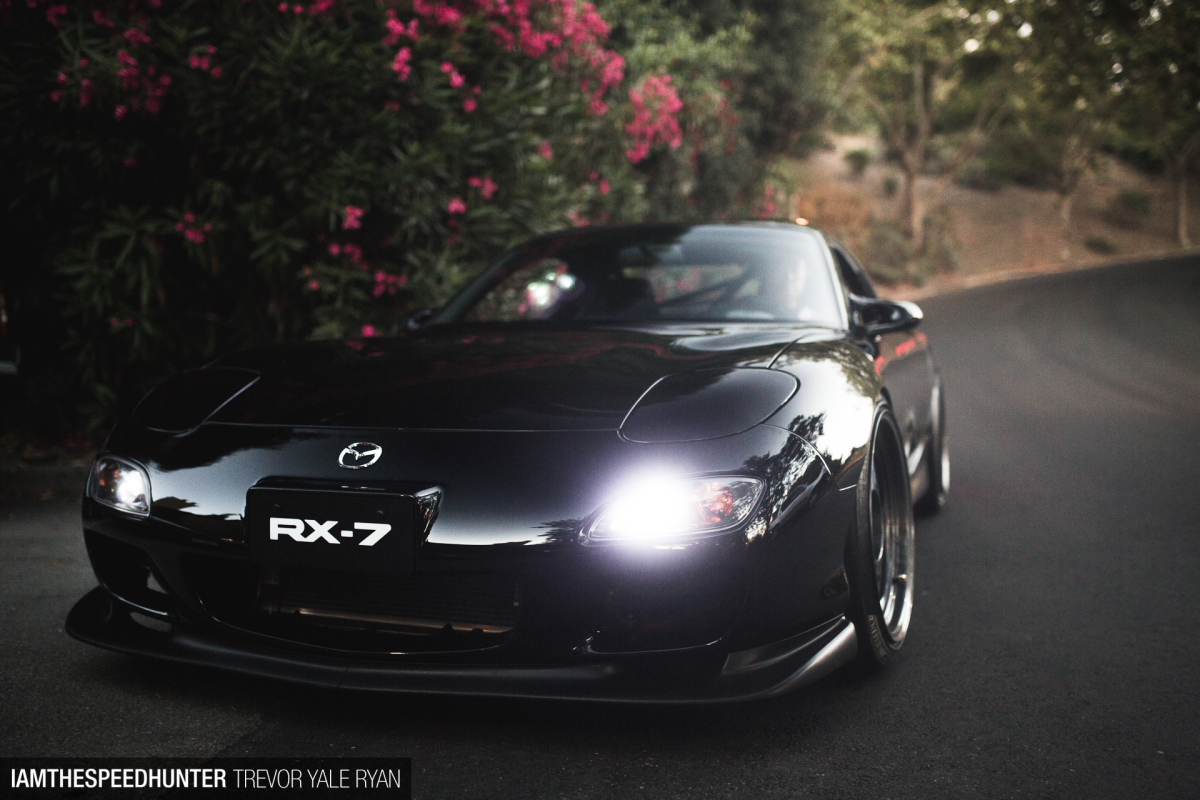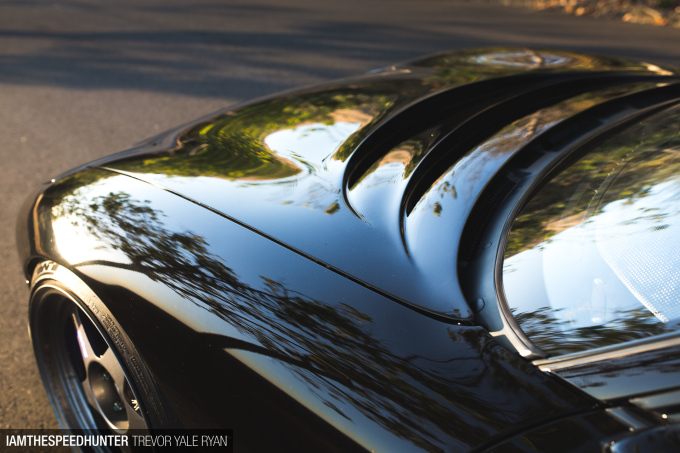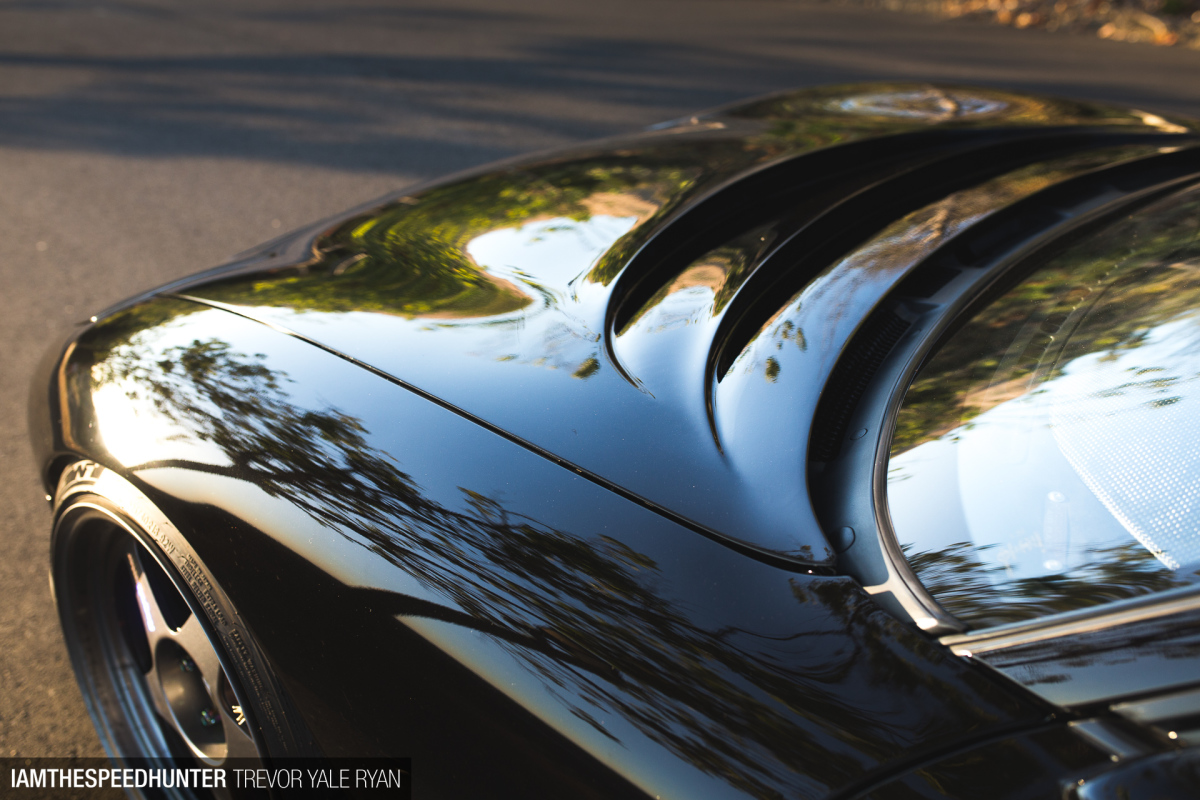 Also taken from a 1999 model are the side skirts, front bumper and lip. Other OEM items and emblems have been collected and replaced as well. A custom-molded Feed hood is another gorgeous piece that's been placed on the Mazda. And on the topic of exterior replacements, you have less noticeable items like aluminum door handles, Ganador Super Mirrors, and so on. Even the glass has been improved with a polycarbonate rear windscreen.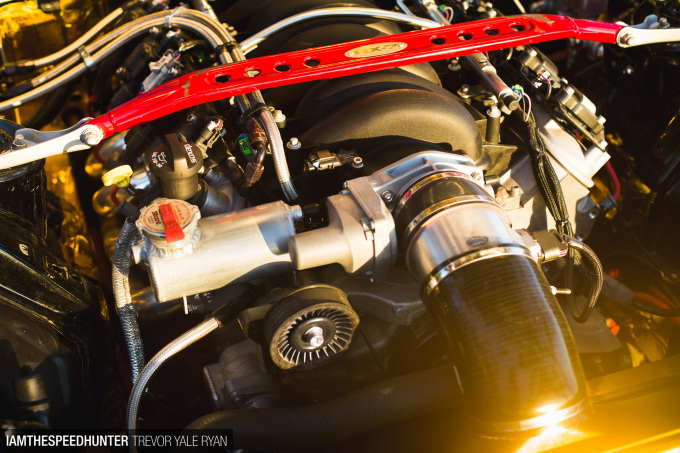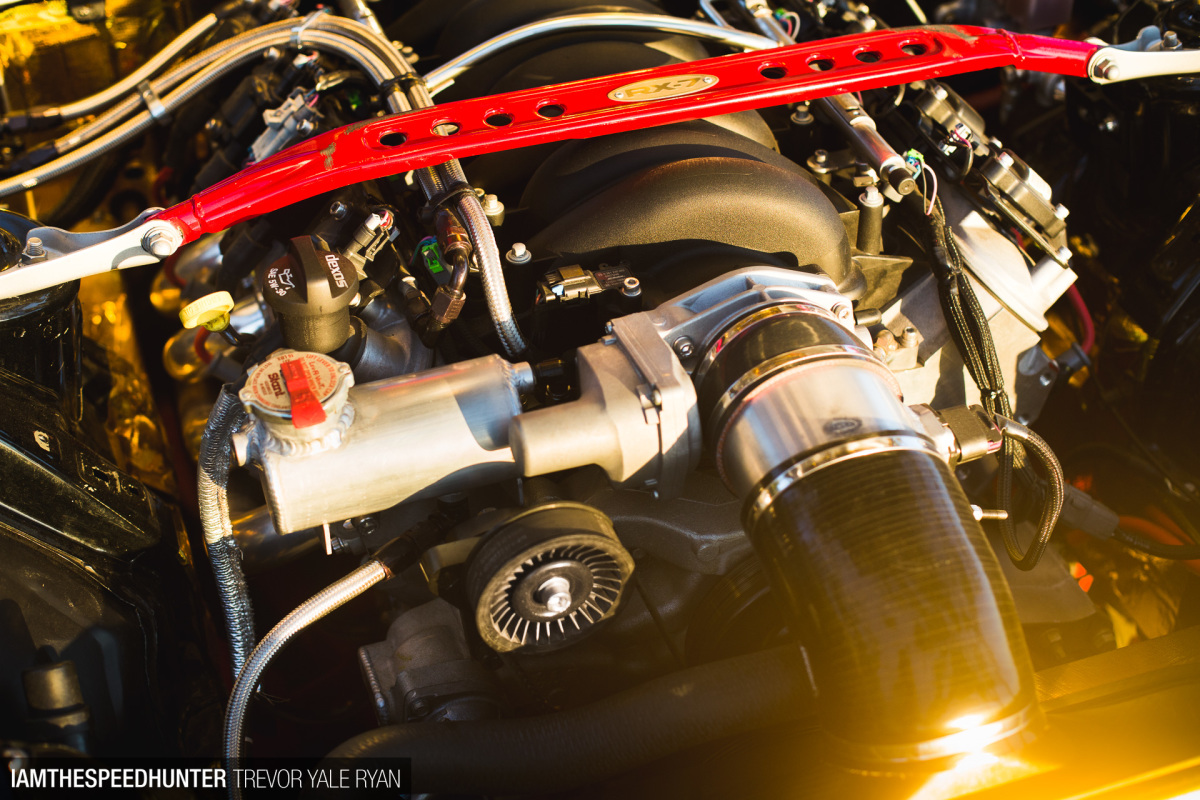 Even with the extra weight up front from the 6.2-liter GM LS3 it's still the perfect, nimble tool for the touge - exactly what it was designed to be. Power is sent into a TR6060 6-speed gearbox before being delivered to the wheels through a Ford 8.8-inch differential which is certainly good for all the power. A car that once housed the highly sought-after albeit often problematic engine dreamed up by Felix Wankel can now simply be driven endlessly from A to B. Dare I say, a reliable RX-7?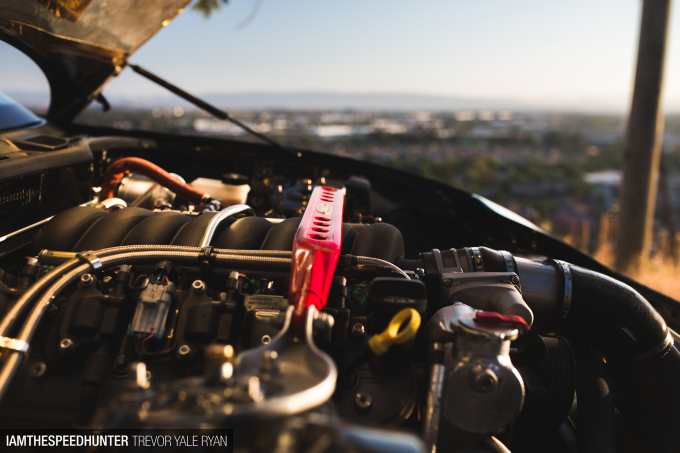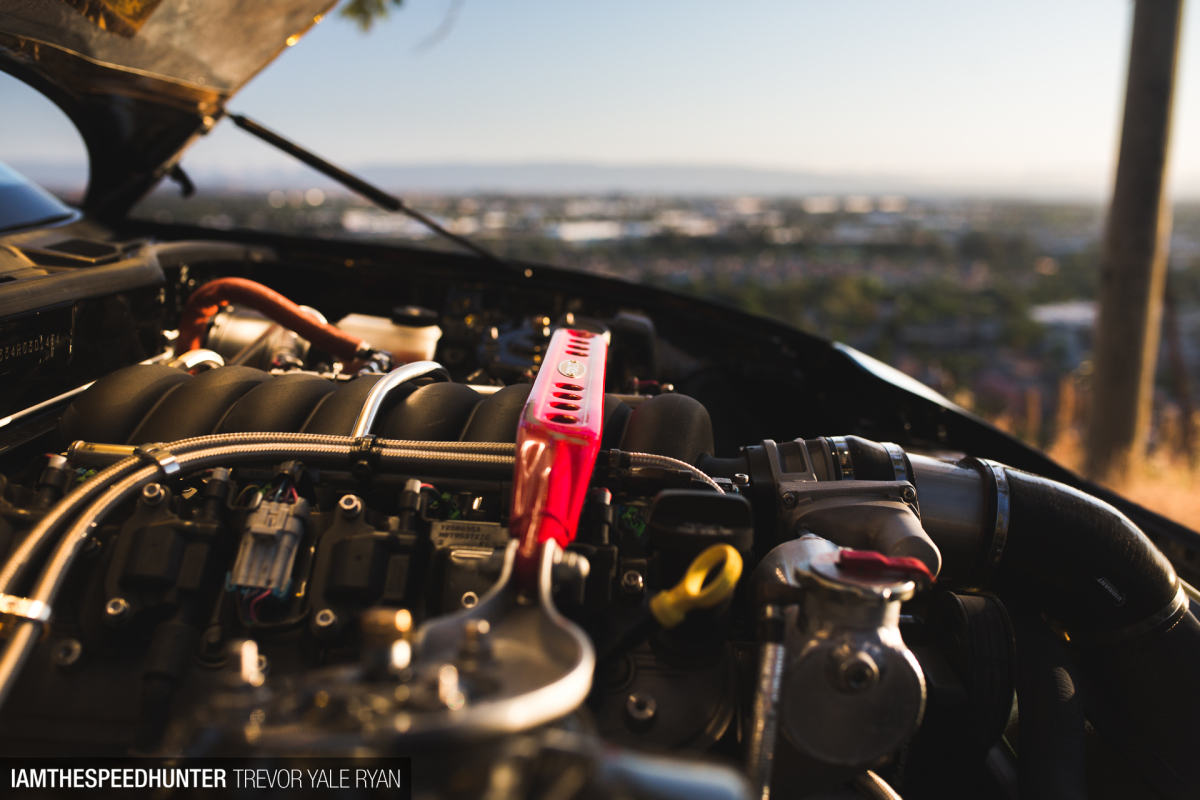 That's what makes this particular V8 swap one of the very best; most cars with eight cylinders really, really want you to know that they're there. But this build finds a different, more classic balance. Nothing at all hints of the newfound power under the hood. It doesn't scream at you for recognition or demand your attention. It sits there nicely, just waiting for its owner to take it for a stroll.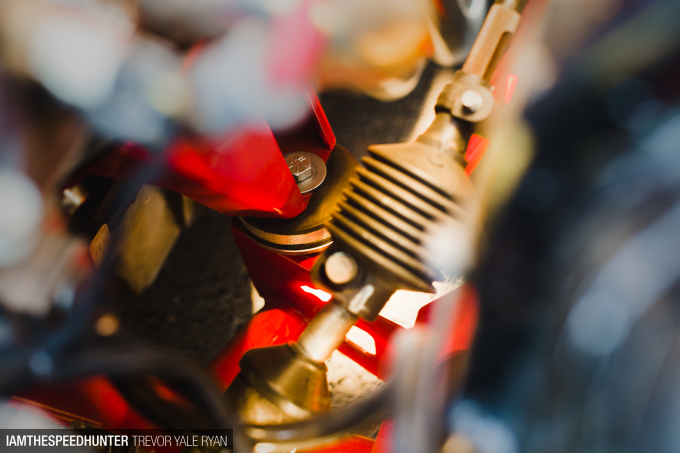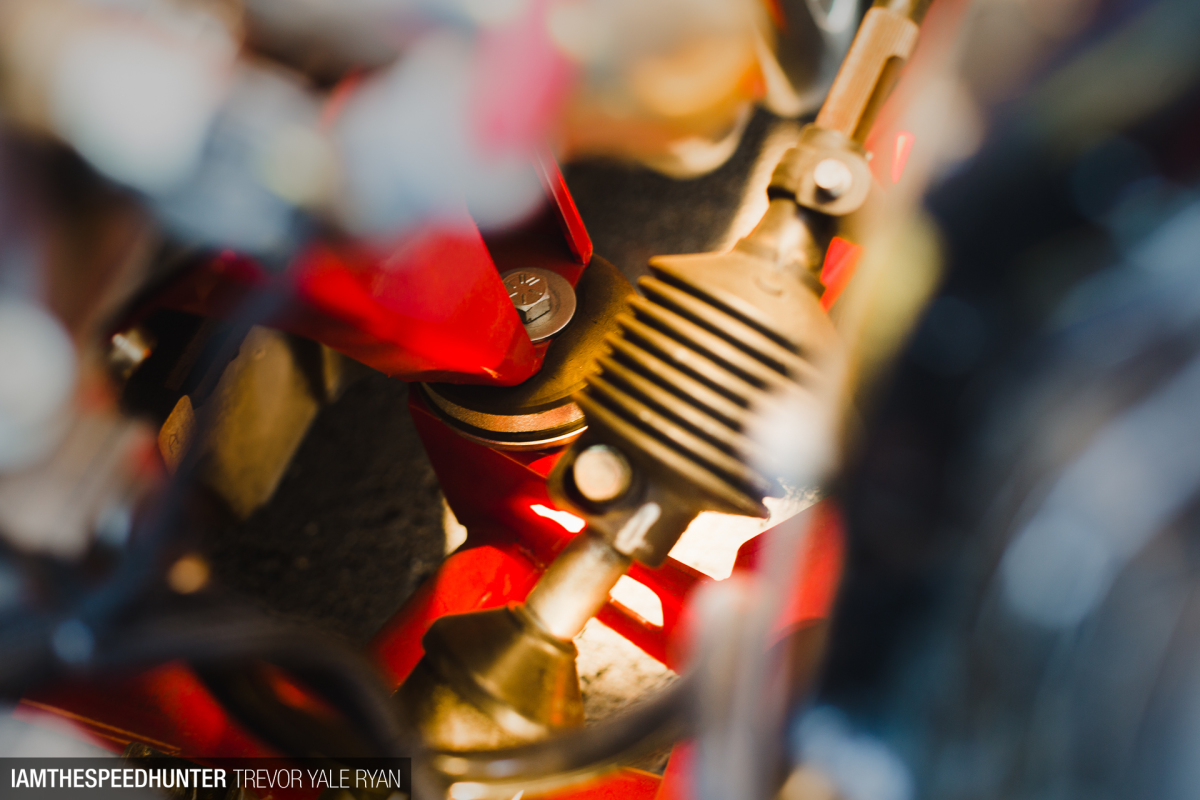 Having some experience with a few relatively straightforward swaps myself, I know the amount of work it takes to do it correctly. And beyond the time, there is definitely a cost to tracking down every last adapter, nut, and bolt required to make things go smoothly. Seeing as how the owner, Eric, invested so much into getting the thing to run flawlessly, he seems to have found no point in stopping there.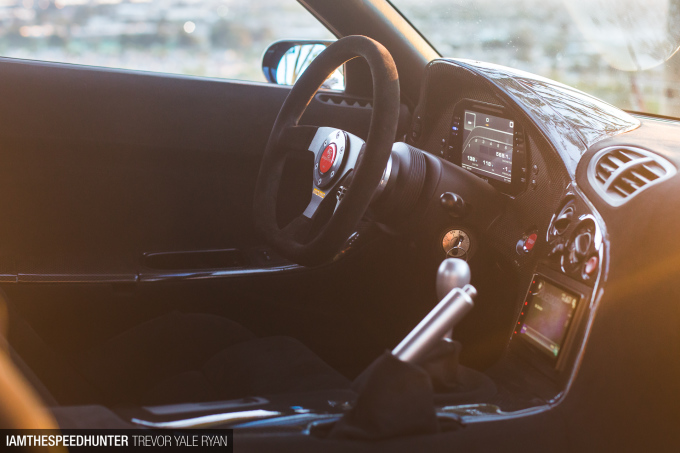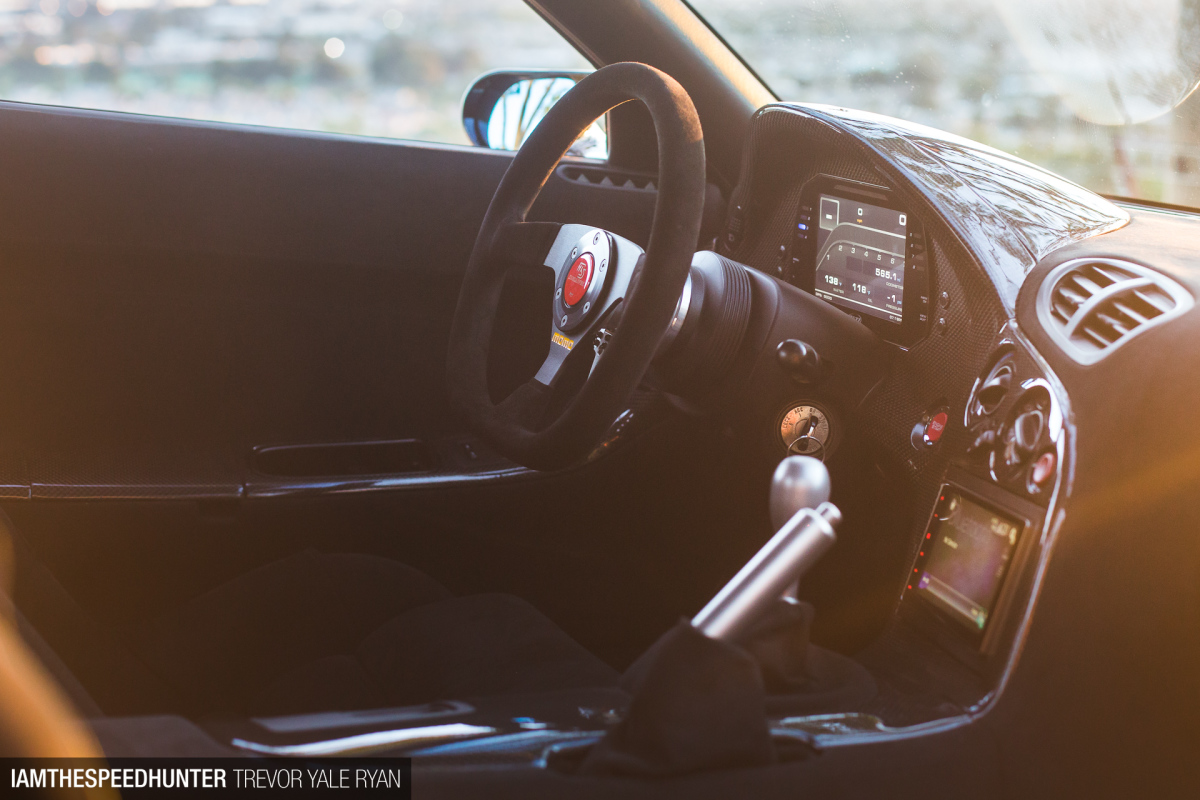 While the car is not as noticeable as some other FD3S builds we've seen, it's one of those cars that would be a true joy to own. The interior has been completely reworked with Alcantara and carbon fiber lining almost every surface. Due to this, it's a machine that is truly pleasant to be inside of and to enjoy. The dash, for example, is a one-off carbon fiber part with a perfect OEM fit. Coupled with an AiM race dash, you can readily monitor all the cars vitals.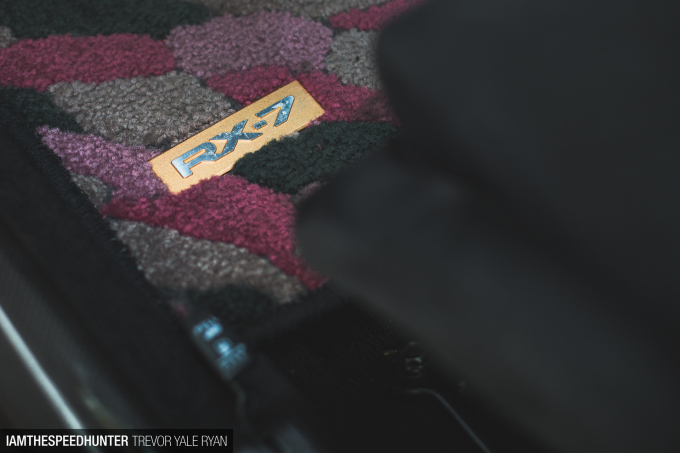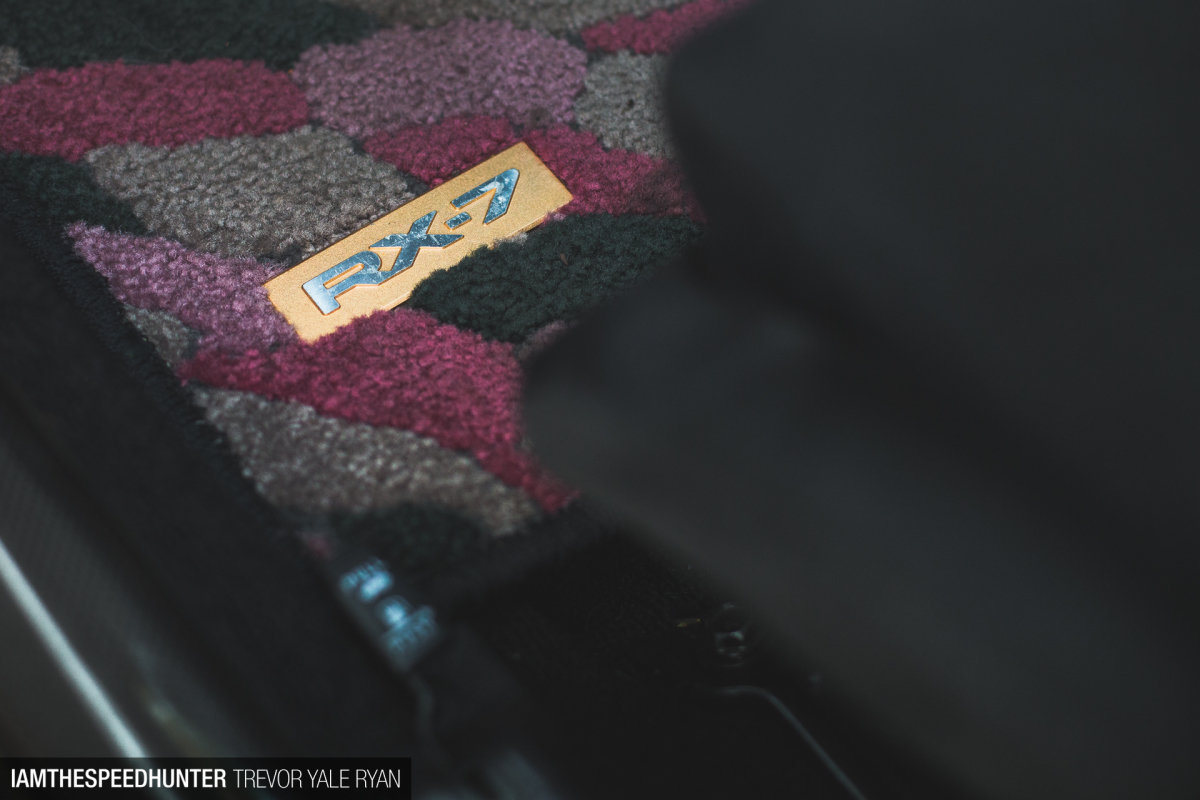 Another upgrade that I generally overlook, this Mazda has completely reworked and fully-integrated audio system hiding in the car. A Pioneer head unit and Hybrid Audio Mirus speakers front and rear are a massive improvement to the worn-out units that this car had been singing with since the '90s. It's a wonderful mix of heavily upgraded and subtly improved, while still retaining factory finish and details. Another perfect example are these floor mats which are now surrounded exotic materials.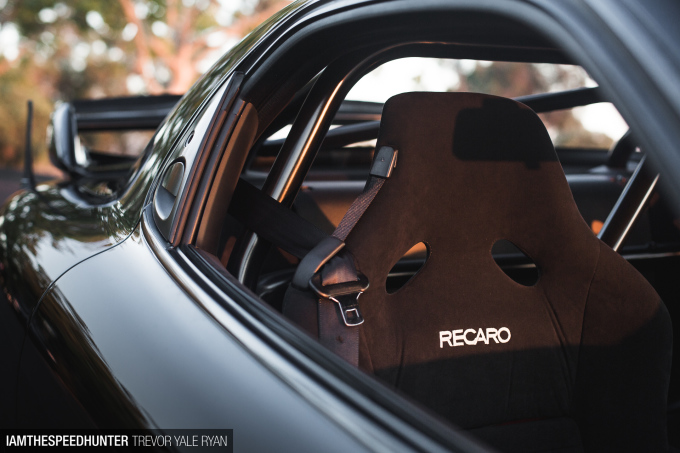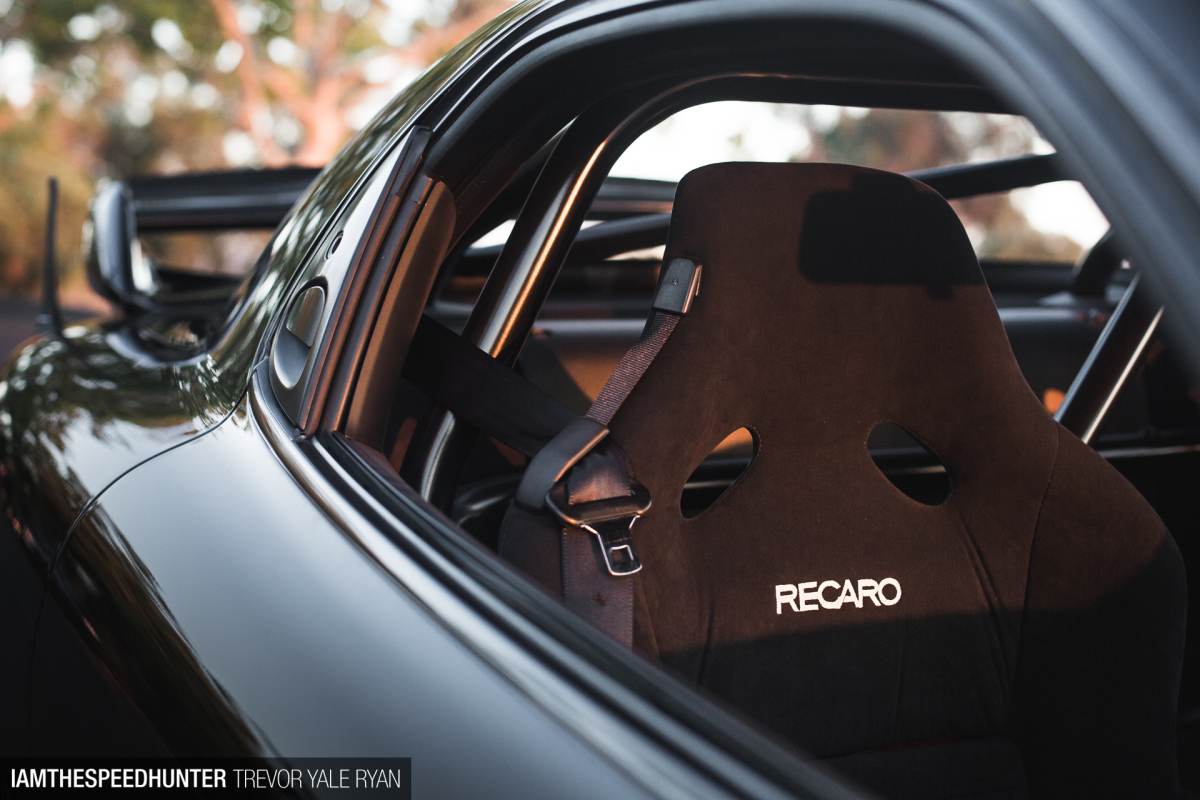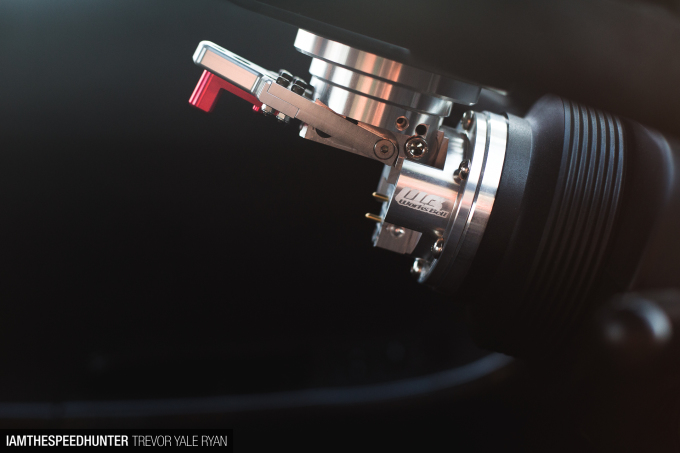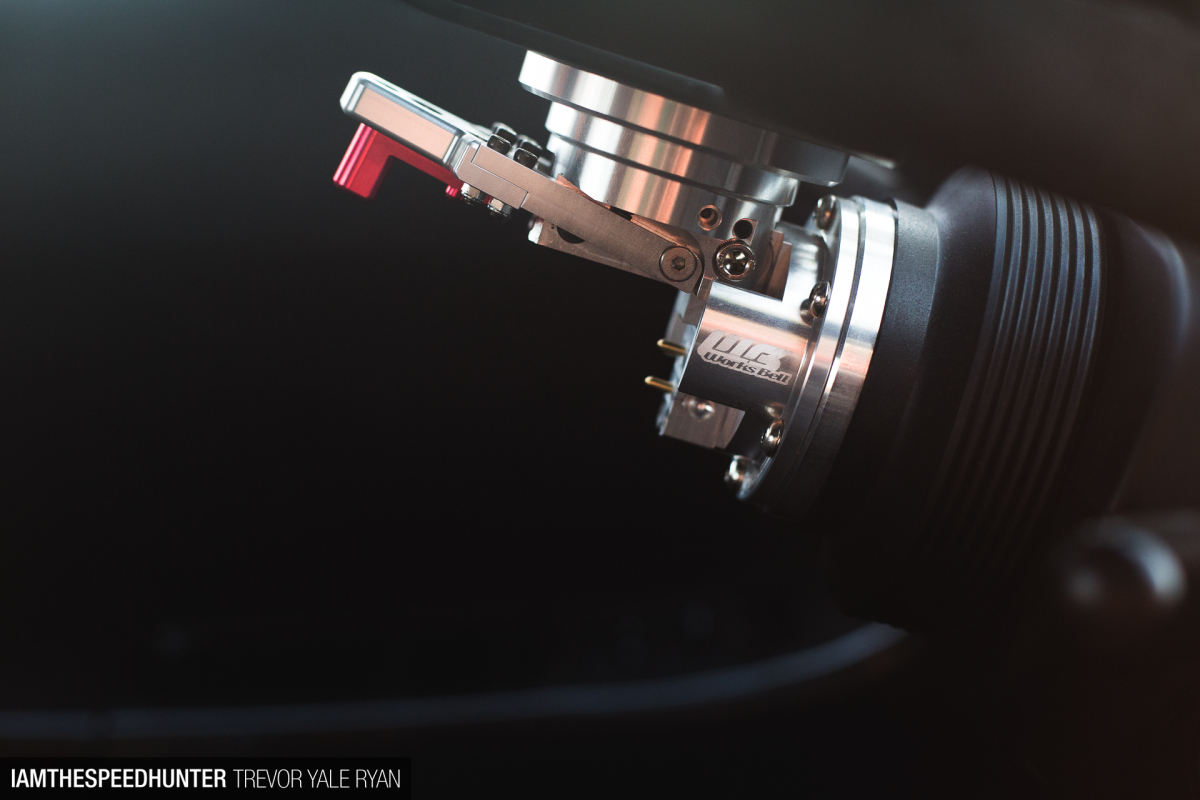 With Spirit-R carbon-Kevlar Recaros (with Alcantara top stitched seat covers) it's also one of the most comfortable fixed-back cars I've sat in, and the Works Bell tilt hub makes it easy to hop in and out of. Other nice details include an OEM Honda push start, a titanium shift knob borrowed from an NSX, and a Mazdaspeed titanium parking brake lever. Moving on to even finer details, you find all sorts of items most owners don't think to change out. A Honda S2000 antenna replaces the factory one that shipped with the car, just to name one such item.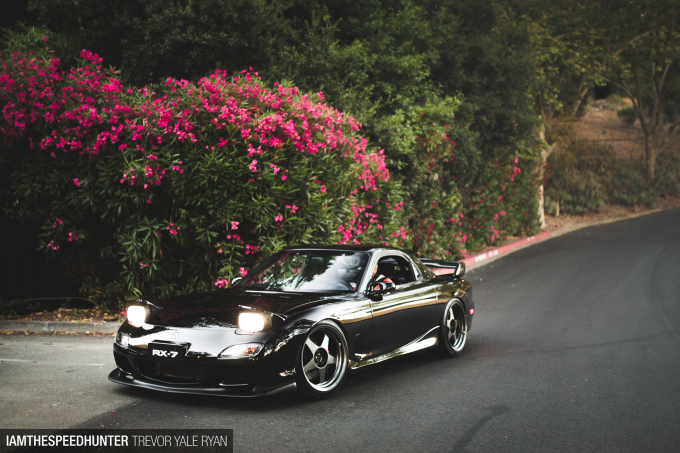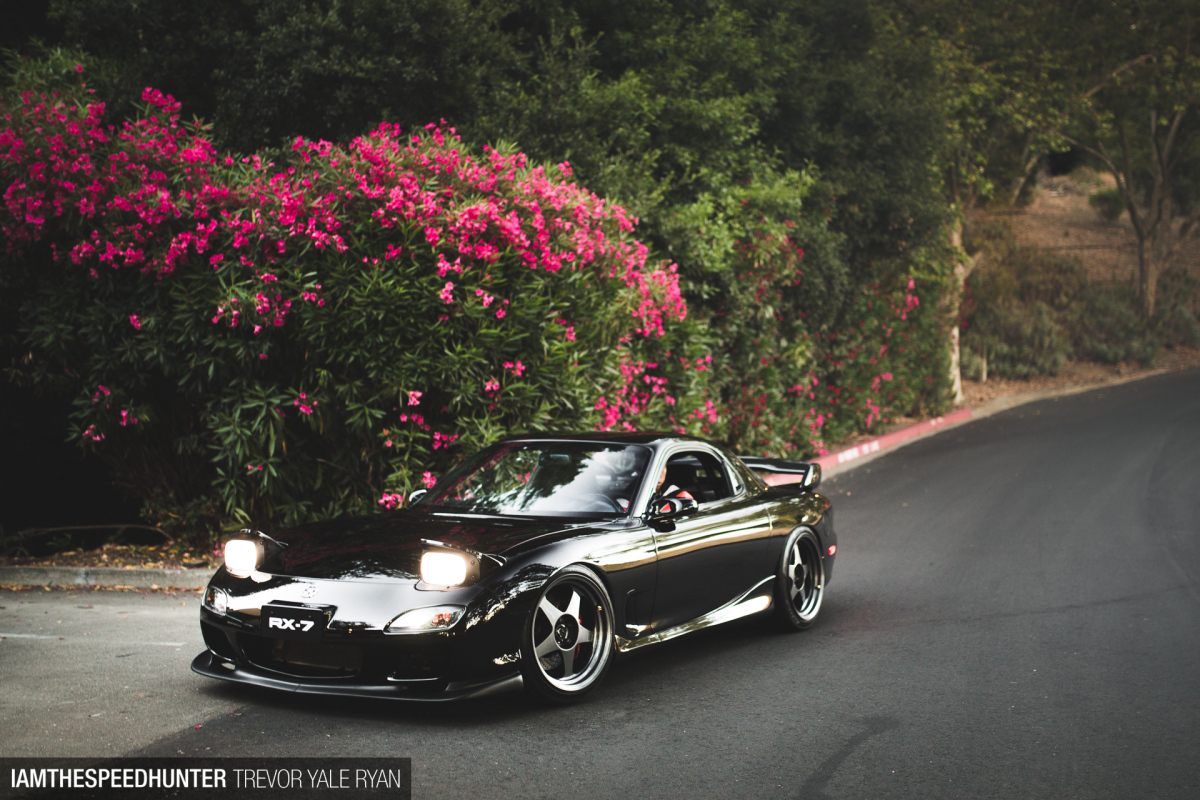 The door cards are also covered in Alcantara with more carbon fiber bits found there as well. Underneath, it's all been properly sound-deadened — it feels, drives, and looks like a brand new car. But despite all the quality upgrades to the RX-7 it's just not a flashy build. Instead of being built to impress others, it's a car that's nice to have.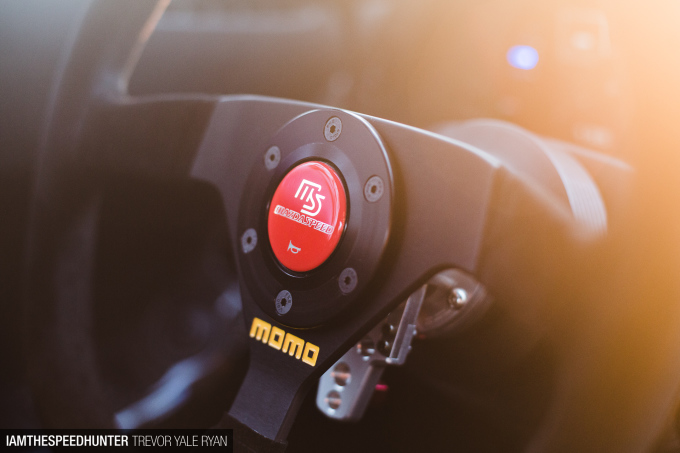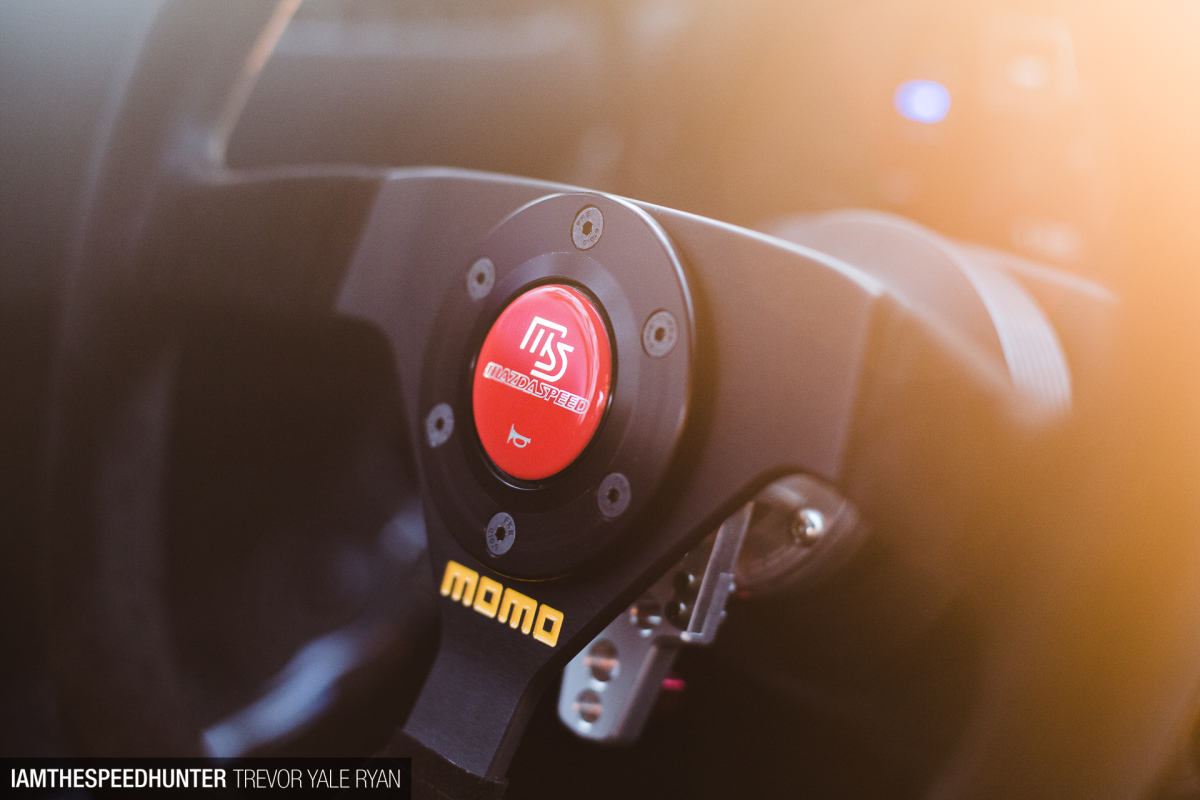 It's a very pleasant aesthetic and tactile experience; everything feels good to the touch, it's not a burden to operate, the rumble of the V8 is nice on the ears at all RPMs. From behind the wheel, what is not to like? Meanwhile, that's not to say it isn't a head-turner from the exterior, especially when the large-displacement V8 roars to life through the Borla SS exhaust.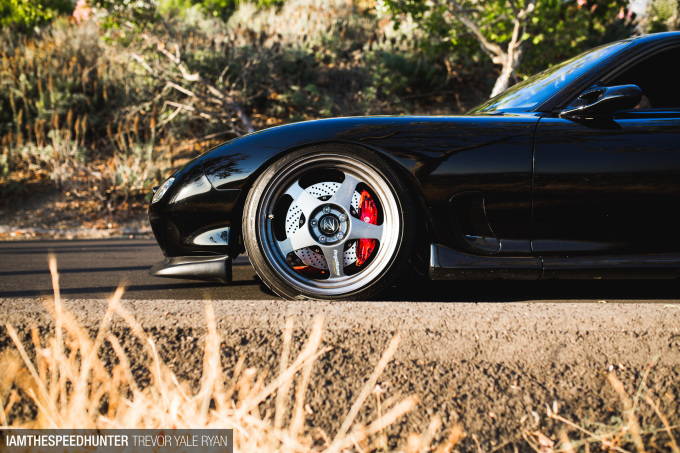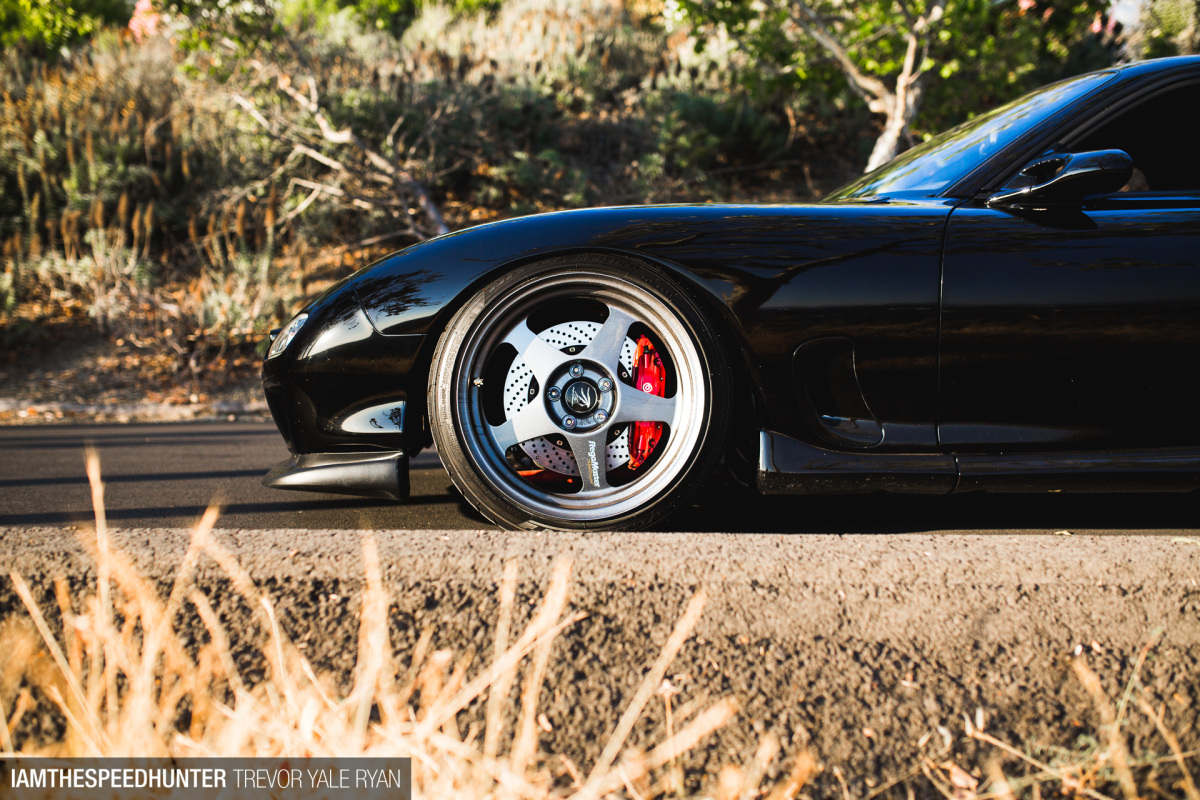 To stop with all the extra power that the rear wheels put down, the suspension and brakes have also been entirely gone through. Öhlins DFV coilovers along with a Racing Beat front sway keep the car flat in the corners, while a Brembo big brake kit brings it all back to a stop. For a more mechanical experience the ABS has been deleted and the steering itself is also reworked, with Eric choosing a Chips Motorsport manual rack. The list goes on and on with 2-piece rear rotors, M2 rear trailing arms, and more. The end result is a car that really speaks to you in the corners.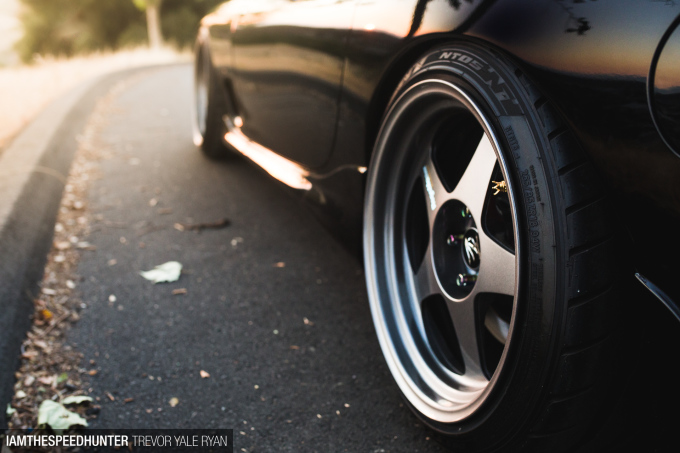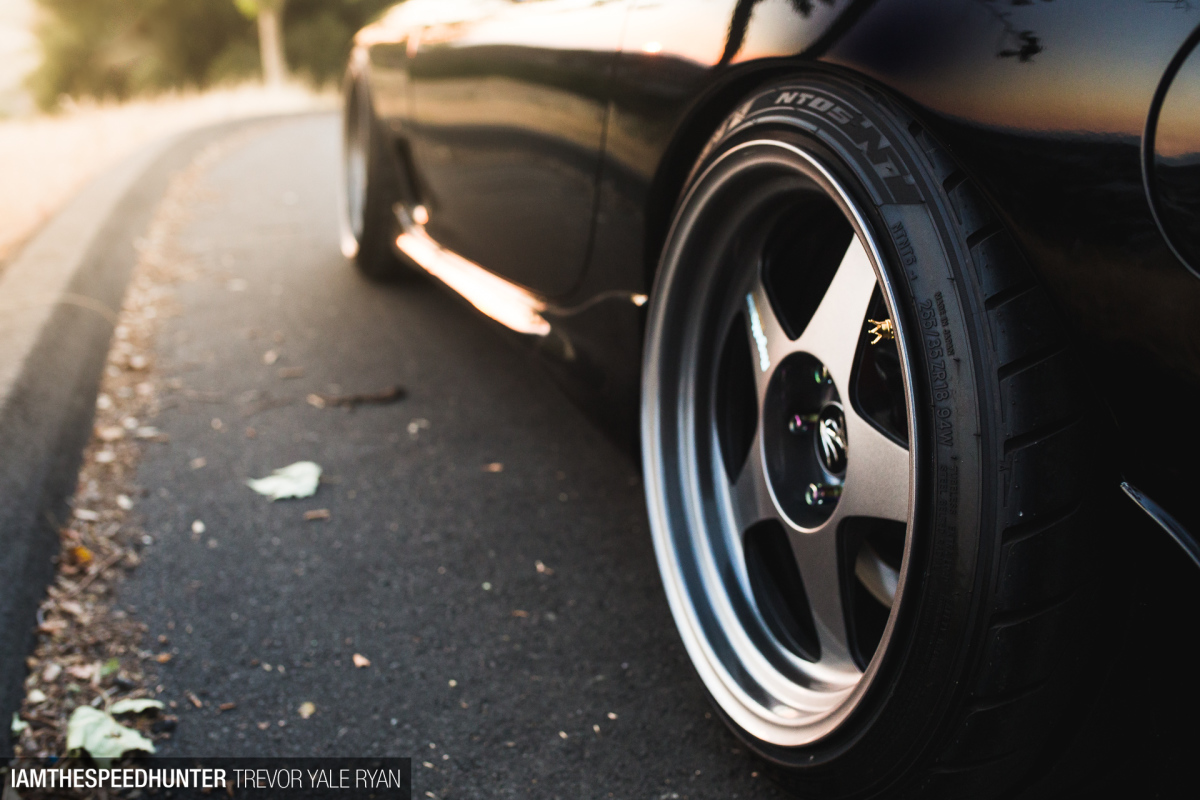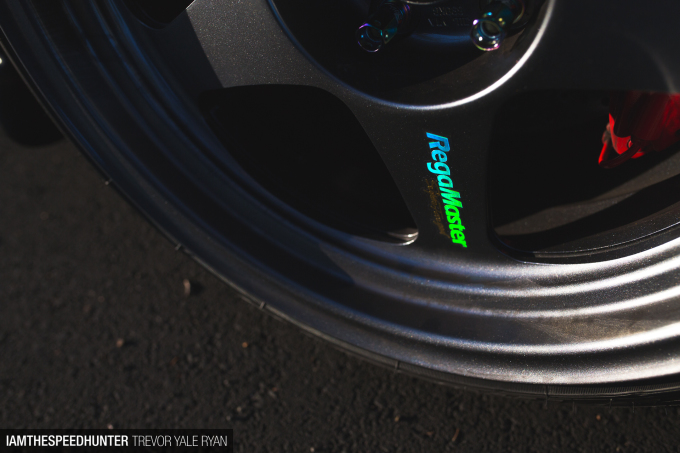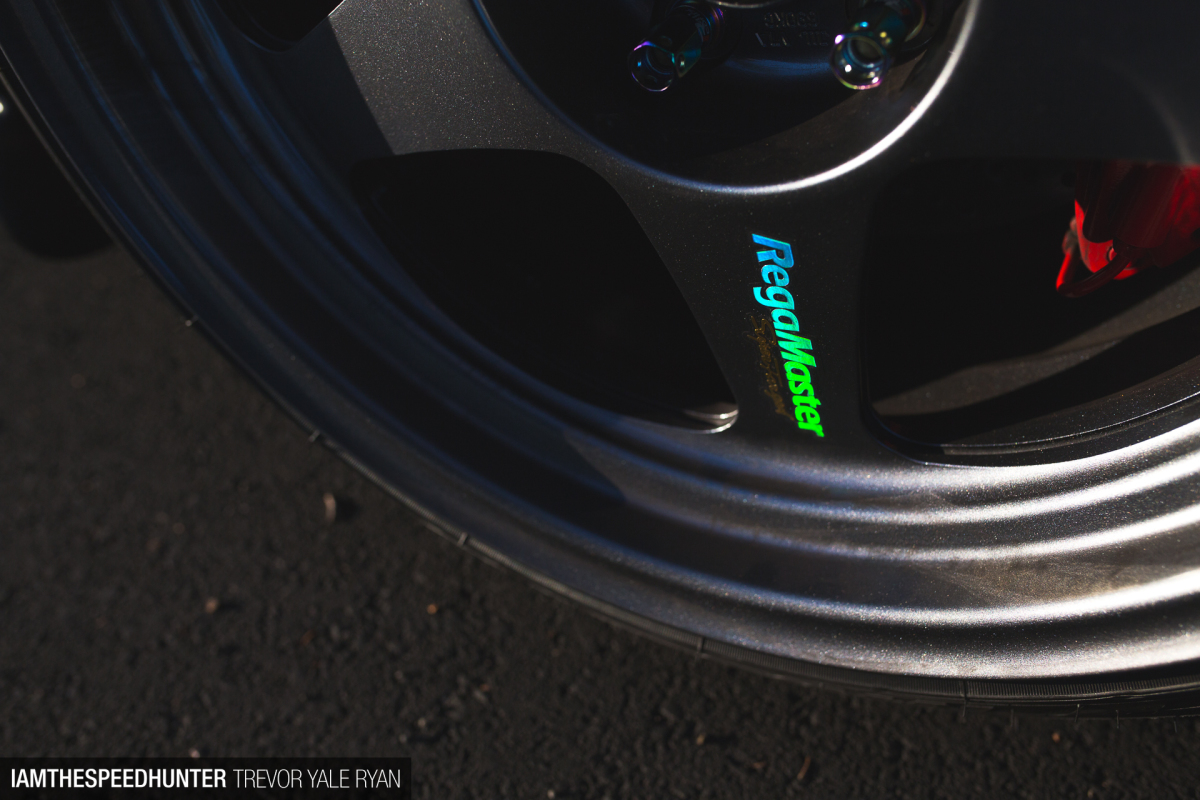 Finally, as you've likely noticed, there are the glorious Desmond RegaMaster Marquis Promadas. The simple 5-spoke wheels look so right on these older Japanese cars; especially in this particular color scheme. Although a larger diameter than I would expect on this otherwise externally reserved build, at 18 inches the fitment is superb while helping maintain a useable ride height. Wrapped in Nitto NT05s this car is begging for the back roads.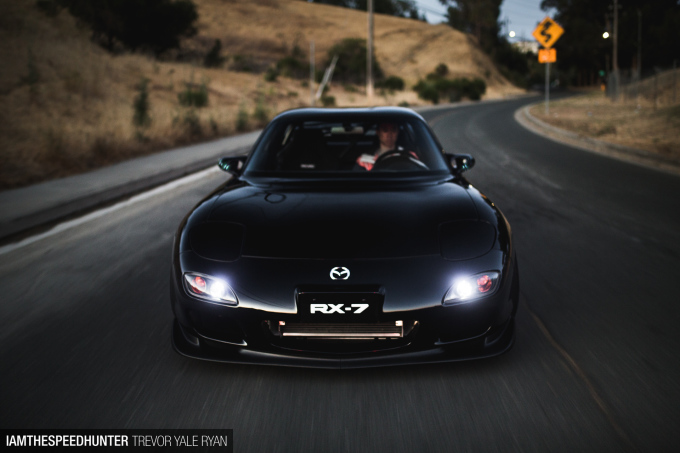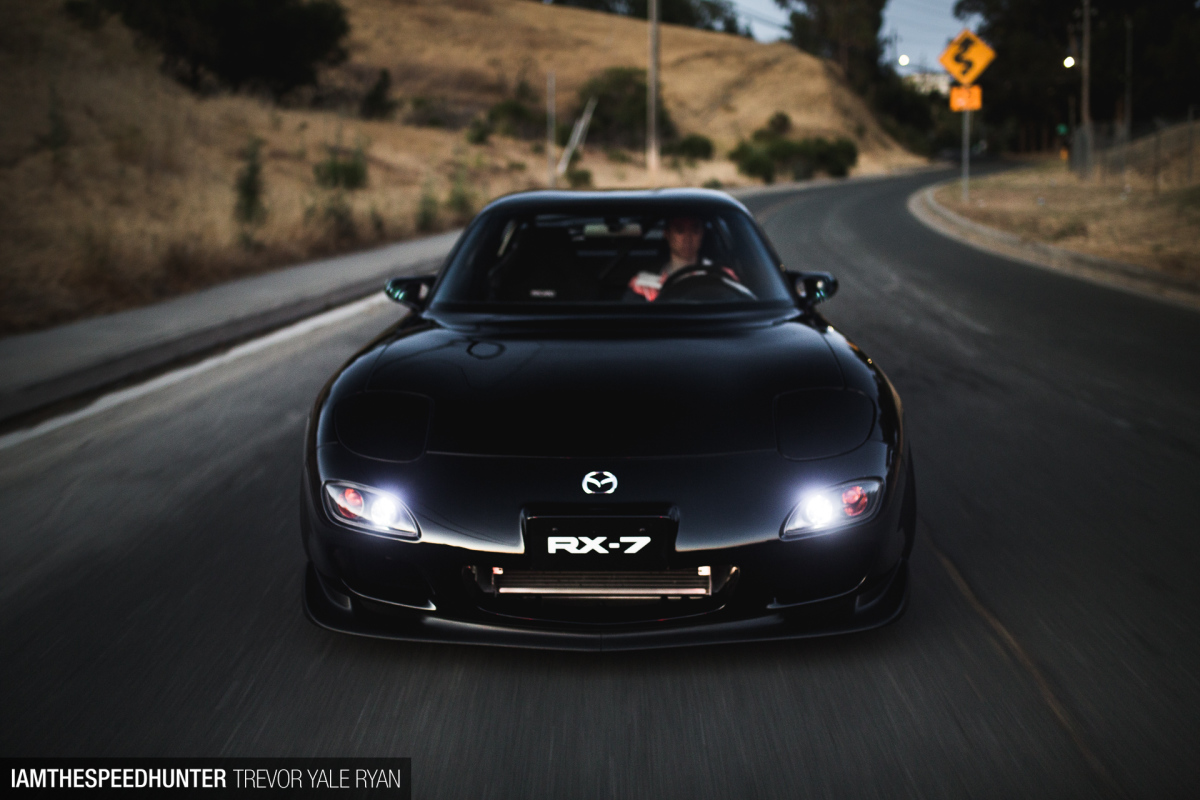 The list of ways in which you can modify your car is essentially endless, but as far as overall philosophies go, this is one of the best ways you can do it. Looking at the build as a whole it really goes to show that when you buy real, quality parts it does make a difference. Everything is good to look at and everything works precisely as it should. It's a V8 swap you can live with, one that you can count on. None of the swooping '90s styling is lost in the slightest. A timeless car, with a new heart, preserved through decades past and ready for the decades to come.
Trevor Yale Ryan
Instagram: tyrphoto
TYRphoto.com