Mazda Raceway
Lap after lap, I watched on as this FD3S RX-7 tore up Mazda Raceway Laguna Seca. It elegantly glided through the apexes and carved down the famous Corkscrew, taking bits of my heart with it as the power was reapplied. A distinct rumble on downshift and an absolute roar as the revs climbed; even from afar you could tell that it was a properly sorted machine.
After the long day at Laguna Seca I asked the owner, Drew, to pull his masterpiece aside for a closer look. The sun was setting over the Pacific Ocean right on the other side of the hills that surround the track, so we had to move quickly.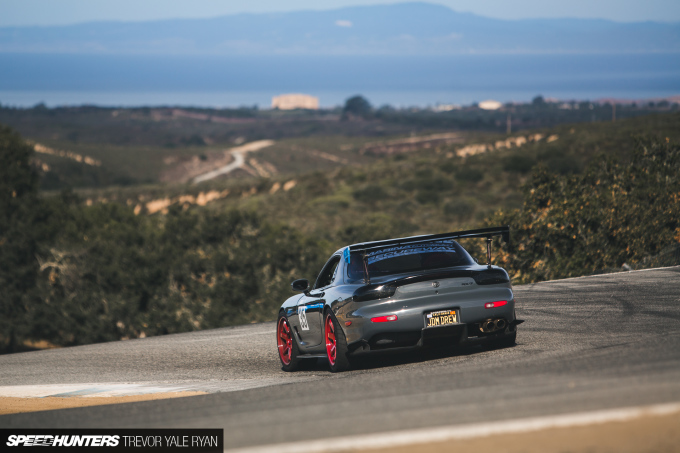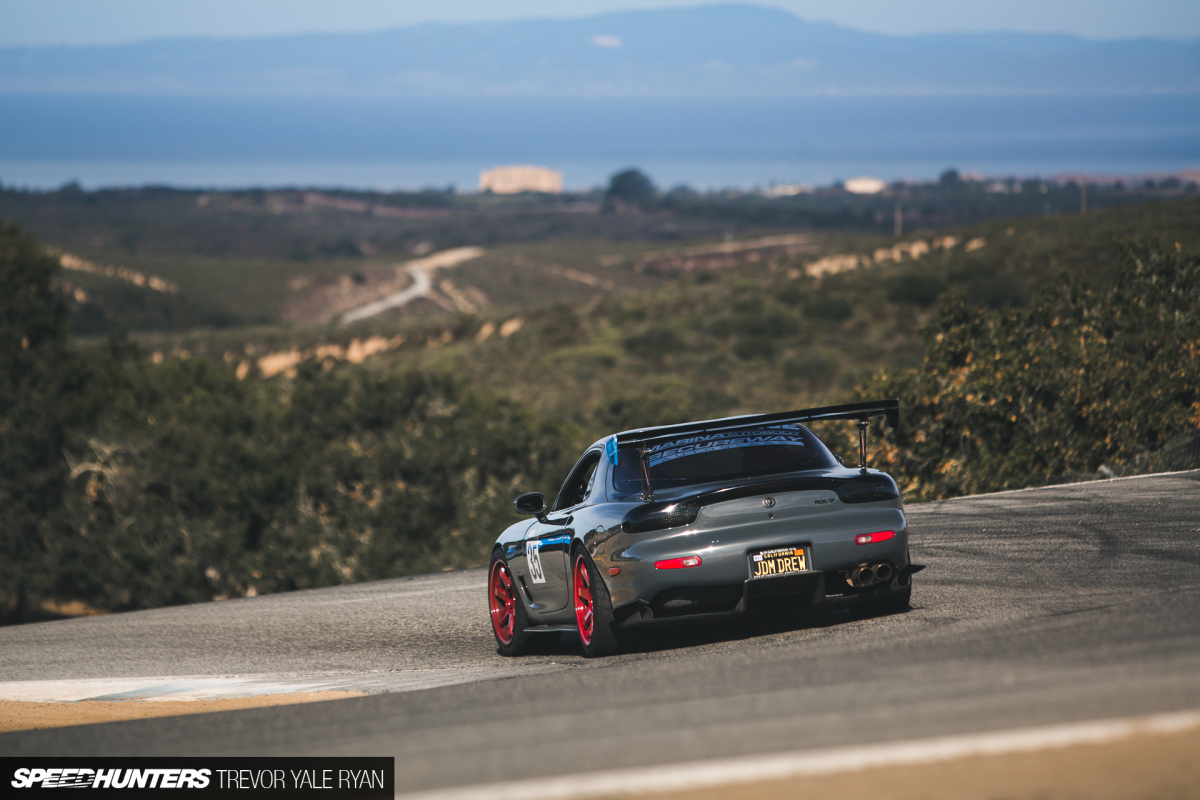 The best thing about this RX-7 is something that many, if not most, of your average everyday track cars lack: the match of function and form in a balanced way. Nothing is overstated, and likewise, nothing is underdone. Out of the 100-plus cars at OnGrid's track day, this would be the one I'd prefer to go home in over any other.
I sat down for a chat to get an idea of where Drew was coming from and why he made the decisions he did on this build.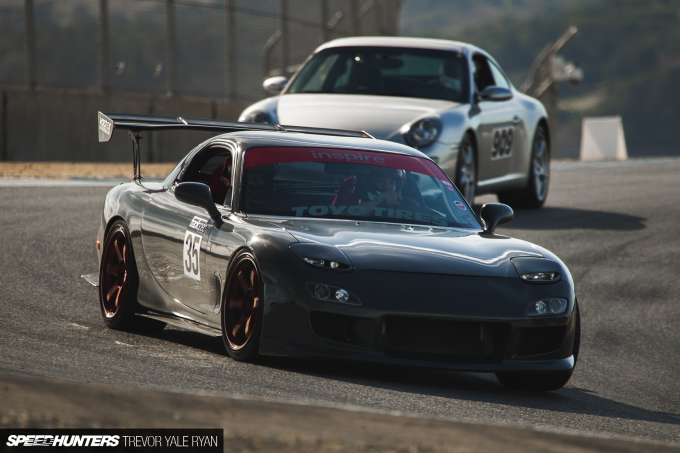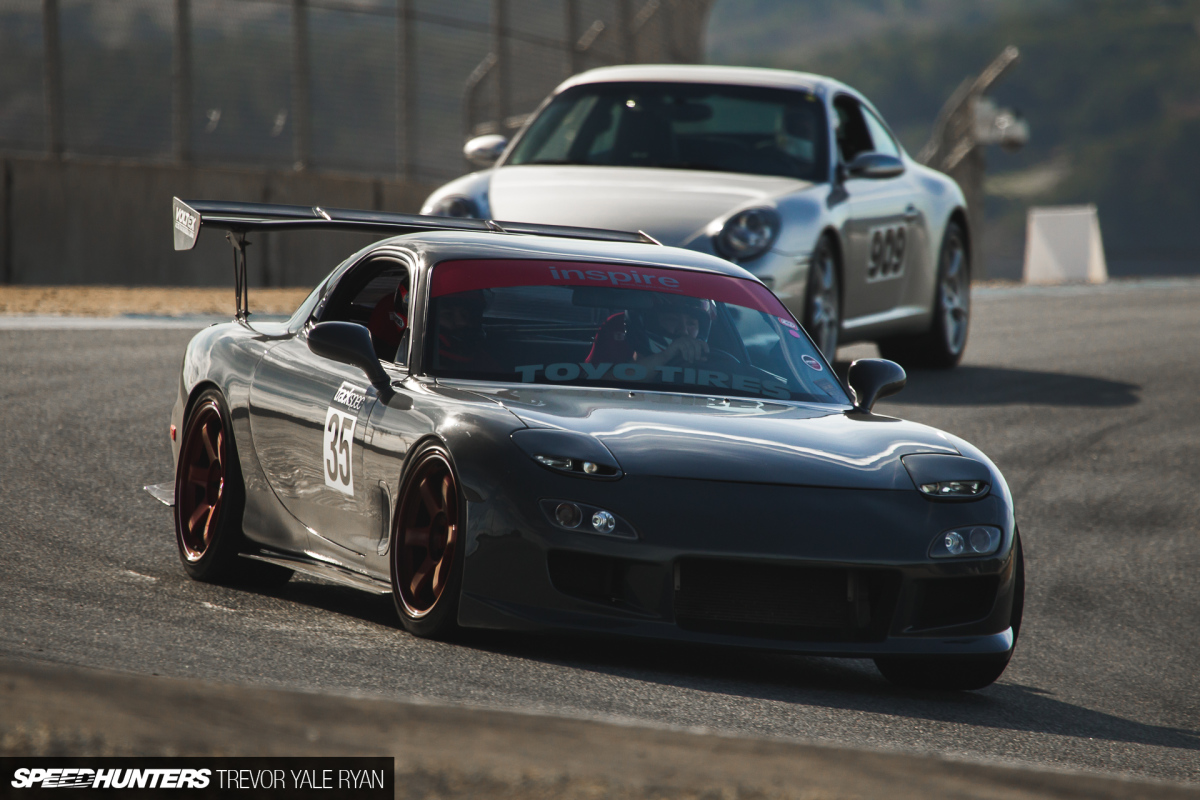 Always a die-hard car guy, Drew grew up with a love for JDM legends like the NSX, GT-R, and Supra. Also on his list of all-time favorites, and legendary in its own way, was Mazda's RX-7. Making the transition from a K20 Integra Type R a few years back to what was then a very rough FD3S, Drew has completely transformed this car into exactly what he wanted.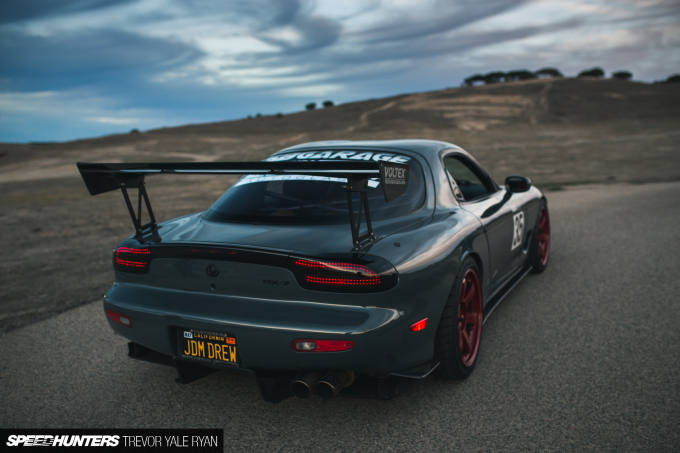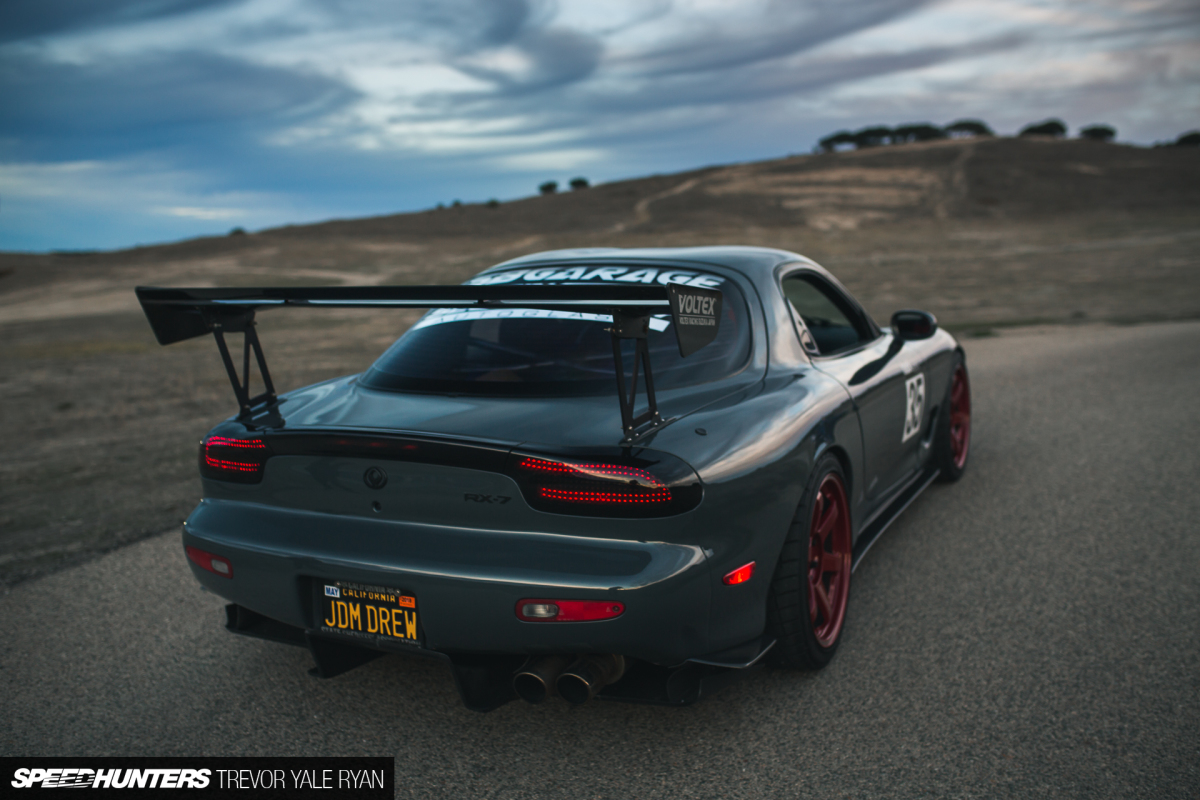 His Mazda is certainly a car that looks and feels right at home on the track, but it's still a head-turner on the street and at shows as well. The attention to detail throughout is what incrementally contributes to the flawless aesthetics (paint me opinionated) and outstanding performance.
Inside and Out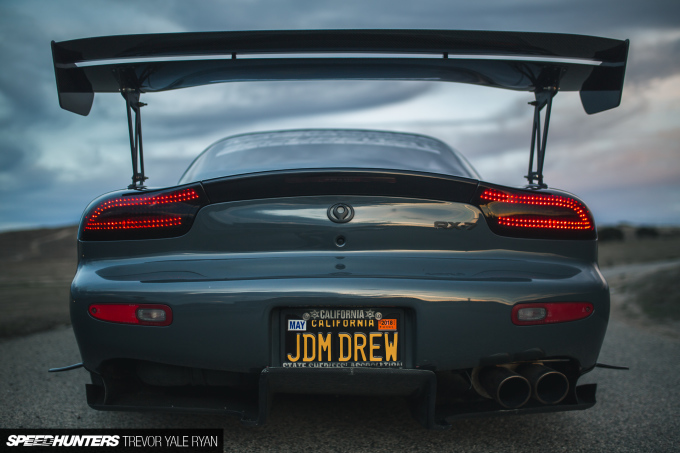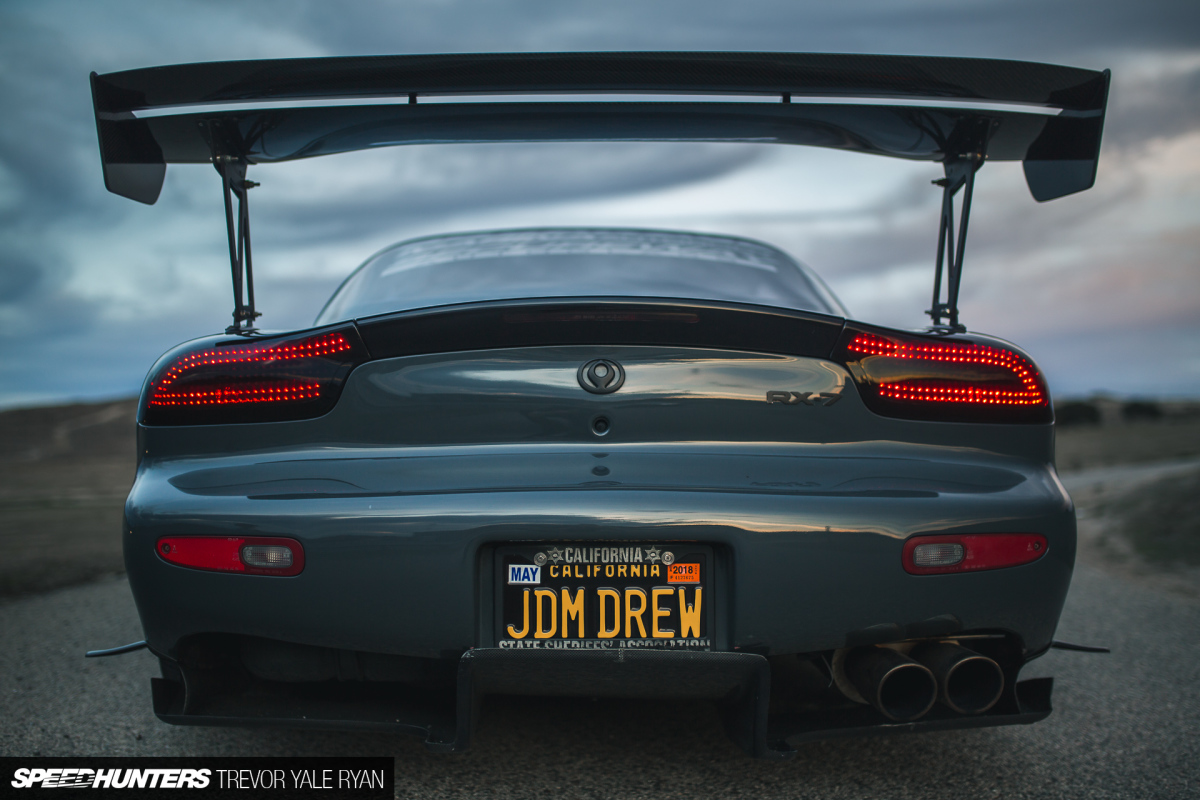 Externally, items like the '99 UK-spec bumper lights and Shine Burnout front bumper, side skirts and rear diffuser make this one a standout. Minus the (very) large Voltex Type 7 rear wing, it's a conservative setup that enhances all of those wonderful swooping '90s body lines we've grown to love, without being distracting.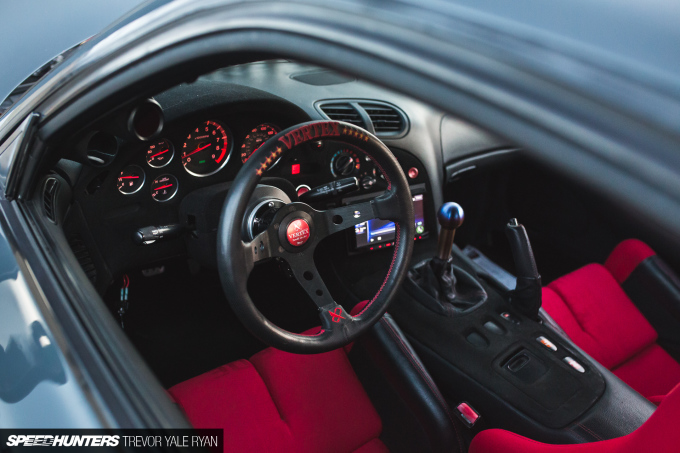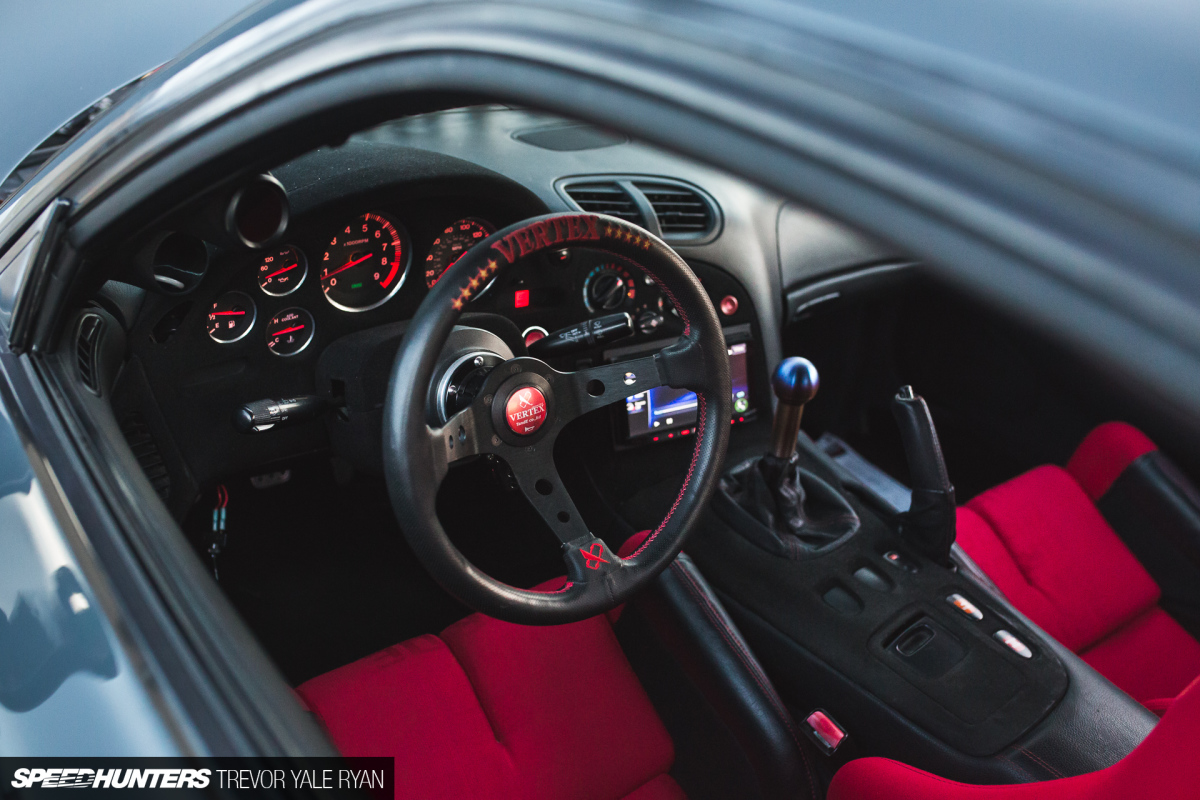 As far as the interior goes, it's the same story: very well-thought out and complete. This car doesn't just appear to be an all-rounder either, it really is. Drew daily drove this thing for the better part of two years before settling for a dedicated daily driver.
As such, the build list is long and includes parts like Kevlar-shelled Bride Gias seats, a Works Bell quick-tilt hub, and a hefty subwoofer that's nicely tucked away.'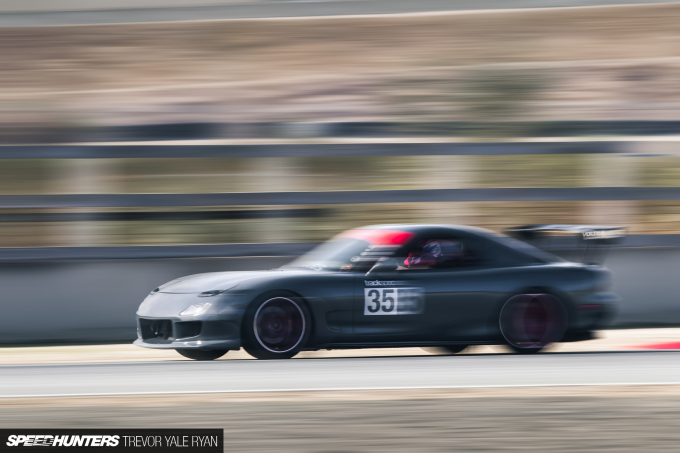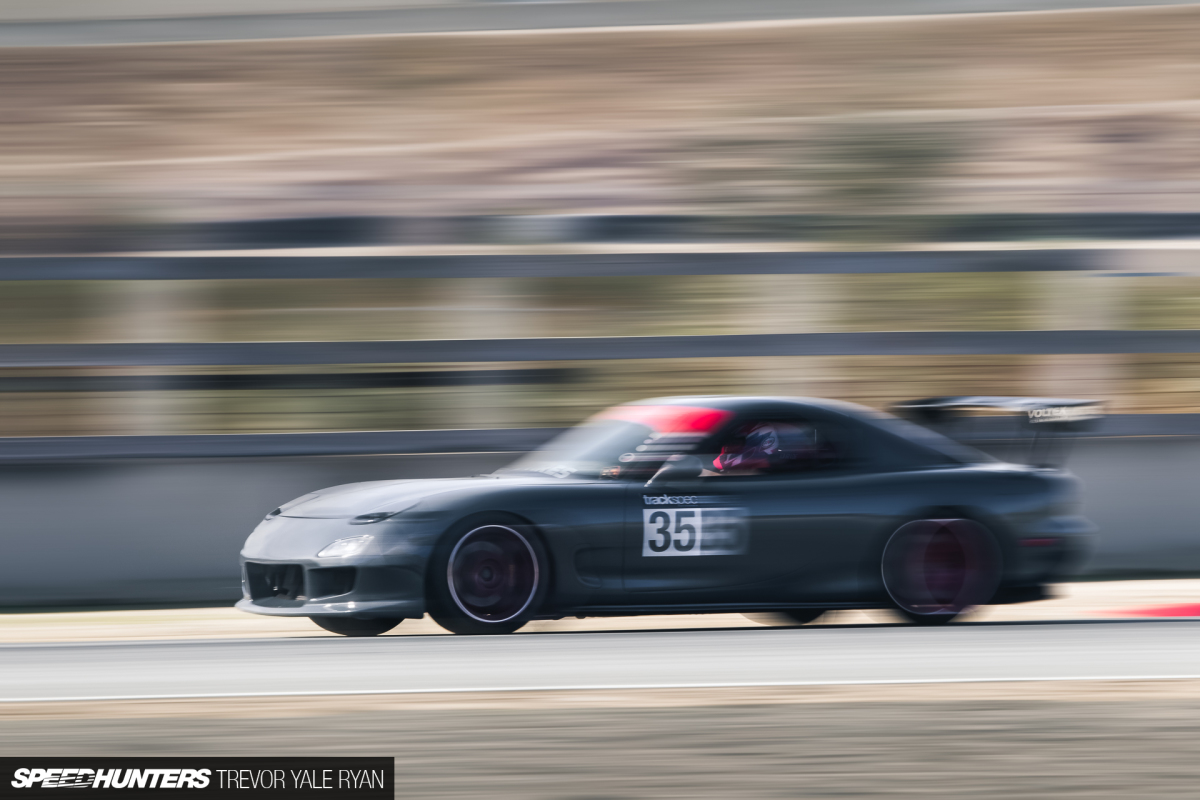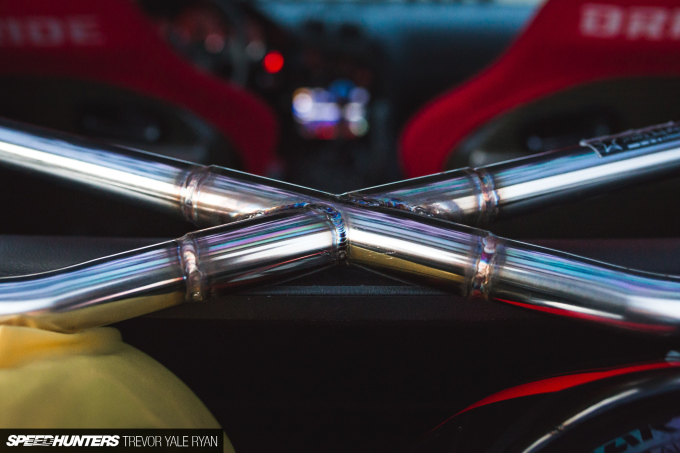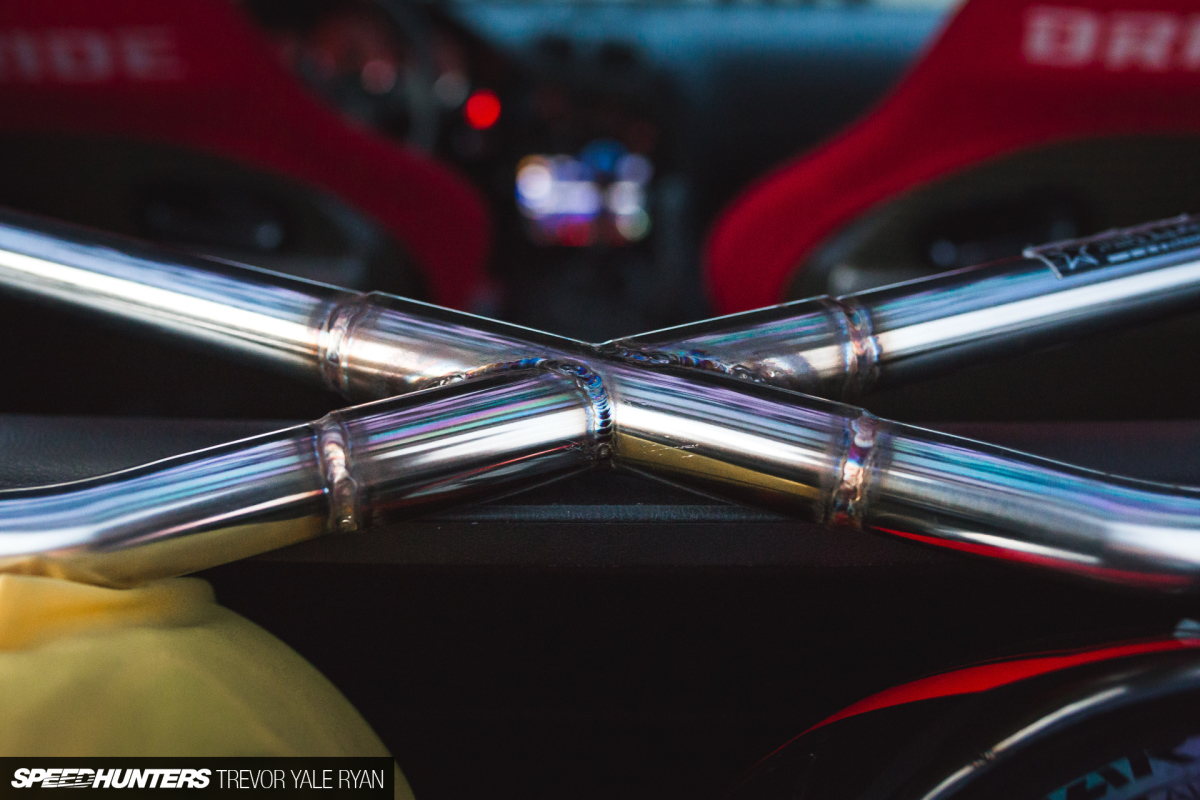 Of course, Drew's plans never involved babying the car and the proper safety items have been added for peace of mind at the track. Also added was a Miracle cross-bar to stiffen up the chassis.
Like the aero setup, a legitimate brake, wheel, and tire setup is required to shave off the seconds at any road course. Drew hasn't skimped in this department, opting for a square setup using 18×10-inch RAYS Volk Racing TE37RT wheels wrapped in sticky Toyo R1R rubber.
To stop the forward motion, the RX-7 now benefits from an AP Racing big brake kit with stainless steel brake lines all around.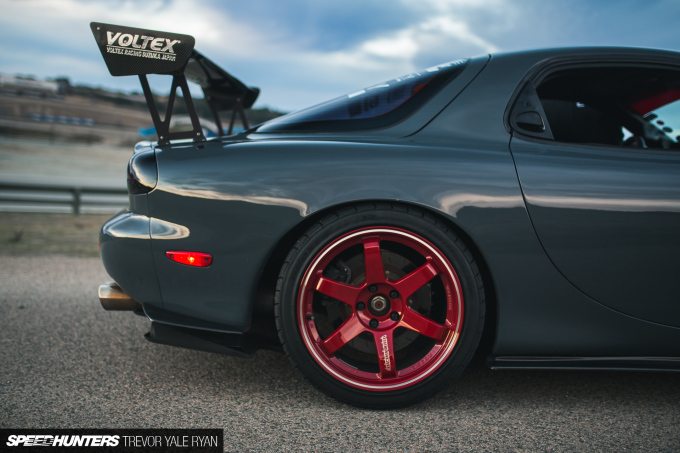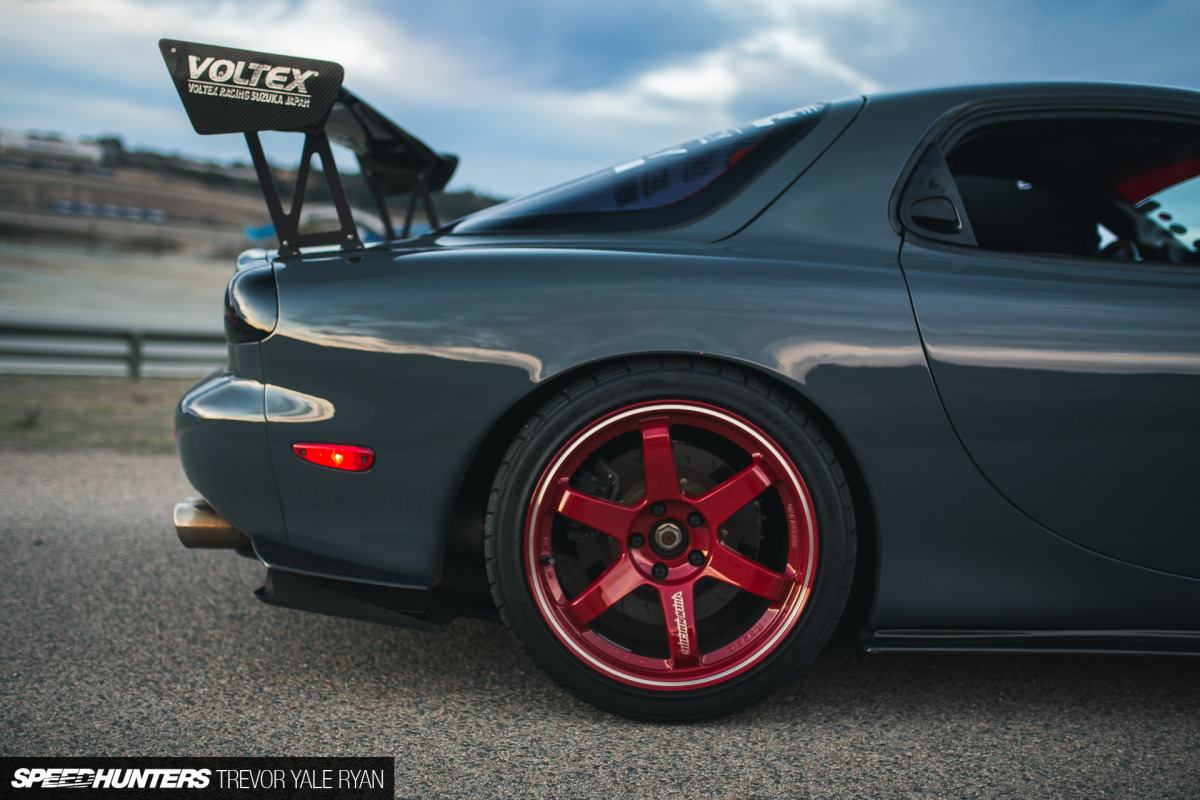 In order to achieve the proper stance and make this thing go fast and look good while it does, Drew selected Öhlins coilovers with spherical top hats which make use of a full urethane bushing kit.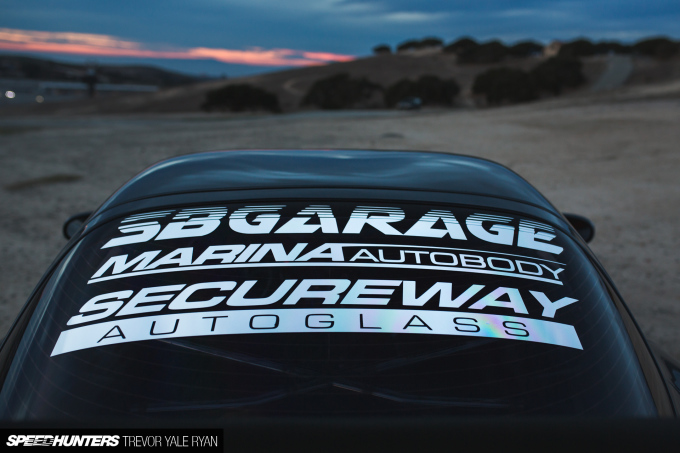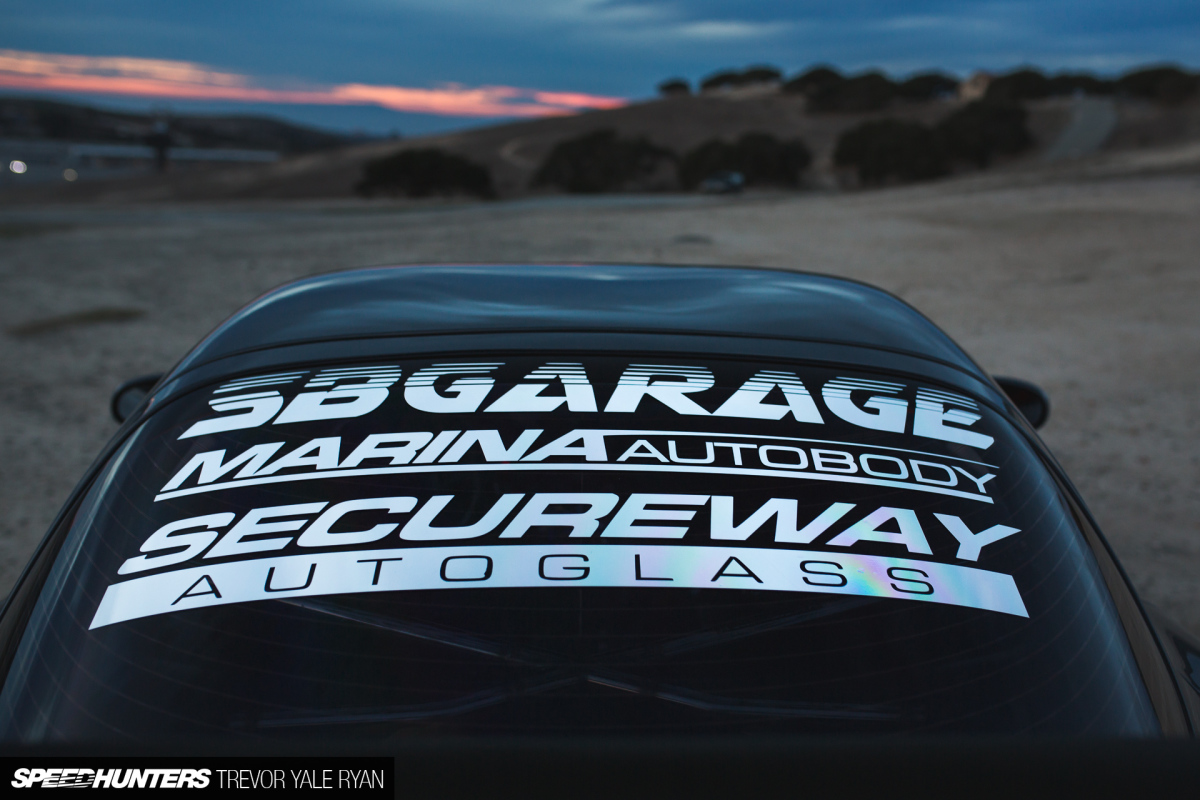 It's fairly obvious that a tremendous amount of work has been completed here. You can't always do it all yourself, and a build like this takes good friends; Drew was keen to point out those who have lent him a hand over the years.
Together, they've taken this car from a rough, old Mazda and turned it into a formidable track weapon. Not only that, all of the kinks have been ironed out to create a car that's a viable and reliable daily driver.
There's No Replacement…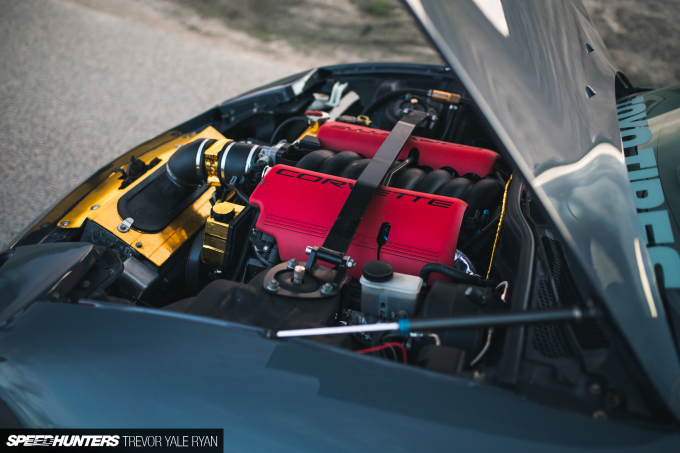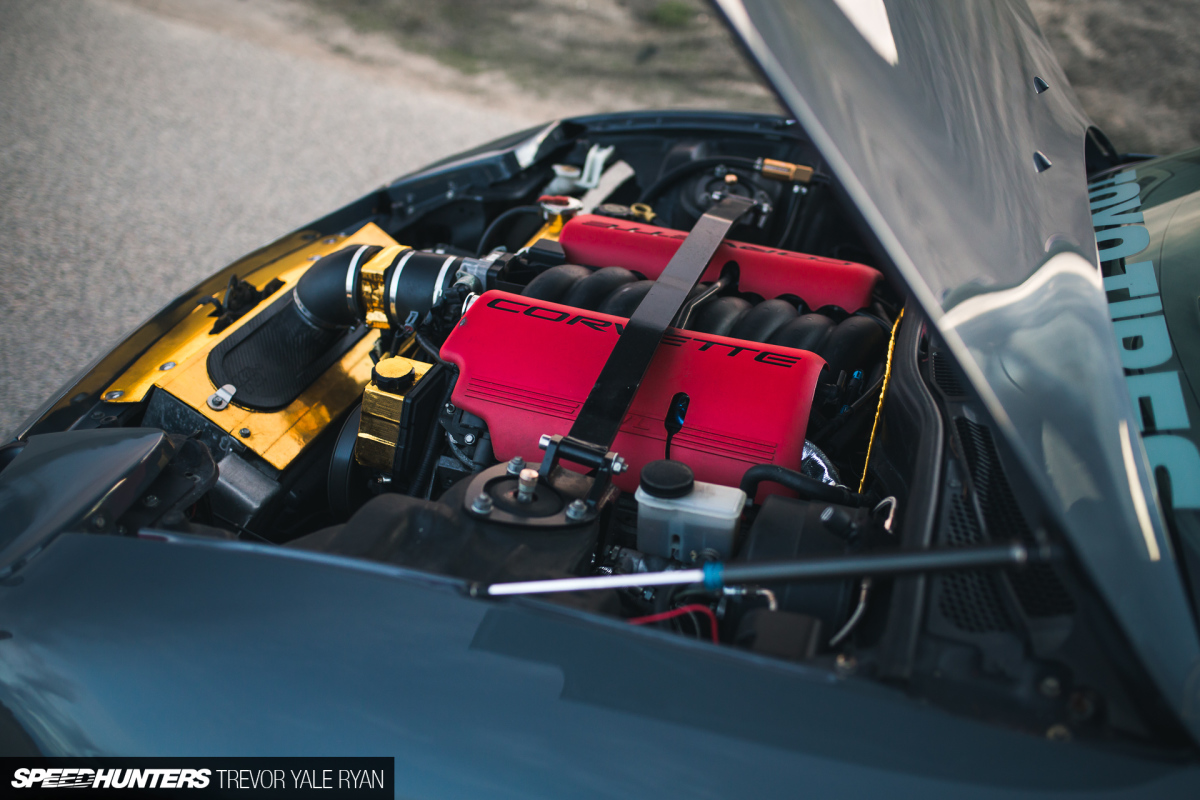 The most obvious kink being that pesky Wankel rotary powerplant — I've saved this for last in fear of you running to the comments to cry foul before taking in the build as a whole. Don't get me wrong, I'm a huge fan of those cantankerous engines, as is Drew, but this thing already came with a V8 swap when he found the car. It just needed a lot of love. Seriously, a lot.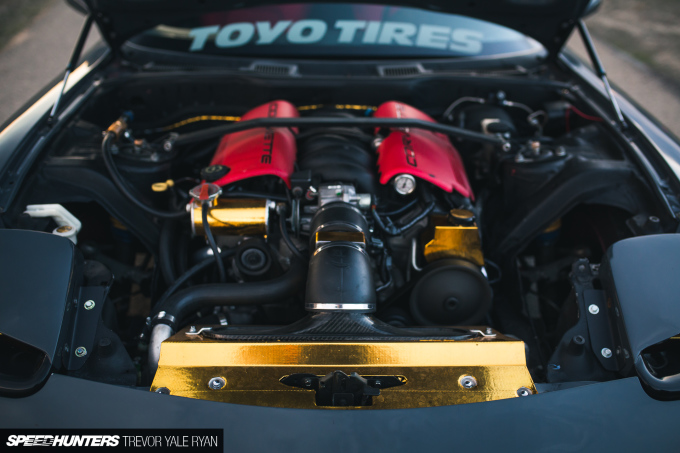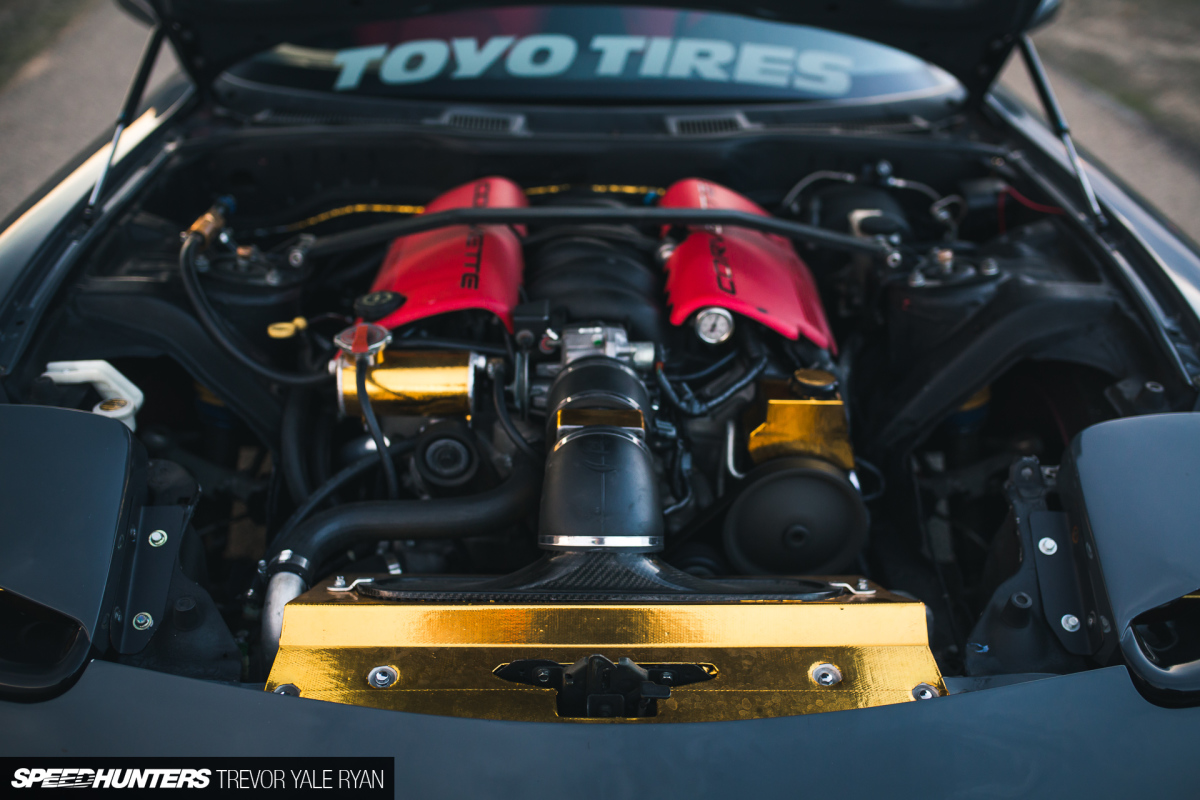 And that is exactly what Drew gave it. This has to be one of my all-time favorite V8 swaps; the factory Corvette color combo is true to the red accents around the car, and the engine bay is full of functional details that have been implemented in a way that just looks good.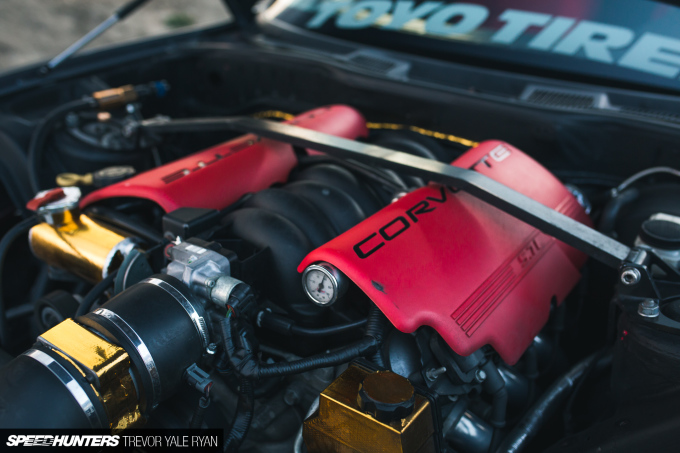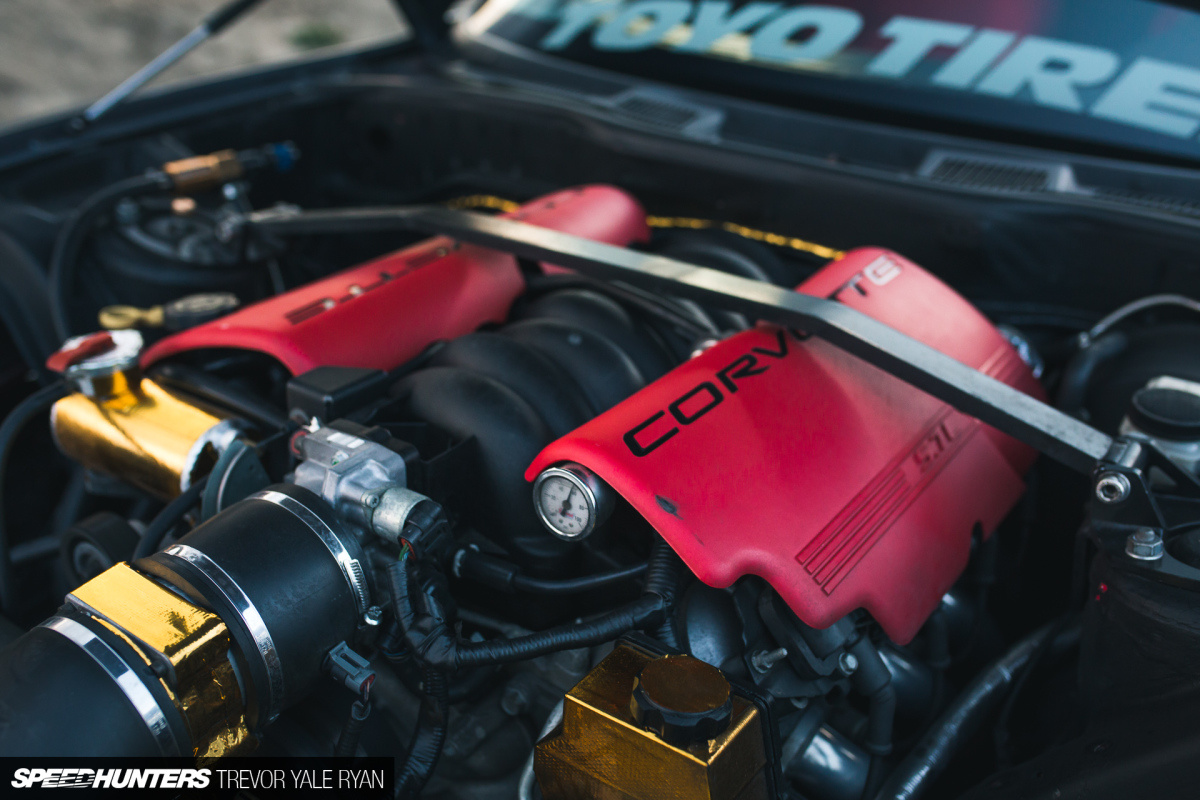 Whine all you want, but with the track abuse and all the miles Drew has stacked on daily driving the car, the LS1 swap just makes sense. And, as they say, there's just no replacement for displacement.
Coupled with a beefy T56 transmission which the driver interacts with via an MGW shifter, the feel of this car behind the wheel is unreal. Running Spoolin Performance long-tube headers and a custom exhaust courtesy of Veloximo, the Chevy V8 has become one of Drew's favorite aspects of the build.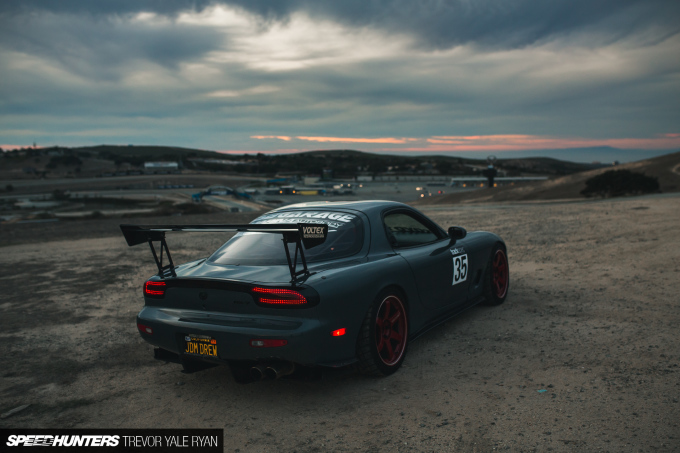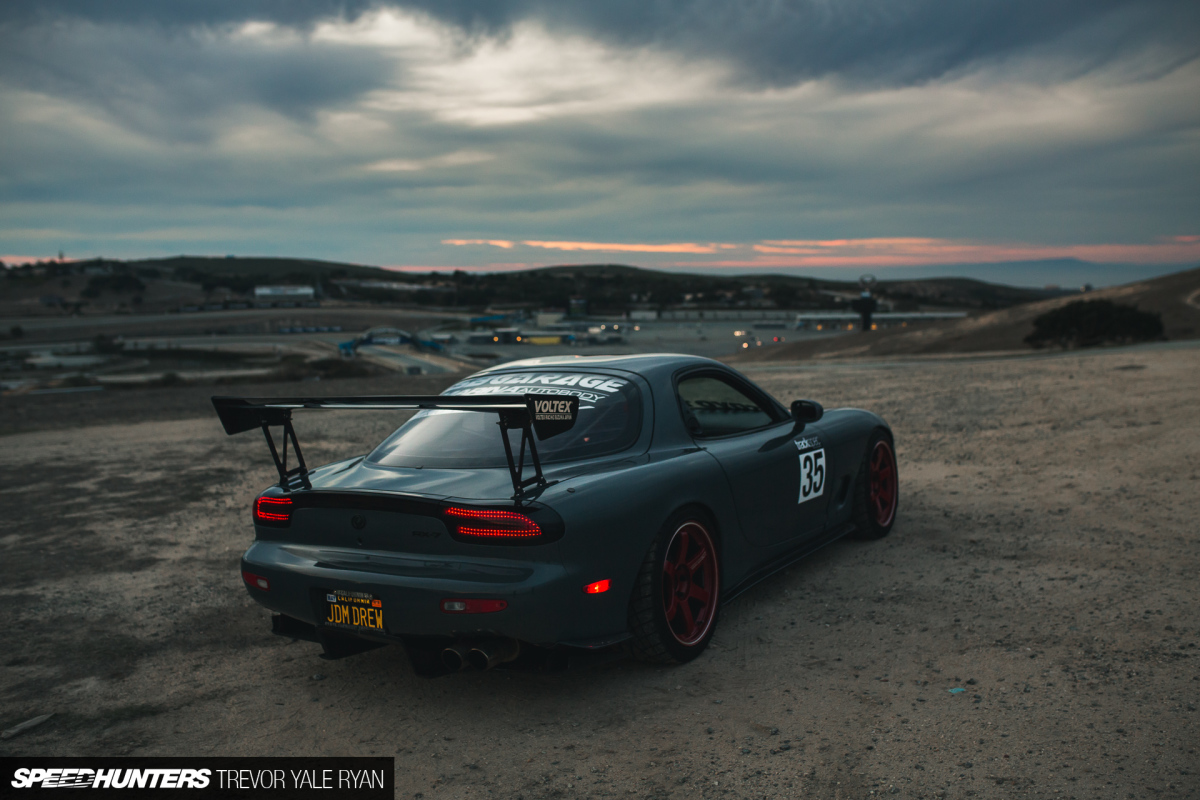 Unsurprisingly, his other favorite thing about the car is just getting in and driving it, be it to the grocery store with this wife, up winding mountain passes, or at the racetrack. Through and through, this is a complete and thorough build.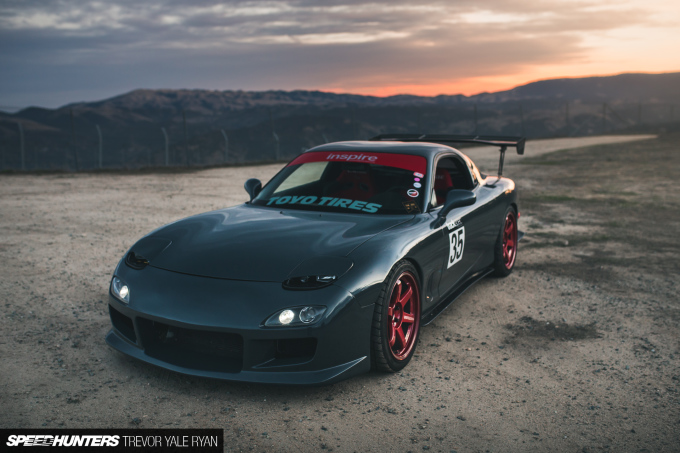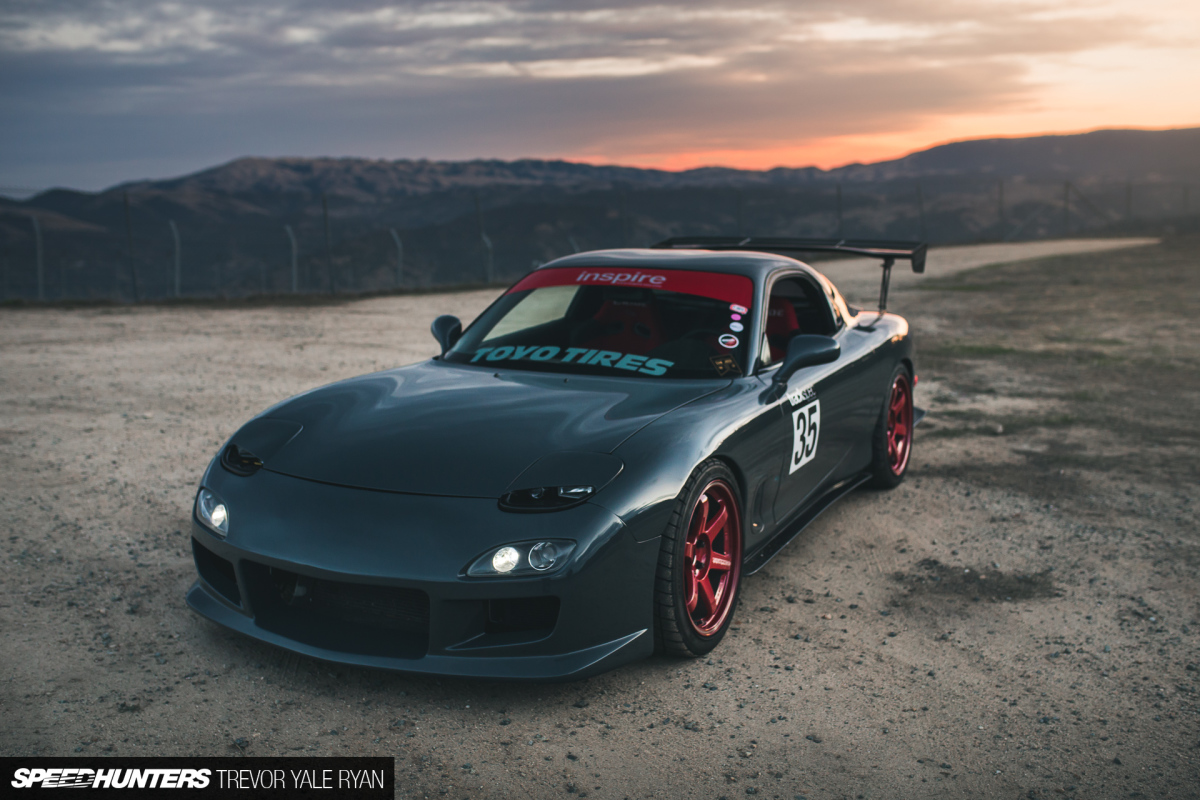 Although it was almost entirely dark at this point, I found myself practically unable to stop snapping photos of the car perched up on the hillside overlooking Laguna Seca.
Already one of the best cars ever built, Drew has enhanced his FD3S in just about every way. The result is simply irresistible.
Trevor Yale Ryan
Instagram: tyrphoto
TYRphoto.com