'So what's your favorite car?' This is probably the number one question you hear being thrown around on the show floor.
It's something you could possibly answer at a smaller event, but when it comes to the SEMA Show, it's a futile question. The sheer number of cars on display and the ultra high quality makes it near on impossible to pick a favorite. Breaking them up into sub categories makes the task a tad simpler, but it's still mighty tough to call out a winner. So instead of trying to do that, I'm going to present to you a selection of Japanese cars that really stood out to me.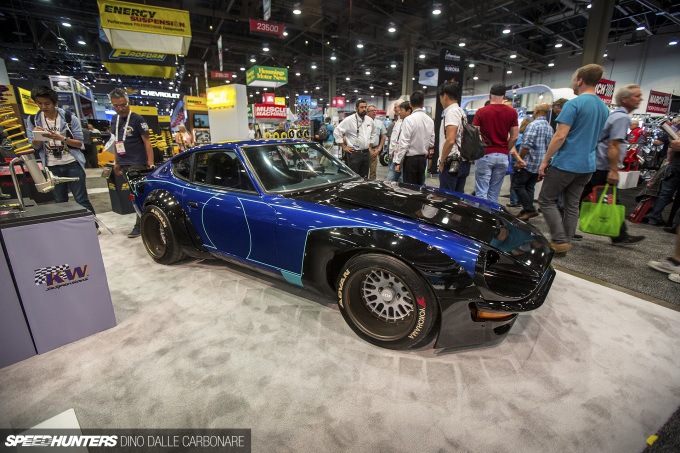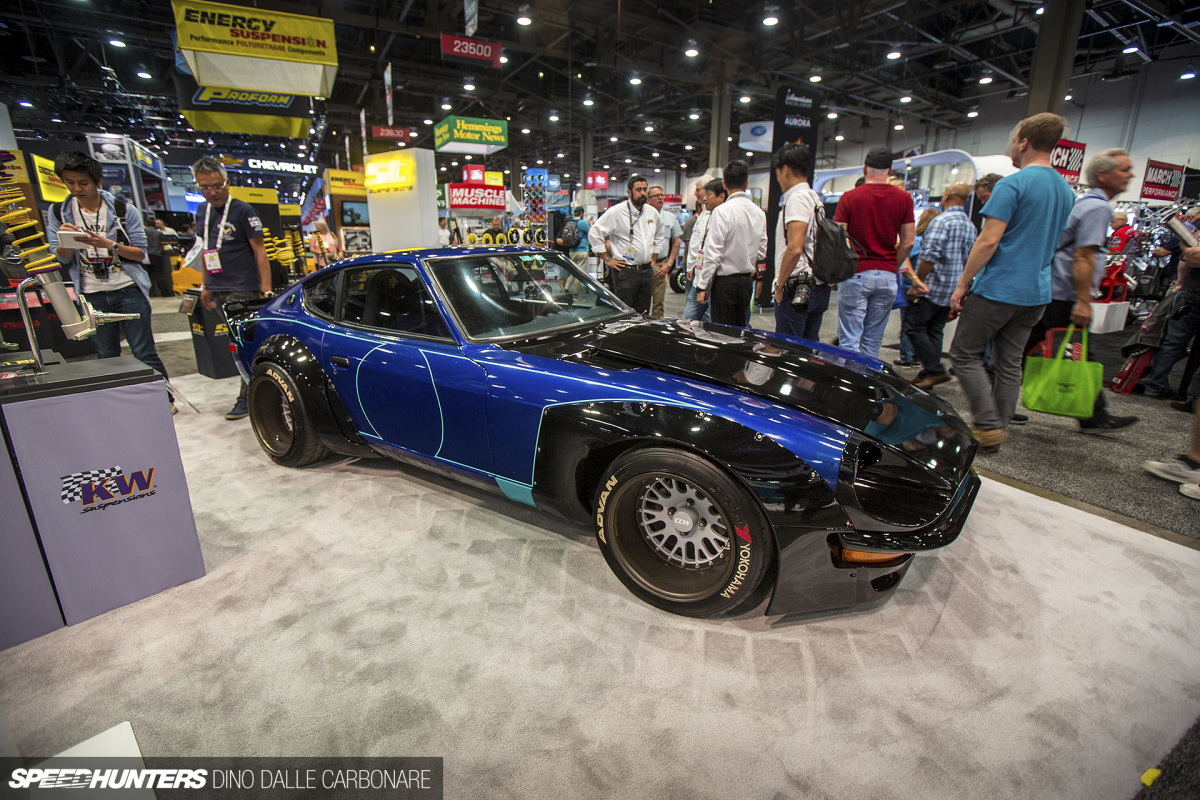 I'm going to start with Jun Imai's Datsun 260Z, which you already would have seen this week through Larry's rather uniquely-shot feature. Having met Jun in Kuala Lumpur earlier this year during Art of Speed and talking about the build, I was quite curious to see how it all came together. Of course, the car is defined by the Pandem kit and unique color combo.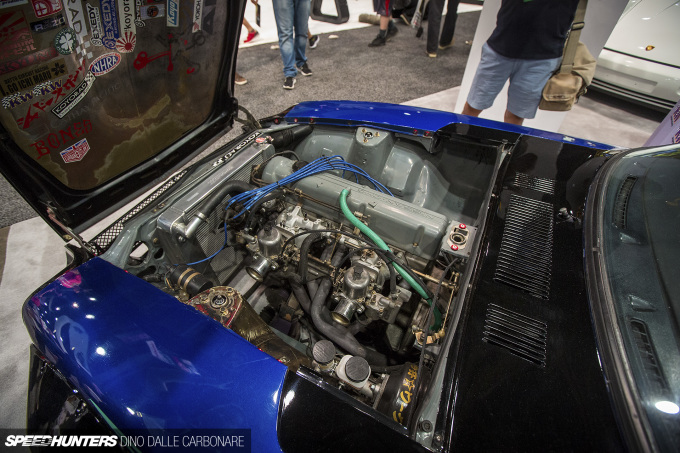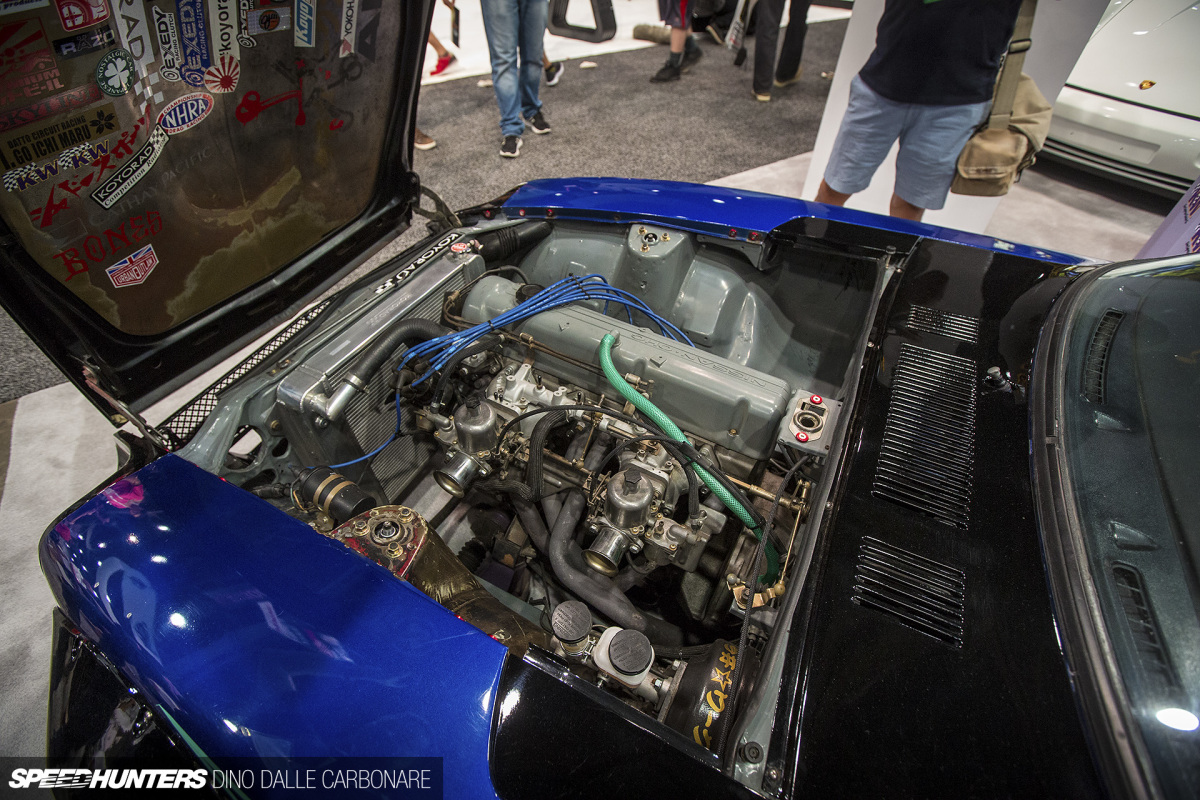 I like really like how Jun has kept the stock L-series intact; with so many engine swaps happening these days it's come to the point that factory engine setups stands out. That's pretty crazy if you think about it for a second.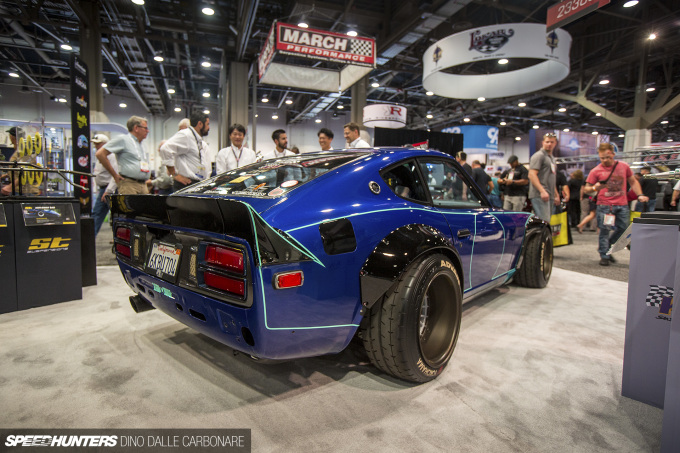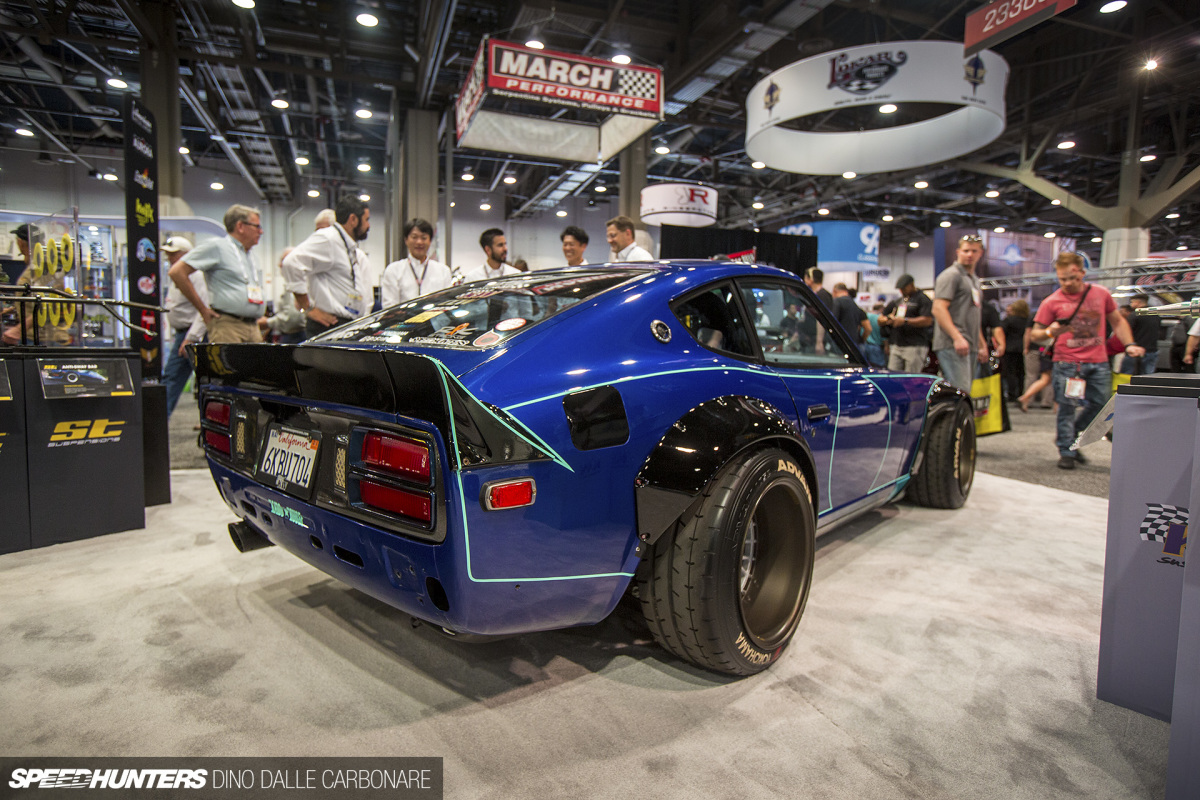 While the CCW Classics measure 16×10-inch at all four corners, the rear wheels have a far more aggressive offset; the massive lip just screams aggression from any angle. Now that it's finally finished, Jun can properly enjoy it.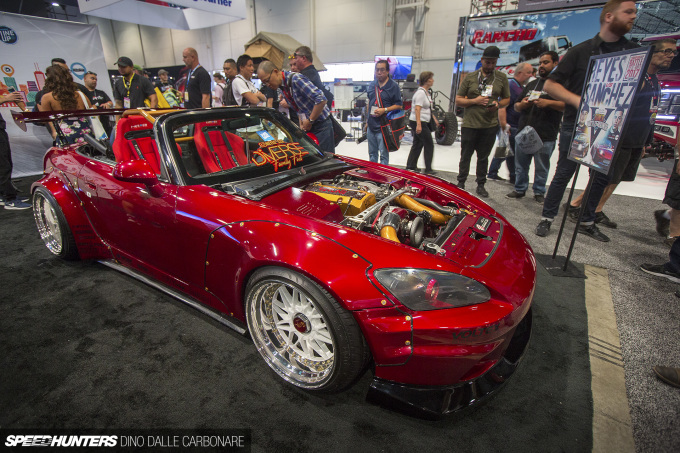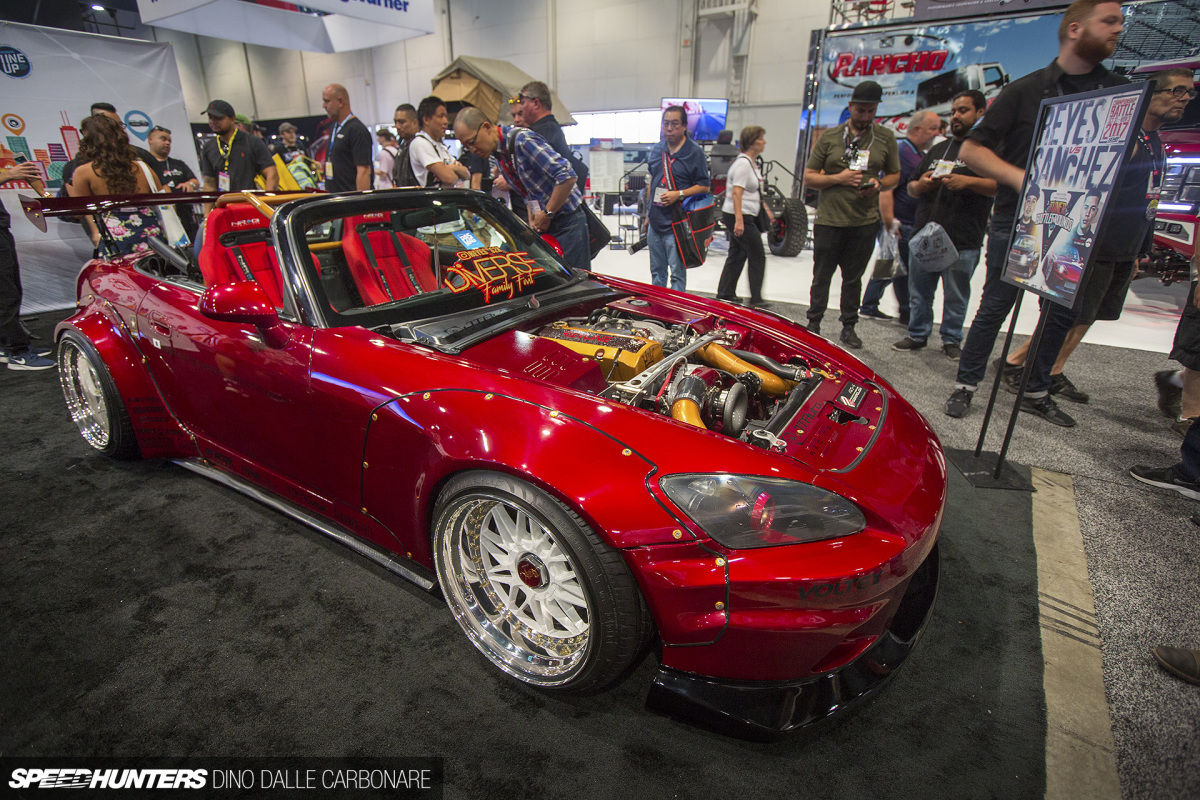 This S2000, owned by Jesus Reyes, was the winner of 'Tuner Battlegrounds' organized by Canada's PASMAG.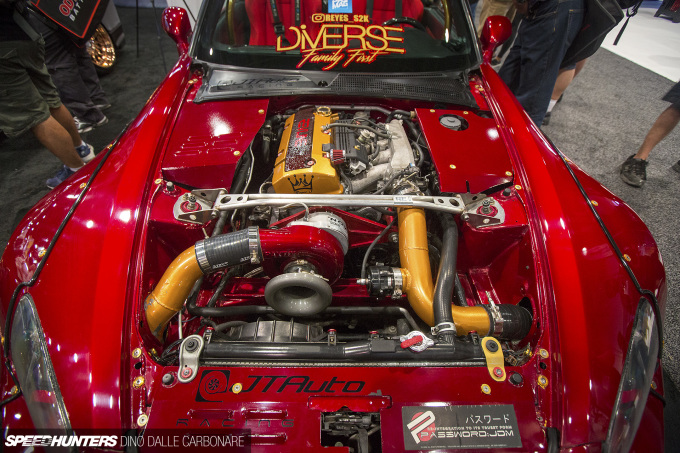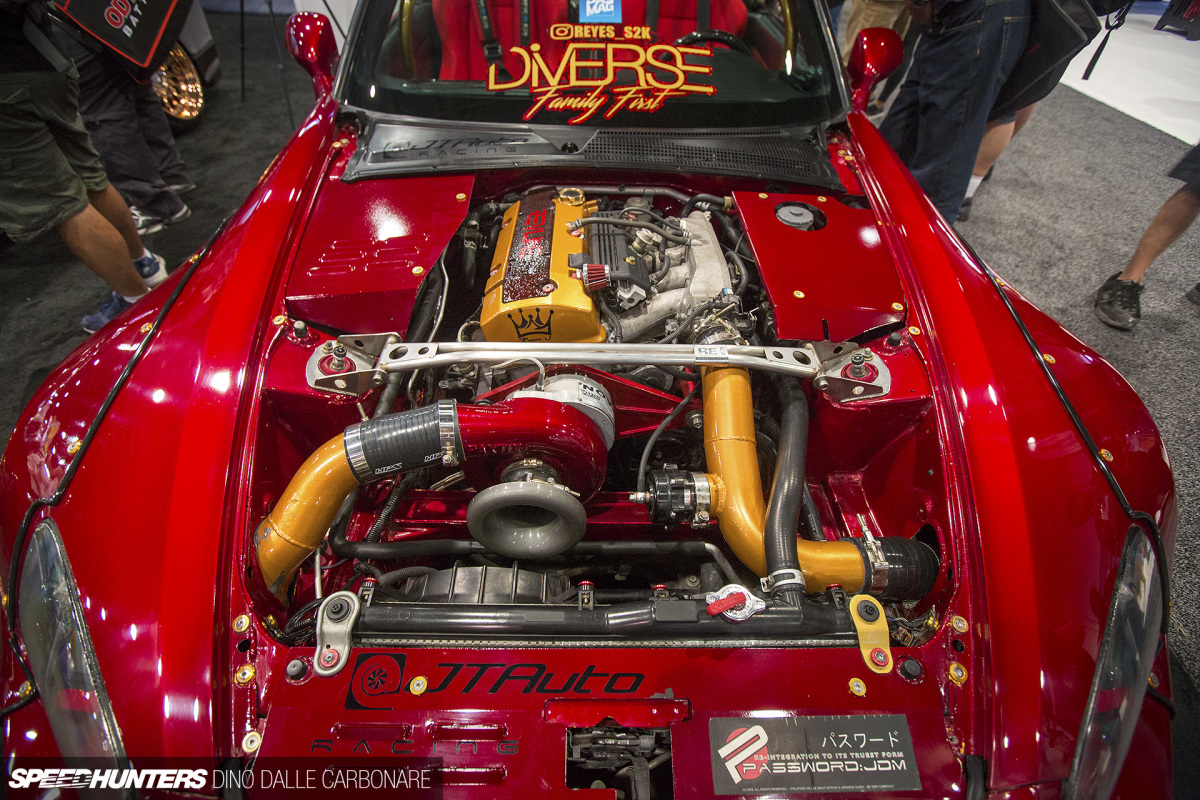 While the exterior is pretty unique with the overfender kit, it's the rather colorful engine bay that I found most interesting. In Japan it's pretty rare to see a supercharged S2000 as most owners prefer to stay naturally aspirated, but when you need serious power out of an F-series engine, boost is your friend.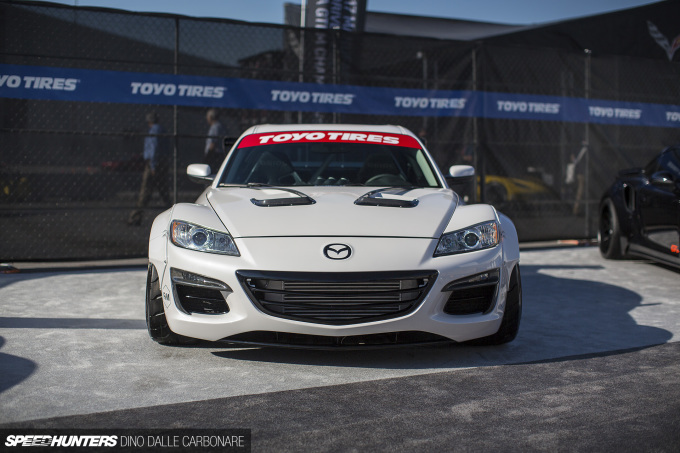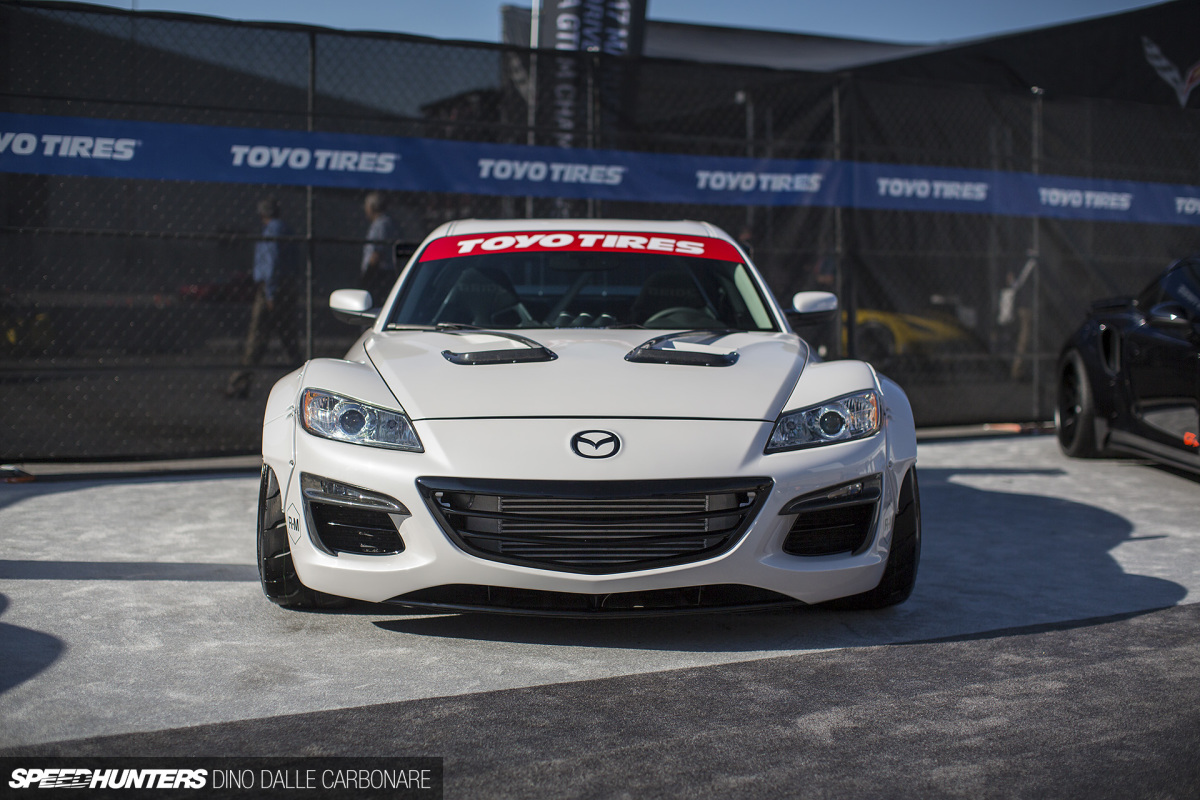 More overfenders here, this time on America's first Rocket Bunny RX-8.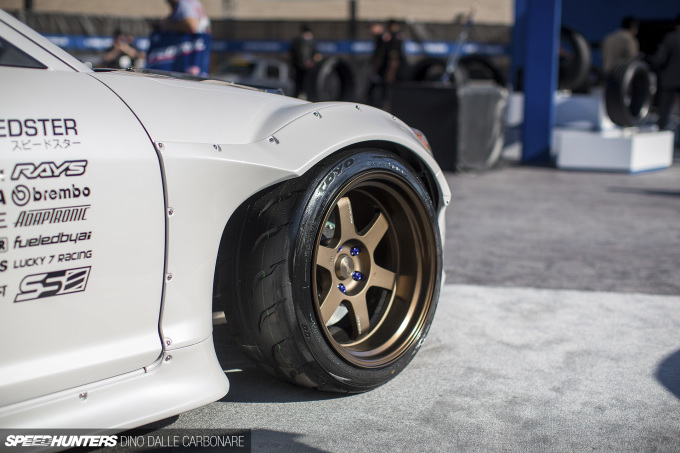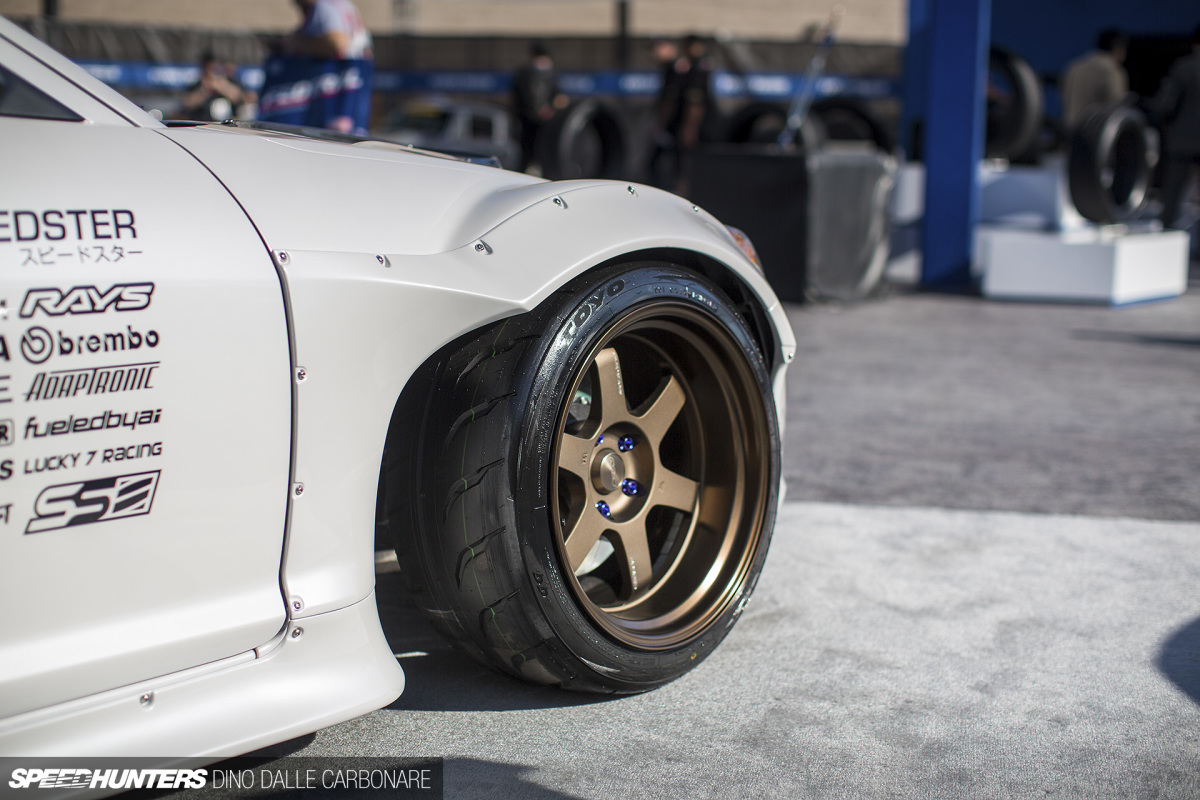 While the aero pieces continue to follow Miura's tried and tested recipe that doesn't ever seem to tire, I did find the design rather well suited to the lines of the SE3P – especially the way the front flare is shaped. Plus, the forged RAYS Volk Racing TE37Vs with their dish just add to the car in a clean and simple way.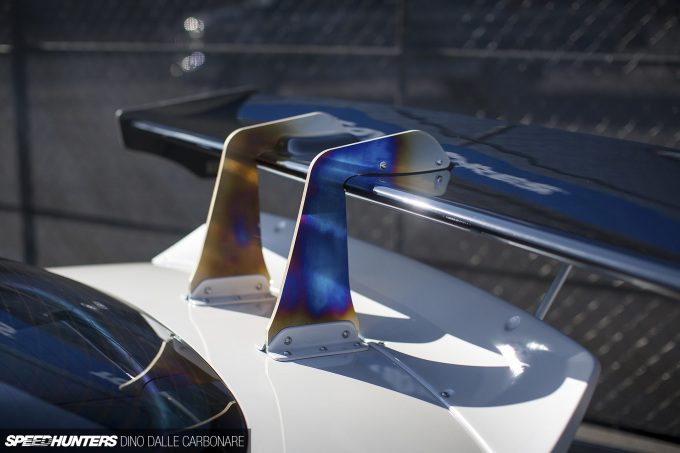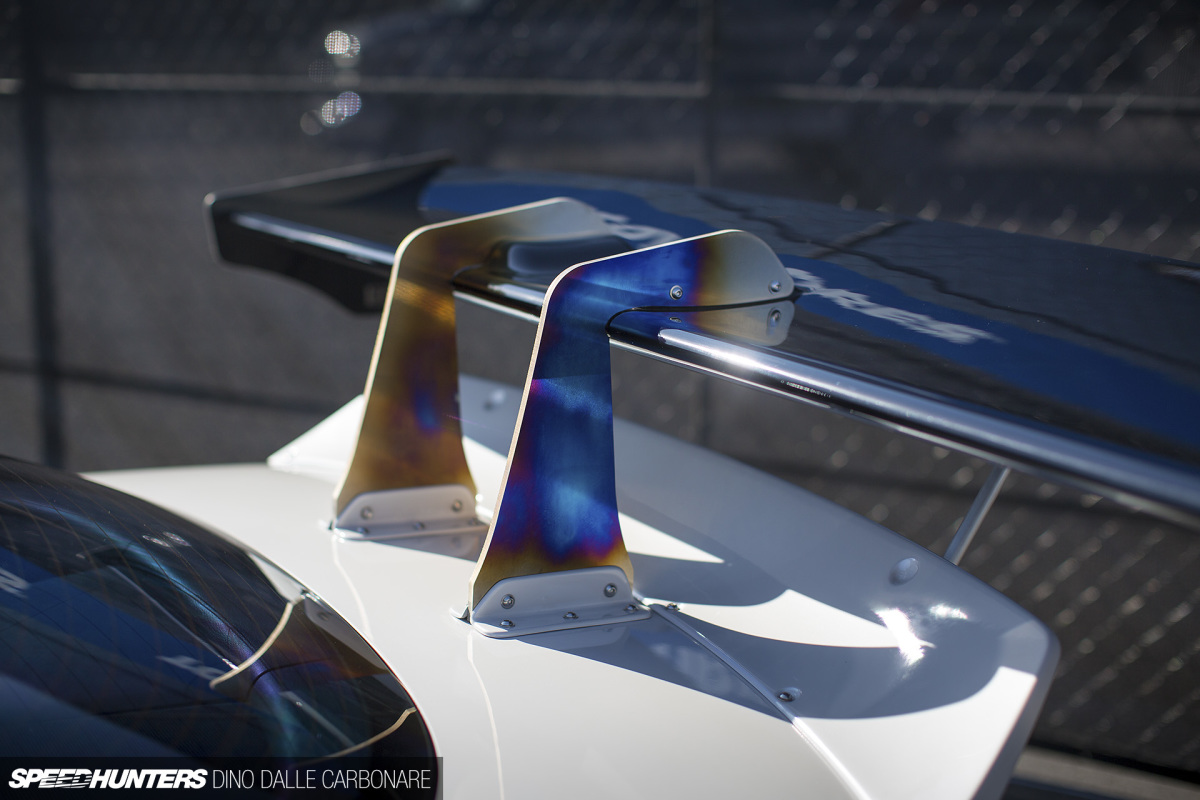 I don't think I've ever come across titanium-look gooseneck wing stays before.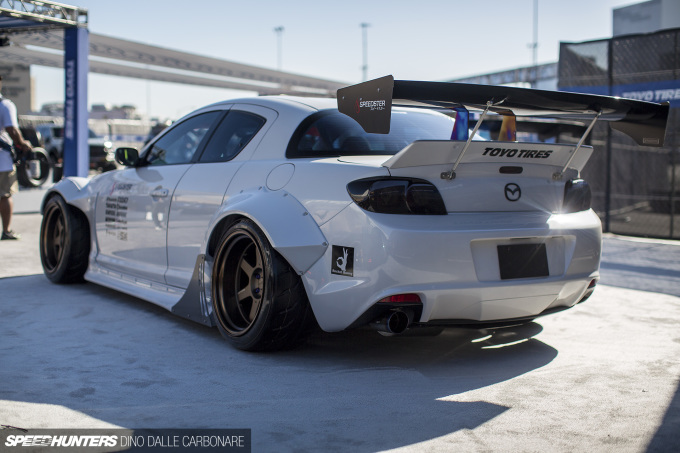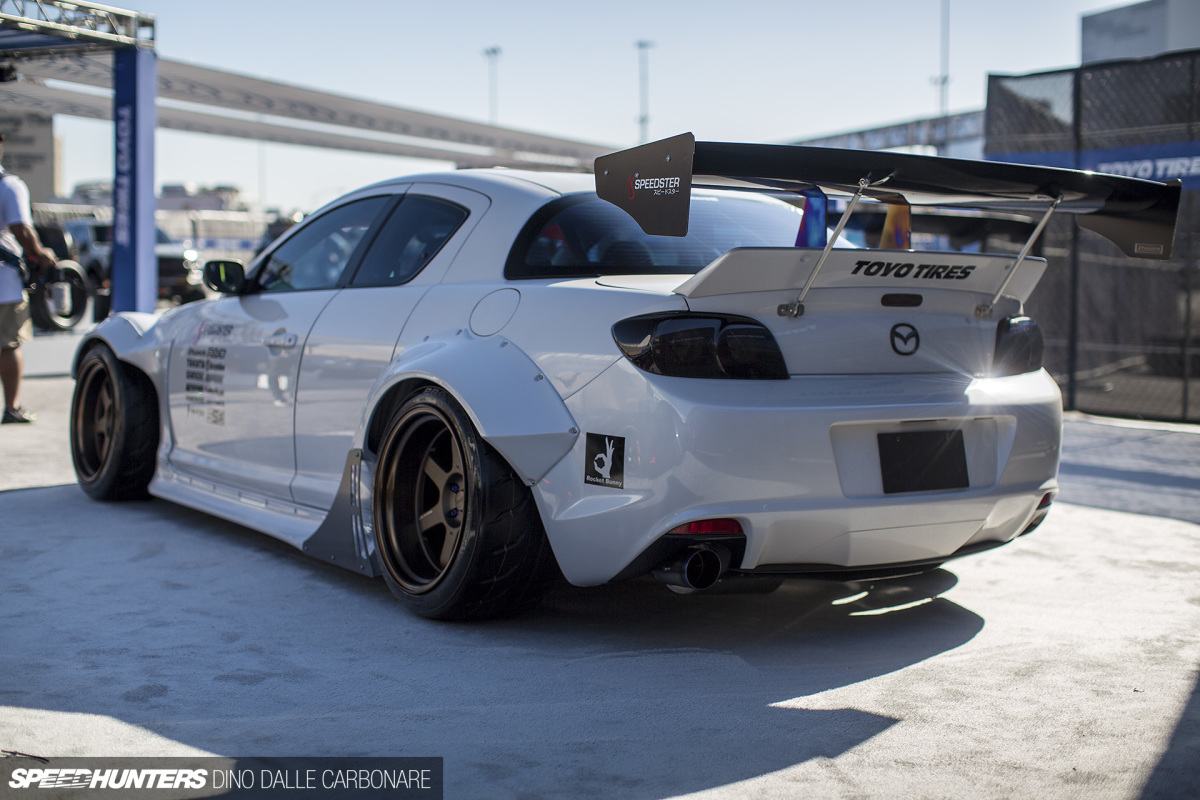 Personally speaking, I think the rear of the car would look even better with just the simple ducktail, but this is still one of the best from Miura's portfolio.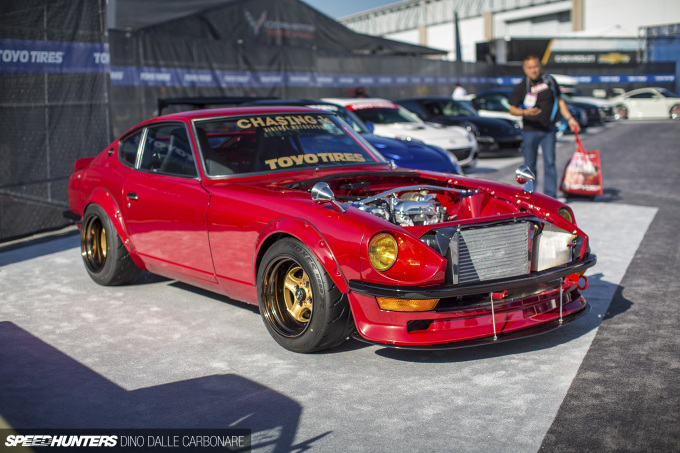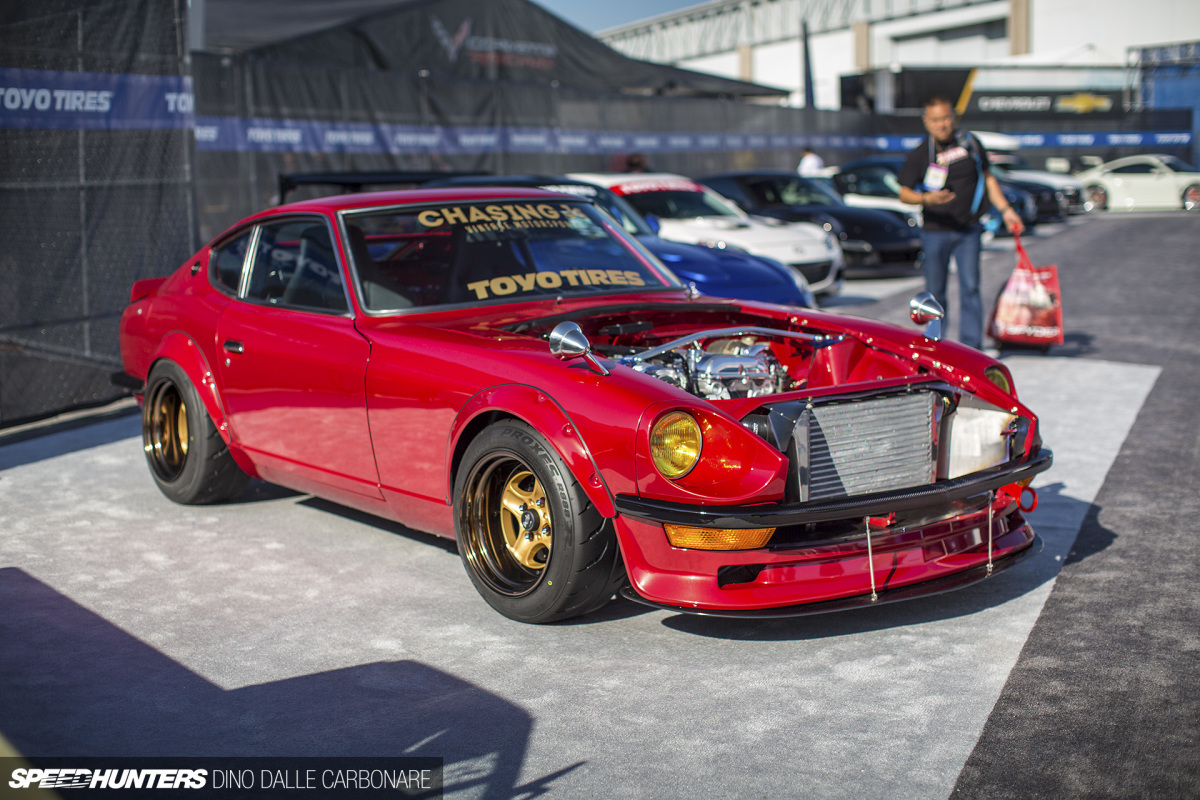 Not far from the RX-8 in the Toyo Tires Treadpass was this Datsun S30. Like his stunning Z build last year, Dominic Le's latest Chasing Js creation is meticulously put together.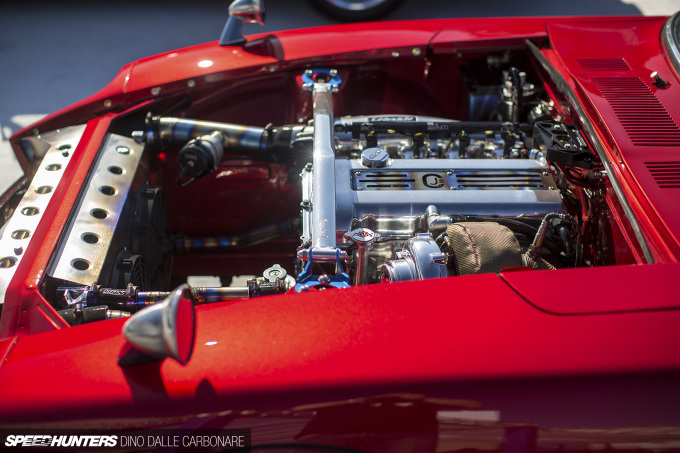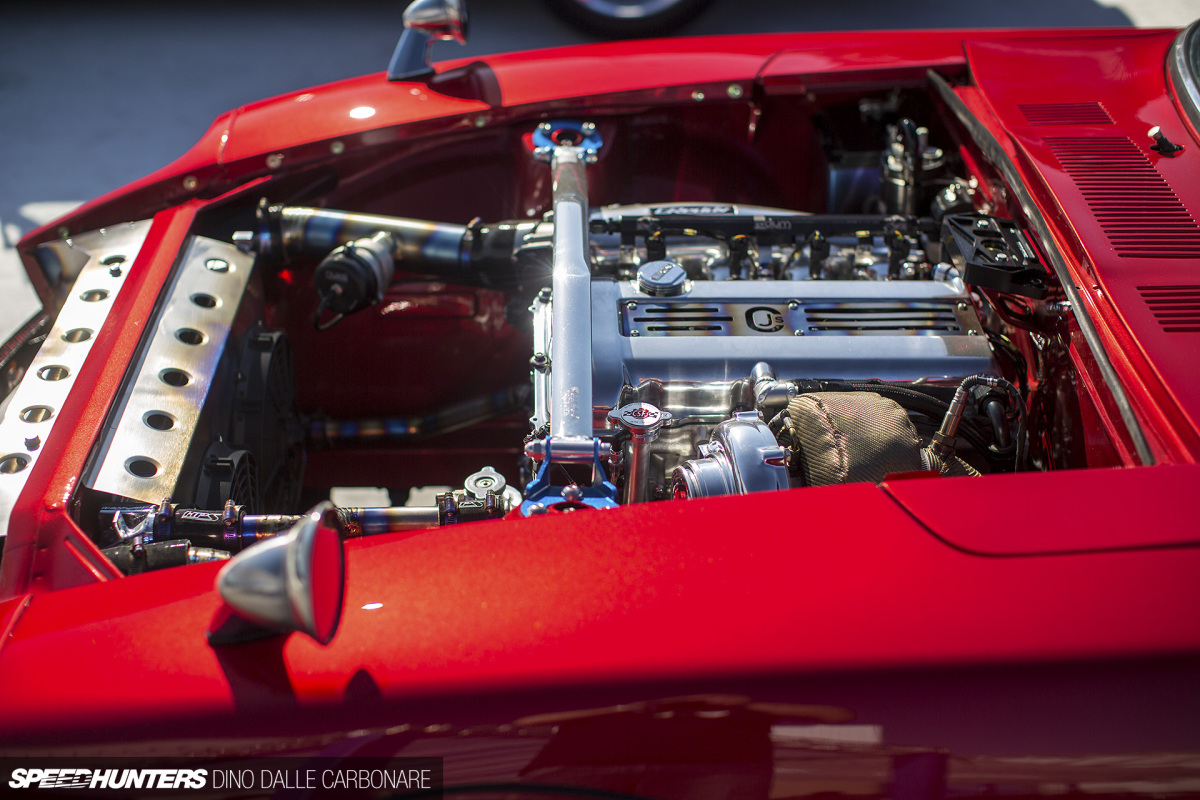 Larry will no doubt be nodding in agreement seeing the SR20DET swap that has replaced the stock OHC straight-six. There are a ton of nice details in the engine bay, like the titanium piping and dimple die treatment for the radiator shrouds.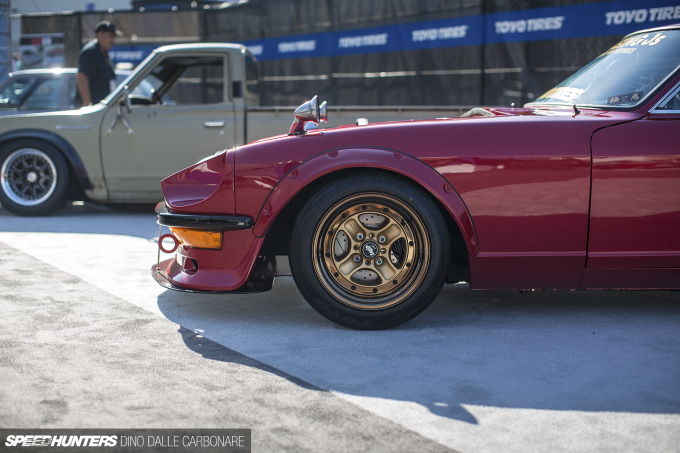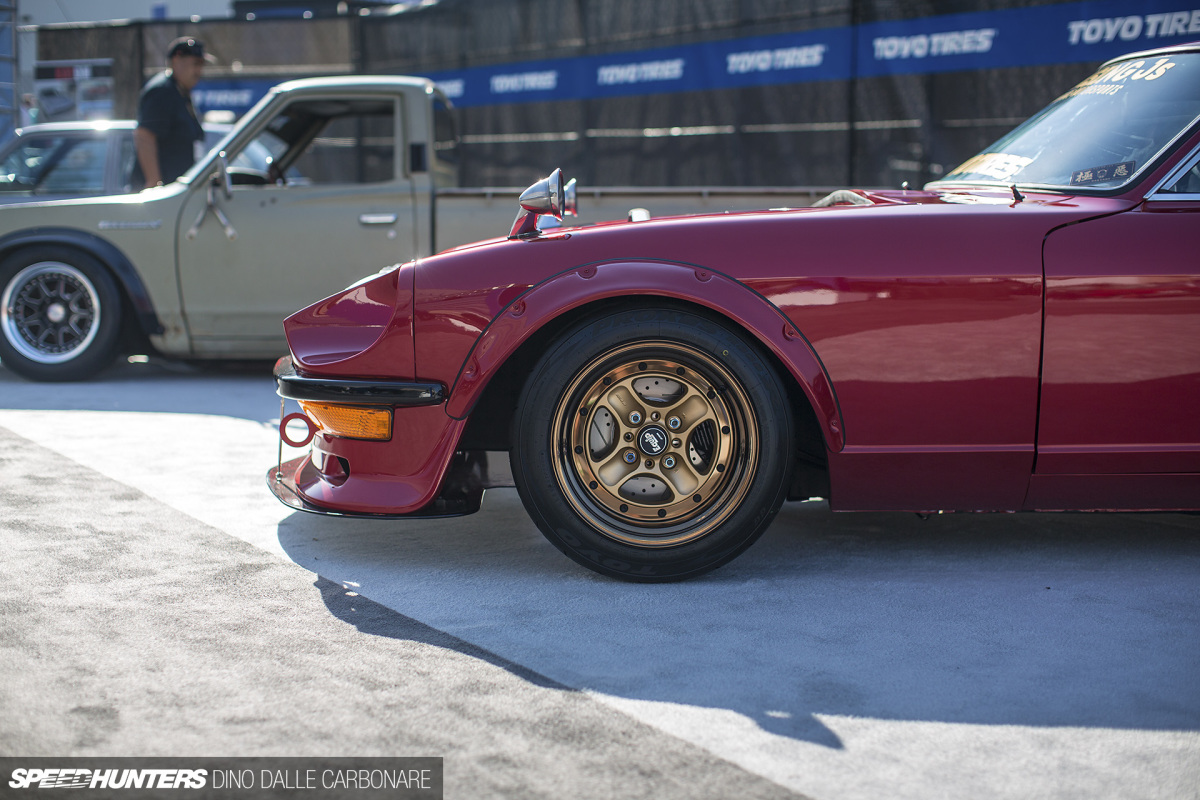 The S30 sits on instantly-recognisable Work Equip 40s, a retro design that was unveiled at the Tokyo Auto Salon back in January.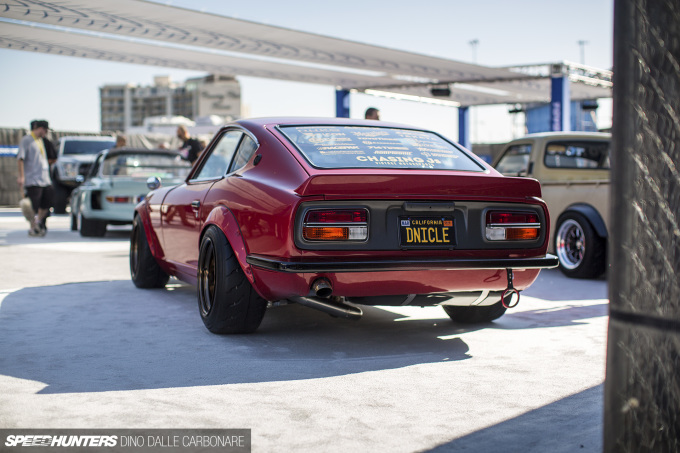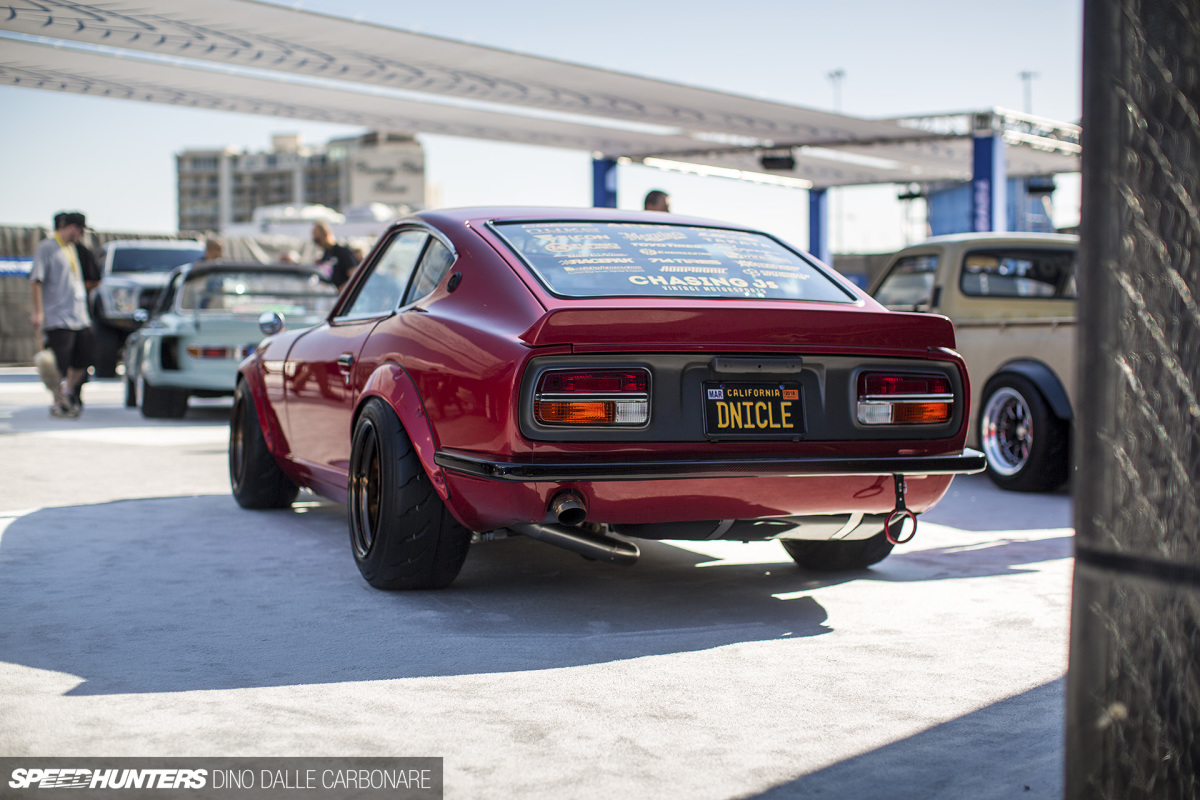 Rear fitment is as tight as it could get, but it all just emphasizes the overall beauty of the Z's timeless shape.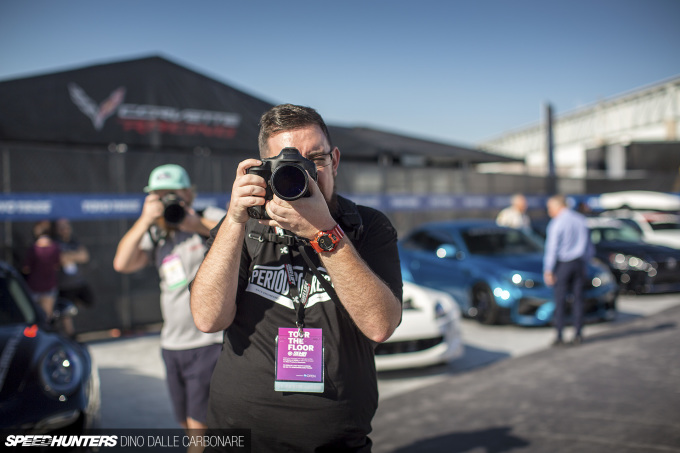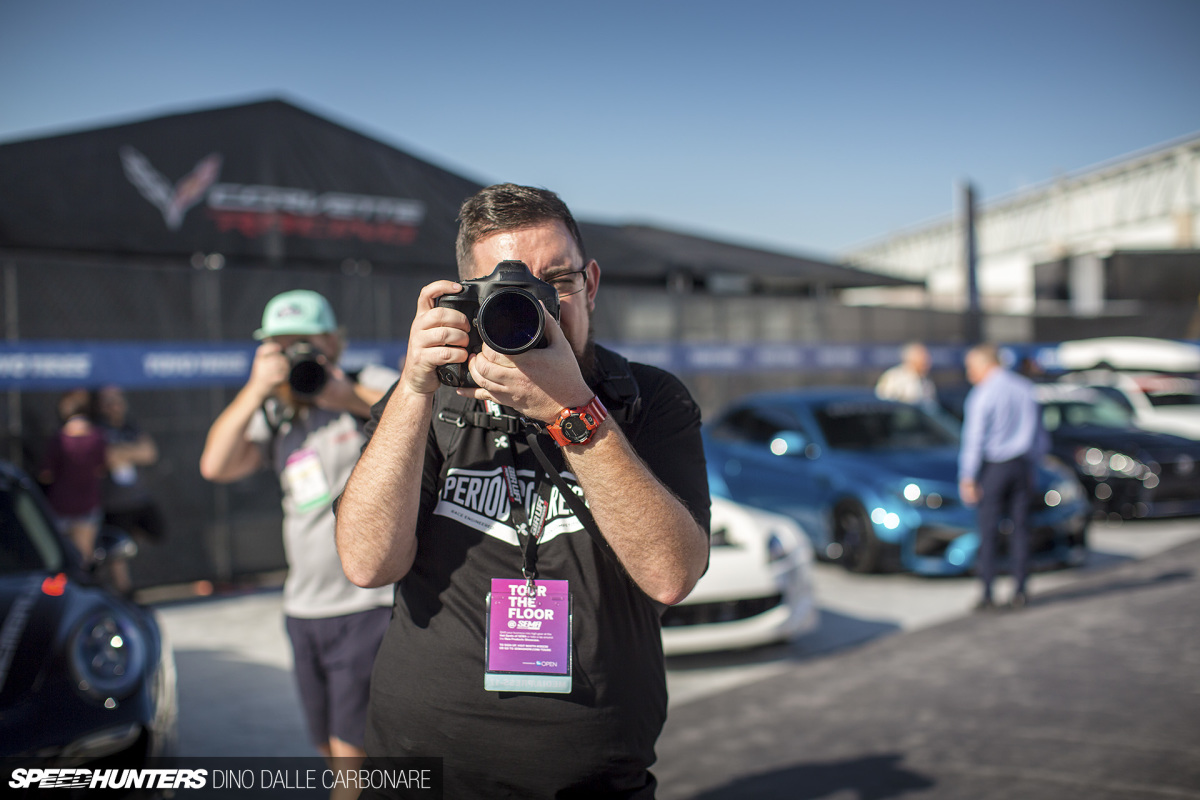 And as I stood up and turned around from my JDM photo stance position, I found Paddy and Trevor both attempting to get a picture of me in action. I managed to hunt two hunters with one shutter press, right as they themselves were hunting a hunter. That makes sense, right?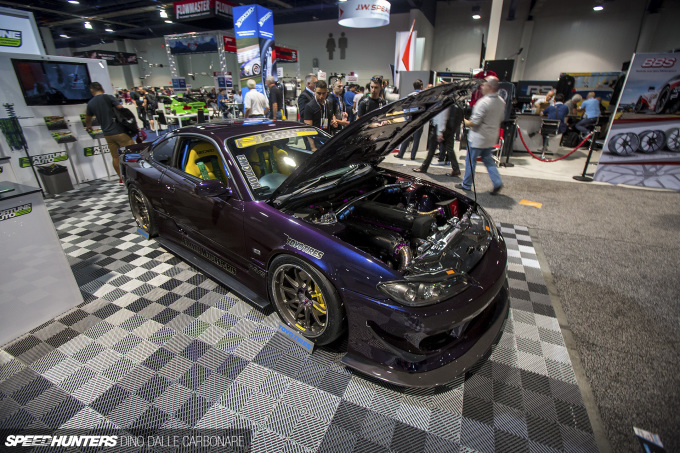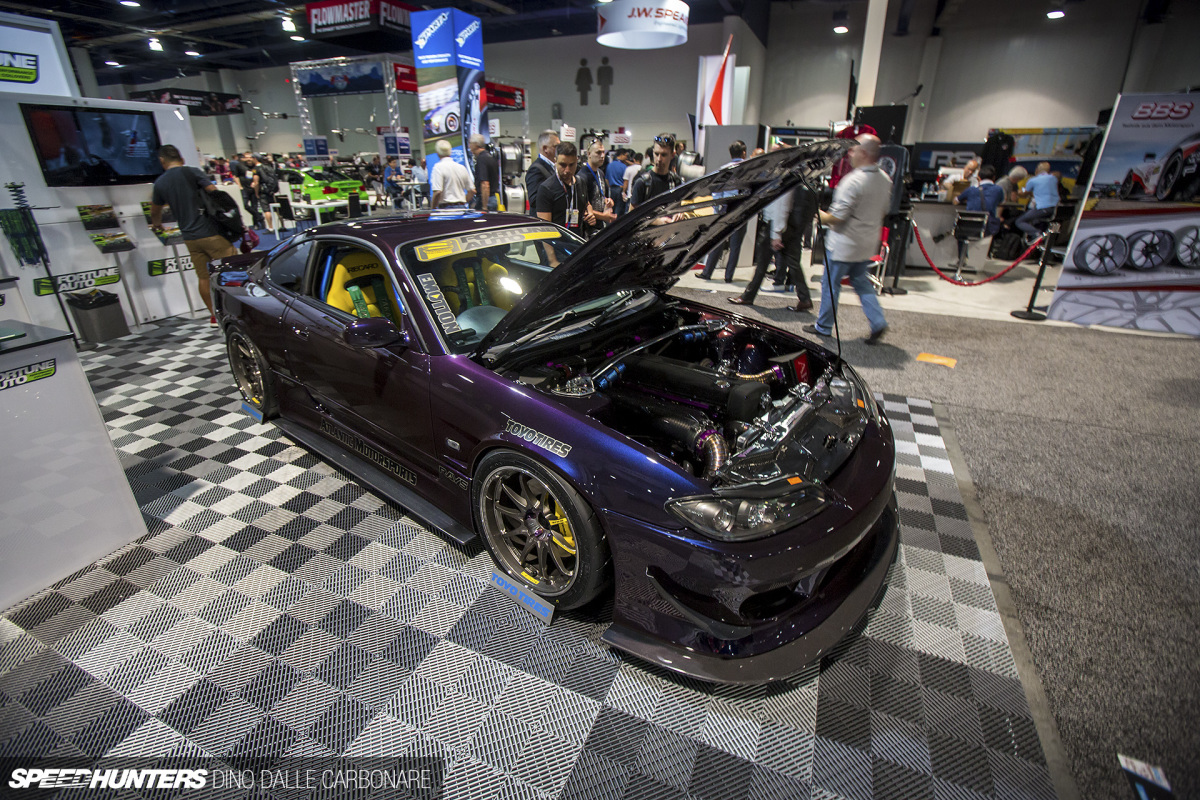 Back inside I found another amazing Nissan build, this time an S15 Silvia built by the guys at Atlantic Motorsports in Maryland.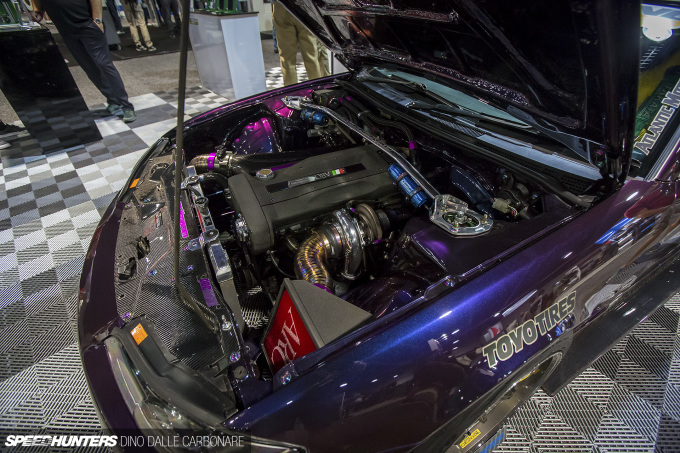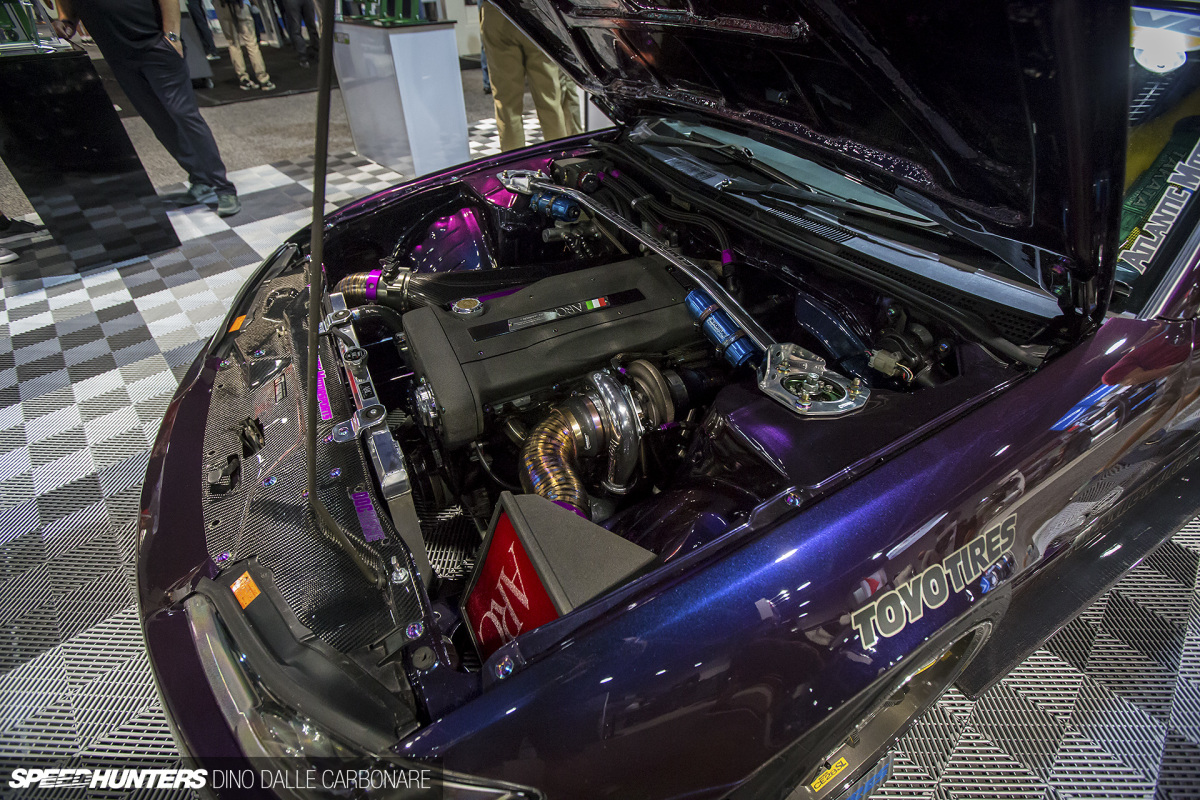 I've seen my fair share of RB26-swapped S-chassis cars in Japan, but it's almost always with drift-oriented applications which tend to be done in a more budget-conscious fashion. By contrast, no expense seems to have been spared here, and it truly shows.
The 600hp RB26, which was salvaged from a BCNR33, sits in an immaculately color-coordinated engine bay on an R33 GTS-t front subframe. Custom engine mounts were fabricated to help the engine sit as low as possible, and the titanium lobster-tail piping that connects the Garrett turbo to the ARC airbox took one whole day to weld up. The same amount of time was required to plumb the carbon/billet plenum to the intercooler.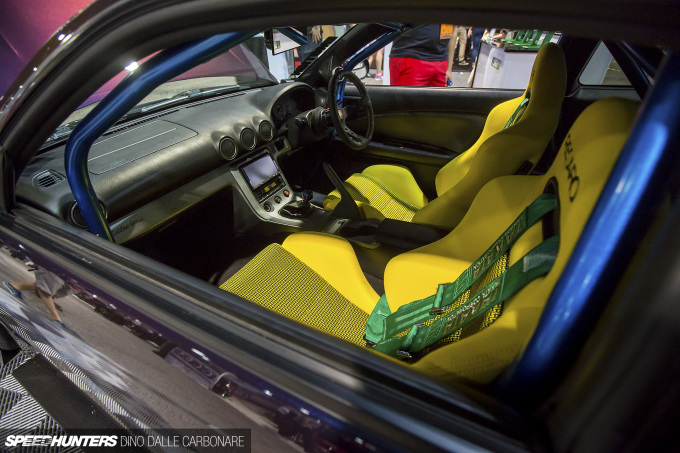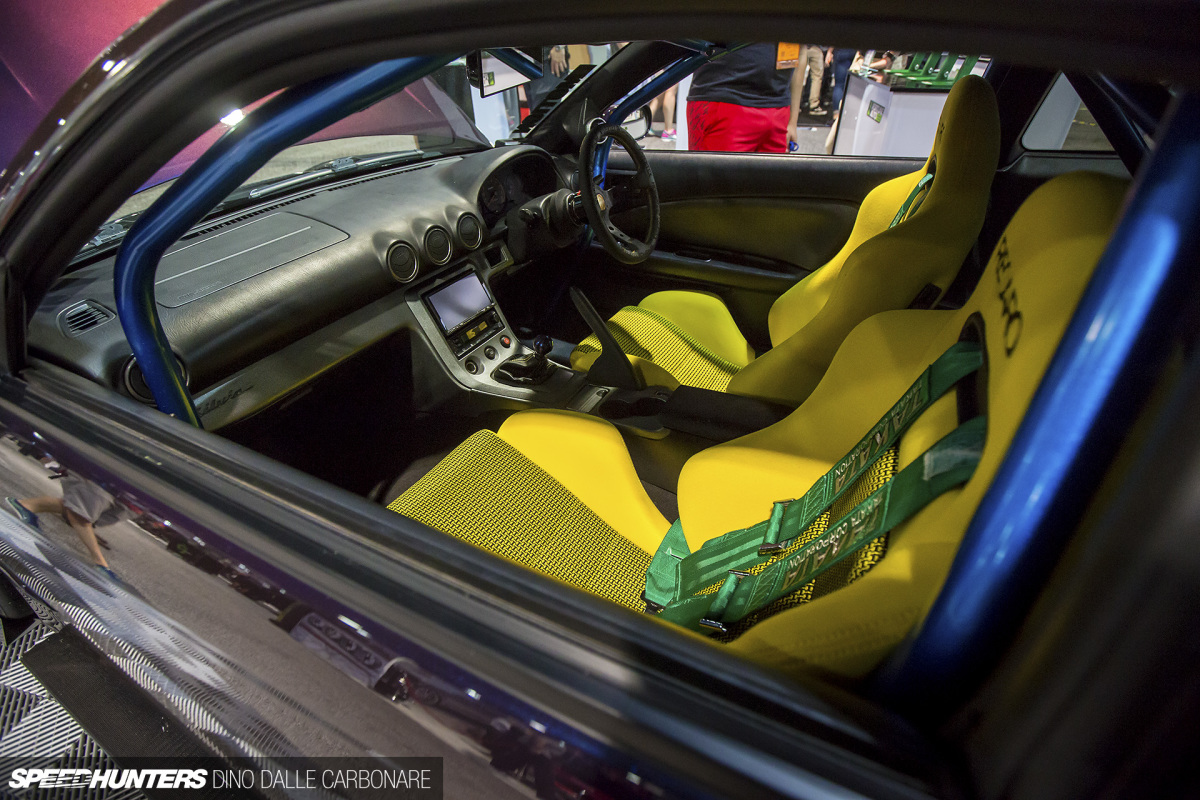 Brightest Recaros I've ever seen? Definitely! I found it refreshing how the interior was kept simple and with an authentic JDM feel, right down to the bolt-in Cusco cage.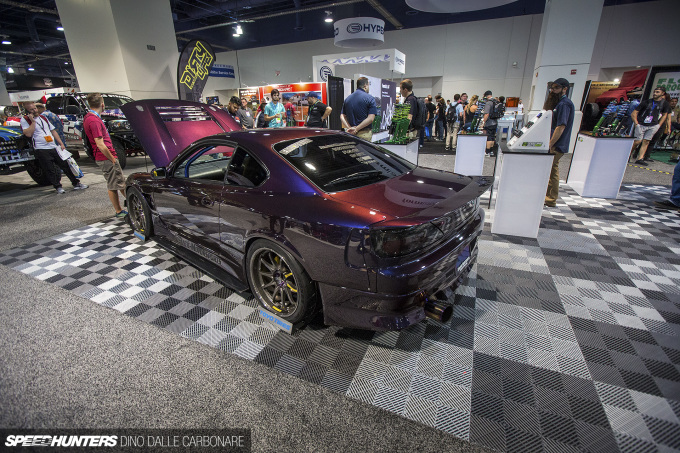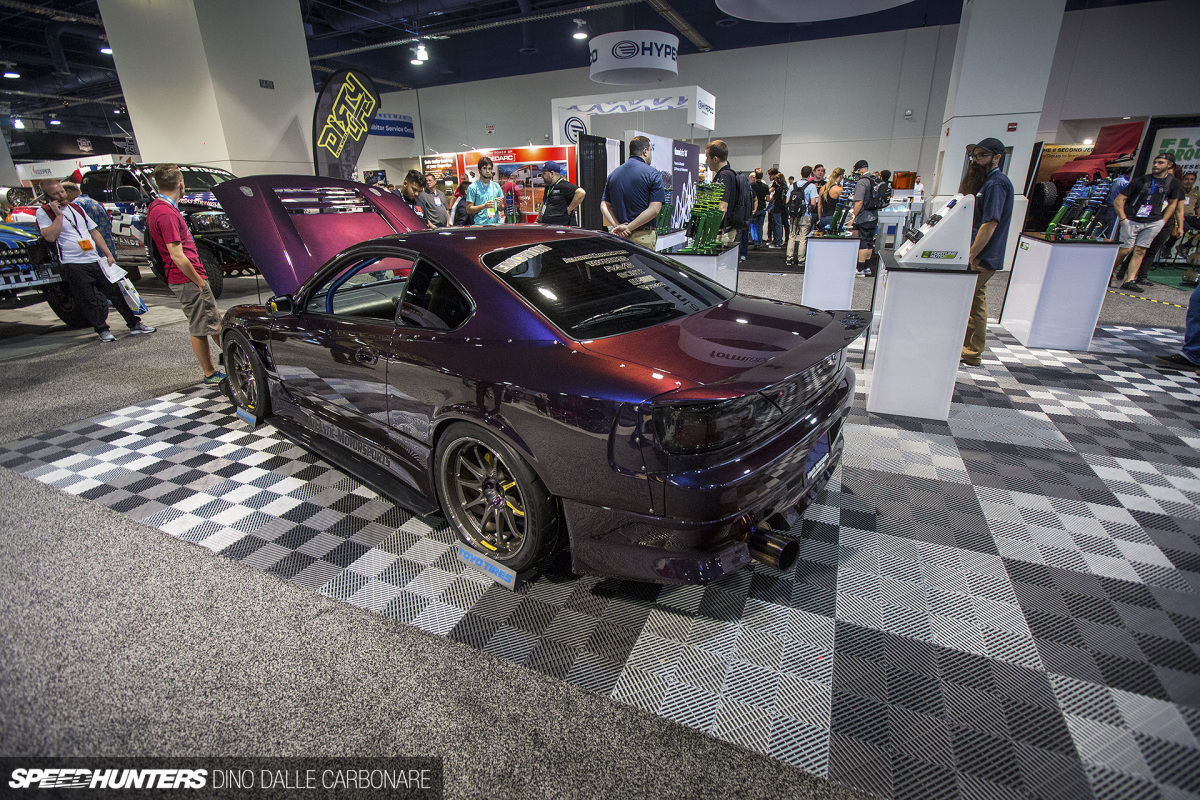 The T&E Vertex aero is mated to a pair of rear overfenders to give the whole ensemble the right sort of balance. It's then all topped off with RAYS Volk Racing CE28Ns with custom yellow decals to match the Recaros.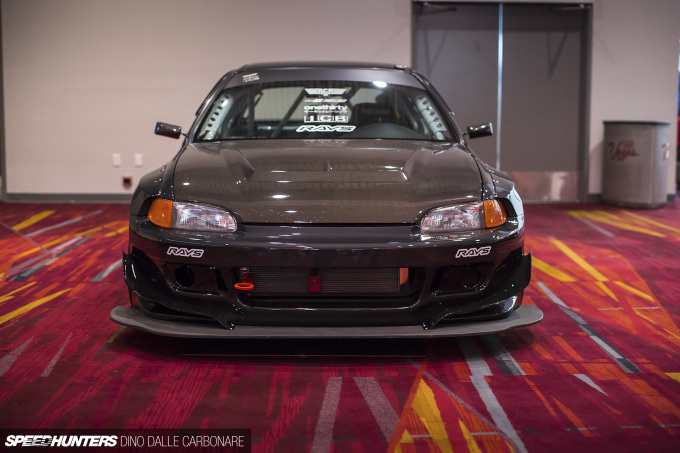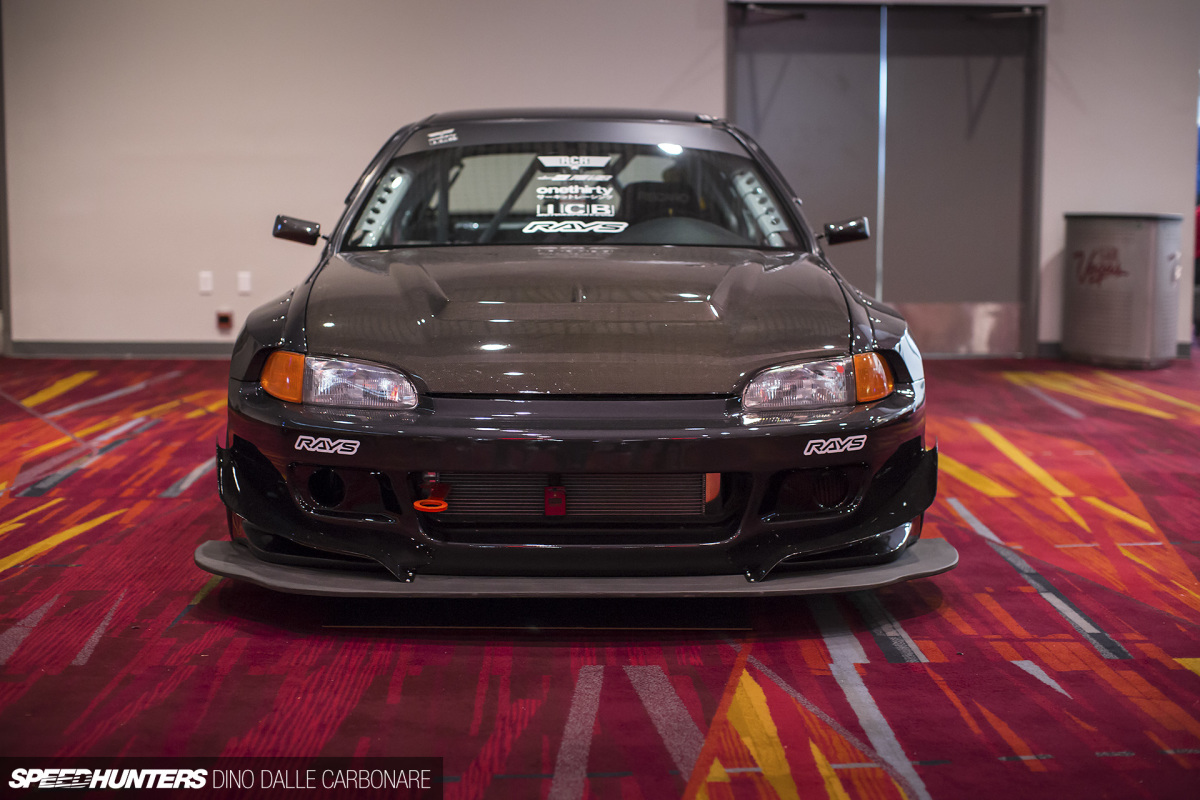 The word on the SEMA Show floor is that overfenders are done. The fad is over; it's time to move on. I'm not quite sure Miura-san got the memo as he's obviously not stopped doing his thing, and it's the same thing with those companies that have taken inspiration from what he does. But, if overfenders were not still a thing, I doubt the 'Best JDM' award would have been given to this EG Honda Civic.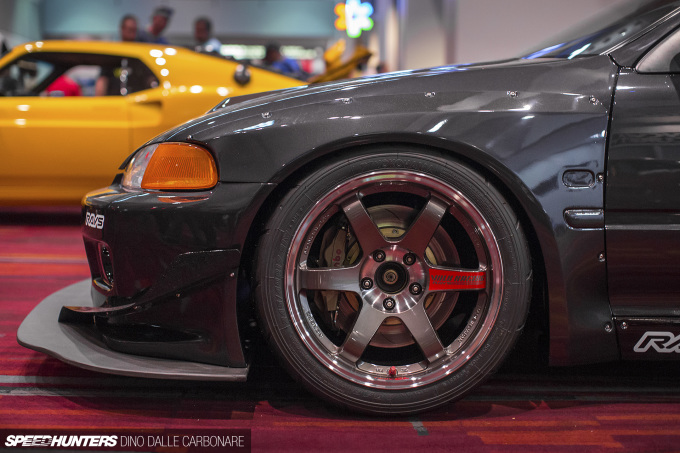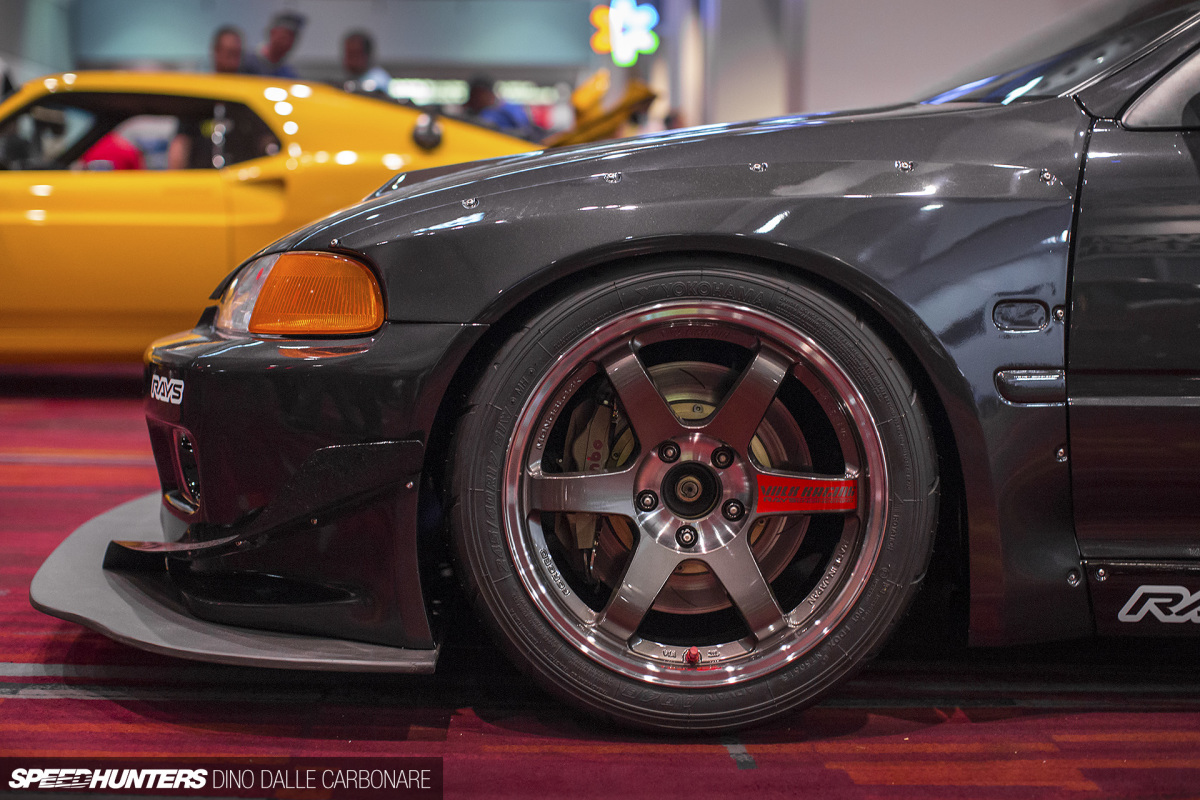 So while we always get that feeling that we've seen it all before, at the same time there is no denying it – overfenders make any car look cool.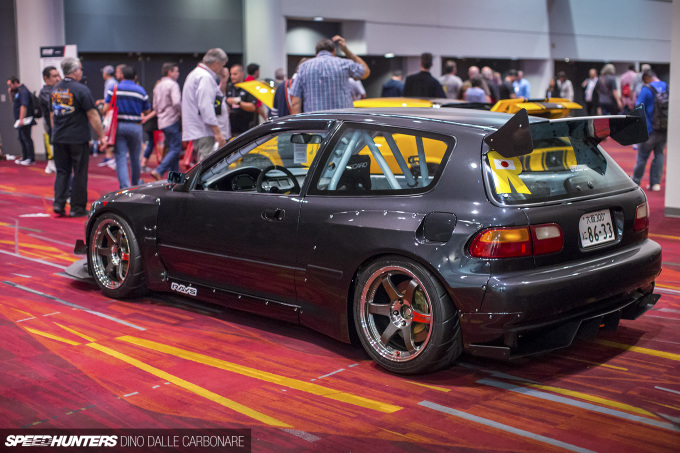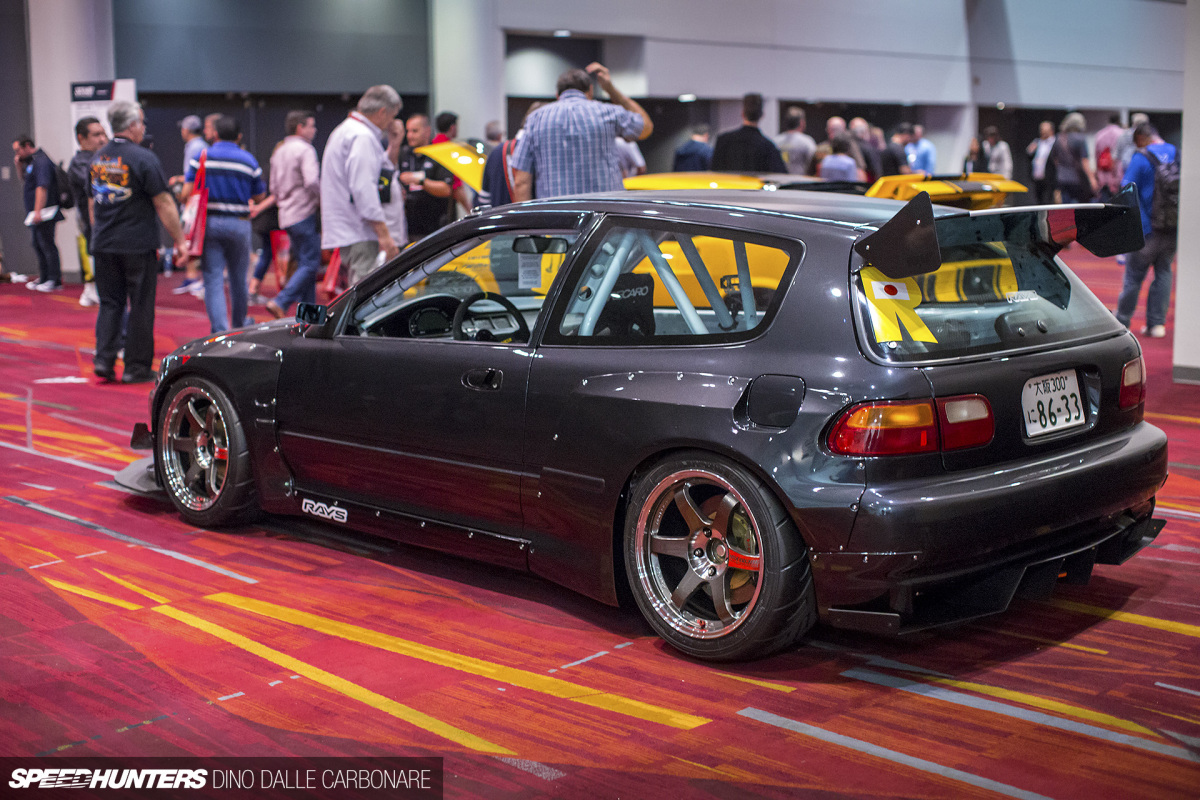 For some reason, I get the feeling Miura tried to make this particular conversion rawer. It's like he's purposely not tried to follow the EG's stock lines, instead drastically interrupting them for extra effect. It works so well, too.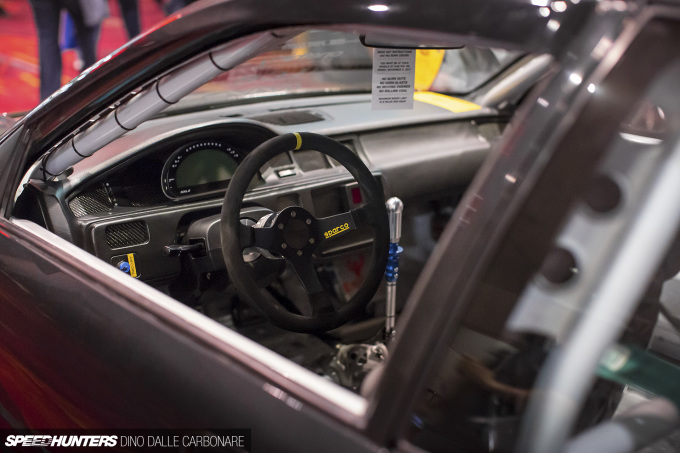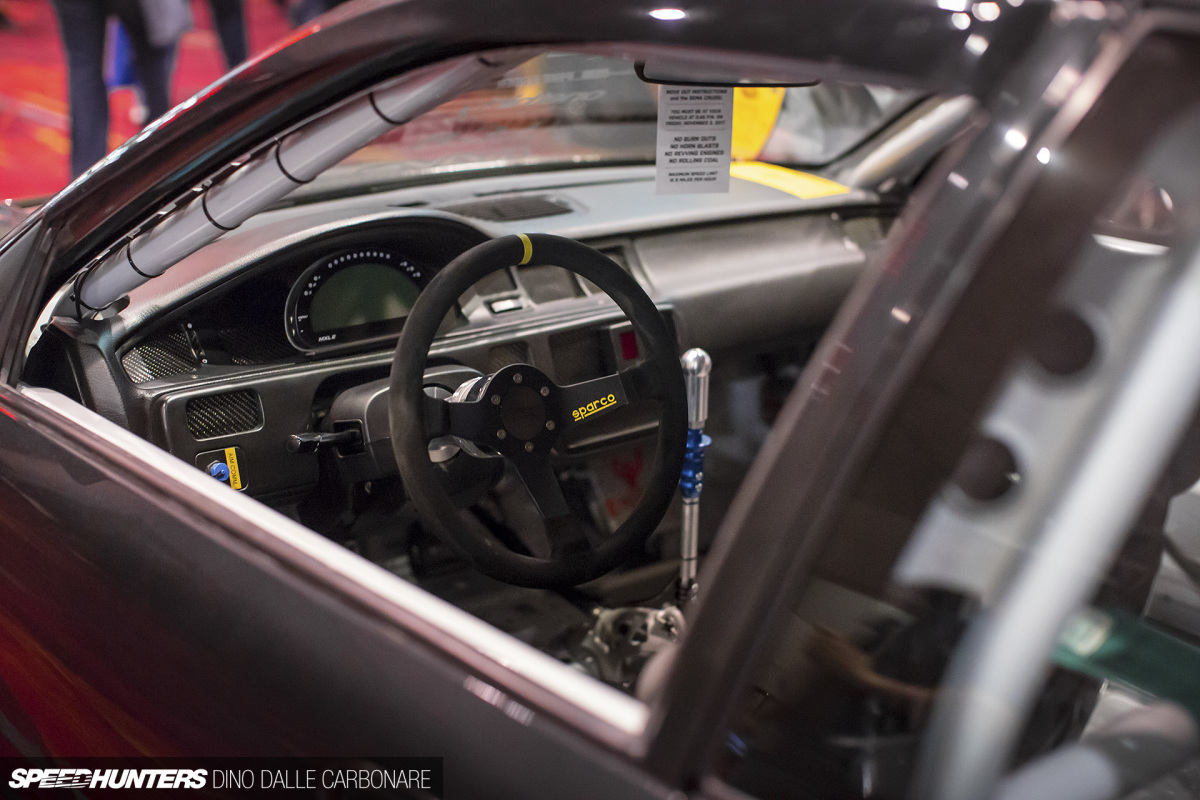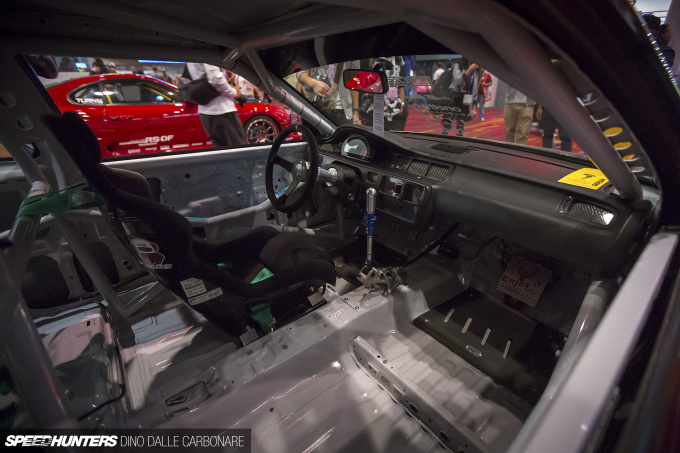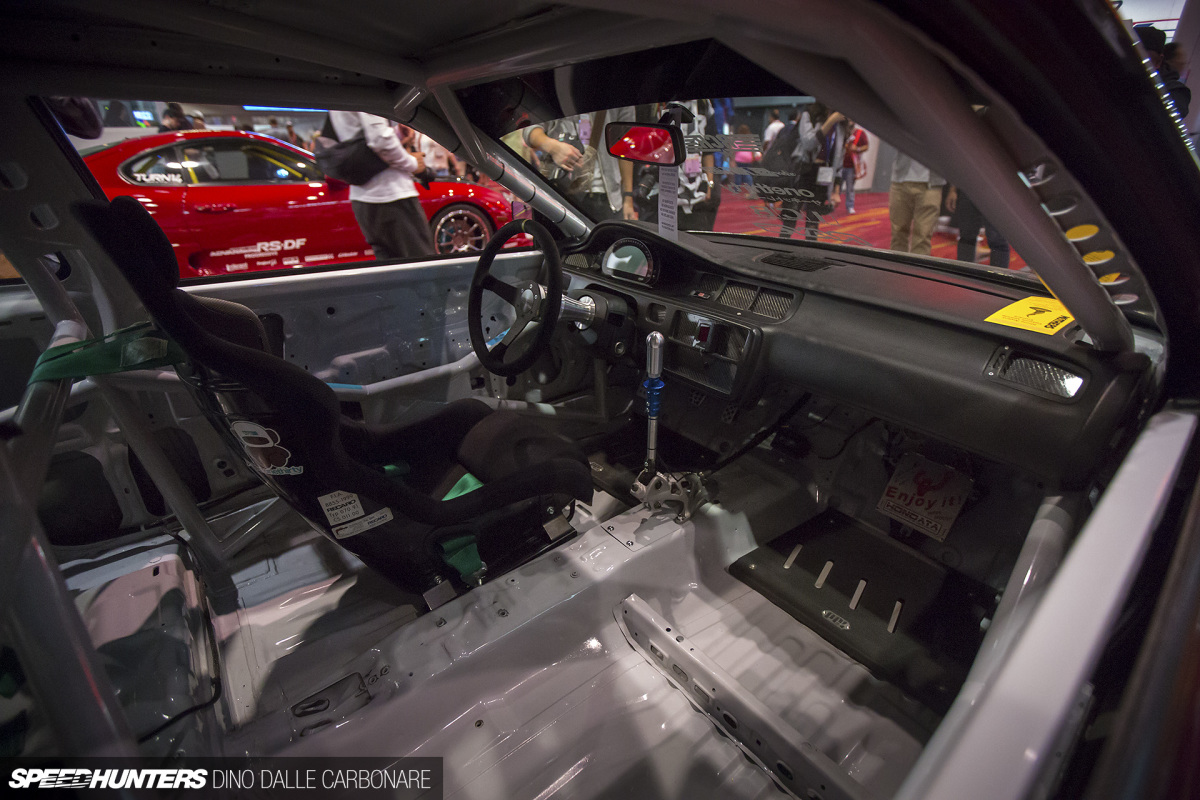 This is no show car either; the Civic has been built with performance in mind starting with the stripped interior, data logger, and closed-off air vents.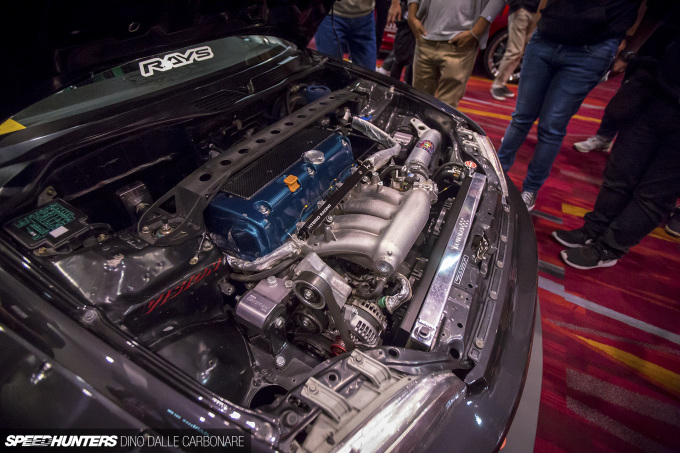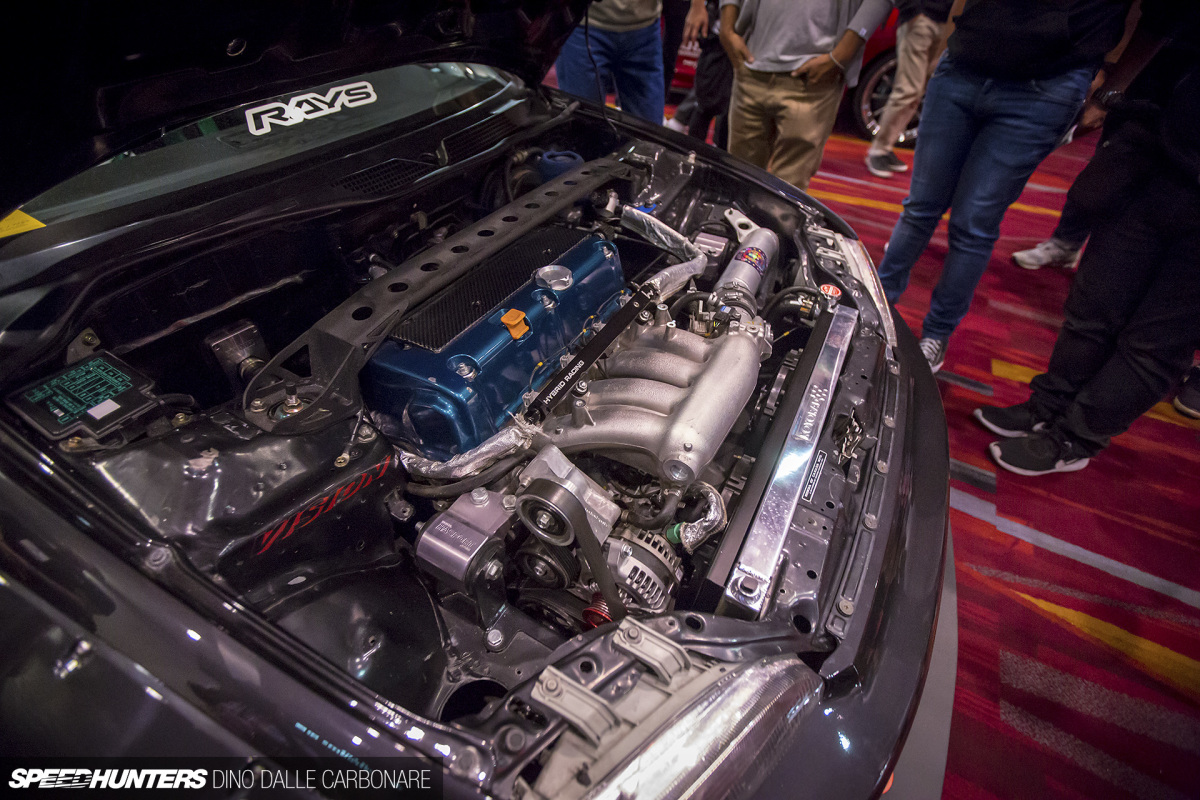 Under the hood, a K24 swap takes center-stage – I bet you weren't expecting that!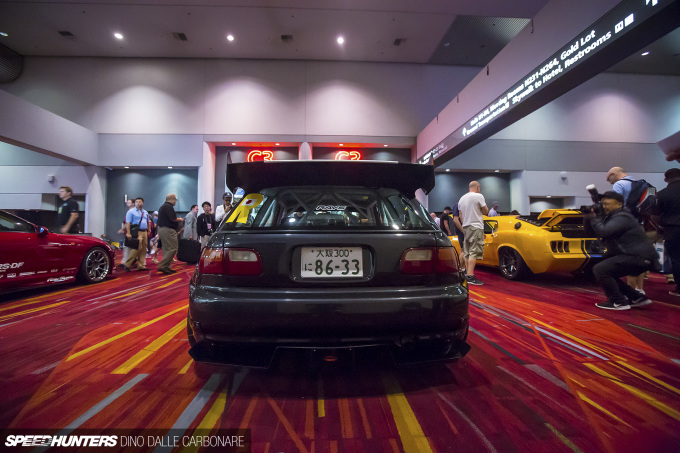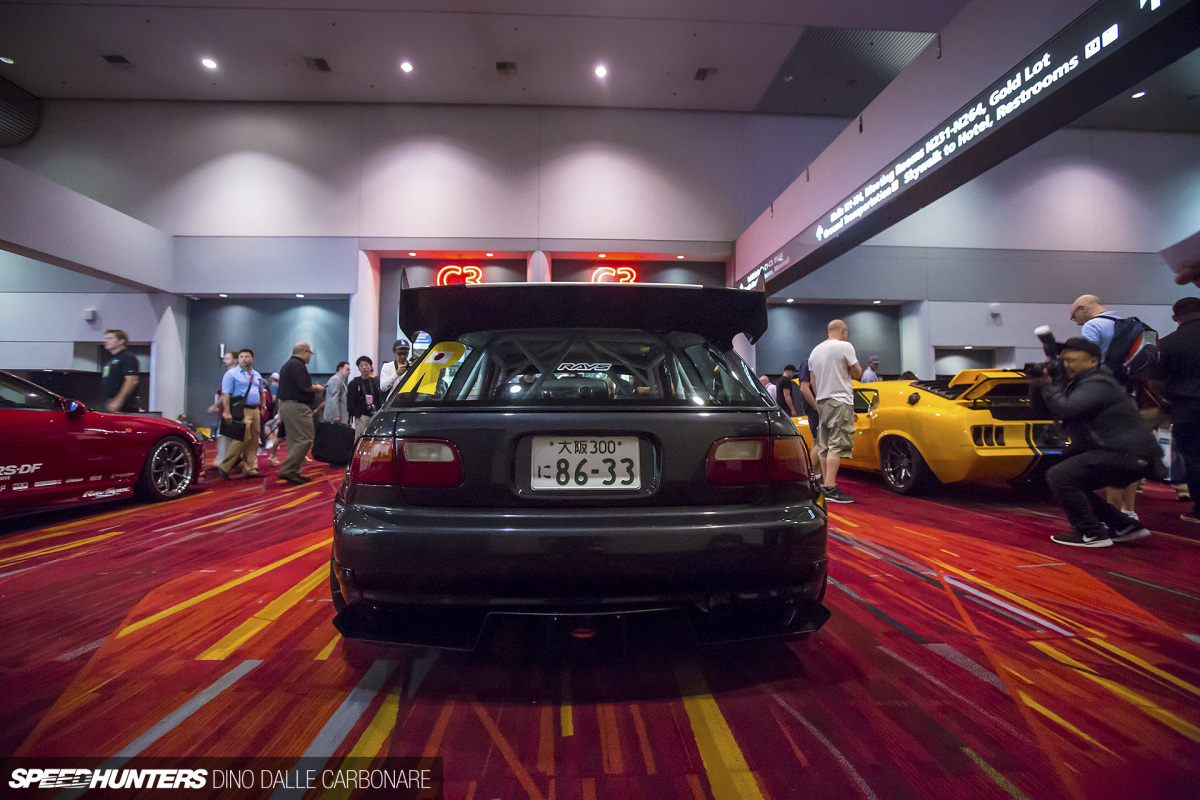 I loved the Osaka license plate in the back, possibly hinting at Miura's association with Civics and the stuff he used to get up to at night on the Kanjo Loop.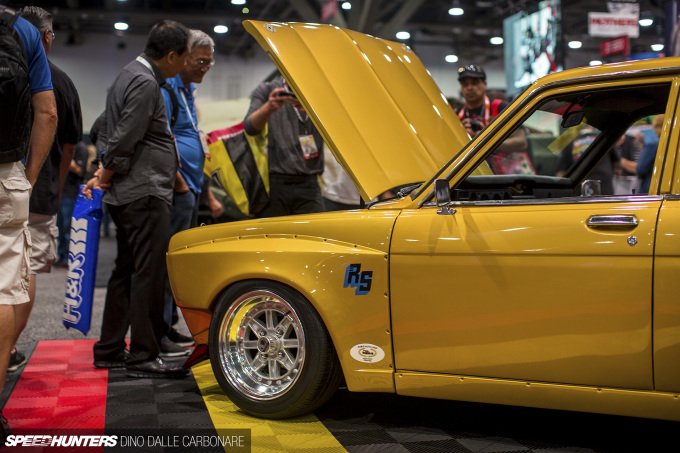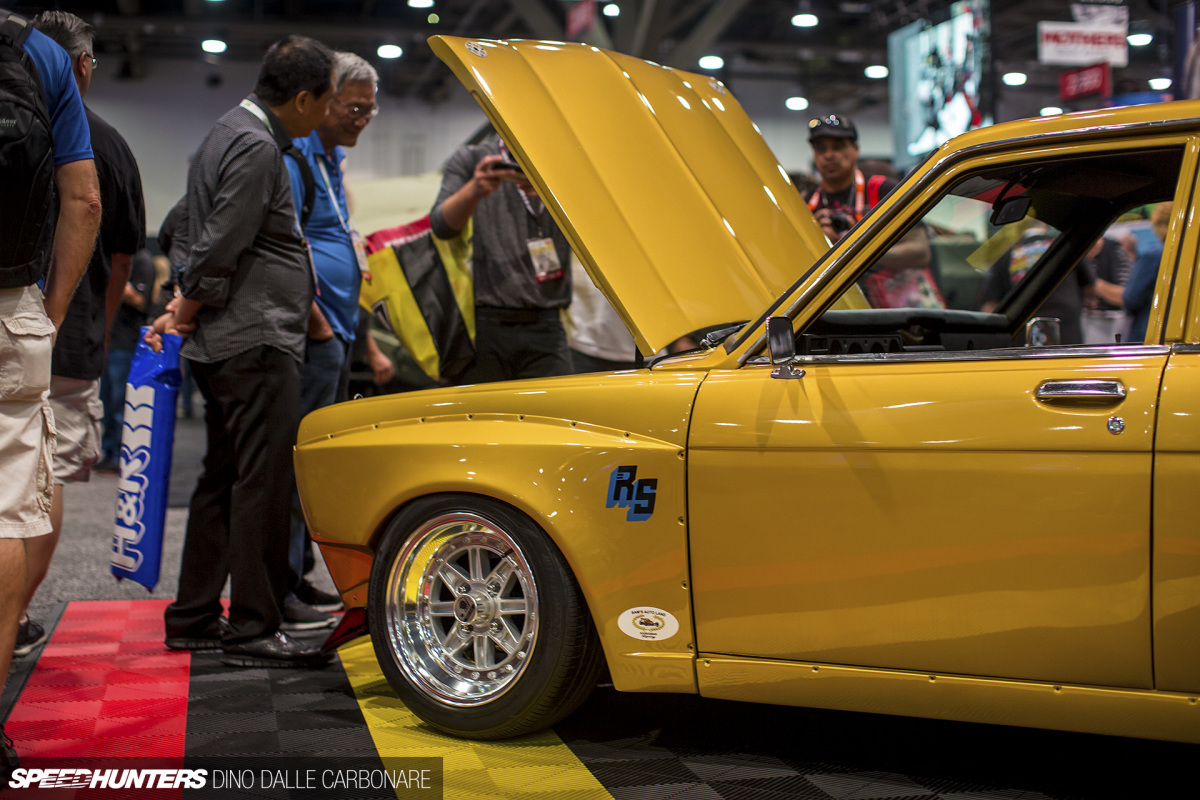 Last year at SEMA, Chris Forsberg showcased his RB26-powered 280Z at the AEM Induction Systems booth, but this year it was the turn of a little project he's been working on for his wife.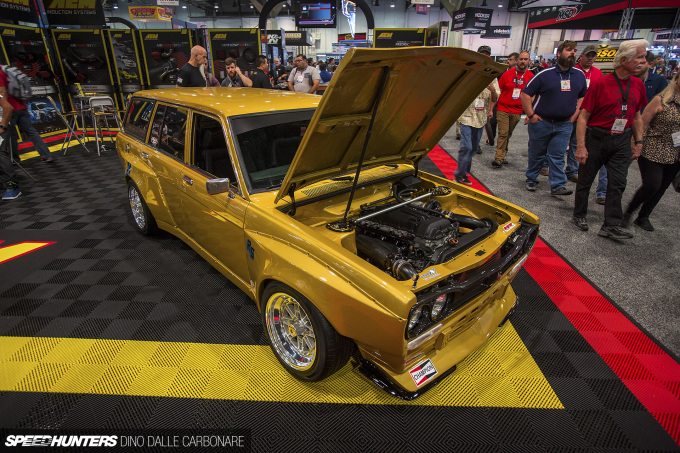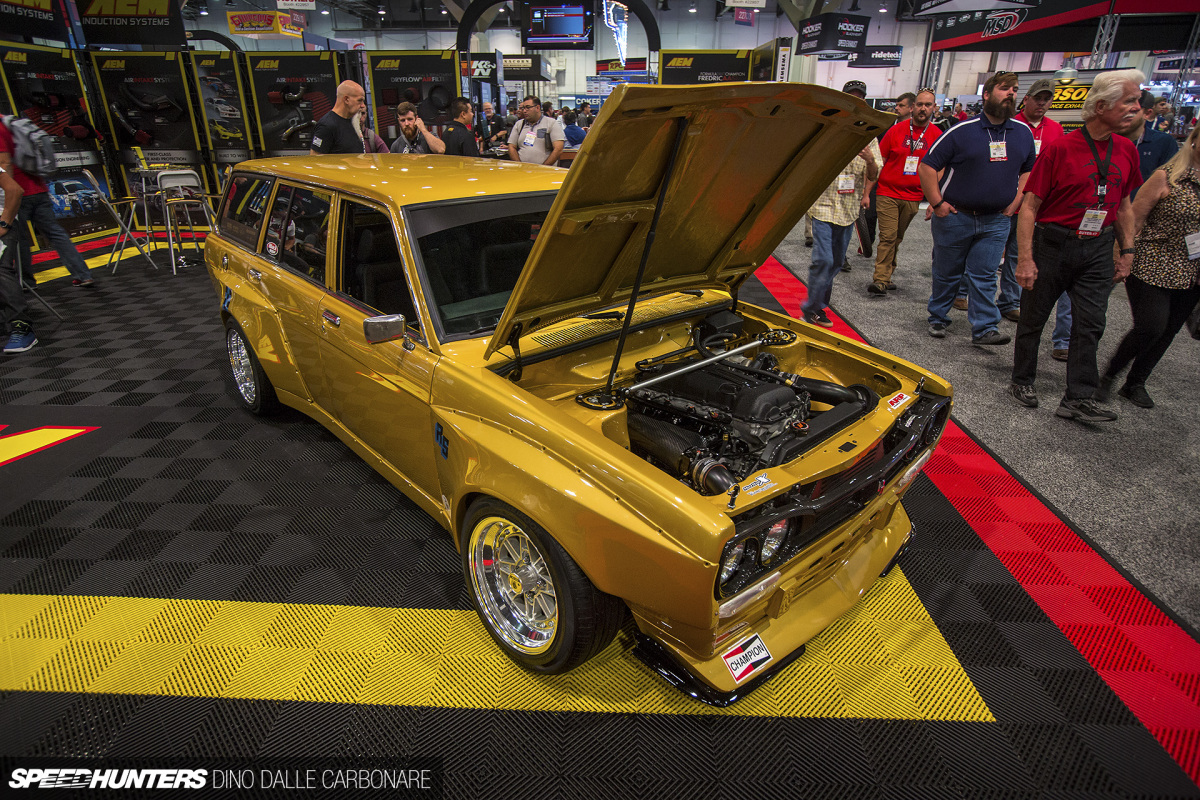 The Datsun 510 wagon, which he picked up for cheap on Craigslist, was completely gutted out, repaired, repainted, and fitted with pretty much the widest box-style flares we've seen on a car like this. There's also a new engine setup and a full interior makeover.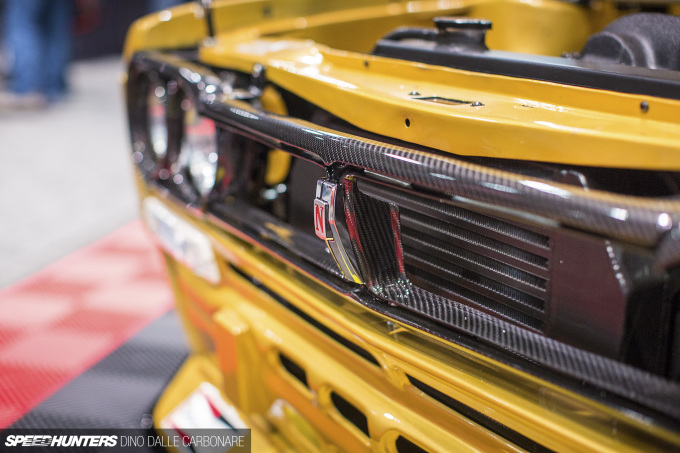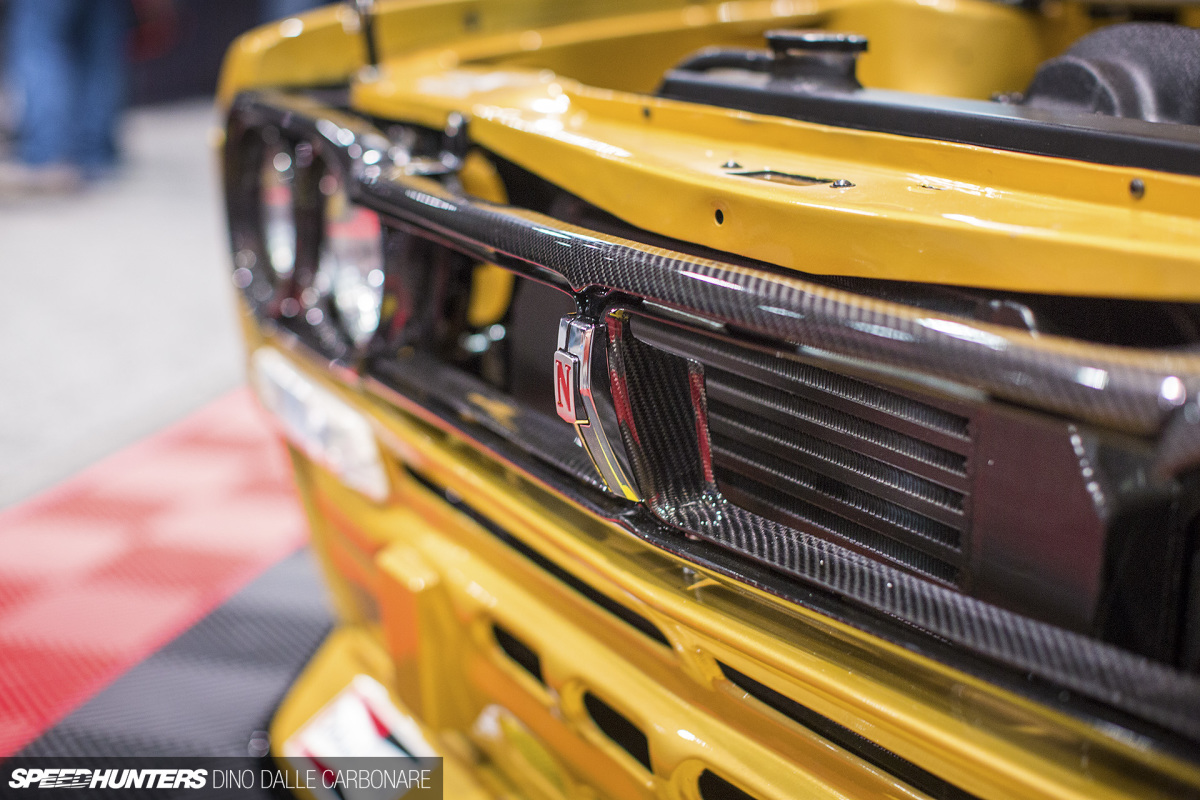 Dubai's CarbonSignal created the overfenders and even sent over a carbon fiber grille section to highlight the now bumper-less front end.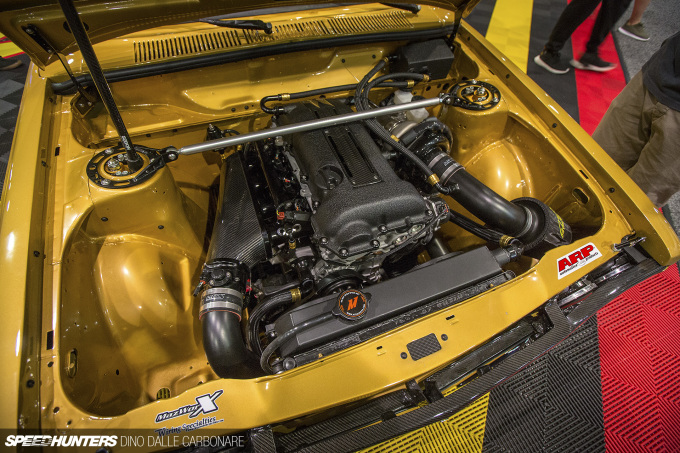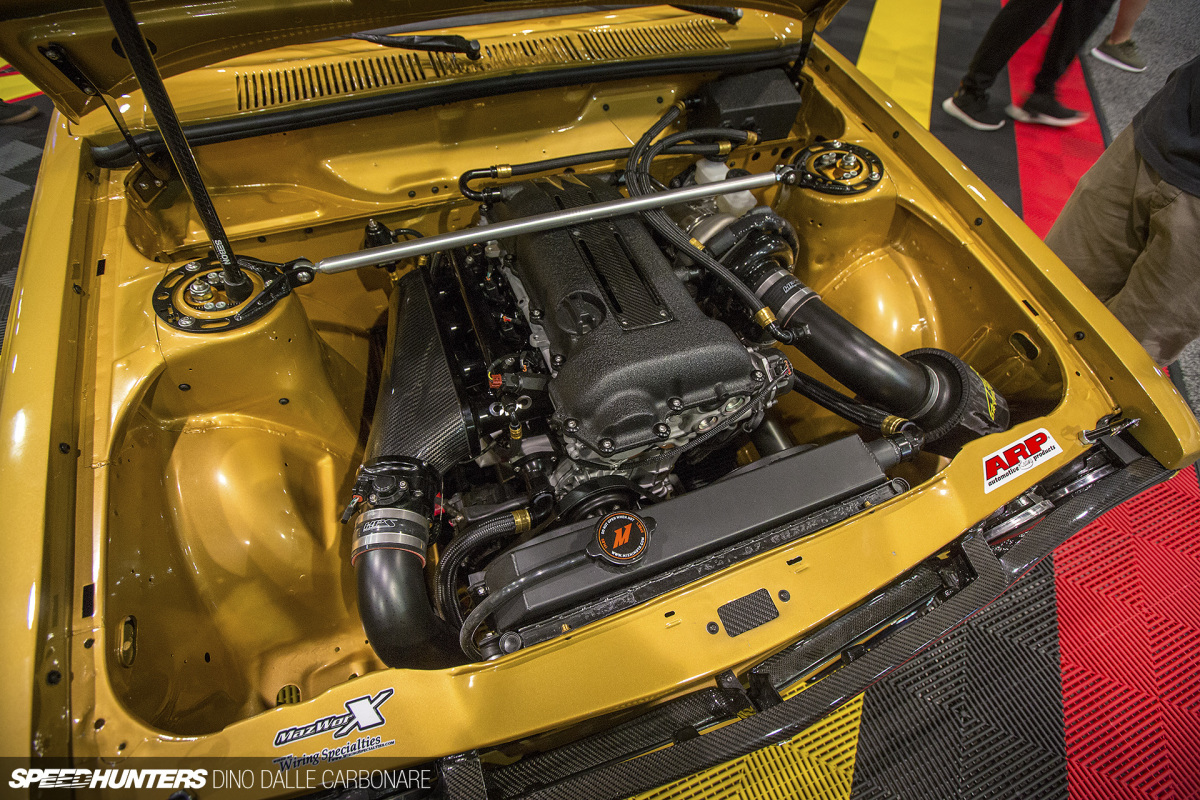 The idea behind the Mazworx SR20DET swap was to give the reliability of a more modern engine. I'm talking about easy start up, less stuff to fiddle around with, and of course a healthy dose of power. The motor is backed up by an auto transmission to turn it into a true daily driver, something that also called for the addition of air-conditioning and GPS navigation.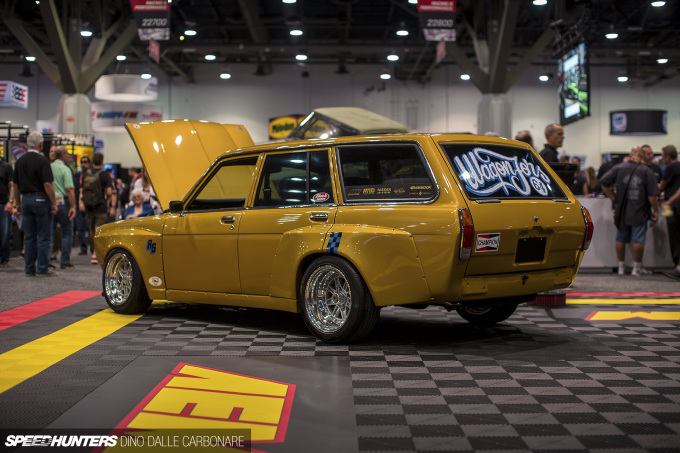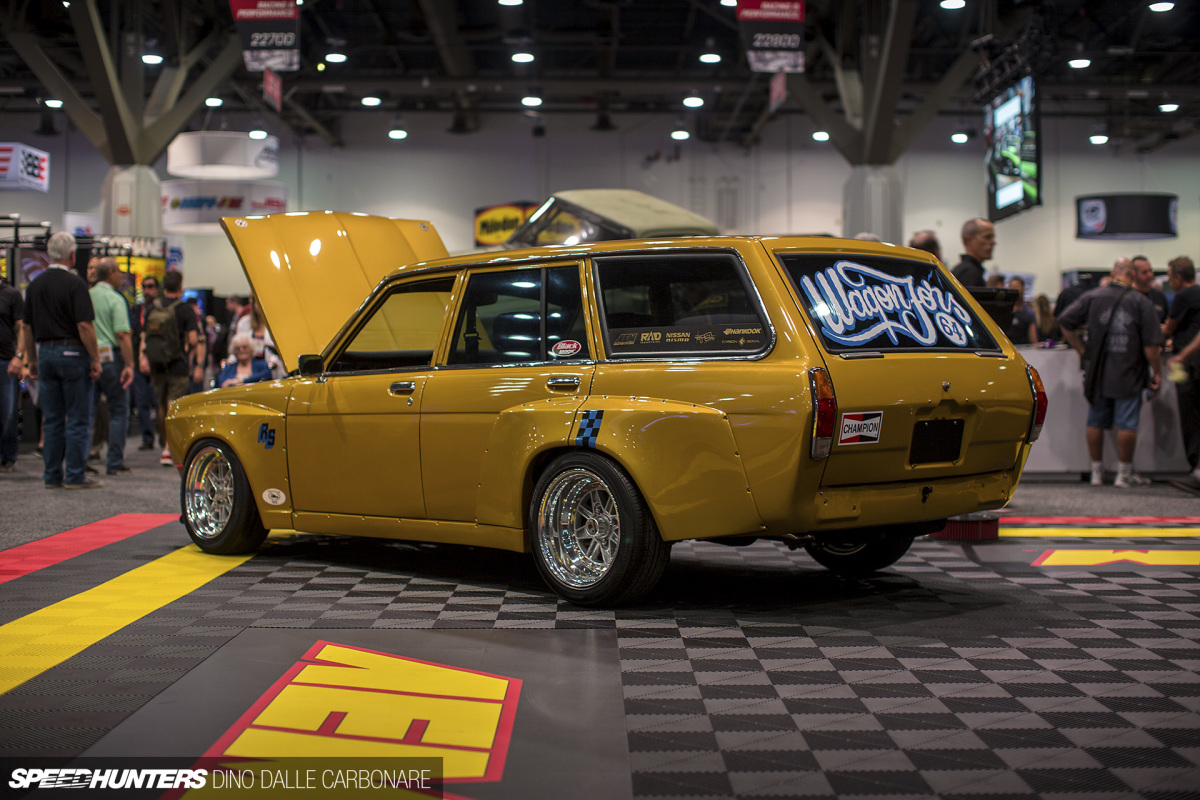 There's fully adjustable suspension at each corner with SSR MKIIIs being the wheel of choice to get the look just right. The rear bumper delete really finishes off the car well.
Larry will be taking a closer look at this build with a full feature in the coming weeks, so keep a look out for that.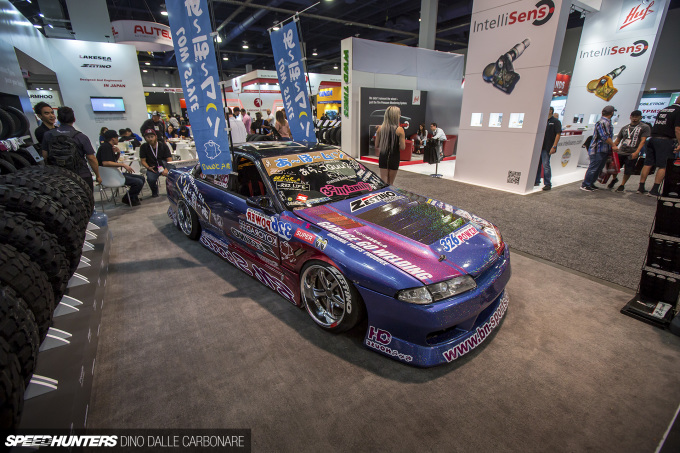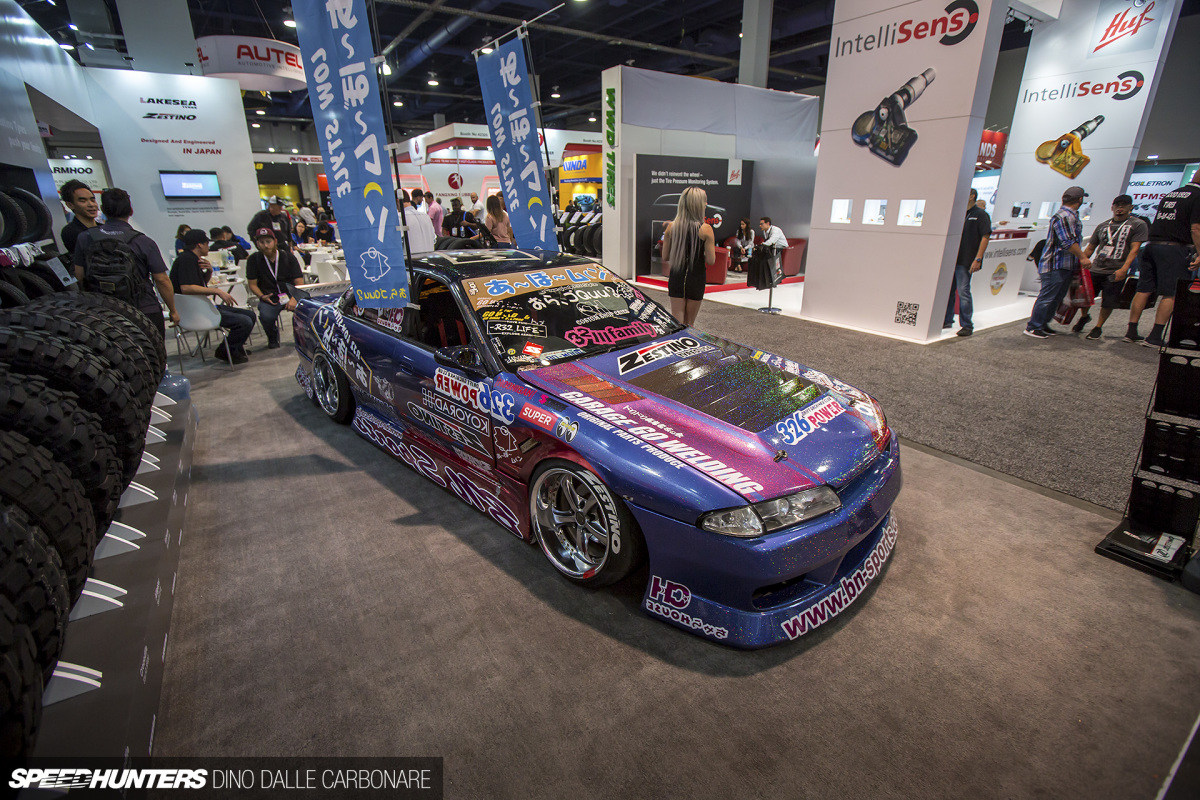 I had to do a double take when I saw Satsukawa-san's A-bo-Moon R32 in the wheel and tire hall. This was possibly the most Japanese car out of all the Japanese cars at the show, if you know what I mean.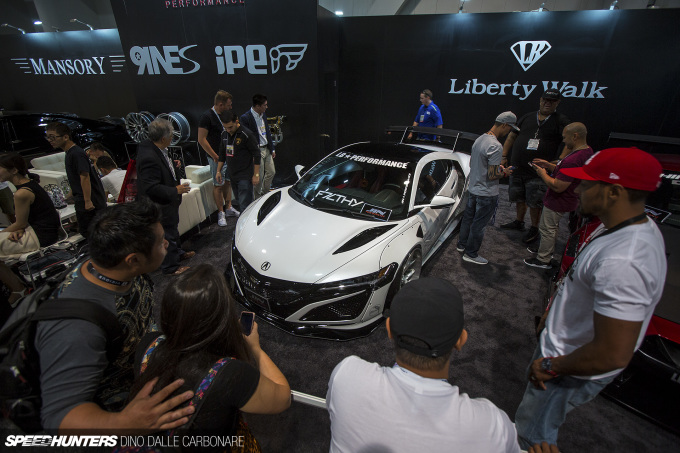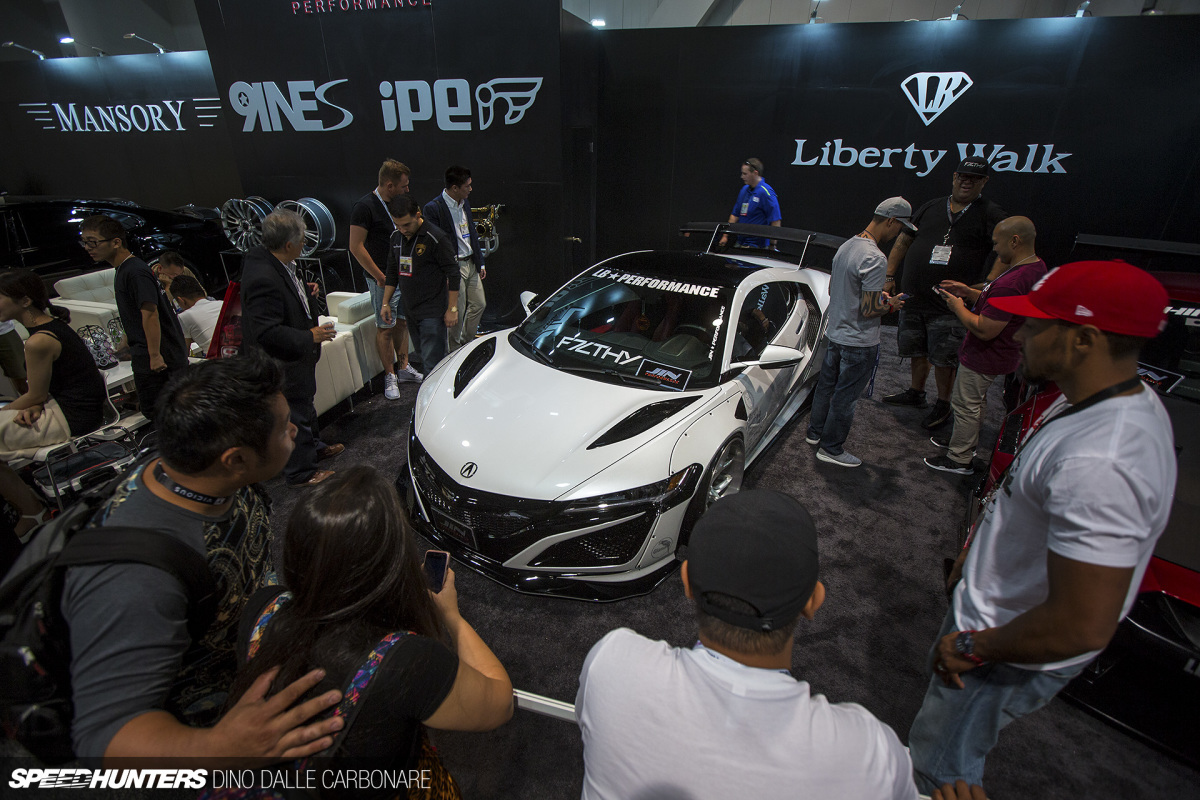 I'm going to finish things off over at the Liberty Walk booth with a build that once again proves that the great overfender revolution is far from over.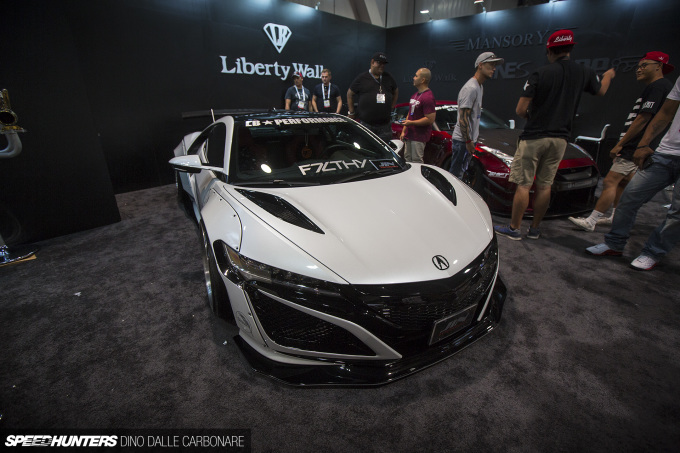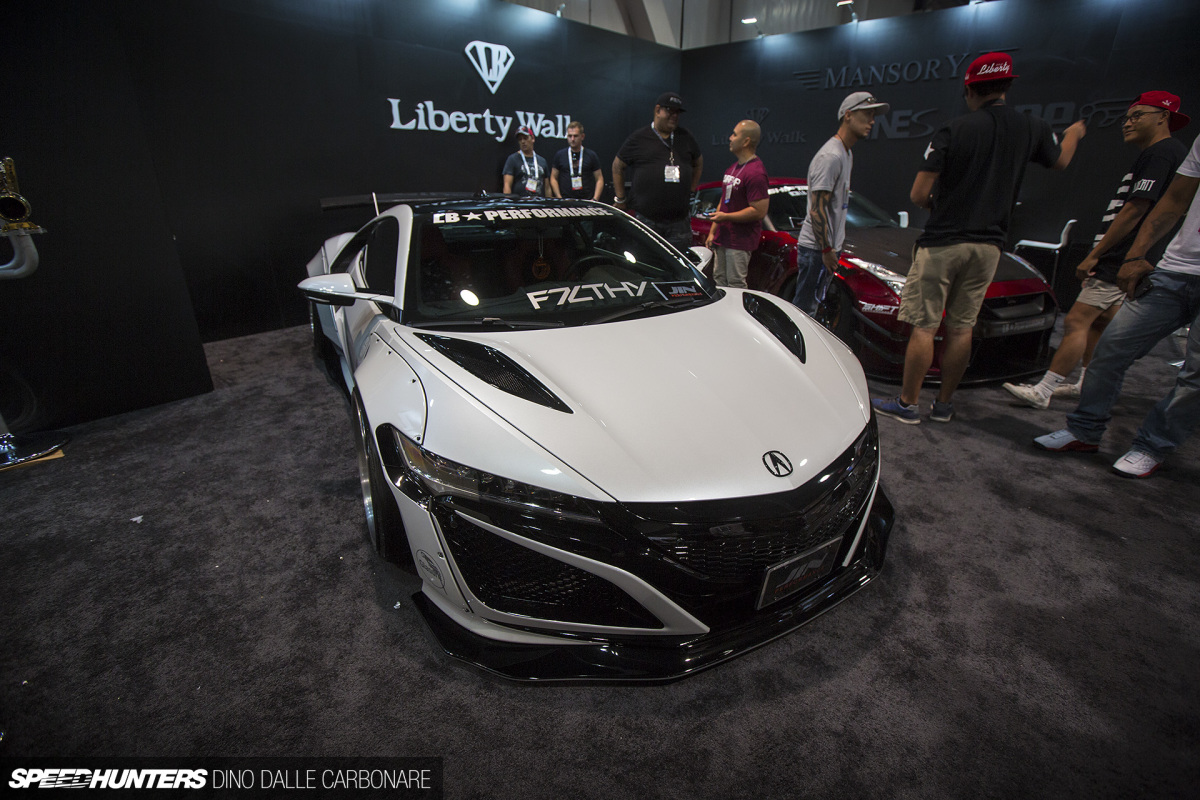 This is one car I was really interested to see after shooting Kato-san's narrow body LB Performance NSX demo machine in Japan the other month.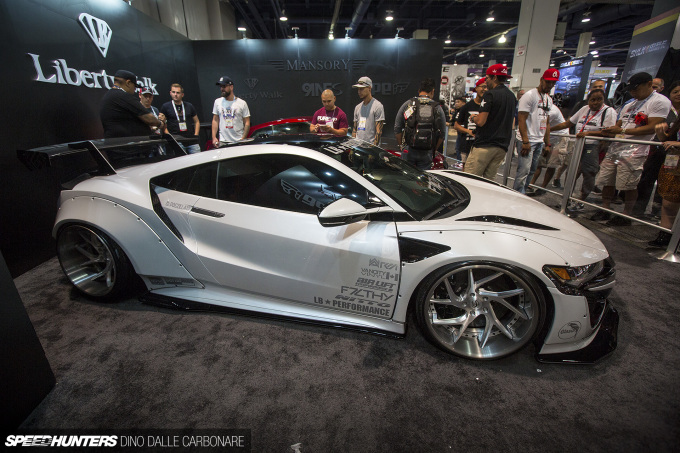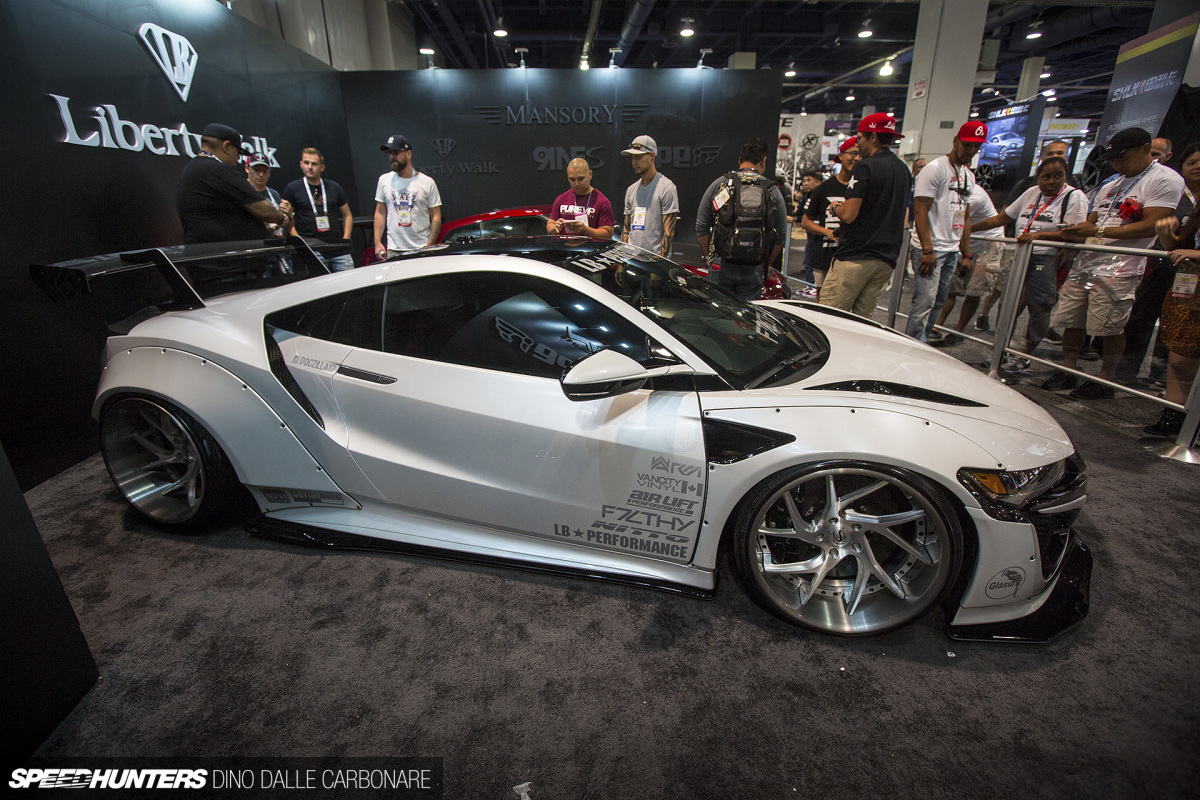 Built in Canada as a collaboration with Liberty Walk, the task of taking an NSX and making it look super imposing has well and truly been achieved.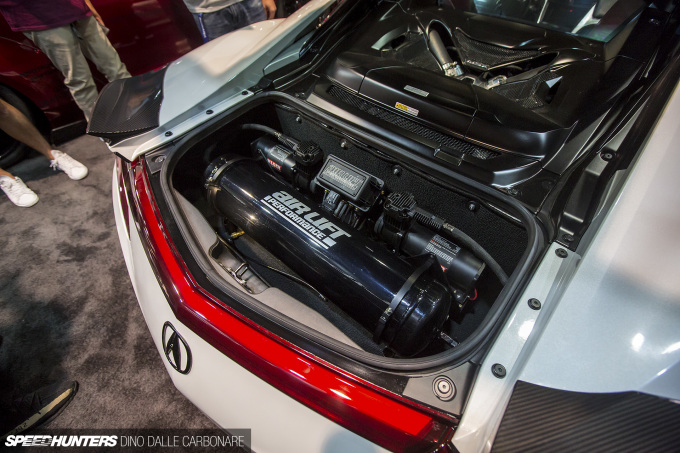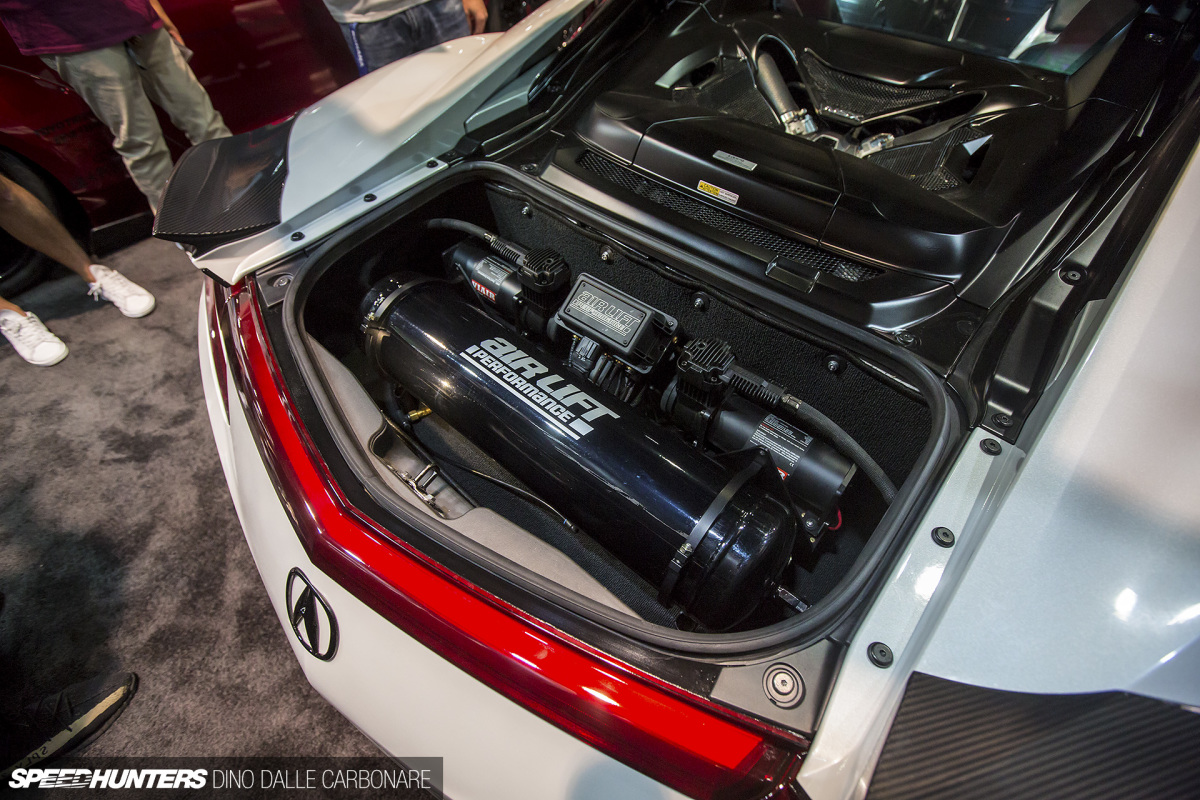 The car sits on Air Lift Performance air suspension, so the right look can be achieved at the press of a button. But I won't go into too much detail as Larry will also be taking this car to one of his favorite locations in Las Vegas and shooting it properly for an upcoming feature.
So, out of all the cars I've just shown you, do you have a favorite?
Dino Dalle Carbonare
Instagram: speedhunters_dino
dino@speedhunters.com