NSX By LB Performance
In today's ultra competitive supercar market, is the new NSX a worthy representation of Honda's abilities? That's a question I could only answer after a proper test of the car, but it's something I haven't managed to get around to yet. It's probably to do with the fact that Honda USA is drip-feeding a supply into the Japanese market; only 50 or so units have made it over thus far. The waiting list is long – or at least that's what Honda Japan is saying – and that fact alone has made the new generation NSX quite the unicorn in this country.
But today we aren't here to evaluate this boost-fed, all-wheel drive, mid-engined tech-fest, but rather celebrate the fact that someone has started playing around with the model. And surprise, surprise, that certain someone is our good friend Kato-san of Liberty Walk.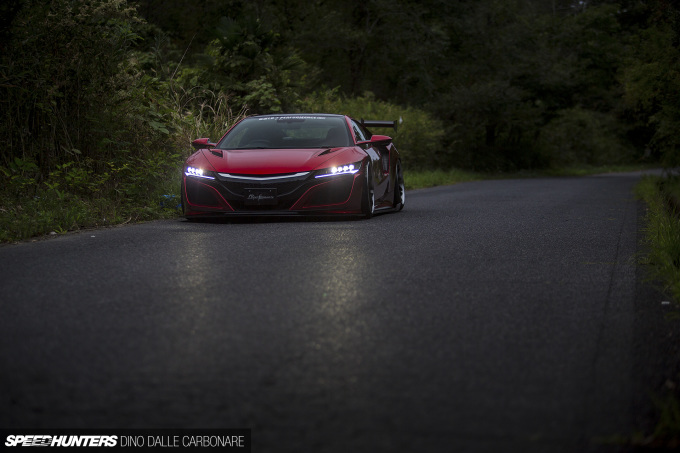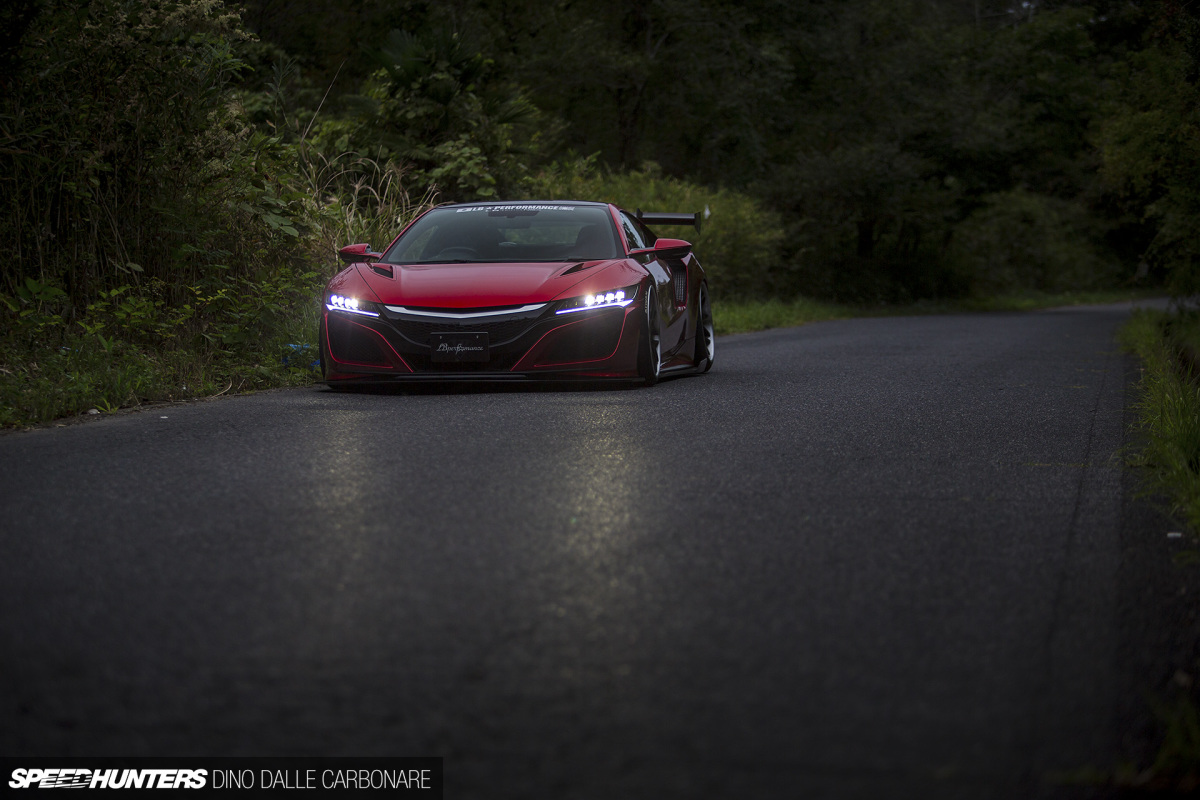 The LB Performance NSX might only represent a simple take on aesthetic tuning, but it's one that has managed to highlight all that is right about the new NSX's edgy, futuristic exterior by subtly evolving it into something you just can't peel your eyes away from.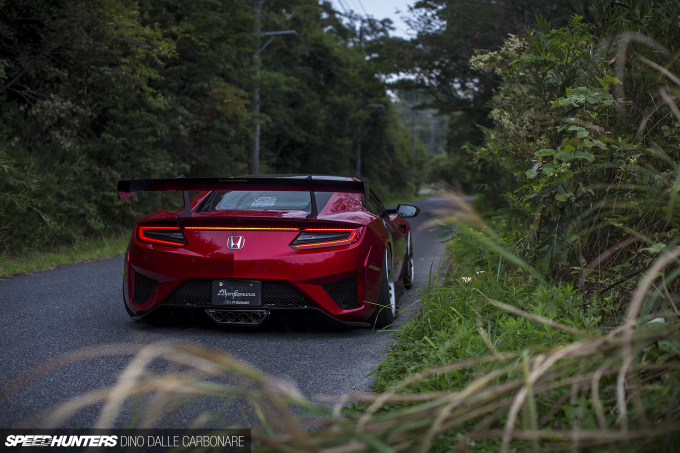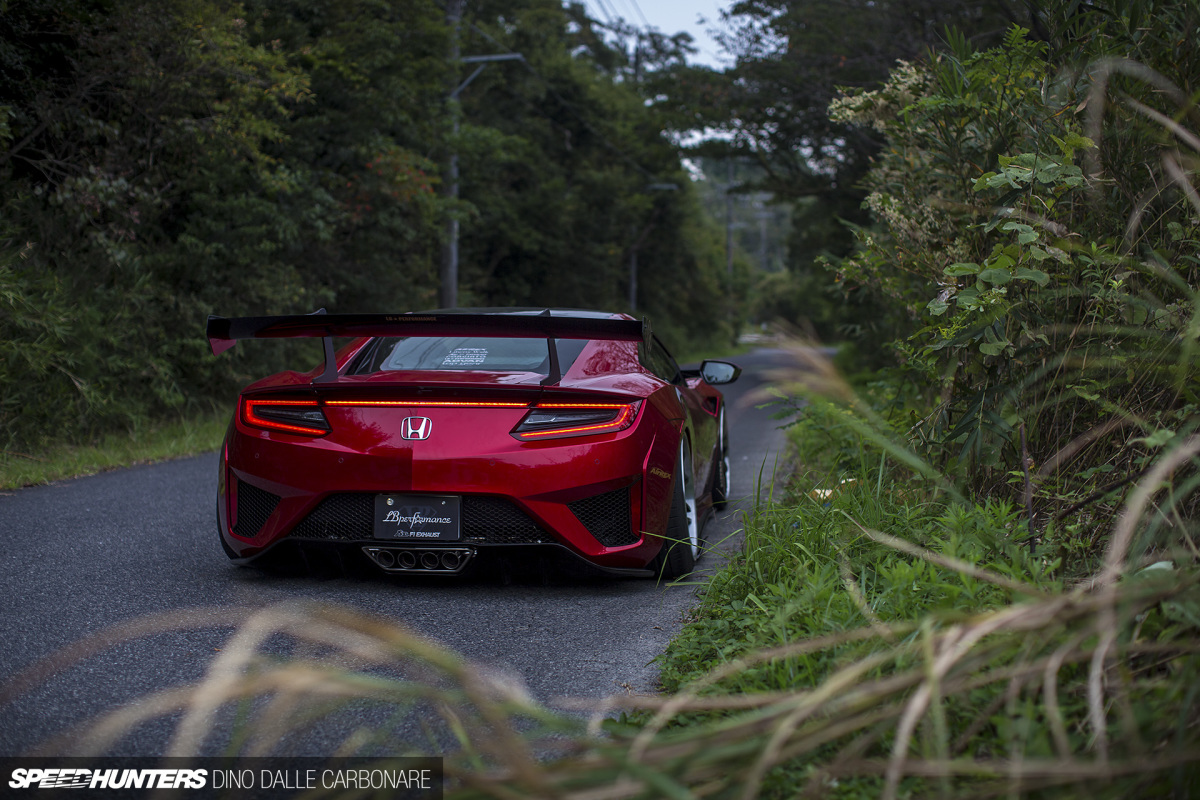 While Kato already released some promotional images of the car last week, he once again gave Speedhunters the opportunity to get up close and personal with it first. It's a gesture we very much appreciate.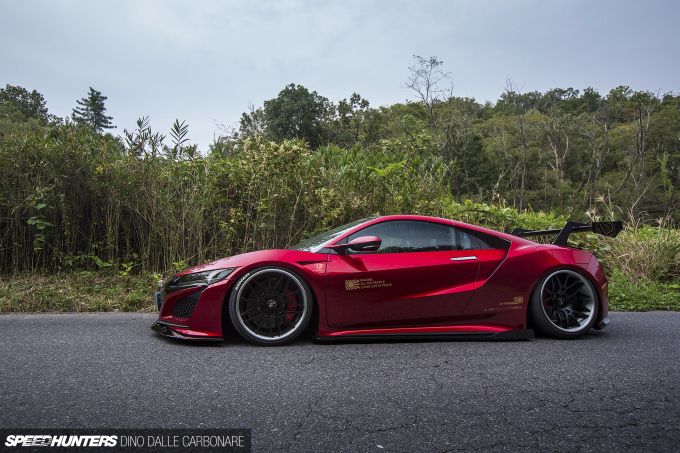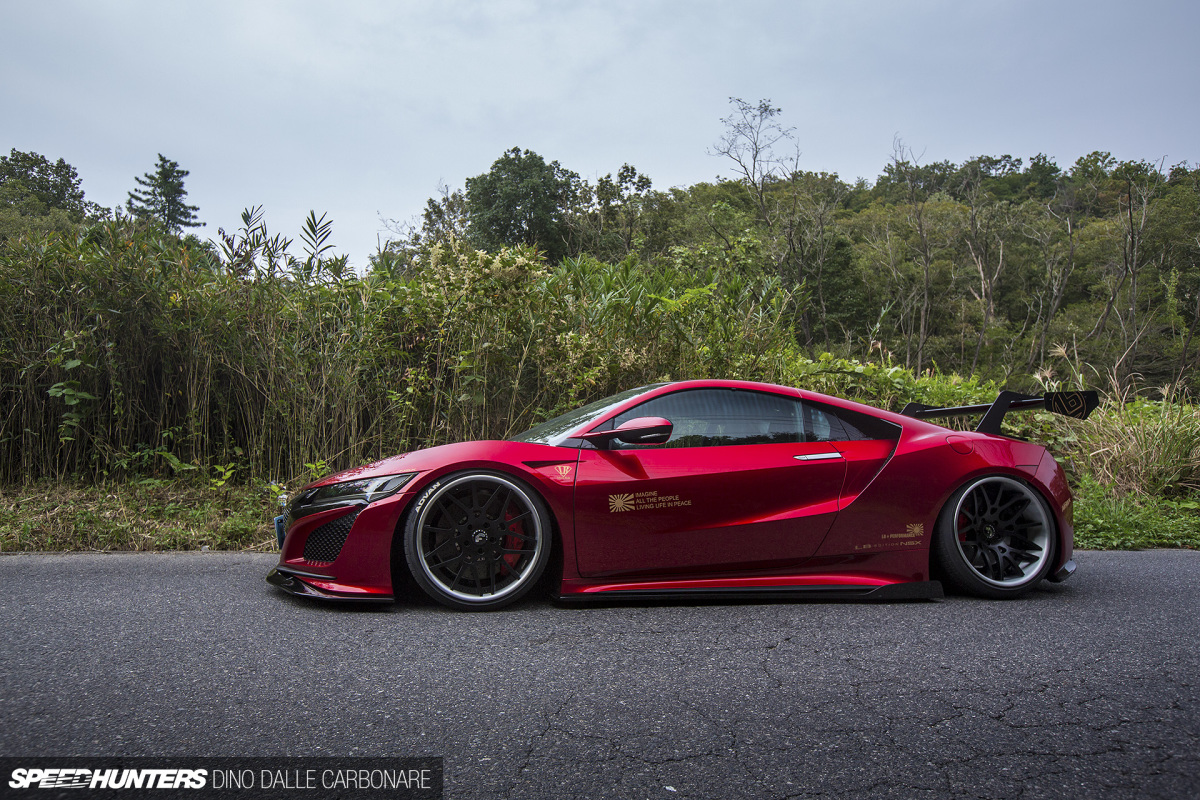 So let's get to the gist of what this car all about. For starters, no, your eyes aren't deceiving you – there are no overfenders to speak of.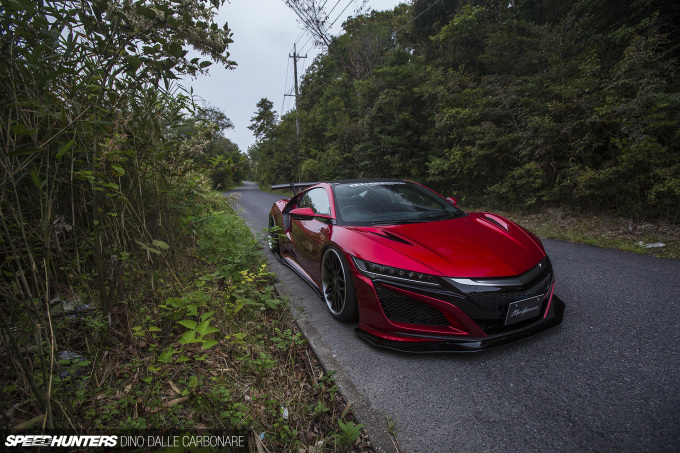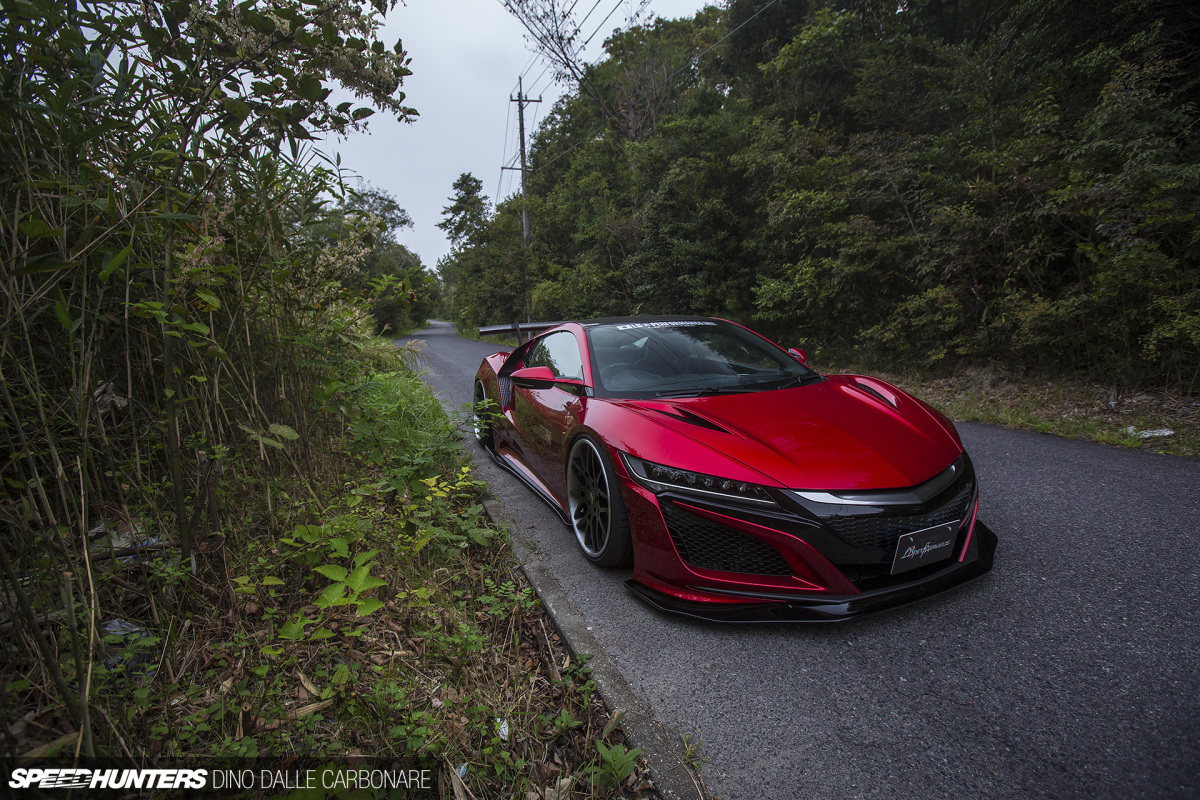 Kato hasn't gone soft on us; this is just a preliminary and basic aero treatment brought to market before the LB Works conversion is unveiled at the SEMA Show in Las Vegas at the end of October.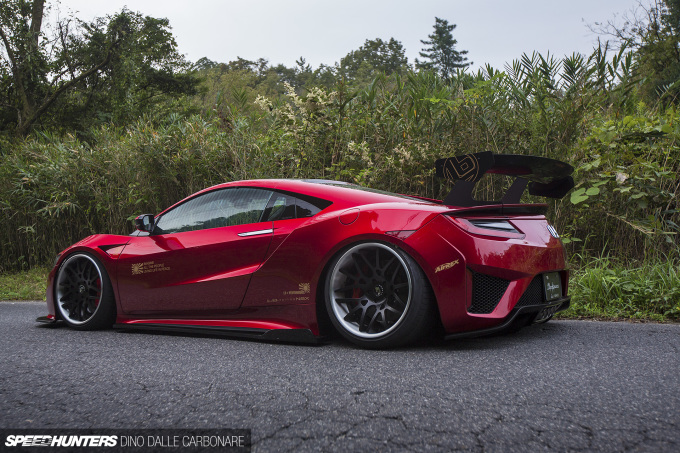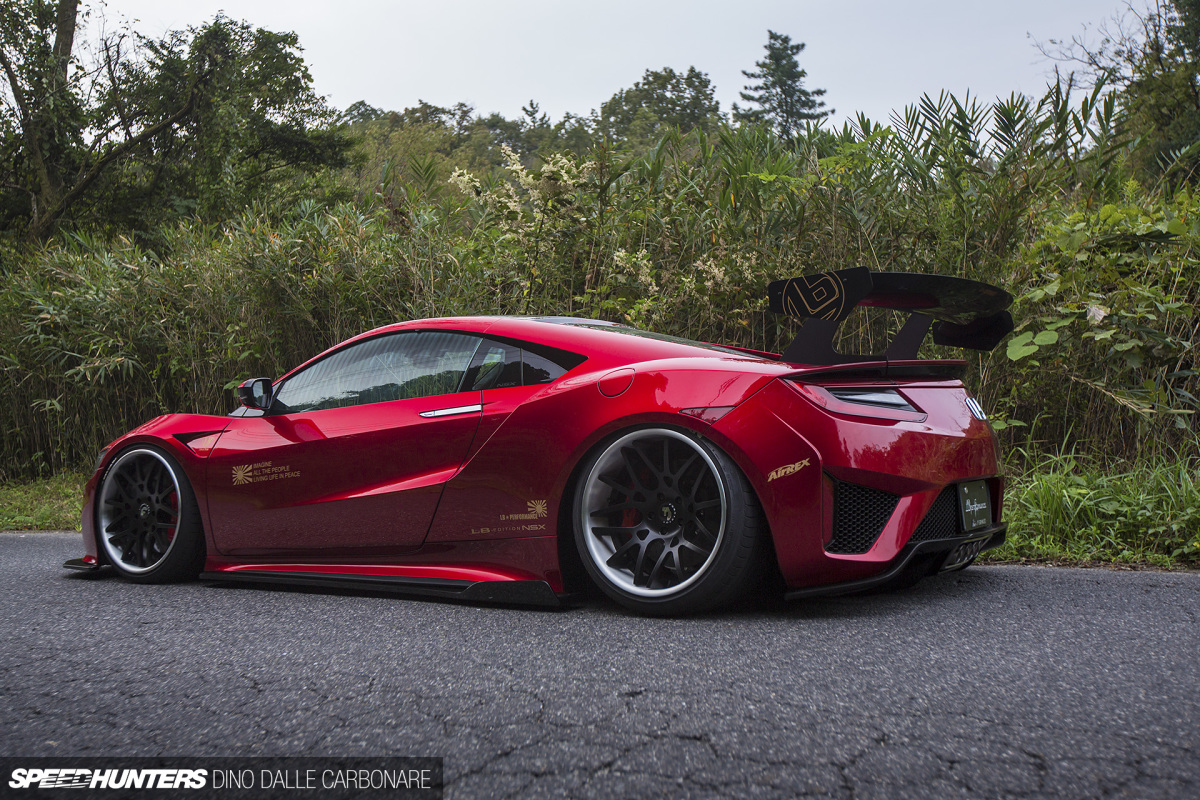 It makes perfect sense to come out with something a little more restrained and easily reversed too, because not every owner who's thinking about modifying their brand new ¥23,700,000 ( approximately US$209,500 converted) supercar is going to want to cut it up. This kit still brings some Liberty Walk style to the table, but without the need for an air saw and a jar full of brave pills.
Enhancing Additions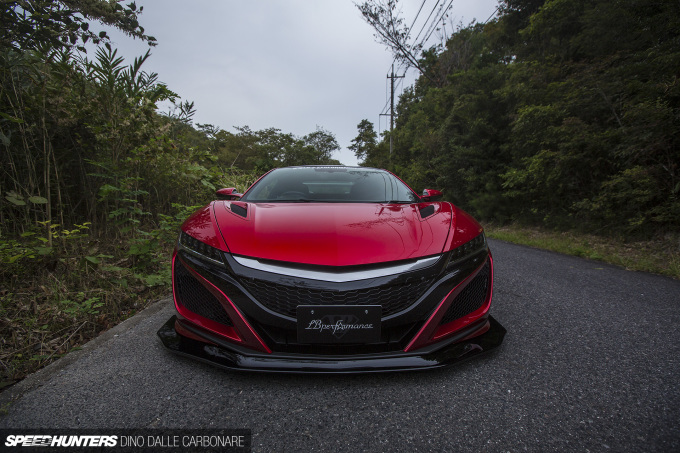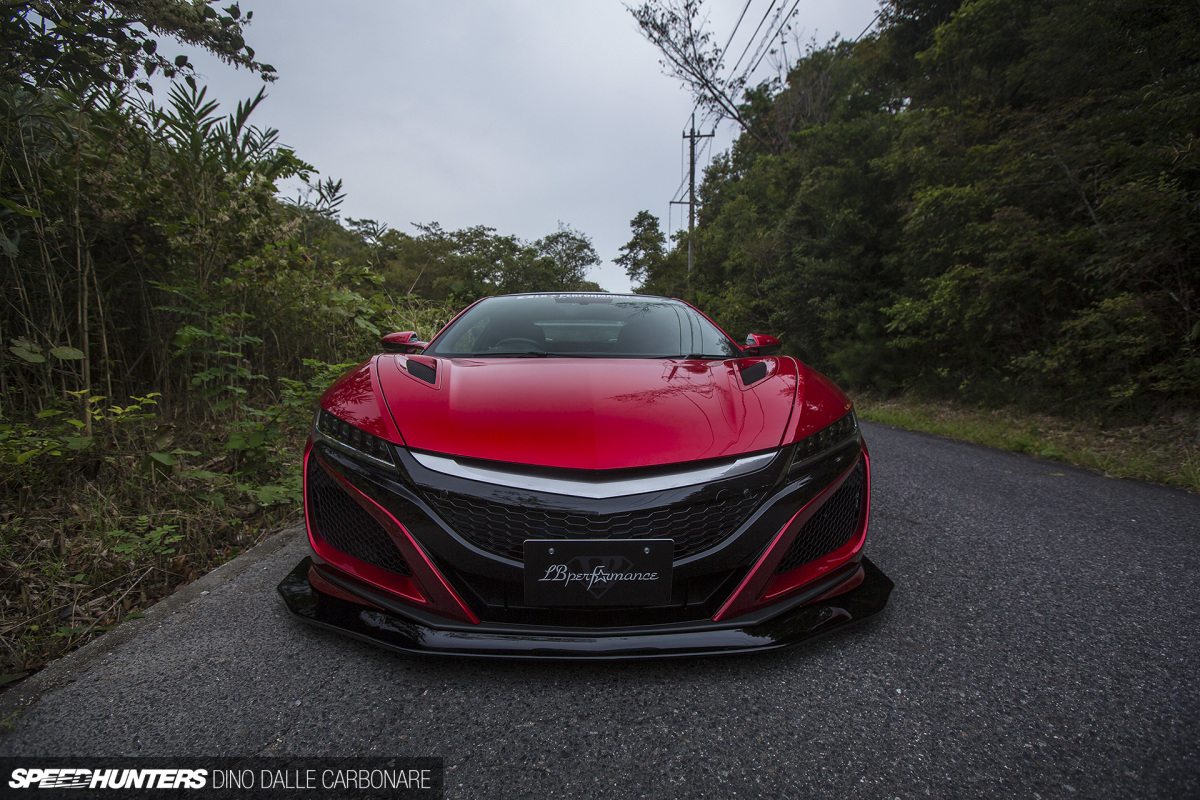 It all begins at the front of the car with a diffuser/lip spoiler that attaches onto the stock bumper. This piece of the kit, like all the others, is available in either FRP, CFRP or full on dry-carbon if money is no issue.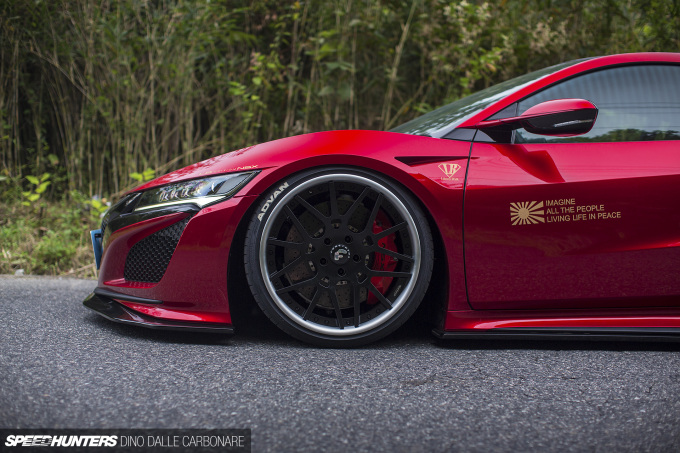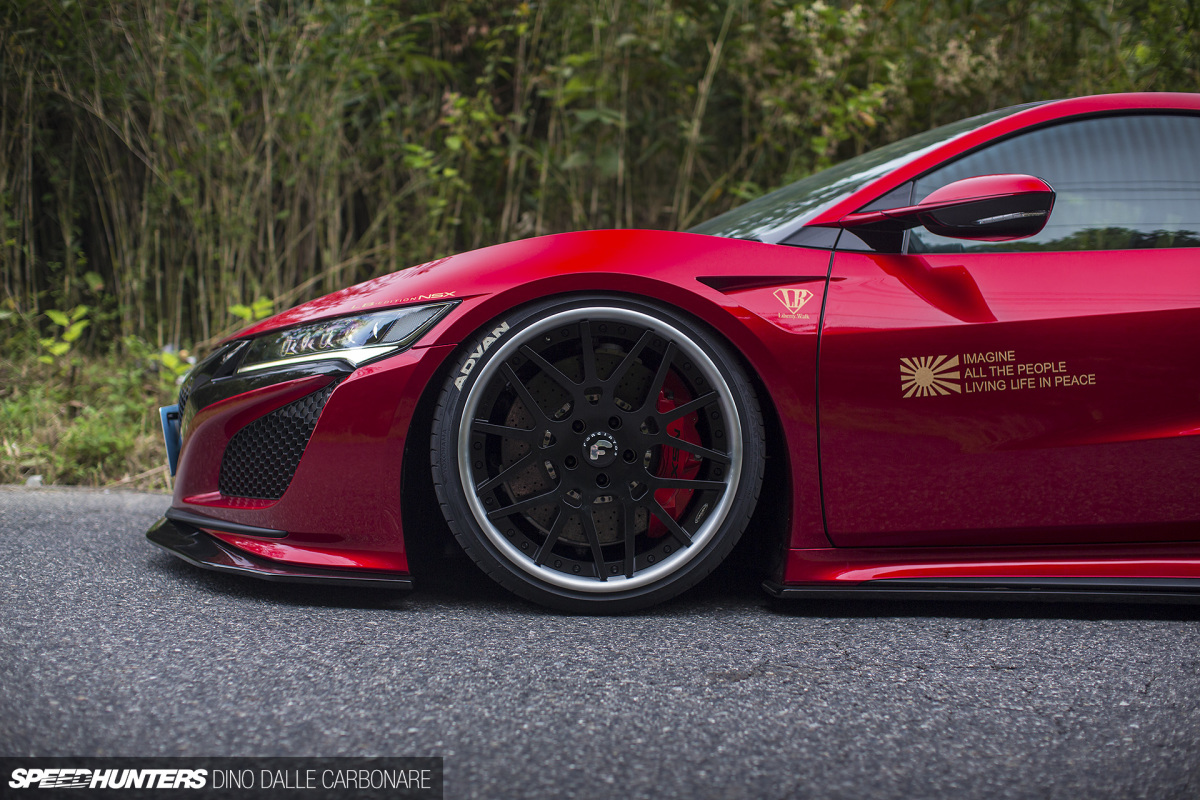 From the side, and without the visual exaggeration of the wider lens used for the front-on picture, you can see it's actually quite subtle. Or maybe it's because it seems to be such a natural addition to the car's design? Further enhancing the profile is the fact that the car pretty much sits its entire body on the ground through airbags at all four corners.
As is commonplace with Liberty Walk demo builds, the NSX rolls on Forgiato wheels, in this case the Maglia model featuring a black center with a brushed rim section. Behind the dark spokes remain the factory brakes; there was no need to upgrade these as they're huge and totally up to the task of reining the Honda's performance in.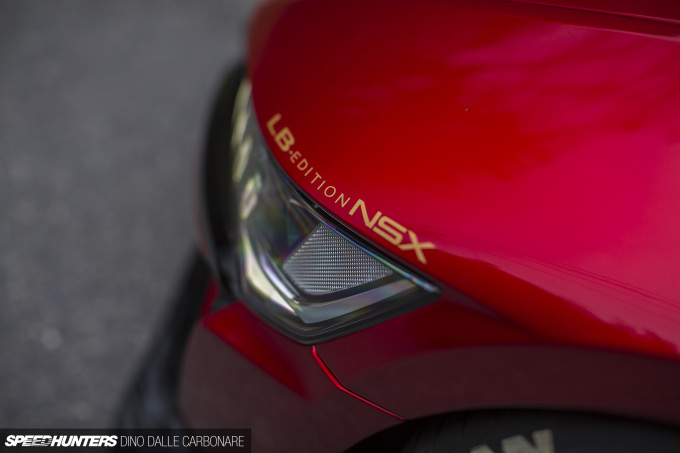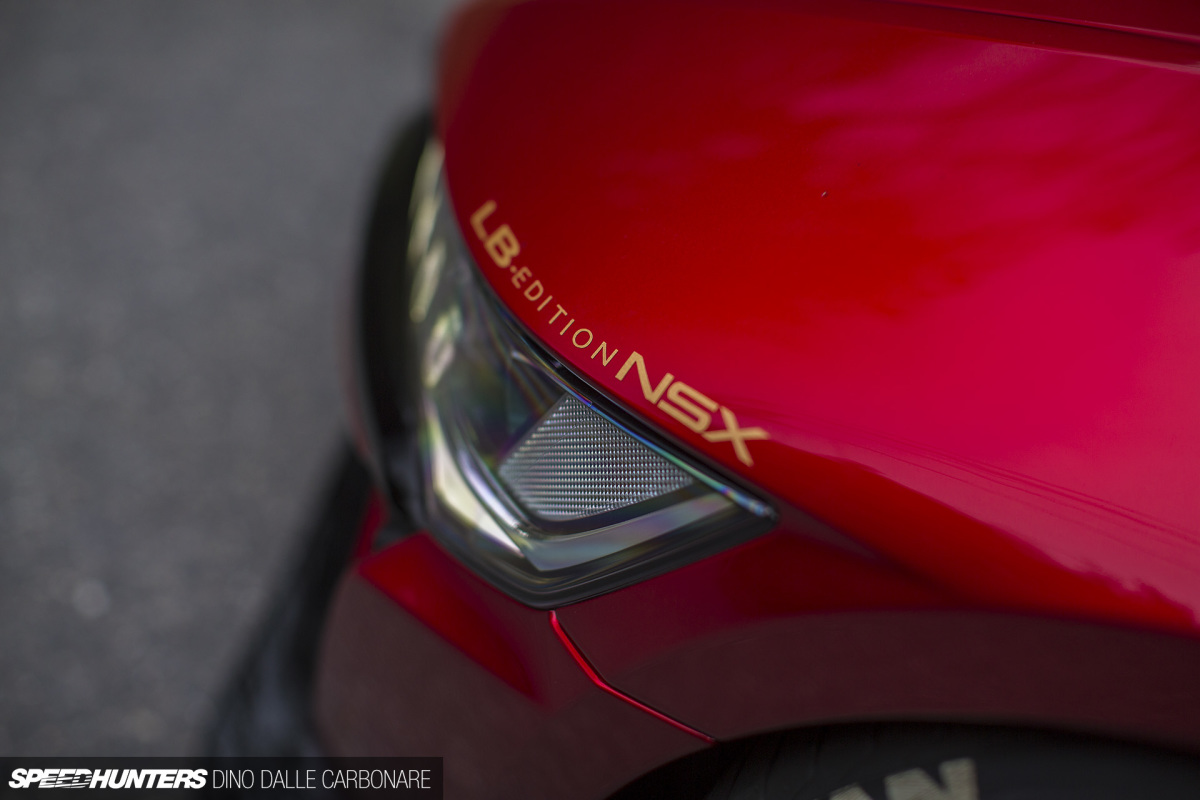 And there's plenty of that on tap; the twin-turbo V6 squirts the car down the road with zero lag thanks to the massive amounts of torque generated by the twin (electric) motor unit up front. It's a massively complex drivetrain with a 9-speed dual-clutch transmission at the center of it all, and I have to give a massive high-five to Kawamura-san of LB for giving me a quick little taste of the car's ability.
The side skirts feature an upturned section as they meet with the rear wheel arch, and ooze aggression from all angles.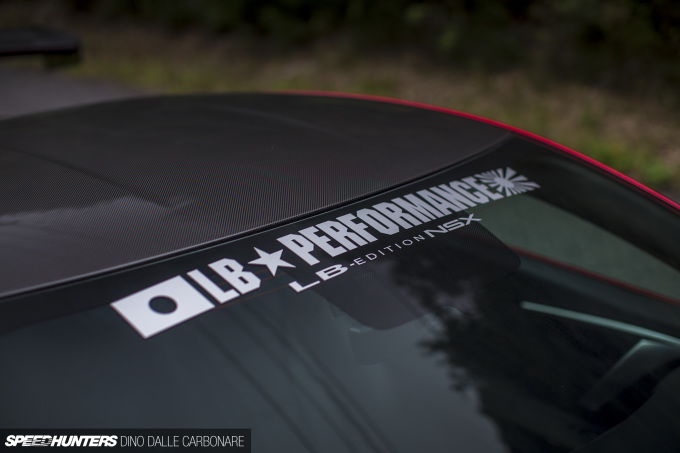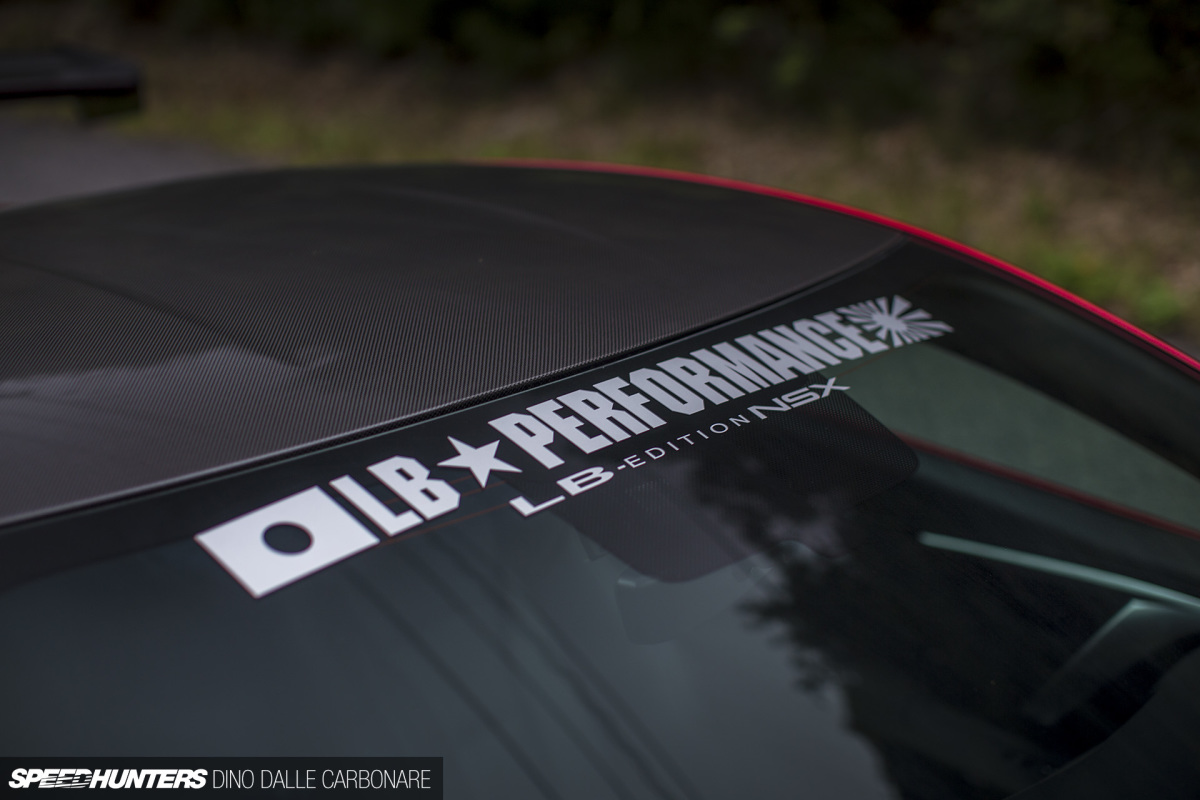 It would make a lot of sense having these parts made in carbon fiber, as there is a lot of it around the NSX in its factory form.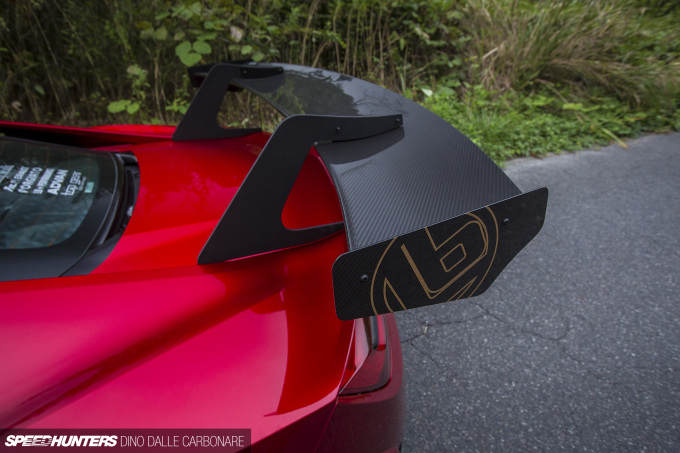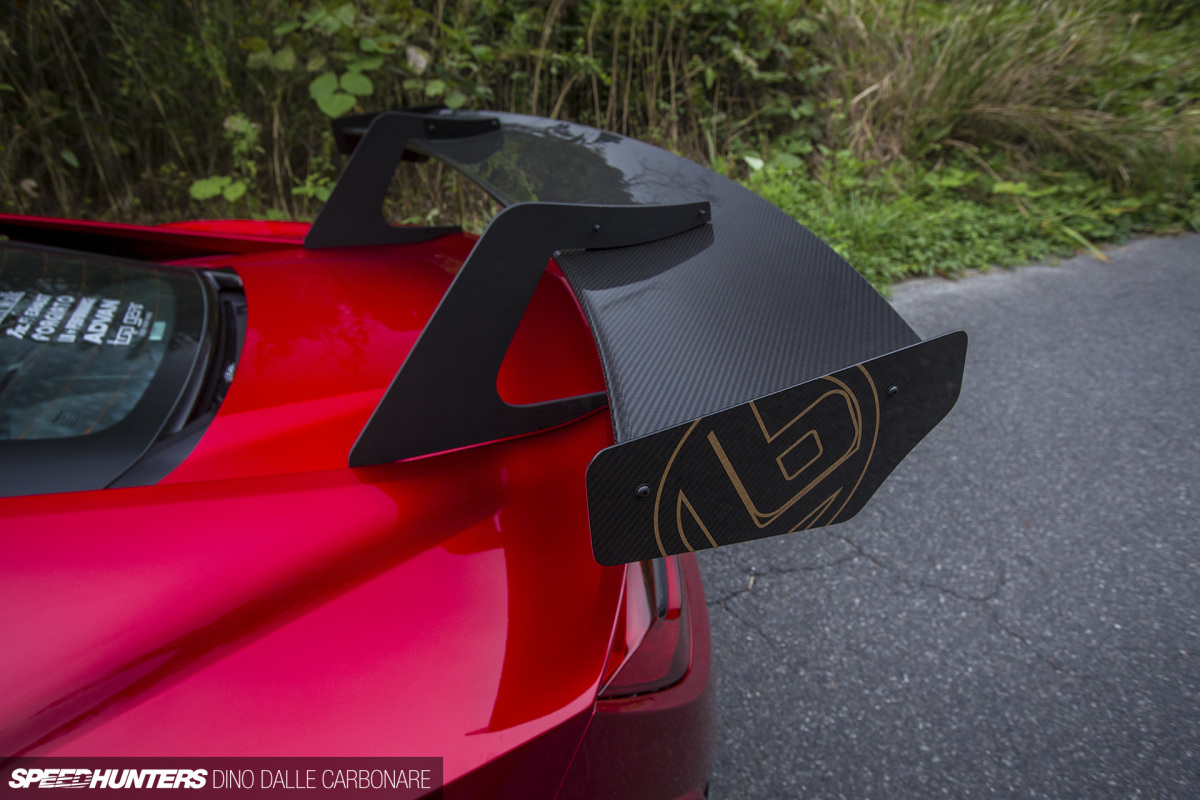 The carbon fiber wing mounted by swan-neck stays is not part of the standard kit, but it can be ordered as an option. Some might see it as nothing more than a lairy add-on, but in person it looked absolutely sensational.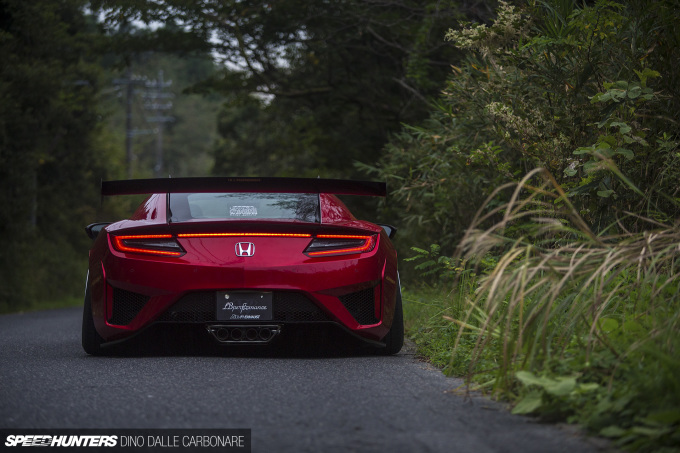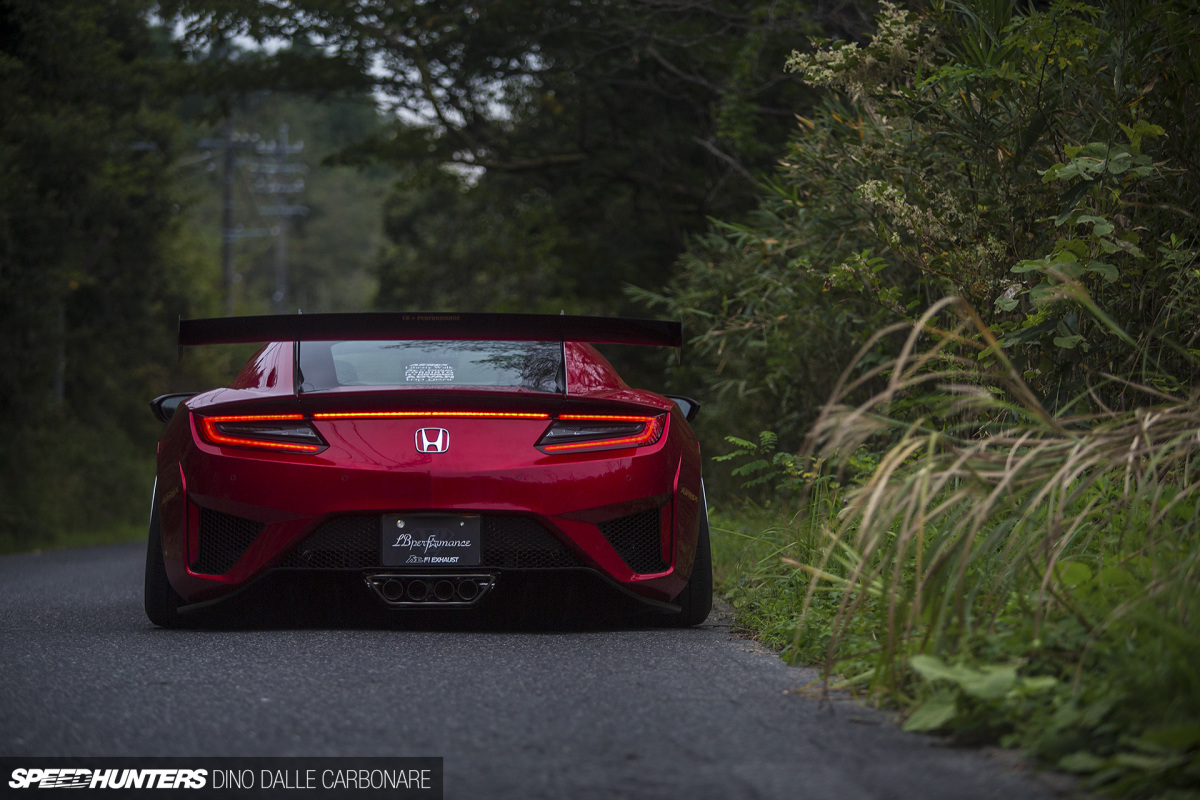 The back end of the car is tied in with a one-piece diffuser section that spans the width of the rear end and is moulded to follow the contours of the rear bumper.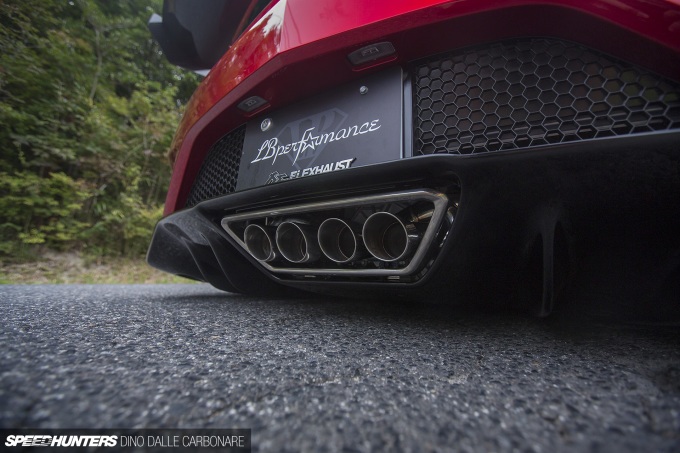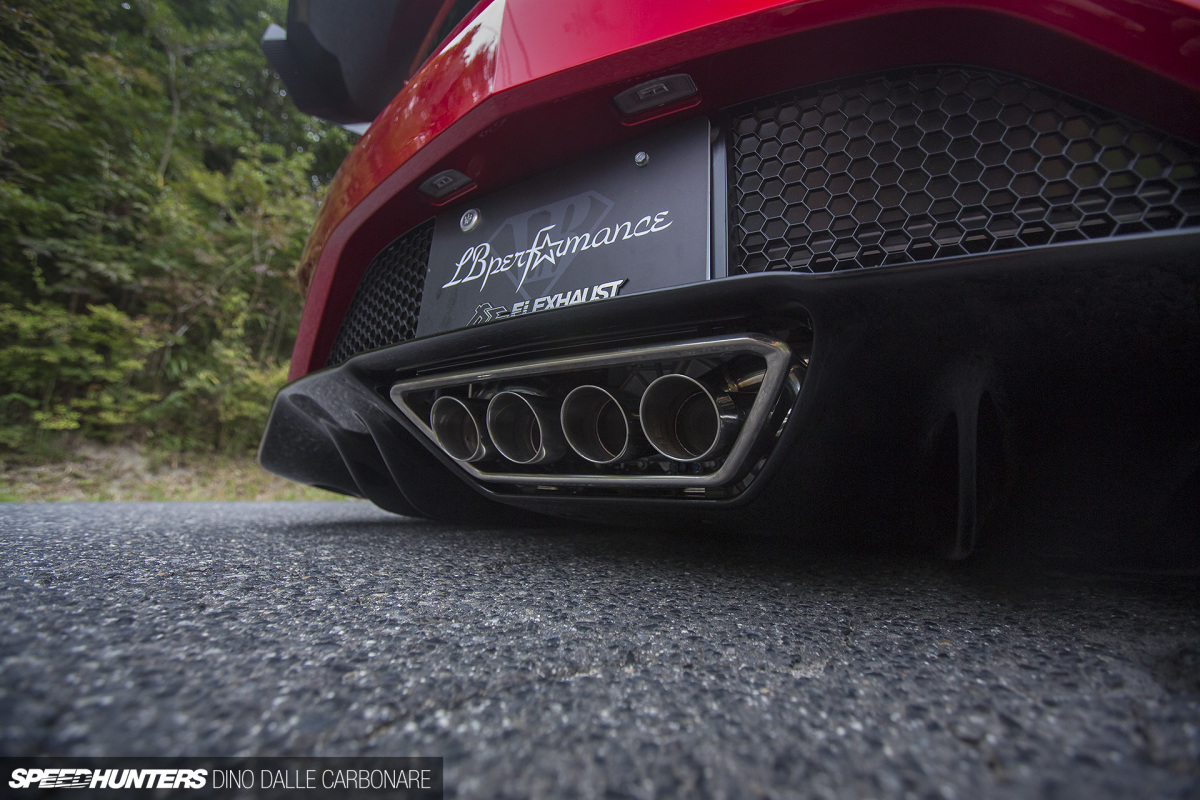 While there is plenty of performance on tap with 580hp from the factory, Kato also fitted an Fi Exhaust system to enhance the character of the twin-turbo V6. Mind you, most of the time we were driving the car around it was in EV mode so made no sound at all.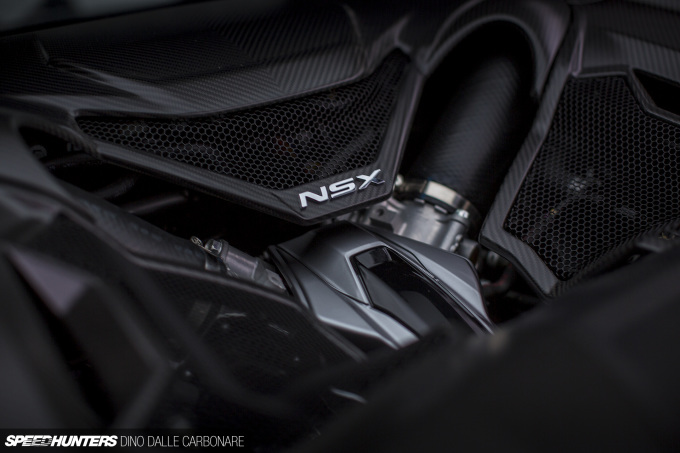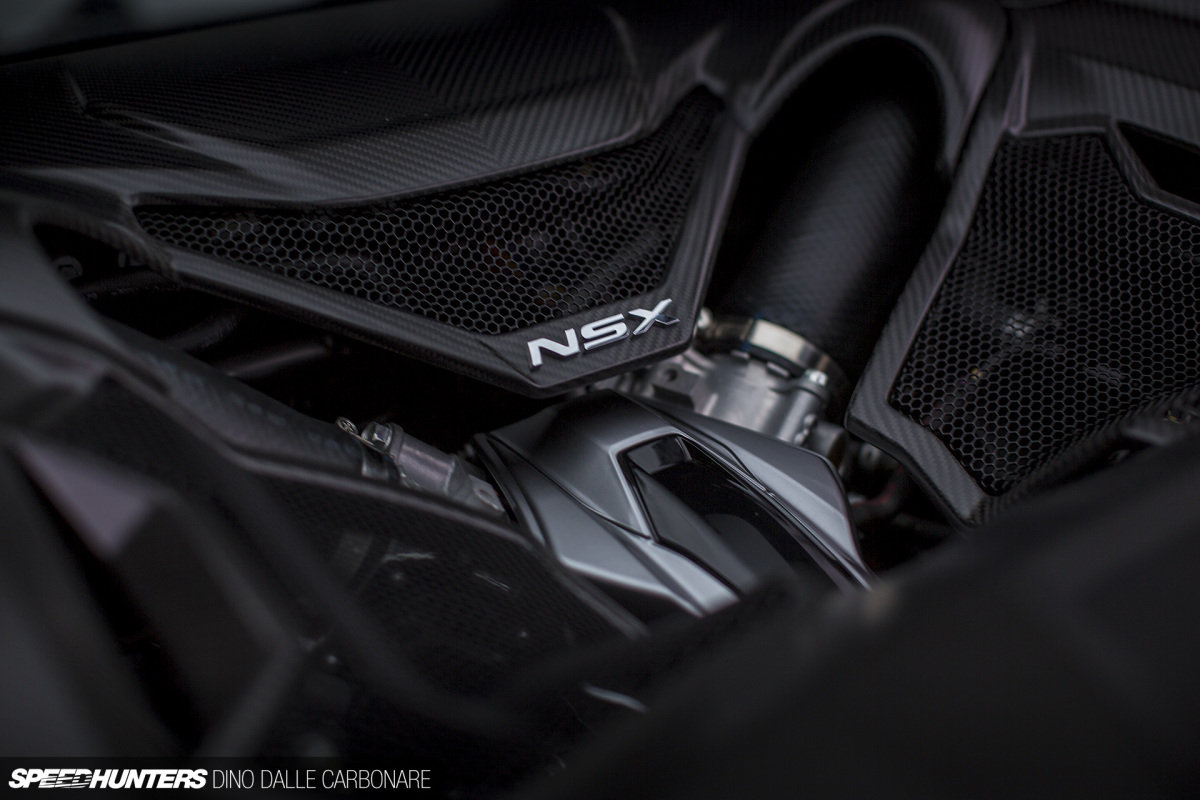 I love the attention to detail that Honda has put into the presentation of the engine, even if it's obvious that a lot of inspiration has been taken from McLaren. It really fits the bill with great design and plenty of carbon, but are those really black rubber hoses feeding the throttle bodies that I'm seeing? I wish I wasn't seeing them.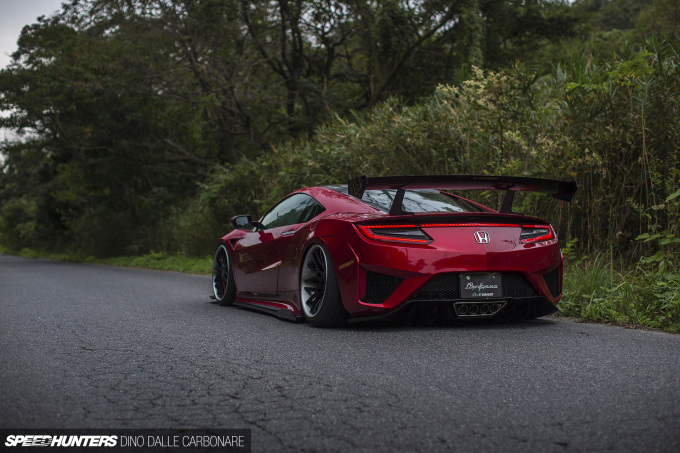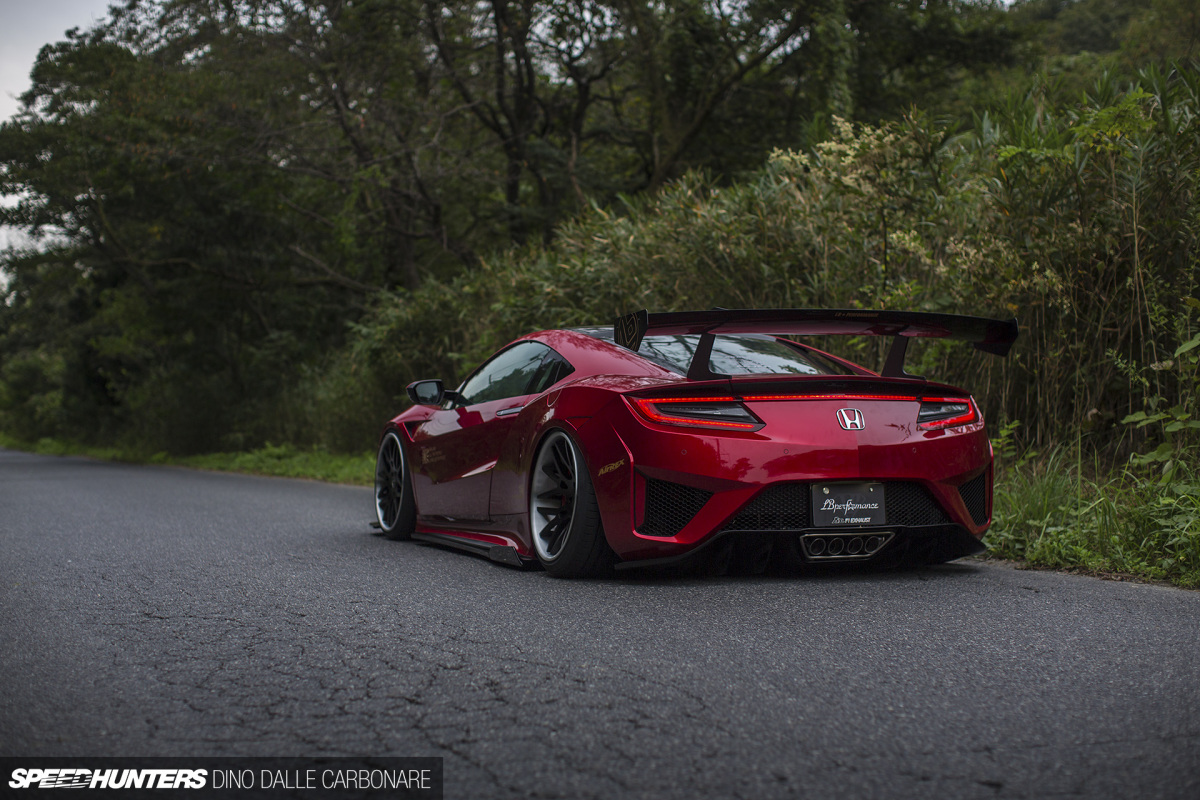 While I can't say I'm the biggest fan of what Honda has brought to the table with the new NSX, I don't think you can't fault the futuristic look of its design. With the Liberty Walk infusion, it was as if aliens had landed on the quiet touge road not too far from Liberty Walk HQ.
We All Know What's Next…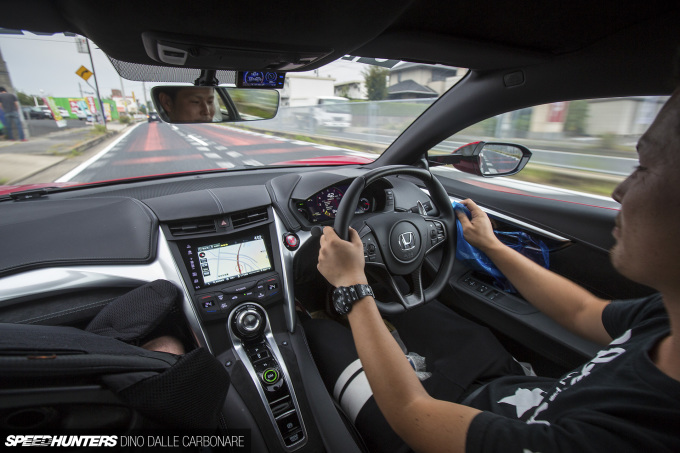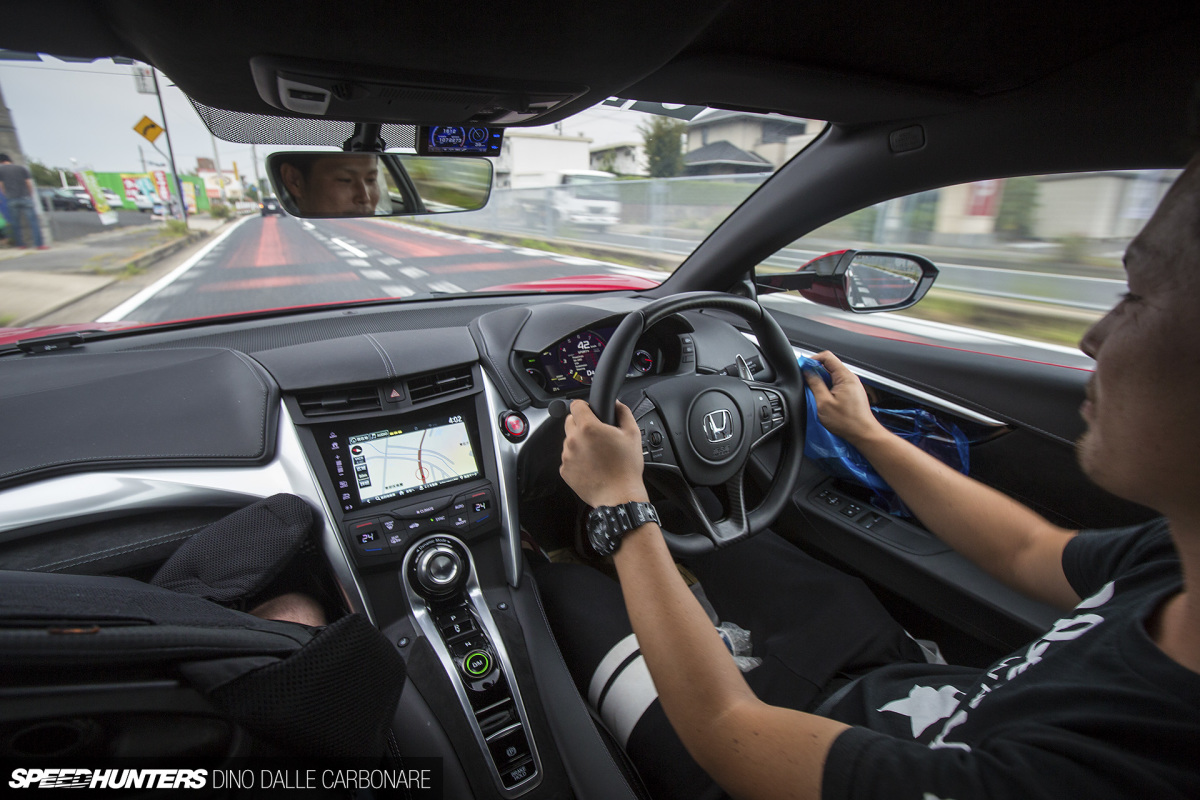 And then there's the superbly appointed cabin, which is a very nice place to be in. But there's something missing…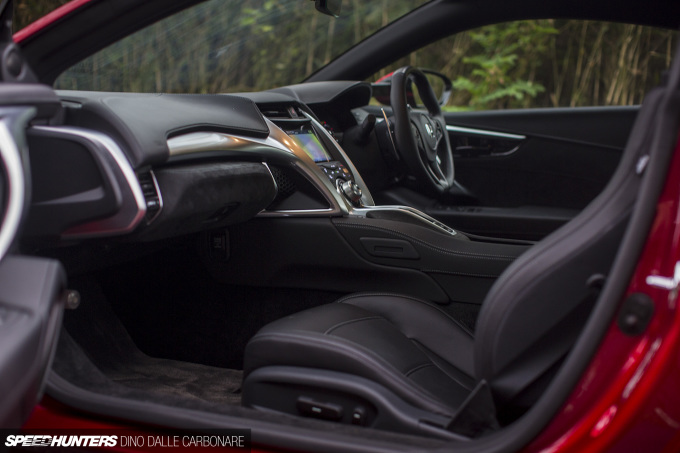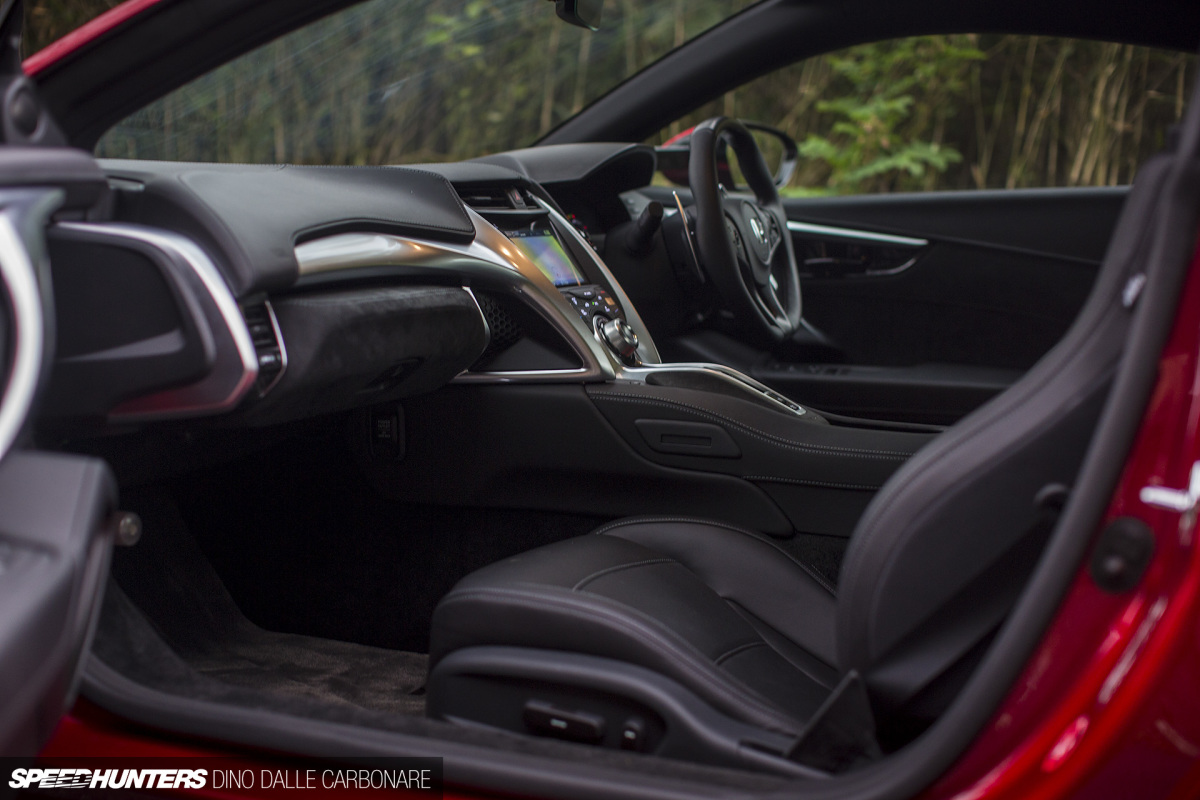 It almost feels too Honda Civic; the designers have tried hard but it's just not special. It could have something to do with it being a black expanse, so perhaps a little bit of color would have gone a long way.
That said, the build quality is right up there; it's all put together beautifully and the satin carbon trim is a great highlight. With so many drive modes the controls and displays are perhaps a little gimmicky, but that can probably be said of many high-end performance cars these days.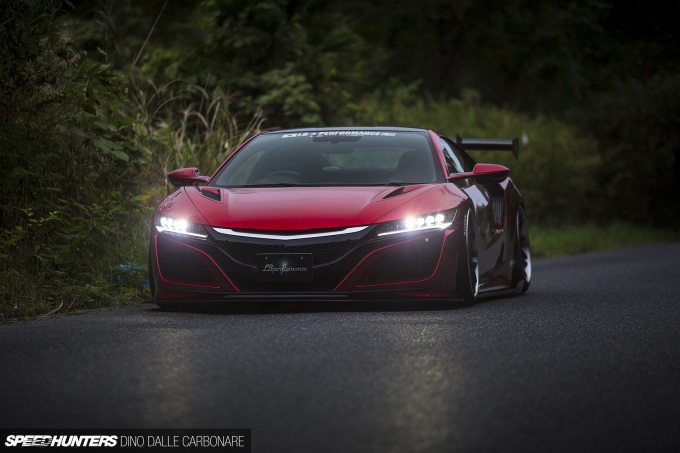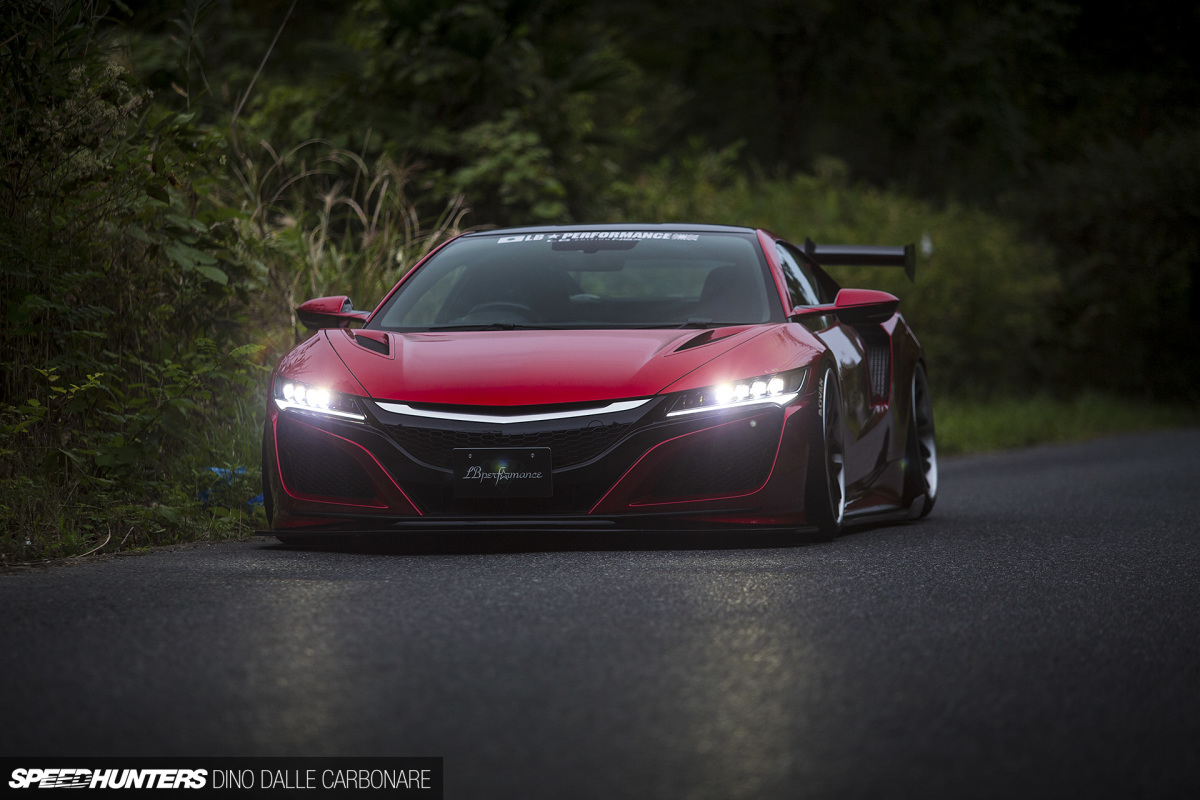 But there's no questioning how much presence this Liberty Walk NSX has. It's also a perfect example of how a few simple bolt-on aero parts can add a lot of visual impact to a car.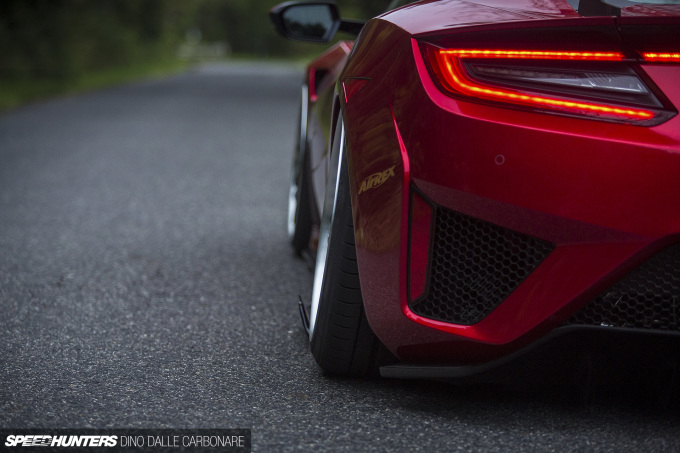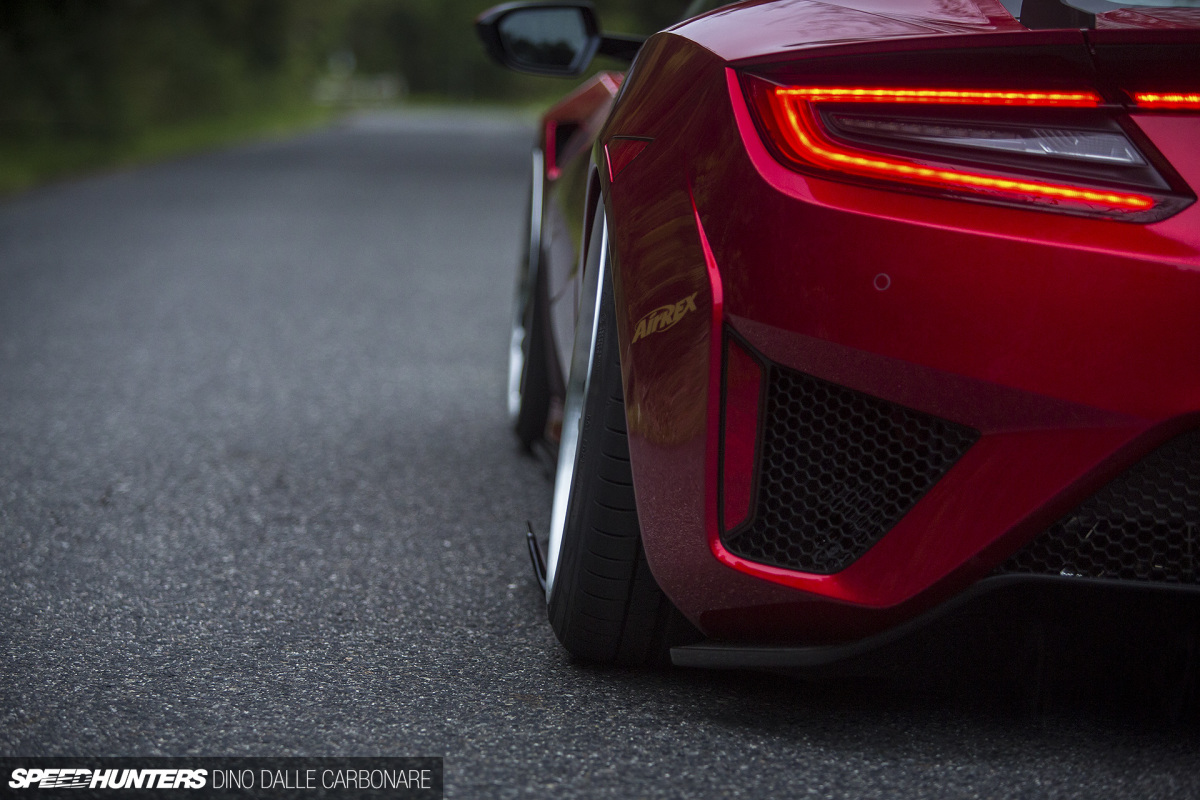 Of course, the fact this NSX can air out and drop to the ground in a split second emphasizes this to no end. Check out how much the rear wheels camber inwards on the lowest setting.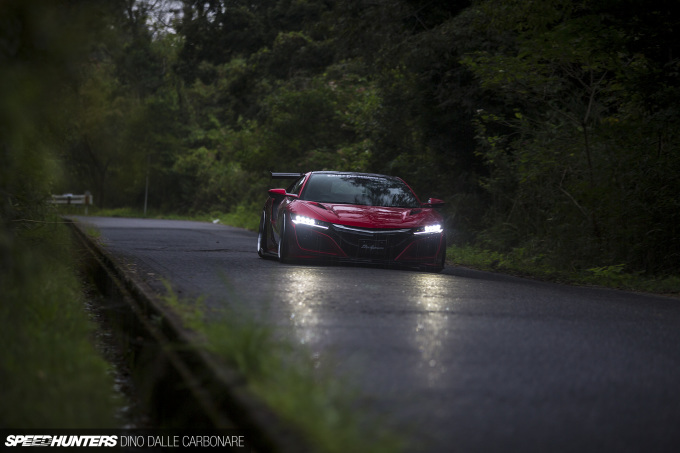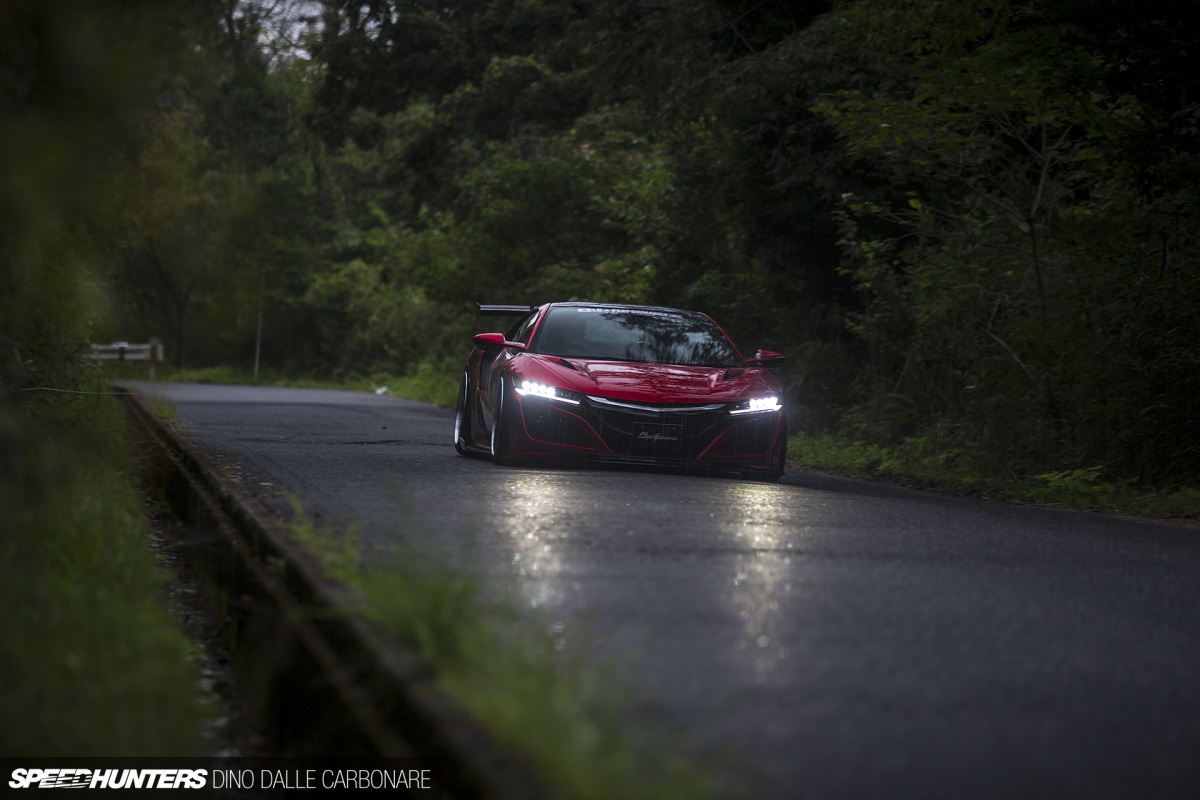 Given what we are seeing here, it will be interesting to see how the LB Works version shapes up, likely running wider wheels with stretched tires and sporting equally divisive overfenders.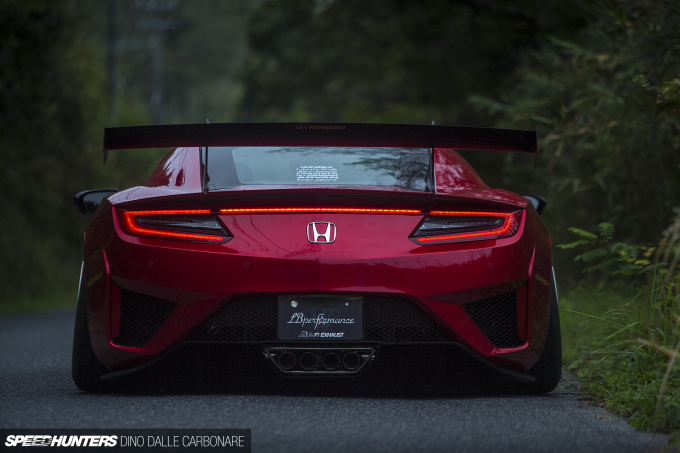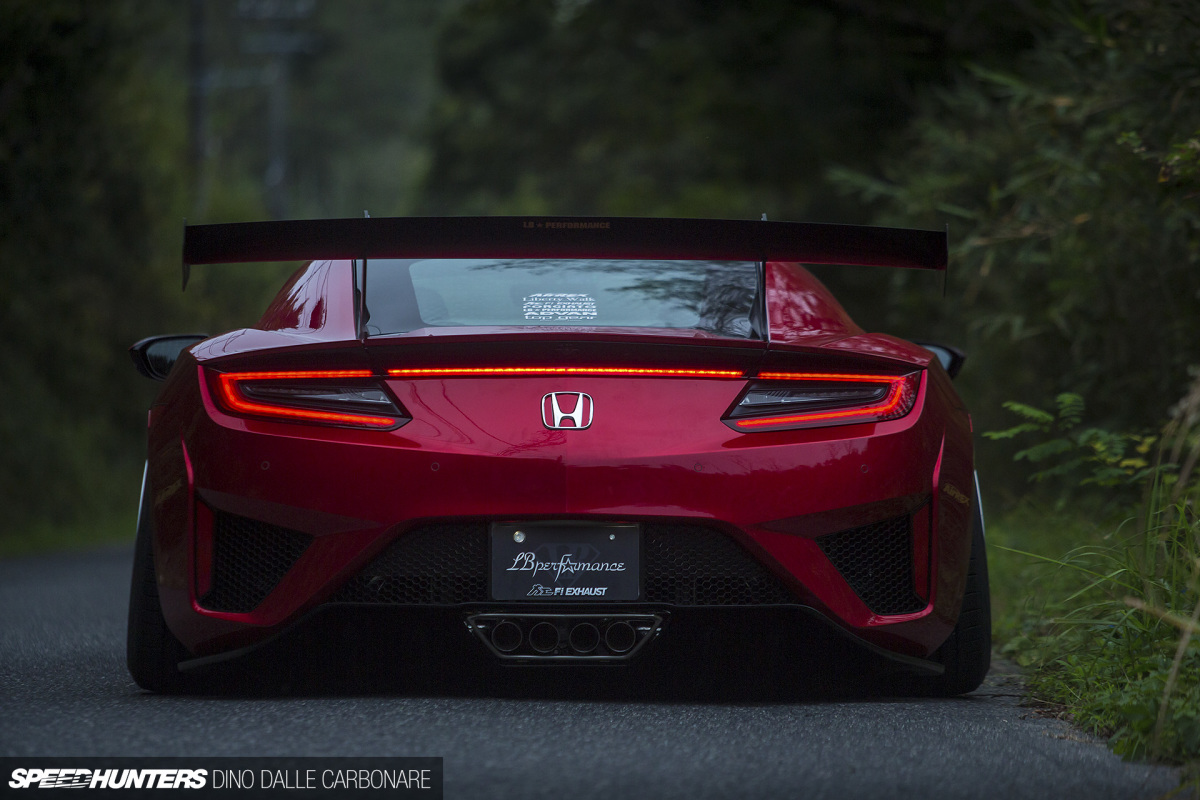 Make of this whole supercar-restyling movement what you will, but the fact that there are people out there daring enough to do these sort of things to prohibitively expensive automobiles is just fine with me; it only makes the whole aftermarket world more colorful and varied.
Dino Dalle Carbonare
Instagram: speedhunters_dino
dino@speedhunters.com