The Walls Are Closing In
2017 was my first SEMA Show experience.
Arriving into LAX at 9:00am on the Friday before, following 10 hours of turbulence, I was surprisingly energetic and enthusiastic about things. These are the events and occasions that all of us Speedhunters live for. The jet lag and fatigue could be easily pushed aside for another few hours while I sought out my fix of speed.
My journey that Friday has already been documented, but when I finally got to my hotel and sat on the edge of my bed, I was acutely aware that the vast bulk of SEMA cars were already on their way to Las Vegas. It seemed that many people were past the last minute SEMA prep, with the organisers having moved up the load-in dates.
While a day of chilling out in the hotel wouldn't have been the worst thing, it's not why I had travelled this far. I was making enquiries trying to find the last of the cars when Carl Taylor, of Players Show and Air Lift Performance, advised that one of the cars bound for the ALP stand at SEMA was going to be a very late finish, if it would even make it all.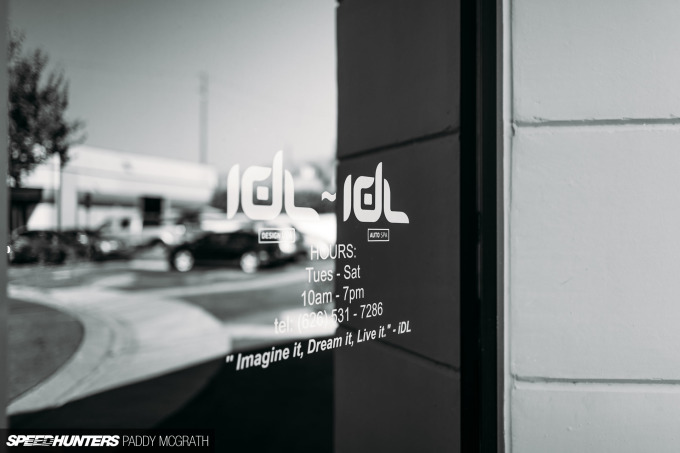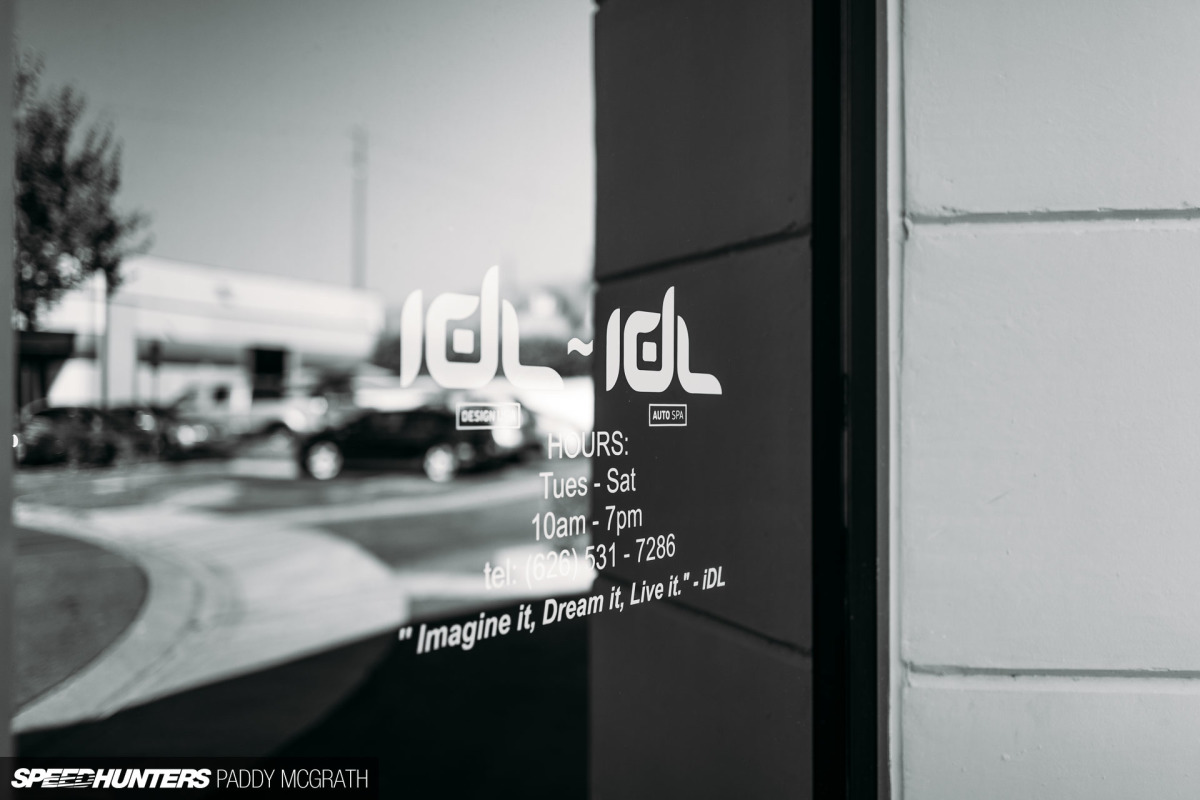 Coincidentally, the car was being finished at iDL Garage, just outside Irwindale and one of the shops I had already visited the day before. I had been introduced to the iDL team a year earlier, when Darren Yoo threw me the keys to his GT3 and sent me into the canyons with it. Needless to say, they're amongst some of my favourite people.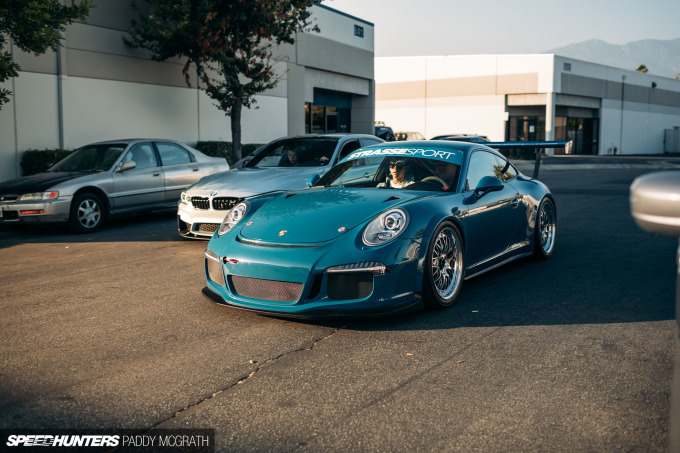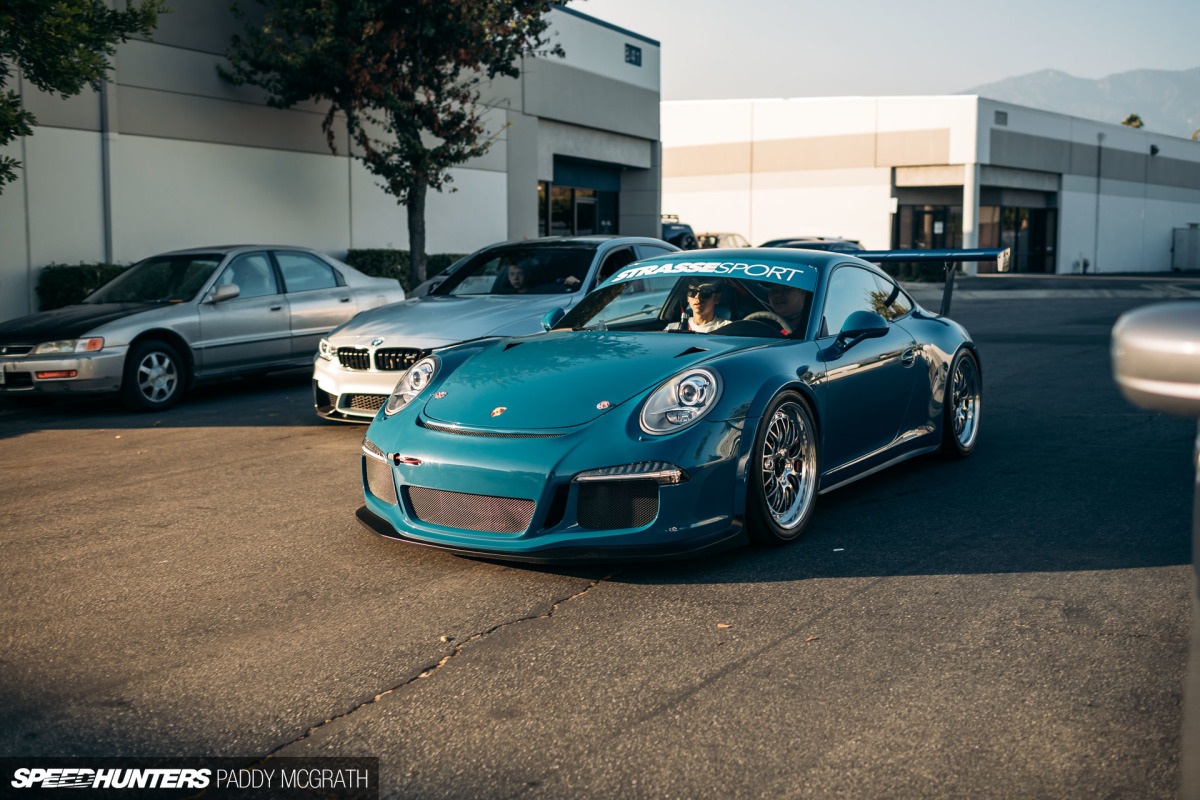 It was Darren's former GT3 that first greeted me when I arrived back at their shop. He has since sold it to a friend, and it's looking maybe even better than it did before. Funnily, it was heading to a photo shoot on the same stretch of road where I had first encountered it a year earlier.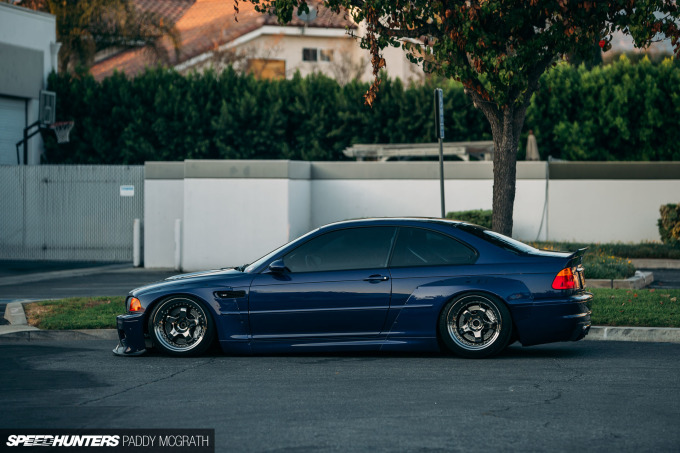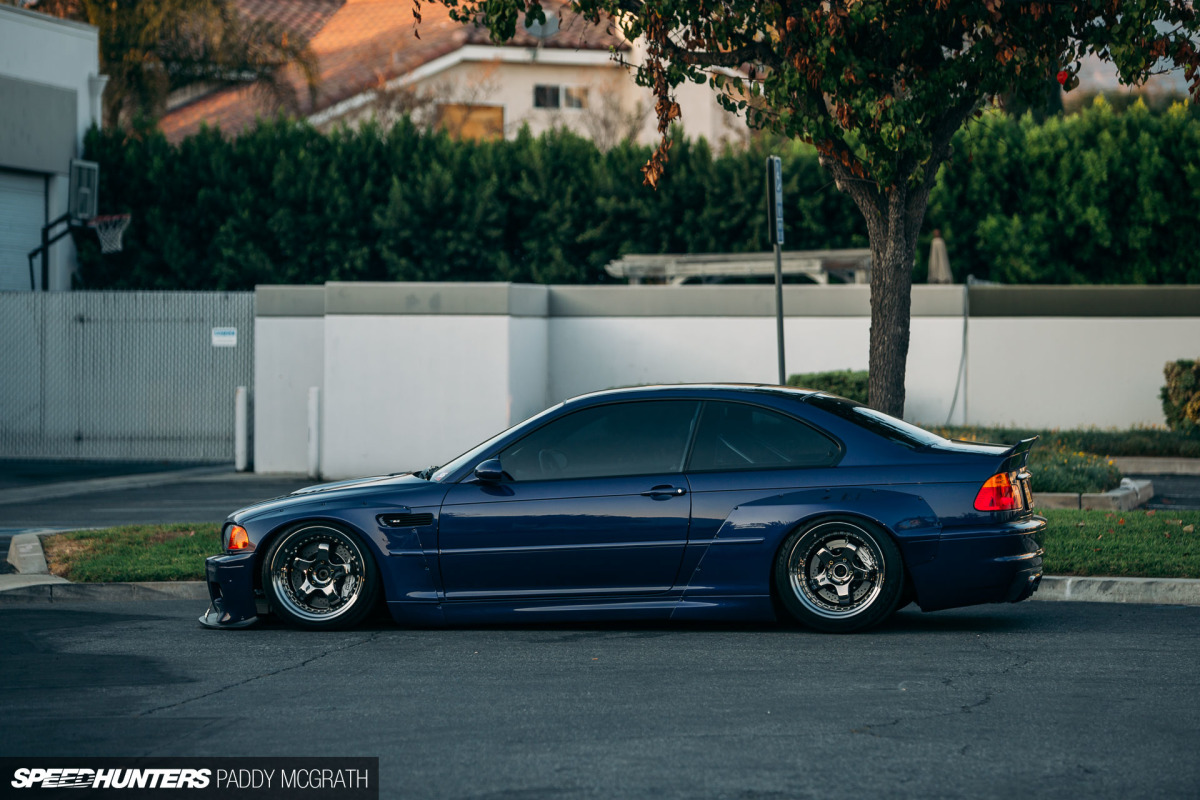 There was no mistaking iDL's new location; the quality of cars parked on the street in front of and around the building was exceptional.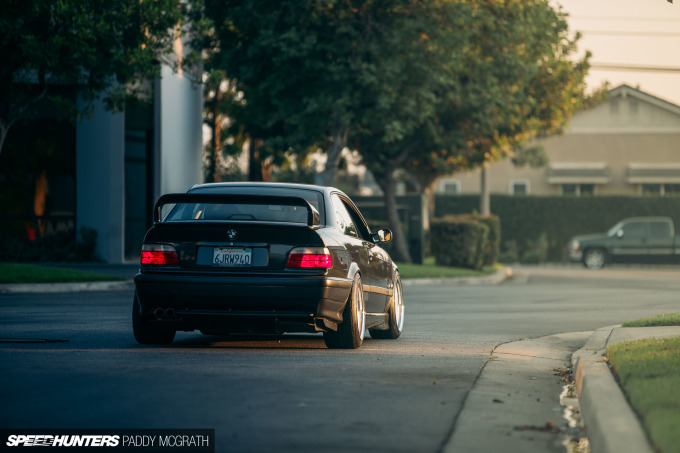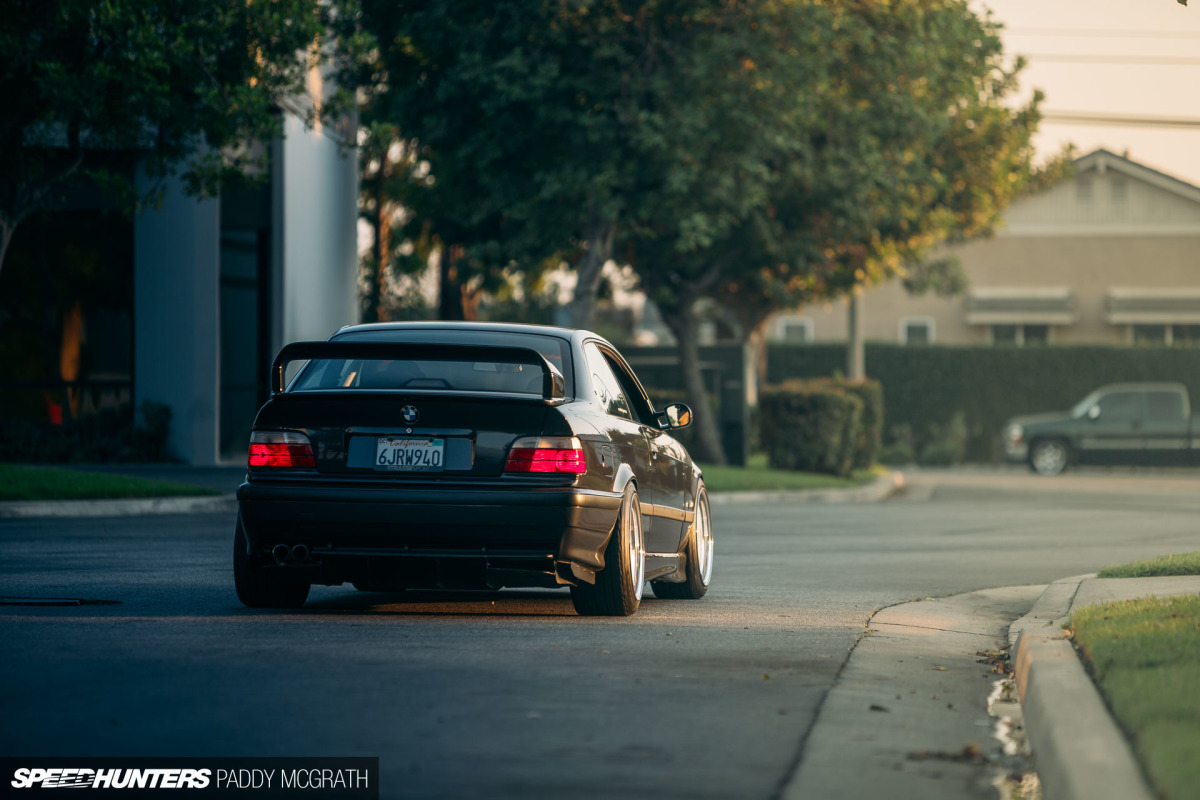 There was even time for a quick shoot on something I consider to be the perfect counter-SEMA car before the sun fully set behind the horizon. A reminder that a real world exists outside of the mayhem and surreal nature of SEMA.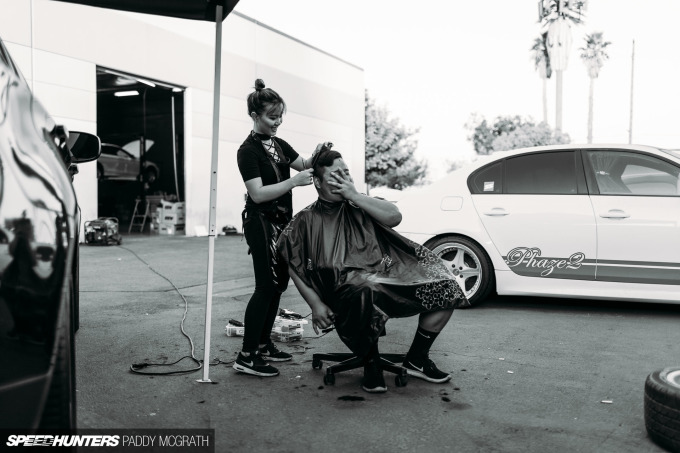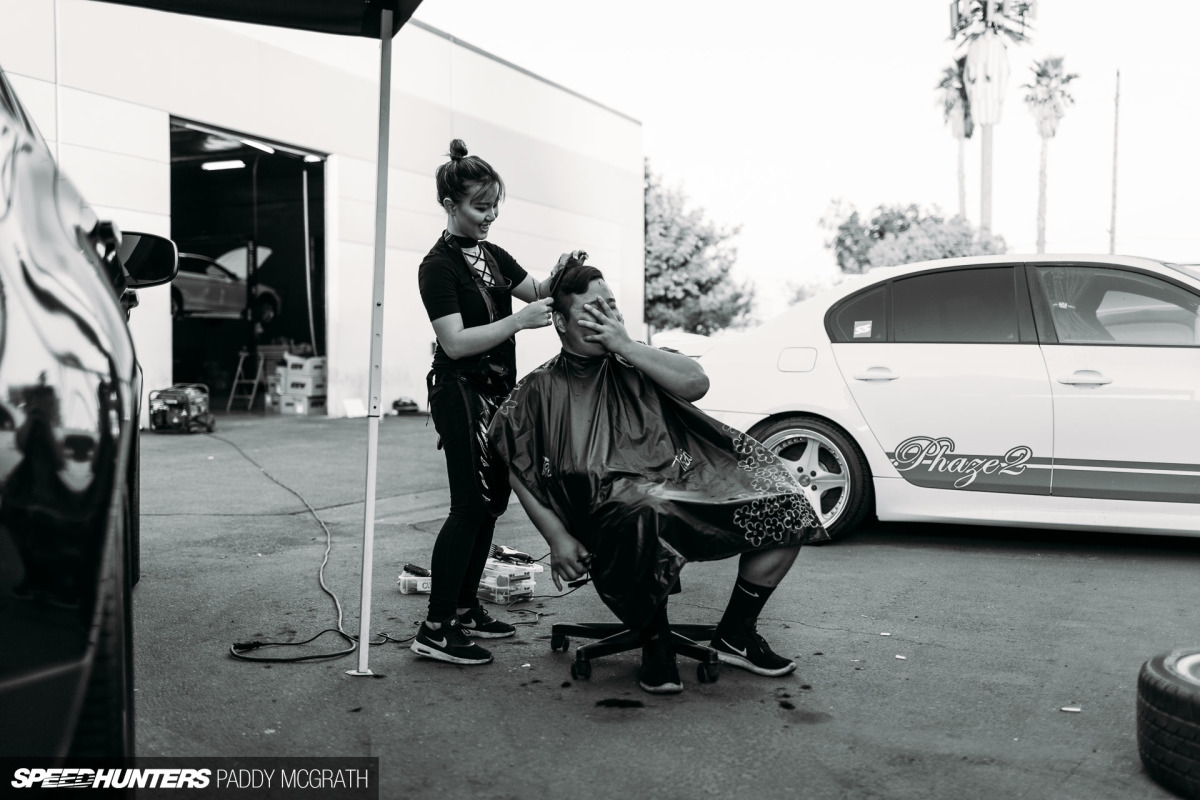 Inside, there was very much a different vibe that belied the calmness on the street outside. At this point, it was around 6:00pm and darkness had enveloped the outside world. However, the lights were still on inside and would remain so for the rest of the night.
Darren had warned me beforehand that we were in for a late night, I just don't think I appreciated just how late a night it would be.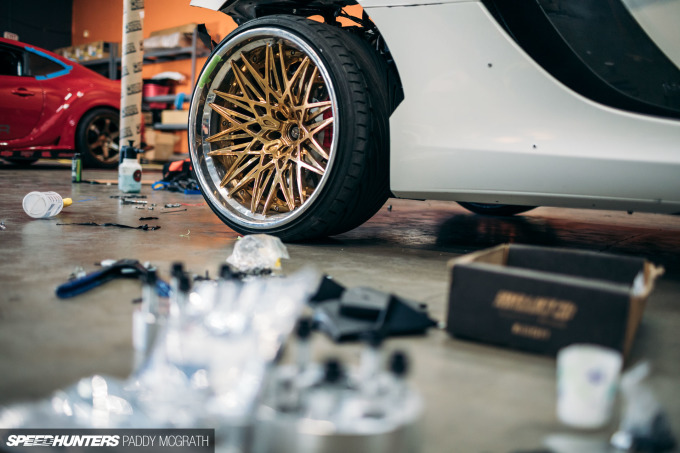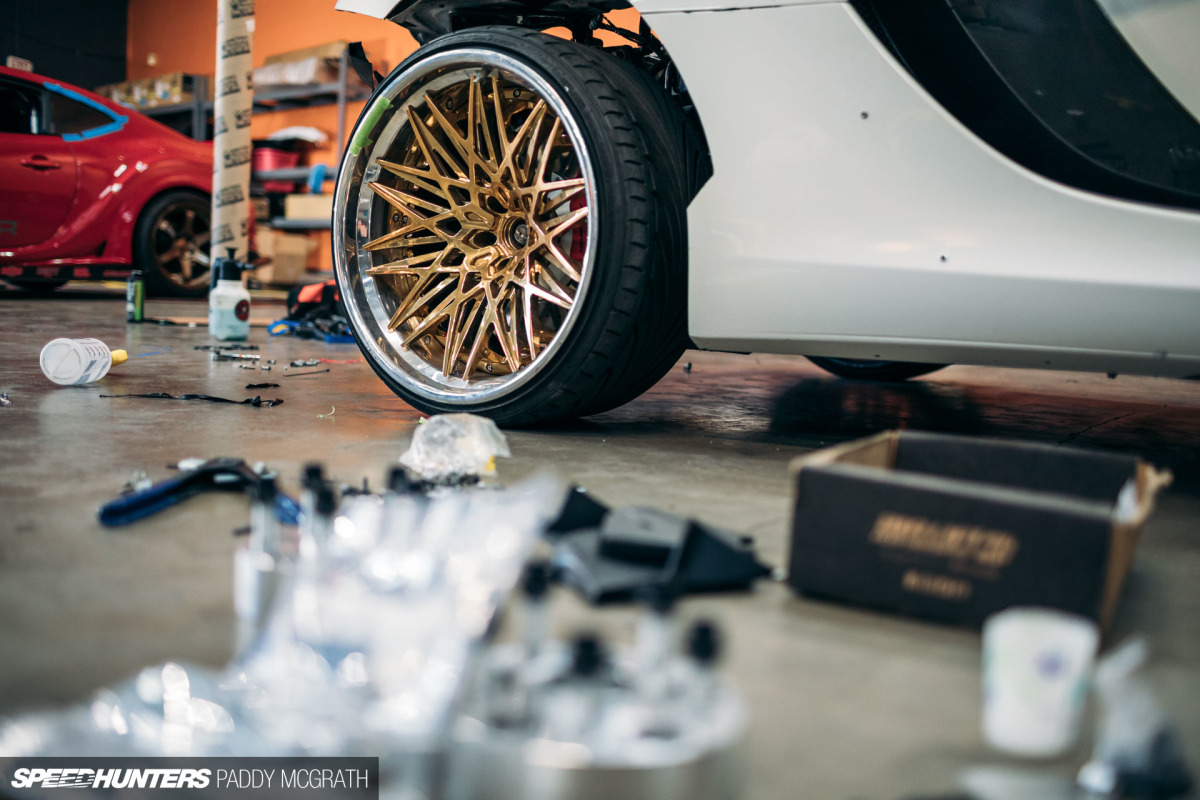 The focus of our attention was the now white McLaren MP4-12c, dressed in 675 attire, which you might recognise from an article which caused some heated discussion last year when we originally featured it. Scott Nghiem, its owner and daily driver, had different plans for the car this year's show, but when they fell through at last minute he made an executive decision to still get the car ready for the Vegas convention.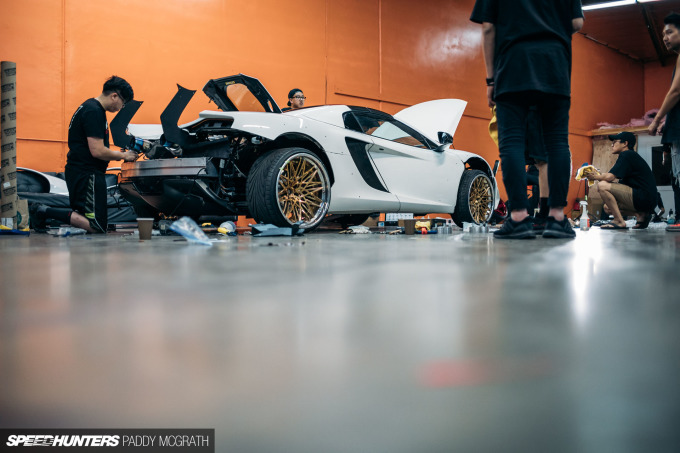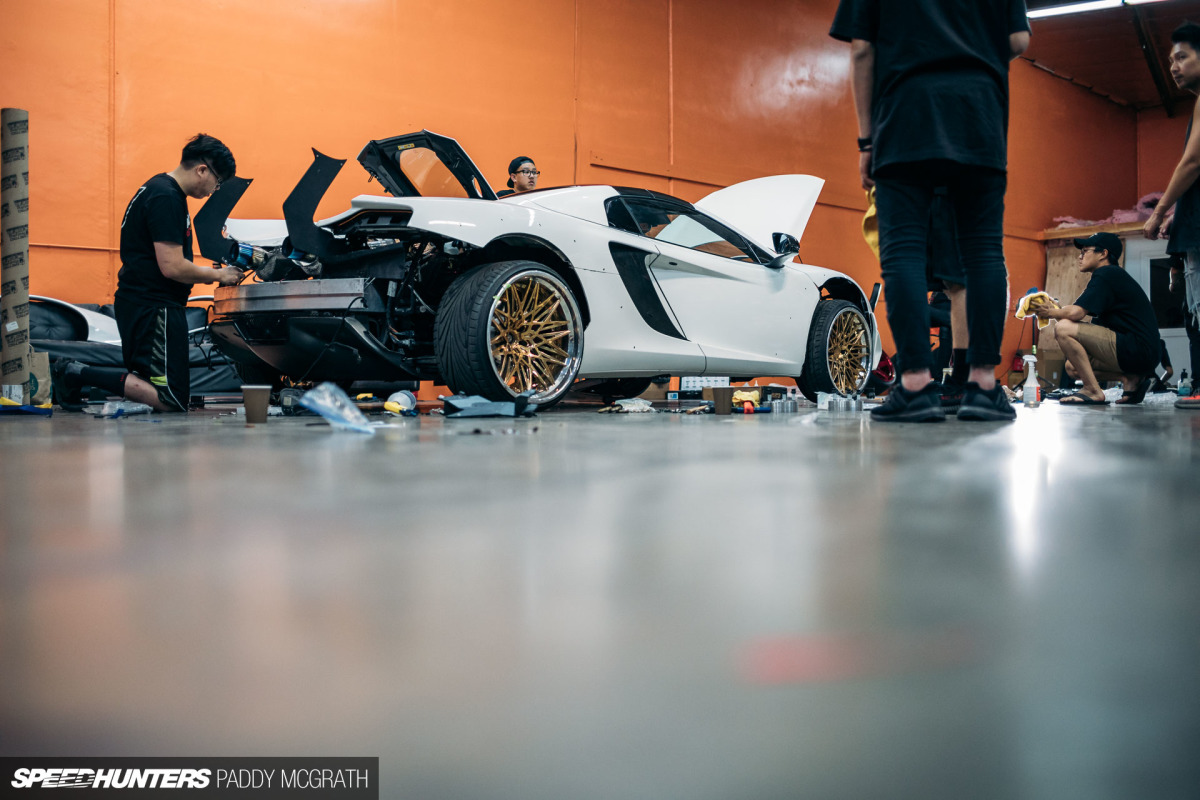 Enter Deity Motorsports.
The new plan was to revert back to the Liberty Walk kit, with the same Rotiform wheels – albeit with refinished centres – and a complete overhaul of the Air Lift Performance 3H setup. It sounds simple enough, maybe simple enough to dismiss out of hand if you're that way inclined, but I was curious about the process involved.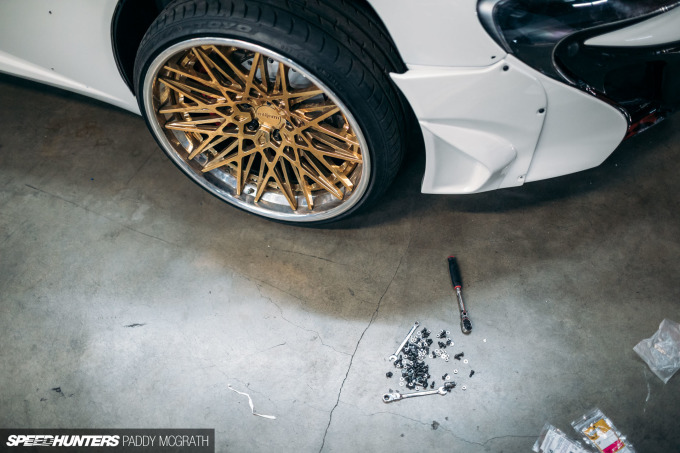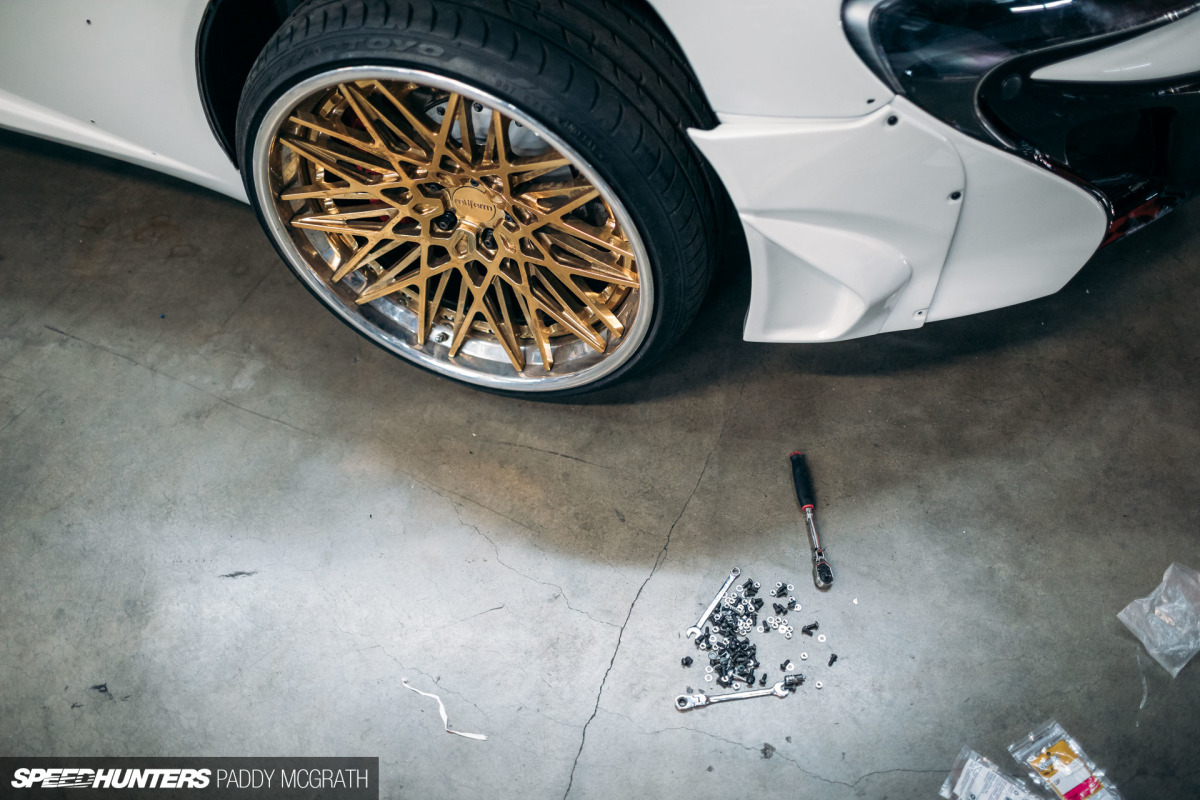 I've lost count of the amount of Rocket Bunny, Pandem and Liberty Walk cars I've seen and shot over the last few years. On rare occasions I've seen them in the wild too, and when that happens I'm reminded how striking these cars are amongst the appliances that they share the road with.
It's led me to create a working theory that I call the Overfender Paradox. When you see one of these cars online or on the pages of your favourite magazine, you might casually browse past, taking no notice of them due to their saturation pretty much everywhere, except the real world. However, see one on the street and it'll likely blow your f**king mind with regards to how wide and wild they are.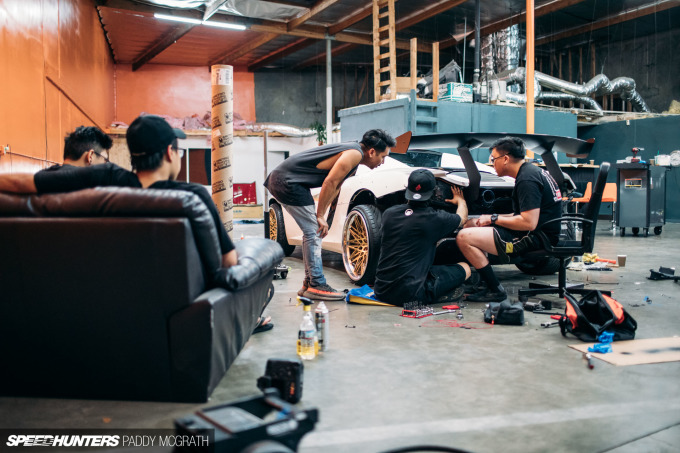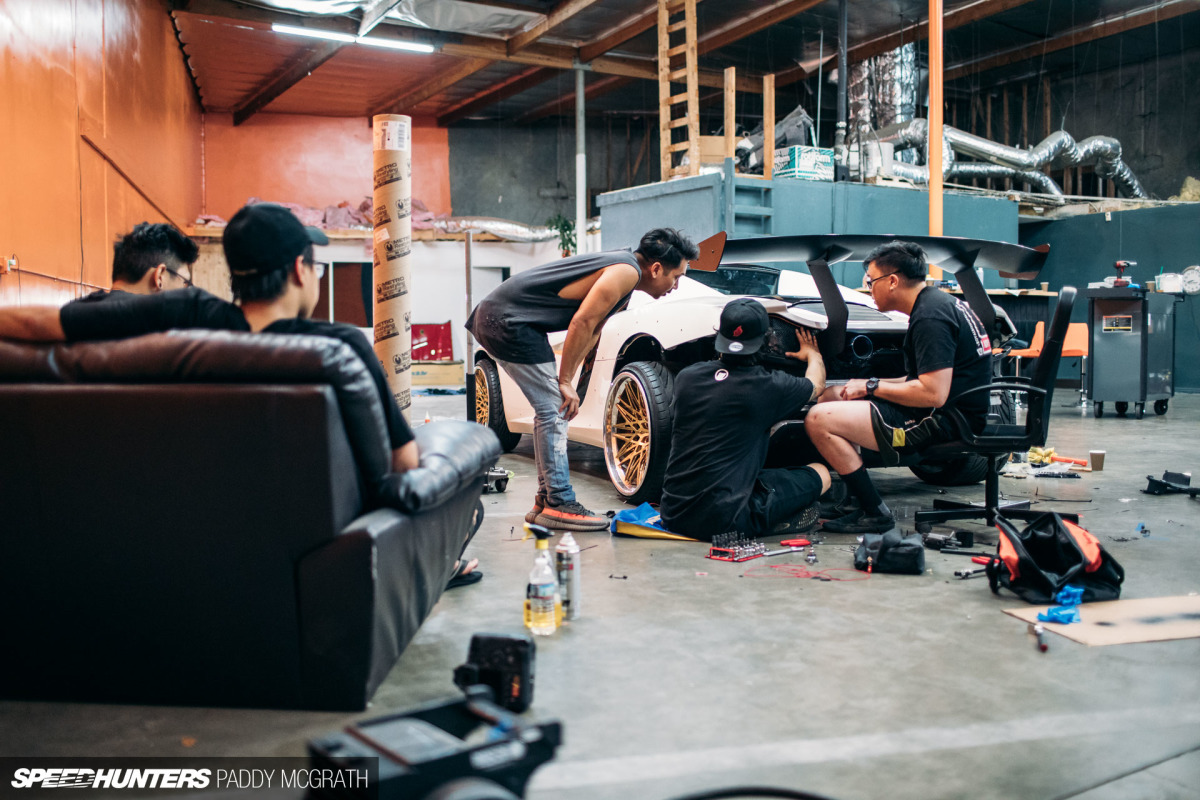 As the night wore on, it was the small things that took the most time. It would be easy to throw the kit at the car and call it a day, but every little detail was agonised over. The custom rear lights and mesh, which give the car a P1-esque look, were carefully crafted and shaped by hand before being fitted.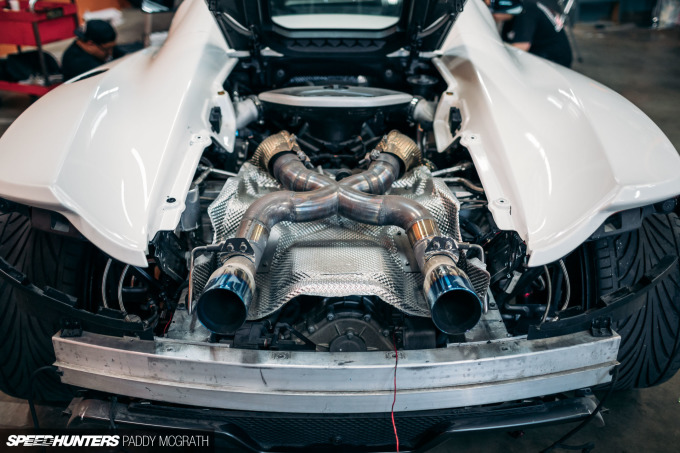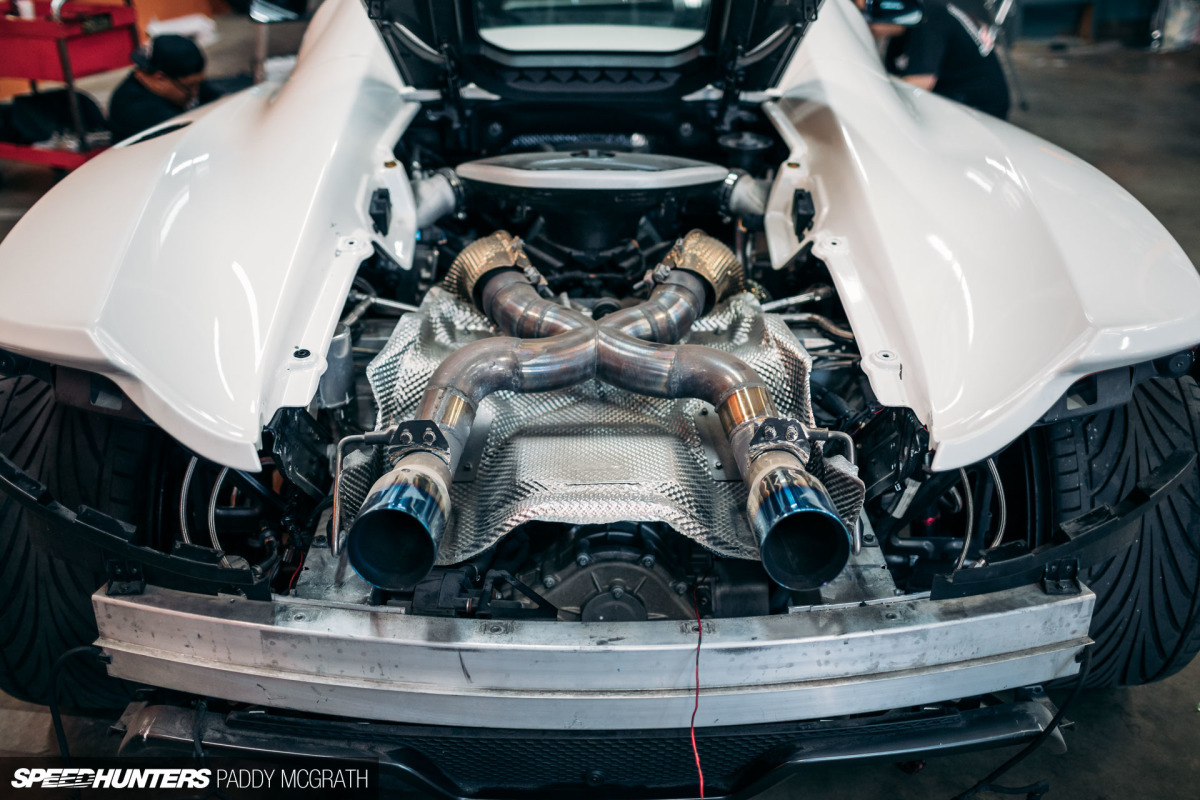 Nothing is simple on a McLaren, as you might expect. The Liberty Walk kit utilises a fixed rear wing over the factory active item, which itself is looped into the hydraulics system, which also works the power steering system. Removing this wing is far more than just unbolting it and putting it on a shelf for later use.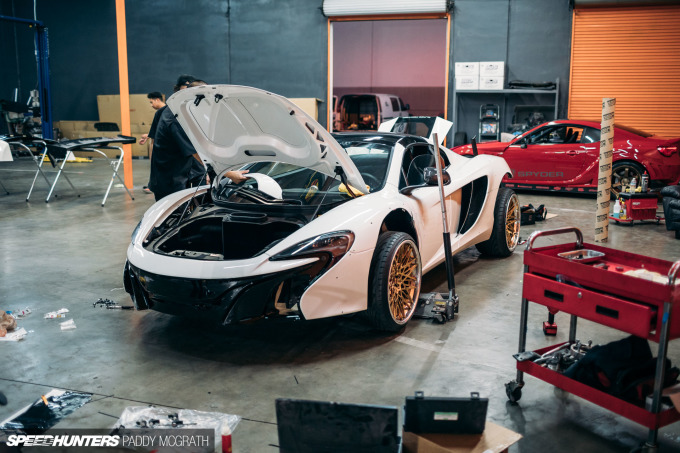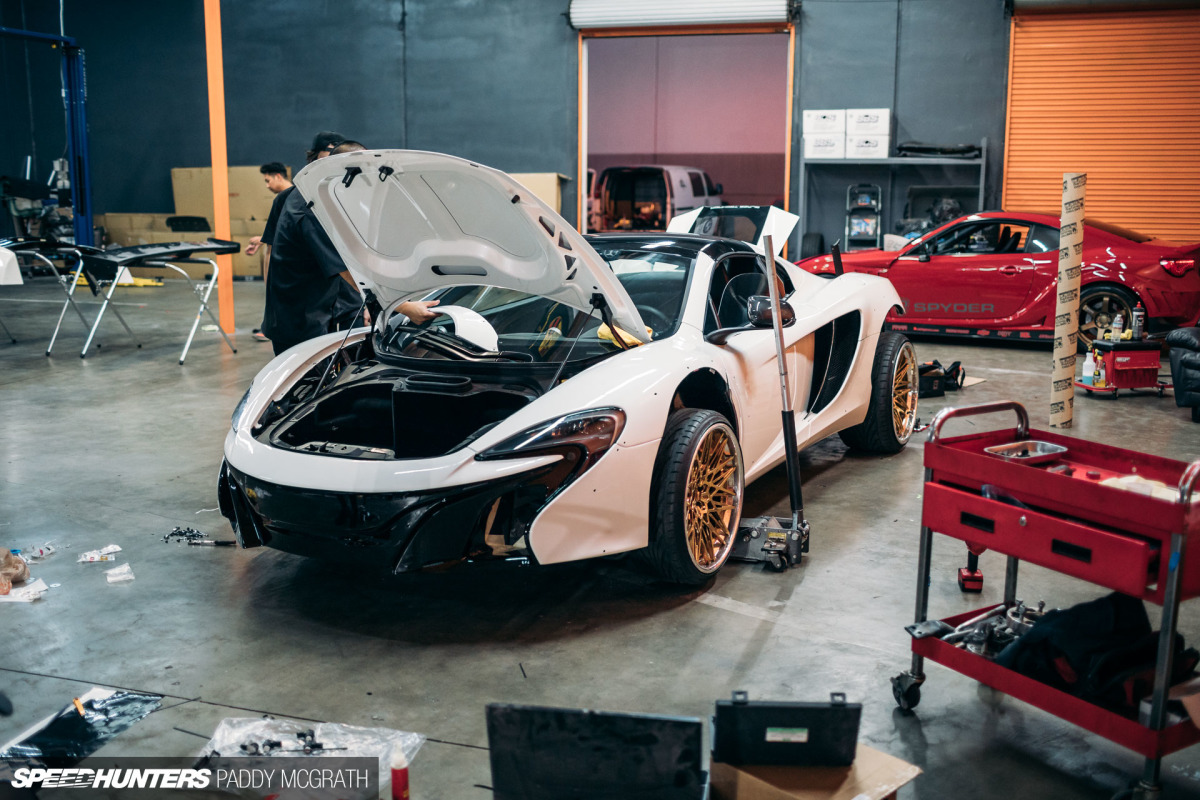 Scott uses the car as his daily driver and had previously grown tired of having to crawl over the surprisingly poor road surfaces in California, not to mention the often monumental driveway entrances which were clearly designed by someone who hates cars. The decision to convert the car to air was a no brainer.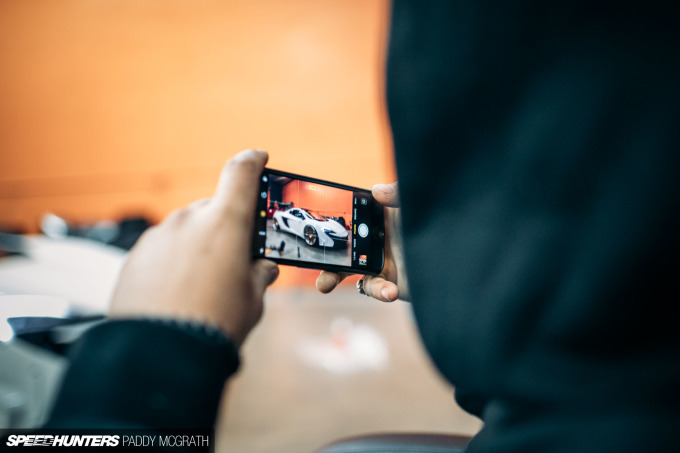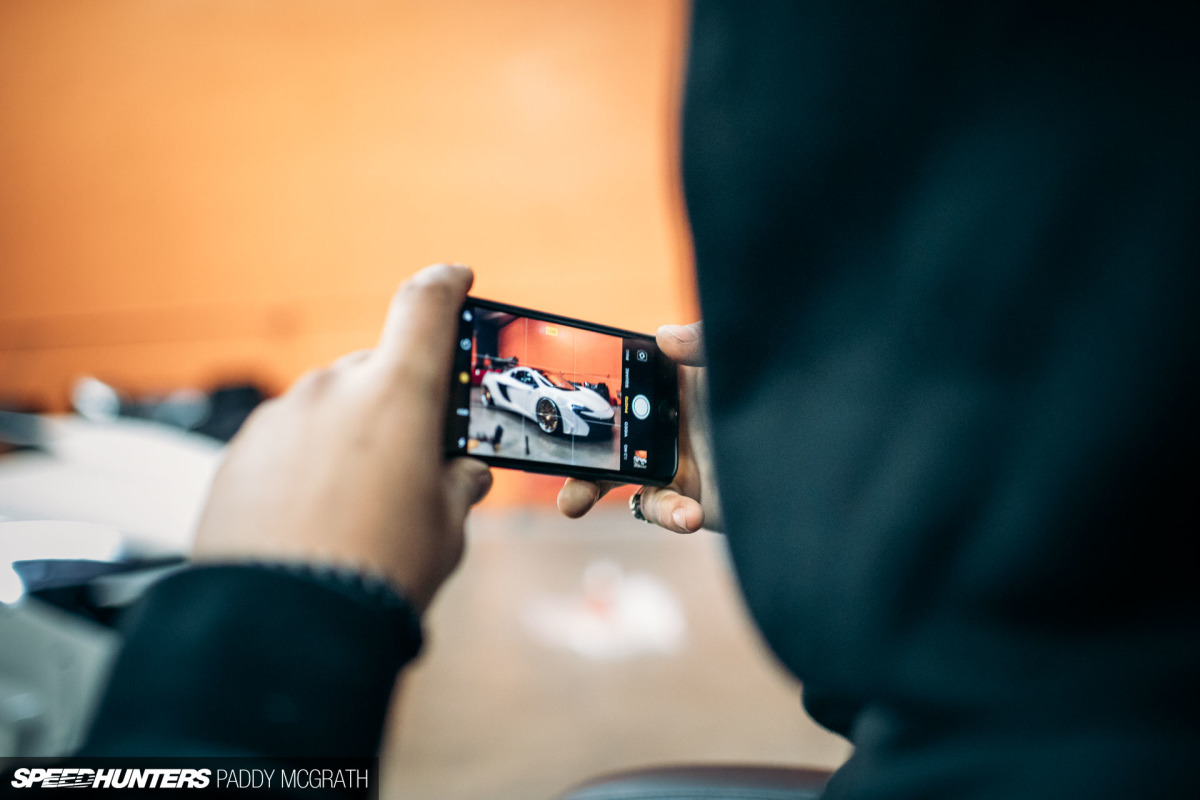 The process was far from straightforward either, as no off-the-shelf kit exists for the McLaren MP4 chassis. Instead, Deity Motorsports set about customising an Audi R8 kit to fit the car which resulted in a completely bespoke kit. The car's packaged so tightly that it's difficult to get your eye in, never mind a camera lens, but the installation was as close to a factory finish as you could ever hope for.
I've seen lots of great air installs, and this was amongst the very best of them.
It wasn't the only car at iDL that night preparing for SEMA, although the red FR-S destined for the Spyder stand was only in the final stages of being polished and ceramic coated. The Varis kit is a welcome change from the norm, too.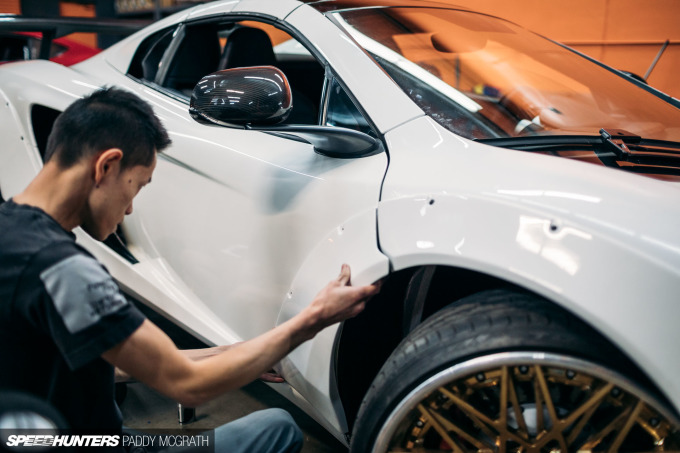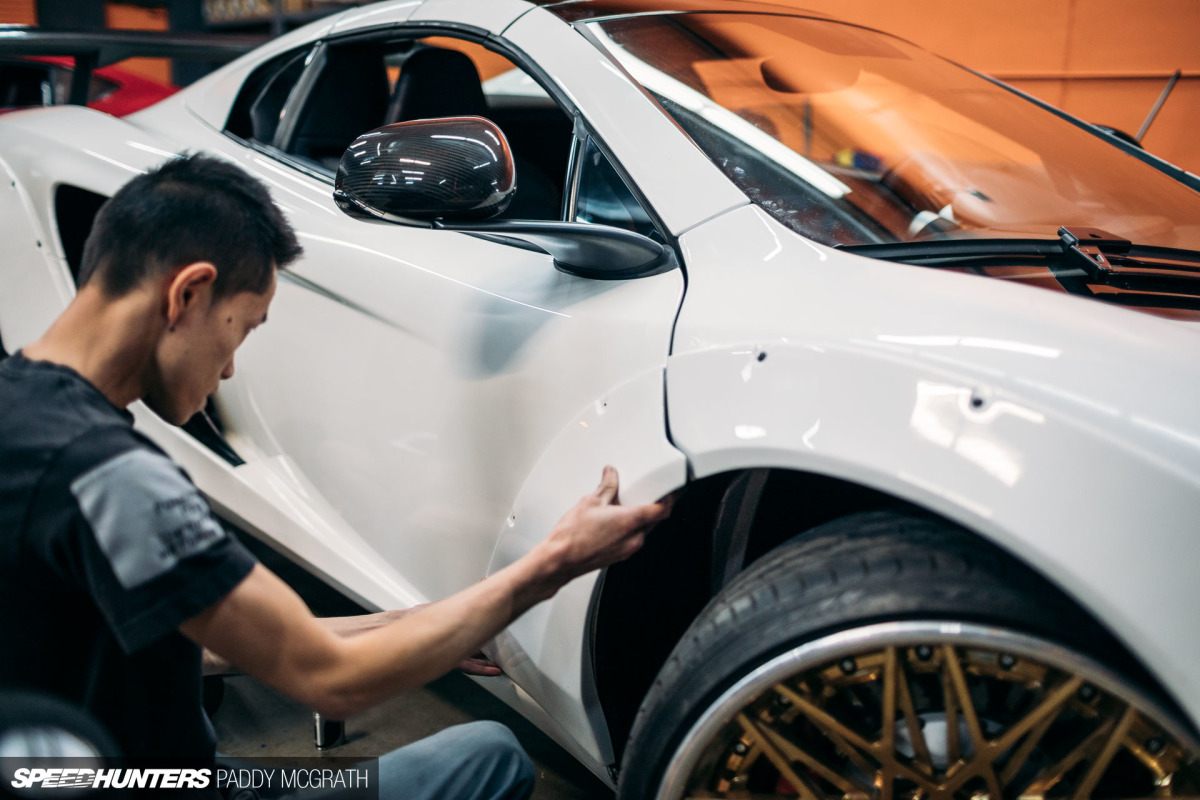 As the clock passed midnight, the car was finally coming together and we were into the home straight. It can't be understated how important it is to get the fit right; the whole finish of the car depends on it.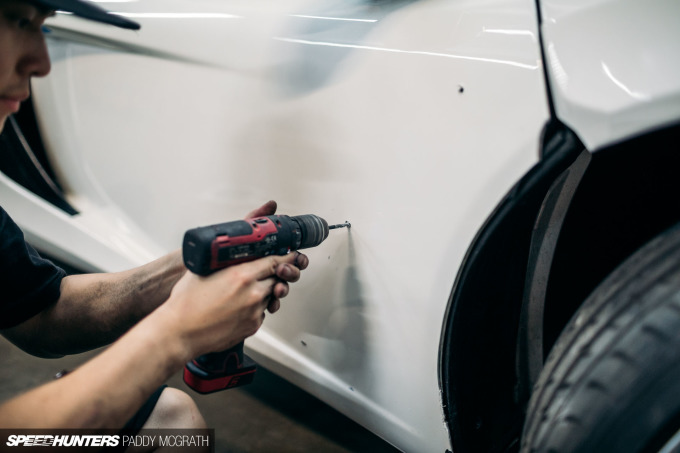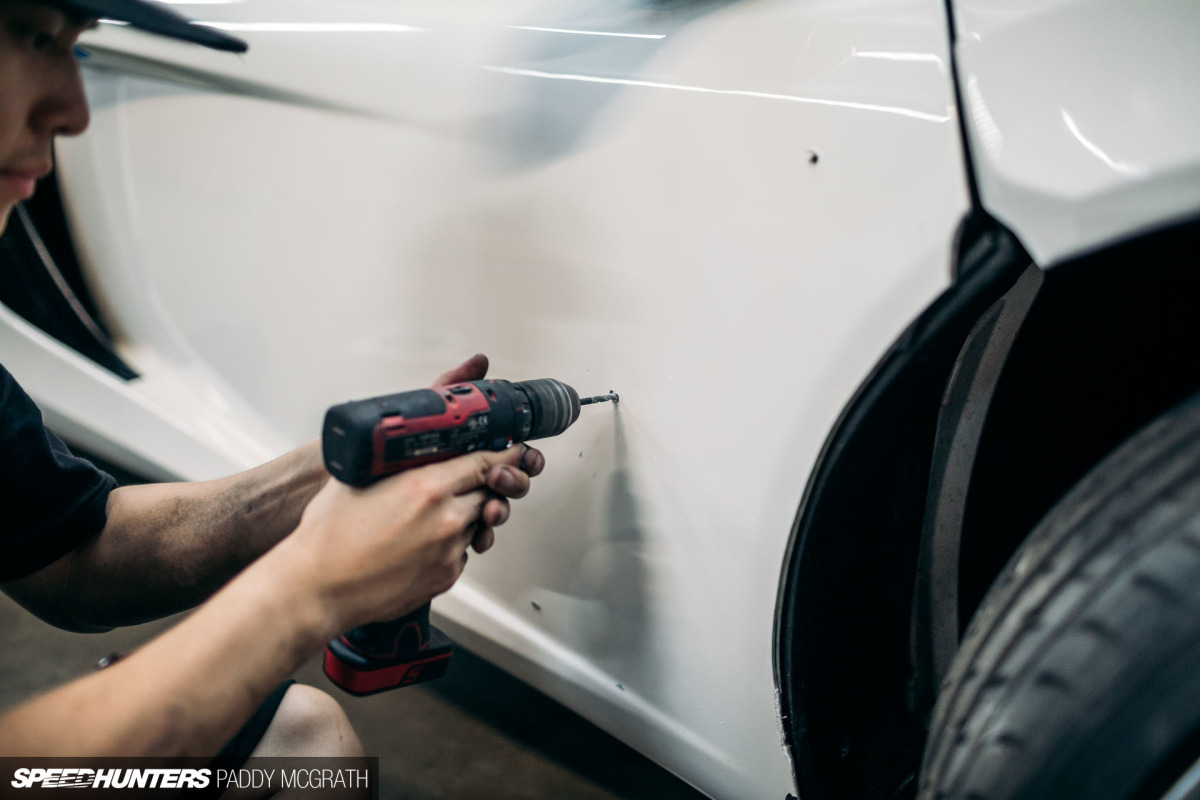 I wasn't quite as horrified at the sight of the doors being drilled as I thought I would be, truth be told.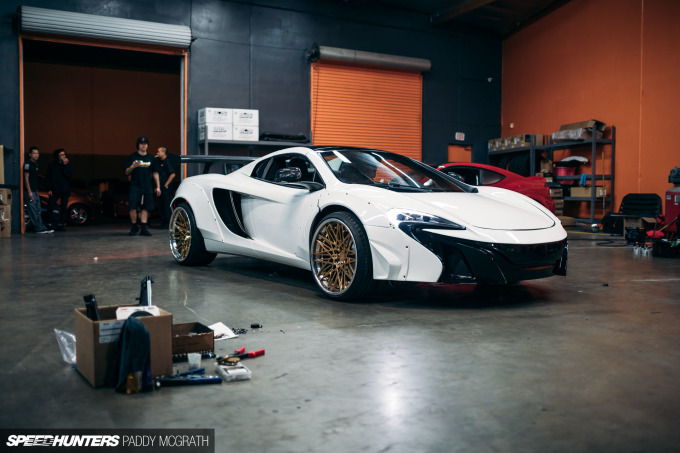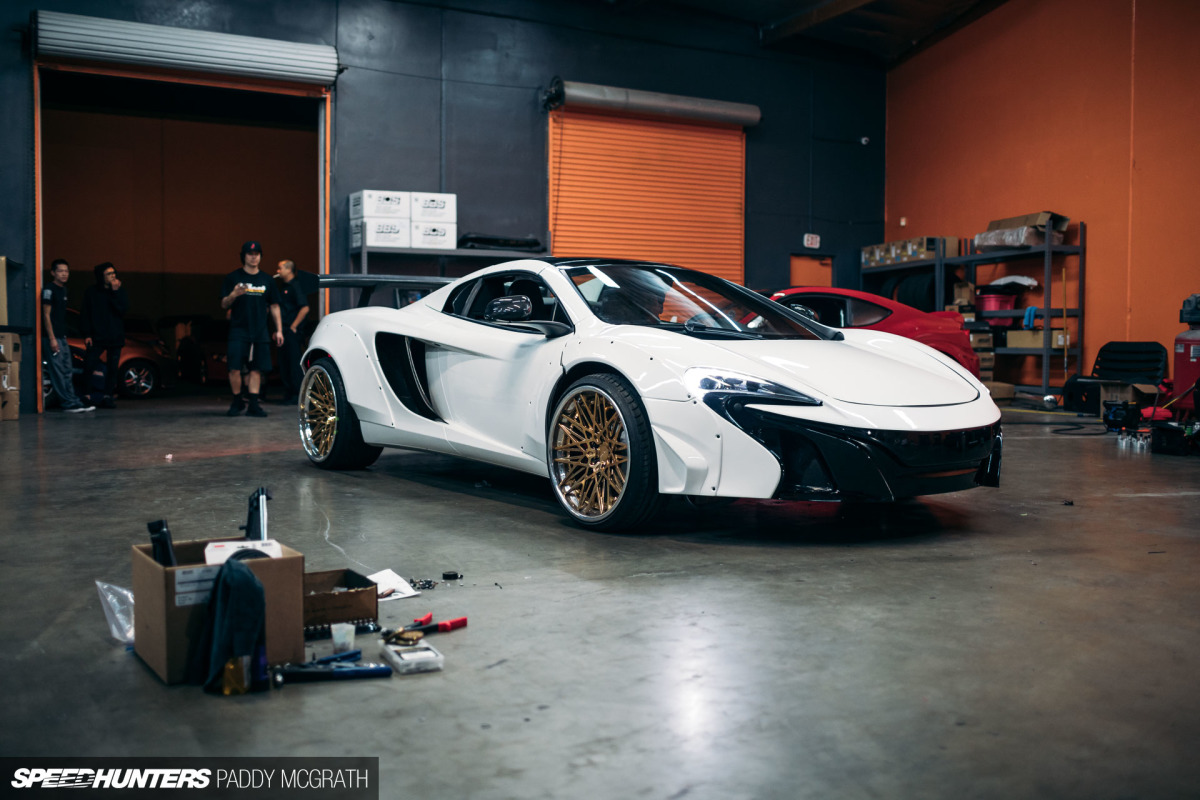 With the bulk of the bodywork installed, the car was cycled through its complete ride height to check for any issues, before it was lifted into the air for the remainder of the parts to be fitted.
Outside, activities intensified with the arrival of another SEMA-bound project. This time a Lexus RC F from Boden Autohaus was the recipient of a wash and polish, before being loaded into a covered trailer and driven off towards Las Vegas.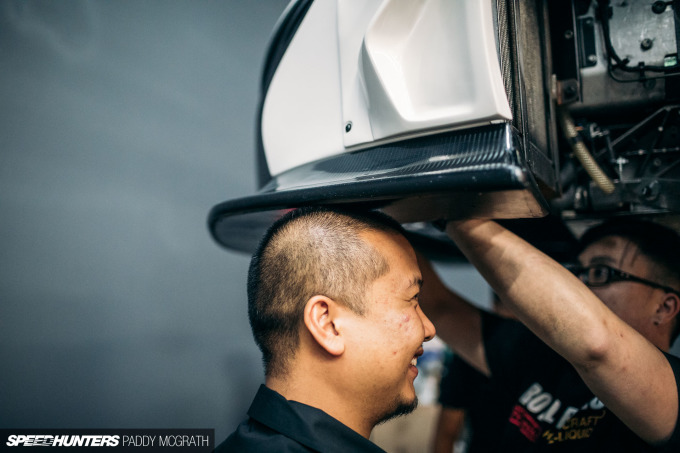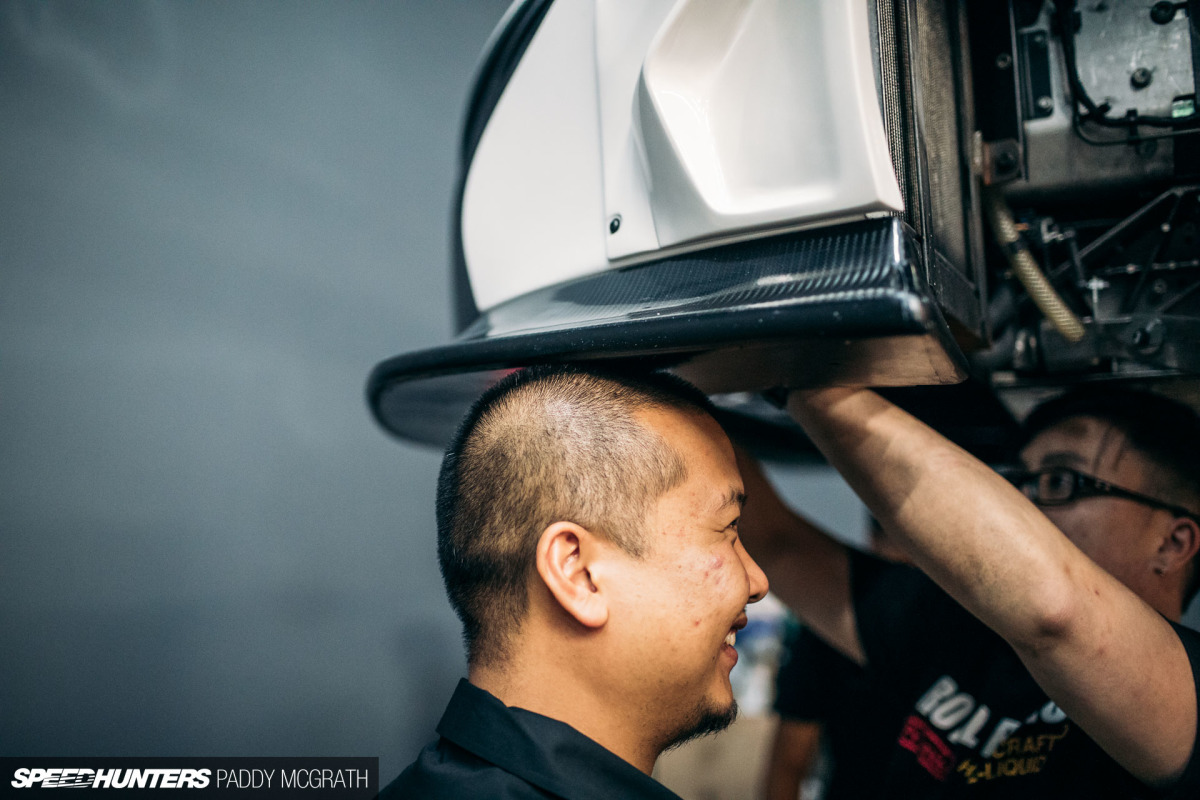 The rest of the kit to be fitted involved a splitter, side under-skirts, a pair of rear diffusers, and a custom skid plate under the front of the car. All hands – and heads – on deck. I'll see myself out.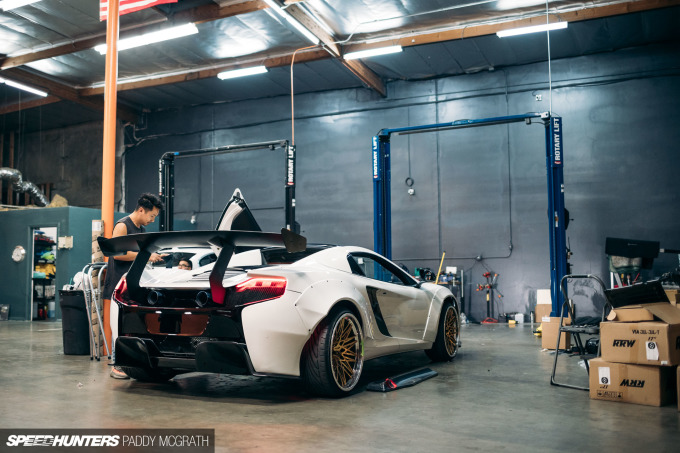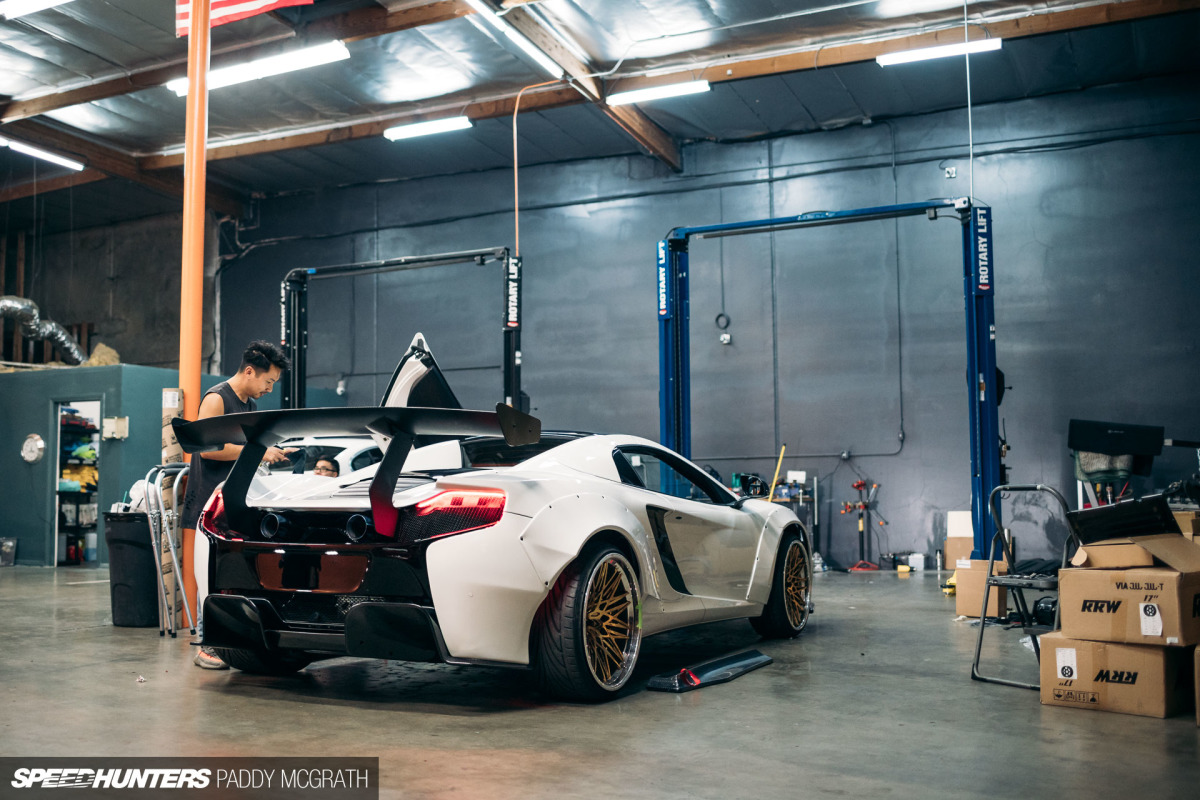 I'm sure there was the temptation to just get it done, but still the friends and co-workers assembled diligently completed final assembly with the same care and attention that they had shown since I'd arrived.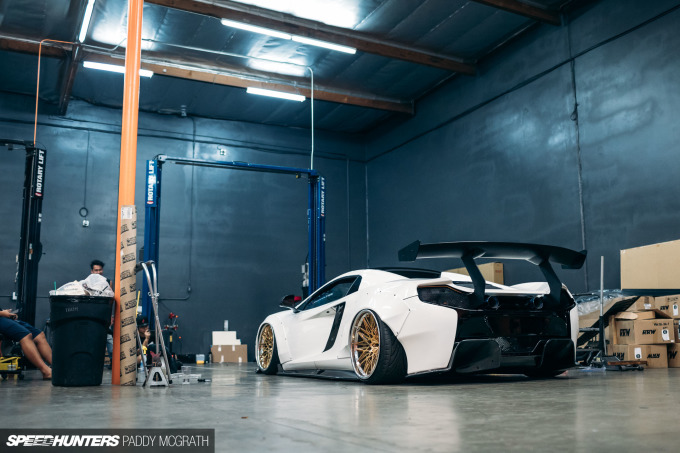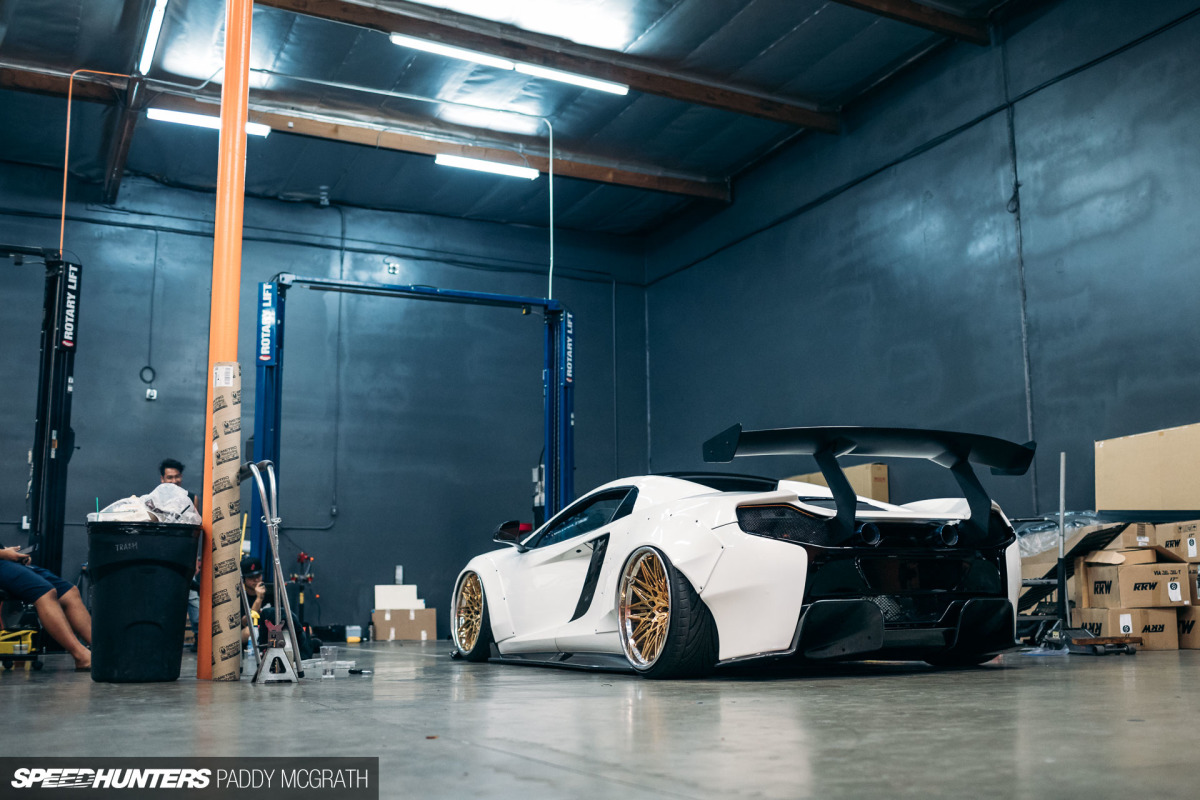 With the last pieces finished, the car was laid out on the floor. It takes the title of the lowest McLaren on air suspension anywhere in the world, which might not mean a lot to some, but to others it means everything.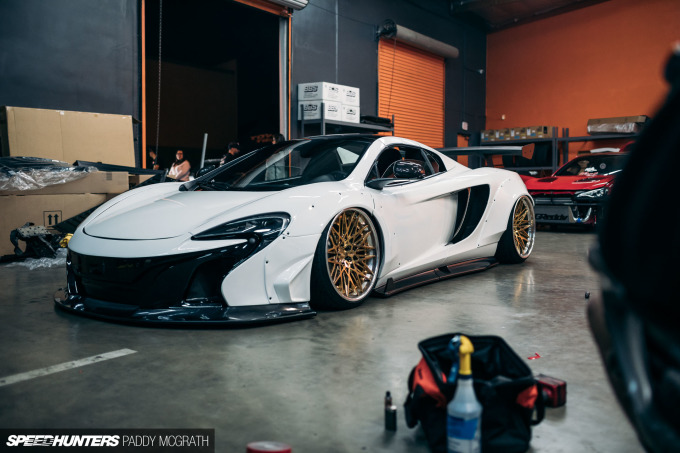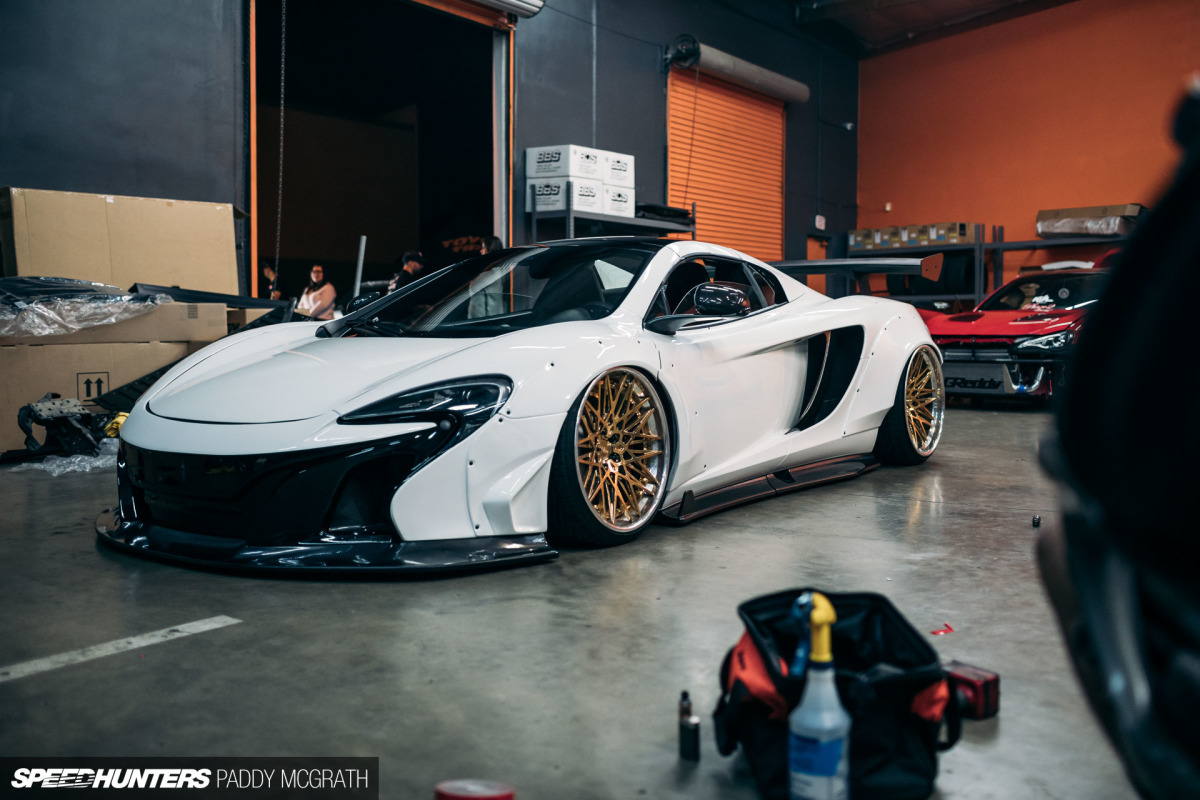 I might have been caught up in the moment, but colour me impressed if this wasn't the most spectacular car I had seen in a long, long time. It looks closer to a spaceship than a car.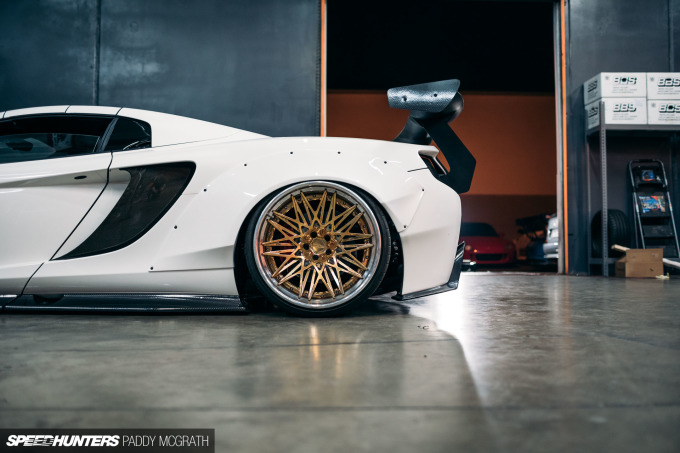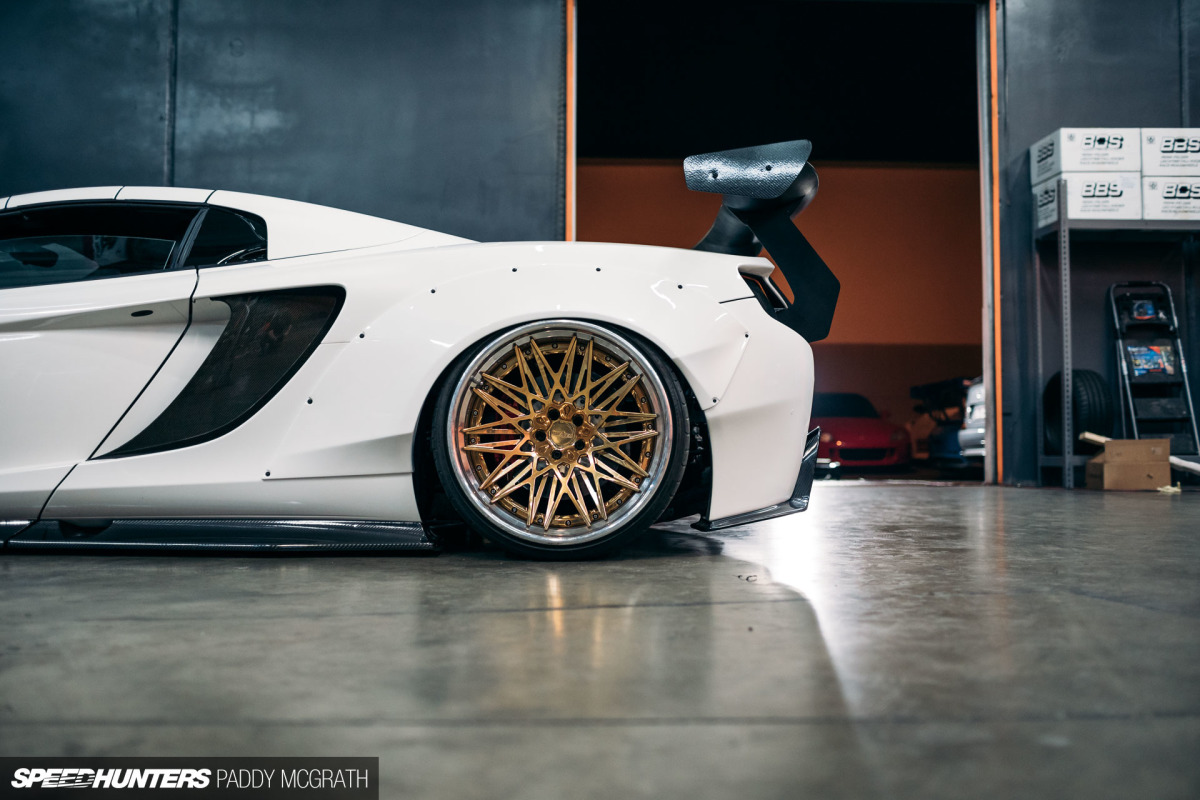 Purely from an aesthetic perspective, it's a stunning looking machine, which is obviously the goal with a build like this. It might have been 2:00am, but it was definitely getting shot before we eventually called it a night.
Is That The Police?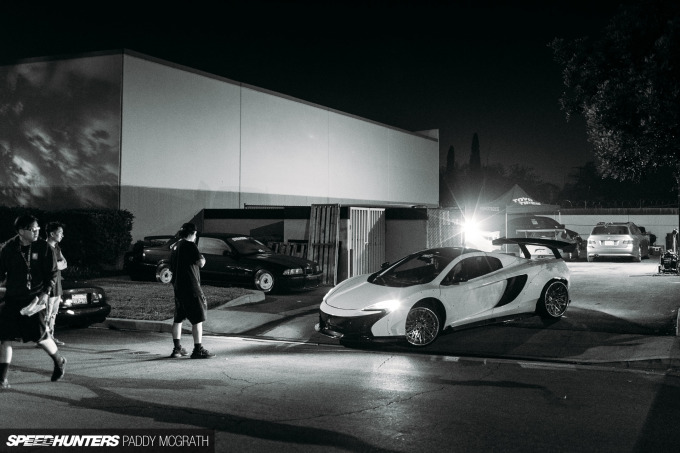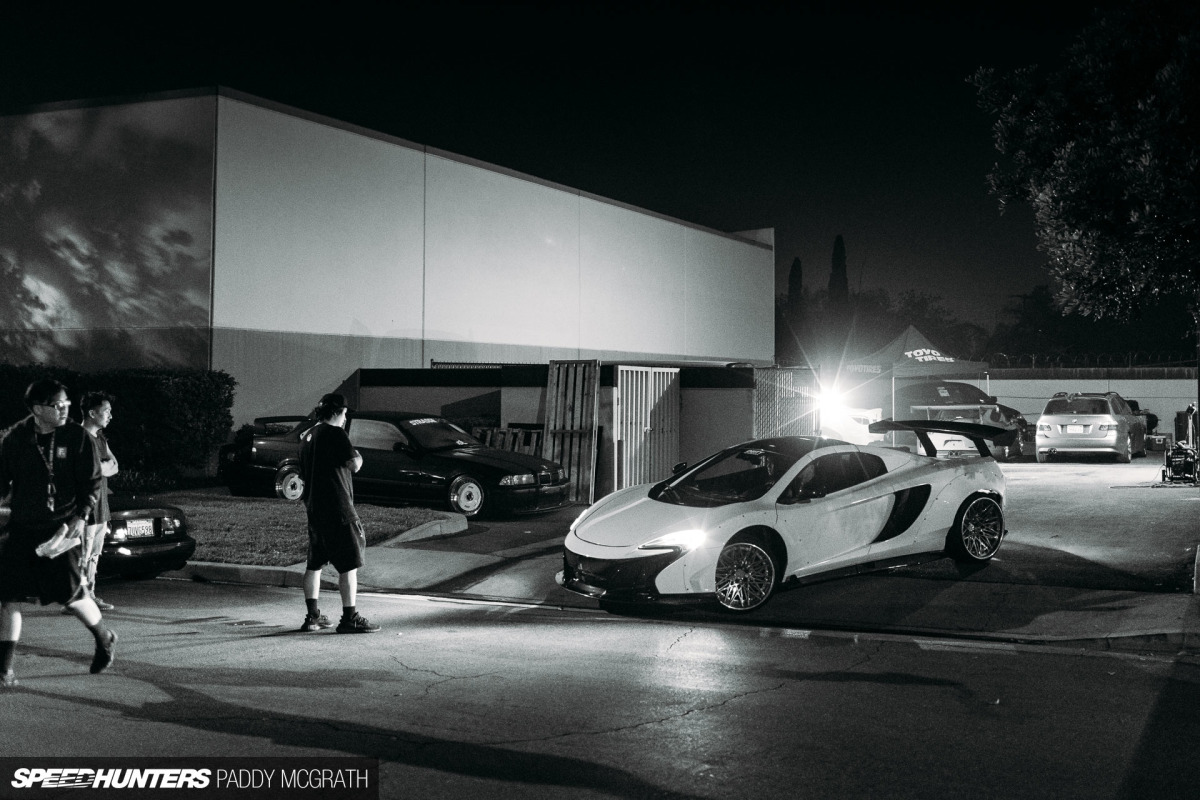 Even at full lift, no chances were being taken as the car ventured out onto the street and towards a location that I had scouted earlier.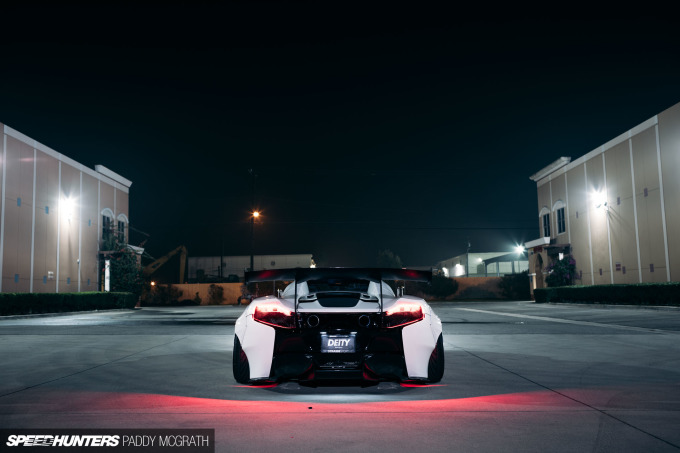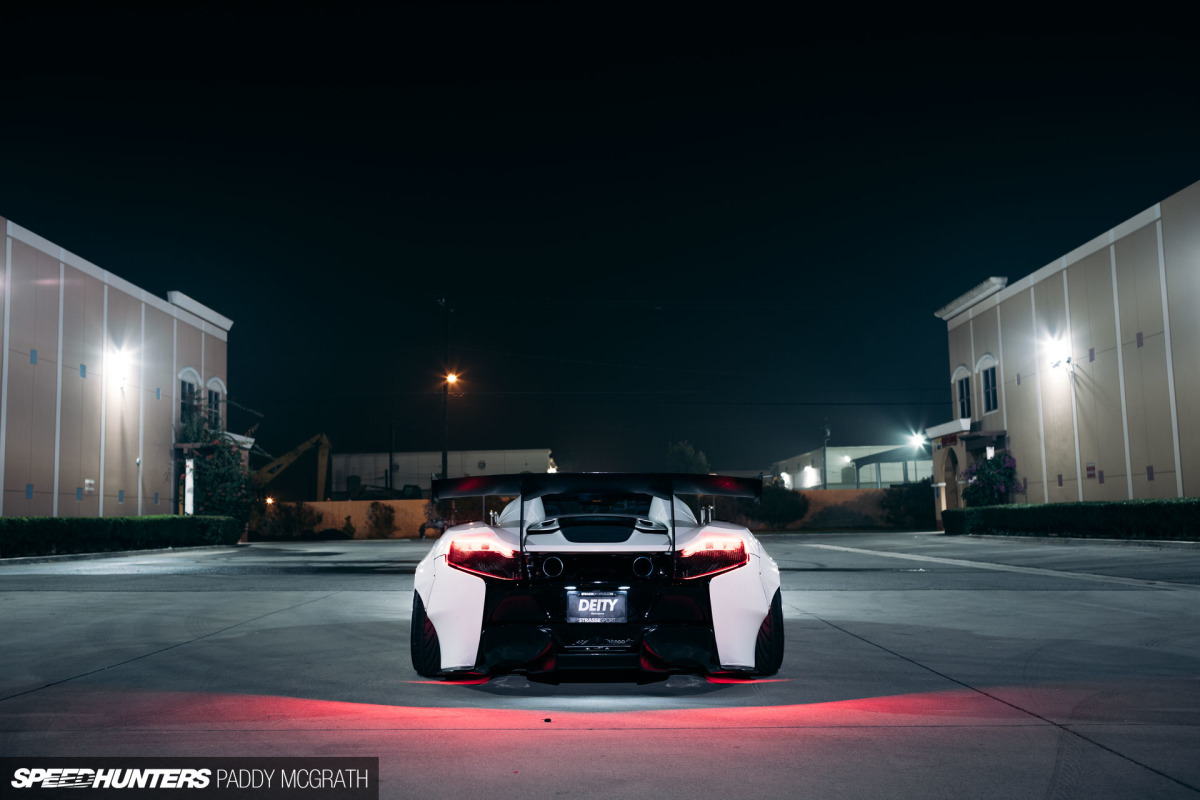 The white floodlights and the somewhat plain industrial backdrop was the perfect place – or at least as close to perfect as we could hope for at this time of the morning. The lack of orange sodium lighting was really all that I wanted when shooting a white car under the cover of darkness.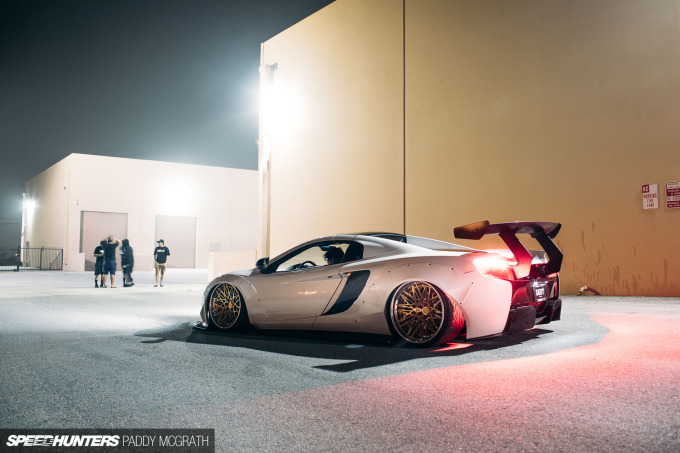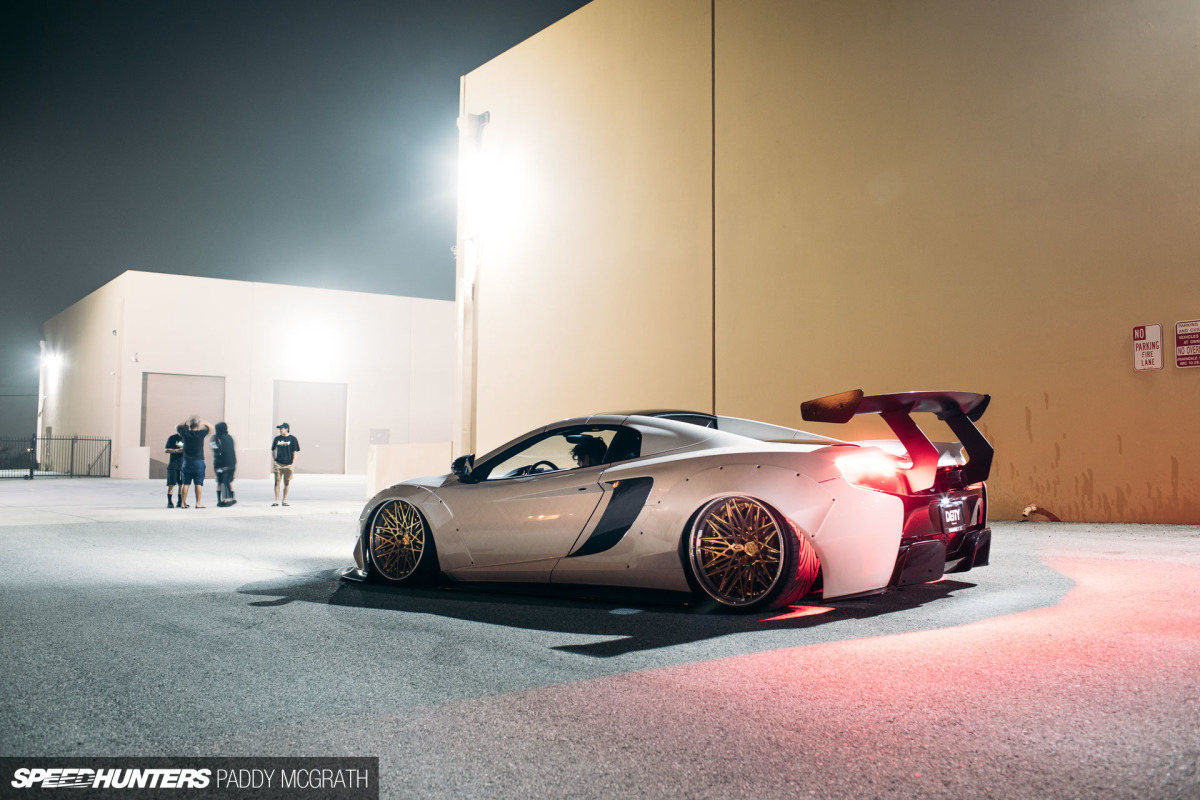 For the assembled spectators, all of whom had been involved in the build, it was an occasion to be enjoyed. The work was done, the car was finished and it was going to SEMA. It couldn't have looked any better either.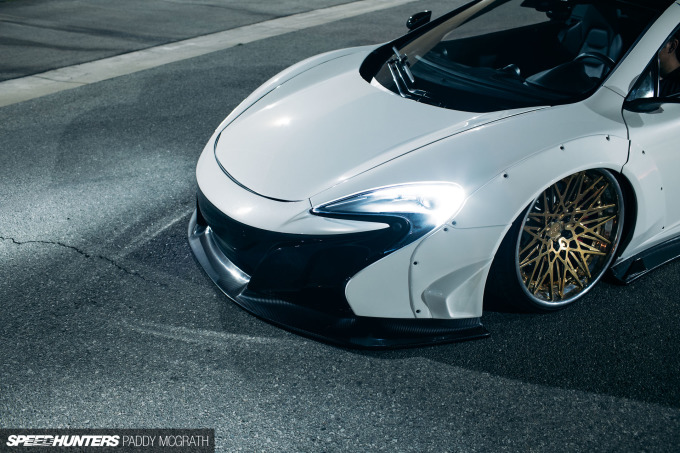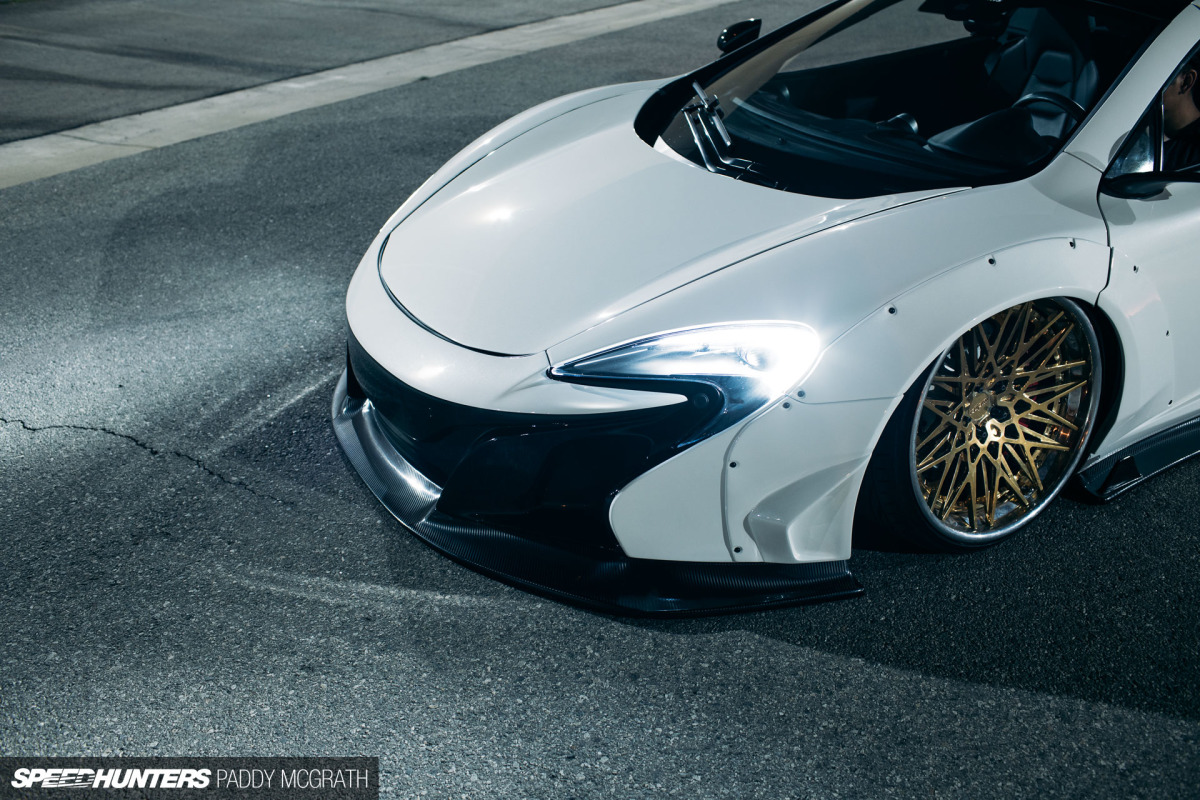 Still, in the back of my head, I was thinking how do I justify bringing this to the Speedhunters readers. For years now, the trend of the overfender has been such a divisive one. I'm very of the opinion that it depends on the car, and every case is unique, but I do think that this is one of the good ones.
I just wish I could have had you beside me on this Saturday evening and Sunday morning so you could feel the positivity around this build.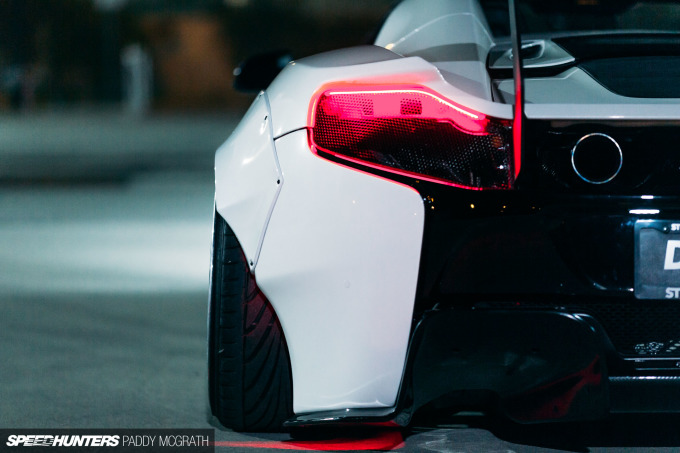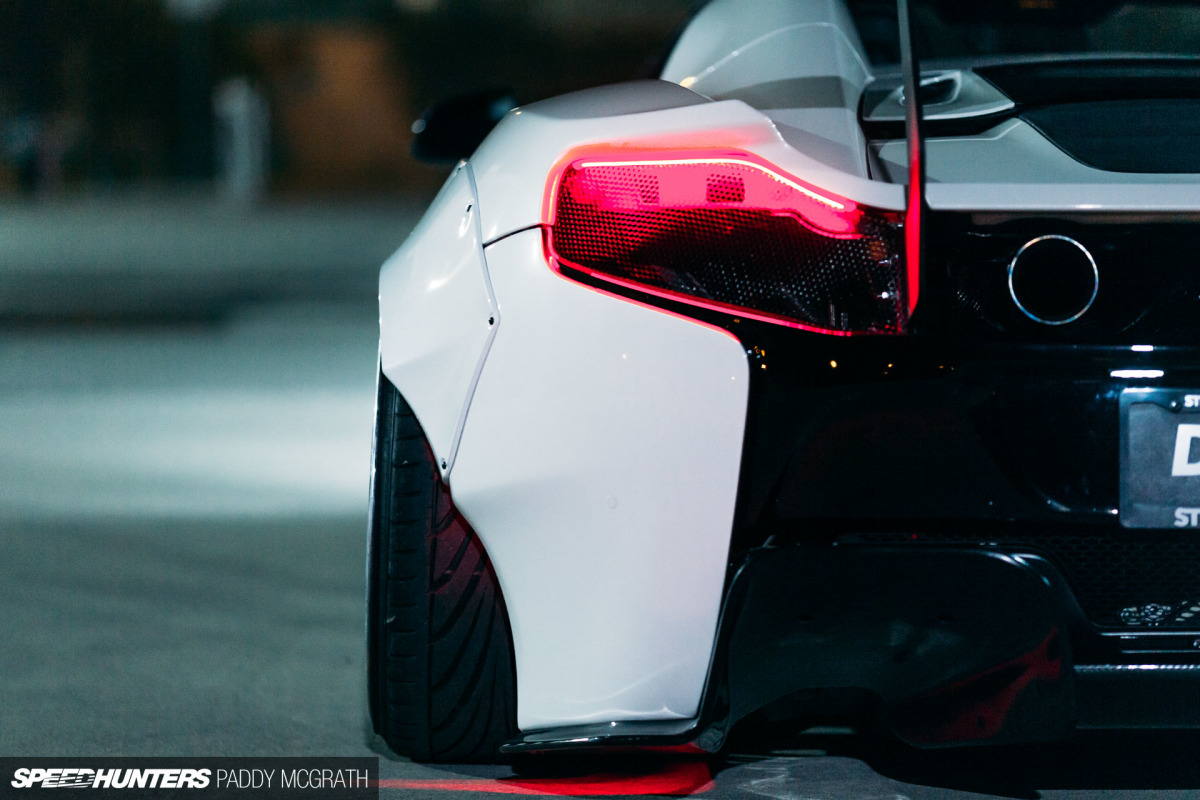 You see, this really isn't about building a car. It's not about starting arguments on the internet and, with respect, it's not about you or I.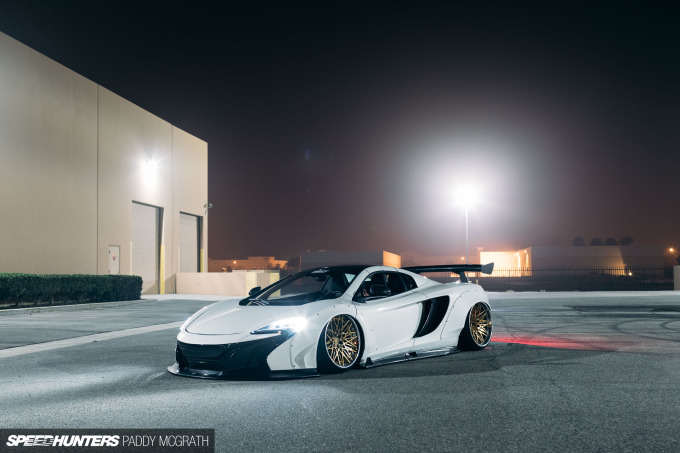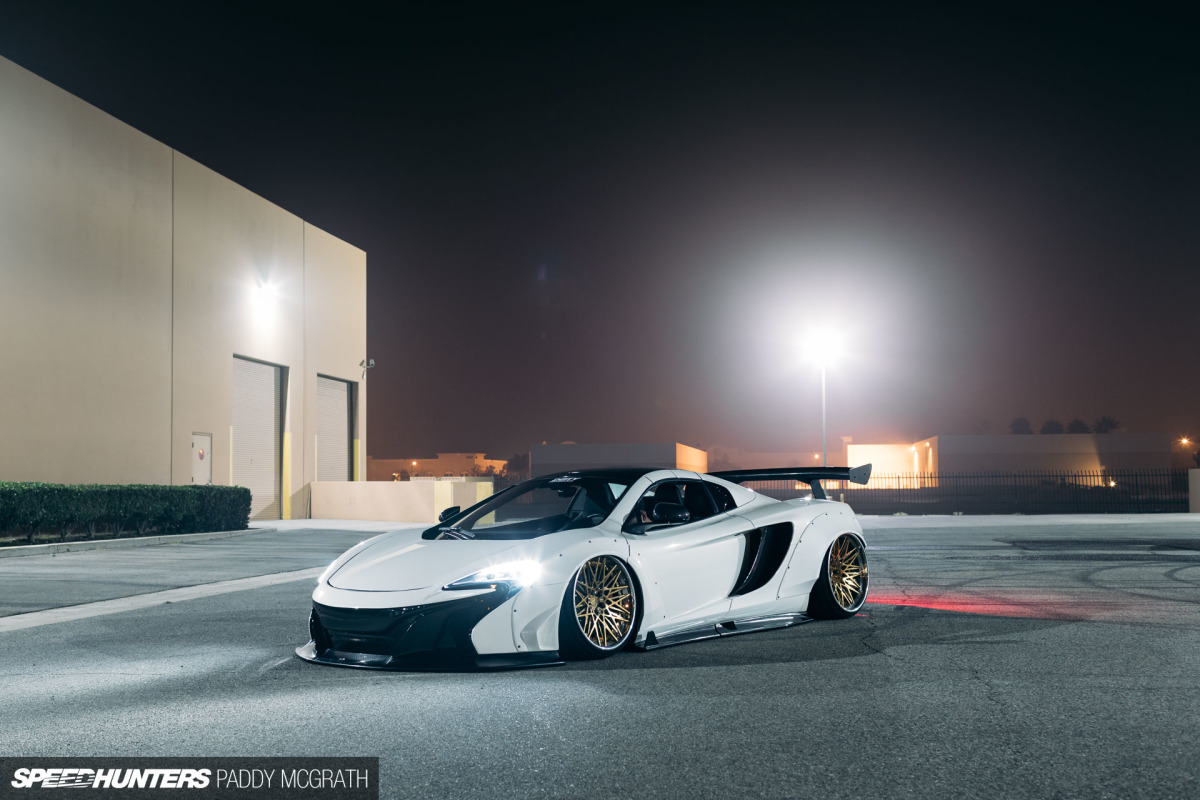 What this is about is the unity and friendships that cars create. It doesn't matter if you're building a McLaren or a Miata, when you have a group of friends together wrenching, enduring sleepless nights and countless other hardships to get a project over the line, it's the same love that's involved.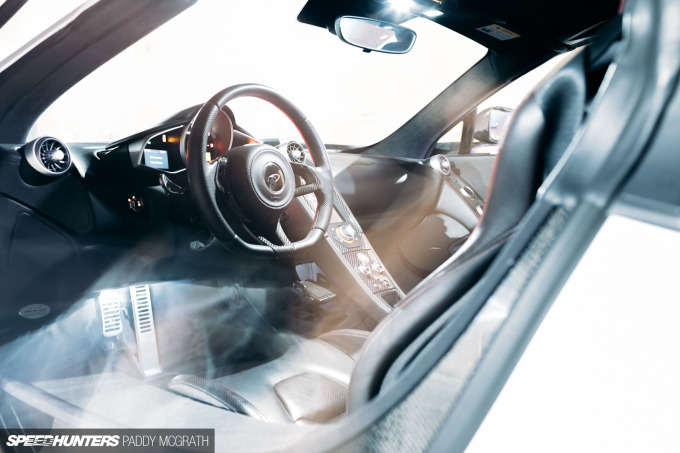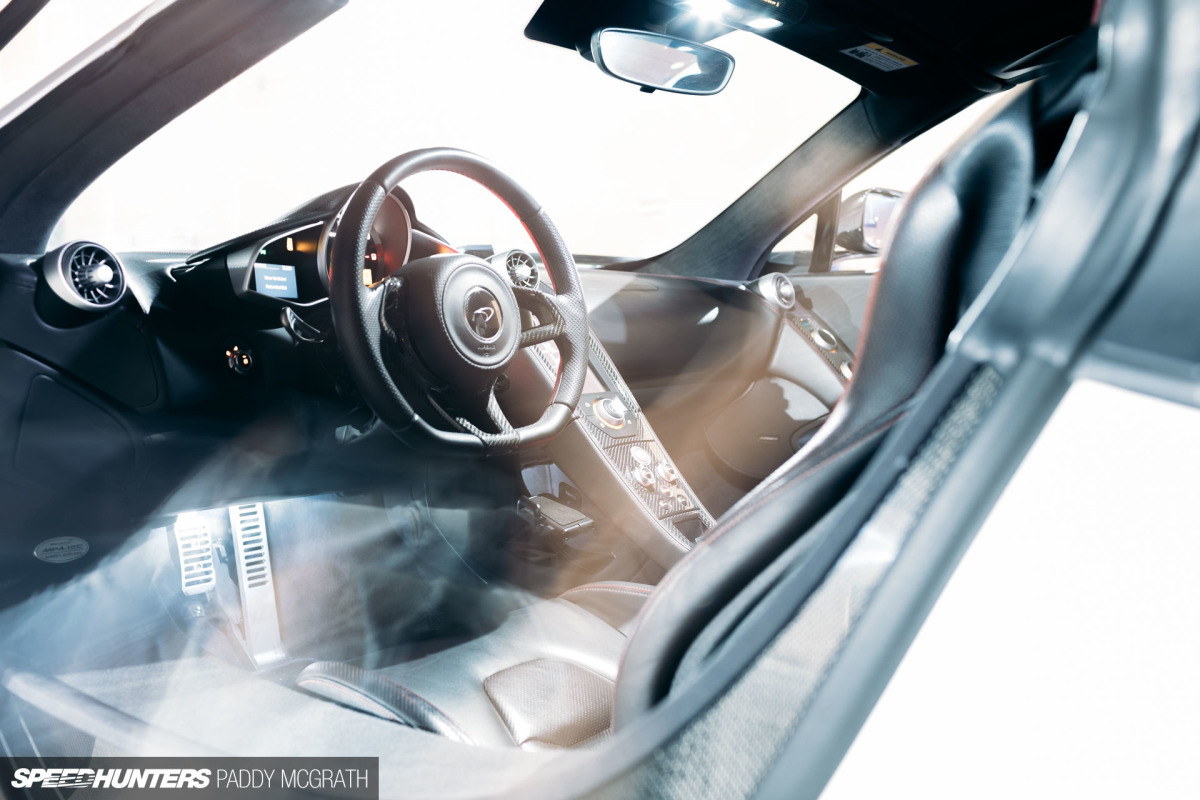 I'm not saying that you must like every build you see, rather I'm just saying that we all could do with respecting more of the cars that might not be our thing.
If I hadn't been witness to this car coming together over the final hours of its build, I might have had a different opinion of it. I might not have even pointed my camera at it. But my association with it, regardless of how small, means I have a completely different outlook on it.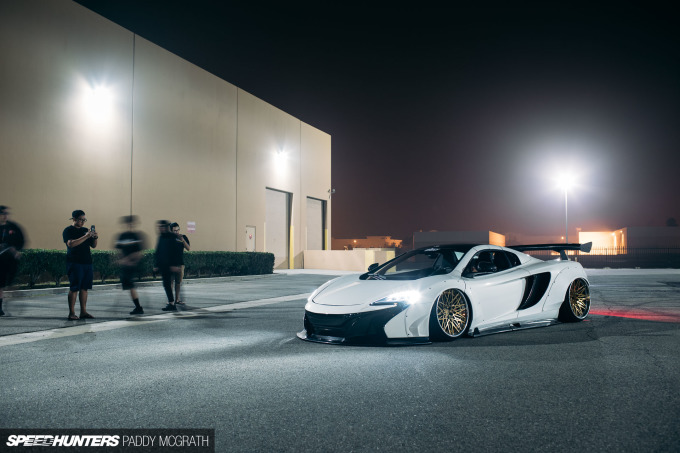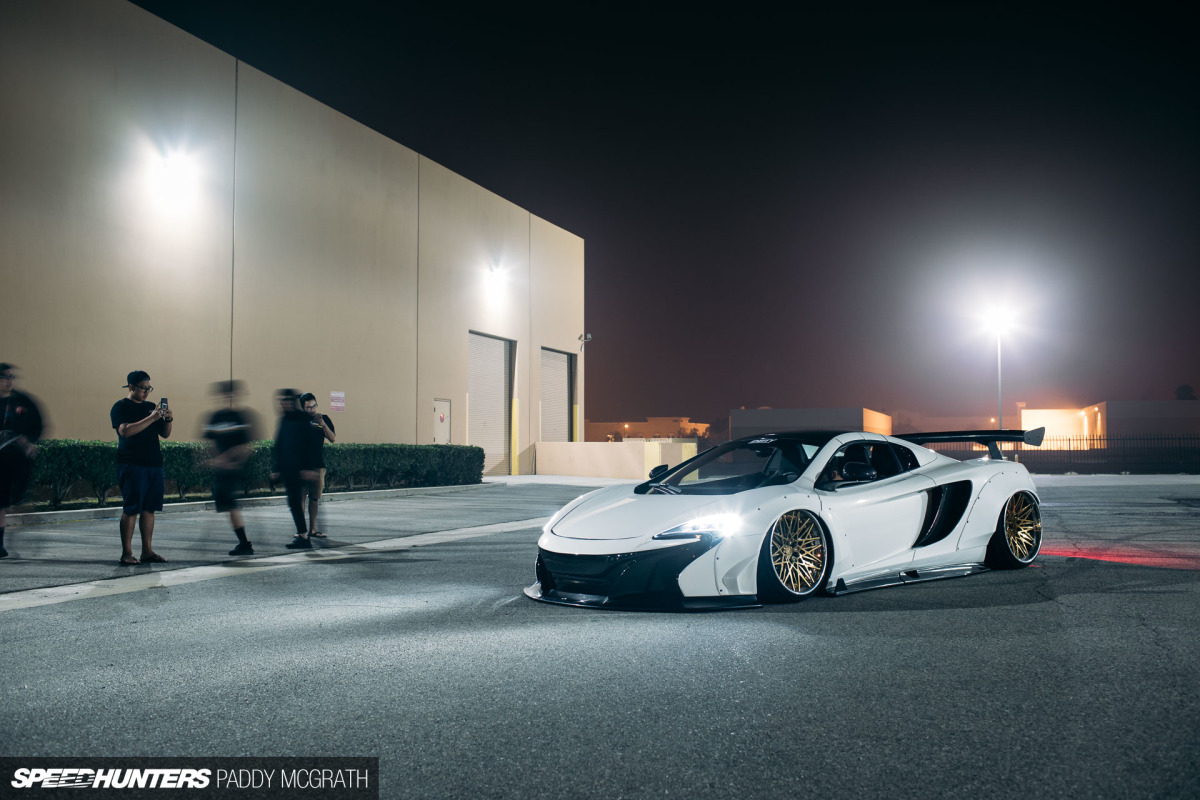 Some will say that its performance is hampered by running big wheels, air and a fixed wing. Maybe it is, maybe it's not. But with something like this, where its capability is so far beyond beyond what the majority of us mere mortals can extract, does it even matter?
Let's be honest, none of us are going to find this car's limit on the street, under any circumstance, despite what we might tell ourselves.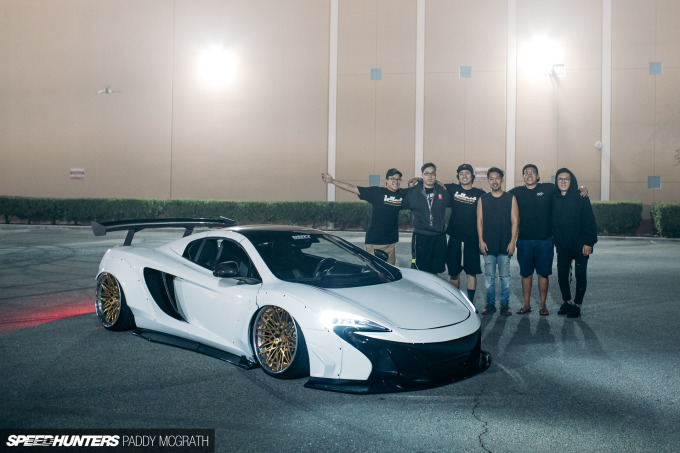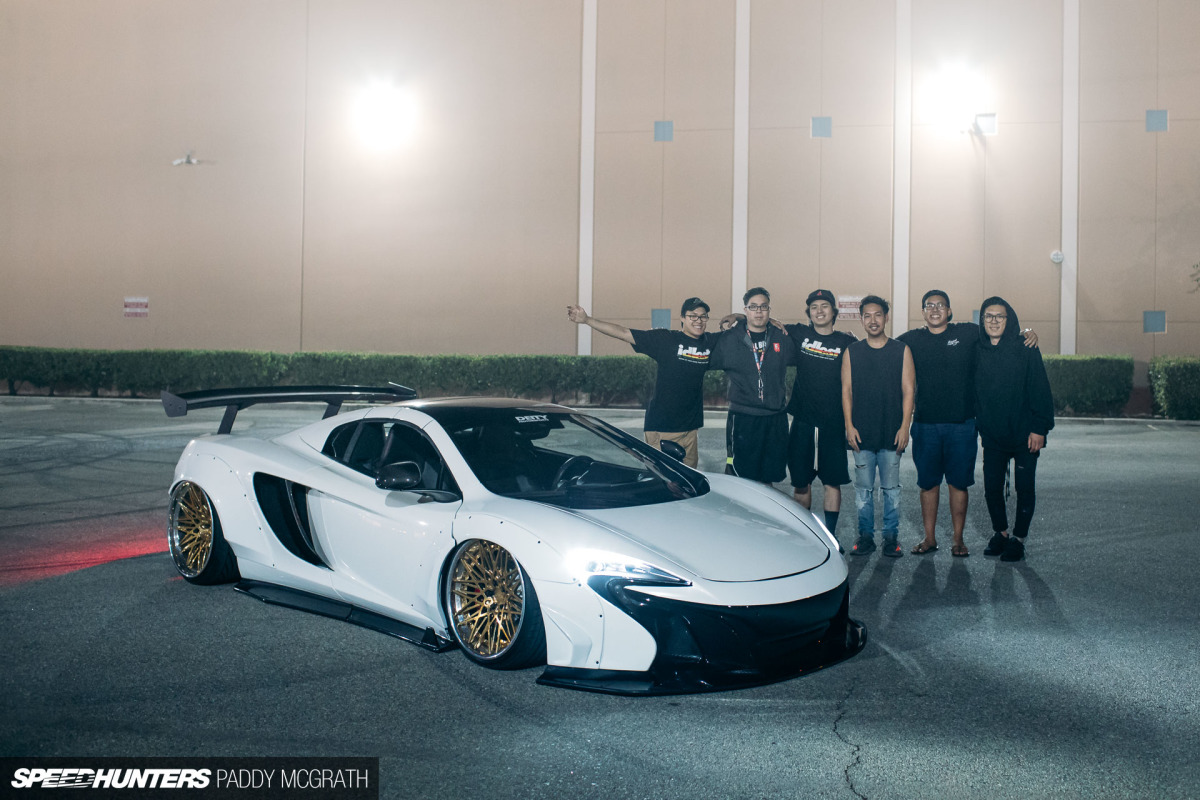 Scott, with his friends, has built a car that he's going to drive everyday. For me, that's the most important thing of all. He has a car that he's invested himself in, and is an expression of who he is. This is his car.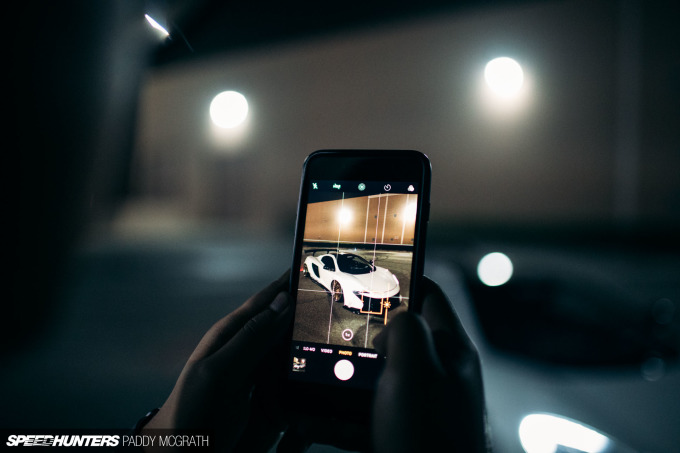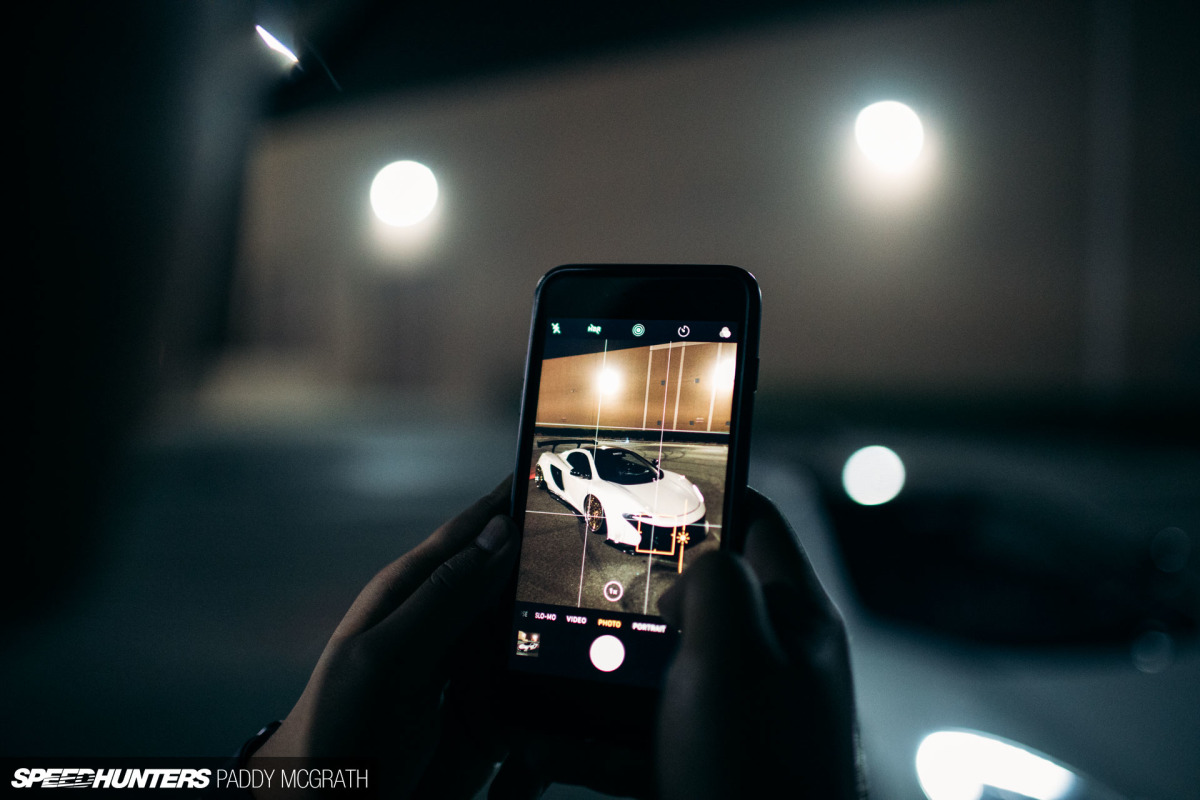 He's not going to see anything like it on his commute, and I wager that he'll never see anything on the road like it either. It's one of one.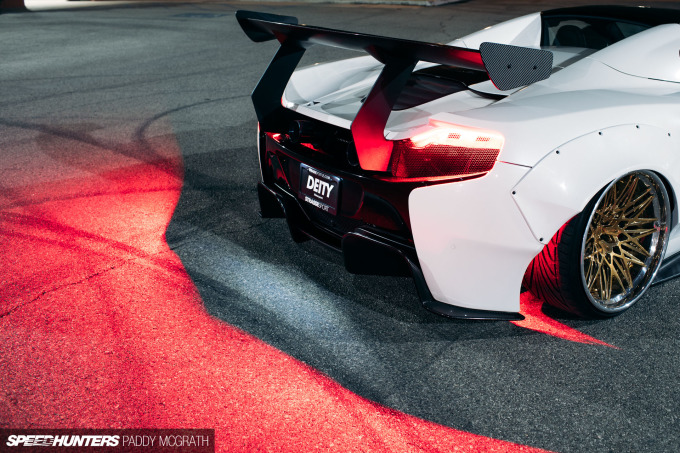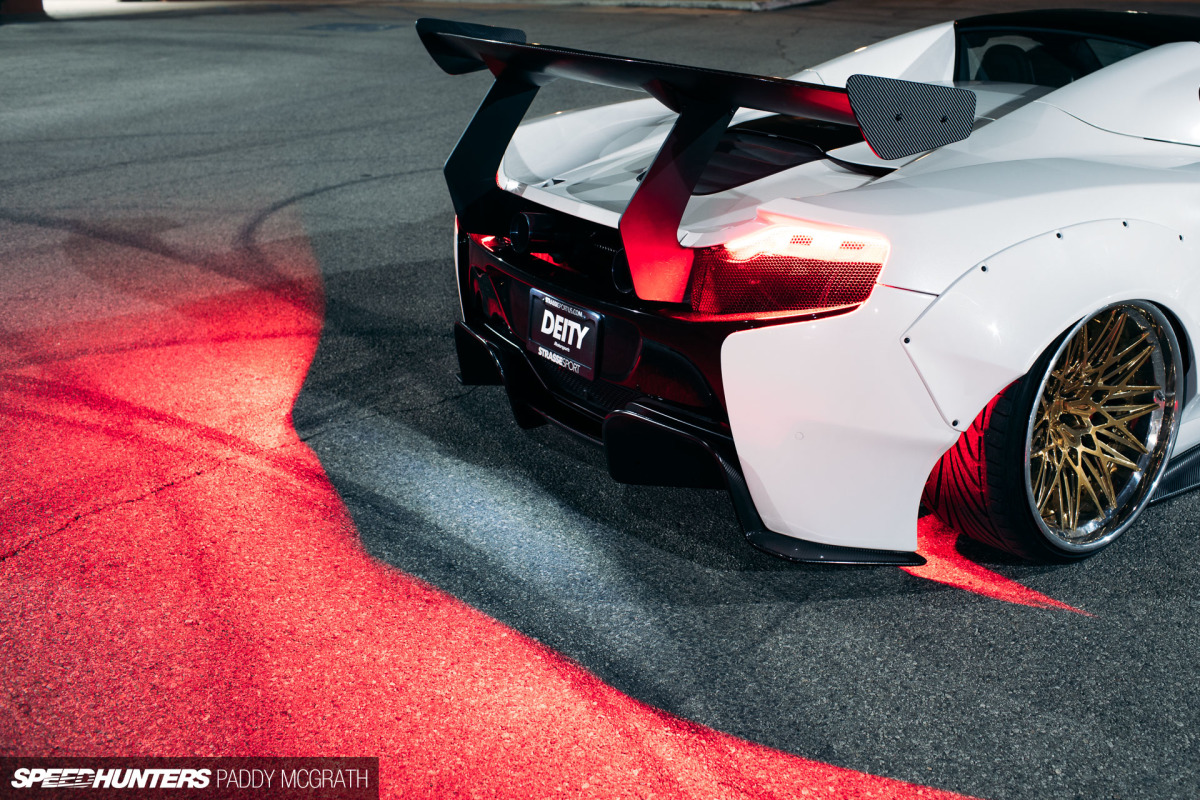 I would much rather see someone cut up their supercar and drive it everyday, rather than having it as part of a collection and it never seeing the light of day. Cars are meant to be driven, after all. And cutting them up takes balls.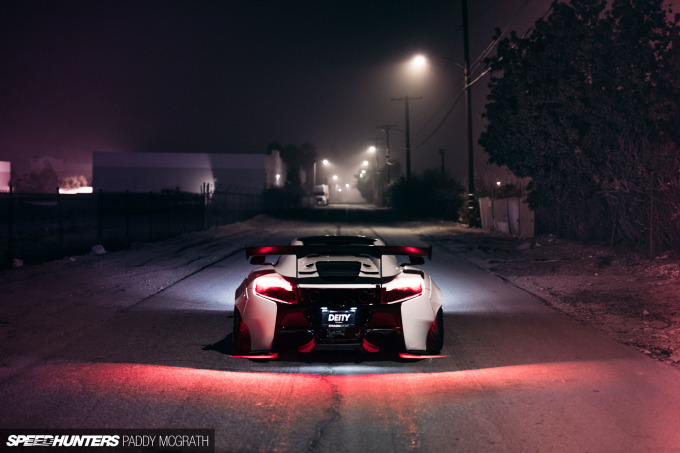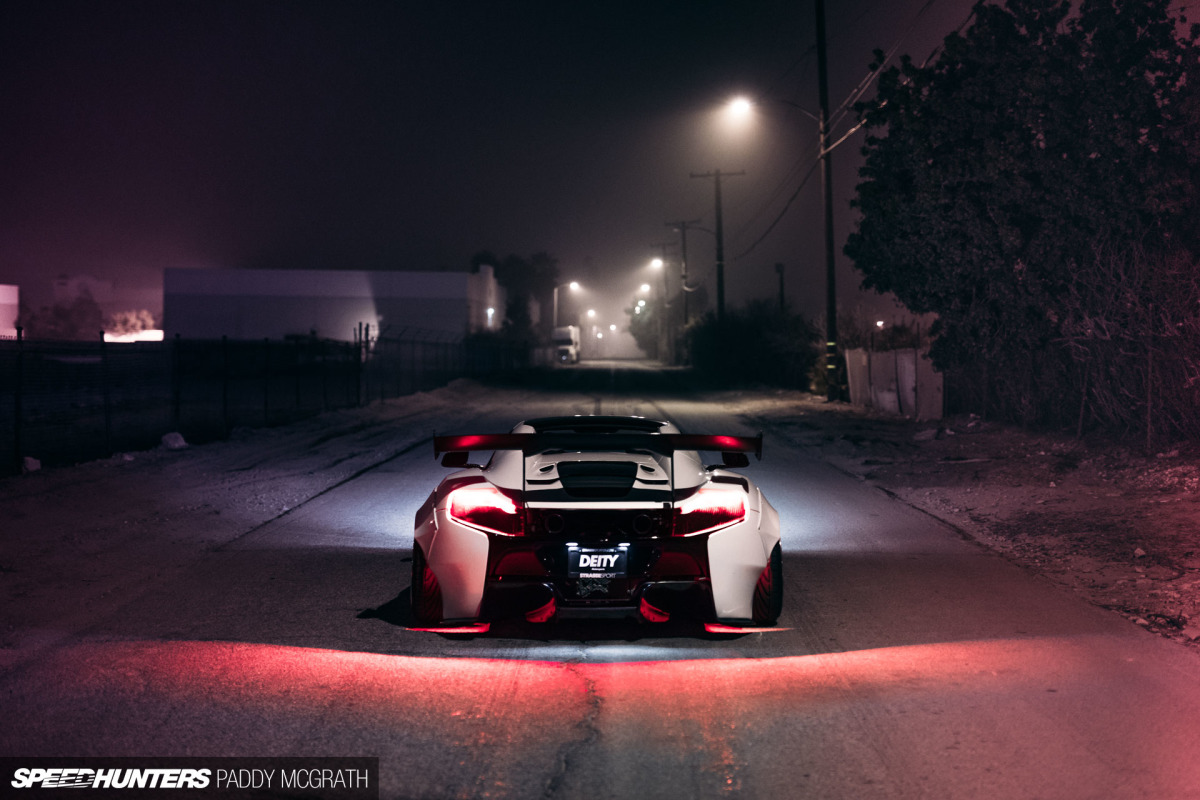 Wrapping up the shoot after 4:00am, we headed back to iDL but I just had to stop Scott's friend, who was driving the car, so I could grab just a few more shots of the car in the misty conditions. It just looks so alien in its surroundings, like a car from the future, regardless if its aired up or down.
We eventually said our goodbyes, and while the car was prepared for its journey to Las Vegas, I headed back to my hotel in Huntington Beach. Instead of getting into bed, however, I wanted to keep working with the photos and just look at the car. Even now, weeks later, I'm still struck by how beautiful it is.
I might be verging on the edge of 'cool story, bro,' but it's days like this are what Speedhunting is all about, so you'll have to excuse my – rare – excitement and enthusiasm. A day that started with little prospects and ends up with shooting a McLaren until the early hours of the next day? There are a lot worse things to do, in fairness.
Paddy McGrath
Instagram: pmcgphotos
Twitter: pmcgphotos
paddy@speedhunters.com
Cutting Room Floor